walks index
-
home page
- contact me at

A Walk across England - Coast to Coast - St Bees to Robin Hood Bay - June 2007
This route across England is not a fixed route nor is it shown as a specific marked route on general maps (including Ordinance Survey maps). Guide books and specialist maps for the walk may show several variations for stages often of different severity (flattish walking to steep sustained uphill climbing especially in some Lakeland sections) and also with different stage lengths according to ones fitness, wishes and the availability of overnight accommodation. Some route variations cater for erosion - effectively resting sections during certain periods to allow paths to recover. In parts we followed routes not entirely given in guide books / maps - the stage 8.06.2007 from Patterdale to Bampton Court (where accommodation was 'off route') is an example - here we followed the advice of the Farmer at Greenbank Farm.
A few years earlier I walked a variation on one stage with a 10kg plus pack (with a younger and fitter Canadian I met at a Bed and Breakfast before Ennerdale Bridge). We went over Red Pike (755m), High Stile (806m), High Crag and the Hay Stacks then over Honister Pass to Rosthwaite. Hardly the Himalayas but none the less with some steep and arduous parts. I was not keen to repeat this route even with a lighter pack. Fortunately we chose an easier route up Loft Beck.
From time to time Coast to Coast fingerpost signboards may be seen but persons planning to do this walk should not rely on these signs (especially in Lakeland sections where paths serve a multiplicity of different walking possibilities) - a degree of navigation is required entailing guide books / guide maps, detailed maps 1 in 25000, a compass and if possible a GPS - useful if one deliberately or unconsciously goes off route or gets caught in foggy weather. Being longsighted, I do not enjoy finding my glasses and looking at maps and guides every inch of the way - rain of course also makes this difficult for short-sighted persons with glasses.
The walk was pioneered by A Wainwright and his handwritten guide with maps and sketches, with some amendments, is still available - entertaining reading before any stage even if not slavishly followed. Apparently Wainwright did not only follow public footpaths and was inclined on occasion to trespass - of which landowners only became aware when later walkers followed. Fortunately landowners allowed some permissive paths and even more recently the 'Right to Roam' legislation, has made it possible to cross some previously closed moorland and avoid tedious road walking.
Our walk was inspired by Jan who did most of the organising. She used Packhorse conveniently based at Kirkby Stephens in the middle of the trek to pre-book and pay in advance for accommodation at suitable stages. Packhorse also daily transported our baggage to our next hotel or Bed and Breakfast (B&B) enabling us to limit ourselves to small day packs (with lunch packs, weather gear etc) rather than carrying heavy packs. Although you may get someone to transport your baggage ahead, don't bring along the 'kitchen sink' - carrying this up 3 flights of stairs in a B&B can be arduous! All hotels and B&B accommodation was satisfactory, even although pre booked, putting 3 persons in a room sometimes caused problems . Limiting 2 persons per room (or having a single room as I had) may be easier, - but cost is a consideration. Weather gear is essential in Britain - any breathable coats and over-trousers may require re-waterproofed before setting out (mine were not impermeable!) Fortunately I carried a light plastic poncho in my baggage and used this when extremely rainy weather hit us for a few days. Boots should also be of a breathable waterproof make, but water may also run down your legs into your socks. Wearing an inner thin sock can also reduce friction and blisters - I had no blisters on this trek.
Some, but not all hotels and B&Bs, realised that a hearty 'English breakfast' with fried eggs, pork sausages, bacon, tomatoes, baked beans and black blood sausages followed by toast and jam was rather too much on a daily basis and also provided cereal, porridge, stewed or fresh fruit. Most hotels and B&Bs could provide packed lunches (some with a packets of crisps, a sweet snack bar and a drink) but some of us cleverly bought fruit, tomatoes, and cheese etc for lunches. One could of course order a big breakfast and sneak away bacon and sausages for fillings to ones sandwiches. Plastic boxes are useful for carrying crushable food.
Hotels and B&B's all had electric kettles in rooms so we made beverages in our thermos flasks each day for the stage - bring your own herb tea bags if you are not keen on drinking thick Indian / English tea. Some of the more remote B&Bs also provided an evening meal if pre-booked. Although we did not use them on this route, there are also Youth Hostels (YH) (also used by many senior citizens) providing good dormitory accommodation (or sometimes smaller rooms for couples and family groups) but usually with shared bathroom facilities. Many of these also provide a good evening meal - sometimes useful where outside eateries are not available - or you can cook your own, but carrying food provision adds to carried weight.
Our party (all walkers based in Sheffield and frequenters of the Peak District) started with 6 persons - Jan, Susan, Joan, Tony, and married Paul and Hazel (all 60 years plus - with me, Tony, nearly seventy the oldest). Paul And Hazel planned to stop about halfway at Kirkby Stephen and complete the route later in the summer. Joan wanted to complete the walk but getting accommodation in the same Bed and Breakfast proved difficult and she thus stopped at Ingleby Arncliffe (roughly 3/4 of the walk). Susan had walked the Coast to Coast about 20 years earlier with a heavy pack and still remembered much of the route which helped navigation. Hazel, a keen map reader, usually knew where we were when the party was in doubt.
I did the walk using a pair of walking poles which relieve the stress on legs and can at the same time exercise my arms. Poles are also useful to stop some accidental falls and should at least be carried for use on slippery and downhill sections or if tired. Training with sticks before the trek is advisable to develop arm strength. Although fit people of any age could do this walk on their own, from a safety point of view companions are recommended. Also bear in mind that in many remoter areas cell phones will often receive no signal.
While I have done several strenuous treks abroad, this walk across England, particularly the Lake District, if more uphill route stages are chosen or if done in poor weather, should not be underestimated. The scenery is some of the best I have seen anywhere. I hope the following attached pictures give some idea of the walk and the countryside we traversed. Unfortunately just before Richmond my digital camera, foolishly used in continuous downpours, failed and I ceased taking pictures (the camera memory card with pictures survived undamaged). Pictures shown are selected from all members of the party - some still using celluloid film but scanned digitally when printed and transferred by the photo shops onto CD discs. The memory size of pictures have been reduced to make them more speedily transferred onto the web. Pictures while acceptable on a computer screen may give unsatisfactory prints.
This table gives our distances walked for each stage (your walk, if you do it, will undoubtedly be different)
Date

Stage

Distances K metres*

Distance miles**

Actual Route taken

(various other alternatives possible on most stages, some not defined by route pioneer A Wainwright)

Overnight at

Stage

Cum.

Stage

Cum.

3/06/07

Sheffield to St Bees

by microbus

St Bees, Fairladies Barn Guest House (B&B)

4/06/07

St Bees to Ennerdale Bridge

21.4

21.4

13.4

13.4

North on coast path, east to Dent Hill, down to Nannycatch Beck, up to Standing Stones, down to Ennerdale Bridge

Ennerdale Bridge,The Shepherds Arms Hotel

5/06/07

Ennnerdale to Rosthwaite

21.7

43.1

13.6

27.0

Ennerdale Water, High Gillerthwaite YH, River Liza to Black Sail Hut YH, Loft Beck, Honister Hause YH, Borrowdale YH, Rosthwaite

Rosthewaite,

Gillercombe (B&B)

6/06/07

Rosthwaite to Grasmere

14.6

57.7

9.1

36.1

Up Stonethwaite Beck to Lining Crag, Greenup Edge, Brown Moss, ridge Calf Crag to Helm Crag, descend to Grasmere

Grasmere,

The Harwood Hotel

7/06/07

Grasmere to farm beyond Patterdale

15.0

72.7

9.4

45.5

Below Helm Crag, up Little Tongue Gill, Grisedale Tarn, up / along St Sunday Crag, Patterdale to farm

Just outside Patterdale,

Greenbank Farm(B&B)

8/06/07

Patterdale (from farm) to Bampton Grange

21.7

94.4

13.6

59.1

South to Deepdale Bridge, climb north to Boredale Hause, Angle Tarn, The Knotts, 250m before Kirsty Pike turned N then NE over moors to Bampton Grange

Bampton Grange,

The Crown and Mitre

9village) 9/06/07

Bampton Grange to Orton

21.4

115.8

13.4

72.5

SE near River Lowther to Shap Abbey, Shap (town), across M6 motorway to Oddendale (village), Wicker Street, around Howe Robin, Orton Scar, Orton

Orton,

The George Hotel

10/06/07

Orton to Kirkby Stephens

19.0

134.8

11.9

84.4

East to Knotís Lane, Tarn Moor, S.E.E across Ravenstonedale moor (now open access land), Smardale Bridge then Fell, across railway then Kirkby Stephen

Kirkby Stephens, Redmayne House (B&B)

11/06/07

Rest day at Kirkby Stephens

Paul and Hazel leave walk catching train at KS station to Leeds then Sheffield. Rest of party visit Quick Wash etc

Kirkby Stephens, Fletcher House (B&B)

12/06/07

Kirkby Stephens to Thwaite

22.2

157.0

13.9

98.3

S.E.E up to Nine Standards (Stones), S over moors to Shooting Box, E to Ravenseat, S.E. to Keld, S to Thwaite

Thwaite,

Kearton Country Hotel

13/06/07

Keld to Reeth

17.8

174.8

11.1

109.4

Baggage bus Thwaite back to Keld & followed River Swale to Reeth (an easy scenic route alternative to the higher normal route - weather was poor)

Reeth,

The Buck Hotel

14/06/07

Reeth to St Giles Farm about 1.5km before Catterick Bridge

23.6

198.4

14.8

124.2

S.E.E. north of River Swale to Marick Abbey, N.E. to Marske, E (N of River Swale) to Richmond, E (S of River Swale) to St Giles Farm (before Catterick Bridge)

1.5km before Catterick Bridge, St Giles Farm (B&B)

15/06/07

Before Catterick to Ingleby Arncliffe

30.3

228.7

18.9

143.1

Eastwards over flat country (northern part of Vale of York) through Danby Wiske to Ingleby Arncliffe.

Joan left on reaching Ingleby Arncliffe and returned to Sheffield by car that evening

Ingleby Arncliffe, Elstavale (B&B)

16/06/07

Ingleby Arncliffe to Urra

22.1

250.8

13.8

156.9

2km S join Cleveland Way,. Follow Cleveland Way to

Clay Bank Top, then 2km South to Urra / Maltkin Hse.

Urra,

Maltkin House (B&B)

17/06/07

Urra to Glaisdale

28.2

279.0

17.6

174.4

Cut N.E.E from Urra to rejoin route, Round Hill, on to dismantled railway track, The Lion Inn, N to White Cross, N.E.E. to Glaisdale (over G. Moor and Rigg)

Glaisdale,

House farm (B&B)

18/06/07

Glaisdale to Robin Hood Bay

32.3

311.3

20.2

194.6

Follow River Esk E to Grosmont, then E to Littlebeck, follow May Beck S.S.E. to carpark, follow several paths N.E. to North Sea near Hawkser Bottom, then round cliffs S.E. to Robin Hoodís Bay

Robin Hood Bay,

The Villa (B&B)

19/06/07

Return to Sheffield

Bus to Scarborough Ė train to Sheffield

TOTAL
311
195
*Distances measured by GPS (flat distances as slopes not measured) **Miles converted arithmetically from Kilometres by X 5/8
Our distance covered was slightly longer than the shortest route - off route accommodation etc.
Enough words - now for the pictures! Pictures were taken by all participants and separate credits are not given, but Hazel has fortunately spotted errors made in my identification of pictures and helped me greatly in re-titling - any errors remaining however are mine.
3/06/2007 Arrival at St Bees
Trek members - Jan, Hazel, Susan, Paul, Joan and Tony in front of 'bus' taking us from Sheffield to start at St Bees.

Our first evening meal at Platform Nine Restaurant in St Bees before starting walking the next day.
4/06/2007 First day walking St Bees to Ennerdale Bridge
Posing in front of St Bega Statue (an Irish princess who sailed here between 600 to 900AD to avoid an enforced marriage to a Viking).

Dipping our feet in the Irish sea before staring at St Bees (a corruption of St Bega).
The beach as seen from the cliffs looking southwards. A faint image of Sellafield the nuclear reprocessing plant is just visible.
Walking towards the Lighthouse
Cliffs with nesting birds and the lighthouse
Looking back at the lighthouse (disused quarry in the foreground), and up the coast at Whitehaven (which we didn't pass through) in the distance.
Statue encouraging us - 7 miles from St Bees - 184 miles to go! Sign on cycle track (converted rail track) just before Moor Row.
Relaxing at the top of Dent Hill after slogging up it. Away again with the Lake peaks beckoning in the distance.
After descending steeply down Dent Hill cooling our feet in Nannycatch Beck.
Bewitched in a stone circle. First glimpse of Ennerdale Water.
05/06/2007 Second day walking Ennerdale Bridge to Rosthwaite
Relaxing in the early morning sun before setting out. Paul in front of a project he had supervised at the end of Ennerdale Water installing a primary screening plant (used to screen water before pumping and filtration / treatment elsewhere for domestic use).
Walking eastward on south side of Ennerdale Water - climbing out of Anglers' Crag. Looking towards the east end of Ennerdale Water
Black cattle paddling at east end of Ennerdale Water, Anglers' Crag near water in background.

Heading away from E.W. - Red Pike ahead in middle with High Stile just to it's right.

River Liza flowing westwards towards camera and Ennerdale Water. View southward towards Long Crag
Pillar Rock pointing upward. Green Gable on left with Great Gable in the middle and Boat How Crags on right.
Black Sail Hut (YH) as it was 20years ago on Susan's earlier walk.

View from Loft Beck towards River Liza, Looking Stead on left and Pillar (peak) on right.
Climbing out of Loft Beck - Haystacks is in front of Pillar.

In 2nd picture in the distance is Ennerdale Water and Anglers' Crag.
Buttermere and then Crummock Water in the far distance. On the left Haystacks At 598m (track visible),

with High Crag at 744m and High Stile at 807m just peeping over the top and jutting to right,

- Red Pike, unseen, is hidden behind High Stile.

Descent down steep quarry 'old tramway' to Honister Pass.
Late afternoon tea break at Seatoller. Following the Derwent River towards Borrowdale YH and our B&B at Rosthwaite
6/06/2007 Third day walking - Rosthwaite to Grasmere
Gillercombe Guest House at Rosthwaite Clear shining water in Stonethwaite Beck
Looking down northwest at Jan climbing up Greenup Gill. Waterfall and pool in Greenup Gill
Seen from Greenup Edge. in distance track leading to quarry on Honister Crag, near to our route on the previous day.

2nd picture - name the tarn, the ridge and the peaks in the distance?
Resting on Calf Crag odd conglomerate rocks
Pretty tarn on ridge route Looking from ridge southeast down Easdale Beck to Grasmere
Closer view of irregular fields and dry-stone walls View across valley to Easedale Tarn
Climbing up and down Helm Crag - Grasmere in view.
7/06/2007 Fourth day walking - Grasmere to Patterdale
Two routes were walked by our party for this stage - the party split at Grisedale Tarn and one part went on a higher route via St Sundays Crag while the other part went on the lower Grisedale Beck route - both then meeting at Patterdale.
There are alternative more adventurous and harder routes from Grisedale Tarn - going to the top of Helvellyn and then descending via Striding or Swirral Edges to Glenridding / Patterdale. Care is required on these edges (especially if heavy packs are carried) and should not be attempted in poor weather and ground conditions. Also if one walks the Rosthwaite to Patterdale stages in one day without stopping at Grasmere then time and energy would not recommend this harder alternative.
While I have not descended by either of these routes, I have gone from Glenridding up Striding Edge to Helvellyn and descended to Grisedale Tarn - connect here to see some pictures of this route in 'reverse'. The portion over St Sundays Crag to Patterdale on my earlier 'Helvellyn walk' is also shown - in same direction as we did the Coast to Coast - with some different views.
Ready to set out from the Harwood Hotel Attempt at forming hedge for livestock
Sheep grazing in field below Helm Crag (which we passed over the afternoon before) Foxgloves along lane
Sheep feeding lamb, passed while ascending Little Tongue Gill Climbing up alongside Seat Sandal towards Grisedale Tarn
Grisdale Tarn and Seat Sandal in rear/left - climbing up to St Sunday's Crag. Along St Sunday's Crag ridge (easier path on right across valley)
Easier path after Grisedale Tarn in front of Dollywaggon Peak, taken by Hazel and Joan,

following Grisedale Beck to Patterdale (as seen from St Sunday's Crag). Rough stones and beacon on St Sunday's ridge.
Descending St Sunday's Crag - Ullswater on left centre. Relaxing after taking showers at Greenbank Farm
8/06/2007 Fifth day walking - Patterdale to Bampton Grange
Farmer and his wife feeding orphan lambs with special formula milk from bucket with multi teats. Ready to set out for the days stage.
Deepdale Bridge at Bridgend after leaving Greenbank Farm and heading towards track just visible in 2nd picture climbing up northwards from right up Rake Crag toward Boarddale Hause rejoining usual C to C route (unseen) from left southwest from Patterdale.
Looking back at Greenbank Farm (just right of centre) with Arnison Crag directly behind,

and St Sundays Crag, Helvellyn and 'peaked' Catstycam also visible in distance

2nd picture shows Patterdale to left, Glenridding in middle and Ullswater to right
Horse encountered on Rakes Crag. Brothers Water seen looking southwards (in the same valley as Patterdale unseen to north)
Angle Tarn with Helvellyn and 'peaked' Catstycam (path from north, which we followed, visible on right) Jan cools off in Angle Tarn
Looking beyond St Sundays at Helvellyn with Striding Edge leading to it. 'Peaked' Catstycam on right.

Jovial fellow toilers encountered several times on the Coast to Coast
Northern and Southern ends of Haweswater seen from different places on our 'alternative' high route west of it mainly through moorland.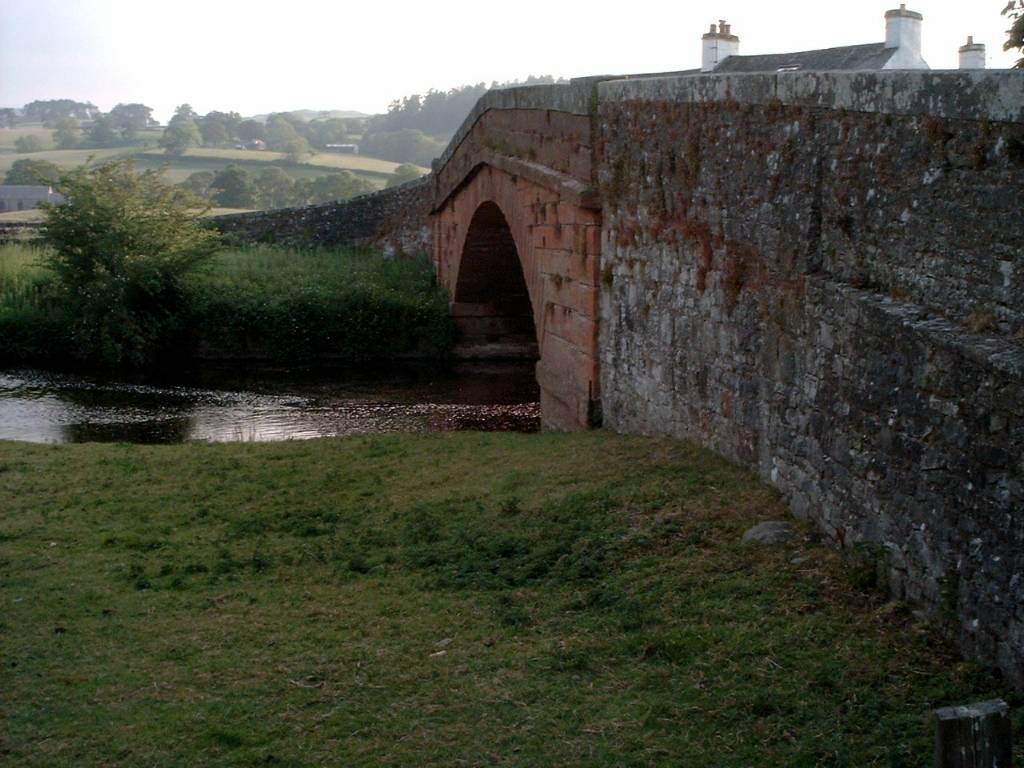 Bridge over River Lowther near Bampton Grange
After dinner stroll at Bampton Grange
9/06/2007 Sixth day walking - Bampton Grange to Orton
The Crown and Mitre
Following meadows (on north side of River Lowther) southeast towards Shap Abbey
Shap Abbey looking northwest back along the River Lowther
Shap Abbey building commenced in 1199. The last Abbey to be dissolved by Henry VIII in 1540
Bridge near Abbey
Gogglebury Stone approaching Shap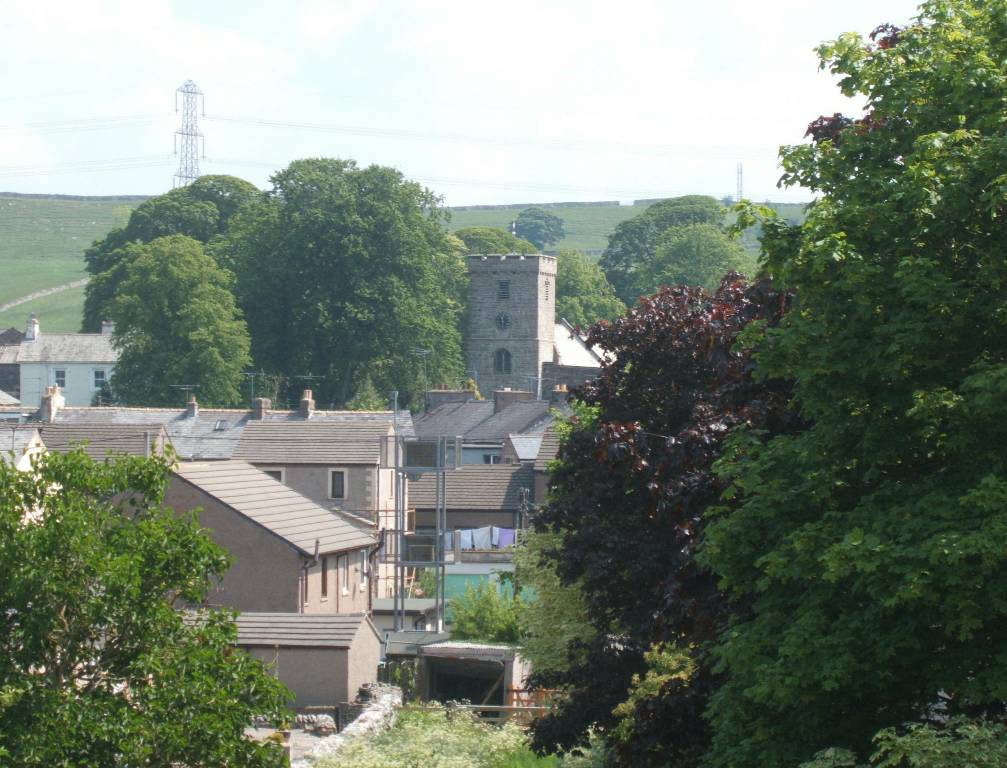 entering Shap once a bustling traffic stop on the way to Scotland - now a quiet village since traffic taken on the M6 motorway
Hardendale Quarries and Works both sides of M6 motorway M6 Motorway bypassing Shap (crossed by pedestrian bridge)
Herdwick sheep and lambs (wool changes colour as they age) truck running from to quarry from works
limestone pavements with Howgills in distance
heading towards Orton old limestone kiln
early purple Orchid Mimulus
10/06/2007 Seventh day walking - Orton to Kirkby Stephens
George Hotel
following eastward from Orton, generally avoiding macadam roads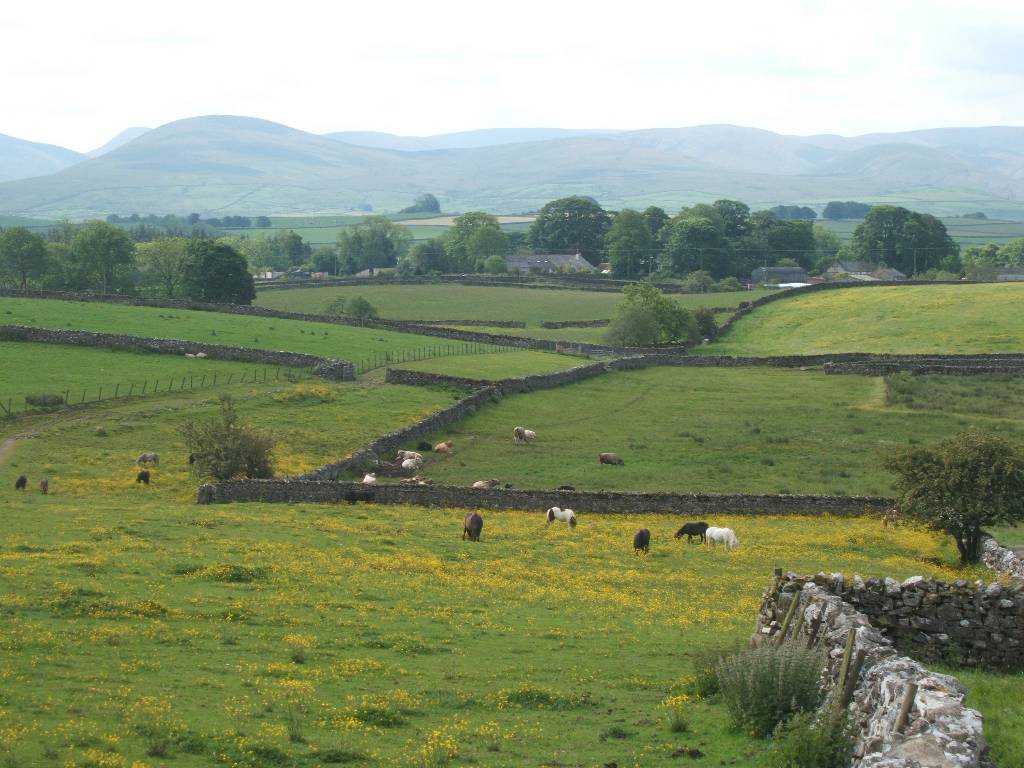 Passing Raisbeck Village with the Howgills in the south.
Access map showing shorter route across 'access land' - south of

Sunbiggin Tarn - avoiding tedious triangular road walk Horse drawn carriages from Appleby Horse Fair
Crossing Ravenstonedale Moor
Which way to go? Dry stone walling with Bent's farm in background
Smardale Bridge Smardalegill railway viaduct - track dismantled
Smardale Quarries mare and foal - Settle Carlisle railway track just visible behind
Kirkby Stephens - horse and carts from the annual Appleby horse trading fair in town. (Appleby is a nearby village)
Half way celebrations at Old Forge Restaurant in Kirkby Stephens A Romany decorated cart?
Second half of Coast to Coast Walk
walks index
-
home page
- contact me at