index memoir - homepage - contact me at

30 Tawau (November 1996 to October 1998)
Kaula Lumpur
Mr Yap[1] Sui Pon met us at the airport and took us straight to a rented apartment in Petaling Jaya (PJ) an attractive suburb of Kaula Lumpur (KL). I would be working for Zelleco at their Head Office in PJ for some time as the airport project in Sabah[2] near the town of Tawau[3] was yet to be formally awarded. Our apartment, surrounded by bungalows, was in one of two tallish buildings, a condominium with a laundry, a small shop, a swimming pool, and tennis and squash courts. Later, the swimming pool was much used by Cubby and the squash court by me. Mr Yap and another engineering friend David Ng from the Lumut project helped us settle in.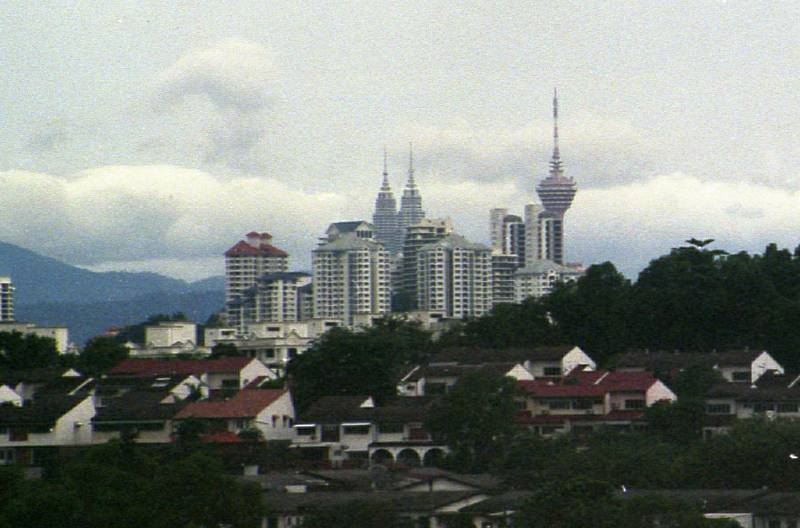 View of Kaula Lumpur from our apartment in Petaling Jaya in the morning before smog obscured view (taken with Zoom lens).
In the morning from our balcony we could see KL in the distance and especially the new tall Post Office Tower capped by a restaurant - the view was obscured later in the day by motor vehicles exhaust smog. We had three bedrooms, two bathrooms, one en suite, and a large living room with an overlooking kitchen at one end. The furnishings were sparse but we quickly made it comfortable with a few added pieces. The office was easily reached in the locally made Proton car supplied by Zelleco.
Our apartment block - Ben from Hong Kong and Nicky and Ed visited at Christmas
Cubby immediately noticed and remarked how friendly the local people were - smiling and courteous in shops, supermarkets and elsewhere. But inauspiciously a few days after our arrival, we were awoken by a large popping noise – we thought either many motorbikes starting up or gunfire. When looking over our balcony we saw that a large squatters shack stuck between smart bungalows was ablaze. Despite the efforts of a man spraying the roof with a trickle from a garden hose, the whole thing whooshed up and burnt out in 15 minutes. Within two weeks a new hut had almost been erected in its place – some things were done very quickly in Malaysia – but possibly without authorisation.
At the office, a big adapted three storied 'shop house', the tender for the project was being prepared by Zelleco. Zelleco, a Chinese managed civil engineering construction company, was partly or fully owned by Malaysian Resources Berhad (MRCB) a Bummiputra (Malay) company in which the then Deputy Prime Minister, Anwar Ibrahim, had a significant stake.
My main tasks in this preparation stage were:
- to study the drawings, specifications, and bills of quantities and to highlight any errors, and inconsistencies, and also to propose possible design alternatives to make construction simpler.
- to propose Zelleco's organisation required to construct the project
- to draw up a detailed construction programme both as a network and barchart – this was a contractual requirement
- to propose construction methods for various parts of the work
- to draft subcontract documents and enquiries and to help assess subcontract submissions
I reported to Mr Ho, the Project Director, a tall friendly man who also supervised some other projects in KL. He was the main contact with Zelleco's Sabah Joint Venture partner construction company Pembangunum Sulaiman based in Kota Kinabalu, Sabah's capital. Suliaman apparently had good political connections with Malaysia's main ruling political party – UMNO (United Malay National Organisation). Sulaiman was Chinese and a Muslim[4]. He did not speak English but employed an enthusiastic English Speaking Chinese consulting engineer, a practising Christian, to assist him as most documents were in English.
Zelleco's Site Manager designated for the project, Henry Pei, was also in the KL office awaiting the start of the project on site. He early on doubted whether Sulaimans had the capacity to execute numerous parts of work they wished to do as subcontractors to the consortium. But for unknown reasons Zelleco's directors seemed reluctant to admit or really discuss this at this time. When I went to the site (in a then presumed 2 to 3 months time), Zelleco had foreseen that I would be Construction Manager[5] in charge of the site field works working under Zelleco's Site Manager.
A pleasant aspect of working at Zelleco's offices was the daily lunch breaks at a nearby food complex. At separate stalls an array of attractive cooked foods were displayed around a hall of tables, reflecting the cuisine of Malaysia's diverse population. I would wander round selecting something tasty to eat, usually with a glass of hot Chinese tea, and then sit down with colleagues. Interesting vegetables were available at reasonable prices – no hamburgers or fast foods were for sale here – and fat people seemed scarce.
Early on Cubby attended services at several Protestant churches eventually finding a friendly Lutheran church in PJ with services in English. The congregation was mainly Chinese with some Indians and foreign expatriates. The Chinese pastor had served as a Captain in the Malaysian armed forces before being ordained. He was also an enthusiast both of films and of Shakespeare's plays. Coming after services to fetch Cubby, I was invited to join buffet meals. Every week different members of the congregation prepared delicious local foods. This was a pleasant opportunity to meet local people not connected with my job and after a while I started going to the services – I joked that I had become a 'rice Christian'.
Cubby and I went on a visit to Sabah, first to Kota Kinabalu (KK) to meet our consortium partners. The hotel we stayed in was coincidentally the same one we had visited about 15 years earlier with our son Ben when we were on holiday from Johore Baharu, but the town appeared to have grown considerably. We then flew from KK in a Boeing 737 in narrow and cramped seats[6] and landed on the existing Tawau's airport short runway – this was a tricky airfield requiring well-experienced pilots. Indeed the airport was being replaced partly because a plane had over run the field and crashed into a squatter camp with much loss of life. The airport was only 10minutes from the small town and our hotel. The new airport site, still covered by palm oil plantations, was over an hour from Tawau on a narrow twisting, tar macadam, road.
Our pleasant hotel room in Tawau overlooked the mosque waking us early with calls to pray. Tawau, on the seacoast, was virtually on the border of Indonesia's state Kalimantan and had been in the front line of the armed 'Confrontation' about territory between Malaysia and Indonesia when Sabah and Sarawak joined peninsula Malaya forming Malaysia in 1963. Many informal wayside markets in the town, selling an abundance of exotic fruit and vegetables, seemed to be run by Indonesians. Tawau was also renown for its seafood and we enjoyed this at open air cafes and restaurants and my companions brought fish, packed chilled in ice, to take back to KL. After the visit we felt confident that satisfactory housing could be found.
Back in KL we were suddenly told that the Client now wished to issue a 'letter of intent' but before this could be done we were required to rapidly complete our pricing and other tender submissions. Completing drafting the schedule also became important and I spent some Sundays alone in the office drafting planning, procurement and construction activities, their duration, and logic links on large sheets. These I handed to a ubiquitous young Quantity Surveyor who adeptly entered these onto the computer[7].
While I did this, Cubby visited our old haunts at Sitiawan about a day's journey north of KL, where we had lived when working for ABB on the Lumut Power Plant project barely a year earlier. She stayed with our friends and neighbours the Chins (Vereine and Tony).
For the Christmas season we were joined in KL both by Nicky (our eldest daughter) and Ed (her husband). They had arranged visits to the National Park, Taman Negara, to rock climb in Thailand, and to tour Sabah including climbing Mount Kinabalu. With the demise of Apartheid it was now possible to enter Malaysia with South African passports. Ben also joined us from Hong Kong bringing a large side of smoked Norwegian Salmon for Christmas Eve. We also boiled a ham and a Christmas pudding - the kitchen had no oven for roasting fowl – only hot plates. With Ben's help we connected our laptop computer to the internet for the first time starting a new and immediate system of communication with family and friends. No longer would letters take an inconvenient number of weeks to reach those 'on line', but many family and friends continued with snail mail.
We, like tourists, visited the Butterfly Park where butterflies took a shine to Ed and landed on his outstretched arm to the amazement of onlookers who vainly tried to do the same. We also visited the Orchid Garden and walked on a nearby jungle trail in Templer Park[8]. Returning, we stopped at a wayside café where Nicky and Ed enjoyed tarak tea, black tea boiled with condensed milk and skilfully tossed from container in one hand to the other to make it frothy – Cubby and I stuck with green Chinese tea.
Relaxing in National Park Taman Negara
After Nicky and Ed had departed, we, on the next long weekend Chinese New Year, caught a coach from KL and after about 5 hours boarded long wooden narrow motor propelled boats. We sat on benches under roofs shading us from the tropical sun - virtually at water level and trailing our hands in the cooling river water while looking at the changing scenery on the banks. After some hours we came to a rest camp at Taman Negara where we slept in a small outdoor cottage (probably air conditioned). We wandered on paths and along streams under dense leafy jungle trees and also on rope bridges suspended high in the canopy. We had never taken any precautions against malaria in Asia and fortunately avoided it. Unlike many other parts of Malaysia, the park was litter free – anything purchased in the park shop was surcharged and on return of packaging or bottles refunds were made.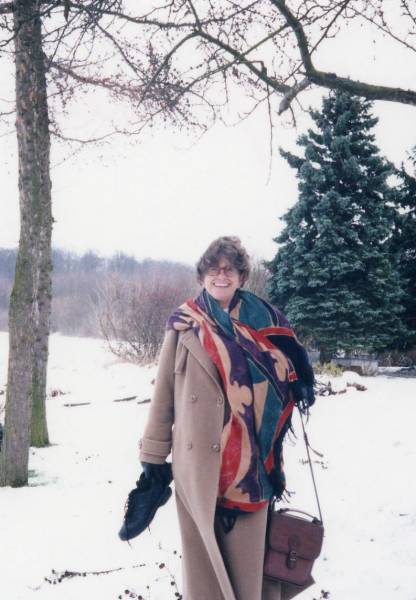 Cubby in her winter coat outside our house in Langeland.
Beverly, our daughter in law, had recently given birth to a baby girl, Martha, on the 25th January in Sheffield. As a move to Tawau still did not appear imminent, Cubby after buying a warm coat in KL to enable her to brave unaccustomed European winter weather, went to see Martha and our English family in March 1997. She then went to Denmark to see her father in Herning, other relatives and her godmother Gerda. Cubby returned to KL with delectable foods – sild, salami, and hambourgrug[9], Anton Berg Chocolates and Danish Snaps[10] - although much imported food, including French cheeses, were easily found near KL at a French supermarket Carrefour.
Cubby started a computer course to improve her ability on what appeared to be an irrational machine - pages of laboriously typed text could be lost if not careful. We continued taking advantage of Malaysia's many public holidays and drove south to Malacca. We had first visited it in 1981/82 when working in Johore and again in 1988 on holiday from a project in China. At first glance, it was hard to see that it was the same town – the beautiful flat sea front previously dotted with a few hawker stalls[11] had been built on by high-rise condominiums, holiday hotels, and theme parks – the romantic historic era of Malacca seemed to be disappearing. But fortunately the Portuguese fort, the Dutch town square, and the old Chinese part of town with two storied shop houses with elaborate roof tiles and shuttered upper stories, still existed. We managed to find a sandy 'floored' beachfront restaurant, atap roofed, with platted coconut leaves, and enjoyed a meal ignoring begging cats with deformed tails.
Work continued on our offer, the Client apparently reducing some of our prices. I went on another trip to Kota Kinabalu to a design meeting where we discussed possible changes[12] making construction easier but also, in some cases, improving the function of buildings. The Client's Project Manager seemed sympathetic to our ideas, but declined to produce a formal minute as no contract was yet signed.
Yet another Public Holiday – the Agung's[13] birthday on a Saturday was due. We took the Friday off as well to make a long weekend and drove three hours to Fraser's Hill, a hill station at about 1500m to escape the heat. Long since departed colonials had done this before us - on the way, on a twisty bend in the hills, we saw and read a plaque commemorating Sir Henry Gurney once British High Commissioner who was ambushed and killed by communist guerrillas at that spot in 1951. Before Fraser's Hill the steep road narrowed to a single track and a one way system operated every hour so we waited having a bowl of noodles at an old rest-house, called The Gap, before ascending.
Our timbered-beam hotel, Ye Olde Smokehouse, built in 1924, looked like an English country inn. Inside the dining and sitting rooms lit open wood fireplaces banished the chill. Chintz upholstered sofas and curtains, old faded black and white photos of an earlier nostalgic era, furnished the rooms. We ate roast leg of lamb and mint sauce for dinner.
We spent our time walking up and down hills around the town and then went into the jungle on paths slippery with wet leaves - we revelled in the trees, cool dampness, and bird and insect noises. Cubby spotted a leech on my sock and we rapidly took the nearest shortcut to the road and stripped off our shoes and socks - a multitude of leeches fat and plump with blood was revealed. After brushing them off, the wounds continued weeping blood for some time due to injected anti-coagulate - bites later itched for some days.
In July the office was in turmoil, it had been announced that Zelleco's sister company Zealan[14] (which was not owned by MRCB) would now actually be running the project for the Joint Venture, but all Zelleco's staff on the project would be transferred and work for Zealan at other offices in KL. Many staff appeared to be reluctant to make this change and months later after work on site had started, the Project Director Mr Ho left. I appeared to be the exception continuing to work directly for Zelleco but together with Zealan's 'new' staff. The reasons for this change were not clear to me but financial and political risks were probably involved.
Christopher and Beverley with Martha and her siblings - Libby, Alice and Josh. Cubby and Andrea to right. Matty and me.
As it appeared that a move to Tawau was sure in the next few months, I, at short notice with management's agreement, advanced my annual leave and at the end of July we went to France and England for a few weeks mainly so that I could see our granddaughter Matty and check on our Paris apartment.
We were irritated that Air France, with whom we travelled, permitted stand-up smoking[15] in a catering area screened off inadequately by a curtain – we, sitting some rows ahead, were inundated by second-hand smoke on our flight to France - suffering sore throats for some days. After our restful break, on our return journey we ensured we were well away from this smoking area. Landing at Singapore, awaiting the shuttle to KL, Cubby and I walked briskly up and down the long access and shopping areas – we felt fit and seemed to have weathered the long journey well.
The next day, Sunday, we went to church and then stocked up food supplies at our local market. We had some sandwiches for lunch. Cubby suddenly felt unwell and lay down in the bedroom while I tidied up, I thought it was probably a minor stomach upset. After about an hour I found that, although not fully unconscious, she was not able to move but seemed to understand what I was saying. Fortunately our Singaporean neighbour, with whom I played squash, was at home and he called an ambulance from a private hospital[16]. The doctor there diagnosed that she had suffered a minor stroke but could not find the blood clot[17] in her head he thought had caused it.
After some days in hospital Cubby rapidly recovered, her memory and her movements were unaffected, and returned home. The whole experience, and the uncertainty as to whether it could happen again, made her somewhat nervous. She was now prescribed small quantities of aspirin daily to reduce blood clotting. Although knowledge of Deep Vein Thrombosis occurring after airflights was not yet commonly known, I suspected the flight as a possible cause of the stroke but could not find any substantiation on the Internet. Cubby for some years previous had been on hormone replacement tablets[18] as prescribed, but fortunately our English insurers did not quibble and refunded her medical expenses.
At the office the award of the Contract now looked more certain and we anticipated a move to Tawau at any moment. Henry Pei, the Site Manager, had lost the confidence of Zealan's management and was replaced as Site Manager by Kuang Chia Hark who I knew as he had worked on the Lumut project as Construction Manager. He was friendly and easy to know.
We welcomed the move to Sabah as in the middle of September 1997 KL and much of Peninsula Malaysia was shrouded in a depressing smog blown miles across the oceans from Indonesia - smog caused by apparently uncontrolled clearing and burning of forest land for cultivation. We attended a 'ten a side' rugby tournament with foreign team's participation and could barely see across the field - the smog was that thick. We wondered whether Malaysia and Singapore, the two most affected ASEAN[19] countries, really protested sufficiently to their Indonesian partners.
Sabah / Tawau
We packed up our belongings once again and arranged for them to be shipped by sea to Tawau together with Site Manager's baggage and loads of project documentation. We went first to KK (staying for some weeks in a local hotel) to assist our consortium partner in planning and programming aspects of work intended to be sub contracted to local companies (precast piling, concrete supply etc). Especially critical was the subcontracting of the major earthworks to a local company Morvon who were based in the same offices as Sulaimans. I highlighting to the subcontractor's Site Manager the earthworks programme required, especially some critical aspects to be done early. While the money for the bulk of earthworks was in the runways, delays on earthworks for the access road to the site and the excavation of main building platforms could delay the project. These requirements were proposed to the consortium to be included in the subcontract documents with appropriate damages if they overran targets.
Arriving in Tawau we stayed a few days in the hotel before moving into our new house, one of several the company had rented for staff in a small neighbourhood. The house, built mainly of hardwood and flat-roofed, was effectively raised above the ground on concrete stilts, and above brick servants quarters (which we did not use) with a lockup store for our many tin trunks and boxes. There was space for parking two cars under the house itself – the small Jimny, the company supplied me, and a new local Kancil[20] I bought for Cubby's use.
Outside of Tawau house. Our maid washing Cubby's Kancil motorcar
Cubby with my fellow Engineers' wives, and reading. Me (in Mandela type shirt) with Karen - local Tawau club swimming pool
A wrought iron gate opening to a stairway gave access to the house with three bedrooms, two bathrooms, one ensuite, a very large sitting / dining room leading onto a porch running the width of the house, and a kitchen with walk in pantry. The bedrooms all had large built in cupboards useful for stowing our belongings. This was far more than we required but was useful for putting up visitors. Cooling breezes wafted through the windows in the lounge and ceiling fans twirled in all dark wood panelled rooms, but we had air conditioners installed in our bedroom and one of the guestrooms to ensure a good nights sleep. We rapidly furnished the house, pleased to get locally made ratan[21] sofas and chairs made for the lounge, and made it homely with some posters and pot plants.
The house, painted cream outside, was set in a large garden with tall leafy tropical trees, smaller guava and mango trees, the inevitable purple bougainvillaea, red hibiscus and a lawn, then brown - suffering from a present drought. The town of Tawau was barely ten minutes away by car.
As was the local custom, Cubby employed a maid for a couple of hours each day for 6 days a week. Our company neighbours admonished her not to pay more than £25 a month - as they feared their costs would rise. Cubby could only unofficially supplement this with food and bus fares. Our maid was an Indonesian 'immigrant', hoping in time to qualify for residence in Malaysia.
We started work using a house in Tawau as office, then built a further temporary offices for both ourselves and the Client's staff, an hour down the tarred road, where we turned off to the airport site,. These offices were still inconvenient as the site, where Morvon had started earthworks, took a further half hour to reach on bumpy tracks through rows of oil palms. Irritatingly Morvon's Site Manager delayed starting excavation work on the critical permanent access road and building platforms (stressed earlier in Tawau as being a priority) but continued on the less critical runways until his management replaced him.
The projects progress soon fell behind schedule - strangely the Client did not seem to check against our schedule commitments and indeed had never commented on the schedule. It appeared that money was tight from the government to pay for work done and good progress may have embarrassed the Client. The Asian 'Tiger' economies including Malaysia were in recession and the Ringtt had devalued by 33%. This affected my transfer of funds abroad, but we could fortunately still save a good deal.
Despite Zealan having many engineers and technicians on site, mainly from peninsula Malaysia and also recruited from the Philippines, the actually works were executed by Sulaiman's local subcontractors - who lacked experience and were often also were paid belatedly. Weekly meetings, held and minuted to monitor progress, and to advise the JV and its contractors, seemed to achieve little. I wrote the Site Manager's weekly reports for him - sent back to the JV head office management (Zelleco) in PJ – depressingly revealing increasing delays – little seemed to change.
With hindsight it probably would have been better if the Joint Venture had been a main contractor[22] doing much of the procurement and execution for the structural works themselves rather than relying on many smaller subcontractors. This would have improved the quality of materials supplied and the work done. For instance 3 or more different subcontractors built concrete culverts supplying their own rebar and each using different construction methods - this led to variable quality. Management tried to alleviate the situation by integrating Zealan's staff together with Suliaman's staff (few in number) on site but this did not seem to work completely – Zealan's staff lacked actual 'hands on' construction experience in planning and executing works and had only previously worked supervising and monitoring subcontractors.
One of the major delaying factors, however, was technical. The Consultants had designed the runways assuming that some excavated materials containing much clayey silt could be satisfactorily removed then laid and compacted to standards specified in the upper layers under the pavement's imported granular base-course layers. This of course had reduced the projects tendered cost significantly. But in practise, despite a whole series of on site layer and compaction trials, and the advice of the JV's visiting Soil Mechanics Specialists the specified standards could not be achieved. It was probably that these layers would have to be done with imported materials at extra cost[23].
Cubby's banners hung in Tawau's Lutheran church and Cubby taking Chinese art lessons with Mr Choeng Thye-Ming.
Some of Cubby's pictures painted at Mr Choeng's classes
Despite ever-present problems on the job, life in Tawau was most agreeable. Cubby once again found a pleasant Lutheran church and busied herself designing and making banners. The Anglican Church with a large membership of enthusiastic Christians had built a huge new church hall, displayed one of her banners at its inauguration. I played Badminton every Sunday afternoon in the Lutheran church hall and returned home with my clothes dripping with sweat from exercise and humid conditions. We also joined the nearby yacht club which had a swimming pool and frequent evening dinner parties. Cubby found a teacher and resumed Chinese brush painting she had done on and off since our periods in South Korea and China.
Palau Sipidan - offshore island diving resort (top of ancient volcano). We baby sat Kirsten when her parents went diving. Bonny with Kirsten just outside our home.
We made many local and foreign friends, including an Australian couple with a young toddler Kirsty. Rainer, who also had Danish nationality, worked as a civil engineer on a water purification plant, 2 hours away from Tawau. Bonnie his wife was a keen scuba diver and introduced us to the offshore Island of Palau Sipadan[24] where we babysat with Kirsty when they were out diving in the depths. We did not use scuba gear, but even with facemasks were astounded by the variety of sea life. We saw turtles and became indifferent to passing sharks. We slept in raised stilt huts built of wood and bamboo.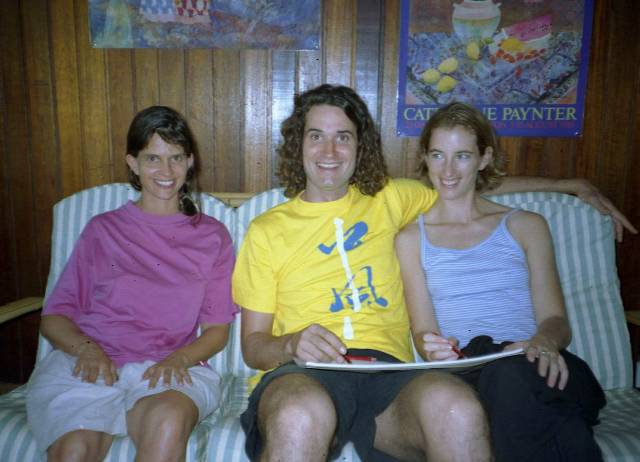 Karen visiting from South Africa, brother Benjamin and girl friend Zoe visiting from Hong Kong.
Our second daughter Karen came from South Africa and Ben, with his attractive English girlfriend Zoe, came from Hong Kong for Christmas 1997. We had roast duck stuffed with apples and prunes and red cabbage. They all fitted in trips to Sipadan – indeed Karen went twice. Later Ben climbed 4000m high Mount Kinabalu for a second time[25] encouraging Karen on the ascent.
We drove in our Jimny to Sandakan, with a young Indian Tamil expatriate couple Bala (he worked on the project) and his wife Mamtha, taking 5 hours. On the way we stopped to look at the Madai limestone caves where in the season intrepid collectors climb up tall frail bamboo scaffolds to reach and collect Swift's nests used for making Chinese bird soup – they apparently got Ringtt4000 per kilo – a fair price considering the risks involved.
After an hours rest in our hotel, we went at feeding time to the nearby Sepilok Park, a rehabilitation centre for Orang-utans, where they were given bananas and watery milk. They were extremely gentle animals especially with their babies, caressing them gently with big horny hands. We got very close, as they did not hesitate to use the wooden pathways provided for visitors. Some hung upside down and 'walked' on ropes strung between trees.
The next day we bargained at the quay to hire a boat for the day and sped bouncing on the hard wooden seats to a nearby island where turtles nest. But being daylight did not see any – except a large protected nursery – a fenced area with eggs buried in the sand. We swam in crystal clear water, then had lunch, and continued our voyage to an estuary further south – another protected park renown for Proboscis monkeys. We scanned the wispy trees along the banks and saw many with their bright orange backs and some big males in profile, before they became aware of us and swung rapidly away in the branches. We continued through a warren of waterways in the mangrove swamps seeing small creatures and birds before returning to Sandakan with bruised bums.
About this time Malaysia's Deputy Prime Minister was deposed and detained, awaiting trial on charges of sodomy and treason[26]. Many thought these charges were trumped up by the long serving Prime Minister, Dato' Seri Mahathir bin Mohammed, who they thought had felt threatened by his popular deputy. It was unclear whether this would have any effect on MRCB / Zelleco as Anwar Ibrahim was reputed to own shares – indeed would this effect the project itself?
Perhaps inevitably, one of our site vehicles travelling fast, carrying some of our Chinese and Filipino staff back to Tawau in the evening dusk overtook on an un-sighted position and collided with an approaching vehicle. About 5 of our staff were injured severely – the other vehicles occupants (who were not at fault) were fortunately unharmed. Months of hospital treatment followed both in Tawau and KK.
Our 2year contract was almost completed. There was initially talk of an extension of contract but Zelleco appeared reluctant to grant me leave over 2 weeks even if unpaid. We wanted a good break of at least 4 to 6 weeks, travelling to Europe for only two weeks would have been stressful, but as this was not granted we resolved to leave. Possibly in view of the projects considerable and continuing delays and money problems it was also no longer viable to employ me. Coincidentally other expatriates, including Rainer, left projects at about the same time – the economic downturn and the Malaysian Ringtt being under pressure possibly was a factor. I started making plywood boxes and we then set about packing our accumulated belongings and arranged transport of these by sea. We also found a buyer for Cubby's less than year old Kancil motorcar who was prepared to take delivery just before we left.
Aage had left our Lohals house about a year earlier and moved into his partners Fifi apartment in Herning in Jutland, the upkeep of our large garden had become more difficult as he aged and they no longer wanted to spend the summers at Lohals. At Herning they could also play Bridge with friends and were less remote from urban entertainment and facilities. Dorte and Ole had moved into our house and taken over the rent, but they later purchased a house at Tranekaer, and we put the house up for sale through an agent. Just before we left Tawau we heard that our house had been sold and that we would have to remove Aage's furniture, which he had given to us, and also some of our South African belongings, sent from Lesotho, stored in the garage. We therefore arranged to travel first to Denmark to clear the house and put our possessions in storage until we had found a house elsewhere.
Zealan graciously threw a large farewell dinner party for us attended by their own and the Client's site staff. We also sadly said farewell to the many friends we had made both at church, at weekly badminton games and at the club. We were sad to leave such a pleasant country and people.
We flew from Tawau to Singapore where we checked into an airport hotel for some hours and rested before our long flight to Copenhagen. We were a bit nervous about long flights after Cubby's problem[27] but she had had no health problems at all in our year in Tawau.
[1] Mr Yap, Zelleco's Project Manager on the Lumut Project, had proposed me to Zelleco for the Tawau project but was not actually connected with it
[2] Sabah and Sarawak on the Island of Borneo are states, forming together with the peninsula mainland part, Malaysia.
[3] On the Northeast corner of Sabah
[4] Most Chinese in Malaysia either followed their traditional religions or converted to Christianity. In Malacca, however, Baba Chinese long time immigrants to Malaya had converted to Islam. Sulaiman was apparently a more recent convert.
[5] Later I requested that my role be that of a technical adviser – I did not think it would be possible to fulfil the Construction Manager's role especially considering the need to communicate with many non English Speaking people.
[6] Malaysians tended to be much smaller than Europeans and Americans – some really would have needed two seats and their knees would still have hit the seats in front
[7] With hindsight it would have been better if I had taken a short instruction course on the software for making programme and learnt to do this myself to enable rapid site updates and progress reports.
[8] Named after the British General who overcame the communist terrorist in Malaya after the 2nd World War.
[9] Cured pork loin
[10] We evidently drank this very occasionally as I finished the last drops in England in 2004.
[11] Some selling the renown polished Malacca walking sticks
[12] Later very few proposed design changes were accepted – only conflicting service positions were changed. Much of the design had already been subcontracted and paid for – costs for improved design would not be acceptable to either the Client or Zelleco. Further Zelleco did not wish to accept any design liability even if this simplified construction.
[13] The King's birthday - In Malaysia the position of constitutional King is rotated amongst the various Sultans of the States.
[14] Zealan had been formed earlier as an independent company when MRCB had taken a stake in Zelleco.
[15] Smoking had been banned on most other airlines for years.
[16] Having a Visa card ensured that she would be treated directly.
[17] Some years later in England she again felt unsteady and went to her local General Medical Practitioner. He correctly then found (what specialists in Malaysia and Britain had missed) that the cholesterol level in her blood was high. He put her on 'Statins' reducing this and stroke risks. She also changed her diet substantially eliminating fats.
[18] Suspected as a possible cause of heart attacks and strokes and later of breast cancer
[19] Association of South East Asian Nations – Malaysia, Singapore, Indonesia, Philippines and Thailand
[20] Kancil literally means 'mouse deer' – the car was small but could take 4 adults easily.
[21] Cane
[22] This would have required the JV to have financing up front before work was done and they probably did not wish to commit their own funds.
[23] A problem still not resolved when my 2year employment contract ended.
[24] The tip of an extinct volcano - in Malaysian control but evidently also claimed by the Philippines. Later notoriously foreign visitors Were kidnapped by extremist Filipino bandits, taken to the Philippines and ransomed.
[25] I had climbed it with him in the early 1980', when he was 11 years old.
[26] He was controversially convicted and jailed for some years until being released after his conviction for sodomy was overturned in 2004 - Mahathir's resignation as Prime minister probably made the appeal possible.
[27] Only several years after our return to Europe did the health risk of Deep Vein Thrombosis on cramped airplane flights become Common knowledge. However, it is possible that in Cubby's case this was not the whole problem – cholesterol lumps in the blood rather blood clots may well have been the problem – but her high level of Cholesterol was only found some years later.
index memoir - homepage - contact me at