index memoir - homepage - contact me at

17 Pasir Gudang (March 81 to July 82)
After the debacle of the previous two projects another job fortunately turned up. Spies Batignolles (SB) had been working for some years building a power station in Malaysia at Pasir Gudang[1]. As this was behind schedule and losing money, an expatriate engineer had recently reinforced the local site management. But the Client, the Government Electricity Authority, was still not happy with the progress as reported by their Consultant Engineers, an Indian company, who were responsible for both the design and supervision of the construction.
I, now flatteringly designated as Area Manager (although there was only one project in Johore) flew out with the head office's project engineer to Bombay where our site expatriate engineer joined and briefed us. We stayed in the Taj Mahal Hotel in great luxury compared to the numerous beggars who pestered us in our taxi en-route from the airport whenever we stopped or slowed down.
The next day we flew on to Bangalore to meet the Consultant Engineers. Bangalore seemed more relaxed than Bombay, many green trees, cooler and less humid. The Consultants were particularly concerned about the progress of the cooling water intake works. These would draw in seawater for condensing steam for reuse (after passing through the turbines) and could delay the commissioning of the plant. The Tender design had made construction by land based cranes and excavators possible, but a later Consultant's redesign had pushed the intake works into the sea itself making the use of marine plant and underwater blasting necessary. We explained that this would be more difficult and gave our revised method of construction and schedule.
We flew first to Madras and slept restlessly in a hotel until midnight before boarding a Malaysian Airways flight and eventually reaching Johore Baharu where our company was based. I stayed over a month in the Tropical Inn Hotel on the 24th floor, a new building towering above the then rather scruffy, largely two-story town of shop houses – the gateway leading to the spruce separate city-state of Singapore across the straits from peninsula Malaysia.
The site of the oil fired power station, Pasir Gudang, was also on the straits close to a small town Masai – almost a corrugated tin 'wild west' town, an hour drive from Johore Baharu. Mr S C Mok, our Australian educated, ethnic Chinese, Malaysian Manager, placed the many local subcontracts and material orders. He spoke Malay and several Chinese languages and understood how the local subcontractors worked. Many of the contracts seemed to be 'back of envelope' agreements and tended to be amended as work progressed. The site construction itself was effectively led and supervised by two French Conducteur de Travaux (Senior Foremen) while a further expatriate controlled and maintained construction plant. One of these Foremen, tall dark, Italian looking, with neck length hair had been based in Malaysia for some time and had a Malay girlfriend who was a princess. They seemed fond of one another but apparently could not marry unless he converted to Islam.
In correspondence the Consultants painted a picture of non-performance by SB. SB maintained that most delays were actually occurring through the Consultant's own tardy supply of detailed design issued by site notes just when new activities started - delaying and disrupting implementation. SB arranged for an English Lawyer to visit the site who went through the 'history' of the project with us. In a 20 page letter to the Client he explained how past (and indeed some delays still to come) were not due to the contractor's fault. The Client, while not admitting liability, then agreed a further cash advance to be refunded by SB in stages. This solved immediate cash flow problems, but claims would still have to be pursued later.
Recording the facts accurately was essential and thenceforward I sent numerous letters to the Consultants, sometimes as many as twenty a day, asking for details or disputing the Consultant contention that delays were solely due to SB's performance. Fortunately I had a very efficient and friendly Chinese secretary Belinda who typed numerous amended drafts without complaint – computer word processing was not yet available. This drew a response from the Consultants, but it improved both our staff's morale and productivity - a paper dogfight continued to the end of the project. Although we were on opposing sides, we appreciated the efficient manner the Consultants site civil engineer produced sketches and instructions supplementing or changing the sparse or missing details on the drawings – if he hadn't, delays would have been even longer.
SB's expatriate Office Manager, who covered all their projects in Malaysia, found me just before I went back to fetch my family, a suitable two bed roomed house in a pleasant suburb Dragon Gardens (later changed in name to Taman Iskander – literally garden of the Sultan Iskander – more politically acceptable). I collected Cubby and Benjamin from Versailles and we handed back our rented apartment. Andrea would continue at the international school at St Germain en Laye while staying at La Celle St Cloud with friends Cubby had made at the Anglican Church in Versailles. Within a week, after a night at Versailles Trianon Palace Hotel, Cubby, Benjamin and I flew to Malaysia. We had prepared ourselves for the change in life style by reading Anthony Burgess entertaining Malayan Trilogy written at the transition of the country from a colony to a self governing state.
Our pleasant home in Johor Baharu with lush tropical vegetation. Nets on windows to keep out mosquitoes possibly bearing malaria and dengue fever. We slept well with windows open and a fan without air conditioning - sometimes dogs barking would disturb our rest.
Just after arriving, the Sultan Of Johore died, and all local inhabitants whether Malay, Chinese, Indian or expatriate were expected to wear a black stripe as a sign of mourning - somewhat resented by local non Malays. The new Sultan, who succeeded his well-respected father, was apparently a bit of a playboy - it was rumoured that he had fired a pistol from a helicopter at a smuggler in an open boat in the Straits. He also, so some said, had beaten his caddy with a golf club. These rumours may have been false as he in due course took his term as Yang Di-Pertuan Agong (effectively King), this being a post for 5 years rotated by the nine Sultans heading the various states comprising Malaysia..
The language of instruction in schools in Johore Baharu was Malay. We tried to find a private English language school in nearby Singapore, many of which were available but initially without vacancies. Cubby met a Scottish expatriate mother living in Johore Baharu who took a few pupils and Ben joined them for 3½ hours each day until we succeeded in getting him into Dover Court School about 7 months later. His English had suffered, what with a period in a Danish school then a French school, after we had left South Africa. He crossed daily to school queuing and passing through often congested Malaysian and Singaporean Immigration and Customs. Cubby, driving in a tatty un-air-conditioned 1976 Mazda, shared the chore of ferrying children to Singapore on a weekly basis with two local mothers married to wealthy professional men, driving air-conditioned Mercedes.
Fortunately Cubby did not have to pass through the centre of Singapore to get to Ben's school – there had been so much traffic congestion that the Singaporean government had introduced a permit system for vehicles (between 7-30 to 10-15am on weekdays) in a restricted central city zone. On one occasion we entered the centre illegally thinking that with our Malaysian plates we would not be identified or fined, but about 3 months later when stopping at immigration they fined us S$50 before letting us go. This system in Singapore seems to have been quite successful and it is surprising that a similar system is yet (now 20 years later) to be introduced in crowded European cities[2].
The Malaysian parents, who shared shuttle driving with Cubby, wanted their children to be educated in English rather than Bahasia Malay which would give them some advantages, but could also be a disadvantage if their spoken or written Malay was poor in later dealings with Government Officers. We found that not all Malaysians, particularly some of the older Chinese people, actually spoke or understood Malay, but this was changing as Bahasia Malay was now taught in all the government schools throughout the country. Schools were set up in even the smallest villages as Malaysia rightly regarded education as being important and had not stinted on resources.
Ben a good swimmer taking part in Singapore's Dover Court Preparatory School's gala.
Ben settled in easily taking part in most sporting activities and especially enjoying swimming. He got on well with most of the boys but returned home unusually quiet one day. We extracted from him that he had defended a smaller pupil against a bully who had then hit him on the nose. The next day he had two black eyes. Neither he nor we, as parents, took this too seriously and the teachers who knew of the incident appeared relieved that we did not complain officially. However, we had underestimated the damage and about 20 years later Ben had an operation to enlarge his nasal passages constricted by the blow and affecting his breathing when taking strenuous exercise. Ben still struggled with English and found spelling, on which the teachers seemed very keen, particularly difficult. To help this we enrolled him for some extra lessons, but as he as an adult still has some spelling difficulties suspect that he is actually slightly dyslexic.
Datuk Seri Mahathir Mohammed, rumoured to be part Malay and part Indian but only admitting to his Malay heritage, had recently become Prime Minister. He had earlier written a controversial political book 'The Malay Dilemma' which many, even some prominent Malay politicians, had regarded as being racist. He introduced policies economically favouring Bumiputra (sons of the soil), Malays in Peninsula Malaysia who in his view had fallen economically behind the commercially astute Chinese. The Malays claimed to be the indigenous people but they probably were only much longer standing immigrants compared to the more recently arrived Chinese and Indians.
The people with the strongest claim to be indigenous were the Orang Asli meaning 'original people' negrito aborigines who still live as hunter gatherers in the peninsula's jungles. In eastern Malaysia (Sarawak and Sabah in the island previously called Borneo) Bumiputras are not necessarily Malays but mainly the diverse groups of local tribesmen. Here many Chinese conveniently found they had some tribesmen forebears qualifying them also as Bumiputras. Some Bumiputra companies were also rumoured to have a Chinese 'owner' in the background pulling the strings.
At this time there appeared to be many illegal Indonesian immigrants coming into Malaysia and they also being Malay were not be so easy to identify. Houses all had burglar bars and iron security doors against burglary perpetrated by some illegal immigrants. They were said on occasion to bypass the barriers and to enter houses through the roofs – fortunately we experienced no such problems.
Some Chinese and Indians resented the Bumiputra policy but pragmatically got on with their lives although a few emigrated, Australia and New Zealand were popular destinations. The racial riots in Malaysia in the early 1970's also possibly influenced such decisions, but the country had been calm since then and we saw virtually no signs of antagonism between different ethnic groups. Indeed Chinese people seemed to be self-effacing, occupied with their families and their businesses and avoided conflict situations. Chinese people were also increasingly rejecting many of their traditional religious beliefs and customs and been converted to Christianity. I find it somewhat strange that a religion emanating from an alien middle eastern culture has been so easily accepted, but the beliefs and practises of Jesus Christ (as interpreted by the west) seems to appeal to many of them.
Mahathir has somewhat controversially if not ruthlessly survived as Prime Minister for over twenty years until he resigned in October 2003. He has tried to avoid and indeed banned Islamic fundamentalism well before terrorist events such as 9/11[3].
Malaysia (and Singapore) had controversially retained much of the earlier British Colonialist legislation of detention without trial introduced during the Emergency Period when communist guerrillas had attempted to take over the country after the 2nd World War and before Malaysia was given independence. The government was and is to this day effectively formed from three main political parties representing Malay, Chinese and Indian interests, but of course with Malays taking the major political sensitive roles. When South Africa threw out Apartheid, some attempts were made by Malaysians to persuade multi-racial South Africans to have a similar consensual government, but they for better or worse choose to continue with a confrontational parliamentary system (similar to the UK system).
One of the effects of the Bumiputra policy is that Malays often have preferential access into local universities (which possibly do not have sufficient places). Many Chinese, Indian and indeed some Malay families thus send their children abroad to universities in English speaking countries broadening their outlook and making communication with foreigners easier. Sheffield, where we now live, has a large population of Asian students and many are from Malaysia.
Despite what appeared to be a complicated political system, we found Malaysia a pleasant place in which to live and work. The systems inherited from colonial era had been improved on and the Government had certainly encouraged the economy to grow. Although Malaysia's main religion was Islam, there is religious tolerance and Christianity, Buddhism, and various Chinese religions exist in harmony. I did not feel overpowered by Islam as in Saudi Arabia – in Malaysia there were Chinese, Indian and many Malay women with faces showing – a natural environment. Mahathir, whose wife does not wear a veil in public, had also tried to persuade women government officials not to wear veils (which in Malaysia at that time generally only covered hair but left faces visible).
While Islam does not permit the drinking of alcohol or eating of pork there was no restriction of sale. Non-Halal restaurants, mainly Chinese, were freely available in the towns. Restaurants in large international hotels, however, only serve Halal food, 'beef bacon' and veal sausages don't have quite the same appeal as pork products to me. Alcohol is available, but Malays would generally not drink it, in public at least although some might in private – the previously colonial army and police forces had apparently been bad influences. Malaysians are generally friendly without being intrusive, and did not badger expatriates with personal questions.
Our house was large and comfortable, we did not have nor feel the need for air conditioning. We slept under one sheet with the fan turning slowly above and fly-screened windows wide-open letting in any sparse breeze. Before dropping off to sleep sweat evaporated and cooled us down. The only irritation was the occasional barking of dogs the hum of air conditioners would have suppressed. Ben's room's fly-screen was broken our first night and he woke up covered in mosquito bites - 117 in all. Fortunately he neither contracted malaria or dengue fever - a nasty disease affecting the blood killing vulnerable people or making them fairly ill. The authorities came regularly and fog sprayed the surrounds to kill mosquitoes and also checked there was no standing water in which mosquitoes could breed.
Regularly the sun would rise, evaporate water from the surrounding sea, form darkening clouds heavy with water and then at about 2pm fall intensely back to earth for an hour or so. The sun then came out and warmed one again before setting each night at the same time – there was little seasonal difference near the equator. We actually experienced a drought lasting about 3 weeks during which time some fires started in rubber plantations.
Cubby busied herself with the garden and was pleased to find that virtually any green twig if stuck in the ground and watered would grow. She had success with bourganvillas, frangipani and hibiscus often surreptitiously gathered from neighbouring gardens. She made friends with the neighbourhood wives including the charming Indian wife of the Consultant's senior civil engineer, and questioned them about their preparation of foods. She shopped at the local markets buying enticing fresh vegetables and exotic fruit, papaya, rambutans, lychees, mangostens and watched the Chinese stall owners calculating her bill, clicking beads with lightning speed on an abacus. She also shopped in Singapore where French cheeses and other European, and Antipodean foods were easily available, we found some very pleasant New Zealand red wines in addition to more common Australian ones.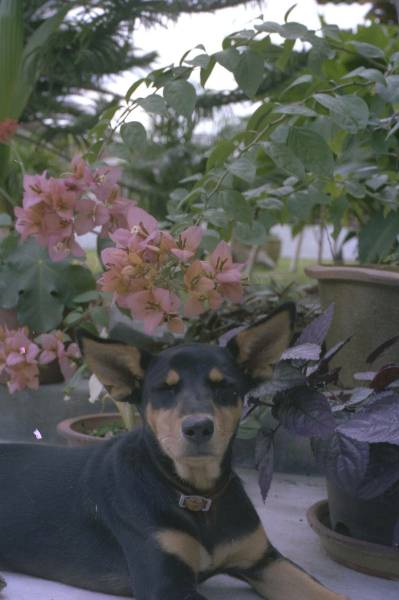 Lobsang (Loppy) - Ben's adopted dog
Ben made friends with the neighbourhood boys and would disappear with them in the afternoons sometimes playing 'sokka' as reported to his grandparents in Denmark. He brought a puppy home, Lobsang, Loppy for short. Loppy, of mixed ancestry, had the colour of a Doberman, the large ears of an Alsatian, and did not grow taller than knee high. We now had a pet and obligations. When we left we had her splayed and looked for a new owner. We could not bear the thought of Loppy being yet another dismal mangy stray dog after years of raising puppies. The Indian vet fortuitously decided to adopt her. Malays generally did not own dogs considering them unclean and apparently would only touch them when being sprayed with water.
We enjoyed eating in Johore at the many outside 'restorans', Malay for restaurants – some words have been modified from English when there was no original equivalent. We preferred the evening warmth to over-chilled indoor air conditioning. We sat at zinc-sheeted tables and ate delicious prawns and crab and weren't slow in following the local habit of putting the shells directly on the table. Cats with truncated and bent tails prowled around begging for scraps. Or we ate more basic stir-fries prepared by chefs standing over large woks with foot high flames blazing from gas rings. Much of the Chinese food available seemed to have absorbed some of Malay food chillied spiciness and this I found more interesting than Chinese food I was later to eat in Hong Kong and Mainland China. Ben, a pre teenager much preferred eating fast food like hamburgers or Kentucky fried chicken. This we let him buy and bring to our table – fortunately he did not become fat.
Company dinner organised by my secretary Belinda Lee in blue dress on left with Cubby. Me flanked by Cubby and Andrea, with Mr Gianni, Conducteur de Travavaux, head half turned.
Although I was working 6 days a week and was away from home almost 12hours a day, I was fairly relaxed. Our staff took a lunch break eating fried rice or mee (noodles) at one of several basic cafes catering for the workers on site, or we would drive into Masai and share a series of dishes including steamed fish, often gapoupa, flavoured with lemon grass, ginger and spring onions. My Chinese secretary, Belinda organised company dinners, Chinese banquets, with many courses often accompanied by tumblers full of the best French Cognac diluted with water - our Chinese male staff became flushed in their faces and slurred their words. Belinda, when necessary, took us to and from the recently opened Chiangi Airport in Singapore or Johore Baharu's local airport using the solid air-conditioned Peuguot 505 car the company gave me for my use.
White sandy beach at Desaru. Ben challenges us at Table Tennis.
We bought a table tennis table and erected it in our open sided carport and taught Ben to play – he progressed but could not yet beat us. On Sundays we sometimes drove through the small town of Kota Tinggi, through plantations of flourishing palm oil or rubber and a few scruffy villages to a new resort Desaru north east of Johore, 1½hours away. We braved roads anticipating drivers who overtook crossing solid white lines, on bends or up hills. We lay on clean sandy beaches and swam in sparkling clear warm water unless disturbed in the monsoon season when the water became rough, grey and unappetising.
Palm oil plantations were gaining the ascendancy – they were more profitable than rubber trees now being uprooted and converted into chips to make boarding. Later rubber trees were used in making attractive light wood furniture sold locally or exported. Most plantations now seemed to be owned by large Malaysian groups, some predominately Chinese, the original British colonialist owners had sold out and left. I had in my youth seen the black and white movie 'Planters Wife' depicting a Sahib Rubber Planter (portrayed by Stanley Baker) and his wife under siege by terrorists during the communist insurgency period.
Malaysia has many different religions and cultures each being given Public Holidays on which to celebrate their festivals. On these days we could explore both Malaysia and nearby Singapore. We found we had visited areas of Malaysia, our local acquaintances had not - family links were strong and people returned during holidays to their kampongs, home villages, to see their parents rather than sight seeing.
At the start of their long summer holidays in July 81, Andy from France and Christopher from England met at Charles de Gaulle airport where their flight was delayed 5 hours before departure. They then had a further 2 hours delay in Dubai before tiredly joining us in Johore. About a week after their arrival, we took our first trip to Malacca, or Maleka as it is now locally known (named after a type of tree).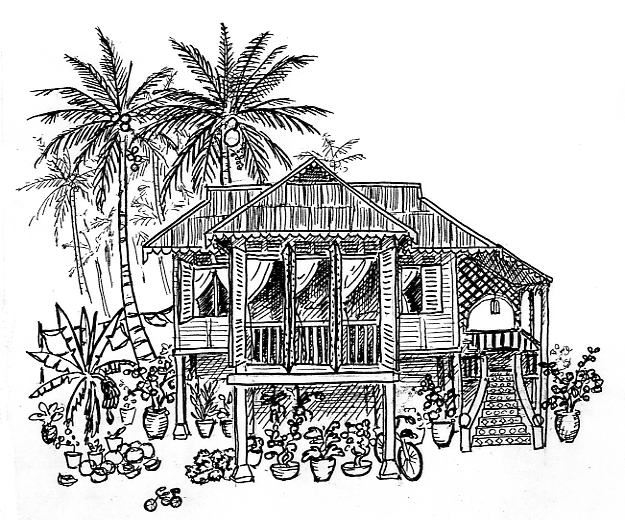 Stilt house - sketched by Cubby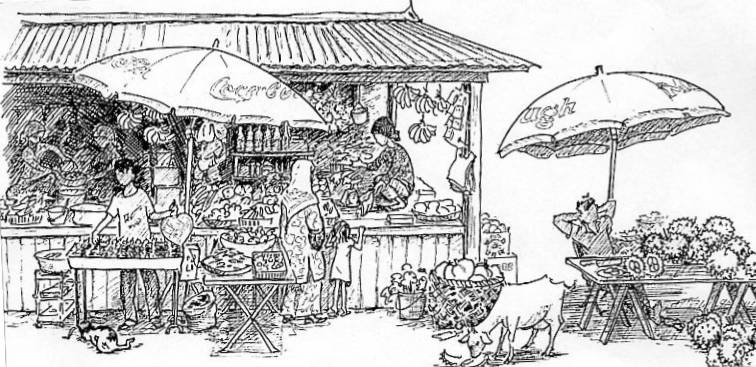 Cubby's sketch of a wayside stall selling drinks and fresh fruit - Durians as on the right a great favourite but with a strong smell!
The west coast road approaching Malacca seemed to be a continuous village of timber stilt houses built in traditional style with balconies with decoratively carved balustrades. Painted tiled brick staircases with pots of flowering plants gave access. The houses, often a cross form in plan, were set in clearings, usually gravelled, amongst coconut palms, oil palms or rubber trees. This design seems to have evolved from the need to avoid flooding from heavy rainfall or waves from the close by sea, and to permit cooling draughts to pass through louvered shuttered windows in the warm tropical nights. Atap roofing, made from palm fronds, had usually been replaced by un-romantic corrugated iron. Sometimes we nostalgically saw ageing Morris Minor motor cars, usually light blue, a legacy of the colonial period, parked outside the houses – Cubby had driven one when at Art School in Cape Town. Unfortunately with the advent of electricity and air conditioning many houses in South East Asia are being replaced with brick homes, some of little artistic merit.
Pict top left - Malacca's creek with famous fishing vessels with blue sails. Pict top right - Malacca's Anglican Church originally built during the Dutch colonial period - original colour of building maintained. On the right is the old Dutch Stadt's Saal - now a museum. Pict bottom left - Andrea and Cubby relax on the verandah of Shah Beach Hotel on the coast near Malacca. Pict bottom right - Cubby paddles in the straits
We found Malacca far prettier and more interesting than Johore Baharu. Malacca is the oldest town settled by European Colonialist in Malaysia – first the Portuguese, then the Dutch and finally the 'English' – including Scots, Welsh and Irish. The town itself is built around a river on which local wooden boats with blue sails were still then moored. Apparently Malacca's recorded history started with an outlawed Sumatran Hindu Prince, Parameswara, who settled there in the early 1400's and became a Muslim and Sultan. At this time China was an important trading nation and Perameswara accepted their protection. The first Chinese settlers came to Malacca at this time and many of the men adopted Islam and married Malaya women. The male descendants are to this day called Babas and the women Nonyas. The cuisine, which arose from this mixture of cultures, is particularly tasty.
In Malacca more recent Chinese immigrants, arriving in the British Colonial era, are not Muslims, we had come on a Chinese festival day and the old, now largely Chinese part of town, was teeming with people lighting incense sticks in the temple and buying newspaper cones of flower heads and petals and eating rather poisonous looking green buns.
Eventually the Portuguese who arrived in 1511 defeated Perameswara's successors. Bartholemew Diaz had passed there 5 years earlier and reported favourably on Malacca as a trading port. After about 130 years of Portuguese domination, the thick walls from the ruined fort and gateway remain, but many of the local people still have names like Santiago, and Fernandez - the Portuguese obviously mingled with the locals. The Dutch seized the town in 1641 and remained there until 1824 when the British took over the city (a result of the Napoleonic wars). Today the legacy of the Dutch is the attractive red washed church (now Anglican), the Stadthuys now a museum, and the post office. Most of the streets have been given new Malay names, but in old areas some of the original Dutch names, like Jonkers Street, are still used by local people. All this made us nostalgic for Cape Town, our city of birth, where a similar Dutch and Malay heritage remains.
Some

pictures from Rawa Island - Ben holds a coconut found floating in the sea. Cubby relaxes and reads in the shade.
Ben, Andrea, Christopher on boat, very sunburnt, returning from Rawa Island
At the end of the Muslim fasting month of Ramadan the feast of Hari Raya (great day) dawned heralded by the new moon cradled cup-like, bright orange, a slice of sweet melon on the horizon. During the celebrations the site was closed and we five drove up to Mersing on the east coast staying in a small comfortable hotel. The next day we took a launch to Palau Rawa, an island so small that it is, if shown at all, an unnamed speck on most maps. Rawa seemed to be the closest thing to paradise, a little hump jutting out of a grass green sea with a chalky white beach of fine sand. Tall coconut palms with clusters of football sized nuts stood next to the beach. The only thing bringing us back from thoughts of Eden was a scrawled warning sign not to stand under them. Coconuts have a covering of about 2 inches of fibrous matting changing from green to brown as the nut matures. This is removed before getting to the nut itself, and the sweet milk and white flesh within. Beyond the beach we bobbed on the surface with goggle masks peering at coral and fantastic fish life. Tired and nursing our pink sunburn we clung onto the sides of our launch as it crashed through rough seas back to Mersing.
Back home in Johore and reality, we watched, on either Malaysian or Singapore TV, advertisements for acne cures by pimply faced Australians, Ronald Reagan proclaiming the necessity to make and stockpile neutron bombs, and the glittering, but doomed, marriage ceremony of Prince Charles and Diana. Ben had started speaking an incomprehensive dialect with his neighbourhood Indian and Chinese friends but fortunately reverted to pukka English with family. He grew 10cm in one year.
Christopher and Andy returned to schools in Europe escaping the dangers of sharks which, although mentioned in Neville Shute's book A Town Like Alice as being in Malaysian waters during the 2nd world war, have apparently now moved elsewhere. A former colonial governor of Singapore had reputedly written that the Sultan of Johore (at that time) was a decent sort of chap who when a visiting celebrity wished to swim in the Straits ordered his minions to hold hands and form a chain to keep sharks at bay.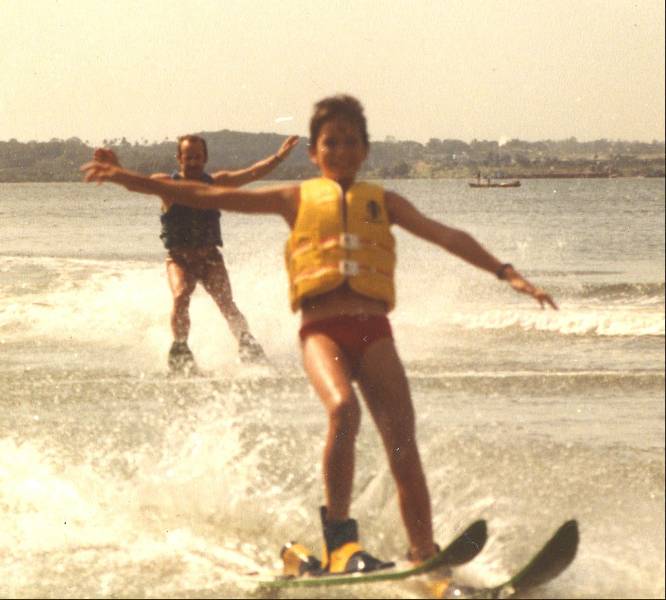 Ben waterskiing in the straits between Singapore and Malaysia
Later, together with an English couple and their baby daughter, we sometimes went, from the Singapore side, to a small island in the Straits. My colleague, a keen water skier, was a Quantity Surveyor who had been sent out to re-measure the work done on the project and ensure payment. While I tried to ski I never succeeded in rising out of the water despite the boat gaining sufficient speed. Ben on the other hand took to it and later often went with them himself. On one occasion Ben was stung by a jellyfish shouted, the boatman stopped immediately and hauled him aboard fearing that it was a lethal jellyfish, Portuguese Man of War – thankfully it was not, but painful red wheals garlanded Ben's chest for some days.
Nicky, travelling from South Africa celebrated, Christmas 1981 in Langeland at Cubby's parents and was re-united there briefly with Christopher and Andy – we regretted that Karen studying at nursing school in Cape Town could not join them. After Christmas Nicky flew out to Malaysia bringing, to Ben's surprise, his bicycle – the one which he had intended taking to Baghdad. For some weeks he carefully cleaned and oiled it before taking it for granted.
For the 1982 new year's weekend we again drove up the east coast to Mersing, but this time caught a ferry taking 3½ hours in very rough seas (an hour longer than normal) to the hotel on the much larger island Tioman - where 'South Pacific' had apparently been partly filmed. Miserable passengers skulked indoors in the boat's lounge wondering no doubt if they should rush outside to get sick over the rails. We braved the elements and sat on deck on bags of chillies and vegetables with the decks awash with water - drenched with spray but exhilarated.
Big fishermen near Tioman Island on locally hired fishing boat and crew. Daughter Nicholette on holiday from South Africa
Catching, gutting, and braai-ing on the beach - delicious
On the island we followed paths in the jungle to a waterfall but turned back after a few hours reaching the hotel before an intense downpour. We sat in cane chairs on the veranda drinking tea, watching the rain. The next day we hired a village boat with two young fishermen, baited lines and between the six of us caught about 40 fish about 6 to 8 inches long. The boatmen headed for a secluded sandy cove where we collected driftwood, lit a fire and barbecued - eating the fish off palm leaves – delicious – no added spices or flavours were necessary. We then swam in the shallow warm water washing off the remnants of fish oil from our fingers and mouths.
School and work brought us back from our idyll briefly to Johore Bharau, but Chinese New Year – the Year of the Dog loomed. This time we drove past Mersing crossing wide rivers, some with fishing villages on stilts at their mouths. The east coast side was more sparsely occupied than the west side - there were fewer plantations and the land was almost bare of jungle growth, but there were clumps of coconut palms. Reaching Kuantan we stayed at the Hotel Merlin with a beautiful pool surrounded by lawns, palms and hanging bougainvillaea. It seemed superfluous to have a pool with the sea so close but it is often rough particularly in the monsoon months. Cubby as was her habit, whenever the opportunity arose, trudged out 30 lengths without apparent effort, while I usually did a racing dive and sprinted a length of the pool without breathing. I had never really felt relaxed in water and seemed to have trouble floating in fresh water barely being able to keep my nose above the surface.
Limestone outcrops quite common in Peninsula Malaysia. These with cave near Kuantan - just visible through the cave mouth are rows of a plantation - probably palm oil
We drove about 20 miles to Panching to some caves in towering lumps of limestone 400 to 500 feet above the surrounding plain. We climbed up the first 200ft on iron ladders or on giant steps hewn out of the limestone, 18inch risers and 6inch treads, until we met a Buddhist monk who collected a fee and provided a guide. The cave was immense, all nooks and crannies and cathedral high in some places. We saw many little Buddhas both carved and painted and a live turtle living in a mud hole with only bats as companions. One large reclining Buddha about 30 foot long was surrounded by red flickering candles and papers, probably with prayers and desires, stuffed in recesses – it was a particularly festive period. Miles above daylight shone in through what appeared to be a little hole. We found as we climbed higher, on plentiful weathered footholds with sturdy vegetation to grasp, that opening above was actually immense.
Up to then we had effectively been getting new 6 week tourist visas to stay in Malaysia when we crossed from Singapore, but eventually it was decided that I would have to get an official works permit and so we drove up to Kaula Lumpur which we had not yet visited. We met SB's representative, Mr Yatim, who sorted this out and entertained us generously at his home with a traditional Malayan meal complete with tiny dried fish –Ikan Bilis. He also took us as his guests to the Selangor Club founded in 1883 where we looked over the cricket field, where a game was in progress, while eating oxtail stew served by a multitude of smart waiters. It was interesting to see this club thriving 25 years after the scroll of chairman's names had changed from British to local Malay, Chinese and Indian ones. At one end of the long field the Anglican Church stood a remnant of Colonialism and at the other end a monument to Mederka – freedom from Colonialism.
K L at this time was still a rather small charming rambling city spread over hills with many old fashioned two storied shop houses and colonial buildings and some modern buildings. The famous horse race track was still in the centre of the city visible from our hotel room, it had not yet been redeveloped. It was still easy to drive around – the rapid development and increase in traffic, found 15 years later when we returned, made it difficult to recognise the same city. Nicky now near the end of her visit, left us and went on her own for a week to the famous national park Taman Negara before flying back to Cape Town via Europe on UTA, a French airline which has since ceased to operate.
On site we started blasting troughs underwater in rock to take the training wall box piles leading to the intake pump house. We had placed a blasting subcontract and managed to find a suitable barge to take a drilling rig. Barges were plentifully available in close by Singapore but Malaysian regulations required first that we demonstrate that none were locally available before we could 'import'. Finding a satisfactory storage magazine and procuring explosives, also from Singapore, had also proved to be time consuming as this and each subsequent explosive delivery required consent by officialdom and police escorts.
We also struggled to complete the storm water drainage pipelines around the plant which ideally should have been one of the first things done on the virgin site to prevent flooding during construction. But details had been issued far too late and building work had been constantly disrupted by flooding and pumping away after heavy downpours. To make matters even more difficult already placed temporary electrical and other pipe services had to be avoided but on occasion were destroyed by excavator operators uncertain of their positions - these had earlier not been accurately recorded.
For Ben's 'Easter' school holidays we flew off to Kota Kinabalu (KK) in Sabah, one of the two states in Borneo which now are part of Malaysia (the other being Sarawak). After a night in a hotel we found we had missed the bus to the Mount Kinabalu park and had to hire a jeep. The road was still being constructed and we were halted ½ an hour for rock blasting and clearing operations. At the park we paid for a cabin, more than adequate for our needs. We could see hills and many trees, but the 4000 metre high peak was obscured by mist - we only glimpsed it the next morning before clouds again descended. That afternoon we wandered around on low level paths through the 'jungle' which had giant ferns and also surprisingly huge chestnuts and oaks, also some birches and beech trees – at this altitude temperate trees could grow.
The next day we decided to go to Poring Hot Springs about 50 miles away, but a vehicle was not directly available for hire. We were told that if we stood on the side of the road we were sure to be offered a lift if we paid a few Ringitt (Malaysian currency). Indeed we reached our destination in three different vehicles – bouncing on the back of a pick up, inside a mini van piled with vegetables and finally in a PWD jeep – the people were friendly and none would accept payment! It took us about 1½ hours to walk the final 3.7 km up a steep track in the hot sun to the springs, fortunately we passed a Minimlah Kedai (a small provision shack) where we bought lukewarm 7 Ups which melted away our exhaustion and stilled our thumping hearts.
Crossing a local suspension bridge on way to Poring Hot Springs - Ben and I, in and near the springs
At the springs we lay under some shady trees and then changed into bathing costumes. We turned on hot and cold taps, gushing water into a round tub with a frangipani on an island in the middle. It was quite heavenly - we smelled heady blooms and not a hint of sulphur - we soaked and relaxed. After a cooling swim in a beautiful tiled pool we put on our sweaty clothes and got a lift in the back of a pick up to a village where we bought water bottles and some provisions in preparation for our climb the next day.
Top pictures views seen while climbing Kota Kinabalu. Bottom pictures show us near the summit
In the morning Ben and I joined a group led by guides, some of them women, on the ascent, Cubby had had doubts whether she could make it and remained behind. The vegetation gradually changed as we rose to alpine pines, heather, and mosses. We spent a cold night at a hut some distance below the summit and rose at 3 am. We started climbing up again, not really finding the altitude much of a problem but our hands were cold. We reached the massive granite capped summit at 5-30am and saw the sun rise – a spectacular sight – there were no clouds, these would apparently gather as it became warmer. On the far side the mountain appeared very precipitous dropping sheer into apparently impenetrable jungle. Indeed this was where about 15 years later a British army expedition from Hong Kong had abseiled then split up half way down the face - some of the party had not been able to go further. The men who reaching the jungle below, lost as far as the world was concerned, had resolutely taken weeks to find their way out. The party on the face had had to be rescued by Malaysian army helicopters.
We, returning, stopped briefly at the hut for breakfast then descended very rapidly, virtually jogging down and joined Cubby at the cabin near midday a few hours before the rest of the party arrived. Ben immediately went to sleep for less than an hour and awoke full of beans while I stiffened up and hobbled around for a few days.
We took a pick-up truck on a very rough road to a small town famous for its Sunday market, Kota Belud, north west of Mount Kinabalu and quite near to the coast. Local villagers had come from all the surrounding Kampongs, sometimes up to 20 crammed into the back of pickups. The local men were dressed in jeans and T Shirts and had wide toothy grins with prominent canine teeth. Unveiled women, apparently not Muslims, wore sarongs down to their feet with long sleeved almost knee length tops. Some older women also had crumpled up sarongs on their heads - whether this was protection from the sun, decorative, or padding to carry loads was not clear. On open air stalls there was an abundance of mouth-watering vegetables, and huge bags of rice. Tea kiosks, satay[4] being grilled and a snooker table with a goat wandering around the players entertained the crowd.
At the Kota Belud market in Sabah
The next day we returned to the hotel in K K and the next morning went to catch our Aeroplane-flight, but found that it had been delayed until the evening. As it happened we had a glorious day, we took a long boat, a fishing boat without seats and sat on splintery duck boards above the bilge water and sped across the sea to an island, part of the Tunku Abdul Rahman park – named after Malaysia's first Prime Minister at independence. A day of bliss – sun, turquoise sea, white sands all courtesy Malaysian Airlines delay.
The project was now rapidly nearing completion and much of my time was spent with a specialist U K company's staff who had been called in to draft claims for the delays and the recovery of related costs as contractual times had over run. SB would be subject to damages if we could not prove our case. We hoped to hang on long enough so that Ben could complete his school year ending in July at Dover Court. Fortunately SB wanted me to investigate construction possibilities both in nearby Brunei and Thailand and this would fill my time before leaving. I had previously spent some days in Sarawak attending a pre tender meeting for a large dam project so together with our holiday in Sabah would have seen a large part of South East Asia.
Pictures from our brief working holiday in Bangkok and its surrounds
Cubby came me for two weeks to Bangkok while Ben stayed with a school friend in Singapore. During the day I visited several of the ministries in Bangkok in an endeavour to find out what projects might be possibly coming out to tender and also read the English language press and magazines and talked to a local construction company know to SB. There, however, did not seem in the near future to be much of interest other than the development of condominiums. Cubby's days were more creative with numerous tours to various sights - temples, ancient cities, water tours etc and shopping for delectable silk and cotton clothes. At this time traffic in Bangkok was fairly horrendous with much pollution largely from two stroked engine, three wheeled open taxis and scooters and motorbikes - the road system was also being rebuilt with overhead viaducts. We had to be careful not to trip over uneven pavements, open manholes etc.
Food was very good - generally somewhat spicier than in Malaysia - local people ate raw chillies without qualms, shrimp heads also appeared to be as enjoyed as much as the shrimps themselves. We were bountifully entertained by an engineer from the local construction company and his pleasant wife to meals, private dances and also visited a popular seaside resort with them over a weekend. We did not see any of the 'sexy' nightclubs for which Bangkok was notorious at this time - Aids was not yet a know disease and a threat to casual or paid sexual liaisons.
My visit to Brunei on the Island of Borneo, where I met another engineer visiting from S B French head office, was less exciting, there was not much to do in its capital Bandar Seri Begawan other than visit a museum honouring Sir Winston Churchill. The territory itself was small but much occupied with the extraction of offshore petroleum and gas. Some of the wealth from this was then being spent on the construction of a huge new palace for the Sultan and his family. My friendly S B companion (of Lebanese origin) was good at getting to know and cultivating persons of importance in Brunei but ultimately this did not lead to any new projects.
Ben had now tired of travelling and changing schools and friends, he was keen to go to boarding school in Denmark and we asked his grandfather Aage to start investigating possibilities. Ben, although English speaking, would have Cubby's family close at hand for weekends and holidays.
[1] Pasir Gudang - 'white sands'
[2] Recently introduced in London
[3] The terrorist airplane attacks on 11th September 2001 on the twin towers in New York and the Pentagon.
[4] meat, usually marinated chicken or beef, grilled (usually by hawkers) over a charcoal fire on cane sticks and eaten with a spicy peanut sauce and eaten with rice steamed in woven fragrant pandan leaf parcels.
index memoir - homepage - contact me at