index memoir - homepage - contact me at

28 Lumut (May 1994 to December 1995)
We left some of our belongings with our children in Sheffield and packed up tin trunks for forwarding to Malaysia. We flew off to Denmark from Manchester Airport on 3rd May 1994 for a holiday in Lohals[1]. After a week I went to Baden to sign a new employment contract but Cubby remained with her father Aage and his partner Fifi for some weeks. At Baden I ensured that ABB included in my contract the supply of a motorcar necessary for getting daily to the job site and for living support.
Aage and Fifi enjoying a second youth in summer on Lohals.
Initially I joined the Project Manager, Mr Hans Egli, in Kaula Lumpur (KL) at ABB's local office, ABB Mygen, where preparations and plans for the project were being made. Hans was a few years older than me, previously an ABB civil works manager, but now directed projects including mechanical and electrical[2] works.
In the twelve years since my last visit KL had grown from a quiet town with many colonial two to four storied buildings into a busy city with new steel and glass towers poking into the sky. Many interesting facades of older buildings were still being retained with the structures being demolished and rebuilt behind. Hawker stalls selling delicious food were still around as was prolific green vegetation. The famous horseracing course within the city had been moved to the outskirts and traffic jams now occurred on the way to and from work – KL was no longer a quiet backwater. To ease congestion on the roads work on an elevated metro system was shortly to start - a more practical solution to the underground system proposed 12 years earlier during my last visit.
My new project was again for a combined gas cycle power plant. There were four gas turbines and two steam turbines (about twice the size of the Deeside plant). Gas would be drawn from wells in the sea on the north east coast of Peninsula Malaysia and distribution pipes were being laid throughout the country – hopefully to meet the plants commissioning date.
ABB Mygen effectively were Turnkey Contractors, working for a local Client – Segari Energy Ventures (SEV). SEV insisted that ABB employ for all civil works Malaysian Resources Corporation Berhad[3] (MRCB), a company within the same group as themselves. MRCB employed a further company Zelleco Construction to do all the actual power plant work and to report directly to ABB Mygen. Our site management of civil works was compromised somewhat as Zelleco thought they could get SEV's support on some issues - usually relating to quality standards and avoiding producing quality and works procedures. Zelleco had previously worked under the earlier system where the Client's Consulting Engineers[4] undertook to inspect work thoroughly. Zelleco had not yet introduced Quality Assurance (QA) and inspection regimes in their company. QA was becoming increasingly required in South East Asia with contractors now unambiguously being responsible for the quality of executing and inspecting their works. Many locally written manuals advising on QA implementation were available in technical bookshops.
MRCB, still as ABB Mygen's subcontractor, separately employed a Japanese Company to execute the cooling water pipework – a marine contract for drawing water from the Malacca Straits. I was not generally involved with the execution of this work except for some interface meetings.
Zelleco were also responsible for the civil works design and for the supply and erection of structural steelwork thereby minimising the potential for claims if delays arose. Zelleco employed a local consulting company, Minco, to do the civil works foundation and building designs to suit the Mechanical and Electrical designs supplied by ABB. ABB had to ensure that the civil designs produced matched the actual M&E plant to be installed – several M&E plant drawing amendments might be issued during the course of the project. Specialist Swiss consultants Trombik designed the civil foundations for the Steam and Gas Turbines, subject to dynamic loads.
Zelleco's Project Manager Yap Sui Pon, a civil engineer and a friendly intelligent person, who was to be based on site, attended the design meetings where all construction parties wished to ensure that civil works were simply designed and easy to construct. Under Mr Yap as Construction Manager was Kuang K C who with unfailing good humour had the unenviable task of controlling their works through the smaller sometimes undisciplined subcontractors in the field.
Hans Egli and I on my first site visit drove fast northwards on the fairly recently completed North / South Highway 200km up the country through miles of palm oil plantations. We then cut westwards on narrower slower secondary roads towards the coast and Lumut, a large Malaysian naval base – the whole journey to Lumut took over 4 hours. At Lumut I found that we weren't actually at the site. The site was further north across a large river estuary – there was no bridge and only a ferry taking pedestrians and bicycles. We thus had to drive inland around the estuary for an hour before reaching the site, the last couple of miles being on dirt roads. The name for the plant – Lumut Power Plant - seemed to be a geographical misnomer Pantai Remis was actually the closest small town.
The site was attractively situated between an long golden beach on the Malaccan Straits with a backdrop of wooded hills in which monkeys frolicked. To one side there was a deep blue lake from which tin ore had once been dredged. The lake was still contaminated and it's water could not be drunk or even used for mixing concrete. Potable water had to be piped several miles along the route of a rebuilt / new access road to the site.
The plant was placed on the processed ore tips severely eroded by rainwater runoff - deep gullies had formed. A pre-contract had been placed by Mygen with an earthworks contractor Poh Loy[5] to fill and form the sloping site to a series of terrace levels and they were now about to start work - we had come up to the first regular weekly progress meeting. The backfill soil tended to be clayey and the fairly low minimum required compaction limits could only just be reached. Piling for most structures was required.
About a month after arriving Cubby joined me in KL at the Hotel Micasa where we had in effect two rooms – an en suite bedroom and a lounge with a small kitchen corner. We had fruit breakfasts usually with papaya and bananas and other simple sandwich meals rather than going out to eat all the time. Cubby explored KL finding supermarkets that even stocked Birdseye custard and other exotic eastern and western foods. She started relearning the Malay names for foods she had known 12 years earlier in our stay on the Pasir Gudang project[6]. For a few weeks she enjoyed the many smart shops especially Jim Thompson's silk shop, Japanese Department stores and also the Chinese quarter. All hotel bedrooms seemed to have arrows pointing to Mecca on the ceiling (which one could contemplate if lying on ones back thinking of England).
KL with a large variety of inexpensive restaurants and hawker stalls was a good place to eat out. Western fast food outlet such as McDonalds, KFC and Pizza Hut were present, and indeed had begun spreading throughout the country, but with so much good cheap food available we did not have any desire to frequent them.
On Sundays at the hotel we had a brunch buffet with a wide selection of fresh fruit, noodles, curried coconut flavoured chicken and 'American' breakfasts with beef bacon and veal sausages – all international hotels were 'halal'[7]. The chicken dishes were delicious but seemed to be cooked in too much oil - possibly with high cholesterol content.[8] As some diners at buffets often put too much food on their plates and wastefully left it uneaten, this hotel in effect 'fined' them extra if they did.
Cubby soon accompanied me to Lumut on an earthworks progress meeting. We stayed for some days at the new Orient Star Hotel in Lumut intending to find permanent living accommodation reasonably close to the site as soon as possible. Hans Egli (his wife joined him later) planned to live initially in Ipoh, Malaysia's second biggest city about 1½ hours away from the site where he thought contacting possible subcontractors would be easier. ABB Mygen's decision still had to be made as to where future expatriate staff, mainly M&E, coming to site about a year later, would be accommodated. Should accommodation be rented with daily commuting to the site, or should an on site housing colony eliminating commuting be built?
Orient Star Hotel in Lumut. Our Bungalow in nearby Sri Manjung, a suburb of Sitiawan.
The Orient Hotel's Indian Public Relations manager who also acted part time as an house agent proved to be helpful. He suggested that we looked at the nearby town Sitiawan and it's newer suburb Sri Manjung. These were about ¼ hour away from Lumut but reduced commuting to site to ¾ of an hour – half the time to Ipoh – this seemed reasonable. Sitiawan / Sri Manjung also had more shops and facilities than the small town just north of the site. We thought this seemed to be the best option and started viewing houses.
Almost immediately we found a bungalow in Sri Manjung owned by a retired naval officer who now lived in KL. Fortunately the house was sparsely furnished so Cubby could design and buy rattan furniture to her own taste. Importantly there was also a garden where Cubby could potter – most things grew easily in the warm rainy climate – we had our own mango[9] trees and a multitude of flowers including orchids and bougainvillaea. We installed air conditioning units in the three bedrooms, one of which Cubby rigged up as her sewing and painting room. The two bathrooms effectively had no baths only showers, but also a tiled corner tank as local people frequently used a plastic bailer to dip and douse themselves. We did not miss warm baths and enjoyed cold showers. Fortunately the loo was a western pedestal type suitable for our creaking knees.
Cubby's pictures of some of the fruit available in Sitiawan - starfruit & limes, custard apples and lemons
An expatriate couple finishing his contract on the naval base recommended their Chinese maid whom we employed despite her lack of English or for that matter Bahsia Malay – many older Chinese in Malaysia still only spoke their native tongue. Ah Ling and Cubby seemed to communicate well despite the lack of a common language.
Most of our neighbours were Chinese. Tan, a goldsmith, married to Evelyn with four boys, owned a jewellery shop. Another, Tony Chin married to Vereine a Swiss national, ran a company manufacturing scientific instruments. We again, as in our earlier posting in Johore, found Chinese Malaysians to be friendly and hospitable and enjoyed many meals with them at indoor and outdoor restaurants. Steamed fresh fish with lemon grass was one of our favourite dishes. Cubby although keen on spices found that she could no long take fresh chillies – her throat seemed to close up making it difficult to breathe until she relaxed – anxious moments. The Tans also invited us to large family celebrations, his sister's marriage and his father's birthday, held on Pangkor Island with special tasty banquet meals.
Relaxing Sunday afternoons spent on nearby island Pangkor
Cubby found a Protestant church[10] with services on Sundays[11] in English above a local shop house which she attended while I rested at home. After church we usually drove into Lumut and caught a ferry to Pangkor Island and then took a minibus across the island to beautiful unspoilt sandy beaches fringed by low bushes and swam. I relaxed floating on my back – there we virtually no waves and Cubby swam more vigorously along the beach. Later we stayed for a night on the Island at a smart hotel with Jo Veth and his wife Nellie. He had been on the Deeside project and now managed another project for ABB in Malayasia.
Further out to the west lay another Island, Pangkor Laut, a resort mainly frequented by wealthy foreigners including honeymoon couples – we were not tempted to visit it - our own public beaches were sufficiently attractive and inexpensive.
Inevitably on the way home on the ferry we would doze off - a perfect way to replenish energy for the next weeks work. Sometimes on the way home we would stop at the local 'passam malam', the evening market with a huge selection of local fruit and vegetables and local snacks, take-aways, we would buy for our supper.
Construction pictures - site hoarding with Chinese shrine - piling - concrete batchplant beyond old flooded tin mine - turbine hall steam turbine table pedestal columns and external retaining walls being constructed - pumphouse excavation near sea completed - marine intake pipe laying underway
As soon as the earthwork terracing was completed, piling with hollow cylindrical spun prestressed concrete piles had began. Piles were precast in various diameters and lengths in a factory near Ipoh and then trucked to site. The piles had steel end plates and were easily extended by welding.
Mygen programme, on which their bid to SEV had been based, had assumed a level flat site, but they had not allowed for the site slope and for the resulting 16m high retaining walls surrounding the Steam Turbine Halls which had to be built at a lower level. These walls and all works within them became critical programme activities with no programme float[12]. Fortunately everyone was keen and enthusiastic to get the job built.
While I, helped by my staff of about three local engineers and surveyors, was controlling (generally by surveillance[13]) and pushing the civil works starting by Zelleco, Hans concentrating on designing and procuring the large offices required for our future staff. Once this was done he set about designing a housing compound on site – a decision had eventually been made. This was sited virtually on the beach – idyllic. He found and employed several local sub contractors for the house building and the infrastructure.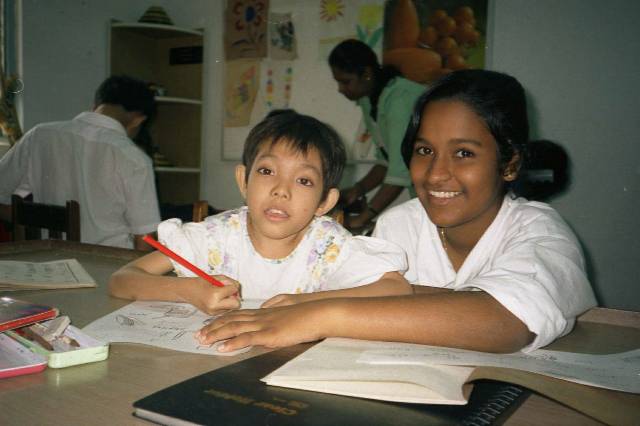 School for disadvantaged children
As Cubby had time on her hands, she started helping a local charity twice a week looking after physically disadvantaged children who did not attend local schools although most of them appeared to be of normal intelligence. Cubby with her artistic skills and assisted by other local helpers devised countless worksheets in Malay to help instruct them. The other helpers were mainly Indians who seemed most socially concerned. She also started painting local scenes and built up quite a collection – much of this was unsalvageable when water penetrated the tin trunks transported to one of our later destinations.
Zelleco employed a number of smaller subcontractors for the actual construction of the power station works. These subcontractors employed Chinese tradesmen with some Indians and Malays. The subcontractors did not have their own engineers and Zelleco were thus responsible to see that methods used would give satisfactory results and that work was properly executed, co-ordinated and checked. To do this end Zelleco employed mainly young Chinese, Malay and Indian civil engineers with satisfactory academic qualifications but often with little hands-on experience. As there was a shortage of engineers with construction experience, they supplemented staff with engineers and technicians recruited from the Philippines. While they were all friendly - some were very good and others not too effective. Recruitment of foreign staff appeared a gamble, qualifications and references were sometime unreliable and a series of practical tests at the time of interview and close assessment over the first months could have weeded out the less able.
Fortunately Zelleco was receptive to advice given to them but sometimes had difficulty getting their subcontractors to follow or to appreciate that the quality of work was important. Later I instituted special weekly civil Quality meetings where shortfalls were recorded and sent to all involved companies, including the Client so that they would be aware that companies related to themselves (and not only ABB) could be liable for the correction of any hidden civil defects. I also started photographing defects, sending copies to Zelleco upsetting them[14]. Unfortunately developing and printing photographs took about a week – today's instant digital camera systems (or indeed mobile photo phones) would have been handy. Later documented corrections of incorrectly detailed or manufactured structural steelwork proved difficult to obtain until the subcontractor was warned that any unauthorised use of a burning torch would result in the instant dismissal of the offending employee.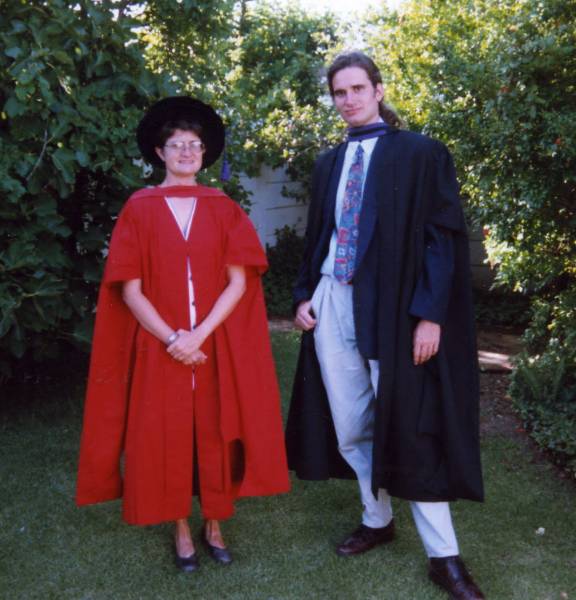 Nicky and Ben in their graduation gowns after being capped at the University of Cape Town in 1995
At the end of 1995 our eldest daughter Nicky was capped with a PHd degree in Botany (after earlier BSc and MSc degrees) and our youngest son Ben was also capped with a philosophy degree from Cape Town University. Ben decided that he would go to booming Hong Kong to make 'his fortune' there in preference to Europe considered dull in comparison. The countdown toward the hand back of this British Colony back to China in 1997 had begun and many infrastructure projects were underway including the new airport, we felt sure that opportunities would arise even if they were not to the scale he expected. He visited us at Sri Manjung on the way and over a weekend we drove up to Penang the island further up the peninsula's west coast where we left him. He caught the train into Thailand heading for the island of Ko Samui, a popular holiday resort especially with young foreign backpackers and tourists.
Worried, when I thought his return to us was overdue, I spoke to the Malaysians we knew who generally seemed to regard Thailand as a lawless place where anything could happen. I then rang up the British Consul in Bangkok to enquire if Ben had possibly had an accident, but there was no news. Fortunately Ben turned up home a few days later. The Consul, when I rang to inform and thank him, said he had just visited Ko Samui where he had found several 'missing' British citizens in hospitals of which they had been unaware. Shortly after this Ben left for Hong Kong.
Karen and me wearing hats as protection against the sun. Ed relaxing in the courtyard of his Bo Kaap house
In January 1995 we flew on a 2 week holiday[15] from K L to Cape Town on Malaysian Airways who now had a route going to South America via South Africa. We stayed with my sister Ruth seeing Nicky and Ed, Karen, and Cubby's sister Tippe - her husband Johnny had been in hospital some weeks with a broken hip. Karen who was teaching at Fish Hoek High School was sharing a well-designed rented modern house at Noordhoek, but was keen to find and buy her own house. Noordhoek, while convenient for her school was rather remote from the rest of Cape Town. She soon found an attractive terraced house, below the mountains and not far from the sea, in Muizenberg, which we helped her to buy. This house was close to the suburban electric trains and the main road running from Cape Town to Simonstown and passing Fish Hoek.
We visited friends at their timber holiday home at Britannia Bay some way up the rough cold west coast. We were surprised by the large amount of housing and estate development, for holiday and retirement homes, undertaken since my days on the Koeberg Nuclear Power Plant and our departure from Cape Town in 1980. We also visited Worcester, not a very inspiring Boland town except for its surrounding mountains[16], and visited the house, now a museum, of the accomplished landscape painter Naude. We had taken the route, new to us, the long tunnel through the Du Toit's Kloof Mountains and returned by the older more familiar scenic route over the mountain pass.
On each side of picture - Christopher and Beverley at their wedding party on 5th August 1995 - families sandwiched in between.
Months later, after we had returned to Malaysia, our son Christopher invited us to his marriage to Beverly in Sheffield. Cubby left early first to visit her father, Aage, now 83 years old, and his partner Fifi at her home in Herning in Denmark. I then joined Cubby in England for the wedding held at Beverley's home in Ecclesfield after a Protestant church service. Beverley, a Roman Catholic, was divorced with 3 children, two daughters with a son between. Christopher had split up about 2 years earlier from his previous partner Beth Ann who had also now recently married. She seemed to make Christopher's access to their son Toby increasingly difficult and once he married access[17] ceased despite the fact that Christopher paid regular maintenance. We as grandparents were also shunned and suspected that letters and presents from us to Toby may not have been passed to Toby on as we received no acknowledgement.
Cubby on watercolour art instruction holiday in Canonby in Scotland - run by David Britain
Cubby's pictures of the river Esk
After the wedding we drove through the Yorkshire Dales to the Scottish Lowlands where Cubby had arranged to attend a residential 'art holiday' near Canonby for a week. While Cubby painted in the daytime, I drove both to Edinburgh, and to Berwick on Tweed and then to Holy Island on the East coast crossing the tidal causeway. I went on several relaxing local walks more difficult to do in tropical Malaysia.
We stopped a few days at Paris to check our apartment then flew back to Malaysia.
We continued enjoying further excursions during weekends and the numerous public holidays to places we had not yet seen. We drove to Taiping, a quiet town unspoilt by modern development, and tried to get a ride in one of the jeeps[18] plying up the steep twisting roads to the top of 1020m high Maxwell Hill, a hill station established during the colonial era. As the jeeps were already fully booked for the day we decided to walk to the top – a trek partly on jungle paths and along the road taking us many hours. Fairly tired we reached the top and had a cup of tea at a café and thankfully managed to arrange a lift down by jeep.
Brief break from construction - at the Cameron Highlands, tea plantations and flower gardens, a tea shop and men, Orang Asli - hunter-gatherers with blowpipes for sale
We also spent some days in the Cameron Highlands, another colonial hill station, still renown for tea cultivation and as a market garden. It seemed to be becoming more of a resort and much building was in progress of modern condominiums not blending in well with the colonial bungalows. The actual drive up and down to the highlands was the most interesting aspect. We stopped at the Lata Iskander waterfalls but did not join the crowds cooling down under waterfalls and in pools while still dressed in their clothes. At the roadside we saw some Orang Asli (Negrito aborigines), still probably hunter-gatherers in the forests, carrying enormous bamboo poles, selling orchids, blowpipes and fruits from the forest such as wild durians
The work on site had progressed well, but several events had occurred which illustrated unforeseen risks inherent in construction:
- Formwork for a 5meter high retaining wall totally collapsed during concreting fortunately with no one being injured. Two main factors contributed to this – (probably over wet) concrete was being pumped too rapidly into the forms causing excessive pressures[19] when compacted with vibrators and it was later also found that parts of the form ties placed to resist the pressures were inferior weaker pirated 'copies' of a well-known make.
- Hans Egli became concerned that there might be a blow through of sea water through the bottom of the deep excavations for the pumphouse foundations (as apparently had occurred on one of his earlier projects). He called a Swiss soils specialist to the site who then required a series of wells to be sunk and pumping trials to be undertaken - these fortunately confirmed that the soil below was stable.
- When extending the depth of a small switchyard foundation (a design change), a small pile was found to be defective. Apparently it had been driven below the required level and some person unknown had hidden this by placing a short disconnected piece above and back filled around it – the pile would have had no load resisting capacity.
- Many steel plates to be imbedded in the sides of the steam turbine pedestals (to take future pipework etc) were anchored in the concrete by studs welded on by electric arcing through the studs themselves. When bending some studs to avoid reinforcement when placing the plates, the studs broke off revealing totally inadequate welding – the process had been faulty and no testing had been done before dispatch of the embedments to the site. The studs all had to be re welded on site. Off site inspections should have been done before delivery to site.
- The most costly error occurred through inadequate offsite checking of Cooling Water Pump House designs. Steel stop log gates were designed to fit into formed grooves in the four inlet channels walls and base. The concrete was duly constructed but only when the gates arrived on site was it found that these were now wider than the space between the grooves. The mechanical designers had changed their design but this had not been incorporated in the civil works design. Grooves had to be extended by using circular diamond saws to cut through both concrete and reinforcement. Apparently the strength of the concrete structure would still be sufficient.
Despite the intent to obtain safe and satisfactory 'quality' through a Quality Assurance Systems this had not functioned effectively and human and management factors still lead to serious errors and occurrences.
When the new housing colony neared completion ABB's local KL management wanted us to move there. Apparently they also wished to retrieve the car supplied under the contract for my own use so that this could be shared amongst other M&E staff now housed on site. We were reluctant to make a further house move as the civil works in any case were rapidly approaching completion with mainly minor building work remaining (the important second steam pedestal foundation had been concreted). Cubby naturally enough preferred to continue with the friends she had made in Sitiawan and also with her 'help centre'.
After some discussion with ABB and as our 2 year contract was nearing completion, we decided to leave the project and to go to Hong Kong to join son Ben for Christmas. I hoped to find a job there and a good friend from our earlier Daya Bay project Eddie Shum seemed to think a position might be available with a local firm working on the airport construction.
I would have been happy to continue working for ABB on some other project elsewhere, but it seemed that the local ABB KL management did not view me favourably – someone had to be responsible for some poor management decisions and actions – and I was a convenient outsider. While irritated by this, I knew that I had contributed positively to the project. I presented a comprehensive written report to ABB of the civil works.
[1] We had purchased a house there, where Aage now lived, and to which we could return from overseas contracts.
[2] It seemed that M&E engineers often lacked the contractual experience which civil works manager (whether Professional Engineers or otherwise) gained in their construction field
[3] MRCB (as was SEV) was a Bumiputra company – owned by Malaysian Malays and probably had only a few managers. MRCB's subcontractor, Zelleco Construction actually executing the work, was Malaysian-Chinese owned and managed company. Politically work was often given to 'disadvantaged' Bumiputra companies who often then subcontracted to 'Chinese' companies who took the financial and execution risks.
[4] In this system problems arose as to the liability for errors could be uncertain. Also it could cost the Client more in supervision costs.
[5] a local Chinese subcontractor
[6] See earlier separate chapter
[7] 0utside Chinese, Indian and other restaurants were not restricted.
[8] Malaysia's Prime Minister who had had a heart bypass operation apparently dieted carefully and must have resisted such delicious Malay dishes. The Palm oil grown and used locally apparently is high in Cholesterol.
[9] We were surprised to find that avocados were not grown - local people apparently did not like the taste.
[10] Malaysia Malay population were mainly Muslim but there was freedom to worship and many Chinese and Indians were enthusiastic Christians. Proselytising for Christian conversions amongst the Malays would not have been tolerated.
[11] Although the Muslim majority attend mosque on Fridays a western week was worked with Sundays free
[12] Spare time
[13] Zelleco as contractor was responsible for both executing and checking their works with their much larger number of engineers.
[14] Zelleco's offsite management at one time tried to get the Client to remove me from the site, but the Client evidently refused and I laboured on.
[15] ABB were pleased that I did not wish to take 5 weeks holiday in one stretch during the European summer.
[16] Some over 6000ft high and snow-capped in winter
[17] This seems to be a common situation in England which the law as it stands does not help.
[18] Use of your own personal car was not permitted and certainly in rainy conditions may well have been impossible
[19] Concrete when placed and vibrated is effectively a heavy liquid generally with a density of 2.4 tons per cubic meter. The pressure in this wall could have exceeded 7.0 tons per square meter on the formwork face.
index memoir - homepage - contact me at