walks index - homepage - contact me at

Up Table Mountain on 9th March 2015
Led by Professional Guide - Ross Suter - http://www.highadventure.co.za & e mail ross@highadventure.co.za
Tafelberg Rd, via Platteklip Trail up to Contour Path, left along contour path past Platteklip Gorge, up vague path to right of Silverstream Ravine, rising traverse leftward connecting about half way up with then 'dry' Silverstream Ravine, some scrambling over boulders up ravine then onto slope left of this and continuing up rocky steps & slopes to beneath the upper cliffs, traversed left (past a perennial water source), reached Ledgers, climbed 'C grade' 15m pitch roped then short un-roped scramble to top Eastern Table.
Crossed to Eastern edge of Table passed rock pool with Red Disa & found path leading to north end of Carrell's Ledge. Traversed across Carrell's Ledge high up on the sheer Ascension Face with hundreds of meters drop below often with less than a foot from the exposed edge. Some spectacular King Protea seen on the Ledge and stunning views of Cape Flats, False Bay, Newlands Forest and the Pulpit. Before end of Ledge stopped & had 'tea' break. When off Southern end of Ledge looked back at the spectacular and highly unlikely looking line of the traverse route.
Took Smuts Track to Maclear's Beacon (summit of Table Mountain at 1087m), had views of Hout Bay to the South on our way to the top of Platteklip Gorge, and then further spectacular views over Table Bay and the City. Near the upper Cableway saw the 12 Apostle Buttresses & Atlantic beaches Bakoven, Camps Bay & Clifton.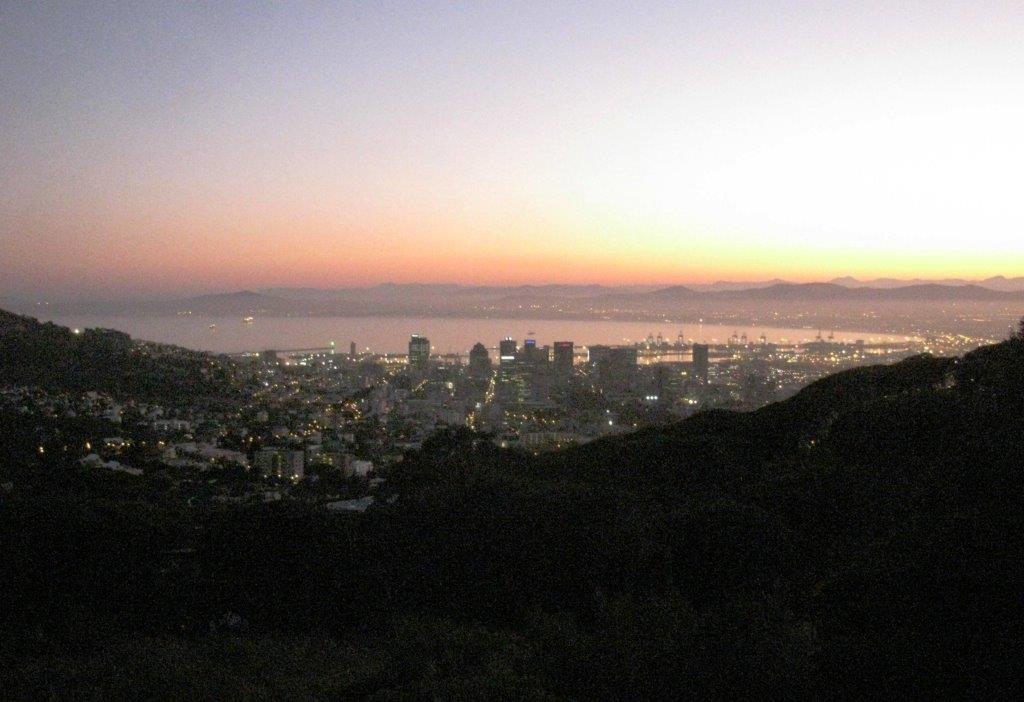 Cape Town at sunrise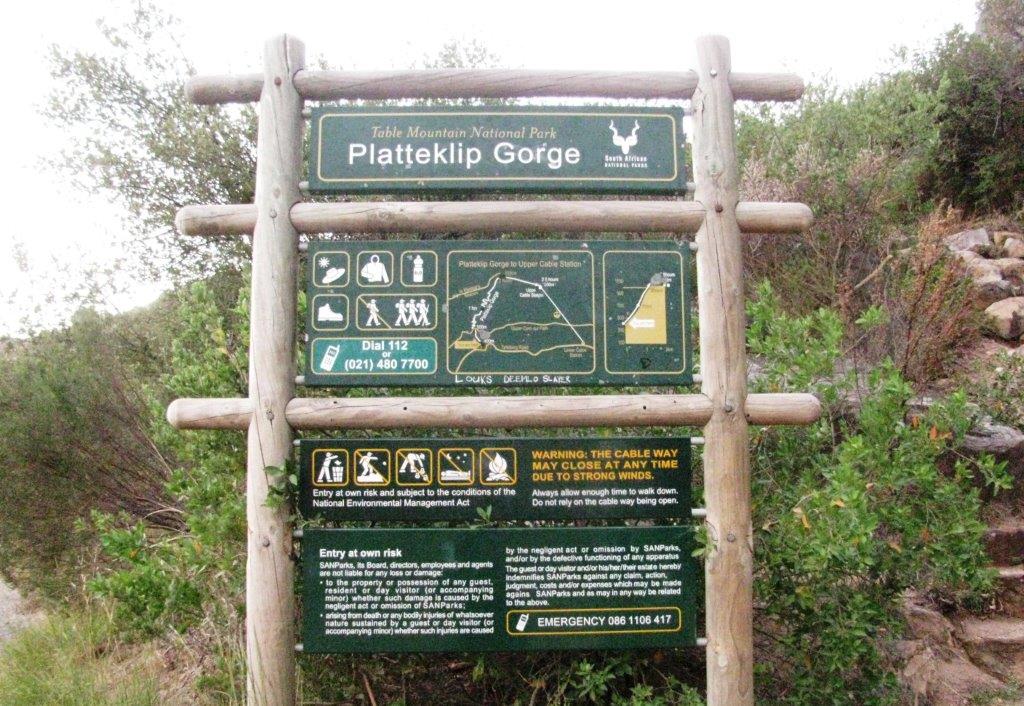 took part of this route at start only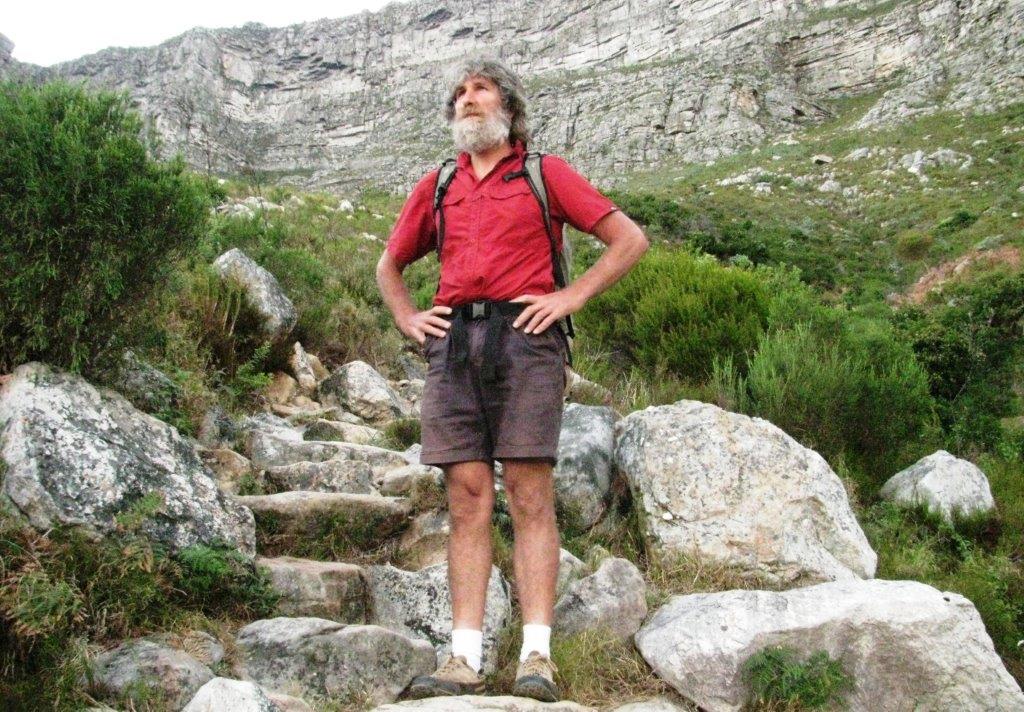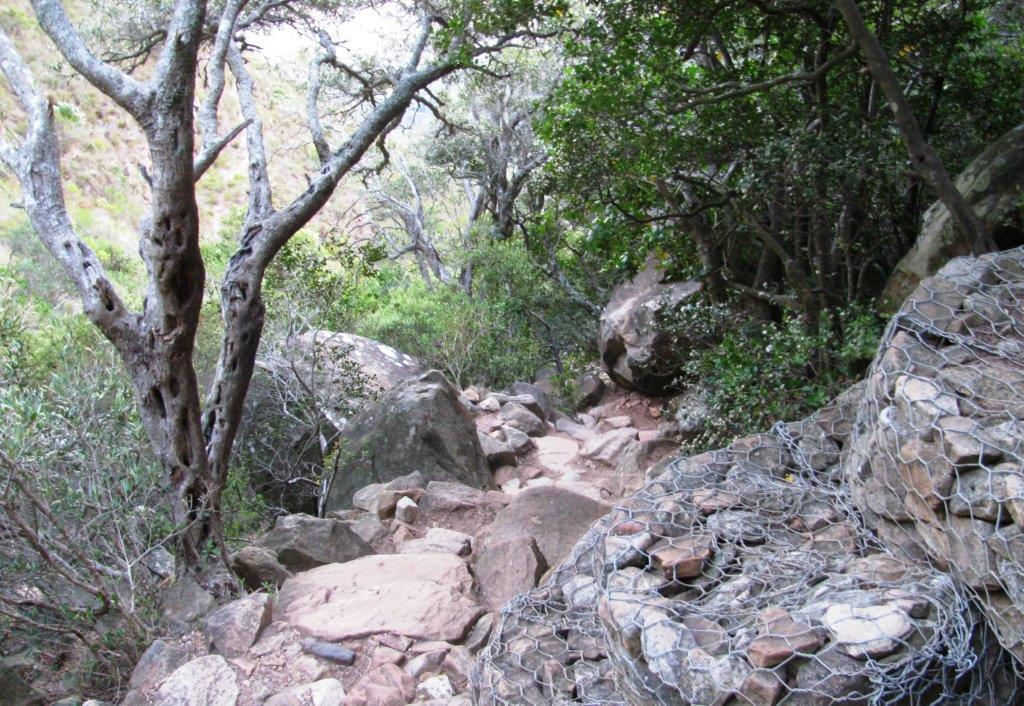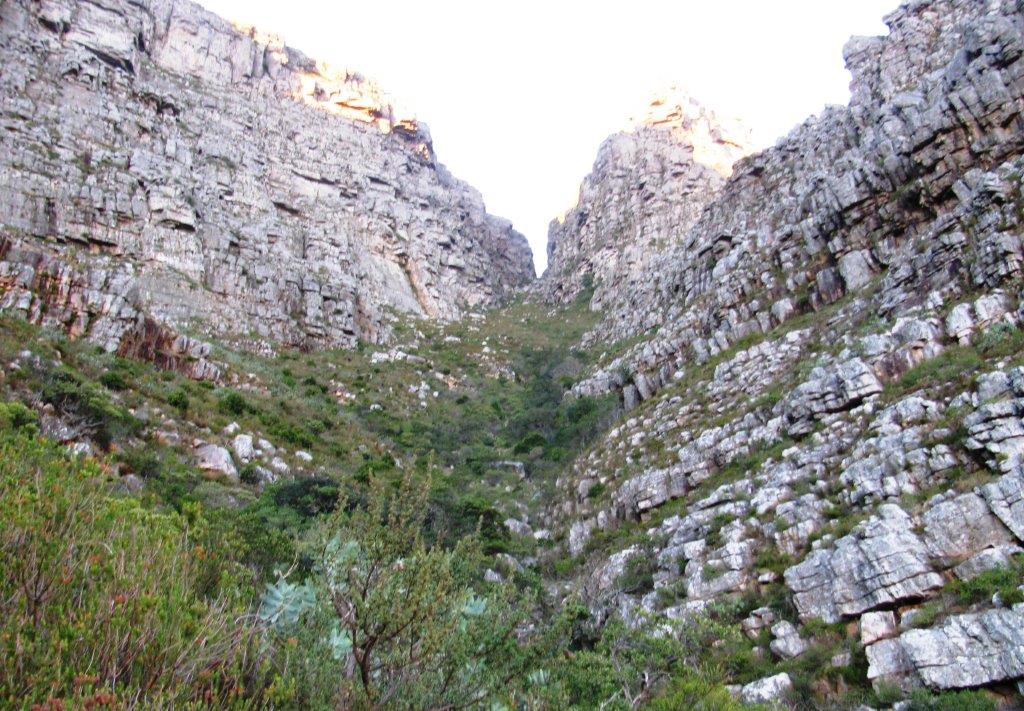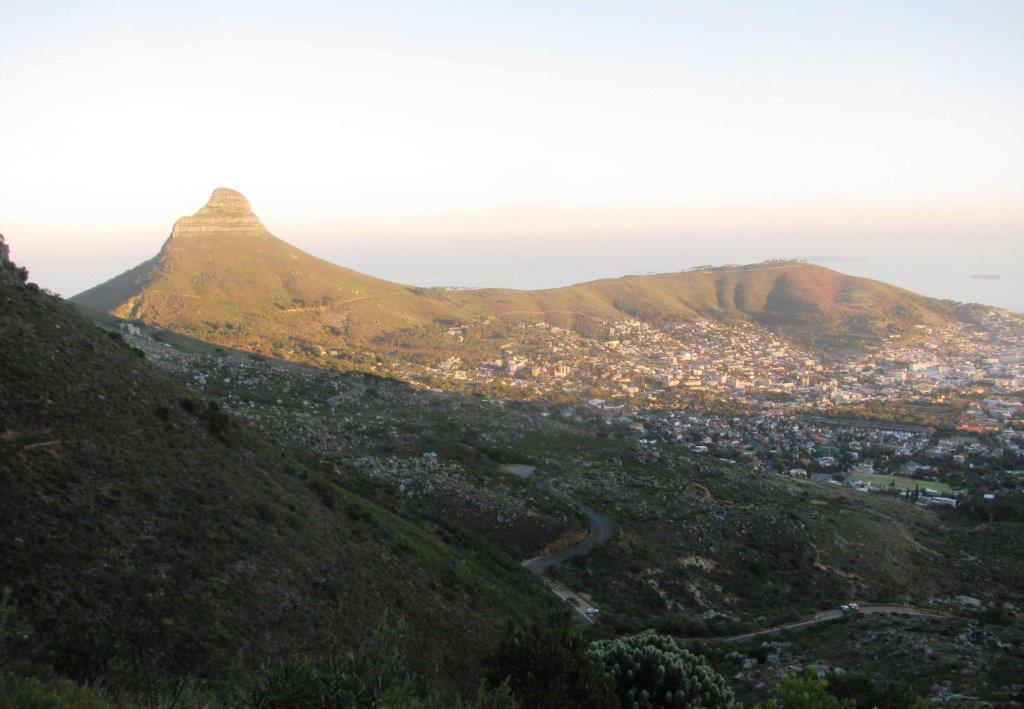 Lions Head & Signal Hill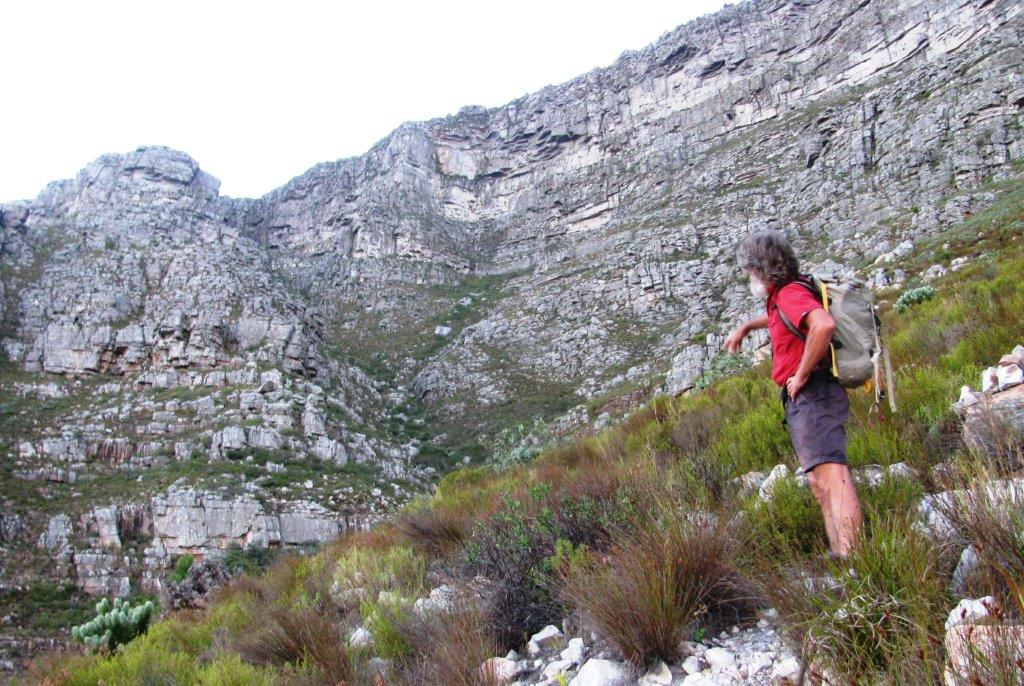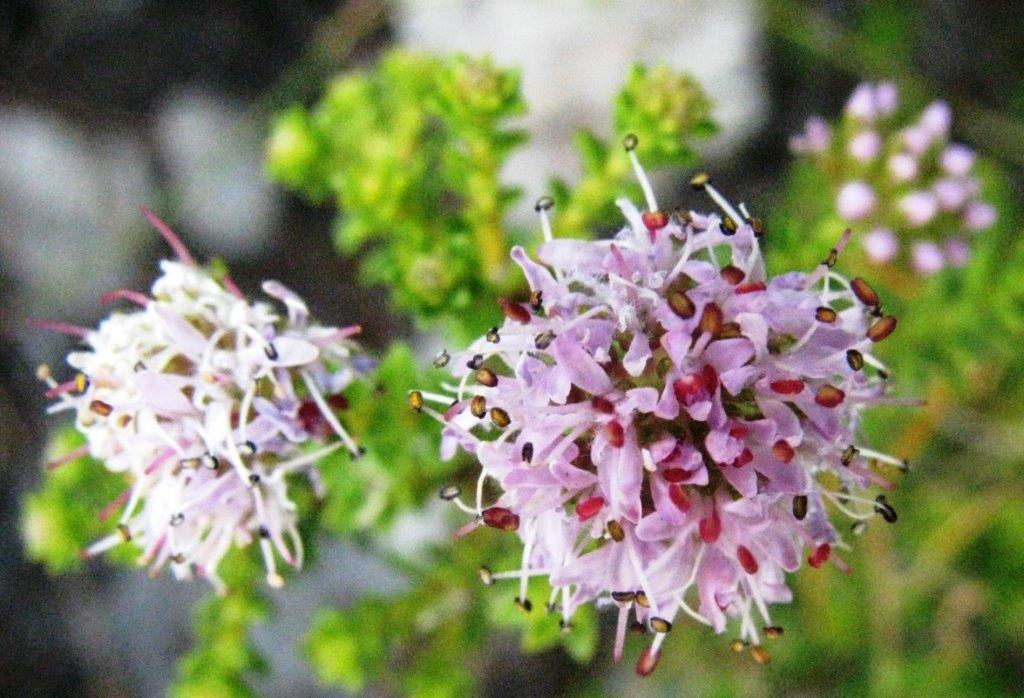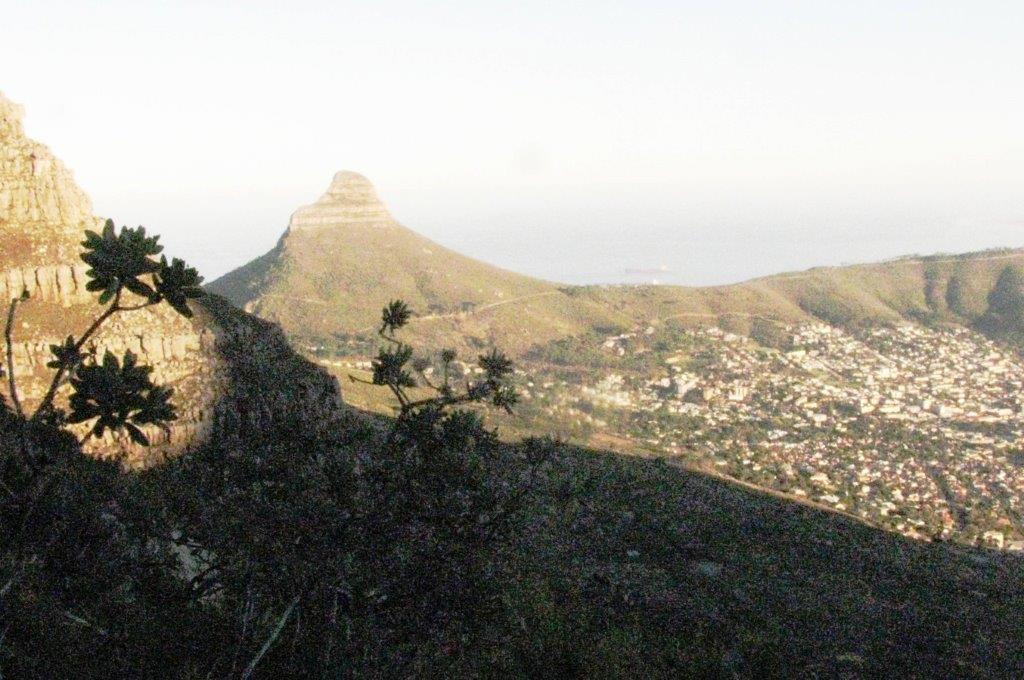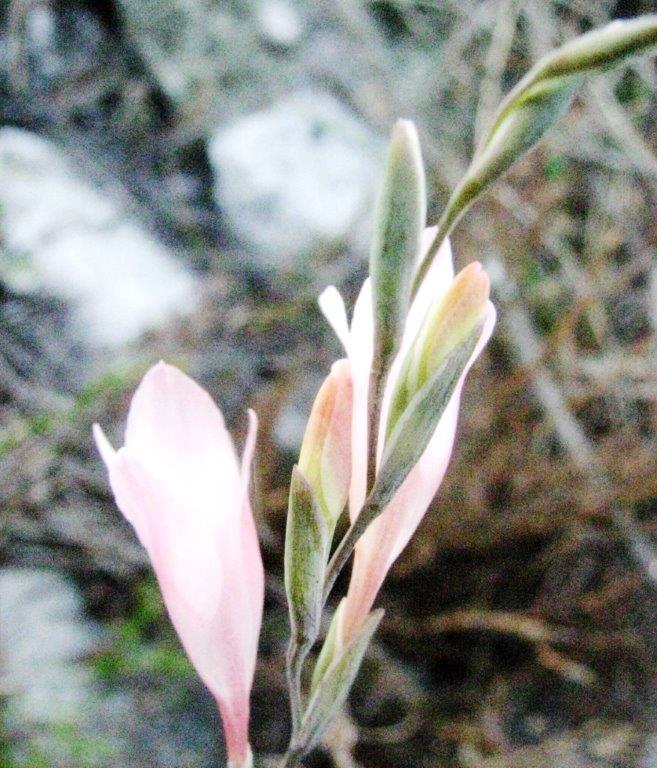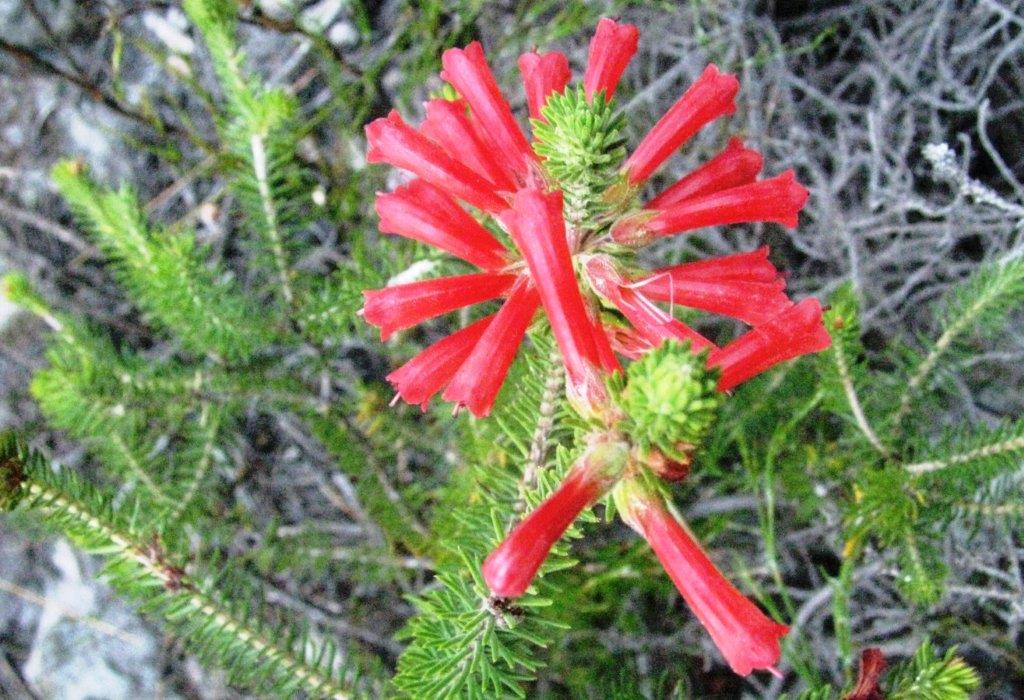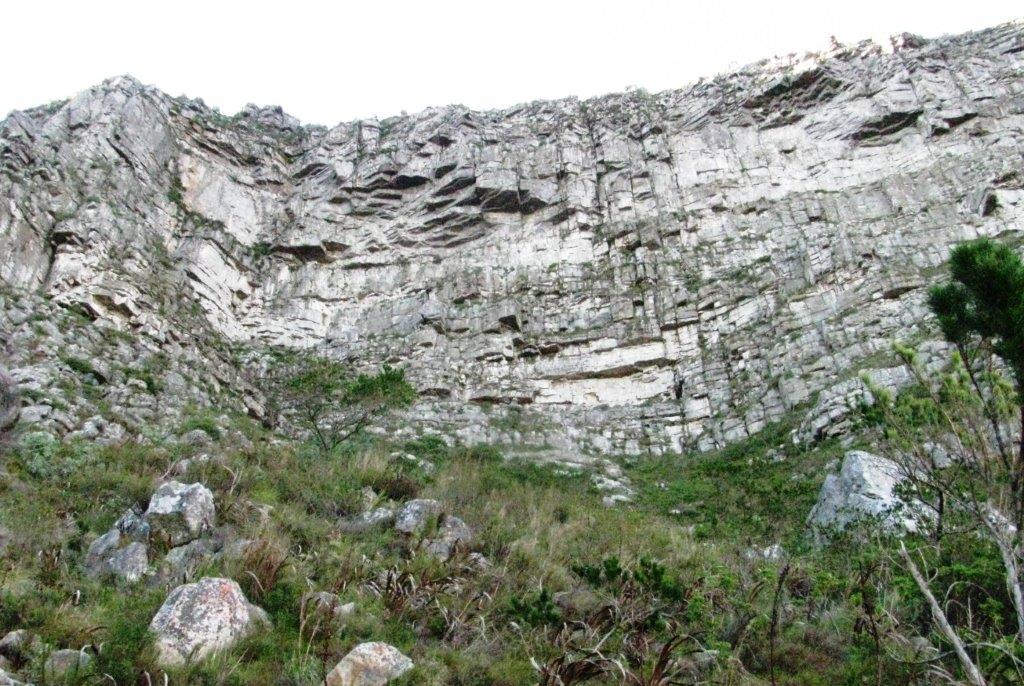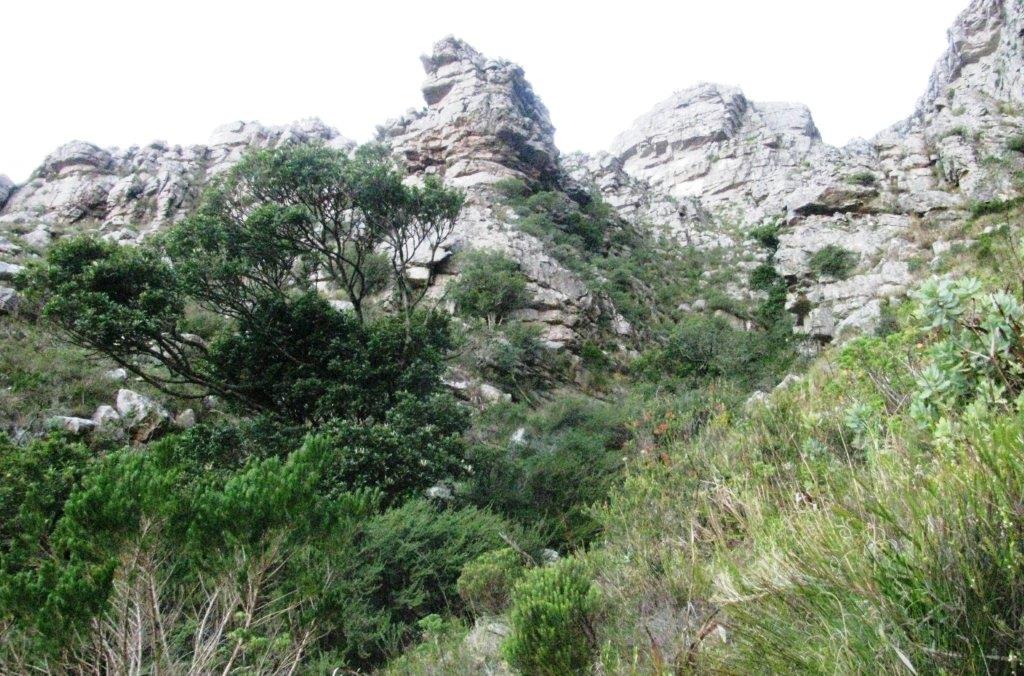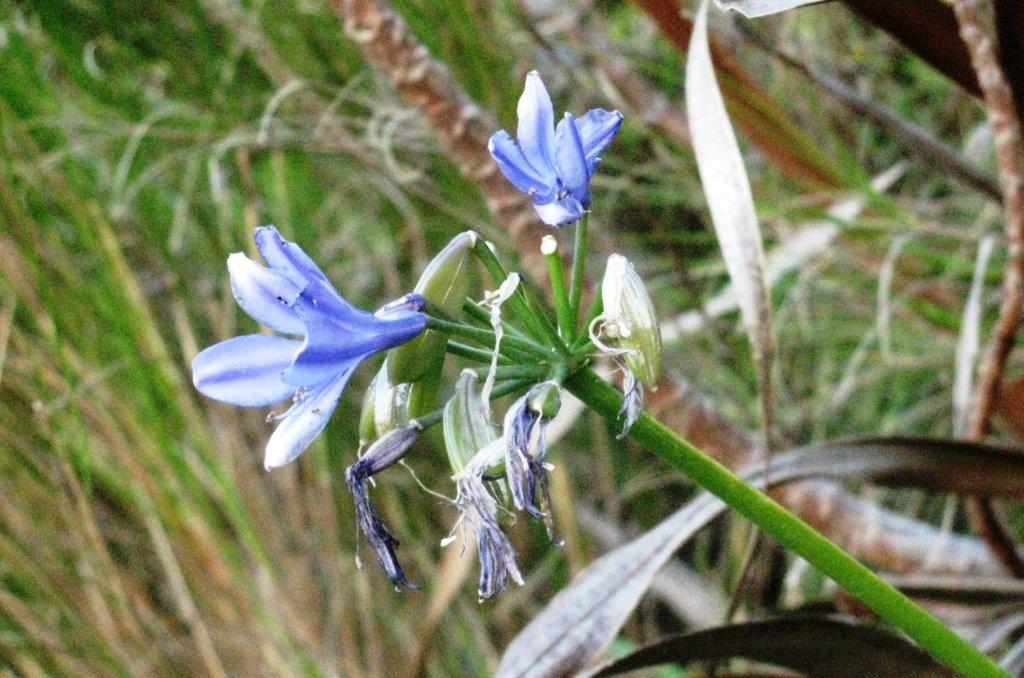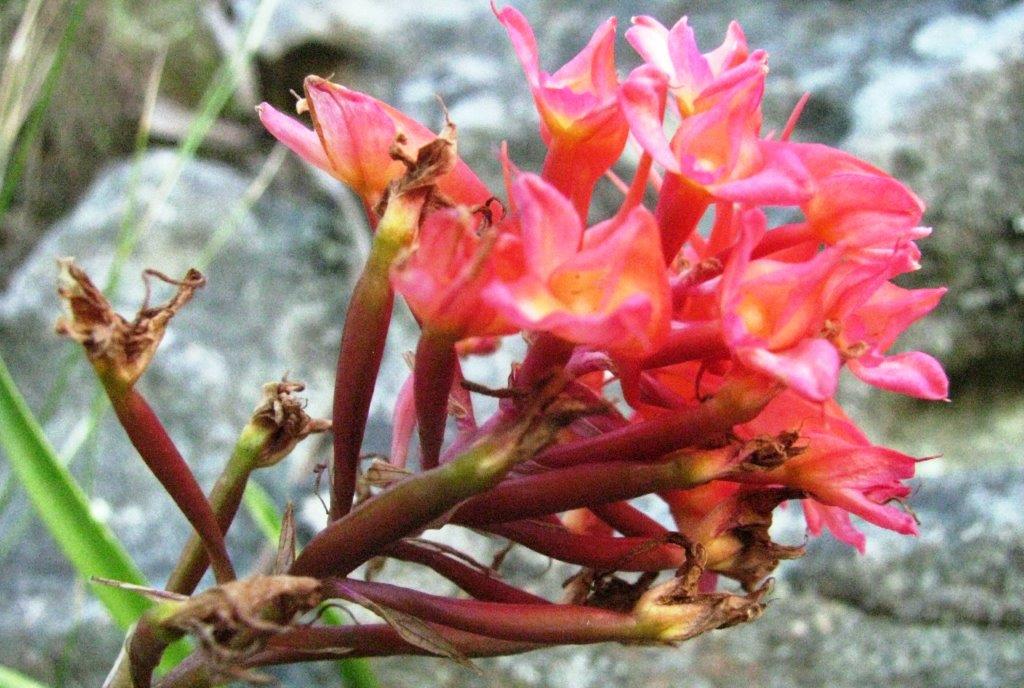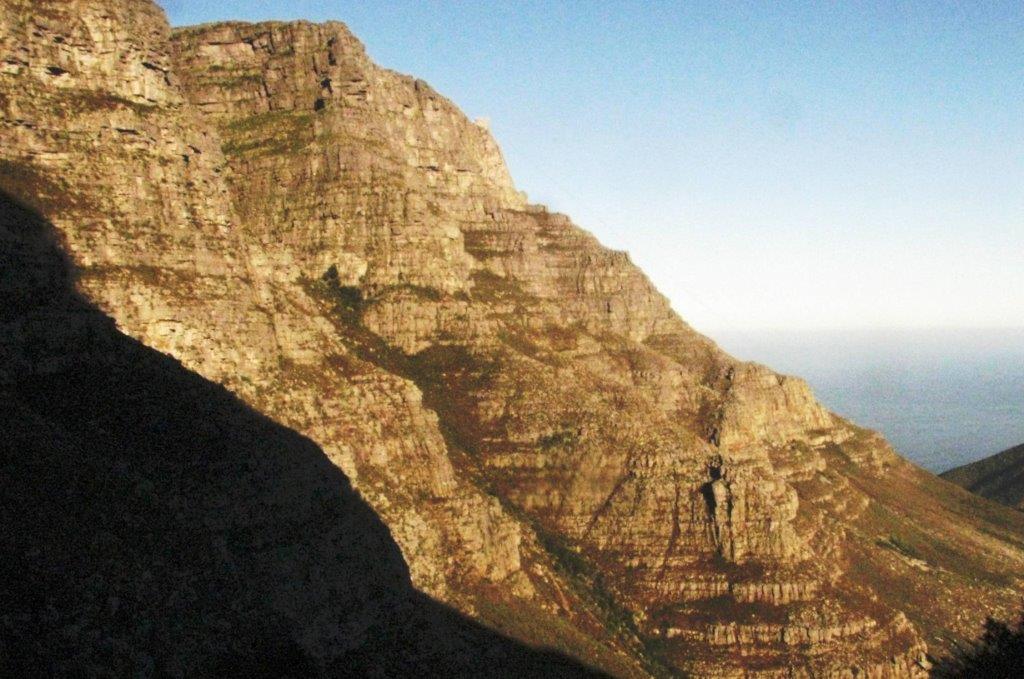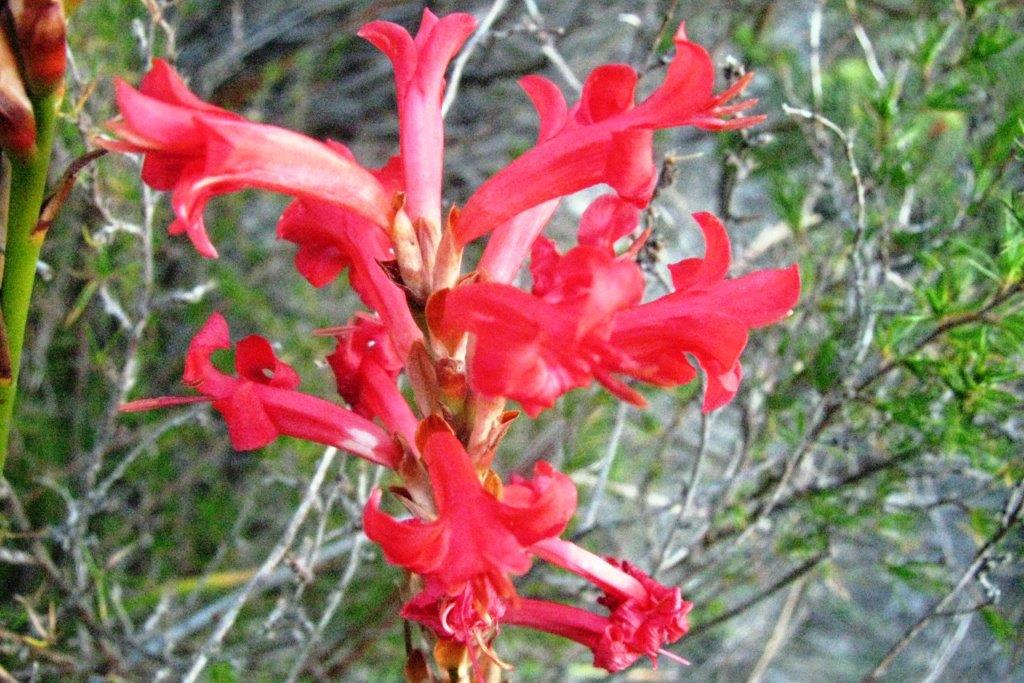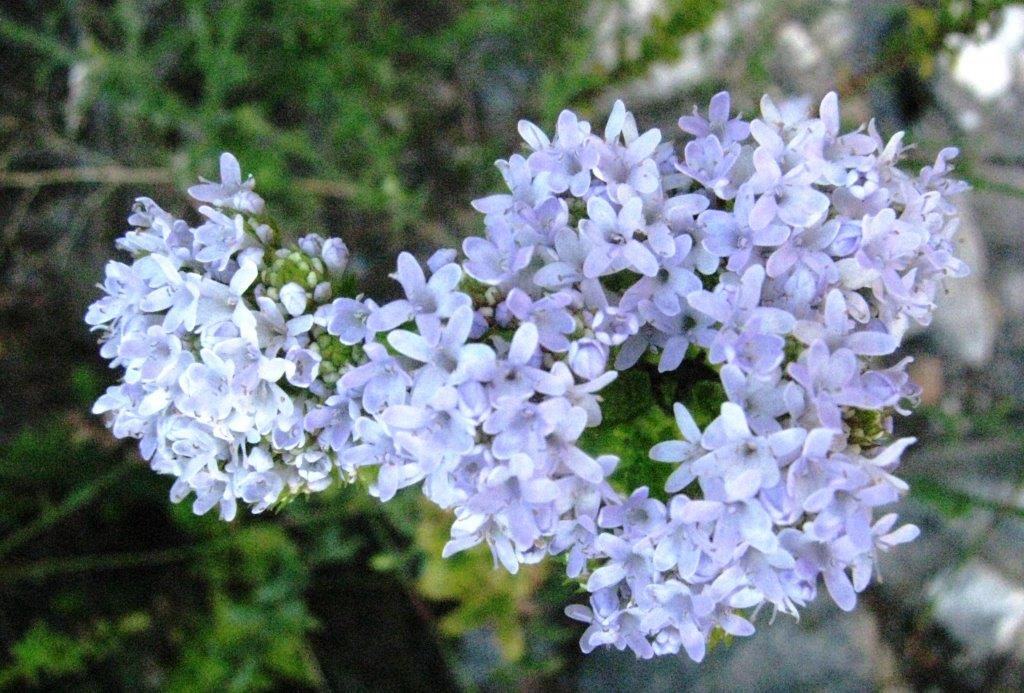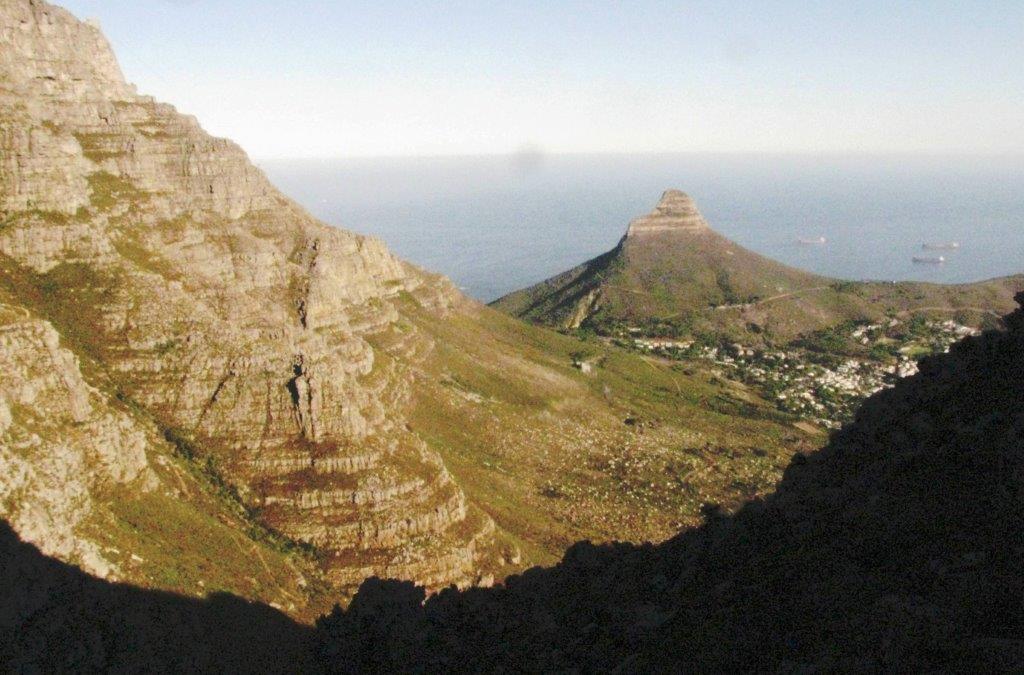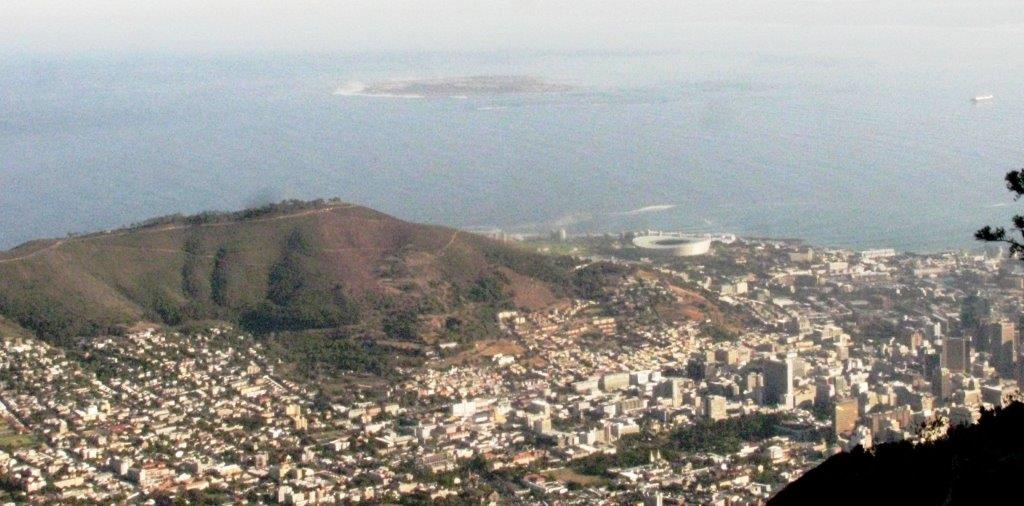 Robben Island beyond Signal Hill. World Cup Football Stadium to right.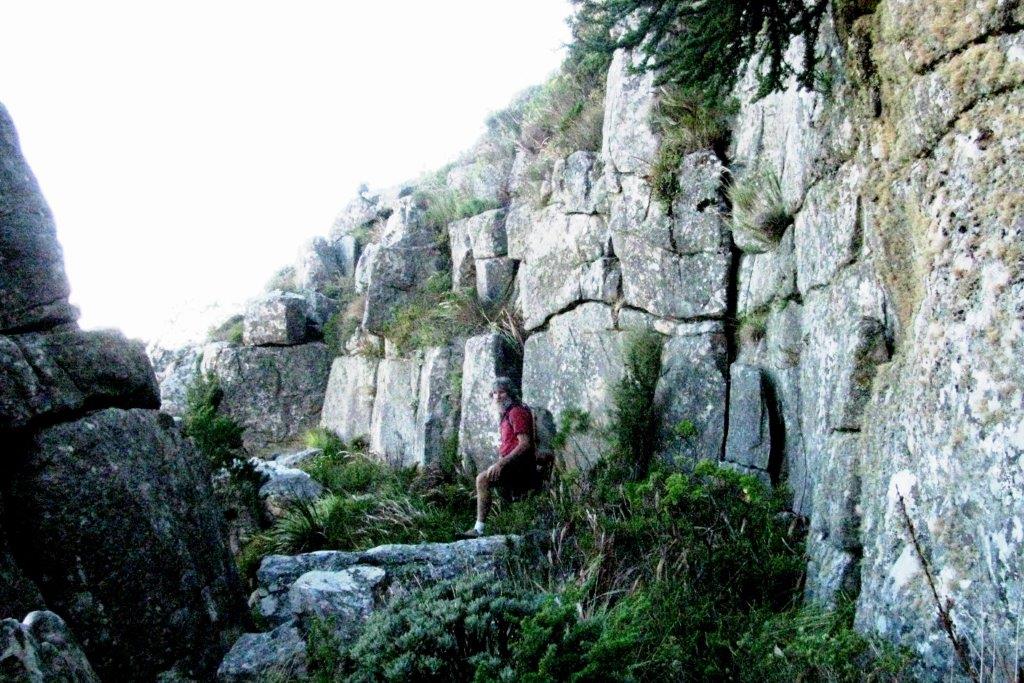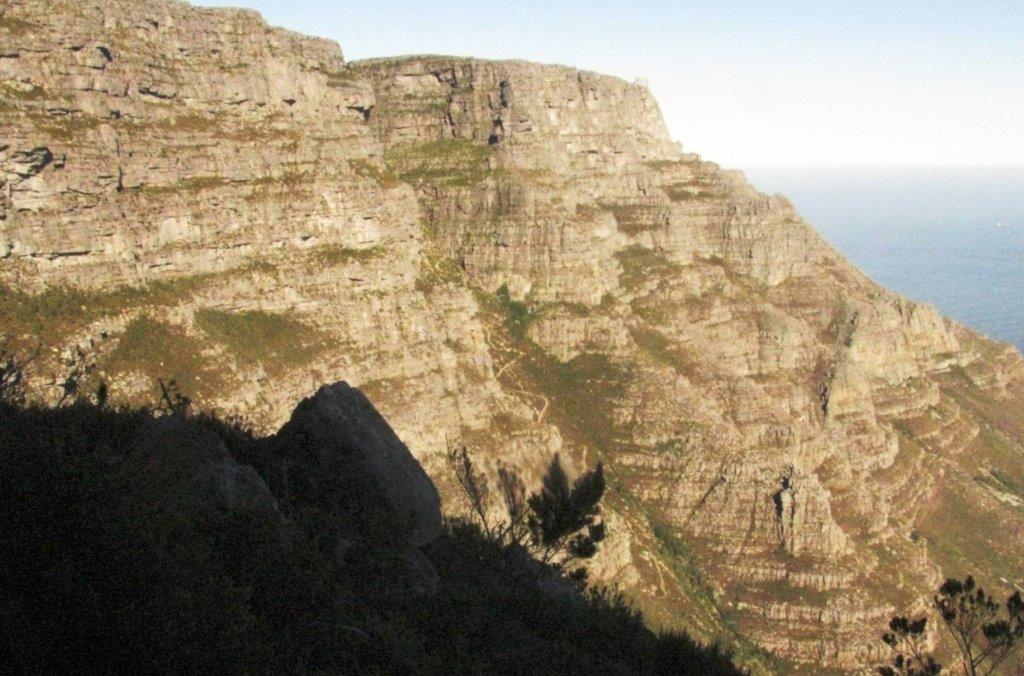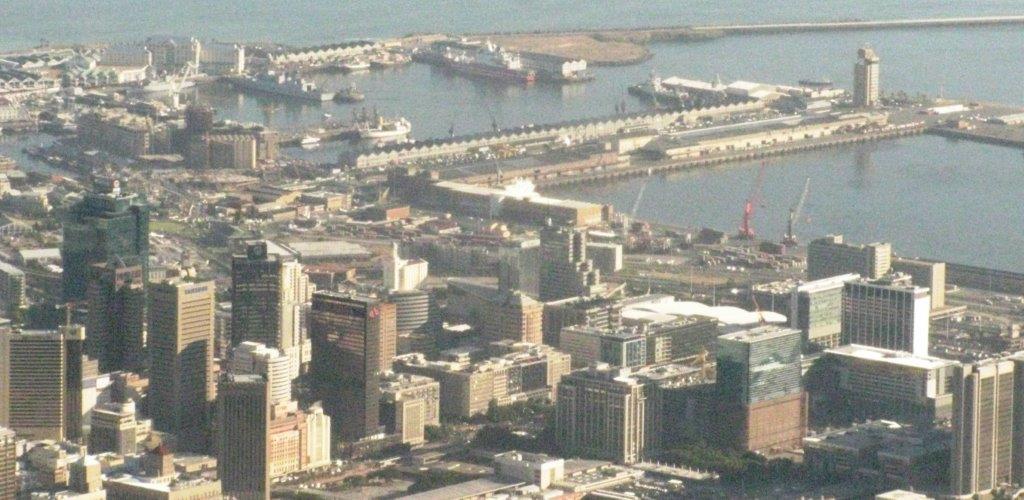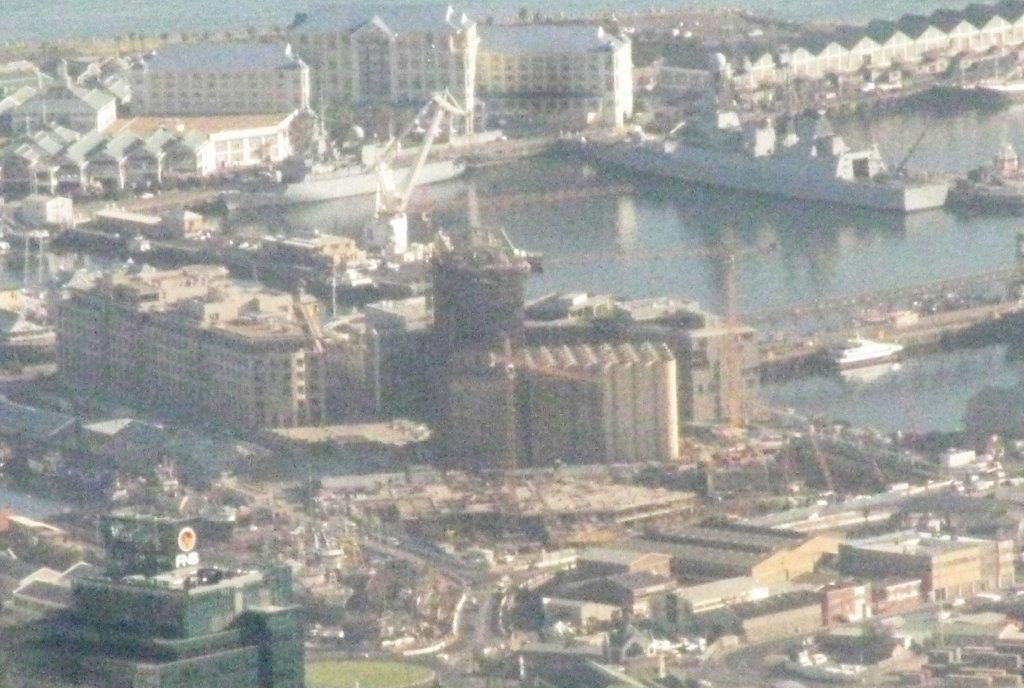 Alfred & Victorian Basins - site now of The Waterfront.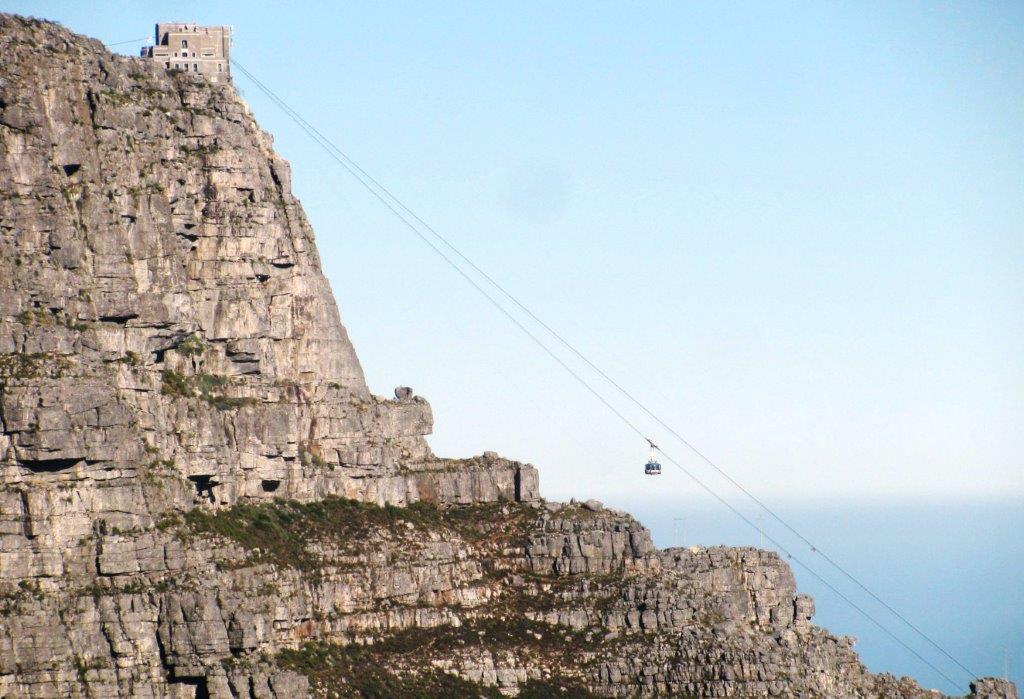 The Cableway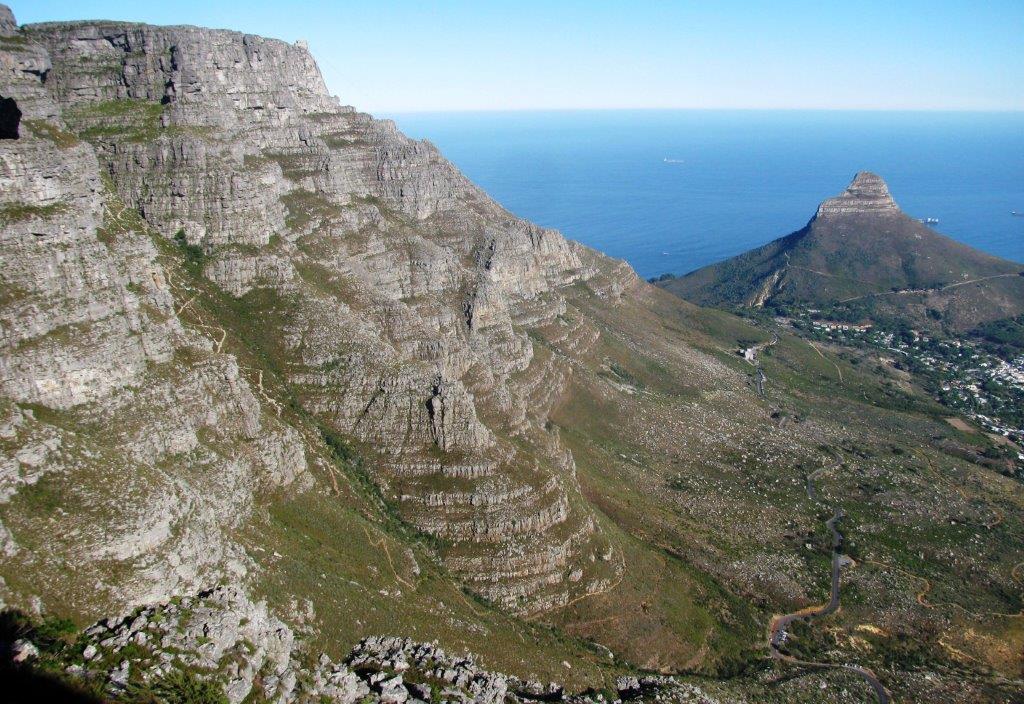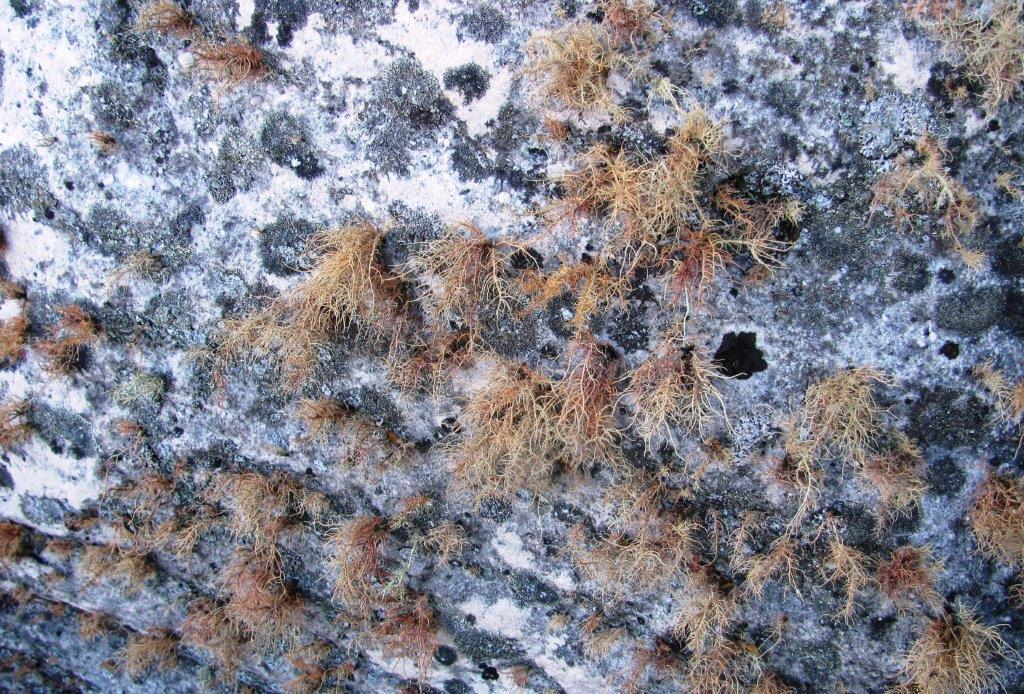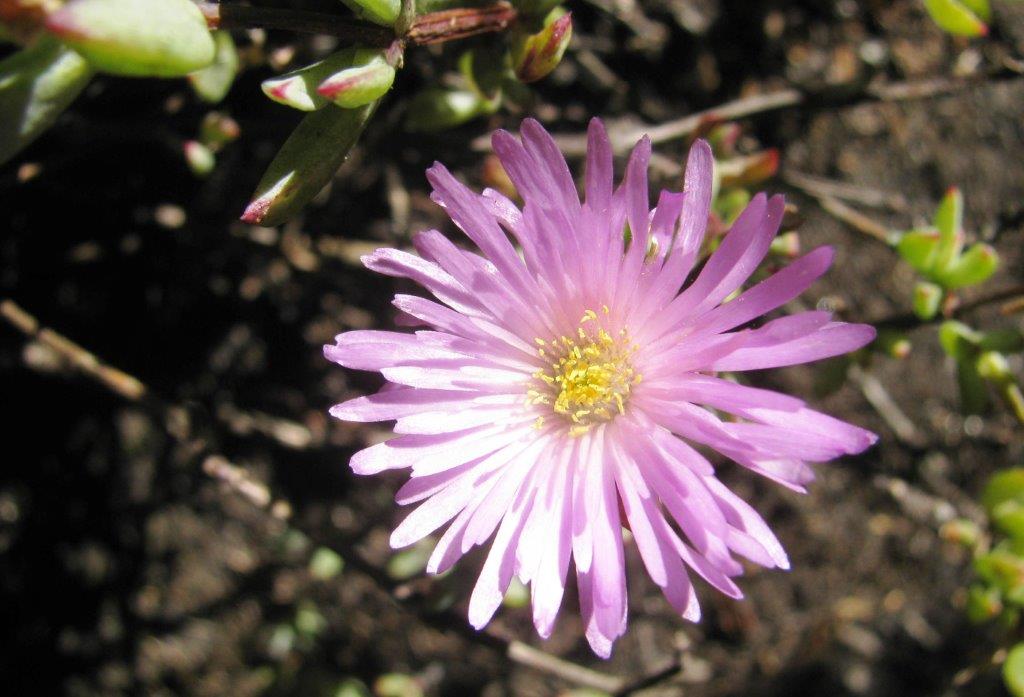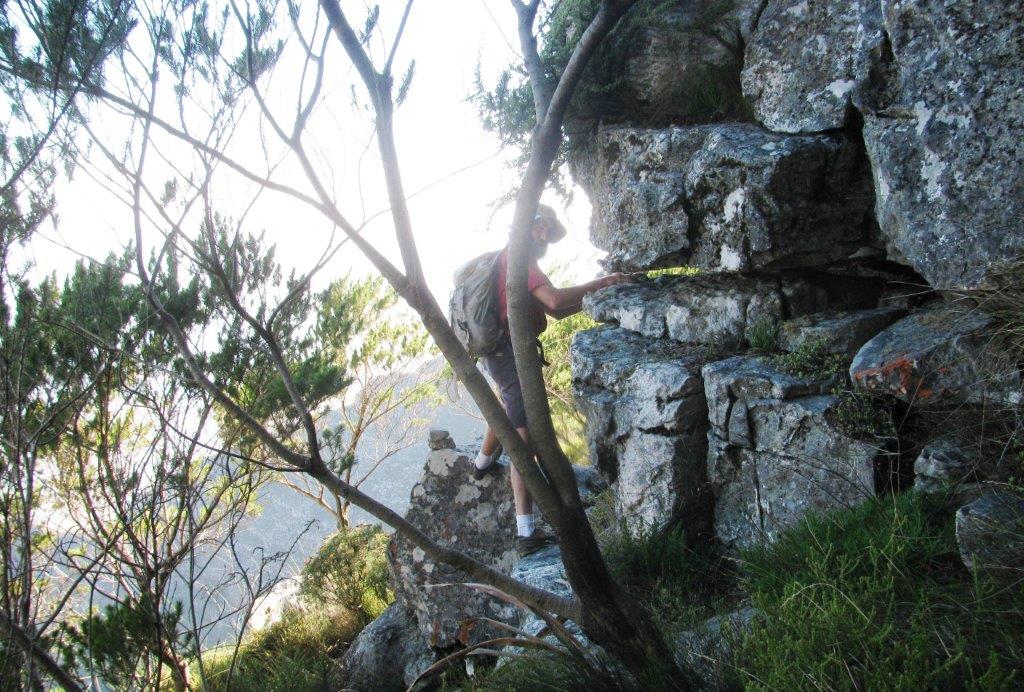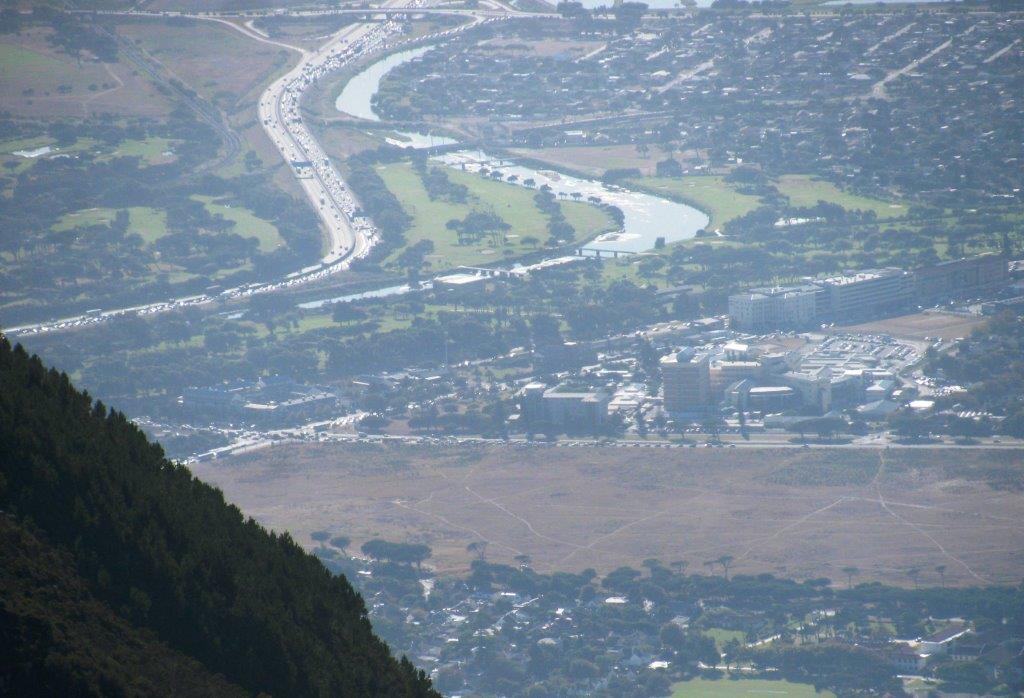 N2 motorway into Cape Town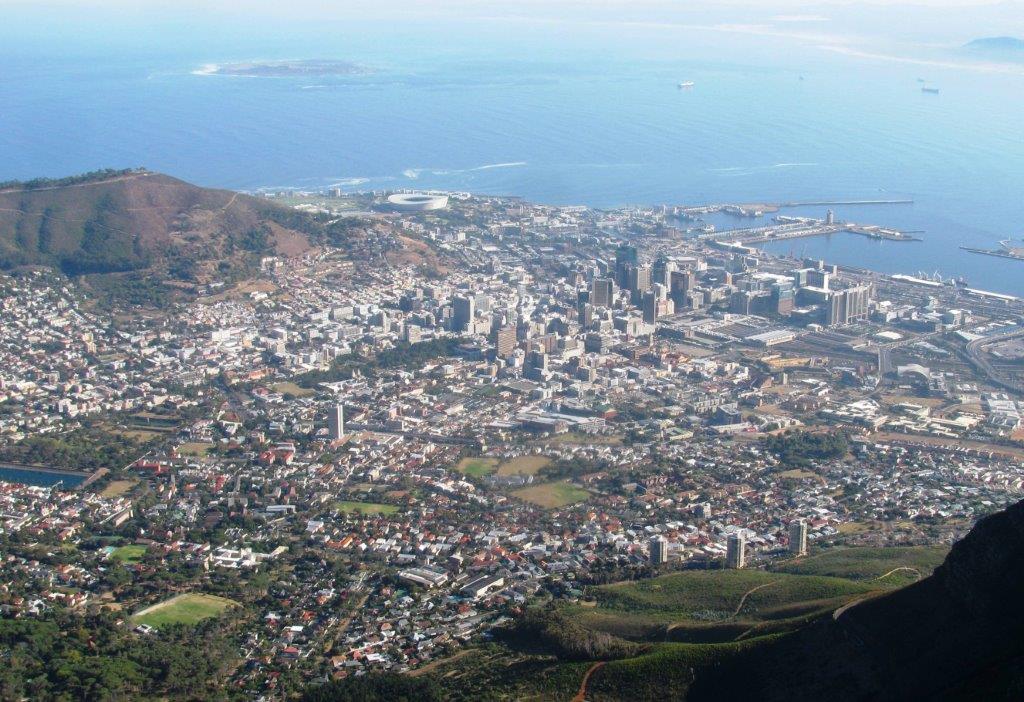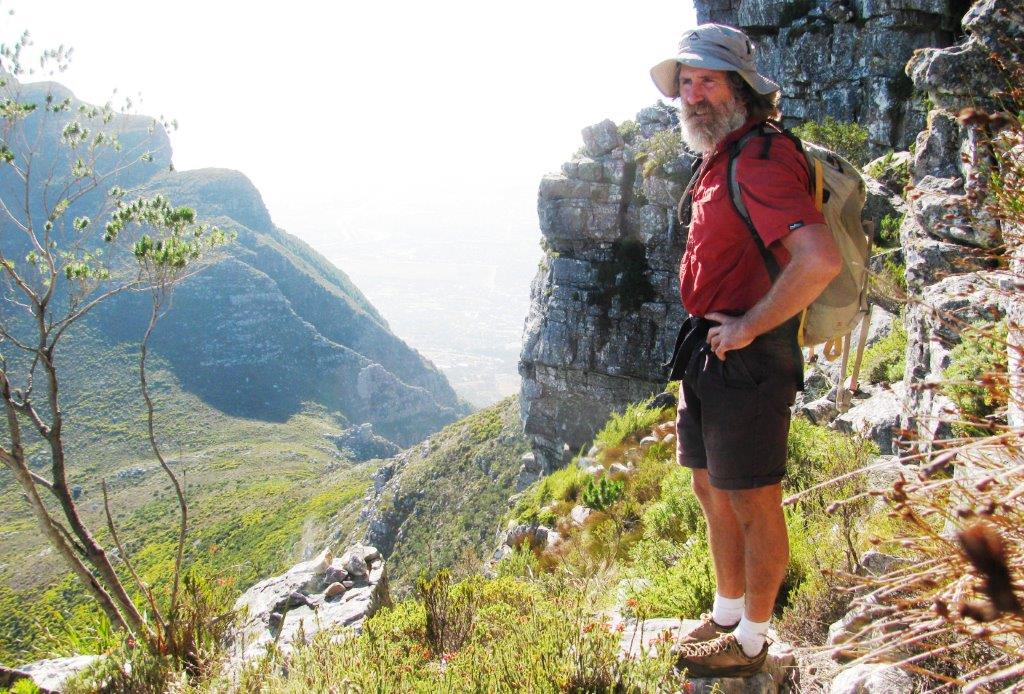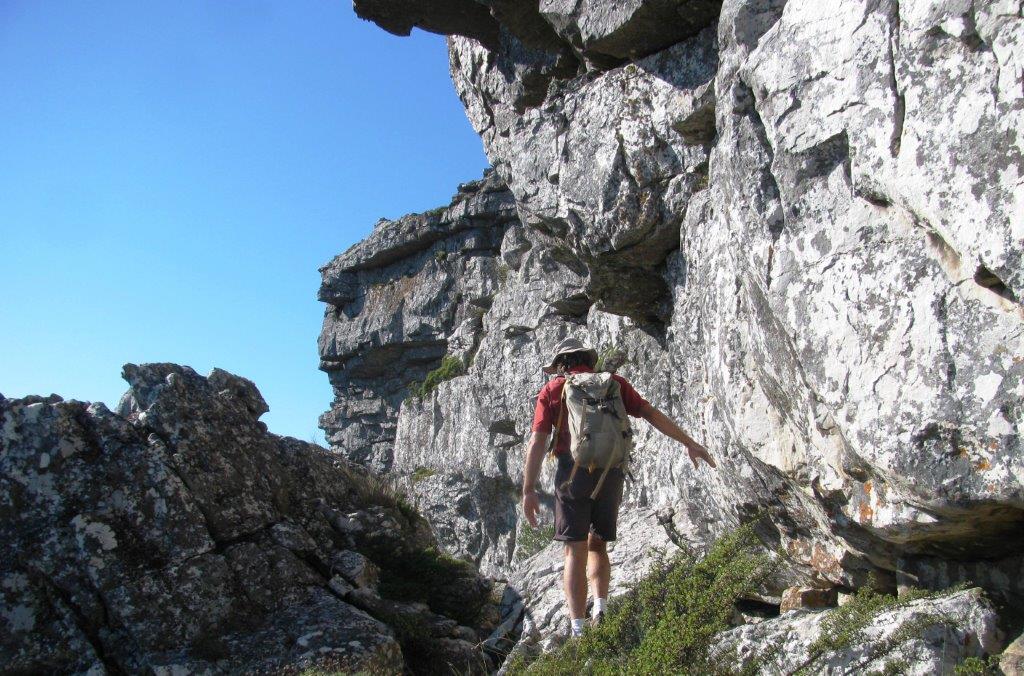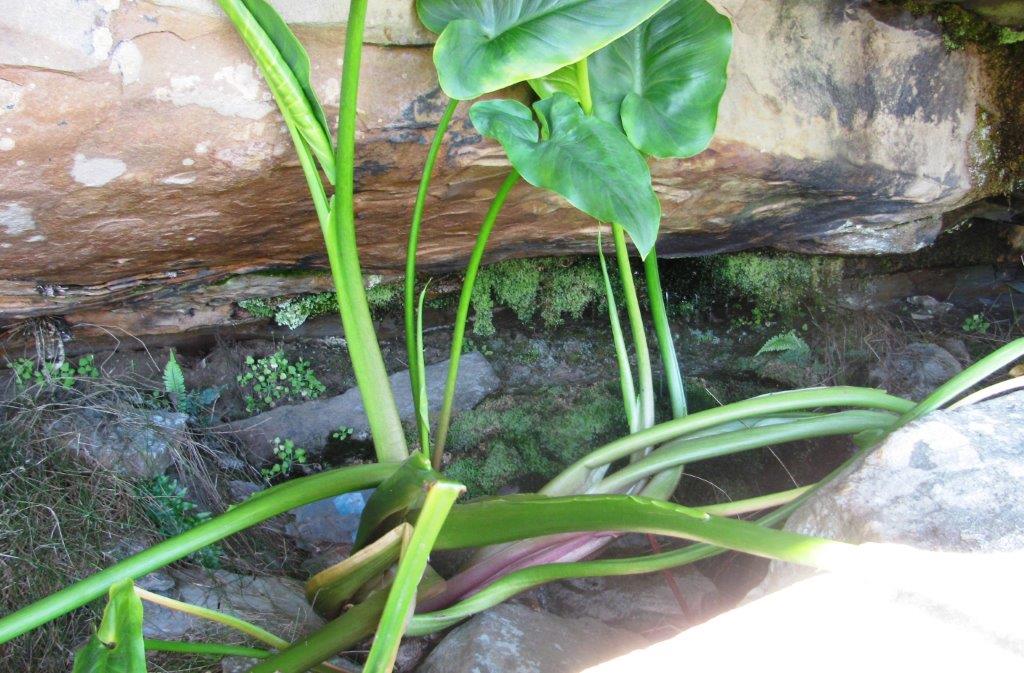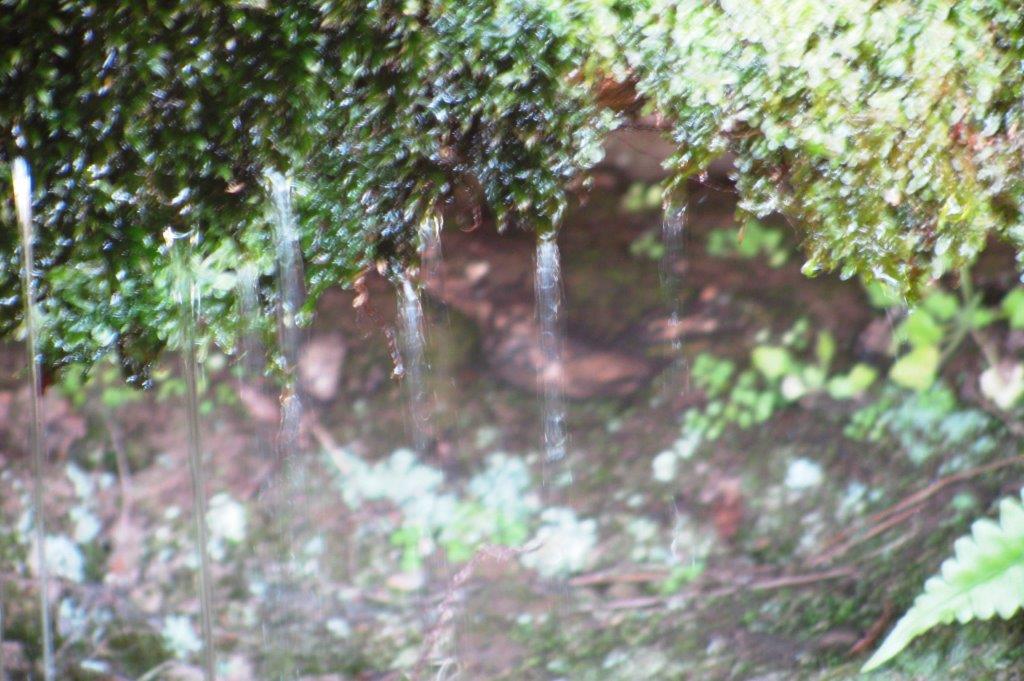 perennial water source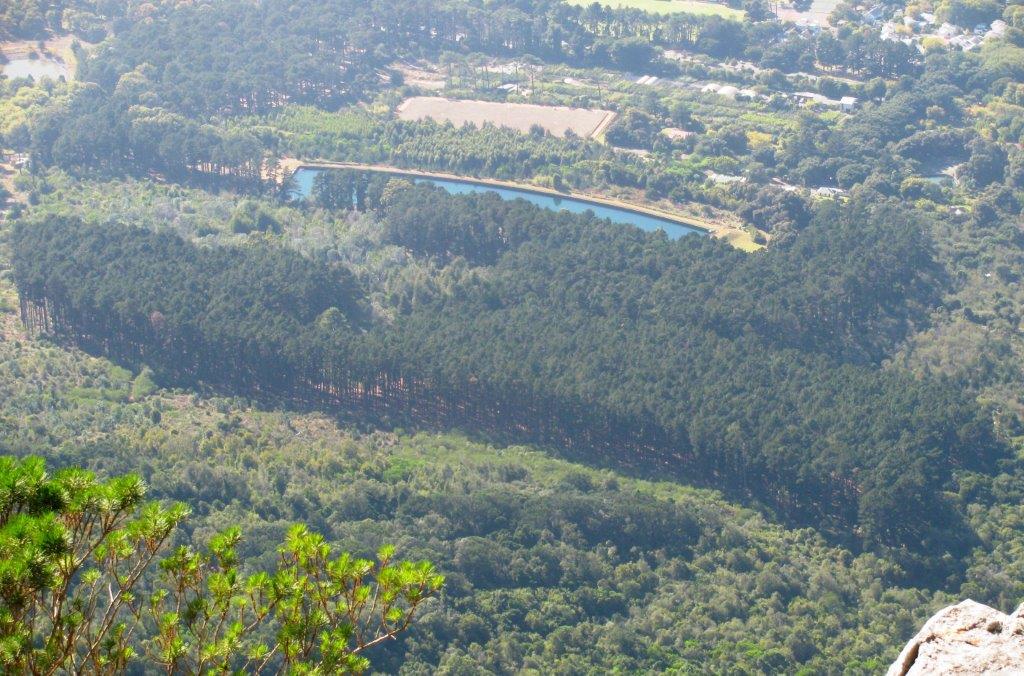 Newlands Reservoir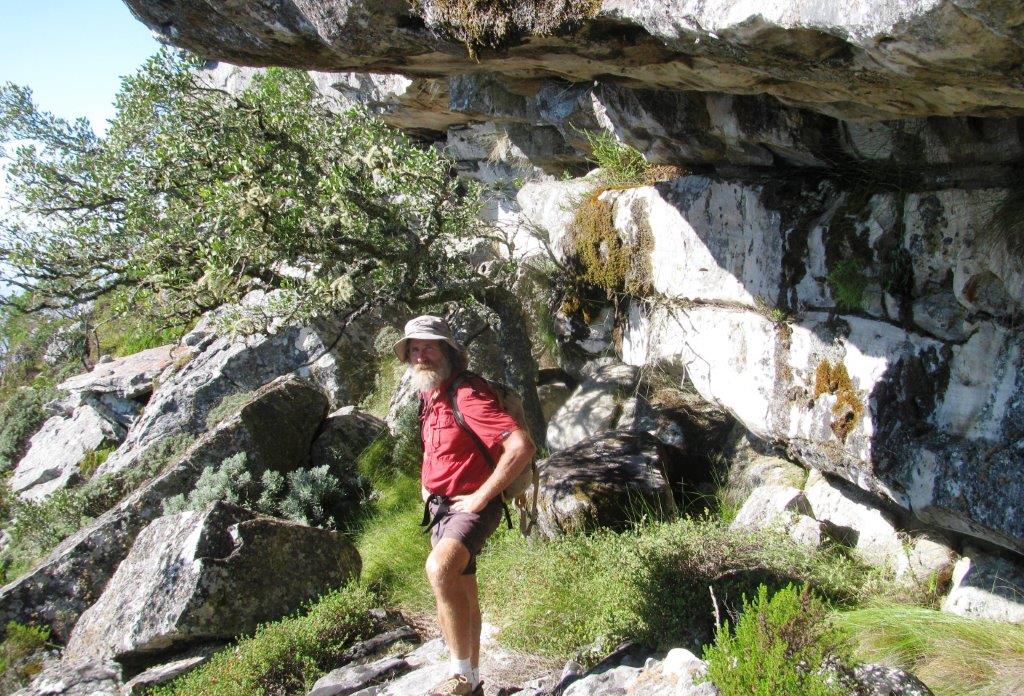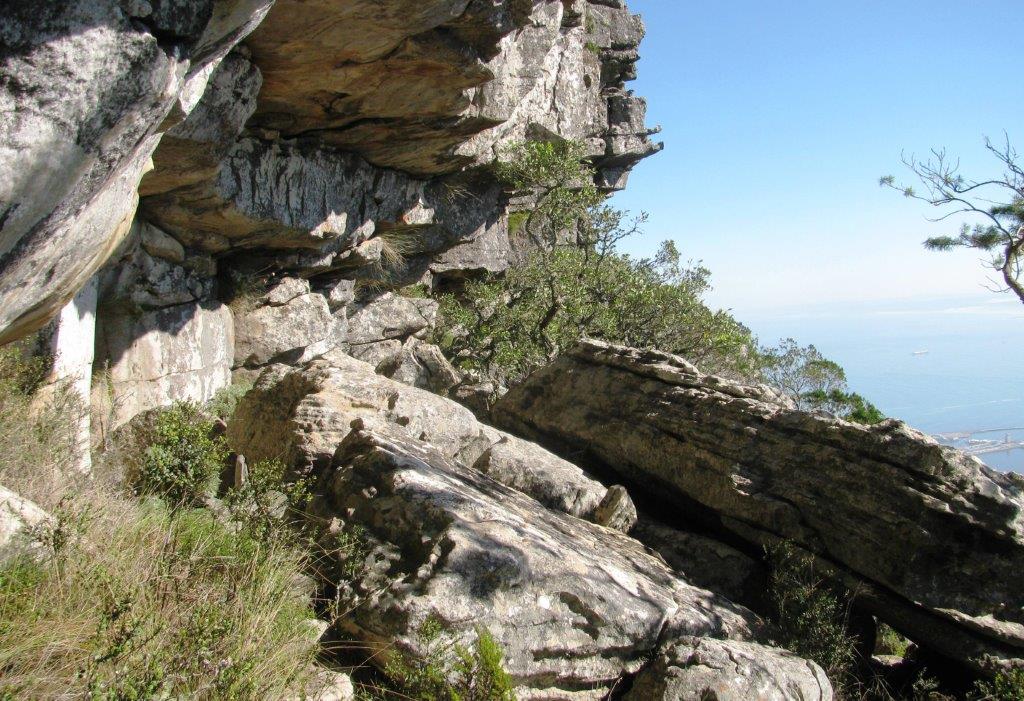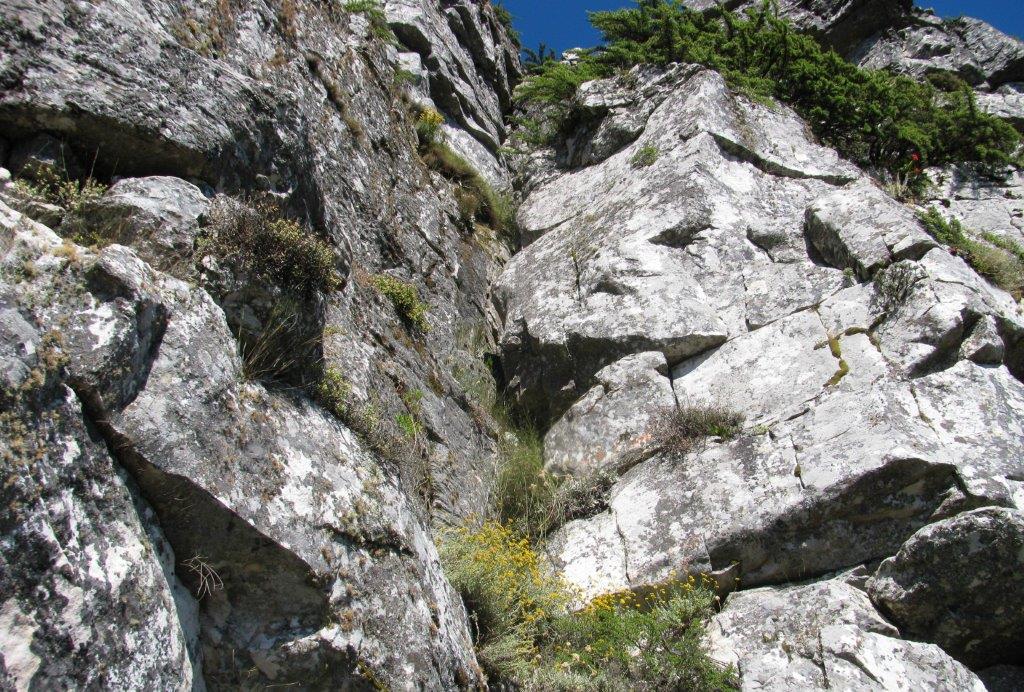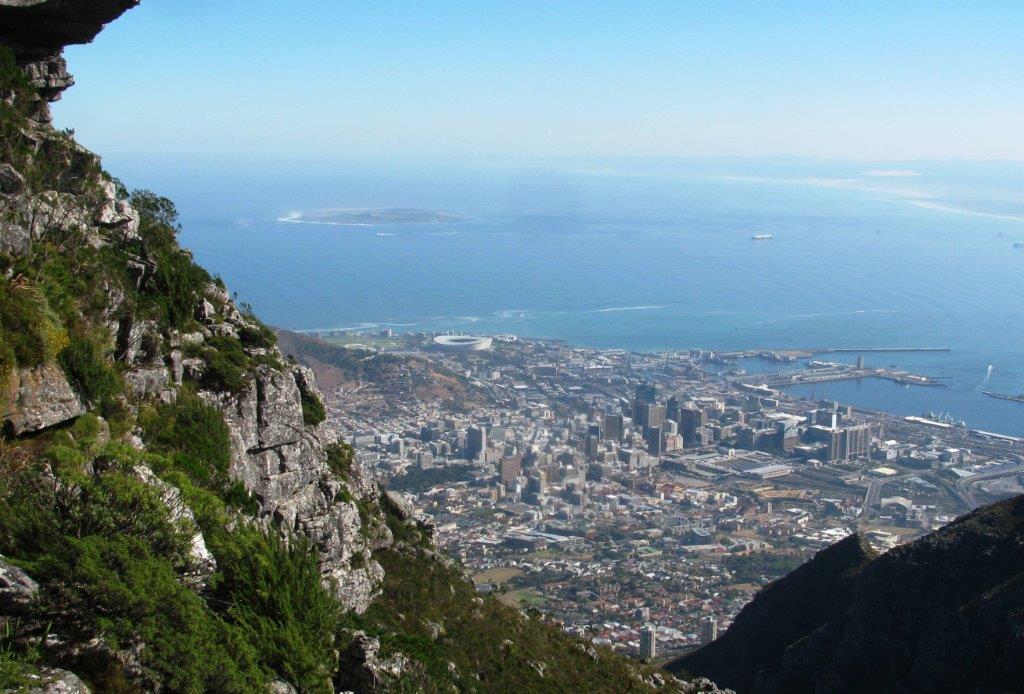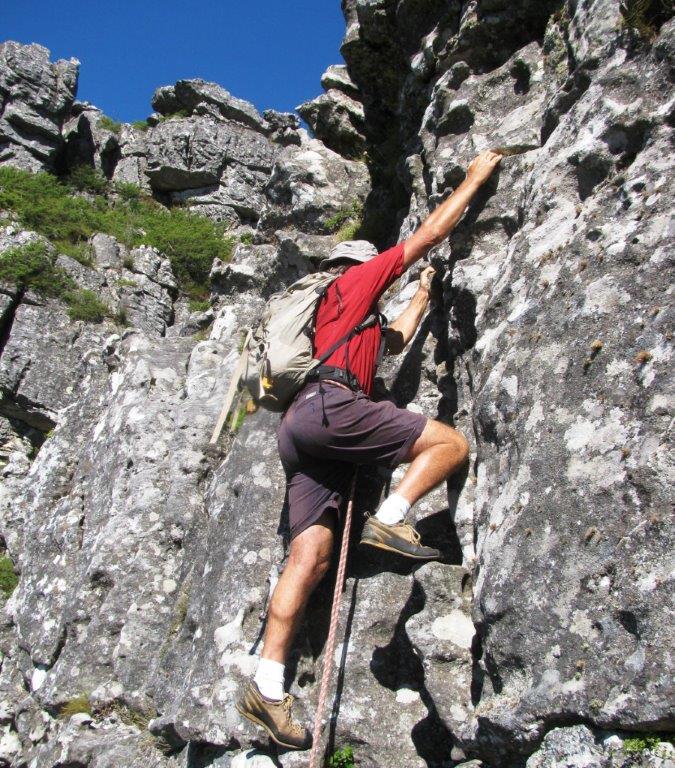 roped pitch on Lcdgers (grade C)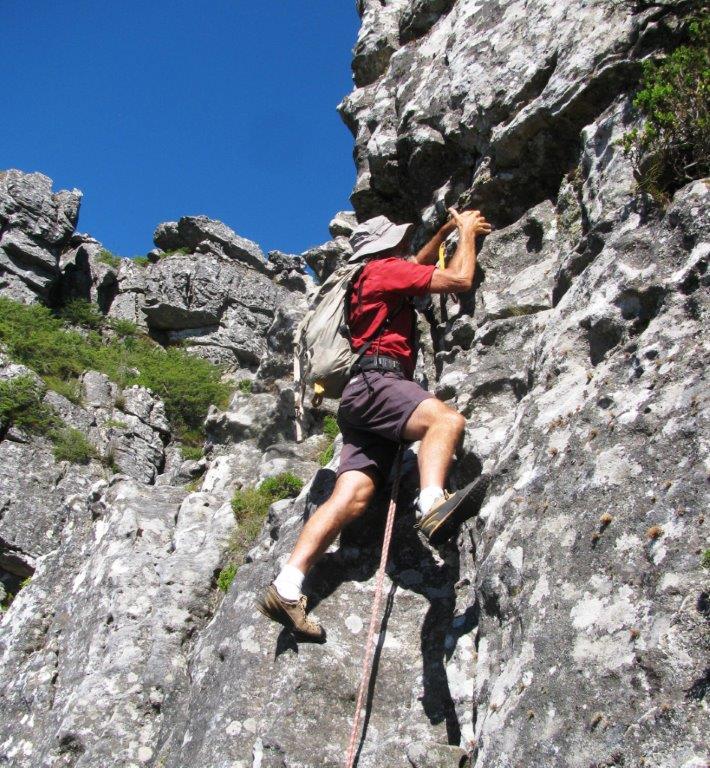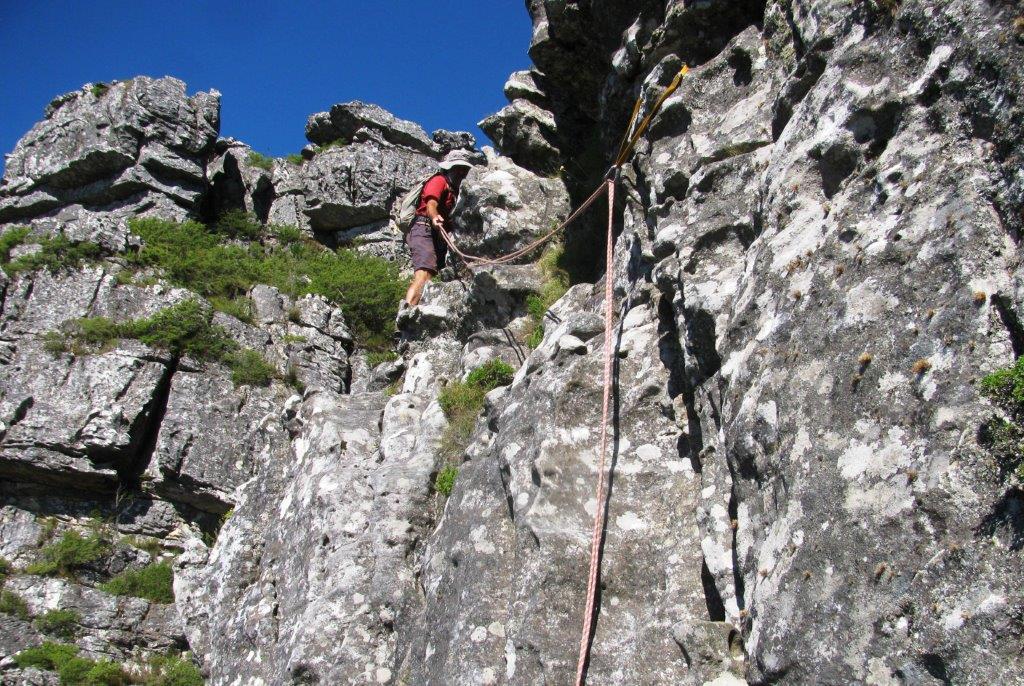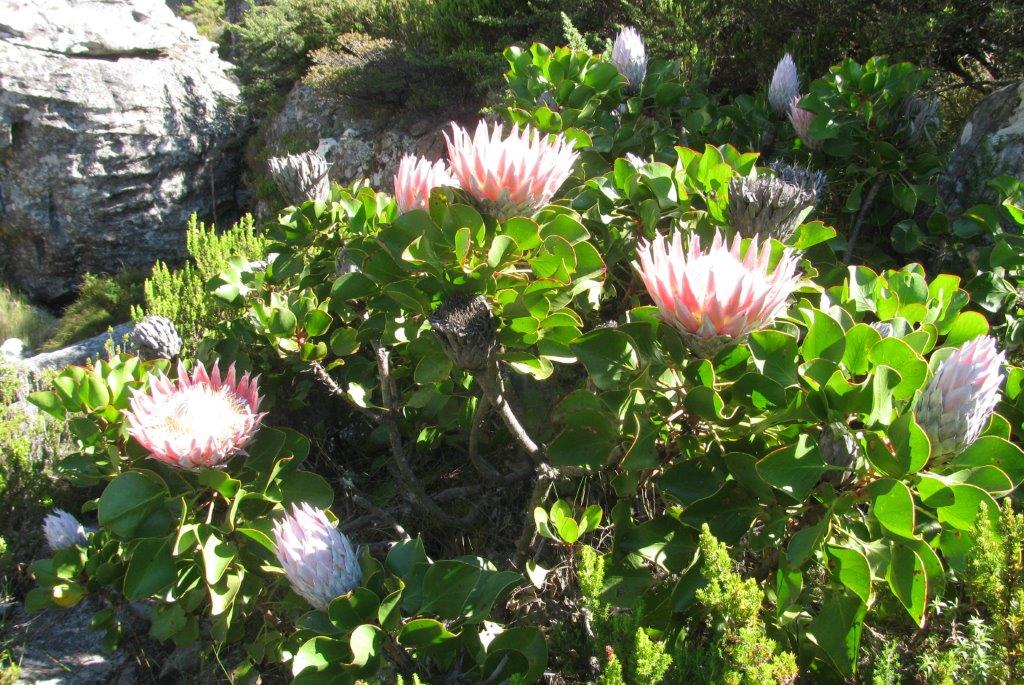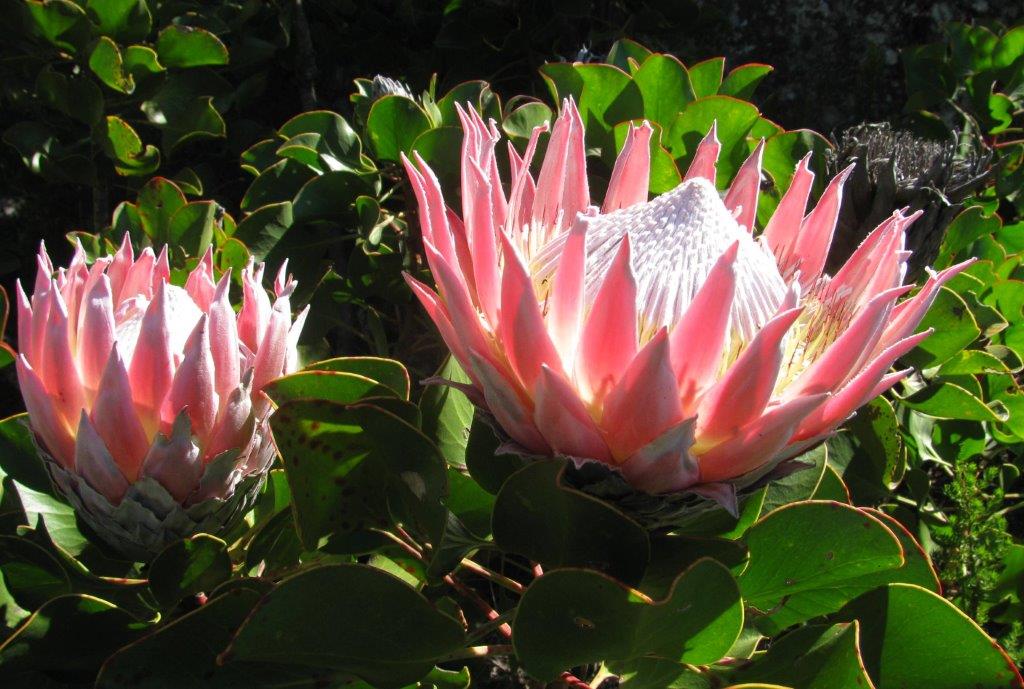 King Protea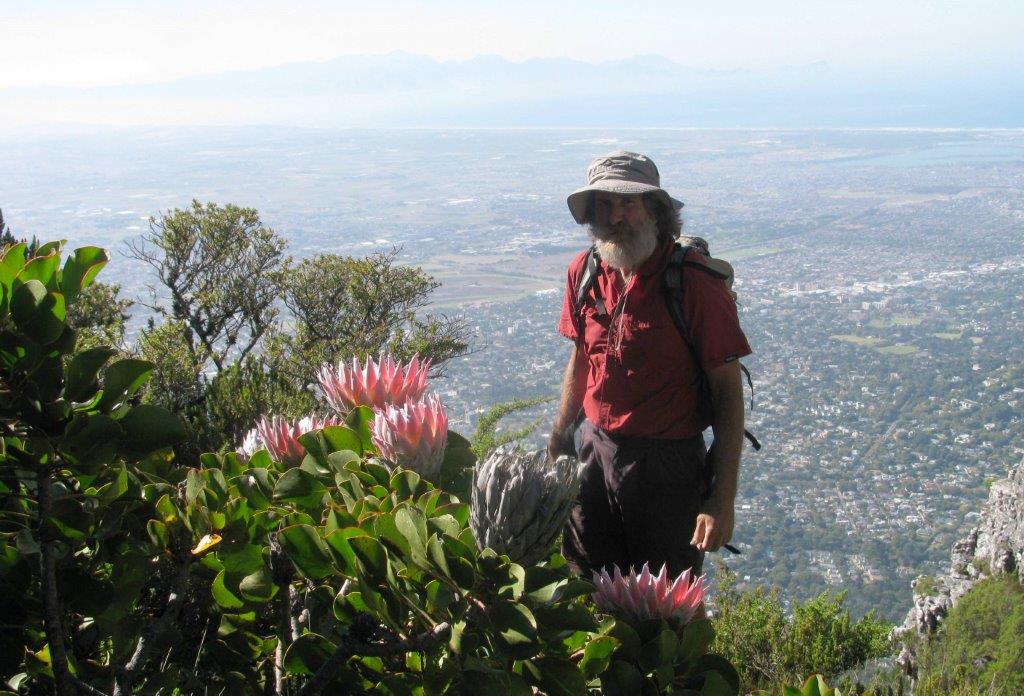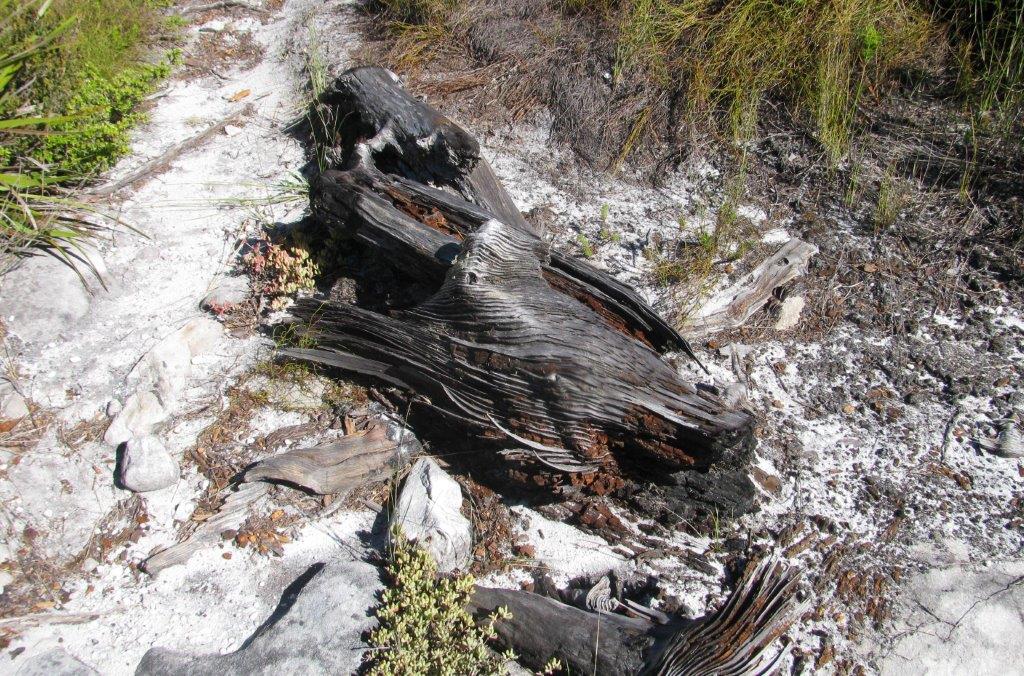 remnant of pine tree - largely eradicated from the mountain but some sapplings still exist.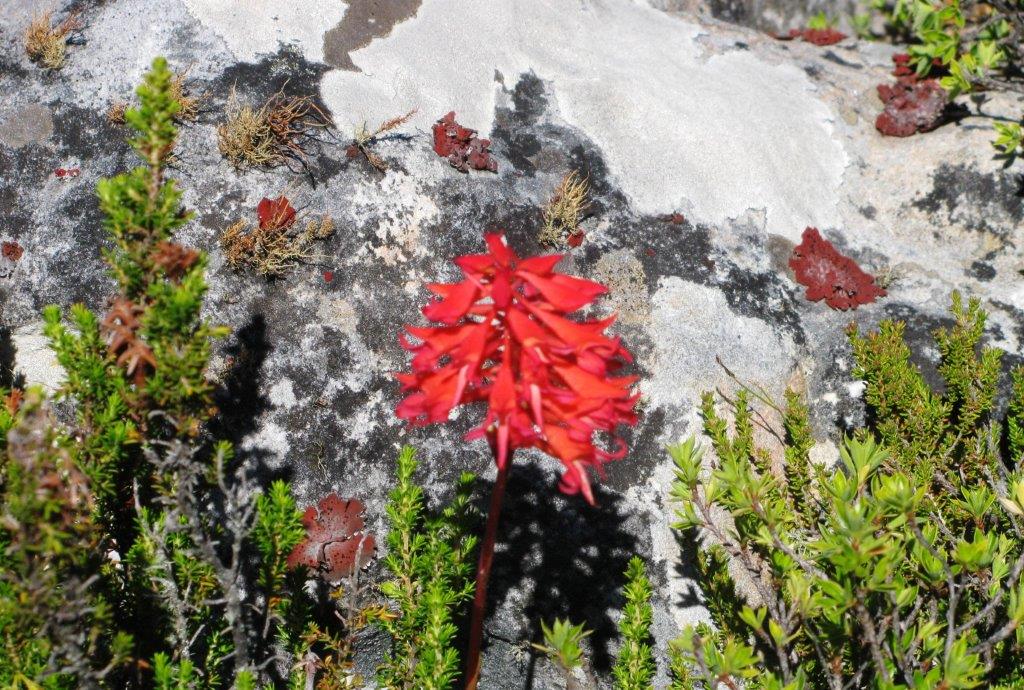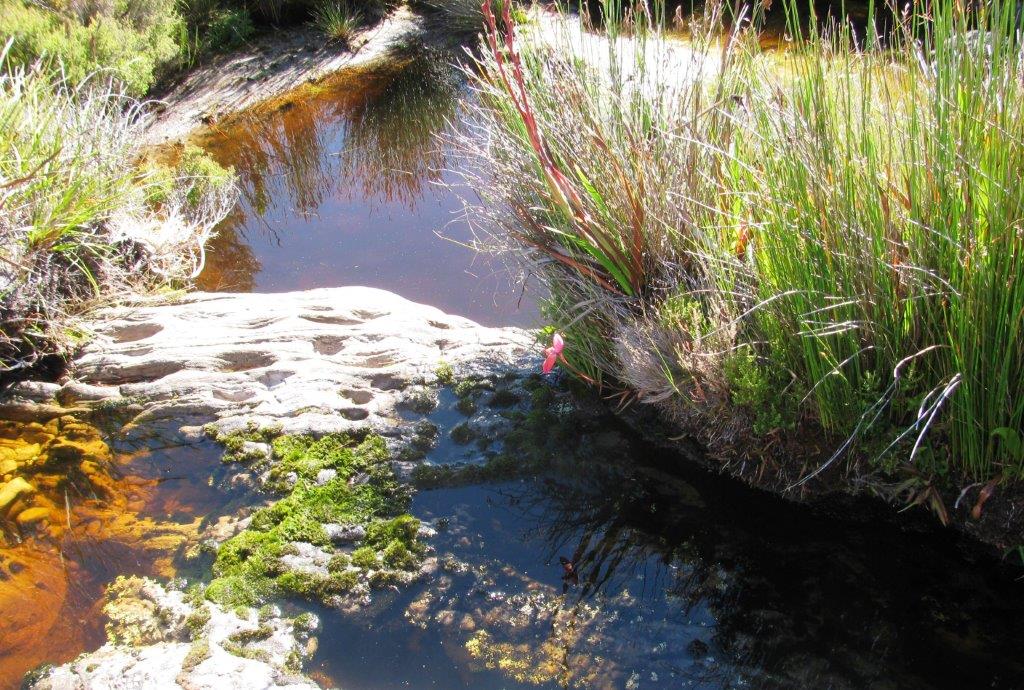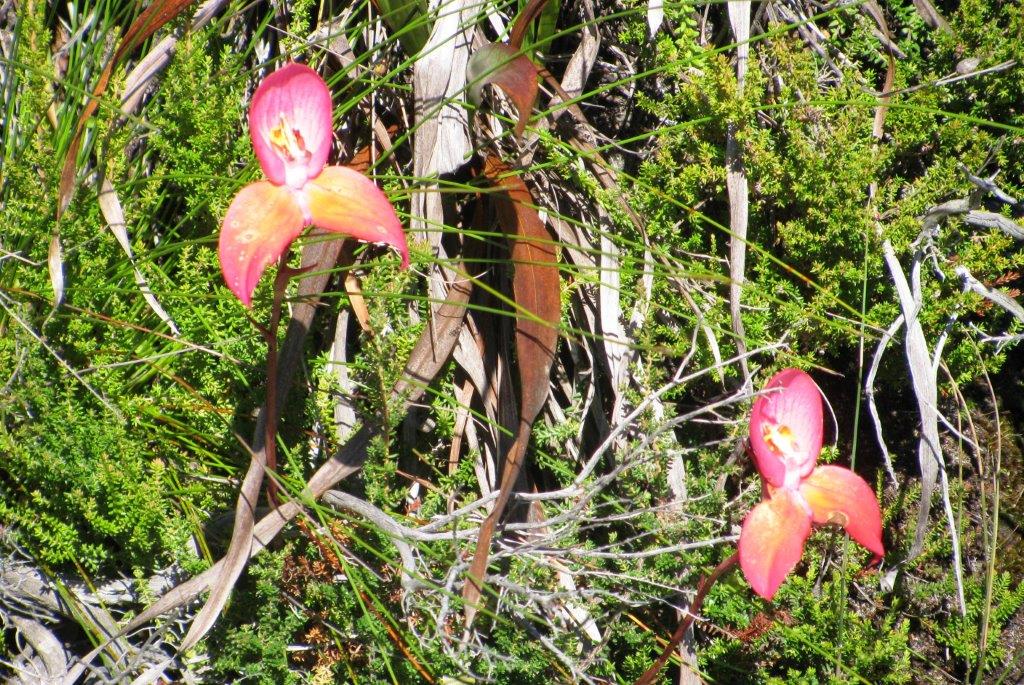 red disa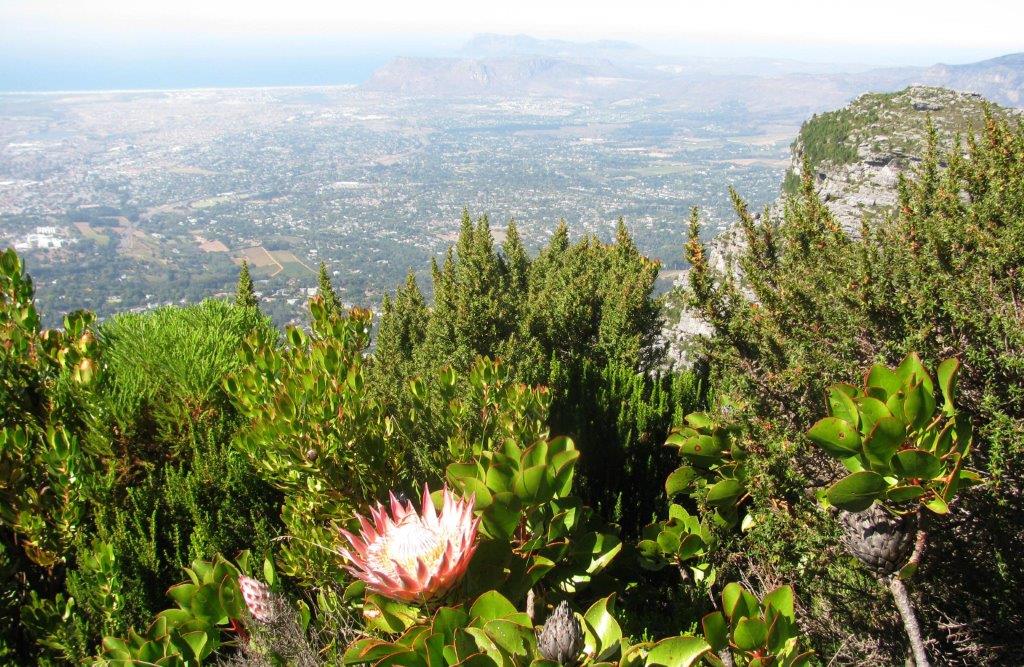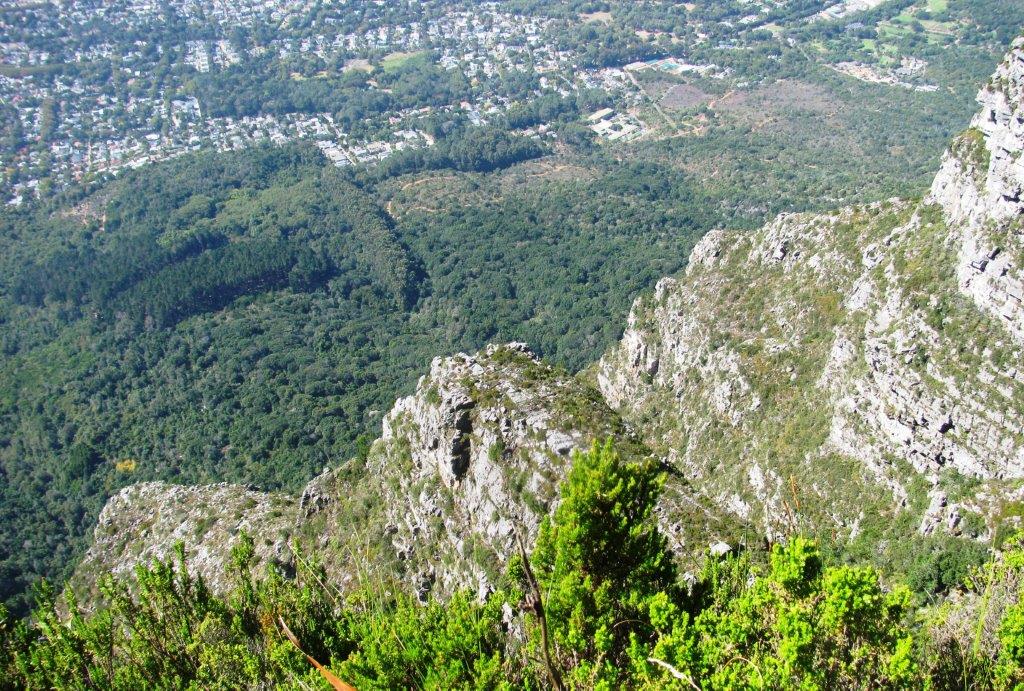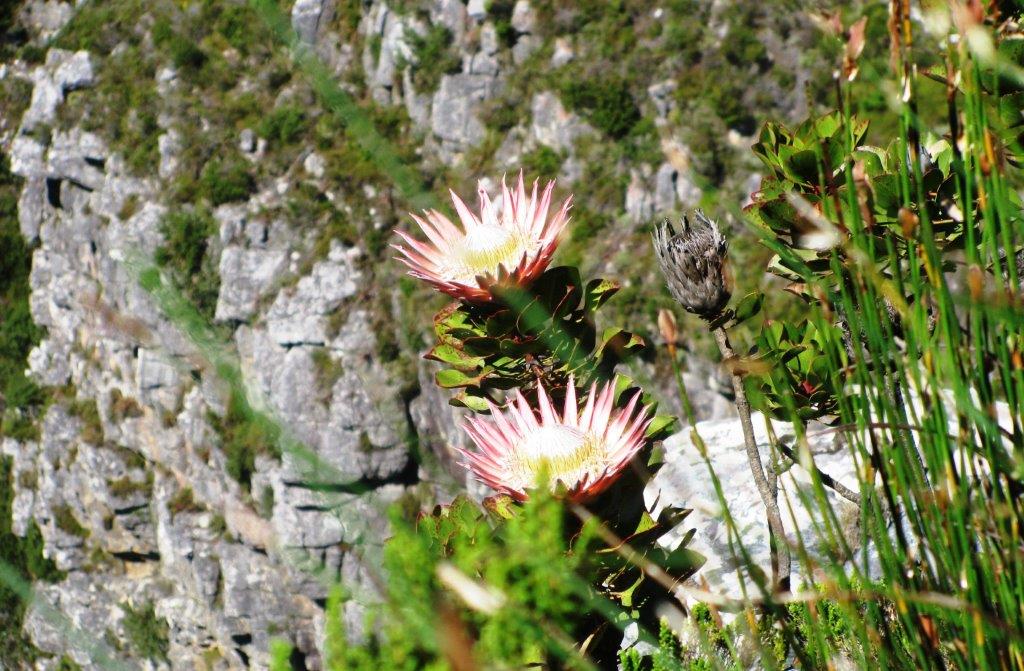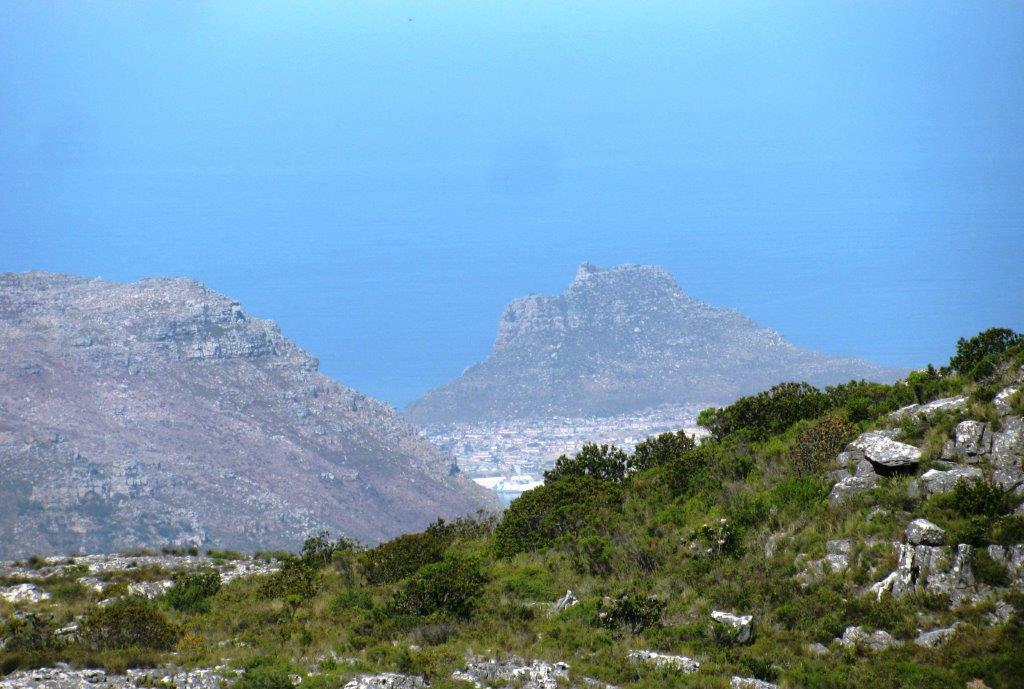 the Sentinel - Hout Bay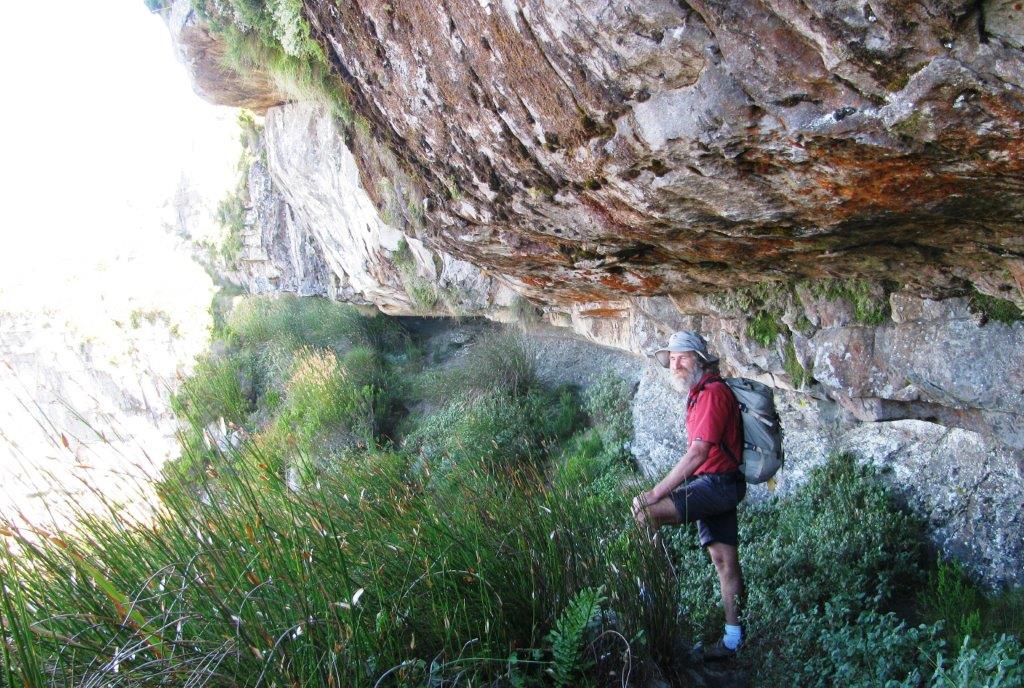 Carrell's Edge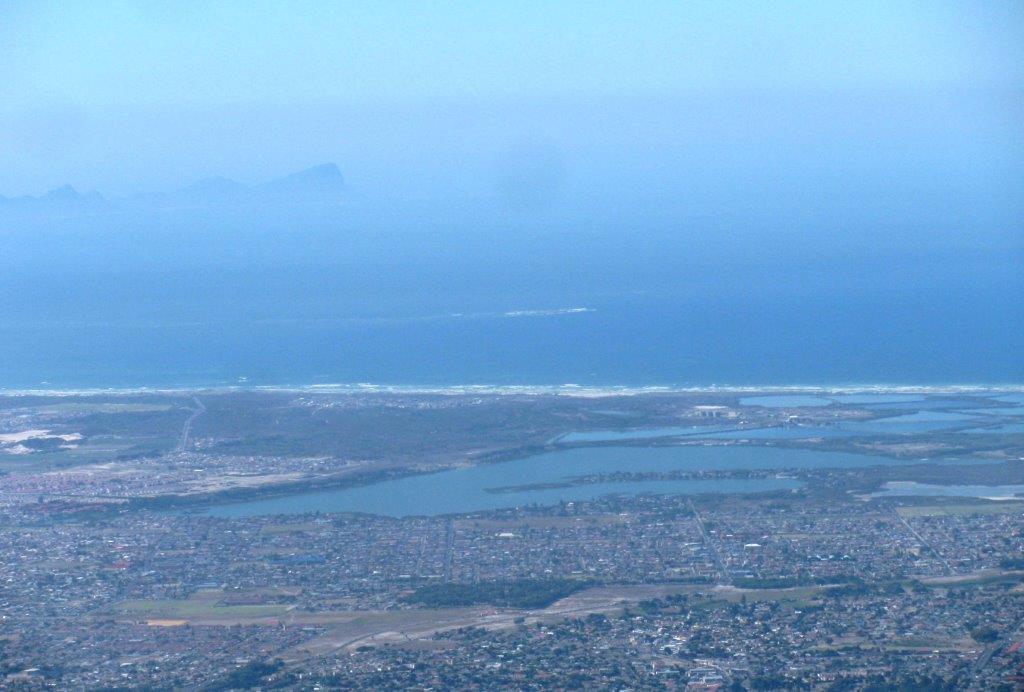 Seekoevlei and False Bay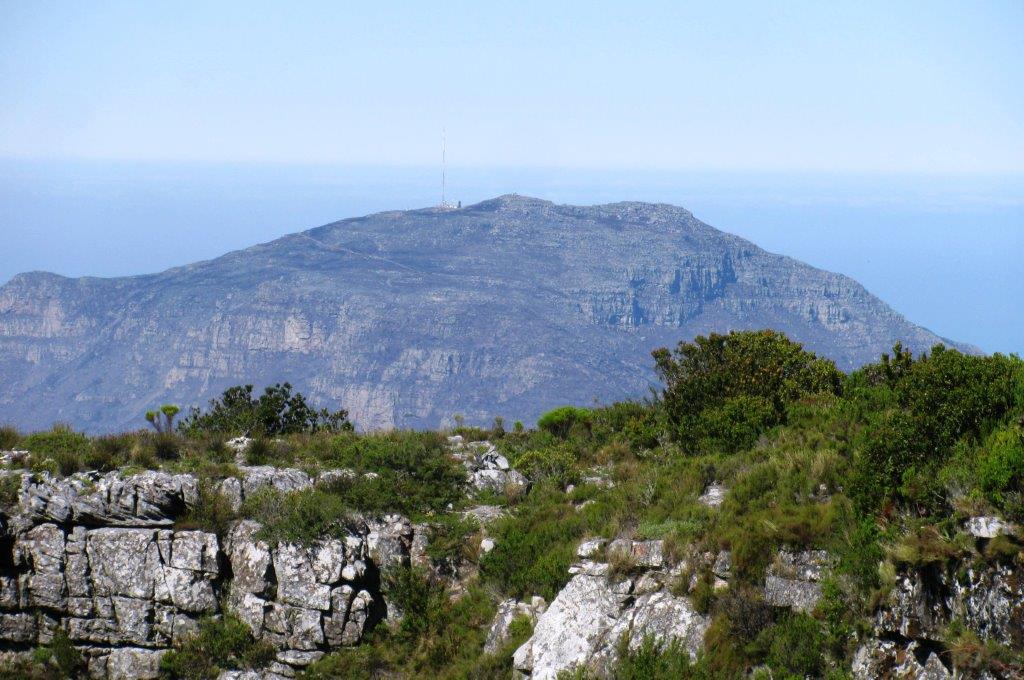 Constantiaberg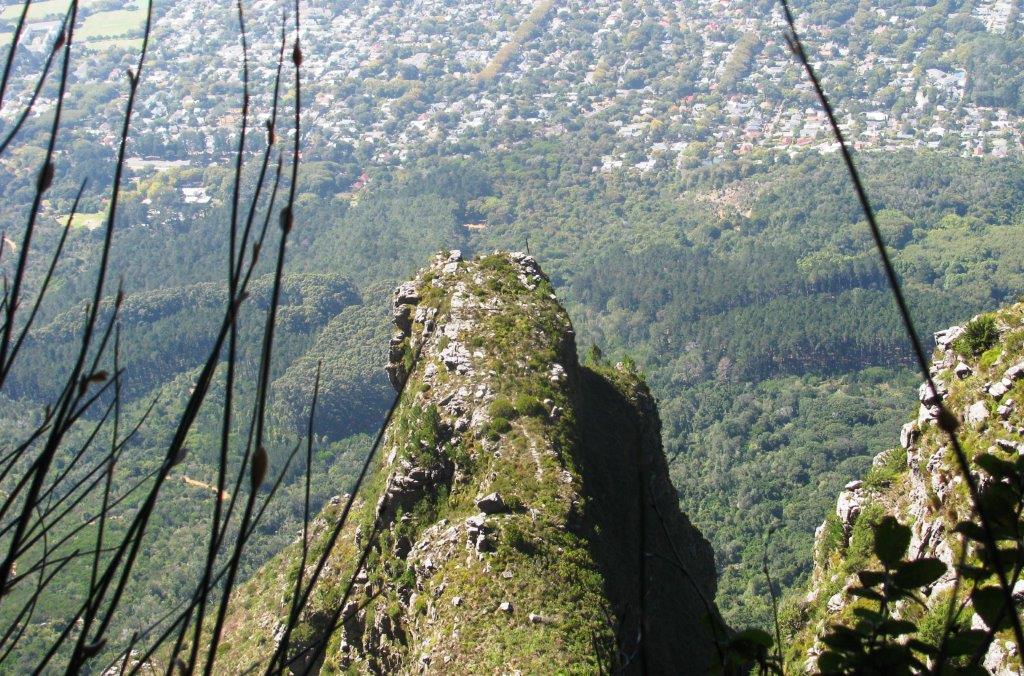 The Pulpit seen below from Carrell's Ledge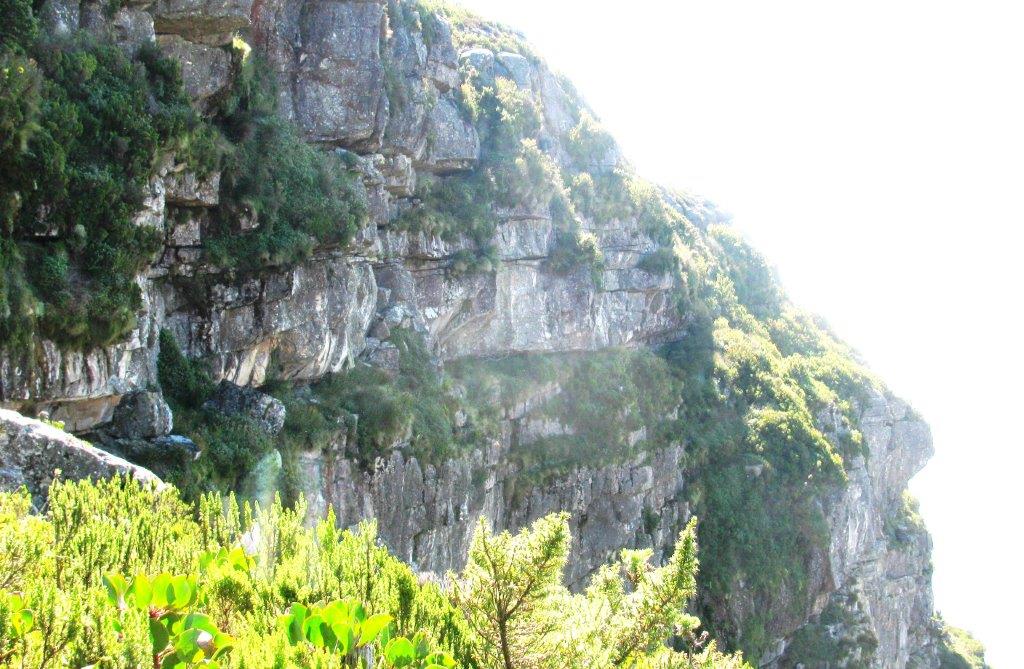 looking back at Carrell's Ledge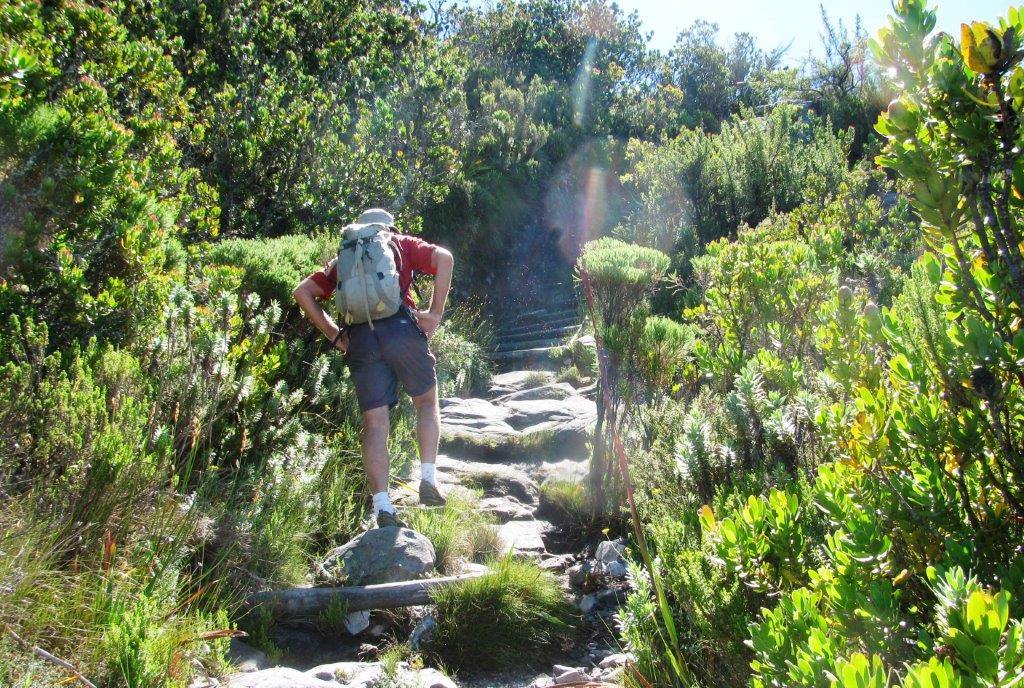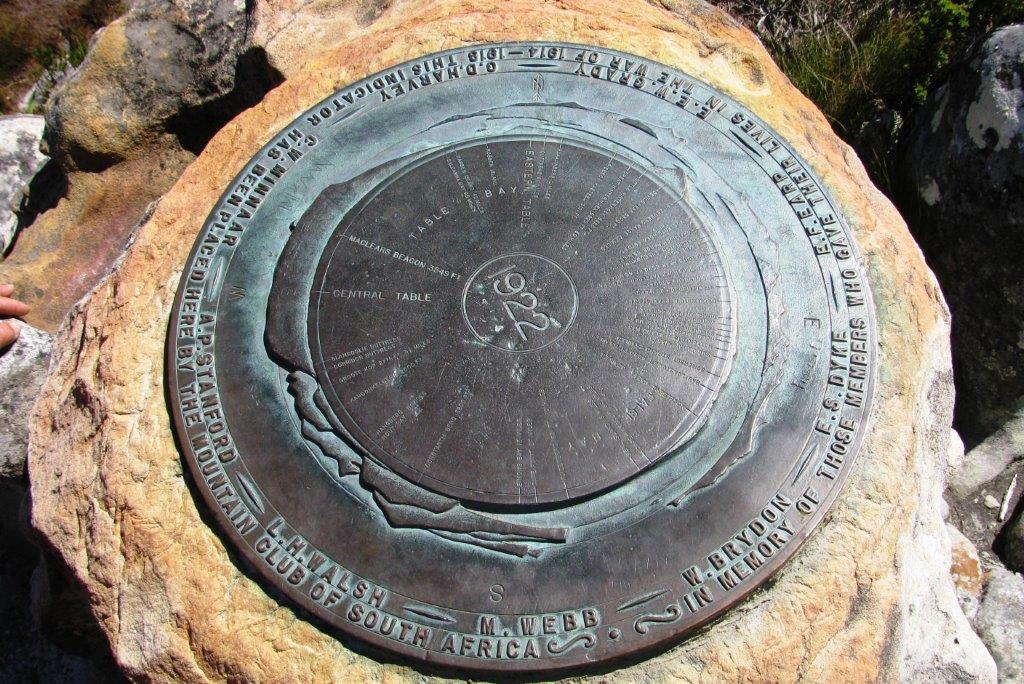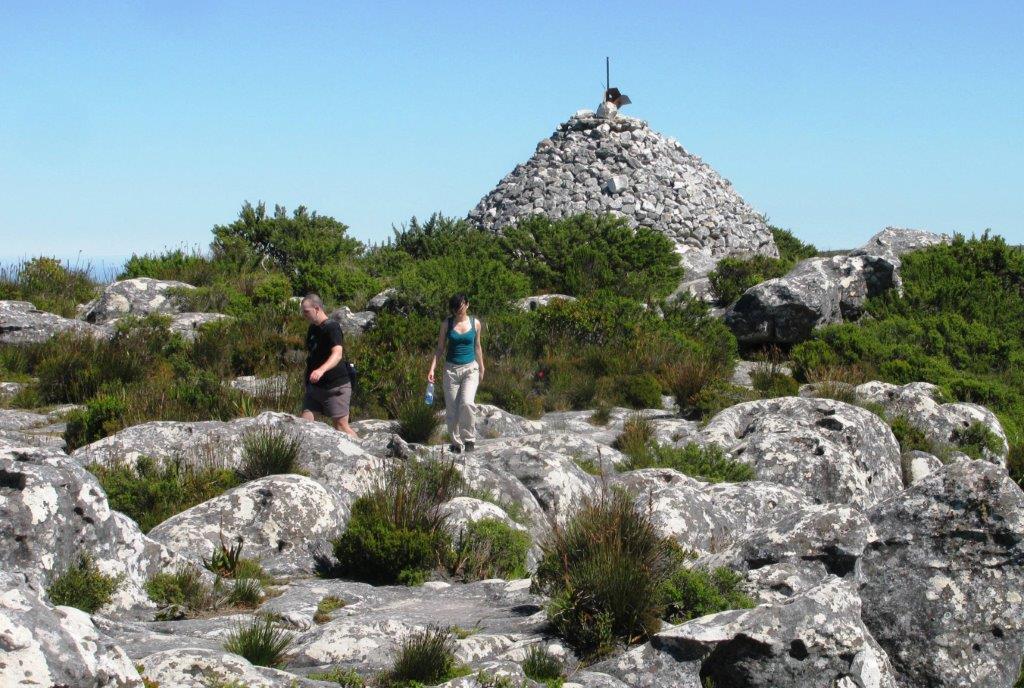 Maclear's Beacon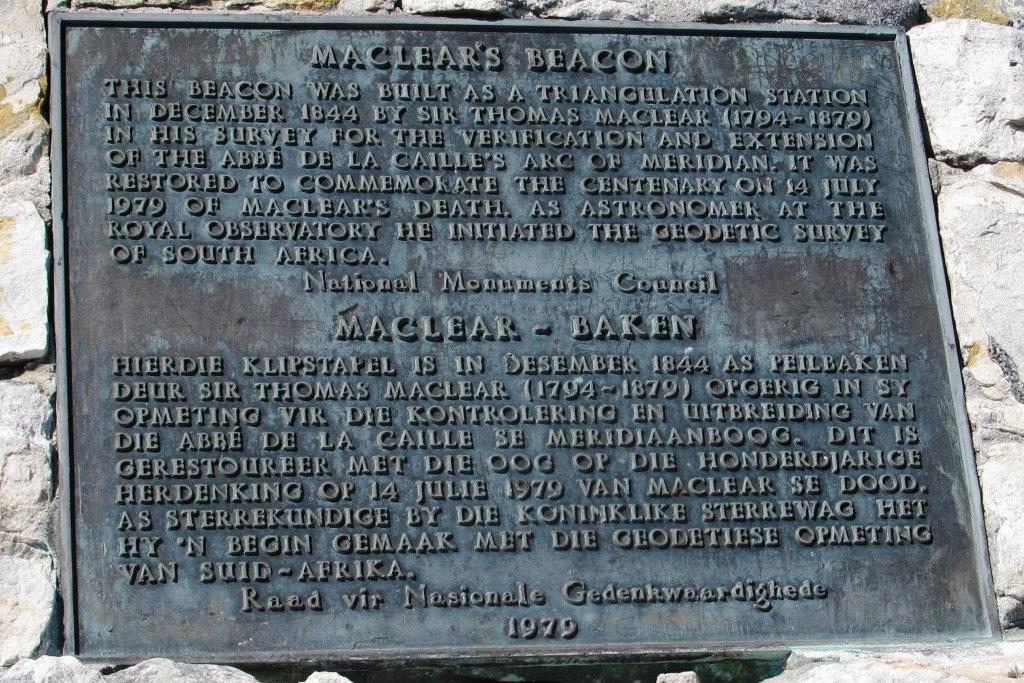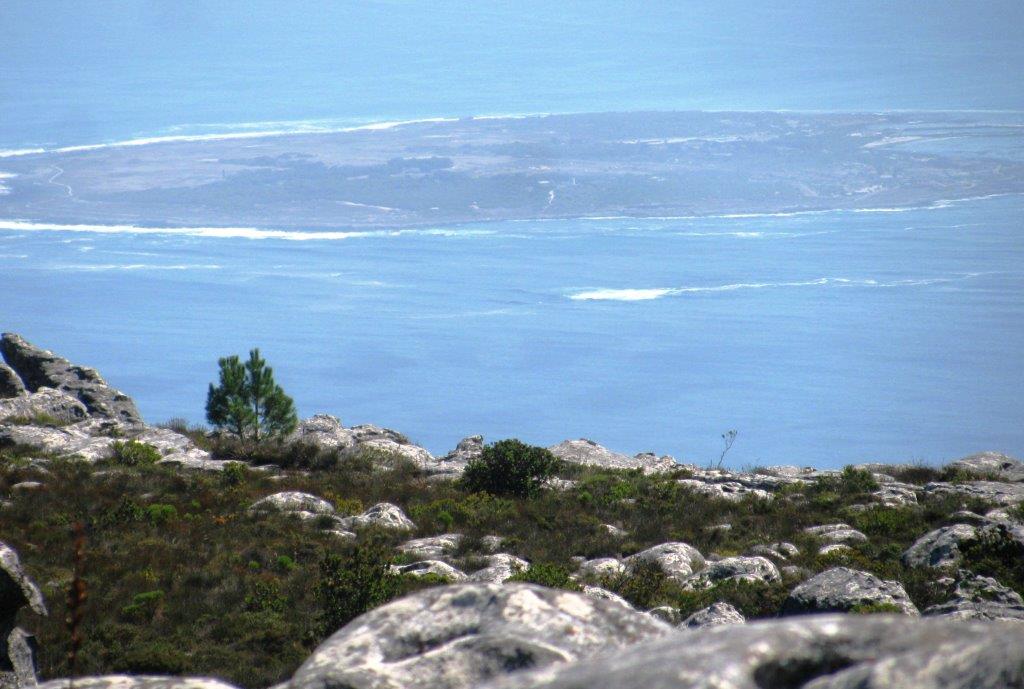 Robben Island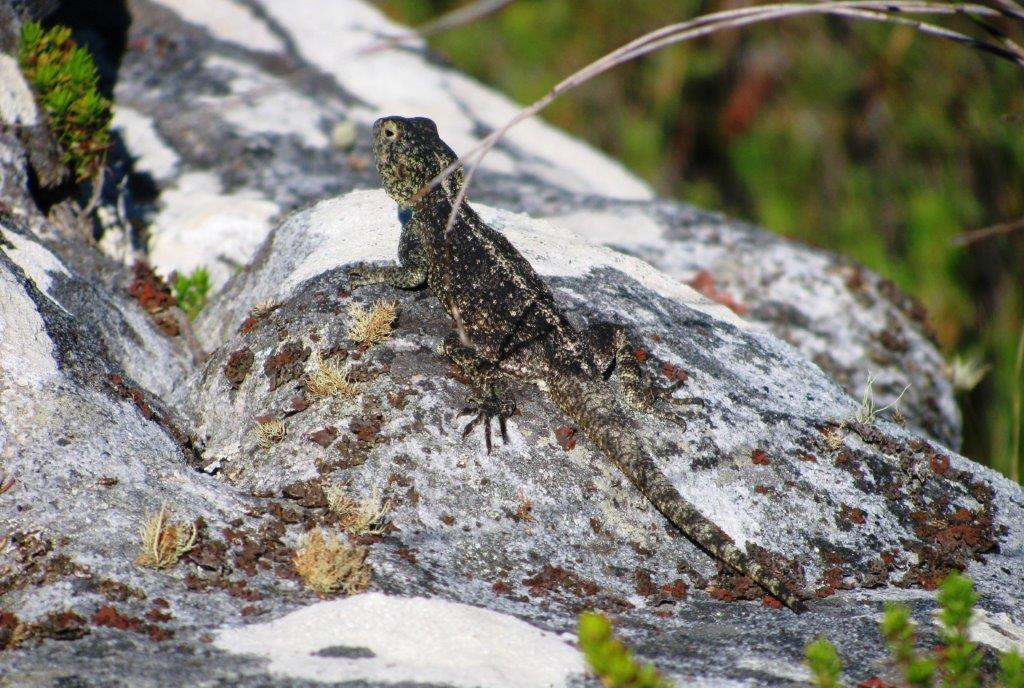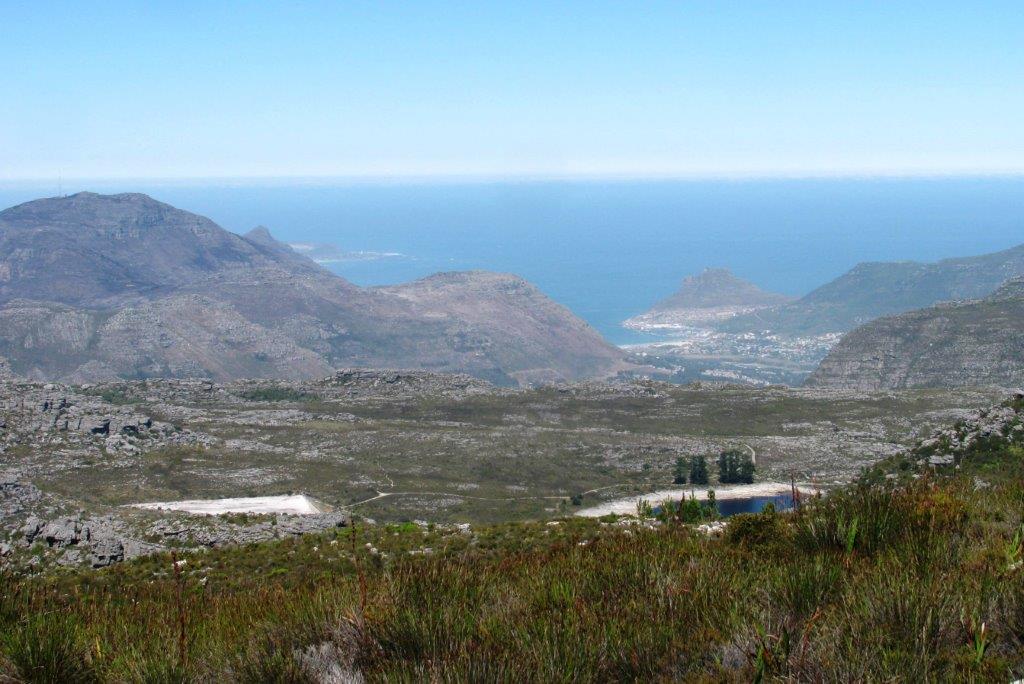 Chapman's Peak, triangular peak, just visible top left. The Sentinel to right at Hout Bay. Hely-Hutchingson & Woodhead Reservoirs in foreground.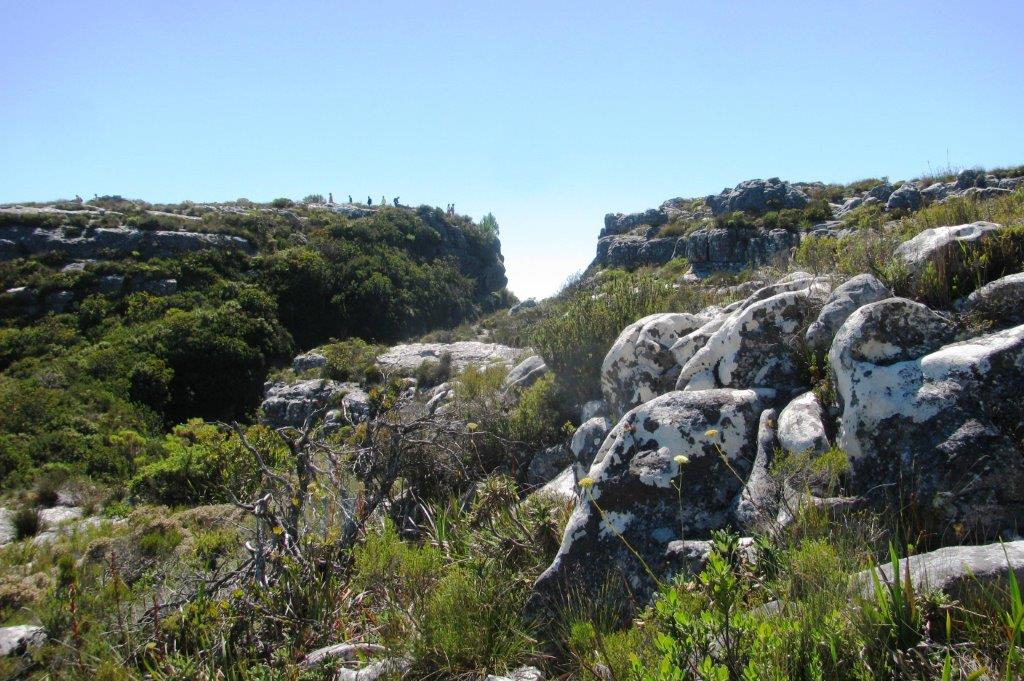 the 'notch' is the top of Platteklip Gorge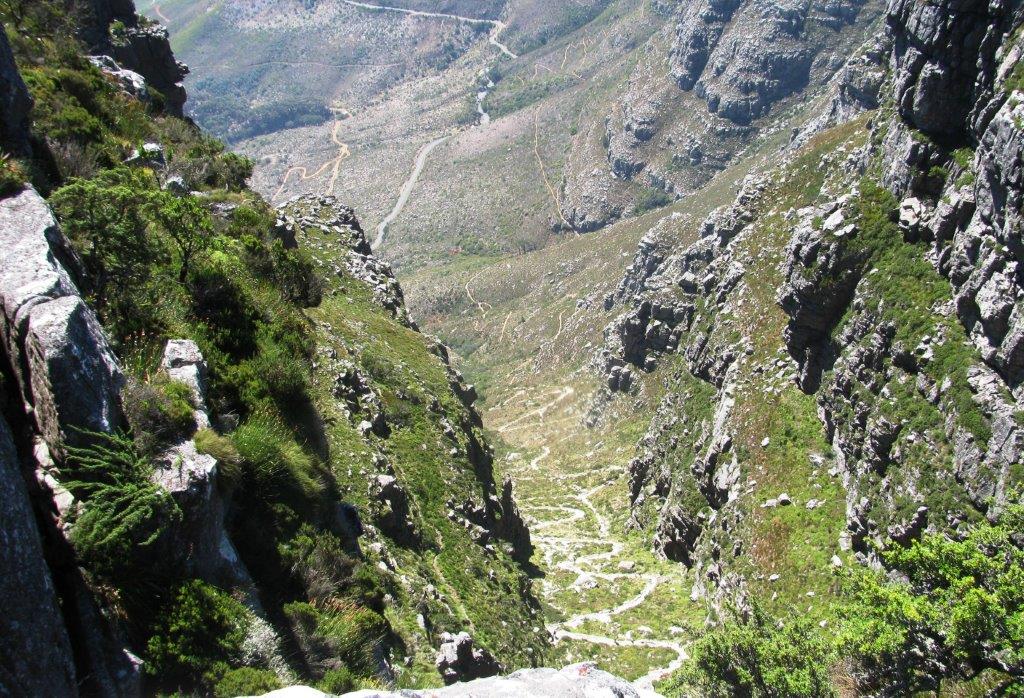 looking down Platteklip Gorge - walking route to top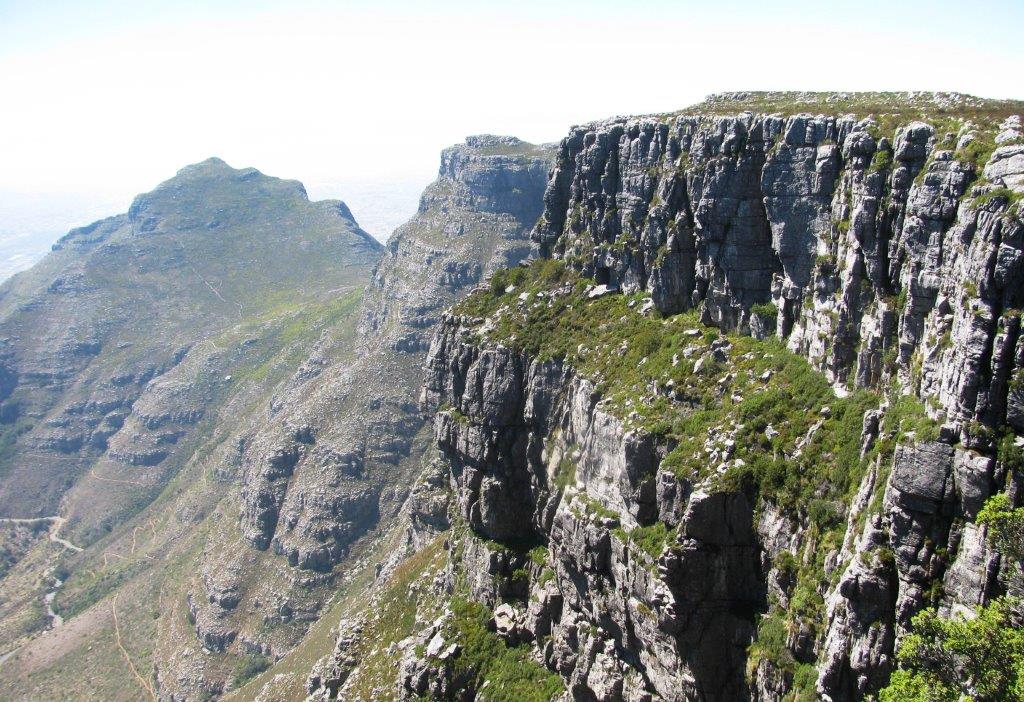 Devils Peak to left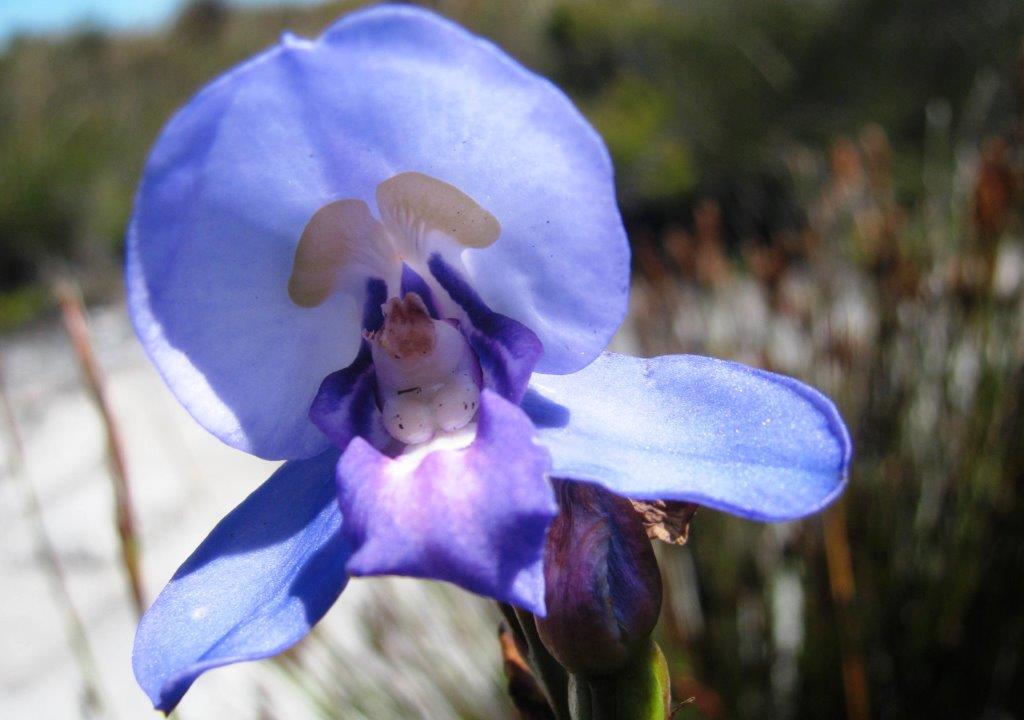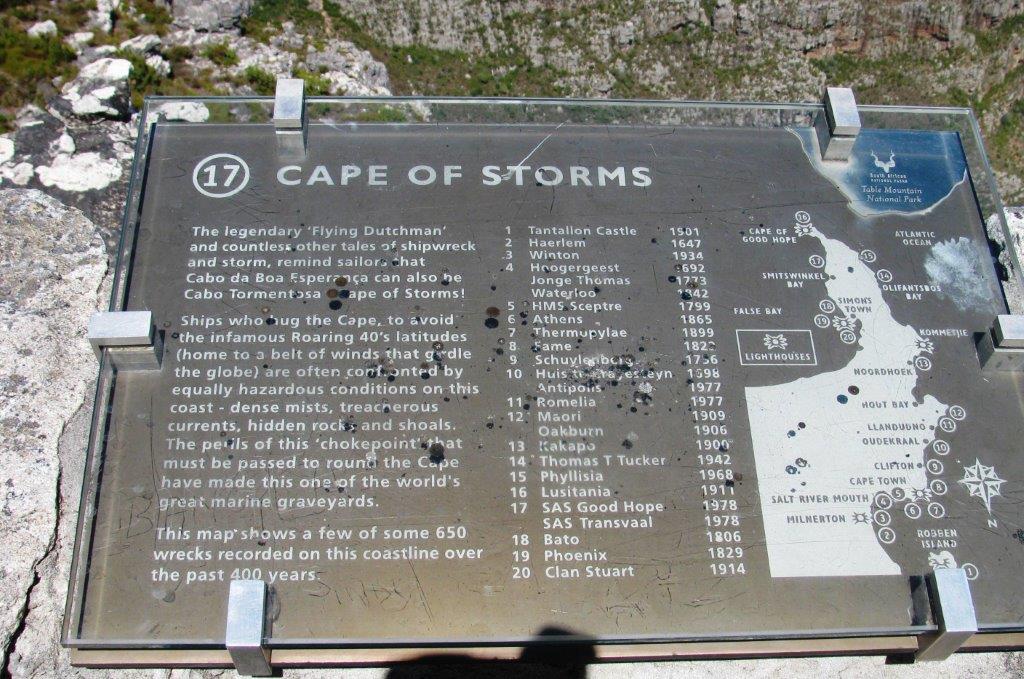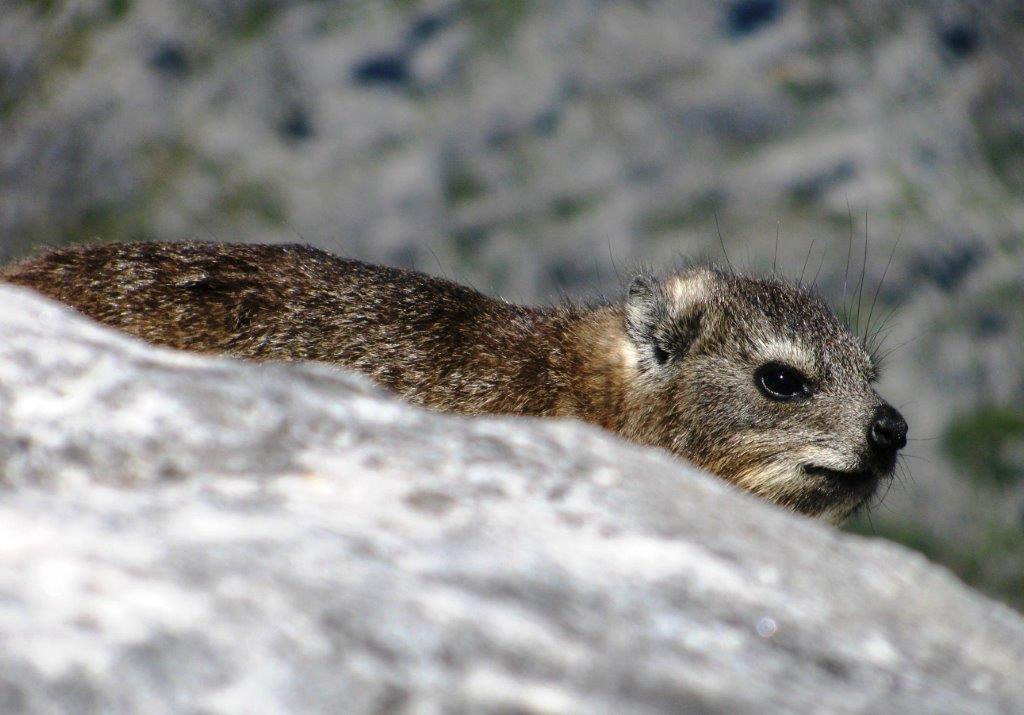 dassie (rock hyrax)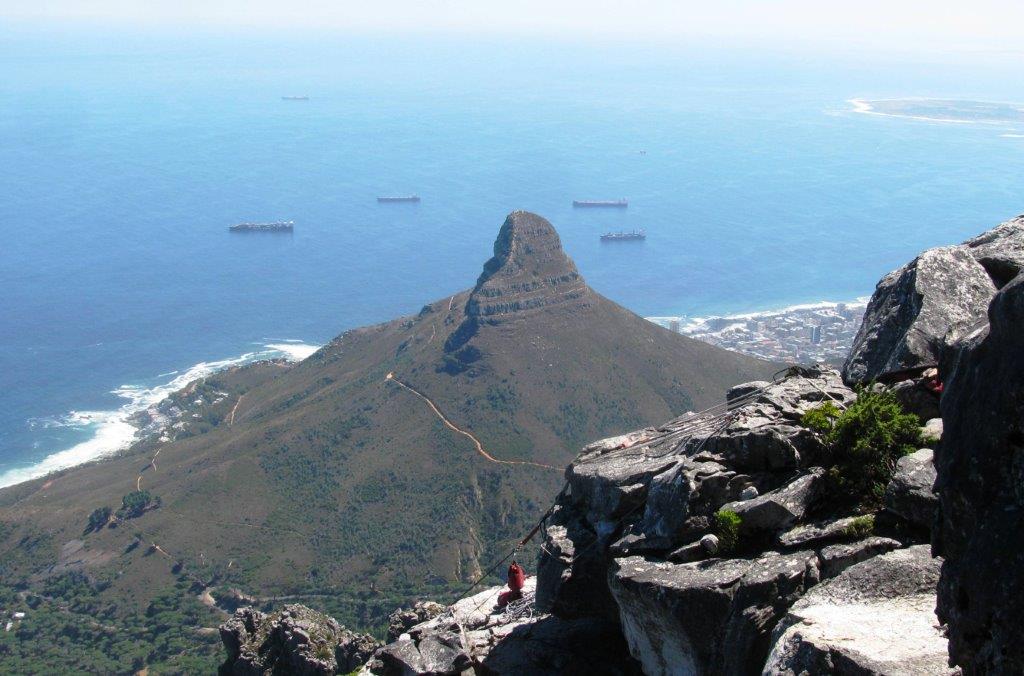 Lions Head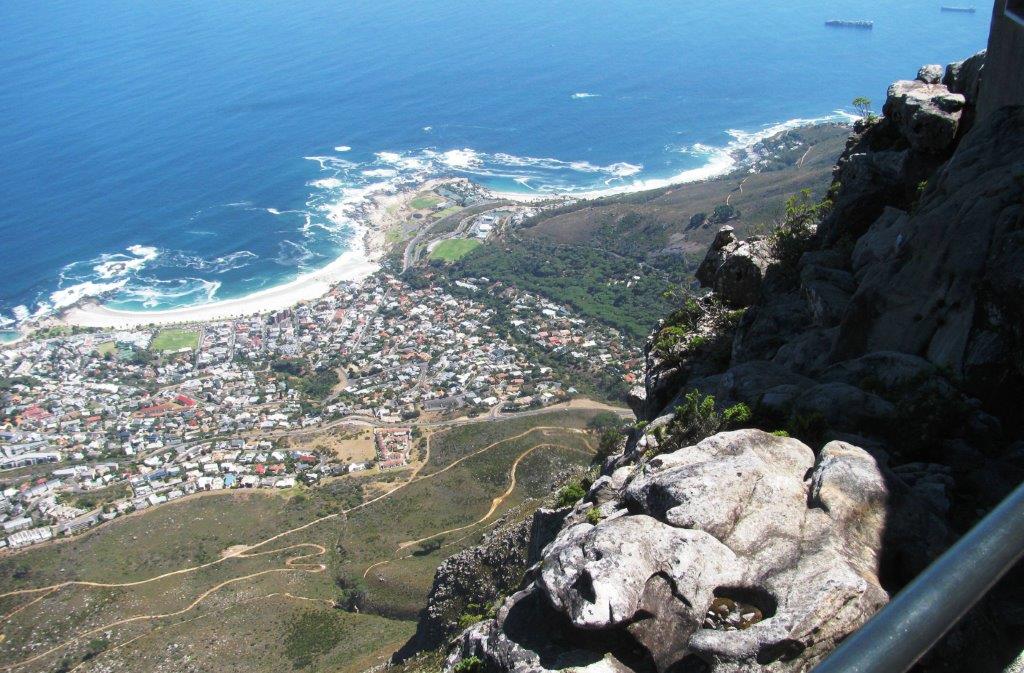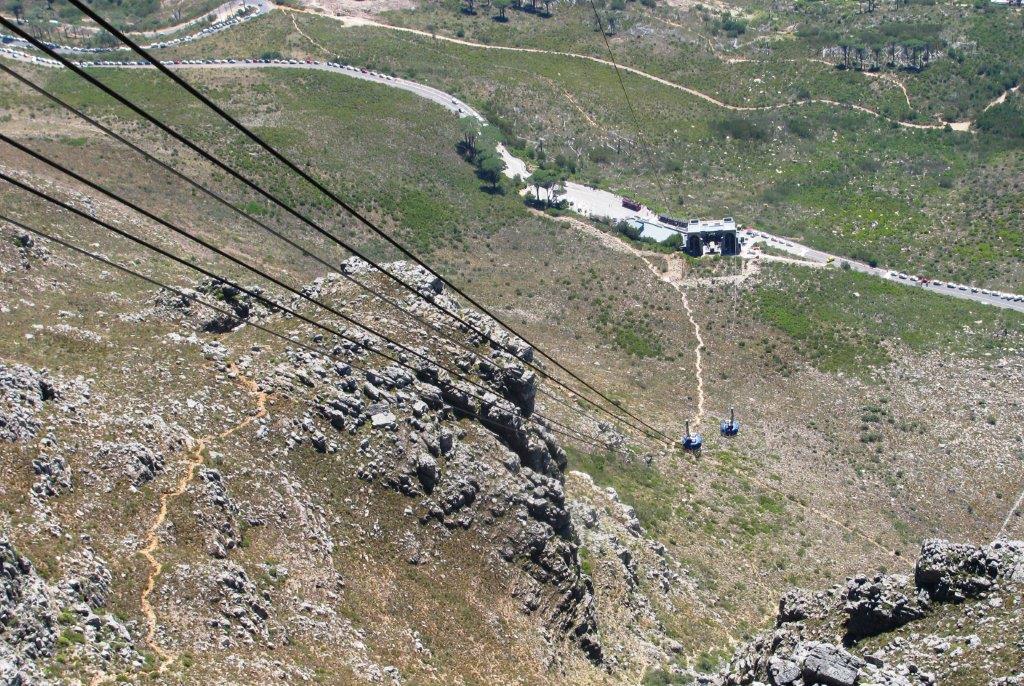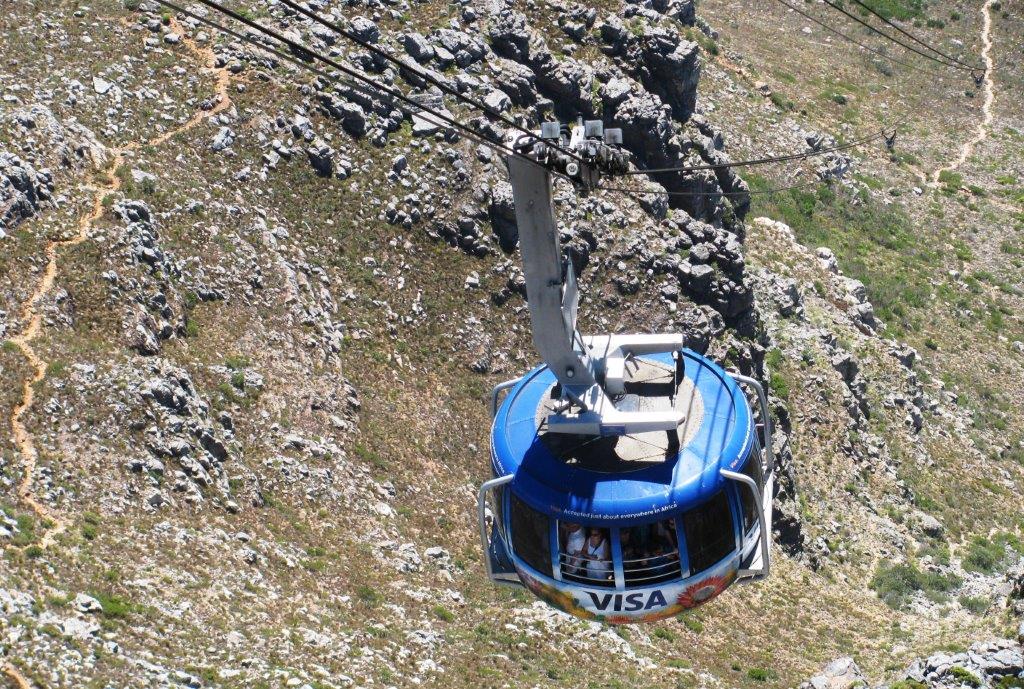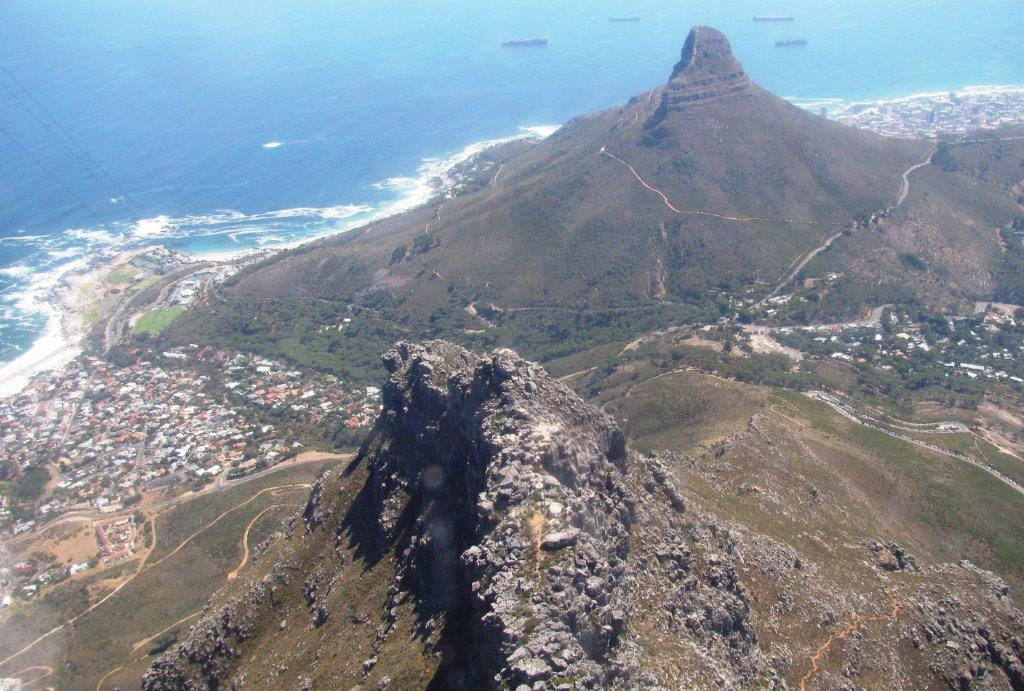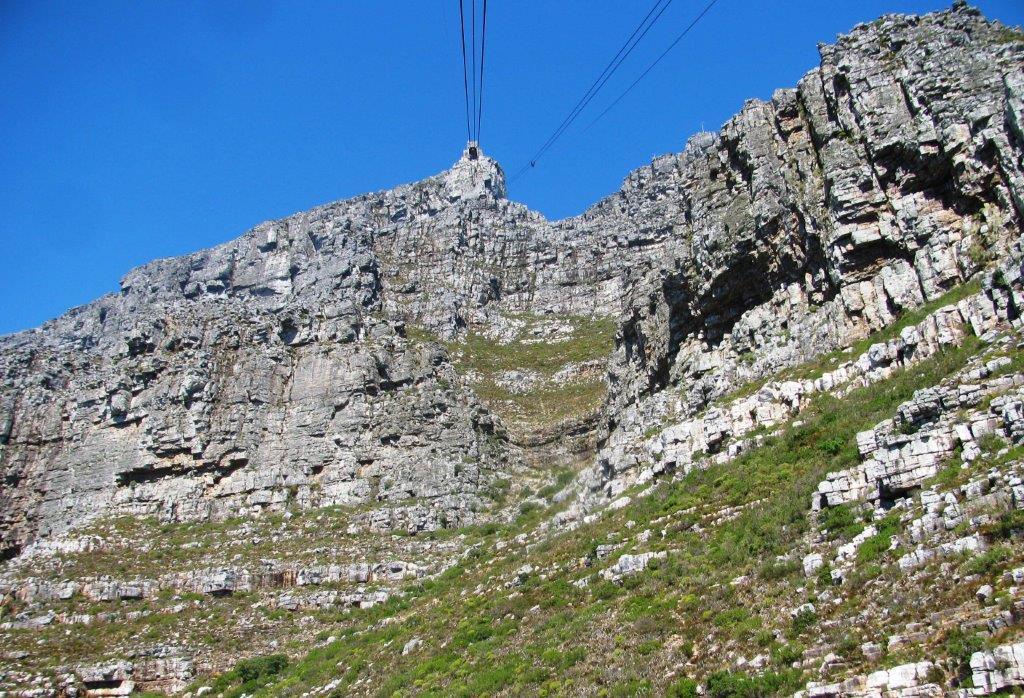 walks index - homepage - contact me at