walks index
-
home page
- contact me at

Part of Llŷn Coastal Path (amended 14th August 2009)
Jan arranged and led this walk with Susan, Dave and Tony participating - all from Sheffield Ramblers.
Full gear was carried between hotel / B&B stops rather than using a portage service - thus about 10kg per person was carried.
The full Llŷn Coastal Path was not walked - portions were omitted before our start and end points. For full route details refer to maps and guide books - several variations are possible. The main purpose of this document is to give some idea of the scenery.
My (Tony's) camera packed up in the later part of the walk and some pictures taken by Susan and Dave of missing stages and also of earlier stages are included as noted.
First Day - 21st June 2009
Travel from Sheffield to Wales with some sight seeing before spending the first night at Clynog Fawr - no walking - visited Church.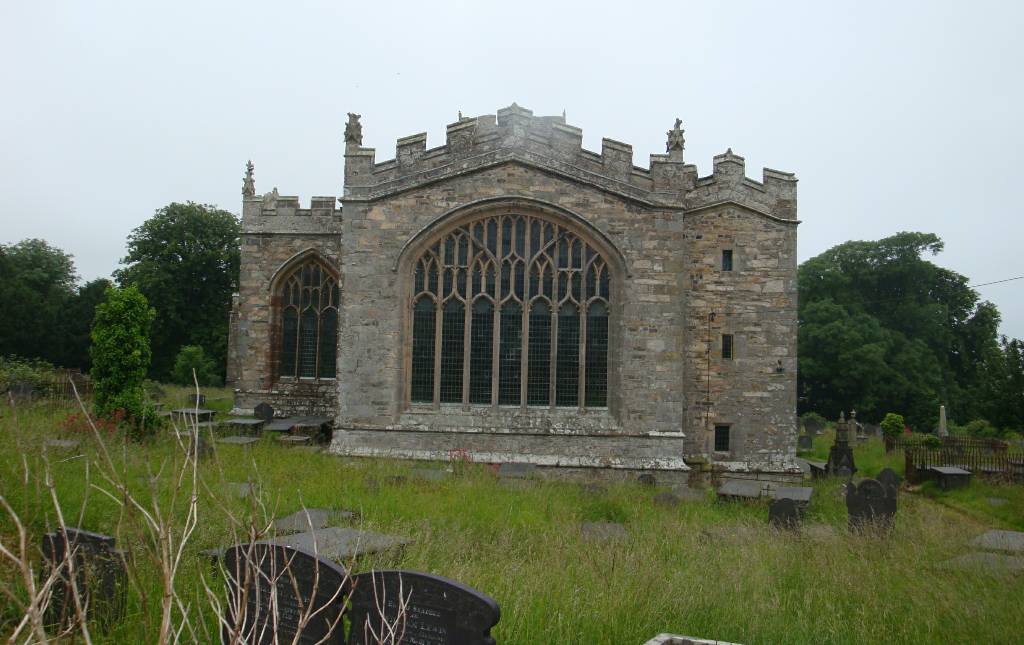 Parish Church dedicated to Saint Beuno built on the site of a Celtic monastery founded in early 7th century.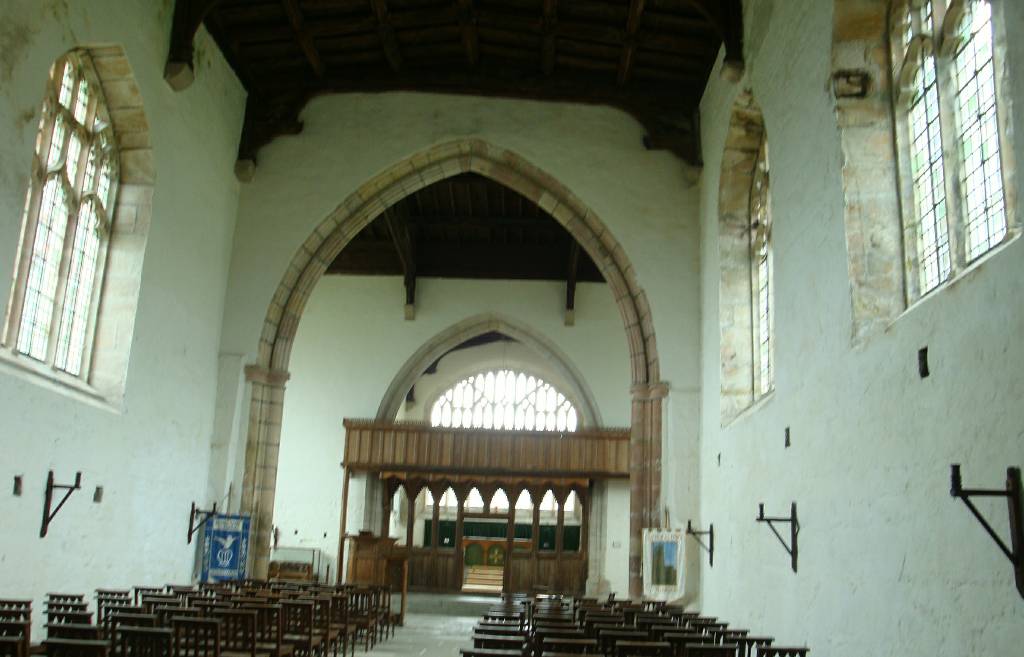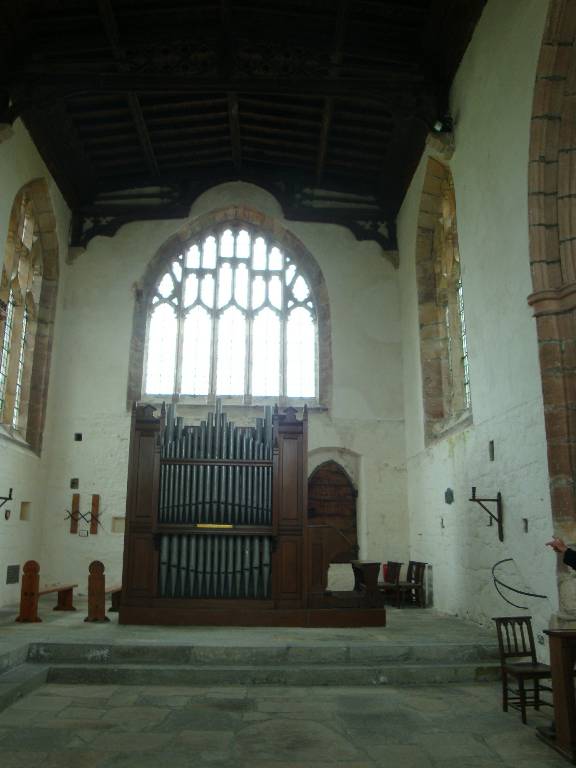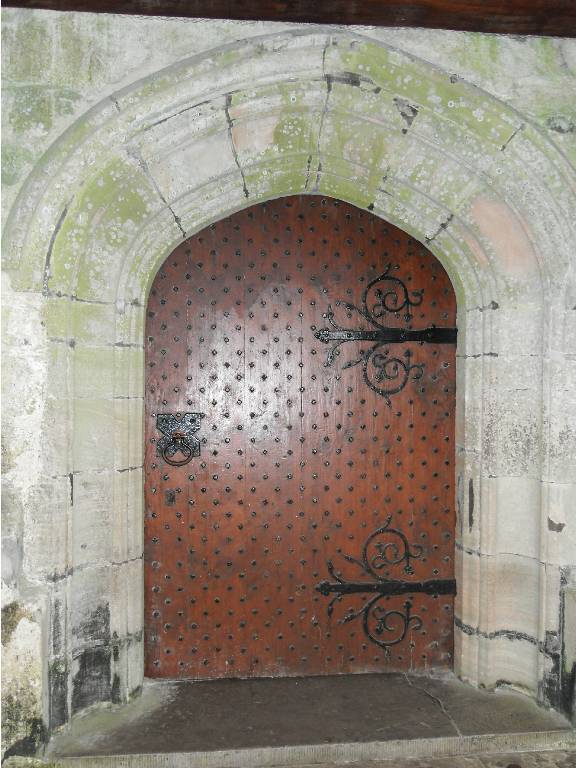 photo by Susan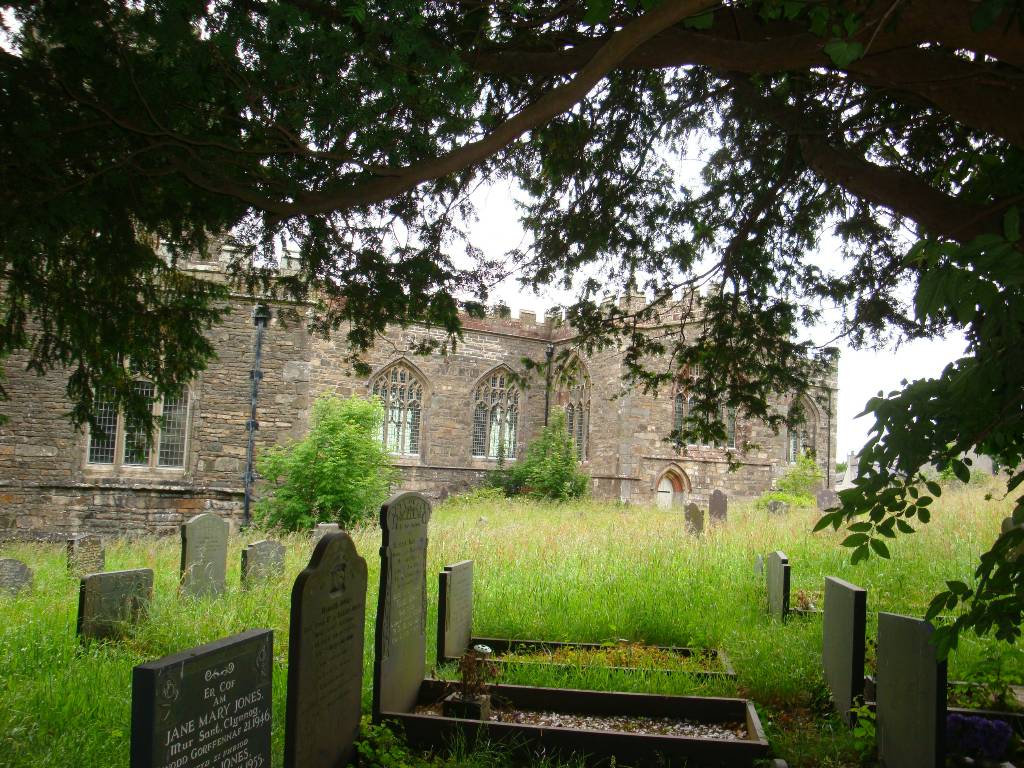 This church was a stopping point for pilgrims heading for Bardsey Island
Second Day - 22nd June 2009 - from Clynnog Fawr to Nefyn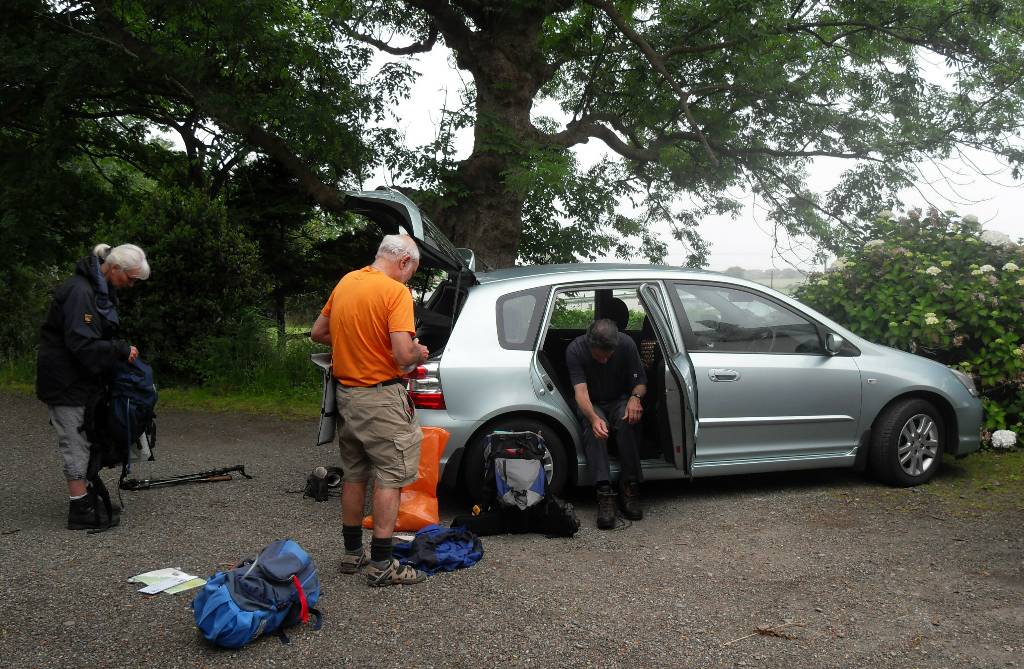 Getting started photo by Susan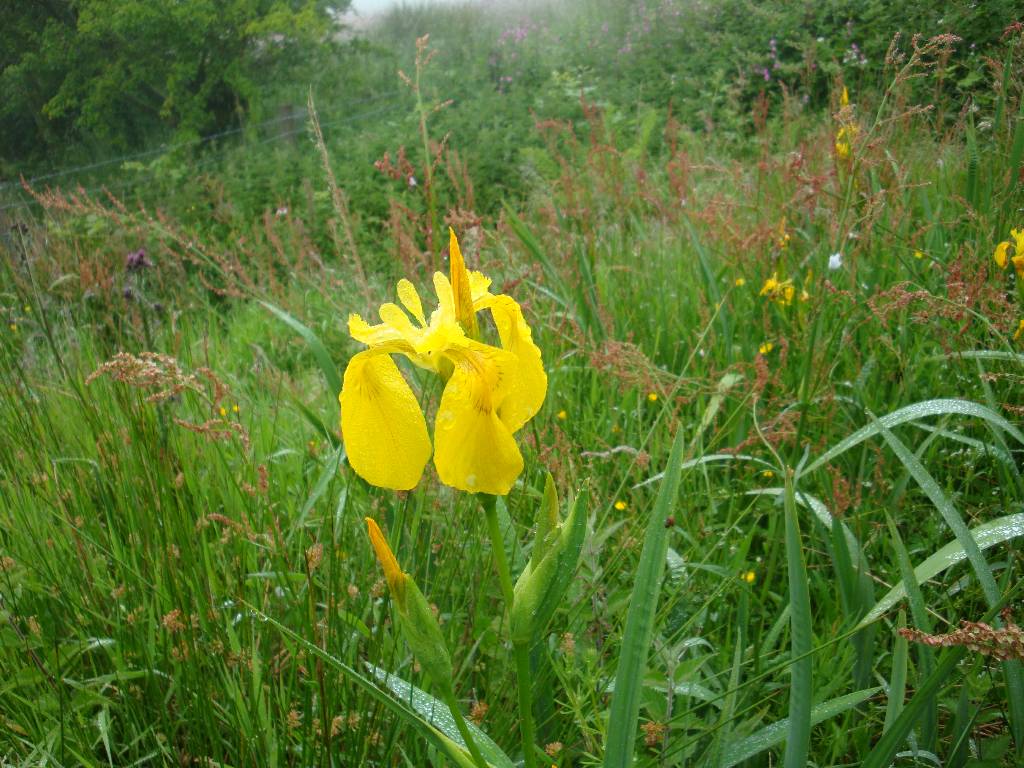 Seen while heading south from Clynnog Fawr to a col between Bwlch Mawr and Gryn Goch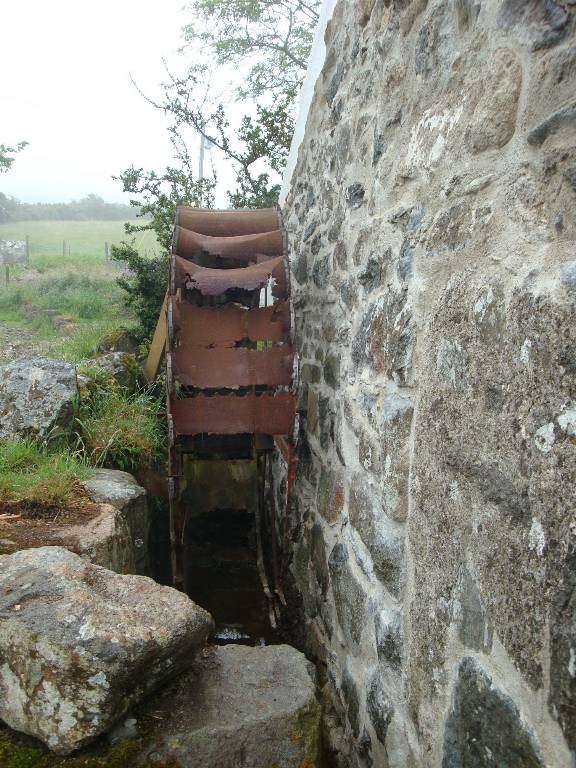 Rusty water wheel - near old farm now being rebuilt.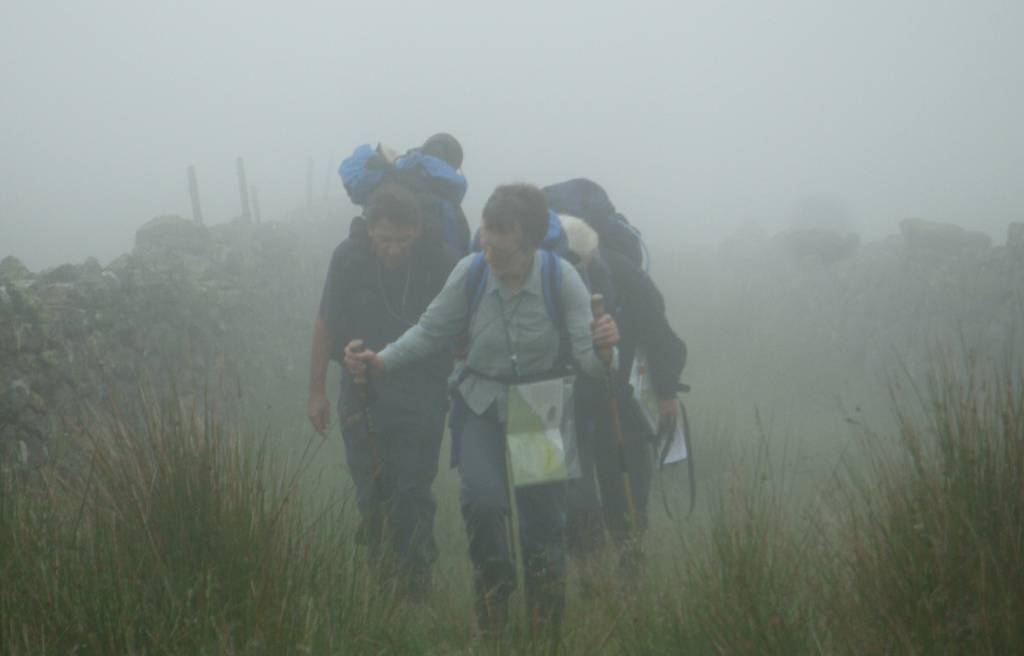 Homo Sapiens ascending in the mist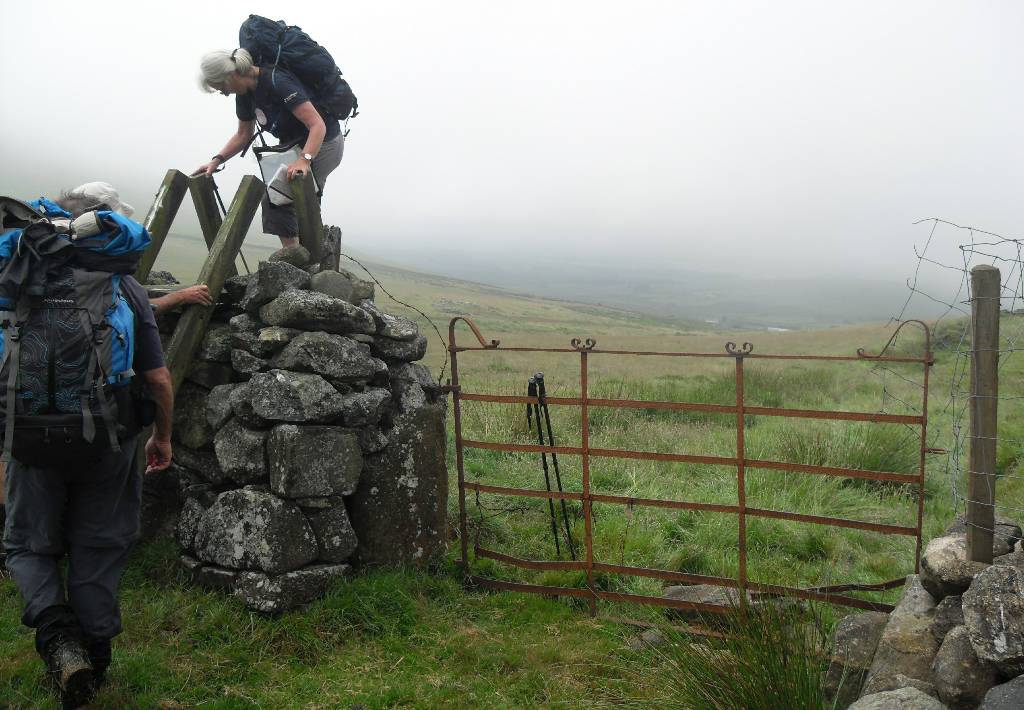 photo by Susan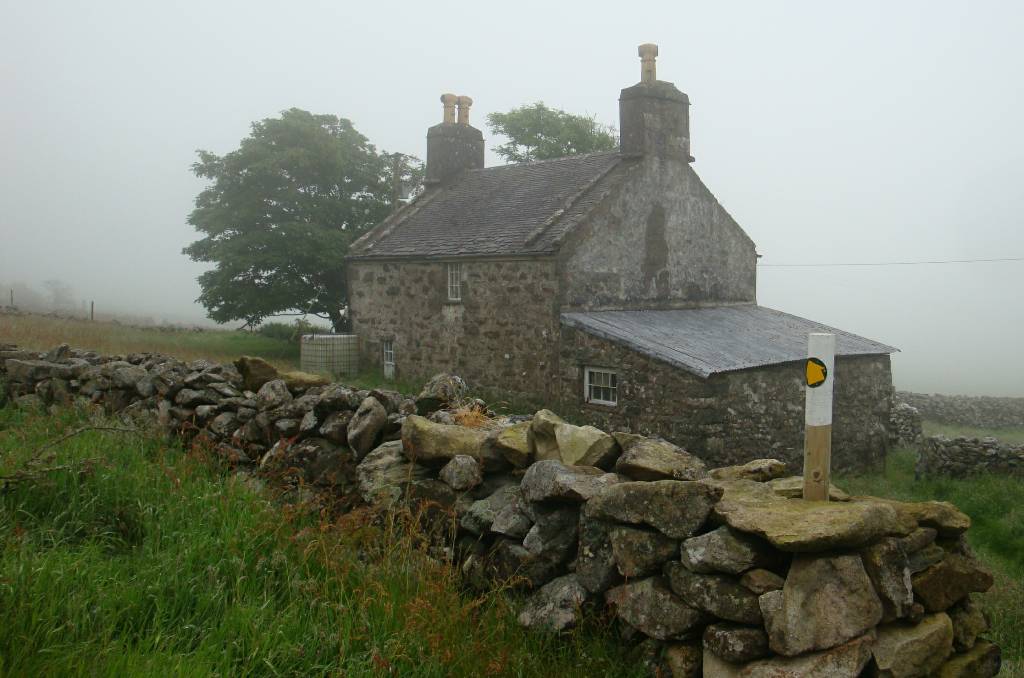 A footpath sign near 'abandoned farms', which if followed, leads one to the village of Llanaelhaearn - well away from the intended coastal route.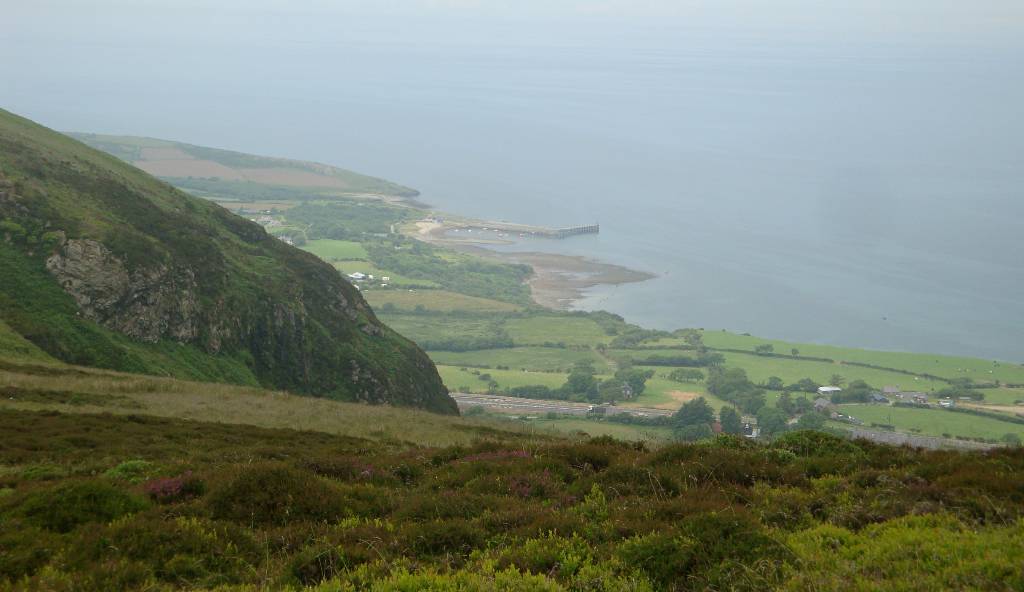 Descending between Gyrn Ddu and Moel-Pen- Llechog to cross the road A499 nearly fully rebuilt at this time. The pier of the village of Trefor in view.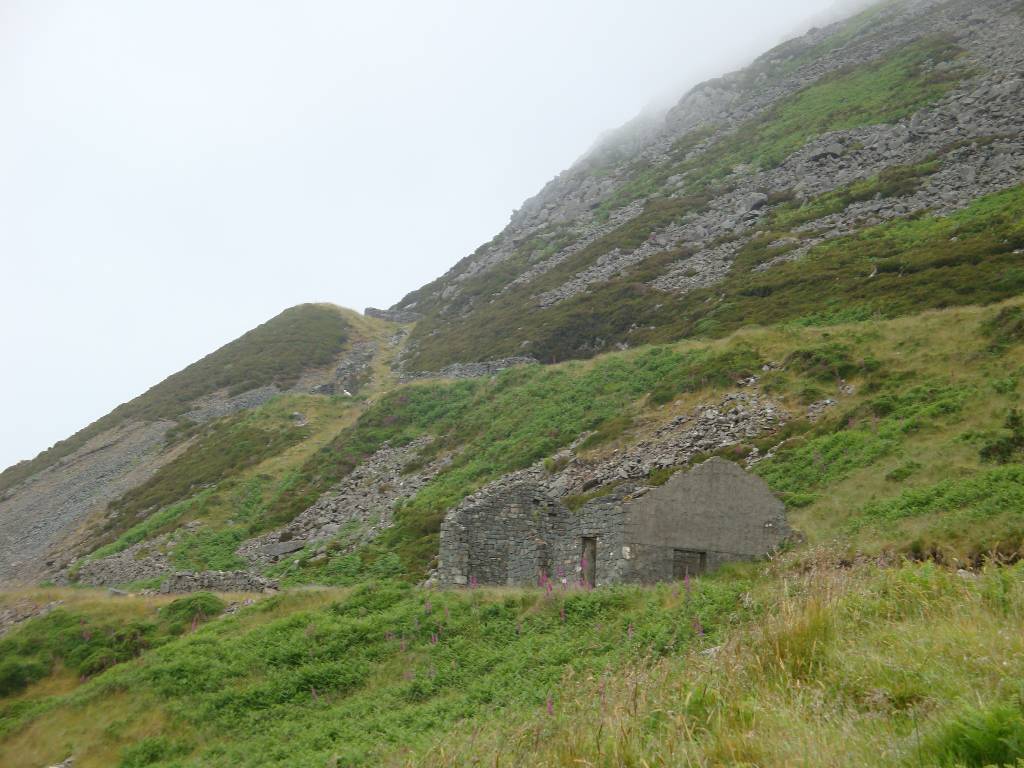 Abandoned quarry on Gryn Ddu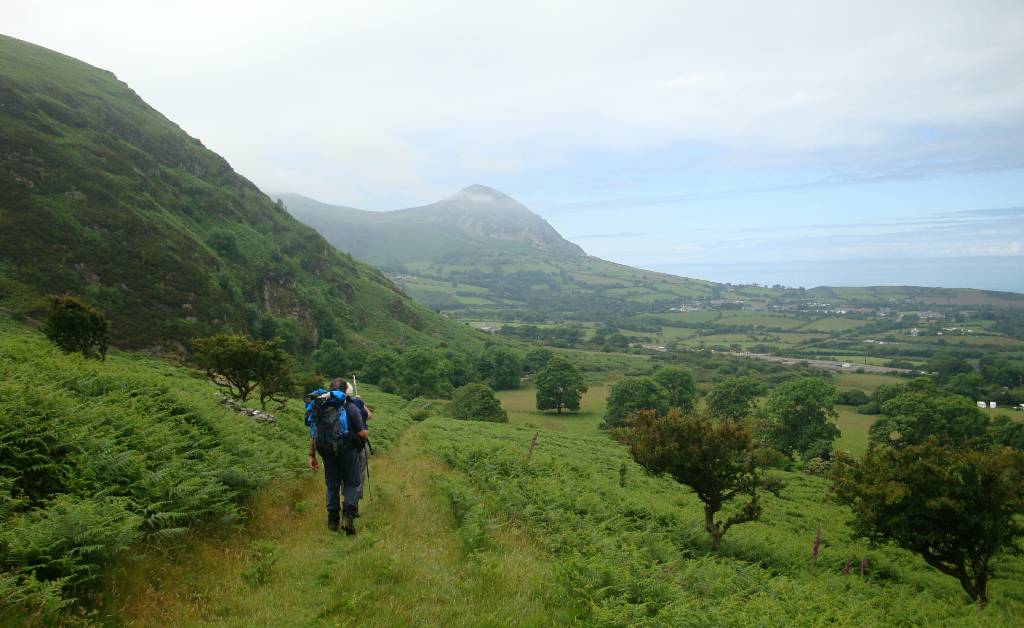 On descending, Yr Eifl, a quarry is seen on the skyline - no longer worked. A499 road just visible to right.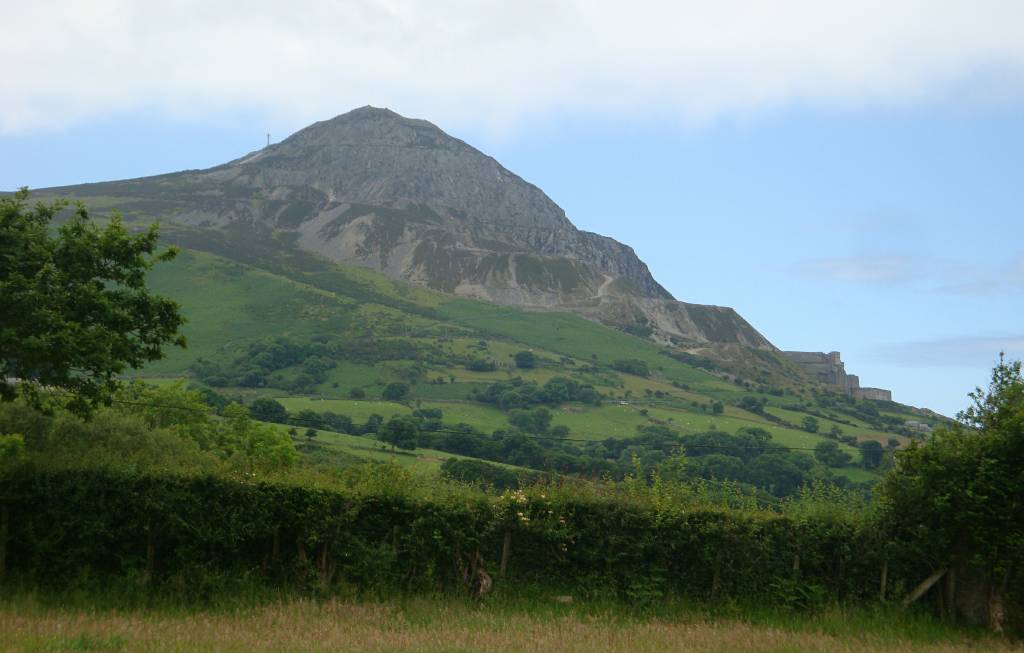 A closer view of the above quarry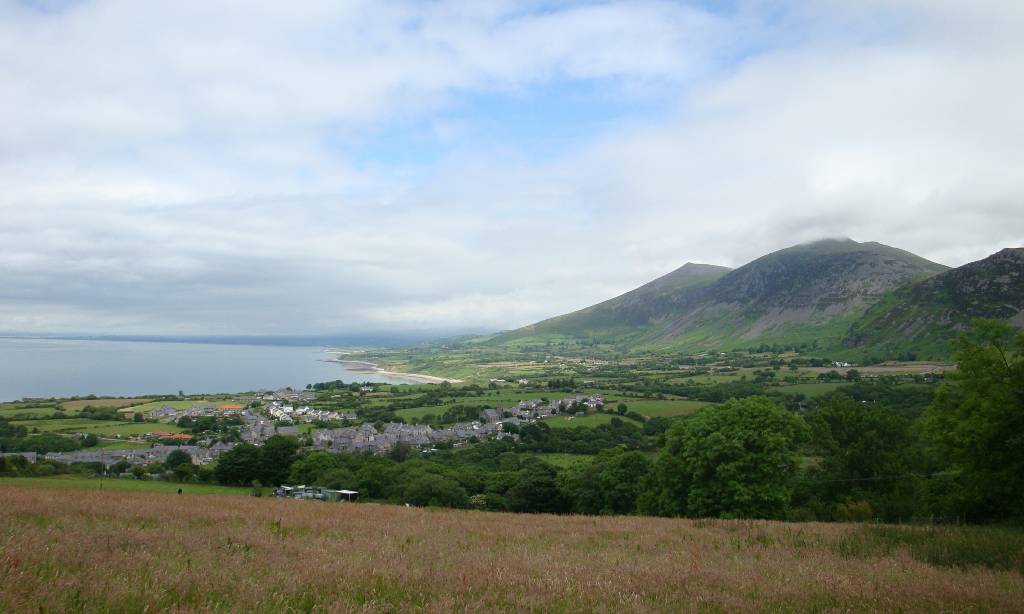 Inland path south of Trefor village was taken rather than the path closer to beach. View looking north.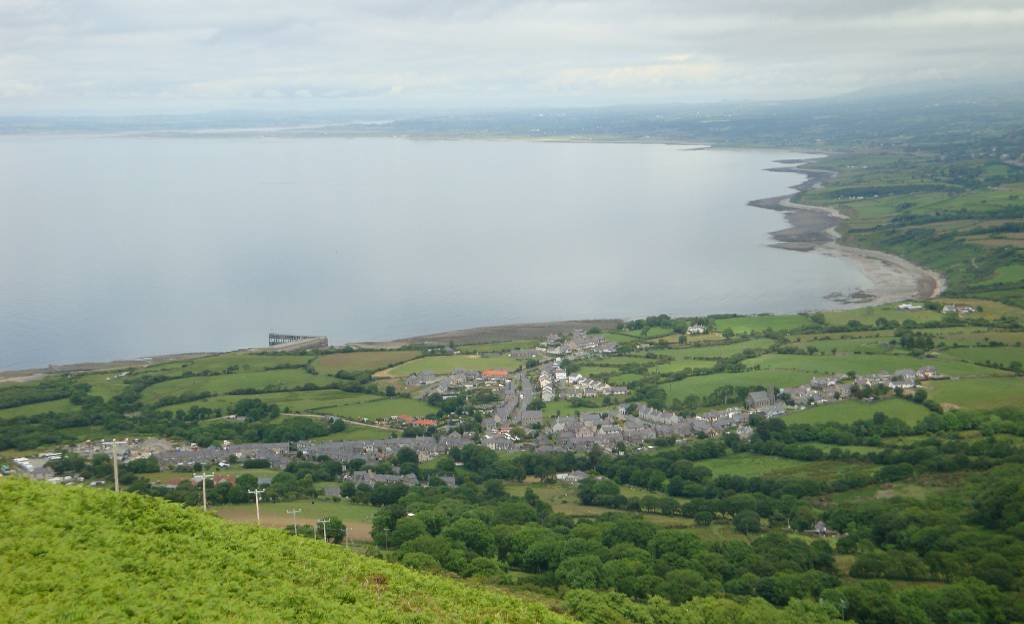 Views looking north while ascending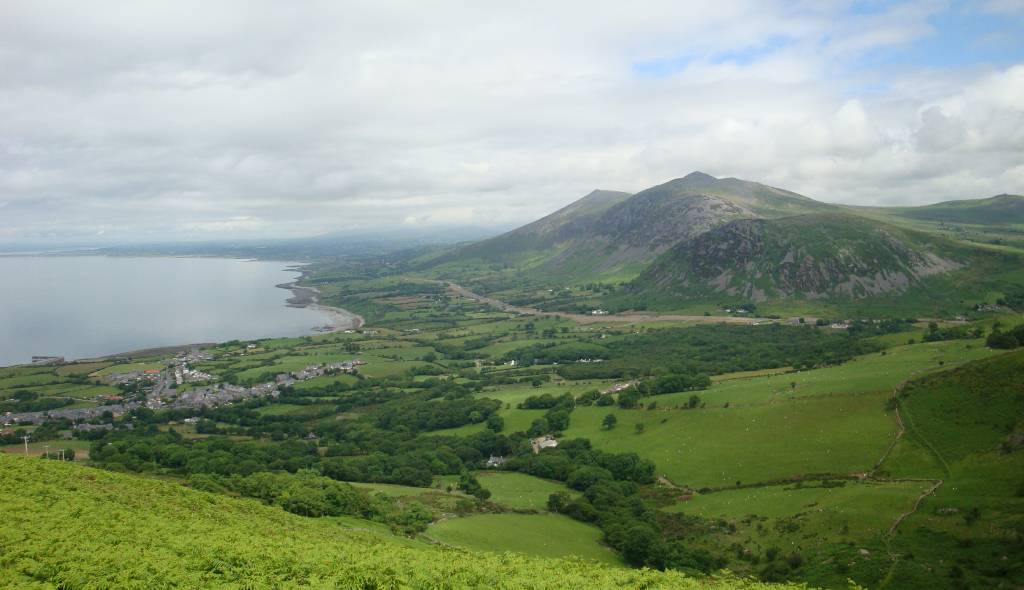 Views looking north while ascending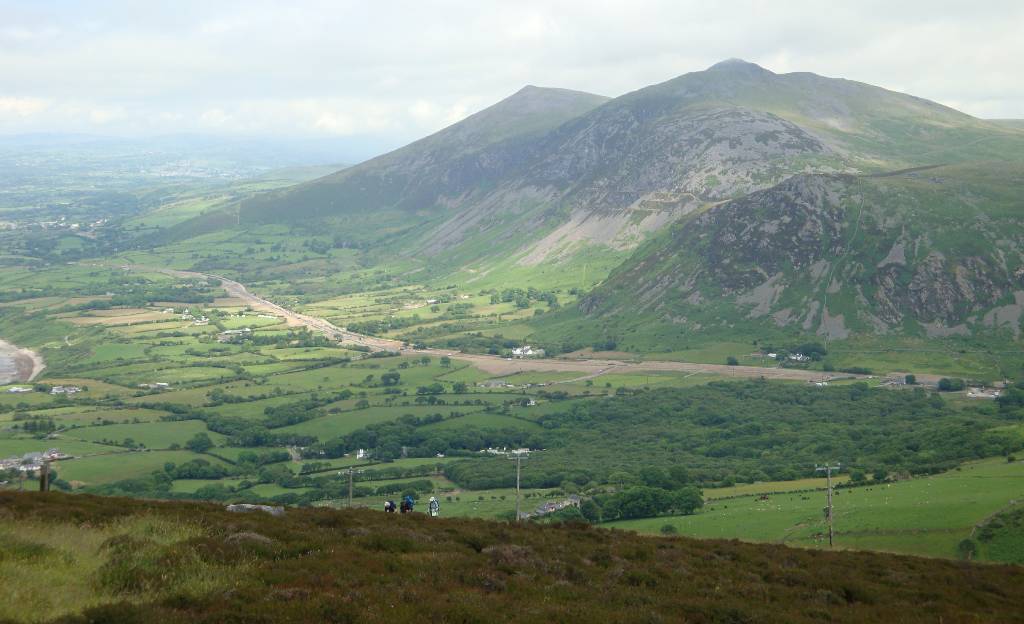 Hard slog upwards to the col, Bwlch yr Eifi, between the quarry and the hill Yr Eifl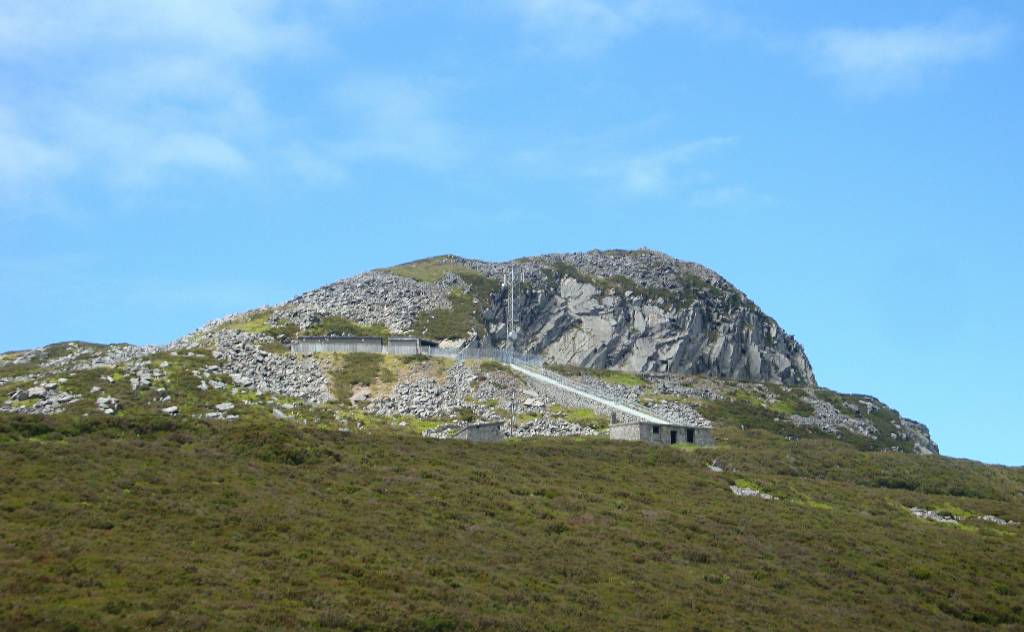 Old quarry metamorphed into a mobile telephone transmission station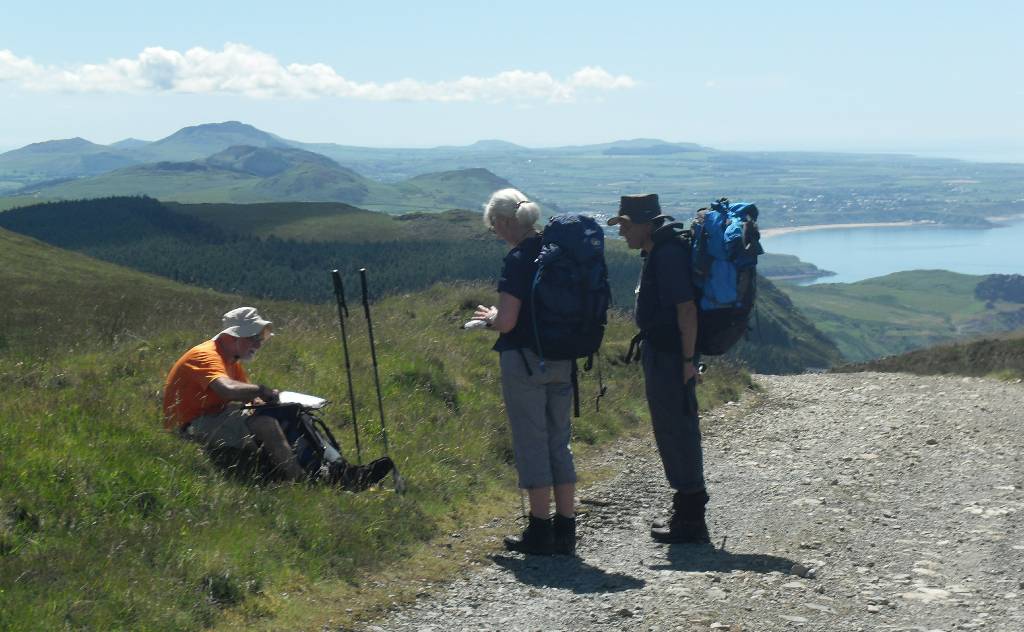 Over the col - looking at the route ahead photo by Susan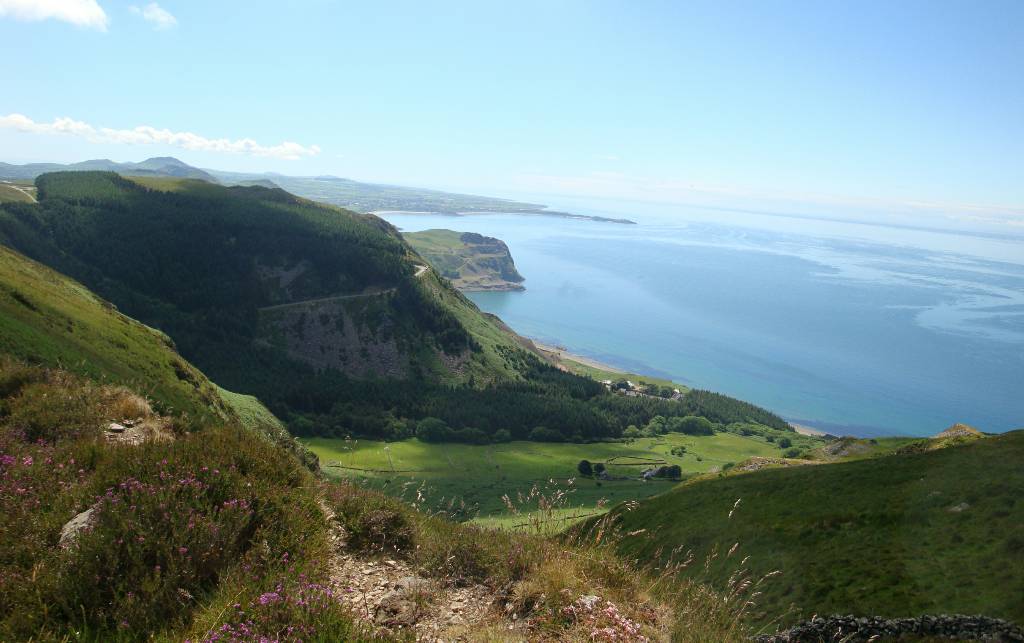 View from Craig Ddu down to Welsh Language and Heritage Centre at Nant Gwrtheyrn - formerly an abandoned quarry workers village. This site was was only reachable by boat until a steep road (visible on hillside) was built much later.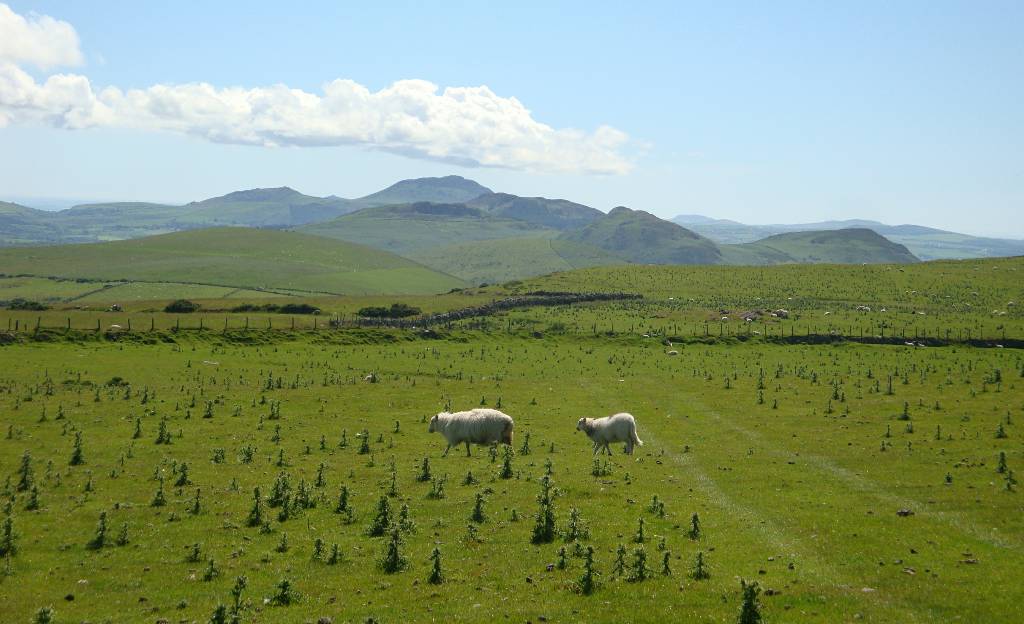 Did not descend on 'Coastal Path' to Heritage Centre but cut south west on footpath across farmland to Ciliau-uchaf where CP rejoined.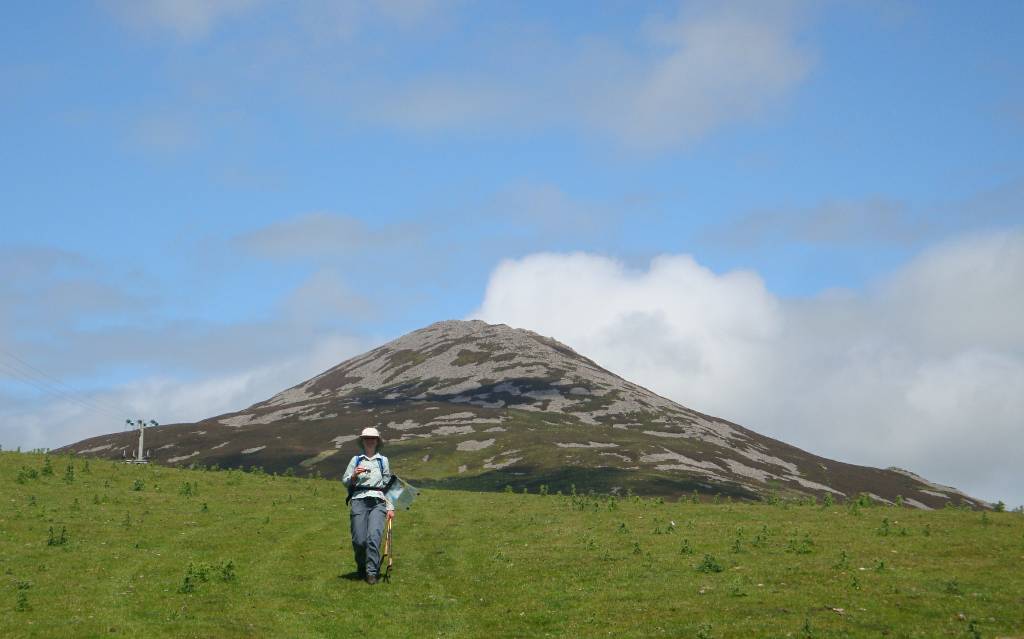 View looking north east with Yr Eifl behind
Nefyn, our day's destination, south west in the distance.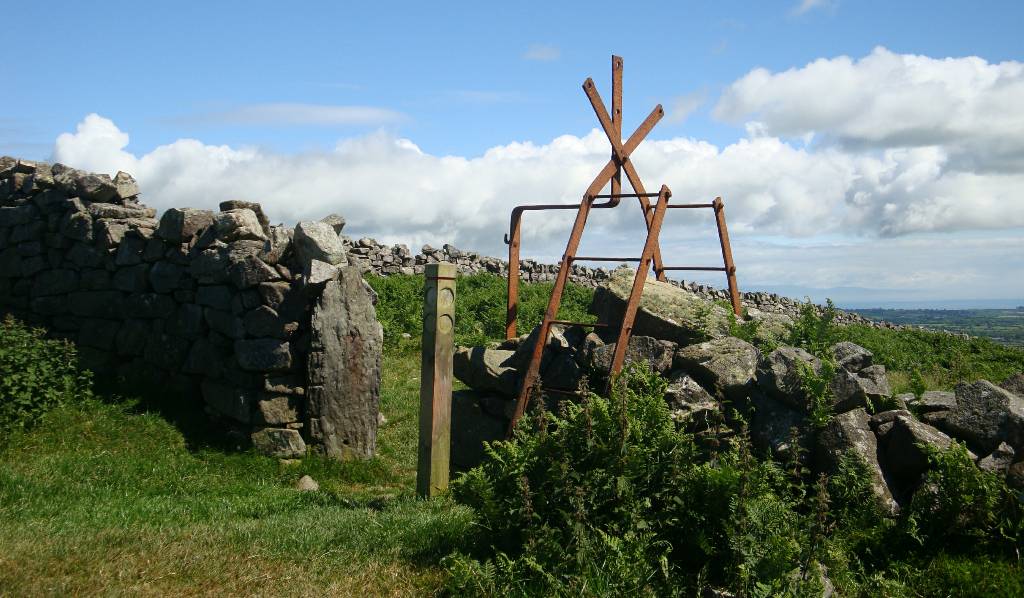 Unusual abandoned steel stile.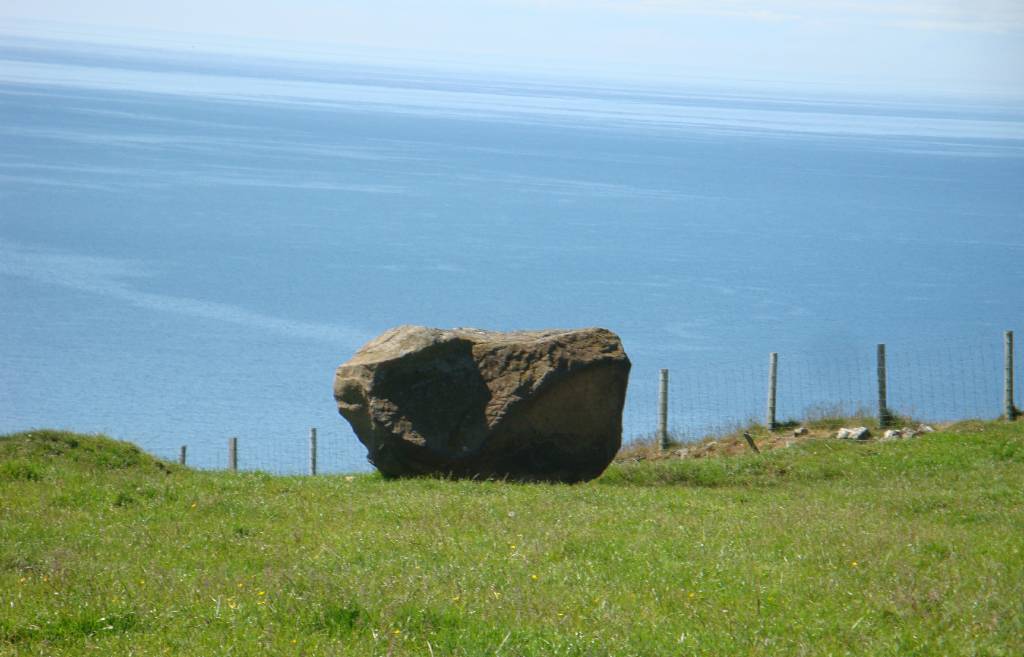 Remnant glacial boulder?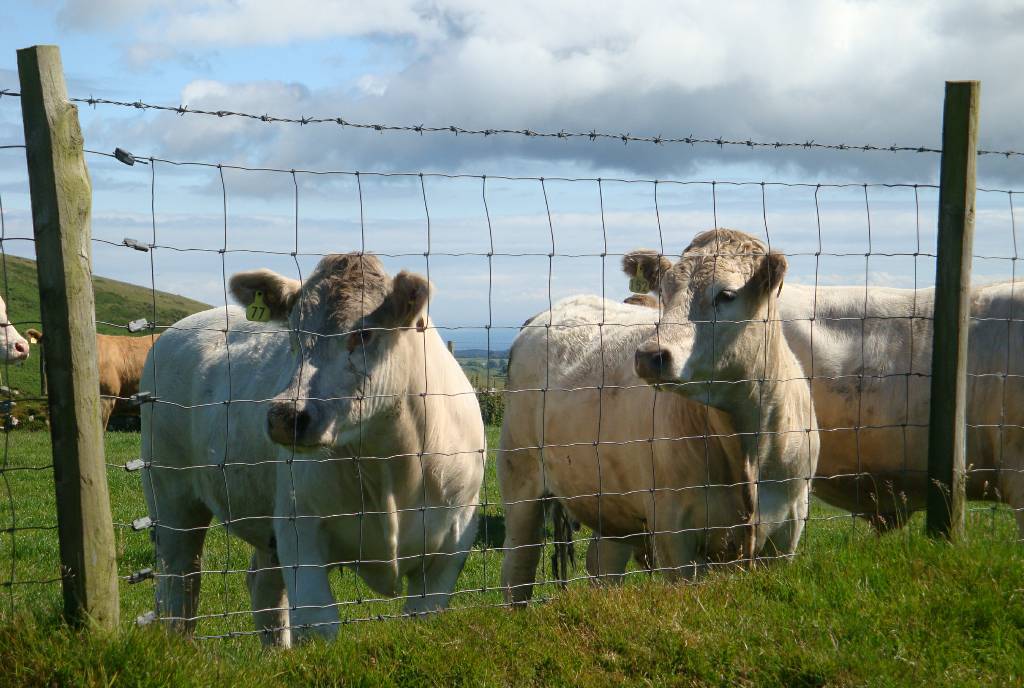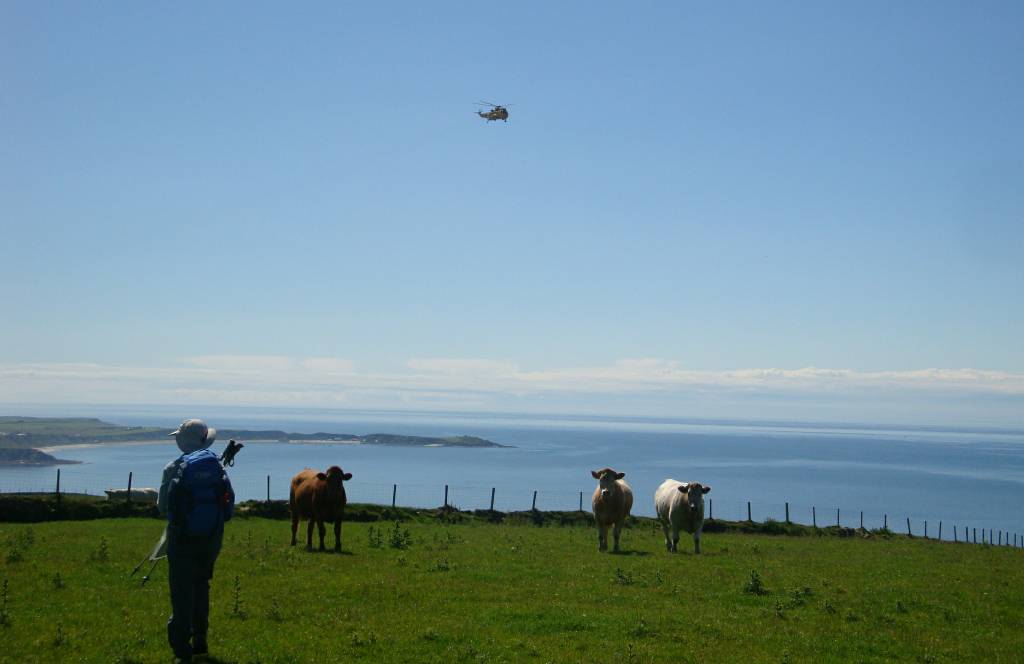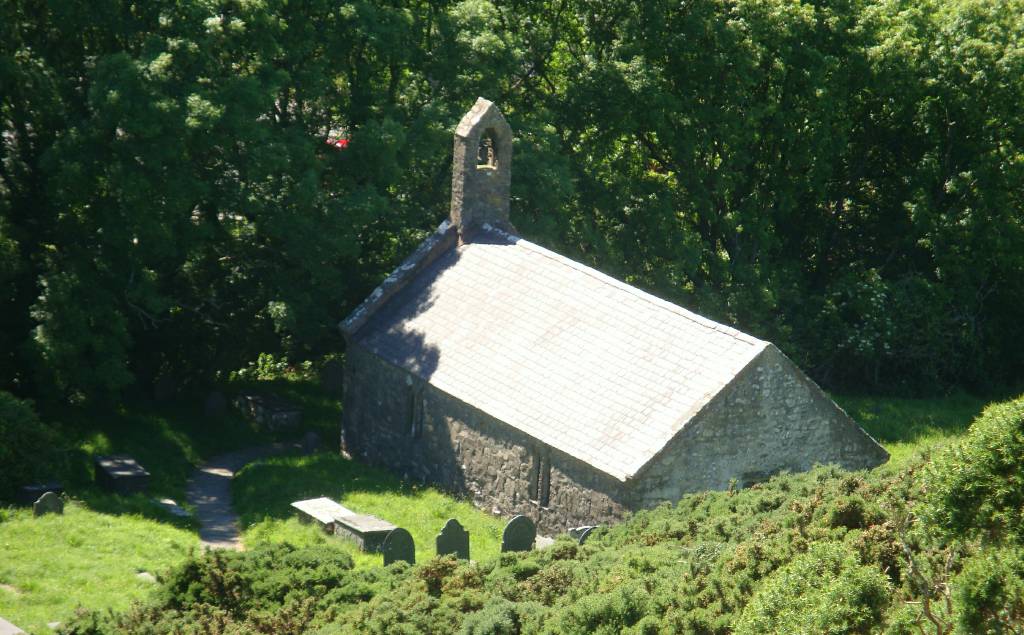 Pistyll Church on the pilgrims route to Bardsey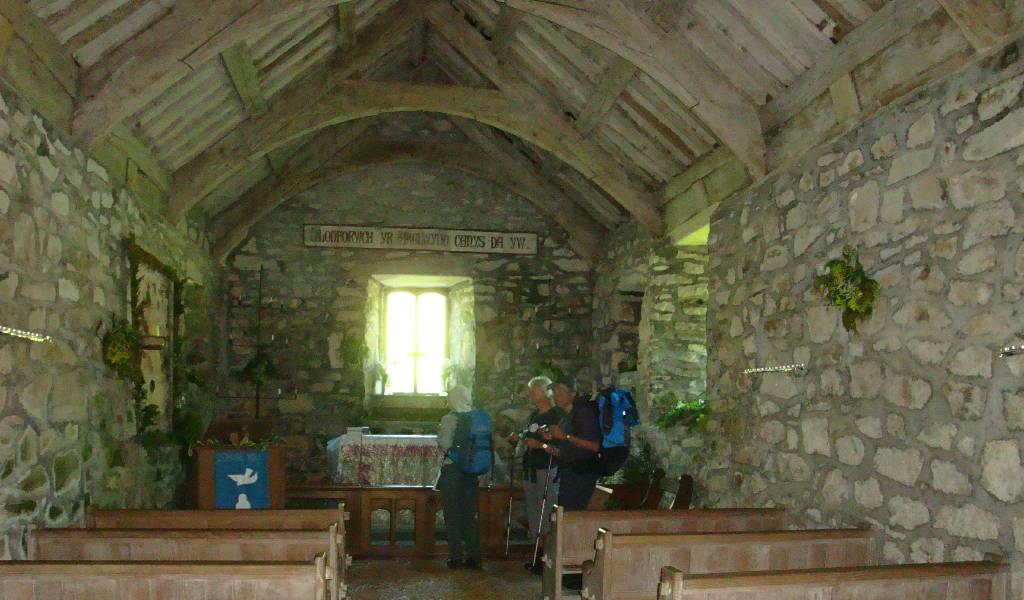 Church in dark - flash photos show decoration with grass on floor and other foliage on walls.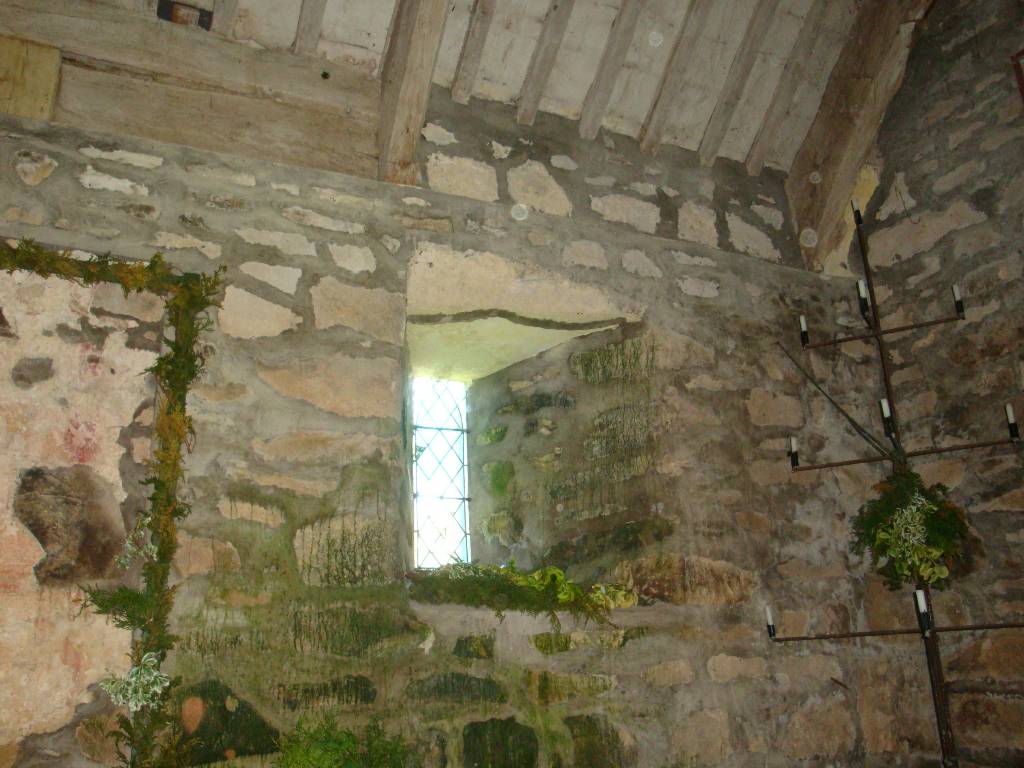 Lepers window in Church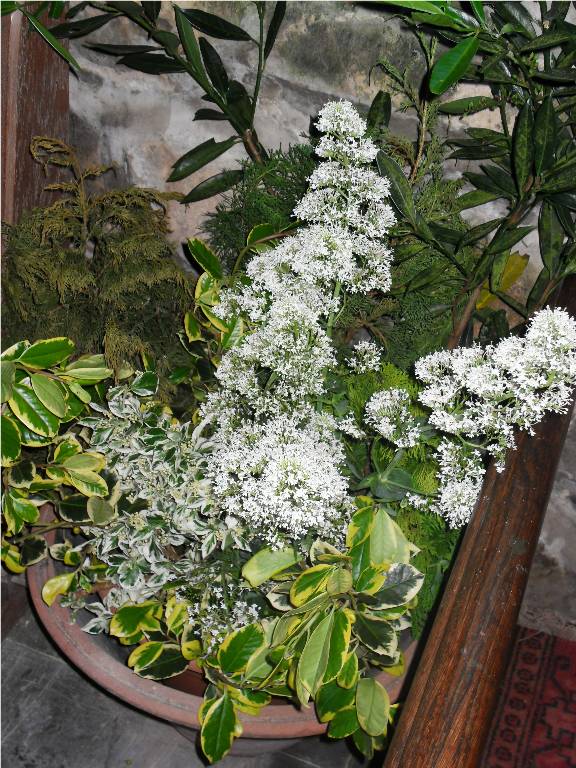 Church decoration photo by Susan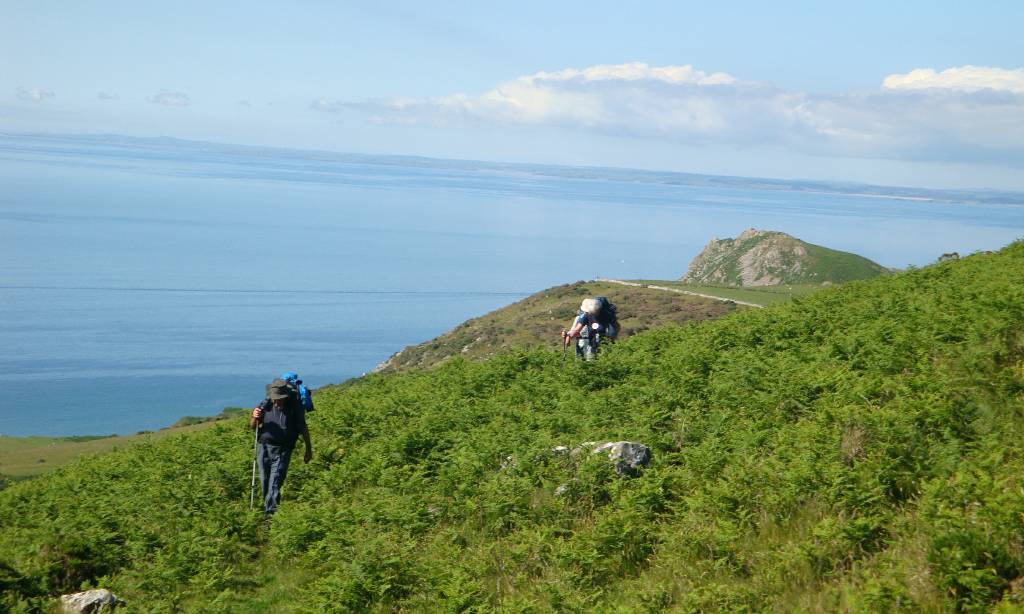 Crossing in the bracken Moel Ty-gwyn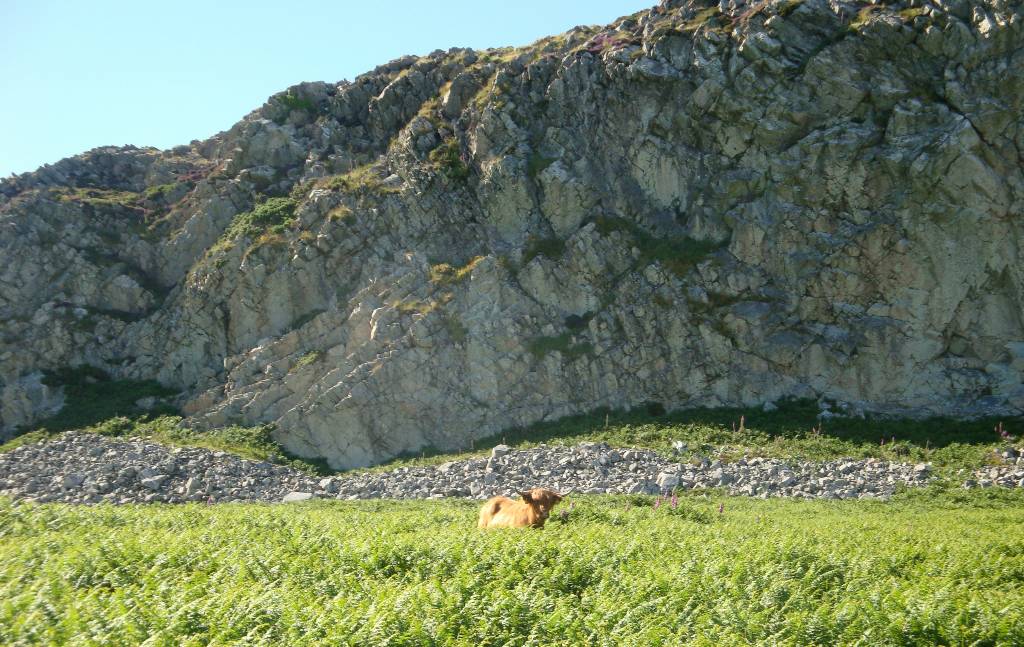 On footpath off Coastal Path. Highland cattle framed by rock face on east side Gwylwyr Carreglefain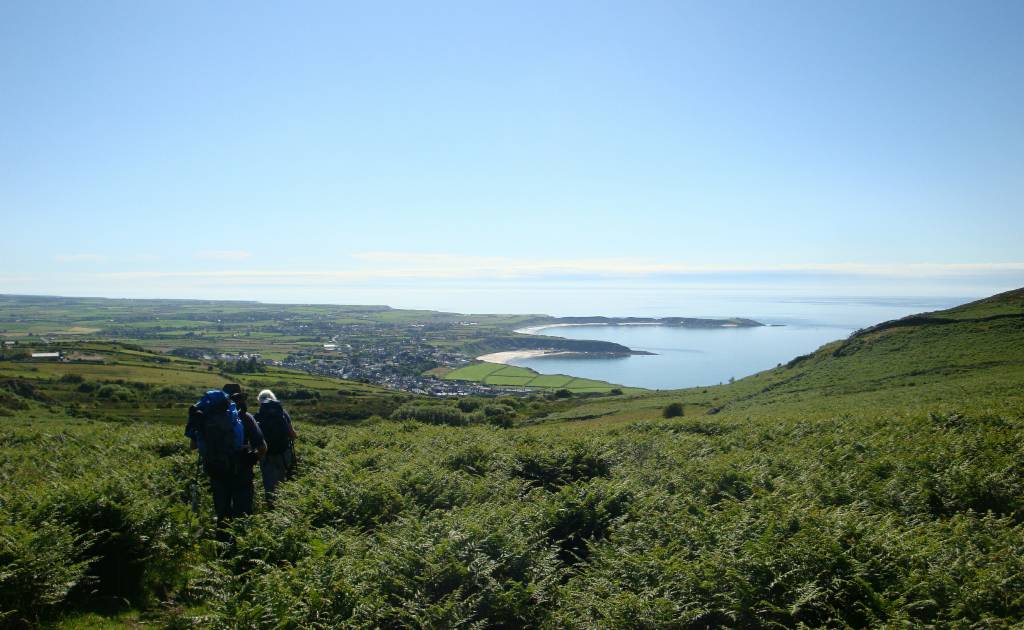 Nefyn our destination for the night in the distance
Third Day 23rd June 2009 - from Nefyn to Porth Colmon
(taxi taken - Porth Colmon to / from Tudweiliog where we spent night)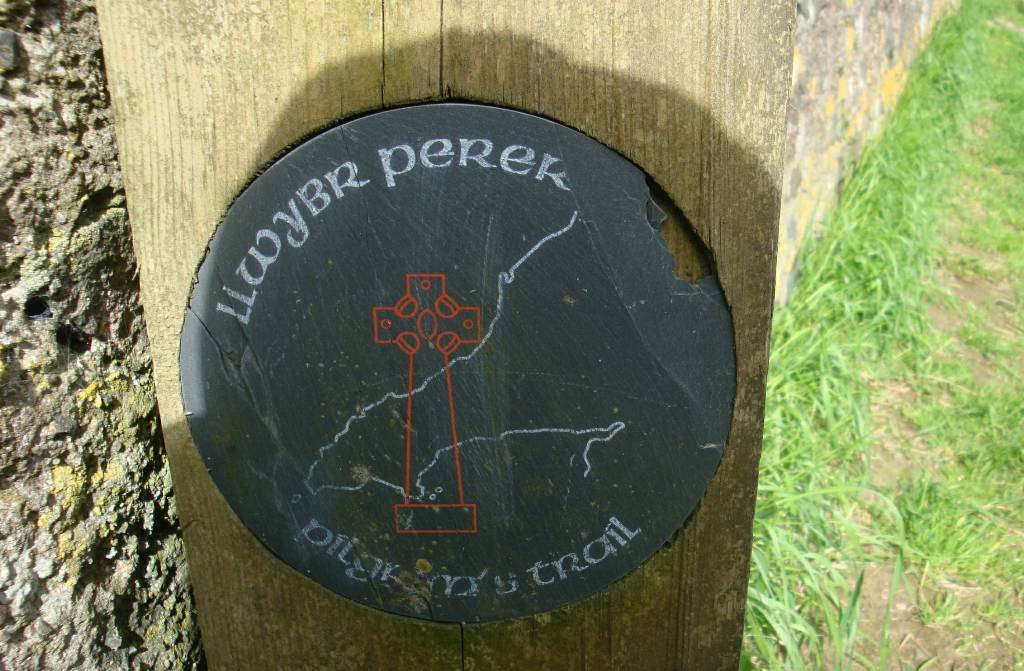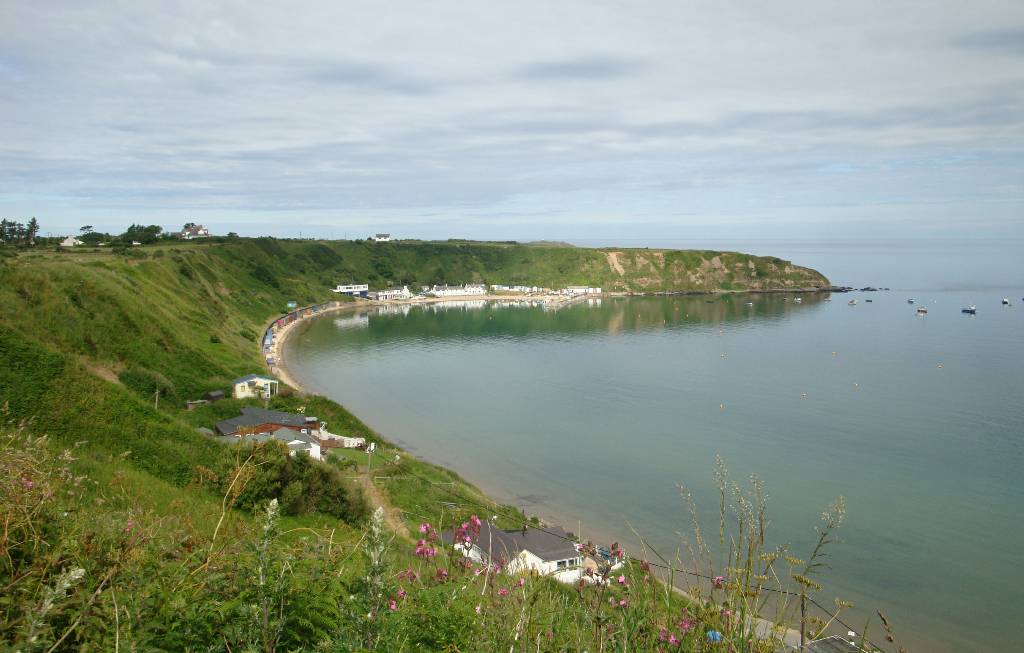 Approaching Porth Dinllaen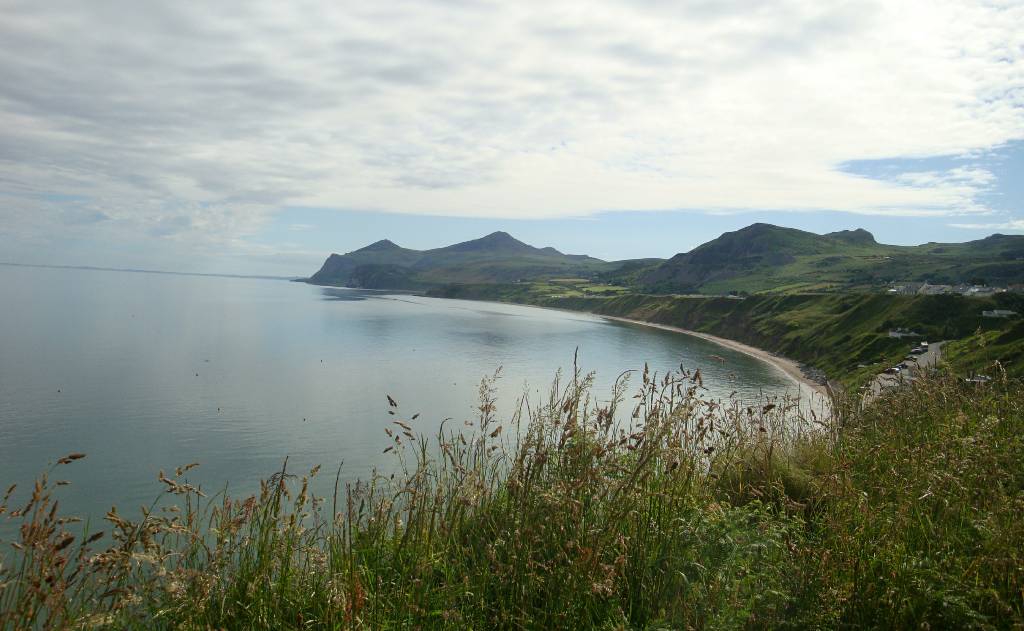 Looking behind at route covered - quarry hill near Yr Eifl seen on left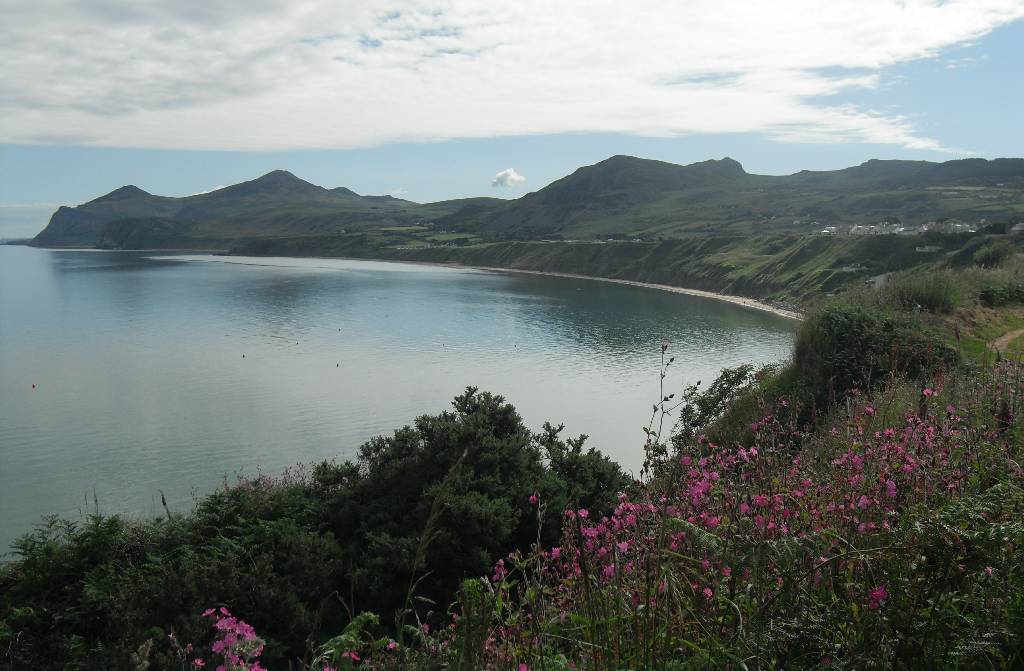 photo by Susan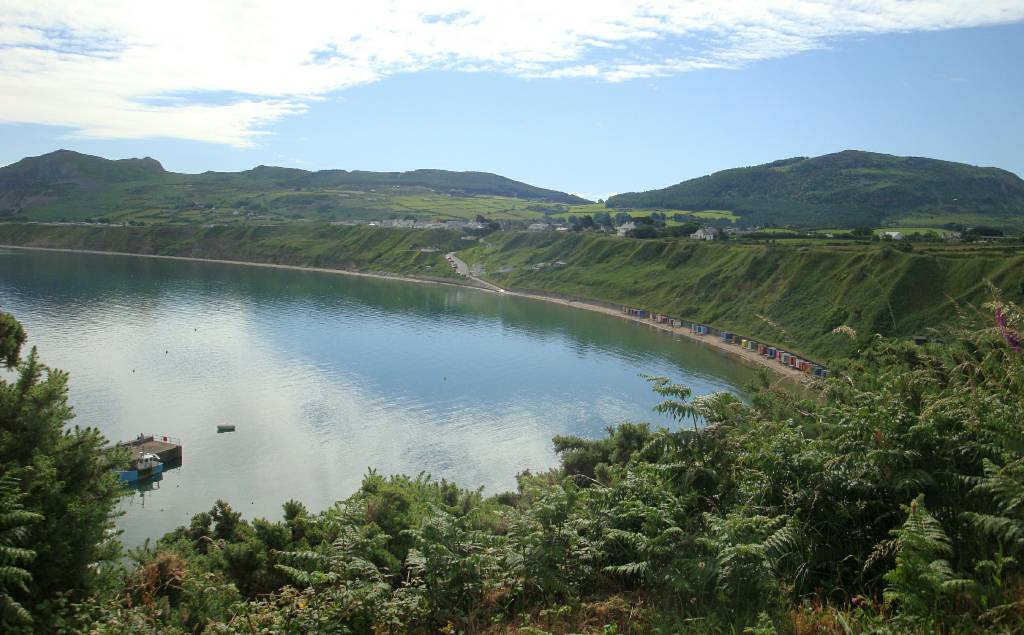 Beach huts near Porth Dinllaen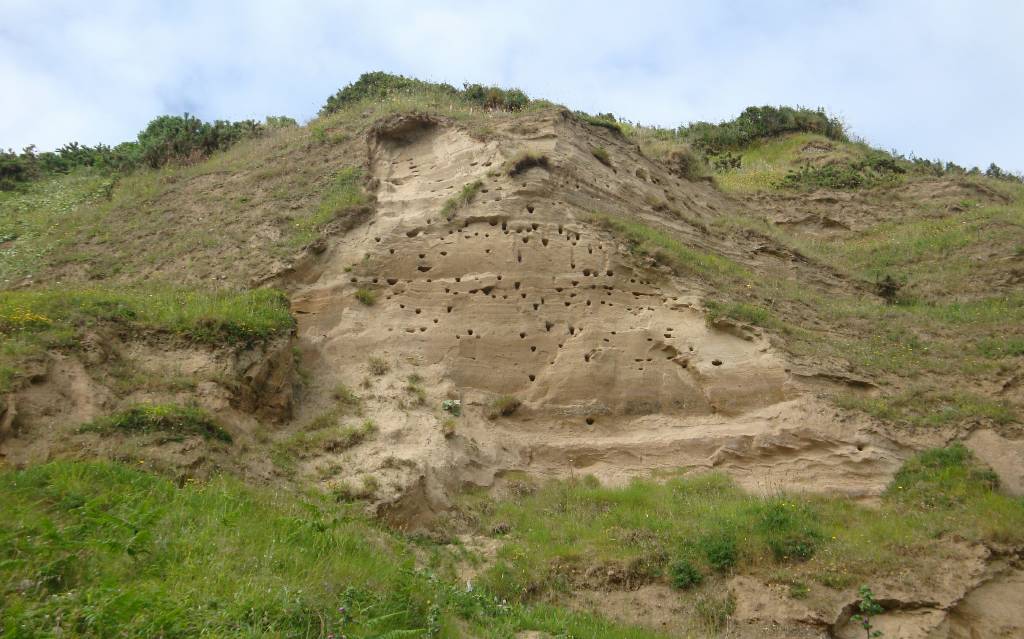 Birds' nests? built in unstable sands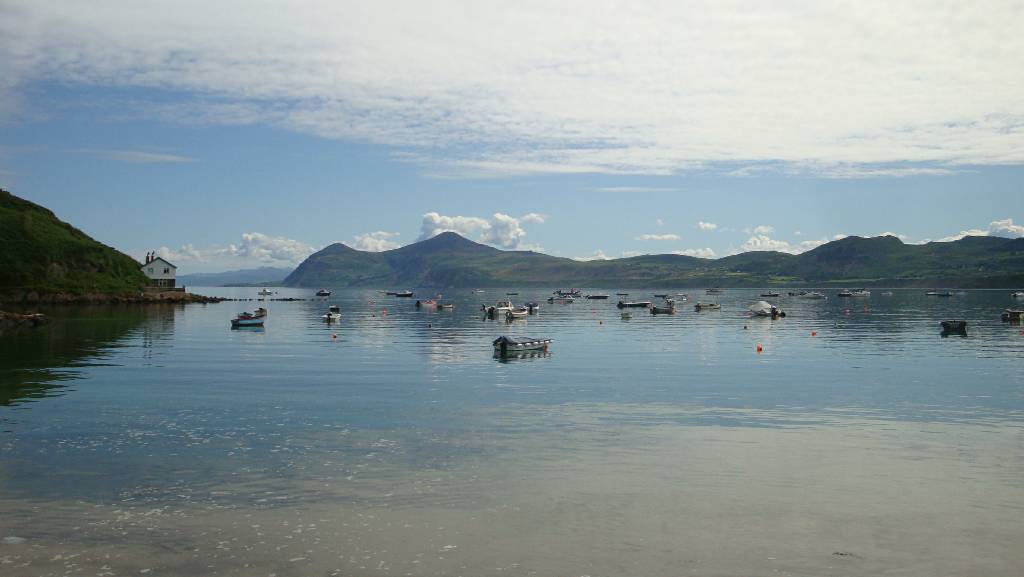 View from Porth Dinllaen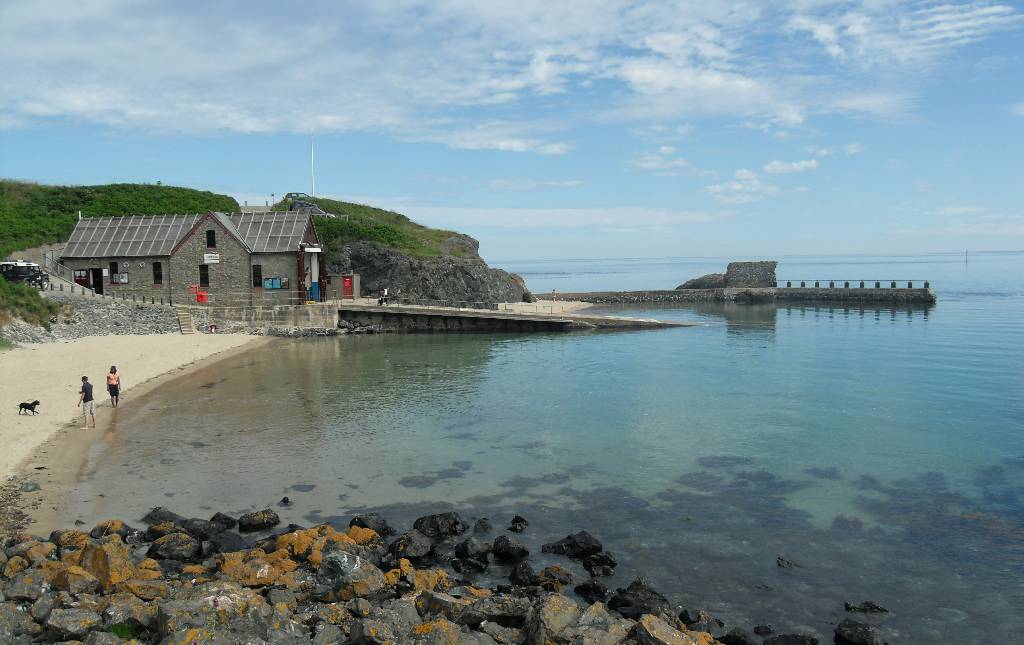 Lifeboat slipway photo by Susan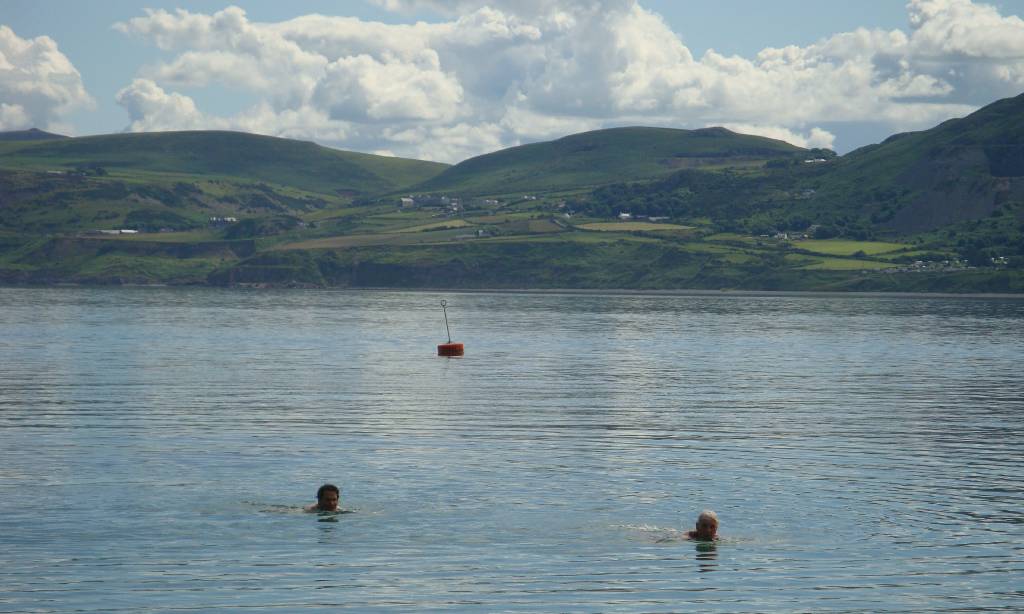 Ramblers cool down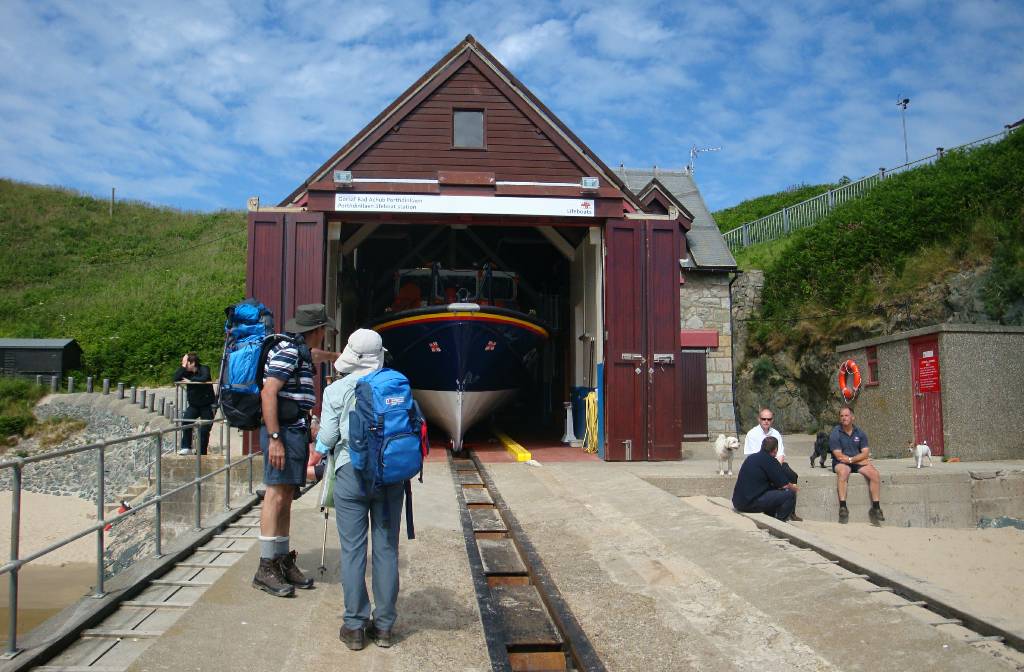 RNLI station at Port Dinllaen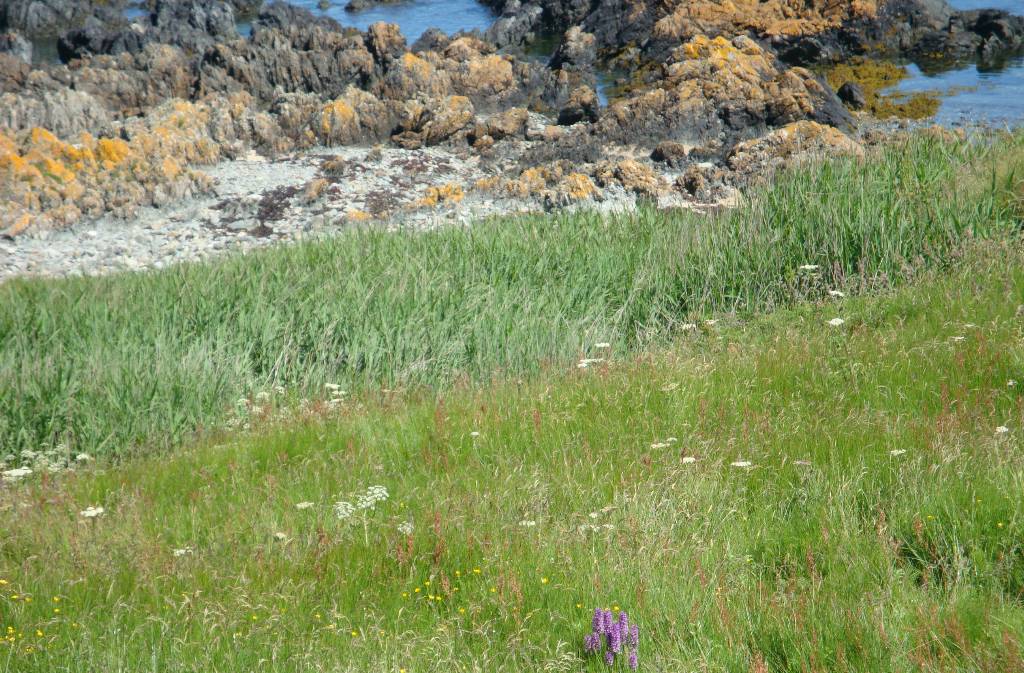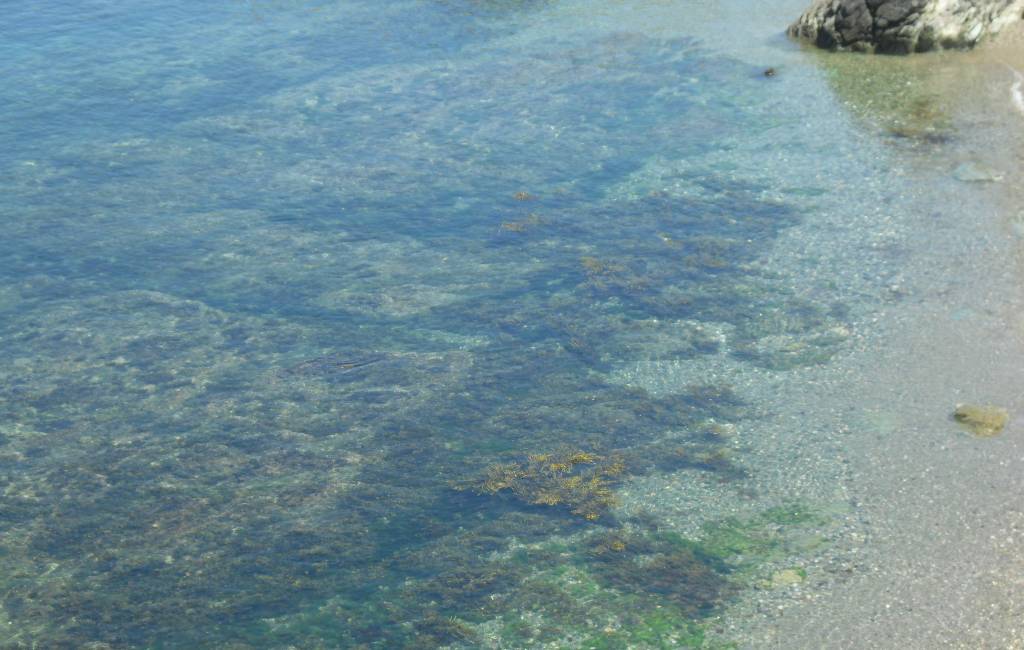 photo by Susan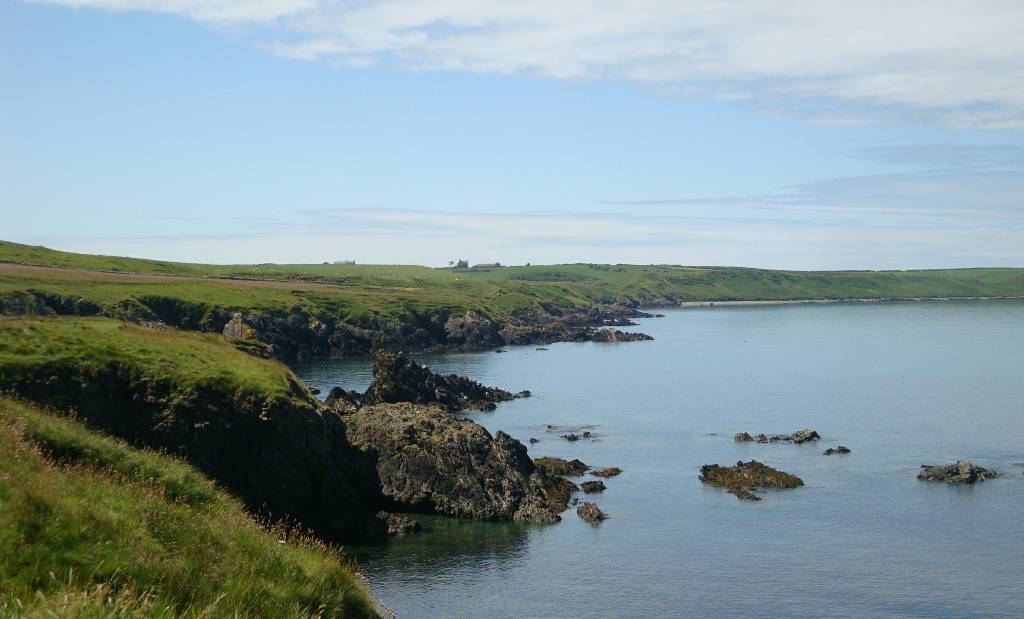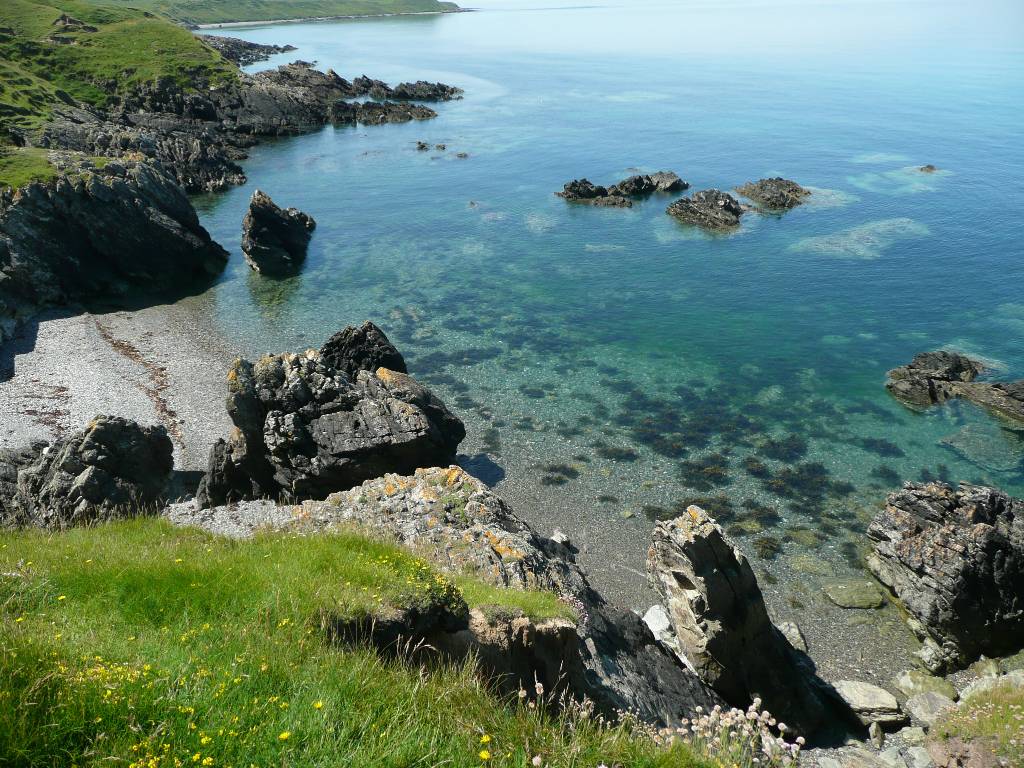 photo by Dave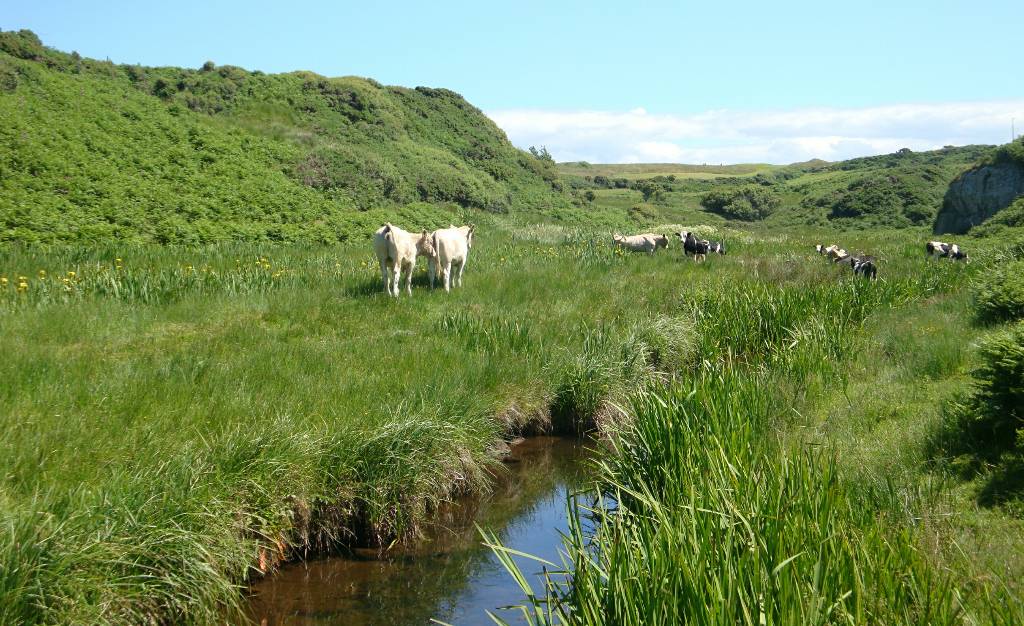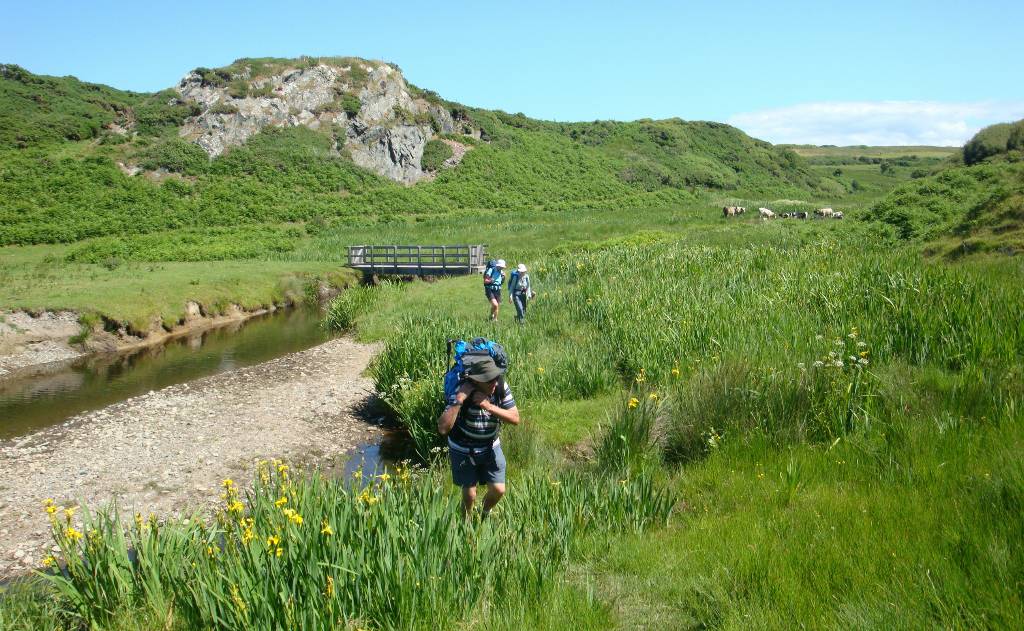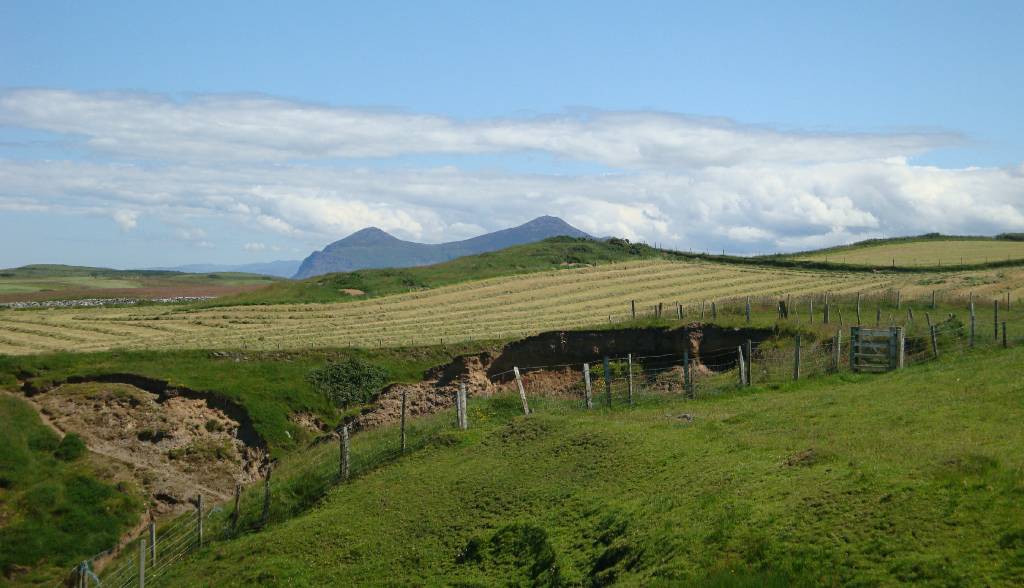 Yr Eifl hills still visible in north east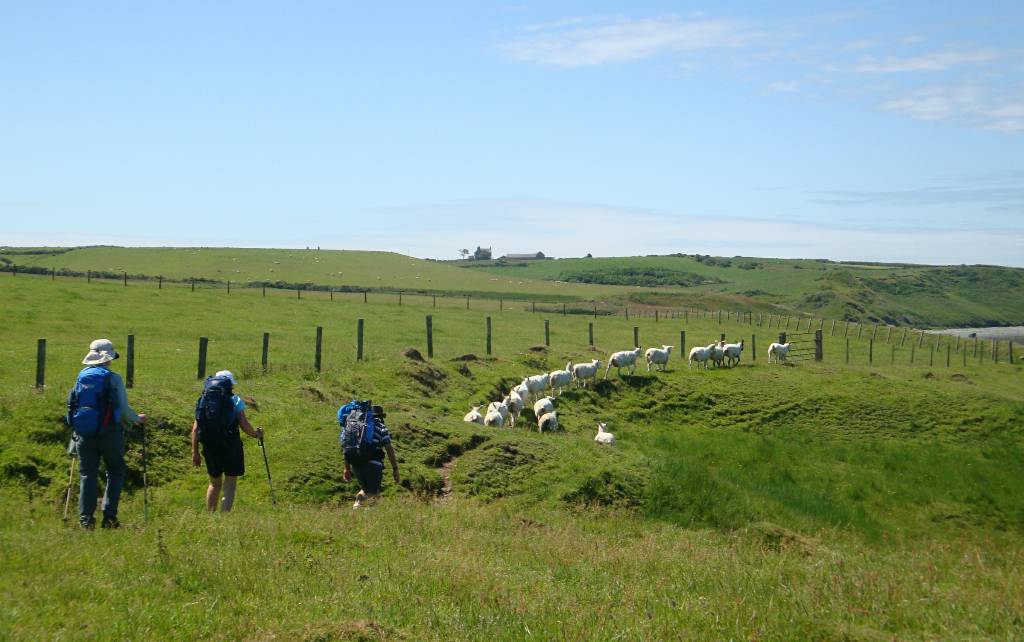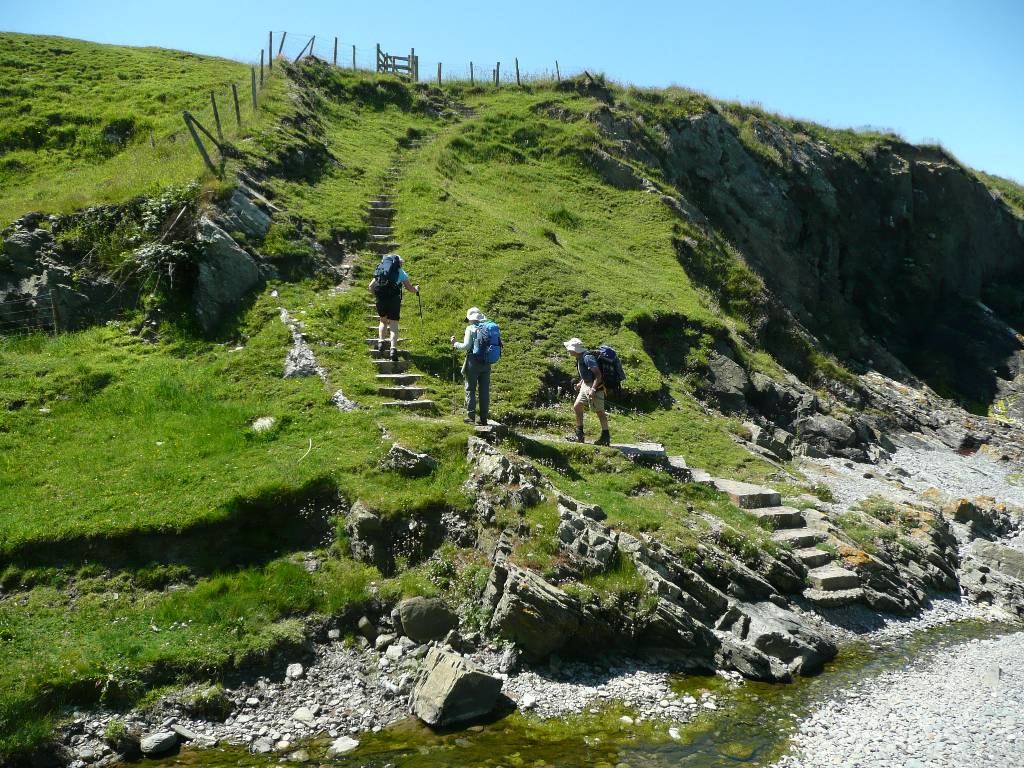 photo by Dave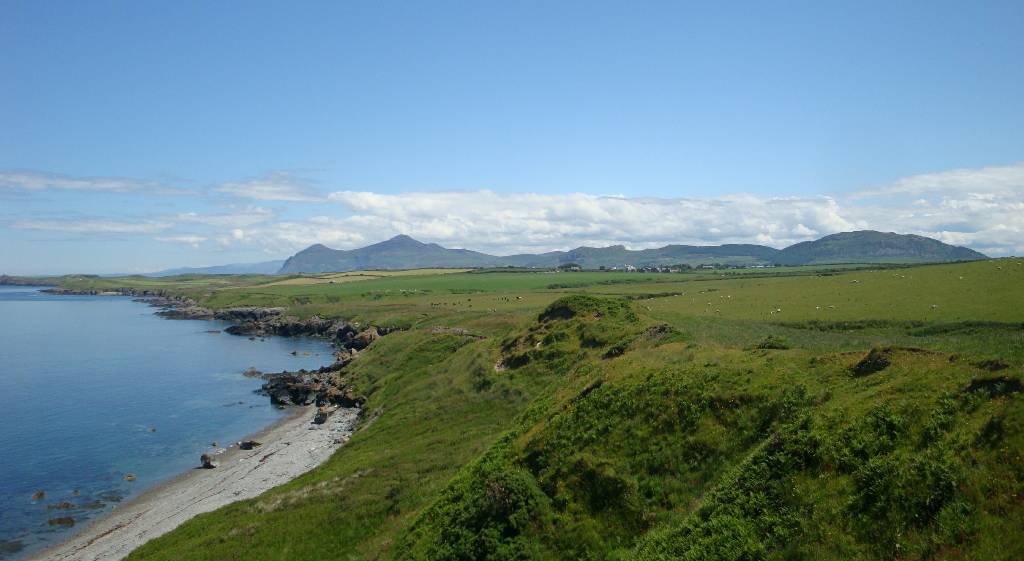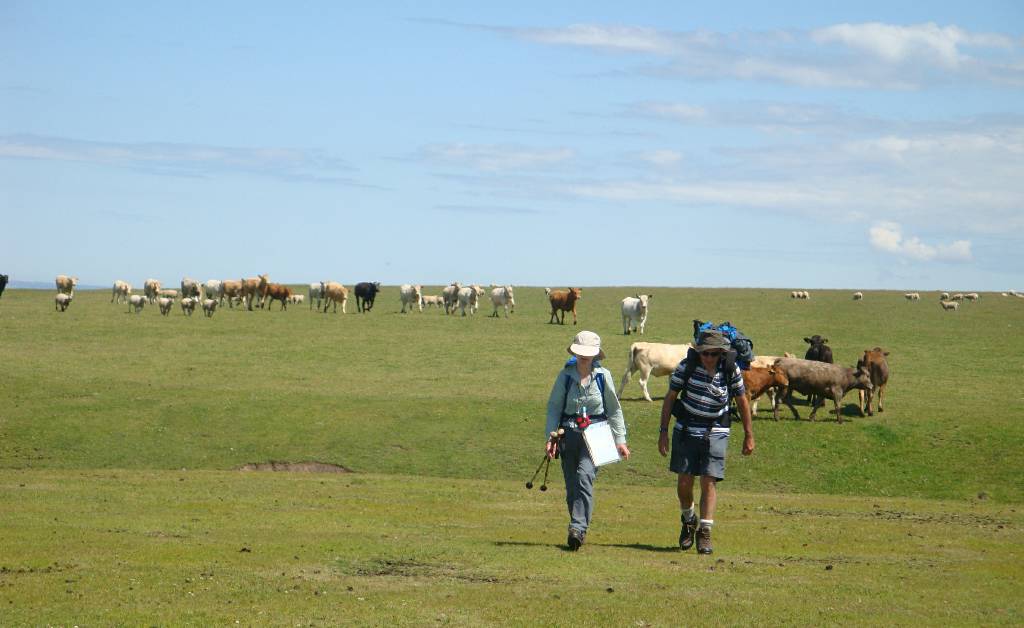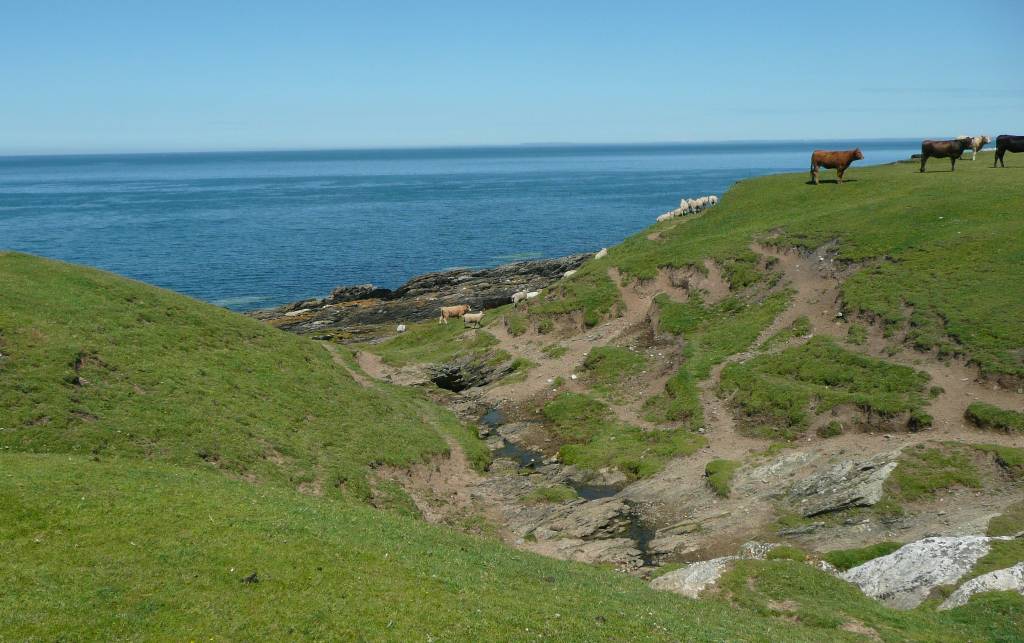 photo by Dave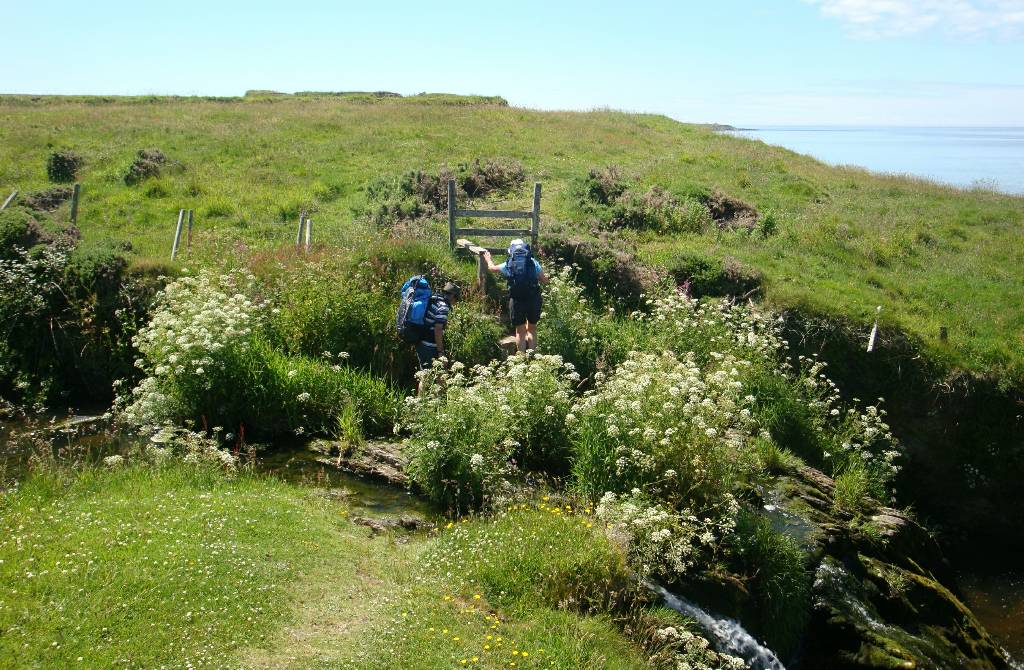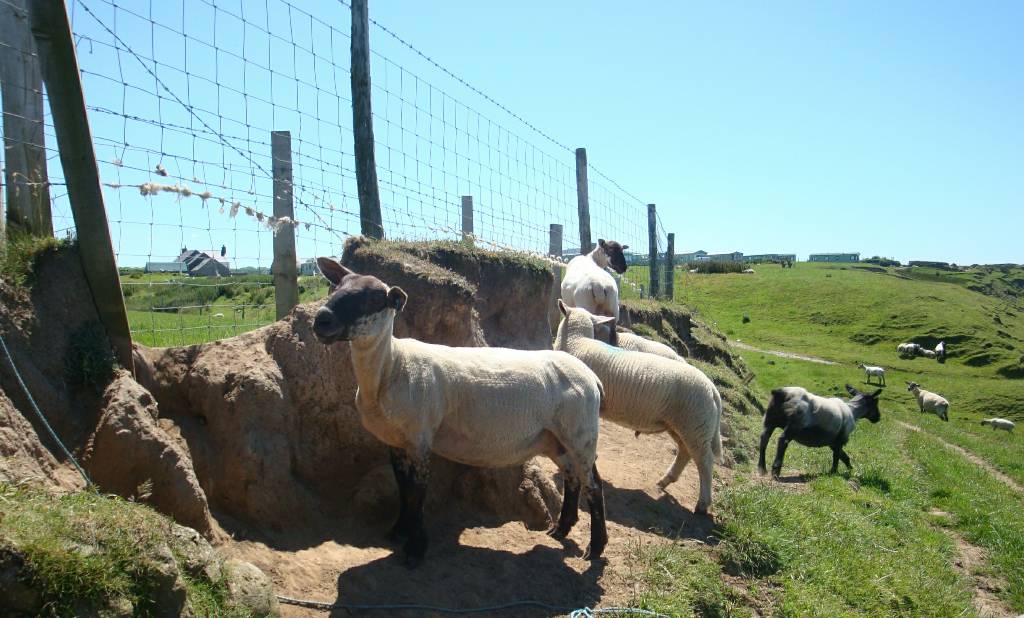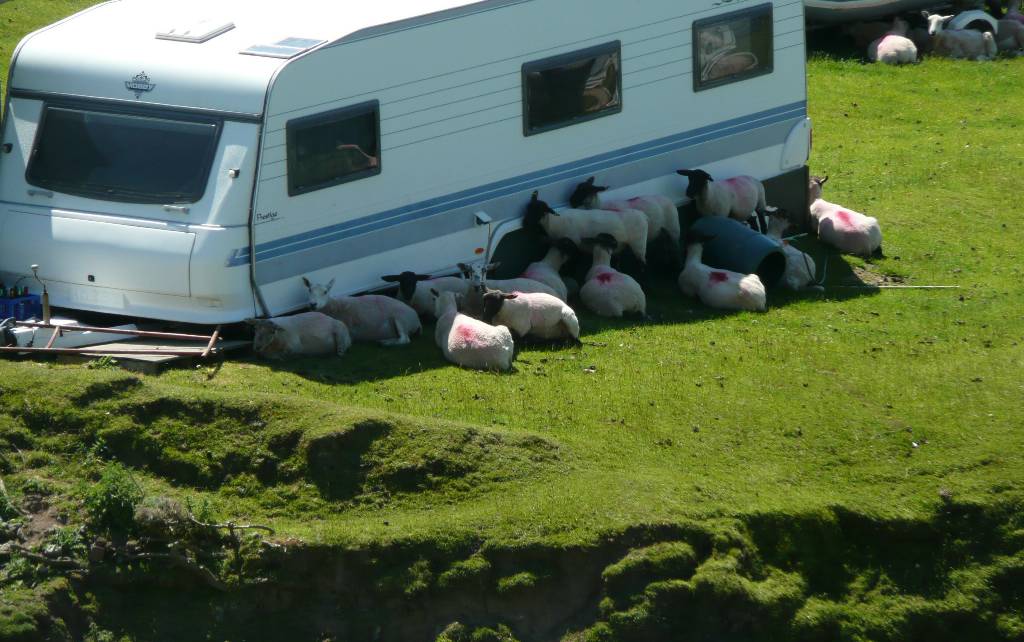 photo by Dave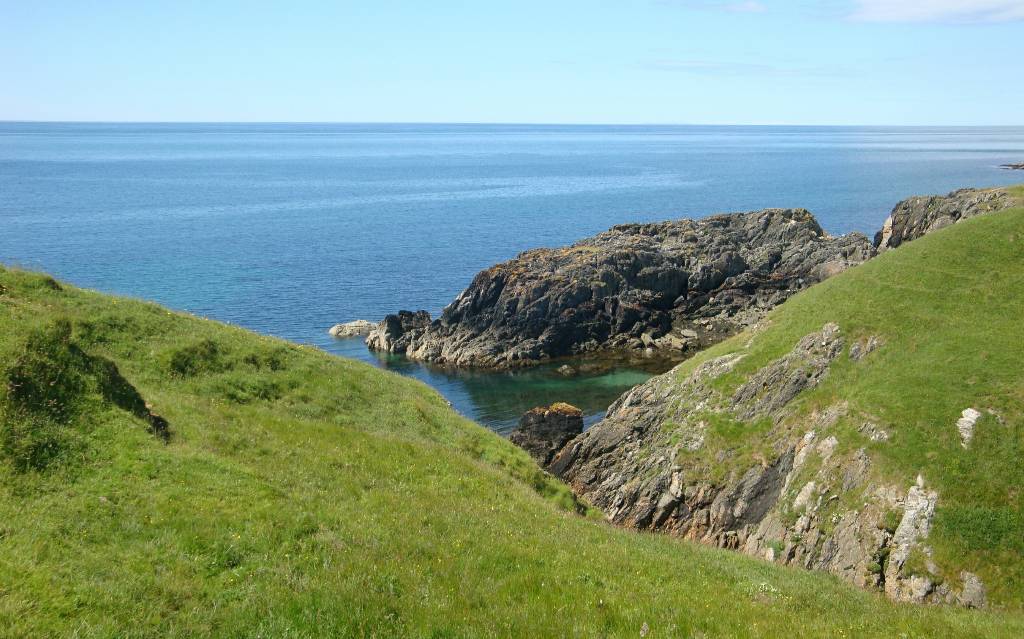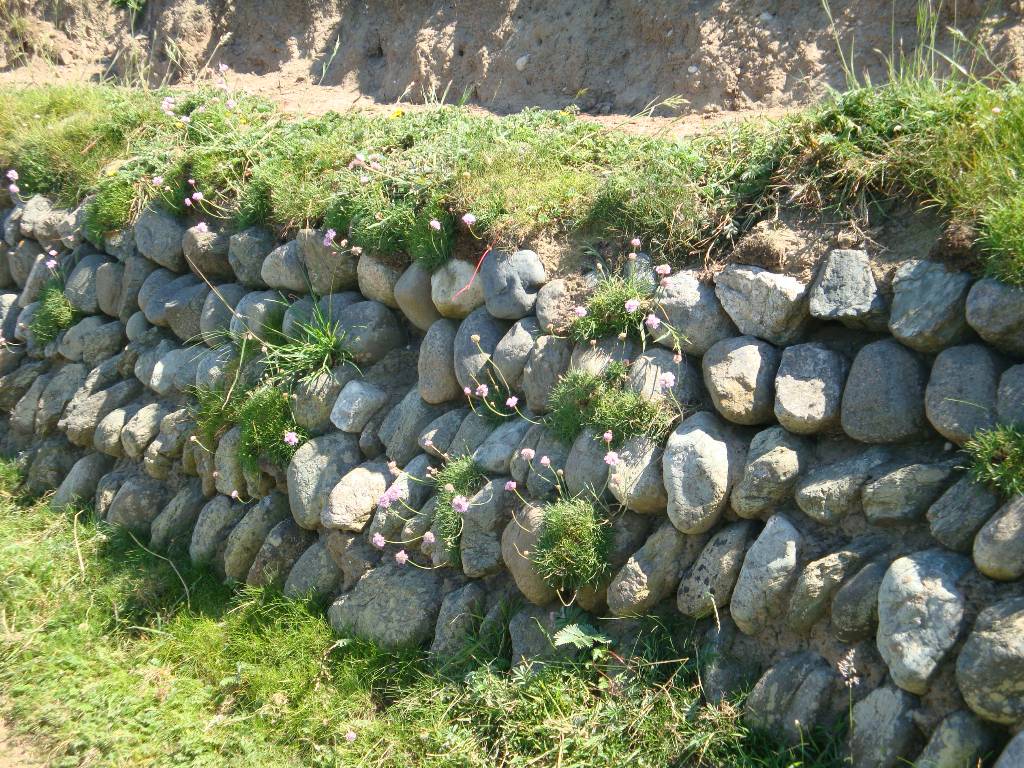 Traditional embankment facing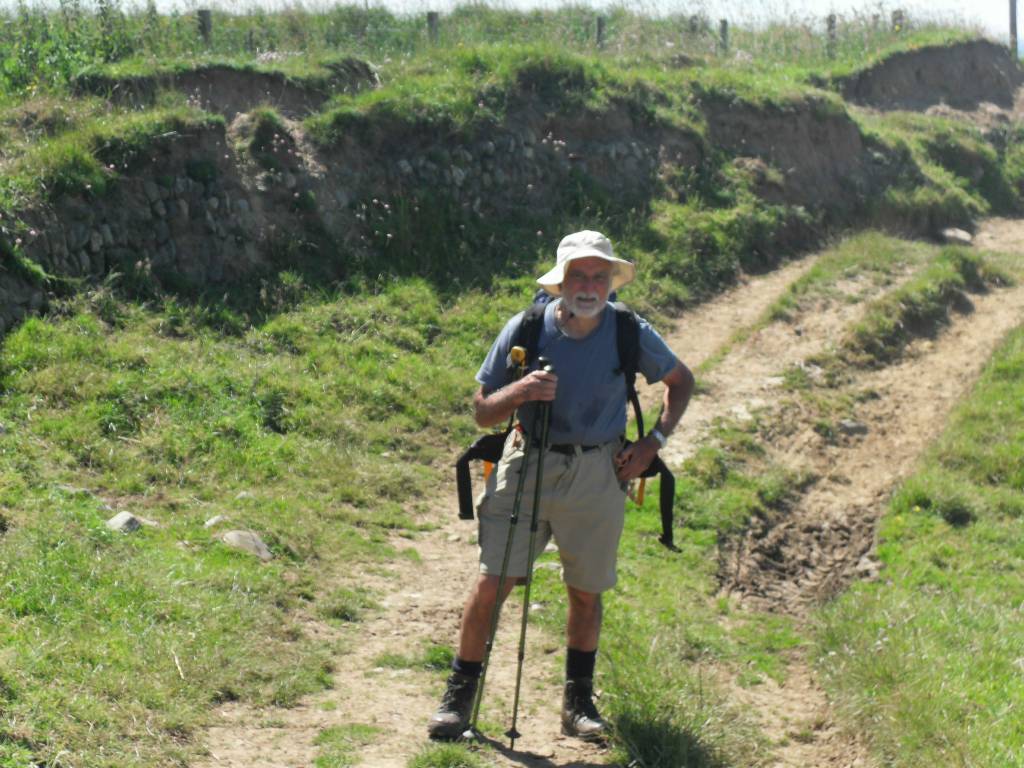 photo by Susan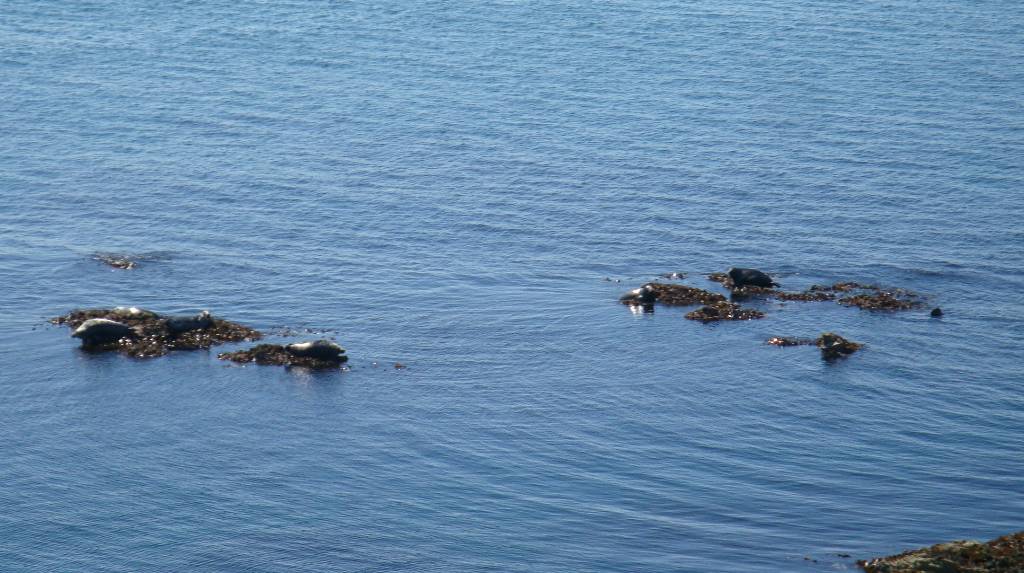 Seals sunning themselves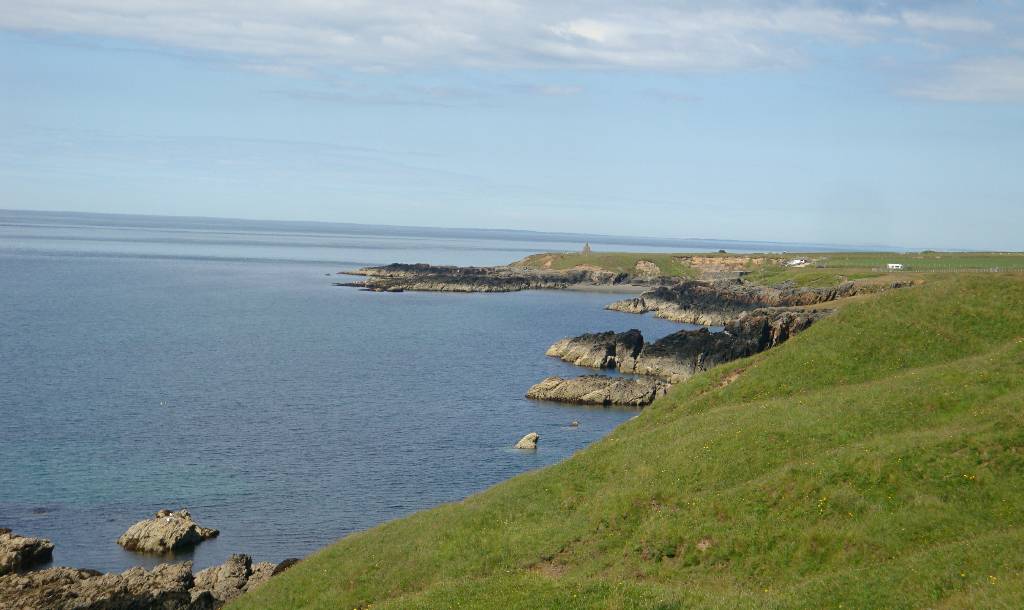 Building in centre on skyline is at Porth Ysgaden a well known scuba diving / fishing destination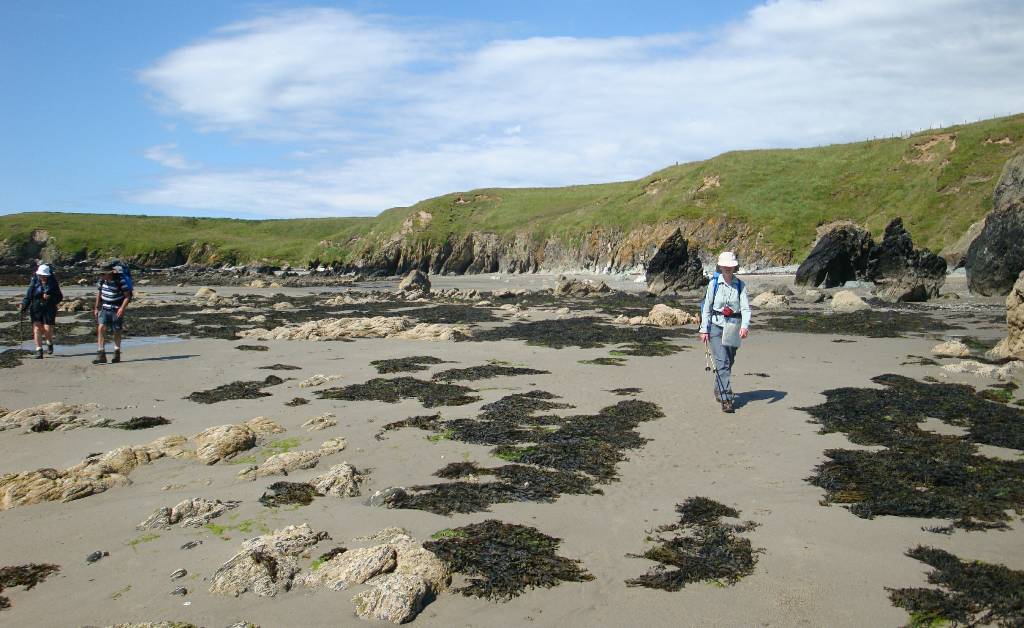 Walking along the beach - Traeth Penllech - just before Porth Colmon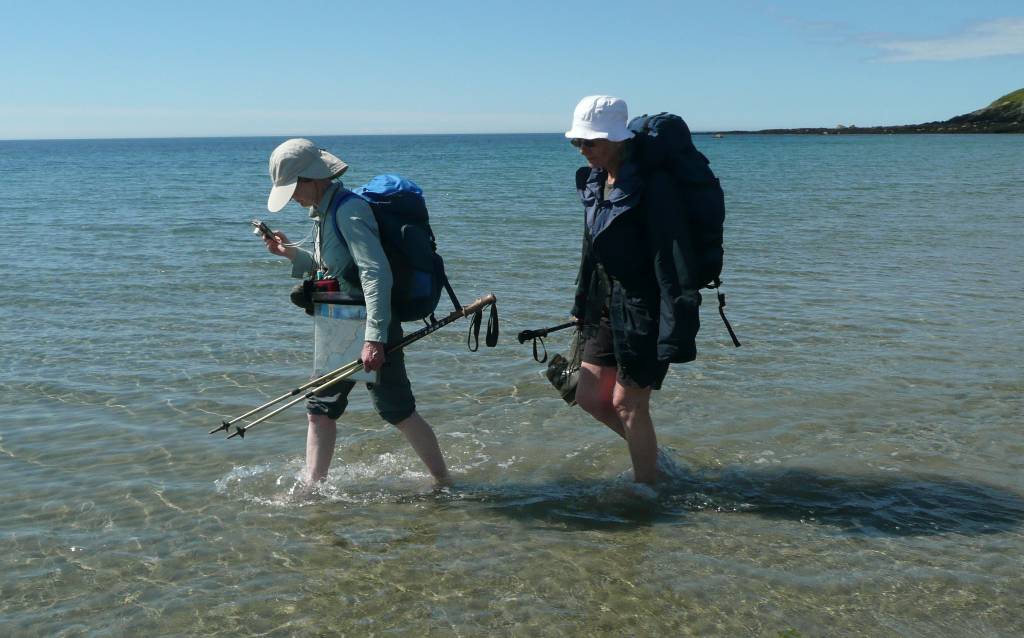 Photo by Dave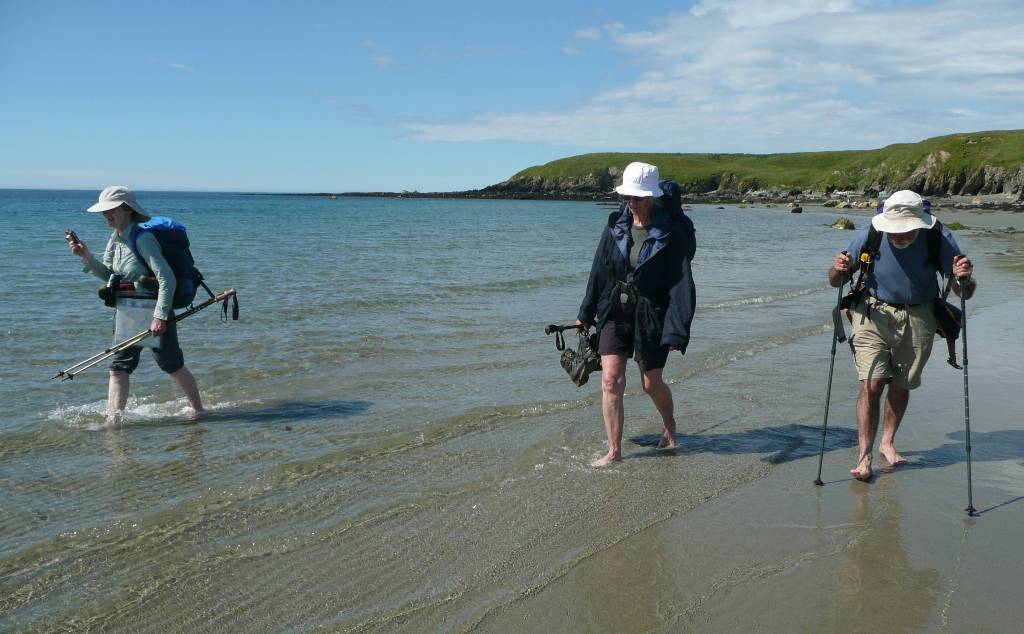 Photo by Dave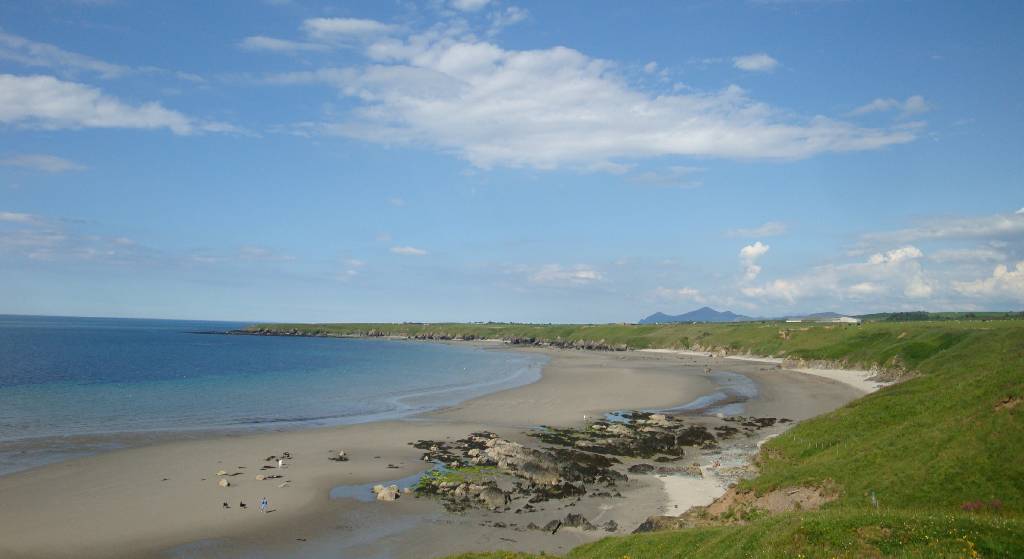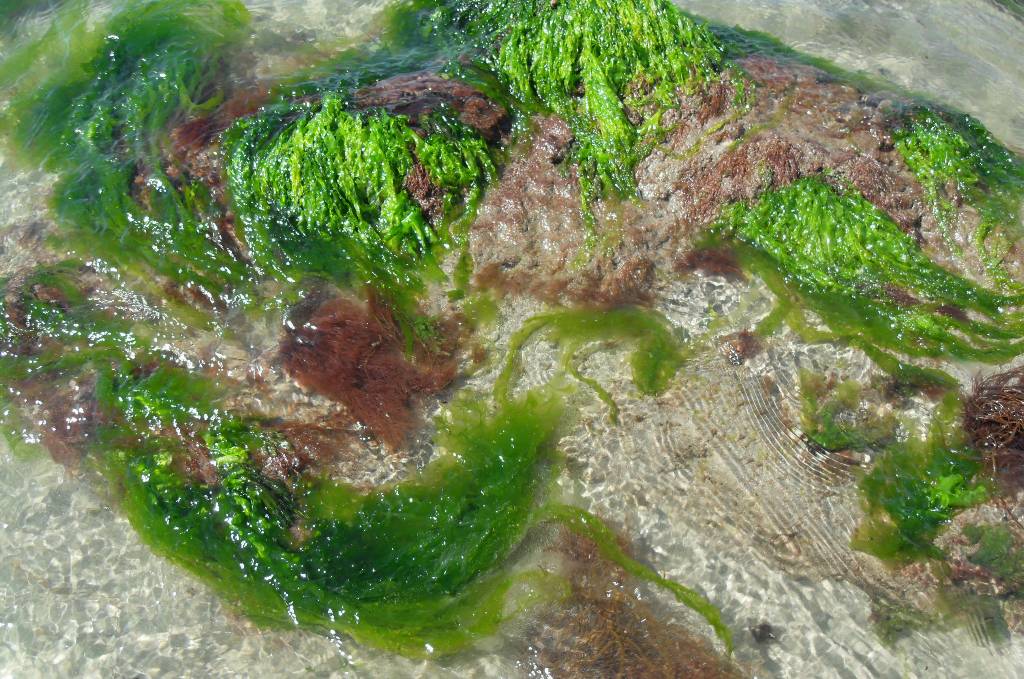 Seaweed photo by Susan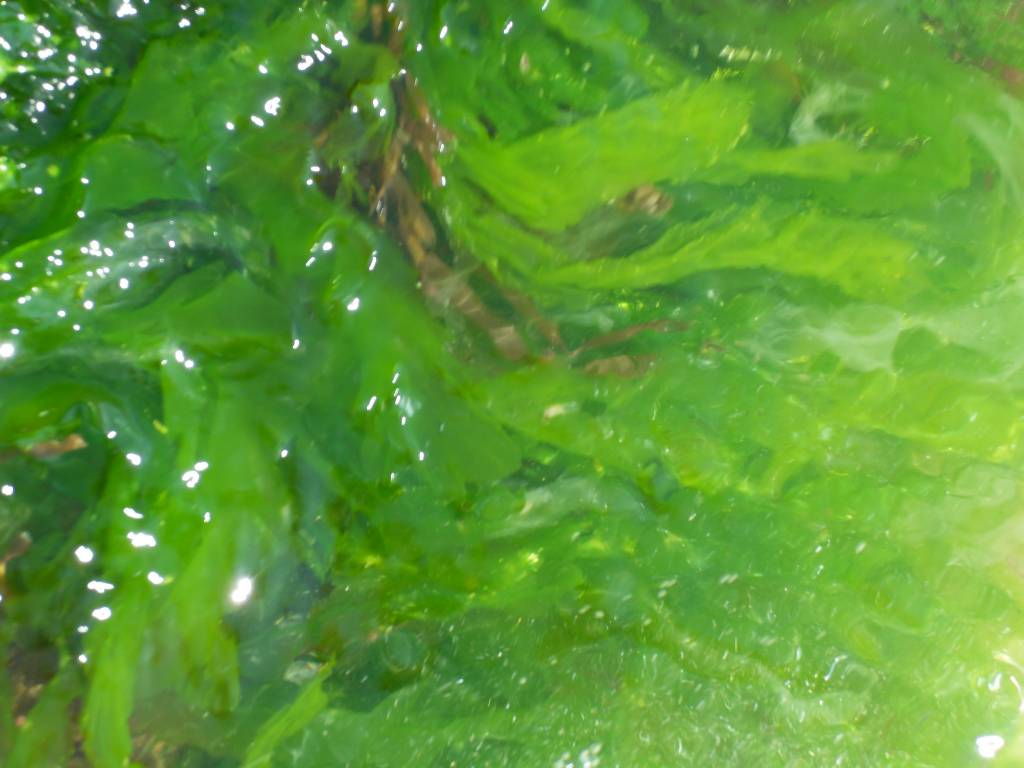 photo by Susan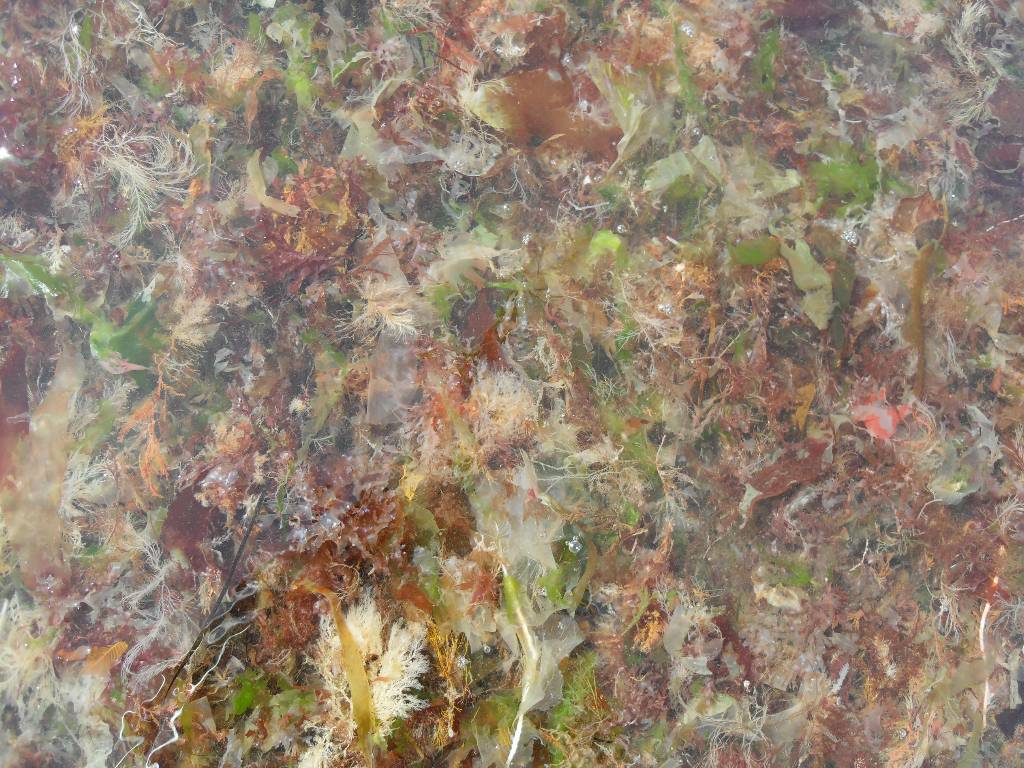 photo by Susan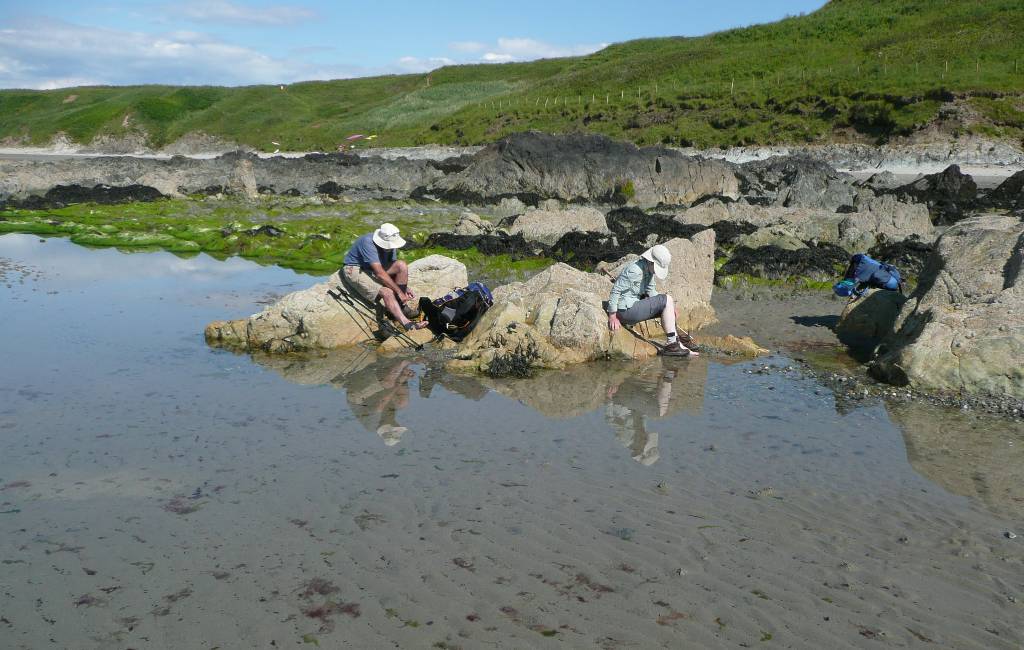 photo by Dave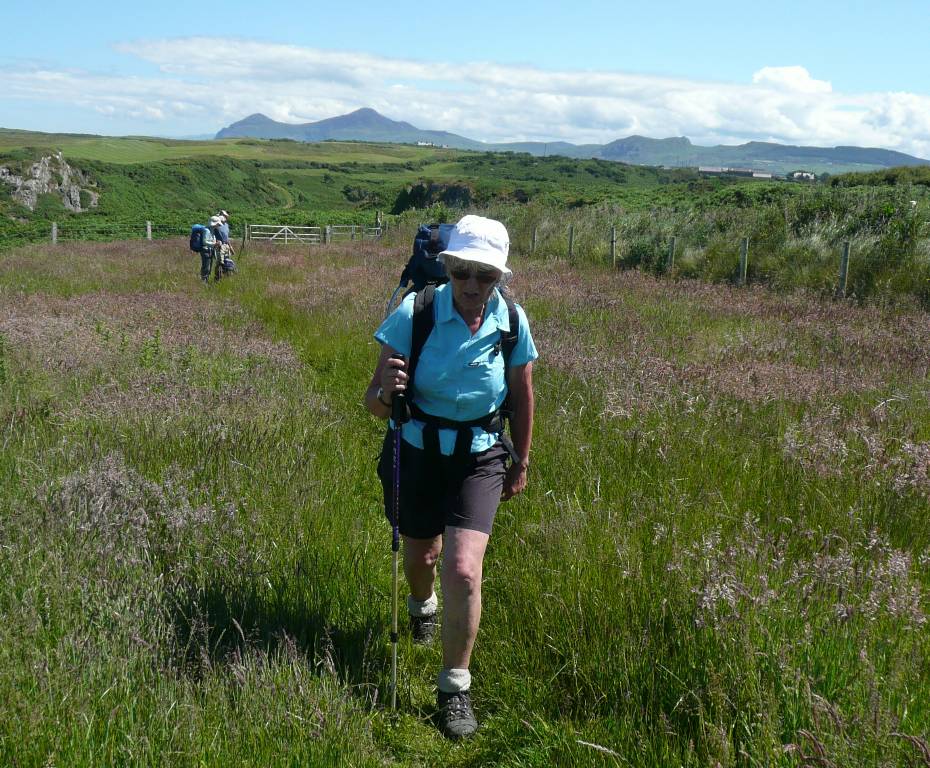 photo by Dave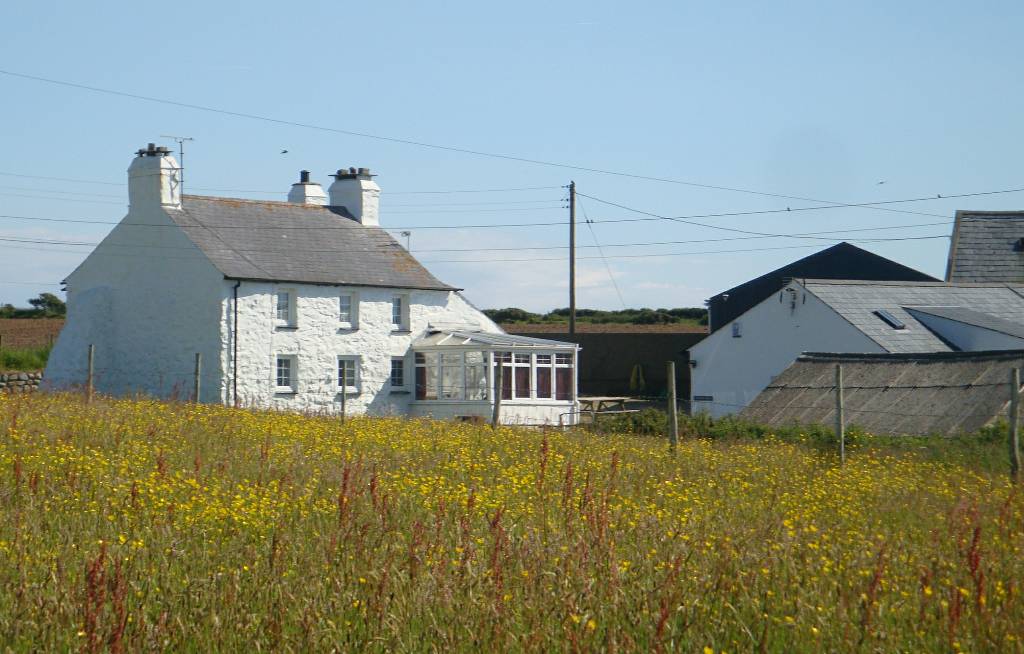 Farm House near Porth Colmon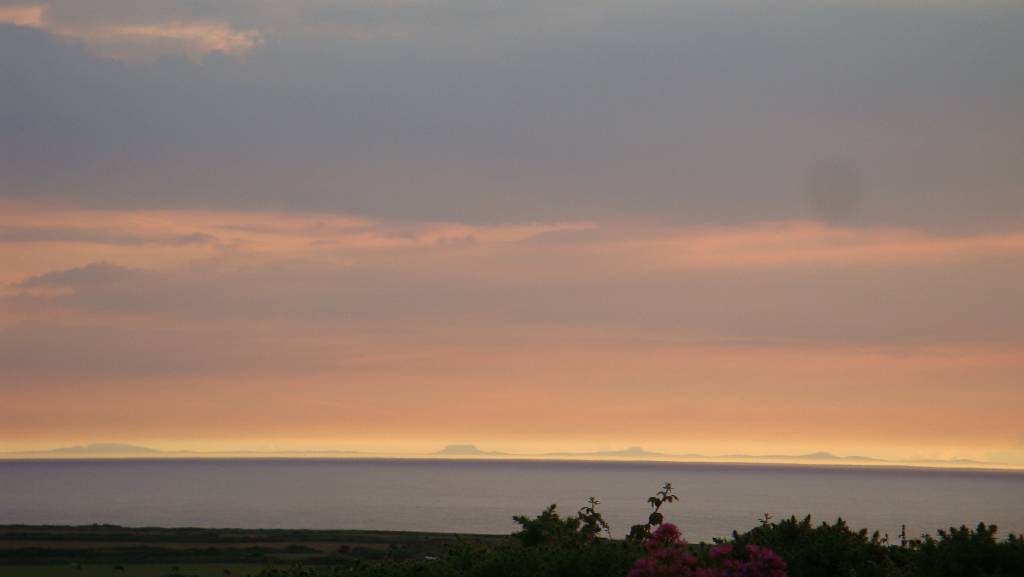 Sunset taken from Tudweiliog looking across to the island of Anglesey and the mainland coast
Fourth Day 24th June 2009 - Porth Colmon to Aberdaron
(two nights spent at Aberdaron - trip made to Bardsey Island on the 5th day)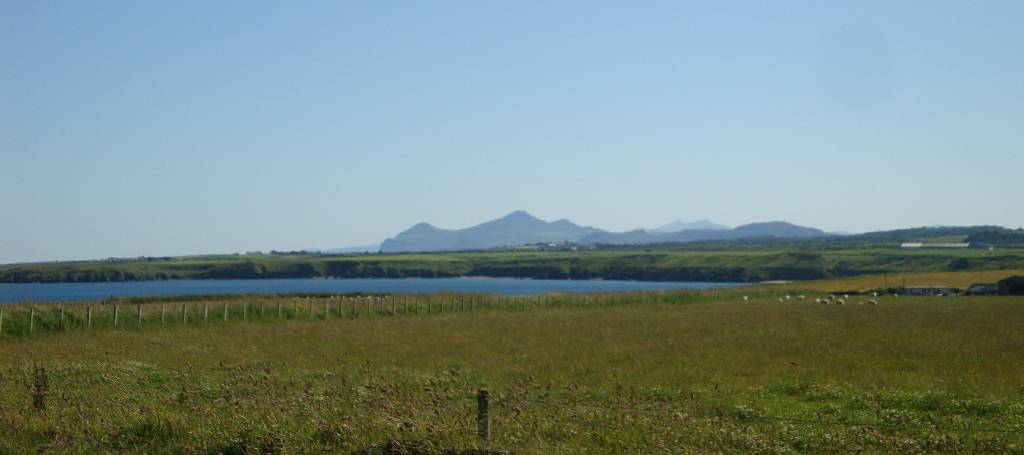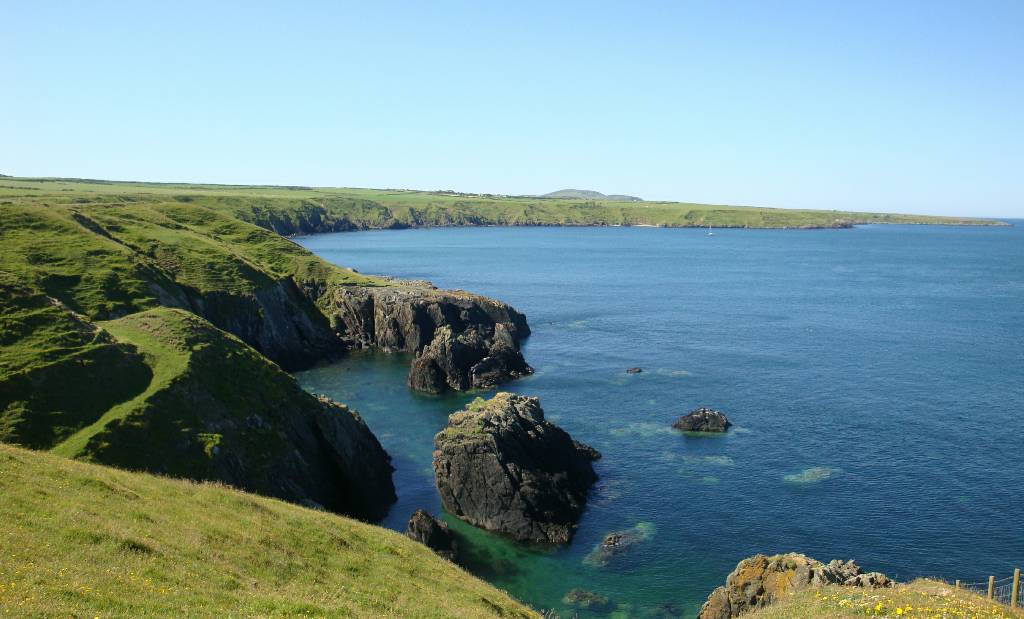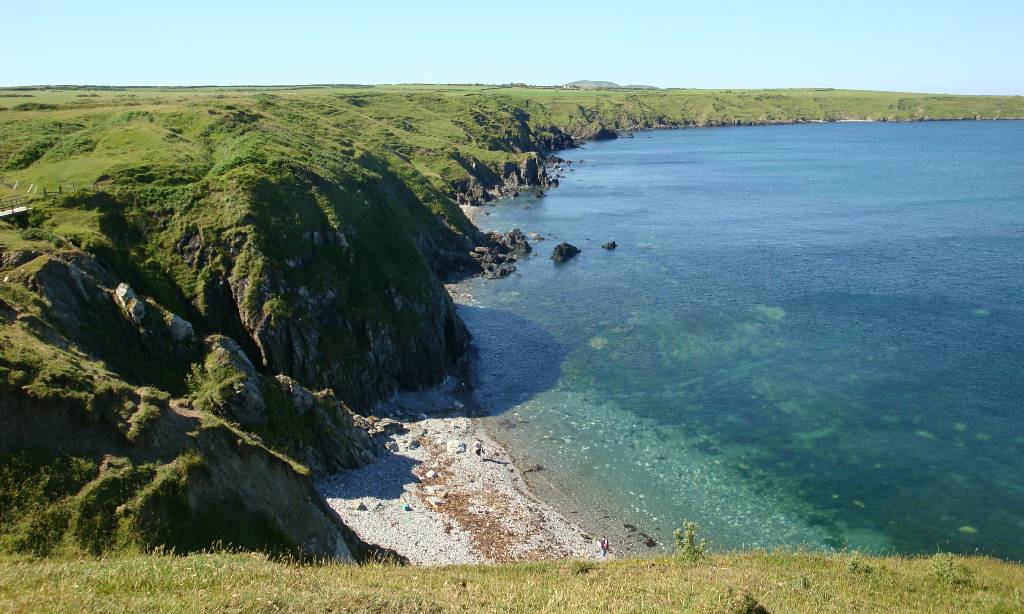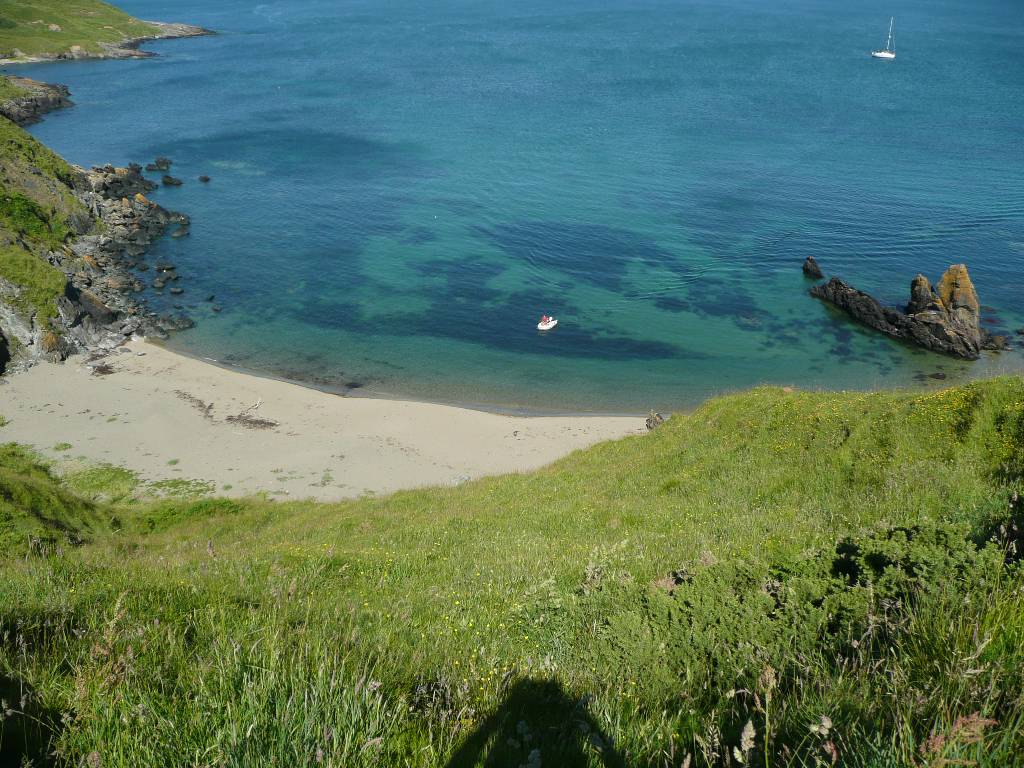 photo by Dave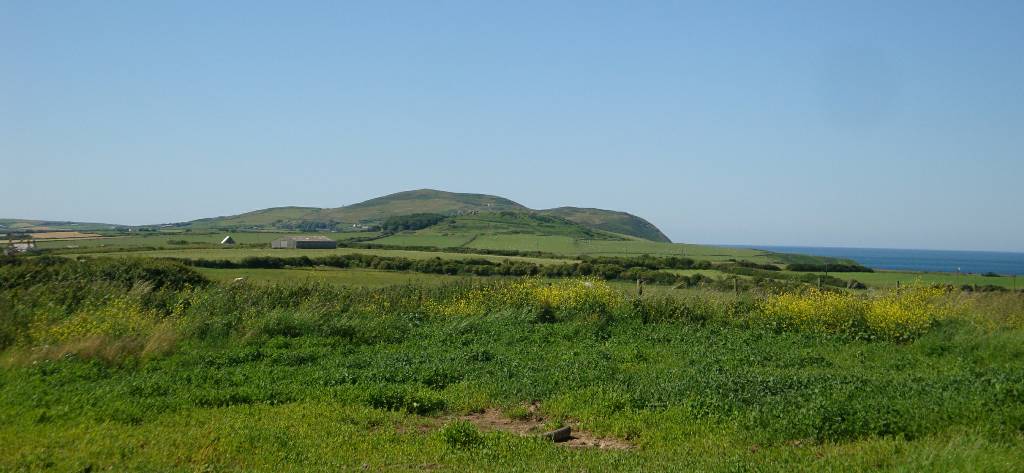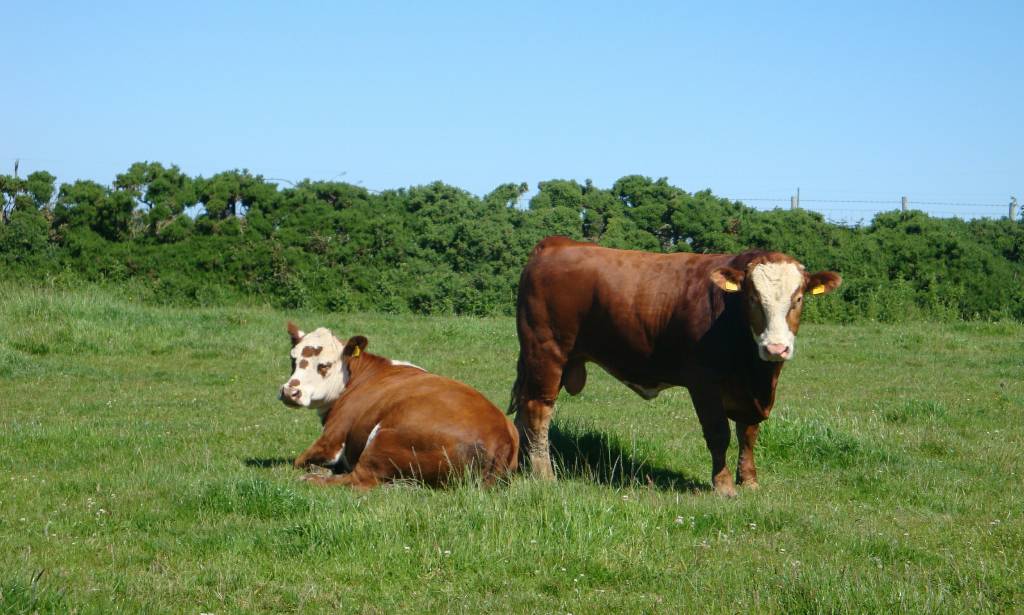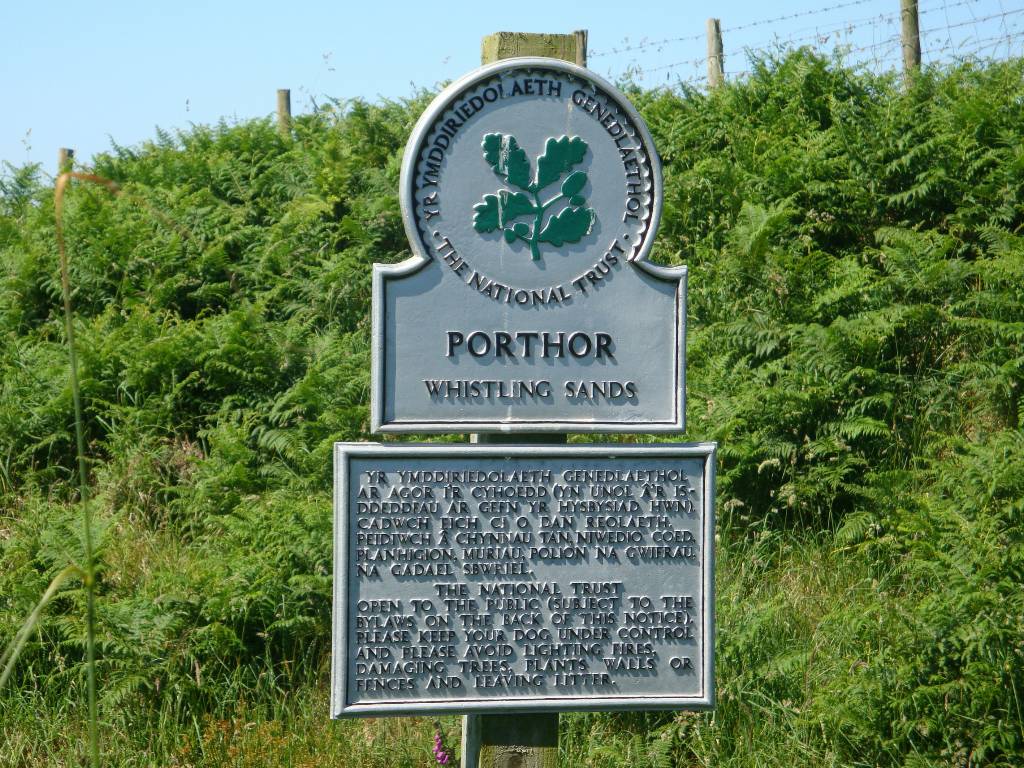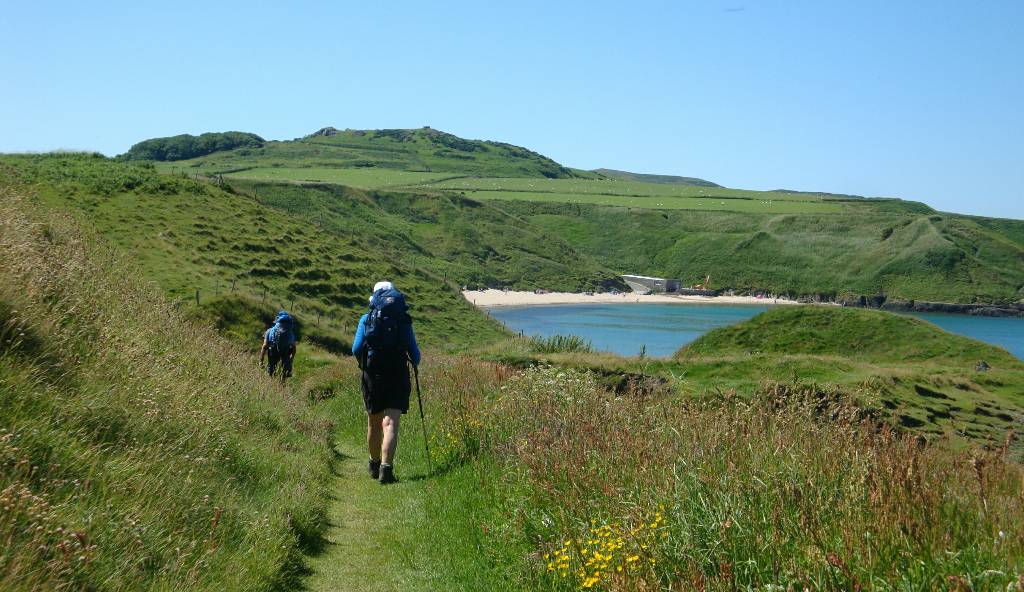 Descending to Porth Oer (Whistling Sands)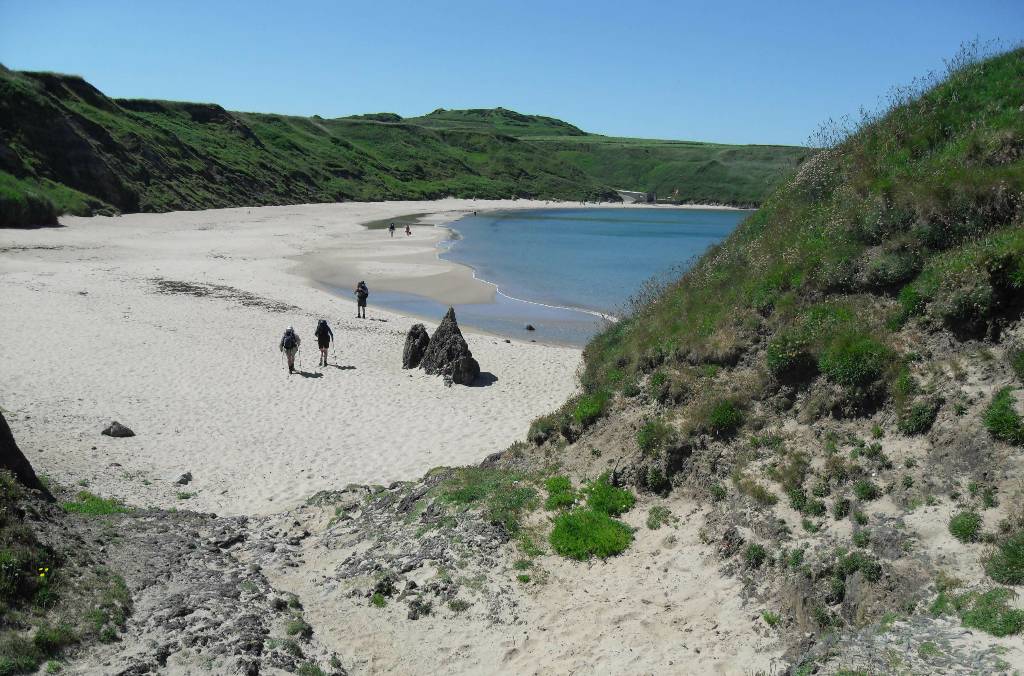 The very uniform sized fine dry sand on the beach squeaks as you walk on it. Welcoming cafe was open in the far corner. photo by Susan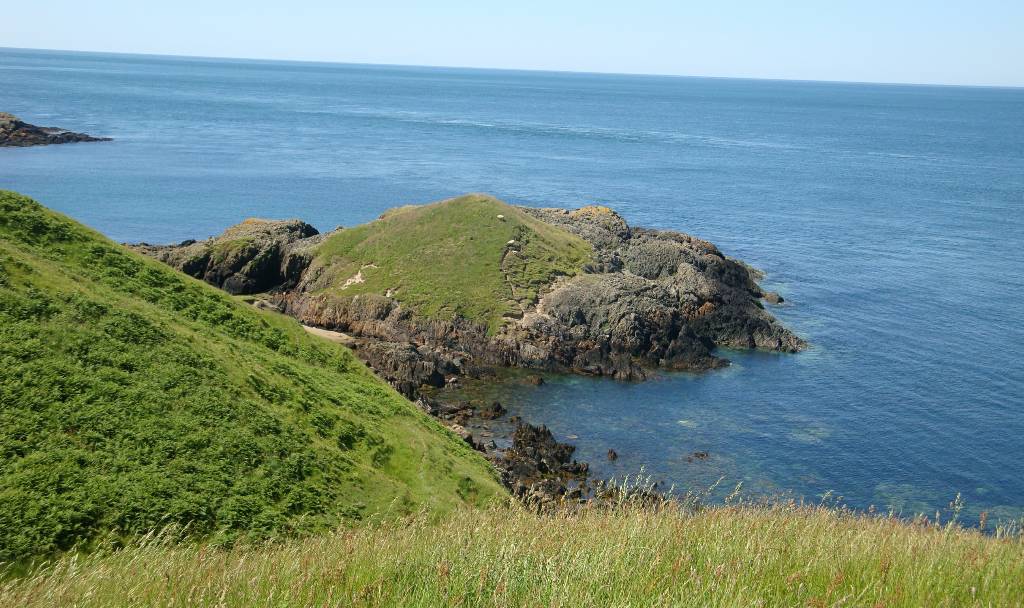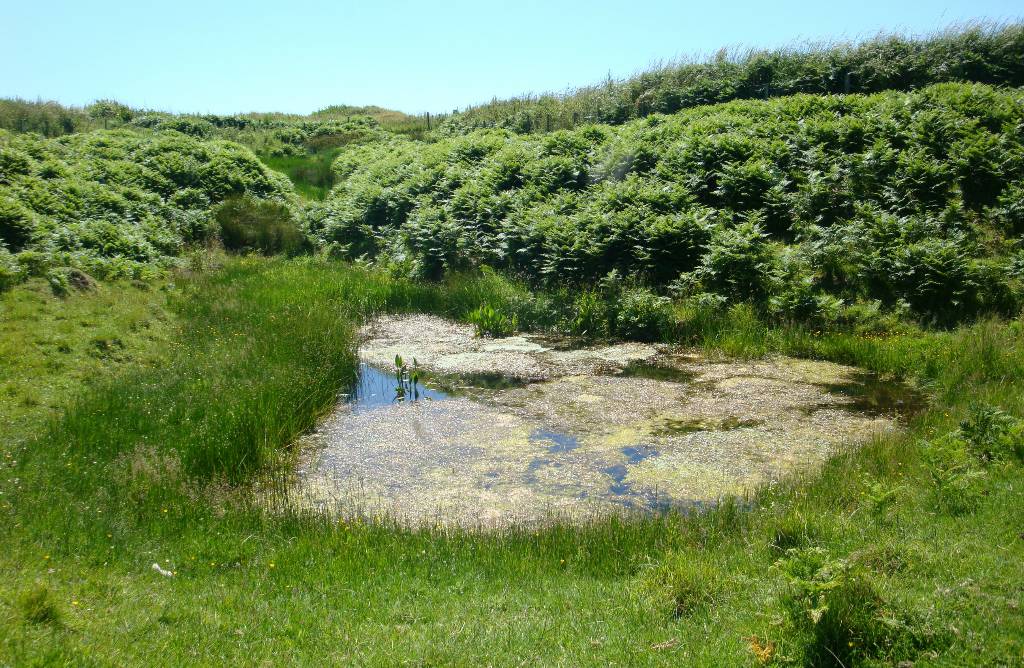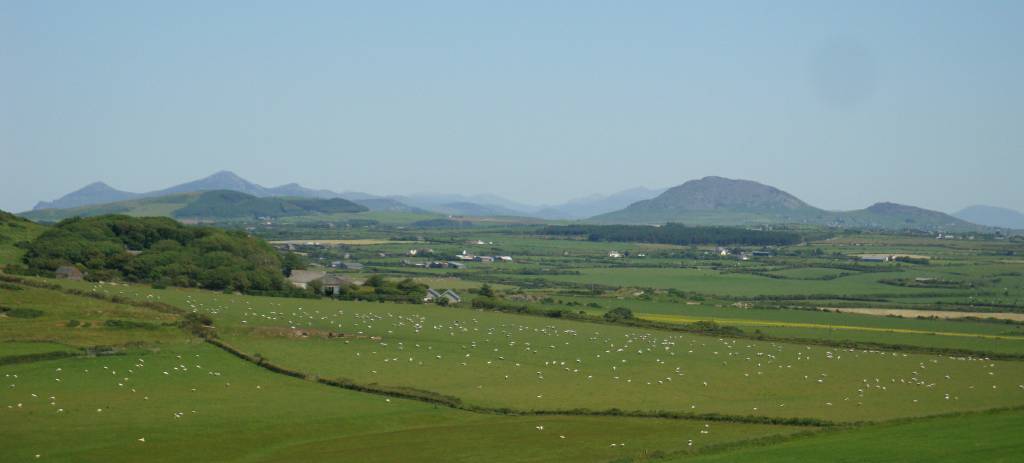 Looking back at mountains measureless to man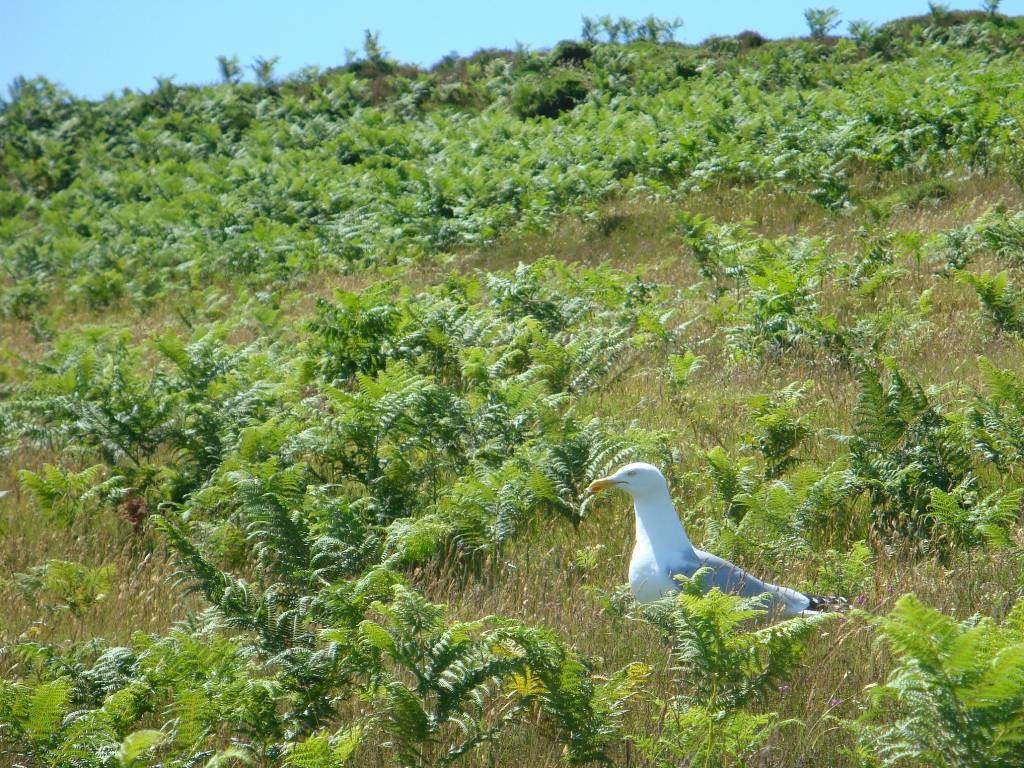 Seagull joins us at tea break rest at Mynydd An - after slog in heat up steep slope.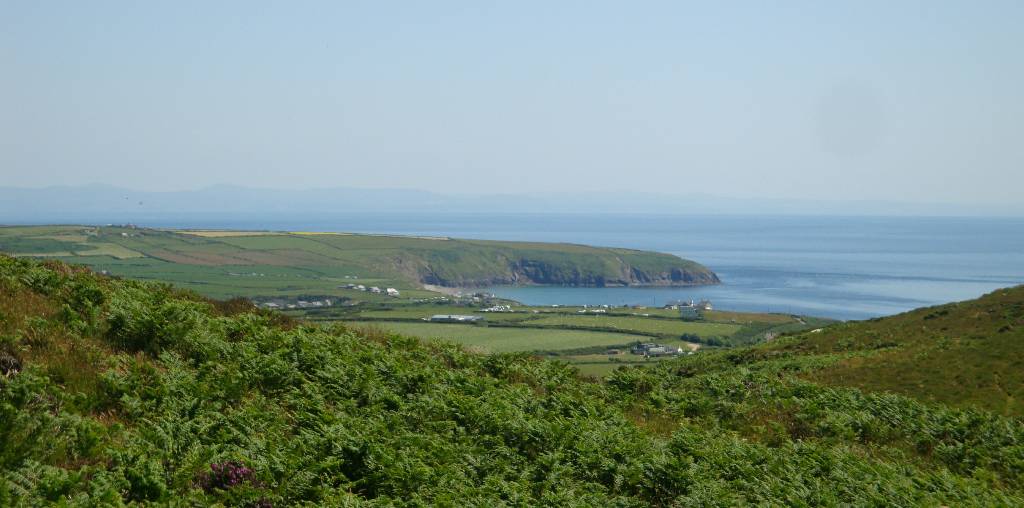 photo by Susan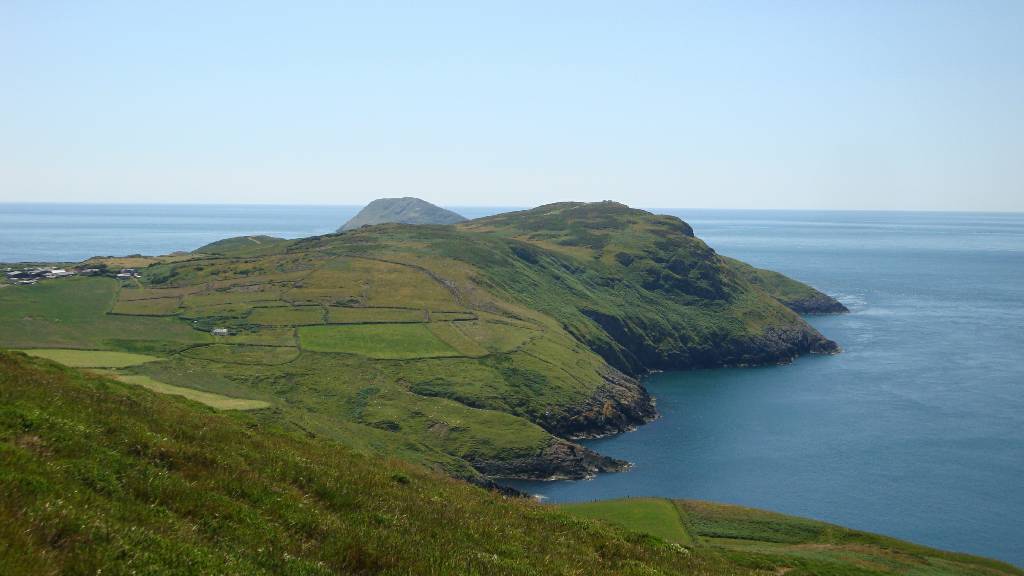 Uwchmynydd at the end of the Llŷn Peninsula with Bardsey Island peeping up to the left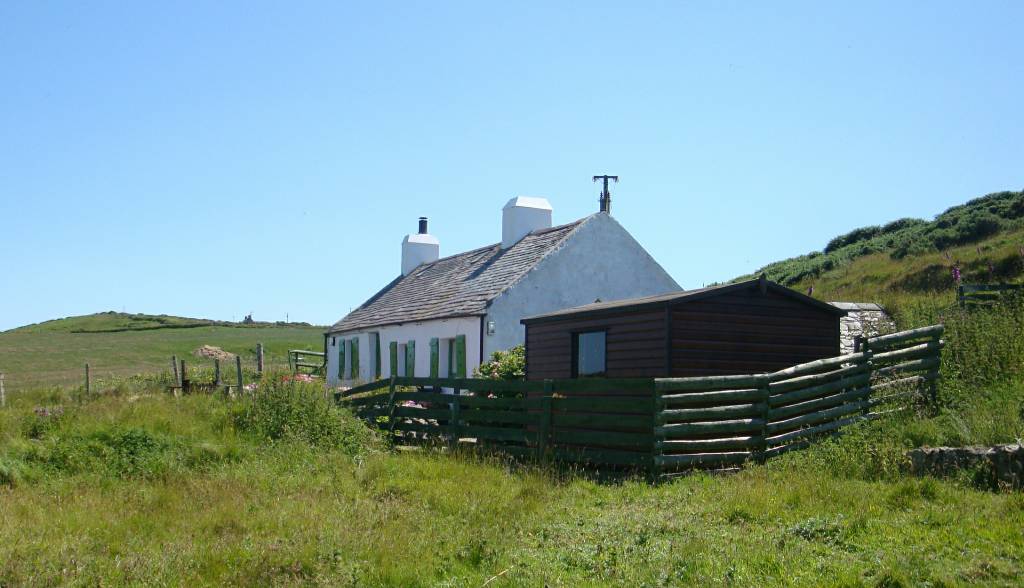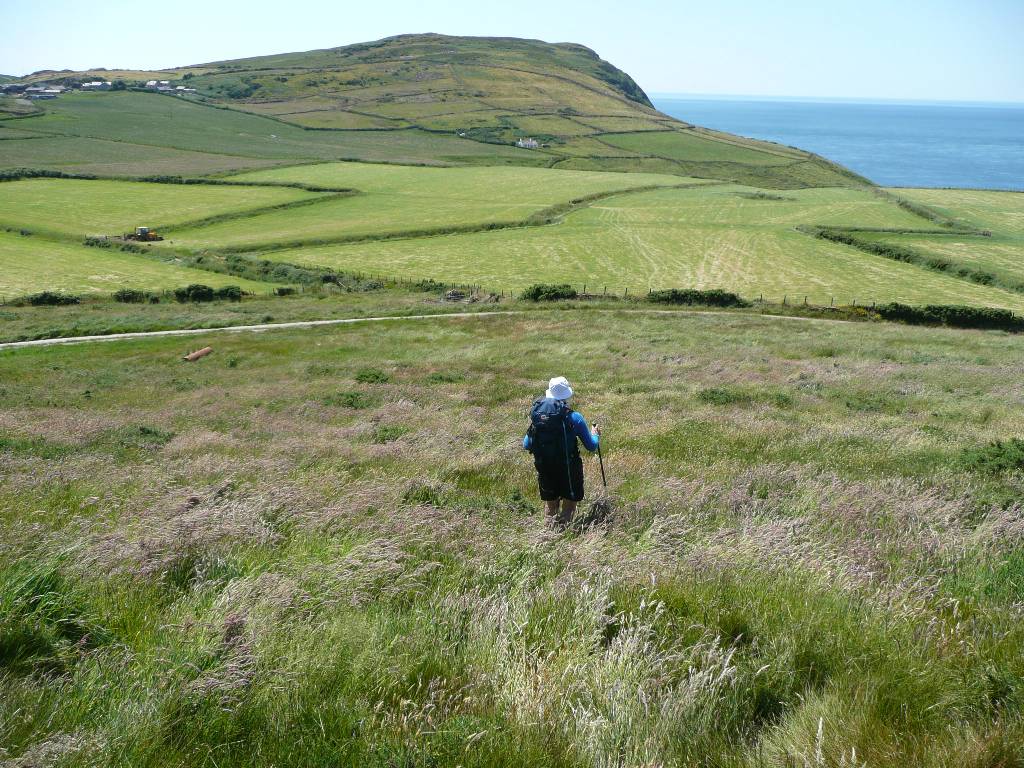 photo by Dave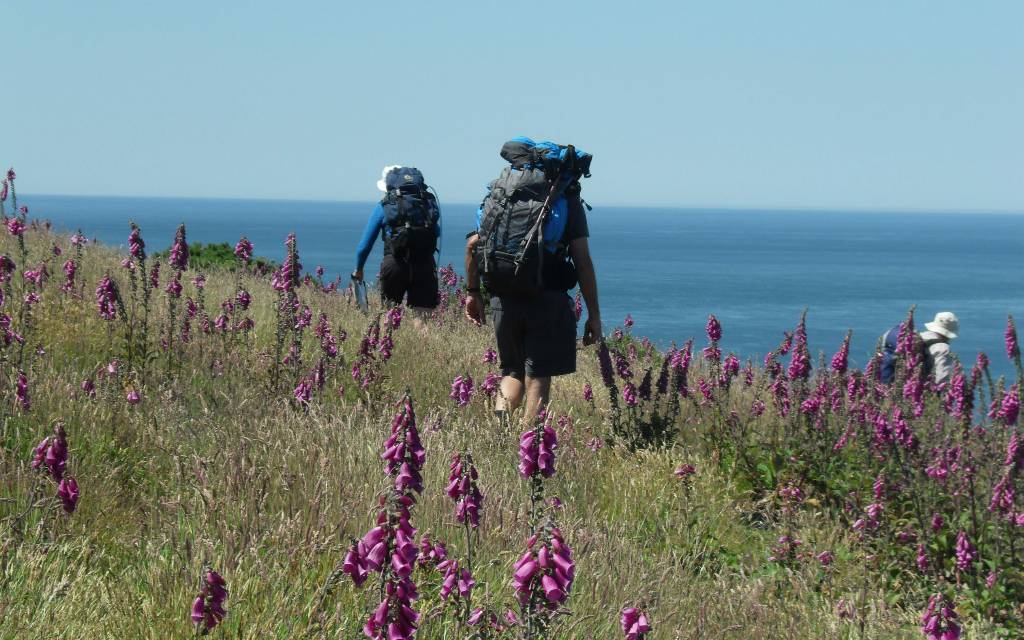 photo by Susan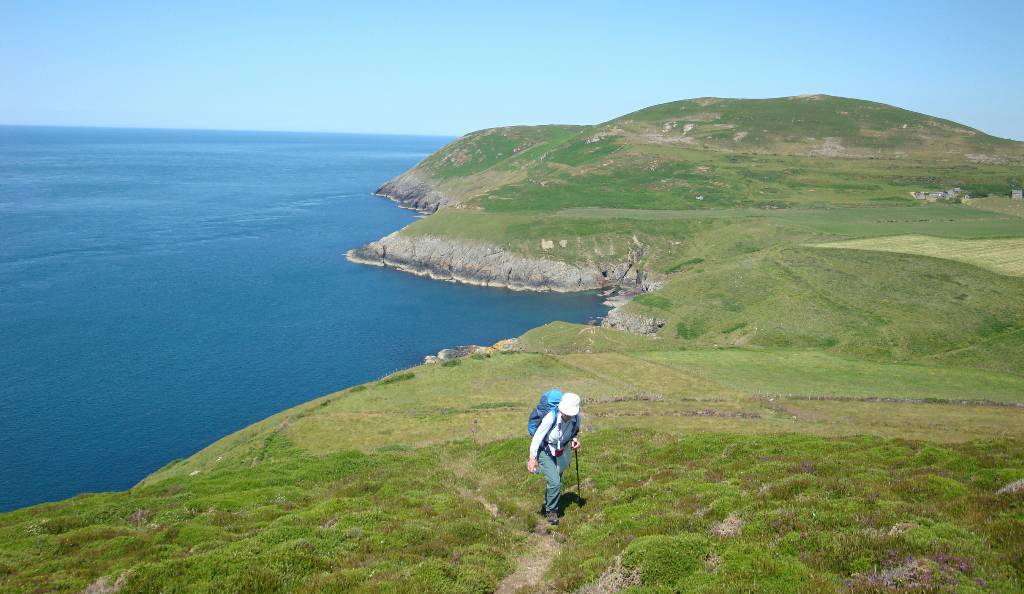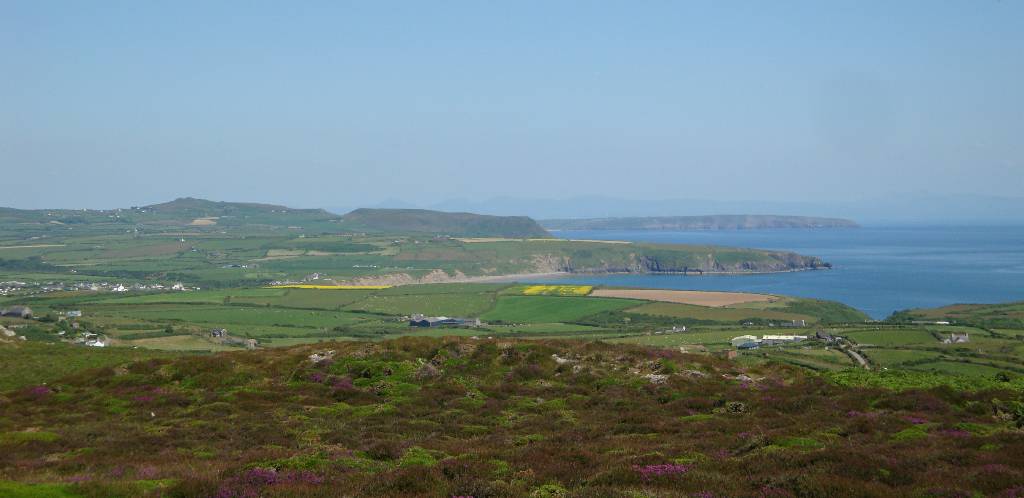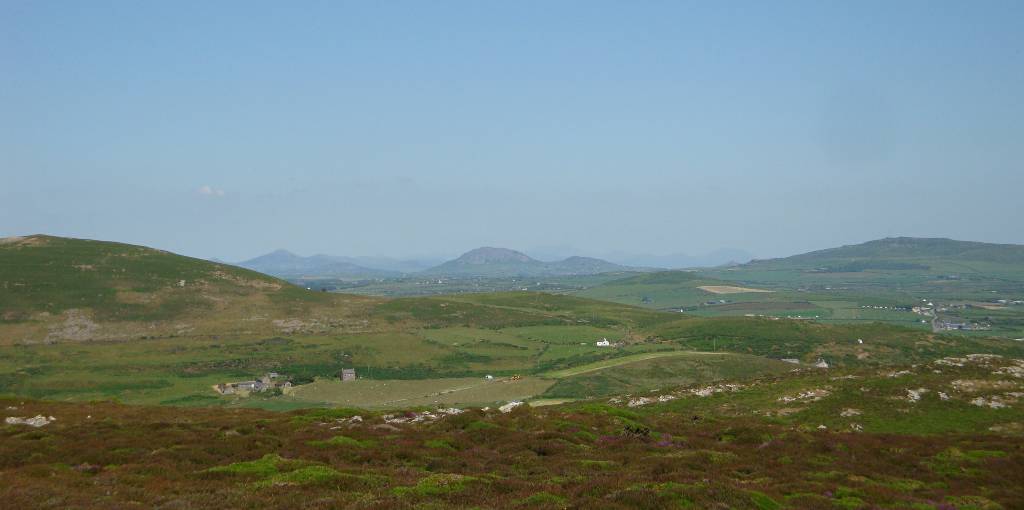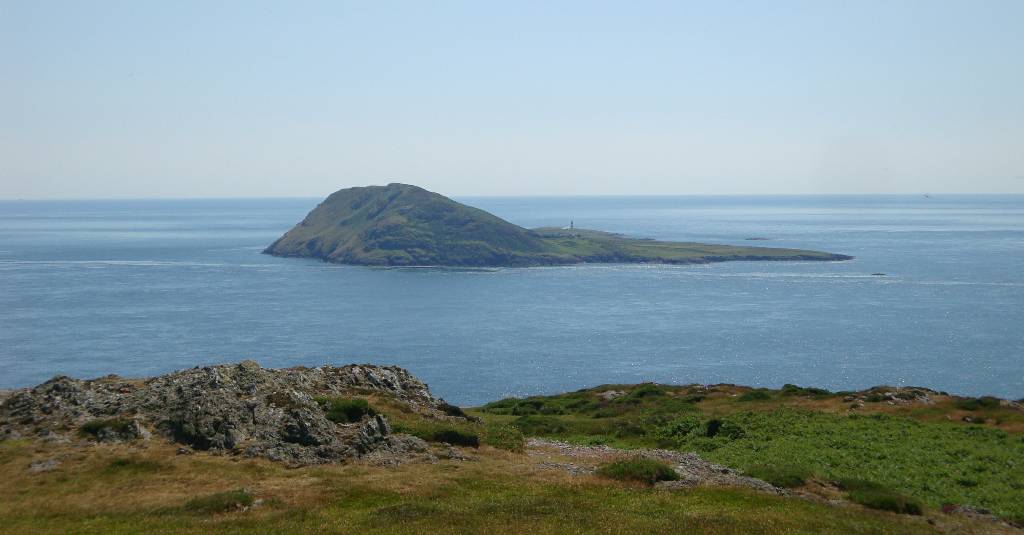 Bardsey Island - lighthouse visible in centre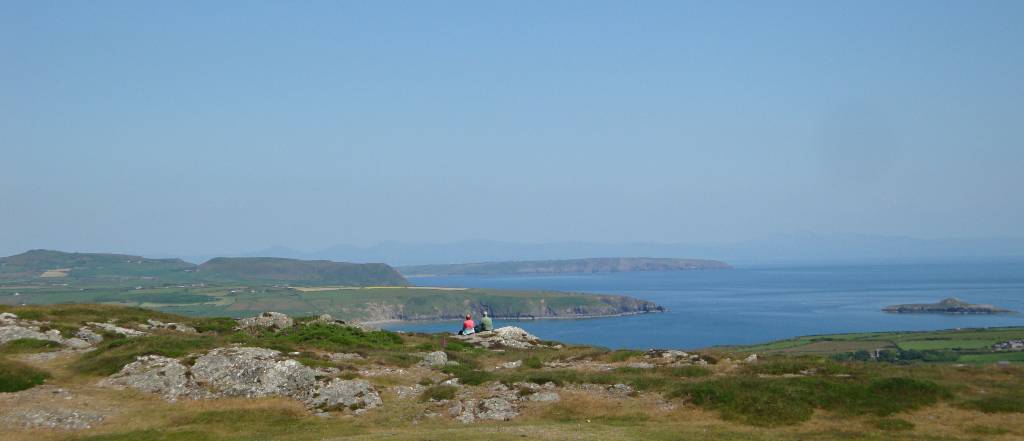 View across Aberdaron Bay - one of two small islands Ynys Gwylan Fawr is to right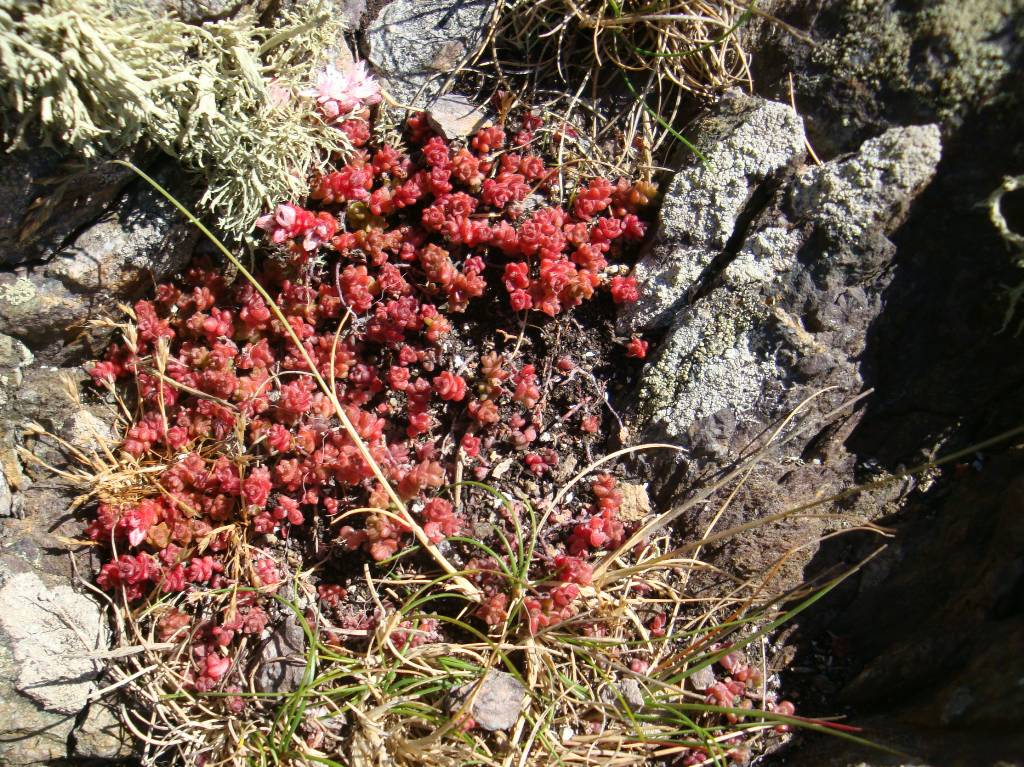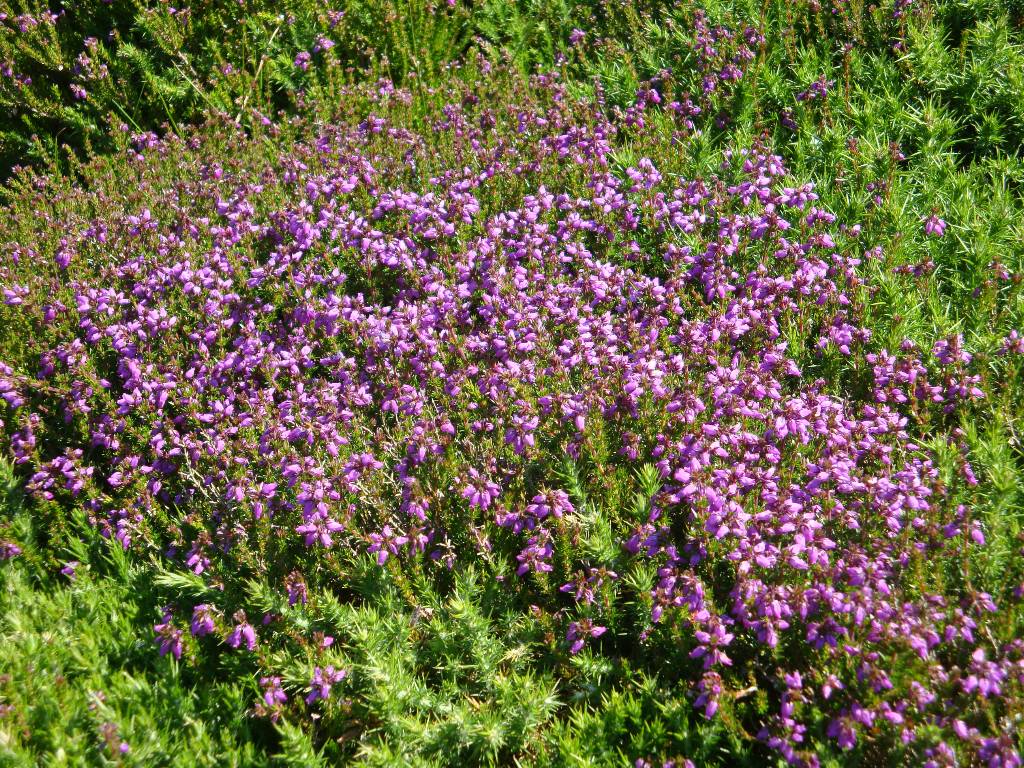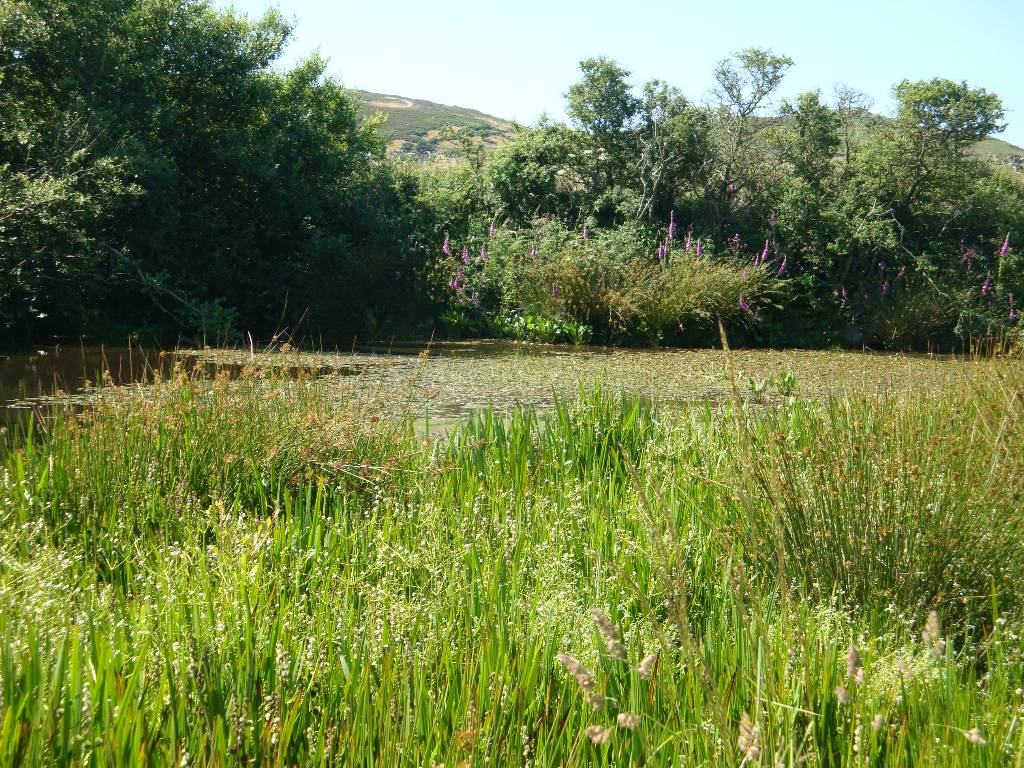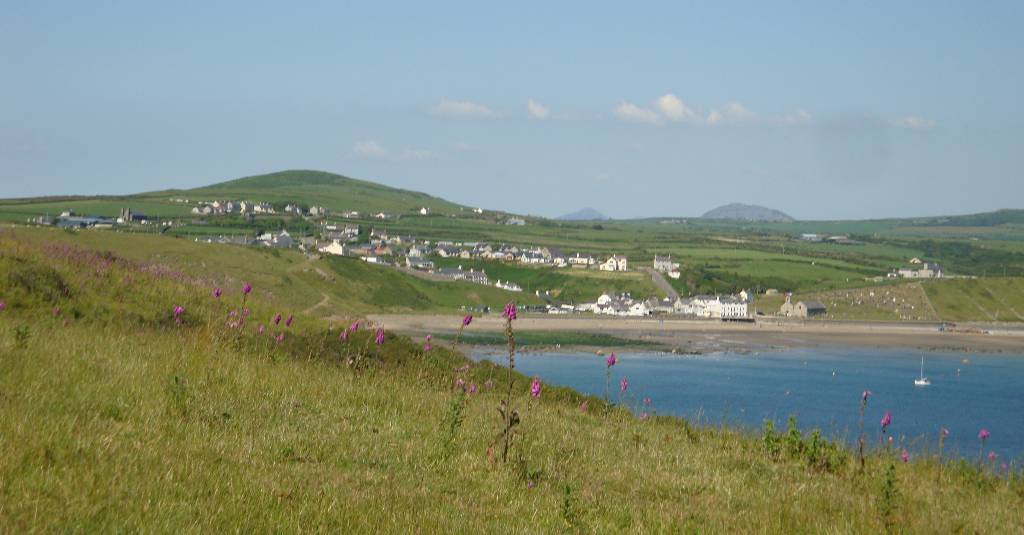 Village of Aberdaron in view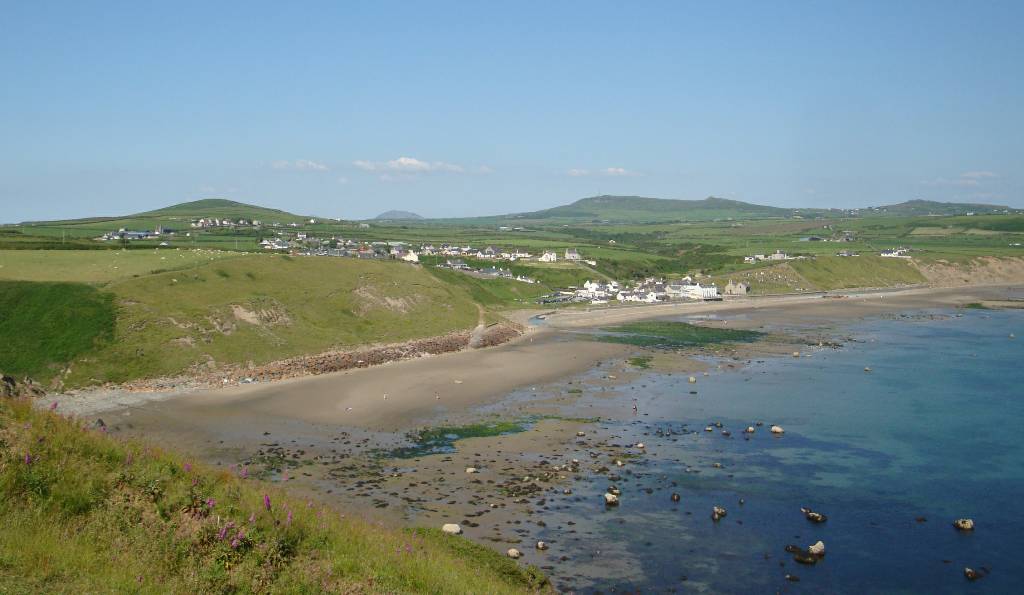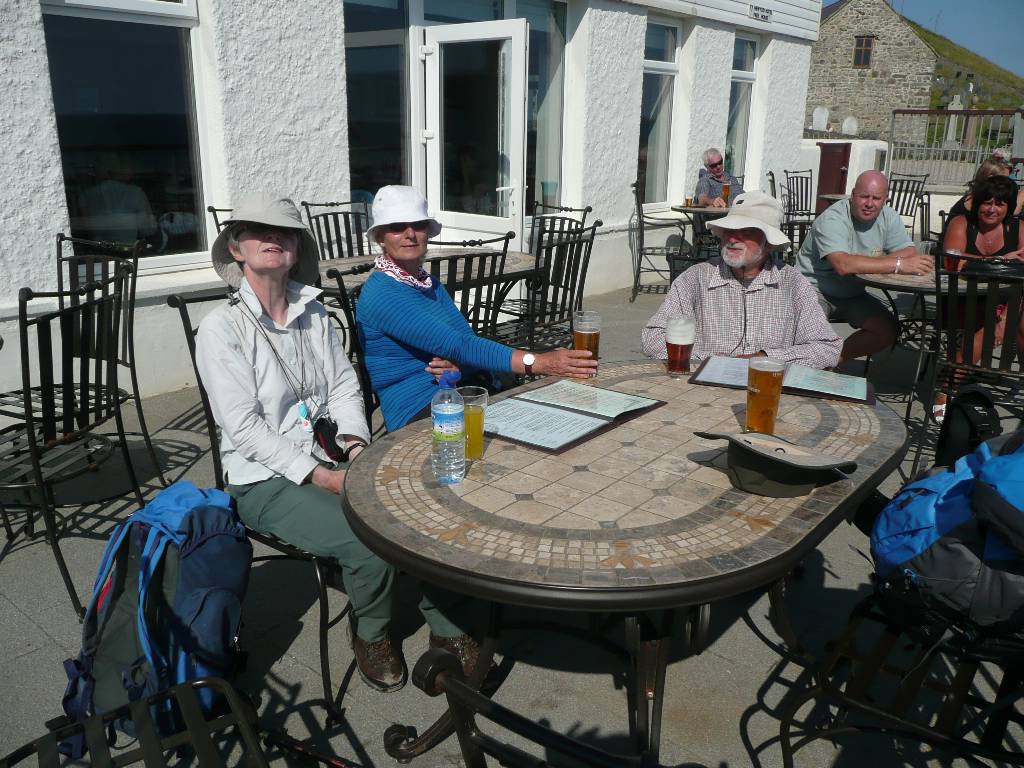 Relaxing overlooking the sea - local church and churchyard behind Photo by Dave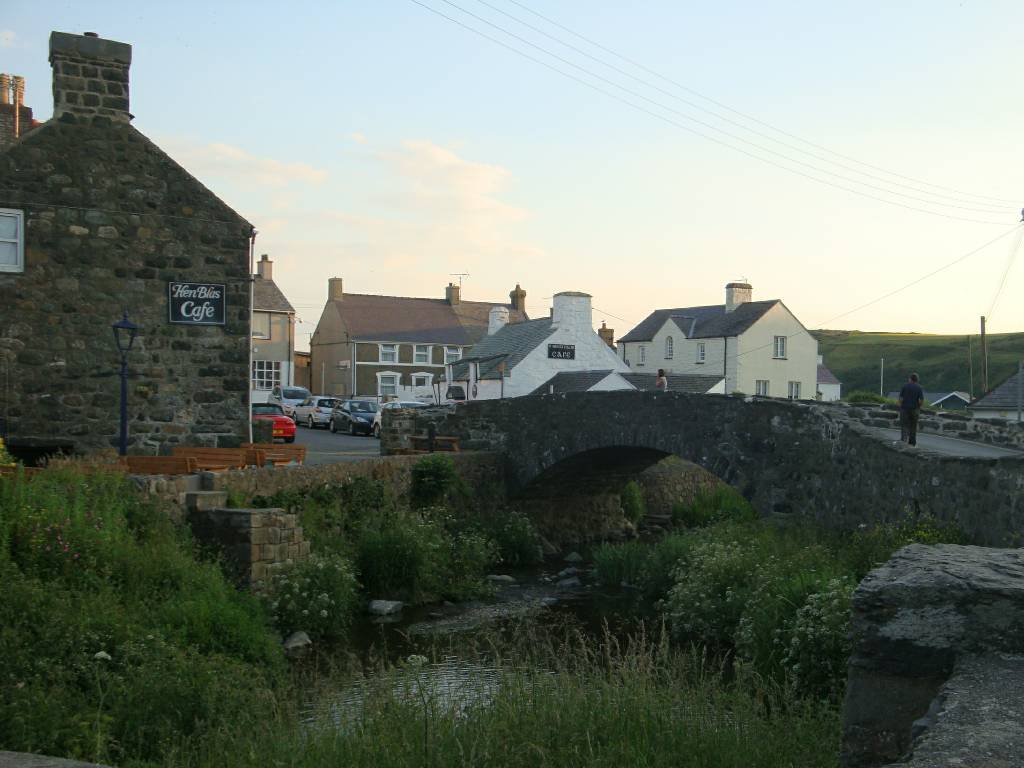 In Aberdaron - Cafe Gegyn Fawr (in centre) final resting stop of pilgrims before crossing to Bardsey
Fifth Day 25th June 2009 - trip to Bardsey Island
flying heron disappears under bridge
Porth Meudwy - embarkation point for Bardsey Island. Boats launched and recovered in wheeled cradles down slipway.
Ynys Enlli (Bardsey Island) - reputed to be the burial place of 20.000 Saints.

photos by Dave

Welcome at slipway at Bardsey Island. Tractor used for launching shown attached to boat
From the Lighthouse
Tallest square lighthouse in Britain built in 1821. Converted to remote operation in 1987. Modern foghorn with 'laser probing of mist' in foreground?
View of slipway from lighthouse - tip of Llŷn Peninsula just visible to left
The pause that refreshes

photo by Dave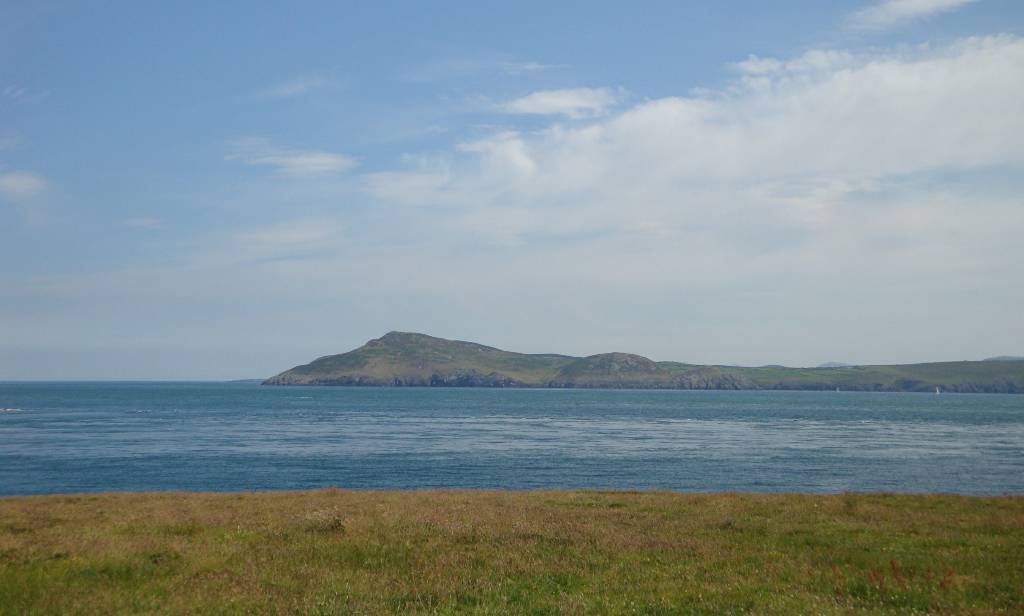 Looking across Bardsey Sound at the Llŷn Peninsula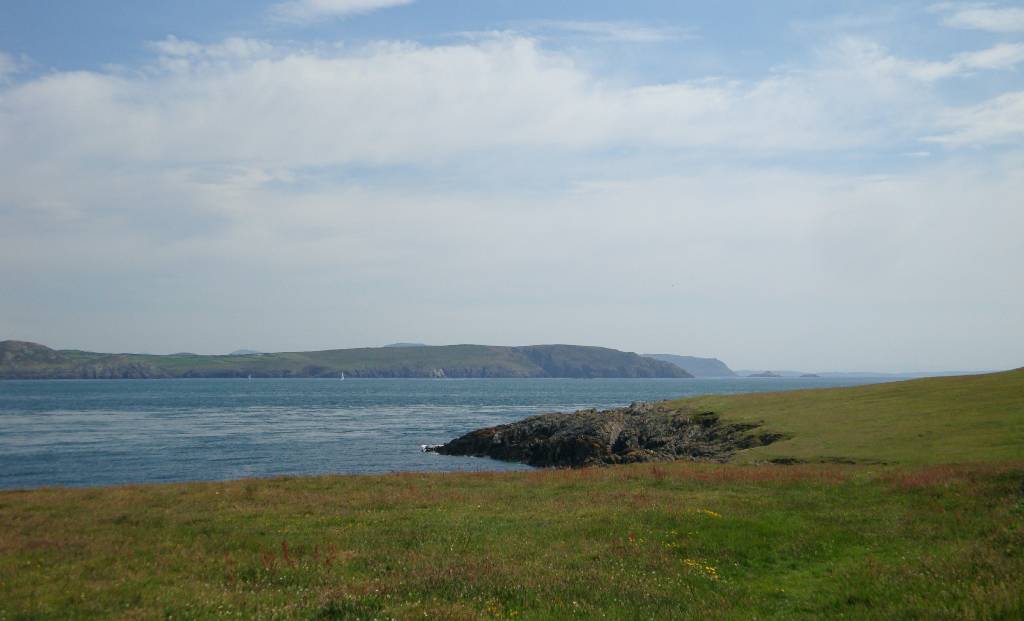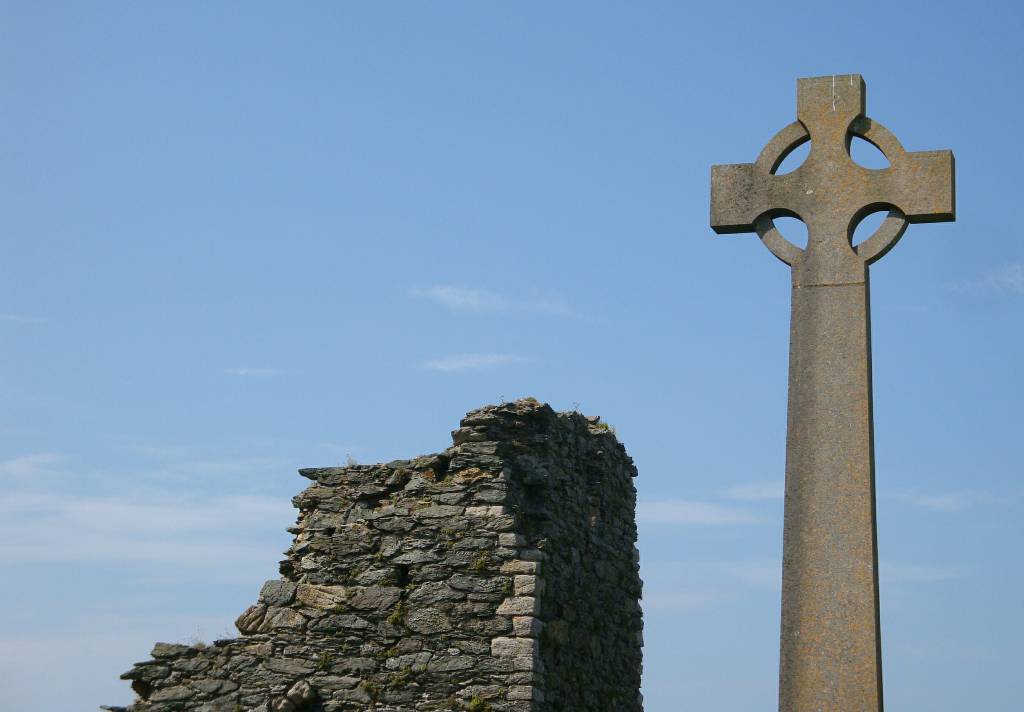 Monastery ruins with Celtic cross. Monastery founded in 6th century by Saint Cadfan. 20.000 Saints alleged to have come to the Island and died there.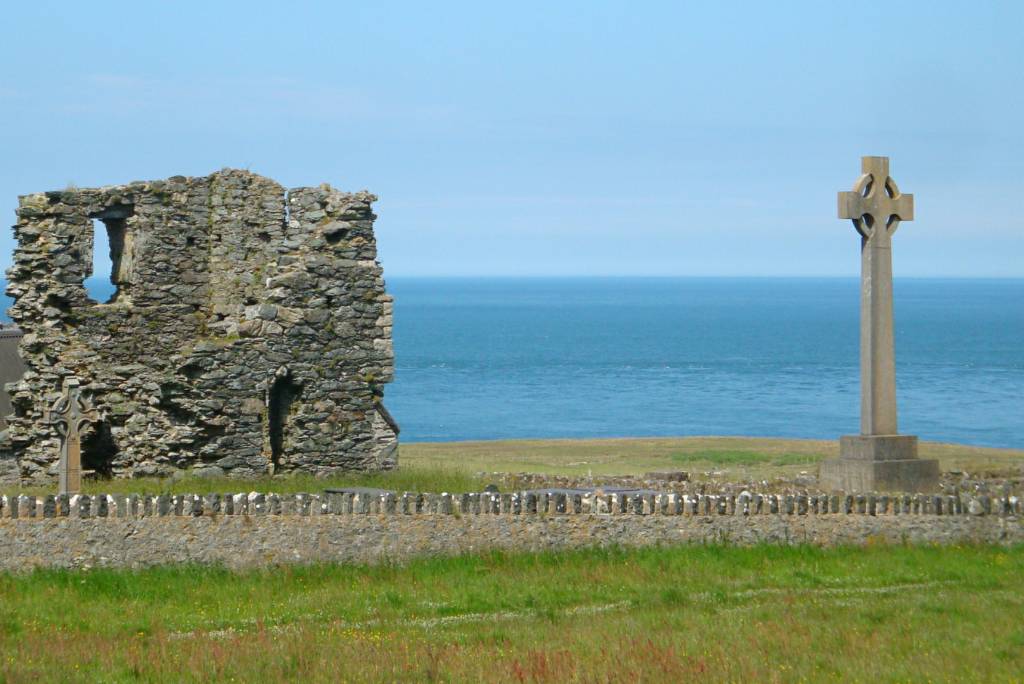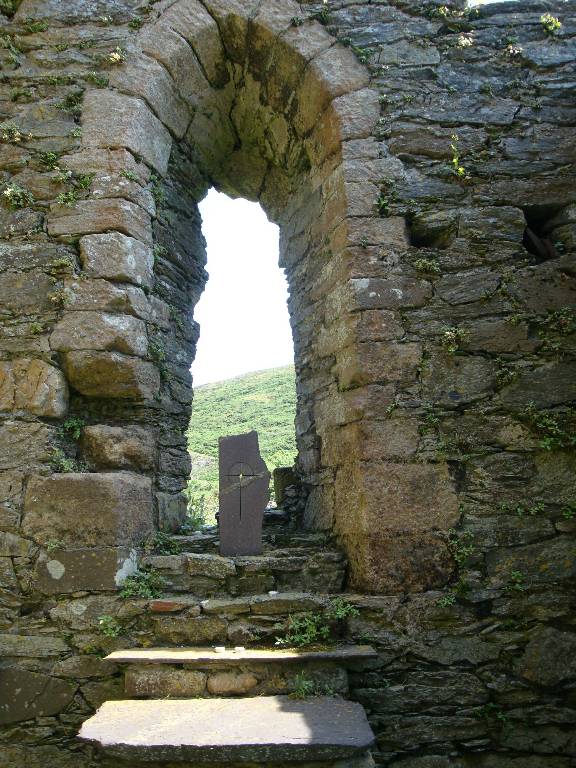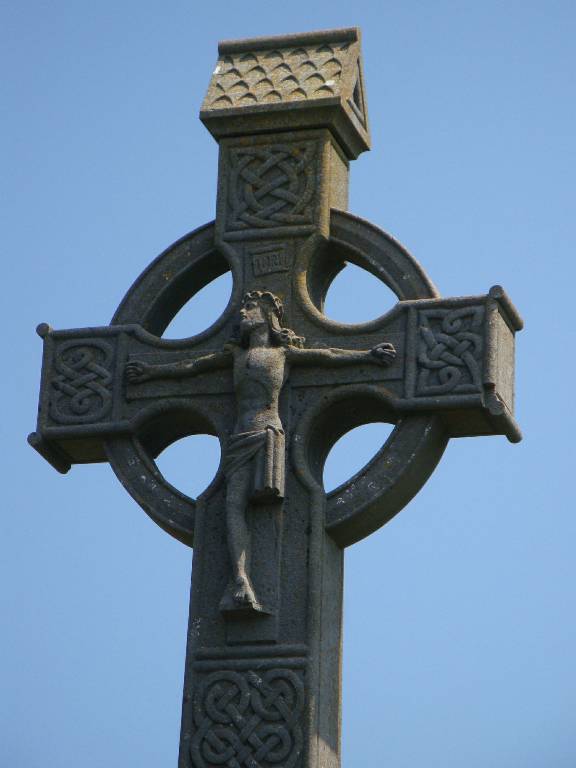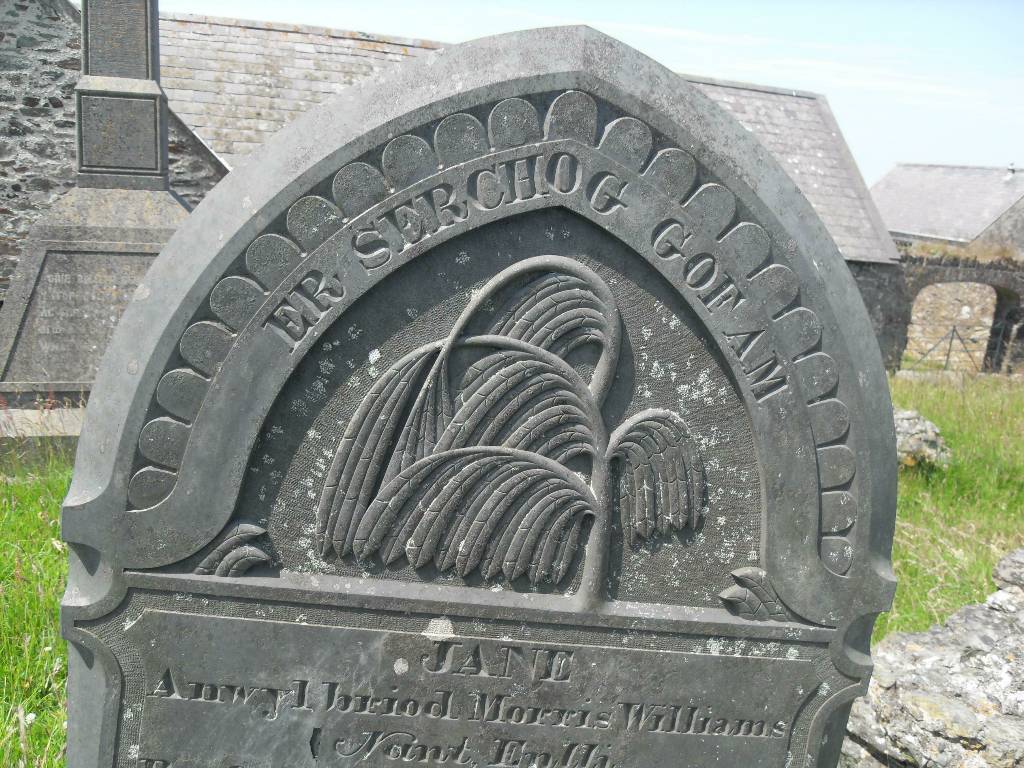 photo by Susan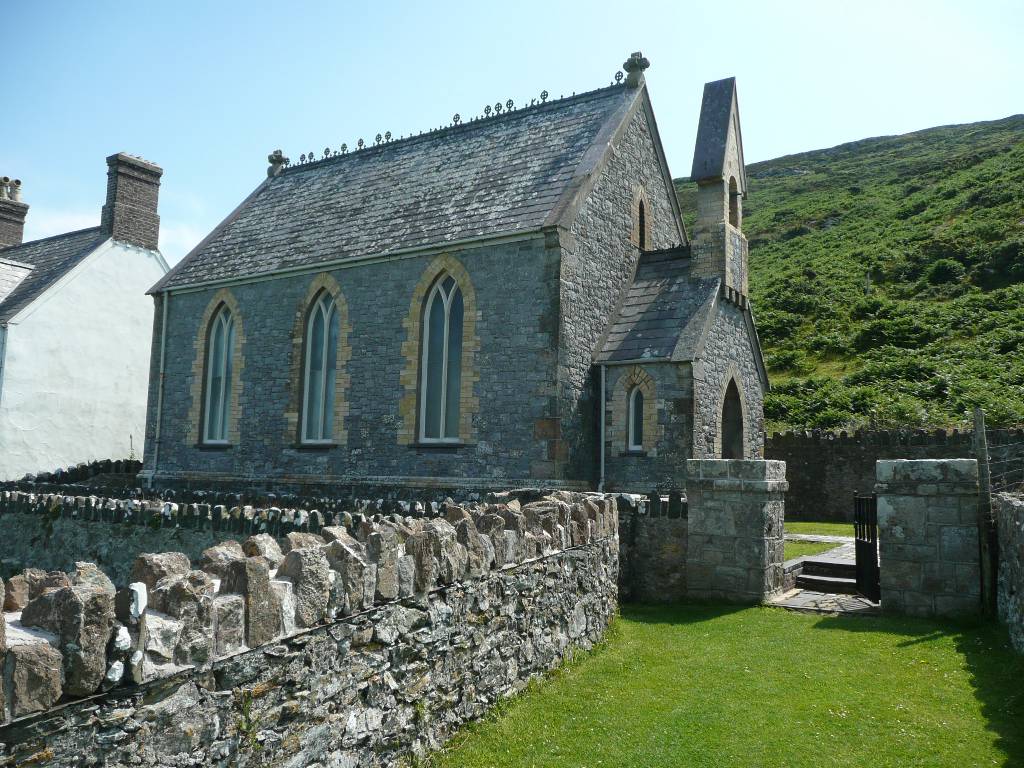 photo by Dave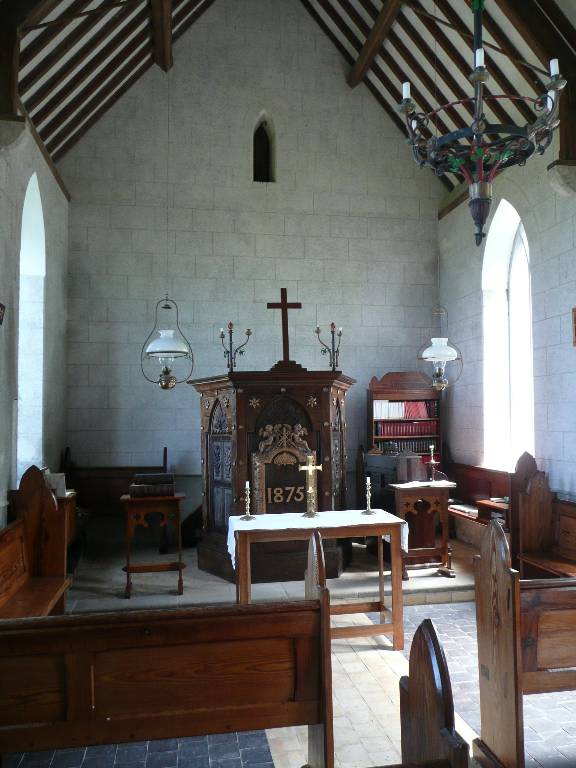 photo by Dave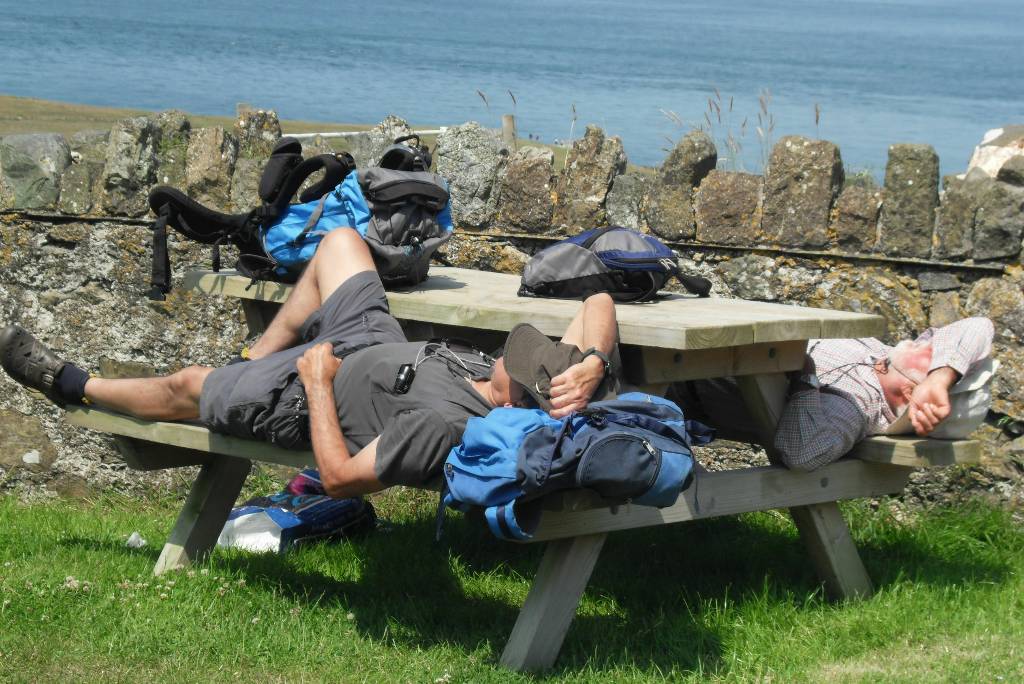 photo by Susan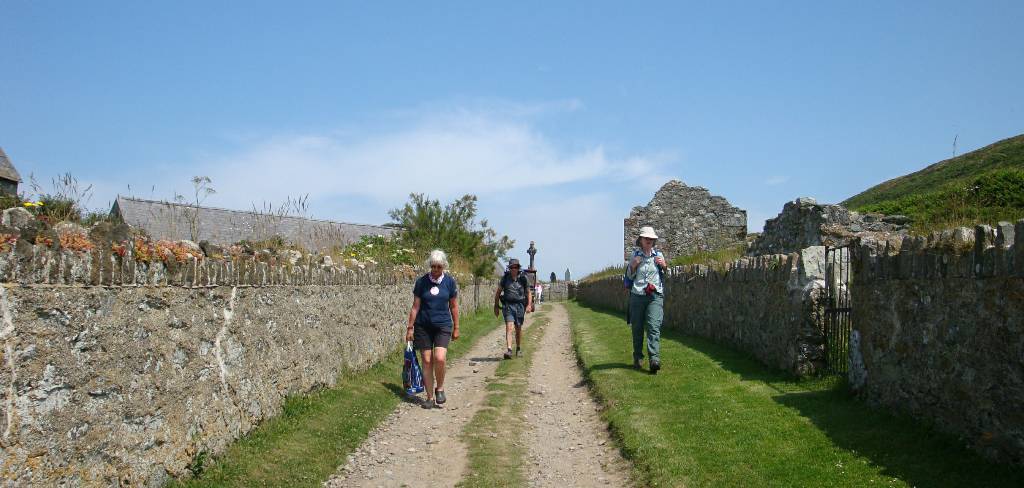 Leaving the monastery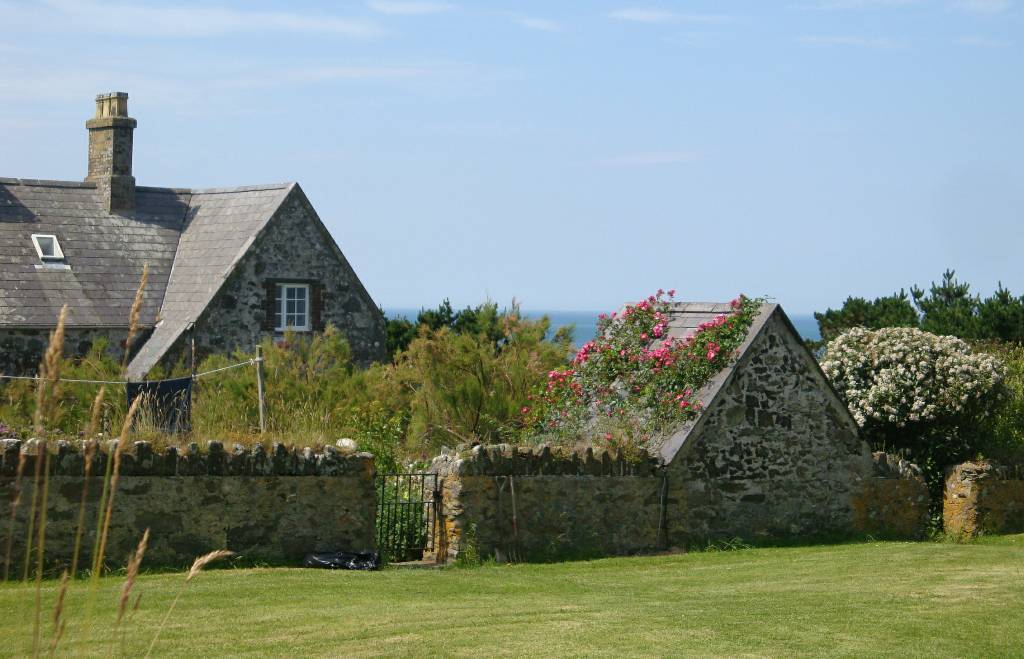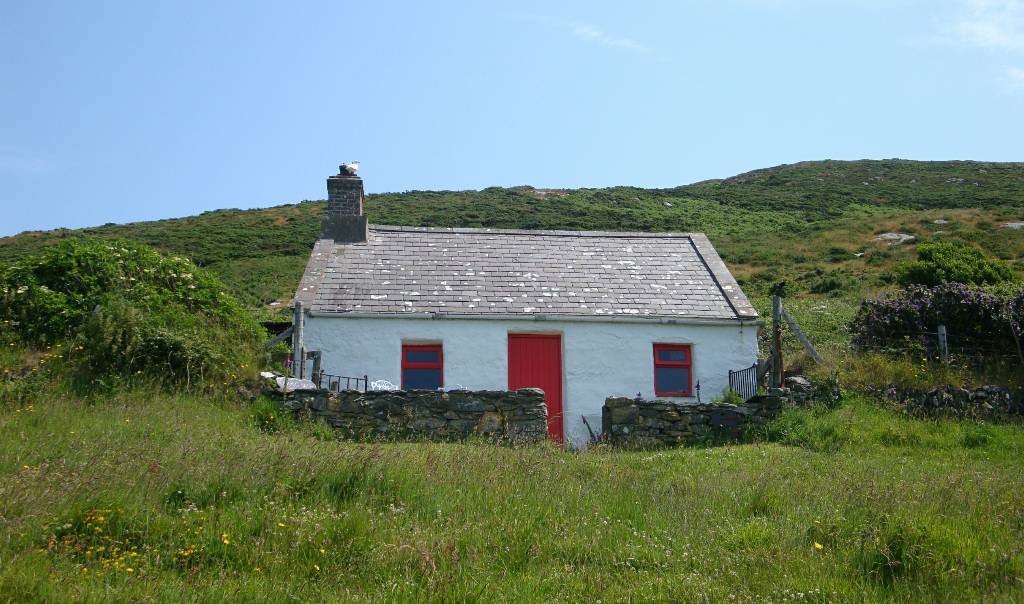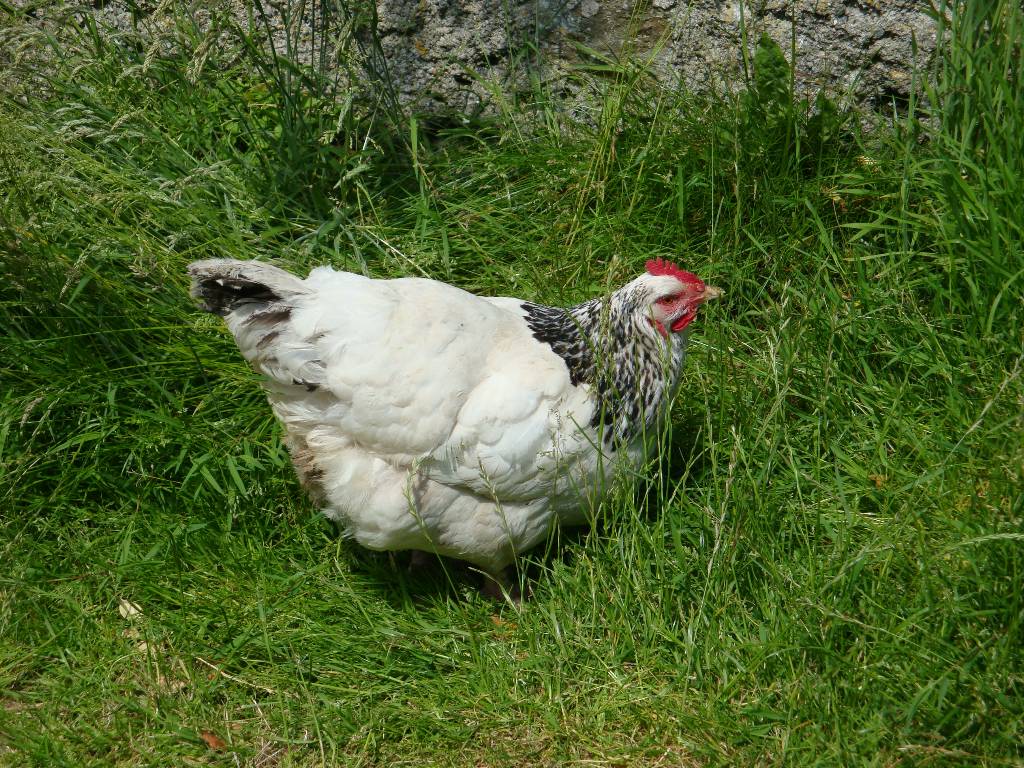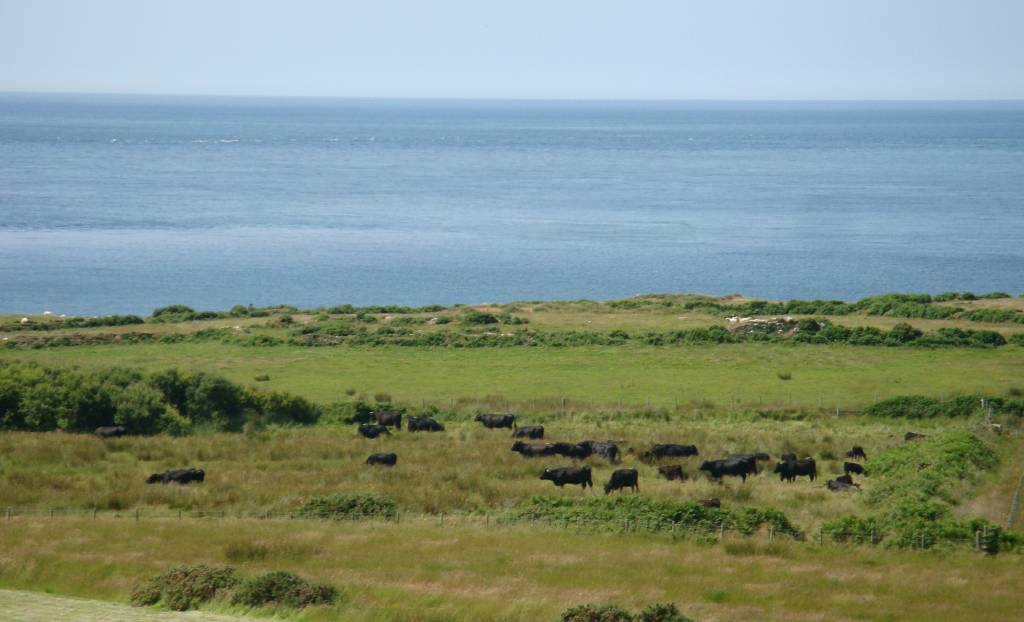 Herd of Black Aberdeen Angus cattle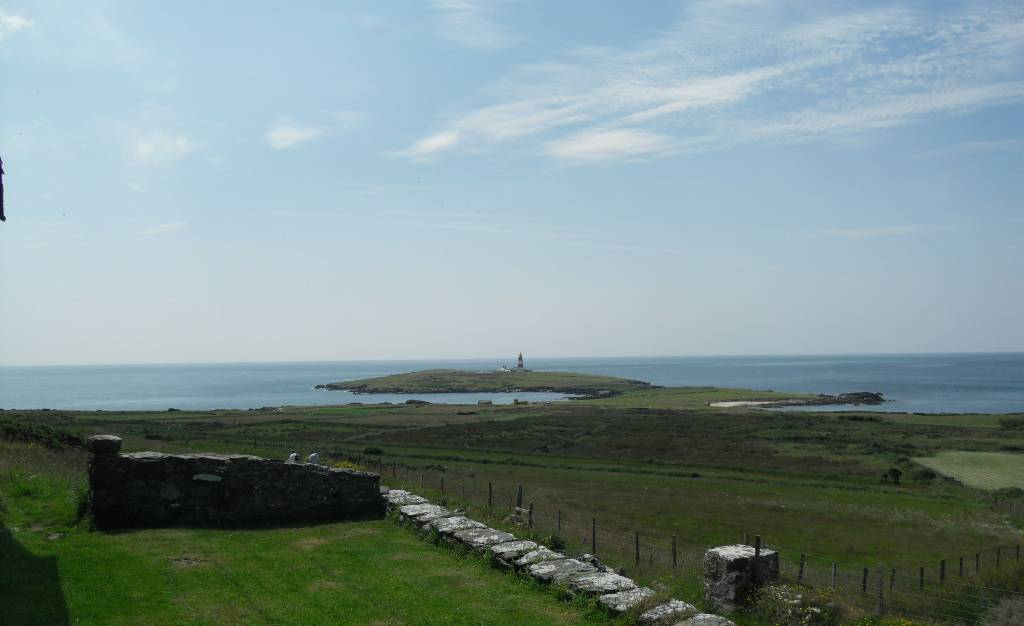 photo by Susan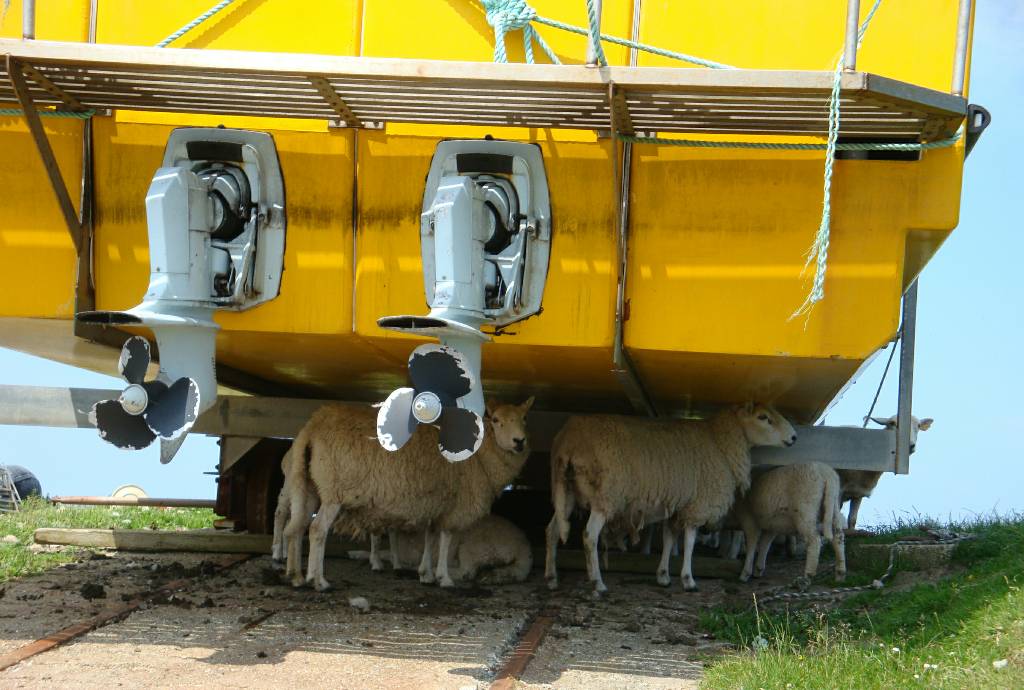 Respite from the heat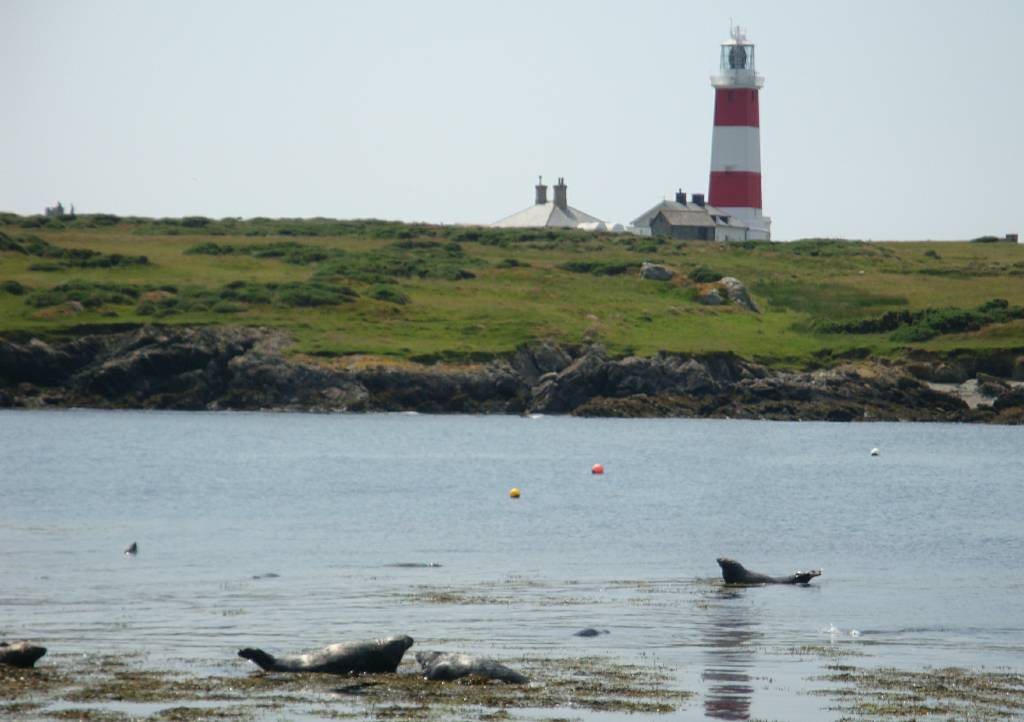 Seals basking near boat launch point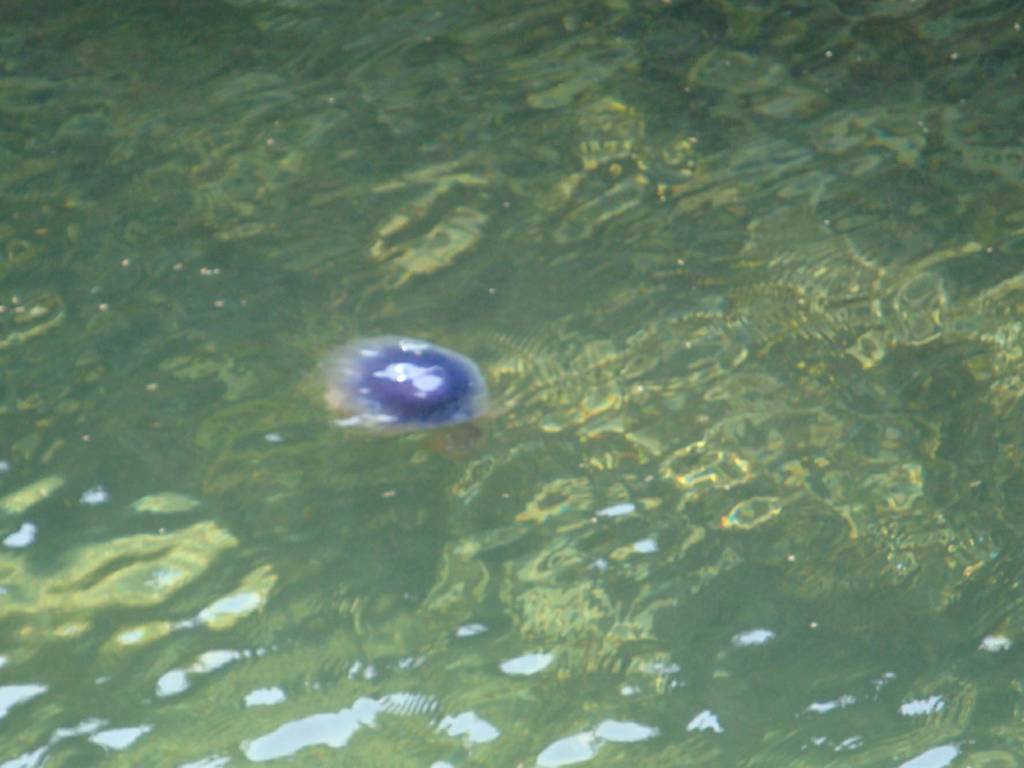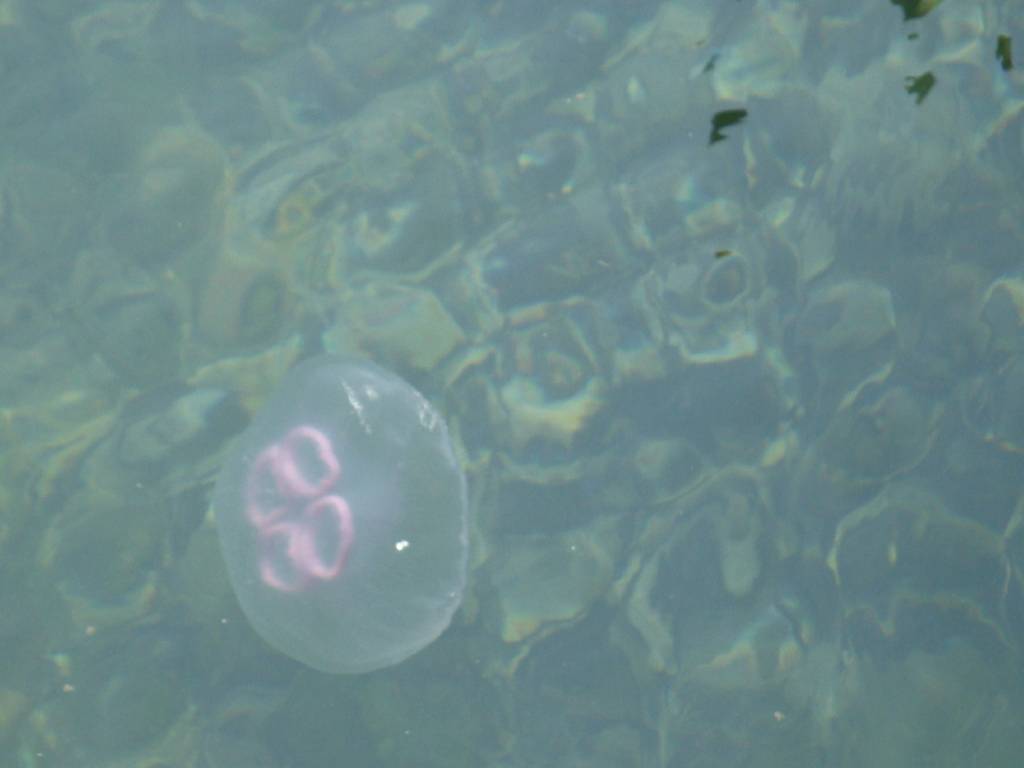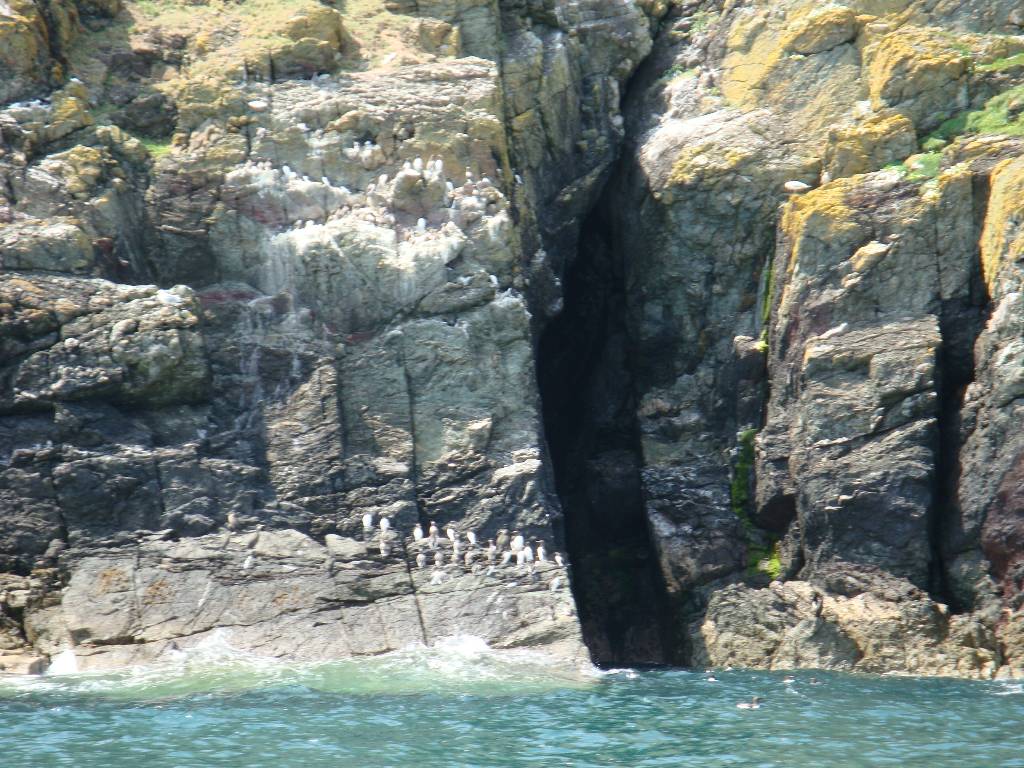 Bird watching from the boat on the return voyage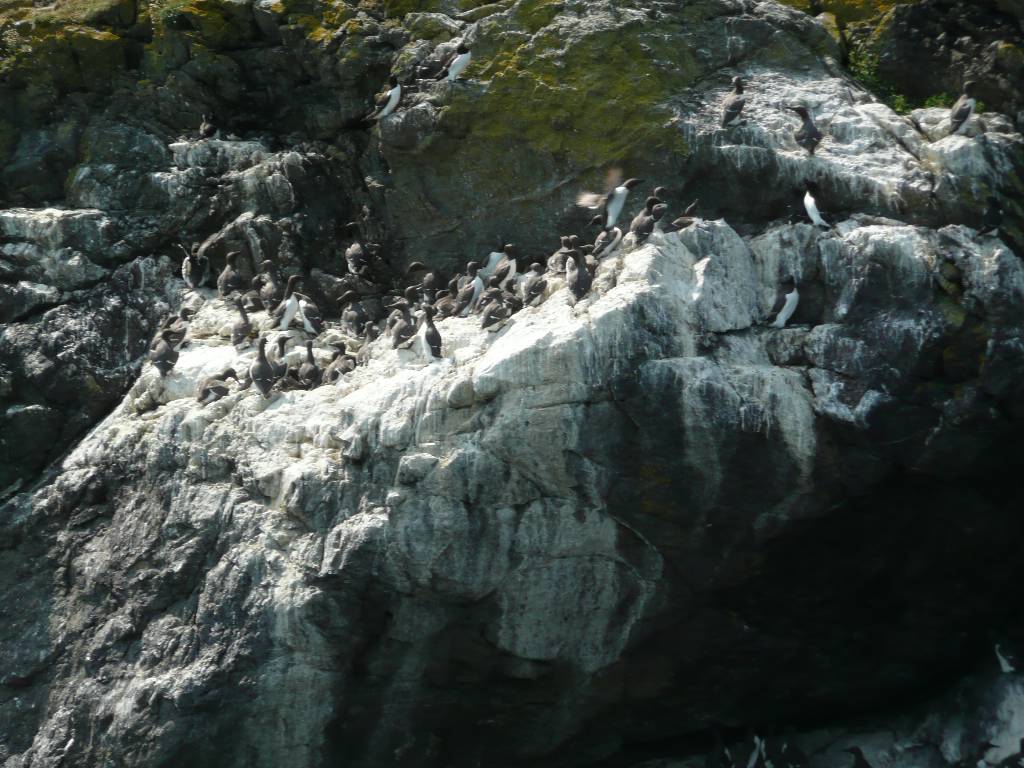 photo by Dave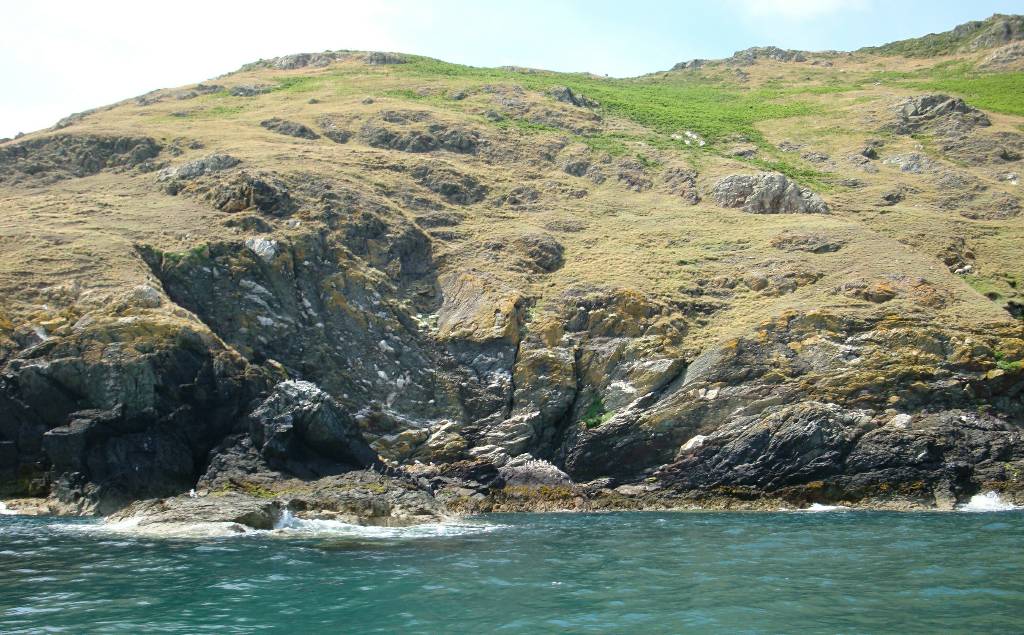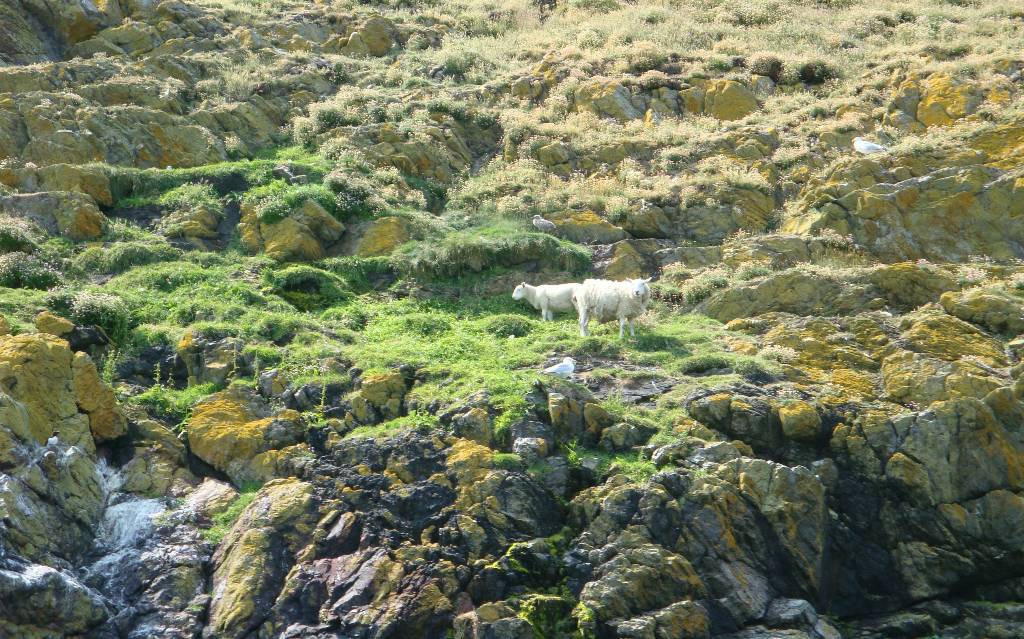 Sheep grazing on precipitous grass patch above the sea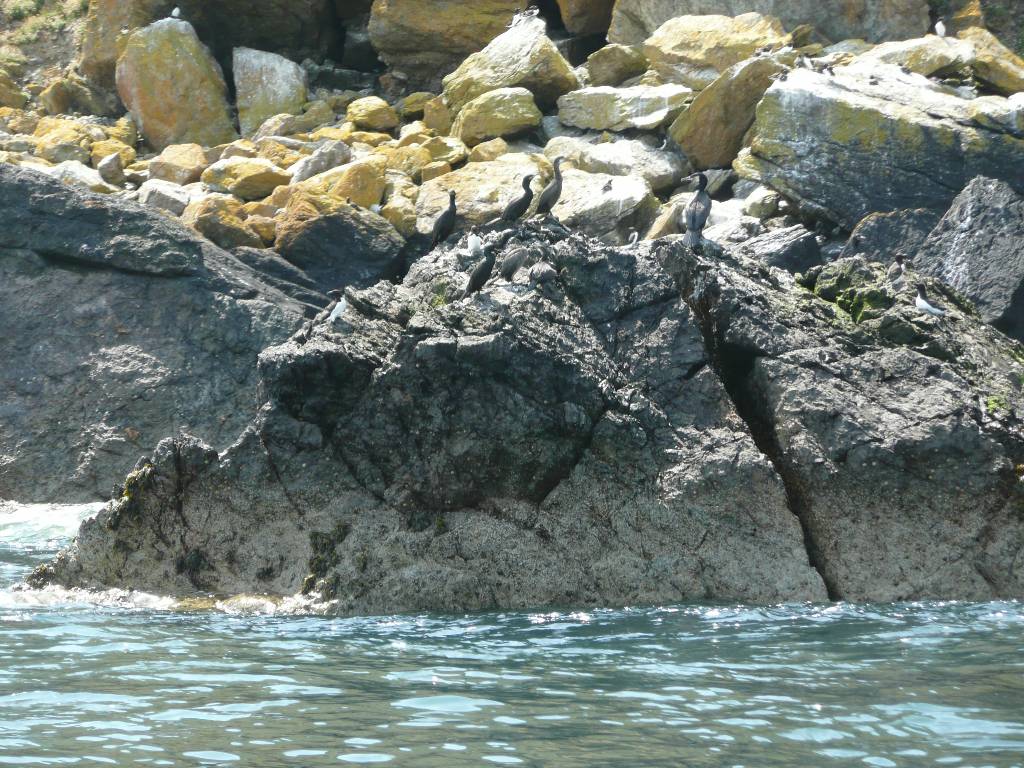 photo by Dave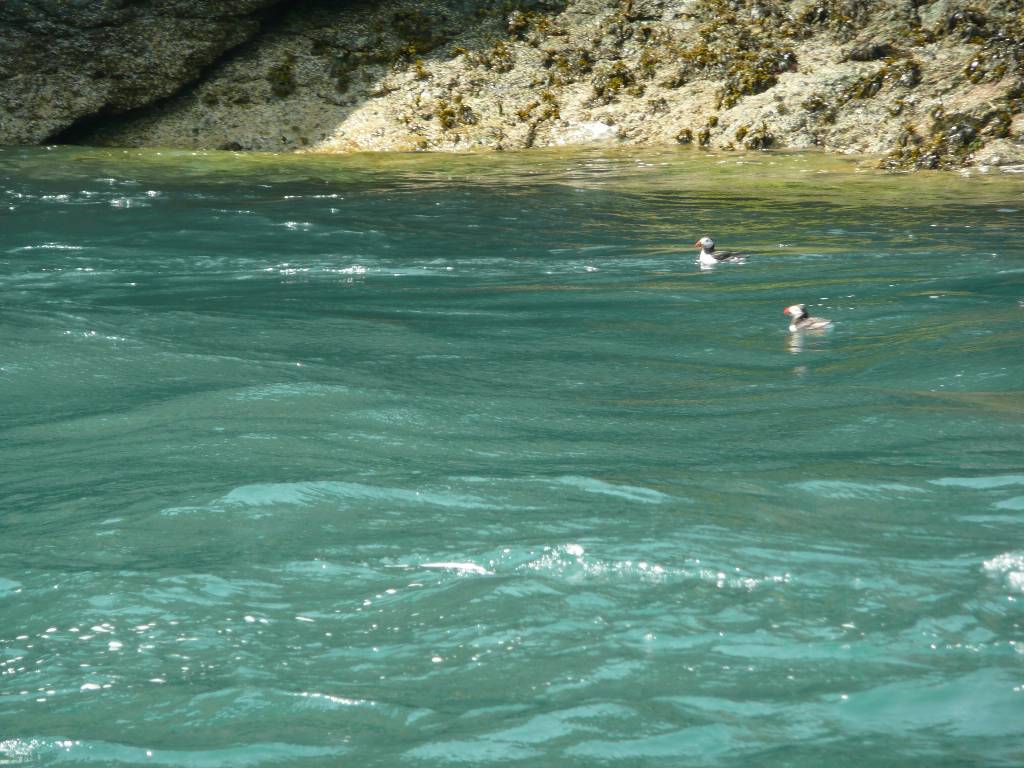 photo by Dave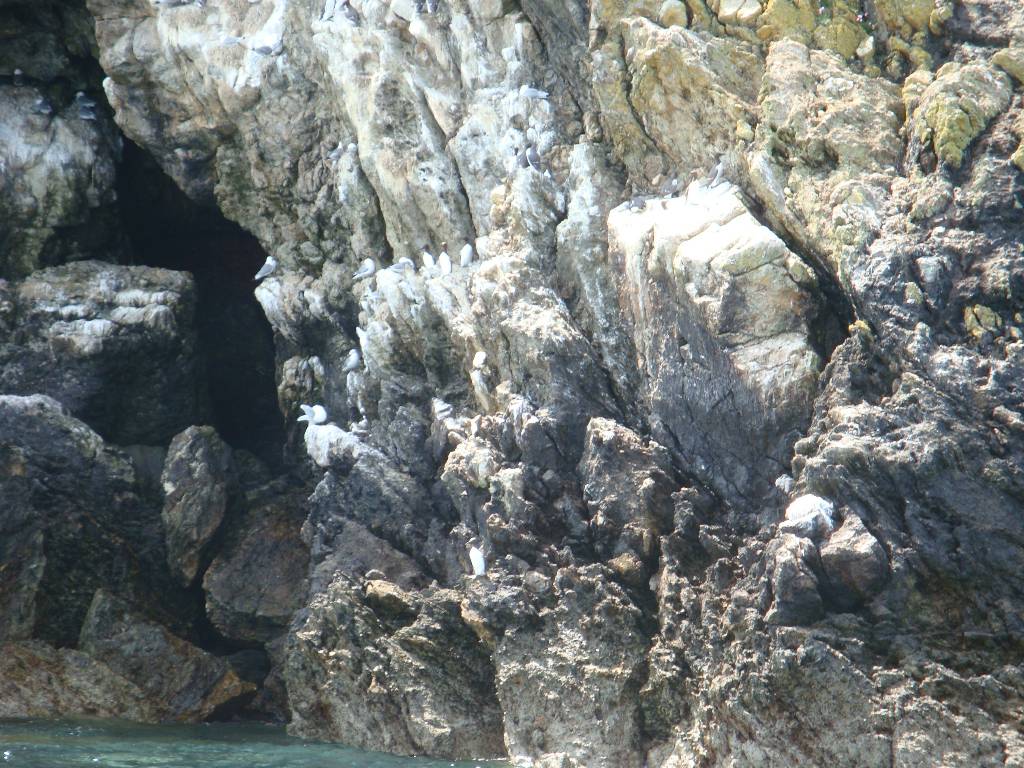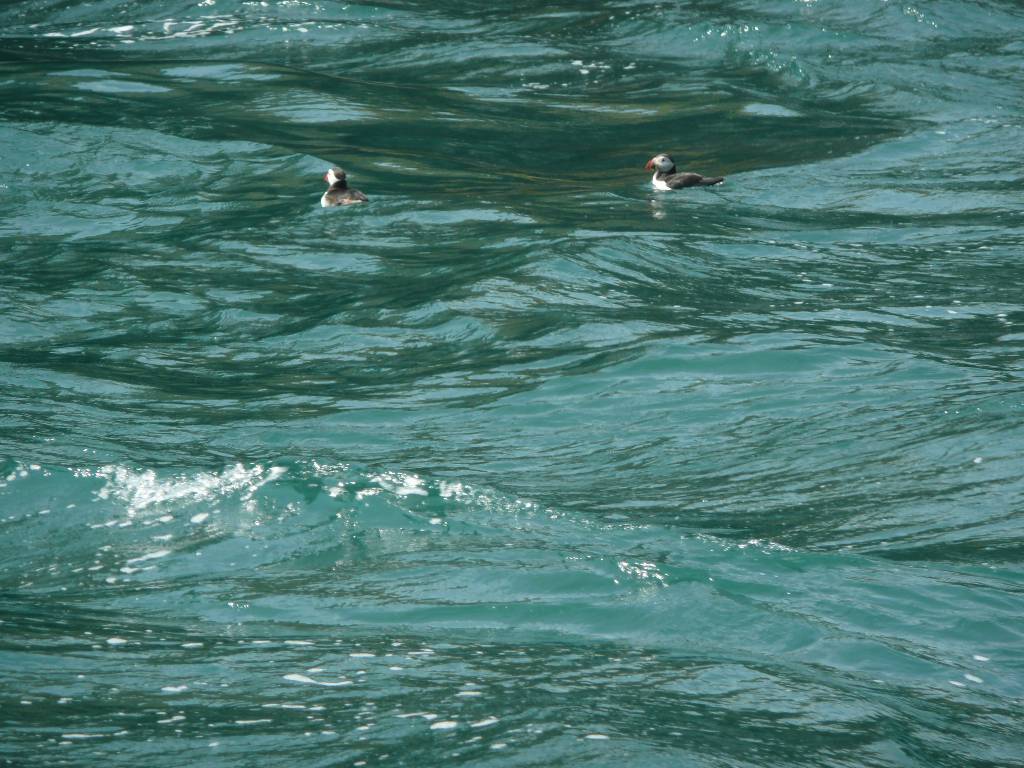 photo by Dave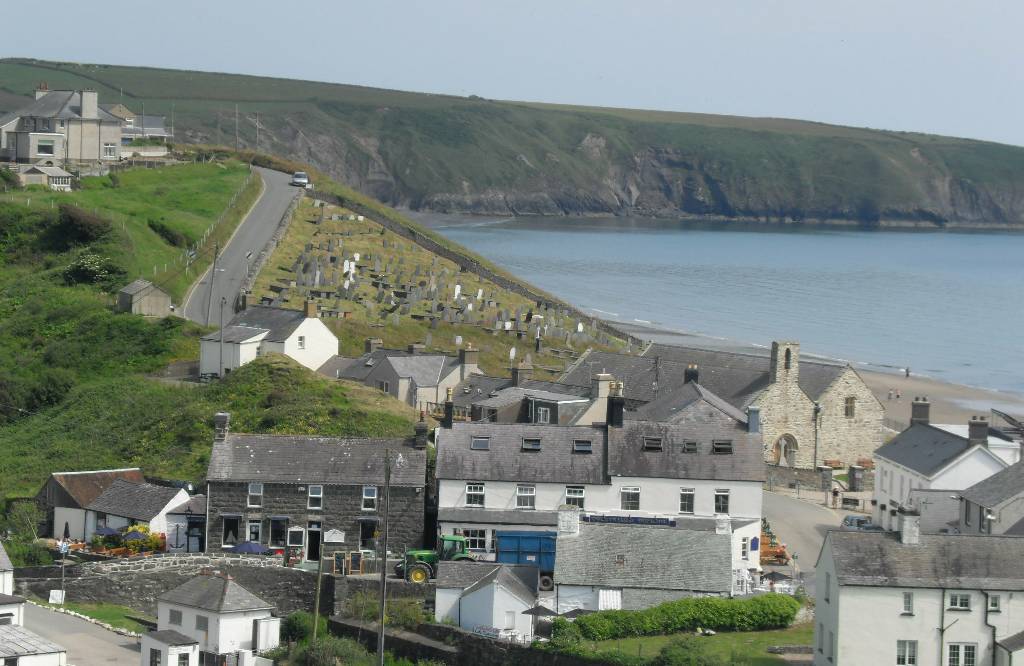 Aberdaron's graveyard photo by Susan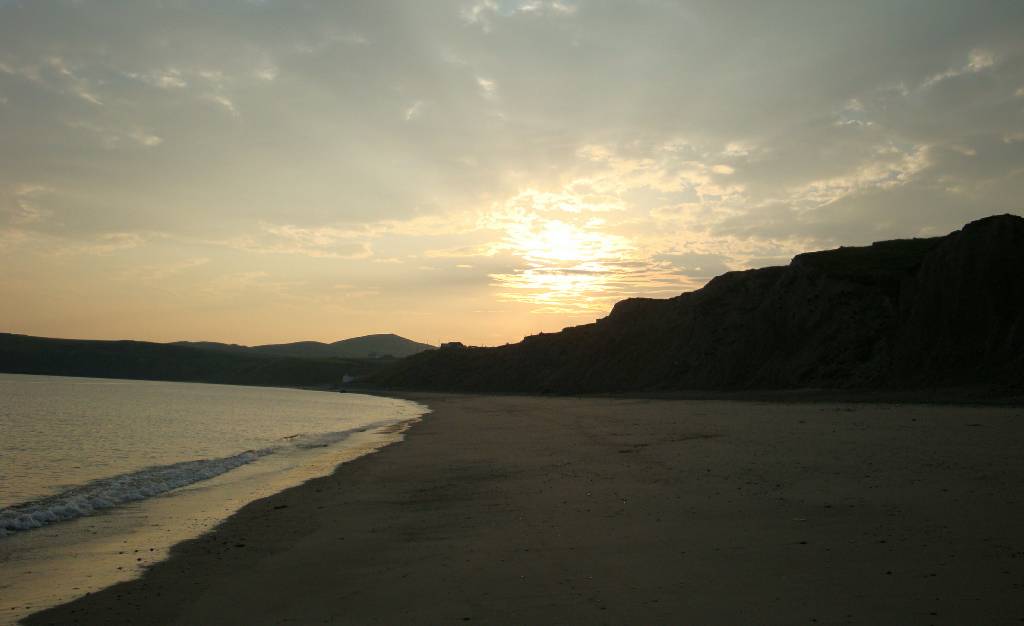 Sunset taken from east end of Aberdaron's beach
Sixth Day 26th June 2009 - taxi to Treheli (west of Hells Mouth) then walking to Abersoch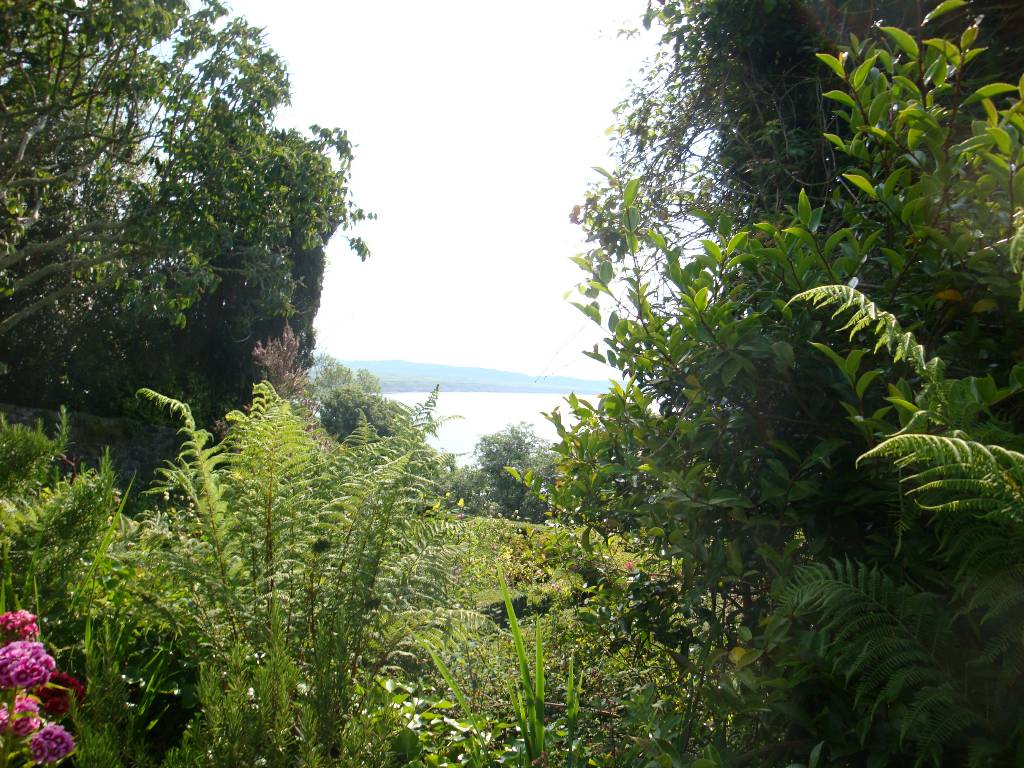 View from Treheli across Hells Mouth Bay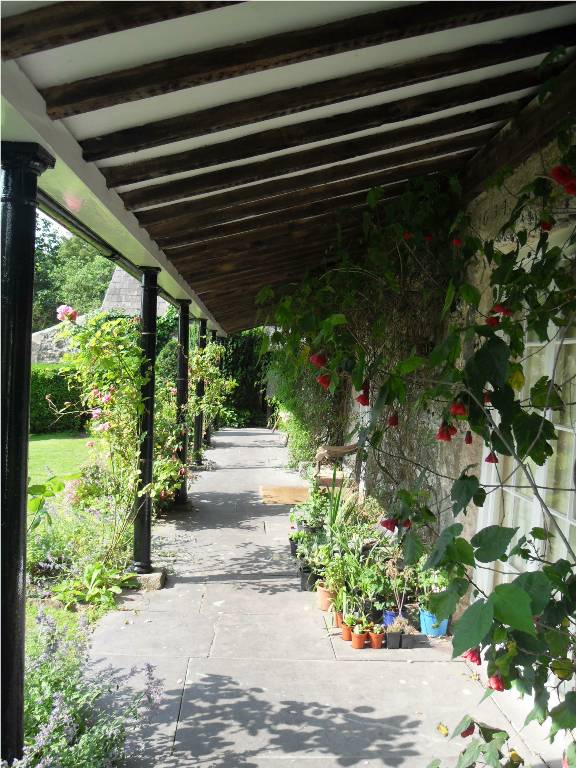 National Trust villa at above viewpoint photo by Susan
photo by Dave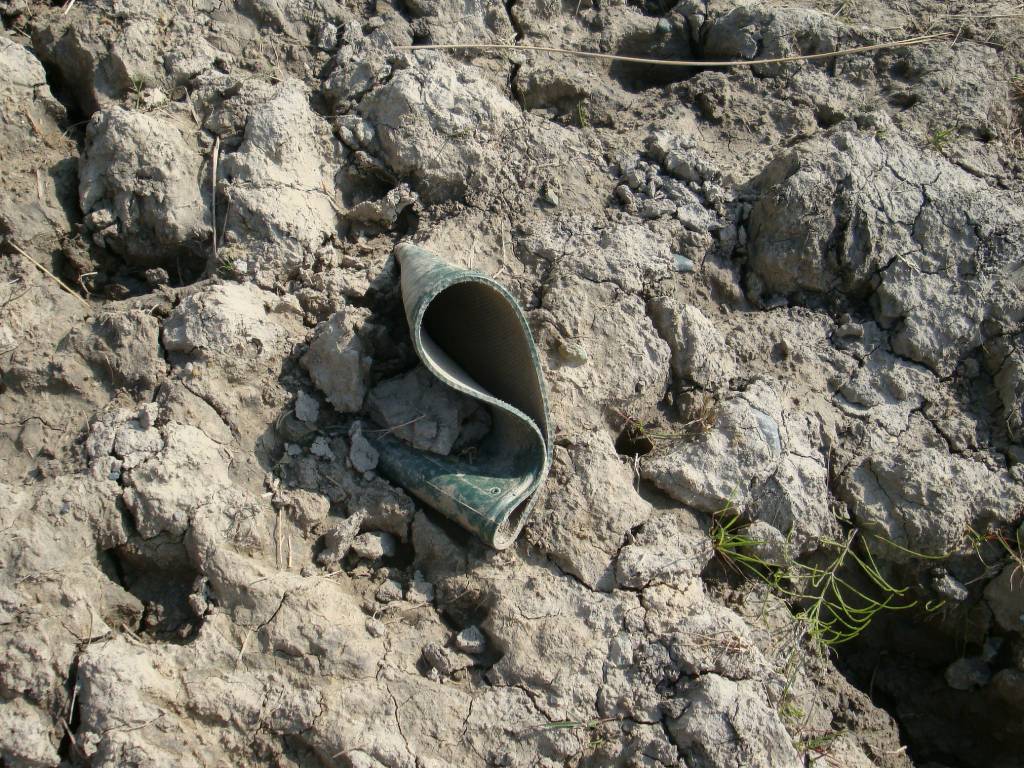 Missing person leaves gumboot - not that of the Reverend Ross who disappeared (feared drowned in 1955 at Hells Mouth) leaving a disconsolate wife, but reappeared with his mistress a few years later to be defrocked.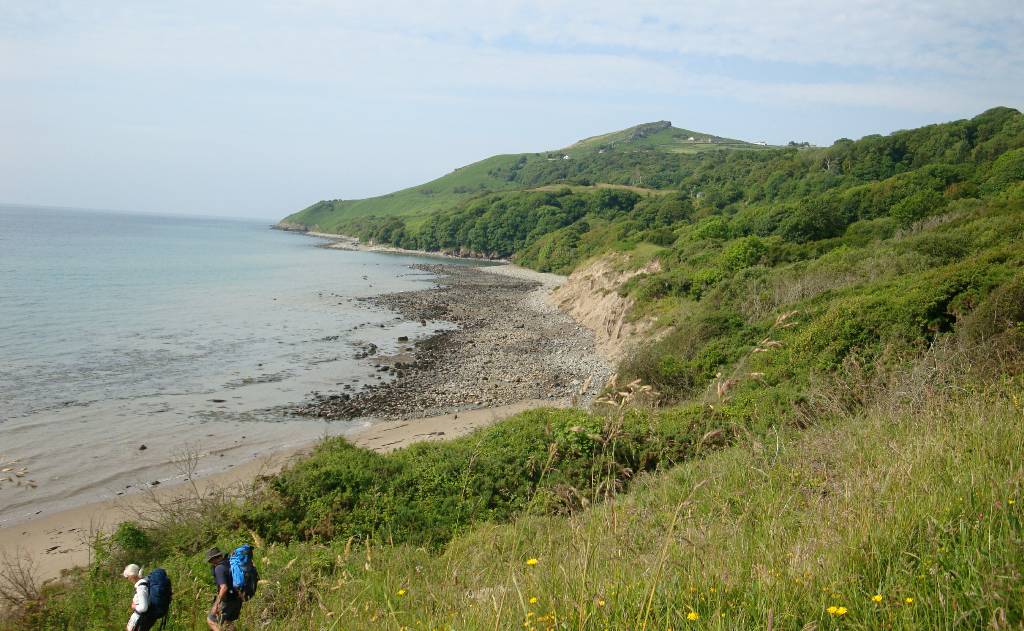 Descending to the 4mile long beach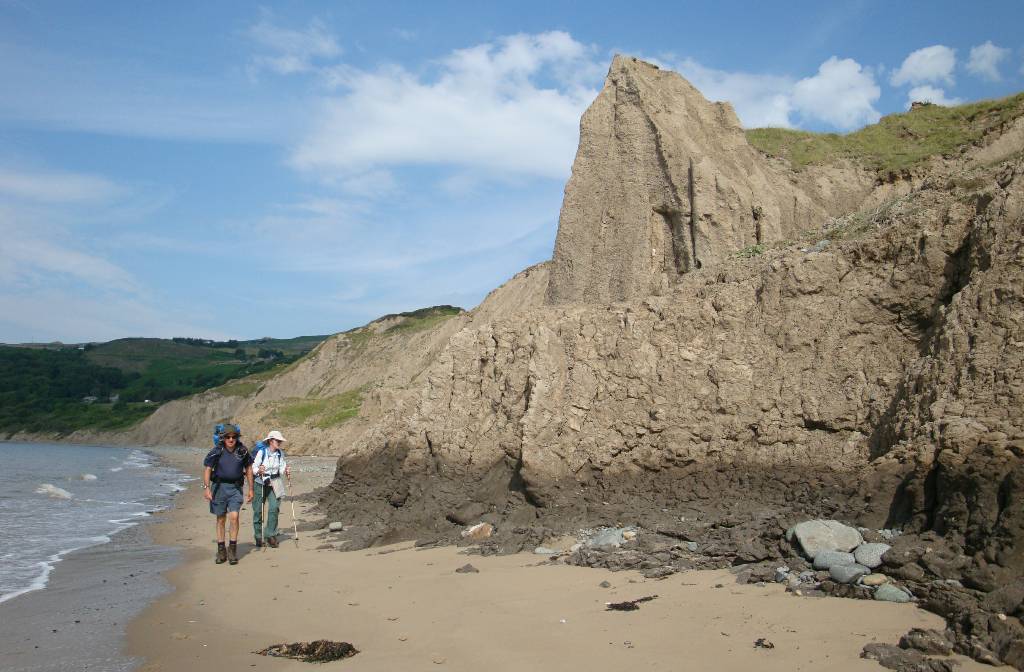 Landslides being eaten away by the sea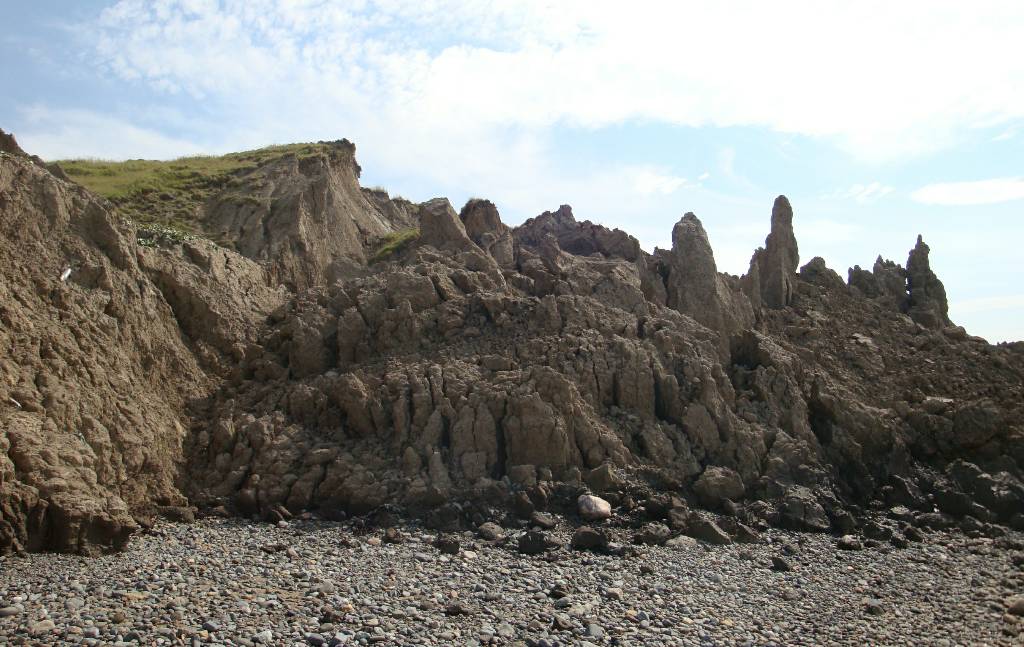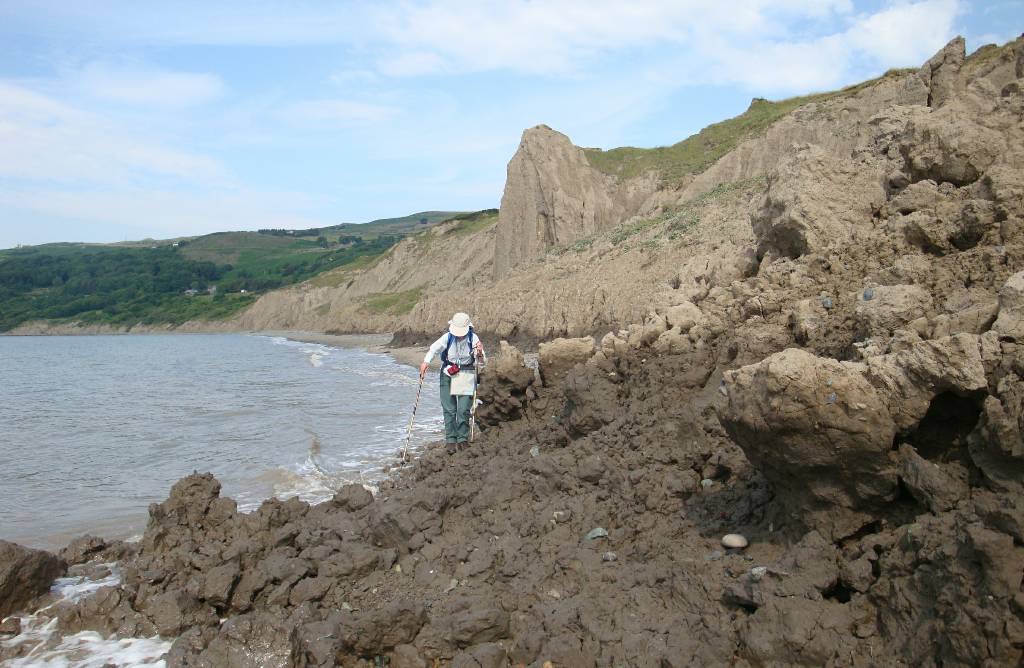 Traversing a slide - poles useful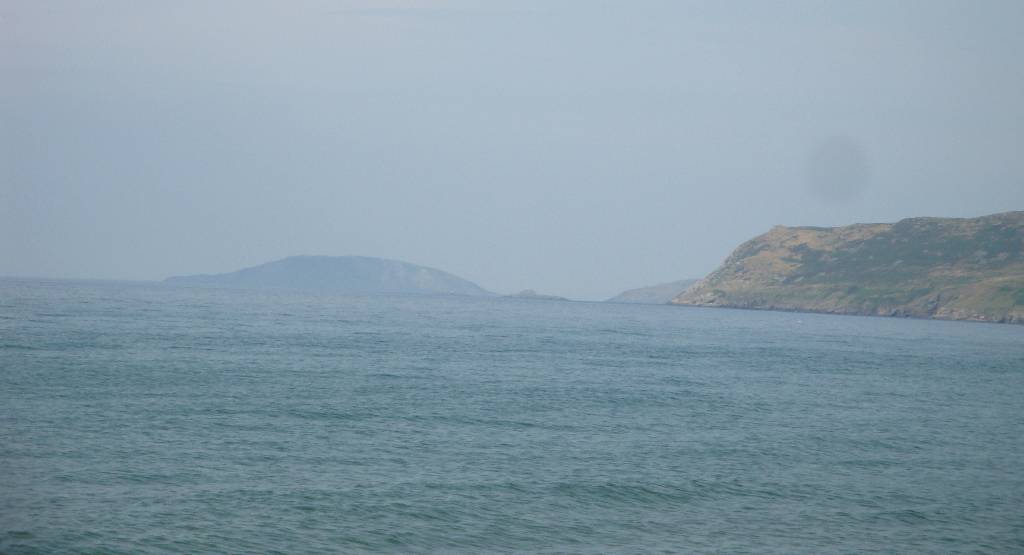 Bardsey Island in distance to left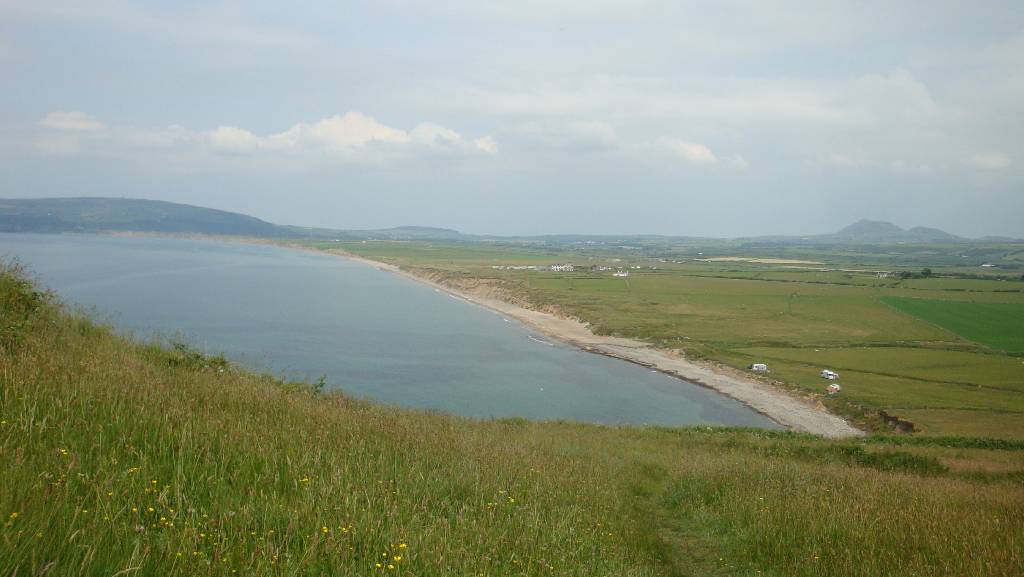 View looking west of Hell's Mouth beach from higher land on Mynydd Cilan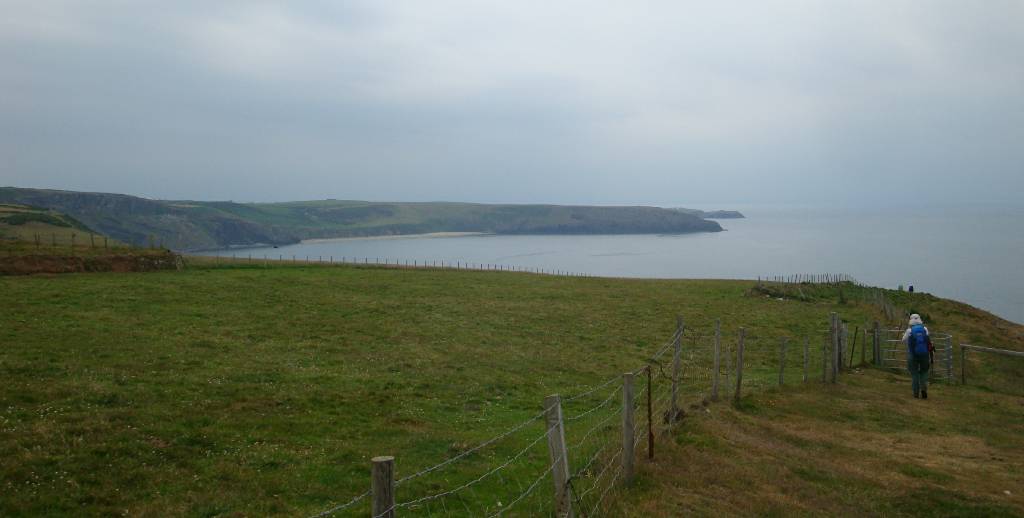 On the Mynydd Cilan peninsula - Trwyn yr Wylfa in distance with St Tudwal's islands behind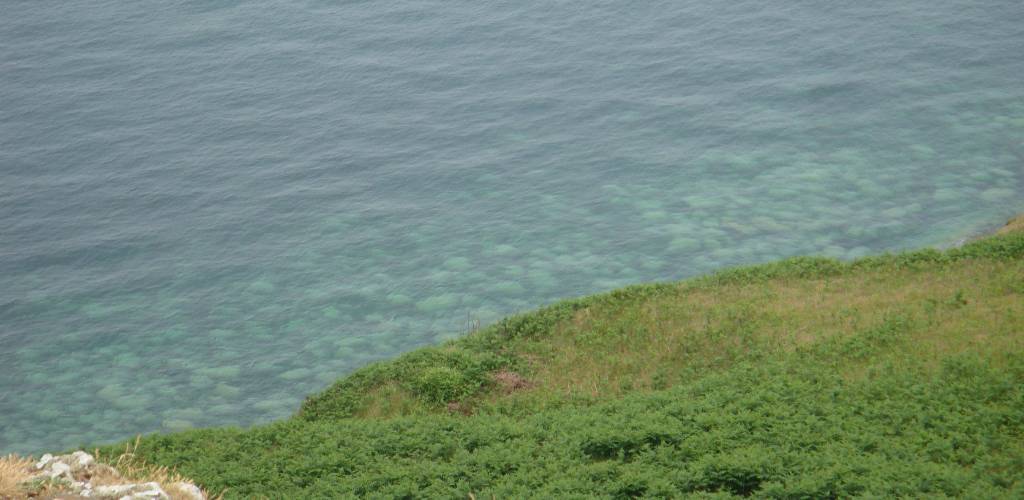 Clean green sea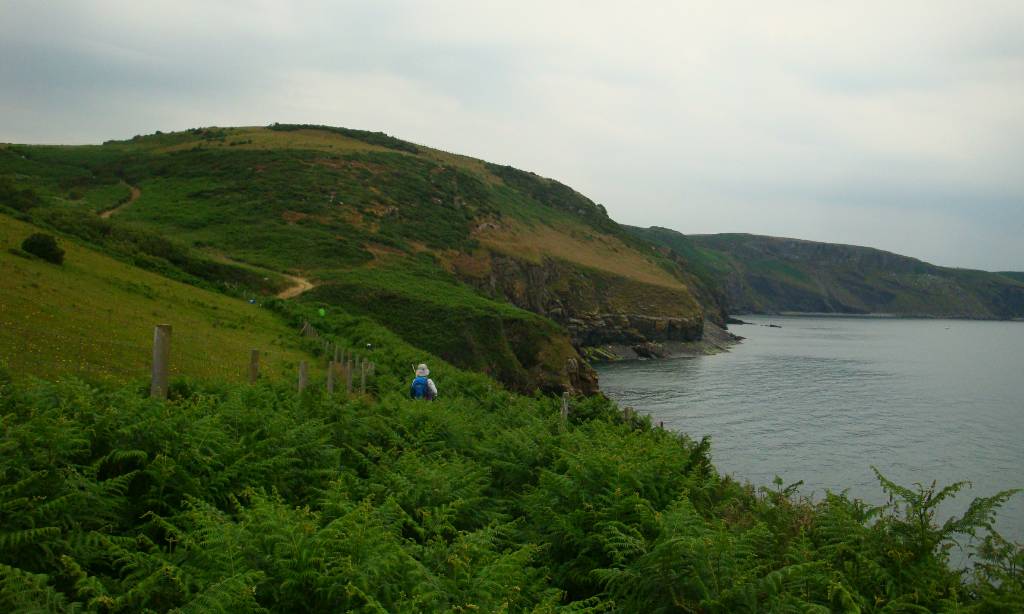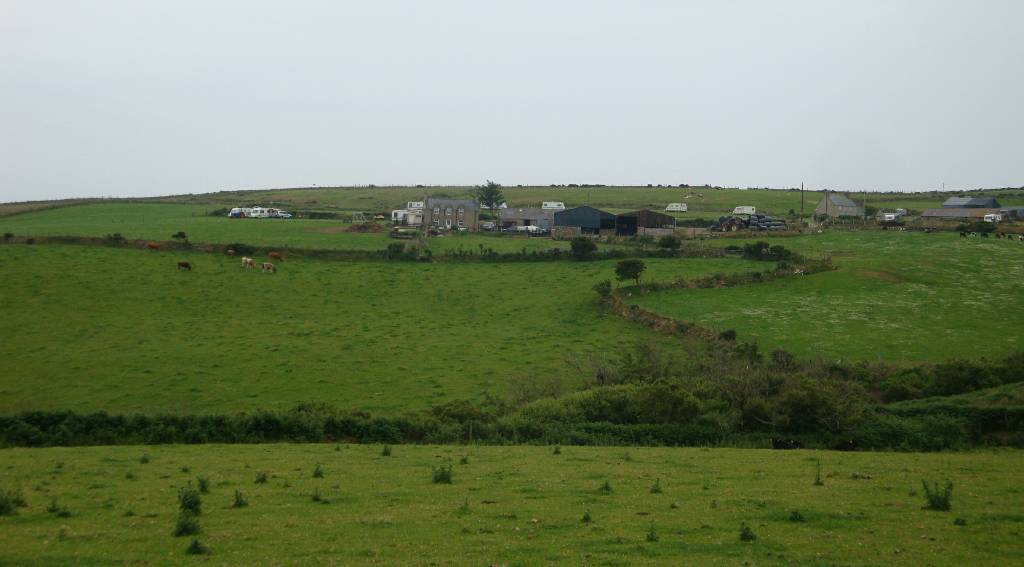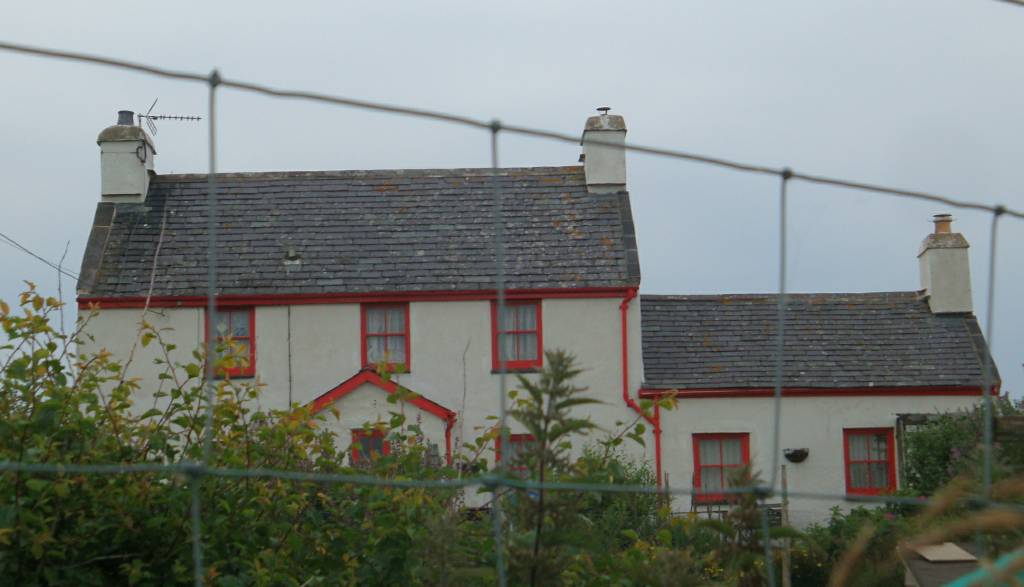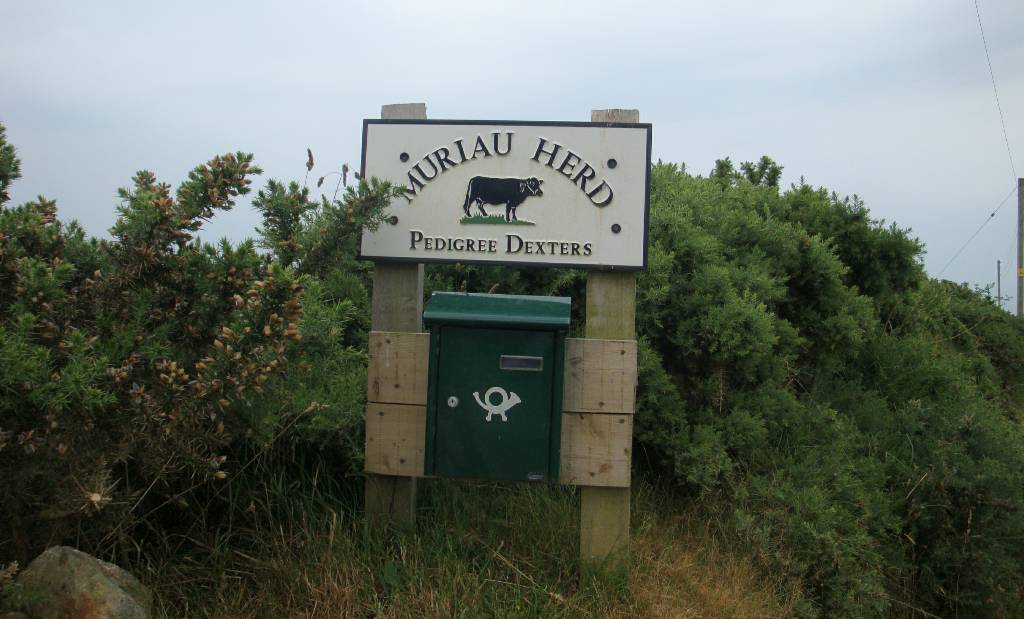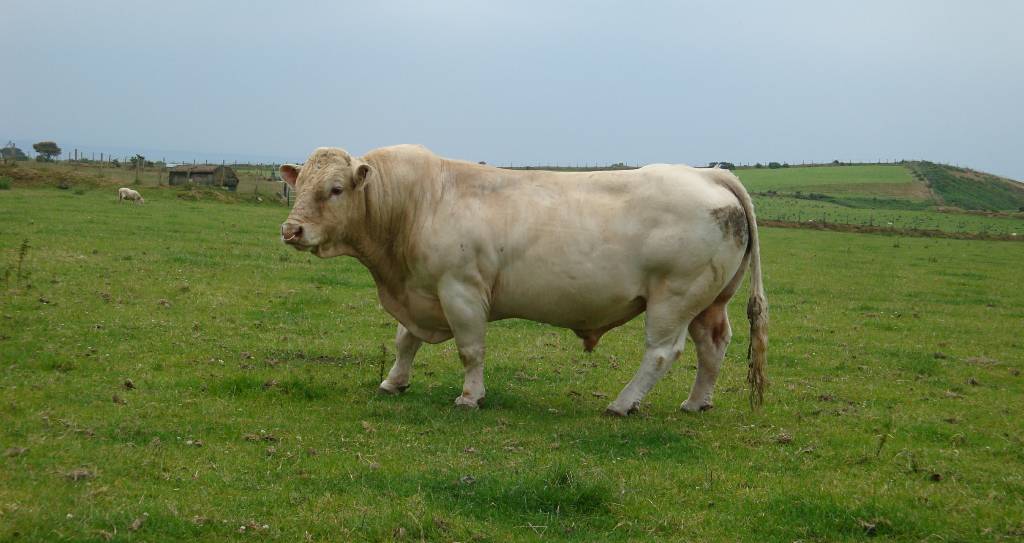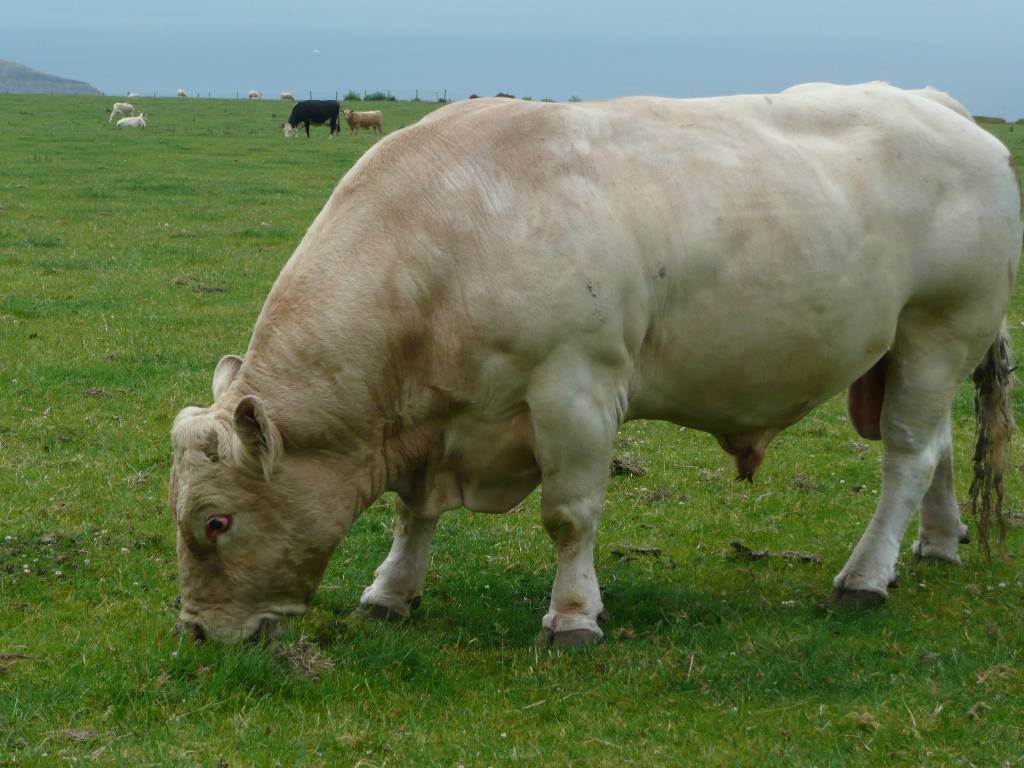 photo by Dave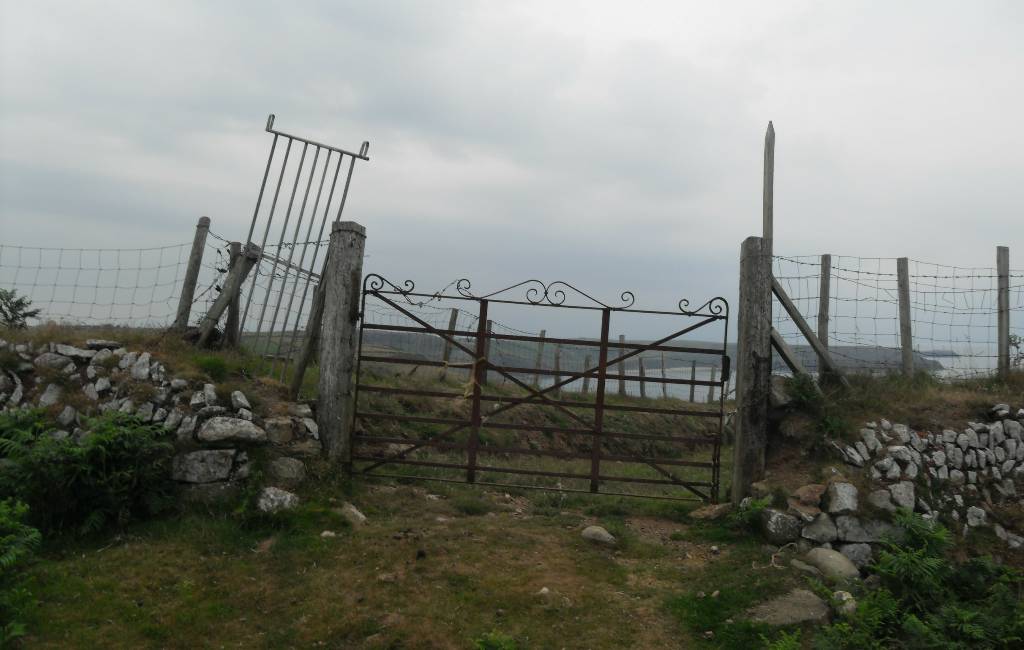 photo by Susan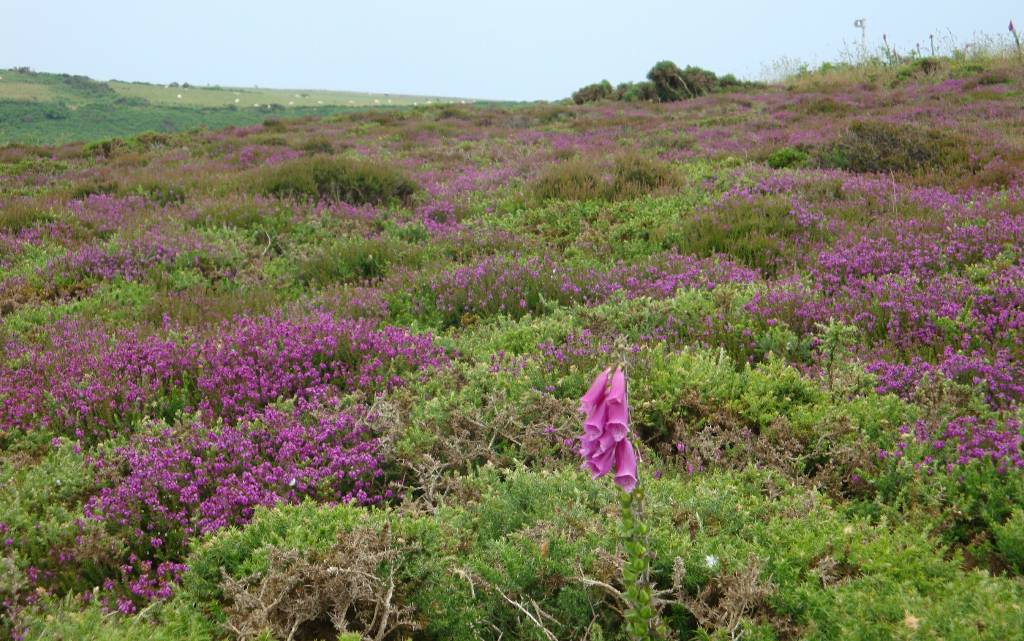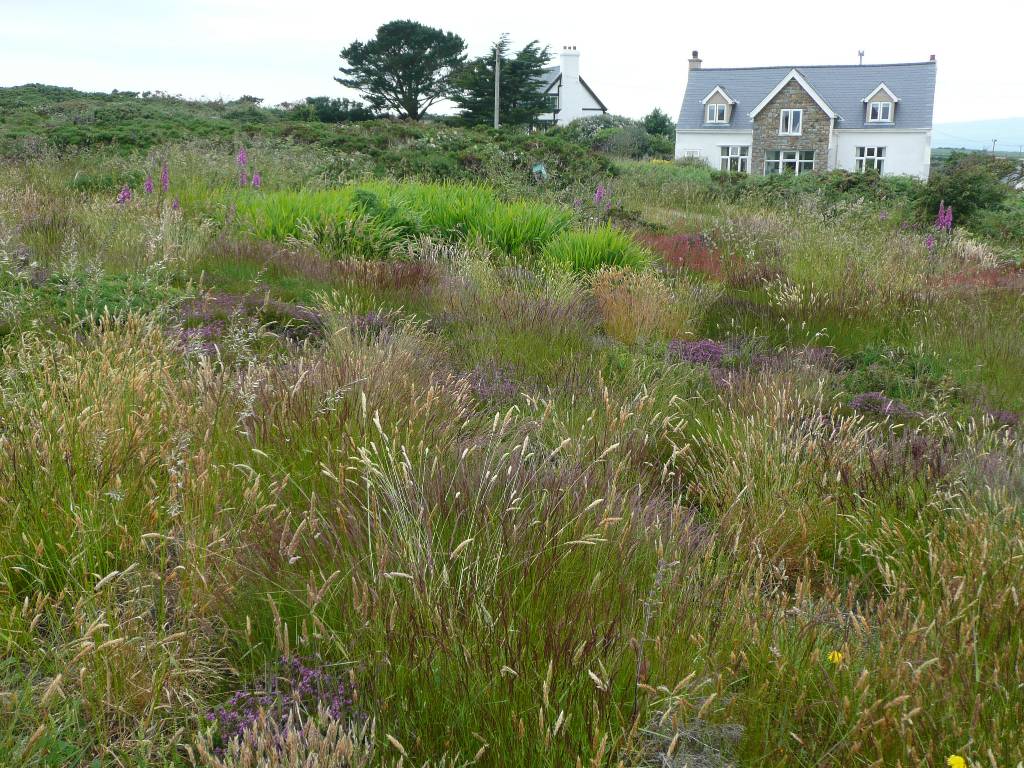 After this point torrential rain descended photo by Dave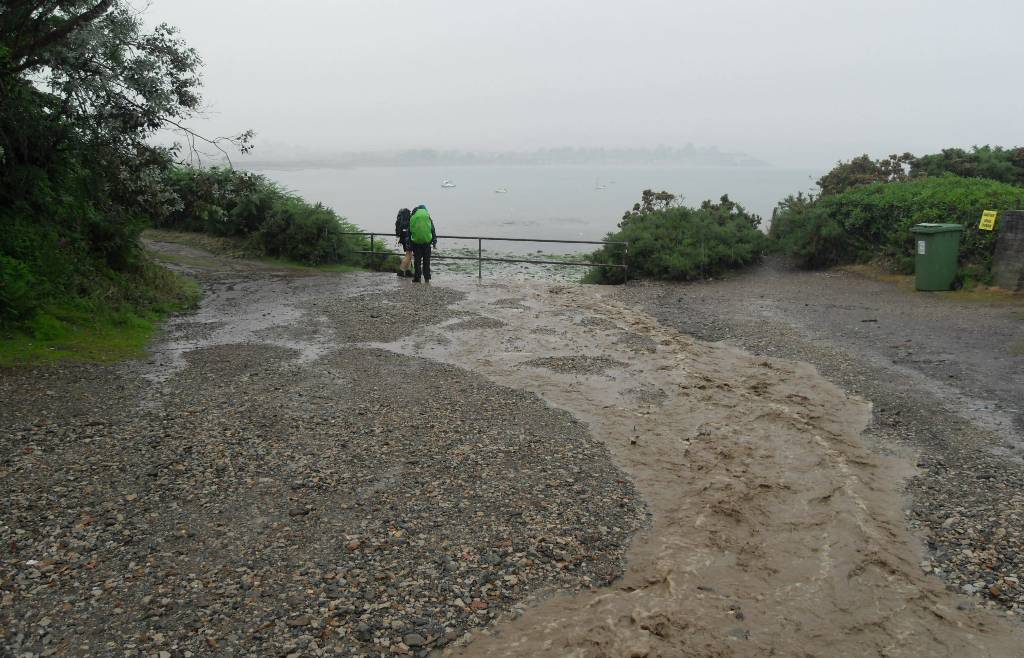 photo by Susan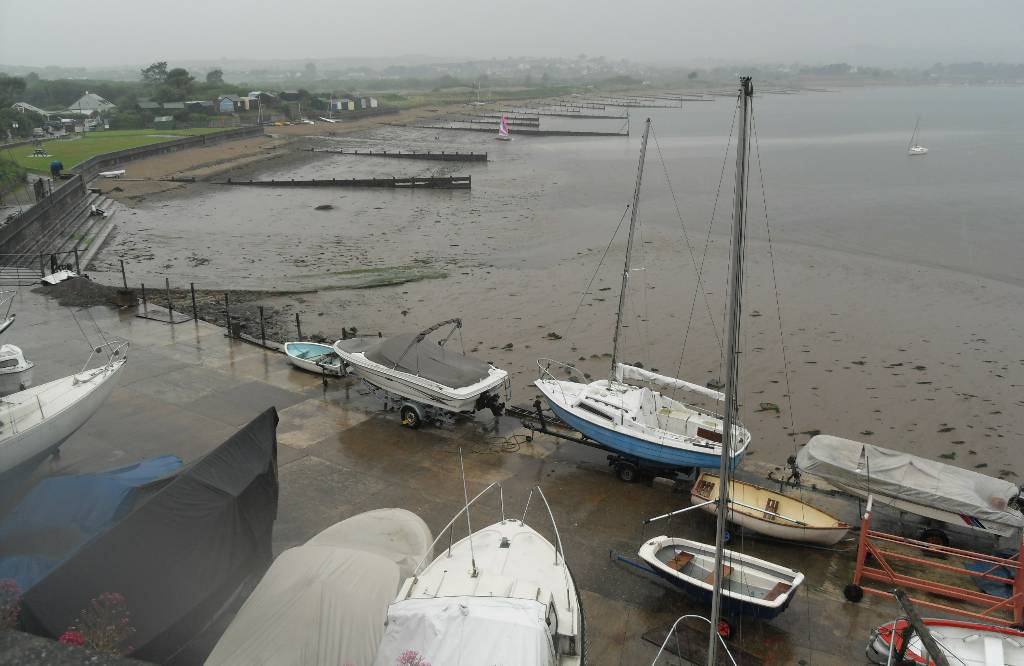 photo by Susan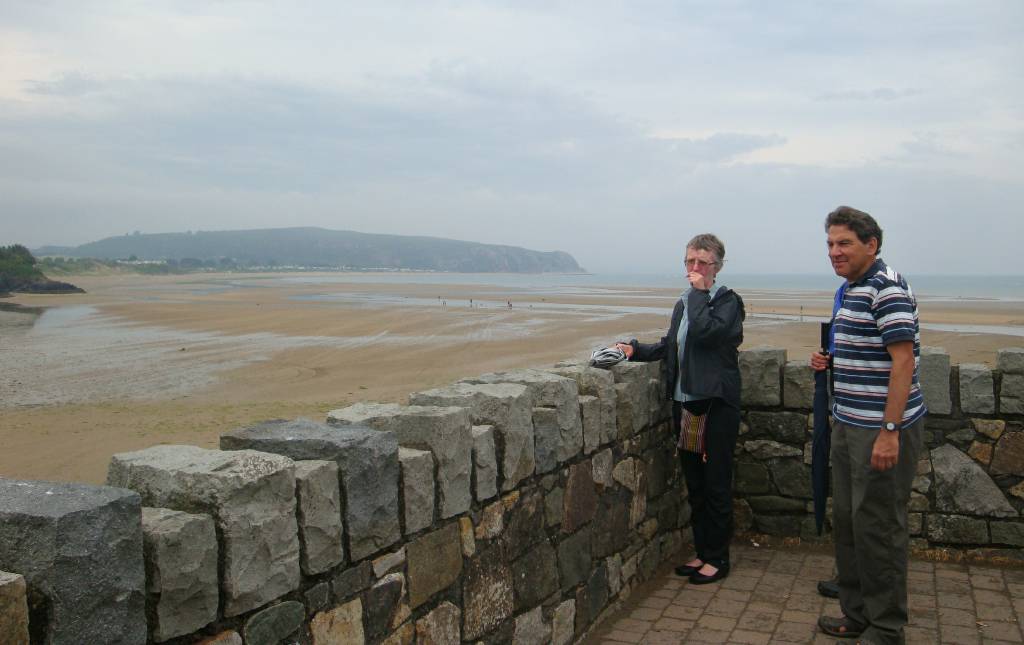 After checking in to B&B, view from Abersoch across beach to Mynydd Tir-y-cwmwd headland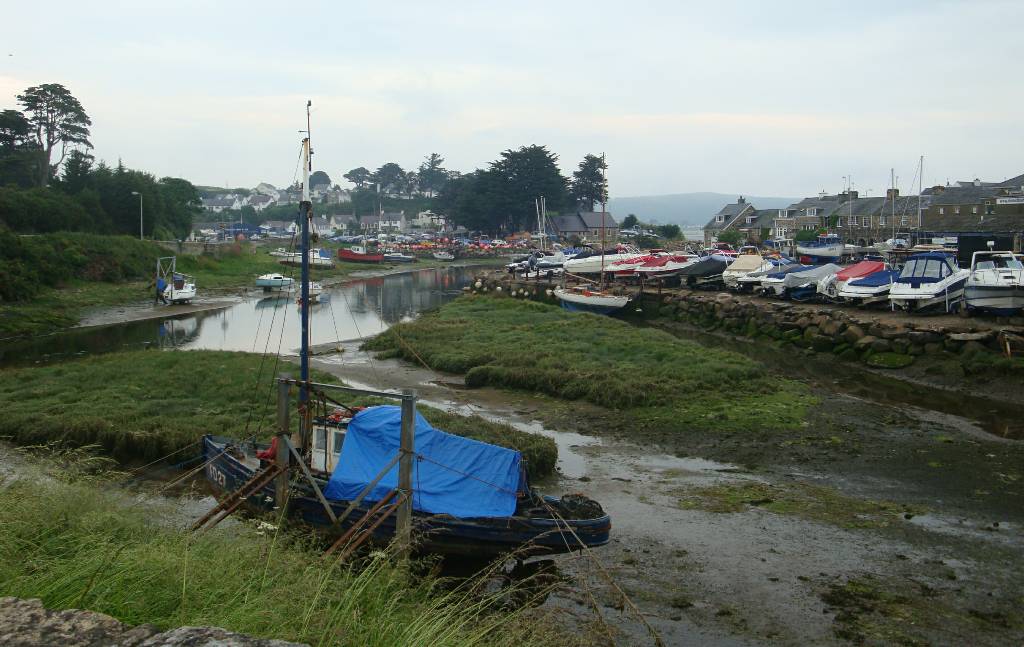 River Afon Soch estuary and 'harbour'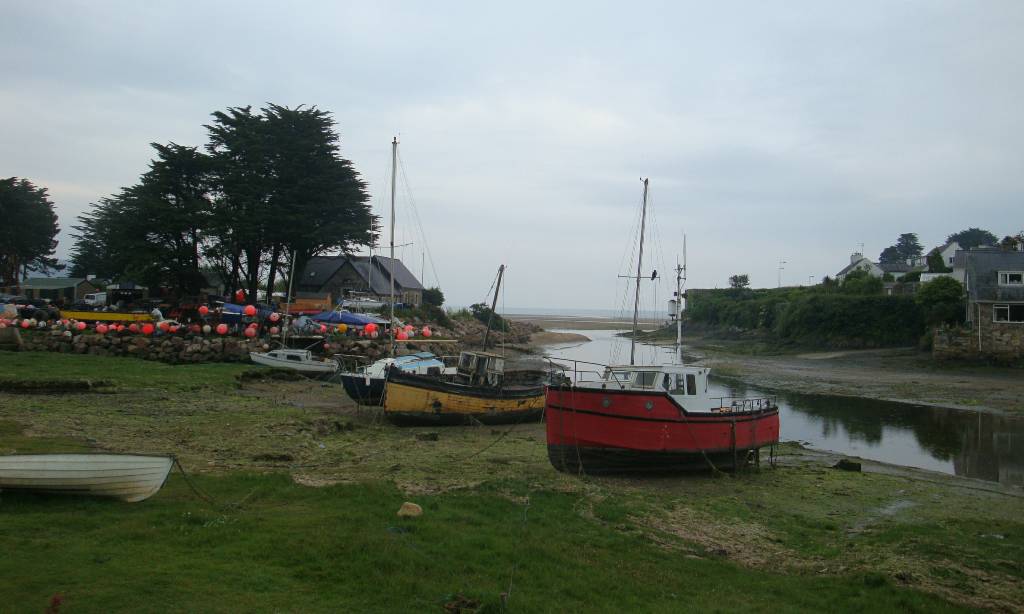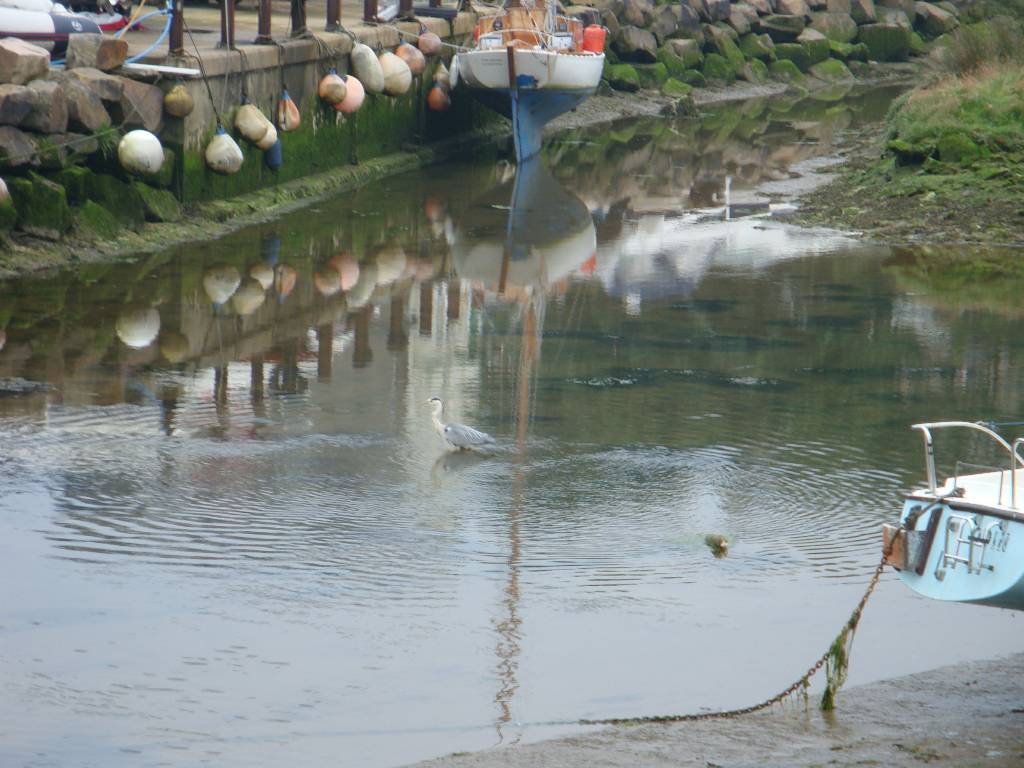 Heron reflecting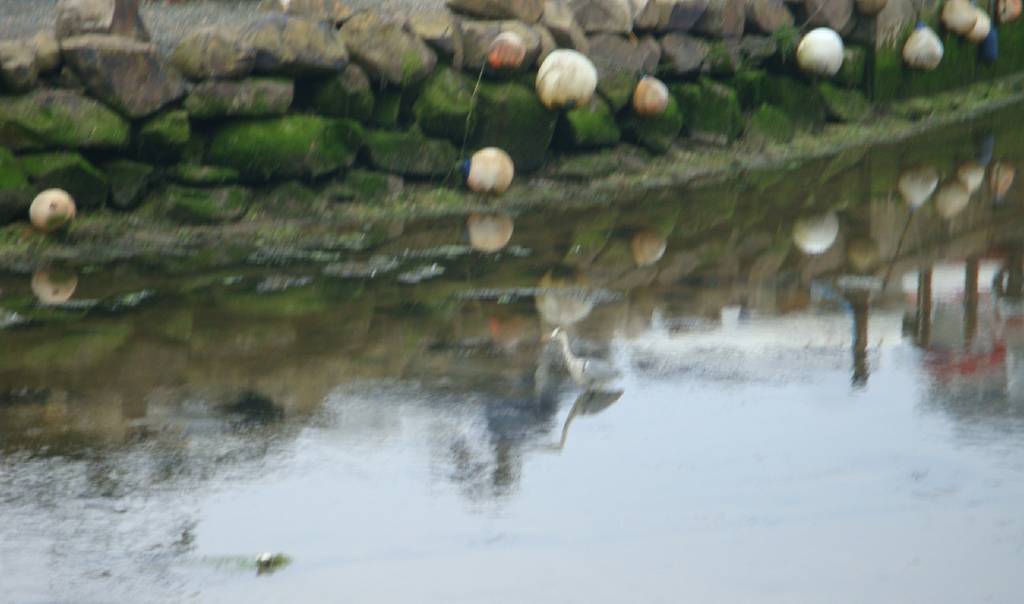 Seventh Day 27th June 2009 - Abersoch to Pwllheli
(art gallery and lunch at Llanbedrog)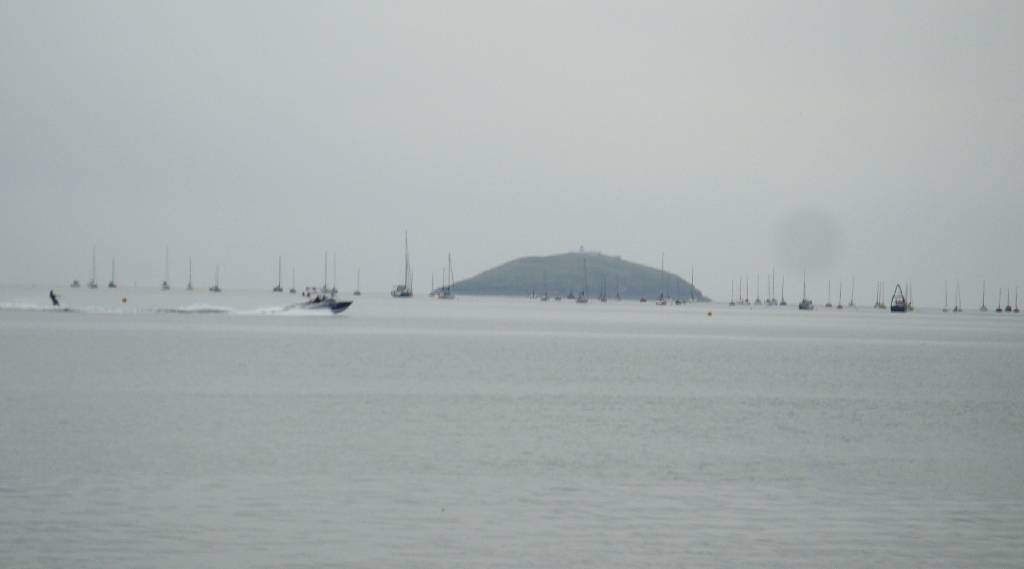 Waterskiing in St Tudwals Road - one of the two St Tudwals Islands in view.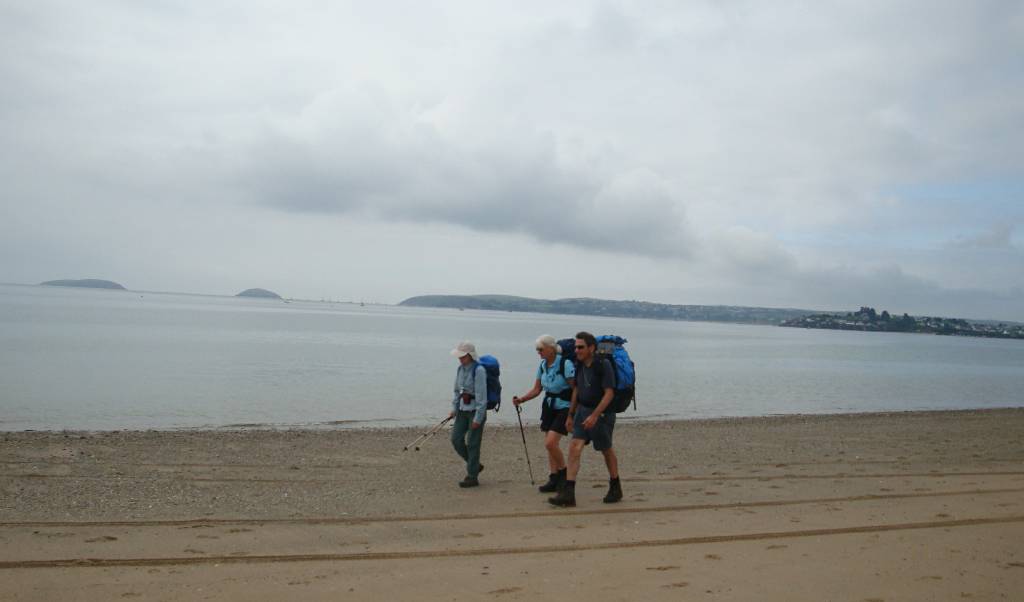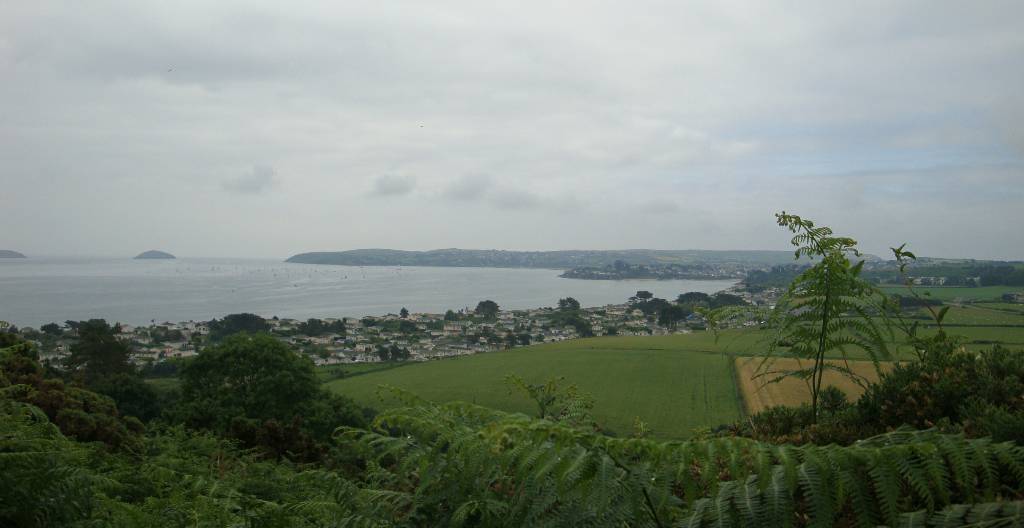 Chalets behind the beach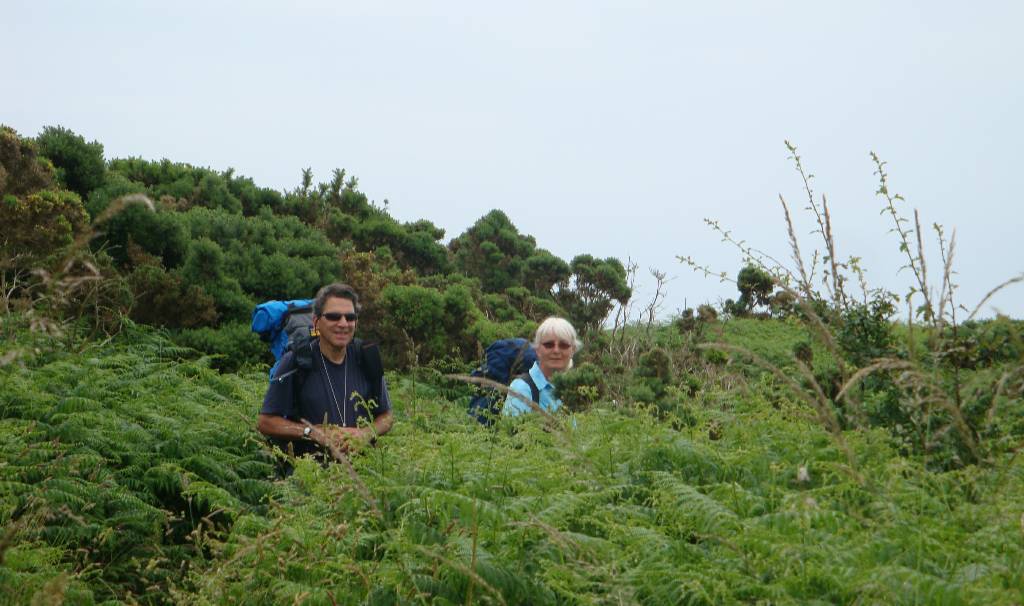 Ascending Mynydd Tir-y-cwmwd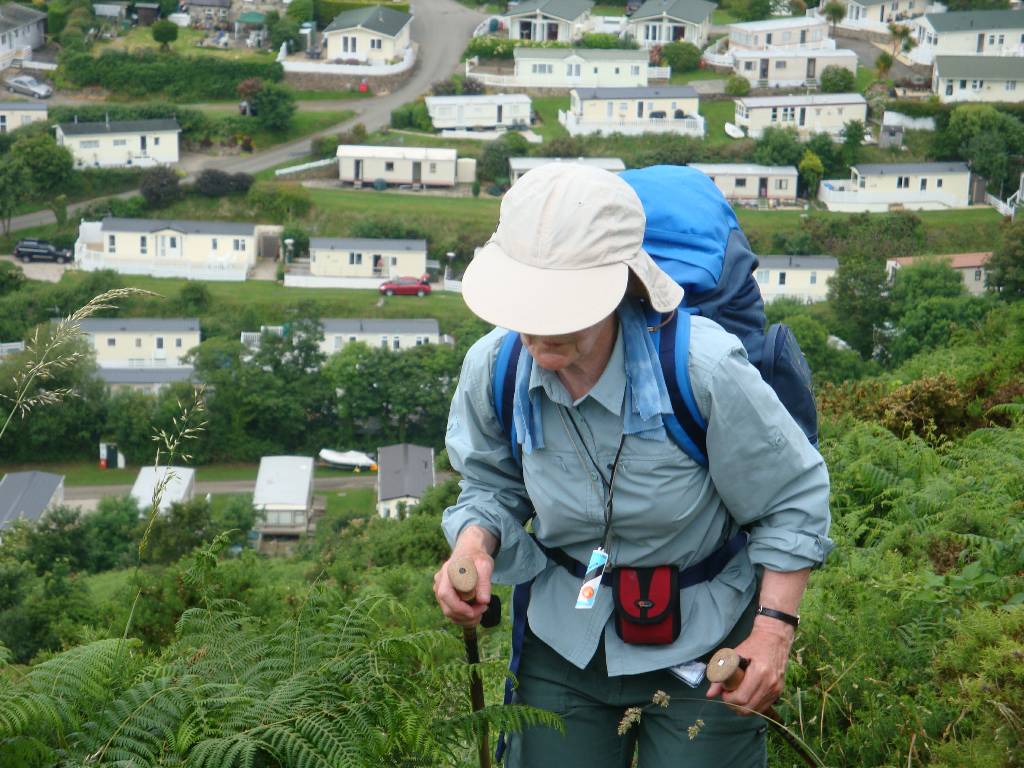 Climbing above chalet land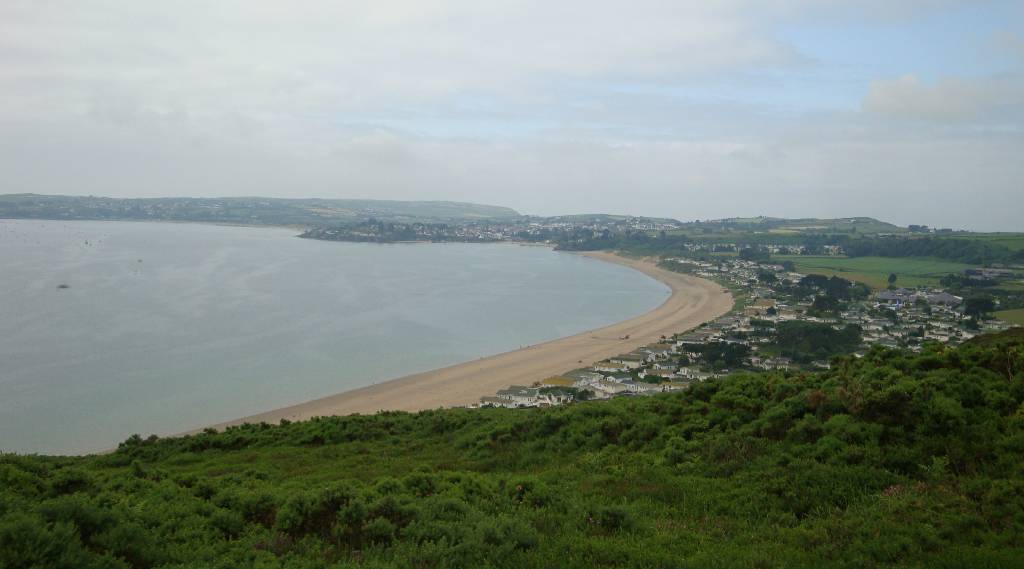 View south of St Tudwal's Road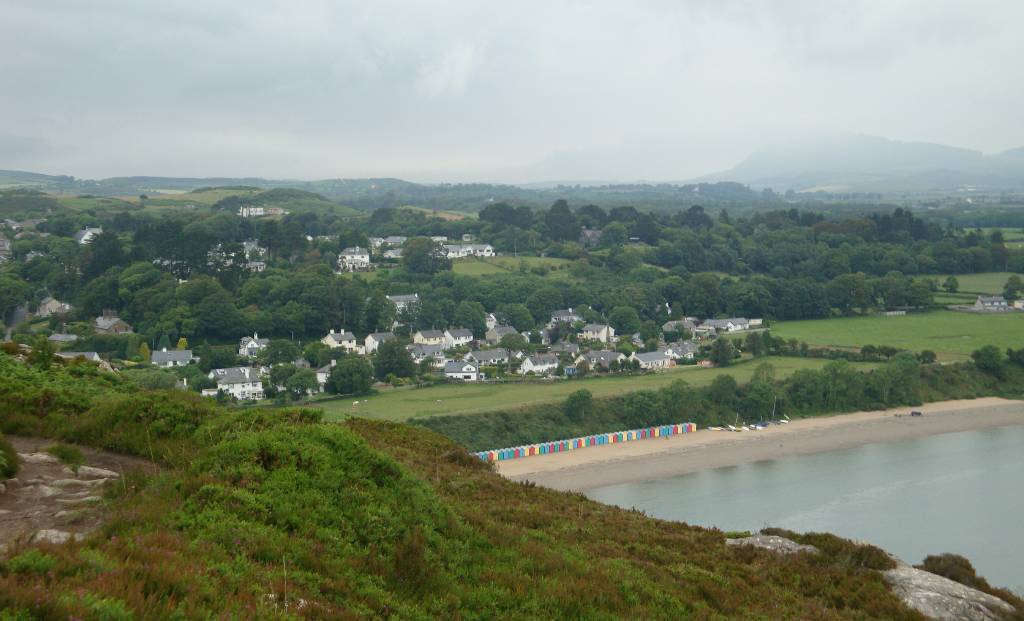 The village of Llanbedrog seen north west from above with colourful chalets on the beach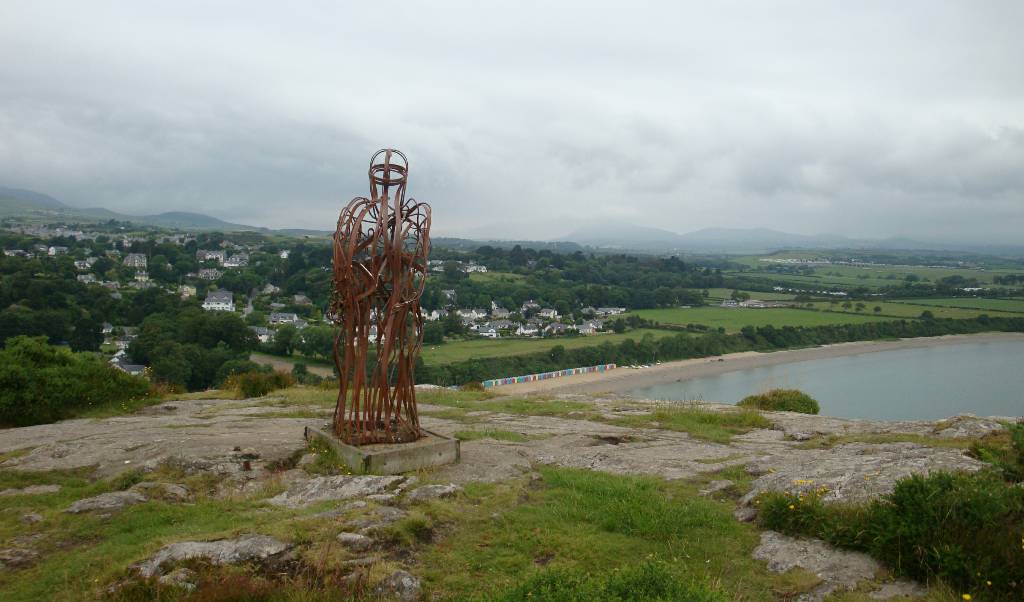 Statue - the Tin Man - replaced several earlier wooden and iron statues. This one, placed by helicopter in in 2002, sings in the wind. Llanbedrog is below, and is reached by a very steep path from this point.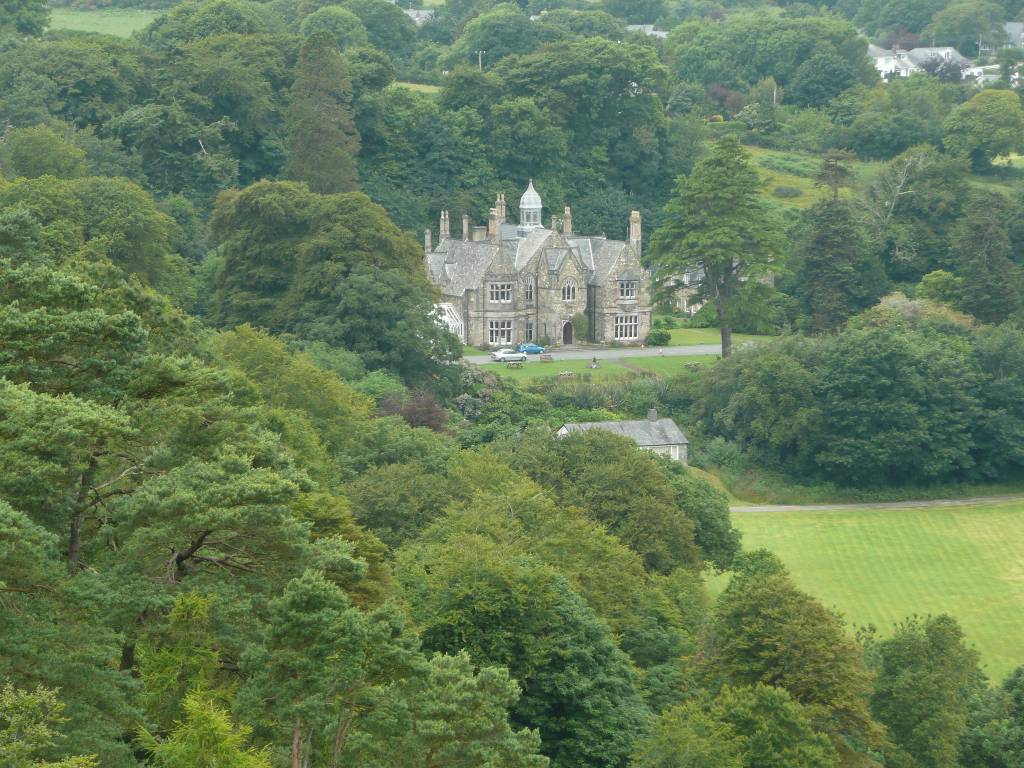 Plas Glyn-y-weddw - an art gallery - in a Victorian gothic mansion - seen from above photo by Dave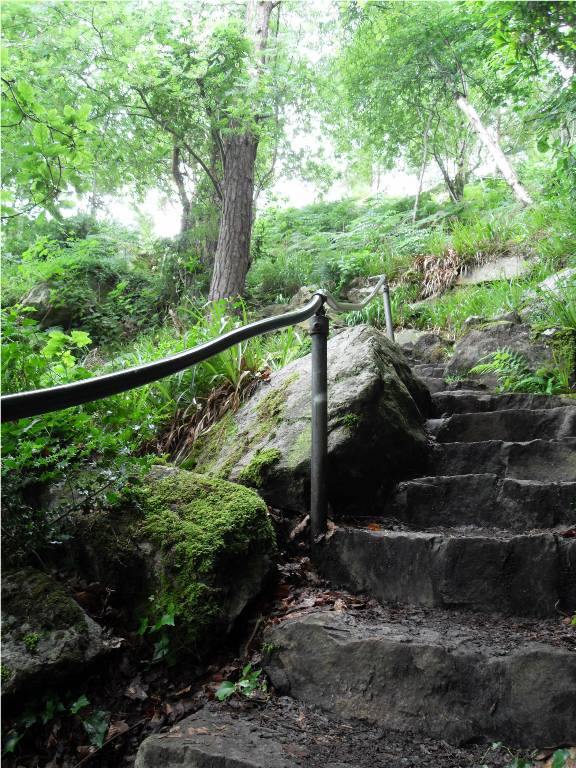 The steep path photo by Susan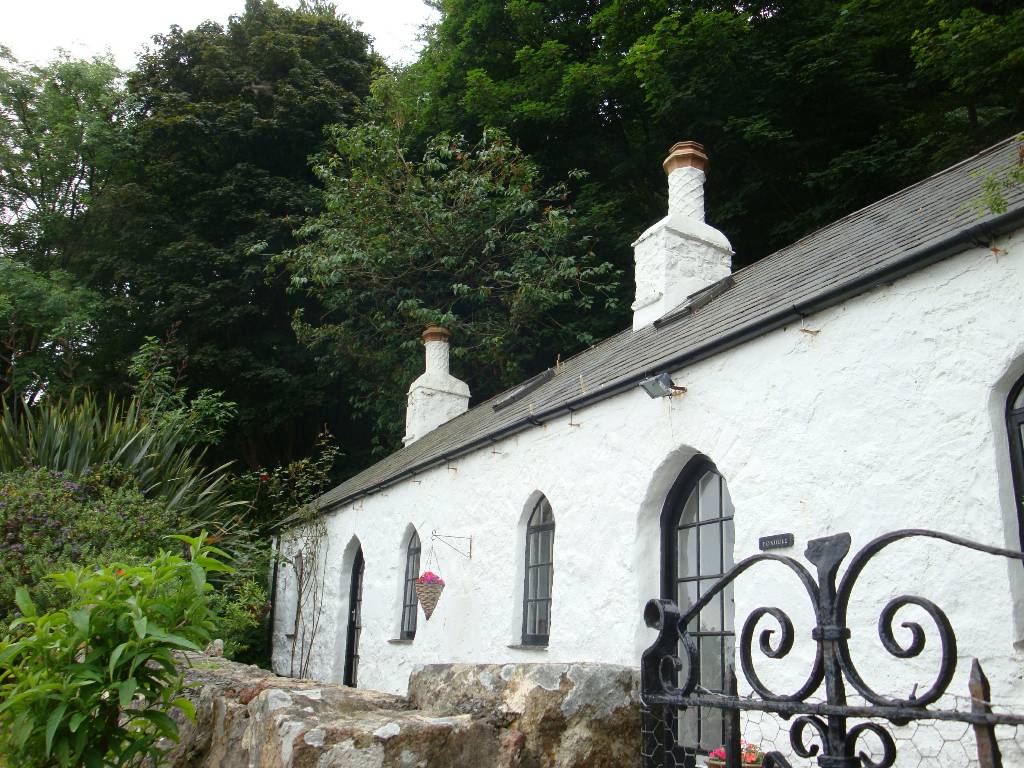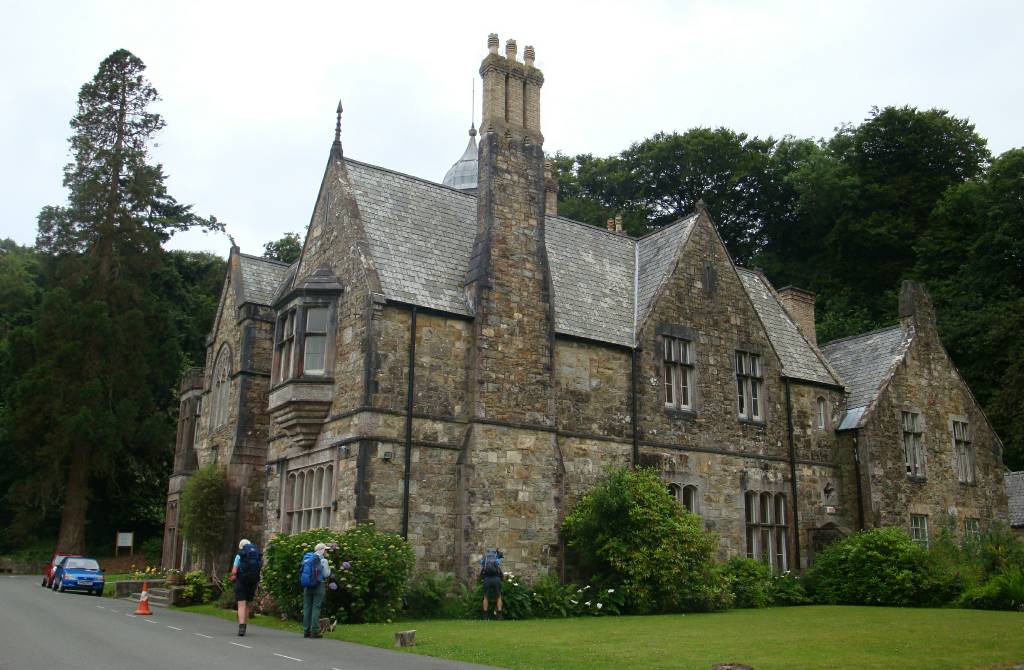 Plas Glyn-y-weddw - an art gallery - in a Victorian gothic mansion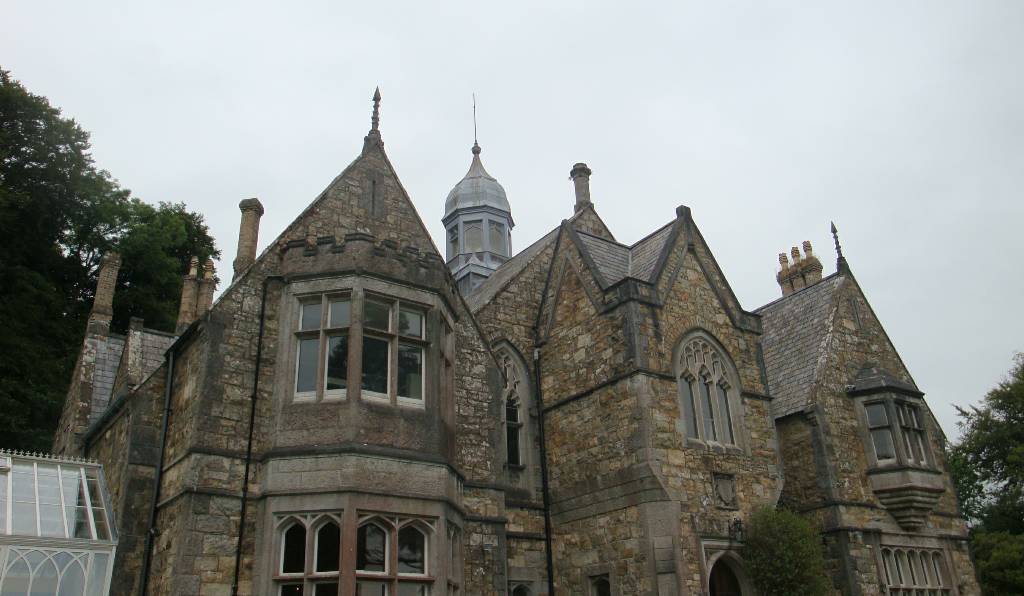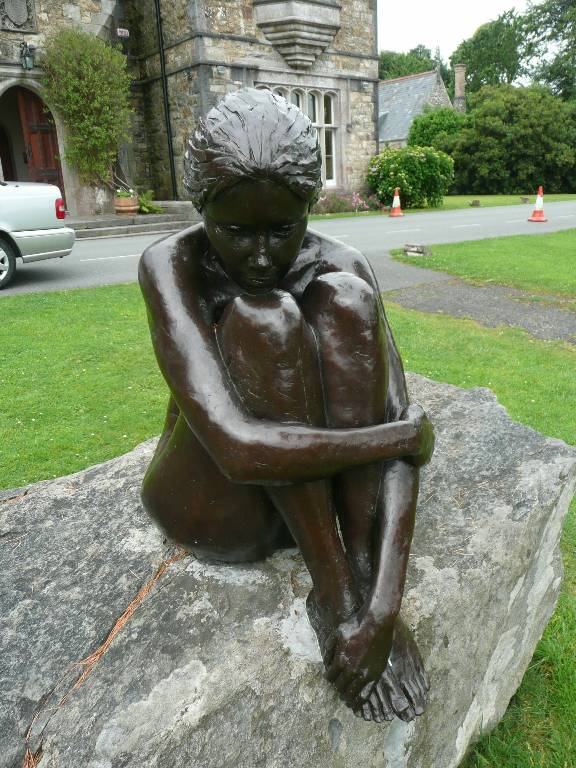 photo by Dave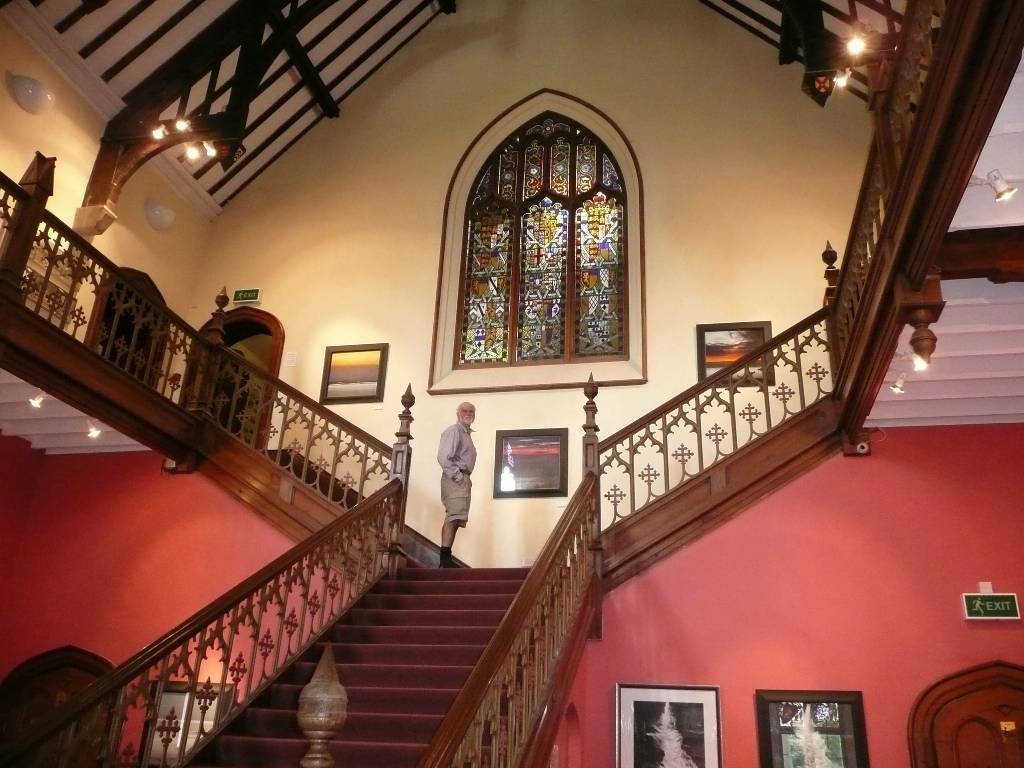 photo by Dave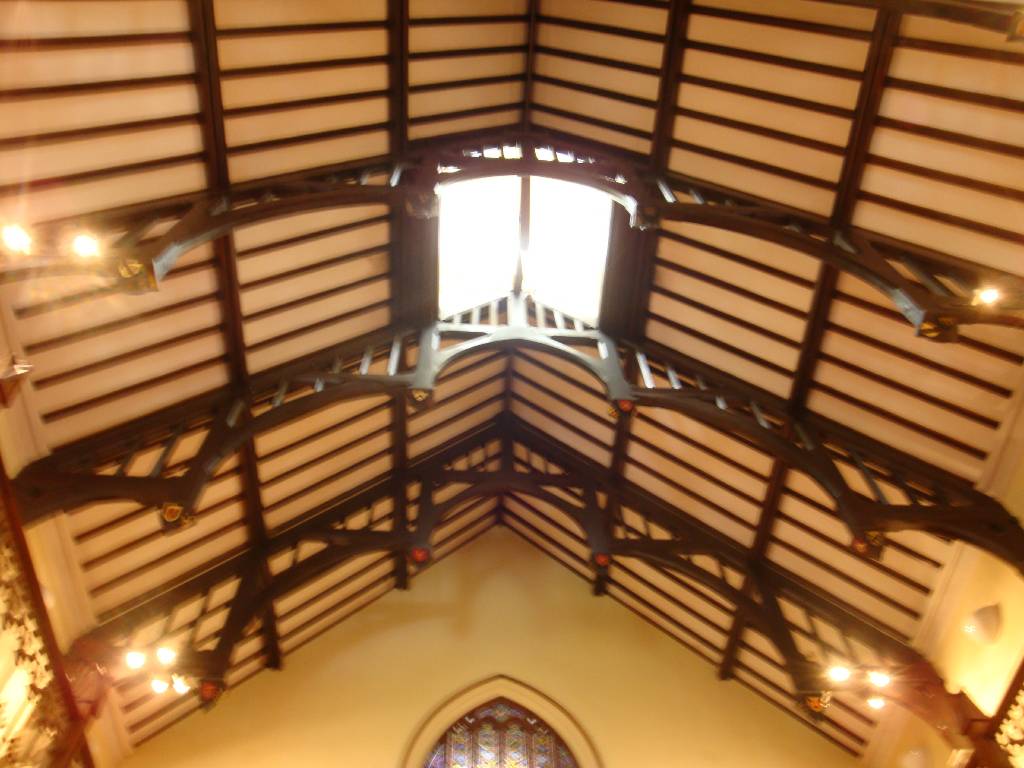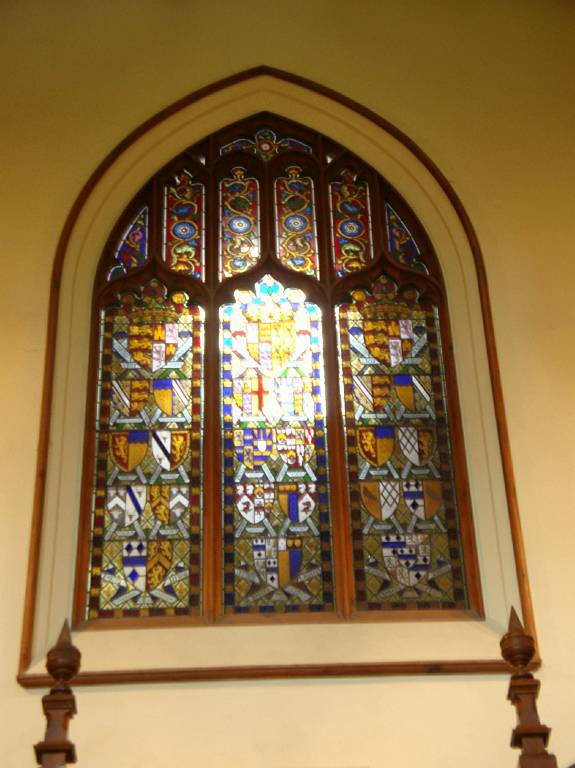 Beach cafe photo by Susan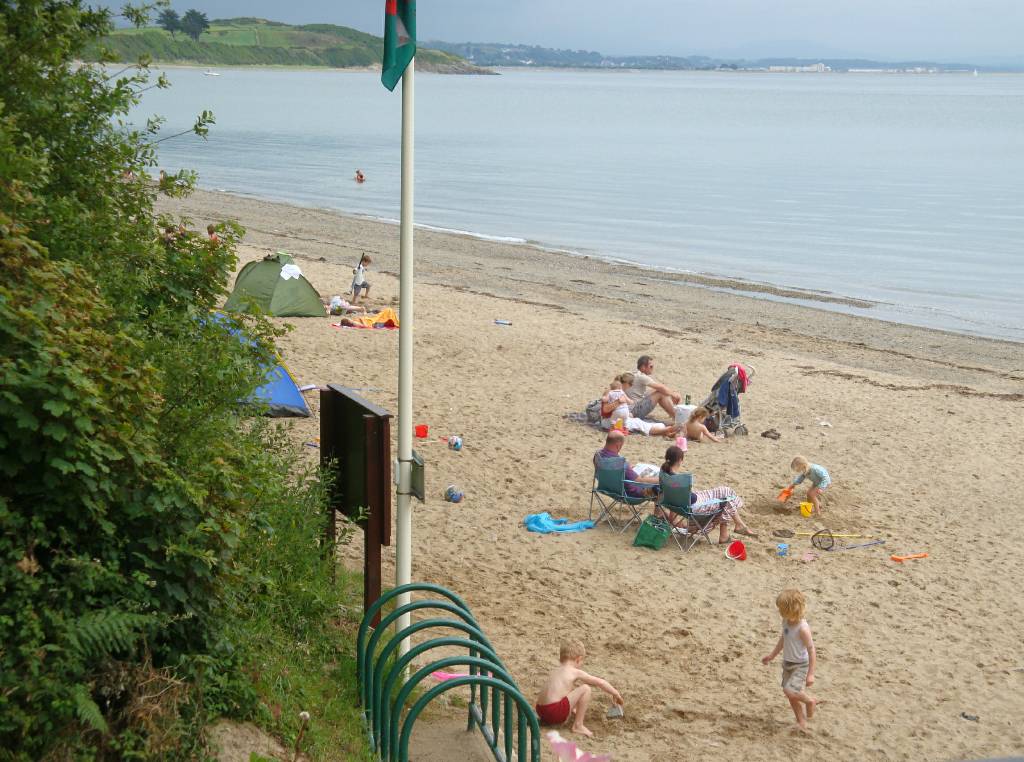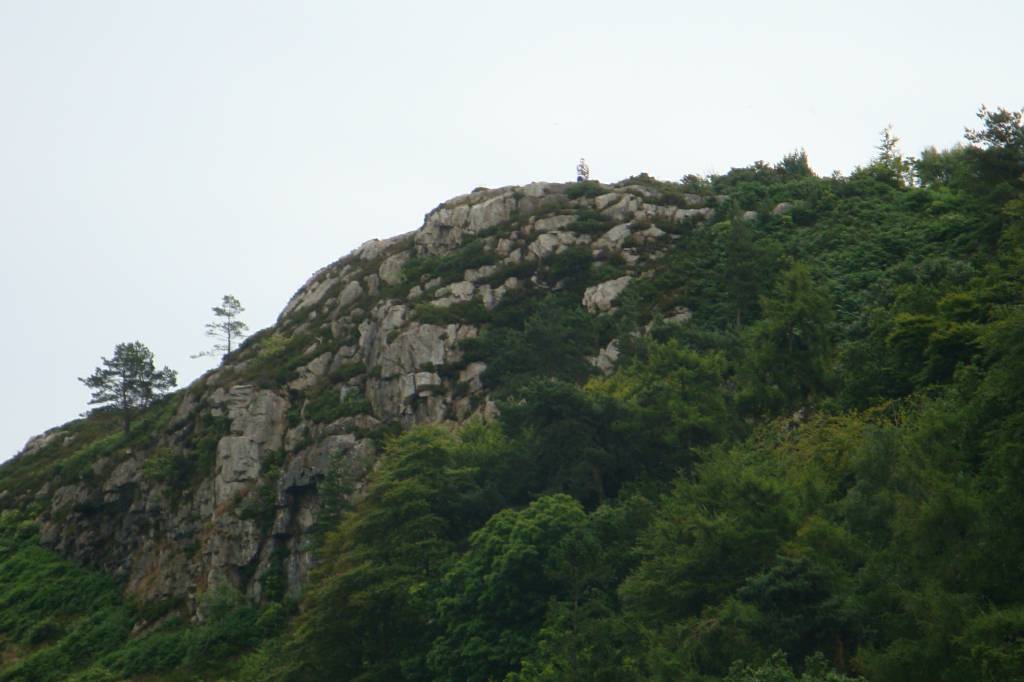 The Tin Man visible on top of steep cliff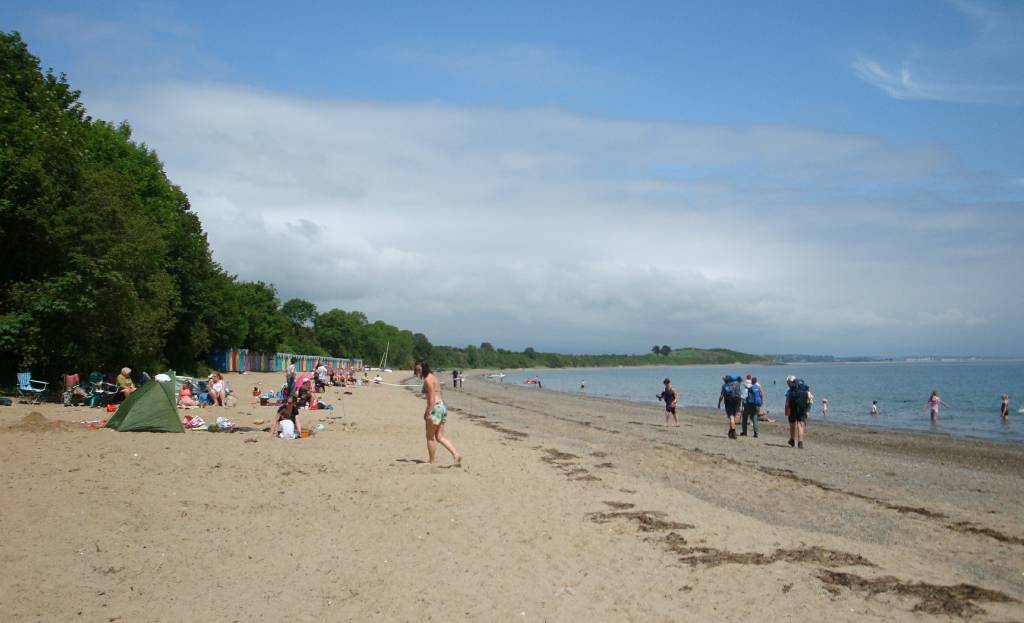 Pwllheli in far distance to right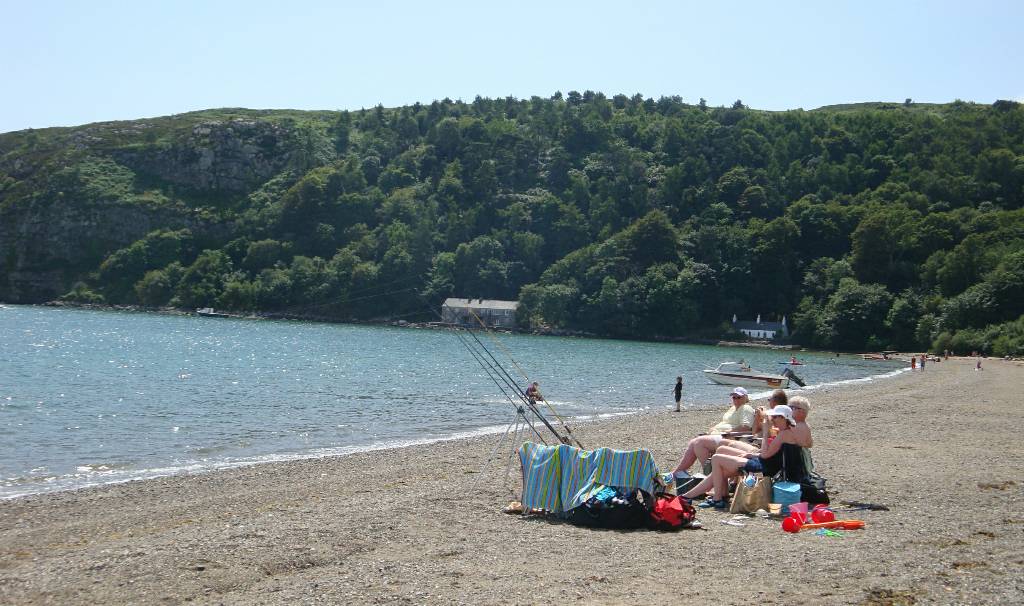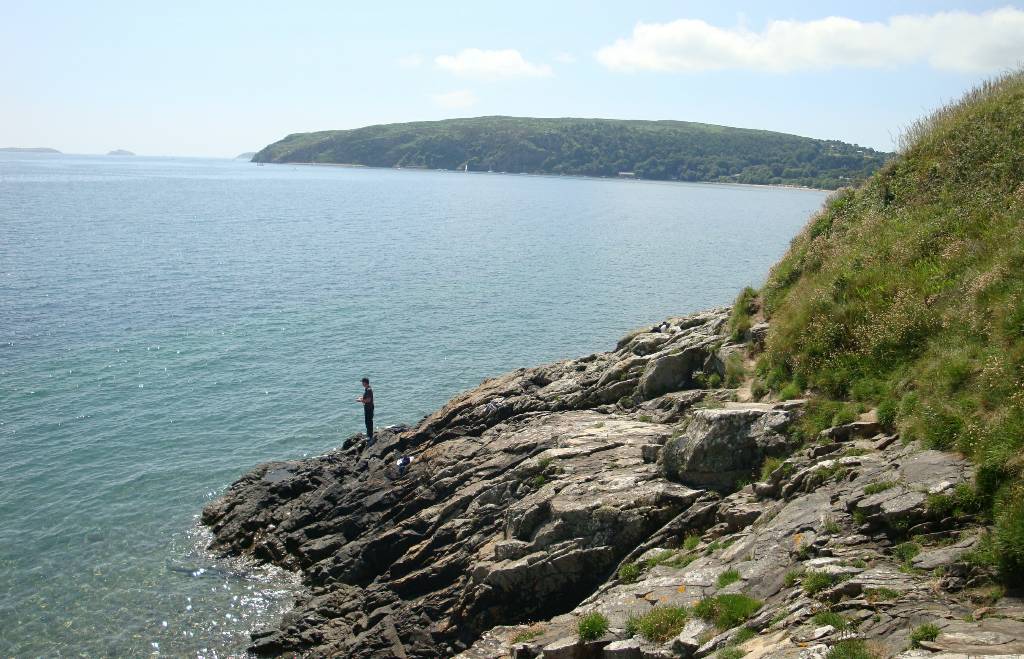 Carreg y Defaid
My digital Camera failed at this point before the stage completed. Photographs that follow are all taken by Susan and Dave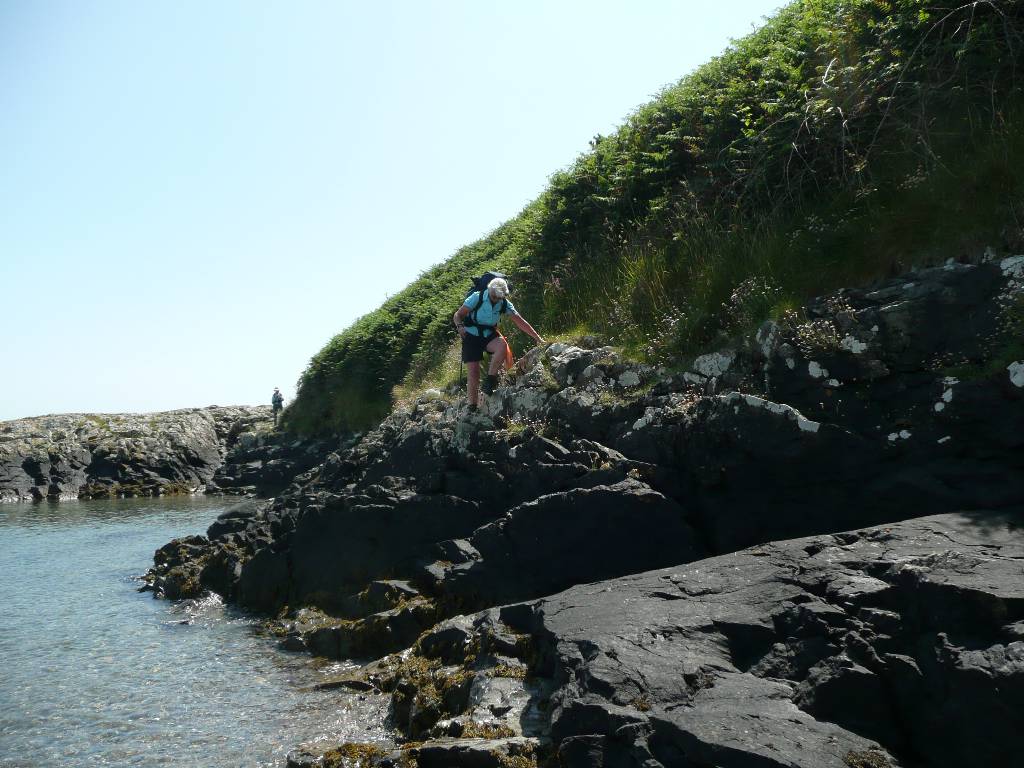 photo by Dave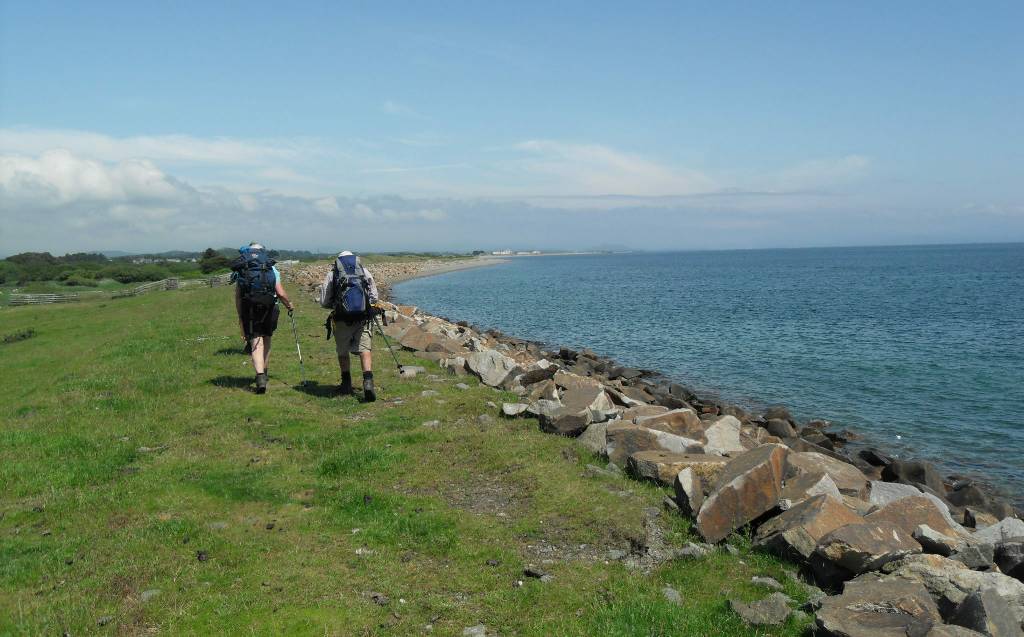 photo by Susan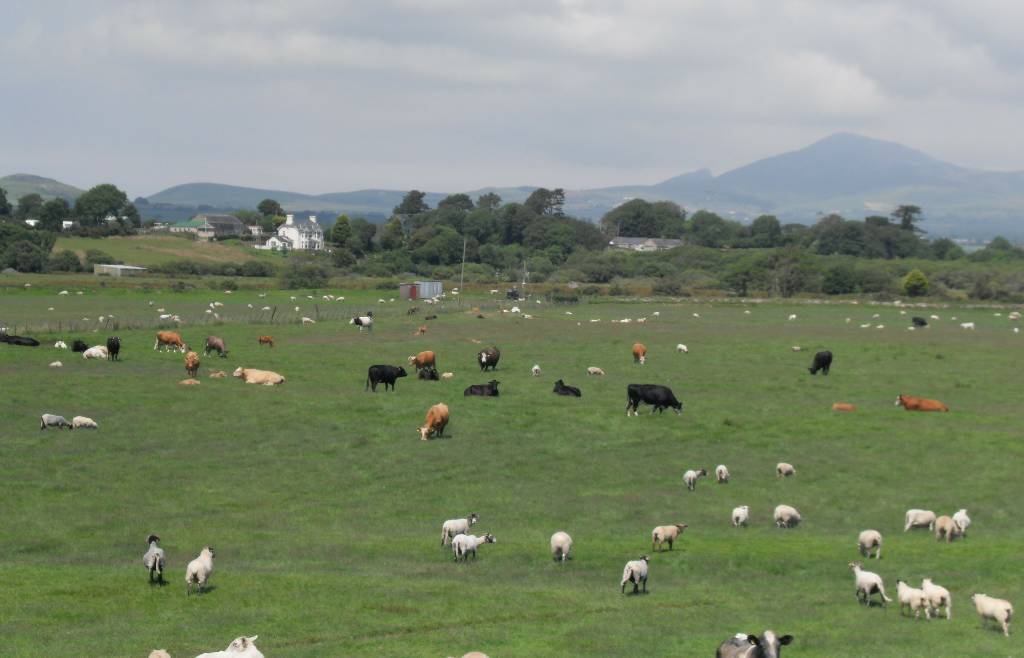 Looking inland photo by Susan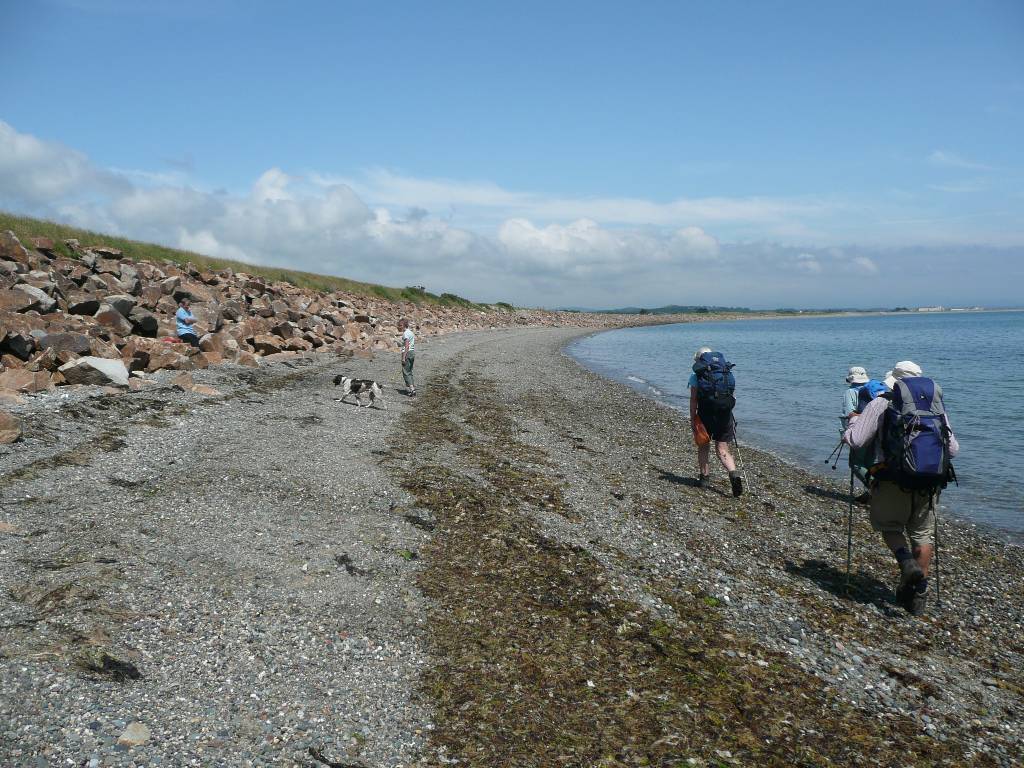 photo by Dave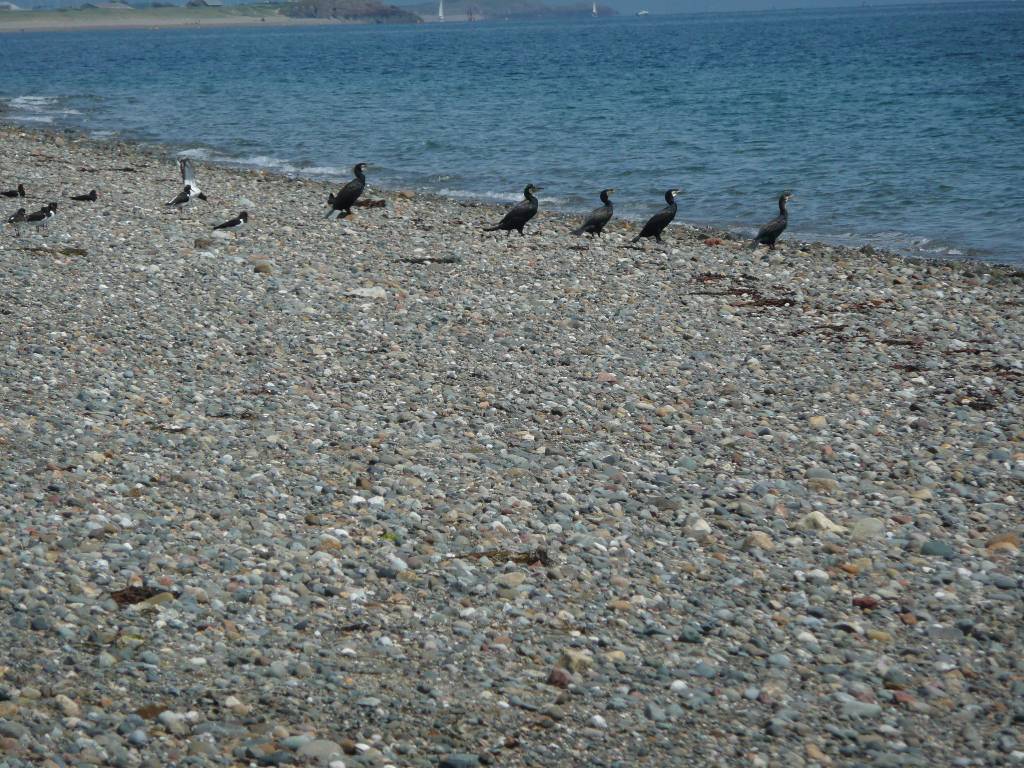 photo by Dave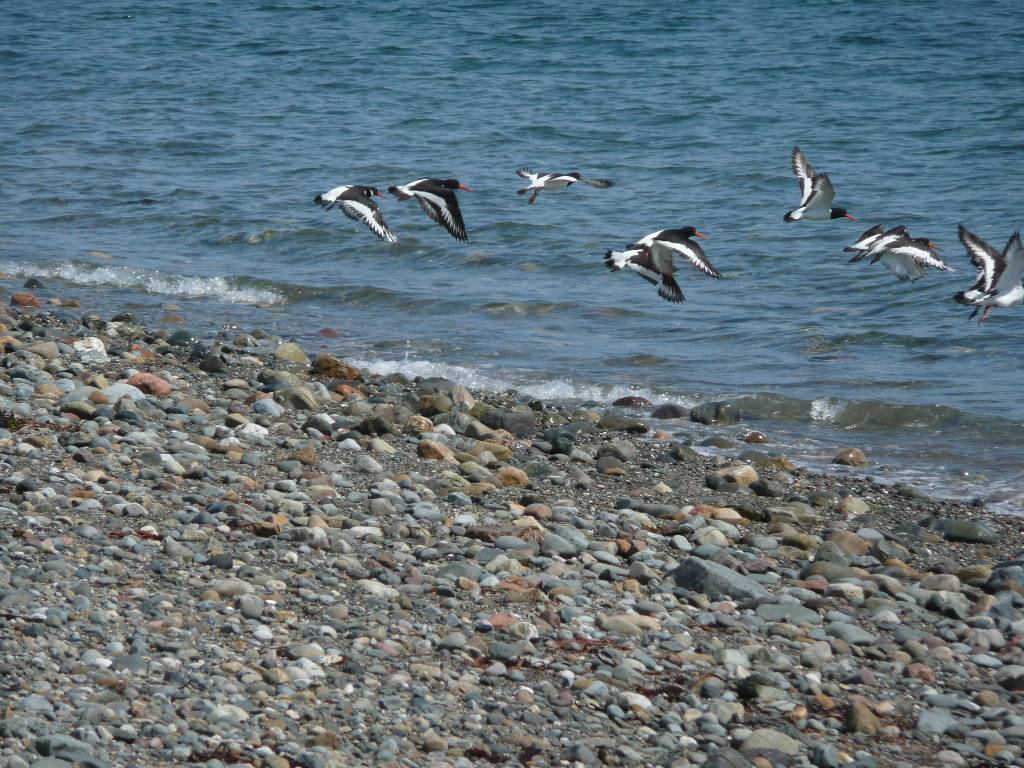 photo by Dave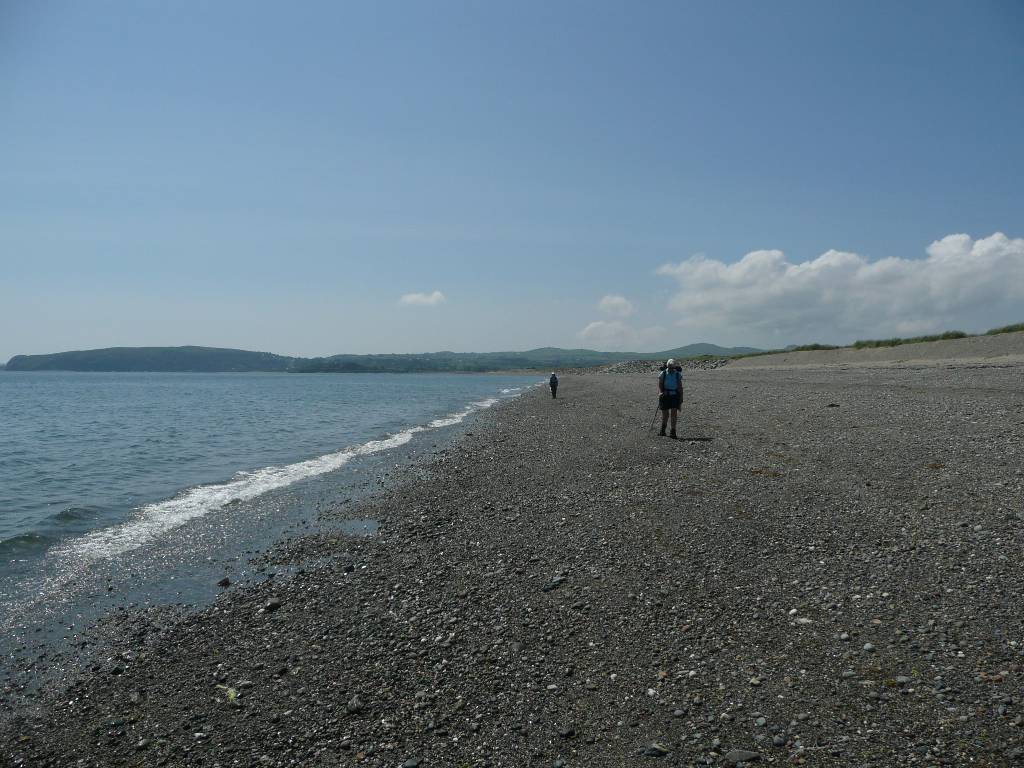 photo by Dave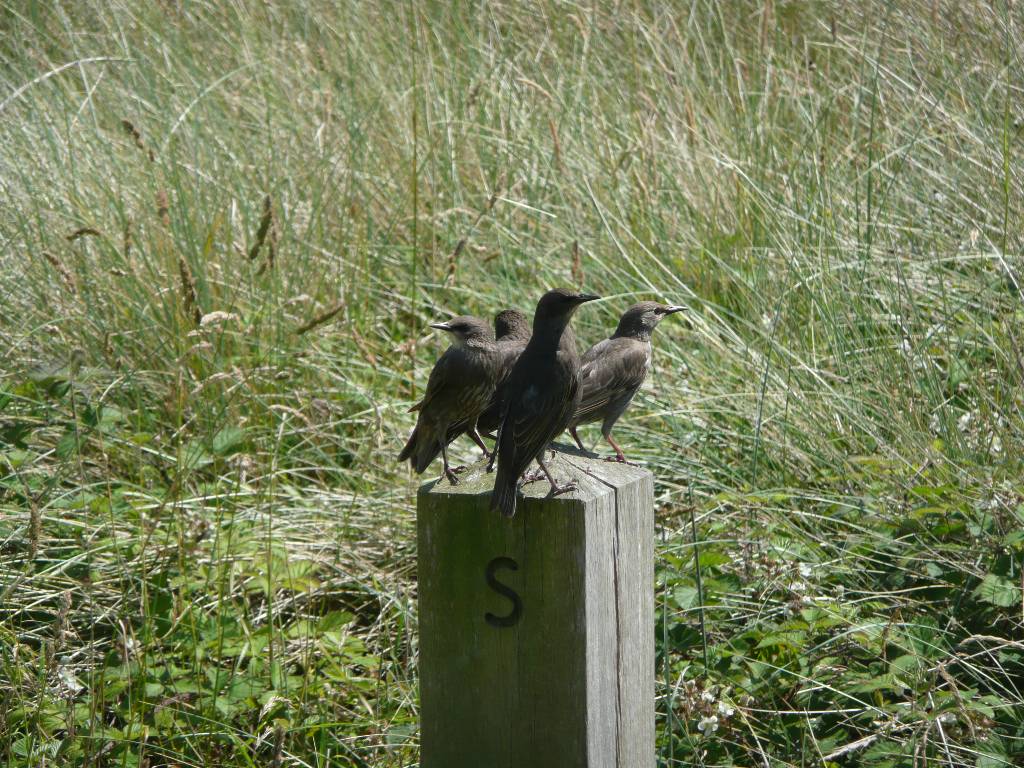 photo by Dave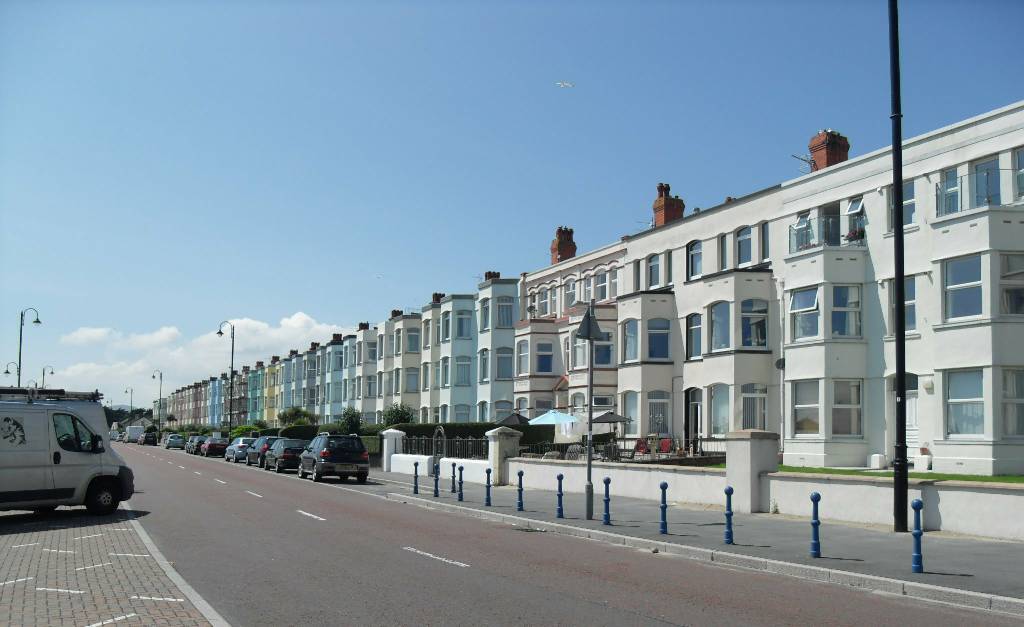 Pwllheli promenade photo by Susan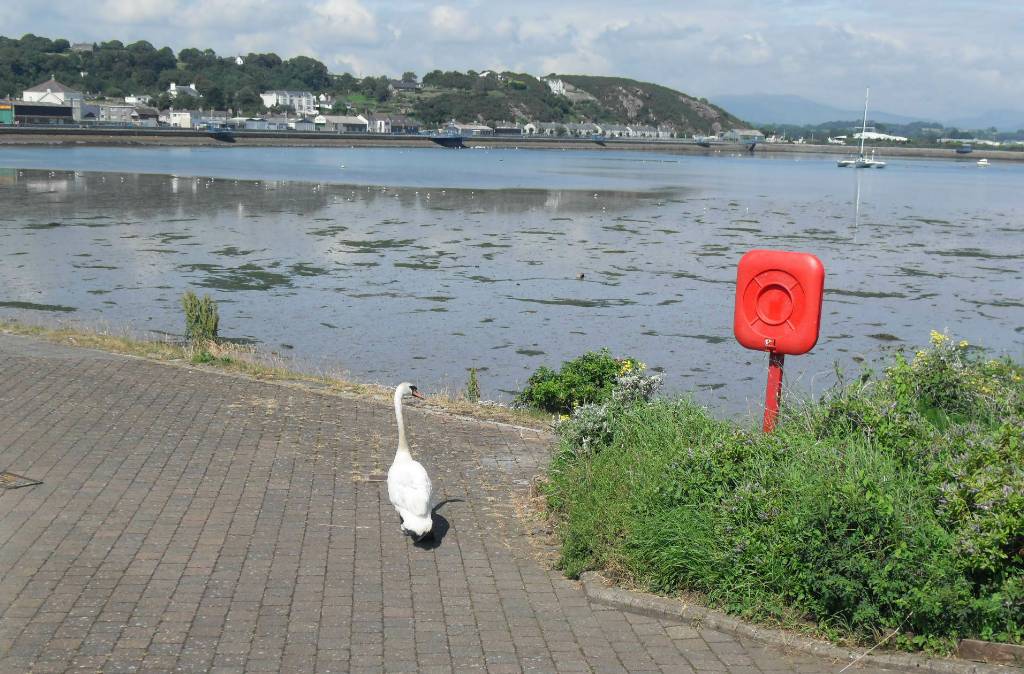 A swan guarding the sidewalk photo by Susan
Heron in river leading into yacht basin photo by Dave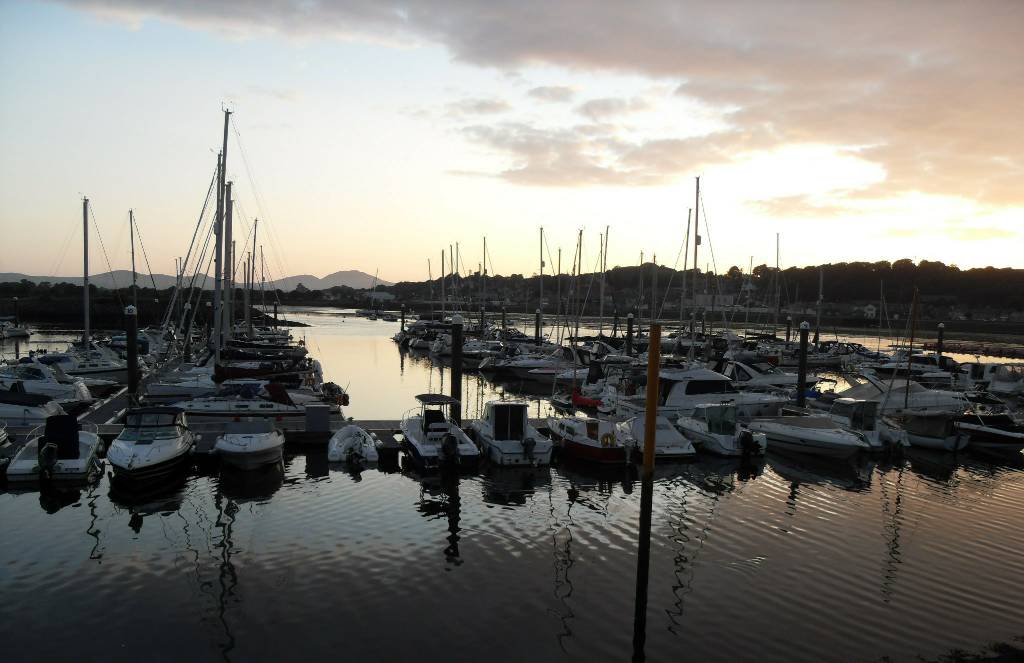 Yacht marina after sunset photo by Susan
Eighth Day 28th June 2009 - Pwllheli to Criccieth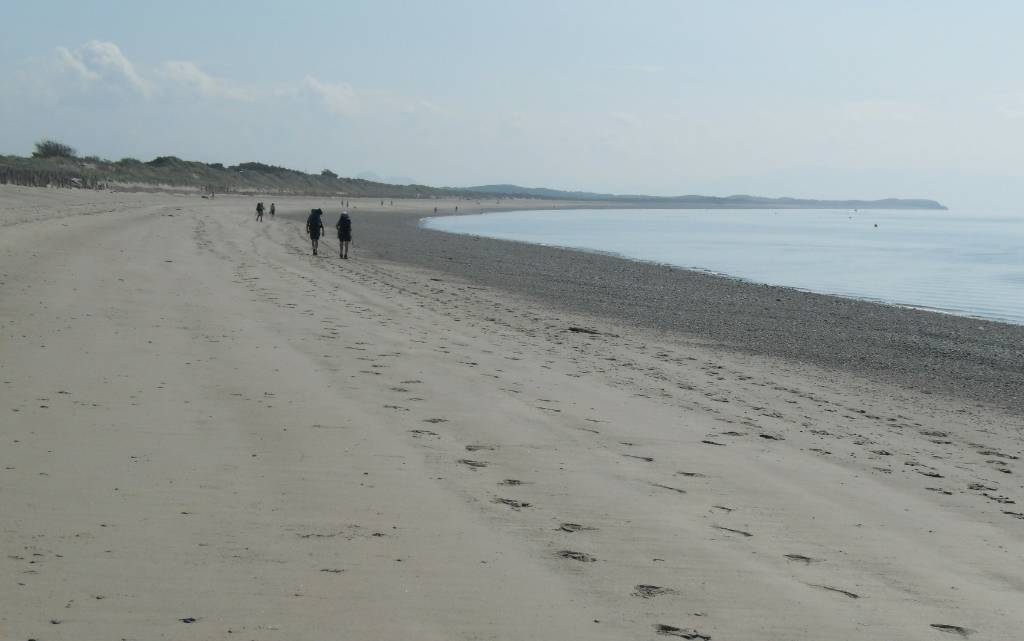 Walking towards Pen-ychain photo by Susan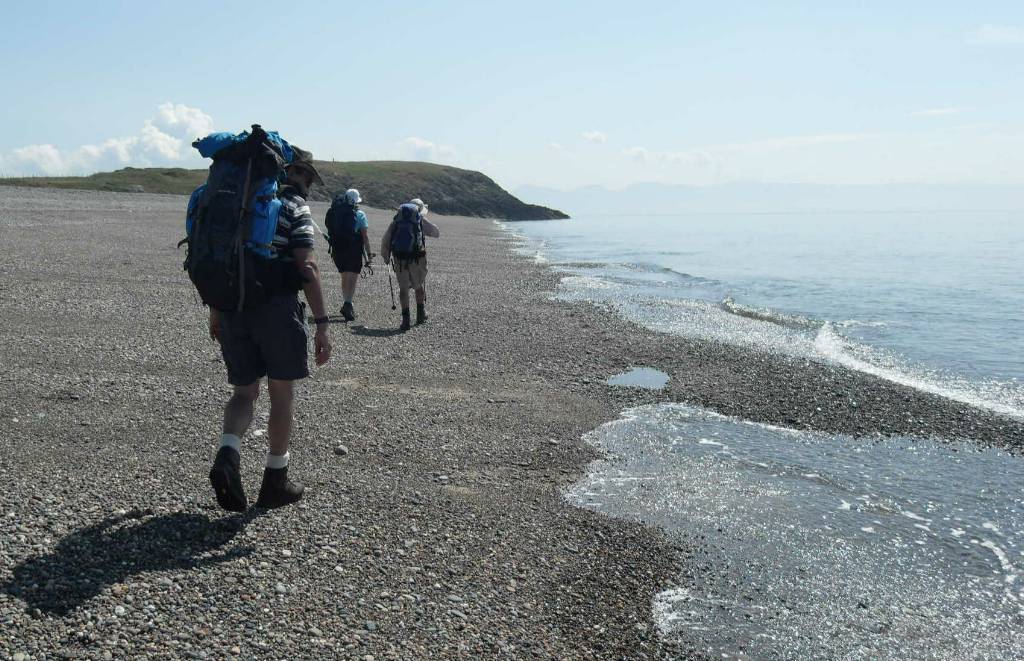 photo by Susan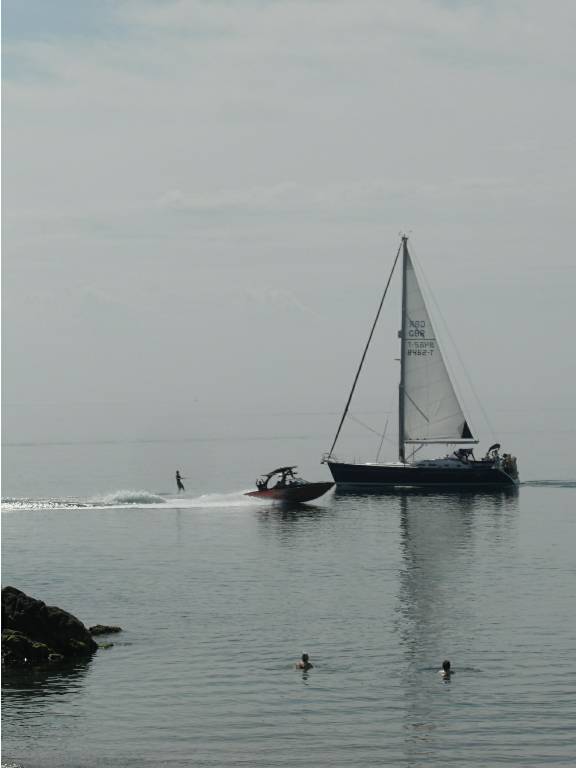 Another refreshing dip photo by Susan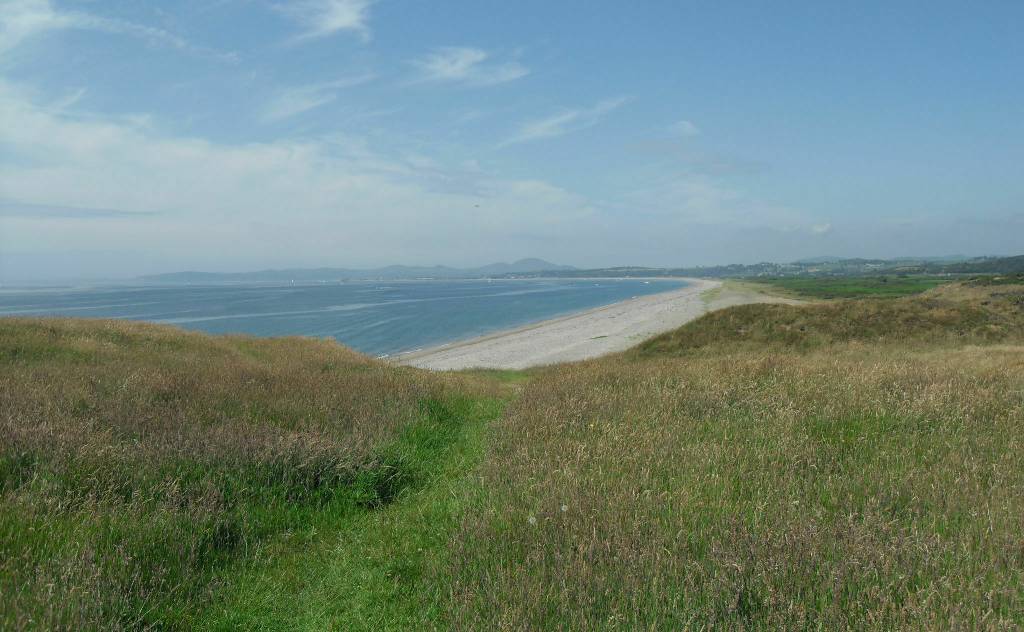 Looking back to Pwllheli from Penrhyn photo by Susan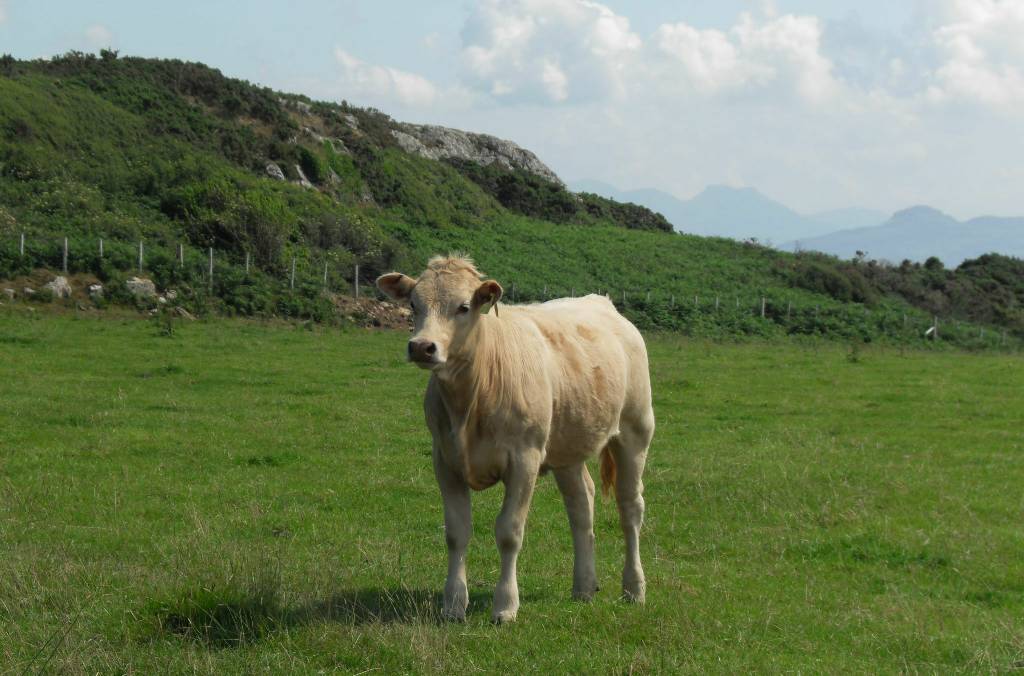 photo by Susan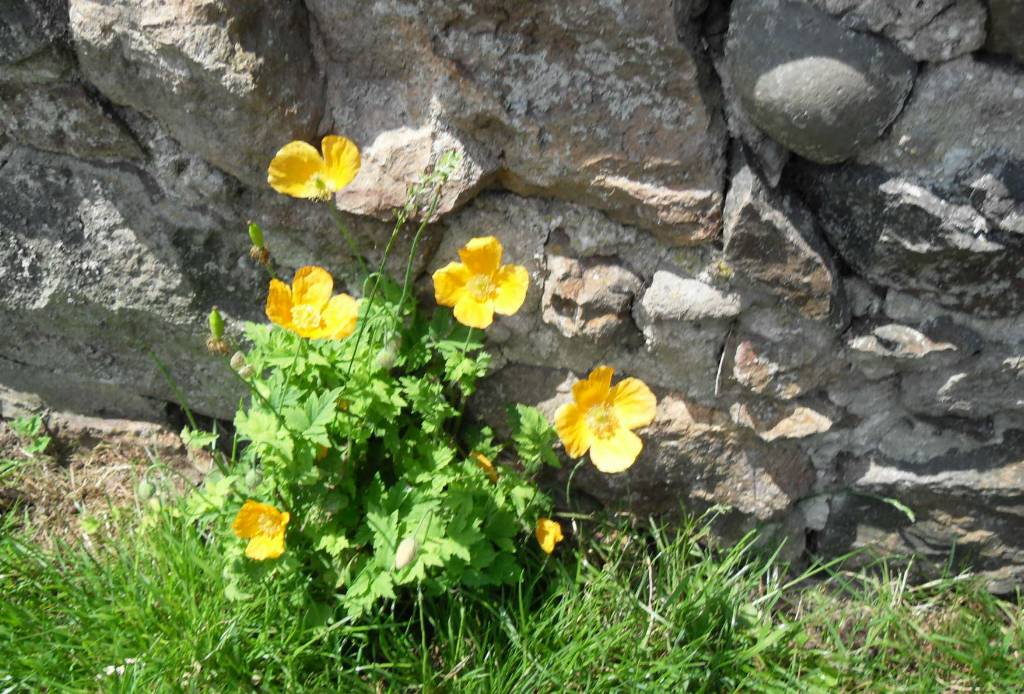 photo by Susan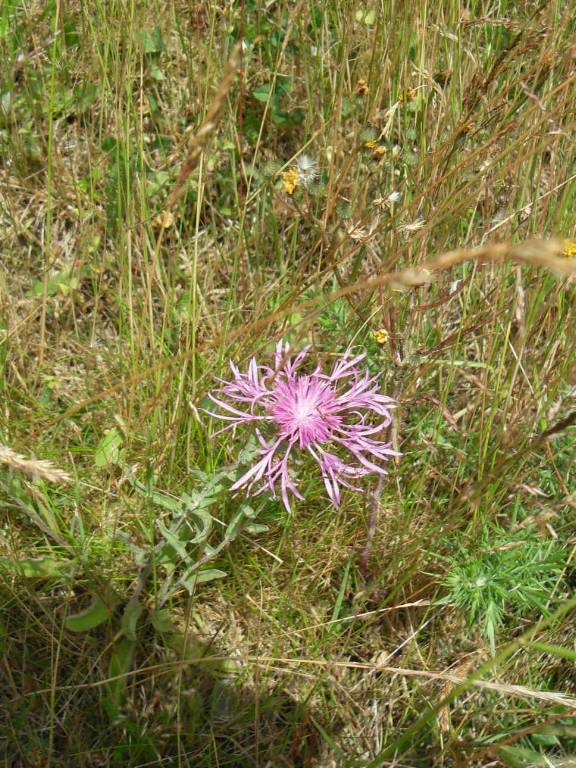 photo by Susan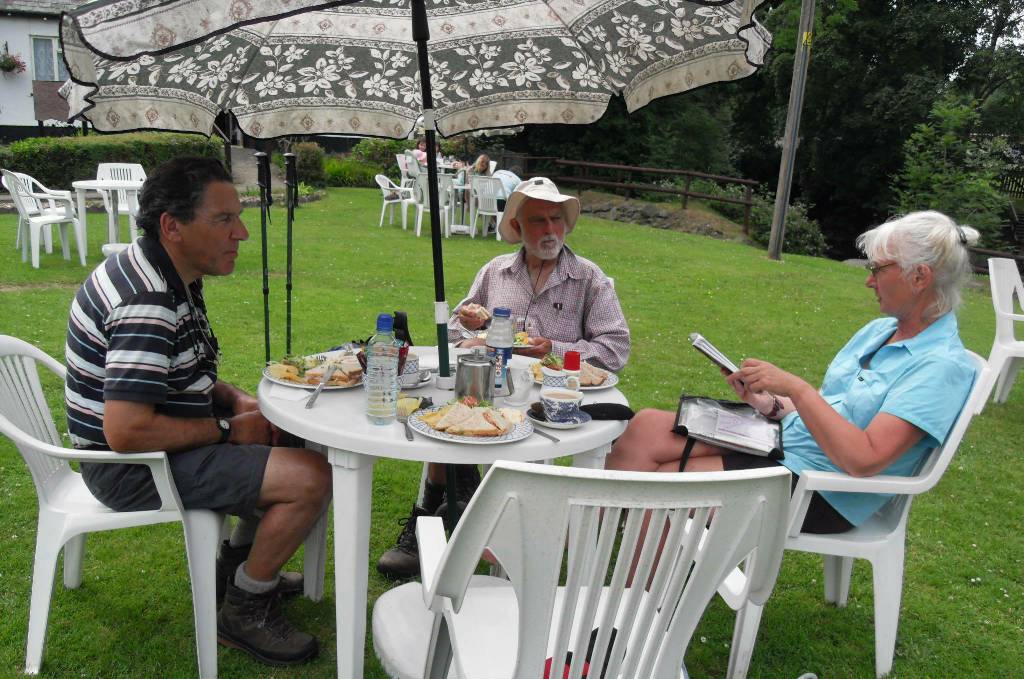 Lunch at cafe at Llanystumdwy photo by Susan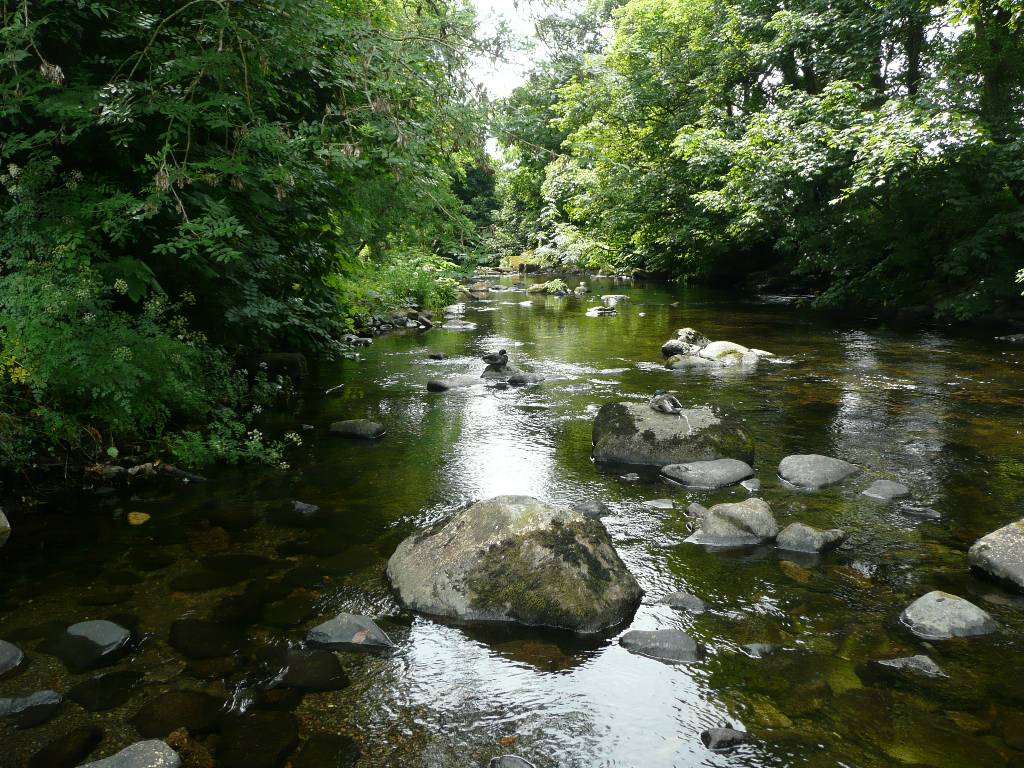 photo by Dave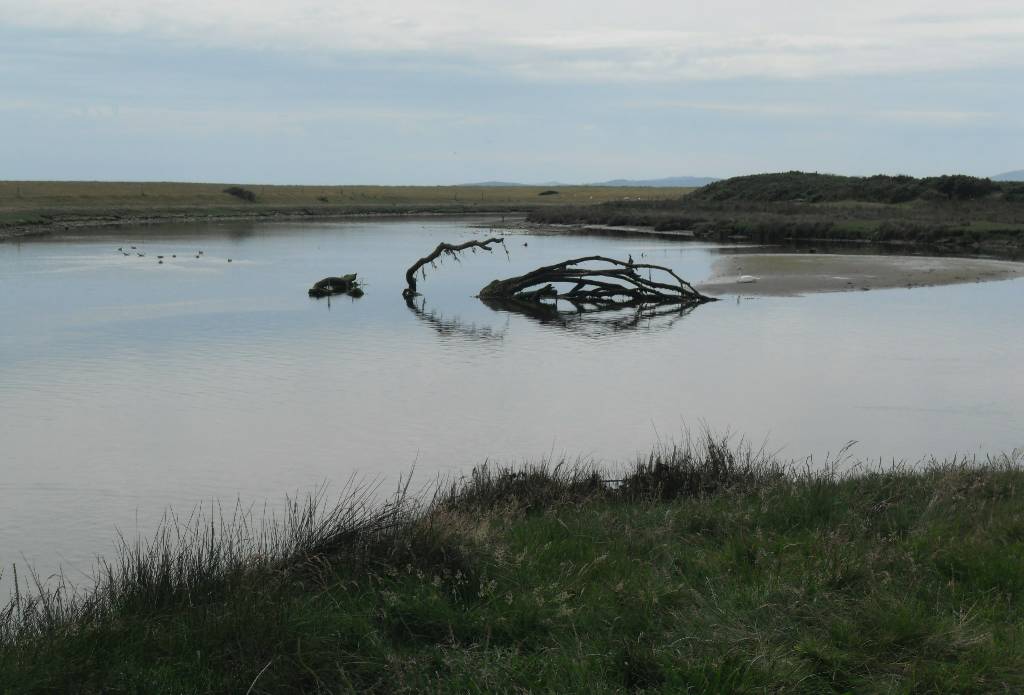 Along Afon Dwyfor photo by Susan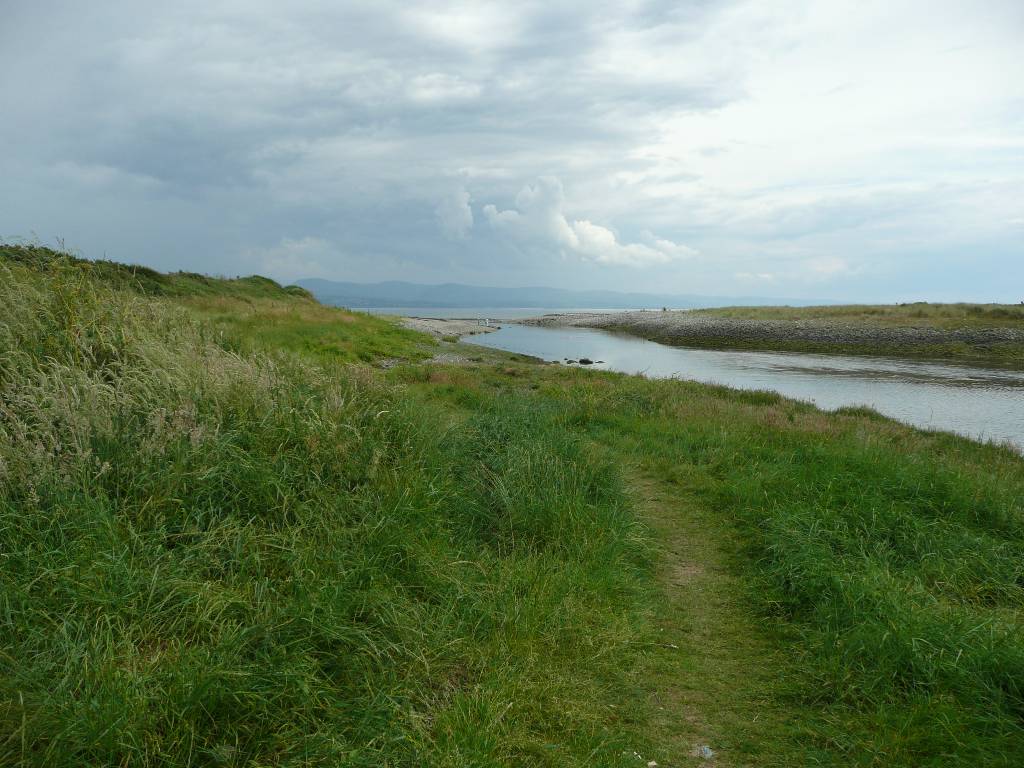 photo by Dave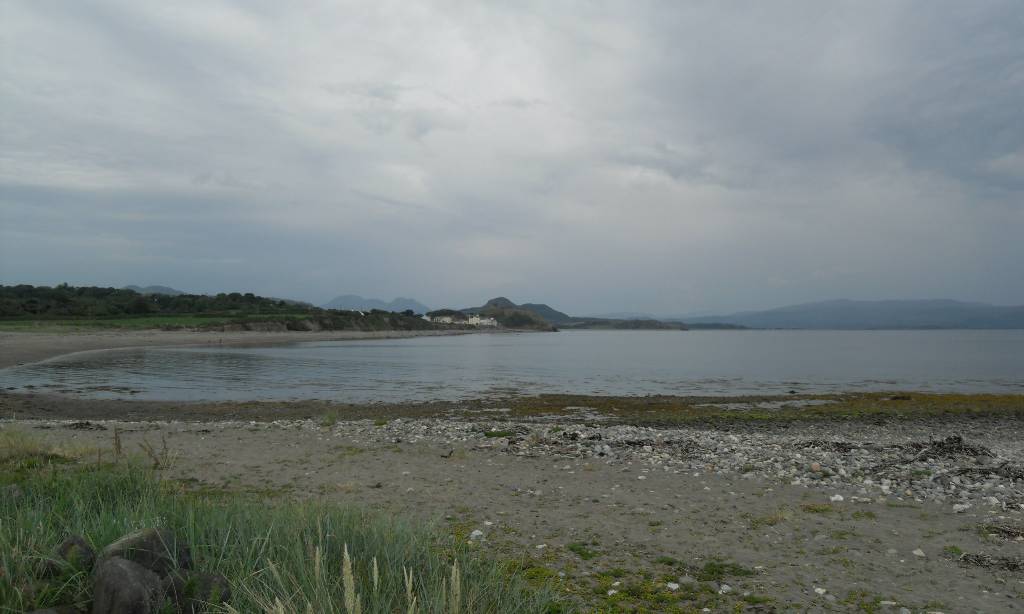 photo by Susan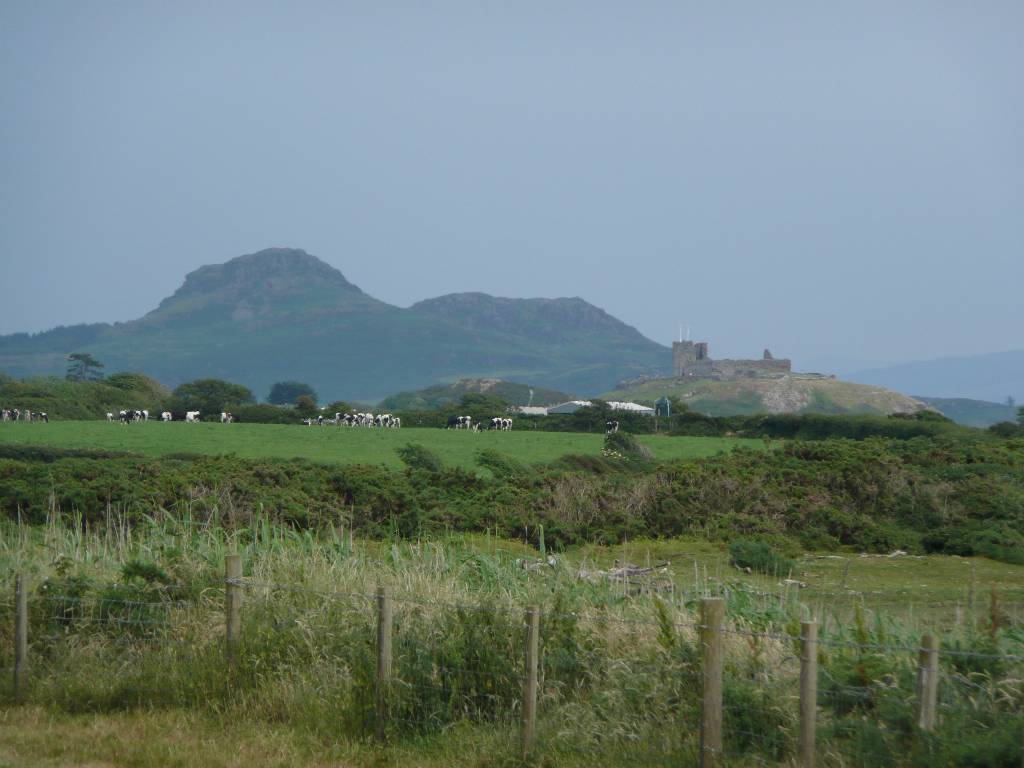 photo by Dave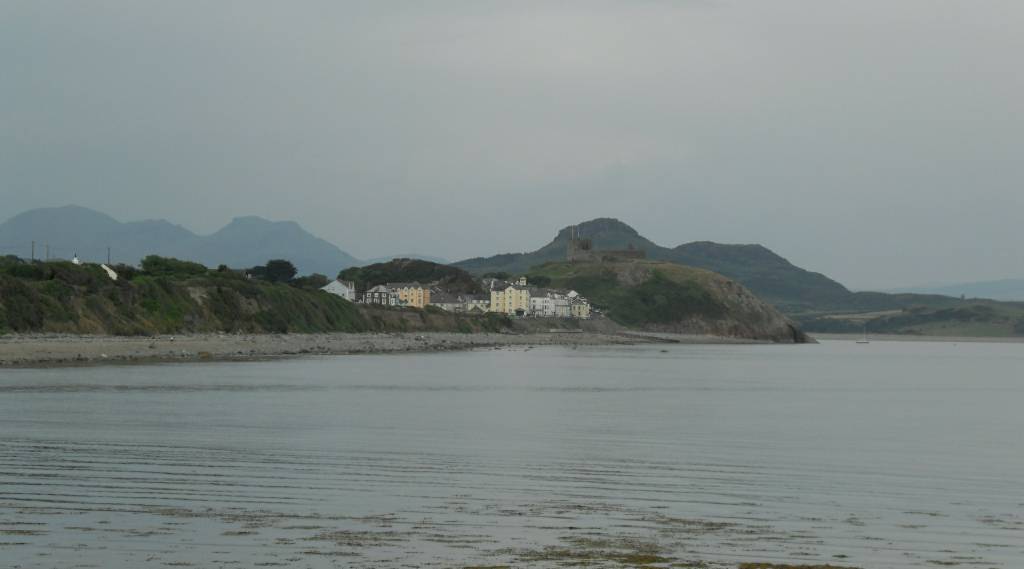 photo by Susan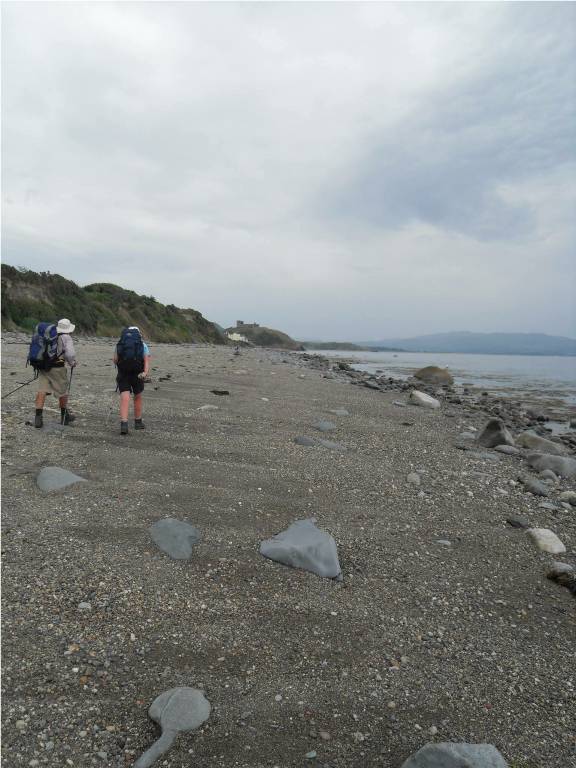 photo by Susan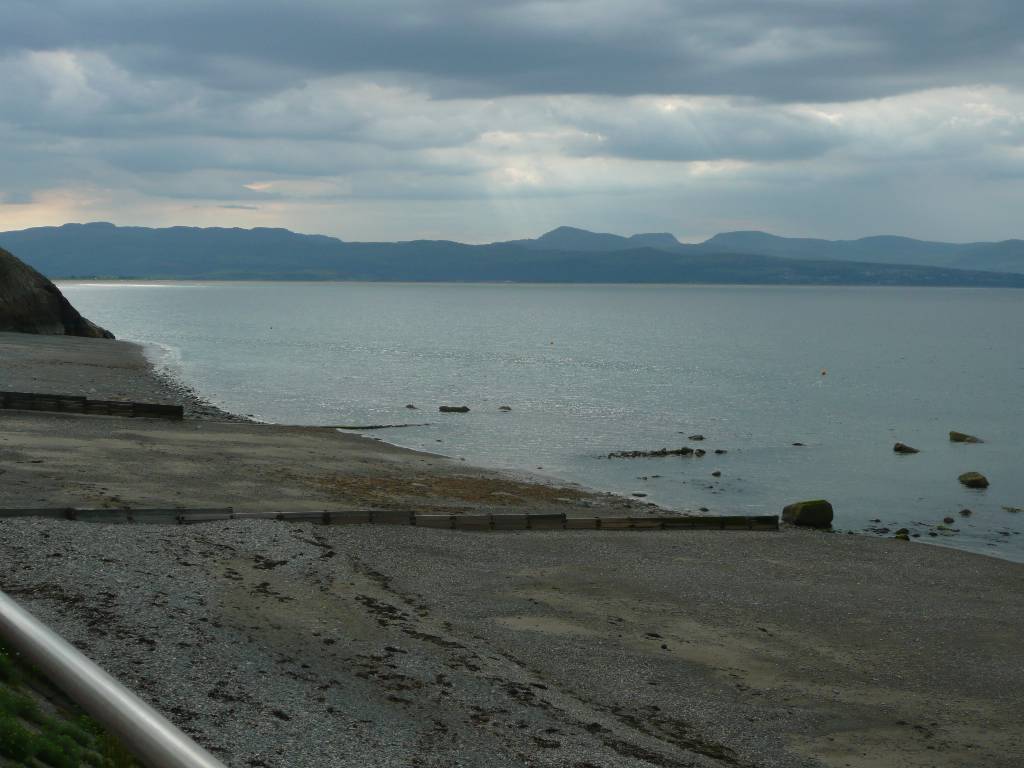 photo by Dave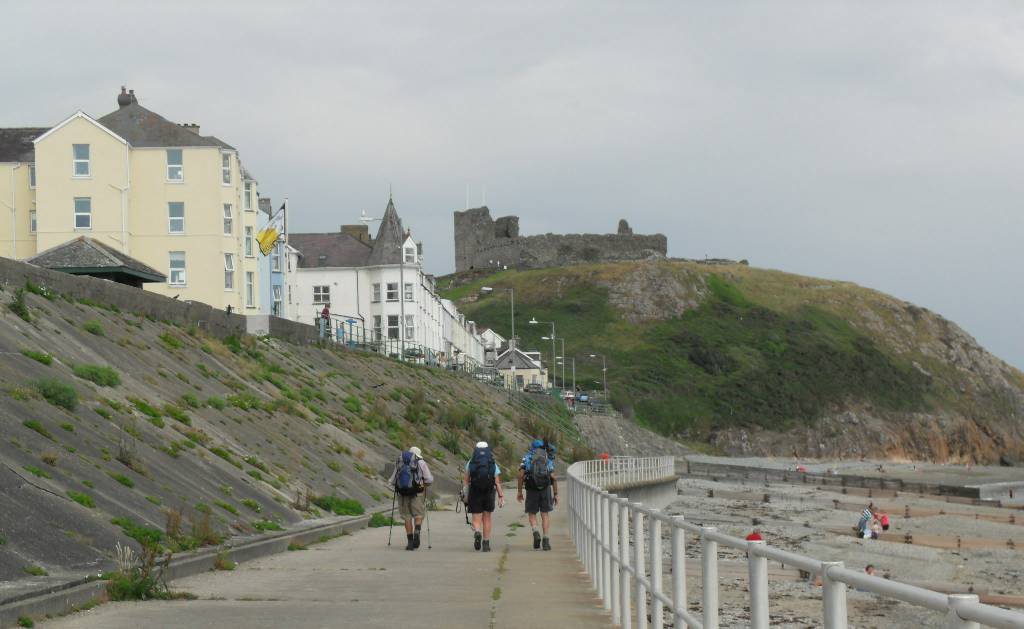 Criccieth and the castle photo by Susan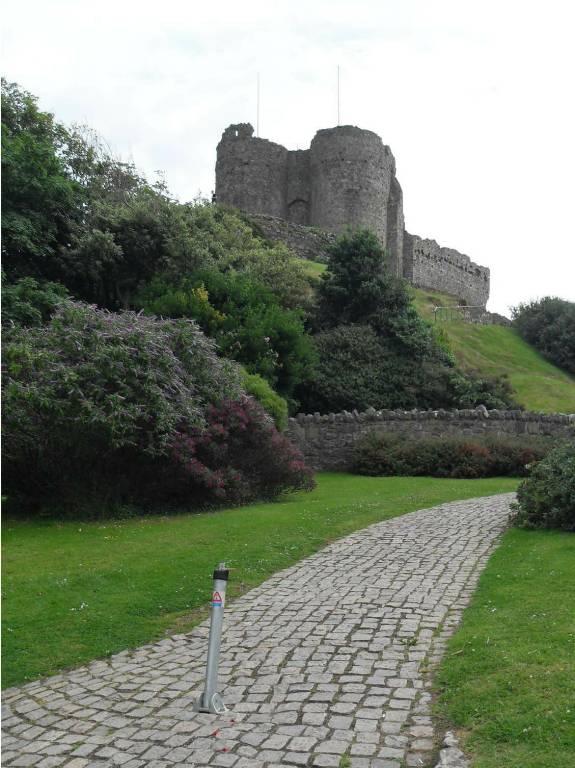 photo by Susan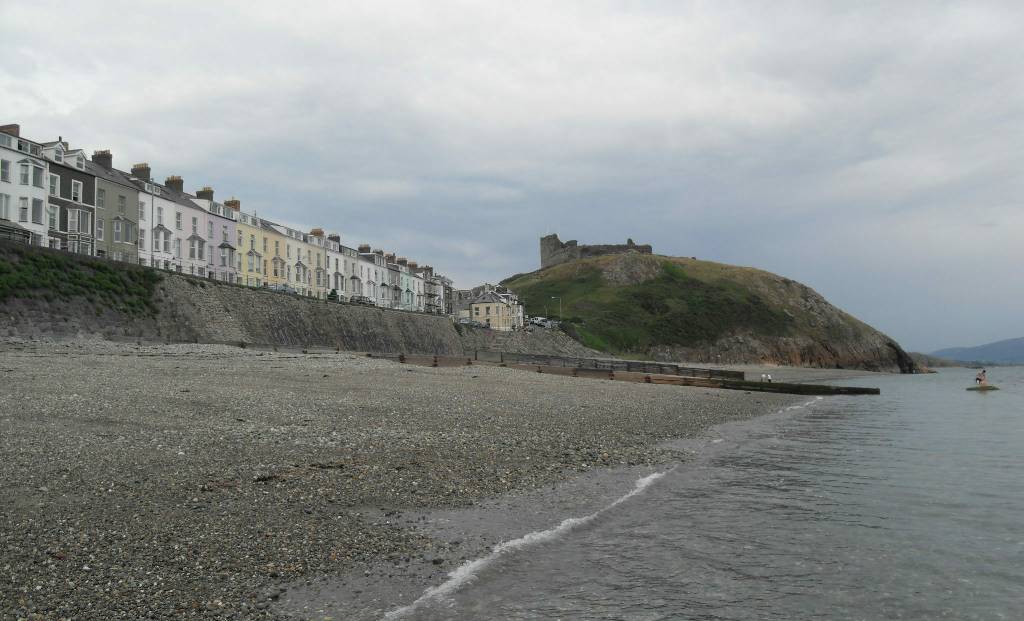 photo by Susan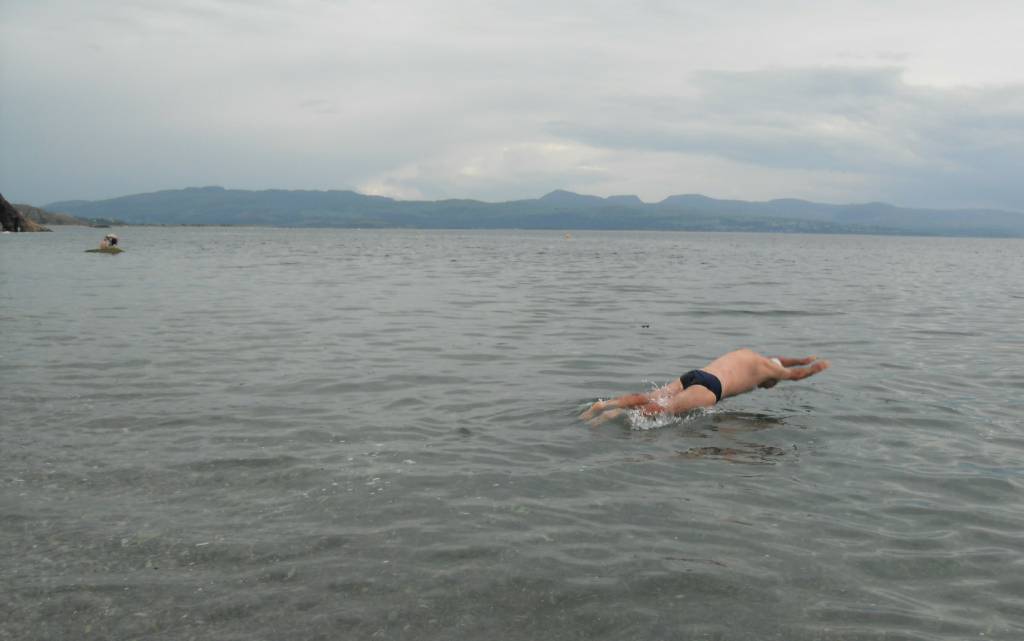 The big splash to come photo by Susan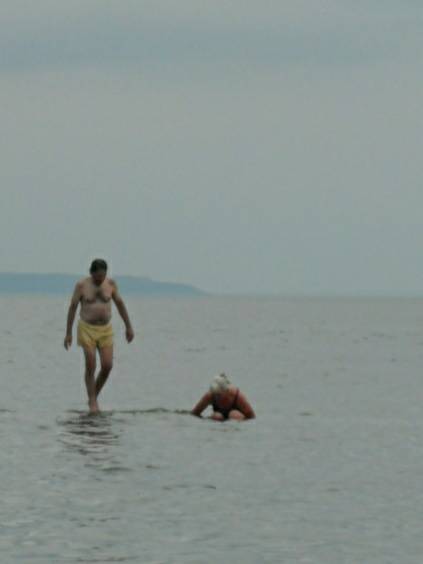 photo by Susan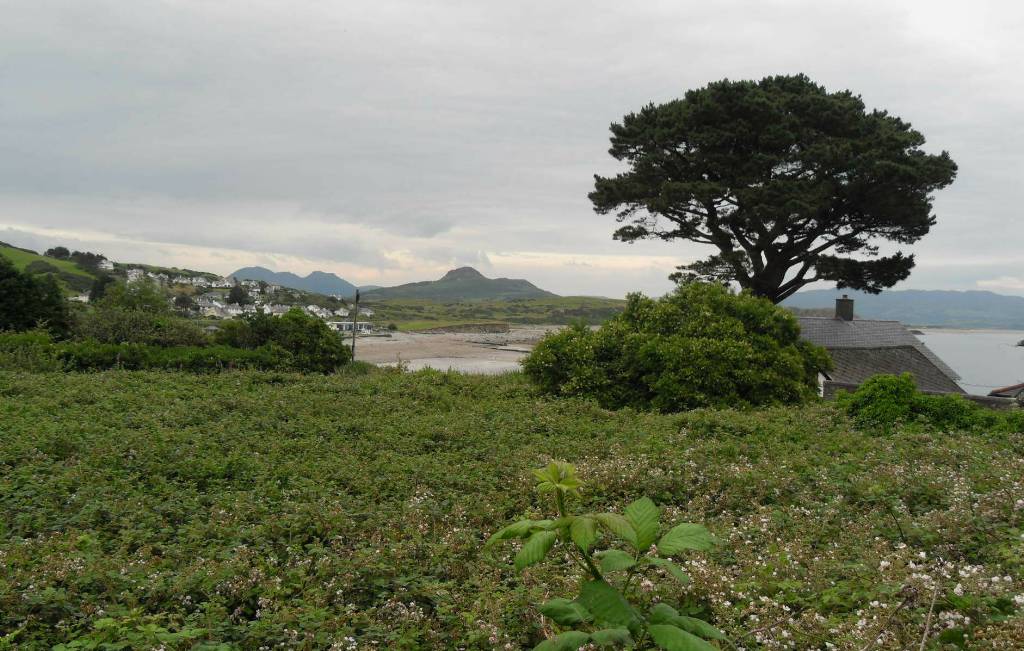 photo by Susan
Departure from Criccieth on 29th June 2009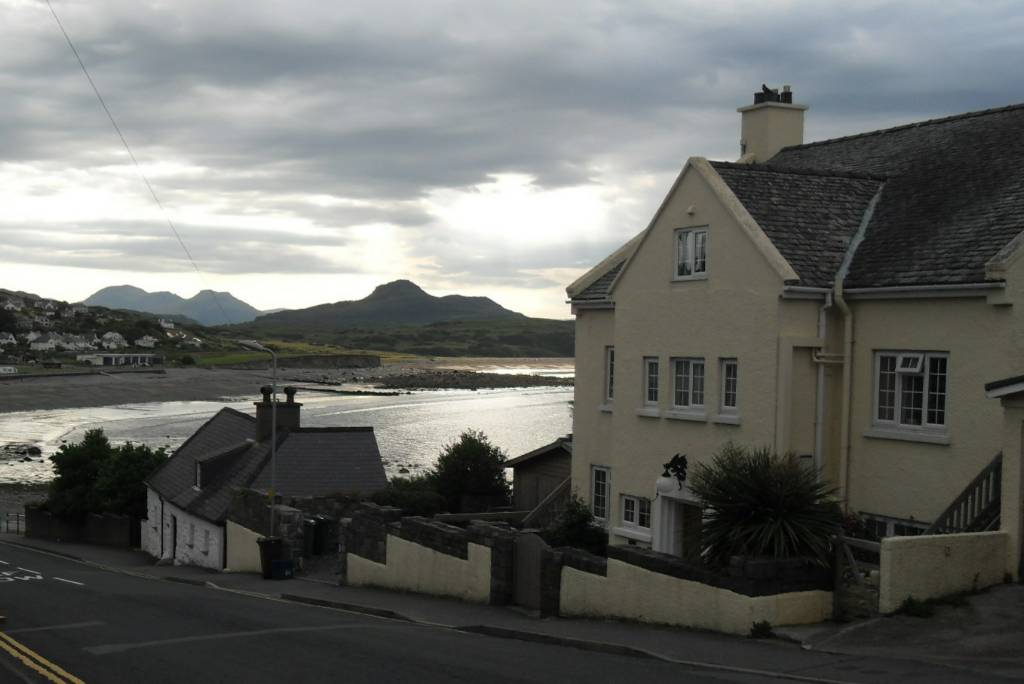 Sunrise photo by Susan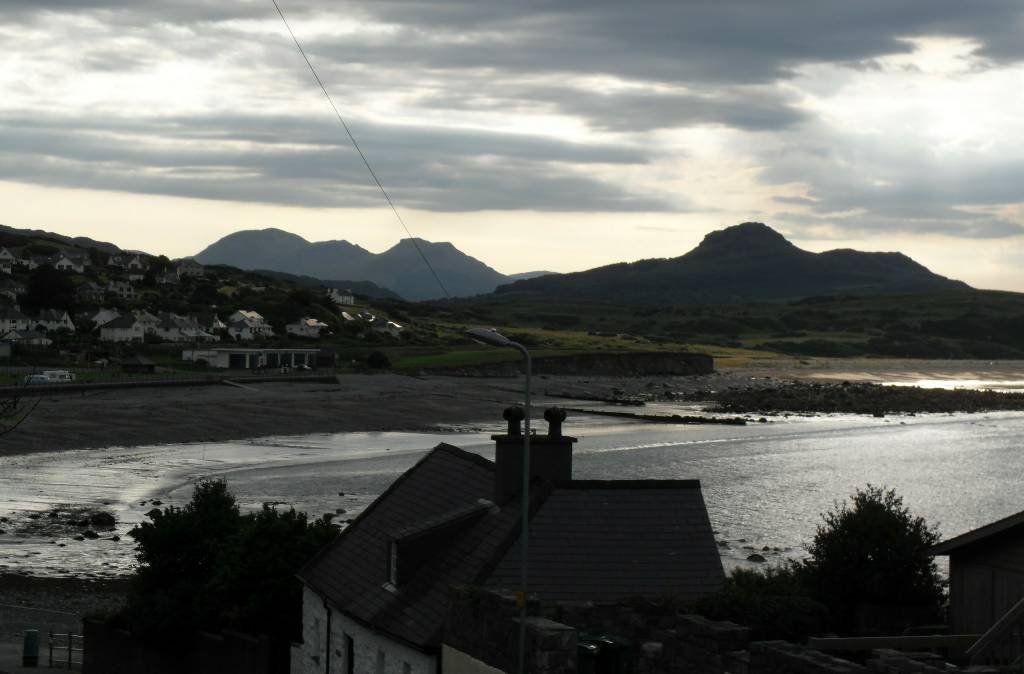 photo by Susan
walks index
-
home page
- contact me at