walks index
-
home page
- contact me at

2019.02.25 - Start behind west side of Patterdale Hotel, Zig zag ~W to join BW (on south side of Grisdale Beck) running ~SW to Ruthwaite Lodge, ~S to Grisdale Tarn, zig zag ~NW past Dollywagon Pike, ~N to Helvellyn / Shelter, ~NW on BW passing top of Swirral Edge and on to Lower Man. ~N to Cairn on top of Whiteside Bank, ~ENE above Red Screes to ~NY347170, zig zag ~S on BW then ~E, turning ~NE starting along (above) Glenridding Beck, continue past Youth Hostel onto Greenside Road to PH - roads / routes through Glenridding and on to Patterdale Hotel - leader Andrew Irwin - Monday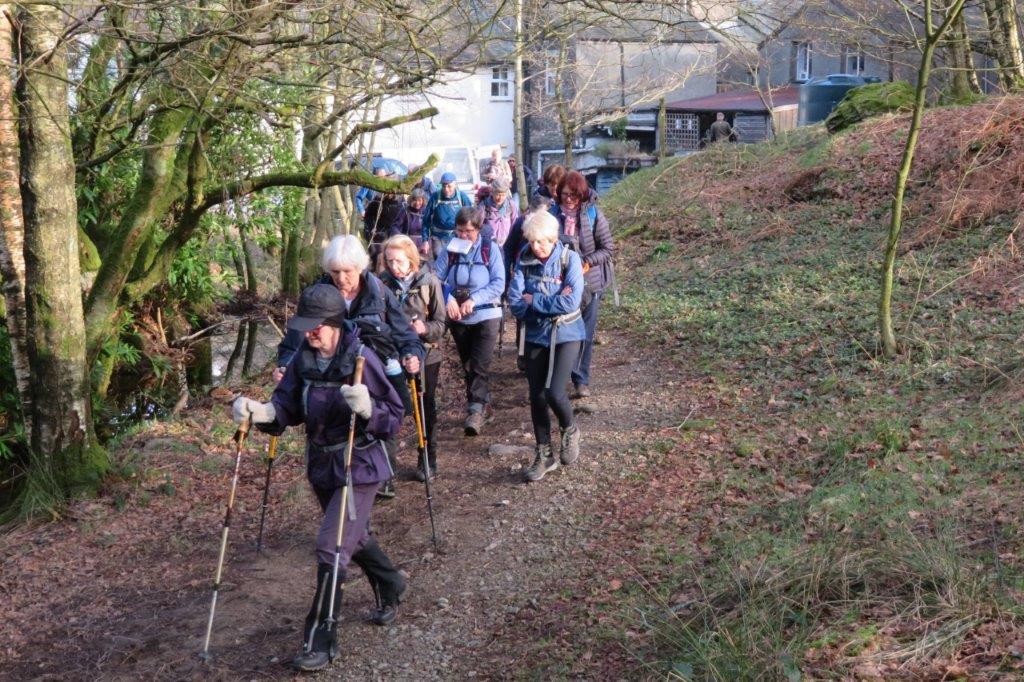 Starting out behind Patterdale Hotel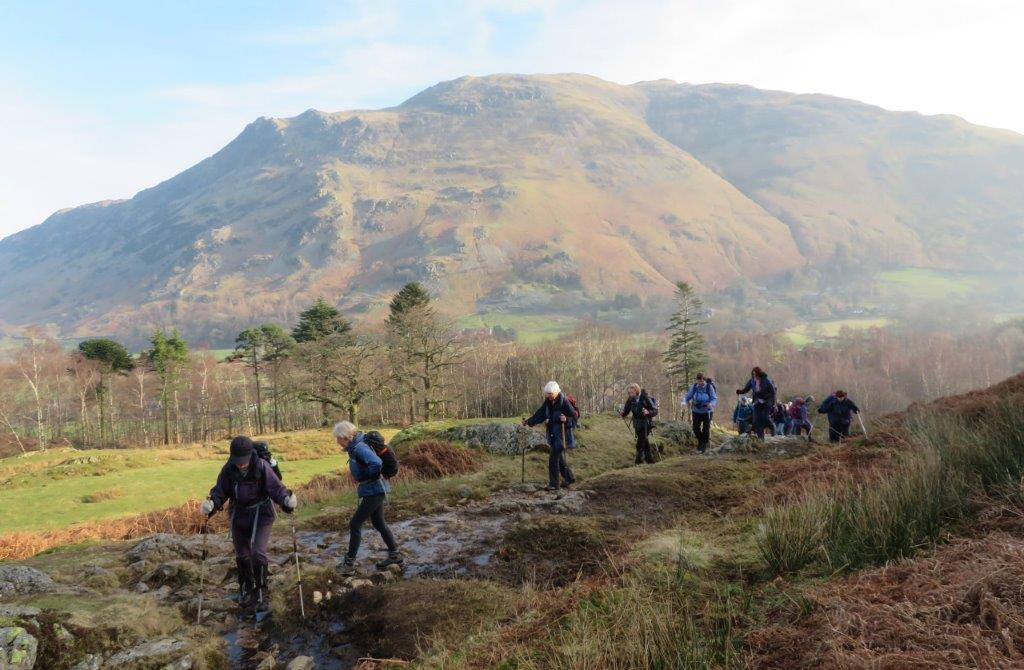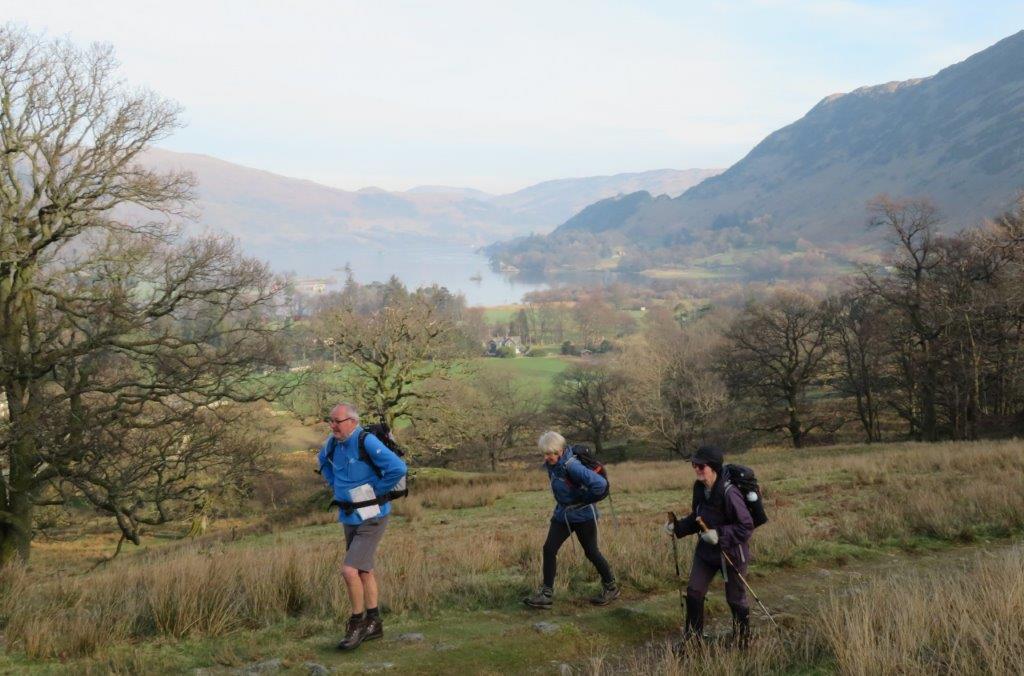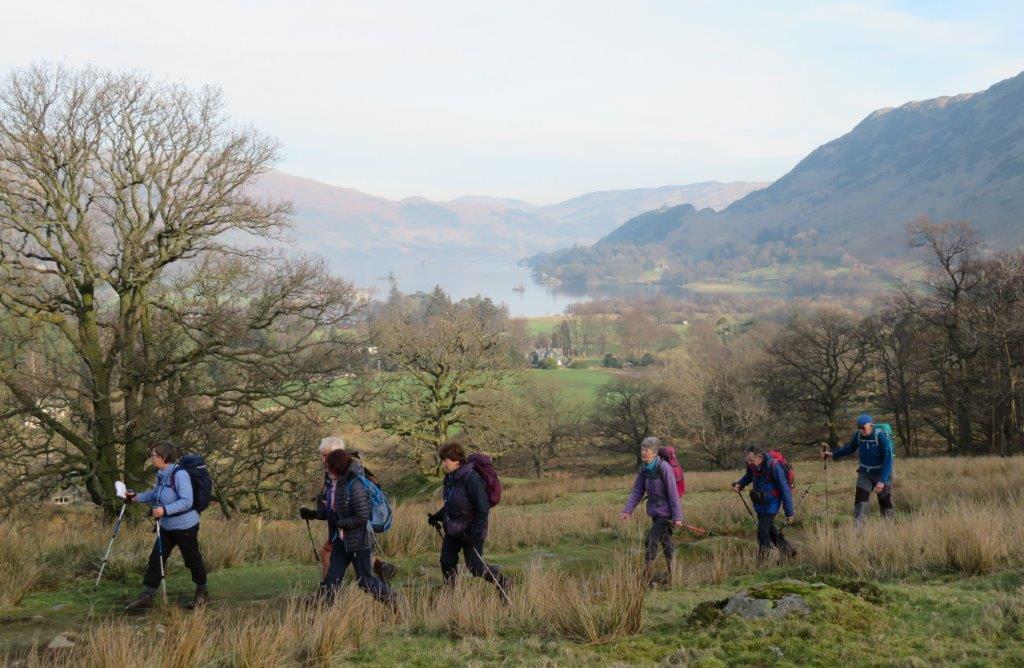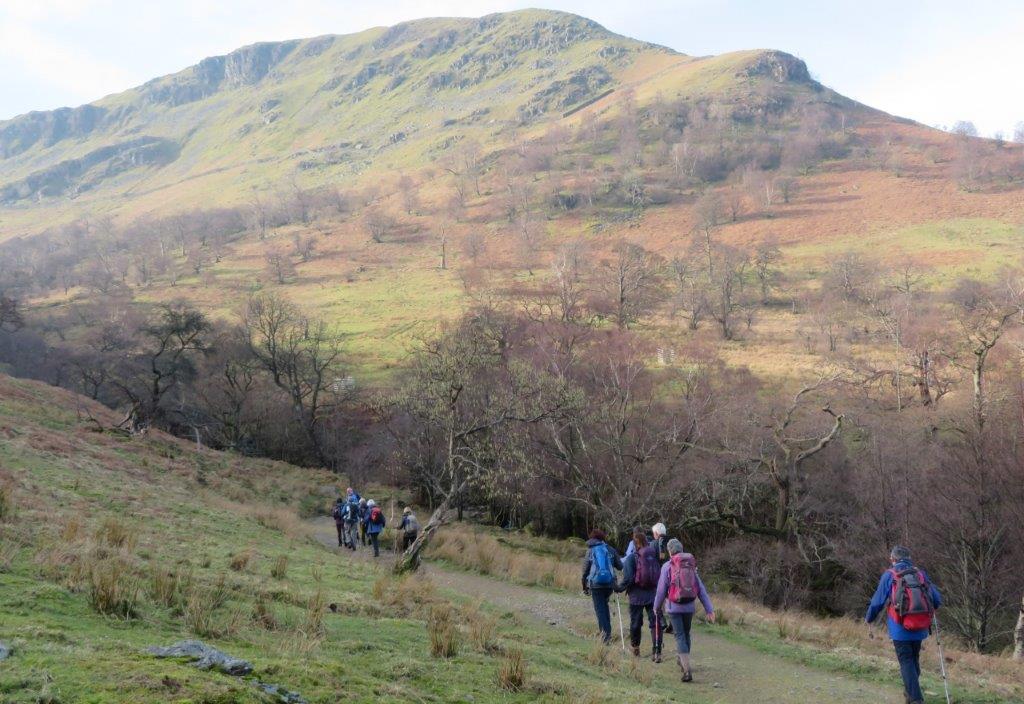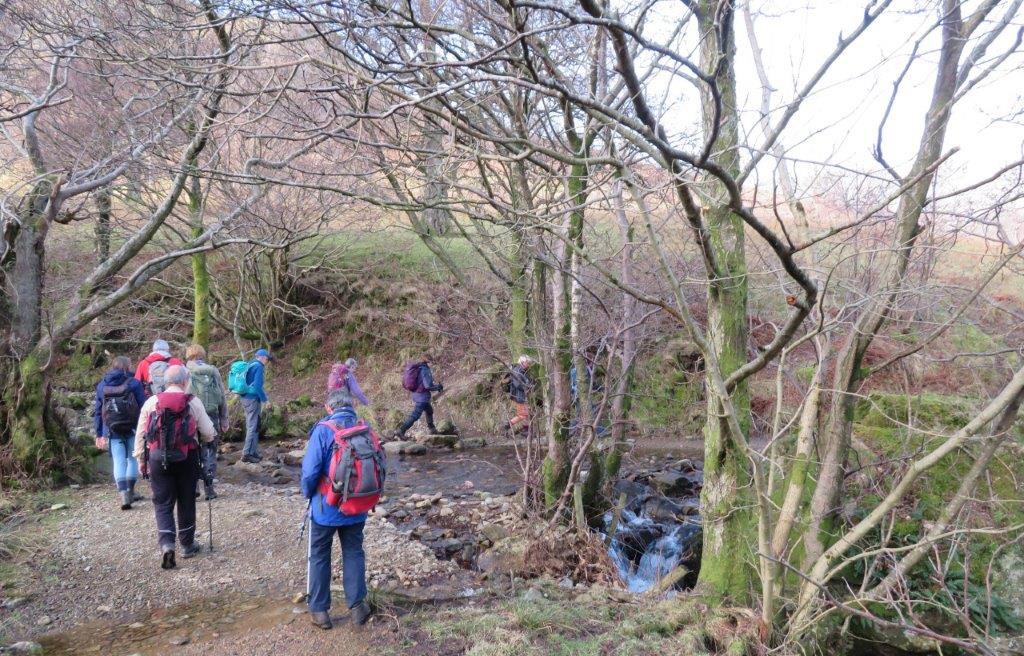 crossing Hag Beck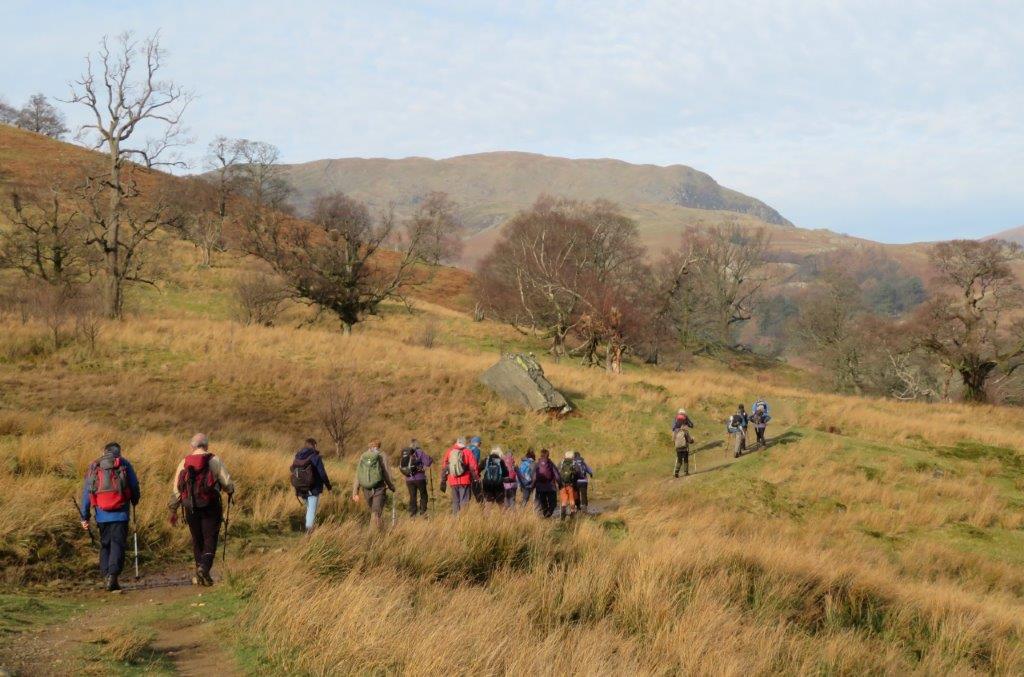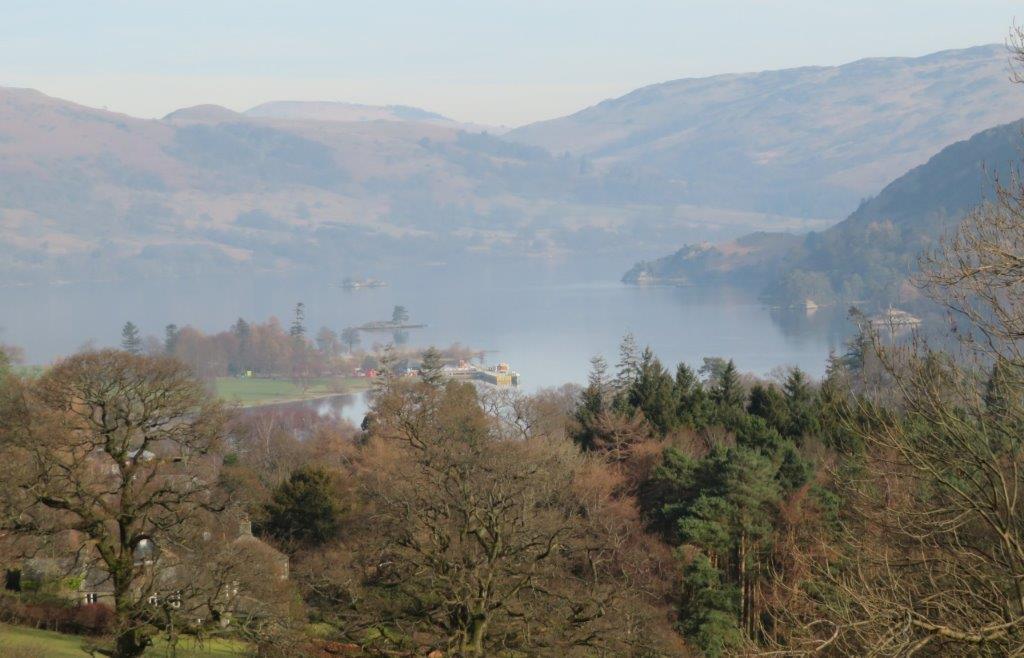 looking down at Ullswater - Glenridding Pier visible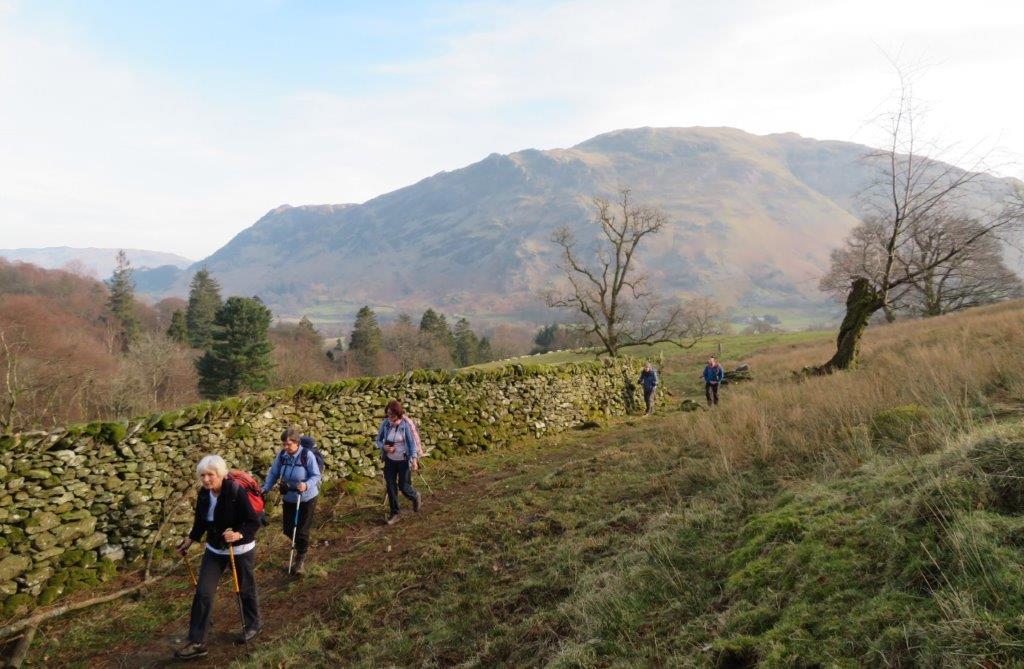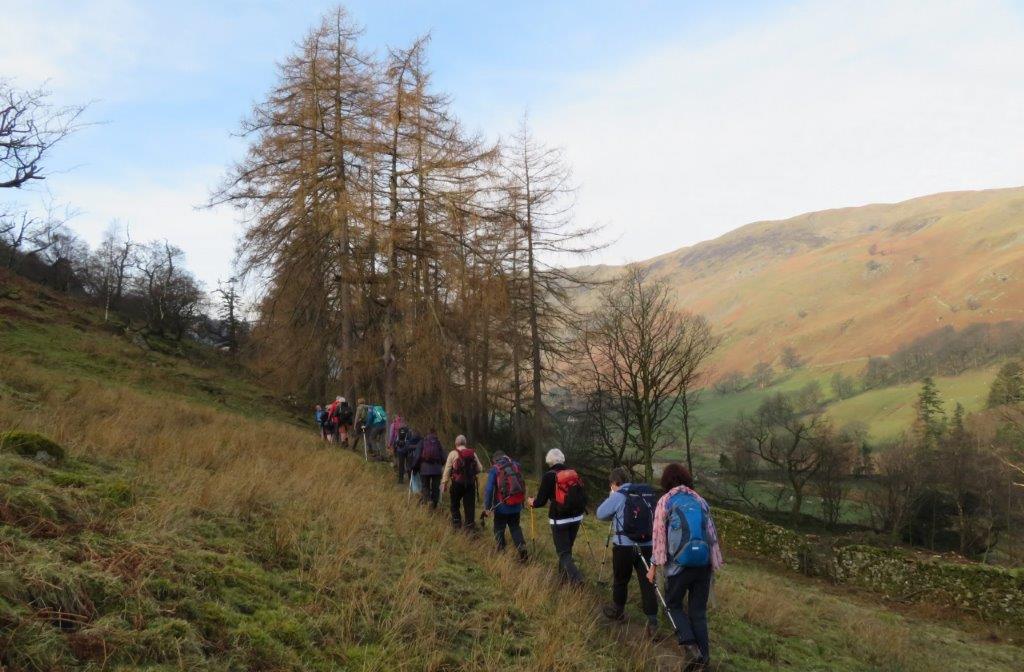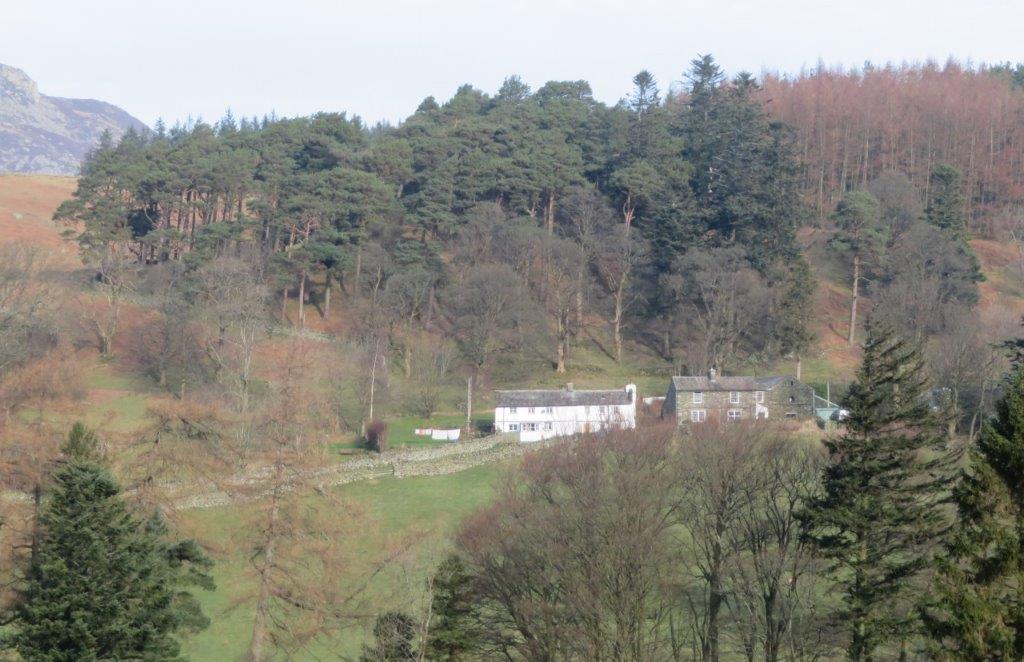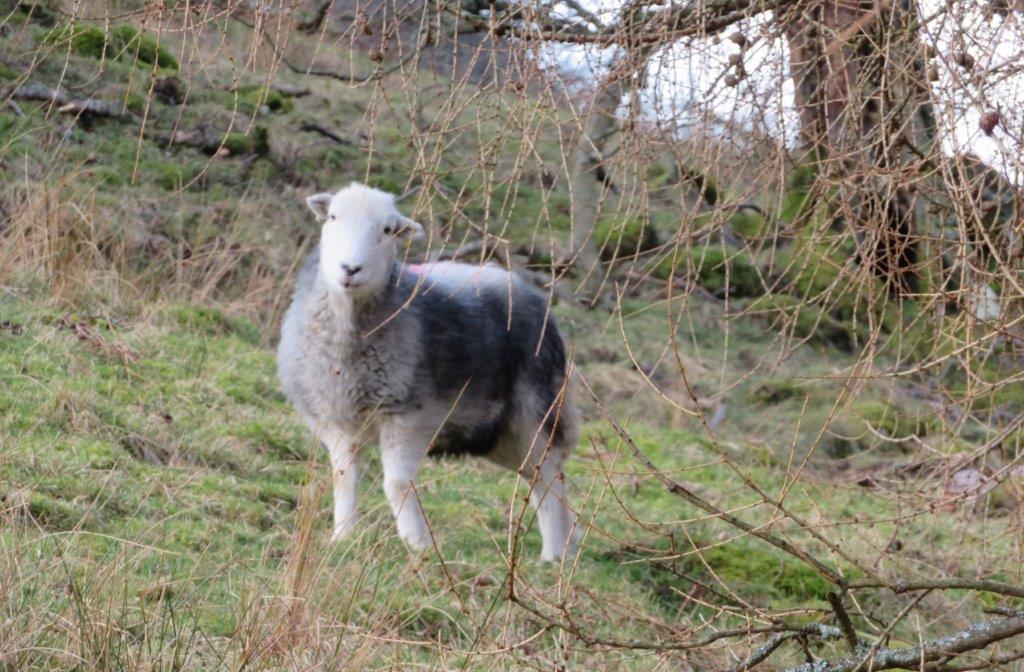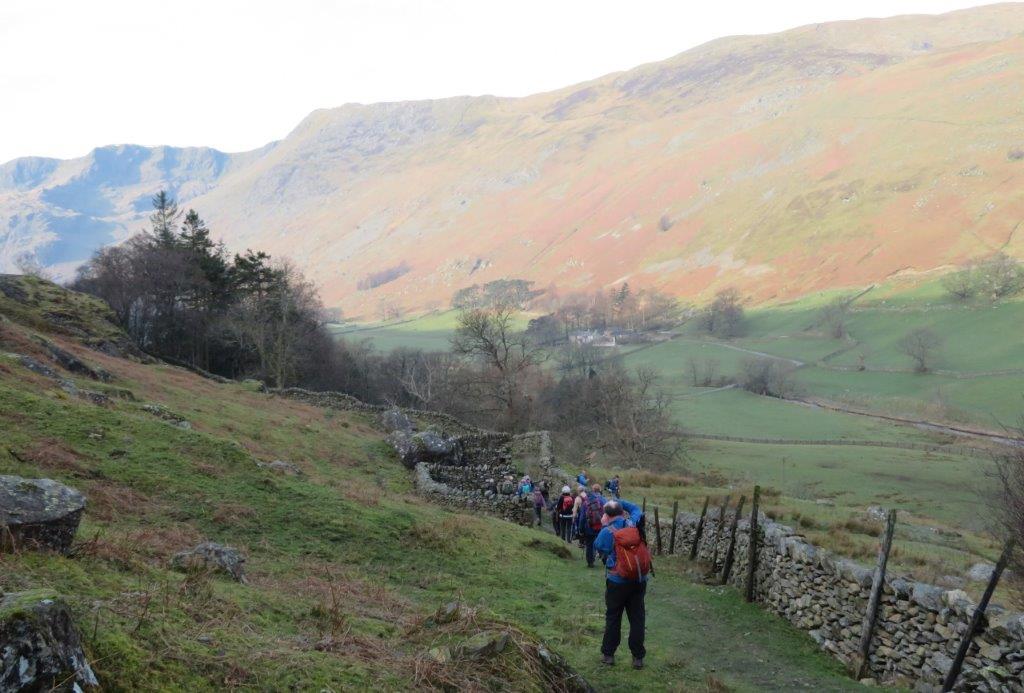 turned down towards the path along Grisedale Beck at this point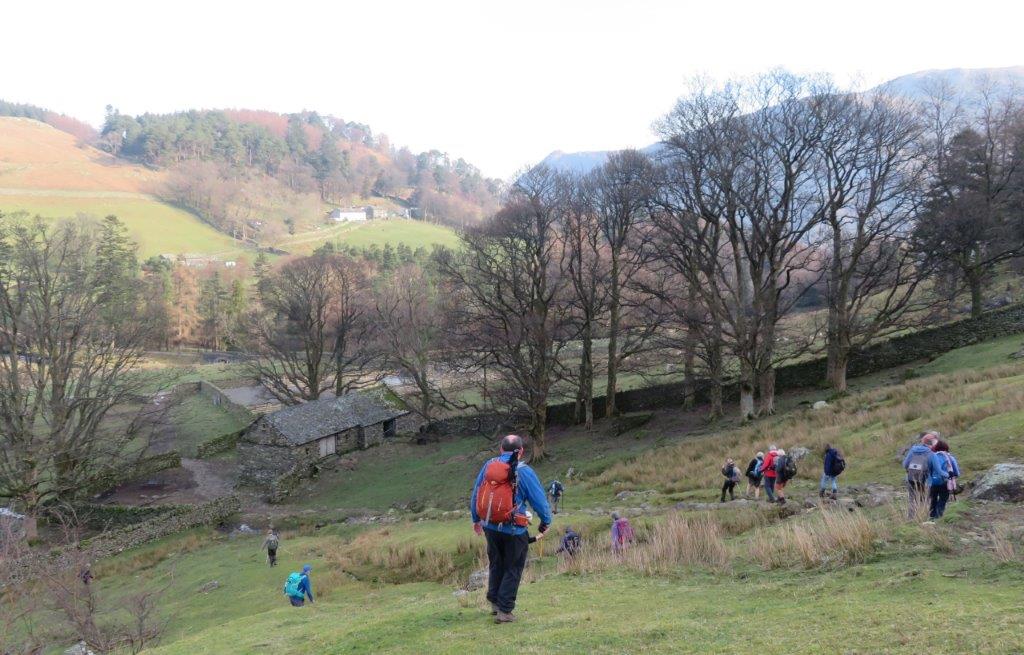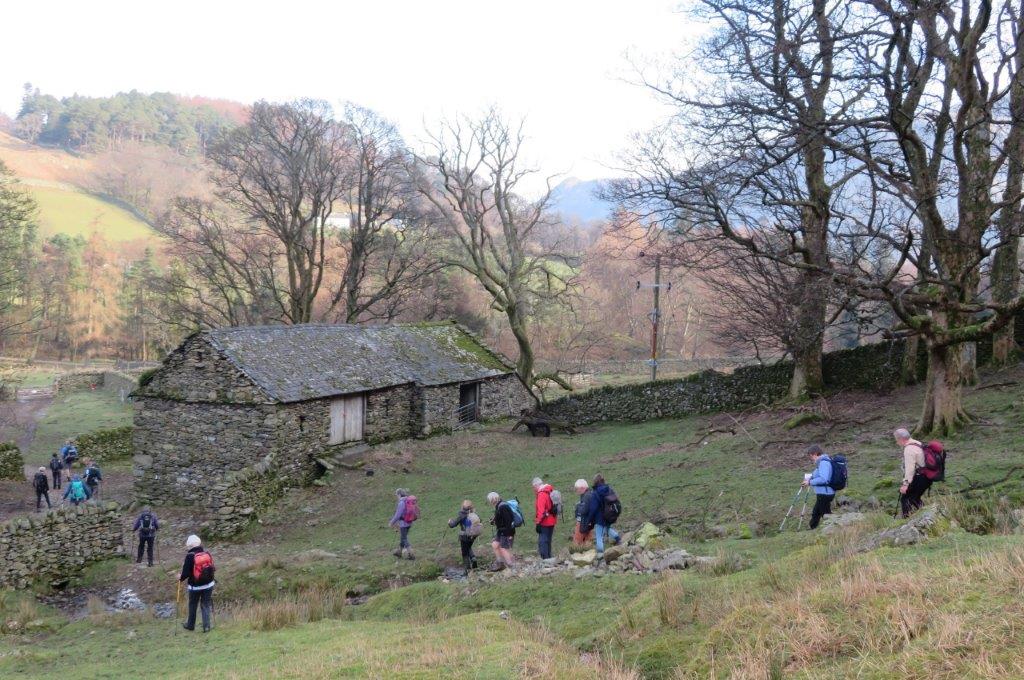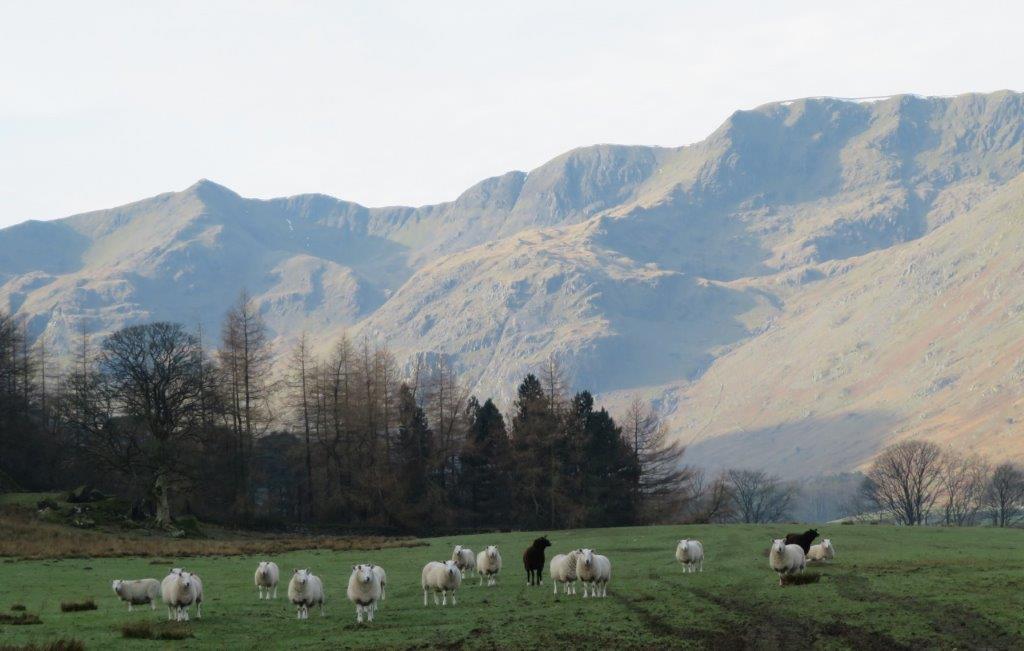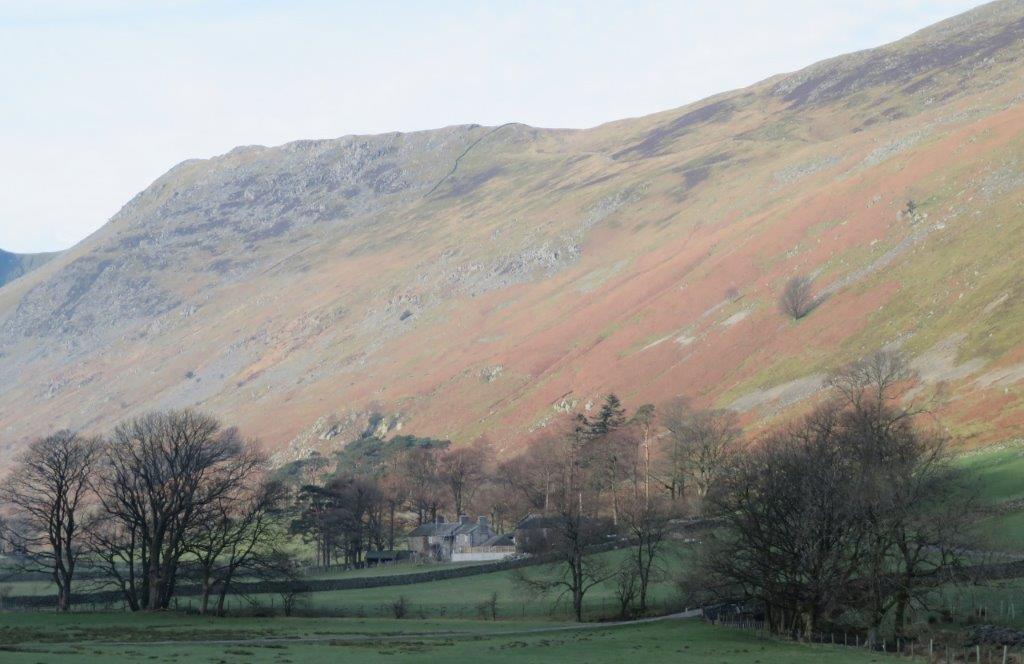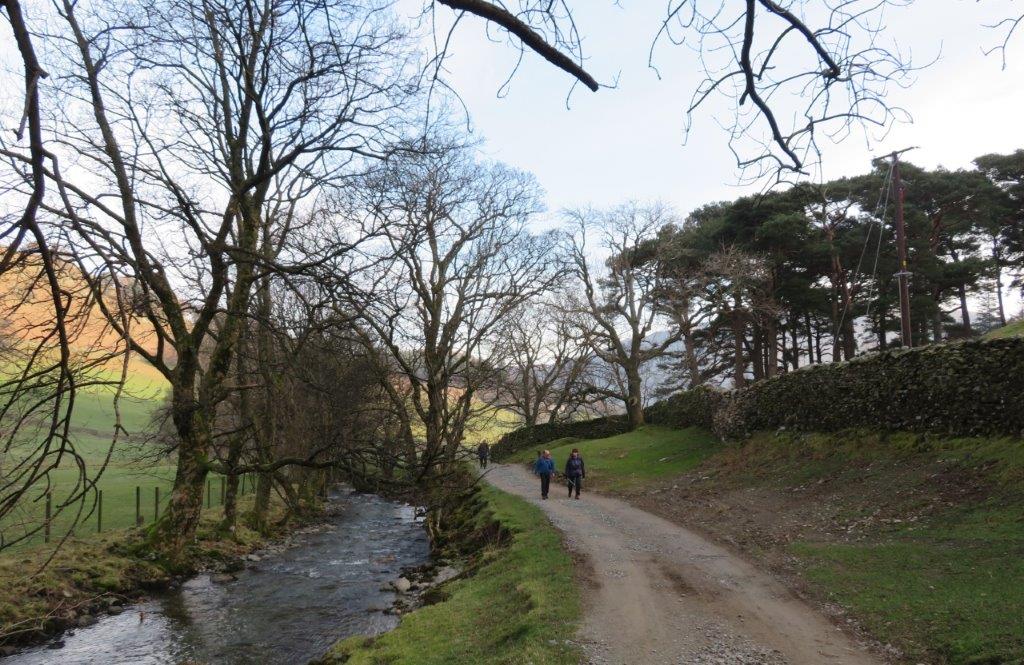 on the Grisedale path heading toward Grisedale Tarn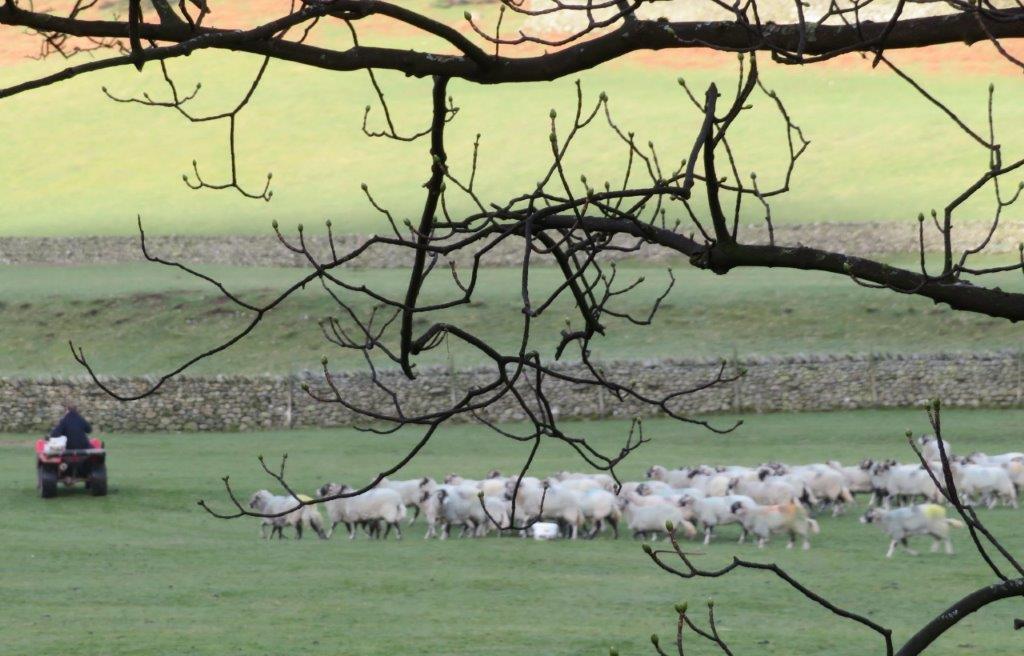 rounding up sheep on a quad bike - no sign of shepherd dogs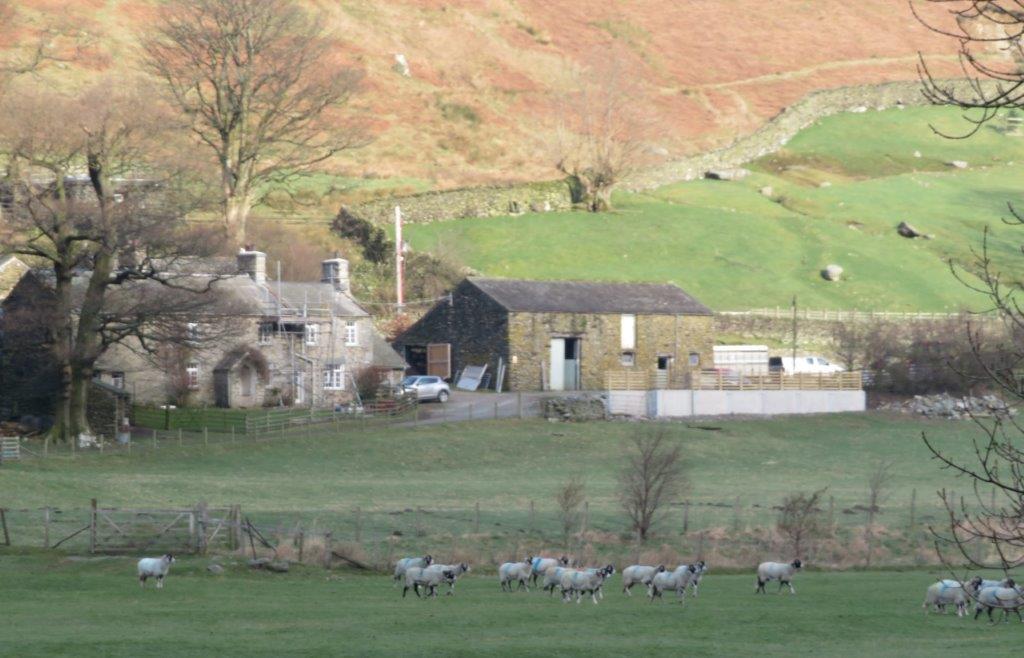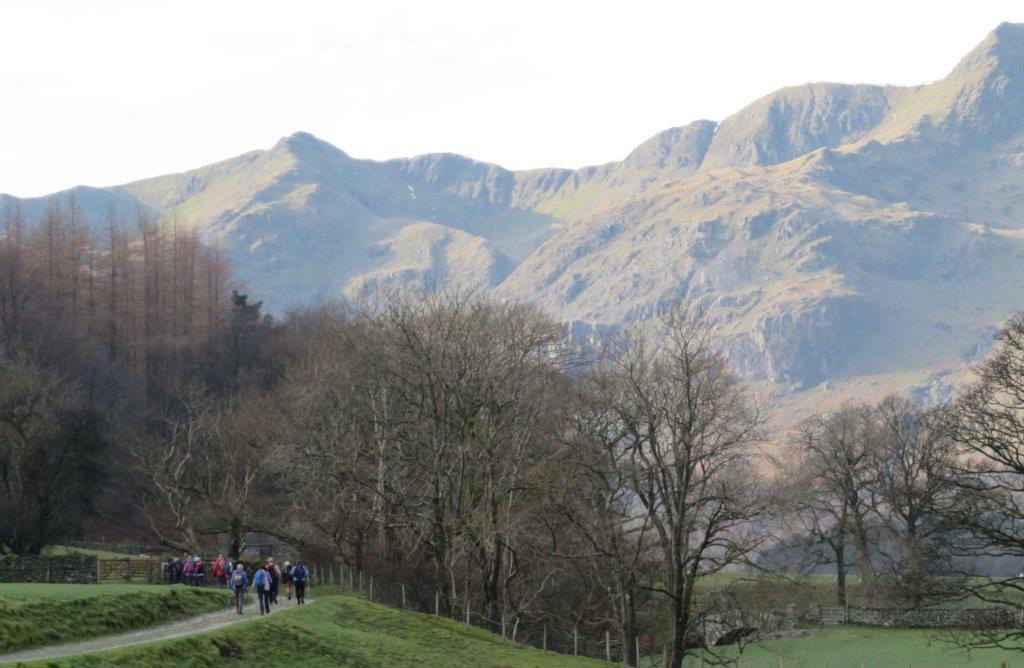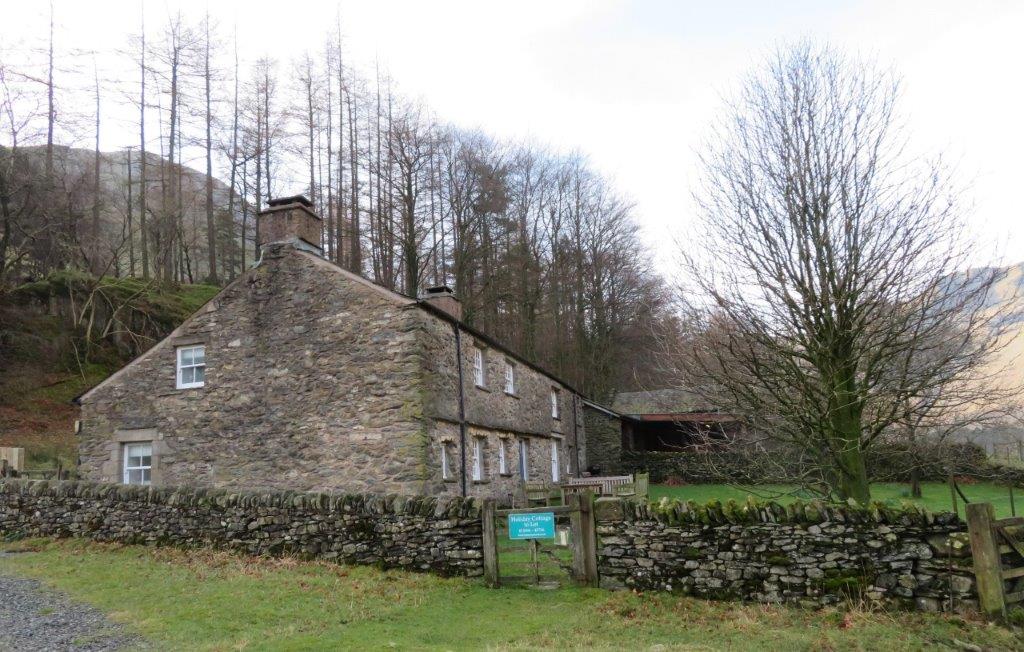 holiday cottage next to farm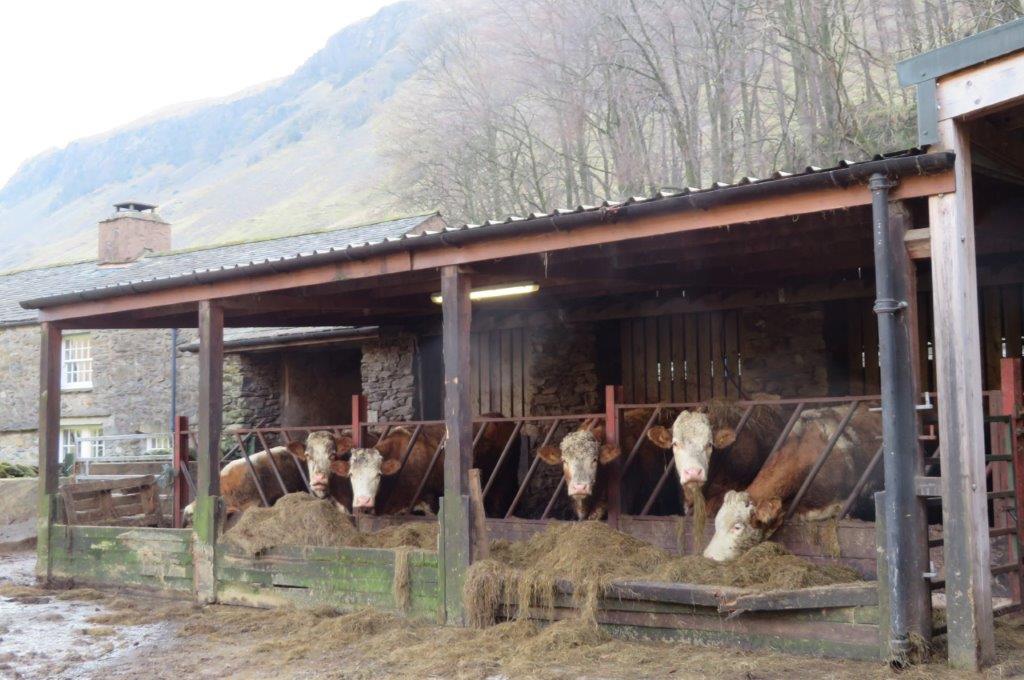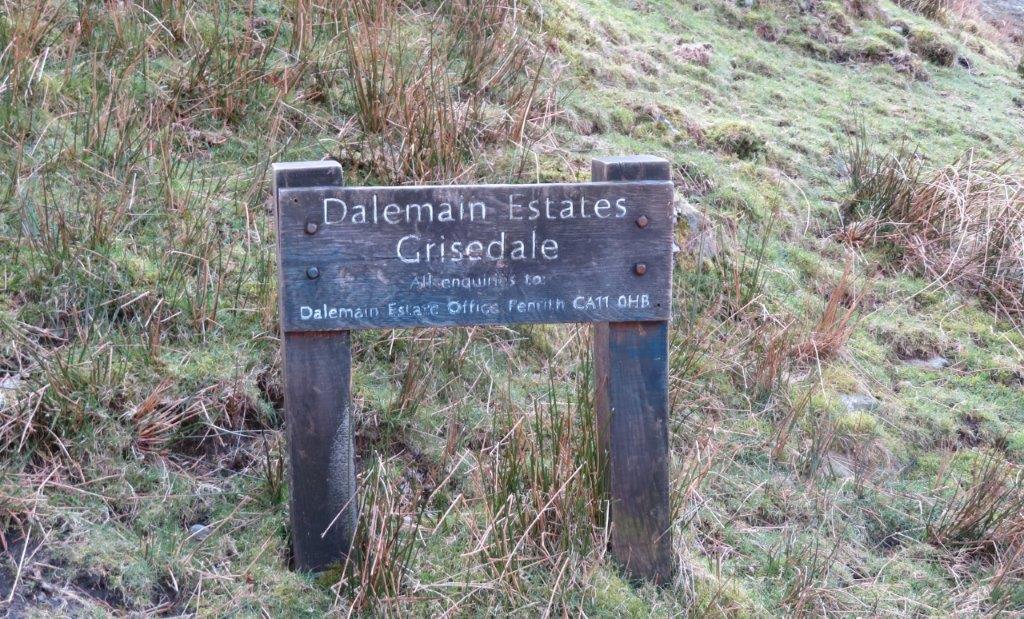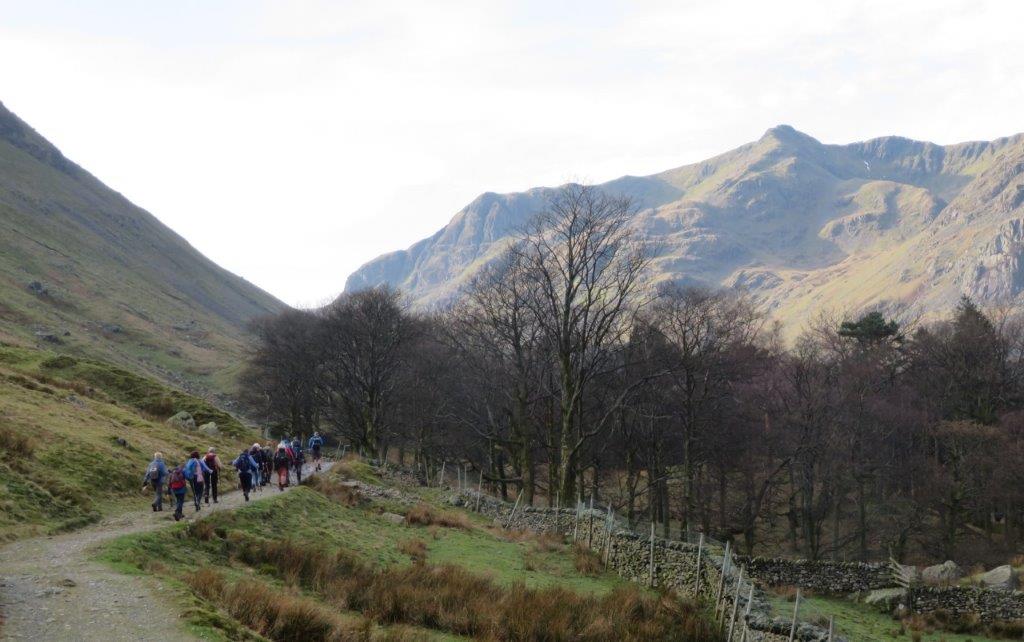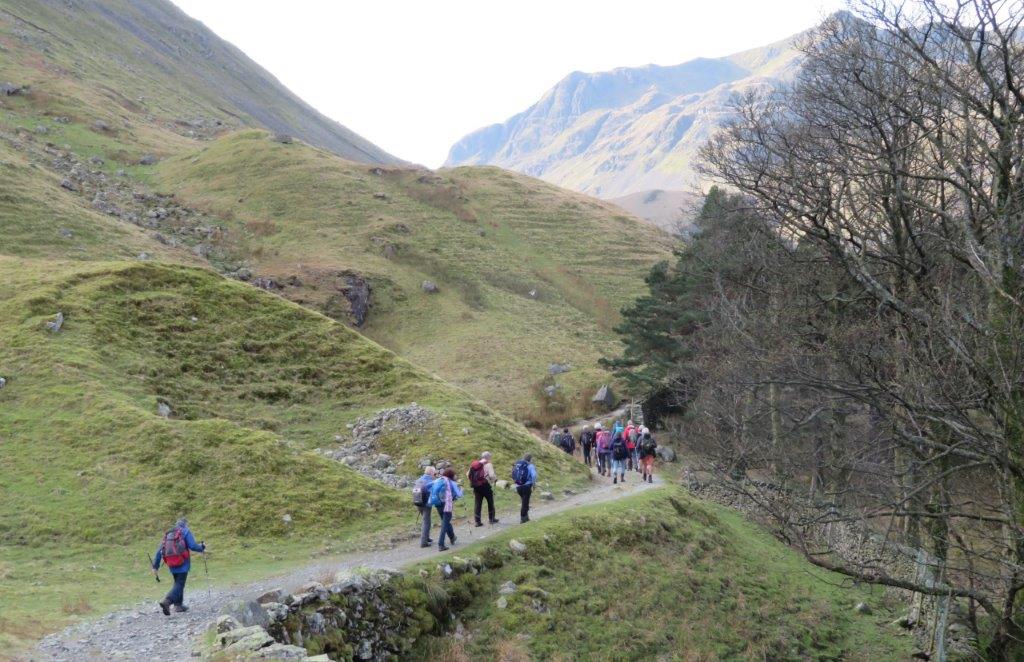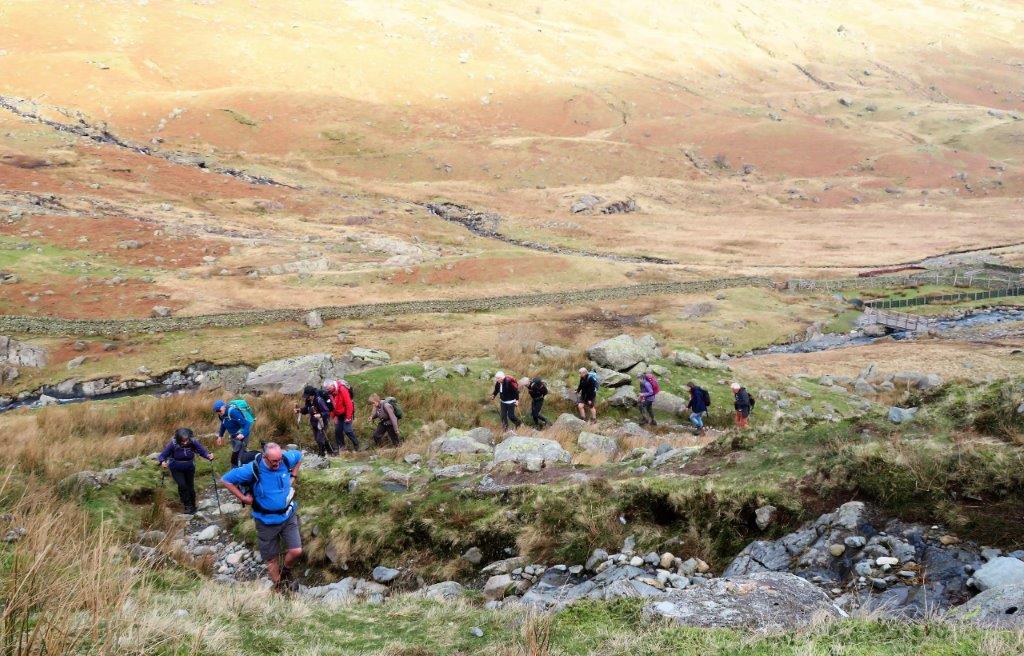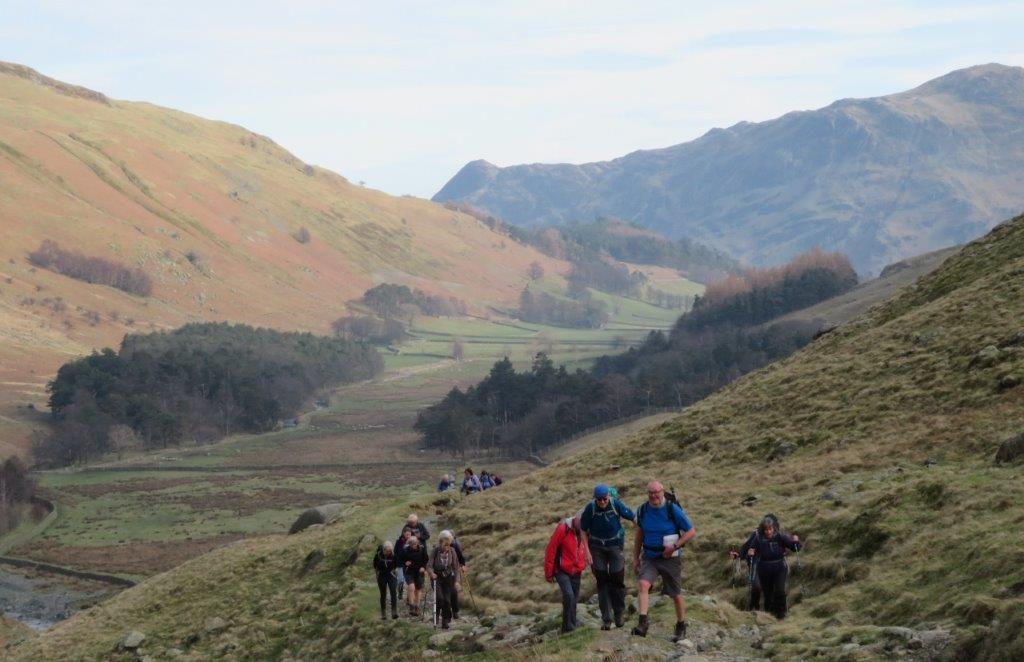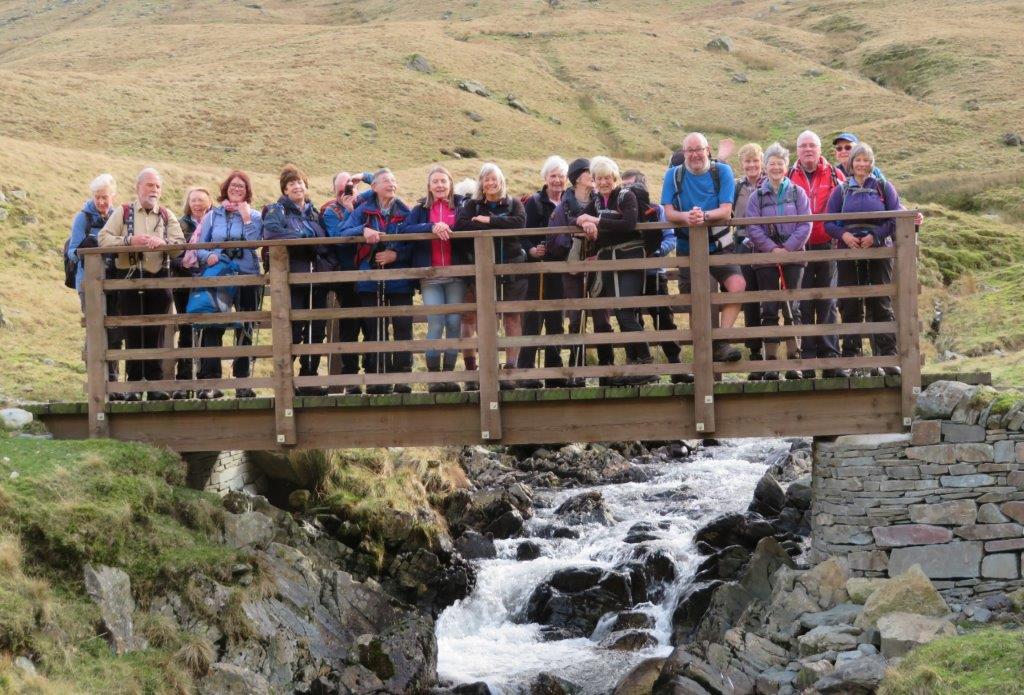 some hidden in this bridge shot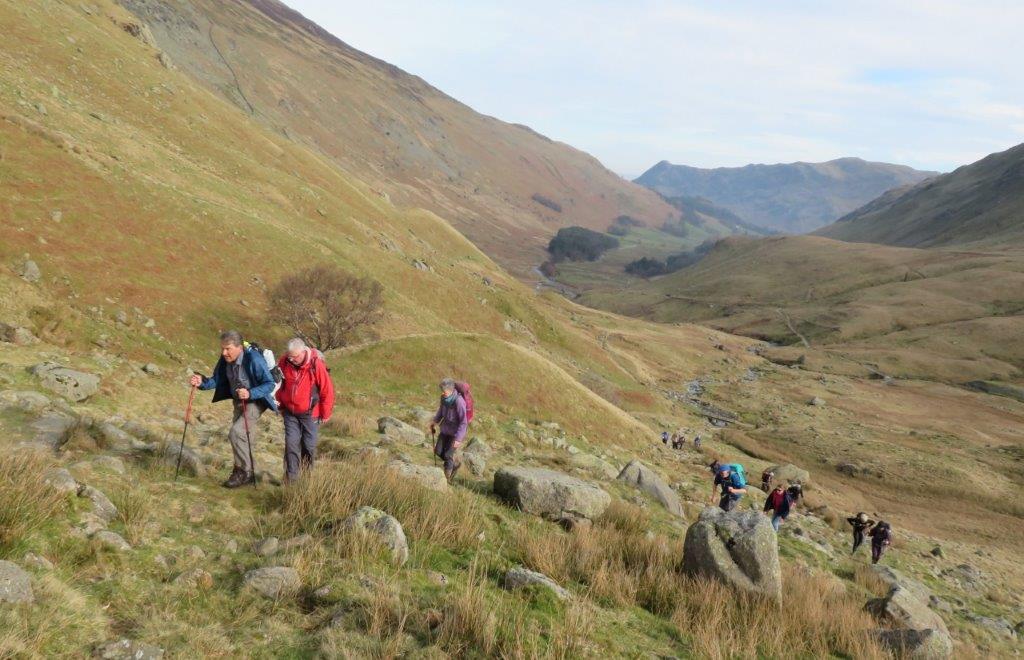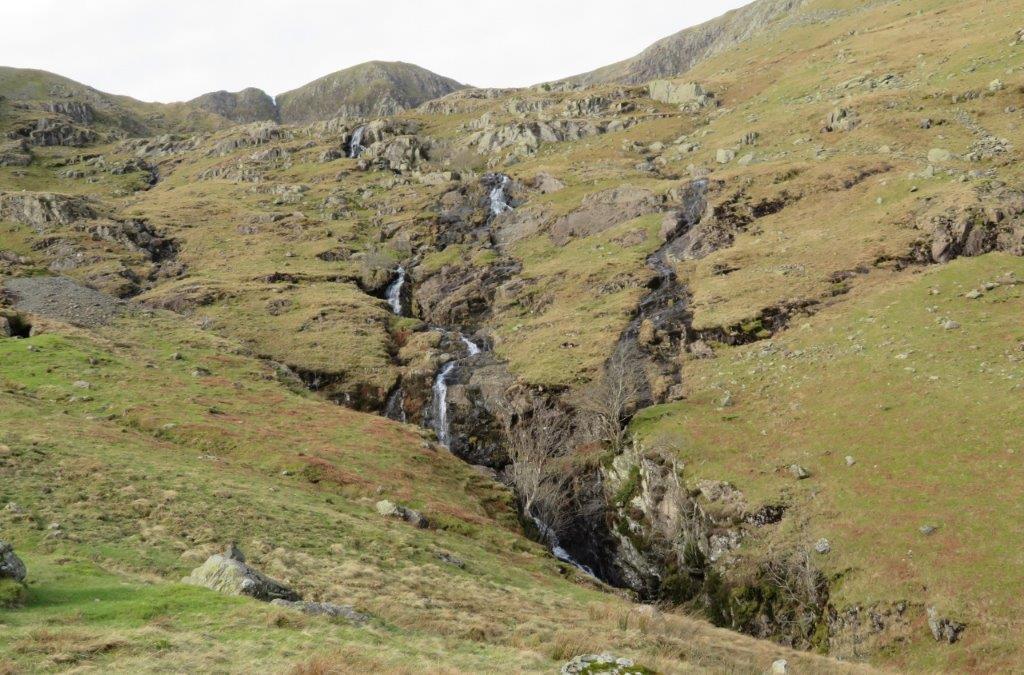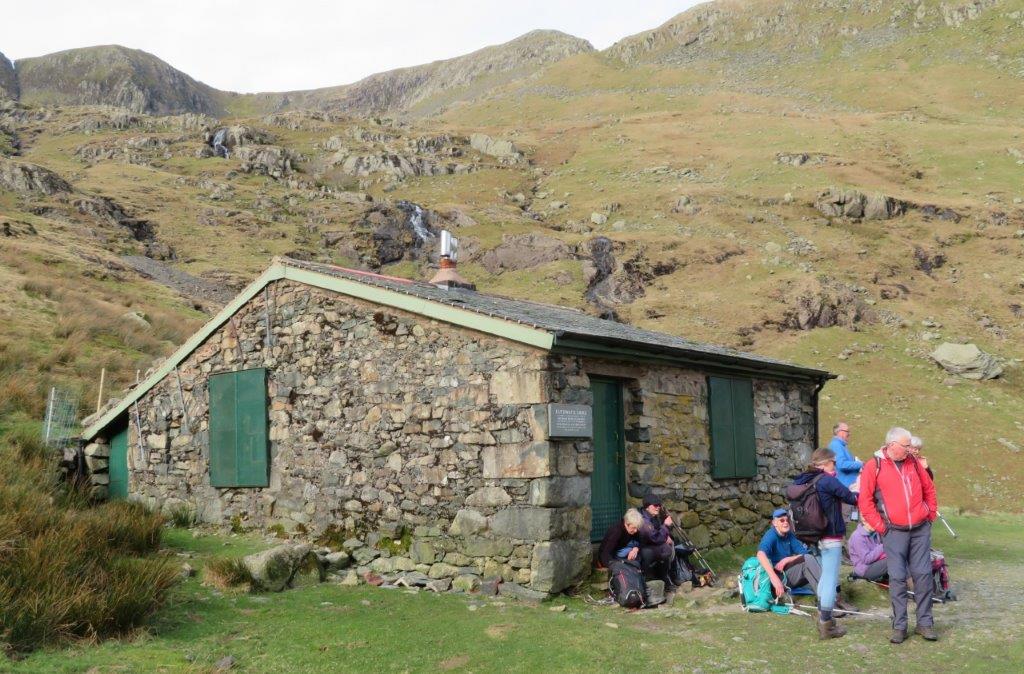 Ruthwaite Lodge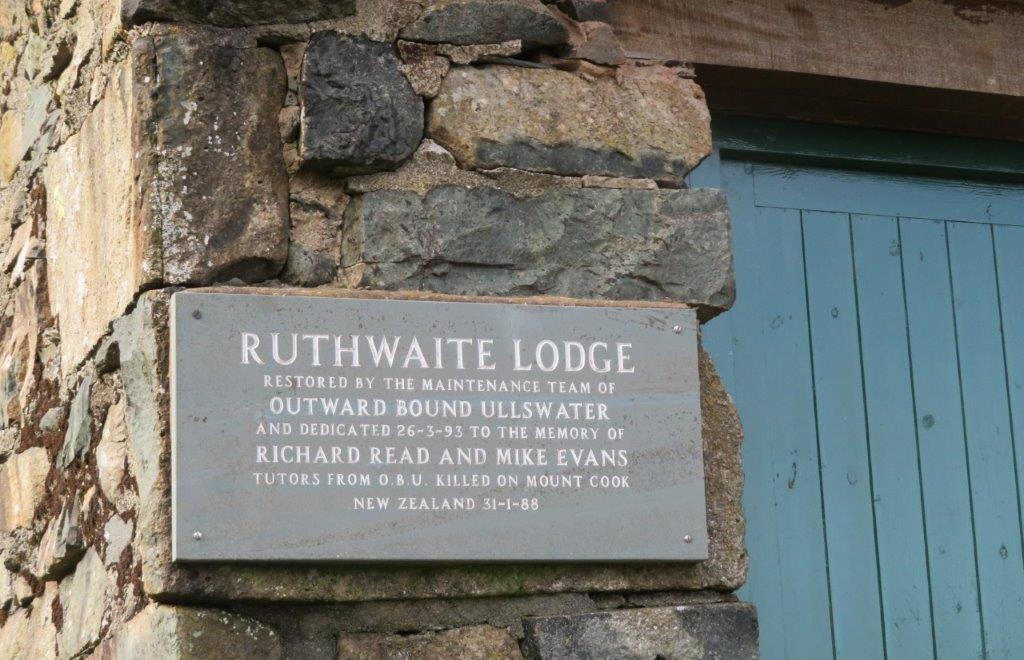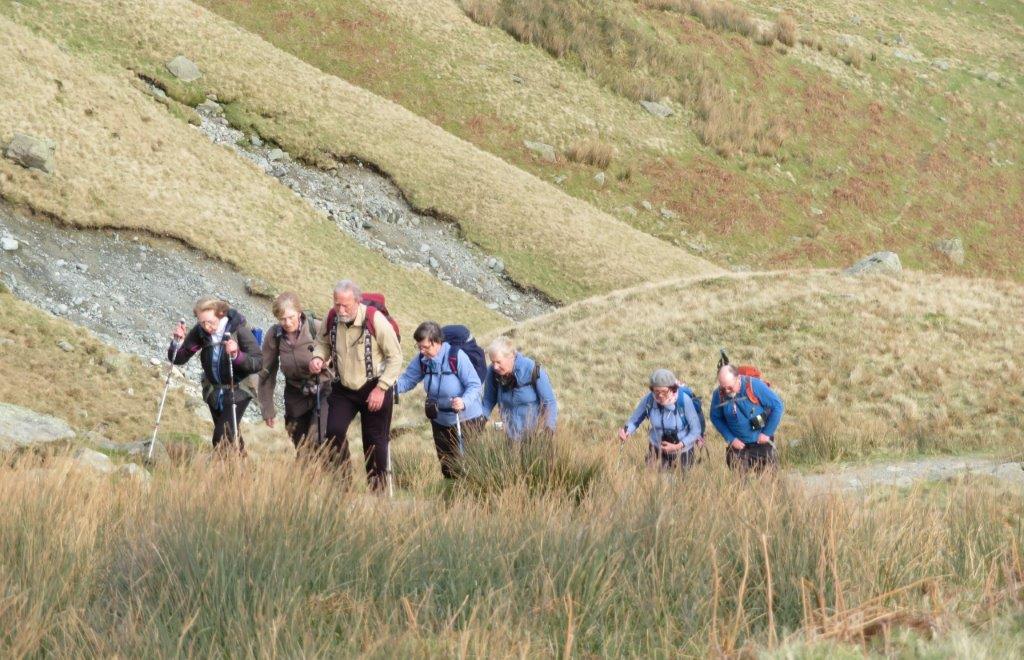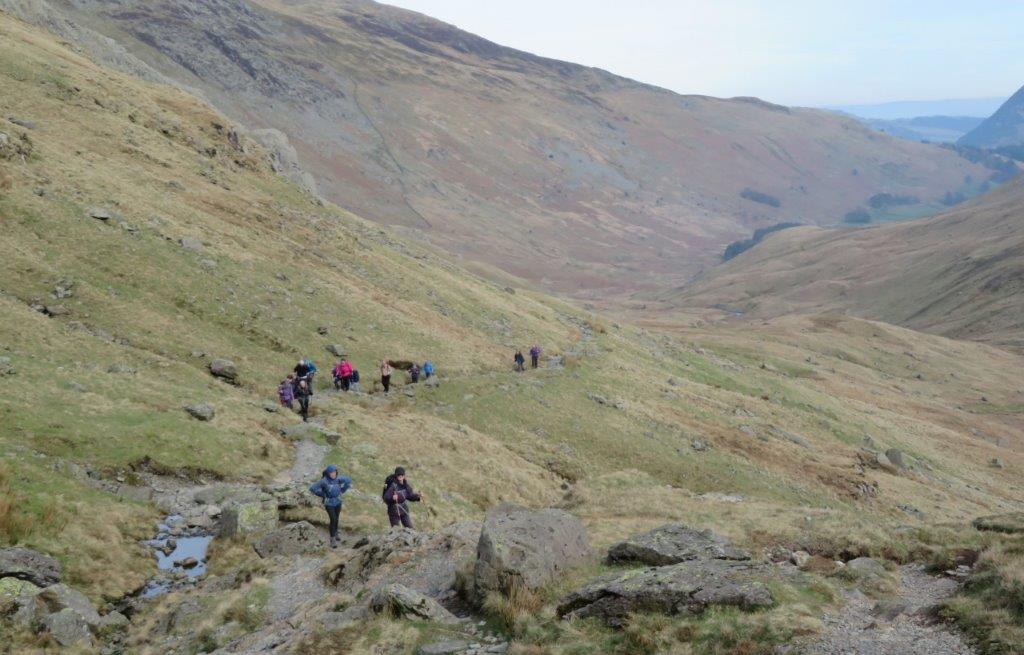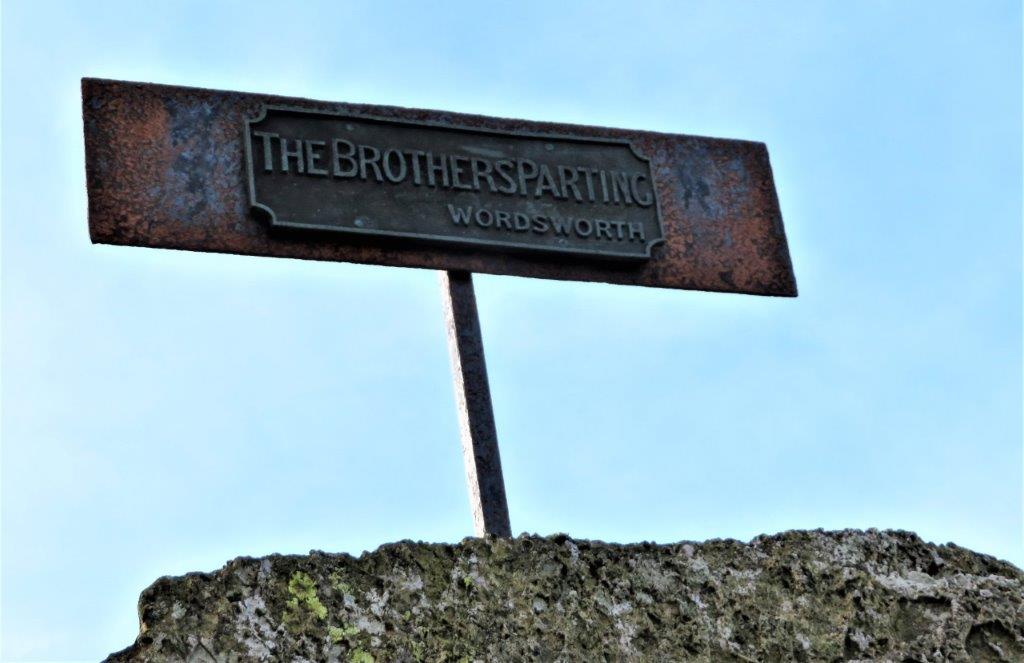 Just below the outflow into Grisedale Beck is the Brothers Parting Stone. a memorial to John Wordsworth; William's brother. The stone marks the spot where, on September 29th 1800, William and John bade farewell to each other for, what they didn't know on that occasion, would be the last time.
John was a Commander of the East Indiaman "Earl of Abergavenny", a ship that sank off Portland on 5th February 1805; claiming the lives of almost 300 people, including William's brother. The shipwreck was so serious that it resulted in the launch of the first life boat in Weymouth in 1805. The wreck was also one of the earliest salvage attempts with a diving bell, by a Mr Braithwaite who employed the bell and gunpowder to uncover and collect the treasures. John Wordsworth's sword can be seen at Rydal Mount.
Canon Rawnsley, arranged for William's poem to be carved into the rock in the 1880s.

Here did we stop; and here looked round

While each into himself descends,
For that last thought of parting Friends
That is not to be found.
----
Brother and friend, if verse of mine
Have power to make thy virtues known,
Here let a monumental Stone
Stand--sacred as a Shrine.

THE BROTHERS PARTING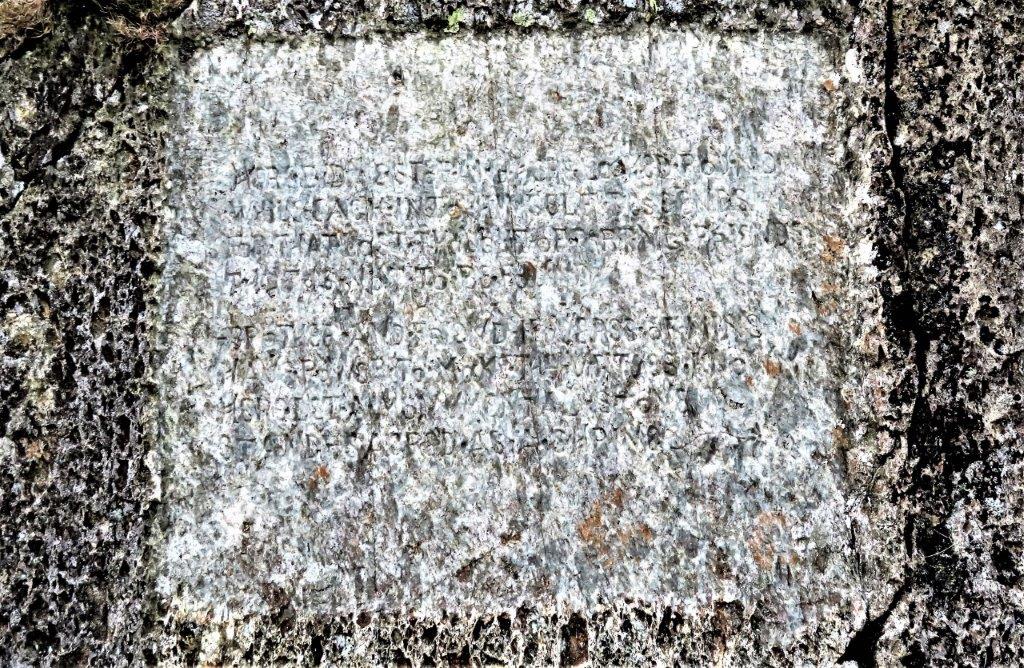 memorial stone virtually illegible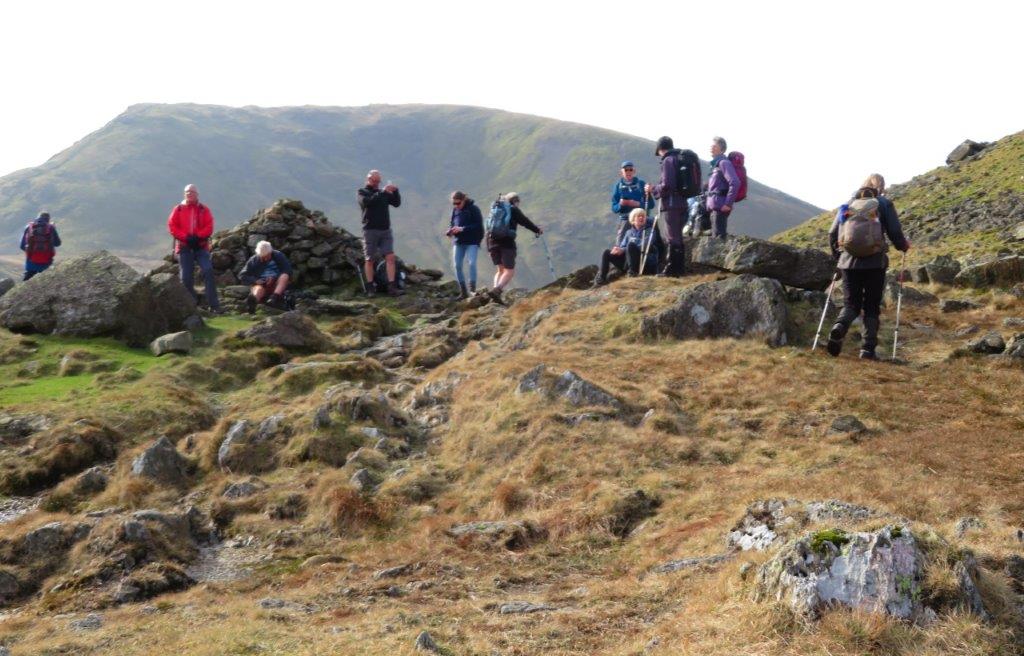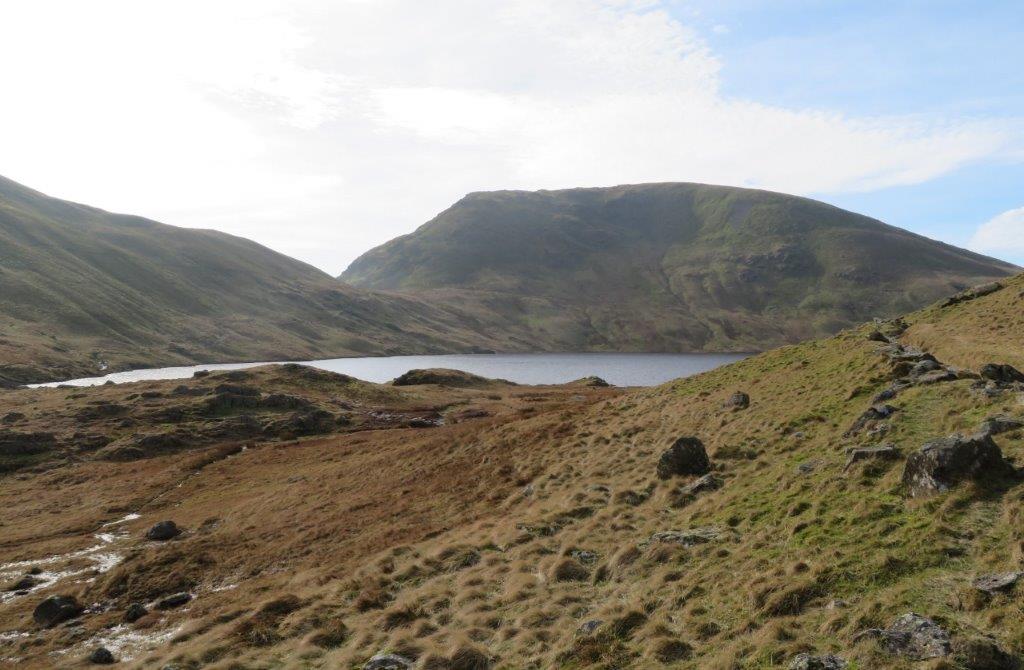 Grisedale Tarn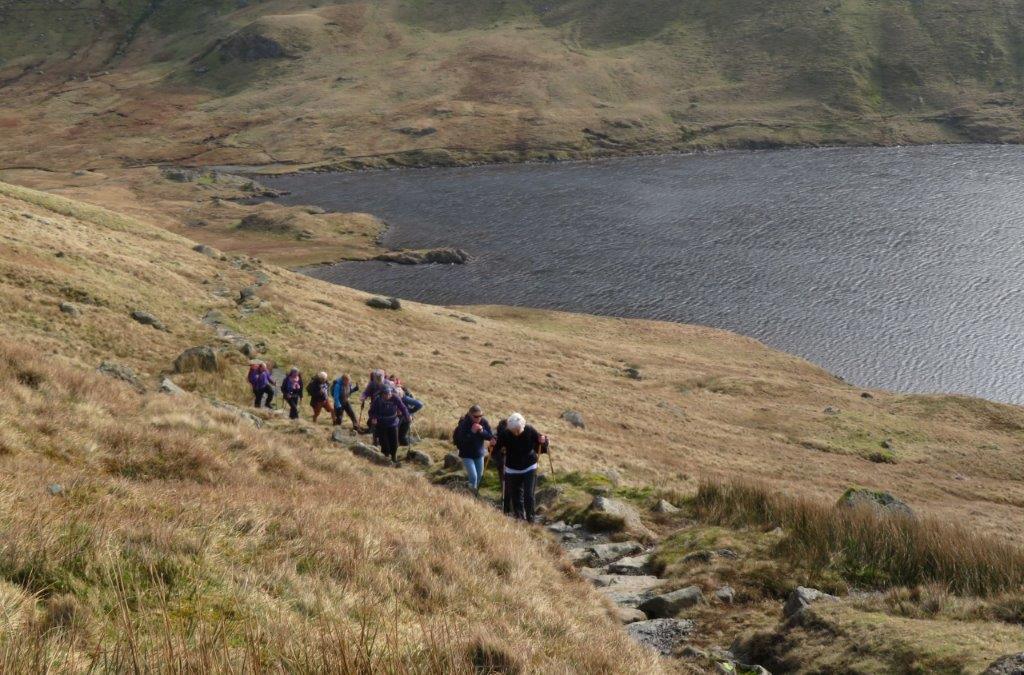 starting up from the Tarn towards Helvellyn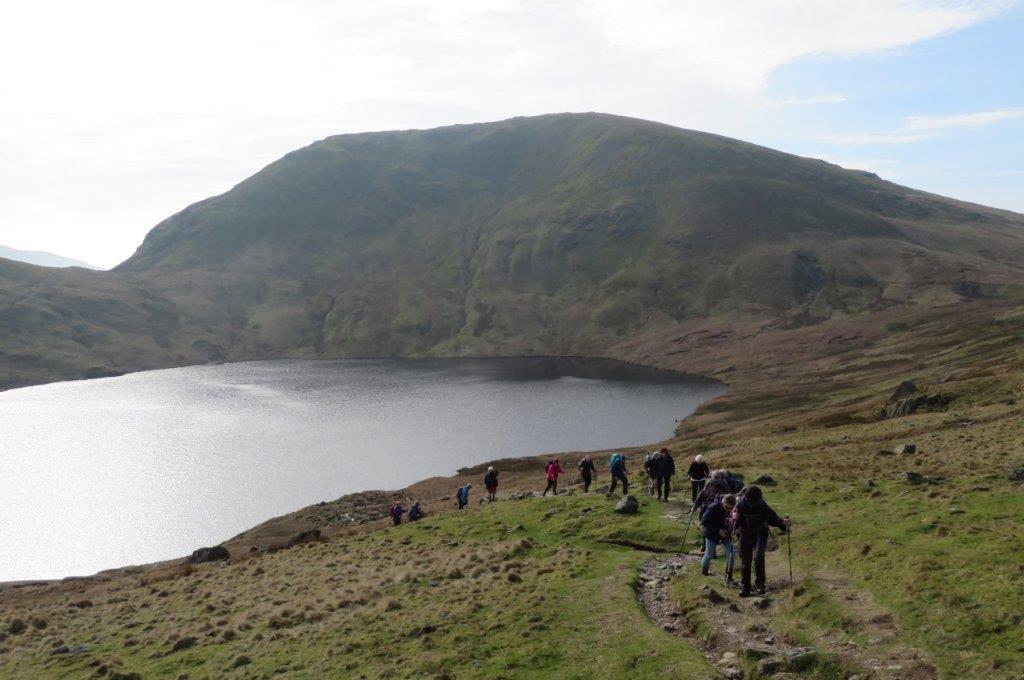 Seat Sandal behind Grisedale Tarn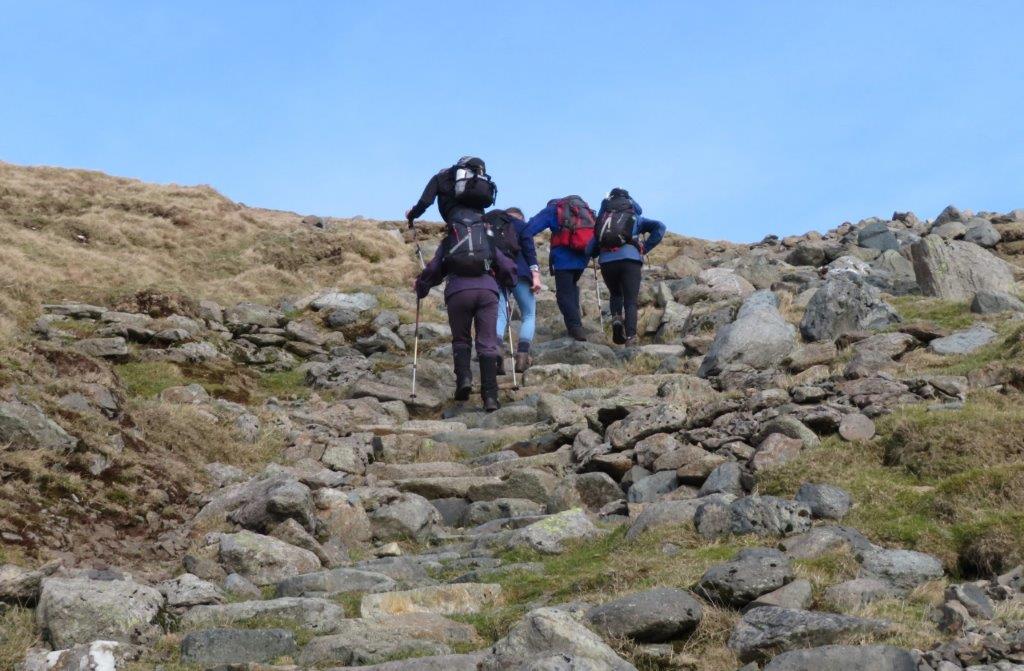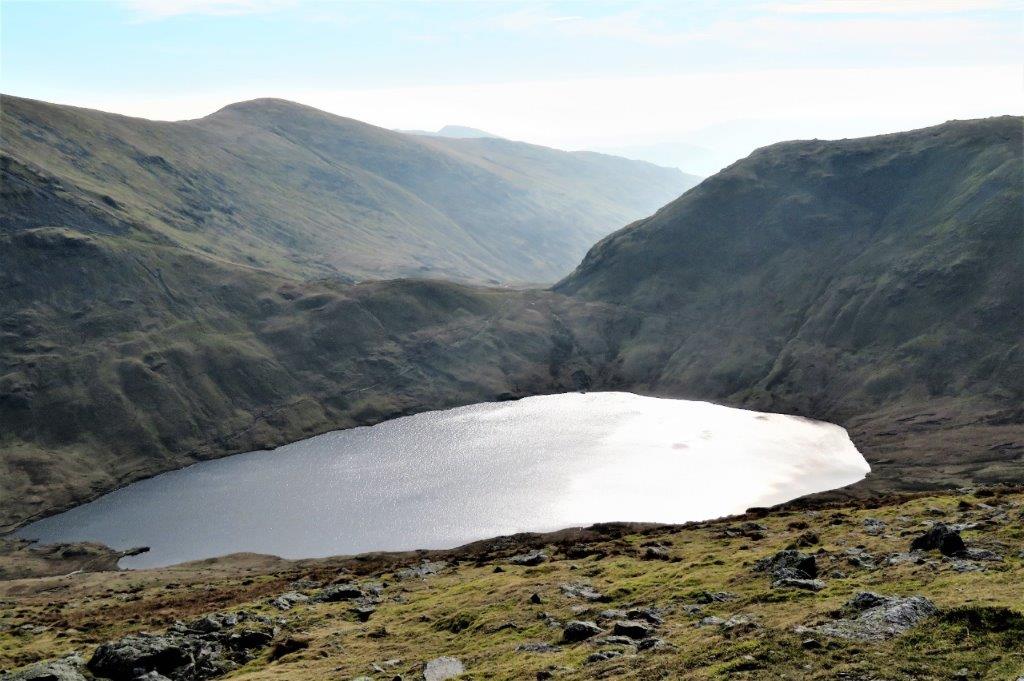 looking back at Grisedale Tarn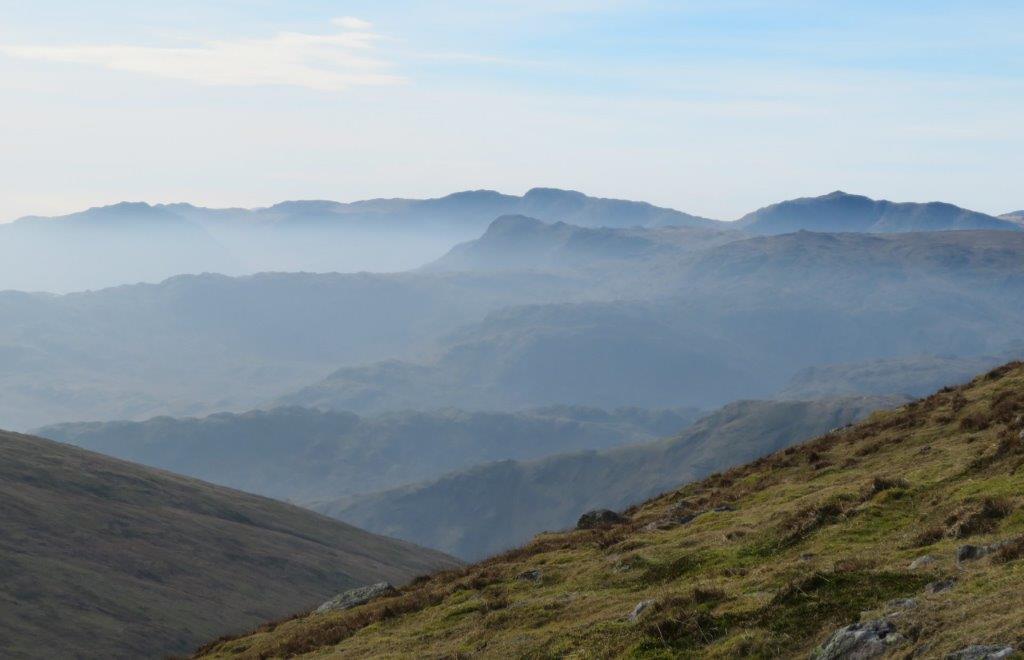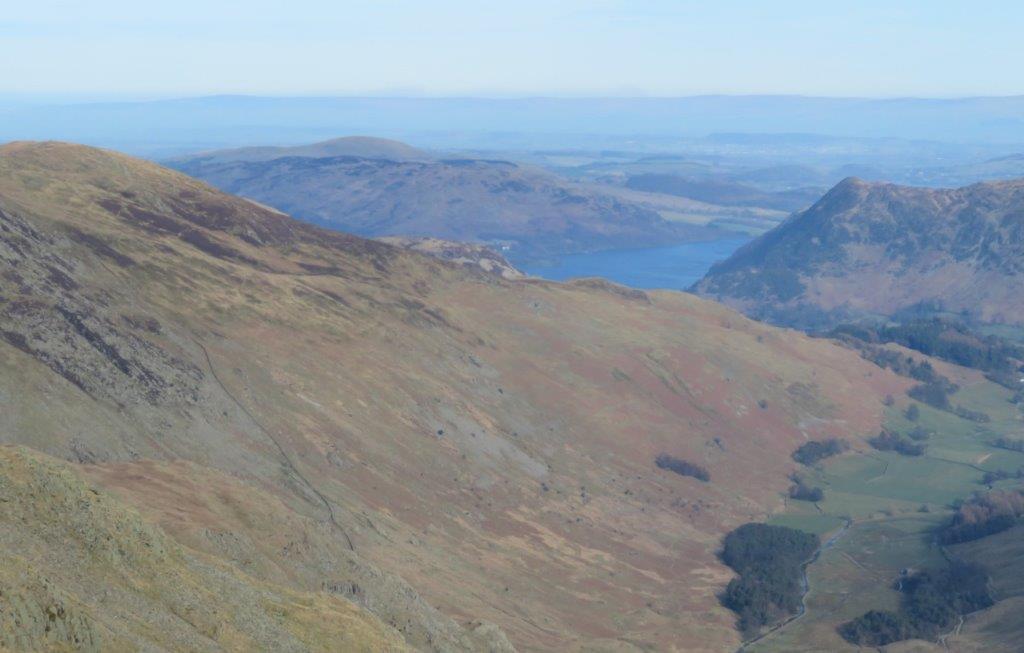 a glimpse of Ullswater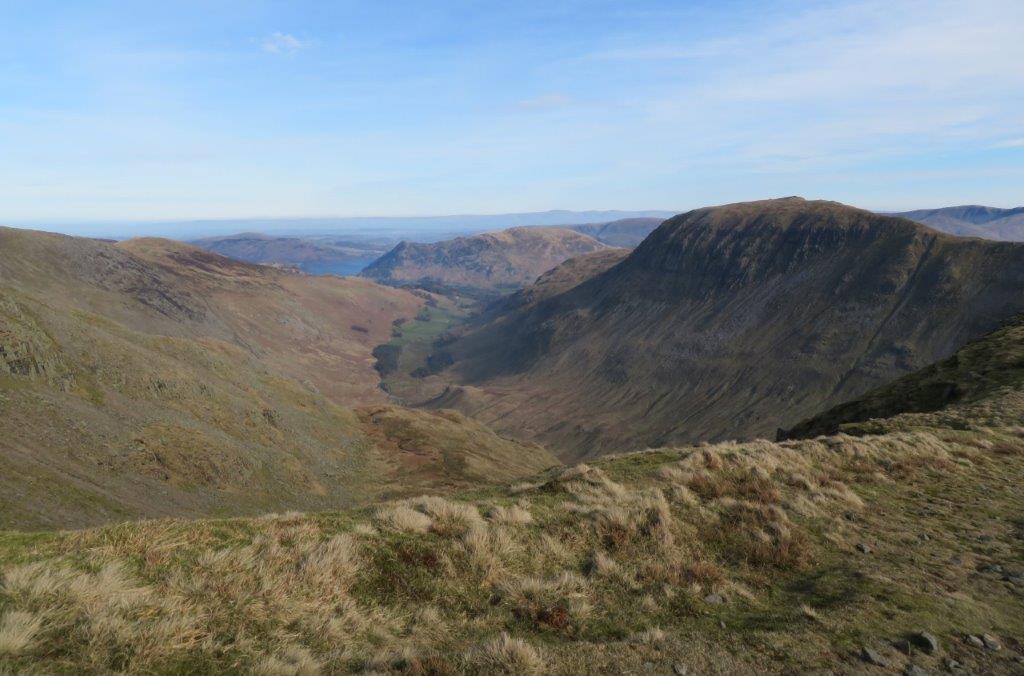 St Sunday Crag to the right - Grisedale (valley) in the middle with Place Fell at the far end.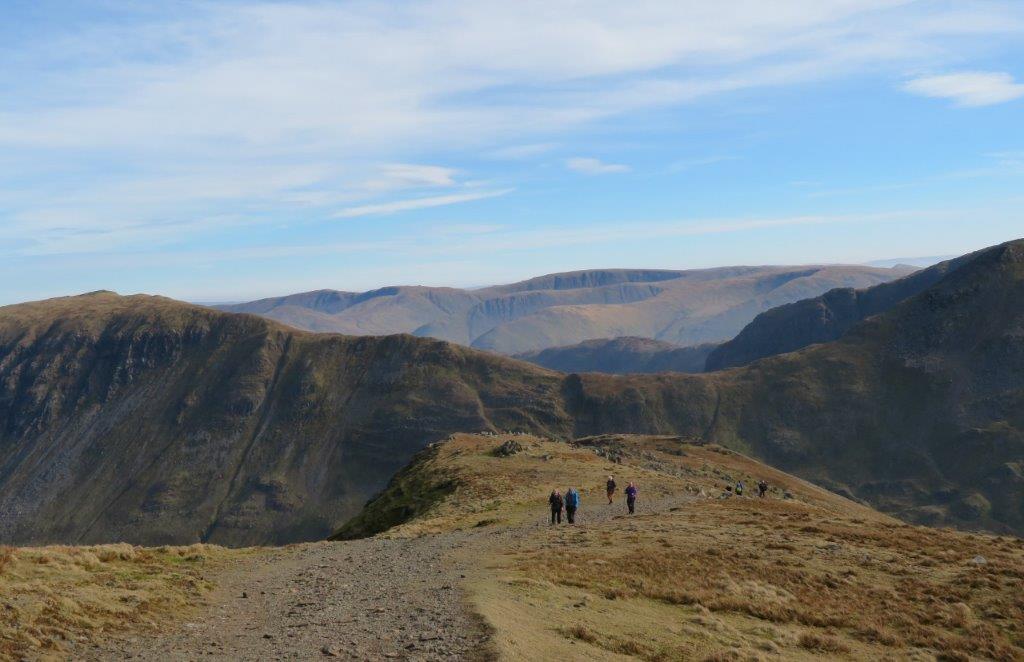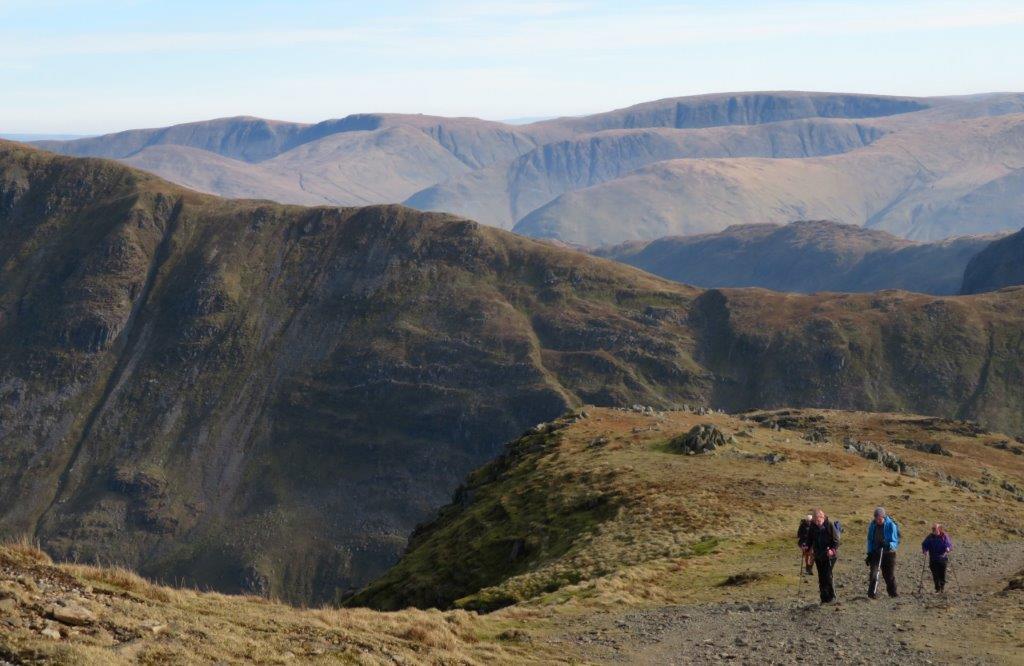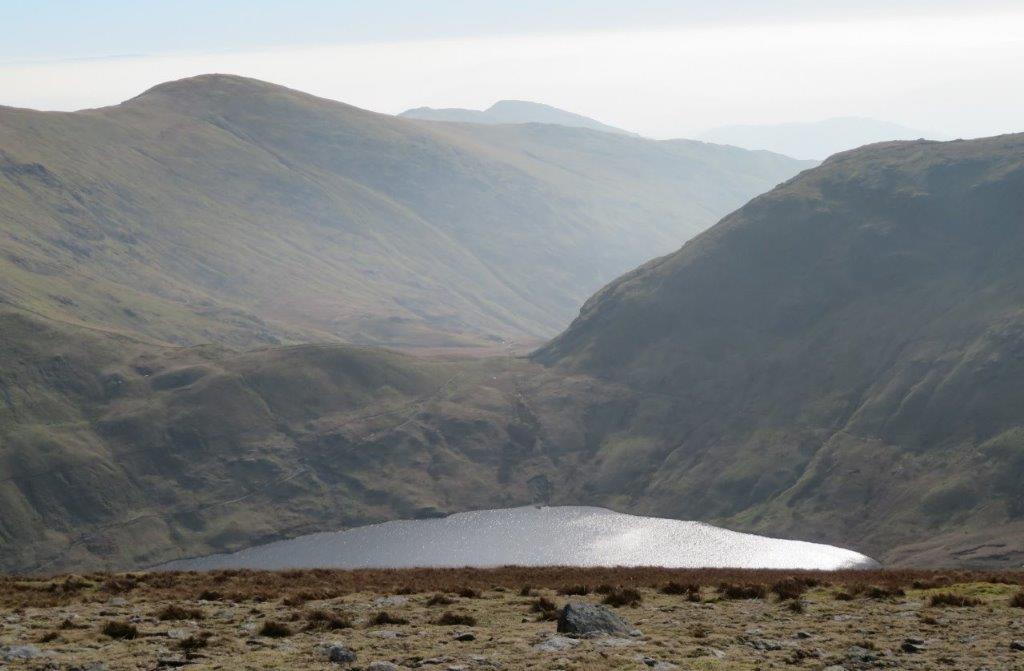 a last glimpse of Grisedale Tarn?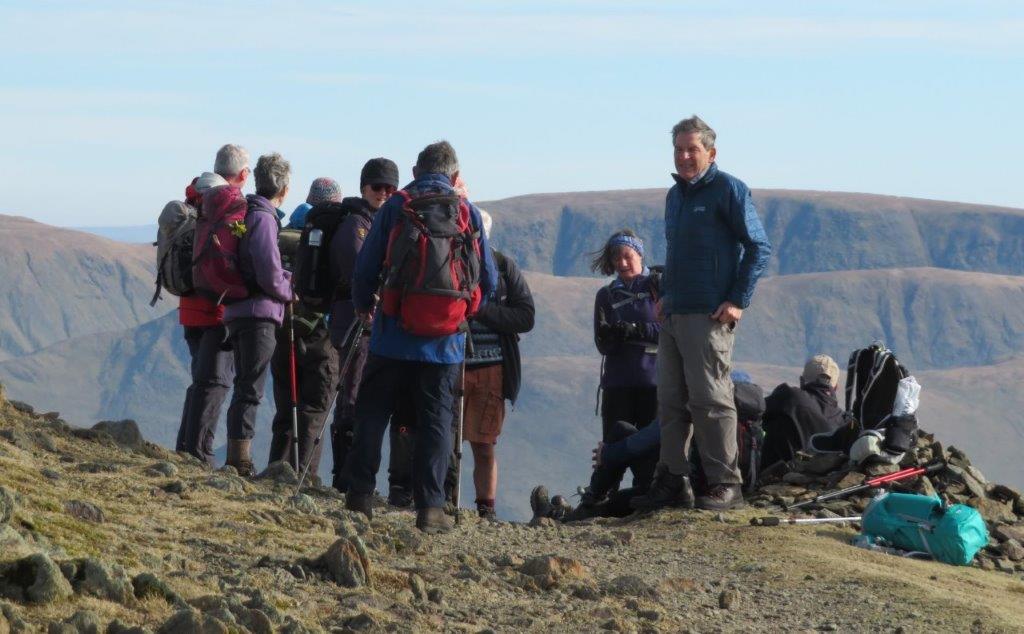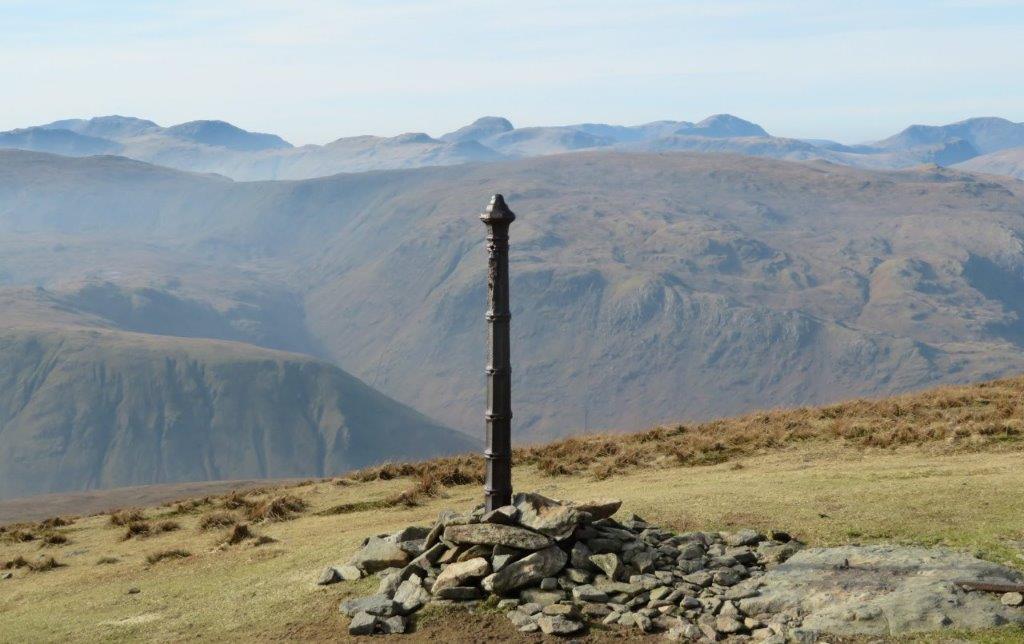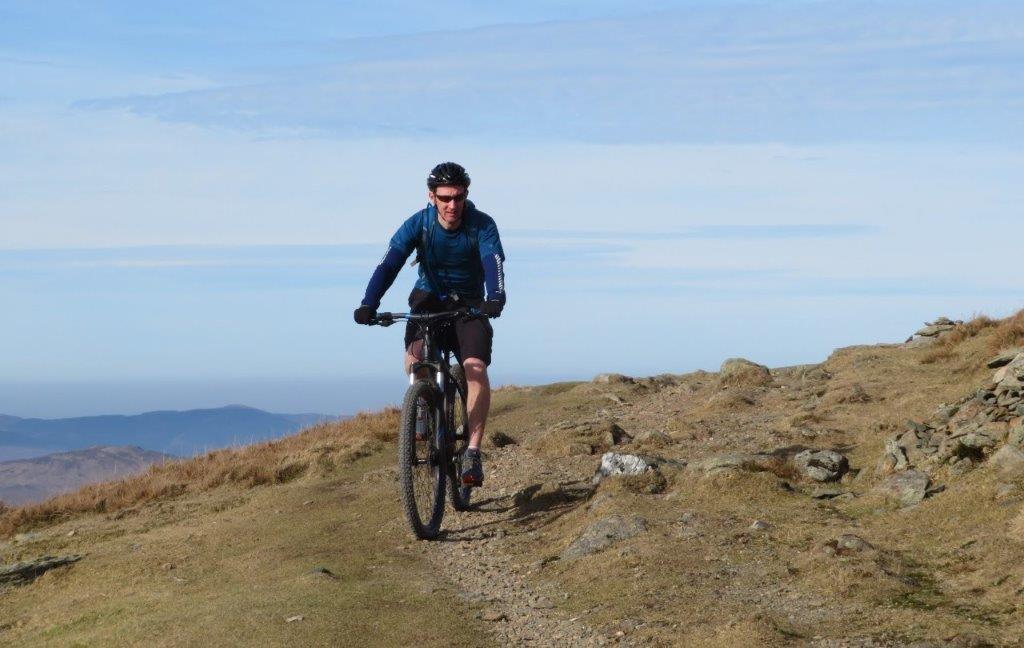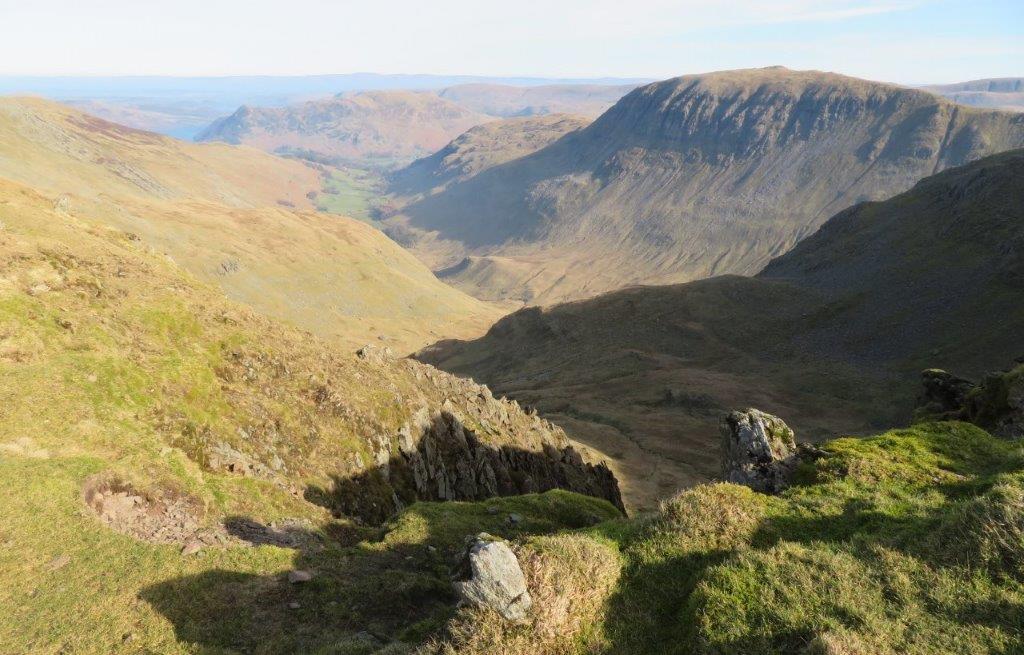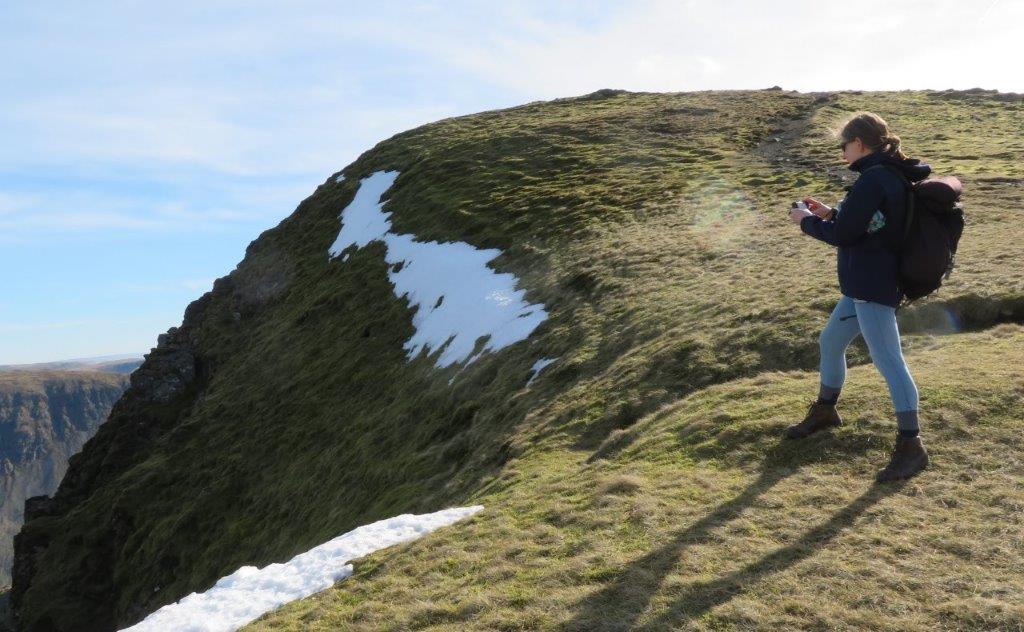 residual snow on north edges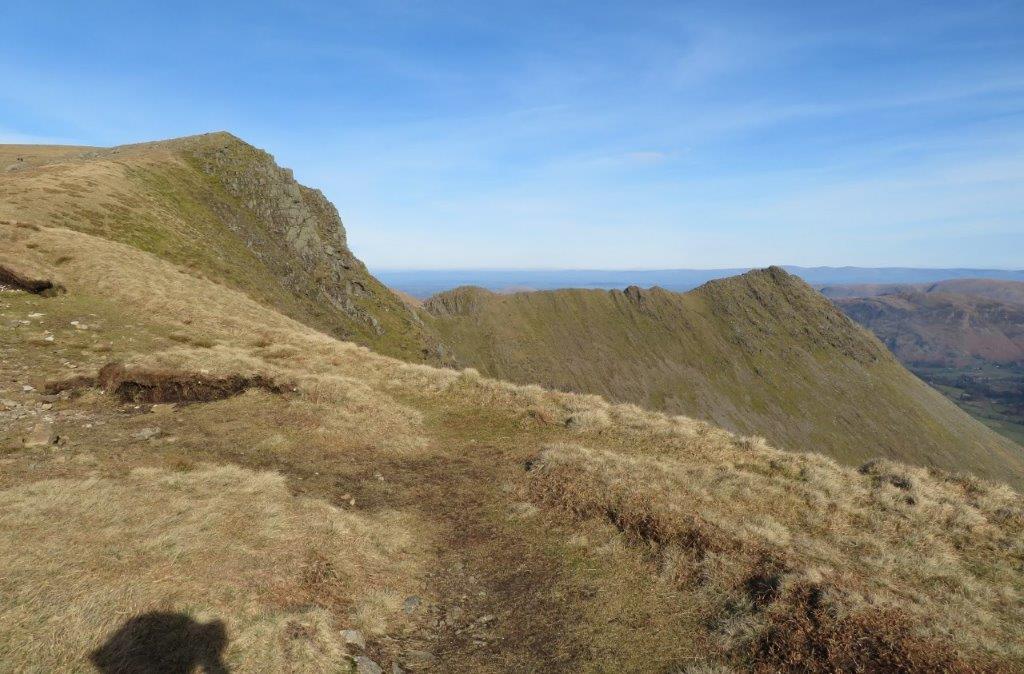 Striding Edge seen from Helvellyn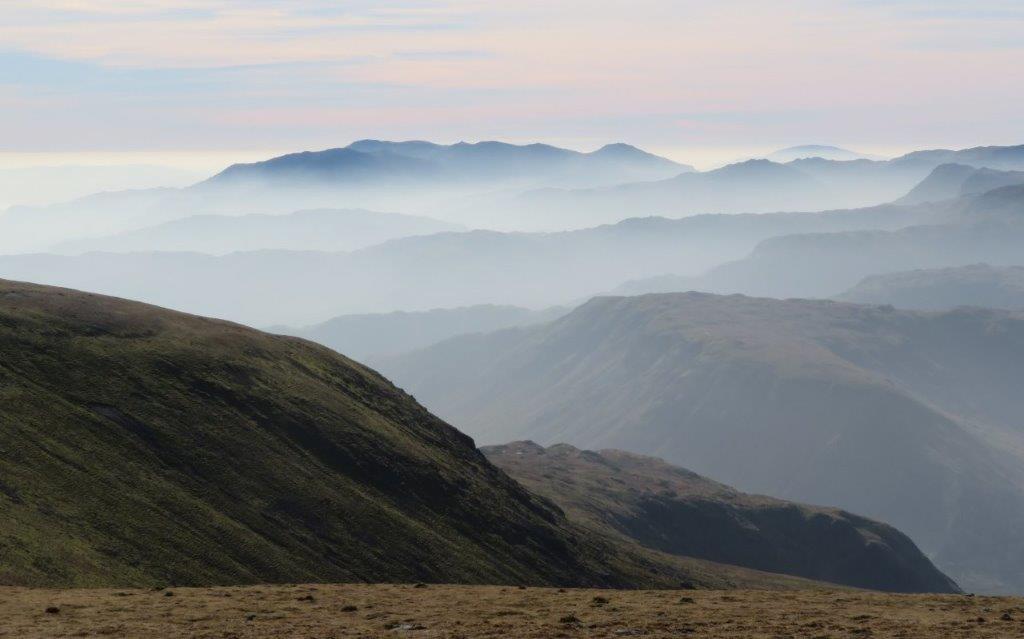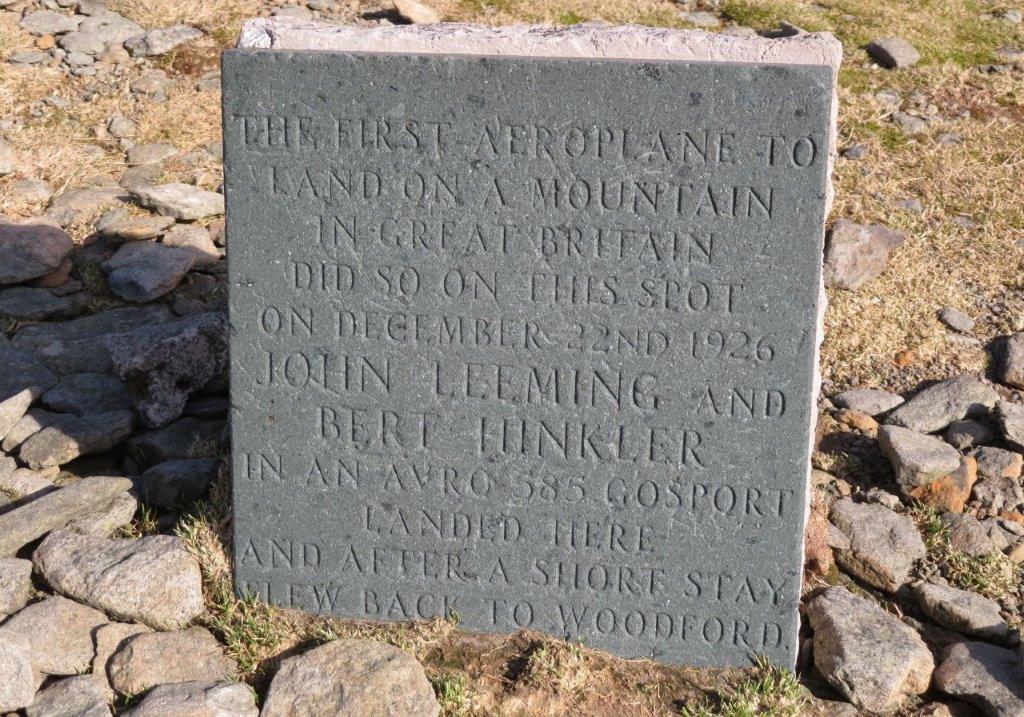 when taking off did it fly over an edge and dip downward gathering speed before climbing upward? (often done on short runways in Lesotho)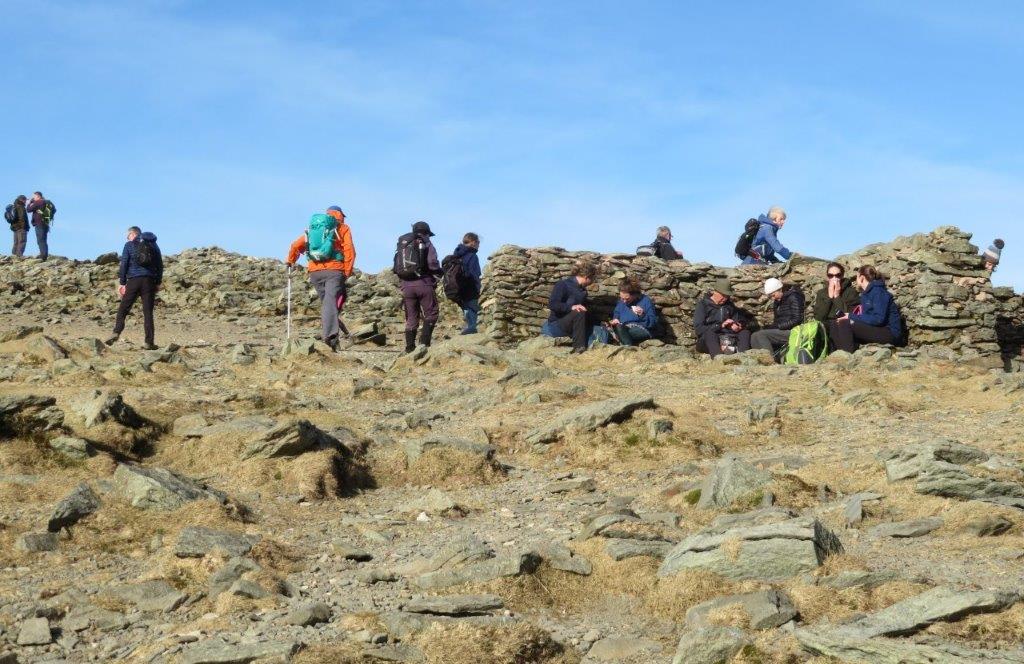 Shelter on Helvellyn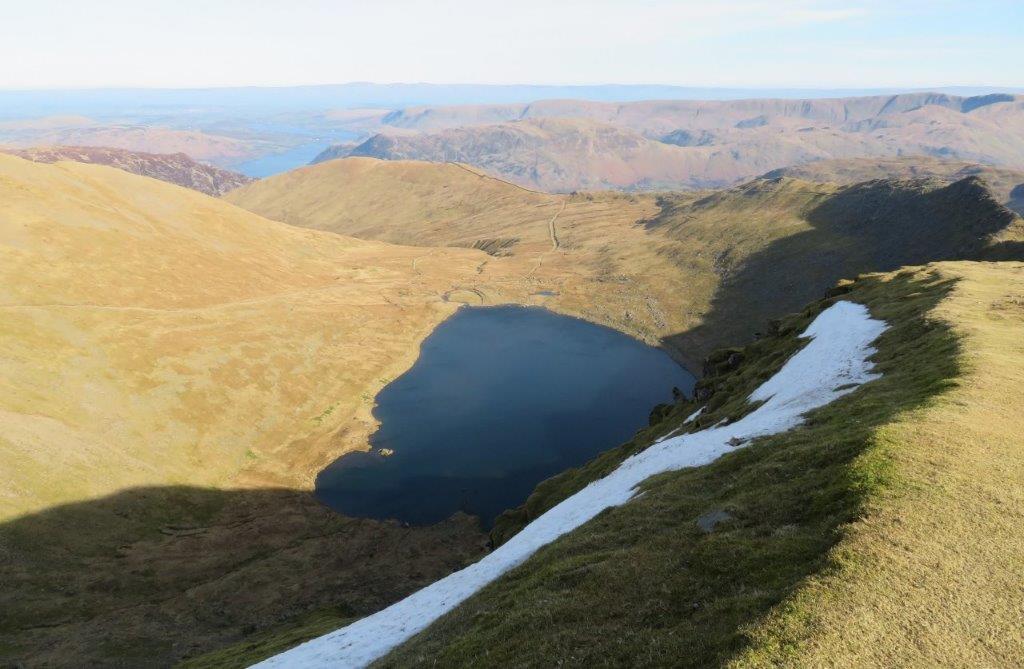 Red Tarn below Helvellyn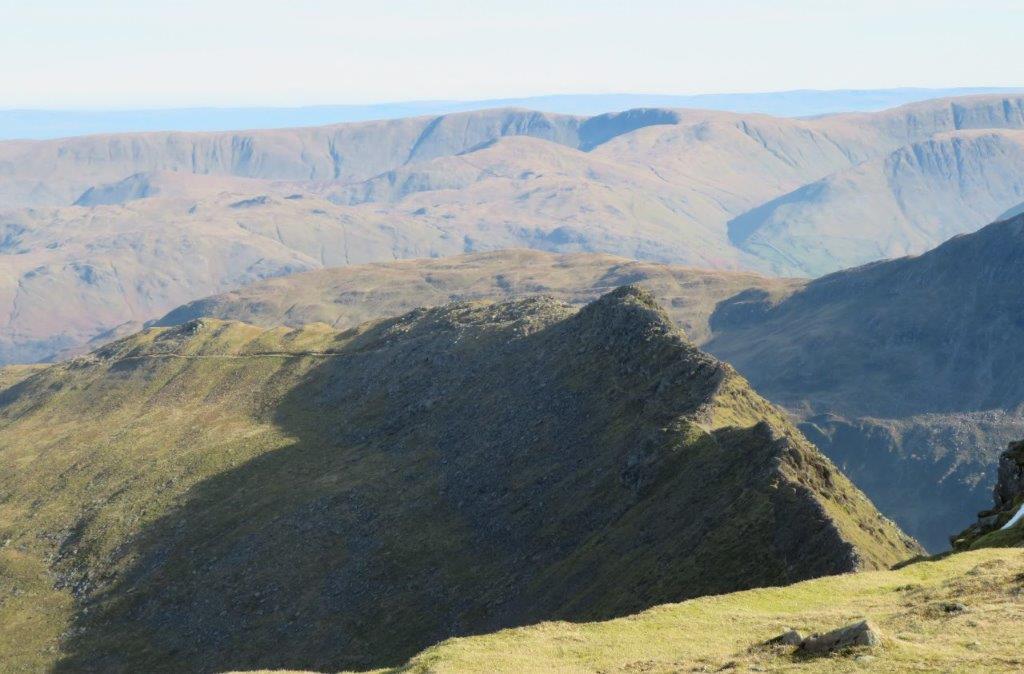 looking along Striding Edge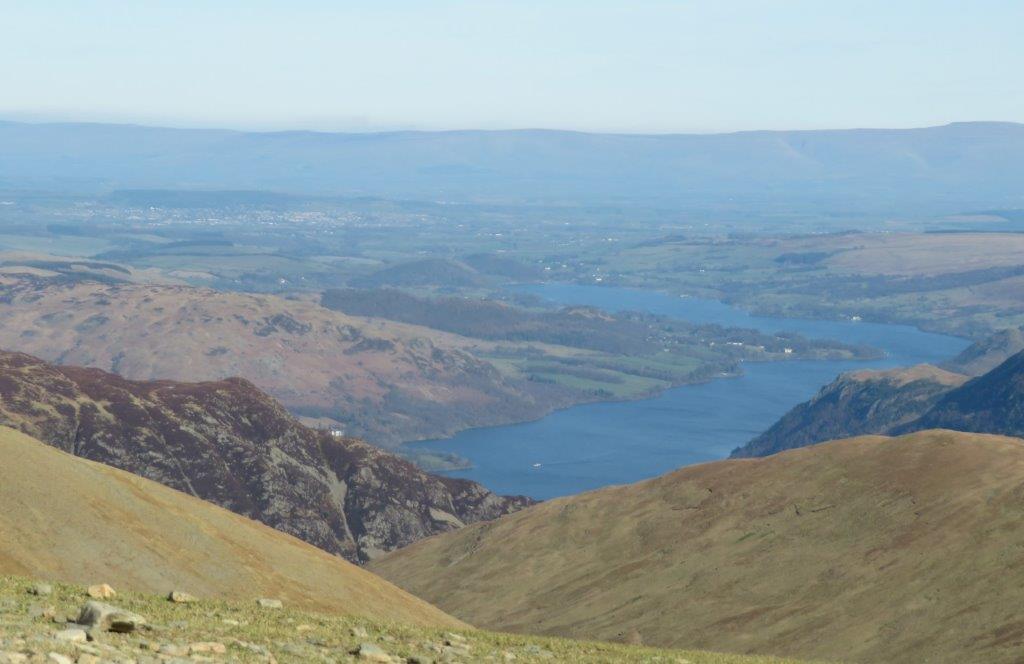 Ullswater below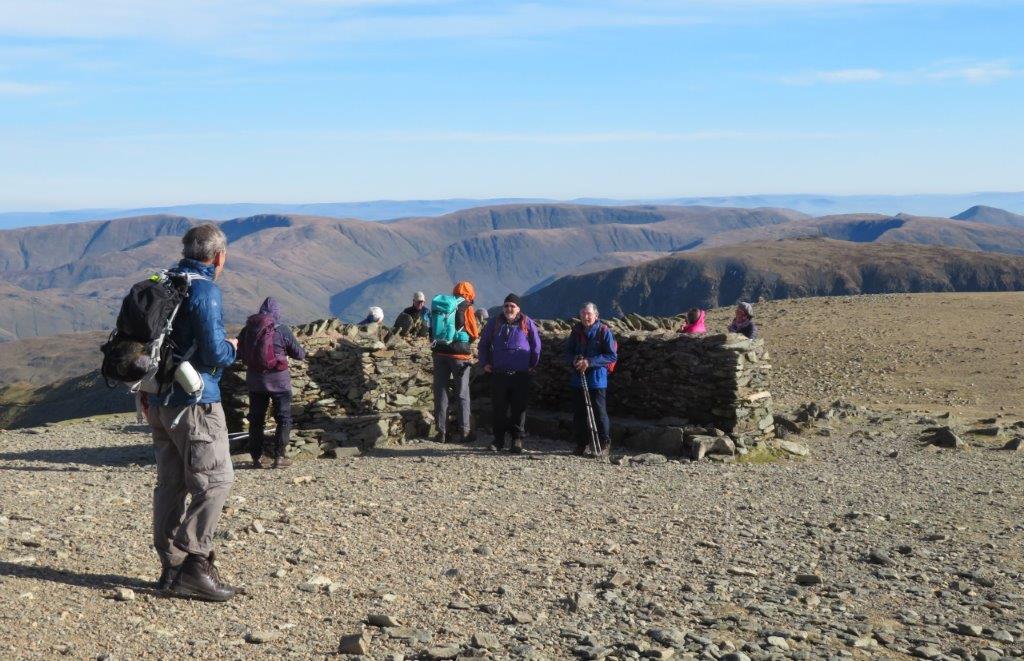 High Street the range probably at the back of the picture?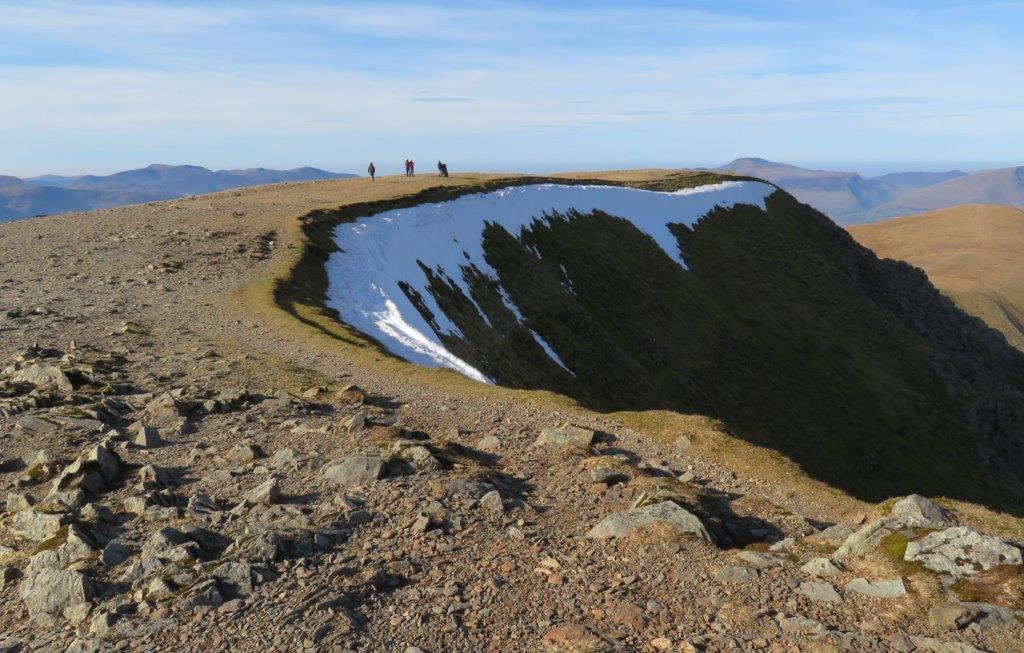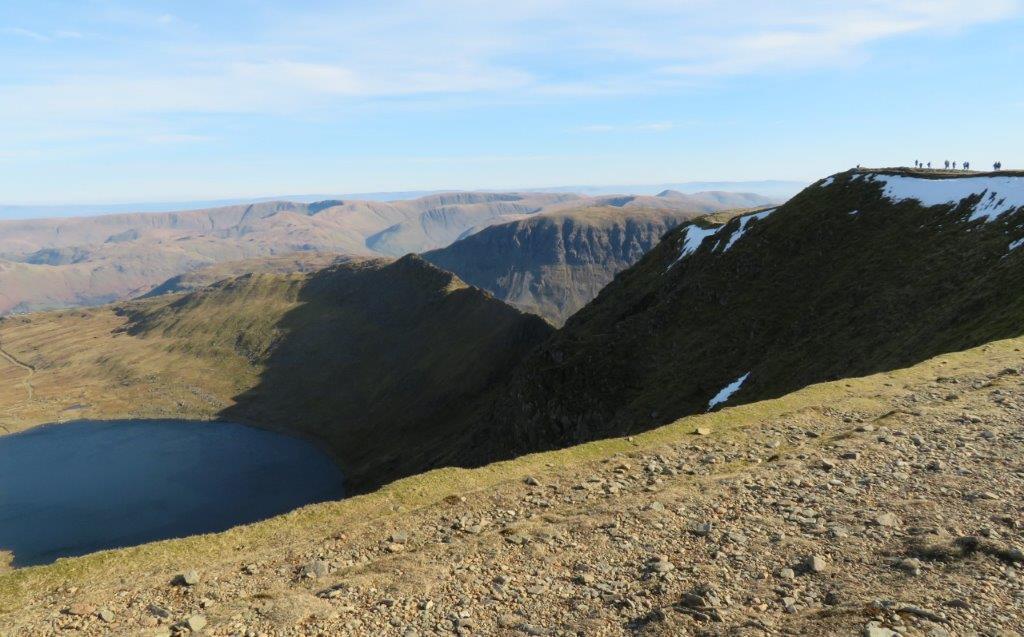 another view of Striding Edge with St Sundays Crag? behind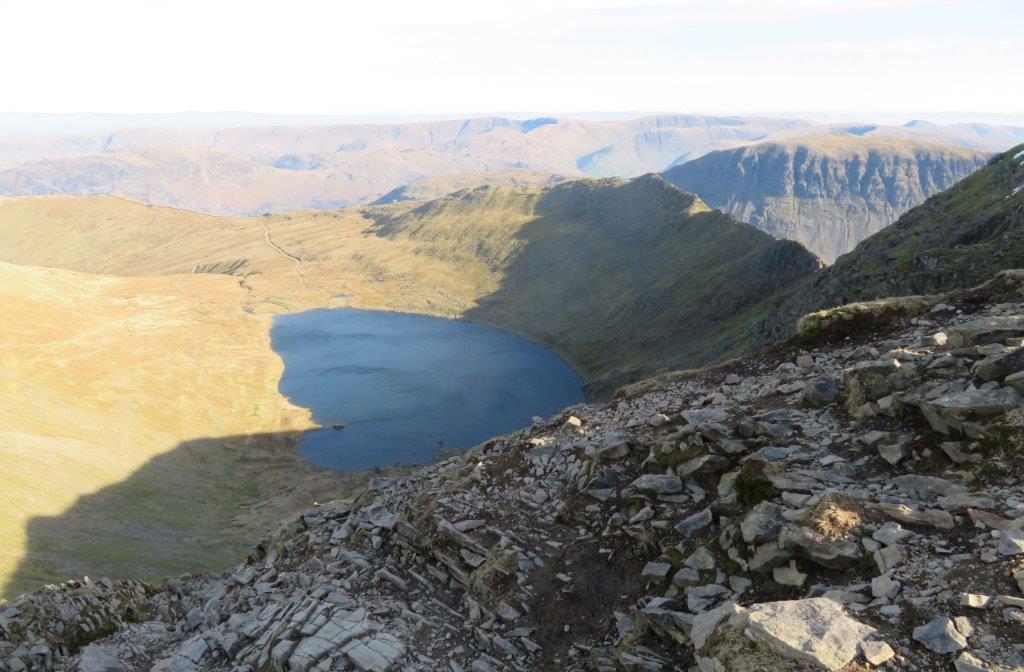 at the top of Swirral Edge with Striding Edge and St Sundays Crag behind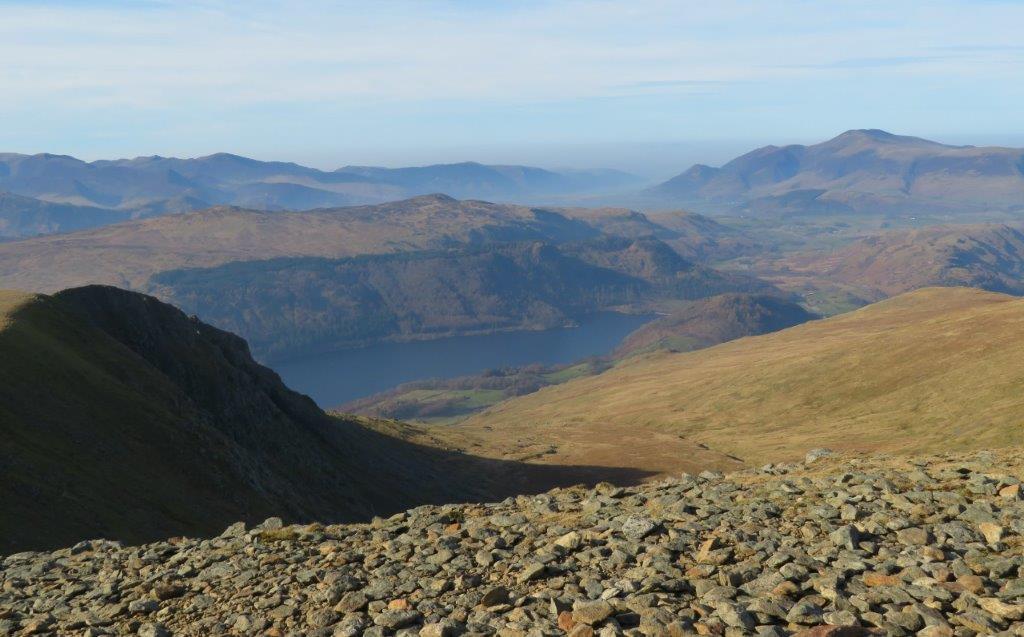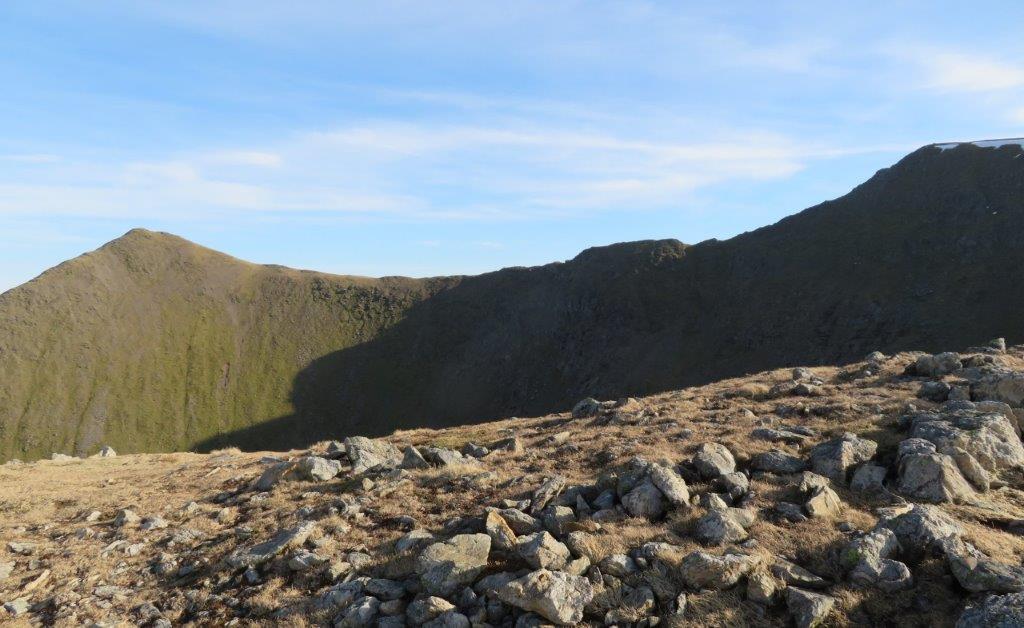 Catstye Cam to left with Swirral Edge to right rising up to Helvellyn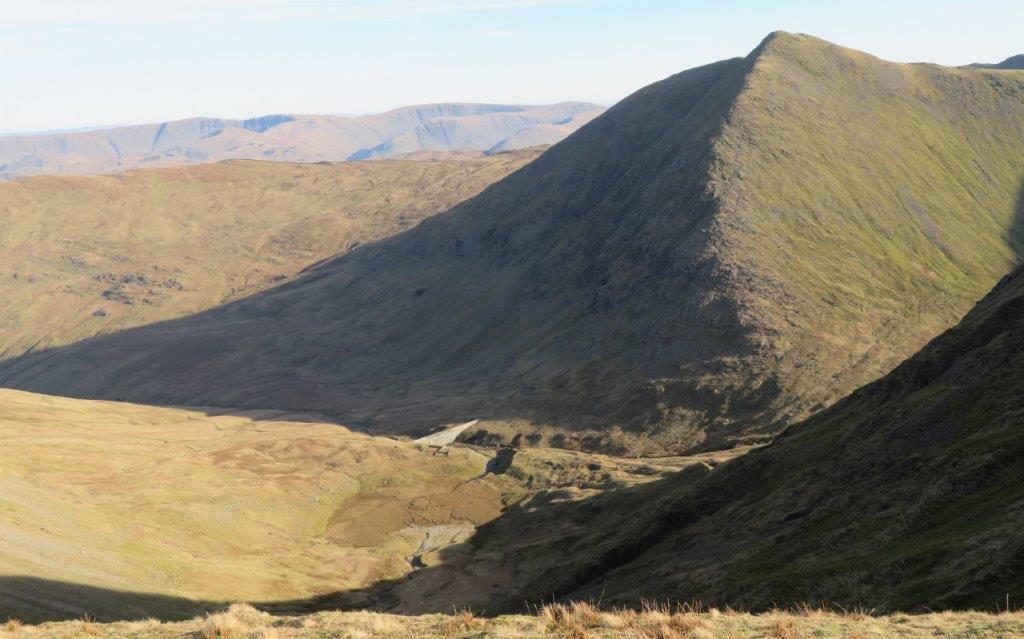 a view from the west of another ridge of Catstye Cam. Note disused dam wall below - possible used for mining operations?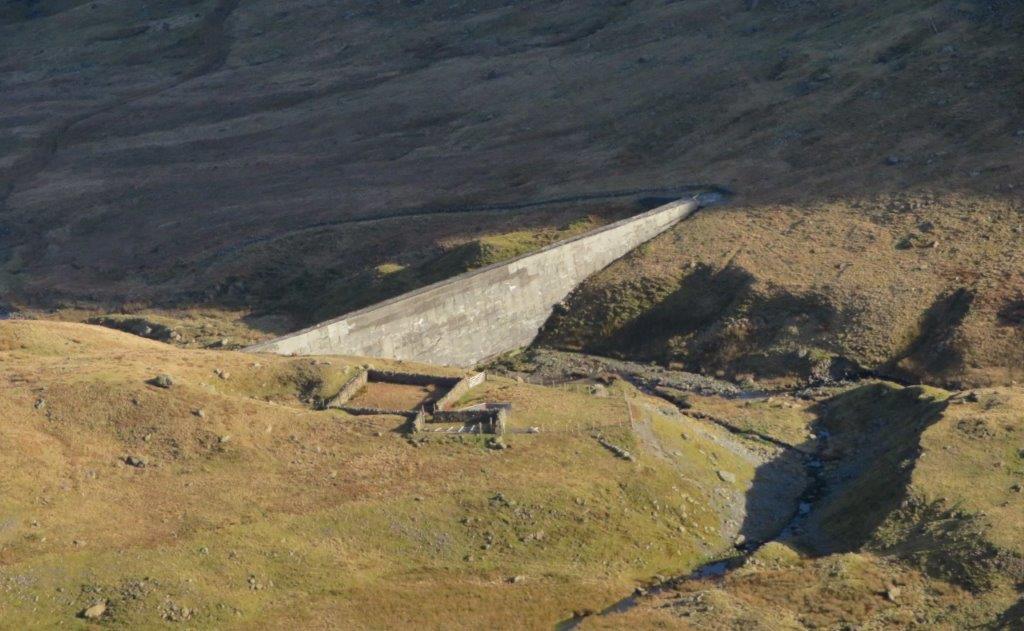 a zoomed in view of the dam wall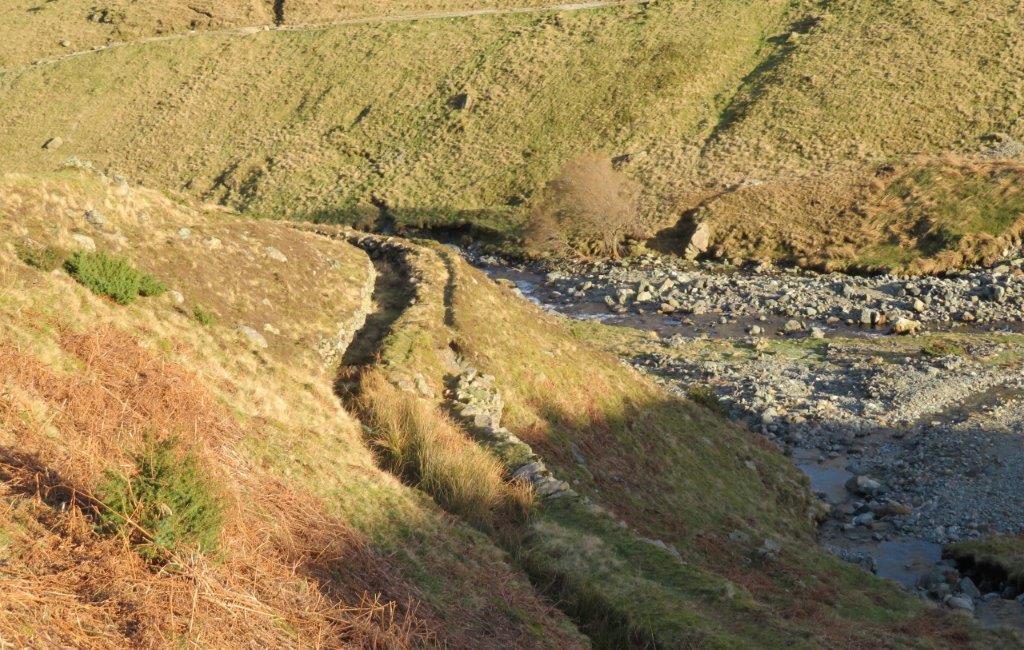 a conduit possibly used to convey water to past lead and silver mining operations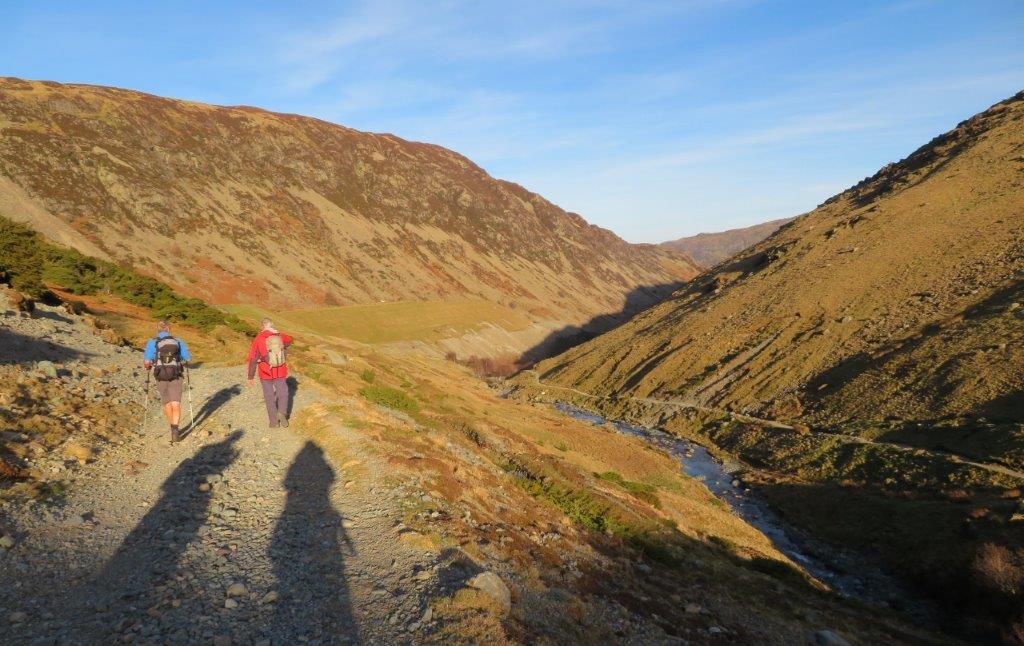 we descend alongside Glenridding Beck while the path on the other side leads up to Red Tarn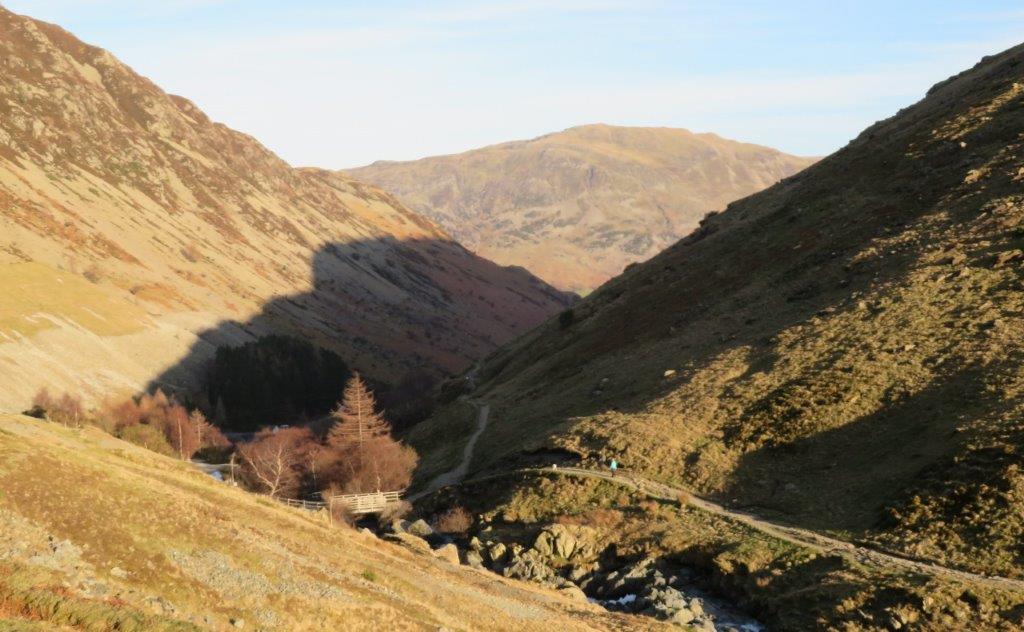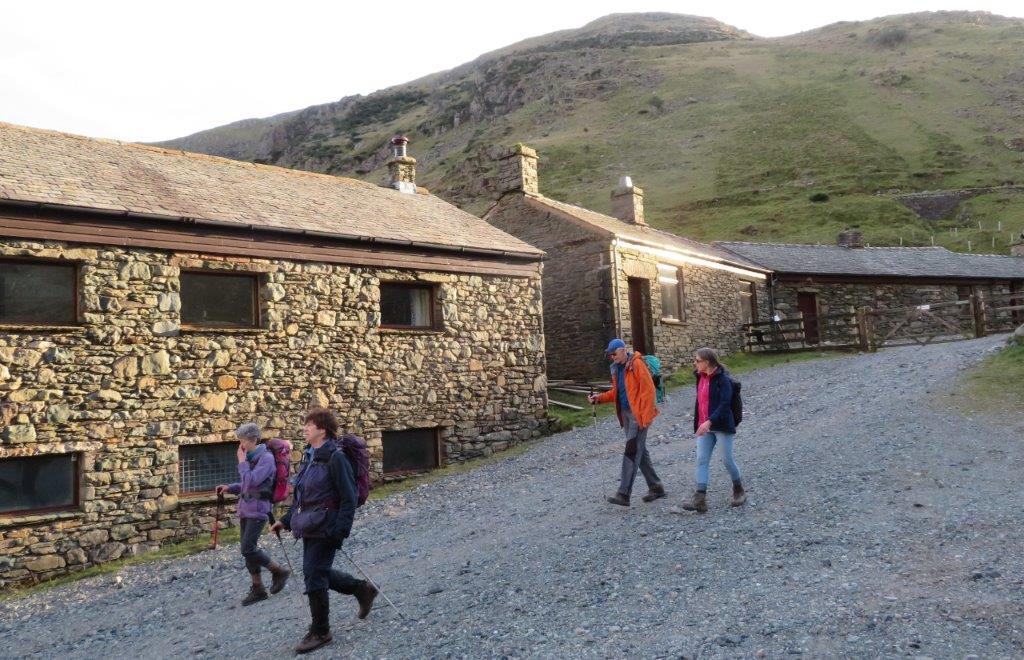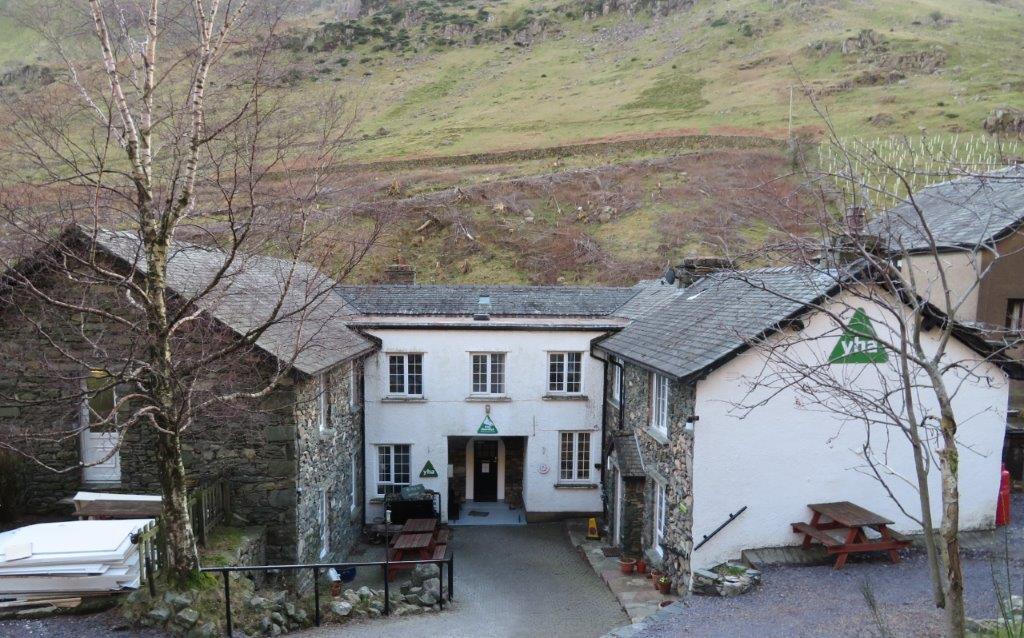 Youth Hostel and other buildings near disused Greenside Mine works which are (being?) reclaimed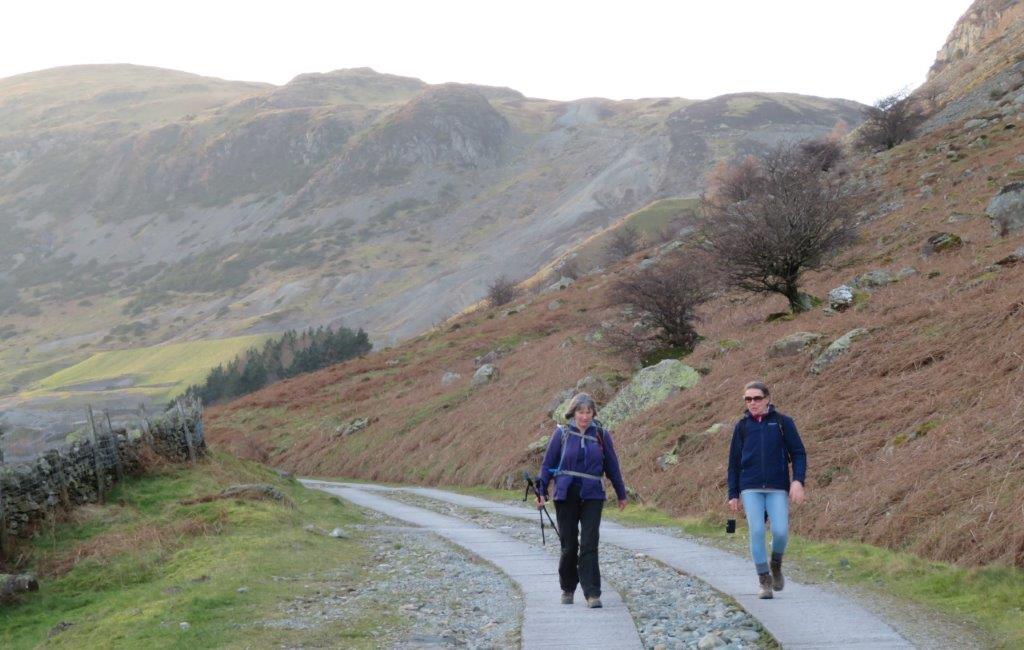 Greenside Road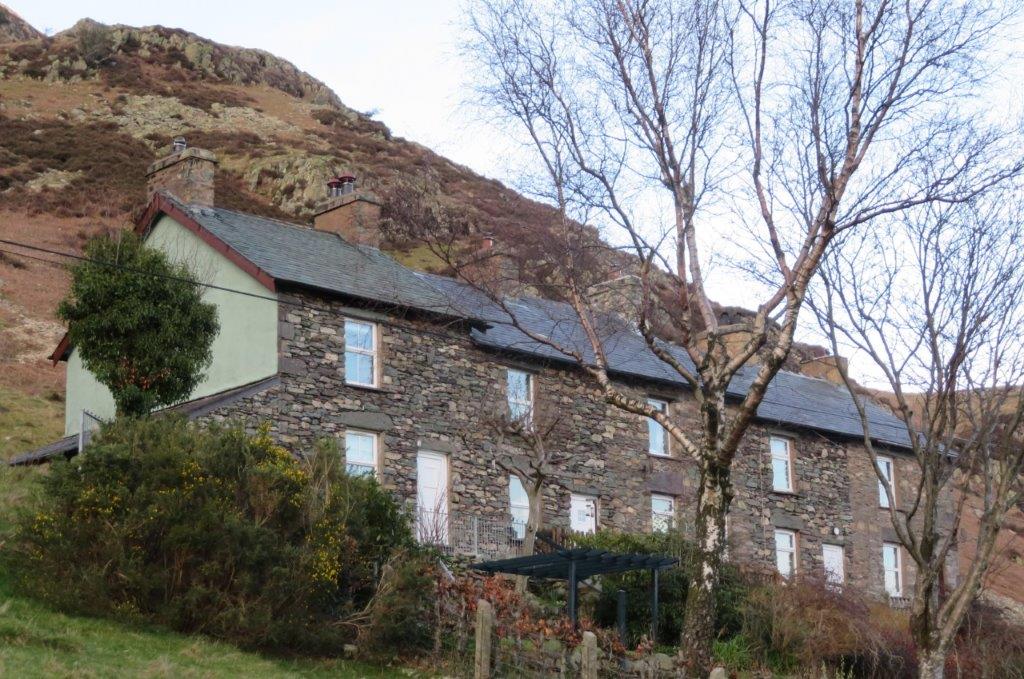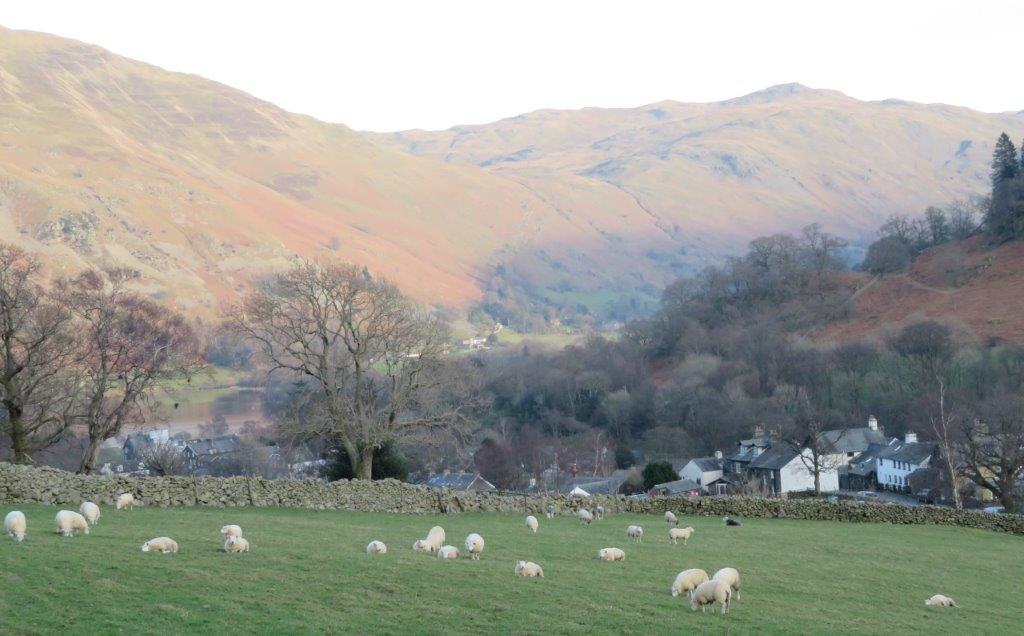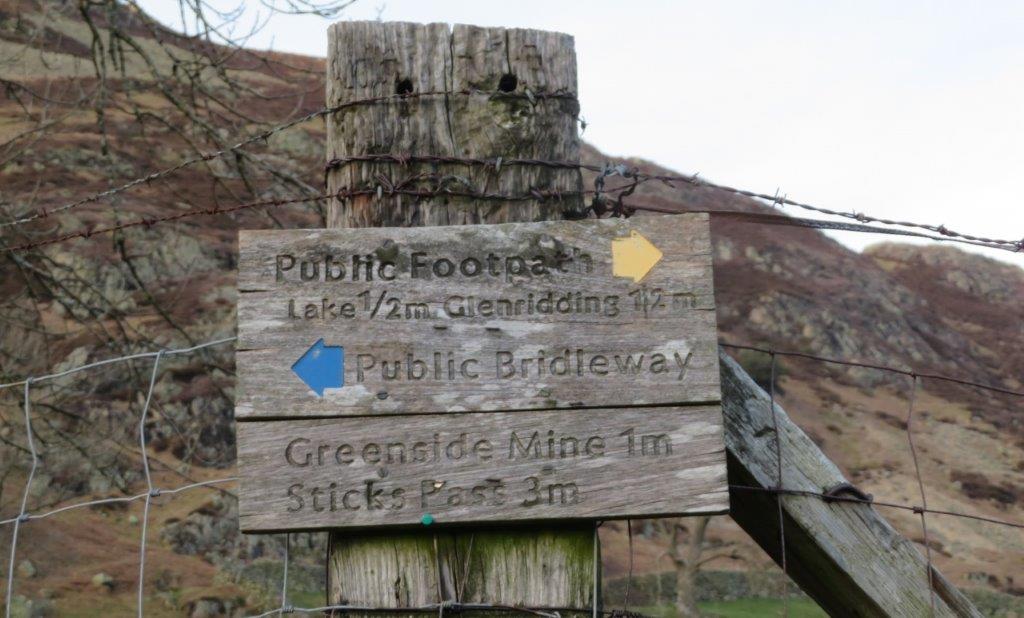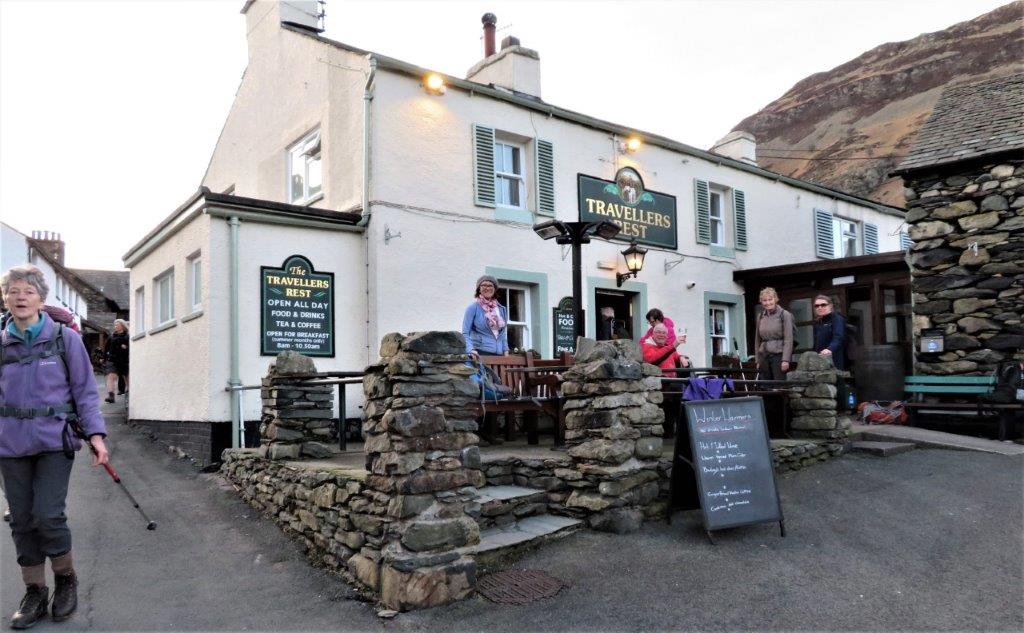 Travellers Rest - some take a well earned pint!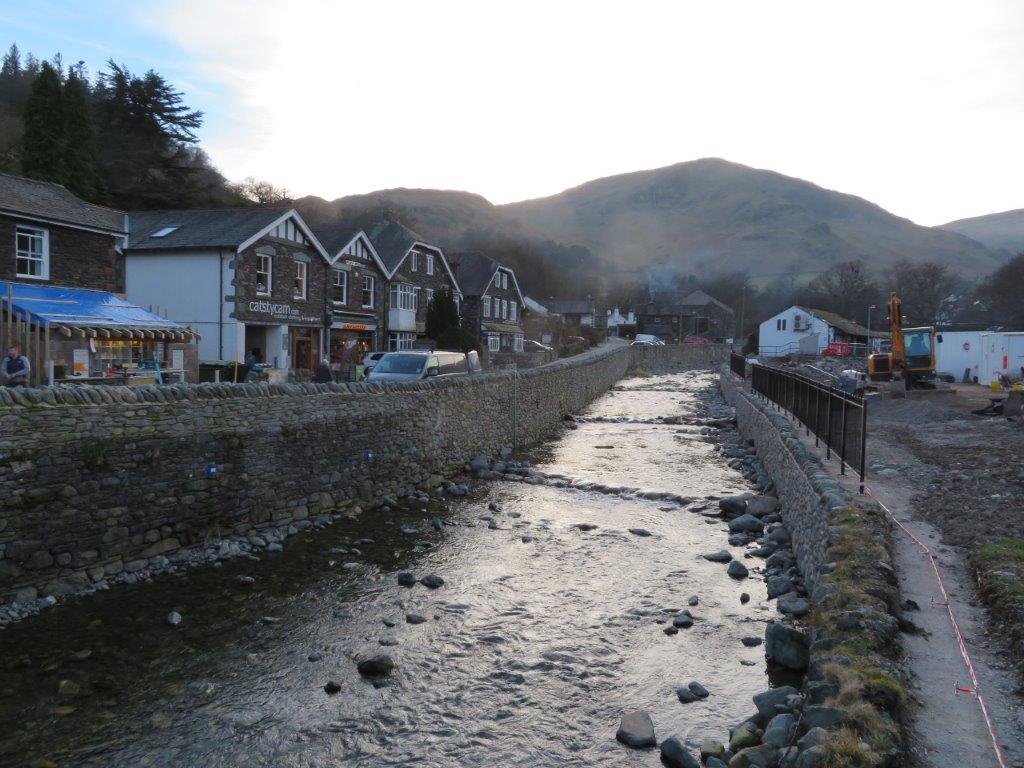 Glenridding Brook - with rebuilt and strengthened walls after flood damage some years ago
walks index
-
home page
- contact me at