index memoir - homepage - contact me at

29 Lamma Island, Guangdong and Vietnam. (December 1995 to October 1996)
My work on the Lumut power plant on the West coast of the Malaysian peninsula finished at the end of 1995. We decided to go to Hong Kong, still a British colony, to spend Christmas with our son Benjamin. I, with luck, hoped to find work on the new airport project. I did not fancy a spell in cold Europe, not employed, hoping something would turn up. We had lived pleasantly for two years at Sitiawan. Sundays we had sailed over to Pangkor Island and swum in idyllic warm blue seawater on beaches with golden sands, fringed by coconut palms. We lunched, shaded in the open, at local eateries on seafood noodles, or fried rice, and drank ice-cold Tiger beer. I dozed on the ferry when we returned refreshed for the next weeks work.
On the 3hour taxi journey southward down to Kuala Lumpur, we passed miles of ominous dark green, regimented oil palms replacing earlier rain forests. After checking into the Hilton Hotel, we ate Kimchi at a nearby Korean restaurant and replete, enjoyed our chilled air-conditioned sleep. Rising very early to catch our plane, Cubby could not find her handbag. She remembered leaving it on the floor at the restaurant. It would only open much later, but luckily I had both our passports and tickets. We would fly on the booked flight - other flights were full. Cubby would have to ring banks and cancel her credit cards on arrival in Hong Kong – fortunately the bag was recovered and sent on to us by one of ABB's staff.
The bustle of Hong Kong's Victoria Island compared with the tranquillity of Lamma Island
Benjamin shared an apartment with a male friend on Lamma Island, up a steep stepped path on a hill overlooking the small harbour at Yung Shue Wan, and two tall chimneys protruding above a hill (hiding a power plant). On Lamma no cars[1] were permitted, all inhabitants, a mixture of Chinese and mainly European expatriates, had to walk to and from their homes. Surprisingly there were no 25 story high tower blocks as in the rest of Hong Kong. There were even some detached homes – some reminiscent of seaside villas draped with flowering creepers, but most people lived in small two story unimaginative modern grey apartment blocks.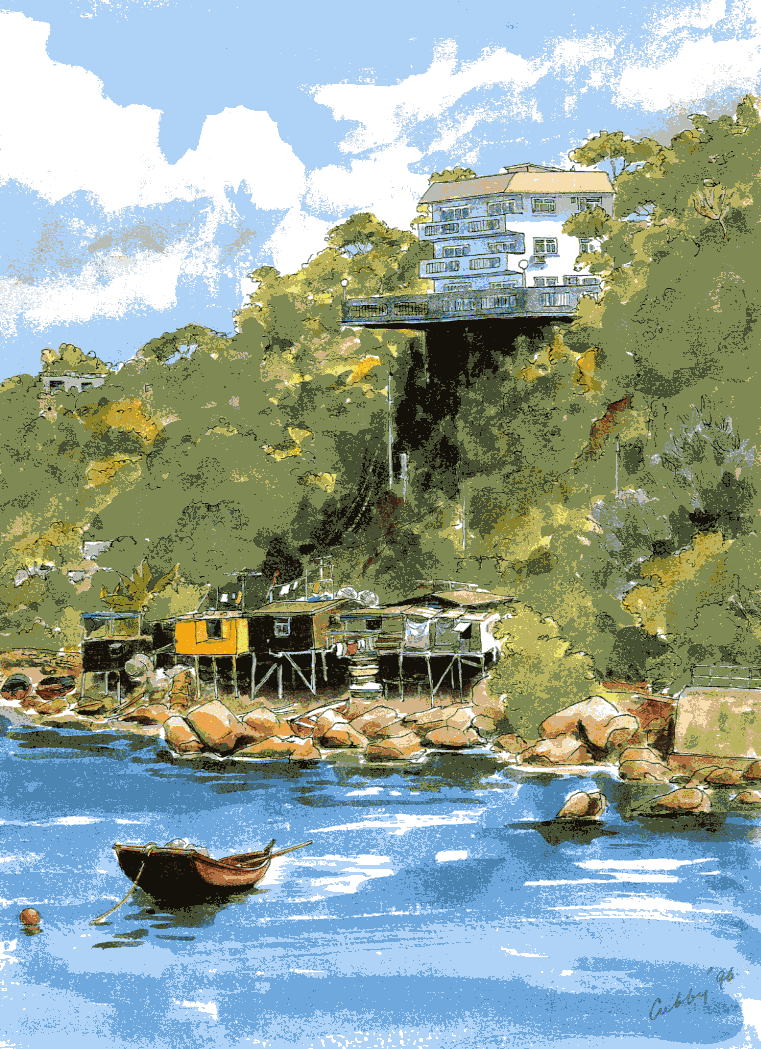 Cubby's picture showing a new cliff top villa contrasted with fishermen's shacks below
Expatriates on Lamma were sometimes considered by other staid Hong Kong dwellers to be 'hippies' and all that that implied – such as smoking grass and being idle. But in the morning we watched a phalanx streaming off to work through the village past the cafe serving 'Dim Sum'[2] to elderly Chinese patrons with no deadlines to meet before they started their daily sessions of Majhong. Some workers, rising late, en route adjusted their ties, and just had time to stop and buy breakfast snacks and drinks from vendors. Arriving at the harbour, they caught the ferry taking 40 minutes to Central on Hong Kong (Victoria) Island, catching up with lost sleep. At Central commuting continued by modern underground trains, ancient creaking trams or further ferries.
Hong Kong was very cold at this time of year compared to tropical Malaysia. Indeed so cold that some street dwellers had died and charities started handing out blankets. Spring came, bougainvilleas sprang to life, the surrounding sea was blue. Except for the large containerships waiting in the roadstead - we could have been in parts of the Mediterranean. One evening in the distance we saw Lamma's highest peak, Mount Stenhouse, ablaze with orange red flames whipped up by the wind.
Nicky and Ed at their wedding celebration in Cape Town with Ed's mother - centre and his aunt - left. Nicky with Ruth - on right.
In between job hunting, we walked over many footpaths in rural countryside. There were still a few locals growing vegetables on small plots, but most farmsteads were now derelict and overgrown. We suspected that with the opening of the borders importing fresh produce from China, their small farms had become uneconomic. All that remained was a few forlorn tombstones and some banana palms.
Cubby's sketches of one of the few remaining market gardeners on the island and of fisherwomen in the harbour area
There was no satisfactory map of the Island, so Cubby decided she would make one illustrating it's attractions to appeal to both local Hong Kong people and tourists. She set to work and our walking became more purposeful. Some of Benjamin's friends with contacts in the printing world joined Cubby in this venture and before long the map was produced and sold at the Quayside to visitors especially over weekends.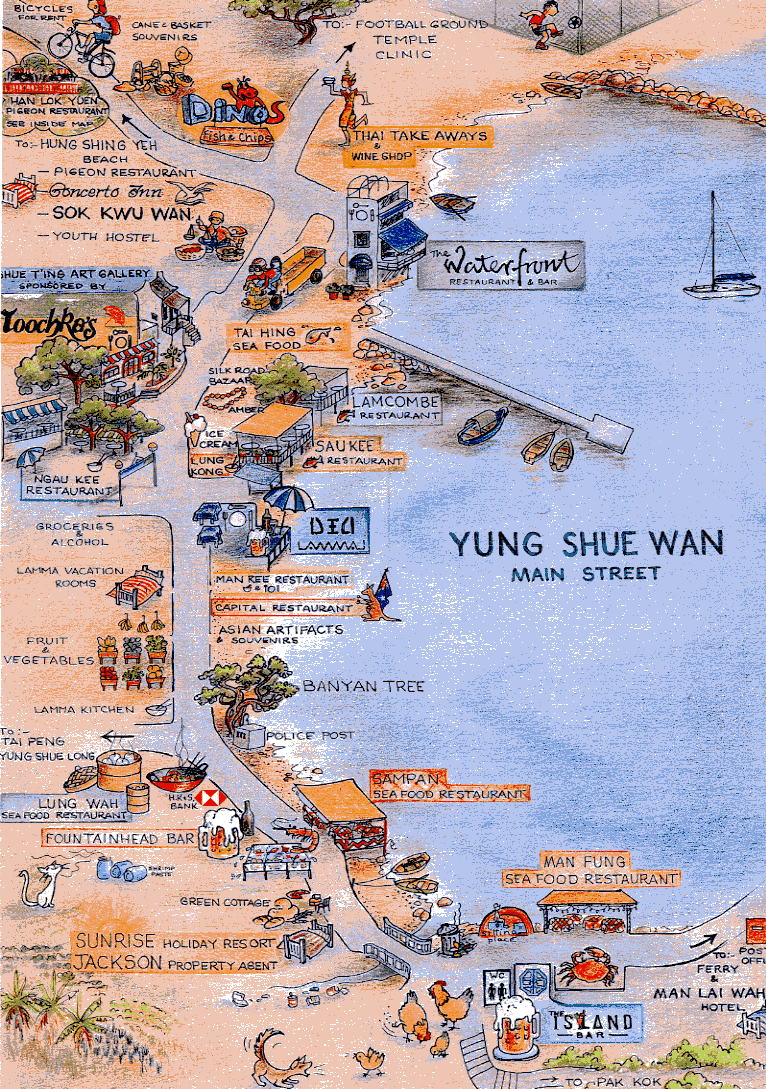 Part of Cubby's map of Lamma Island showing Yung Shue Wan main street
Dining with Eddie and Virginia Shum - The Lamma Fire Engine on one of the narrow paths - and fun on the sandy beaches
In early 1996, a good H K Chinese friend, Eddie Shum, who had worked for French contractors on the Daya Bay project in China (and also in Paris when we were there unemployed), introduced me to a Singaporean company working in Hong Kong. The manager and his personal assistant, a woman, took me for lunch at a smart restaurant on top of a tall building in Wanchai. We could see the straits, with it's eternal plying dark green Star Ferries, the Kowloon peninsula with planes skimming low over skyscrapers and landing at Kai Tak, the soon to be replaced airport, and rugged mountains in the background – one of the most exciting views in the world. I handled my chopsticks dextrously and enjoyed the Chinese food - they employed me. Some one was needed to supervise the design and later the construction of a plant in China.
Now with a job we deemed it safe to move out of the small local hotel we had slept in after moving from Ben's apartment - which we had still used during the day when he was at work as a base for my job search. We easily found a sparsely furnished two bedroomed apartment and moved in purchasing a washing machine and building cupboards and a working table in the kitchen. We also supplemented the two gas rings with a small tabletop electric oven – an appliance apparently not much used for local Chinese cuisine.
Life on Lamma was pleasant, especially on Sundays, an off day from work, walking with friends (Eddie and Virginia his wife and their two son's Sammy and Tommy visited on occasion from Victoria Island). Cubby's nephew Tim and his wife Louise came out from Europe. We also met Ben's young friends and swam in the sea, or played volleyball on the beach. We often ate seafood at simple restaurants, or the speciality restaurant serving pigeon – all quaffed down with bottled Chinese beer.
Guangdong
My companies contract with Elf was for the turnkey design and construction of a lubricant plant to be built in Guangdong Province in China. With the rapid growth of vehicular traffic in China, it was now apparently cheaper to blend special lubricants in China rather than importing. Both companies had already agreed a price for the work to be done. My new employers were trying to penetrate what they thought would be a lucrative Chinese market.
Elf had already bought a site for the plant, together with a partner COSCO (Chinese Overseas Shipping Corporation) on the muddy banks of the Zhu Jiang (Pearl River) between two other factories. The oils needed would be delivered by ship to a quay, stored in tanks and then blended into lubricants. The local Chinese Authorities were still doing an Environmental Impact Study on the site and were yet to give their formal clearance for the project.
I visited the site with a H K engineer, who would act as translator, travelling by bus from HK. At the border we queued and tediously passed through both sets of H K and Chinese Immigration and Customs officials before again boarding the bus. On the 120km long, mainly elevated concrete expressway toll-way above rice paddies, built by an H K entrepreneur and opened in 1994, we were regularly jolted awake on expansion joints, and finally arrived at Guangzhou (Canton) and our hotel. I recognised the smart modern hotel, where I had previously stayed years earlier on another expedition into China on a mission to see a dam building contractor. The main change was that smartly dressed prostitutes now on occasion touted for custom in the lift lobbies.
The town appeared to be a vast building site with new vehicle overpasses, and tall buildings arising while older traditional grey tiled low-level buildings were being demolished. I saw an ancient overhead wire trolley bus still operating and wondered why this pollution free transport system had disappeared from the western world. In this bustling metropolis McDonalds had arrived and fond richer grandparents were treating overweight grandsons, the result of families being restricted to one child.
We visited the future lubricant factory site along the river, some hours out of town on roads with heavy traffic belching exhaust fumes. It was low lying and muddy, I thought that piling would be necessary under all buildings to stop settlement and not only under the quay and storage tanks where piles had been foreseen in our estimates. Two potential local marine contractors had been identified as being capable of piling and building the quay using long prestressed concrete piles. At their pile prefabrication yards, we were plied with cups of green tea while they explained their designs and gave details of their companies. I later tried not to be swayed in my preference for sub contractors by the quality of the delicious Chinese meals each gave us.
The engineers in the Chinese agency doing our project design, came from outside Guangzhou and spoke mainly Mandarin although we were in a Cantonese area. This made communication with my Cantonese speaking H K companion awkward. On our return journey my companion told me that he had actually migrated to Canada where his wife and children now were living. He intended joining them in a few months. Many H K Chinese were trying to leave H K before it reverted to Chinese sovereignty.
Later I made several other visits to Guangzhou with fluent Mandarin speakers, our branch manager or another Singaporean engineer. We preferably took the express train travelling direct from Kowloon in H K to Guangzhou as it was fast and comfortable and had the advantage that immigration and customs formalities took place at the two terminals, but you had to be sure to book tickets well in advance to get seats. When queuing for a taxi at Shenzhen railway station, beggars pestered me - one young boy clang to my leg while his mother stretched out her palm. This was the only place I came across beggars in China. Chinese people blandly looked through them but Westerners were less able to ignore them and often gave money.
On one trip we stopped at Shenzhen, the first Chinese town across the border. I had often visited it when working 9 years earlier on the Nuclear Power Plant at Daya Bay. Shenzhen had been transformed into a modern metropolis with many high-rise buildings barely distinguishable from H K. The phalanxes of cyclists, we had earlier dodged crossing roads, had been replaced by more lethal bustling cars. Leaving Shenzhen for Guangzhou in our company microbus, we passed on the fringe of the town miles of glitzy amusement parks, boating lakes, and golf courses built to attract both residents and H K visitors. There was even a replica of the Eiffel Tower.
I found that written Chinese in China was different to that used in Hong Kong. Hong Kong's colonial educational system had short-sightedly not adopted the mainland modernised written form. Project and official documents brought from China could only be read and properly understood by a limited number of H K engineers. When China took back sovereignty on 1st July 1997 presumably this changed.
After some months of pushing by the company, the Environmental Impact Certificate stating there were no significant pollution effects and other statutory clearances were given. Elf made their first advance payment to our company and we could now begin both design and sub contract negotiations in earnest.
Our Guangzhou design subcontractor started serious work bearing in mind they had to get their designs approved by the various local statutory authorities. Almost immediately they hit a snag. All Chinese Standards for petro-chemical plants required a certain minimum clearance distance from adjacent buildings to avoid fire hazards, and Elf's adjacent neighbours were far too close. This had not been considered by the environment agency – pollution was their only concern.
No amount of argument by Elf that a lubrication plant only used low flash point oils (as compared with petro-chemical plants) could get local fire authorities to budge from the distances given in the Standards. Elf then asked that we approach a company specialising in both fire fighting and equipment to see if they could propose measures enabling the local fire authorities to waive distance requirements. This company was a subsidiary of a large Chinese investment company GITIC, and several preliminary meetings were held.
At about this time I had been offered a job back in Malaysia on an Airport Project in Sabah Malaysia, and decided to take it. I was nearing the end of my 6month probation period and was entitled to, and gave my one weeks notice, paid my H K tax and packed up my tin trunks.
About a year later I saw in the newspapers that GITIC had become insolvent. To this day I do not know whether Elf succeeded in having their plant built on their originally purchased site in China or whether Elf[3] and the Singaporean company reached a financial settlement as to abortive work.
Vietnam
My employers also worked in Vietnam and sent me there on several inspection trips. They had two construction projects, a hotel in Hanoi and a commercial centre at Vung Tau. I had not been to Vietnam before. My preconceptions of the country had been influenced by the images of the Vietnam War from 1965 to 1975 projected by western media reflecting both pro and anti war American views. The post war film 'Apocalypse Now', which I had seen while in Paris in 1980, had portrayed a country riven by violence, I can still hear the deafening clattering of helicopter gunship rotors. I also dimly recalled black and white newsreel pictures of Vietnamese soldiers firing field guns into encircled French troops, of planes flying in trying to re-supply the French – these pictures were of the earlier independence war ending in the vanquishing of Colonialism at the siege of Dien Bien Phu in 1954.
The post war plight of 'boat people' fleeing Vietnam, for what they thought would be a better life, was now evident in H K. Even on Lamma, where we now lived, were the remnants of encampments made by refugees who had since been removed to government camps. Some refugees had now been confined for over a decade. Conflicts arose with H K authorities wishing to repatriate them or send them elsewhere. H K was a society largely built by refugees from Chinese communism but now was reluctant to absorb similar refugees from Vietnam.
I flew to Vietnam from H K in a fast and comfortable Cathy Pacific plane. The site manager for the hotel project in Hanoi was Singaporean Chinese but had been born in peninsula Malaysia, near Ipoh, which I had visited several times. Most of his staff were Vietnamese, attractive, pleasant and polite people, easy to talk to. Some of our Chinese staff said they understood many Vietnamese words, but Vietnamese has it's own written language introduced during the French colonial era. On our staff there was even one American of Vietnamese origin returned to his country of birth. I wondered why the Americans had in the first instance entered into conflict with the Vietnamese and secondly how the Vietnamese, seemingly unaggressive, had beaten them (and the French in the earlier war).
Hanoi reminded me of Kuala Lumpur in Malaysia in about 1980, quiet and rustic before construction and traffic increased. Many pleasant buildings from the French Colonial Era were still standing despite wartime bombing, and I hoped they would not be replaced by tower blocks. Vietnamese food was good to eat, drunk with a rather bitter green tea. Baked white bread, rather like French baguettes were sold on the street, packaged tasteless, spongy white processed loaves as in the rest of Southeast Asia were unavailable. Papaya, with squeezed limes, was my favourite breakfast.
There had been some difficulty initially getting planning and construction approval for the hotel. Also some of the piles, driven and cast under another contract for the Client, had defects requiring deep excavation, cutting back of concrete and reinstatement. The construction of the building's concrete framework was now also running late and there were some defects in the finished concrete work. Our local subcontractor was using primitive knocked up timber formwork without the possibility of re-use – forms were inefficiently and wastefully stripped as separate planks.
I drove around Hanoi looking at other construction projects. It was clear that many were using properly designed and reusable timber or steel formwork with good results. We arranged a meeting with the government agency looking after construction work and outlined both the problem and possible solutions to them - they undertook to take the matter up with our subcontractor. I was pleasantly surprised when I returned some months later to find methods improved and construction proceeding rapidly.
We reached the project in Vung Tau on an internal flight from Hanoi to Ho Chi Minh (Saigon as it was known up to the end of the Vietnamese war in 1975, now renamed after the architect of victories against both the French and the Americans). We flew on a Russian built aeroplane still being phased out. We landed in bright sunlight, half way down the country at Da Nang with a magnificent backdrop of mountains. Da Nang had been one of the Americans major military supply bases. From Ho Chi Minh, we drove on uneven and congested roads to Vung Tau – previously called Cap St Jacques, during French colonial times when a holiday resort town. Our hotel, a double storied building was 'provencal' in style, with yellow terracotta roof tiles, cool and relaxed despite the obvious presence of busy oil men now working in this region.
The commercial project, shops and offices, seemed to be going well. Our site personnel were lucky to be working here. We returned to Ho Chi Minh on a hydrofoil craft pleasantly travelling about 3 hours up the river delta right into the city itself passing a floating hotel very popular in the post war years when beds were short. We stayed in a smart recently built hotel in the city centre. Around the town centre hawkers sold lacquer-ware jewellery boxes and wallets woven in bright primary colours at bargain prices. Sleepless, late at night, I flicked through about 25television satellite channels. Next morning, on the way to the airport, I saw that Ho Chi Minh was also an attractive city, but with a pleasanter tropical climate than Hanoi in the north.
I resolved to return sometime and to explore this interesting land at leisure.
[1] Some very narrow essential vehicles for conveying baggage or fighting fire ran occasionally on the main paved paths. There was also a helicopter pad mainly for use on medical emergencies as there was no hospital on the Island.
[2] Literally a 'little bit of luck' – a selection of Chinese breakfast delicacies selected and served usually from rolling sideboards
[3] I read, with interest, in the press in early 2001 about the judicial enquiry into the financial shenanigans at the large French oil company Elf. These concerned Mr Roland Dumas, a previous Minister for Foreign Affairs, his mistress, and amongst other matters, an expensive pair of hand crafted shoes apparently bought by her for him using Elf's money.
index memoir - homepage - contact me at