index memoir - homepage - contact me at

20 France and Hong Kong – (June 1985 to January 1986)
We had arranged with one of my colleagues in Korea to rent his apartment at Croissy Sur Seine just to the west of Paris close to the river Seine itself. The river was fringed with trees. Reflections on the water, ever changing shades of light, locks and keeper's houses, and passing barges had inspired Impressionists to paint in this area where we now wandered on weekends.
Pictures taken while strolling along the river near Croissy sur Seine where we lived in an apartment
The office was not busy, no immediate project was at hand. With Ben joining us from school in Denmark, we headed down south on holiday in a second hand Renault Cinq towards Mormiron, below Mont Ventoux, beyond Carpentras in Provence. Mette's (Cubby's cousin) holiday home was our base for visiting the various sights and numerous Roman remains. We walking across The Pont de Gard, the stone aqueduct across the river, and were intimidated by the sheer drop into the river below. I pondered what problems arose when stone, with no possibility of resisting tension forces, was used. How were the heavy stones handled and placed in position when no mechanised plant was available?
Cubby and Ben next to a Roman urn used for storing grain. The tail race from the natural fountain of Vaucluse. A commemorative arch - in Orange and the Pont du Gard a Roman aqueduct.
We played boulle, visited wineries, ate Provencale food with the taste of garlic, real tomatoes (not supermarket plastic), olives with stones (not pitted ones from cans), and cheese (not perverted into pre-formed slabs).
Our Renault crawled up Mont Ventoux road passing the memorial to Tommy Simpson who had died from the effects of performance enhancing drugs during an earlier Tour de France cycle race. A scandal at the time which seems not to have acted as a deterrent to decades of following cyclists – in 1998 the police and authorities took belated action.
Then back to Paris against the flow of gas gulping holiday lemmings speeding down to the Mediterranean coast.
Time idled by at the office. Renewing our acquaintance with Paris we sped in by RER (suburban train) rather than contesting exhaust fumes and limited parking spaces.
Chippy and Beth Anne's son Toby was born on 9th July 1985 (exactly one year after my father had died). Being unmarried and both being students at Manchester studying Russian, and not yet graduated, this posed some problems. Cubby visited her first grandchild in August and I saw Toby some later in January 86 in their rented apartment at Marple near Manchester.
A short-term assignment on a tender in Hong Kong arose. Cubby and I flew out in mid September 85 and staying at the Lee Gardens Hotel in Wan Chai on Hong Kong Island itself for several weeks. Lee Gardens had disappeared on a later visit falling to demolition hammers. Possibly later a glass faced Phoenix tower block arose?
Cubby attended demonstrations on Chinese cooking at the YWCA and advised by participants visited streets famous for some particular commodity - Egg Street with its glazed ceramic dragon pots packed with pickled 'thousand year old' eggs, herbalists and old medicine emporiums, with everything from snakes, antler and rhino horns, ground tiger bones and unidentifiable nasty insects. There were no signs of Swedish Elk foreskins, the Japanese had cornered the market with their 2 ton order last year.
Looking up in the narrow older streets where people live there is a forest of rusty iron and bamboo scaffolding supporting large and small neon signs, washing out to dry, TV aerials, birdcages, and pot plants almost bridging across the road. The neon lights do not blink, car drivers trying to identify traffic lights must not be distracted or airline pilots tempted to land between skyscrapers below in the middle of the city. The older unclad buildings look awful as plaster and paint surfaces quickly deteriorate into swathes of green and black fungus under the rain and heat.
We enjoyed Dim Sum (meaning little bit of heart – love not meat) selected from trolleys for brunch and sloshed down with copious cups of jasmine tea. We did not fancy the boiled chicken claws.
Few really old buildings remained in Hong Kong, everything seemed to be cyclically torn down and rebuilt in search of brash profit. Only the dark green Star Ferries bucketing across the sea between Victoria Island and the Kowloon peninsula appeared timeless as they passed the bustle of shipping and the occasional intrepid sampan boatman shaded by a teepee'd straw hat.
A miscellany of pictures from vibrant Hong Kong showing its more restful aspect - the trays on the the right bottom contain maturing shrimp paste (Blatjang in Malaysia)
We visited calm unspoilt mountainous Lantau Island, not yet marked by the large golden Buddha, and Discovery Bay housing suburbia. We ate Chinese food in the open air at backwater Silvermine Bay overlooking the sea and sandy beach which did not yet have notices warning future wind surfers of pollution hazards. We walked across a plank crossing a tidal ditch into a small smelly island village Tai O devoted to maturing shrimps into paste on north west side of Lantau. Hopefully this village did later not disappear or metamorphose into a concrete jungle during the new airport construction at Chek Lap Kok further to the east?
We sped on hydrofoil to Macao which in contrast to Hong Kong had retained delightfully old Portuguese colonial buildings many overlooking the sparkling sea. Alas even this gem Macao was later marred in the nineteen nineties by coastal land reclamation. Seaside villas were stranded high and dry in the town and high-rise buildings sprung up in front to block the sea view. Only the magnificent façade of St Paul's church destroyed by fire in 1835 after being struck by lightning remains hopefully eternally the same.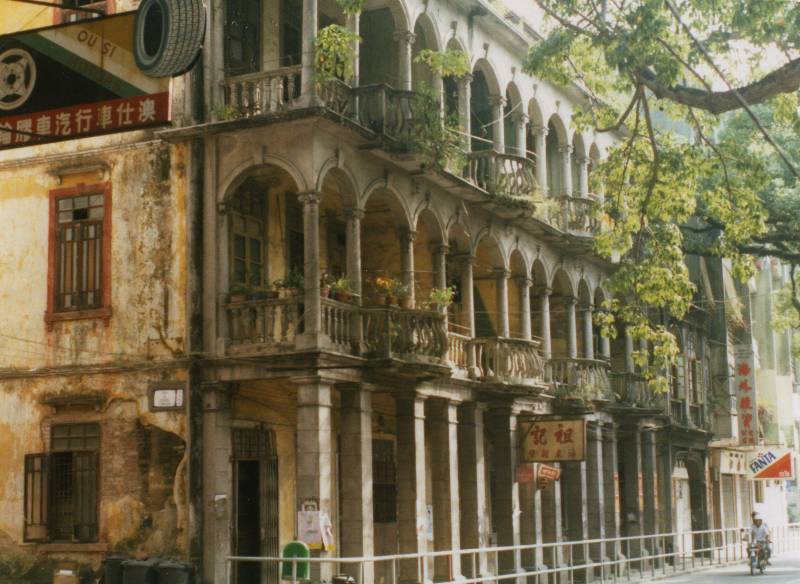 Charming buildings in Macau
We returned to Paris then went to Lohals to join Aage and Mercia for Christmas 85 – the first in our new house at Tomknudsensvej - with Benjamin and Andrea (visiting from England).
Dorte, Sandie (sister and niece) with Cubby in the kitchen of our 'new' house and Ben in armchair, on holiday from boarding school in Copenhagen - at Tom Knudsensvej, Lohals, in December 1985. We came from France for Christmas with Aage and Mercia who now lived here after moving from their Gartnervænget house
index memoir - homepage - contact me at