index memoir - homepage - contact me at

13 Weaver (February 1968 to May 1970)
Arriving in England from Denmark we stayed for some months with Cubby's parents at their large rented apartment in Fountain House on Park Street overlooking busy Park Lane into Hyde Park. This address contrasted with our last one in London's poorer Tufnell Park area – we had come up in the world albeit temporarily. The only disadvantage was the 24hour roar of traffic and the need to keep windows shut - no 'fresh' air when sleeping – the air was in any case polluted with leaded petrol fumes.
As we would require mobility, I bought a robust one-year old Volvo estate for £1000 cash - from our Mailsi Pakistan savings. This car could comfortably accommodate our four children on the back seat – seat belts were not yet required for back seat passengers and they could squeeze in together. Initially I worked in CN's offices at Romney House in Tufton Street on the planning of the construction of the Weaver Viaduct. We visited the site several times and also looked for accommodation. The viaduct was on the M56 motorway being constructed roughly from Manchester airport up to turnoffs to Chester and Ellesmore Port. It crossed both the Weaver River and Canal and a marshy floodplain – near to an older brick arch viaduct for trains from Liverpool to London. We found a 4 bed-roomed double-storied detached house still under construction on Howey Rise near Frodsham close to the site and arranged an insurance policy to cover part of its purchase cost of £7000.
I drove to Hamilton in Scotland where the Site Manager, Derek Robson, was finishing off another motorway contract. There I drew up a logic network schedule for the Weaver Viaduct project on a large sheet of paper. The various construction activities' data had to be carefully extracted from this schedule and entered manually onto tables from which women clerks made punch cards. These were then automatically read by a card-scanning machine and fed into the large mainframe computer (located in Glasgow) to enable it to calculate the project duration and print out both network and bar chart formats. Making trial adjustments and updating the schedule was awkward due to the time required entering data and also the travel time to the computer itself. It was a clumsy system compared to what can now be done today over 30 years later directly through a keyboard onto the screen of a Personal Computer.
As the children's school would start before our house was ready, we moved the whole family up from London to the pleasant old Roman / Tudor city of Chester and stayed for some weeks in bed and breakfast accommodation in Lower Bridge Street close to the river Dee. We grew tired of fried fish[1], chips and mushy peas[2] or bangers[3] and mash[4] for evening meals – the choice of nourishing meals at affordable prices for a large family was limited - Indian and Chinese restaurants had not yet mushroomed all over Britain - but we enjoyed our poached eggs on toast for breakfast. My sister Ruth on holiday from South Africa passed through Chester staying at a hotel.
Our house at Howey Rise Frodsham - Cubby's father Aage and her sister Bodil - Cubby and children on porch. Our large white Volvo Estate car is parked on our driveway. In the background is the wooded Frodsham Hill.
We finally moved furniture and belongings from store into our new house in Frodsham on 27th May 1968. Homemaking and construction of the project on site continued in tandem. The house itself proved to be comfortable – the only irritant was that nothing was truly square and level.
Christopher started at his first school in Frodsham together with his older sisters Nicky and Karen - their first English mother tongue school after their previous instruction in both Dutch / Flemish and Danish. Cubby most days made car runs from home delivering and fetching me at site along the often congested A54 road about 3miles from home. She then took the children to and from school. Andrea, two years old, stayed at home and belatedly started to talk – she seemed to understand everything said to her but was disinclined to communicate.
Rear of house - terrace and garden at various stages of construction - Nicky and Karen - Andrea at work - Cubby and Christopher relax.
On weekends, I began the laborious task of digging away the earth slope behind the house to form a flat terrace area – much builder's rubble, indolently left or deliberately buried just below scantily spread topsoil, was uncovered. Laying paving slabs, building a low retaining wall, planting lawns and bushes and flowers followed – these activities soon made one fit and I lost weight put on from easy living in Copenhagen.
Visitors - rear - Aage, Mette (Cubby's cousin), Andy, Bodil (Cubby's sister) Mercia, me & Cubby - front - Christopher, Mus (Mette's daughter, Karen & Nicky. In next picture children busy making telephone calls.
Christopher and Karen with their cousin Tim. Dorte and Ole with children on banks of river Dee in Chester. Cubby (from Frodsham) and Dorte (from Denmark) with children visiting Mercia and Aage's apartment in London
At the site, ahead of our works, a separate specialist subcontractor was driving bored piles both through an old rubbish tip and the marshy area over which the viaduct was being built. Meanwhile we, under the direction of our Site Manager, who had many innovative ideas, were busy establishing the site offices, stores and mess rooms and planning and procuring temporary and permanent materials and plant for the viaduct construction itself. A haul road had to be constructed with imported fill material as a priority on the marsh parallel and near to the viaduct both for our own access and also for tipper trucks hauling fill for another contractor building road works at either end under separate contracts. Temporary bridges had to be designed and built over both the canal and river crossings – the one over the canal had to be retractable to permit barges and other larger small seagoing cargo boats to pass. At the river a humped backed steel bridge would give sufficient clearance to smaller boats.
A subcontract for the supply to site of over 400 precast concrete post-tensioned beams was placed with a casting yard in Manchester. Standard 90ft beams were later delivered 35miles by road to site in single lengths mainly at night to minimise traffic interference. The 125ft beams for the canal and river spans were too long to negotiate the road bends and had to be cast in shorter lengths for later jointing on site prior to erection.
Me with children photographed in front of the old stone railway viaduct over Weaver river. Children in front of new concrete motorway viaduct under construction with railway viaduct behind.
We erected our own concrete batch plant rather than having 'ready mixed concrete' delivered from outside suppliers. Casting of foundation blocks on top of the piles then commenced. Columns up to 50ft (15m) high were then cast in single 'lifts' (the highest column lifts I had seen) to avoid unsightly construction joints and to minimise construction time. Access wells were provided through the rebar both for delivery of the concrete through trunking[5] and for man access for the men claustrophobically vibrating[6] with pokers down in the columns themselves. Heavy steel forms in two 'L' shaped halves withstood the considerable concrete pressures (probably up to about 9tons per sqm) without requiring any extra 'ties' through the concrete itself.
Children in front of high insitu cast curved soffit box beams of the viaduct crossing over the navigable Weaver Canal, the arched bridge in the left distance takes the railway lines over the approach road to the new viaduct. Picture on right shows closer view of construction and canal.
Column, then crosshead with rebar, then behind crosshead with 'beam' formwork eliminating support from ground. Children on temporary access bridge over Weaver River - steel beams above support rails for lateral moving placing gantry for precast post tensioned beams
Construction of Crosshead[7] beams (which would support precast span beams placed later) then followed. Steel column and crosshead forms were supplied by a specialist company Stelmo, and required little labour for erection. Large crawler tracked cranes, travelled the 90ft between crossheads with the suspended formwork loads and also placed the prefabricated rebar cages. For placing the beams on the crossheads a purpose made gantry was designed to run transversely on temporary rails fixed on the crossheads and on the already placed previous span of beams. The beams were stored along the haul road and lifted by the gantry and translated sideways into position for each span. Cranes moved the gantry forward onto the next span.
The beams rested on bearings – inconveniently many of the bearings were sliding ones at both ends and thus beams needed to be temporarily restrained from moving or falling off the crossheads until the formwork decks were cast months later ensuring permanent restraint.
It was put to the Consultants that 'lost' corrugated steel formwork should be used spanning between the concrete beams to support the decking slabs on top of the beams. The advantage of this was that no stripping of forms would be required under the decks at height where access was difficult. Unfortunately the Consultants said they wanted to see (from below) that no segregation had occurred in the deck concrete and the proposal was not accepted. A lattice stripping beam / access which could translate laterally under and across each deck span was suspended between each set of crossheads. This gave man access for stripping temporary supporting lattice beams spanning between the concrete beams and the plywood soffits resting on them. Stripping of slab forms from underneath was very expensive compared to the cost of lost soffit forms - especially in the difficult labour conditions prevailing on the site.
We tried pumping the concrete deck slabs, some about 70ft above ground level, with a hydraulic boom pump mounted on a truck but many blockages occurred – possibly the pump was not as efficient as they are today or the concrete mix was not quite correct. On one of the higher spans the pump blocked and the pump operator moved the pump away to let placement continue with cranes and buckets. He lowered the pipe boom and released the pipe connections in order to clear the concrete out of the pipe. He then raised the boom forgetting that he had not reconnected the top pipe and it fell on his head killing him – an unfortunate depressing accident. This accident could have been avoided if all pipes had been tied to the boom even when joints were loosened to clear blockages – something the pump manufacturer probably incorporated in his future models. After this we reverted to placing concrete only by crane and bucket.
Initially, knowing that we were in a difficult Trade Union area close to Liverpool, we had engaged a 'labour only' formwork sub contractor on the canal span piers, but he seemed to have been intimidated in some way and withdrew from the site. We were then forced to employ direct labour for formwork for all site areas and to deal with the carpenter's unions whose members would not work effectively unless offered bonus payments based on 'productivity'.
Before starting new operations target outputs (man hours for unit of work) ideally had to be agreed with the Union. Usually the Unions put forward target man hour requests so high that the money allowed for the respective operations calculated at the time of tendering was exceeded. Often work started with a tentative target set by the contractor but labour by working slowly made look it unreasonable – man hours allowed per unit then had to be increased to get any production.
The Unions further maintained that any hours spent 'unproductively' should not be included in the total hours measured against output. They thus always tried to get any delays in working put down to management failings – for example if reinforcement fixing by a subcontractor or delivery of materials to the site of works delayed their work - then idle time so arising was not to be booked against targeted work. This seemed perfectly reasonable but was abused – labour looked for any excuse to book idle time. Further to add insult to injury the Unions demanded that a pro rata bonus should be paid on unproductive hours thus making excessive bonus both ways.
With this system the contractor could only loose - either accepting such Union bonus demands or suffering strikes and delays and penalties imposed by the Client if the contract finish dates over ran. I could only compare this with my earlier project in Yorkshire where a bonus system also operated, but where the labour had not been greedy. Further in Belgium there had not been acrimonious conflicts between labour and management. What had gone wrong in British industrial relations – was it the result of greed, or of the class and management system really exploiting labour, or were 'leftists' at work intent on destroying British Industry? Later in our 20 year absence from England up to 1992 (including the Thatcher years) such problems seemed to disappear - probably the use of subcontractors rather than direct employment of Unionised labour avoided labour disputes.
Working in construction was always exciting, each job was different - there seemed to be many new problems to plan and resolve in a short period of time. On this job I had worked first as Planning Engineer in the site office and later had moved out into the field as Sub Agent. The main disadvantages of construction were that, unless one was permanently based in a head office, one faced a cycle of endless family moves.
Site Managers positions especially could be precarious - if the job was running late; if it was losing money; if relationships with the Consultants were poor; or even with ones own head office and a 'them' and 'us' culture developed. Site Managers were often convenient scapegoats even where problems – such as low estimates - were not their fault. On this project CN replaced the Site Manager, who in my estimation technically had performed well, with his friendly and diplomatic deputy. The displaced Site Manager joined another contractor rising in time to the top of one of Britain's largest domestic and international contracting companies.
While we at Weaver viaduct on planet earth were solving our own mundane problems the American Apollo 11 moon landings started on 20th July 1969 on the desolate Lunar plain – the Sea of Tranquillity. Weaver Viaduct was neither calm nor a 'giant step for mankind' but was none the less an interesting experience.
Our two eldest daughters had integrated well into the local school and took part in many of the extra curricula activities such as ballet and Scottish dancing - Karen in particular showed talent. Nicky seemed to prefer horse riding at a local riding stables. They visited friends for 'tea' and Cubby had them back home serving only sweet cakes and biscuits - until asked by our children why we did not serve sausages, fish fingers and other foods – we then realised that 'tea' in this part of Cheshire meant supper whereas we were still giving a South African interpretation to it.
Cubby had taken an English driving test while we were in Doncaster, but I had continued driving using my South African licence 10 years after our first arrival which was possibly illegal. I thus without any preparation, except for reading the Highway Code, took my driving test in Runcorn and passed. The only criticism from the examiner being that I should desist from using both 'hand signals' together with indicator lights – hand signals were now obsolete.
Picnicking somewhere on the North Wales coast with Mercia and Aage (taking picture)
Over some weekends (when I was not working keeping an eye on beam placement and other works on site) we drove to north Wales. Rural and mountain scenery was spectacular, but some areas on the north coast had unattractive seaside resort towns and acres of depressing caravan parks. The A55 trunk road had not yet been constructed and progress was slow. We also went up to the Lake District over a public holiday weekend hoping to stay some nights in bed and breakfast accommodation. Snow was on the ground in the mountain areas, but accommodation was fully booked and we disappointed had to return home.
One Saturday afternoon in February 69, Cubby who was about 6 months pregnant, started miscarrying while preparing an evening meal to entertain neighbourhood friends. Nicky telephoned me on site and I rushed home and called an ambulance taking her to hospital in Chester. Cubby haemorrhaged severely overnight and had blood transfusions. We had lost an apparently perfectly formed baby daughter for no clear reason – possibly influenza some months earlier, severe enough to put Cubby in bed for some days, had affected the foetus.
After this unhappy event and several months of nearly continuous rain, we felt we needed a holiday and decided to go on a 'bucket and spade' seaside camping holiday on the Costa Brava north of Barcelona during the school's Easter break. We drove to Southampton and took a car ferry to Le Harve – then journeyed on through France to Spain. We set up our tents on a warm sunny day – we even had a swim that day in the warm blue water.
After going to bed it started raining hard – in the middle of the night we found that the tent floor was becoming wet – we were in the middle of a rapidly forming muddy stream. During a slight break in the rain we bundled the children into the car, packed up our now wet and dirty tent and quit the campsite at first light. With the heating of the Volvo turned up full blast we gradually dried out. We tried to find a holiday apartment, but casually dressed as we were and streaked with mud and with a multitude of children, we had no success – fortunate as it turned out as it continued to rain heavily.
With dampened morale we decided to return home. In the Pyrenees the rain turned to snow, but the Volvo with heavily laden roof rack had no difficulty up the mountain passes. Many cars with skis showing approached us on their last weekend of skiing that winter and so unsurprisingly we had no luck finding 'room at the inn' in Andorra. We continued on to Toulouse where a family hotel with inexpensive rooms was available. We warmed ourselves with traditional French onion soup followed by a delicious meal prepared by the proprietor – this meal cost more than our rooms but was well worth it.
Unplanned camping trip in Normandy after rained out in Costa Bravo. Nicky on horse at Barrow riding school.
Early next morning we drove northwards with the intention of reaching Le Harve and catching a ferry, but as the weather slowly improved we stopped and pitched camp early that afternoon near Orleans and dried out our equipment and played our first game of boulle (with steel balls) with some friendly French campers – one of the advantages of boulle over other types of bowls is that it can be played in virtually any terrain – no special prepared 'lawns' being necessary. The weather was even better the next day so we decided not to return to England just yet but to camp on the coast at Normandy.
We read with amusement, in English newspapers available, of continuing unseasonable bad weather on the Mediterranean coast while people were frying eggs on hot London pavements. The weather was now exceptionally good; we walked down the cliffs from our spacious grassy campsite to the beach below and swam and sunbathed, toured the local area and viewed the Bayeaux tapestry seeing poor King Harold with an arrow through his eye. Many German concrete blockhouses and tank obstacles from the Second World War were still visible near some beaches.
Relaxed we returned on a night ferry to England arriving on Sunday morning and drove up north towards Frodsham. We had no success in finding an open café or shop where we could eat or buy some snacks and could only compare this unfavourably with France where it always seemed possible to find something open – we, and the children, were famished. In later years, things improved for the travelling public with Shops opening on Sundays, special transport cafes being built, more public houses offering meals and many petrol stations having some food for sale.
On our return works continued rapidly. The canal crossing, consisted of six cast in place variable depth box beam on side and cantilever spans, proceeded. The beams were formed and cast on high scaffolds covering one third (two beams) of the bridge width. After each third was cast and post tensioned we skidded (by tugging with Tirfors - an indispensable portable construction 'winch') the large scaffold across on rails and cast the next two beams. When all canal span beams on both banks (and the concrete decks on the approach spans with filling behind the abutment) was completed, we placed a Bailey bridge across the 125foot gap at deck level. We then transported the 125foot beams across the gap straddling the Bailey bridge and then lifted them into position with two relatively light cranes positioned at either ends of the beams on the deck. This system avoided the use of heavy beam launching girder – which would have been expensive and under-utilised.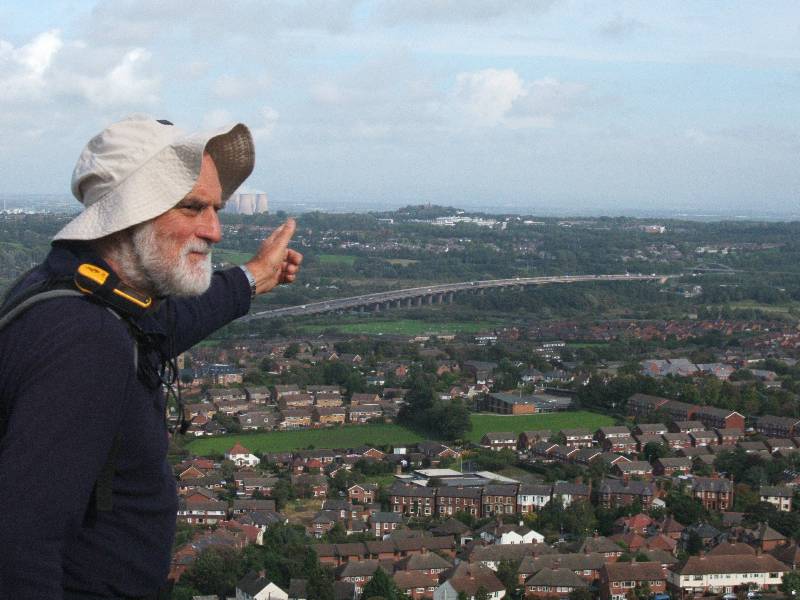 Picture taken from Frodsham Hill of me and the viaduct nearly 40 years after I worked on the project. I was on a 'coach ramble' with Sheffield Ramblers on 1st October 2006 to this area..
Aage and Mercia gave a dinner party in their London apartment for their daughters Cubby and Dorte who was visiting from Denmark with her husband Ole. We travelled down from Frodsham. It was pleasant to see friends living in London – some of whom had worked with us in Doncaster and with whom we had travelled on holiday to France, others who had befriended us in London and remained there, some who had been in Antwerp with us. Cubby's cousin Mette and her husband returned from assignment abroad, and a school friend of Dorte's with her entrepreneur husband, and adult children of Aage and Mercia's Cape Town friends were also there. We enjoyed dancing as in our youth once more holding partners.
The end of the swinging nineteen sixties was approaching it's end. Cubby and I married with four children to raise and many home moves had not taken much part in the decade's essentially unmarried youth's sexual revolution. However, information on sexual matters was more readily available then in England than in the censored and puritanical environment of our Cape Town youth - I learnt much from magazines not previously available.
Cubby was again pregnant as the job started it final stages, numbers of staff were being reduced and I was to be transferred to a project in Guernsey in the Channel Islands. Before this occurred, Nicky passed the '11 plus' requirements qualifying her to enter into Grammar School.
[1] Usually delicious battered cod fish – the best cheap meal in Britain
[2] Peas apparently dried and later boiled into a mushy paste
[3] Colloquial English for sausages – over fat pork sausages sometimes burst in the frying pan
[4] Mashed potatoes
[5] Short pipes chained together removed in sections as the concrete level rose
[6] Vibration drives out entrapped air making a solid mass of concrete around the rebar and giving smooth faces against the formwork
[7] The capacity of the marshy ground below was uncertain, and thus a steel formwork system where the cross-head side forms would also act as temporary beams supporting the wet concrete load was thus selected eliminating supporting scaffolds from the ground. The steel soffits (bottom forms), spanning between and cantilevered from the columns, were erected first and then cages of rebar were lifted and placed on them. The 'temporary beam/sides' were then fixed and the Crossheads concreted.
index memoir - homepage - contact me at