index memoir - homepage - contact me at

08 Yorkshire (April 1960 to June 1961)
Thorpe in Balne
My first site construction project was in Yorkshire, the foundations of a coal fired power plant at Thorpe Marsh[1], close to Barnby Dun, about 5 miles away from Doncaster. My annual salary increased from £660 with consultant Ove Arup And Partners to £800 with contractor Holloway Brothers. A tax free site allowance of £4 per week for housing was paid and also overtime for Sunday work. We were thus far better off financially, but would be subject to frequent moves from job to job, the perennial burden of an itinerant Construction Engineer.
I travelled by train from Kings Cross in advance to find accommodation. This was not easily available in Doncaster, but I found some rooms on a small dairy farm, South Farm, in Thorpe in Balne on the flat low lying land close to the site. Both the river Don and a canalised section for barges passed nearby.
South farm - Nicky and our battered old convertible-top car - Nicky in carry-cot - two curly heads
We had a tiny upstairs bedroom under roof eaves, furnished with a double bed and a wardrobe. By squeezing in Nicky's cot, we obstructed the wardrobe doors which would then only half open. We were snug in spring when we arrived but later in winter the room became freezing cold and damp[2]. We piled coats and clothing heavily above the blankets and hugged together to keep warm. With the assistance of Nicky's inquisitive fingers, wallpaper peeled off the damp walls. Without any heating, ice sometimes formed inside the windowpanes alongside her cot, but Nicky, often standing up dressed in dungarees, seemed impervious to the cold and thrived.
A Yorkshire range with an effective oven but no top plates warmed our downstairs room, a combined lounge and kitchen. After a fire had been lit and died down, a swivel stand was swung over the coals heating only one saucepan at a time. Trying it, we found Nicky's milk was flecked with coal soot. We then bought a twin burner bottle gas stove which also made meal preparation faster.
Our landlady permitted us to bath once a week when she lit a special furnace for heating piped water. Later on she became reluctant to do this and baths became infrequent. On most nights we heated water on the gas stove and stripped and washed in a small basin in front of the fire. Rain, snow, mud, chickens, and geese were some of the hazards we braved crossing the yard to the outside water flushing, toilets. For all this we paid £20 per month, a little expensive we thought, but with landladies preferring pets to children[3], we were fortunate.
Cubby and Nicky sitting on hay pile. Nicky identifying plants? - future botanist?
Cows passed in front of the window on the way to the milking sheds and we became accustomed to their pervading smell contrasting with the sweet smell of hay in the barns. Milking and milk chilling[4] looked rather primitive and we were thankful that Nicky could drink bottled pasteurised milk delivered by the driver collecting the urns.
With accommodation difficult to find, several young Engineers and wives lived in caravans. Older site engineers and foremen usually stayed alone in digs and only visited their wives and school going children every four weeks for a long weekend. All staff generally worked full Saturdays but stopped a little earlier to get to the shops. We also worked every second Sunday - shops were closed on Sundays in that era.
The farmer and his wife did all the work on the farm[5]. The farmer, who had been a Captain in the army in the Second World War, had recently undergone a hernia operation so his sturdy wife manhandled full 40 gallon milk urns (weighing about 180lbs) more than her own weight up onto the elevated collecting point. A youth from a reformatory was recruited and occupied the well equipped bedroom next to ours but absconded after two days – was the farming regime more strenuous than the reformatory?
They had a friendly teenage son who boarded out in a neighbouring town attending Grammar School. Their 4 year old daughter spent much of the day unaccompanied, watching television, while her mother worked outside. One day Cubby joined her watching the television broadcast of Princess Margaret's marriage to Anthony Armstrong Jones. The daughter continually munched sweets and her milk teeth rotted to the gums. As was the rural Yorkshire custom, the young girl was washed standing in the kitchen sink.
No public transport stopped near the farm, so we purchased a second hand 1947 two door convertible Hillman Minx for £140 from money Cubby received from her Danish Grandmother, 'Farmor'[6]. Cubby could then shop at the local market or in small shops at nearby Doncaster. A laundrette for washing clothes, impossible to do at the farm, was also found. The second hand bookstall at the market sold us, as good customers, a new Penguin copy of D H Lawrence's 'Lady Chatterley's Lover' which the courts had decided was now of literary merit rather than pornographic. This taught us a little bit more about sex but nothing about game keeping.
Junior engineers on site mainly did surveying / setting out with tapes, level instruments, and theodolites. I rapidly learnt that self-checking setting out work was essential - the verbal disapproval of the ferocious General Foreman was quite frightening if errors were found later and expensive rectification and delays occurred. We also called the Consultants Engineers out to check[7] the works before concreting took place and my section foreman Jim a genial flaming red haired Scotsman implemented any action required.
Later I measured up the quantity of work produced weekly and calculated the bonus payments due to the various types of workmen. Some incentive was necessary to top up rather low wages[8]. During a rare labour dispute on this site, I was warned by the Union's shop steward not to knock in surveying pegs and cut them off myself - appropriate labourers and carpenters were to be used. The Yorkshire labour, however, was generally sweet reasonableness compared to the Liverpudlian labour found on a later project on the borders of Cheshire.
Much of the concrete was pumped by a fixed pump[9] under the batchplant up to a distance of 300m through pipelines. When pipe blockages occurred not infrequently most pipes had to be disconnected and emptied quickly before the concrete set in them – a backbreaking job for concrete workers.
Reinforced concrete foundations were supported either on piles or cylindrical caissons. Concrete piles and caisson sections were precast on the site. Piles were driven with diesel hammers. If the heads broke, as occasionally happened, these were extended using rapid hardening high-alumina cement concrete permitting re-driving within 24hours. The caissons were sunk initially by grabbing spoil with a crane. When hard material was reached locks were placed above and excavation began internally under compressed air[10] by miners[11]. There was a system by which the muck in skips could be lifted outside in stages retaining air pressure. Unfortunately one skip plunged down killing a miner below.
First visit to the Peak District near Edale at Easter - Nicky on my back in improvised carrier, car seat hooked on my shoulders, over navy blue site donkey jacket. Cubby looking glamorous.
We spent a night of our first Easter weekend in the Peak District at Edale in a hotel. The child's car seat, with hooks placed over my shoulders, made a convenient carrier for Nicky – a similar commercial child carrying system was not yet available. We walked across a footbridge crossing Grinds Brook and along it toward the Kinder plateaux, but did not reach the top. Failing to find vacant cheaper bed and breakfast accommodation for the following nights, we returned home.
Our first trip over Snake Pass on the A57[12], to visit a university friend Conrad working in Manchester with GEC[13], was in thick fog. It was so thick that we had to open the side windows and peer through them. Approaching Manchester I almost crashed into a shop but stopped in time confronted by a shopkeeper in an apron distraughtly waving his hands.
On a later trip, we went Knutsford to visit another university friend Corder temporarily in England working on the Civil design of nuclear power plants. His old 'landlady' told us that he had moved to a different area. His new address was not known, but he now had a motor scooter. On the way to this area, I perchance spotted him on his scooter and followed him to his new home where we met his wife Suria, one of Cubby's Cape Town Art School friends. We spent the night reminiscing in their well-equipped apartment costing less than our farm rooms.
We drove down to London on the M1 motorway, fearing that our footbrakes were inadequate I grabbed at the hand brake when necessary. We saw Susan and John in their new house in Finchley[14] and also my sisters Ruth and Judy in London visiting from South Africa. Ruth was still filling in as a 'supply teacher, Judy was selling postcards at the Tate Gallery, and would start evening art classes shortly.
We visited York fairly close to Doncaster saw the Cathedral and the town not yet overtaken by tourism. We watched people boating and fishing on the river Ouse.
The car was a disaster using almost as much oil as petrol. Occasionally it stalled, gushed fumes, and backfired obscenely. On colder nights we covered the engine with a blanket in the hope that it would start in the morning without cranking being required. When we left Yorkshire later we paid someone £5 to cart it away for scrap.
French Leave.
In August 1960 together with a young married couple Jim and Liz Chapman met on the site working for the consultants, we went on a holiday trip to the South of France. We travelled in their small Standard Estate car – four adults and our year old daughter Nicholette, a full load with all our baggage and camping gear, some on the roof rack. Rather than adding Nicky on our South African passports we obtained a separate British passport – she, born in England, qualified as a citizen.
We crossed the channel in a tubby aeroplane car ferry taking 4 cars from South End on Sea to Boulogne and drove hard for the south avoiding Paris. Later such air ferries apparently could not compete with sea ferries or were unsafe and eased to fly.
Unaccustomed driving on the right hand side of the road commenced. We avoided sudden death when overtaking a camion[15] by ducking onto the wrong side hard standing in the face of an approaching truck, our driver being un-sighted and following indecisive co-pilot instructions. We then proceeded at a more cautious pace.
Well south of Lyon mechanical problems overtook us, a front wheel bearing wore out. While Jim searched for a garage to do a repair, we sat with Liz on the roadside in the heat pestered by flies. The monotony was broken by a Provencal funeral - a coffin borne on a carriage drawn by an ancient black ostrich plumed horse passed in the stifling dusty heat. This was followed first by languid male mourners, clad in dusty black cassocks covered with lacy white surplices, intoning plainsong, then by miles of other apparently bored chatting mourners, including young girls dressed in their summer's best tight skirts and with then fashionable beehive hairstyles.
The wheel bearing was built up with metal spray as an emergency repair. The mechanic assured us this would last for the rest of our holidays. Elated, we had barely travelled a further 200 kilometres when the problem re-occurred. Fortunately we had stopped near a pleasant campsite just south of Avignon where we could rest, prepare meals and take a shower. The next day Jim found another garage. This turned a proper 'spare part' in their workshops and fitted it in the evening. We started rolling again towards the Cote d'Azur and reached the sea at 1am. We flopped down exhausted in our sleeping bags on the beach in the open air.
Jim's car at camp site with Nicky hitched up in seat outside car . Liz in white bikini with Jim in trunks. Cubby, Nicky and me - beach bums
In the morning blurry eyed we cruised around and found a pleasant campsite within walking distance of the beach at Cavalaire sur Mer[16] with showers and toilets. Our coarse English camping began with the pitching of our friends' small triangular crawl-in tent amongst the posh frame tent stand up villas of French and other less insular campers. Cubby and I slept in the cramped back of the estate car, which had a fold down seat with our feet resting on the open boot door flap. Nicky slept in solitary comfort in her carrycot on the front seat. Having no collapsible chairs and table we squatted in front of the gas rings when cooking and sat or lay on the ground when eating or resting, in contrast to our well equipped, seated at tables, fastidious European neighbours.
We retired every evening after sharing a one franc[17] litre of red plonk, and further intoxicated by the warming sea, and sun fell instantaneously asleep, only to be rudely awoken at four o'clock each morning by thumping and kneading of bread in the bakery adjacent to the campsite. None the less we enjoyed Baguettes and Camembert cheese at lunch.
Not knowing any French, I did not have to brave the scorn of shopkeepers. They made a point of being particularly dense when my companions tried to purchase provisions in their school French - there seemed to be some residual post war Vichy resentment towards the British. Self-confidence was so destroyed that we were reduced to choosing straws before entering shops.
We left the beaches for a day and drove along the coast to St Tropez, Cannes, Nice and Monte Carlo enviously looking at the hotels and smart pavement café's overlooking the sea, harbours and smart yachts at anchor within them. The prices in cafés seemed extortionate. I secretly pondered if we would ever be rich enough to afford such luxury?
On return journey exhausted holidaymakers drinking coffee. Cubby, me and Nicky on shoulders under the Eiffel Tower.
On our return journey to England we spent a night at a campsite at Fontainbleu, just outside Paris. The next day we checked in early at a hotel on the Left Bank in the shadow of Notre Dame. The hotel room, complete with washbasin and bidet, at £1 per night was unbelievably cheap and bliss after weeks in sleeping bags.
The Eiffel Tower, photographed with Nicky on my shoulders under the arches pointing upward with her fingers and with first tooth showing, was graced by our presence. We climbed up to Montemarte, wandered to the Place de Tertre and viewed the pictures painted in the main by scruffy bearded artists in this square – each one apparently wanting to be an 'Impressionist'. Our suitcase, left out of our sight for a moment in the hotel lobby while checking out, was stolen. The Gendarmes to whom we reported the loss were bored and unsympathetic with us - foolish tourists.
At Boulogne we disputed the right of way 'from the right'[18] with another car and had a minor collision. A further encounter with Gendarmes followed before flying on to the more familiar shores of England.
Back in the bog
Winter loomed, our small room became colder and damper and the car more difficult to start, we started looking for more suitable accommodation in Doncaster itself, but initially to no avail.
A fellow site engineer took me for my first drive in the then new Mini to Leeds where I also saw 13 a side rugby league played the first time. Among the players was Springbok Wilf Rosenberg who had left the amateur rugby union game in South Africa and was now a professional[19] in England. In Doncaster itself we also often saw the name of Tom van Vollenhof scrawled on walls – he also a Springbok, and a former South African Policeman[20], played for the league club St Helens.
Christmas 1960 - my sisters, temporarily in England, visit from London. - Judy and me with Nicky on shoulders. Nicky strides purposefully into house (leaving car with flat battery). Judy, Nicky and Ruth walking down a country lane.
My sisters joined us for Christmas, staying in a caravan kindly loaned by the senior site engineer John and his wife Adrina who were returning home for their celebrations. Christmas eve was celebrated in Danish fashion with a goose, a present from the farmer's wife, and traditional 'riz a l'amande'[21] as desert. This dish Cubby had learnt to prepare watching her mother bizarrely doing the same following Nordic customs over many hot Christmases in South Africa.
The fire was stoked high for warmth and the goose sizzled while my sisters played with their first niece Nicky, and her Humpty-Dumpty soft toy, as large as herself, which Cubby had made as her Christmas present. We rapidly spent the £10 companies Christmas bonus on Christmas presents restocking our threadbare wardrobes.
In the new year of 1961, we had to admit to Cubby's increasing girth, she had been in the early stages of pregnancy during our French holiday. Our search for accommodation in Doncaster intensified, especially as it appeared impossible to book a bed in a hospital for the birth and our farm rooms were too small for two children.
Doncaster
Despite our earlier unsuccessful searches, we found a 'two up/two down' miner's terrace house in Jubilee Road at the same cost we paid South Farm. This from the outside looked exactly like the terraces shown in the ITV television series Coronation Street which had then been running about 2 years, and now almost 40 years later is still going strong.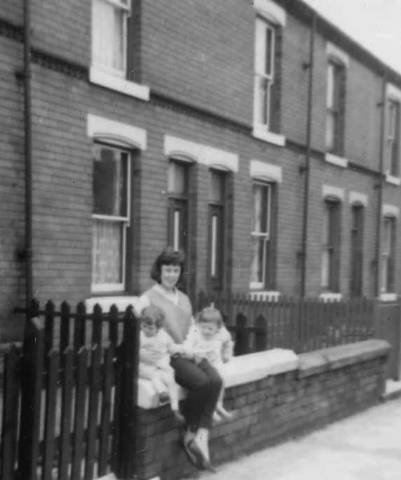 Susan Carter with our Nicky and her daughter Susie-Jane sitting outside our rented 2up / 2down terraced house at 77 Jubilee Road Doncaster
A kitchen had been built later onto the two lower rooms and above this a bathroom with a real bath but with no toilet. This was an advance on the facilities at Marsh farm - we could now enjoy a warming bath before bed, but strangely the toilet was still inconveniently outside at the end of the garden. It had been converted from bucket to flush, but a narrow lane, running between the terrace rows, still gave access to 'night soil' men who no longer called.
Cubby's mother Mercia visited us here from Cape Town. She had been to Uppsala in Sweden to see her aged and ailing parents (one died during this trip). On her arrival she bought a new bed and mattress for £5 so that she could stay with us rather than at Bed and Breakfast. She saw her grand daughter Nicholette for the first time, but was a few weeks too early to see her second grandchild.
Second daughter Karen born 24 March 1961 in Doncaster at home, with Cubby, older sister Nicky and Dad, and in large second-hand pram
Early in the evening of 23th March 1961 I rushed to the telephone box up the road and called the midwife – Cubby's waters had broken. The midwife set me to boiling copious volumes of water, apparently a stratagem to keep nervous fathers busy and out the way – it was not yet common for fathers to watch the birth of their children. While the Midwife said she did not consider it necessary, she also dispatched me to phone the doctor who she said liked to be present at the birth. The doctor on arrival confided that he only came to births because the midwife liked him to be there. Karen arrived after midnight on the 24th with the normal exciting baby cries heralding a healthy child and I stopped boiling water.
Telegrams[22] were dispatched via the post office to grandparents in South Africa announcing the proud arrival of a grand daughter. Karen birth had been heralded by the first circumnavigation of the earth in space by Yuri Gagarin on the 12th April 1961 in a small capsule propelled by a massive Vostok rocket The world has not been the same since.
Cubby bathes Karen - Nicky bathes doll
As more experienced and confident parents with this second child, we settled into an easy routine with few if any sleepless nights. Nicky not yet two years old was remarkably helpful in assisting in the care of her sister, fetching things when Cubby's hands were occupied. We proudly pushed our two children in an old fashioned second-hand pram on the vast green lawns of Town Moor Fields. We unlike our local neighbours were not so proud that only a new pram would do even in difficult financial circumstances. Our camping companions had conceived under canvass during our French camping holiday and their first child, a son arrived a few months later than Karen.
The power plant foundations were almost complete[23], but as my next intended project in Kent, bridges on the M2 motorway, had not started yet, I was transferred for a 6week interim period to a project near Purfleet on the east bank of the river Thames.
[1] Many place names are of Viking origin
[2] Central heating and double glazing were uncommon in Britain at this time
[3] Children were often not welcome in rented accommodation or restaurants being regarded as noisy destructive creatures by some adults who had somehow miraculously missed out on this stage of their development.
[4] Milk flowed, open to the air, over a corrugated sheet cooled by pipes of cold water
[5] 40 years later when revisiting the area we found the farm house still standing and occupied, our bedroom window under the eaves appeared unchanged. Farming had long since ceased and the various barns and cow sheds were in the process of being converted into housing units. Outdoor toilets were no longer visible across the yard.
[6] Literally fathers mother in Danish
[7] Years later Conditions of Contract changed and Contractors became responsible for doing their own checking – Consultants then sometimes reduced their checking making it clear that liability for defects was the Contractors.
[8] 7day working a week also topped up wages but did little for productivity
[9] mobile truck-mounted pumps were not yet available, nor was ready mixed concrete supplied from offsite easily available in many areas
[10] The compressed air controlled the ingress of water.
[11] Plentifully available in this coal mining district,
[12] This route from Sheffield to Manchester through the Peak District National park is one of the prettiest especially in Autumn
[13] General Electric Company
[14] About this time a young Margaret Thatcher was to be elected as their Member of Parliament
[15] Lorry (truck in USA)
[16] We visited this area more than 40 years later in 2003 and found it had grown hugely. Our camping site seemed to have been built upon, the bakery had disappeared, and the quiet road we crossed to the beach was now a dual carriage way.
[17] Because of devaluation the 'new franc' worth 100 old francs had been introduced but both denominations of coins confusedly circulated
[18] Fortunately this convention is disappearing in France with the introduction of stop signs on secondary roads. Also the jamming up of roundabouts has now generally disappeared.
[19] 15 a side rugby union also became a professional game much later at the end of the 1990's
[20] He sometimes tackled opposing players as if he was collaring a suspect by grasping their free arm
[21] Thick rice pudding – an almond is placed there in and the finder hides it until all the pudding is eaten – it is then revealed and a prize is given
[22] With the introduction of facsimiles and internet e mail, telegrams can no longer be sent from Post Offices in England.
[23] When revisiting Doncaster almost 40years later to show daughter Karen her birthplace, we found that our house had narrowly escaped demolition - much of the terrace had been cut away allowing for widening a main road. The coal fired power plant, which I had helped to build, had ceased operations and was demolished except for the parabolic concrete cooling towers towering above the nearby canal where men now fished on the its banks. Are the cooling towers awaiting a renaissance in a new gas fired plant? – both coal mining and coal as a fuel was rapidly disappearing due to the abortive Miners Strike during Thatcher's premiership.
index memoir - homepage - contact me at