homepage - Daywalks Index 2022 - contact me at

REV X
2022.07.13 Tideswell (start at PC SK151:756), ~N on Queens Rd continuing N on High Street, past Bagshaw Hall go NW/W/NW then W along informal path to join Wheston Bank (rd) at SK148:760, W then WNW along road thru Wheston continue to just past Bottom Farm then ~W on road to just above point where road dips down in ravine, join and follow FP ~WNW along edge of vehicle track, but where track turns N, continue on FP ~NW following the top edge of the Hay Dale slope to SK121:770, over stile / gate and NW to the bottom of Hay Dale, 'V-turn' and follow bottom SE then S to the Road, (do not enter Peter Dale), follow rd ~WSW for ~150m and take FP ~S along the top slope edge of Peterdale for ~300m (at SK122:761), follow FP ~SSW past Hargatewall and then thru Hayward Farm up to access road and then ~W on it to larger road and cross it at SK115:752 to FP, follow FP W (slightly S) for about 700m to another rd at SK109:751, briefly S then on FP WSW thru Taylor Farm to FP junction at SK104:747, crossed 'gap' in FP to W and continued W on FP over tunnel above rail-track followed zig -zagging narrow overgrown paths ~N to & up the stairway to the Steel Footbridge ~NW across rail tracks, & roads to works, continued ~W (on Northern Boundary of Tunstead Works / Quarry). At SK089;747, turn ~SSE down tarred Hardybarn Lane for about 1.4km on the Western Quarry boundary. At SK094:734 FP ~W to the bottom of Woo Dale and follow ~SSE down Woo Dale to short of The River Wye and the A6 road. Turn gradually N on FP to the top edge slope of Wye Dale, follow the top edge ~E but turn down ~S on FP (near the line of Great Rocks Dale) then ENE to the Blackwell Mill Cottages and the FB at SK112:121 over The River Wye to the Cycle Hire Shop (took an ice cream break here).
Recrossed above Footbridge and followed River Wye thru Chee Dale etc for about 3km to the B6049 Millers Dale Road SK137:732. Note - There are two sets of stepping stones in the river, some tricky paths, some flat paths & ones to be scrambled, some with polished limestone, slippery especially when wet under foot, and other rough paths – consider taking The Monsal Trail (flat surface) if the party is in-experienced - a safer and quicker option.
We followed the B6049 to Millers Dale, but after a row of cottages to our left at Sk142:734 took the less used minor road Meadow Lane passing Meadow Farm back to Tideswell.
Leader Liz Savage – 5 on walk – walk over 13miles
This walk was done as a 'pre-walk' the actual club walk(s) may be different. With relatively infrequent buses may have to use / share cars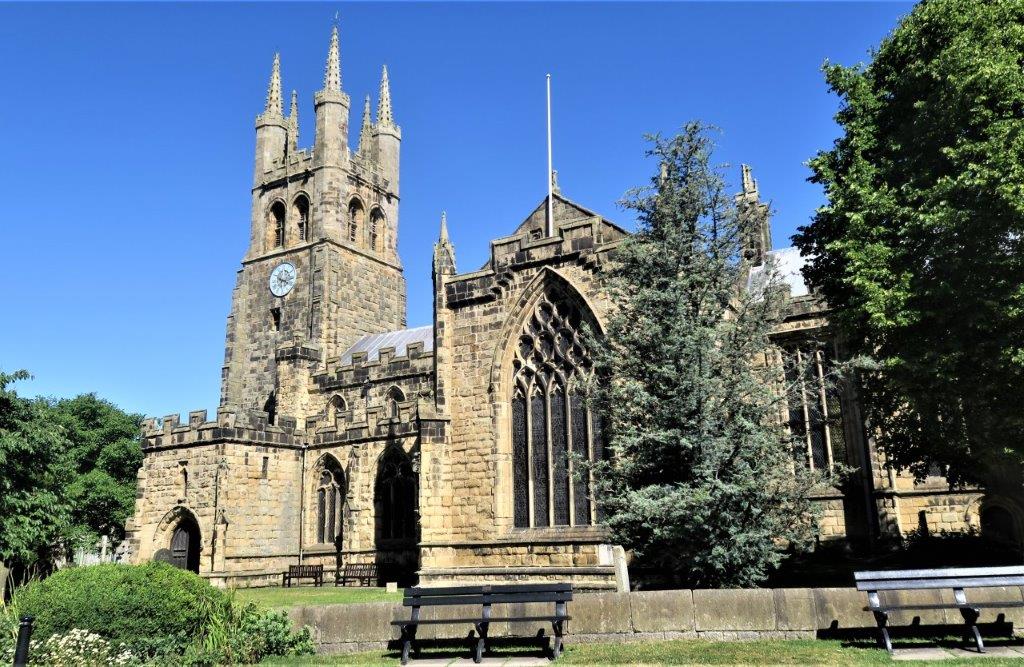 10 St John the Baptist, Tideswell - also known as The Cathedral of the Peak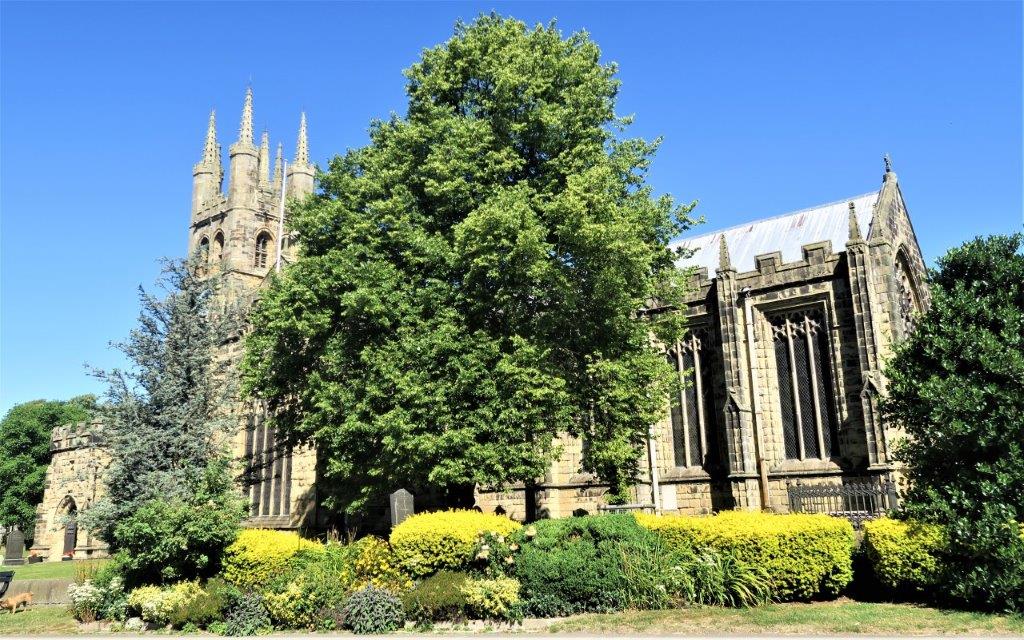 12 as above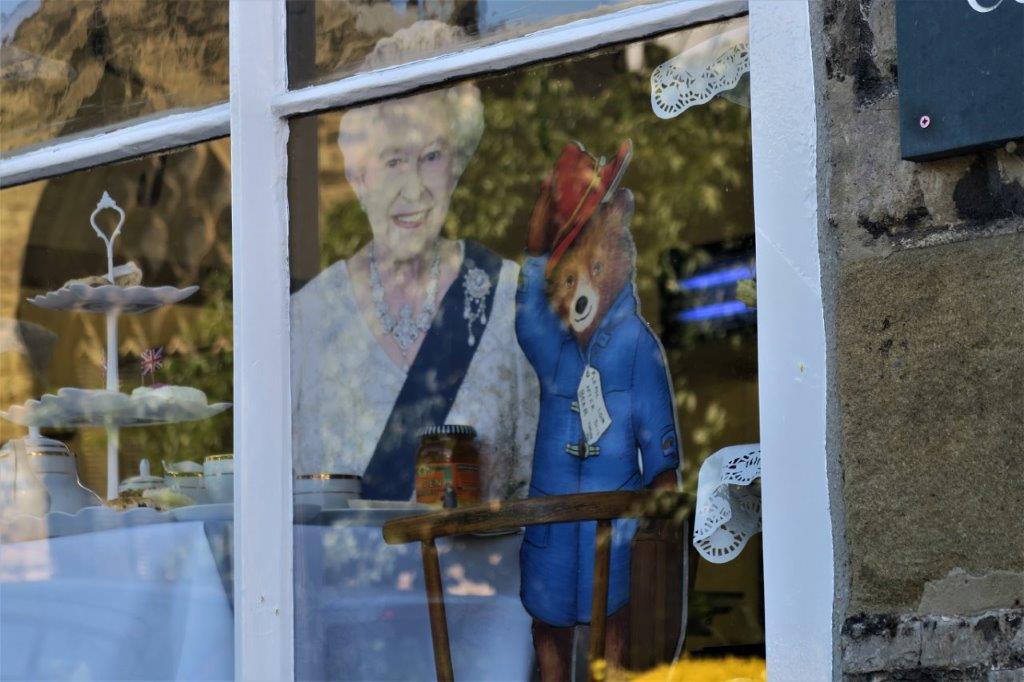 14 Tidewell's Baker
Above - a pre-amble through Tideswell before the main walk started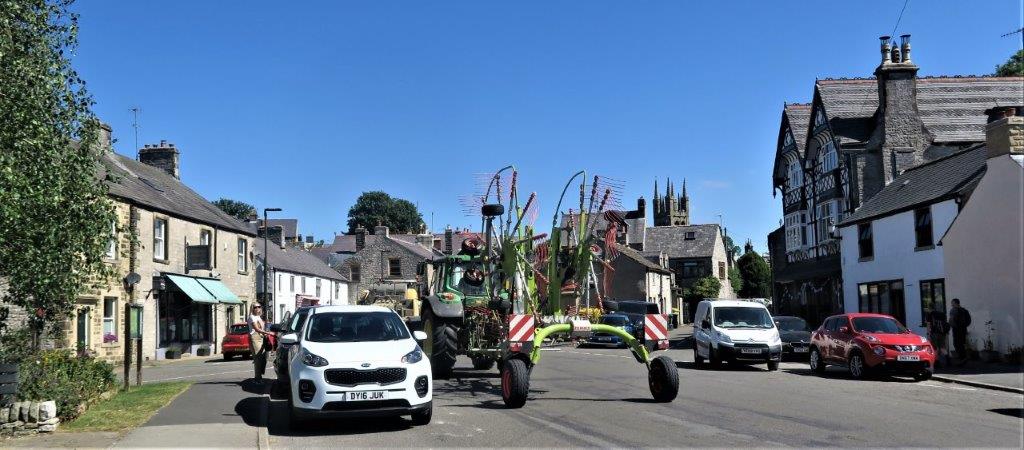 19 agricultural harvesting machines passing through Queens Street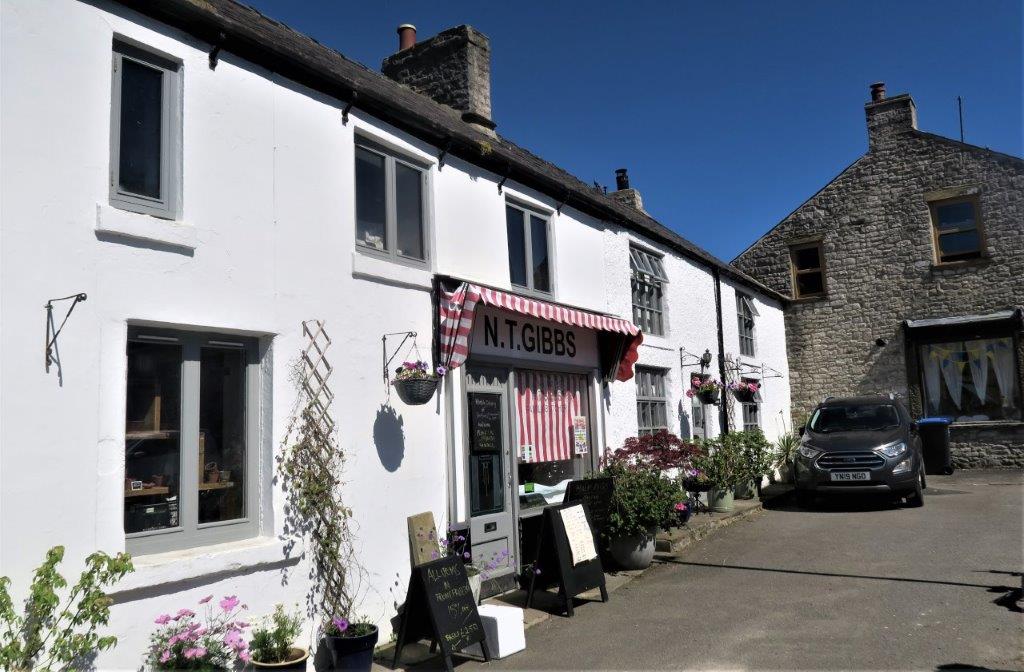 20 Tideswell's Butcher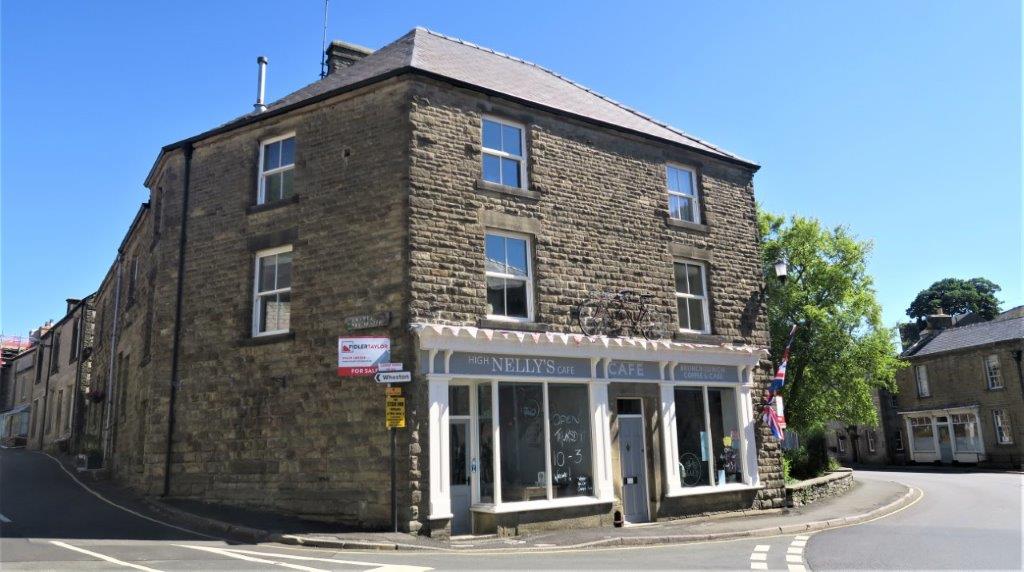 21Sign here to Wheston to left of Nelly's down Main Street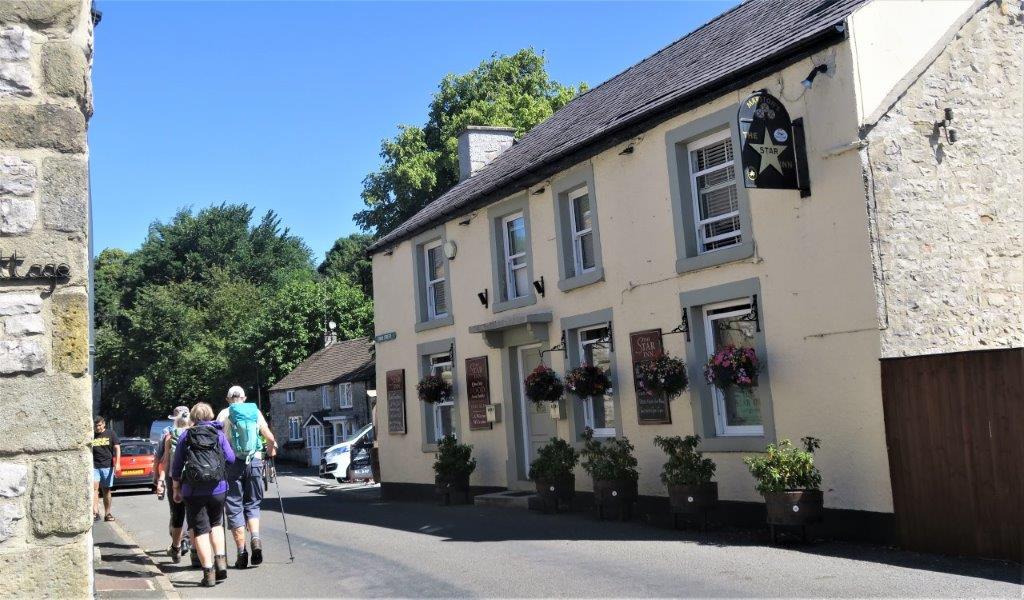 22 passing The Star Inn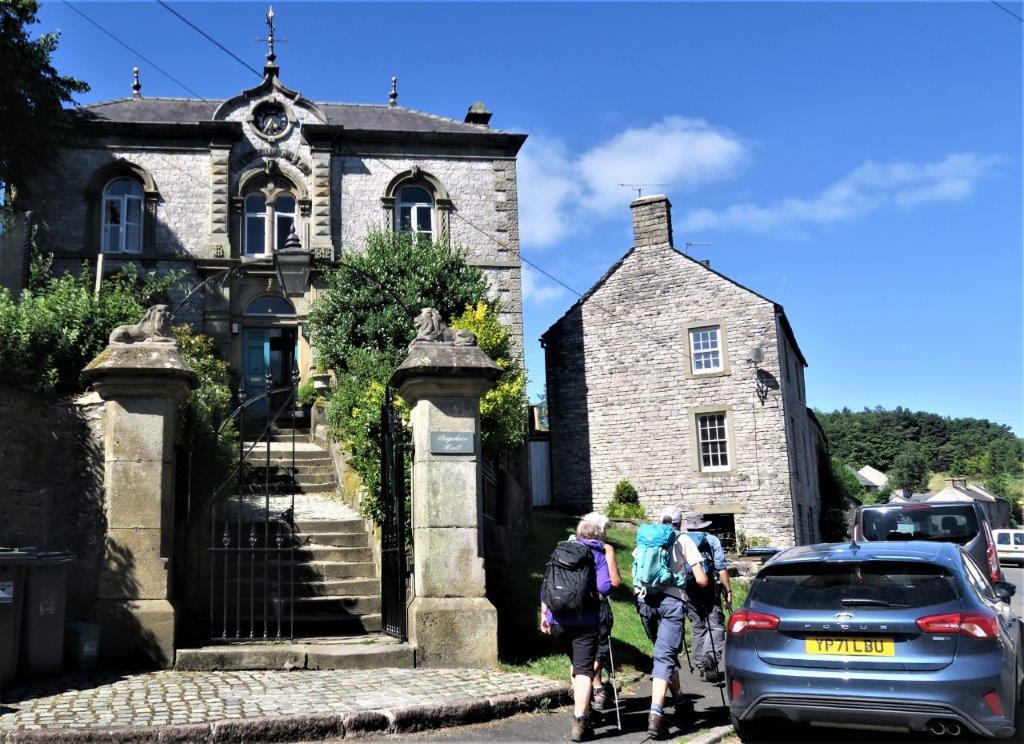 24 just passed Bagshaw Hall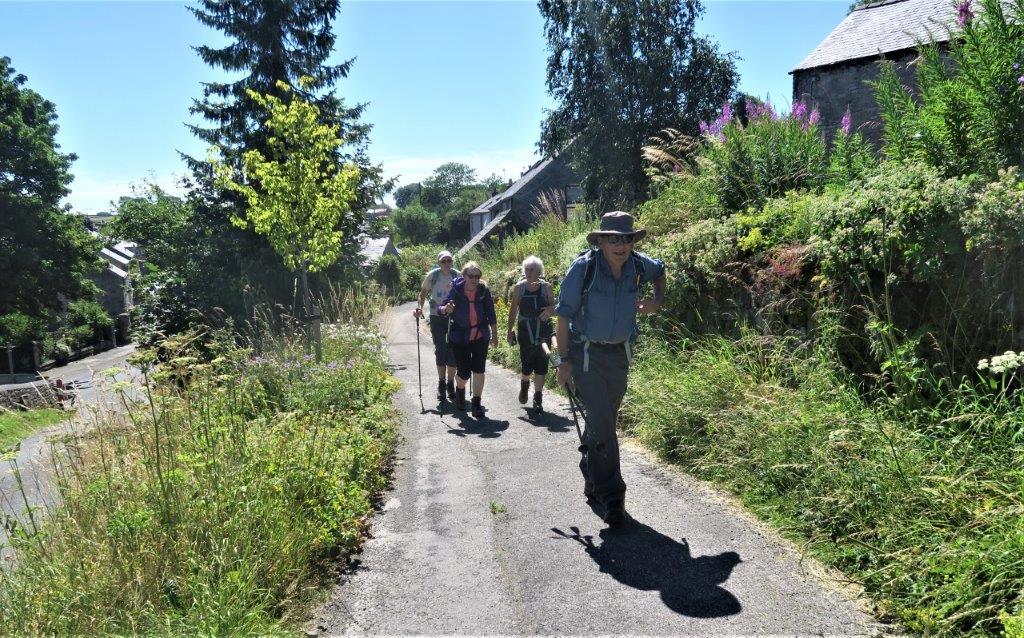 26 route avoiding roads until reaching Wheston Barn (Road)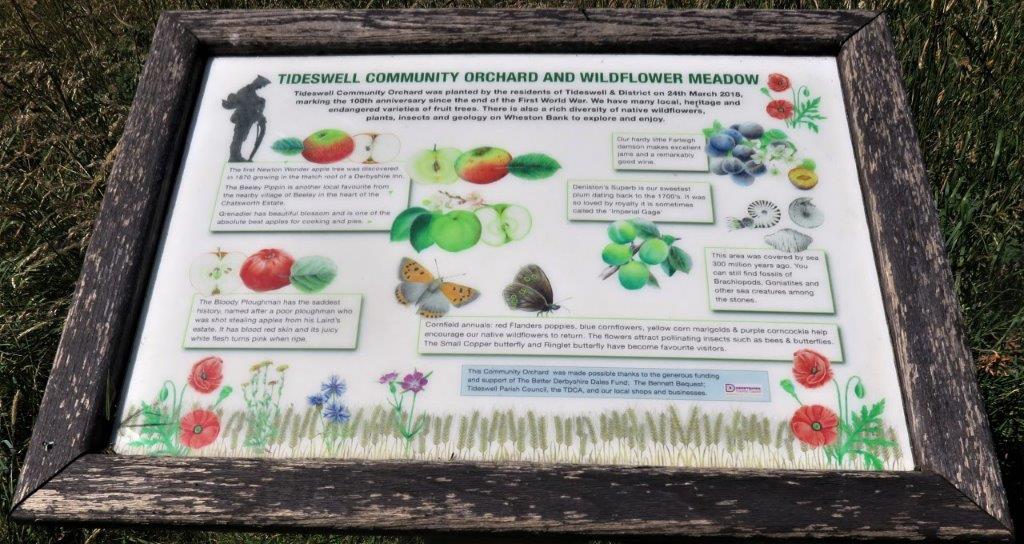 27 passed the Community Orchard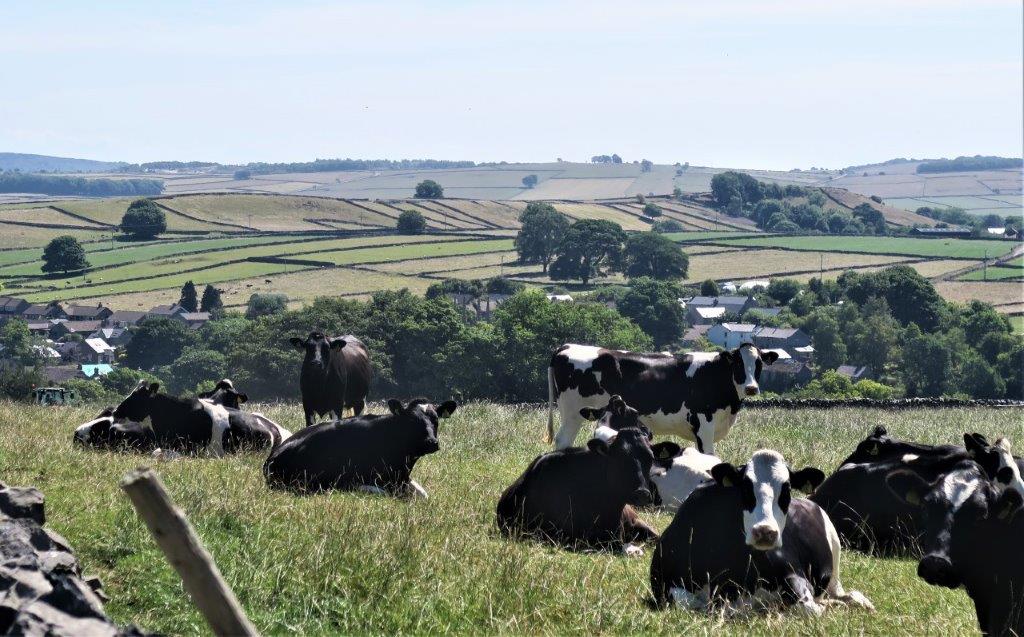 31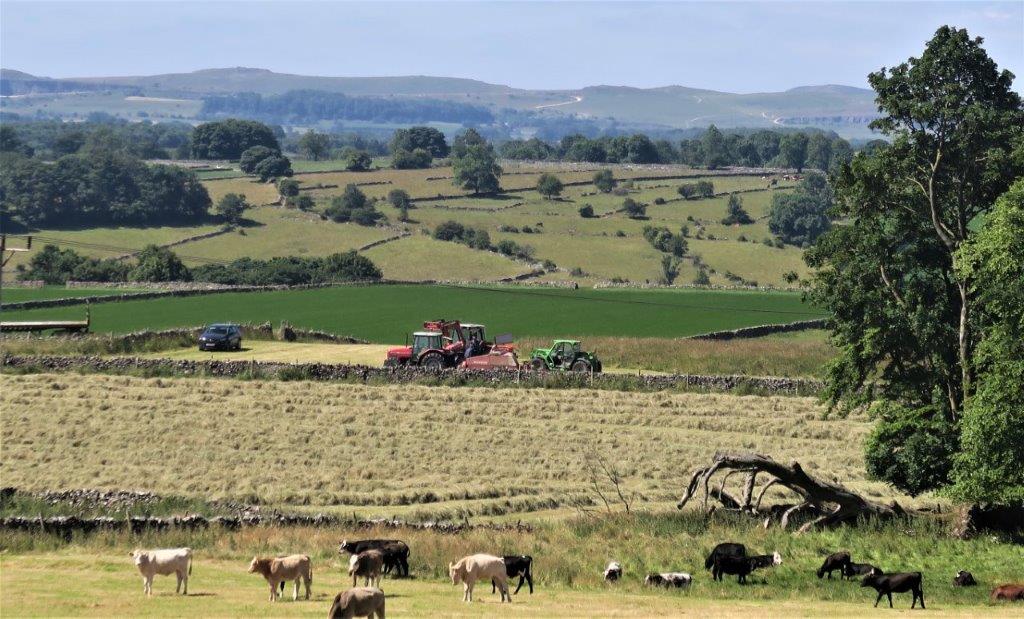 32 a stage in hay making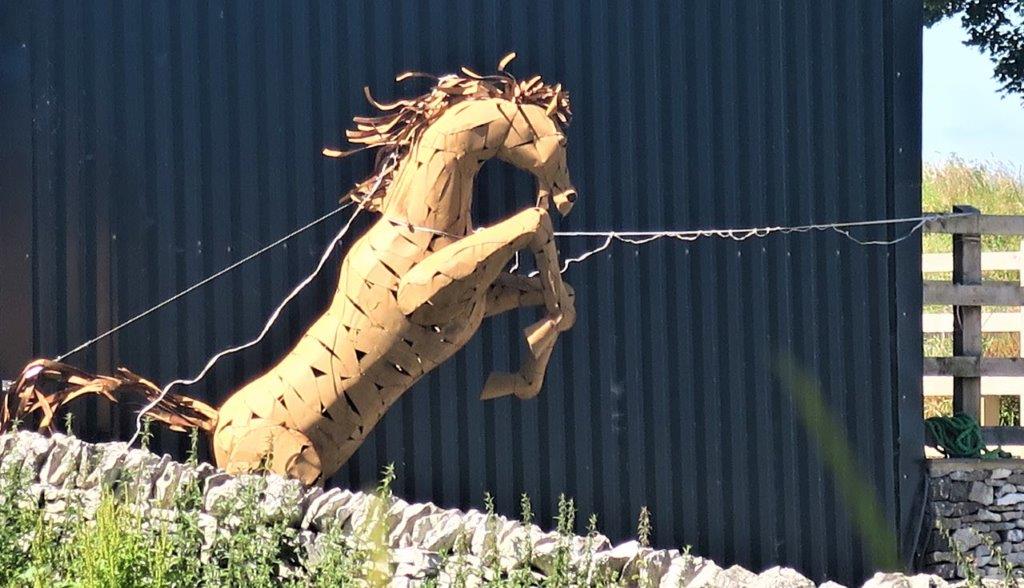 41 a wooden horse but not a Troyan one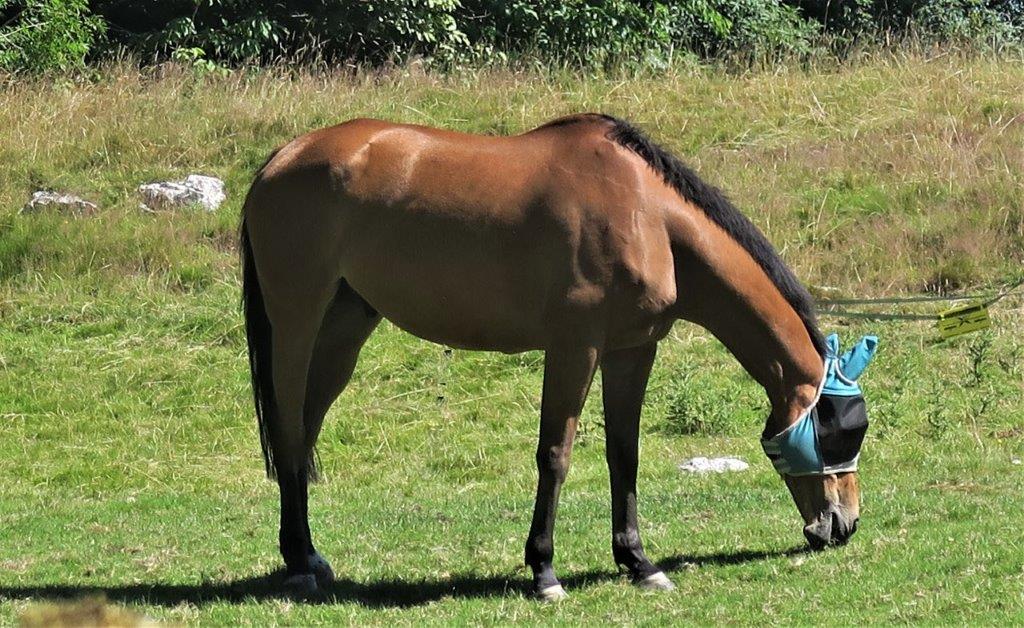 42
43 tea break at Wheston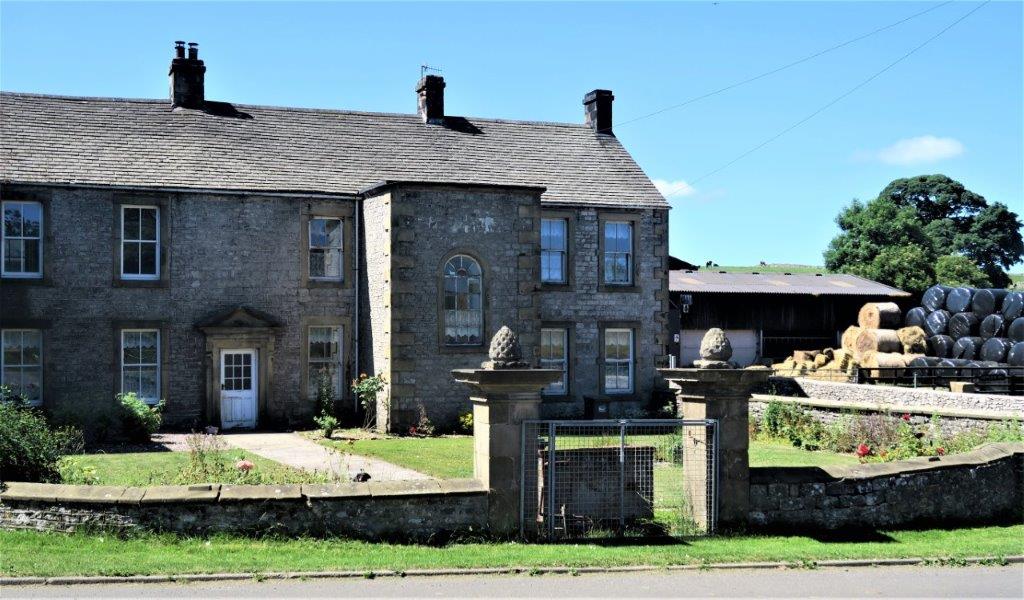 48 Wheston Hall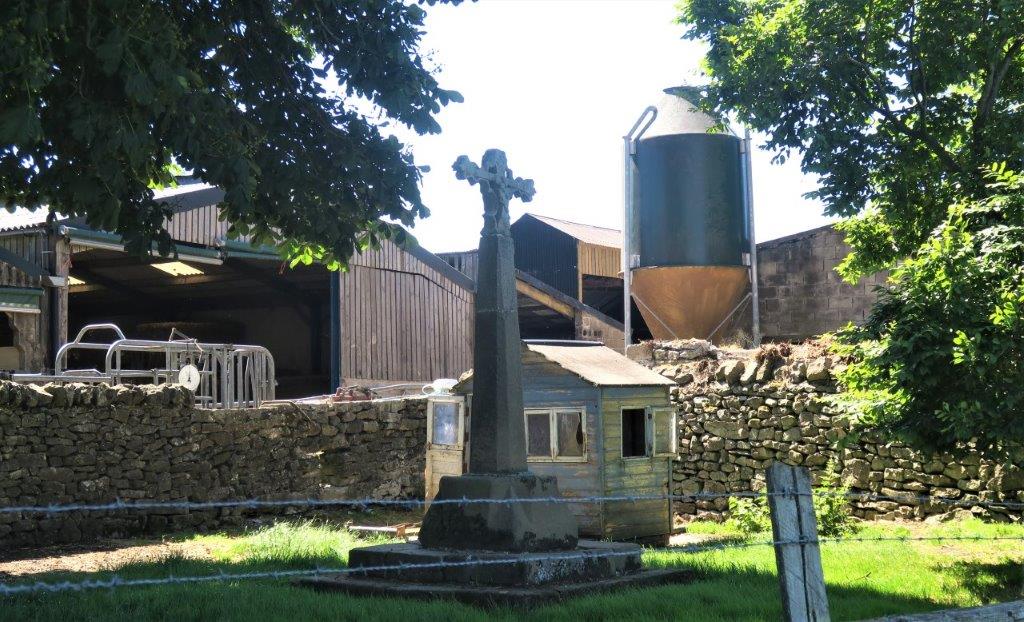 51 This 11 foot high cross has survived intact probably from the 14 century. It marked the way from Tideswell to Buxton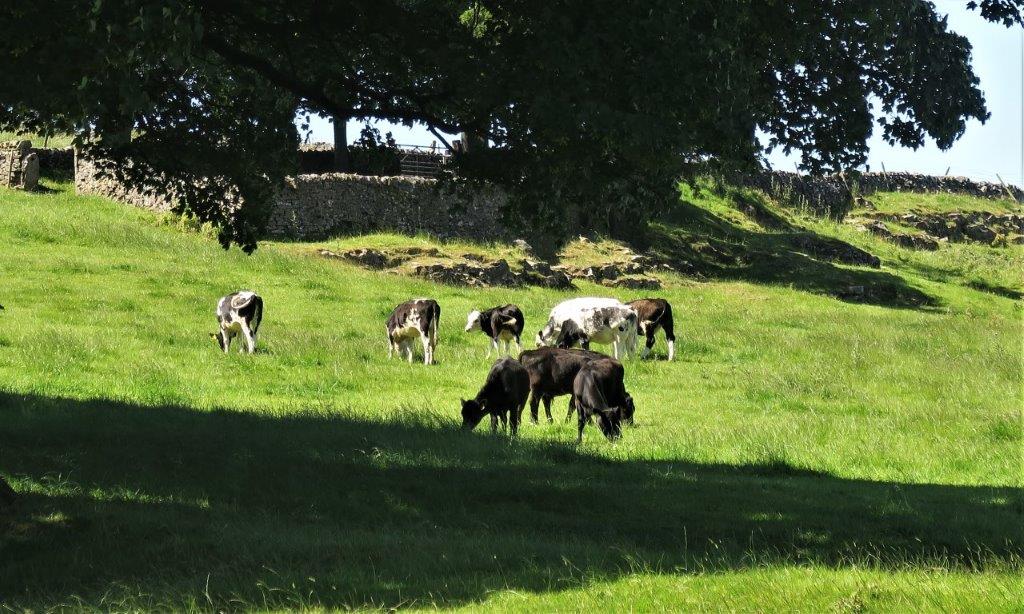 52 cows browsing in the sun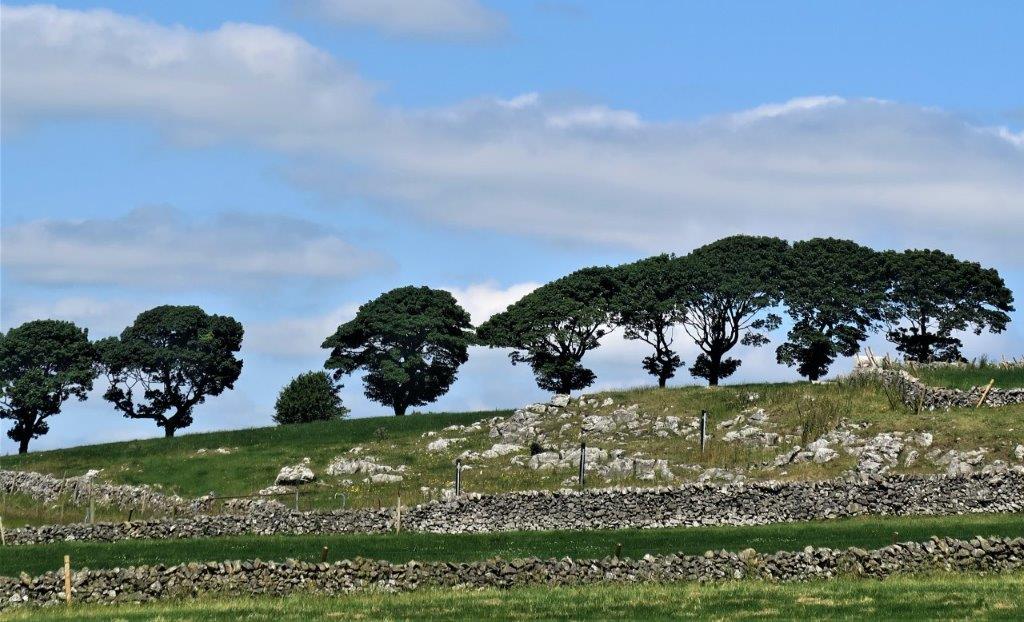 60 Trees on Skyline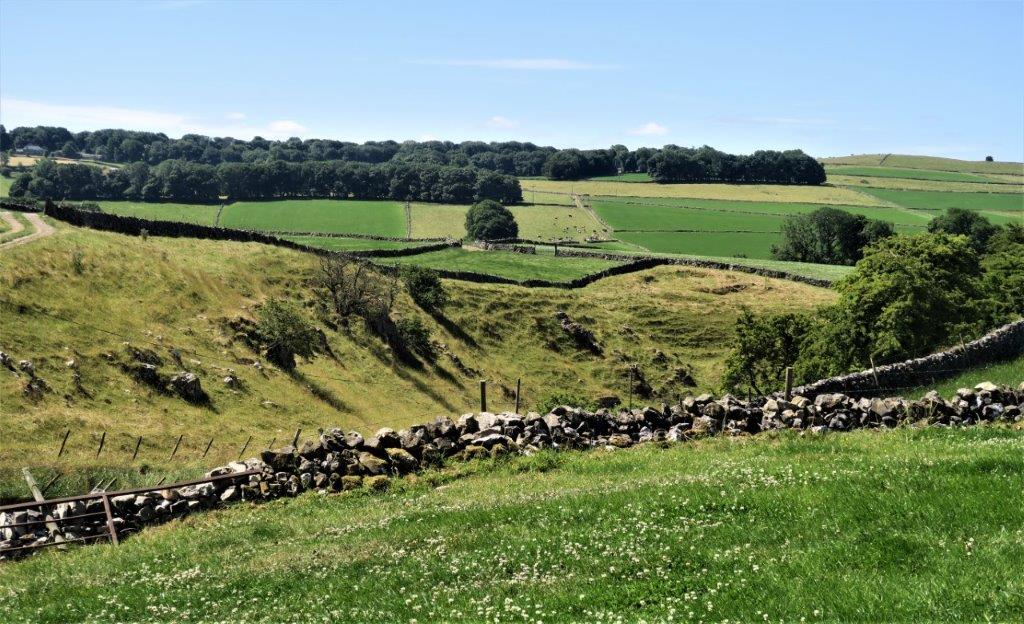 62 Wheston Barn (Road) turns down this canyon and passes between Peter Dale and Hay Dale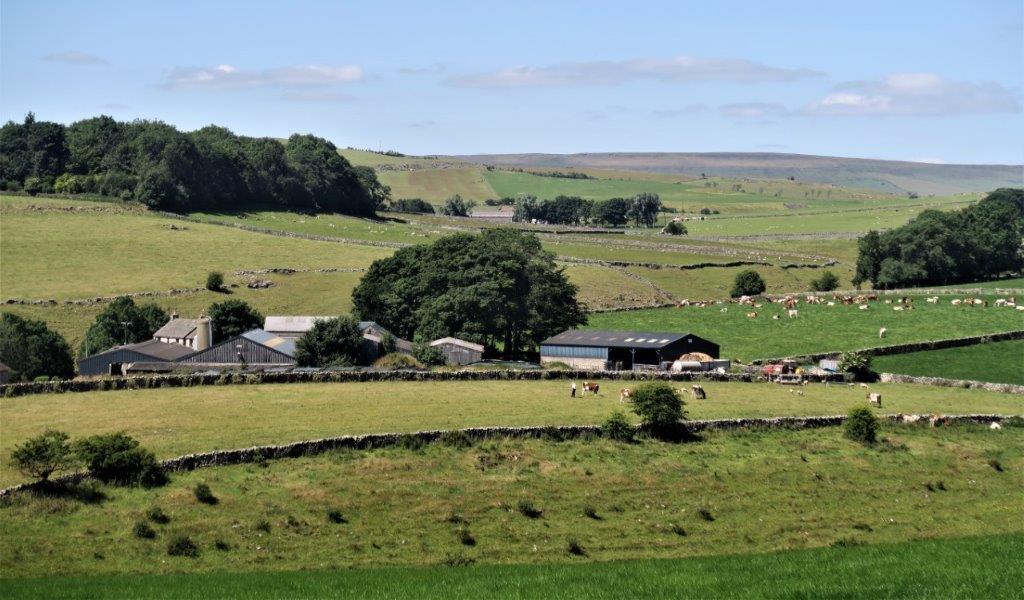 64 View of Dale Head Farm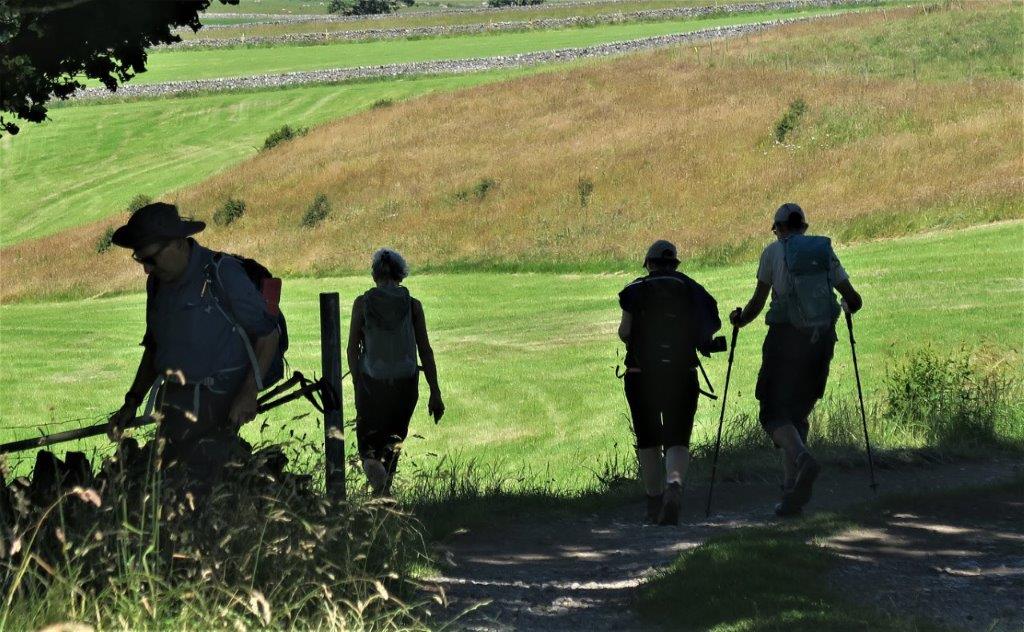 66 turning off the vehicle track to get to get closer to the NE top edge of Hay Dale.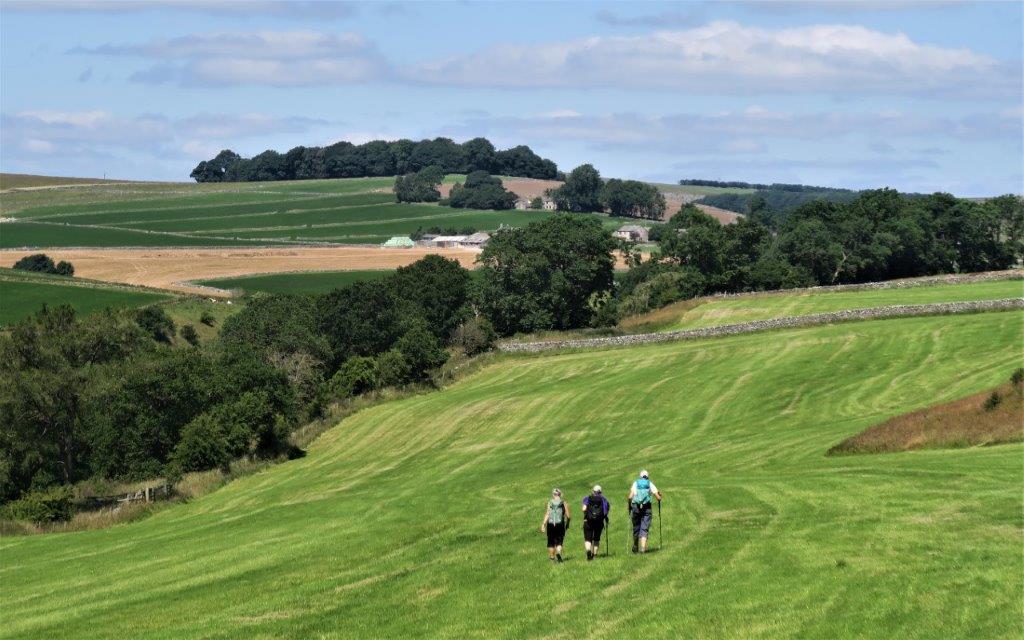 67 after grass cutting no clearly defined footpath is seen on the ground - but there appears to be a path sign ahead where the rwo dry-stone walls meet.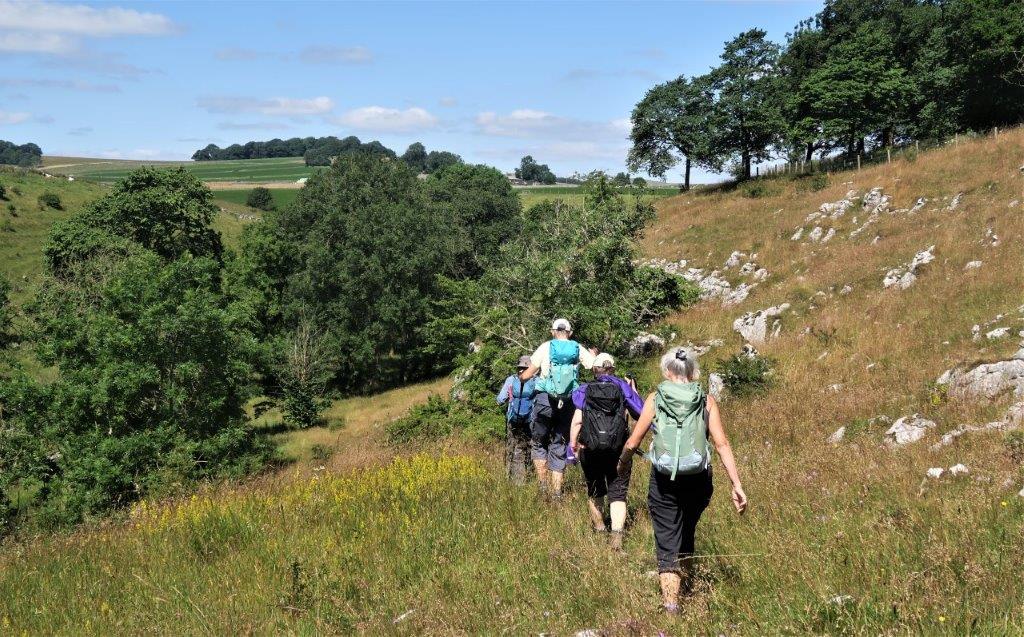 74 descending into Hay Dale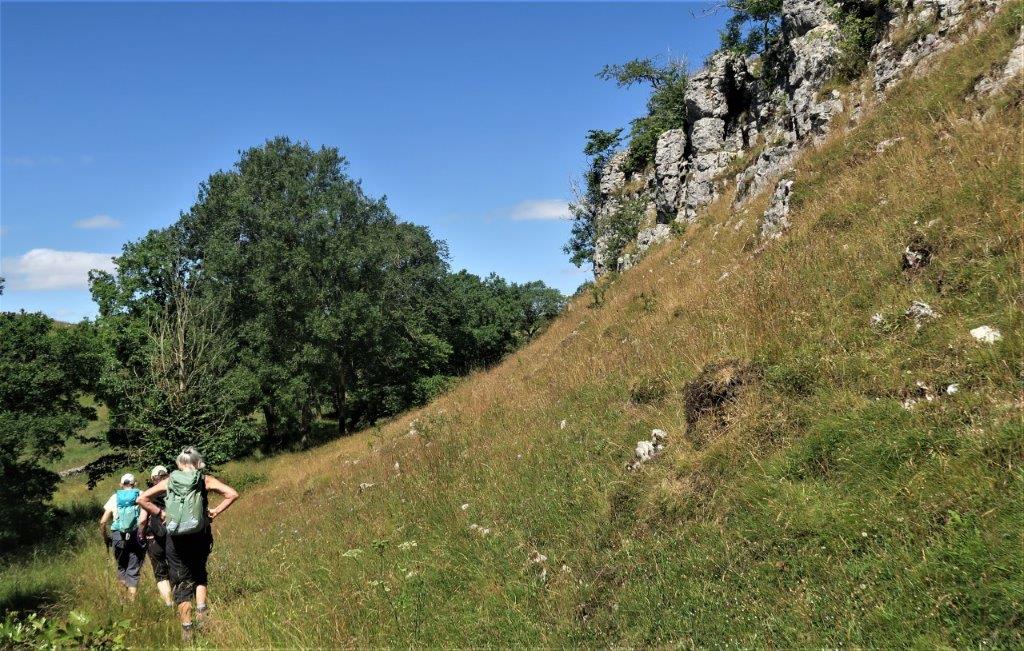 76 ditto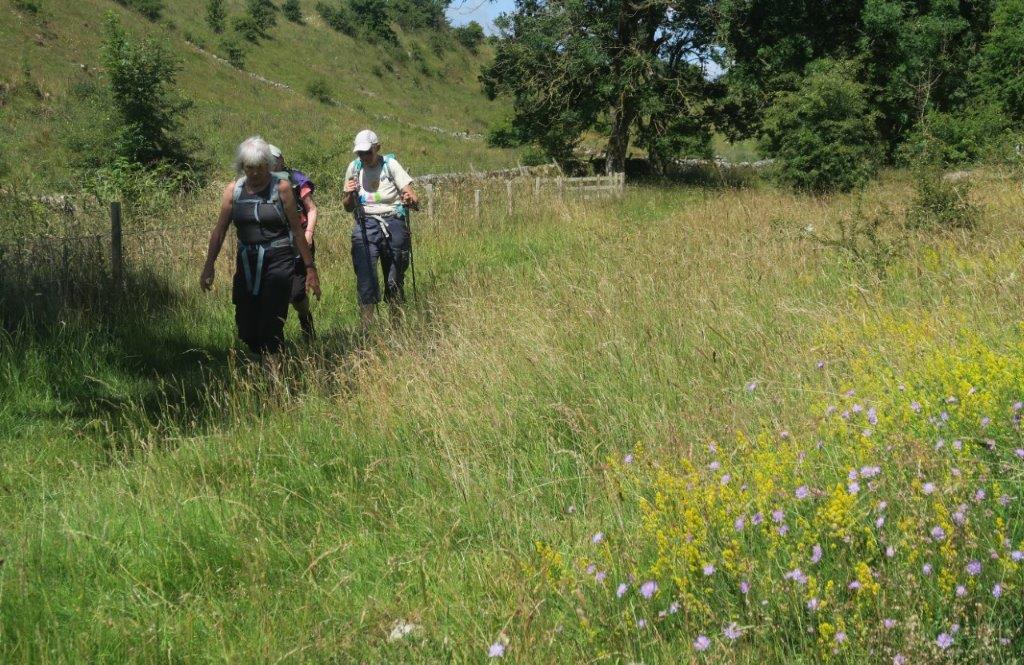 80 after V- turning we are going through part of Hay Dale towards Wheston Road before Peter Dale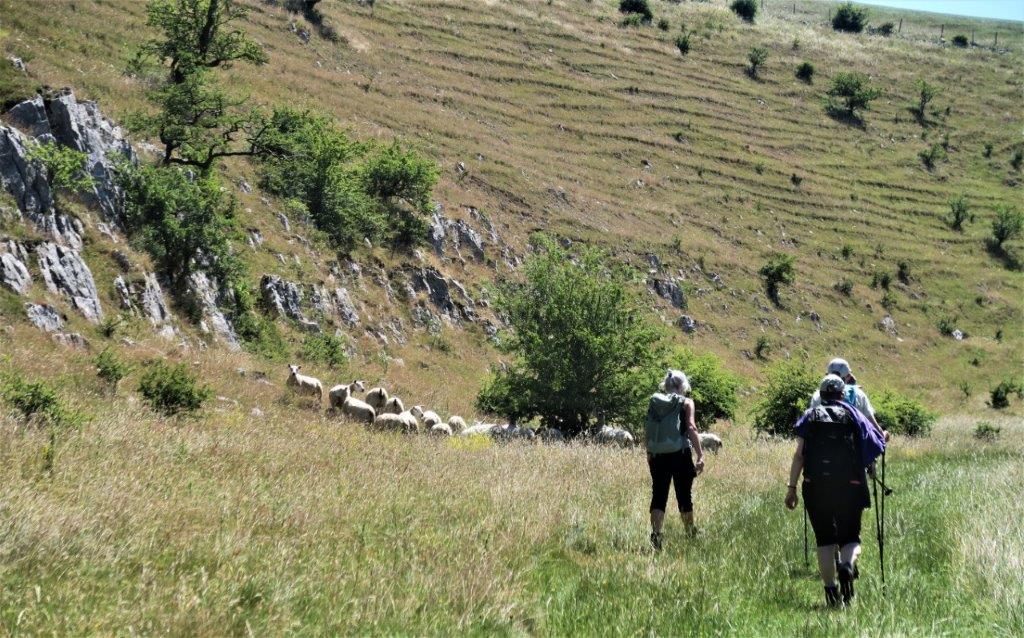 84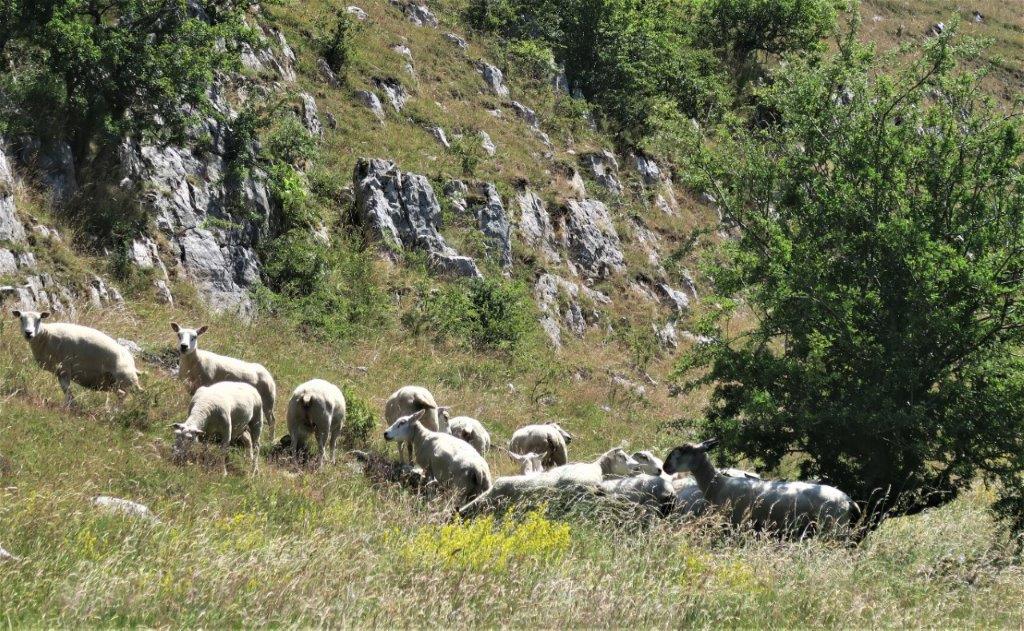 85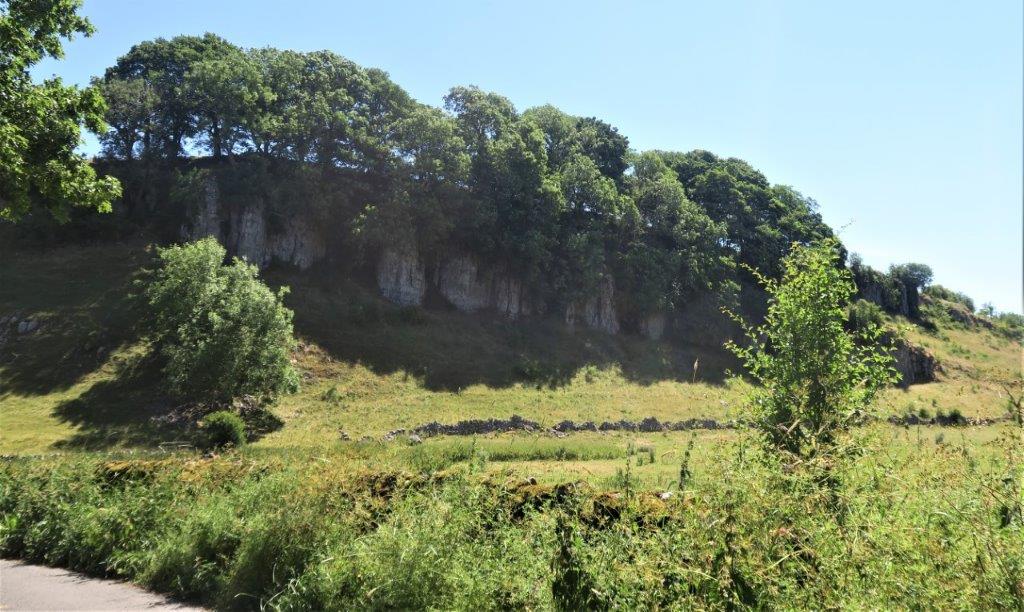 91 Wheston Barn (Road visible to left with Peter Dale across it. We did not cross into Peter Dale - see walk directions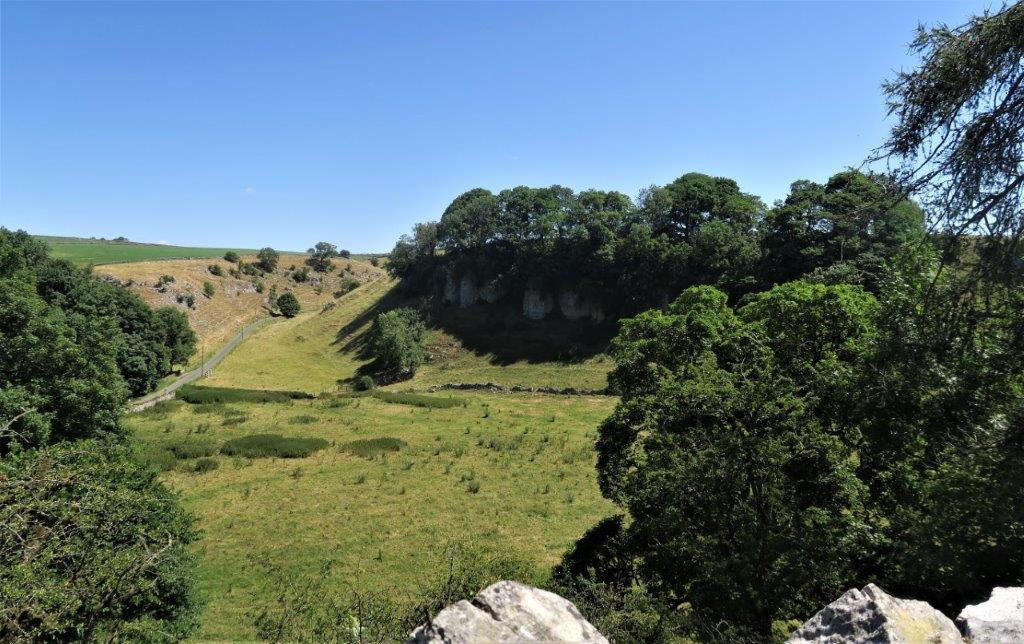 93 from the top Edge of Peter Dale one see Wheston Barn (Road) and the also the far side of Peter Dale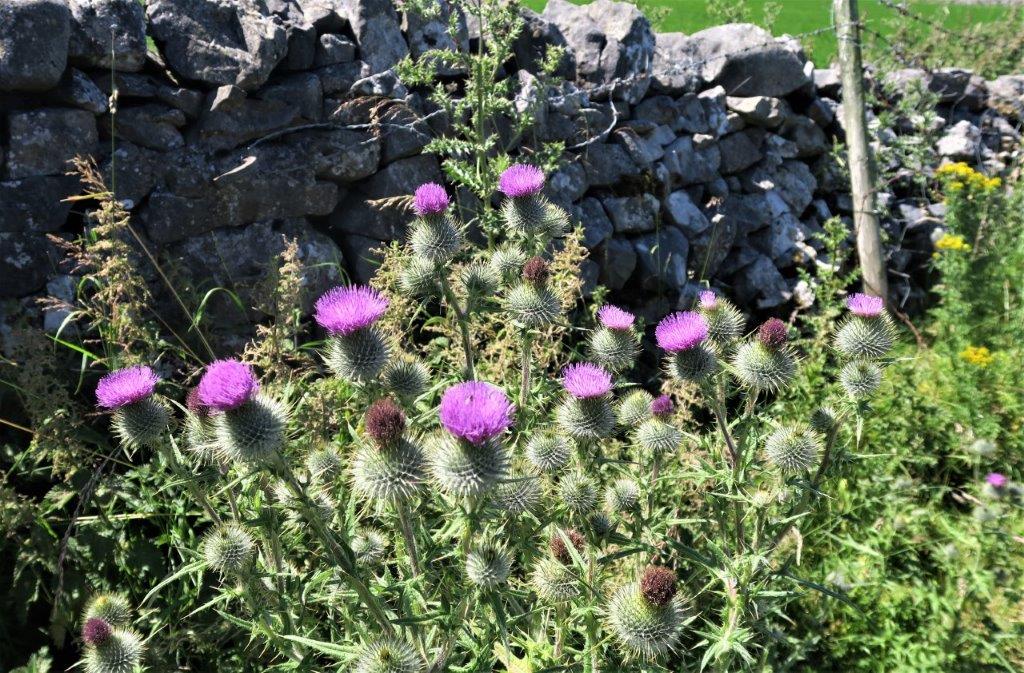 97 Thistles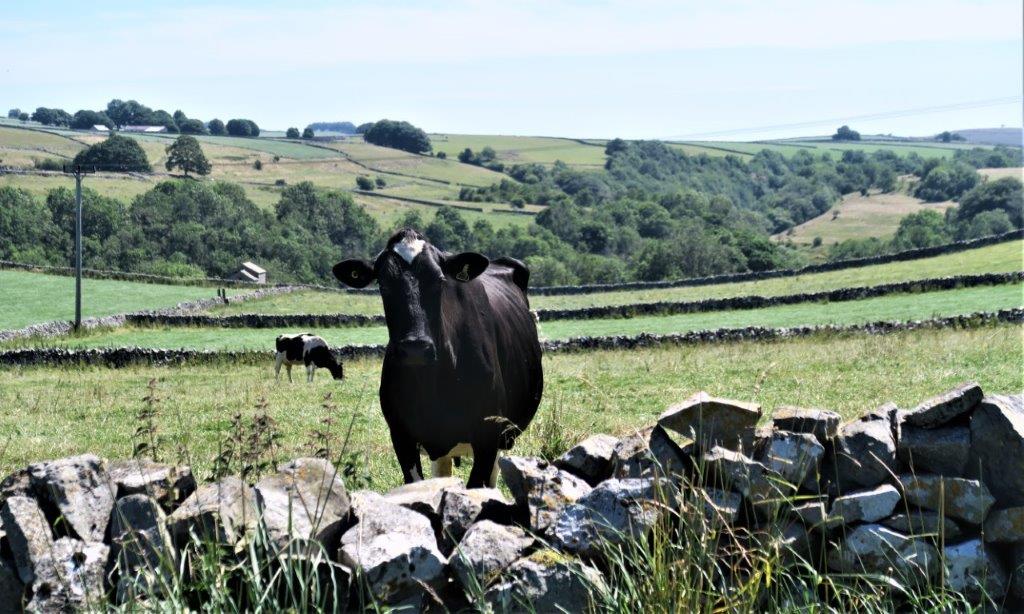 100 We are now well away from Peter Dale top Edge and see Monks Dale in the distance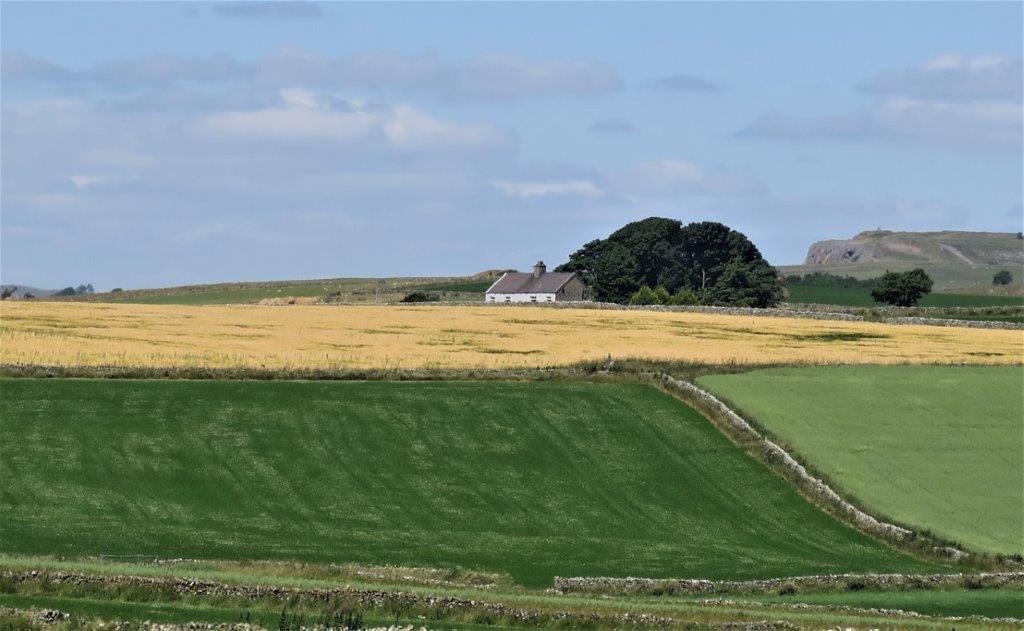 101 Think we are looking at The Cop Trig Beacon just visible to top right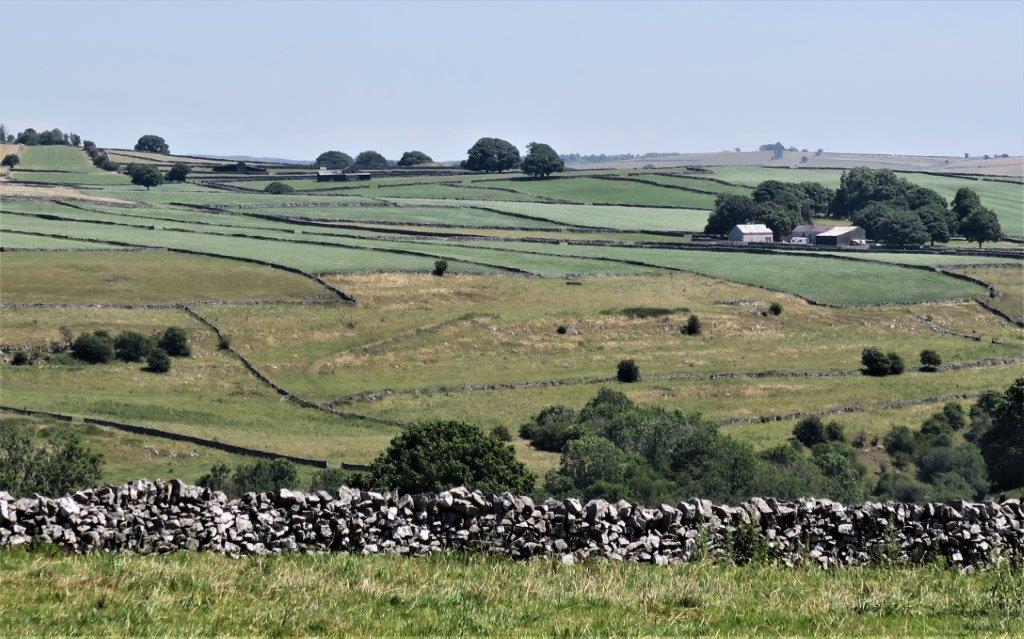 103 which farm?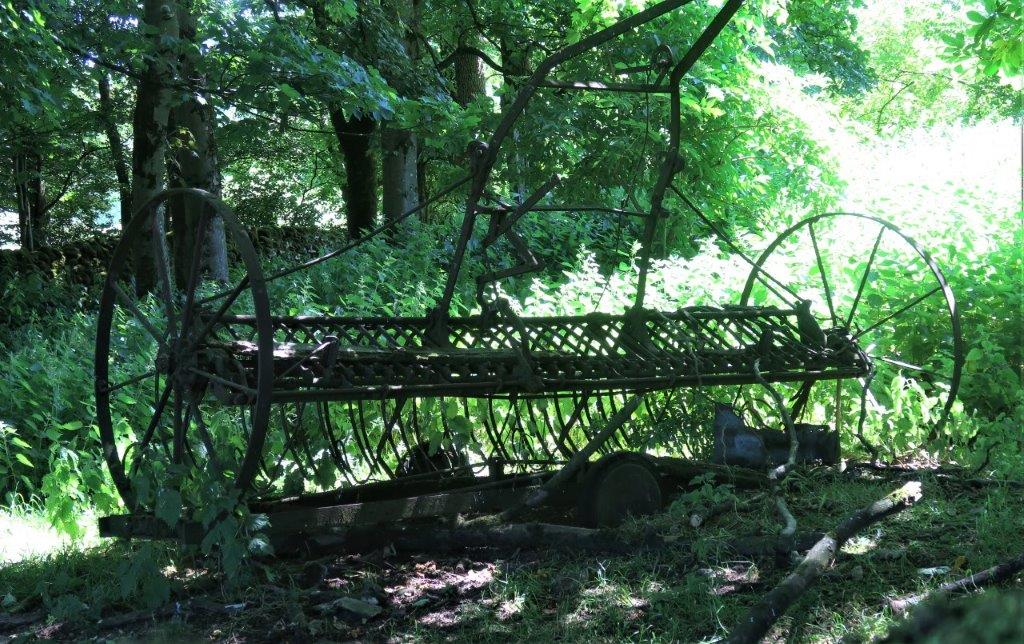 106 antique agricultural machinery near Hayward Farm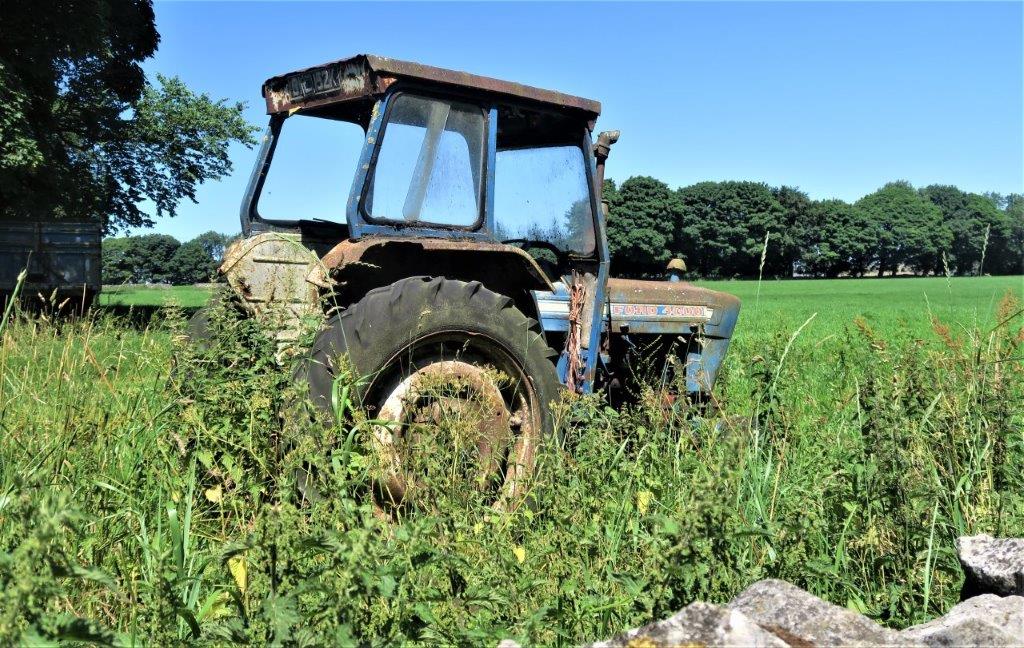 107 a more modern but probably permanently broken down Ford tractor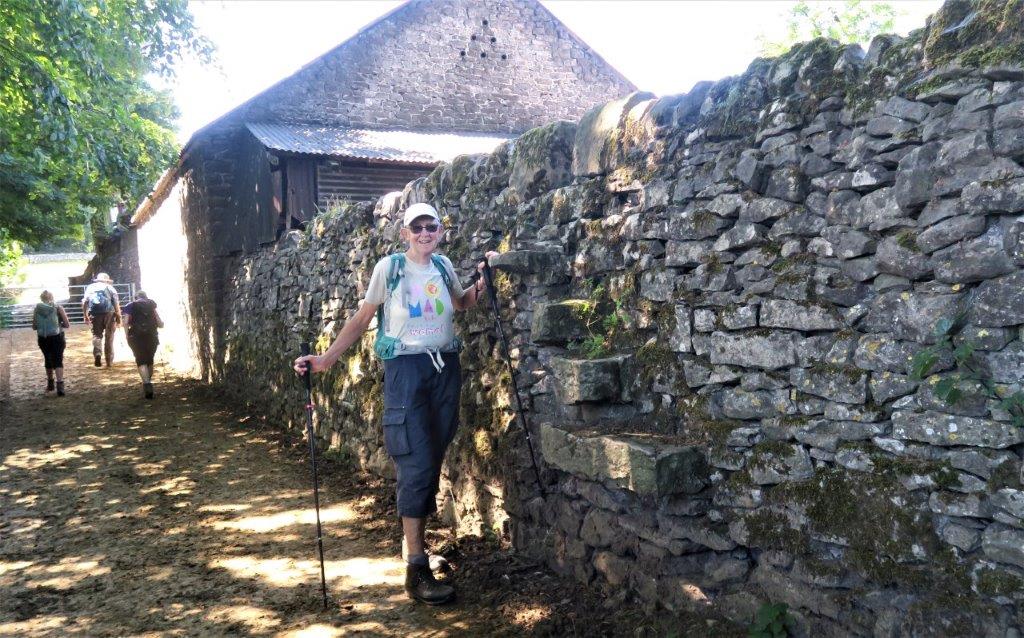 109 The highest stile in the Peak District? any regulations for stone step styles?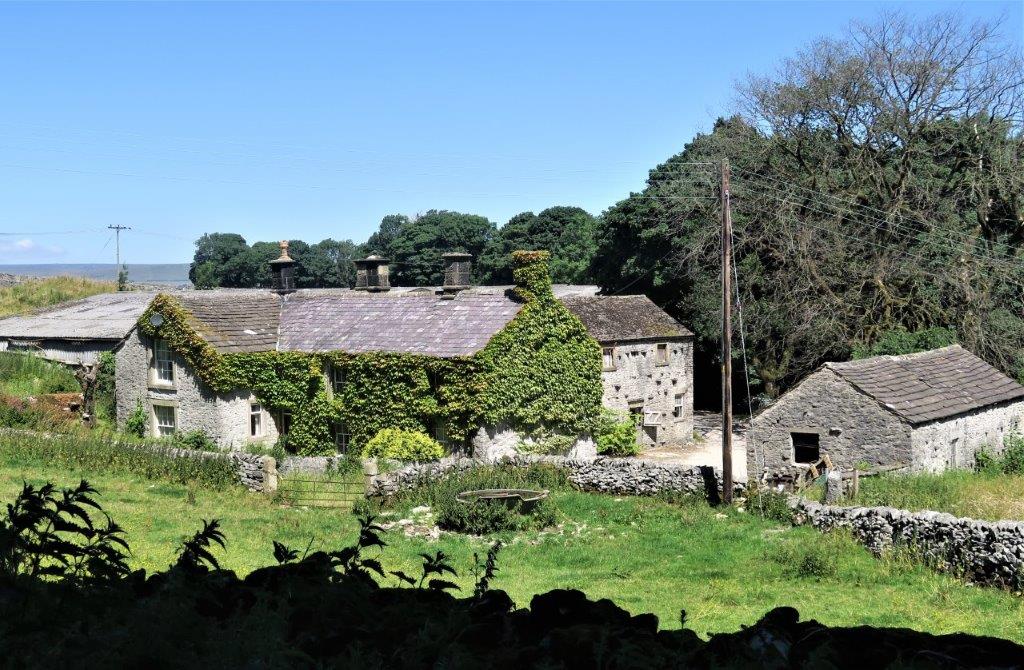 113 looking back at Hayward Farm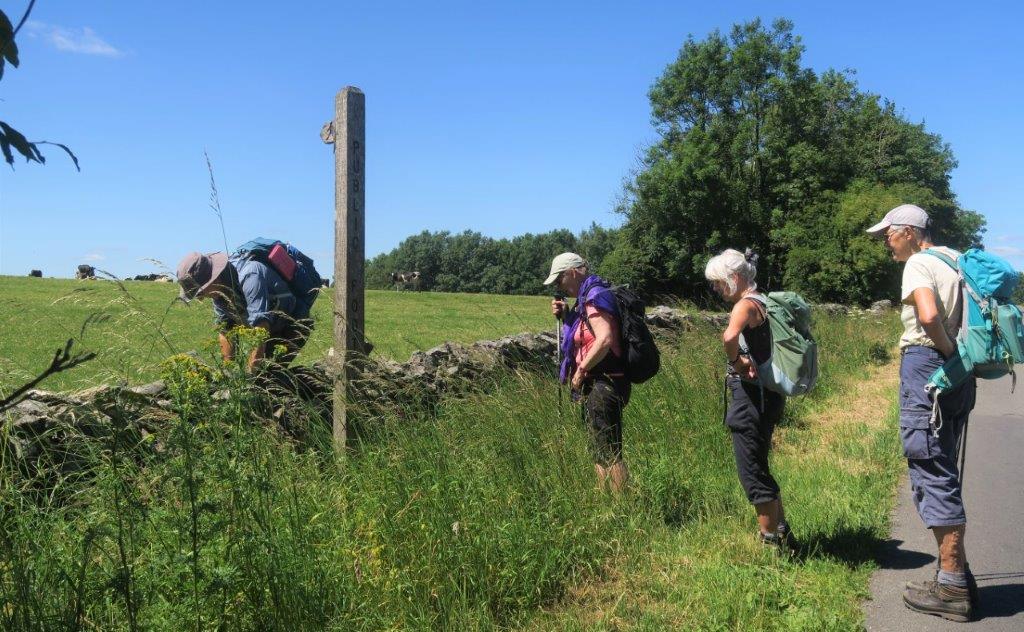 115 crossing road and heading toward Taylor Farm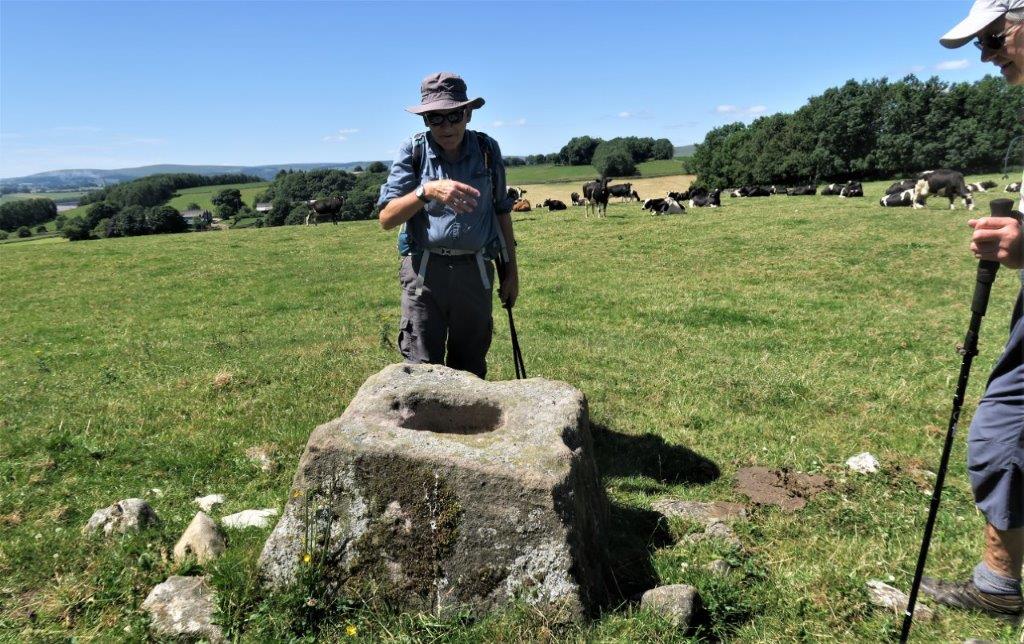 118 a 'Cross' base possibly marked a Packhorse route from Wheston to Buxton (as did the cross at Wheston)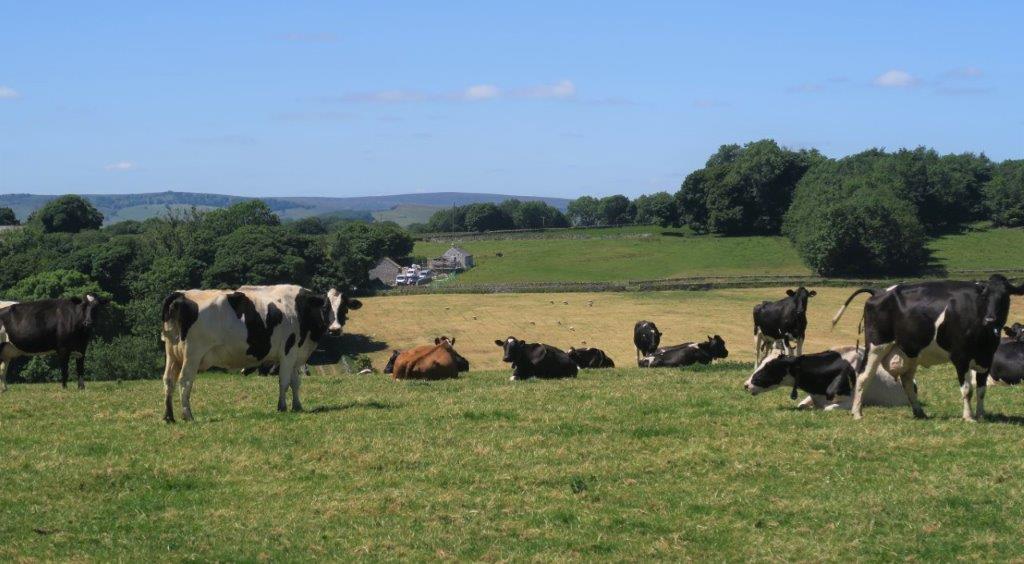 119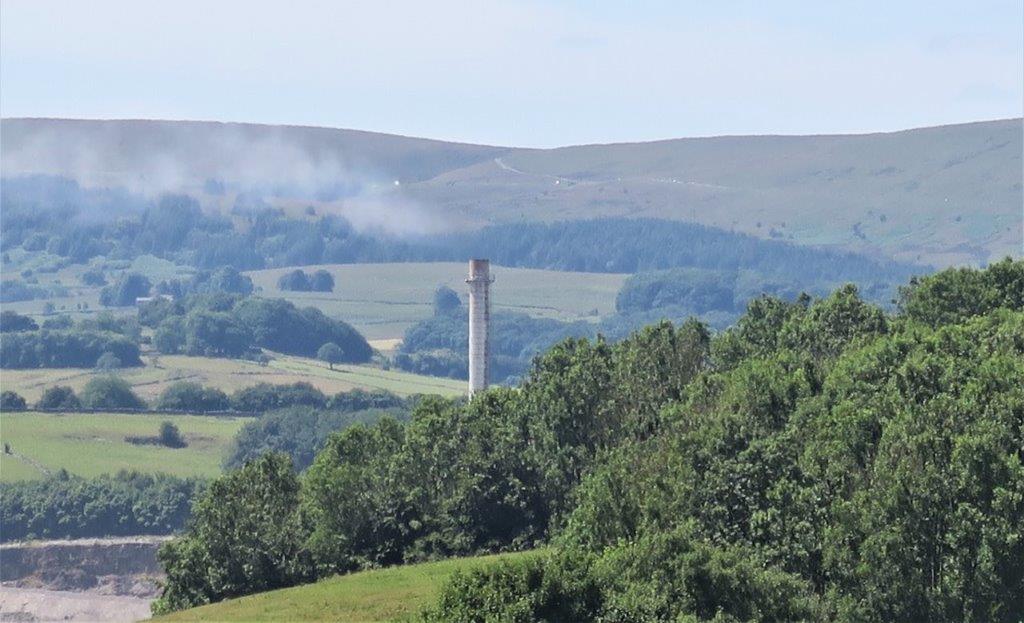 120 zoomed into a distant chimney probably in the Tunstead Quarry - see quarry left bottom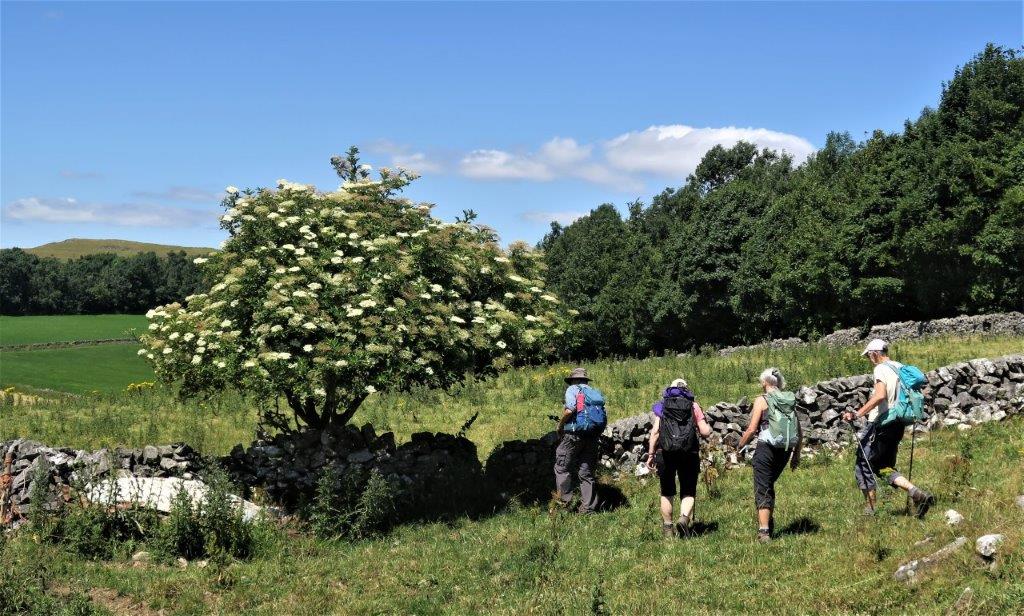 126 on toward Taylor Farm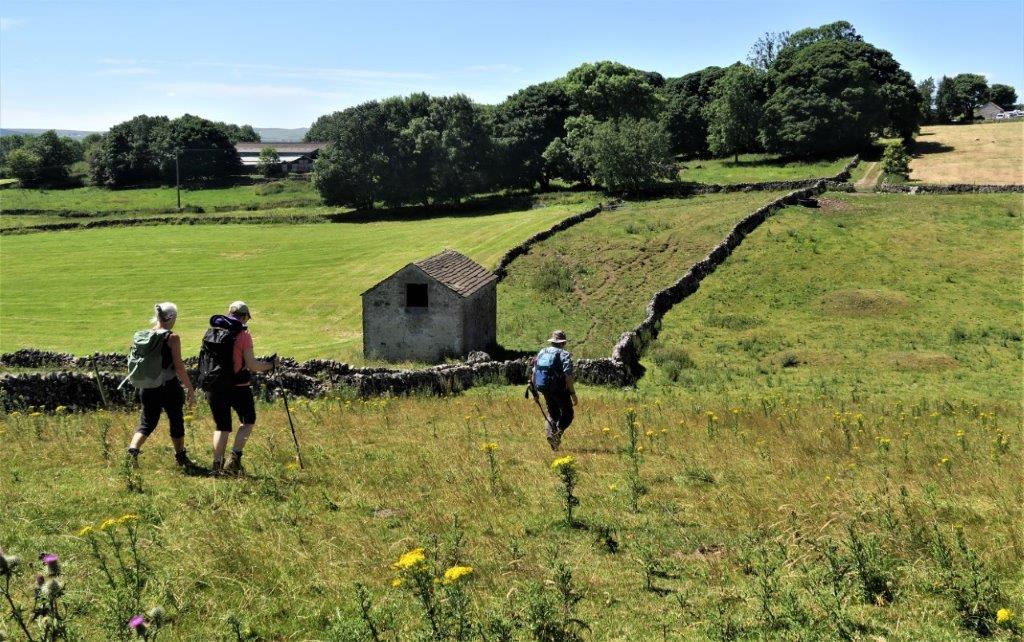 127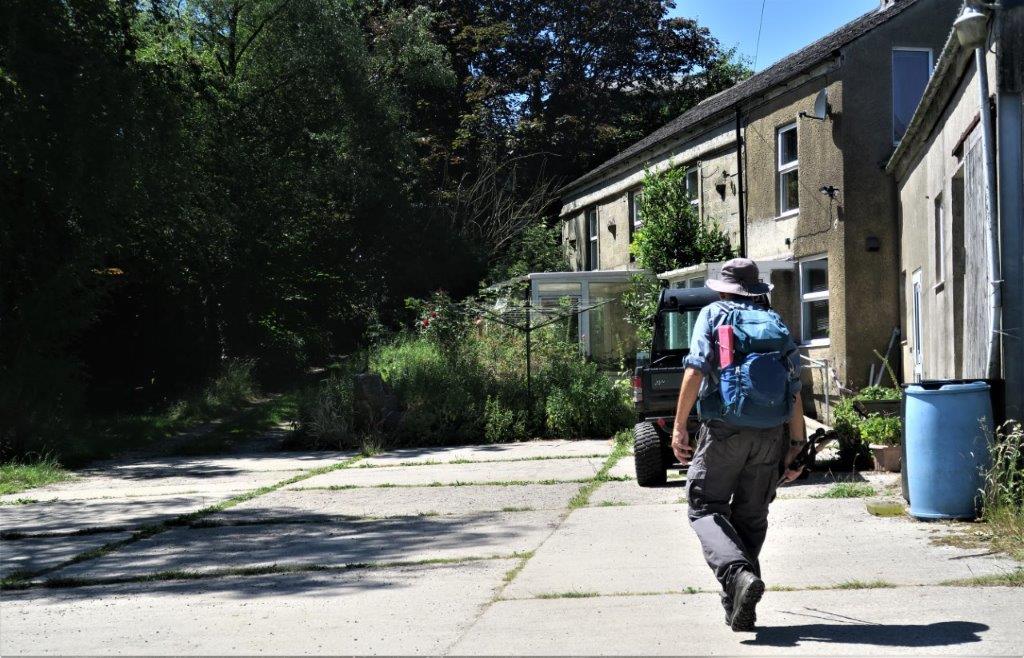 132 Taylor Farm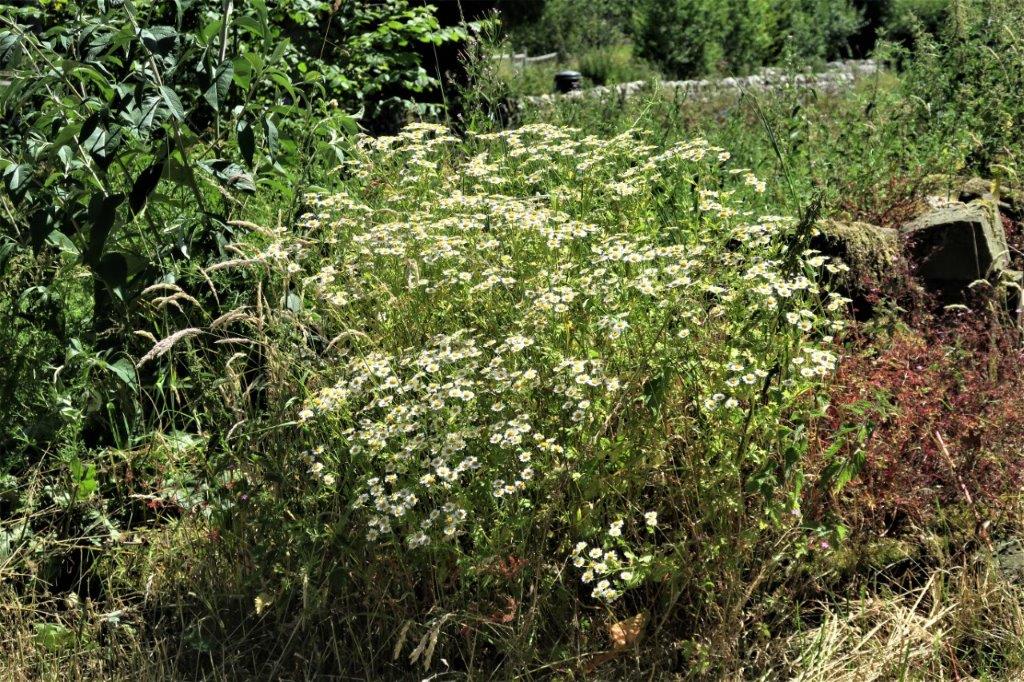 133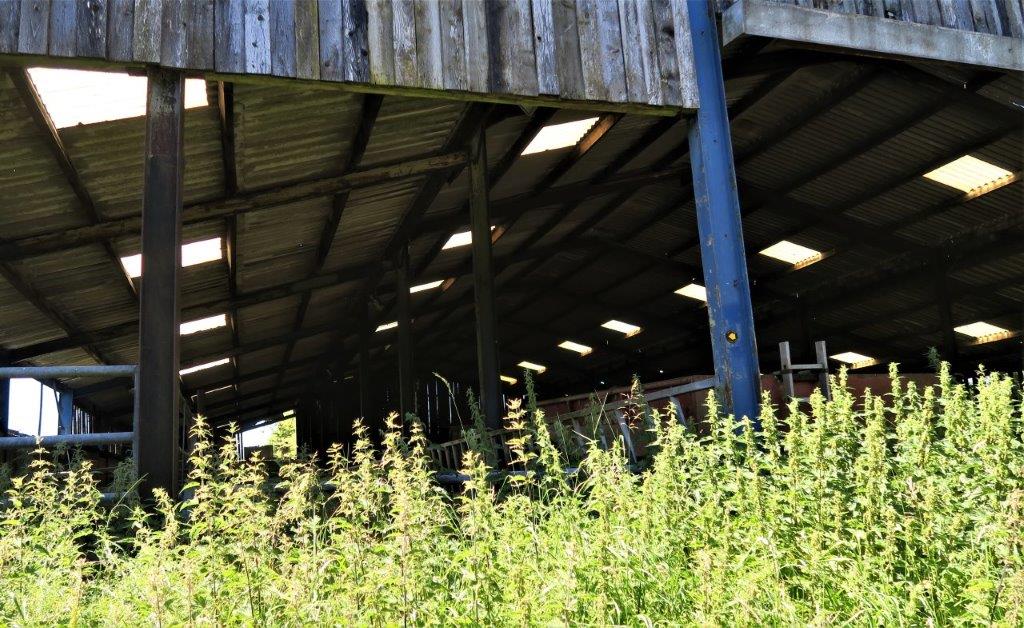 134 still on Footpath through 'Taylor Farm' - not too clear what farming is being done - names on maps often retained when land use has changed?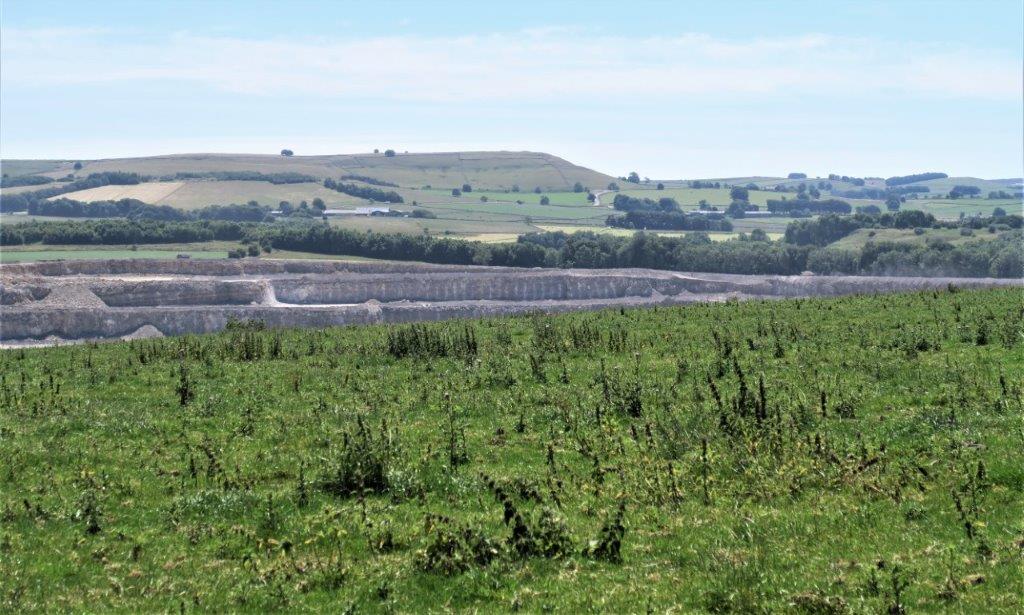 135 Tunstead Quarry presumably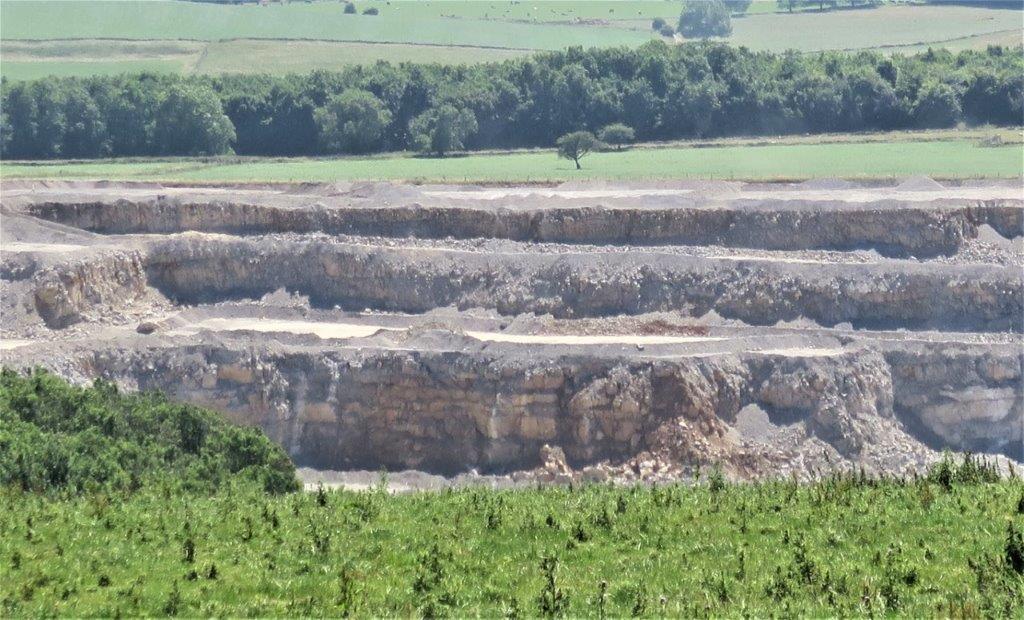 136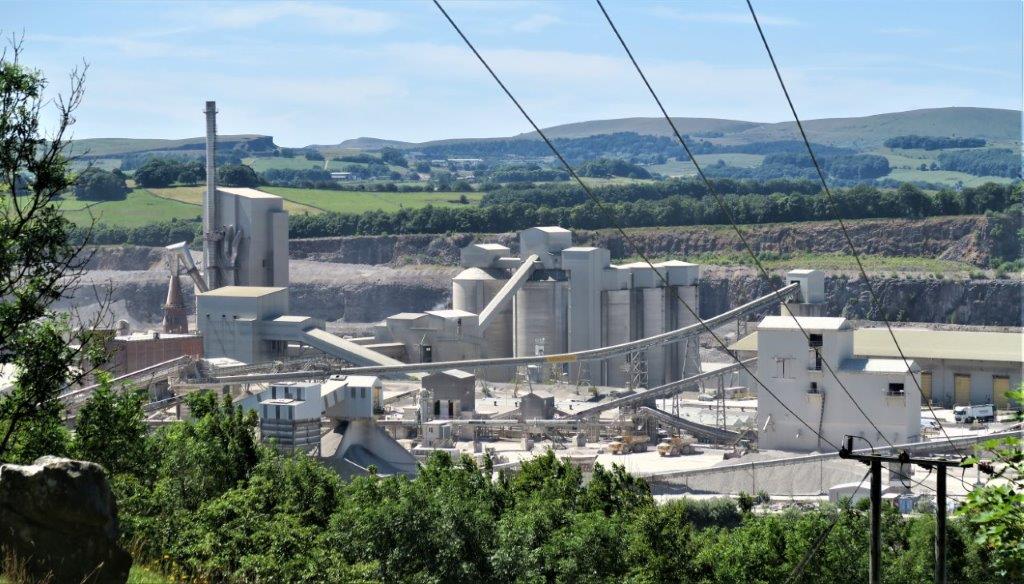 138 some works in Tunstead Quarry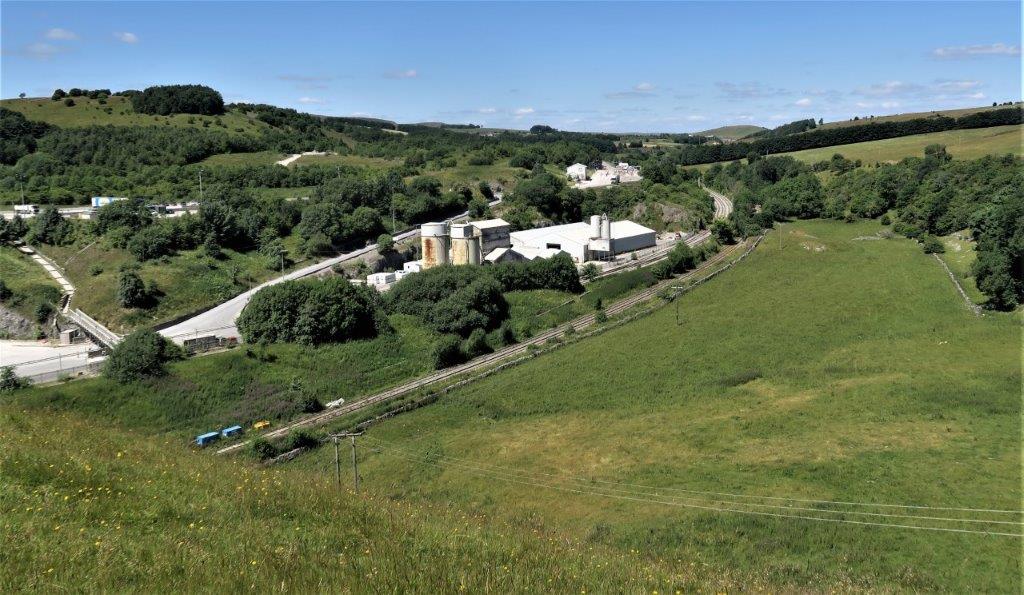 141 This picture shows, on the left, the Footpath bridge crossing road and rail tracks into the Works. However the closest rail-track goes through a tunnel and the FP goes over the tunnel close to it's entrance. One then descends and follows paths to the steps up to the steel Foot Bridge
142 added 16 July - think that we cross timber stile (to right of mid picture) and go down right on narrow overgrown paths to the stairs leading up to the Foot Bridge?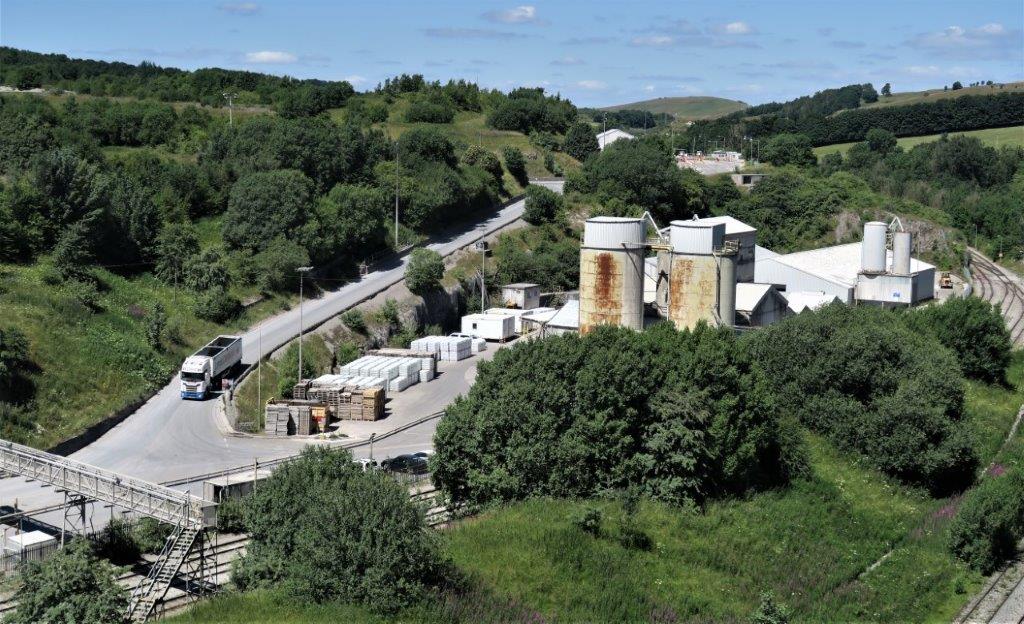 143 refer to picture 141 - to left, at bottom, is clearer detail of steel stairs and footbridge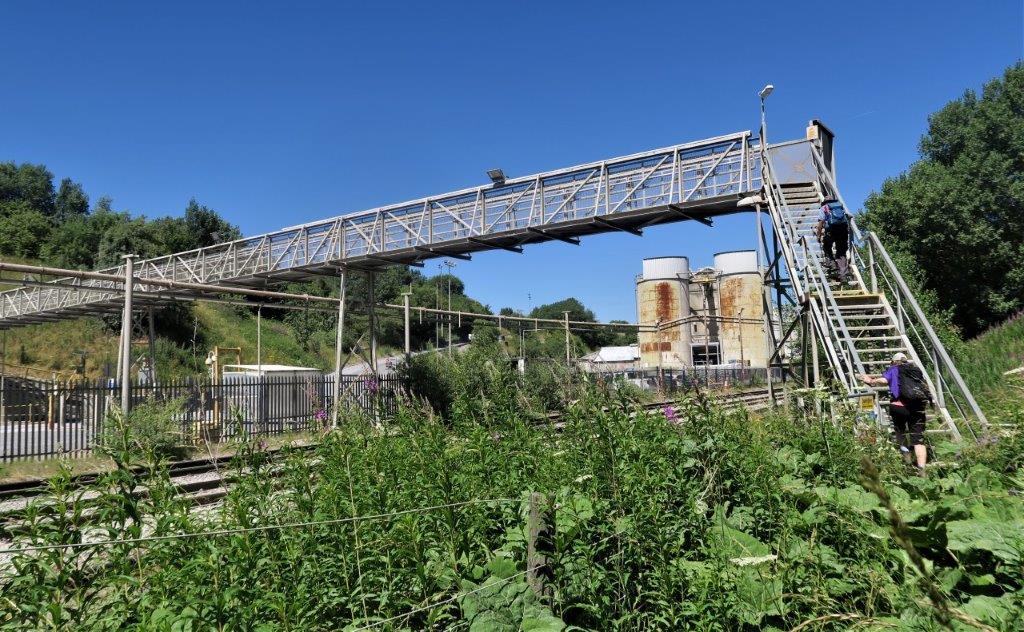 145 a closer view of stairs and Foot Bridge with some of our party going up stairs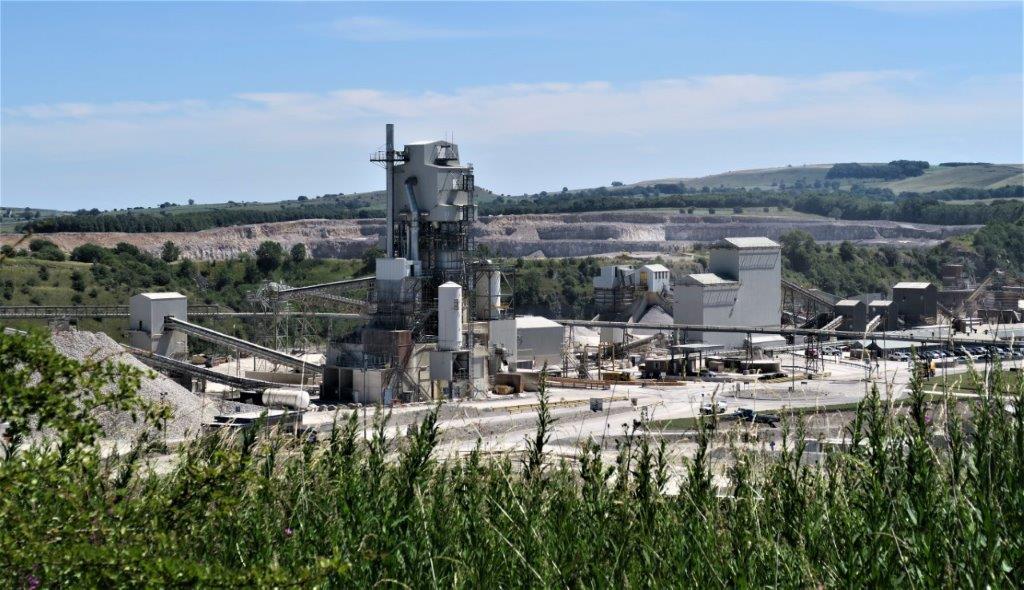 150
152 &153 our party following the Quarry Northern Boundary to the West, but soon turn off onto tarred lane Hardybarn Lane running ~SSE on the quarries Western Boundary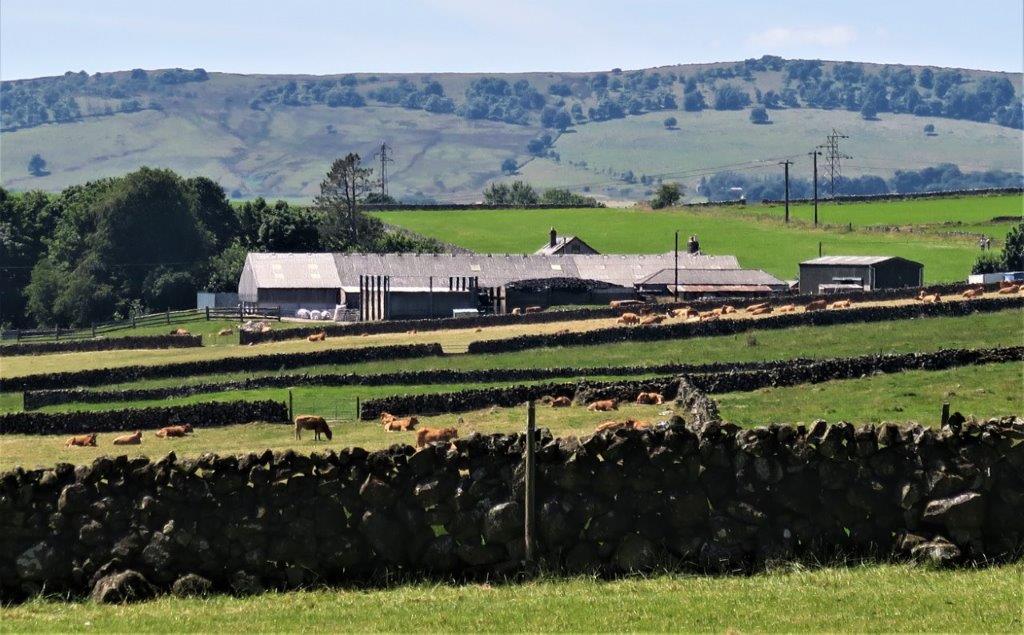 154 Which Farm seen here from Hardybarn Lane?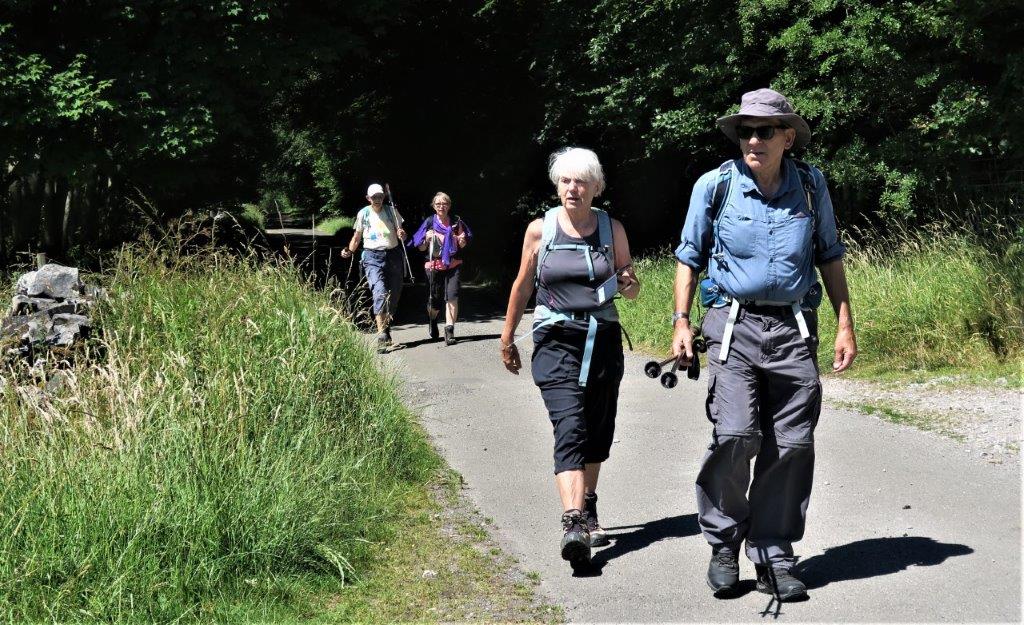 158 further along on Hardybarn Lane, but soon to turn off to Woo Dale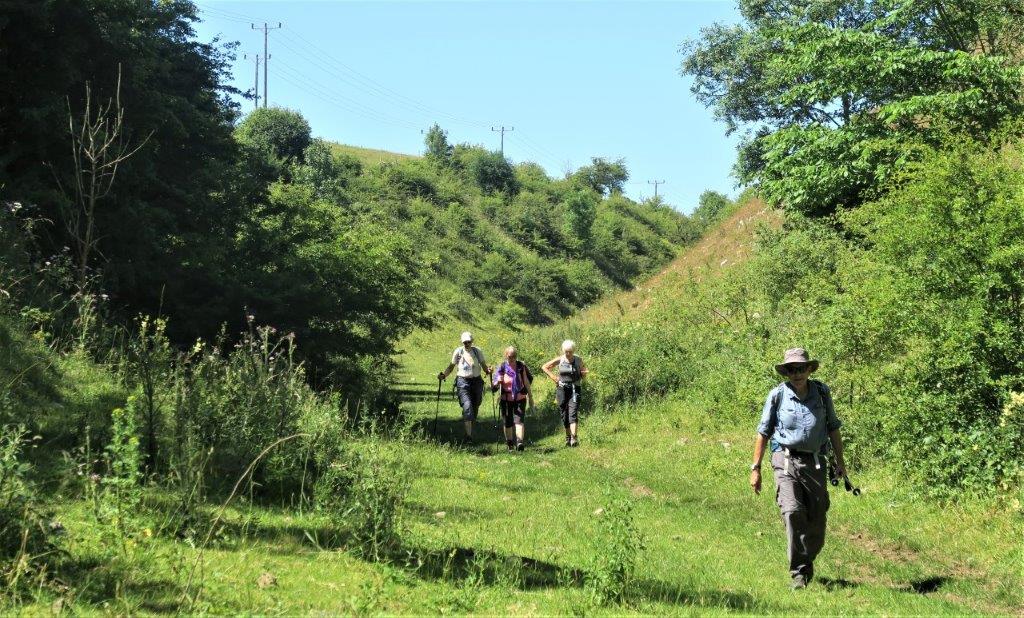 162 walking down Woo Dale towards The River Wye and the A6 Road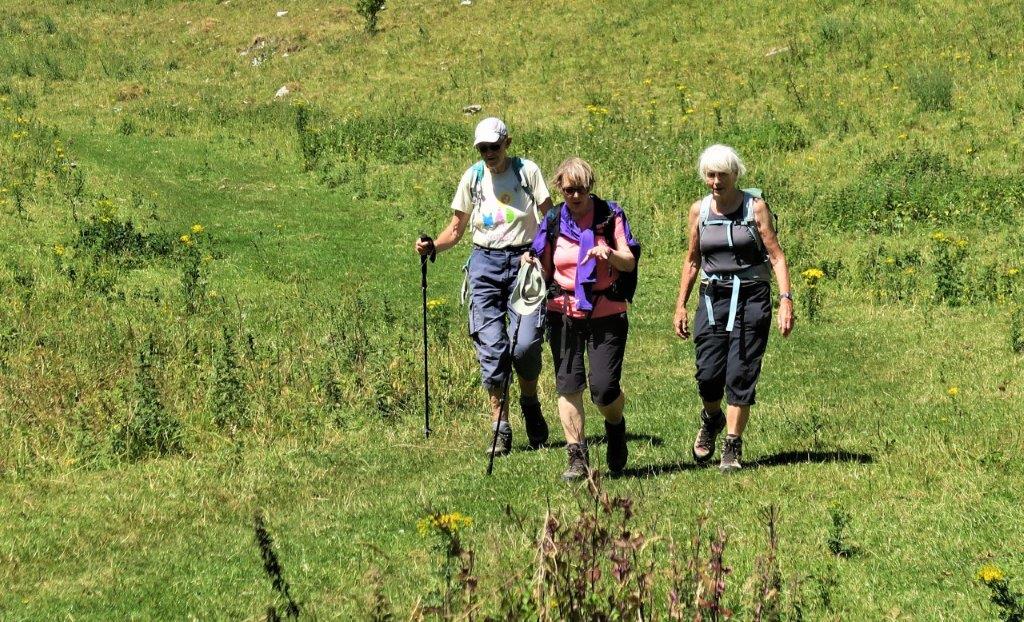 163 here we stopped short of the bridge over the River Wye to the A6 road and to Sterndale and turned about up North (slightly West) to the upper Edge of Wye Dale which we followed Eastward before descending South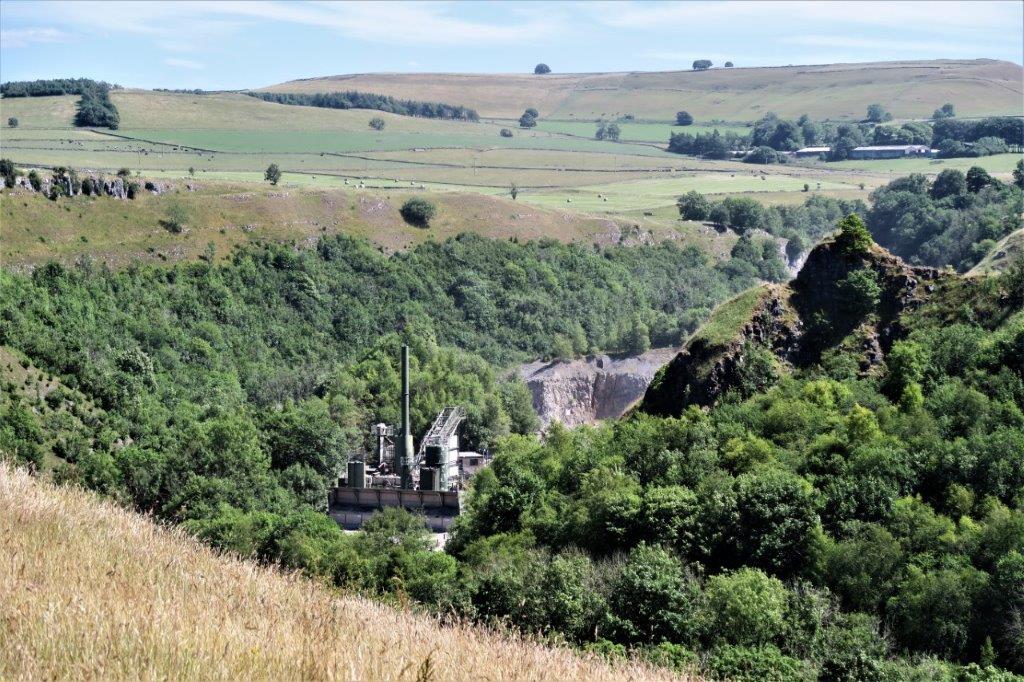 164 view of Topley Pike Quarry (near the A6 road) below us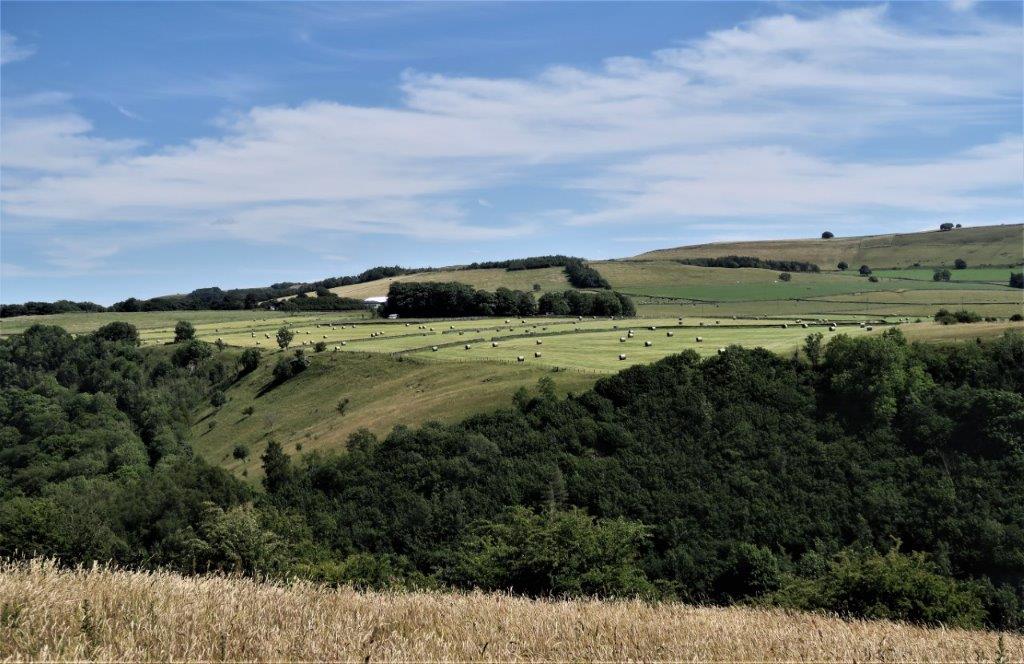 168 view south across Wye Dale at field with bales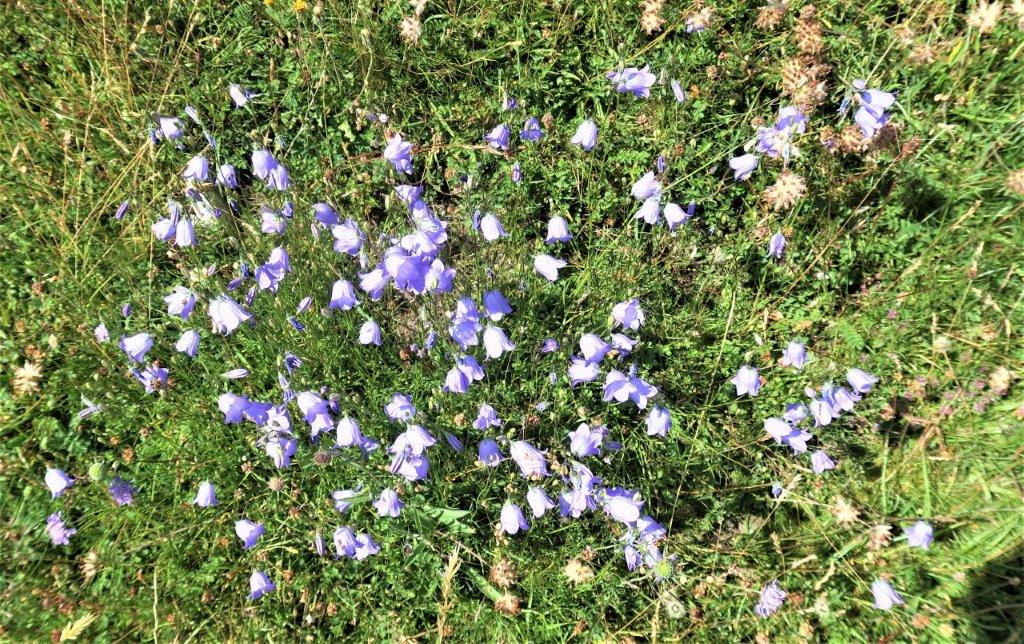 170 Blue Bells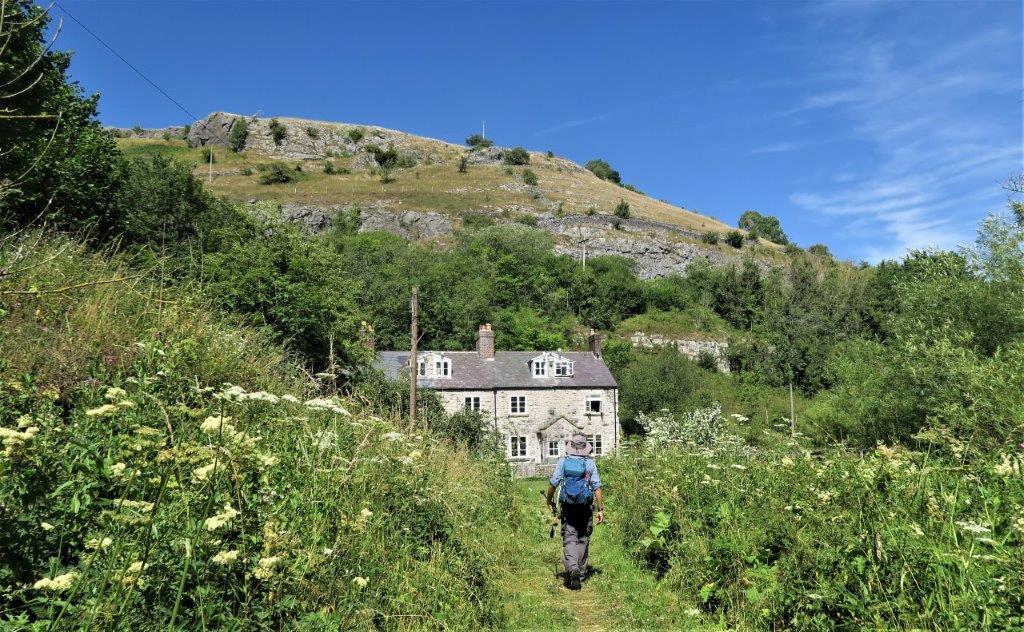 171 Down from the top edge Wye Dale with path turning toward Blackwell Mill Cottages
Crossed Foot Bridge over River Wye, had ice cream break at cycle shop and returned across Foot Bridge'
and started the River Wye / Chee Dale section of walk to the road to Millers Dale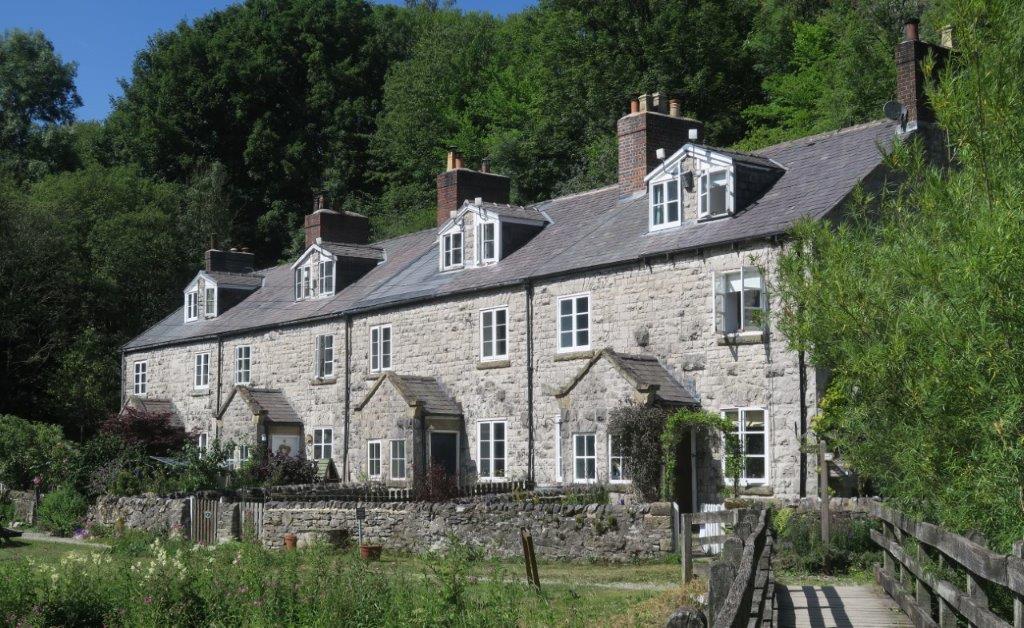 174 Blackwell Mill Cottages again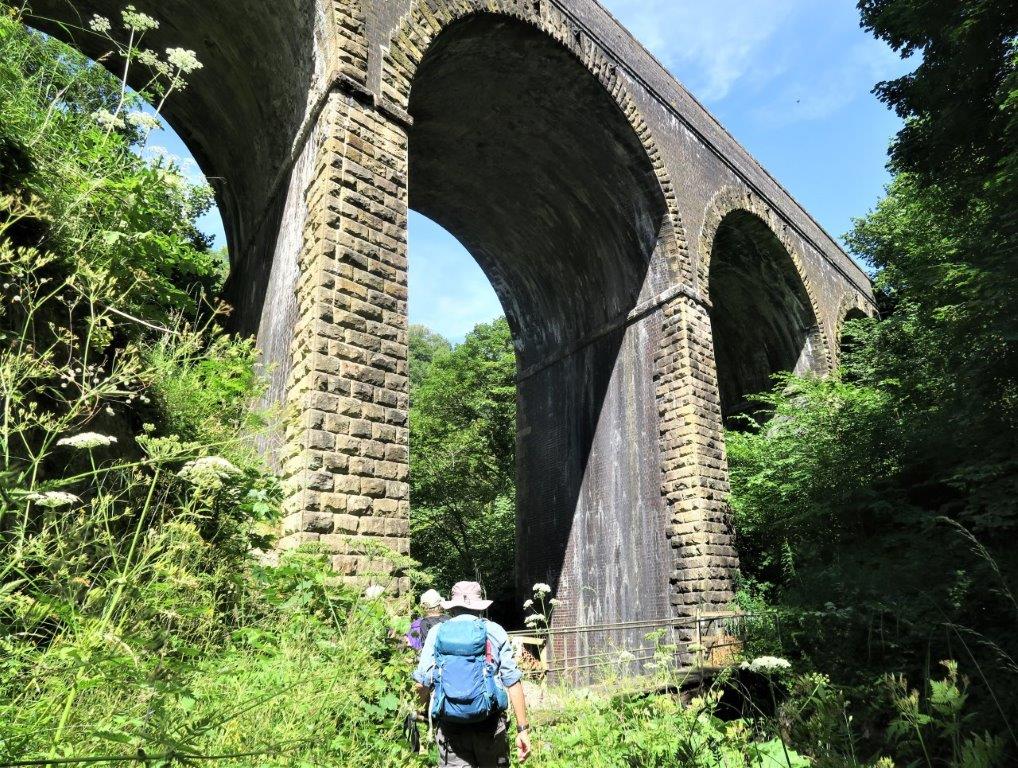 177 crossed under several arched brick / stone (once railway) viaducts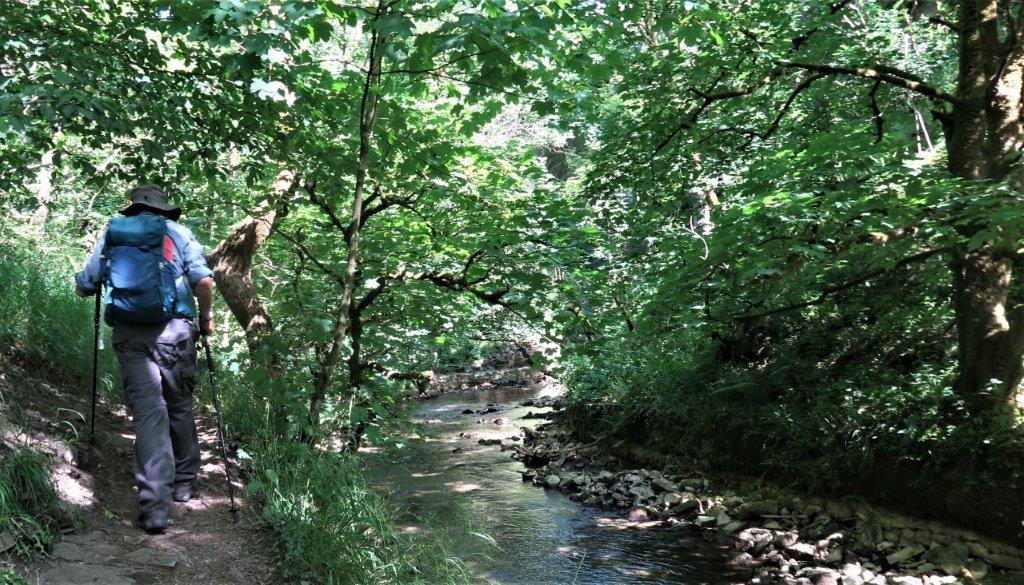 182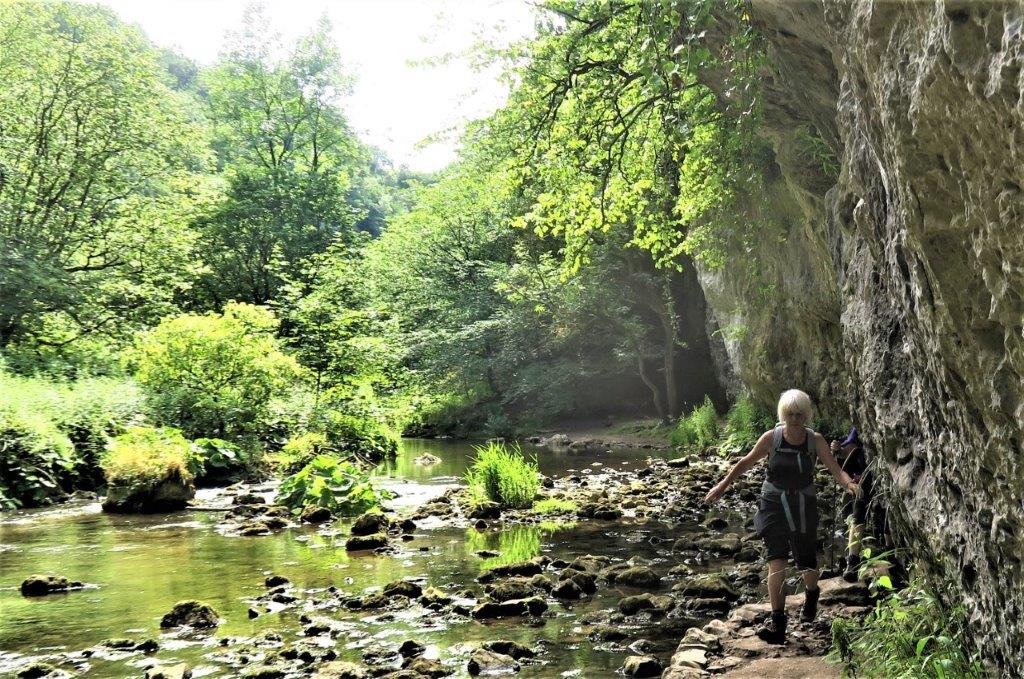 185 this looks like the end of the 'first set' of stepping stones crossed (could not get camera angle on following walkers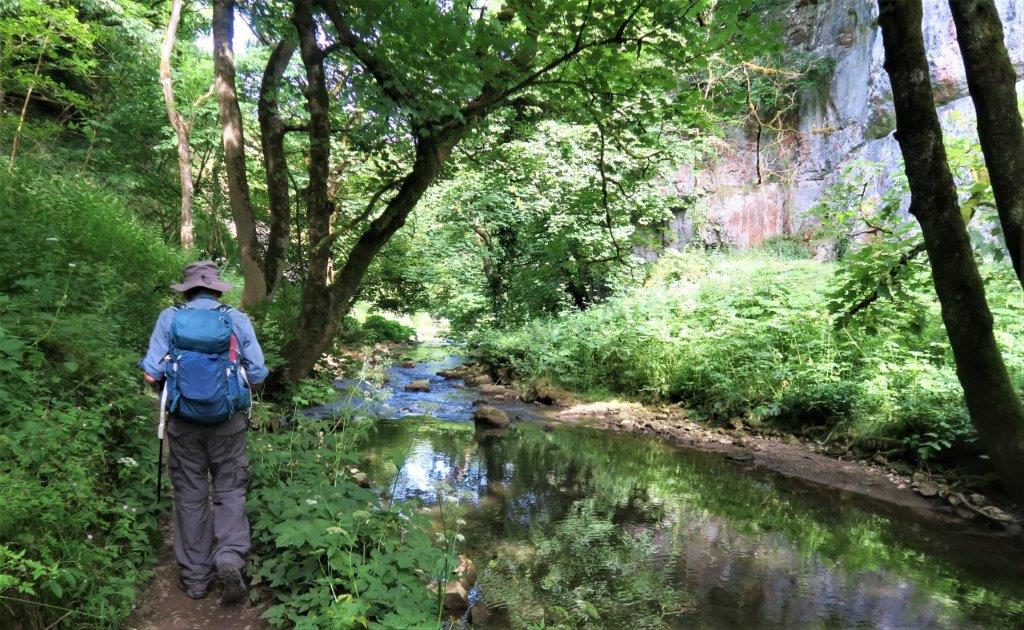 187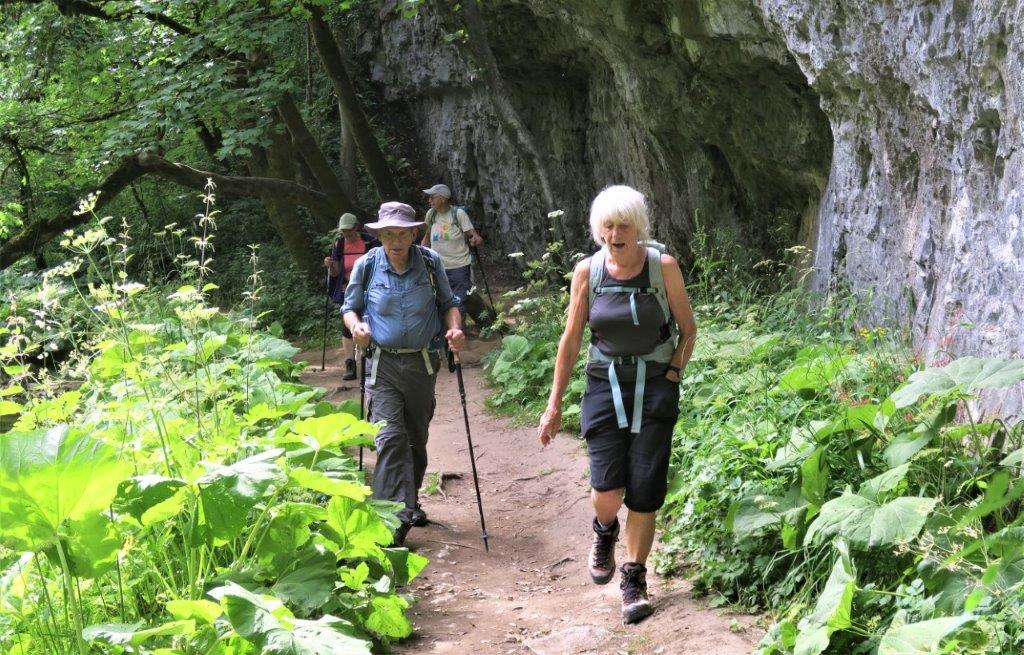 189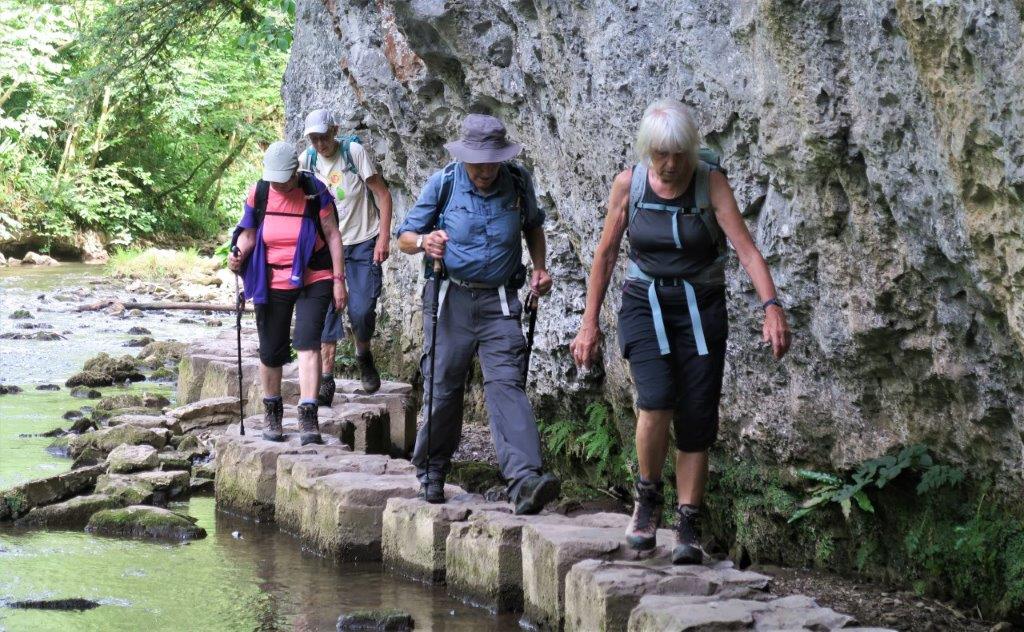 192 the second set of stepping stones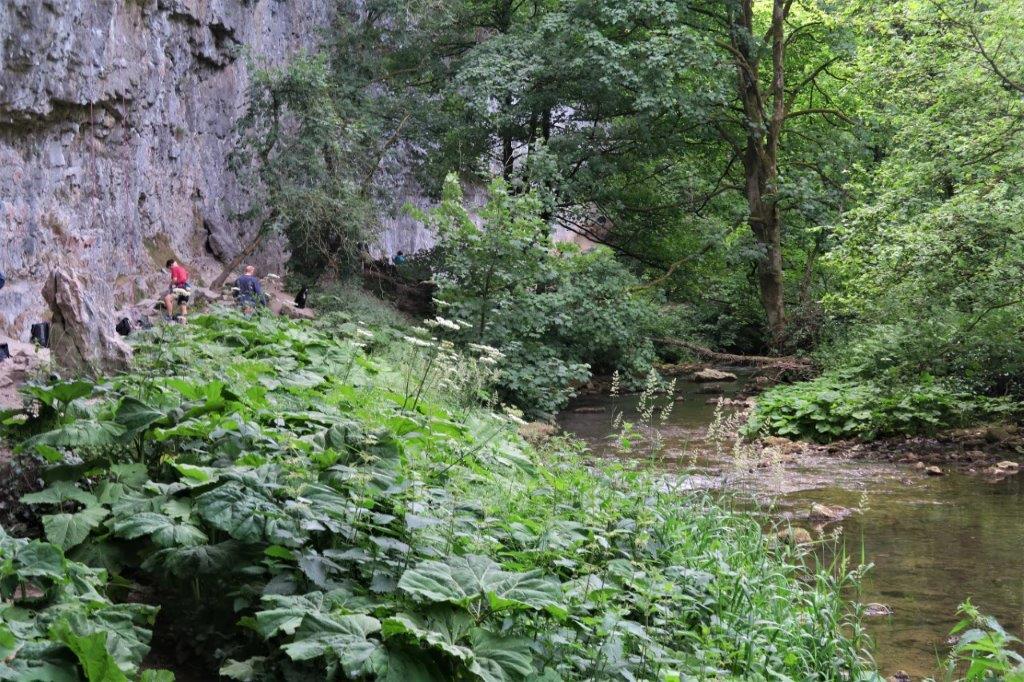 194 reaching rock climbing cliffs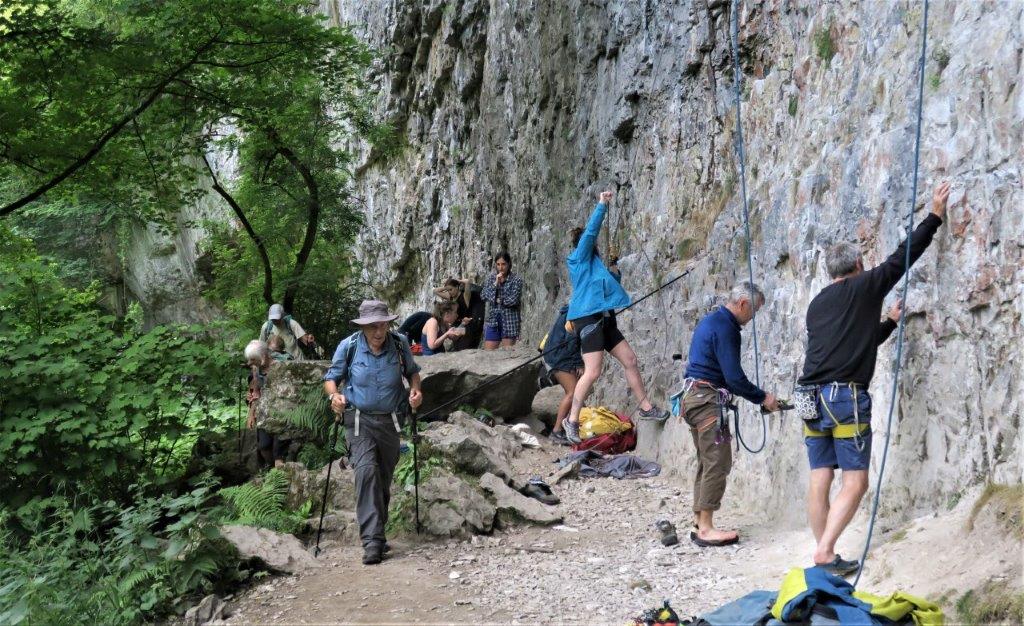 195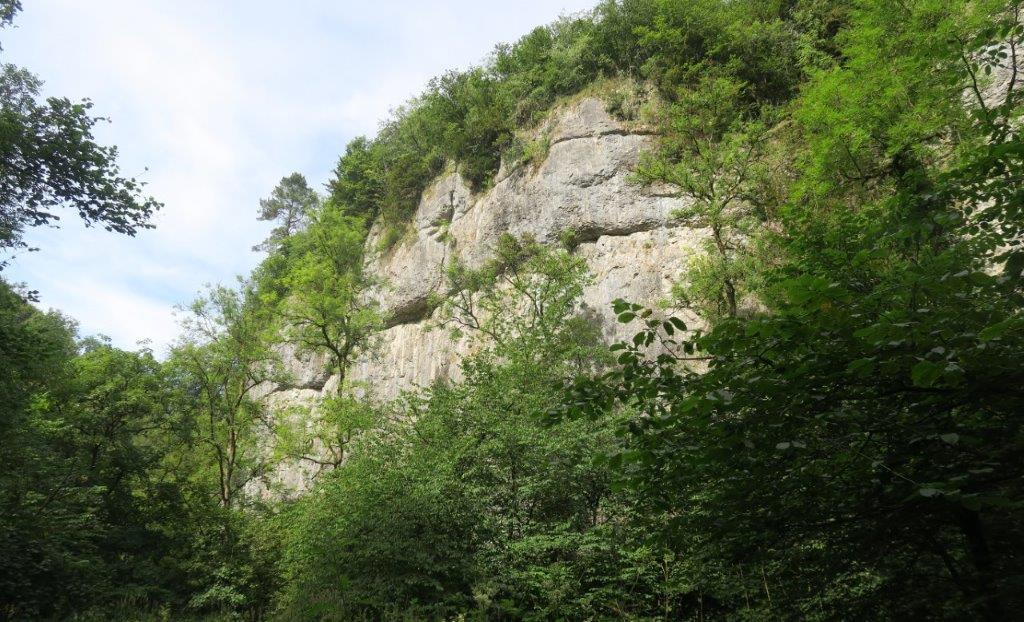 197 no climbers on these cliffs across river today?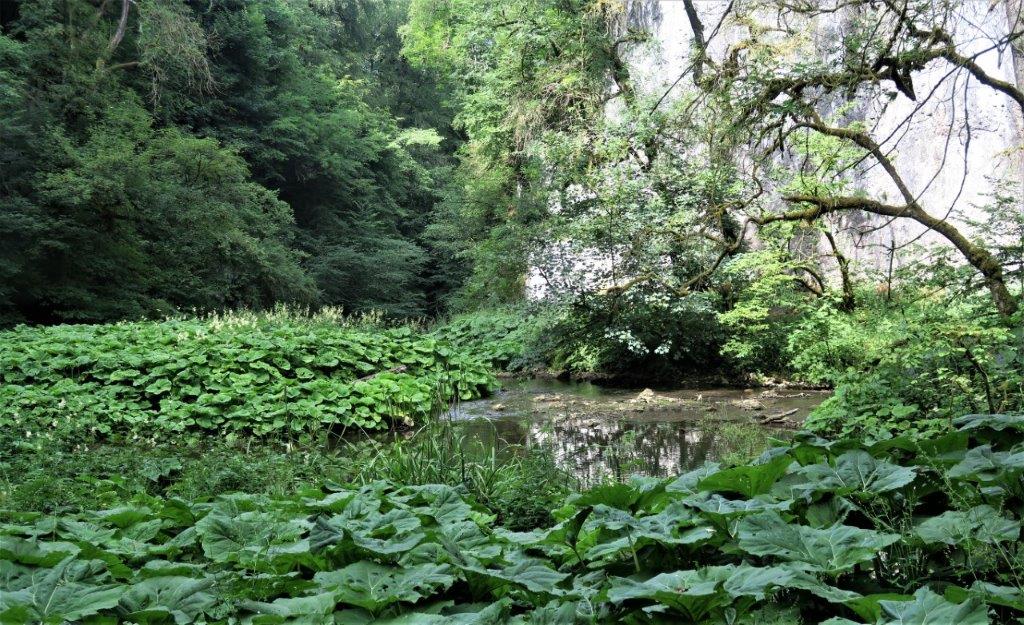 199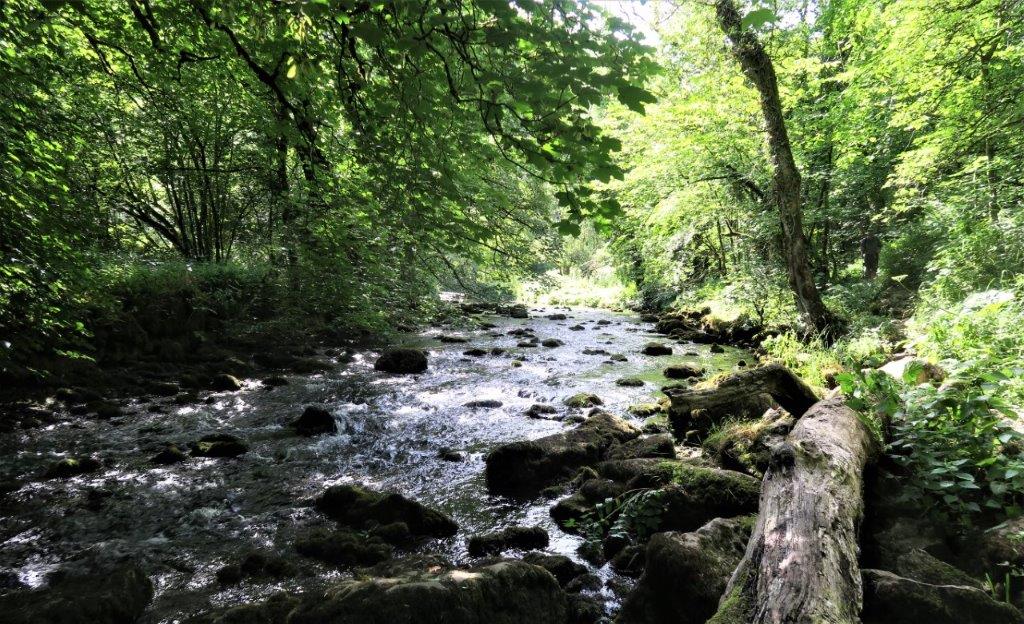 203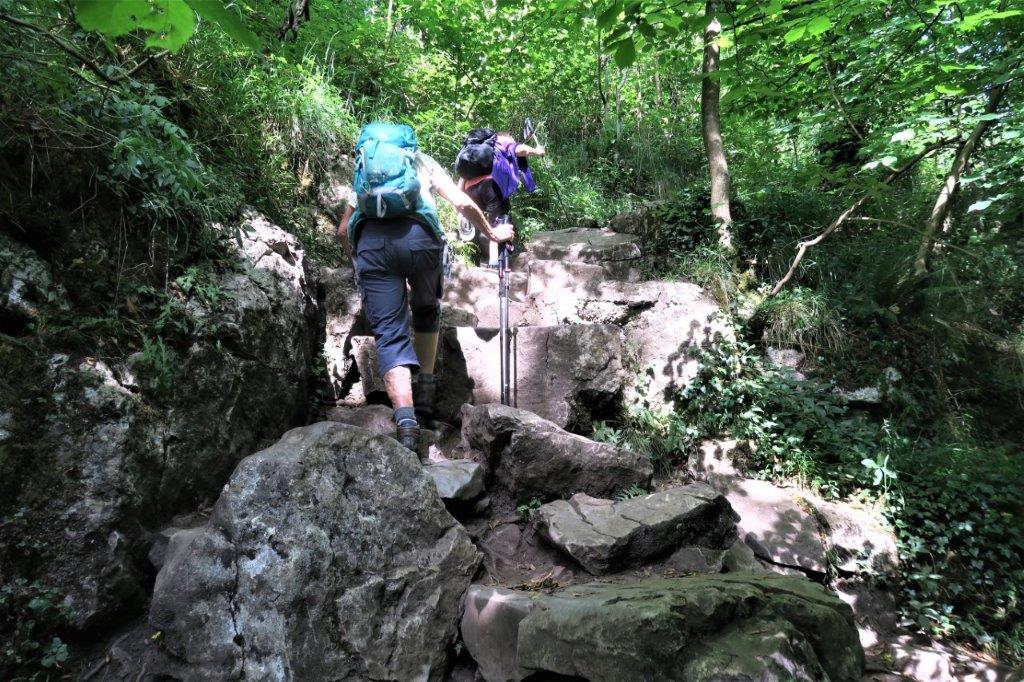 205 a scrambling pitch probably with 'boot polished' limestone - care required especially in wet underfoot conditions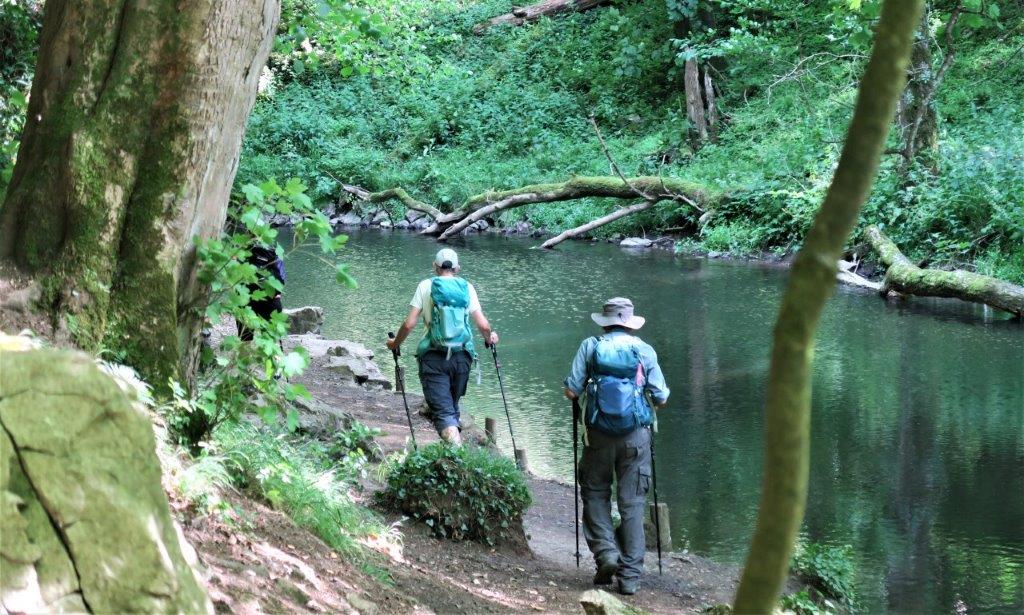 213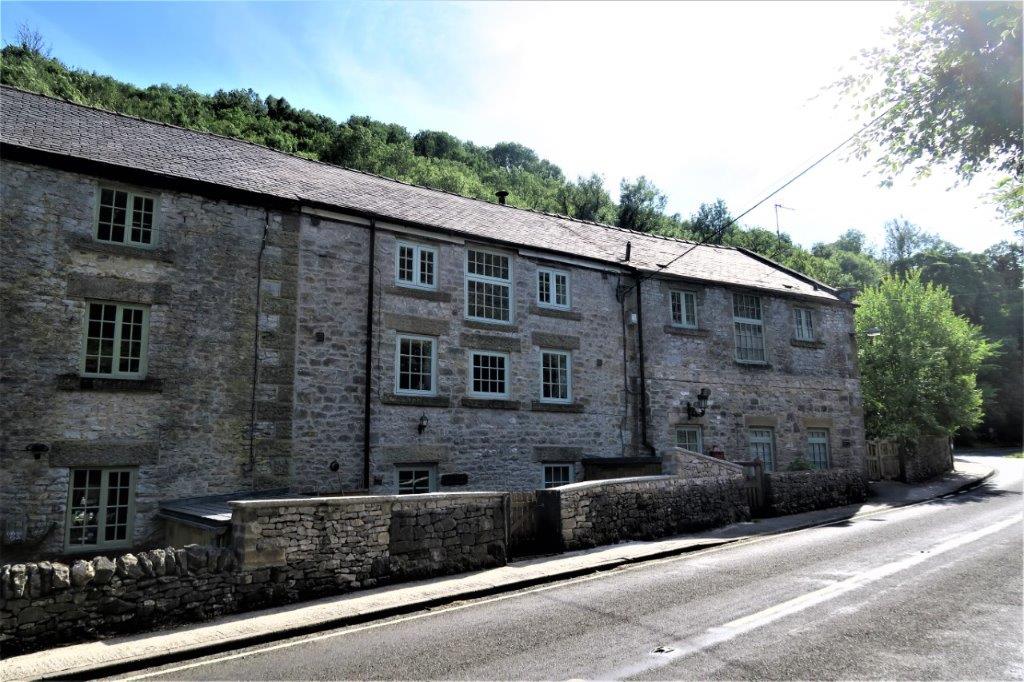 218 Millers Dale Road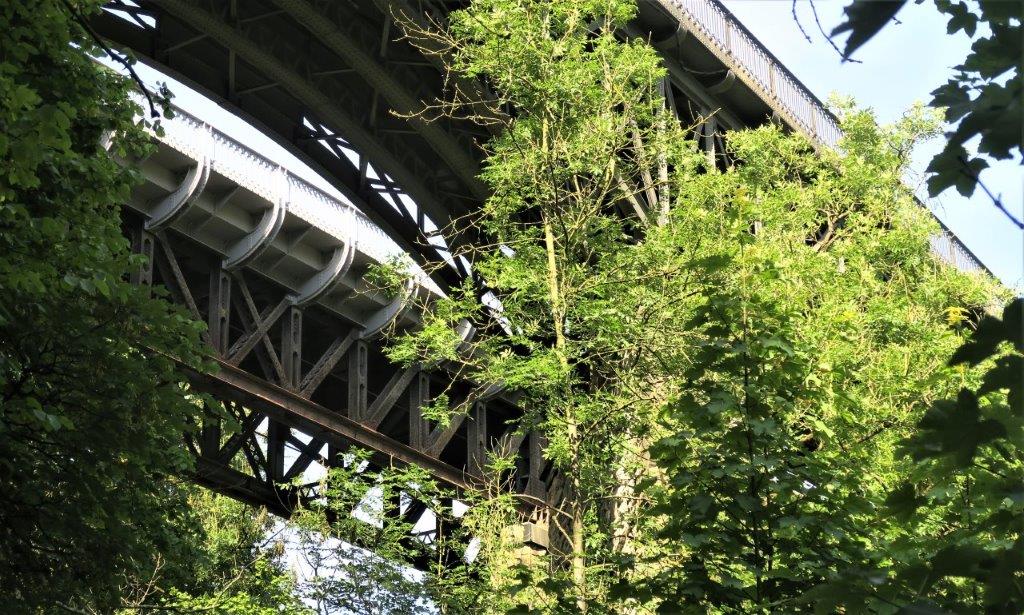 220 Two old steel railway bridges (of different designs) above Millers Dale Road. One of these bridges carries the Monsal Trail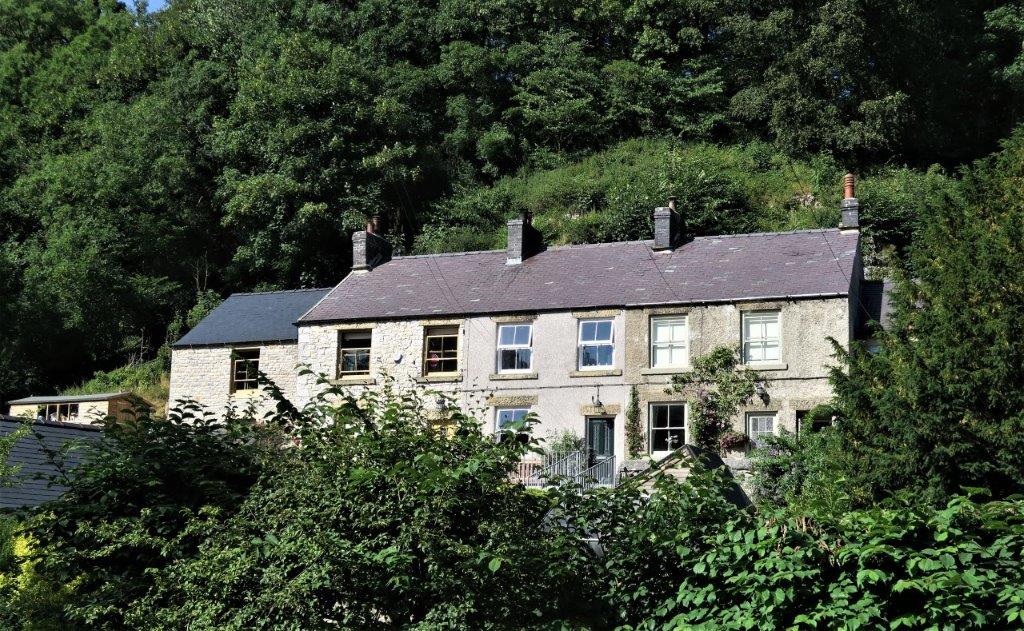 221Cottages just passed the Monks Dale stream. Here we took the branch Meadow Lane with little traffic back to Tideswell
homepage - Daywalks Index 2022 - contact me at

REV X