homepage - Daywalks Index 2022 - contact me at

REV X
2022.03.20 Kinder Scout Round Walk. Edale Station (SK123.854) ~600m ~N up village road, at PH (The Old Nags Head), take Pennine Way westward then ~WSW, entering into OAL, leave P.Way at ~SK111.856 briefly NW then on informal path on edge of Broadlee-Bank Tor OAL (~WNW & ~NNE) to join Crowden Clough Brook at ~SK102.863, follow Brook ~NNW to ~SK097.870, (2 of party continued up brook) rest of party followed informal path on brooks W-side steeply up roughly N to FP at SK095.873. At this point we left marked FPs - and went thru moor-land ~W for ~350m then ~N for ~1.2 km effectively then joining a marked FP at ~SK089.884, & following Kinder River ~ N / NW / W to pass beyond the top of Kinder Downfall, turn ~NNE to cross ~750m to the N-side of Kinder, cross Nether Red Brook, then ~50m N and turn ~E to follow The Edge towards Fairbrook Naze, turn slowly ~S to follow the upper edge of Fair Brook ~SSW and cross F Brook at ~SK093.89, ~ENE up to Kinder Edge and follow it ~SE then ~E to Seal Edge, at ~SK107.877 leaving Kinder Edge we cut ~WSW across moor-land (to the South of Seal Stores) to SK116.883 near the top of Blackden Brook, ~S quick crossing quick crossing to Kinder South Edge (SK118.877) ~E along Edge to SHORT of Golden Clough, ~100m to the West side of Golden Clough ~SSW thru moor-land down to cross (un-marked) Foot Bridge at SK120.869, ~S on FP (on East Side of Grinds Brook), cross FP ~W over Grinds Brook above PH (The Old Nags Head) ~S on Rd back to Edale Station. Leader Andrew Irwin - Sunday - 8 in party - good weather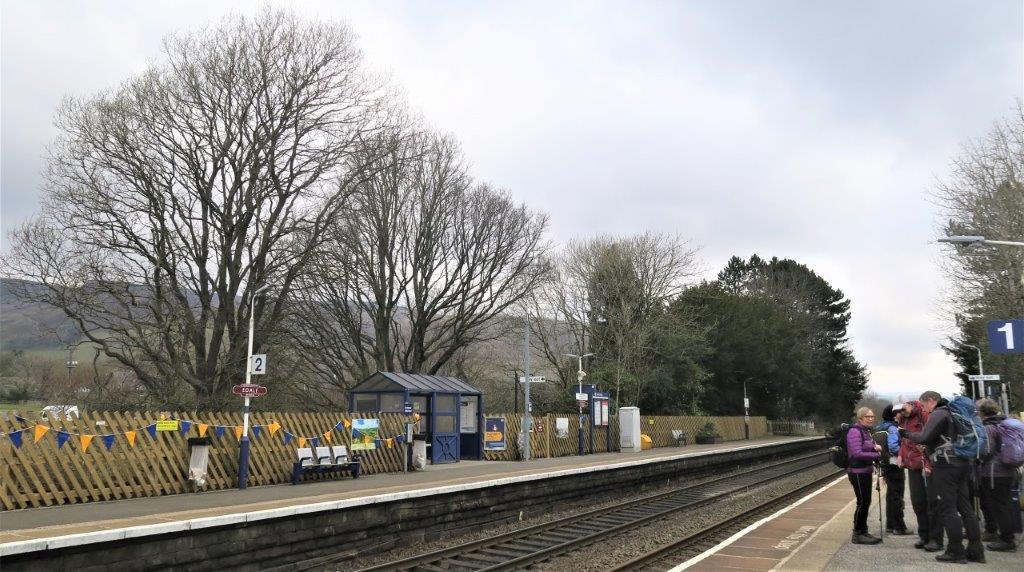 7) Edale Railway Station - note Ukraine colours on palings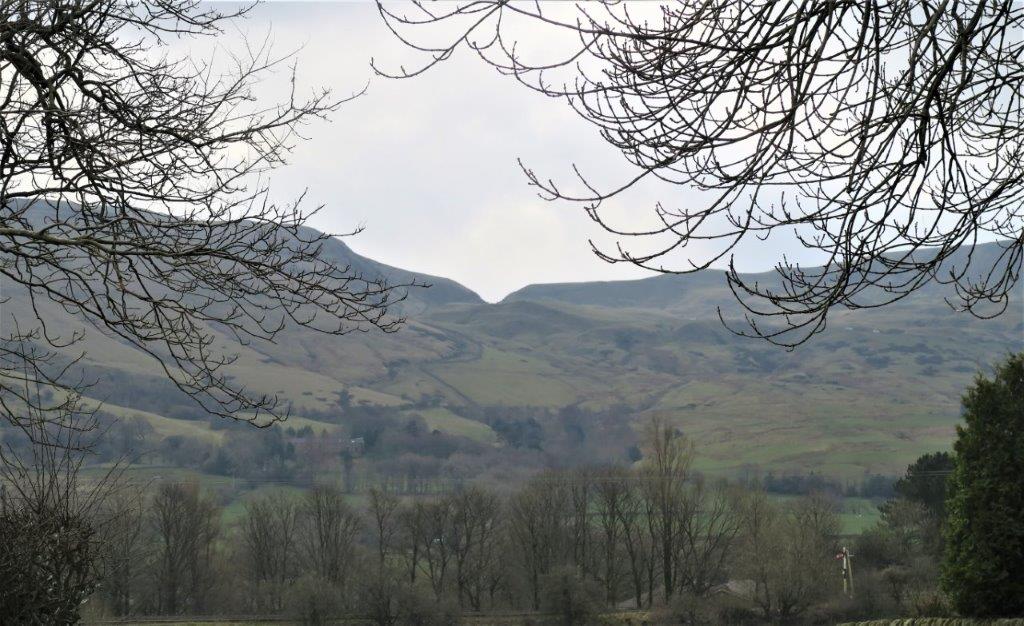 10) looking southwards towards the 'nick' below Mam Tor. A narrow road linking Castleton And Edale passes through it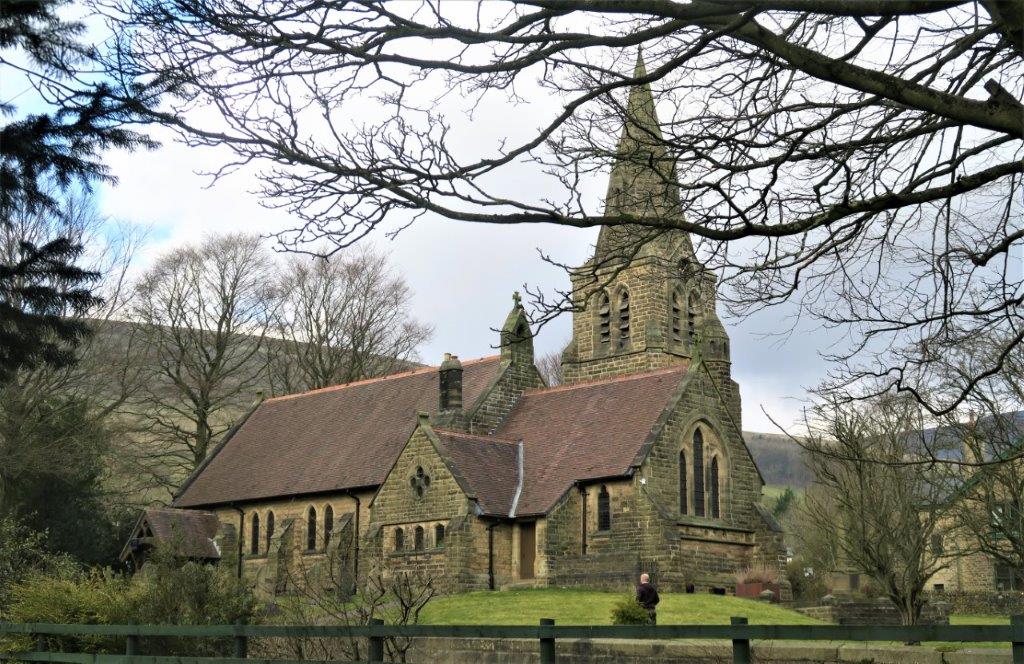 12) Edales Parish Church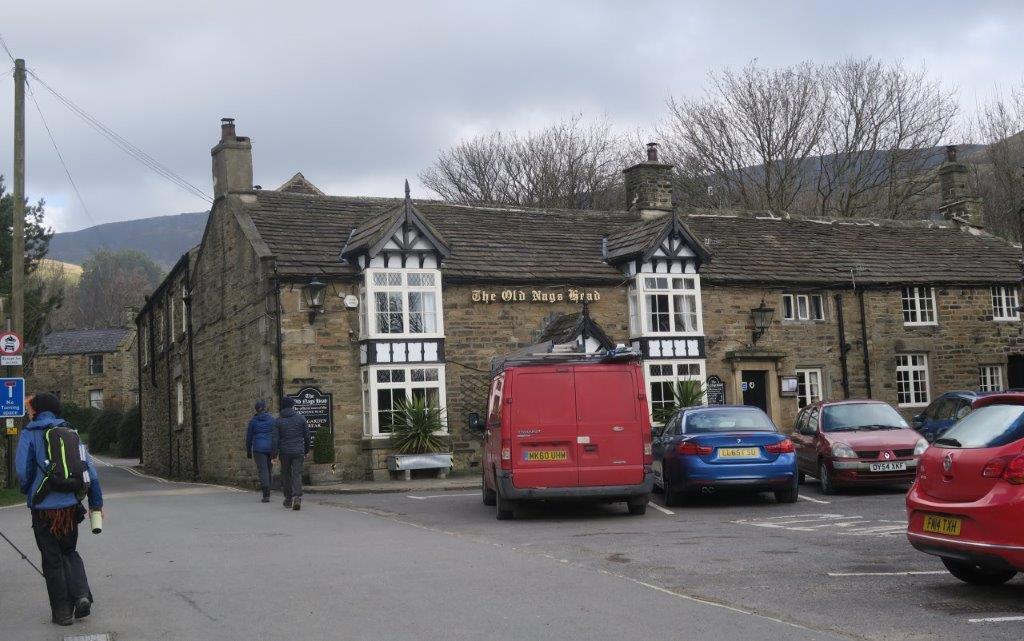 14) We turned off to left on the Pennine Way before The Old Nags Head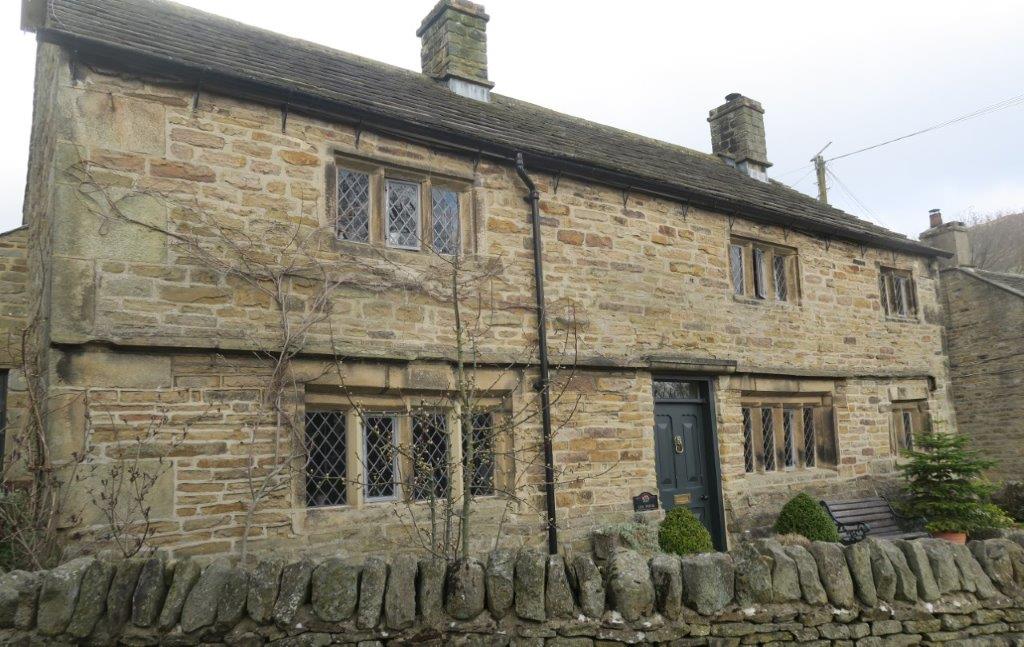 15) old stone house alongside the Pennine Way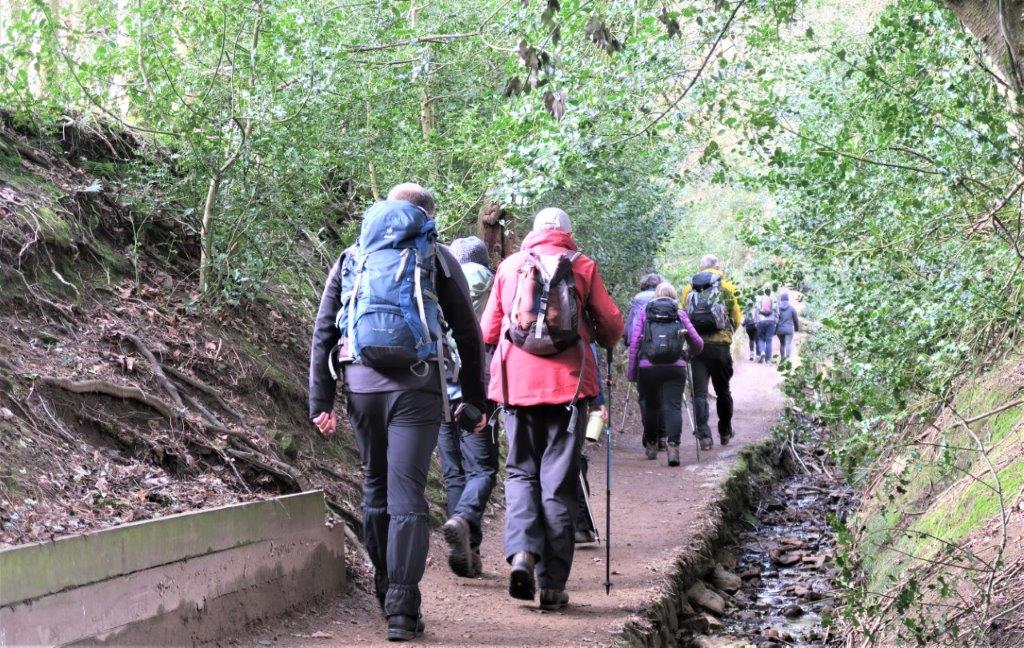 17) on The Pennine Way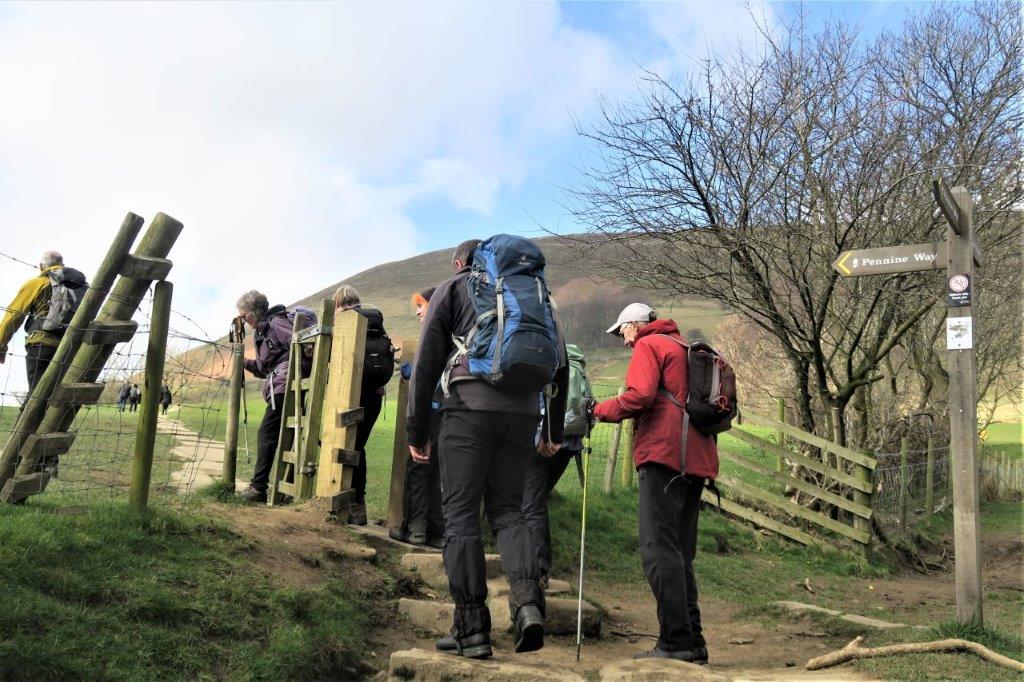 19) Pennine Way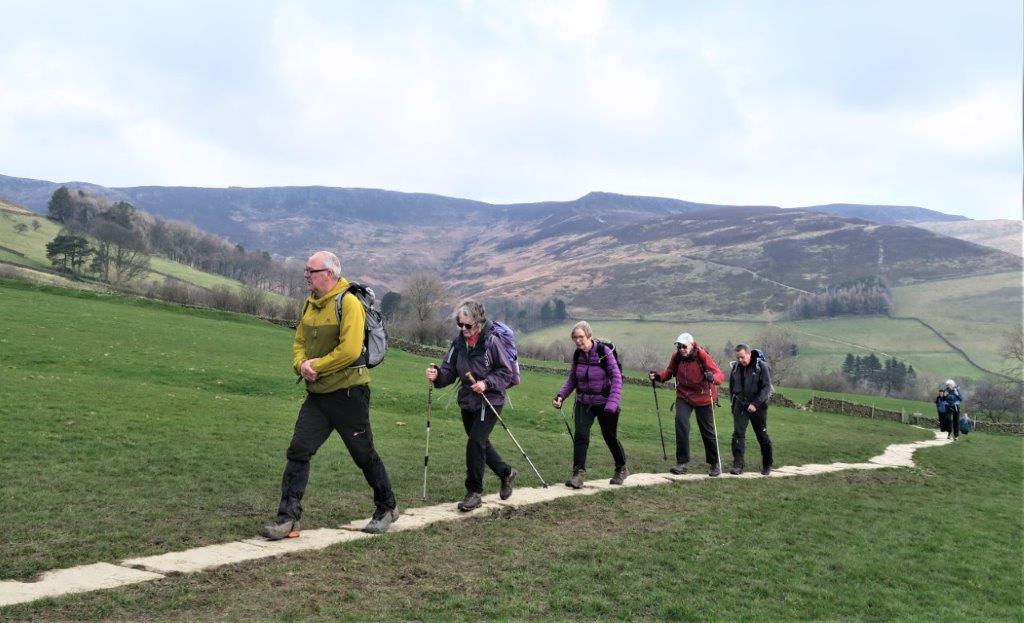 21)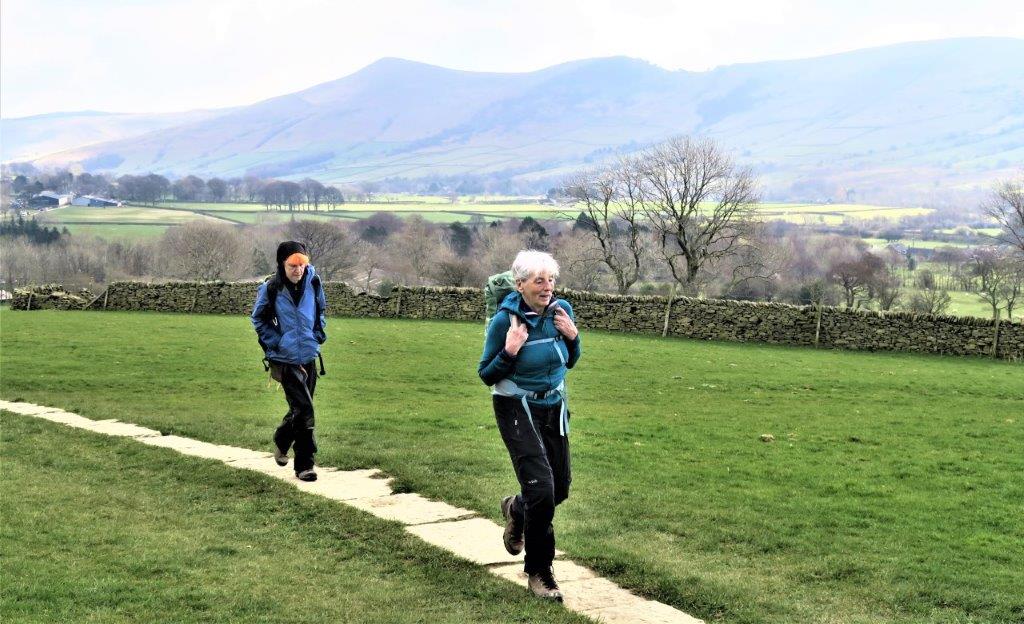 23) The Lose Hill / mam Tor Ridge across the Vale of Edale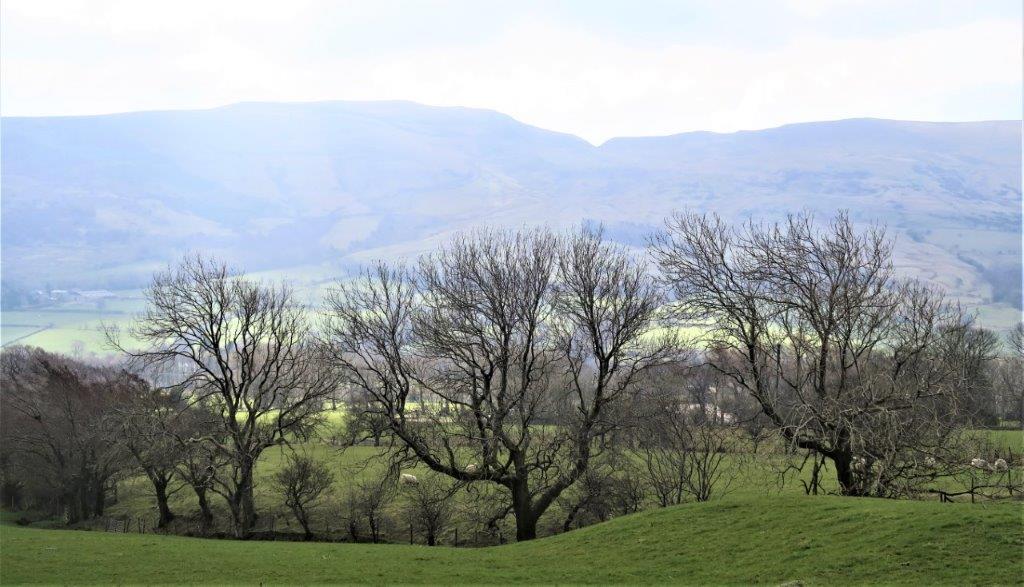 25)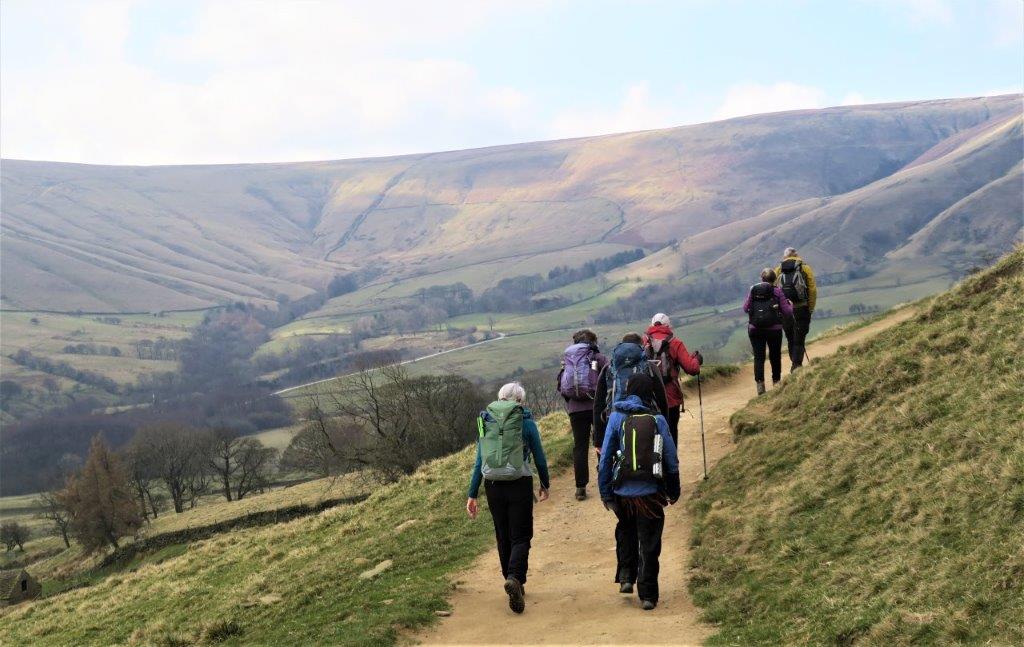 32) looking at the South End of the Vale of Edale - a tunnel takes the railway through it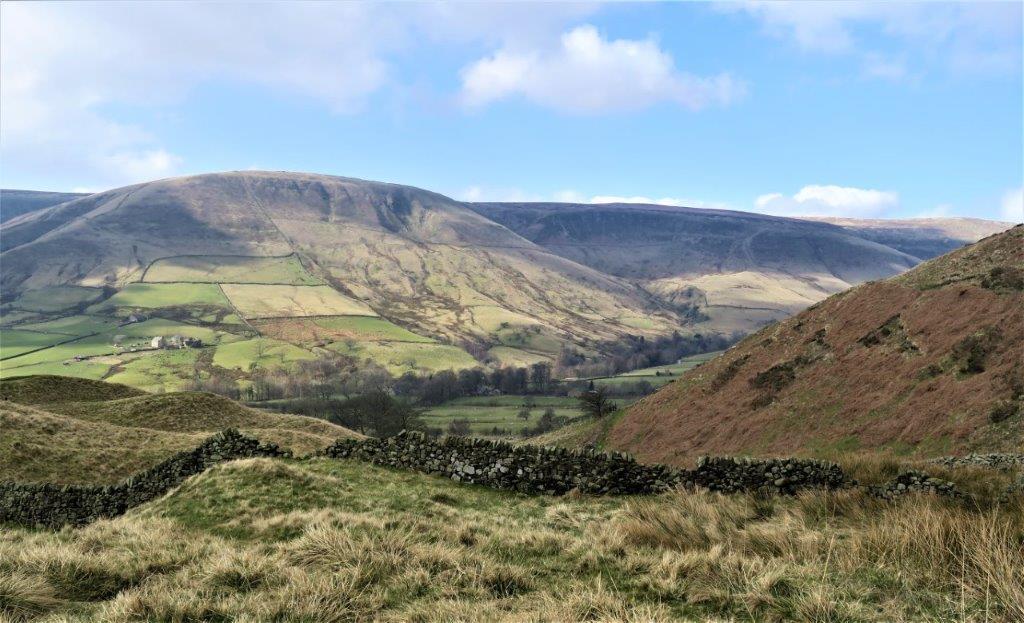 35)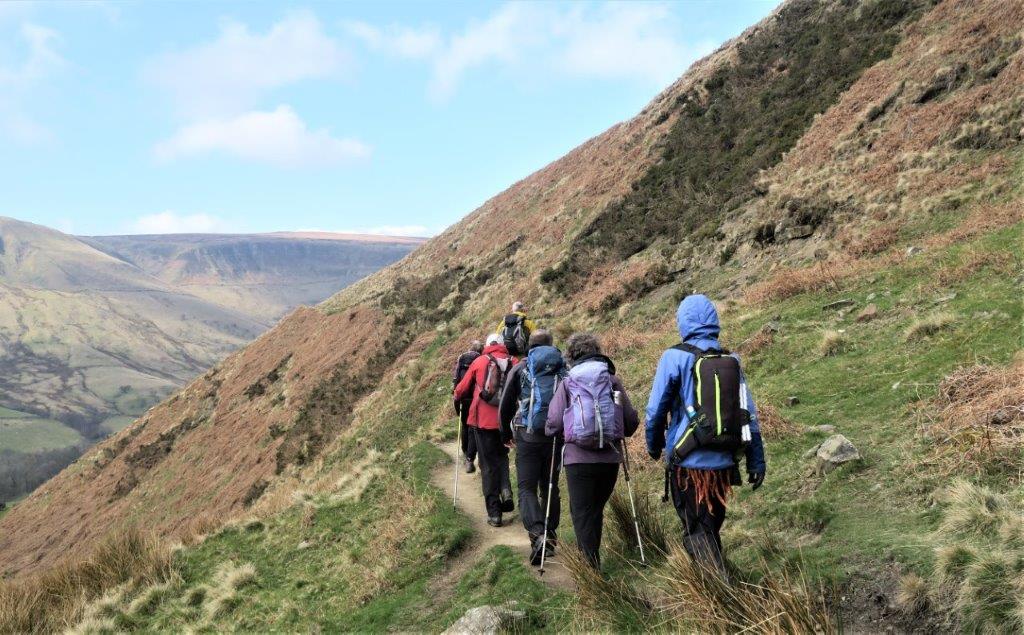 37) we have branched off The Pennine Way and are now on a path skirting Broadlee-Bank Tor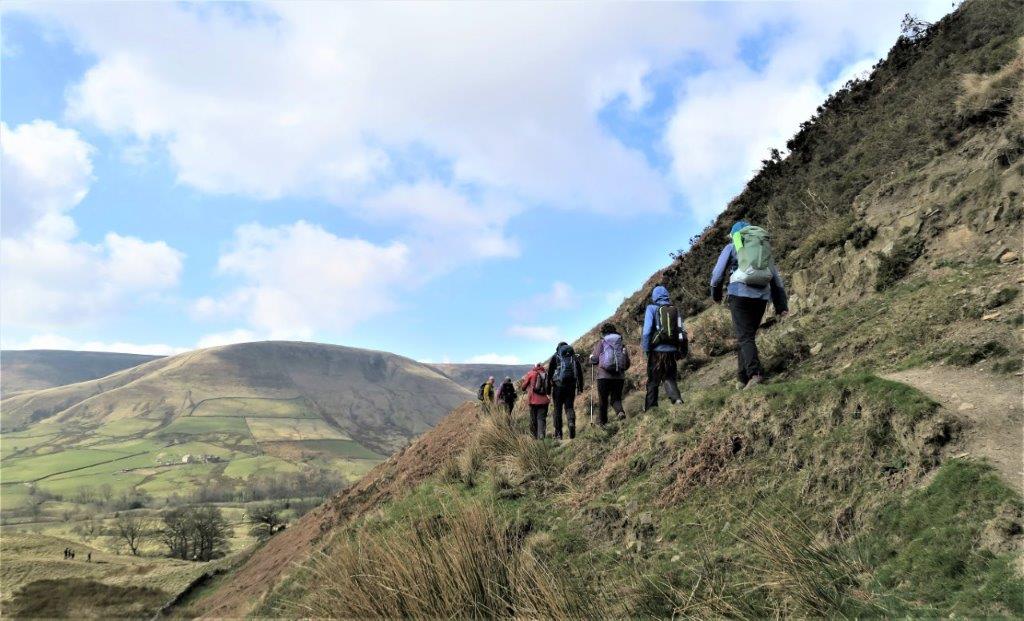 38)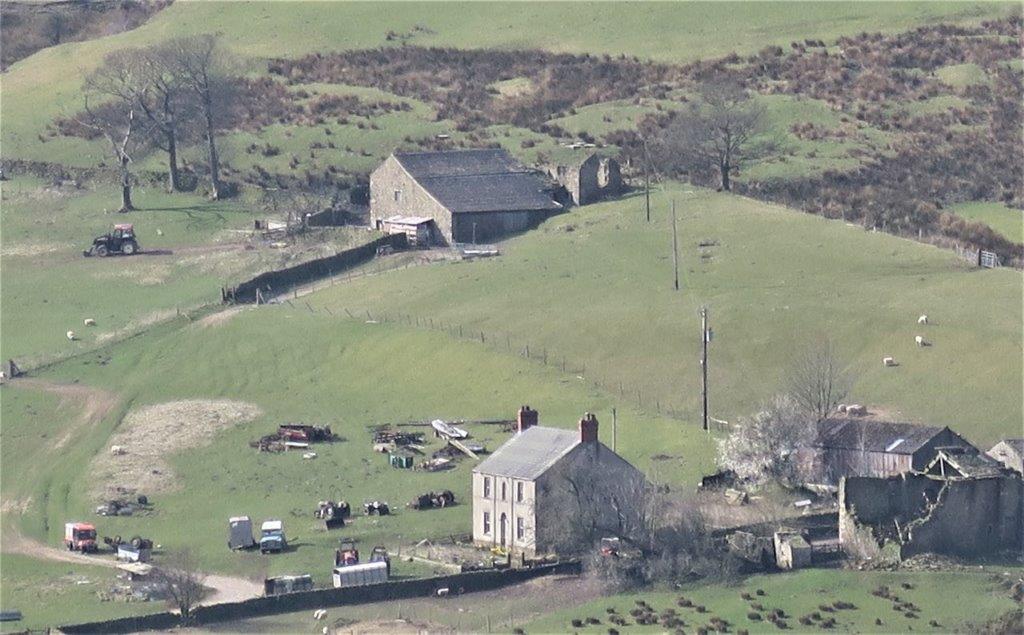 40) zoomed into distant farms across Vale of Edale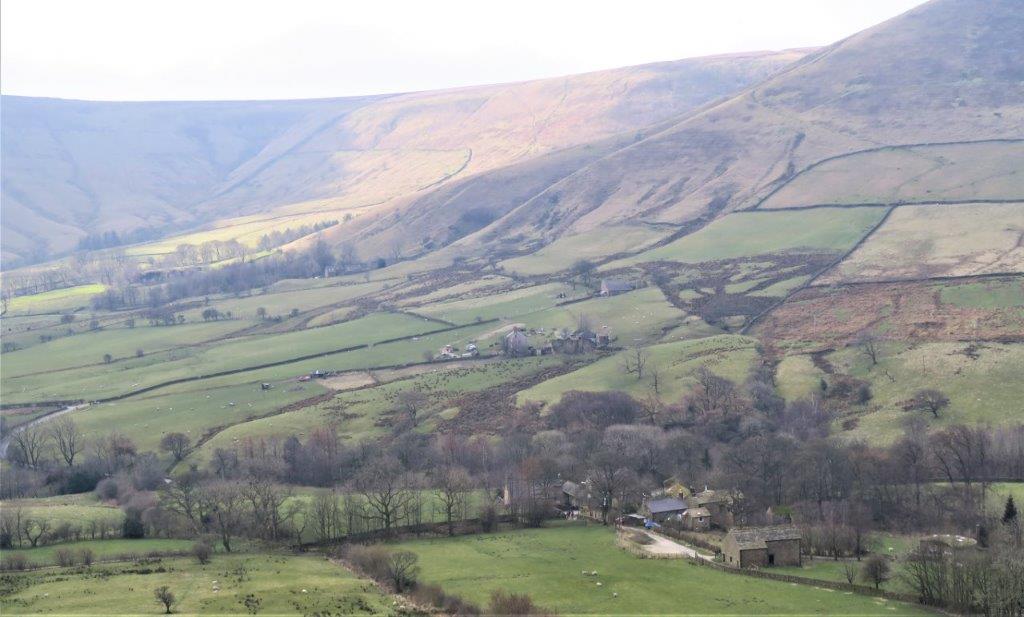 44) probably Upper Booth (a village below). Crowden Brook runs to its right (North). The ascent of Crowden Clough often starts from there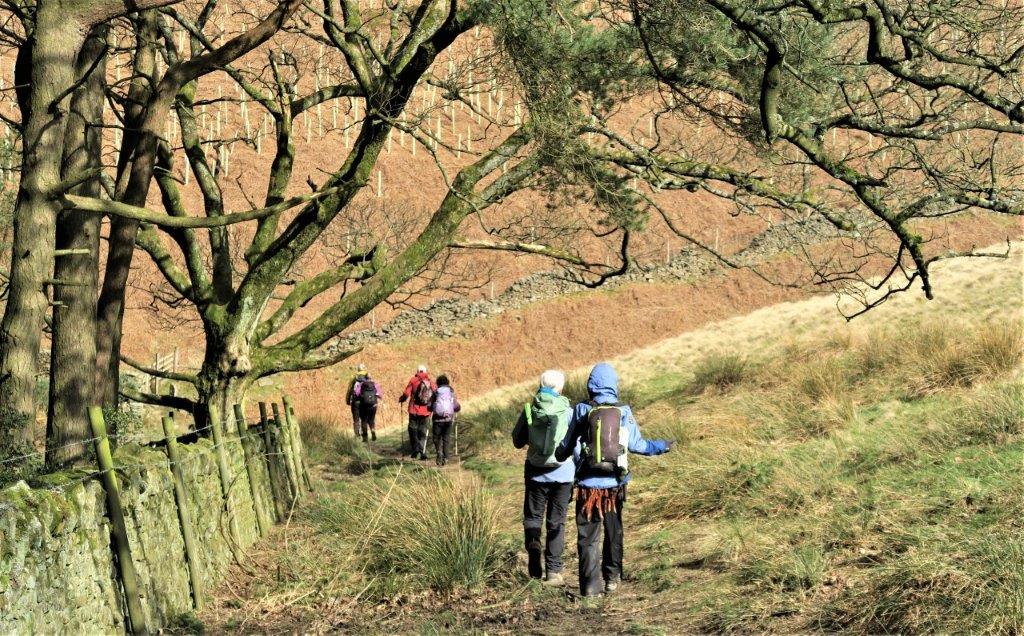 46)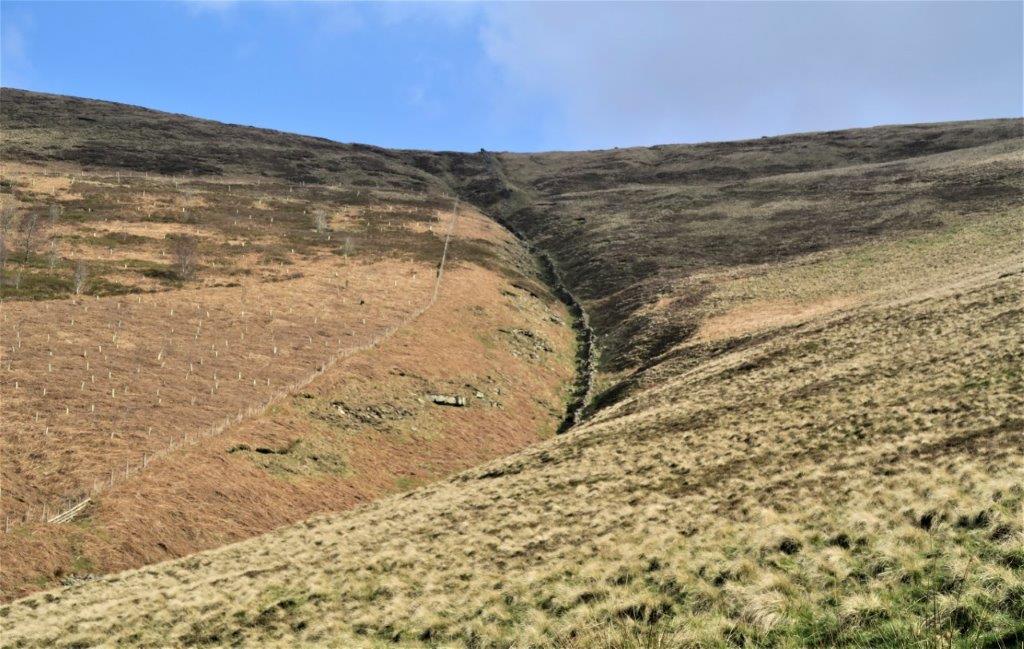 47)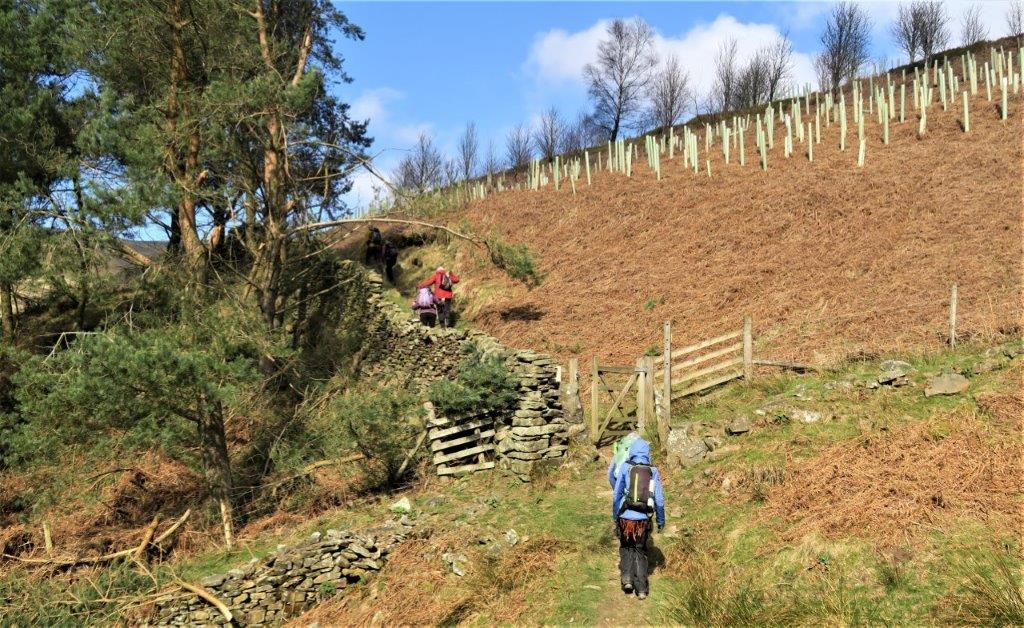 49)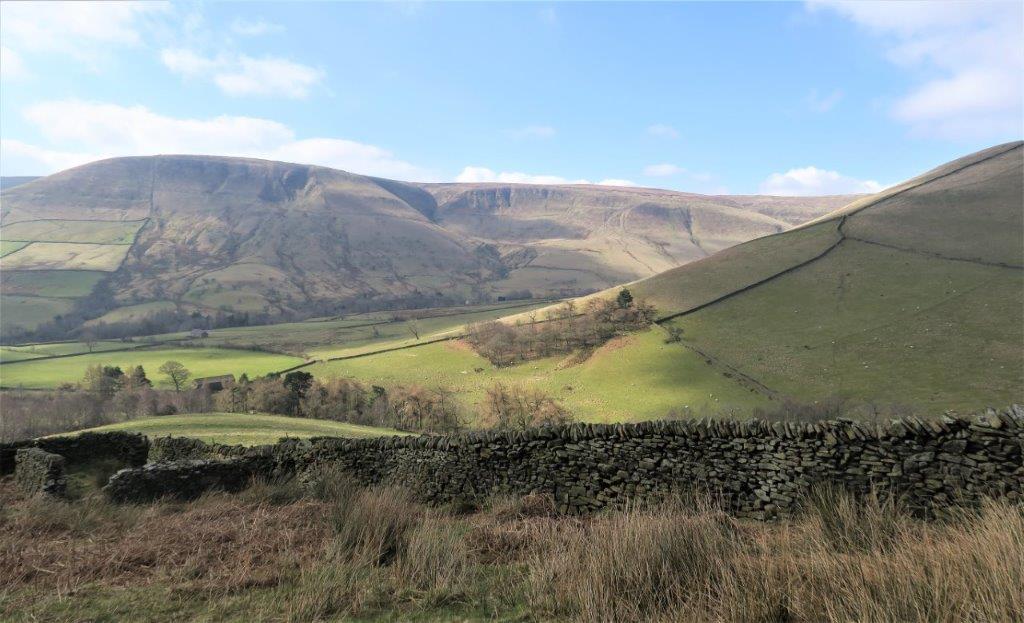 51)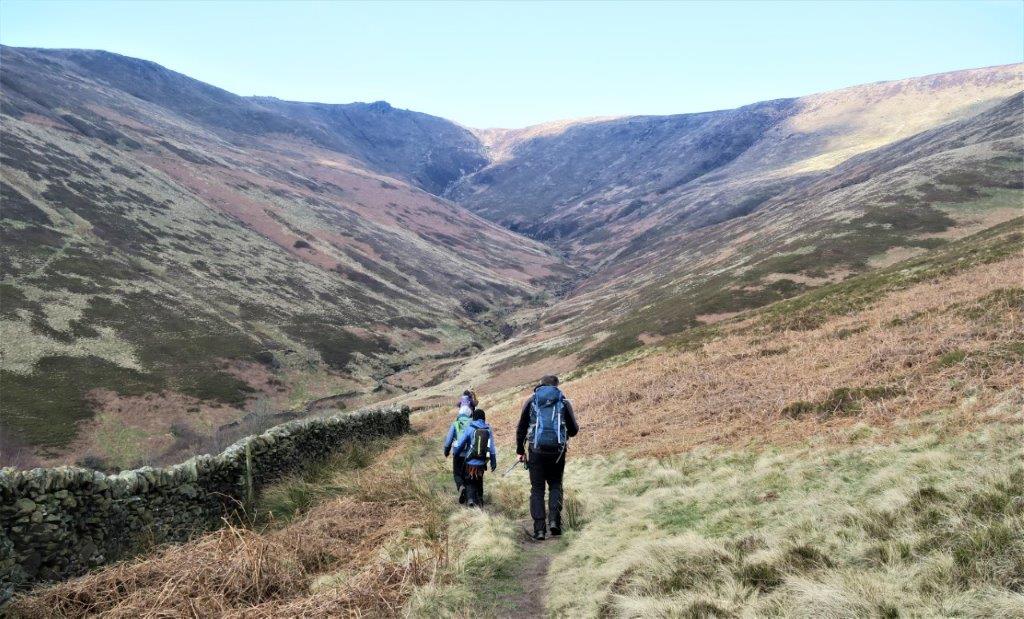 53) Crowden Brook and Clough now ahead of us. We are about to leave the shortcut path we took to reach it rather4 than following The Pennine Way which passes Upper Booth - see picture 44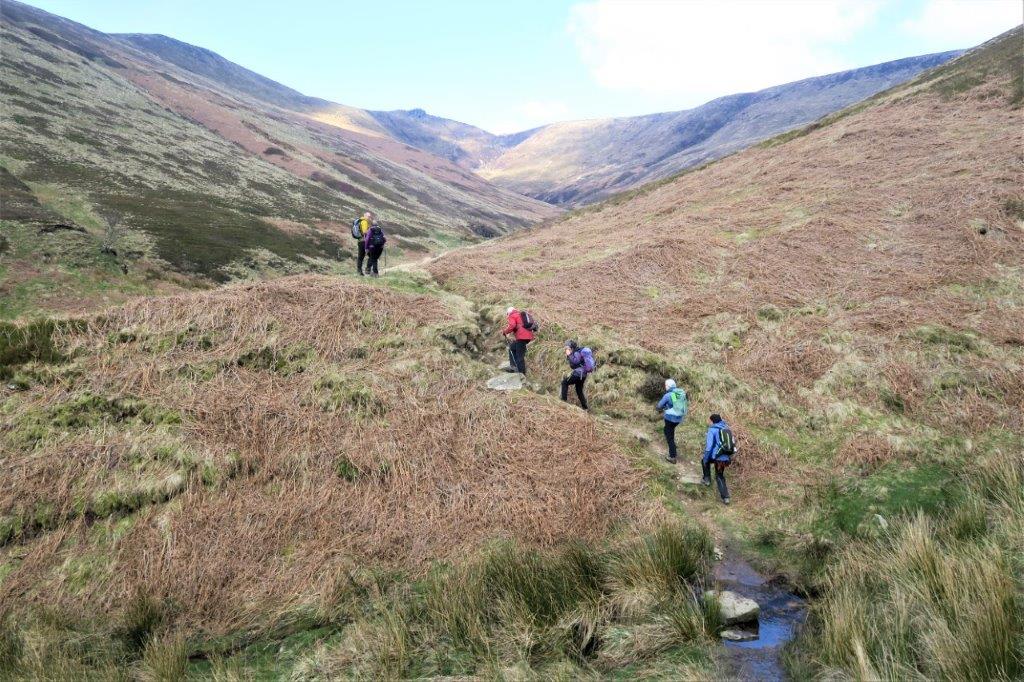 55)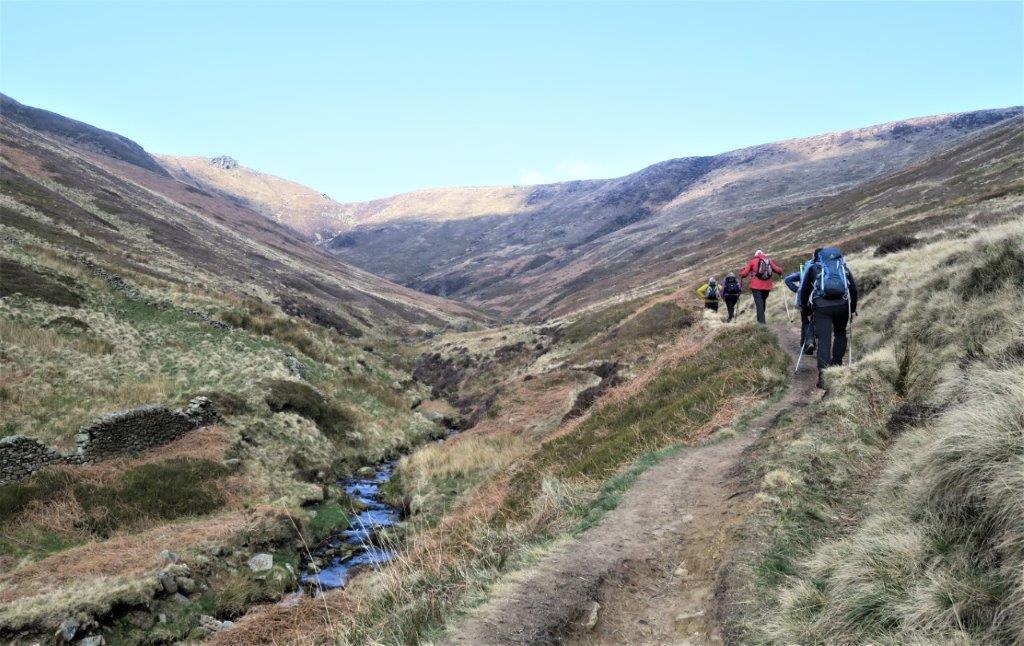 57)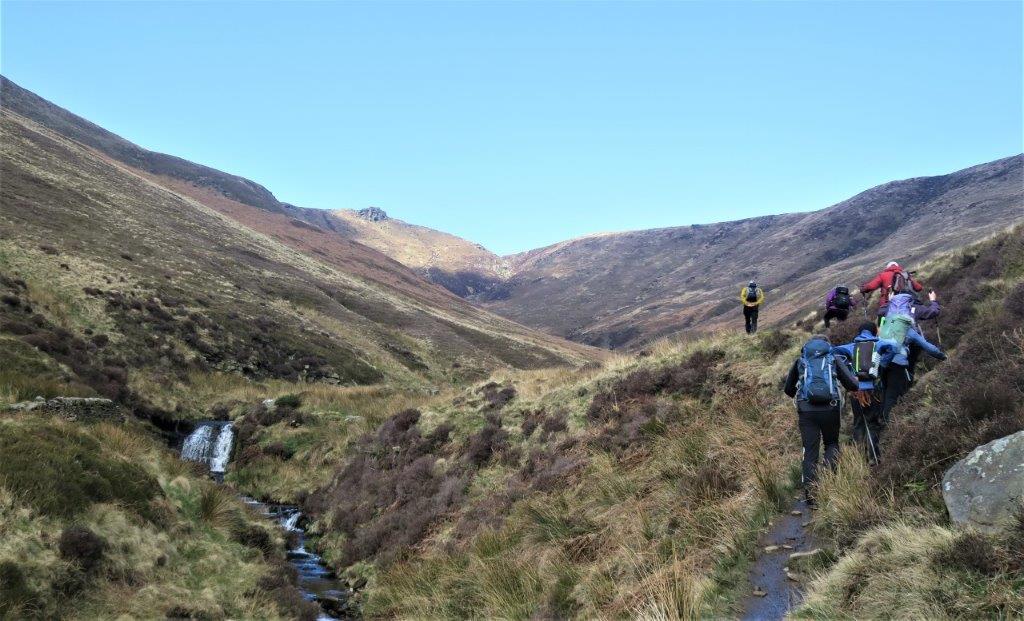 59)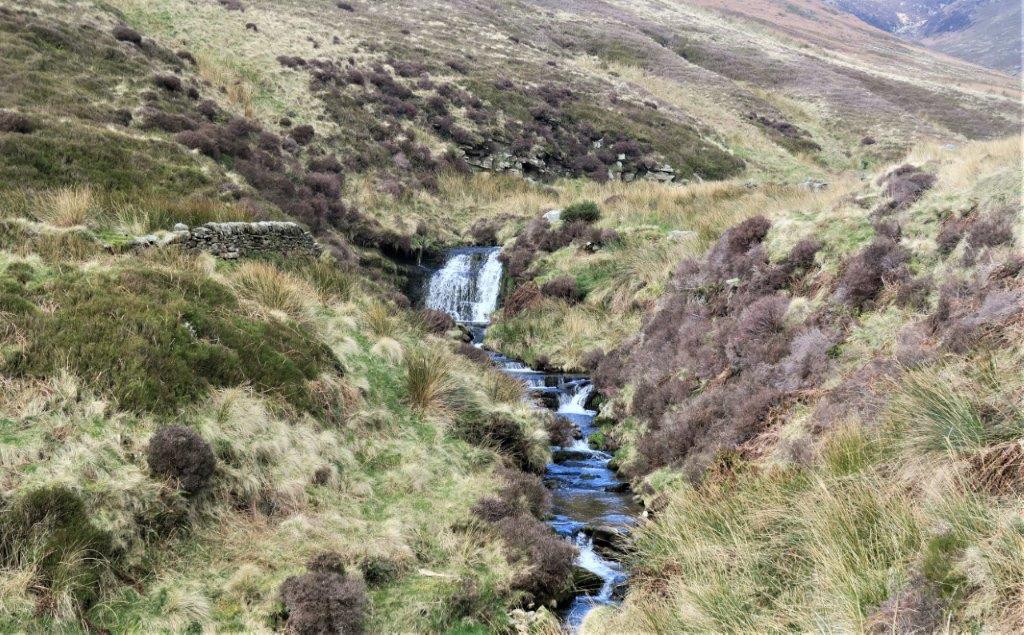 60)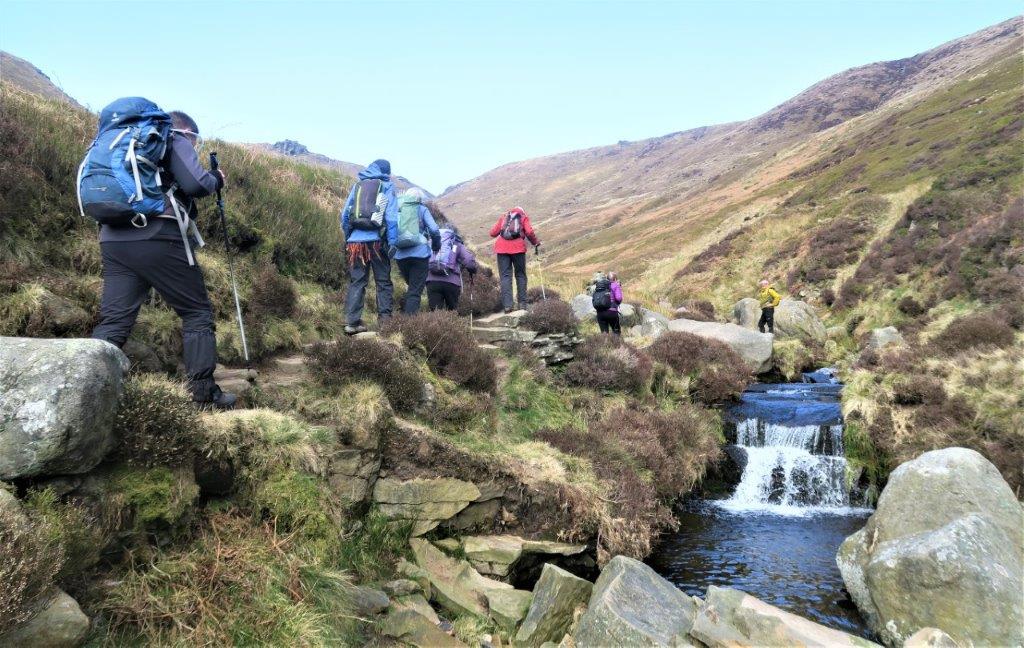 63) alongside Crowden Brook here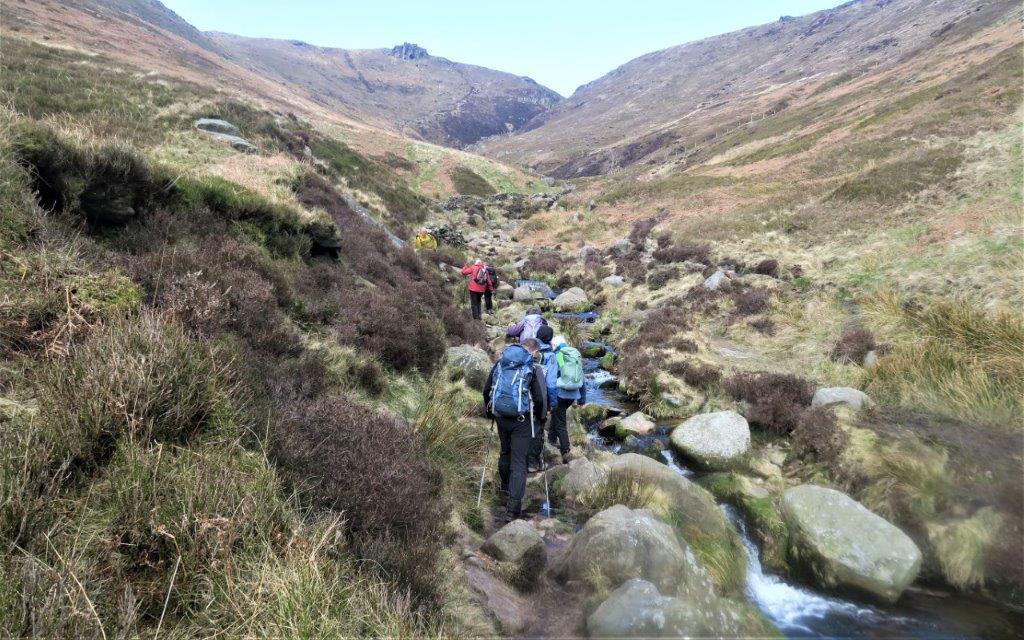 65)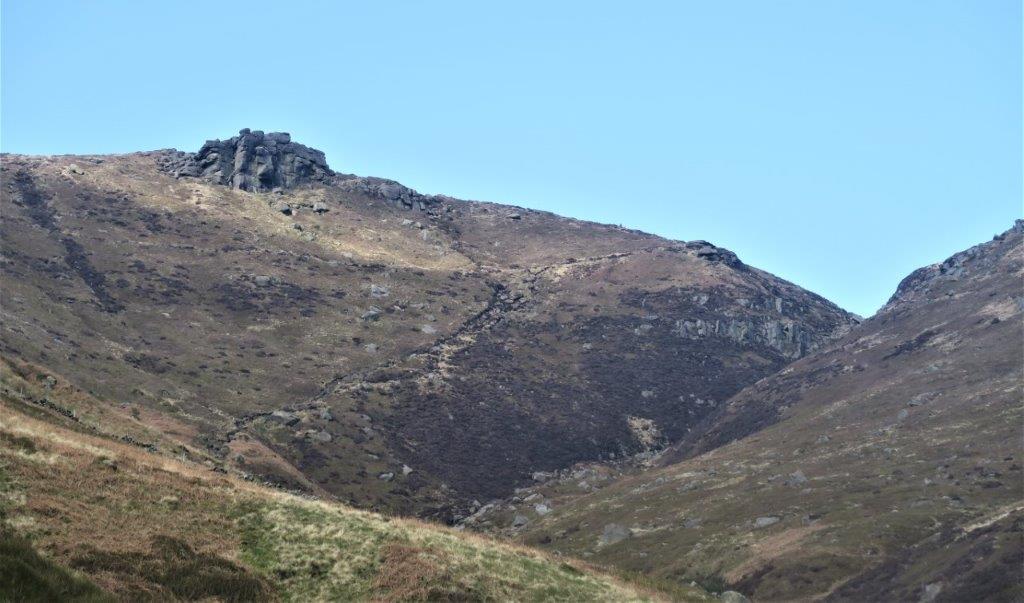 66) an alternate path - seen diagonally in this picture - avoids the upper rocky reaches of Crowden Clough. Two of our party went up thru the Clough. The other 6 used the alternate bypass route .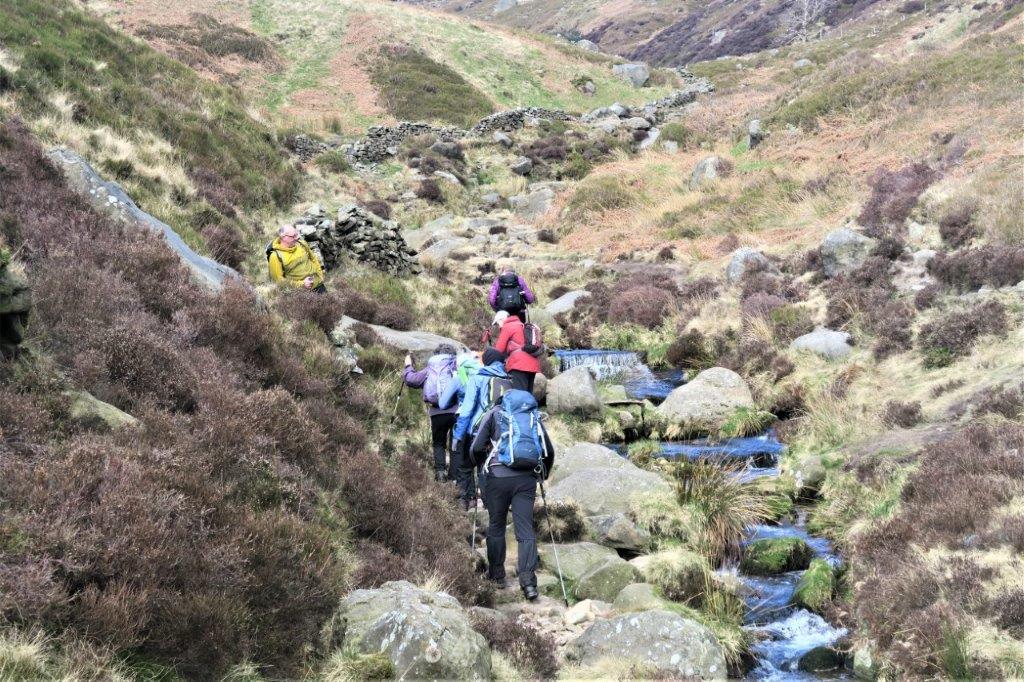 68)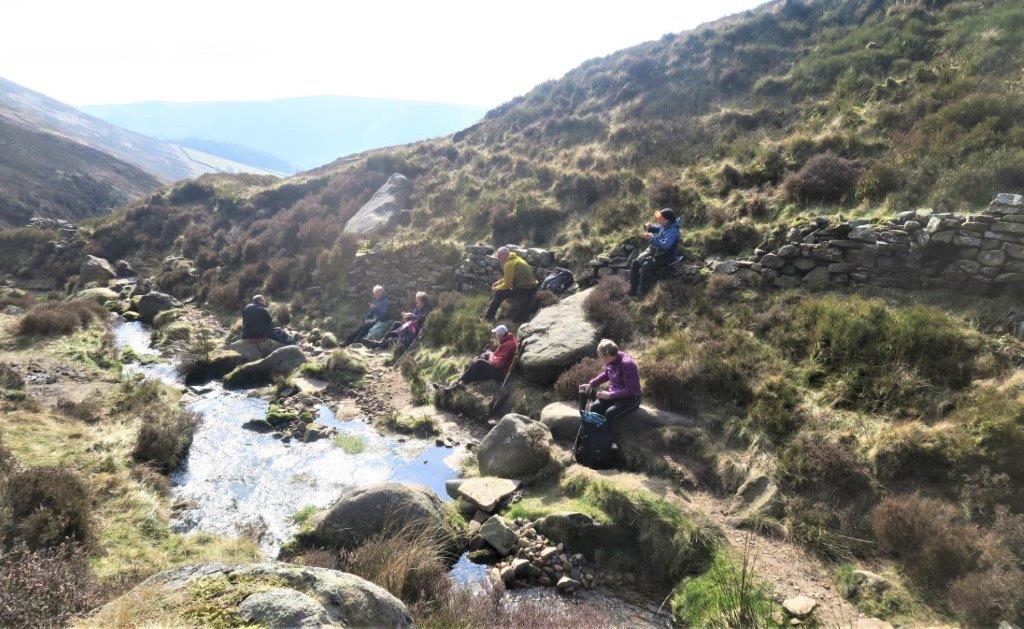 69) tea break alongside Crow2den Brook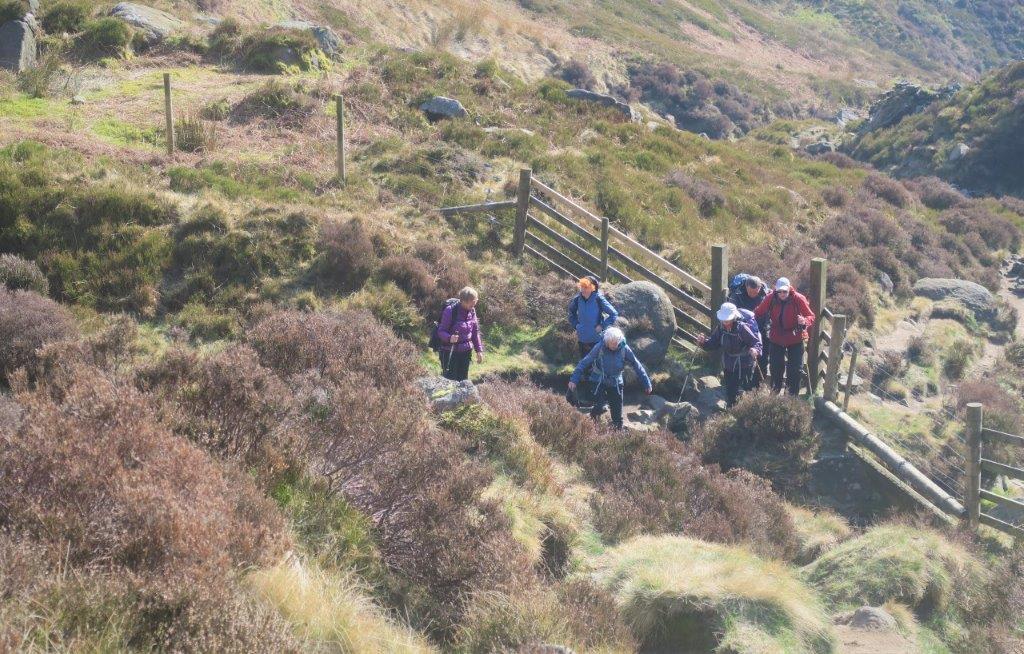 73)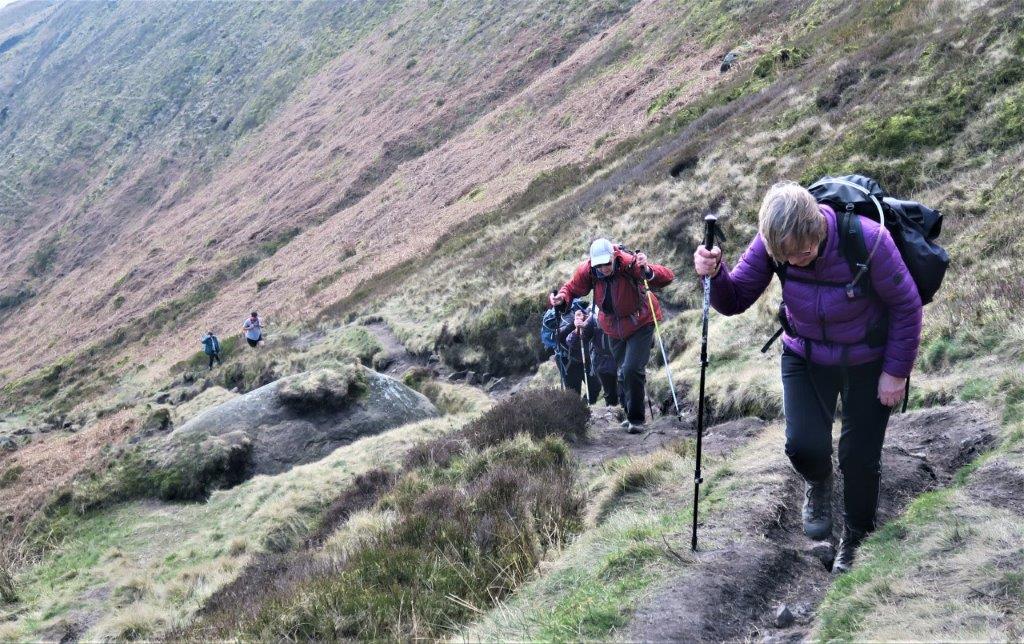 75) the balance of party on the bypass route avoiding the rocky upper reaches of Crowden Clough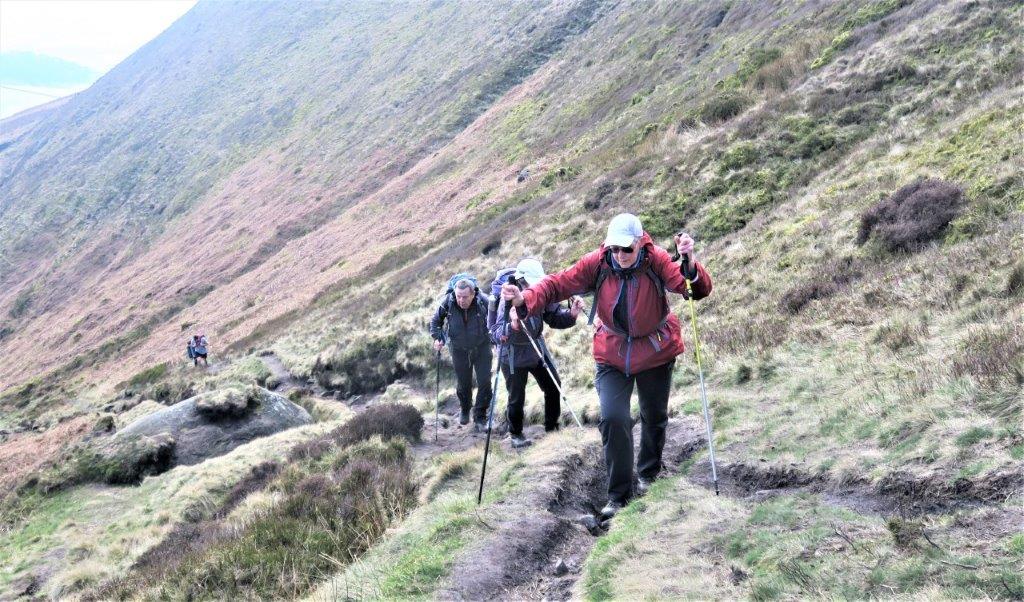 77)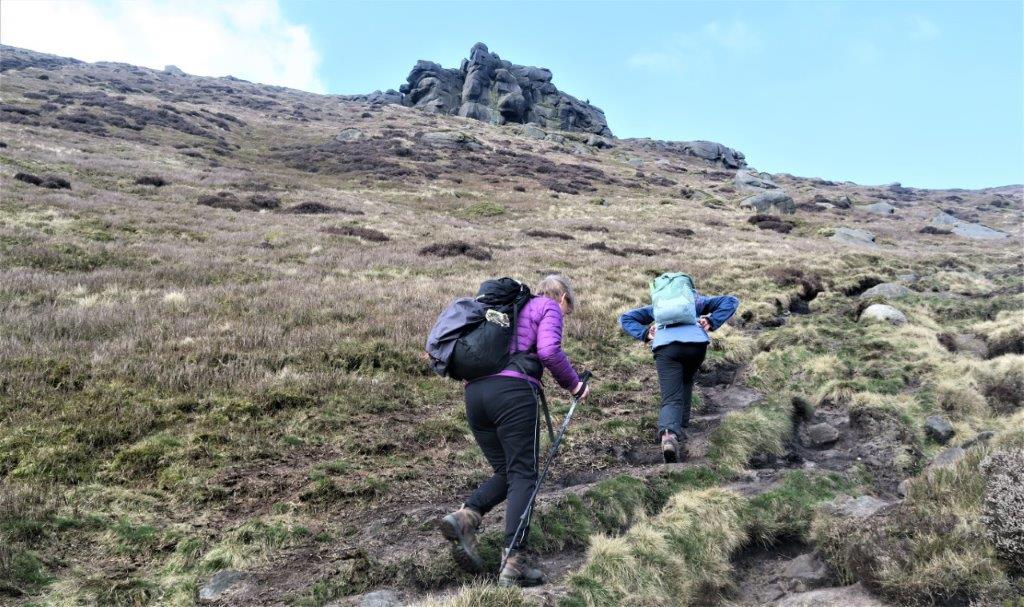 78) Cowden Tower above us. We passed well to its right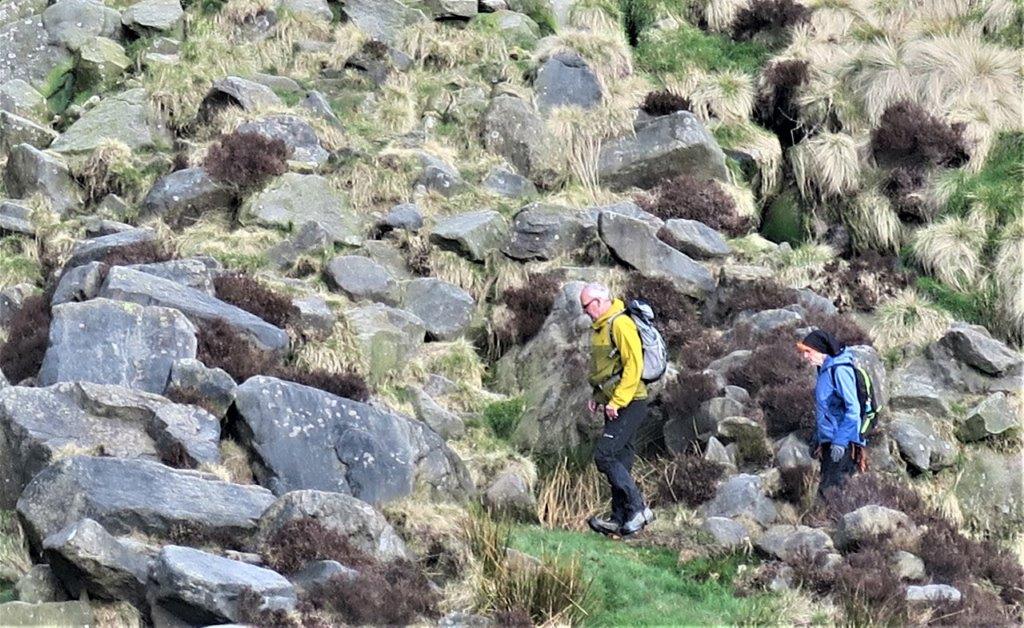 79) zoomed into the two in our party who went up the route directly through Crowden Clough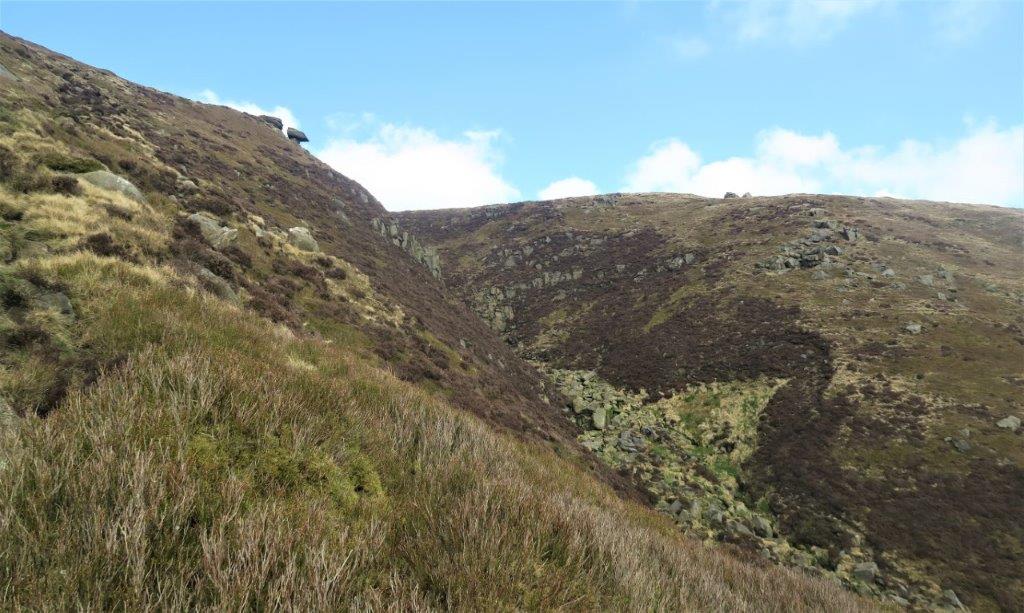 80)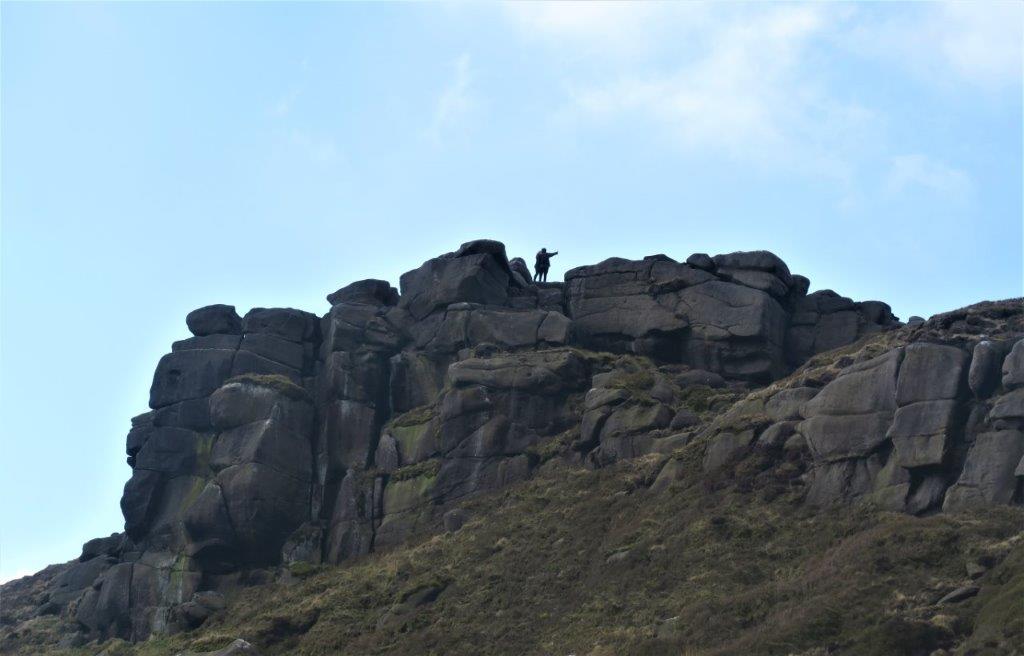 87)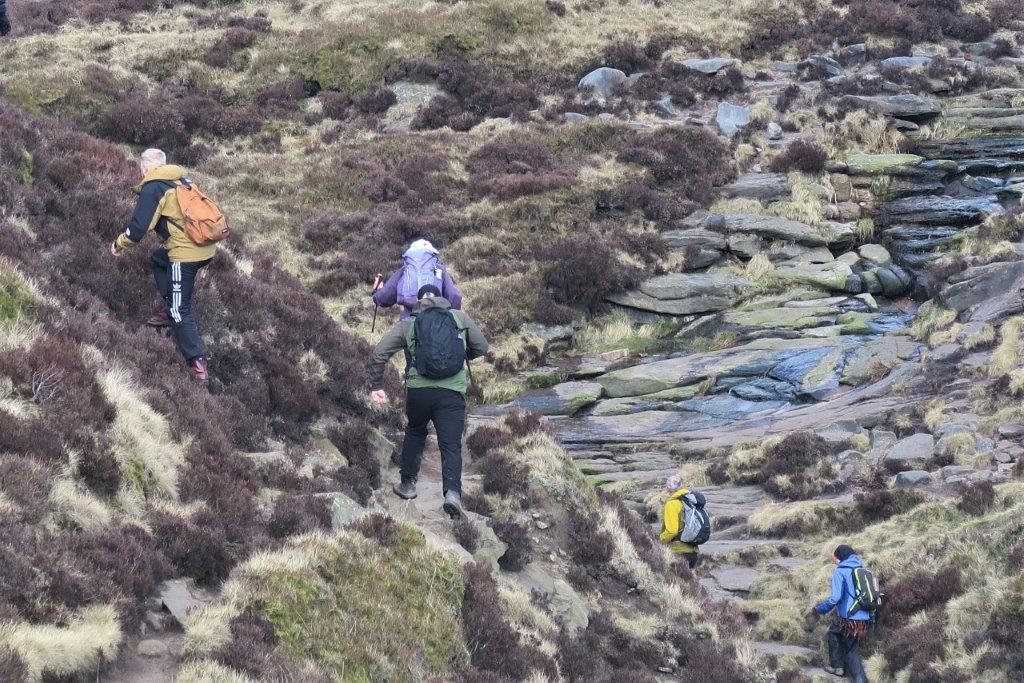 88) Our two walkers down below are going through The Clough. The walkers higher up to left (not in our party) seem to be on an informal path which I don't know.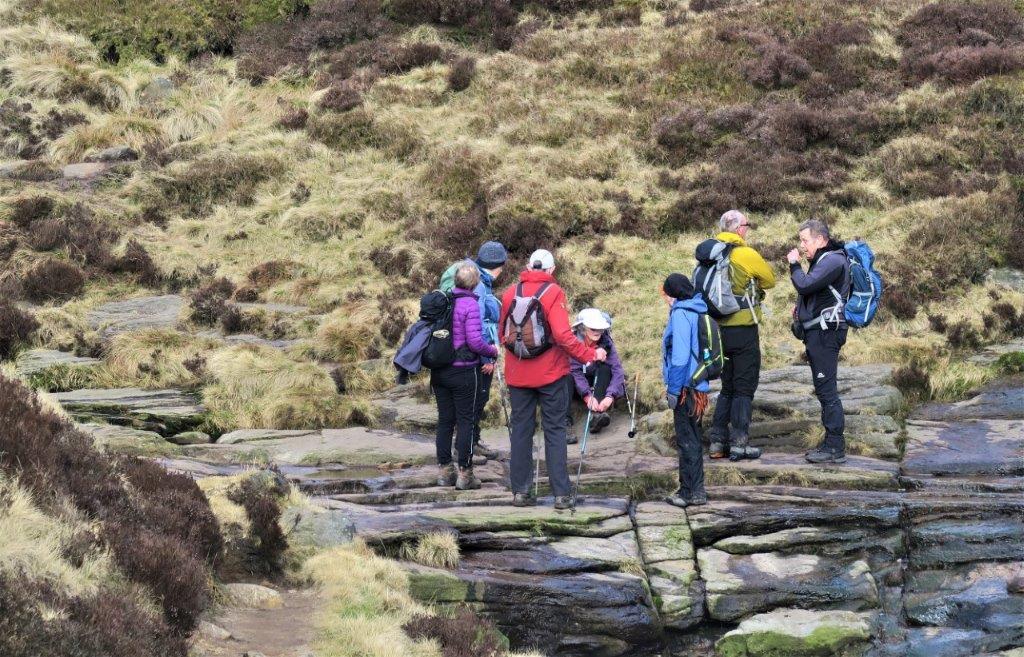 90) Our party back together near the top of the Clough.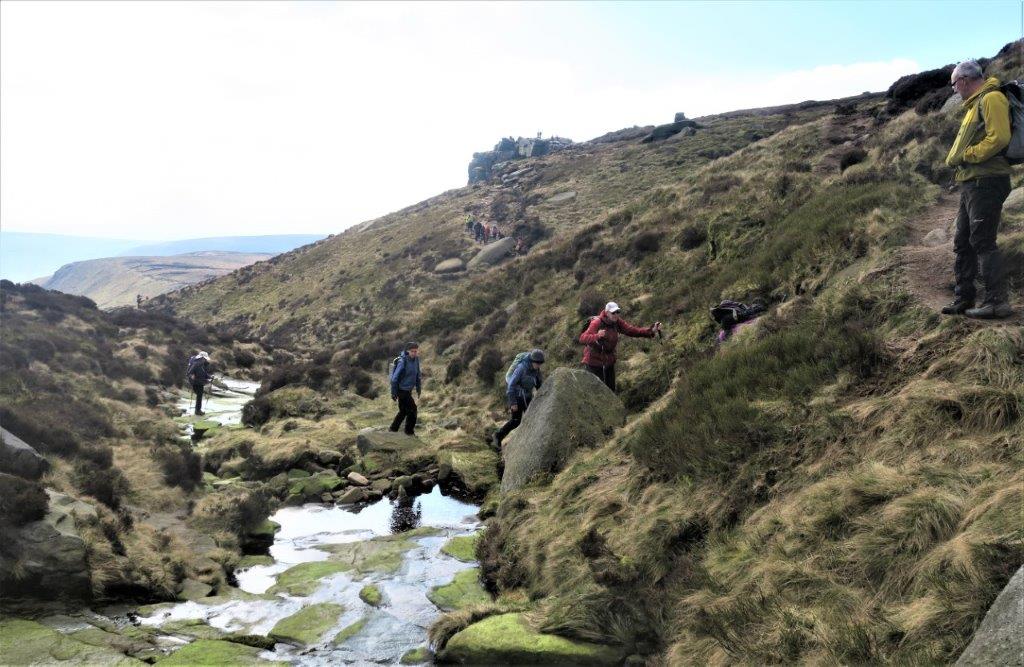 96)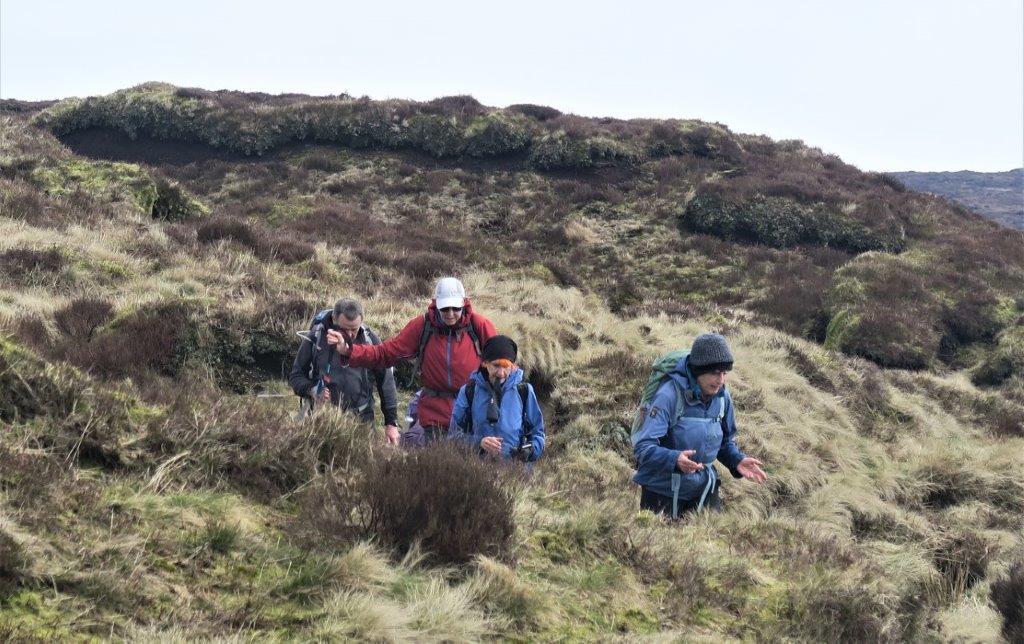 102) from the Top of Crowden Clough we followed route through OAL 'moor-land' rather than a 'footpath marked on map'. This 'footpath' is not always clearly seen on the ground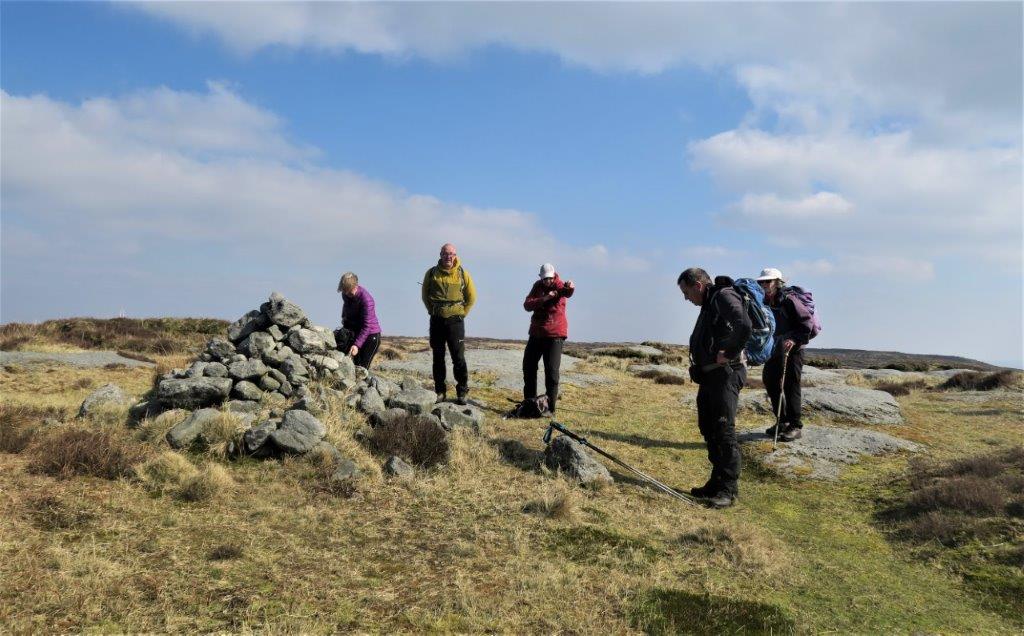 108) a beacon at a high point on Kinder Scout giving all round visio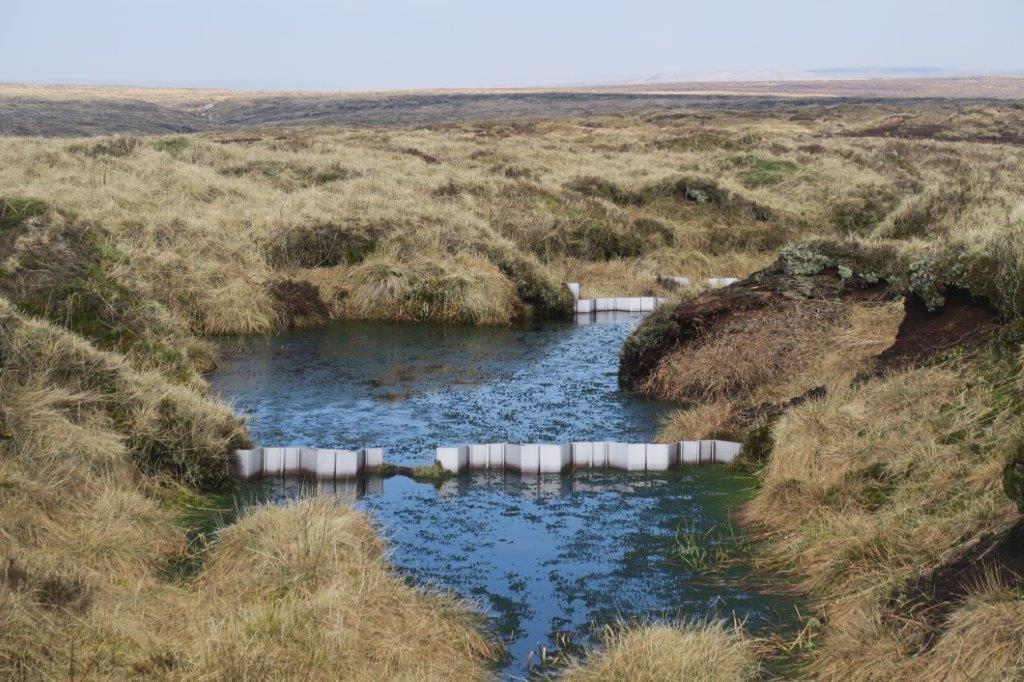 114) 'Plastic' Sheet piles driven to dam gullies and trap runoff soil materials (including peat)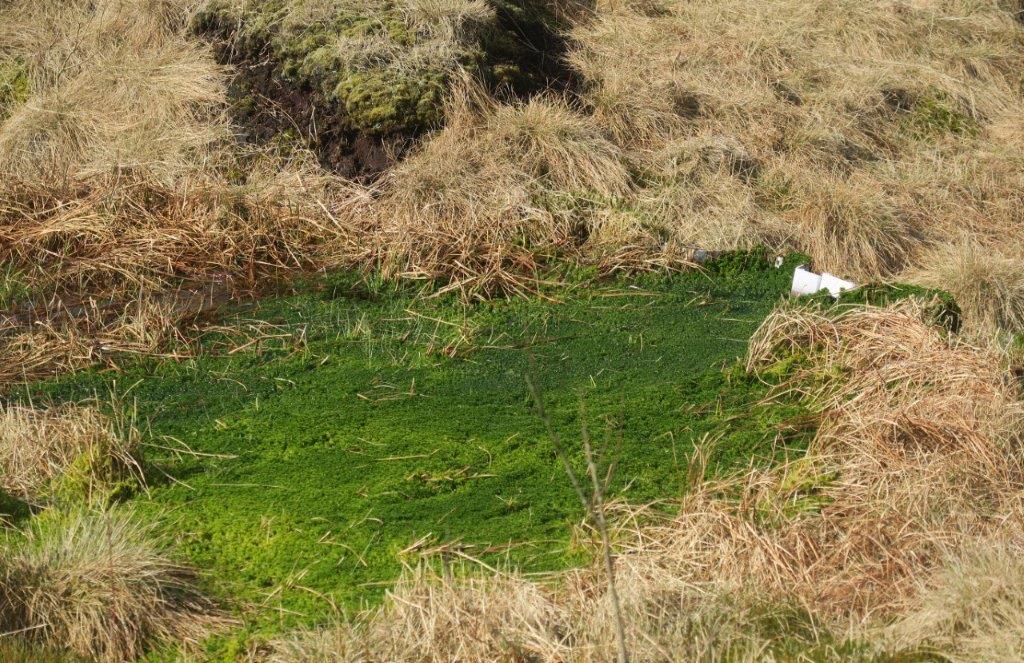 115) this 'pond has filled but may to slushy under the green cover - beware of such patched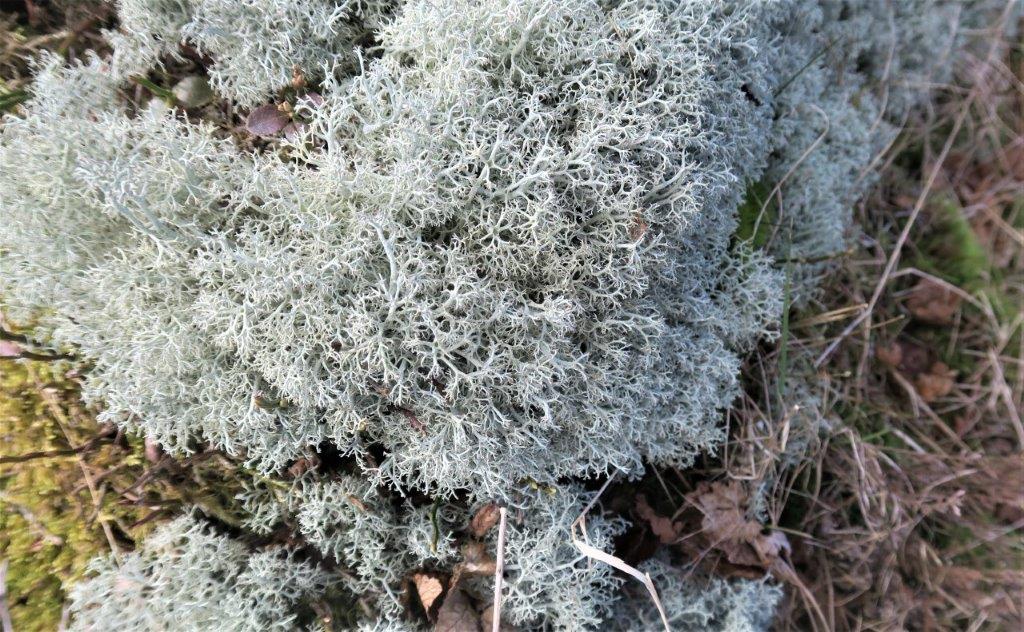 117) what type of lichen is this - not often seen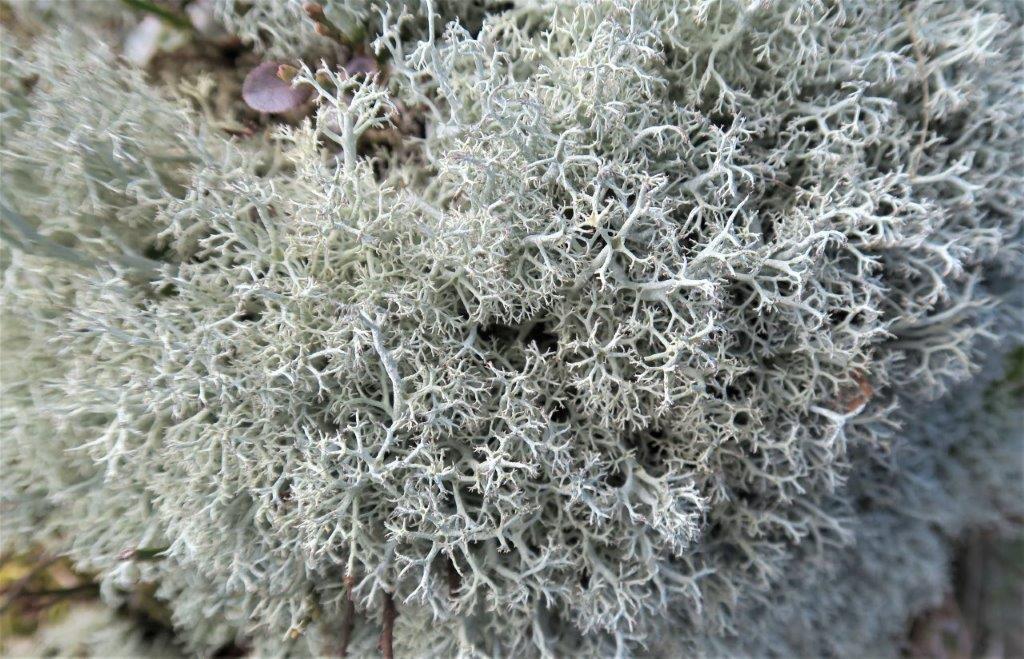 118)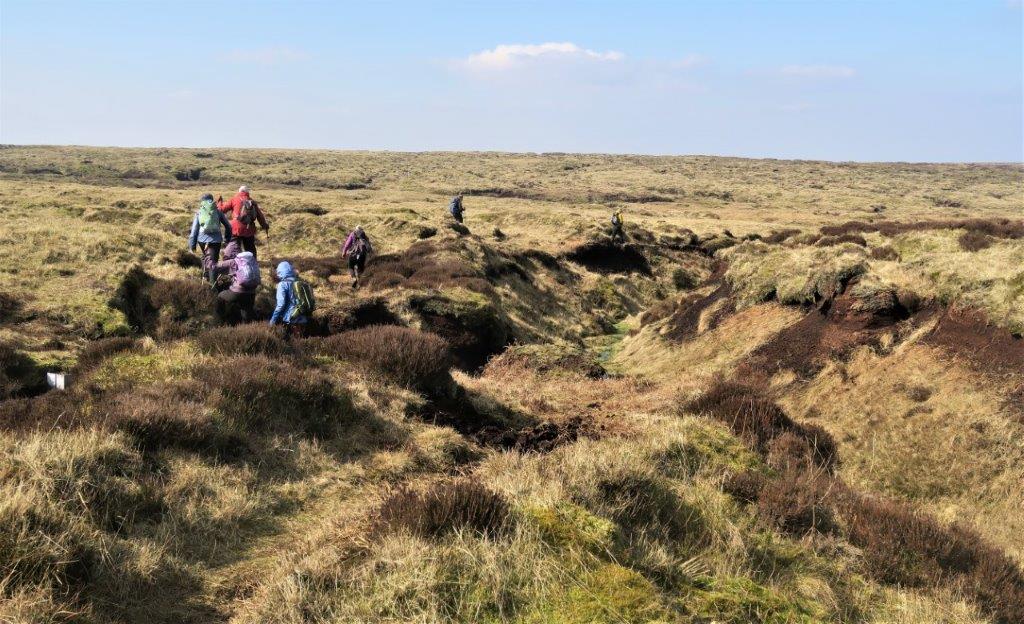 119)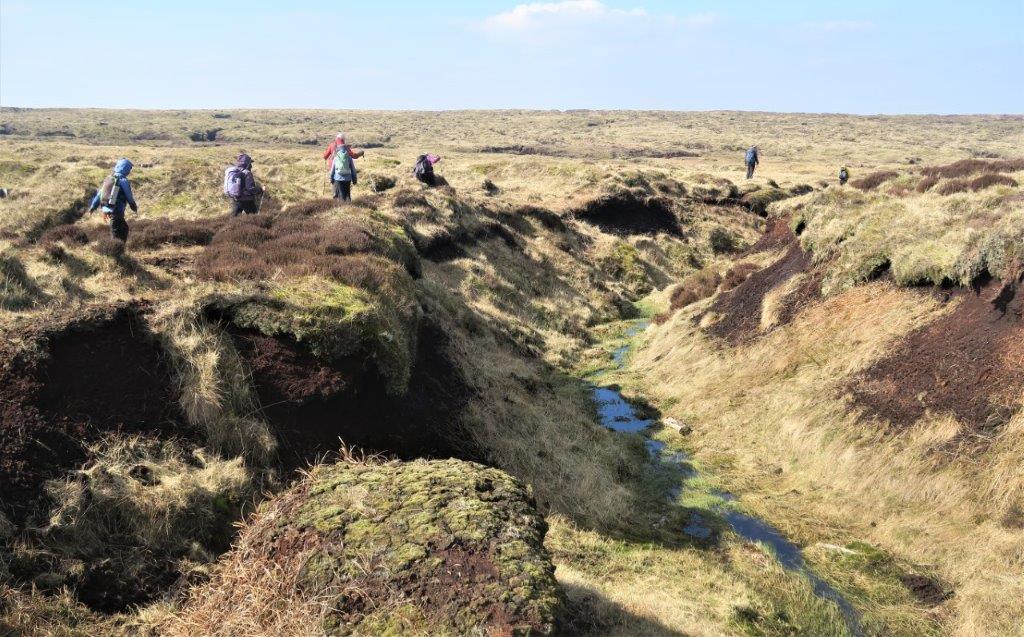 121)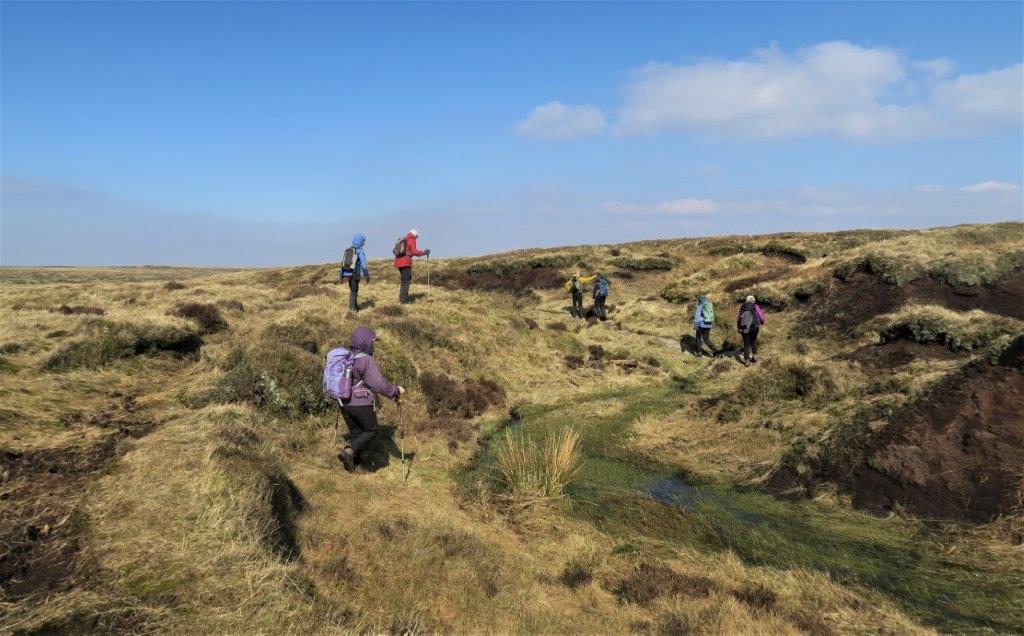 122)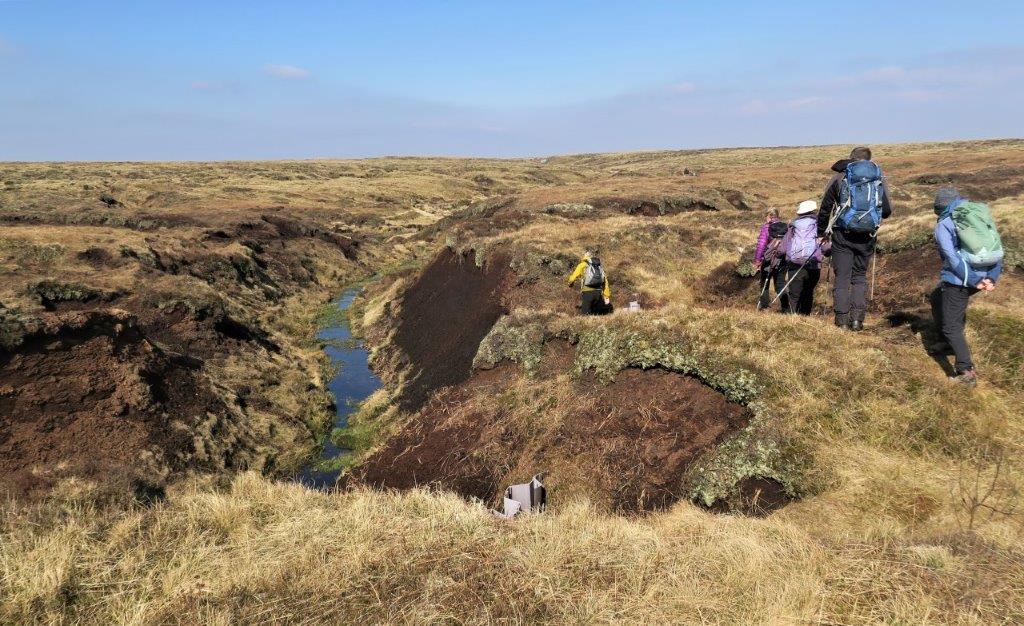 123)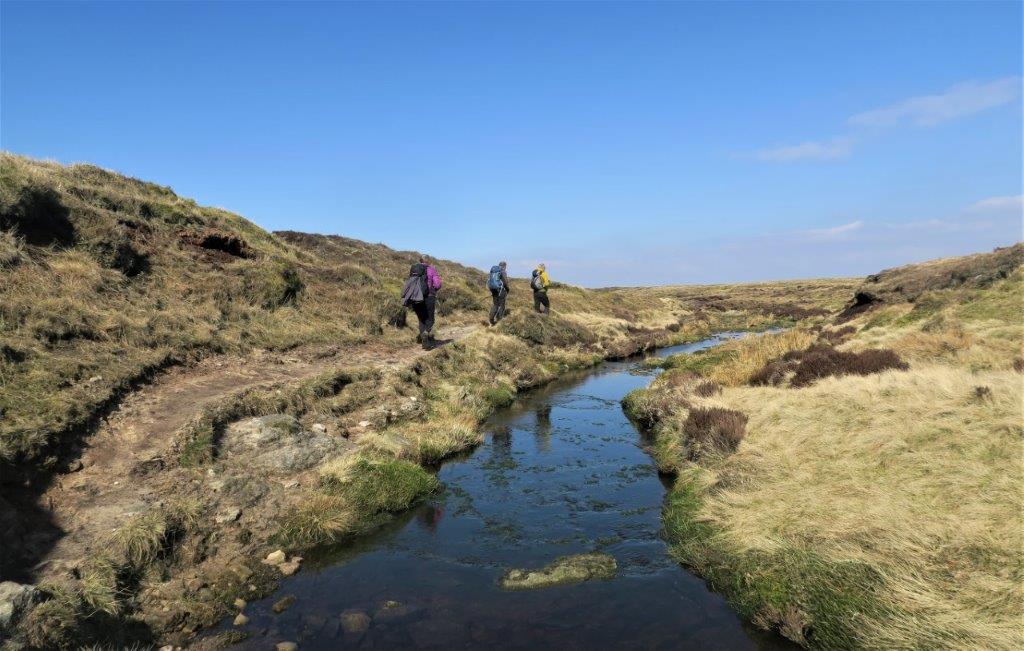 125) probably the River Kinder on top the Kinder Scout plateau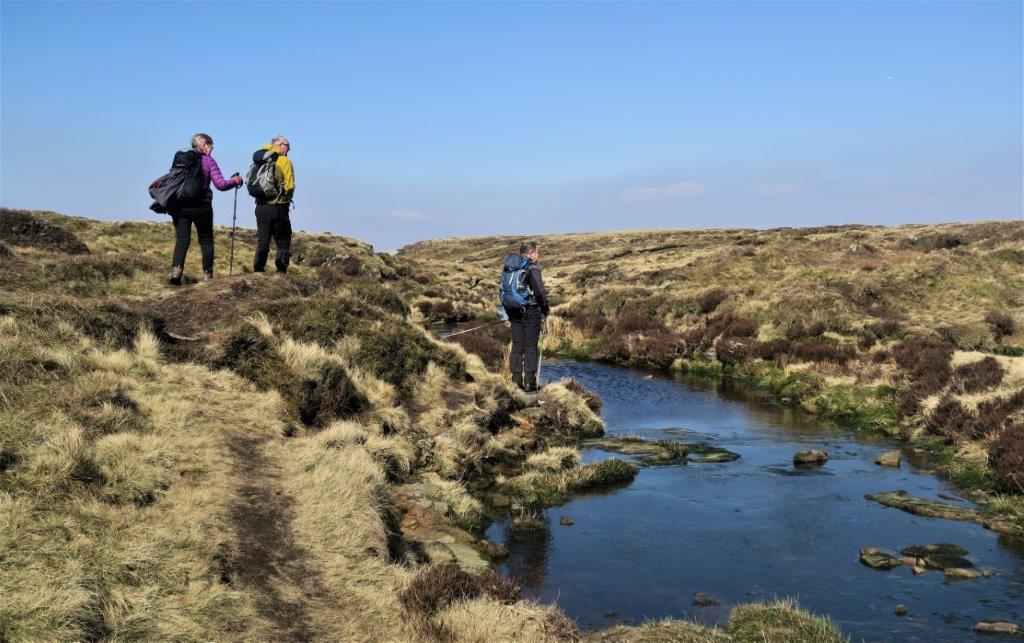 127)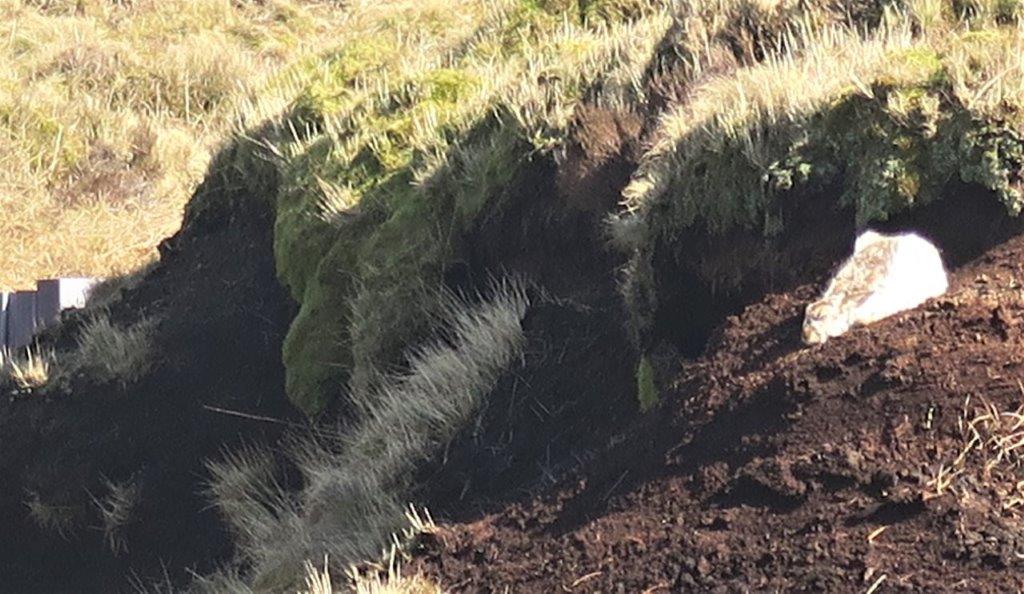 128) is this a rock? or a white hare?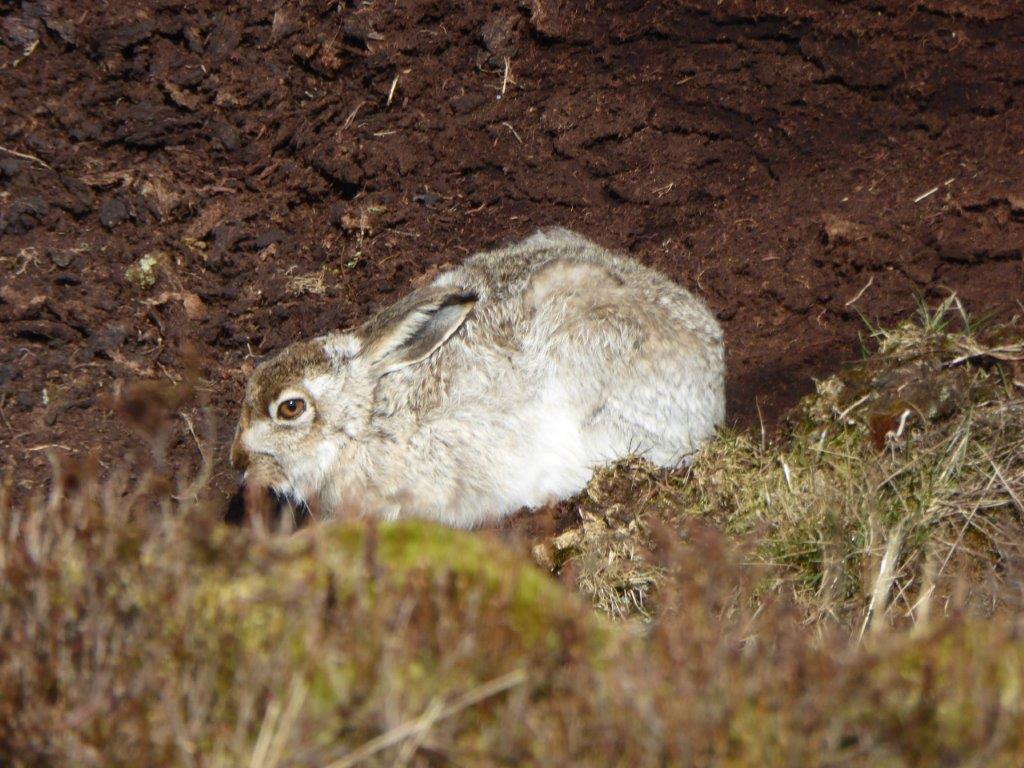 128a) A White Hare as photographed by Richard Bennett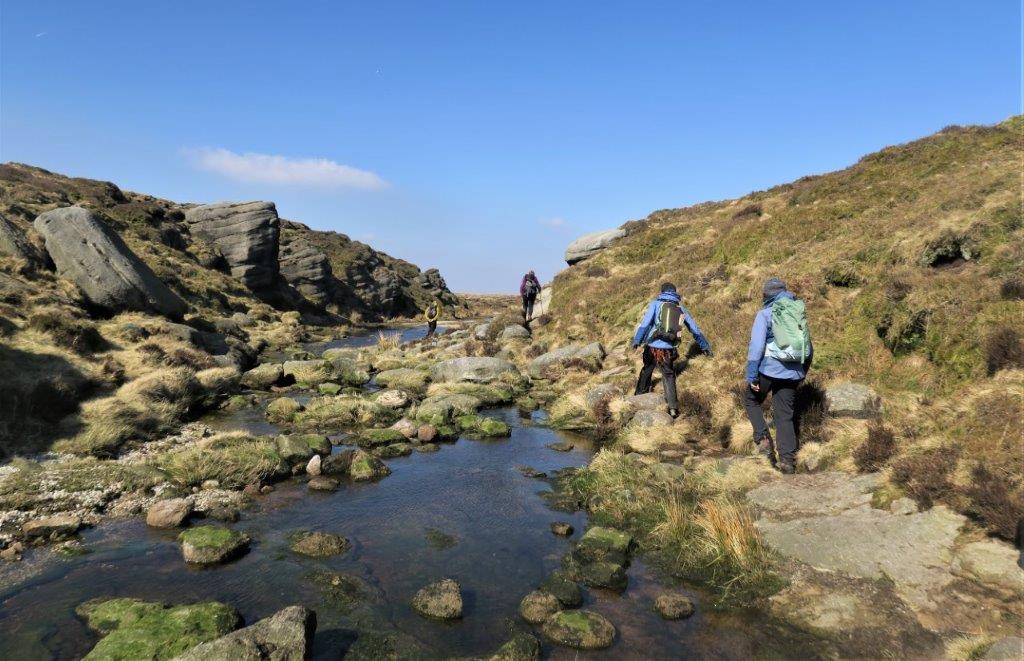 131)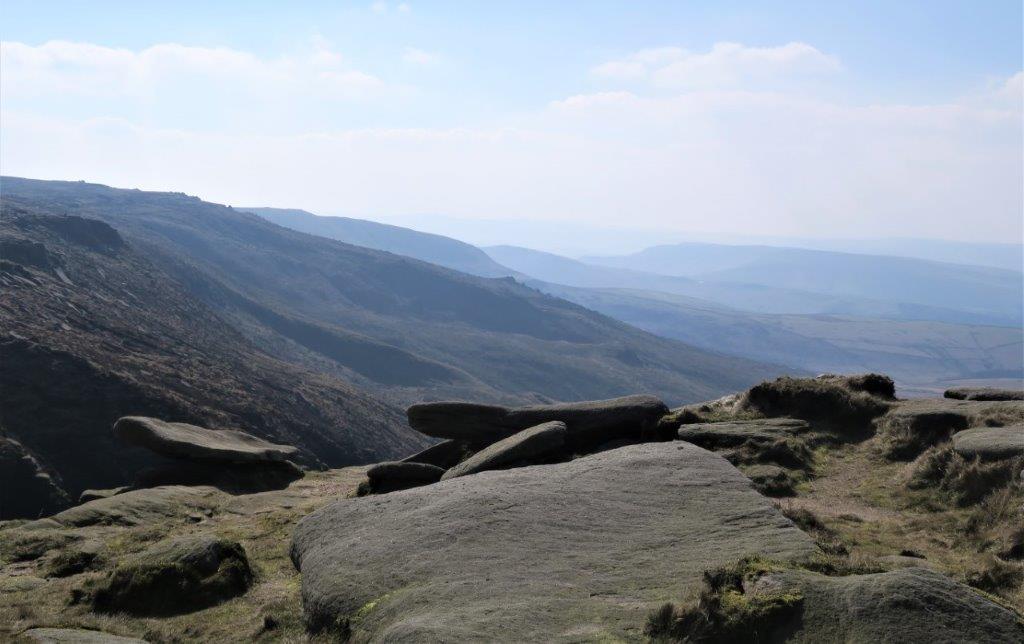 134) looking out beyond Kinder Downfall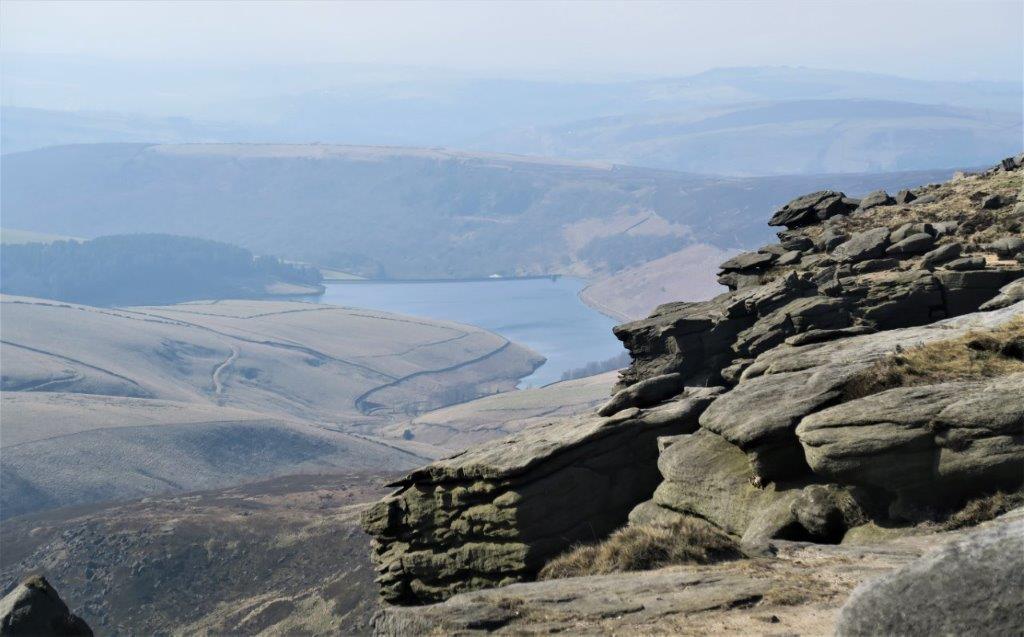 137) Kinder Reservoir below Kinder Downfall and the River Kinder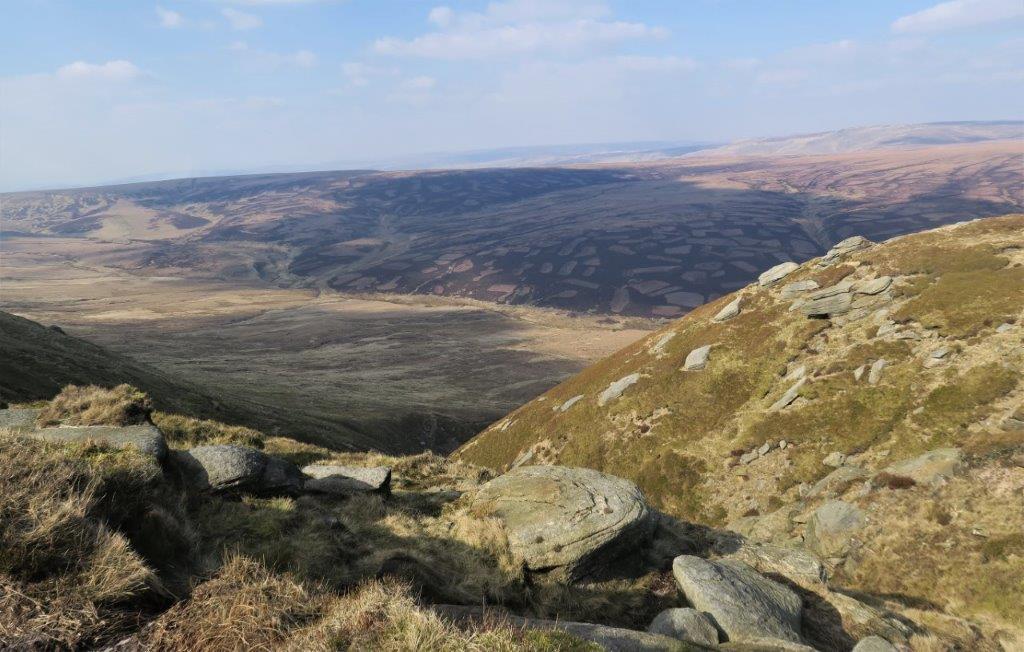 143) I think we have crossed Kinder's moor land and are looking down at Nether Red Brook beyond Kinder's northern edge? River Ashop is unseen across valley?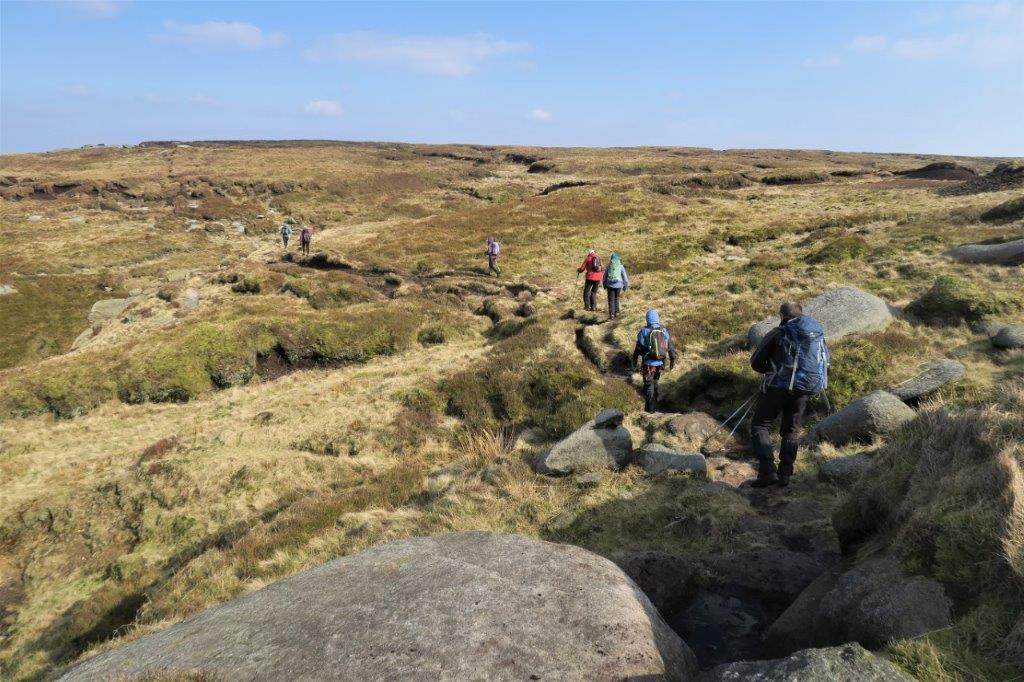 144)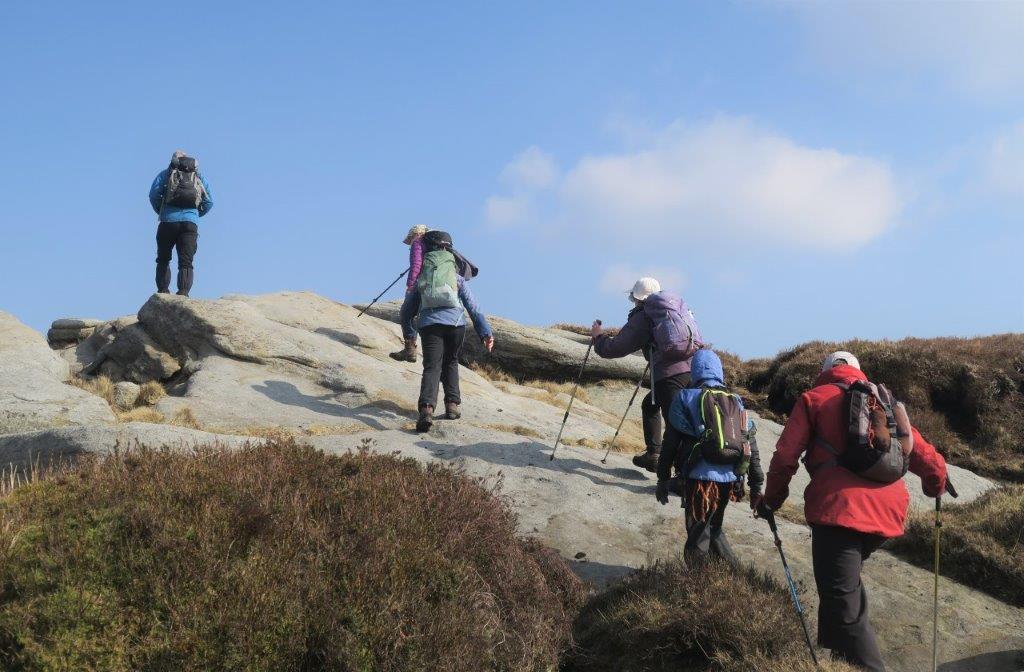 147)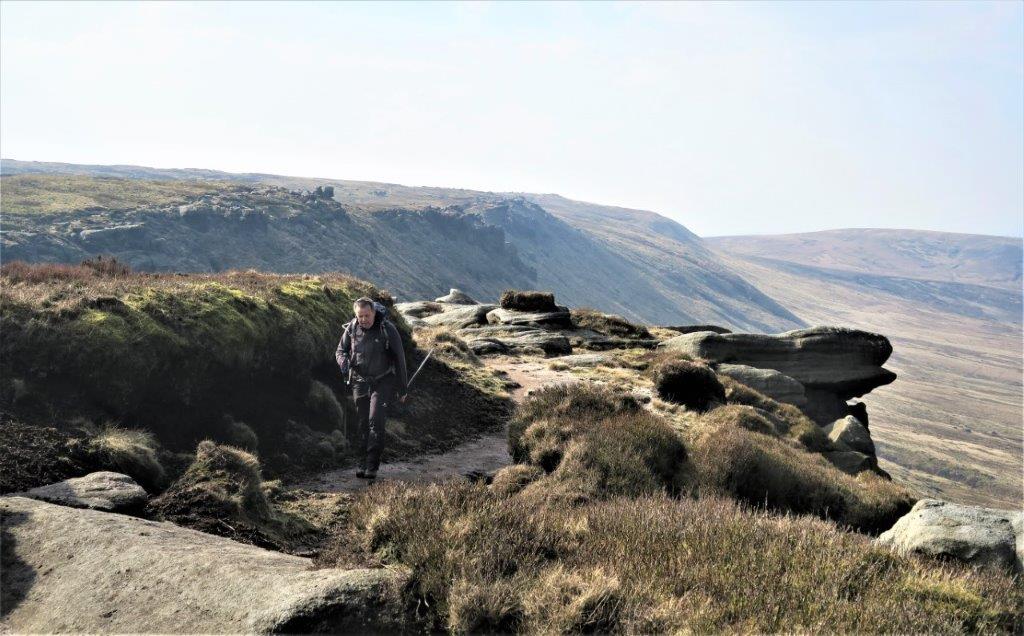 148) on the Northern Edge heading toward Fairbrook Naze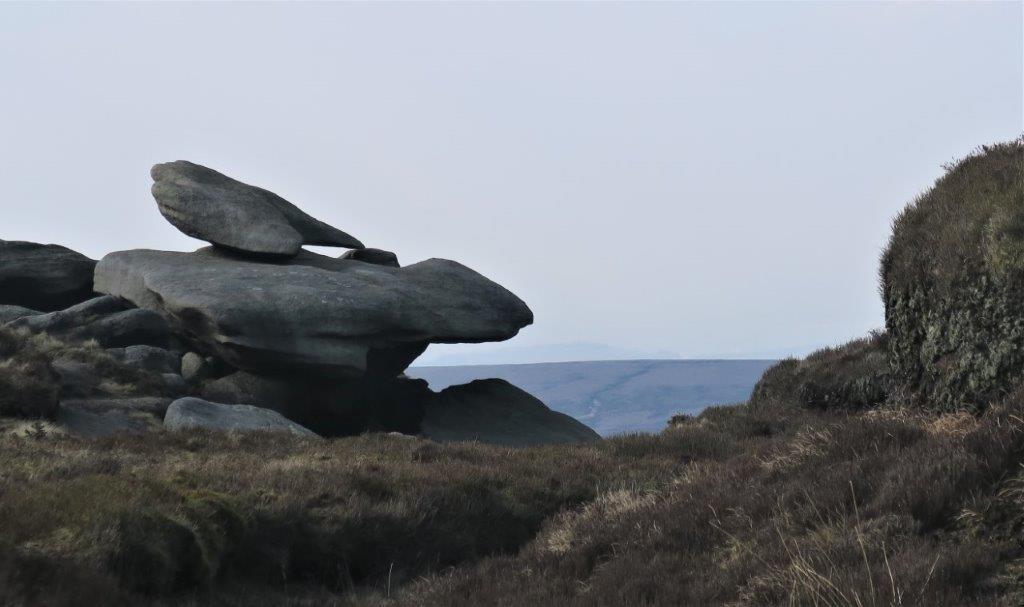 152)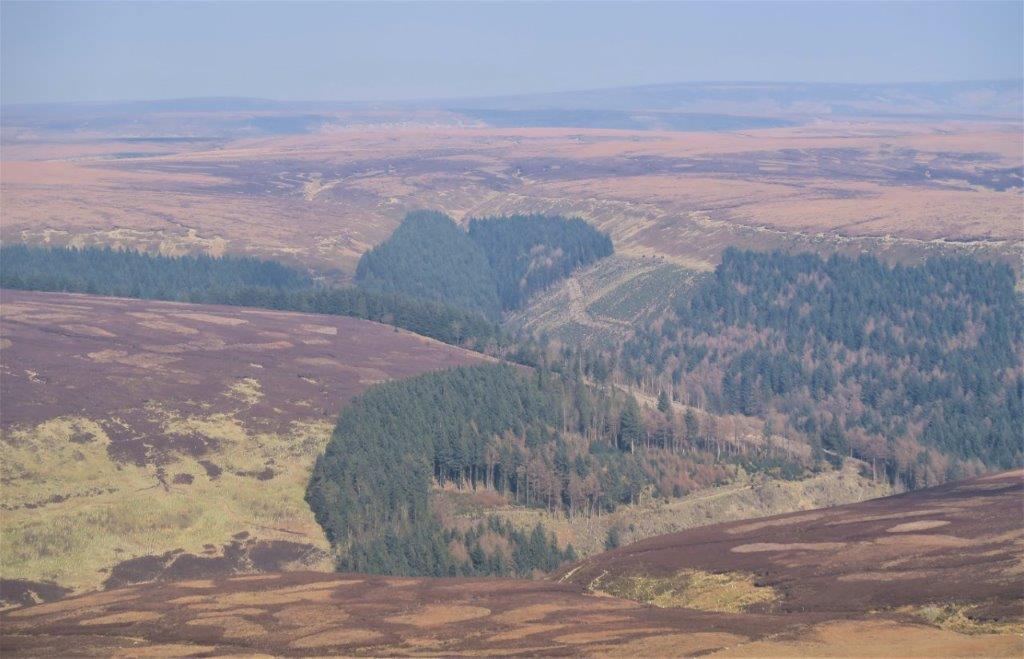 153)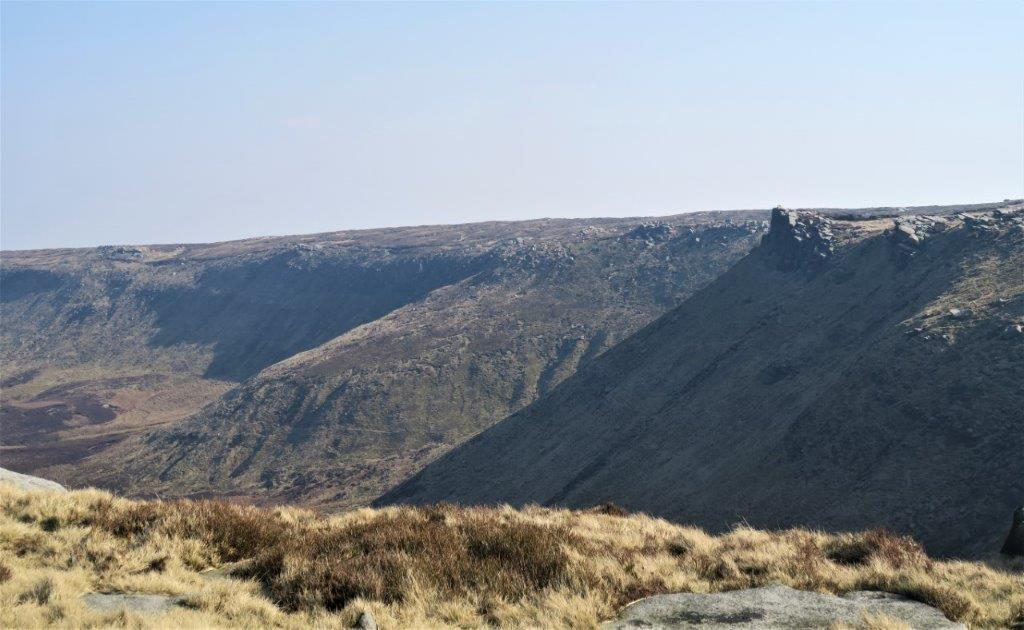 154) Fairbrook immediately below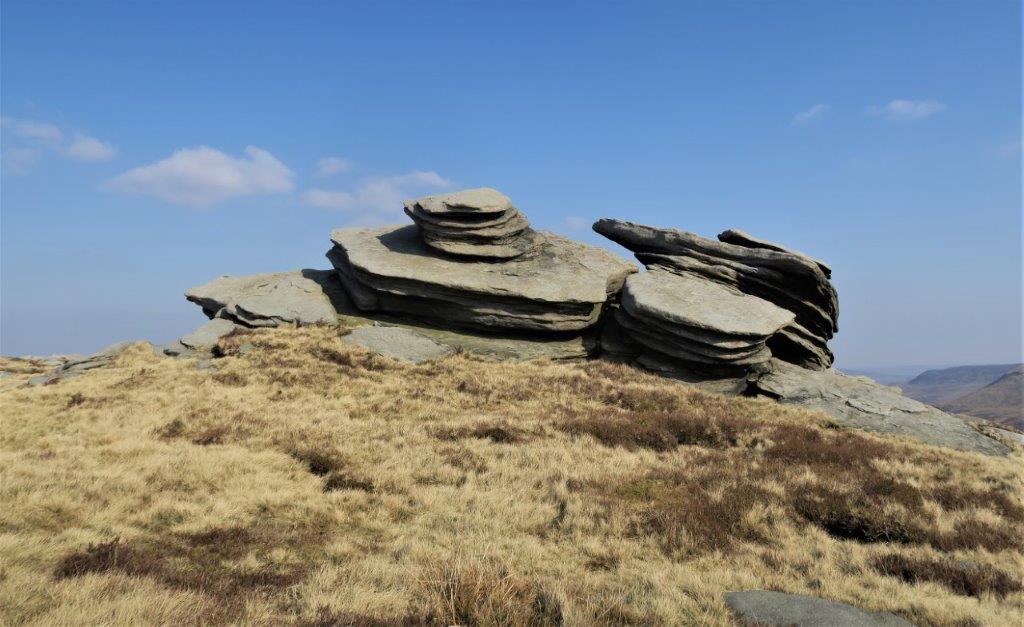 156) Fair Brook Naze - between Kinders Northern Edge and the upper edge of fairbrook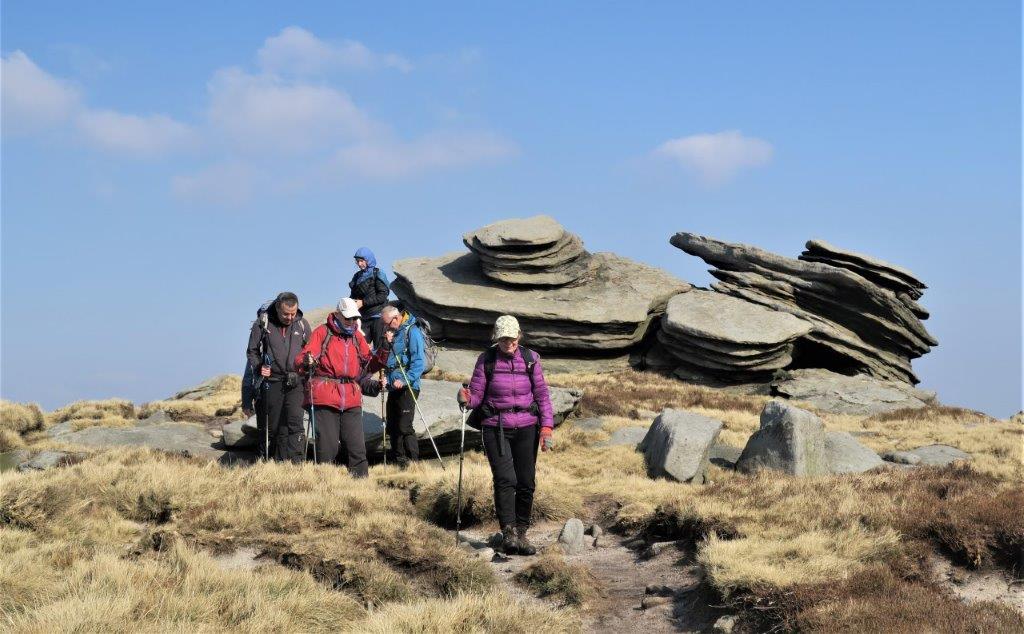 158) after Kinders Northern edge, we are heading to, then along, top edge of Fair Brook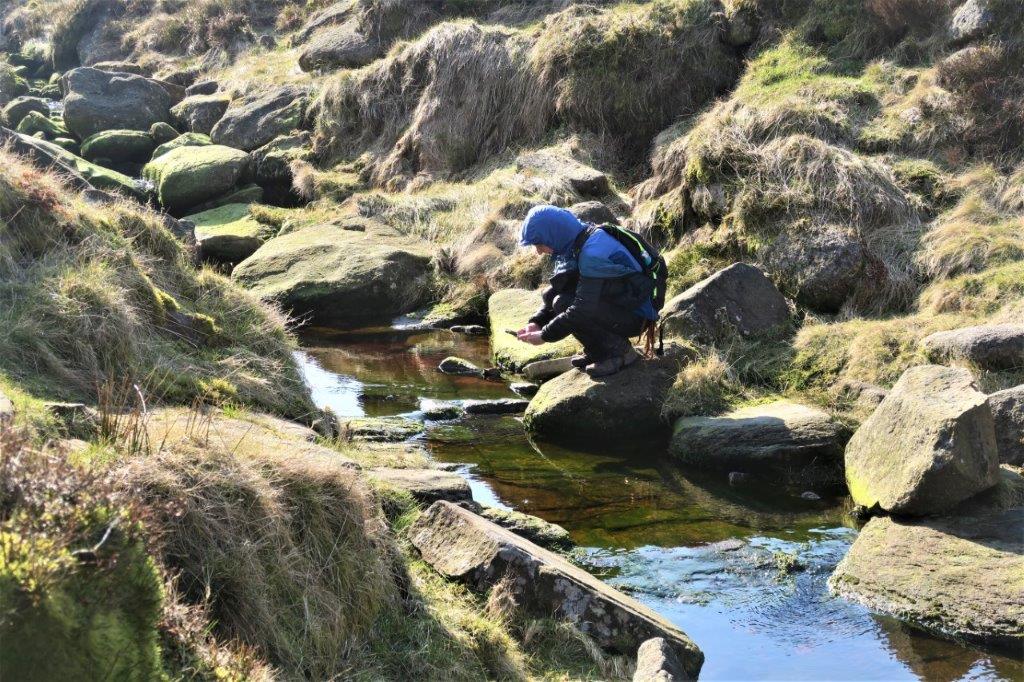 161) our crossing point - could change if brook carries more water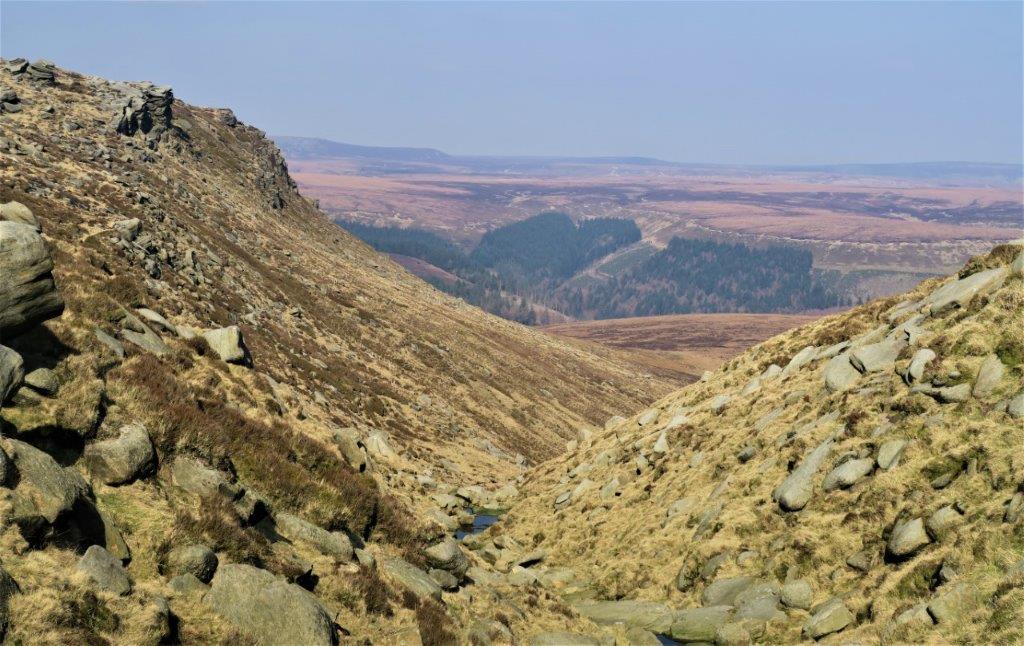 162) upper reaches of Fair Brook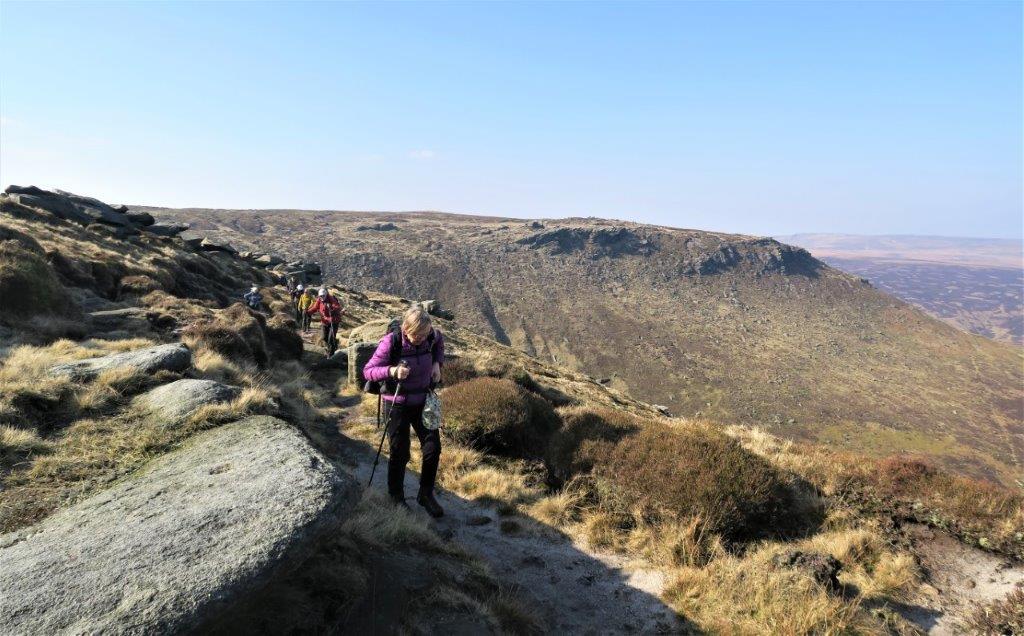 166) Fair Brook Naze behind us - to right of middle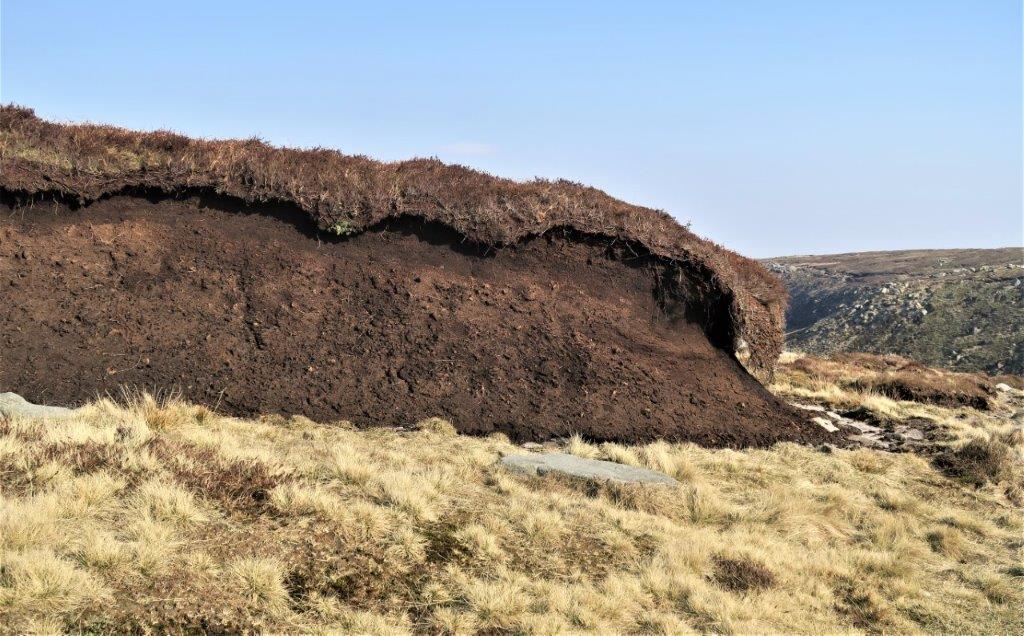 168) meters depth of peat - some dug out to burn in past - some eroded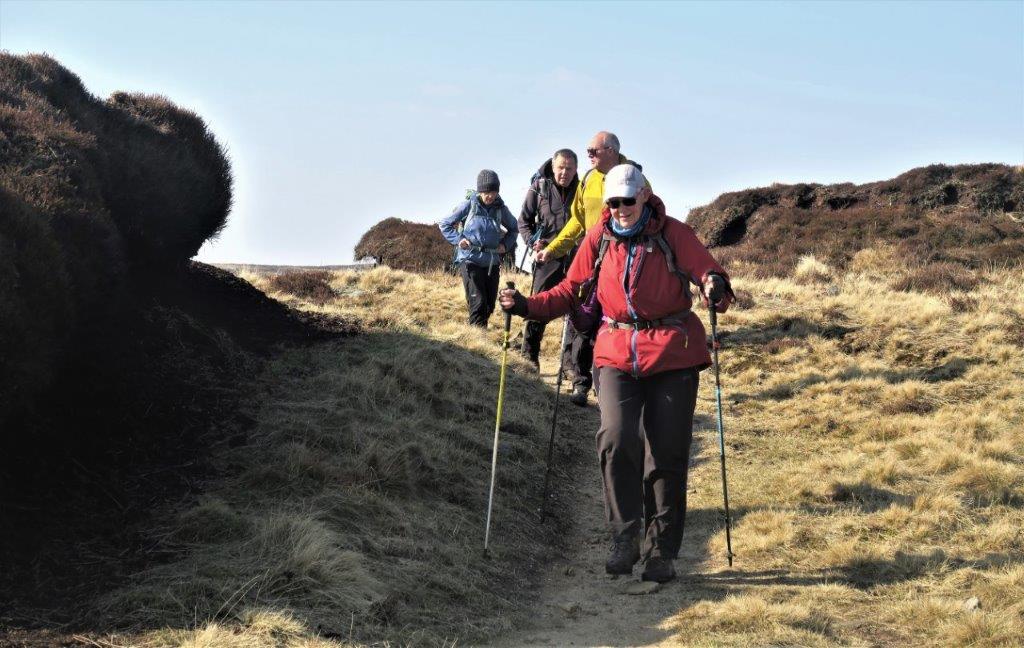 169)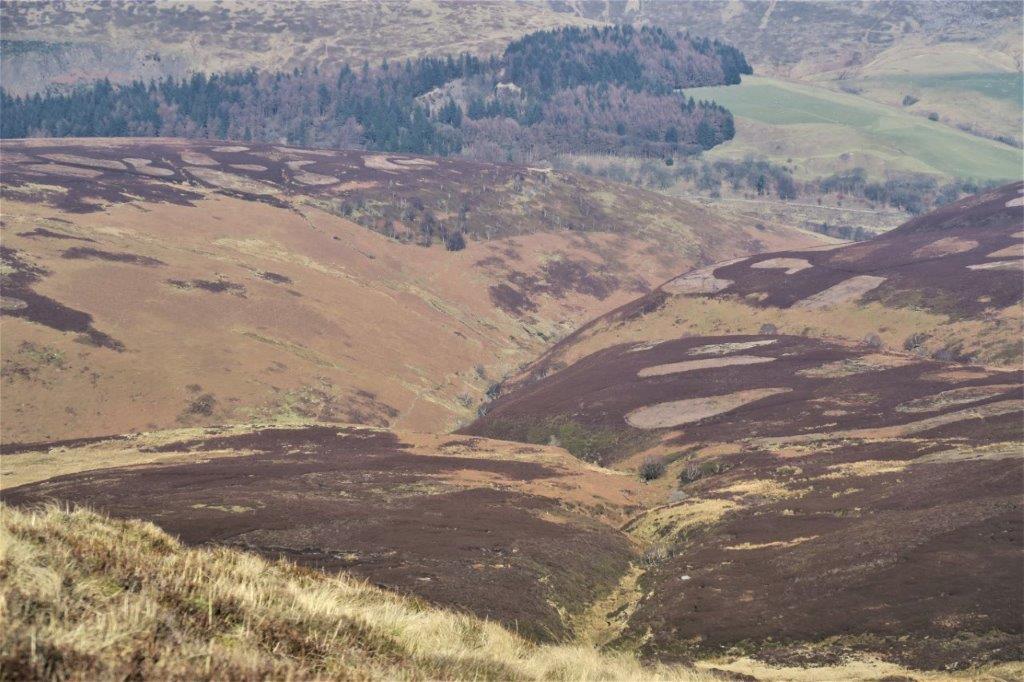 170) Fairbrook's 'valley below us diagonally across picture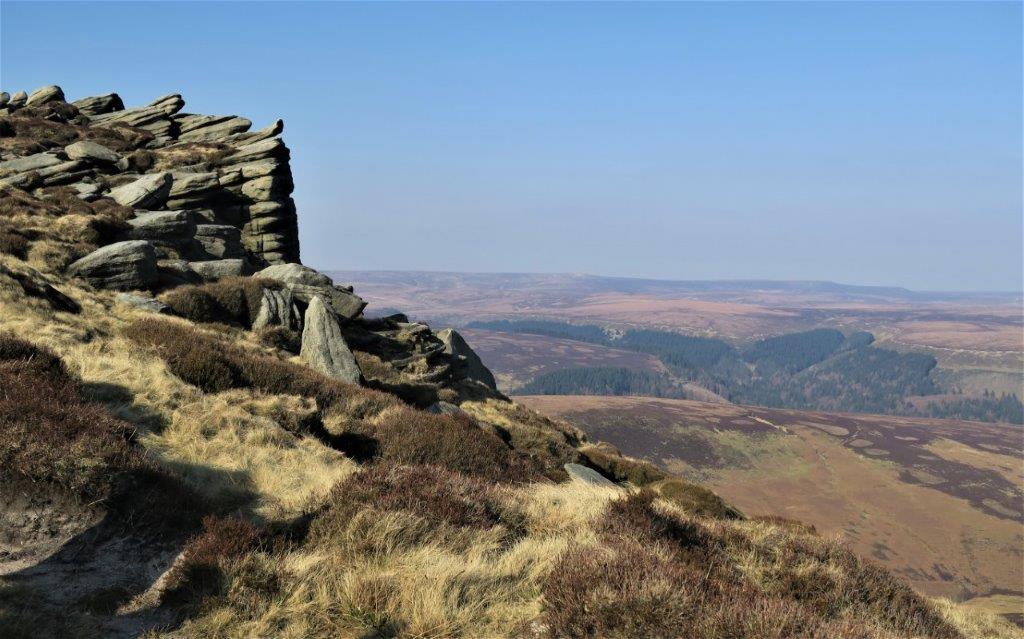 172)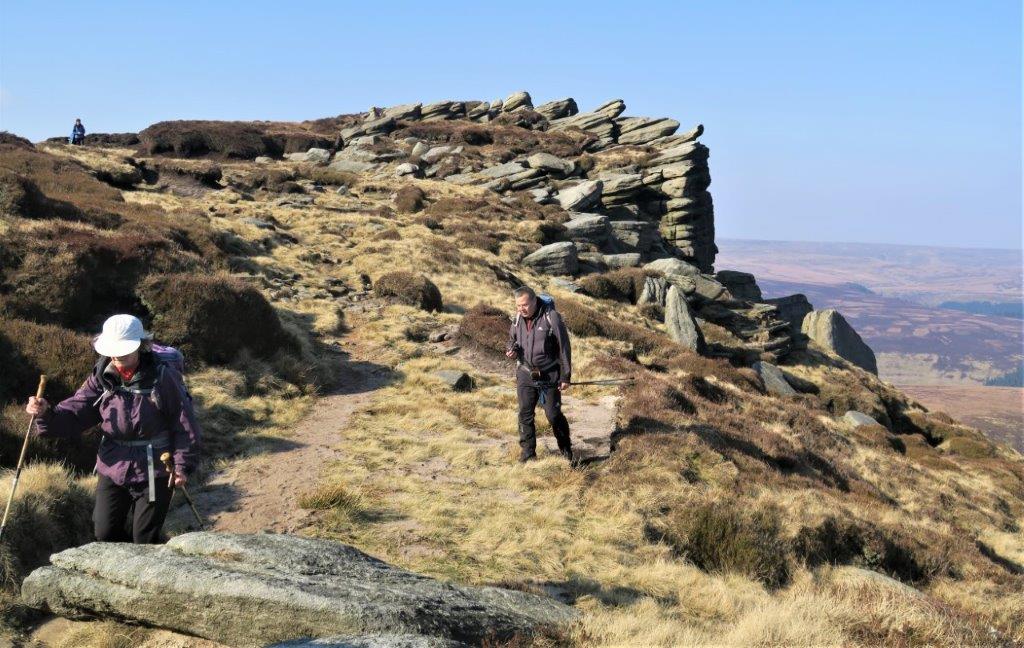 173)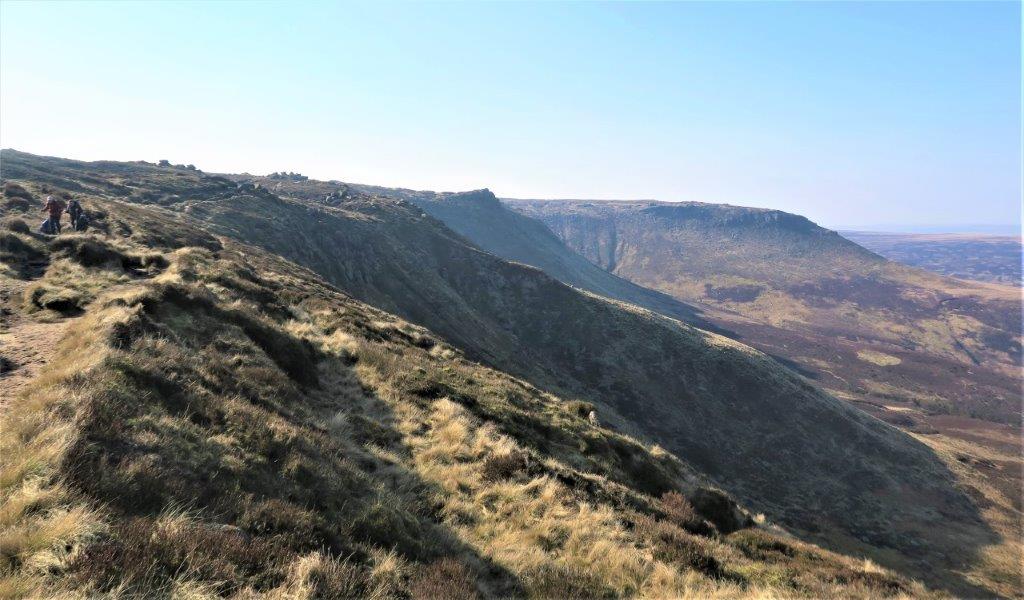 175)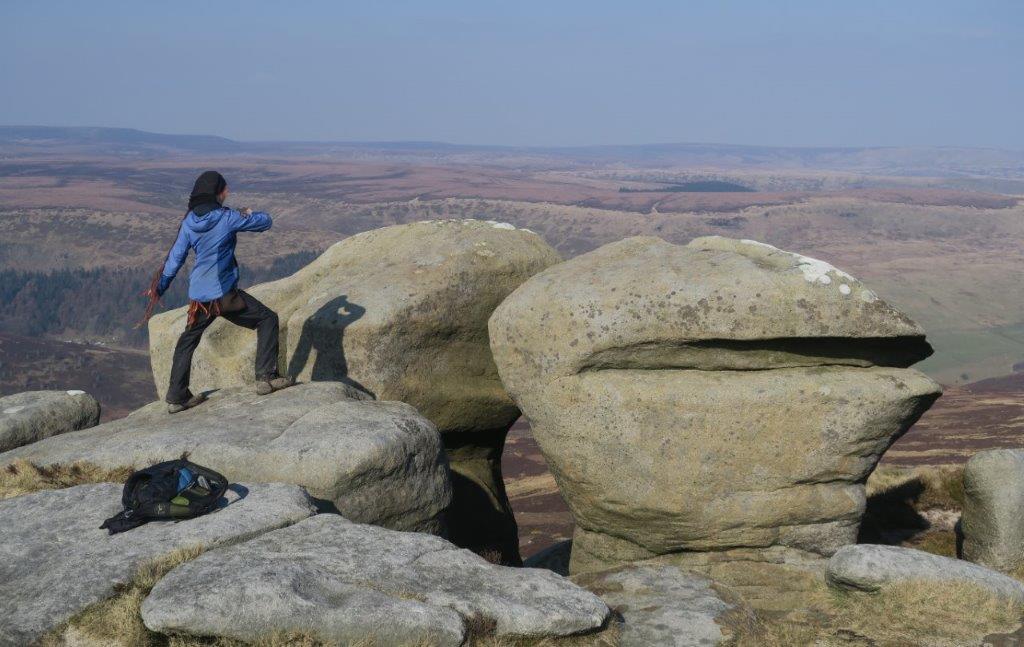 176)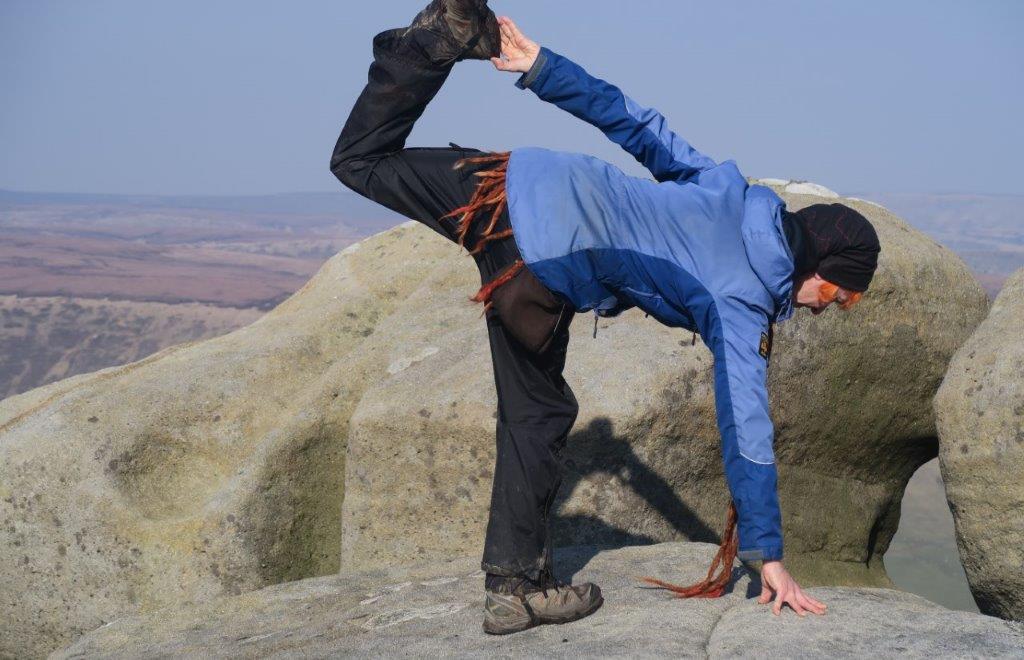 178)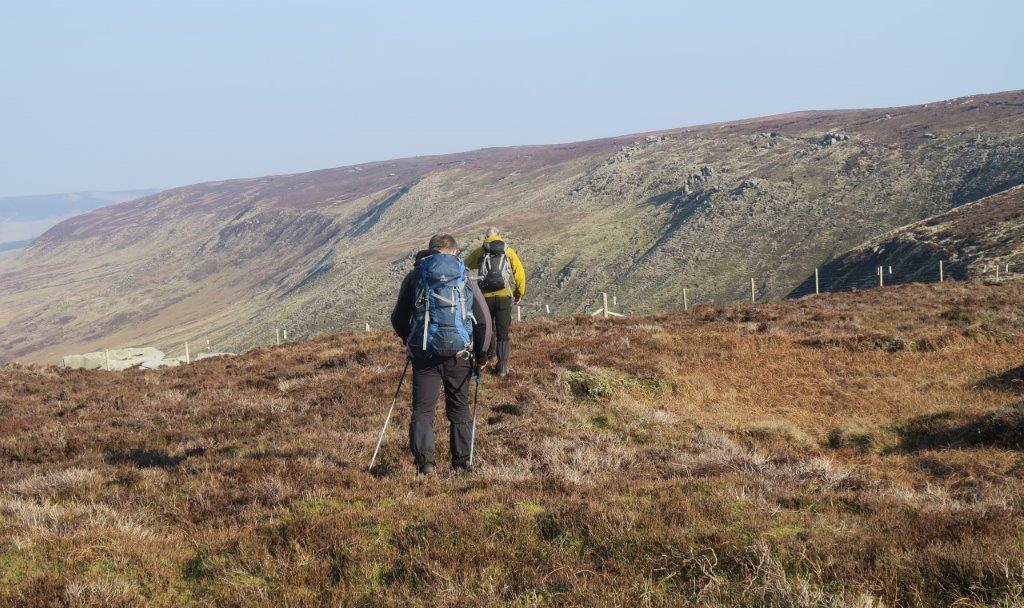 182) short cut taken through moor land from Seal Edge ~ESE to Blackden Clough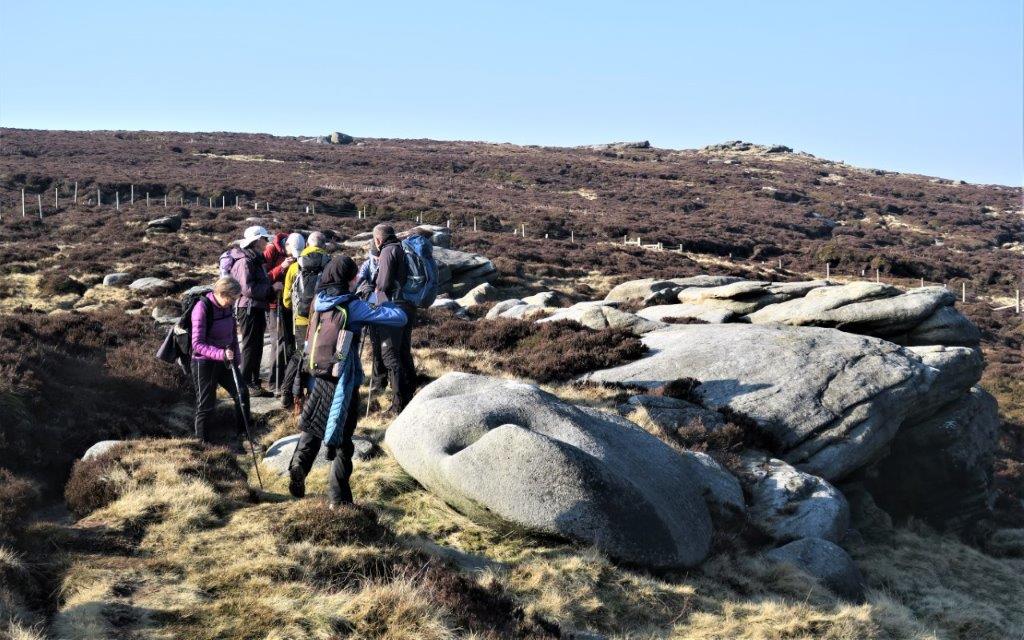 187)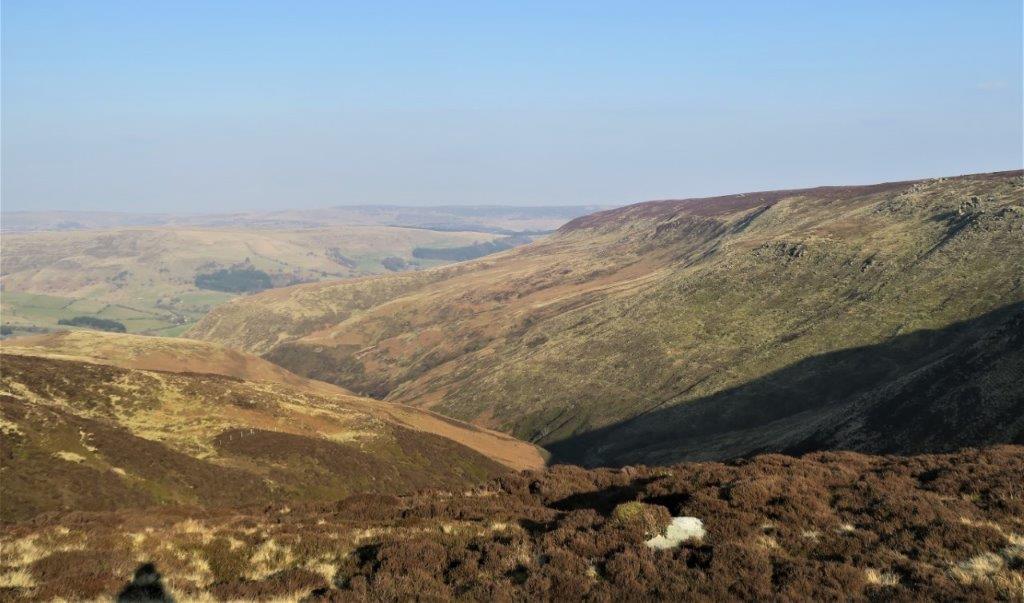 188) Blackden Clough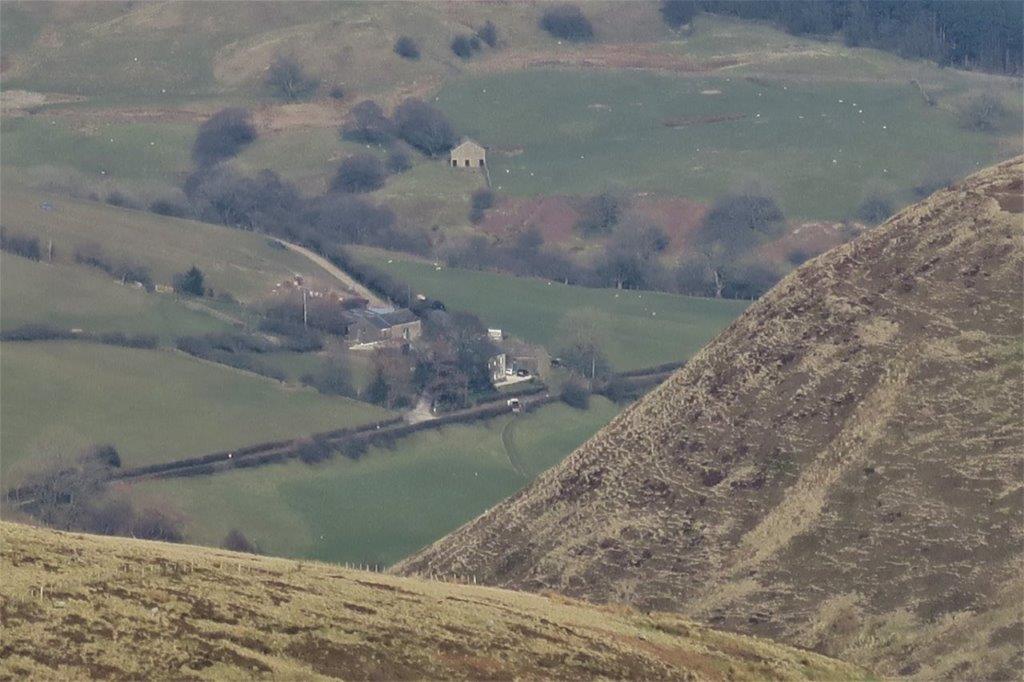 189) zoomed into Blackden View Farm below? along Snake Road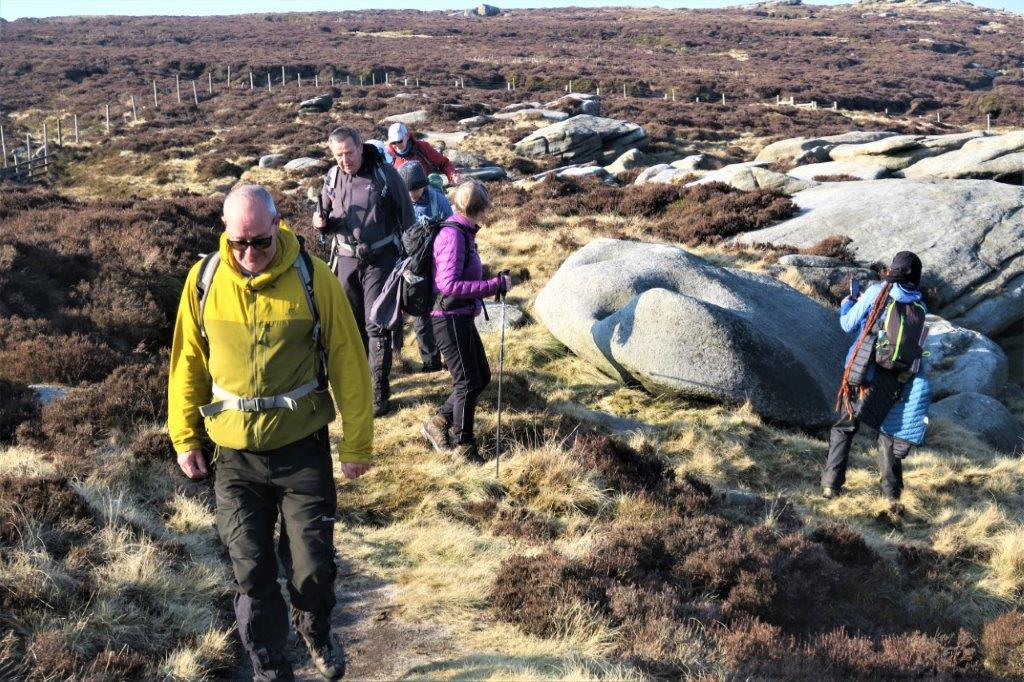 190) starting on the 'short', 600m, crossing from the top of Blackden Clough South across the Plateau to Kinders Southern Edge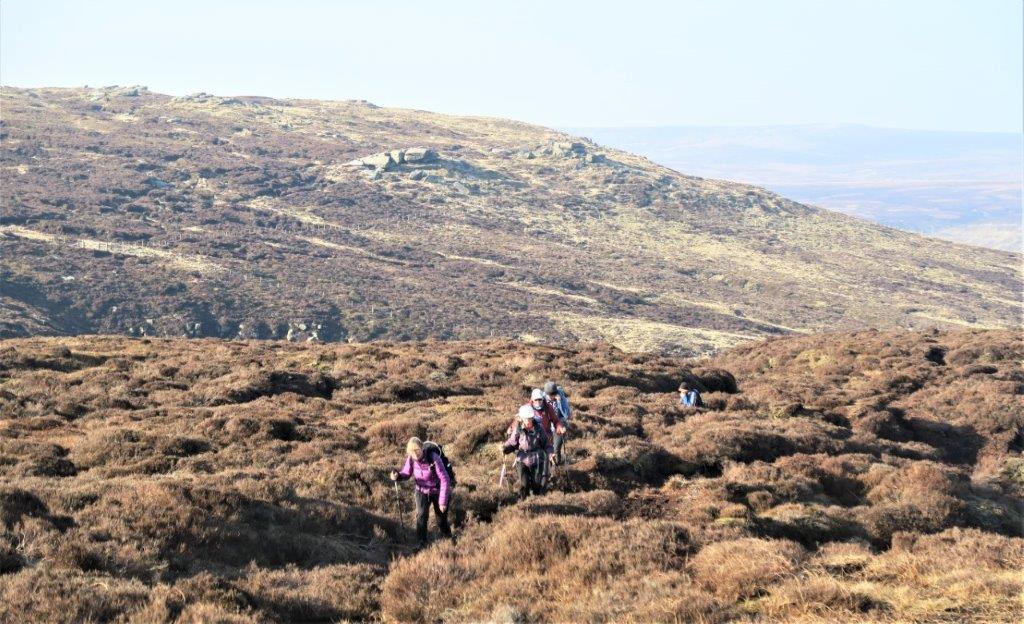 192)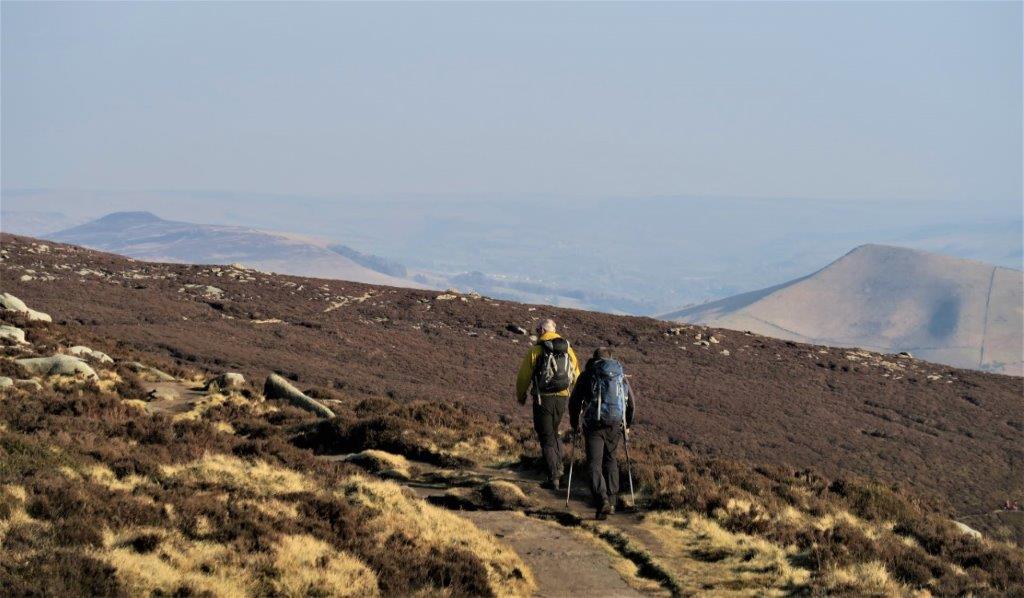 195) near Kinder Southern Edge - Winhill Pike seen top left and Lose Hill top right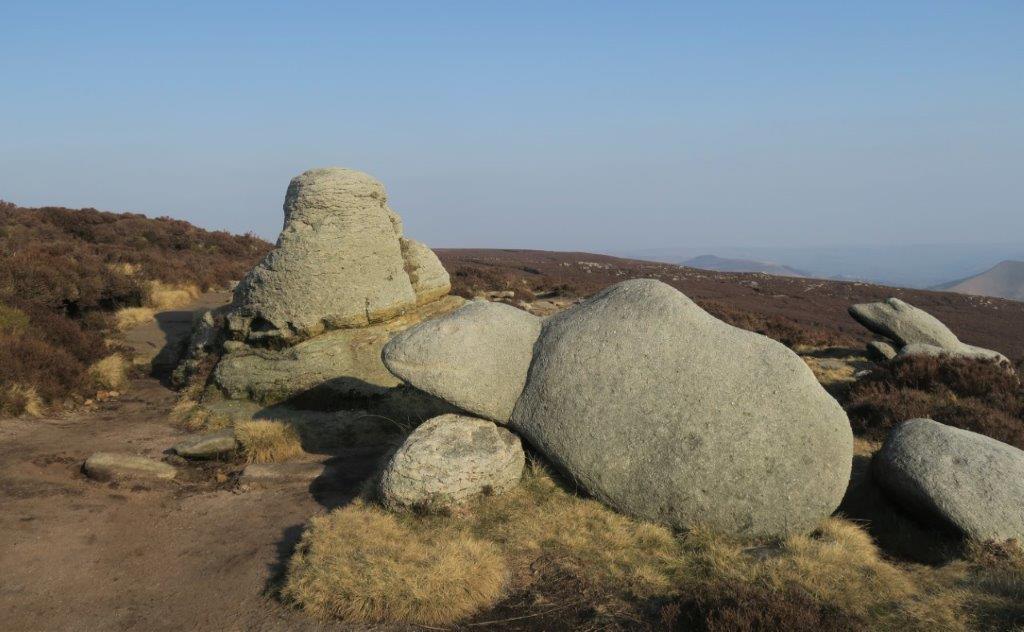 196)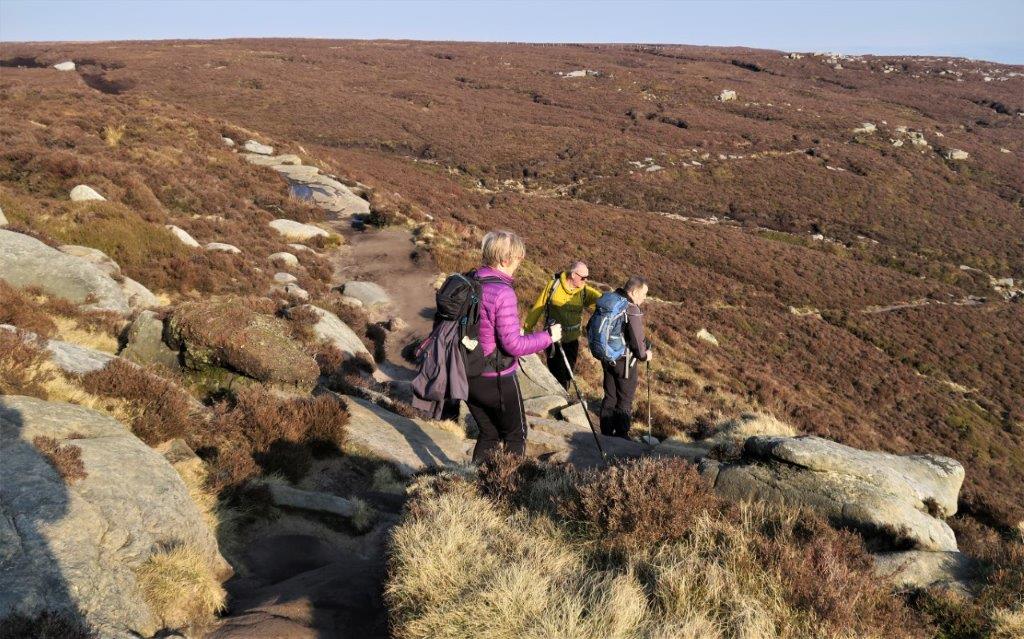 198) looking down to our route running through OAL roughly parallel to Golden Clough but on the other side of the brook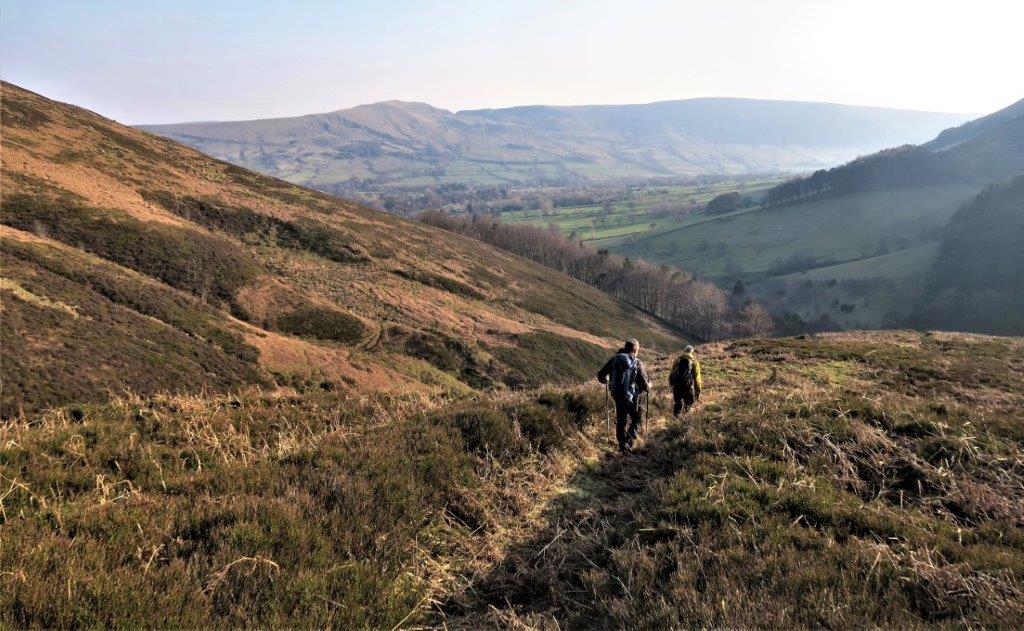 199)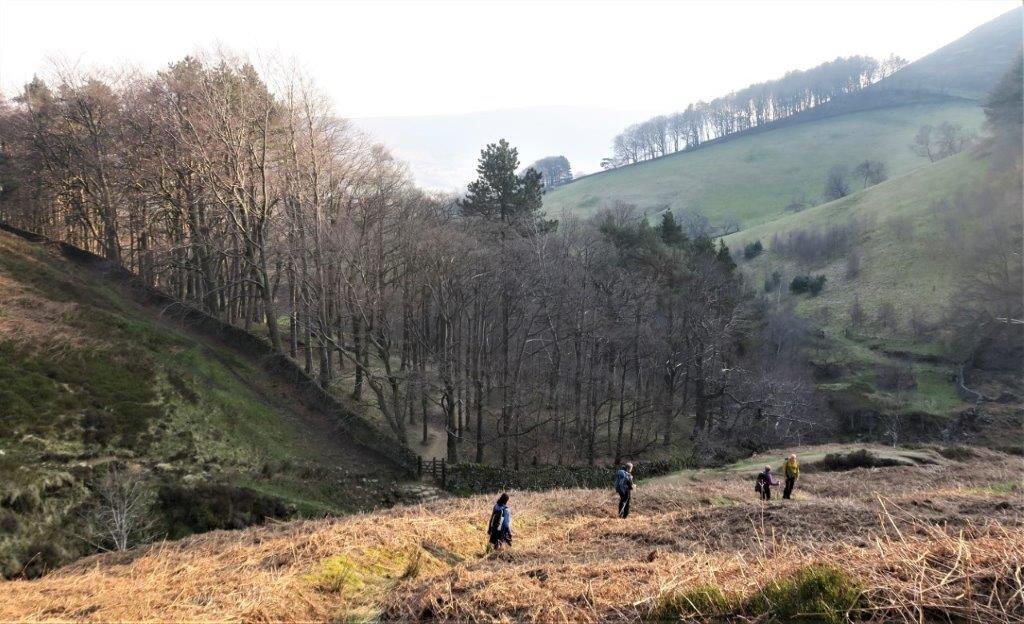 201)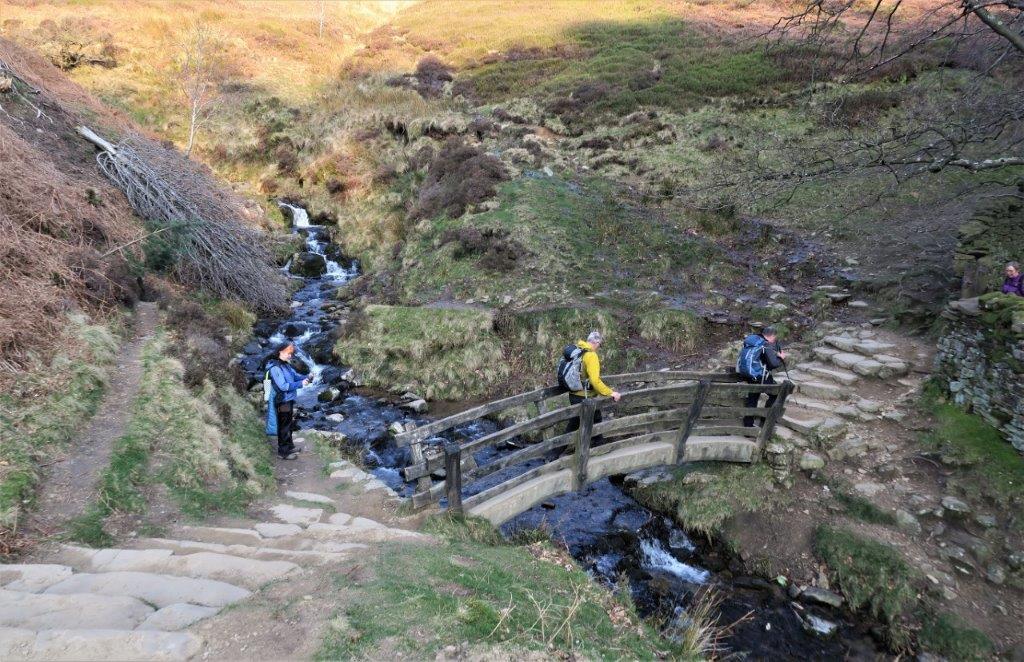 202) The footbridge over Golden Clough Brook is not shown on map - it serves walkers to / from Grinds Brook but also our route deviation through OAL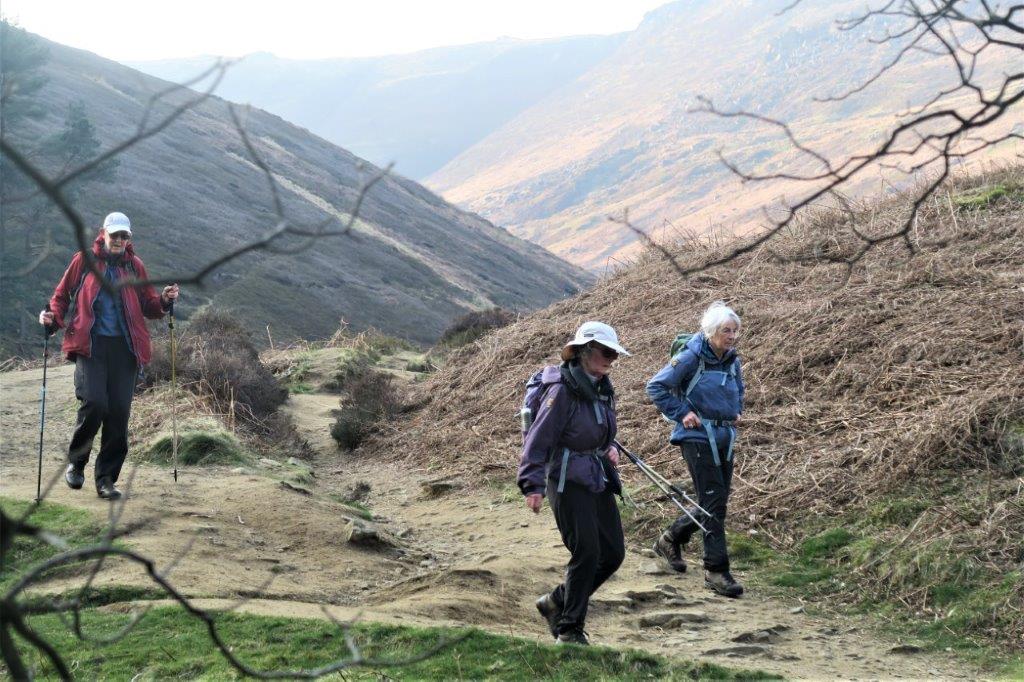 205)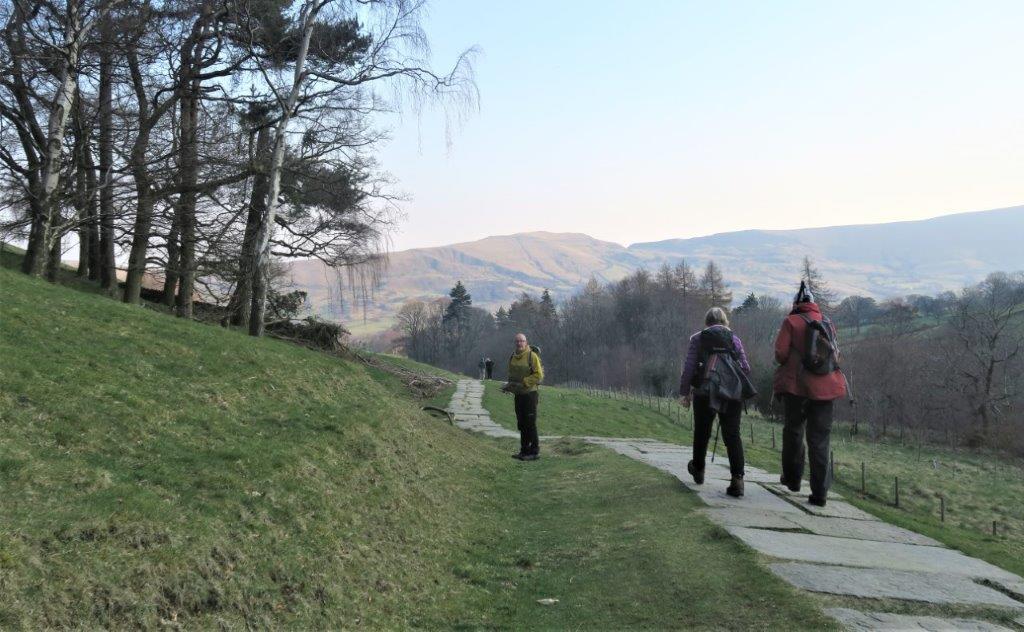 209) The way back down to Edale - paving is presumably there to take the large pedestrian traffic on the Grinds Brook path (controlling erosion)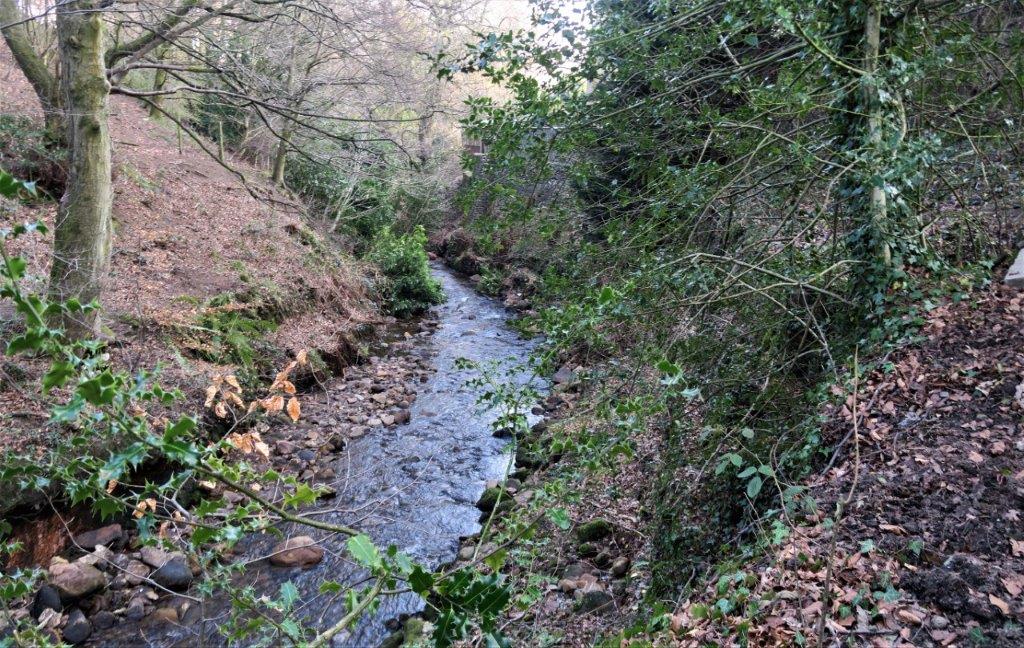 211) Grinds Brook, photographed downstream from the Footbridge above The Old Nags Inn.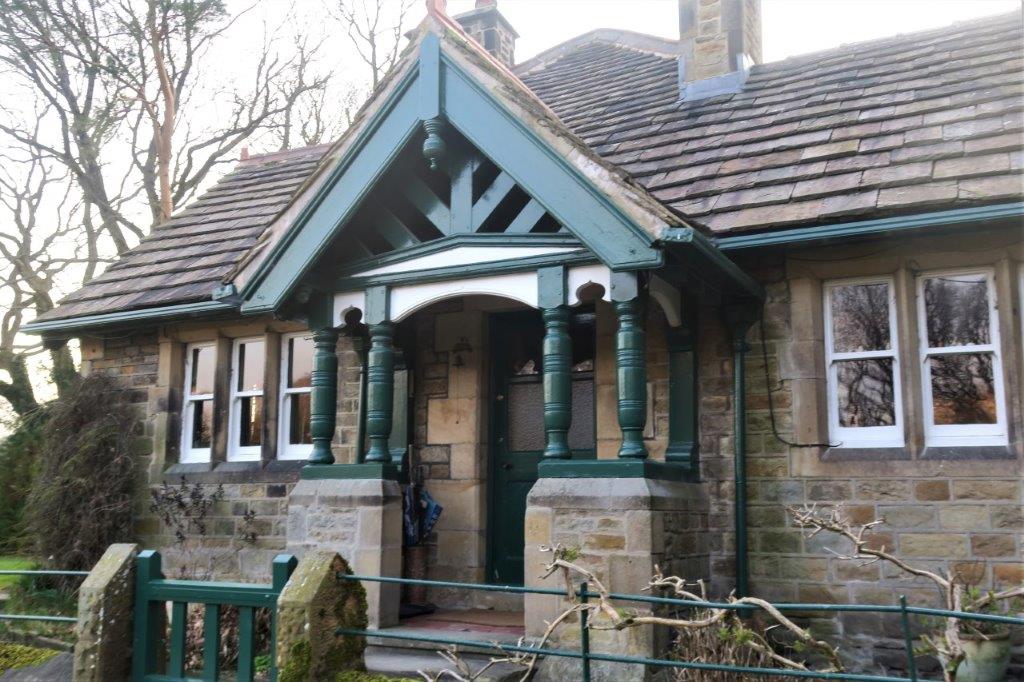 212) cottage seen soon after crossing footbridge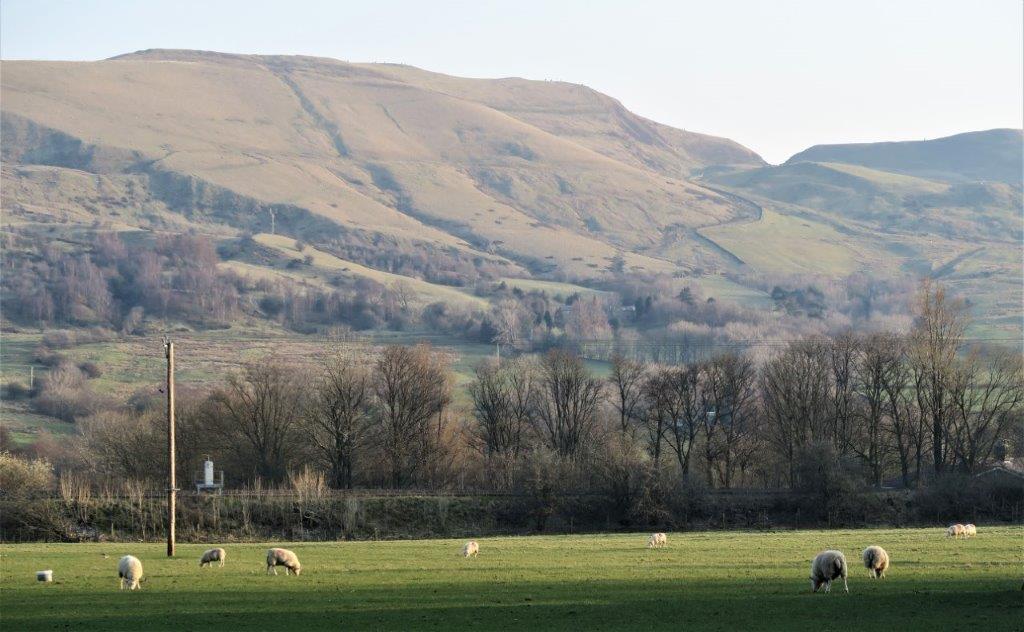 213)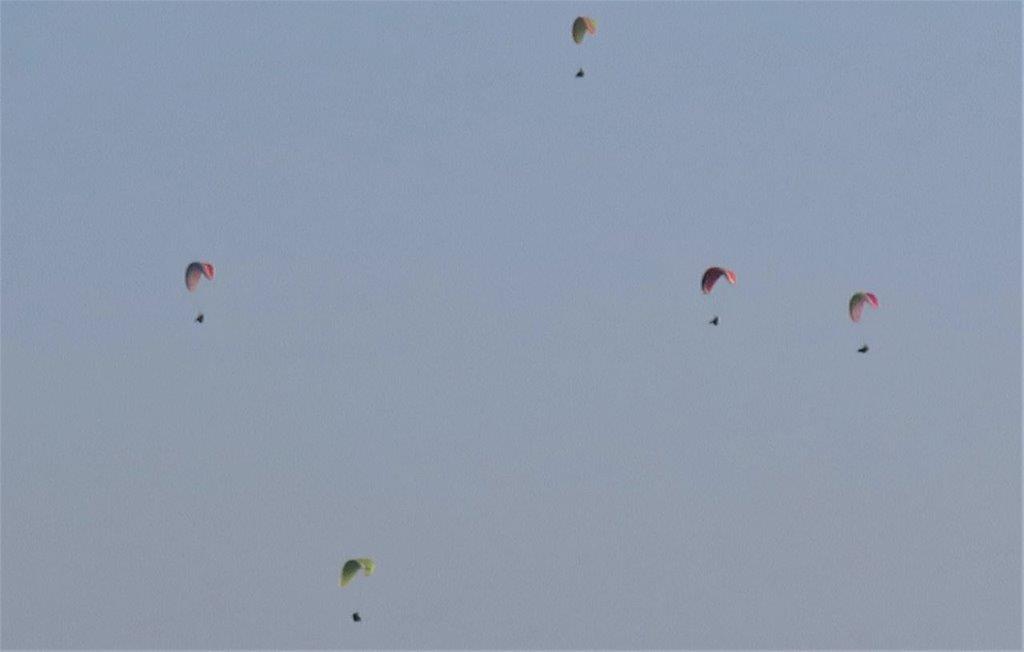 216) Para-gliders above Mam Tor across the Vale of Edale
homepage - Daywalks Index 2022 - contact me at

REV X