homepage - Daywalks Index 2021 - contact me at

2021.12.08 CHRISTMAS DINNER WALK, Redmires Road Bus Terminus SK286.862, ~150m ~W on road, ~N on FP (on East side of Allen Sikes Farm), FP curves ~Westward to SE corner of Lower Rivelin Dam SK277.866, follow ~W south side of dam and then ~WNW along Wyming Brook Drive to U-turn East at Reddicar Clough for ~180 m to Reddicar Hollow SK266.871 and take FP ~W then ~WNW thru Wyming Brook Nature Reserve, at SK262.873 path splits - continue for ~350m on path on Head Stone Bank ~W toward (but short of) Headstones to N/S FP at SK258.873, turn ~S for ~600m to the Conduit SK256.868, follow conduit ~ESE then SSW to Redmires Road at SK260.858 (also at NE corner of the Upper Redmires Reservoir), follow R.Road for ~450m to SK265.857 and take FP ~SE thru Redmires Plantation to SK267.856 and follow ~E below the lowest Reservoir Embankment, to corner of Roads SK271.856, take Soughley Lane ~N for 150m and join Redmires Conduit ~NE then turning ~E and follow ~60m past the un-named Plantation and turn N on a FP through the Playing Fields towards a PH, ~150m W on R.Road to 'Three Merry Lads' - for meal.- Leader Judy Gathercole - ~6 miles thru very wet rainy weather, - 17 on walk (with many others joining meal).
Note because of rain / dampness camera eventually fogged up and pictures became blurry - not all walk covered! Also pictures at dinner almost all blurred.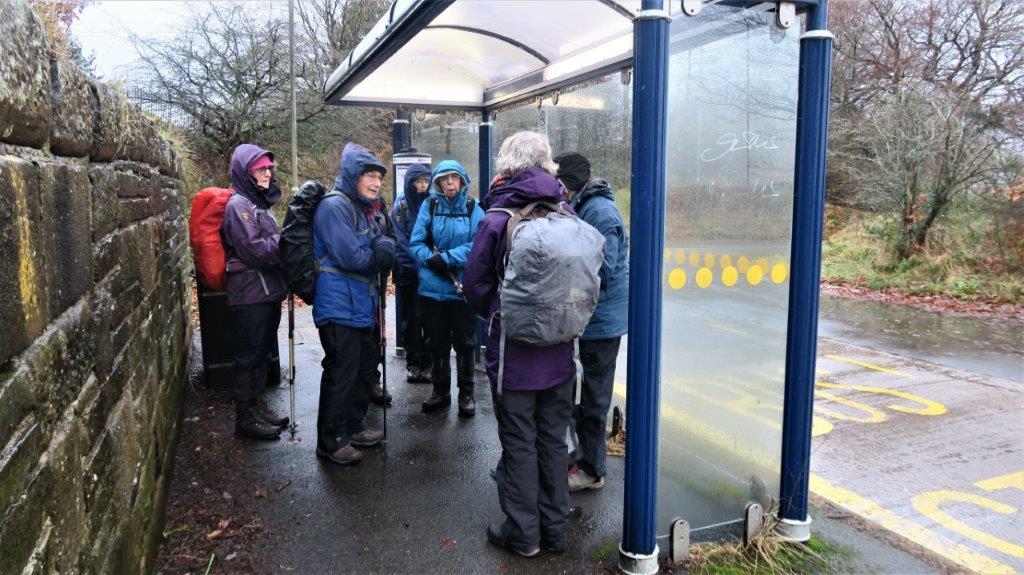 2 At Redmires Road bus terminus awaiting walkers coming by bus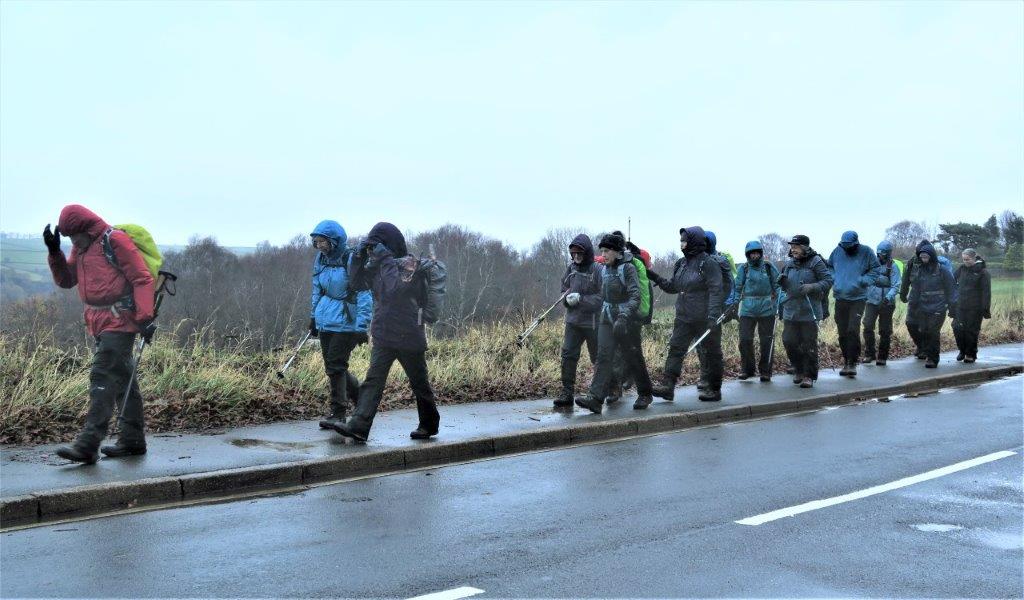 3 well covered for the weth and cold weather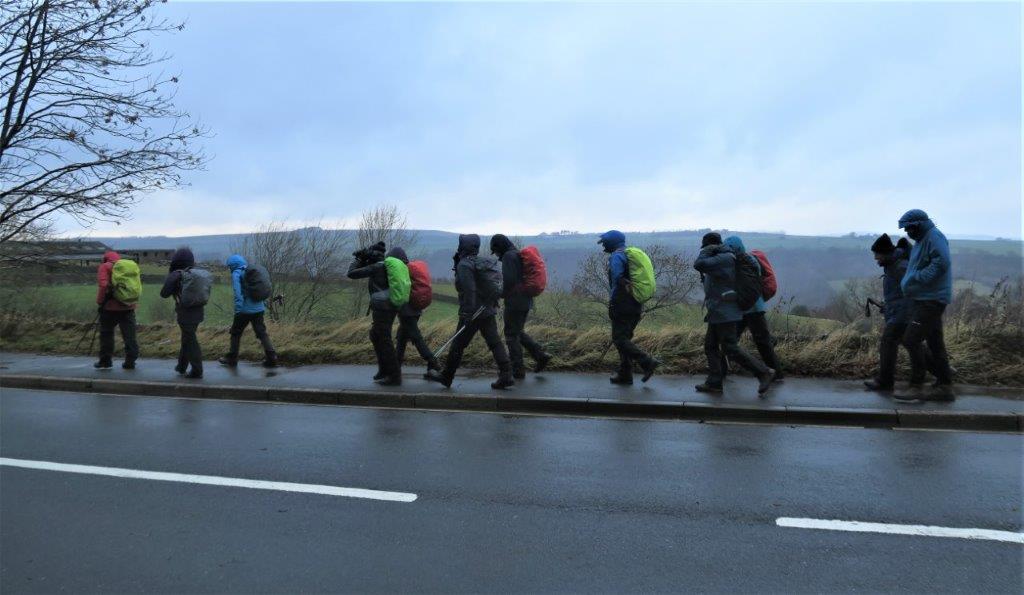 4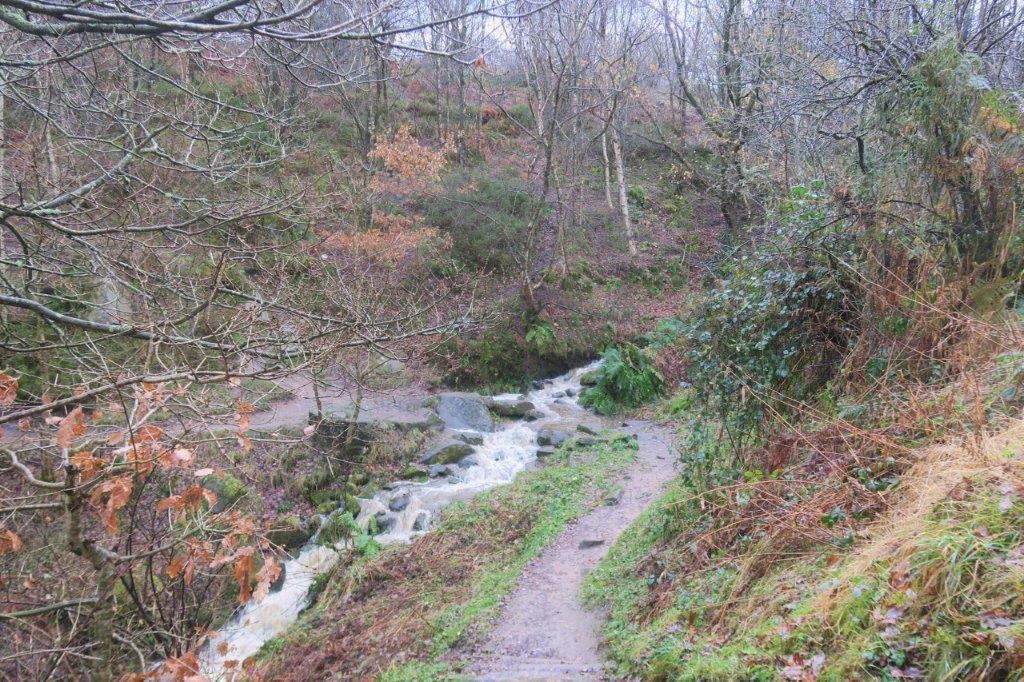 5 usually small streams now rushing with water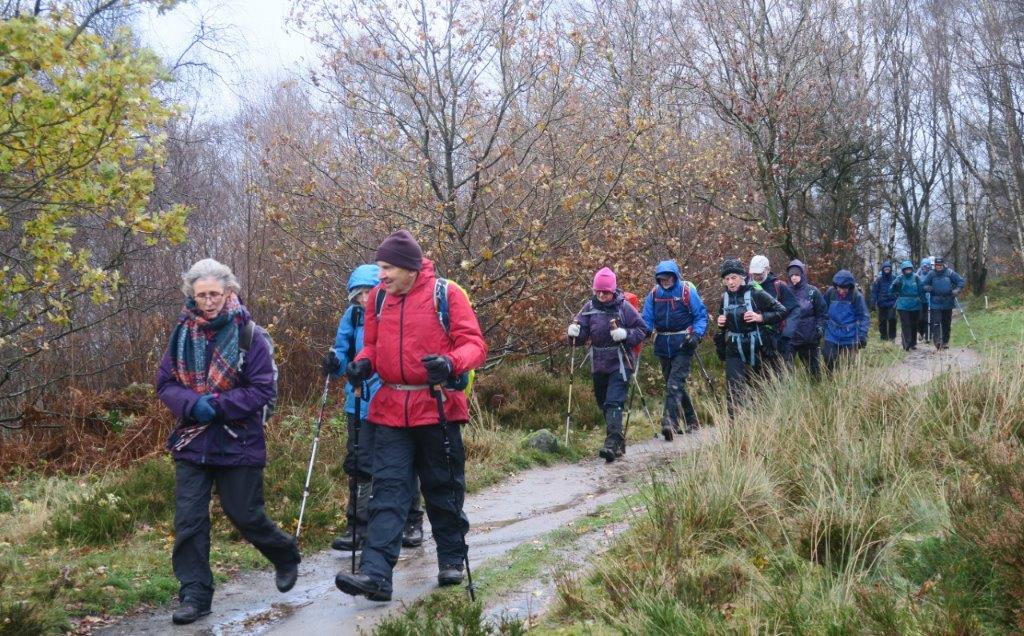 8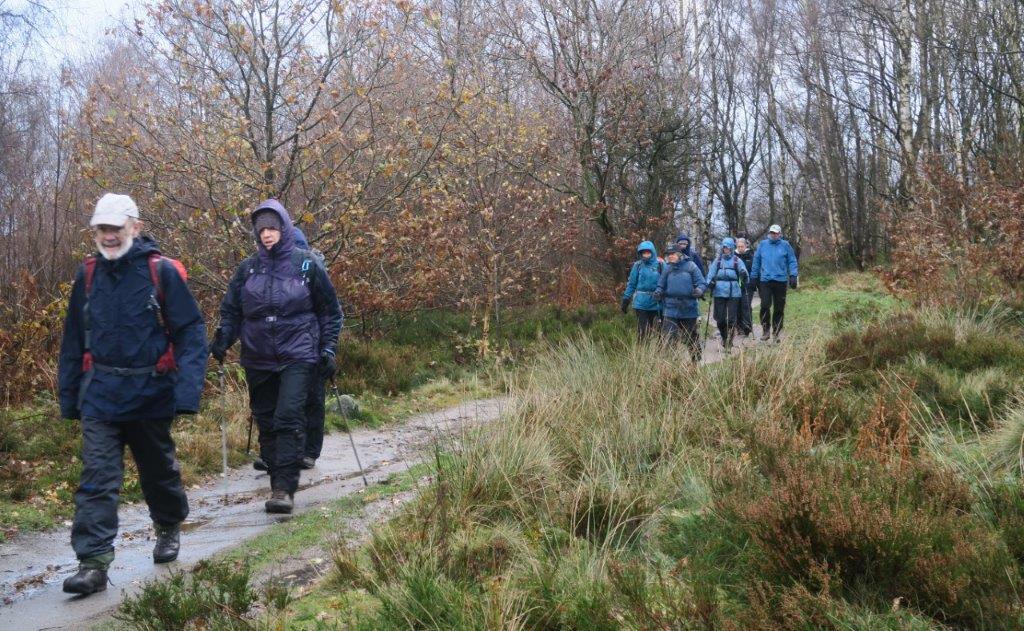 9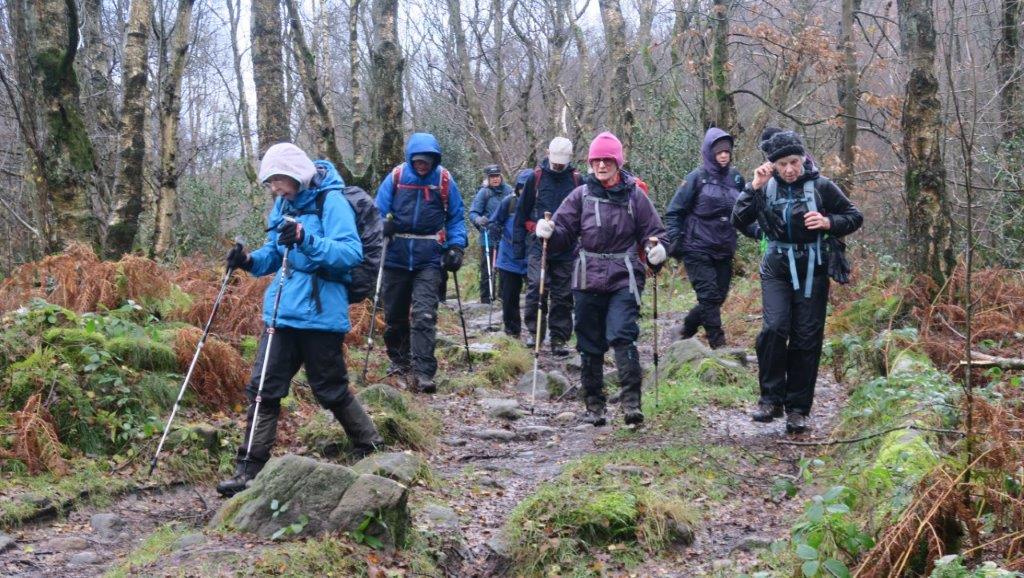 12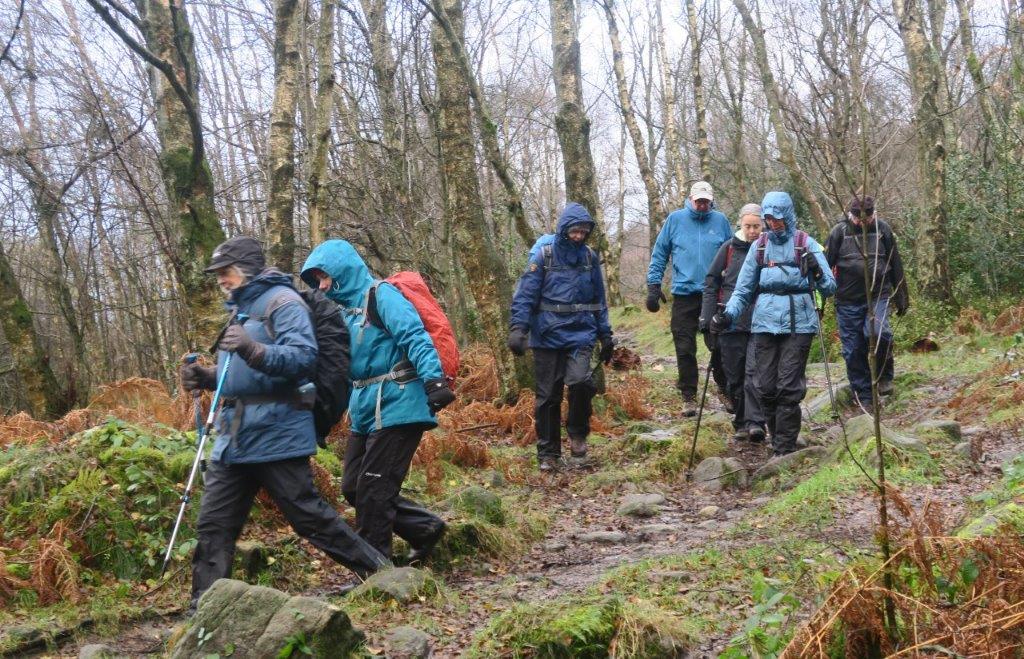 14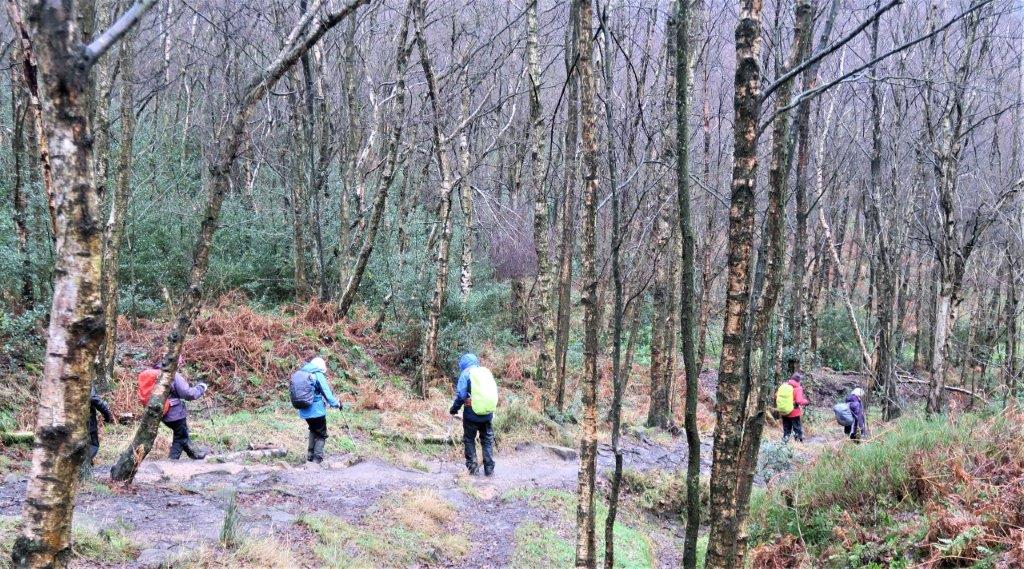 17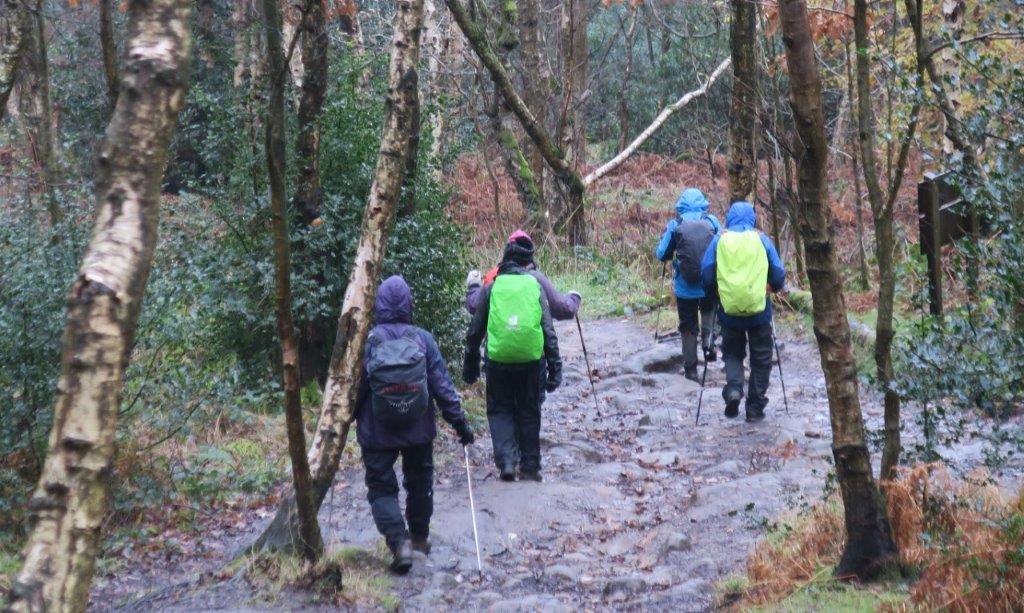 20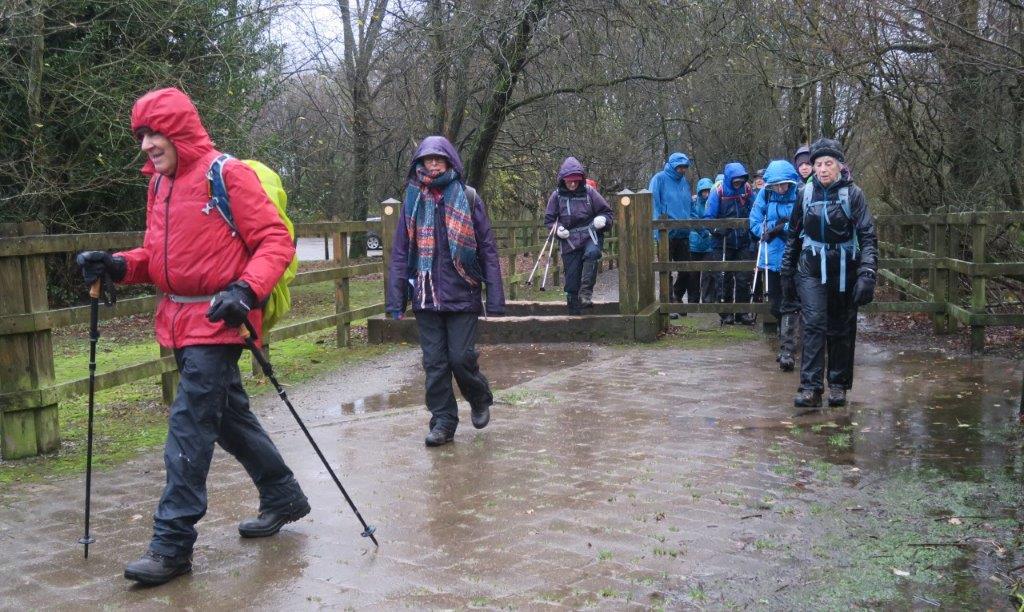 22 approaching the the lower Rivelin Dam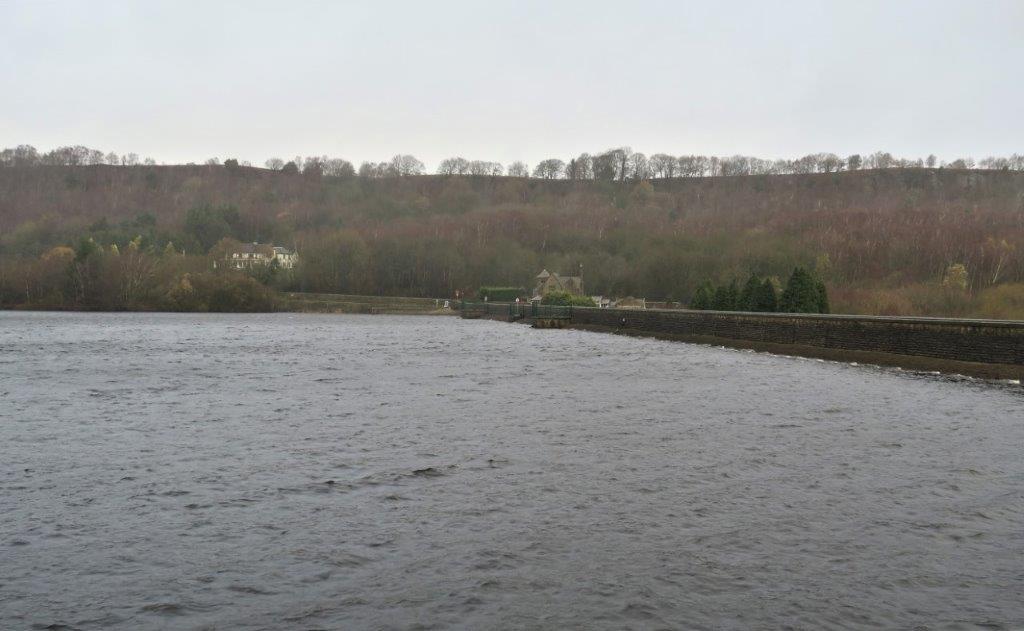 23 Lower Rivelin Dam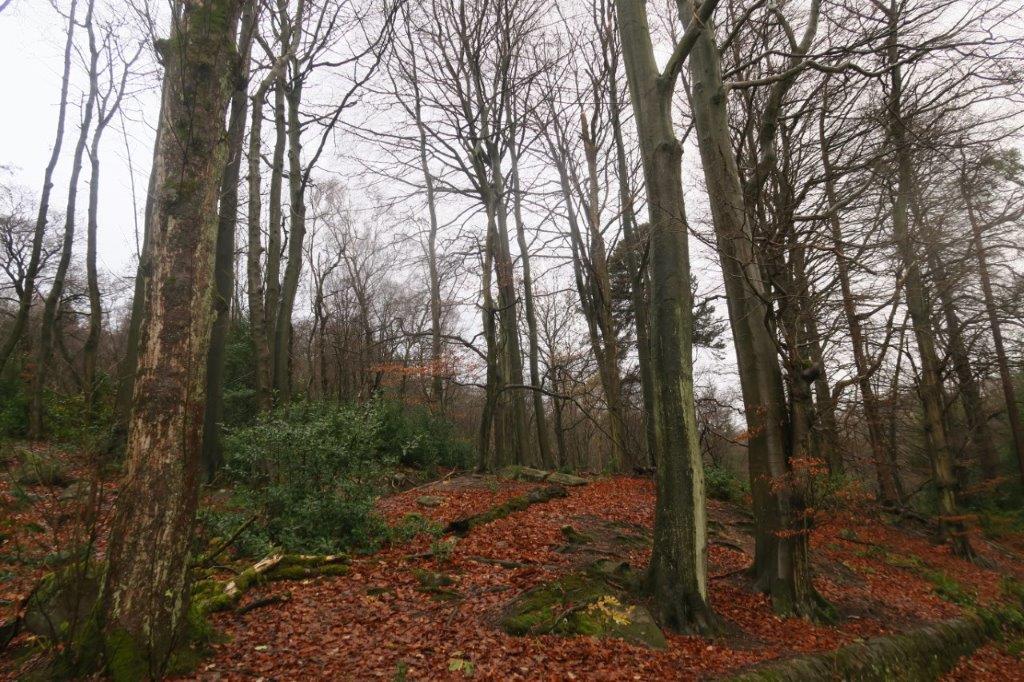 29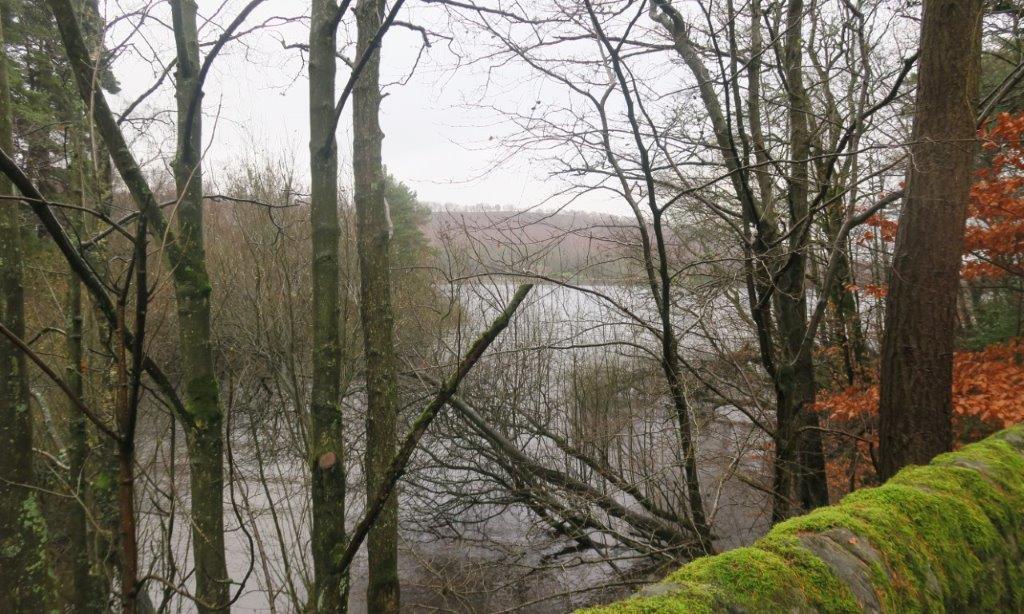 30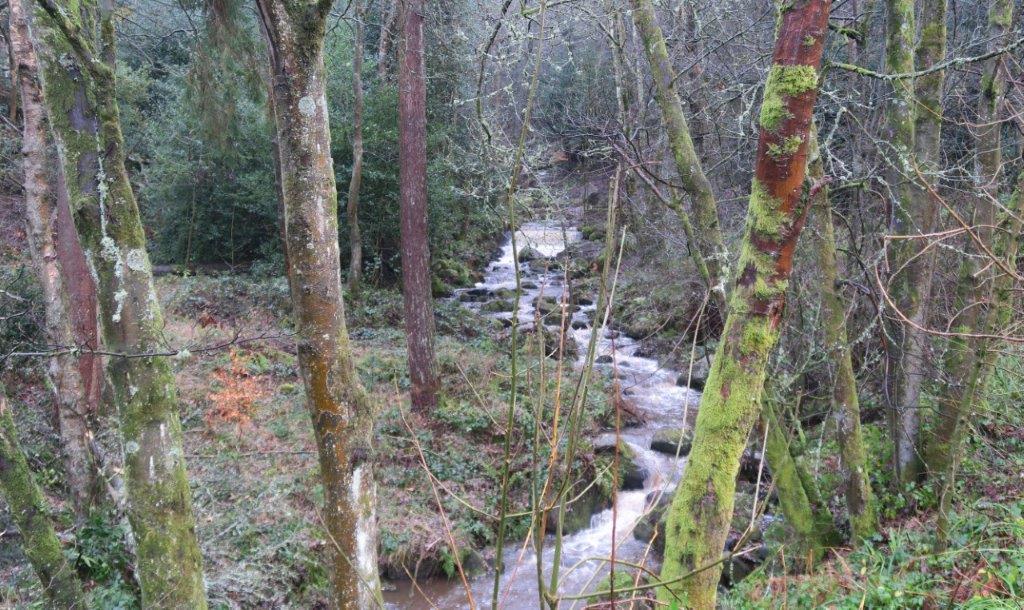 32 Wyming Brook passed to our left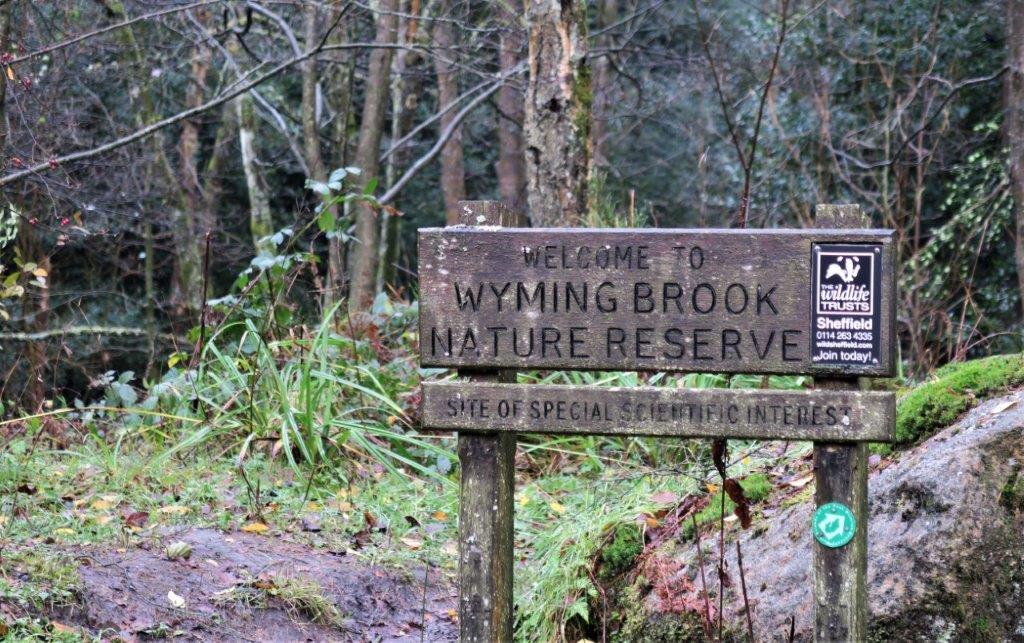 33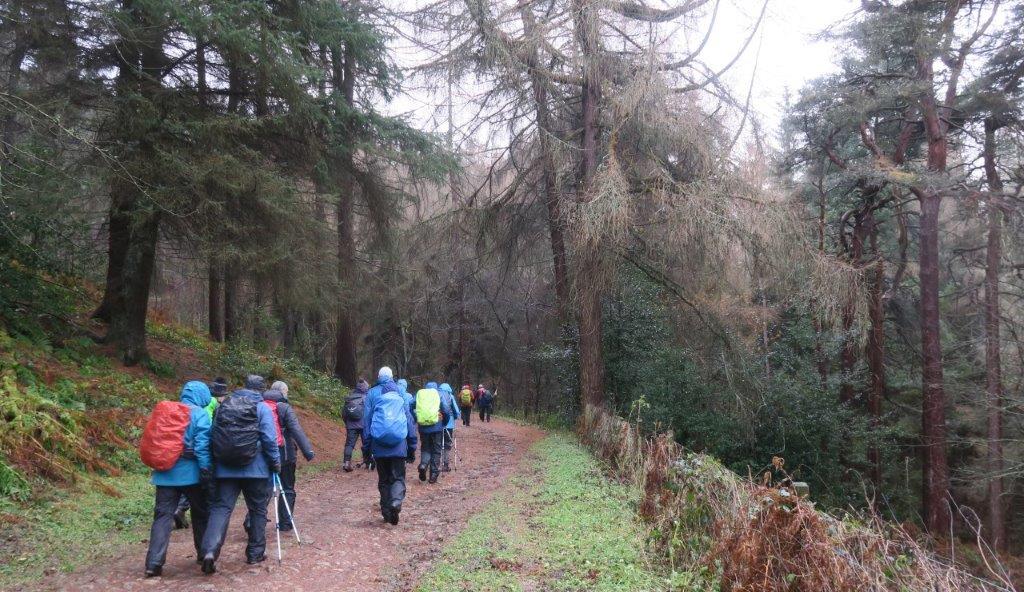 35 Wyming Brook Drive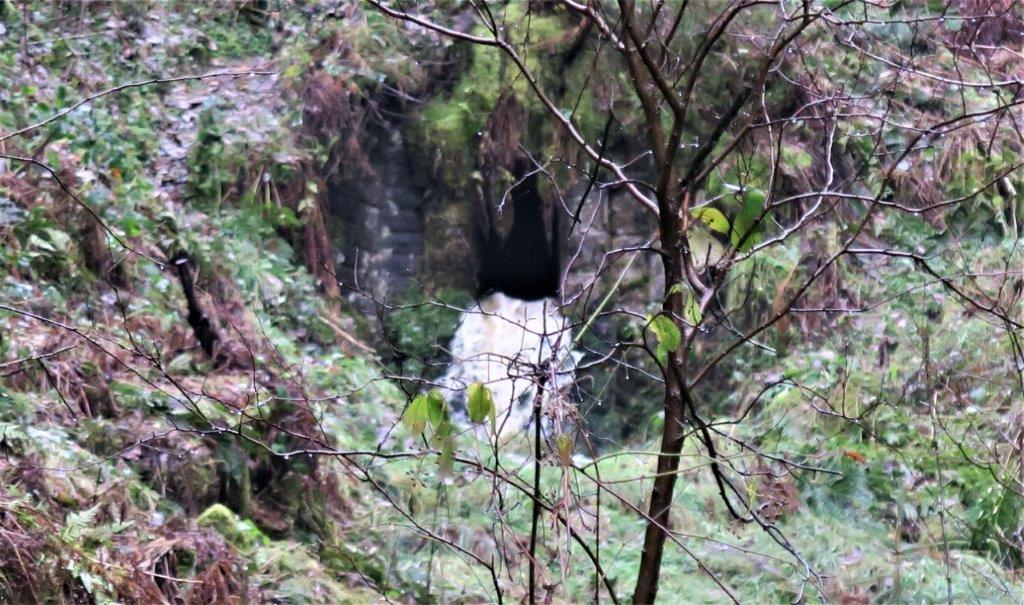 37 zoomed into water gushing out of stone conduit / tunnel - do you know where it comes from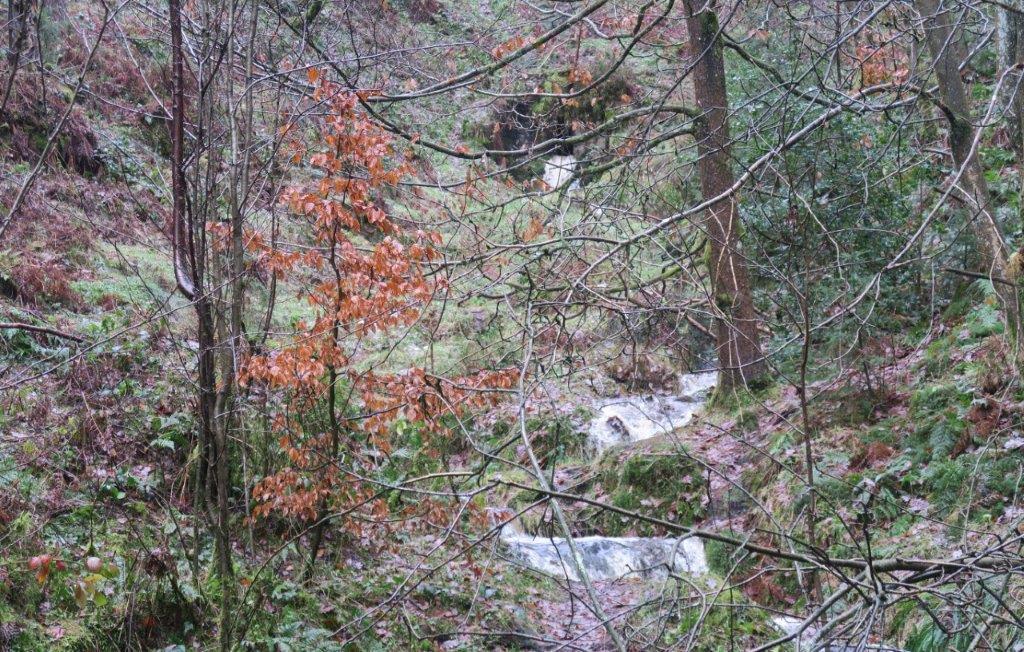 38 stream below tunnel heading towards a Rivelin Dam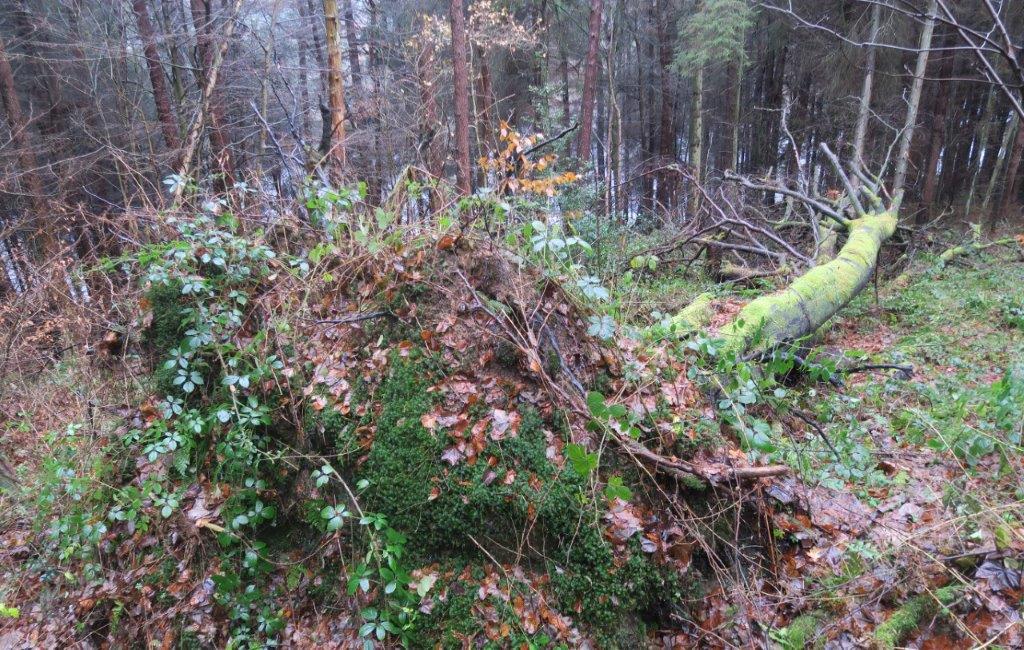 41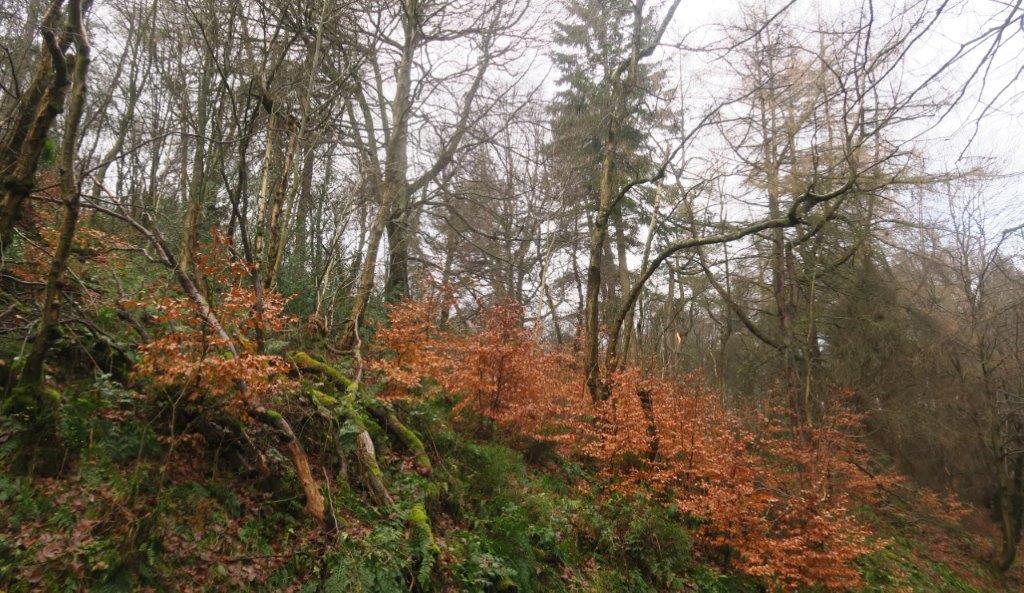 44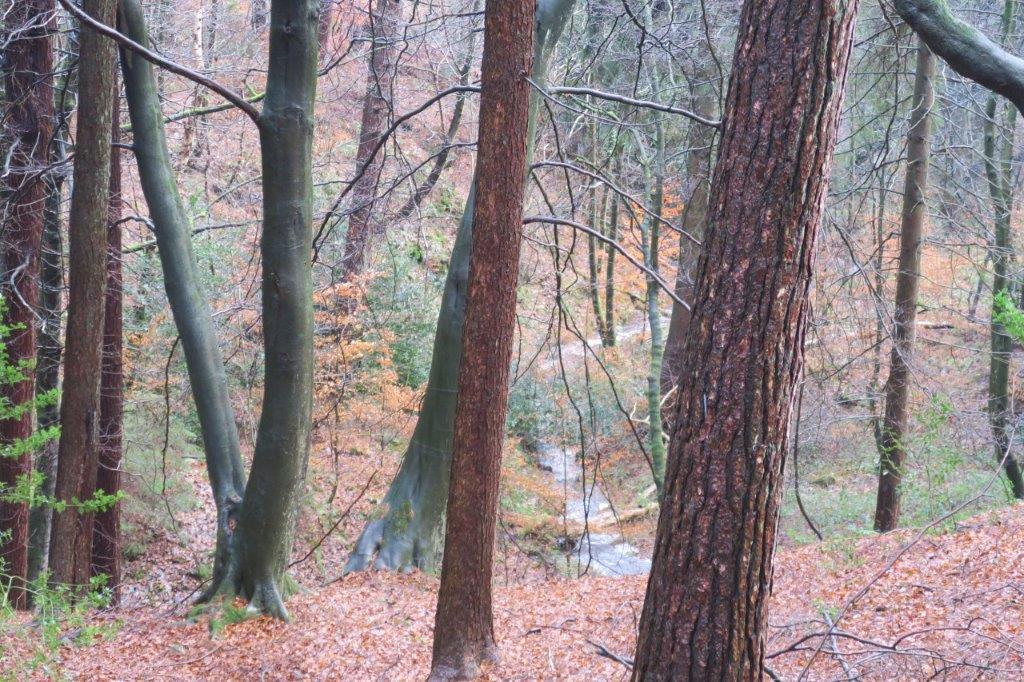 46
51 tea break an Wyming Brook Drive above Reddicar Clough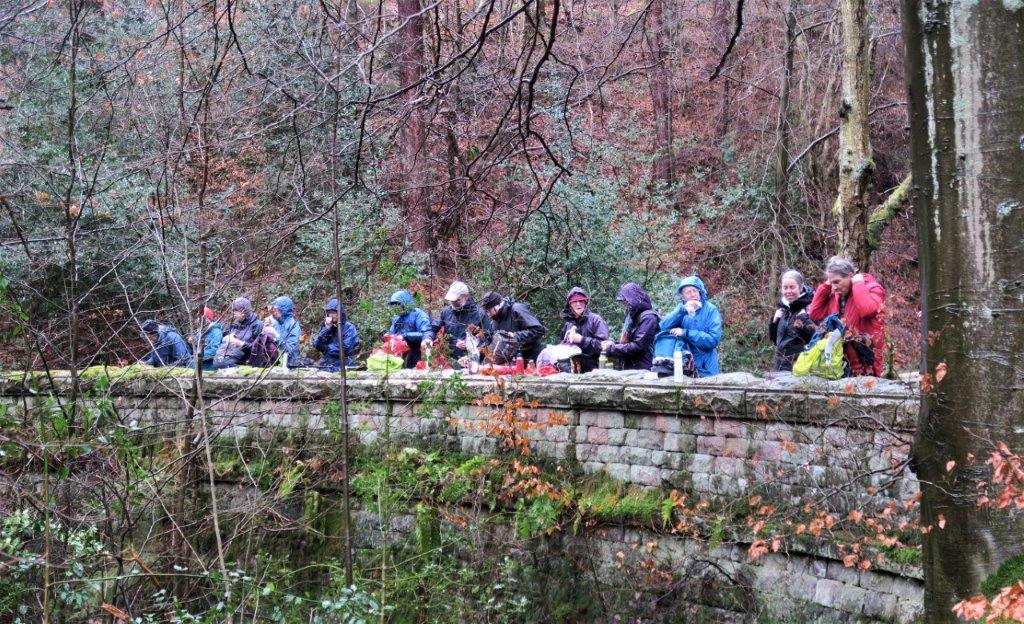 52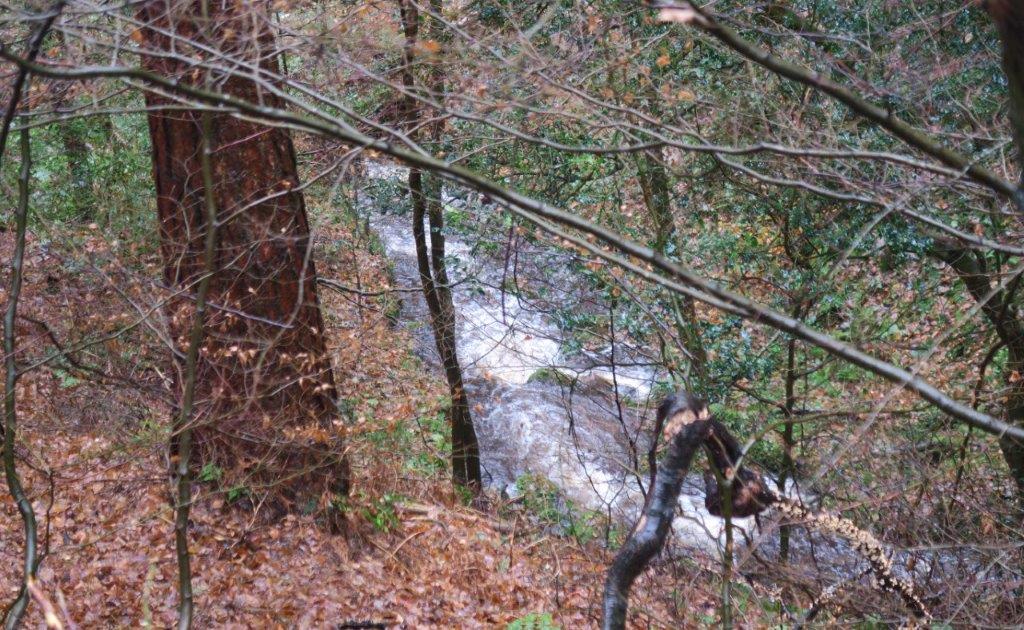 56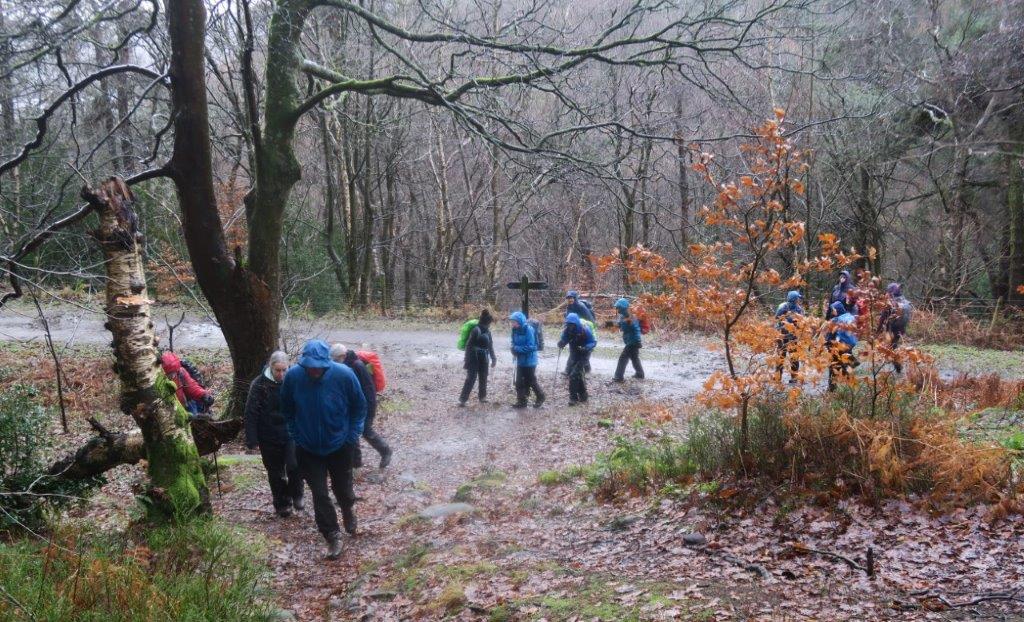 58 turning up from Wyming Brook Drive at Reddicar Hollow towards the Head Stones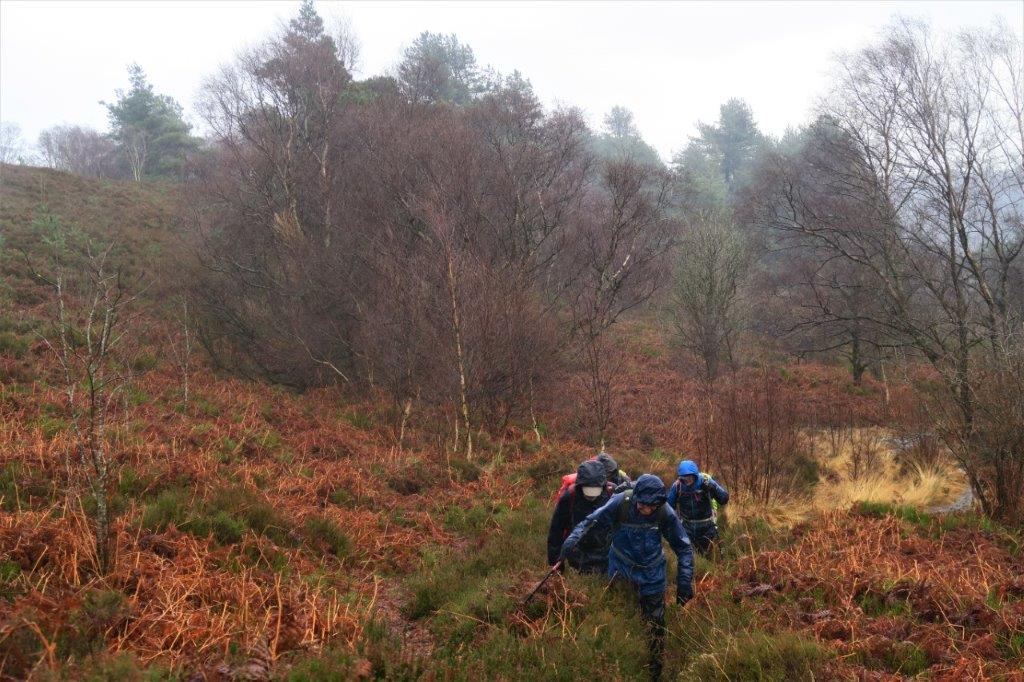 62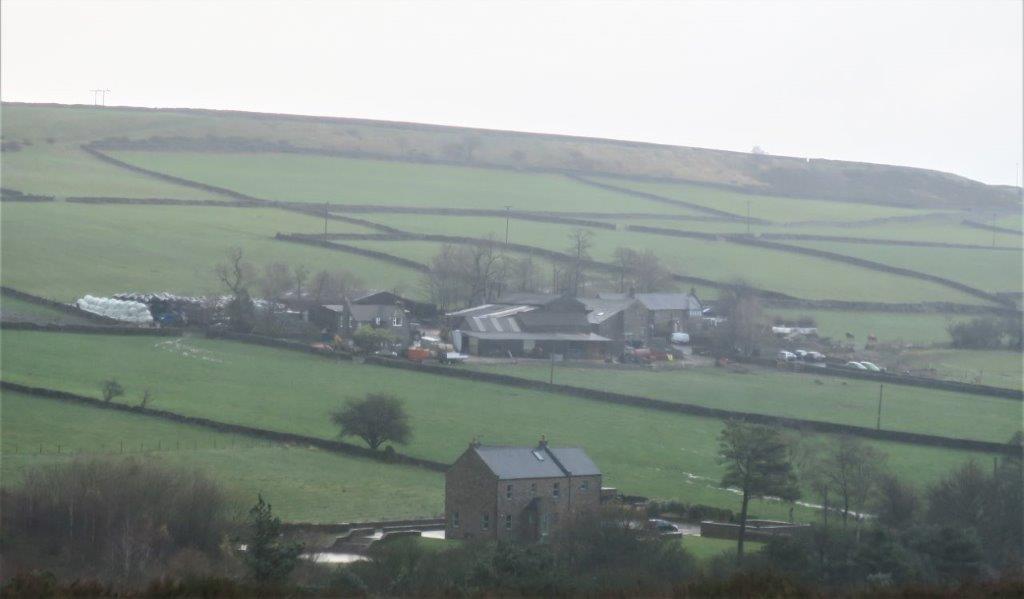 65 a murky view of farms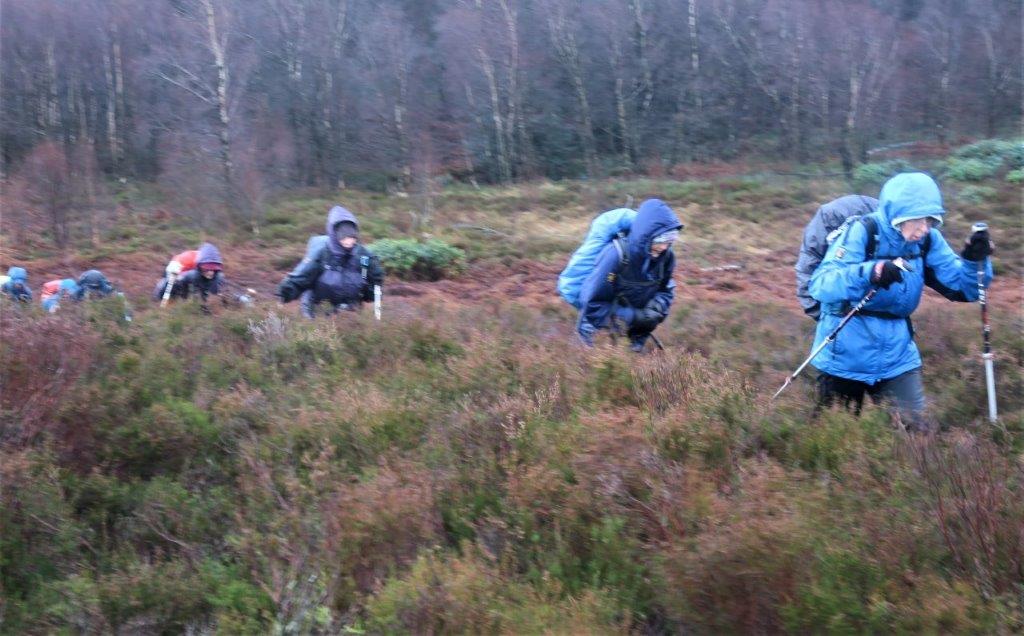 66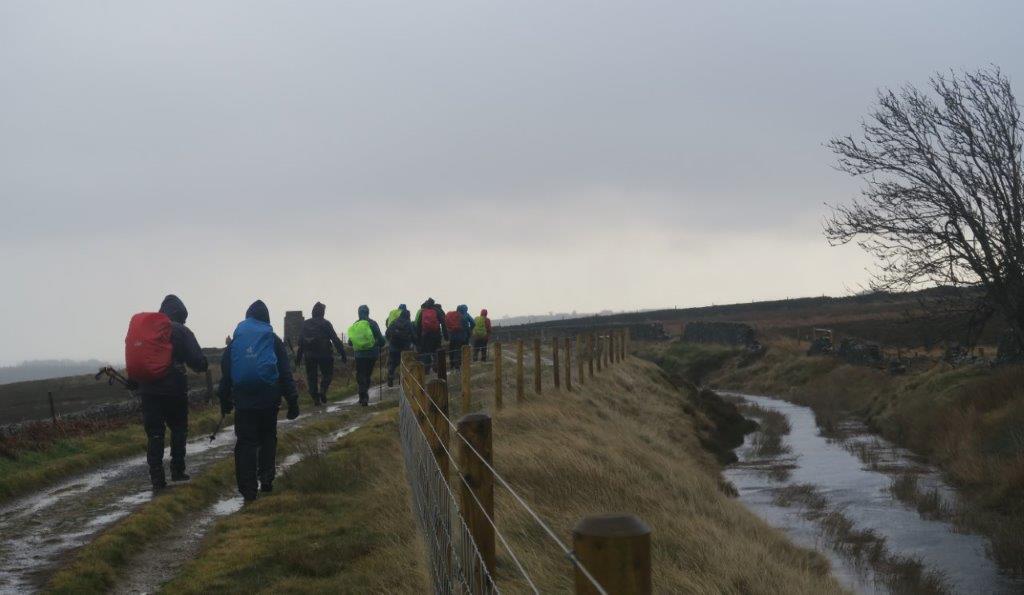 71 along the conduit running towards Redmire Reservoirs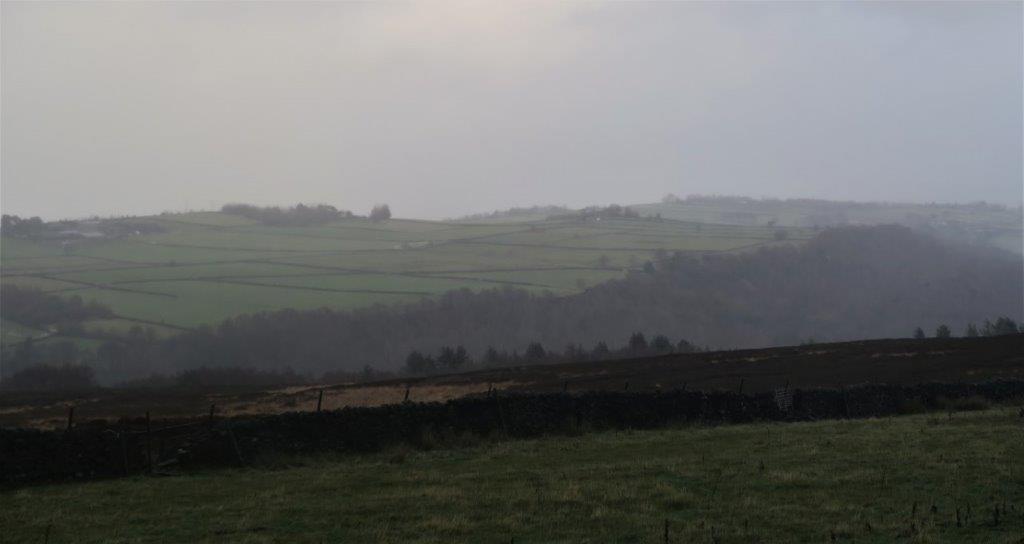 74 a murky view of dry stone walled fields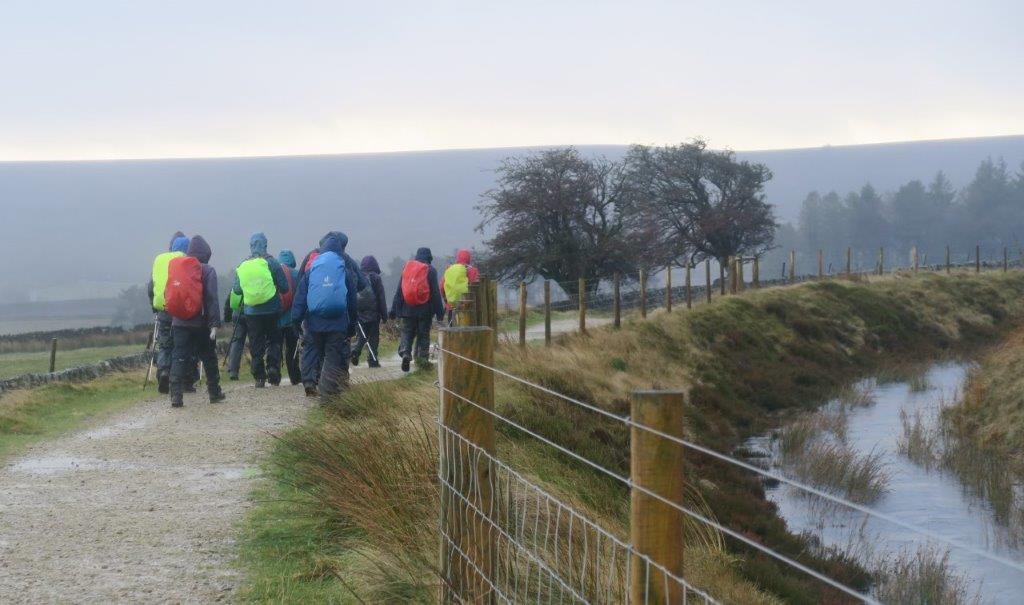 76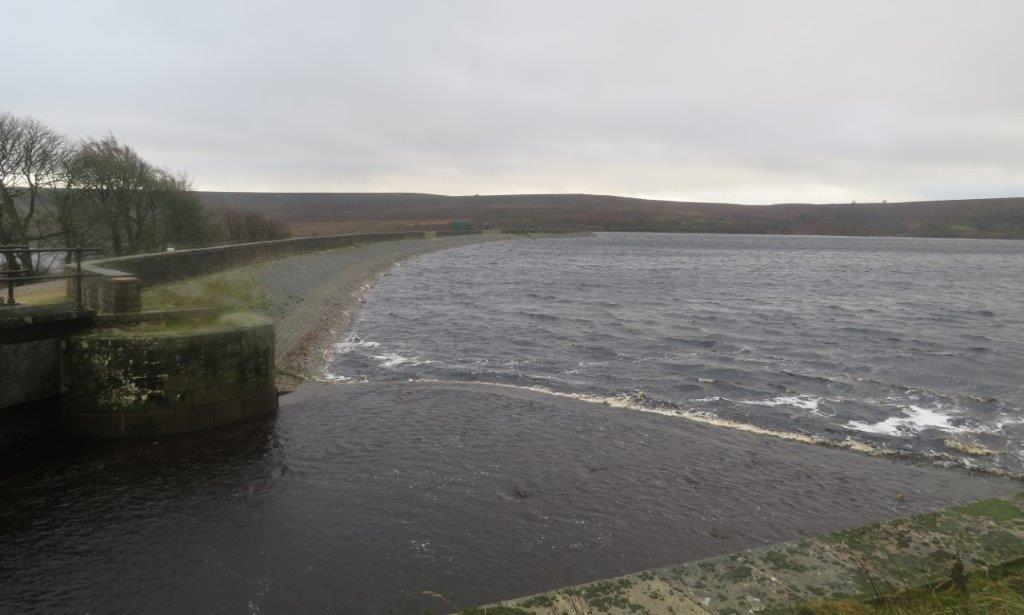 77 Upper Redmire Reservoir
79 Conduit just before it enters reservoir. Not too sure if the bellmouth spillway is often over topped and where it discharges?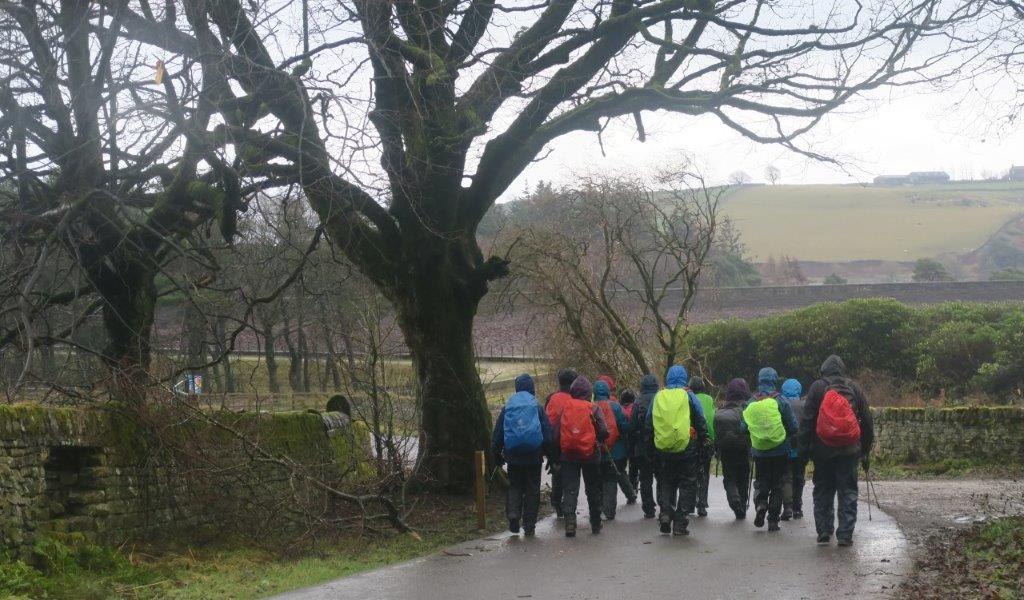 81 along Redmires Road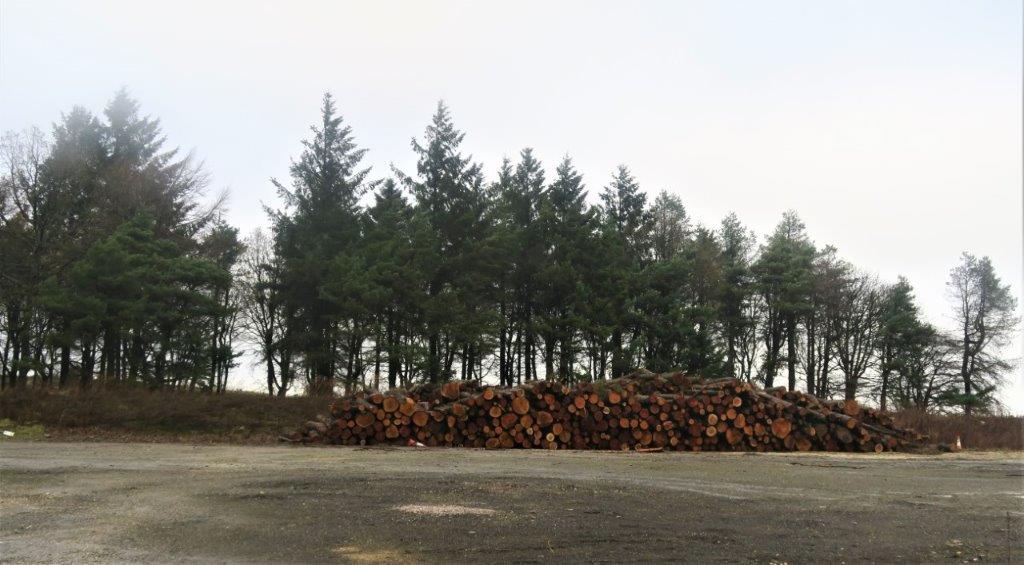 84 pine being harvested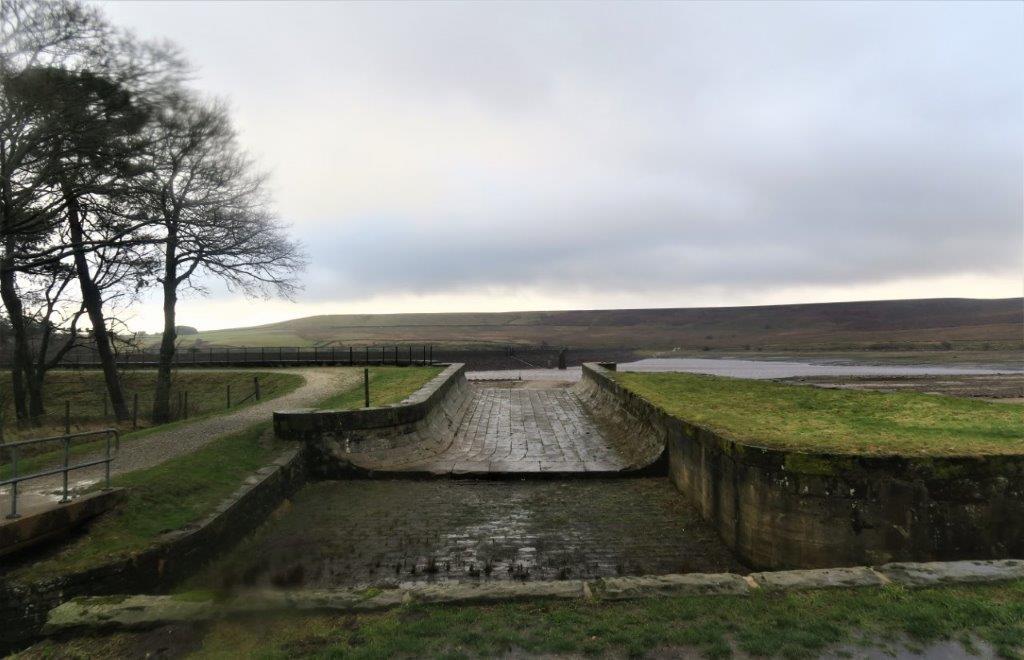 85 another spillway from one of the reservoirs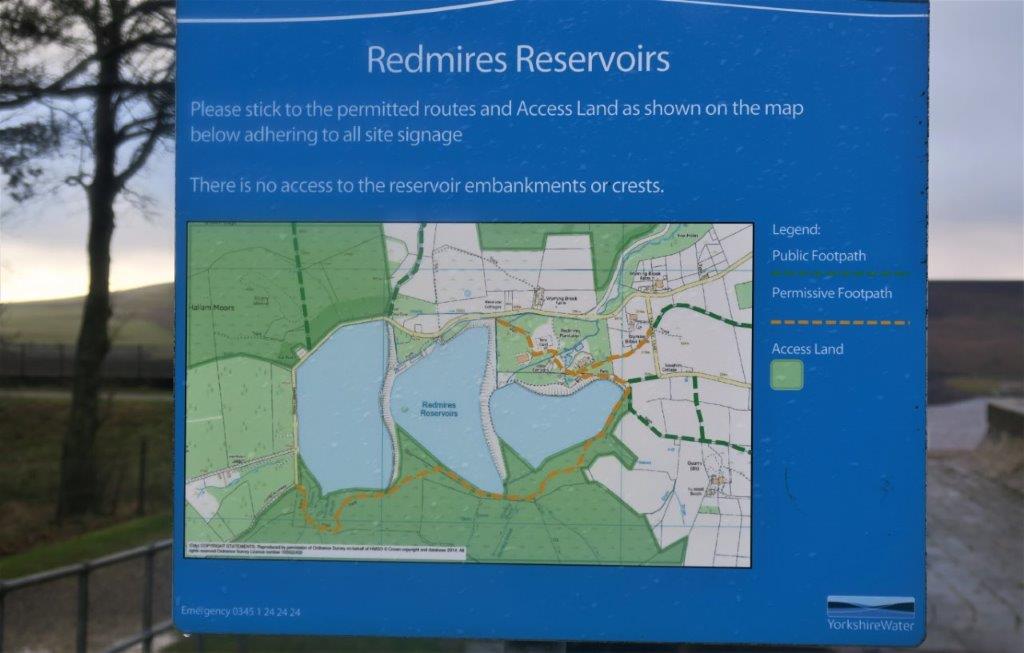 86 The Redmire Reservoirs. Redmire Road and part of our route (in yellow) is on the top of this display board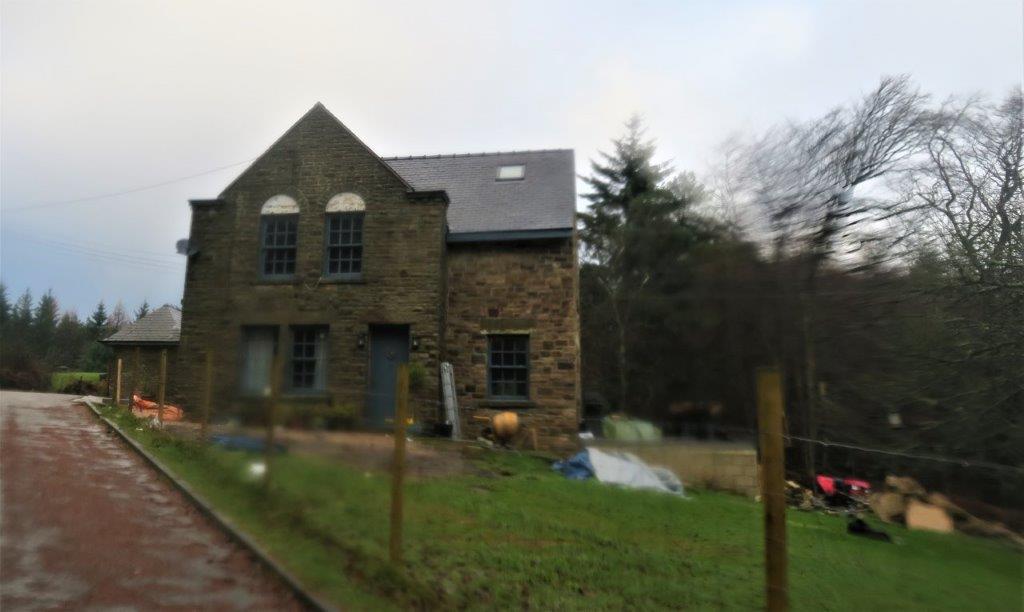 82 House passed at SE corner of Redmires Plantation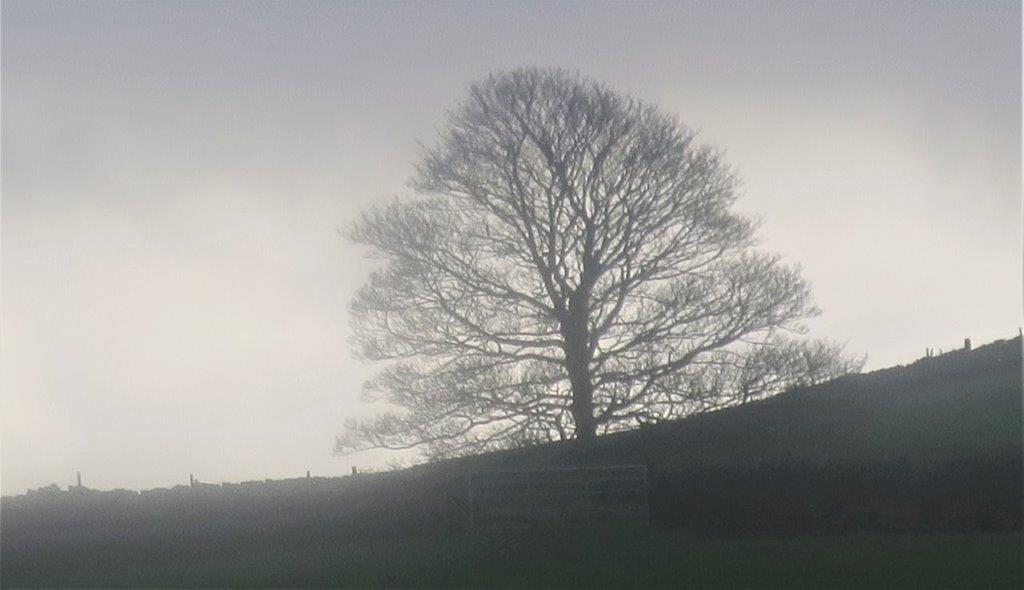 100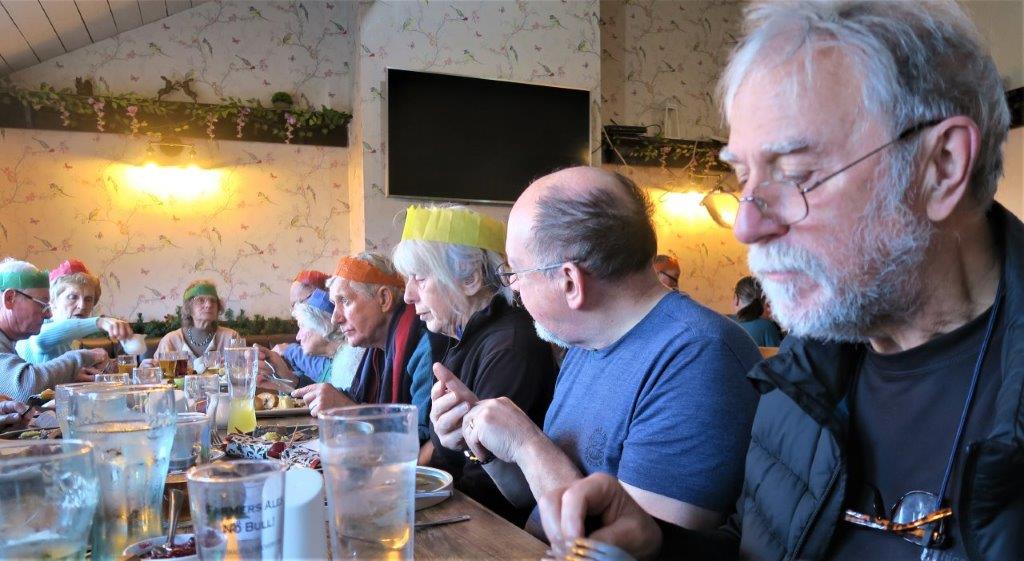 104 Christmas dinner - part of one of 3 tables - camera misted over blurring further pictures.
homepage - Daywalks Index 2021 - contact me at