homepage - Daywalks Index 2020 - contact me at

2020.04.25** a 'social distancing' solo walk East side Agden Reser on Smallfield Lane at SK262927, FP ~NNE for ~350m then NW to Rocher Head turning ~W to Load Field Rd (at SK254938), FP~NW thru Cowell Flat to Bar Dike & across Mortimer Rd at ~SK945245, follow Dukes Rd westward to Rushy Dike (a stream) at ~SK228948, ~400m ~WNW thru moorland to to join & follow grouse butts ~N to Shooting Lodge ~SK222956, jeep track following well above Ewden Beck ~NE and turning SSE to Mortimer Rd (above Broomhead Hall), track S in OAL (toward another set of Grouse butts), BUT then follow Mortimer Rd (& fence) ~S thru moorland (no real track), at SK245948 climb over low un-barbed fence at SK245948 and cross Road, follow B.W. (on west side of Canyard Hills) ~NE, turn SE into C.Hills at ~SK246950 & climb up to plateau, continue across plateau - SE (to find path?) then ESE (on path?) to junction Load Field Road & Penistone Rd, follow Penistone Rd ~300m toward White Lee Moor (now a plantation), take Ladder Stile at SK259941 into OAL and curve toward top of FP (starting down to Rocher Head) BUT continue ~ESE above Rocher Woods / Rocks to FP at SK265932, follow FP ~W but V turn at SK260933 and retrace way down to start.
Note during this virus 'lockdown period' a car was used to get to start of walk after recent Police (NPCC) guidelines for England - driving to the countryside to walk is likely to be considered a reasonable excuse (so long as more time is spent walking than driving)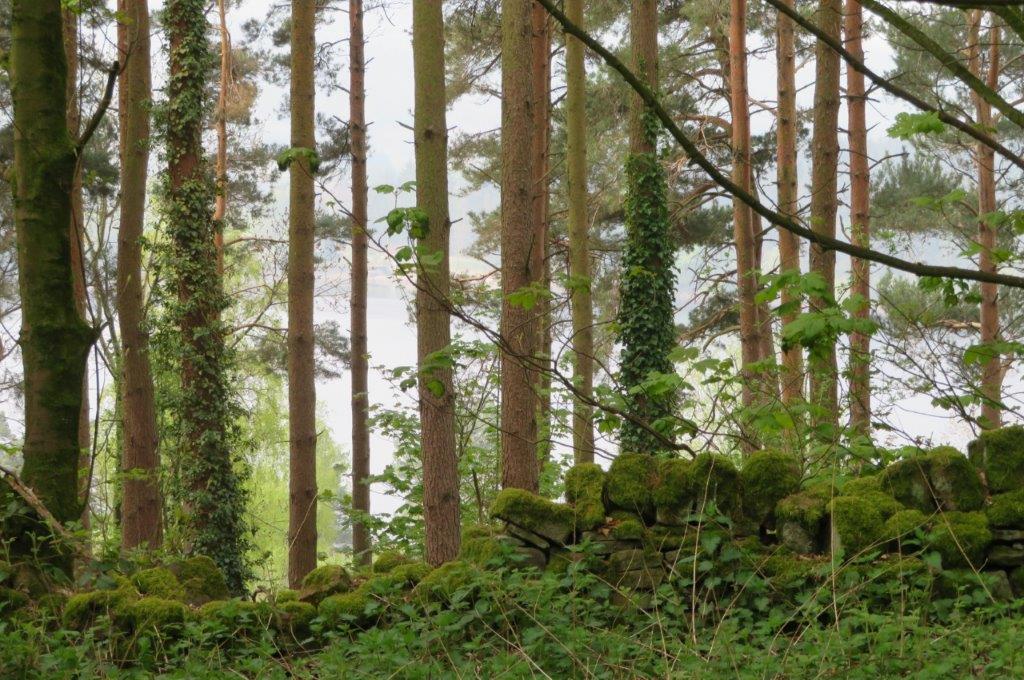 Agden Reservoir behind the trees barely visible in the morning gloom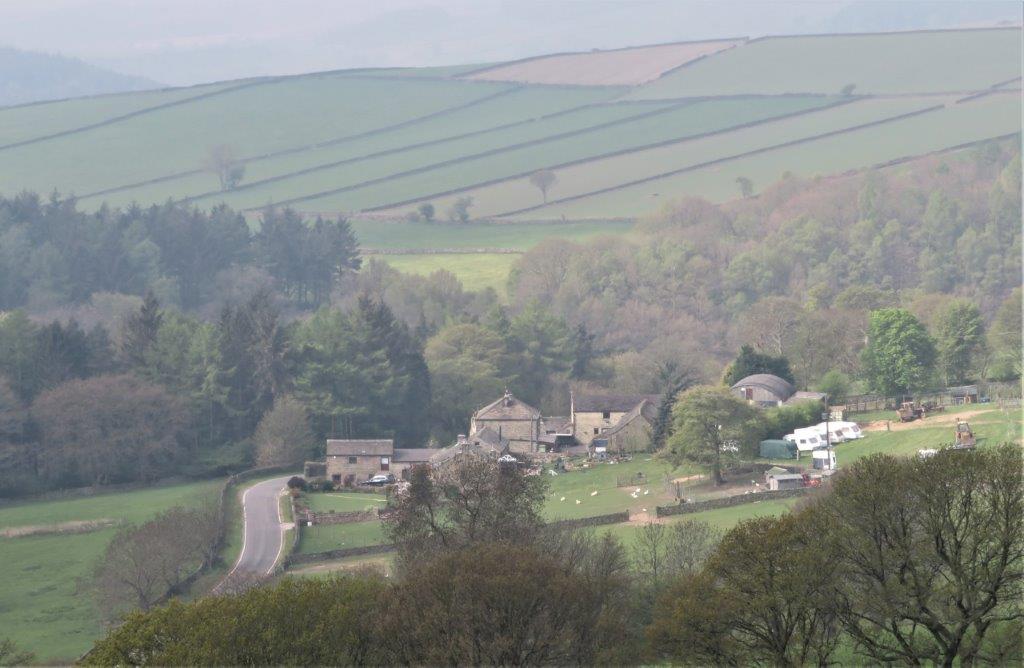 farm on Smallfield road near Agden Reservoir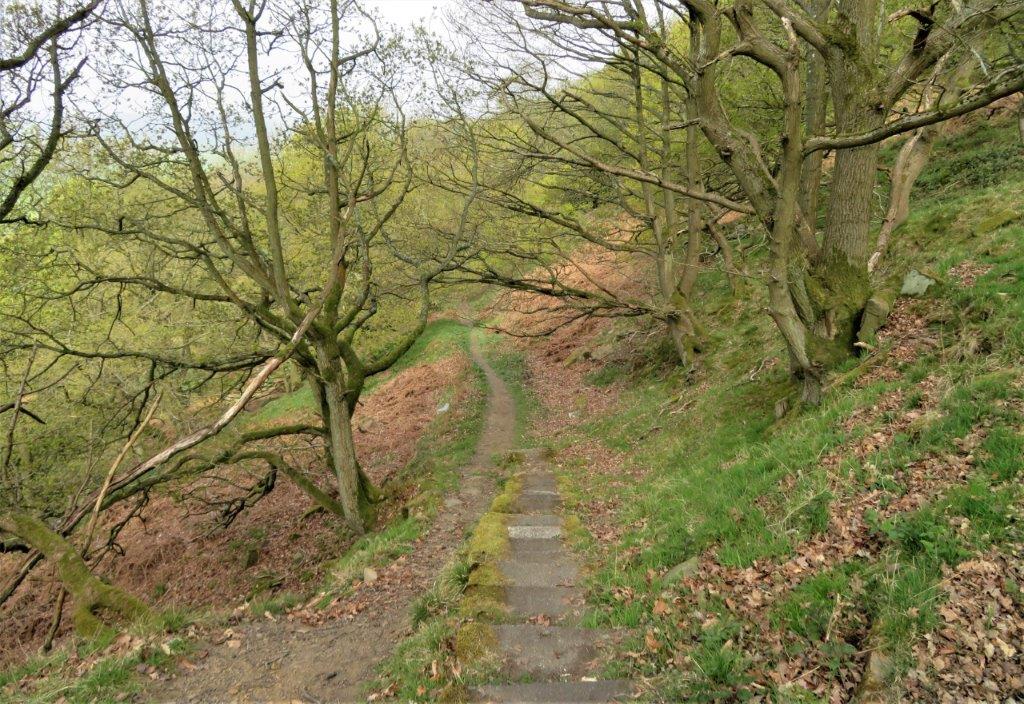 on way out a quick check was done on 'the return route below Rocher Rocks'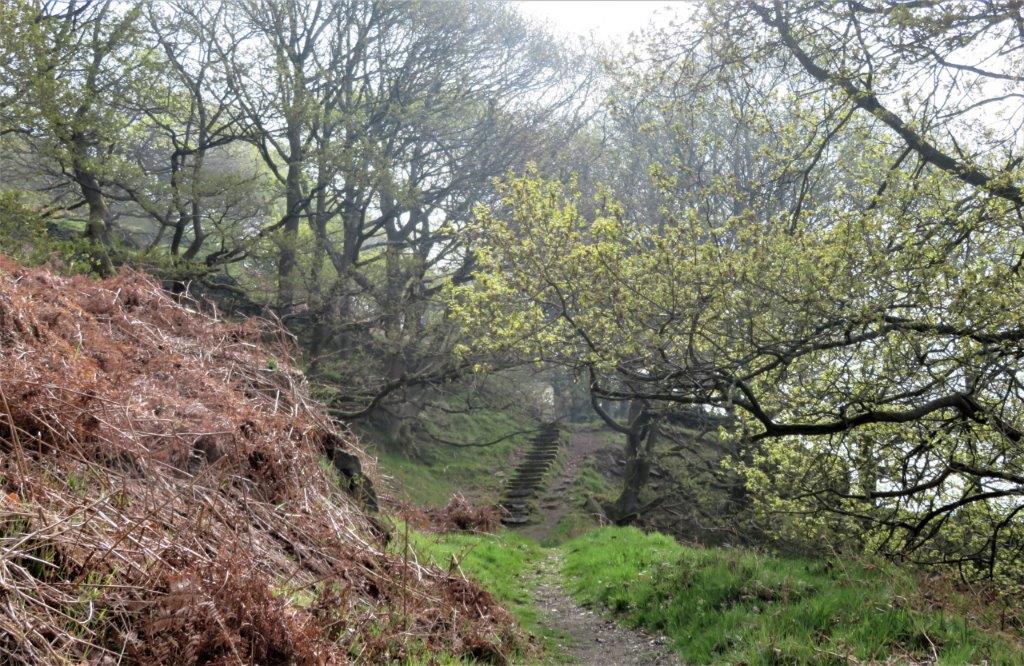 ditto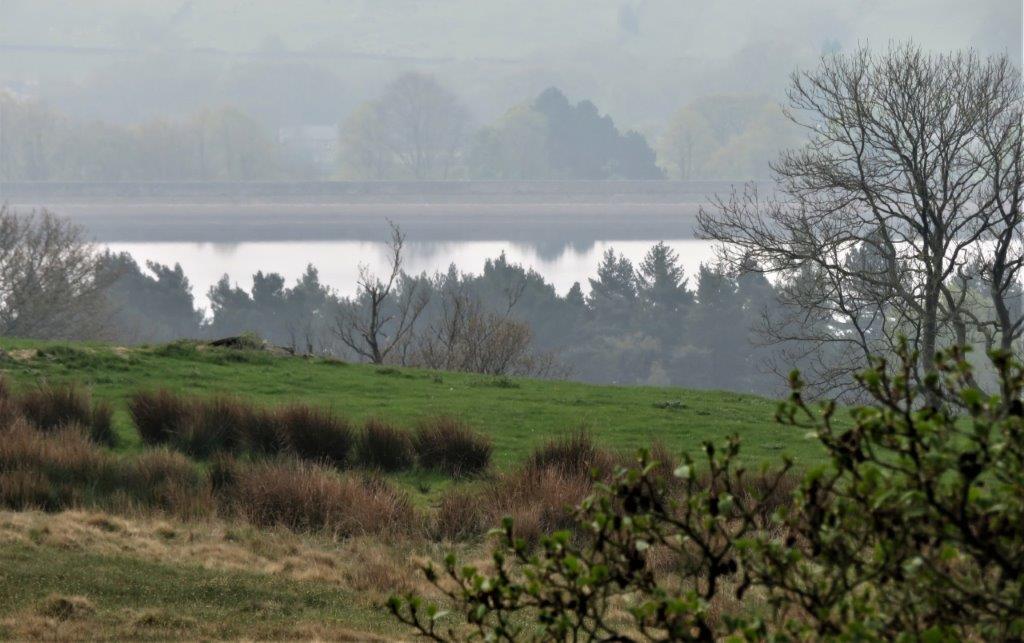 Agden Reservoir - the embankment now visible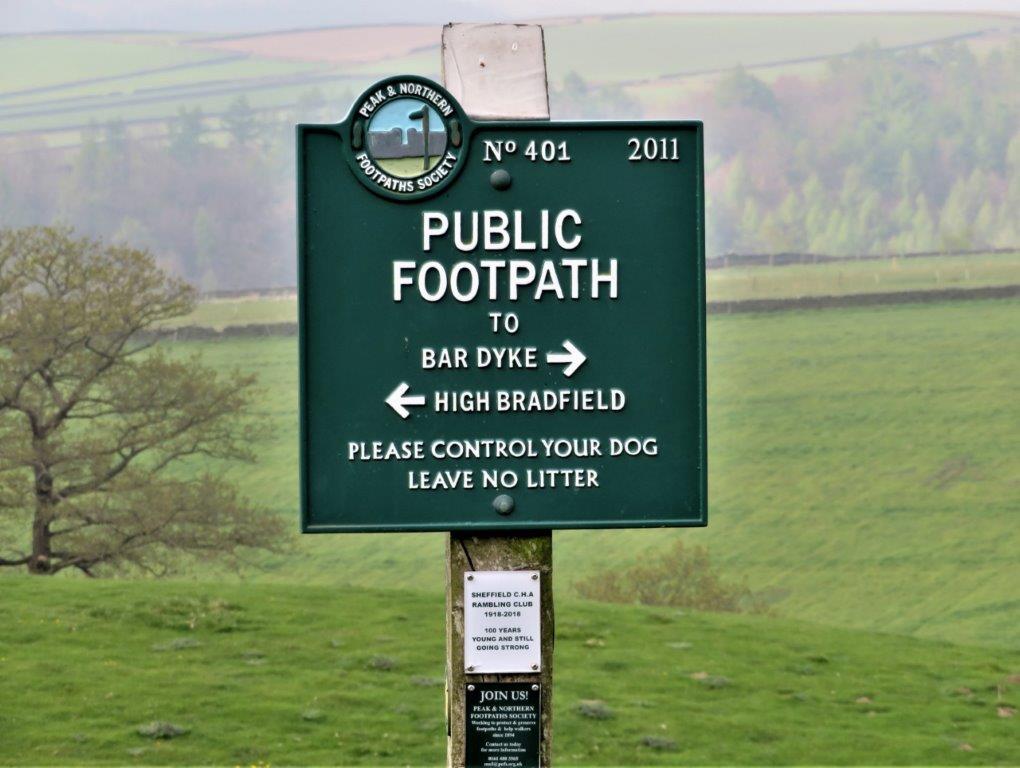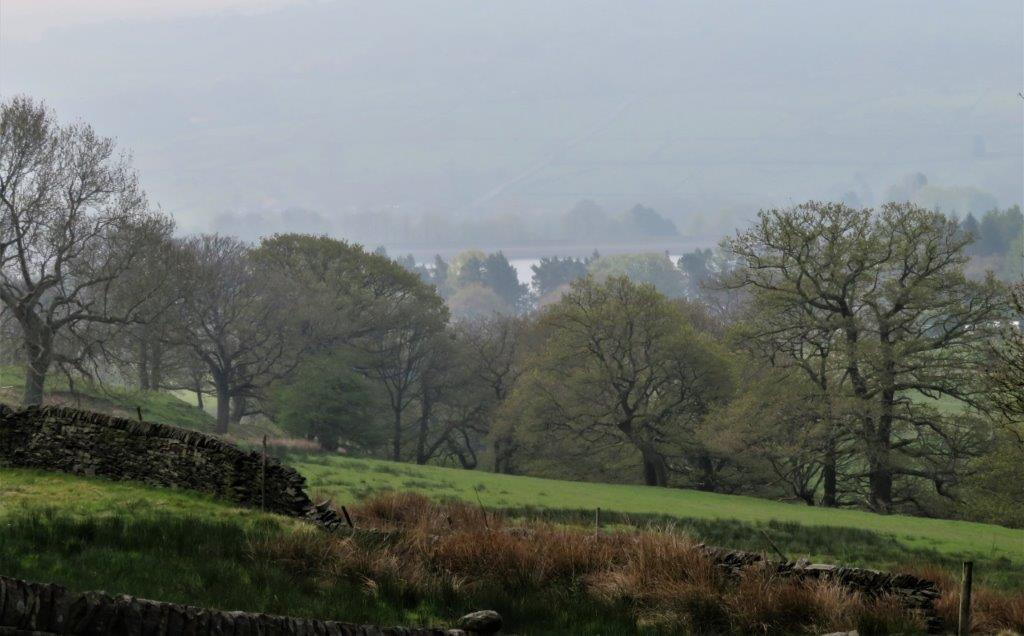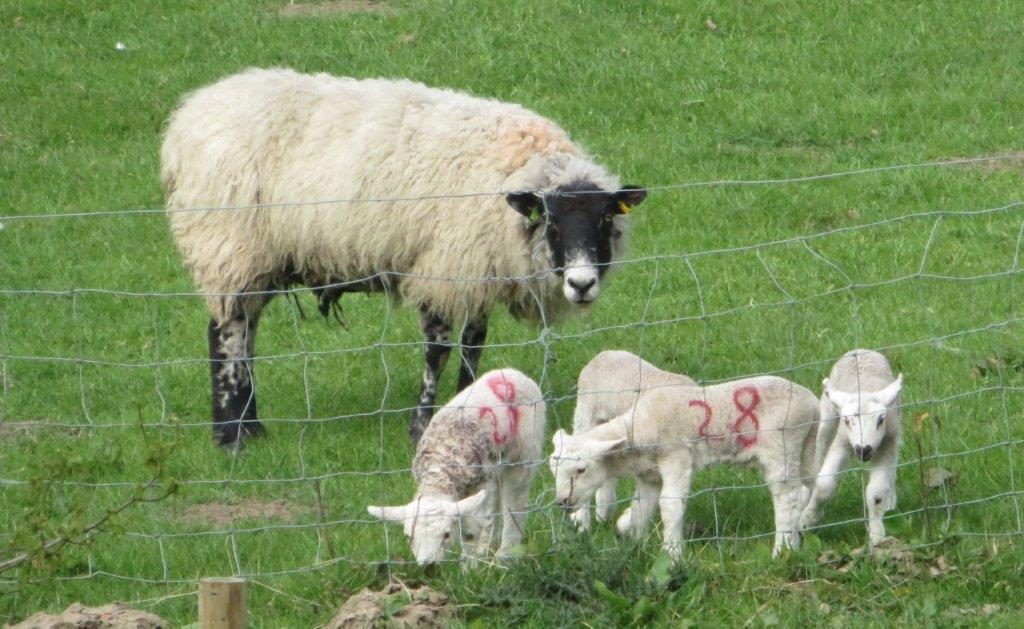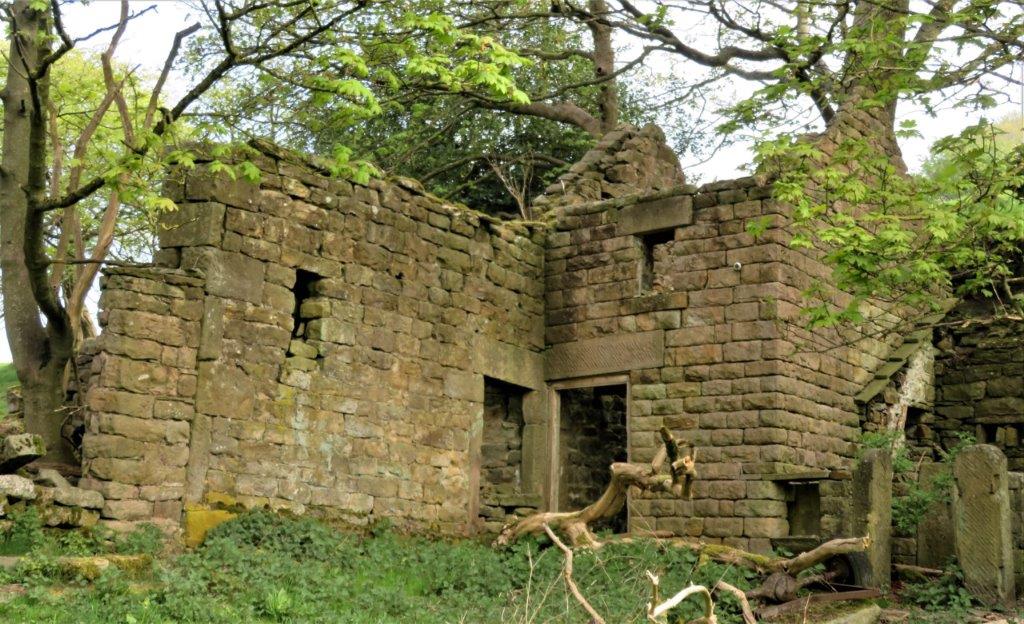 ruins at Rocher Head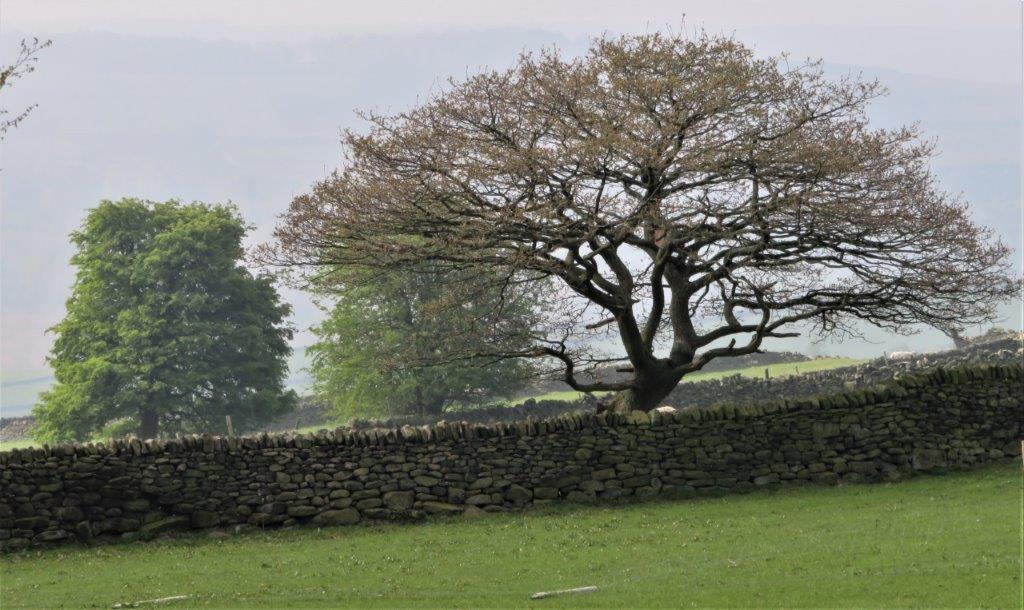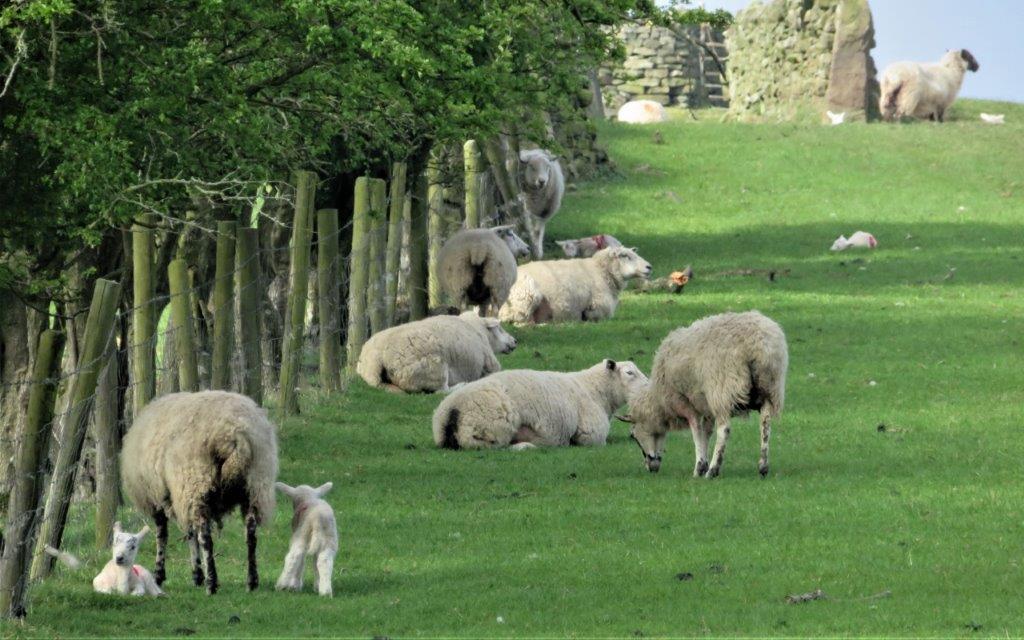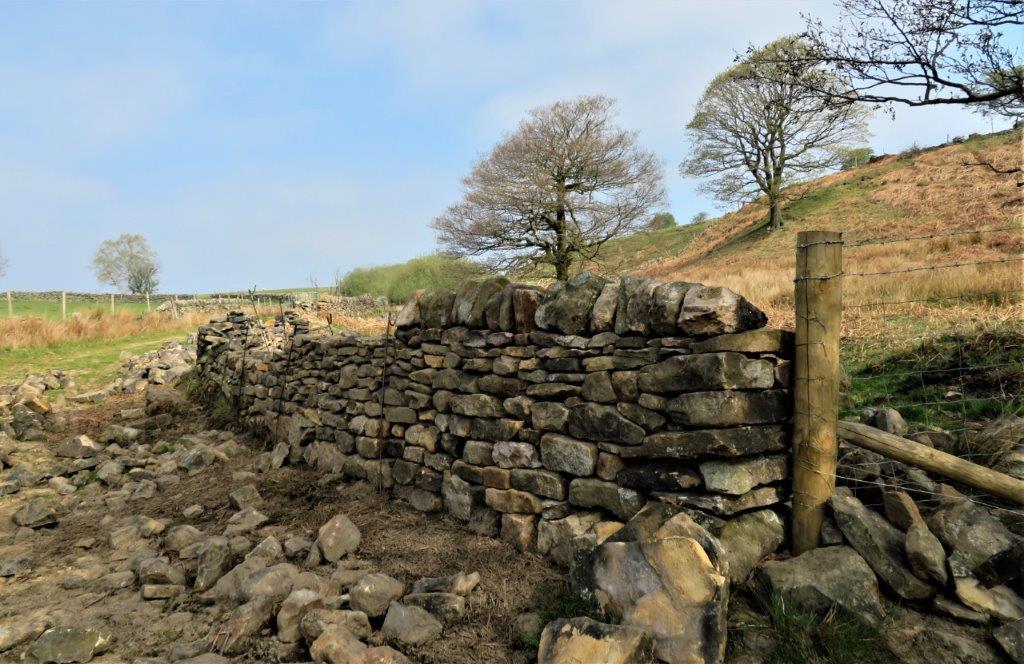 drystone wall repair / rebuild in lane leading to Load Field Road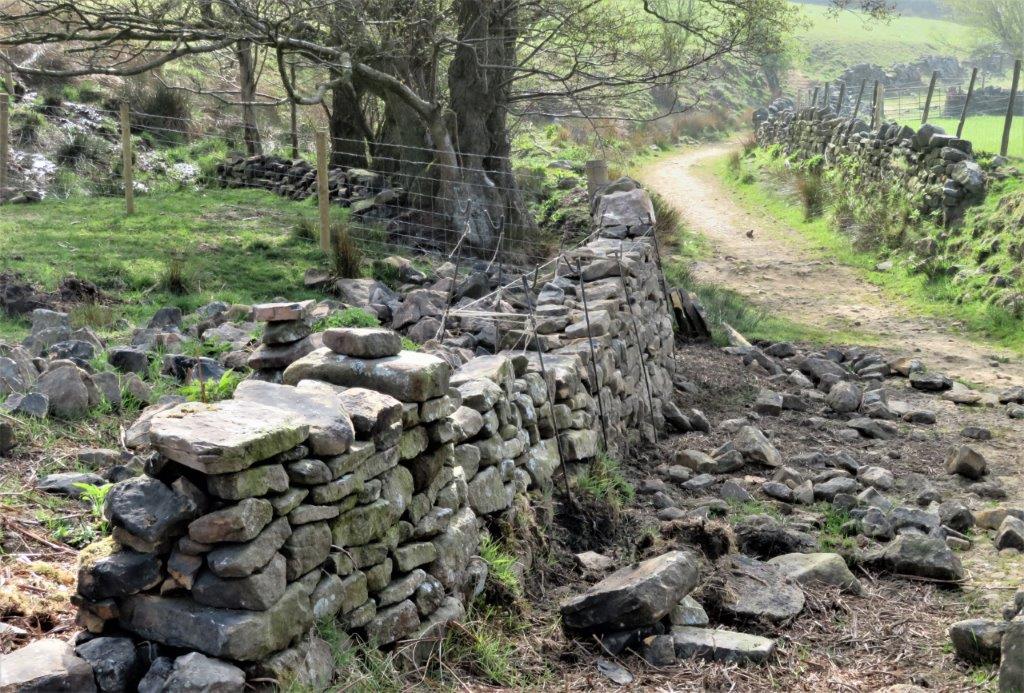 ditto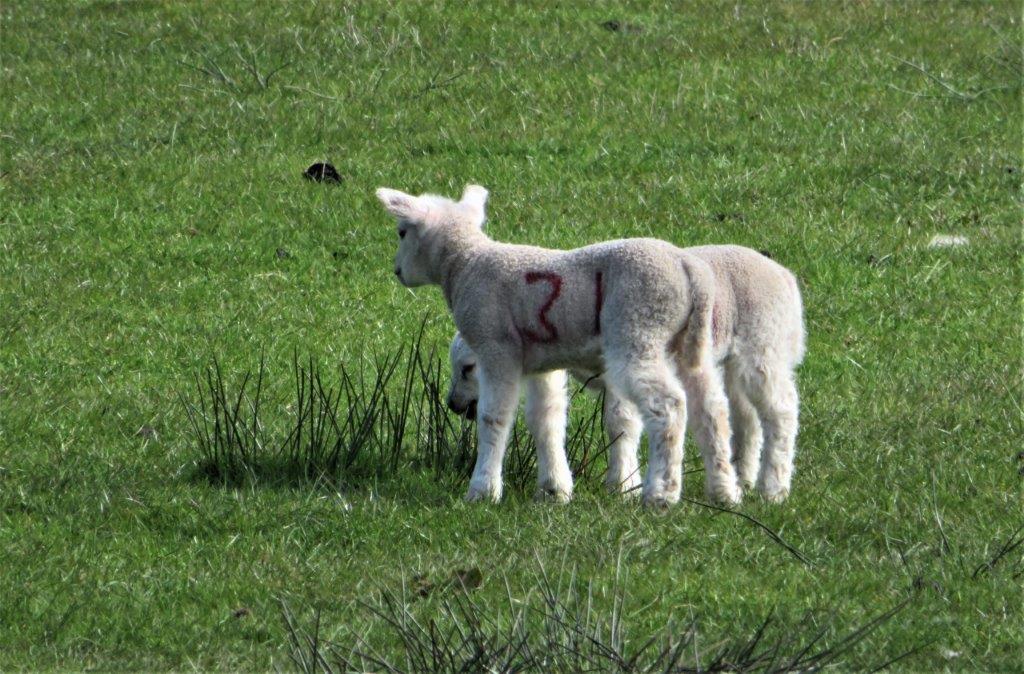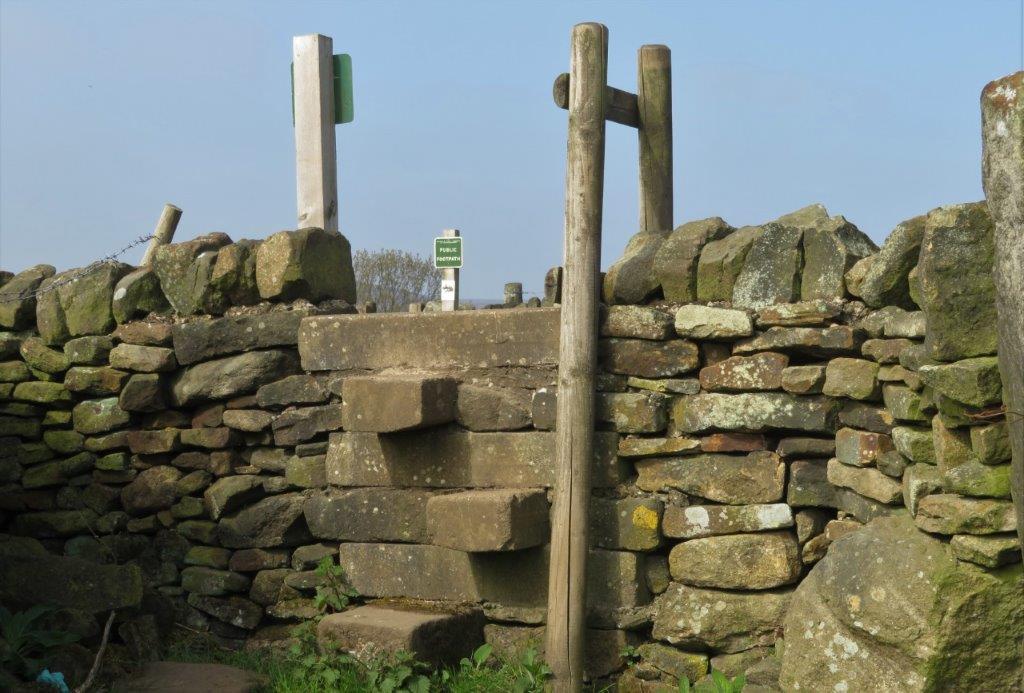 reconstructed stile with regular concrete slabs and steps - easy to cross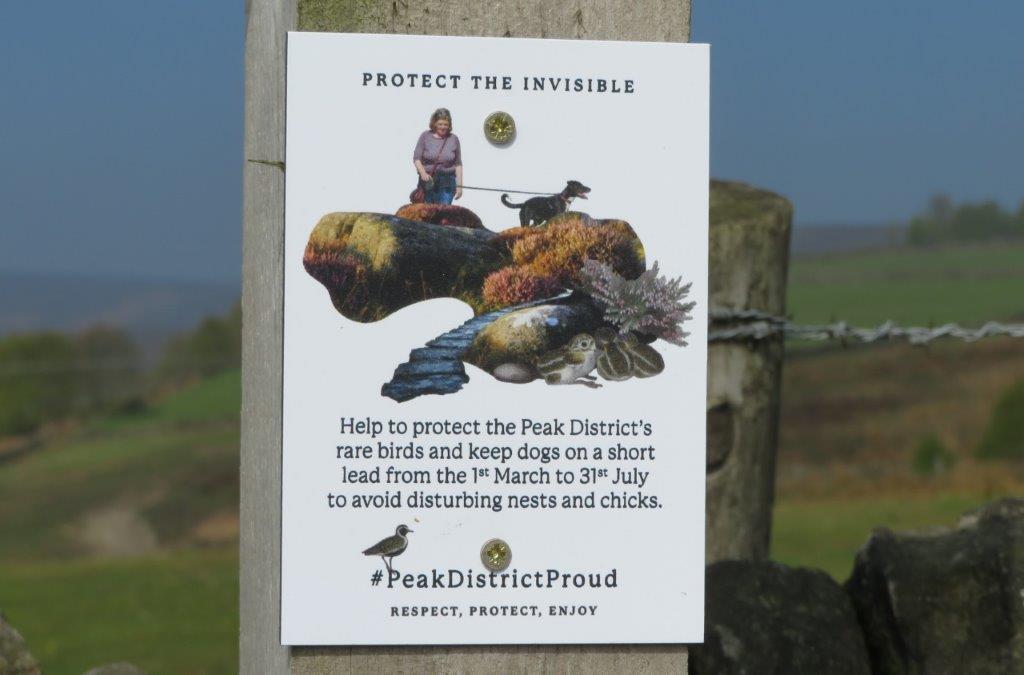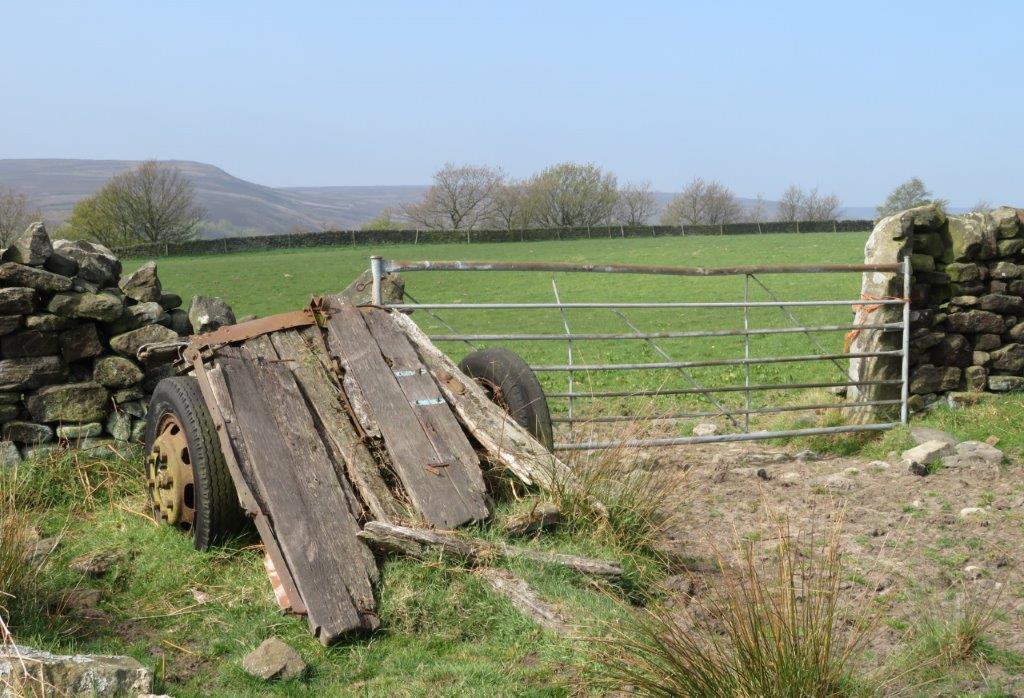 in Cowell Flats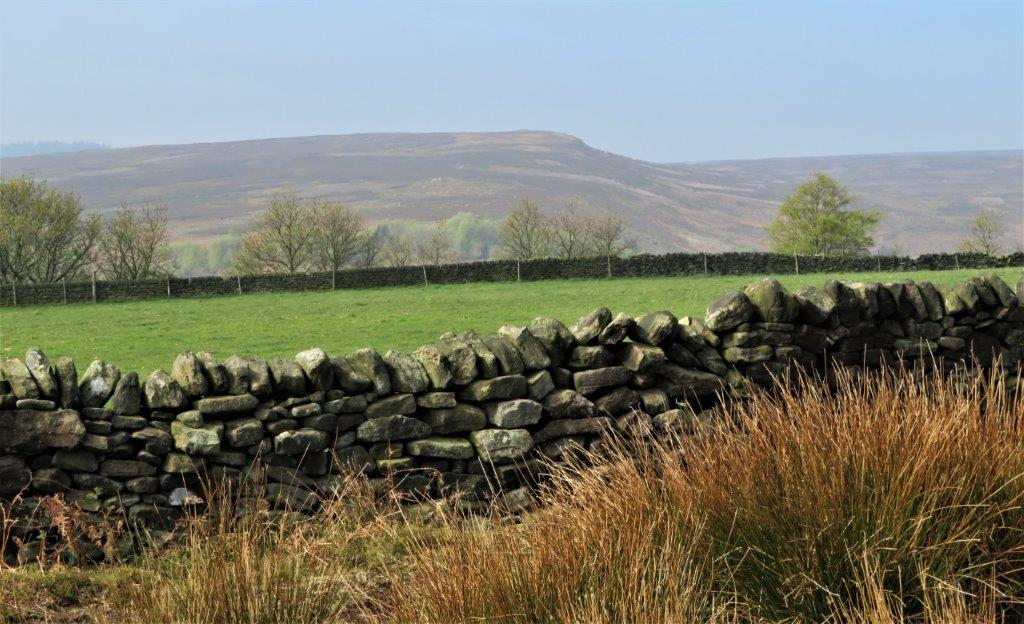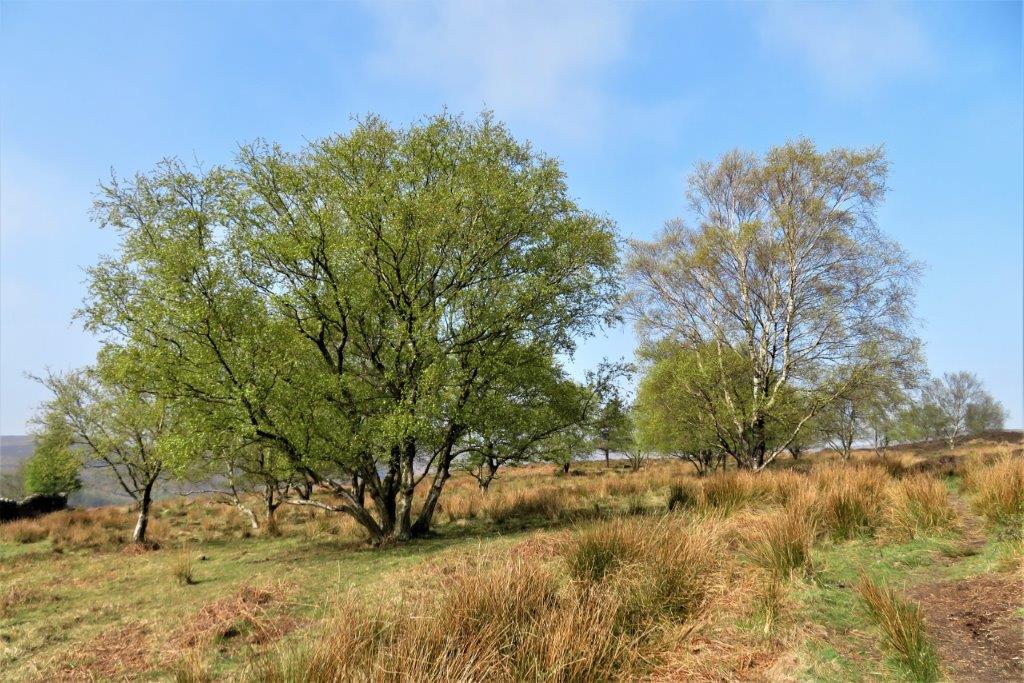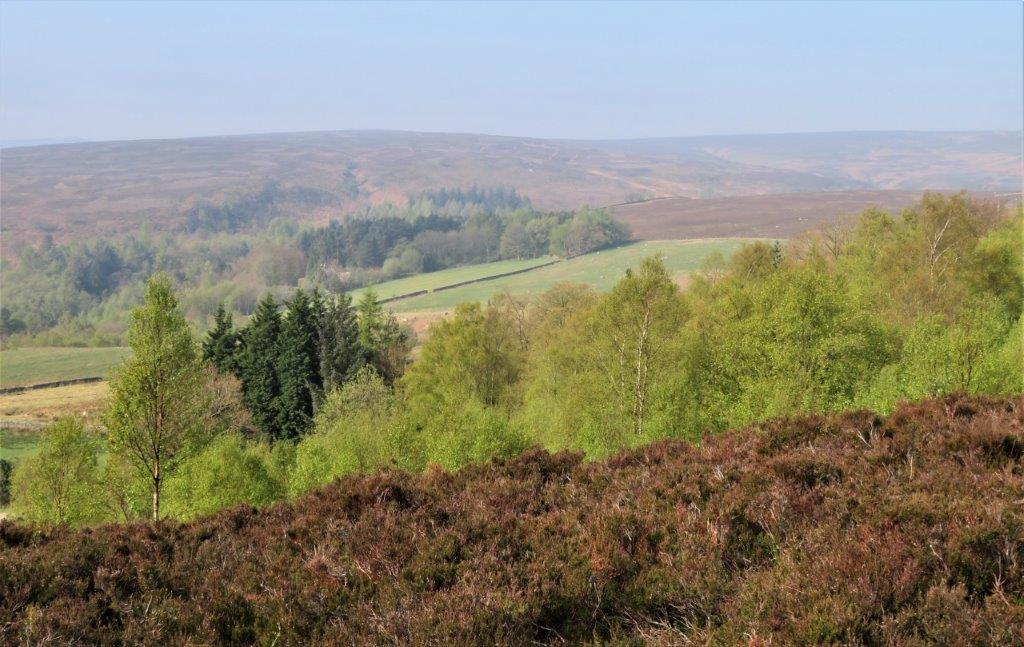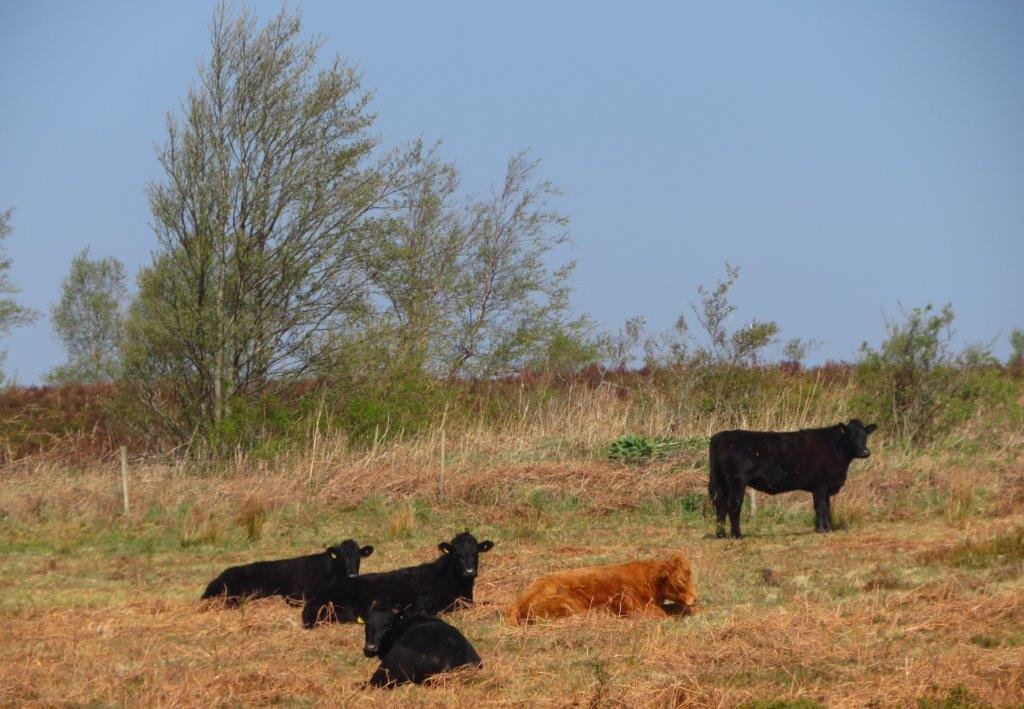 near Bar Dike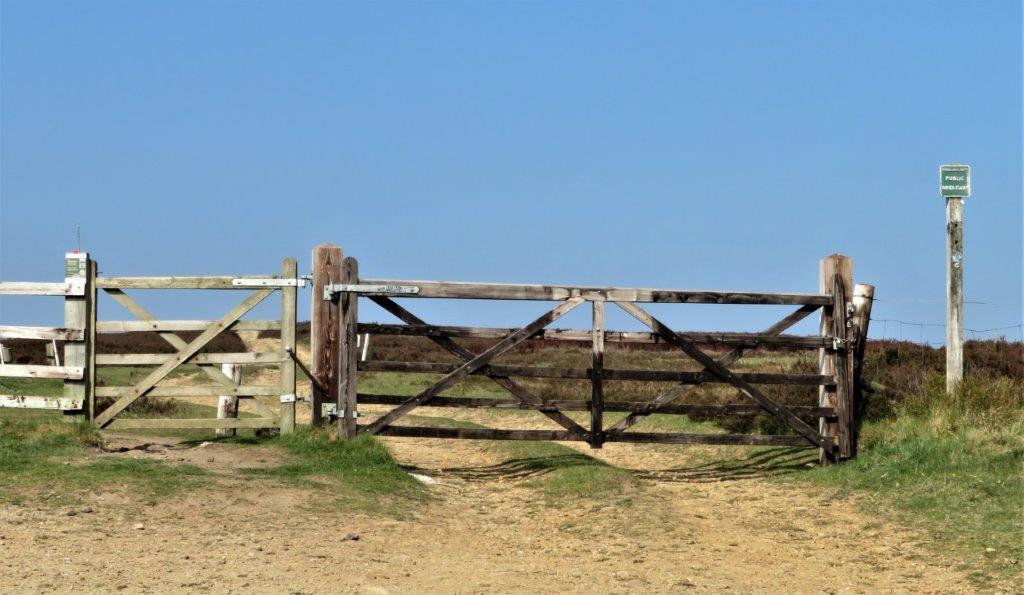 the gate from Mortimer Road onto Dukes Road (a bridleway)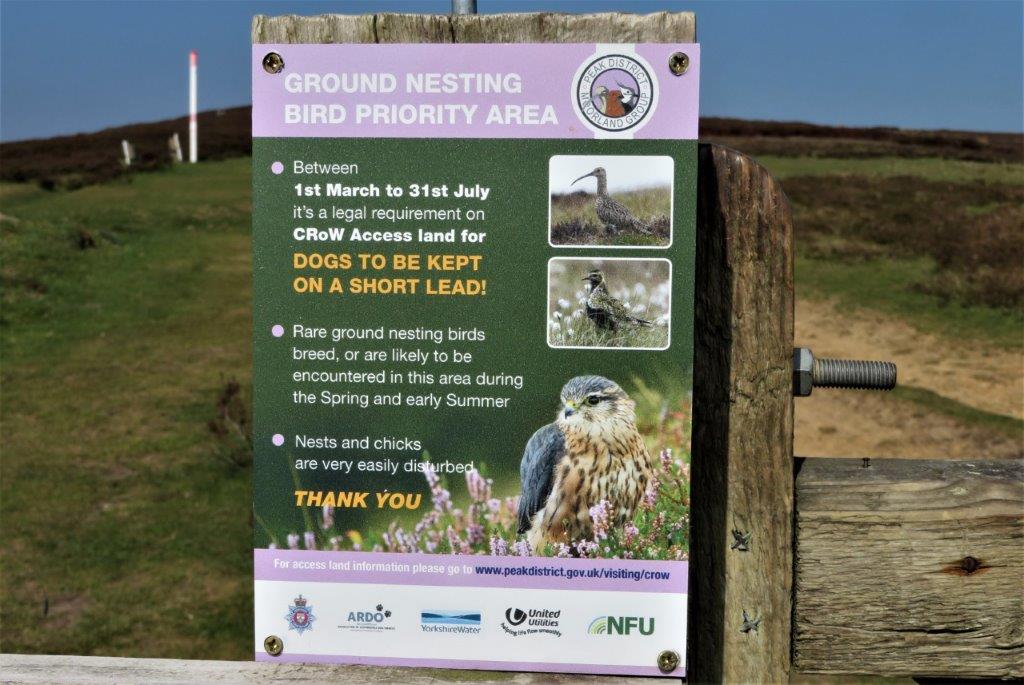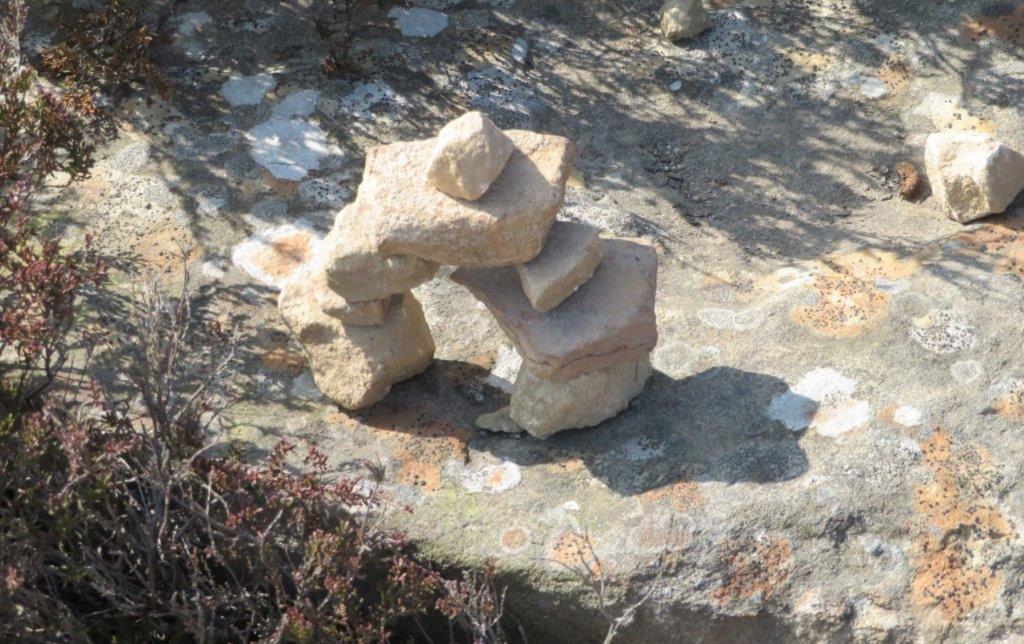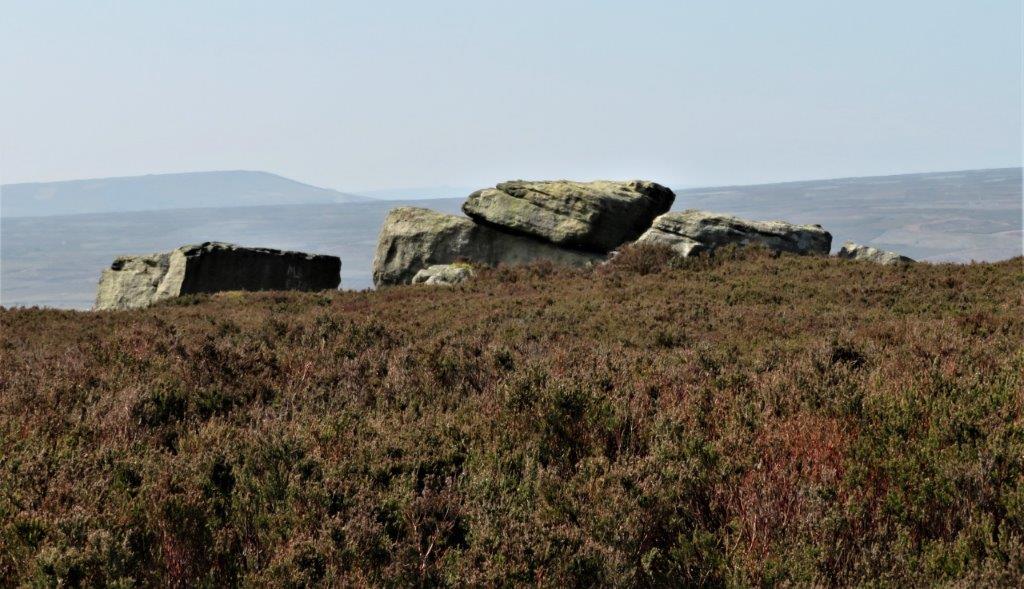 Hurkling Stones?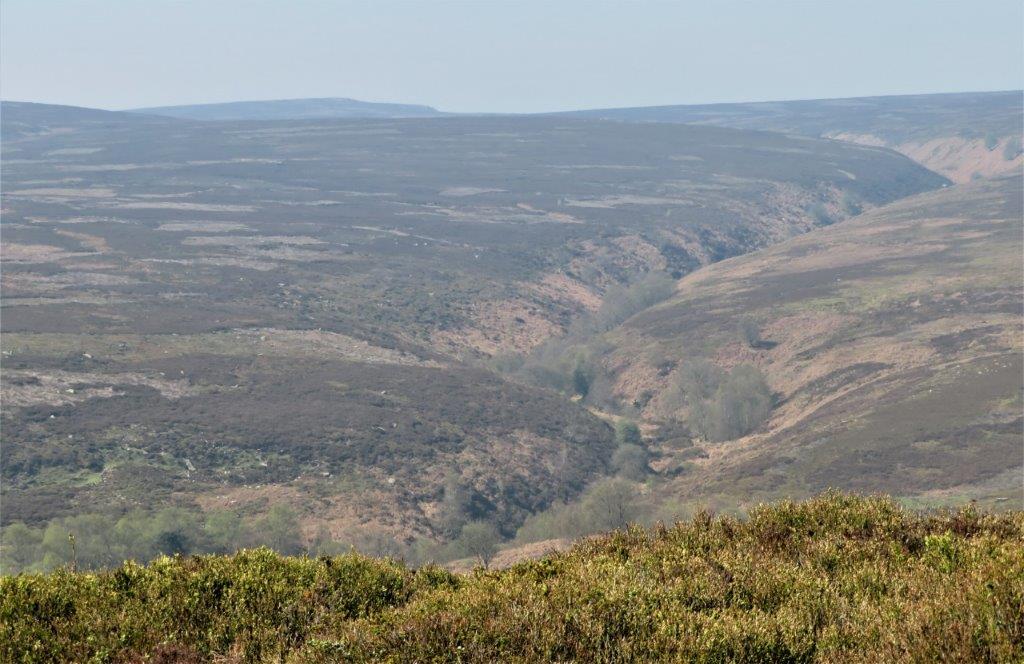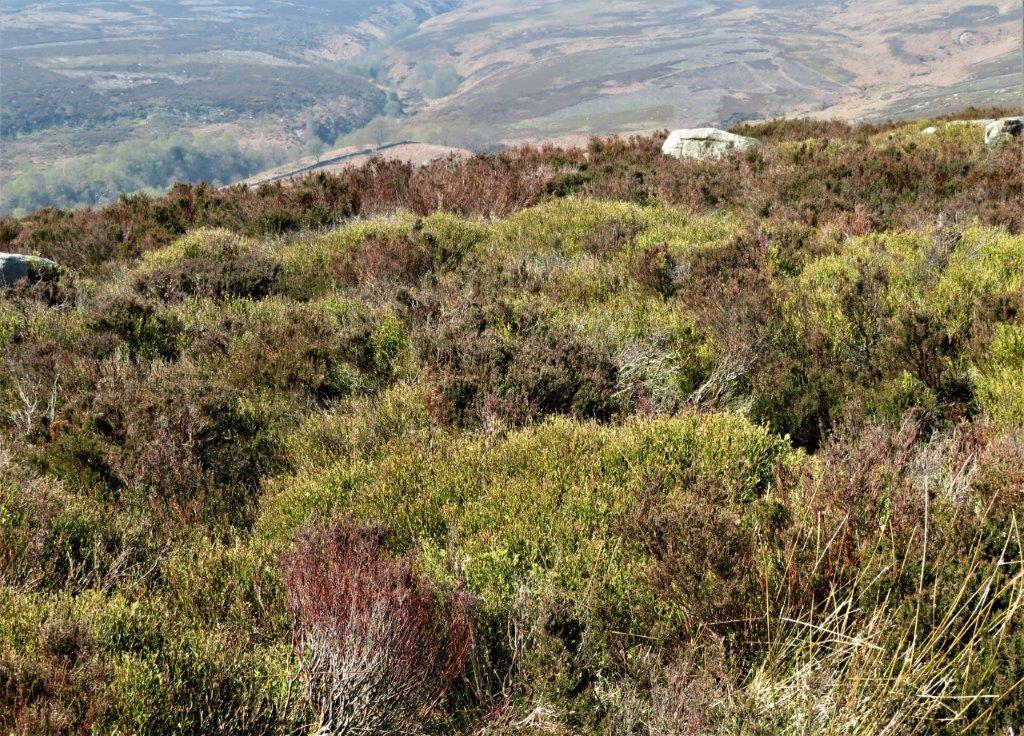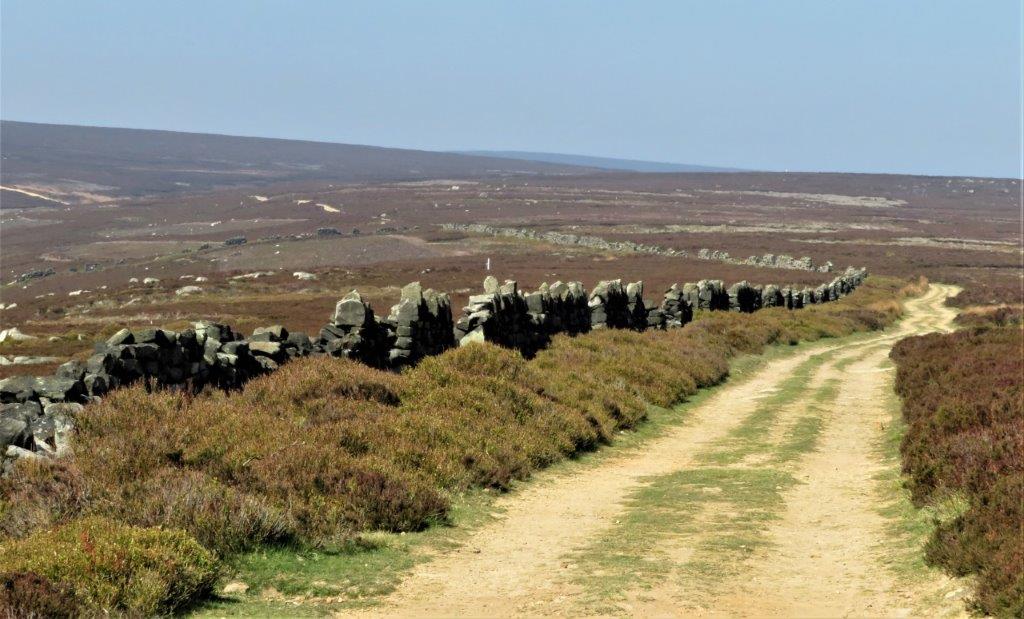 Dukes Road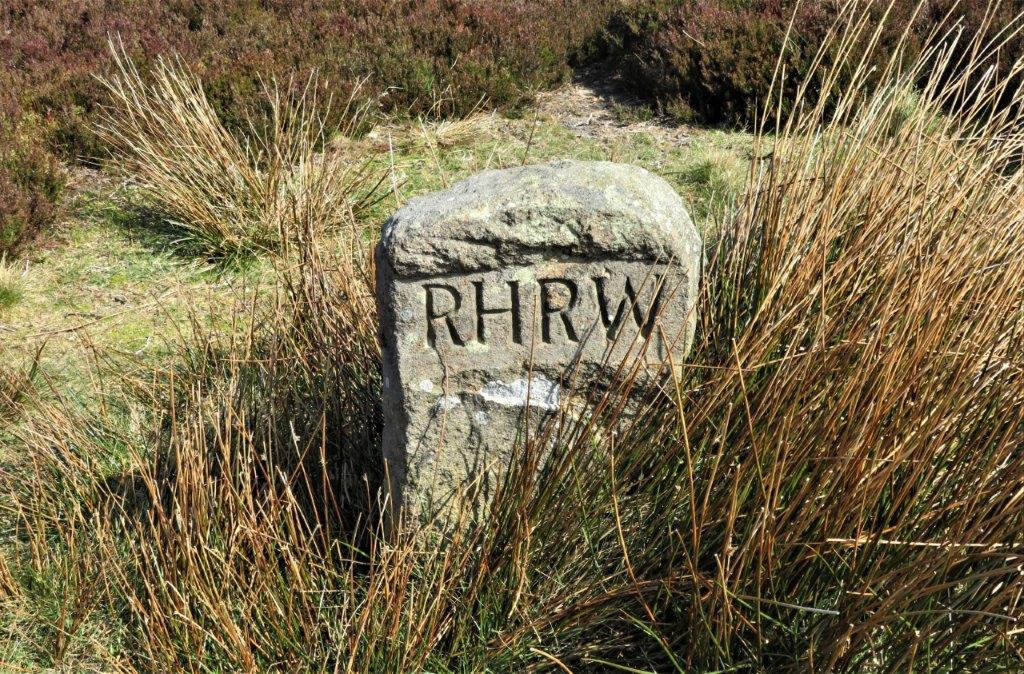 what to the initials RHRW stand for?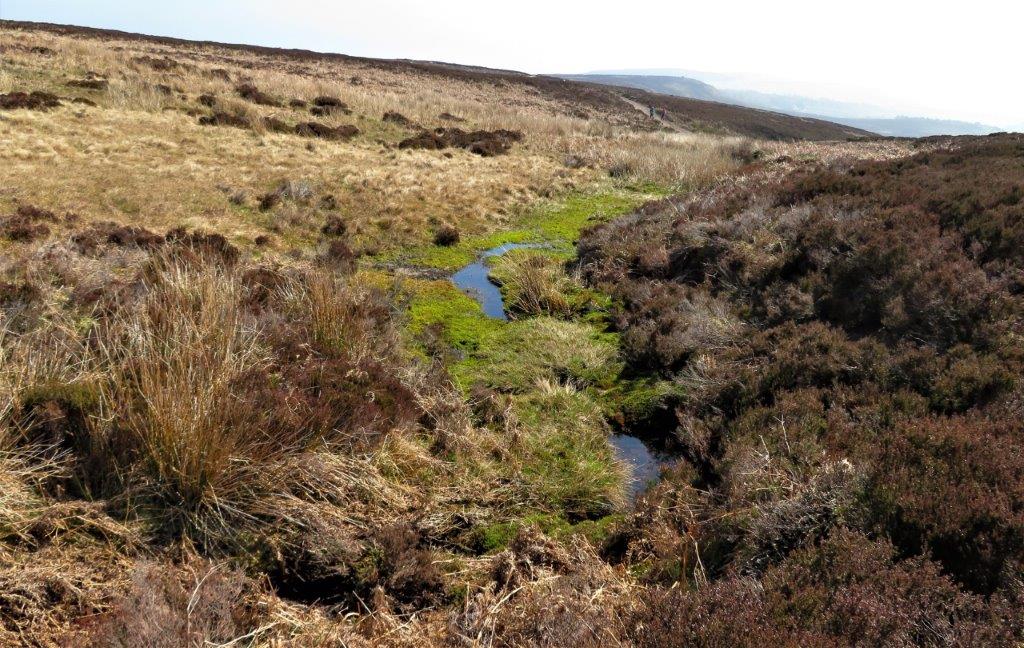 looking down Rushy Dike - followed up for a short distance to join road to grouse butts & shooting cabin. The track seen behind is Dukes Road.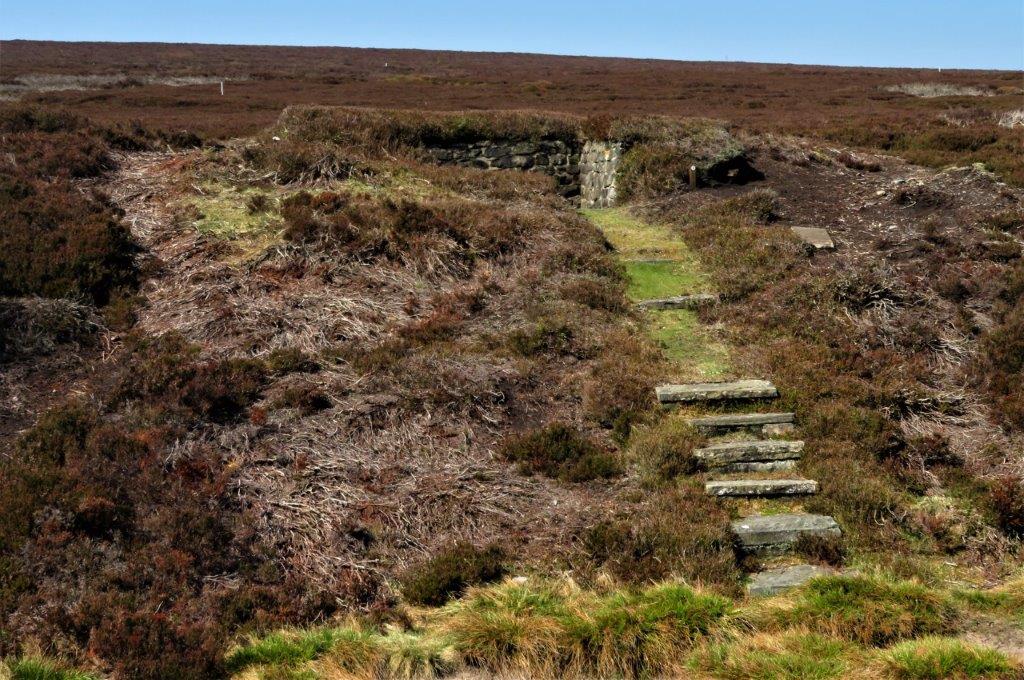 Grouse Butt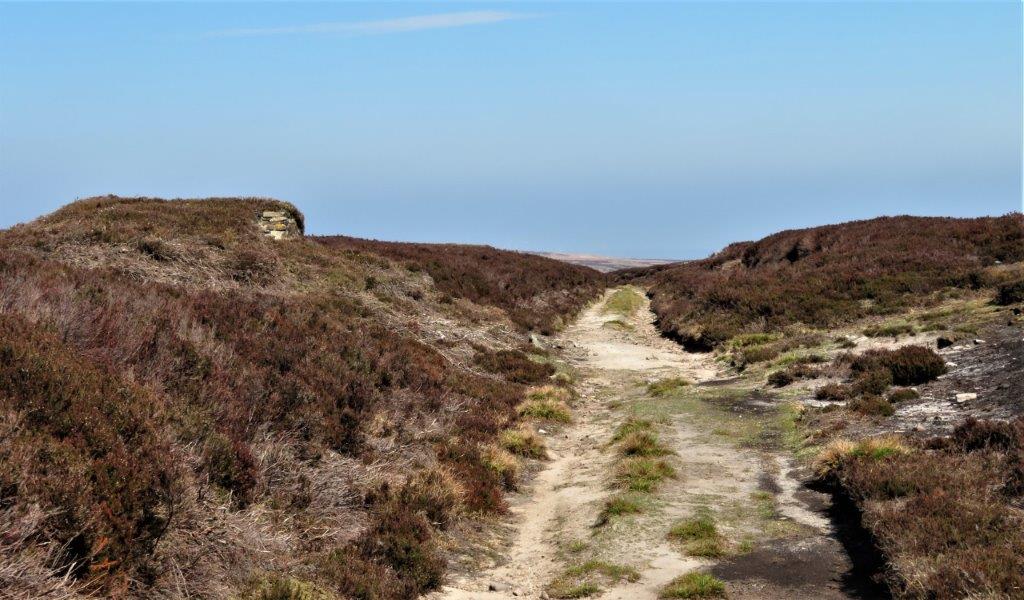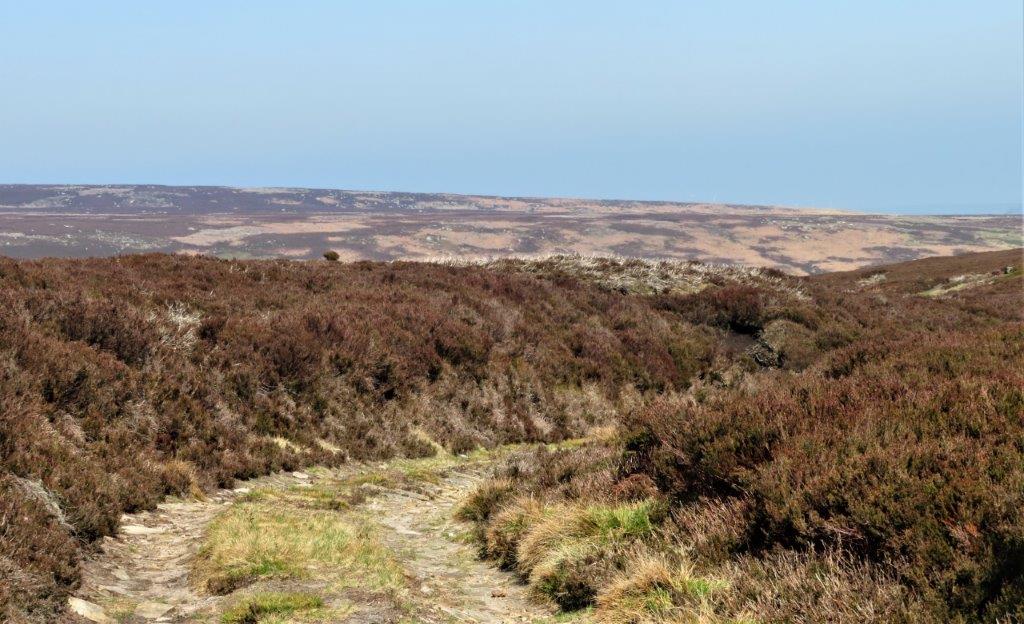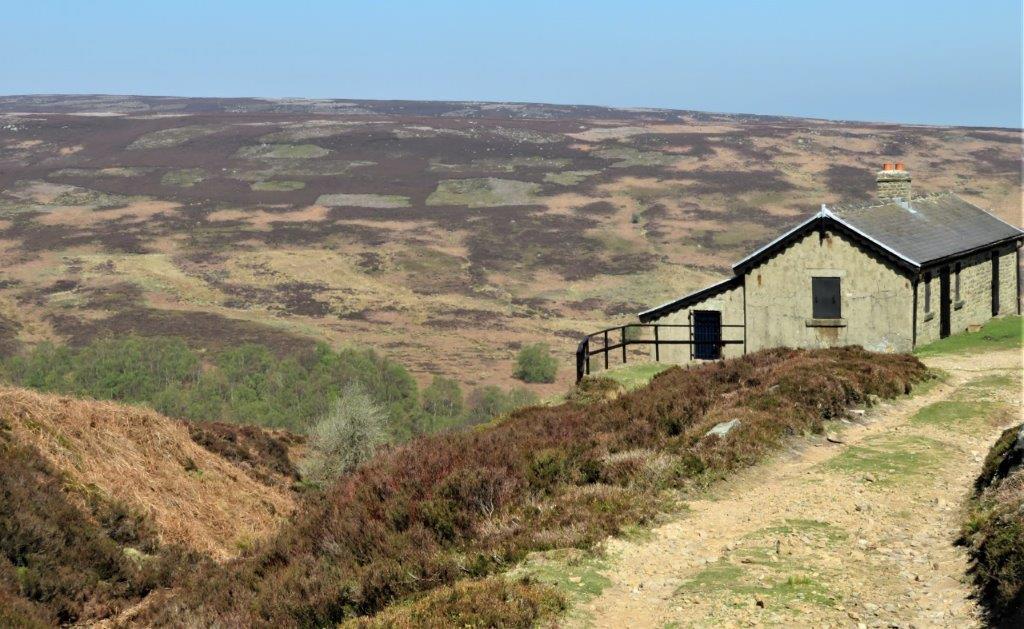 Shooting Cabin - presumably part of the the Broomhead Hall Estate (or successors)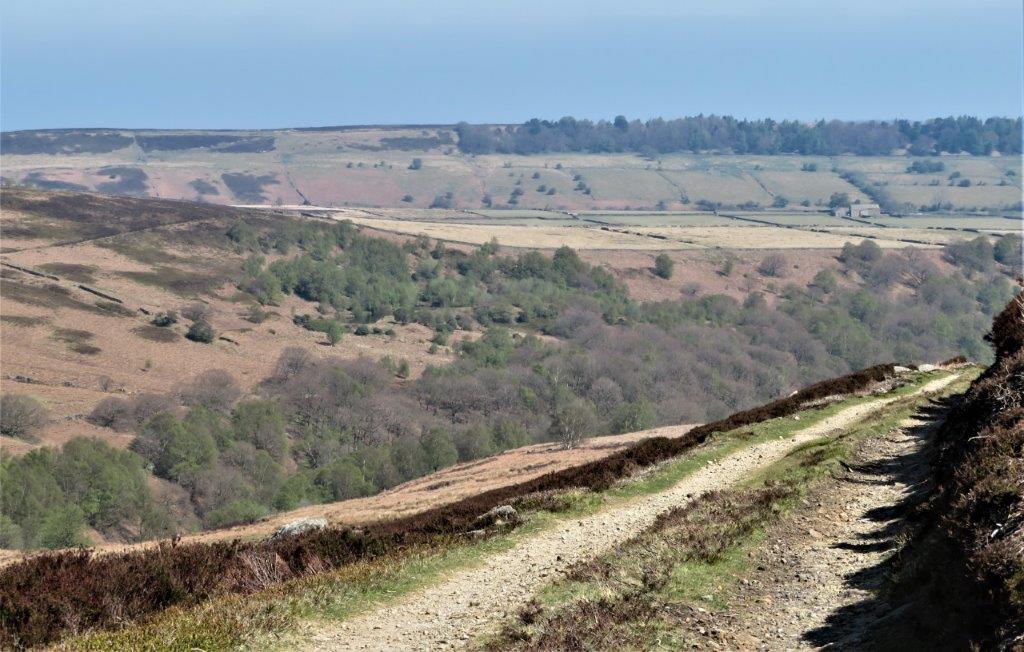 jeep track follows Ewden Beck (which flows into Broomhead Reservoir)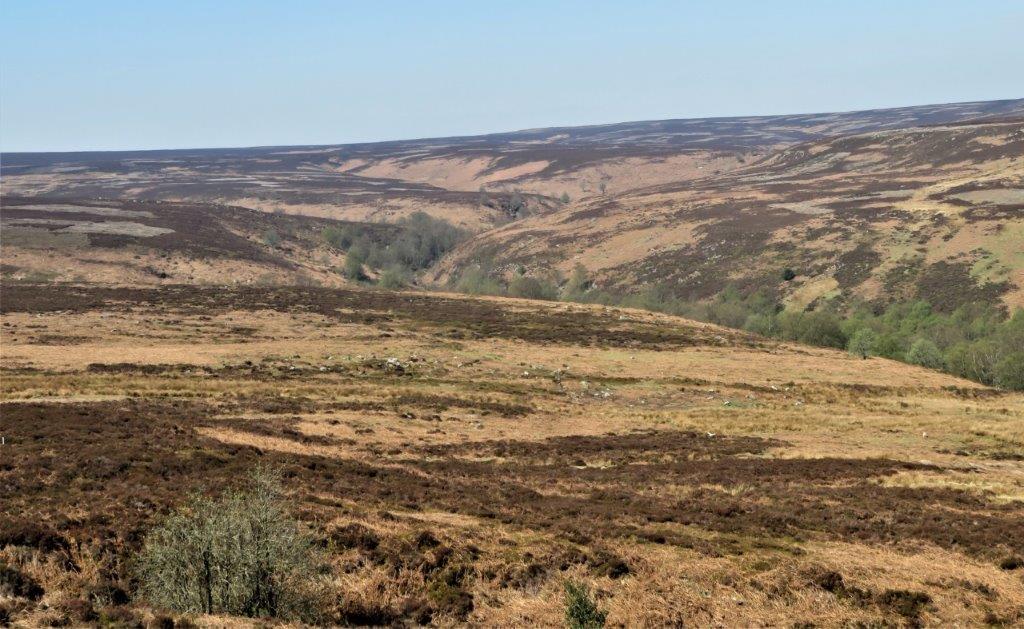 Land looks very parched - virtually no April Showers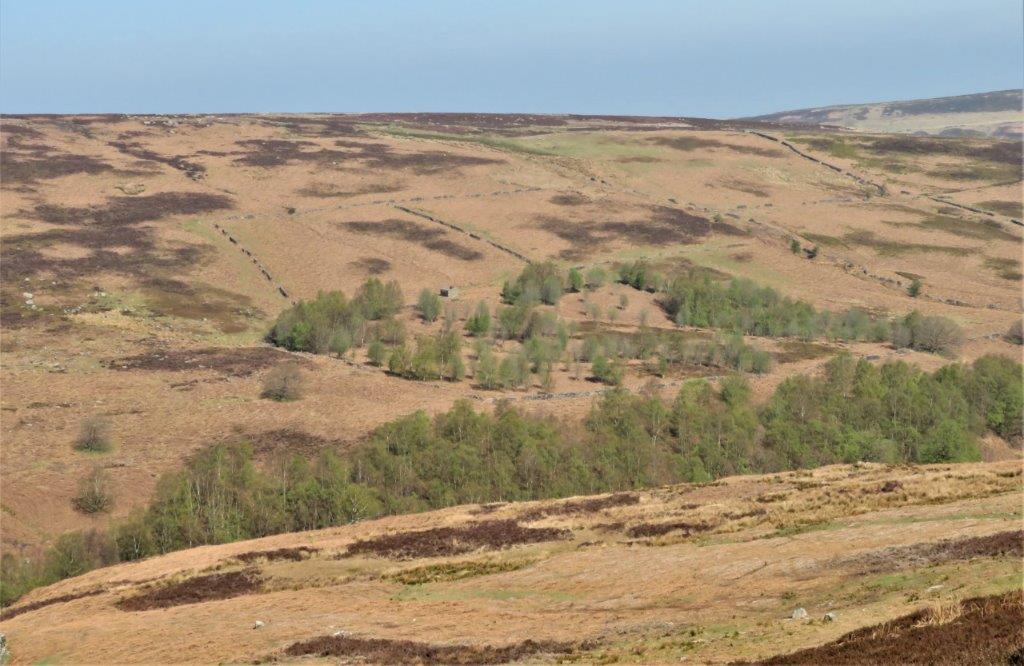 drystone walls broken down around fields may indicate little or no recent agricultural activity?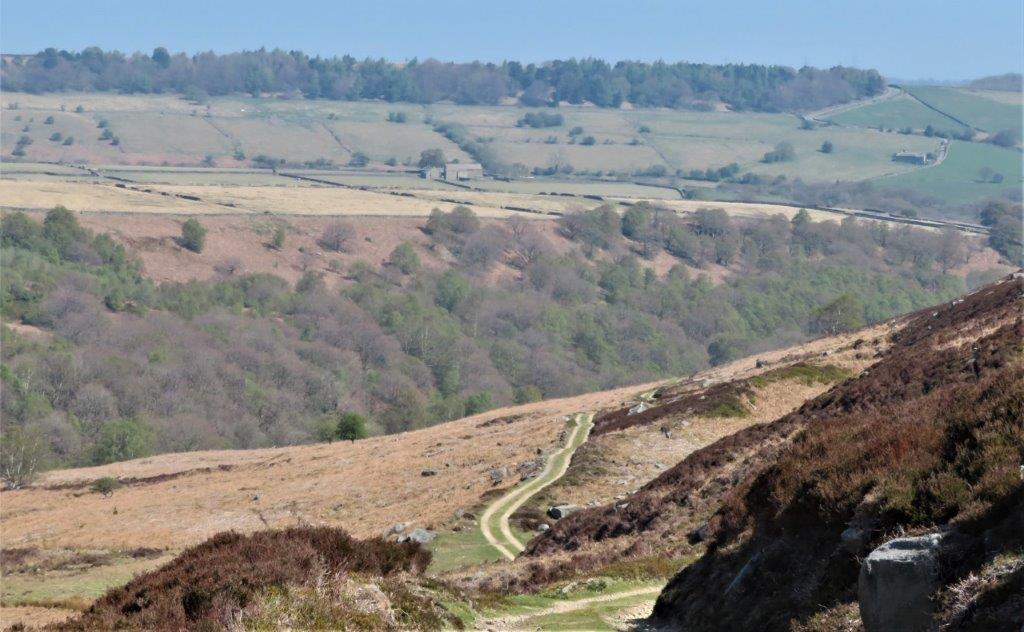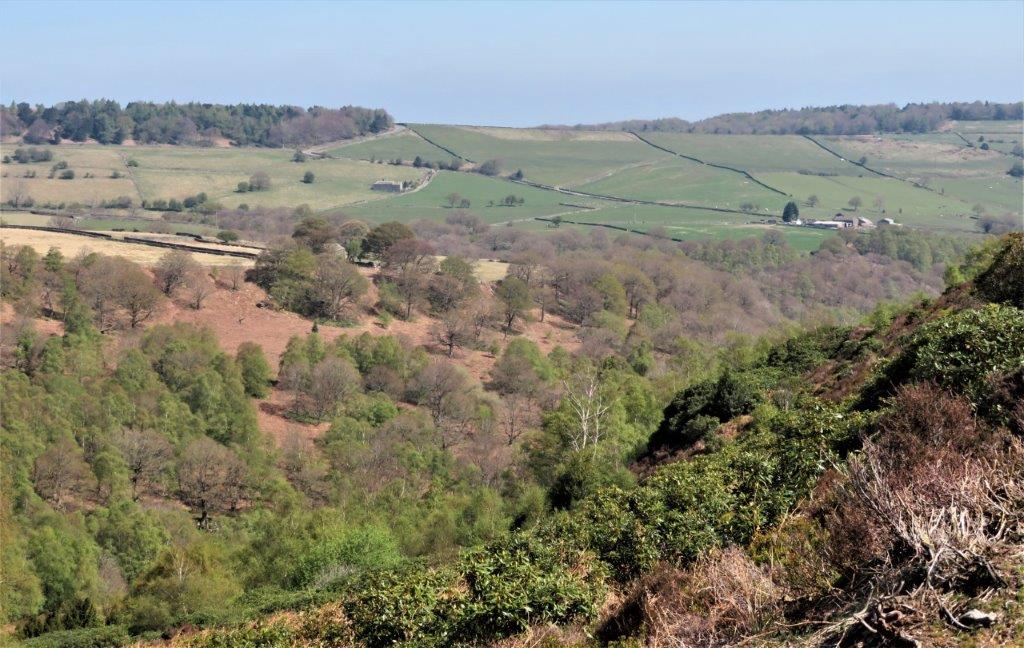 Thorpes Brow at the top left of picture (to the left of Mortimer Road)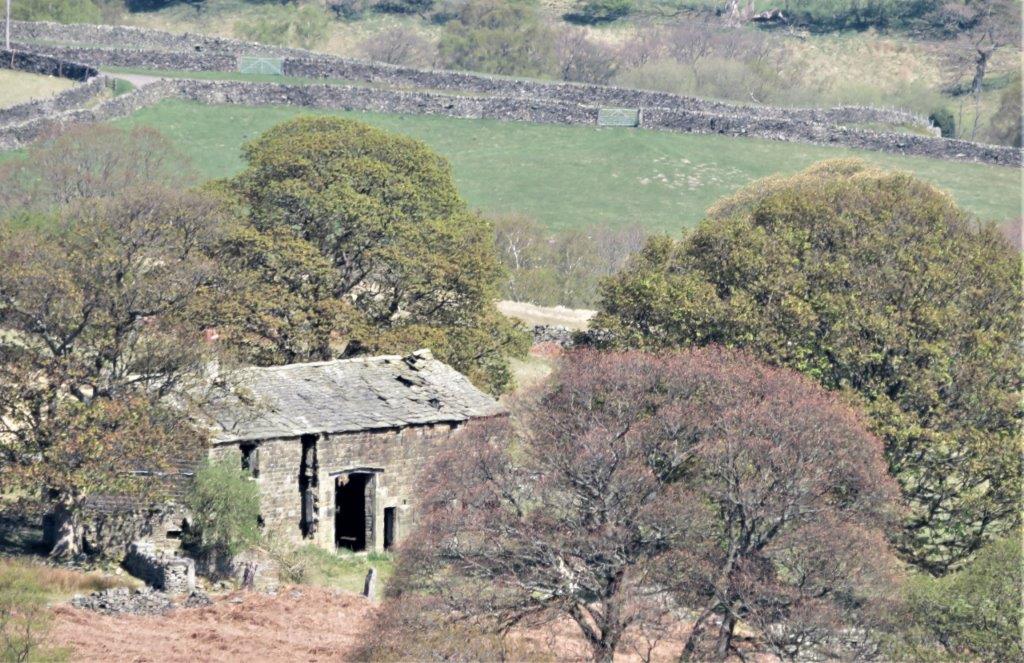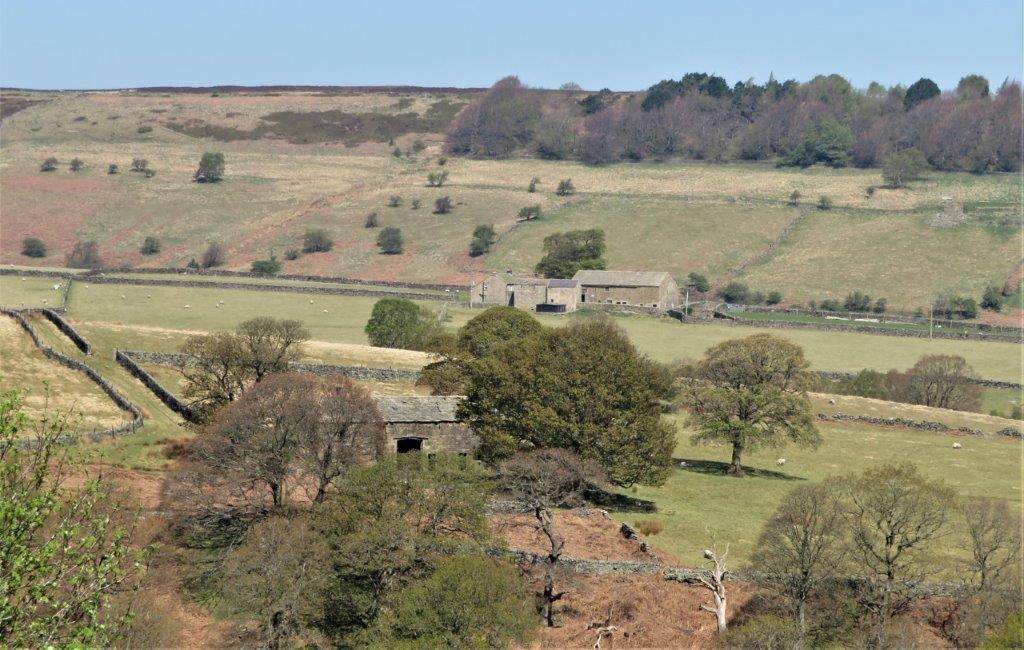 Garlic House Farm?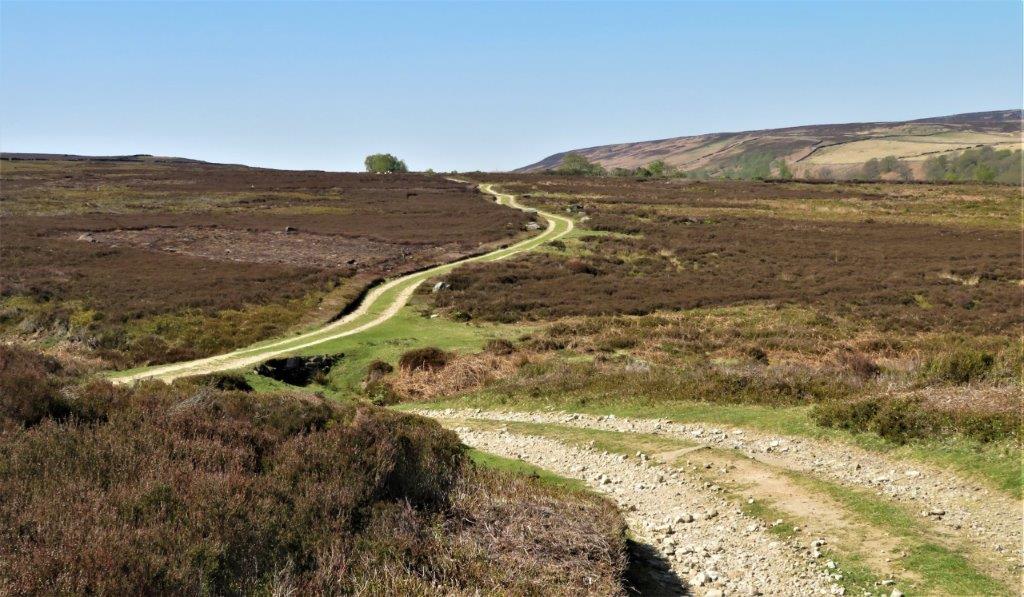 looking back on the track taken from the Shooting Cabin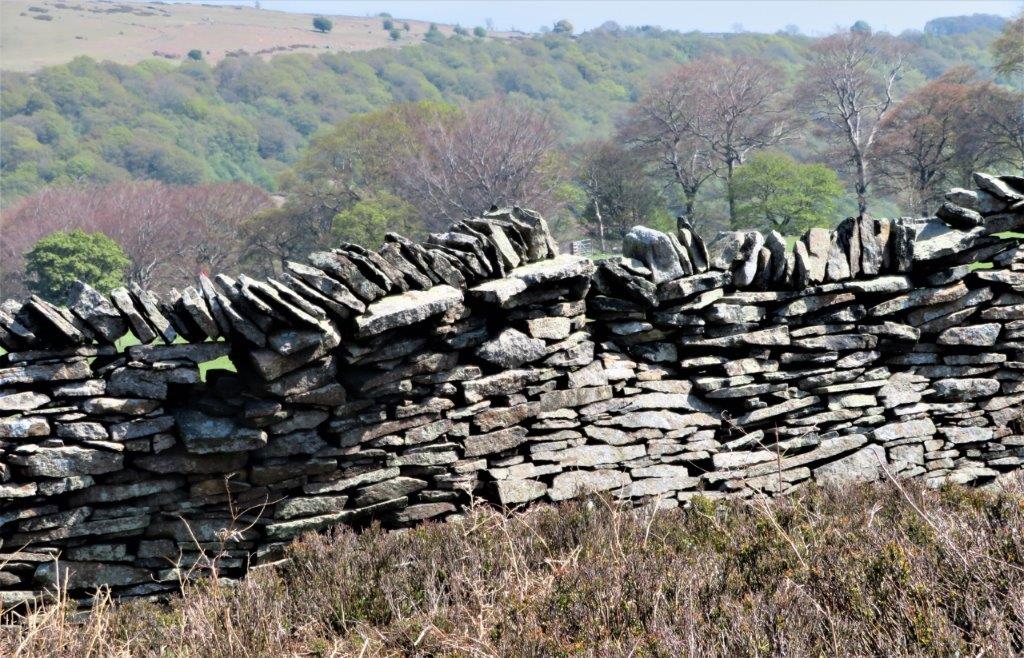 drystone wall about to collapse here/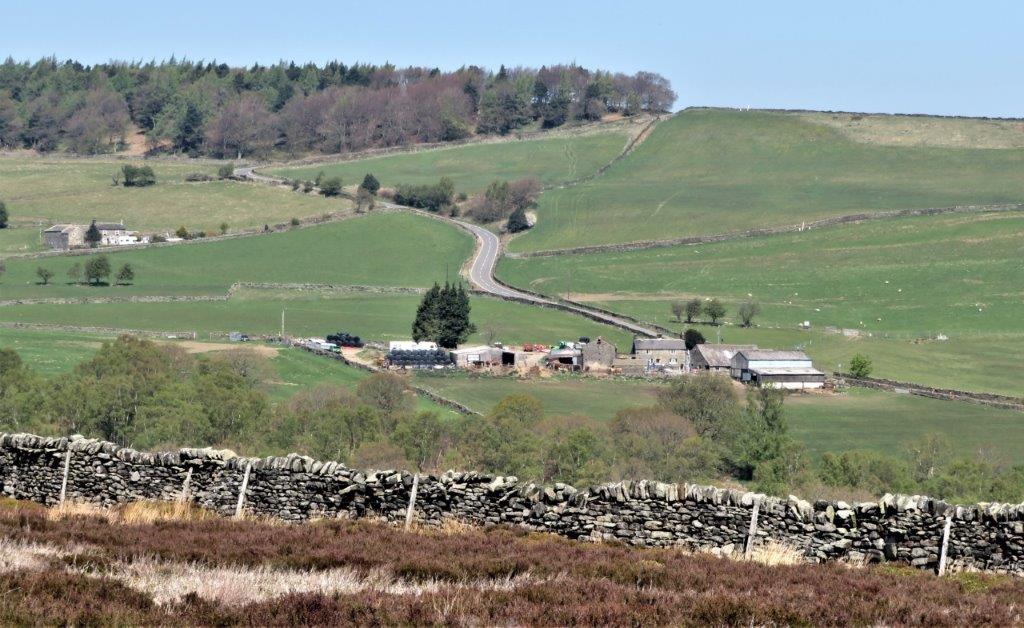 Garlic House Farm? closer up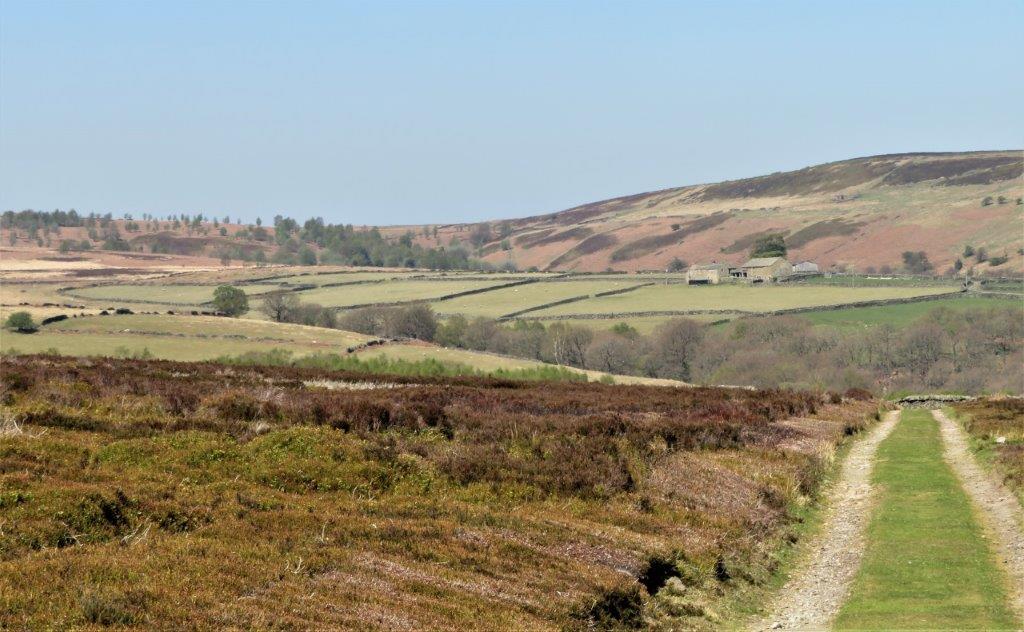 looking back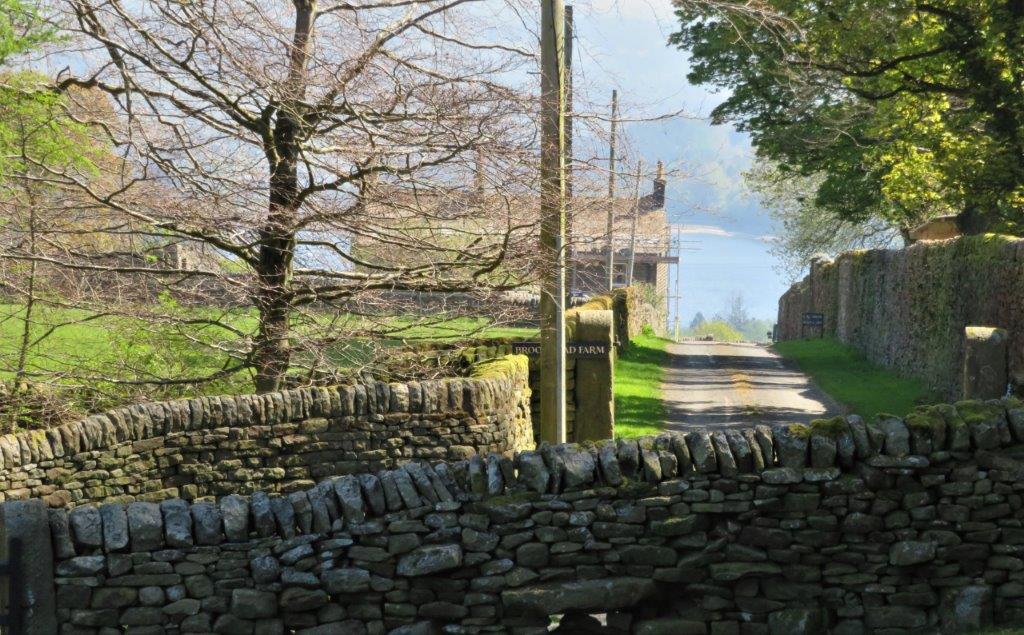 a glimpse down road to Broomhead Farm. Broomhead Hall although still marked on maps is apparently demolished?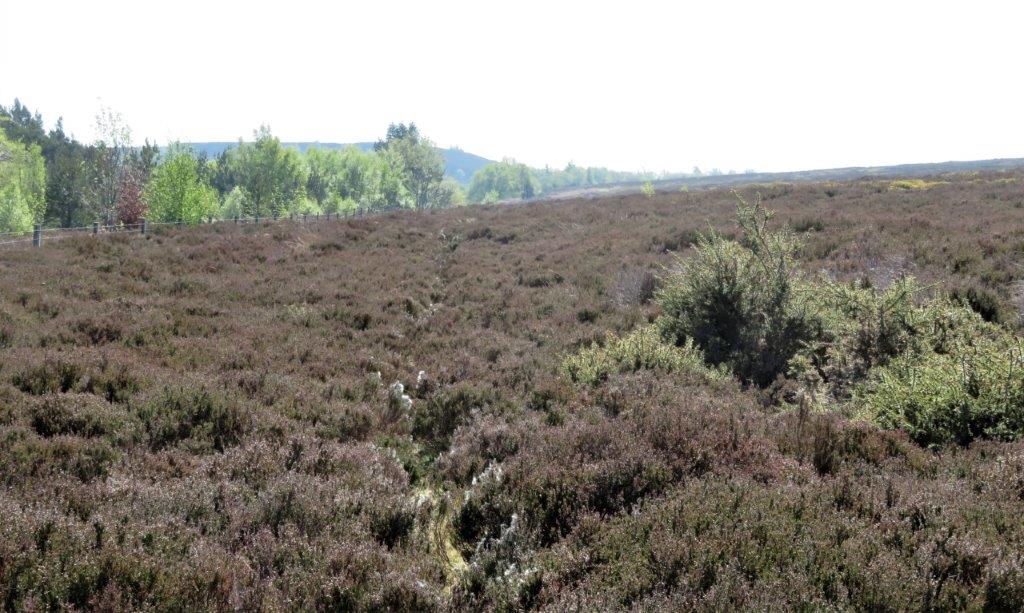 the fence along Mortimer Road is just visible to left - the sheep 'track' marked with wool tufts was followed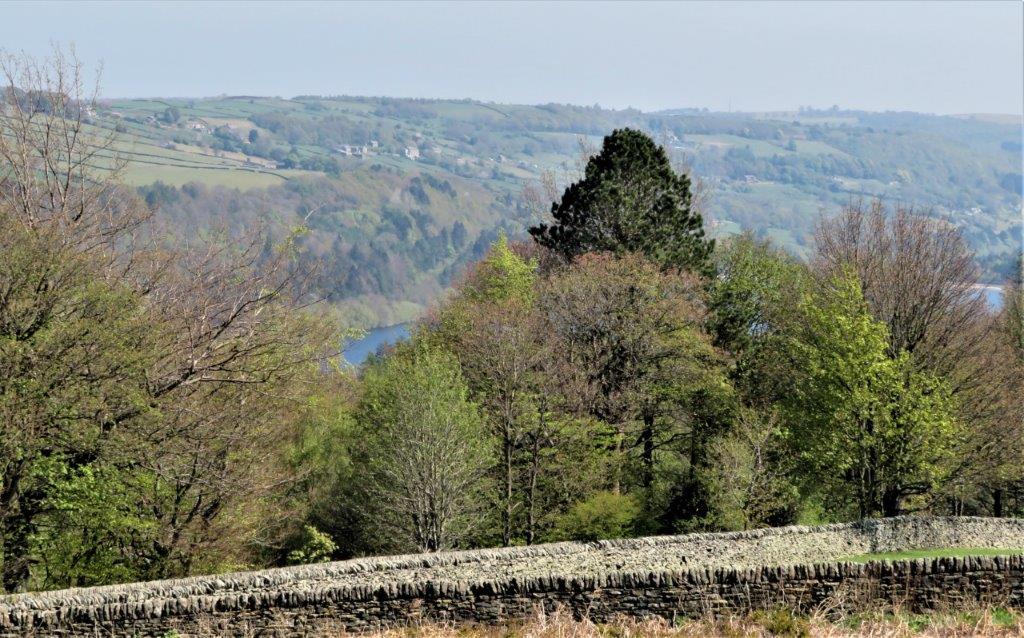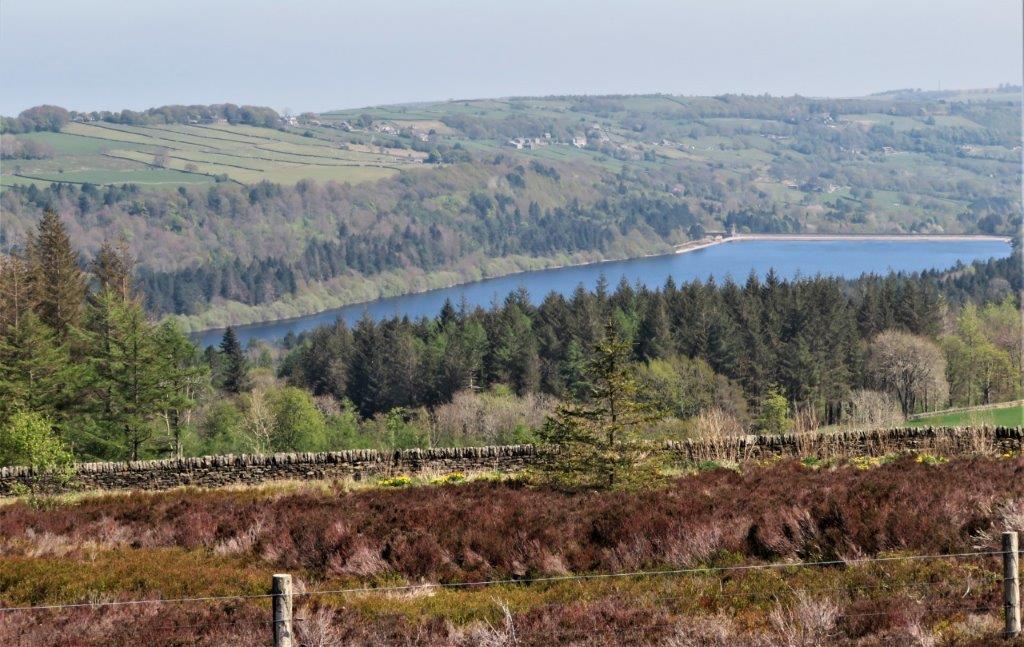 a fuller view of Broomhead Reservoir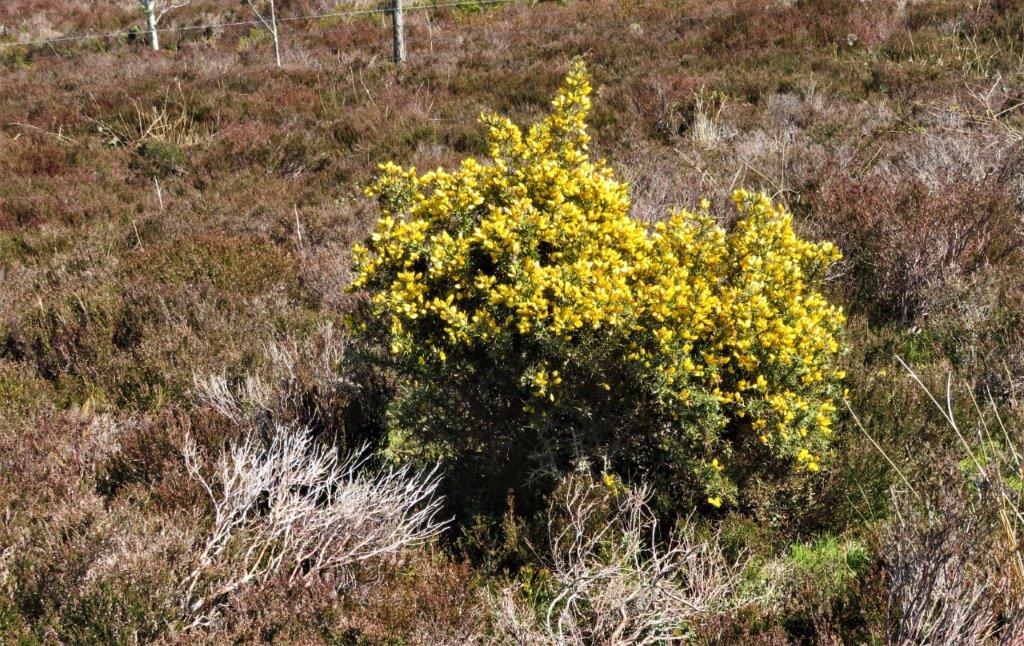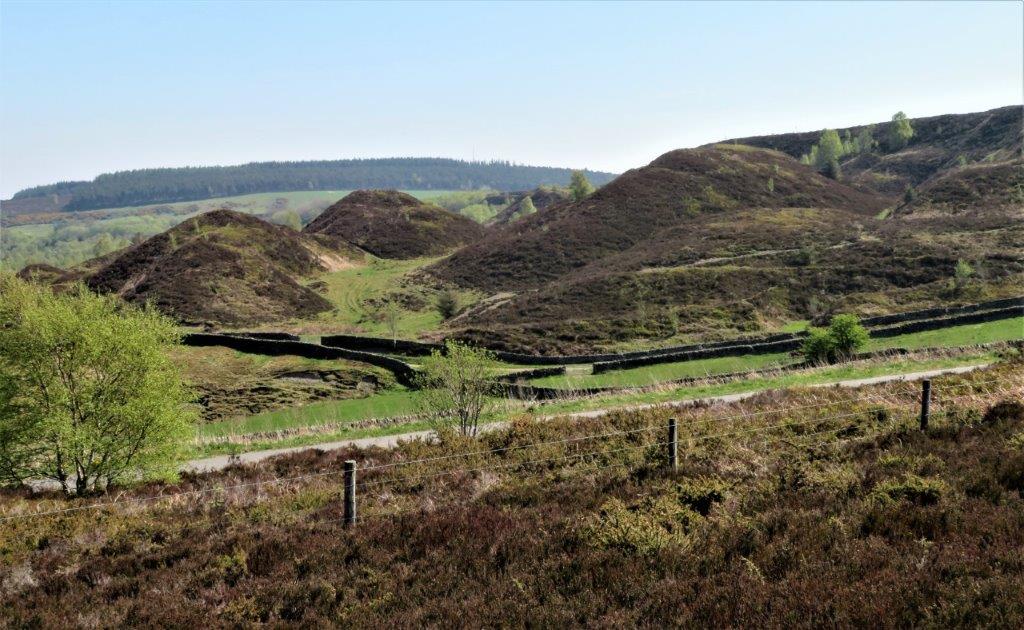 at back top - White Lee Moor (a plantation), in middle - Canyard Hills with the lane leading to Old Booth Farm - in front Mortimer road / fence / OAL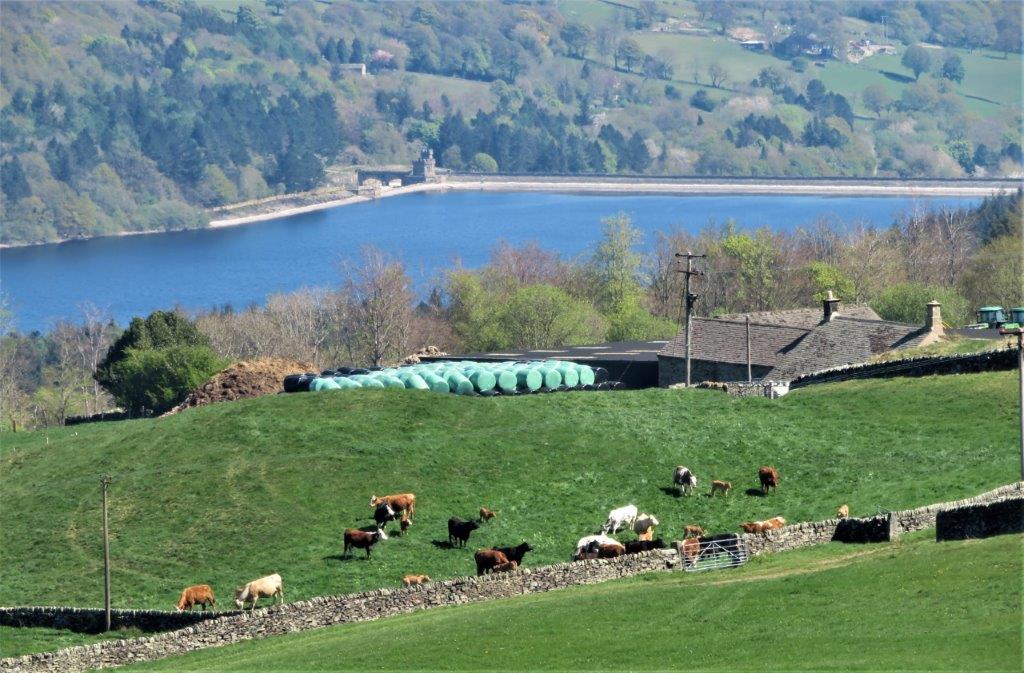 Old Booth Farm with Broomhead Reservoir behind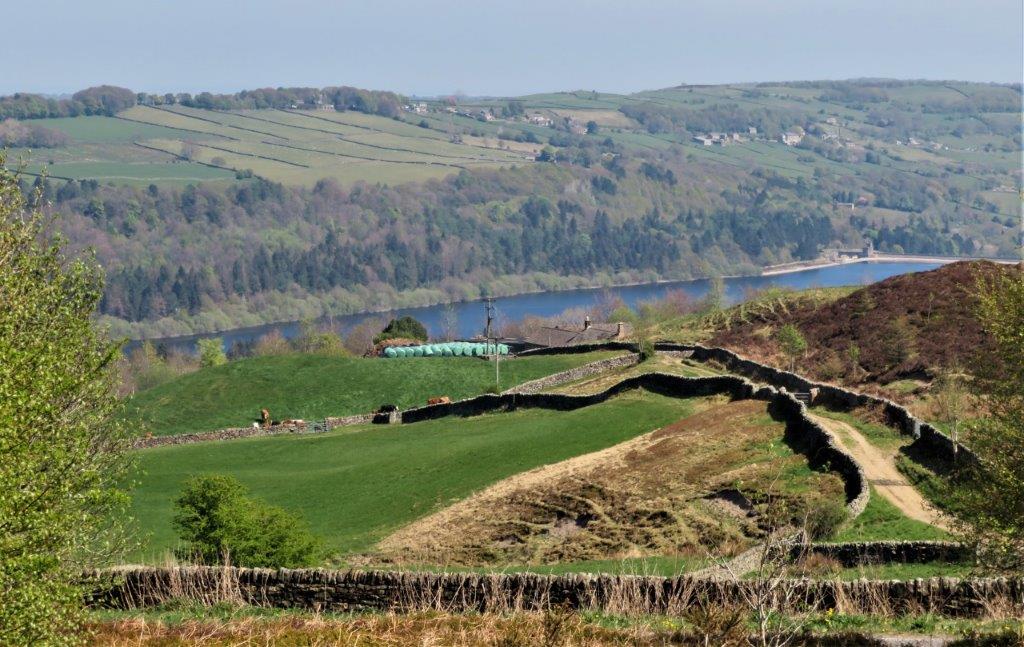 The lane leading to Old Booth Farm shown again with gate on right wall into Canyard Hills just visible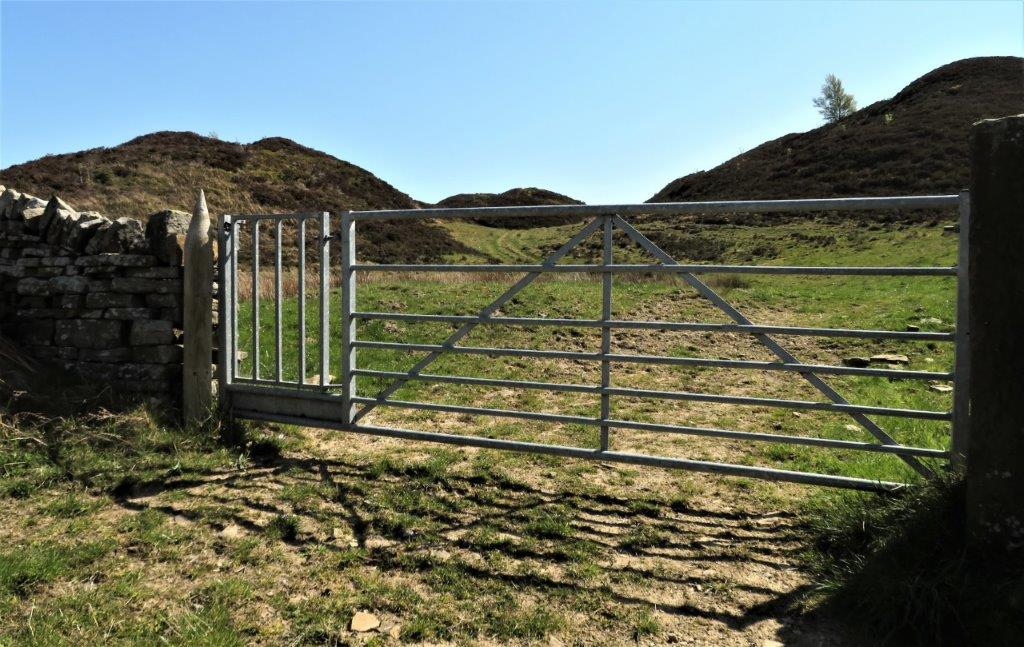 the gate into Canyard Hills taken from the lane (just visible in picture above). The small gate was unlocked - unlike the one out of the Hills into Load Field Road.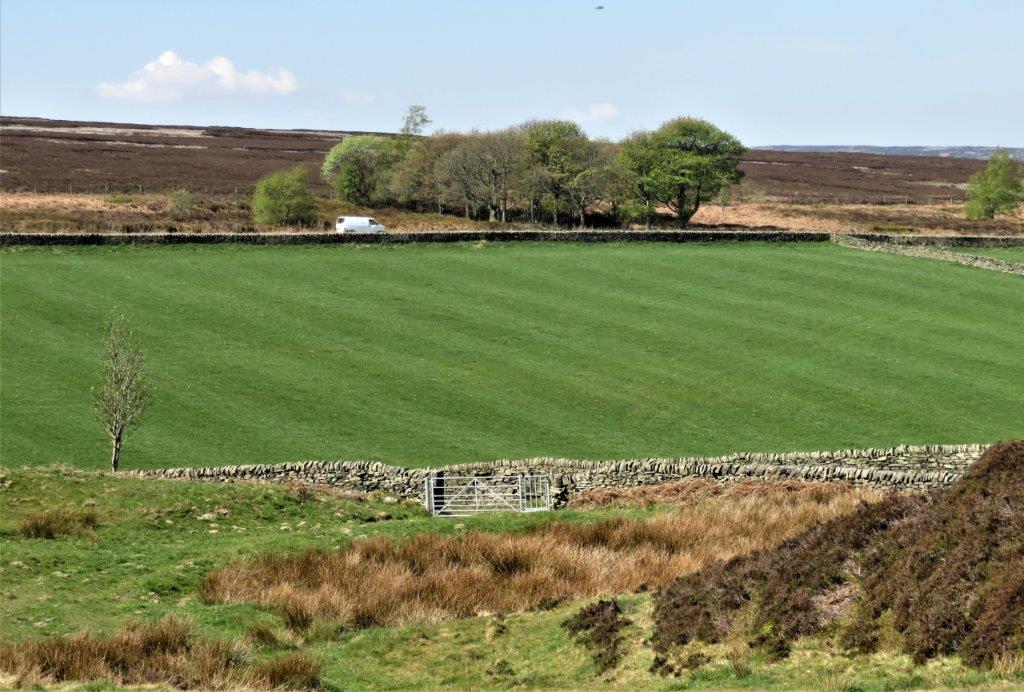 looking back at the gate - with Mortimer Road and moor land behind the cultivated field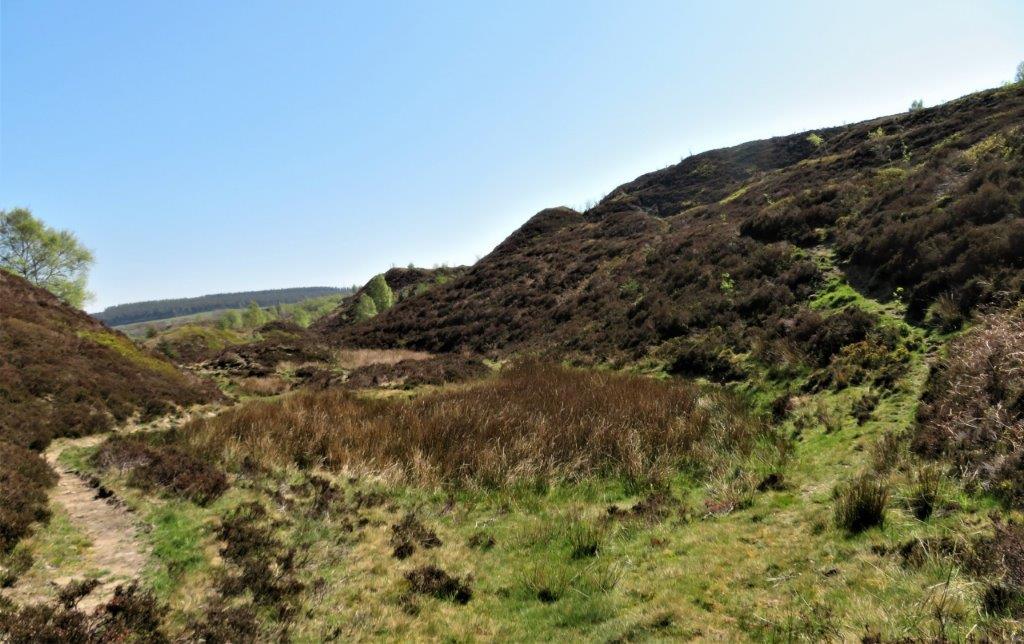 climbed up on the right to the plateau at the top of Canyard Hills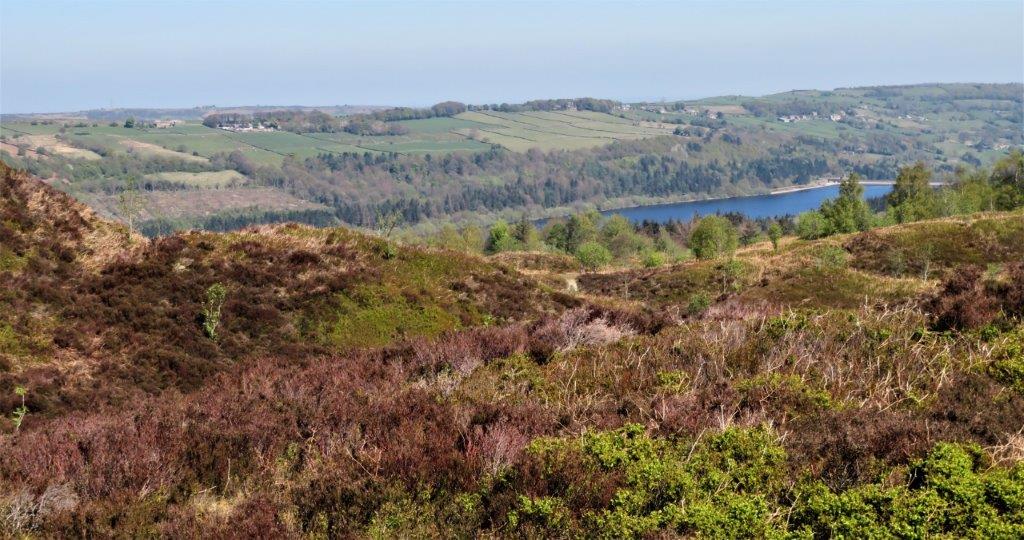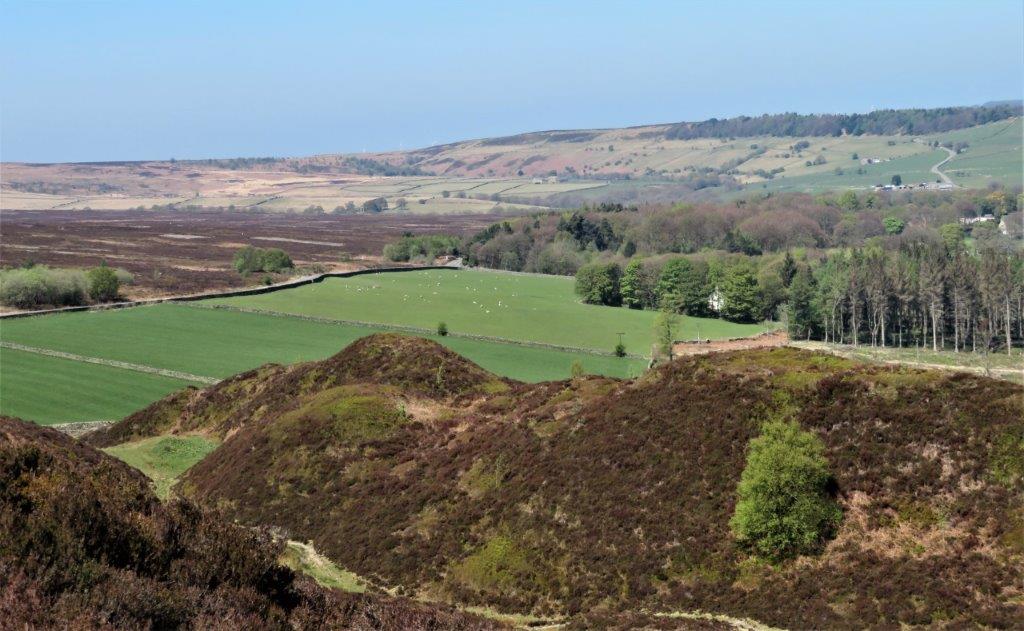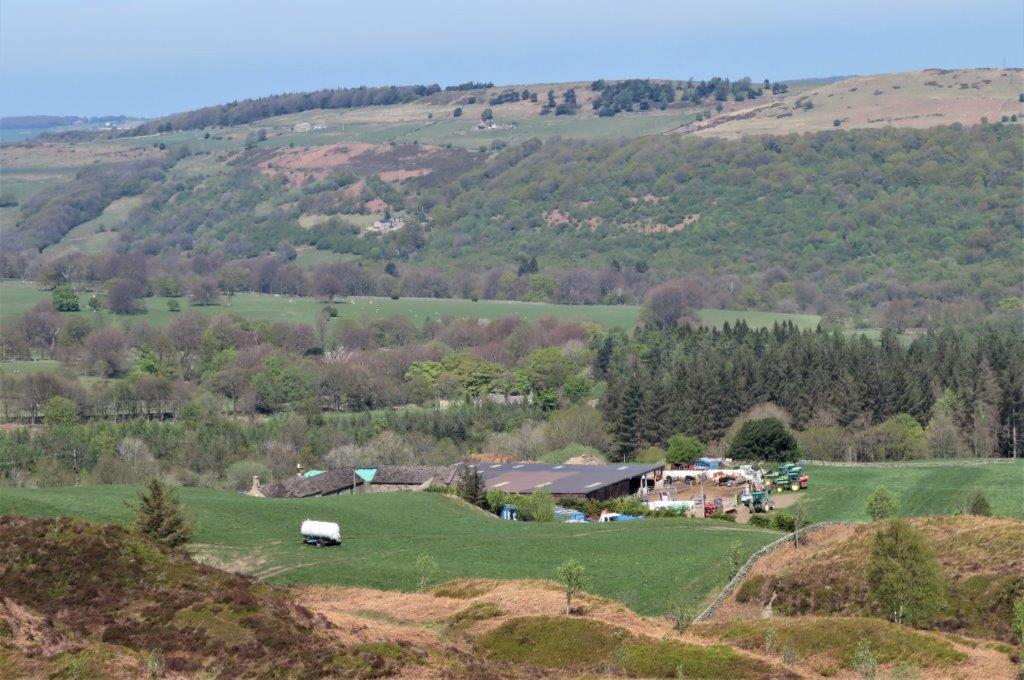 Old Booth Farm again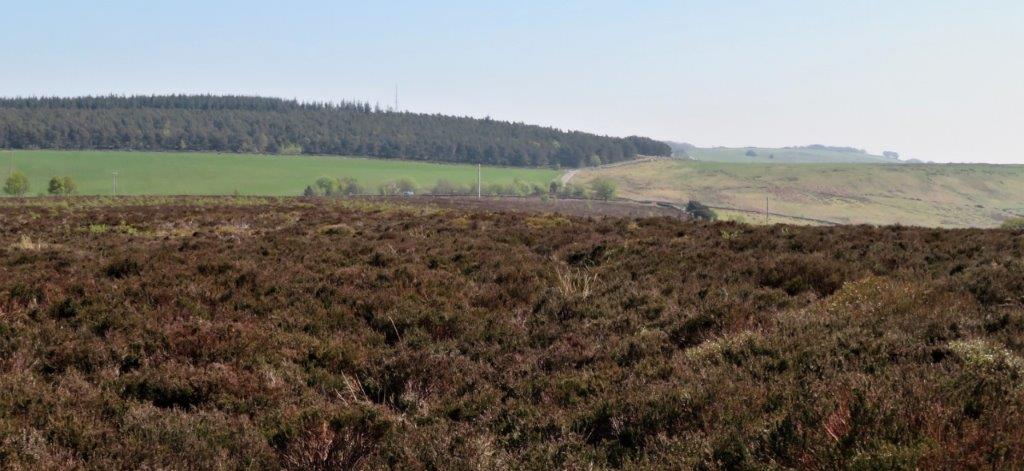 White Lee Moor top left beyond the plateaux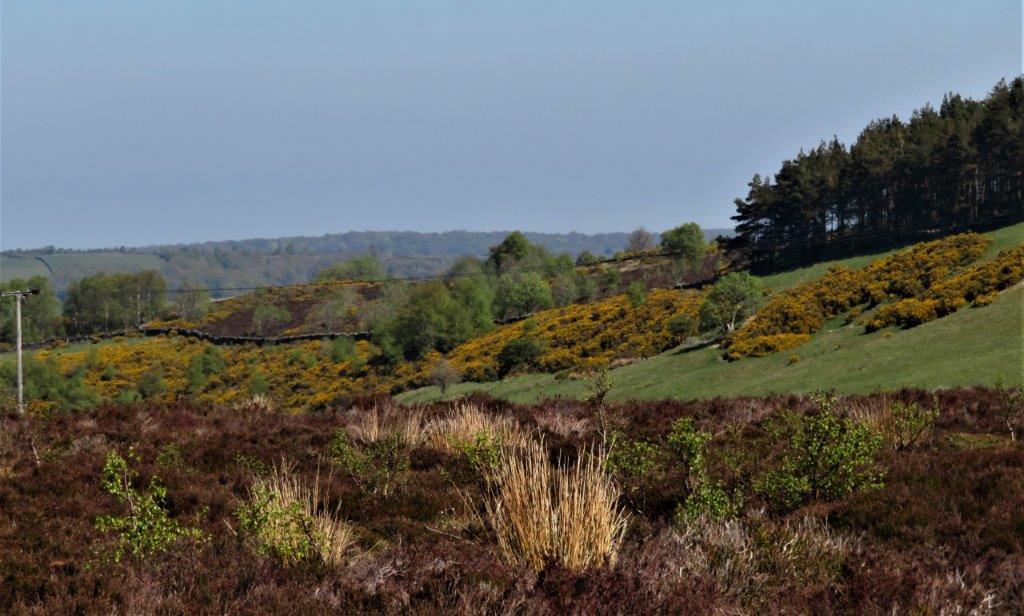 area below White Lee Moor further to the North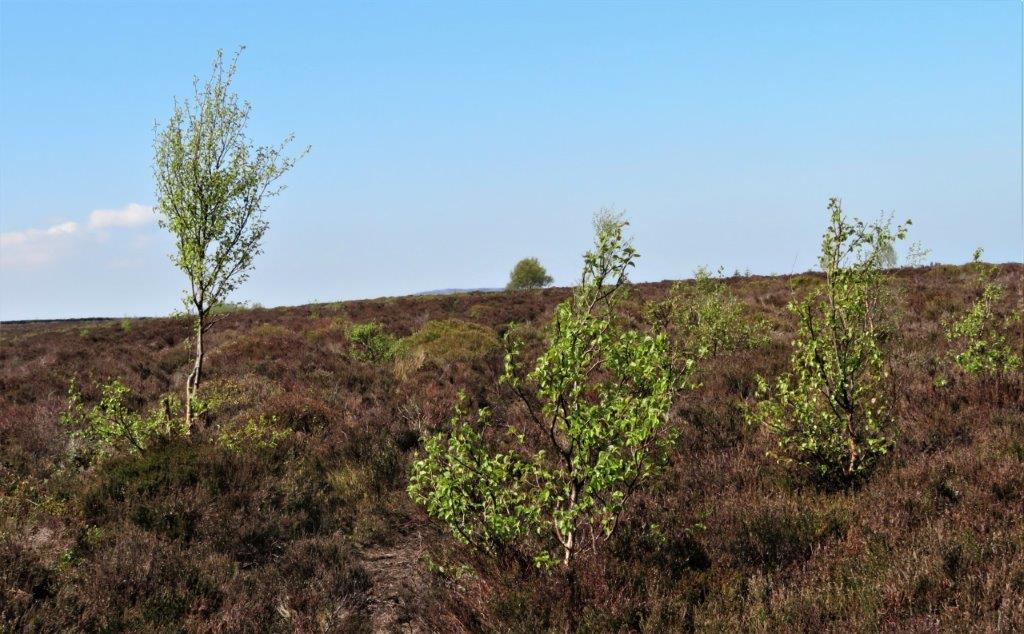 saplings growing in moor land - intentional or thru hap-stance?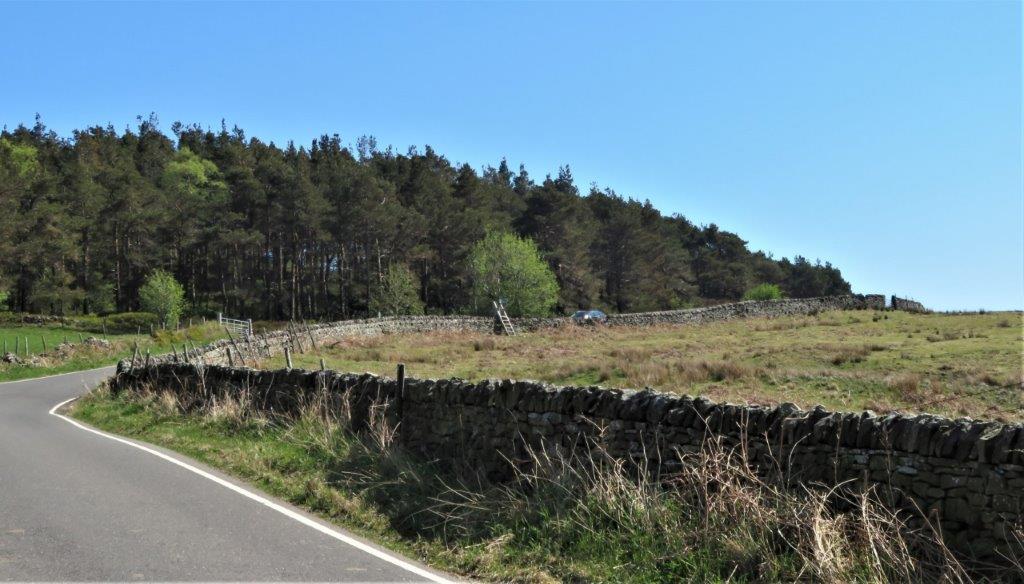 ladder stile in middle off Penistone Road (passing White Lee Moor)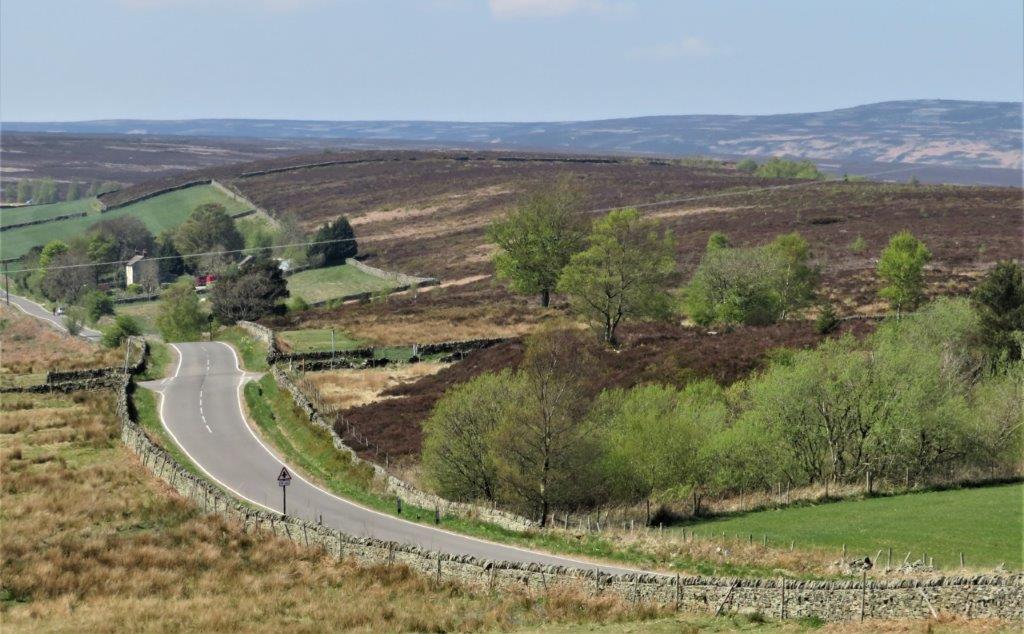 Cowell House on Penistone road with Canyard Hills behind - to right. This road was used on one of the recent Tour de France Stages. With BEXIT DONE the betting odds on a 'Stage' return to England is probably zero. But Scotland may still be a possibility in the years to come?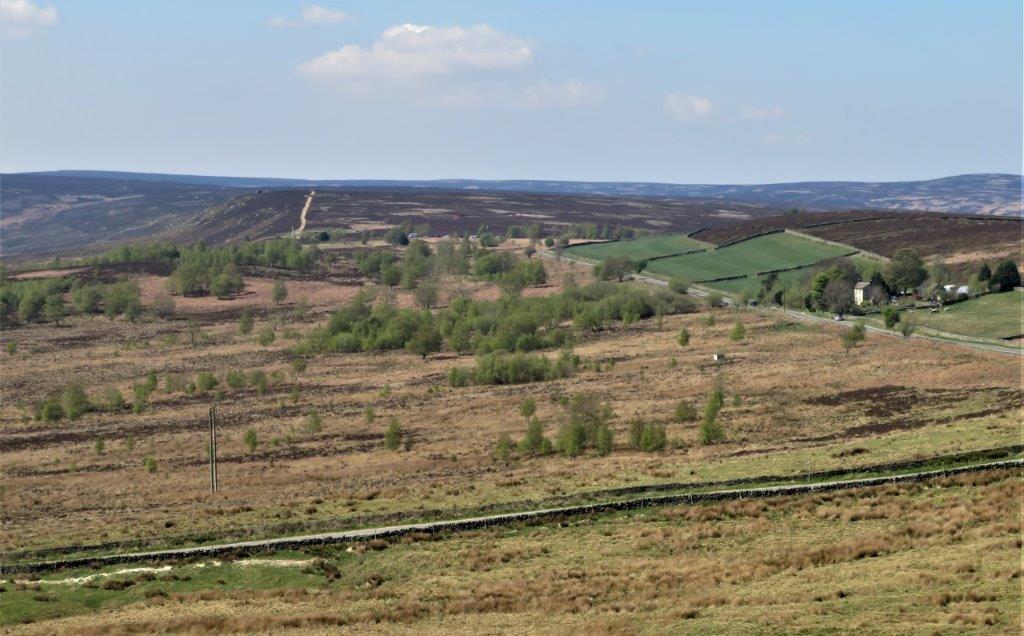 looking back in the top distance is Duke Road my route out to the shooting Cabins.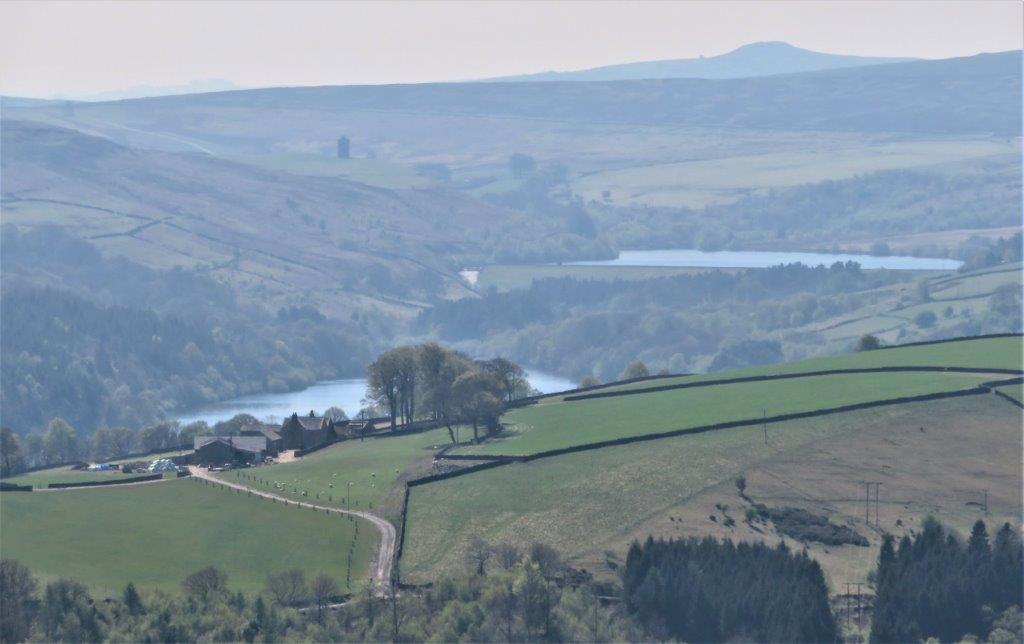 Seen from Rocher Rocks - at top Winhill Pike with Strines and Dale Dike Reservoirs below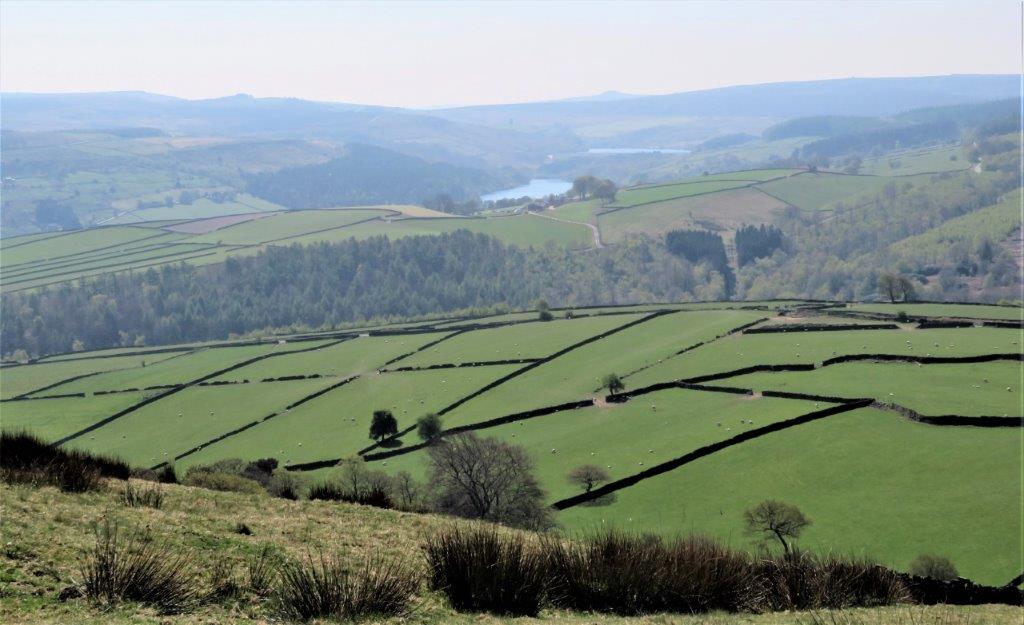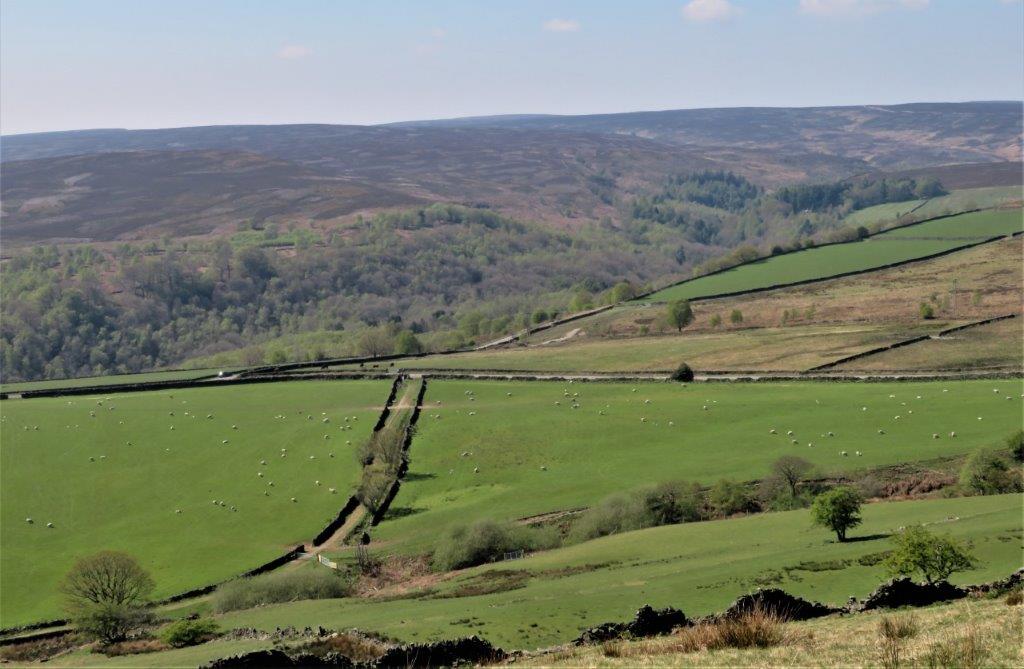 The lane from Rocher Head to Load Field Road with Cowell Flats beyond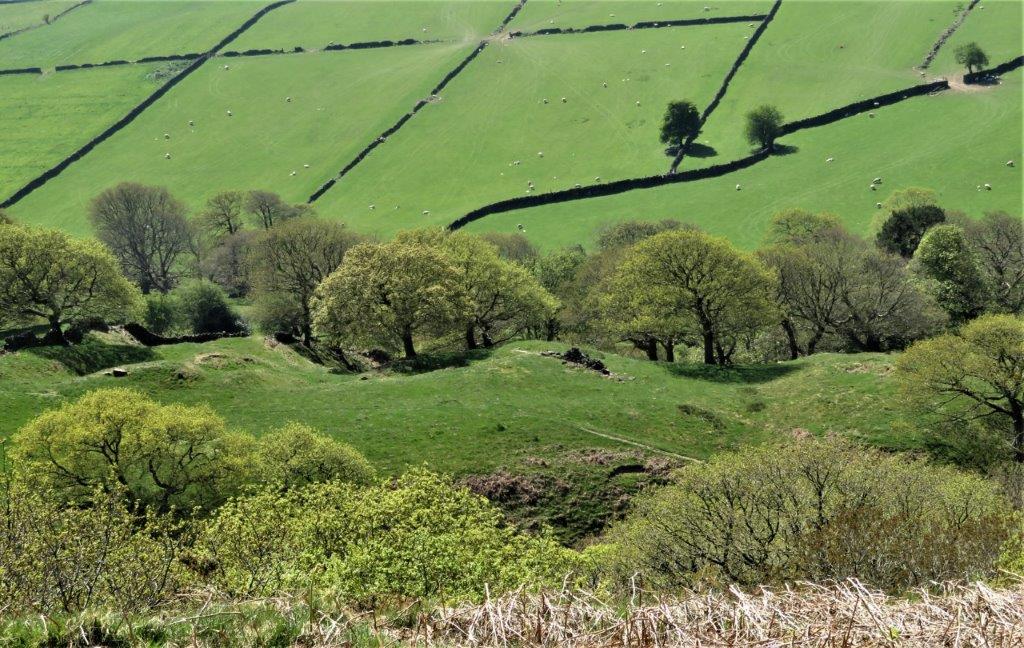 seen down from Rocher rocks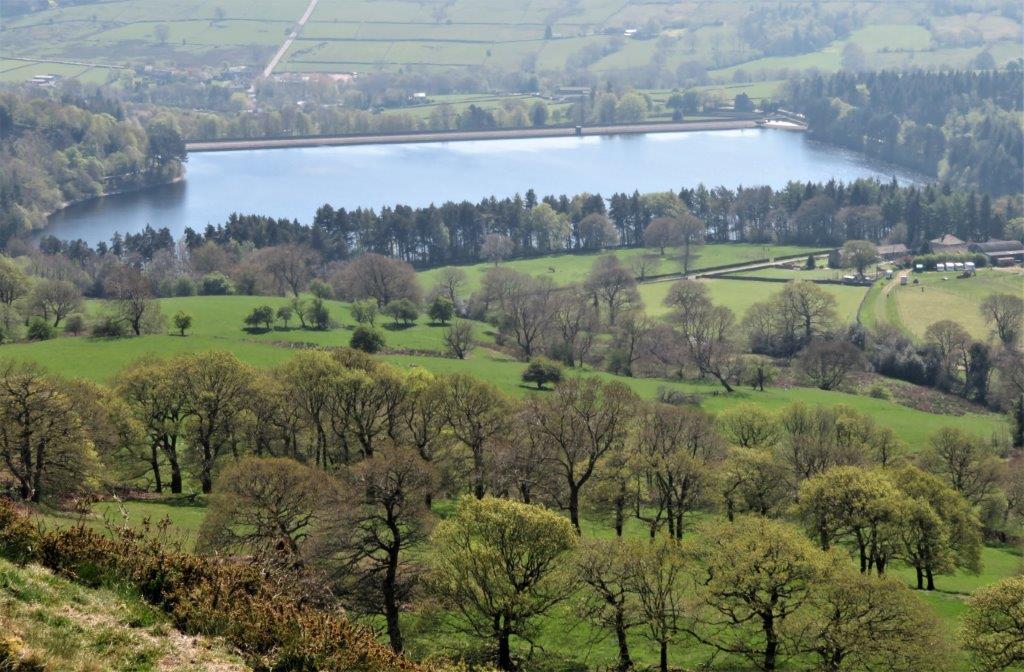 ditto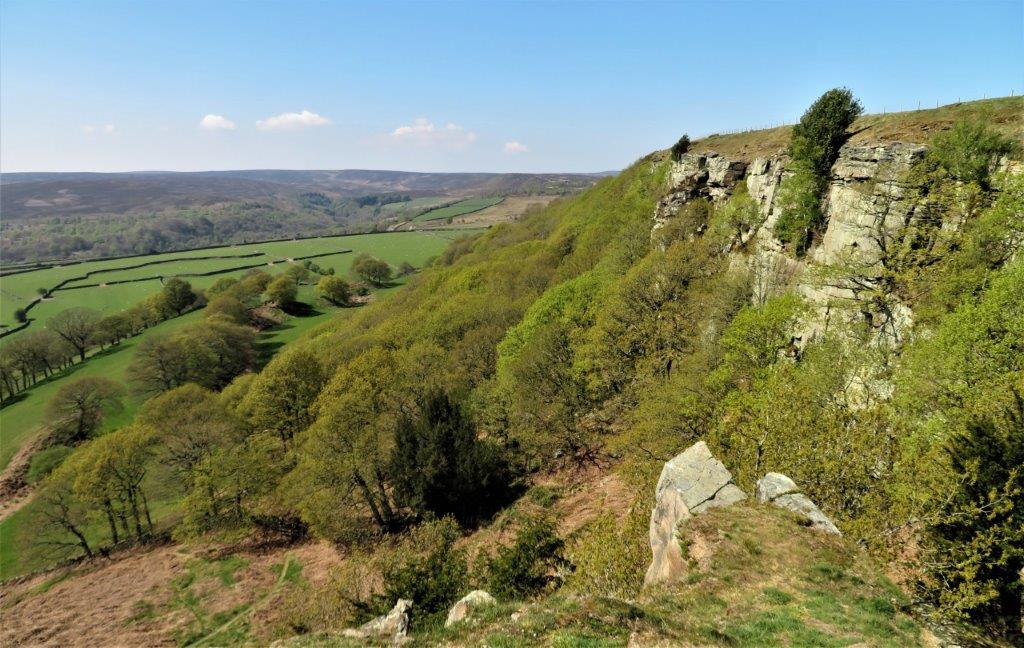 looking back at the face of Rocher Rocks (after passing above them)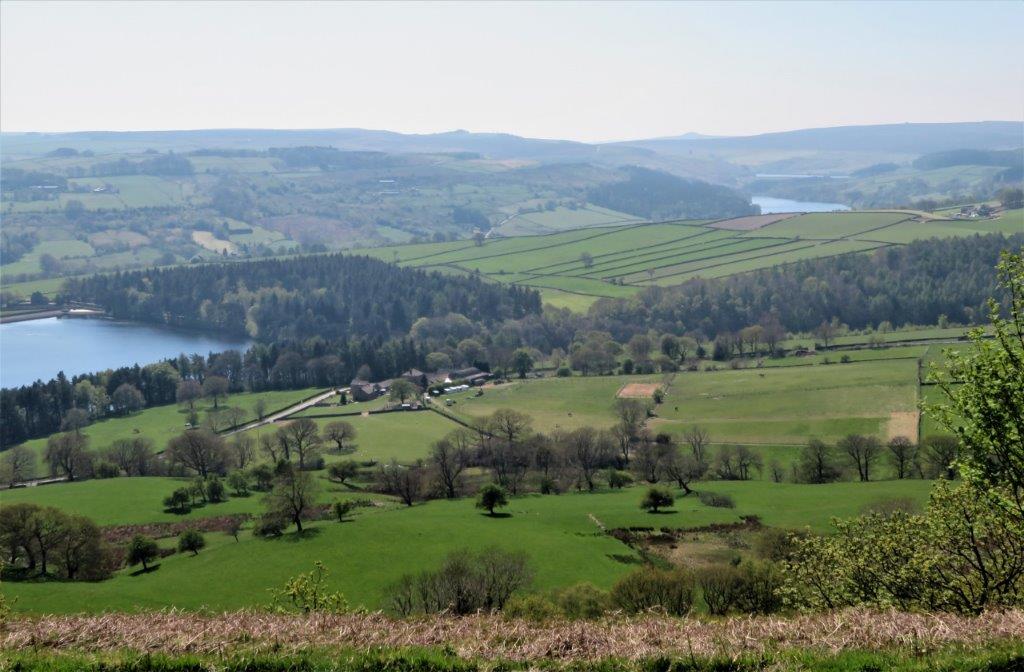 a glimpse of the three reservoirs - part of Agden Reservoir only, with the other two reservoirs - visible from Rocher Rocks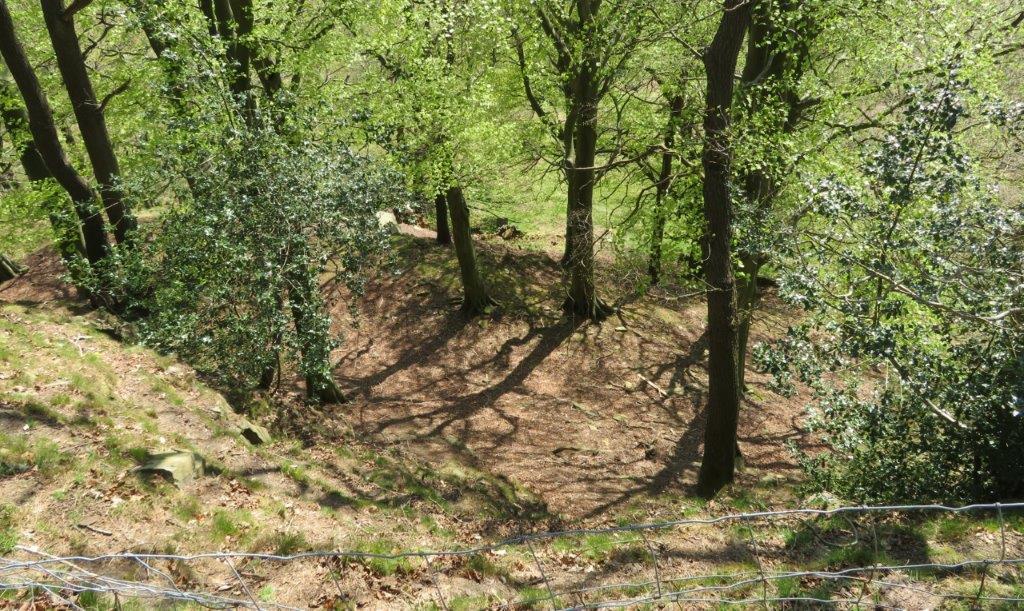 looking down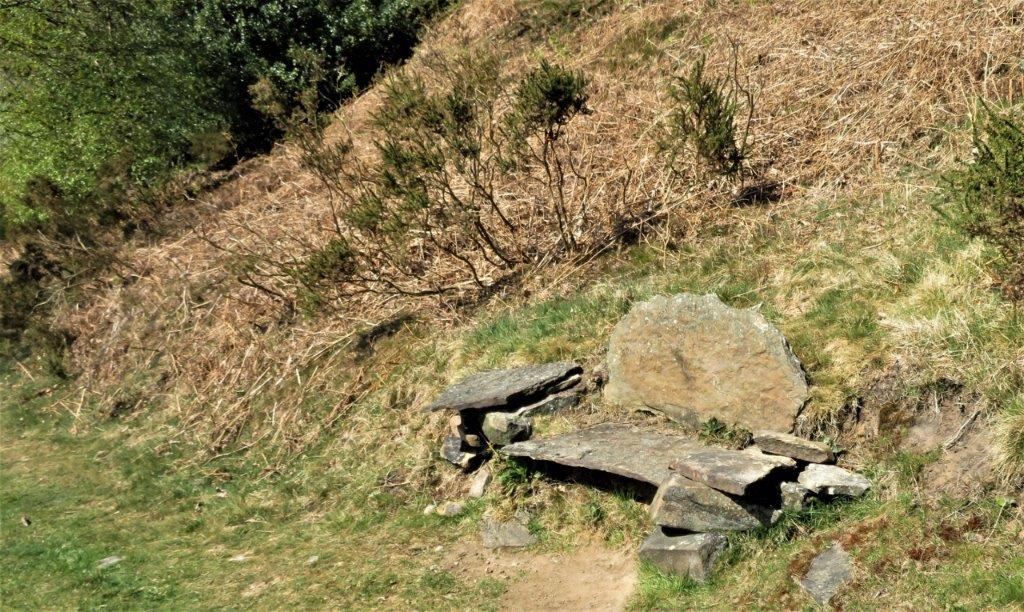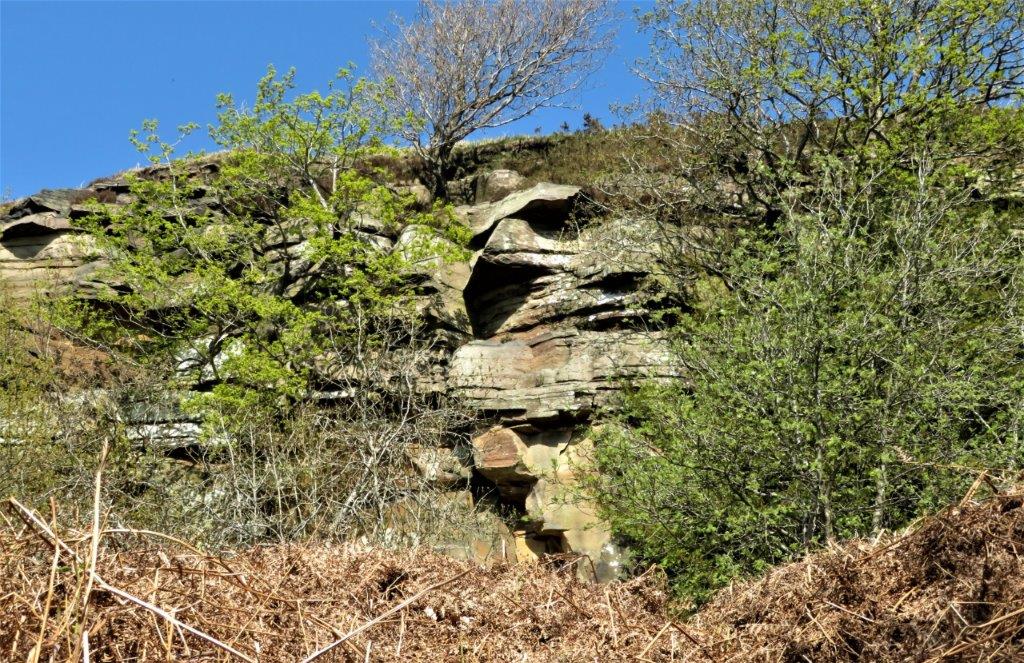 looking up at Rocher Rocks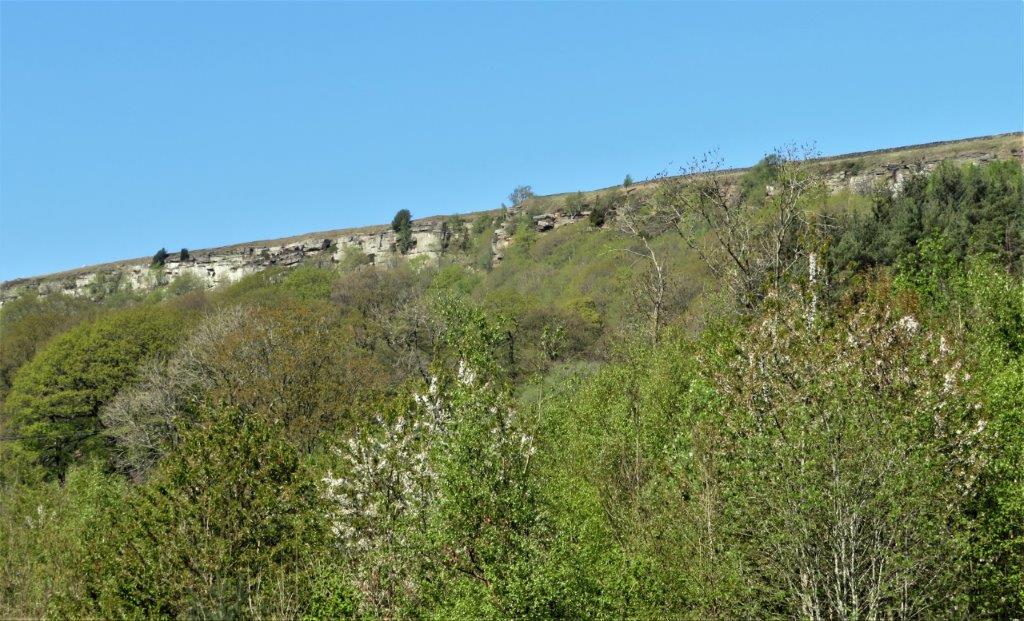 ditto
homepage - Daywalks Index 2020 - contact me at