homepage - Daywalks Index 2020 - contact me at

2020.03.15 Fairholmes SK172894 (~S of Derwent Reservoir), from Rd at SK172892 on signposted path ~WNW then ~SSW ~350m past Lockerbrook Farm, ~NNW to top of Bell Hag Tor, follow path roughly on edge of Rowlee Pasture ~WNW then NNE to SK145912 (edge of Alport Castles), U turn down ~SSW for ~200m then ~W down to cross F.Bridge over River Alport, ~N along River for about 150m, turn ~W above Swint Clough then ~N for ~100m along edge of plantation to enter it at SK132913, ~W thru plantation to emerge at ~SK129913, ~W (slightly N) to Oyster Clough (to N of Shooting Cabin), Southward on O.Clough Path turning ~WSW to join FP (Course of Roman Road) ~E below Cowms Moor, Cross A57 Rd at Alport Bridge, Cross River Ashop, ~SSE below Upper Ashop (farm) - Main party continued on Roman Road, thru Blackley Hey to Hope Cross & down to Hope. - Photographer (+2 more) returned via Rowlee Farm but at SK164890 down ~E thru Hagg Side to road to Fairholmes. leader Andrew Irwin - Sunday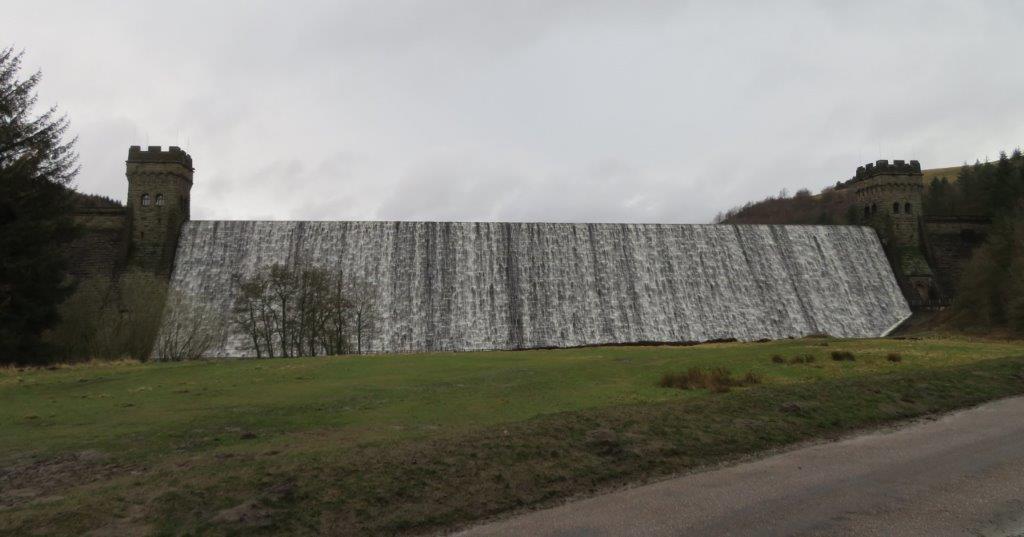 Derwent Reservoir like virtually all reservoirs in this area is full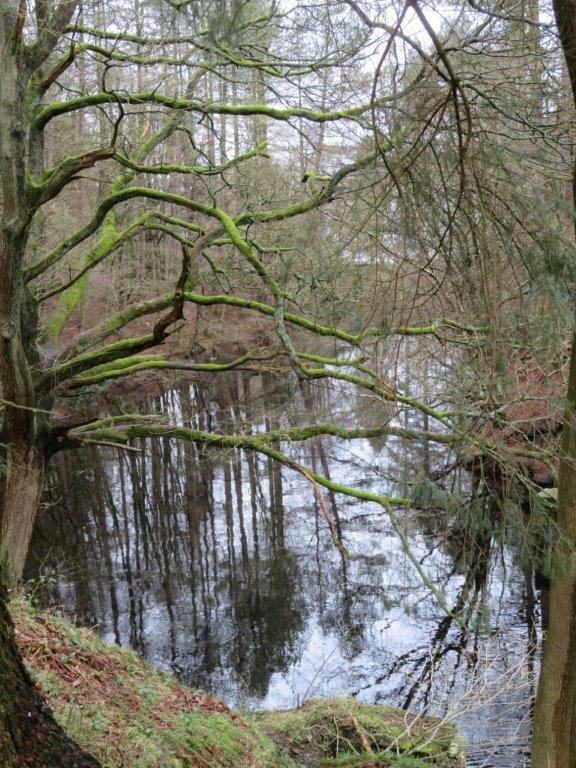 Derwent Reservoir overflow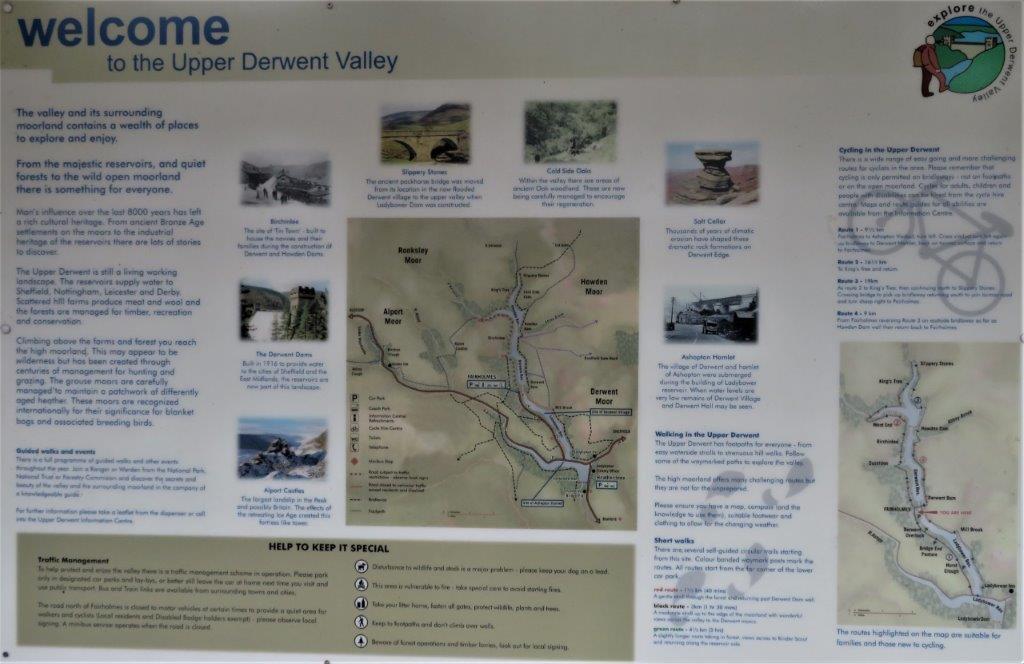 map & notes at the Fairholmes centre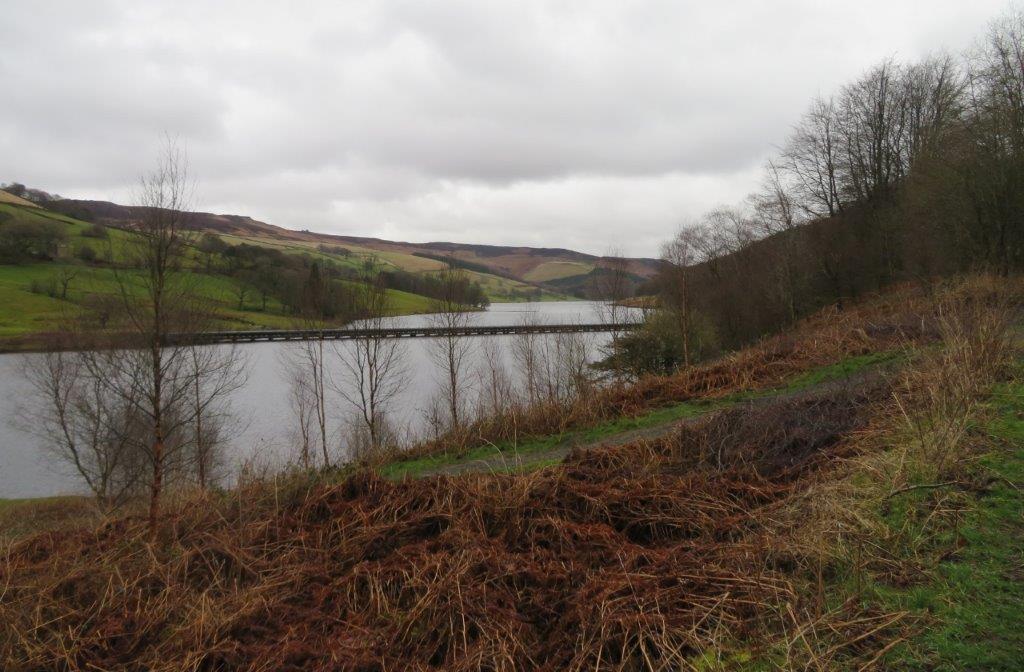 part of Ladybower Reservoir below Derwent Reservoir. Aqueduct crossing reservoir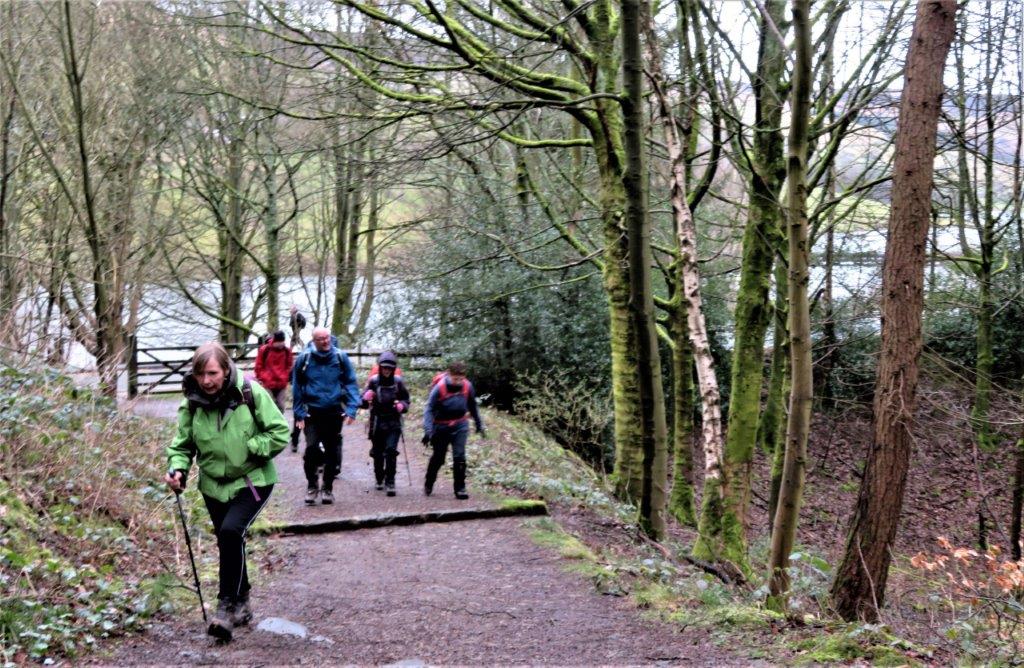 Start of our walk just south of the Fairholmes centre. Northen portion of Ladybower reservoir seen behind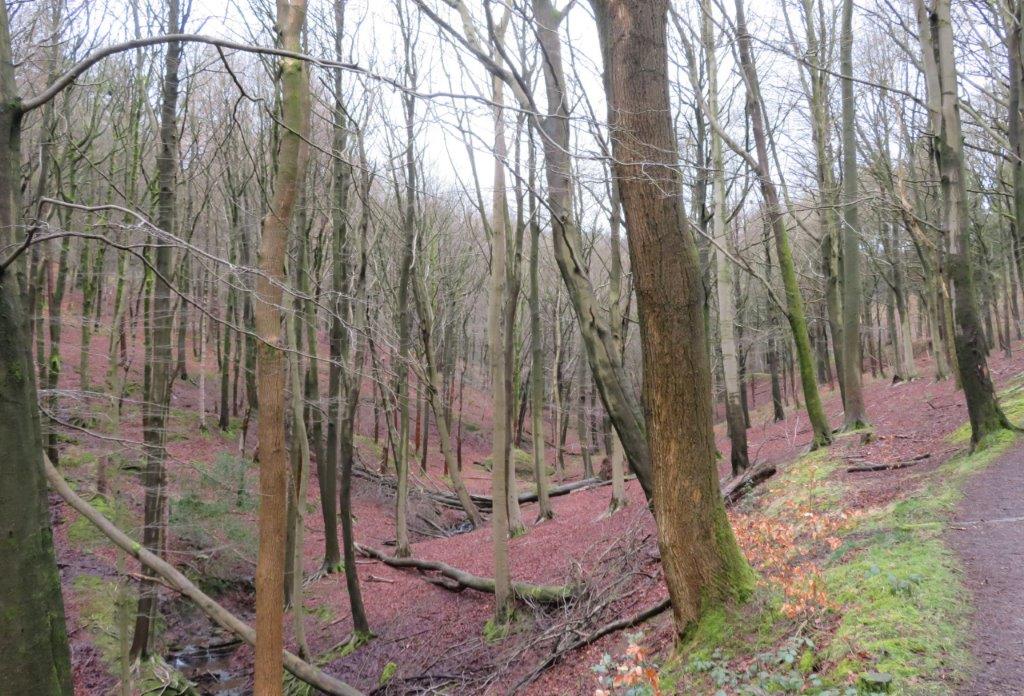 woods at beginning of walk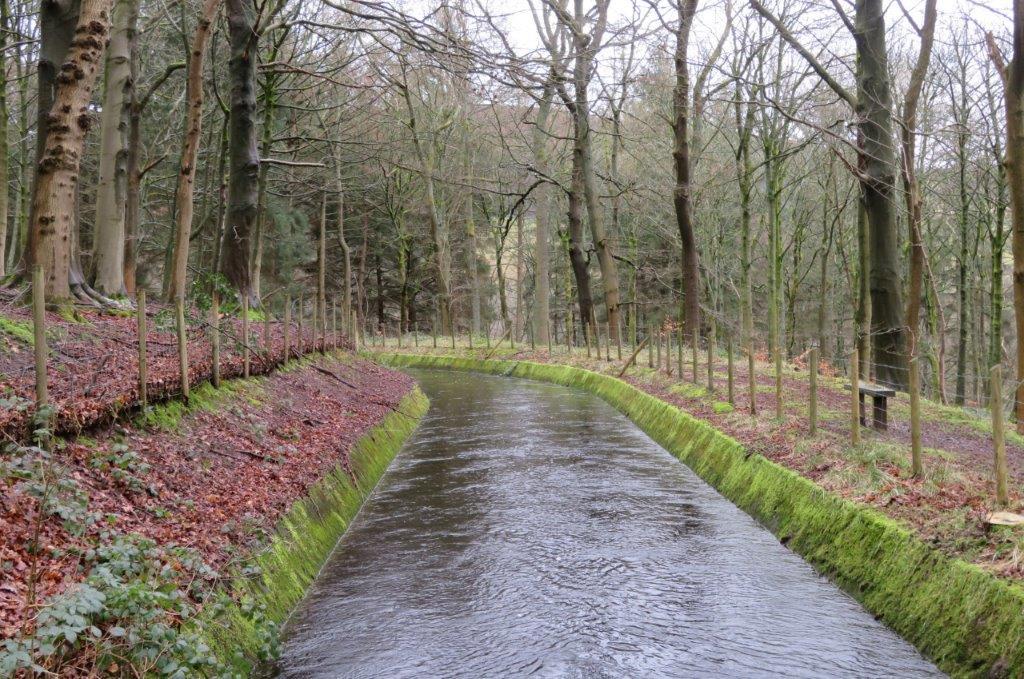 This canal discharges into the Derwent Reservoir. The Canal originates in from headworks in the River Ashop near Alport Bridge under the A57 Road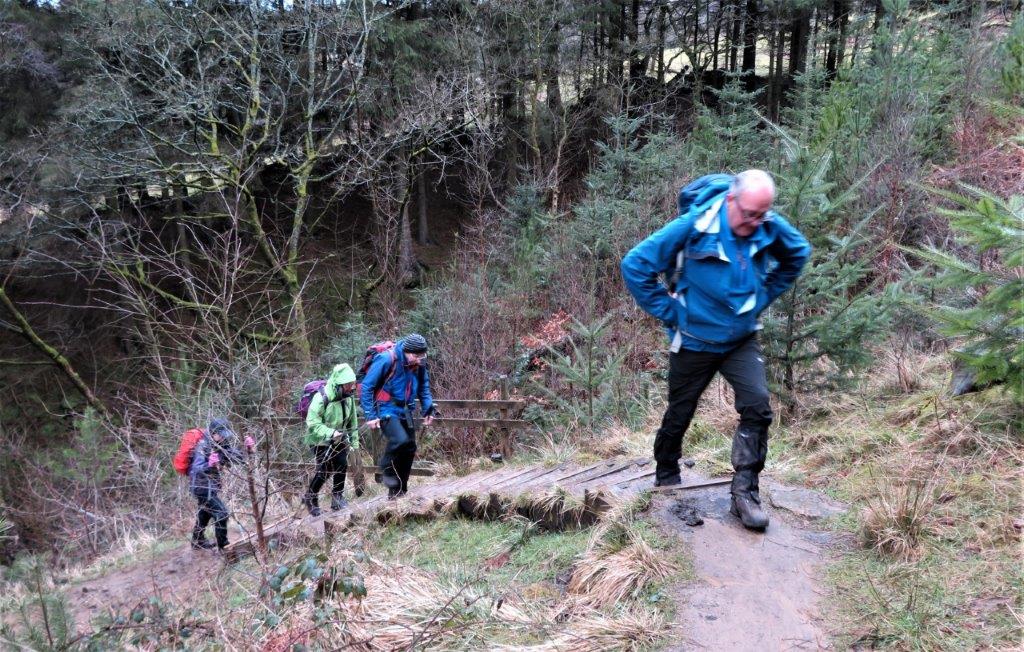 up towards Lockerbrook Outdoor Centre - previously a farm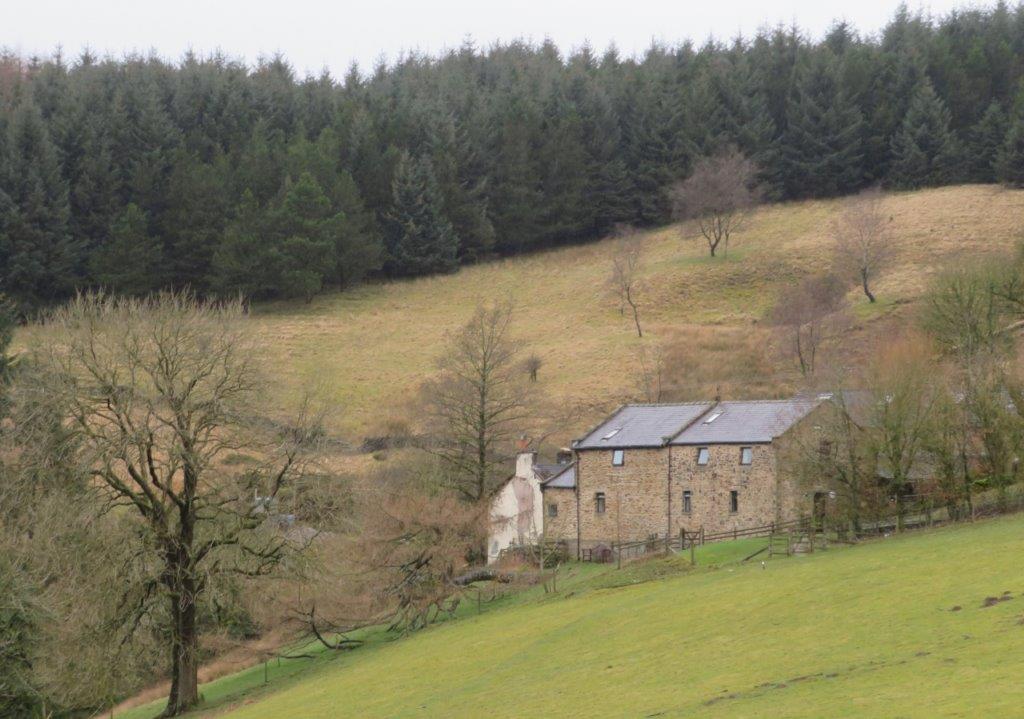 a view of Lockerbrook outdoor Centre ahead of us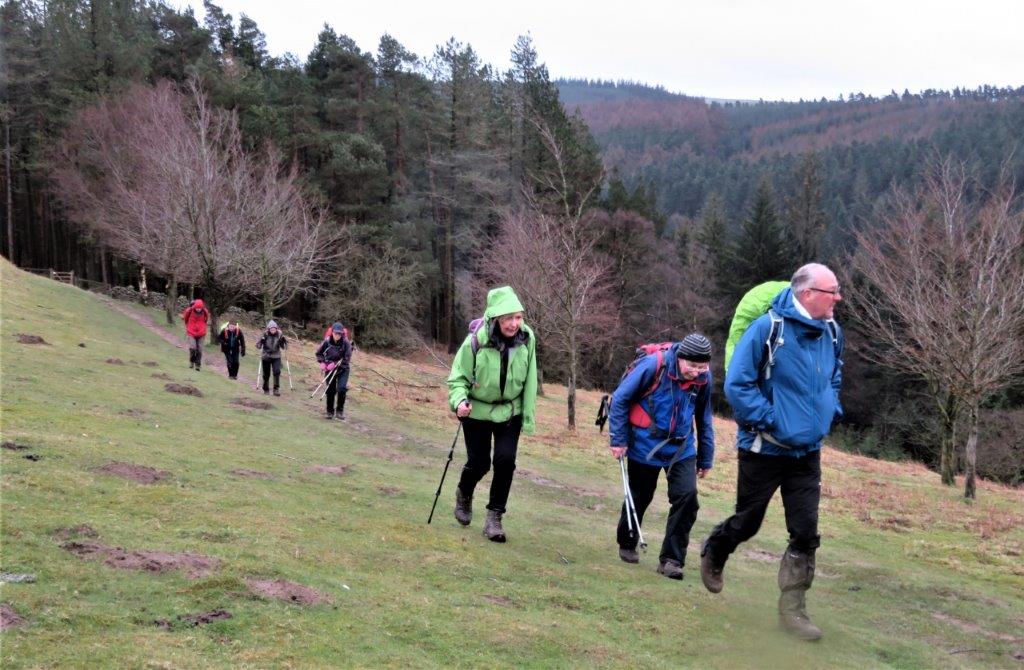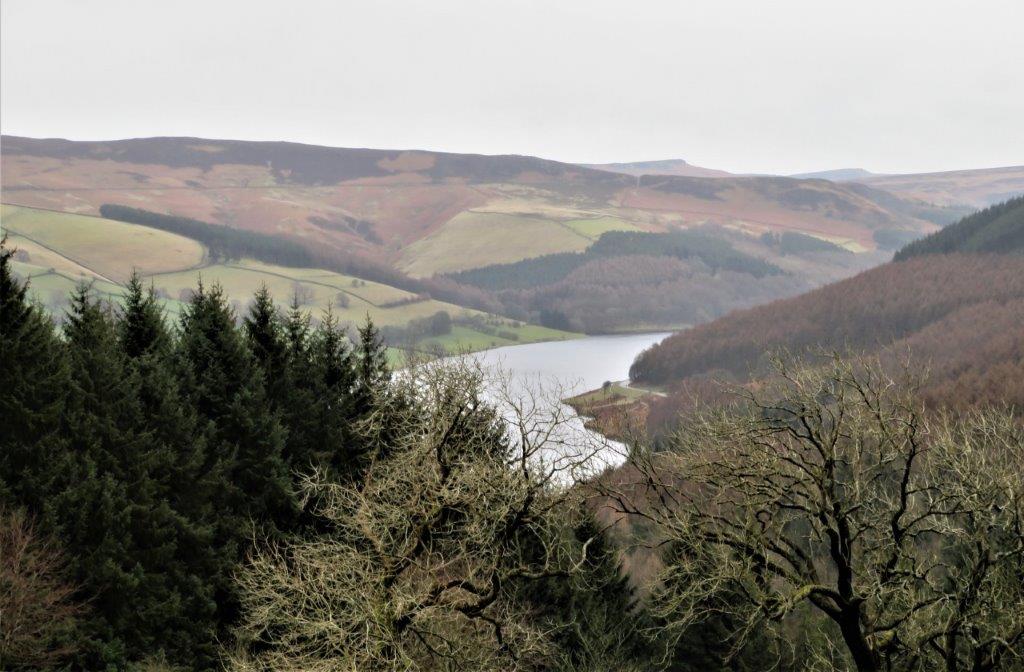 a glimpse, as we passed the Outdoor centre, of Ladybower Reservoir below us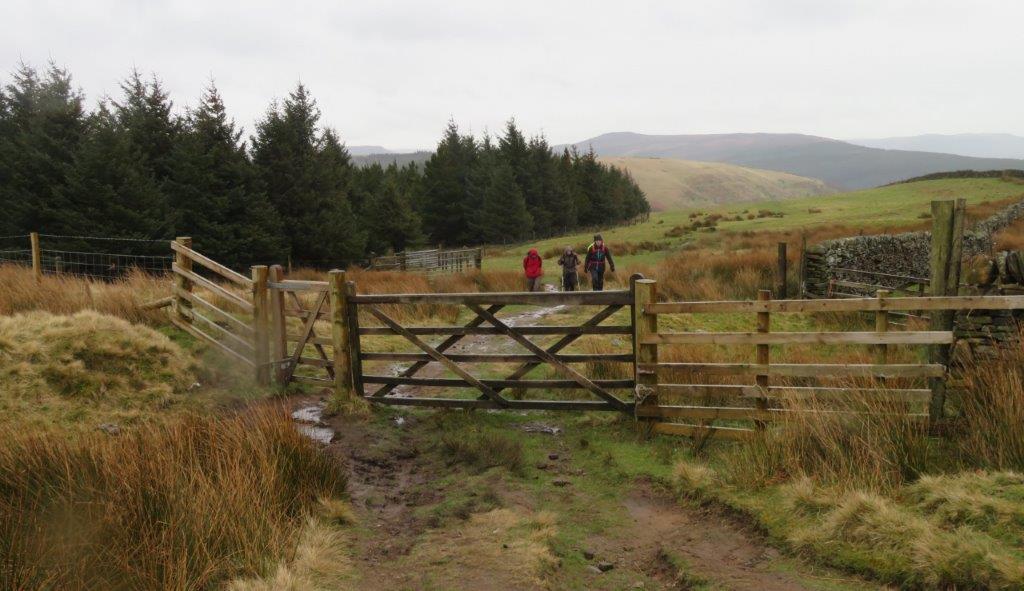 heading up to Bellhag Tor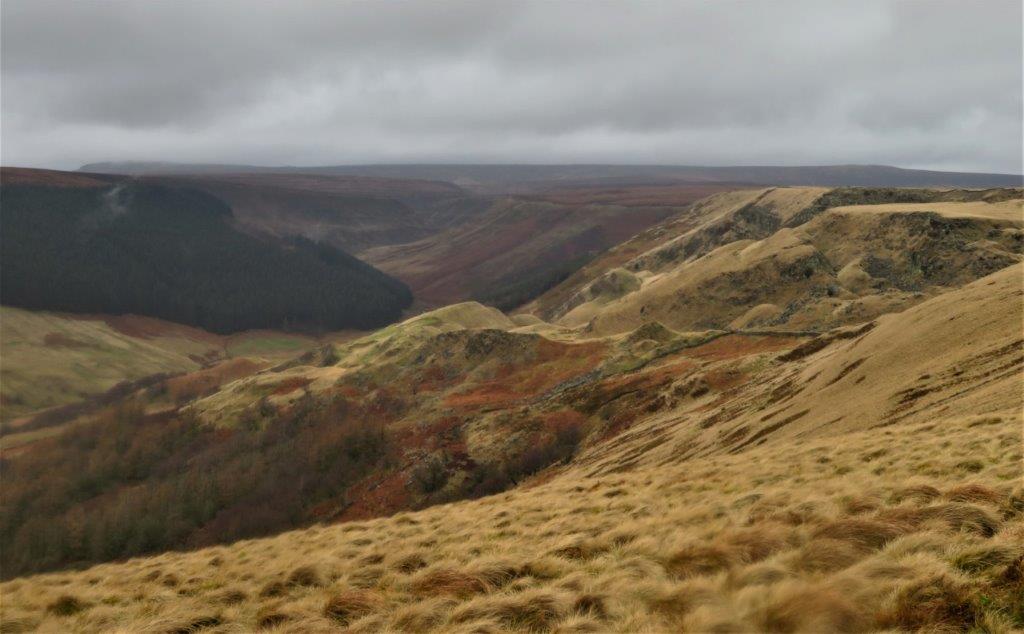 zoomed into Alport Castles ahead of us. Rain on Rowlee Pasture made photographing before this difficult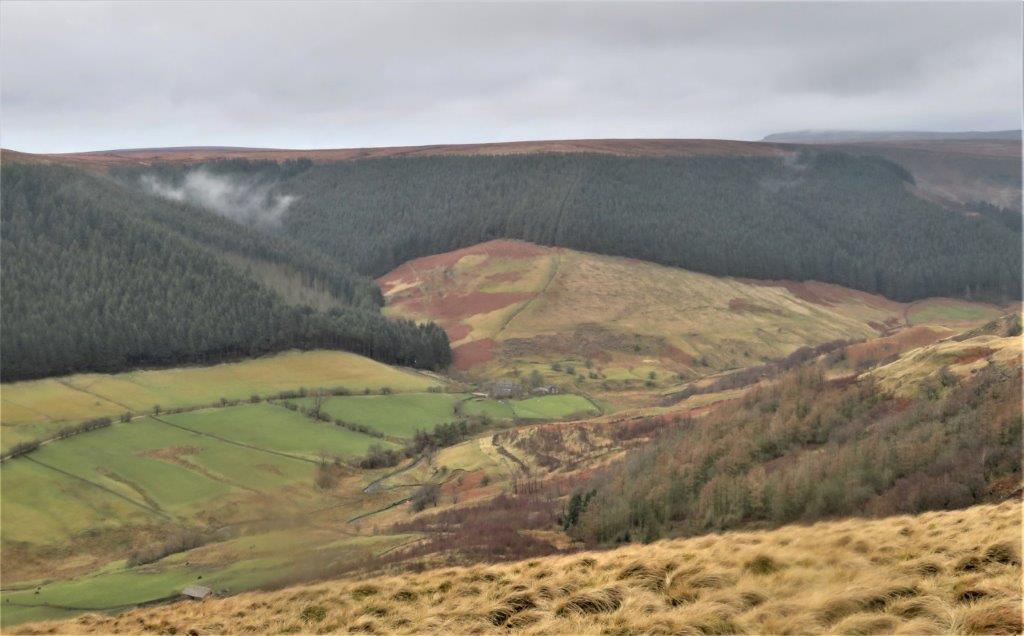 Alport Valley Plantation behind. Alport Farms barely visible in the centre of the picture.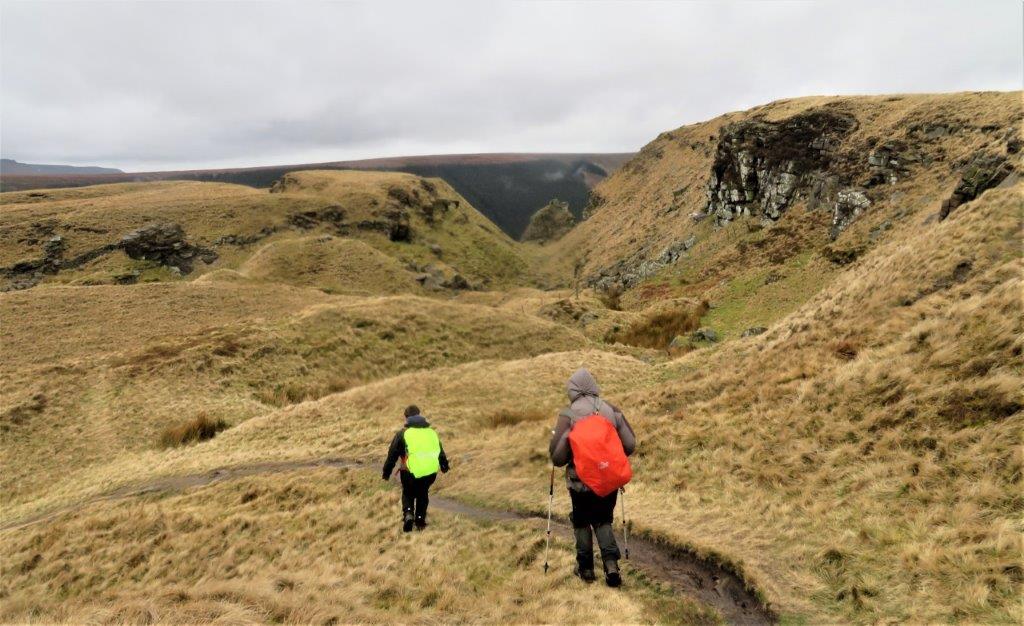 U turned down near Little Moor toward the Alport Farms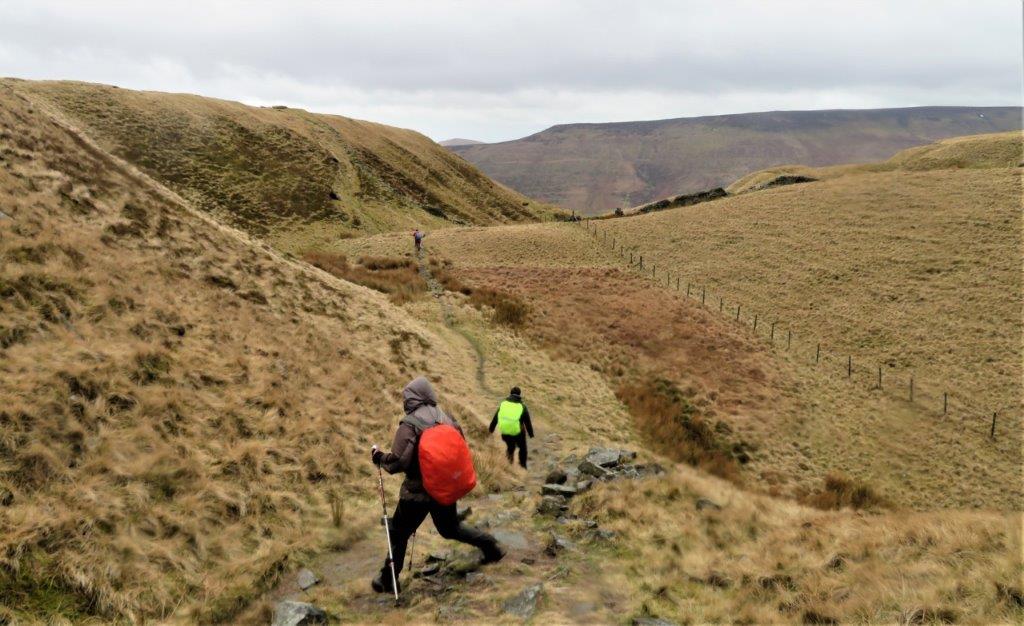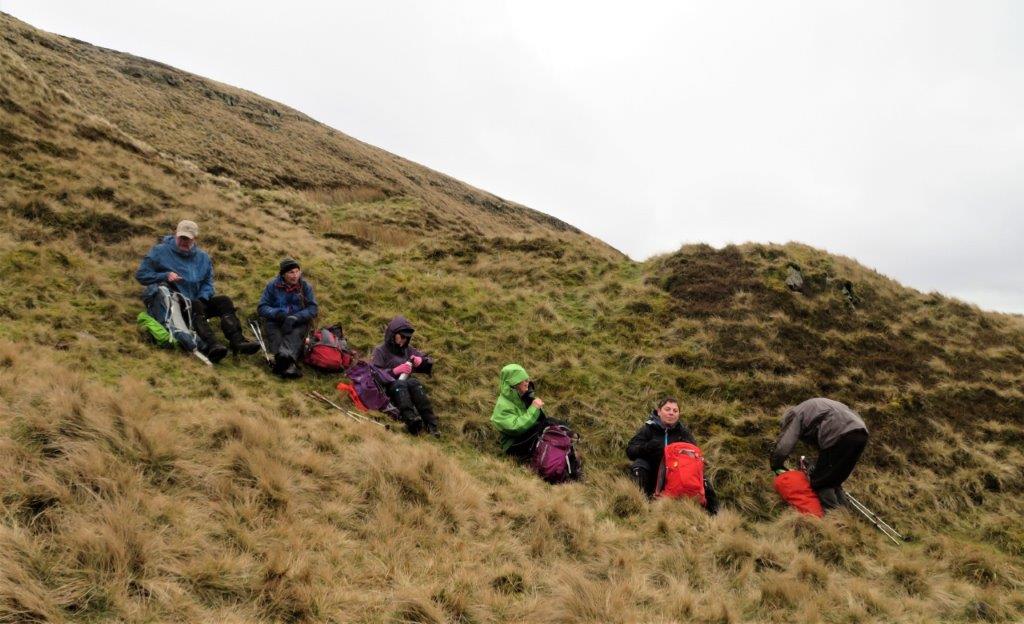 Tea break - sheltered from the wind - the rain fortunately had stopped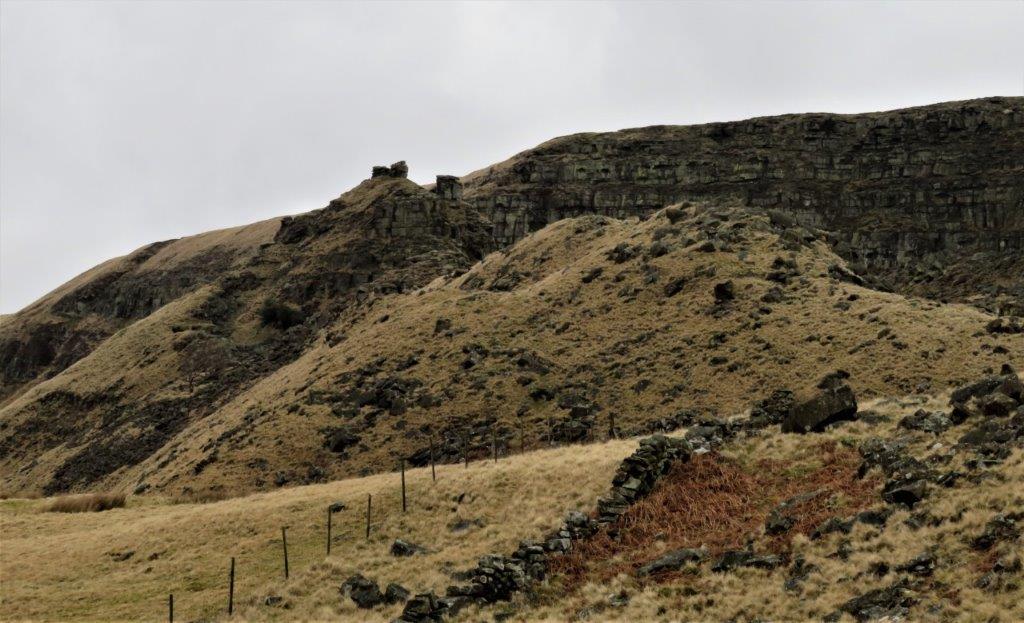 looking back at the Tower (left of centre) with the Alport Castles behind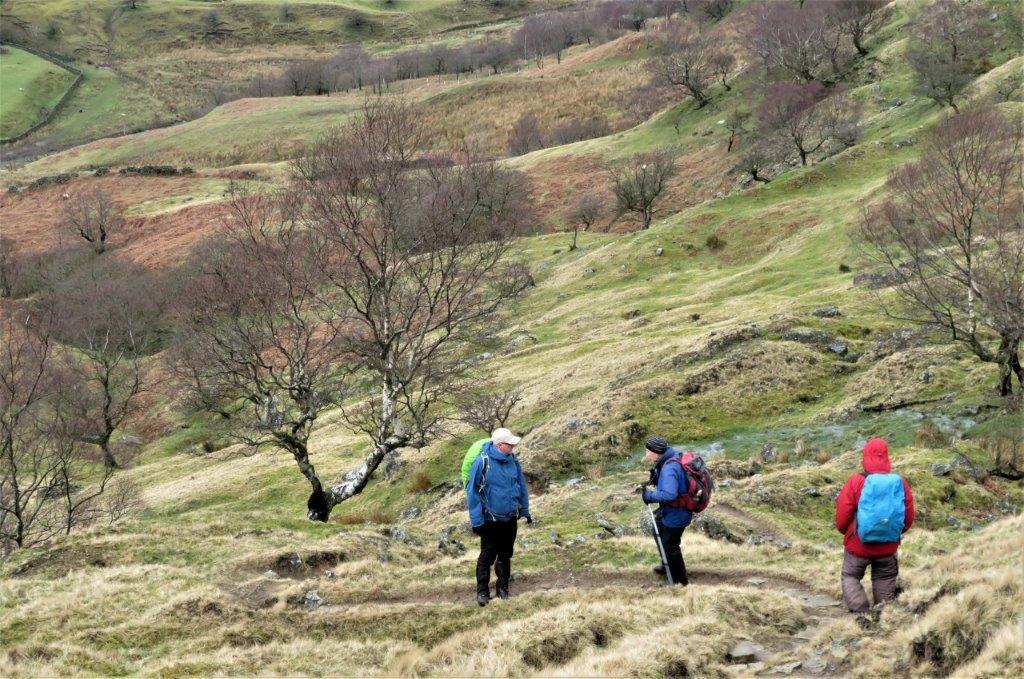 down towards Alport Farms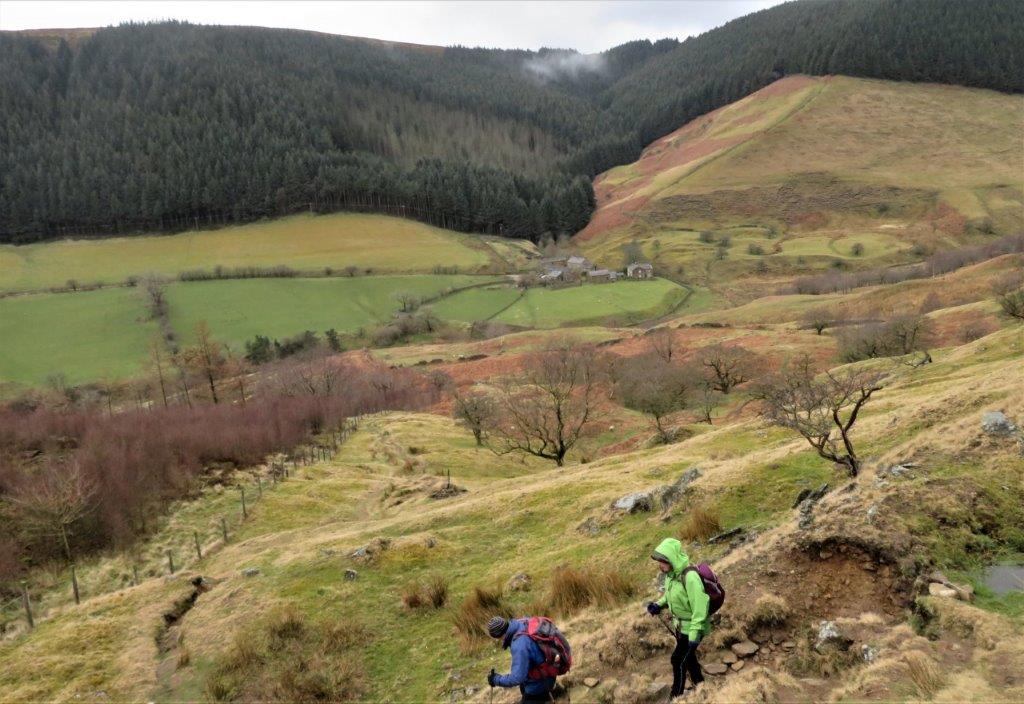 ditto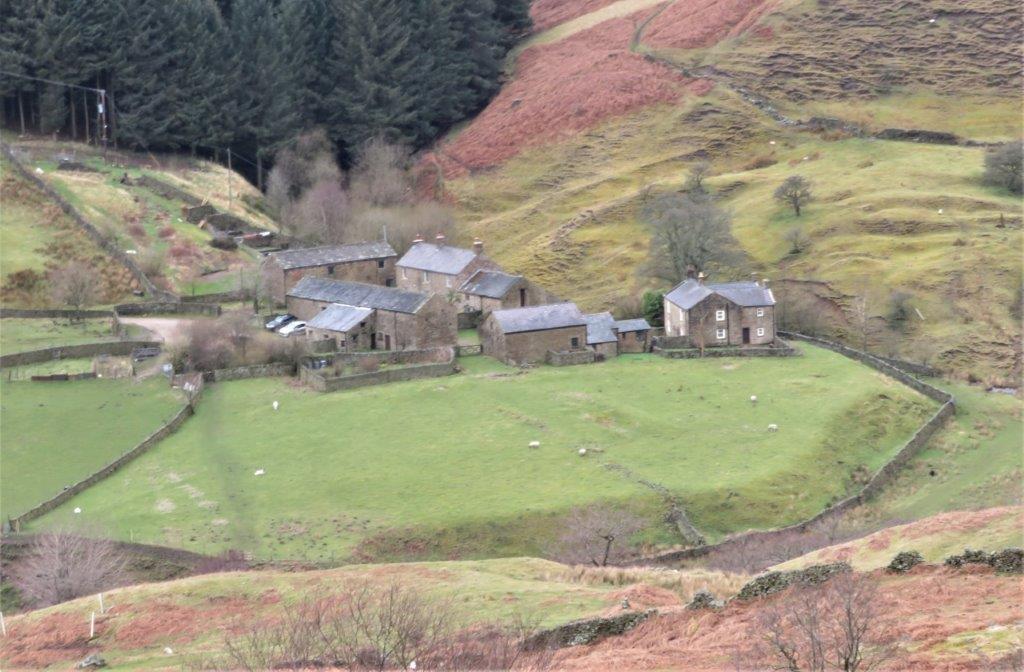 zoomed into Alport & Alport Castles Farm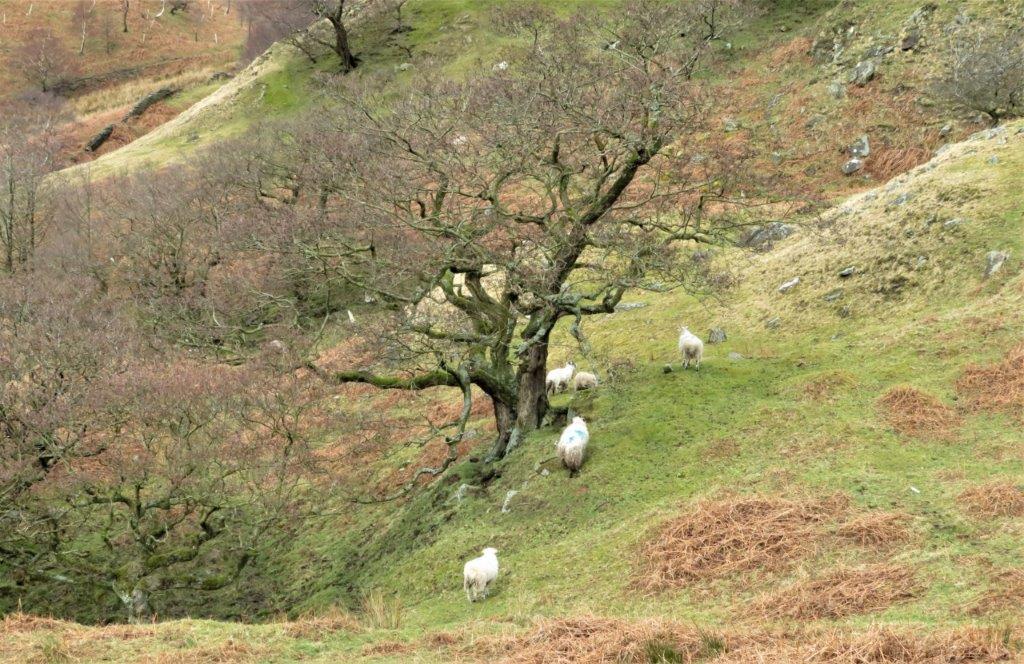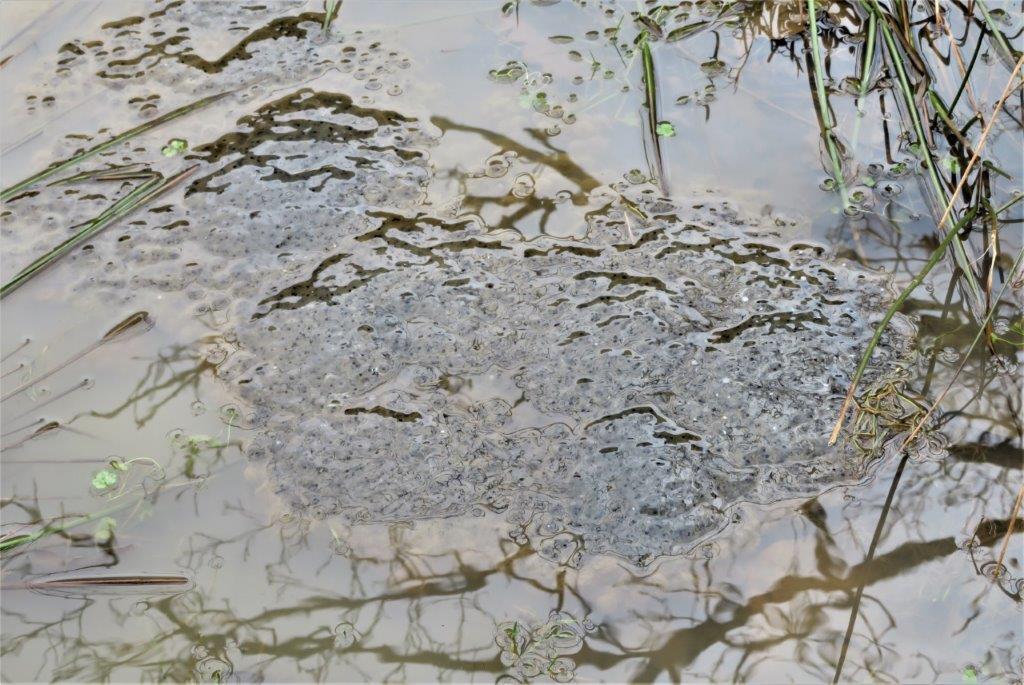 Frog spawn seen near the Foot bridge over the River Alport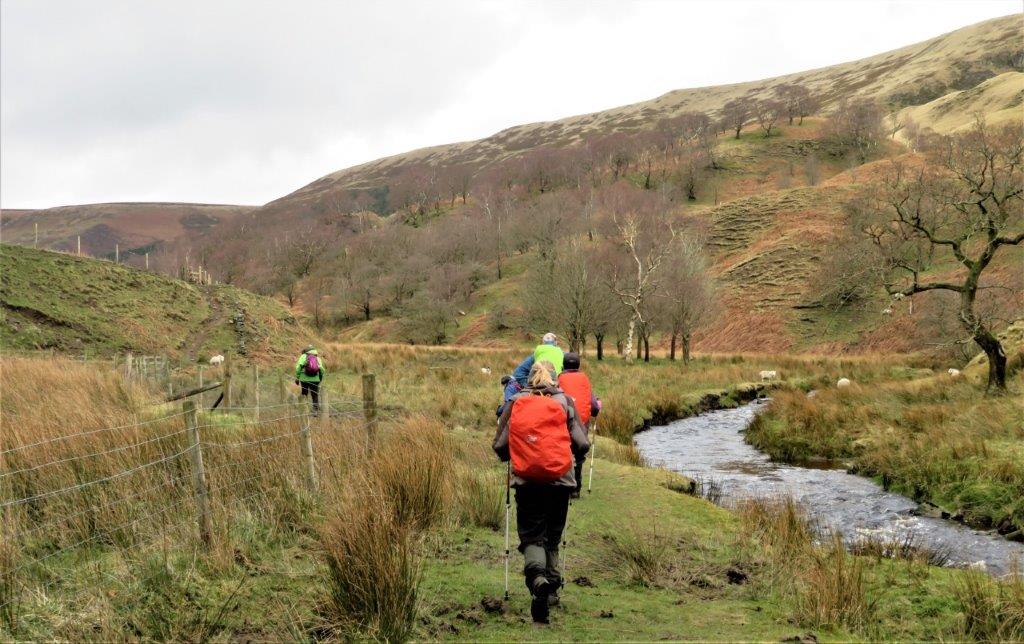 following below the River Alport before turning up past the farm buildings up Swint Clough towards the plantation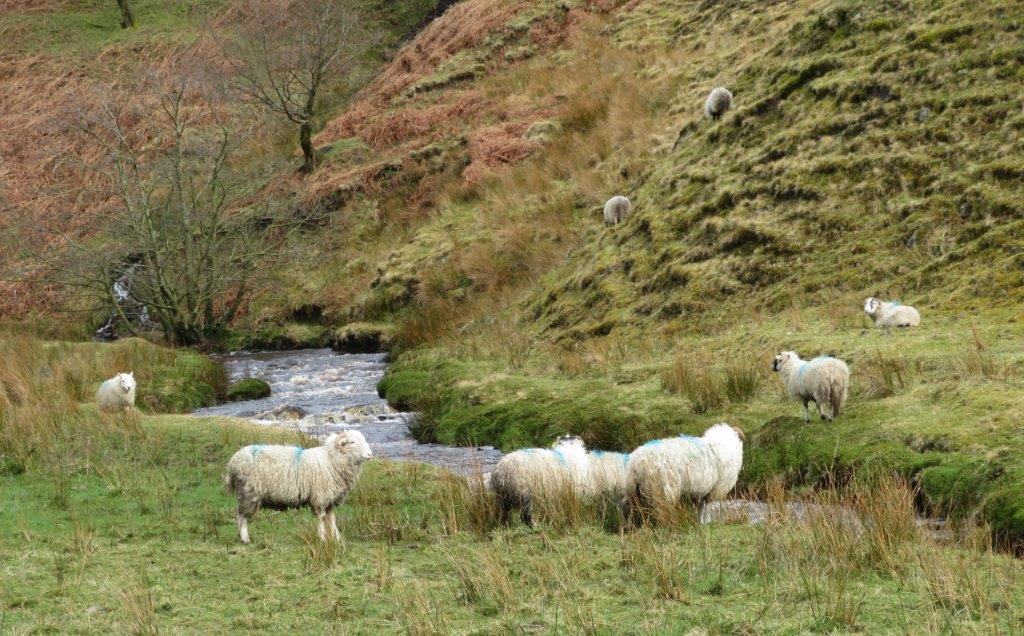 sheep from the same flock either side of The River Alport - do they use the pedestrian footbridge (next picture)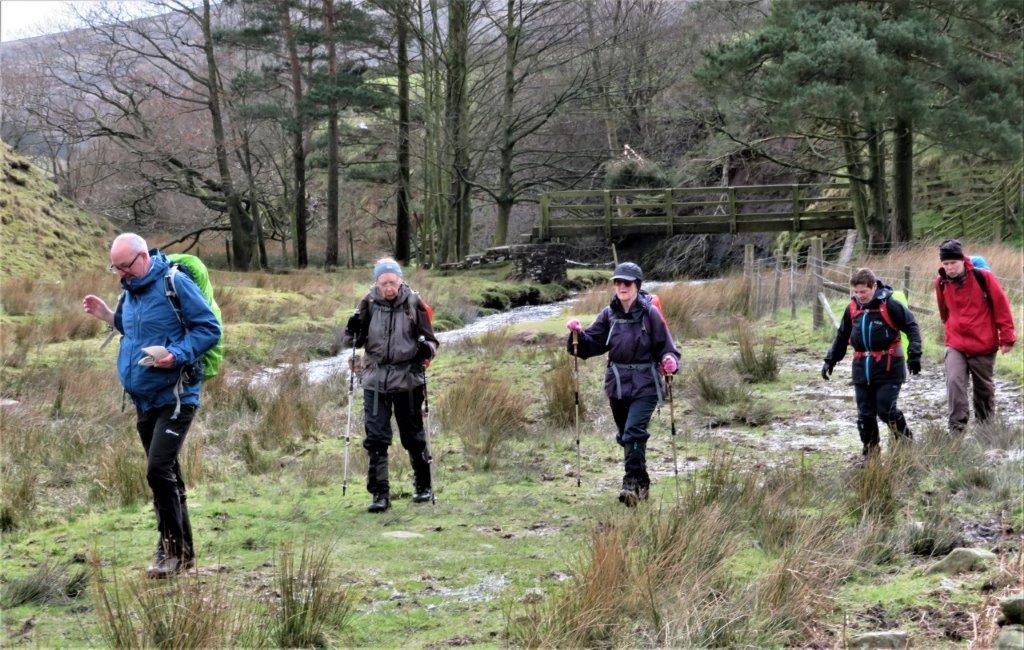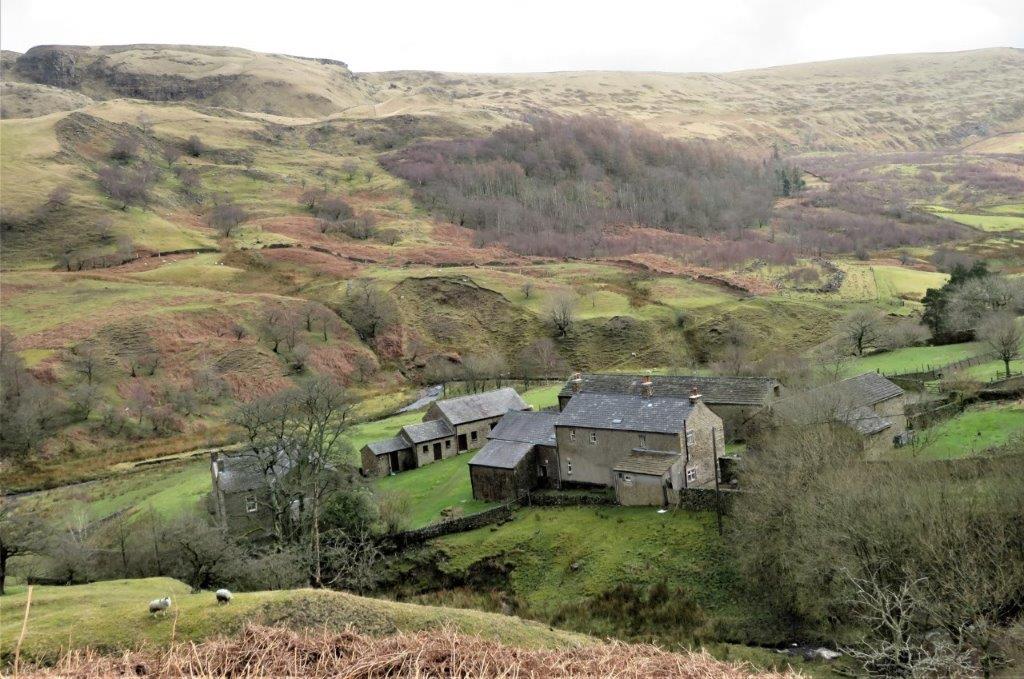 Swint Clough with the Alport Farm buildings behind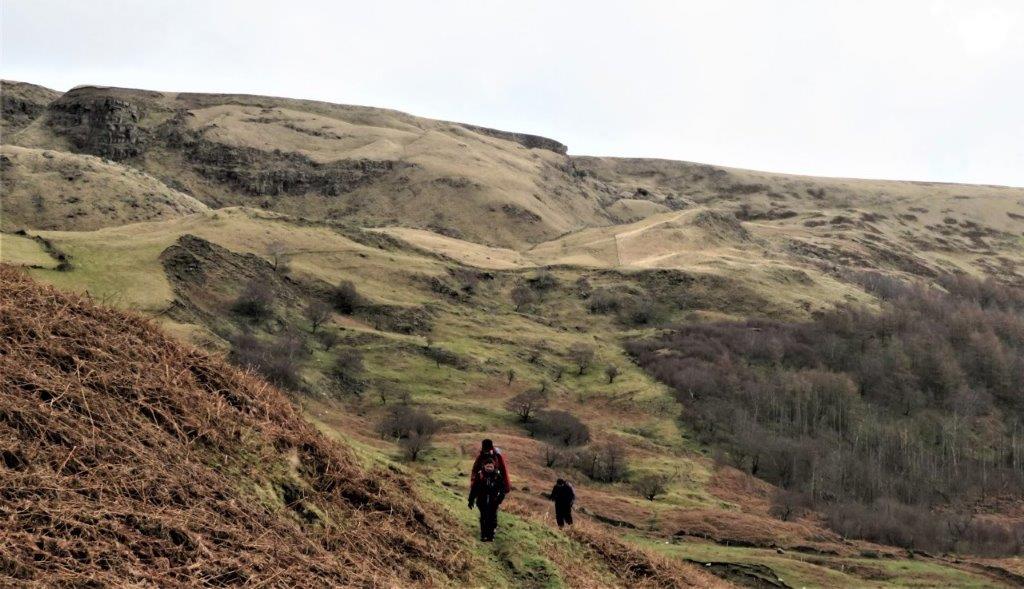 up toward the plantation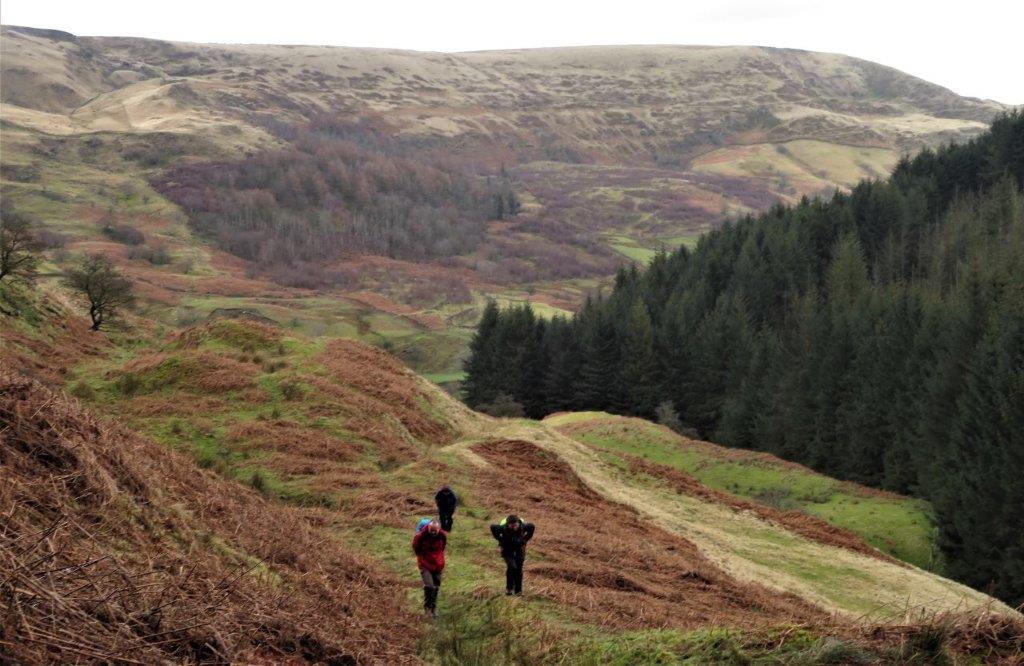 ditto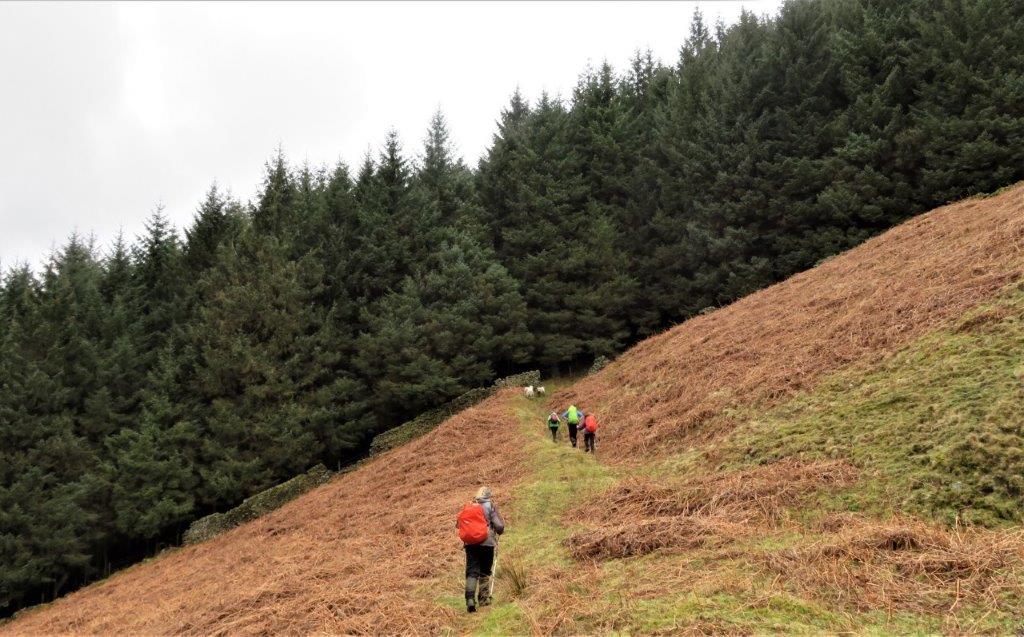 ditto - on reaching the plantation one turns right uphill along its edge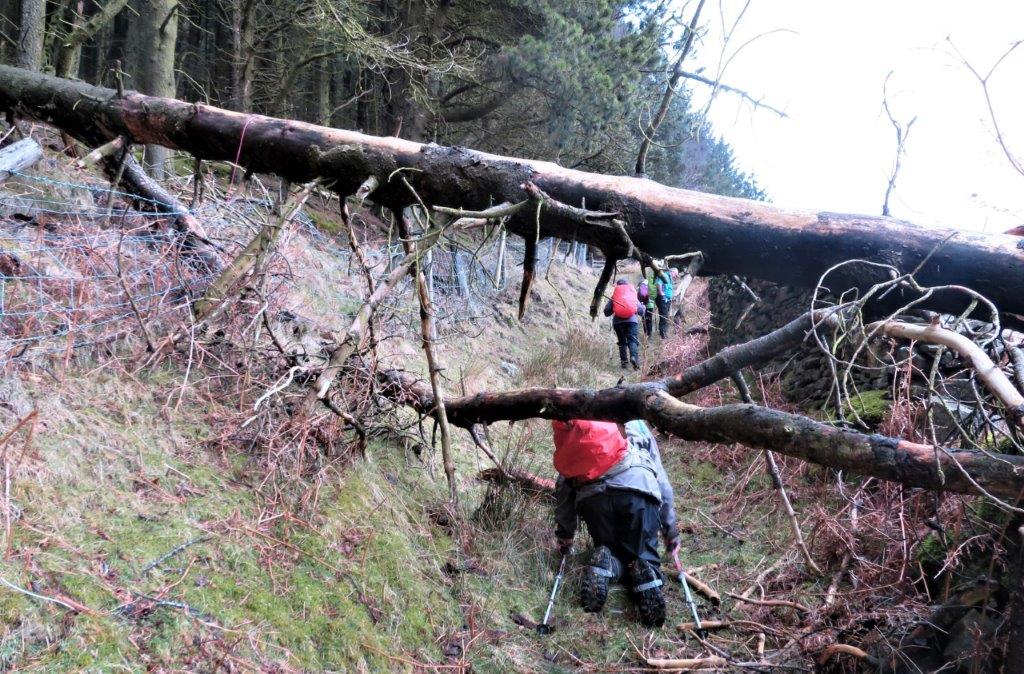 fallen tree - makes crawling under or climbing over necessary - we turned into the Plantation further up.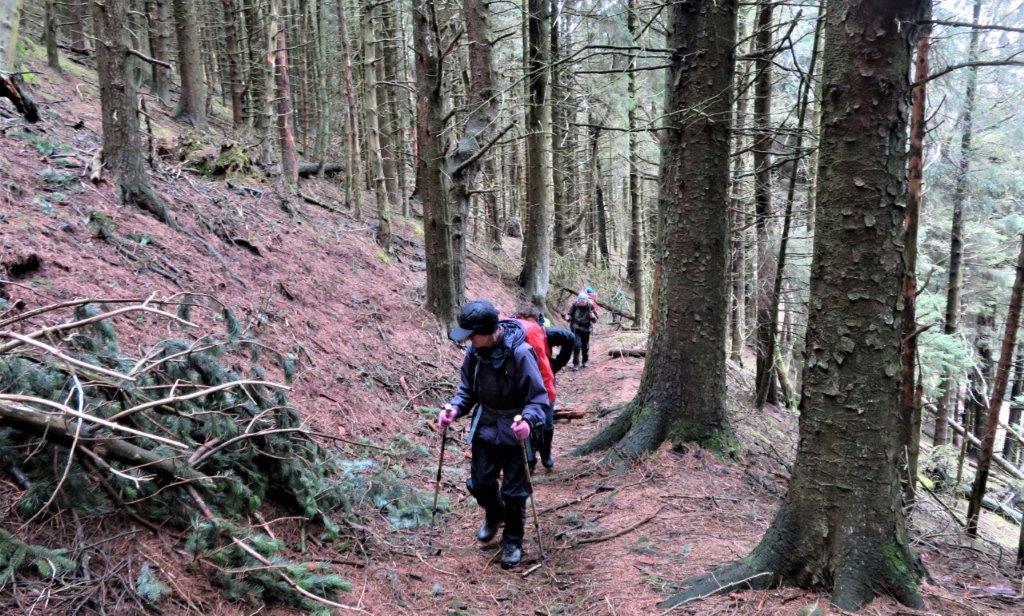 in The Plantation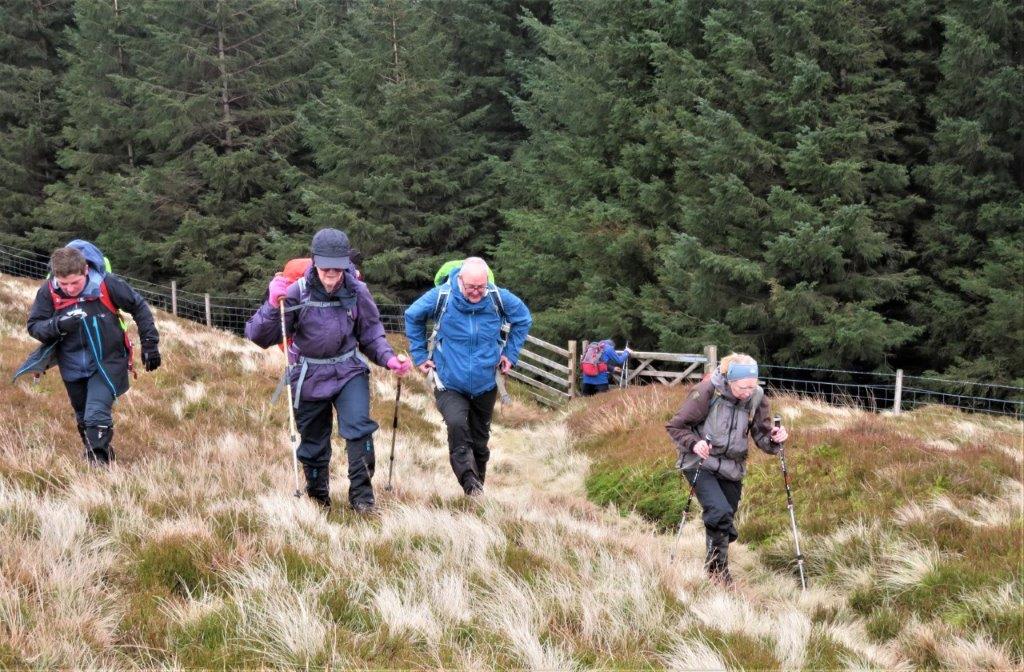 emerging from the Plantation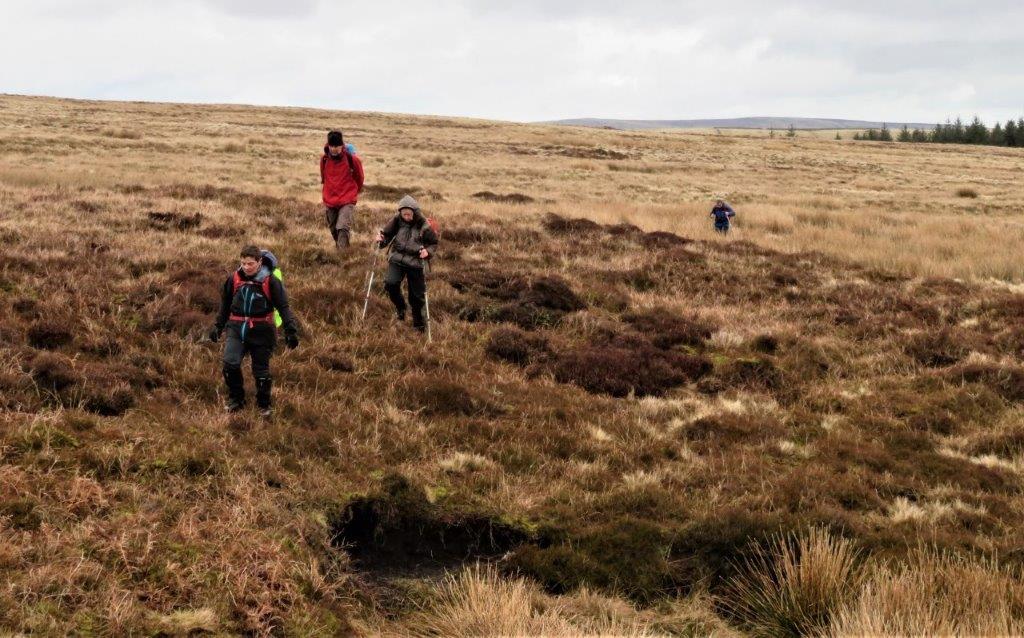 across the moorland - bearing to above shooting cabin required to find Oyster Clough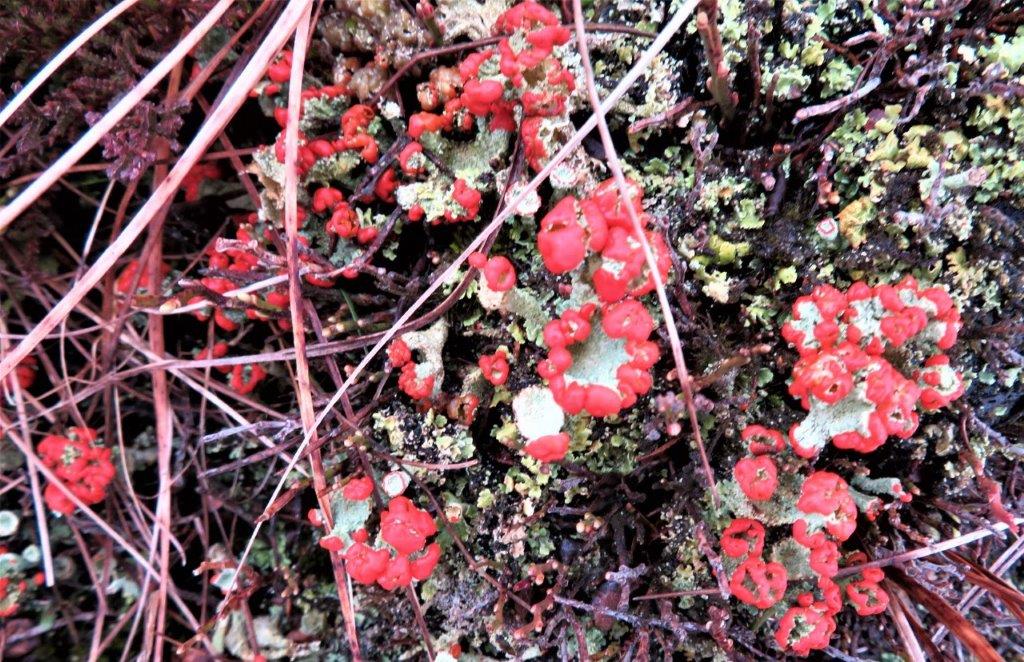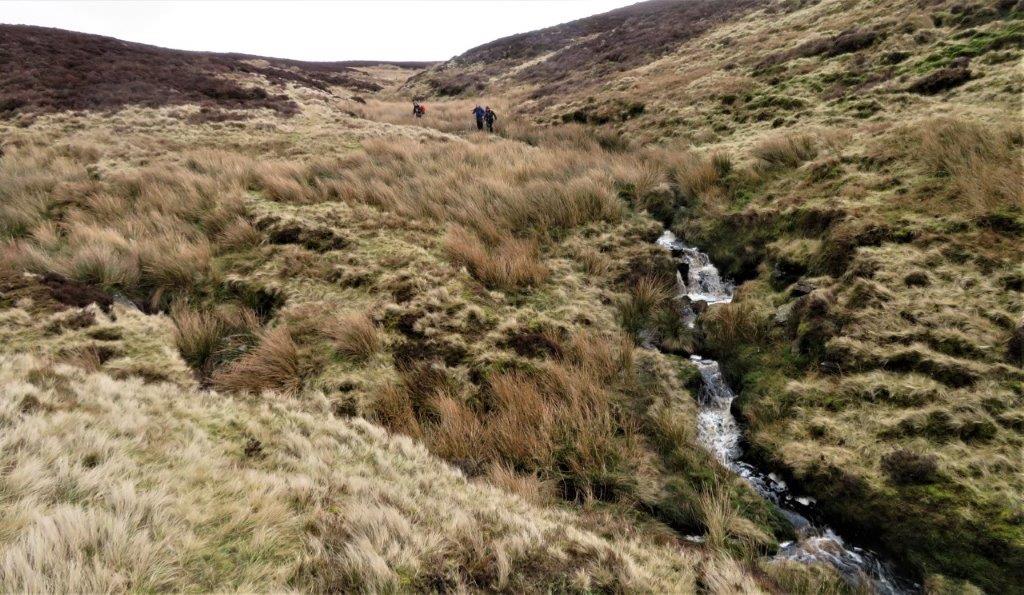 Several streams above run into Oyster Clough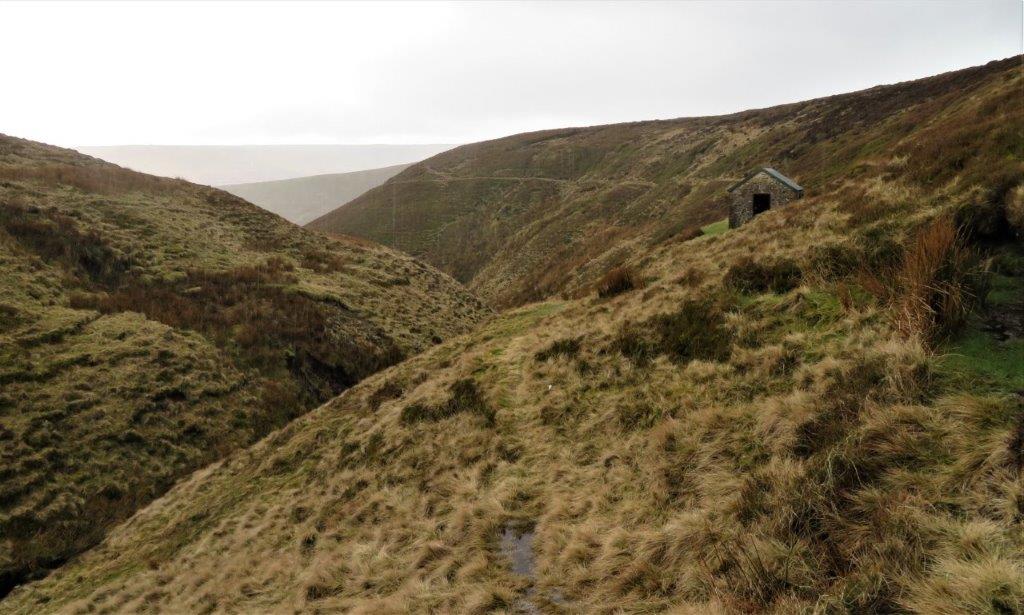 upper reaches of Oyster Clough with Shooting Cabin to right. High level path on edge of Clough seen beyond cabin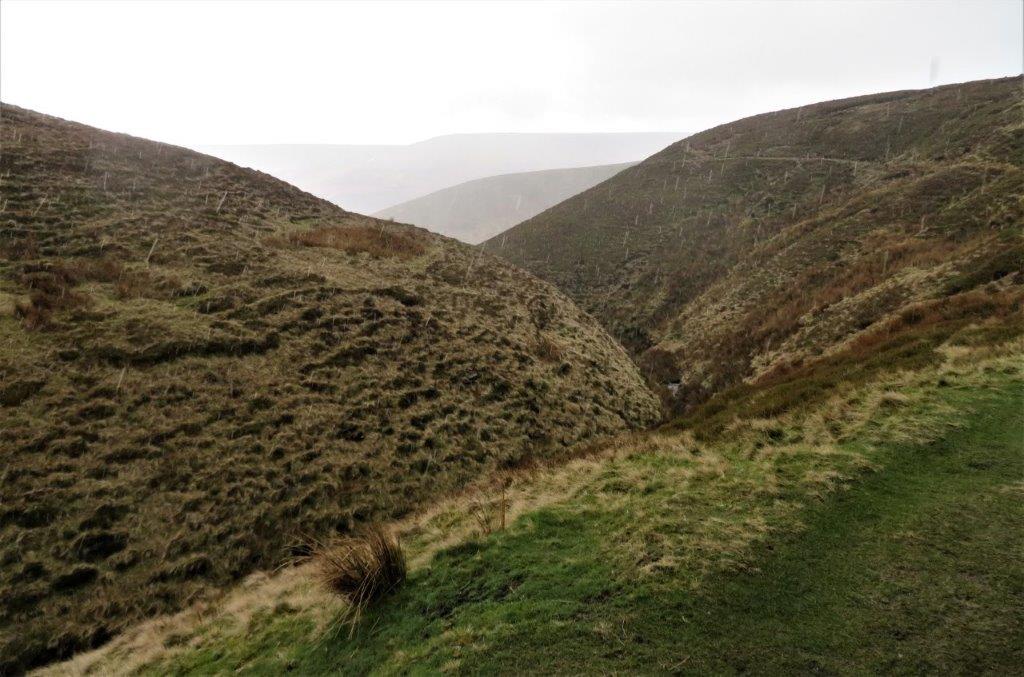 a trace of hail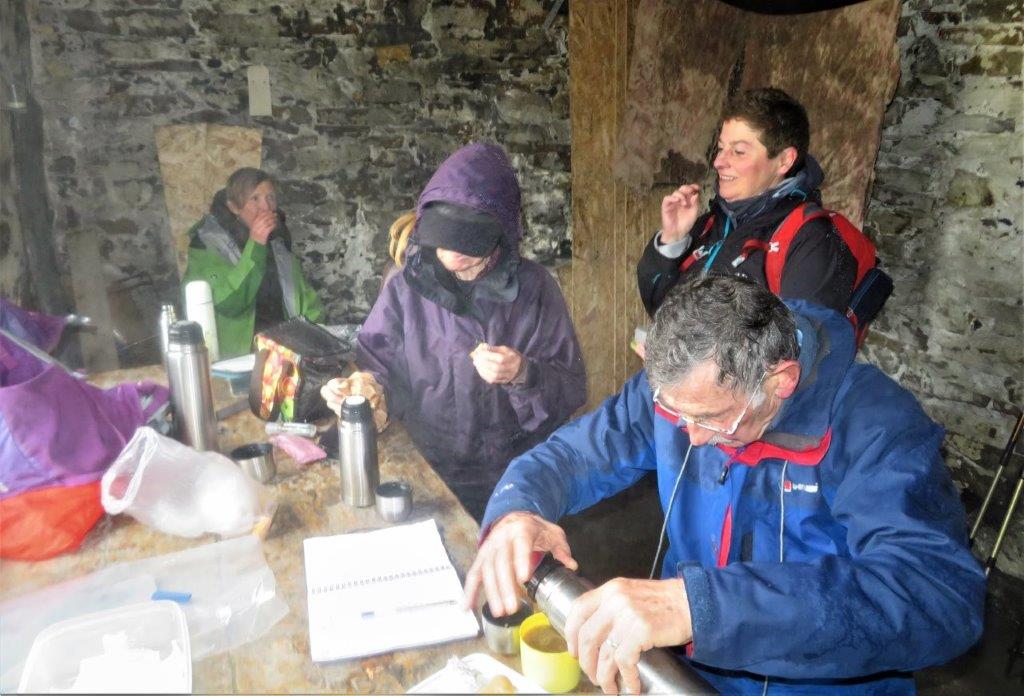 lunch inside the cabin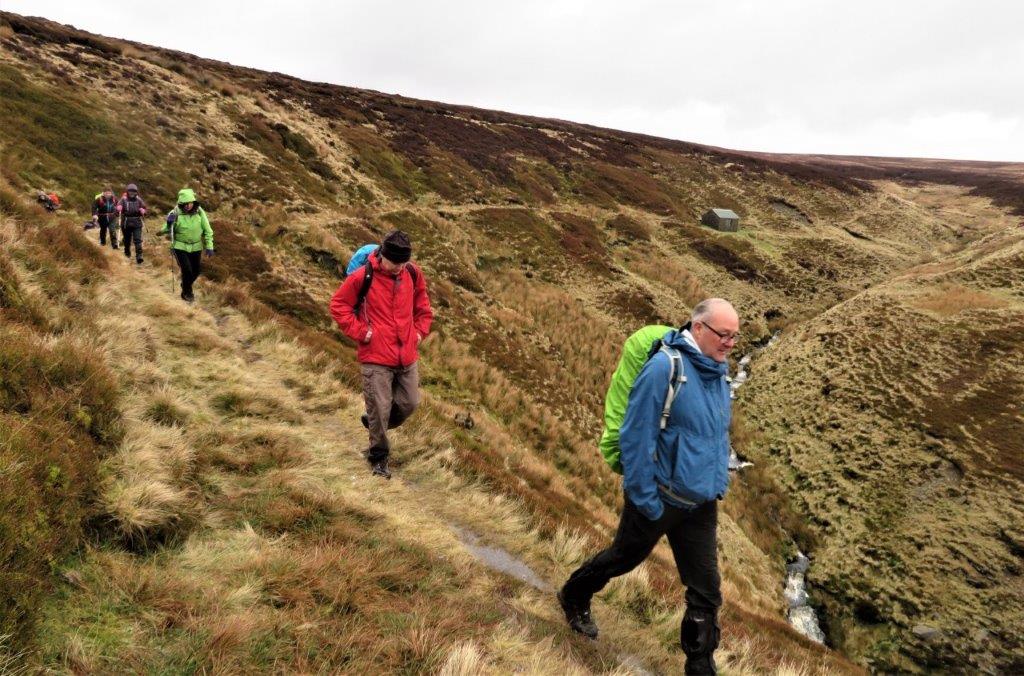 on the high level path on the side of Oyster Clough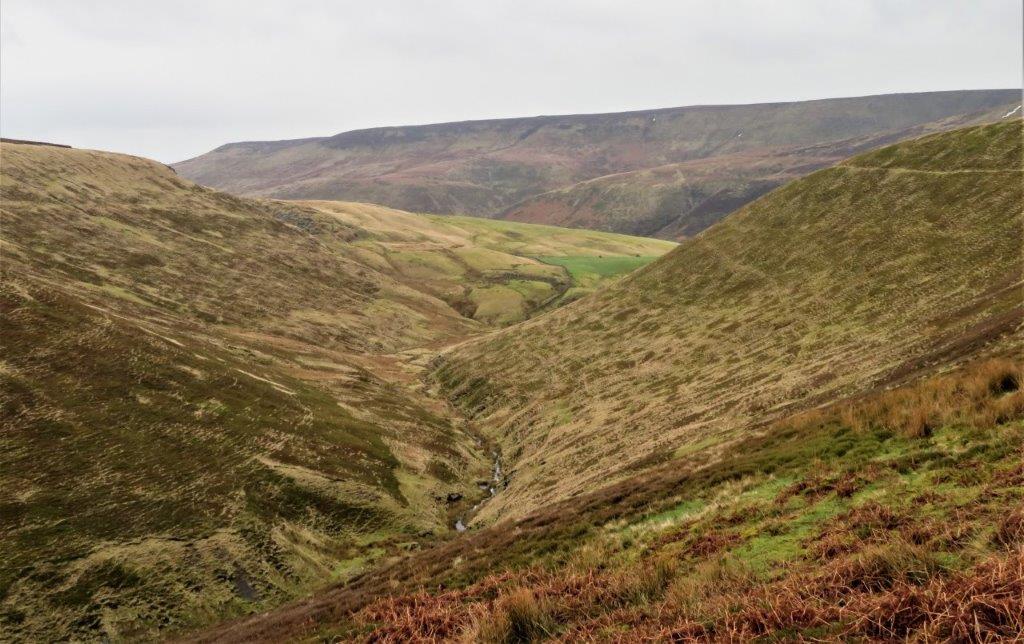 looking down the clough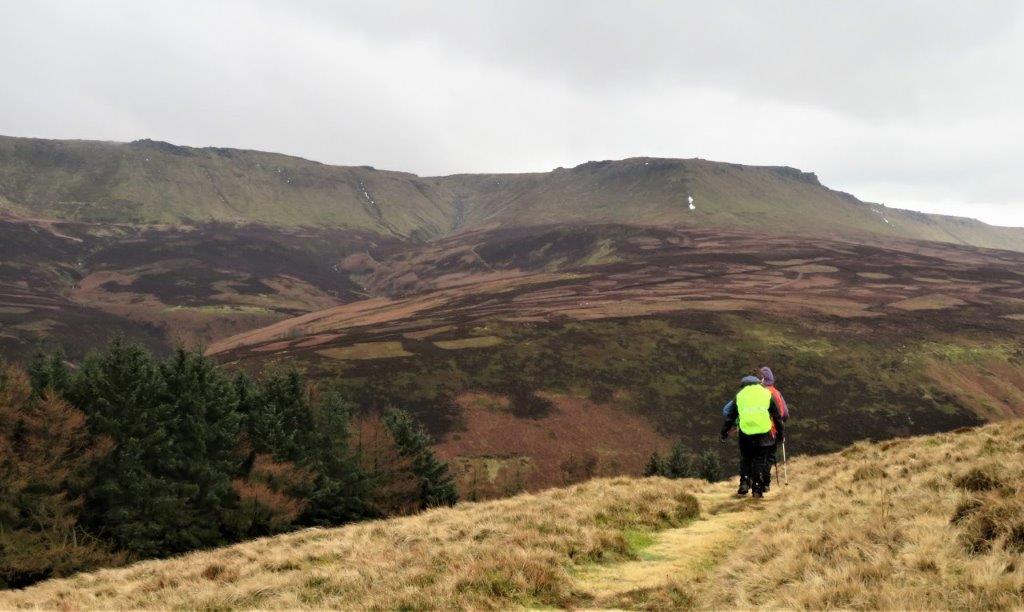 Fair Brook seen near top top of Kinder - centre of picture. Fairbrook Naze is to its right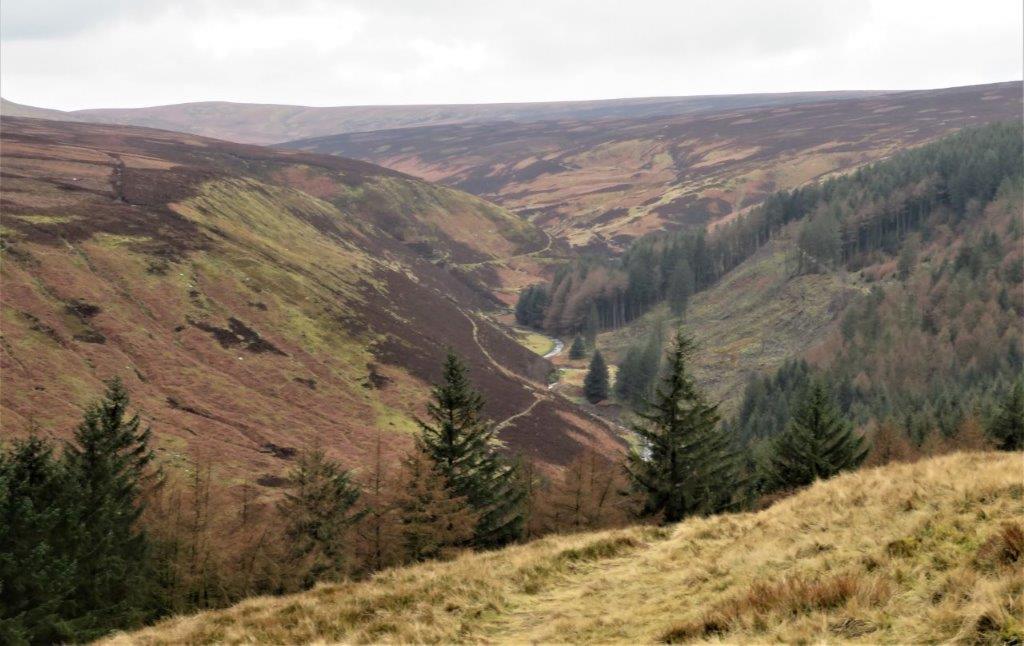 looking east down Ashop Clough? The A57 Road crosses it (unseen below)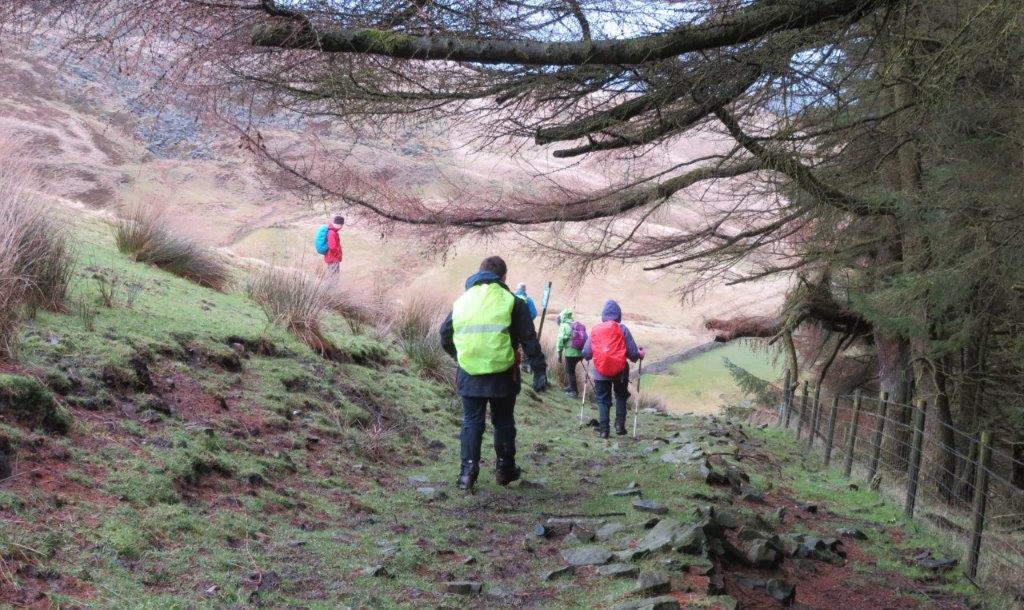 passing woods above The Snake Inn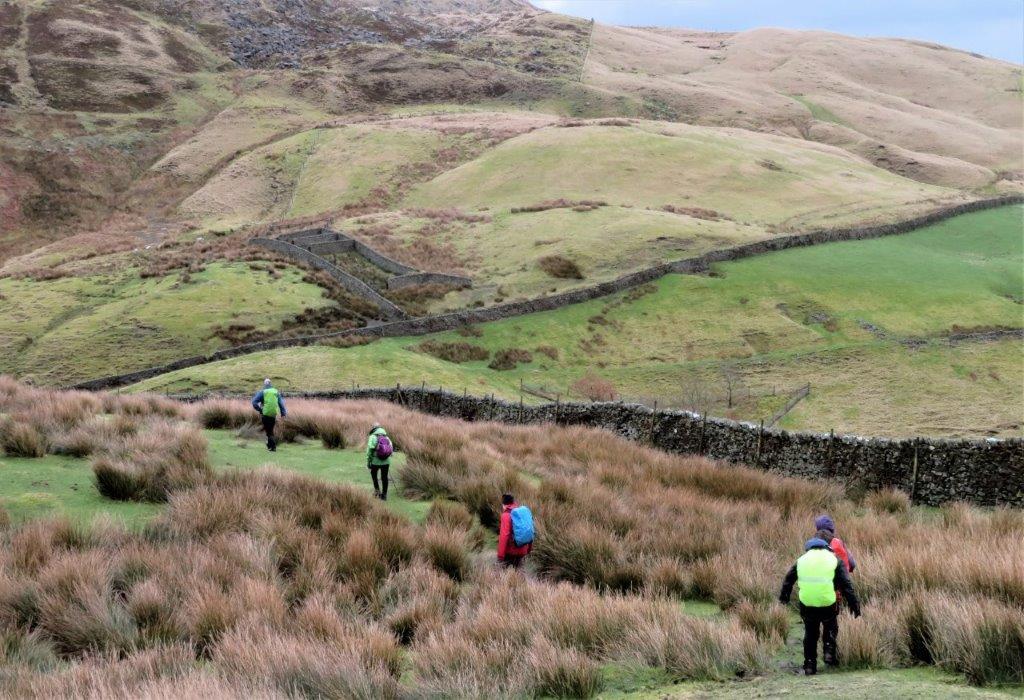 sheepfold beyond left of centre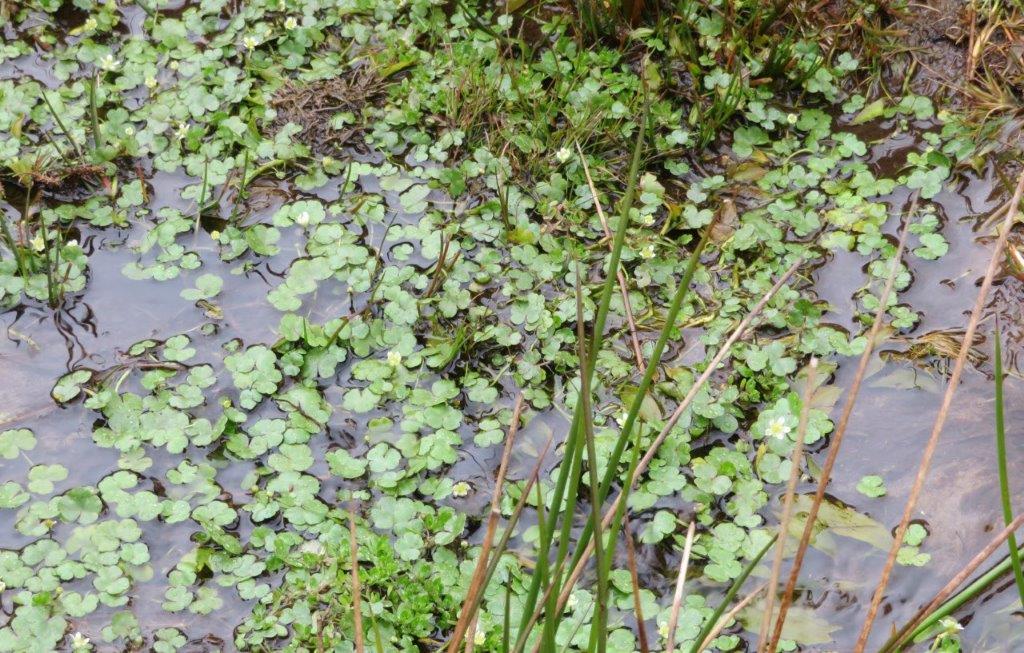 what plant?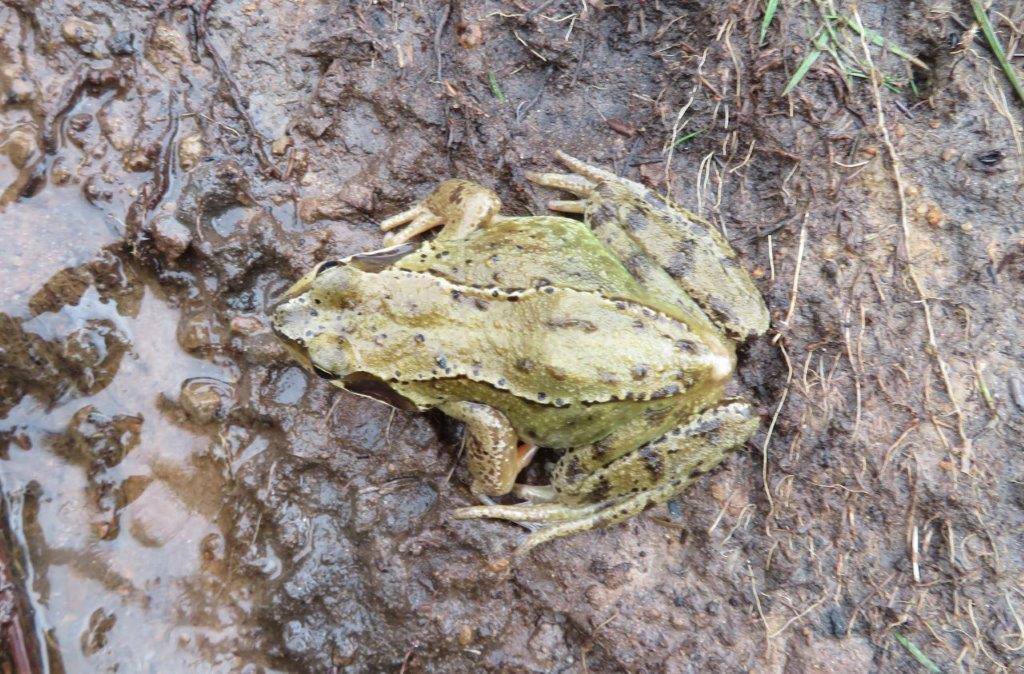 frog? toad?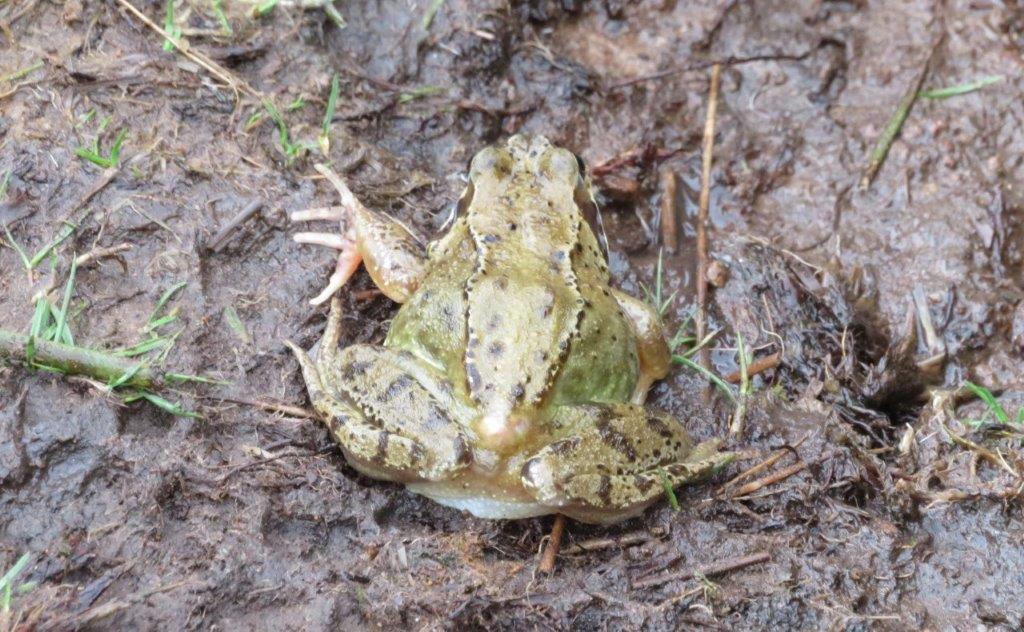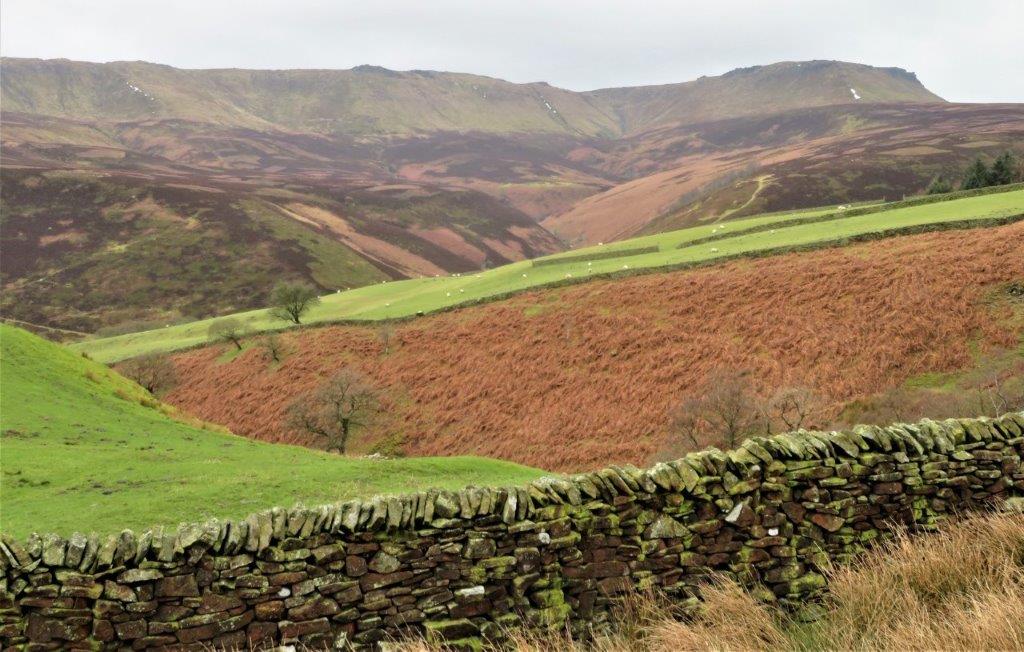 Fairbrook behind right of centre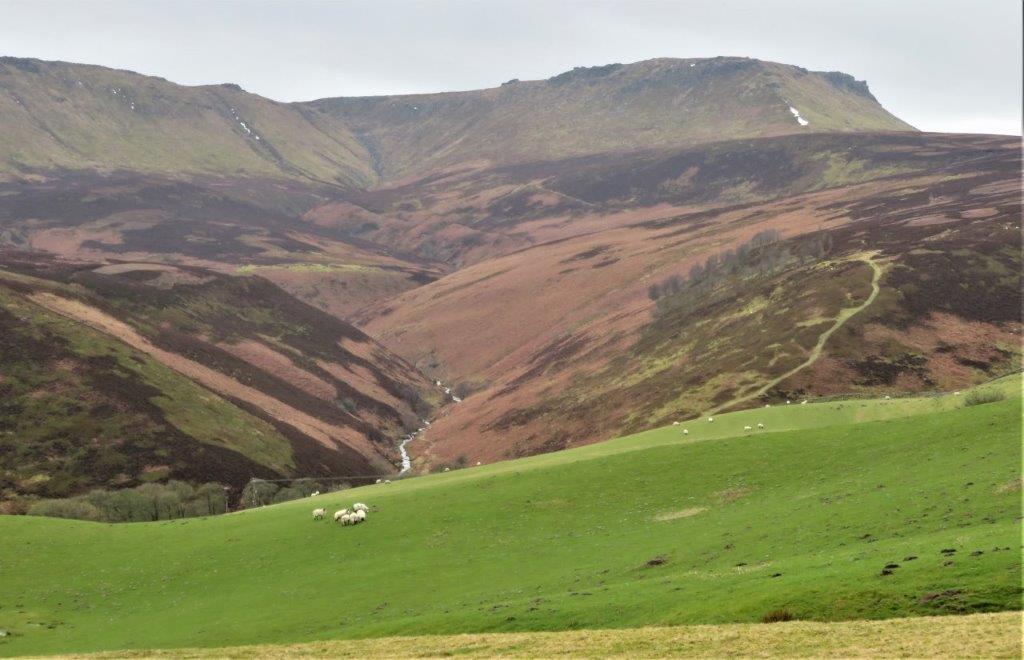 zoomed in when further to east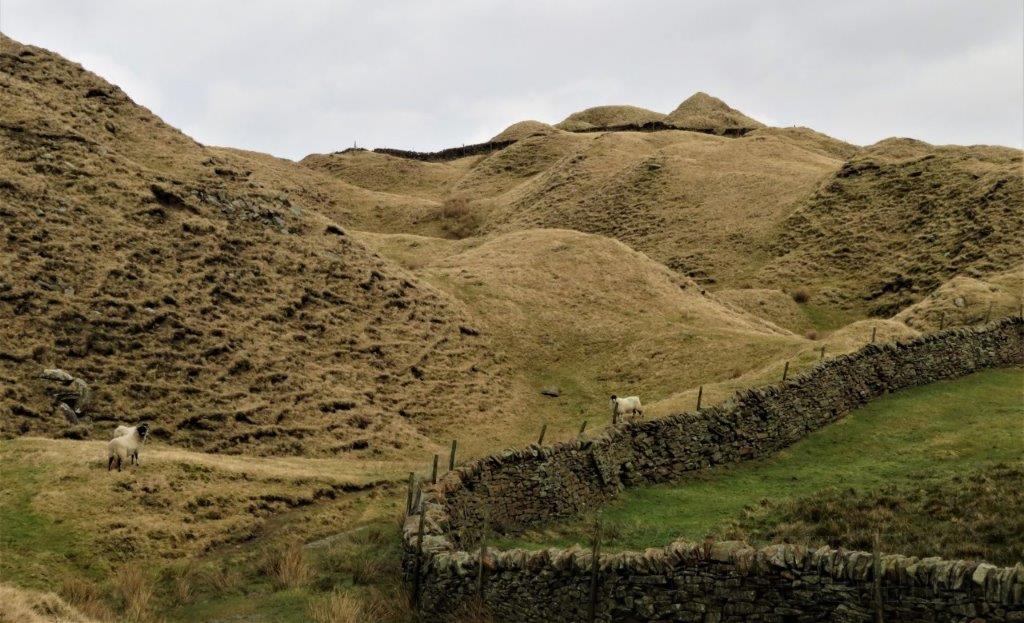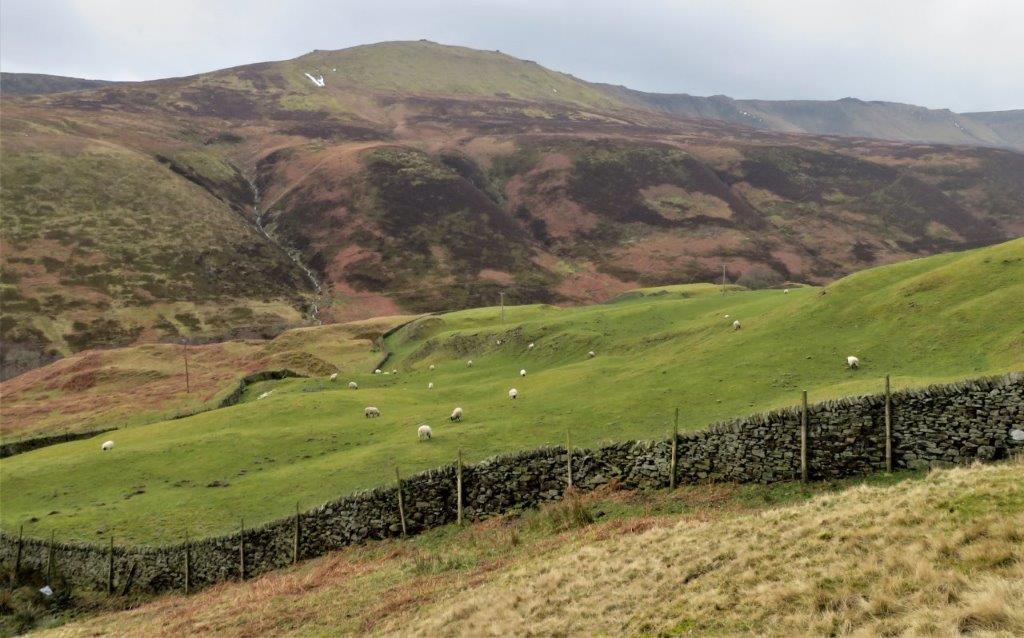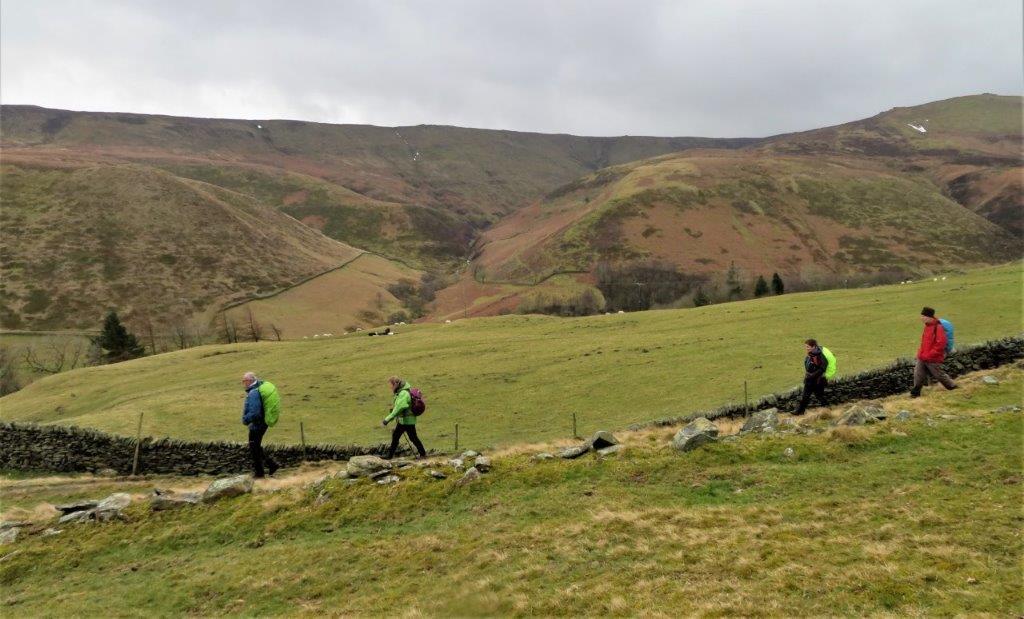 Blackden Clough in middle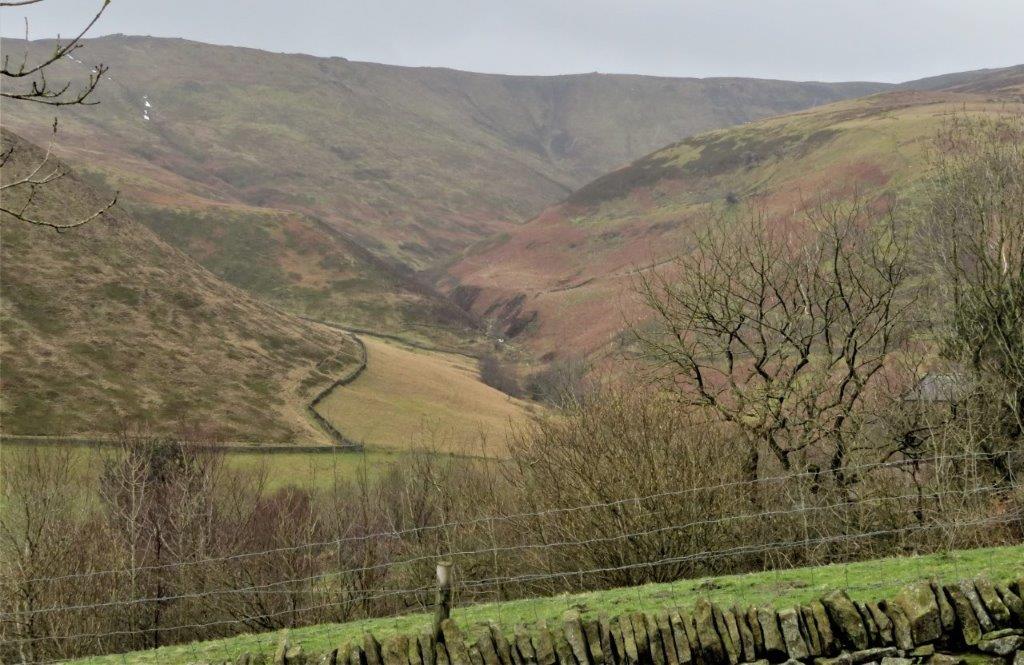 zoomed further in to Blackden Clough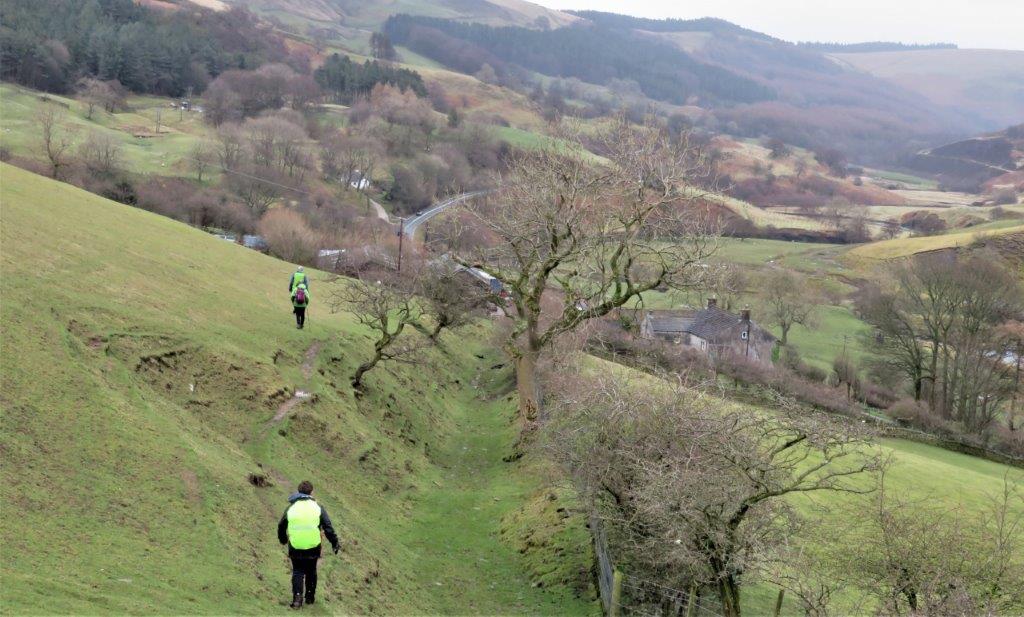 toward / above Hayridge Farm?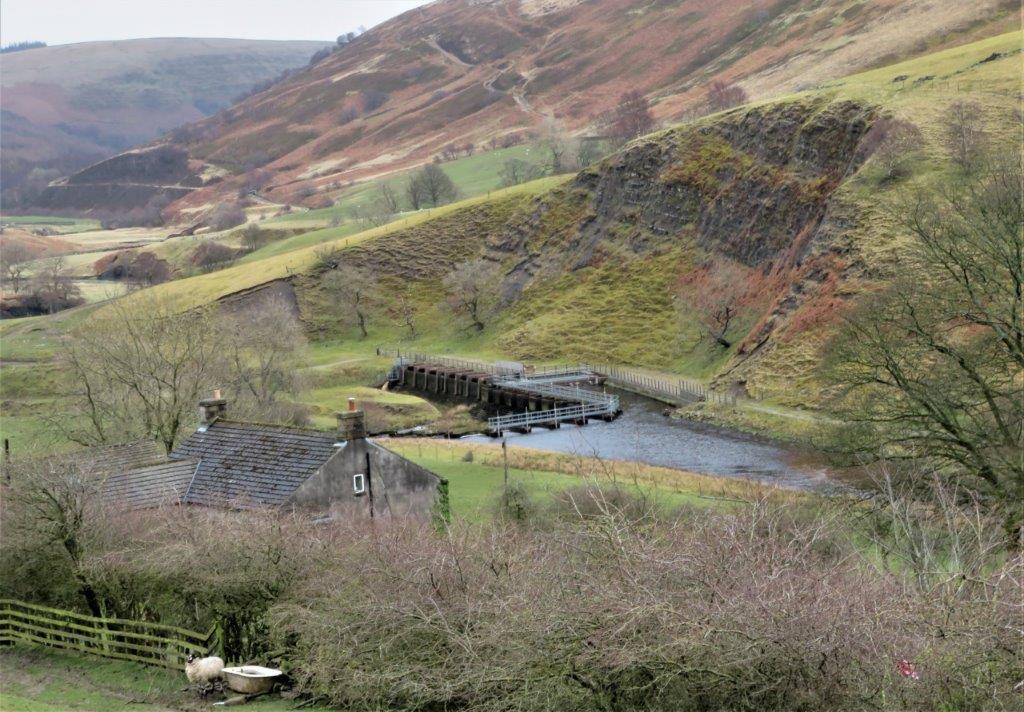 intake works on River Ashop for canal ultimately discharging in Derwent Reservoir ( see picture at begining of walk)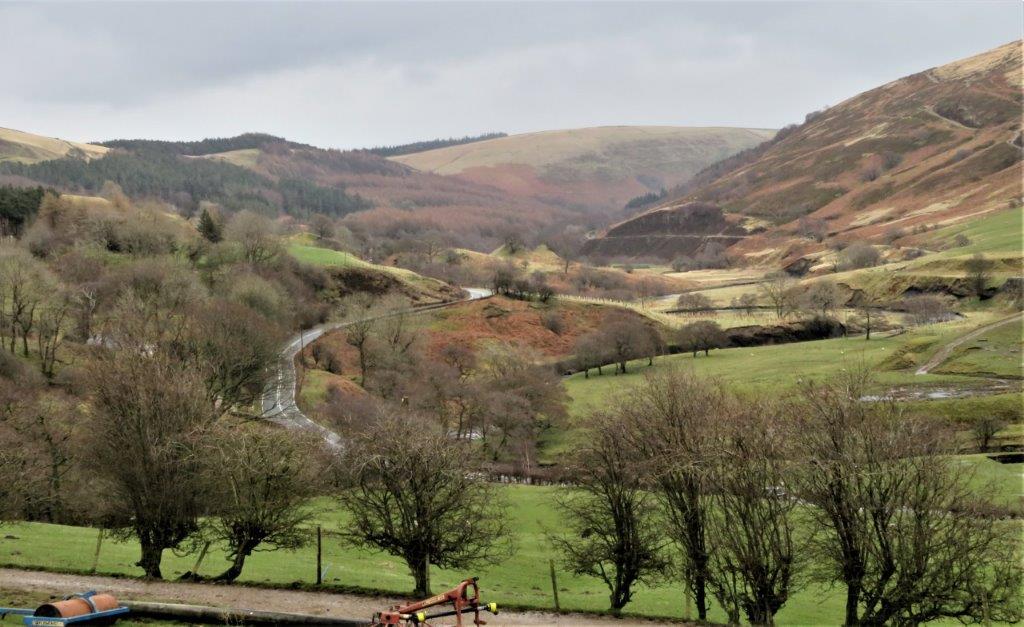 A57 road below - Roman Road to Hope Cross top right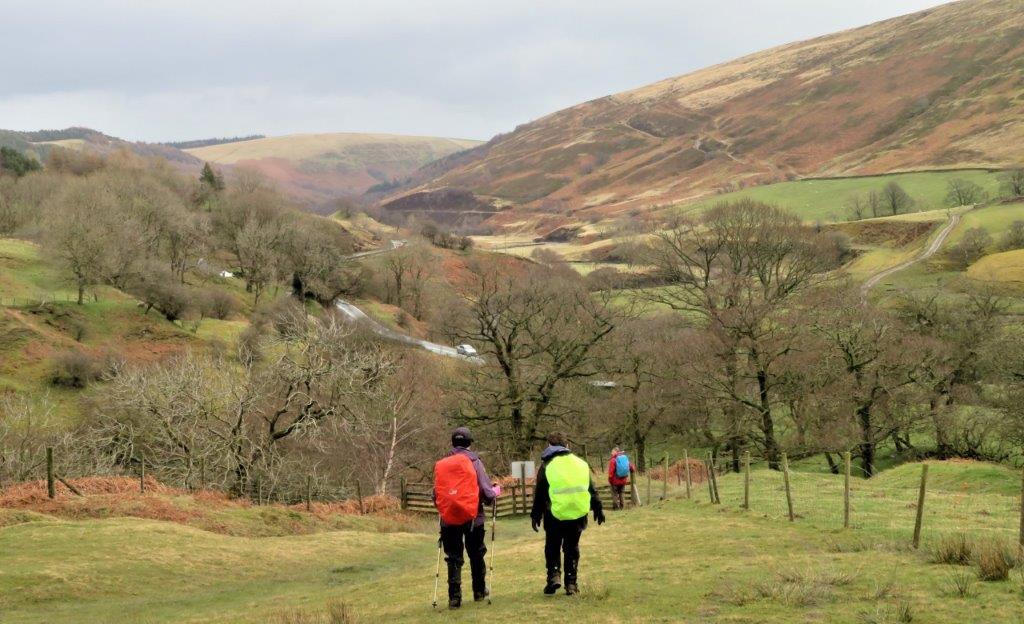 towards Alport Bridge under the A57 road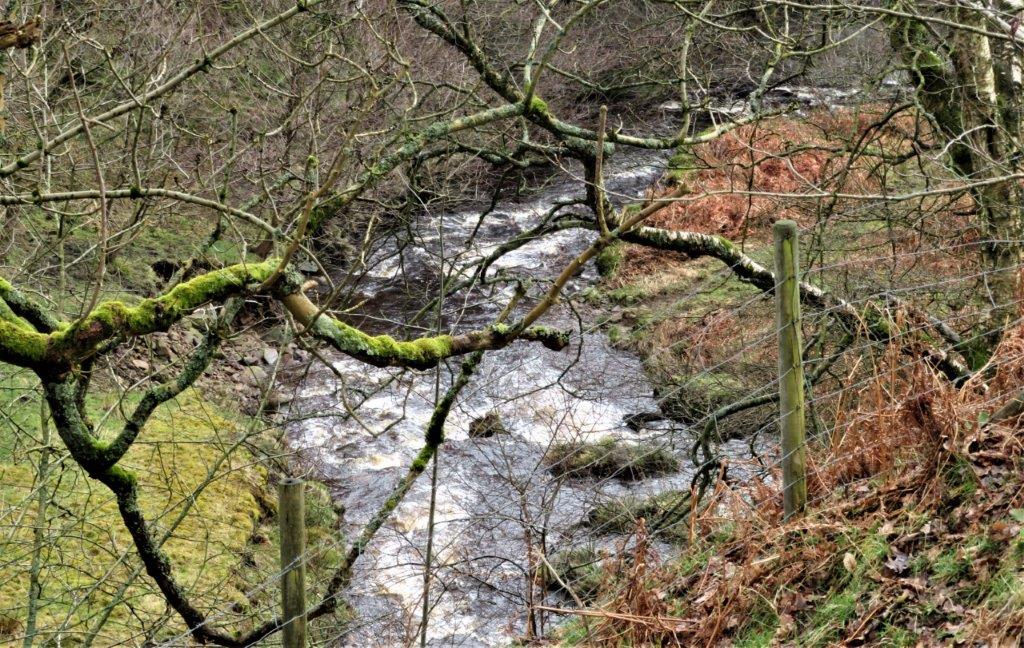 River Alport before the Bridge. Joins the River Ashop shortly after the bridge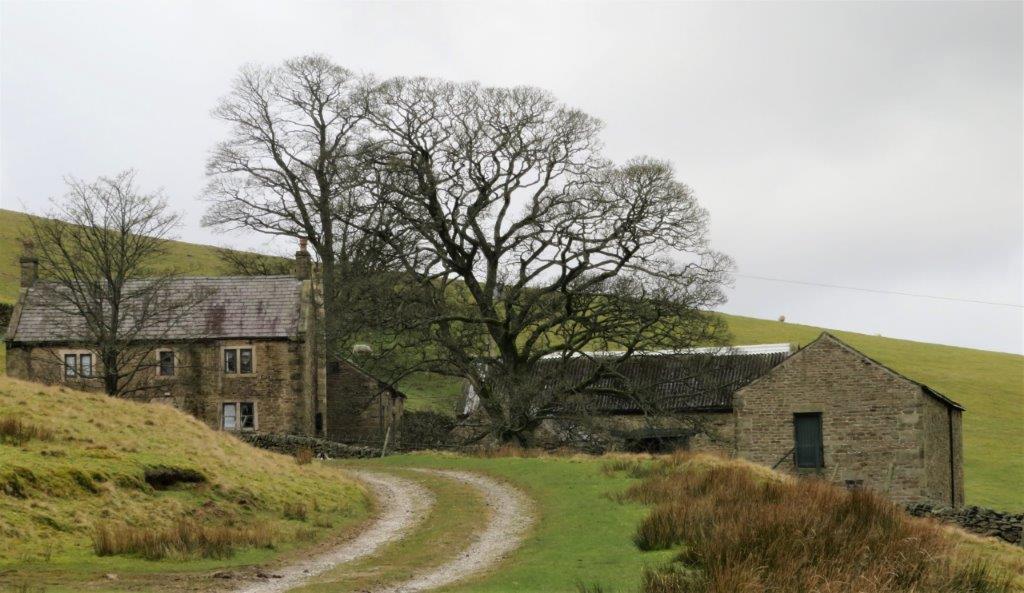 Upper Ashop (farmhouse)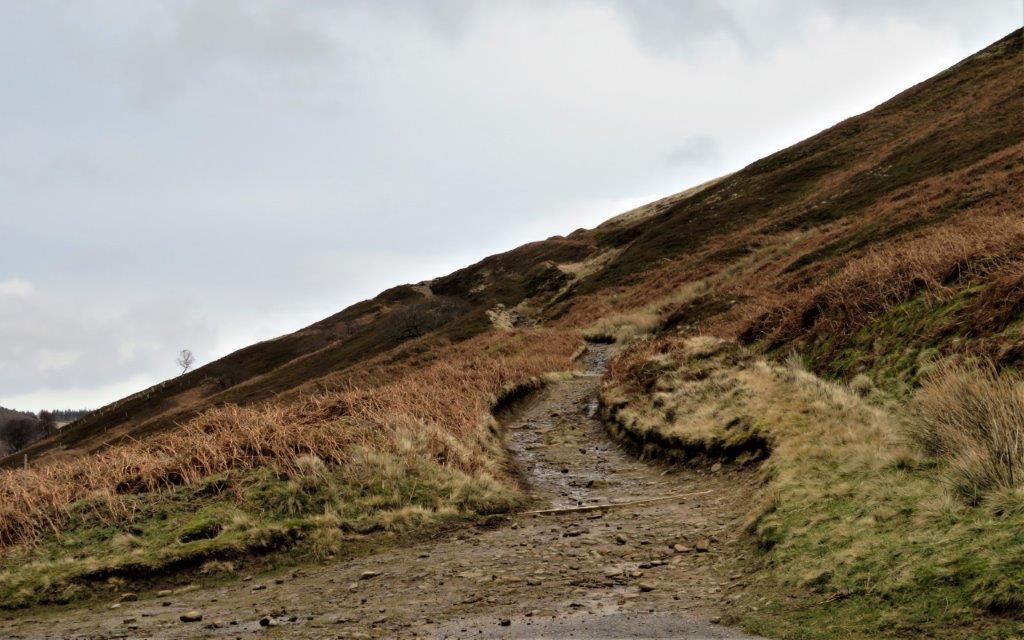 road direct on is Roman road toward Hope Cross. Road to left taken by photographer is towards Rowlee Bridge / A57 Rd / Rowlee Farm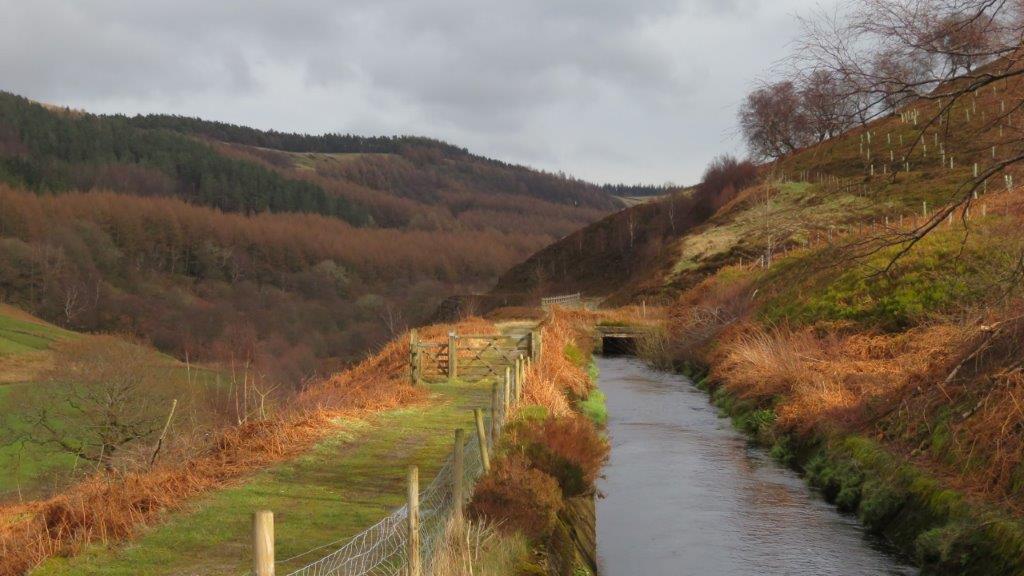 Canal towards Derwent Reservoir - inverted siphon under River Ashop & A57 Road and tunnel beyond involved but not sure of exact positions?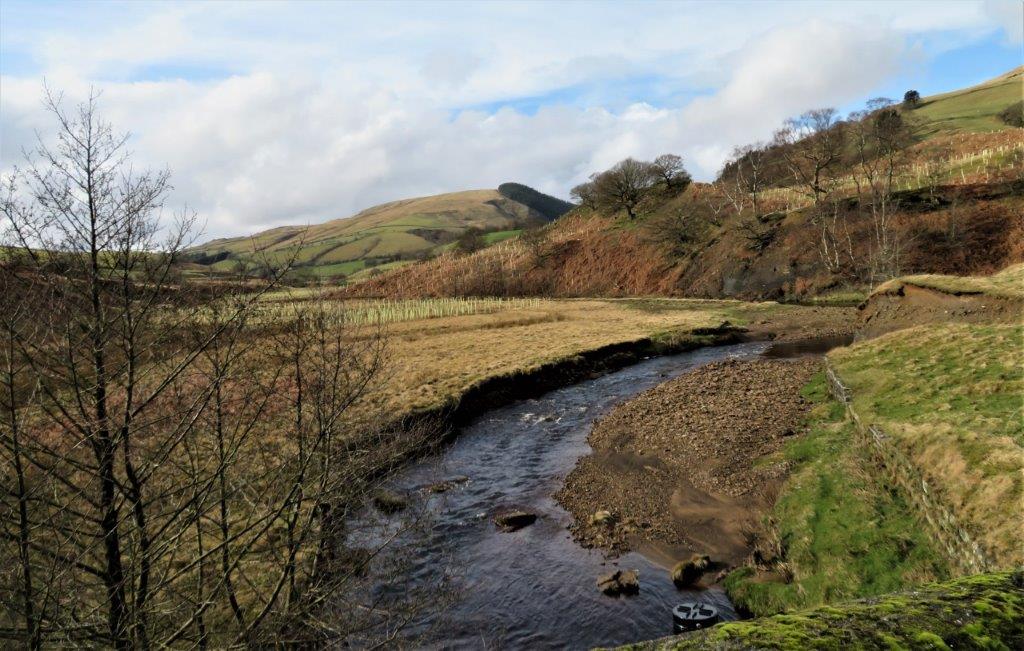 River Ashop below with Alport Valley at top centre of picture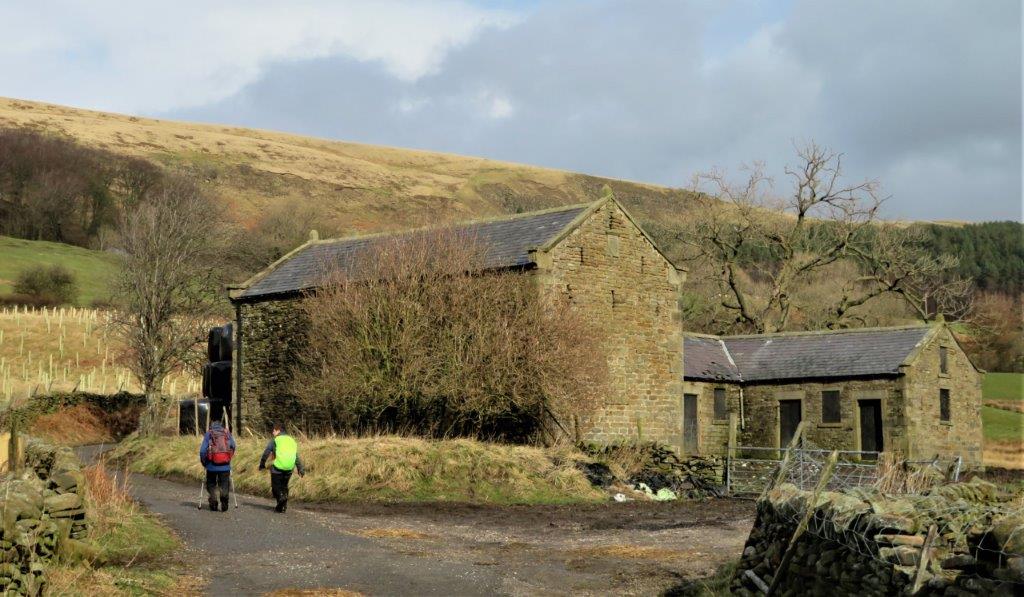 Low Barn on the road to Rowlee Farm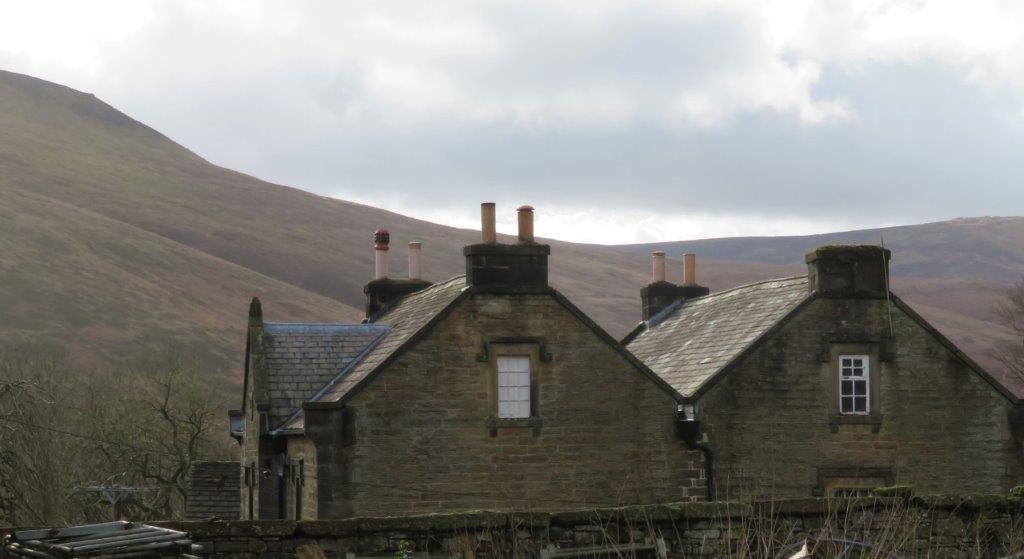 Upper story of Rowlee Farm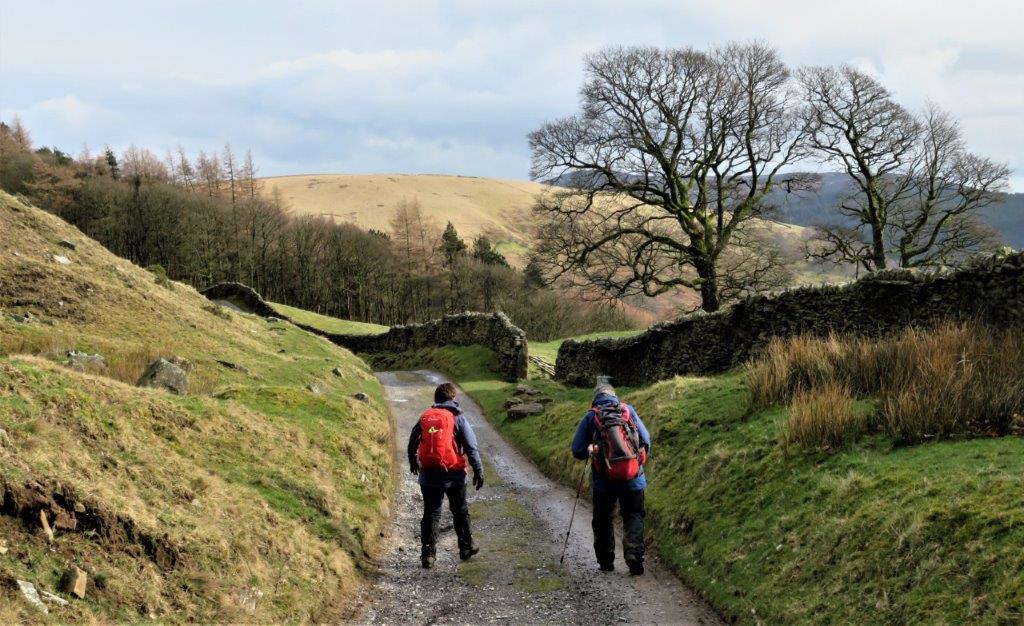 road toward Lockerbrook Outdoor Centre
homepage - Daywalks Index 2020 - contact me at