homepage - Daywalks Index 2019 - contact me at

2019.12.29 A part Circuit of Kinder Scout - Edale Station SK123854, ~N on rd thru village to FB (beyond PH) over Grinds Brook at SK122862, FP ~N (slightly East) up to gate in OAL, ZZ up to The Nab, ~N passing to West below Ringing Roger* up to path on South edge of Kinder at SK125876, ~W along path to ~ SK118877, N (slightly West) across to & continuing ~N on edge of Blackden Moor, circle ~W to follow along Seal Edge, follow edge ~ WNW to cross Fair Brook at SK093891, V turn ~NNE along edge of Fairbrook Naze, V turn to West along The Edge, to about 300m short of the Pennine Way, ~S thru airplane crash sites to join Pennine Way at SK070896 and follow along Edge ~ ESE to Kinder Downfall, follow 'river / FP (as marked on map) ~E then SSE to SK089883, leave path ~S thru moor land for ~800m, then circle to East to cross Crowden Brook on south edge of Kinder, follow Edge ~E toward Grindslow Knoll, but at SK 103871 cut ~ESE / S / E below The Knoll to join main track ~SE then ~S then E to the PH at Grindsbrook Booth, return on road to Edale Station (vainly hoping trains will run as Scheduled?) - leader Andrew Irwin - Sunday. (route as done about 22km). *most scrabbled up Ringing Roger but rejoined party at Kinder edge)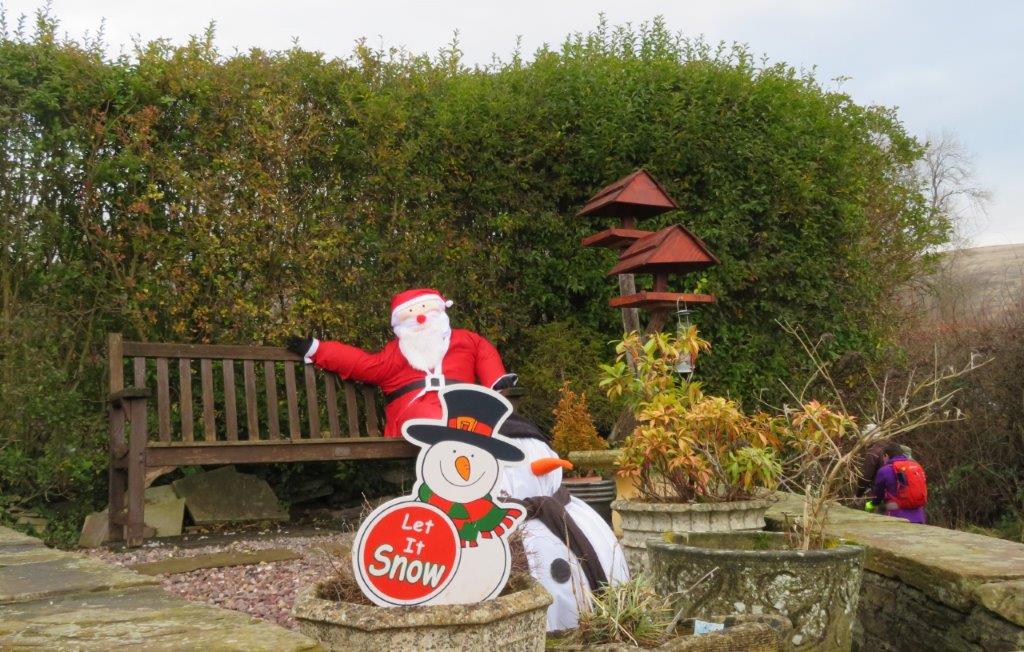 on the side of the road from Edale Station through the village towards Kinder Scout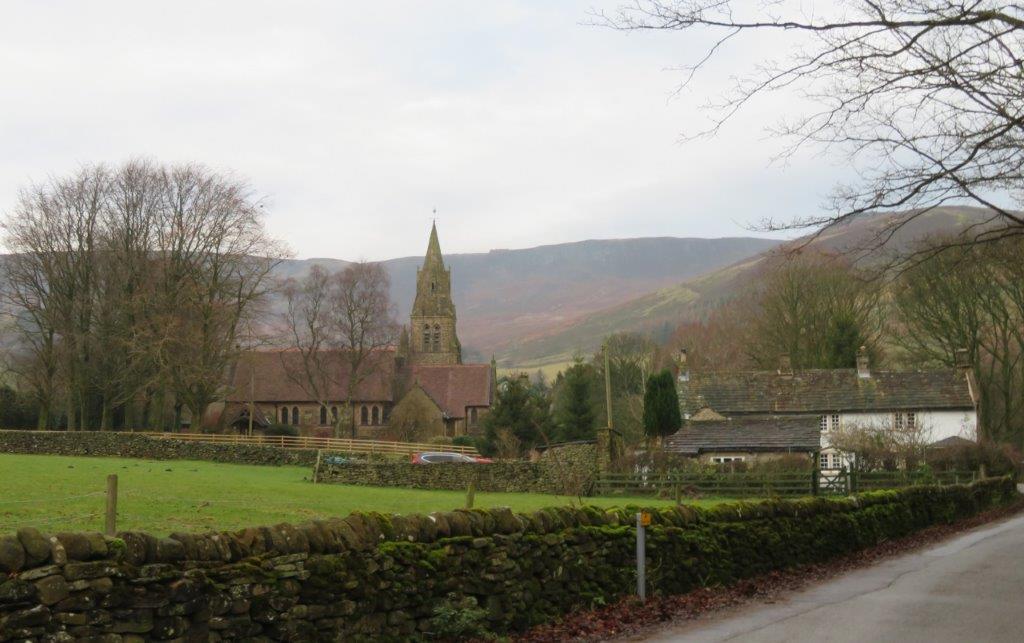 Edale's Parish Church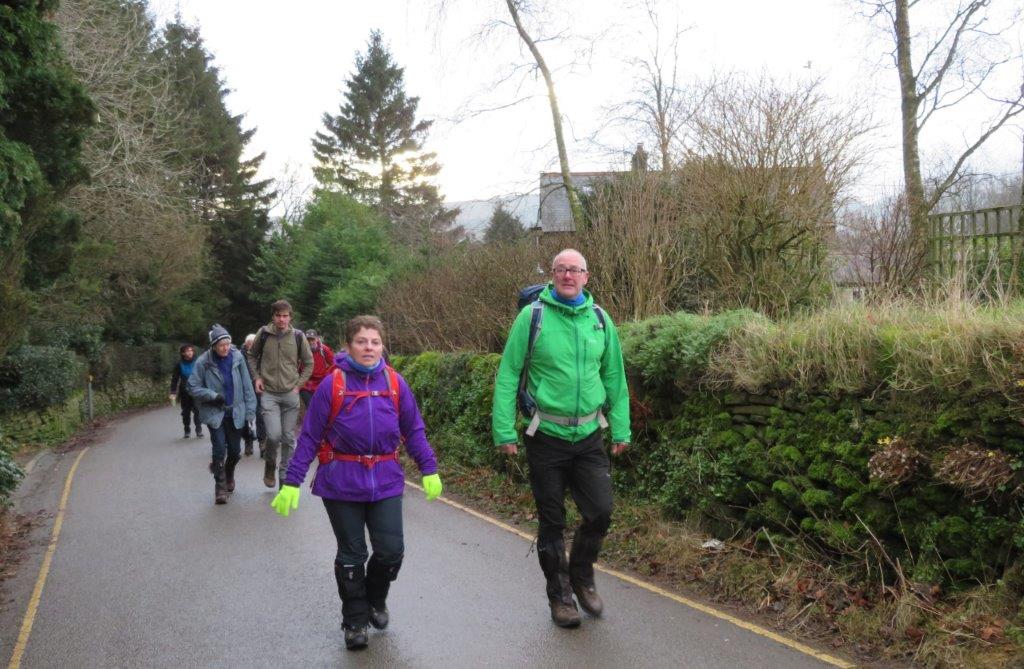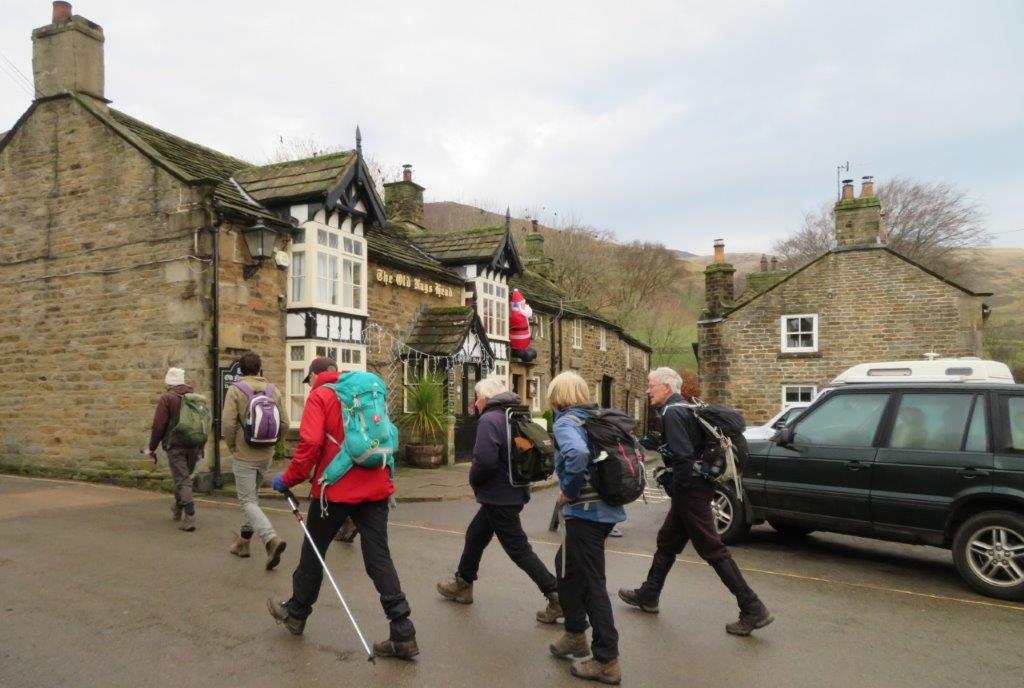 passing The Old Nags Head (public House)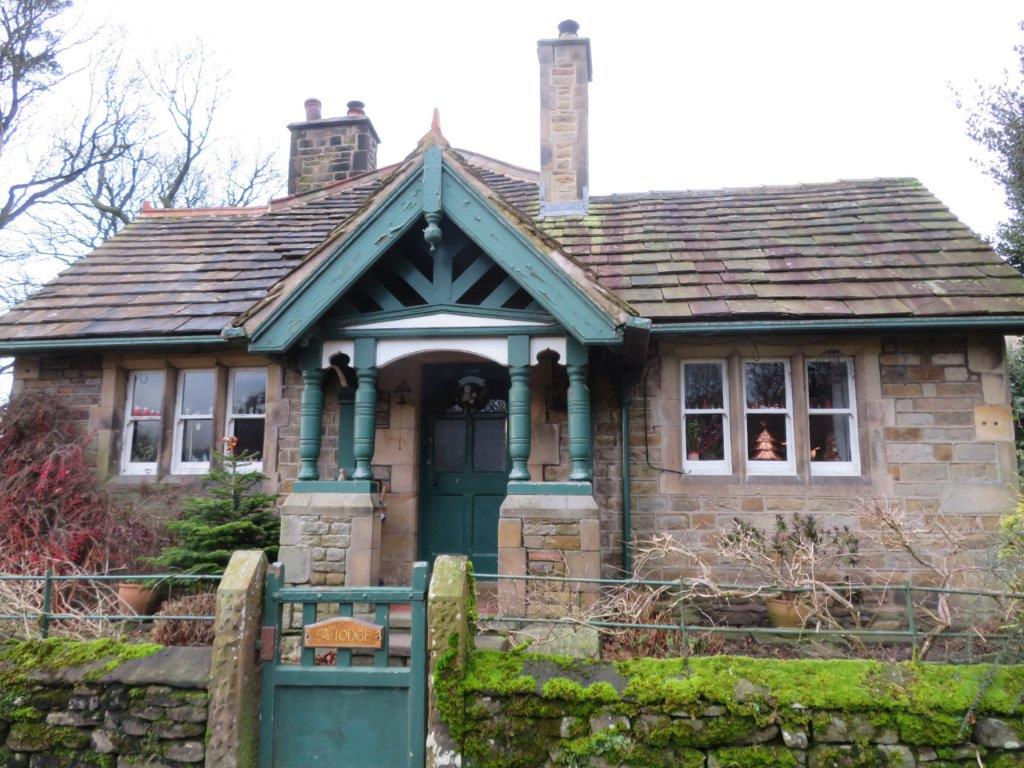 House almost opposite to turnoff down to Footbridge over Grinds Brook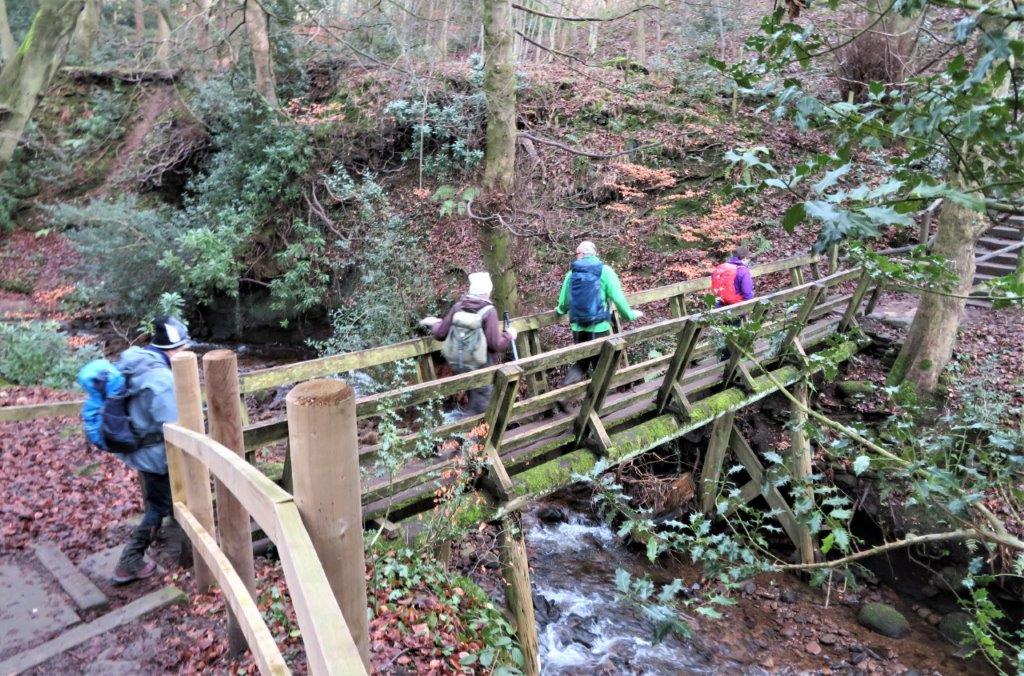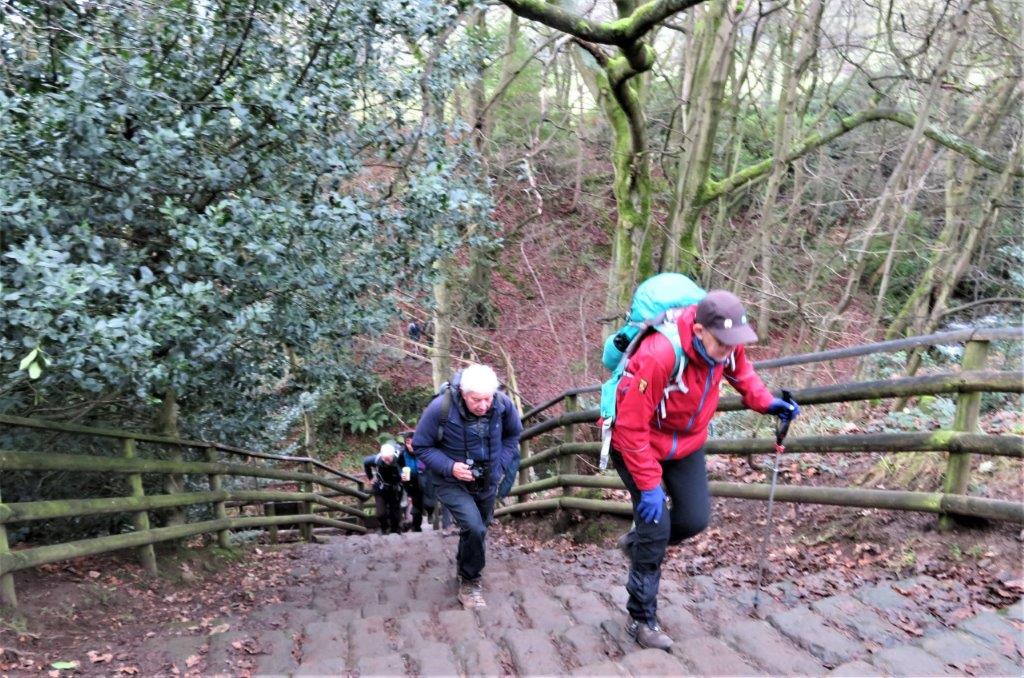 up from the footbridge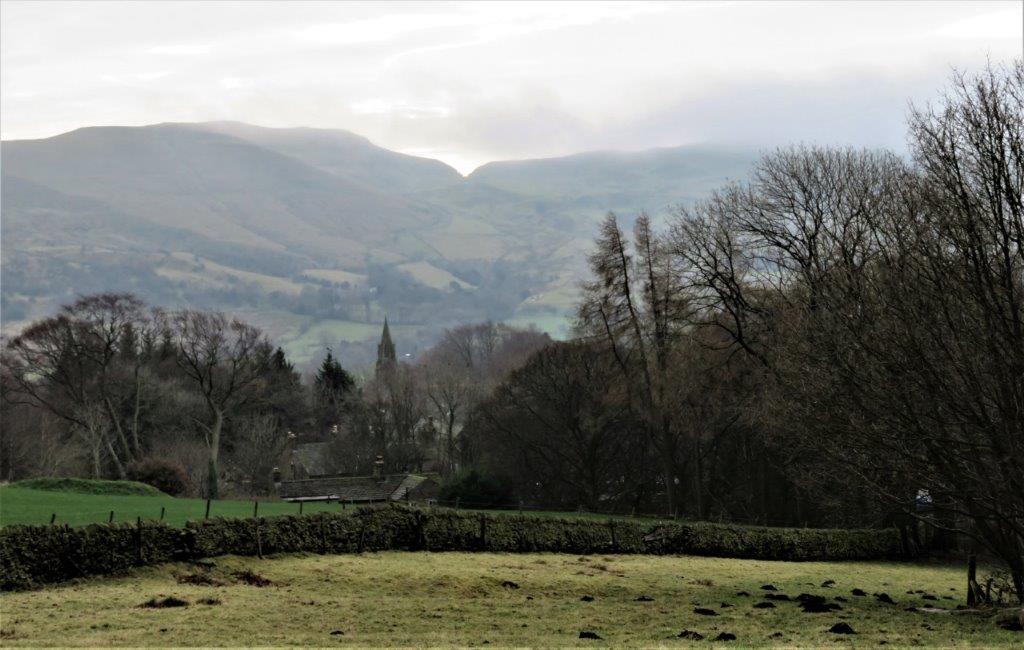 looking across the Vale of Edale at Mam Tor at left and Rushup edge to its right. The nick between them takes small road from Castleton to Edale (no bus link)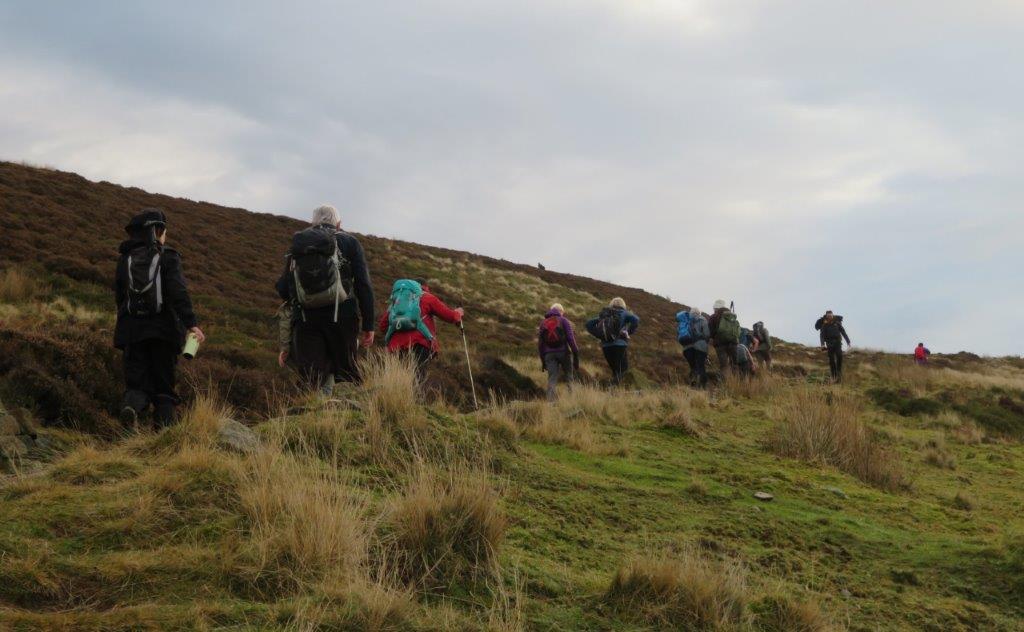 up towards The Nab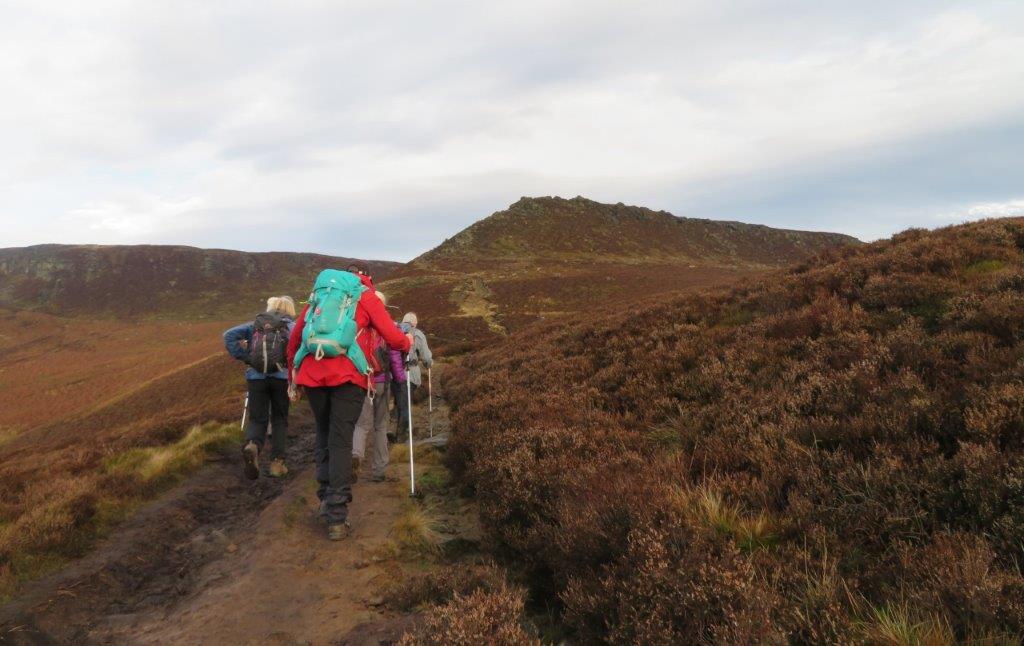 heading toward Kinder Scout from The Nab - but most diverted to right to scramble over Ringing Roger before continuing up to Kinder Scout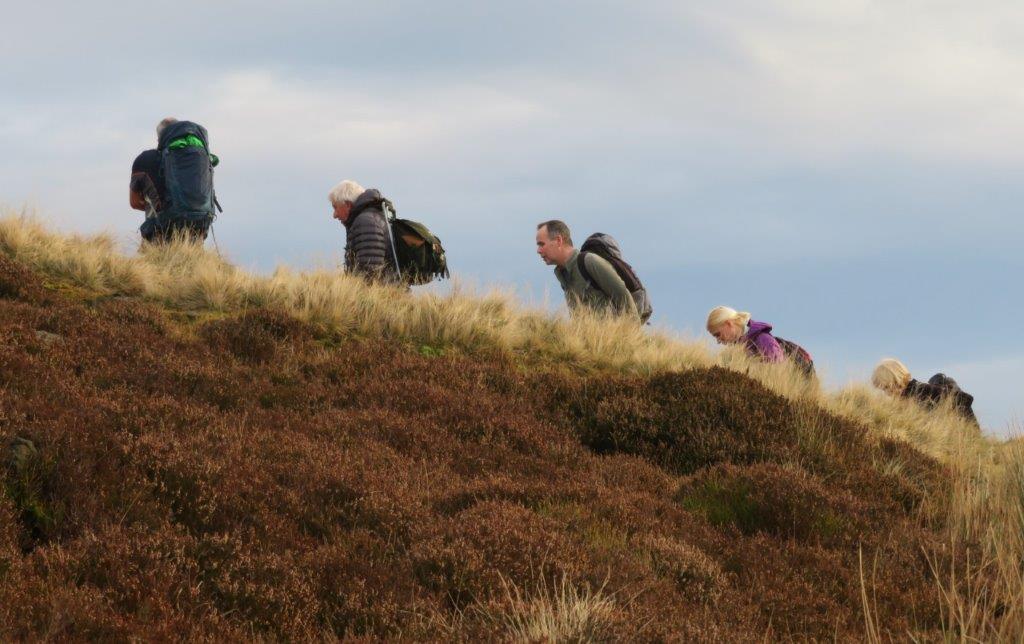 photo from the 'lower' path up to Kinder of the party 'scrambling' up Ringing Roger before continuing to Kinder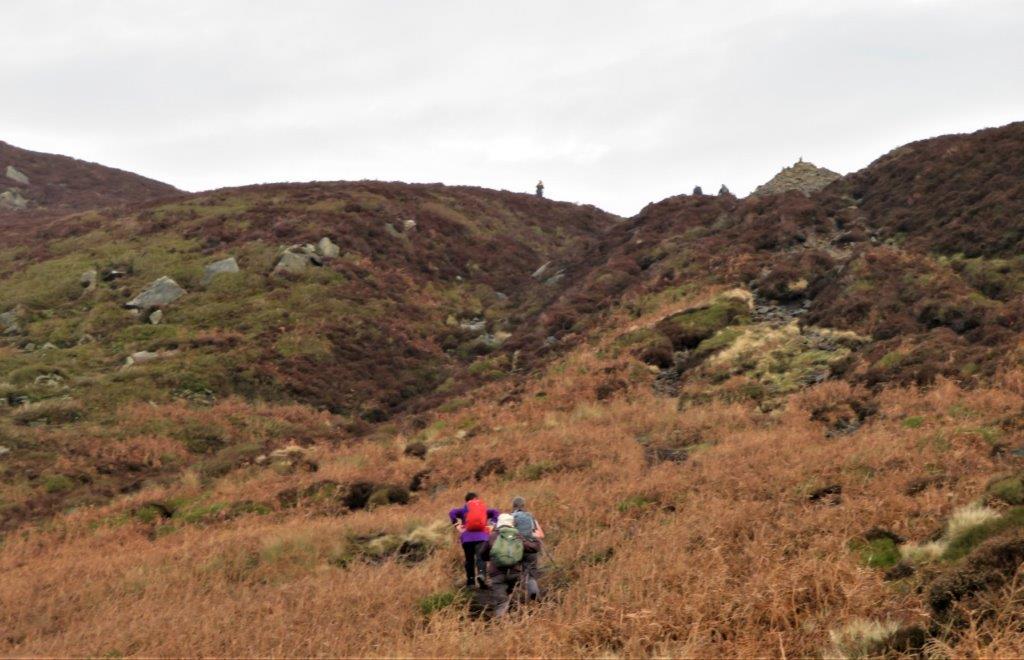 on the lower path - Ringing Roger to its right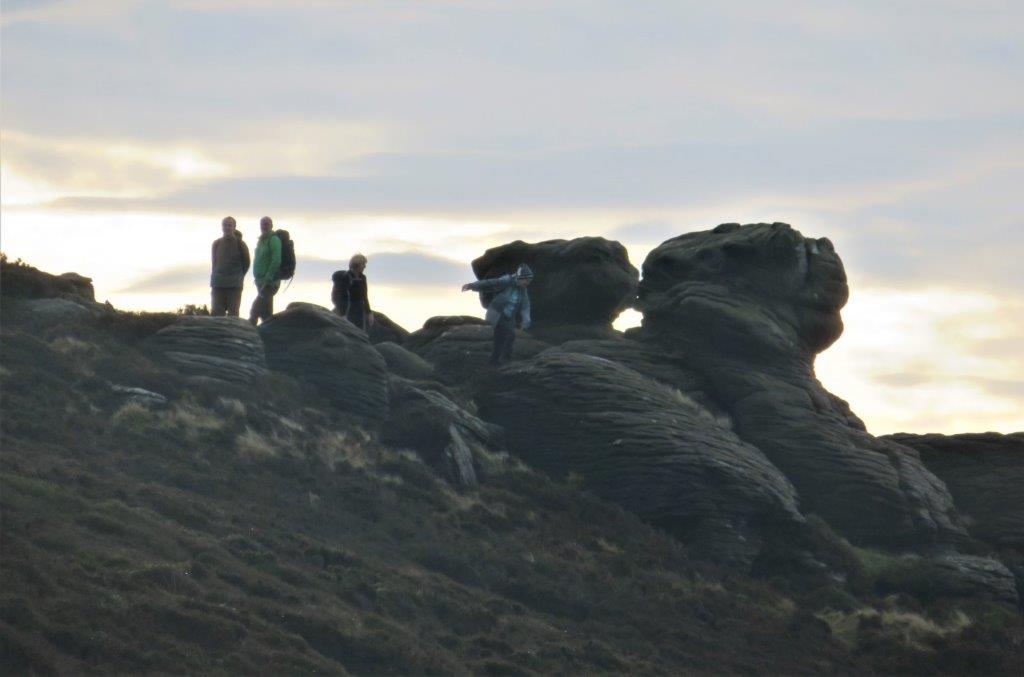 foto from the southern edge of Kinder back at some of the party on the top of Ringing Roger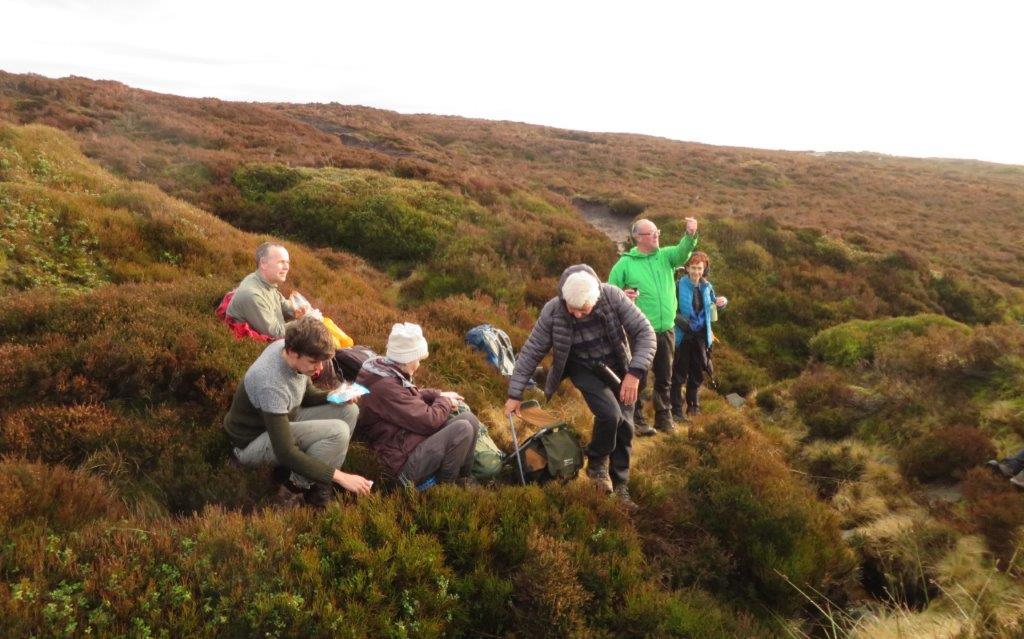 Party united on the southern edge of Kinder soon stopped for a tea break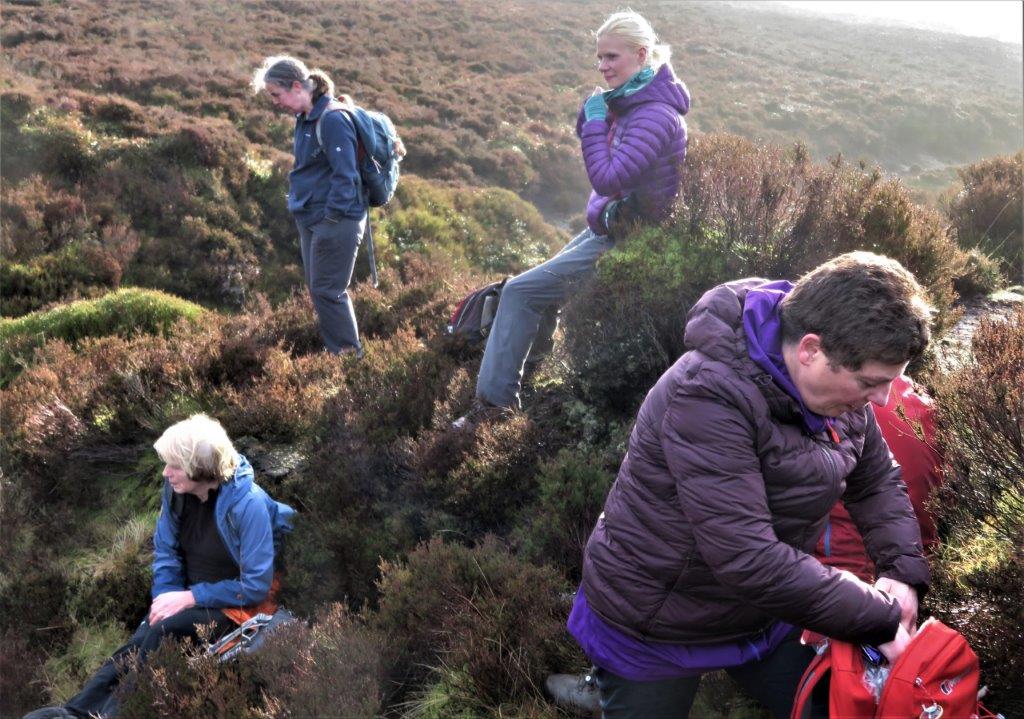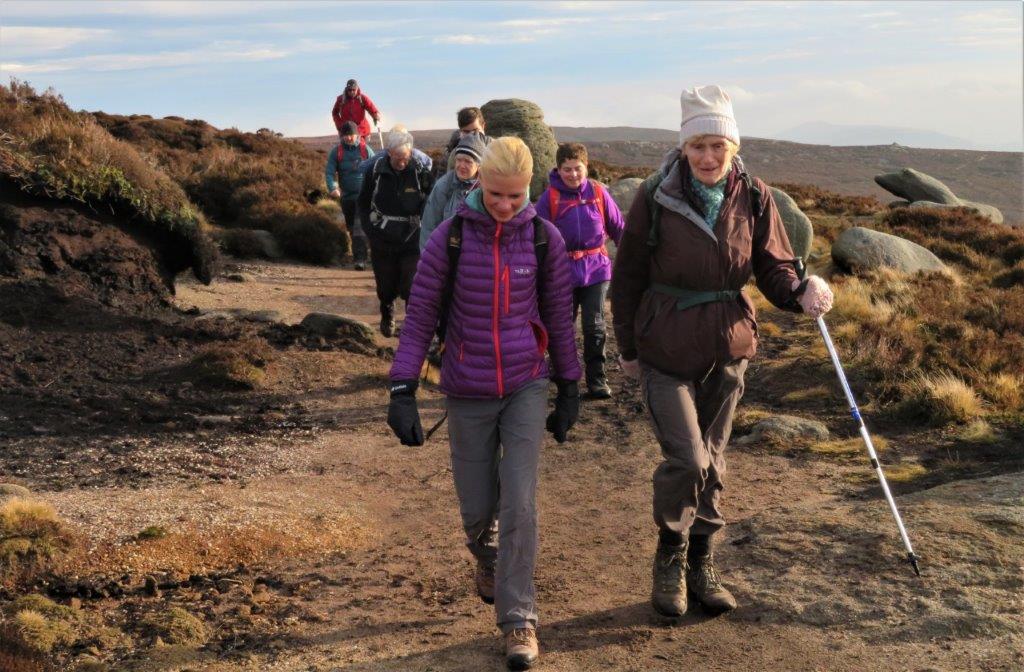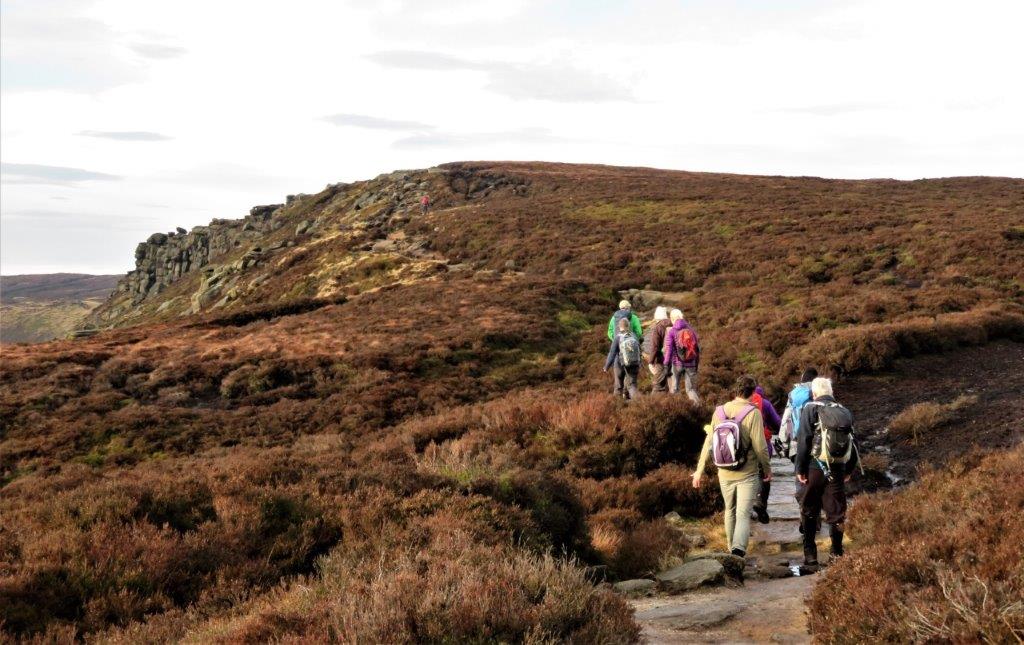 Westward on Kinders Southern edge 'path'. Most paths on Kinder (in Open Access Land) are not defined as Public Footpaths and only faintly marked on maps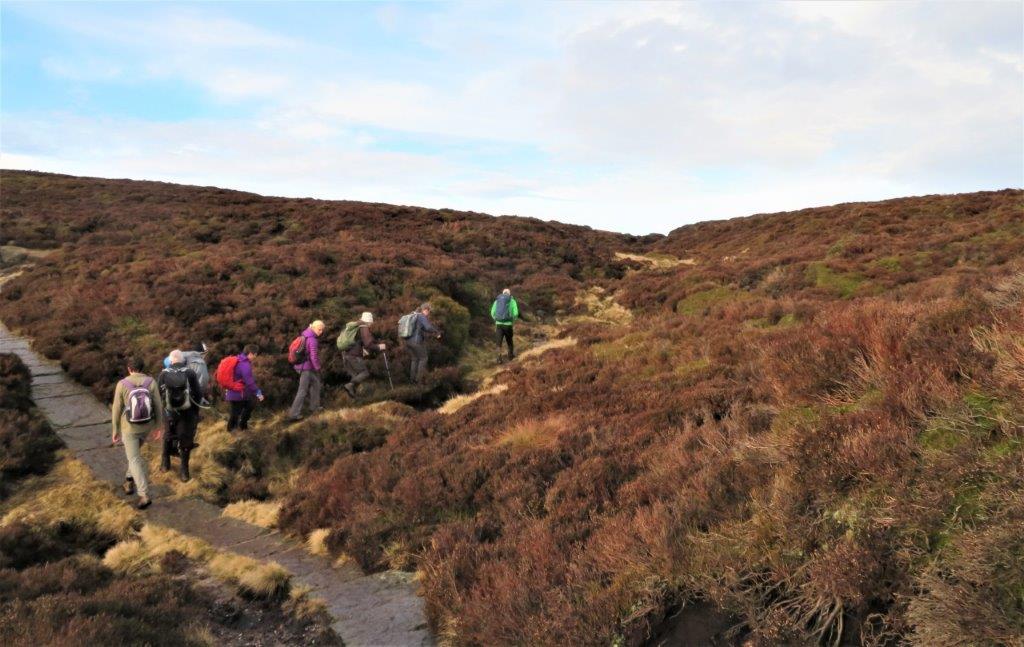 turning off the 'edge' path thru moorland toward the top of Blackden Clough
with conservation efforts over the past 7 odd years - eroded gullies dammed to trap soil - many of gullies have filled up and vegetation has grown on recovered land.on top of Kinder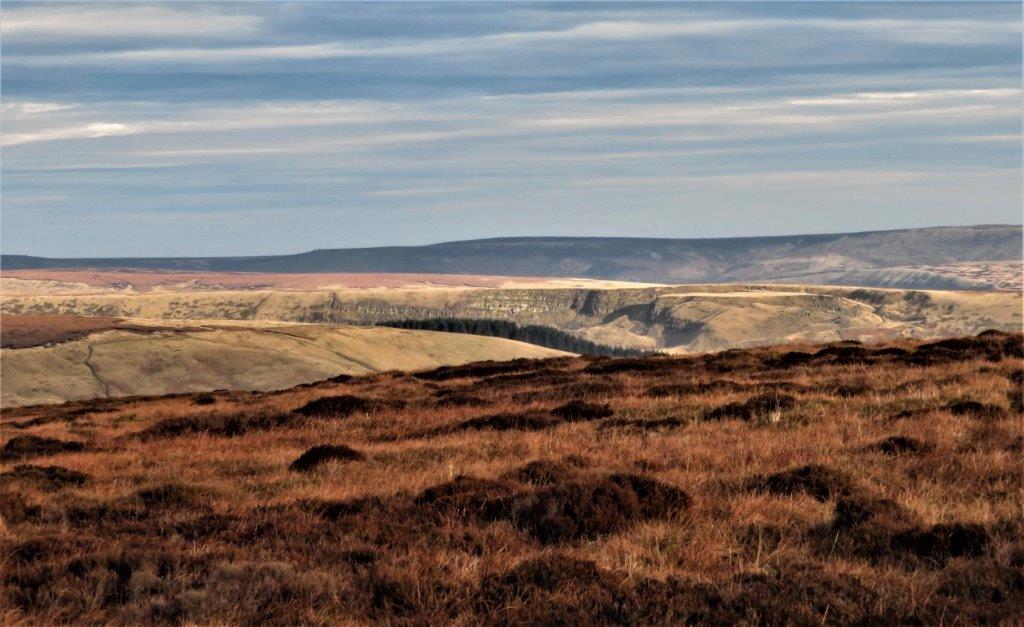 seen from northern Edge - but what?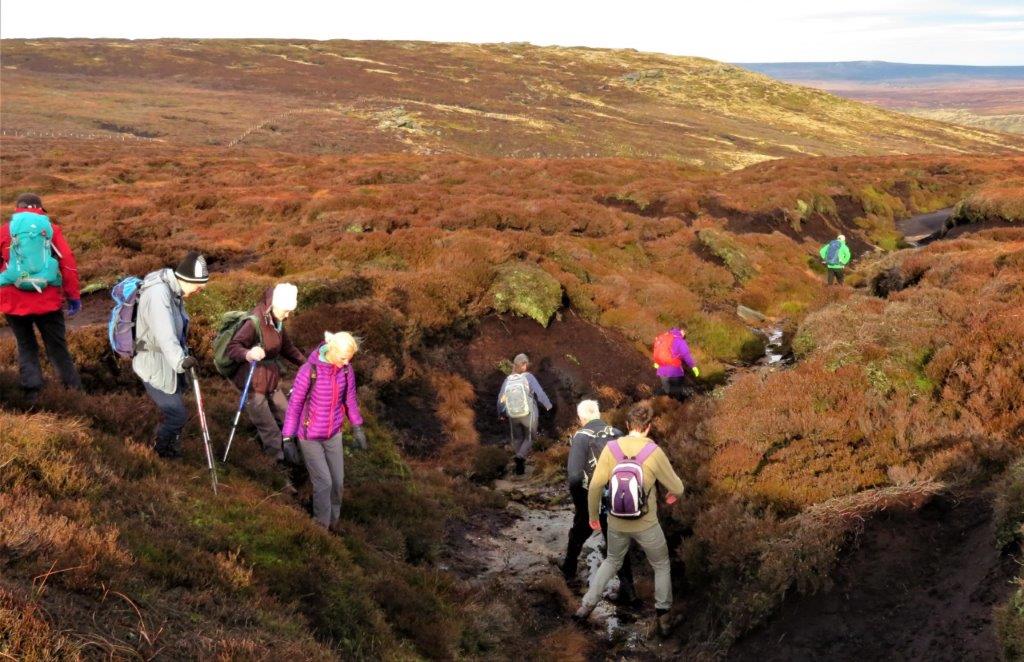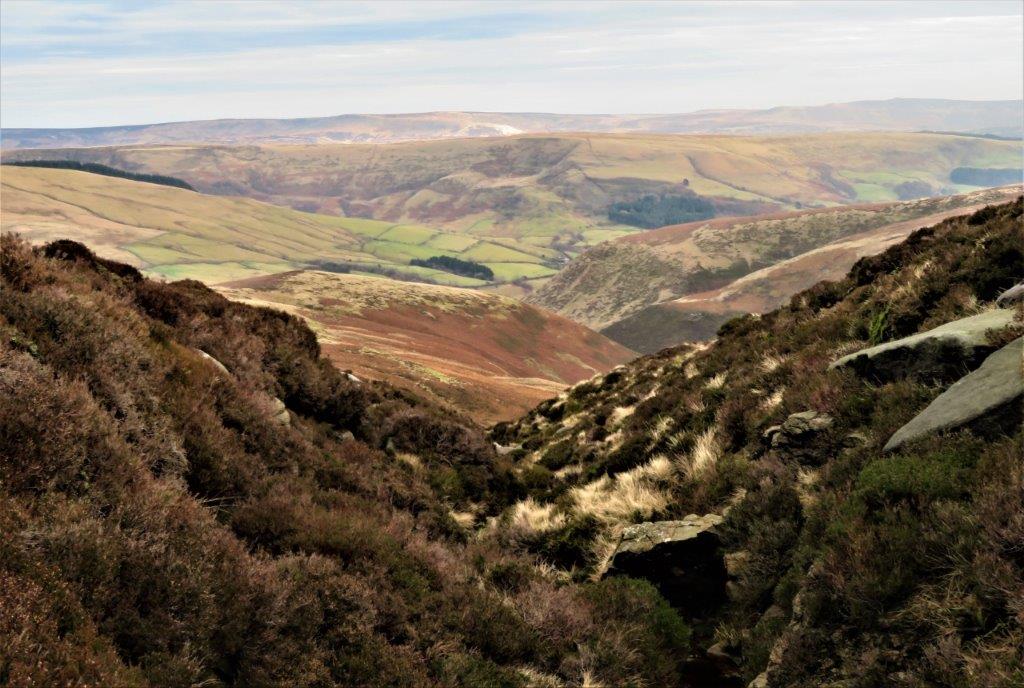 looking down one of the gullies running into Blackden Clough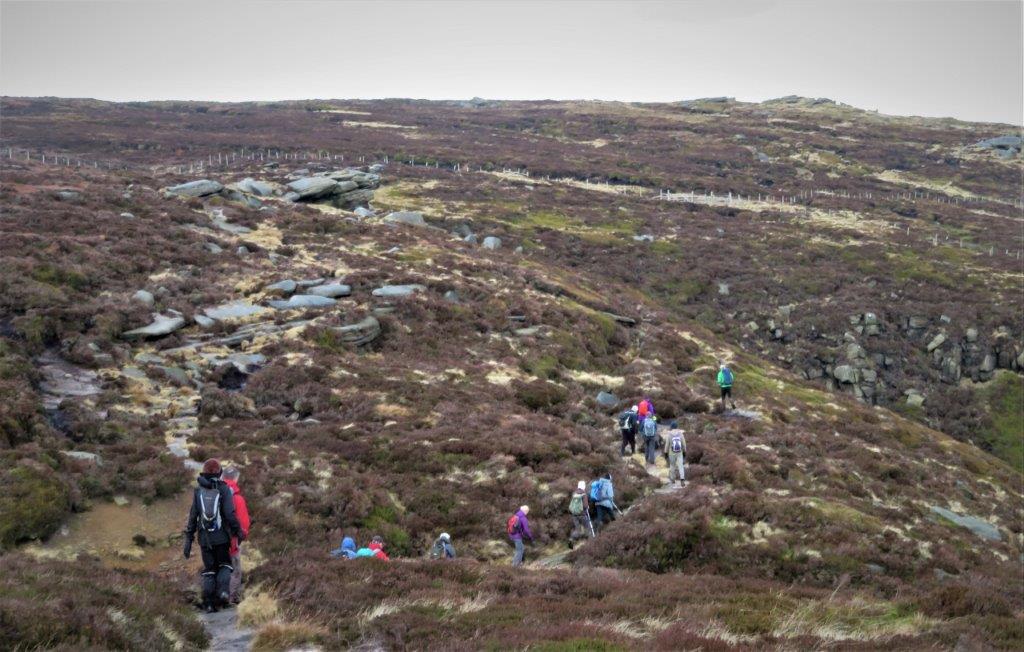 Blackden Clough - top of clough at stones top left?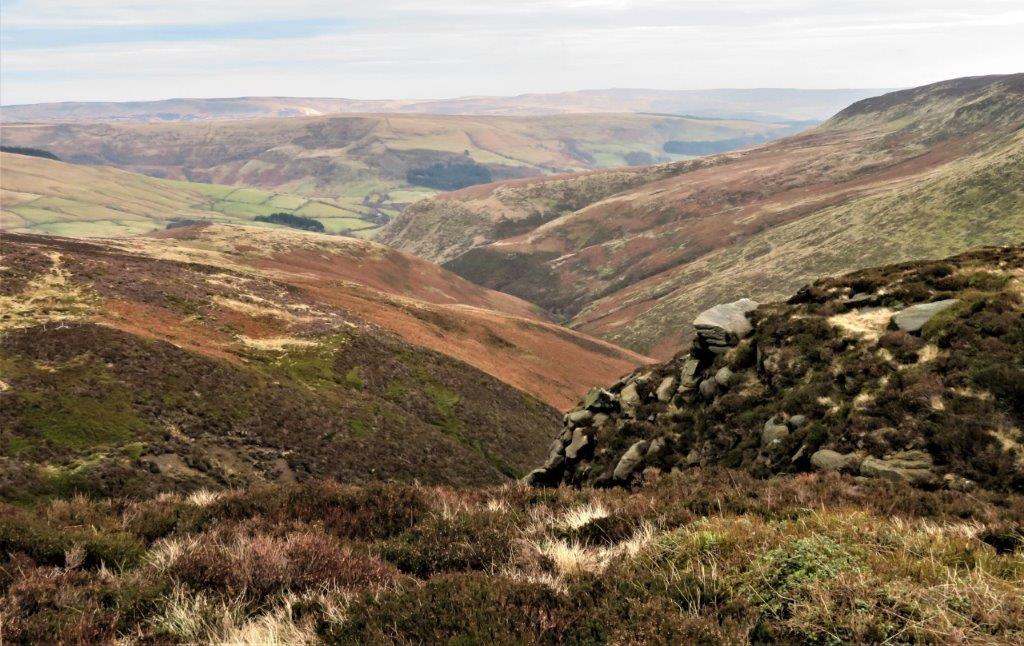 another view down Blackden Clough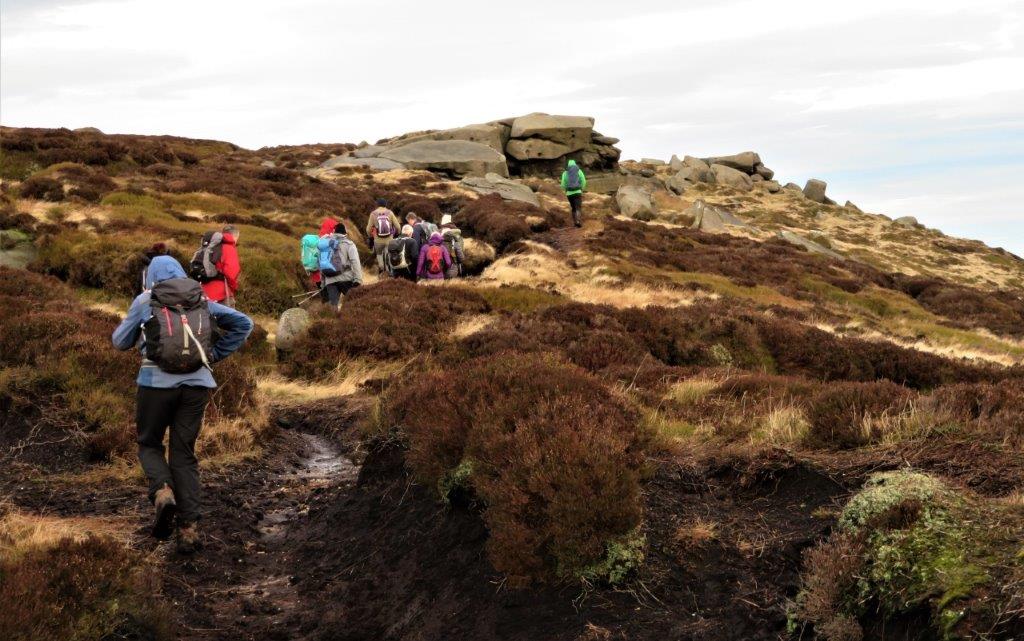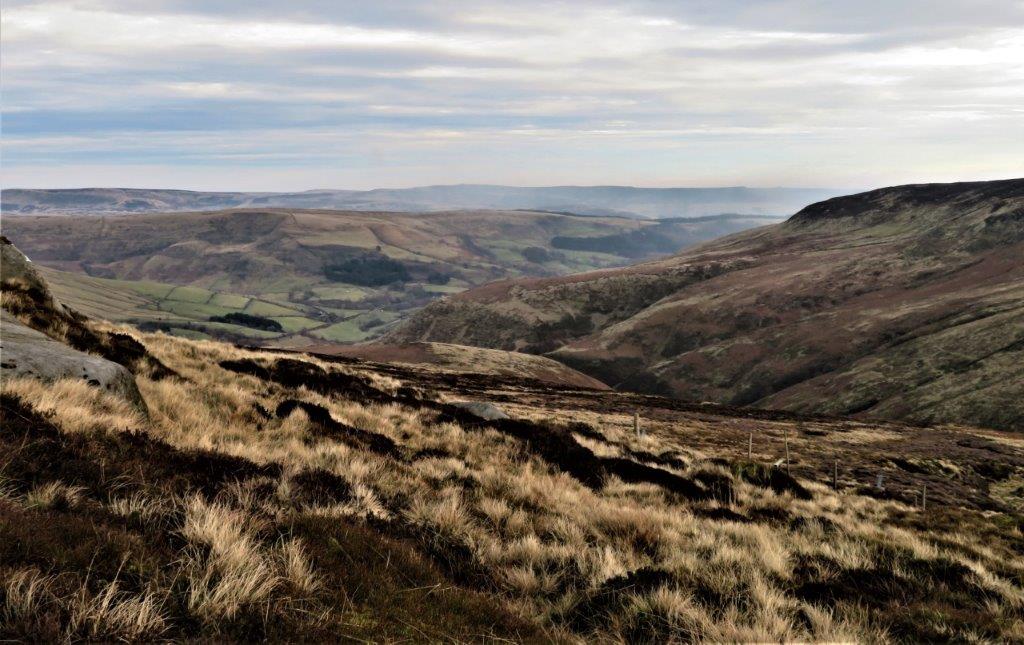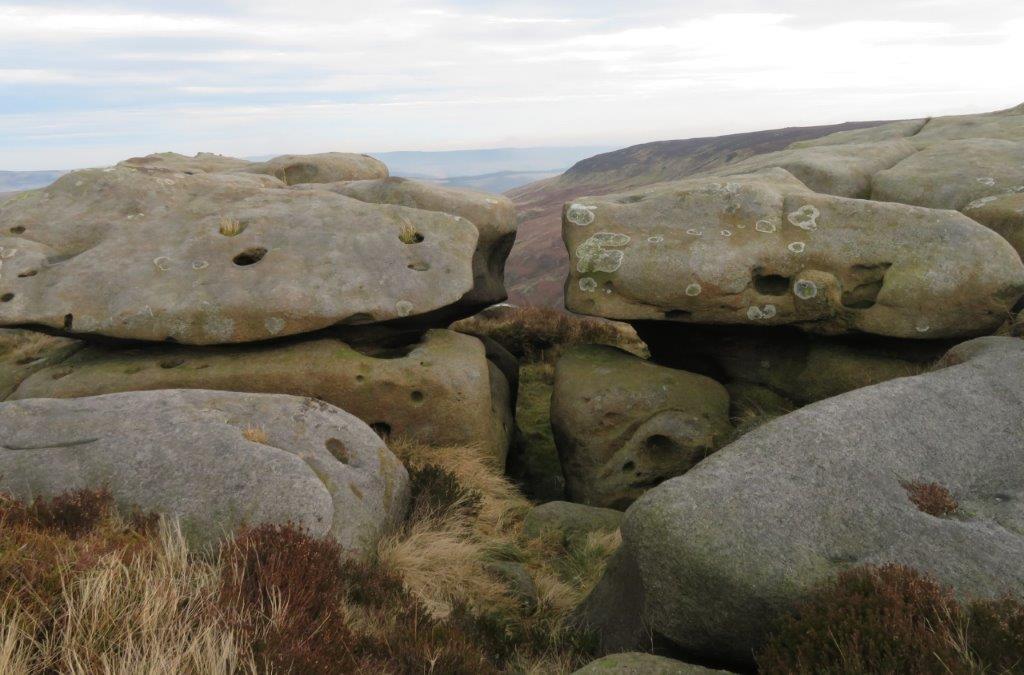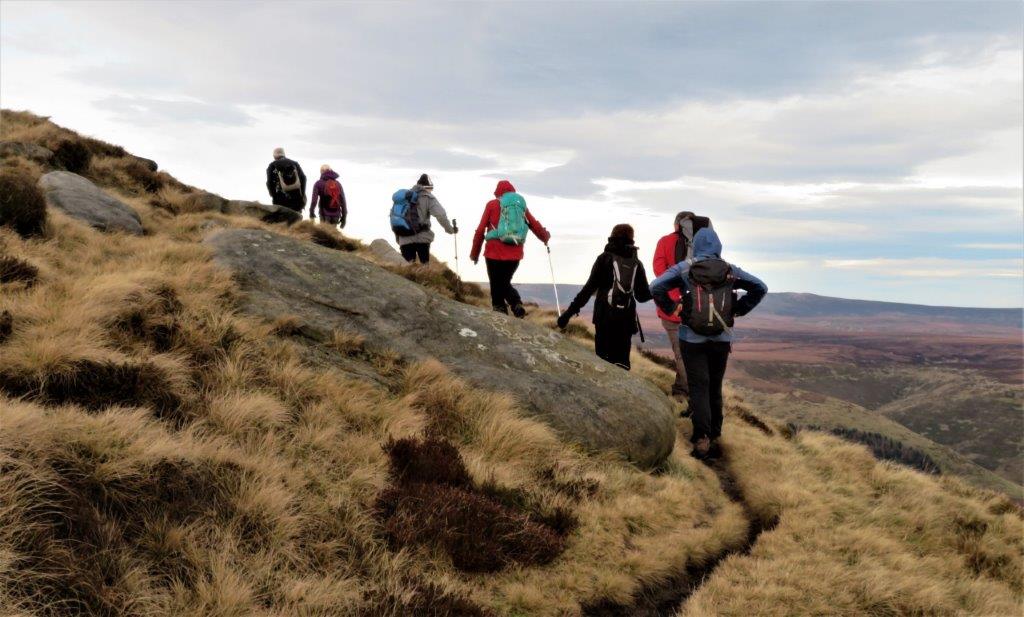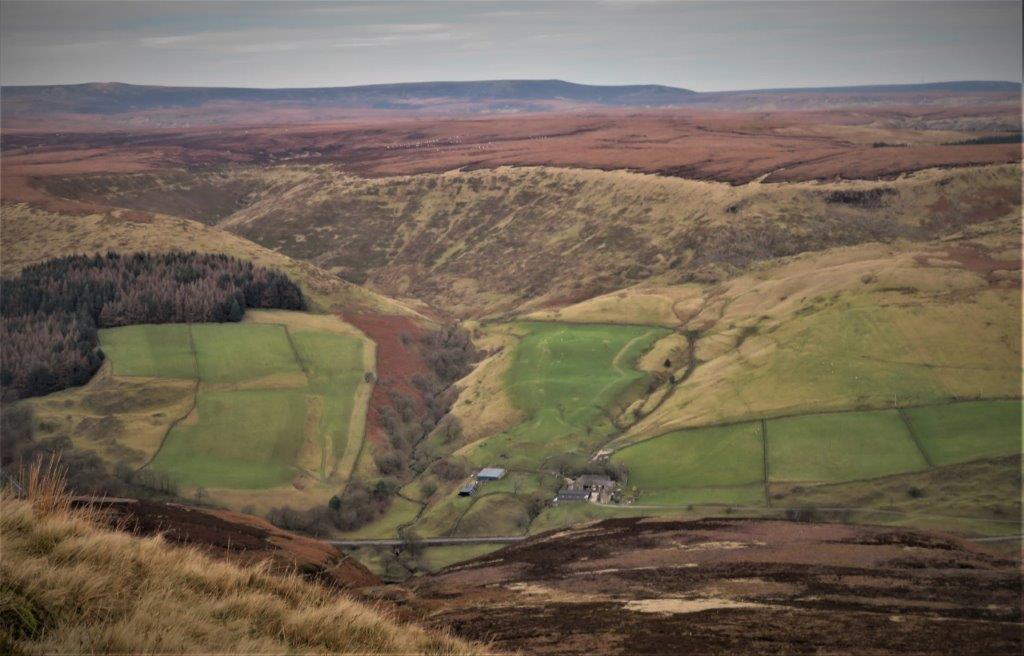 Upper House Farm just above the A57 road with Oyster Clough behind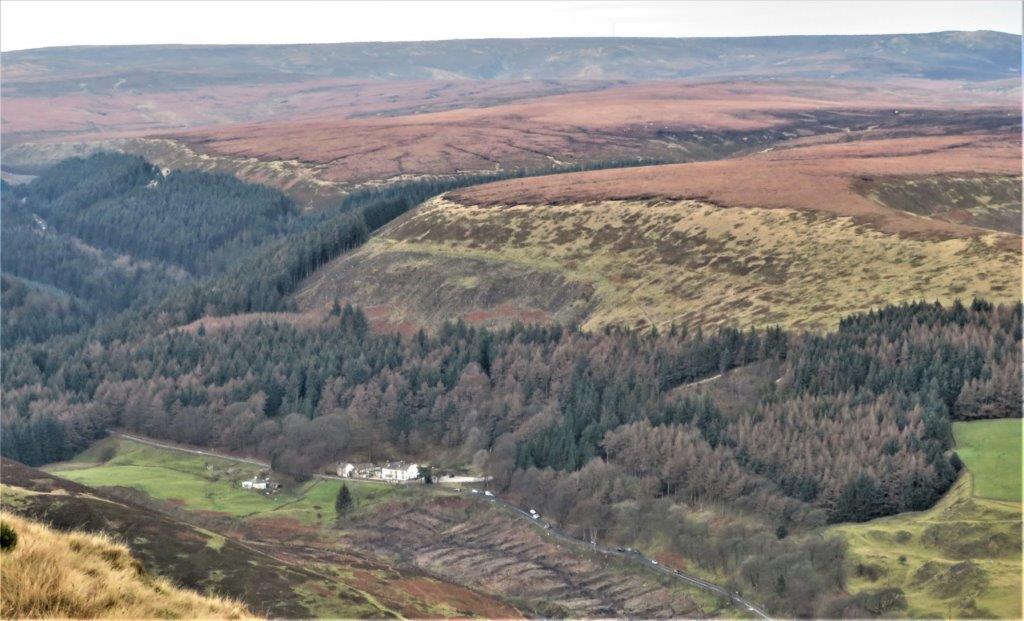 Snake Inn on the A57 road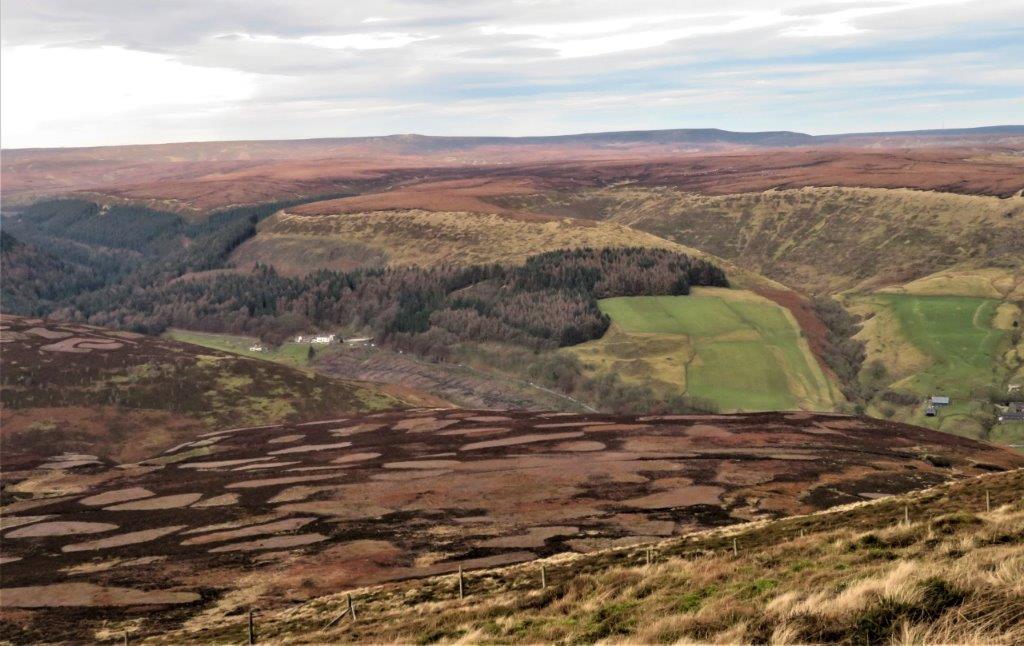 Snake Inn to left - Upper house Farm to right. Fair Brook is in the cleft lower left of foto. Patchwoork on moorland probably from controlled burning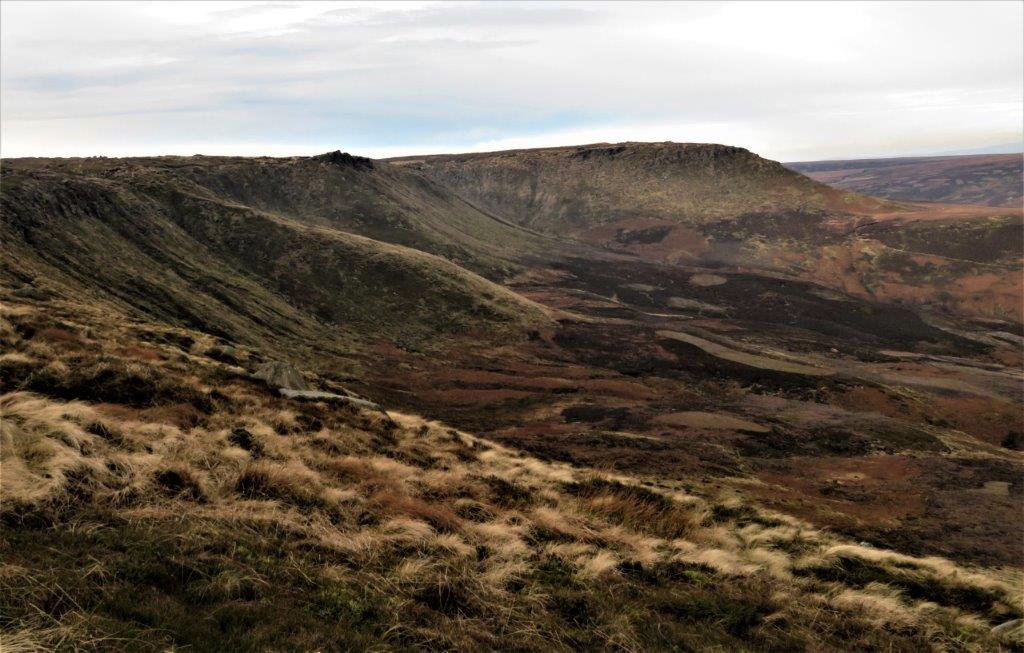 Fairbrook Naze top right. Fairbrook runs infront of it beneath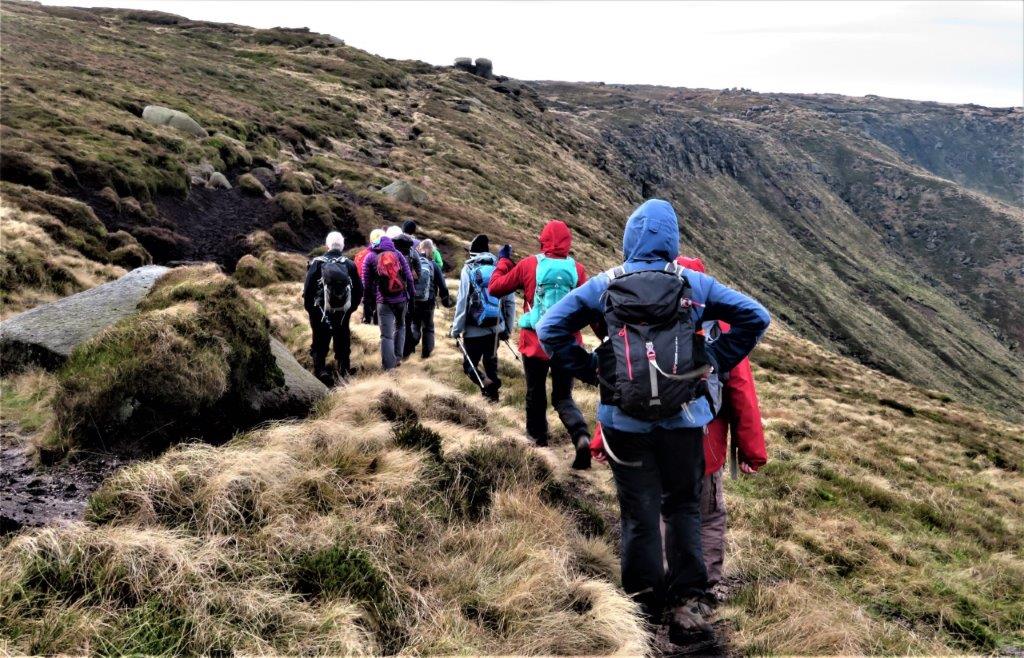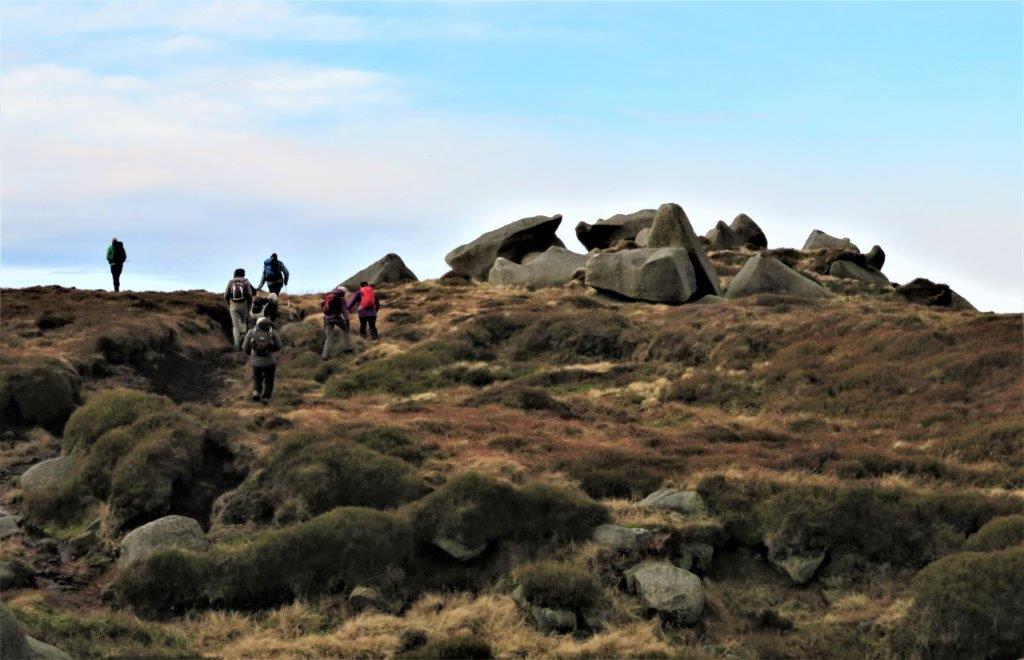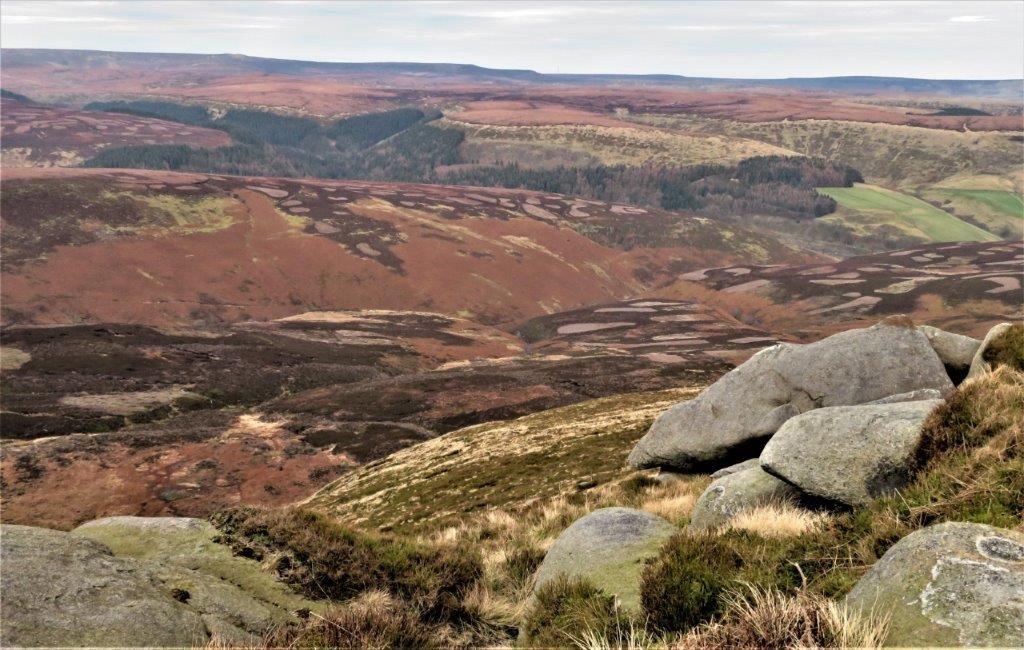 Fair Brook 'valley' in middle of picture - path alongside brook just visible to left of picture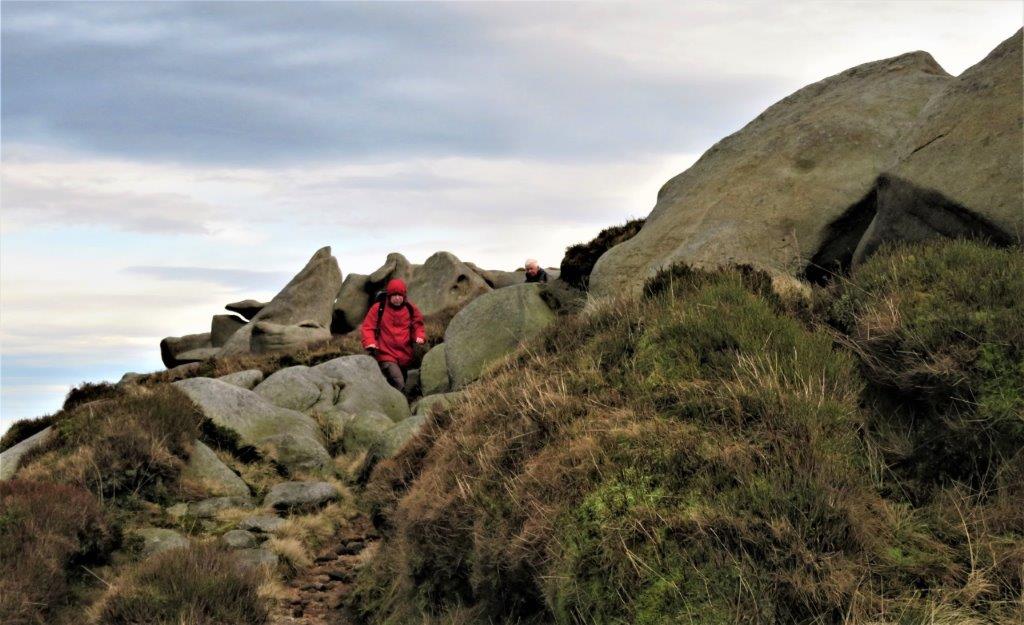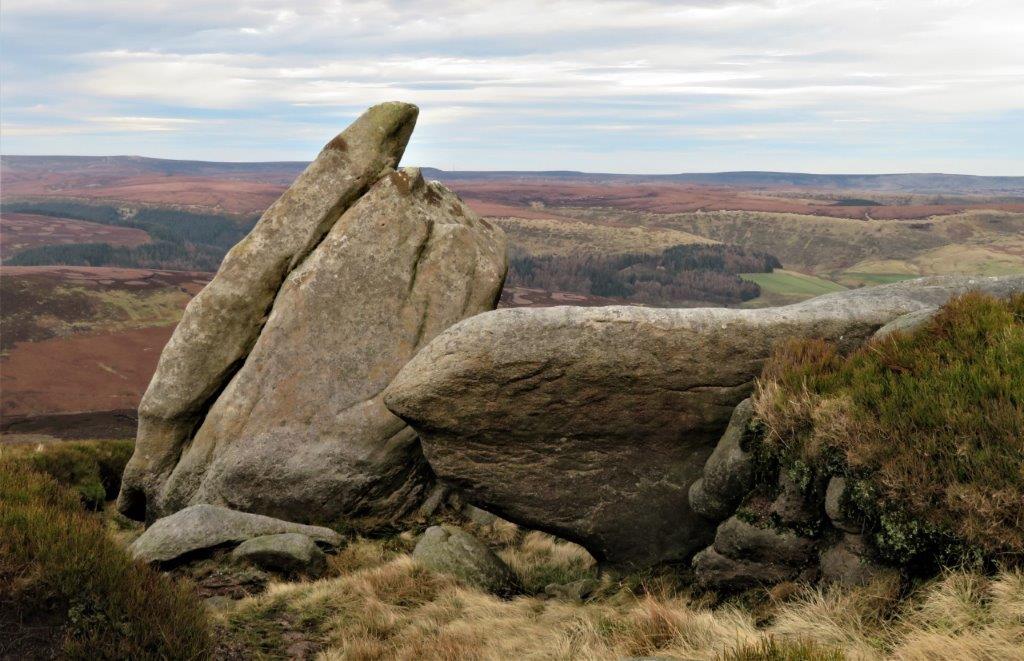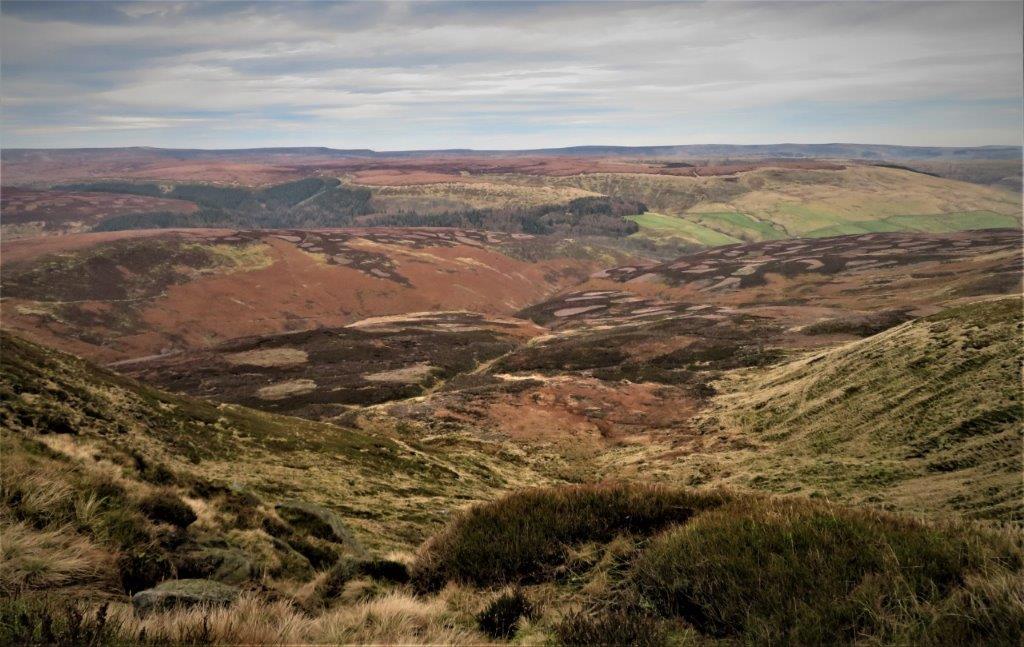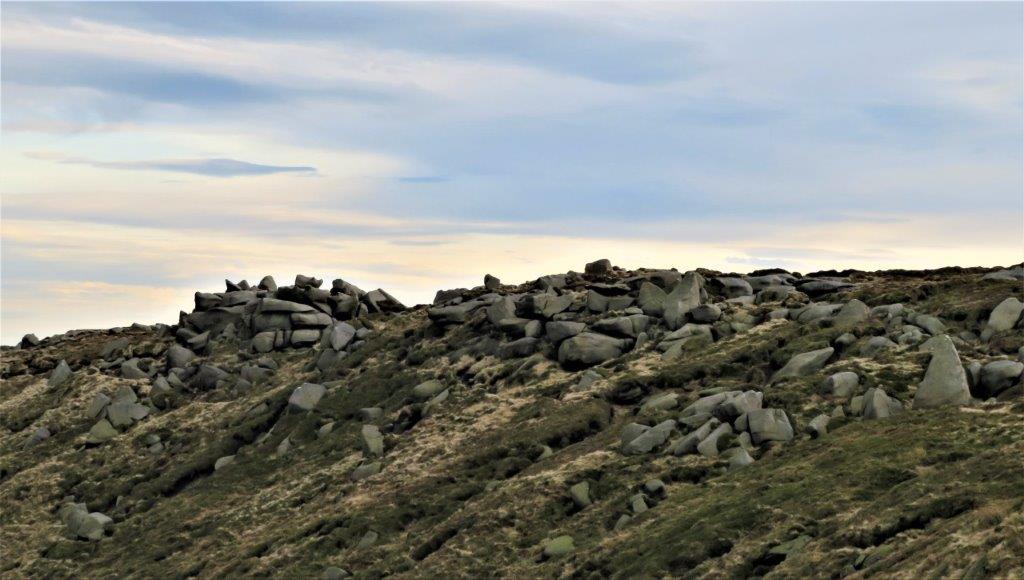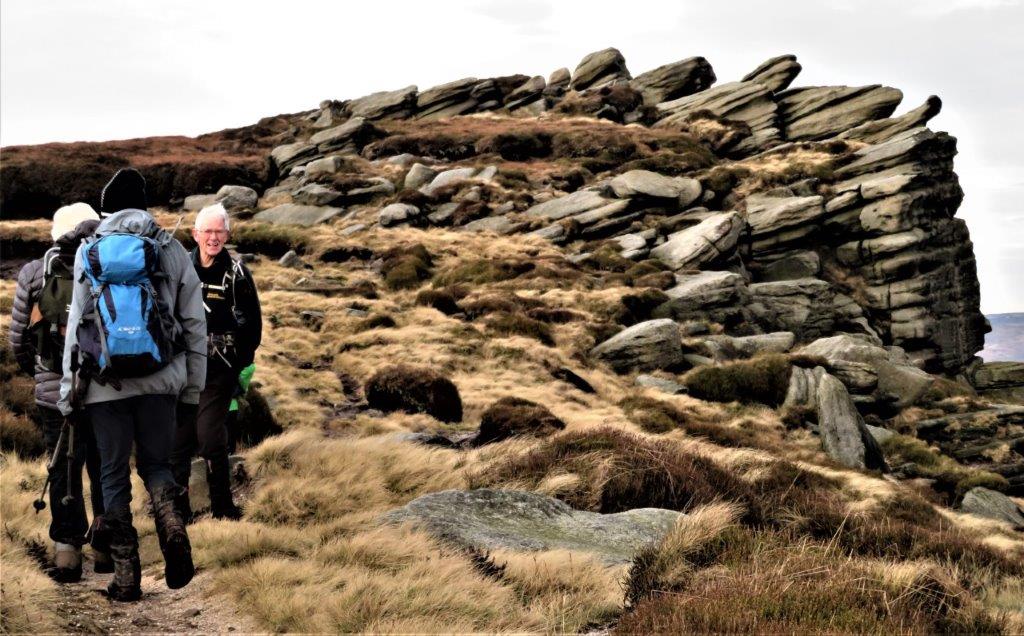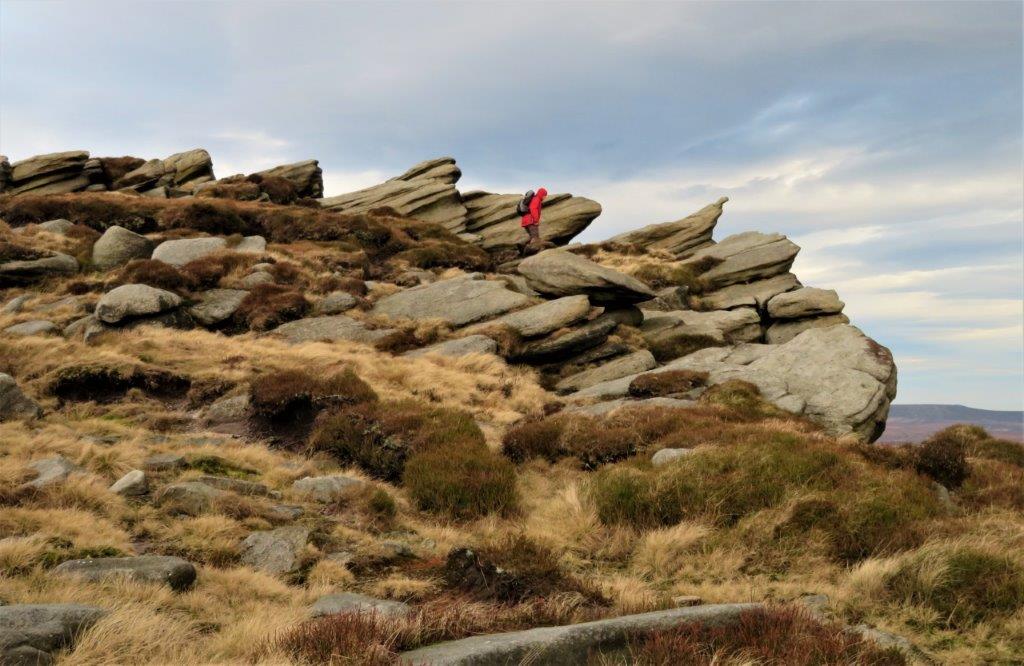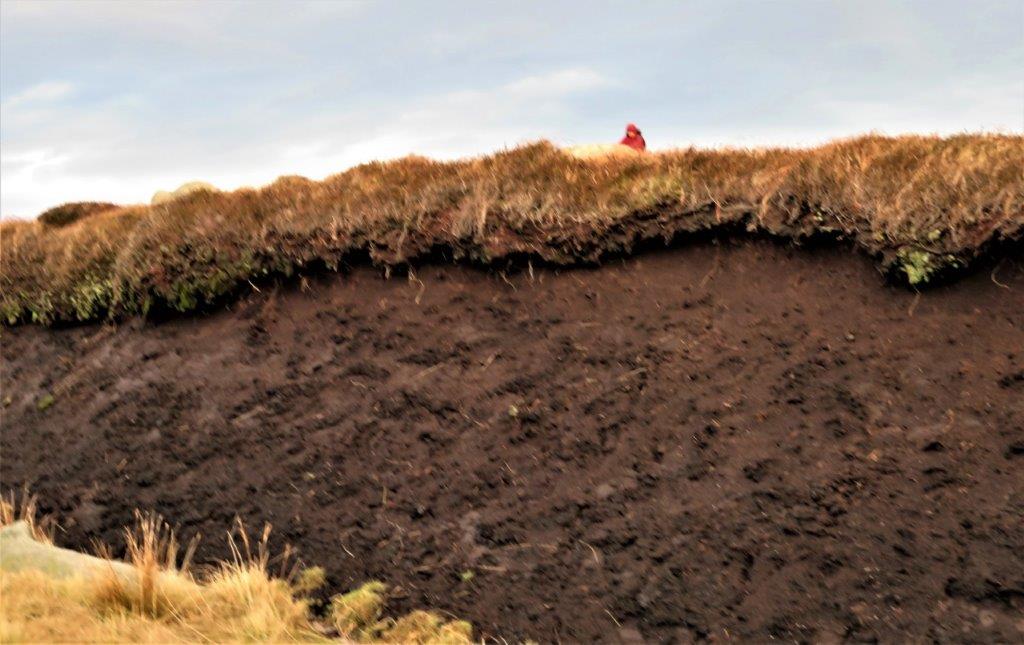 deep face of peat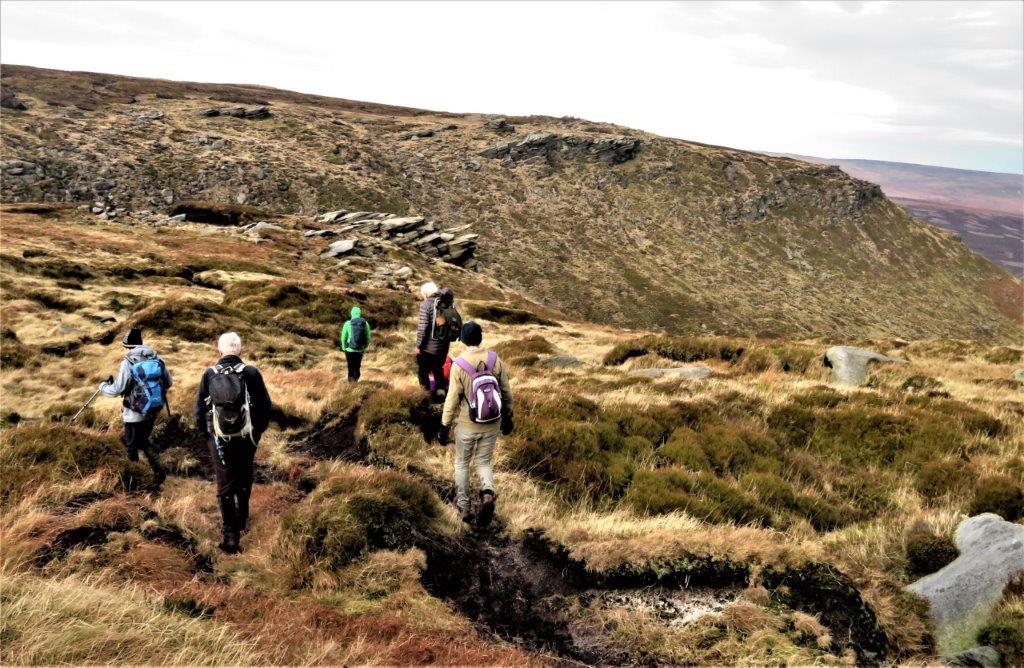 close to the top of Fair Brooks 'valley'. Fairbrook Naze on the far side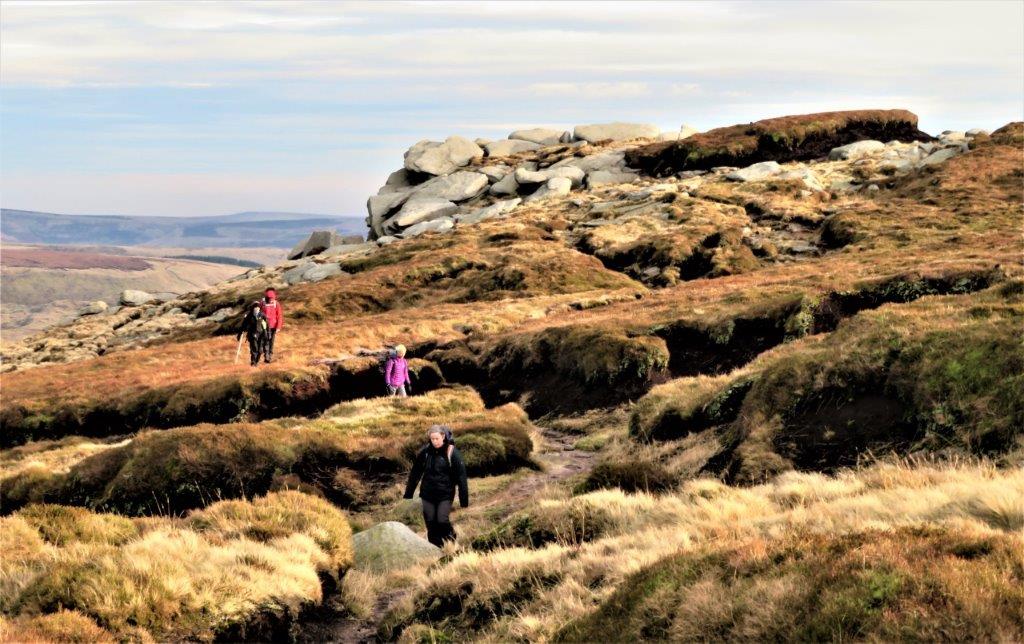 descending towards Fair Brook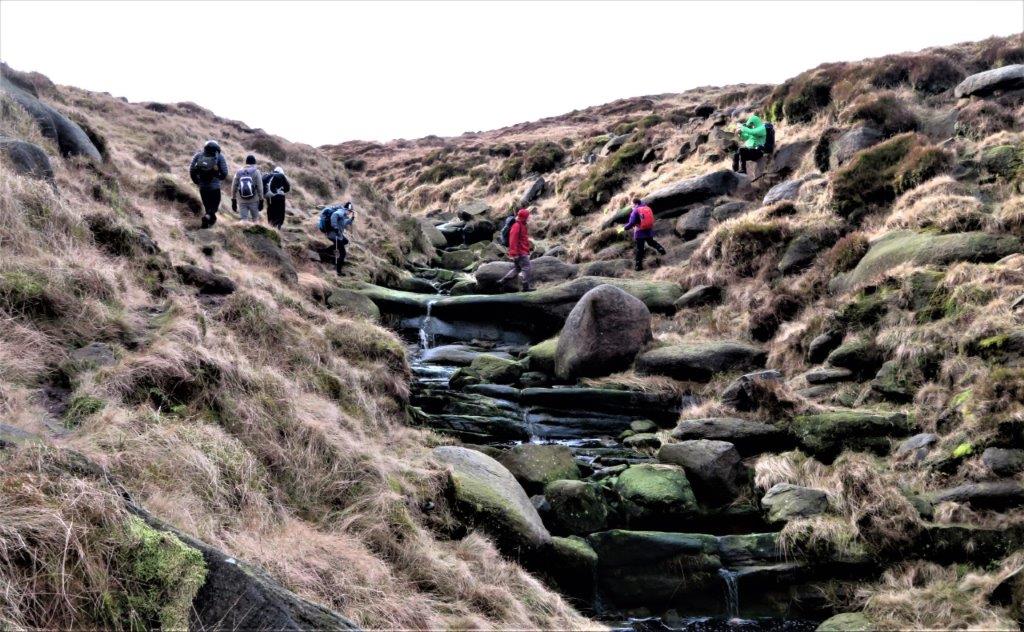 crossing Fair Brook near its top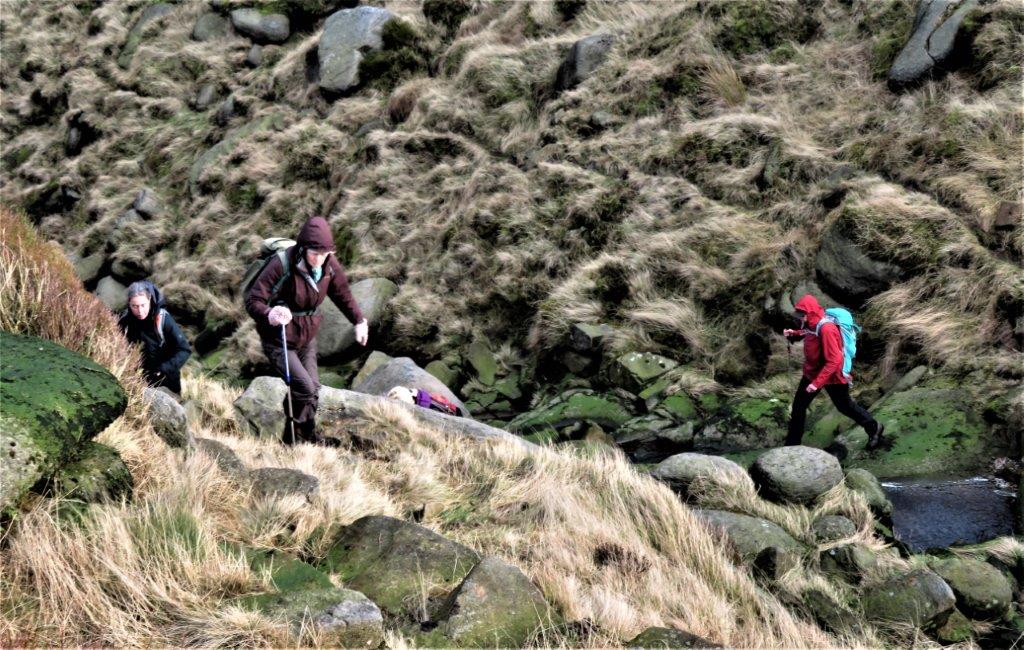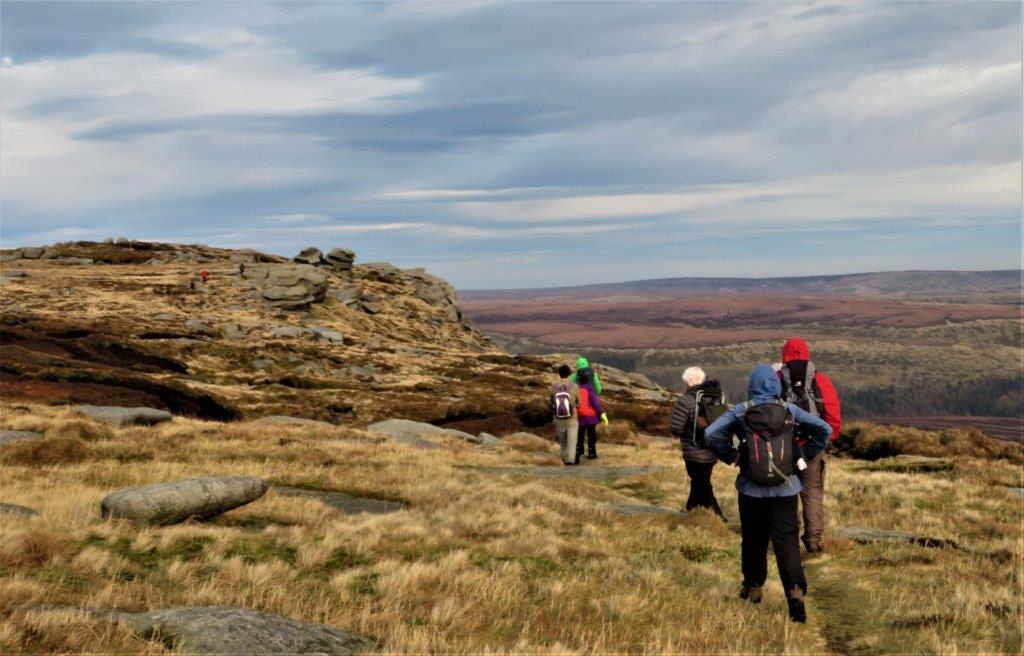 heading toward Fairbrook Naze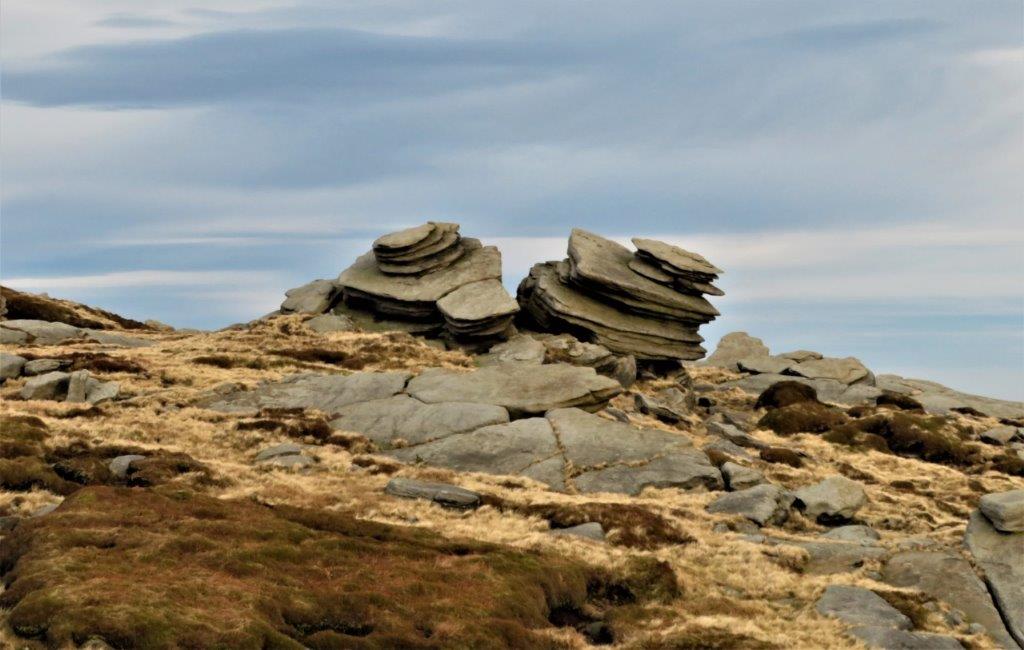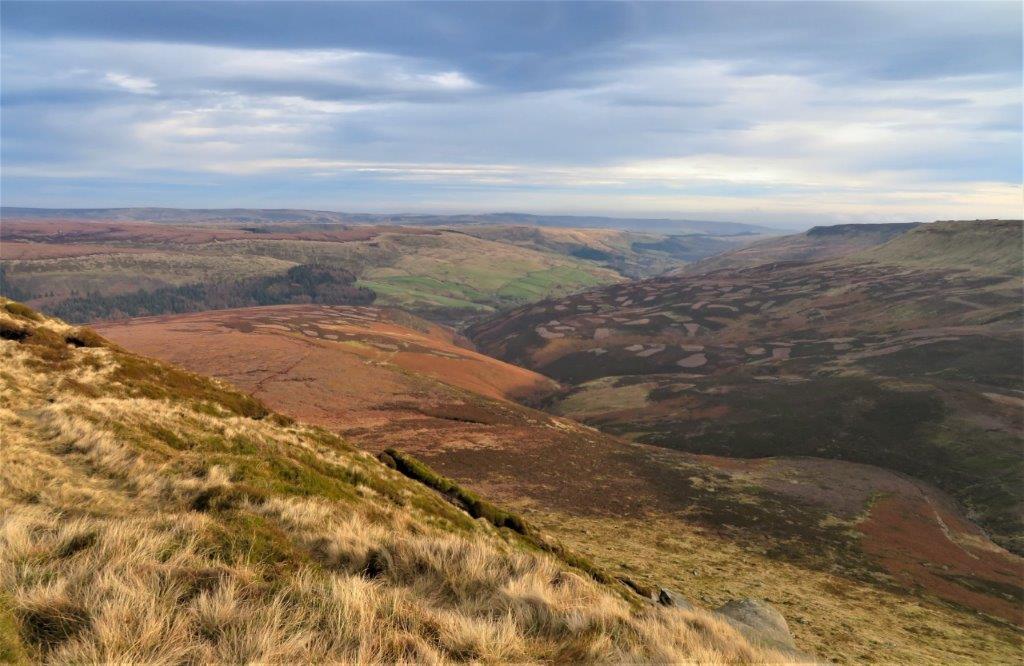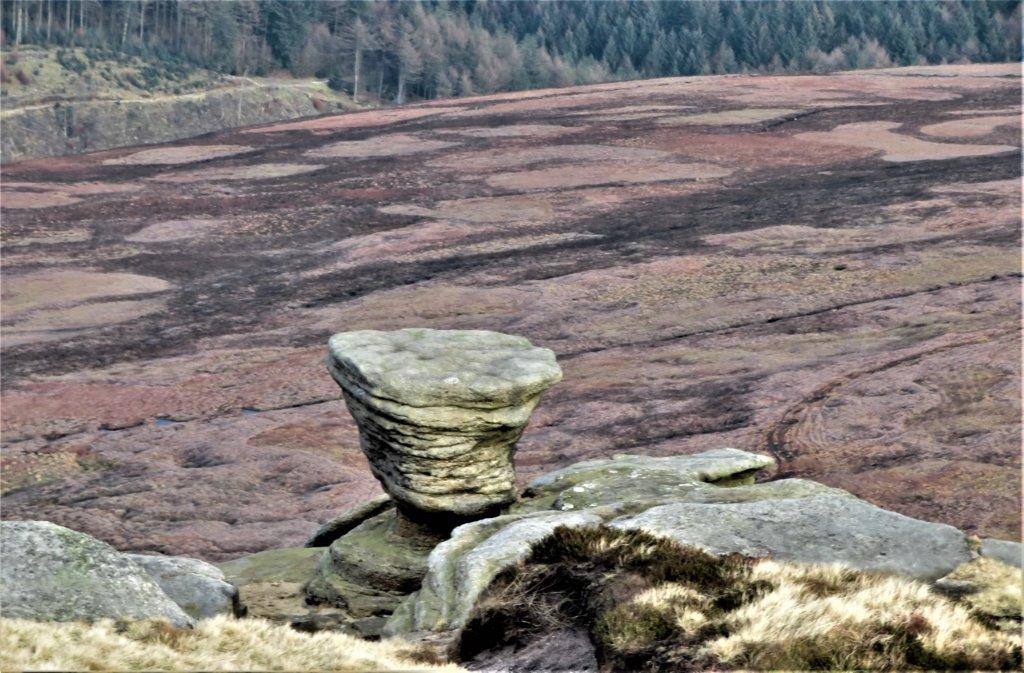 part of Snake Path? top left seen from Fairbrook Naze / The Edge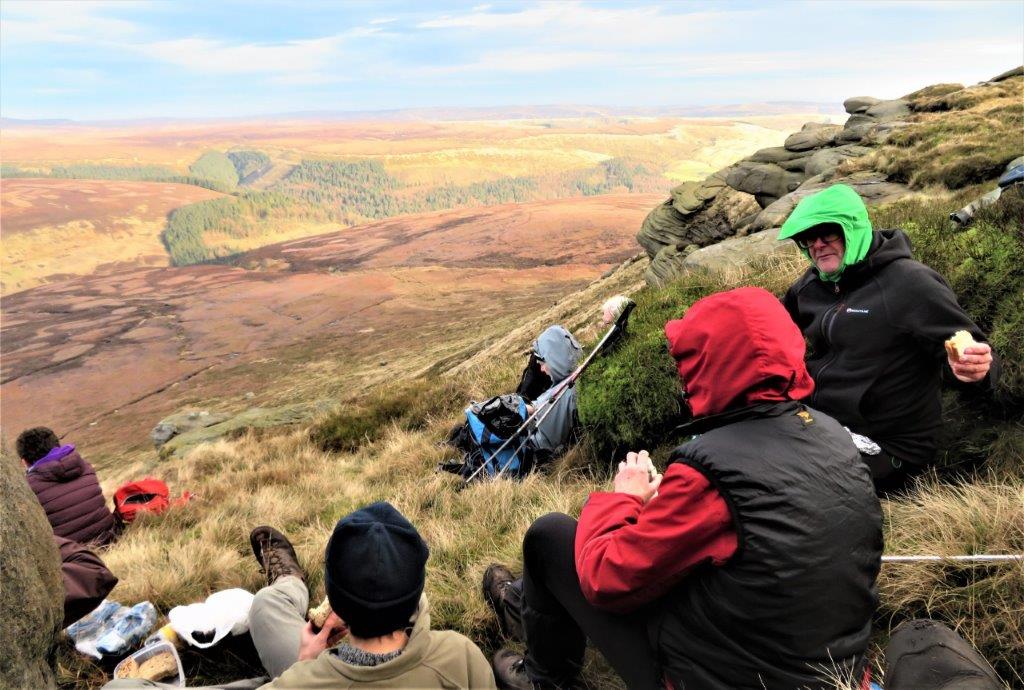 lunch break close to Fairbrook Naze - below edge sheltering from the wind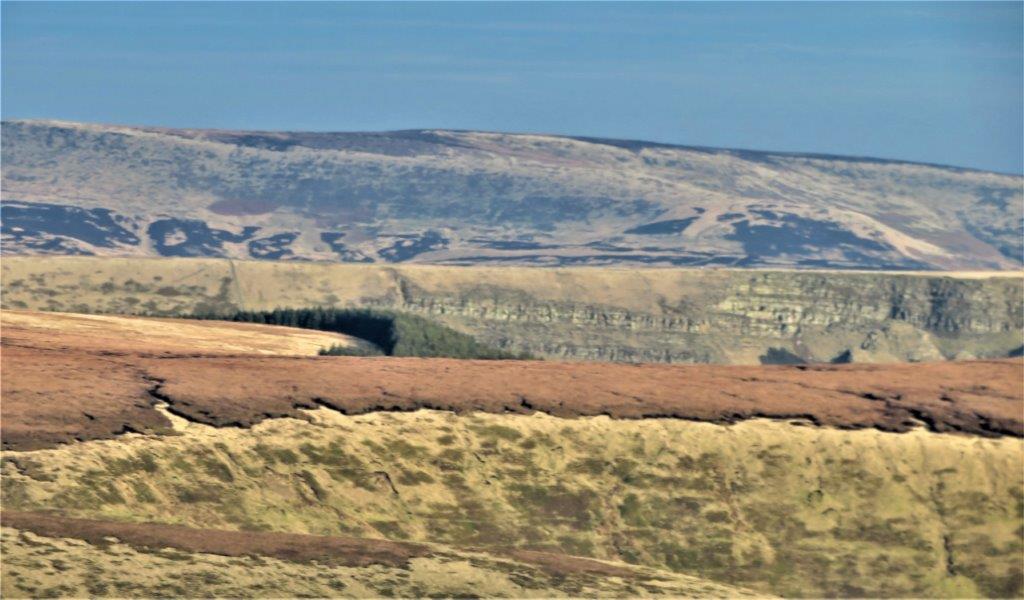 Zoomed in from Fairbrook Naze - not easy to identify features at different levels? (ideally camera should self record its position and the direction of shot)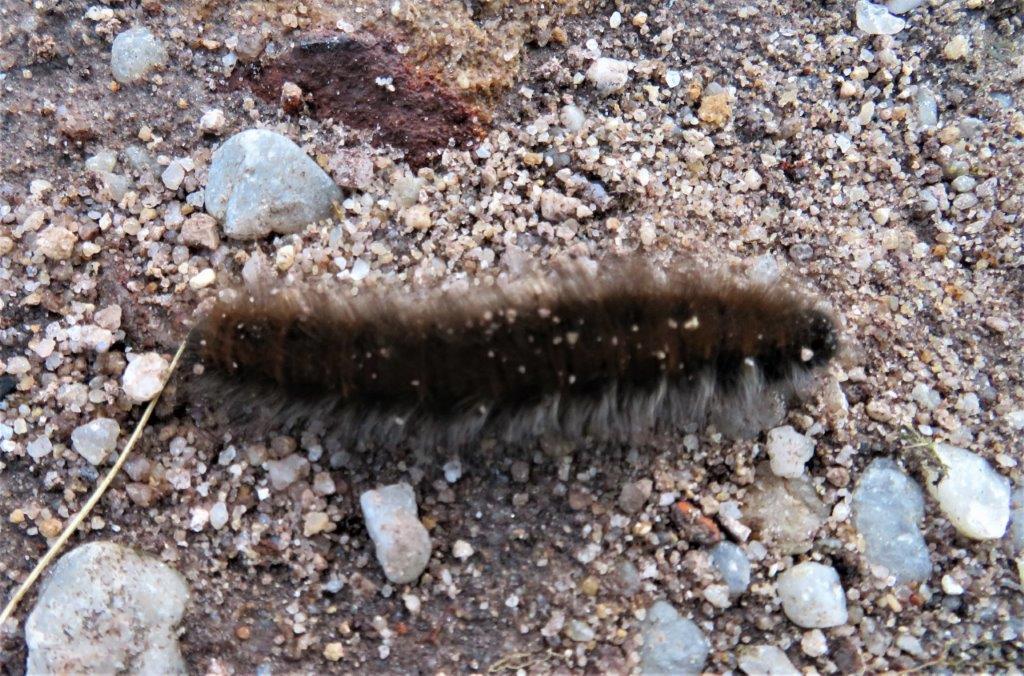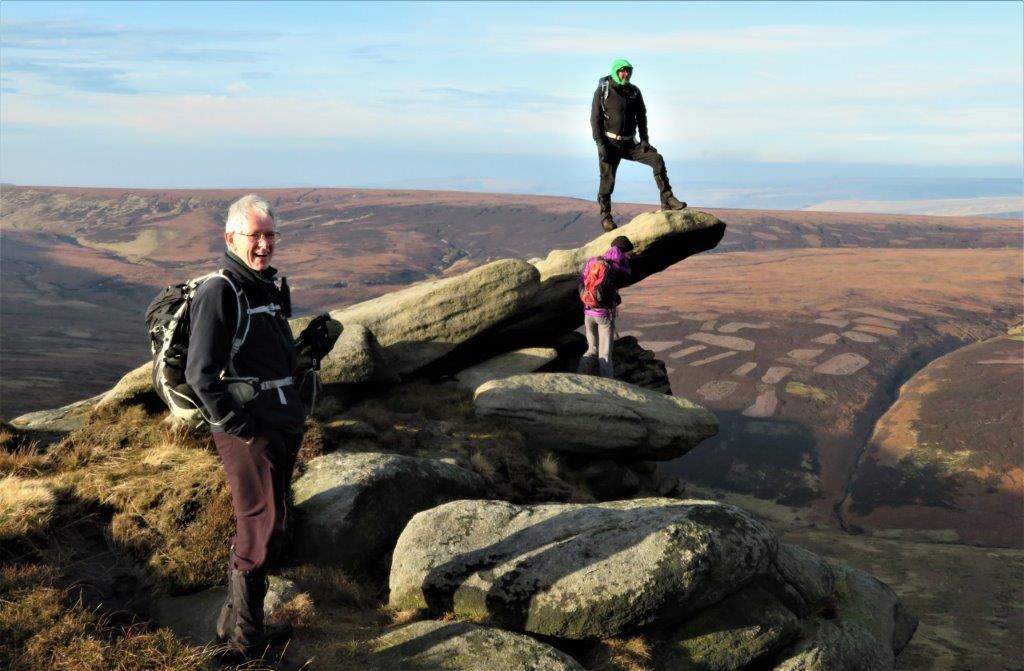 On edge? on The Edge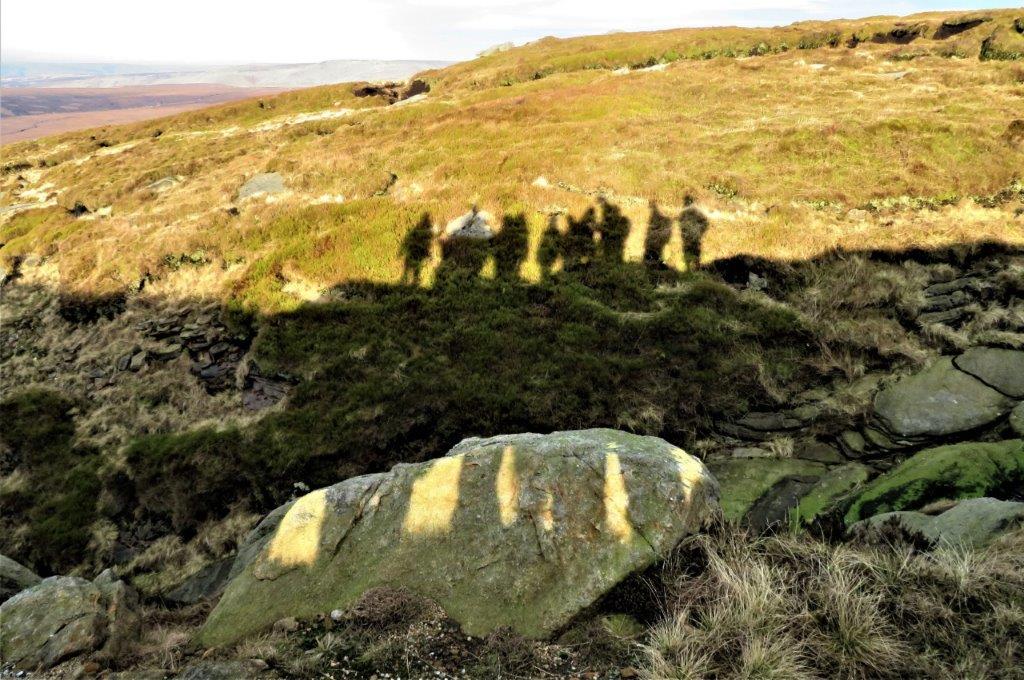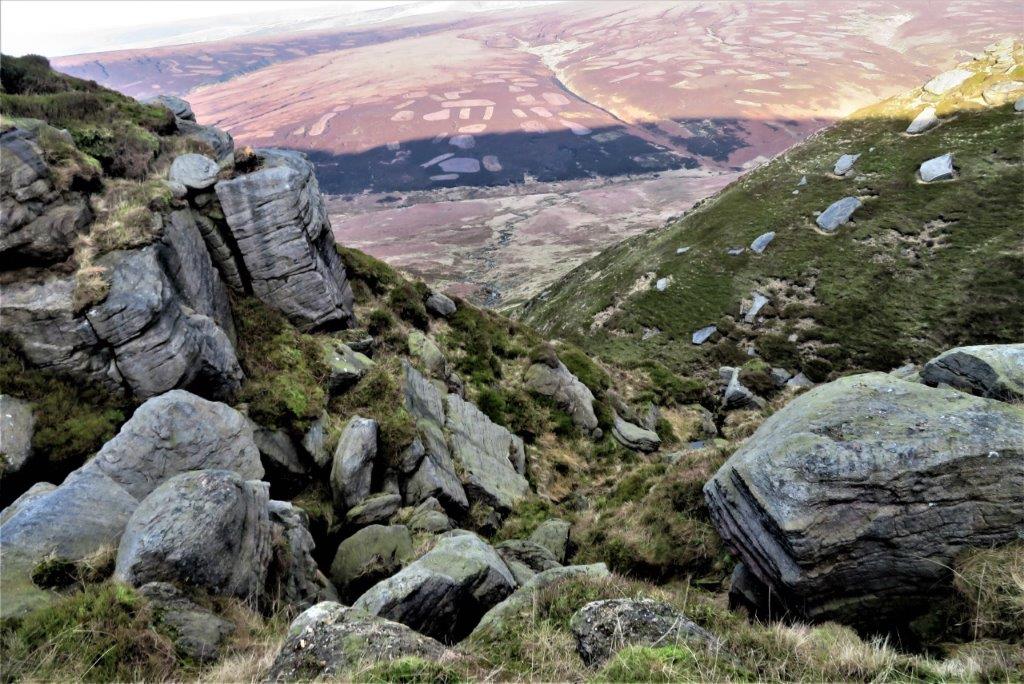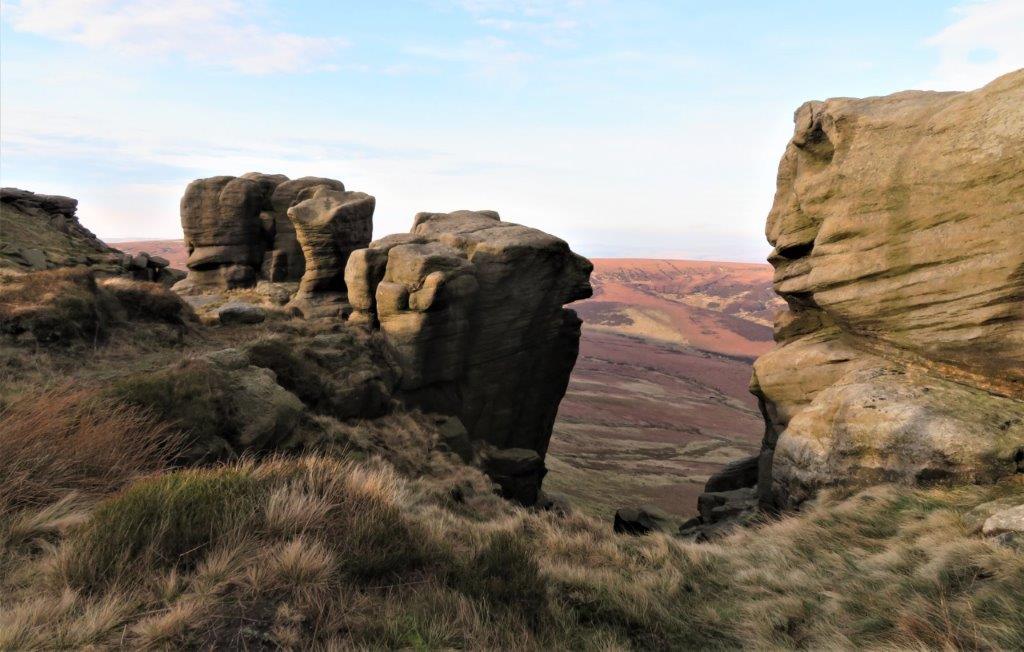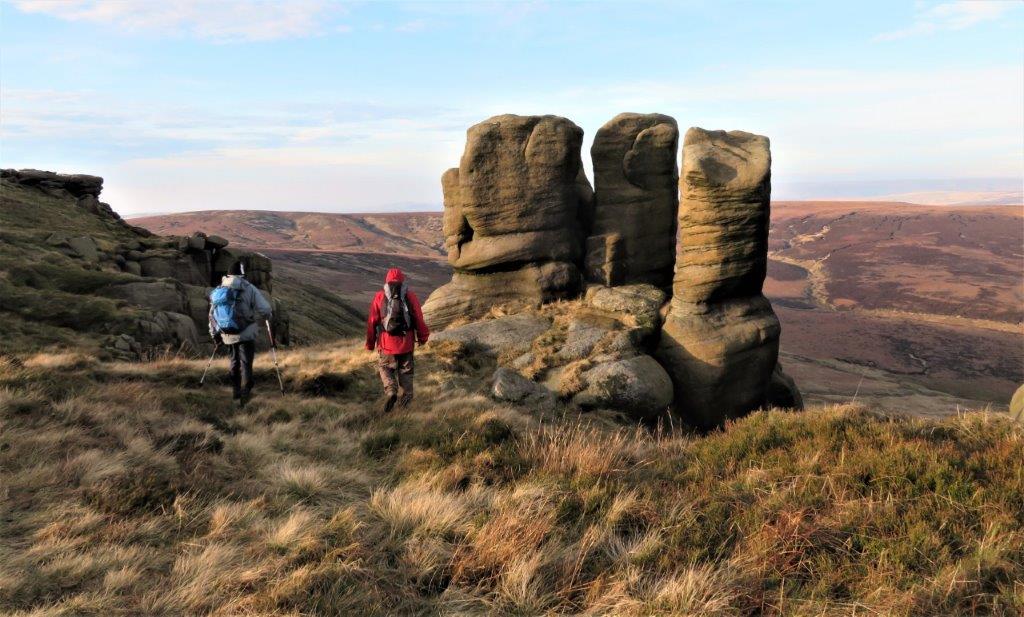 still along The Edge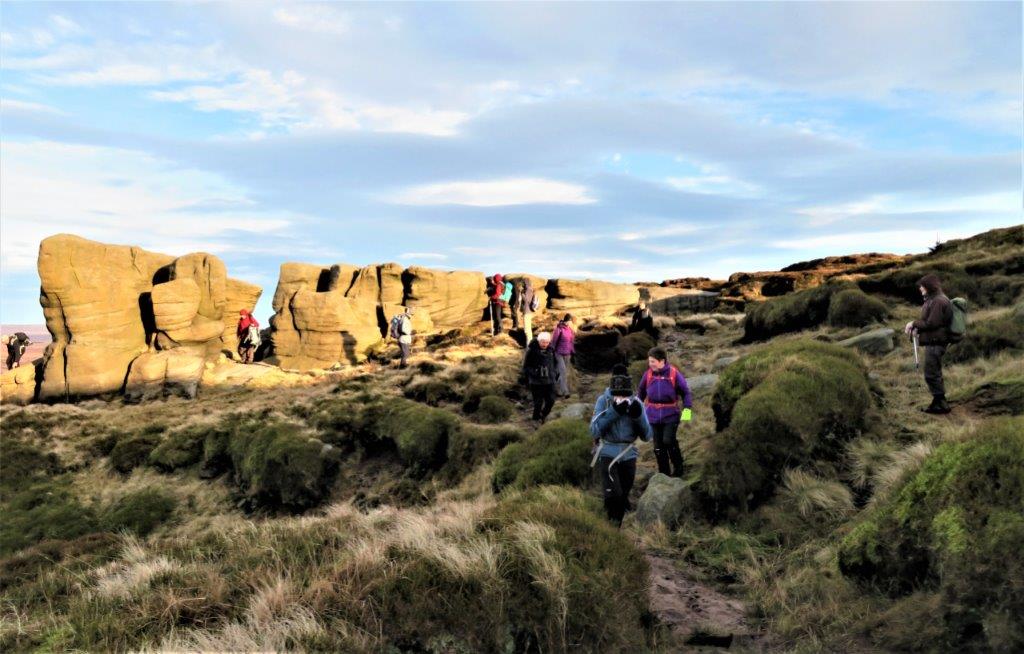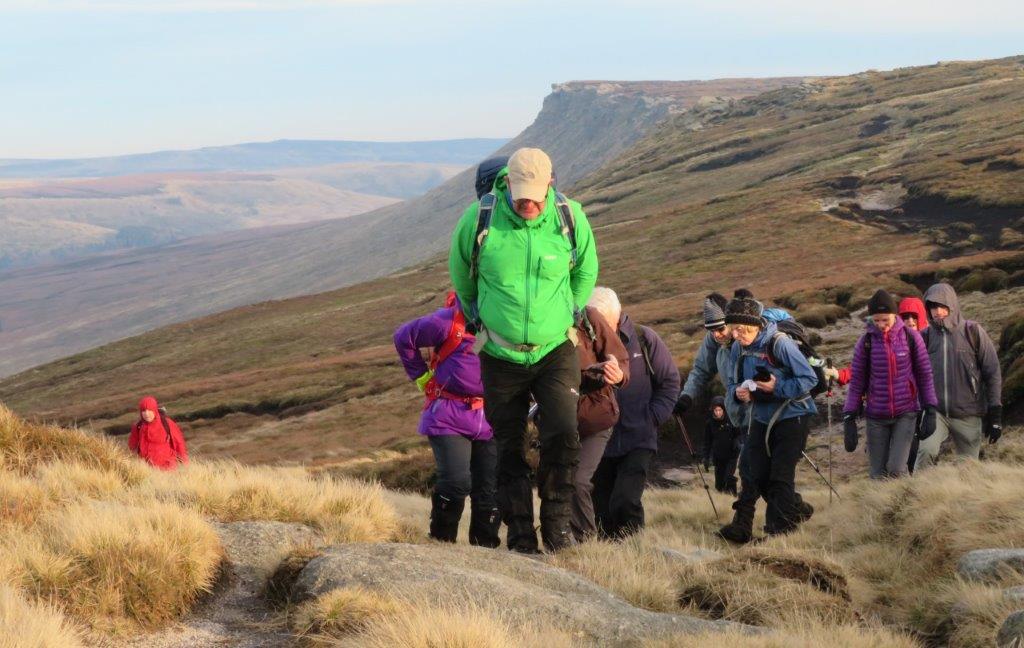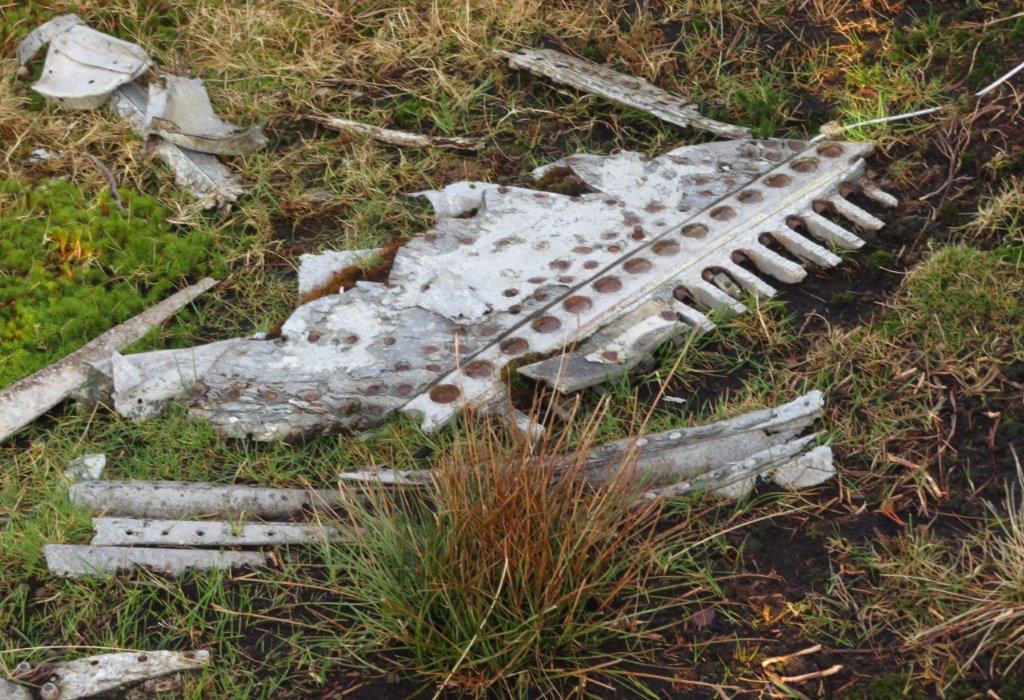 remains of aircraft crashes - between edge path and Pennine Way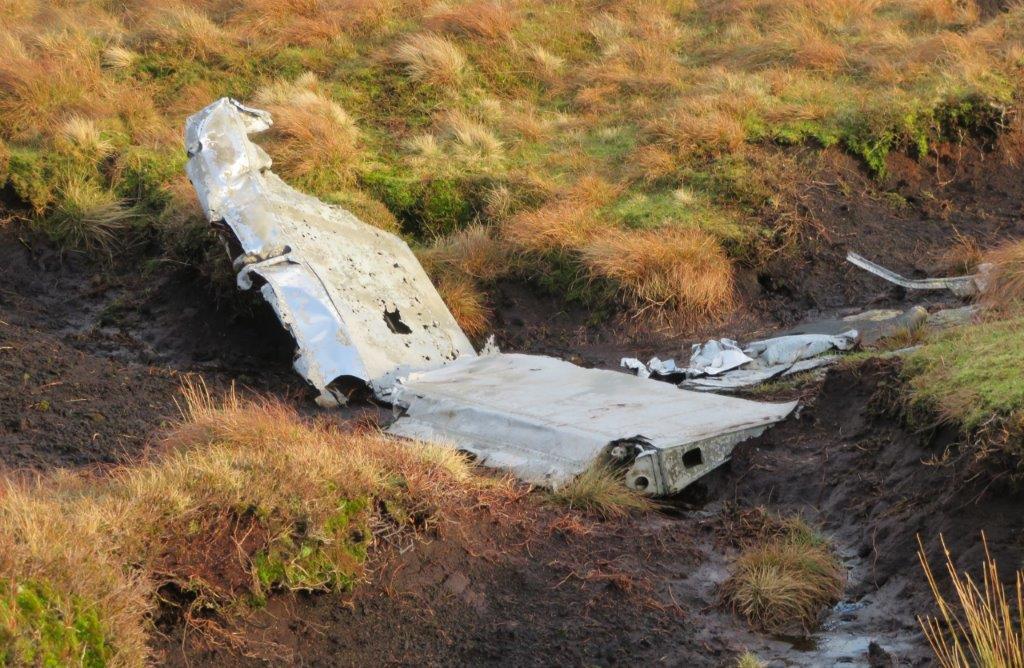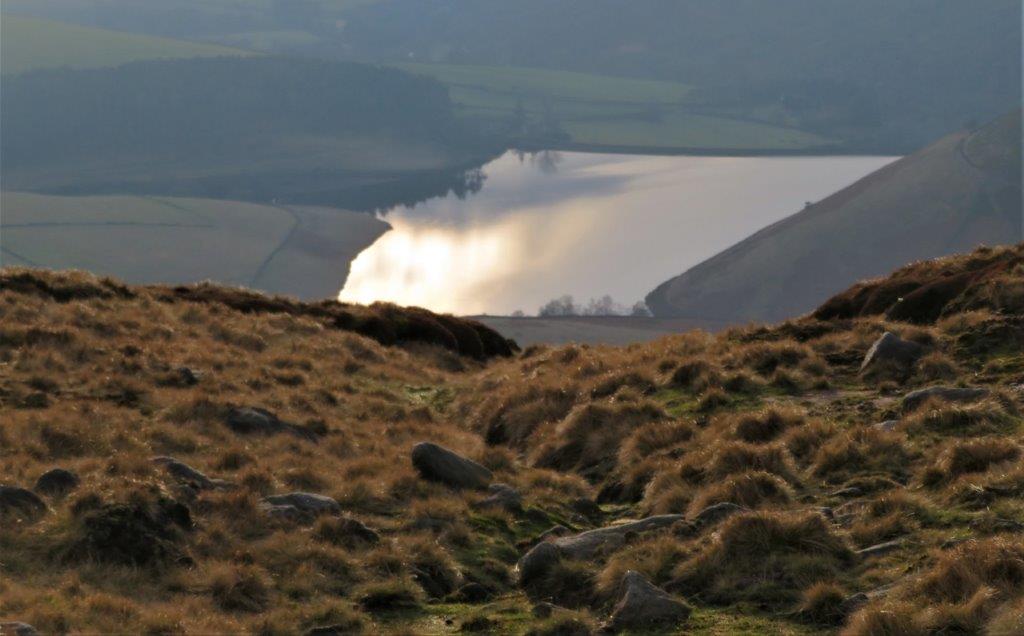 Kinder Reservoir? Oddly shaped by surrounding slopes?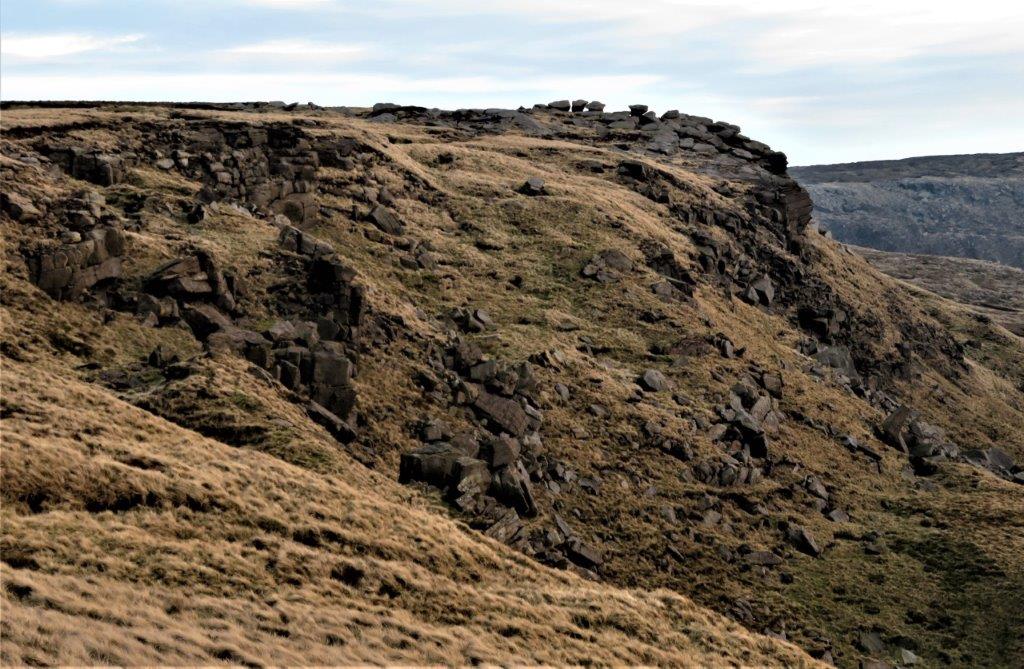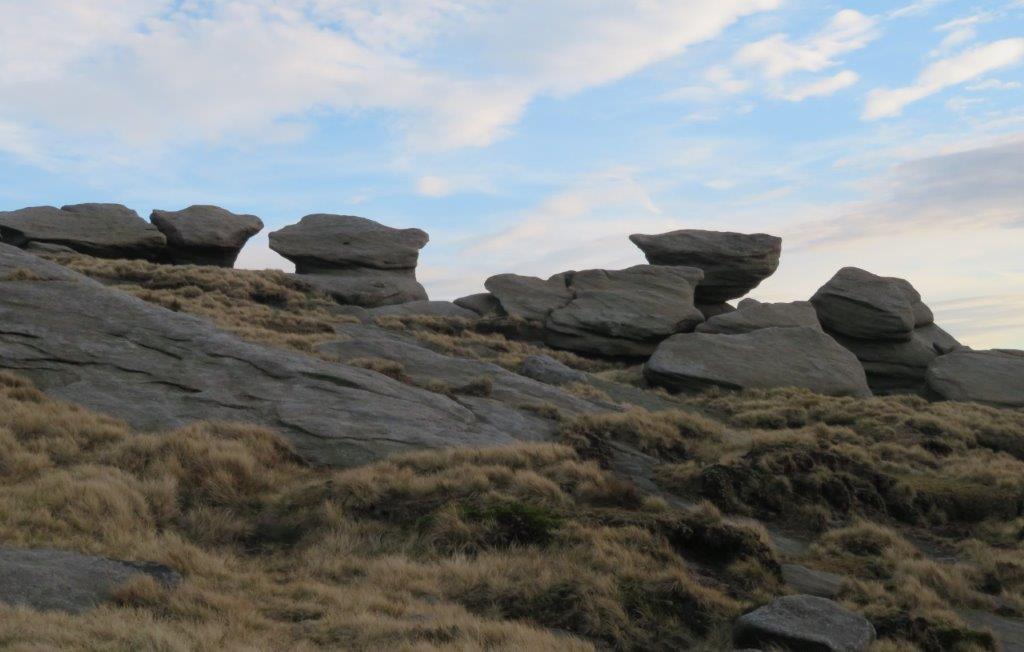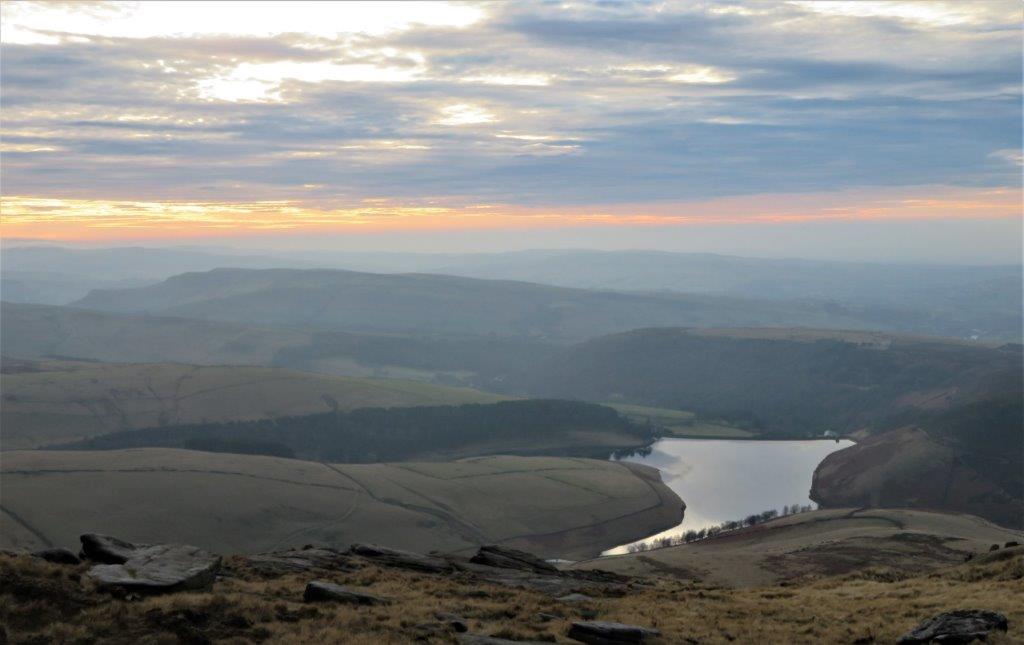 Kinder Reservoir looking ~ESE from Pennine Bridleway (on west side of Kinder Downfall)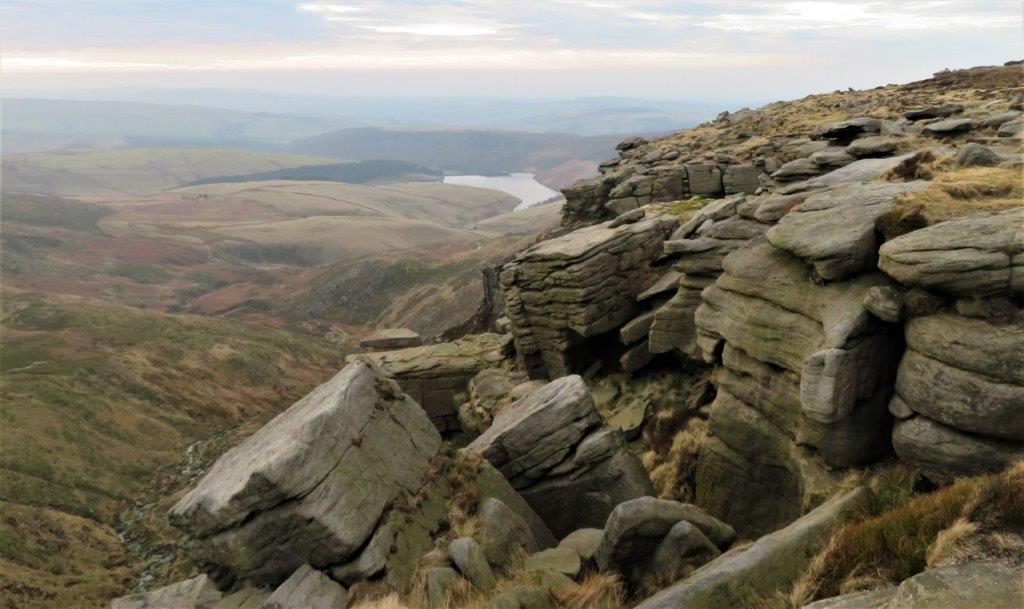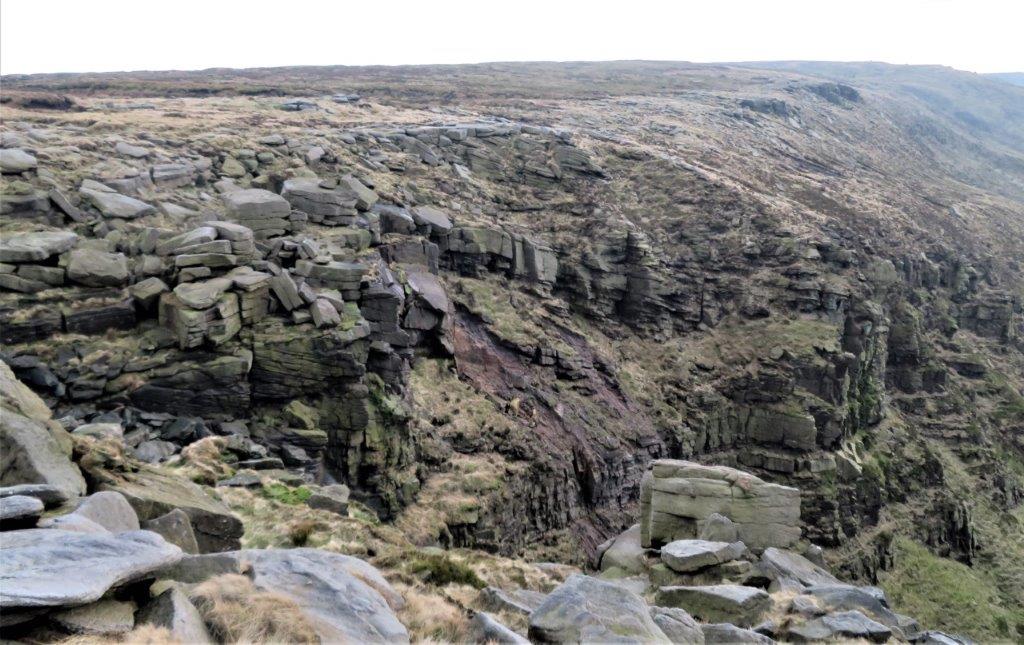 Kinder Downfall - unfortunately insufficient wind / river flow to see water thrown upward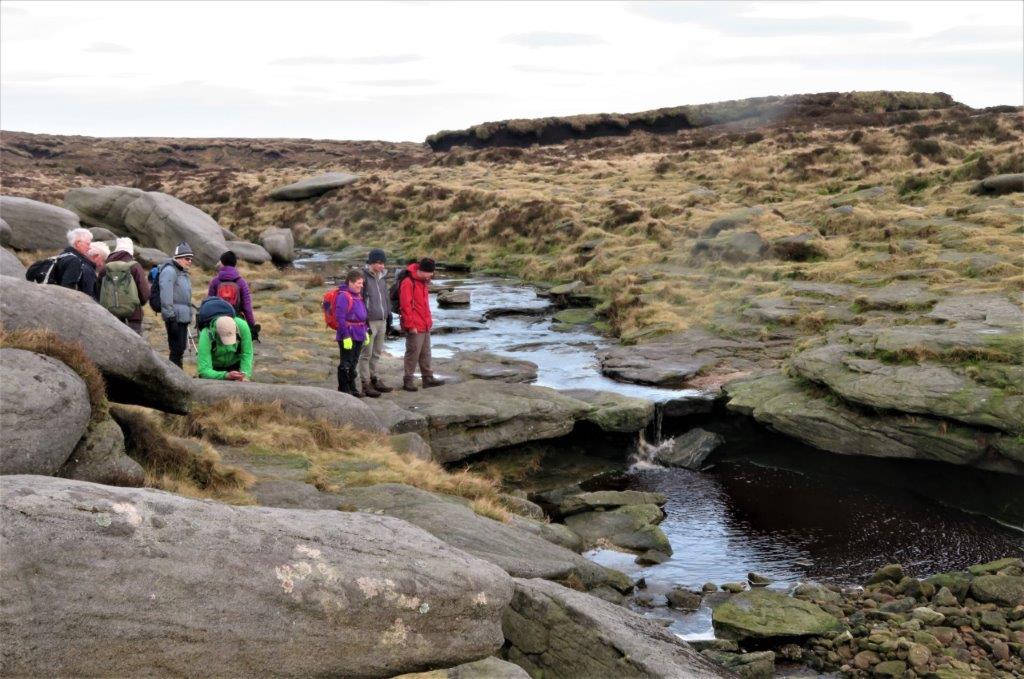 At The River Kinder just above the Downfall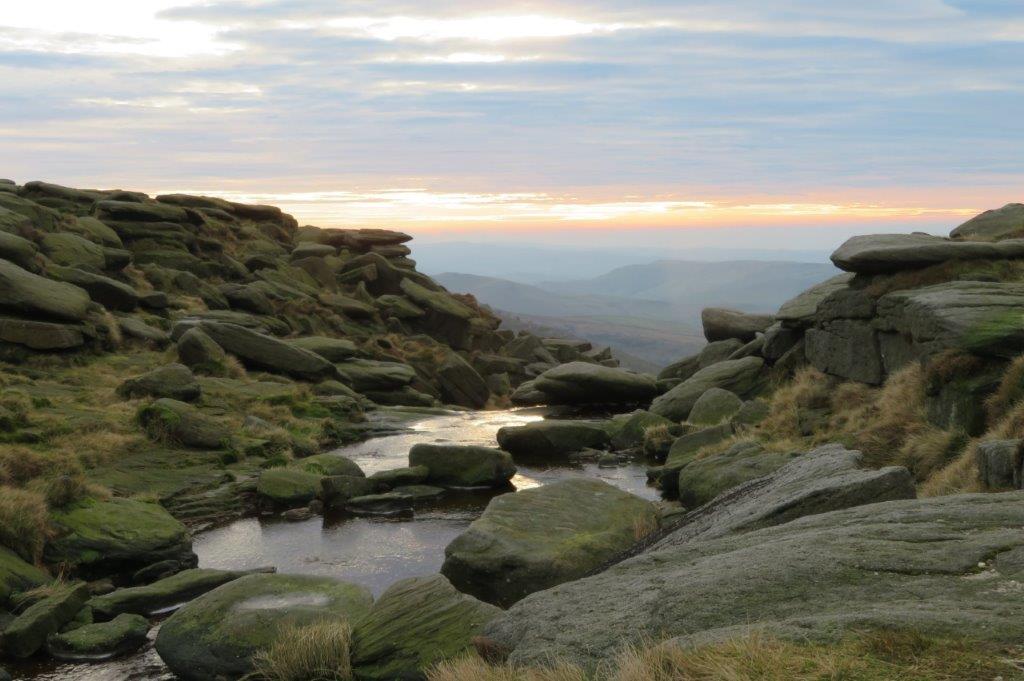 above The Downfall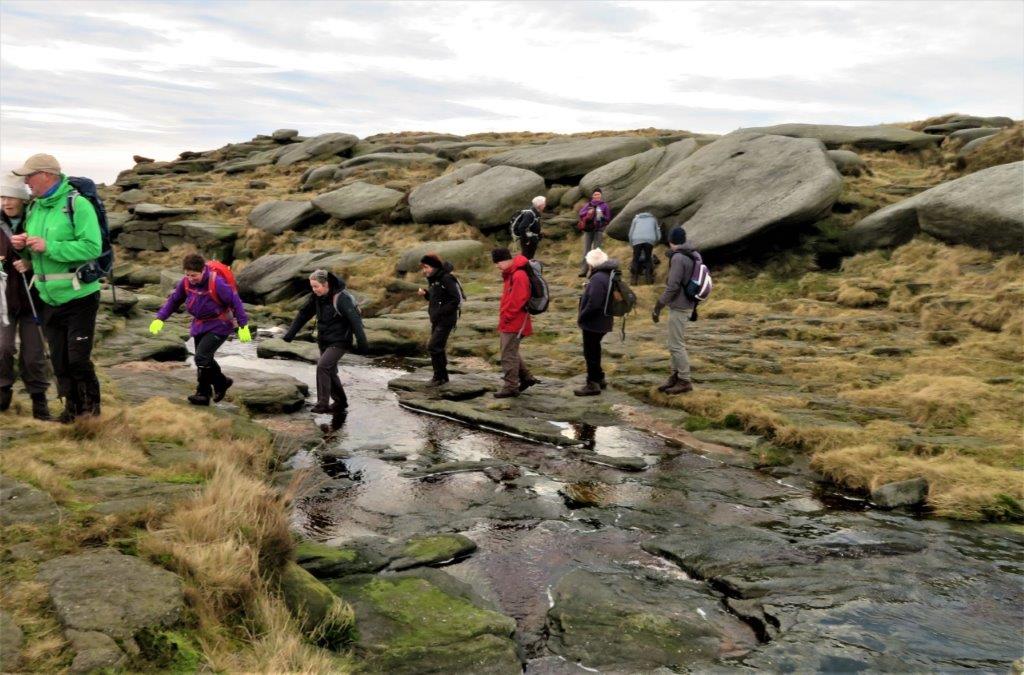 crossing The River Kinder slightly further up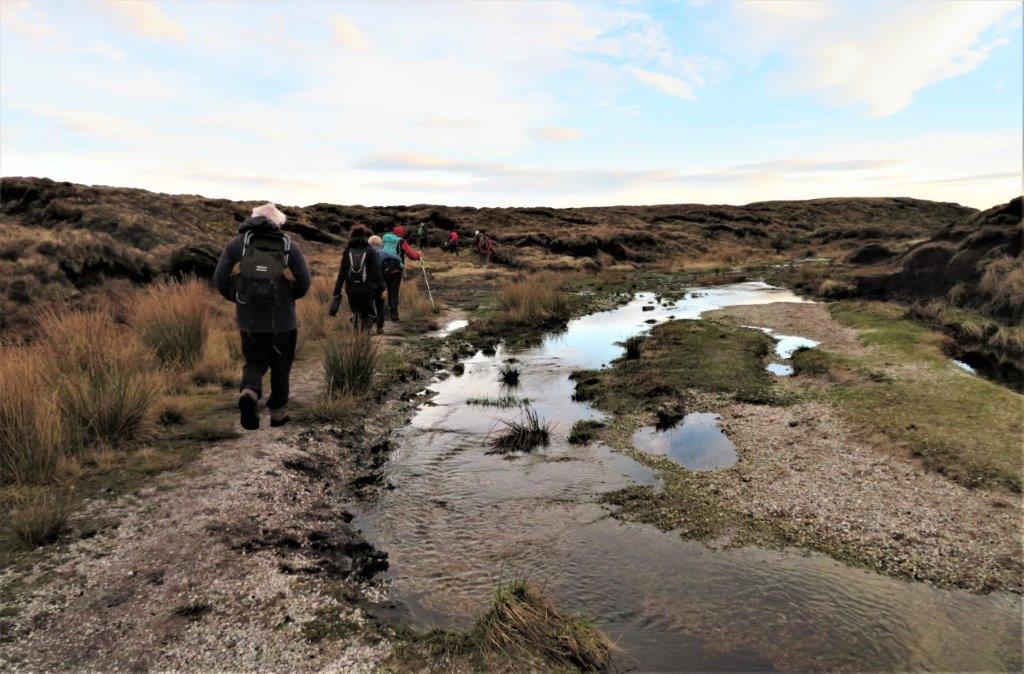 started along the River Kinder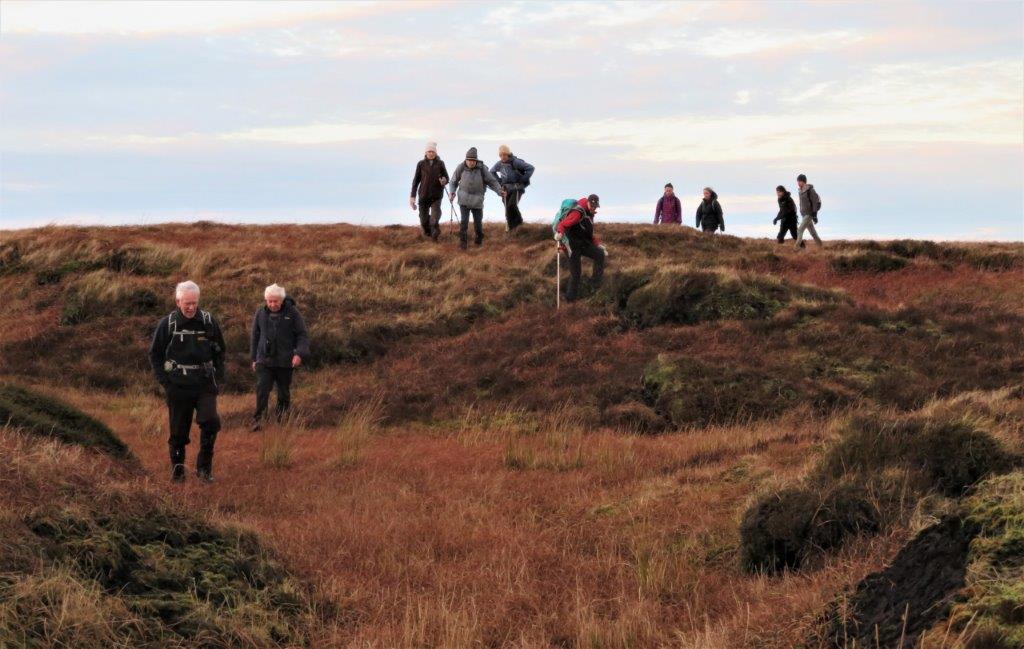 branched off later from the river Southward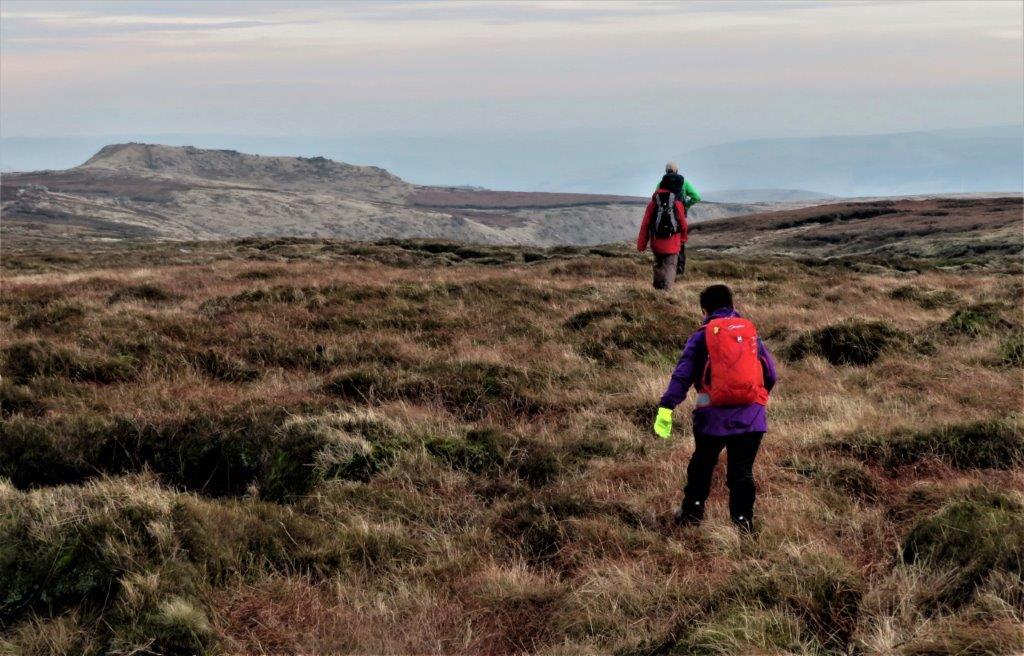 Gridslow Knoll - which we headed towards but skirted around (to avoid climb up it) and then joined path down to Edale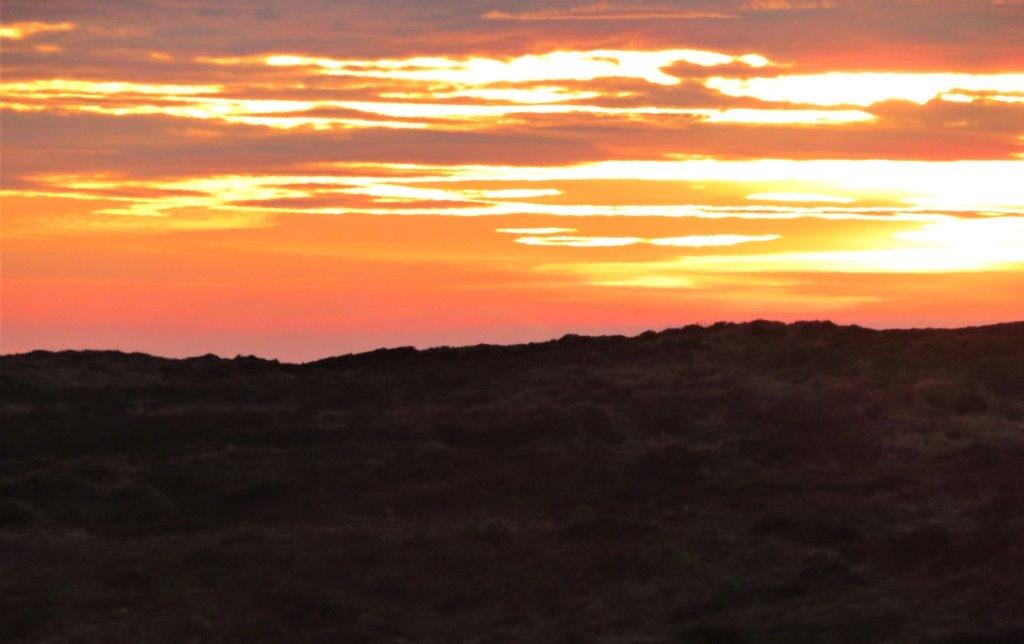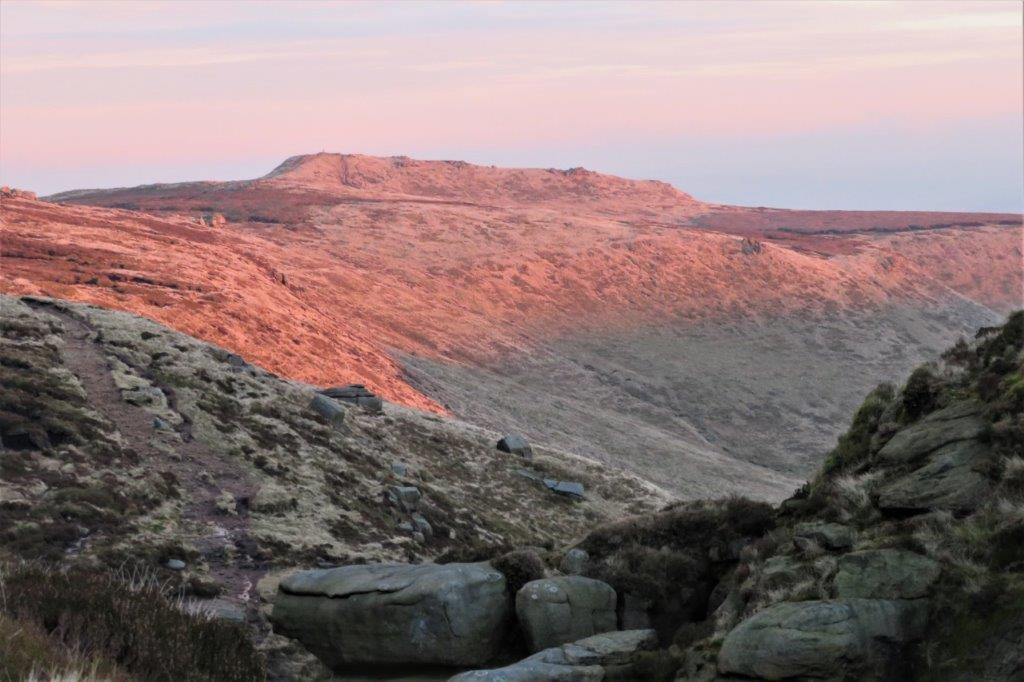 Grindslow lit up by the setting sun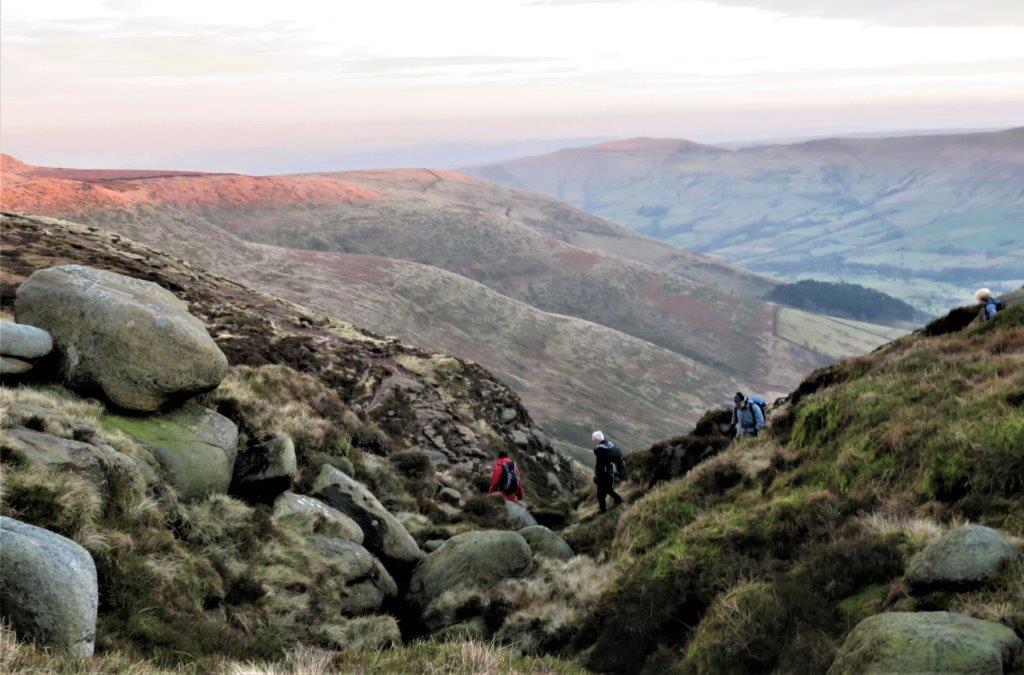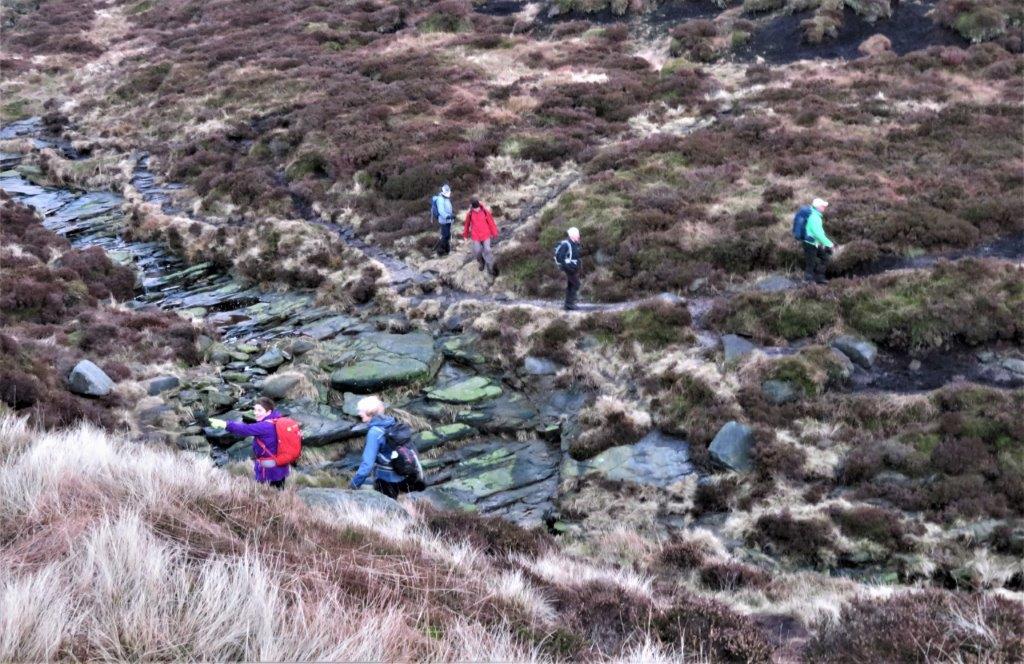 skirting on the edge path near the top of Crowden Clough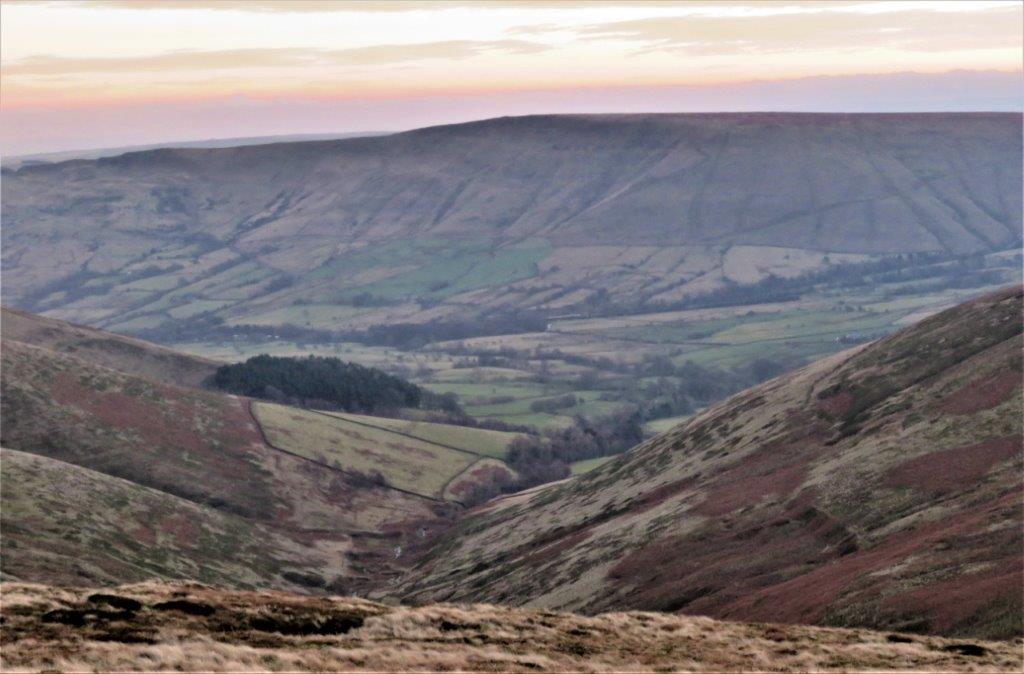 Crowden Clough.runs into The Vale of Edale below. Rushup Edge on skyline.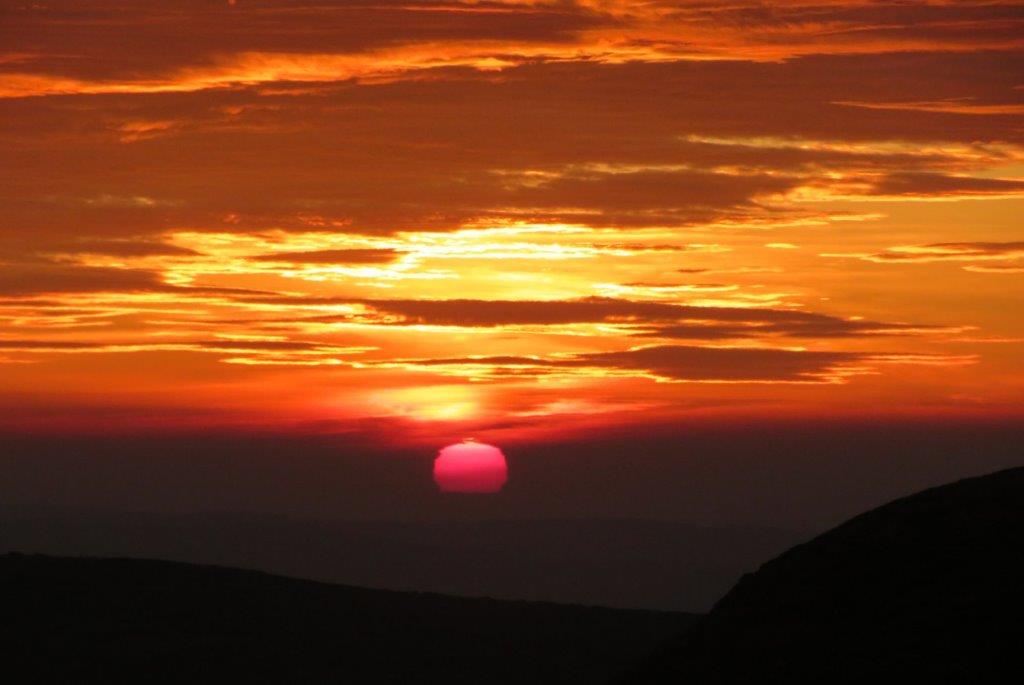 Sunset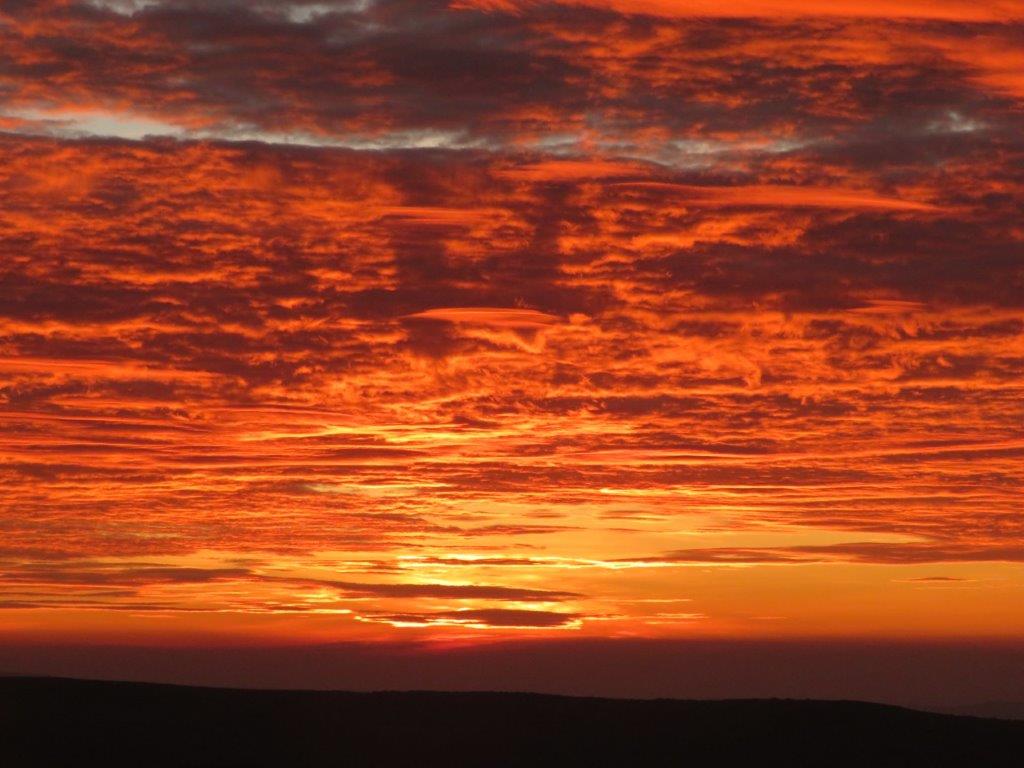 Red Sky at night Shepherds Delight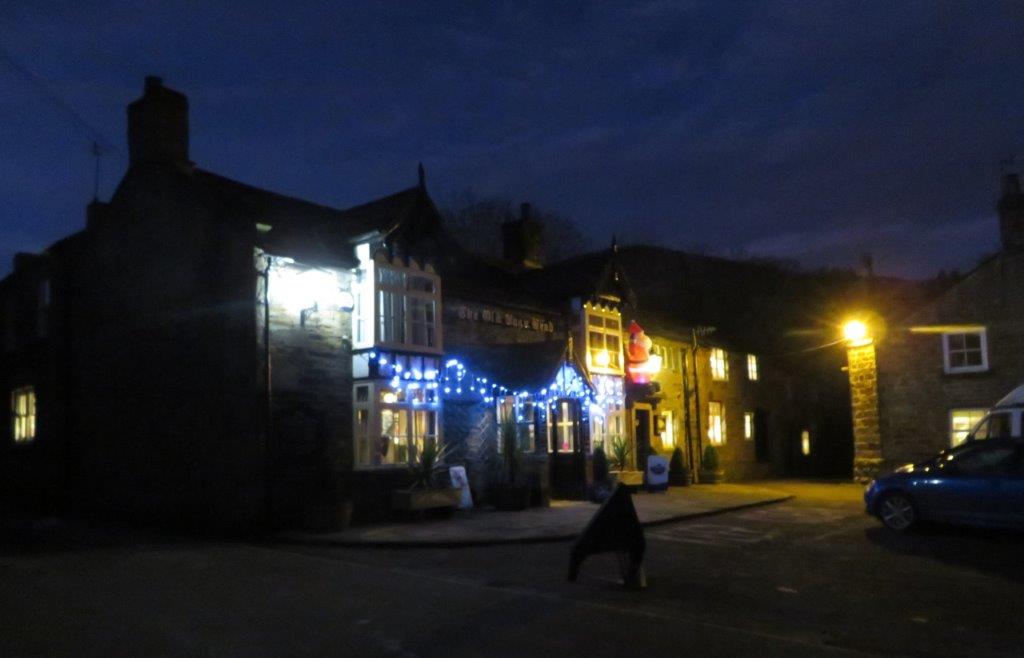 Back to The Nags Head - passed near the start of walk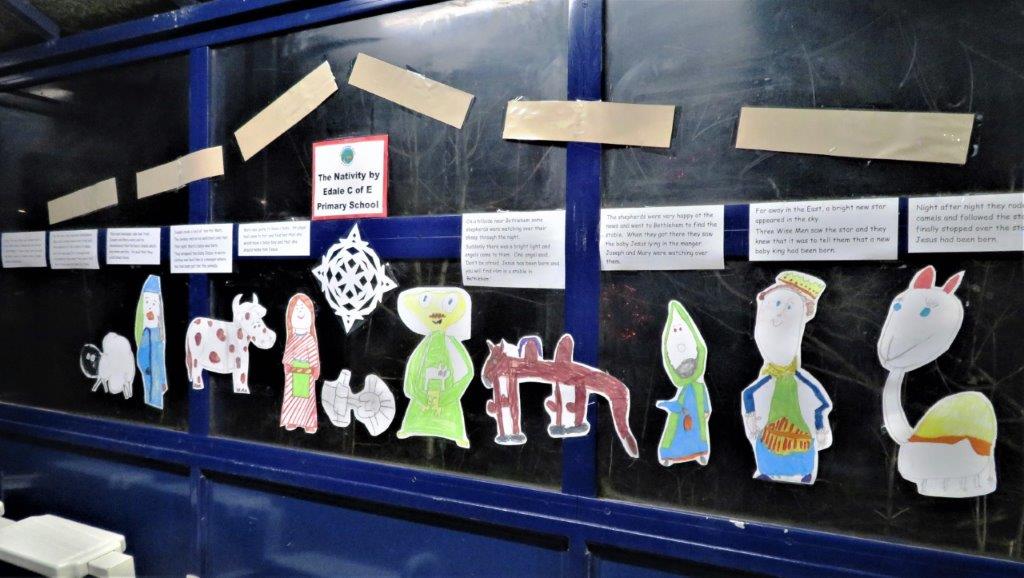 The Nativity on Edale Station platform shelter - enlarge on your 'device' to read
o
homepage - Daywalks Index 2019 - contact me at