homepage - Daywalks Index 2019 - contact me at

2019.12.11 Bradwell (Shoulder of Mutton PH), ~ S thru village to stile at SK175807 into Bradwell Hills, ~SSW to cross B6049 Rd (near Hazlebadge Hall) ~W into & along Green Dale, cross Tophole Rd, ~SSW to Lower Farm, ~S to Little Hucklow, ~E to cross B6049 at SK168786, ~SE on track to Great Hucklow, ~S for ~150m to + Church (Old Chapel - Unitarian), FP / roads ~ESE thru Grindlow to Foolow, ~S on road crossing A623 Rd to & thru Housely, continue ~ S on FP (West of Castlegate Stud Farm), thru White Rack, thru Watersaw Rack, to meet and follow Moor Lane into Great Longstone, follow West edge of G.Longstone ~S to The Monsal Trail, follow Trail ~E to Bridleway (across from Toll Bar House), follow B.W ~S for ~2km, then SE to pass Holme Hall), then ~S over River Wye (on stone Packhorse Bridge), ~SSE on A6 Rd into Bakewell - leader Dave Jefferies - Wednesday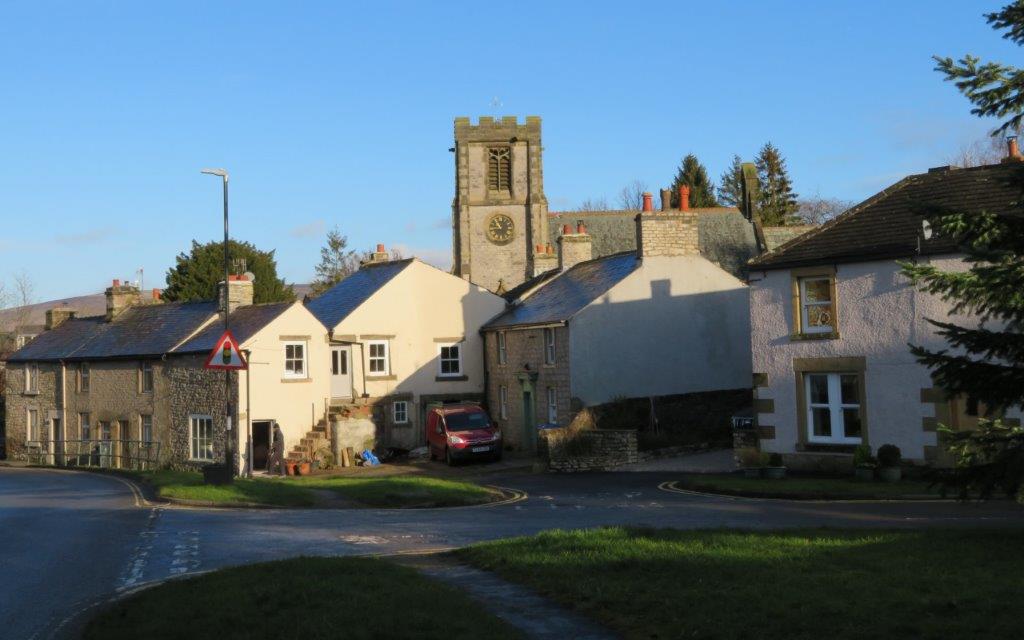 Main road through Bradwell to left. We got off bus near Public House - Shoulder of Mutton - and went up road going to right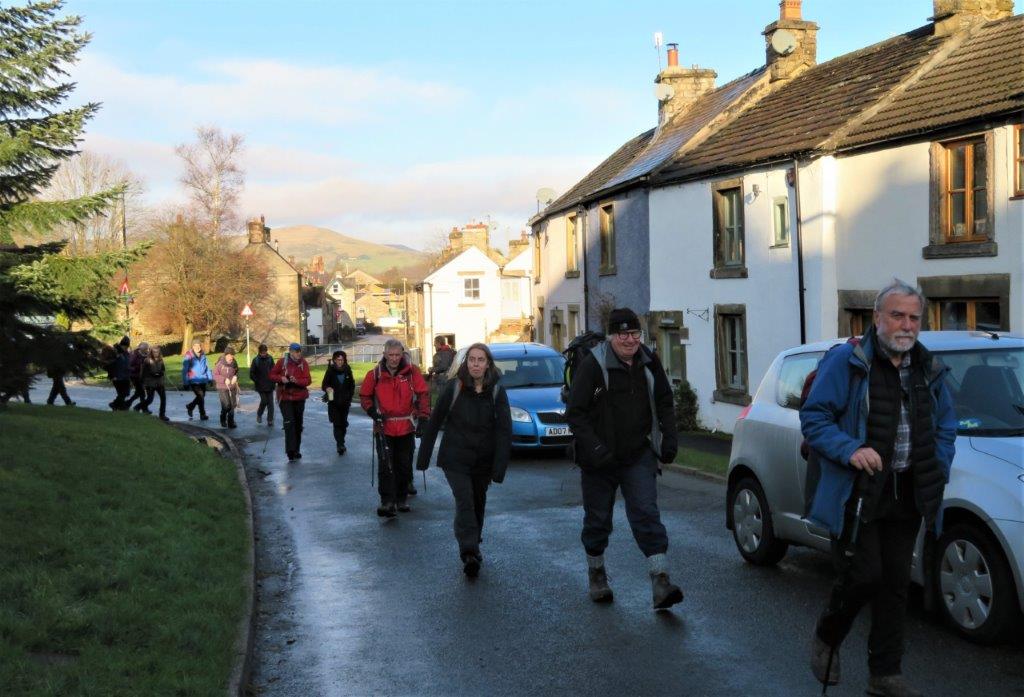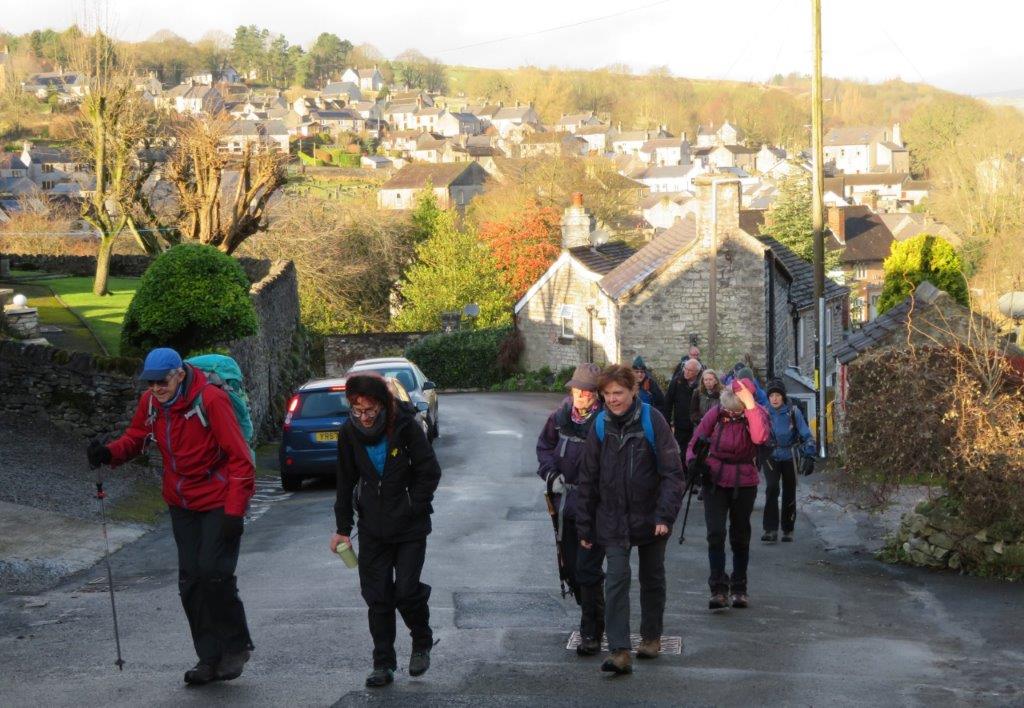 climbed up steps just behind lamppost at right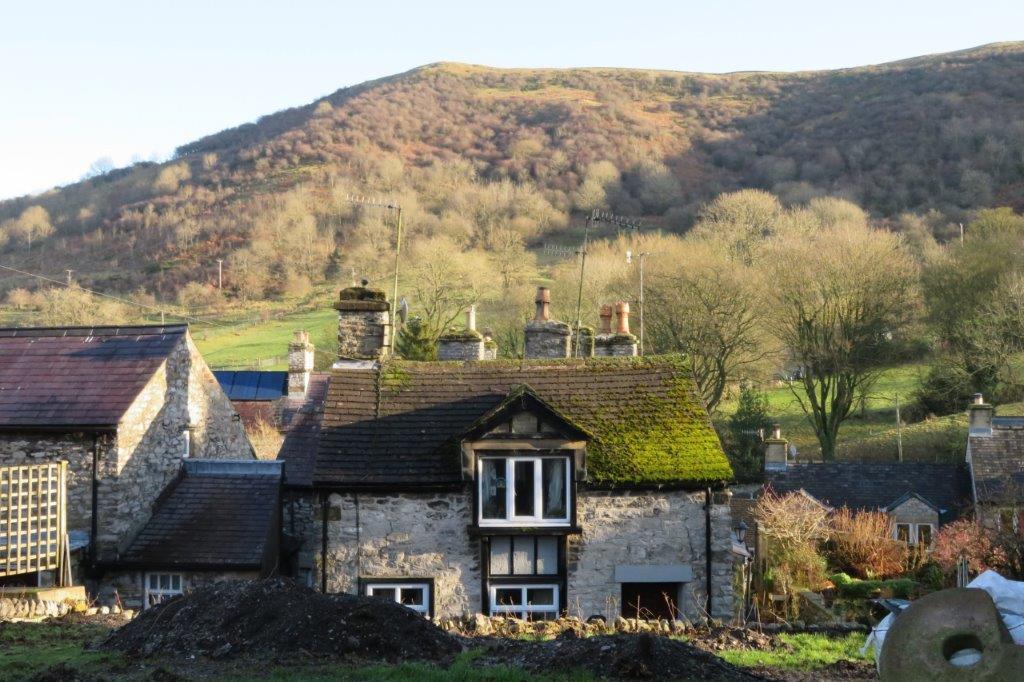 looking East towards Bradwell Edge behind house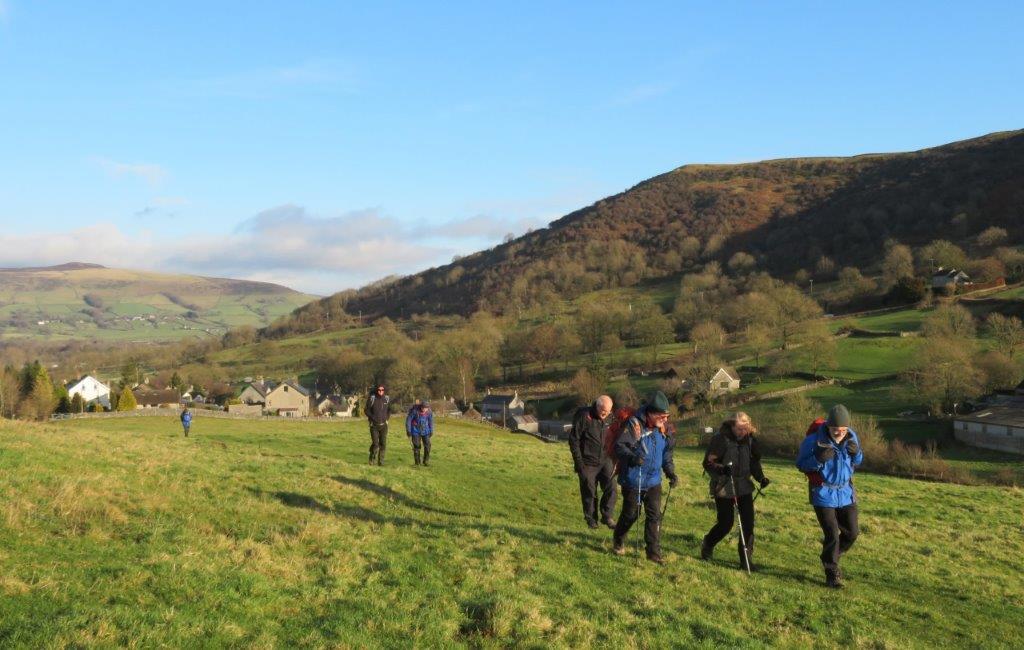 on Bradwell Hills heading SSW toward Hazlebadge Hall. Glimpse of Winhill Pike behind us at top left of picture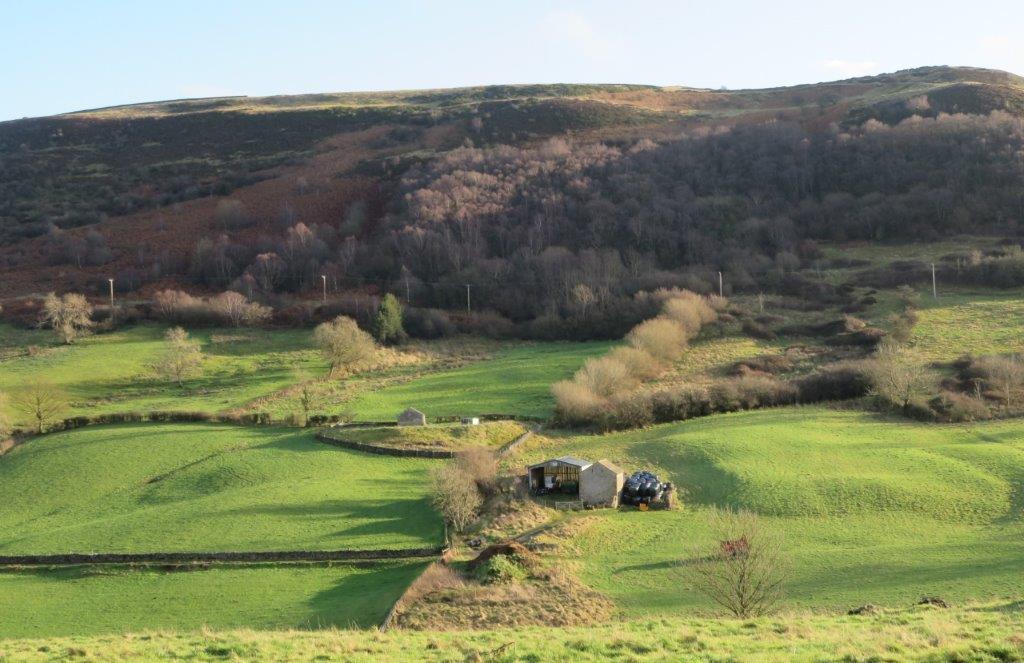 another view to East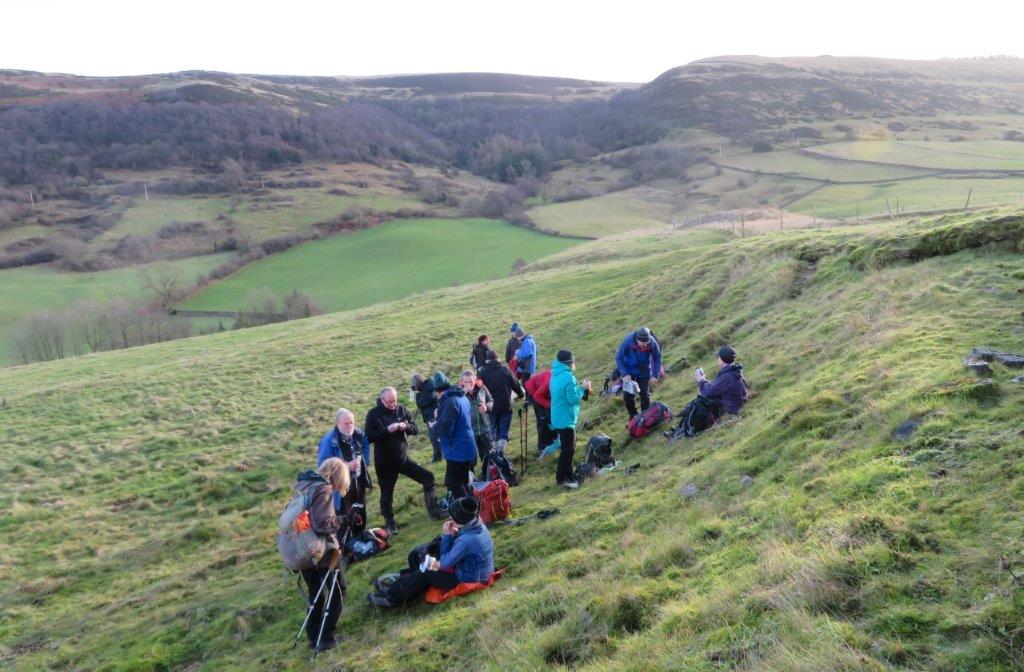 tea break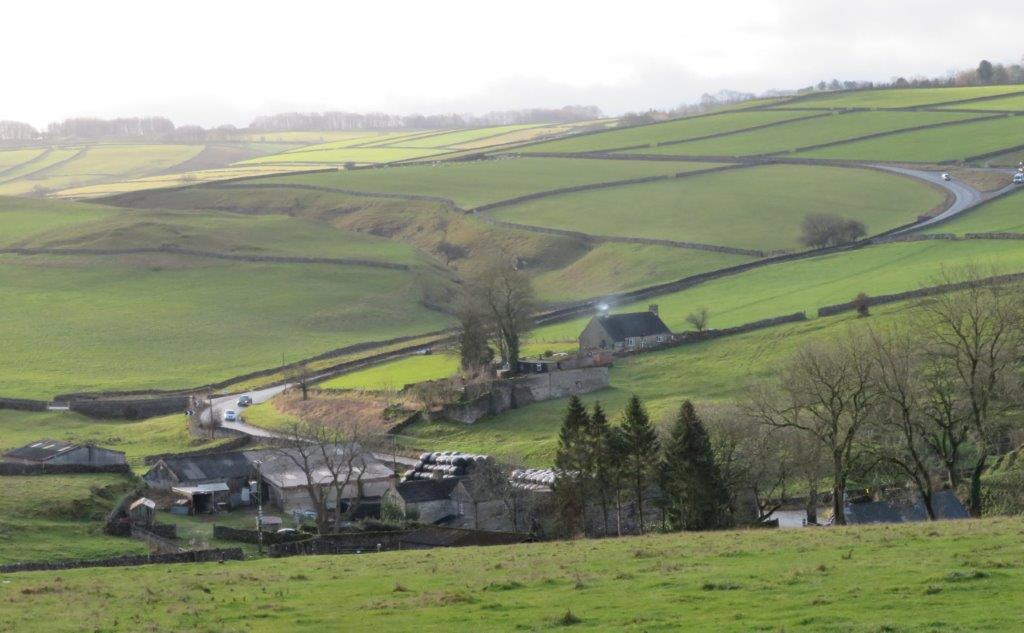 zoomed into buildings & Hazlebadge Hall ahead of us.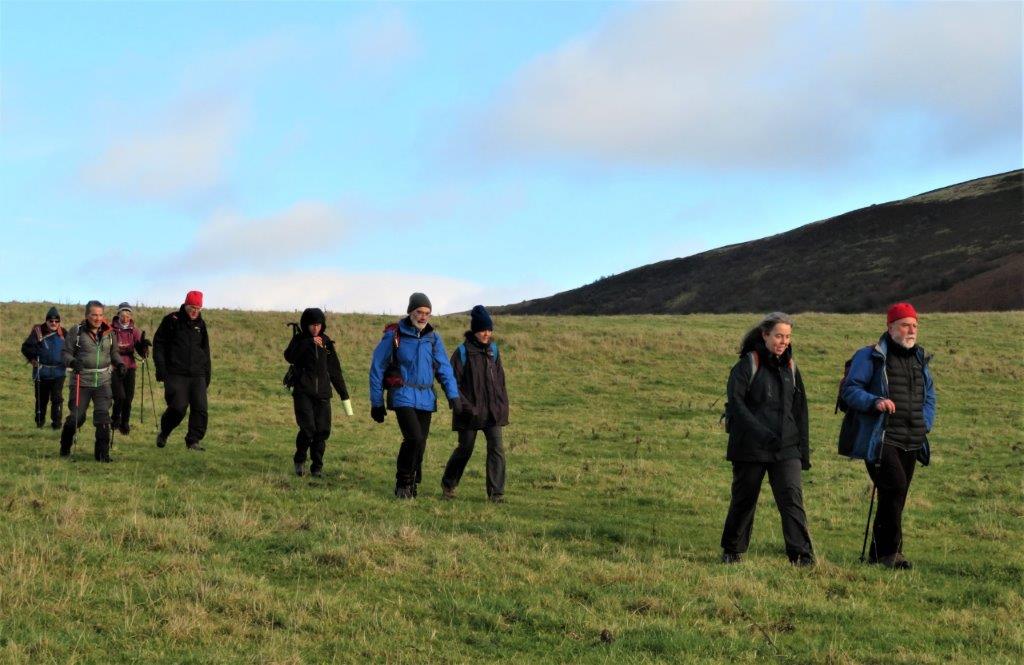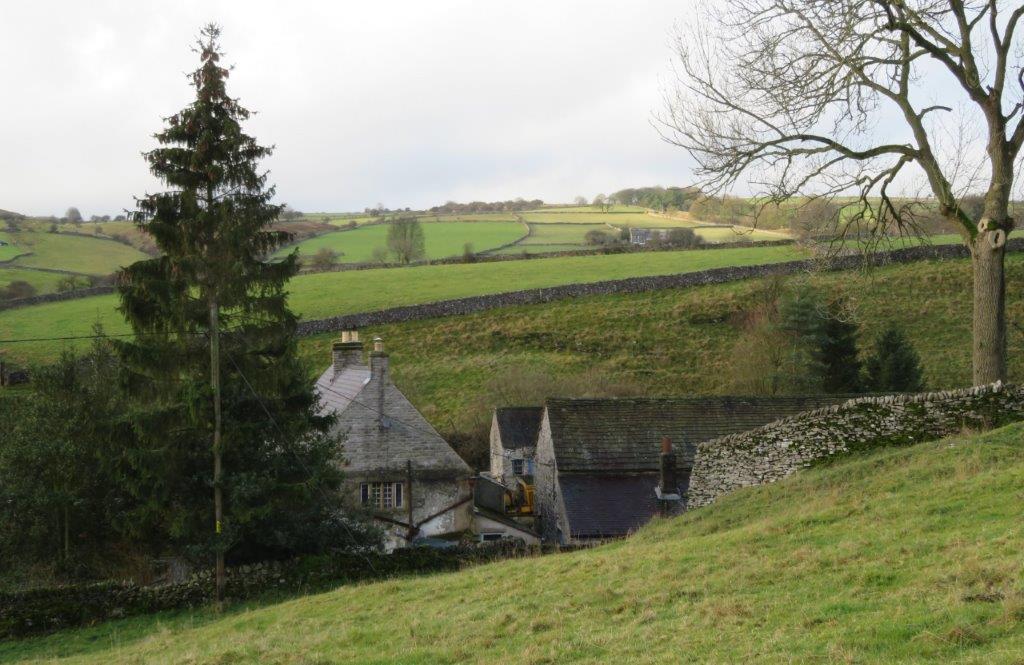 back view of Hazlebadge Hall as we passed it (and soon turned 'right')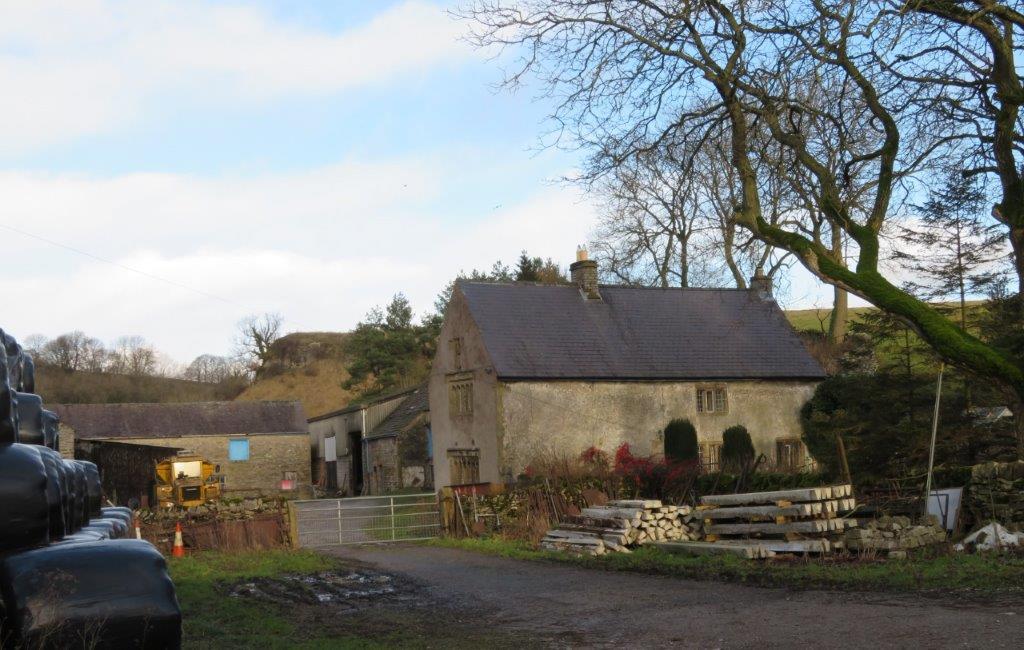 Halebadge Hall seen from FP running toward B6049 road (which we crossed into Green Dale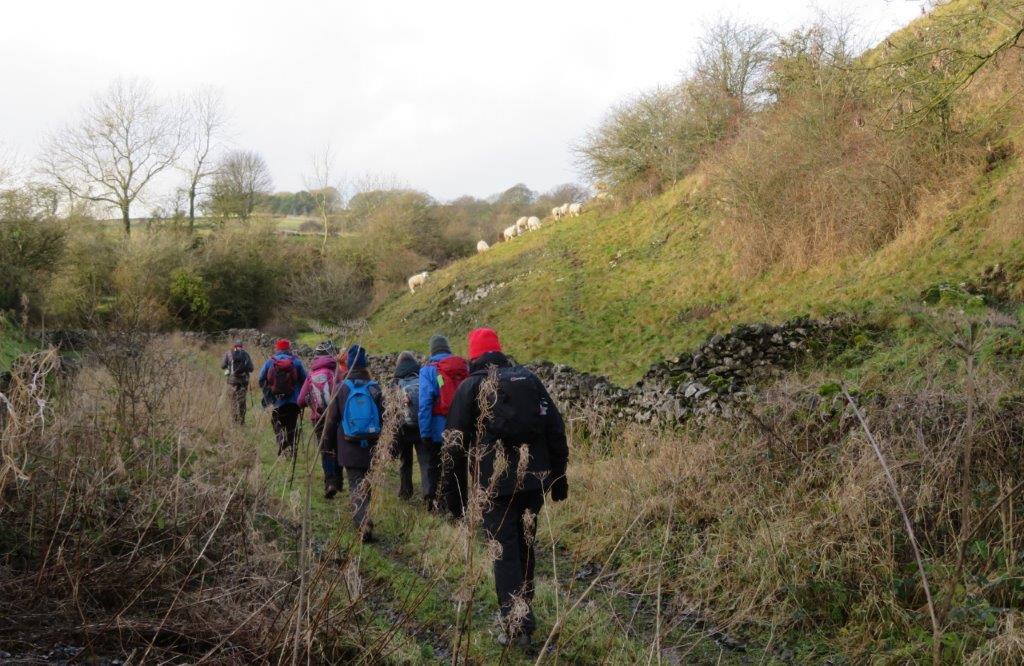 Green Dale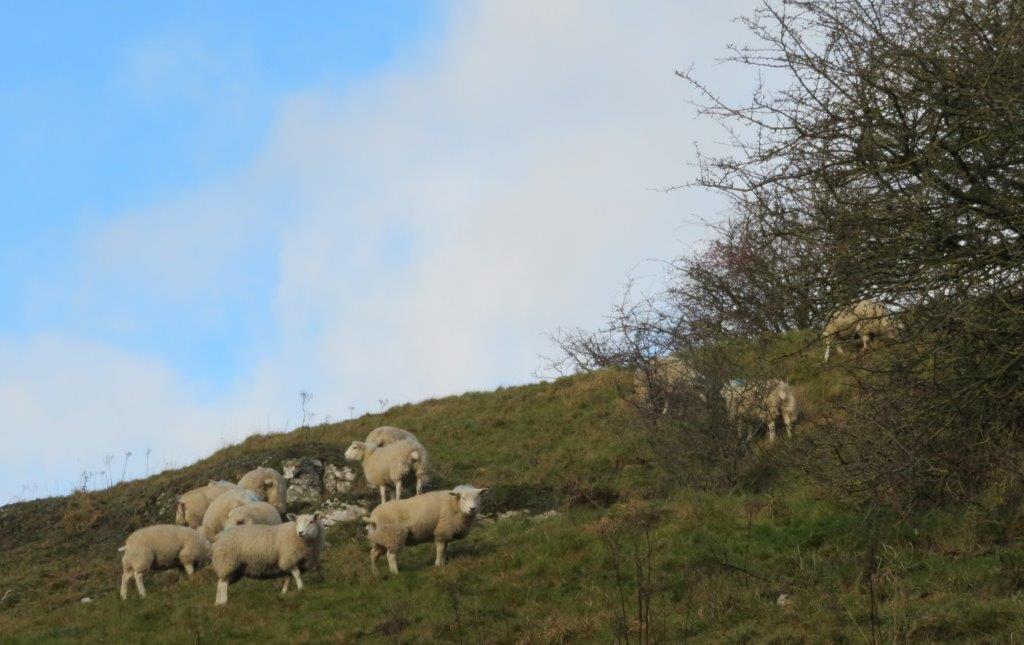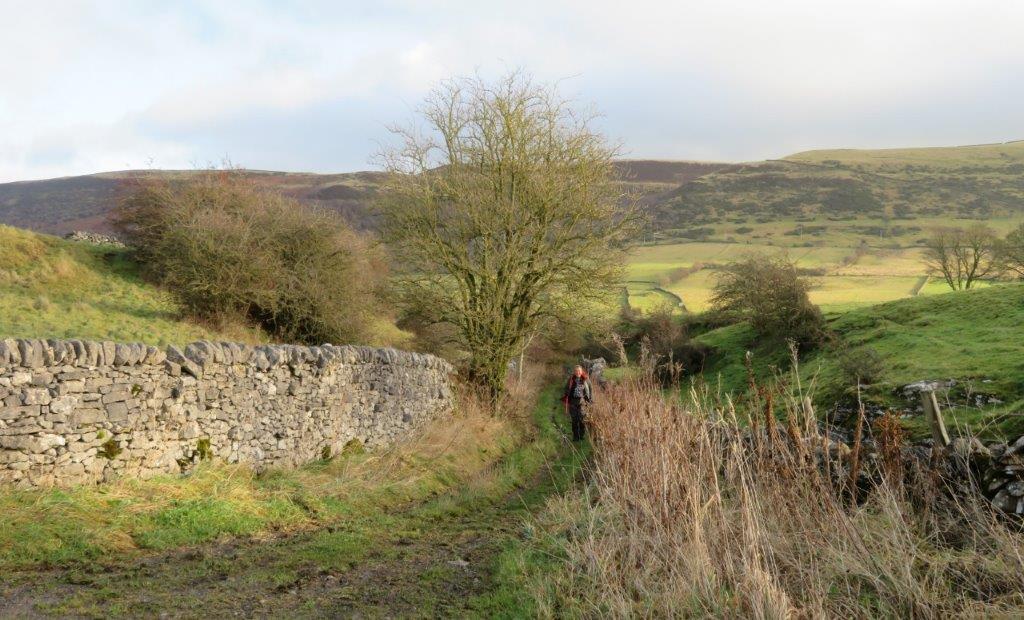 Green Dale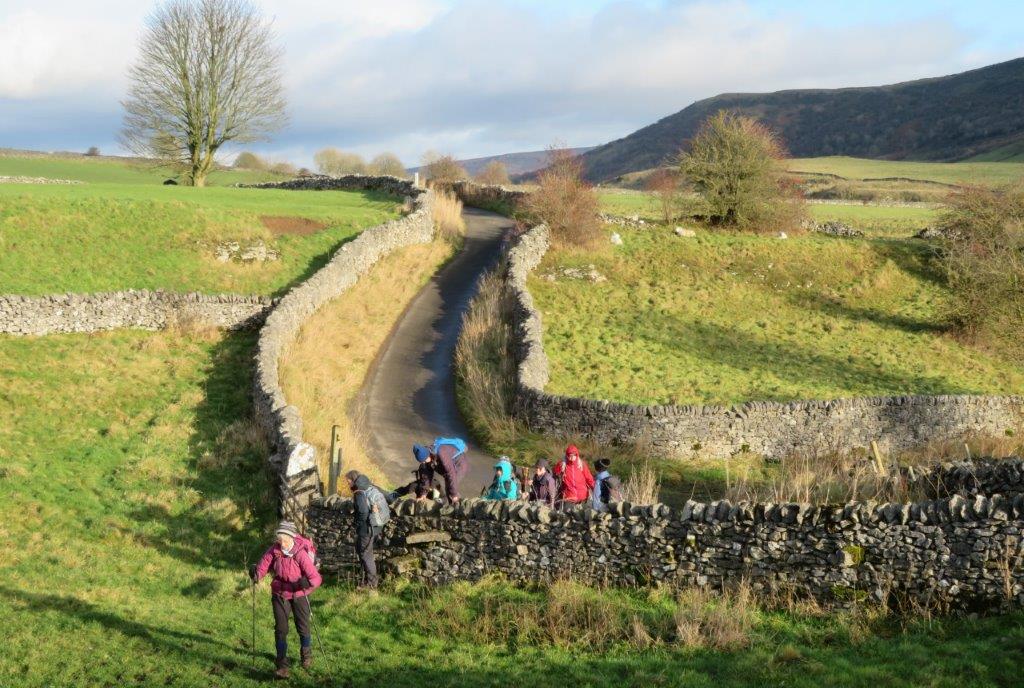 crossing & climbing out of Tophole Road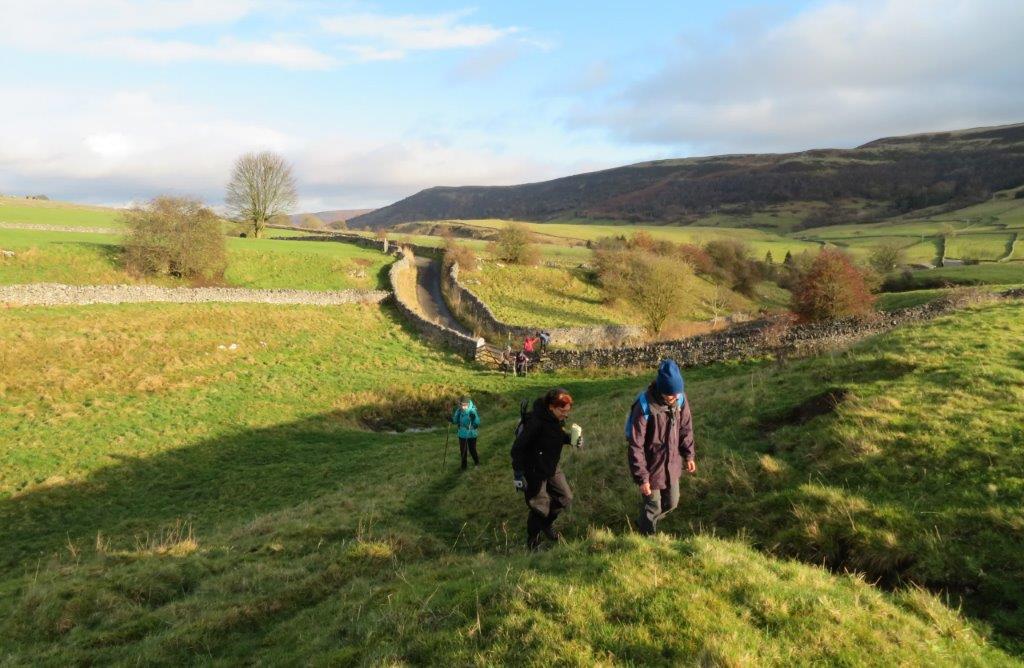 heading SSW to Lower Farm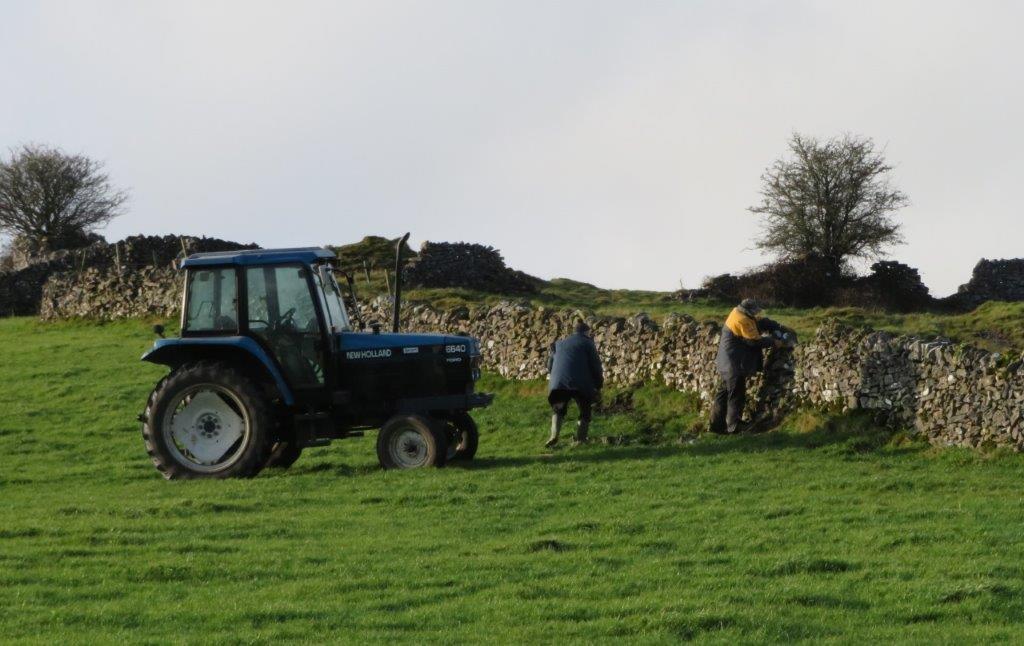 repairing dry stone wall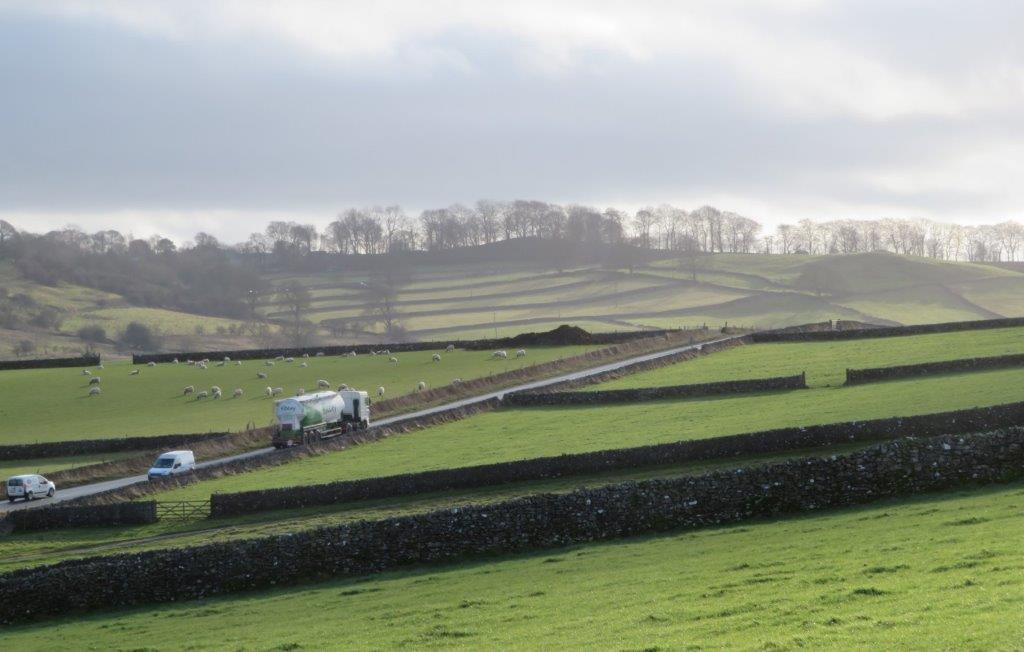 B6049 Road - tanker heading southward towards Tideswell? Great Hucklow behind trees at top left.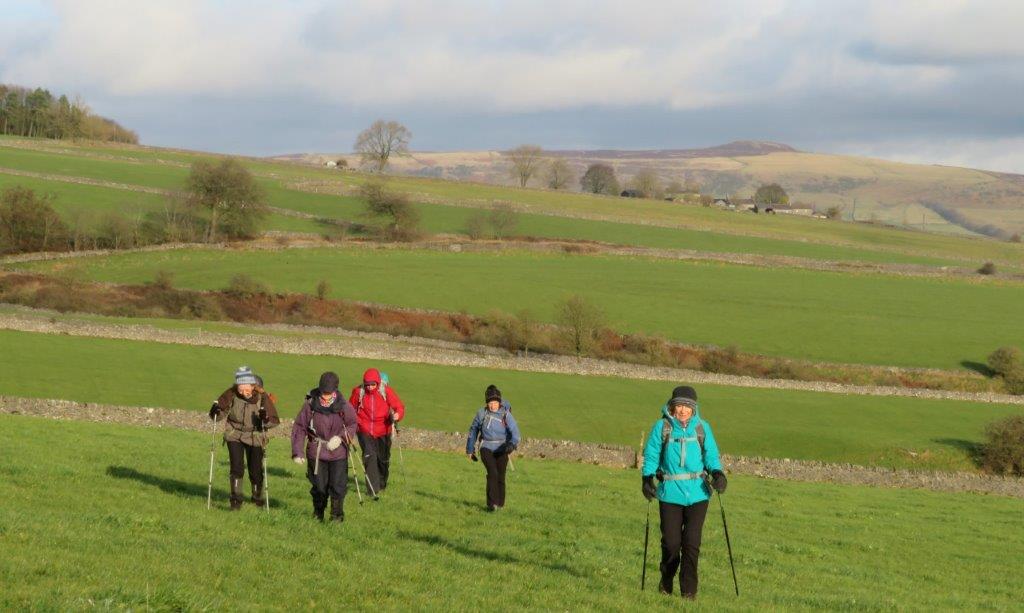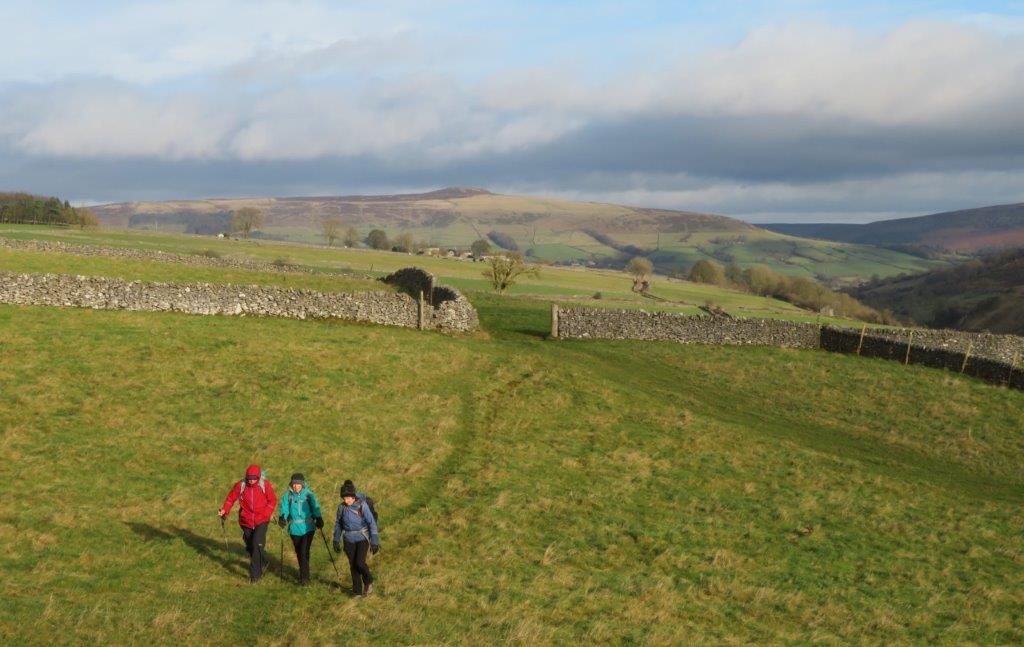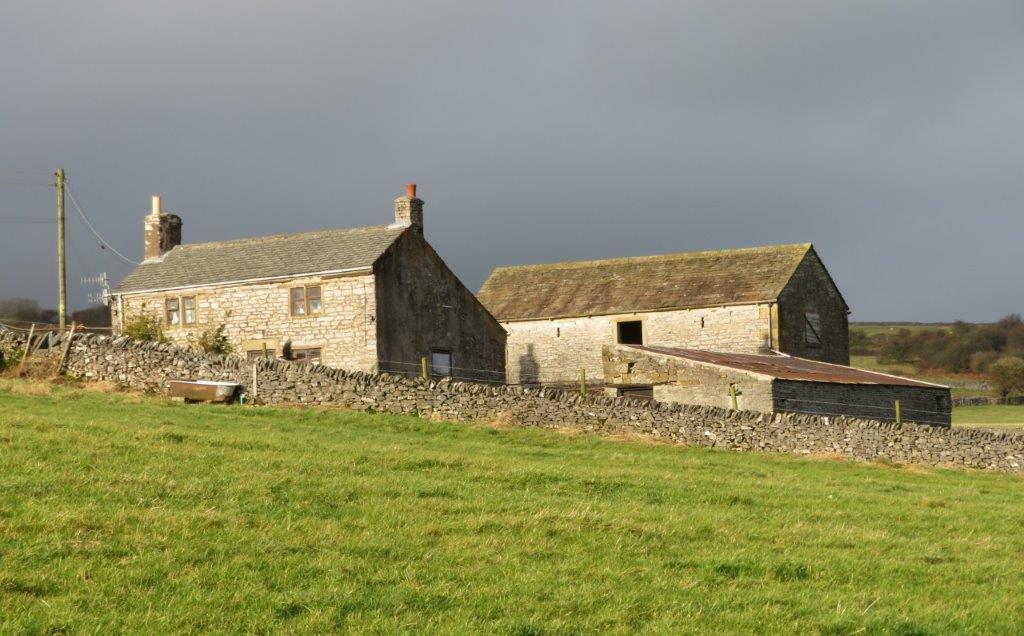 Intake Farm?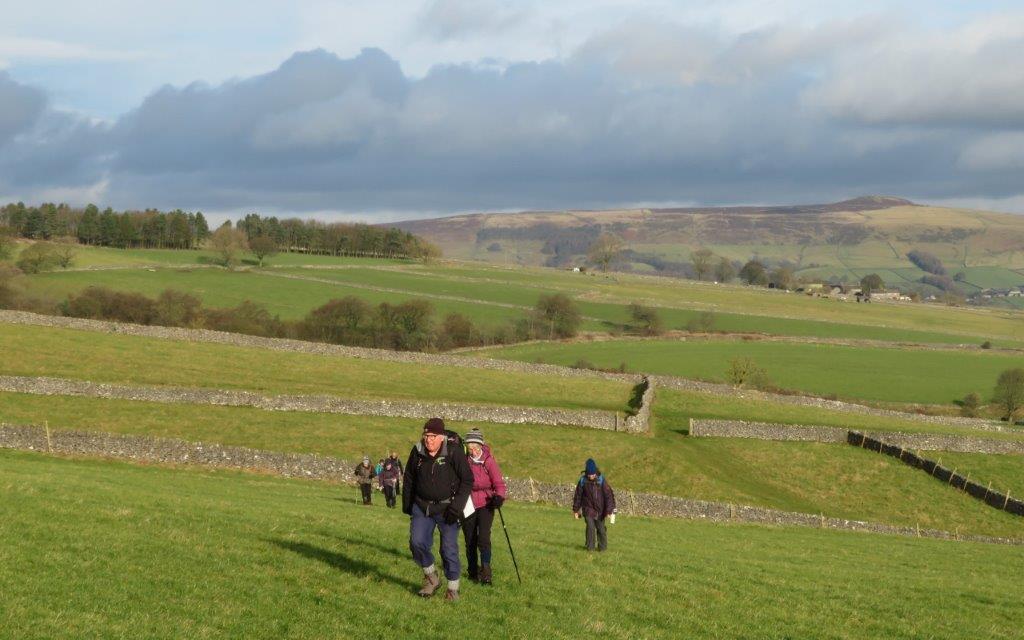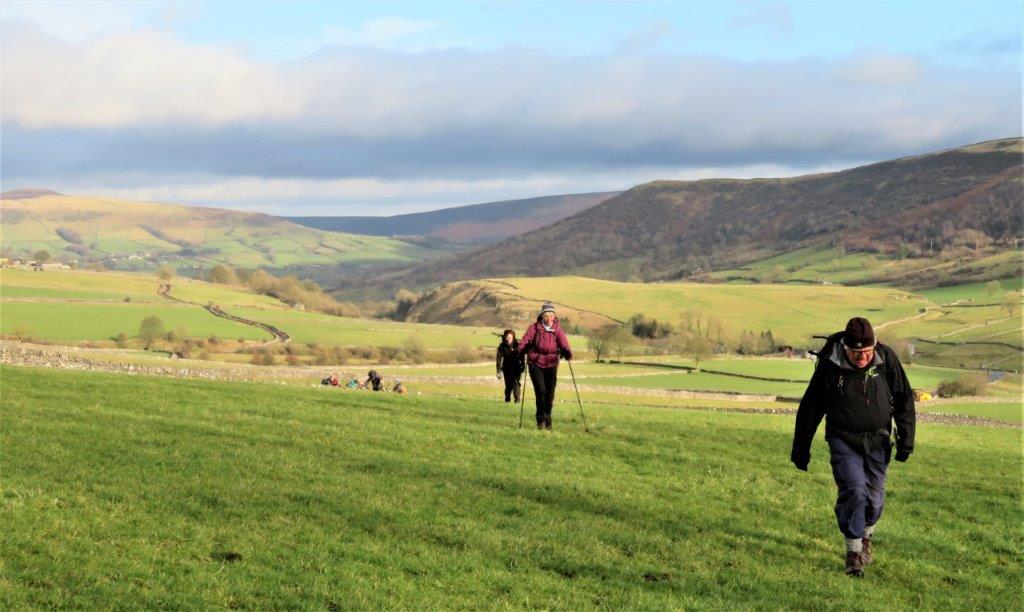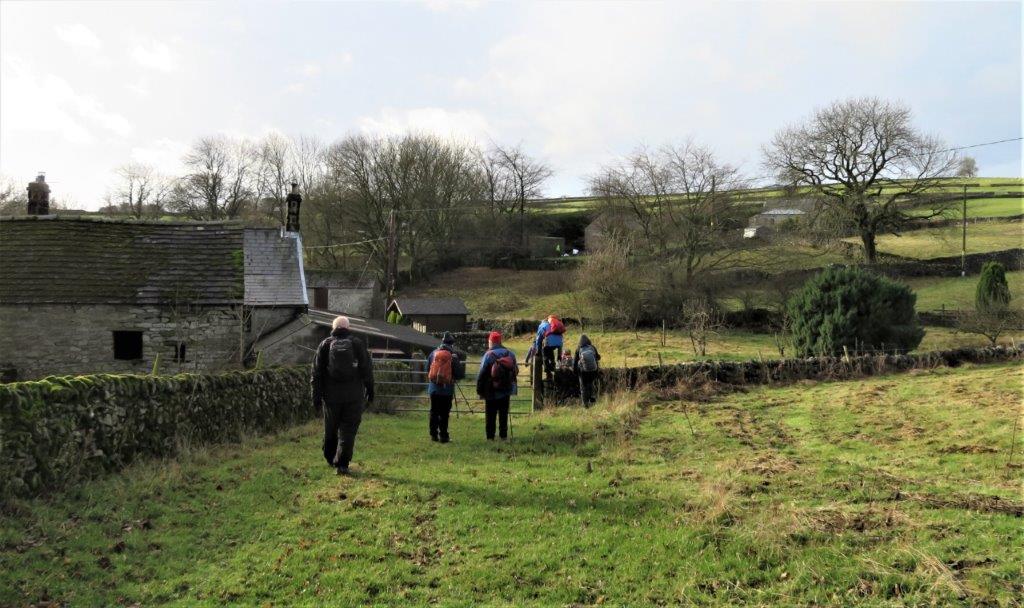 Lower Farm to our left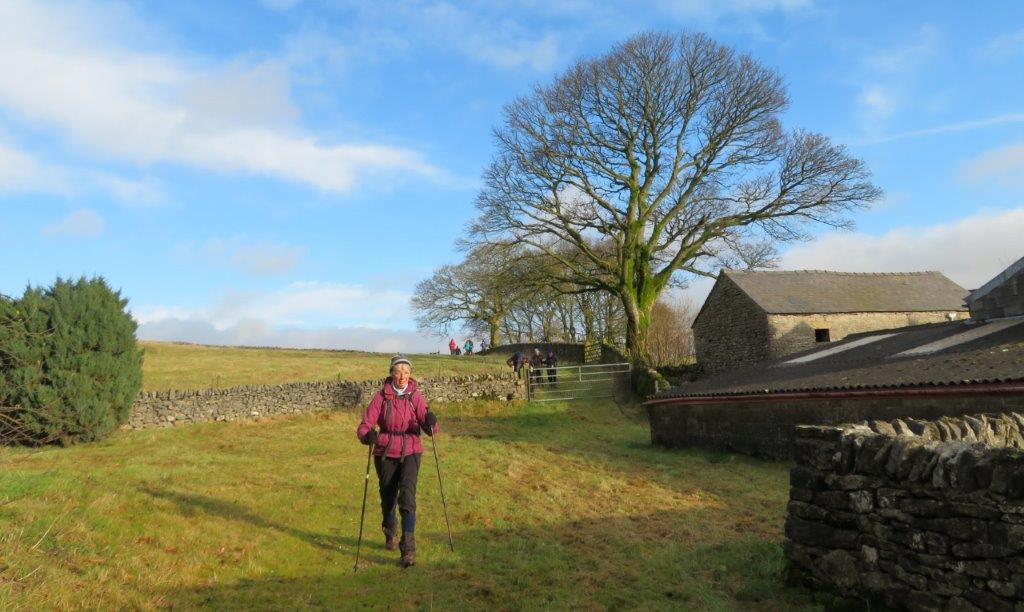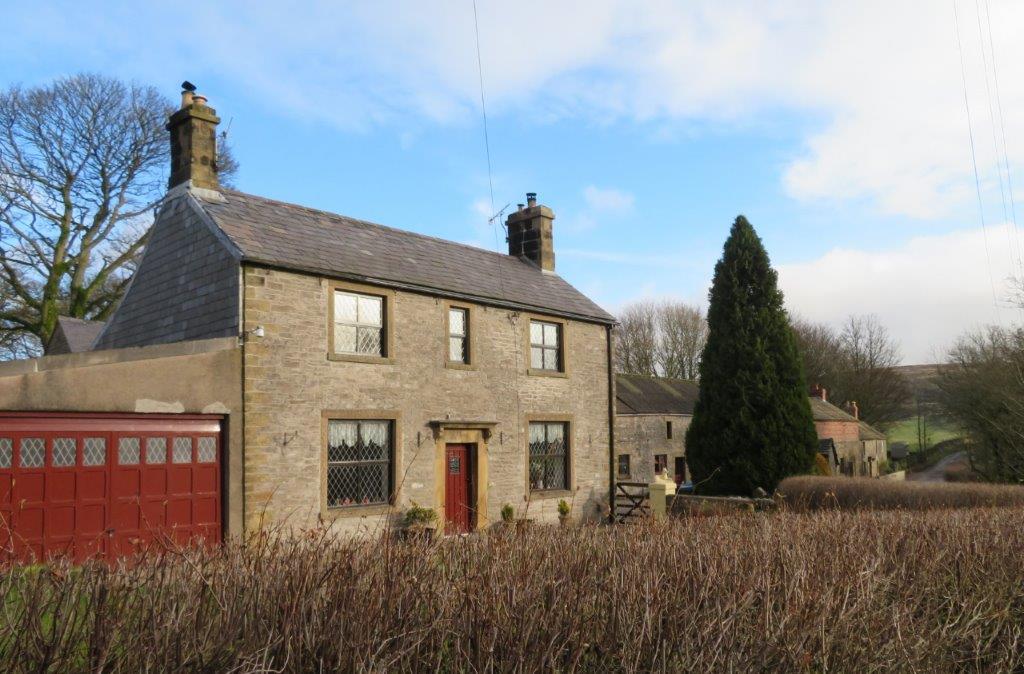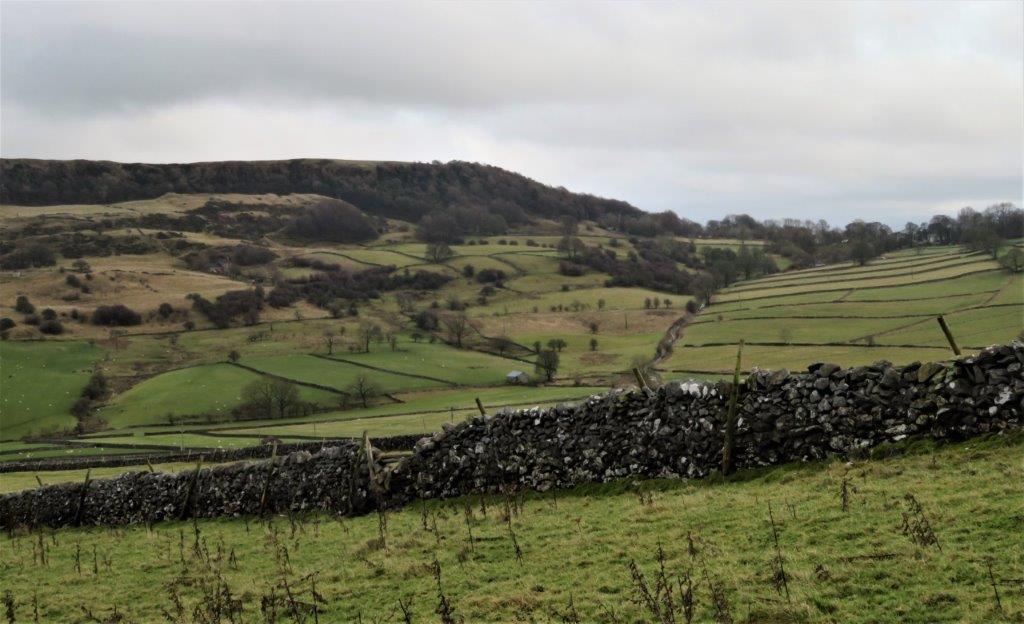 track climbing up diagonally to right (from B6049 unseen here) leads to Great Hucklow - we followed this track later.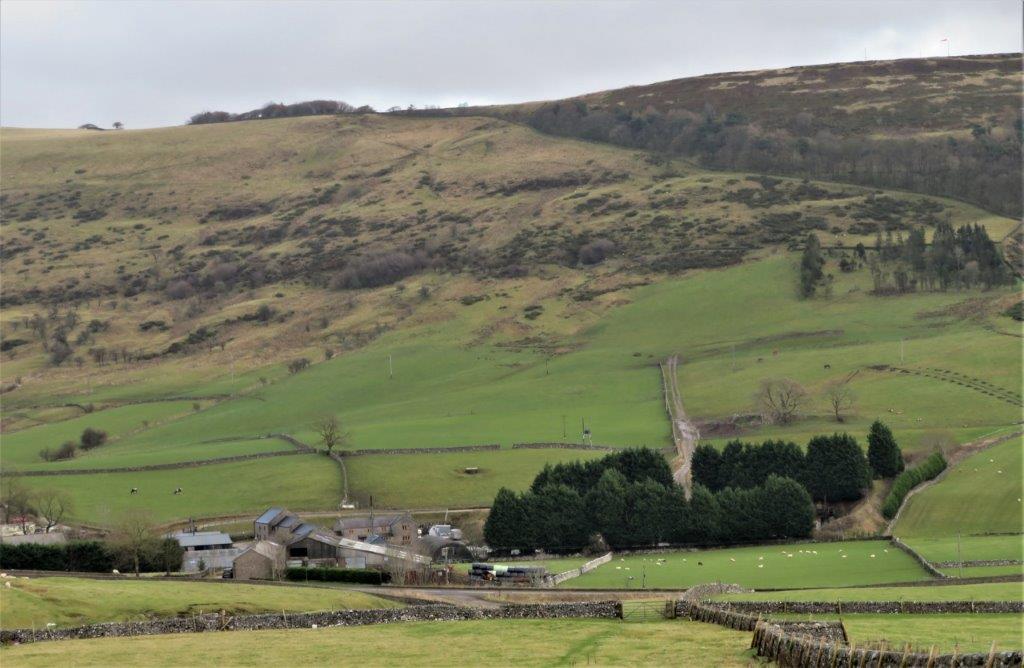 Note 'molehills' to right of picture - see later picture for probable explanation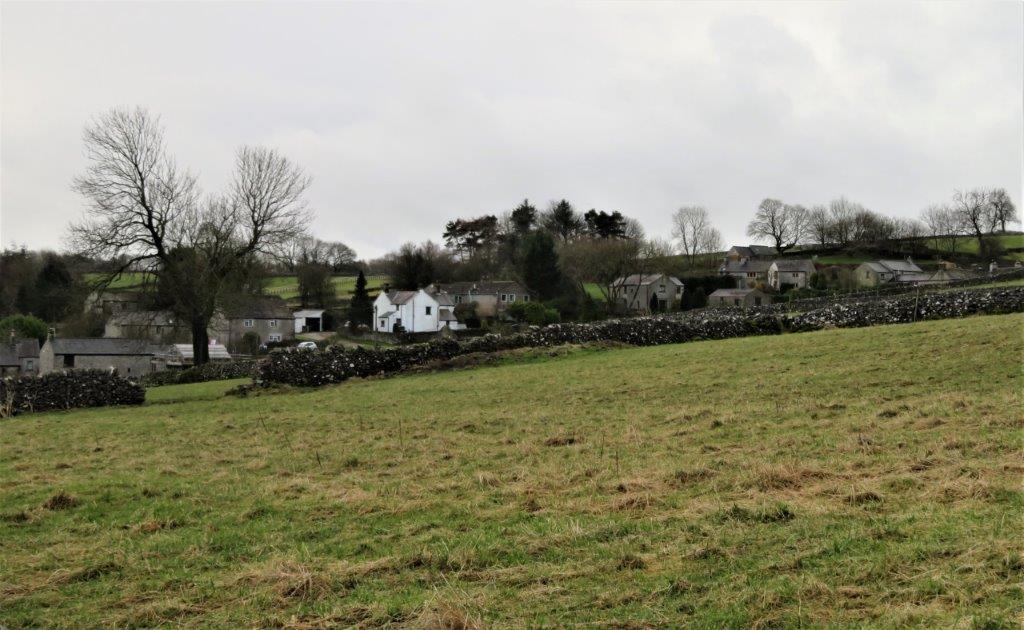 houses in or near Little Hucklow.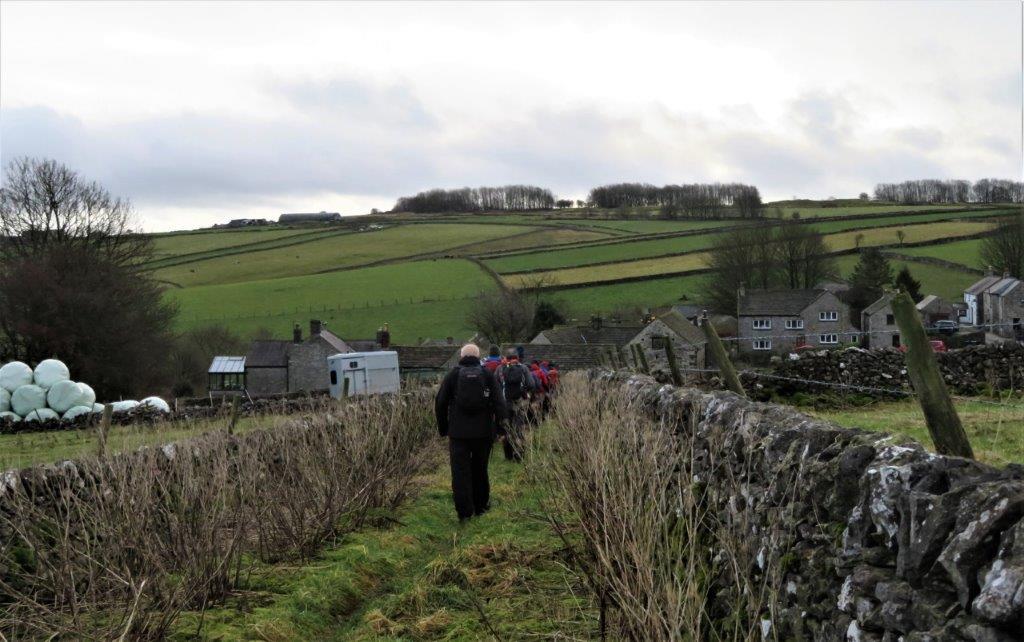 approaching Little Hucklow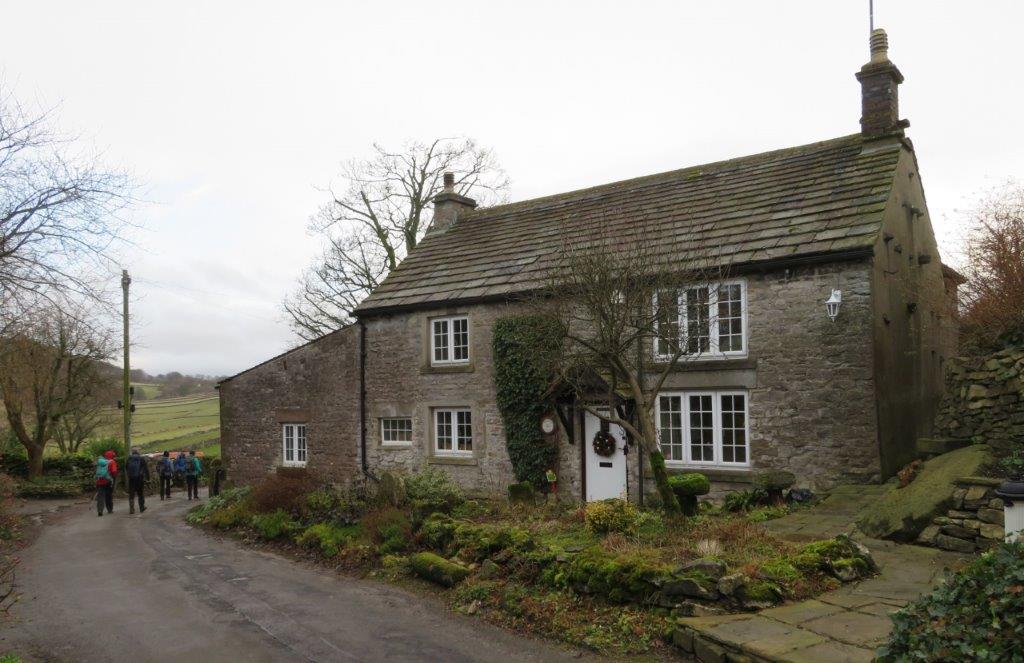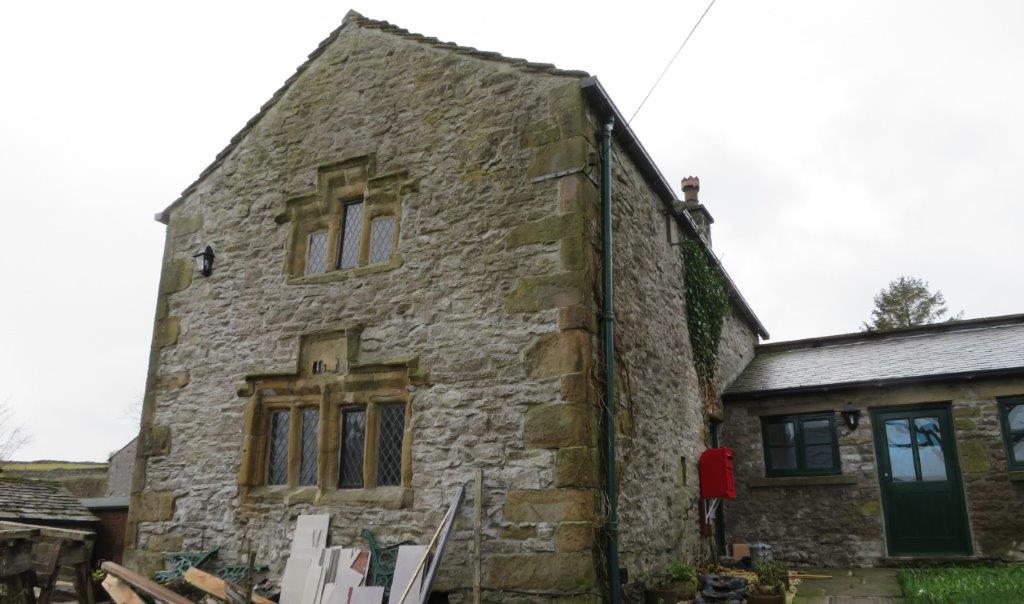 interesting old building / hall behind the Inn being rebuilt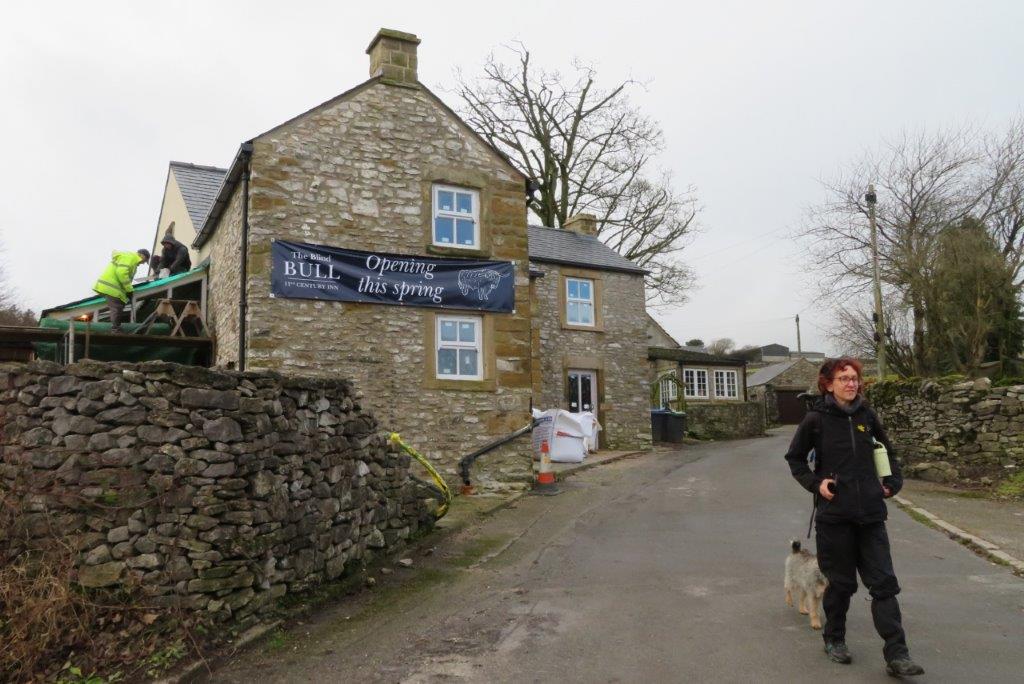 The Blind Bull - 12 century inn being rebuilt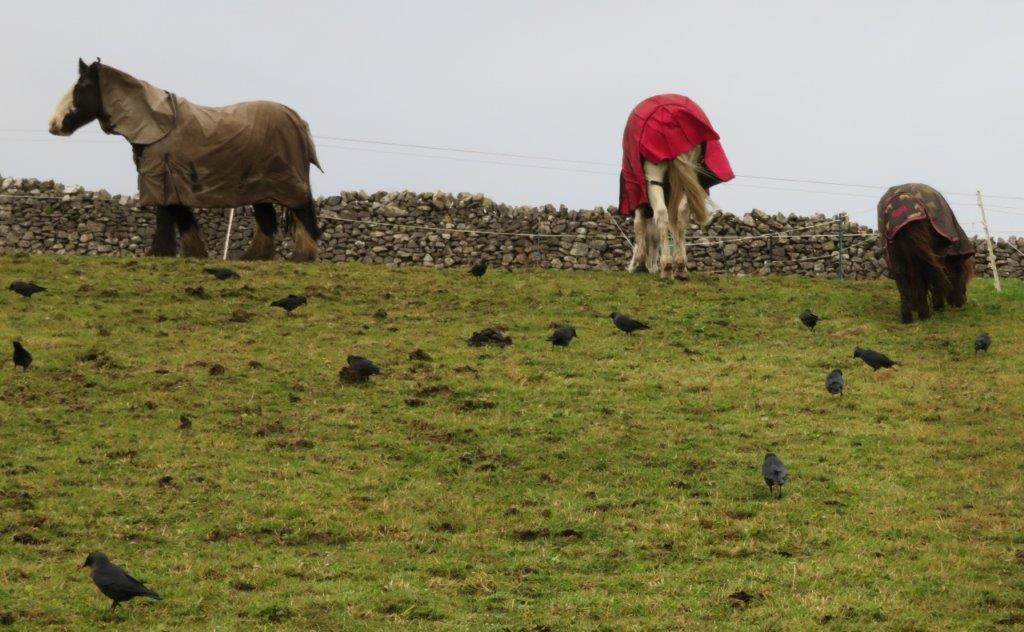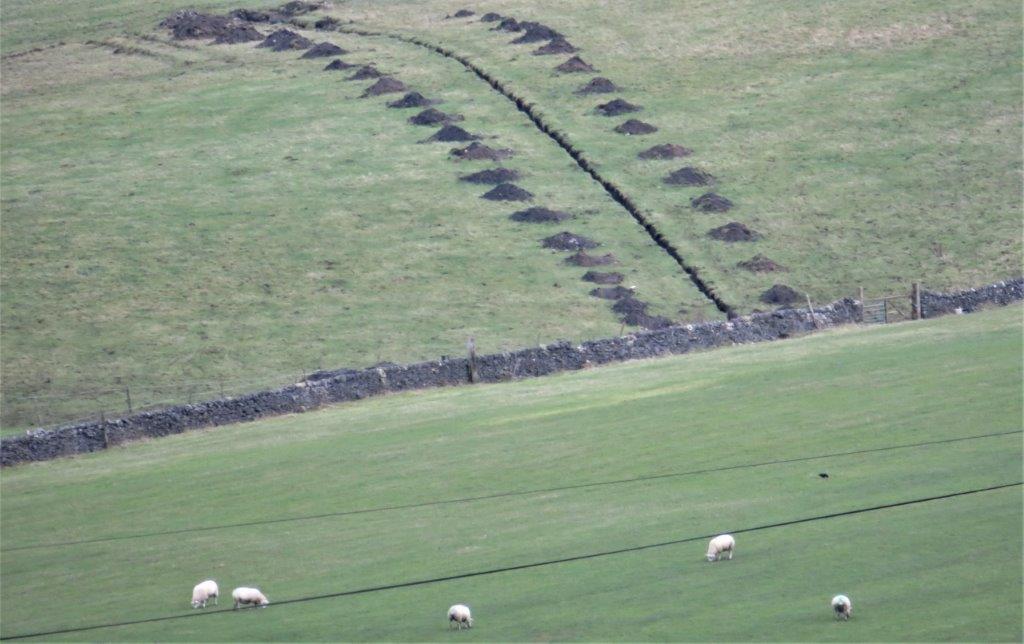 'molehills' are spoil heaps excavated from trench to take new services? or drainage?
sign seen by passing traffic on the B6049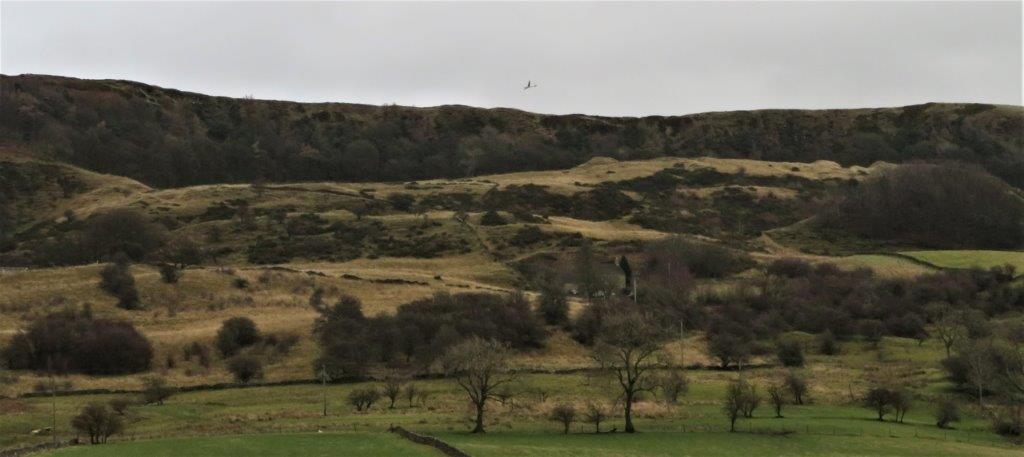 note glider at top coming in to land on Camphill Gliding Field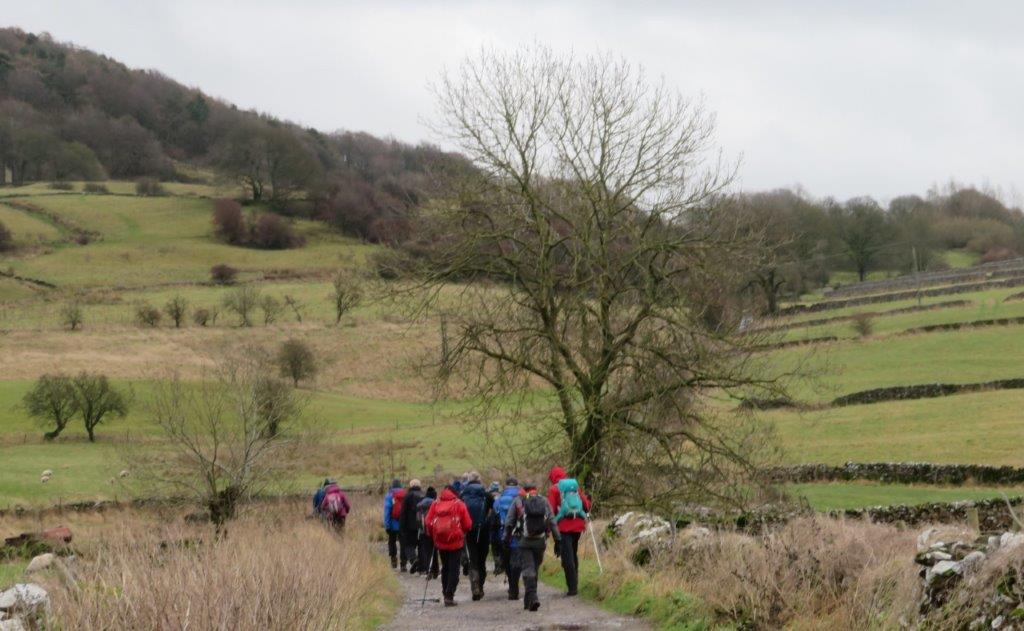 on track toward & up to Great Hucklow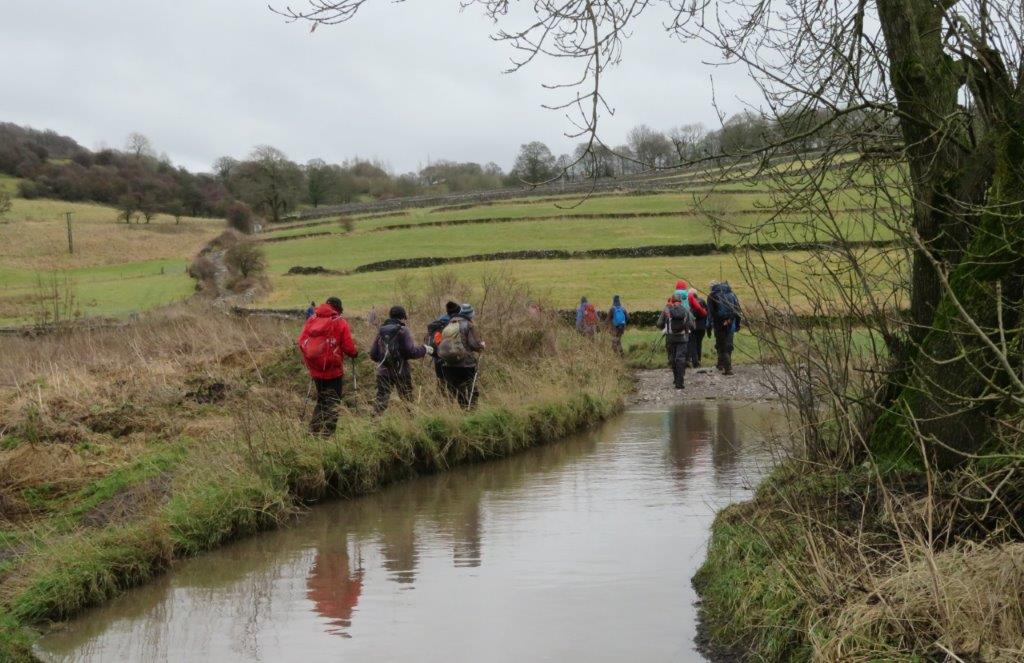 track flooded after recent heavy rains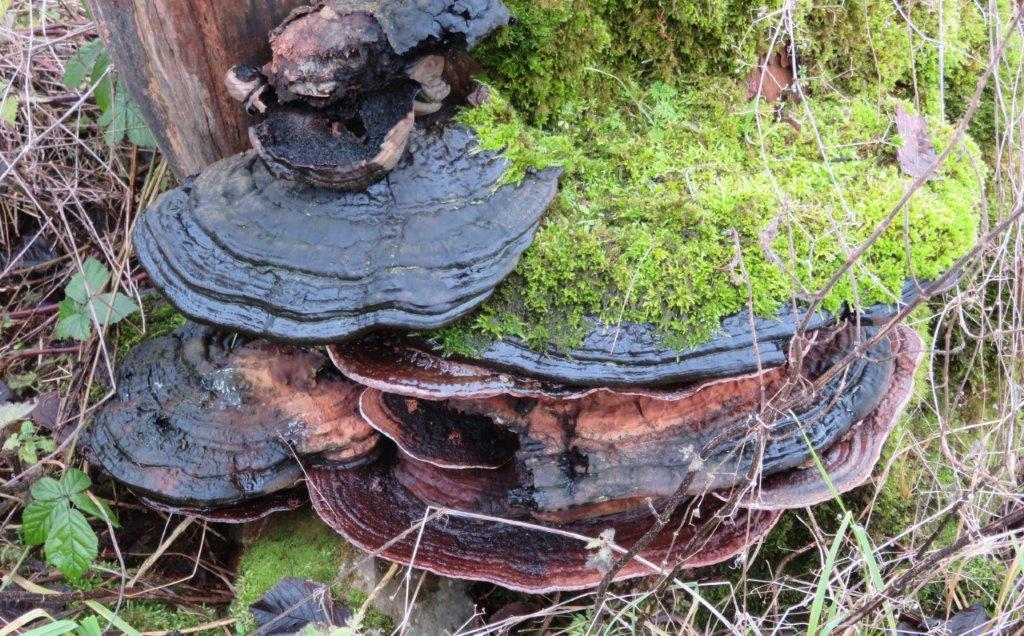 Fungi growing from tree stump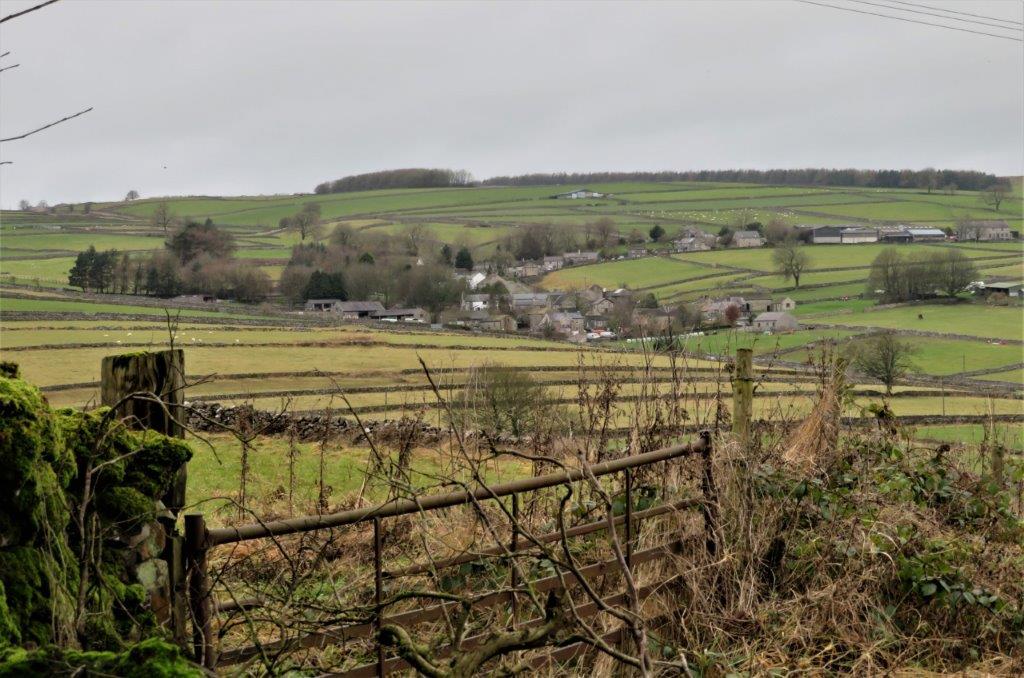 a glance back at Little Hucklow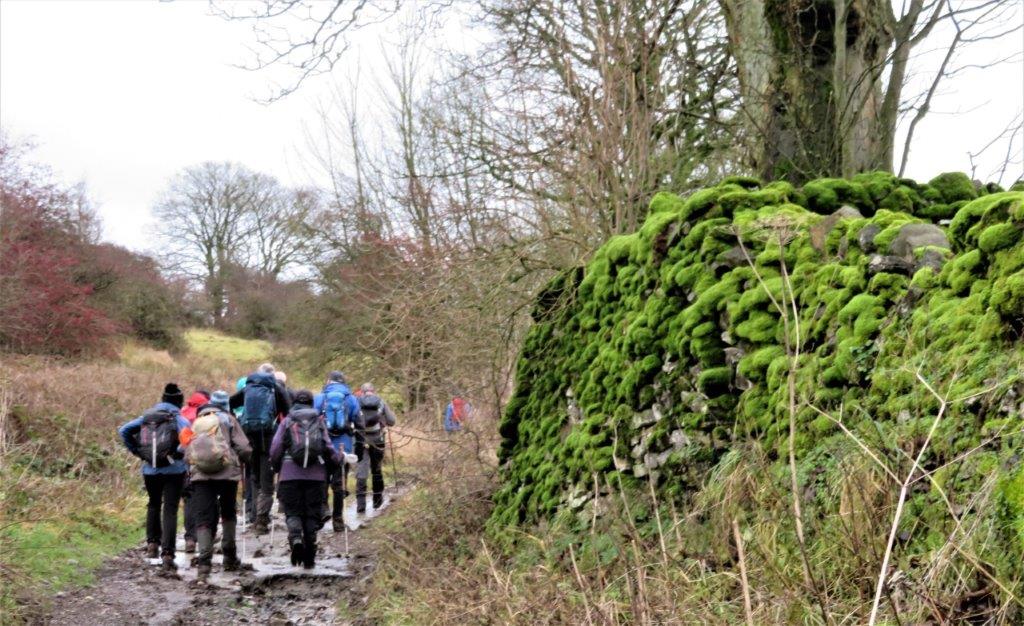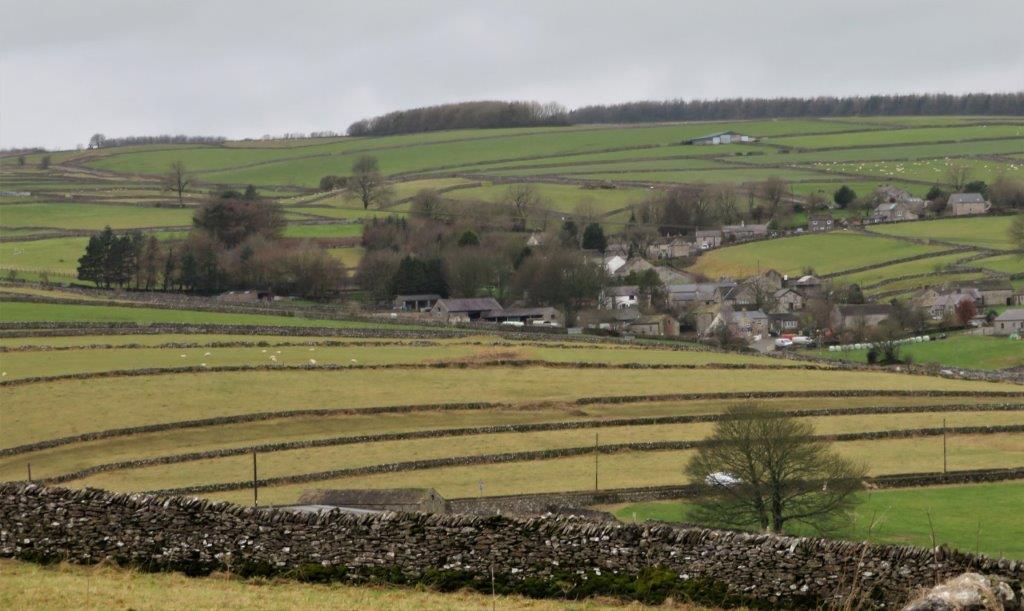 another glance at Little Hucklow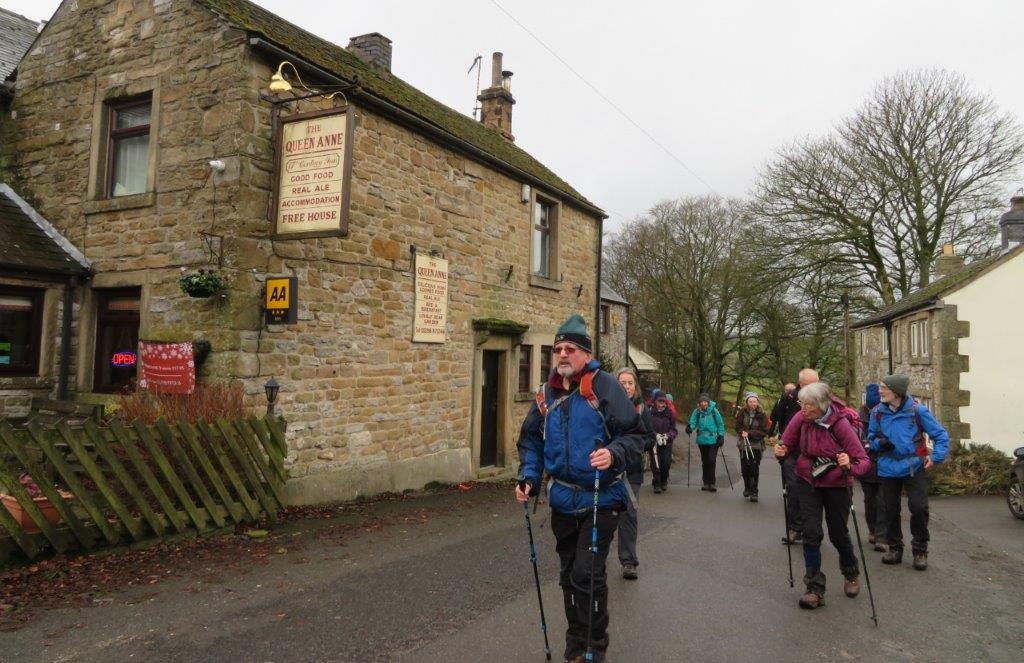 The Queen Anne - PH in Great Hucklow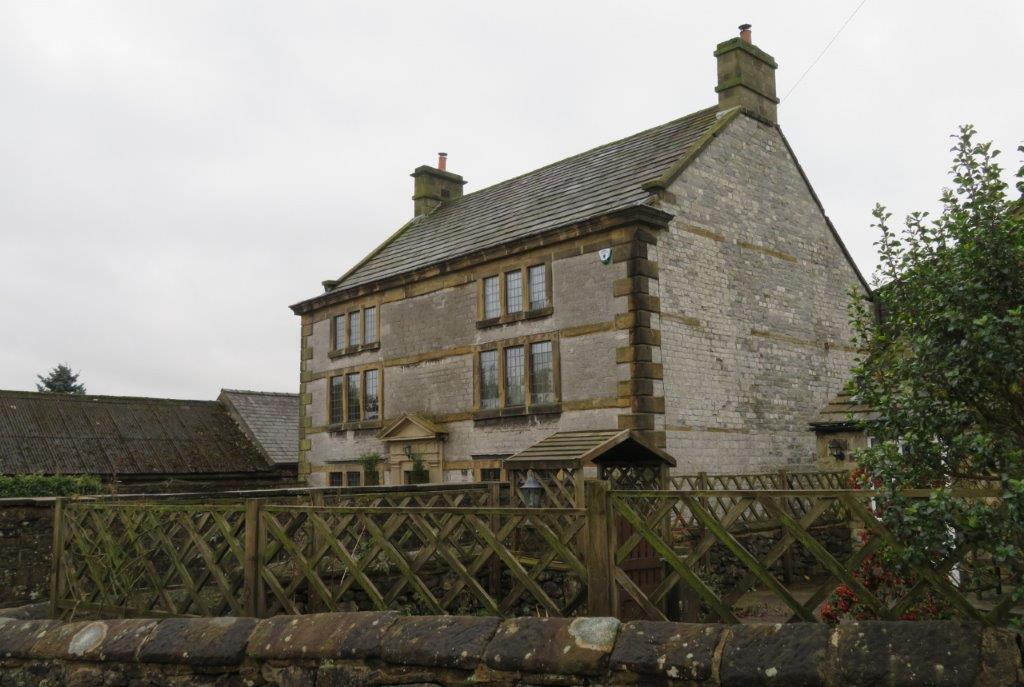 'Hall'? in Great Hucklow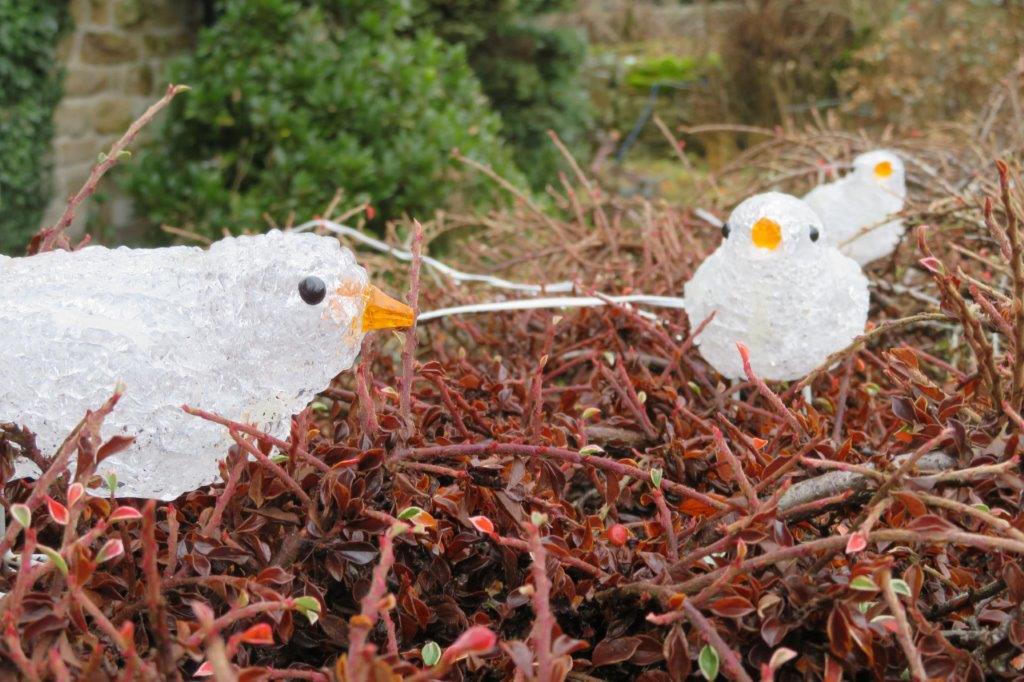 a new bird species?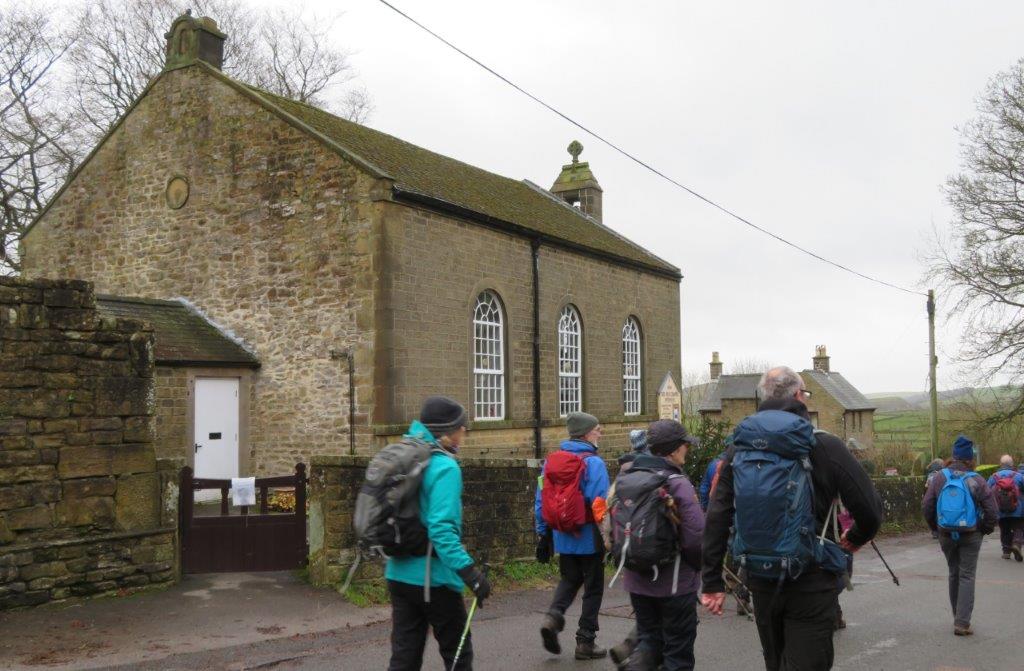 Unitarian Chapel from 1696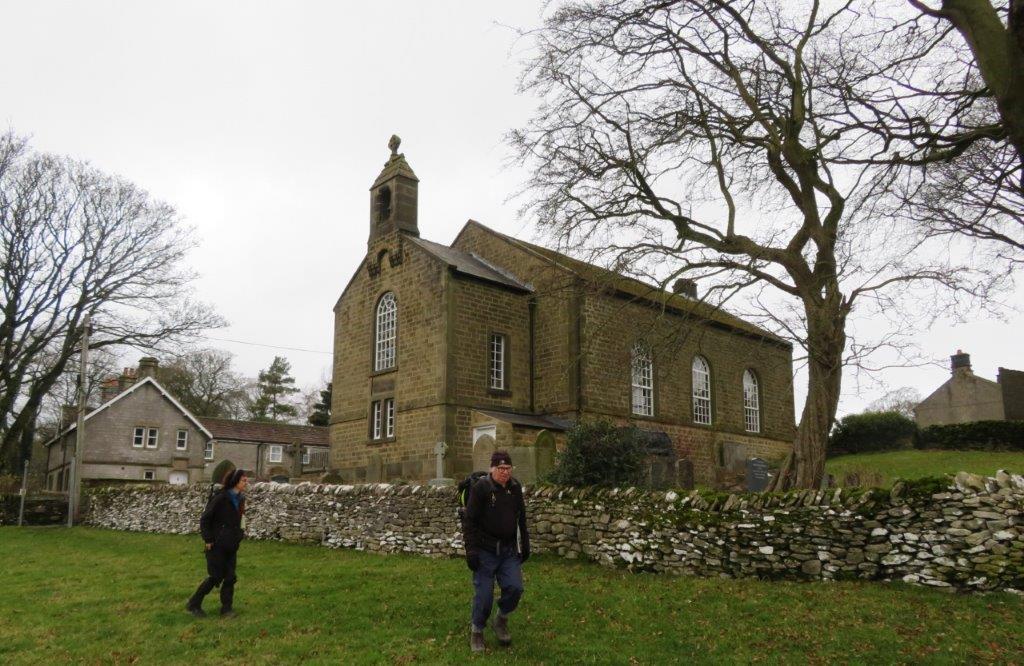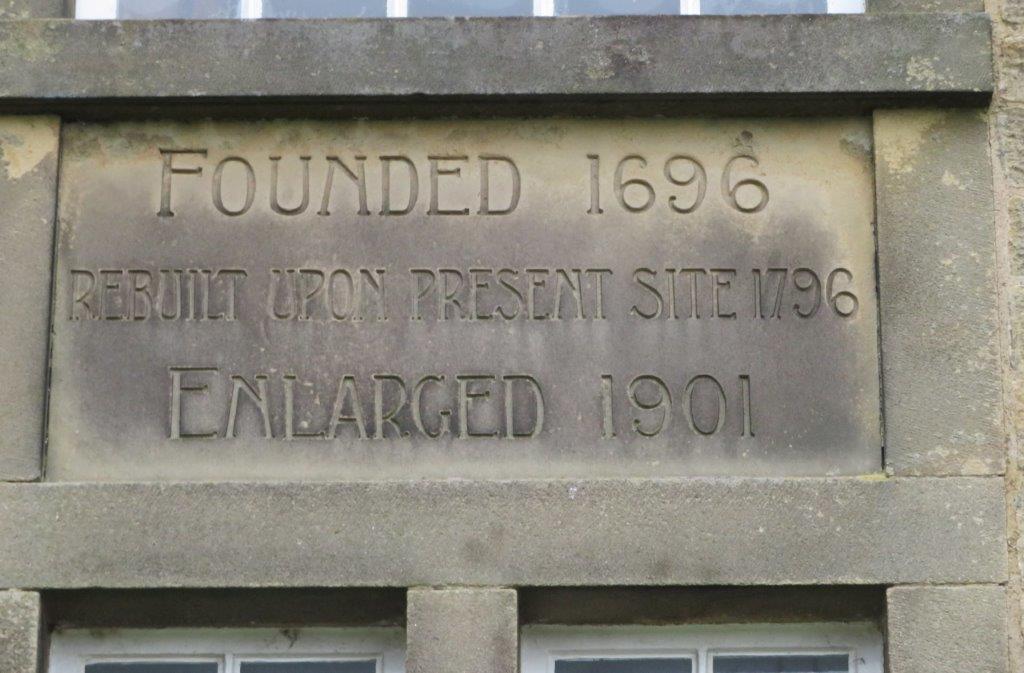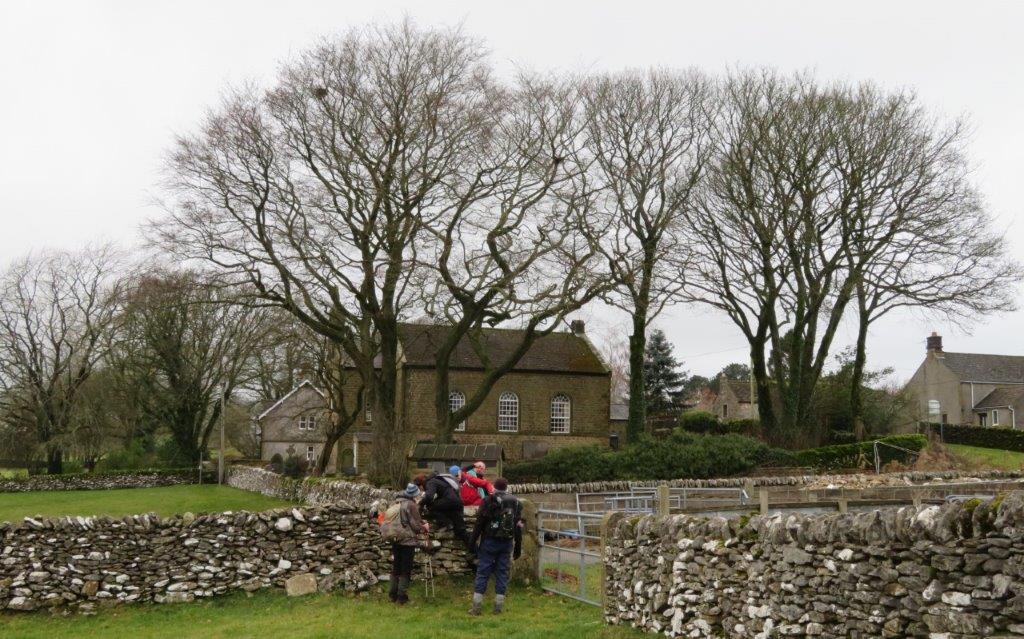 some tricky stiles to cross - can slow progress especially with large party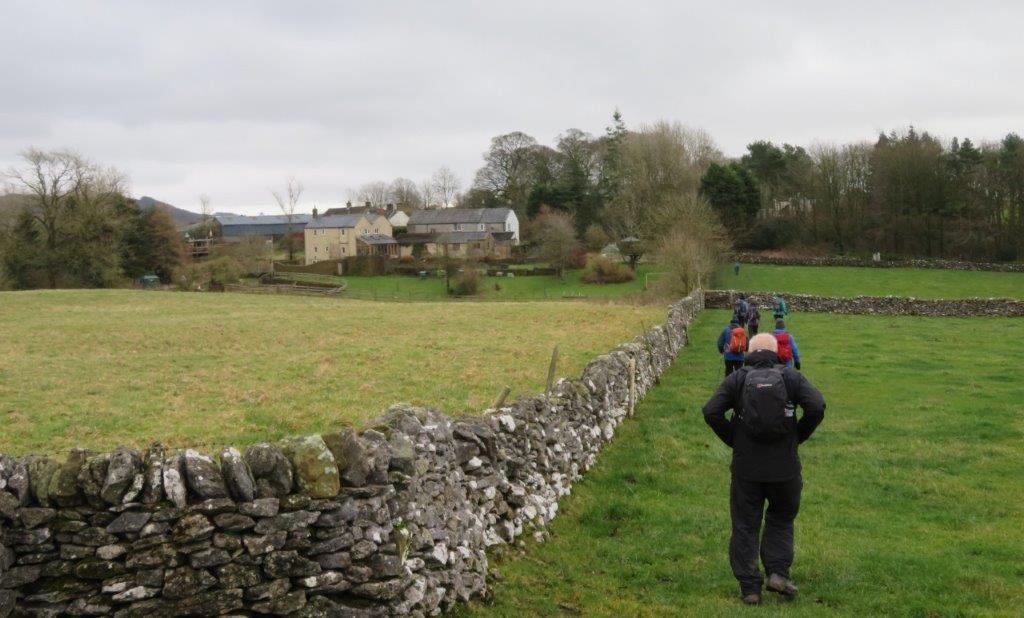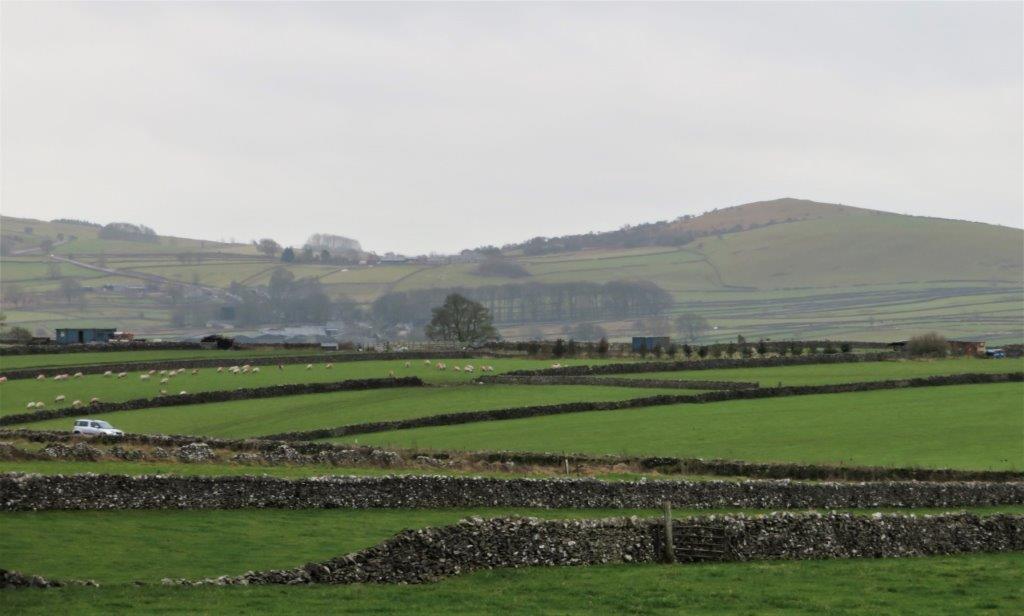 Wardlow Hay Cop? to right seen to south of us en route between Great Hucklow Foolow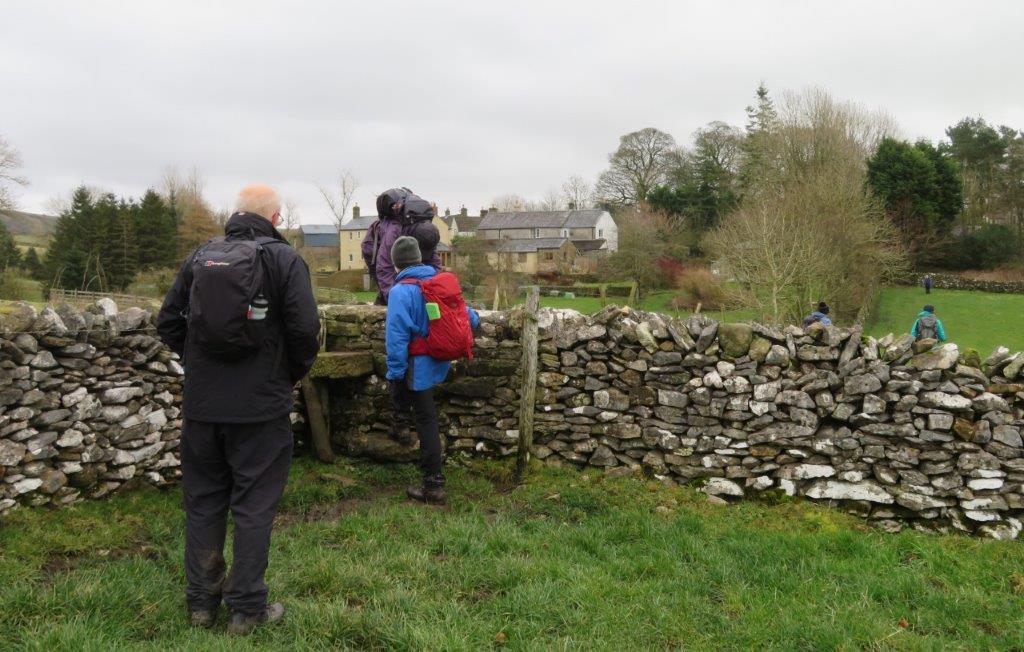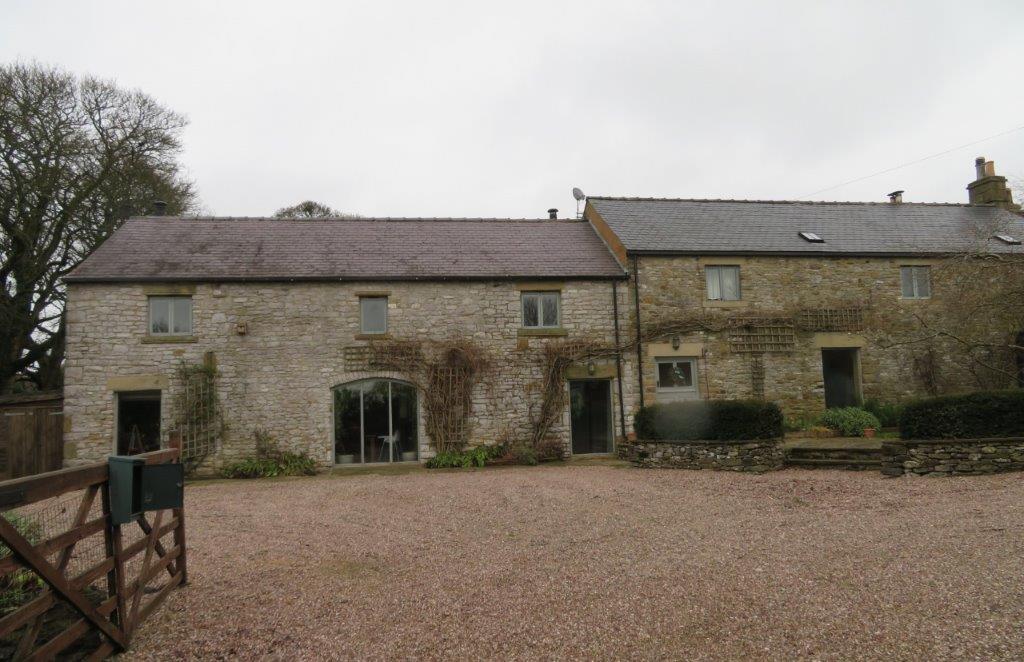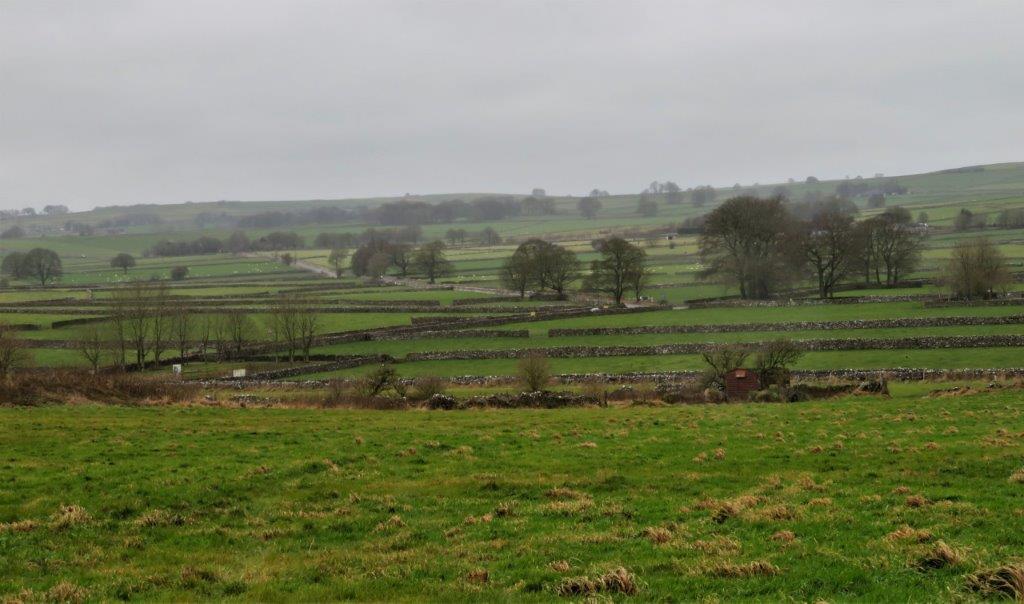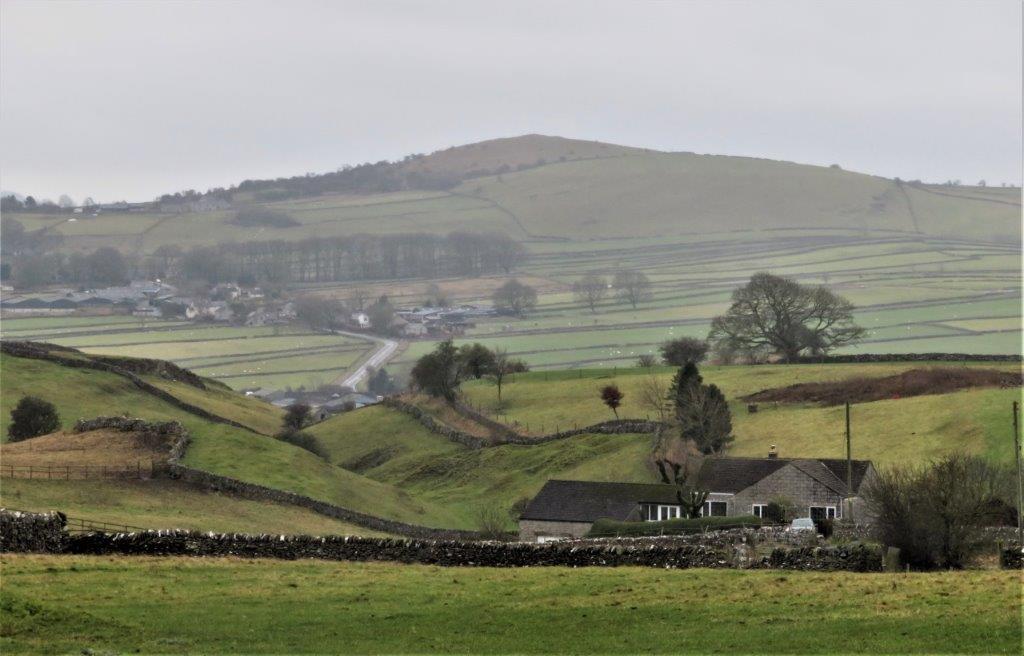 Silly Dale in front with Wardlow Mires behind it (seemingly at dale's bottom) - Wardlow further behind with Wardlow Hay Kop in centre of picture?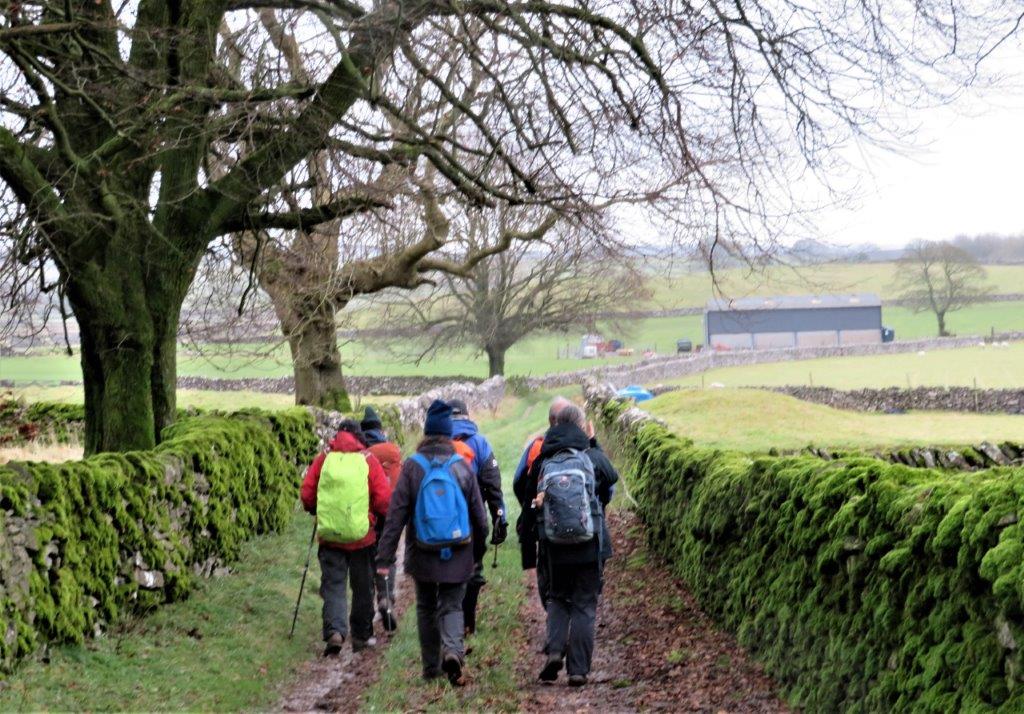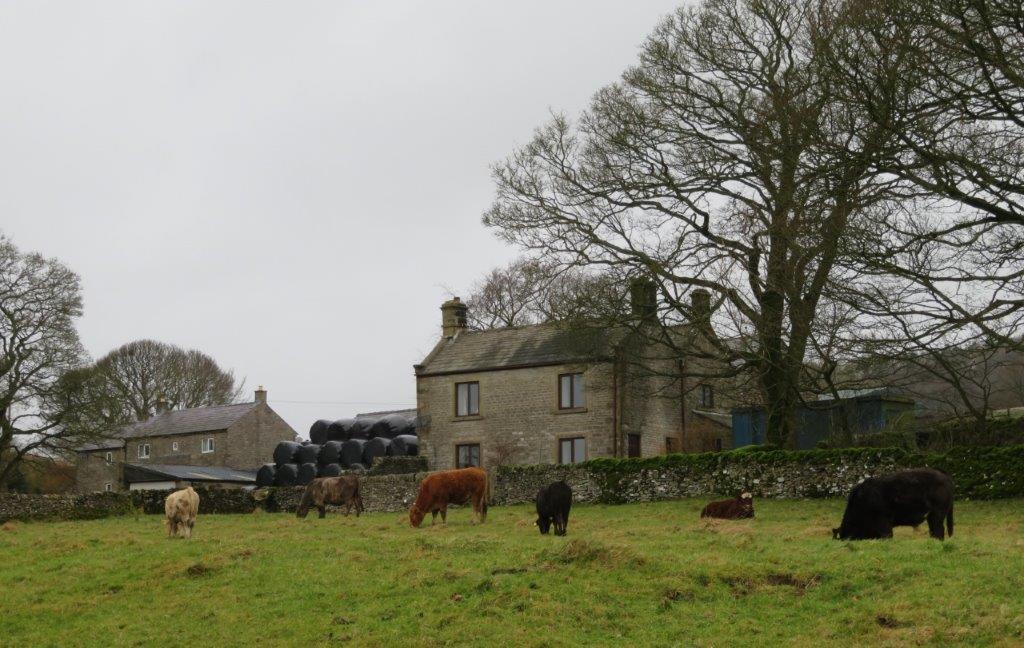 Roods Farm?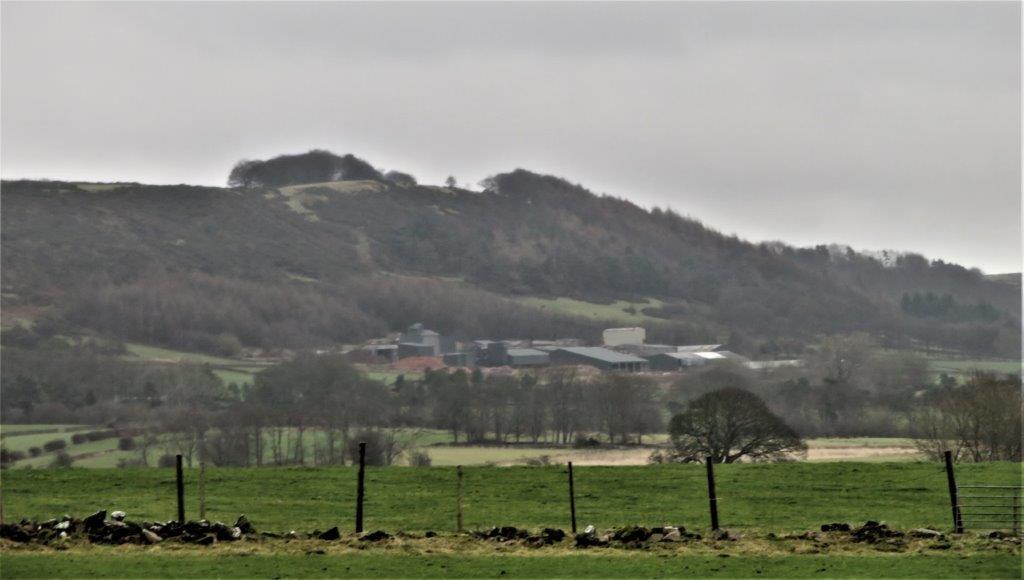 zoomed into Black Hole Mine? below Eyam Edge?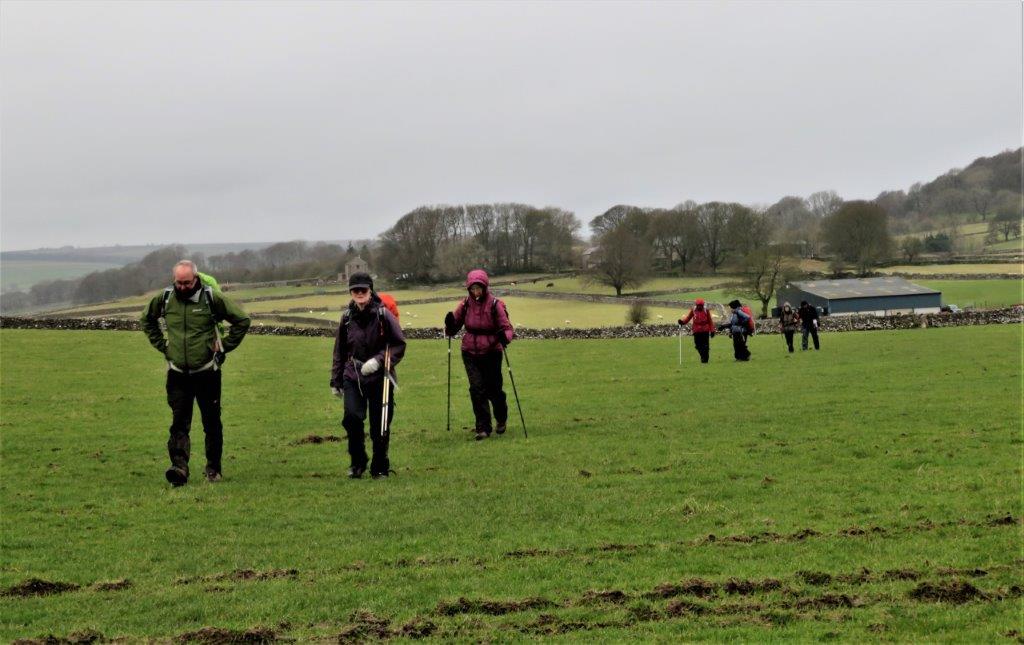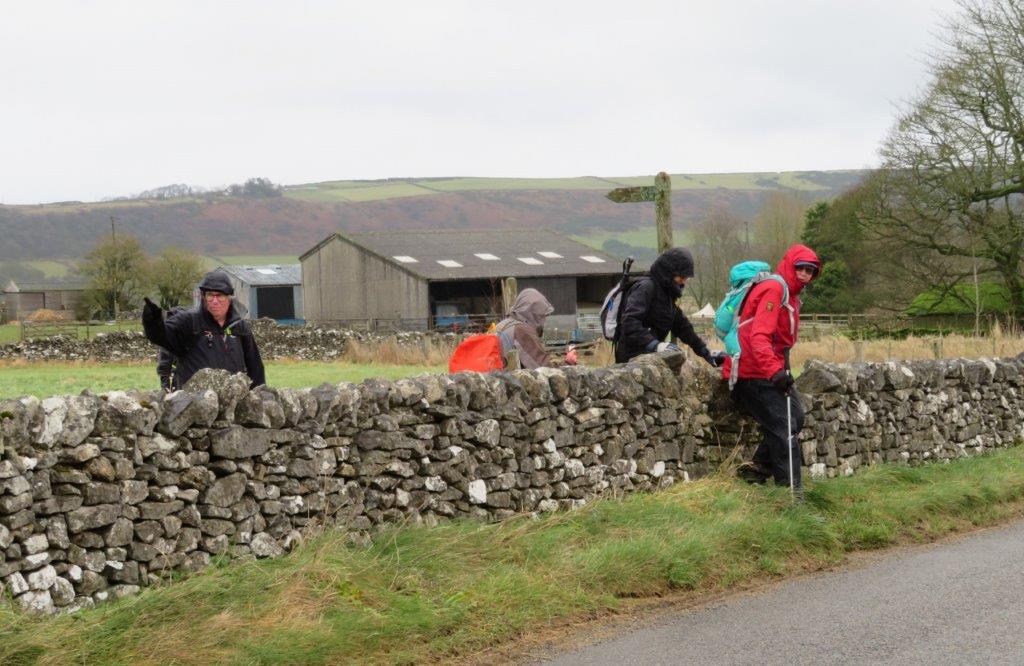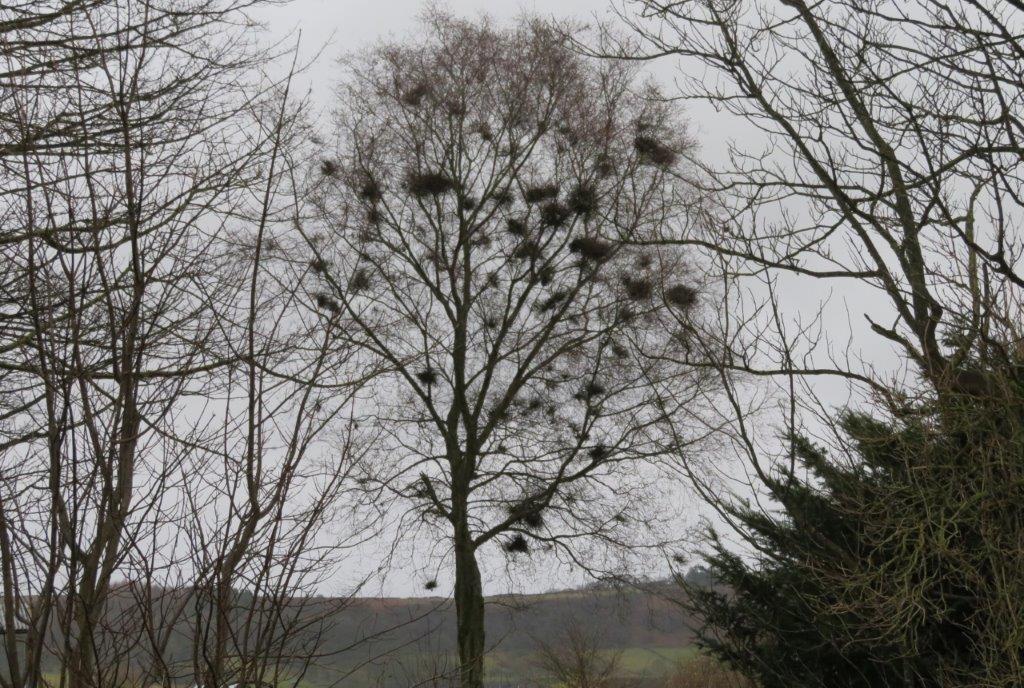 not birds nests for soup! But what are they?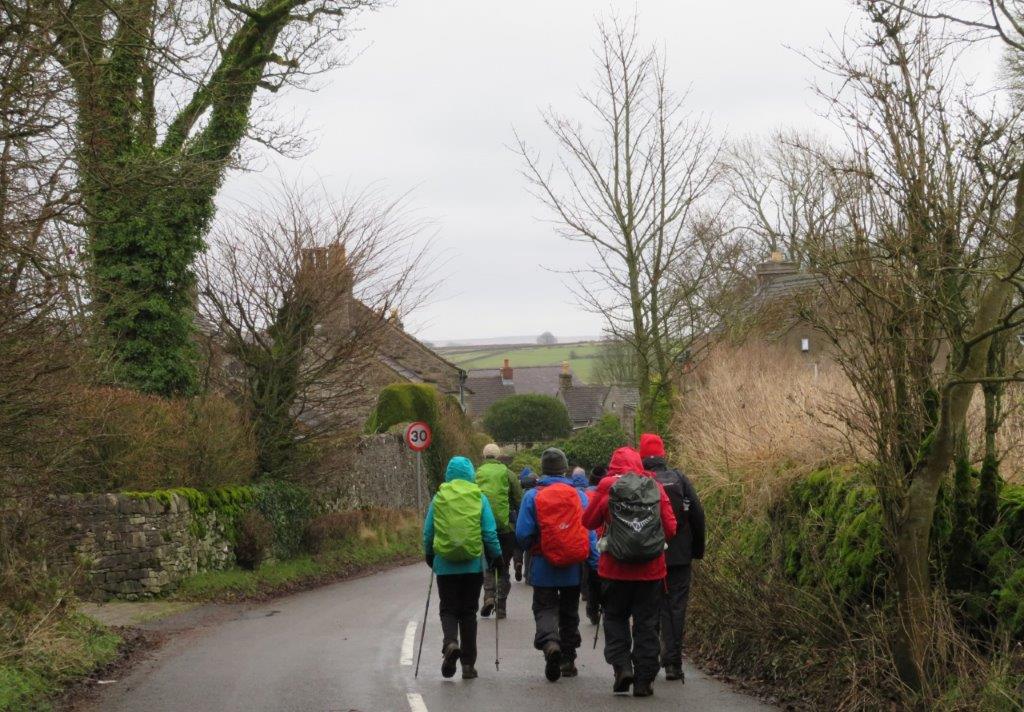 approaching Foolow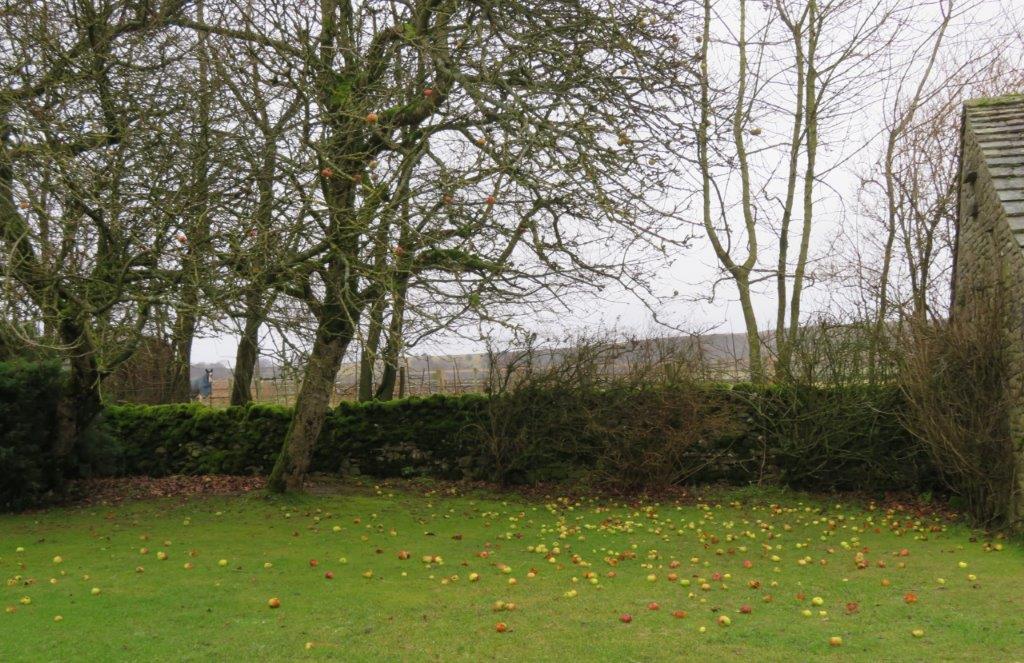 The Fall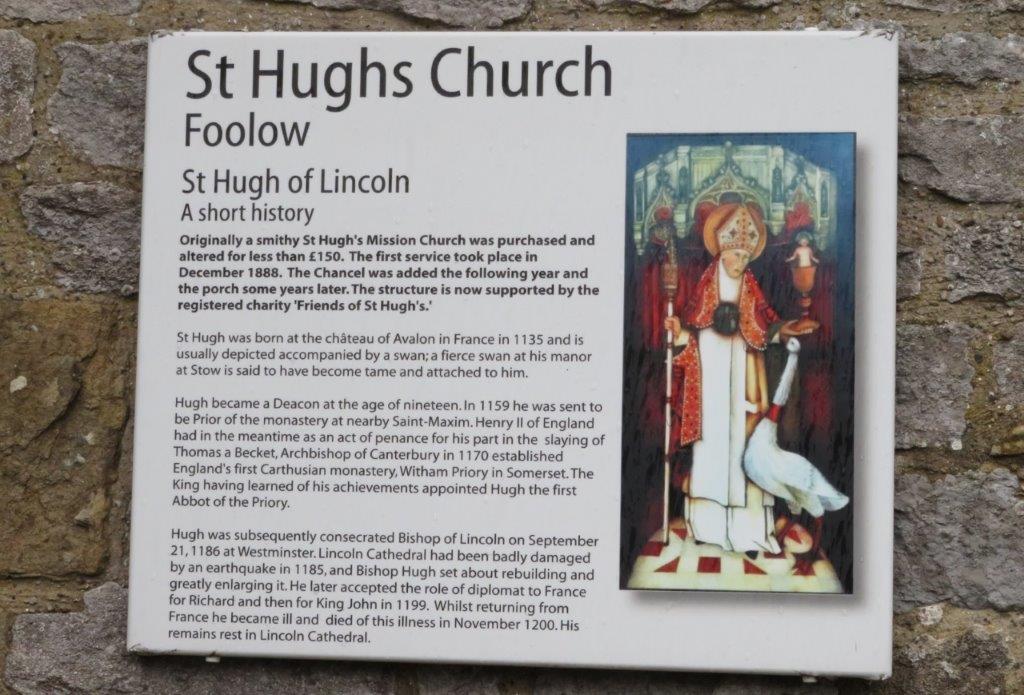 St Hughs Church Foolow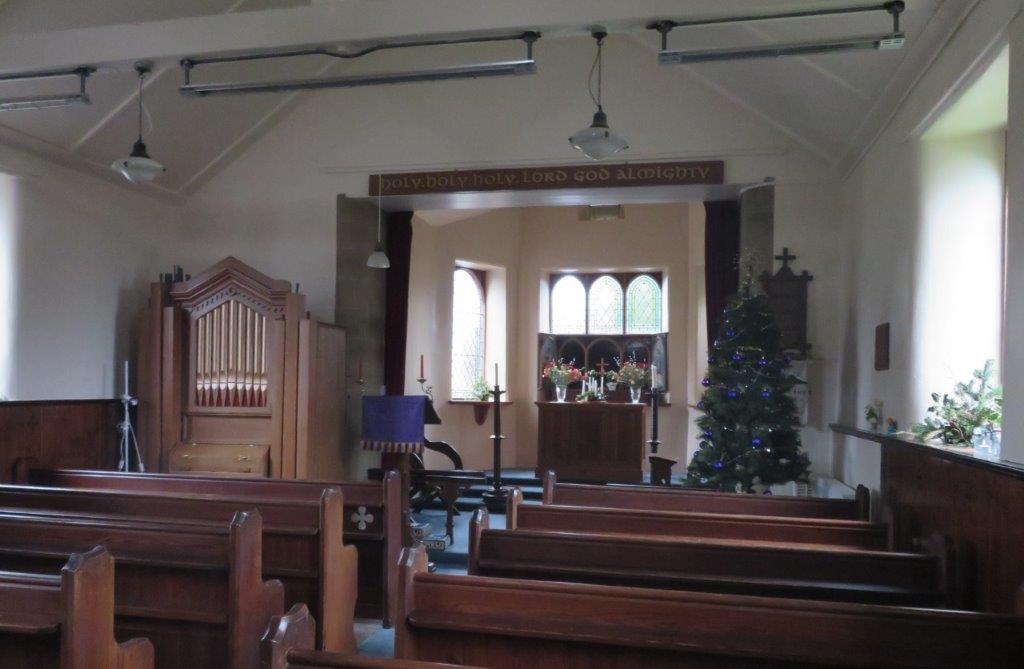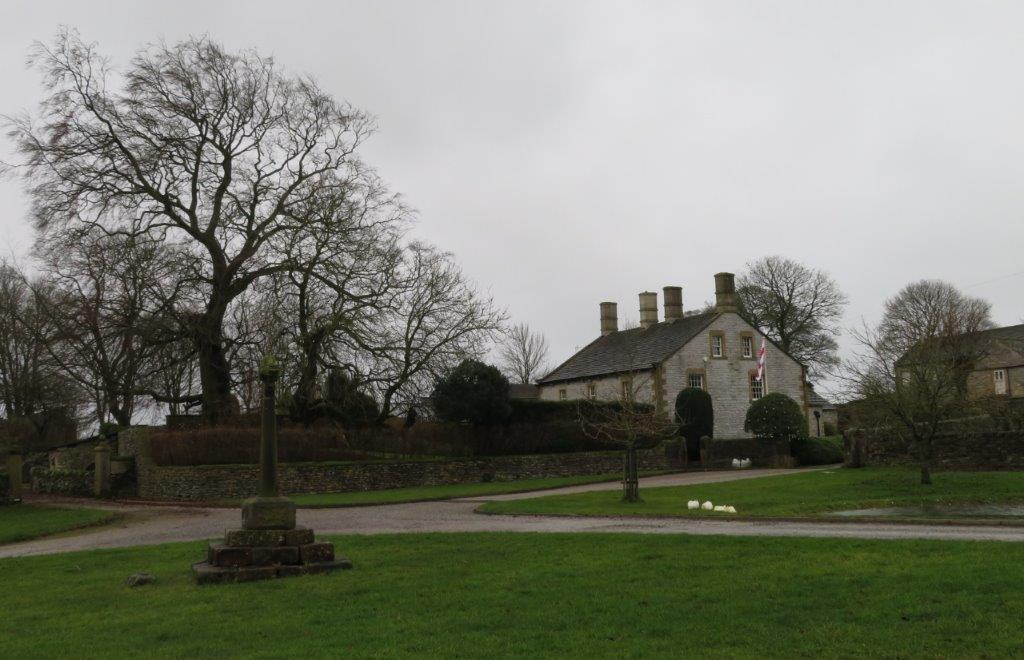 Cross and pond at Foolow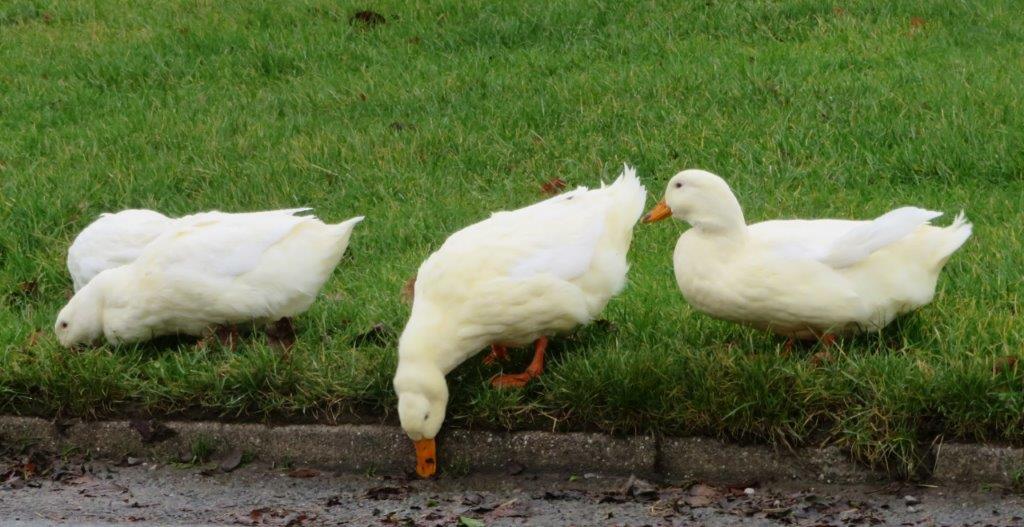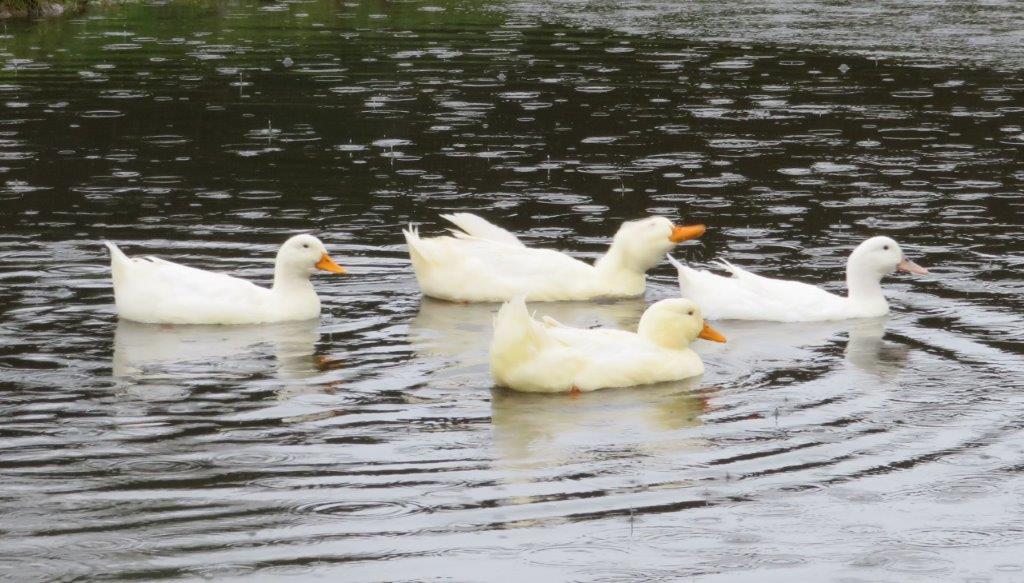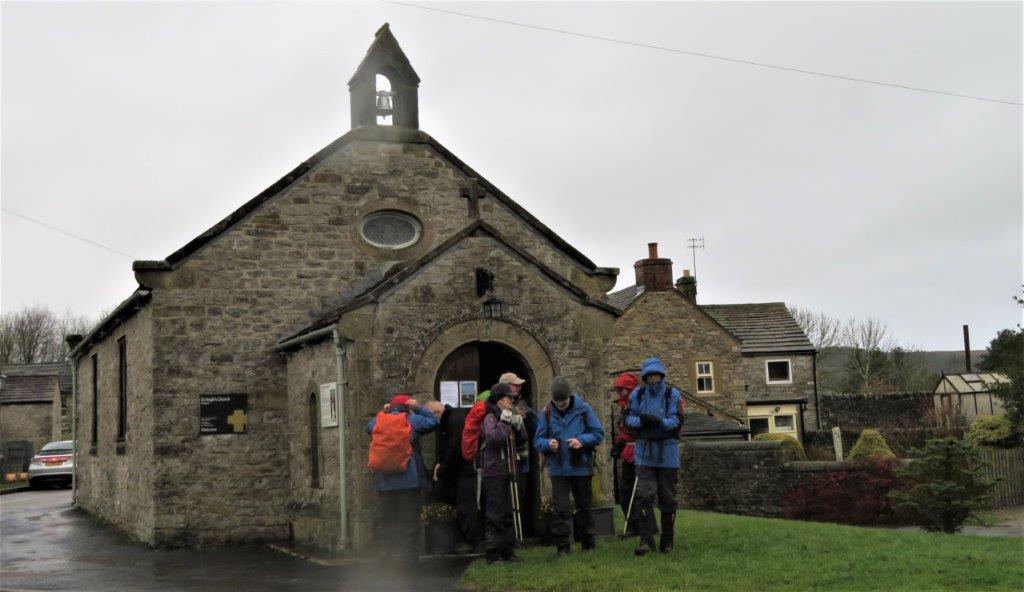 some of our party sheltered in the church out of the rain
Rain unfortunately stopped picture taking from Foolow to near Great Longstone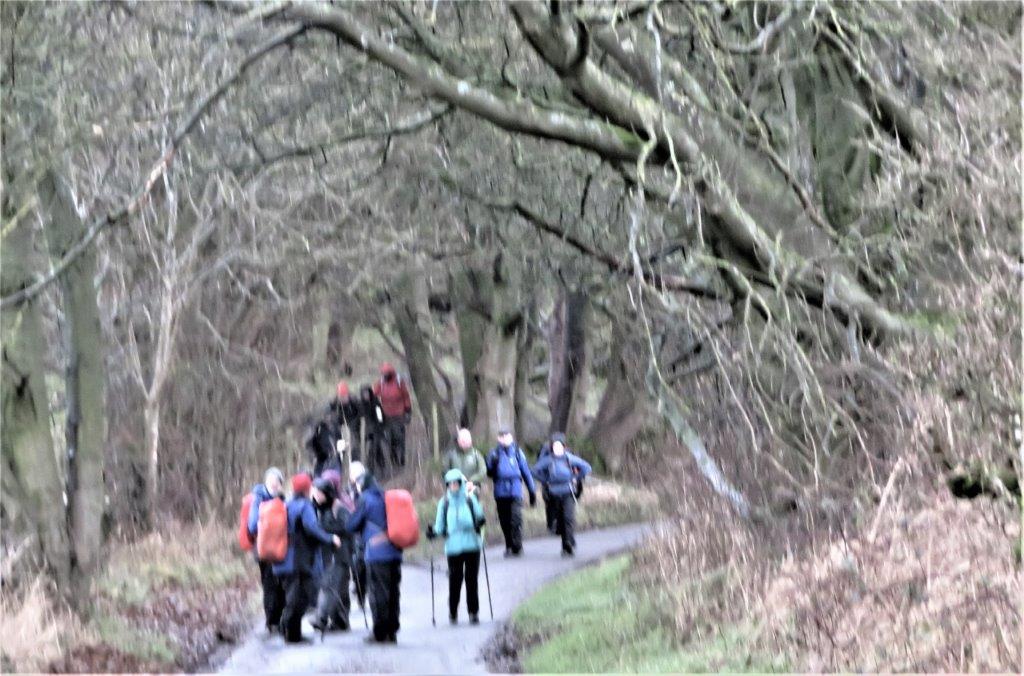 after rains had stopped joining Moor Lane leading into Great Longstone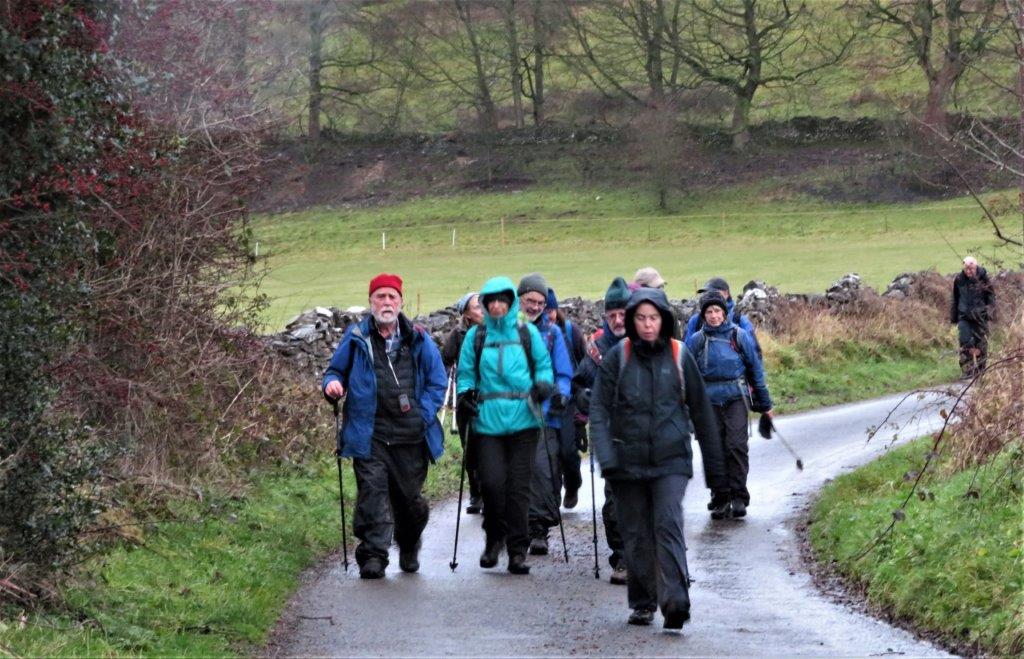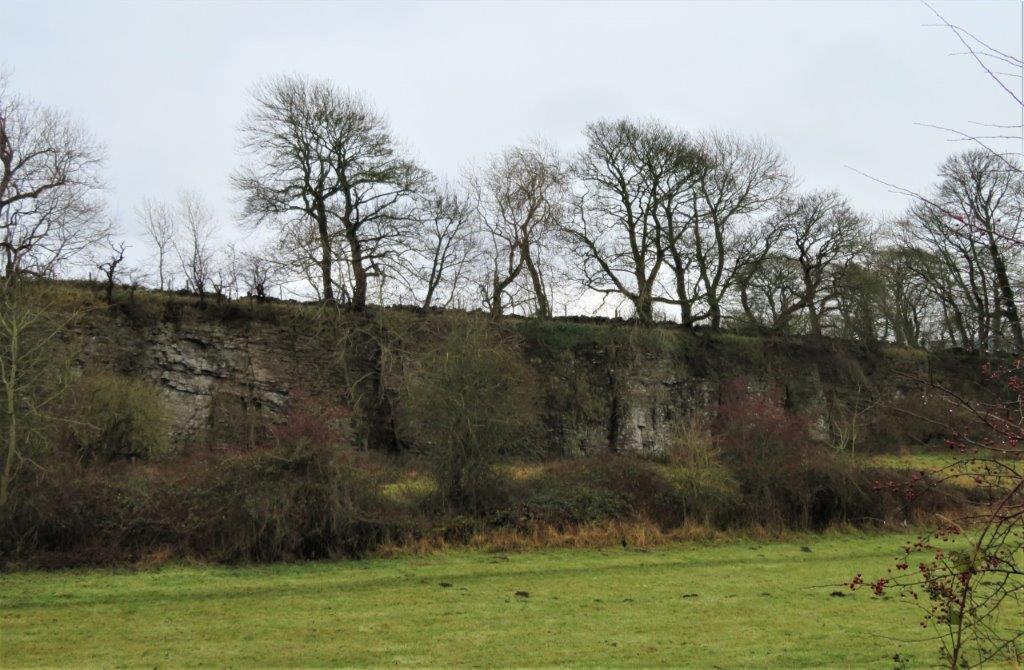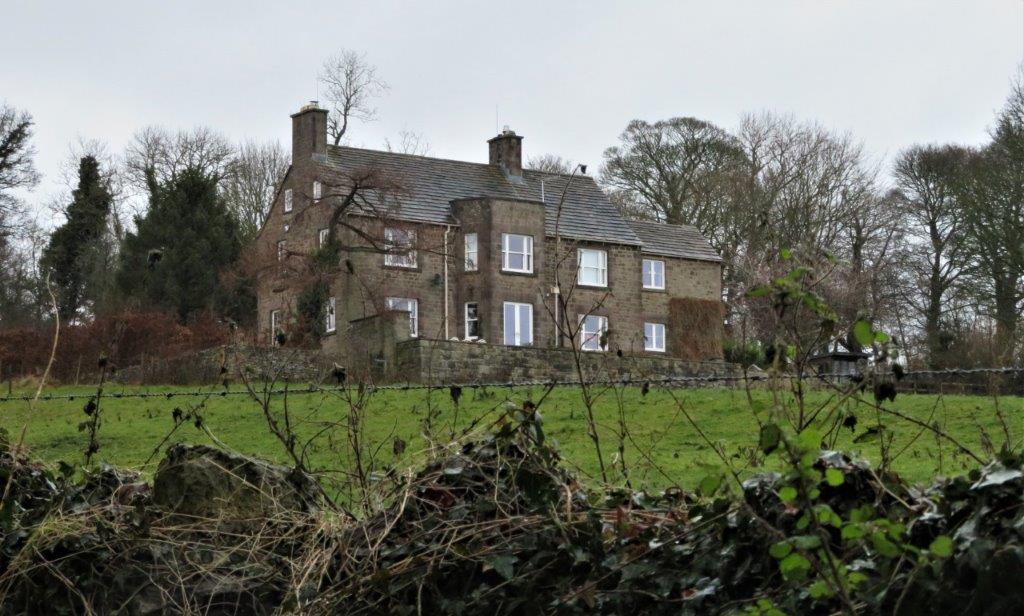 ?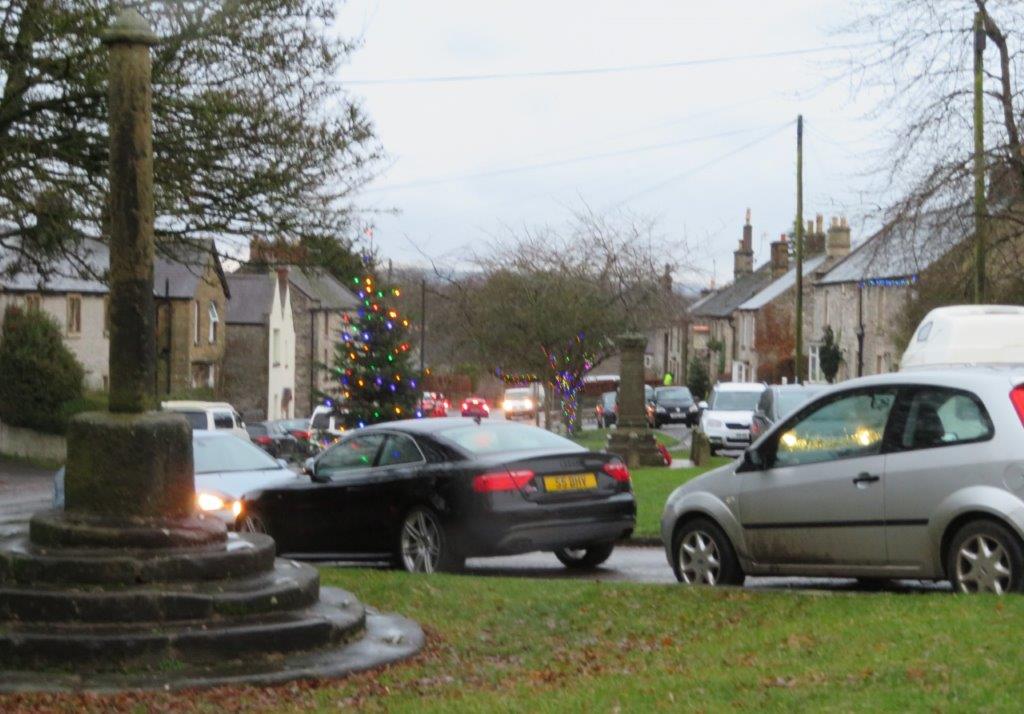 Great Longstone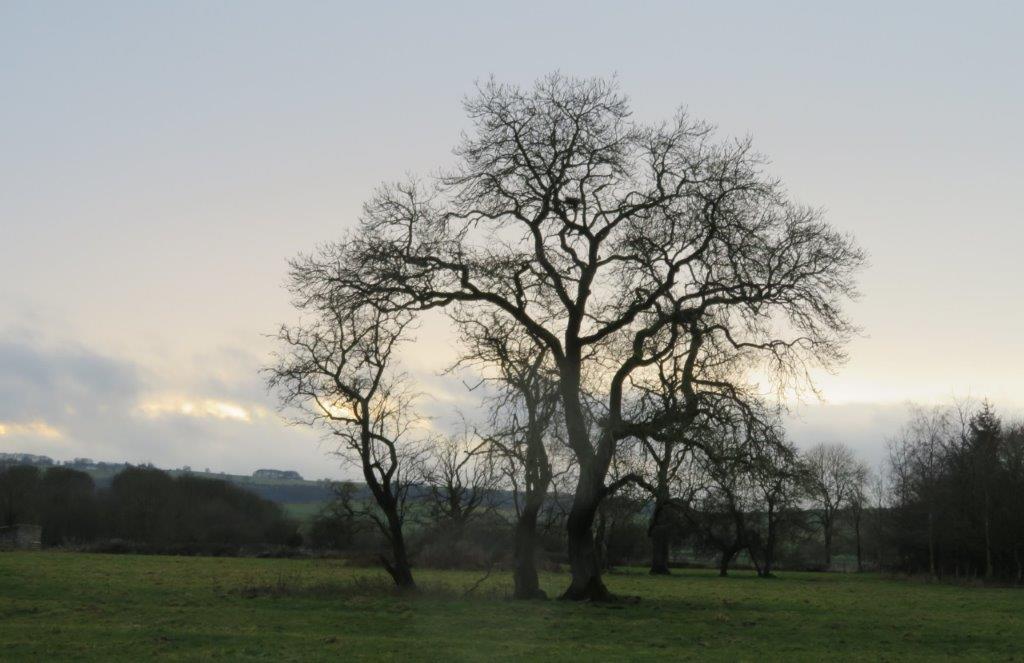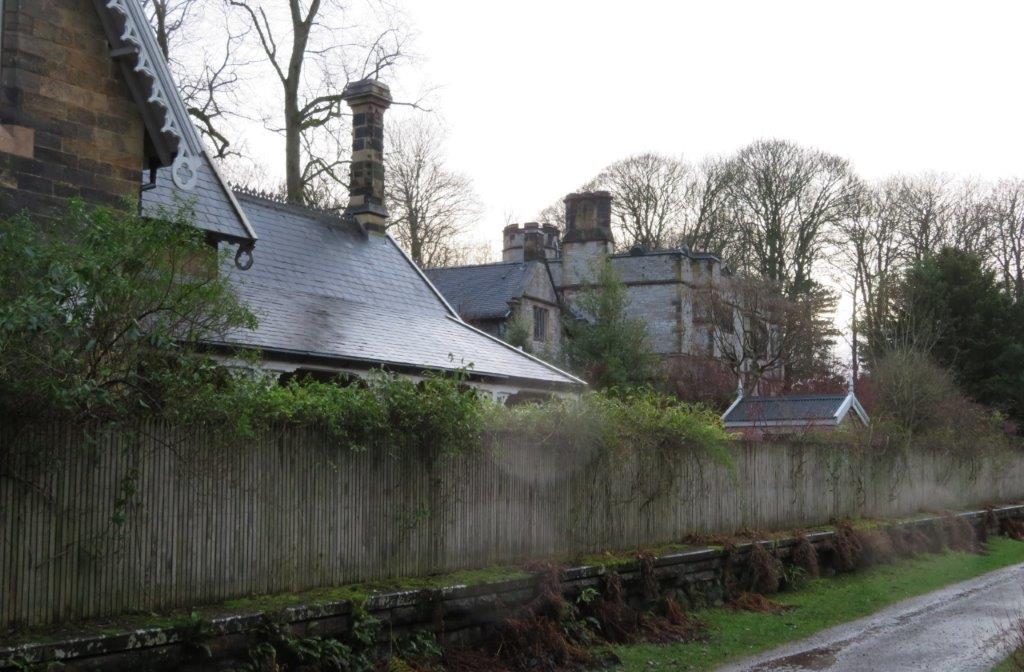 we joined the Monsal Trail here - old railway station (not named?) with buildings to left on platform. Hall next to it? Thornbridge Hall?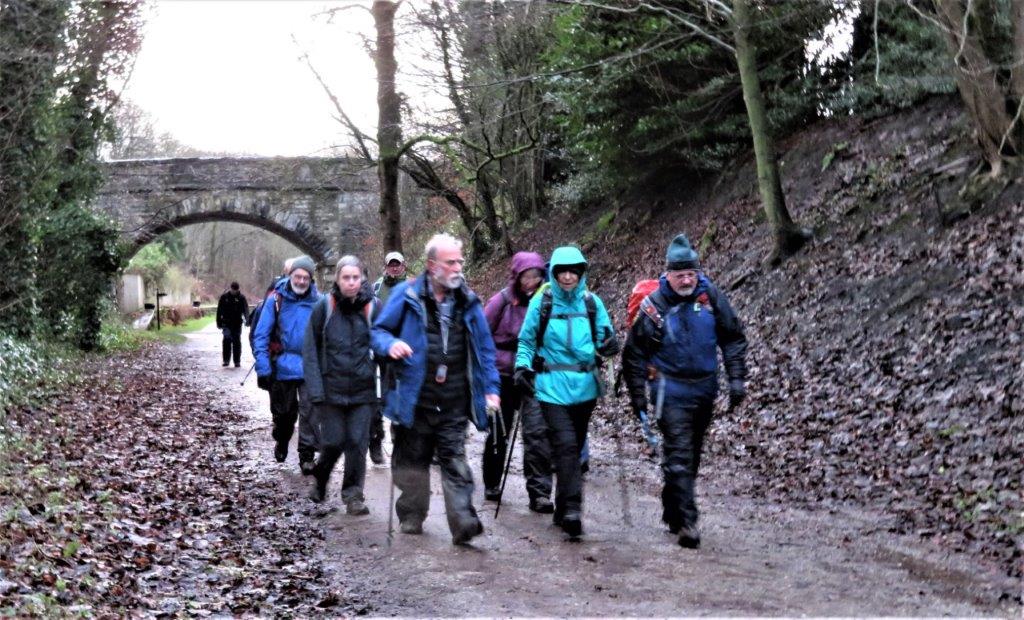 bridge behind, at SK198711 over Monsal Trail, takes minor road from Great Longstone towards Ashford in the Water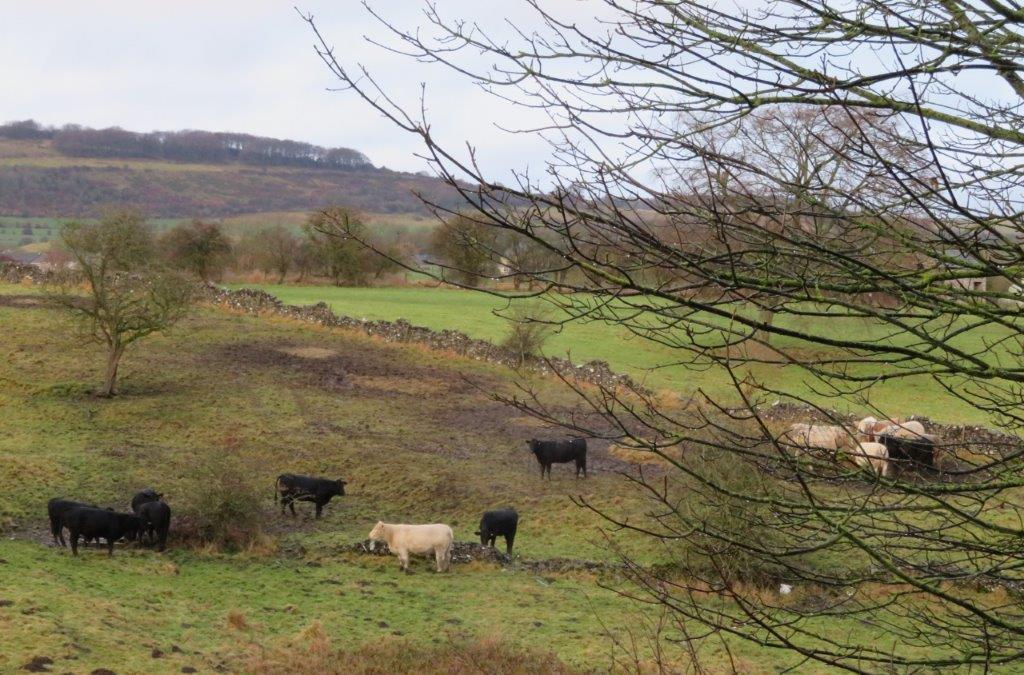 part of Longstone Edge seen at top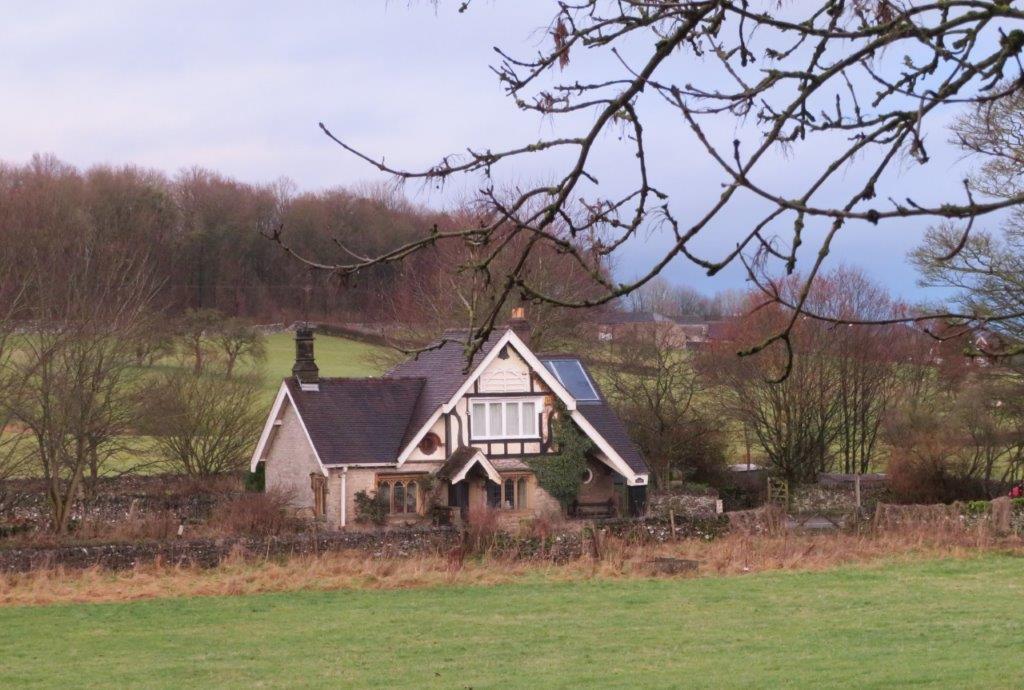 The Toll House on the A6020 Road as seen from The Monsal Trail. The bridleway Southwards to Bakewell starts here.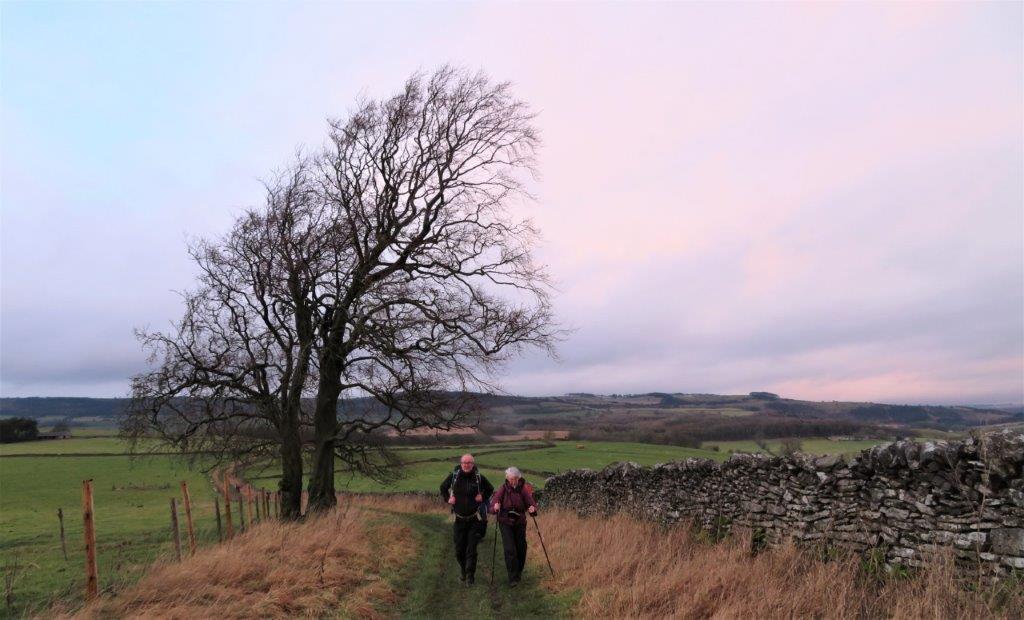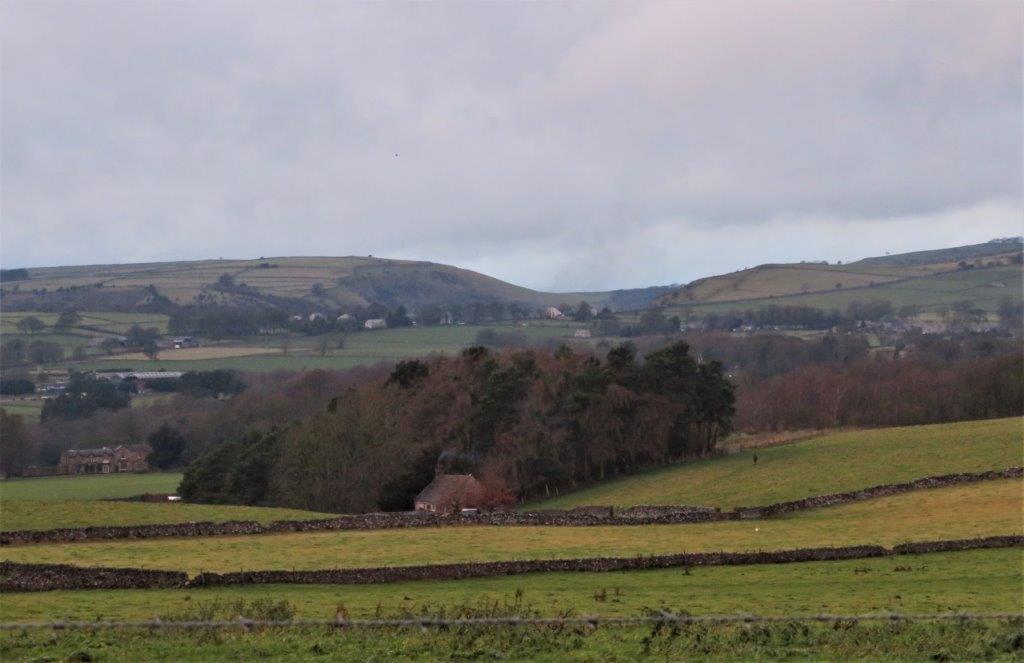 Monsal Head at back top left?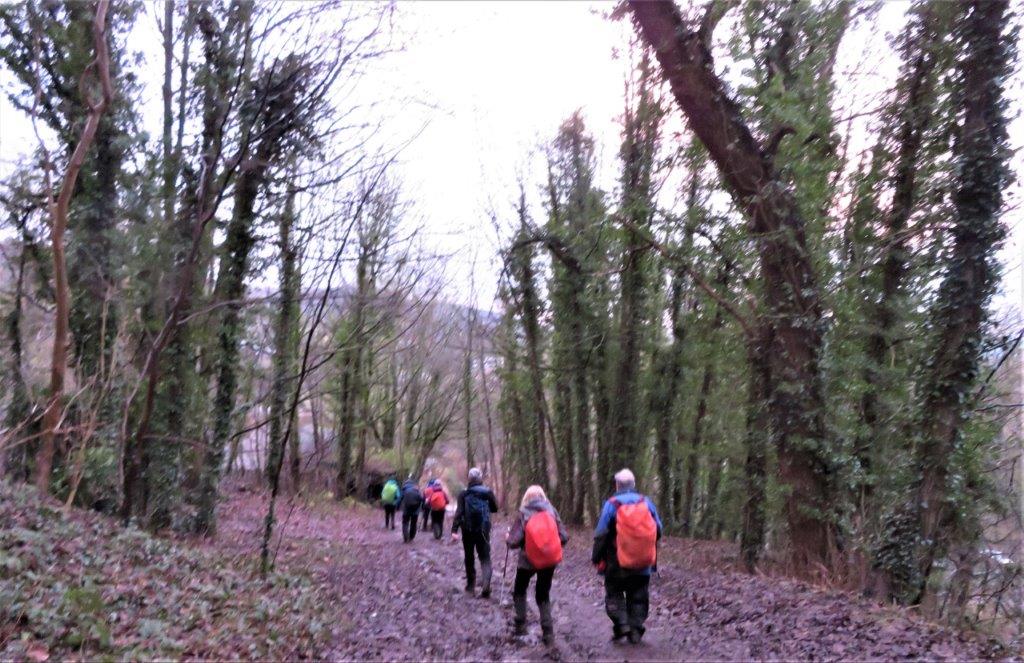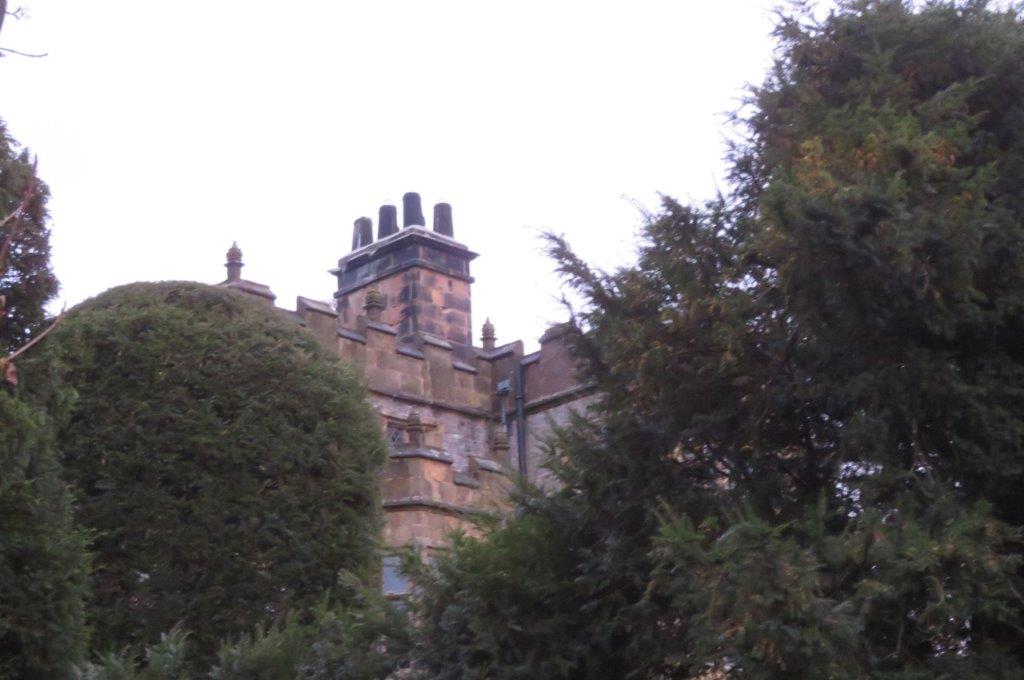 A glimpse of Holme Hall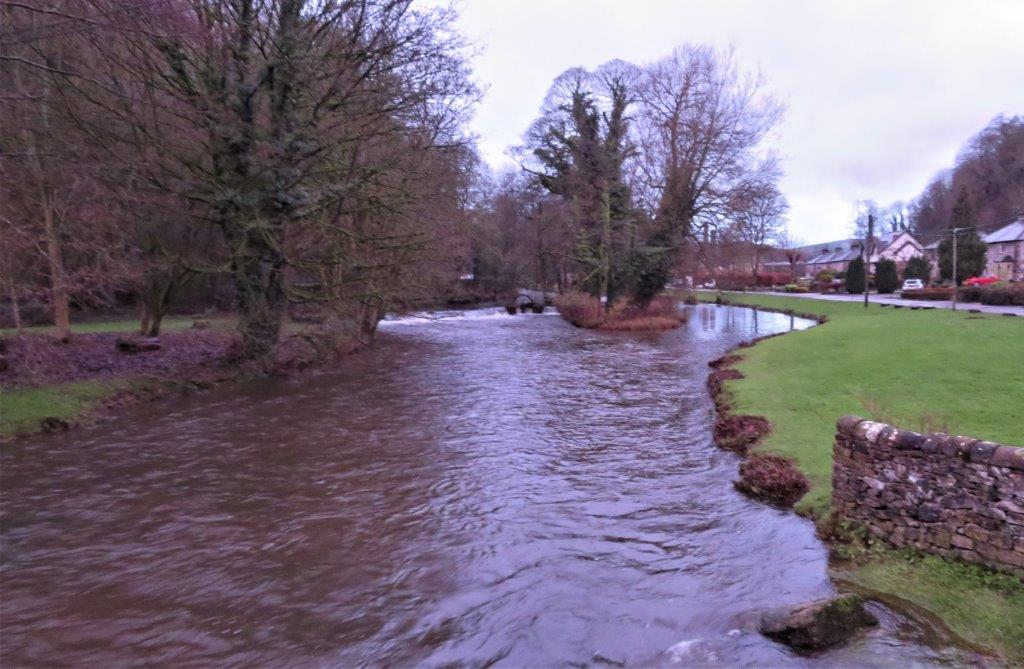 Looking up the River Wye from the Packhorse Bridge The headrace for the mill on the A6 road before Bakewell runs behind the weir. The river is at a lower level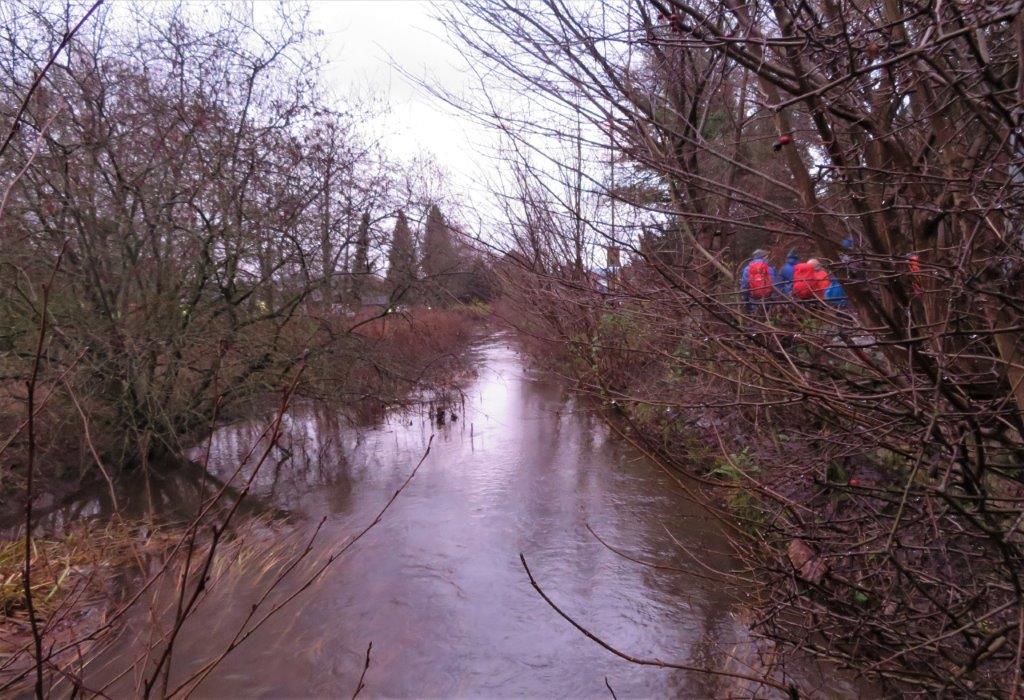 looking down the mill head race as we walk along the A6 road into Bakewell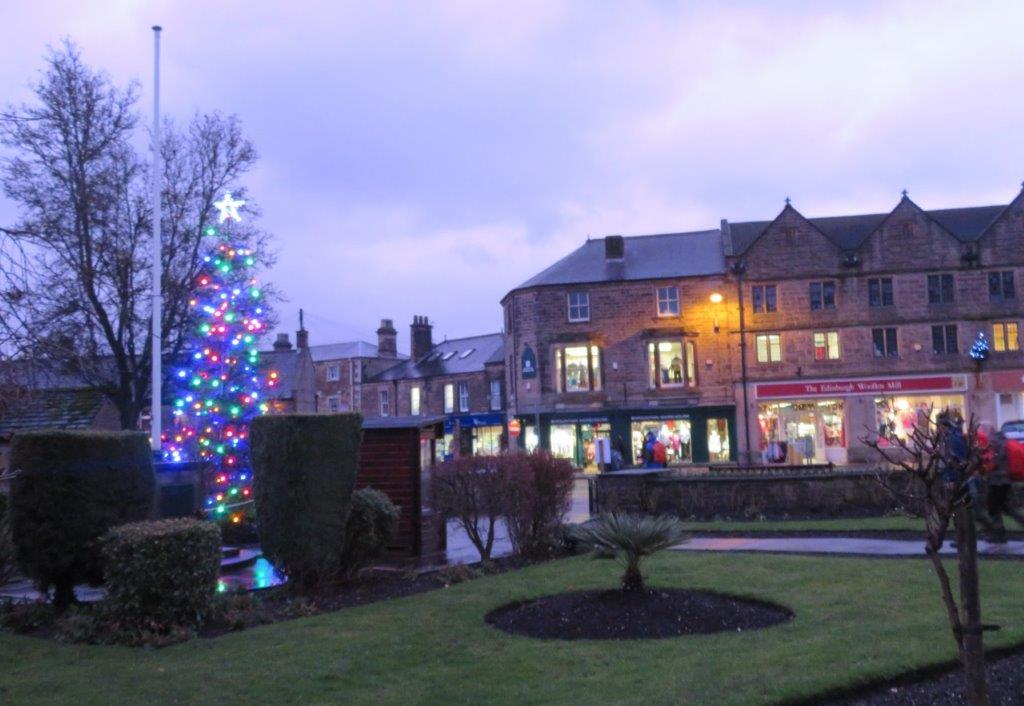 Bakewell lit up and decorated for Christmas (not for the General Election tomorrow)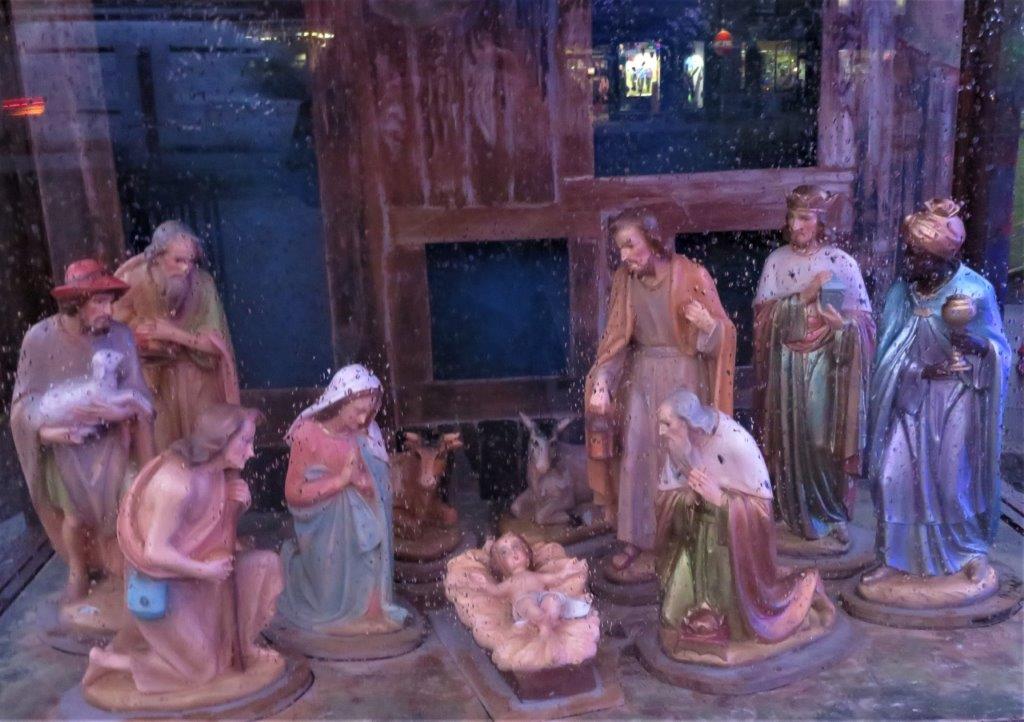 Nativity Scene in Bakewell Park (near bus circle)
homepage - Daywalks Index 2019 - contact me at