homepage - Daywalks Index 2019 - contact me at

2019.12.08 Hathersage - Main Rd A6187 / Baulk Lane SK232816, ~150m N on B.Lane, ~ENE up to Church, on Ch. N side, ~NNE thru Moorseats Woods & several farms (incl Kimber Court F.) to SK239826, ~E up to Carhead Rocks SK242827, ~N along C.Rocks to Road / short of PC, FP ~WSW for ~200m, branch off ~WNW to cross stream at SK232836, on to Green House SK229838, ~N / NE / N past E.side of Dennis Knoll then zig zag left across road, ~N thru OAL to Long Causeway Track at SK228847, follow L.Causeway thru Stanage Edge to Stanage Pole, ~ENE (along Fairthorn Woods) to SW corner of Redmires Resers, on permissive paths ~ SSE to White Stones SK259845 & then ~E to Fullwood Lane SK277846, ~N on F.Lane to past Knoll Top Farm, ~ WNW back to E.side of Redmires (lower) Reser SK270855, ~150m ~E to road, & ~N on it for ~250m, to join Redmires Conduit ~E to touch Lodge Moor Road, ~N through 'park' to Redmires Road, ~ 150m ~E along rd then FP ~ENE to cross Lodge Lane at SK291866, cont. ENE to turn ~N on the top bank of Black Brook down to A57 Road, cross Brook (E on road) and then ~N to River Rivelin & follow ~E crossing bridge from S to N side, re-cross R.Rivelin to S side at SK303875, ~S up to track ~ENE joining Long Lane, BW~ NE down to Rivelin Rd (near where R.Road crosses River), follow River to Cafe, then follow River (or road if it is dark) into Malin Bridge - leader John Taylor - Sunday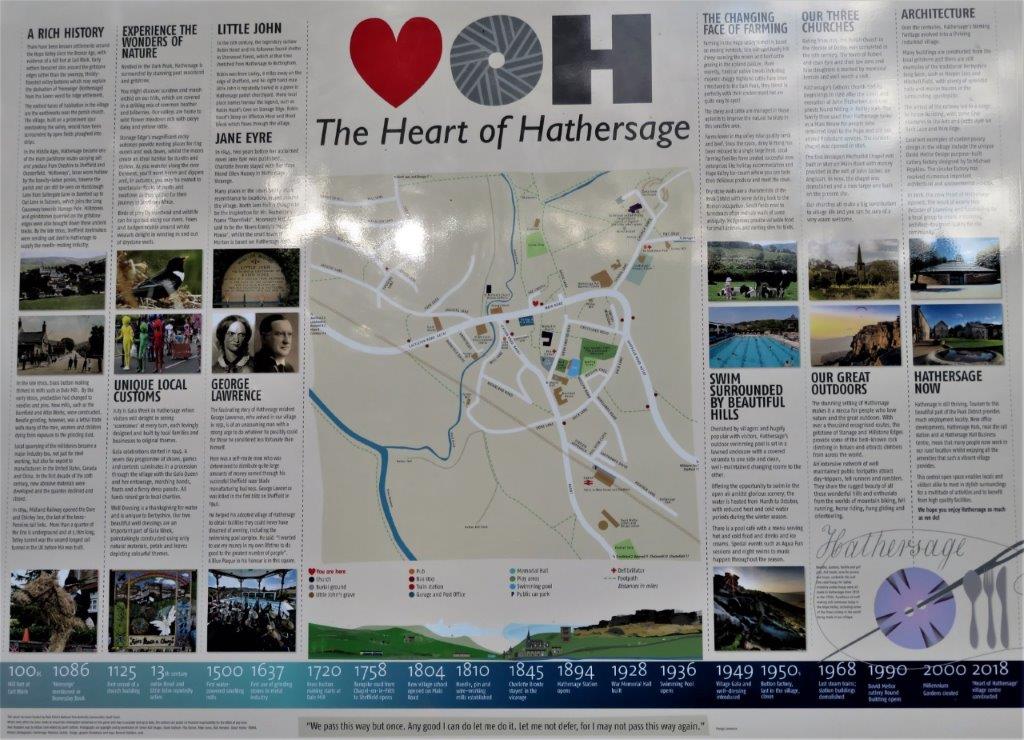 Notice in the Town 'plaza'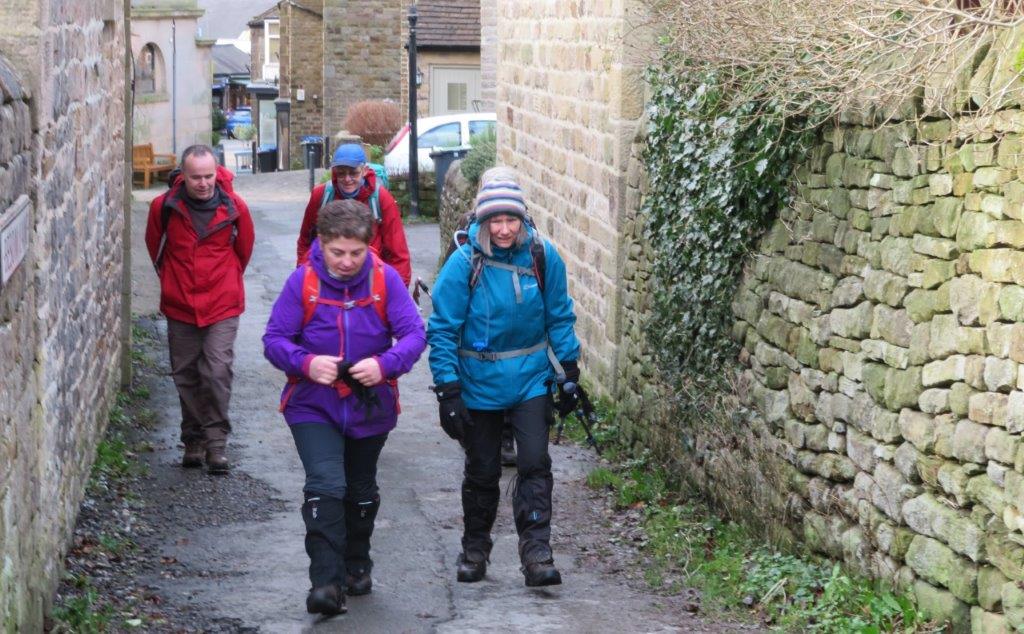 short cut to join Baulk Lane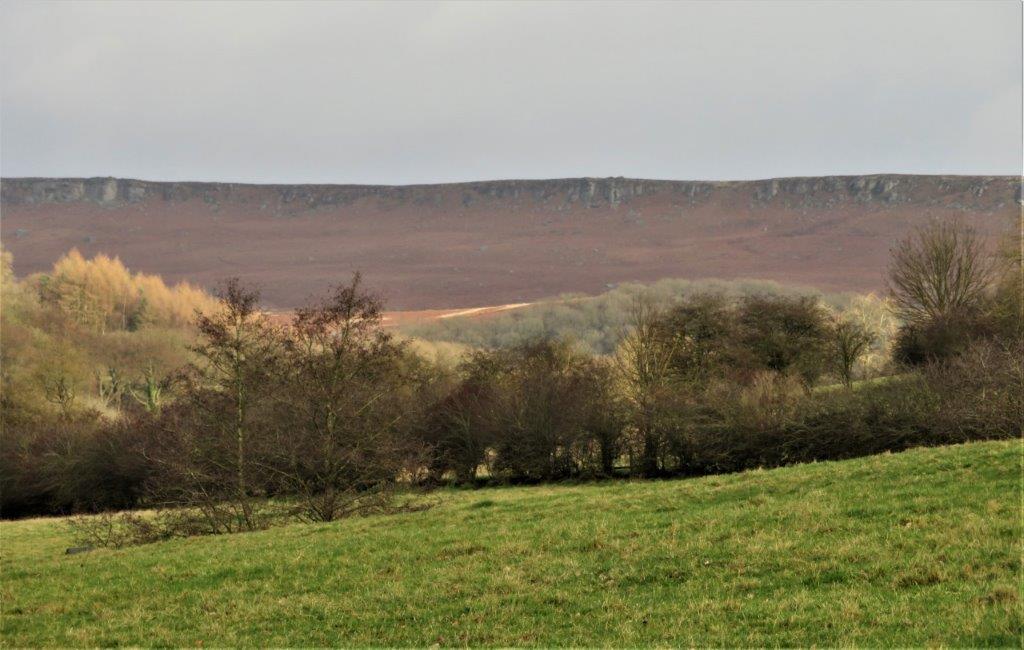 view of Stanage Edge from Baulk Lane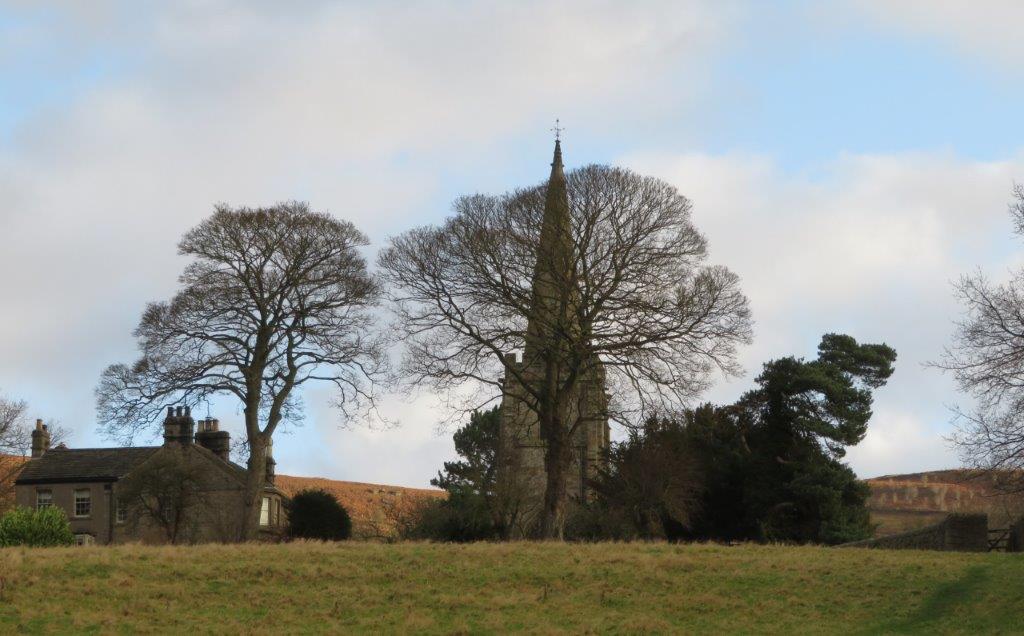 view of Church taken as we ascend footpath from Baulk Lane
Looking back (from FP to church) some Hathersage houses. Behind, across the unseen River Derwent Valley, is from left - Offerton Edge, Old Clough and Shatton Edge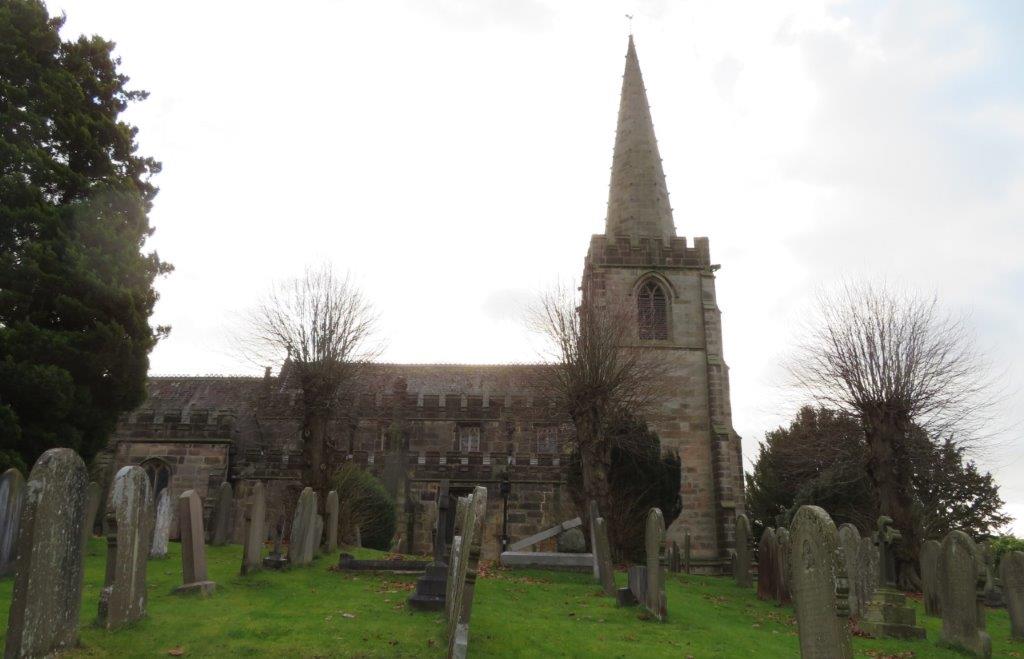 Hathersage Parish Church - St Michael & All Angels (looking from North Southward toward the Church)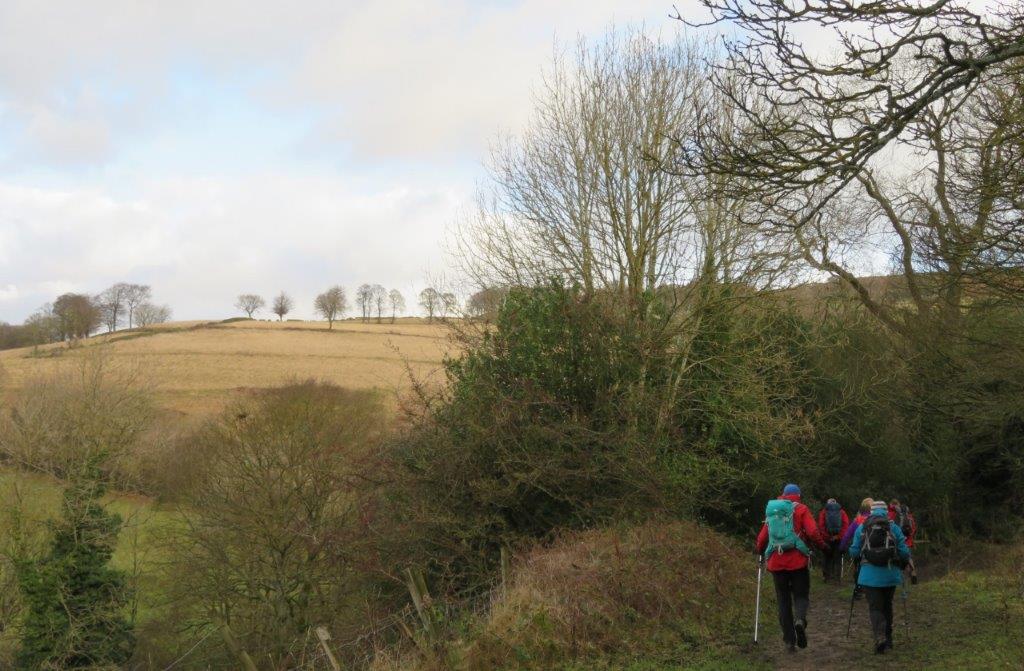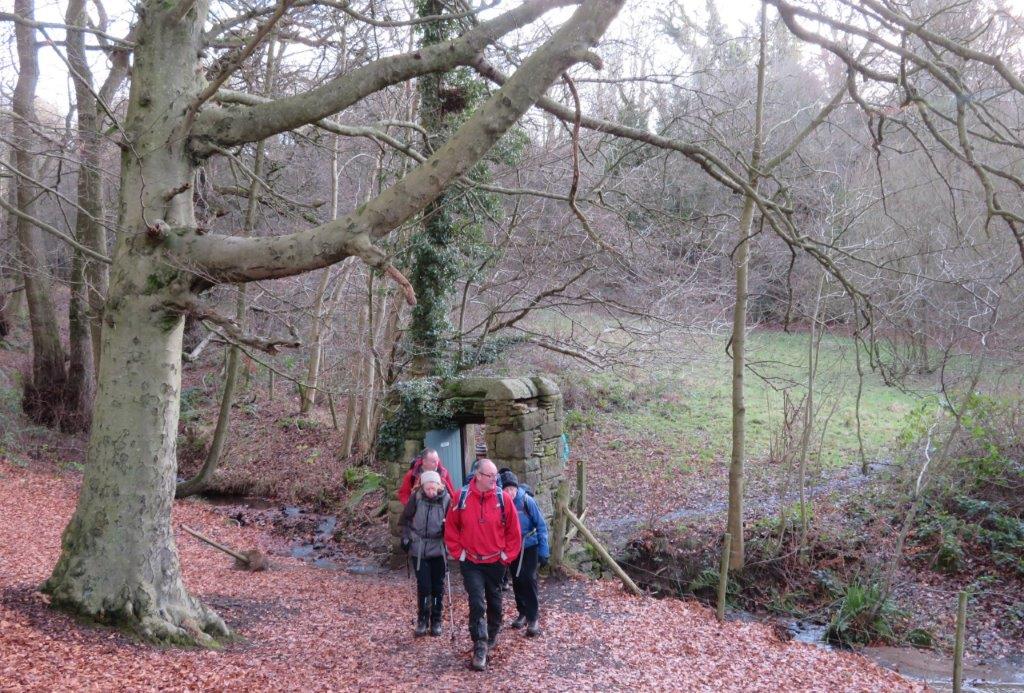 important 'gate' on route into Moorseats Wood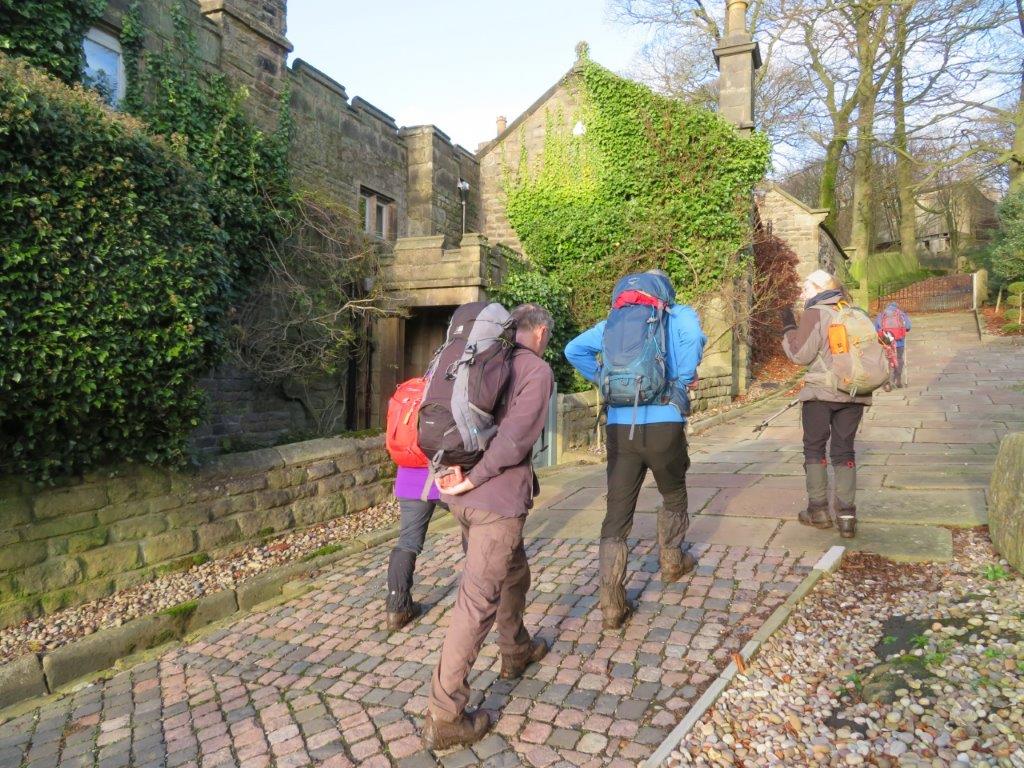 Passing through one of the 'farms' - up to Carhead Rocks. Signs giving rights of walkers access could be clearer?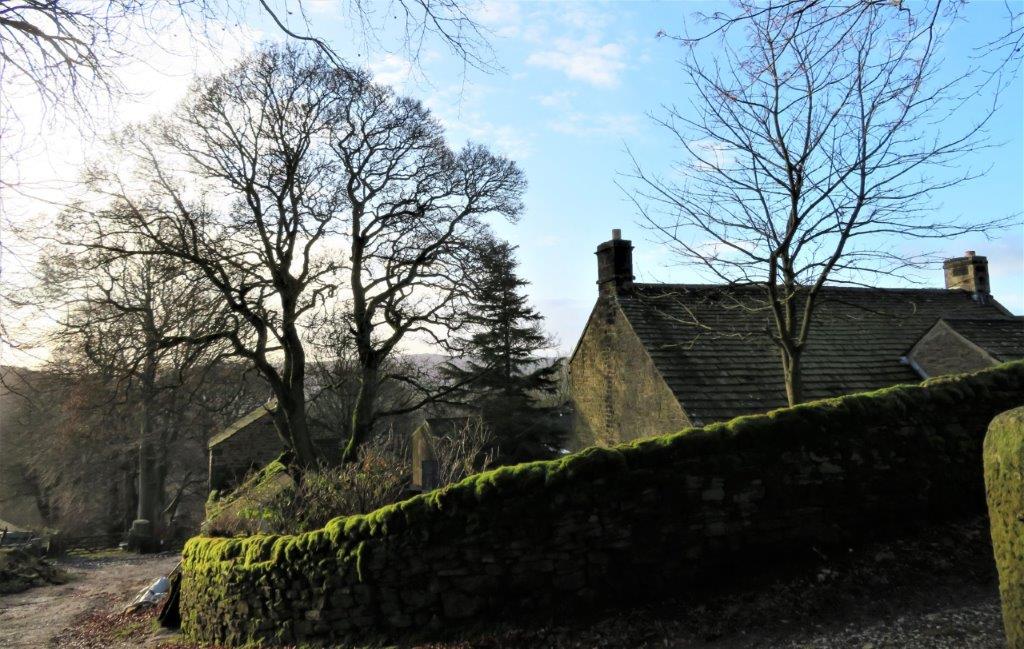 Kimber Court Farm passed before Carhead Rocks?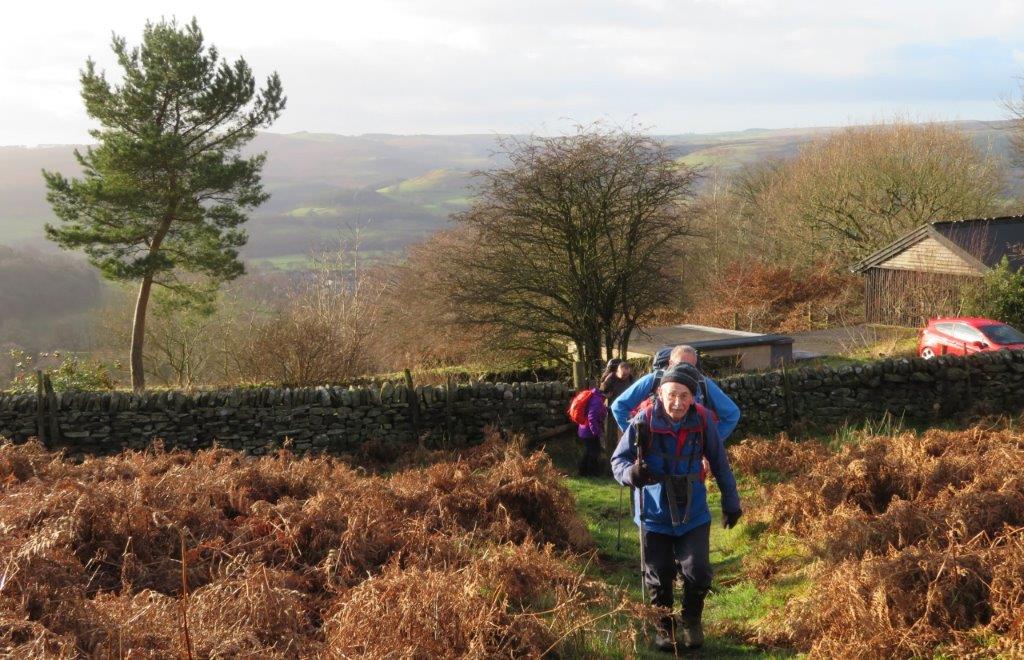 in moor land under Carhead Rocks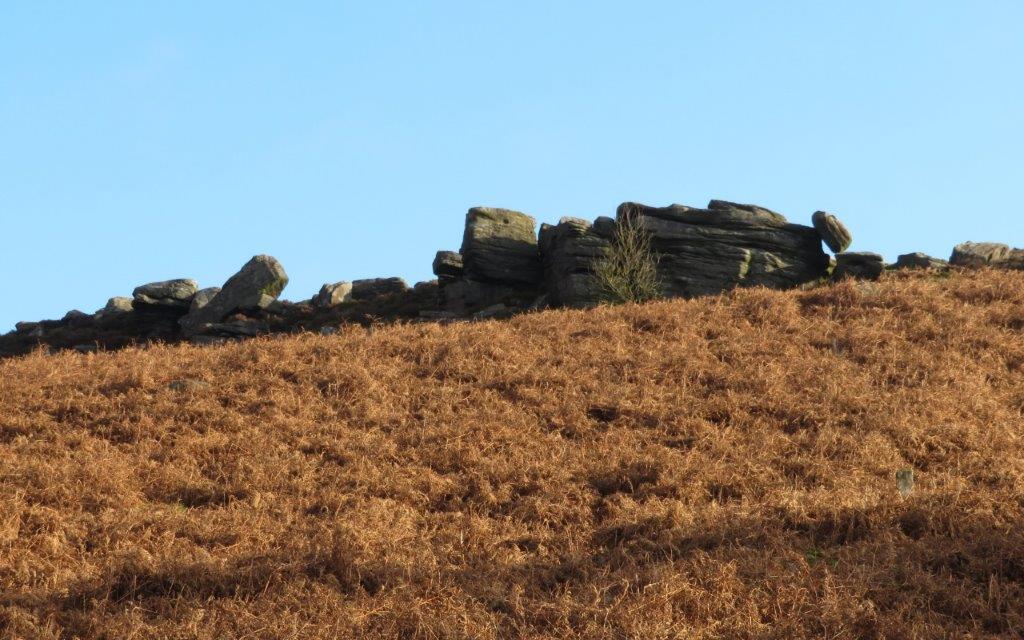 part only of Carhead Rocks photographed ahead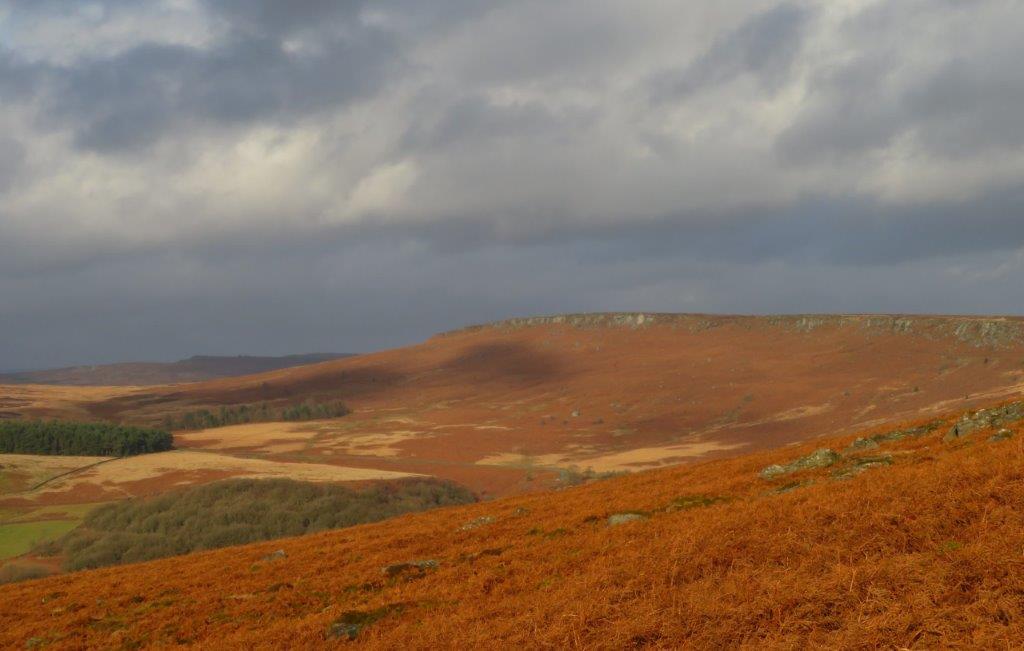 a view of part of Stanage Edge seen while climbing up to Carhead Rocks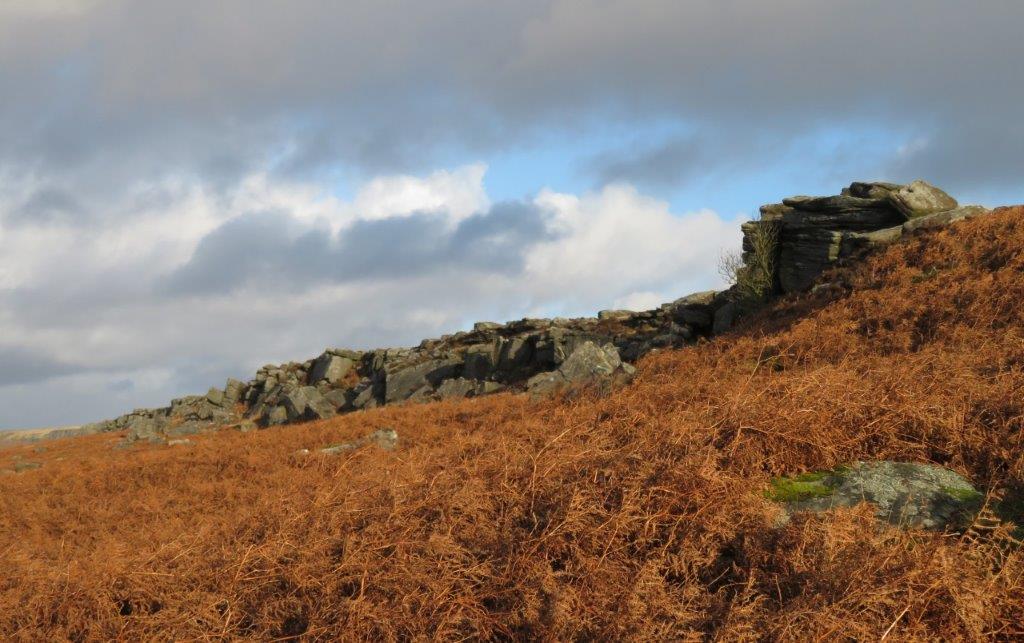 a view of another part of Carhead Rocks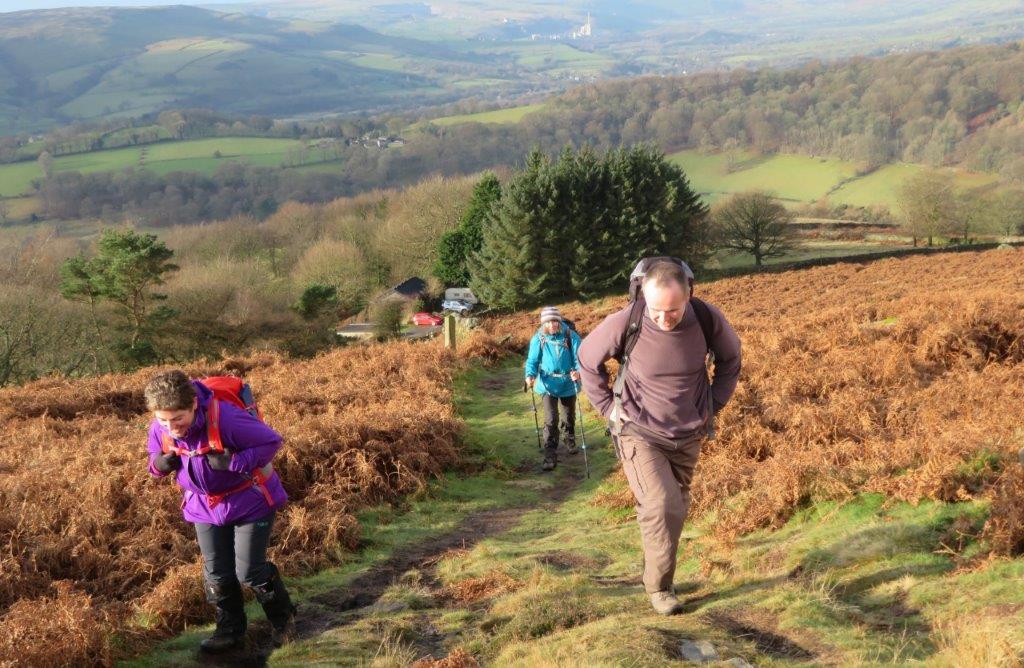 some of our party climbing up to Carhead Rocks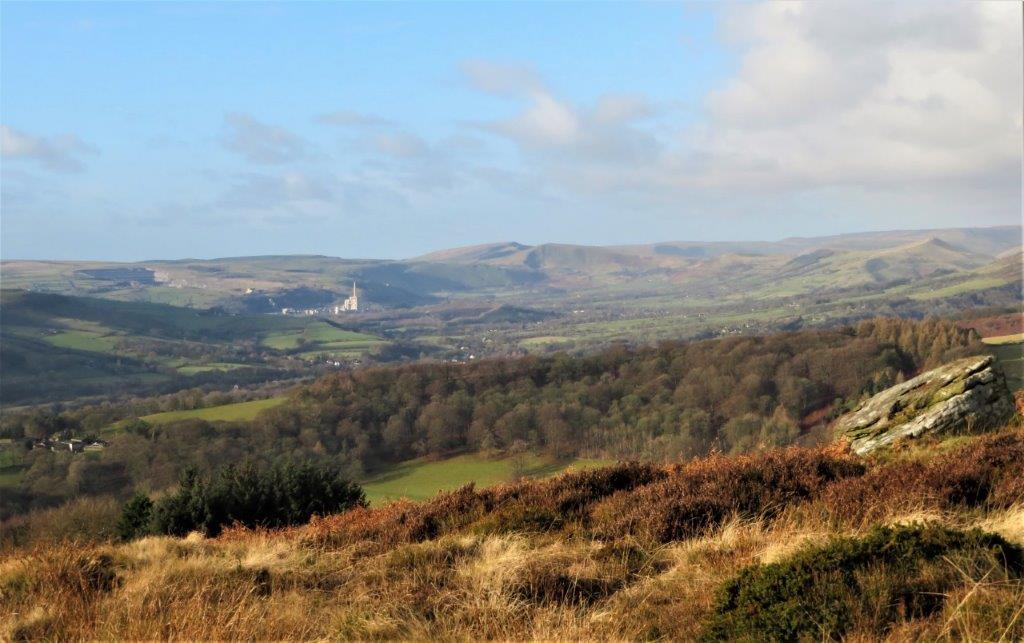 a view from Carhead Rocks of Lose Hill top right to Mam Tor in top middle. Hope Cement Plant & Quarry further to left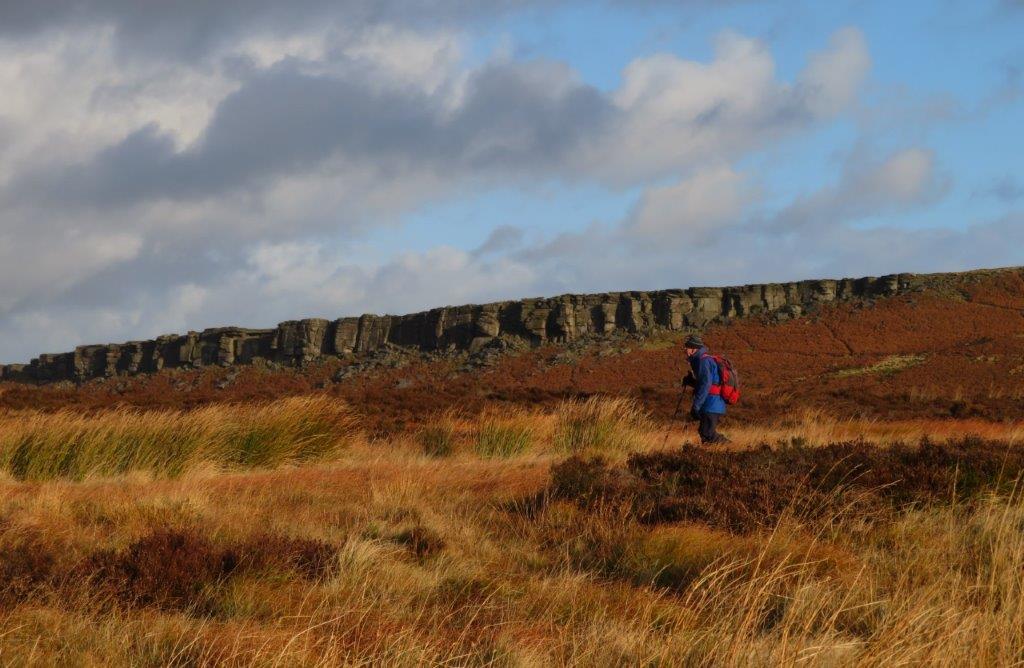 another view of Stanage Edge from Carhead Rocks
Overstones Farm, below Southern part of Stanage Edge, seen from Carhead Rocks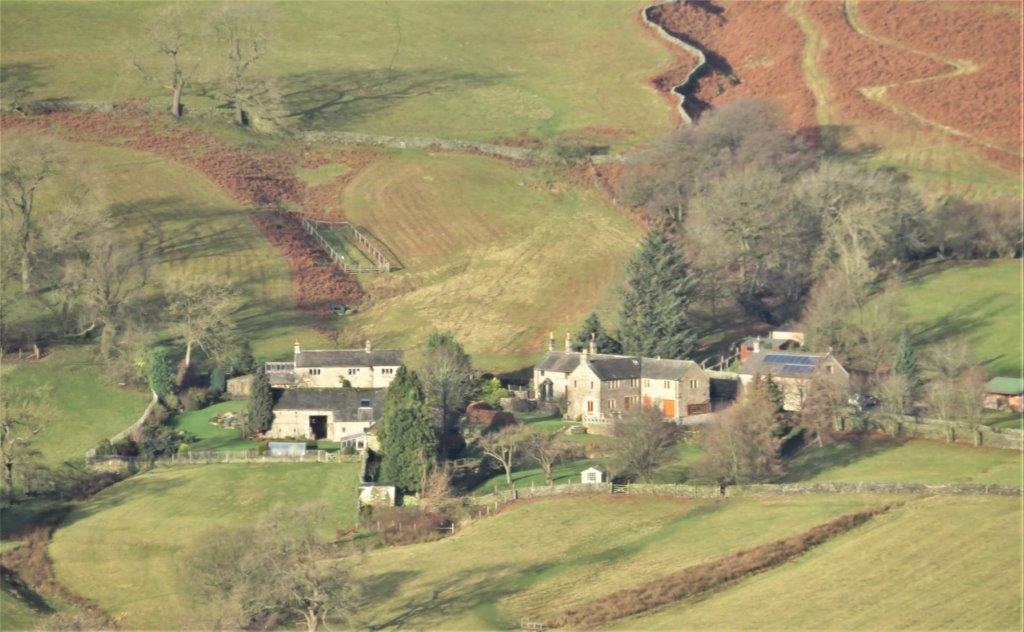 zoomed from Carhead Rocks into Green's House - passed through in part later by us on way up to Dennis Knoll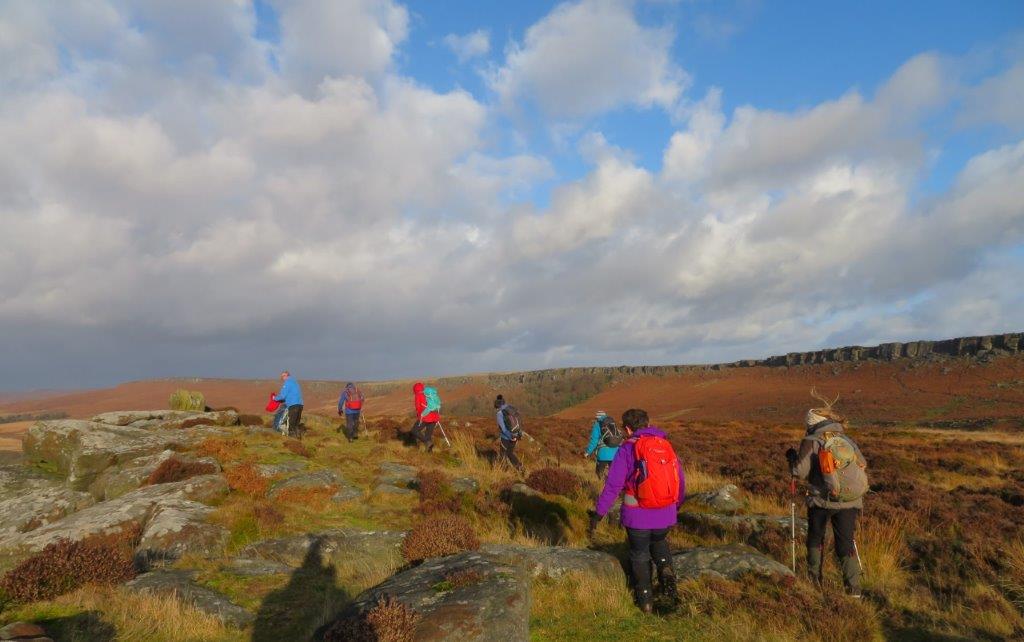 on top of Carhead Rocks - Stanage Edge on top behind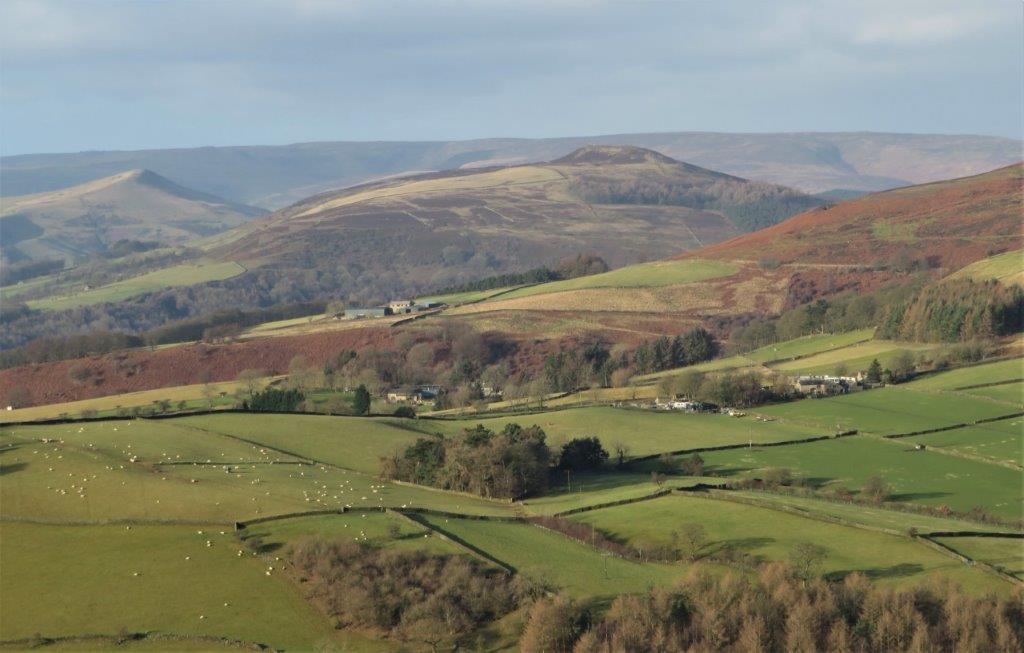 seen from Carhead Rocks - Lose Hill to left, Winhill Pike right of centre - can you identify the several groups of buildings?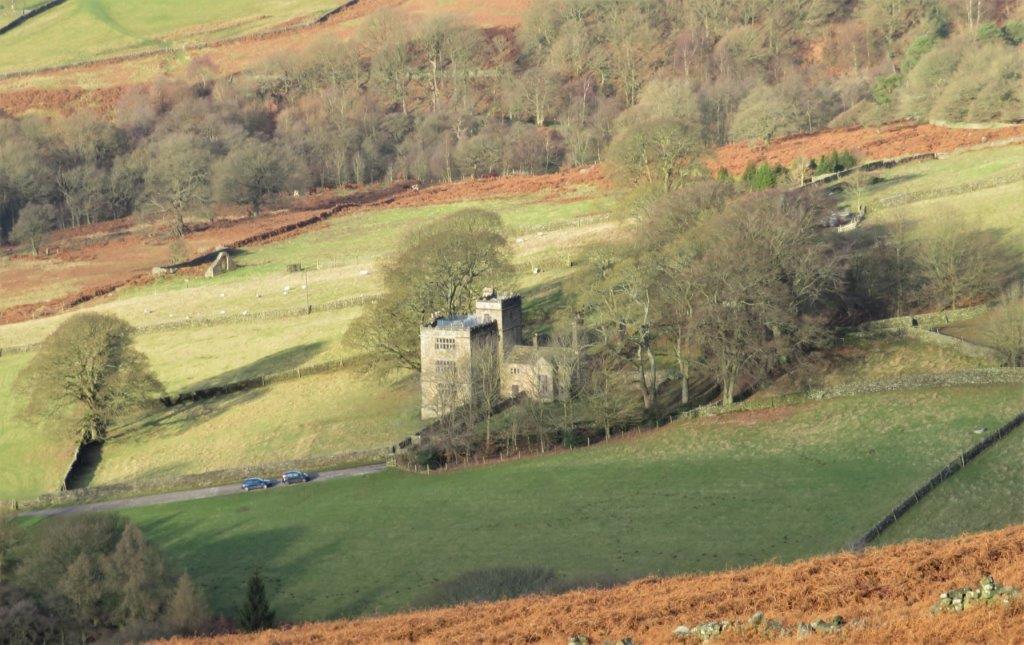 zoomed into North Lees - ruins of chapel seen to left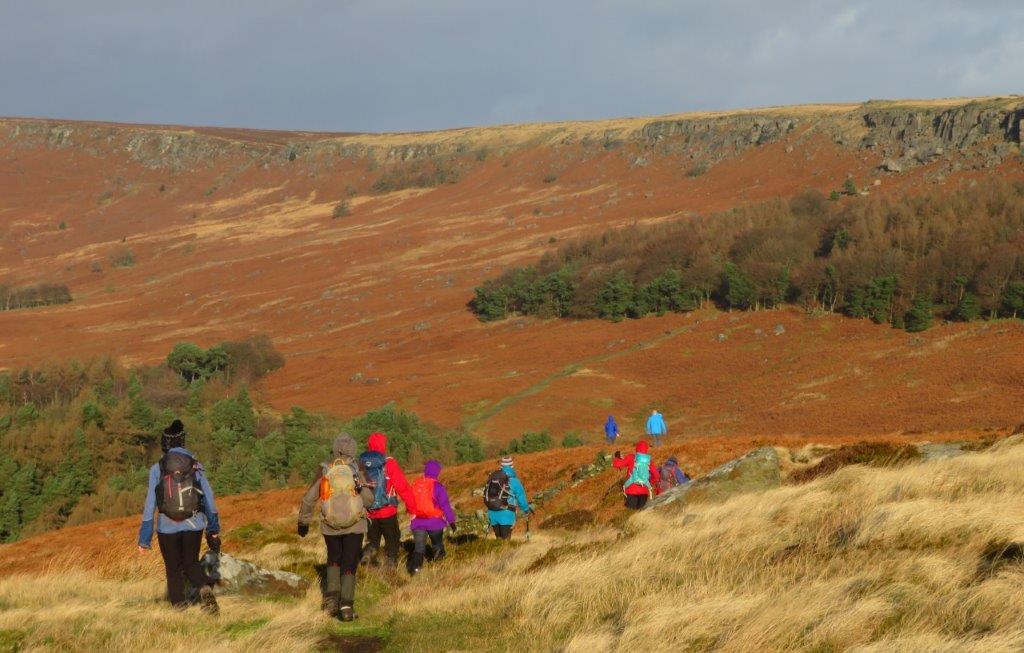 still on Carhead Edge - Stanage Plantation seen here below Stanage Edge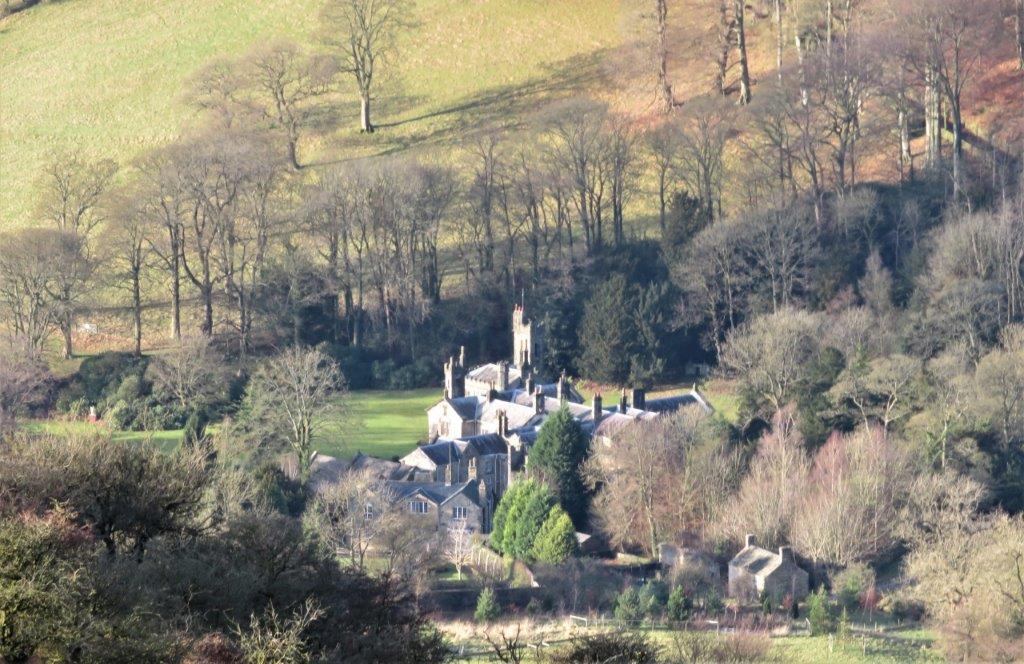 zoomed from Carhead Edge into Brookfield Manor just to West of Footpath running north towards Bronte Cottage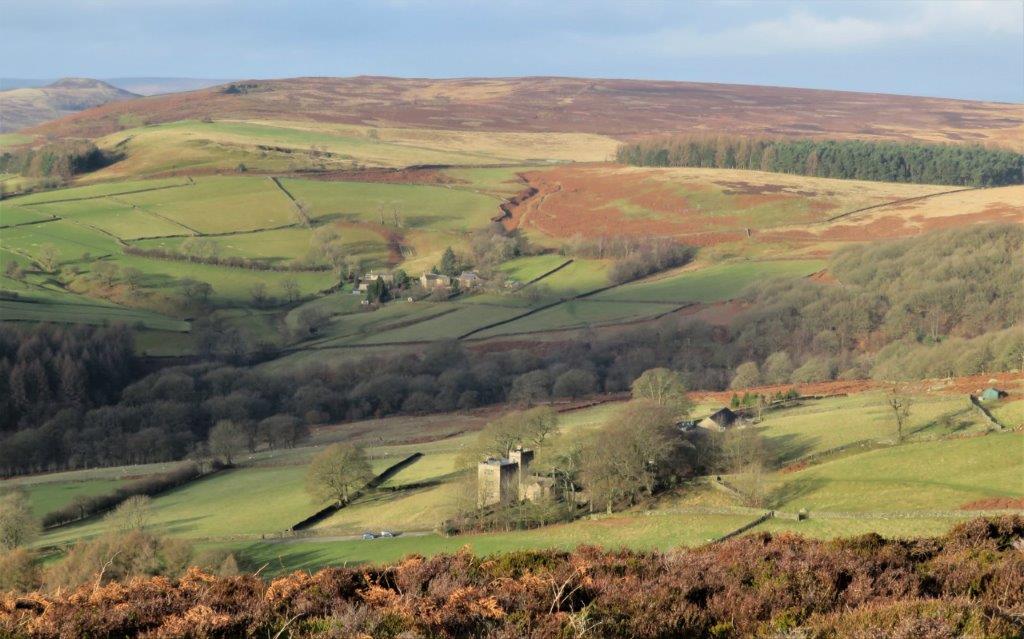 again seen from Carhead Edge - North Lees in front with Green's House left of centre - Dennis Knoll (a wood) seen top right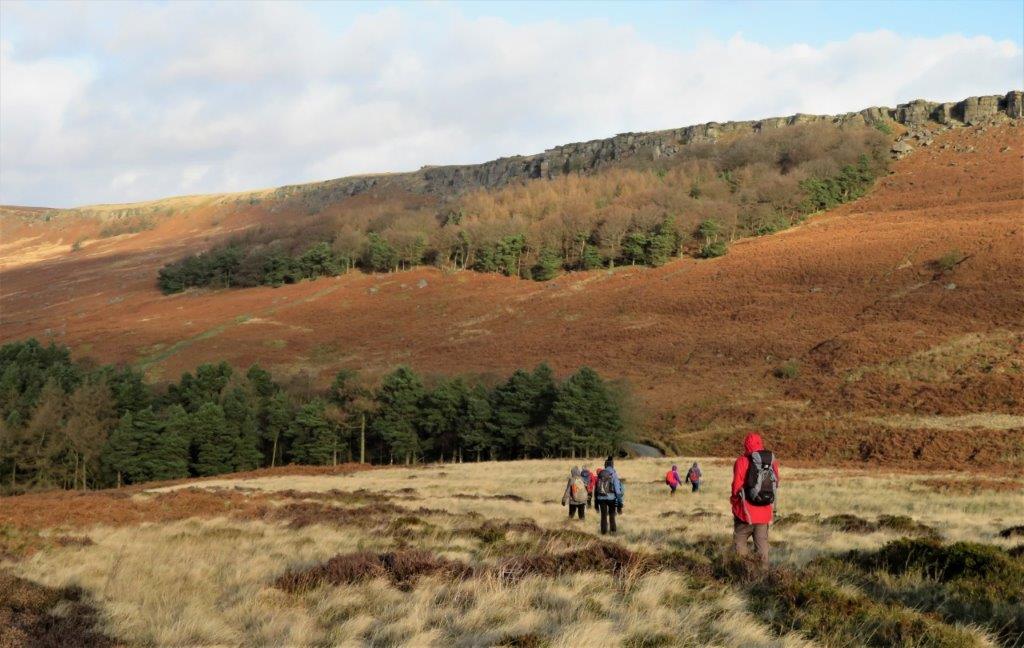 coming down from Carhead Edge to road (just visible in one spot) near P.C. Stanage Edge & Plantation at top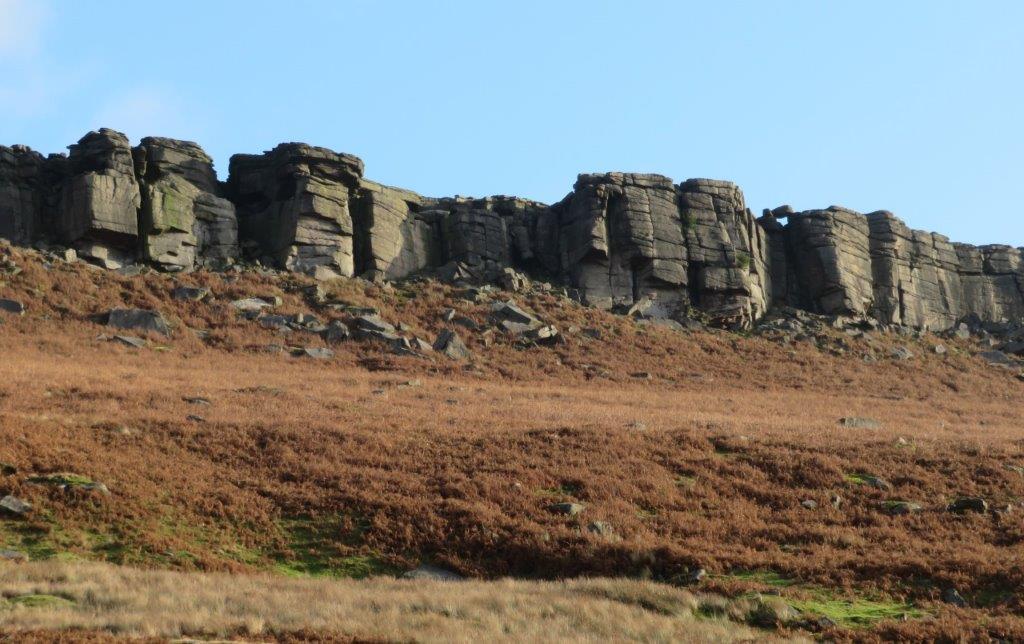 Stanage Edge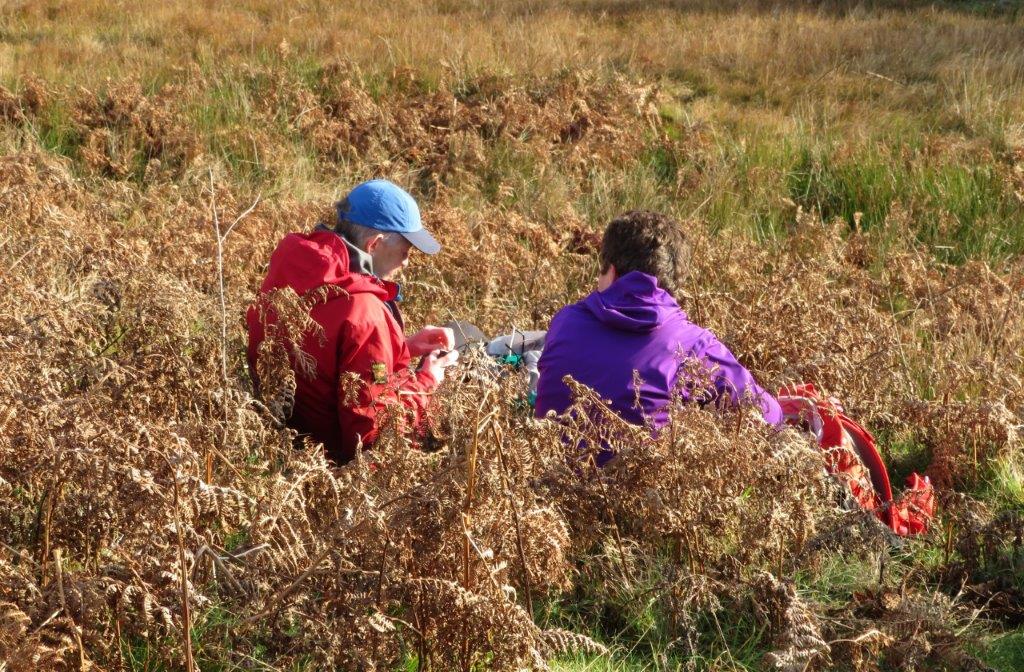 Tea break - near road below Stanage Edge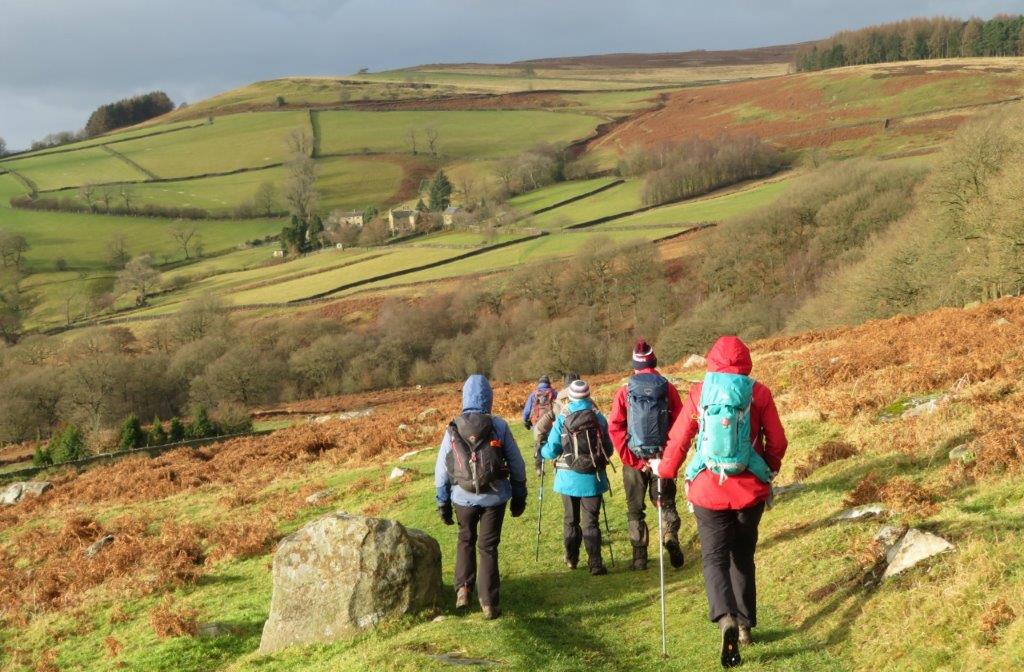 heading to Green's House in distance.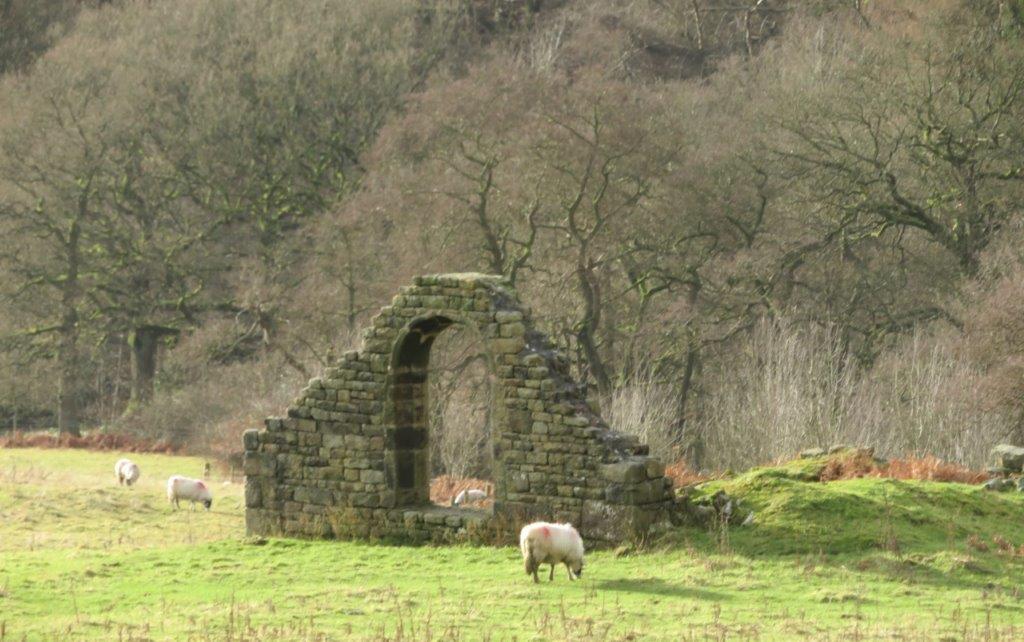 zoomed into chapel wall from path leading towards stream and Green's House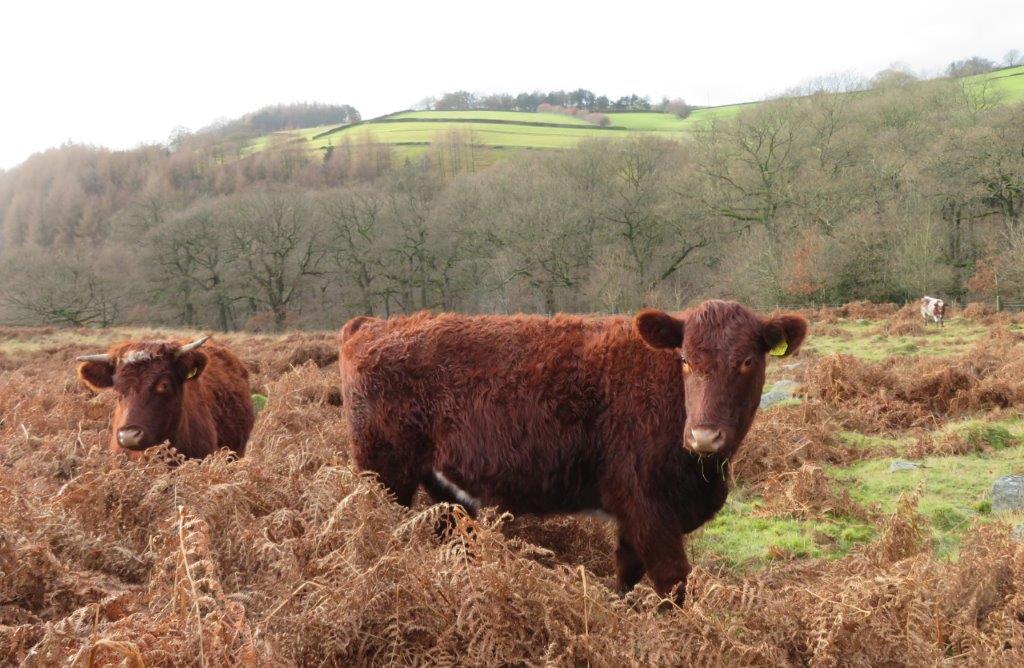 cattle near stream to be crossed on way to Green's House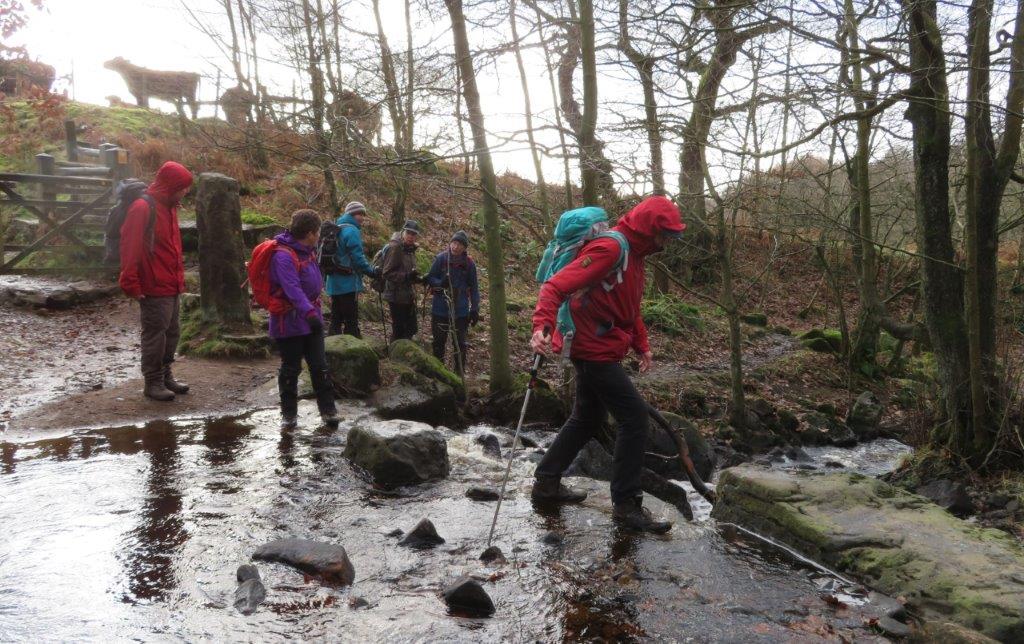 Some crossed stream - others followed the stream downward and crossed more safely on a footbridge (to North of Bronte Cottage) before going up to Green's House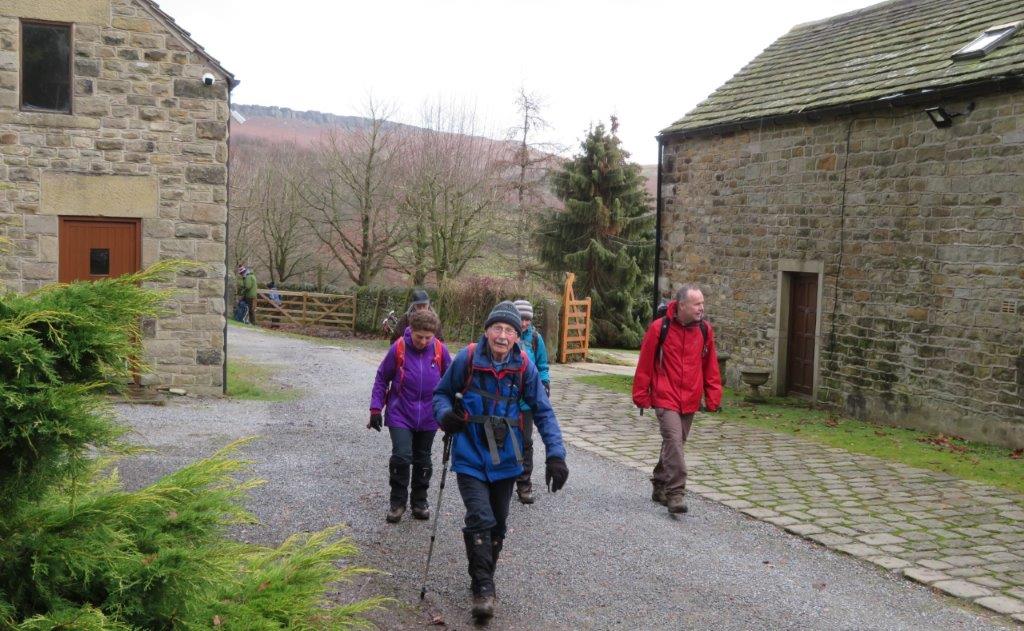 passing through part of Green's House before turning up toward Dennis Knoll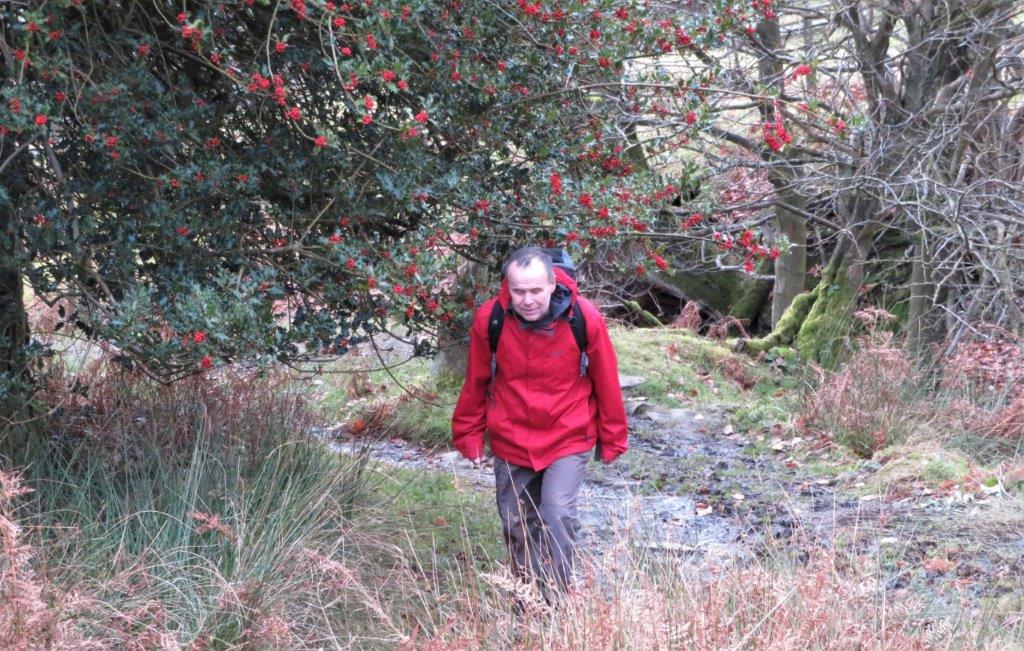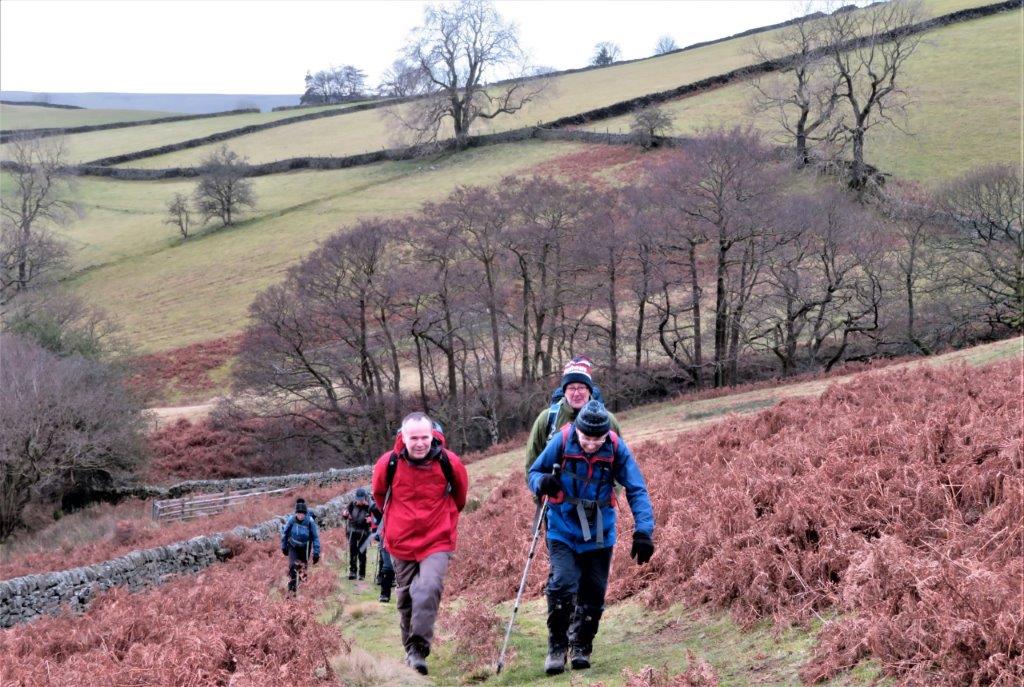 up from Green's House to pass Dennis Knoll & up through Open Access Land to join Long Causeway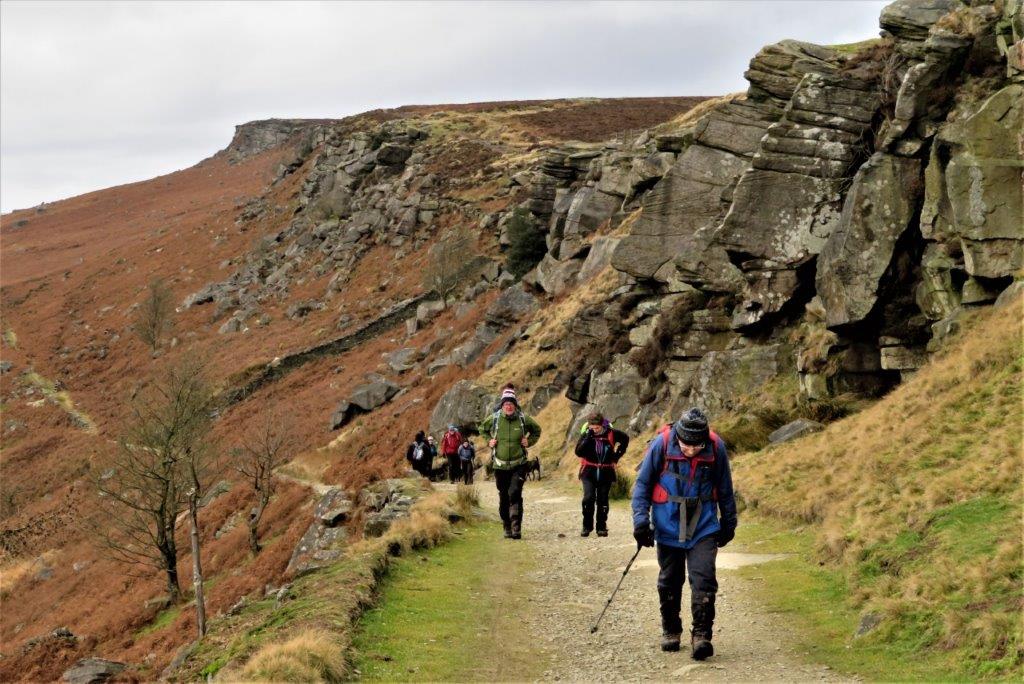 Up on Long Causeway crossing Stanage Edge at an angle. North Stanage Edge seen behind walkers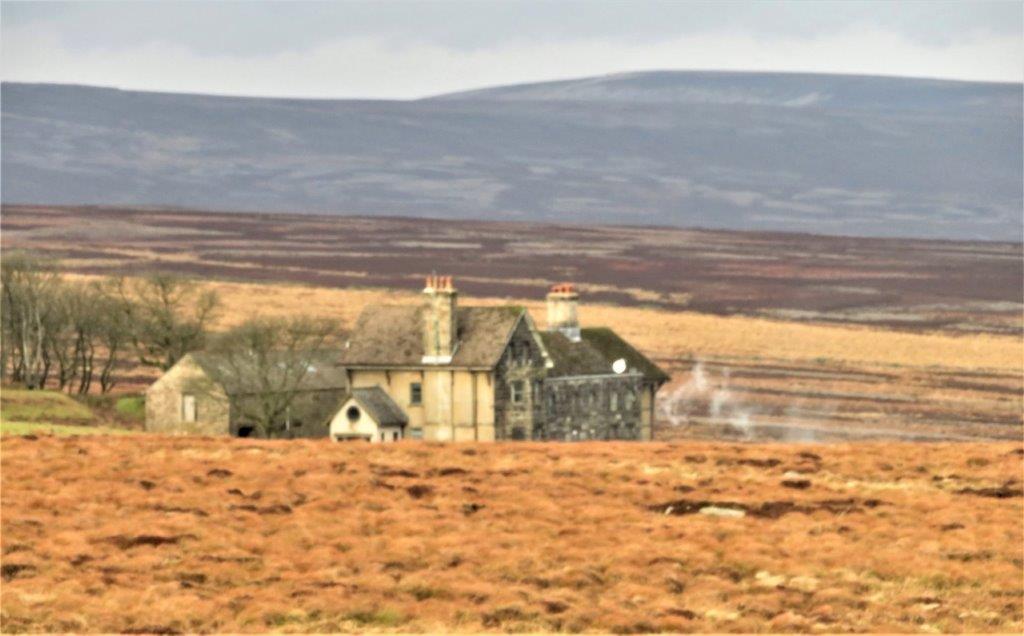 zoomed into Stanedge Lodge from Long Causeway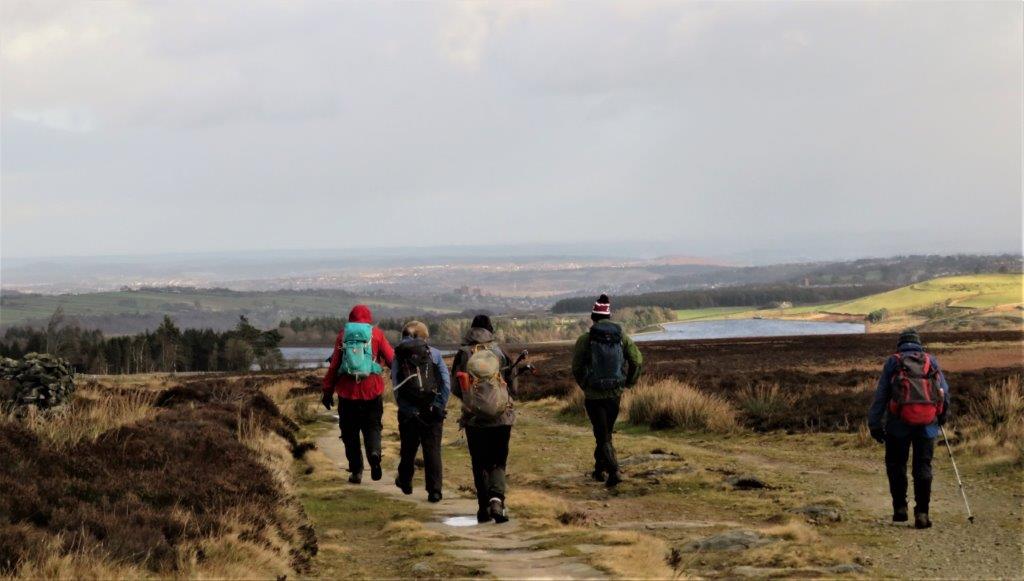 ahead Redmires Reservoirs seen from Long Causeway after passing Stanage Pole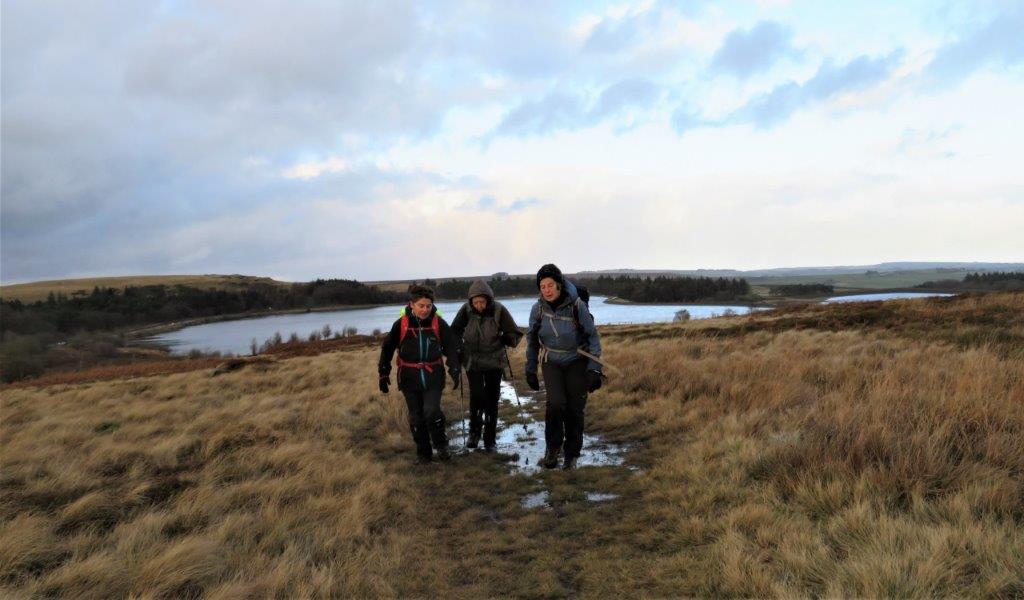 up from Reservoir on Permissive Path to White Stones. Very muddy conditions under foot in moor land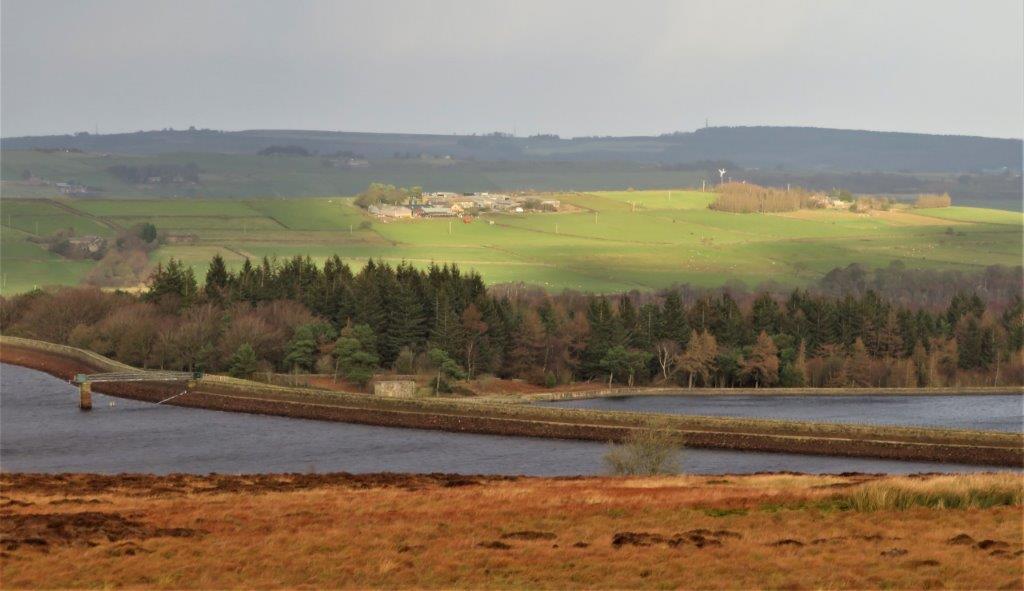 embankment between 'middle' and 'lower' Redmires reservoirs. What farm behind?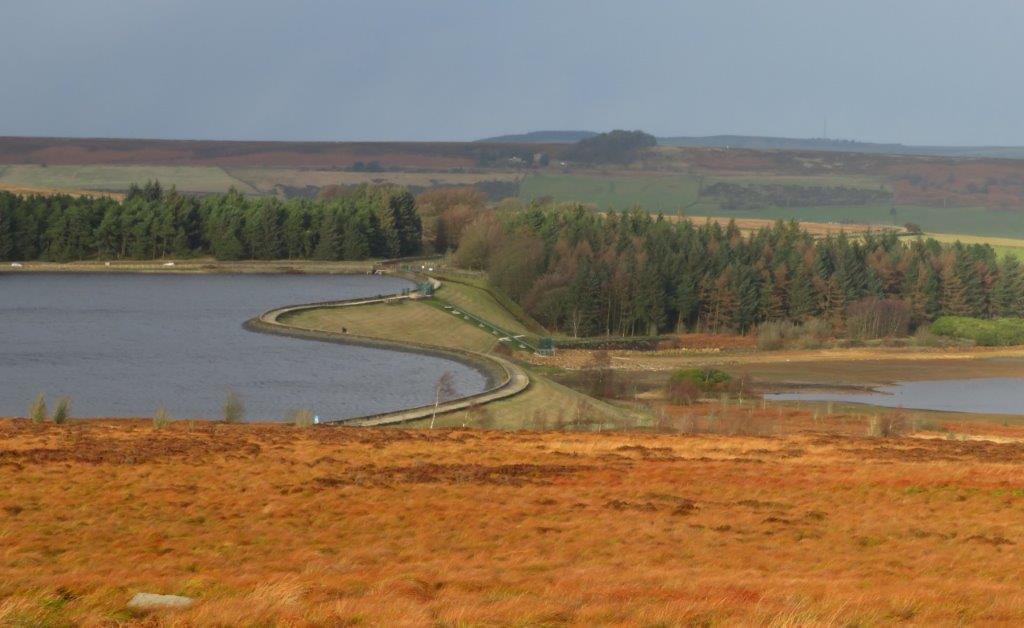 Upper Reservoir (Conduit feeding in at top near embankment?). Middle Reservoir to right.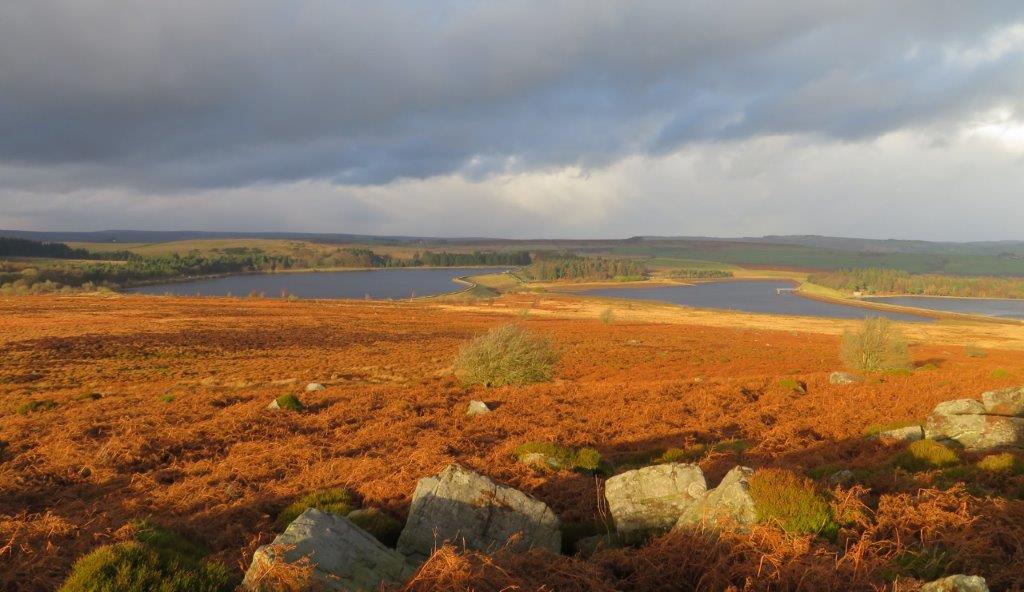 Upper, Middle and Lower Redmires Reservoirs seen from Permissive Footpath running West to East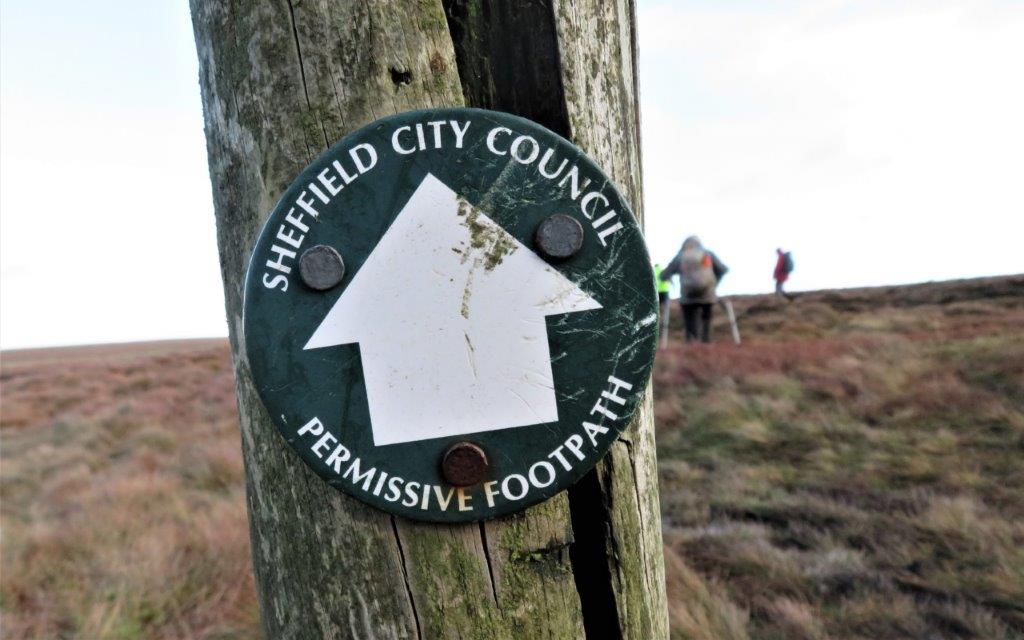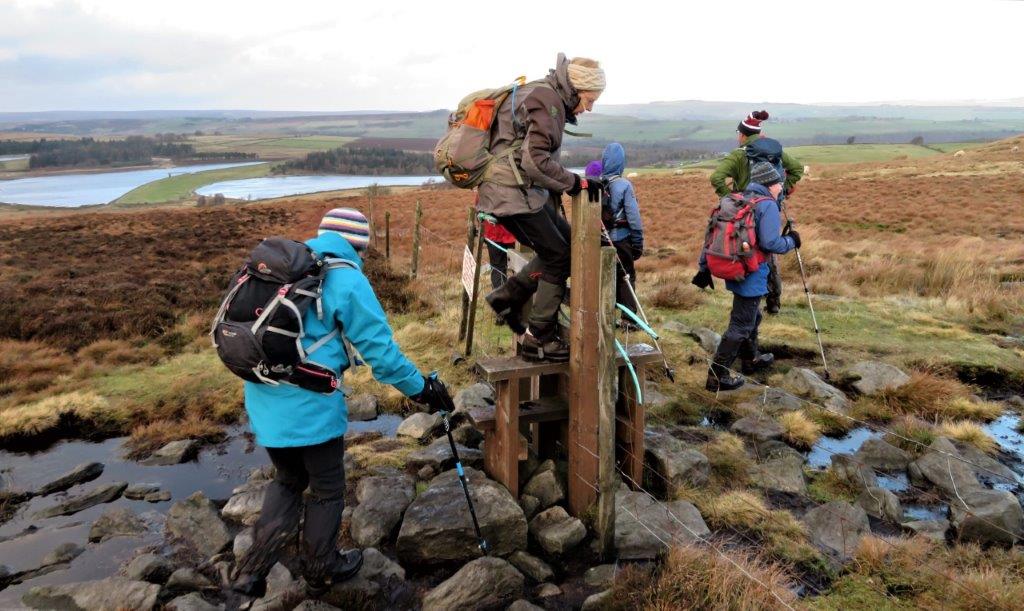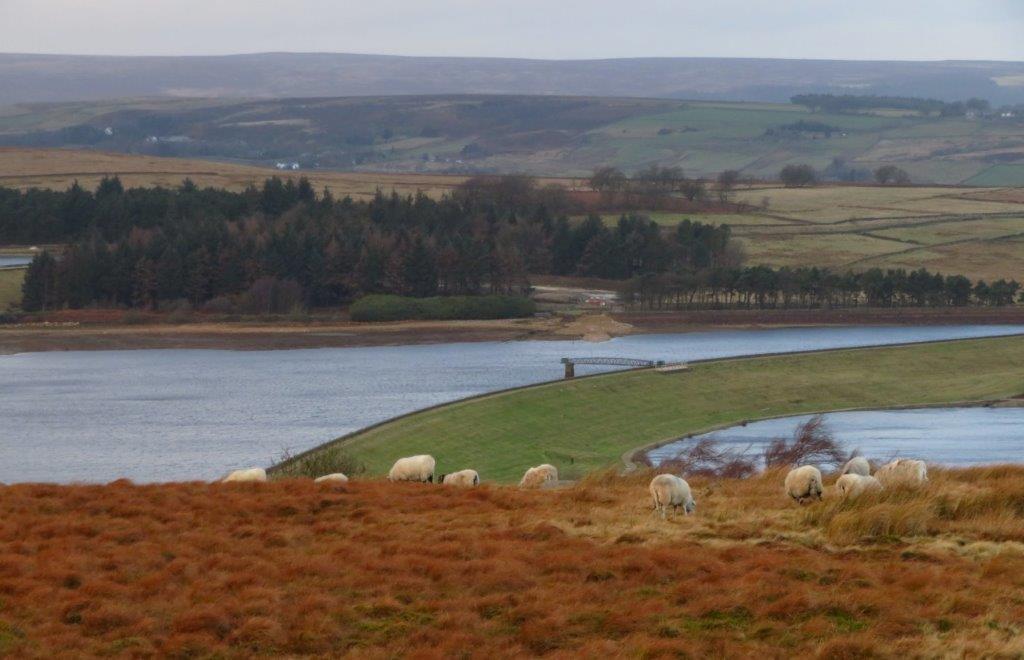 What work being done on far edge of Reservoir?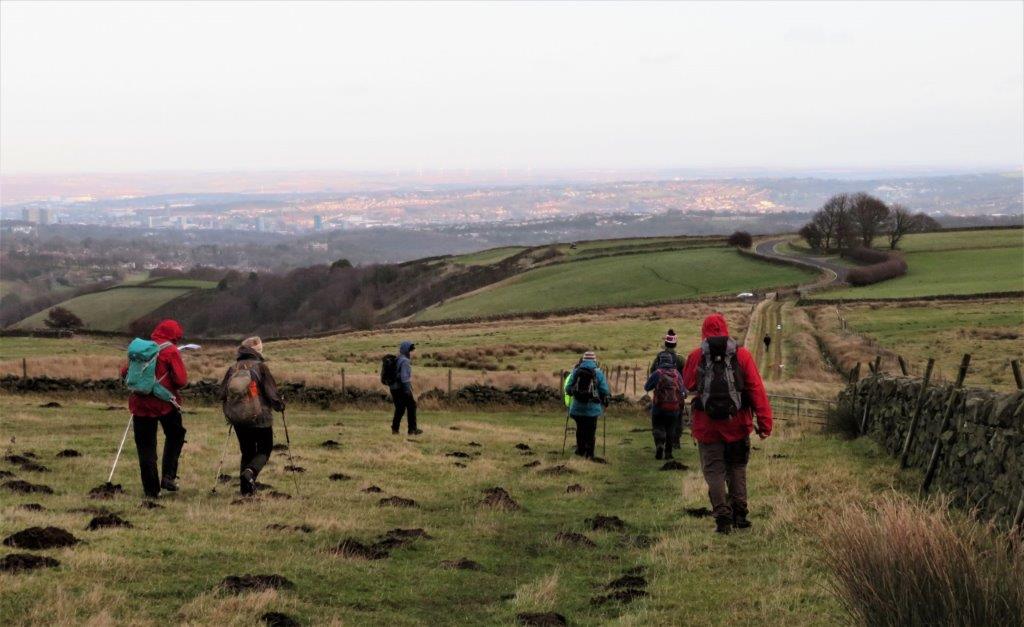 down on Permissive Path toward Fullwood Road. (trees on right at entrance to Brown Edge Farm) but we turned left.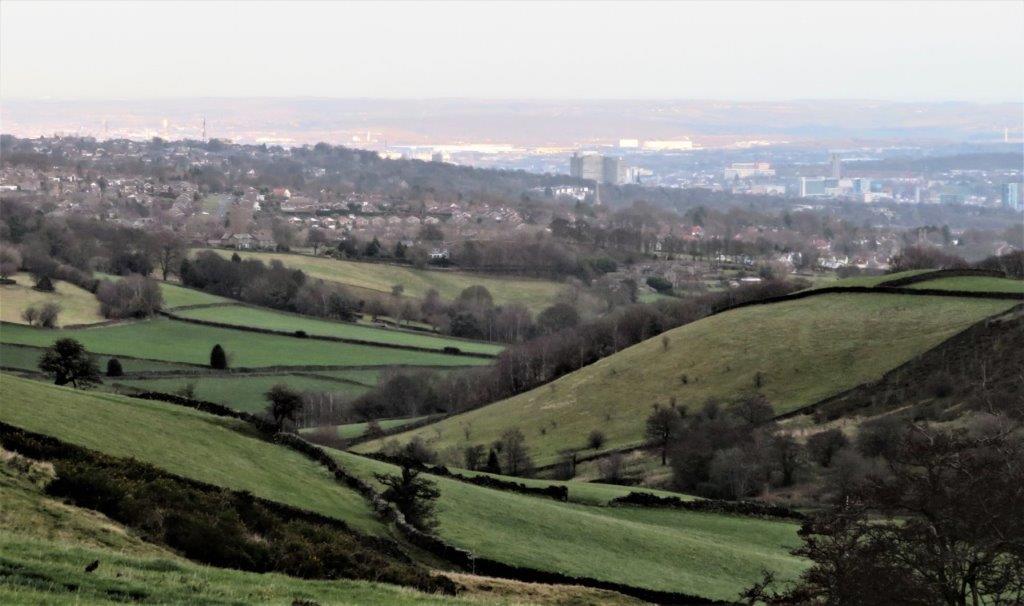 view from Fullwood Road toward parts of Sheffield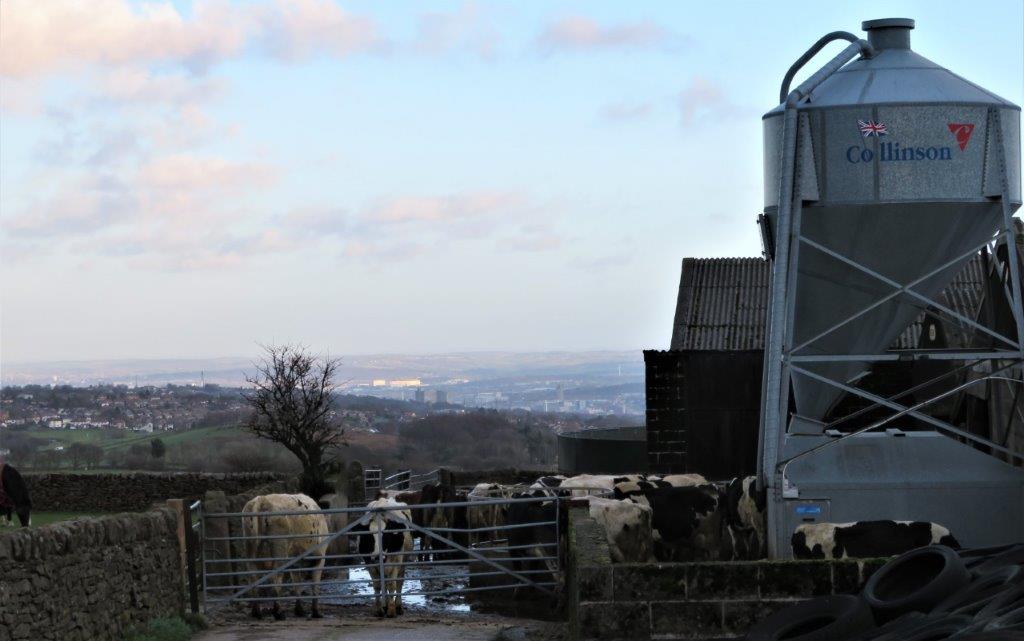 part of Knoll Top Farm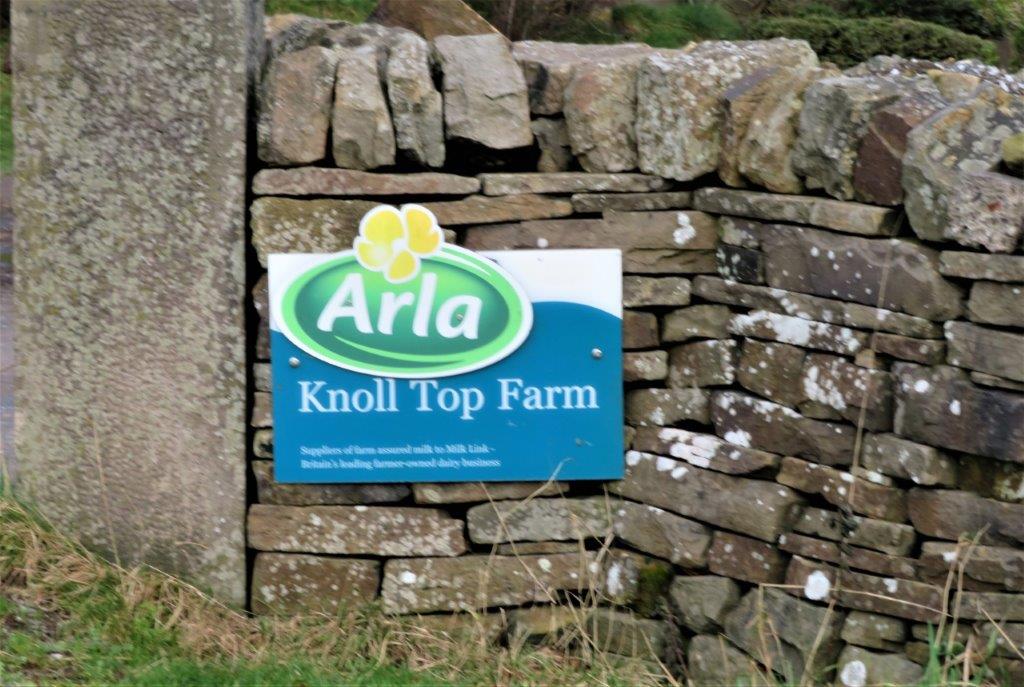 Arla - a company of Danish origin.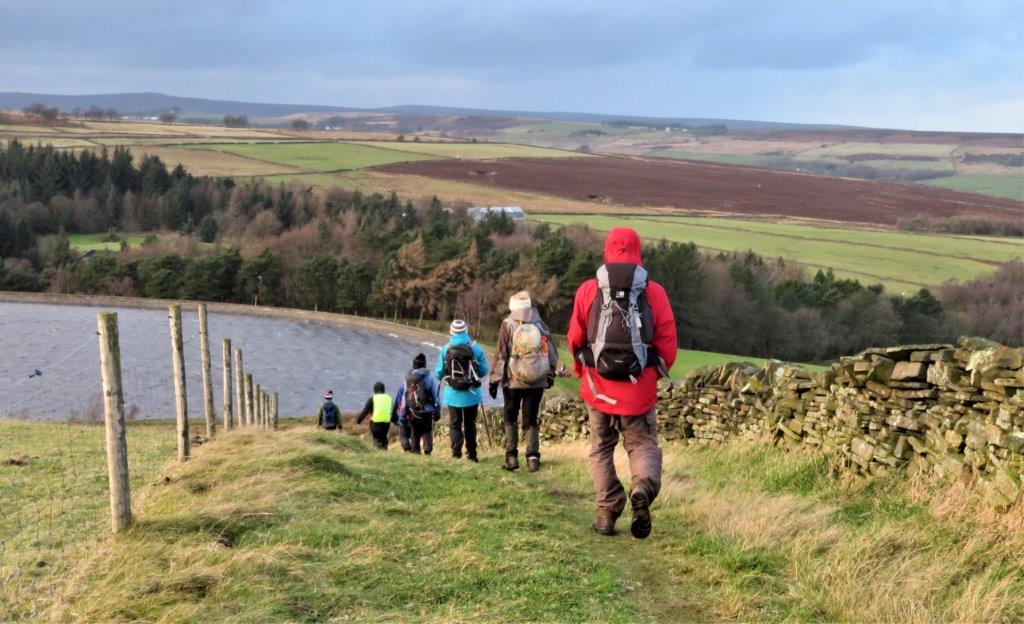 descending to Redmires 'lower' |Reservoir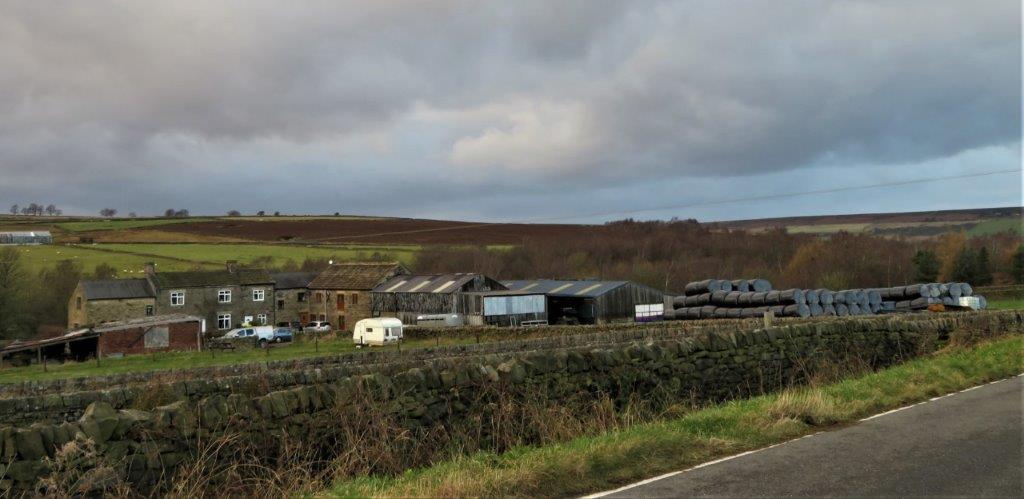 Wyming Brook Farm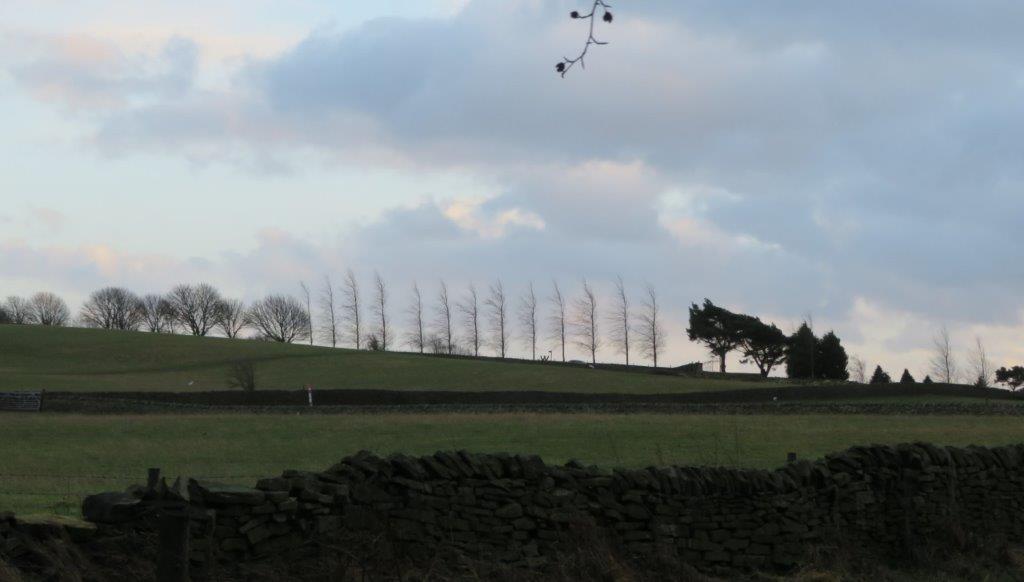 zoomed into skyline from Redmires Conduit as we walked toward Lodge Moor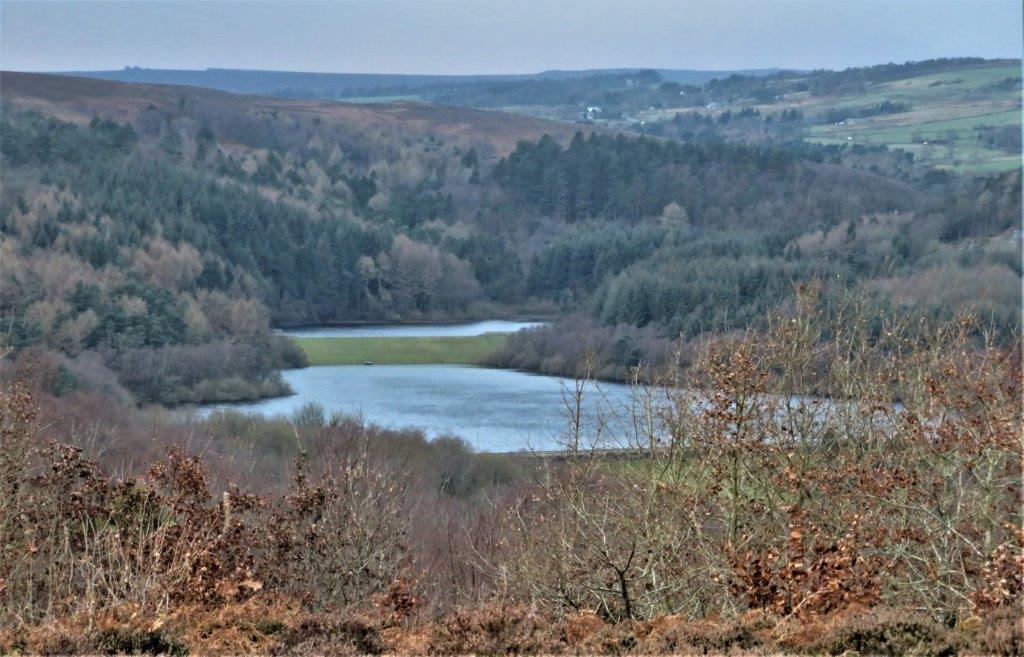 Two Rivelin Dams seen from above close to Lodge Lane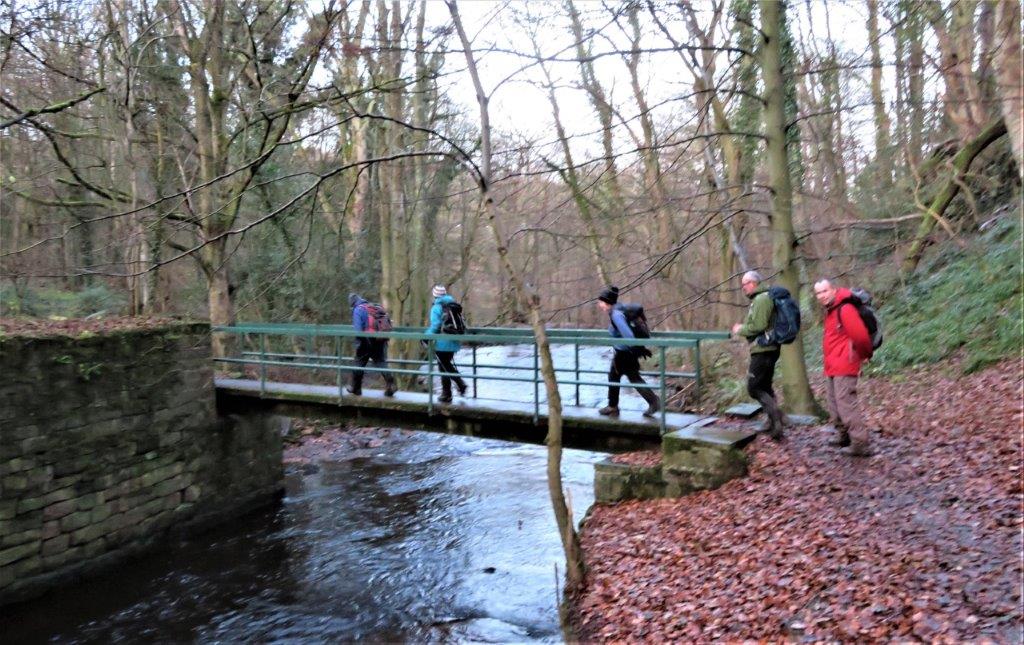 crossing River Rivelin from one bank to the other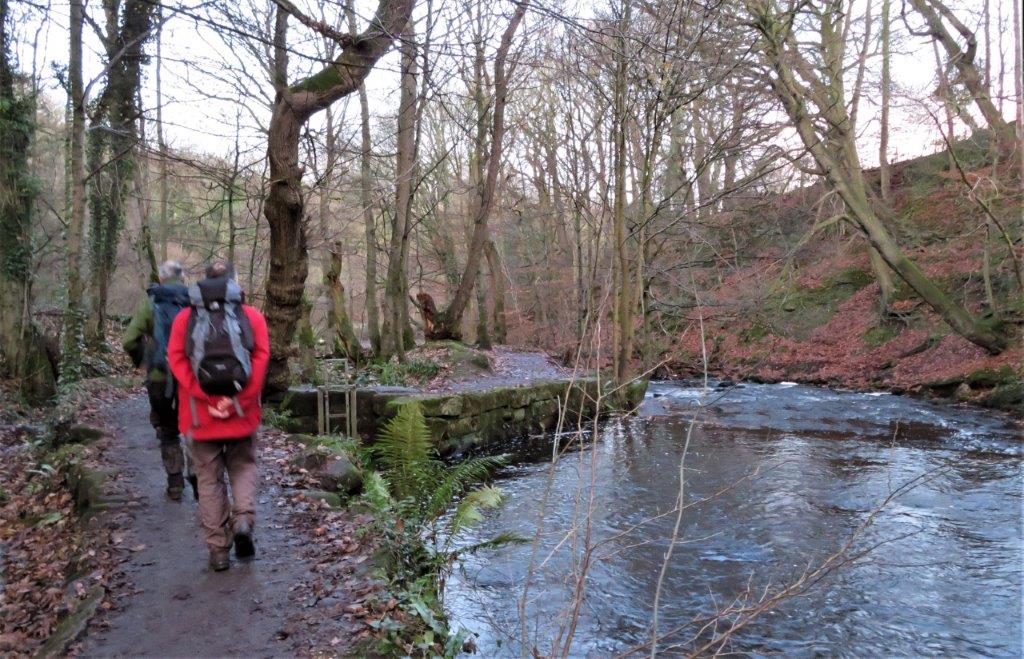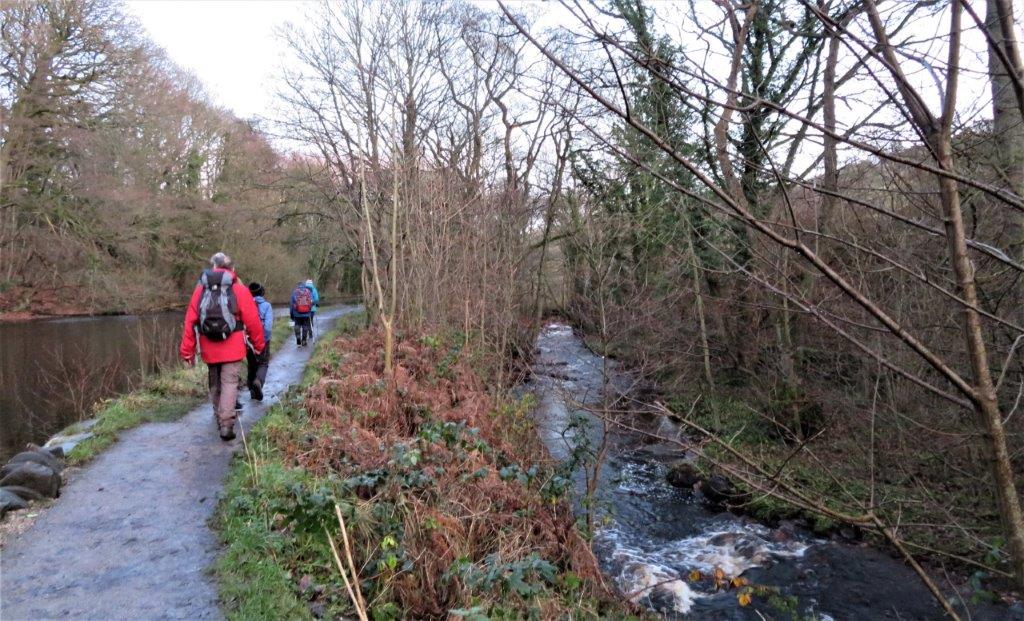 millpond to left with River Rivelin to right. Many Mills were built along the river with interesting remnants left after tidying up.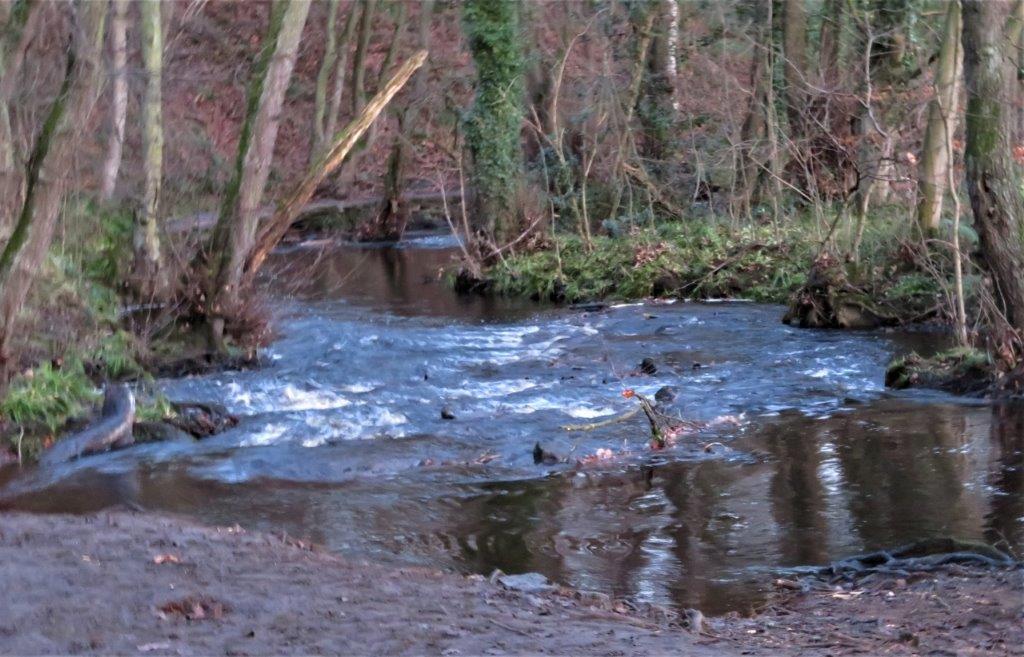 River Rivelin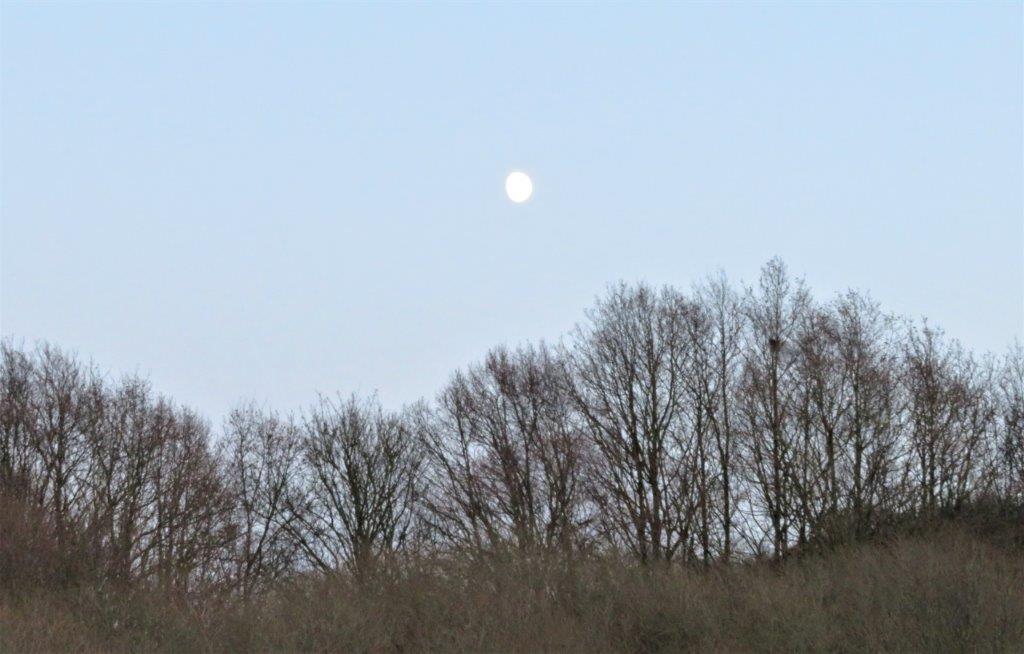 The Moon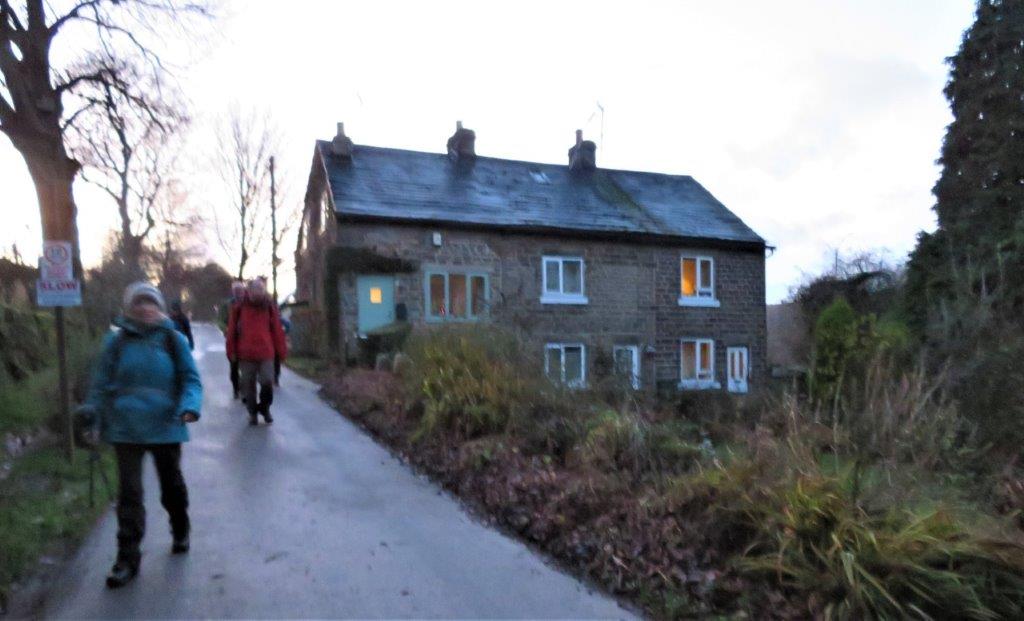 passing house on Long Lane as darkness descends. We continued in Dark down & along a further part of River Rivelin before following the lit road to Malin Bridge
homepage - Daywalks Index 2019 - contact me at