homepage - Daywalks Index 2019 - contact me at

2019.11.10 Start in Bakewell at SK217685, thru Gardens, then NNW on A6 Rd, at SK215689 cross River Wye on Packhorse Bridge, Bridleway ~N, cross Monsall Trail & A6020 Rd to Toll Bar House, ~100m W on Rd, then FP ~N along wall (edge of Hassop Park), cross road then continue on road ~N to Rowland* paths NW up Longstone Edge to SK206732, ~E thru OAL to SK216732*, ~NNE passing Bleaklow Farm, crossing East end of High Rake, continue ~NNE down steep side of Rough Side into & NNE along Coombs Dale, climb out at SK224745 ~NNE, continue to a road steeply down ~E then N to cross A623 Rd at SK230755 into Stoney Middleton, FP ~NW up to Eyam, ~W to Eyam Church, on east side path NNE to and across lower part of Edge Road, ~NW up past Beech Hurst (unseen) to cross road at SK217772, ~N passing above Ladywash Mine then Farm to Sir William Hill Road (unpaved track), ~East down Sir.W.H.Road to junct with Edge rd, turn N into Eyam Moor, thru rough moor land to Stone Circle (SK225789), ~ENE thru rough moor land to Leam, ~N on road then down steep path to Hazelford Hall, ~NE on road down to B6001 Rd, ~NNW along into Hathersage - leader Liz Savage - Sunday. Note - other routes possible between two *--*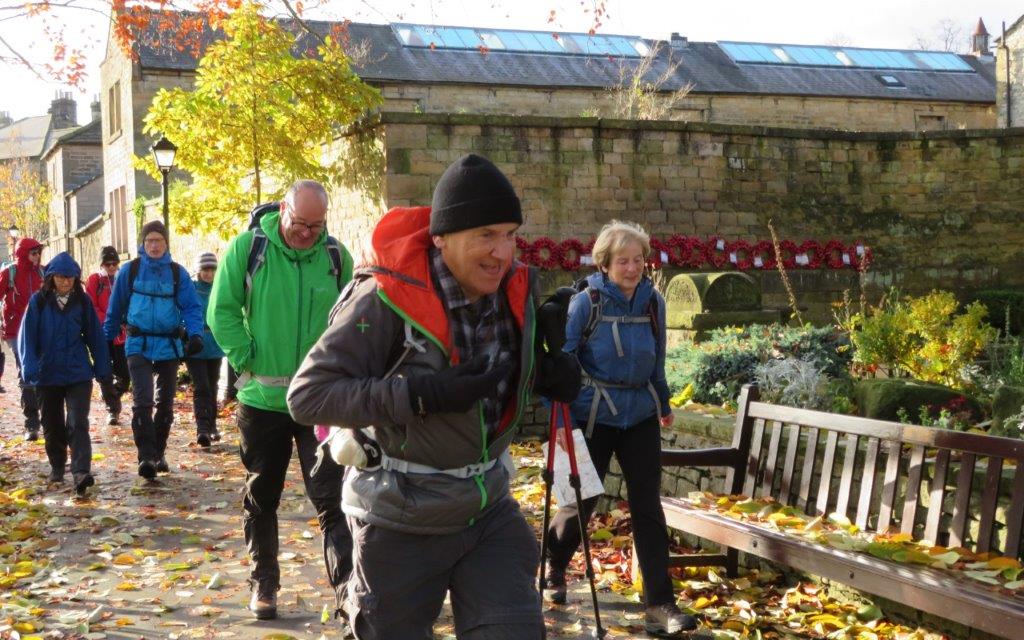 Through the gardens near the bus terminus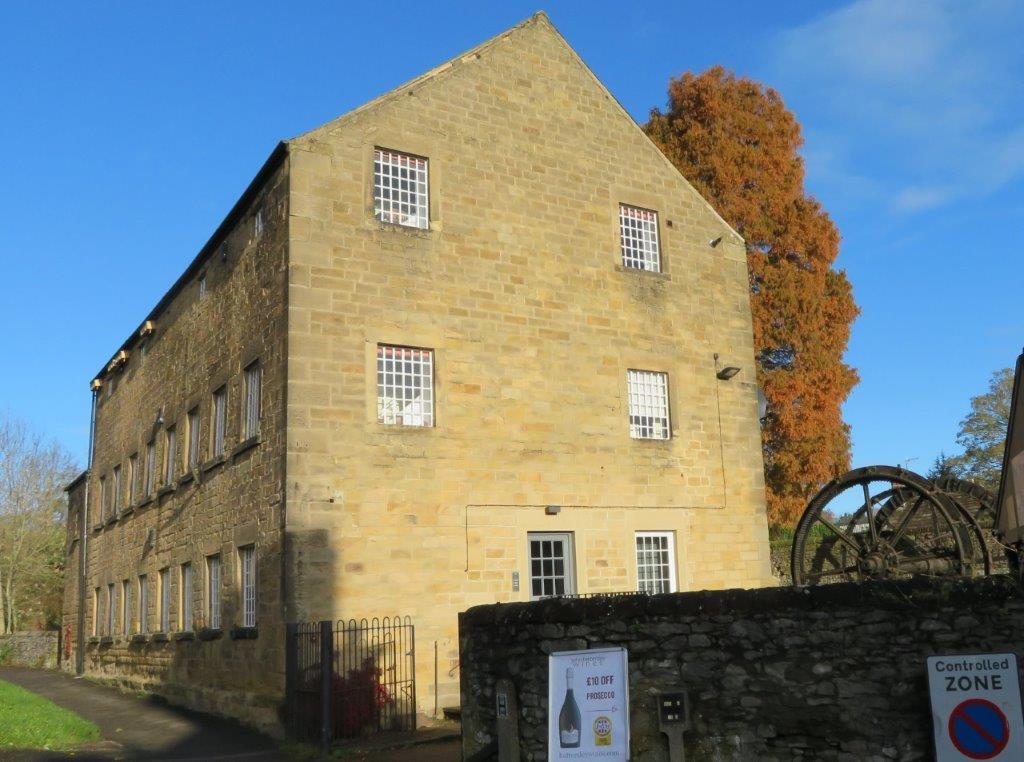 Victoria Mill - water wheel without paddles not in position. Originally a corn mill in ~1800. Now apparently houses various businesses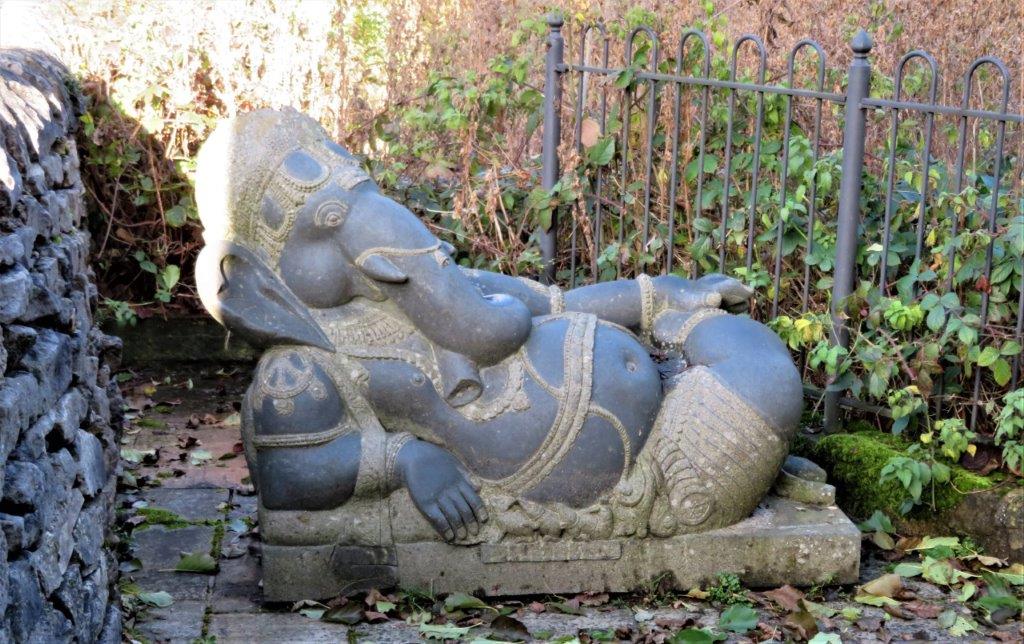 The Hindu God Ganesha in a Bakewell garden.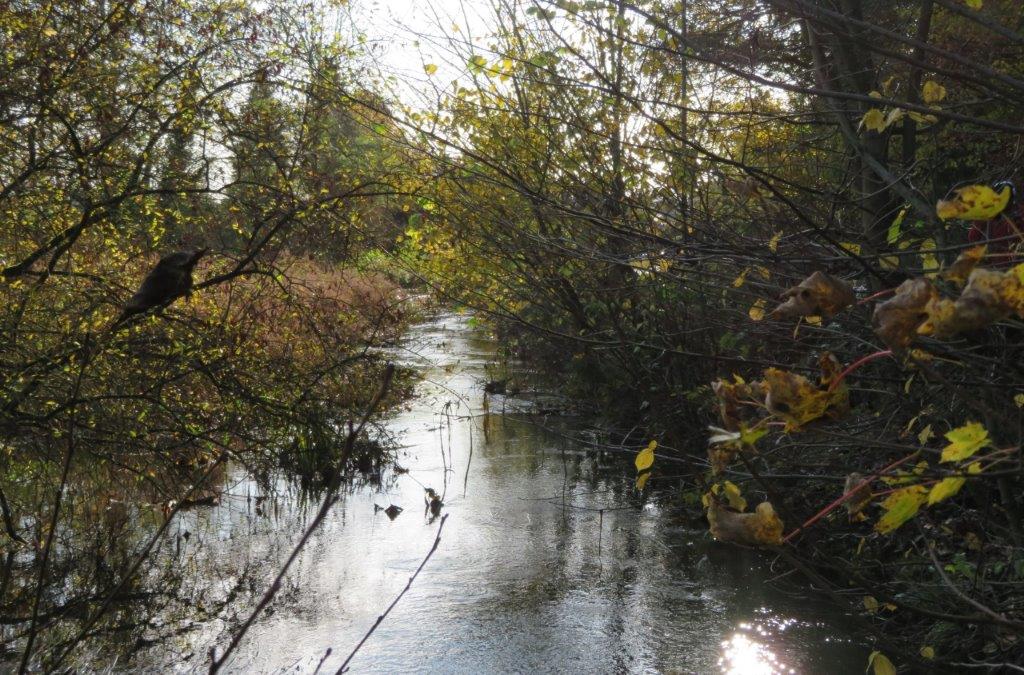 the goit (headrace) to Victoria Mill from a weir across the River Wye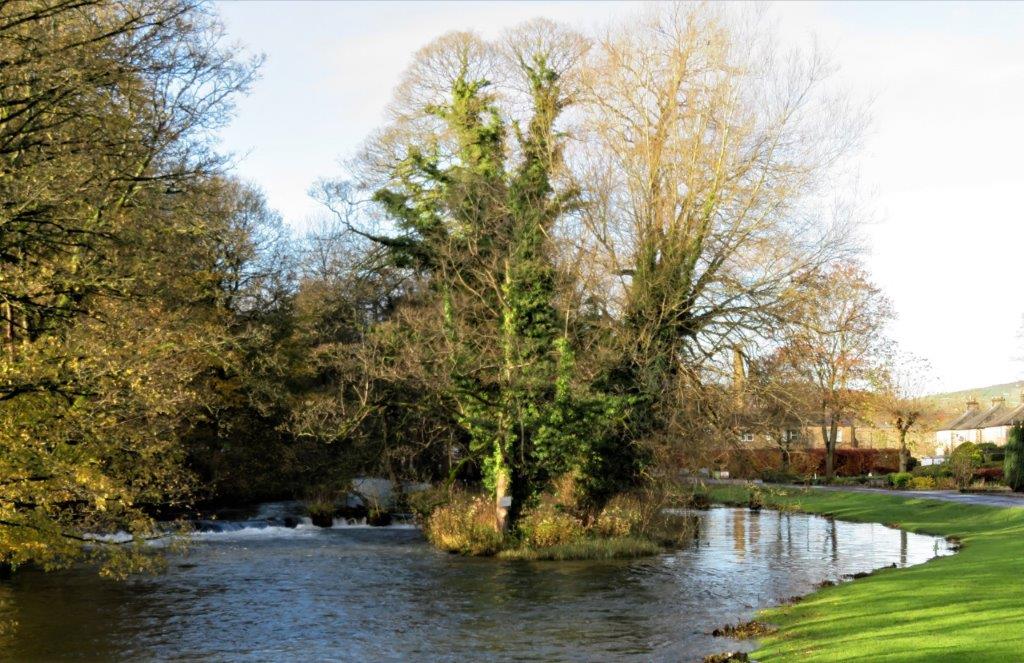 The River Wye with weir visible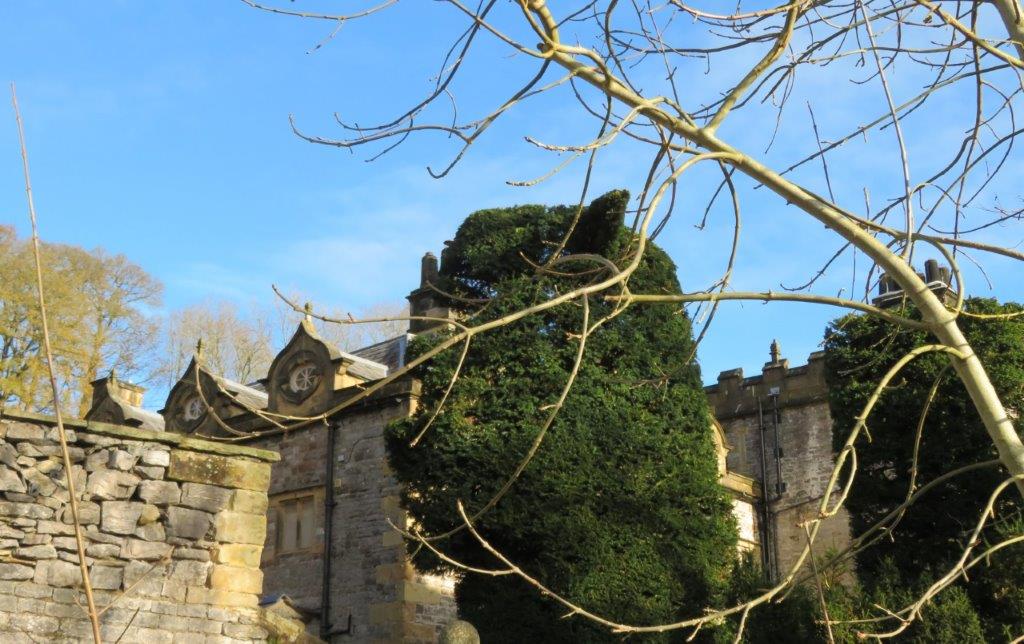 a glimpse of Holme Hall from the bridleway which passes it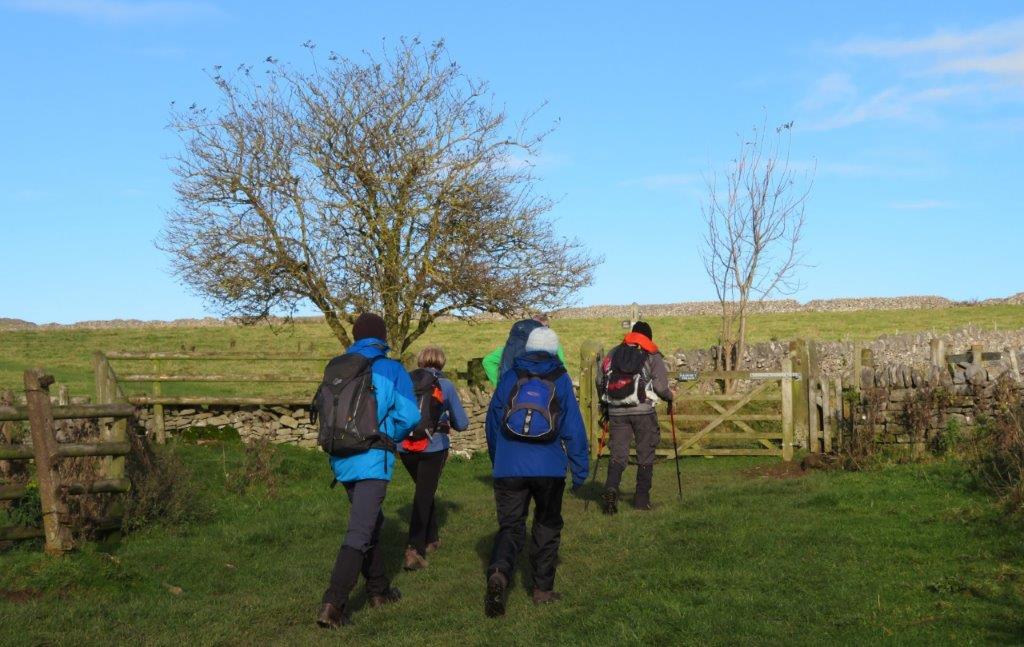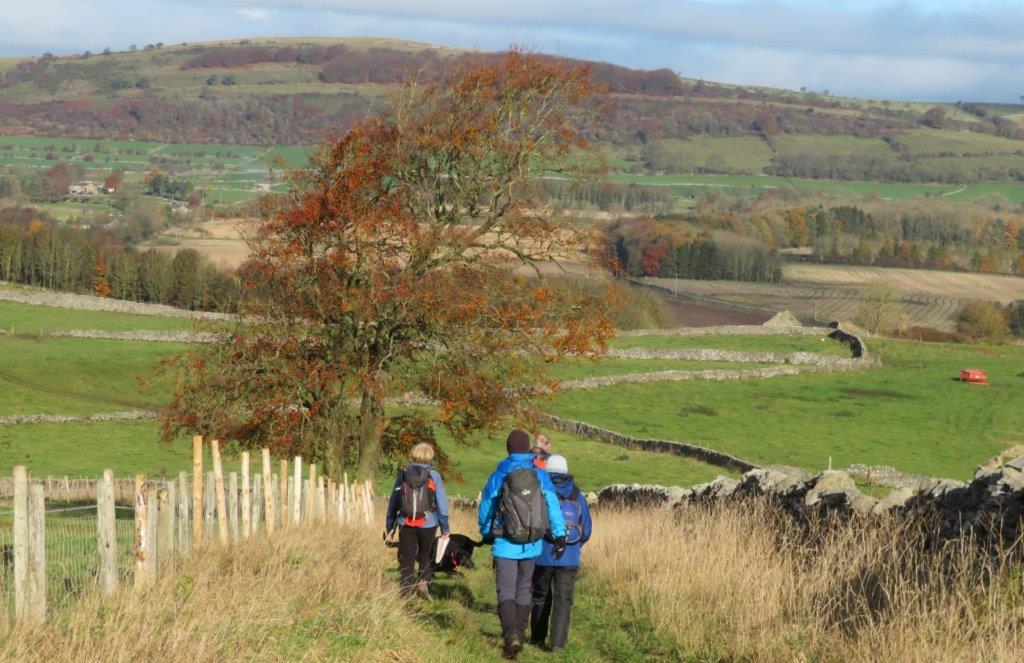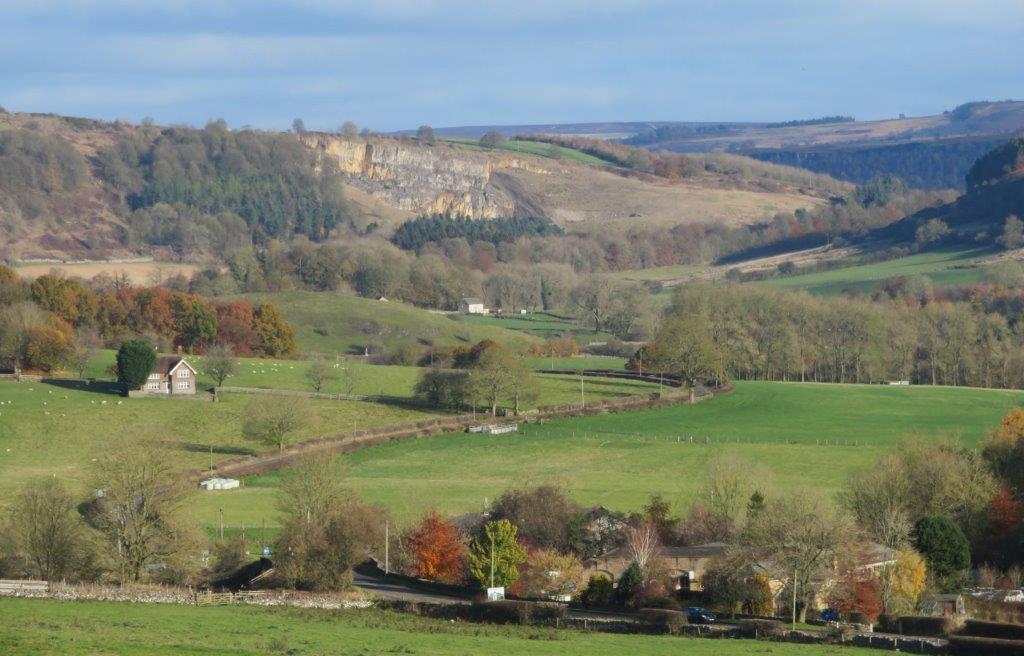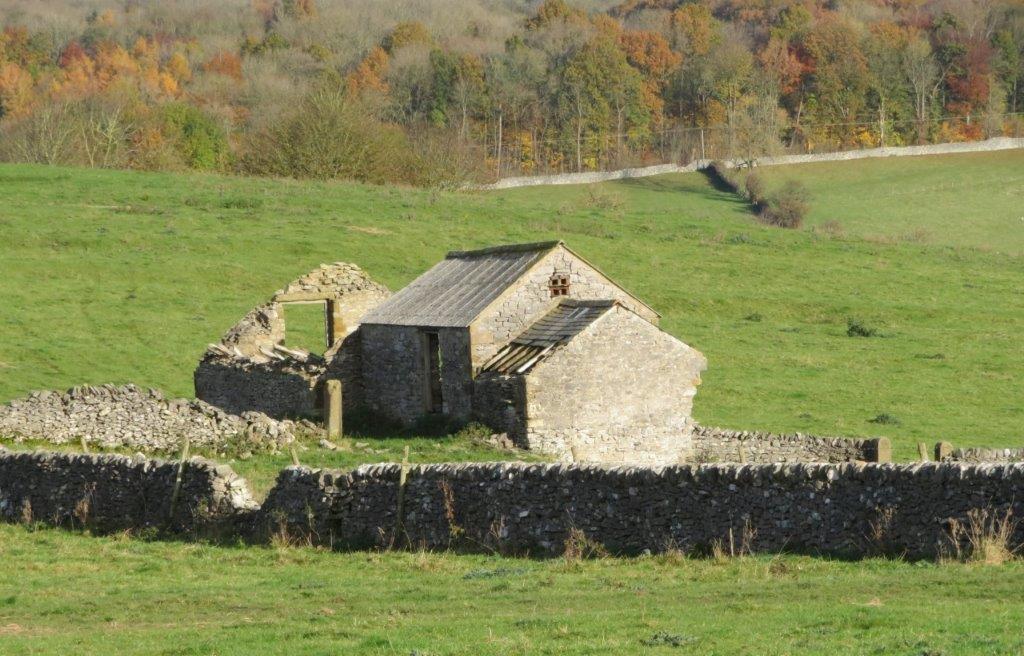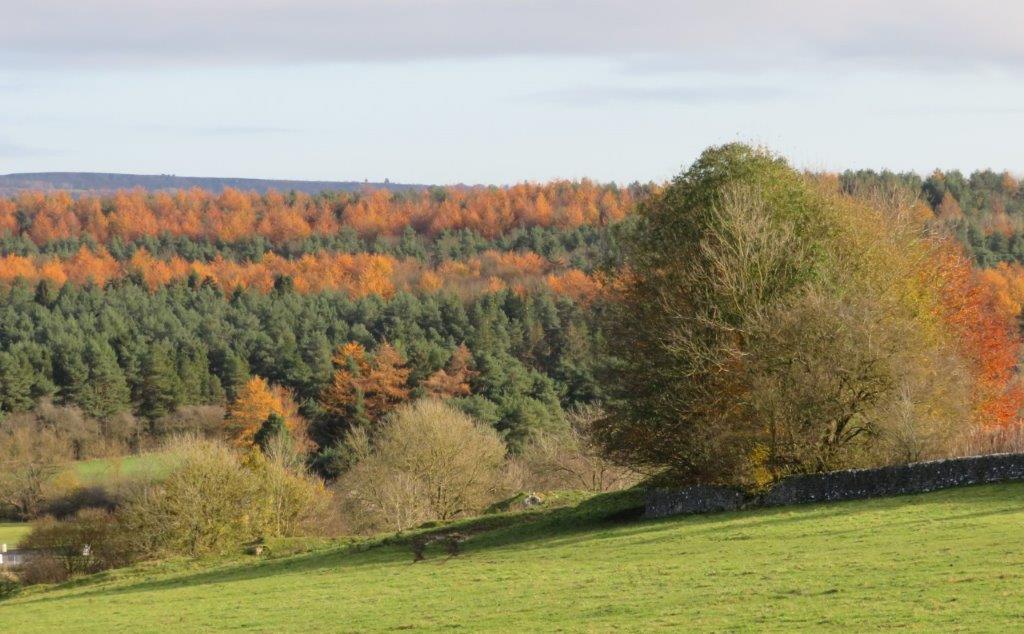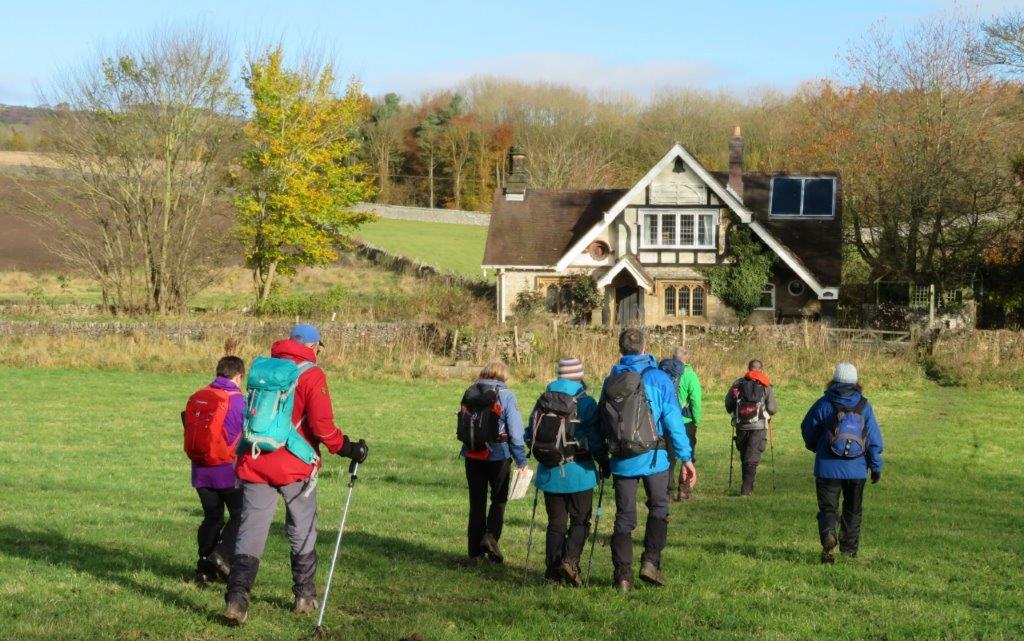 Toll / Bar House on the A6020 road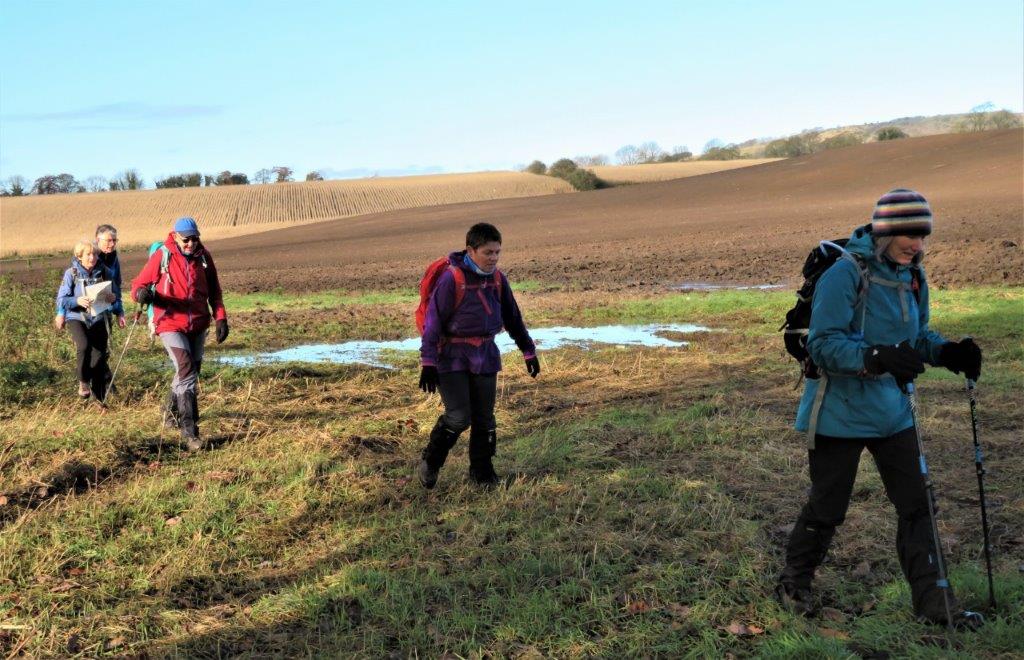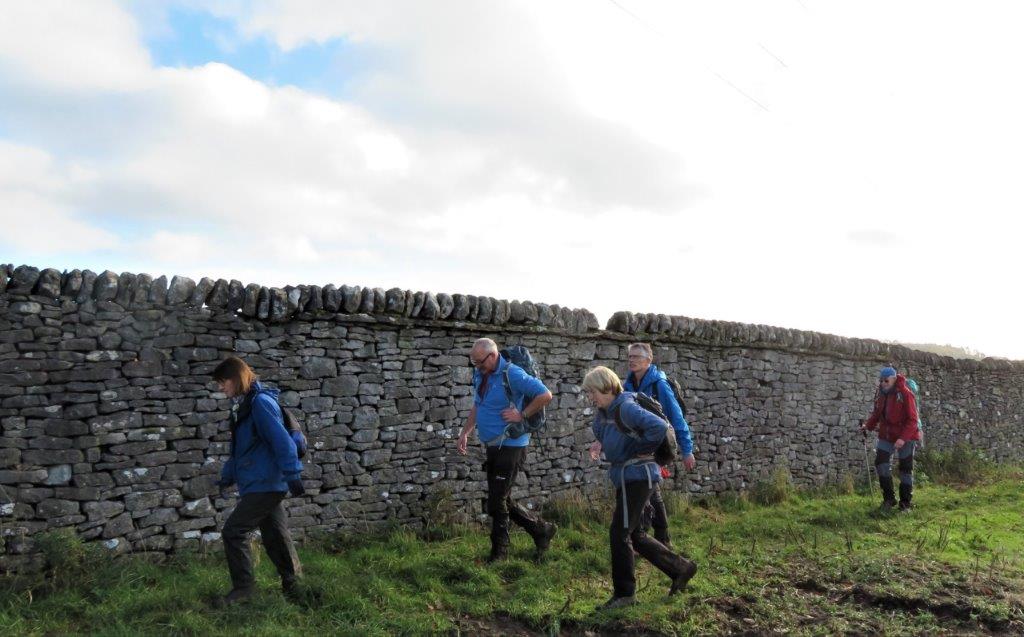 Hassop Park boundary wall
dried out maize stalks after harvesting?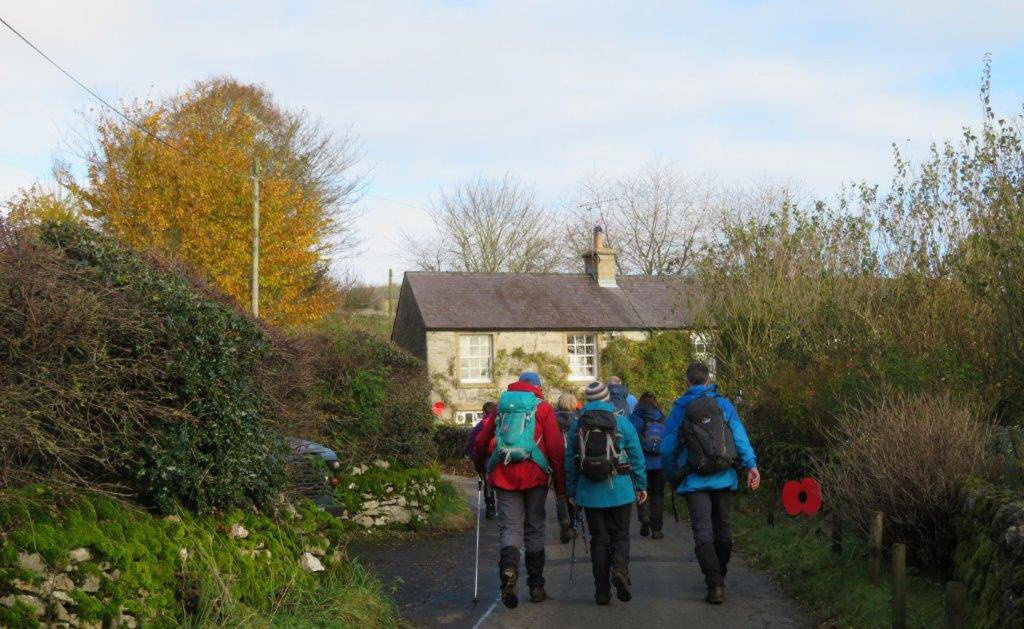 on the Road up to Rowland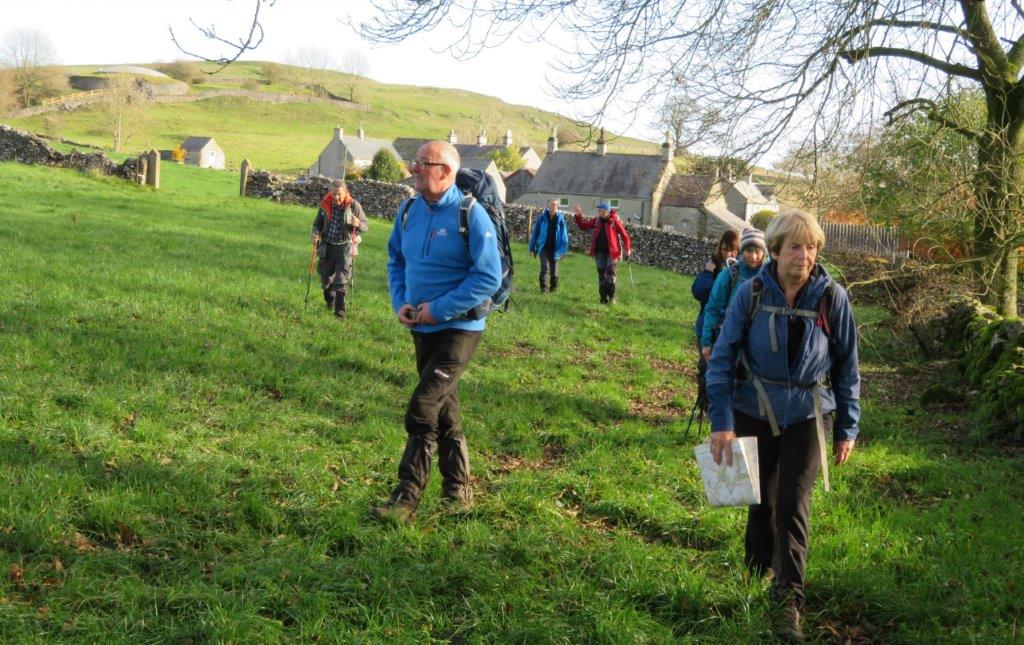 from Rowland about to head up to Longstone Edge and the West End of High Rake (but took tea break first)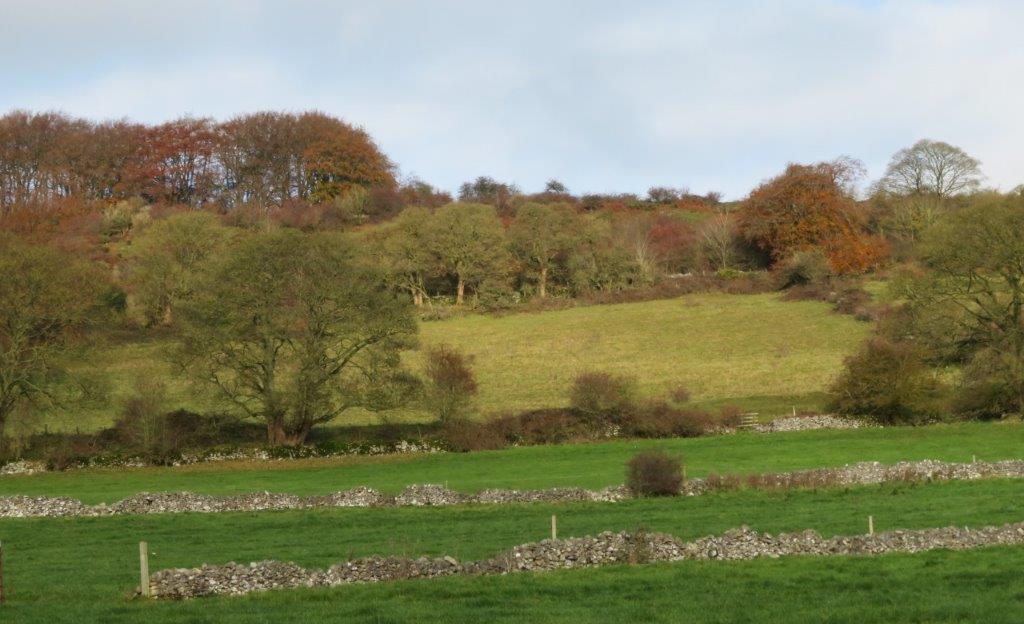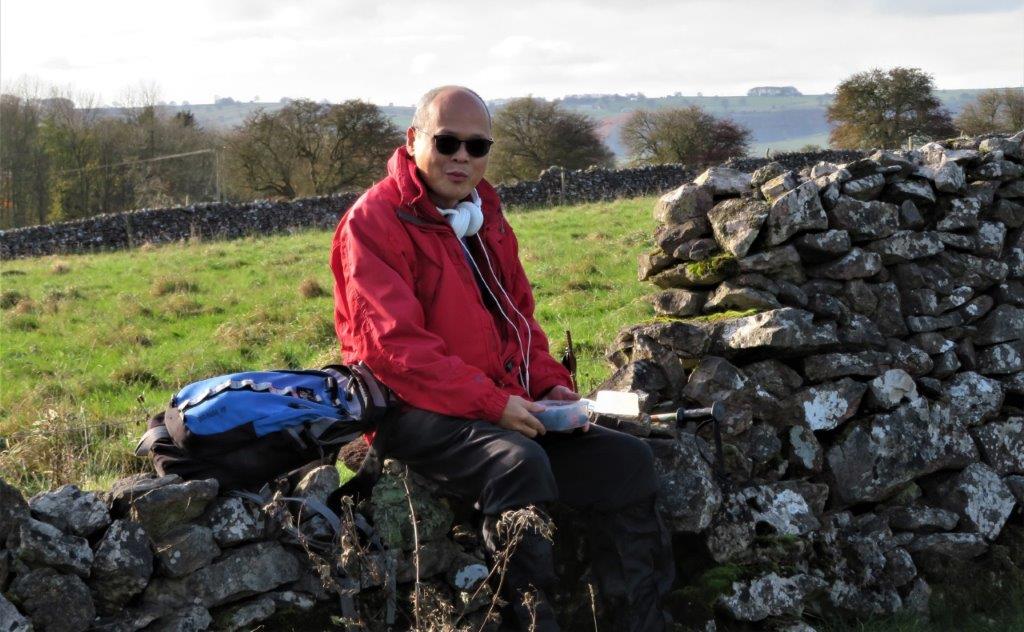 tea break taken seated on a broken down drystone wall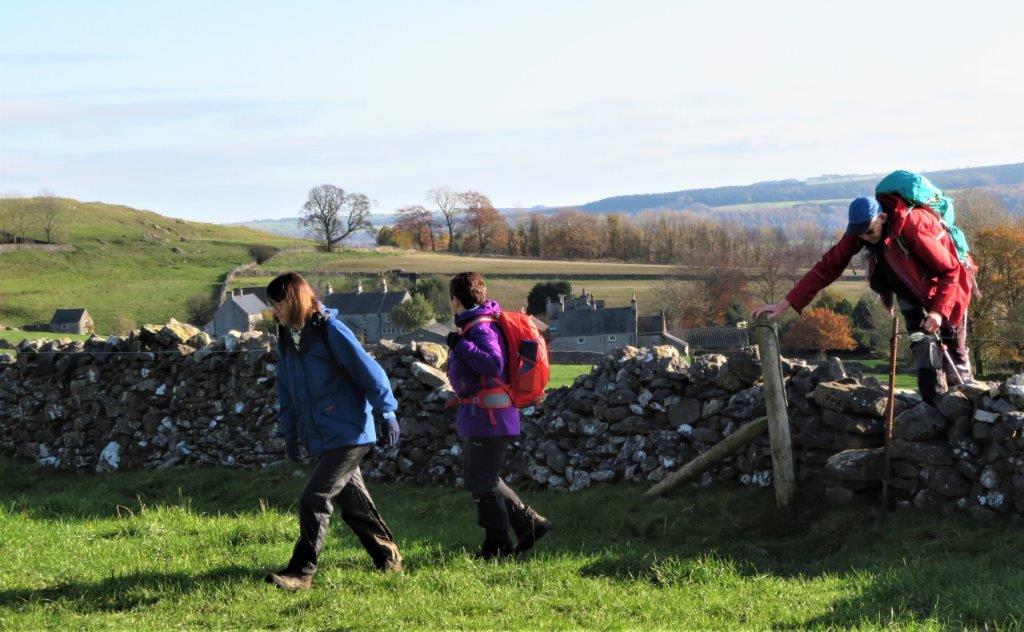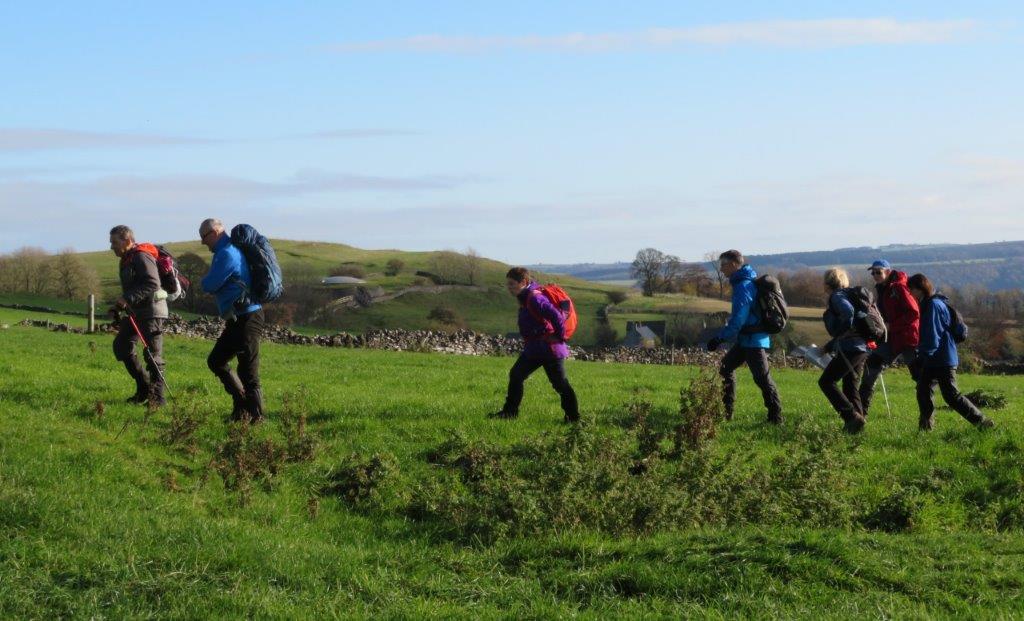 up toward Longstone Edge & High Rake (west end)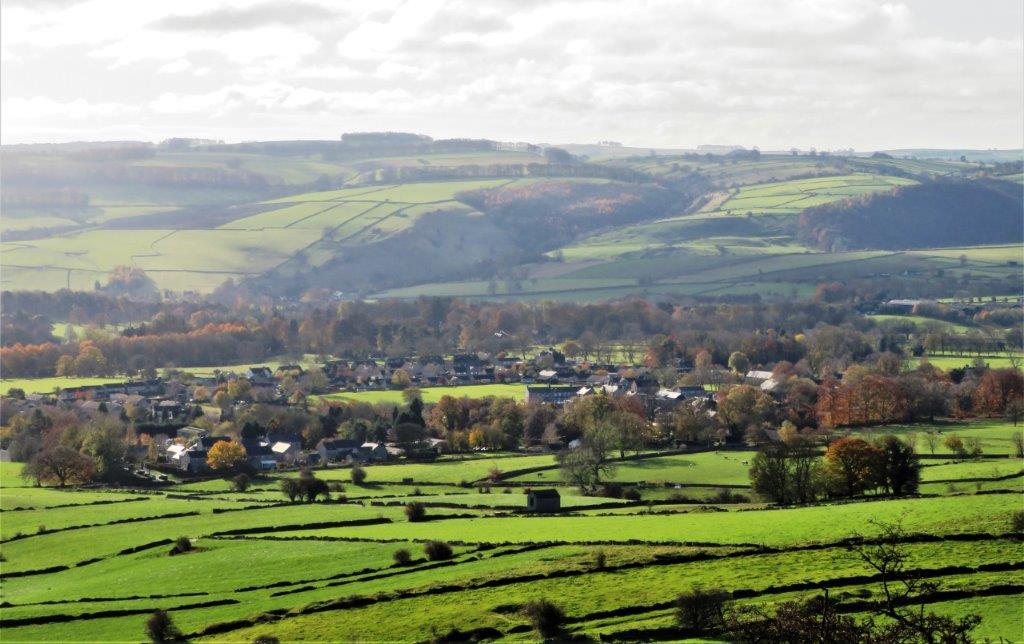 looking down at Great Longstone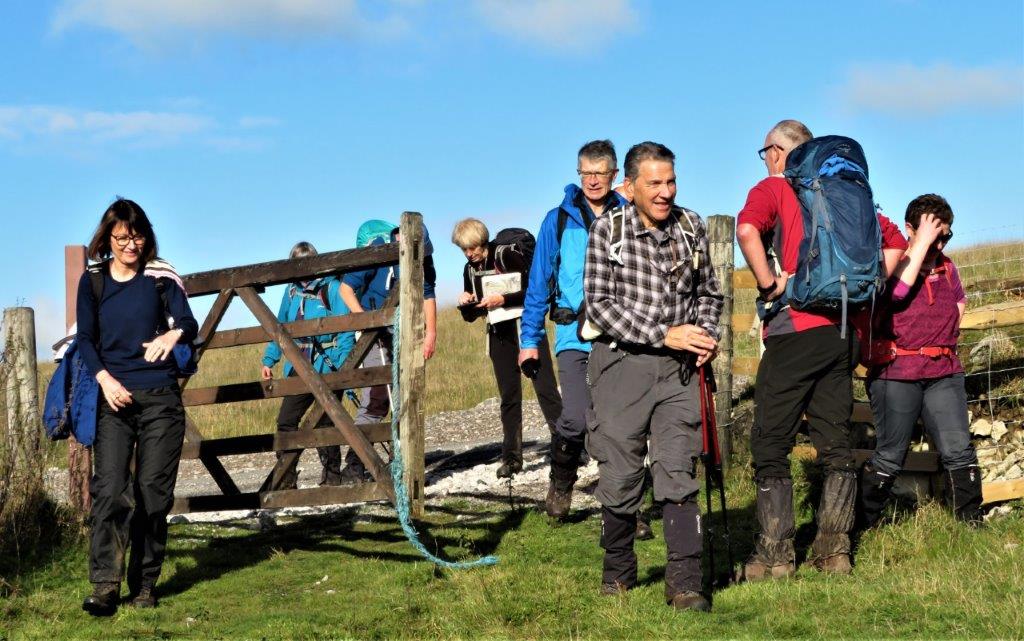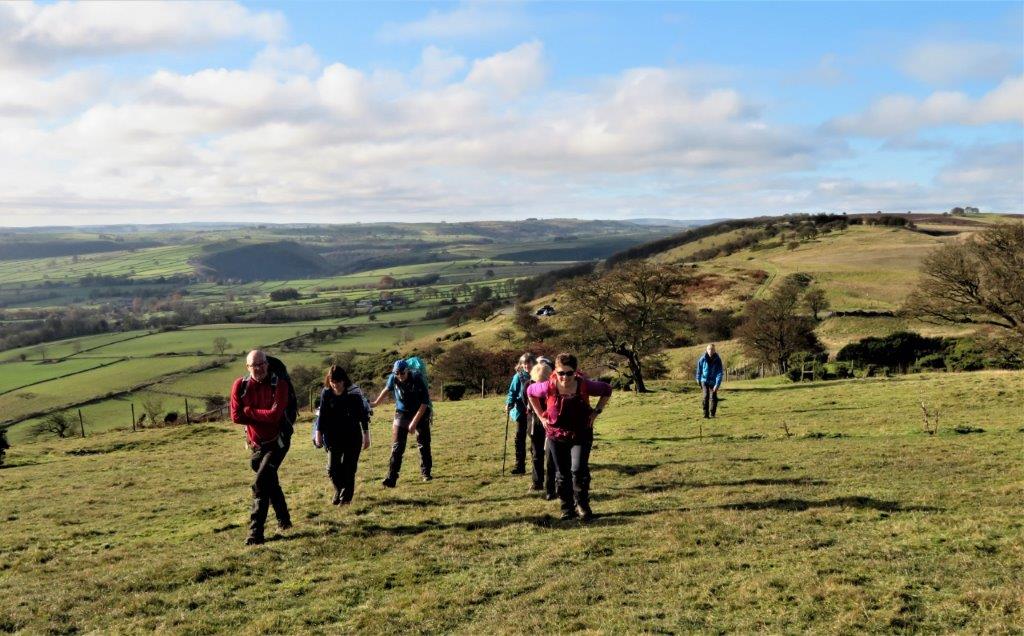 Searching for the strip of Open Access Land & a path (in it) going East. This path met another path going North East to Bleaklow Farm which we took.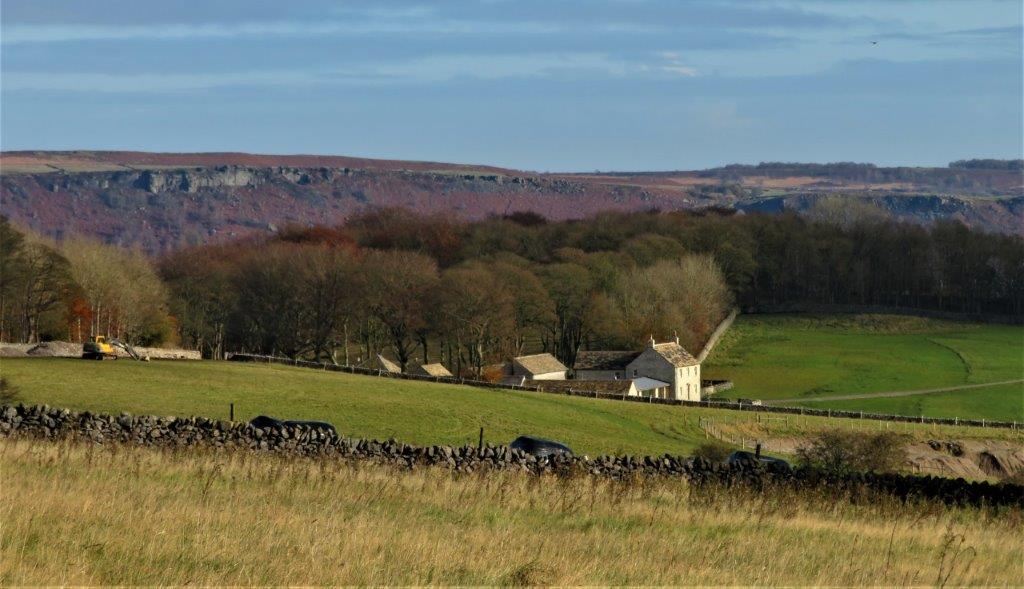 Bleaklow Farm House seen in distance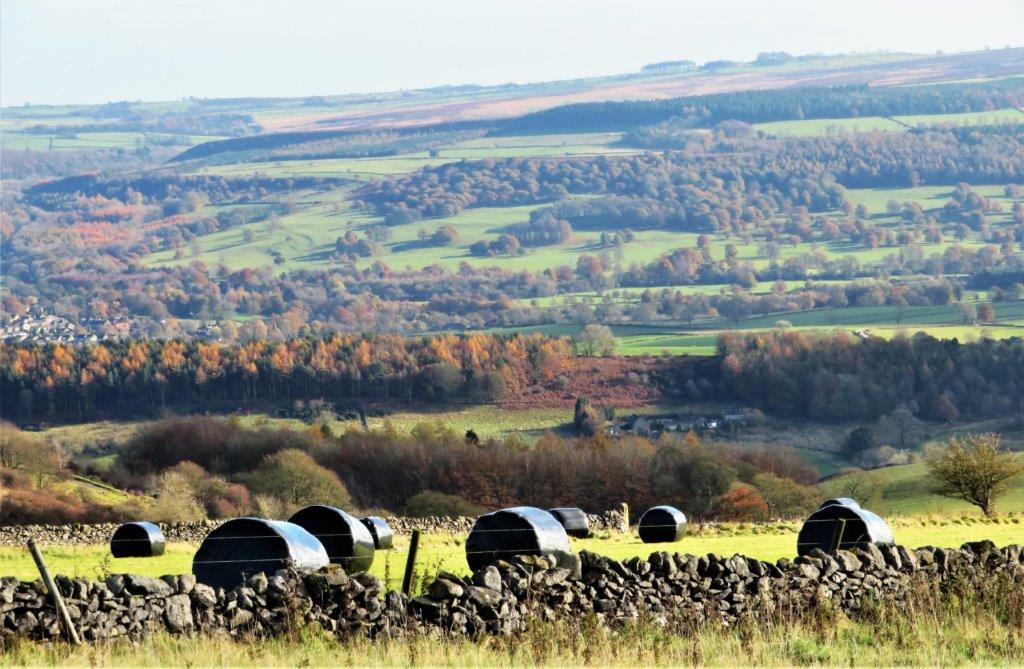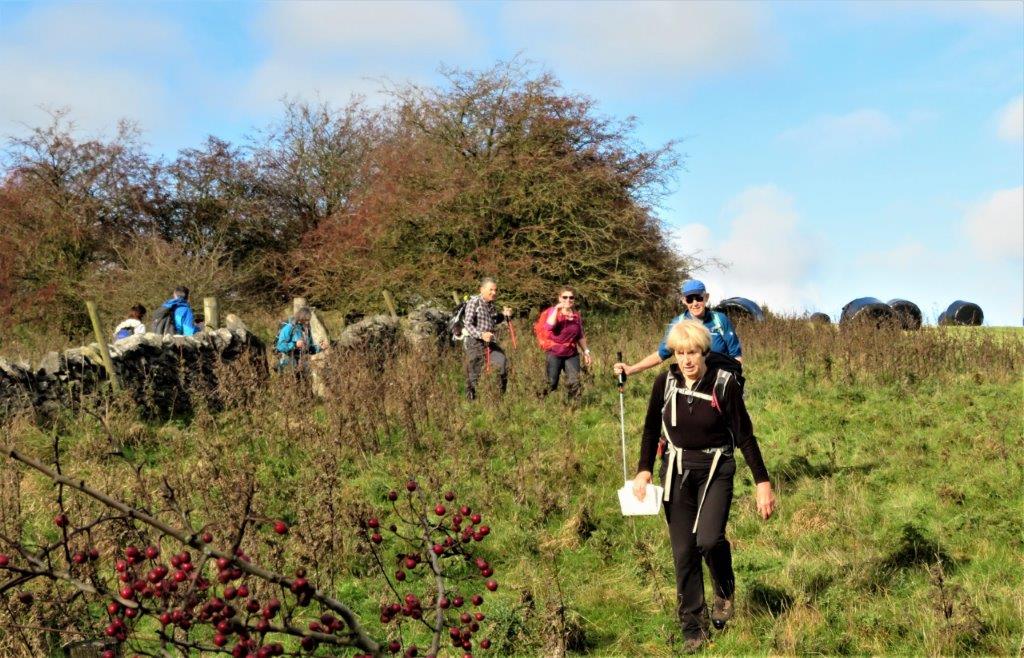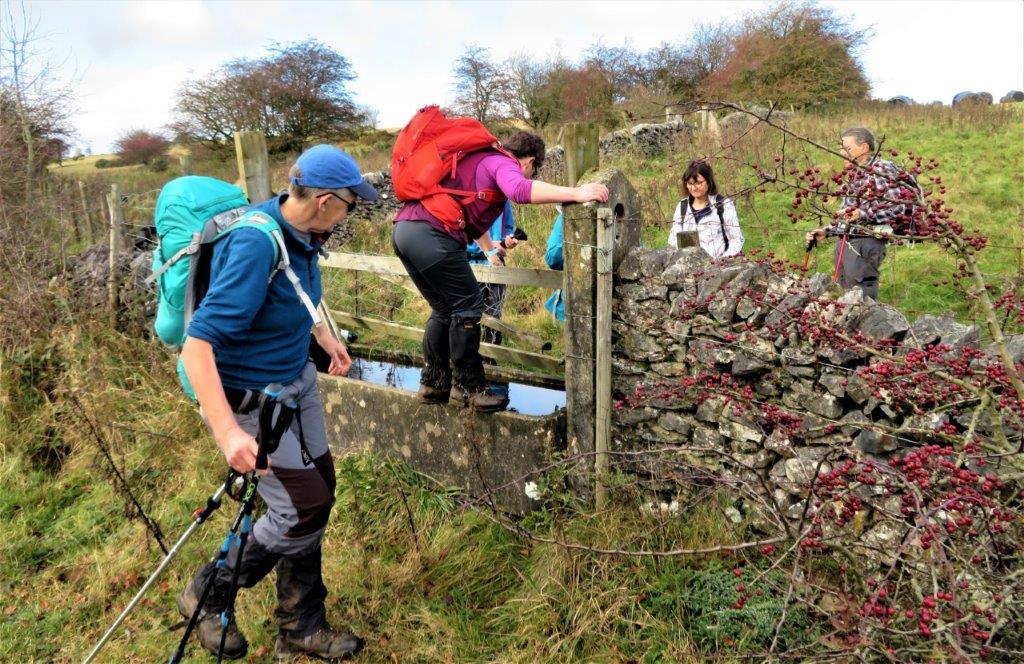 now entering strip of open Access Land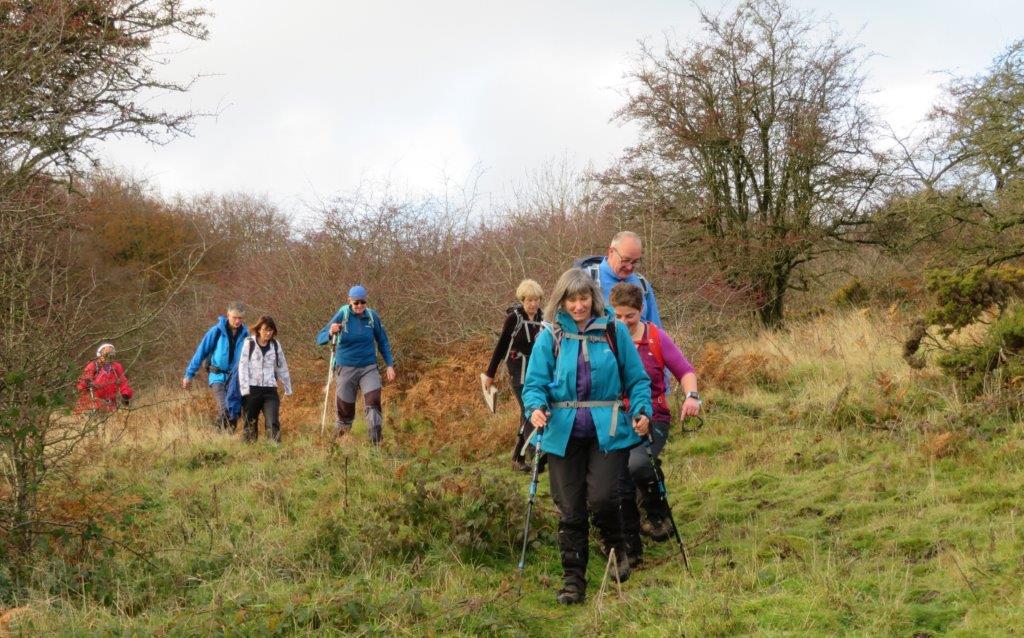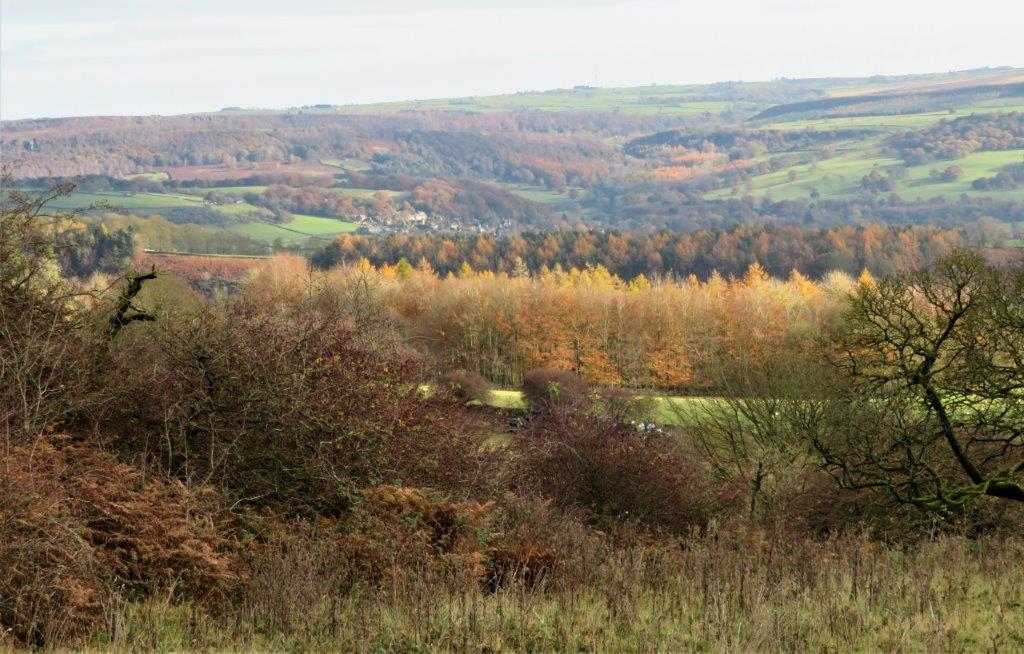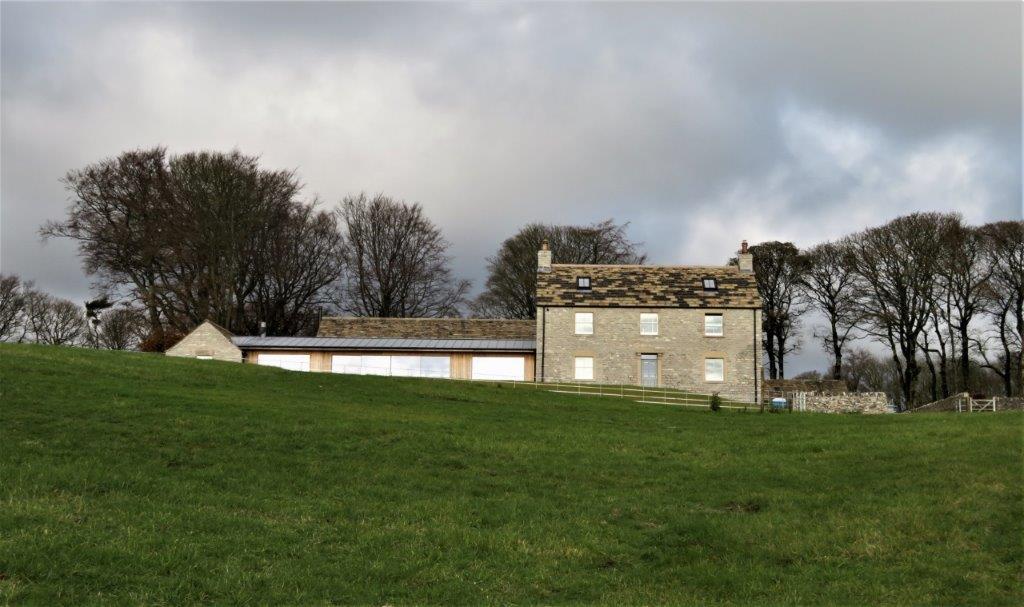 looking up at Bleaklow Farm House. We later passed through the gate on the right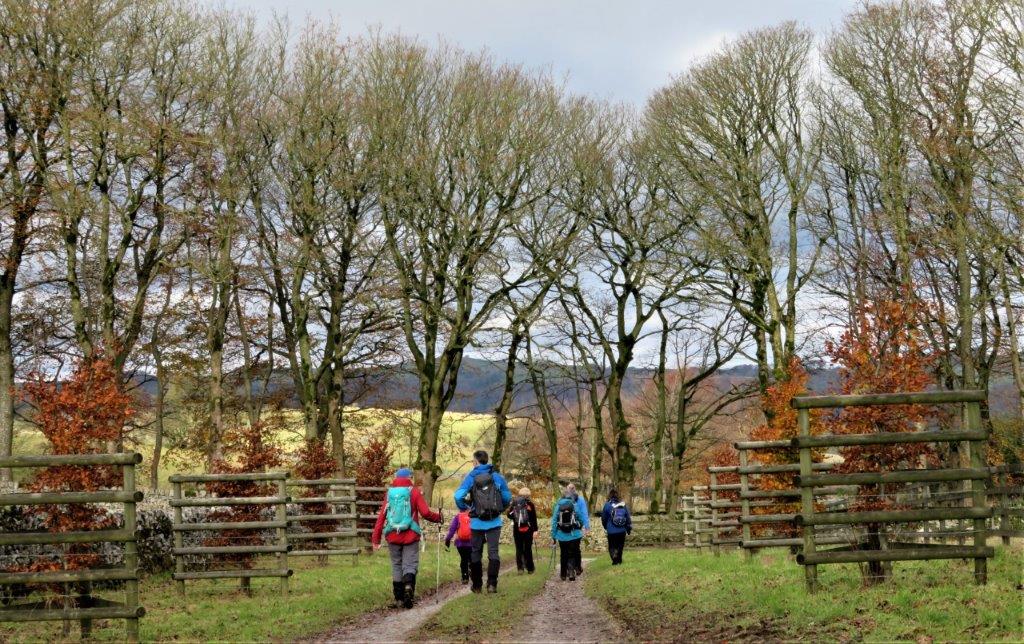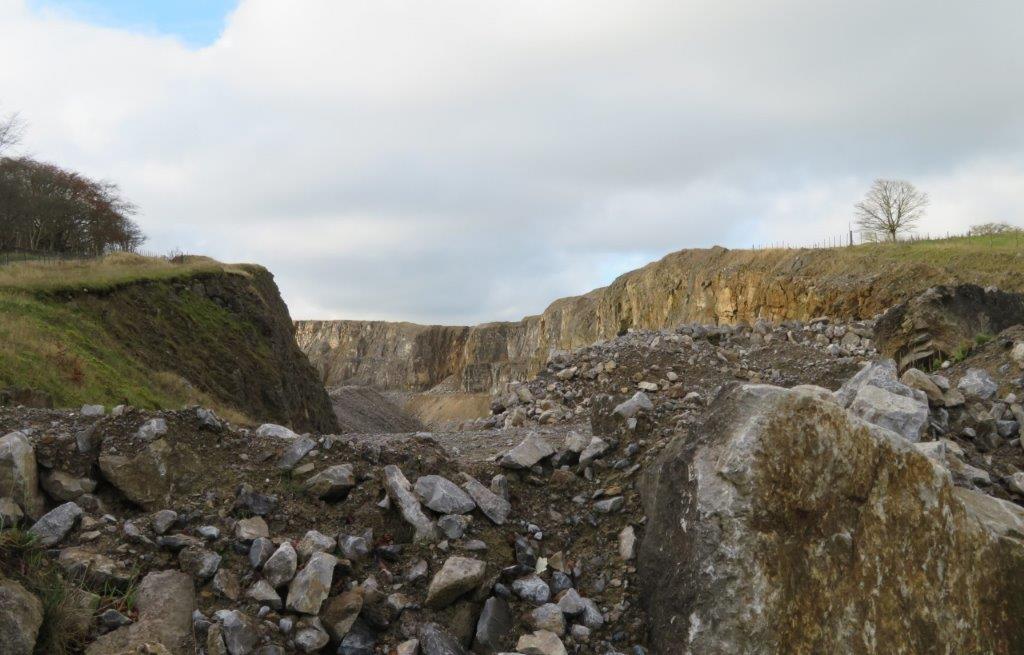 looking west up High Rake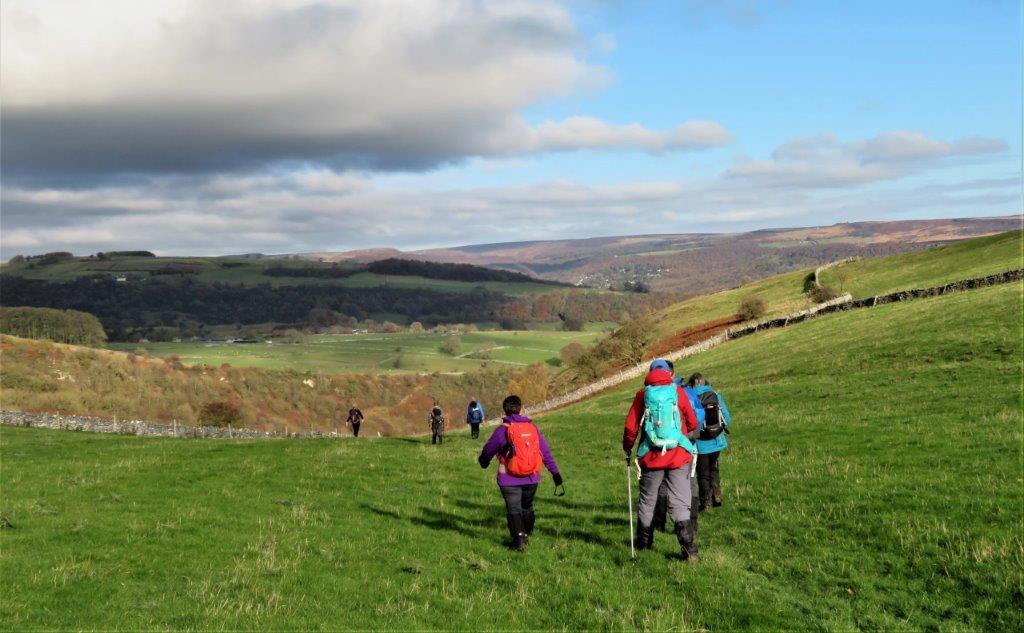 heading toward Rough Side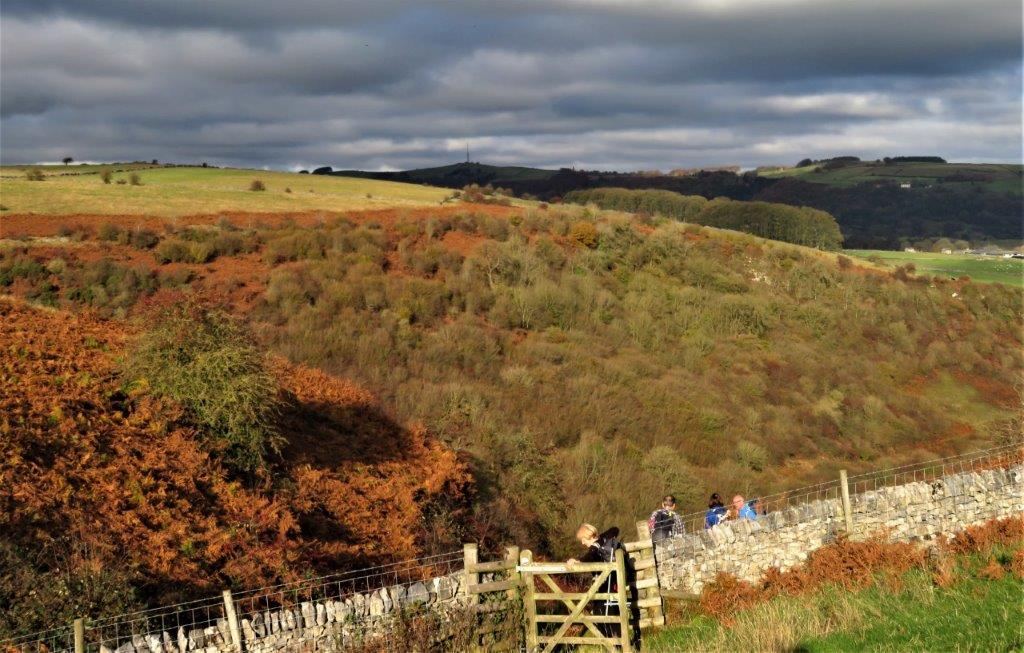 entering into Rough Side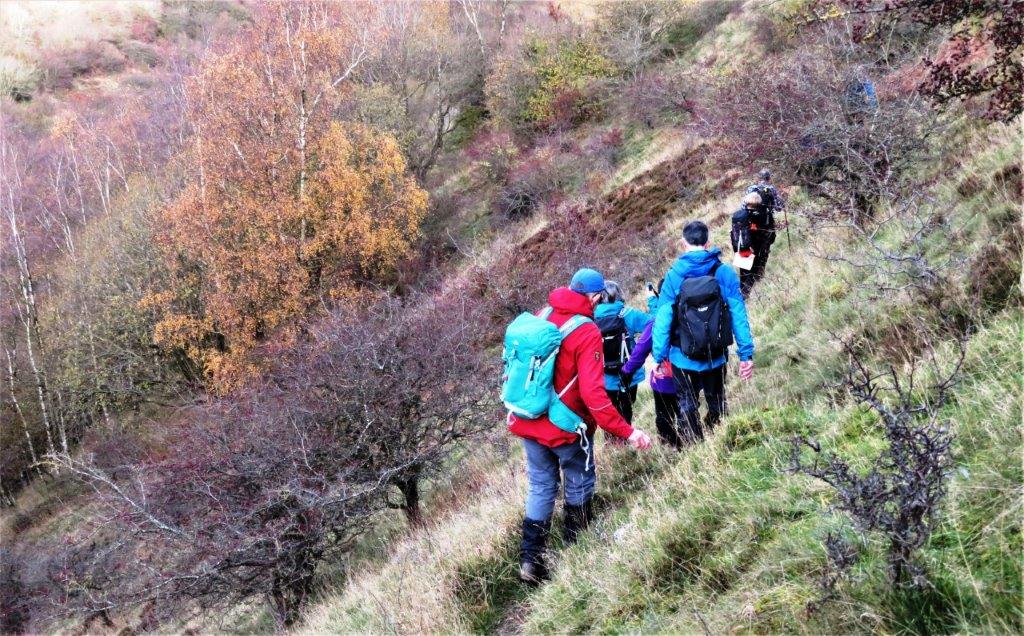 down the steep side bank of Rough Bank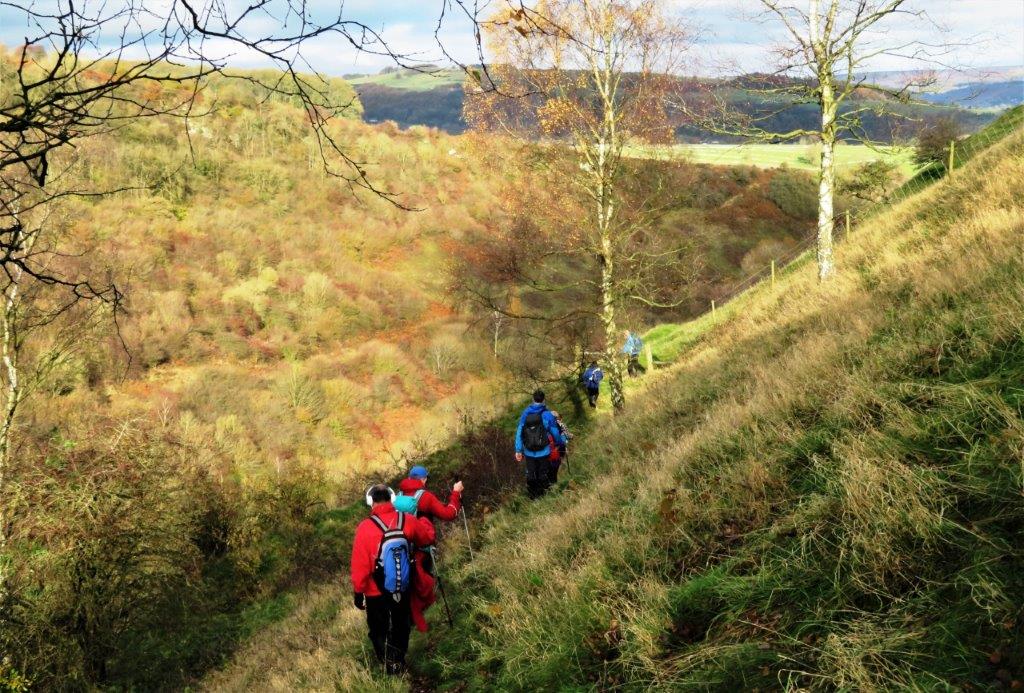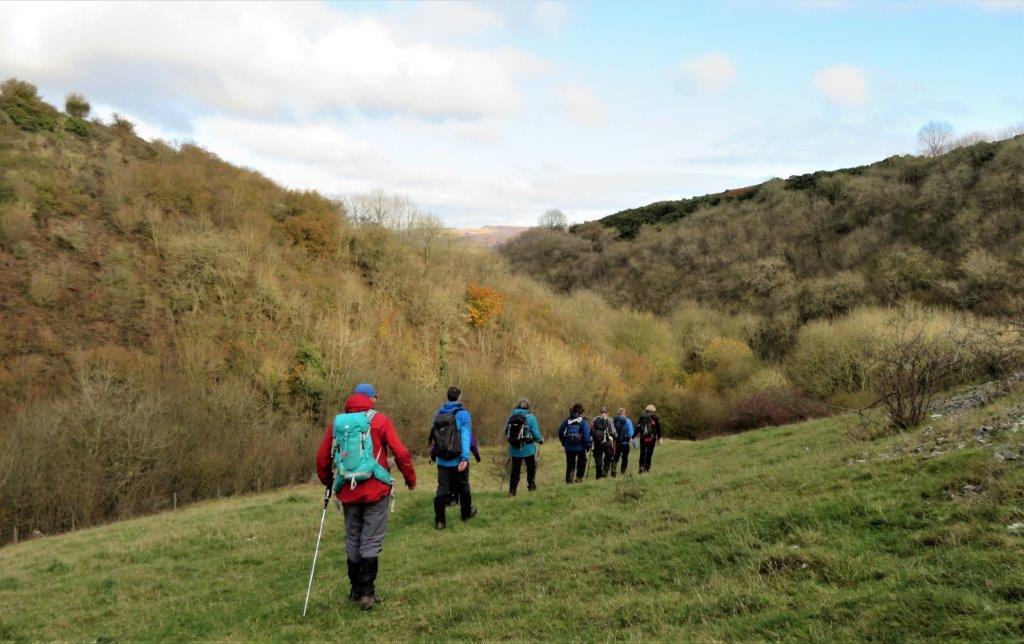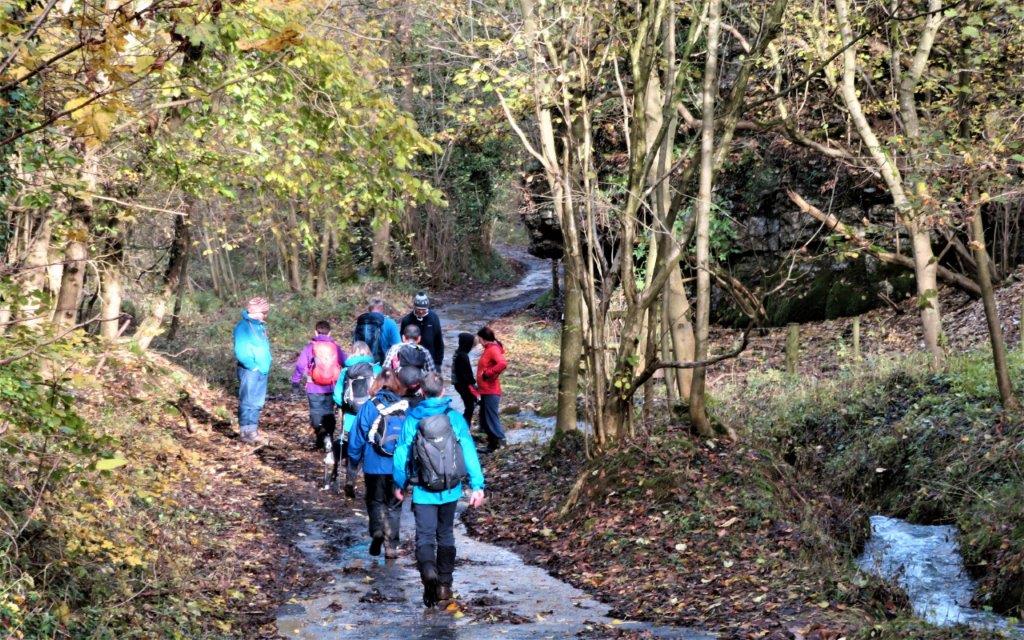 now in Coombs Dale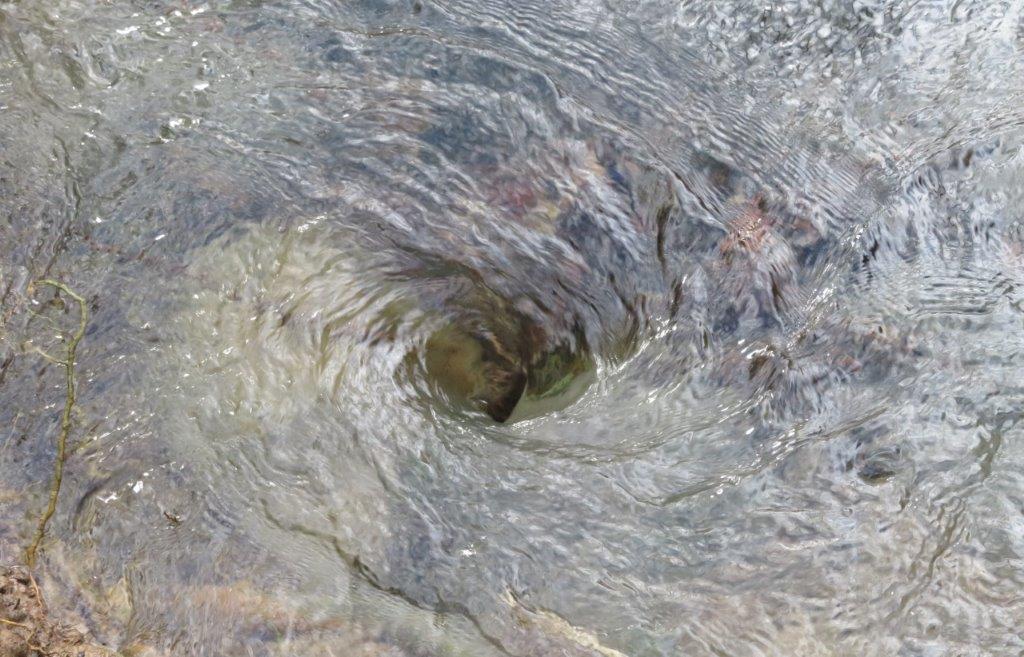 A 'whirlpool' feeding under a path to the stream in the next picture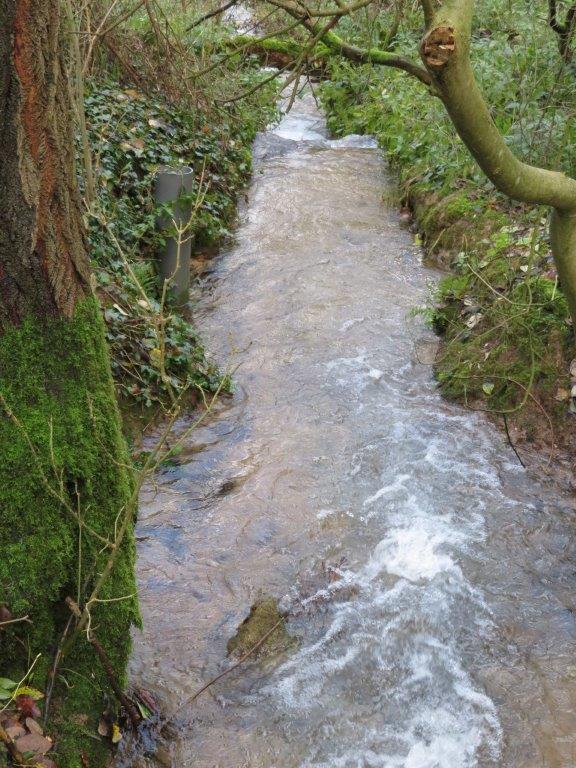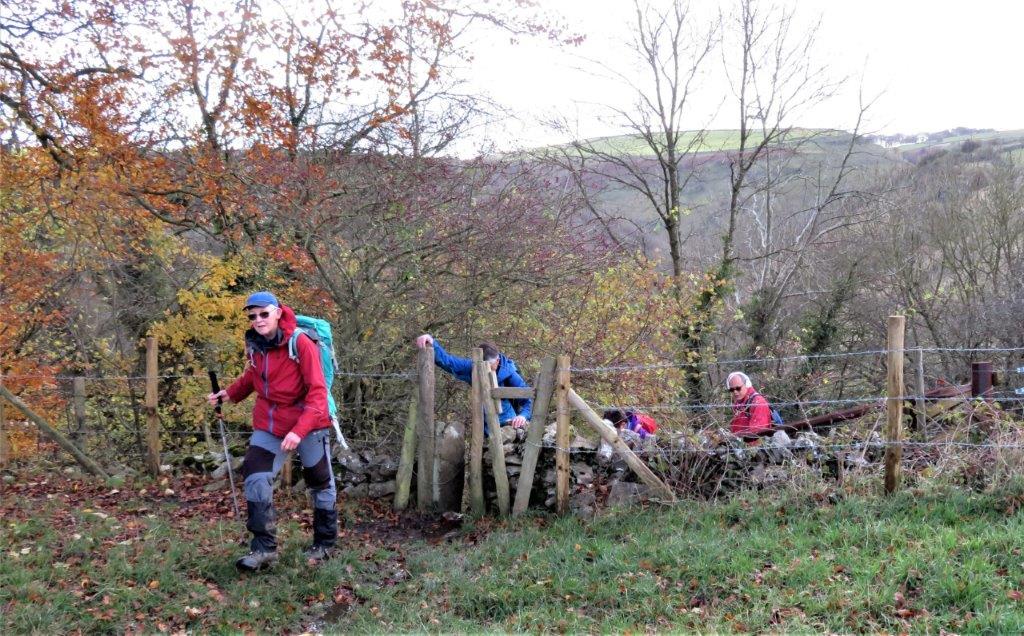 heading upward toward Stoney Middleton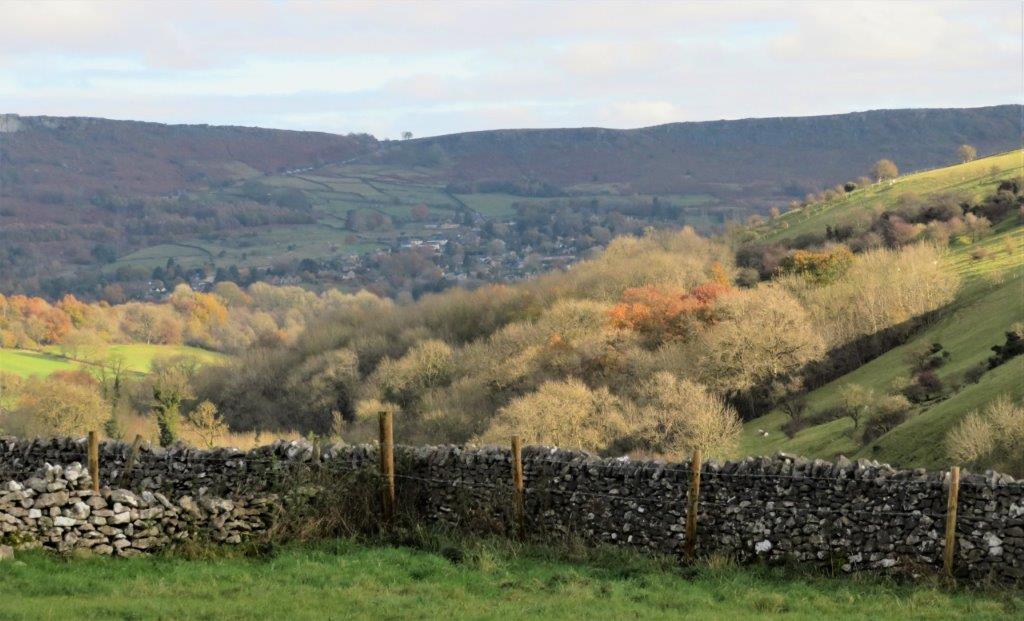 seen in distance - the 'gap' between Curbar and Baslow Edges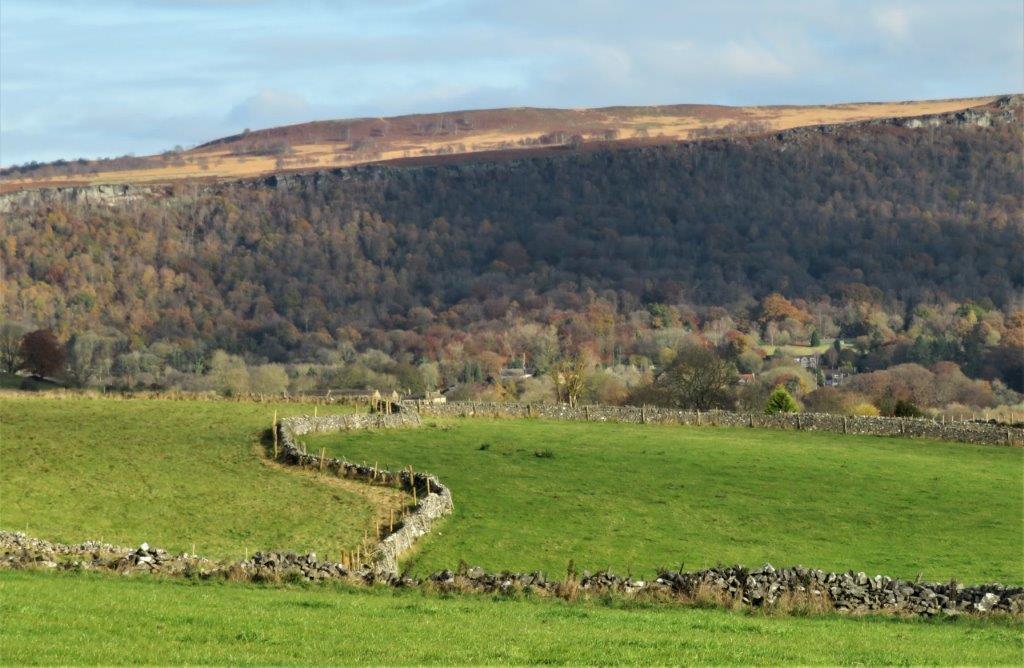 at top White Edge seen above Froggat & Curbar Edges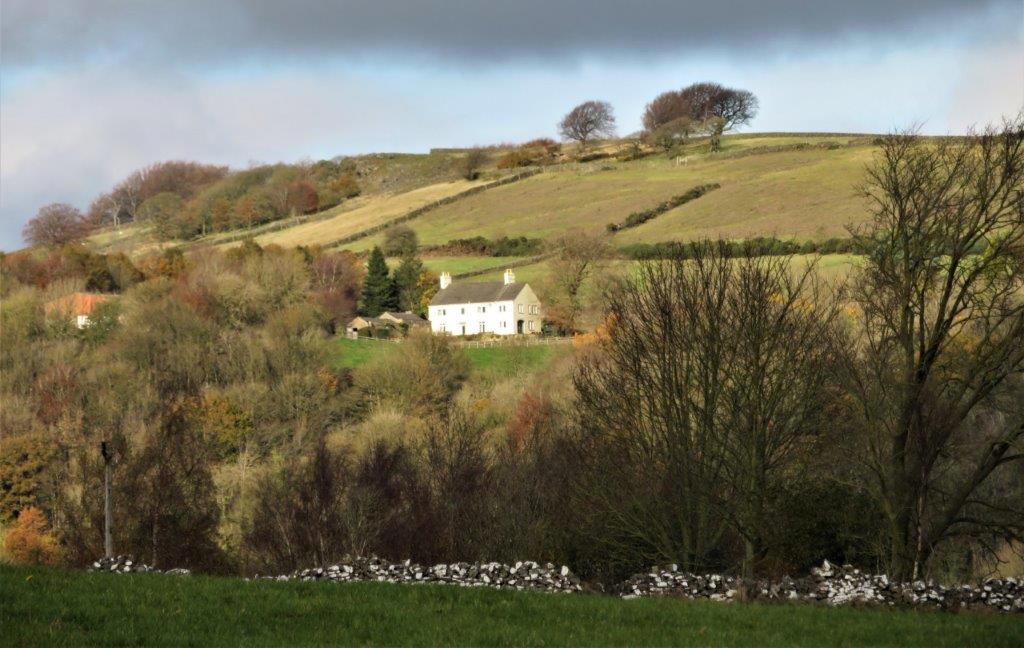 zoomed into unidentified house?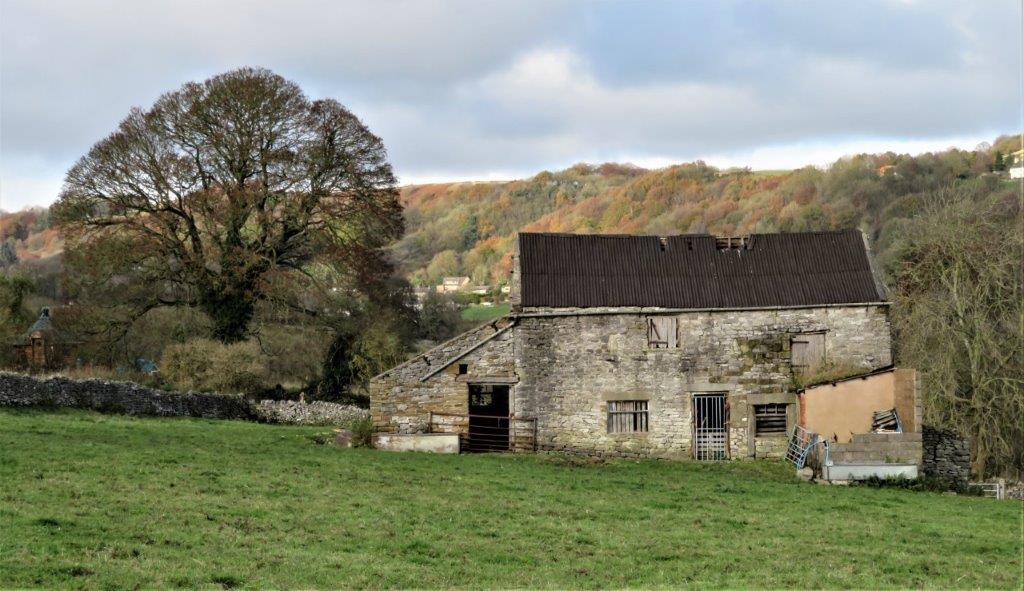 decaying barn passed before Stoney Middleton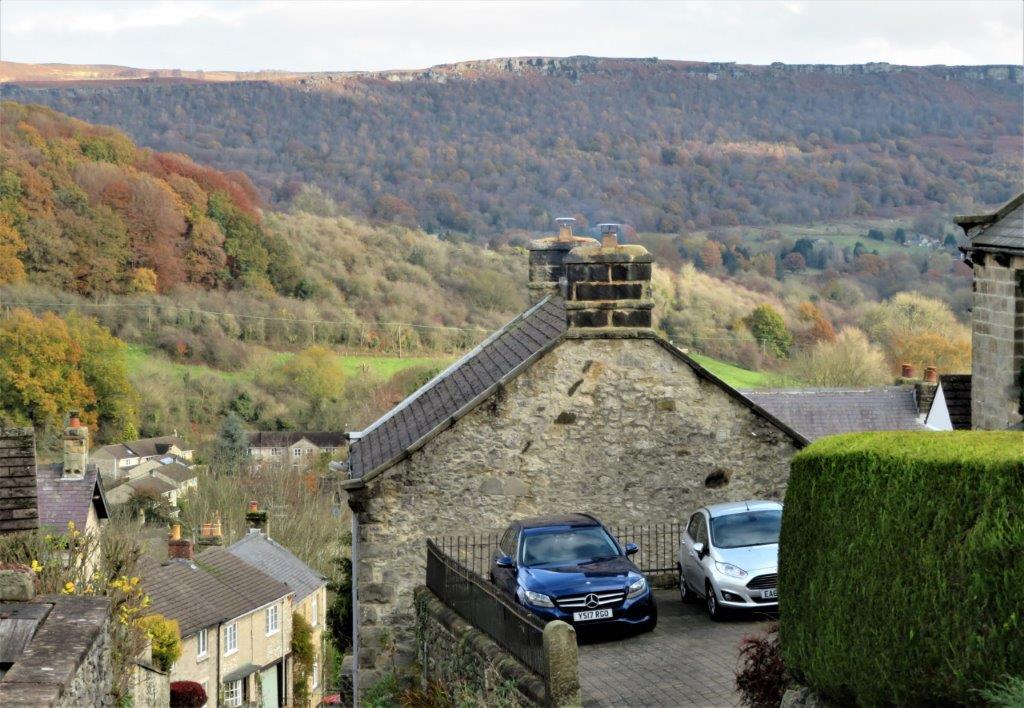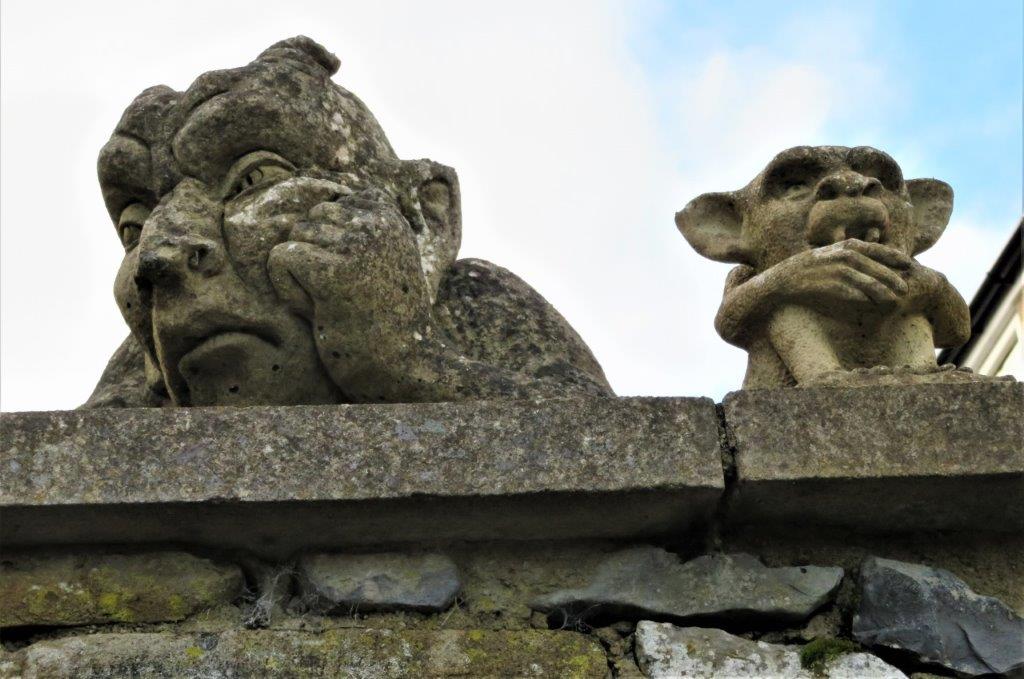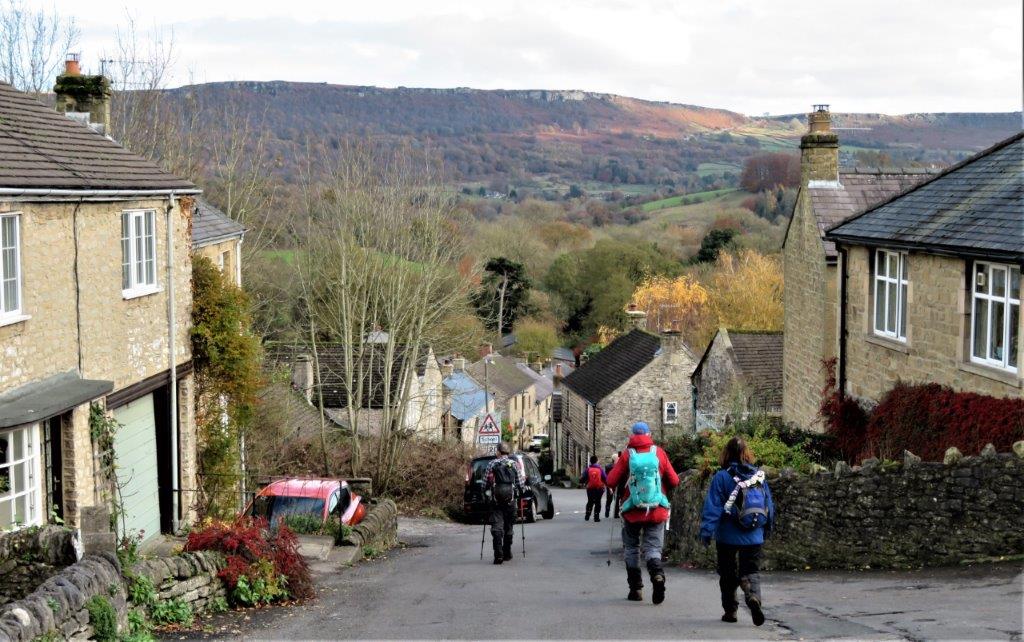 apparently the steepest High Street in England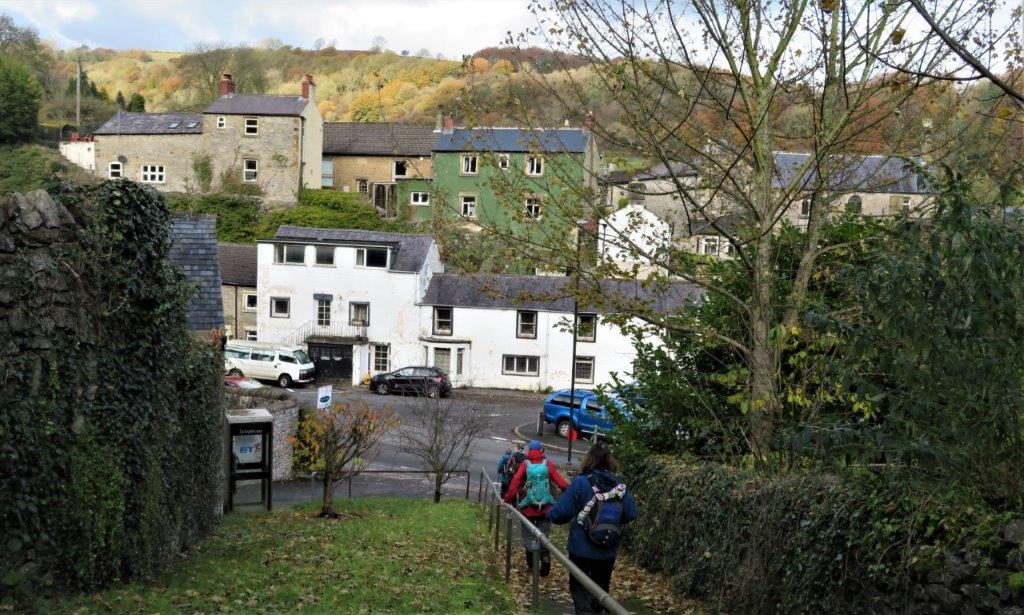 down from the 'Steepest High Street' to the A623 road which was built through Middleton Dale later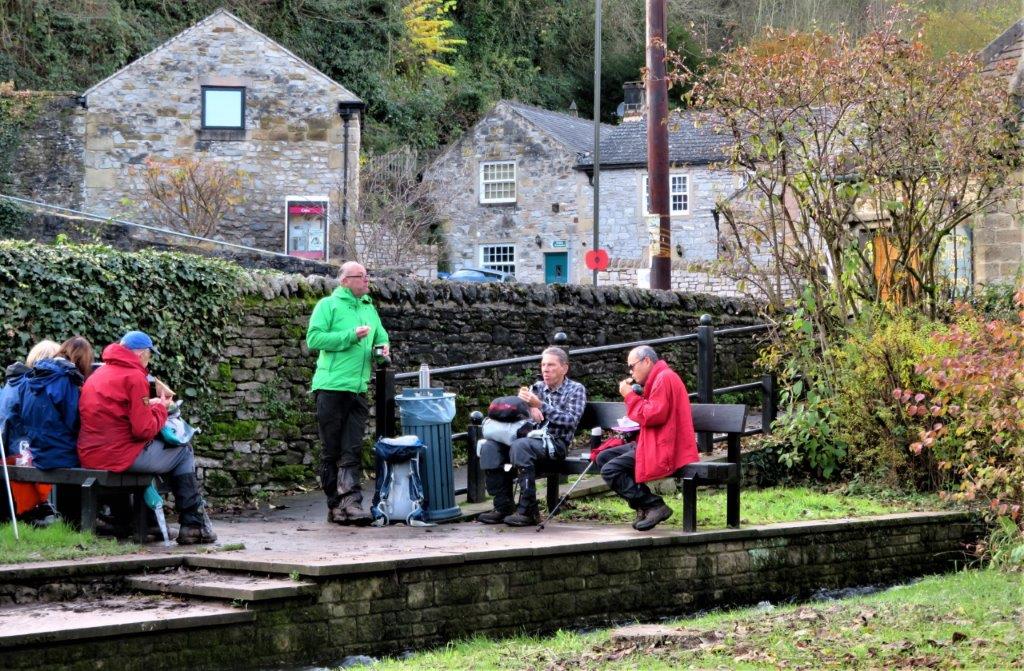 lunch break in Grove Garden behind the original toll house for the A623 road. This toll house is now a Fish & Chips outlet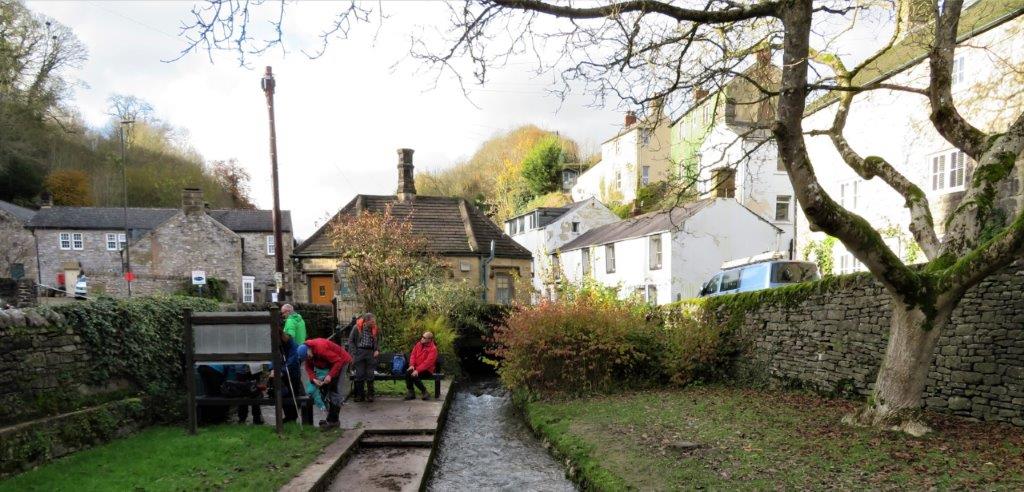 Grove Garden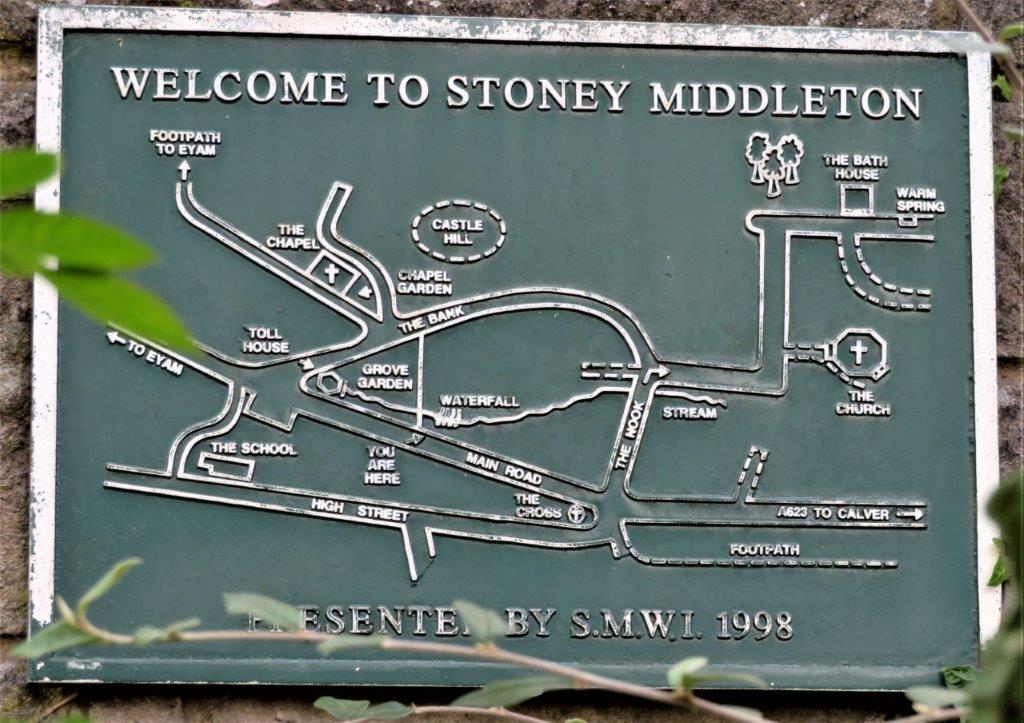 Map found in Grove Garden. We turned down the path before The School on entering Stoney Middleton.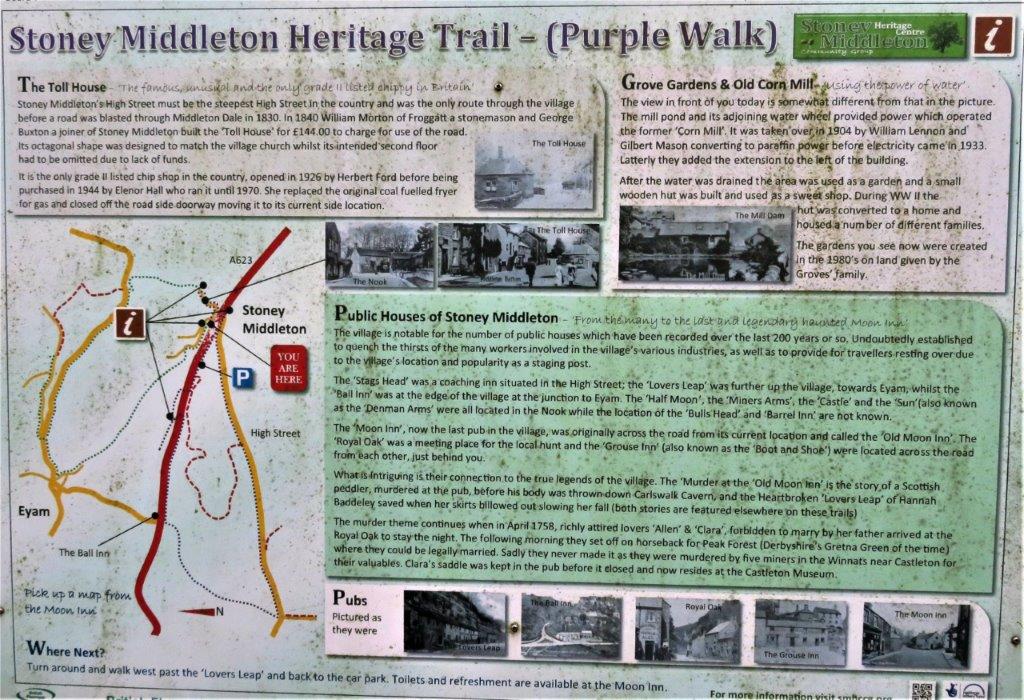 interesting local data on the following 'Walk' sheets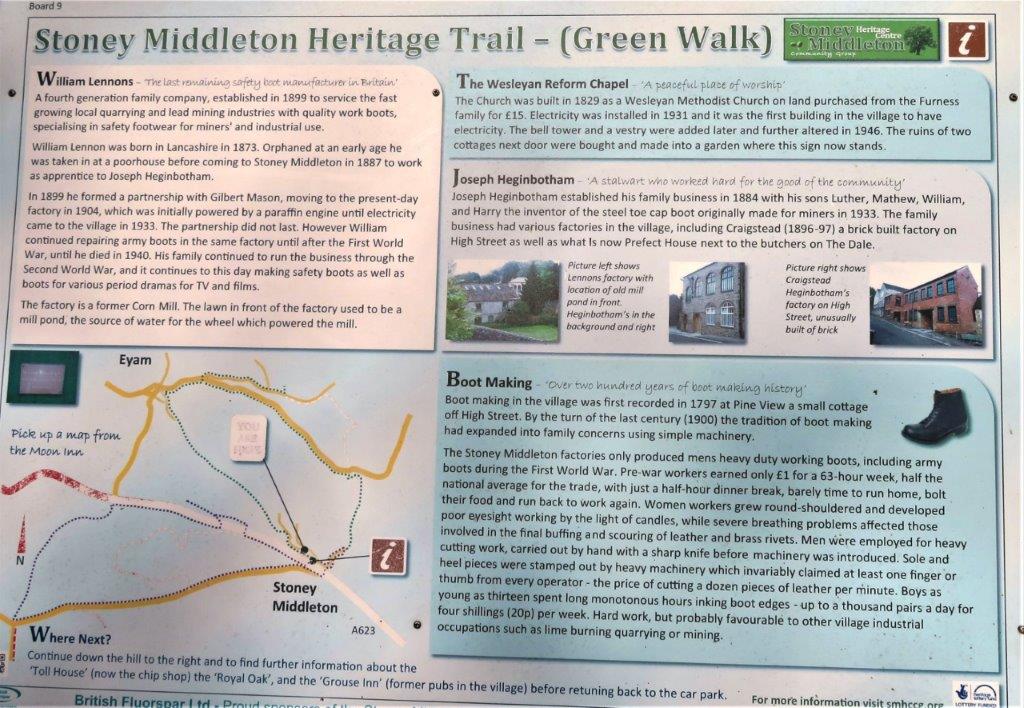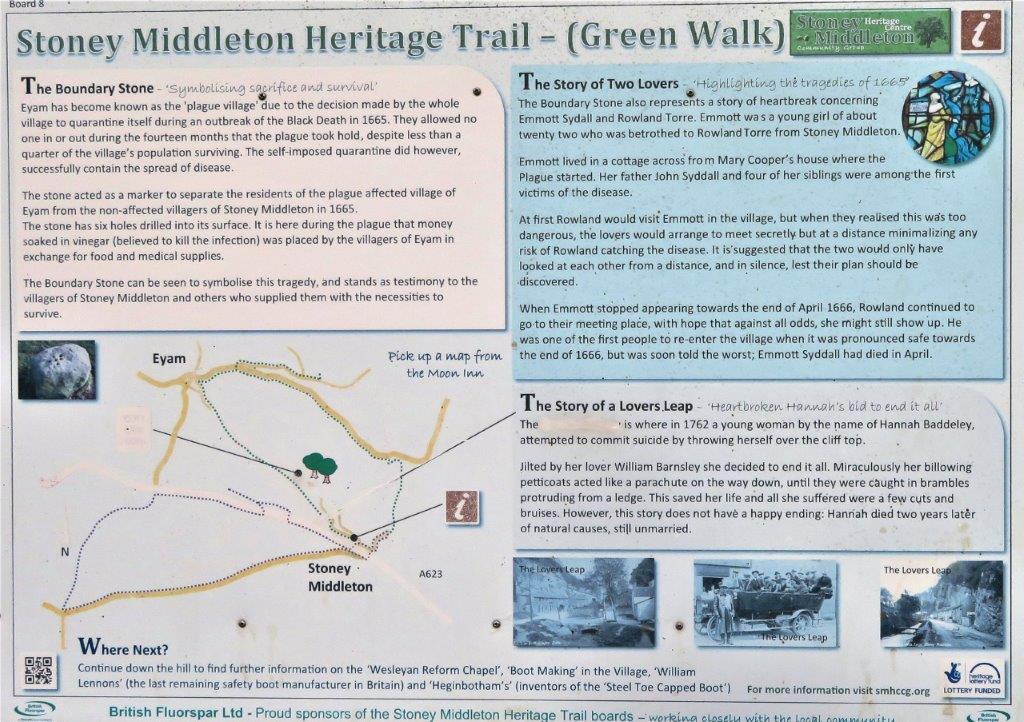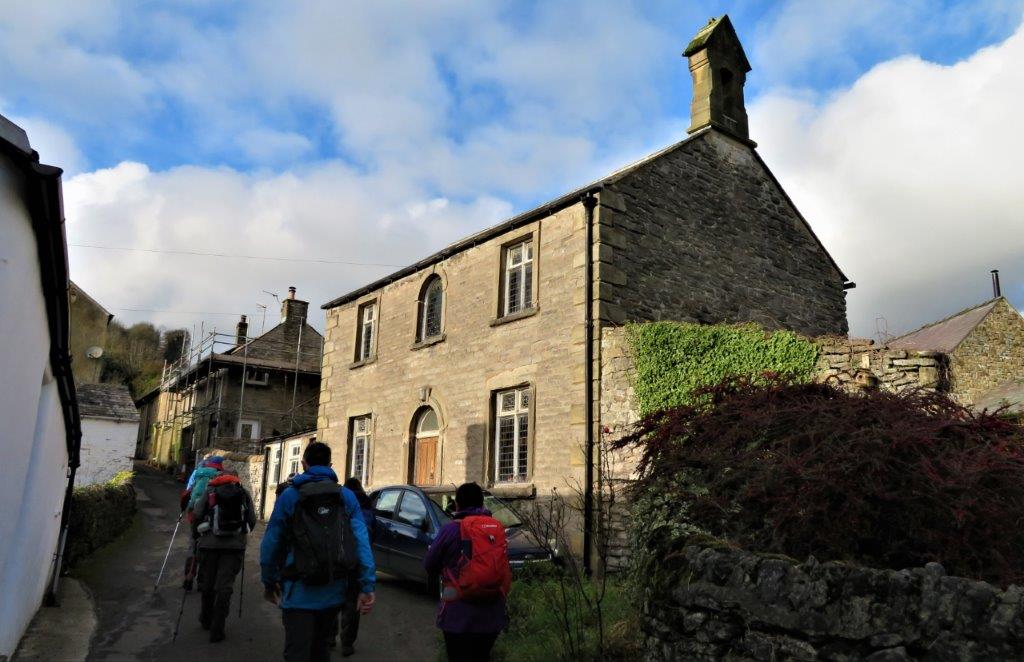 we went up past the Chapel and then on a footpath towards Eyam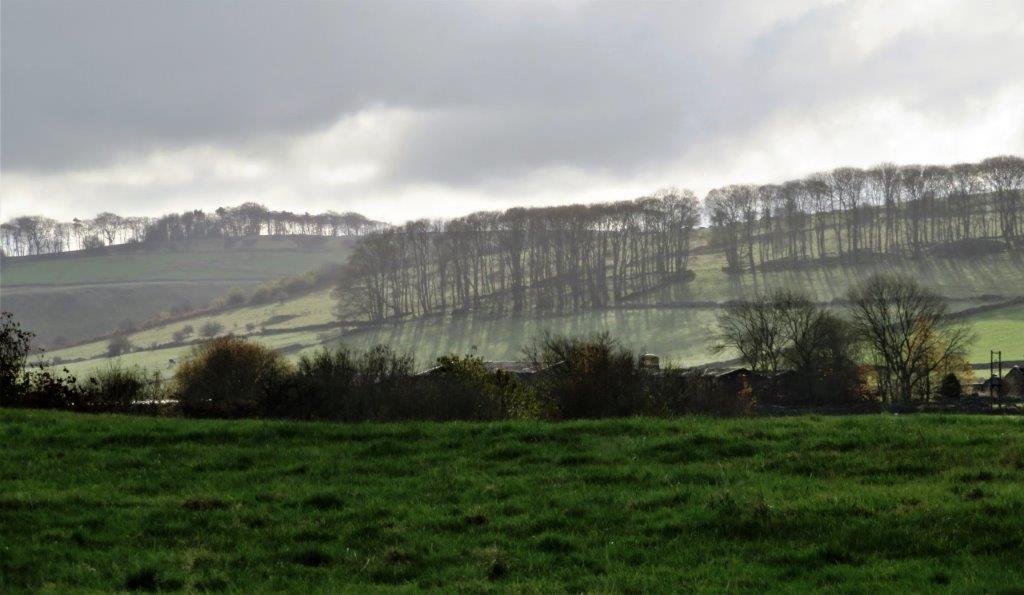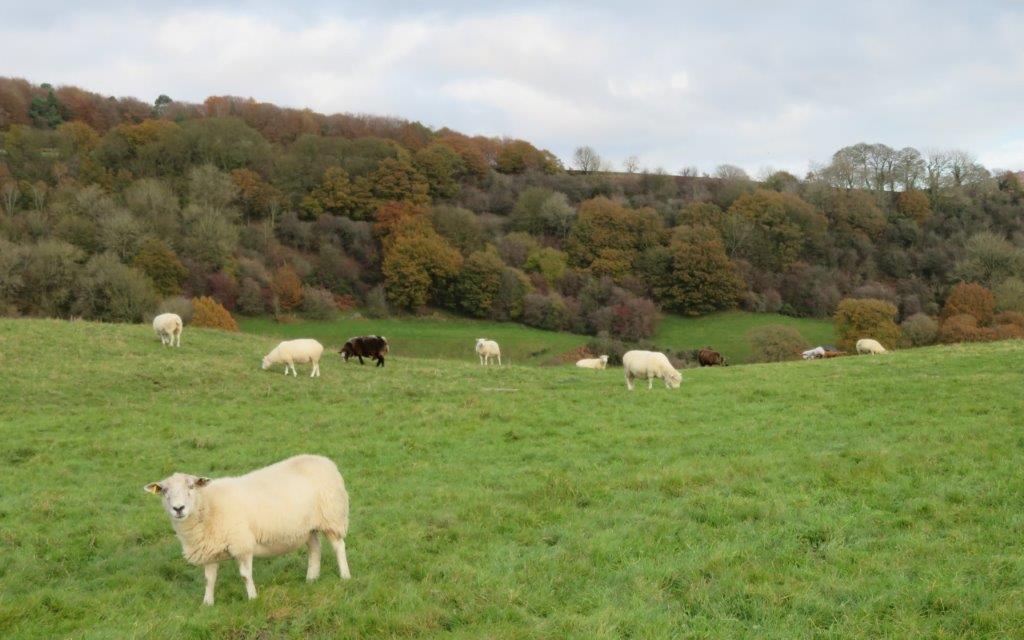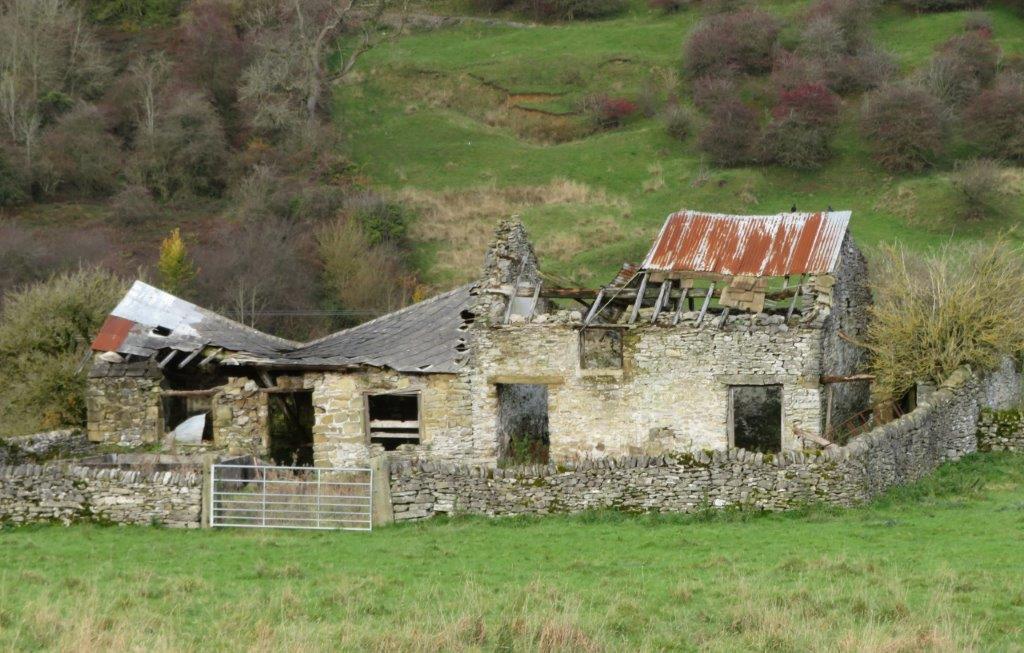 have been awaiting its total collapse over the past 20 years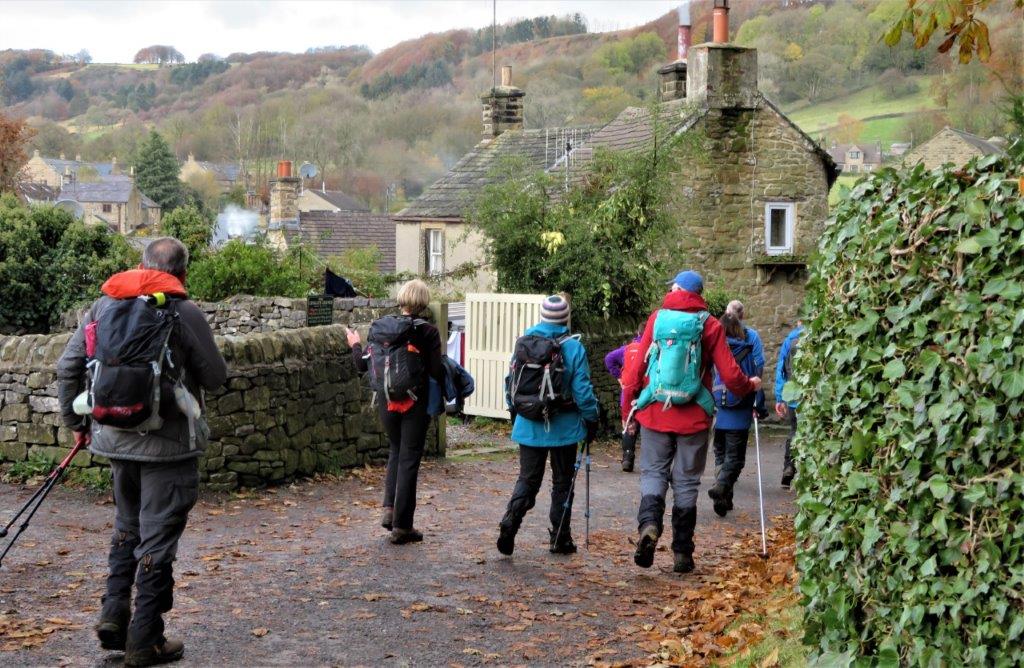 entering Eyam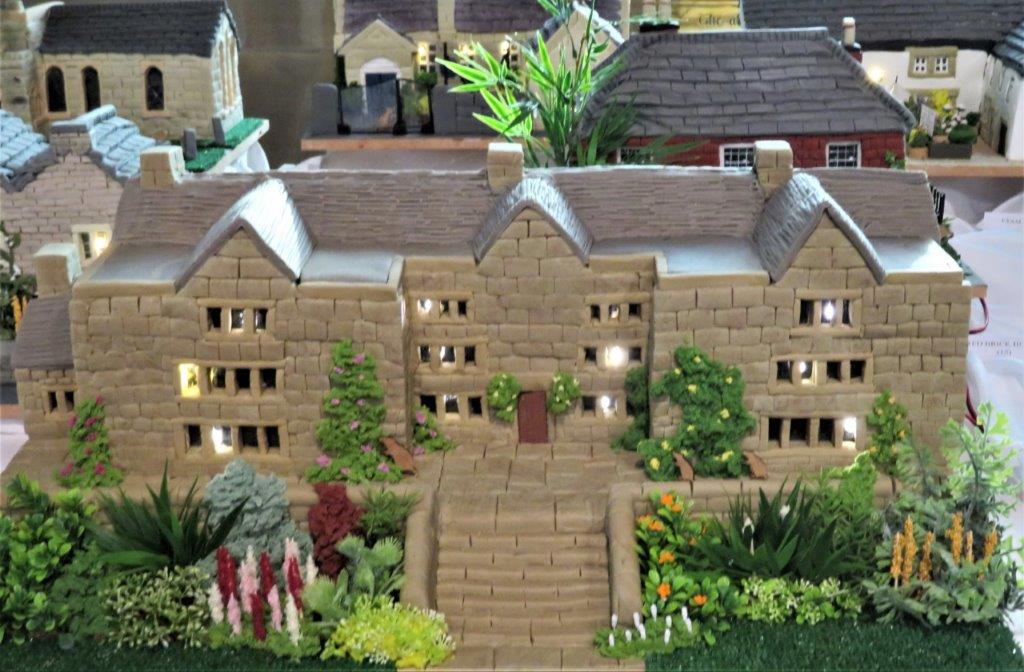 65 fruit cakes create the village of Eyam - displayed in the Parish Church until end November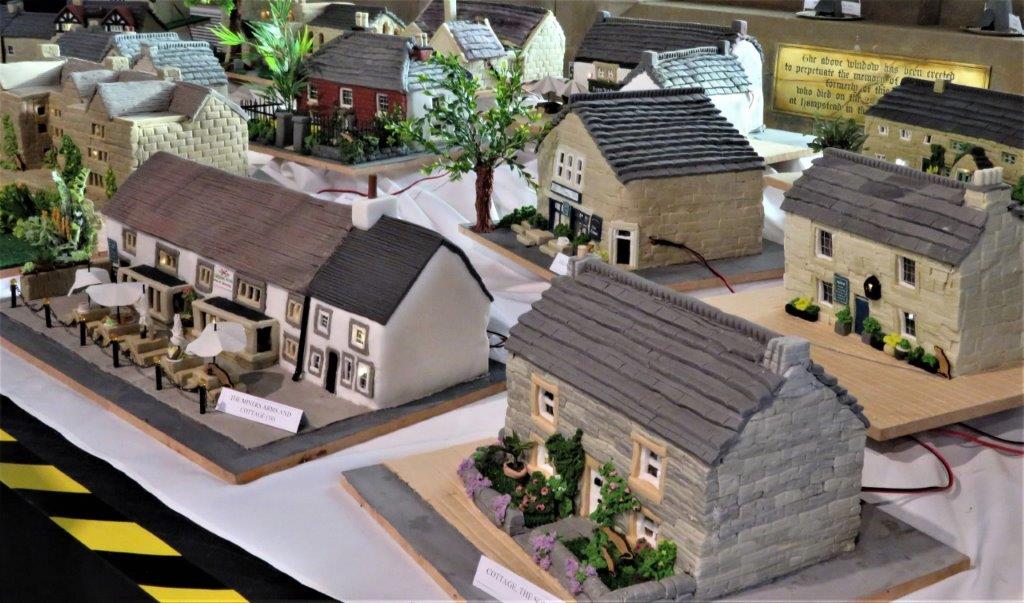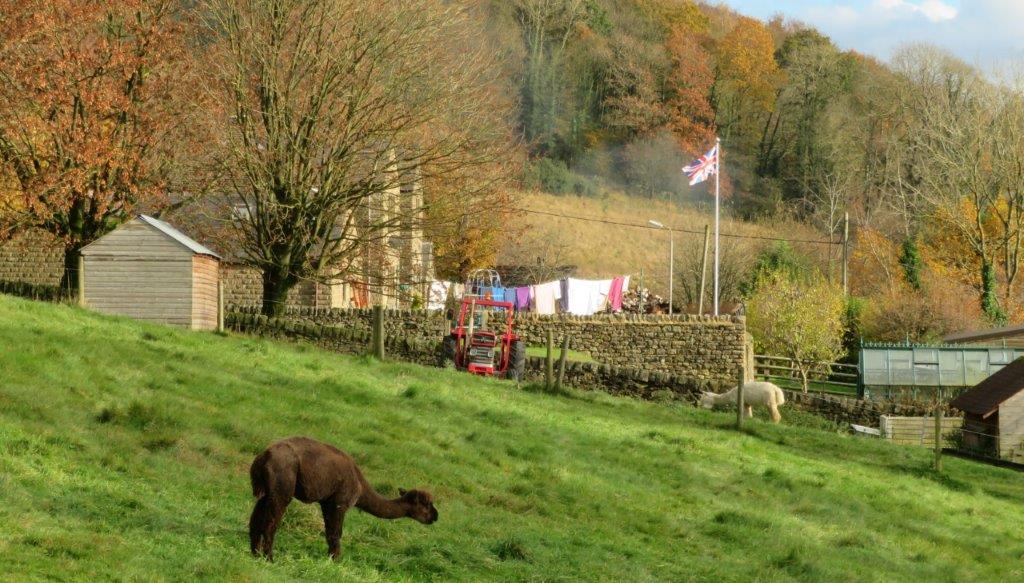 Alpacas seen on our way upward towards Eyam Moor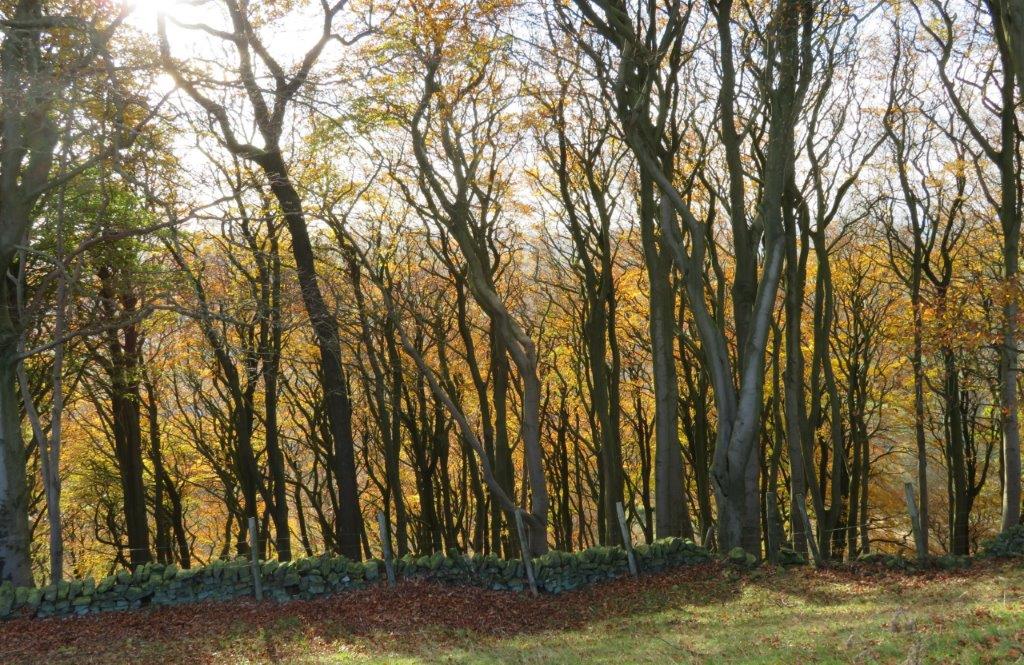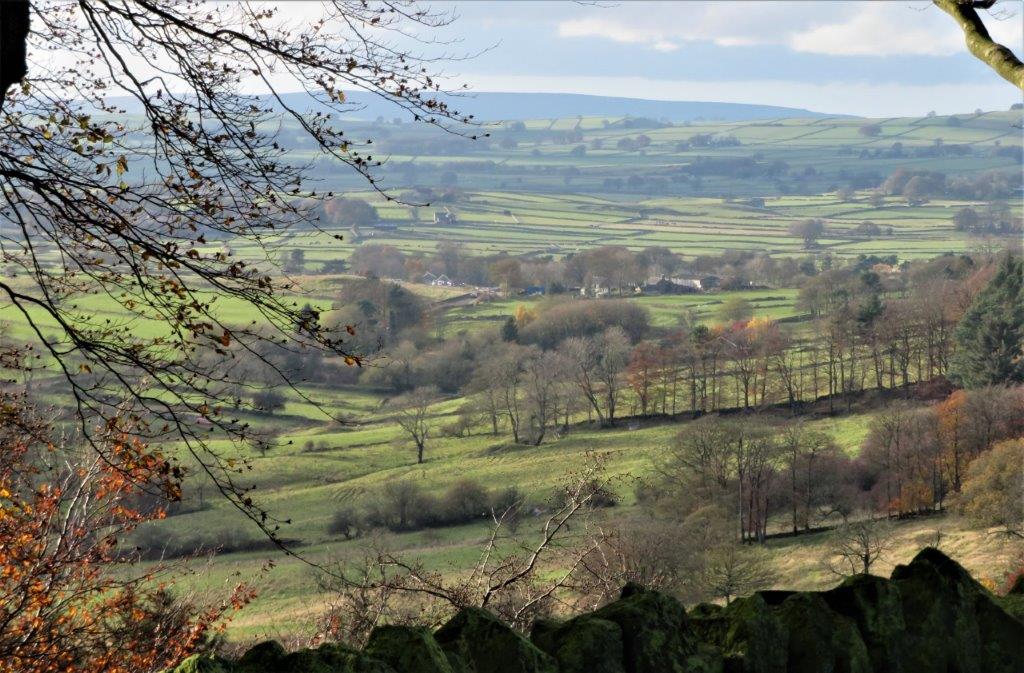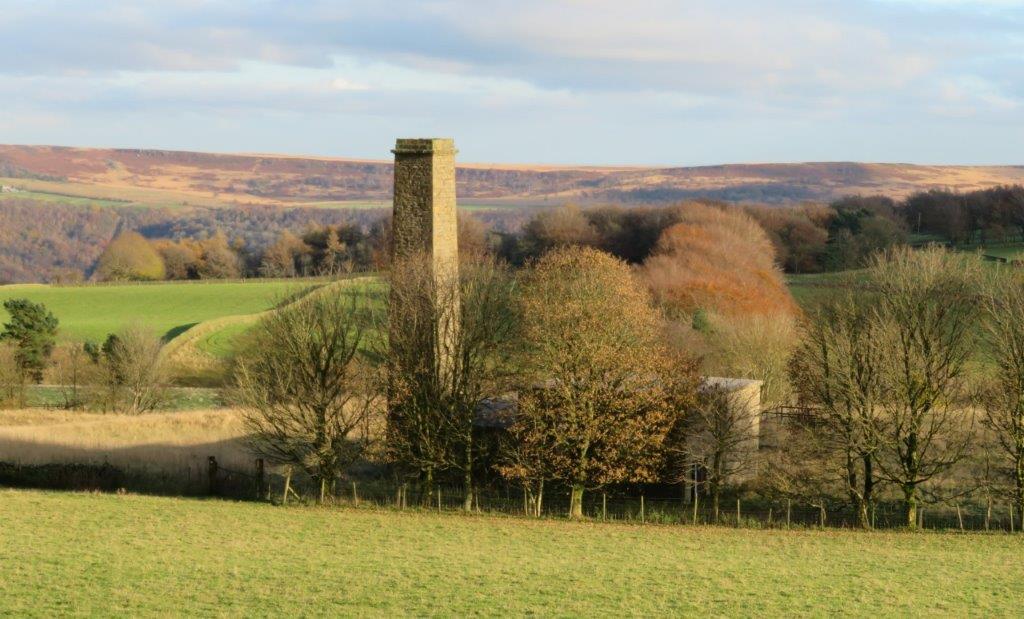 Ladywash Mine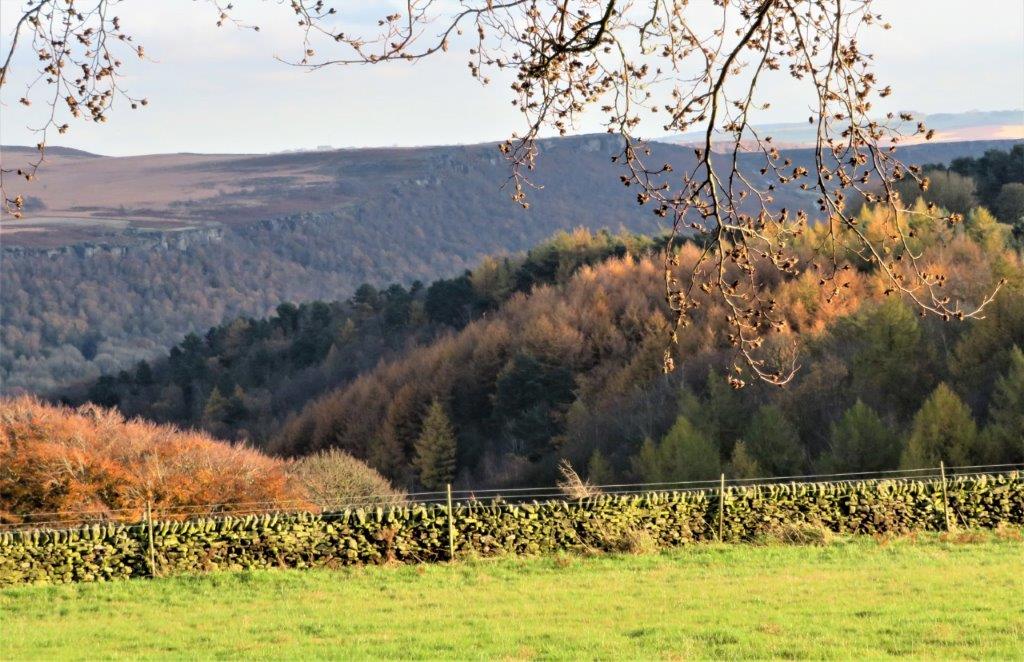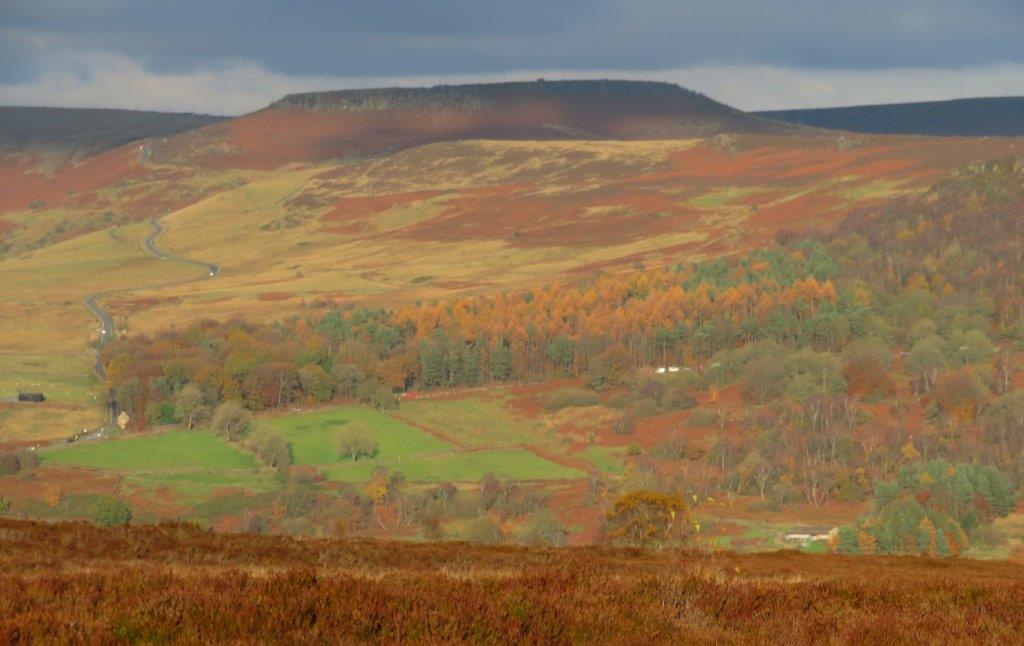 Higger Tor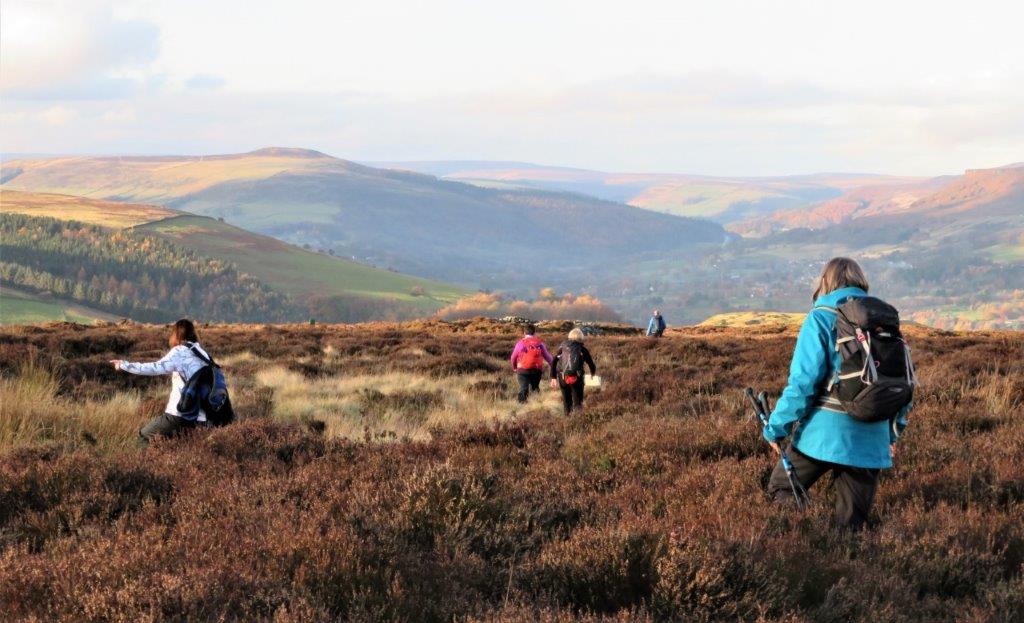 Grassy patch indicates the area of the Stone Circle, The circle appears to have been defined by mounded up earth which has probably flattened over time. Only a few quite smallish stones seen.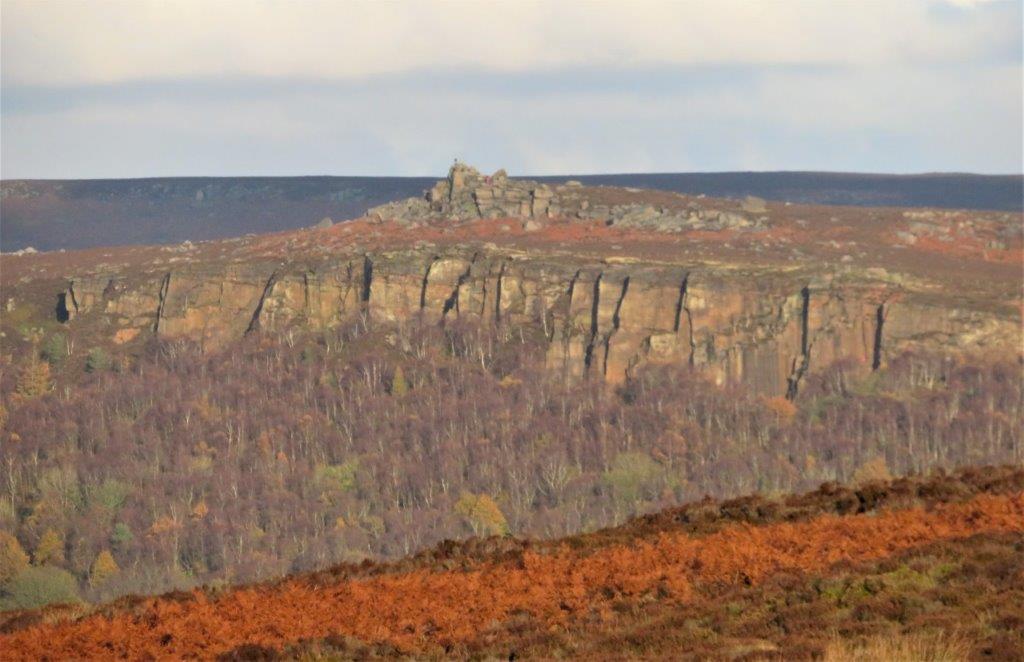 Millstone Edge with with Over Owler Tor above it?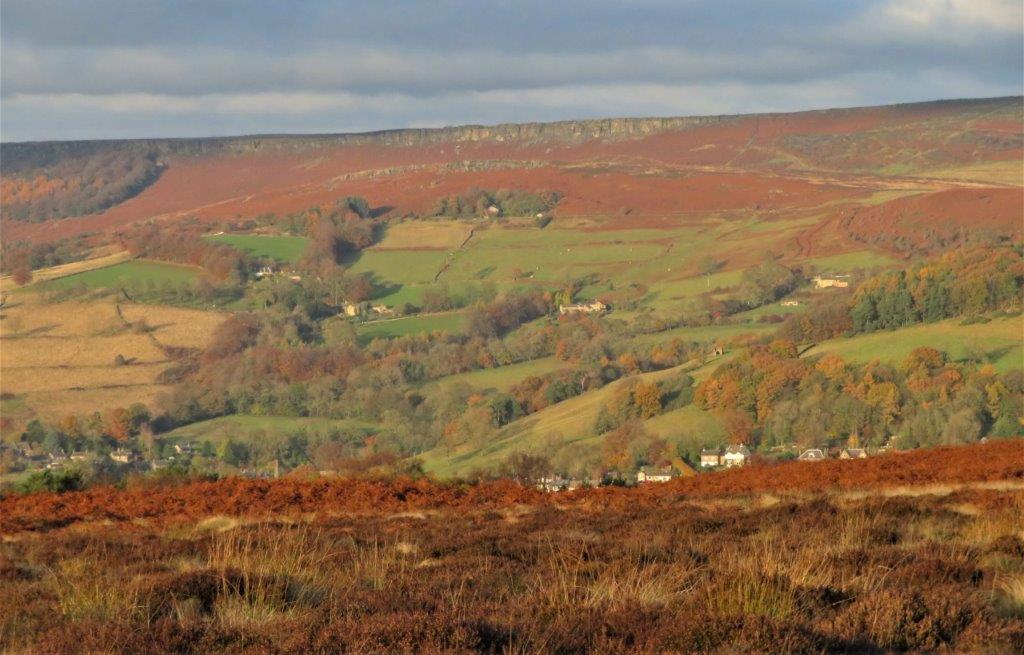 Stanage Edge at top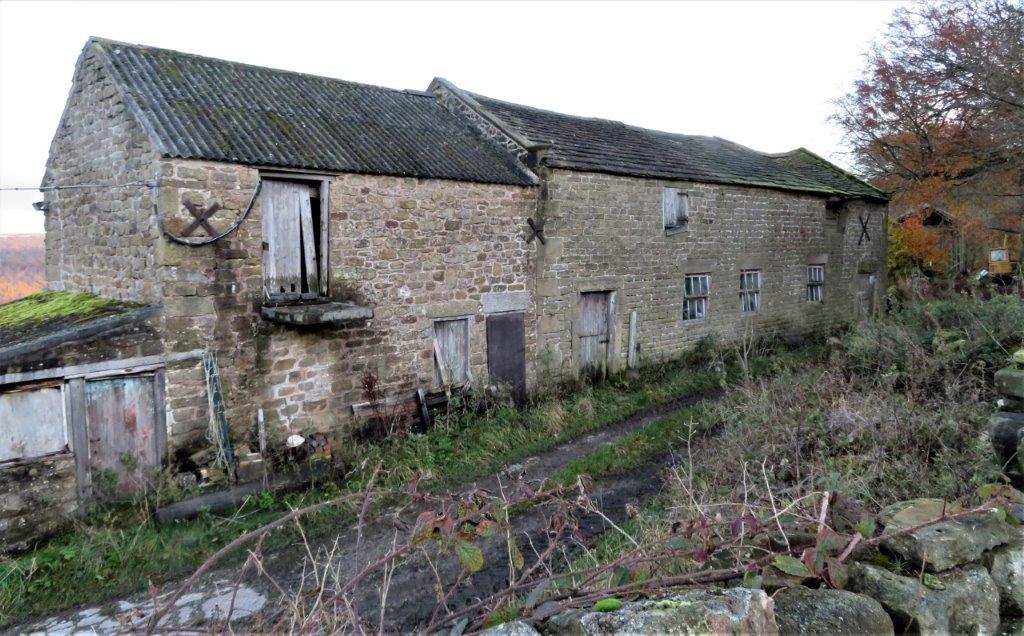 barn at Leam
Leam Farm with Millstone Edge across valley at top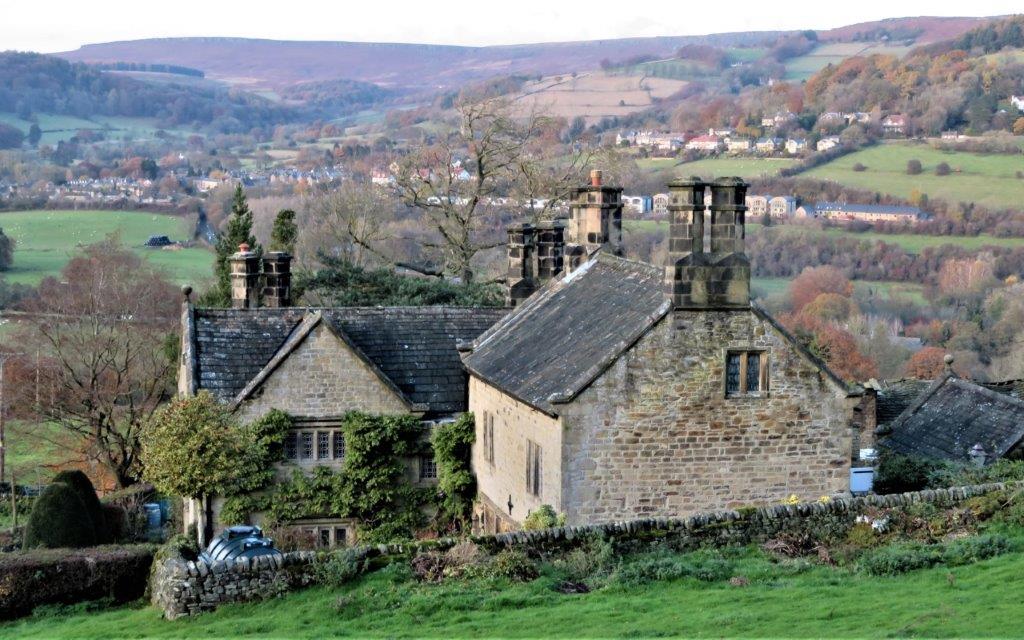 Hazelford Hall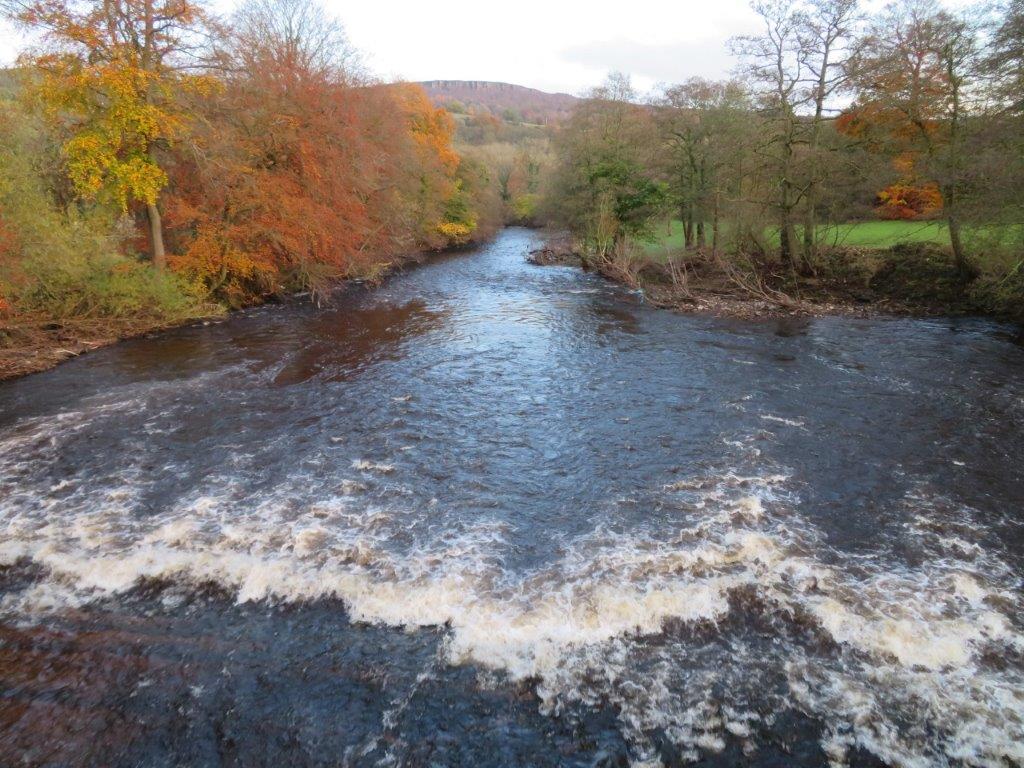 River Derwent, downstream of Leadmill Bridge, after recent heavy rains
homepage - Daywalks Index 2019 - contact me at