homepage - Daywalks Index 2019 - contact me at

2019.09.25 Bamford (Bus turning circle), ~W on minor rd, across River Derwent & along A6187 road to SK203627, ~N under Railway Line, follow D.V.H.Way* ~NNW then N (part old railway track for dam construction) to and across Ladybower Reser embt, permissive FP ~N to Hetherdene (PC), ~N on A6107 Rd, ~E on A57 Rd to past PH, BW ~NE to ~SK214875, ~S to cross A57 Rd to Cutthroat Bridge, track ~N to SK214865, ~SW down & across Jarvis Clough, Path ~W then ~N to Great Tor, ~SE to New Rd (stile at SK215840), follow rd ~E / NE / ESE to FP at SK221840 (below Bole Hill), ~SE / E / N to Minor Rd at SK226837, ~N for ~150m on rd, then zig zag S then N to short of Dennis Knoll, ~SE on track then FP to and thru Green House, ~S to (W of Bronte House) then on Baulk Lane into Hathersage. * (leader and part of group & photographer took a slightly higher parallel path to part of the old rail track) - leader Christine Gamble - Wednesday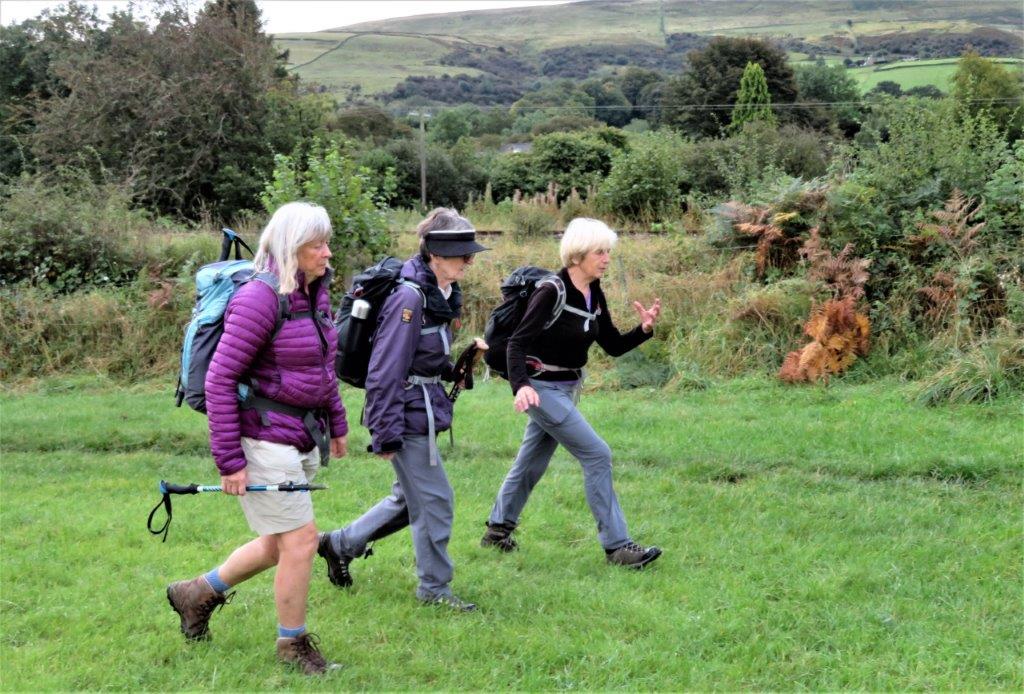 Hope Valley Railway Track (Sheffield / Manchester) just visible behind). We passed under it slightly further back.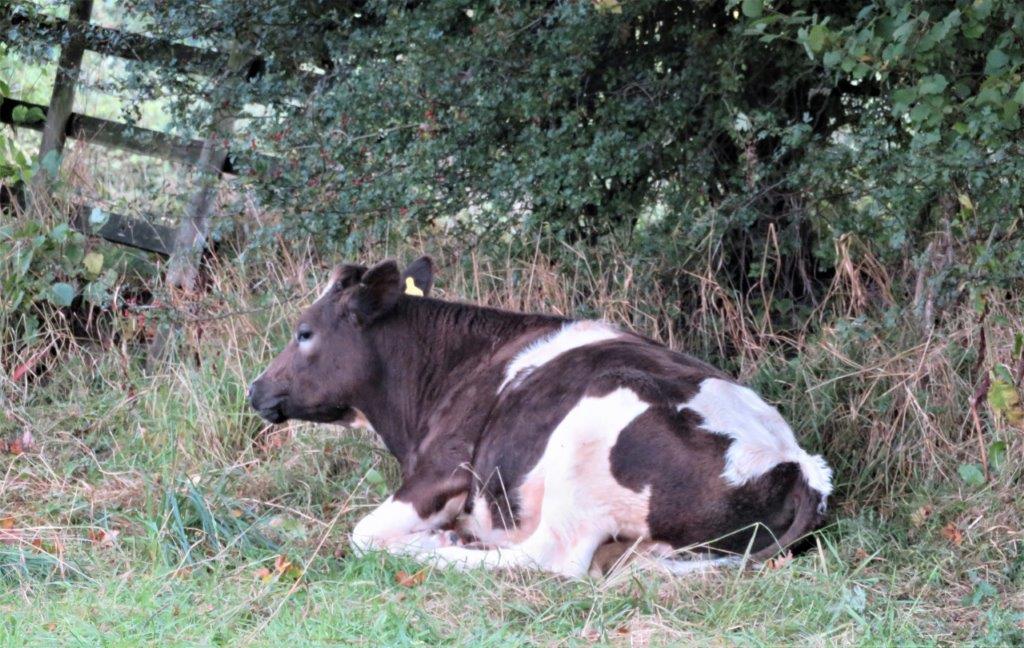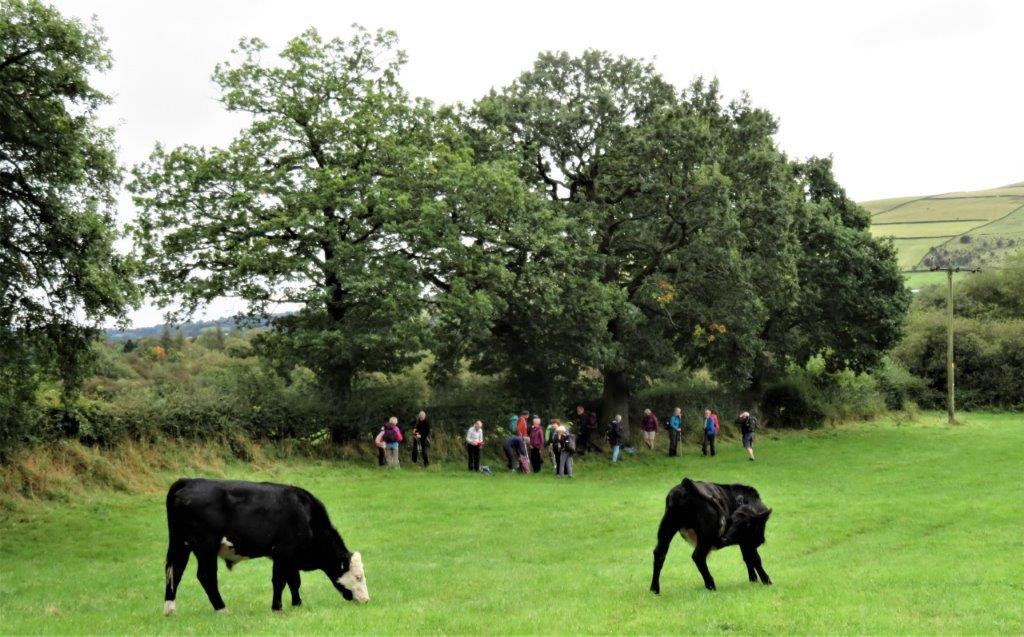 getting up from a tea break in field (path behind trees)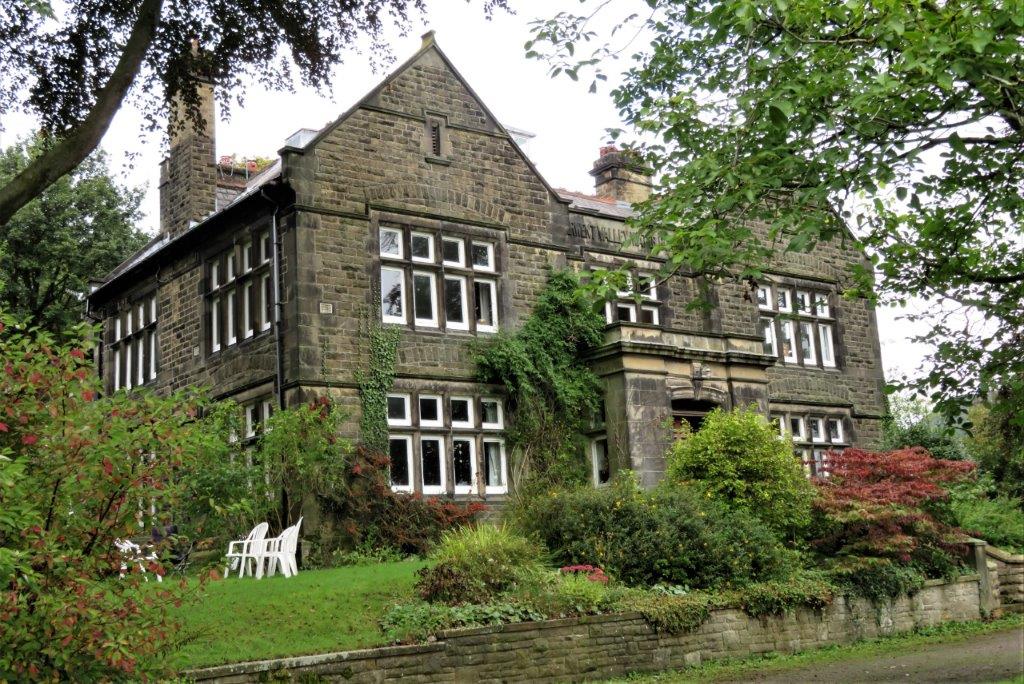 Formerly offices of The Derwent Valley Water Board - Now a Quaker Meeting House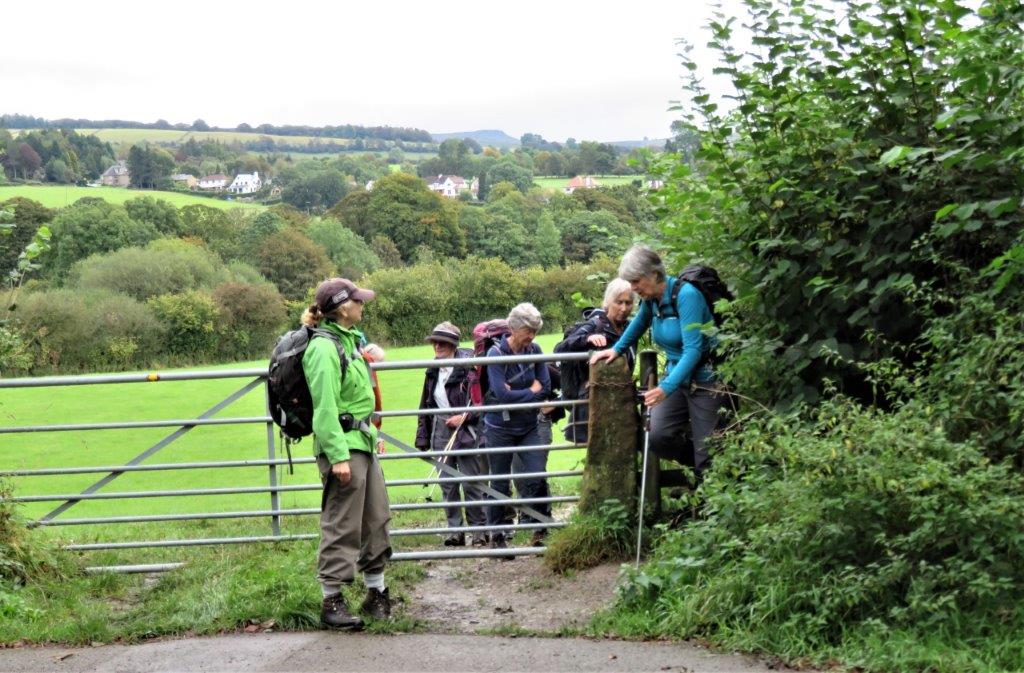 onto the road before the Quaker Meeting House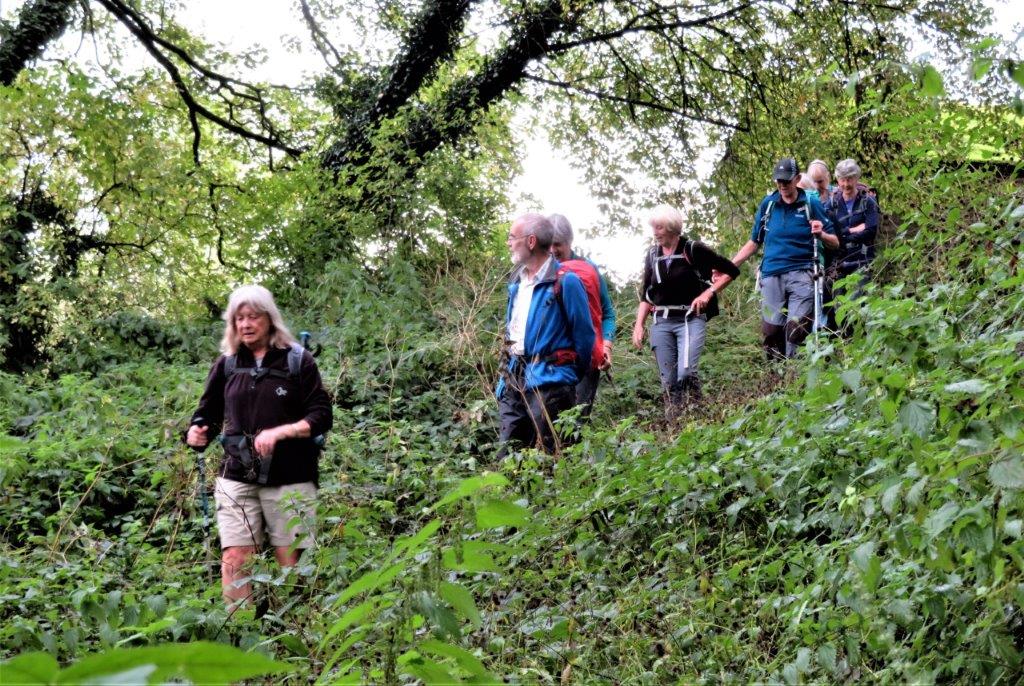 leader and some others on the muddier and trickier path parallel to the main path (the old rail track used for dam construction)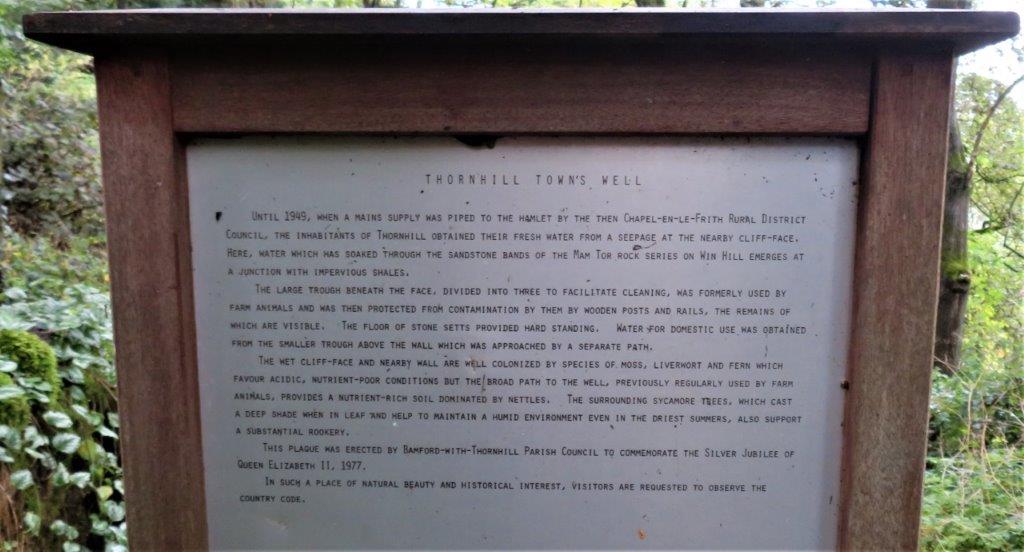 Thornhill water supply up to 1949 - see picture of troughs below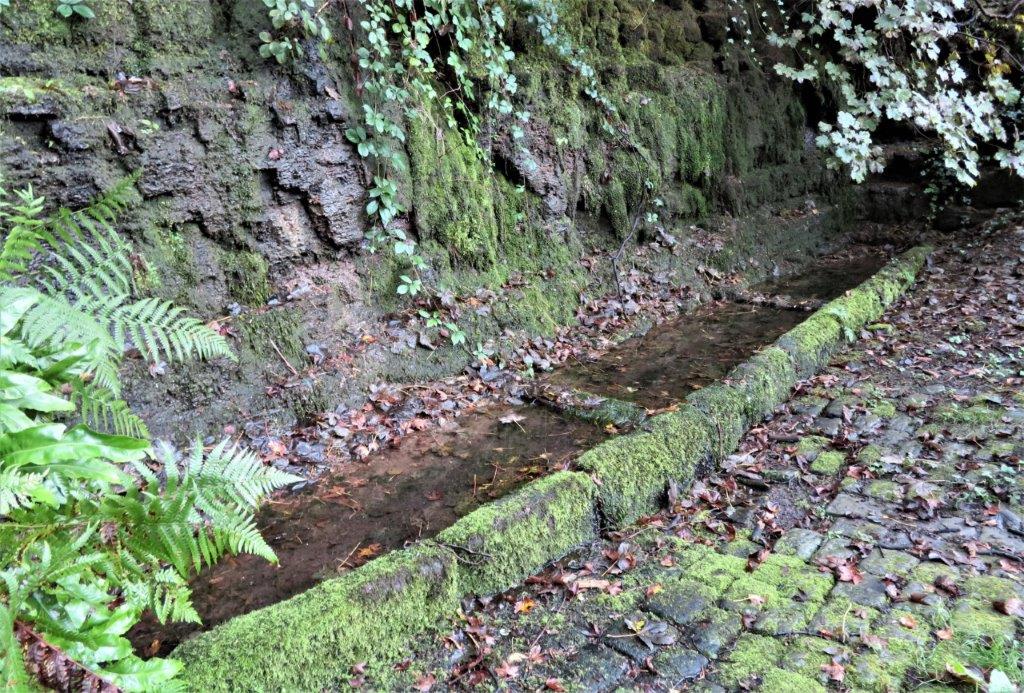 troughs for animals - the supply for inhabitants of Thornhill was apparently somewhere higher up the rock face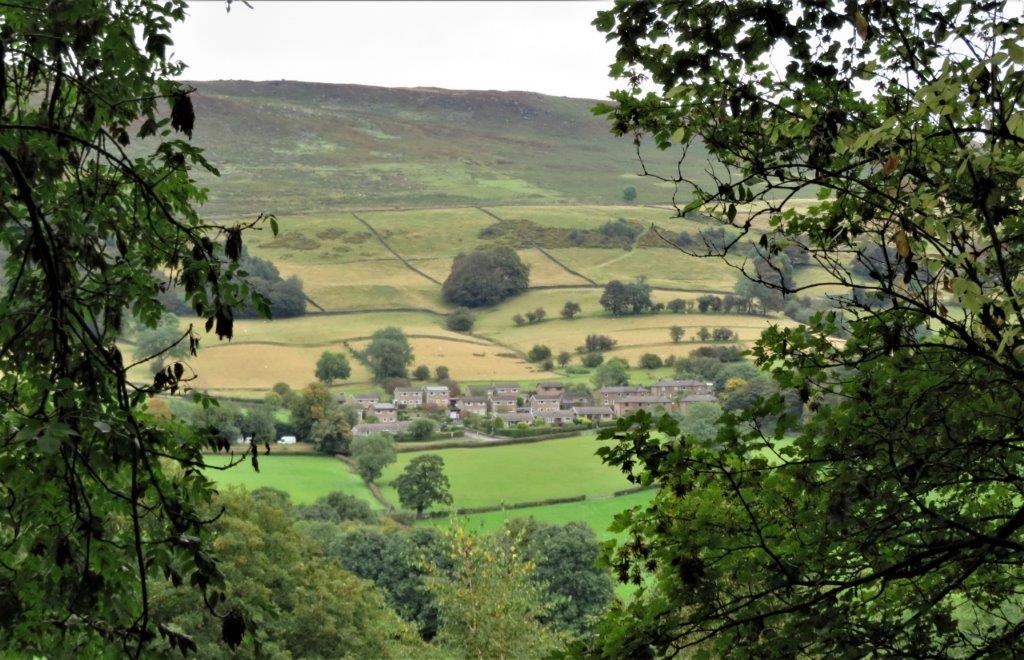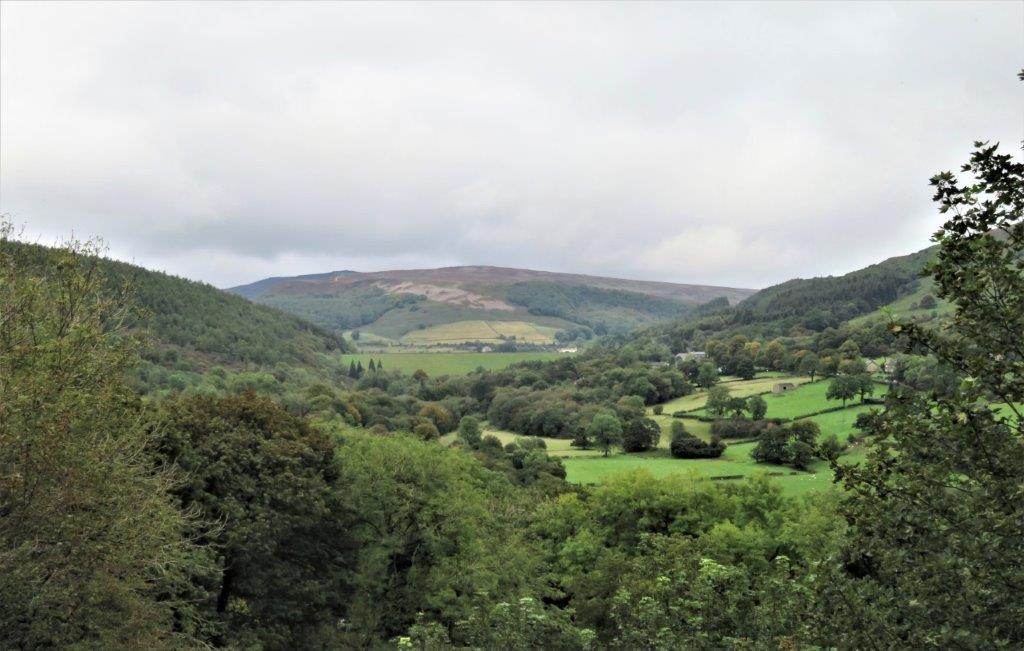 view of Ladybower Reservoir Embankment ahead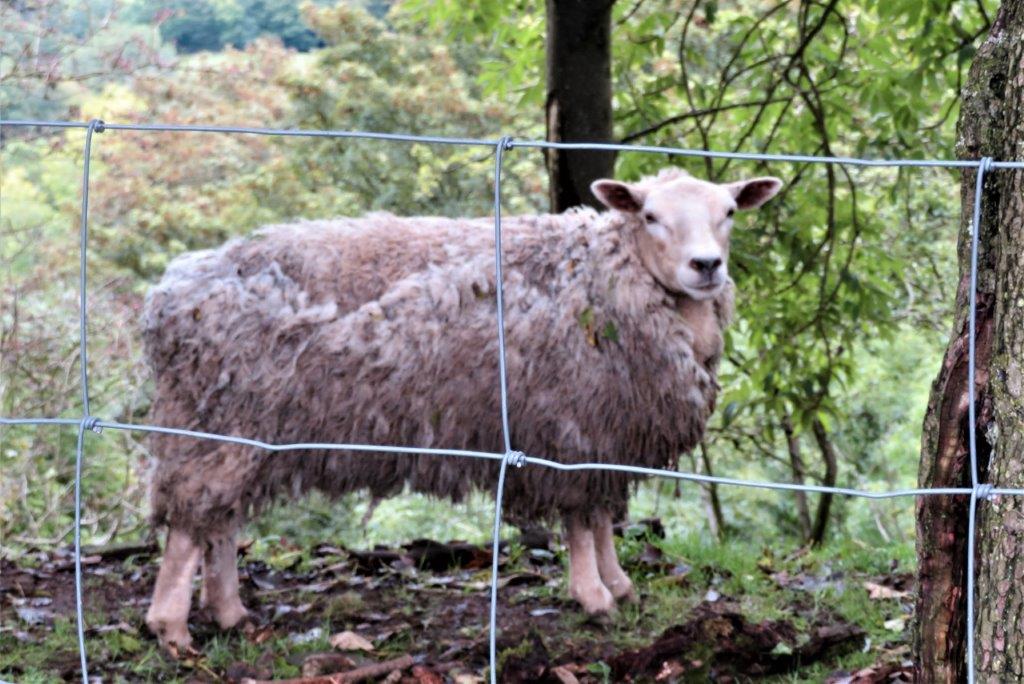 a rather moth-eaten sheep - without owner?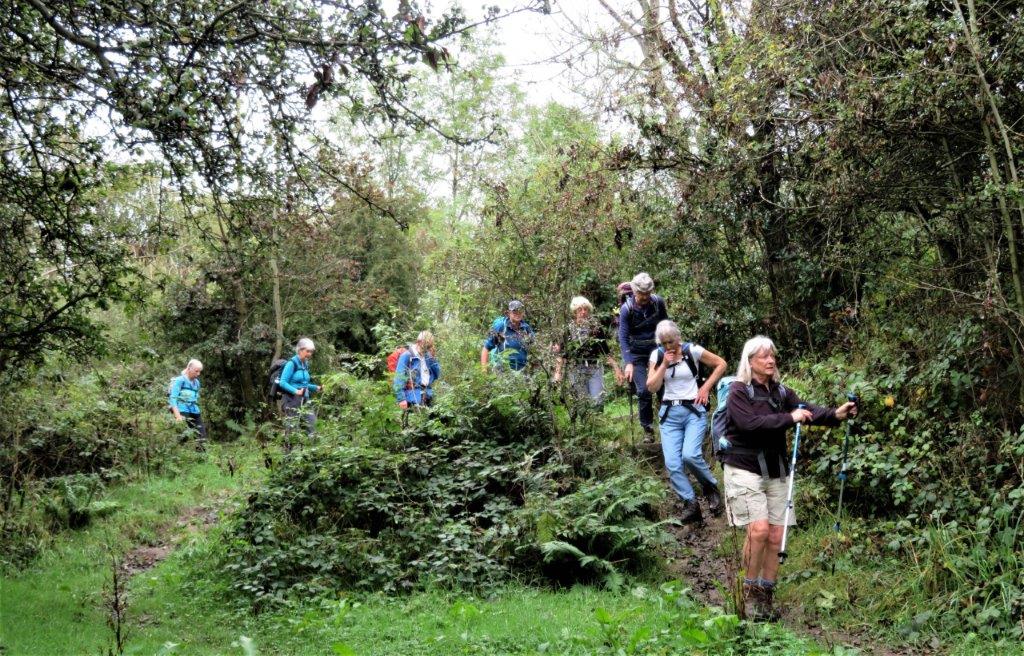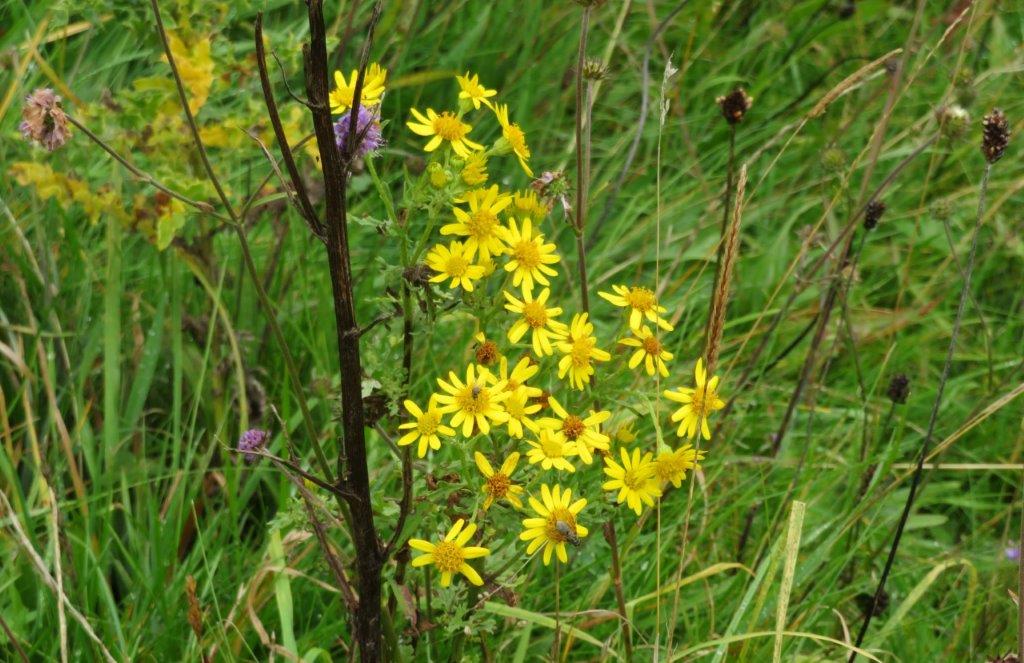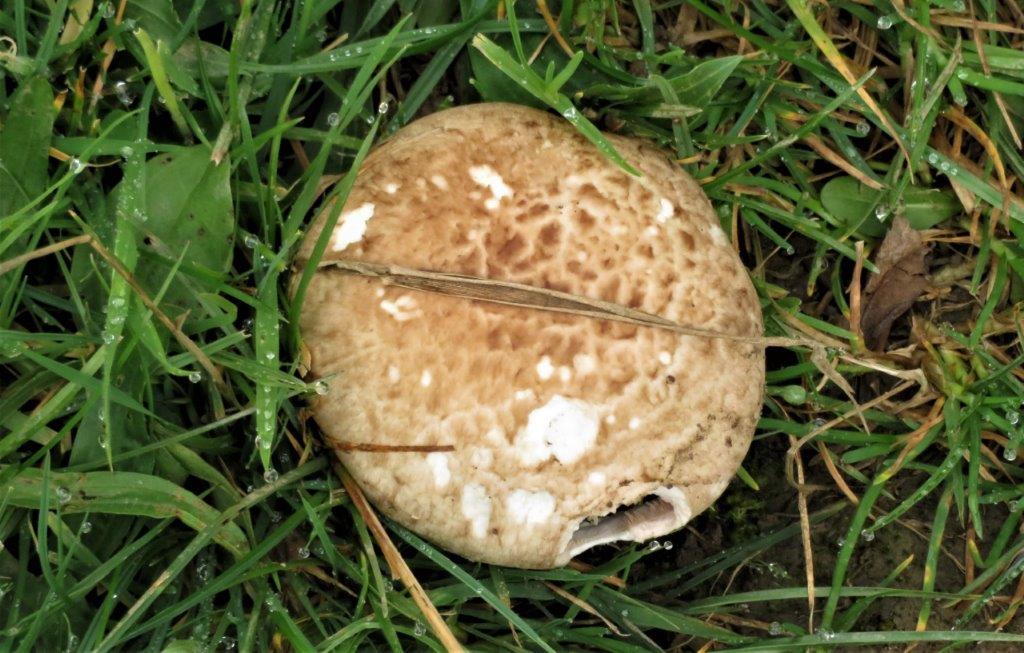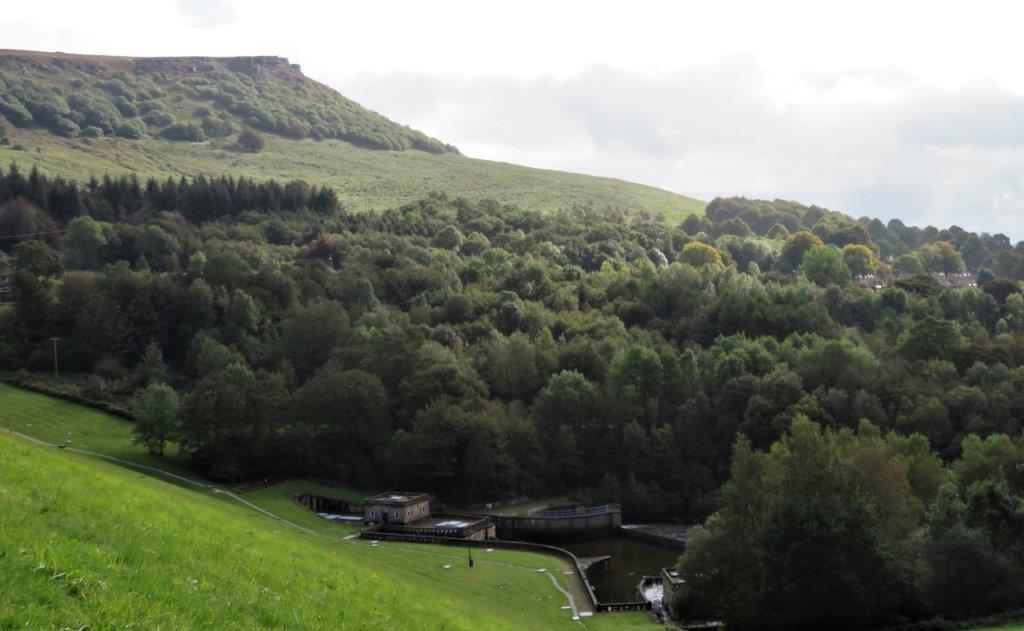 Bamford Edge at top, Ladybower Reservoir Embankment at bottom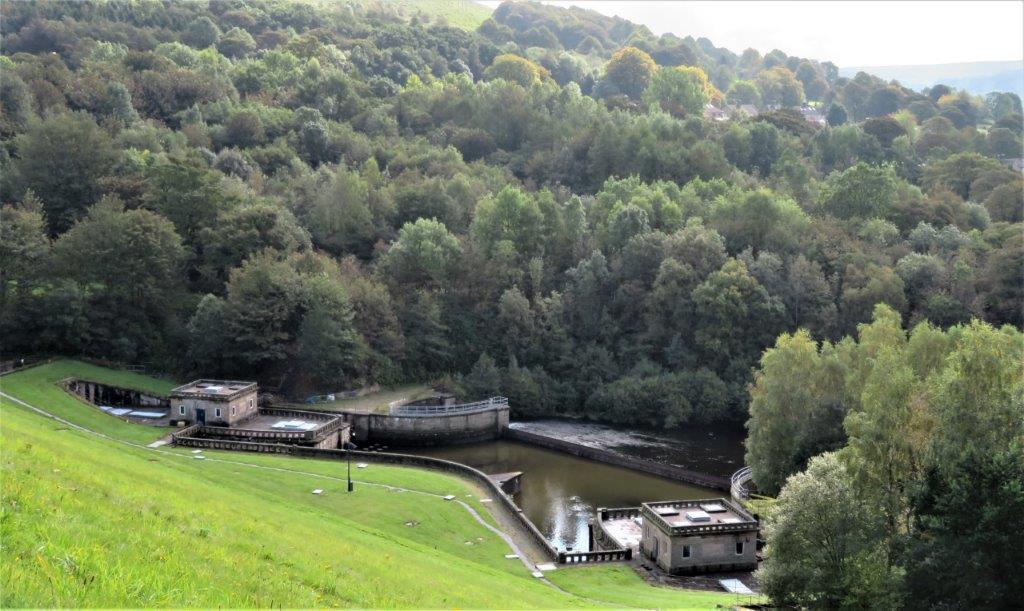 water control works at the foot of the embankment taken closer up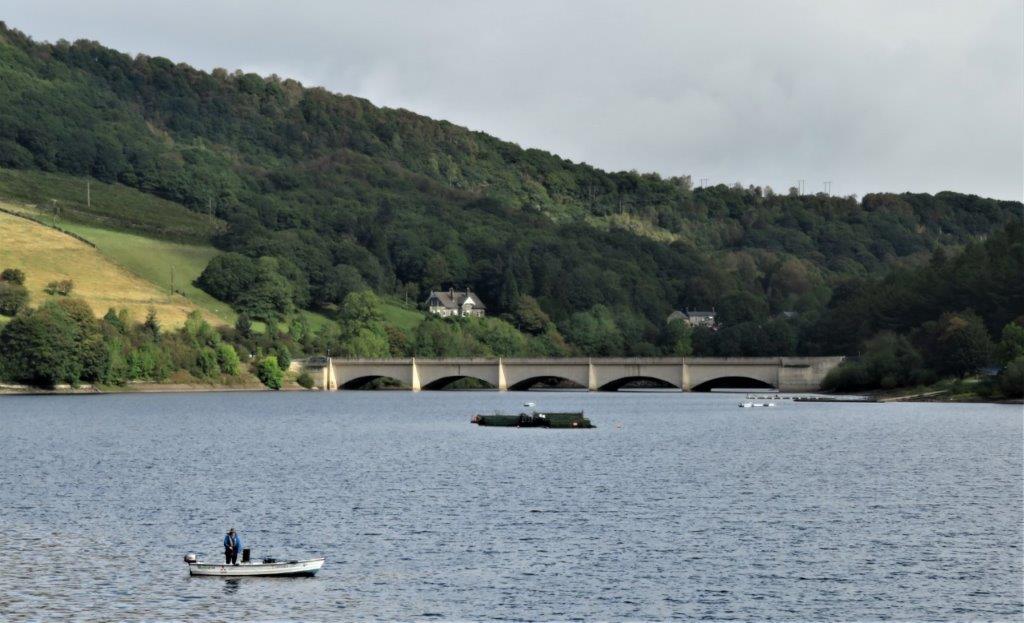 the viaduct on the A6107 road leading from the A57 road (Snake Pass) to Bamford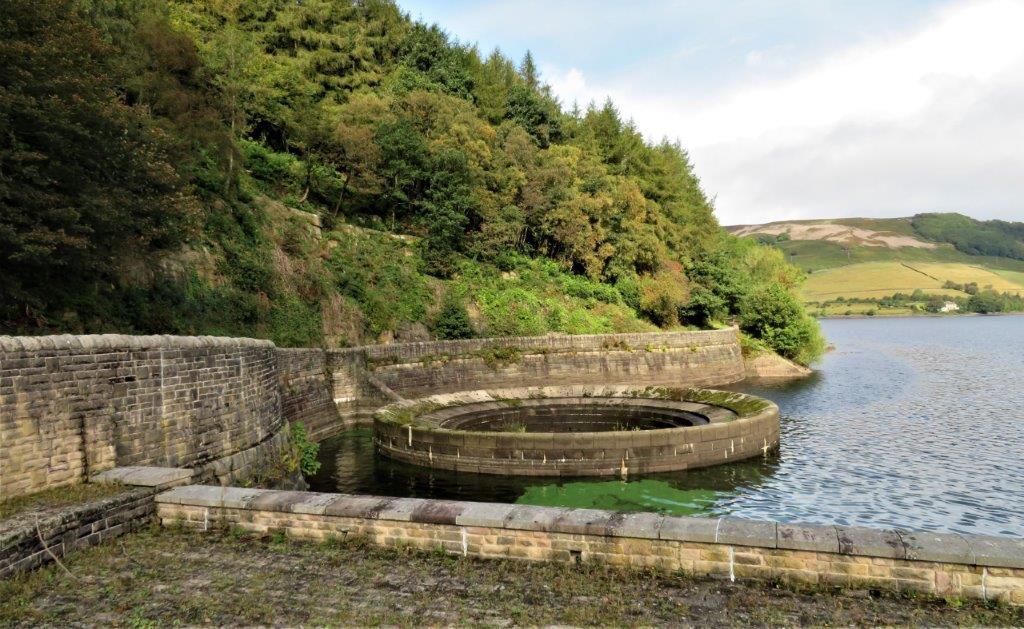 Bellmouth spillway (two one at each end of the embankment)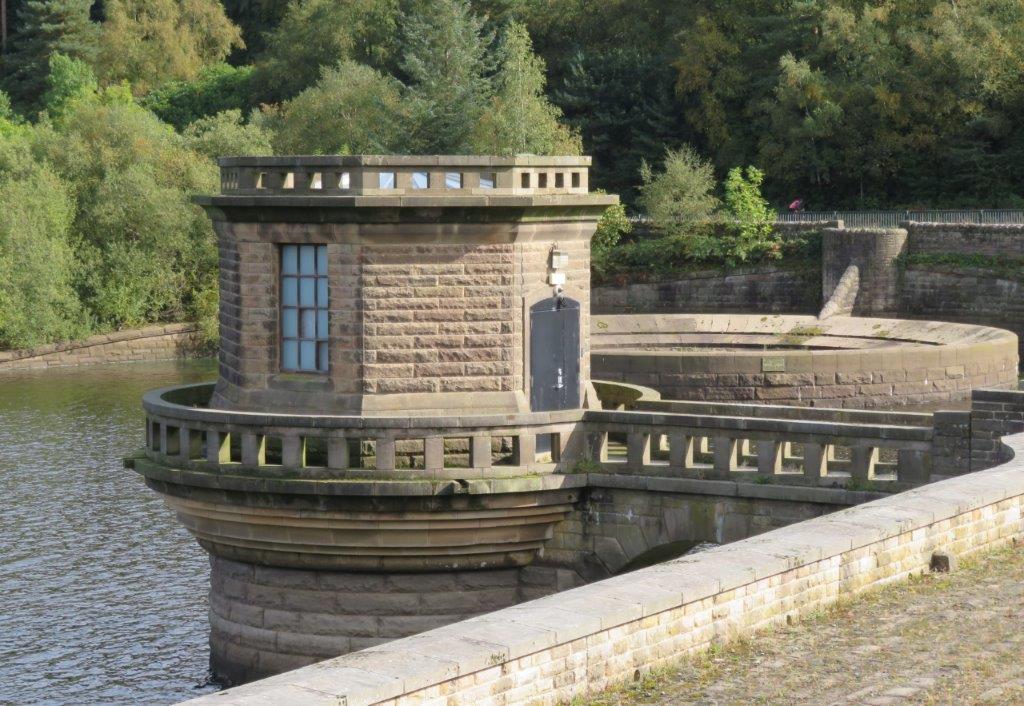 A tower presumably containing draw down valves and controls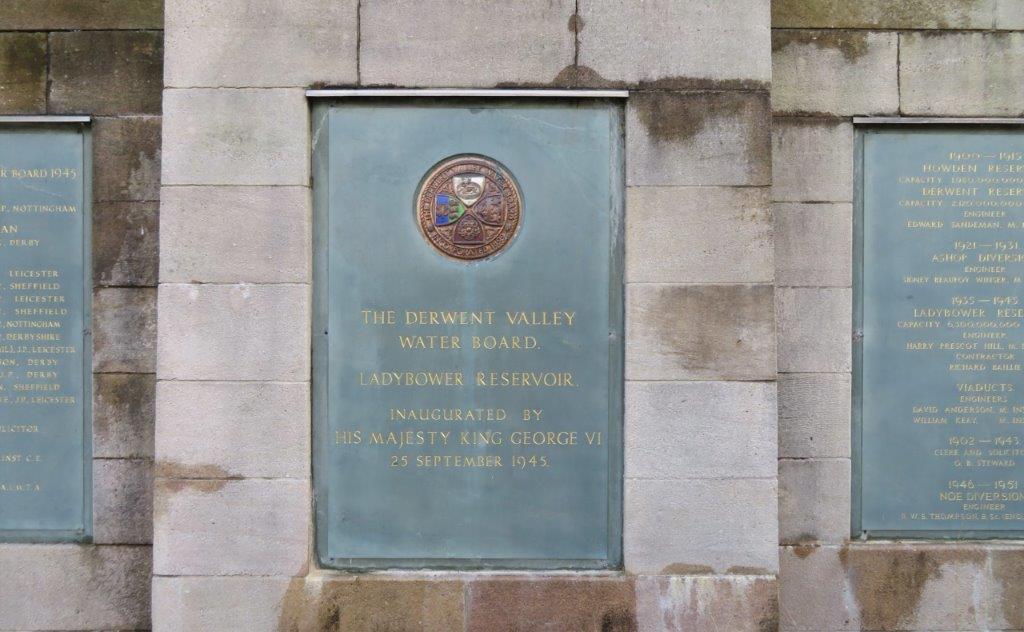 Ladybower Reservoir inaugurated by King George VI in 1945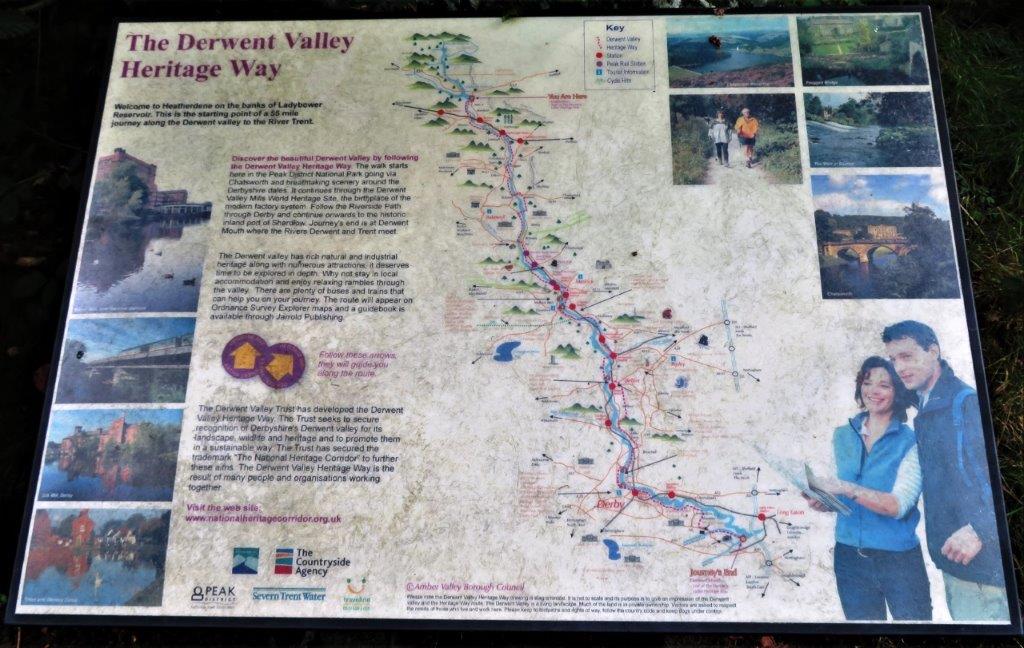 The Derwent Valley Heritage Way - we walked only a small part of it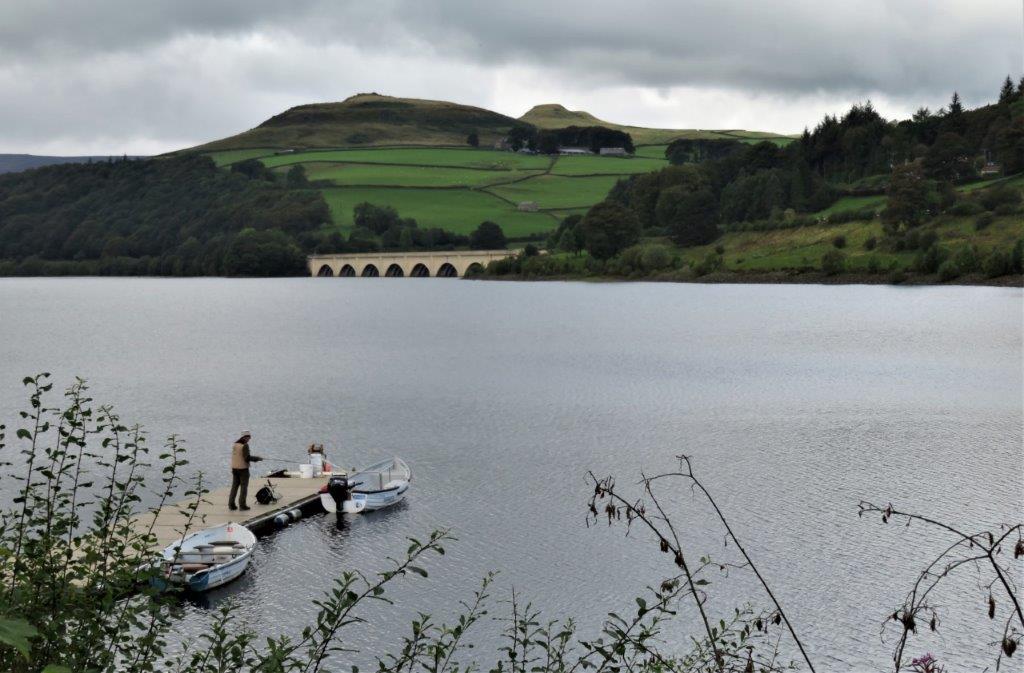 Ashopton Viaduct, over the north arm of Ladybower Reservoir, carries the A57 Snake Pass Road. Behind higher up is Crookhill Farm on Crook Hill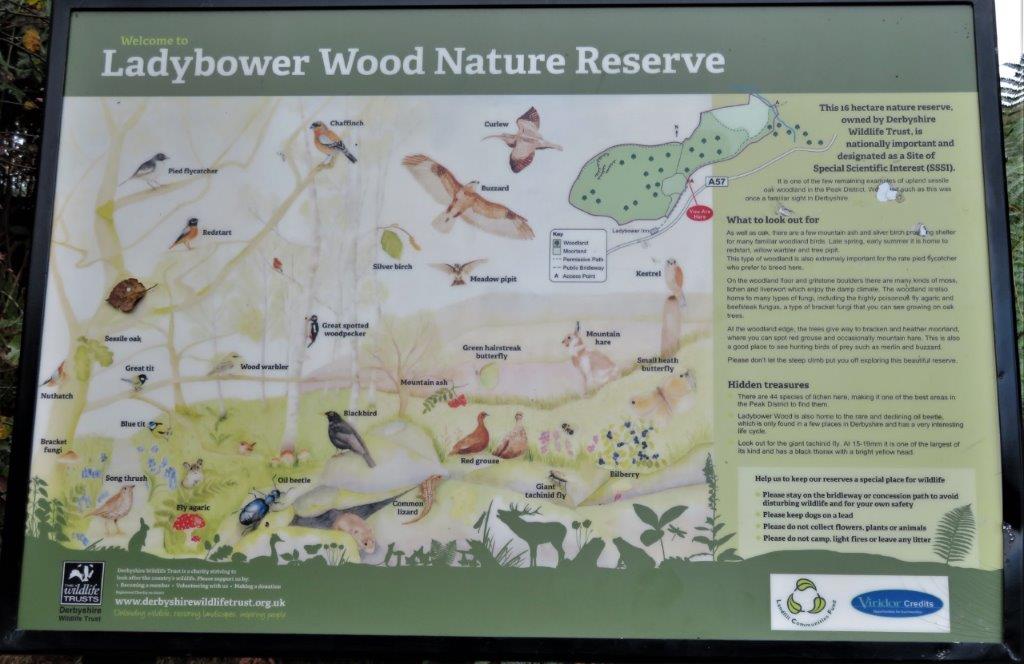 This information sign shows part of our route from the A57 Road along Ladybower Wood Nature Reserve towards Cutthroart Bridge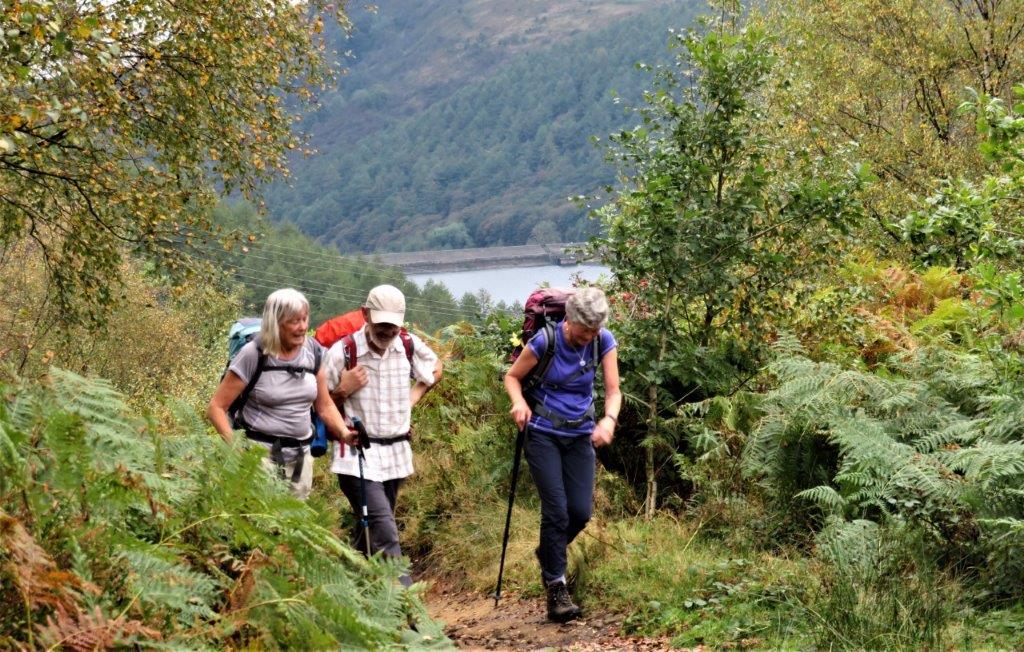 a glimpse of the reservoir behind us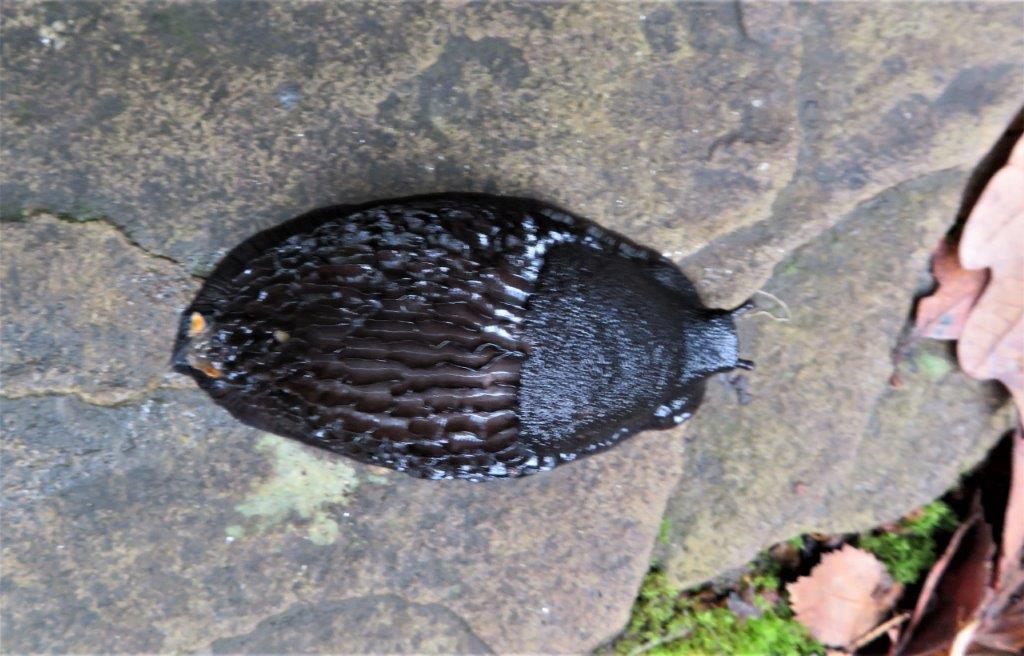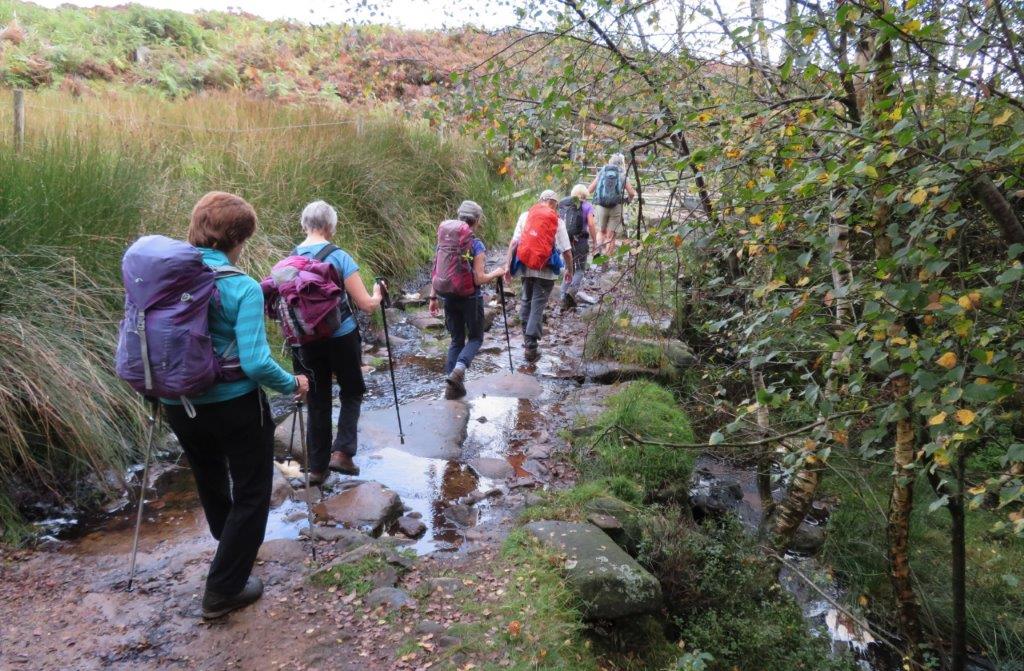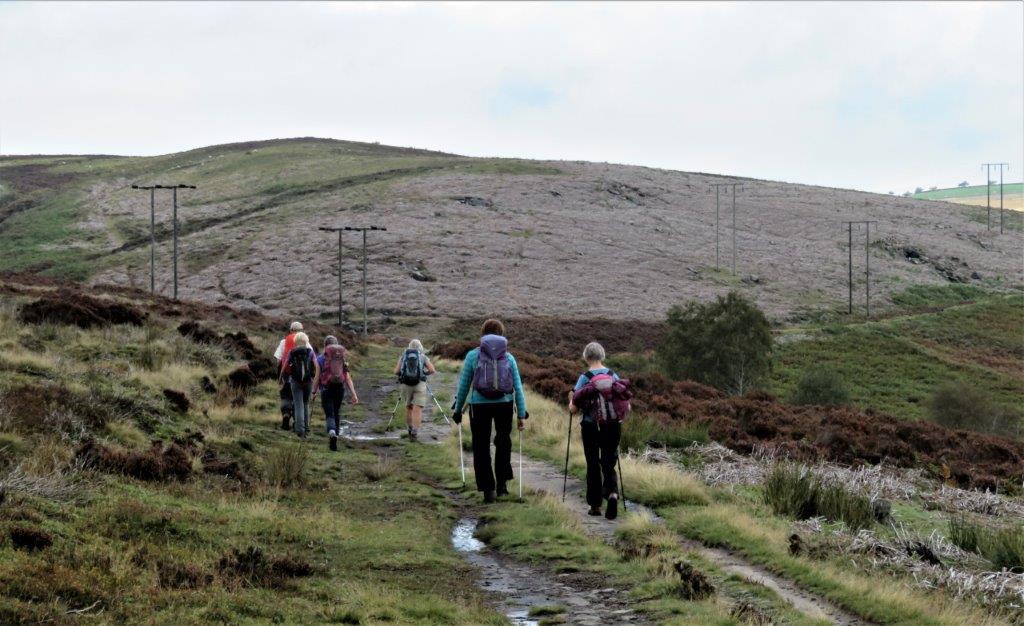 bare patch in front possibly bracken removed by chemical spraying?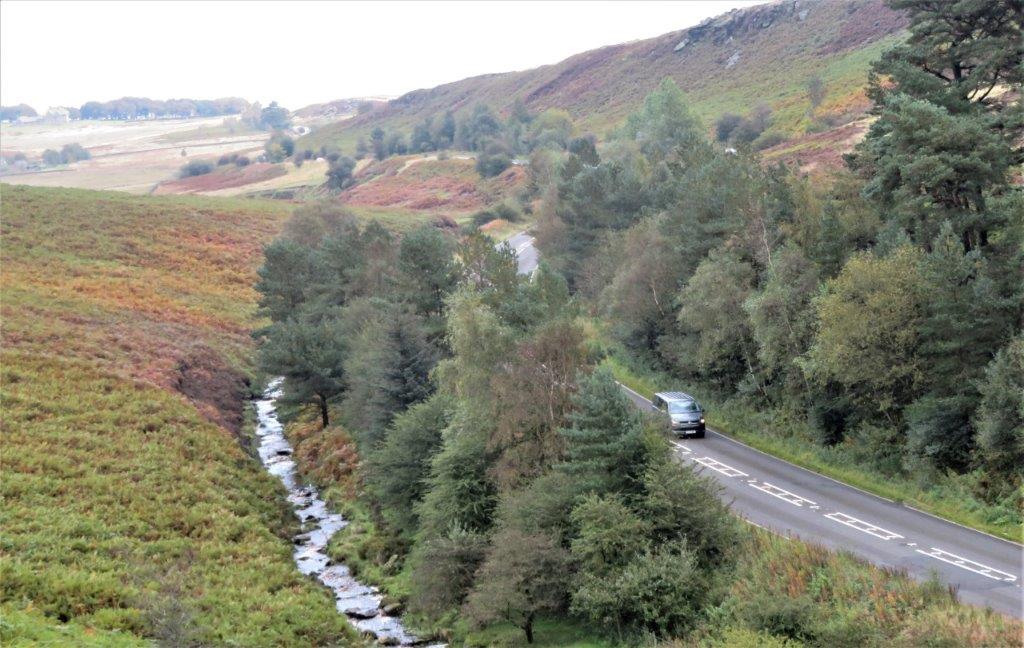 a view of the A57 road some way before Cutthroat Bridge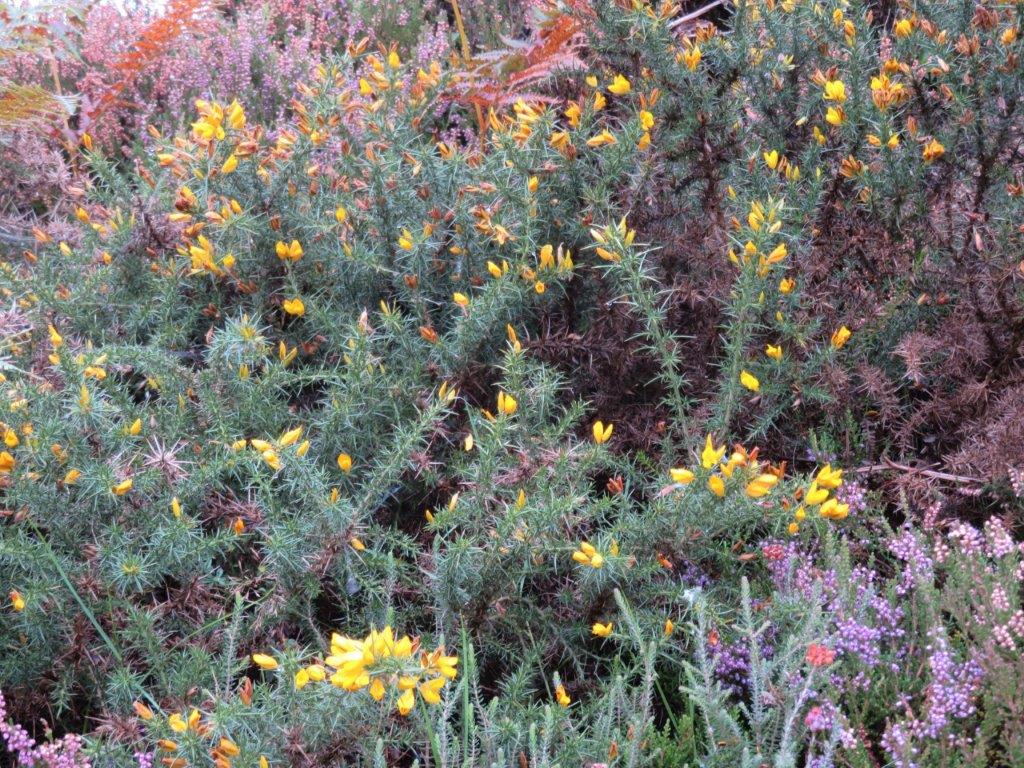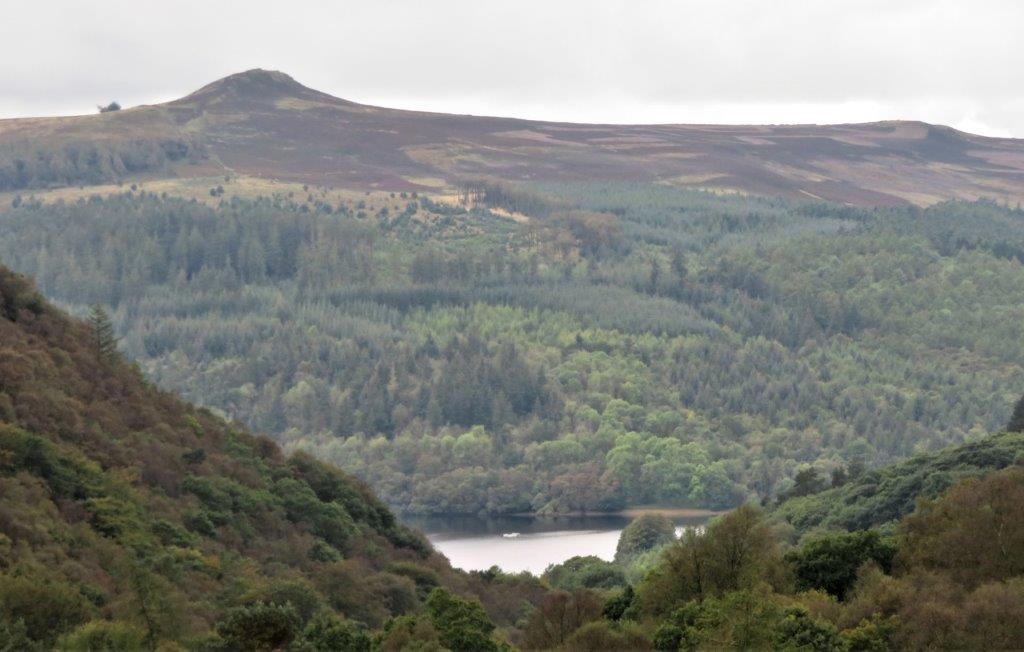 Win Hill above a glimpse of Ladybower Reservoir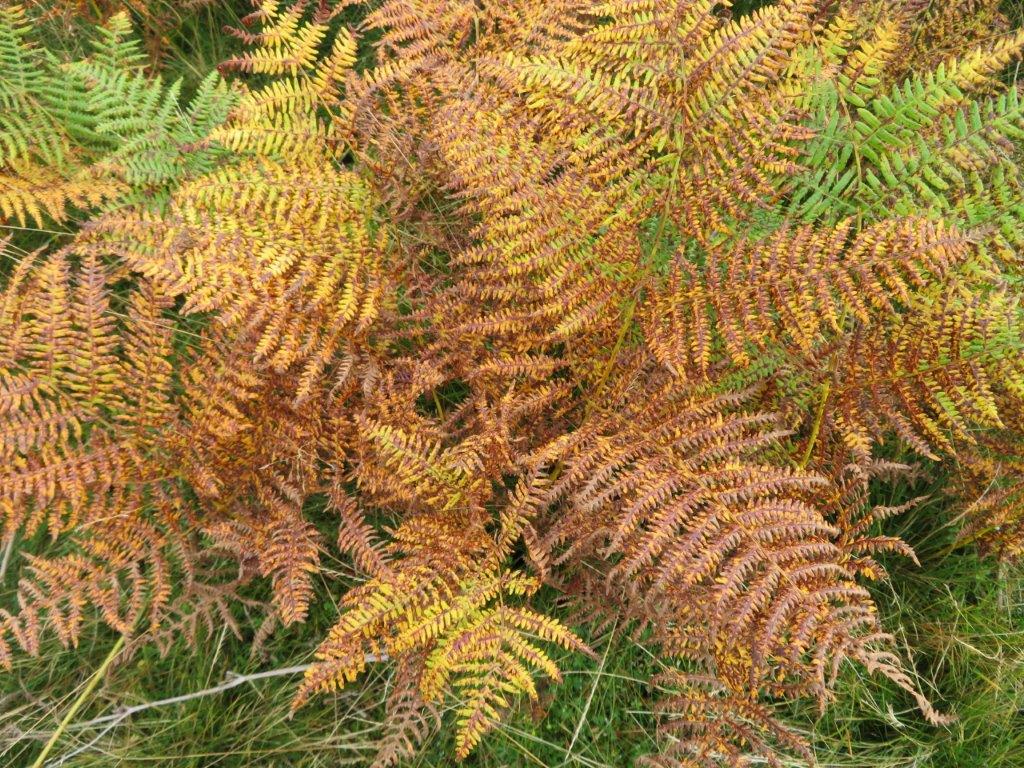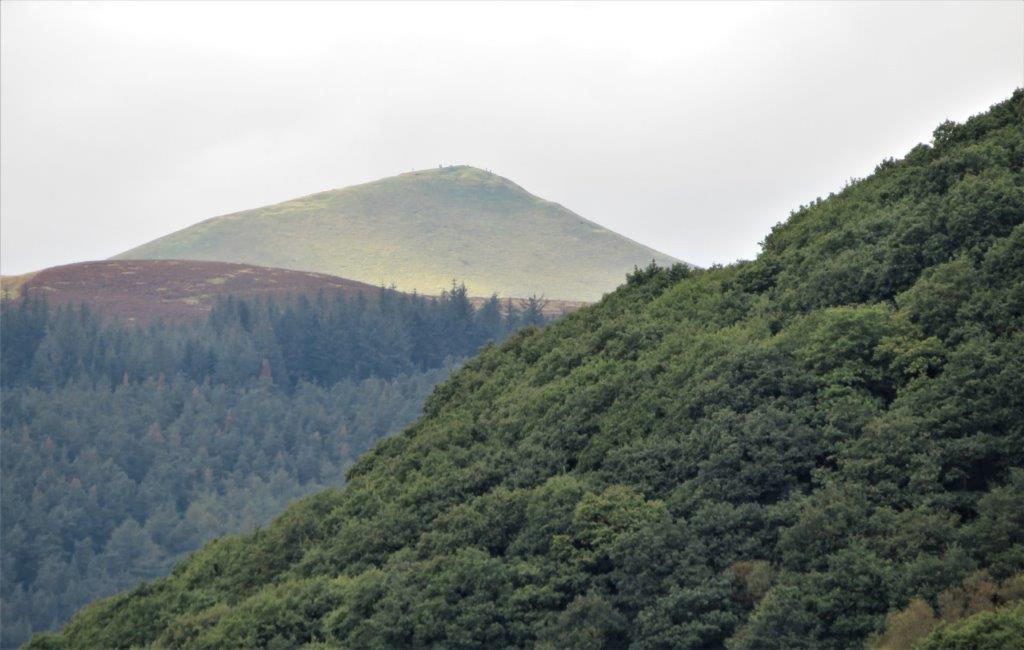 Lose Hill in the distance zoomed into - some people on top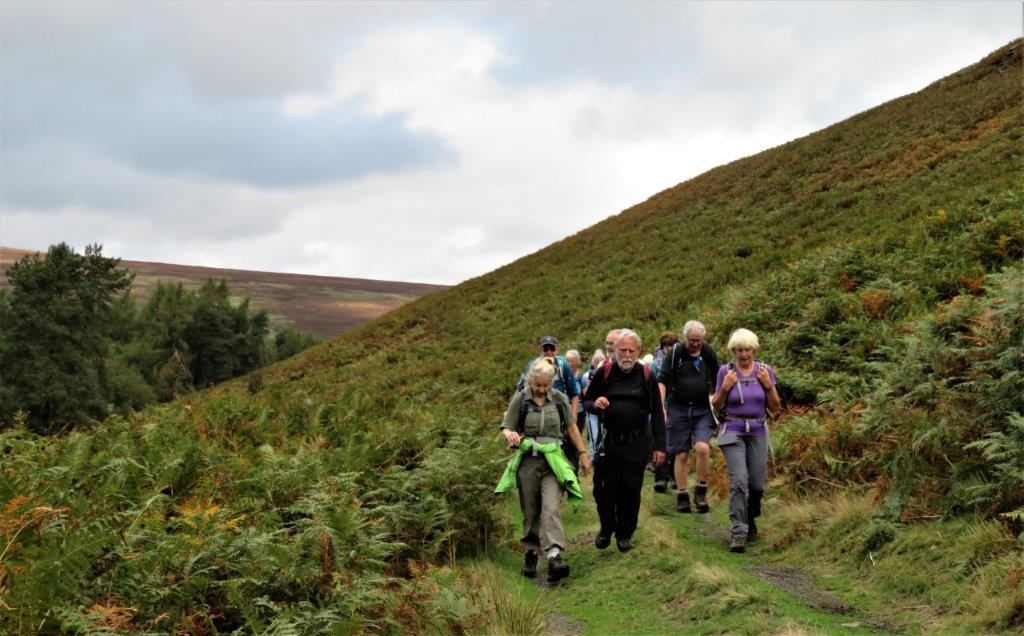 up towards the Jarvis Clough crossing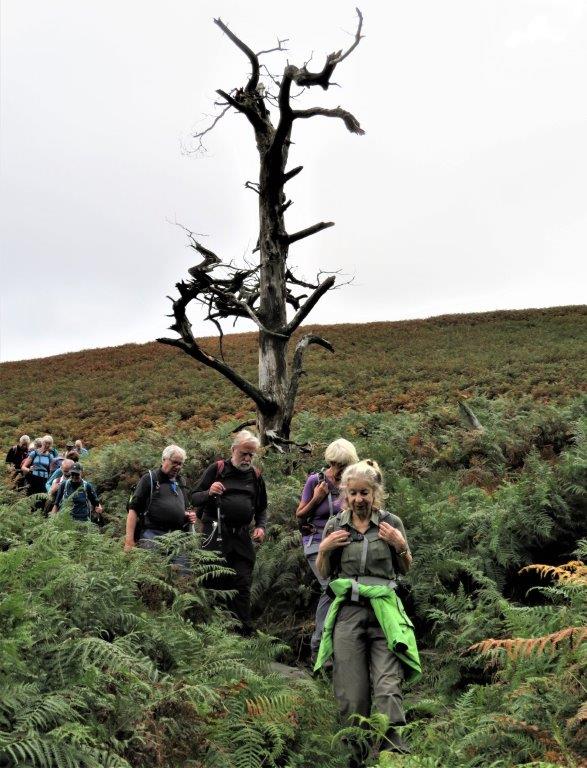 tree close to the Jarvis Clough crossing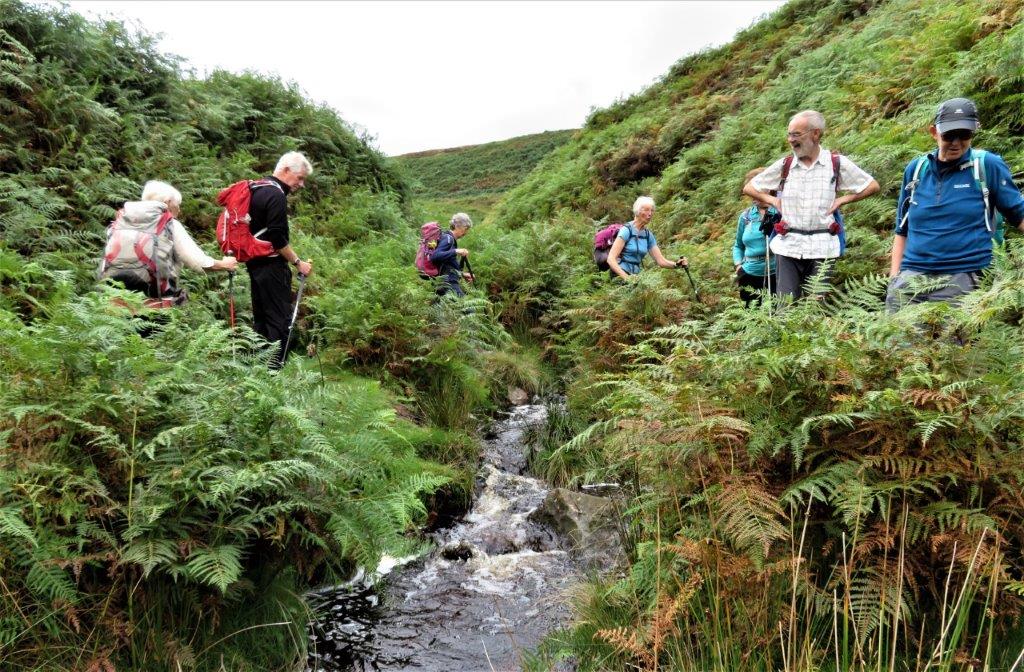 crossing Jarvis Clough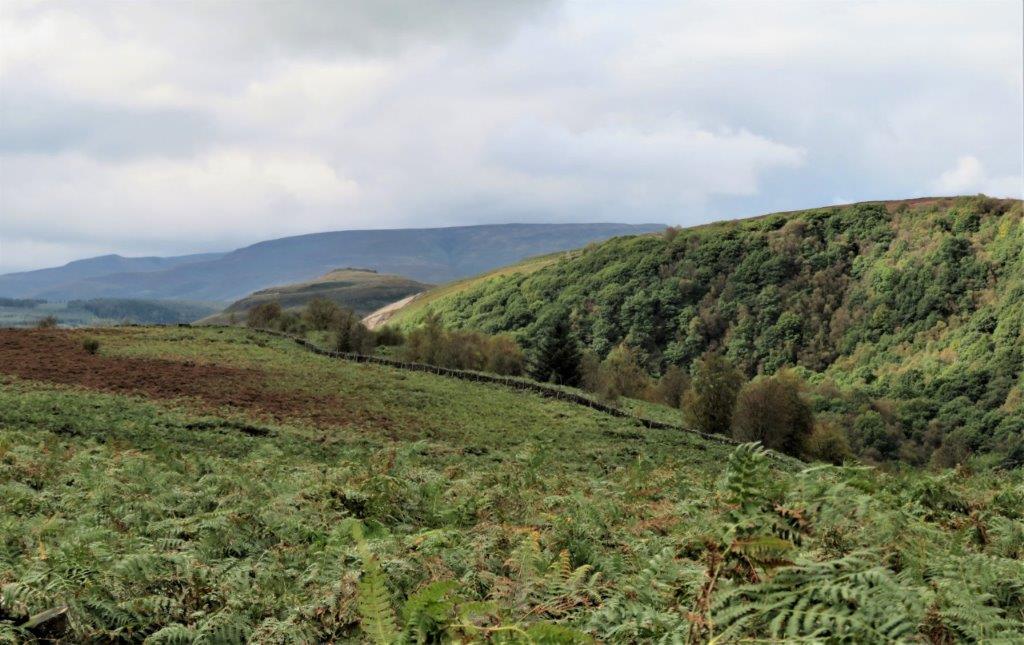 hidden valley to right carries the A57 road. Crooke Hill to its left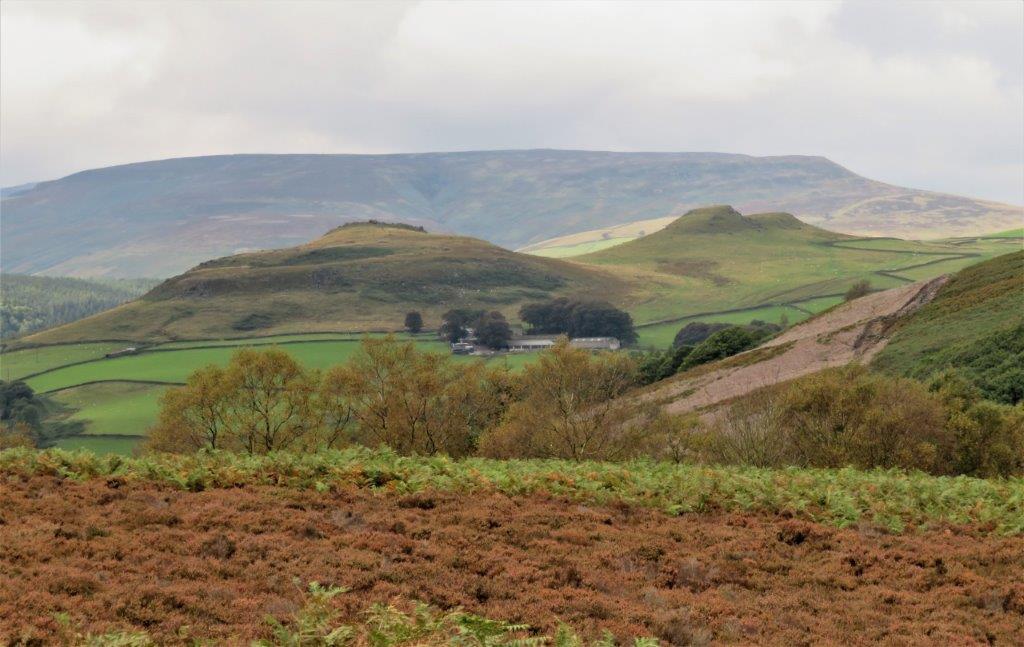 View of Crookhill Farm from higher up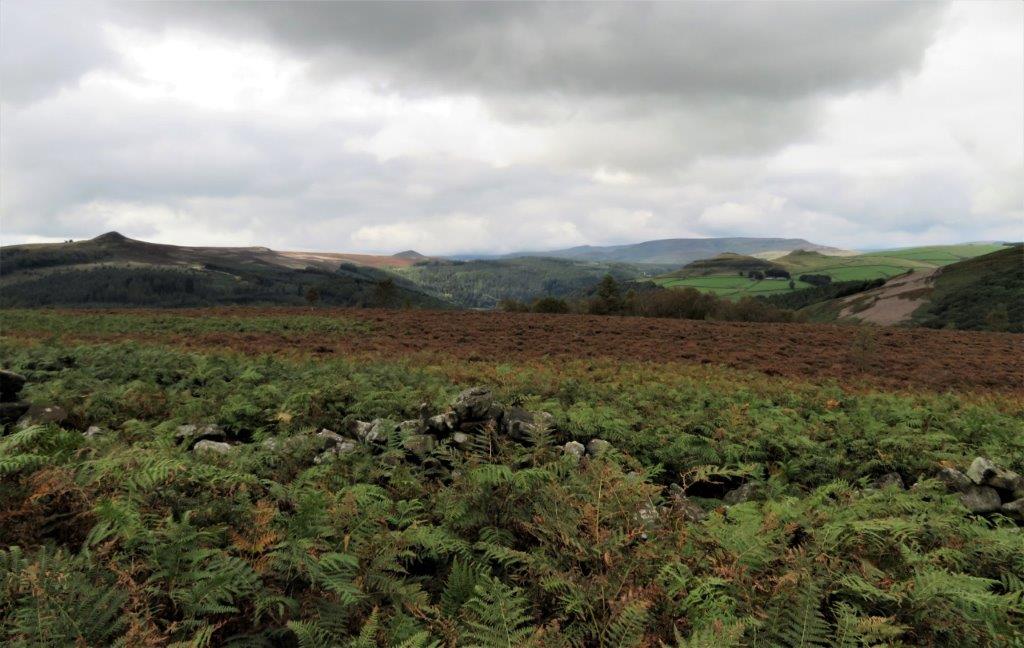 view above the reservoir - Win Hill Pike to left - can you identify the other high points/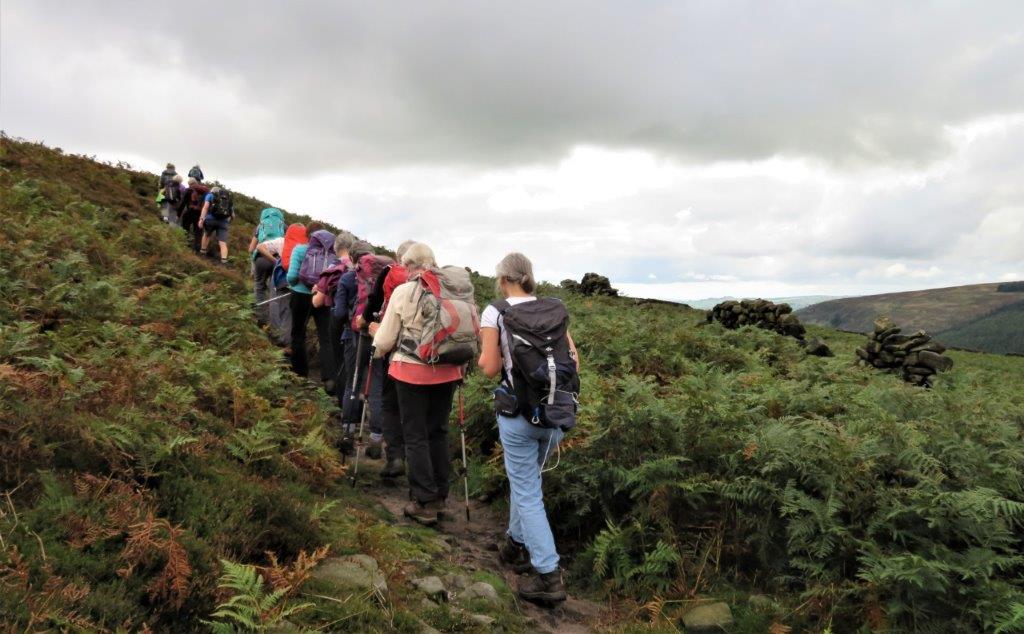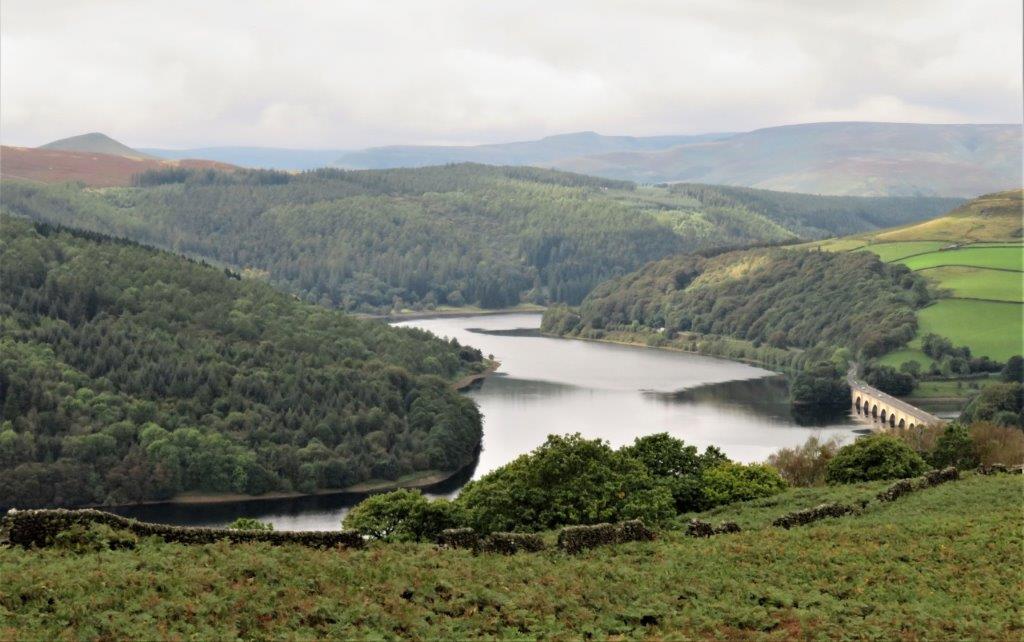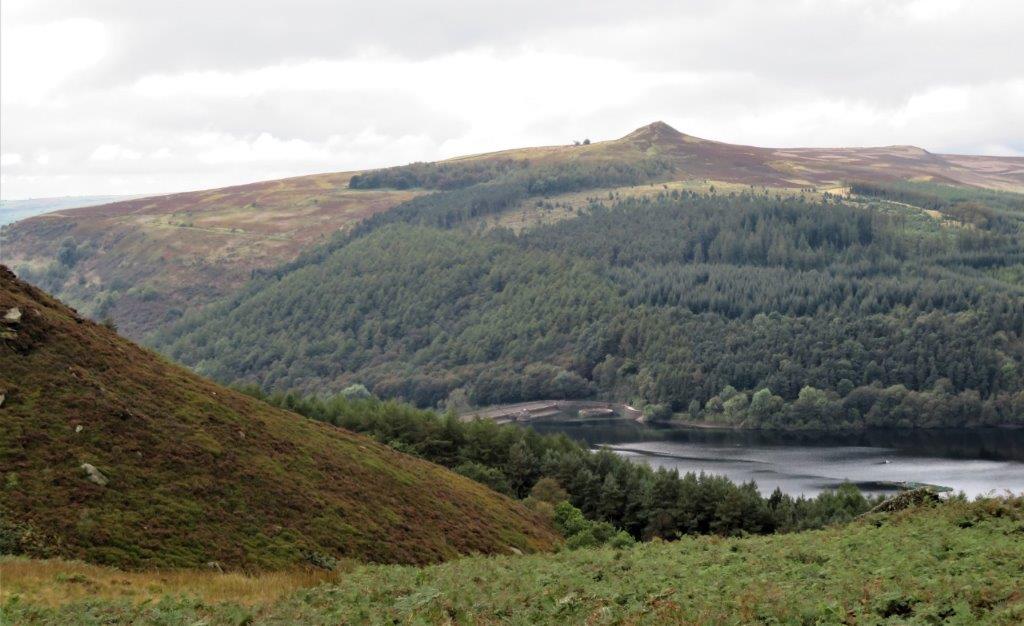 Ladybower Reservoir embankment seen from above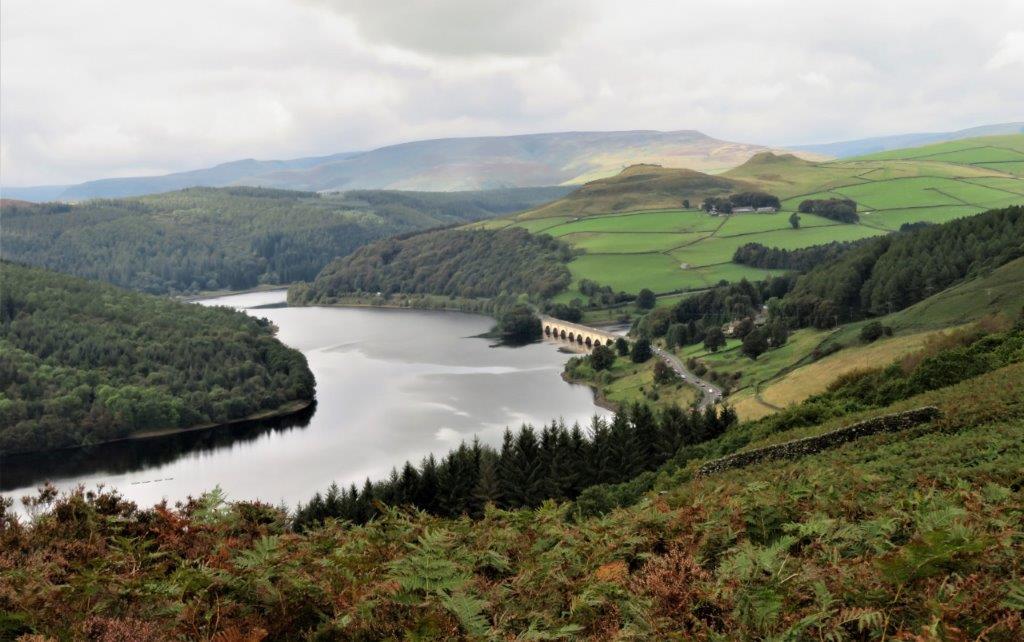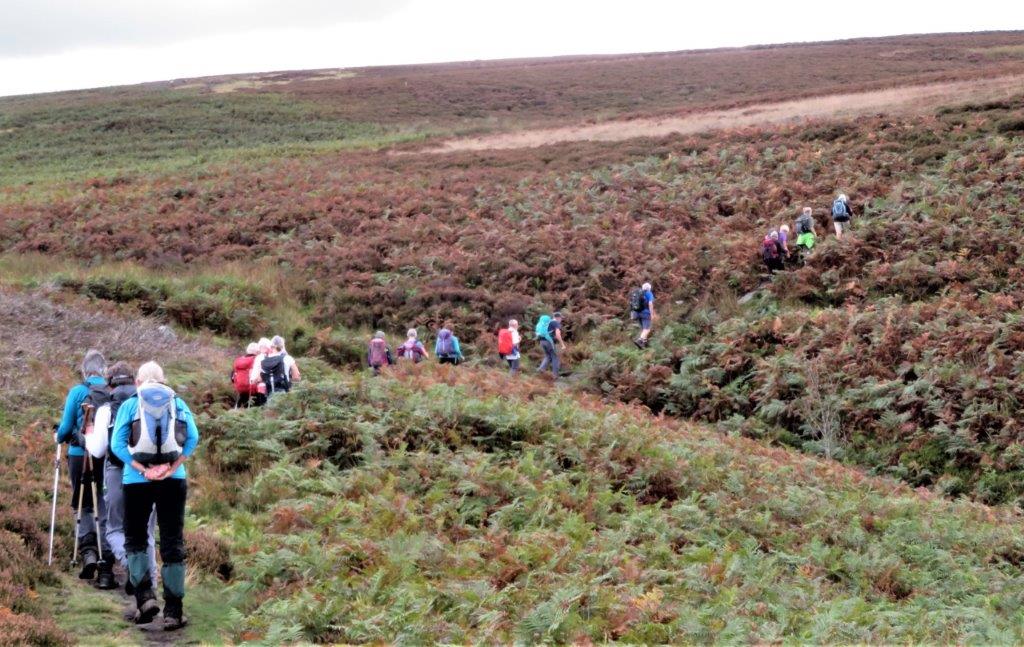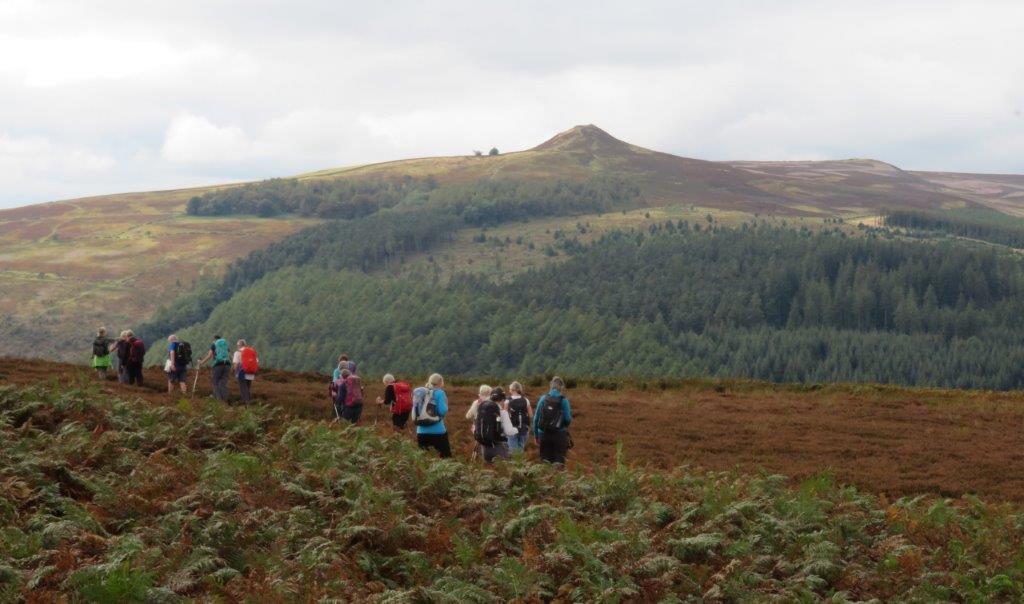 Win hill Pike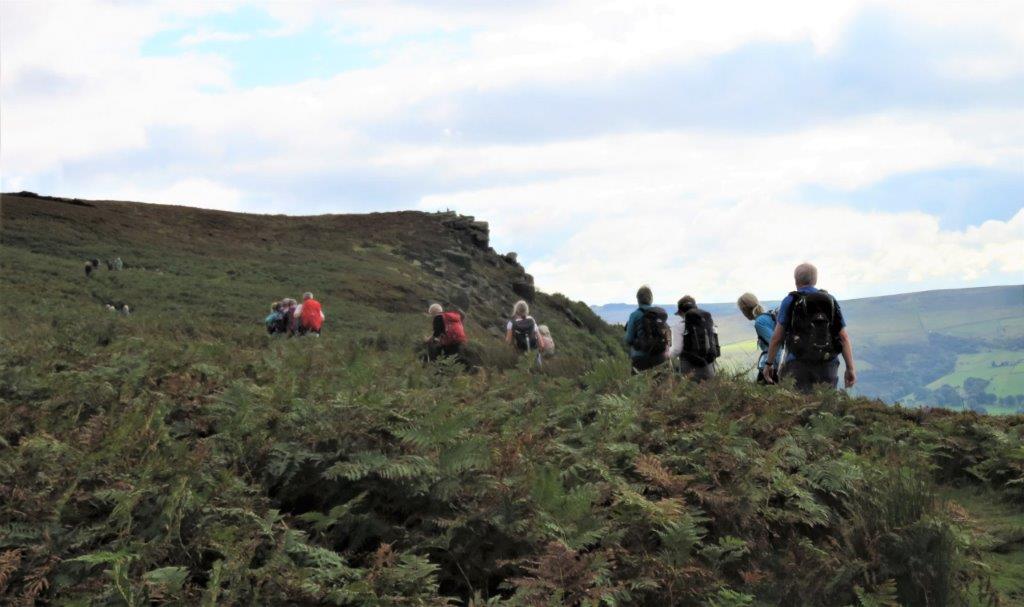 Great Tor ahead?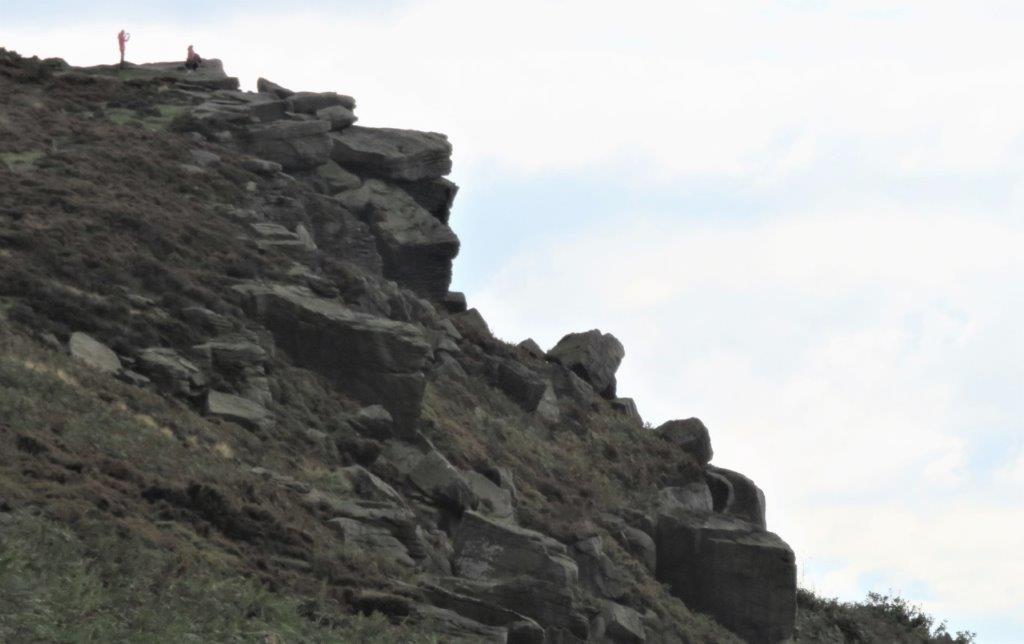 Great Tor?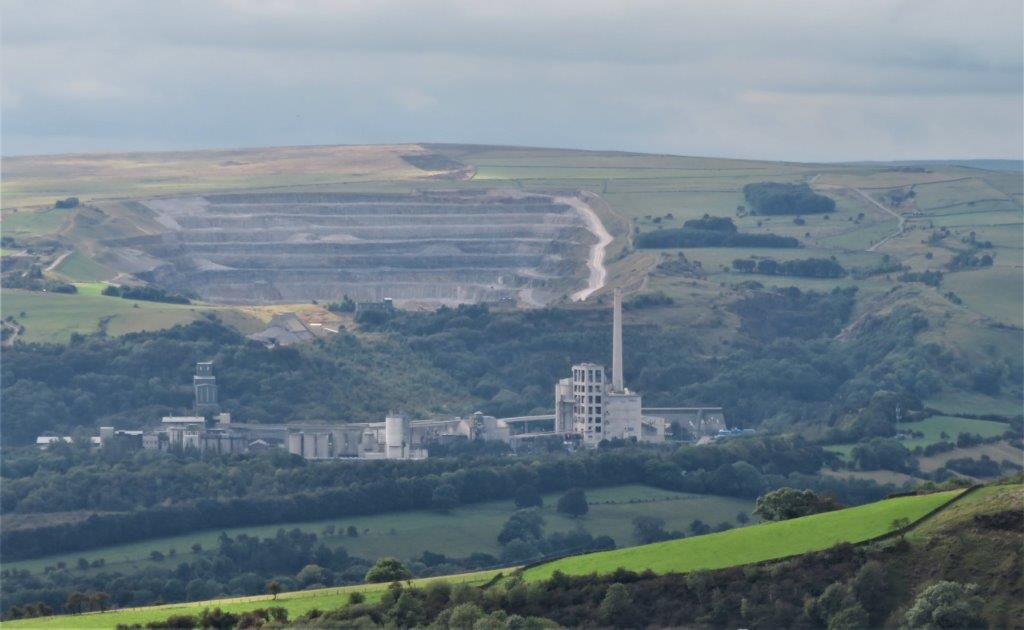 zoomed into Hope Cement Plant & Quarry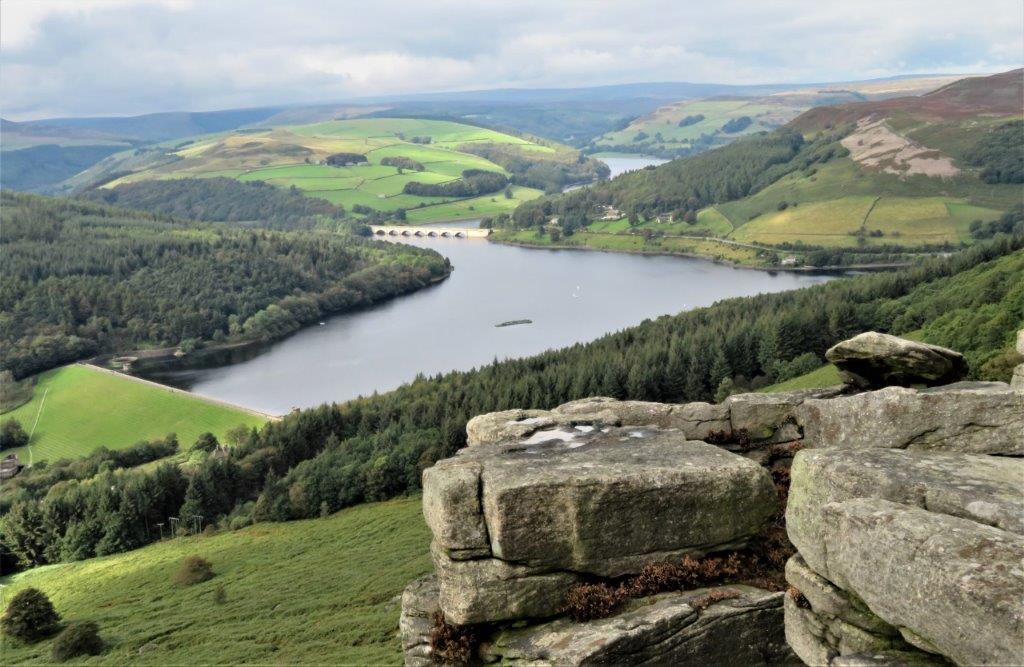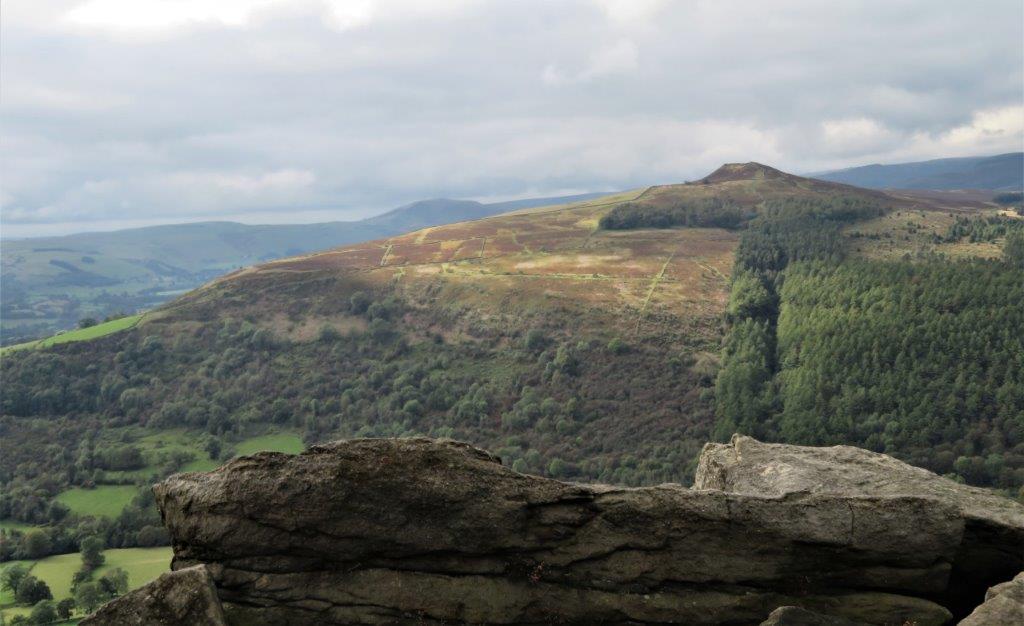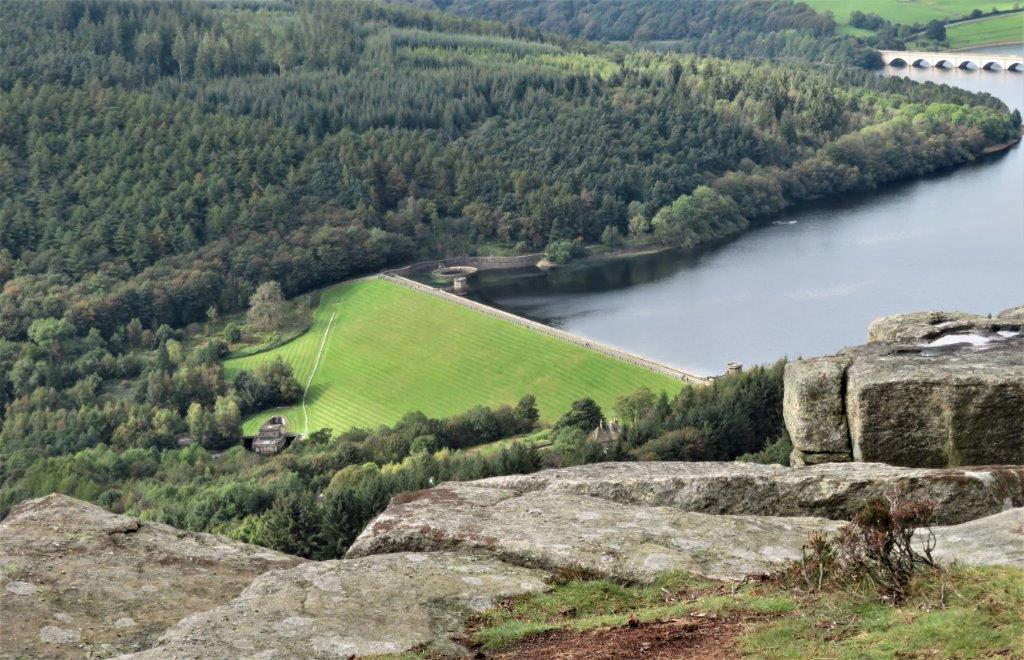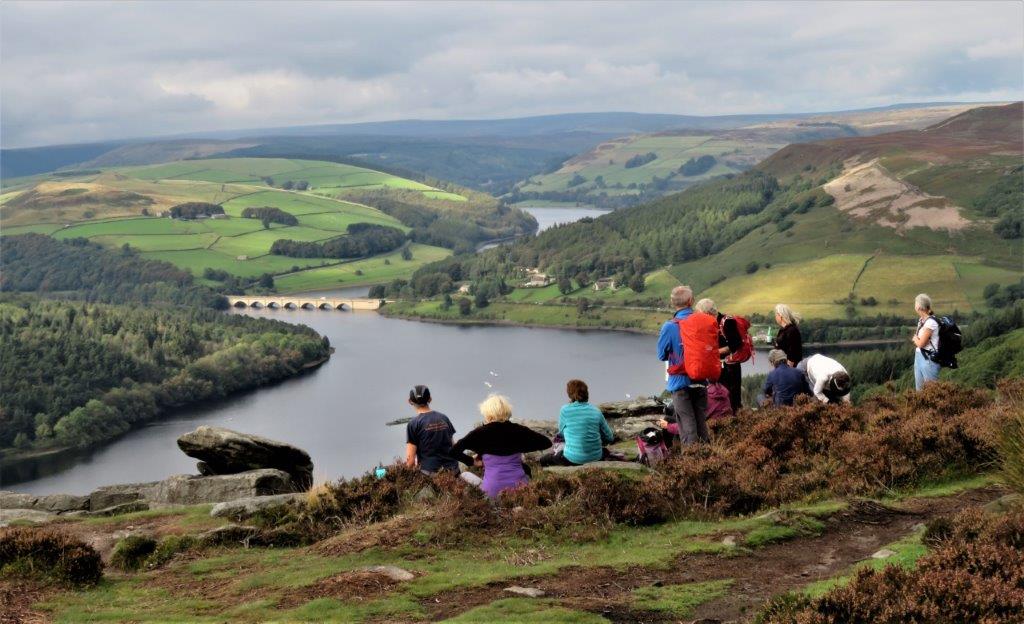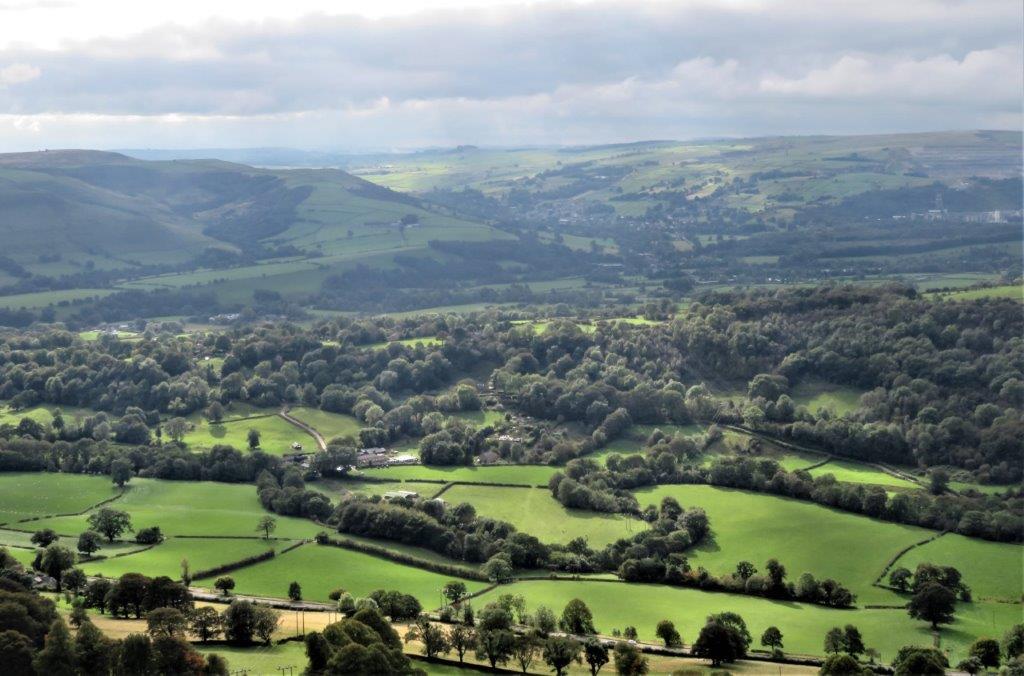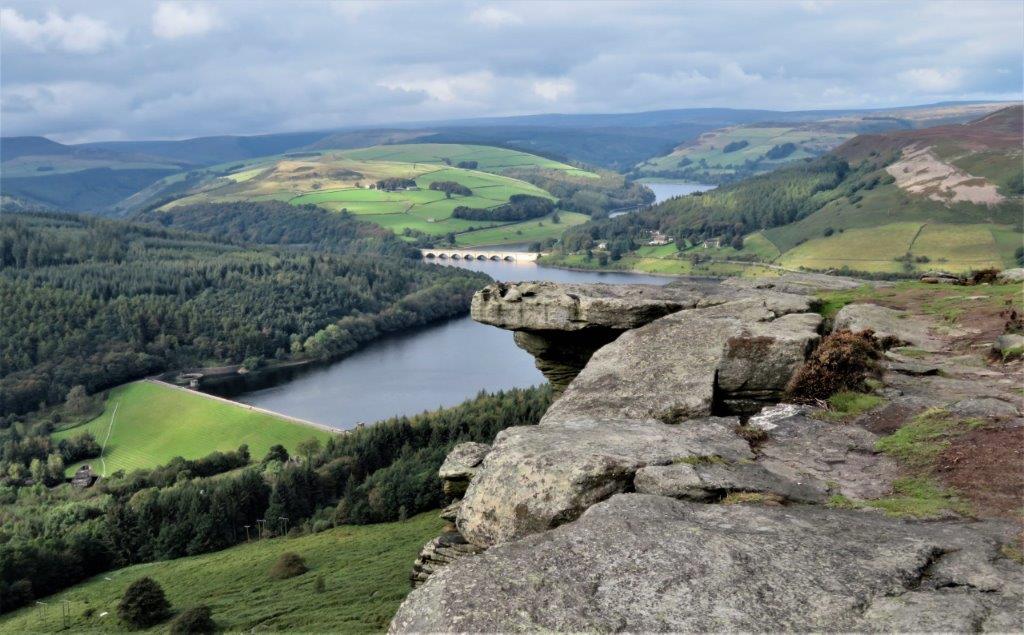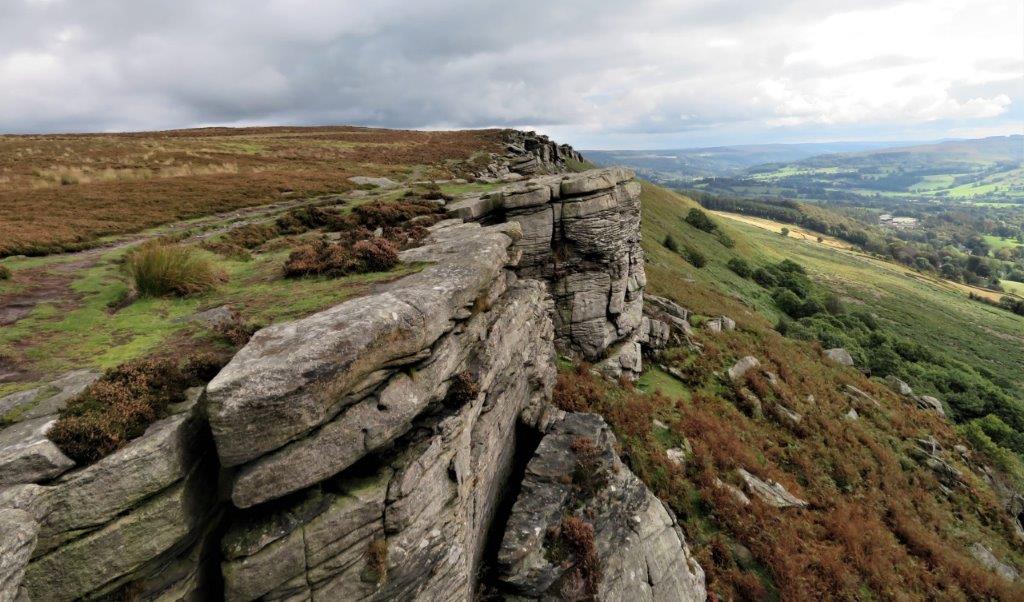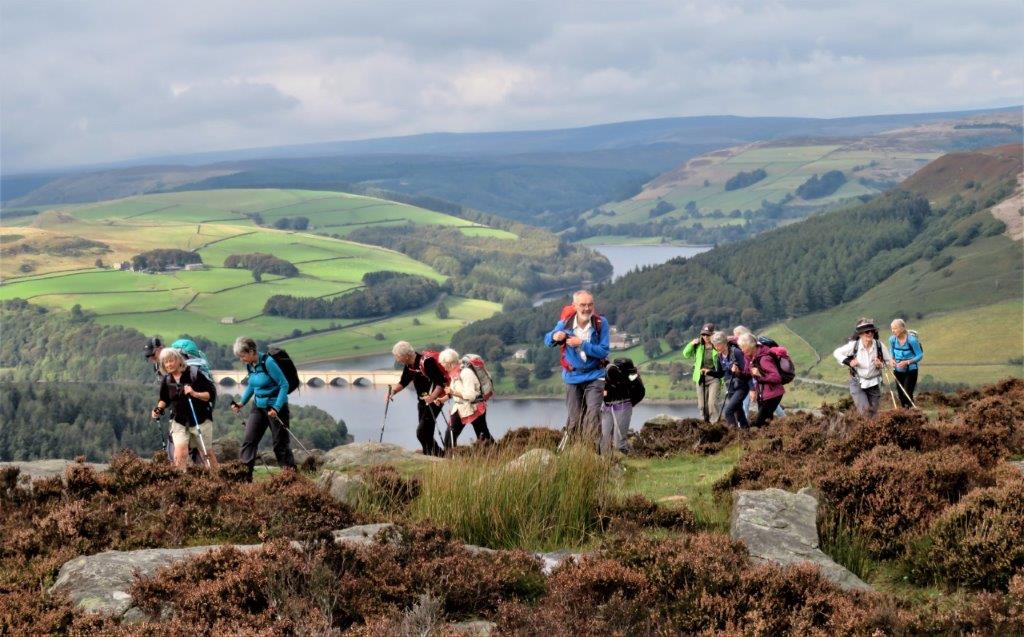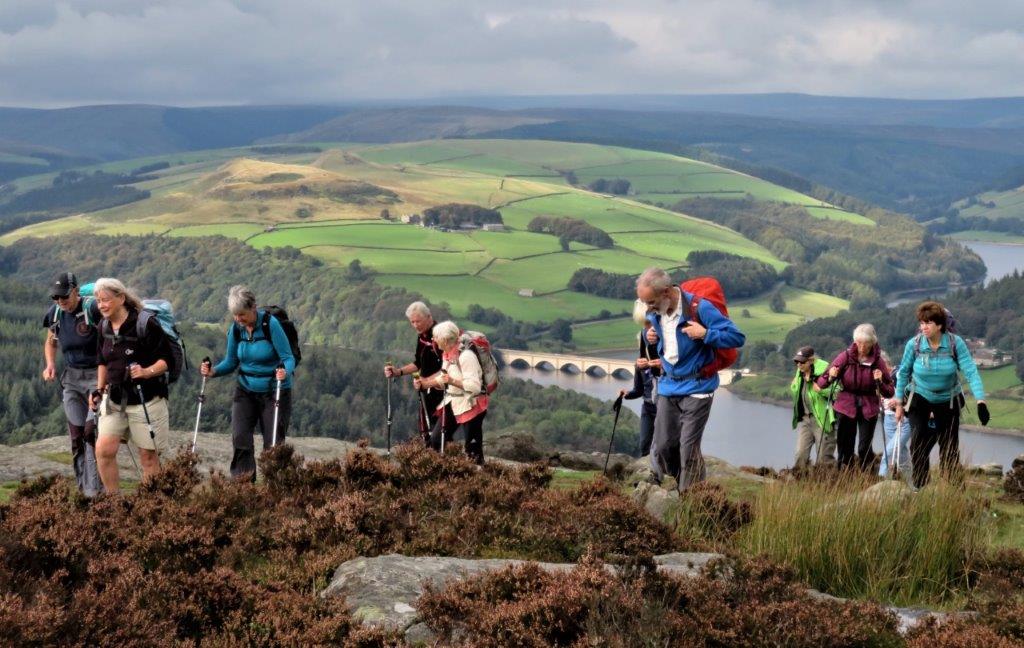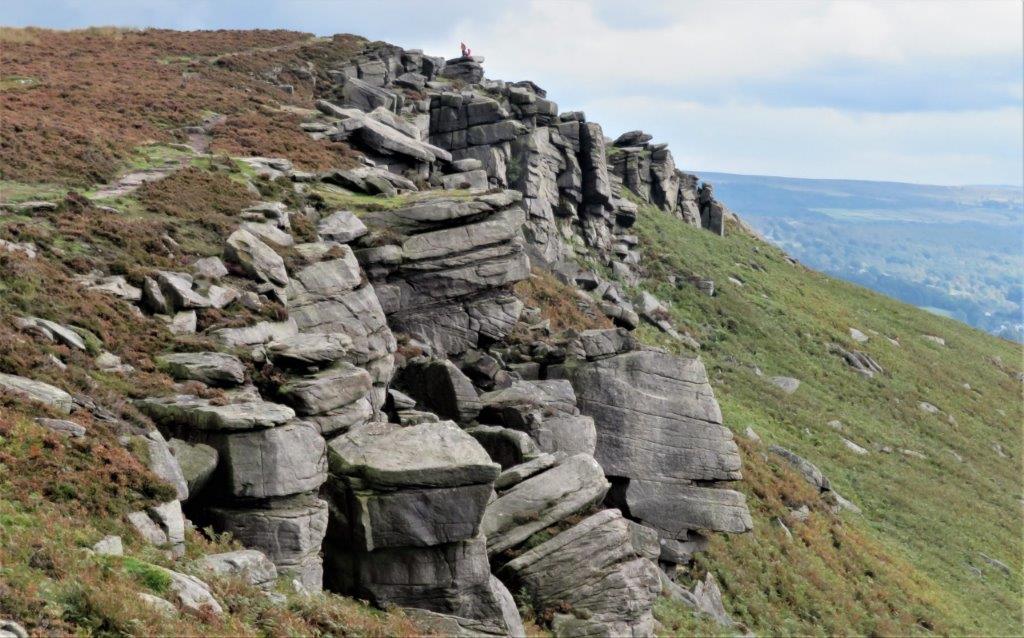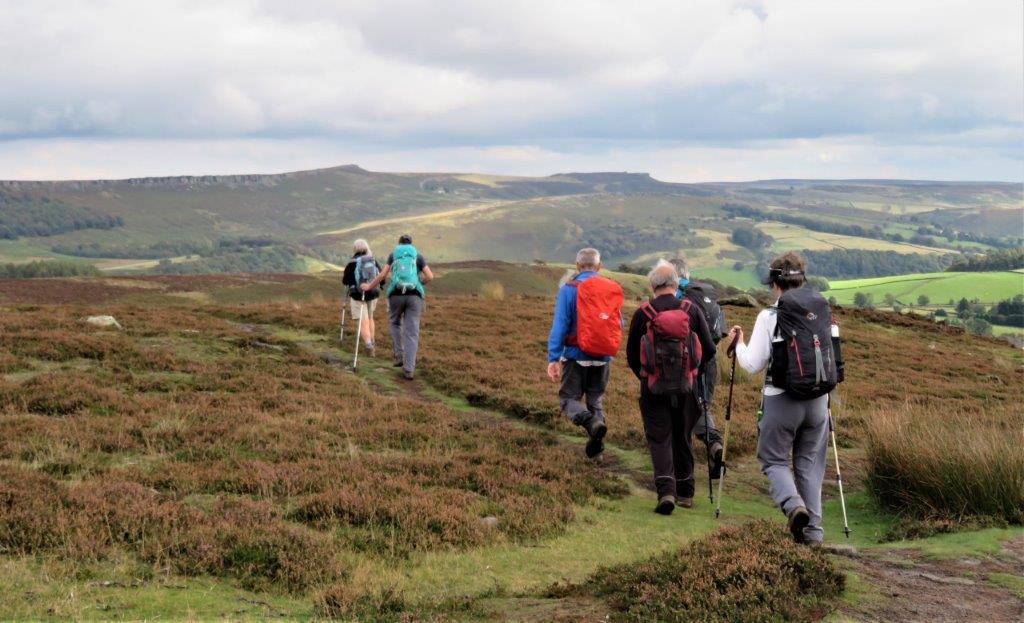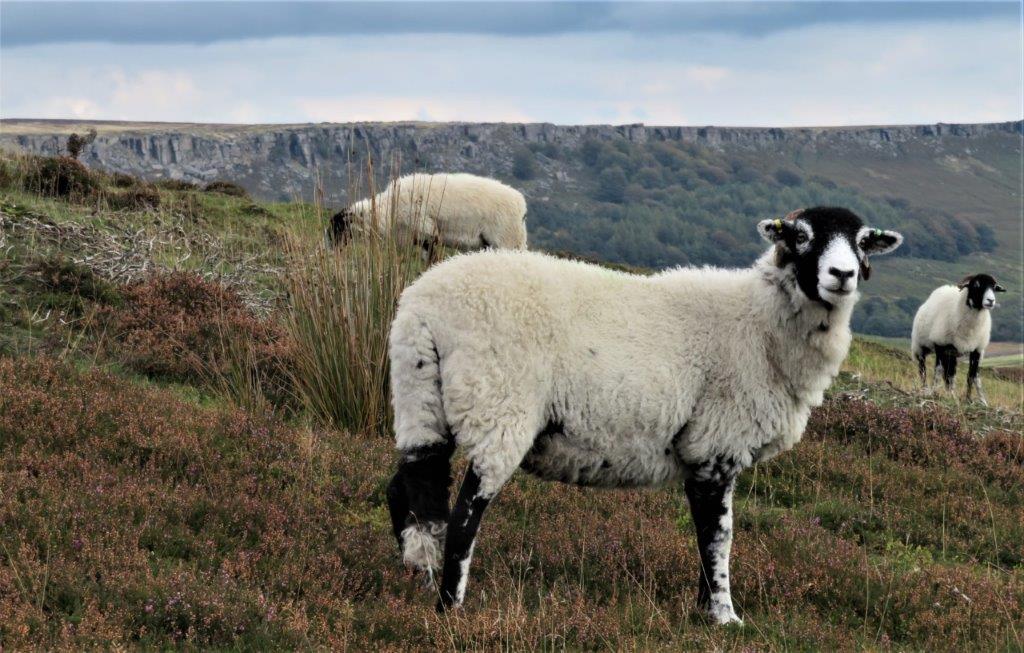 Stanage Edge in view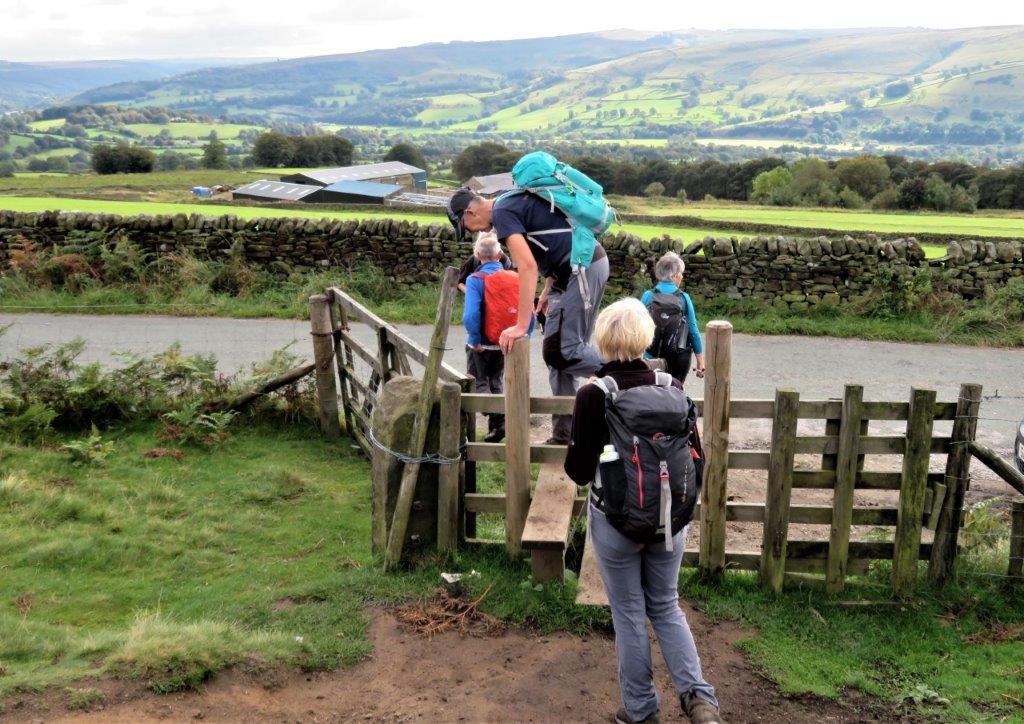 stile on New Road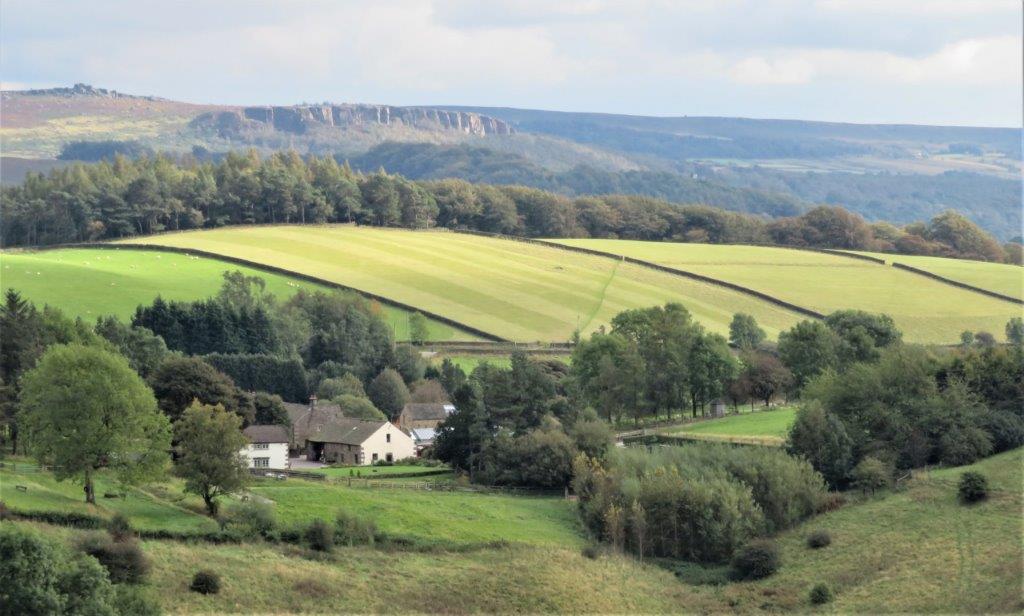 at back - Over Owler Tor? and Millstone Edge?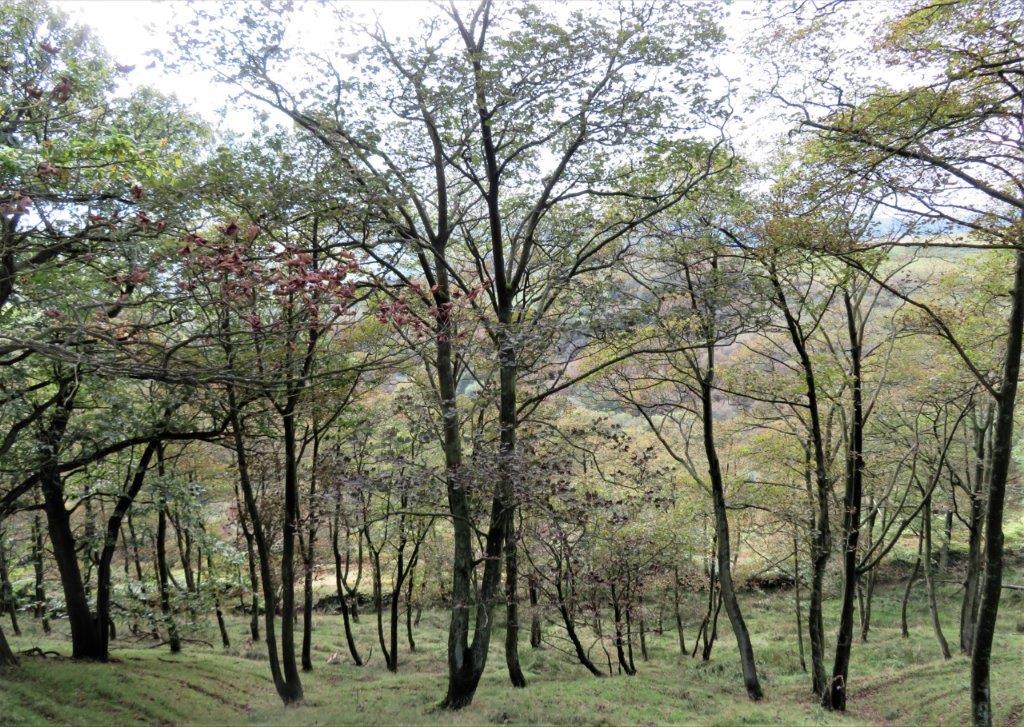 looking down Bole Hill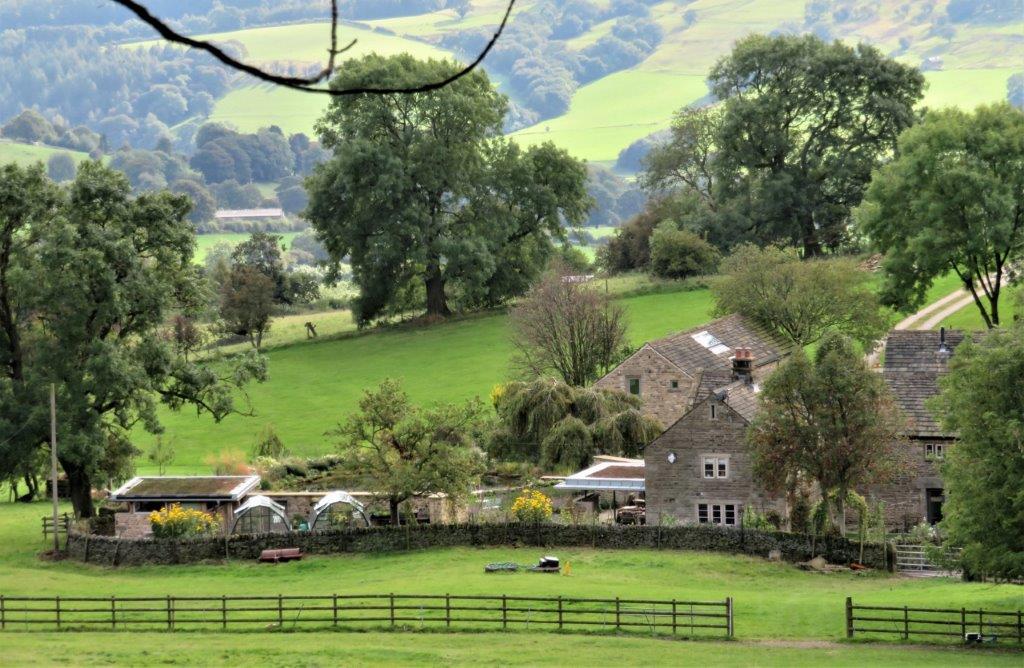 Upper Hurst Farm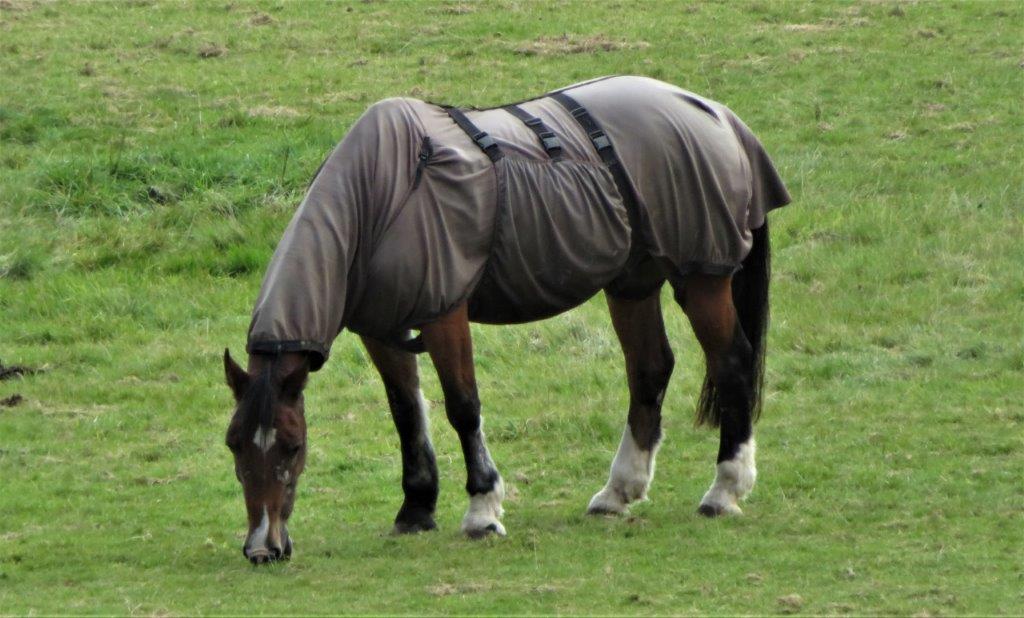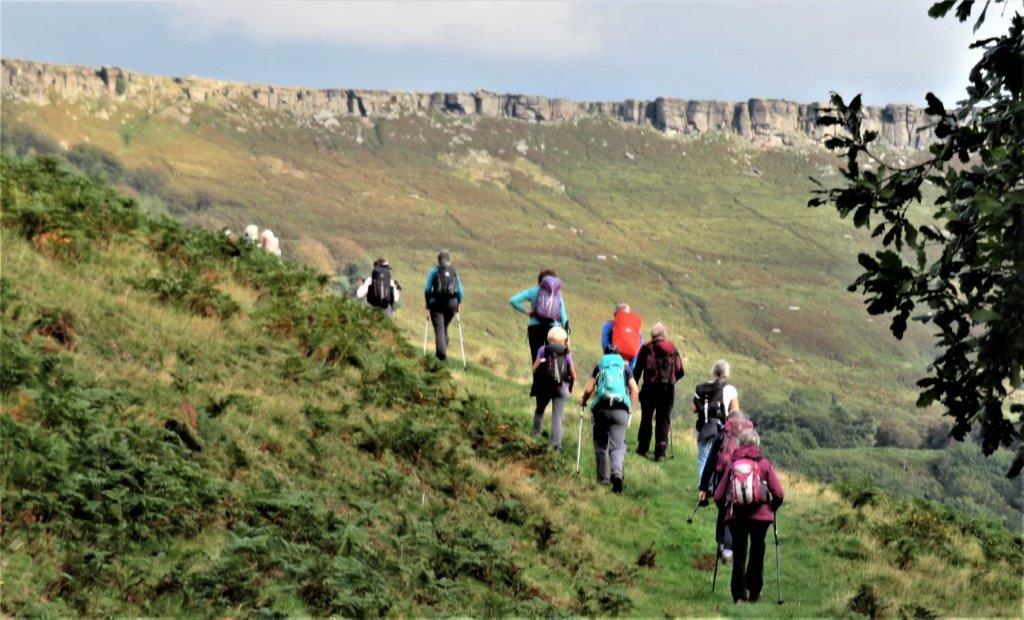 Stanage Edge at back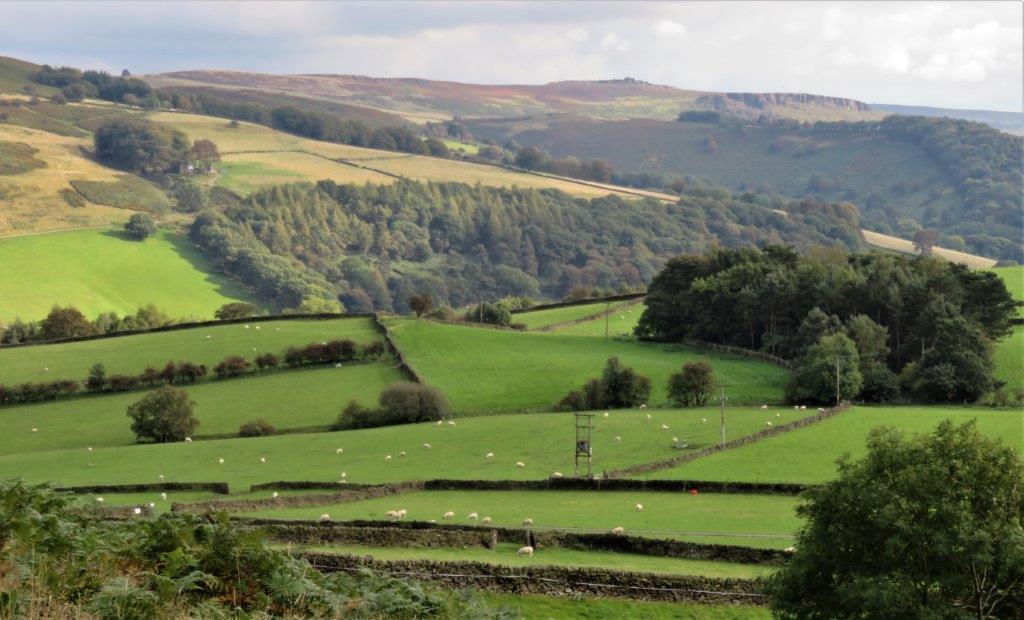 Millstone Edge top right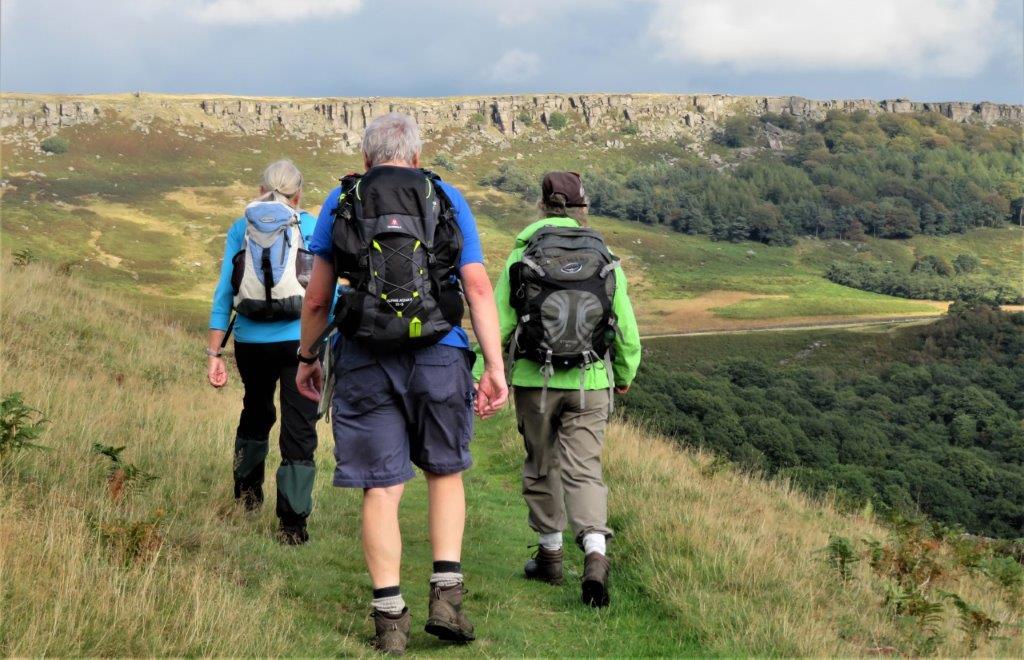 Stanage Edge at top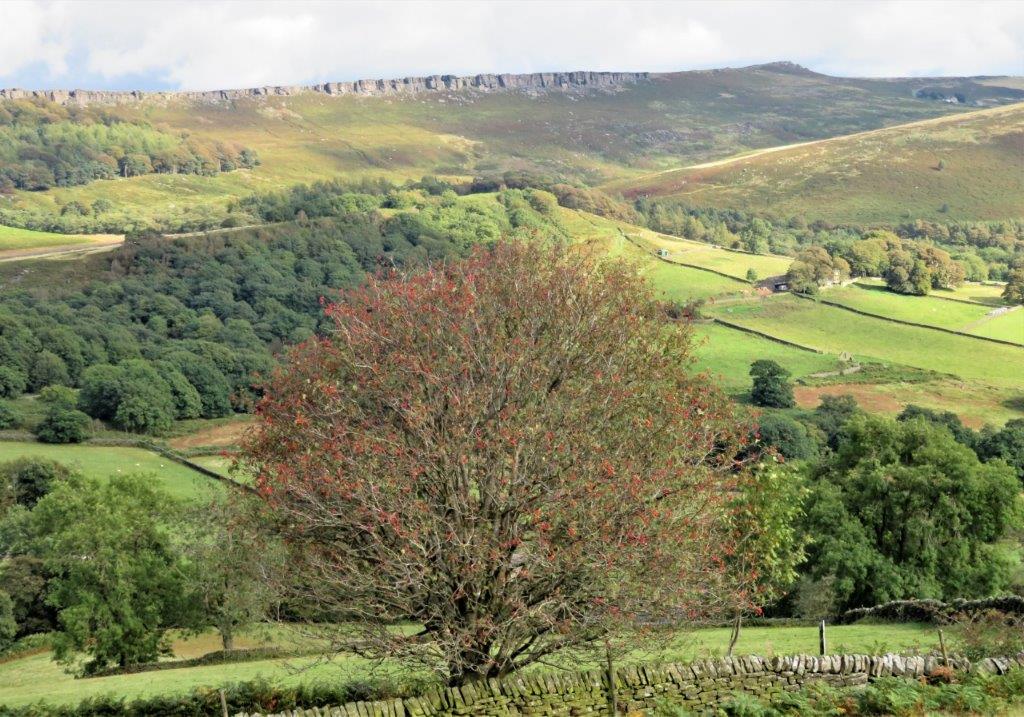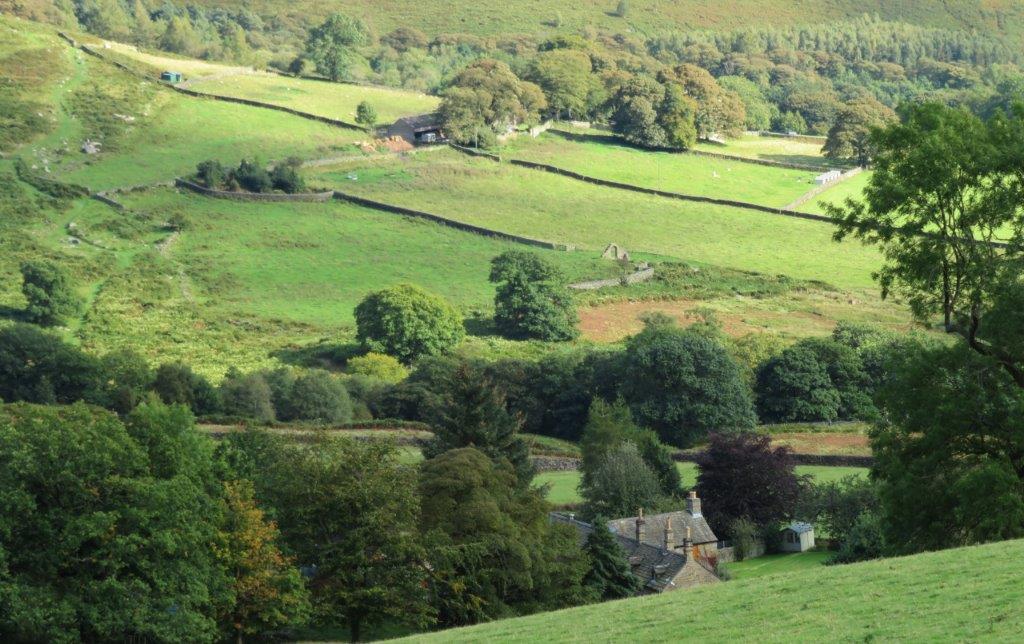 Green House bottom right? In middle ruined Chapel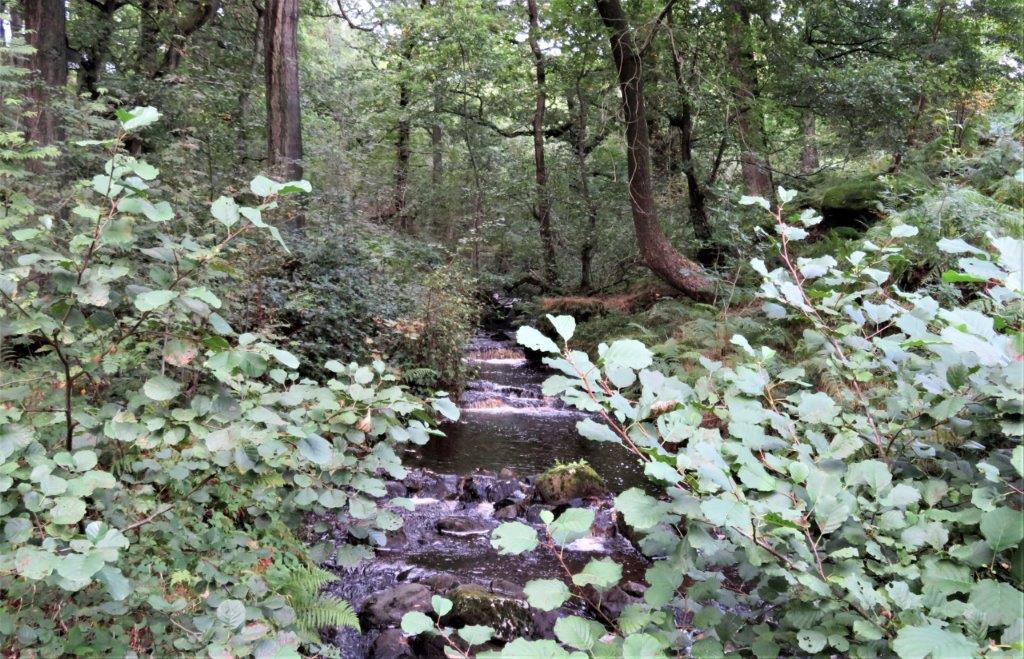 stream seen from footbridge over it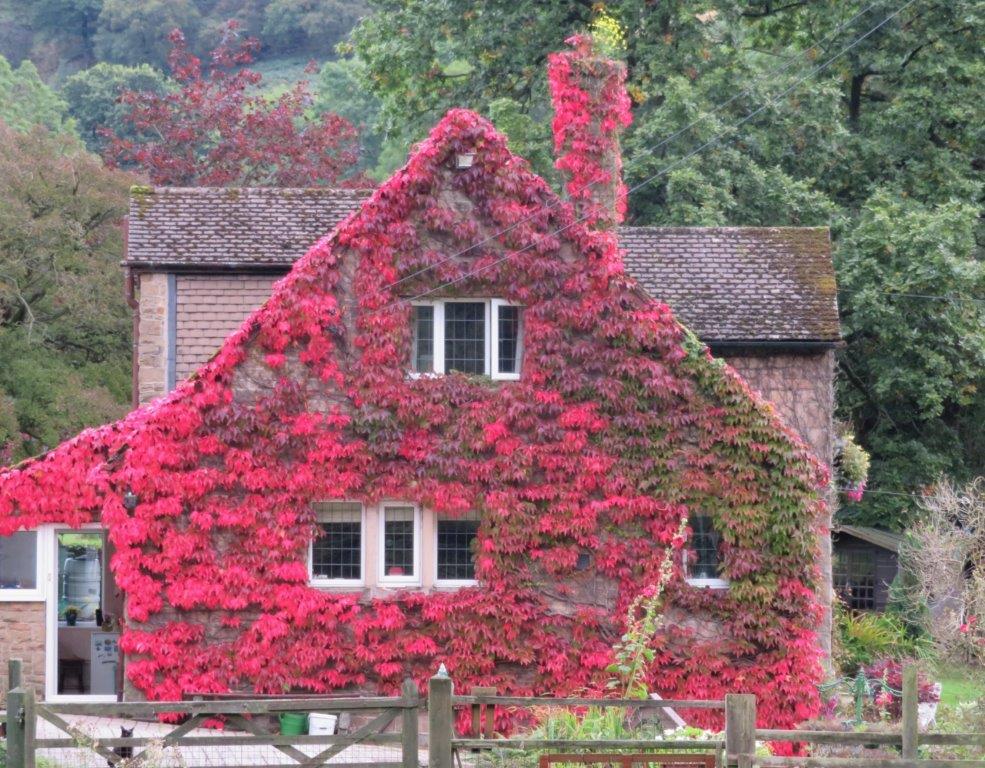 Bronte Cottage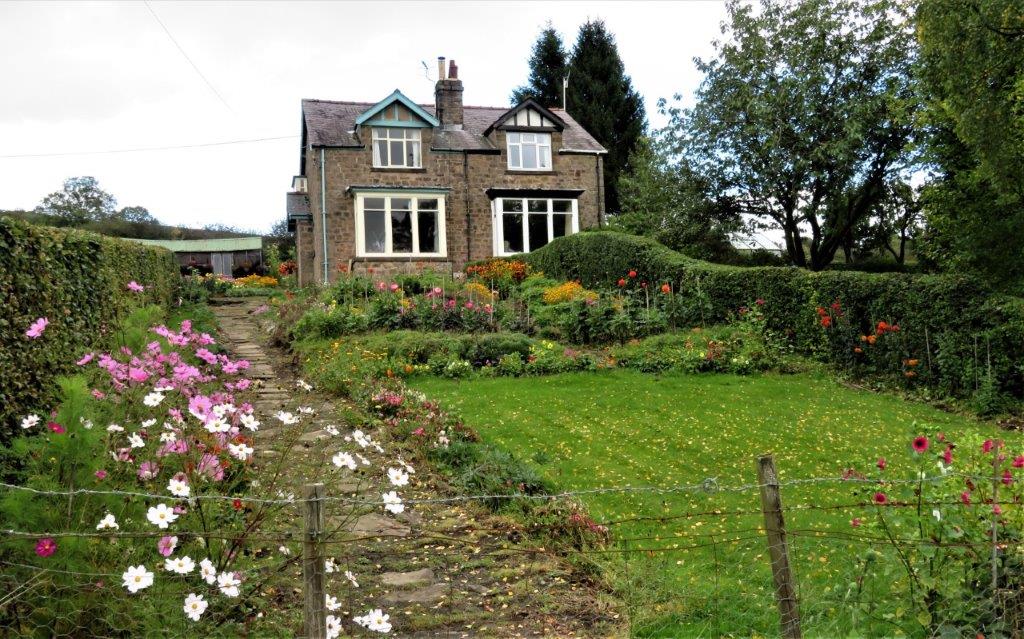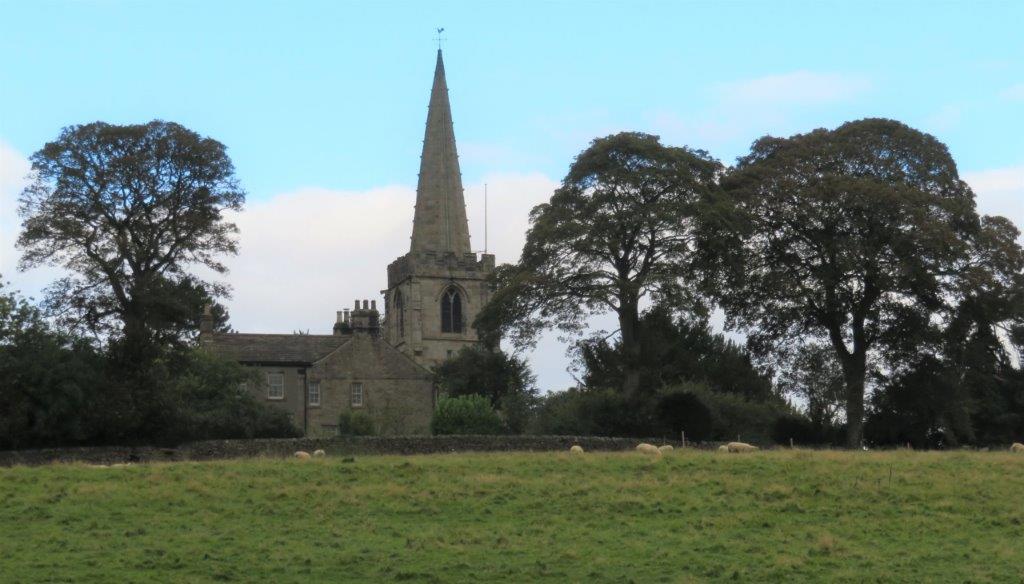 Hathersage's Church
homepage - Daywalks Index 2019 - contact me at