homepage - Daywalks Index 2019 - contact me at

2019.08.14 - CAR RAMBLE - Alstonefield / P&PC SK130556, ~W on FP (South of Brook Lodge) & road to join Asbourne Lane ~NNW thru Wetton, ~N on FP (on East side of Wetton Hill), ~NNW to Manor House, ~SW on 'Other Routes' to Wetton Mill / P & PC, cross River Manifold, BW ~W then ~SW along river (Waterslacks) , FP ~WNW along Hoo Brook, short turn ~S to reach Potbrook Lane, ~N thru Butterton to PH & Church, ~N from Church then FP ~N across Warslow Brook to join B5053 Rd (on West side of Brownlow), ~ENE along Rd past Shay Side to past Warslow, before Hobcroft Farm FP ~ESE then E to road ESE to Ecton, climb on FP ~S & ~E to Ecton Top, ~SE to SK107568, ~E / ESE to Gateham Farm & across Long Lane, ESE on FP then SE on road into Alstonefield - leader Liz Savage - Wednesday
Rain at times made photographing difficult / also muddy conditions under foot made walking difficult & slow / but a spectacular area especially in sunny weather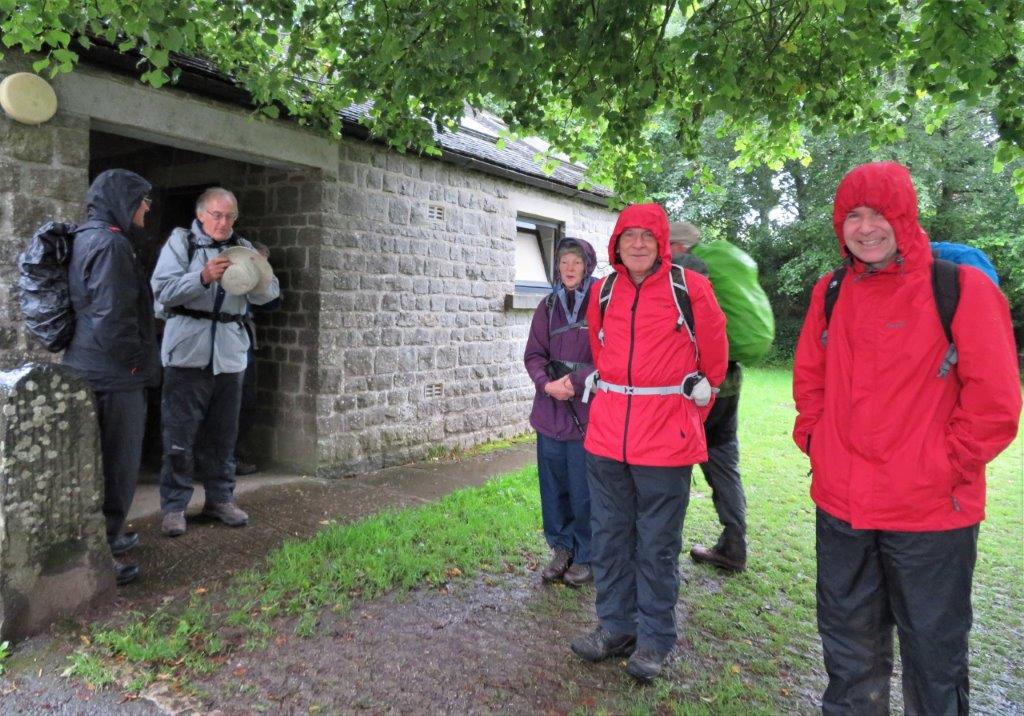 at Alstonefield Parking & P.C. - weather gear donned before starting on walk against expected heavy rain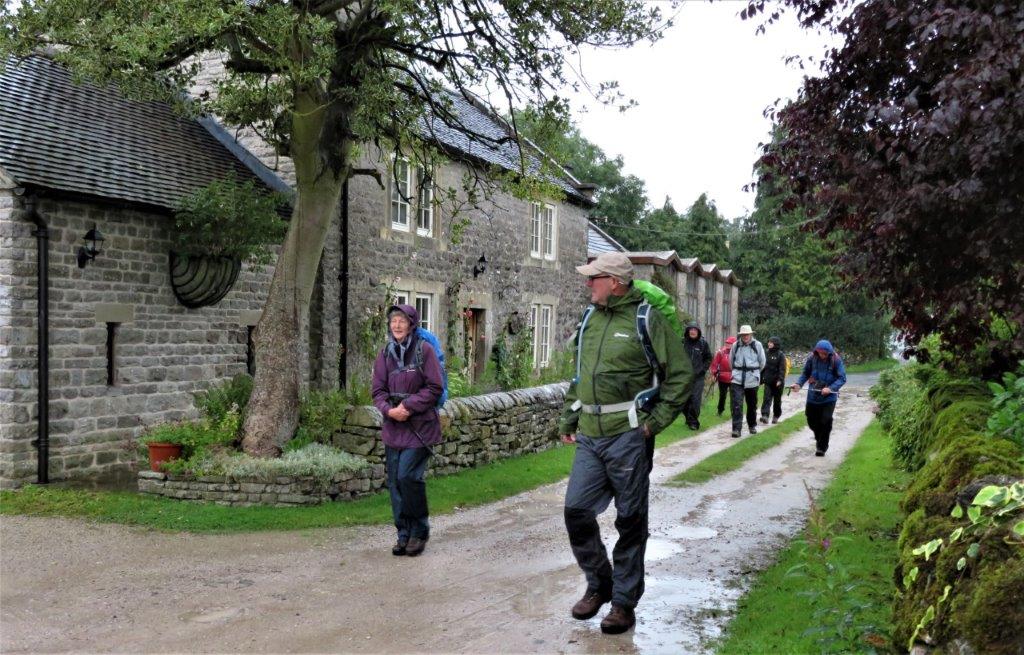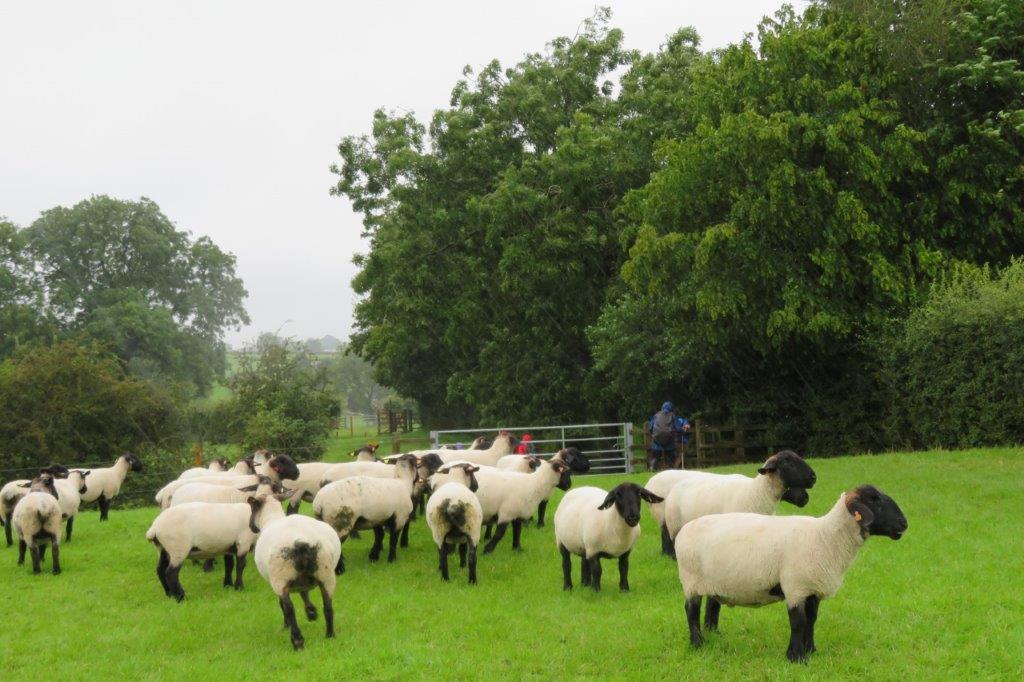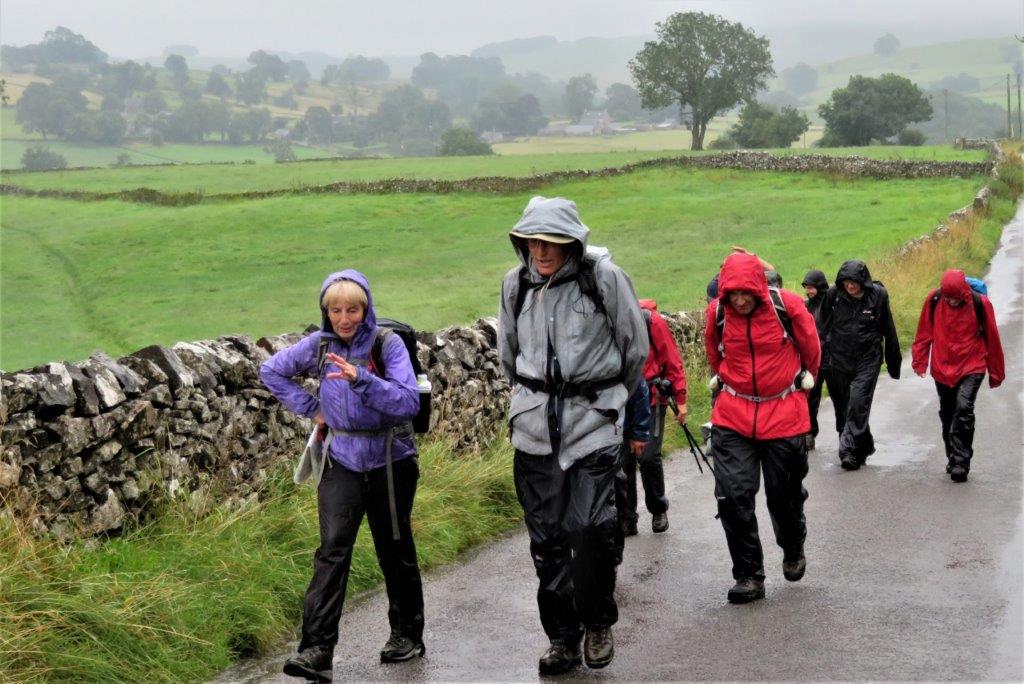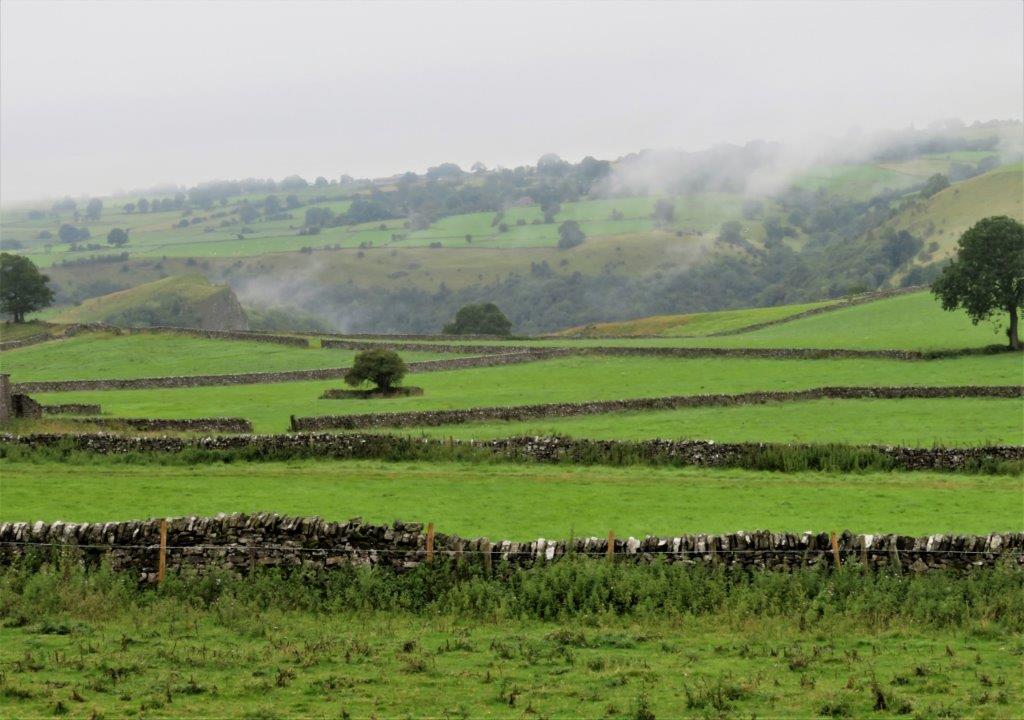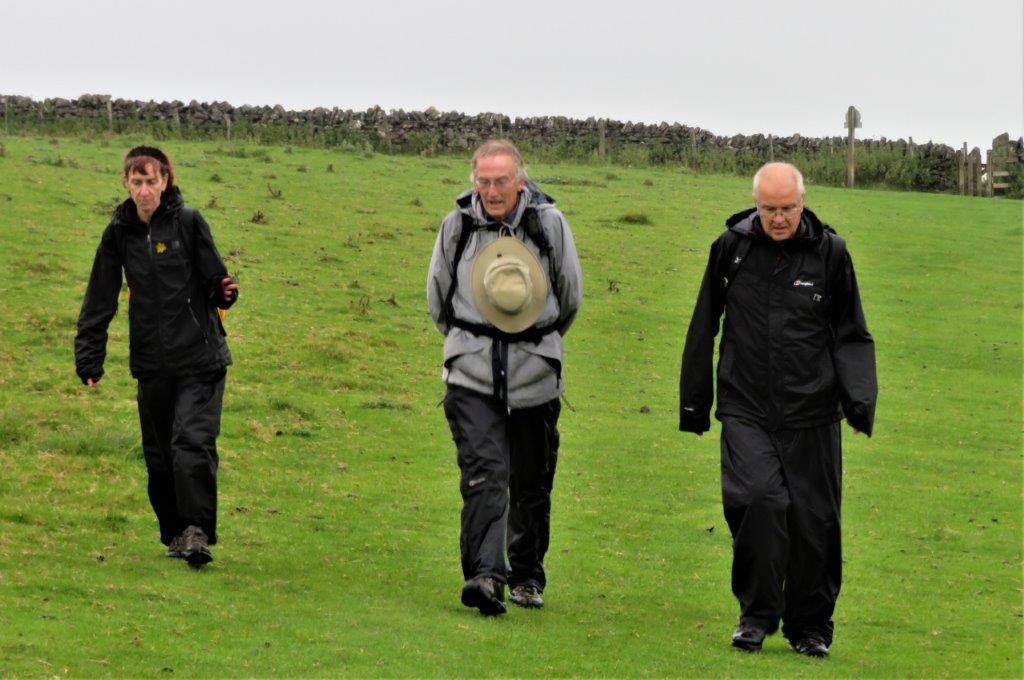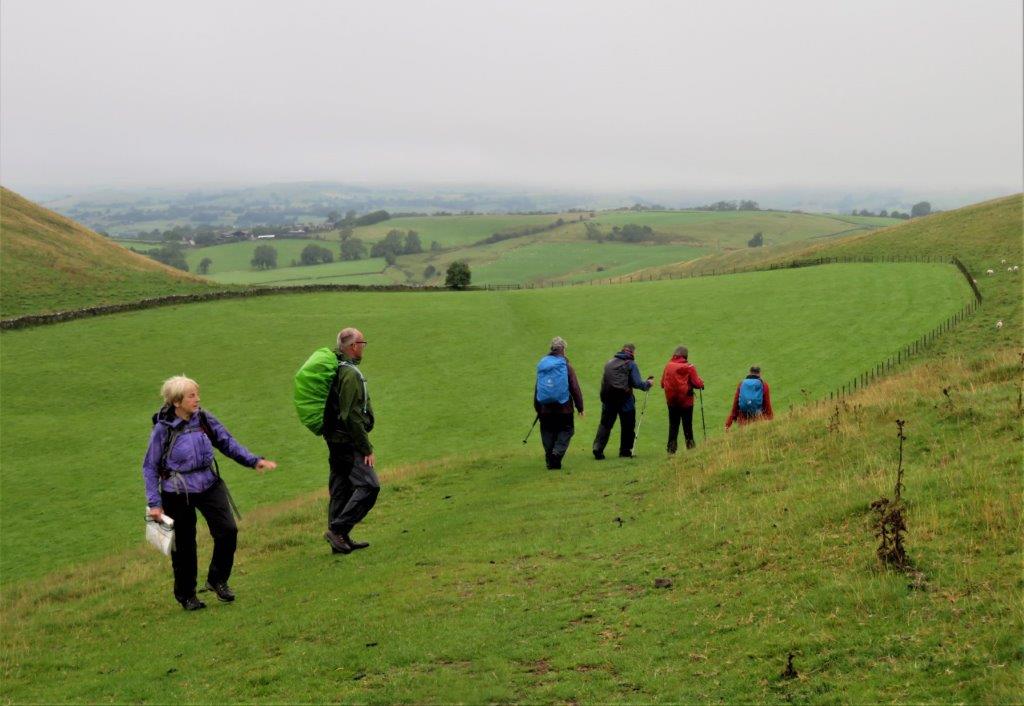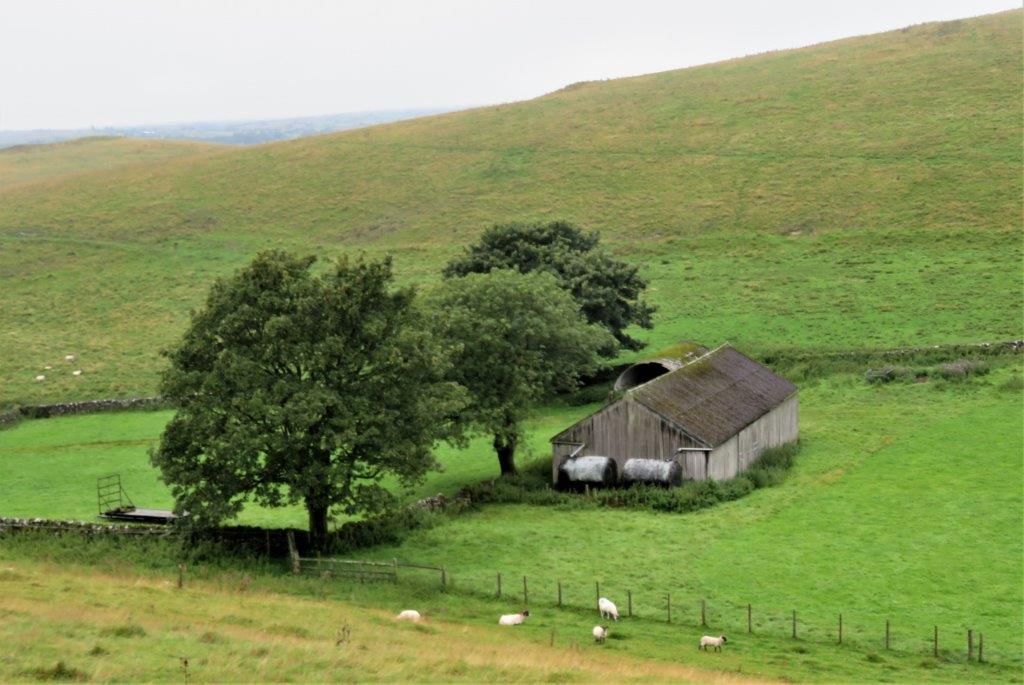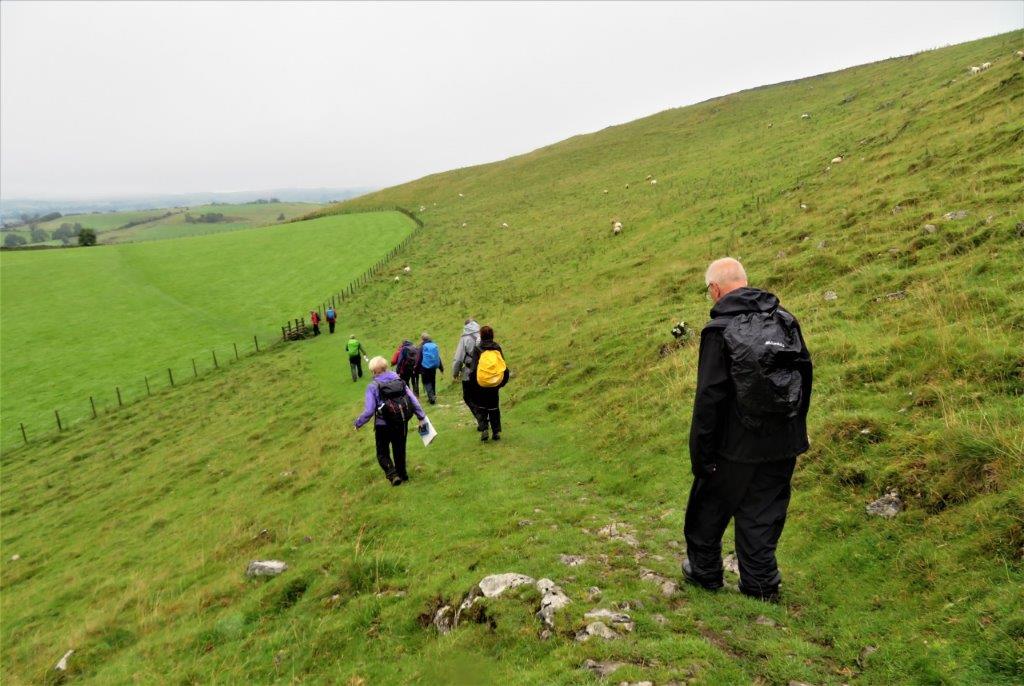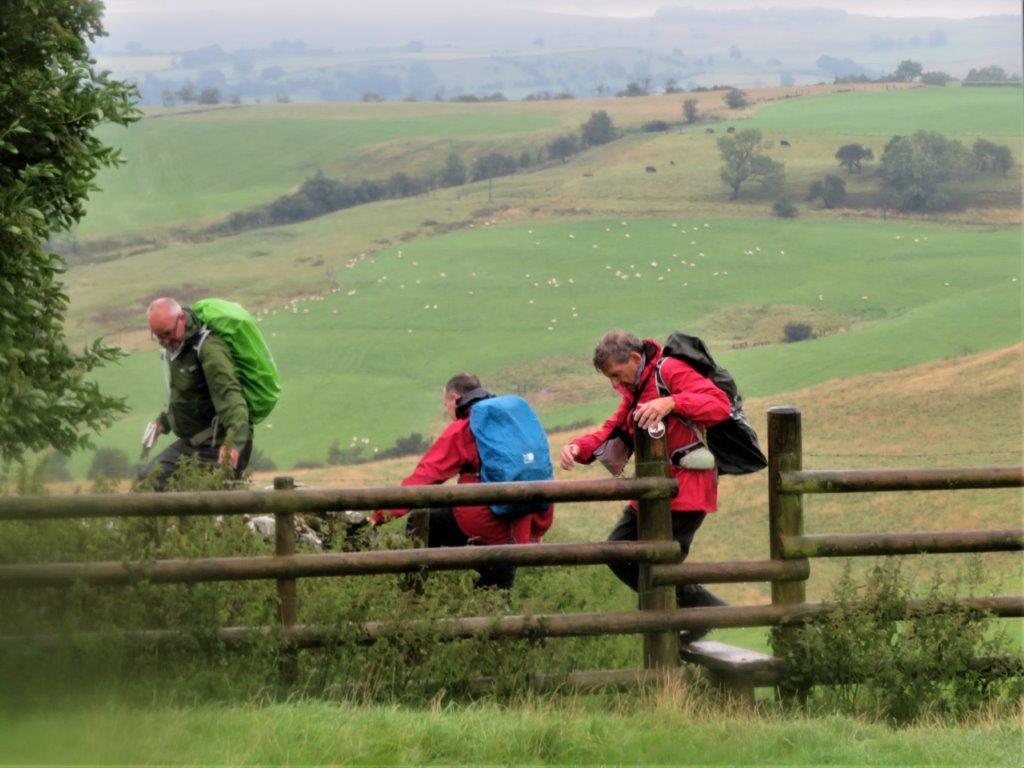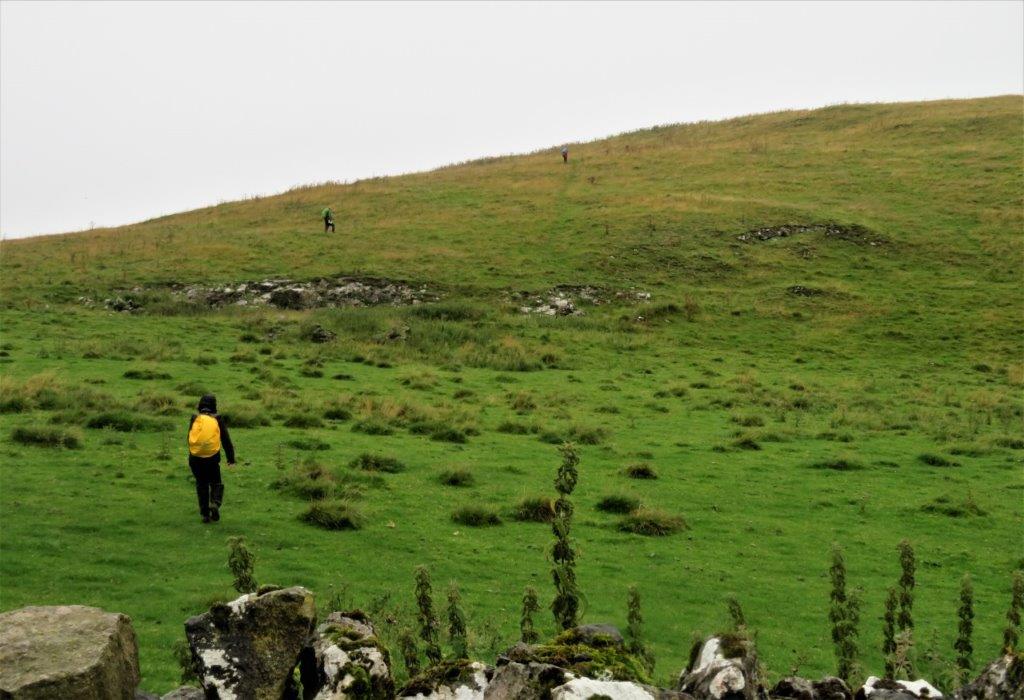 some adventurous souls take steep route up Wetton Hill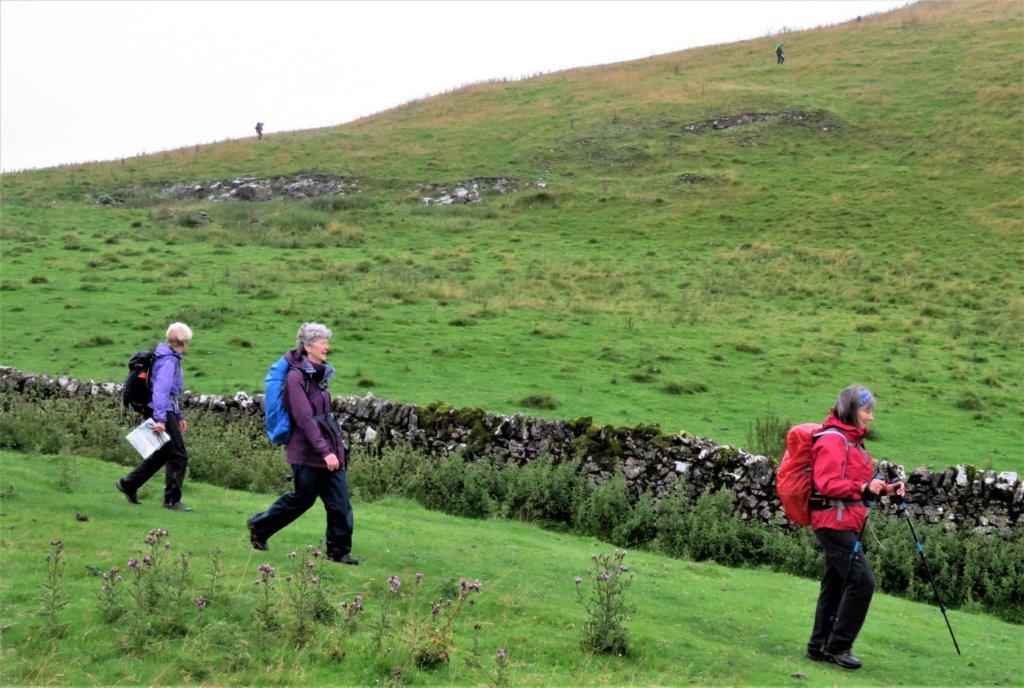 most of party continue skirting around hill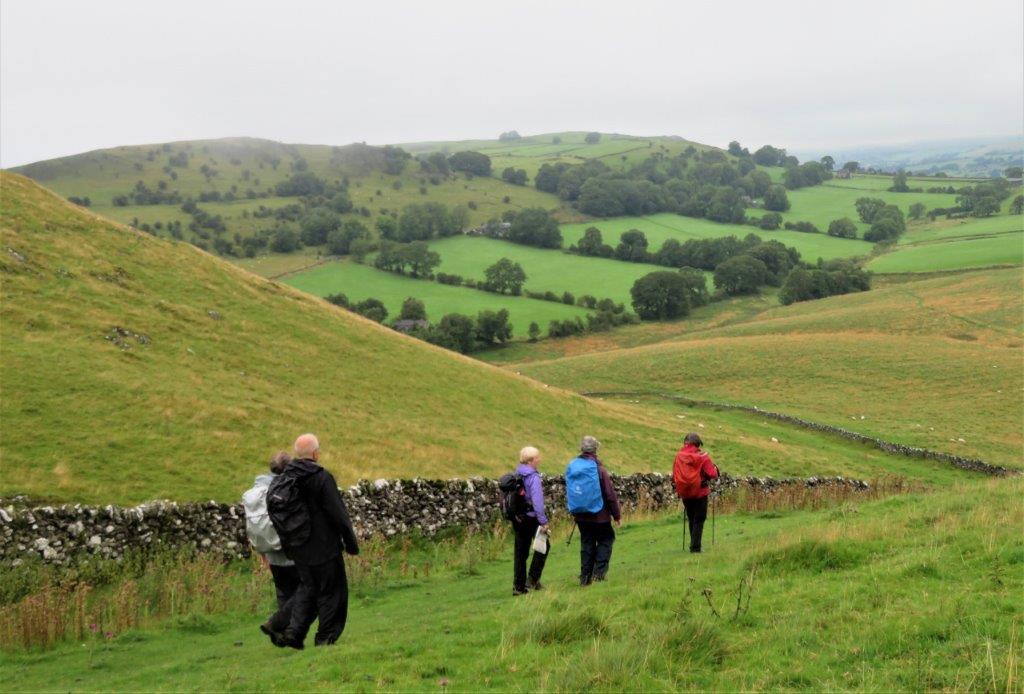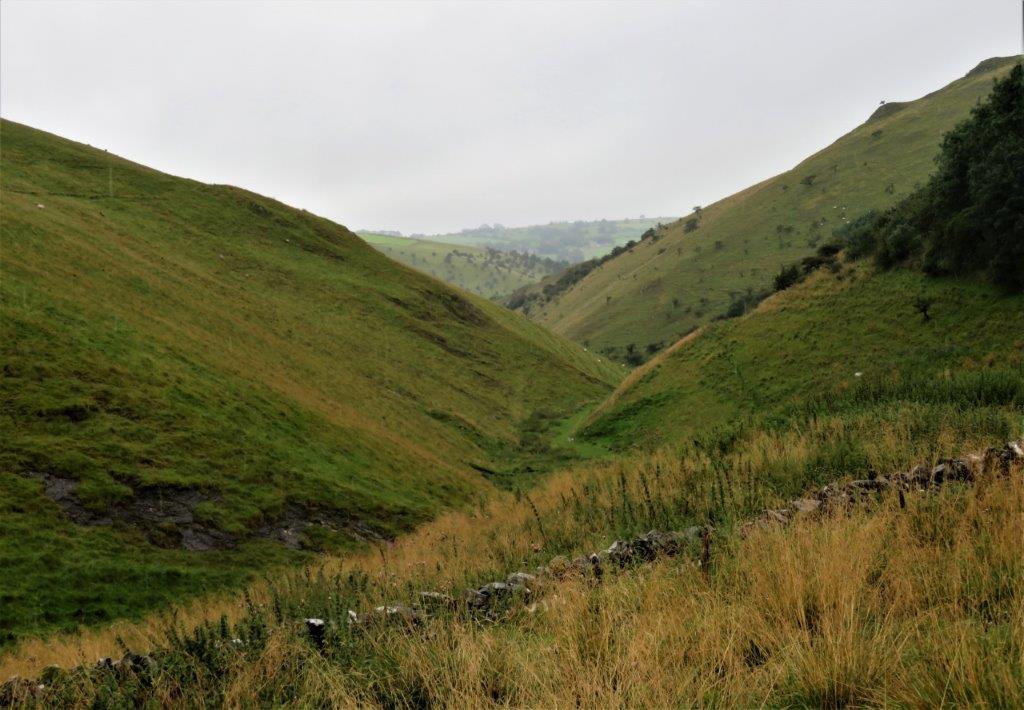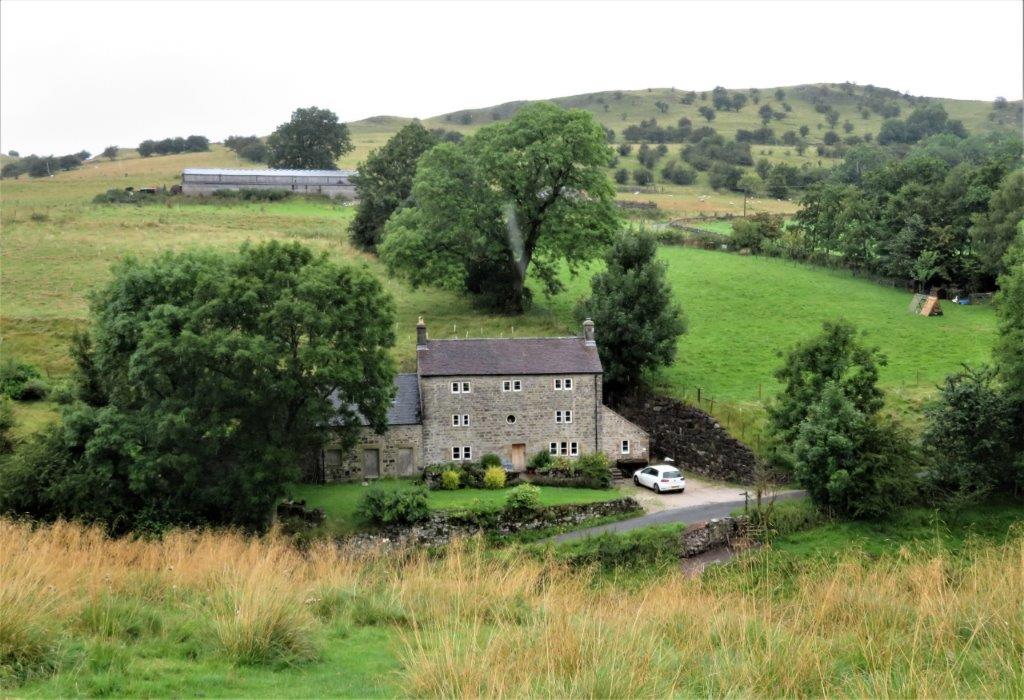 Manor House - position seems to be as on 1 in 50.000 map rather than as on 1 in 25.000 map?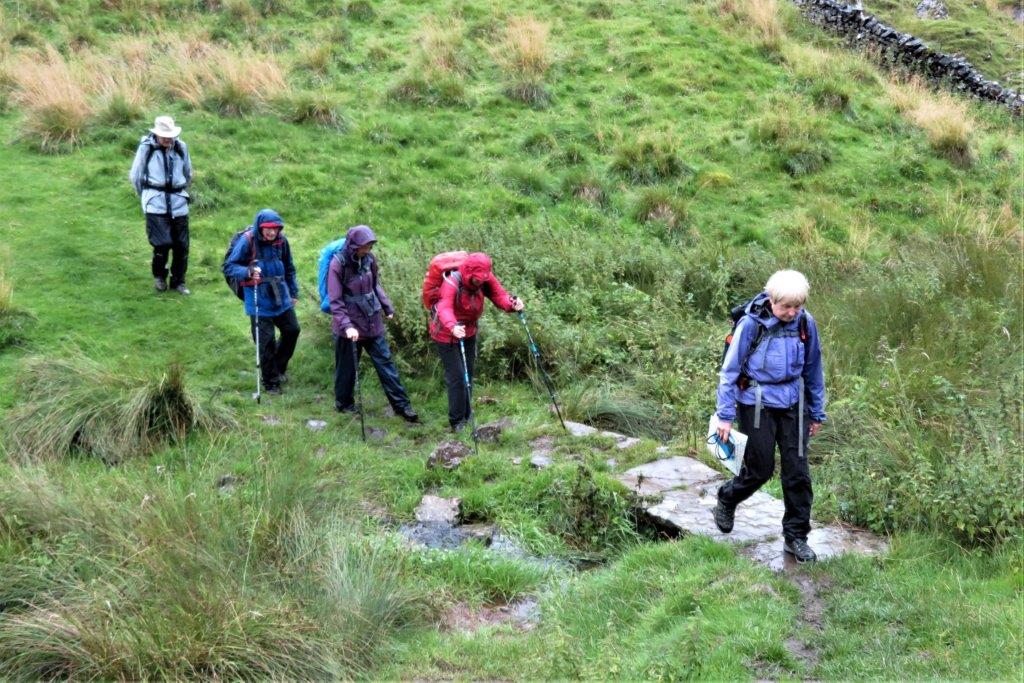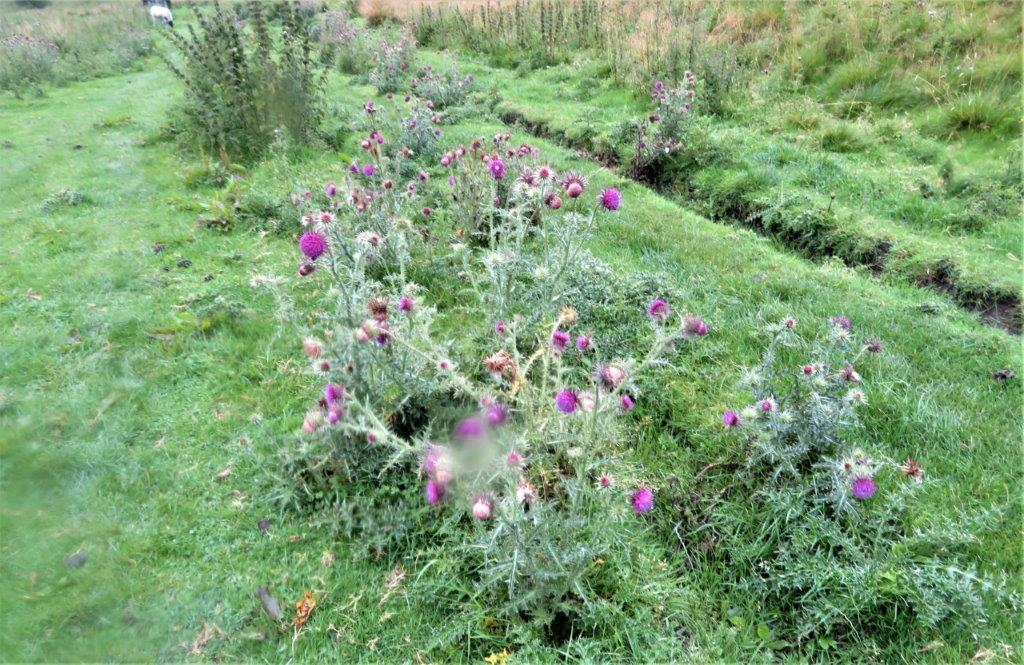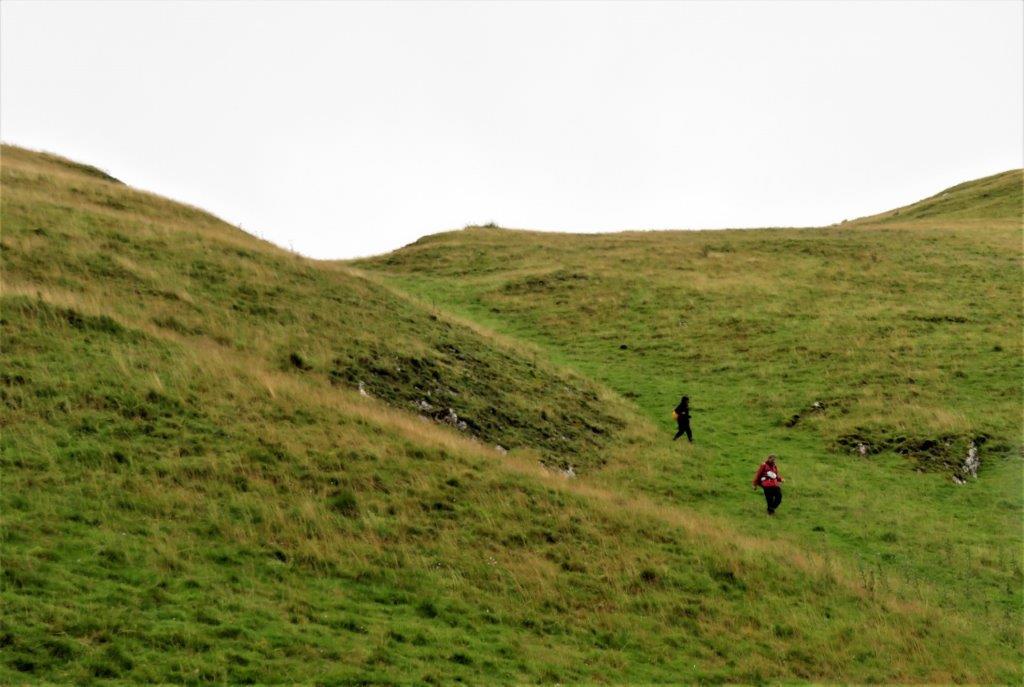 the tail enders from the Wetton Hill diversion jaunt about to rejoin the main party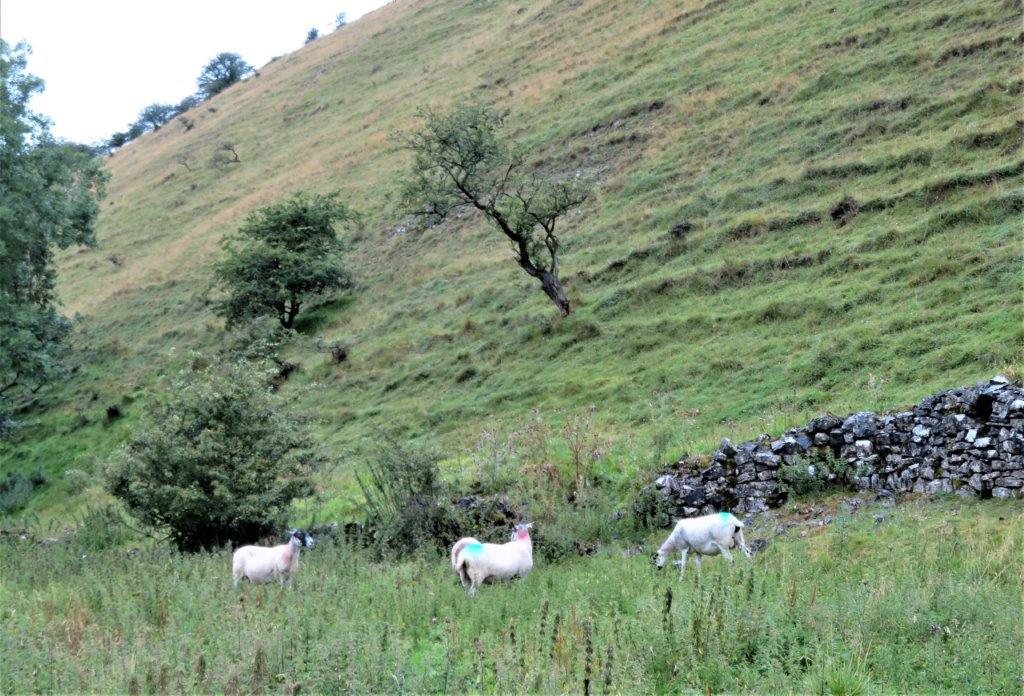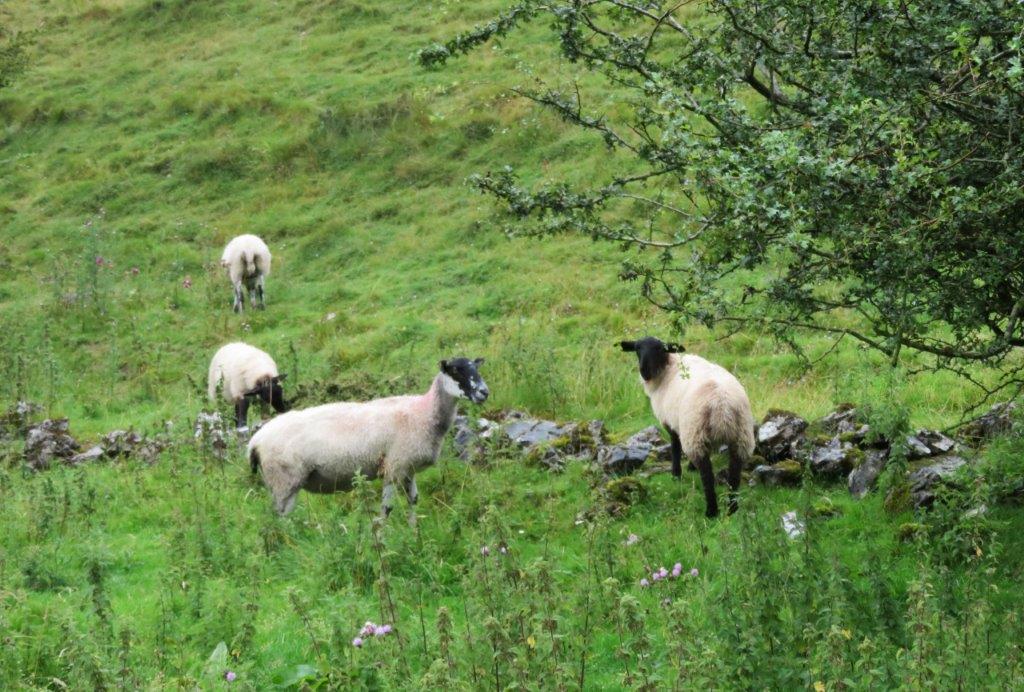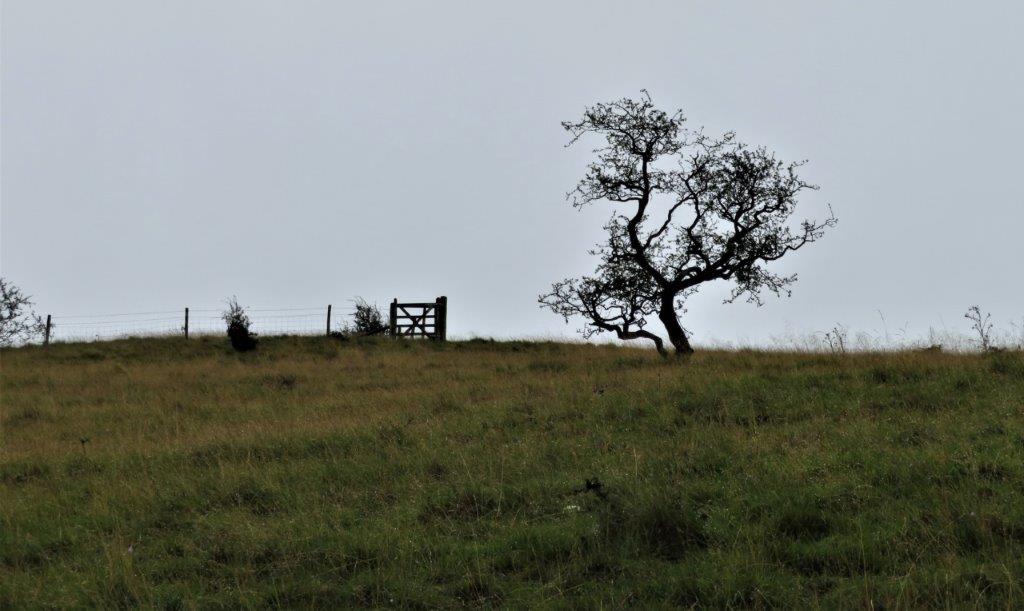 zoomed-in upward onto a stile high up Wetton Hill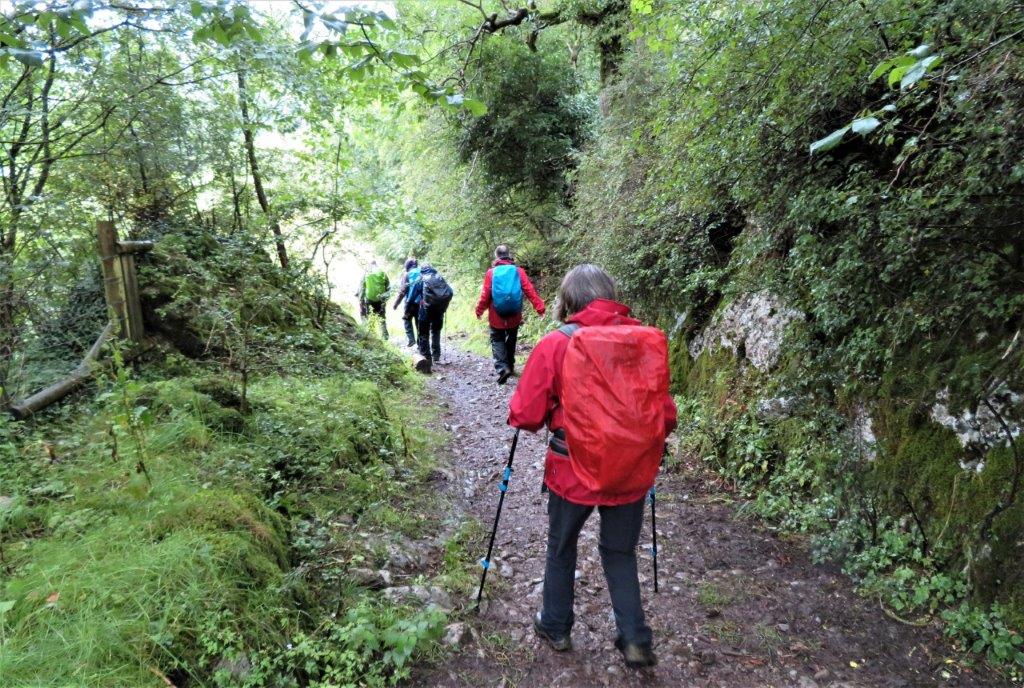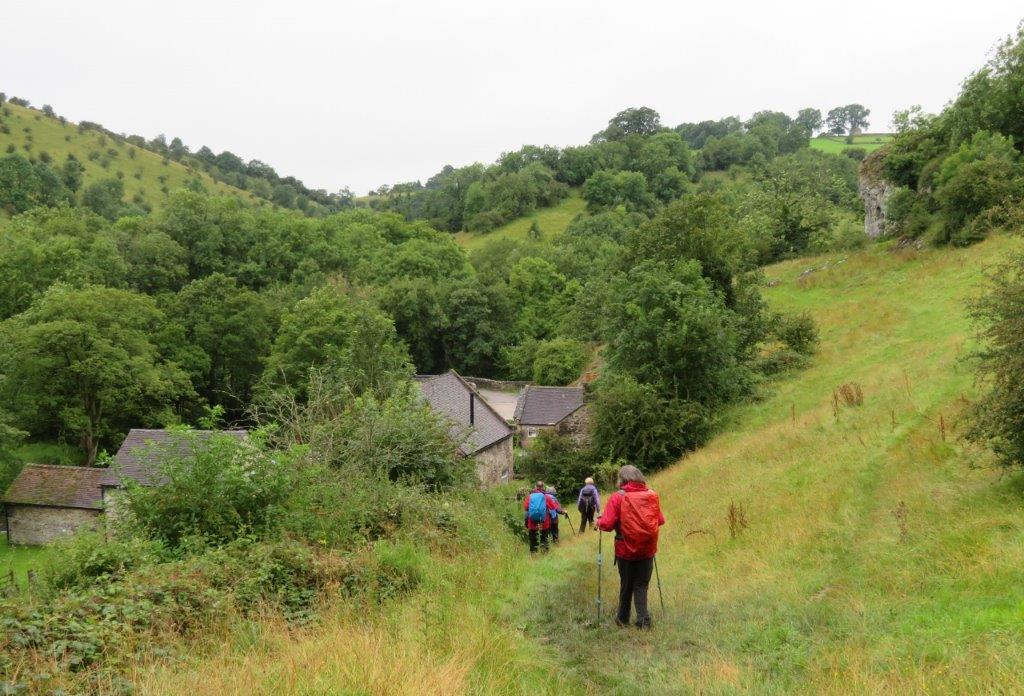 coming into Wetton Mill & National Trust Tea Rooms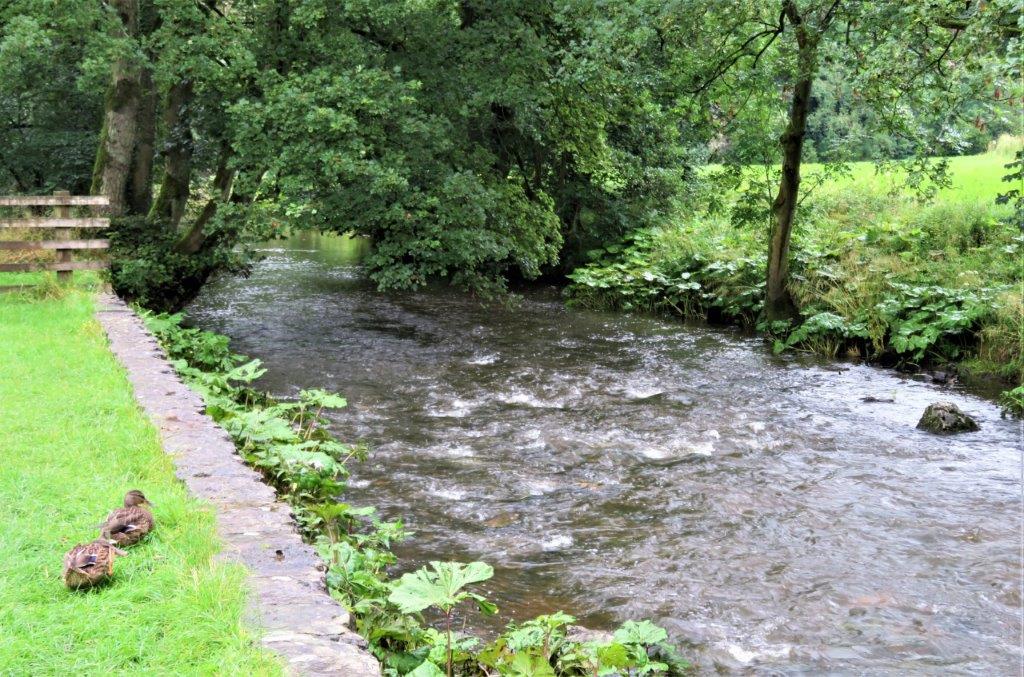 River Manifold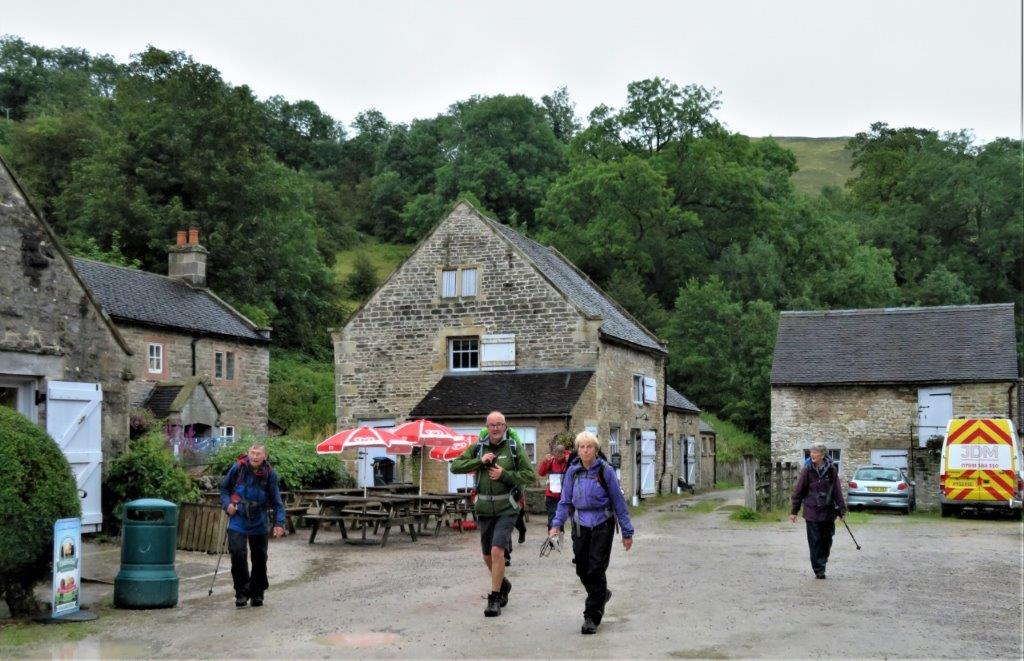 Wetton Mill Tea Rooms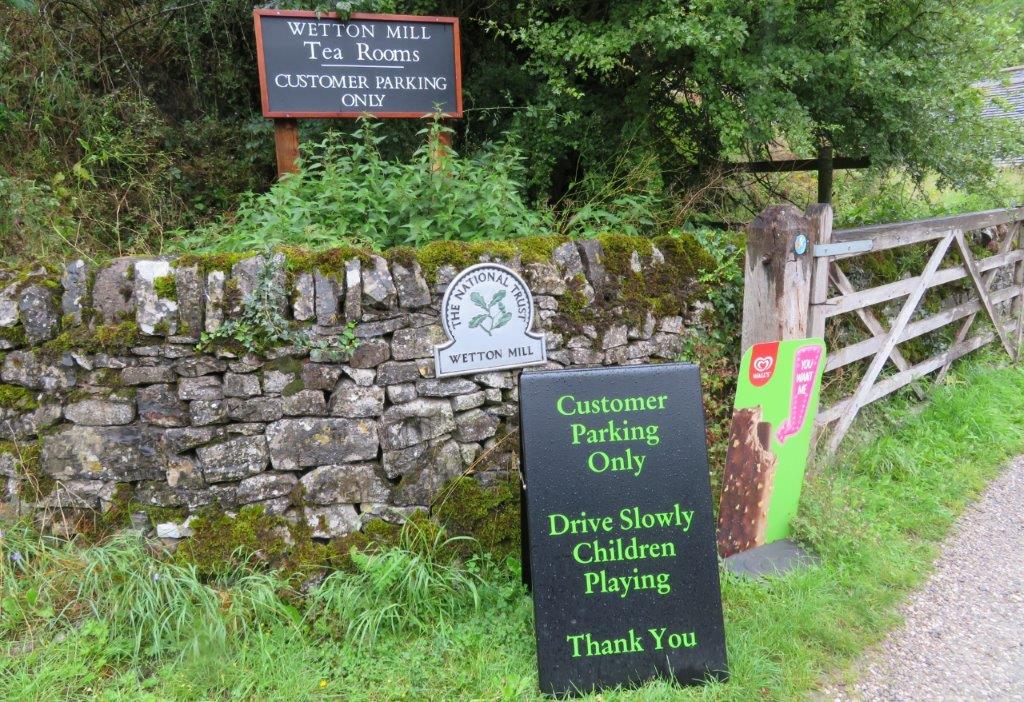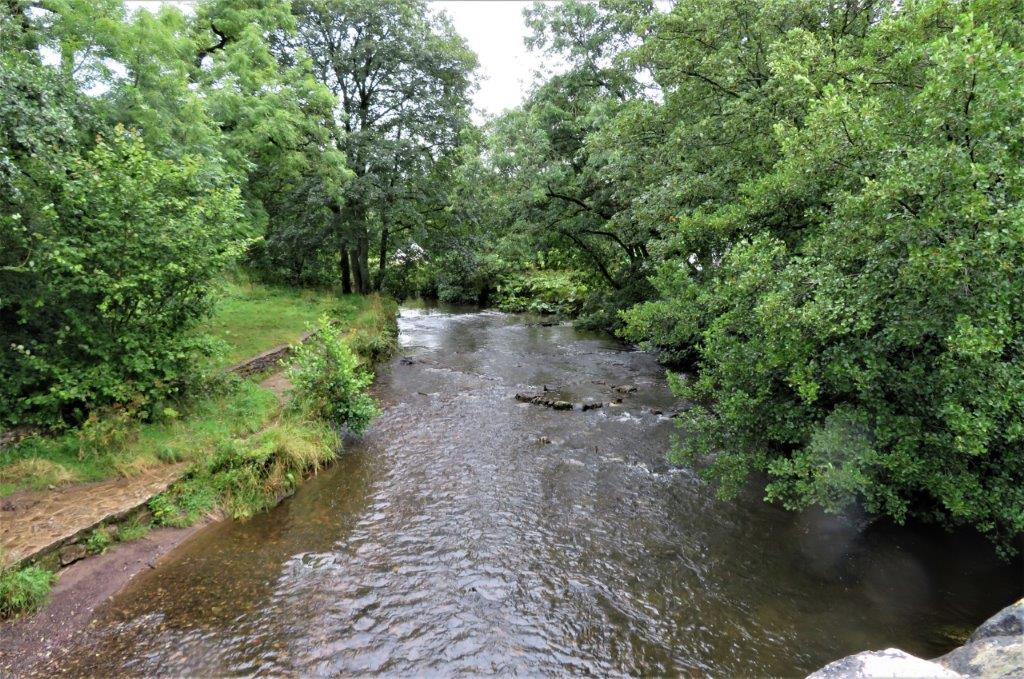 view from the road bridge of the River Manifold
we, however, follow the Hoo Brook tributary which joins the River Manifold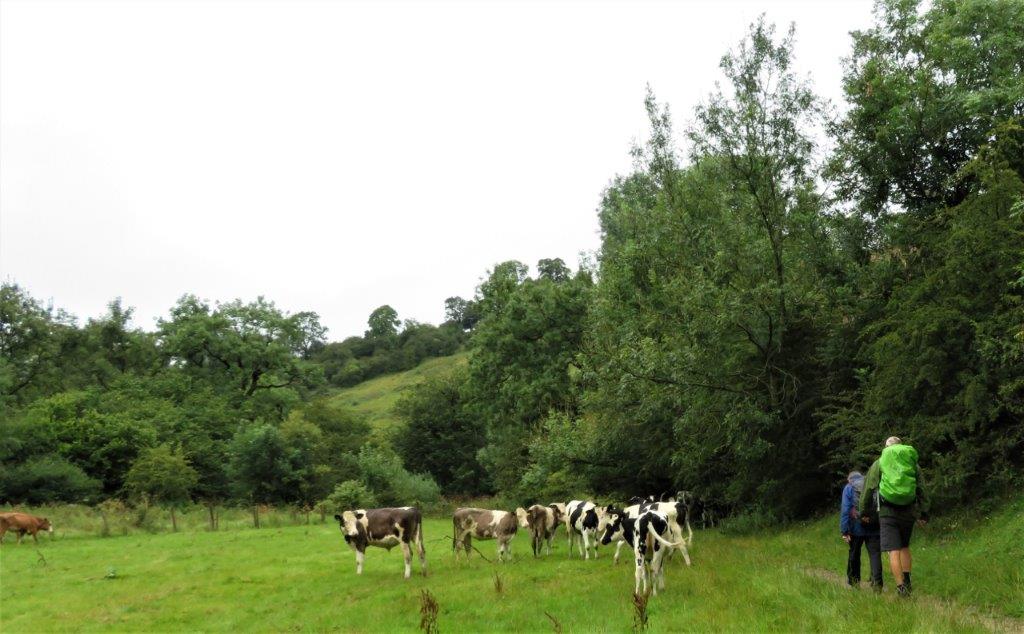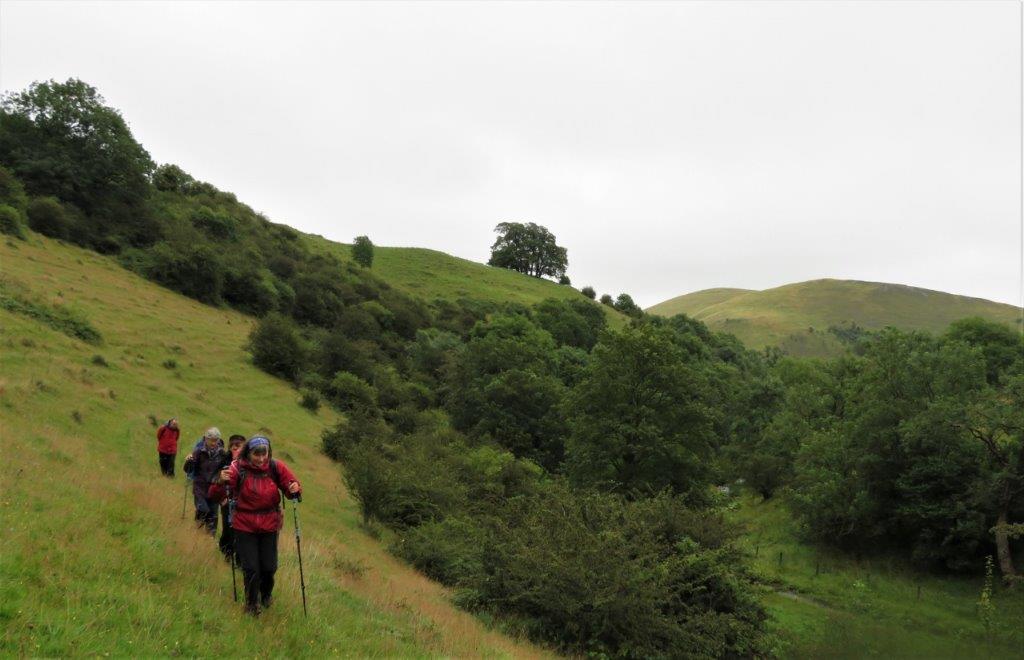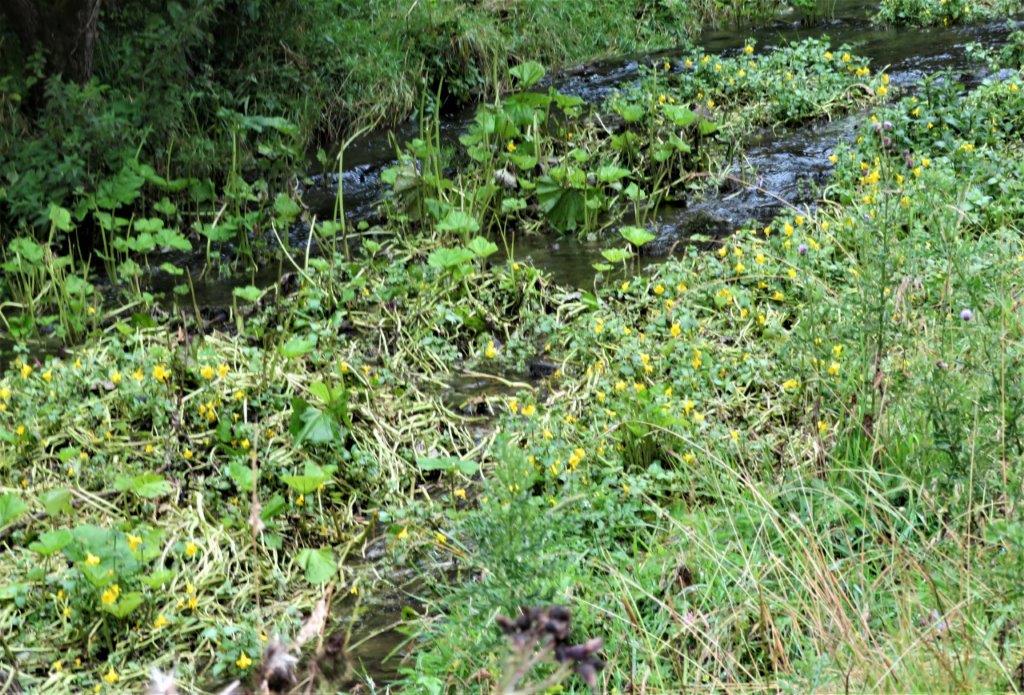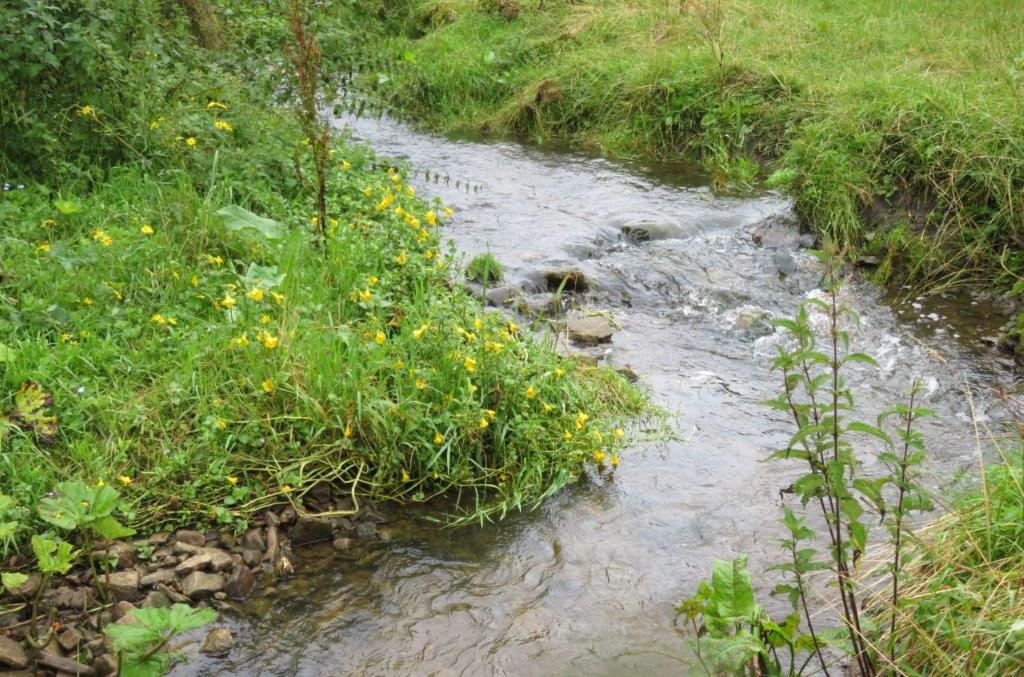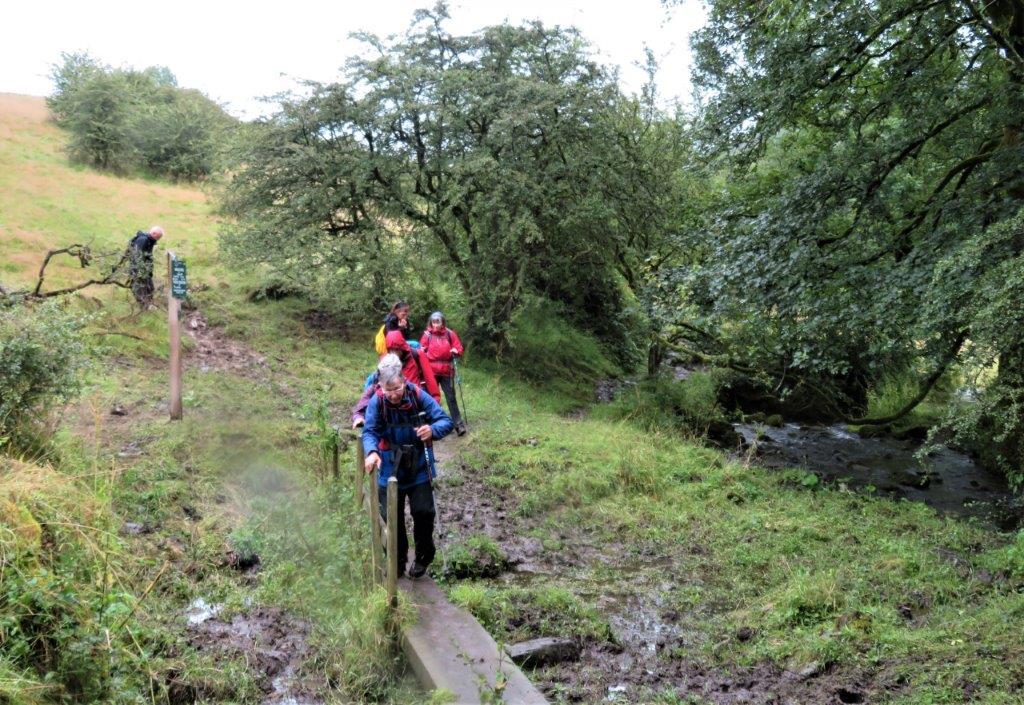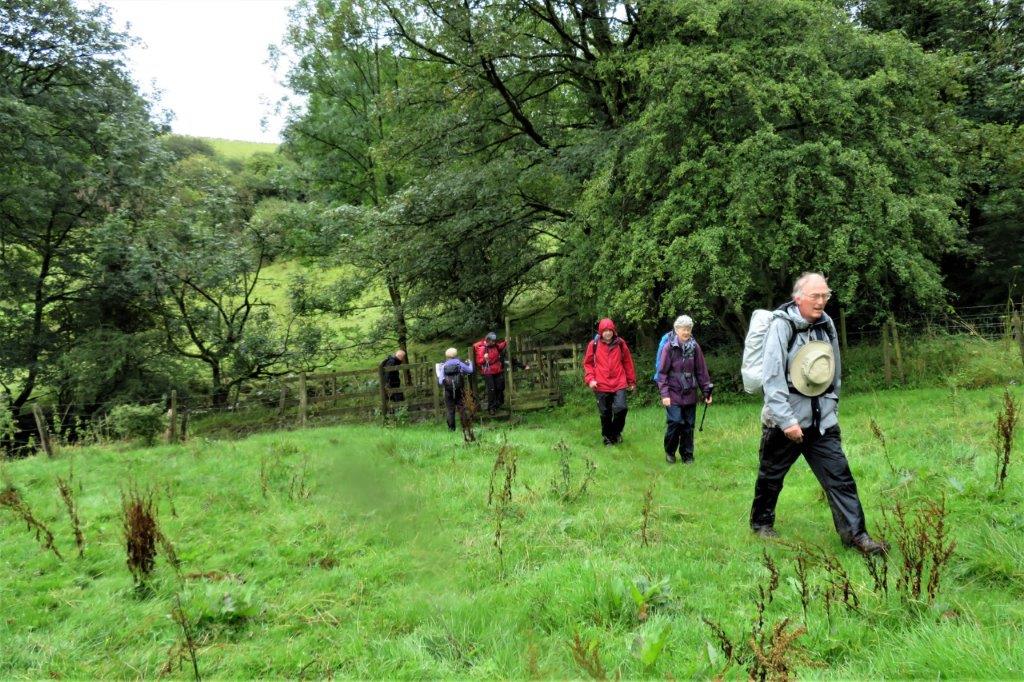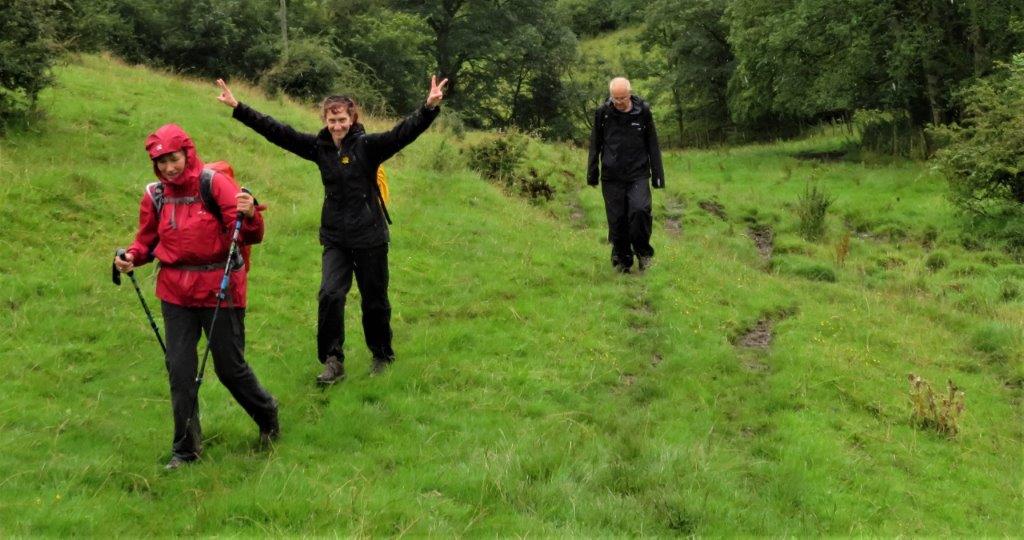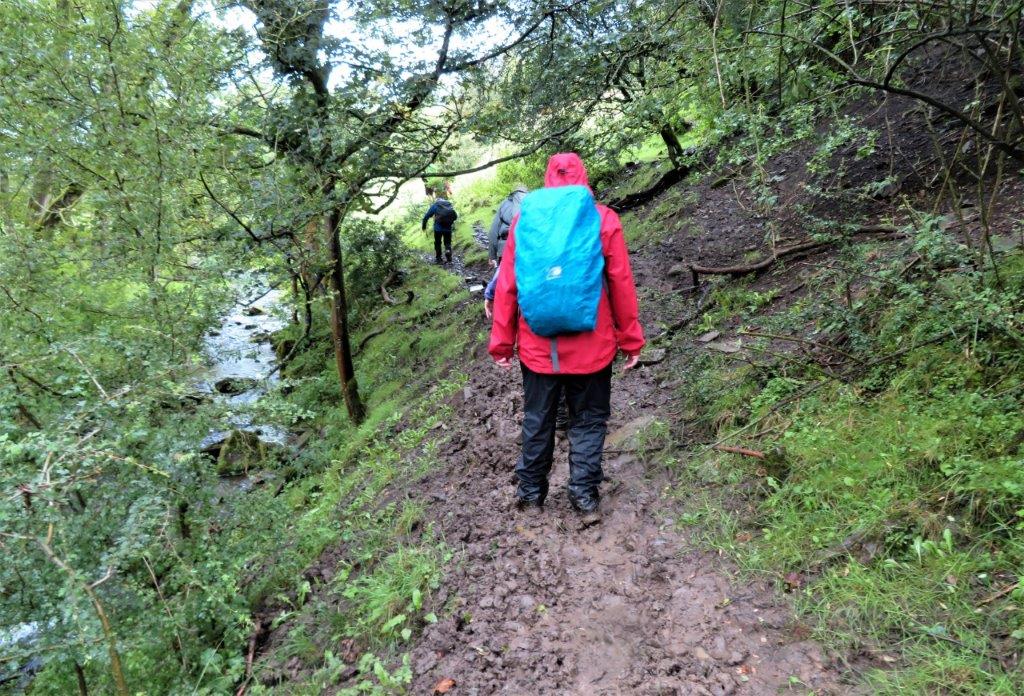 slippery mud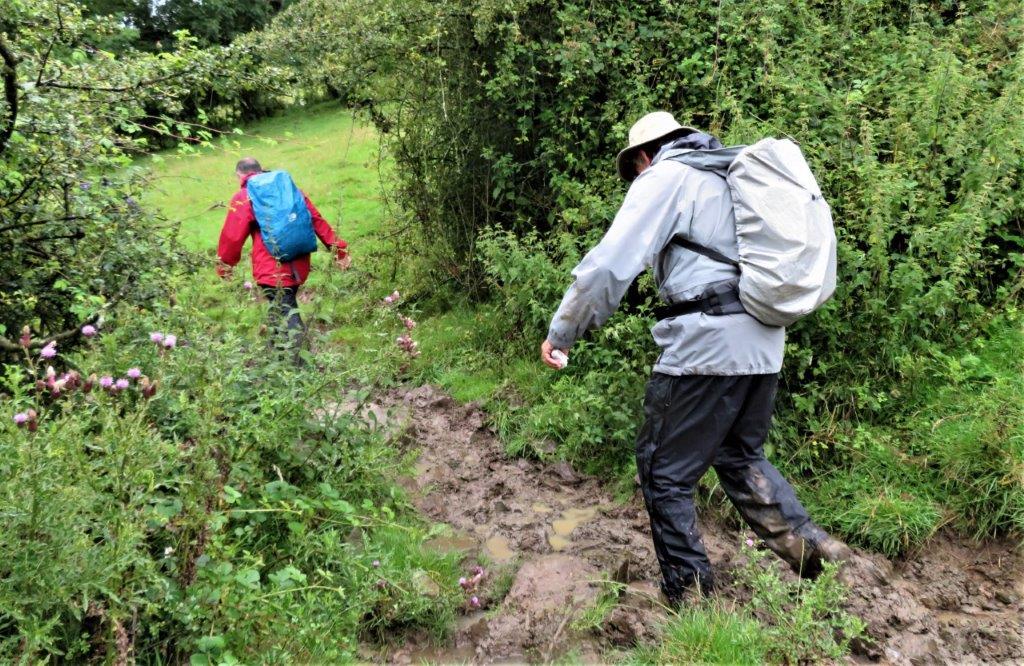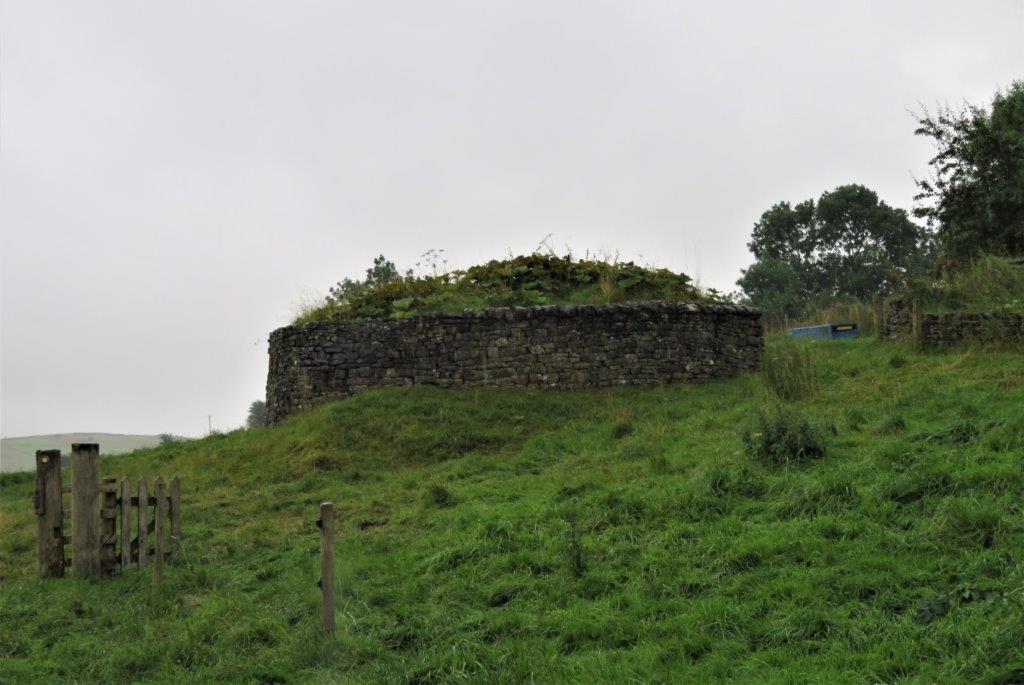 high round drystone wall structure at south edge of Butterton - any idea why it was built?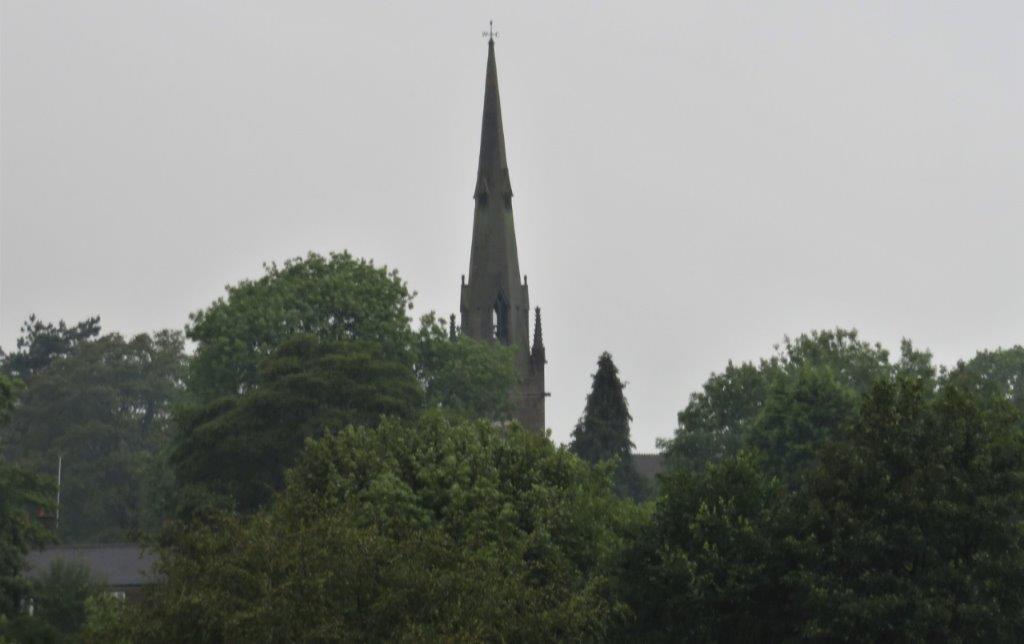 zoomed into Butterton's Church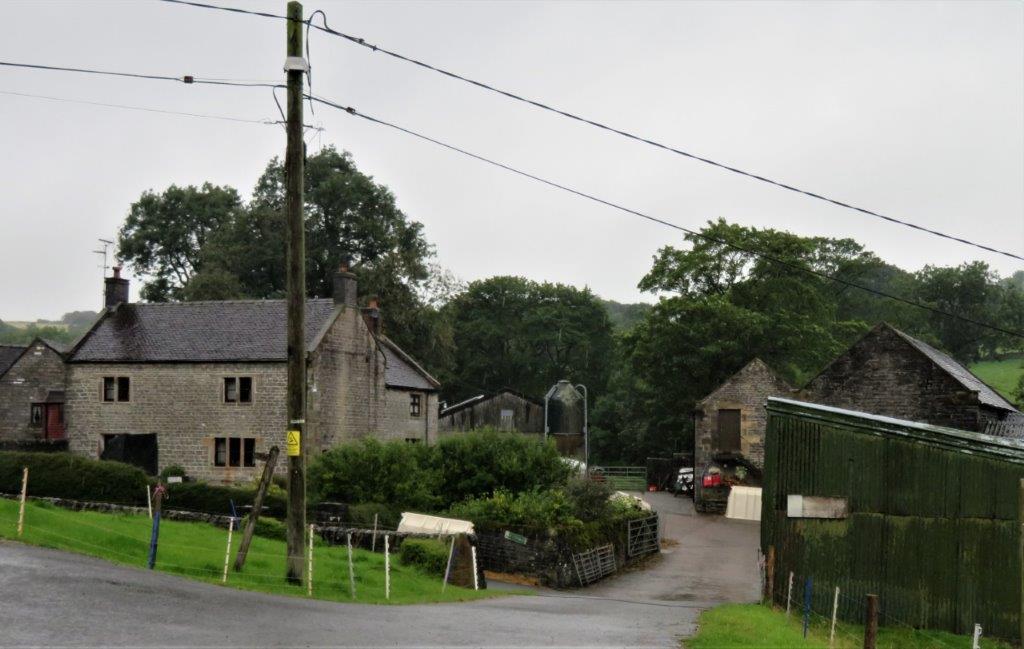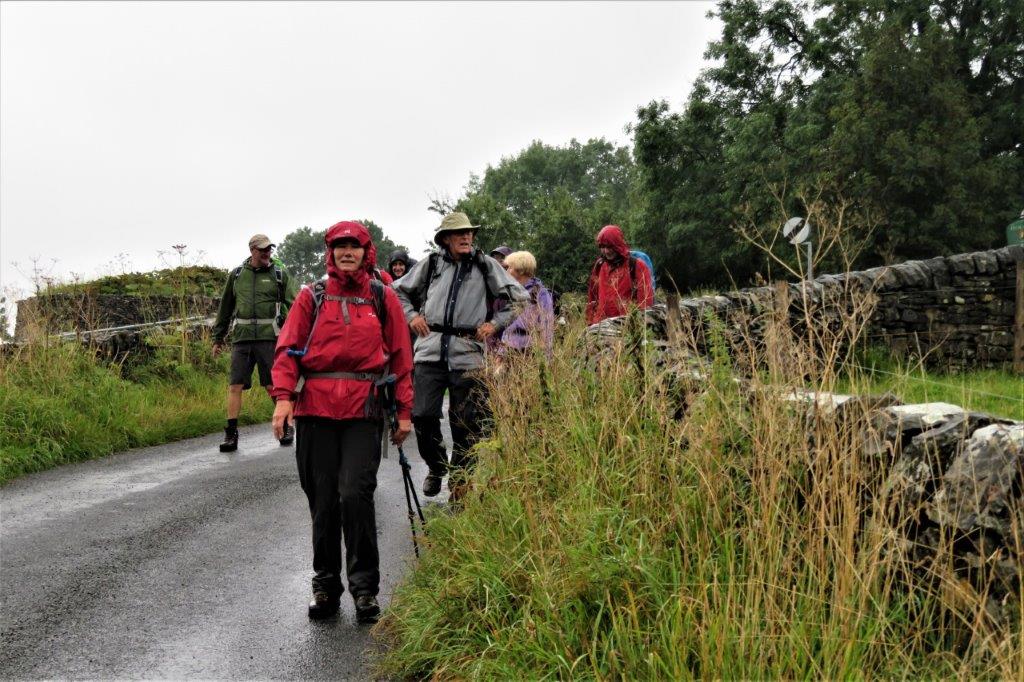 note round drystone wall structure (seen earlier) now behind us as we U turned towards Butterton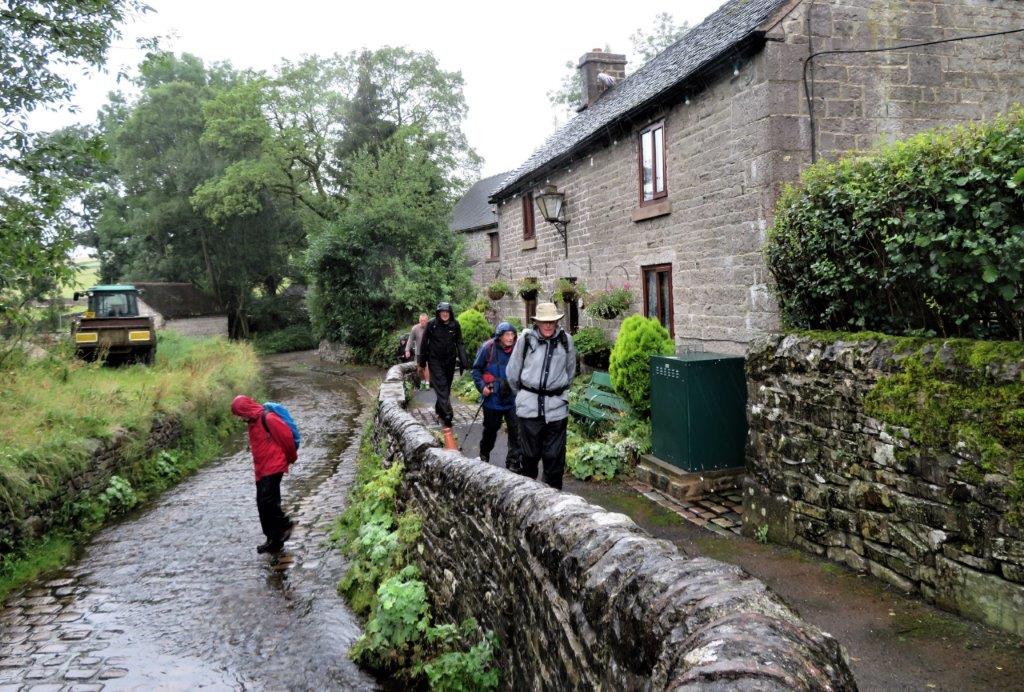 the road through Butterton at the lower level here apparently crosses a ford on Hoo Brook?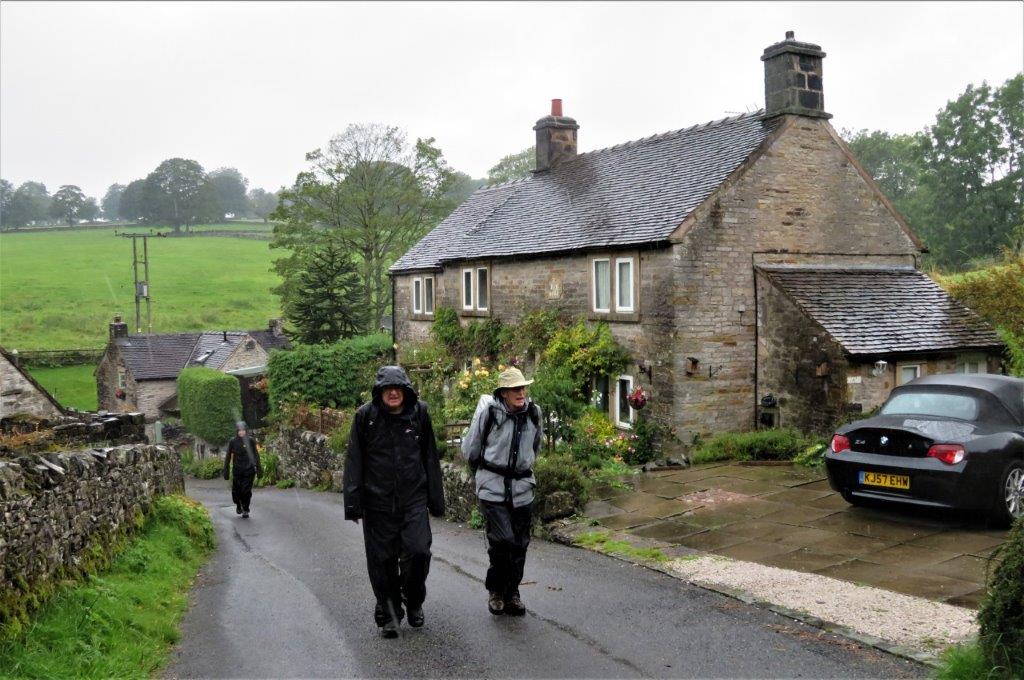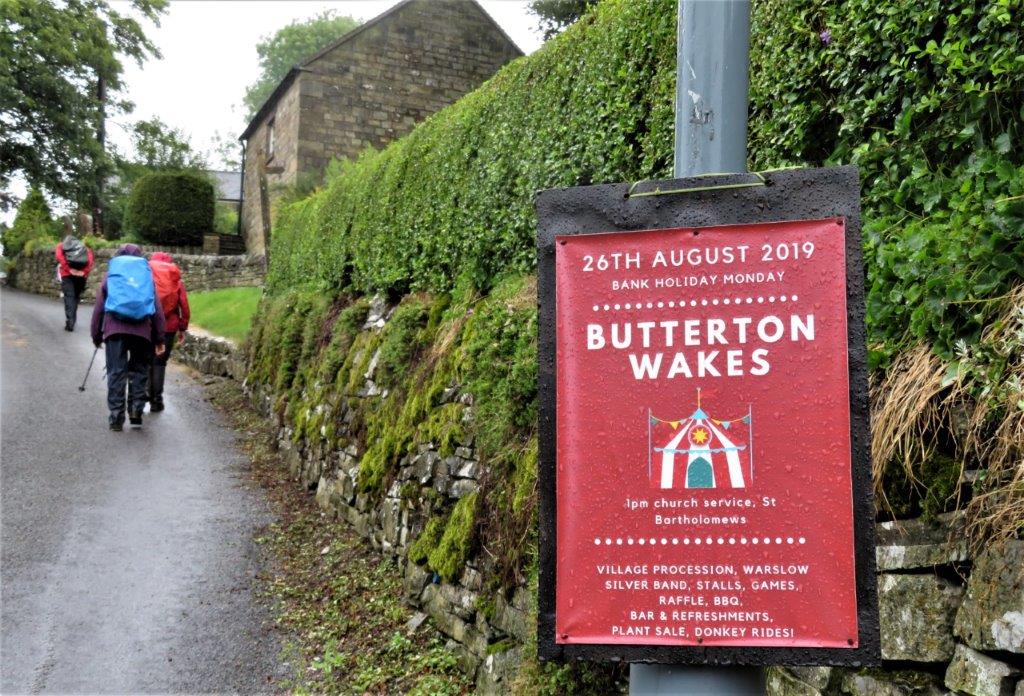 Butterton Wakes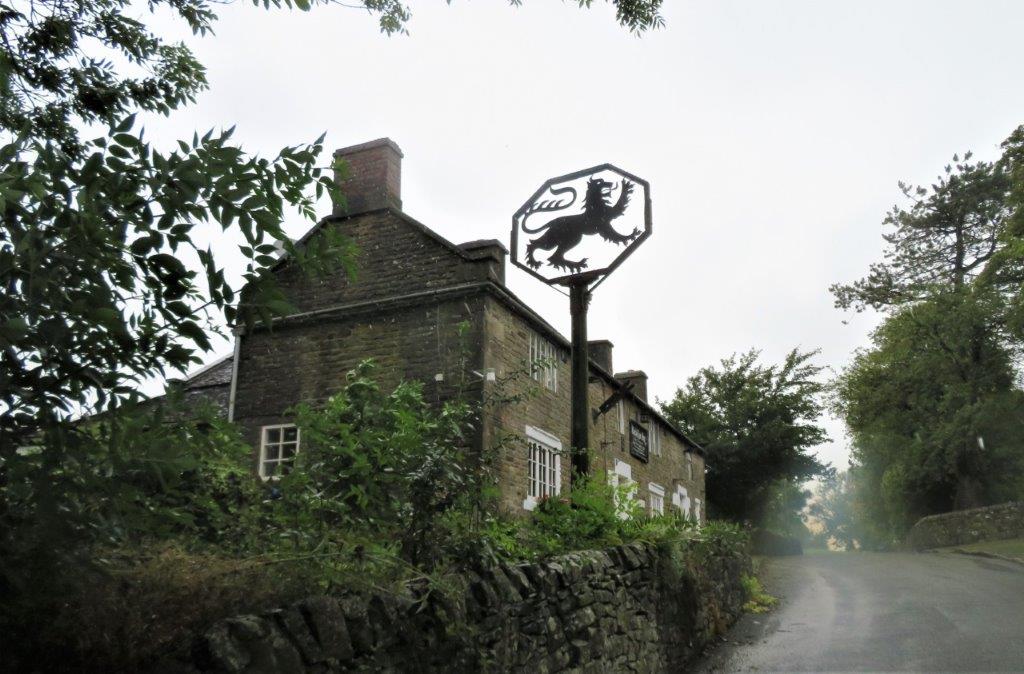 Black Lion Inn - apparently built 1782?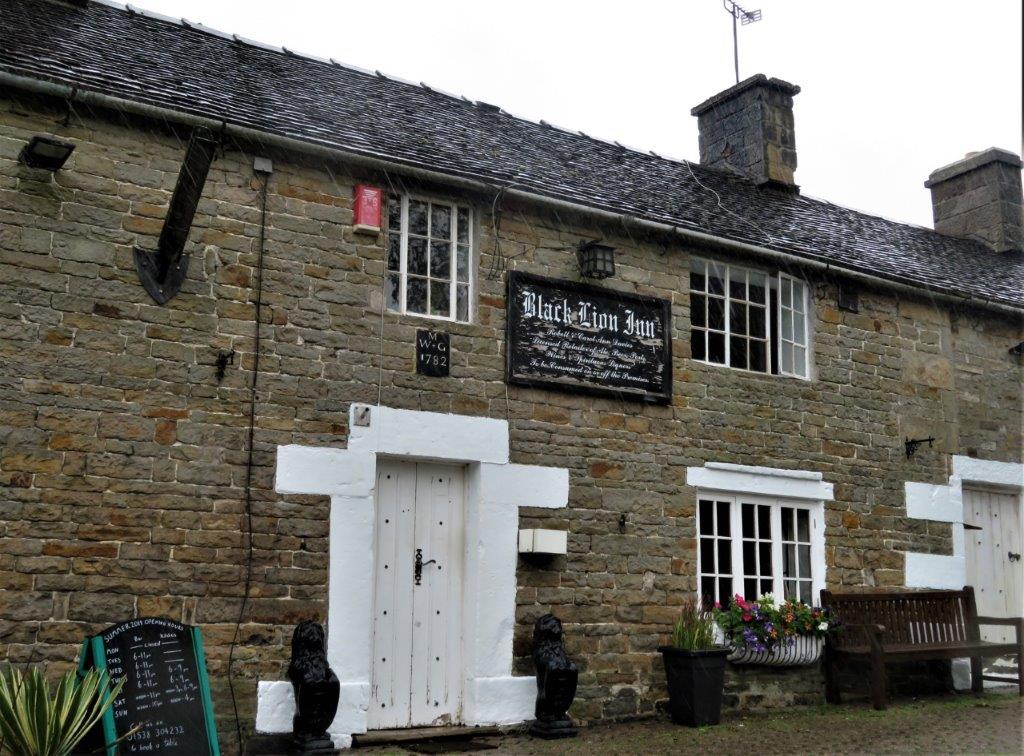 note the upward spike on the left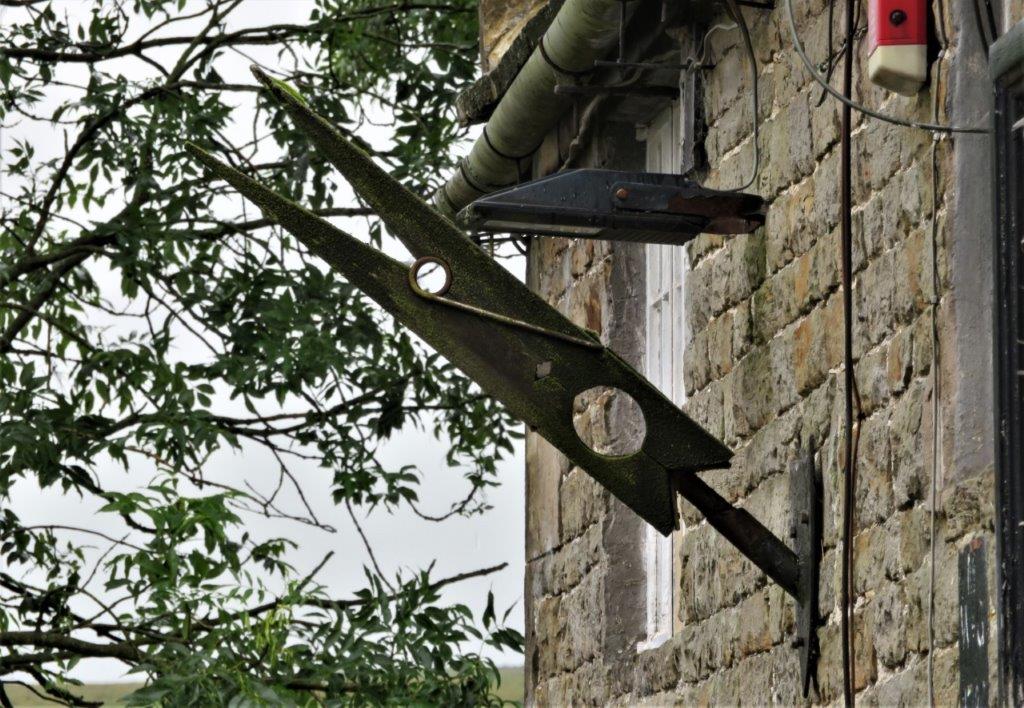 the spike seems to be a giant clothes peg - what does it signify?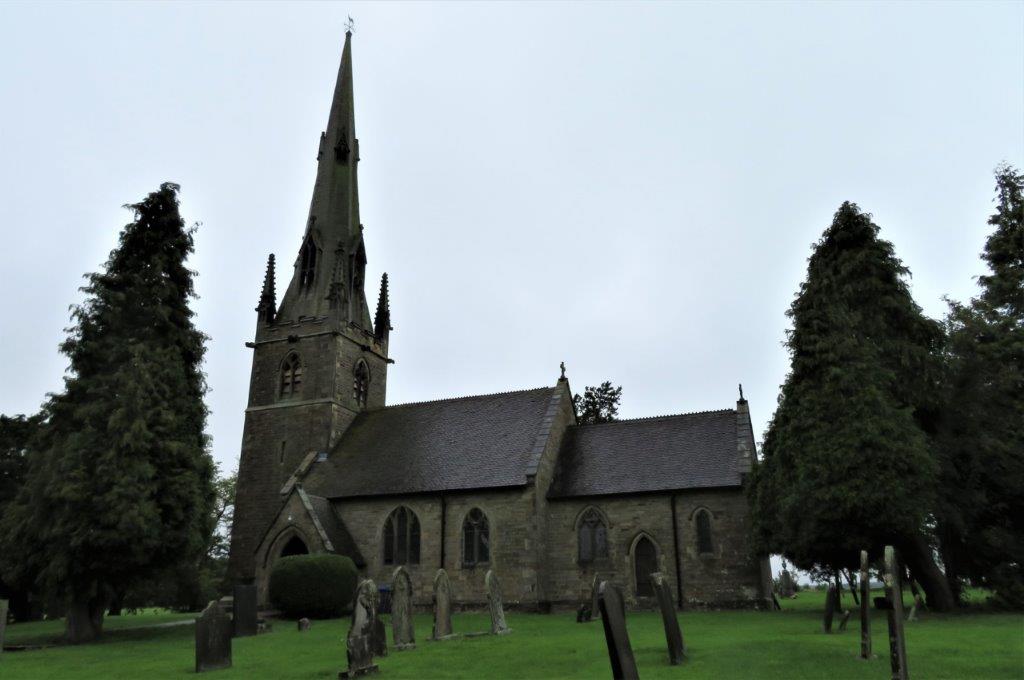 St Bartholomew's Church, Butterton - opened 1873 - grade 2 listed building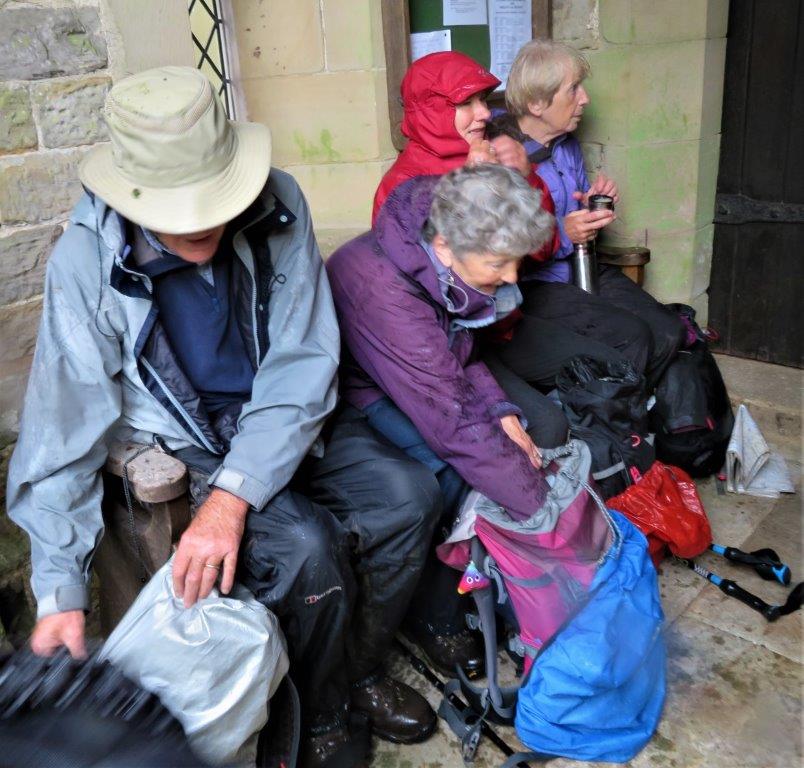 sheltering in the church porch for lunch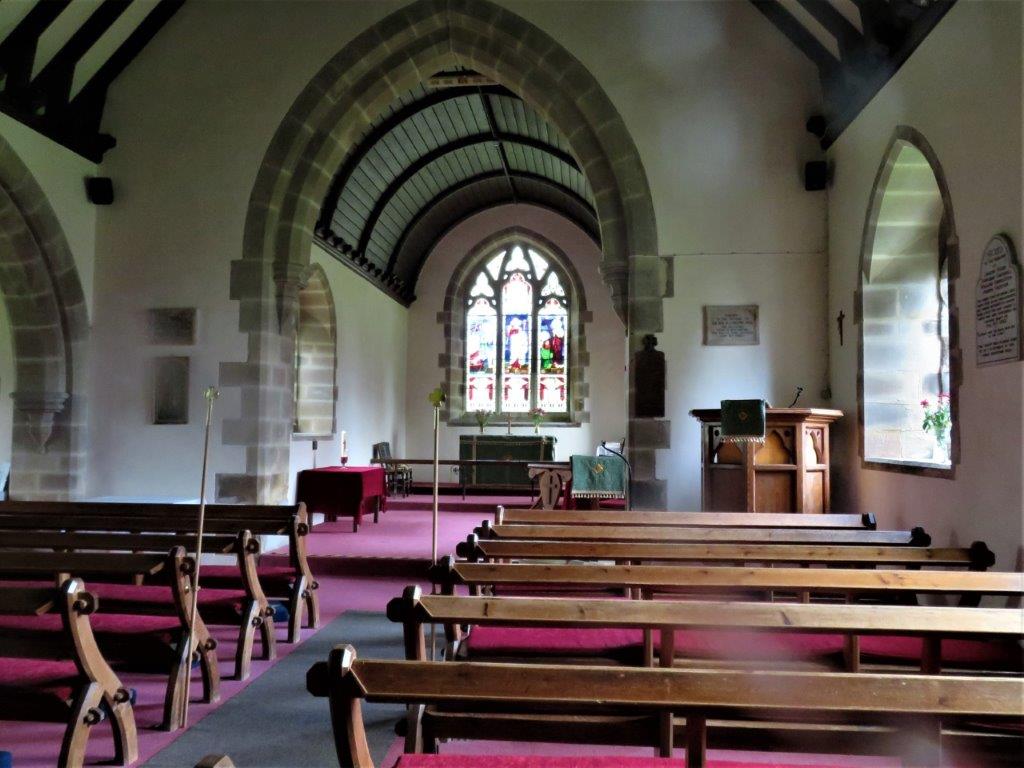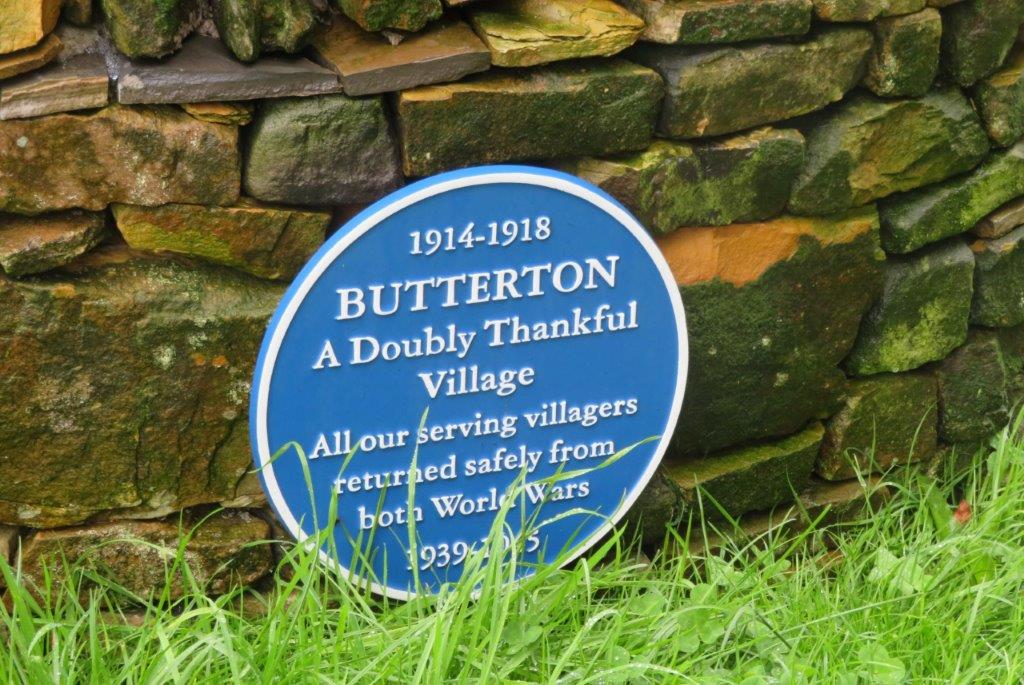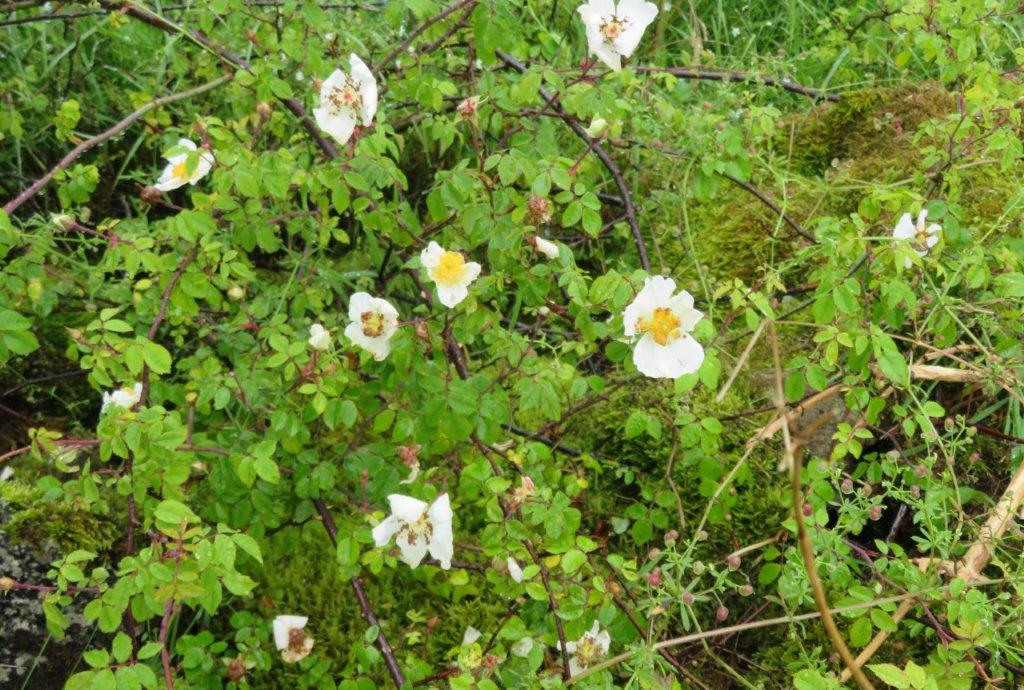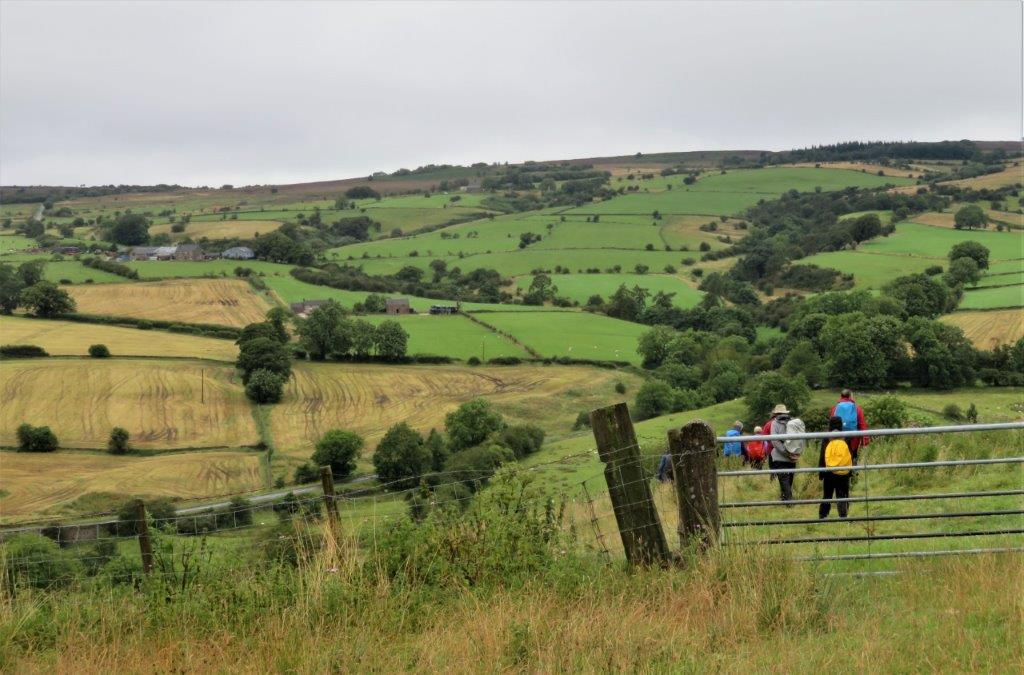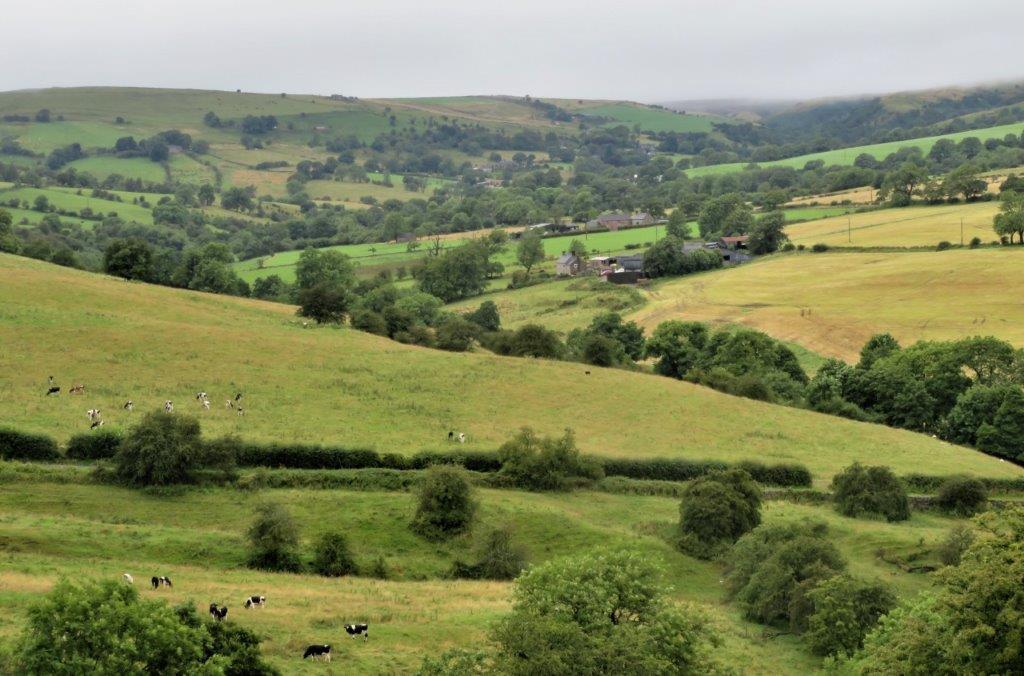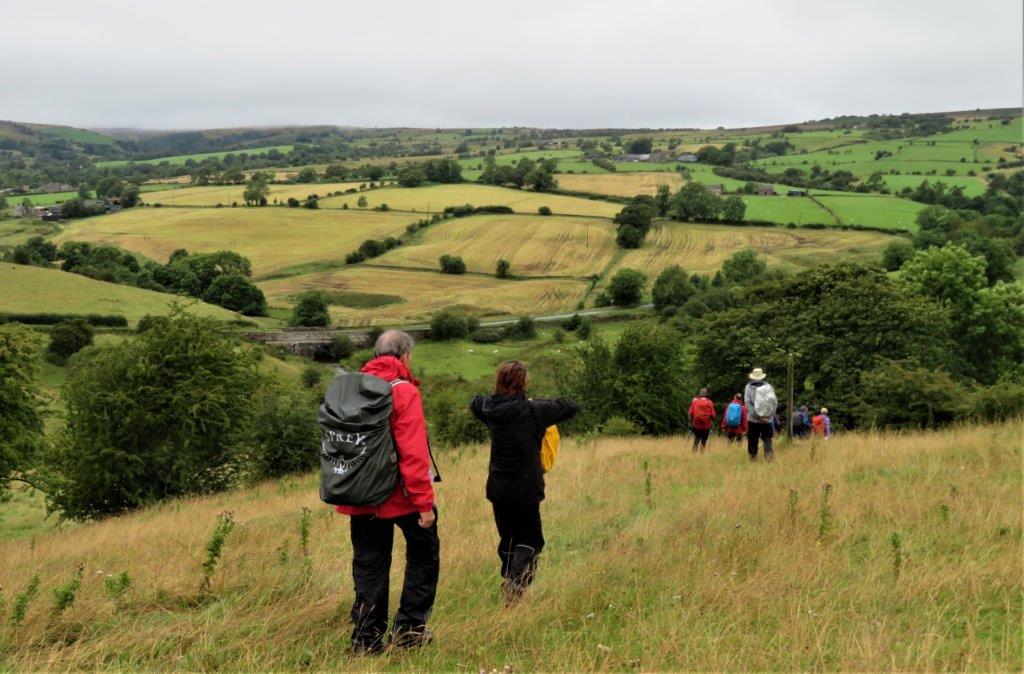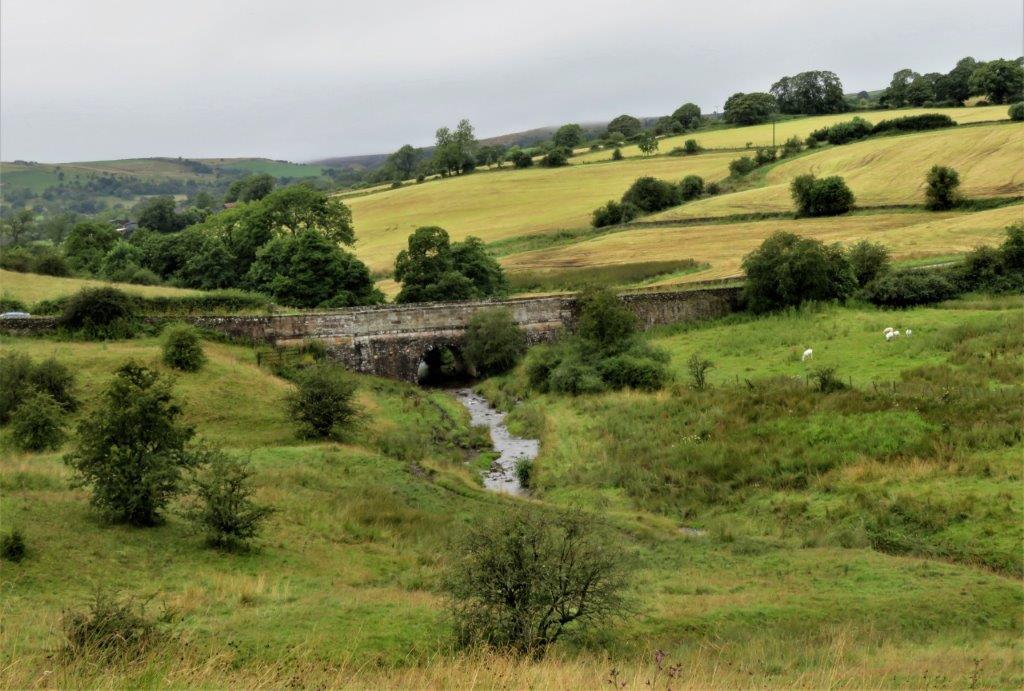 Warslow Brook crossed by the B5053 Road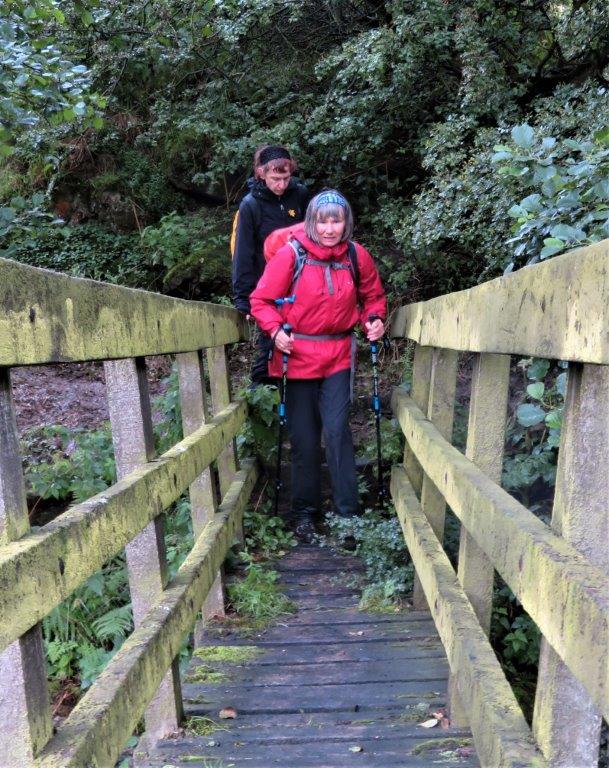 a footbridge over Warslow Brook on our route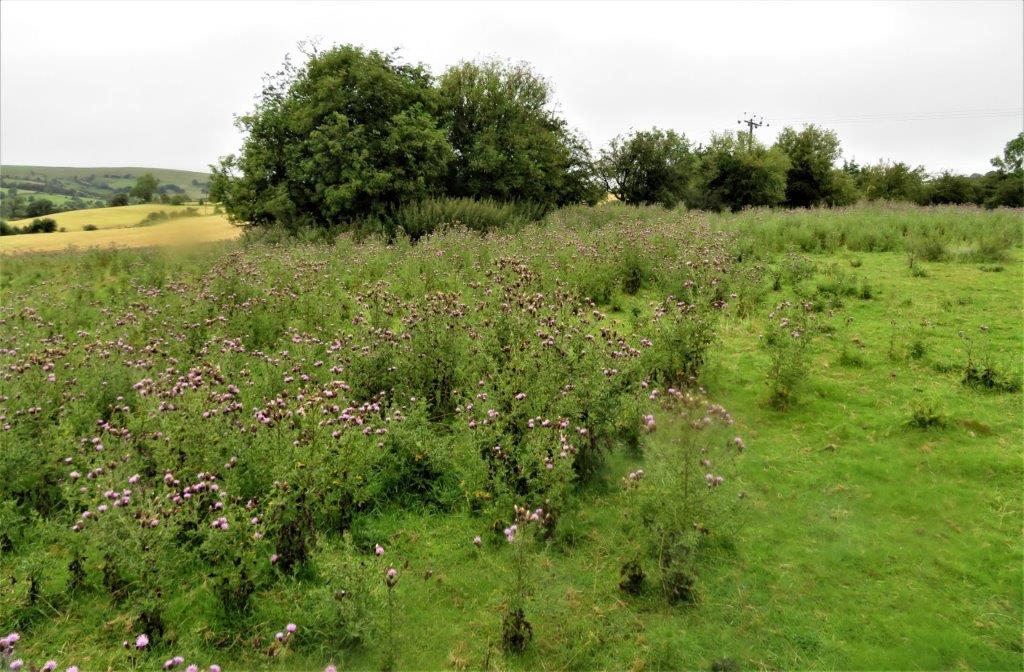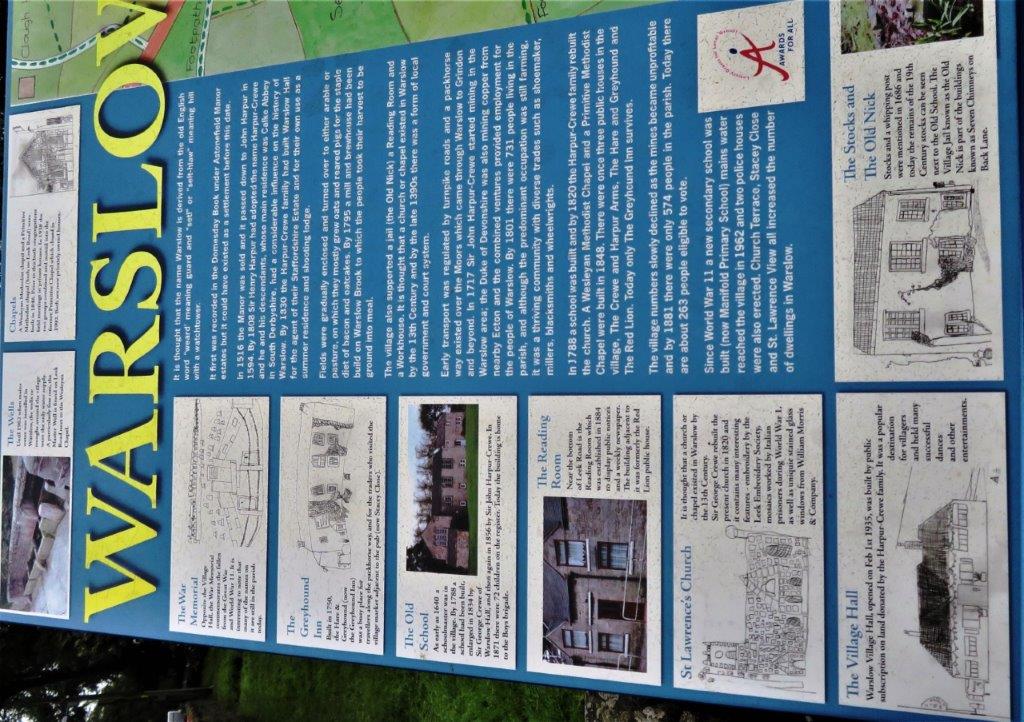 Warslow - some facts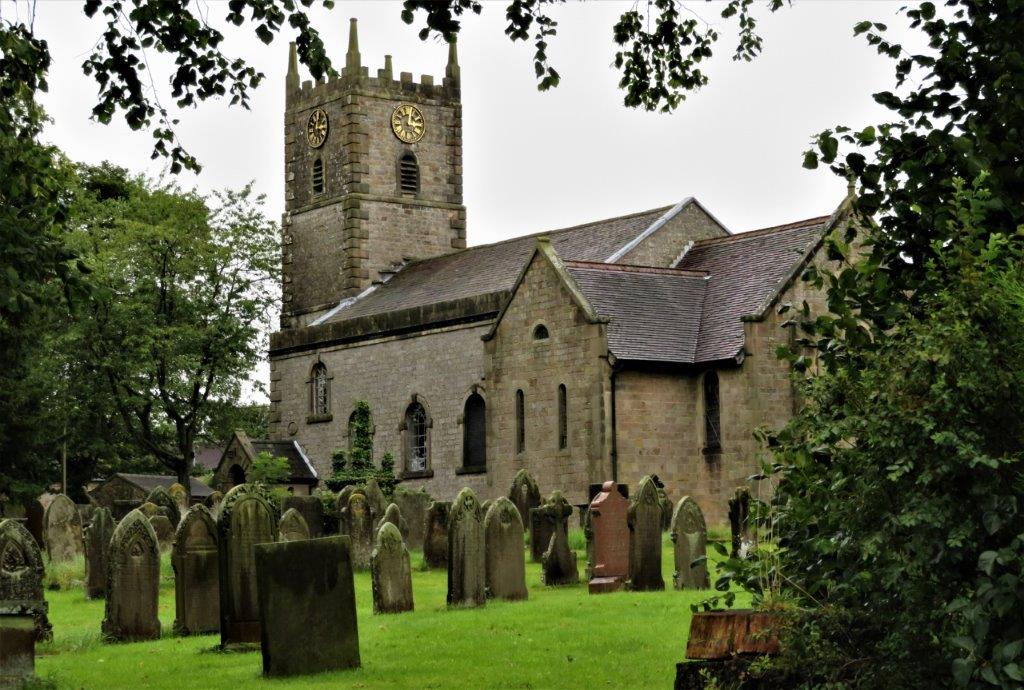 Warslow's St Lawrence's Church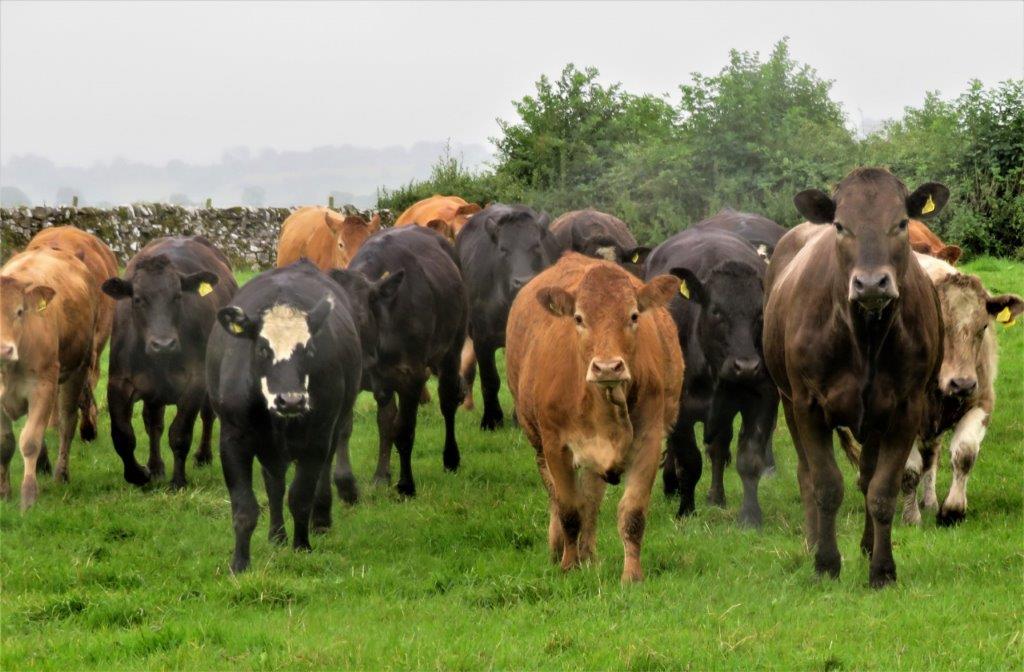 A standoff with frisky bullocks? who can move suddenly & rapidly en masse without apparent reason - care and confidence required on paths through them.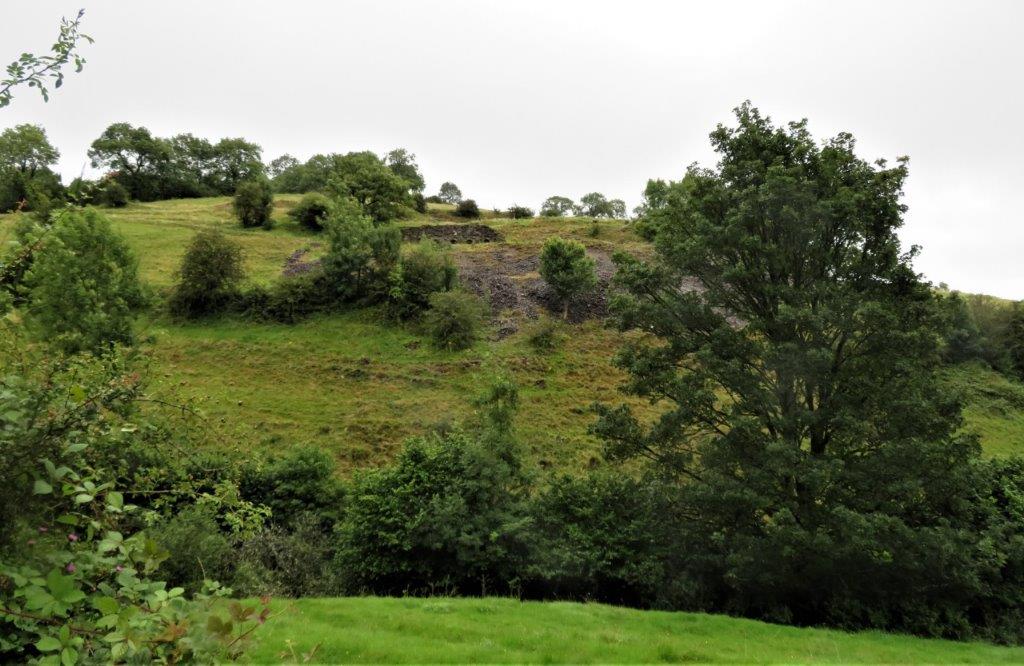 mine detritus on hill?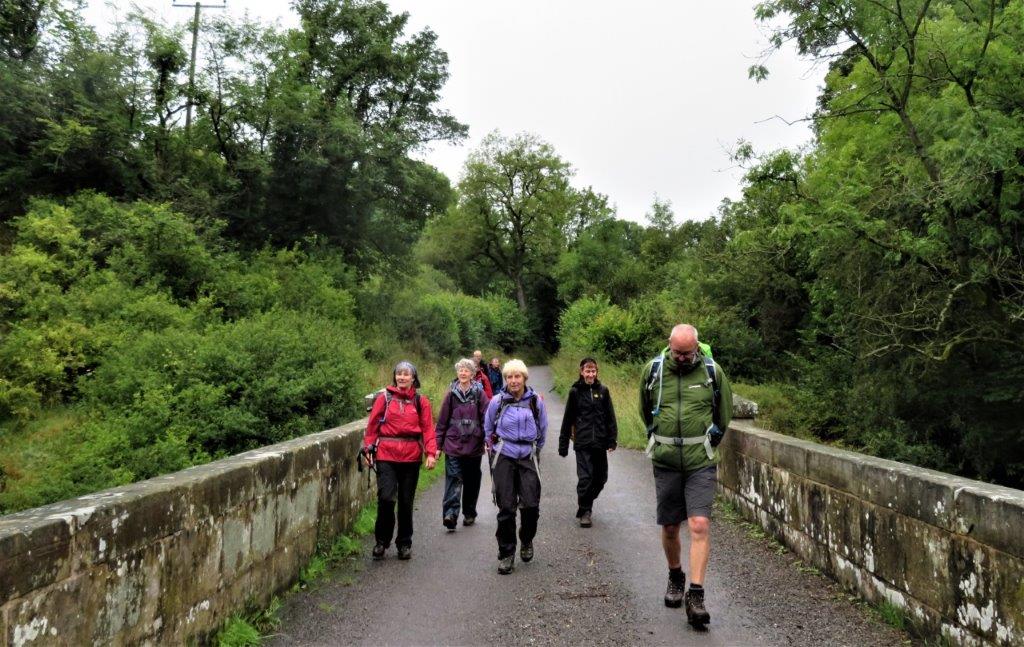 on road towards Ecton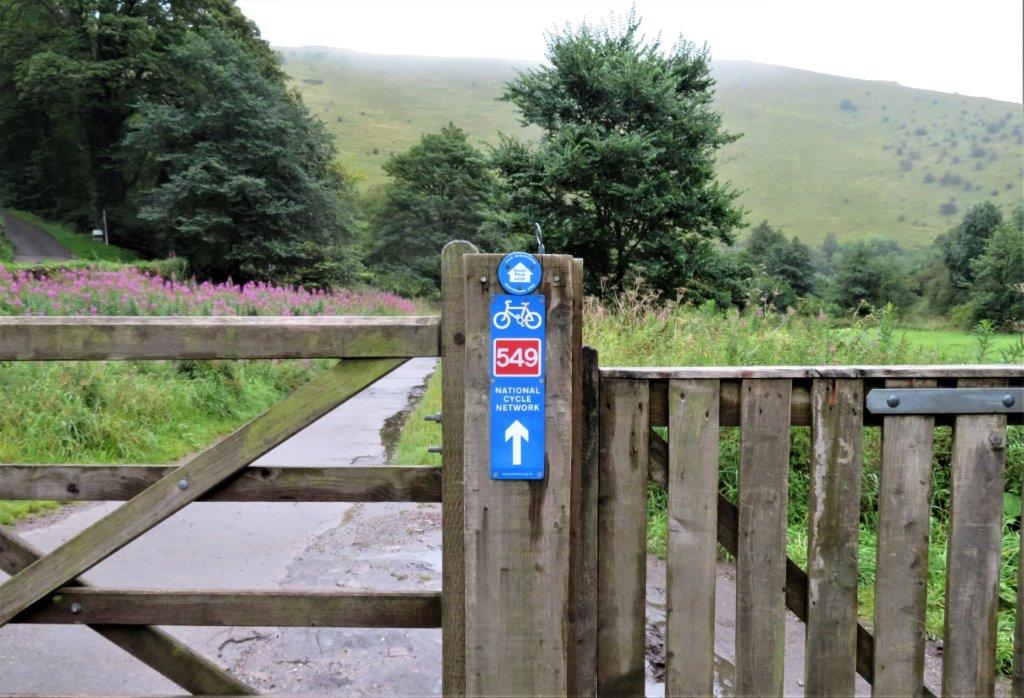 National Cycle Network near Ecton - seems to coincide with the Manifold Way?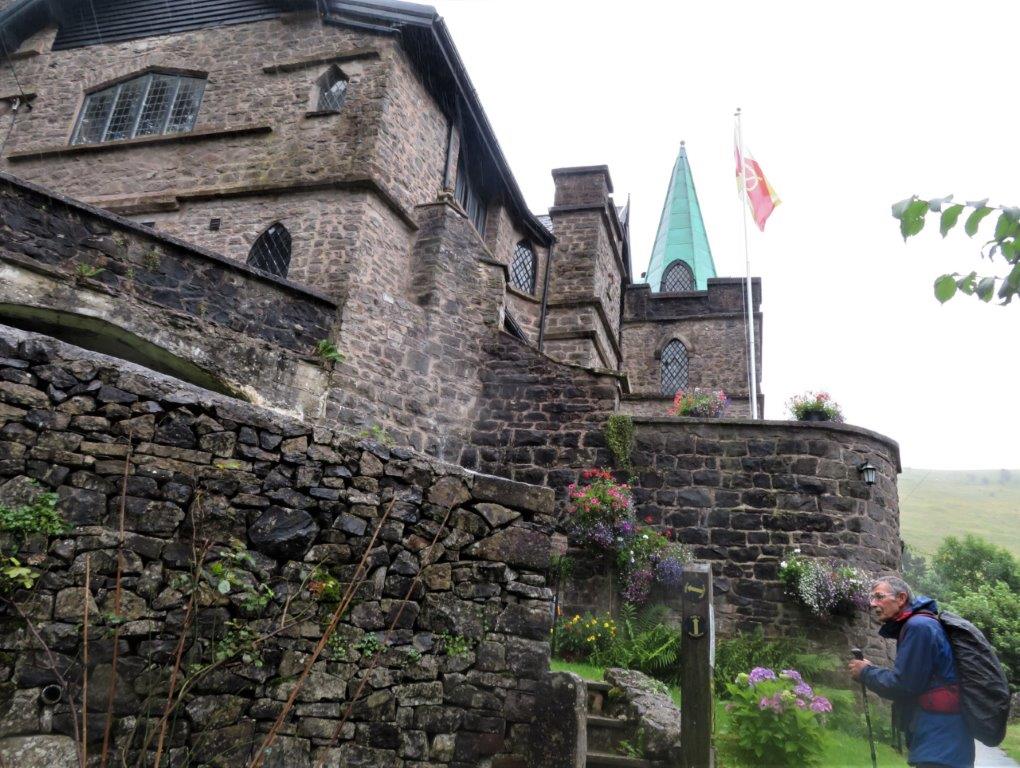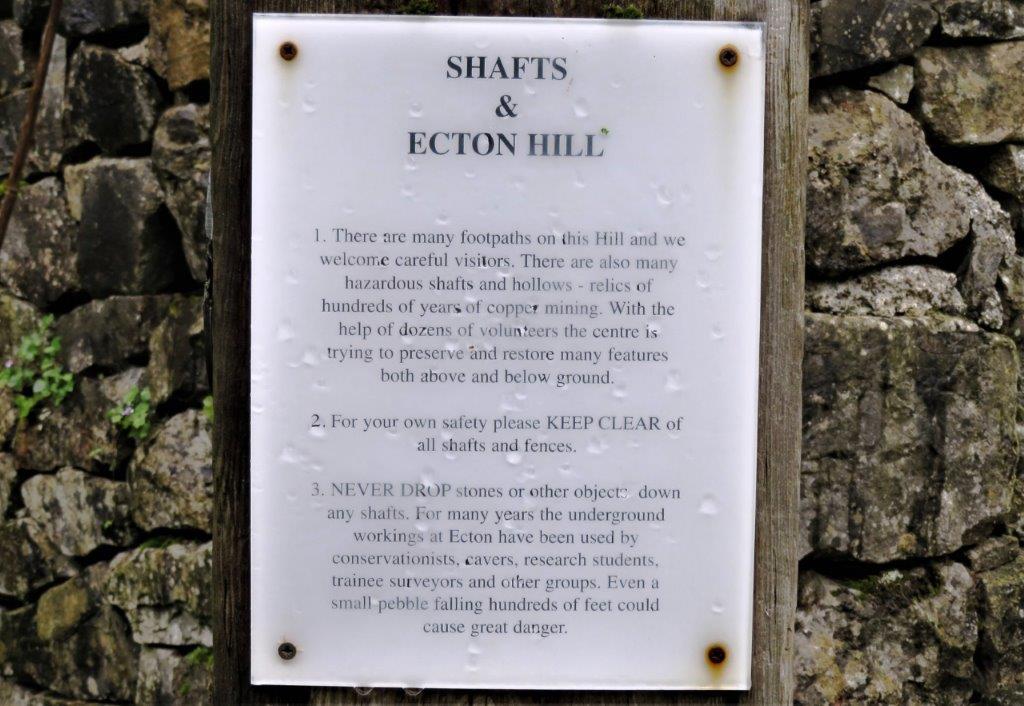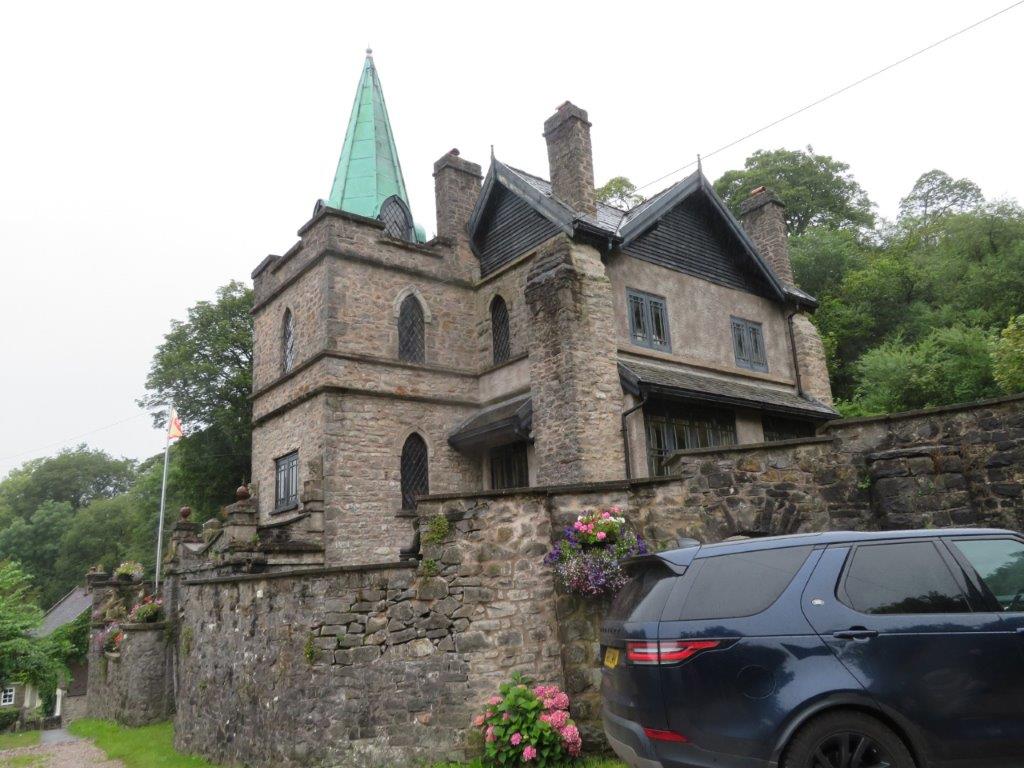 The Folly - Ecton Mine House?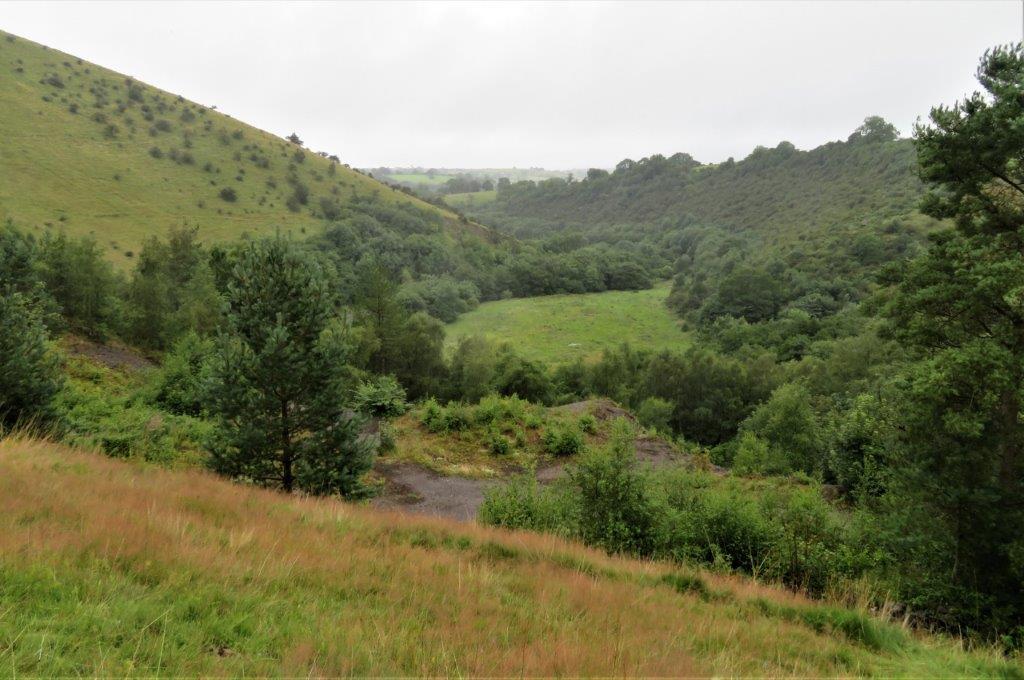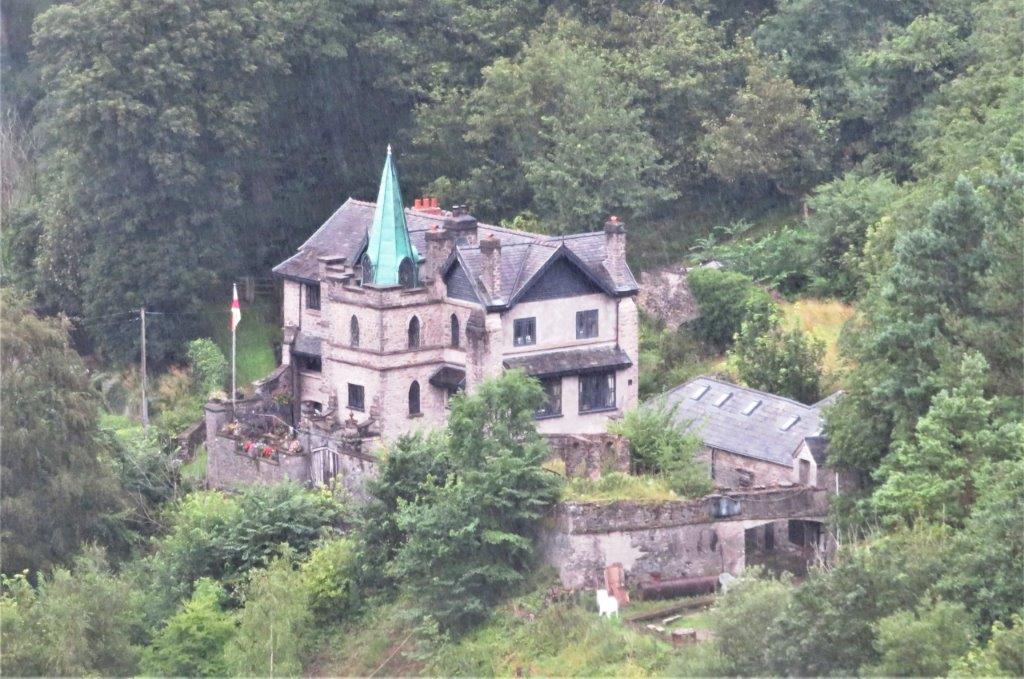 another view of The Folly zoomed into from path up to Top of Ecton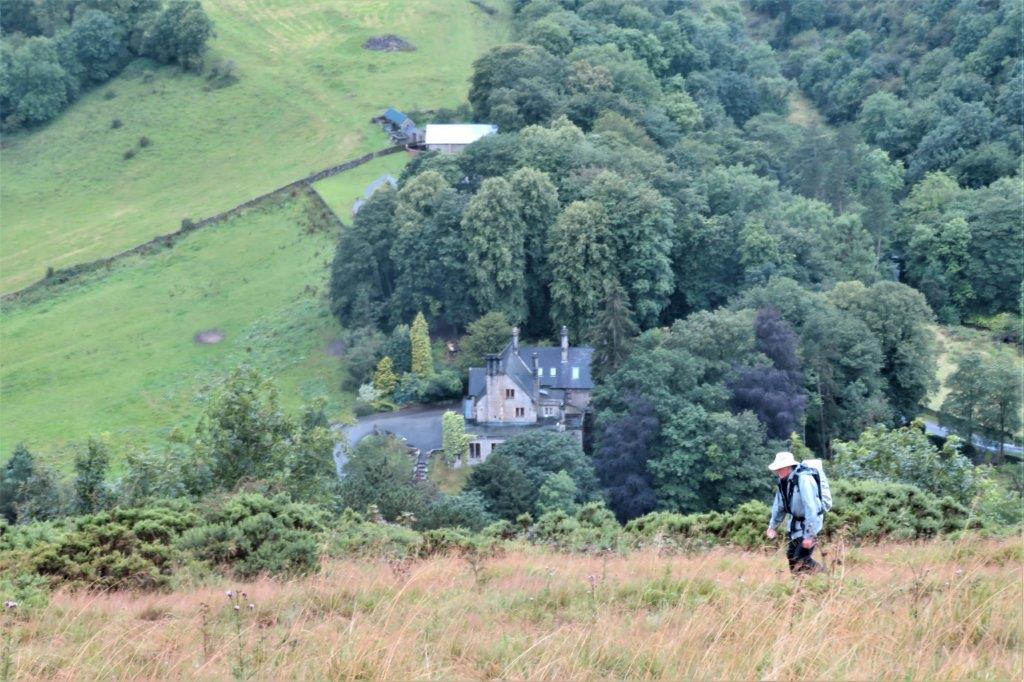 on the path up to Top of Ecton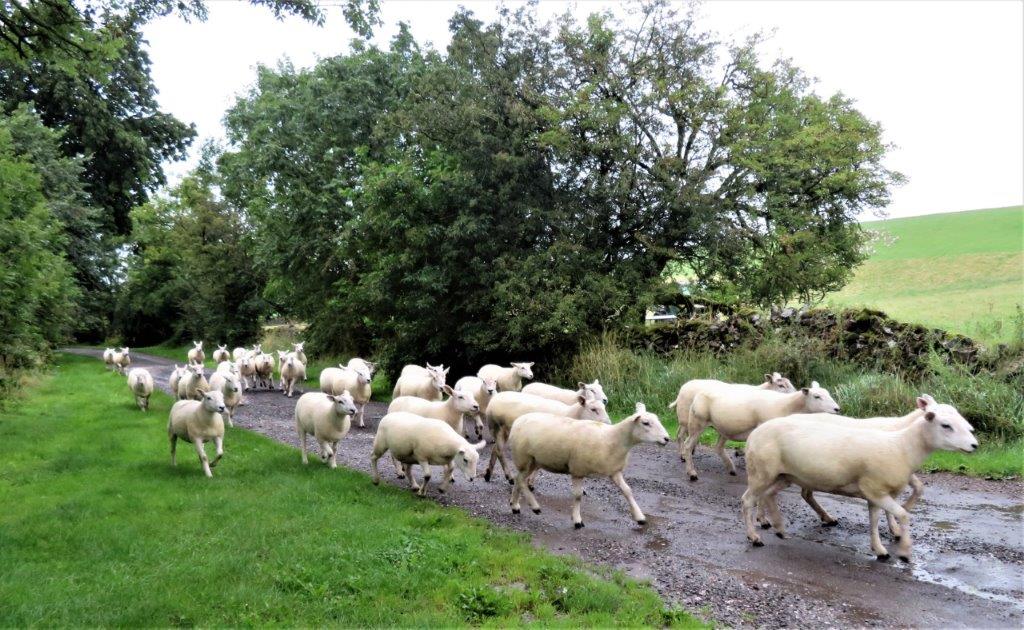 sheep round up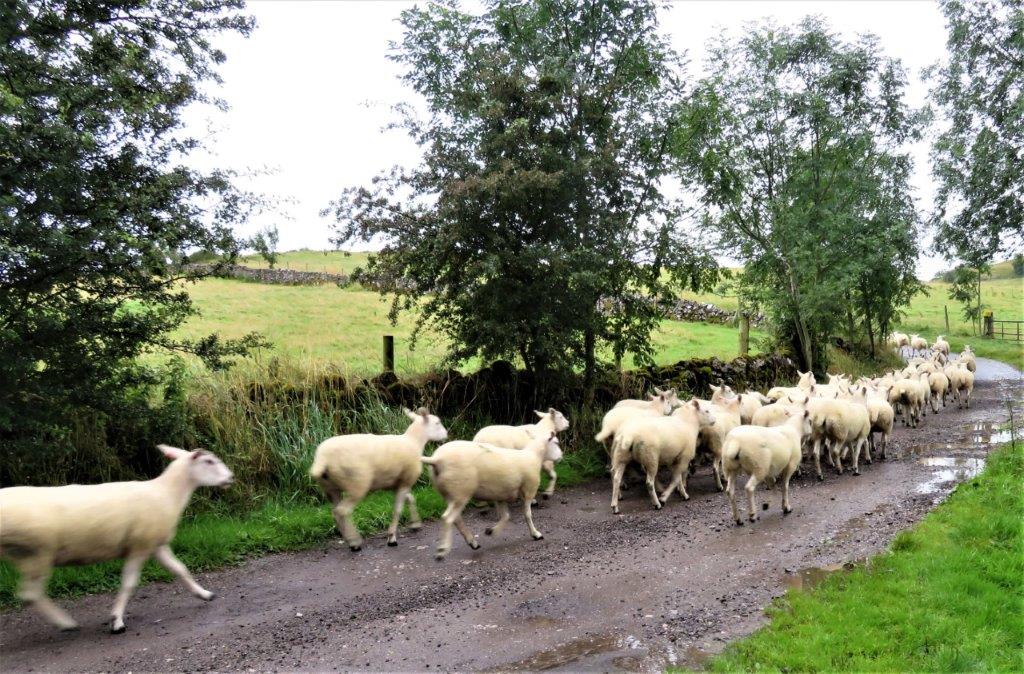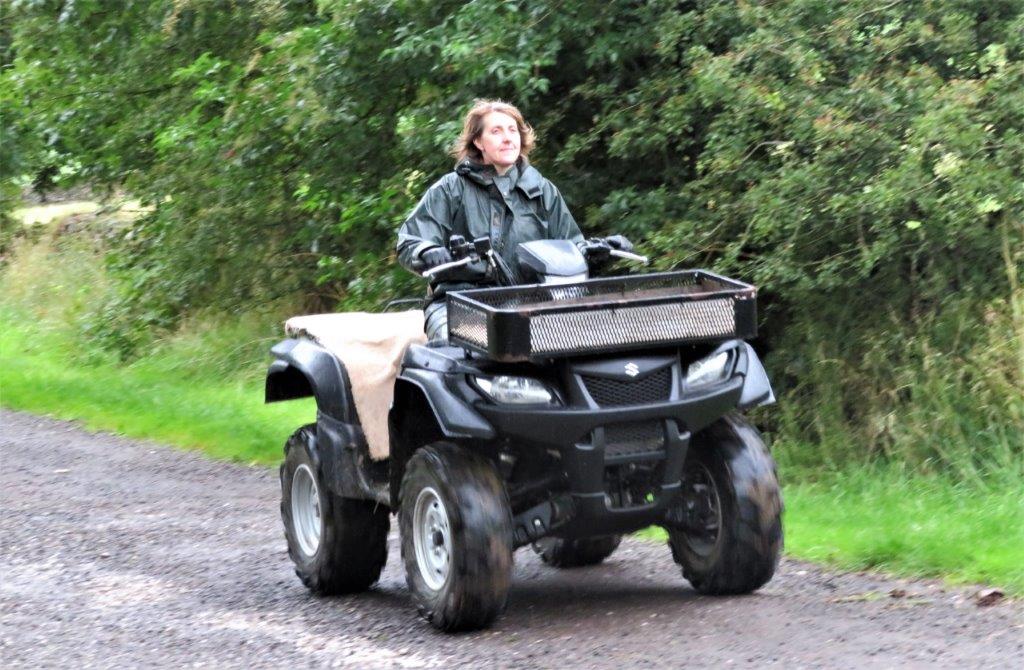 The shepherd on a quad bike rounding up the sheep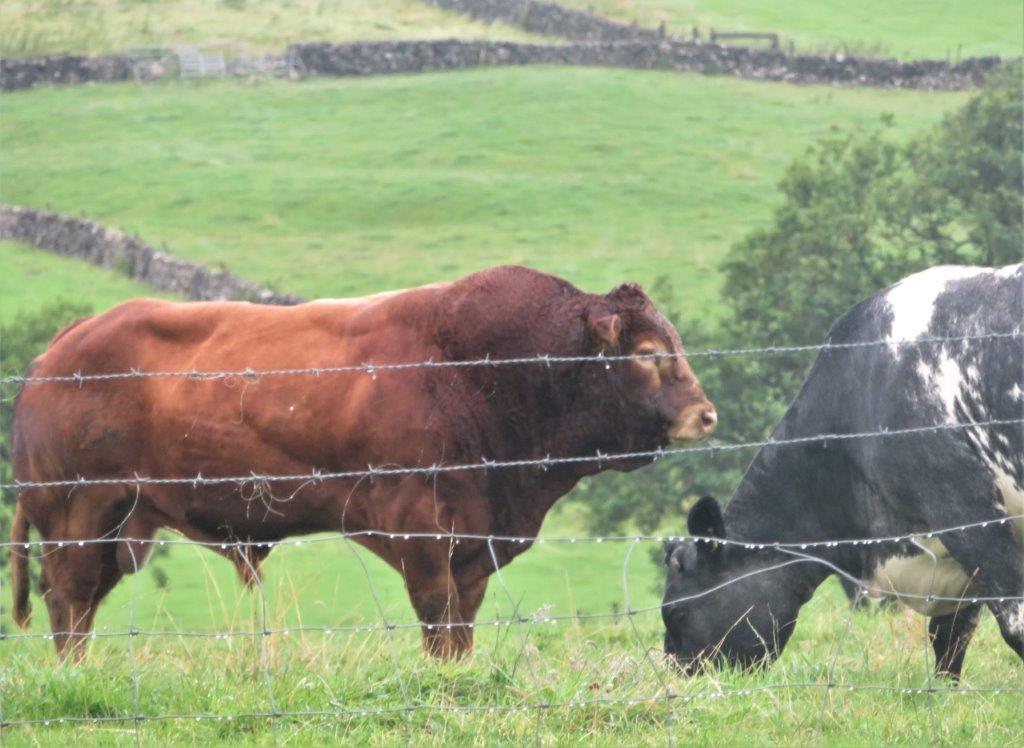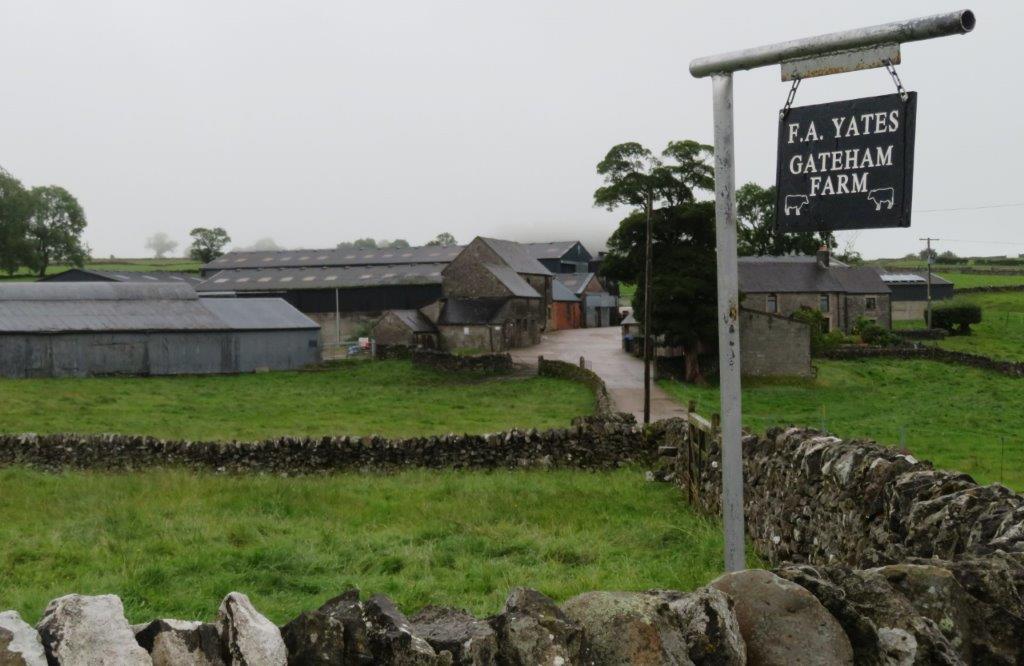 Gateham Farm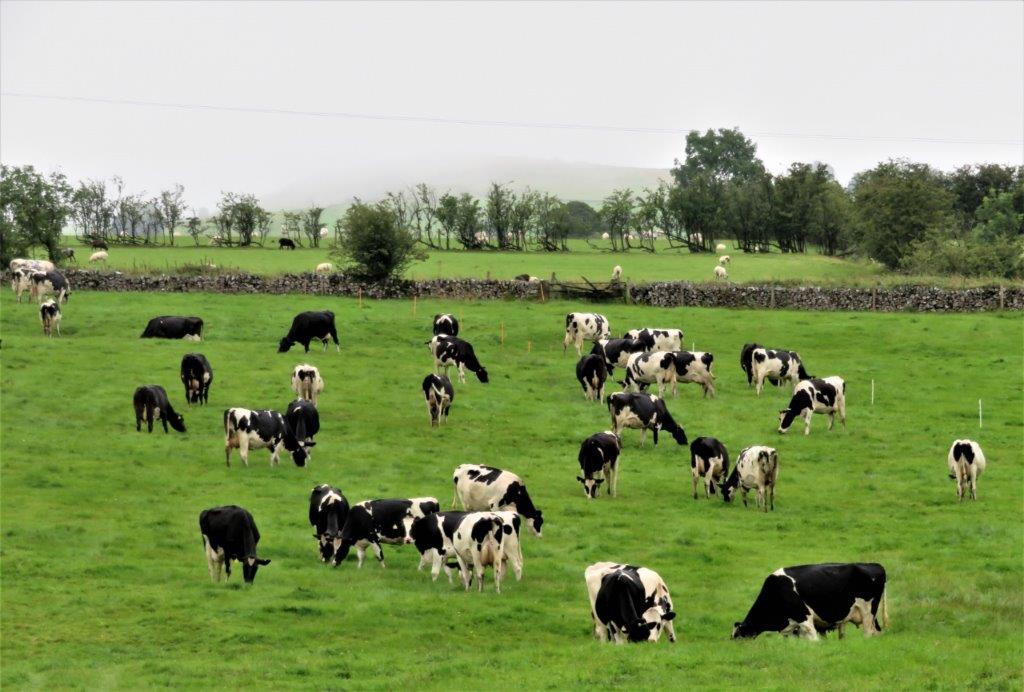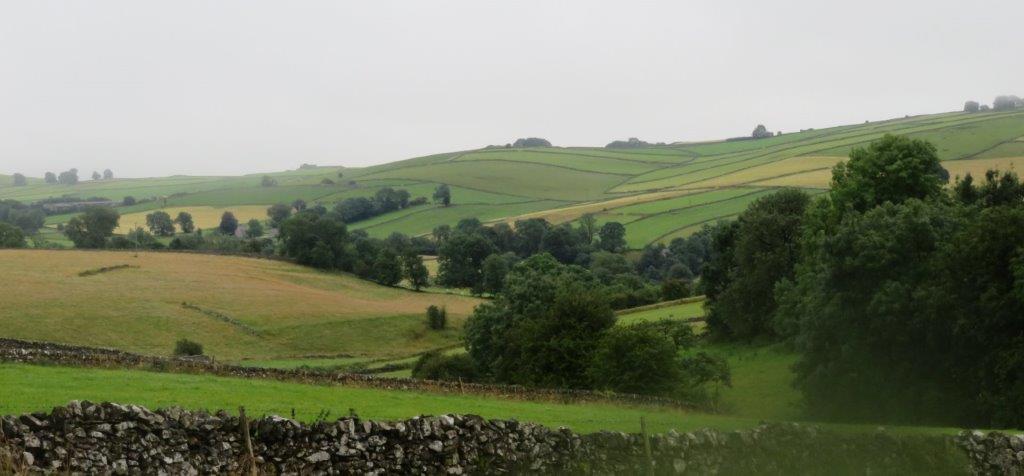 homepage - Daywalks Index 2019 - contact me at