homepage - Daywalks Index 2019 - contact me at

2019.08.11 - Bamford Bus / Rail Stn (SK207825), ~300m ~ENE on Salter Gate Lane, thru Sickleholme Golf Club on FPs ~ENE then ~SSE to FB (SK214826), ~ ESE to ~150m past Thorpe Farm, ~NNE then ~NNW to Nether Hurst, ~W to Hurstclough Lane, ~NE on lane to short of Gatehouse, FP ~N then ~E (passing ~100m ~E away from Copper Hurst Farm) to Outlane, ~E then NNE down to Green's House, ~E to cross 'brook' & continue (above North Lees) to PC (SK239837), ~N up to Stannage Edge, Long Causeway ~E to Stannage Pole, ~NE down to SW corner of Redmires upper Reservoir, ~E on a Yorkshire Water's Permissive Footpath on south side of 3 reservoirs to road at SK271856, N on road to join & cross Redmires Rd to FP ~ENE high above Wyming Brook, FP turns ~E to meet Lodge Lane (SK290866), cross & continue ~E on FP to Blackbrook Wood, cross ~SSE over Hallamshire Golf Club to Redmires Road (SK296864) - leaders Peter & Carole Jones - Sunday - (note photographer left walk about 1km before end to retrieve car)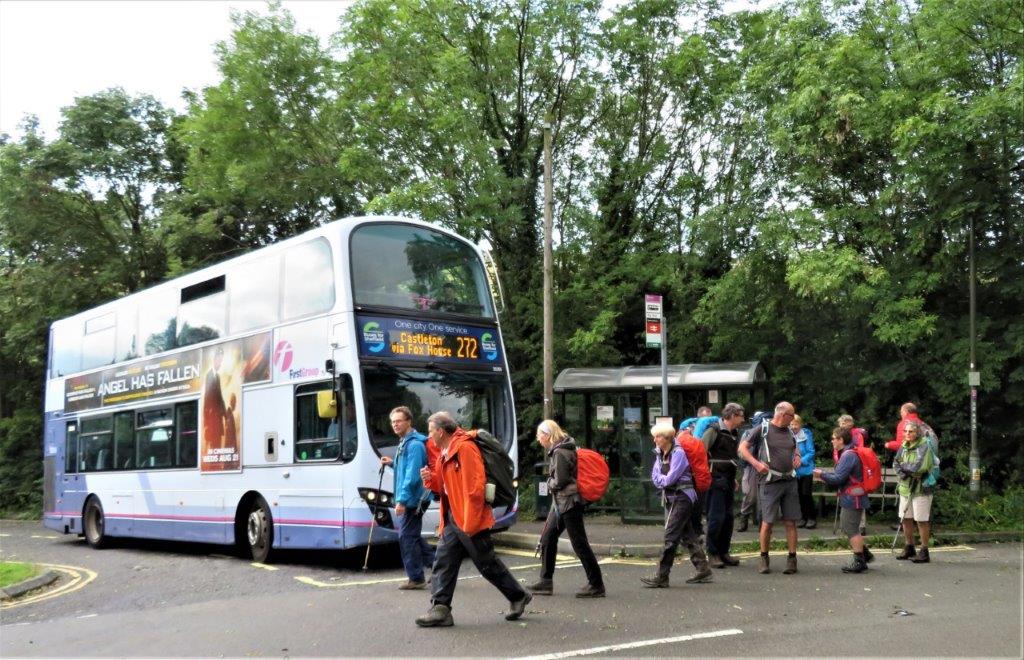 The bus 'turnaround' near Bamford Station - group leaving here (our bus was not this one).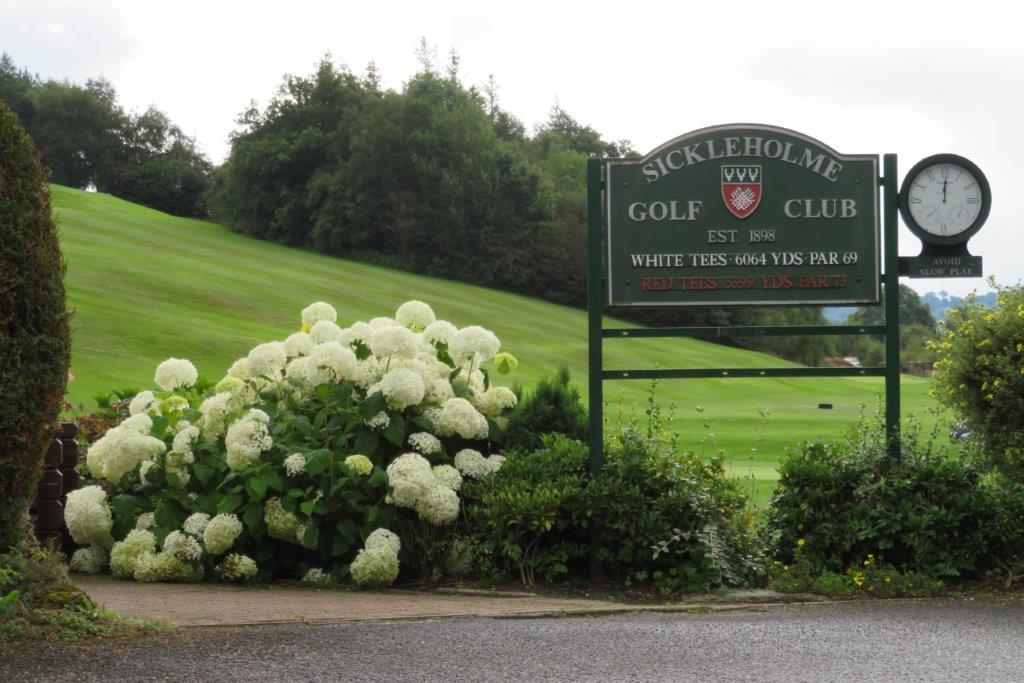 Sickleholme Golf Club.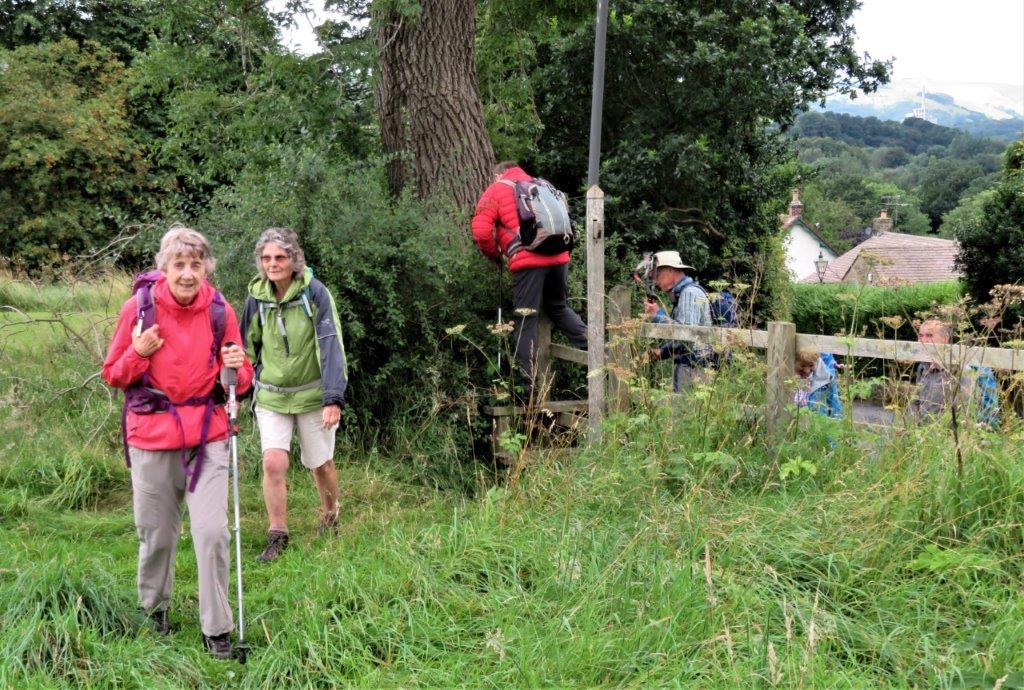 entering golf course onto footpath off Salter Gate Lane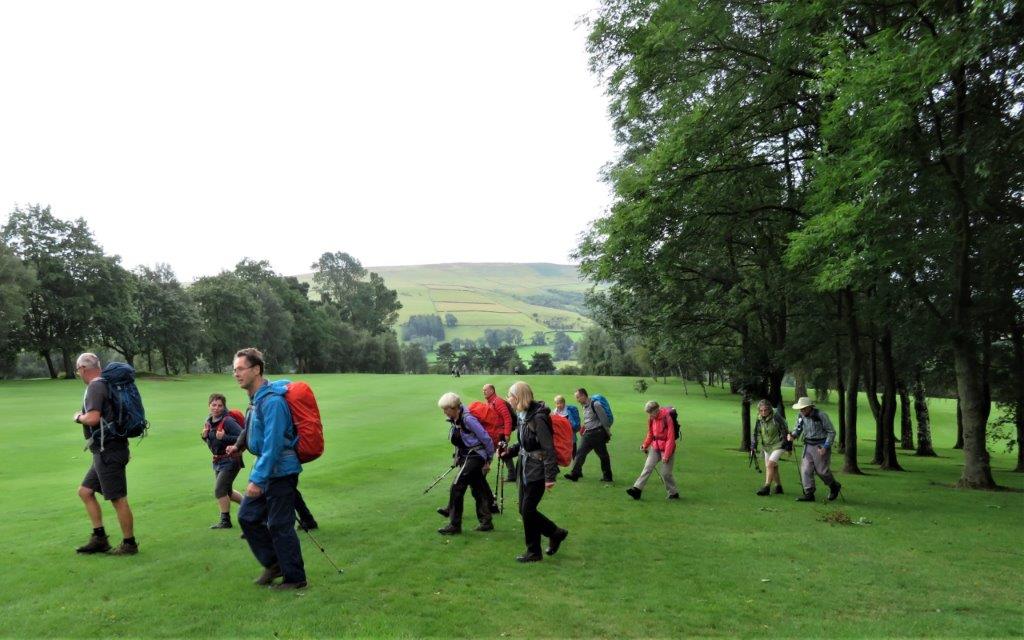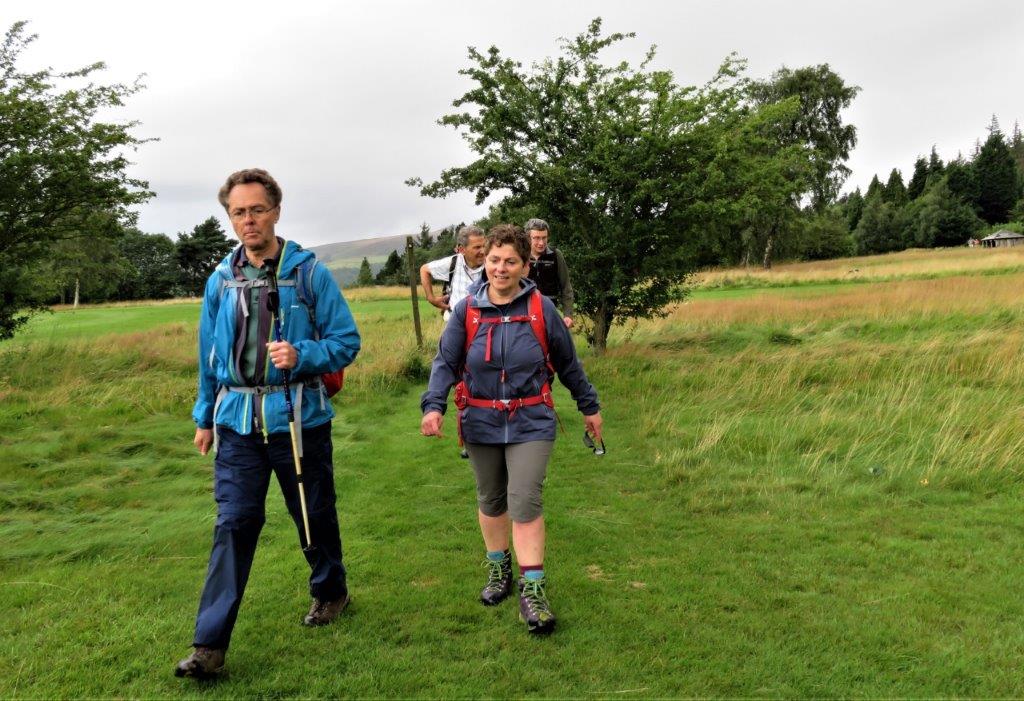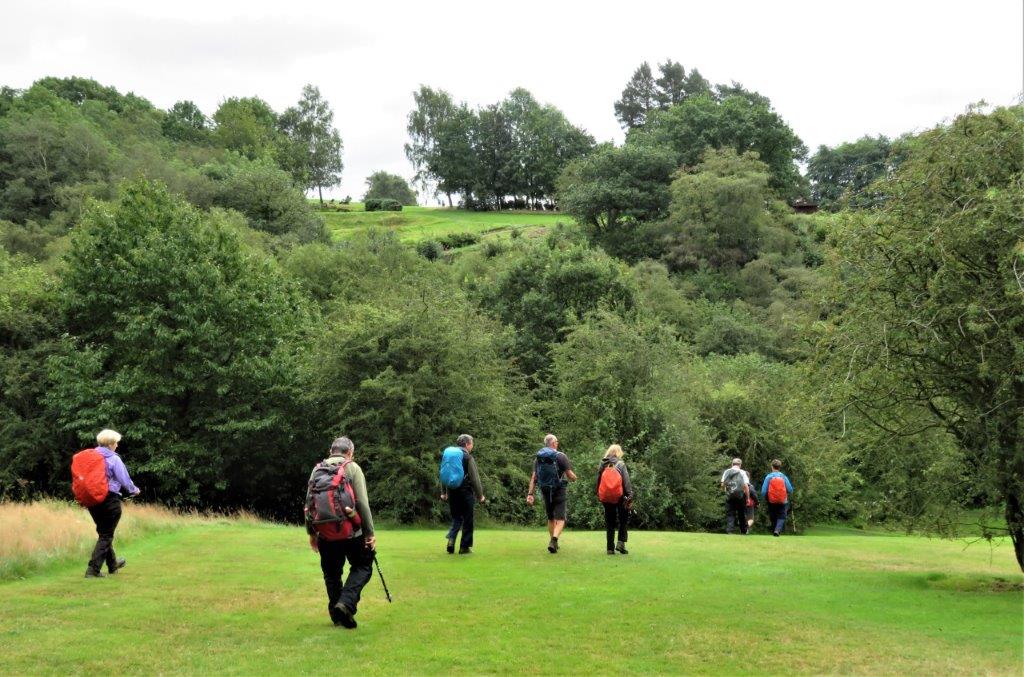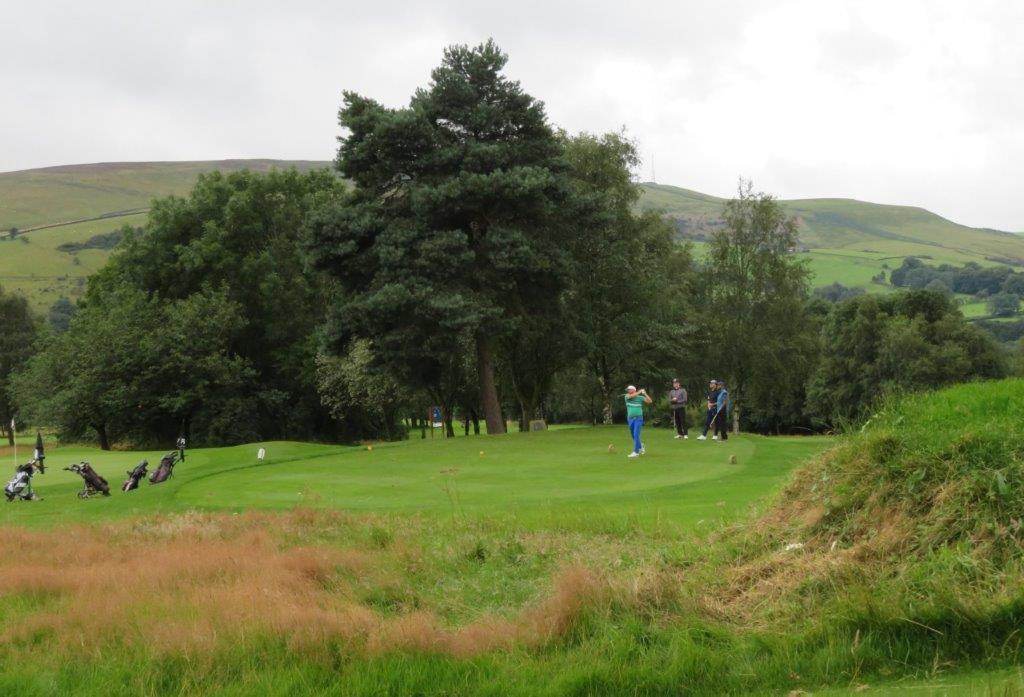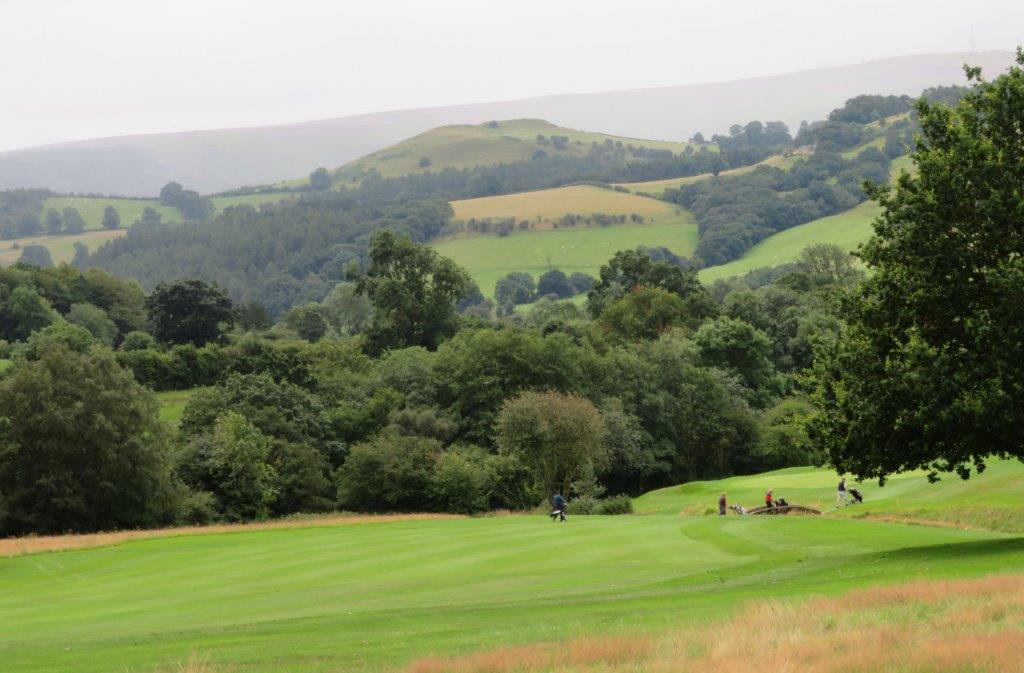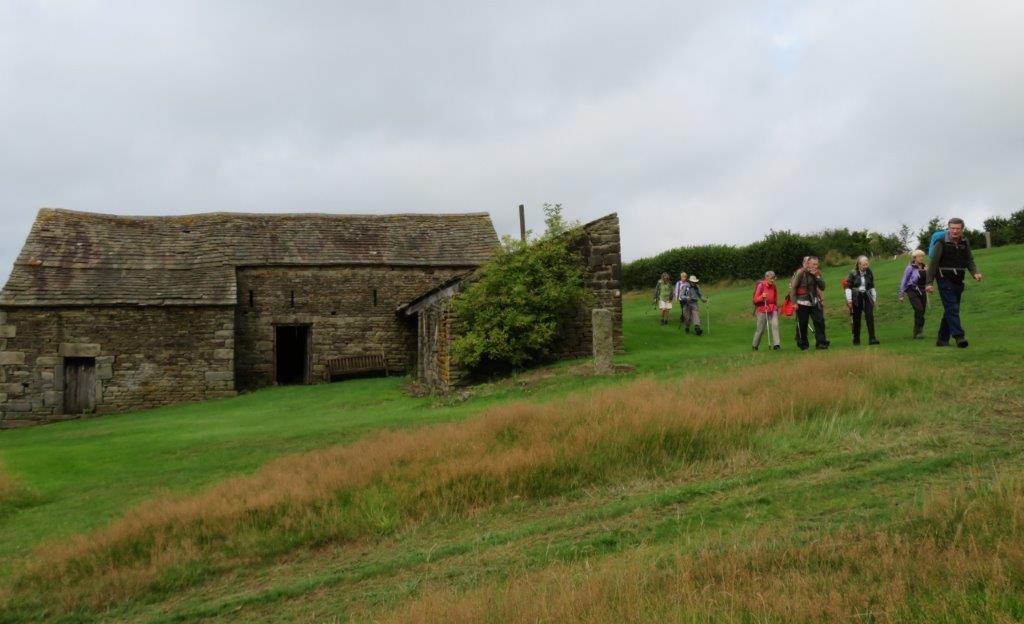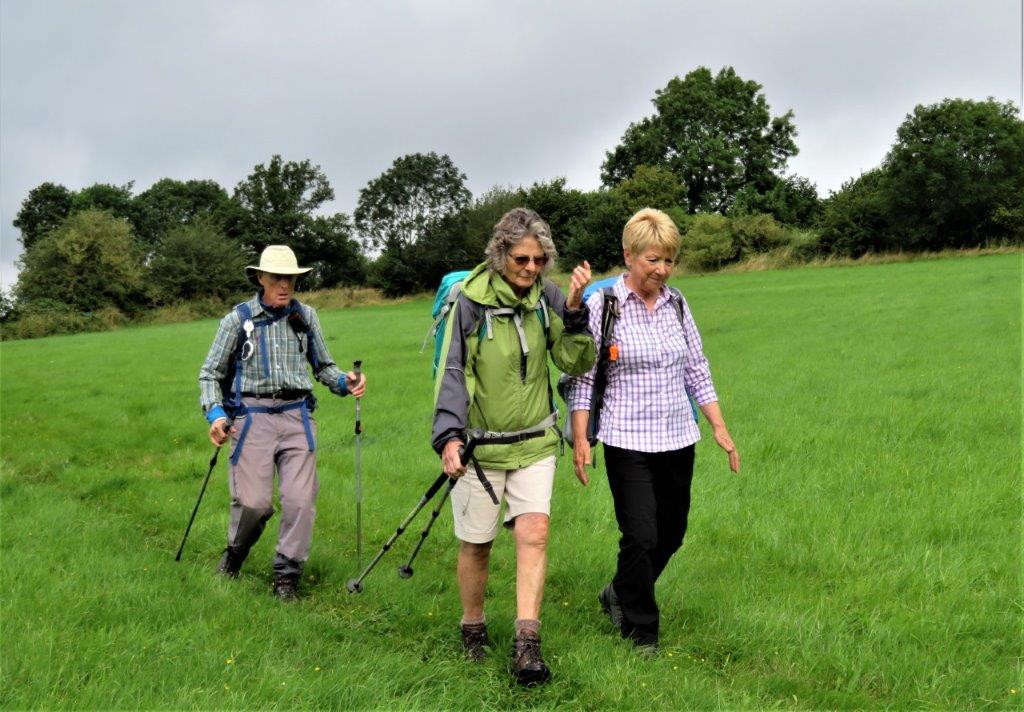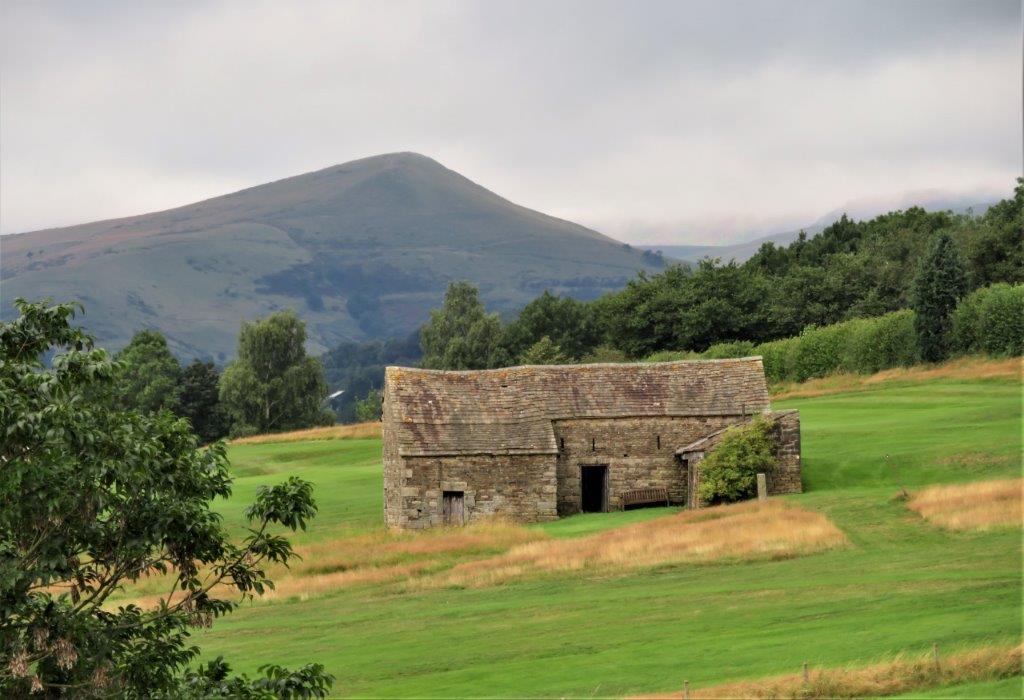 glance back at the golf course - Lose Hill in background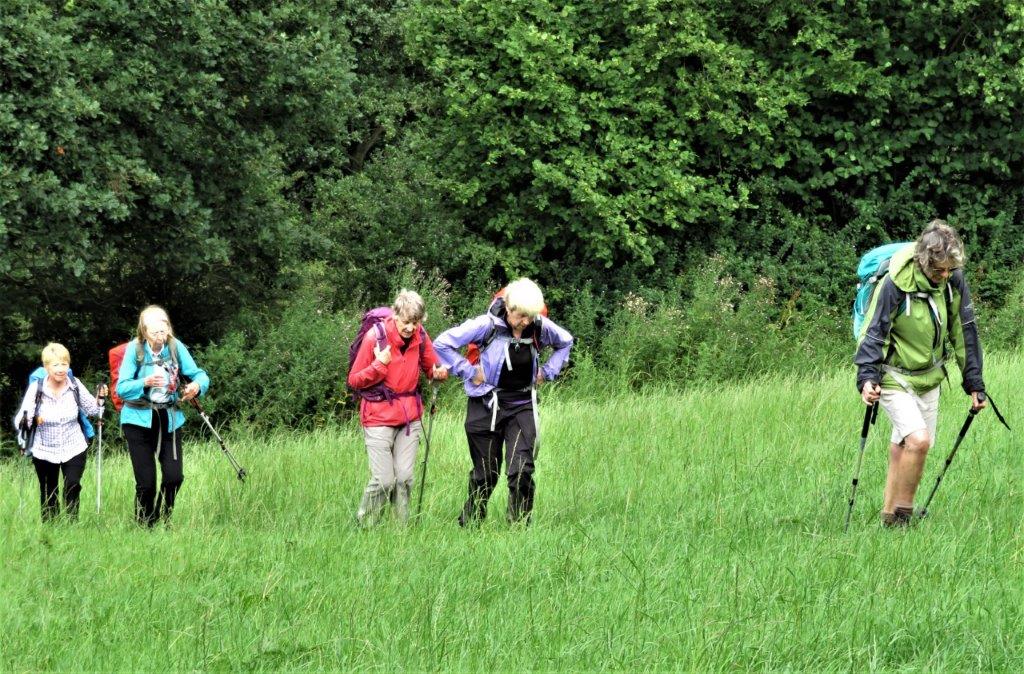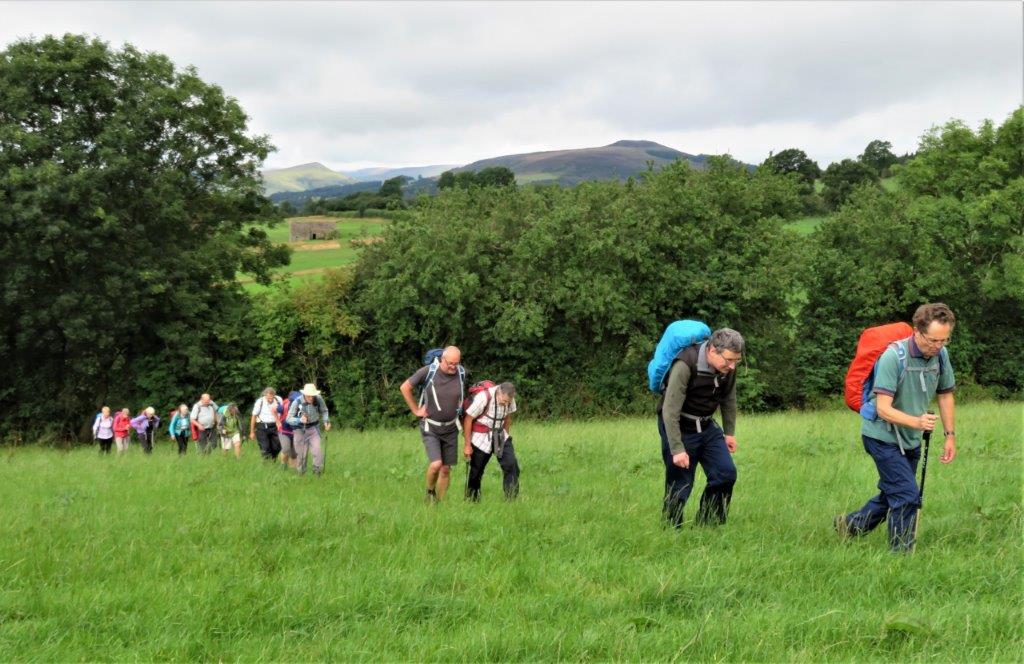 Lose Hill to left in background, Win Hill Ike to right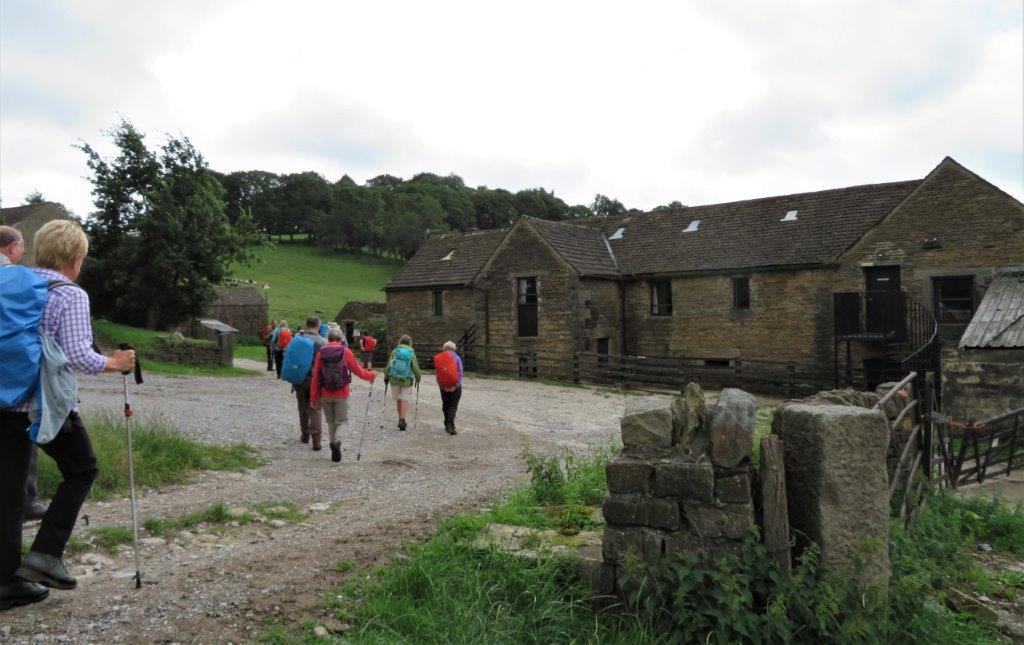 Thorpe Farm?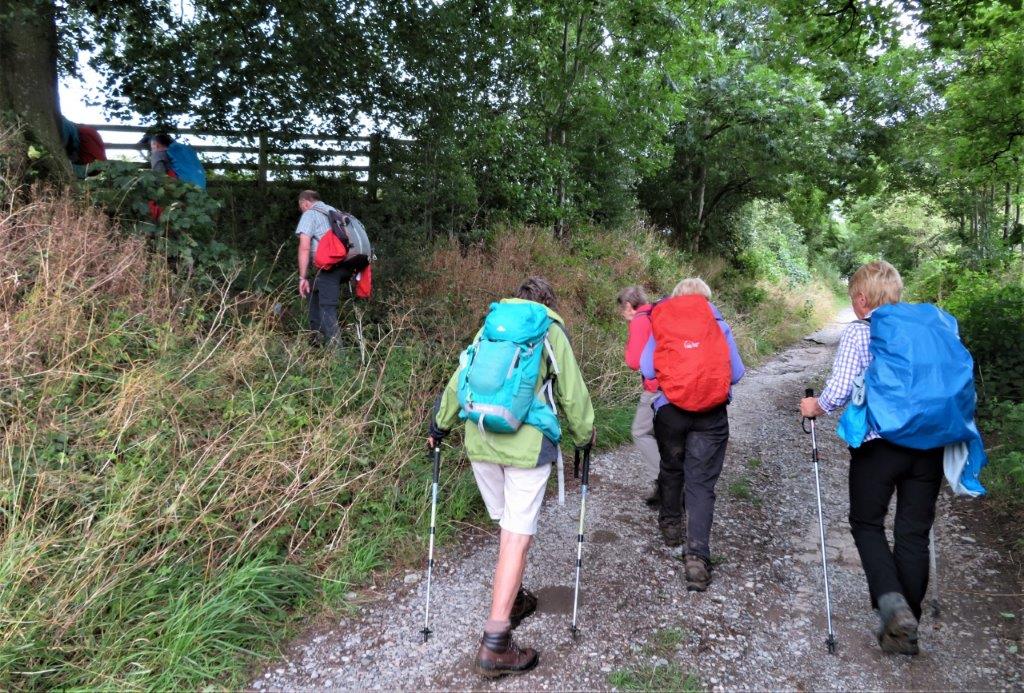 onto footpath leading toward Nether Hurst?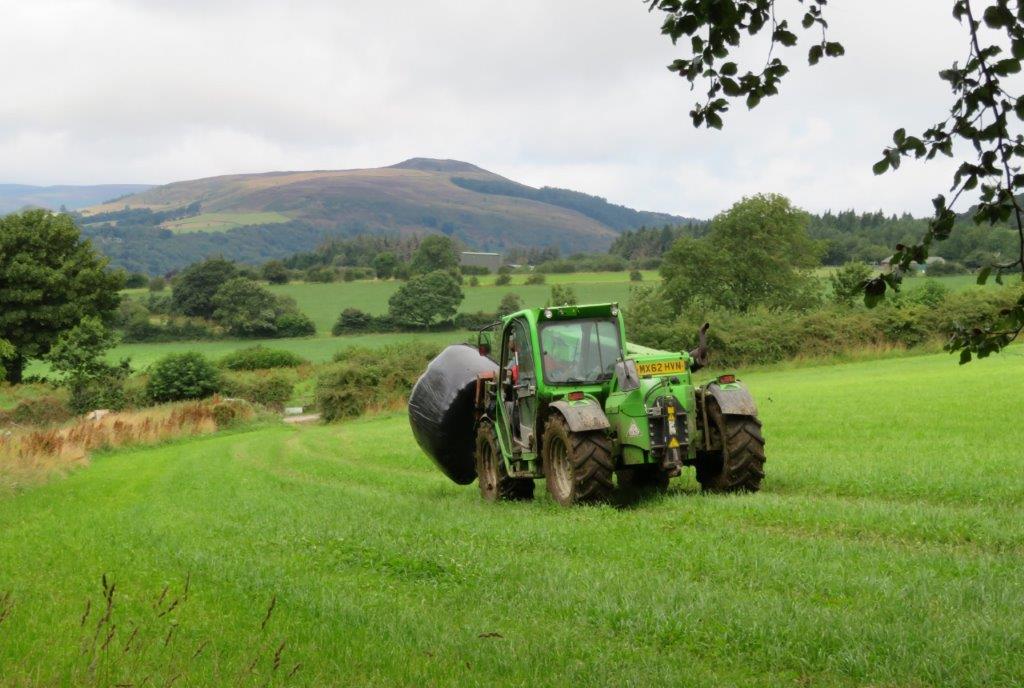 Moving bales on Thorpe Farm? Win Hill Pike in background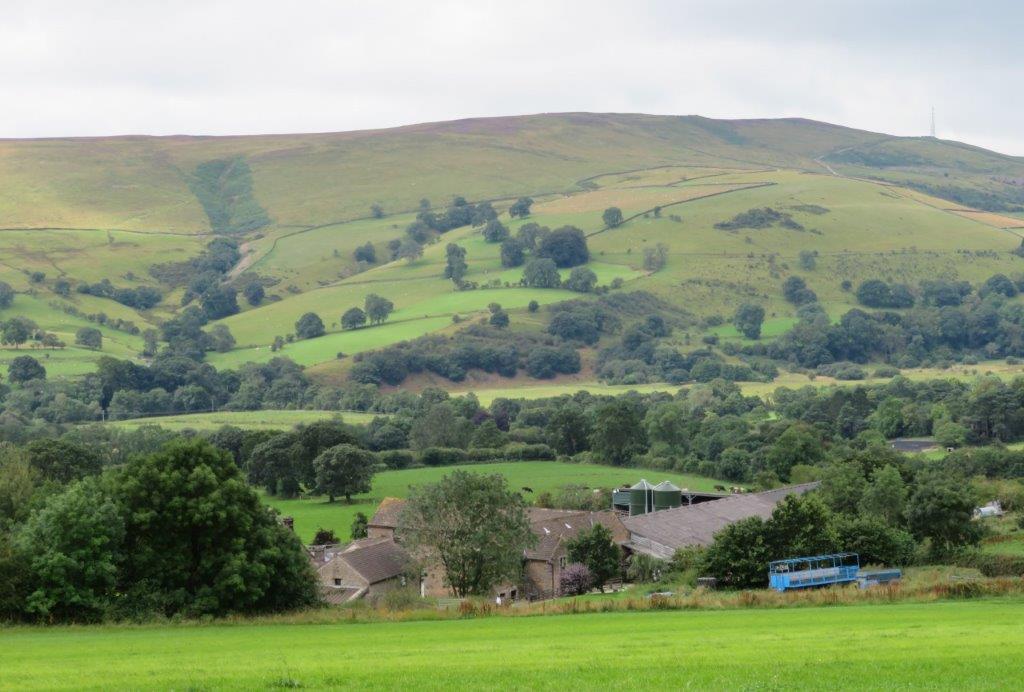 looking southwest over River Derwent - Tower on Shatton Edge to right.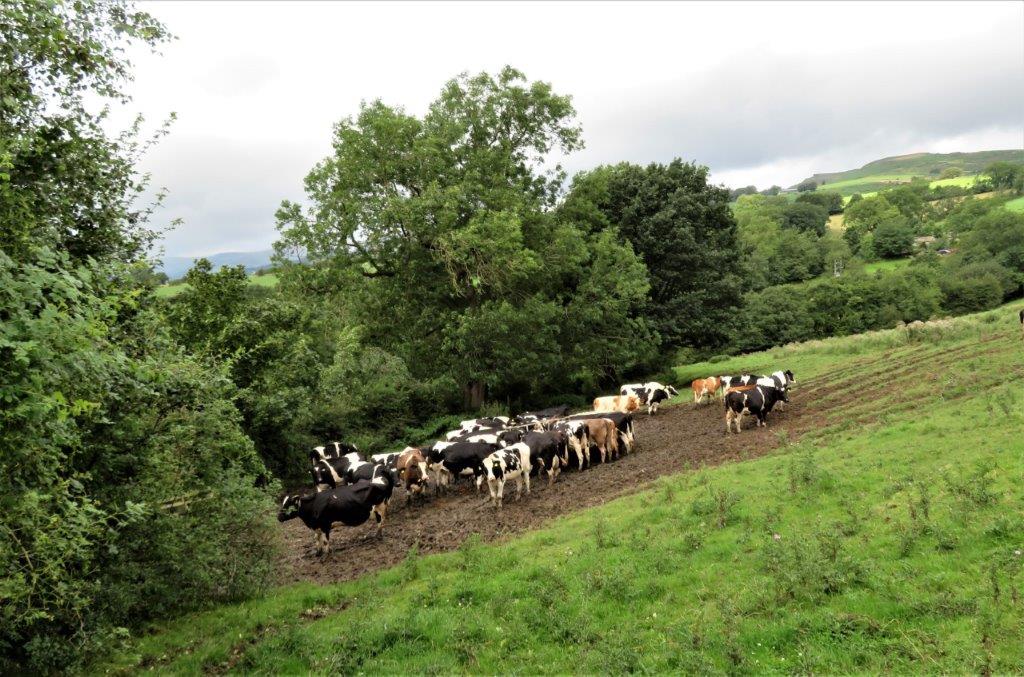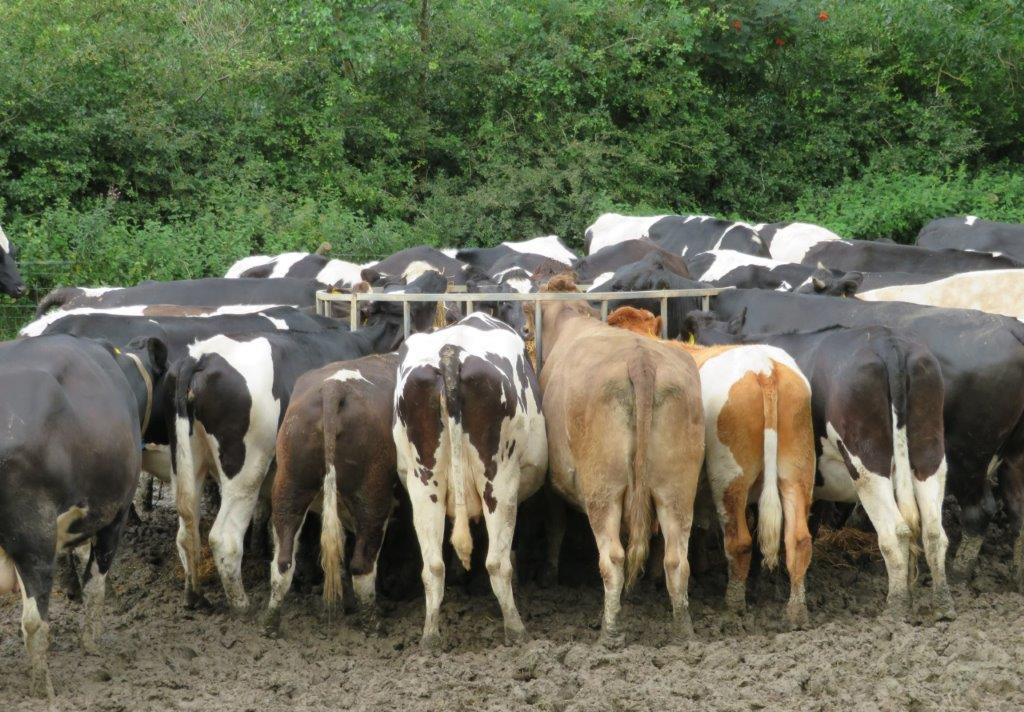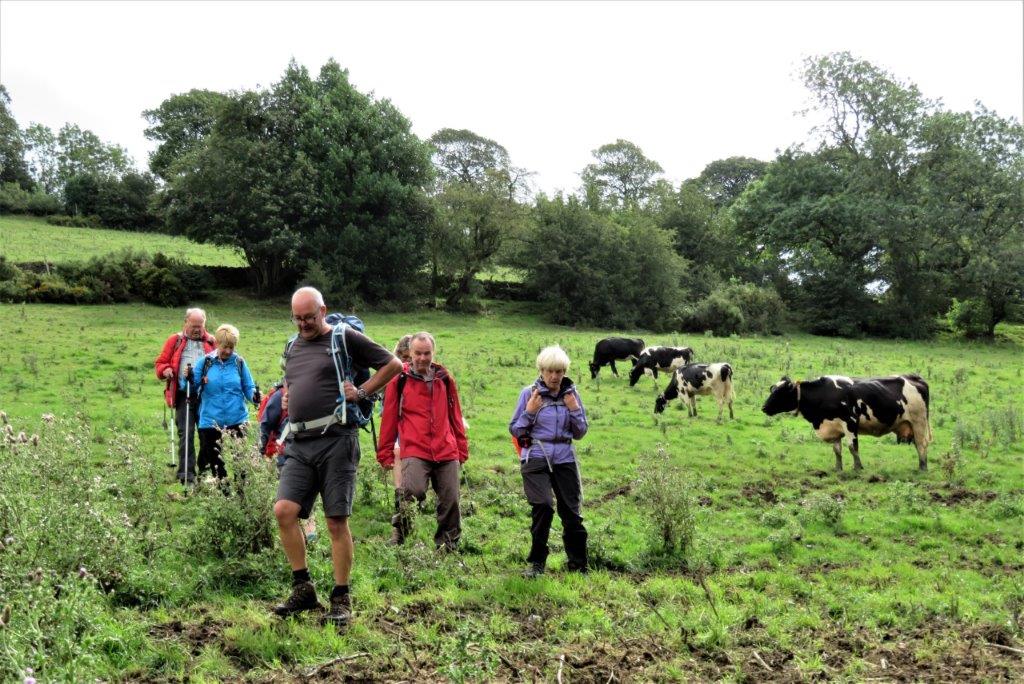 puffballs?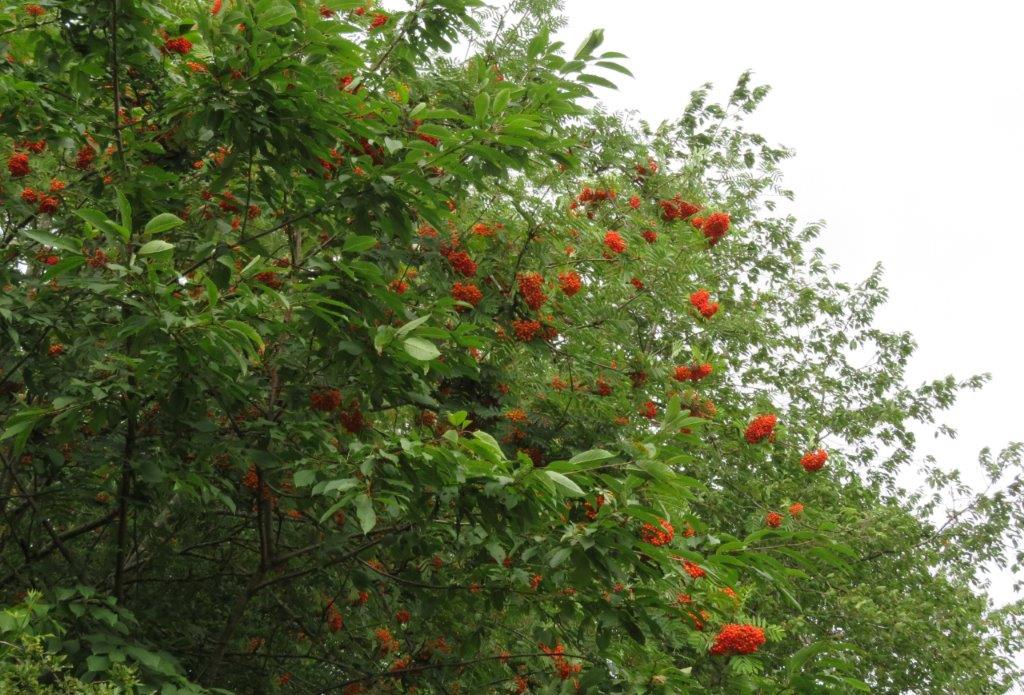 Rowan Berries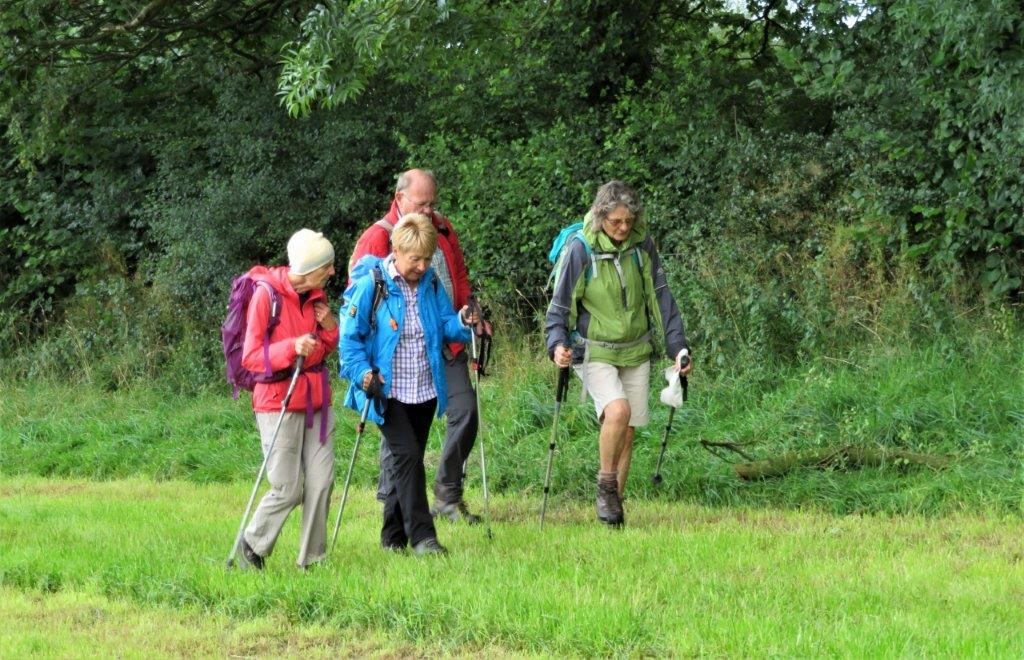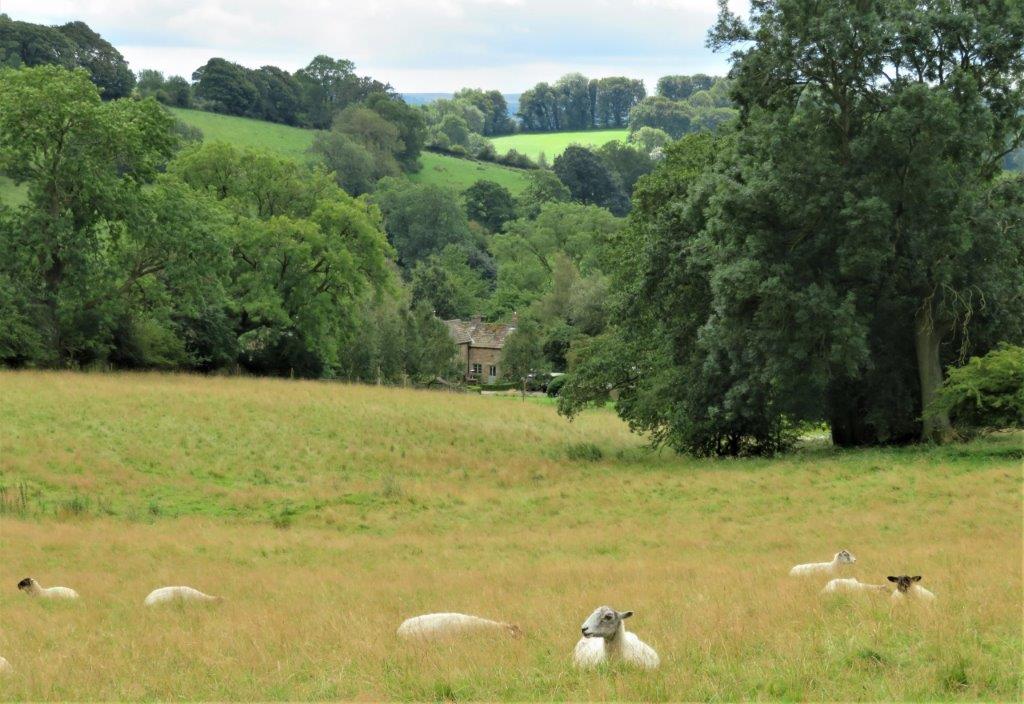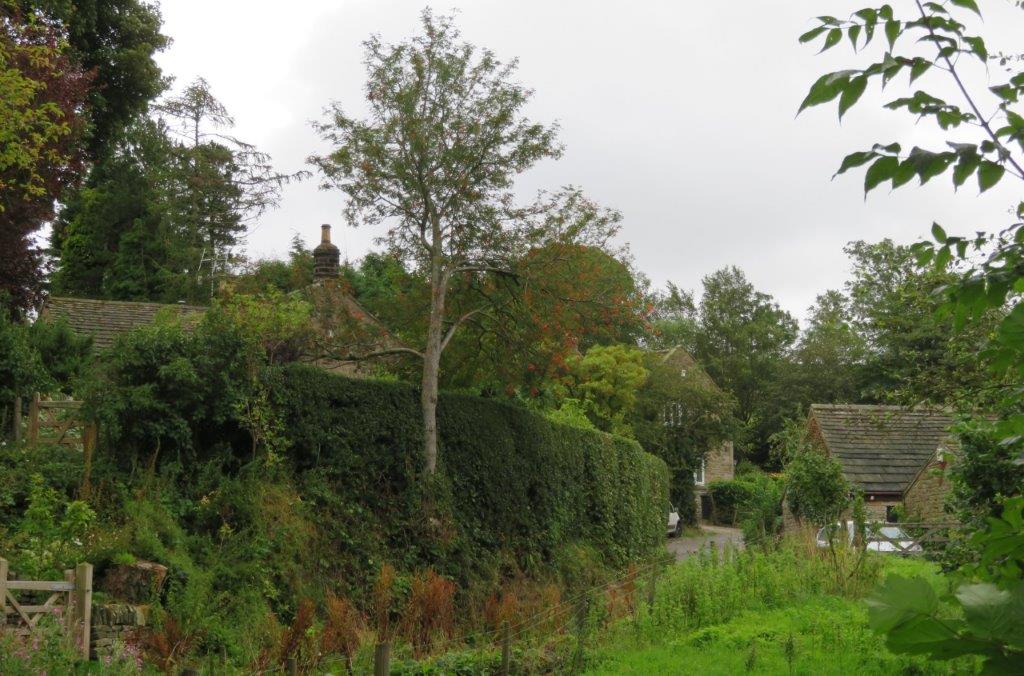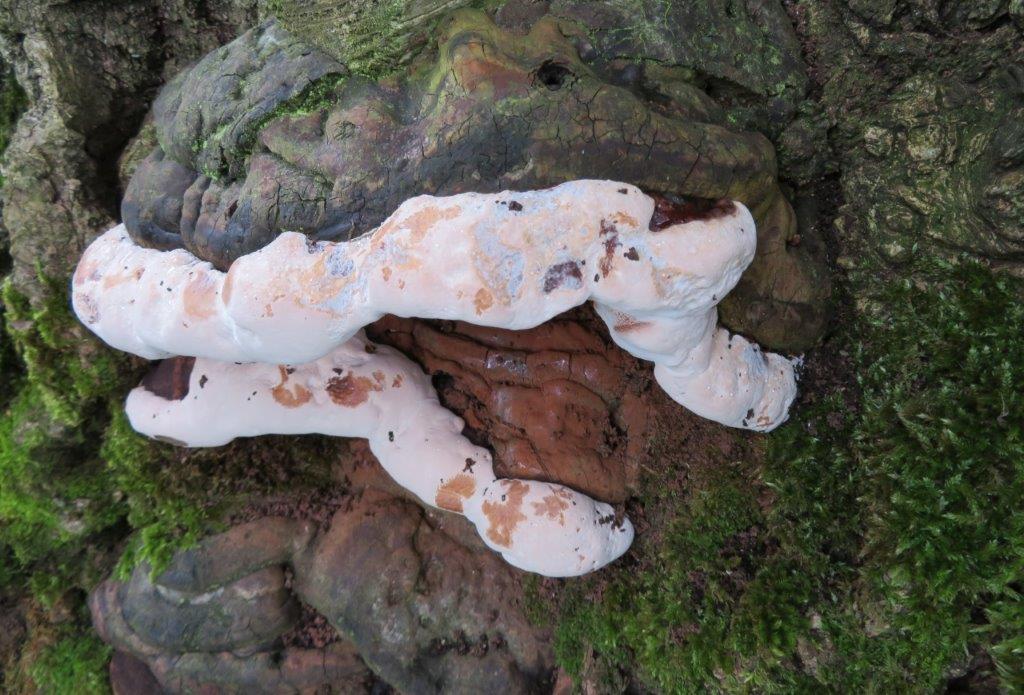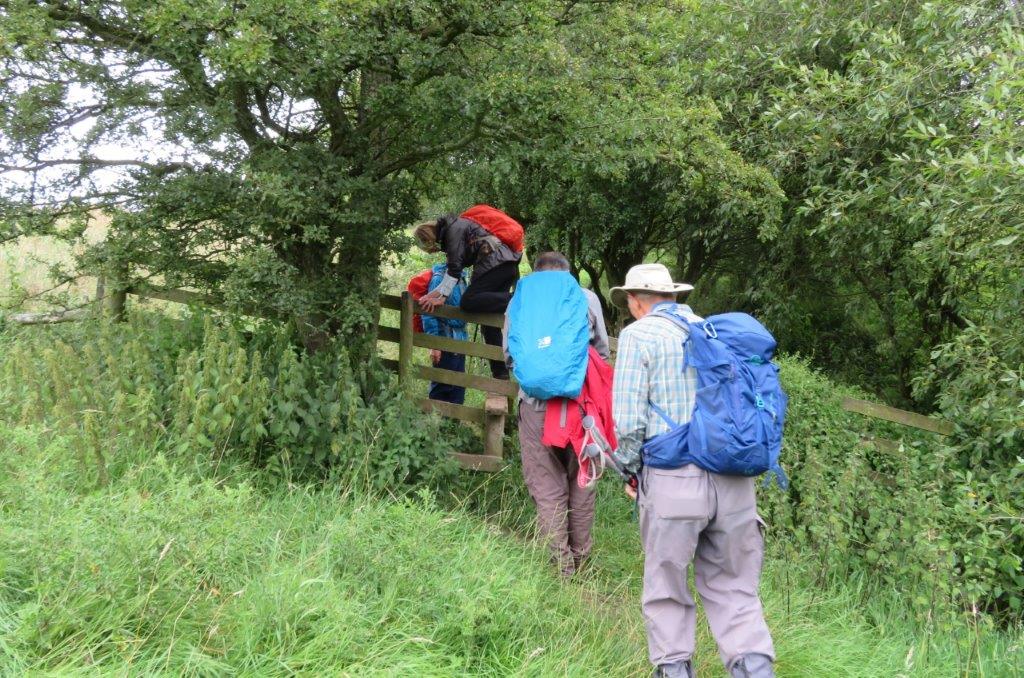 turning off lane just before Gatehouse to east of Upper Hurst Farm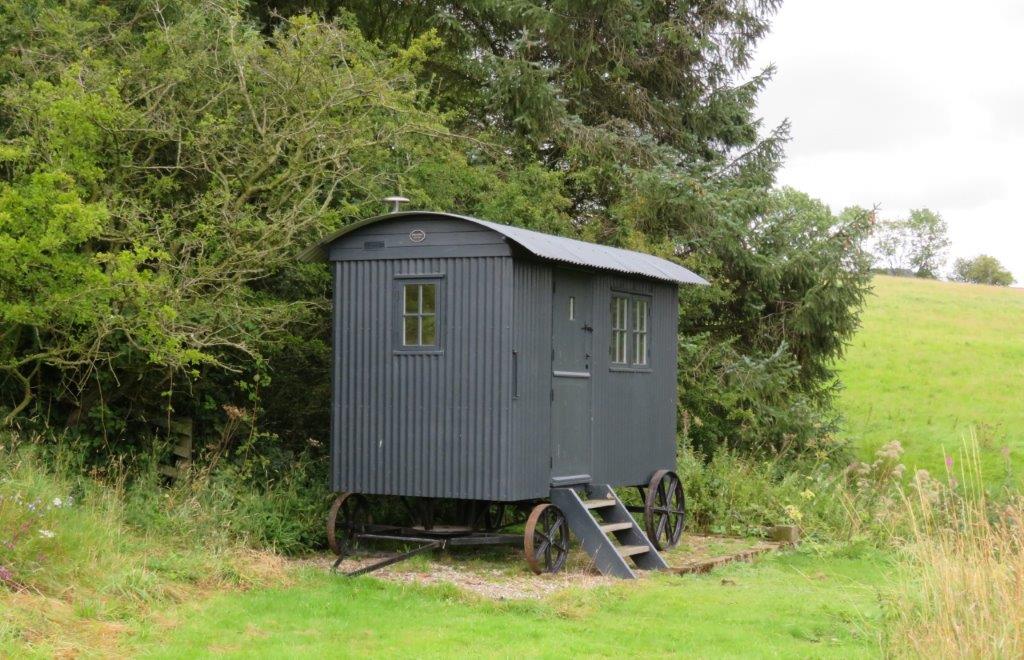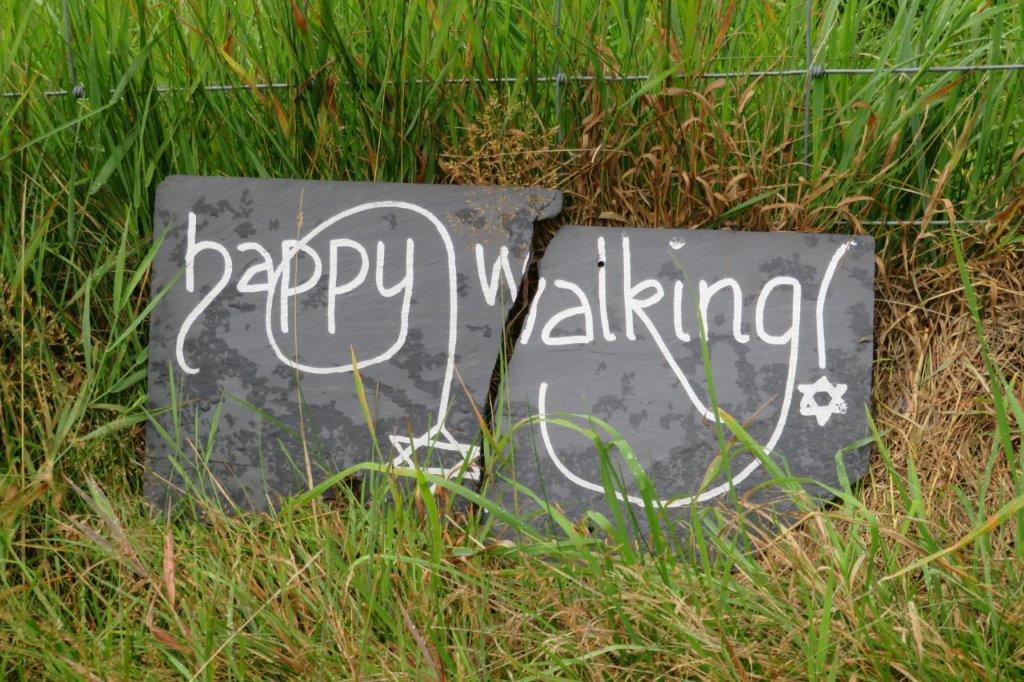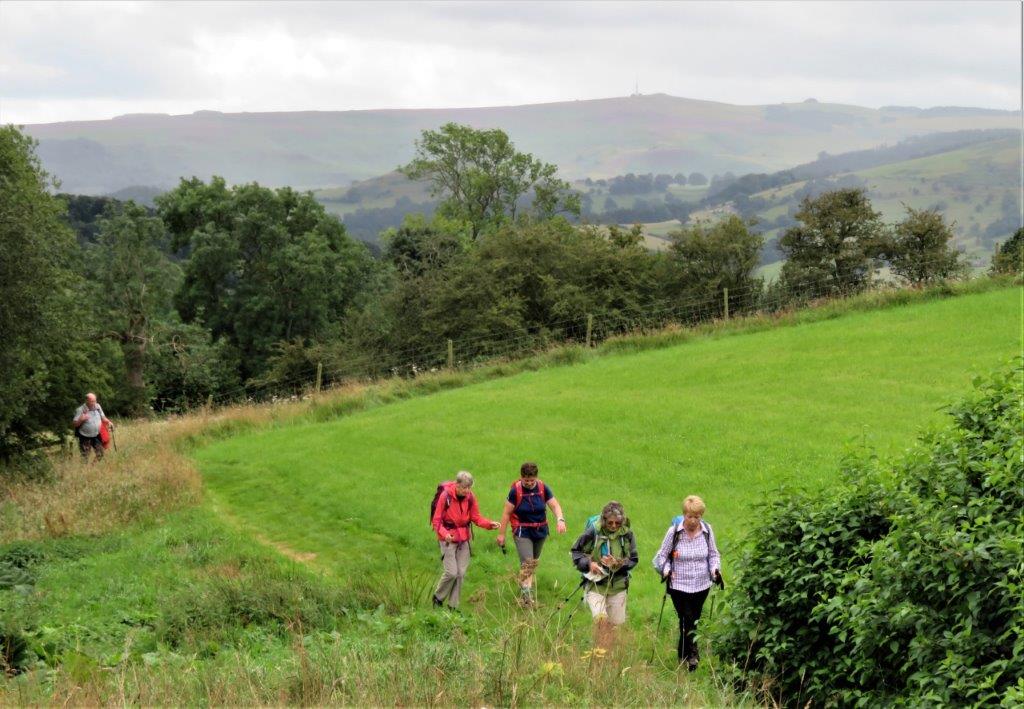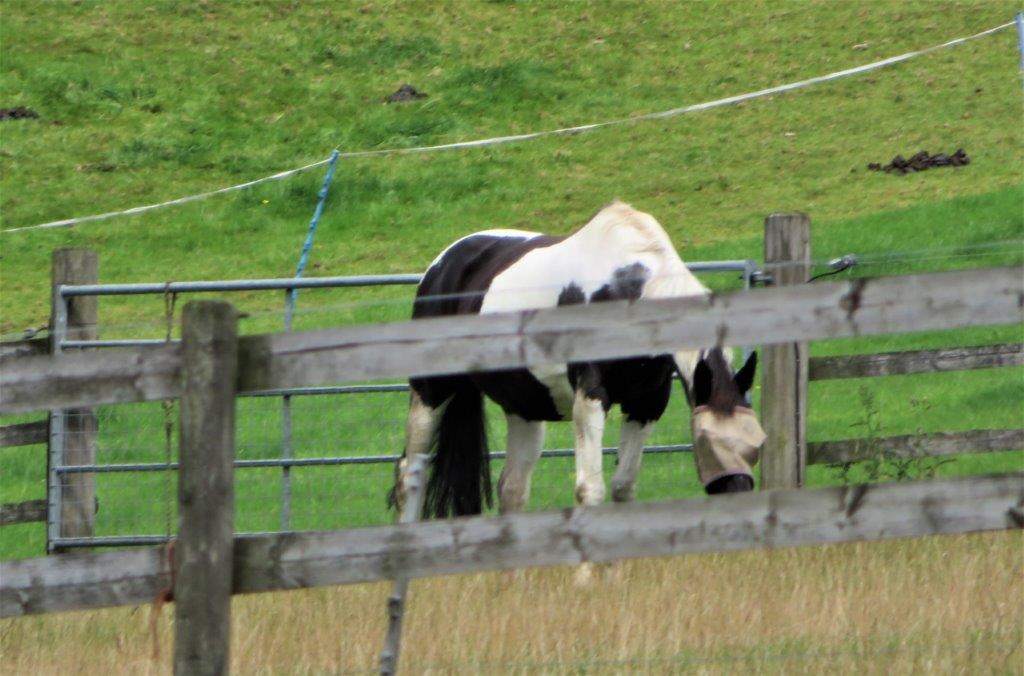 zoomed in distance shot (short of Bolehill Wood)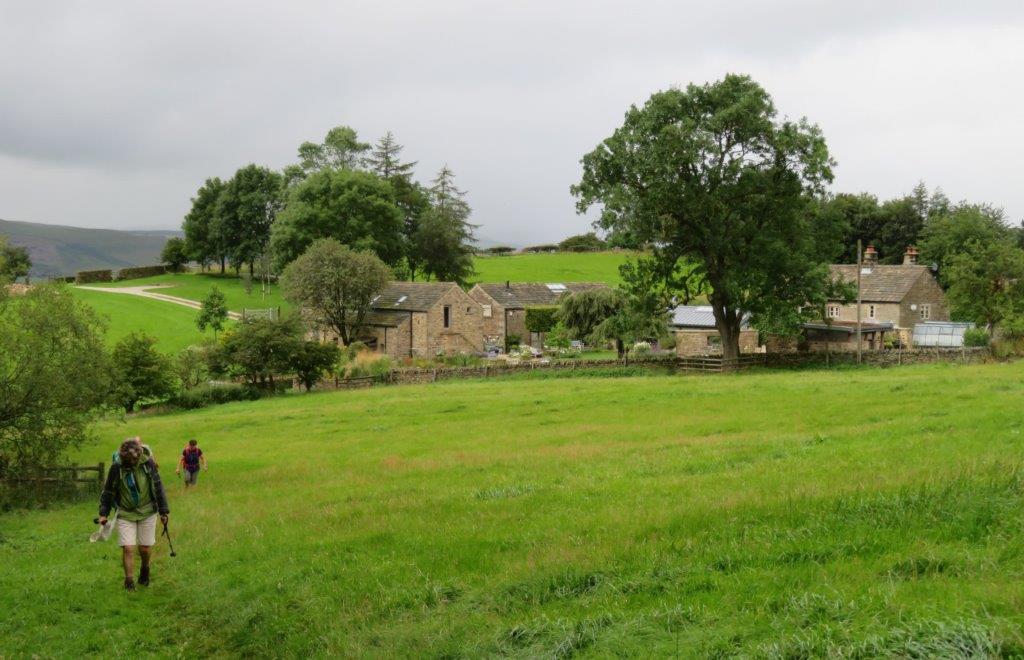 behind us Upper Hurst Farm?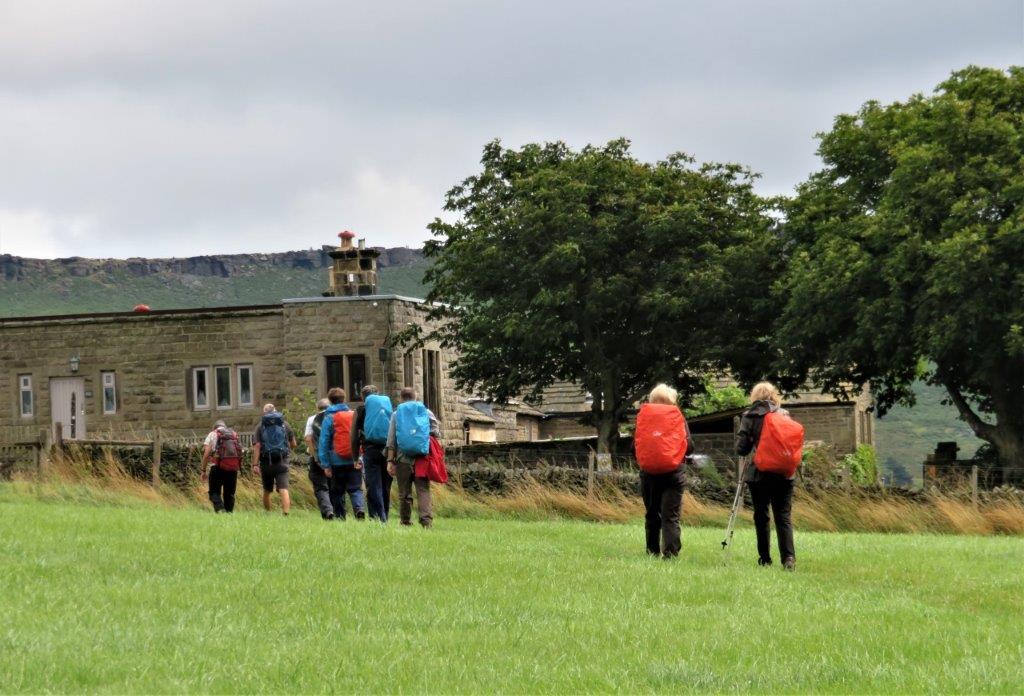 holiday homes near Outlane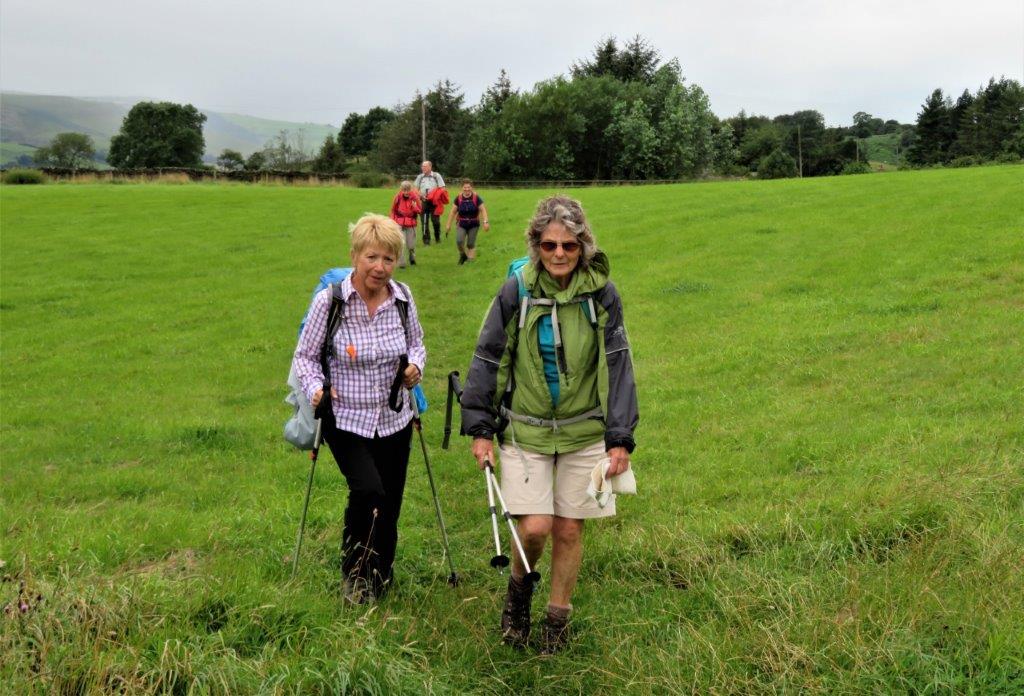 rearguard approaching Outlane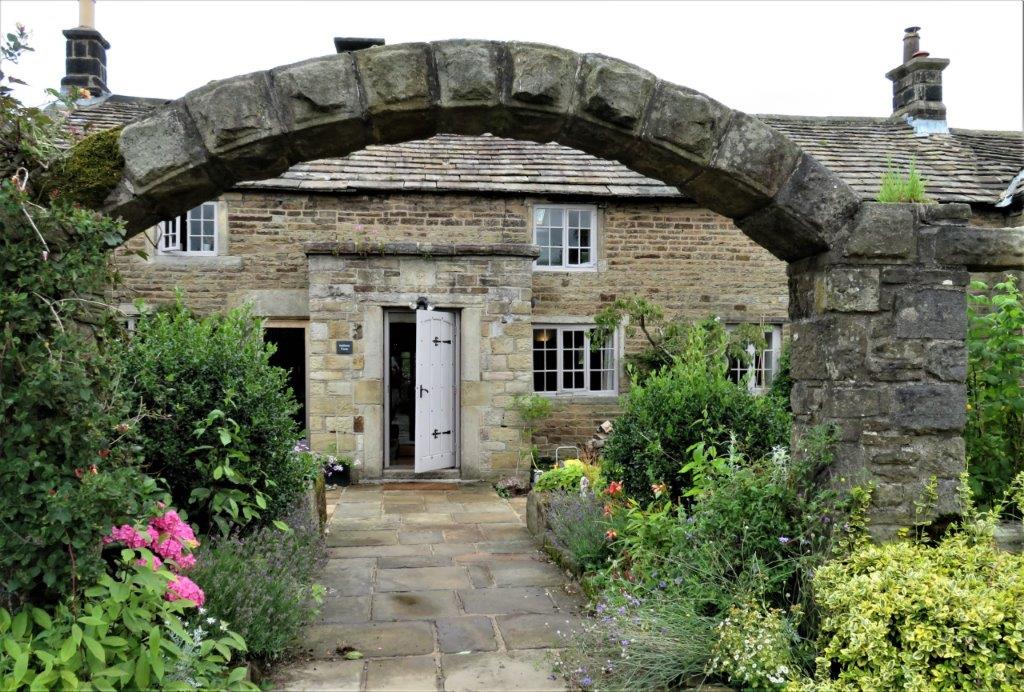 passing buildings near Outlane before starting descent to Green's House
descending to Green's House - Stanage Edge at Back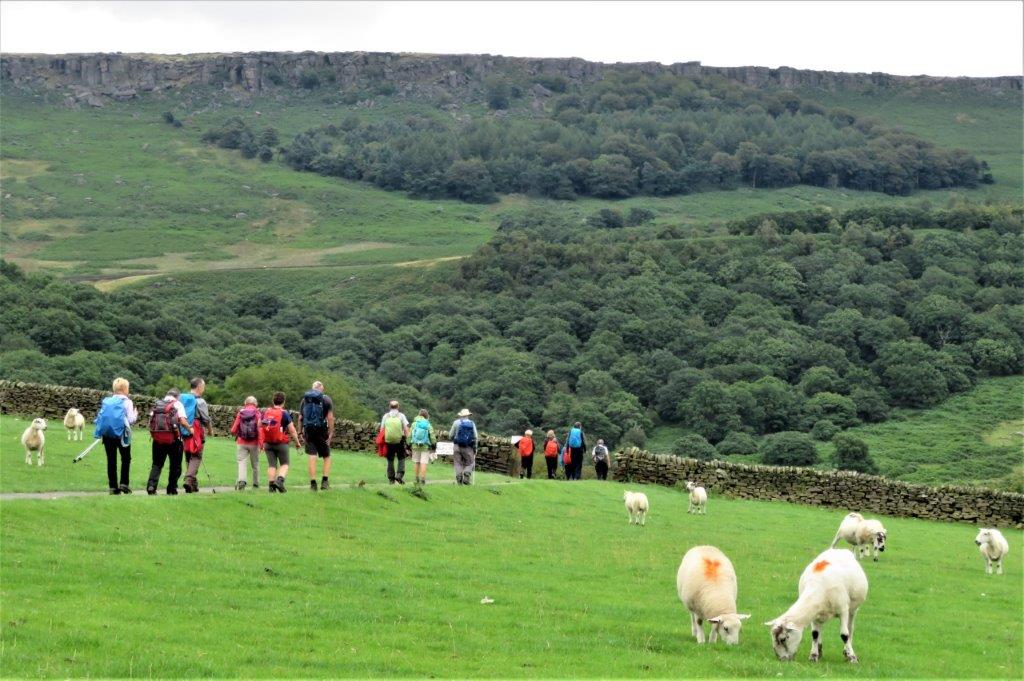 as above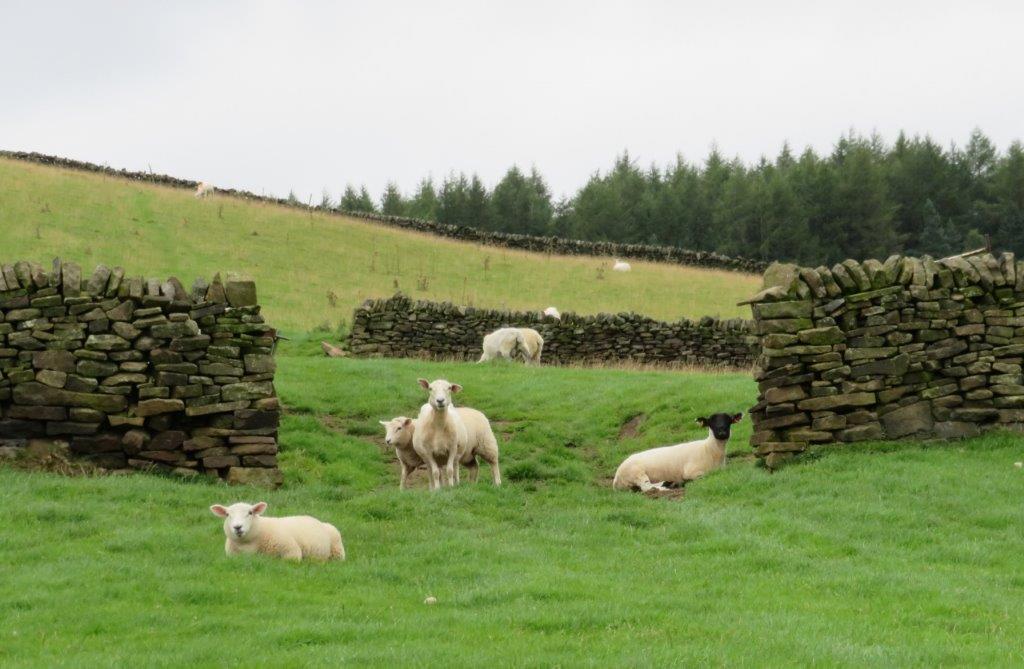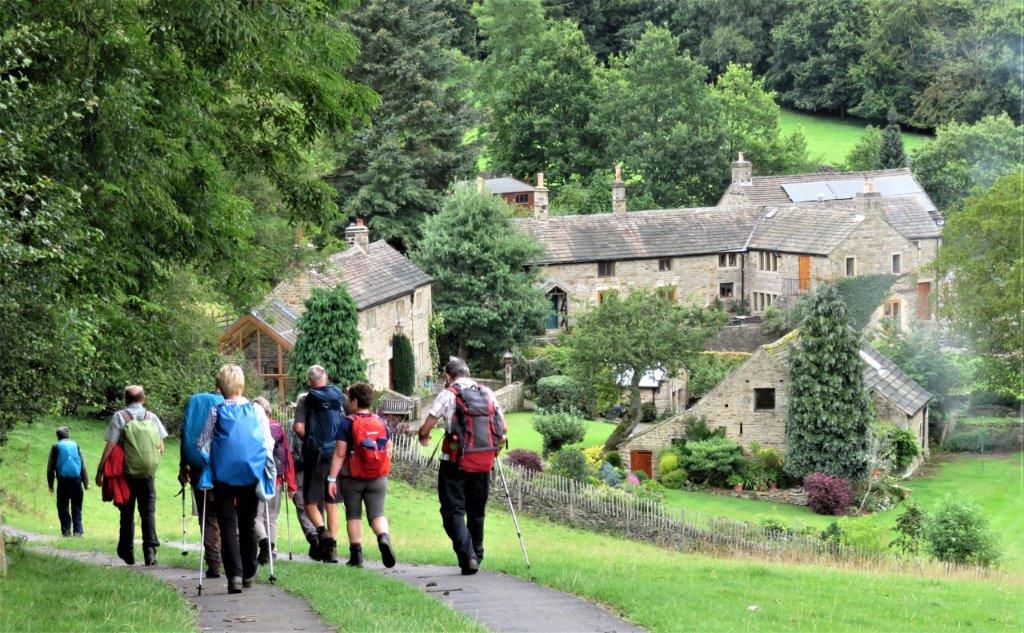 near Green's House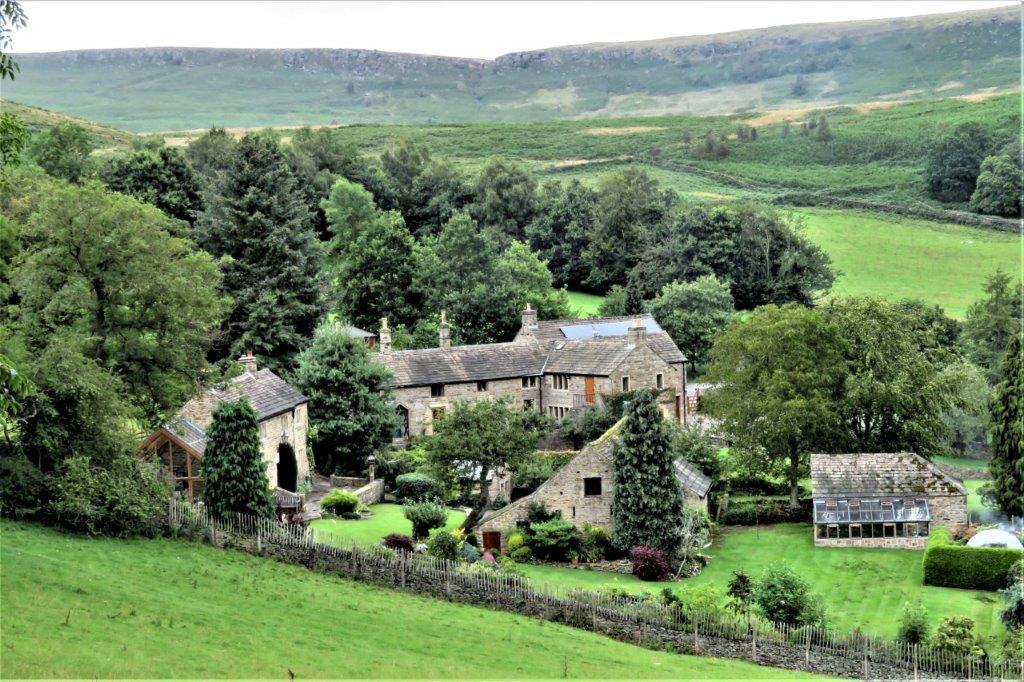 Green's House again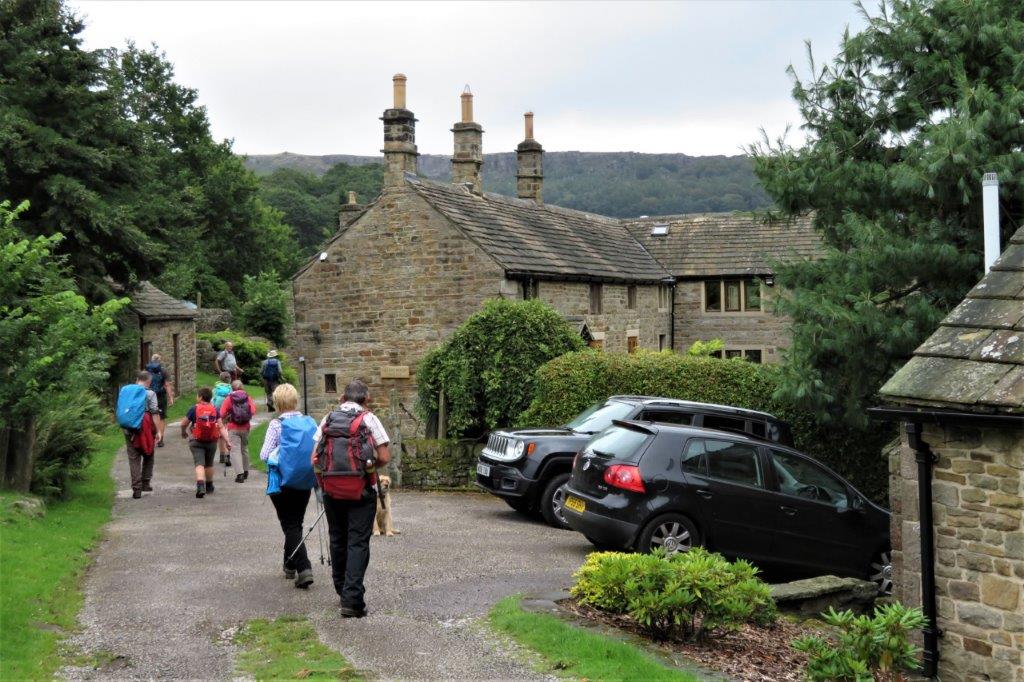 spot the dog?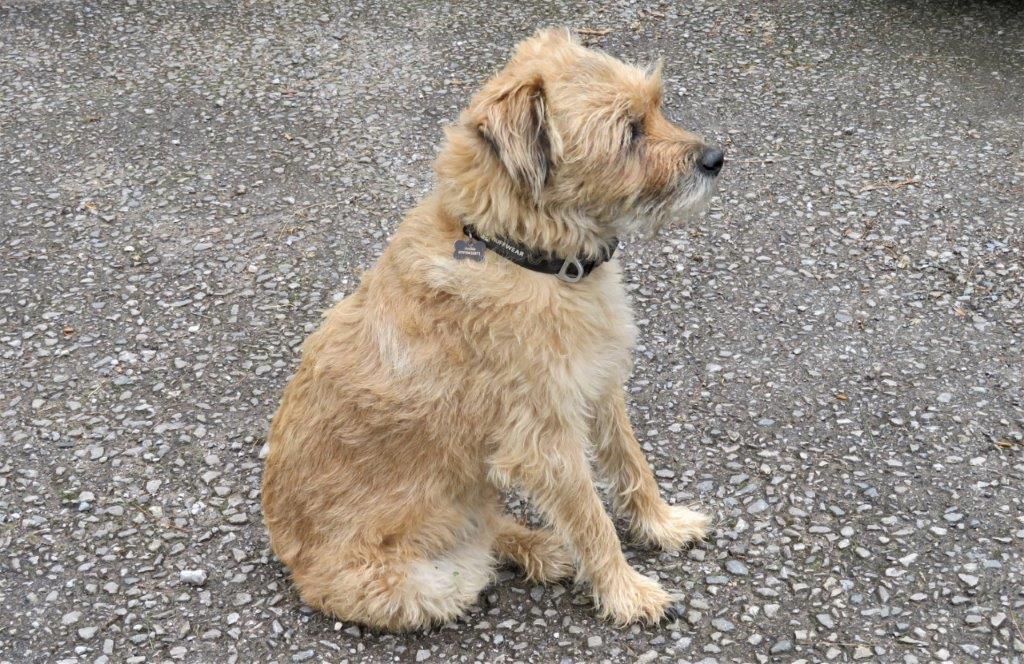 a friendly non-barking dog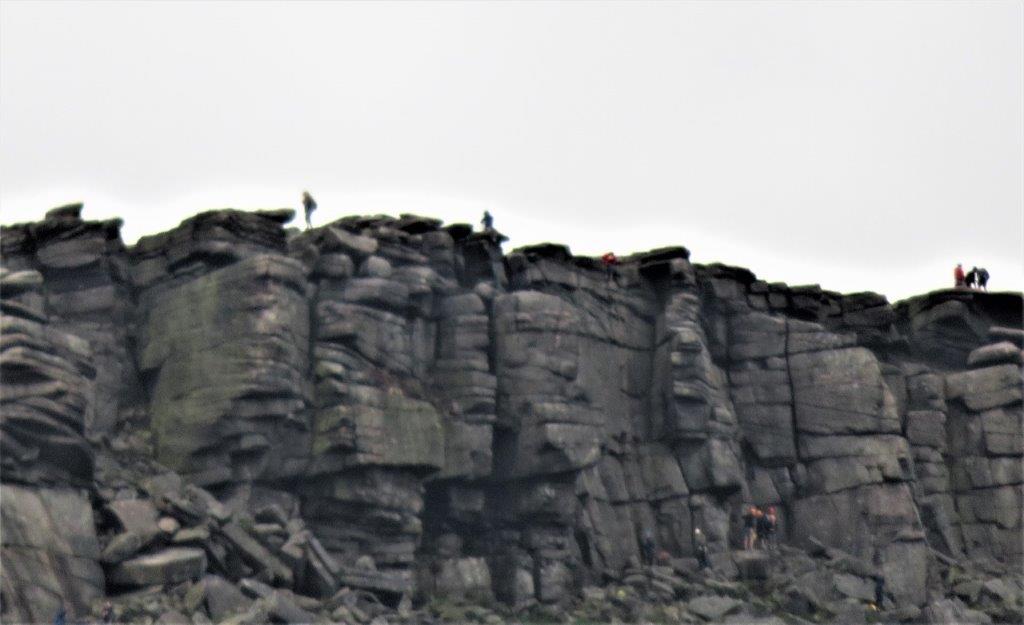 a blurred zoomed in shot of Stanage Edge (spot the climber about to start up - belayer at top)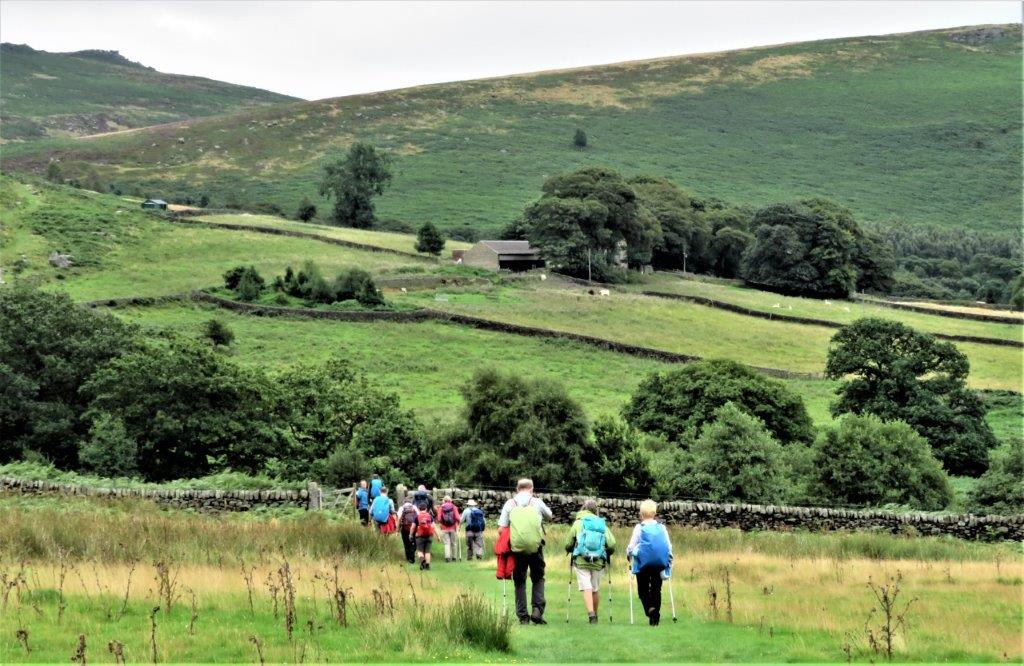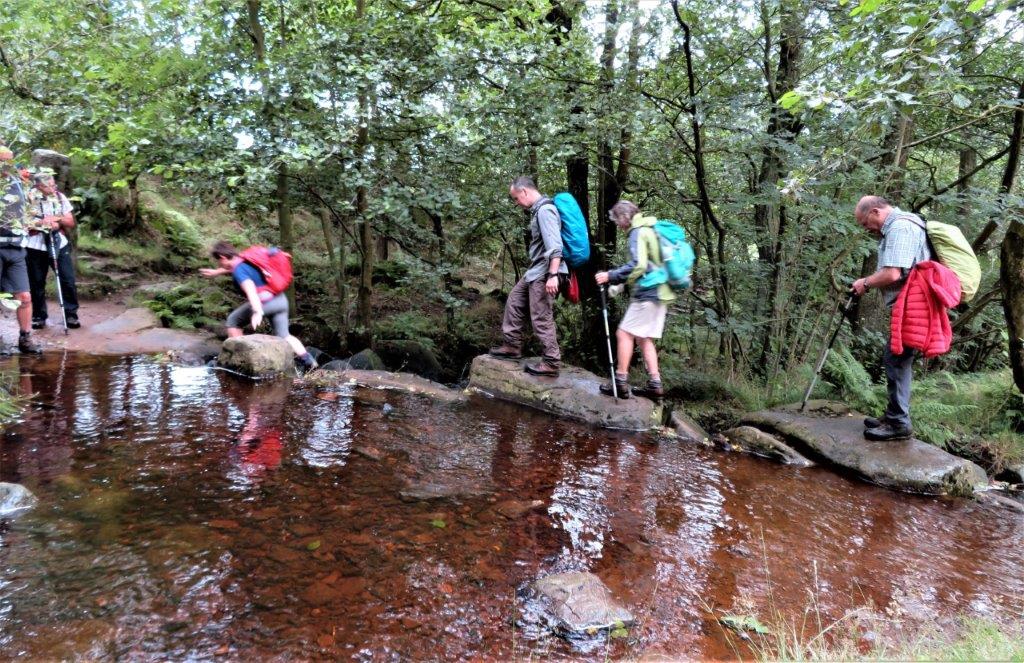 possibly Hood Brook?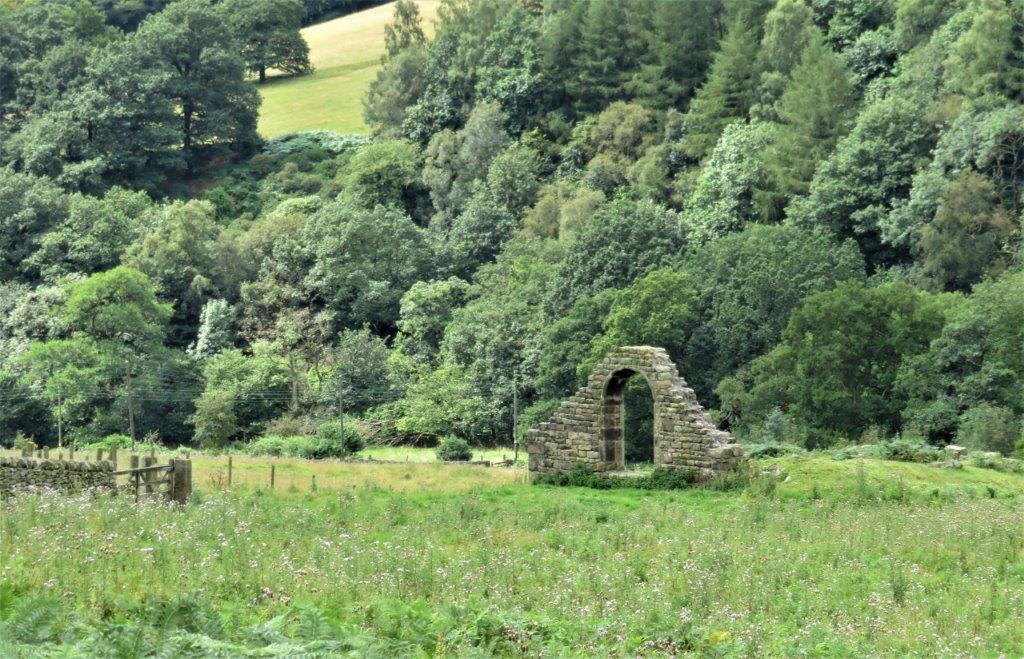 Holy Trinity Chapel was possibly a Roman Catholic place of worship connected with North Lees Hall? It was possibly ruined by Protestants in the late 17th century?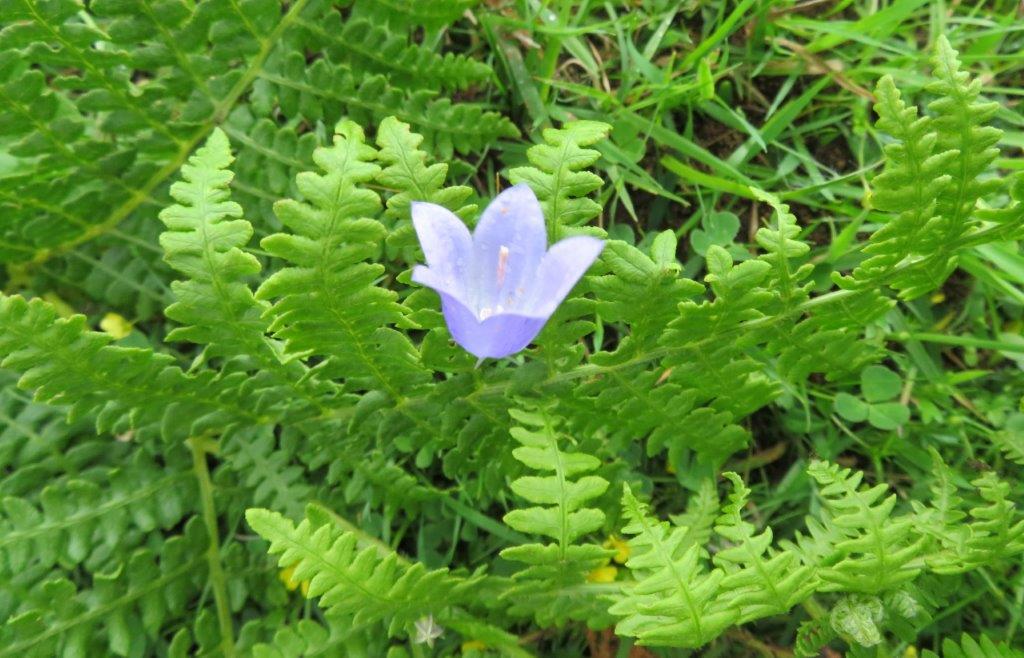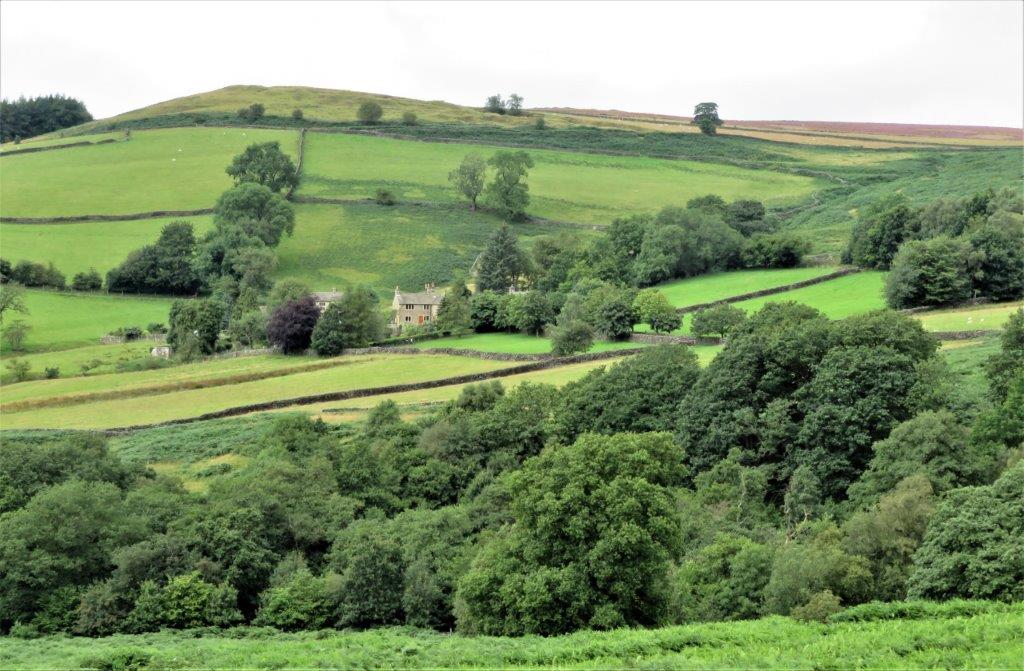 looking back at Green's House?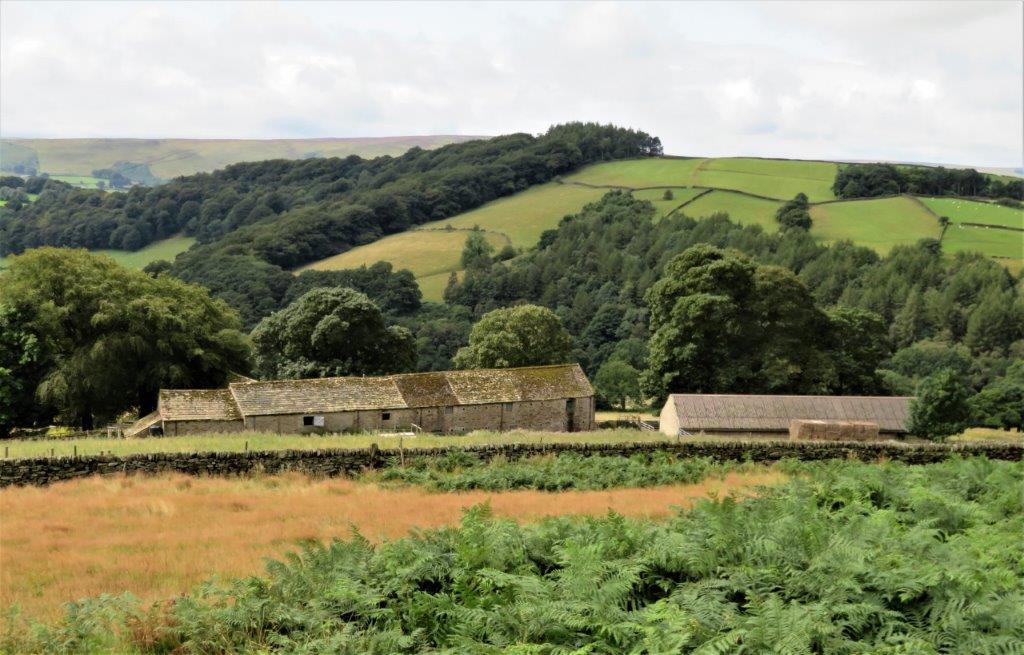 farm buildings near North Lees?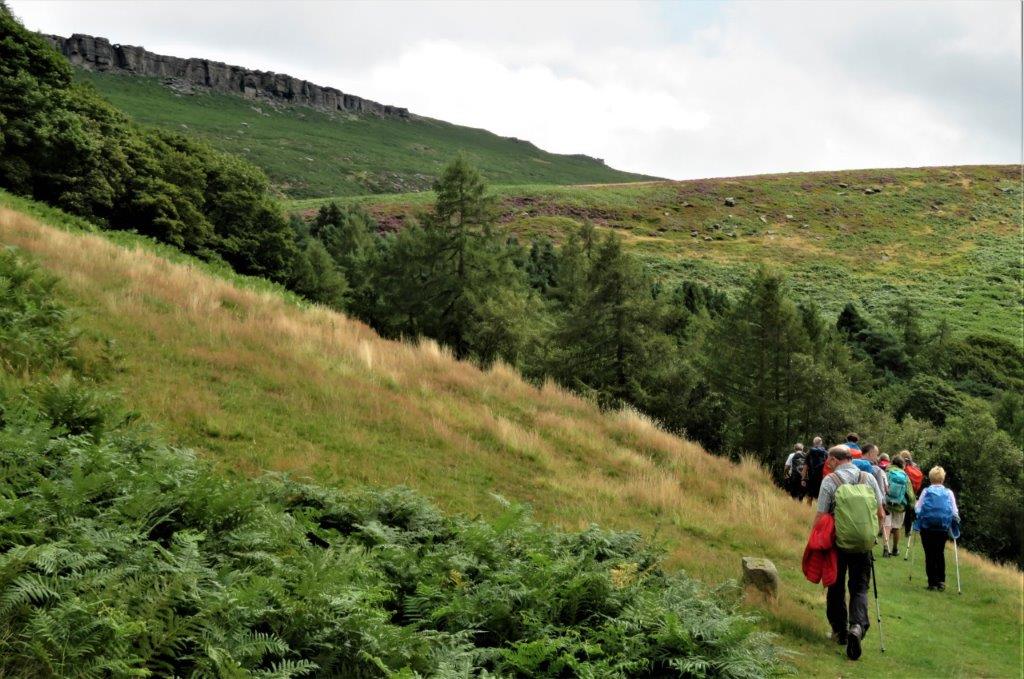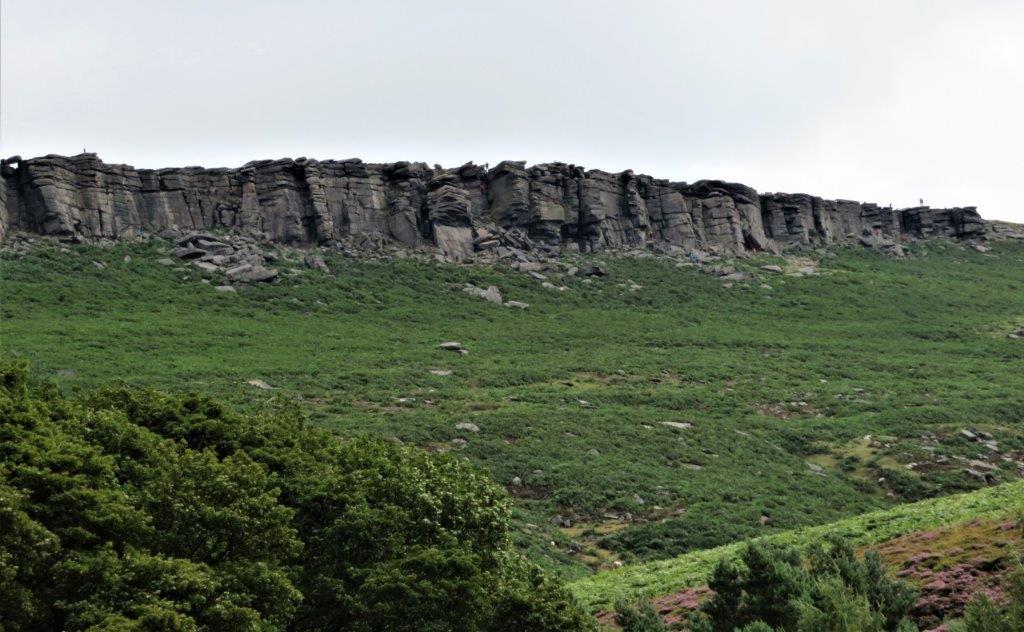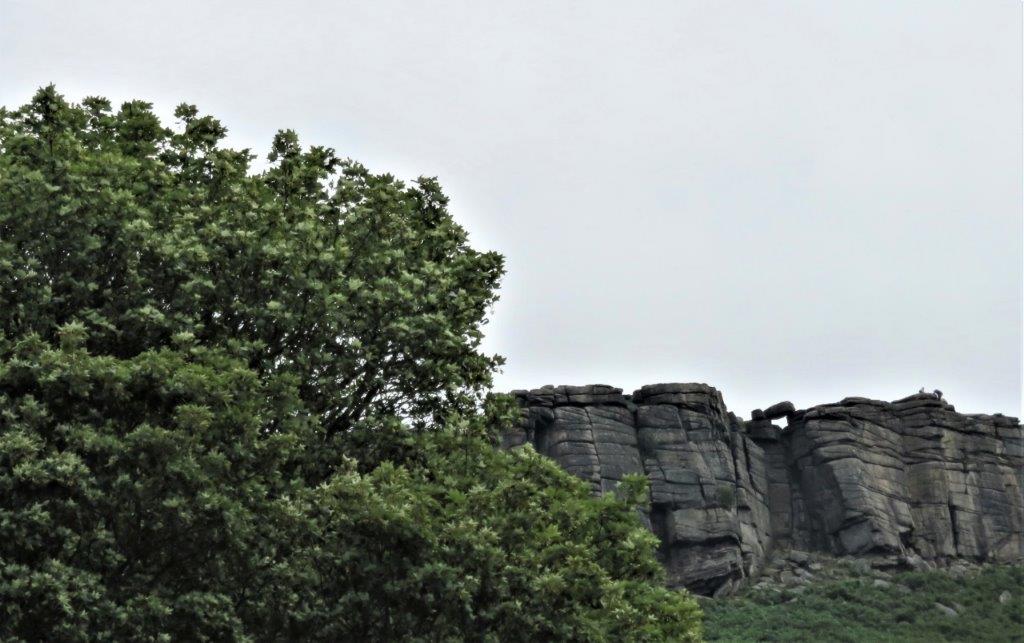 lunch break while on the way up to Stanage Edge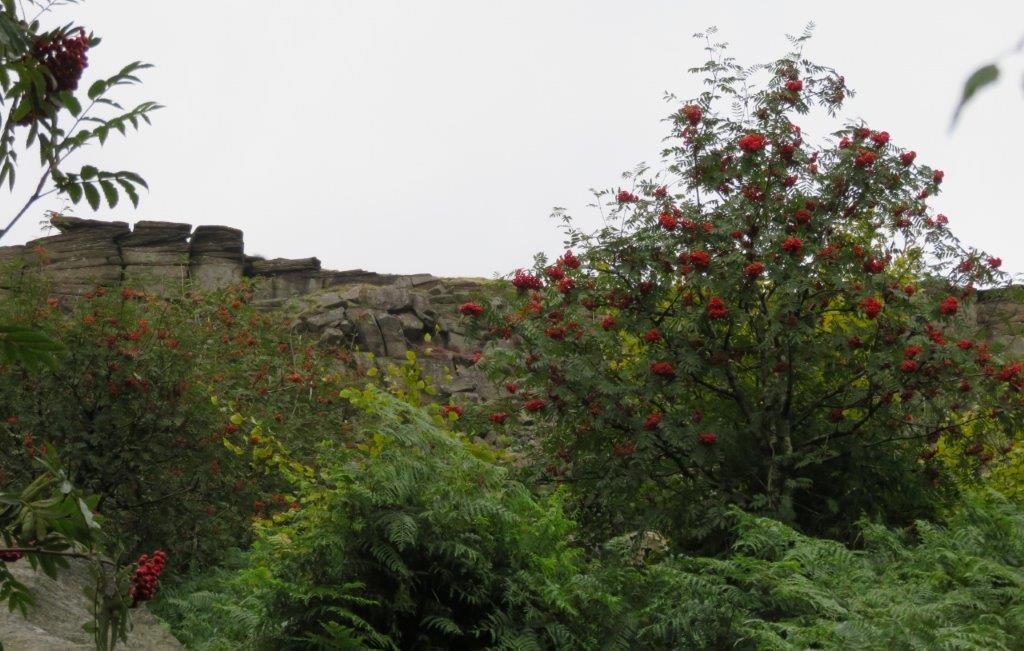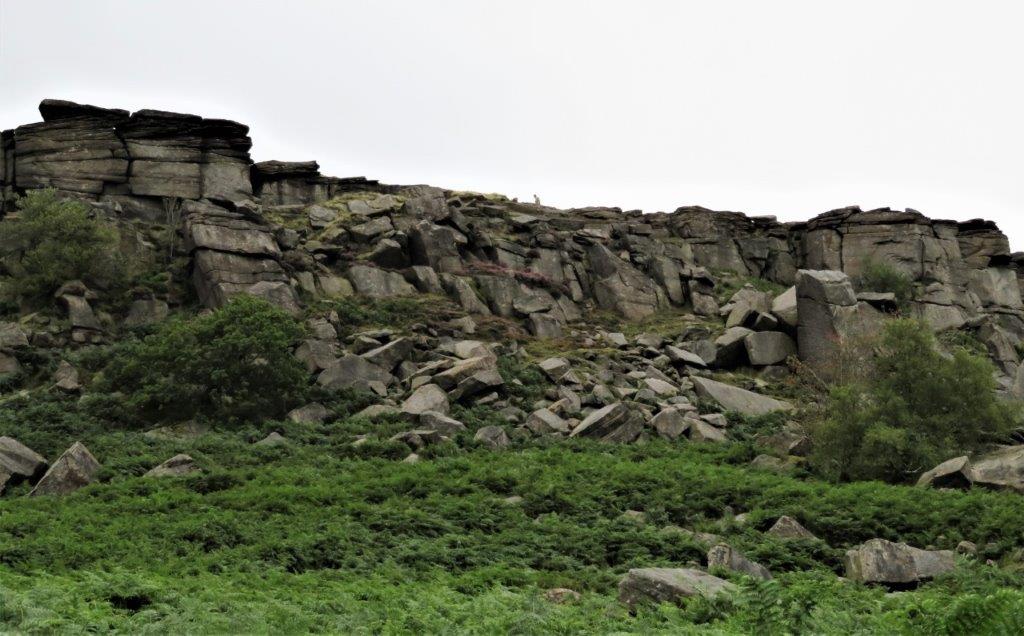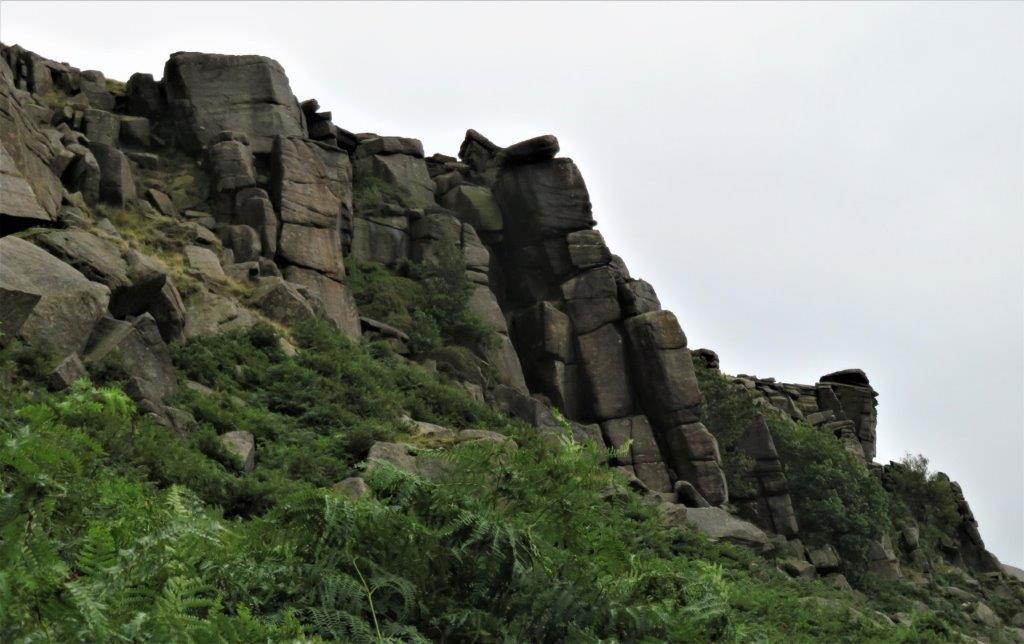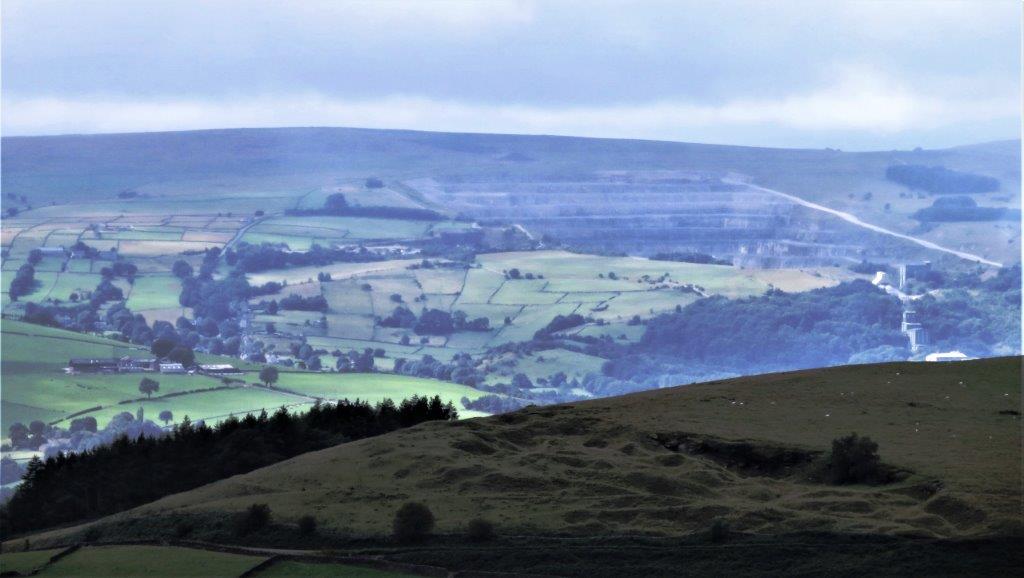 zoomed into terraced quarry behind Hope Cement Plant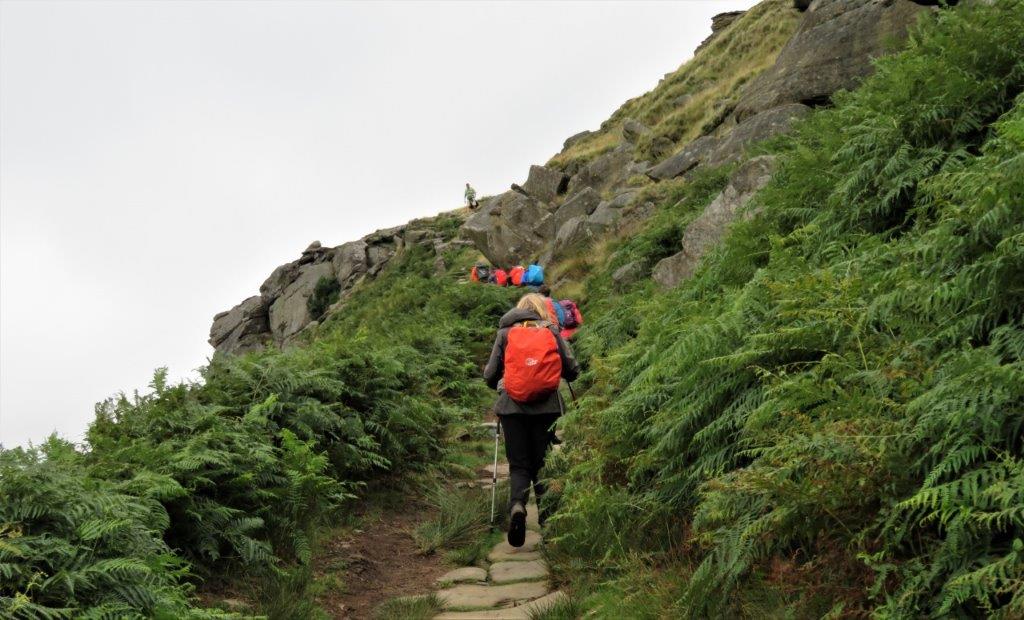 near the top of Stanage Edge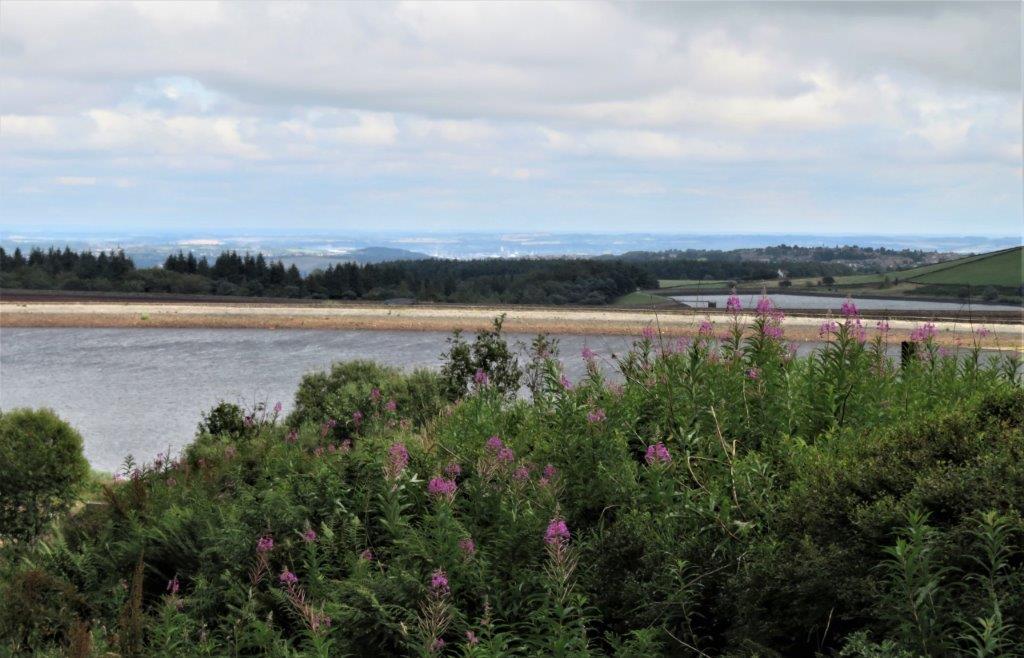 zoomed into Redmires reservoirs ahead of us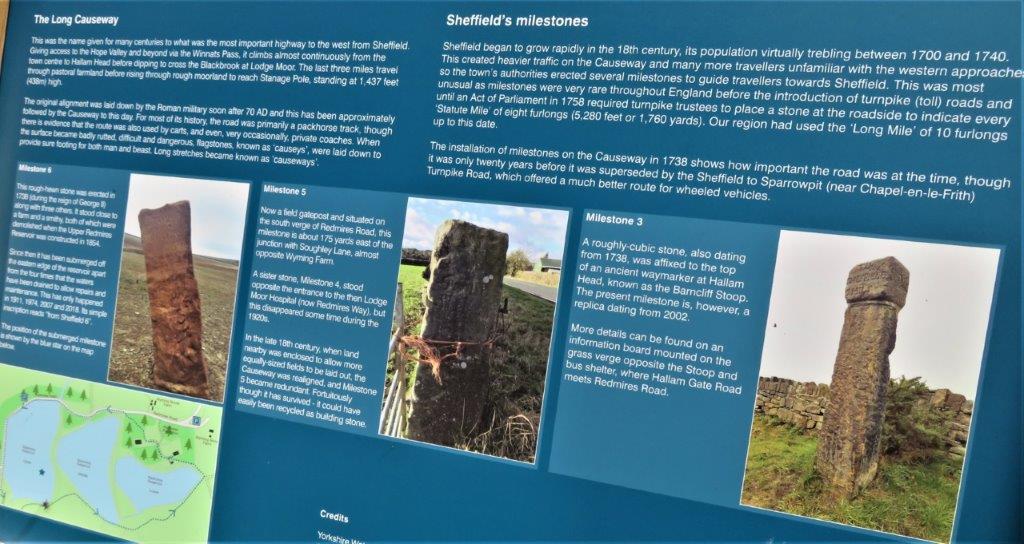 interesting Yorkshire Water's note on Long Causeway and Milestones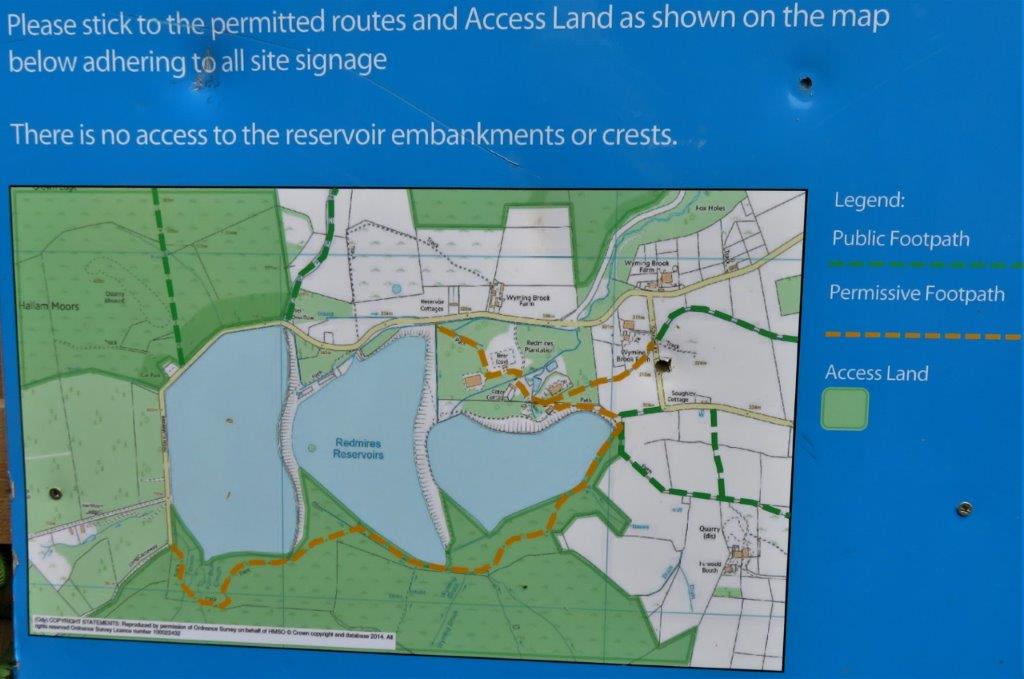 we followed Yorkshire Water's Permissive Footpath on the South of the reservoirs (not shown on most other maps as a Permissive Footpath)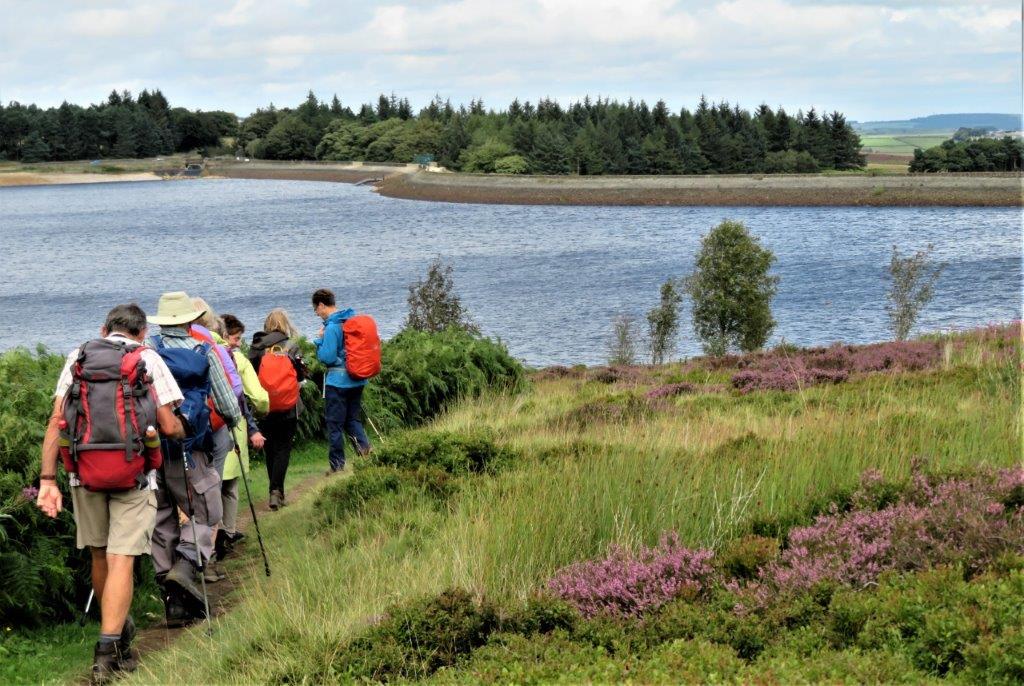 the top reservoir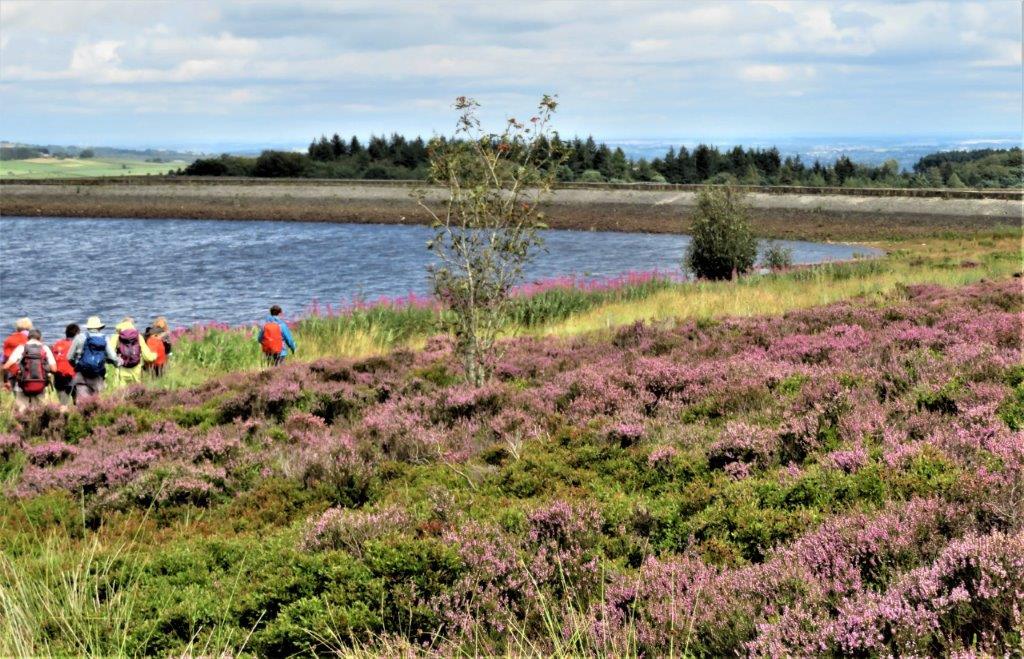 as above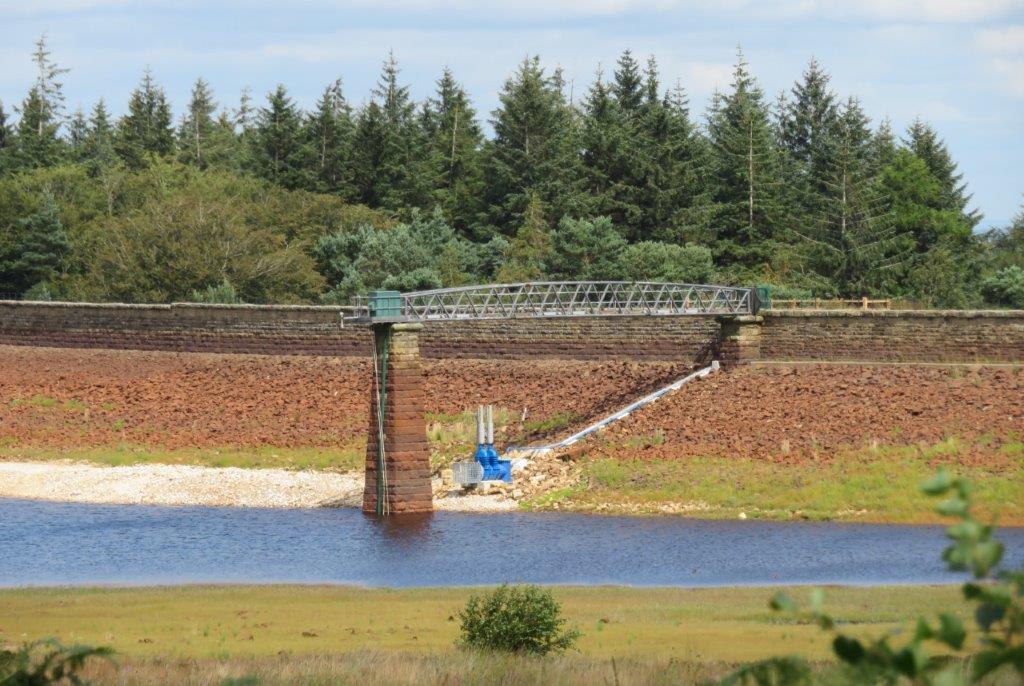 the middle reservoir - possibly a temporary pump to lower water while maintenance in progress?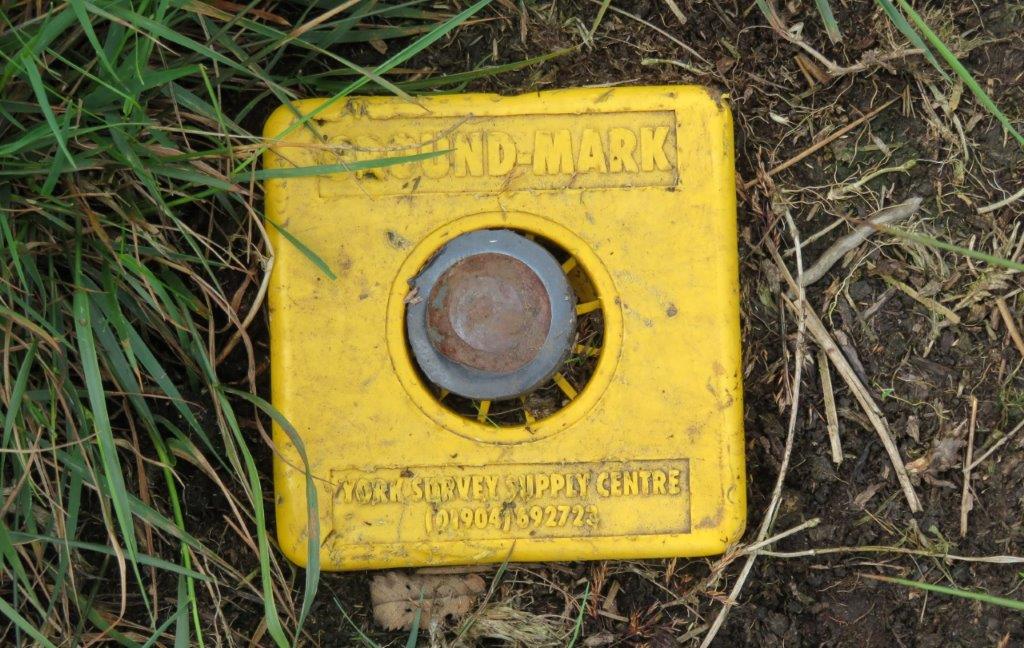 A surveyor's ground mark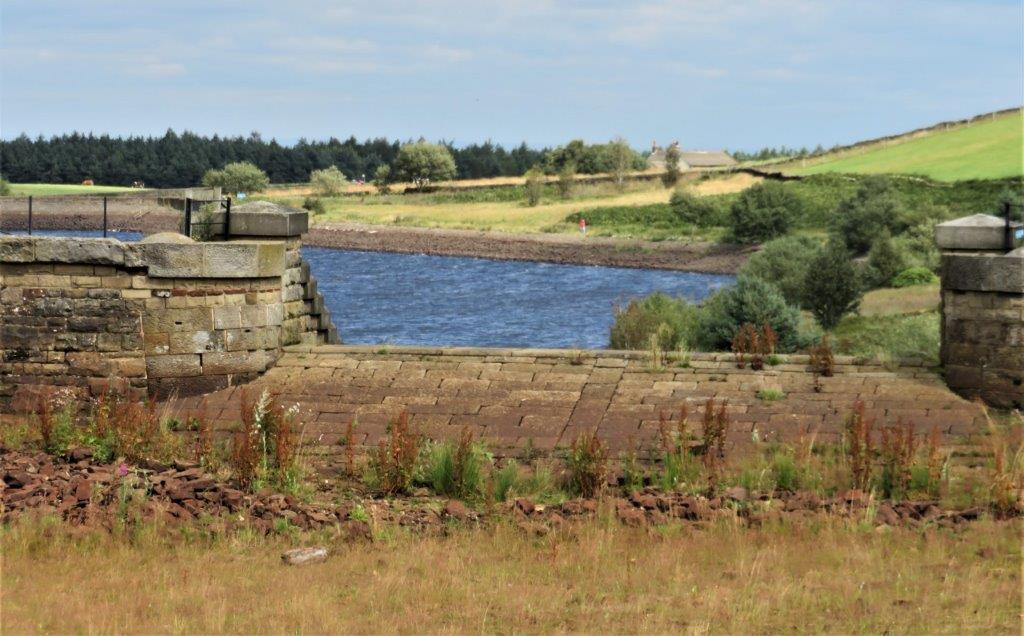 spillway of the middle 'dry' reservoir being maintained - lower reservoir beyond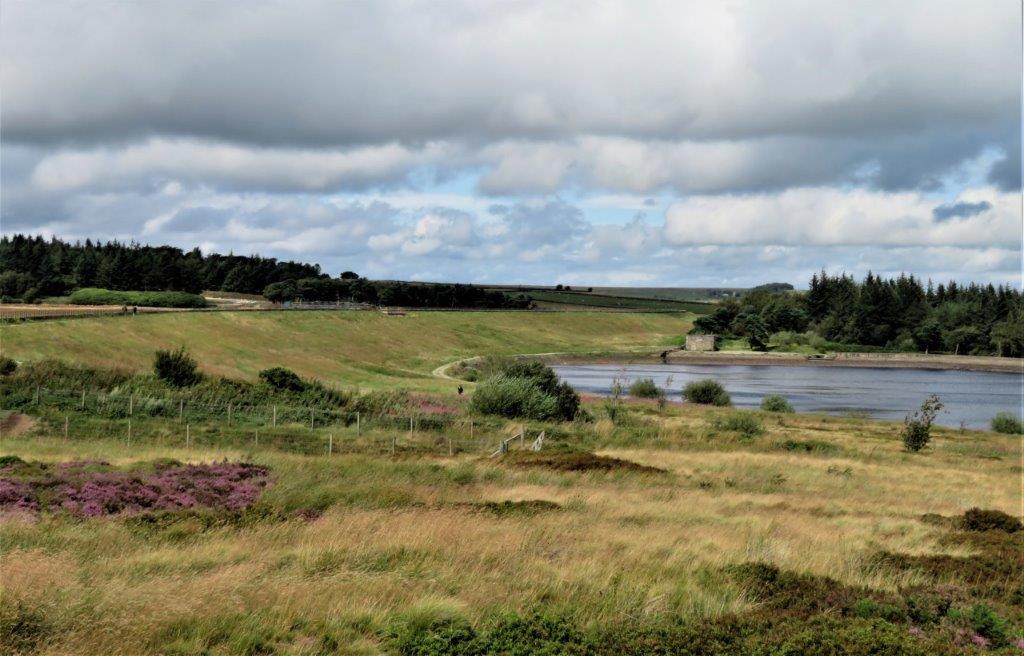 lower reservoir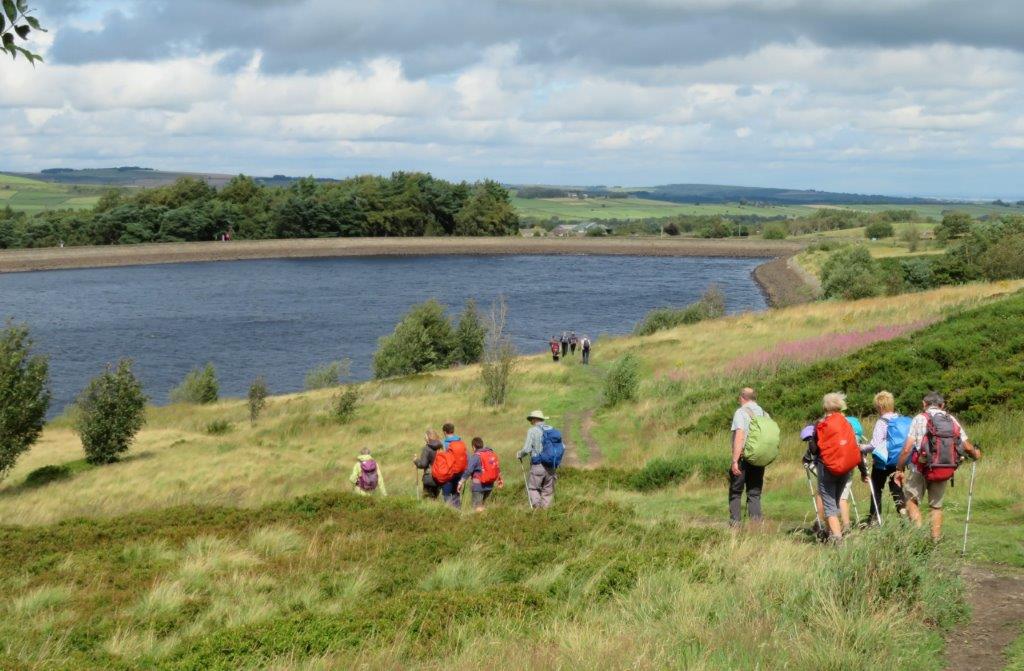 lower reservoir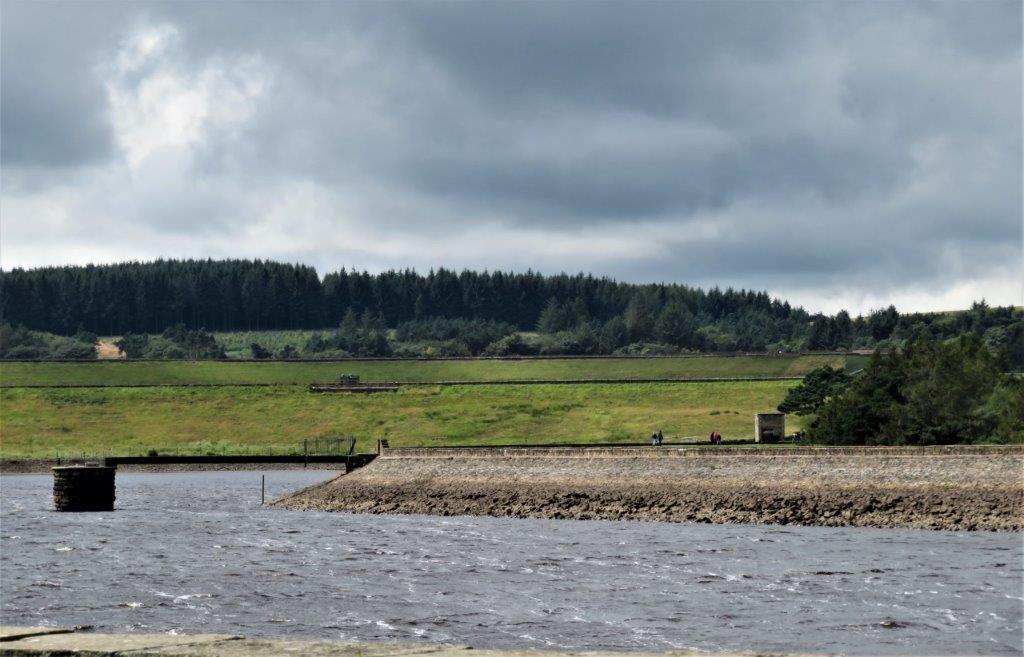 lower reservoir with embankments of middle and upper reservoirs seen above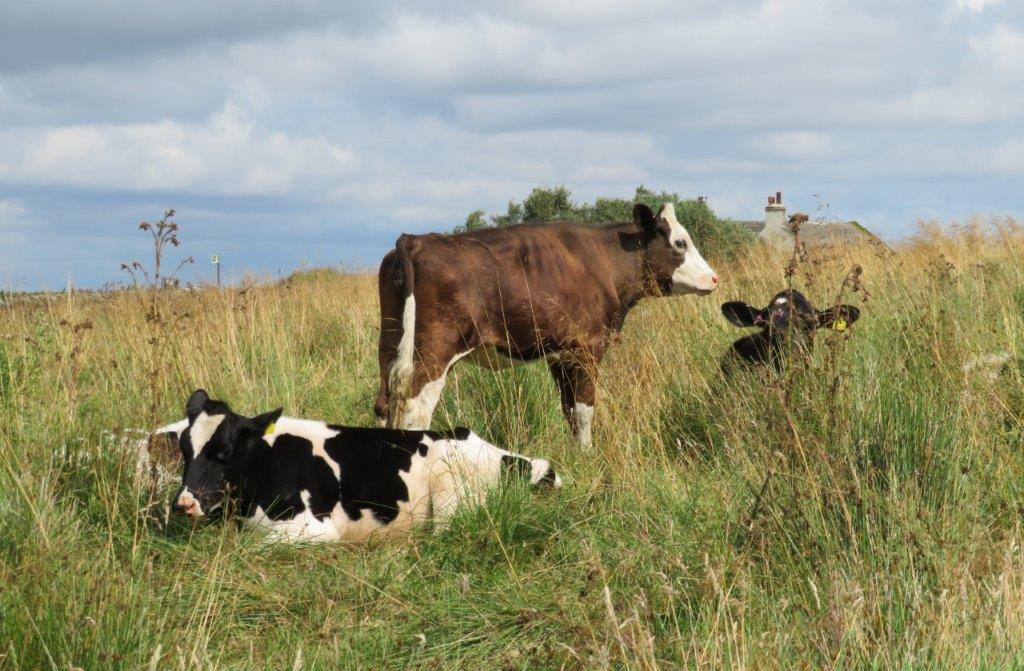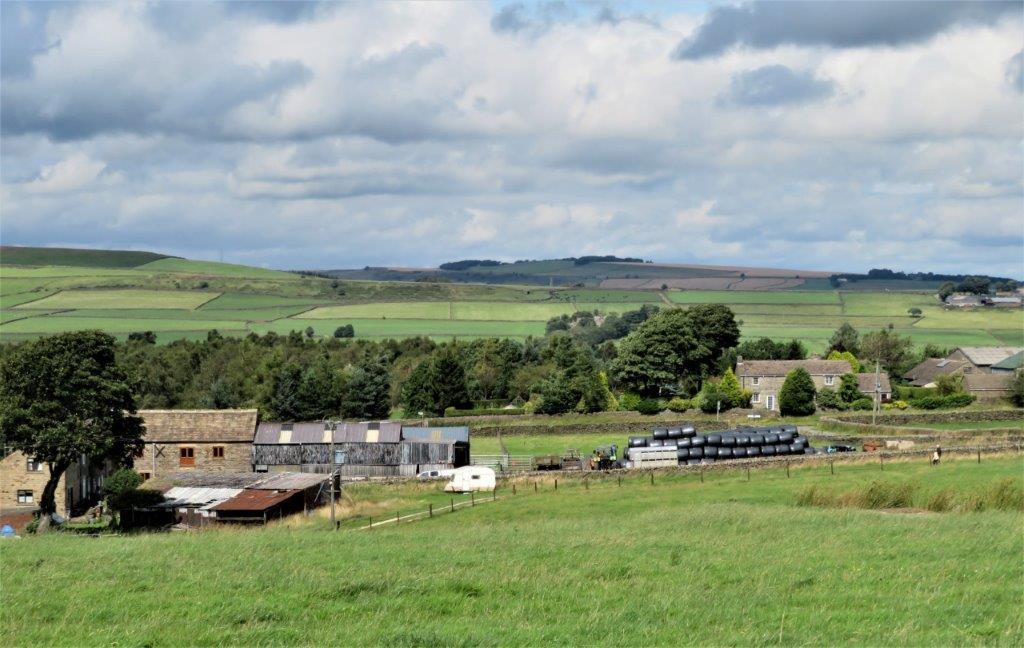 Wyming Brook Farm (three places marked on map as Wyming Brook Farm - presumably all part of the same farm?)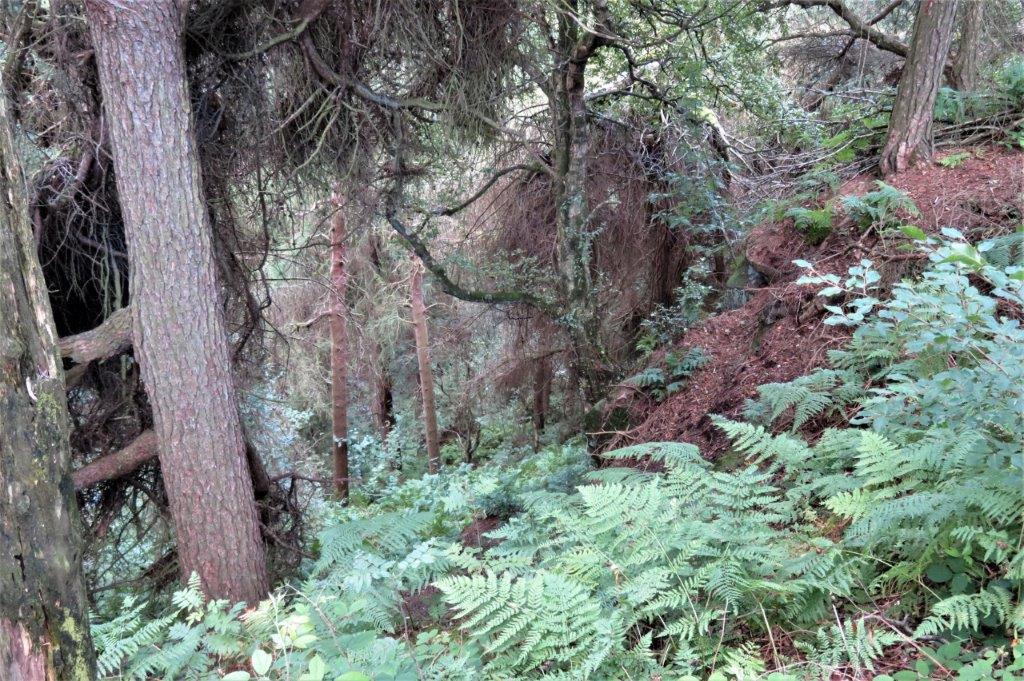 Wyming Brook is down below us - our path taken keeps roughly on a contour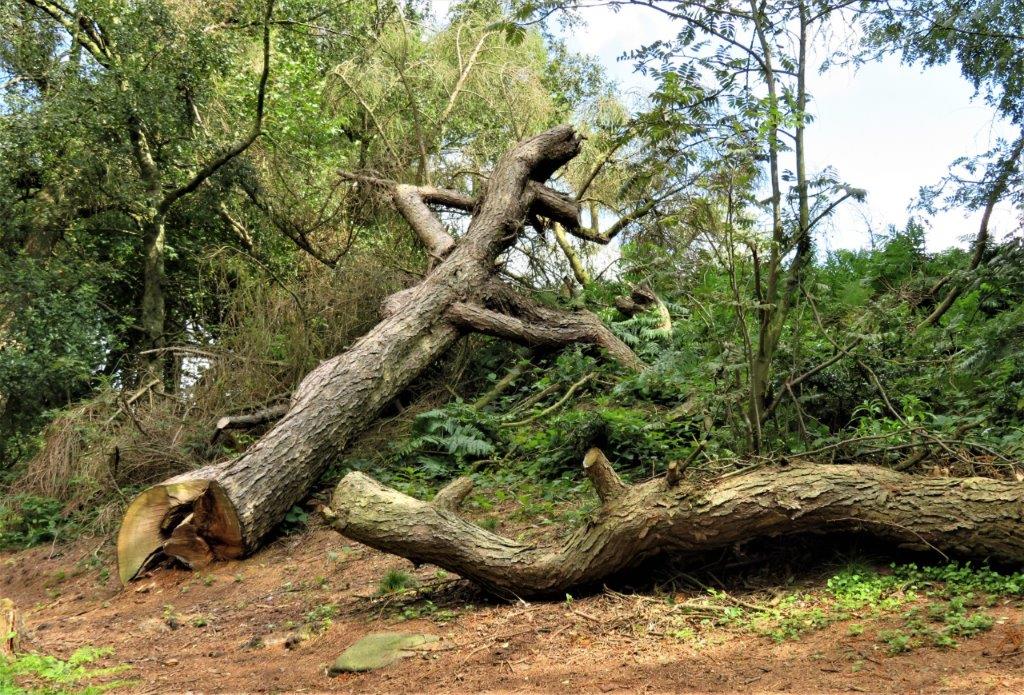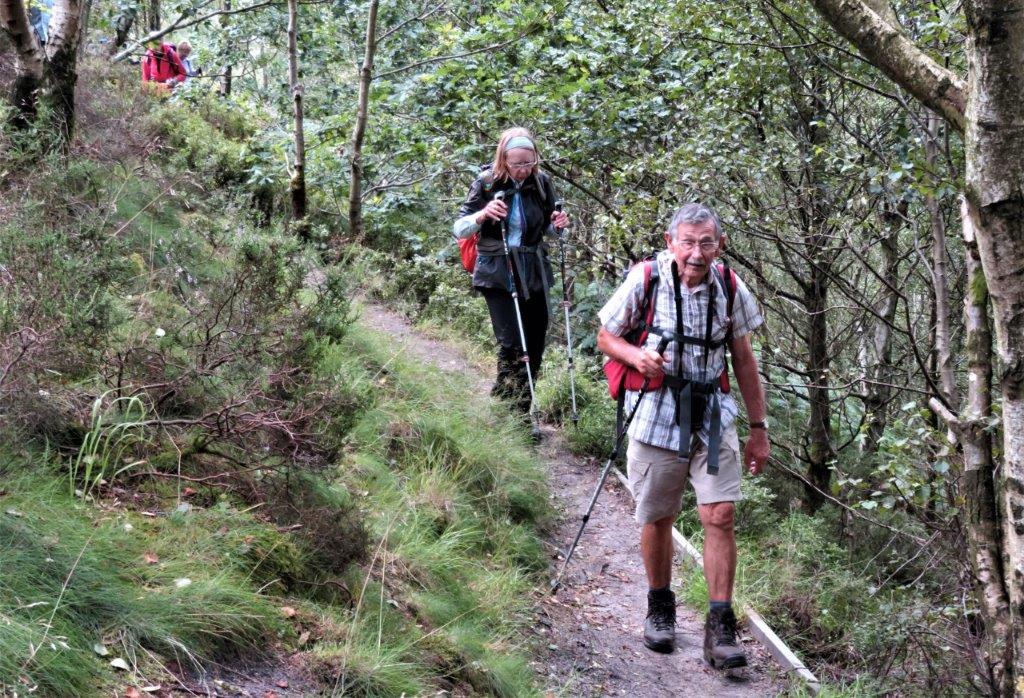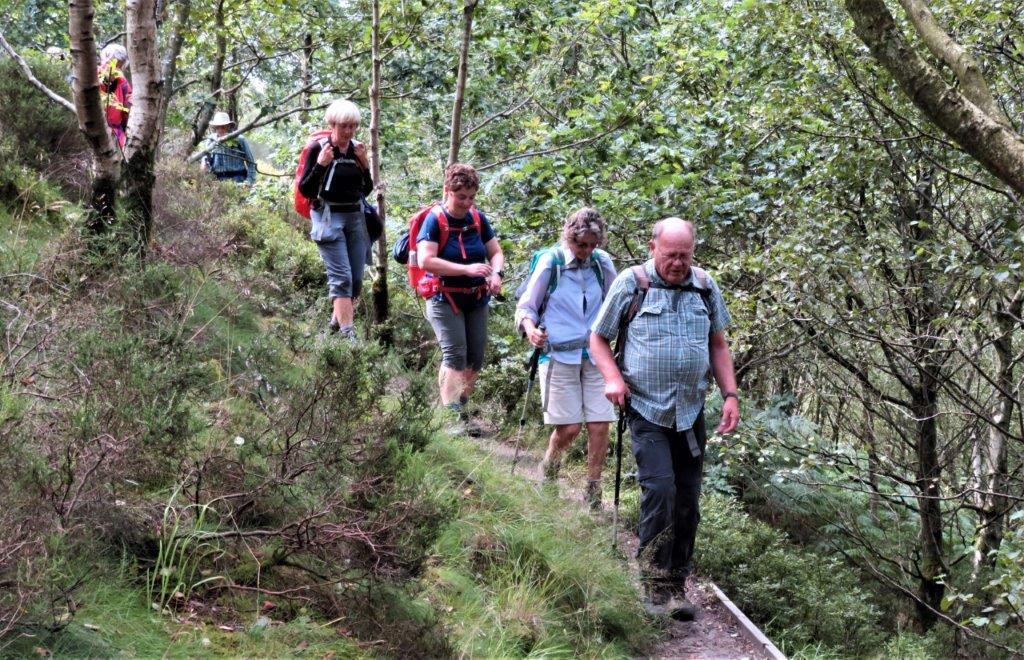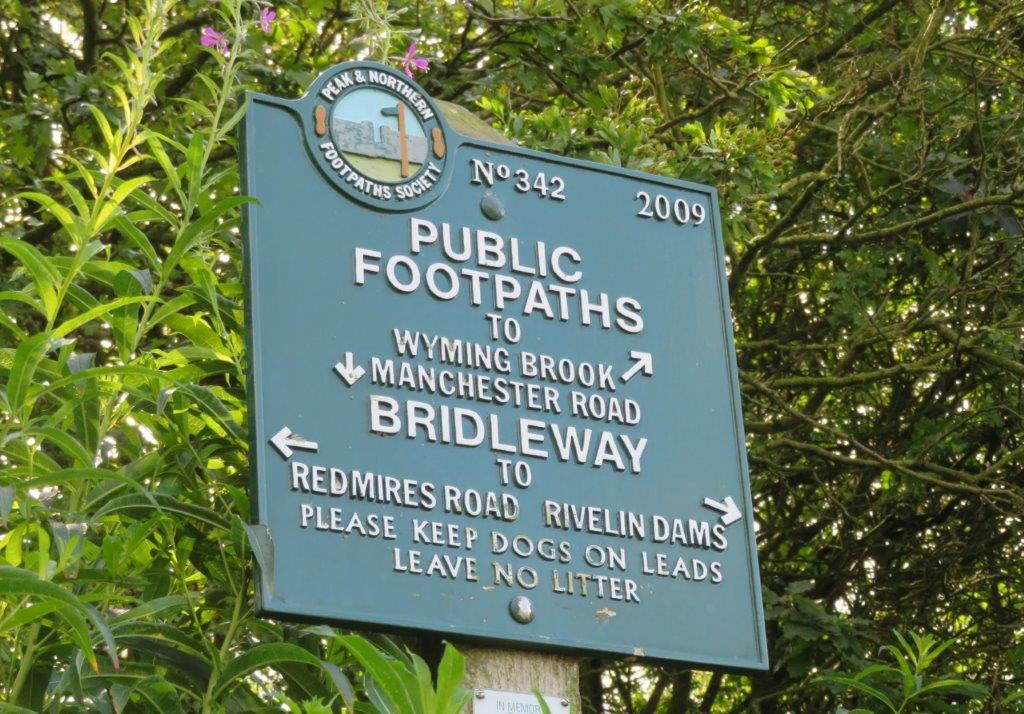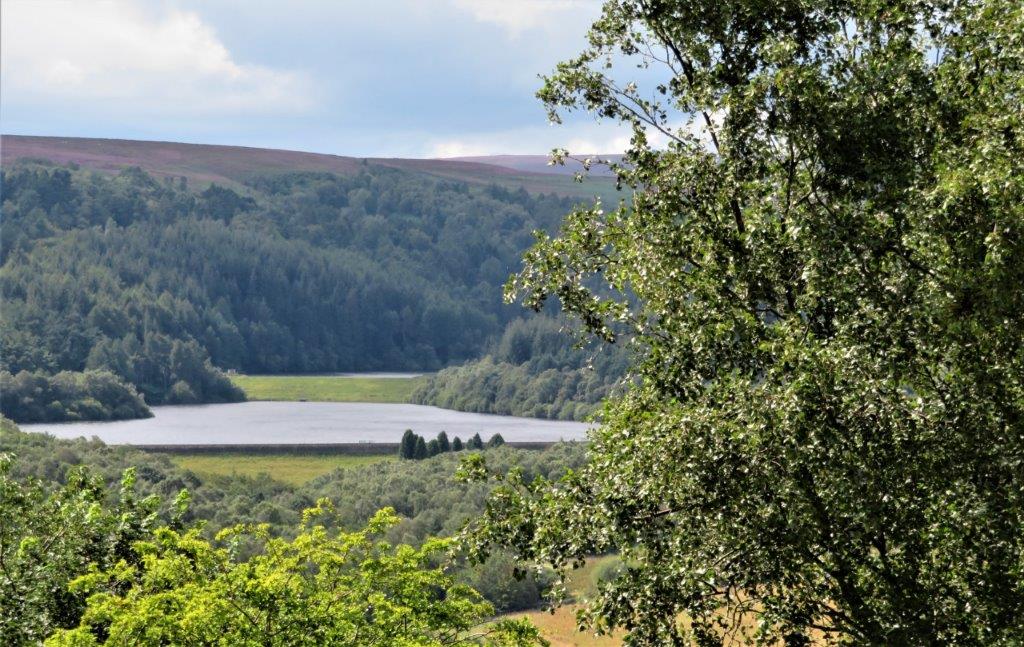 Lower Rivelin Reservoir with the embankment of the Upper Rivelin reservoir behind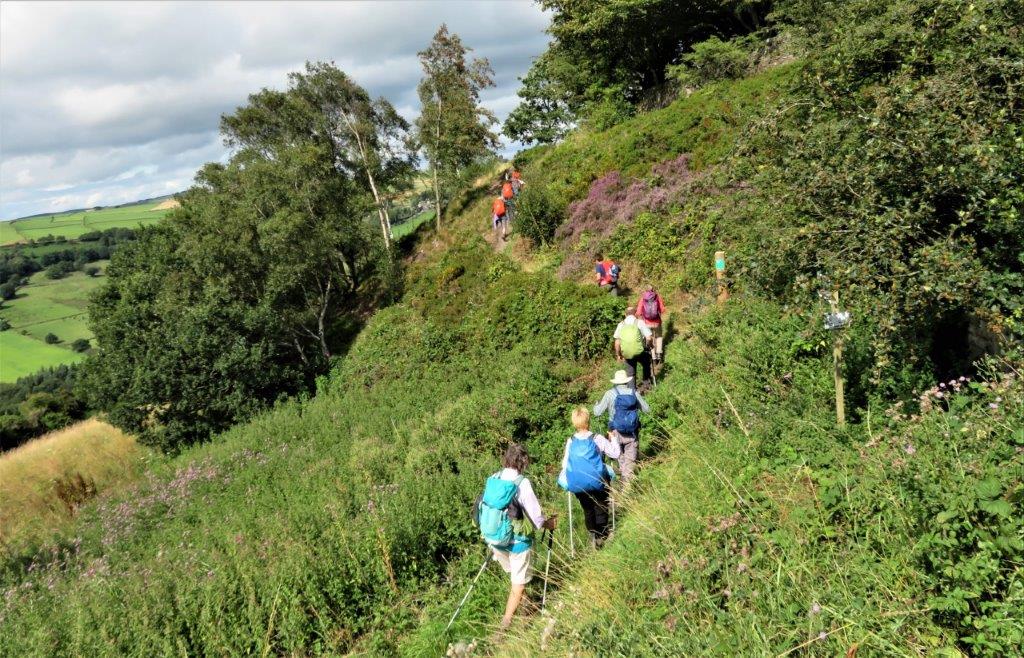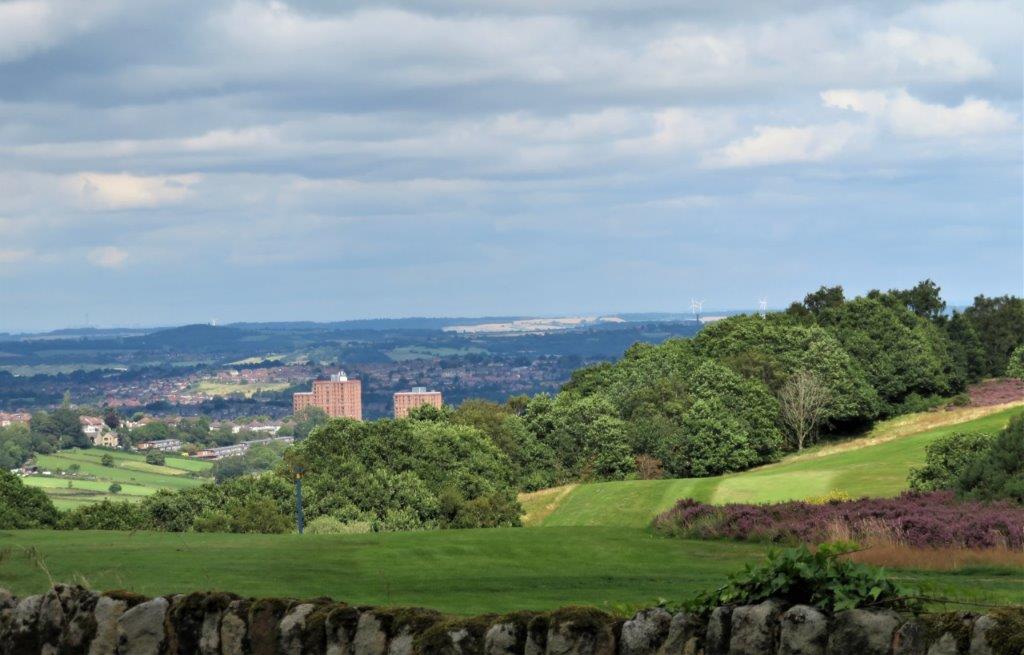 looking across part of Hallamshire Golf Club? with Stannington apartments behind?
homepage - Daywalks Index 2019 - contact me at