homepage - Daywalks Index 2019 - contact me at

2019.07.14 car ramble - Hartington to Minninglow Tumulus & back - route details on picture sheet - leader Trevor Moss - Sunday
OUTWARD
Hartington, footpaths SE / E / S / E to join Highfield Lane at SK319599, ~400m on lane then NE to Heathcote, ~E on FP to join Tissington Trail, follow Trail to Over Hide Farm (SK161593), ~E on road to cross A515 Rd (at Cardle View), FP ~E (to join before Upperhouse Farm) & follow Pennine Bridleway* (with parts of dismantled railway) in overall SE direction to above Minninglow Grange, Permissive FP ~SE up to Minninglow Hill (Tumulus). *(some parts of the Pennine Bridleway are also labelled High Peak Trail and Midshires Way - a bit confusing)
RETURN
Minninglow Hill, ~SE on Permissive FP under Pennine Bridleway to Roystone Grange, N / NE / N up to Minninglow Lane, follow Lane and 'road' ~W past Uppermoor Farm to White Cliffe Farm, ~WNW on road then FP ~NW to A515 Rd (~SK167582), ~120m N along Rd & cross, FP ~ WNW (under Tissington Trail) to Biggin, ~N up to Church, ~W to meet Reynards Lane at (SK 317594), follow lane WNW, at SK130600 branch ~200m to W then N to PC & Hartington
OUTWARD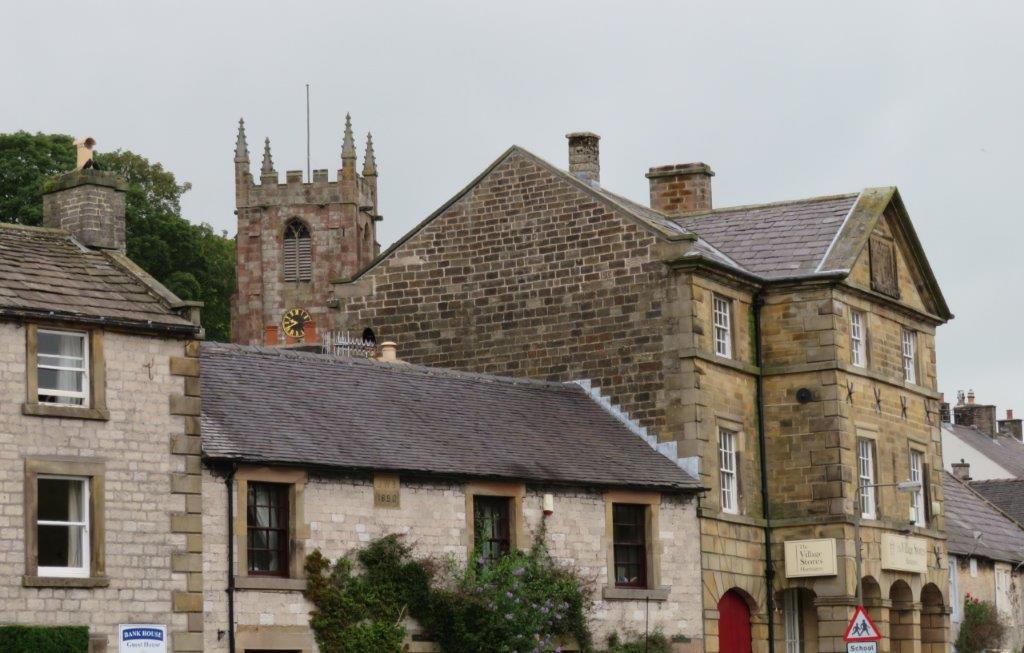 St Giles' Church, Hartington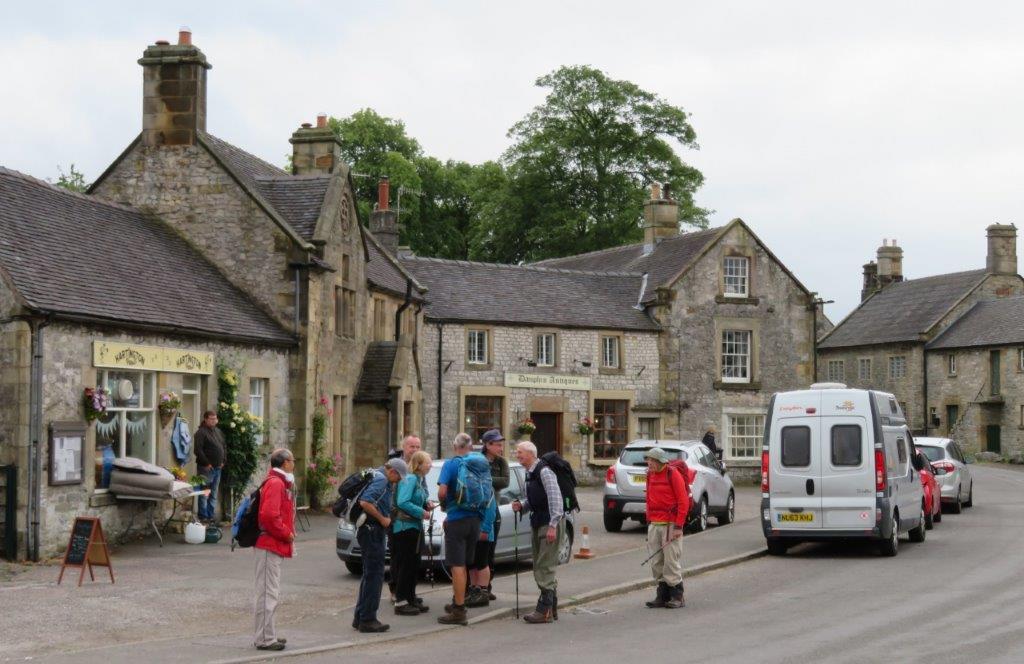 Hartington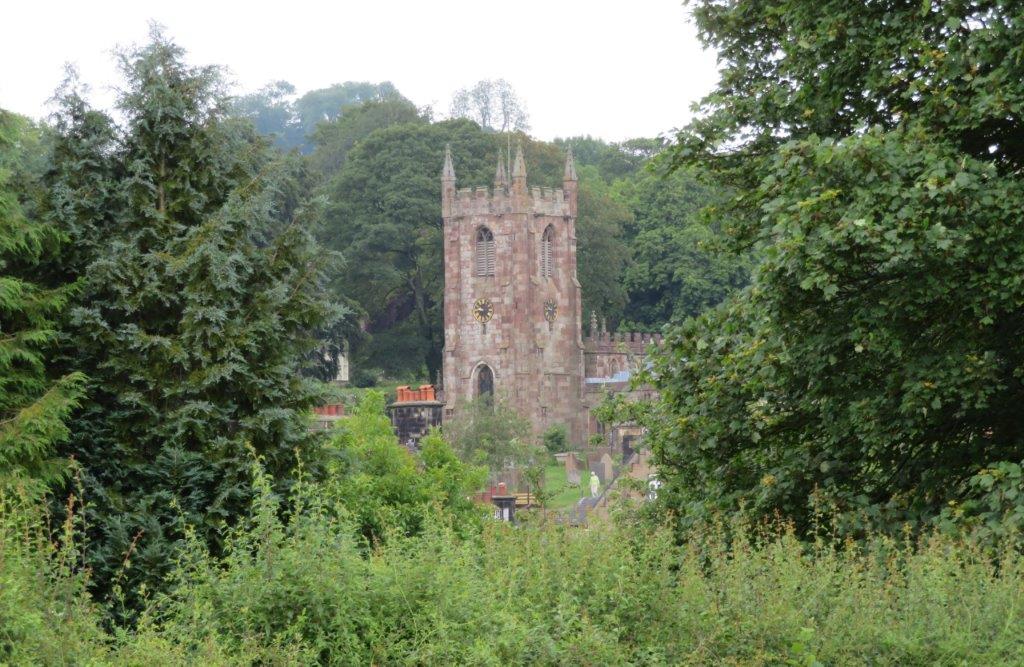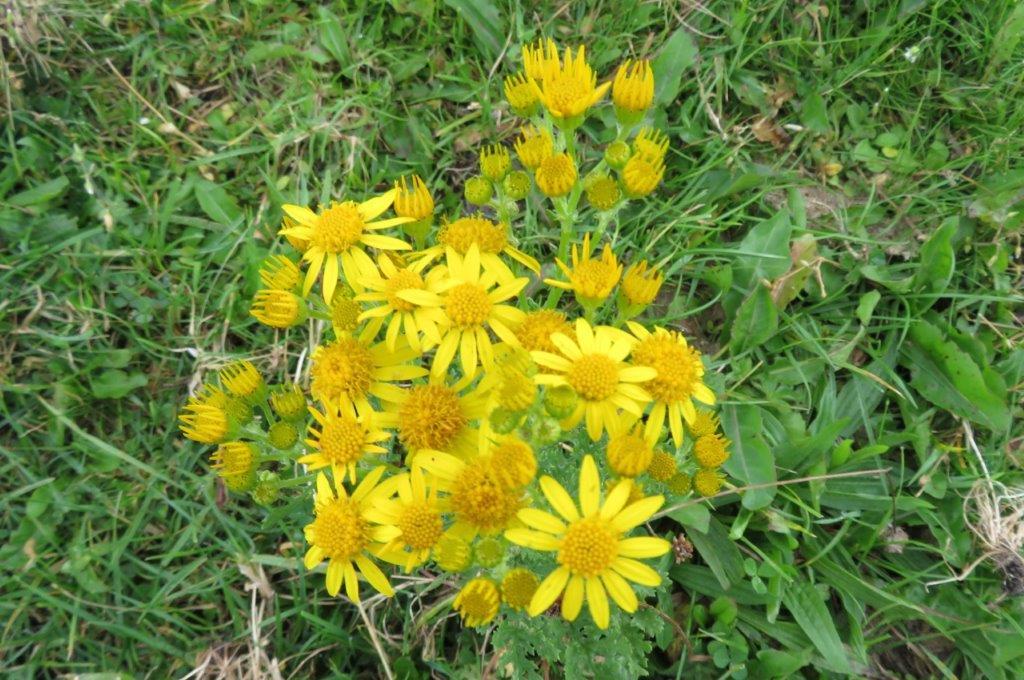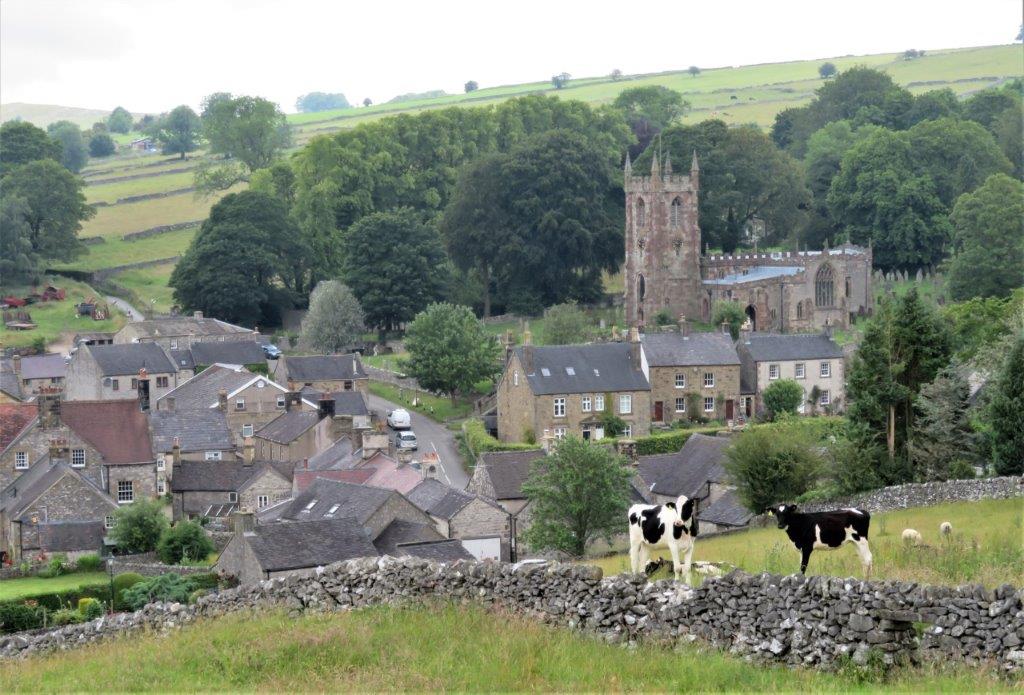 St Giles' Church and village - Hartington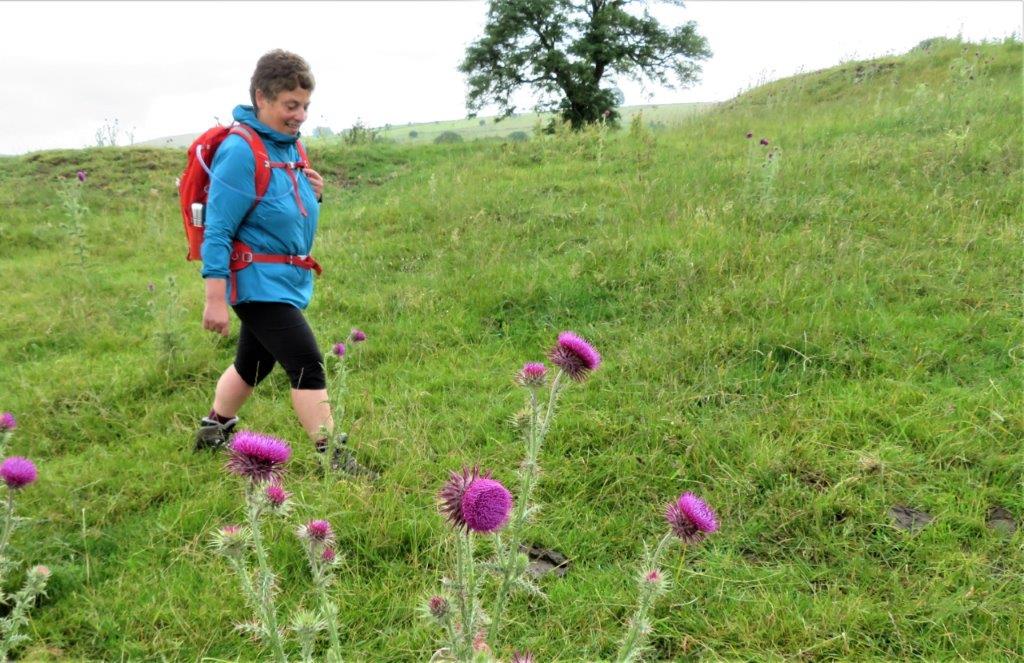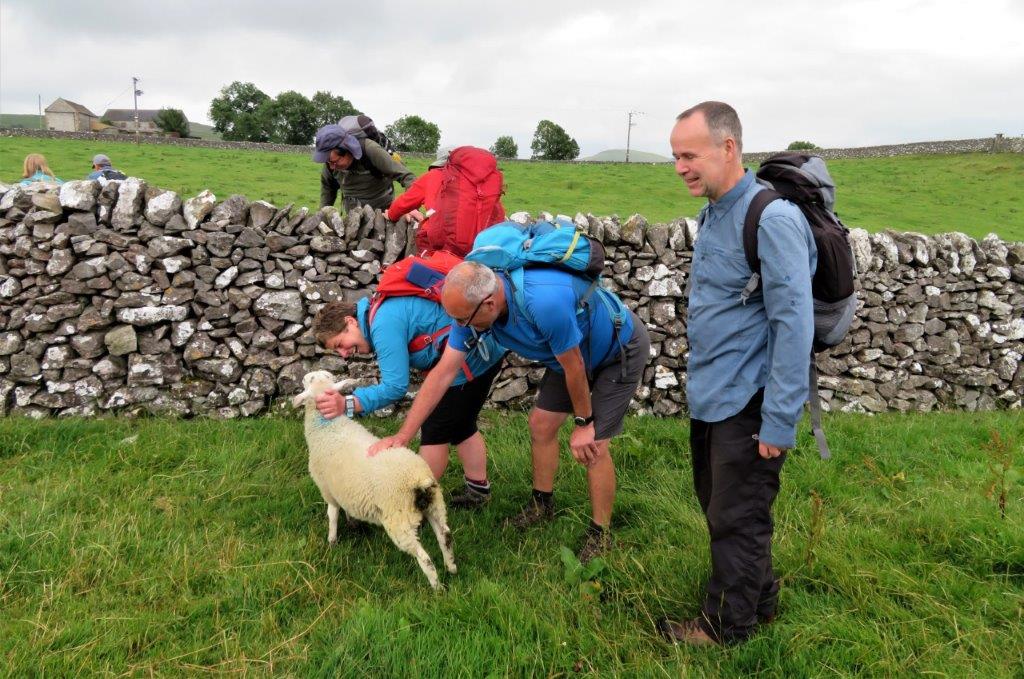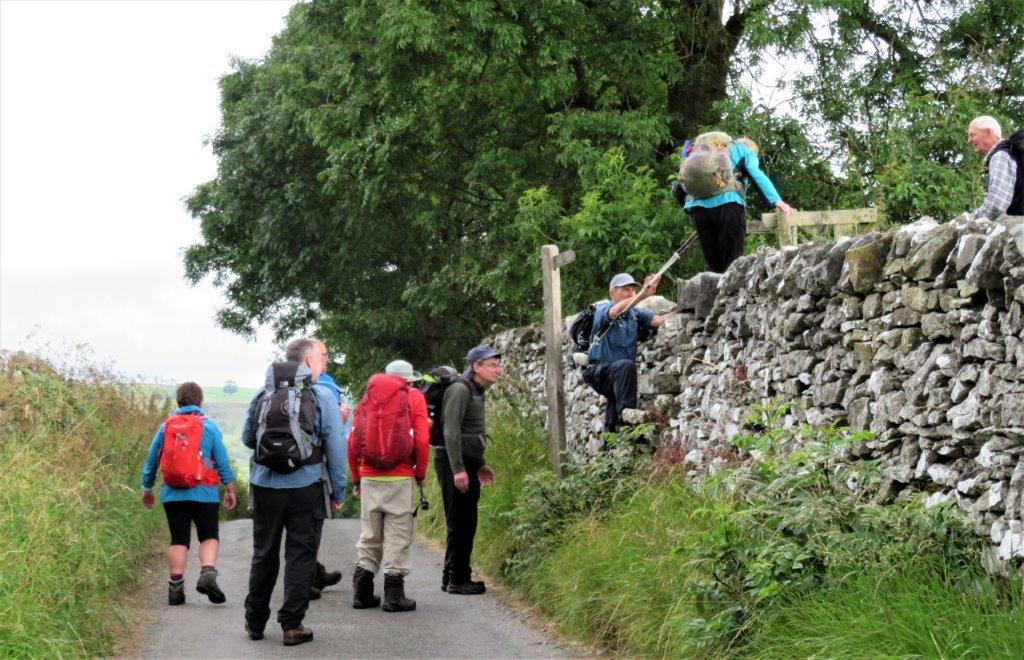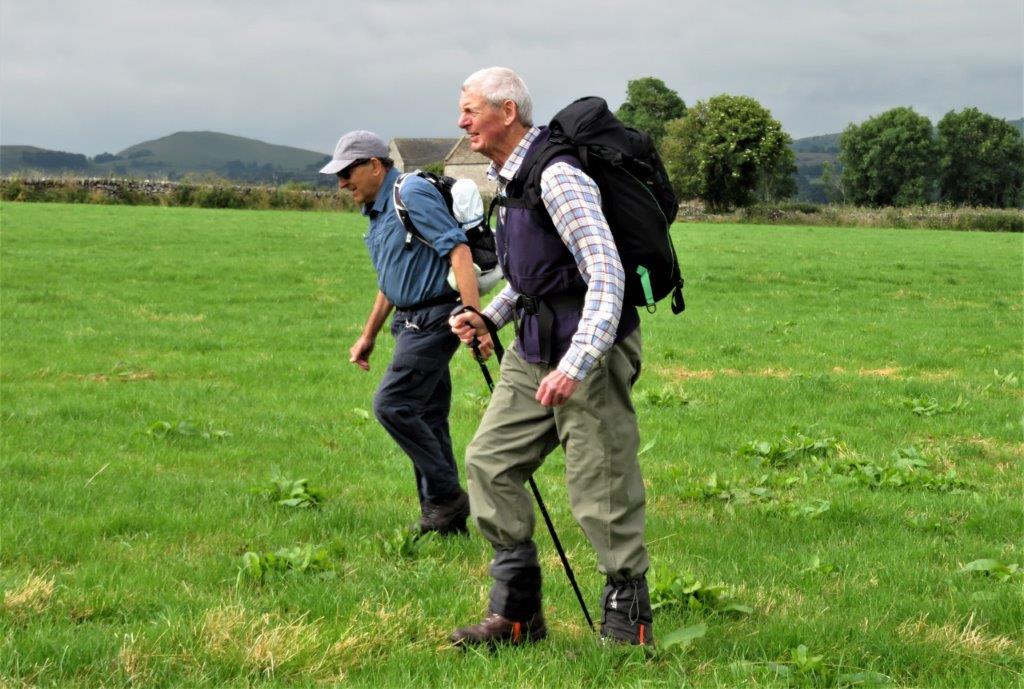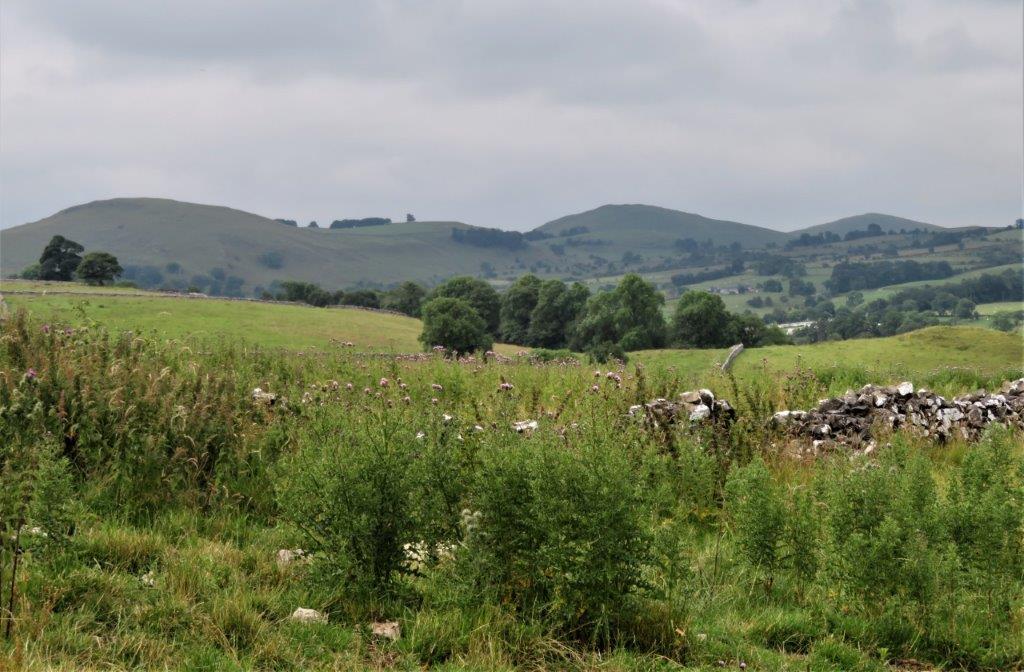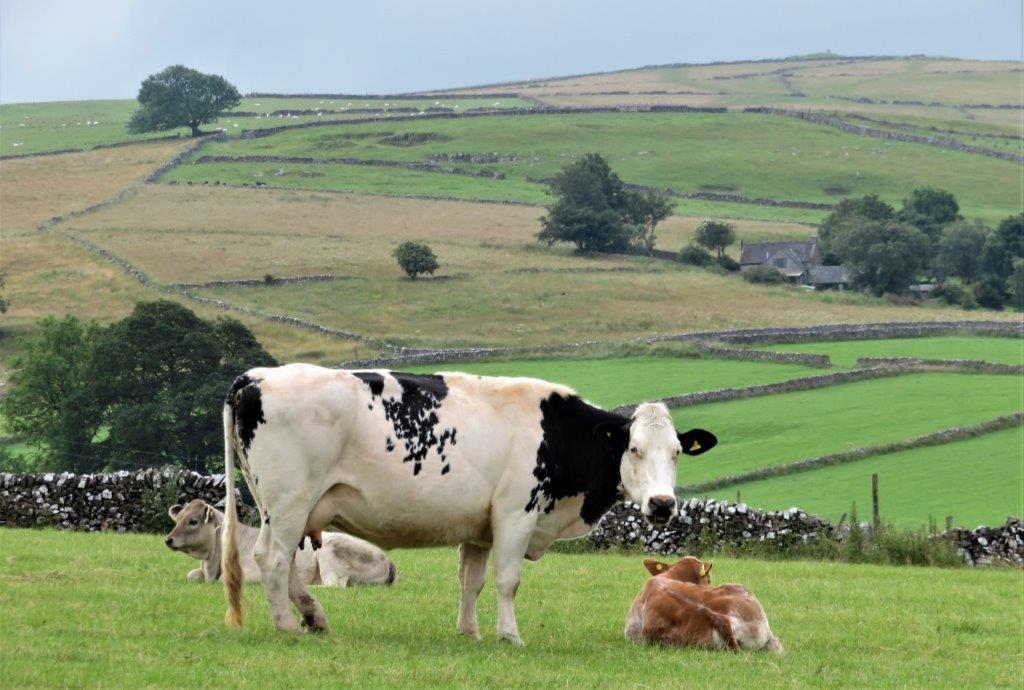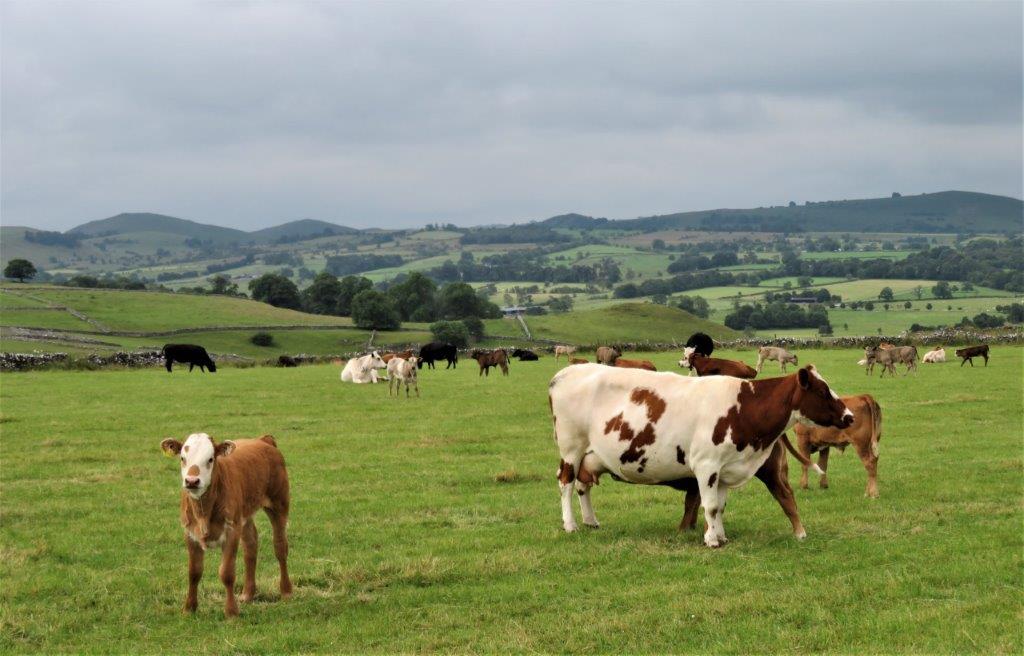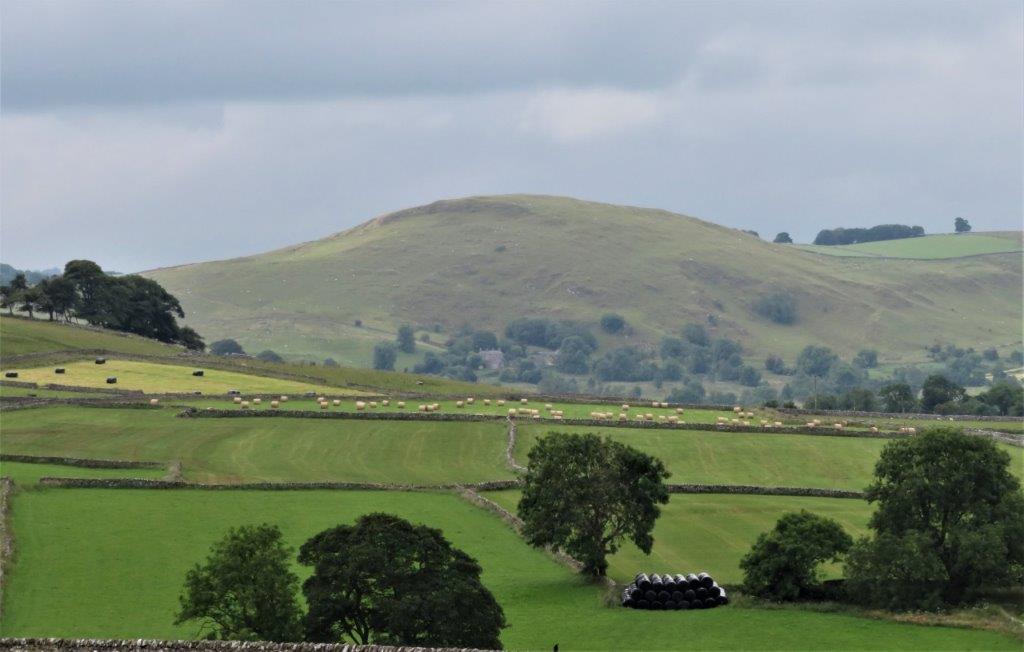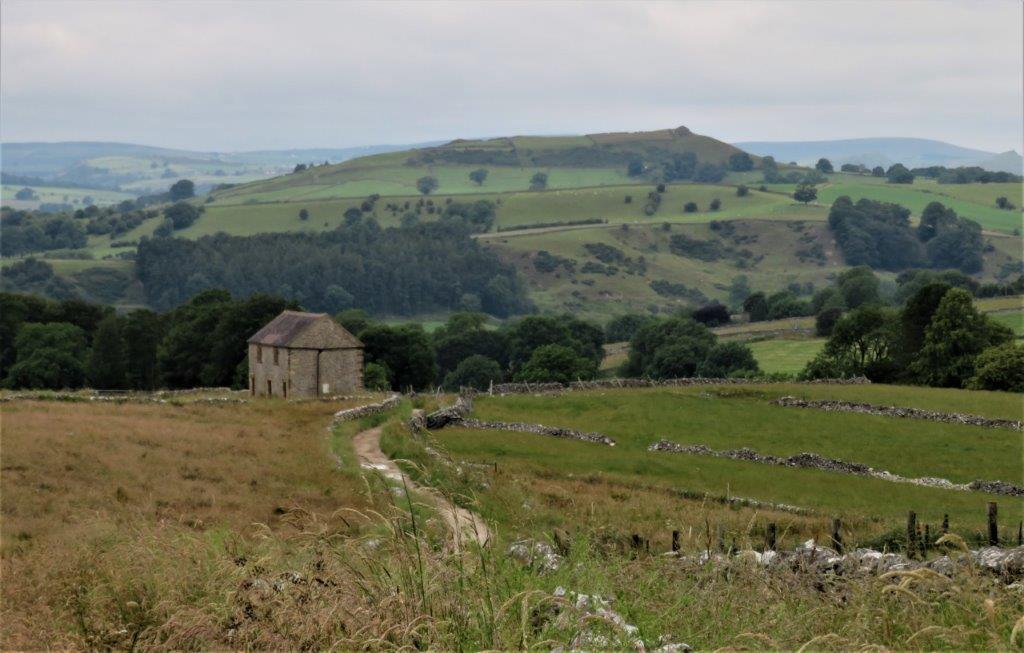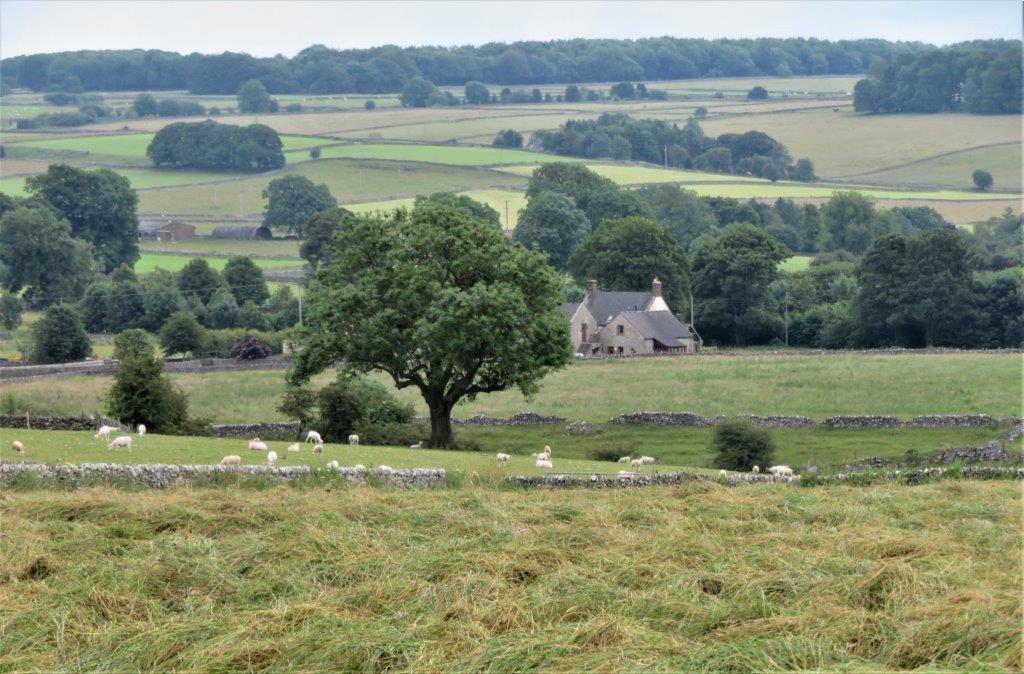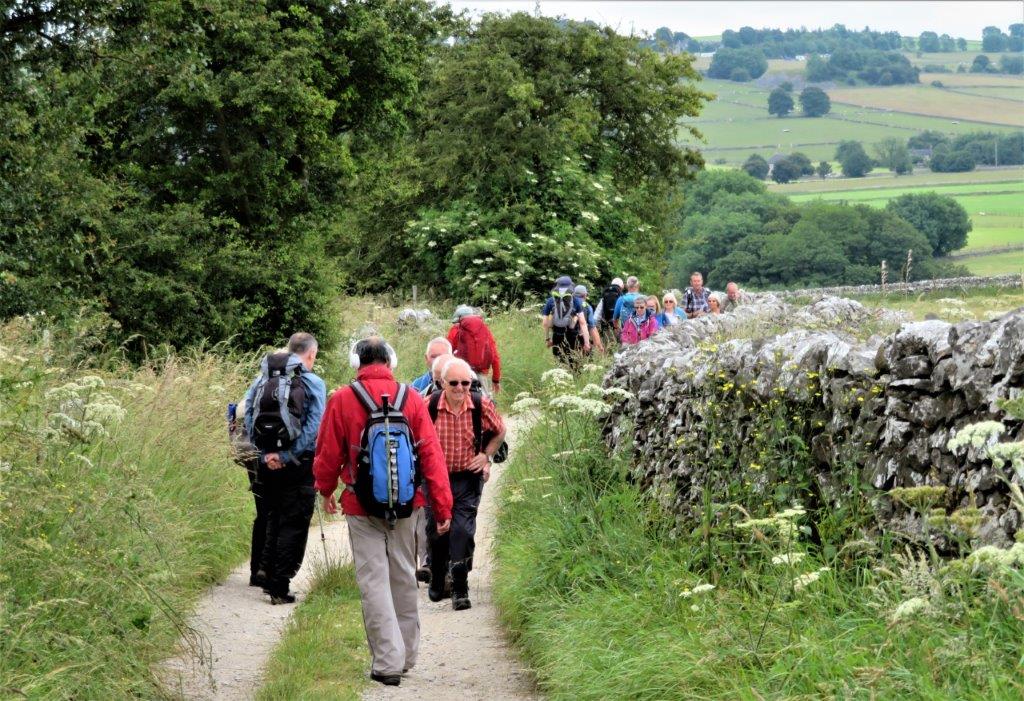 walking groups crossing in Highfield Lane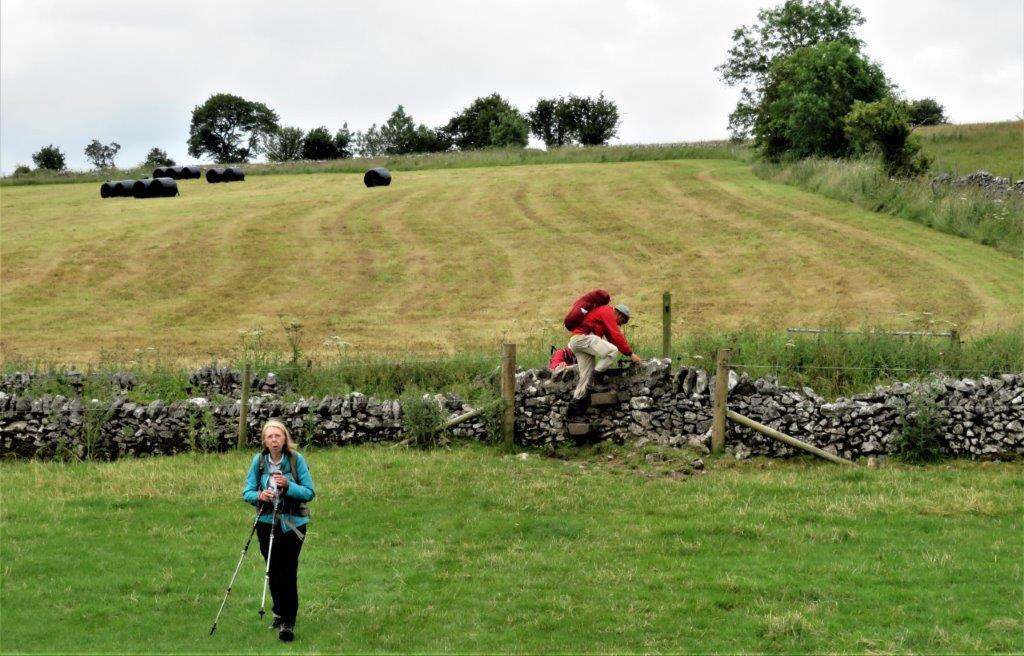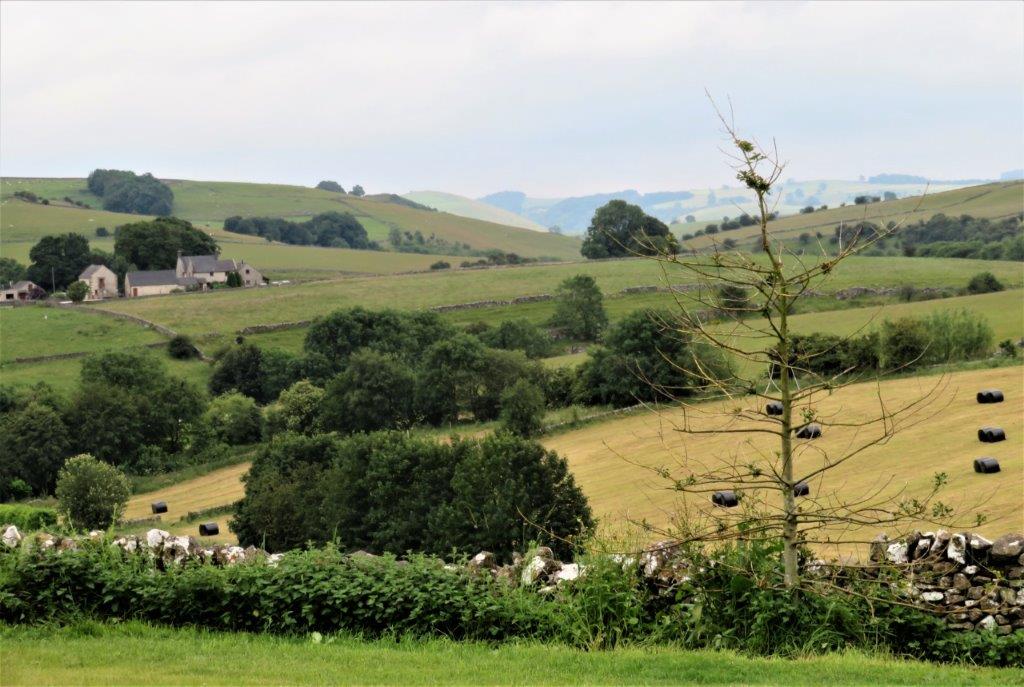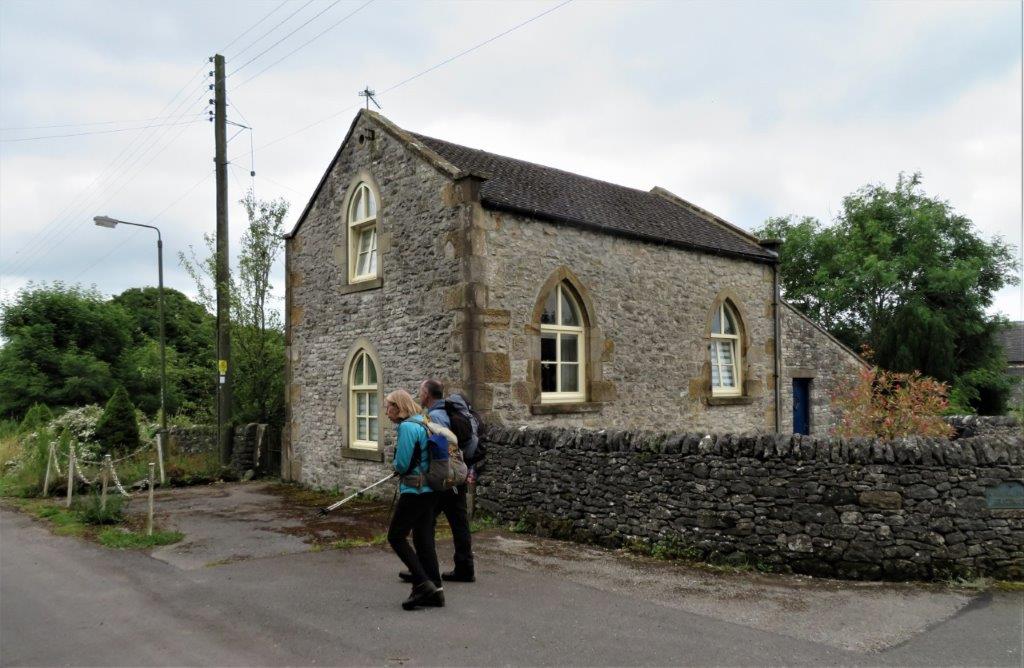 Chapel Farm? at Heathcote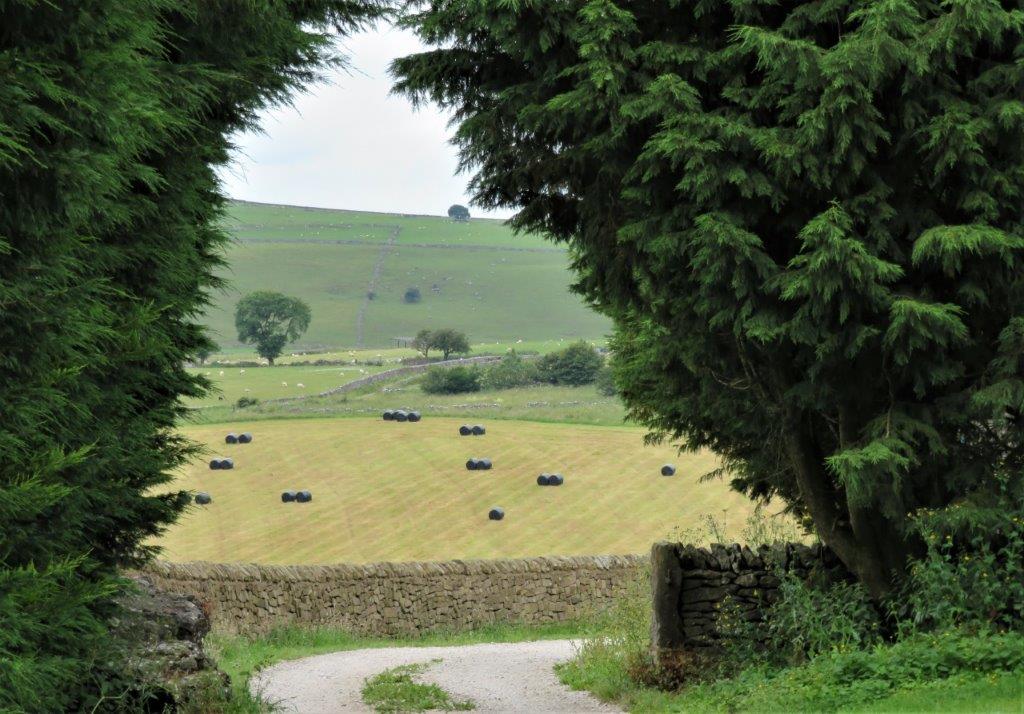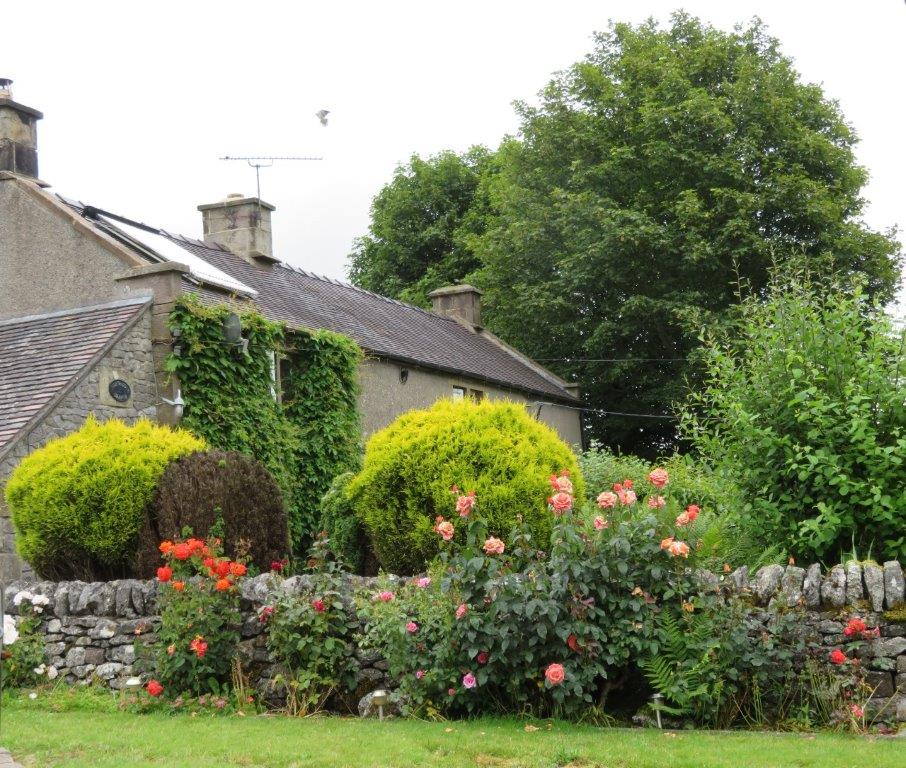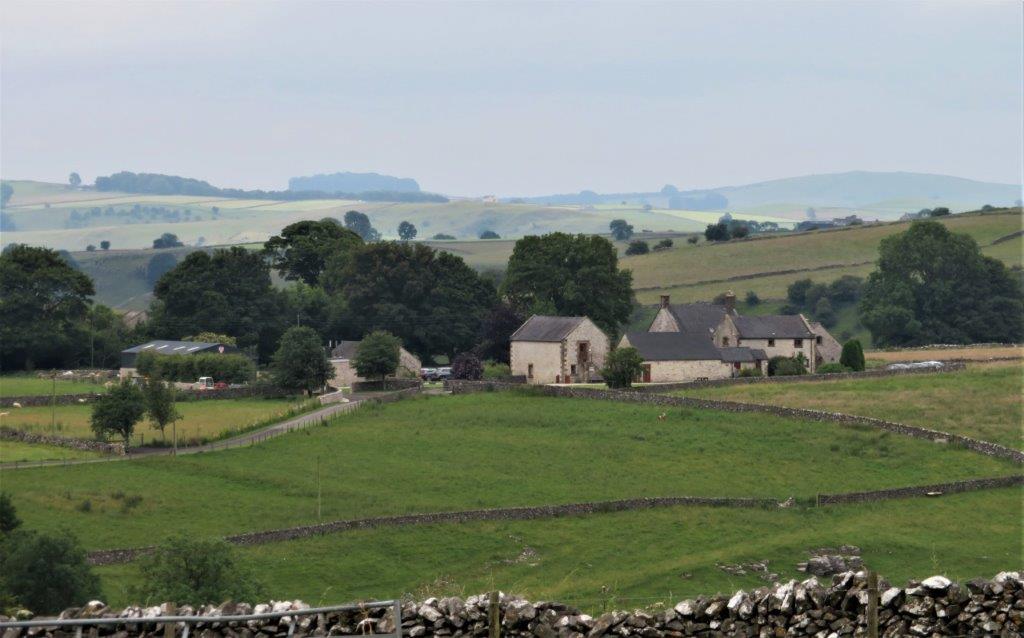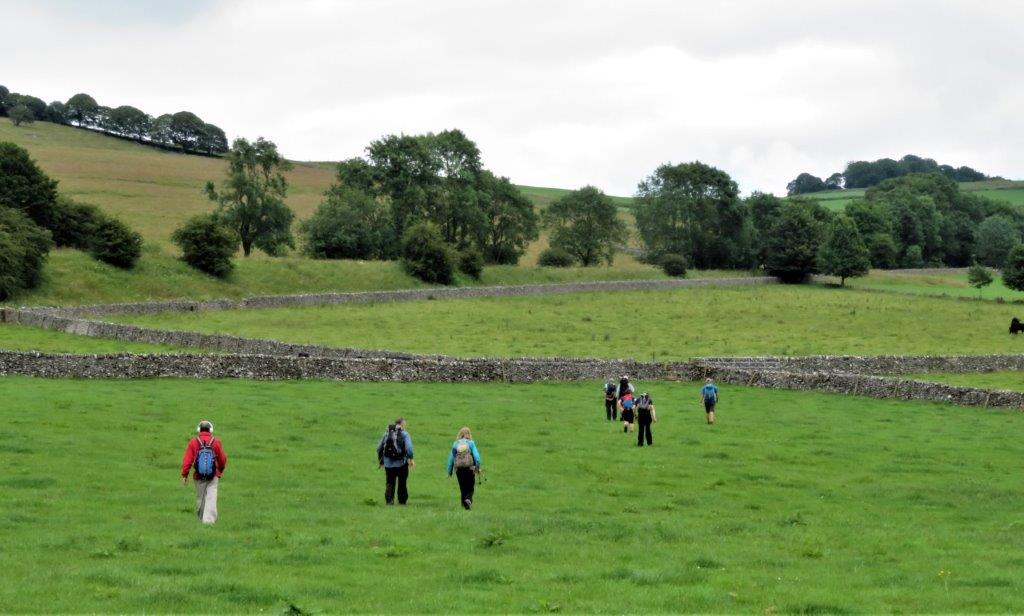 Embankment seen in mid depth of picture takes the Tissington Trail (an old railway line which we joined further along)..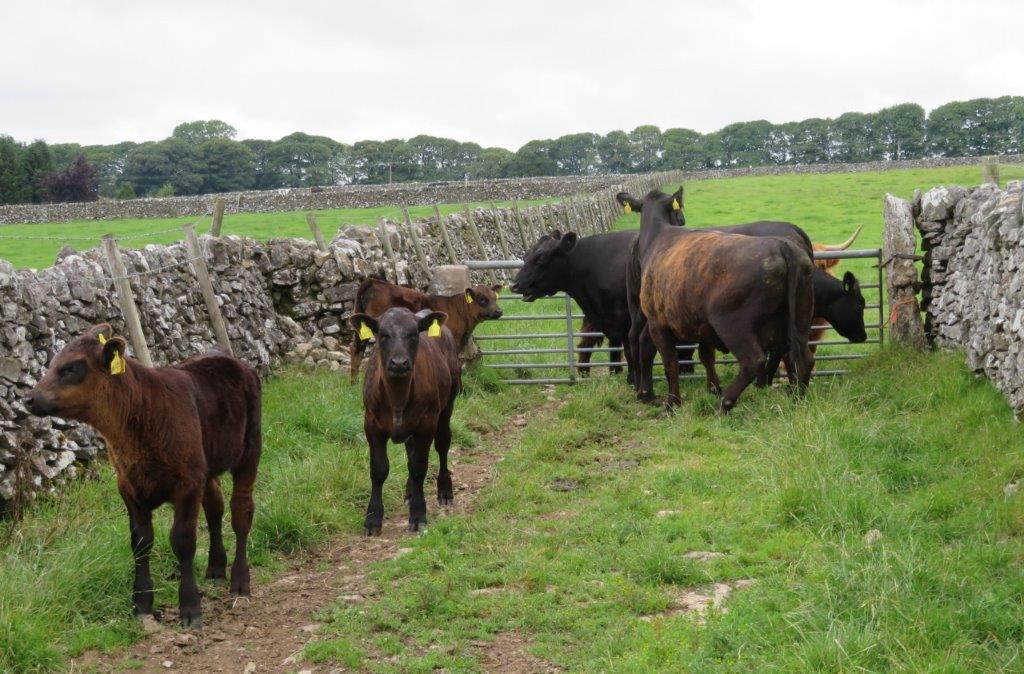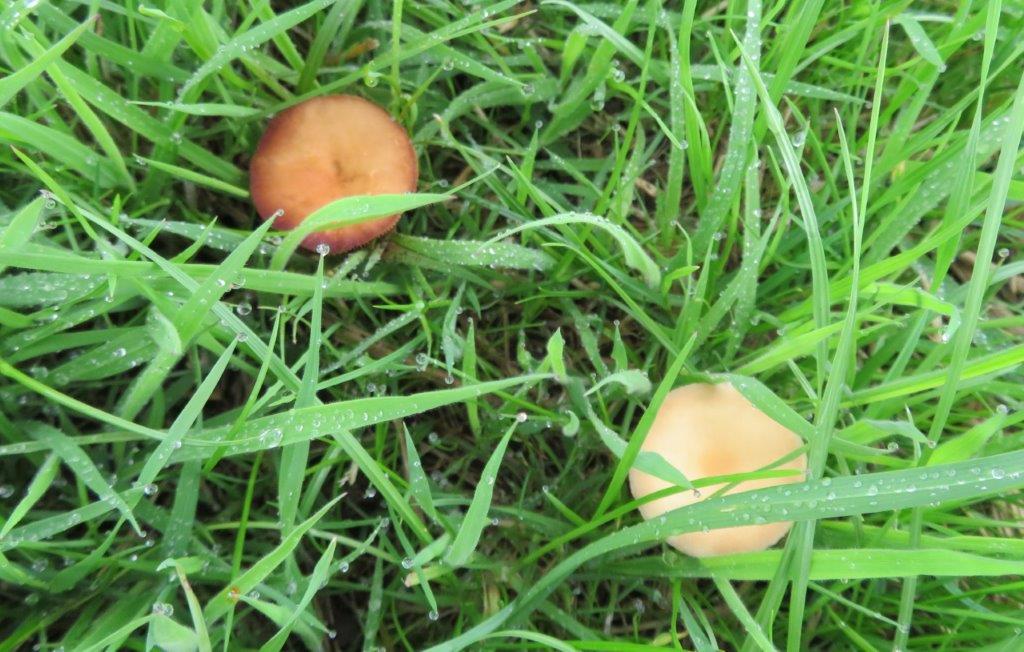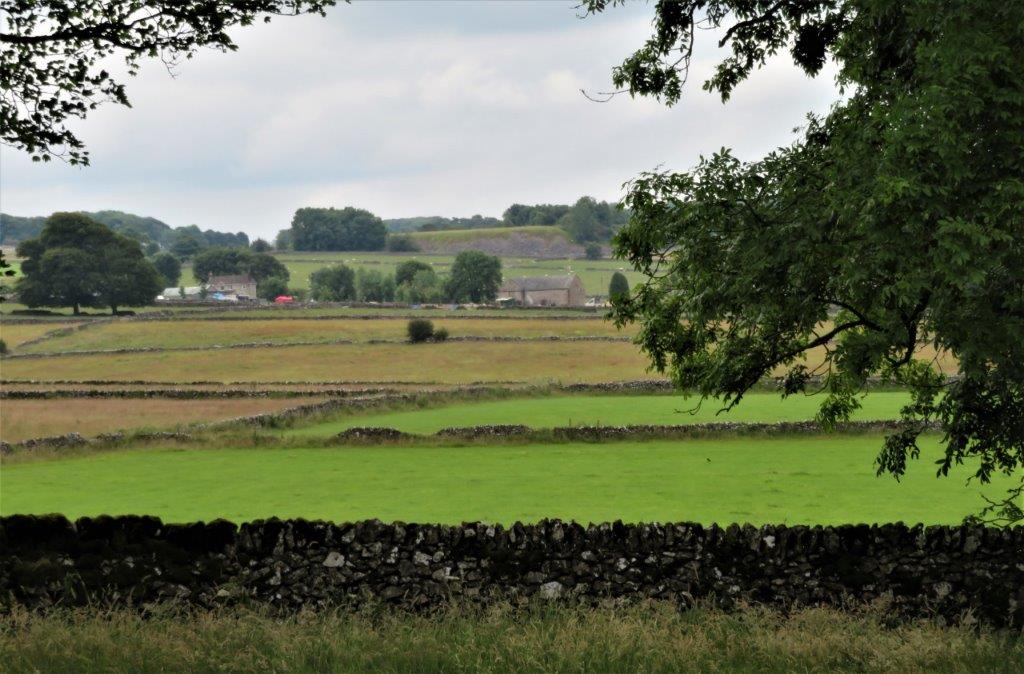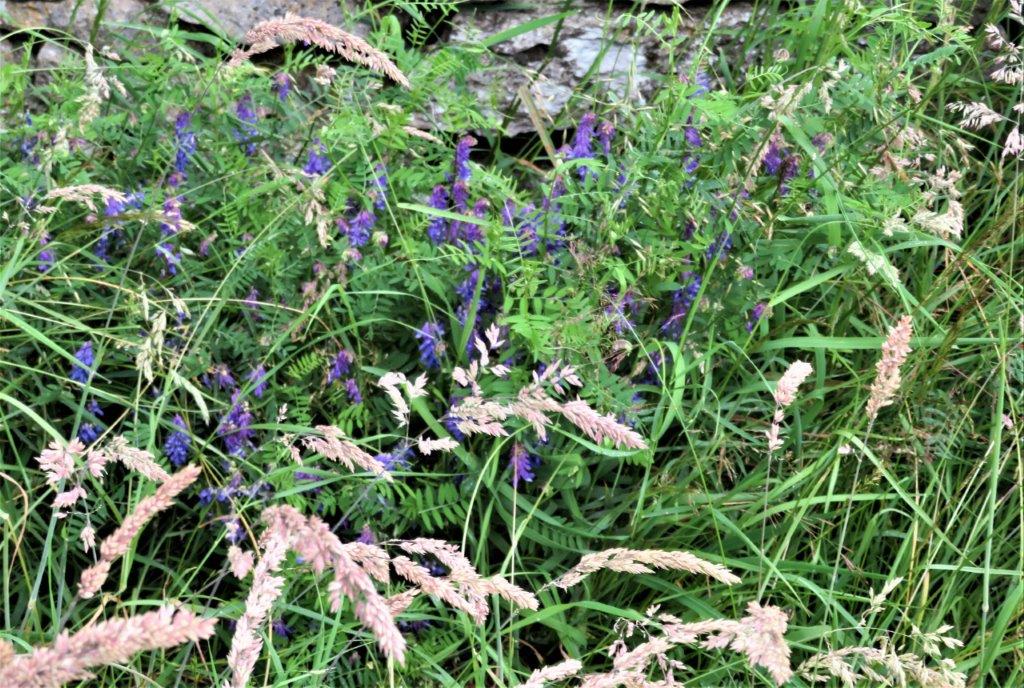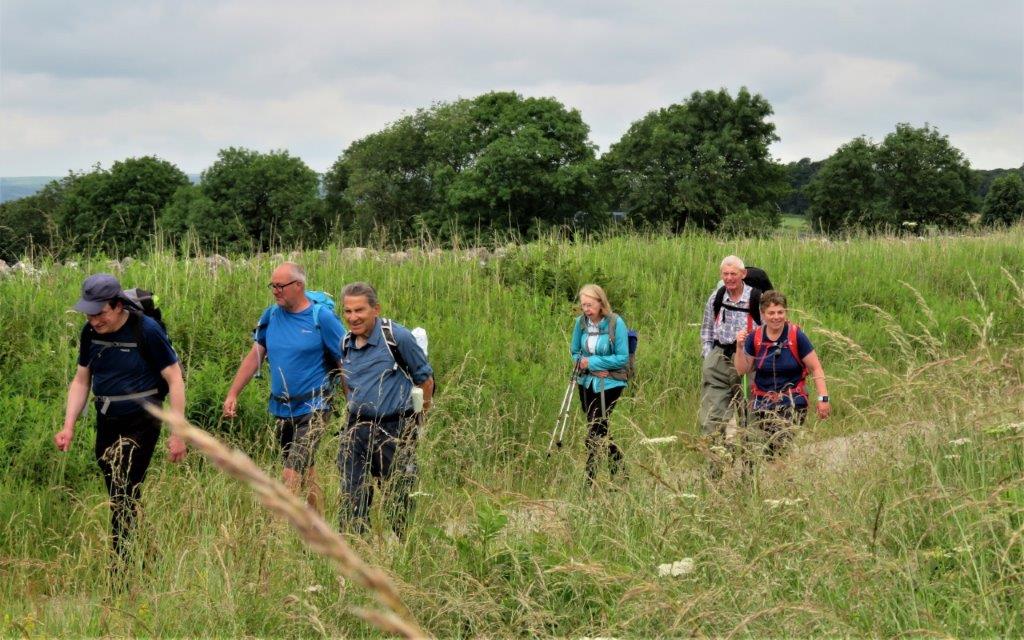 Tissington Trail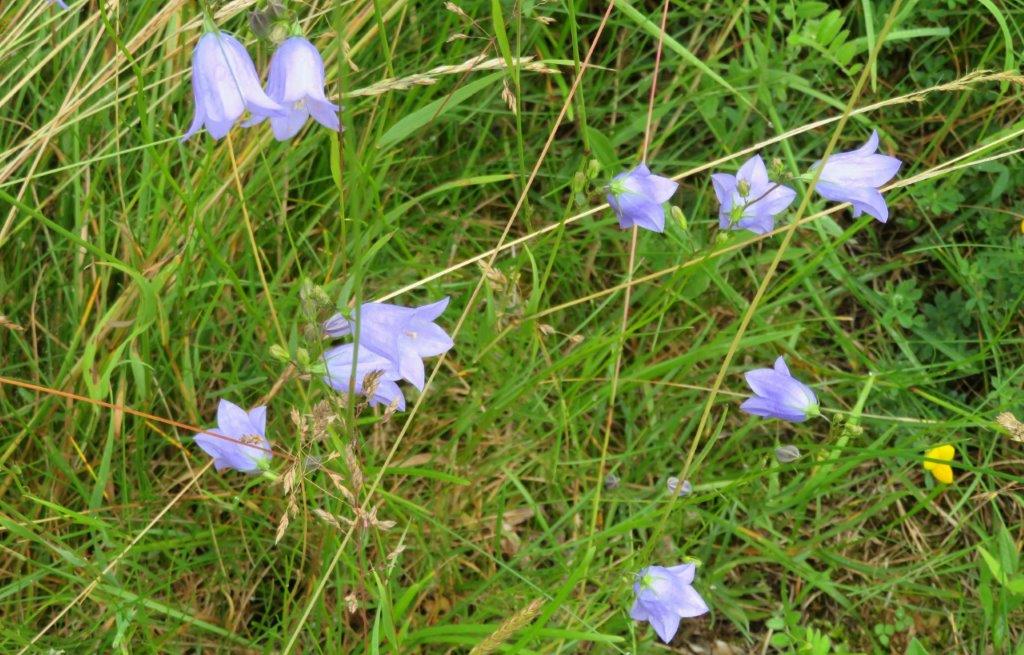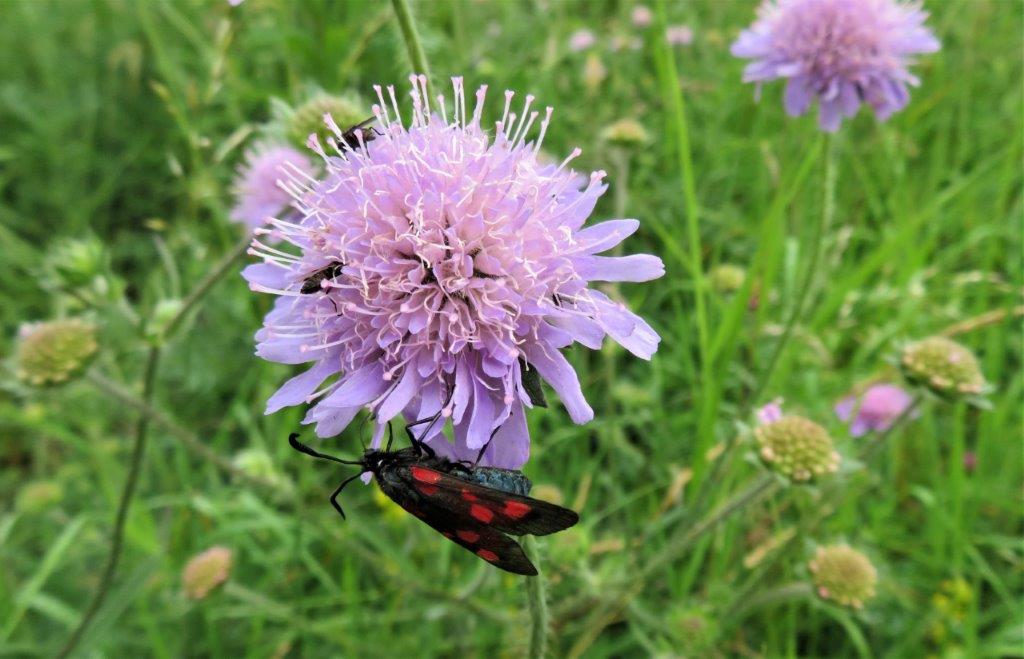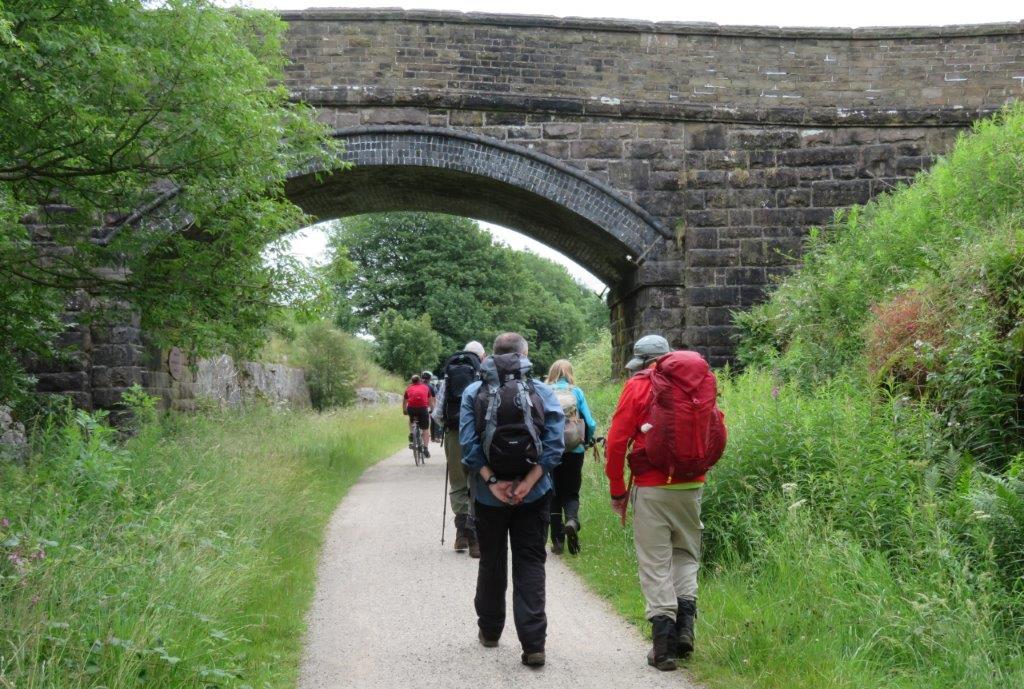 Bridge over the Tissington Trail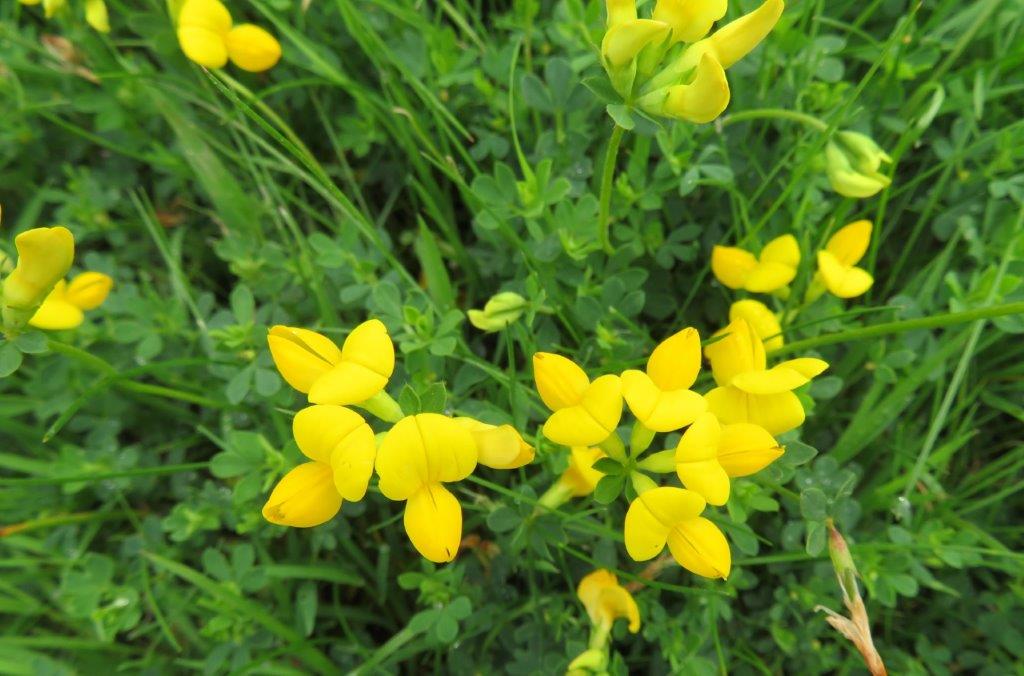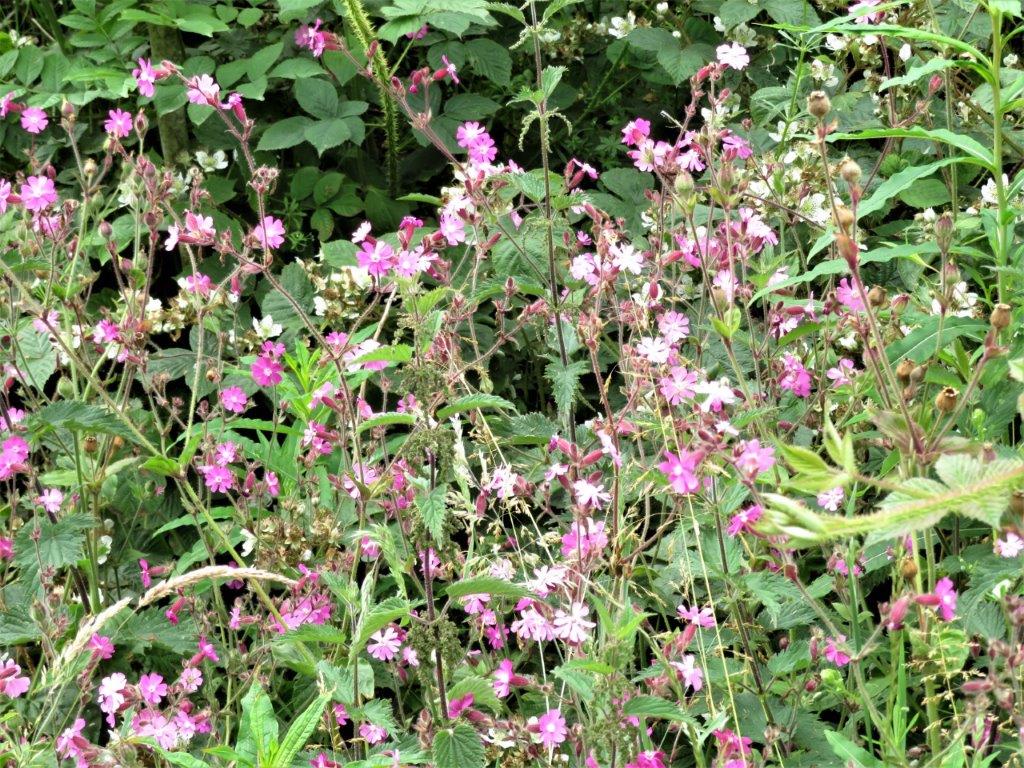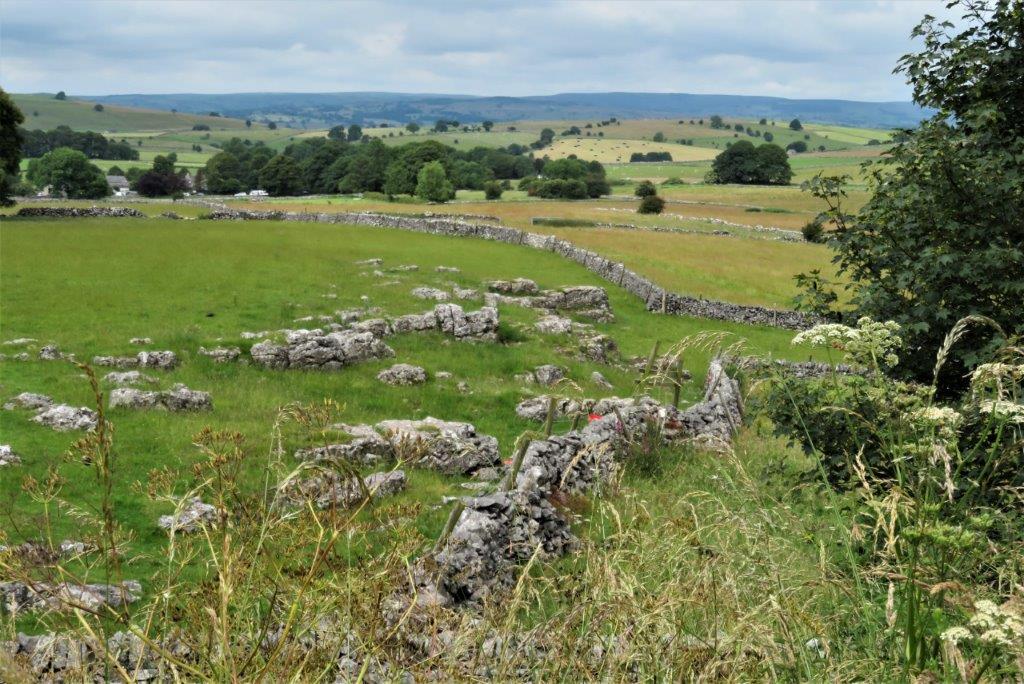 Limestone pavement alongside Tissington Trail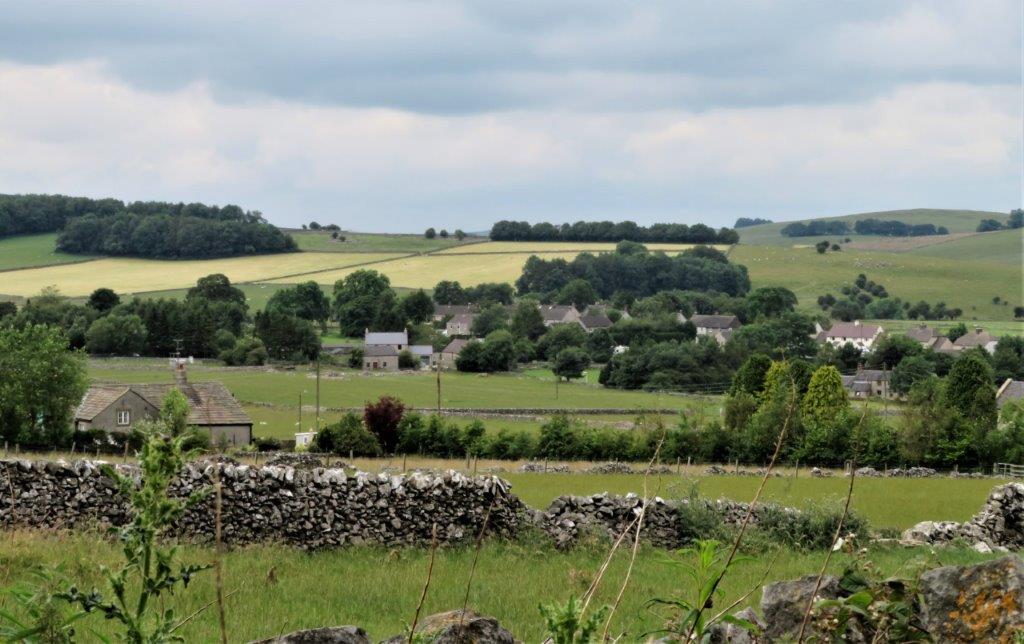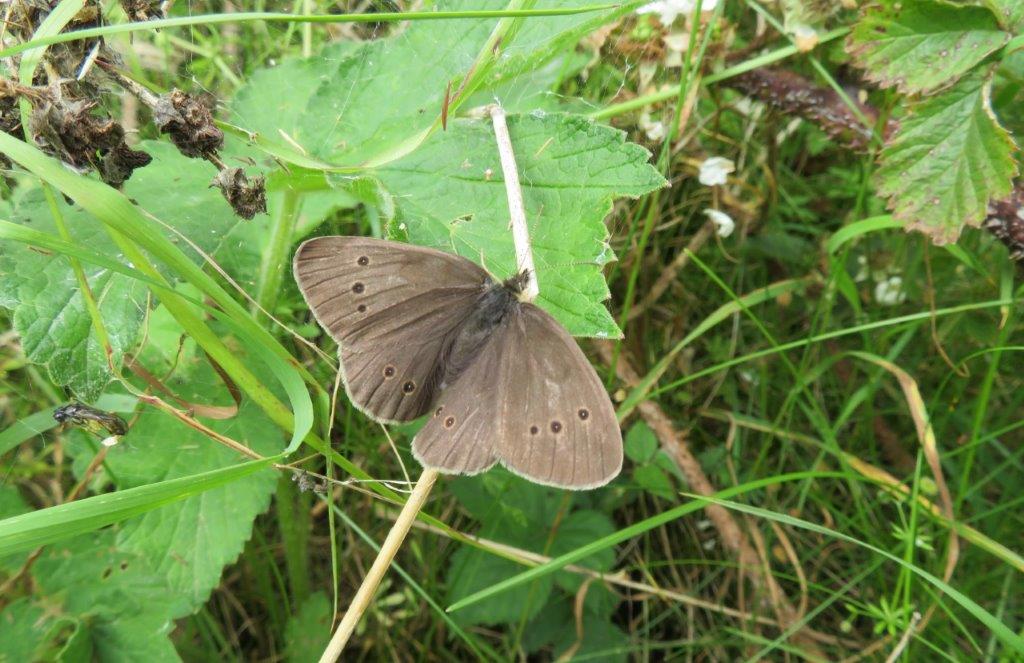 Ringlet Butterfly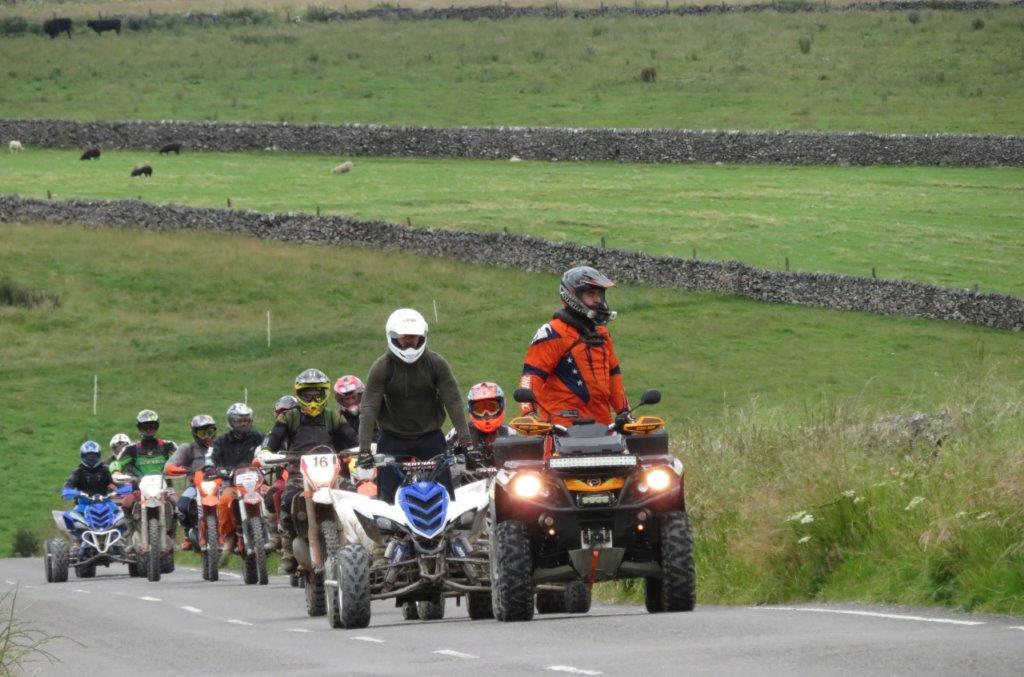 on road near Over Hide Farm?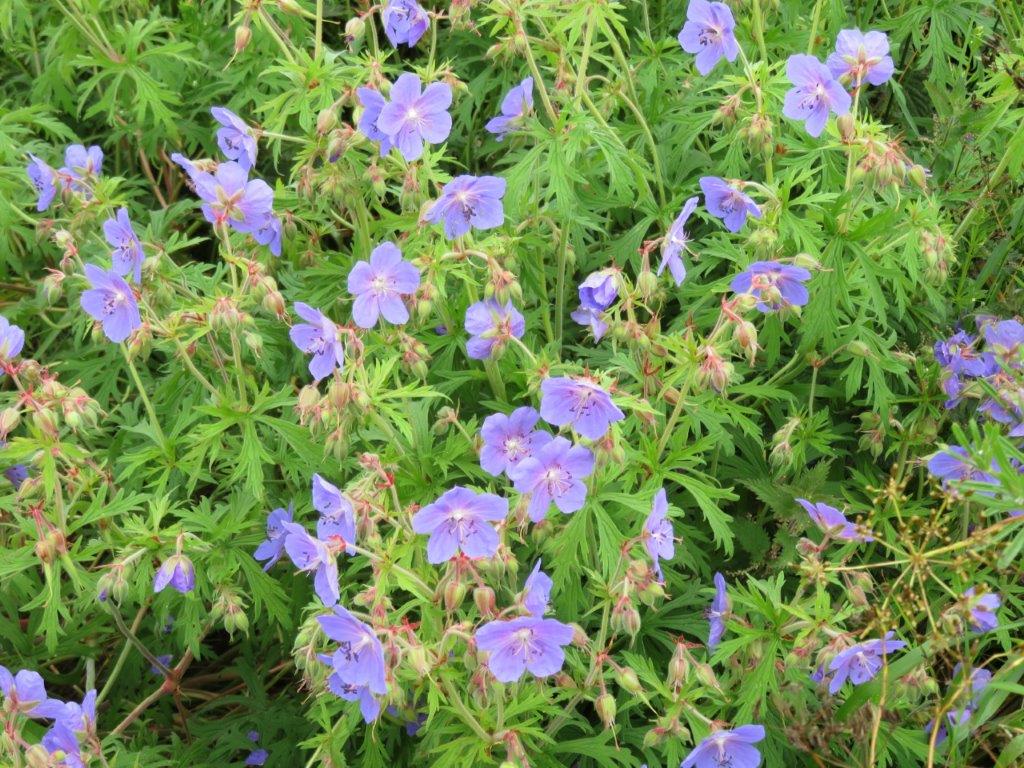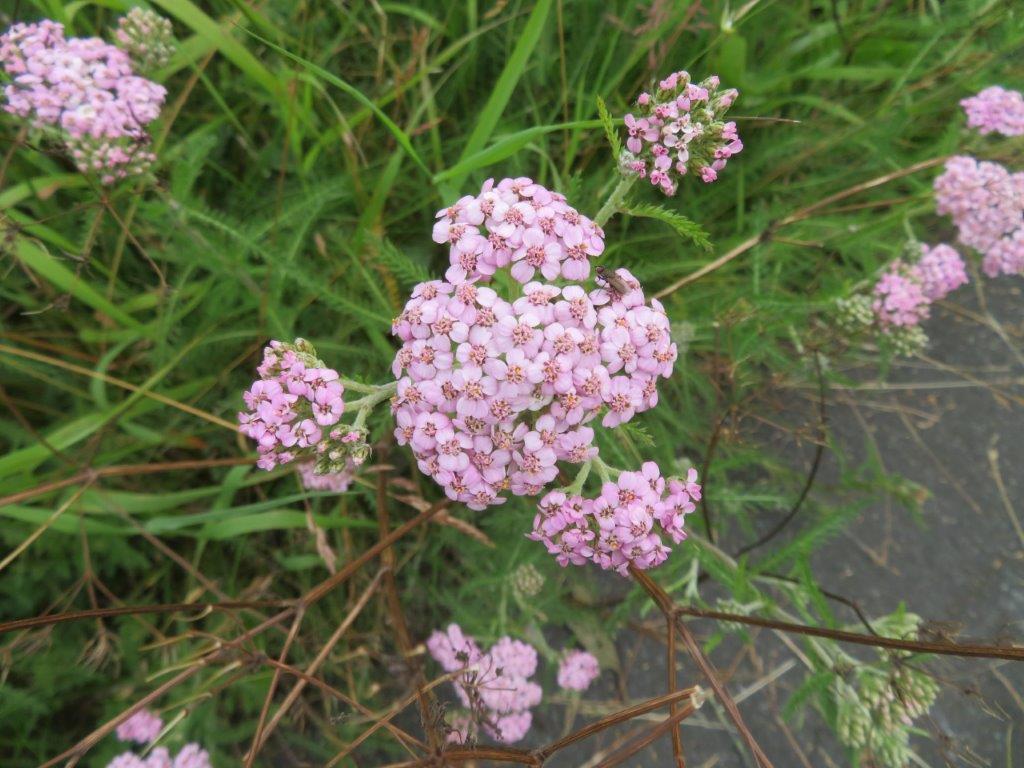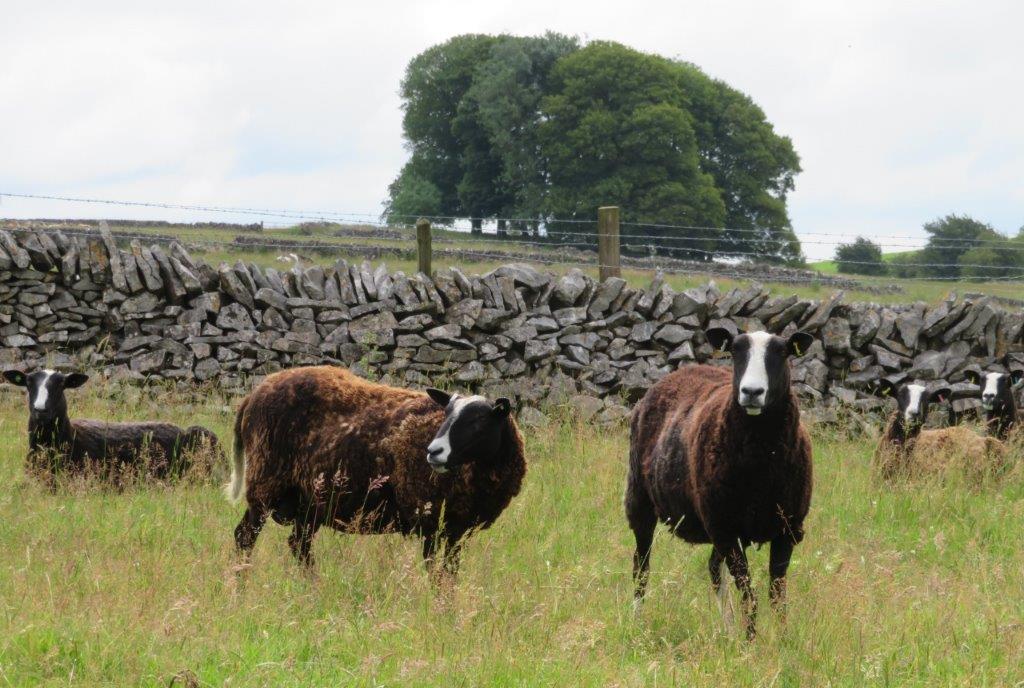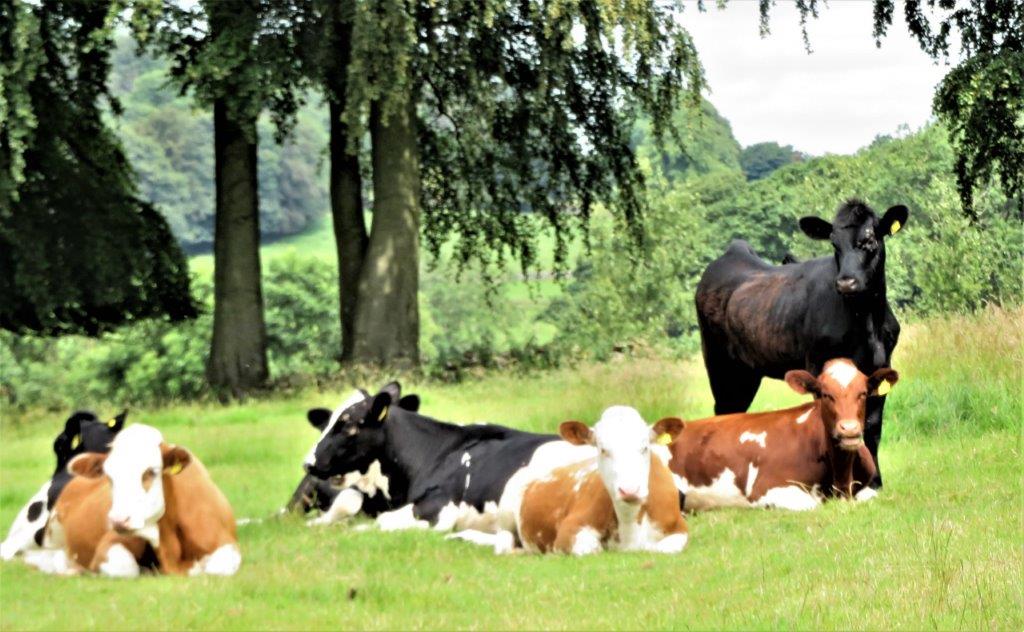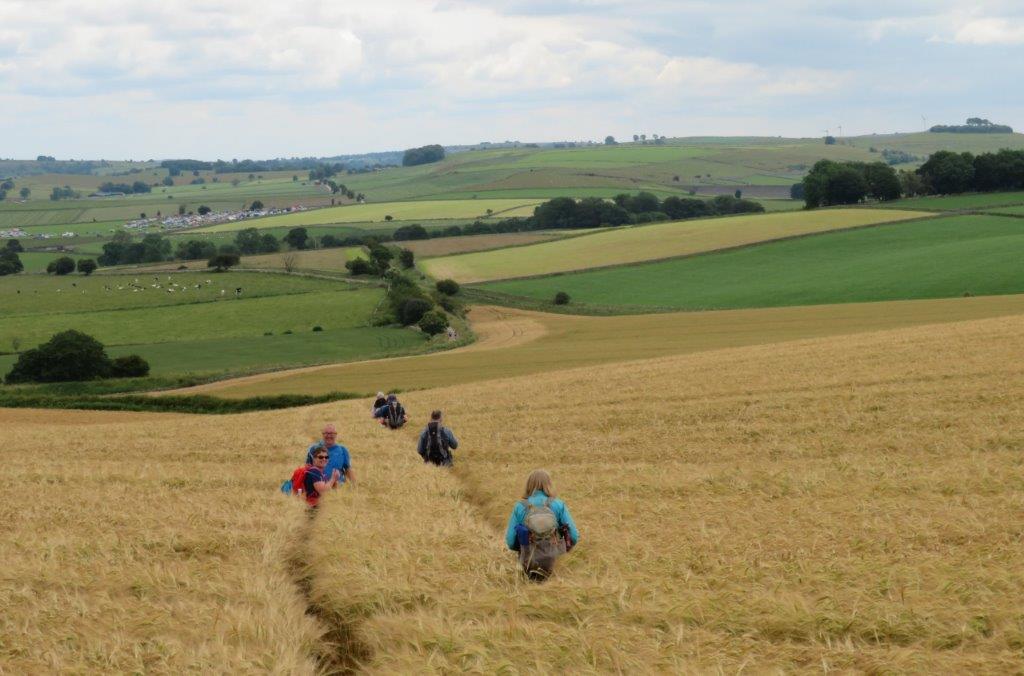 Cardle View just after A515 road?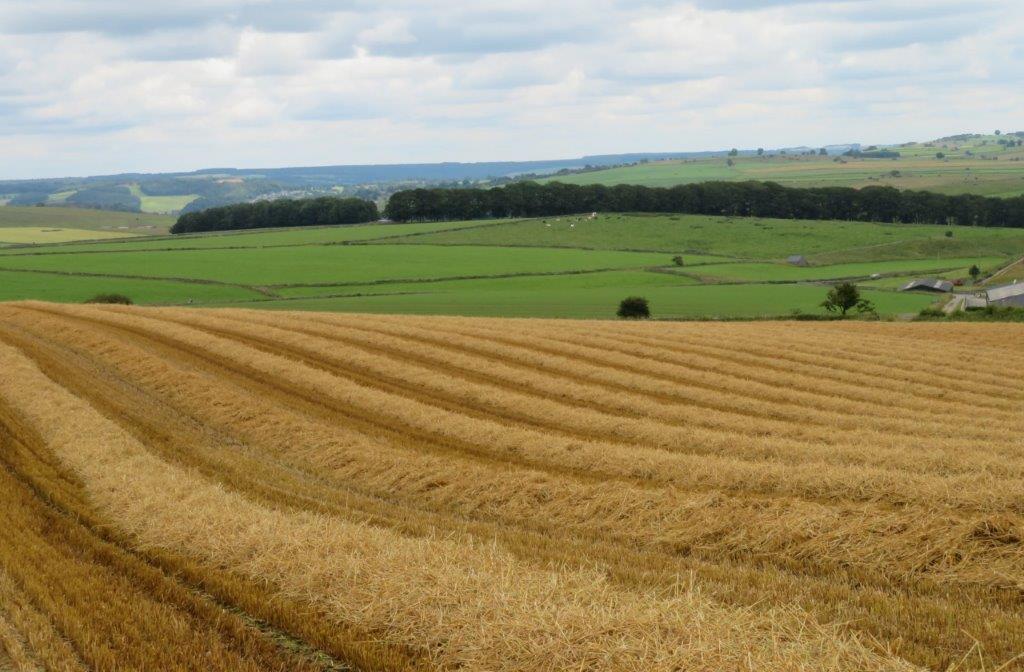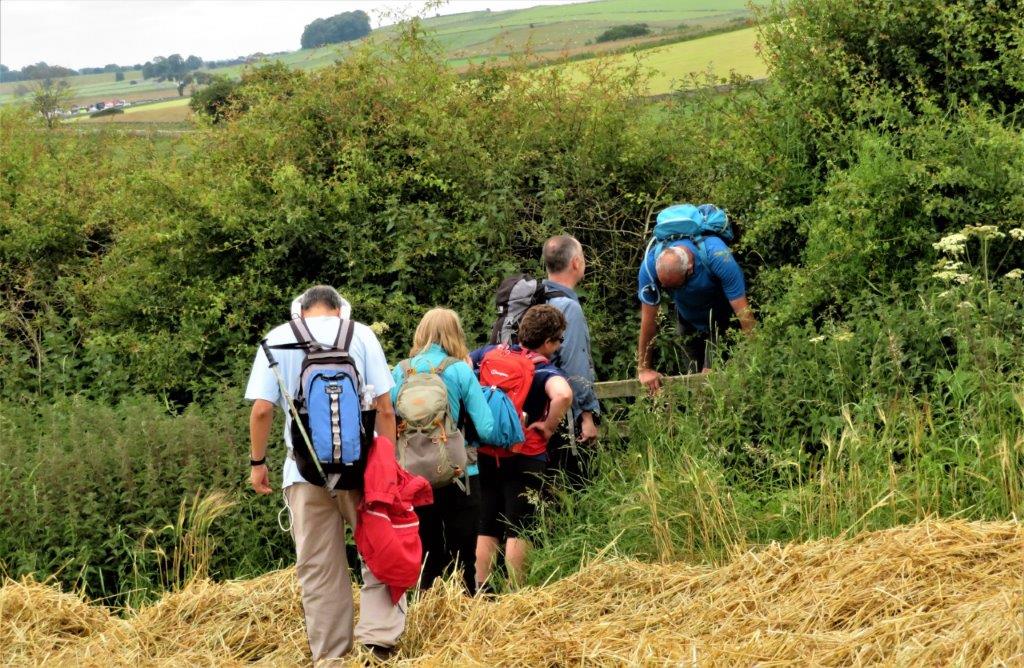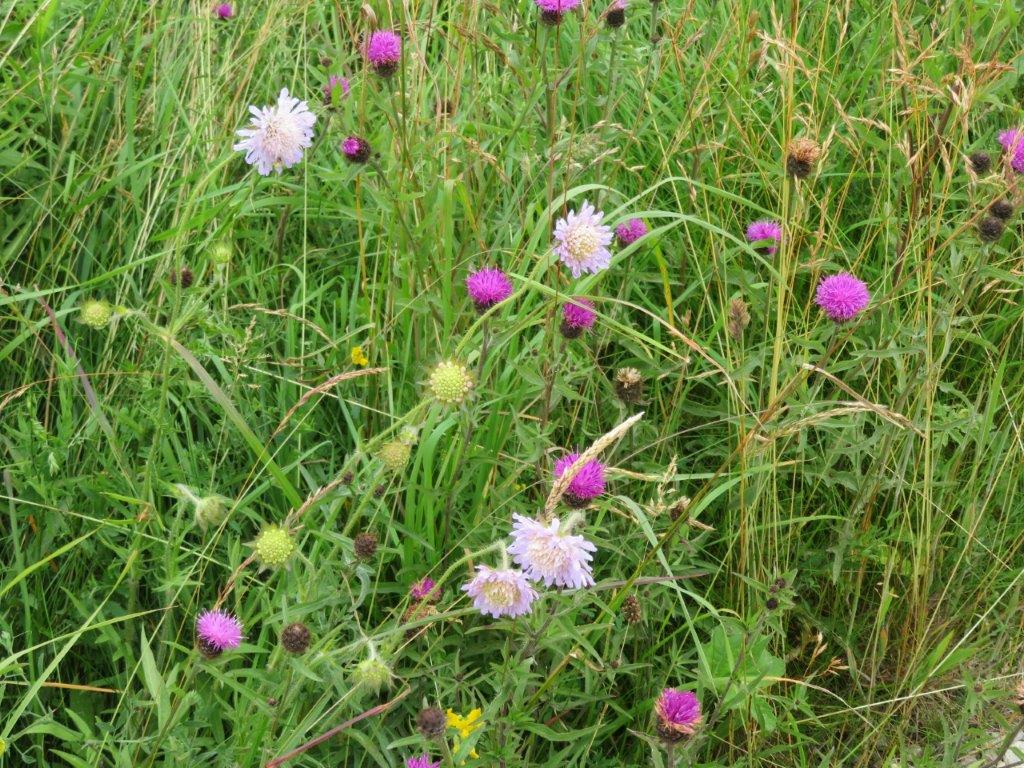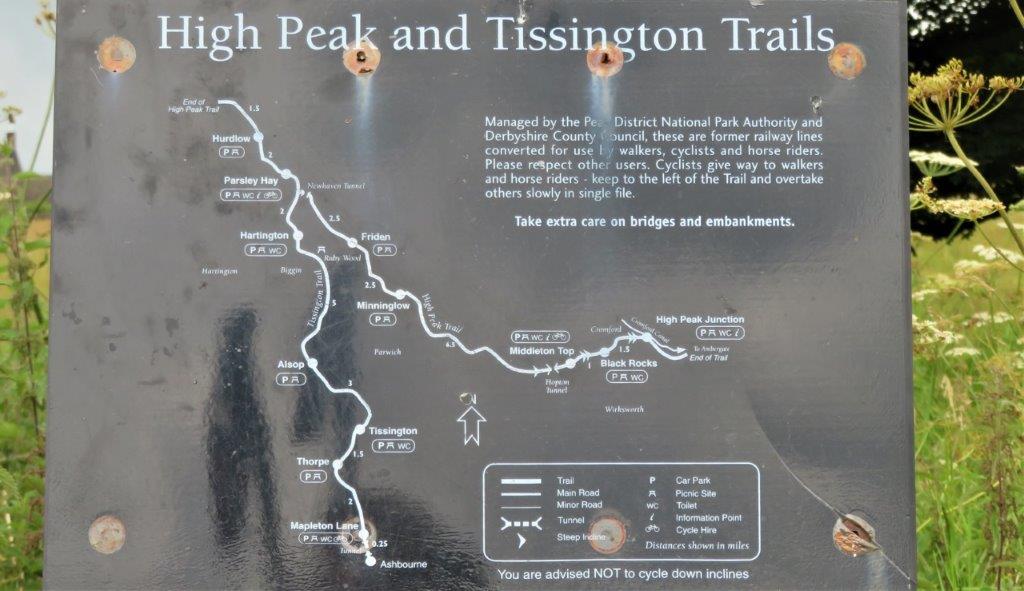 On Pennine Bridleway - Friden (in map above) is about 2km before the point we joined trail (just before Upperhouse Farm)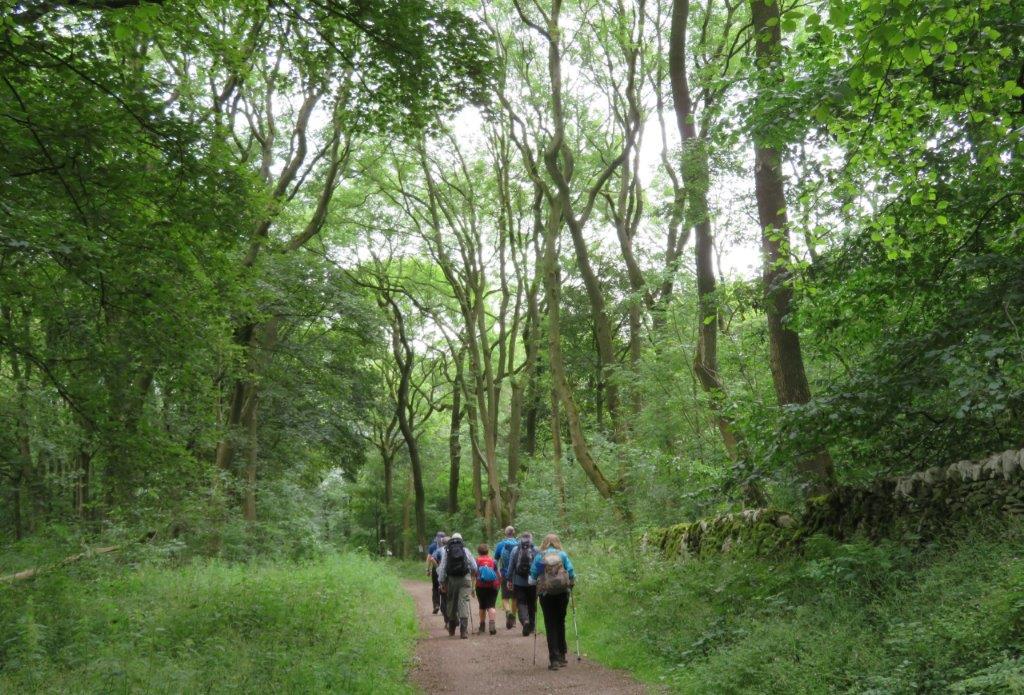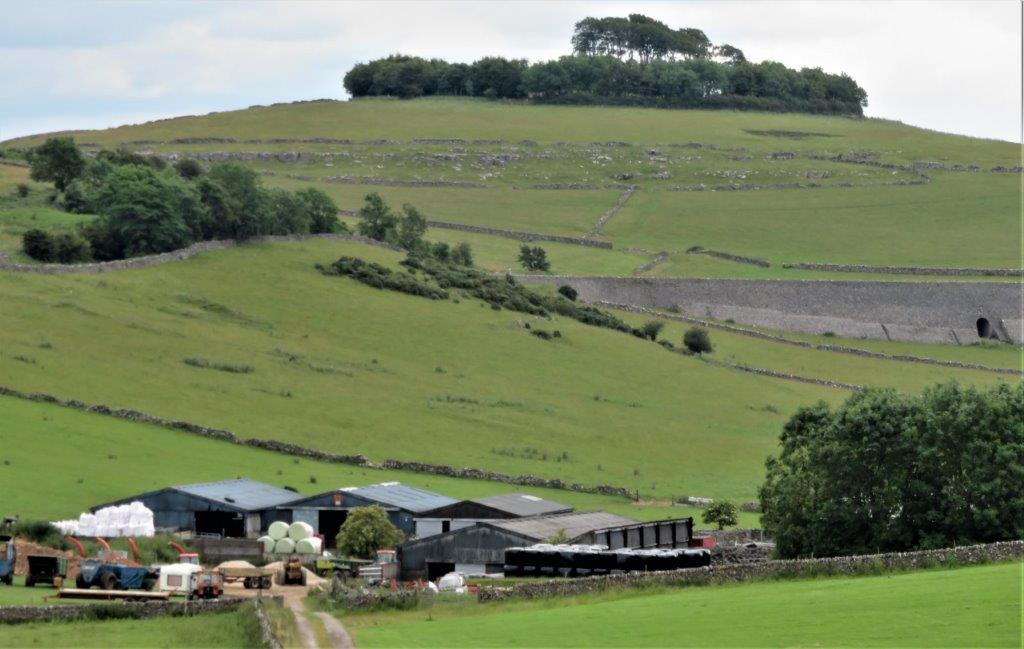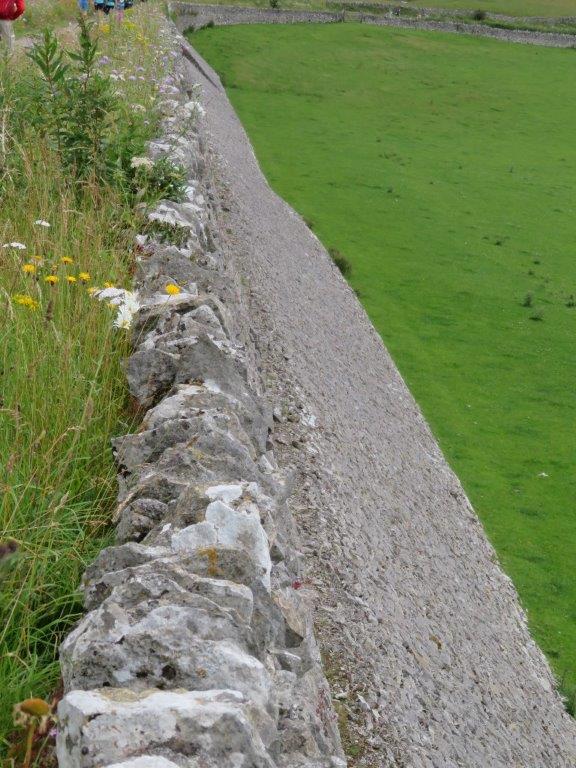 40 to 50ft high & steep dry stone walls containing the railway embankment on the High Peak Trail - see also subsequent pictures. Some stabilisation of the walls probably done later - mortaring and added added toes at bottom of walls?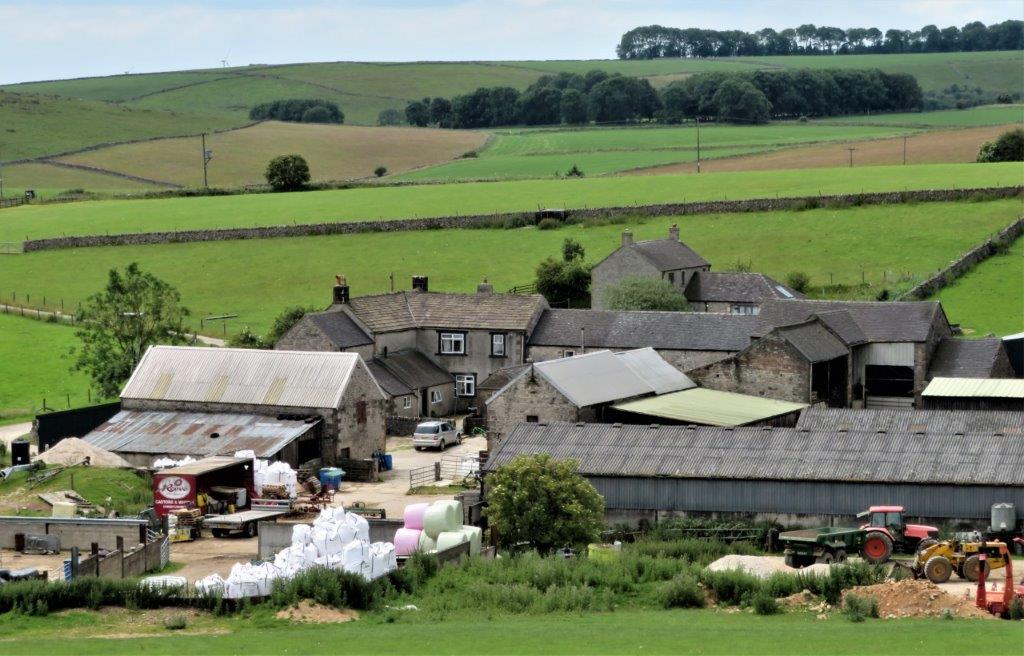 Minninglow Grange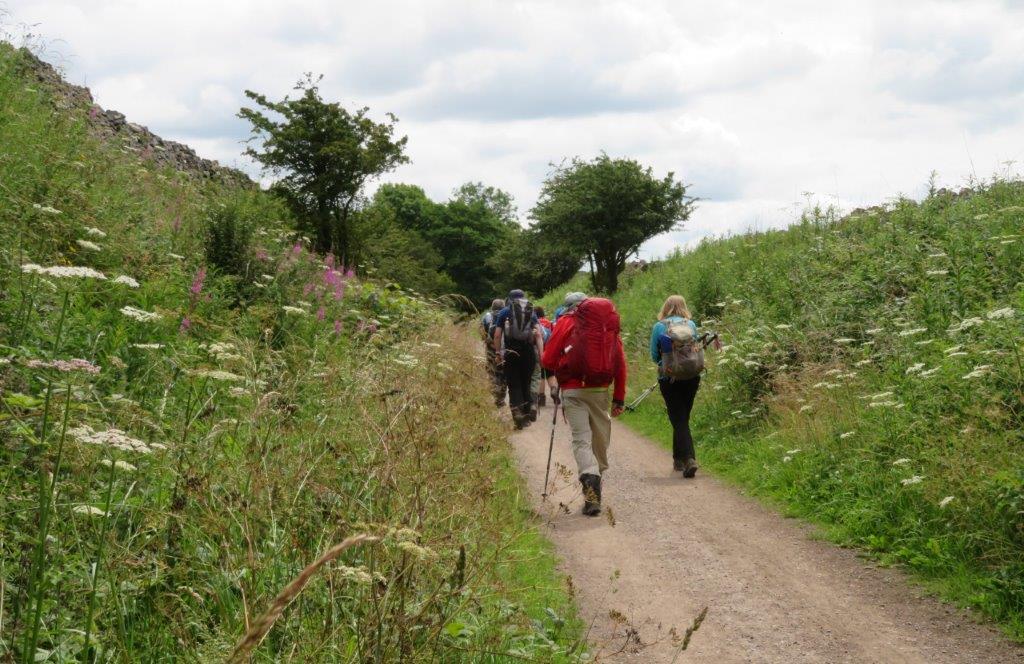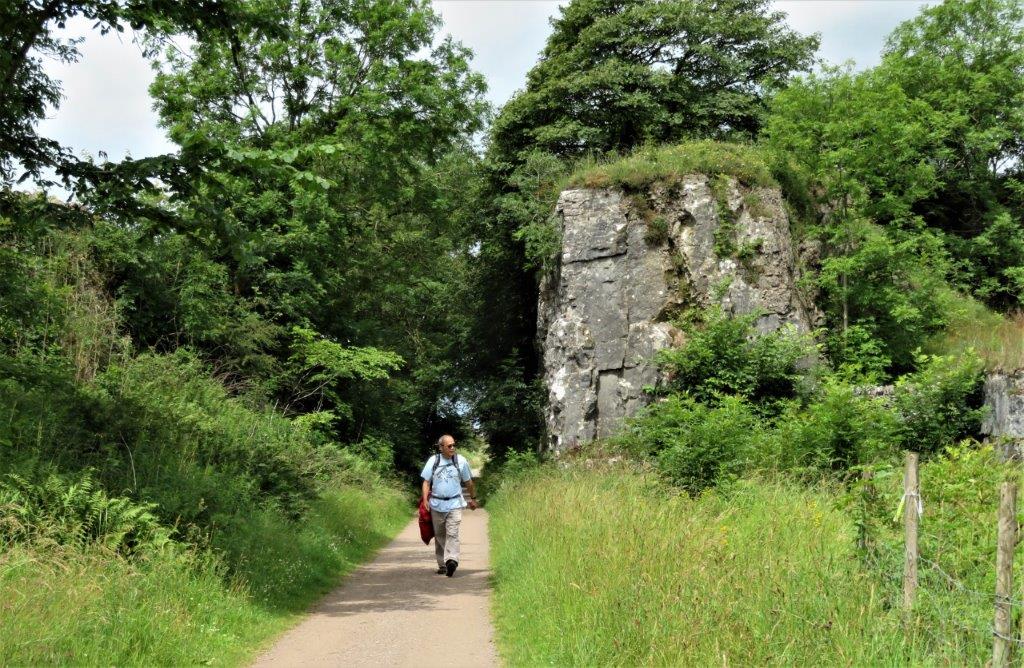 entering a disused quarry alongside the track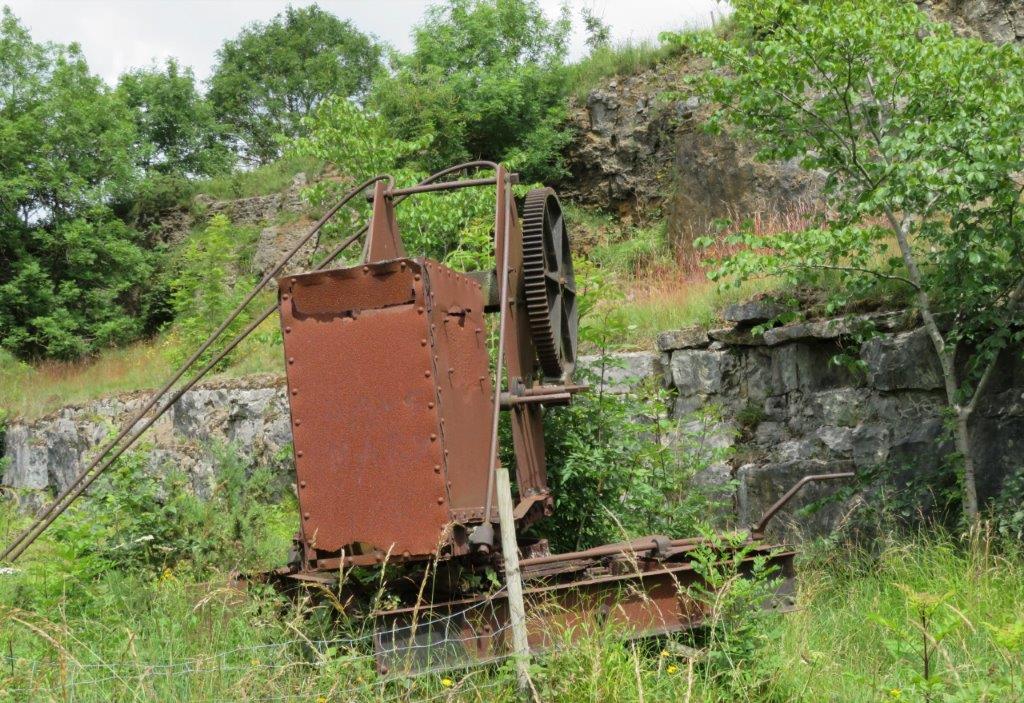 decaying lifting plant for loading stone onto rail freight wagons?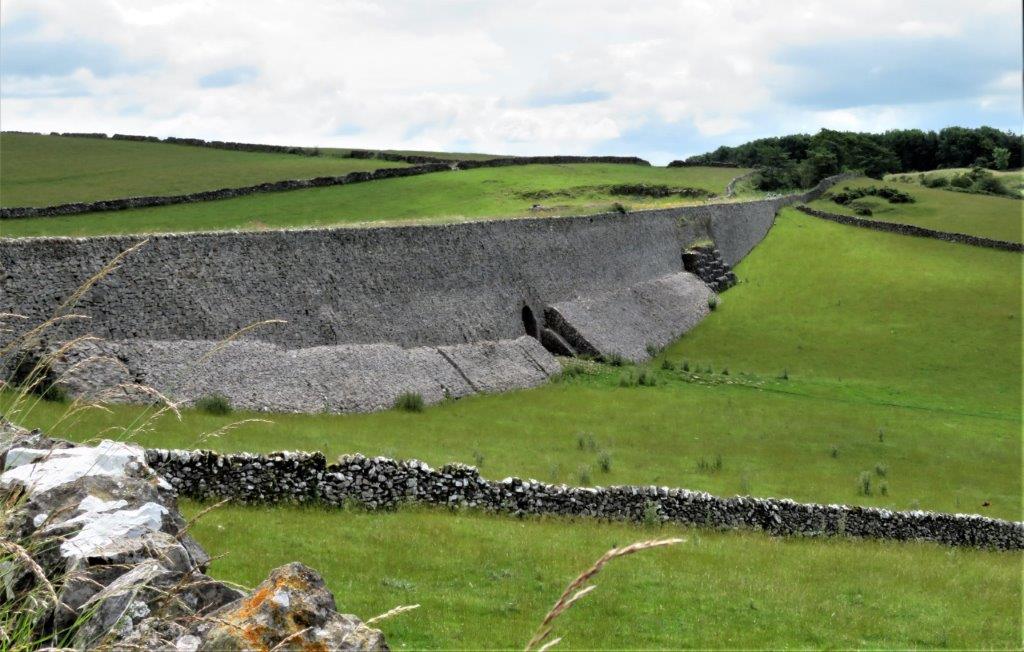 note triangular buttress at bottom of high rail track walls. Bales stored against wall are incidental.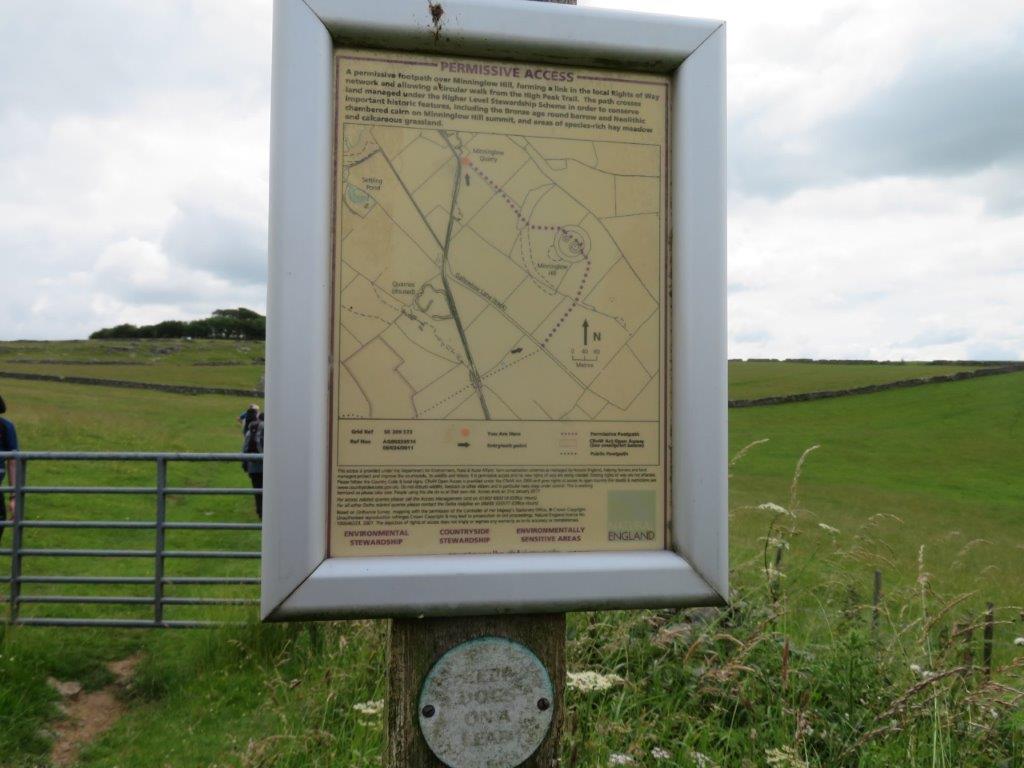 Notice indicating Permissive Footpath to / from Minninglow Hill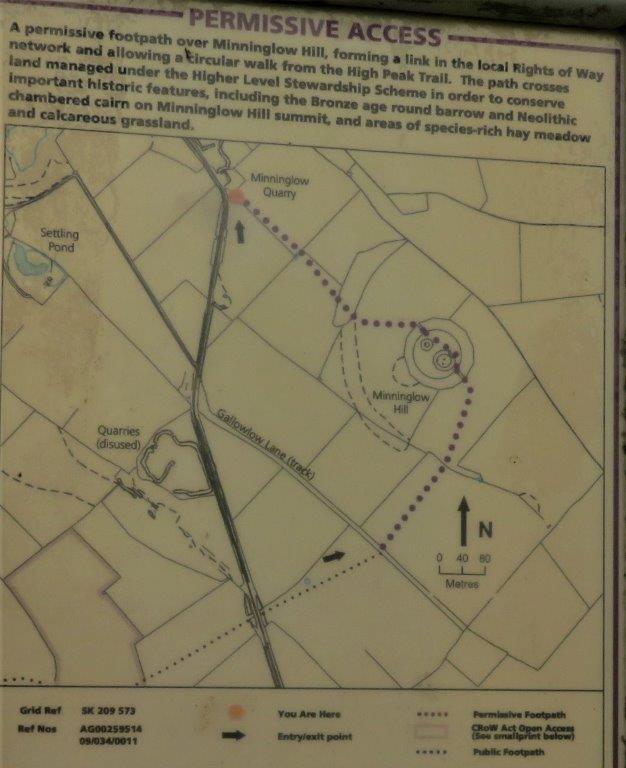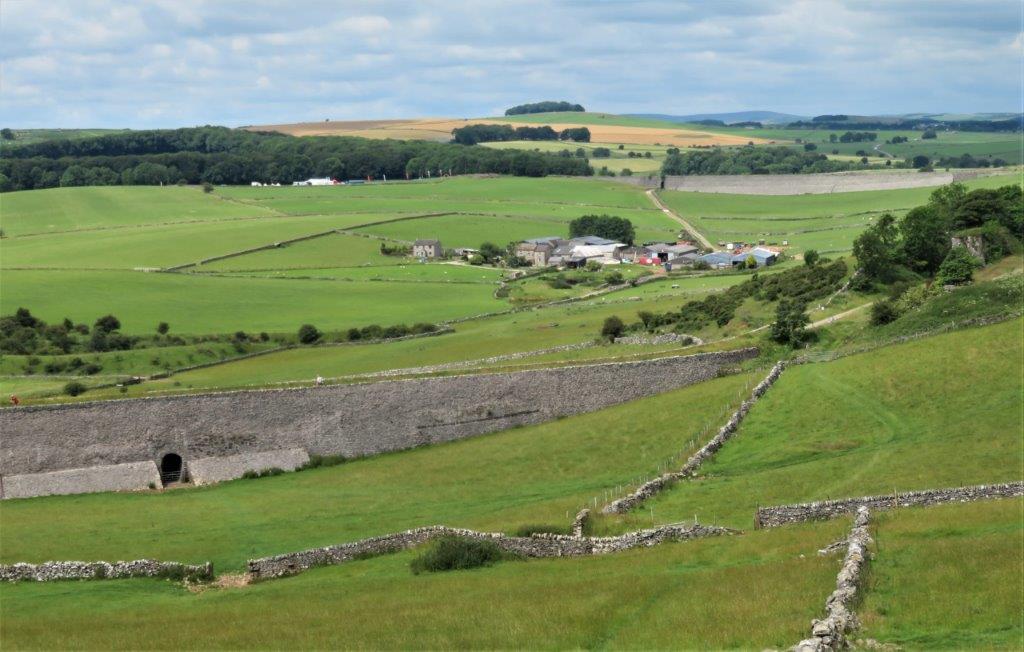 Minninglow Grange behind us and high rail embankment.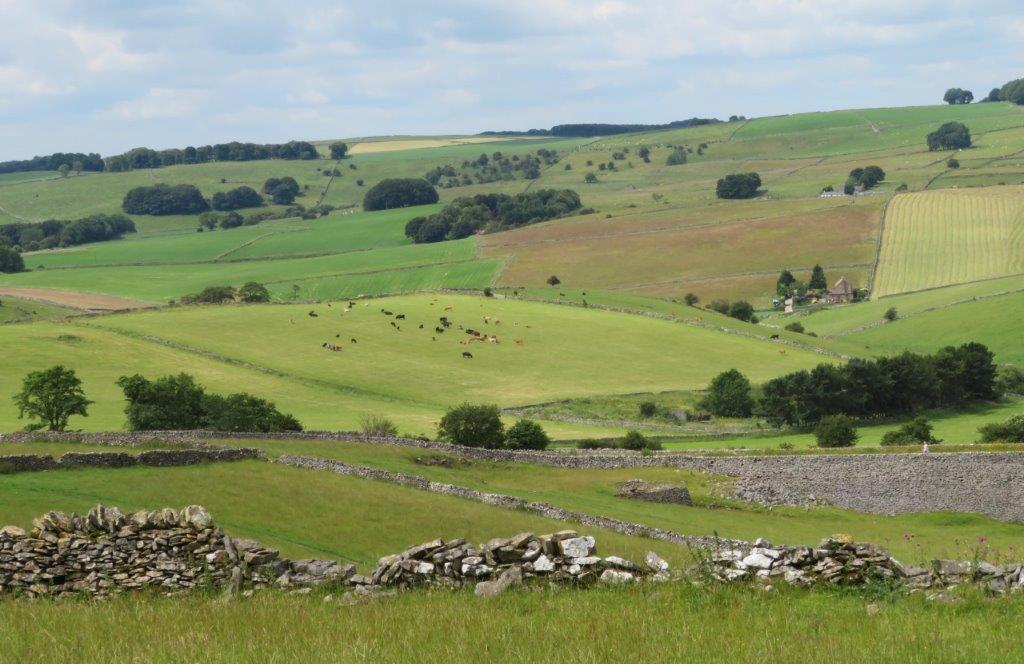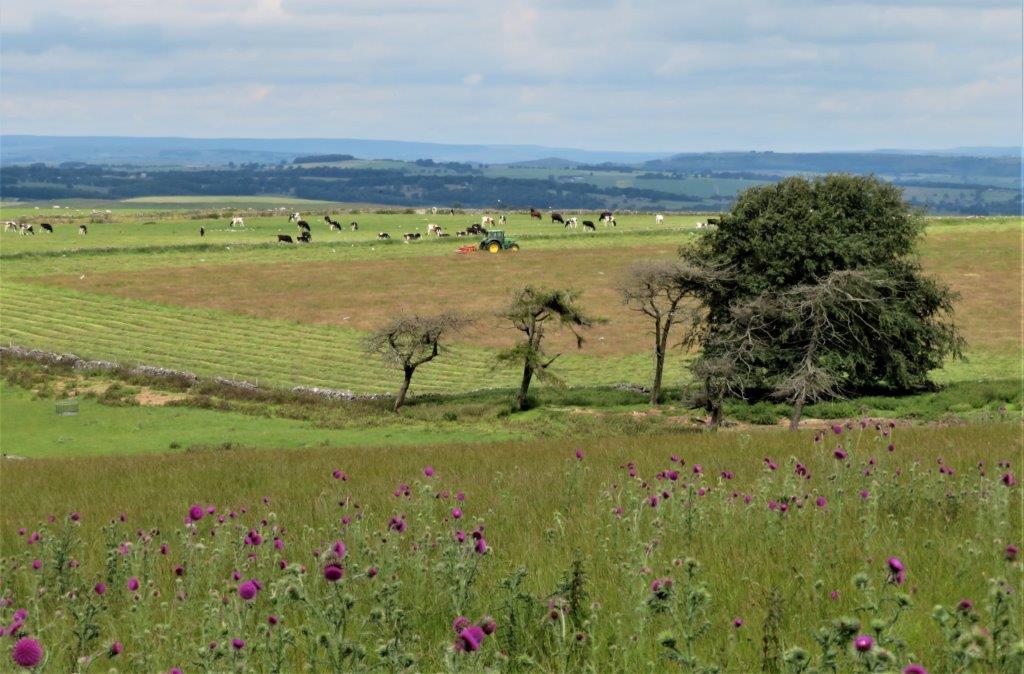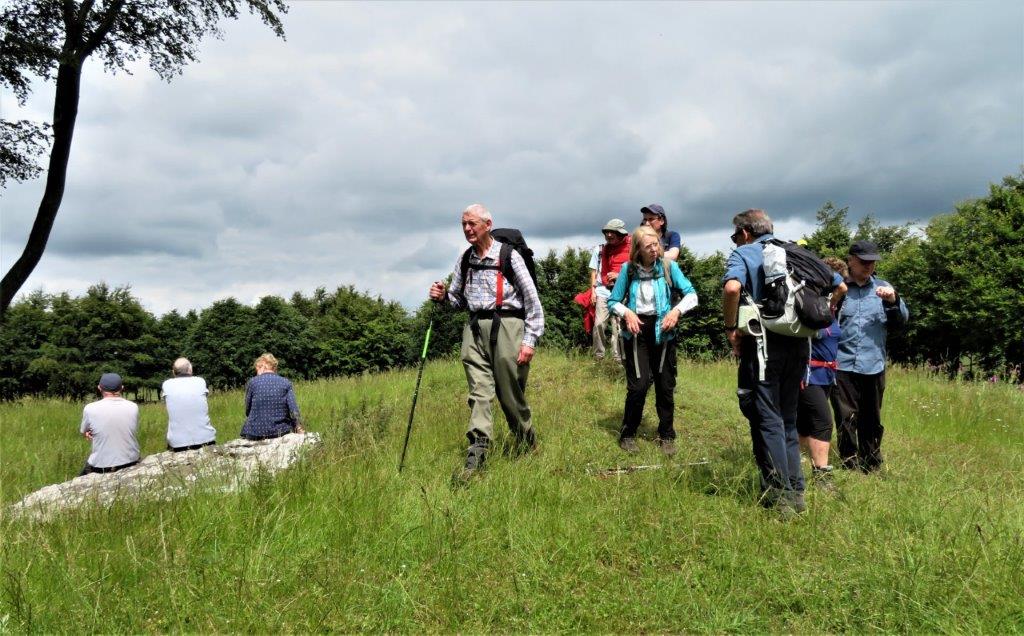 At Minninglow Hill - apparently several separate burial chambers frequently visited, excavated & robbed. Now apparently filled in for safety reasons. Not clear if there was a Stone Circle - stones possibly from burial mounds?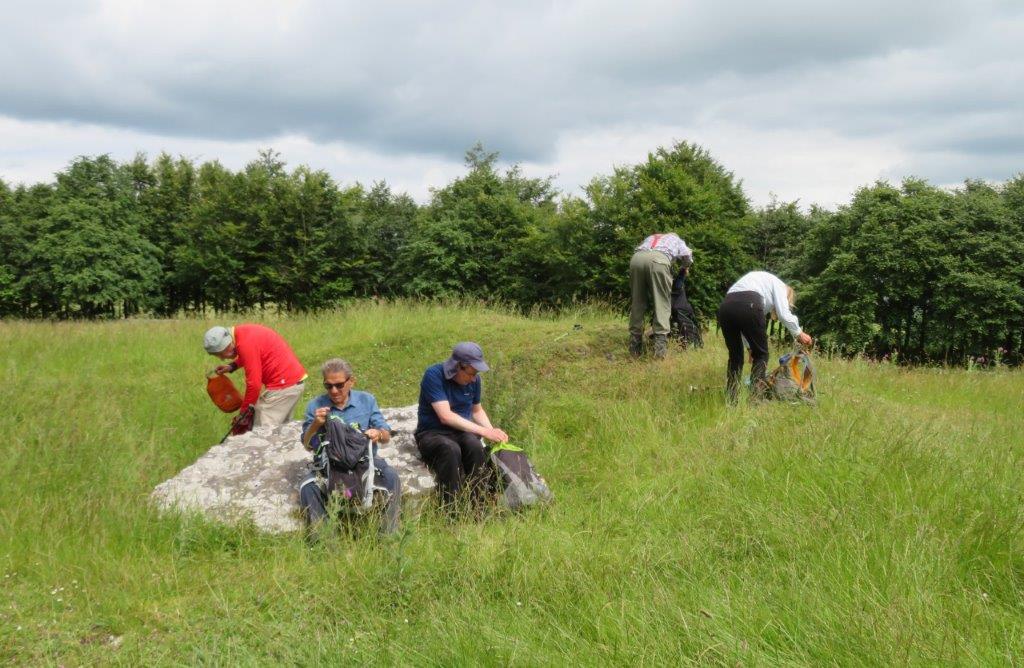 RETURN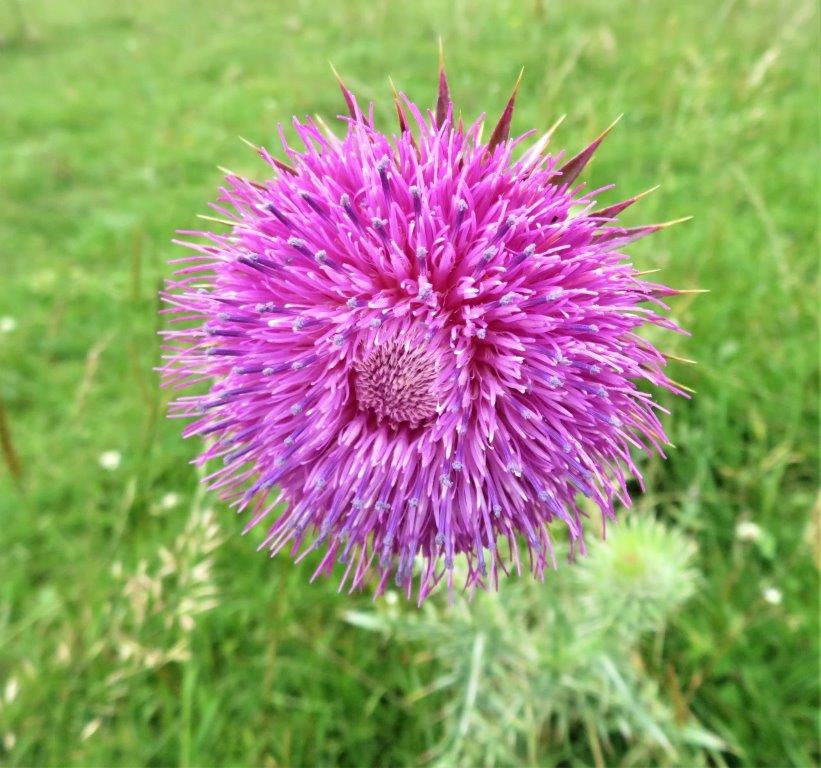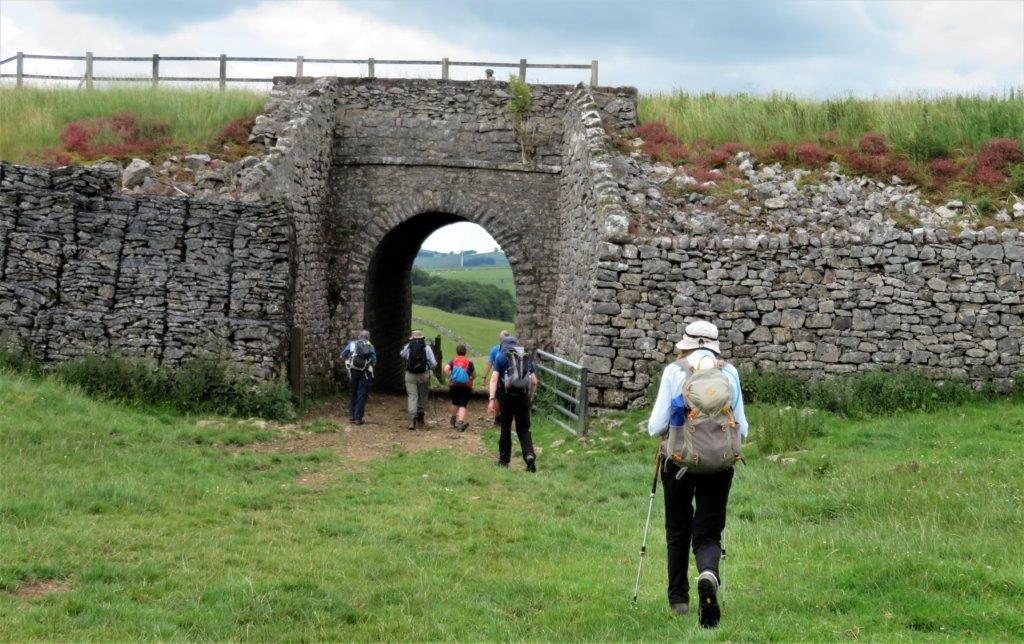 passing under the 'railway' embankment towards Roystone Grange. Some gabion stabilisation of wall to the left?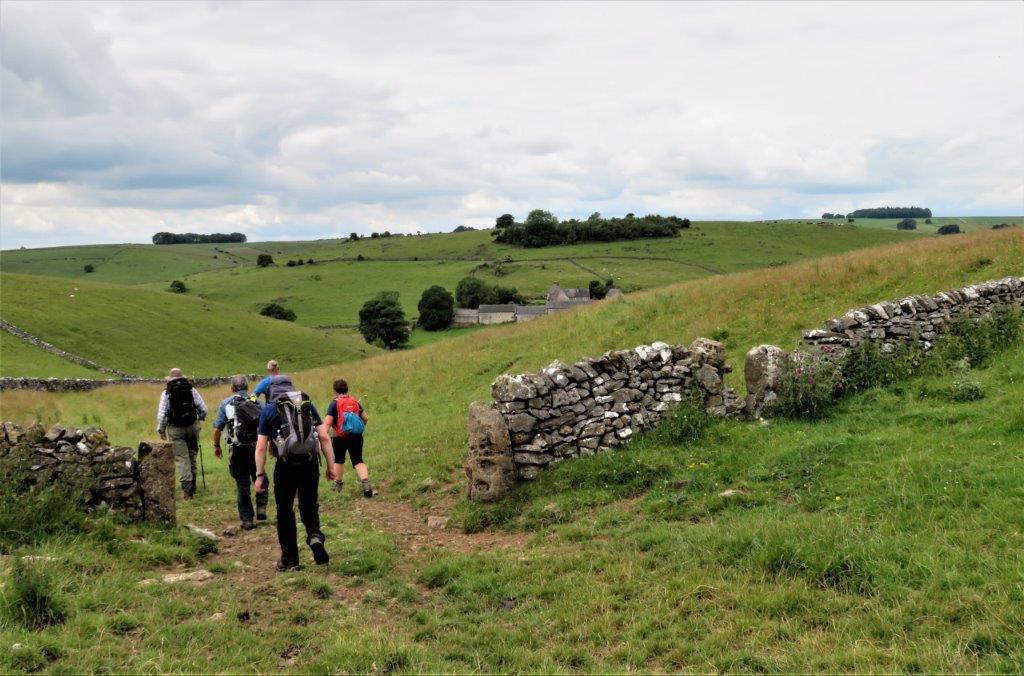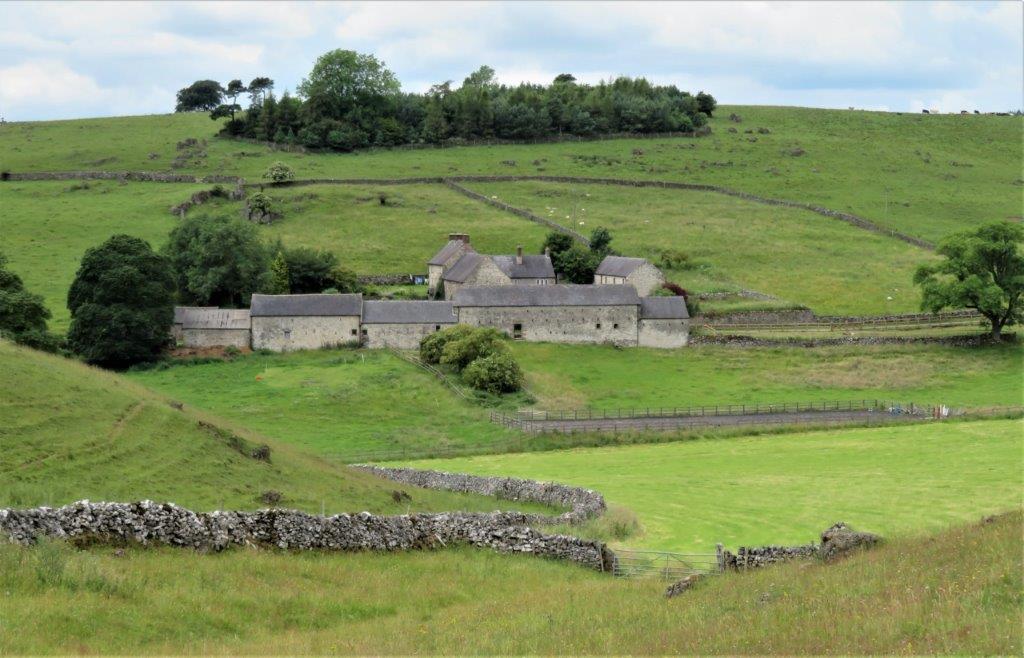 Roystone Grange in view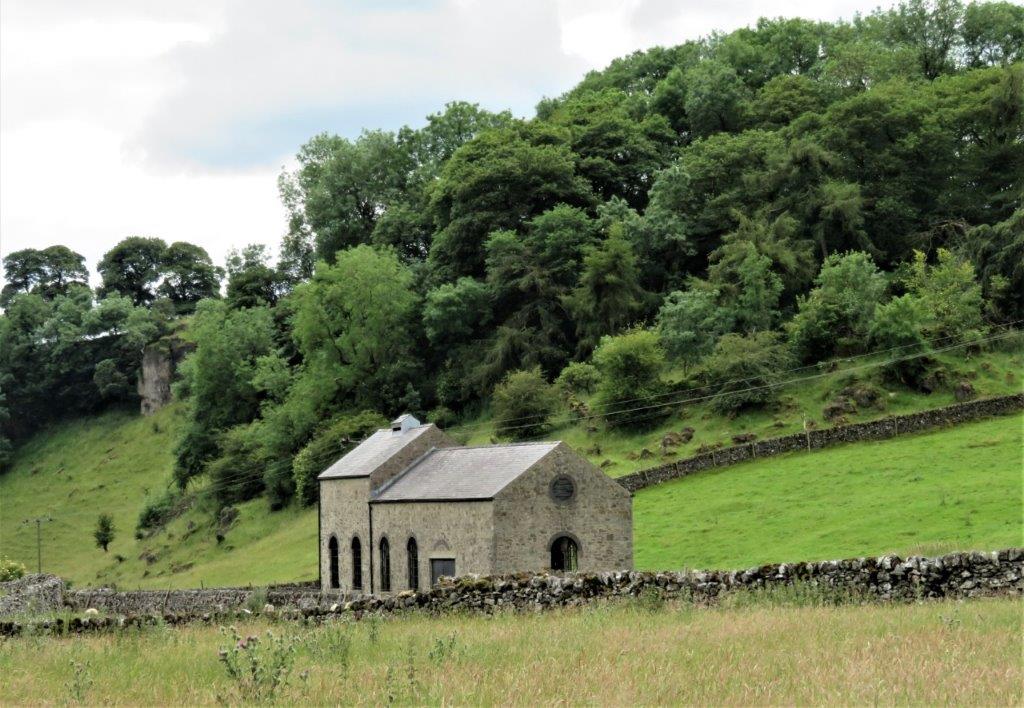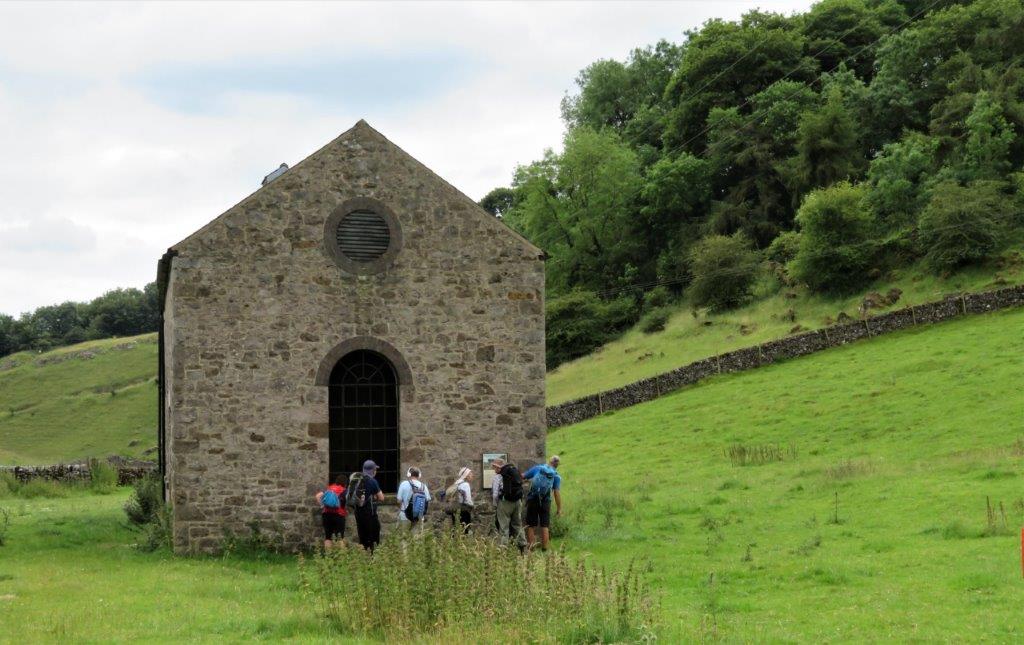 This chapel - like building does not match the picture below. Derbyshire Heritage says this building contained water cooled air compressors. Compressed air was apparently piped through cast iron pipes to nearby quarries for powering rock drills. Indeed the quarry seen by us on the disused railway route before Minnington Grange seems to have been one..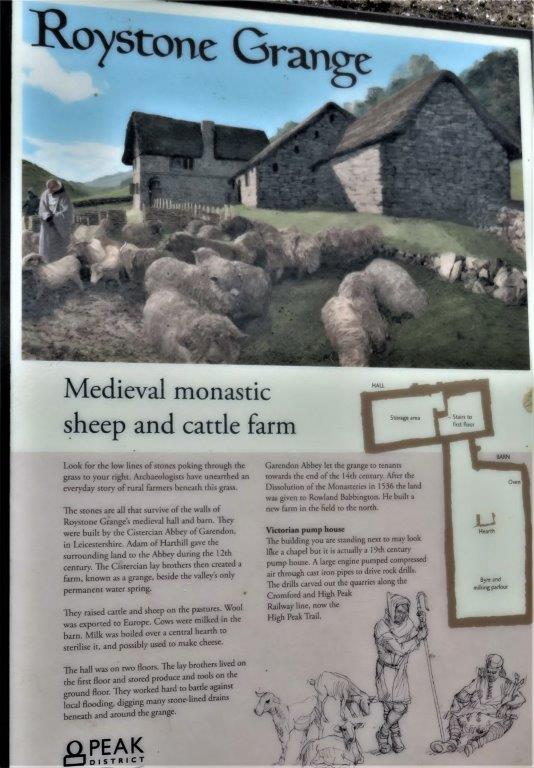 notes about Roystone Grange and Cistercian lay brothers - the building matching this picture was apparently located nearby.
interior of present building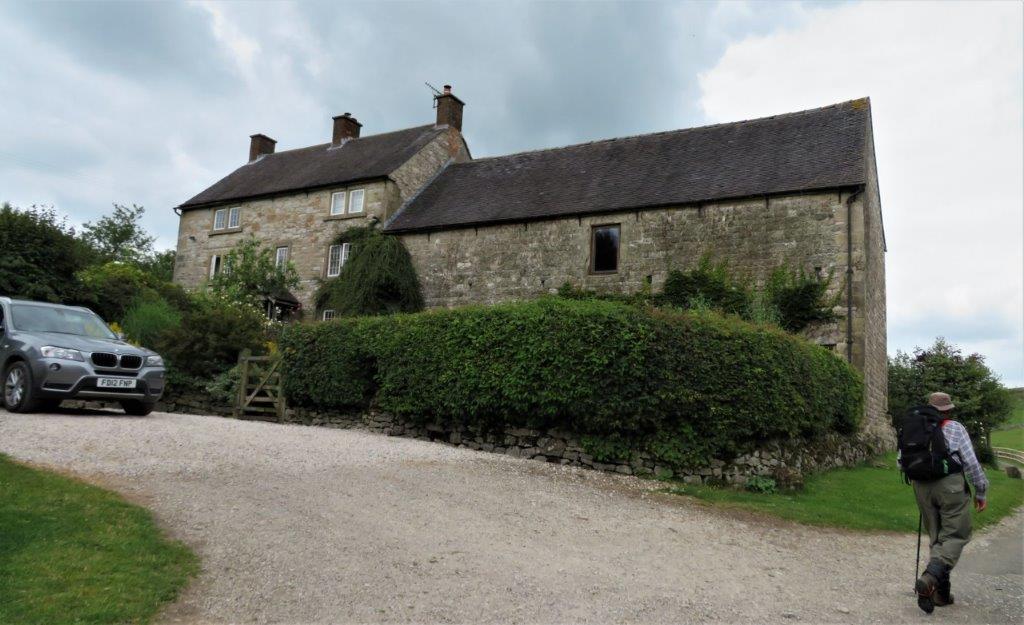 present day Roystone Grange?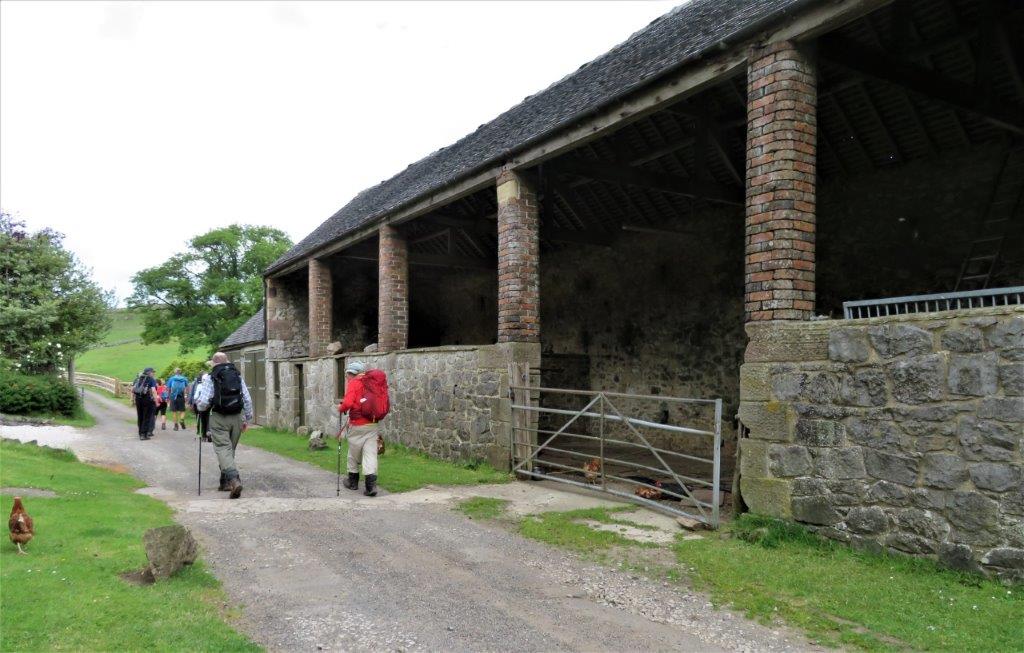 no sign of dairy farming activity here?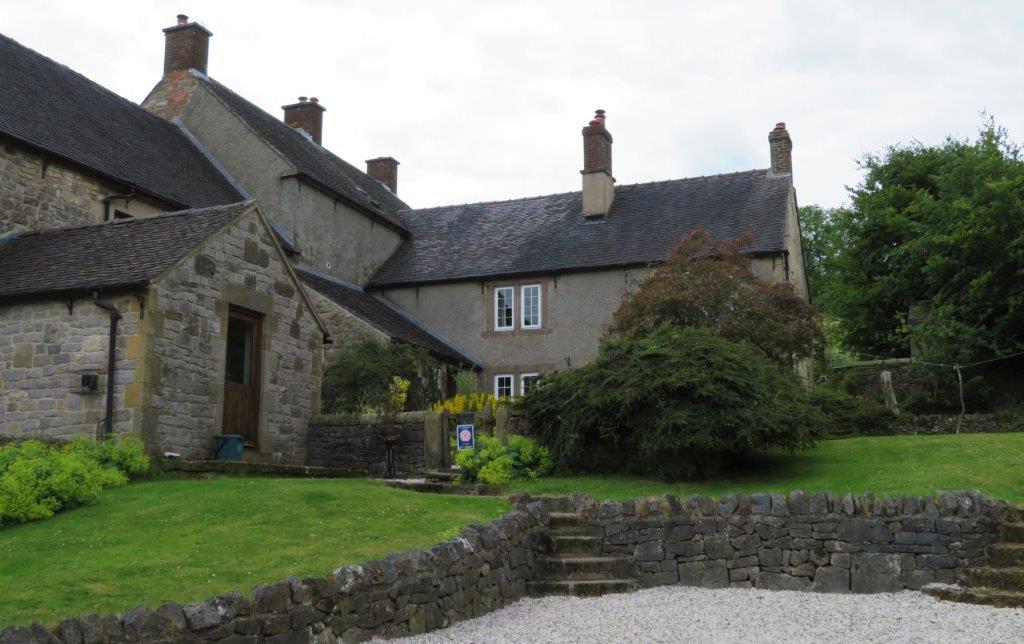 The Old Farmhouse - apparently now a self catering holiday let?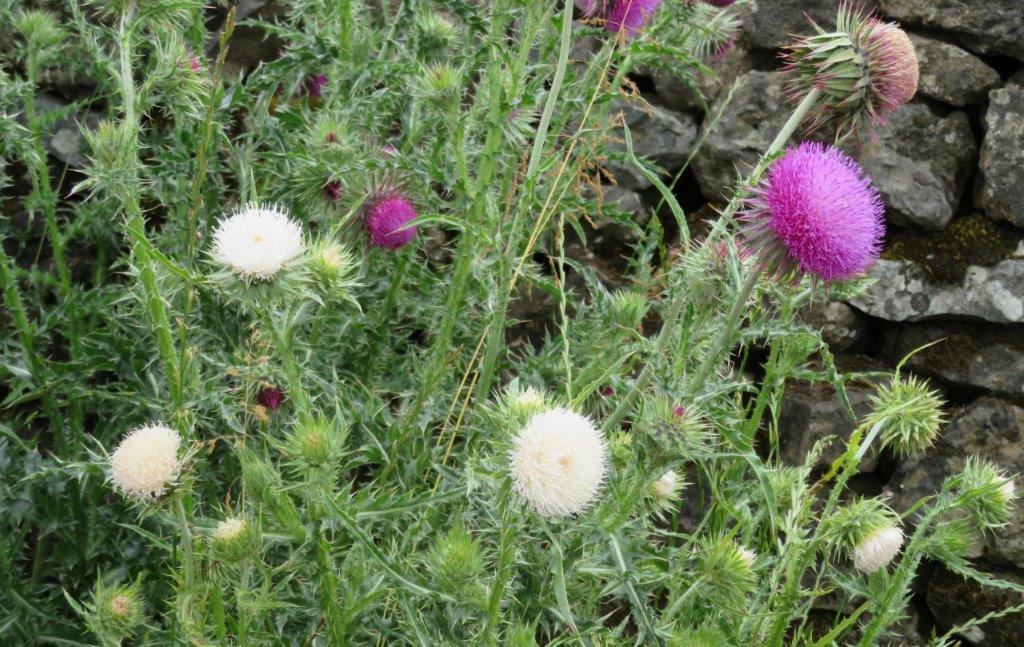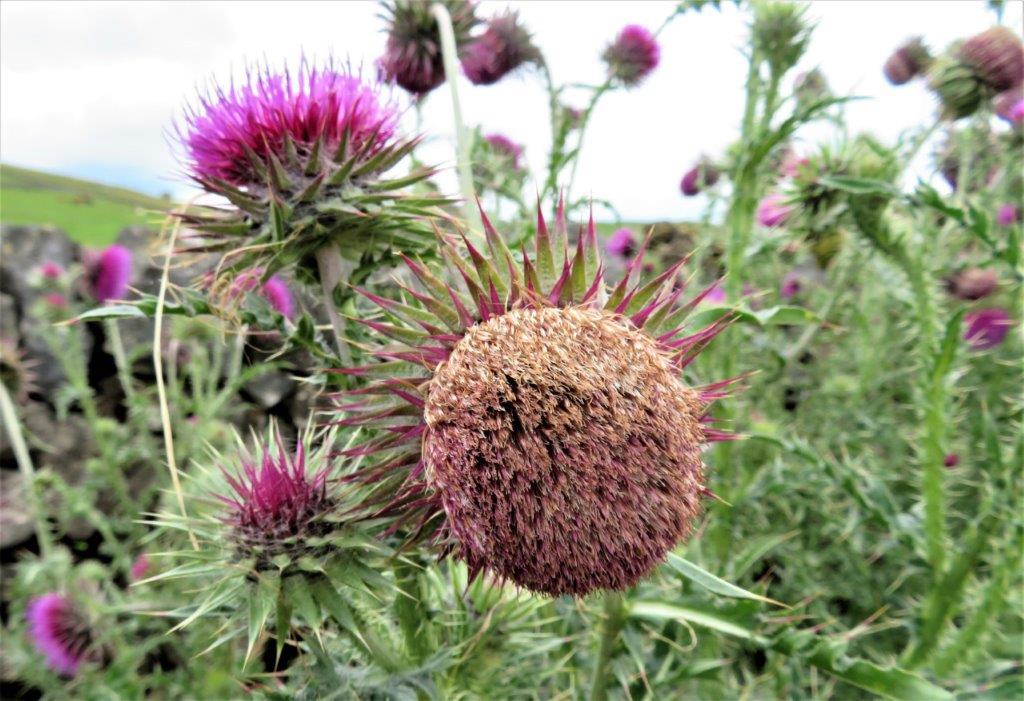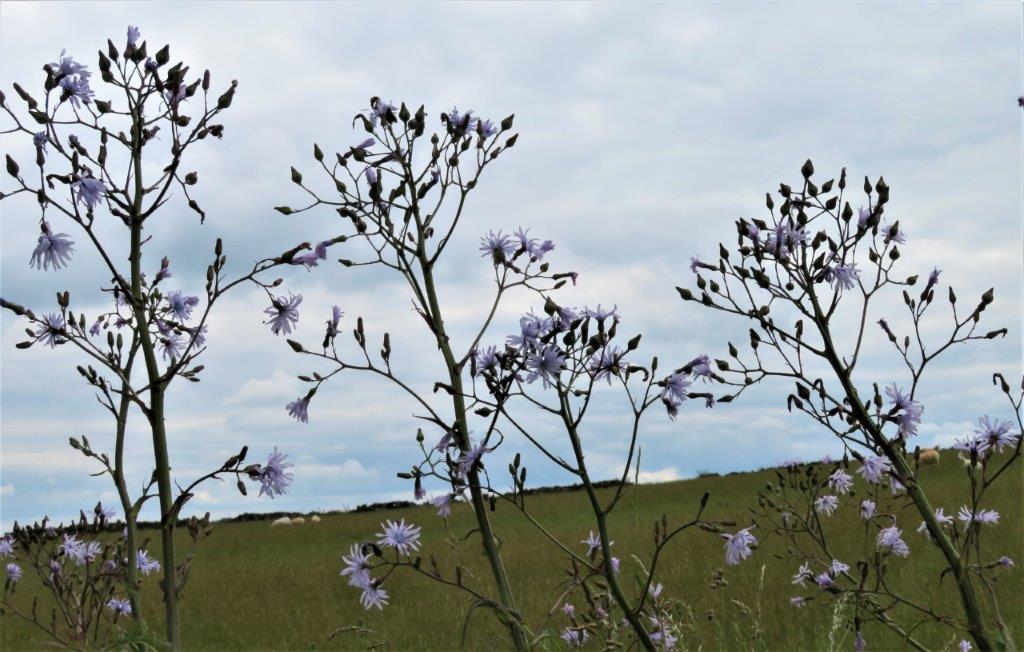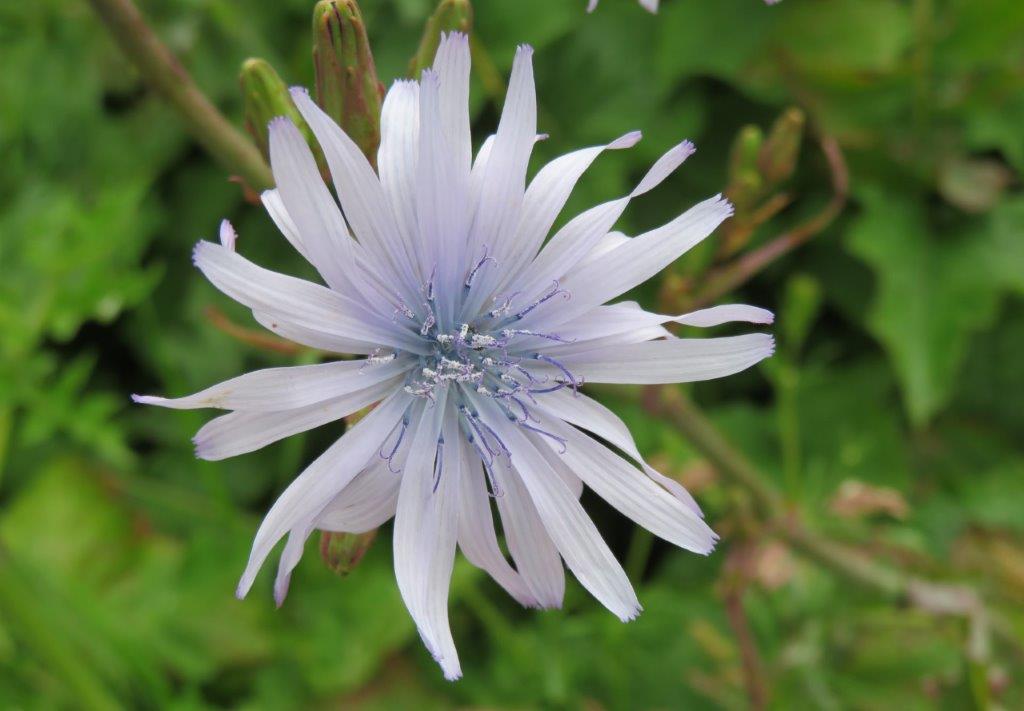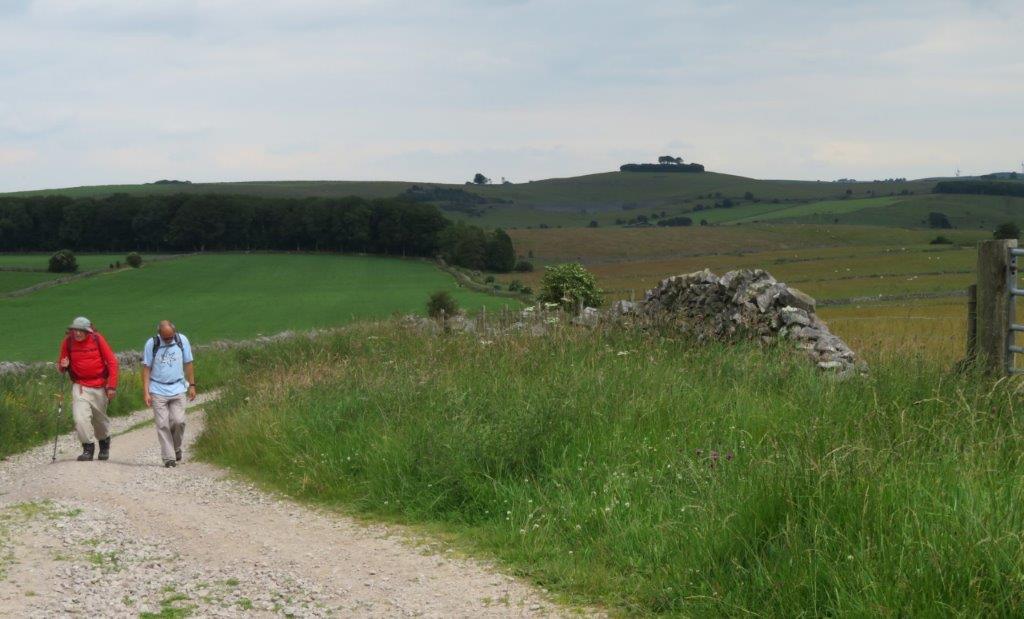 on Minninglow Lane?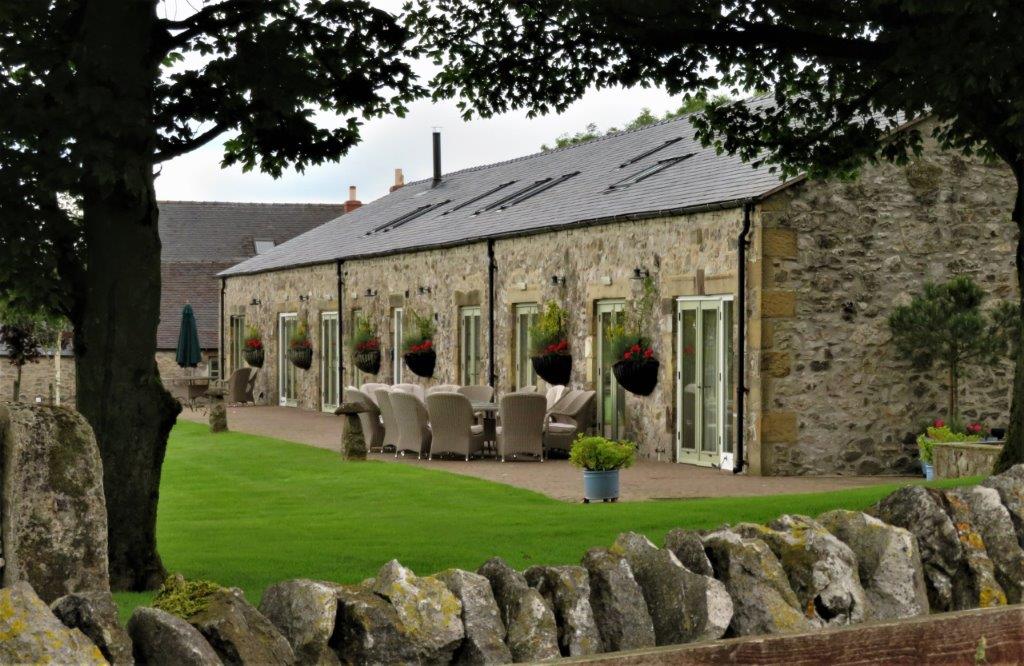 fairly new buildings adjacent to Uppermoor Farm -holiday accommodation?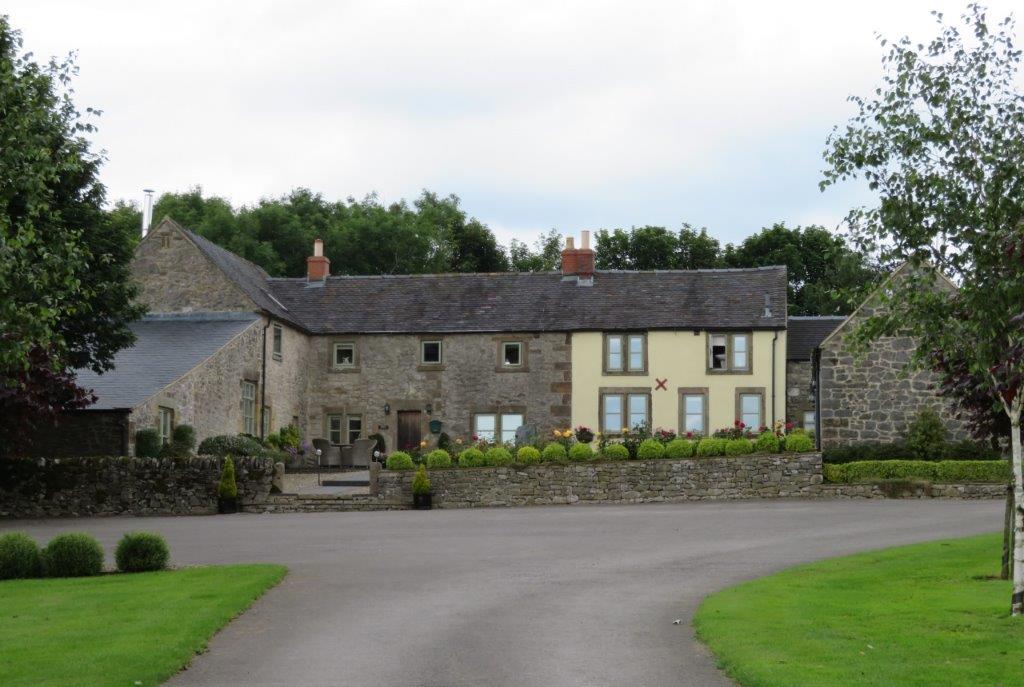 Uppermoor Farm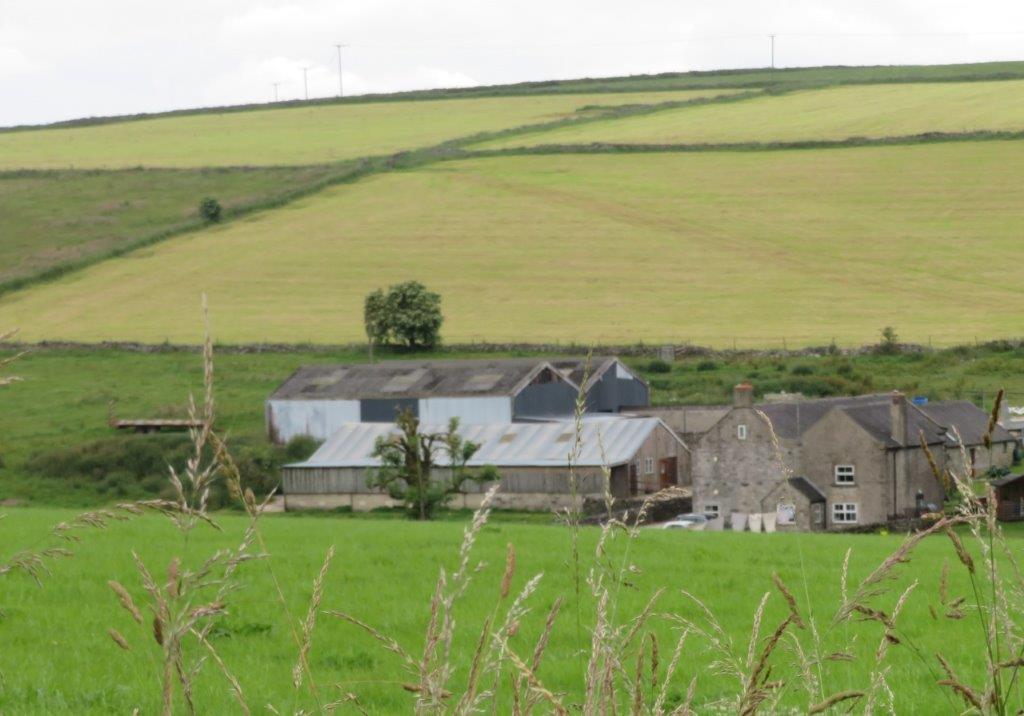 White Cliffe Farm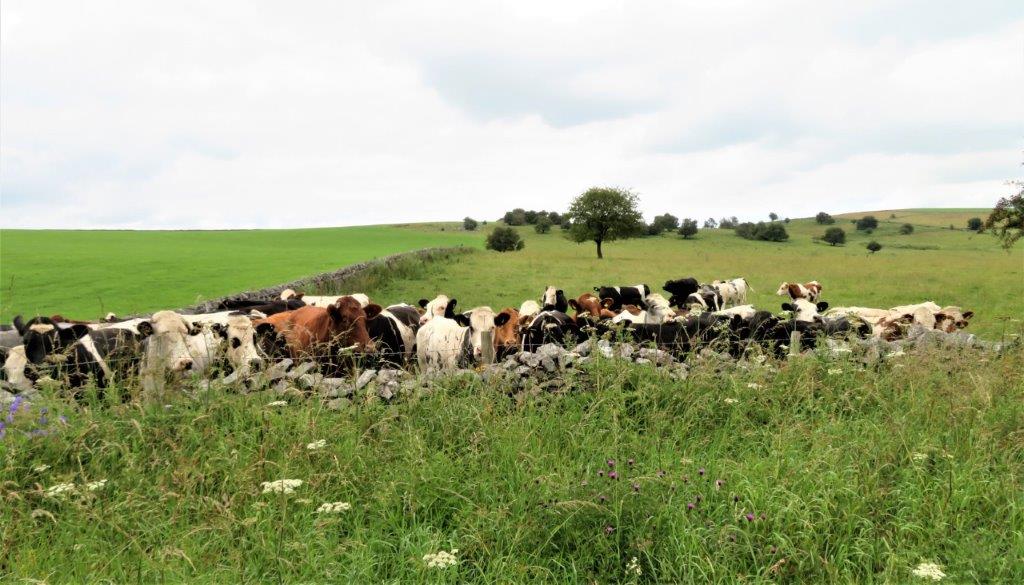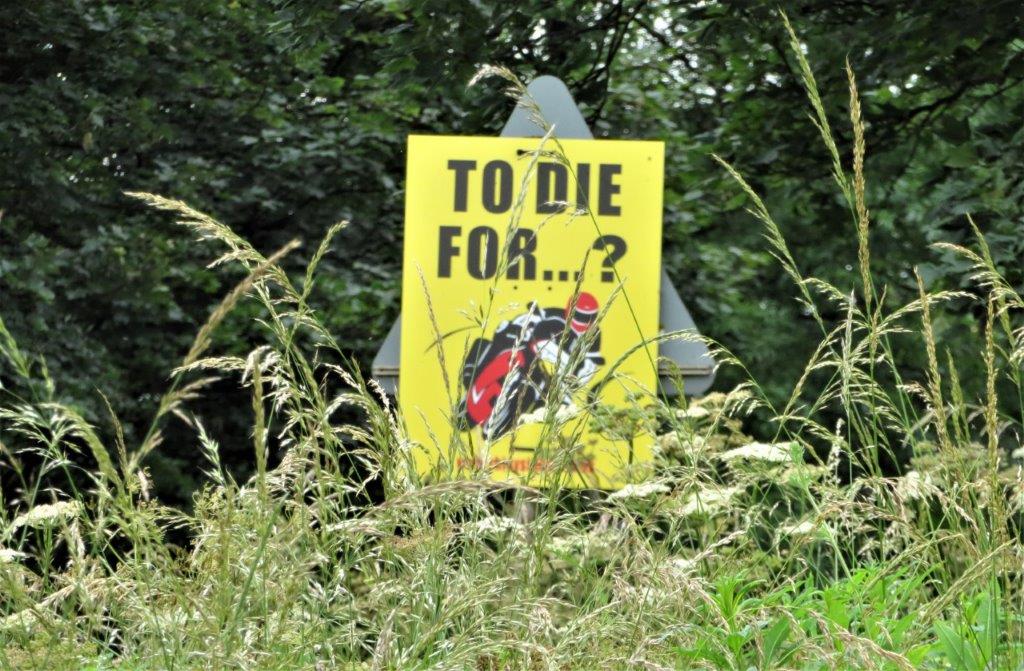 be careful walking along & crossing the A515 road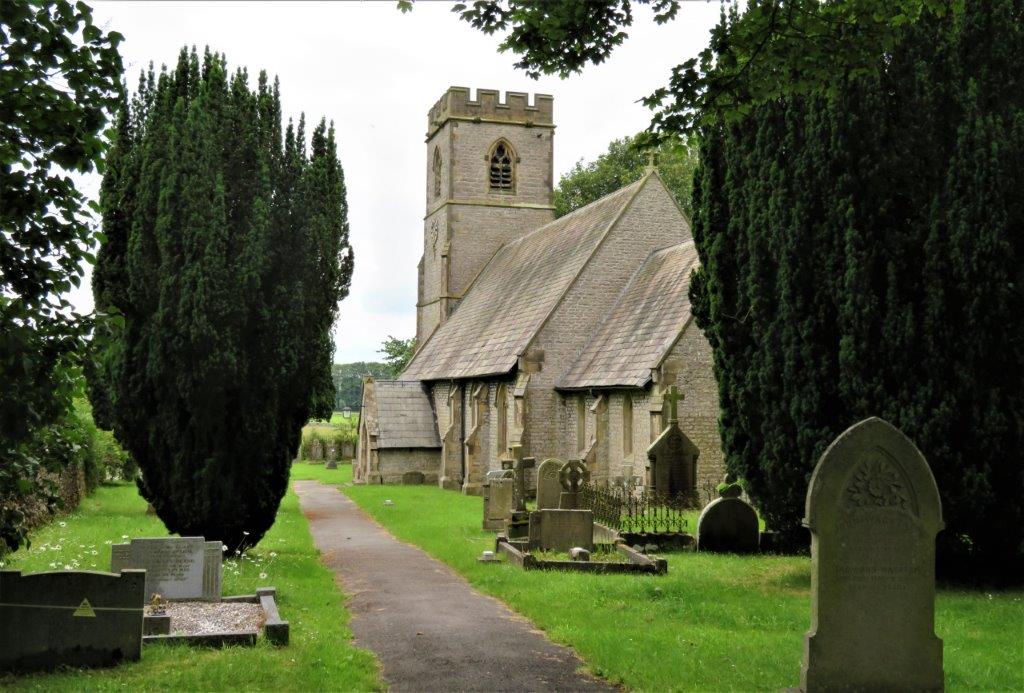 St Thomas' Church, Biggin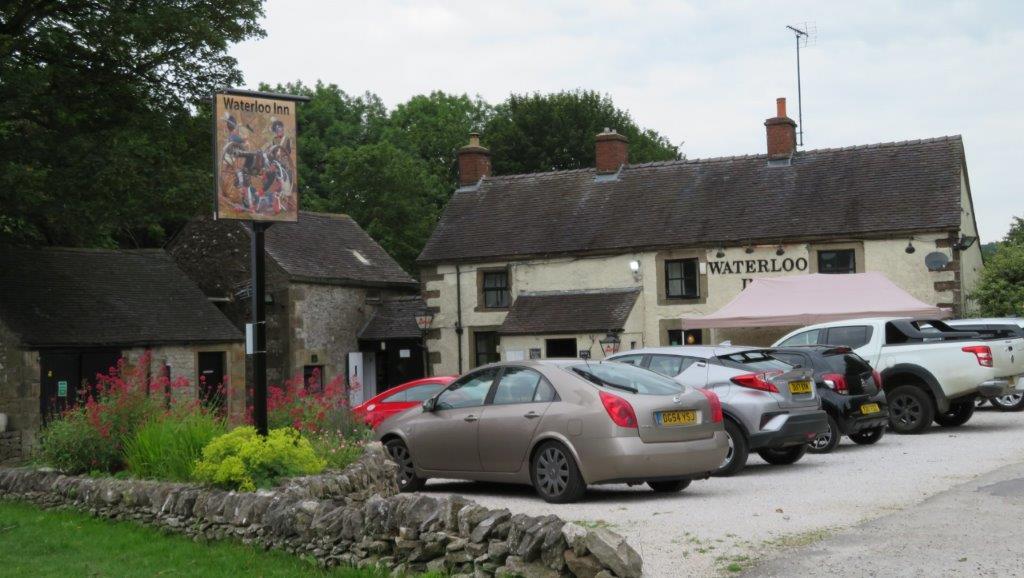 Waterloo Inn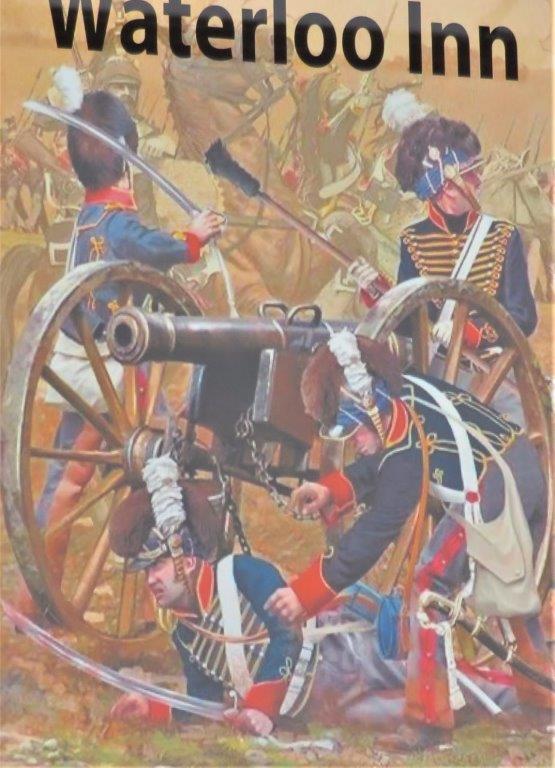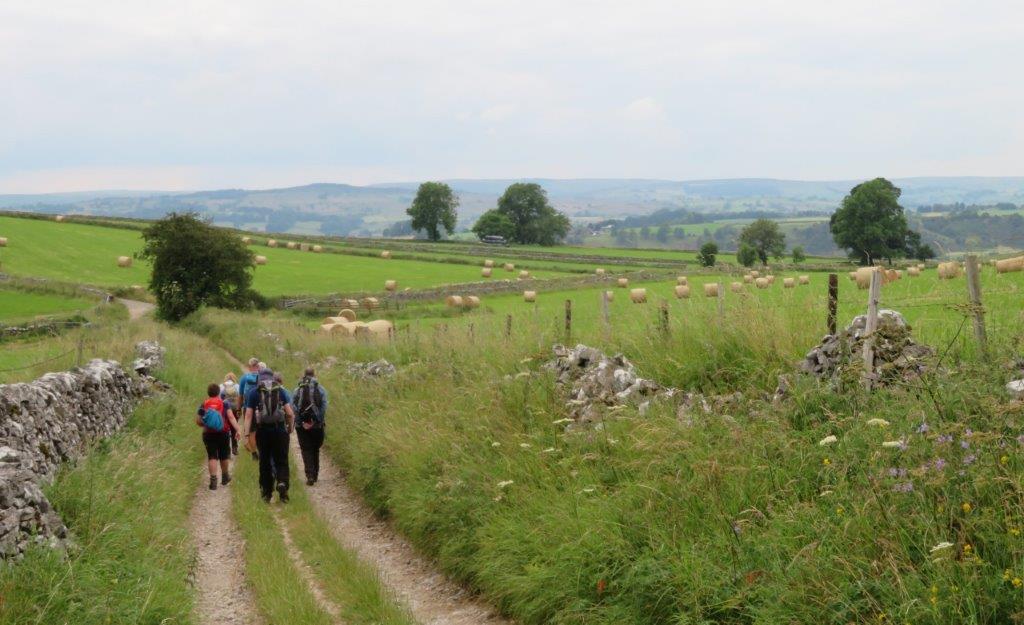 towards Reynard's Lane ahead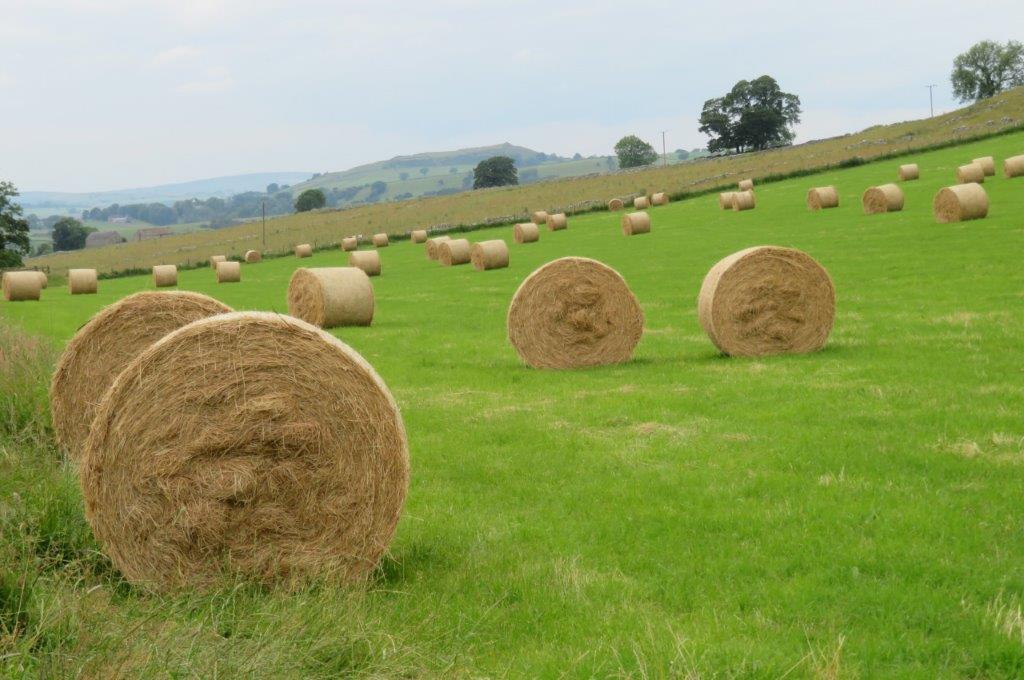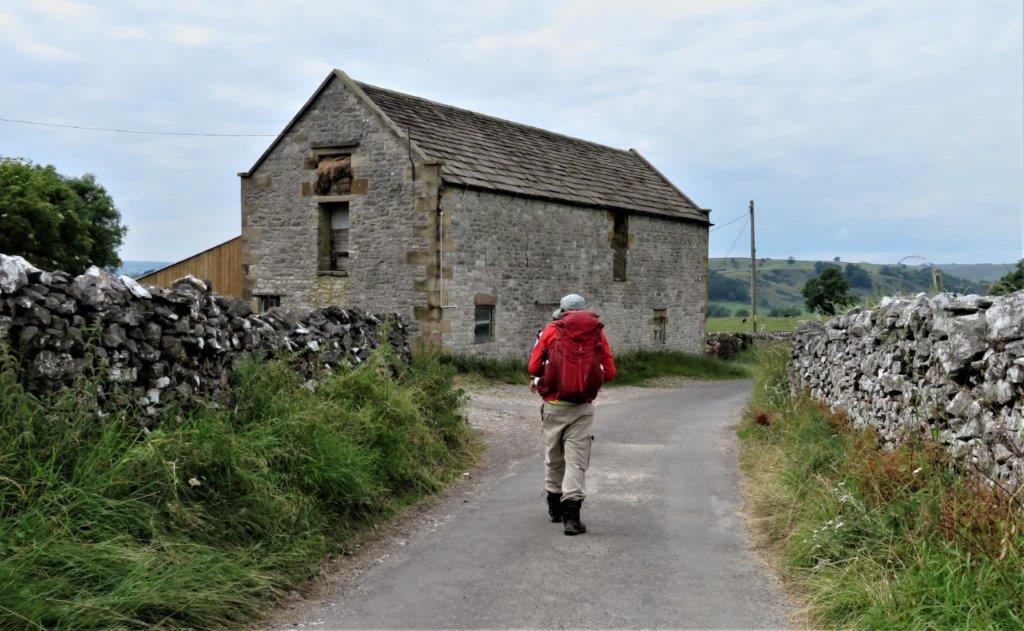 On Reynard's Lane - is this the point to turn left (West) for 200m then North into Hartington?
homepage - Daywalks Index 2019 - contact me at