homepage - Daywalks Index 2019 - contact me at

2019.06.09 Hope (Church), ~N on Edale Rd, turn off ~NNE and cross River Noe at Killhill Bridge, under Rwy, then SE turning ~NNE up to & past Twitchill Farm, ~NNW thru Top Plantation & Hope Bank short of Wooler Knoll, ~NNW on or near Roman Road to and ~200m beyond Hope Cross, ~WSW down to and across Jaggers Clough, turn ~S then WSW on path & in OAL to North side of Clough Farm, continue WSW to Lady Booth Brook, follow upstream and cross FB into Youth Hostel, ~ SW to Nether Ollerbrook, ~W thru Ollerbrook Farm / Booth to FB across Grinds Brook to PH, road ~S past Edale Church & under Rwy (nr Stn) & past P/PC, zig zag across road then ~S past Hardenclough Farm, S / E / S to Greenlands, ~E across to Hollins Cross, ~ENE just below Barker Bank, path thru Blockett Booth Plantation (not NE to Back Tor) to about 300m S below Lose Hill summit, ~ESE to Losehill Farm, continue ESE over FB across Rwy Line (to Cement Plant) and into Hope - leader Steve Hughes - Sunday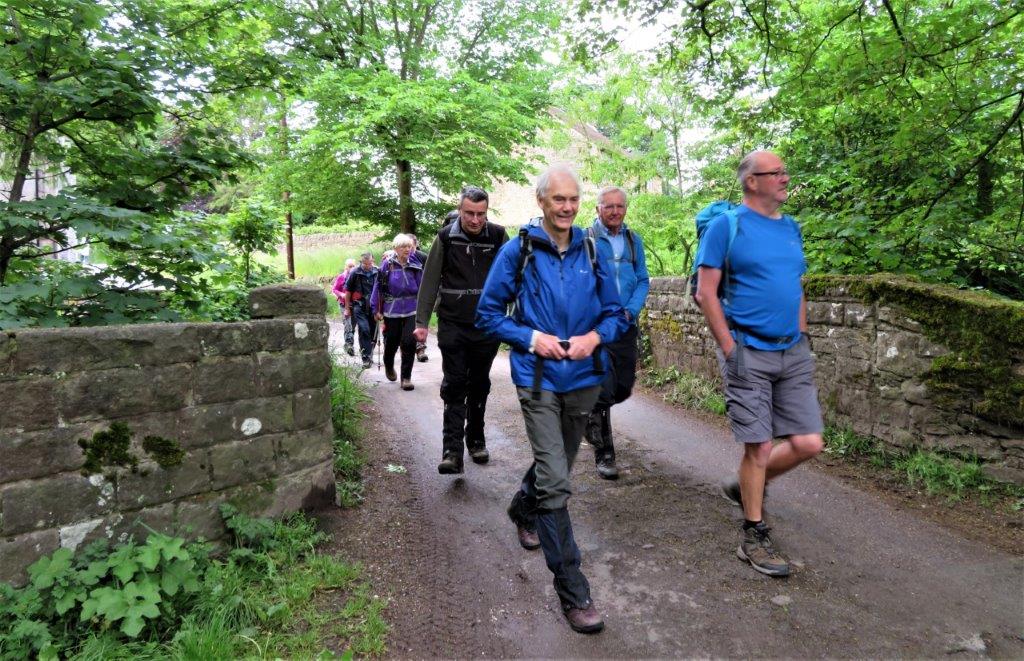 crossing Killhill Bridge over River Noe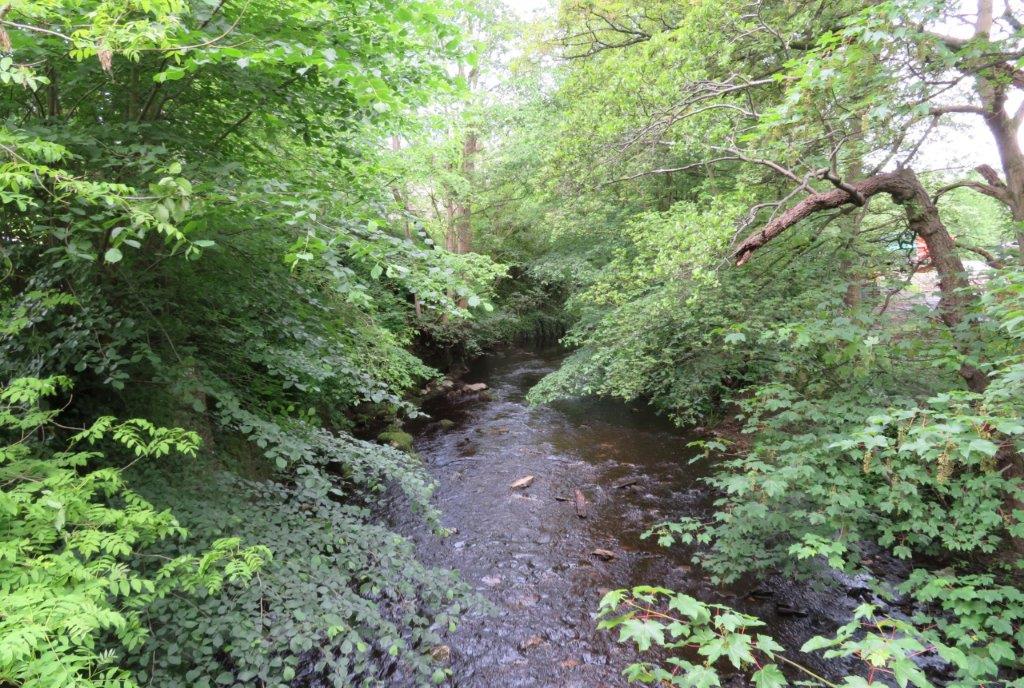 River Noe seen from bridge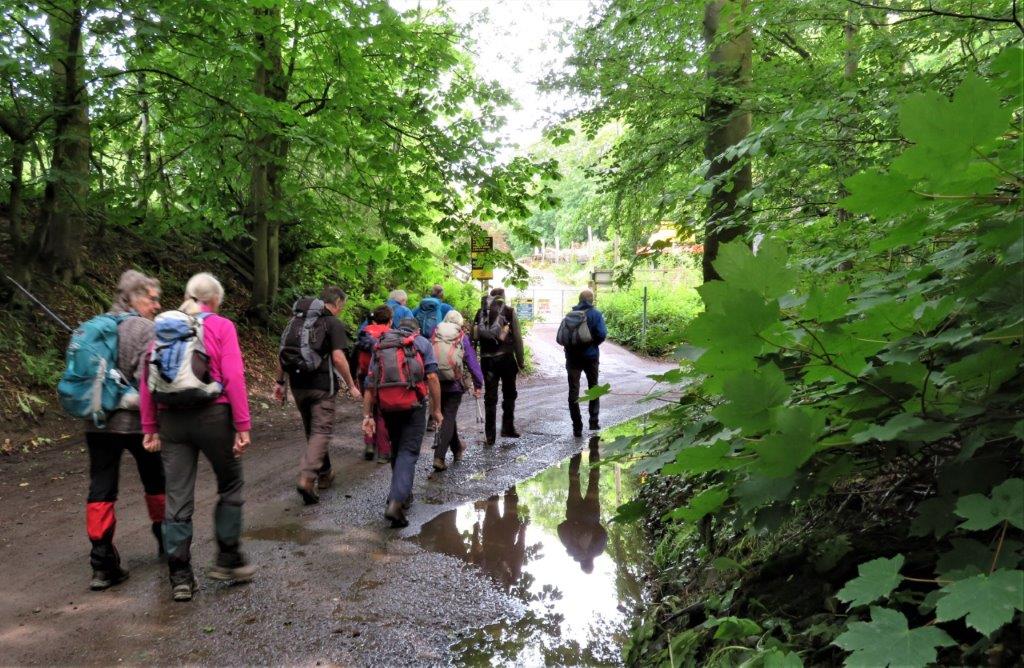 on way to Twitchill Farm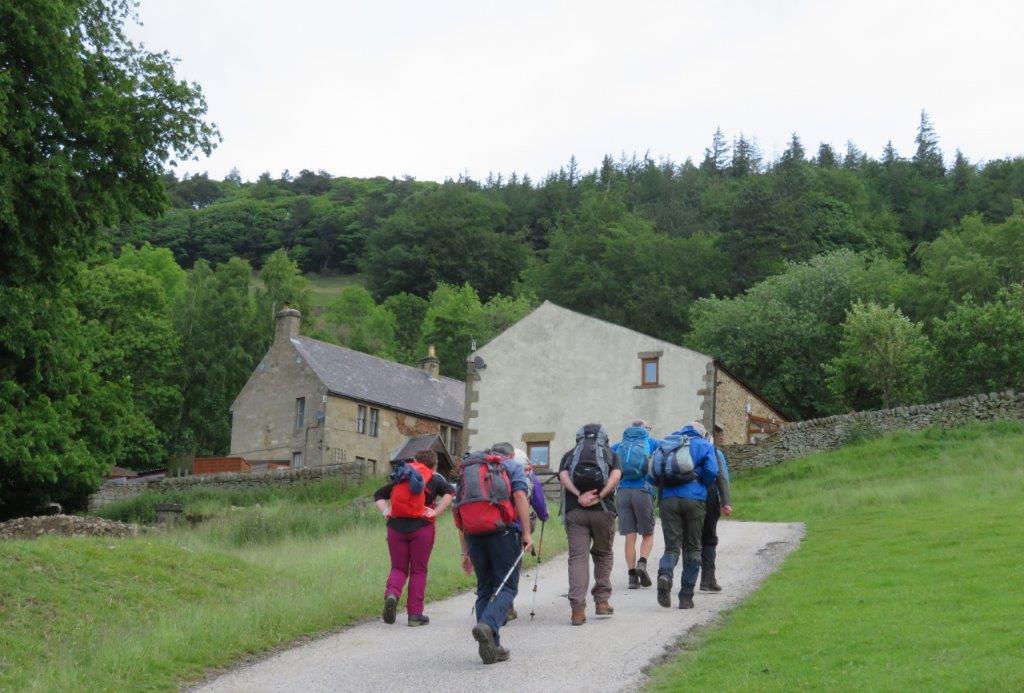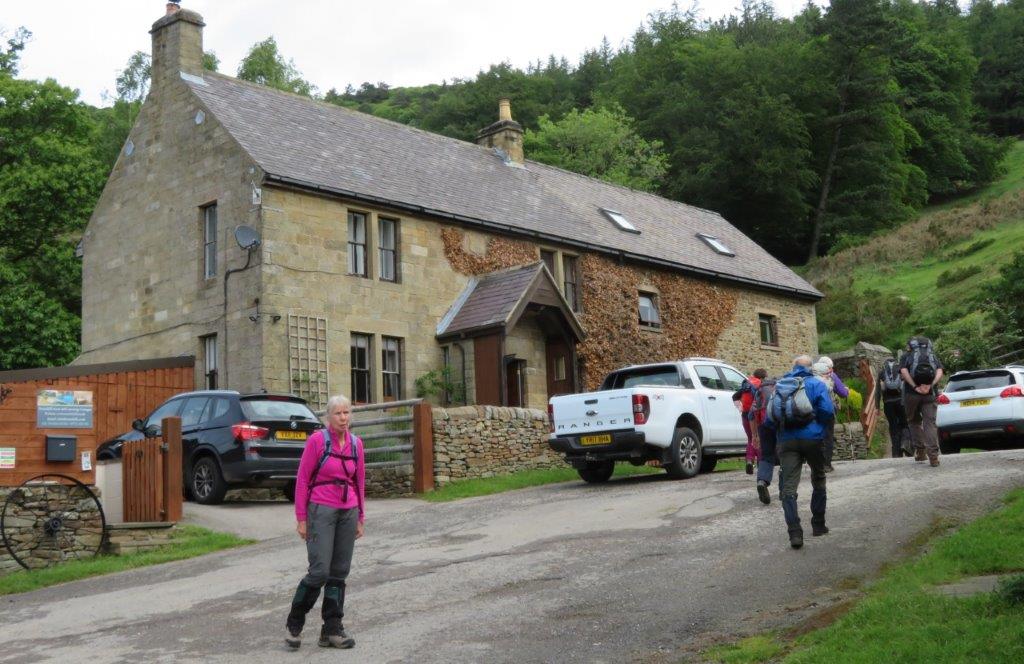 Twitchill Farm buildings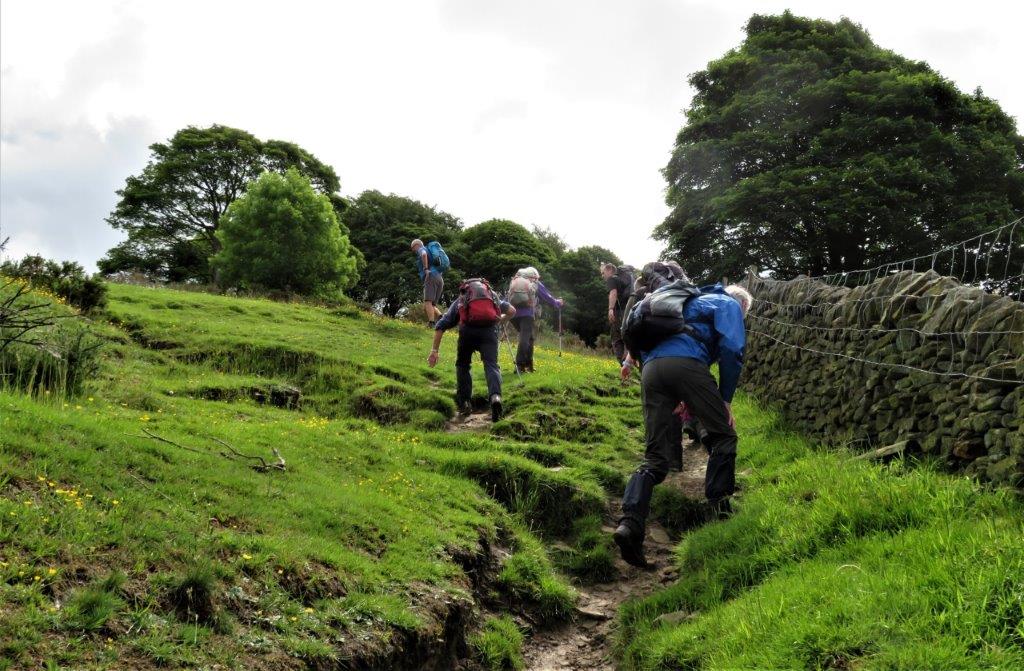 up steeply up from Twitchill Farm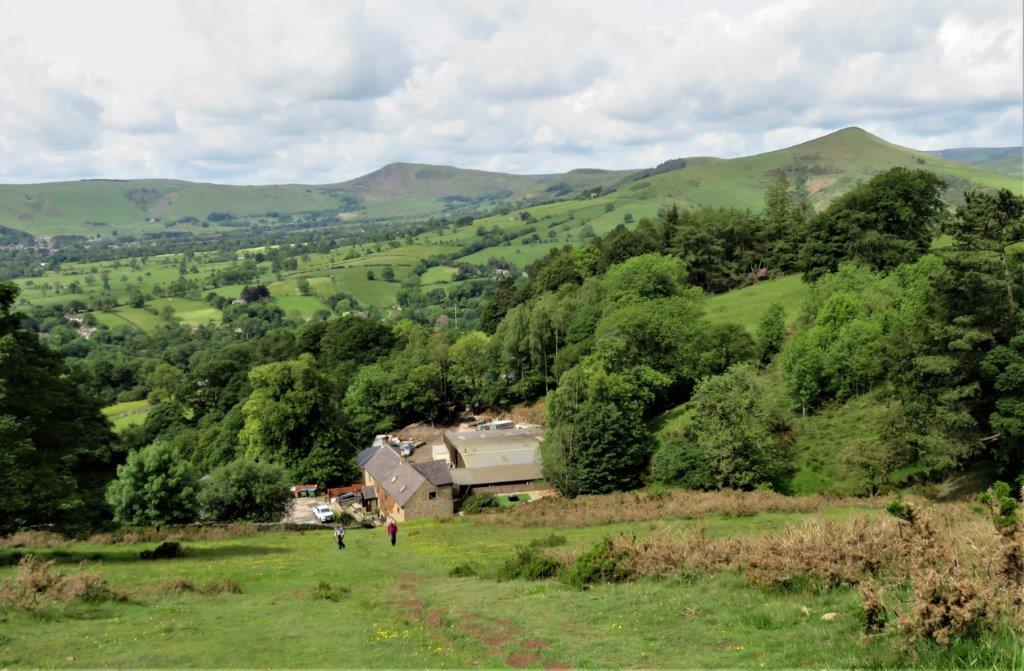 looking down at Twitchill Farm - at back - Lose Hill to right & Mam Tor to left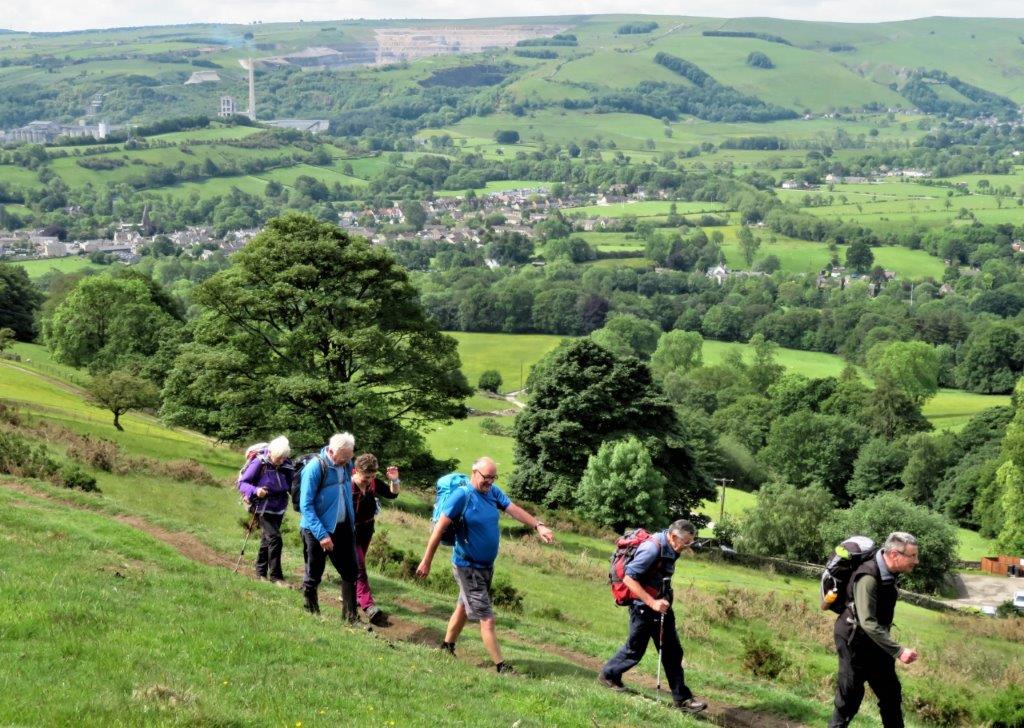 In valley to left Hope village with Hope Cement plant above it to left. Its limestone quarry at top centre of picture
from above Twitchell Farm heading heading through Hope bank toward Wooler Knoll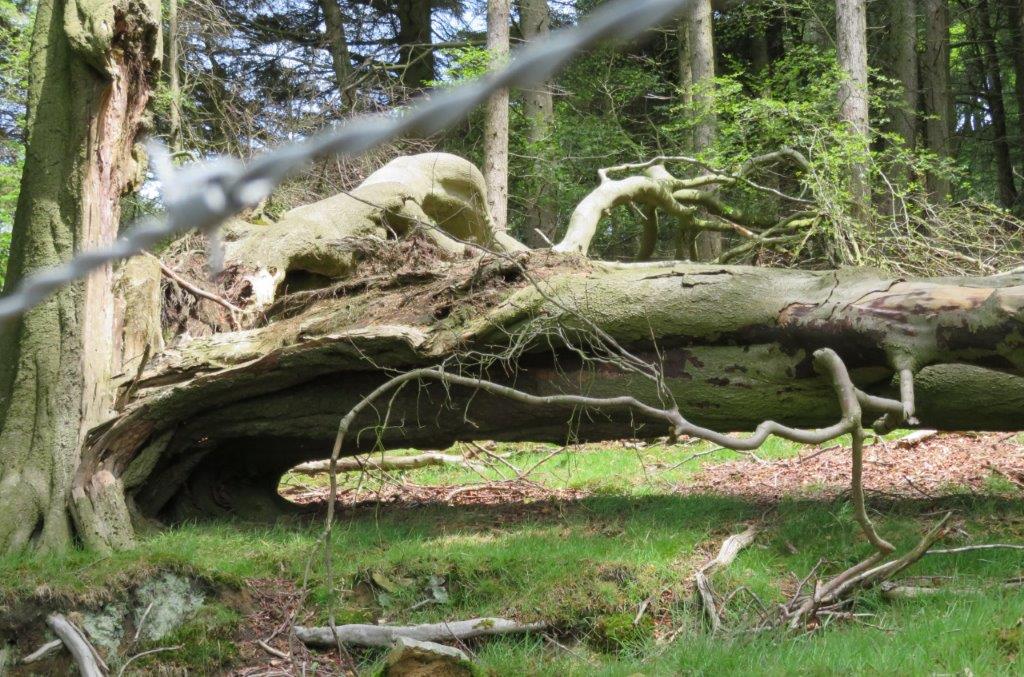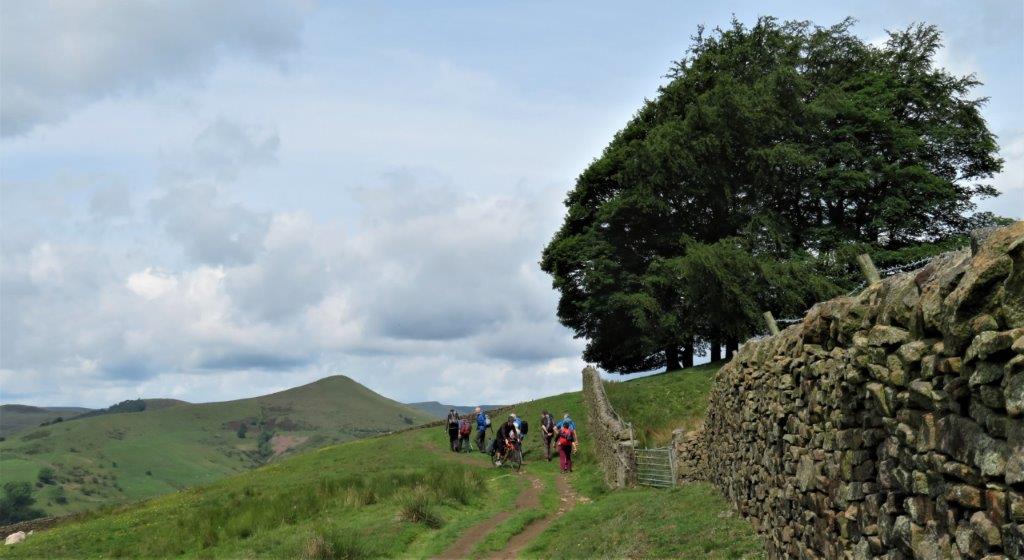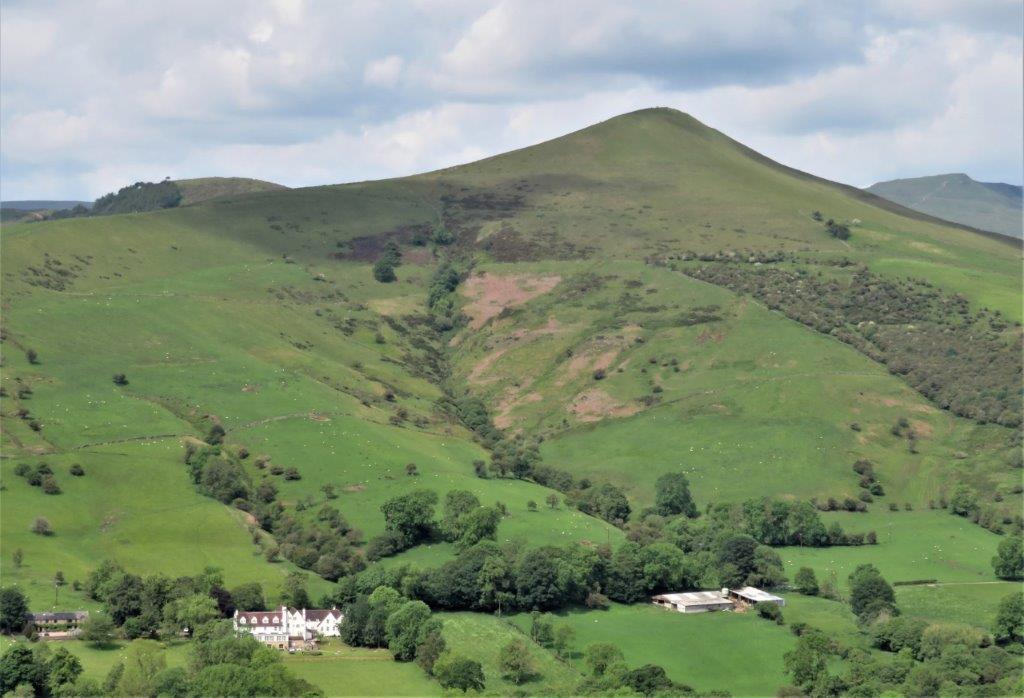 'Guest House' and Farm on east side of Lose Hill Hill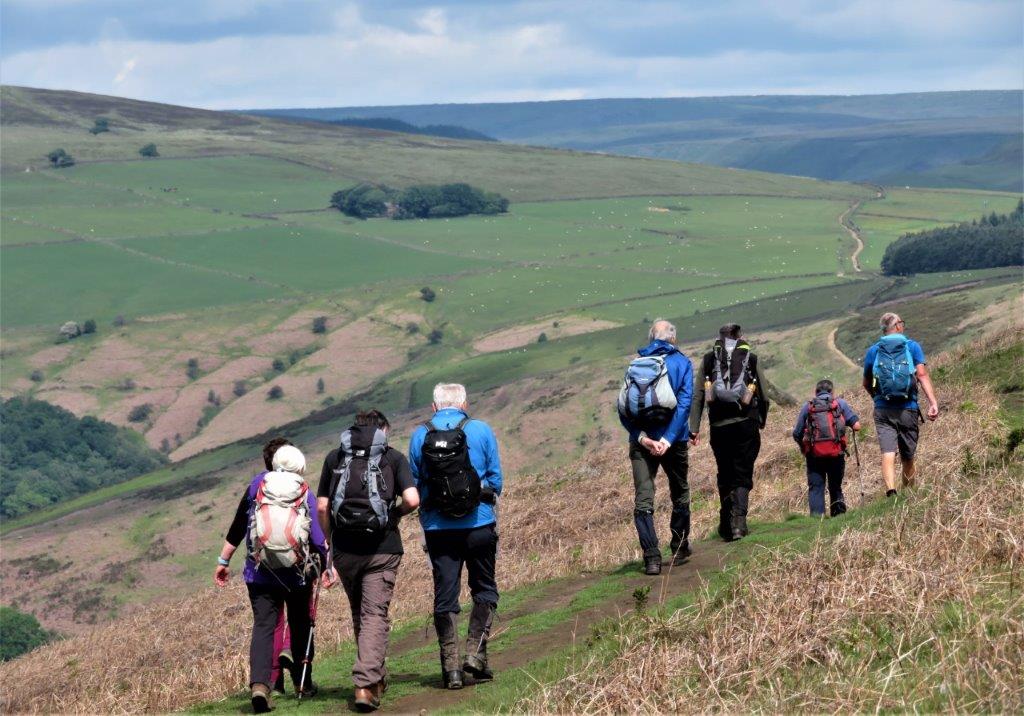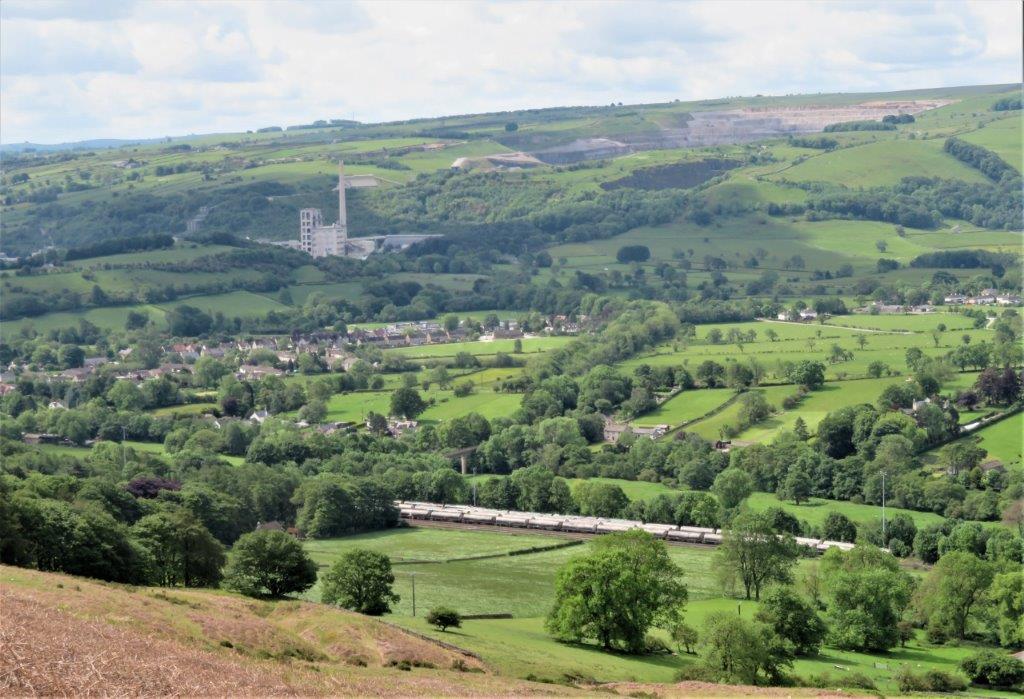 rail wagons for cement from the Hope Cement Plant?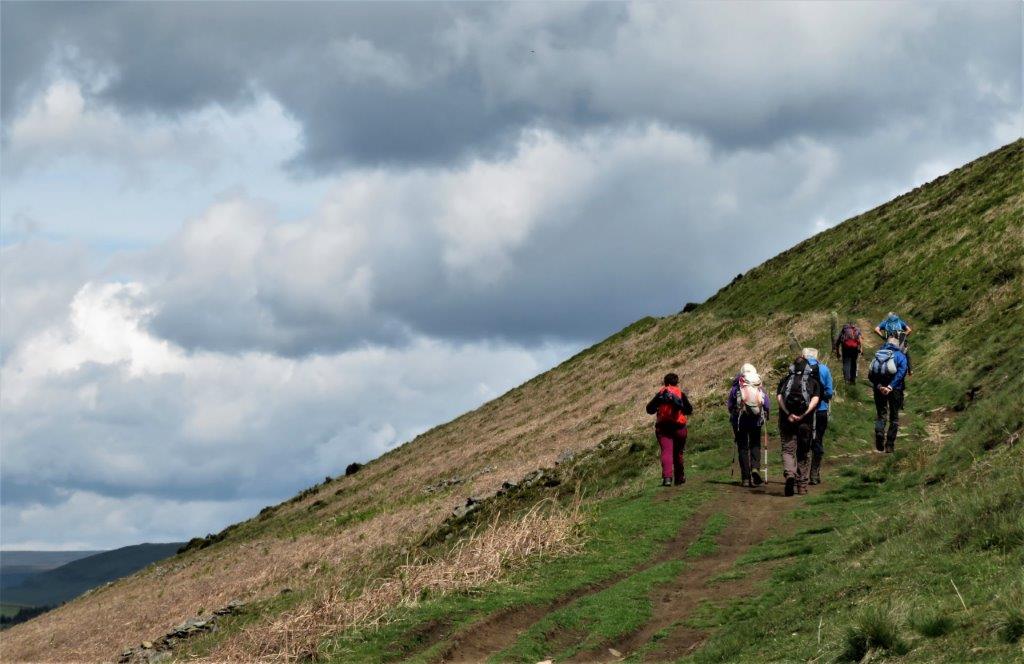 On the Roman Road?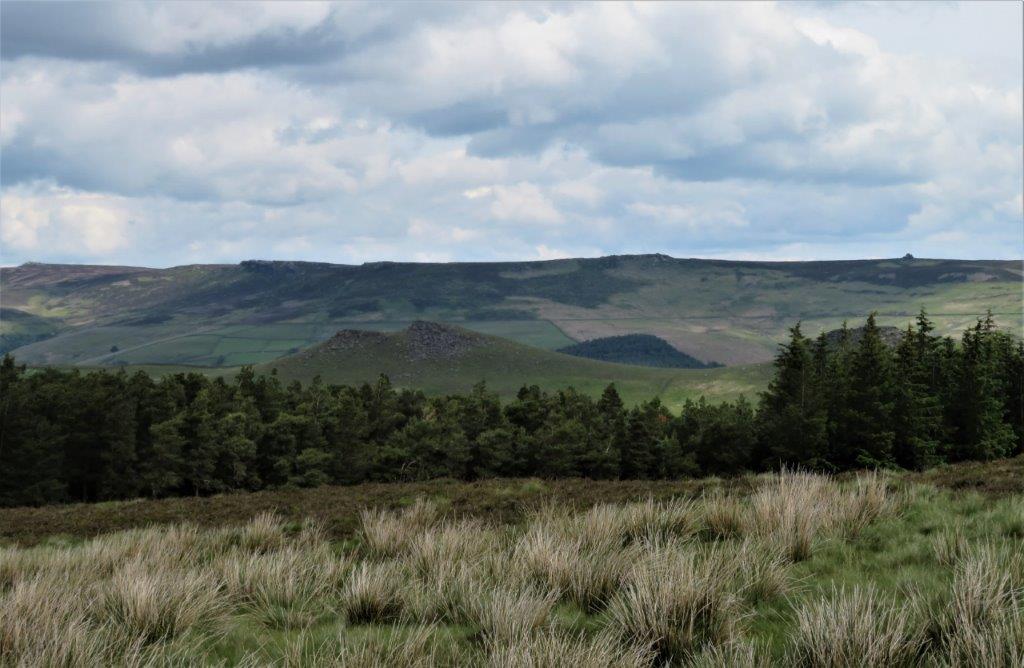 looking across Snake Road at Crook Hill mid left with Derwent Edge across the top. Wheel Stones just visible top right.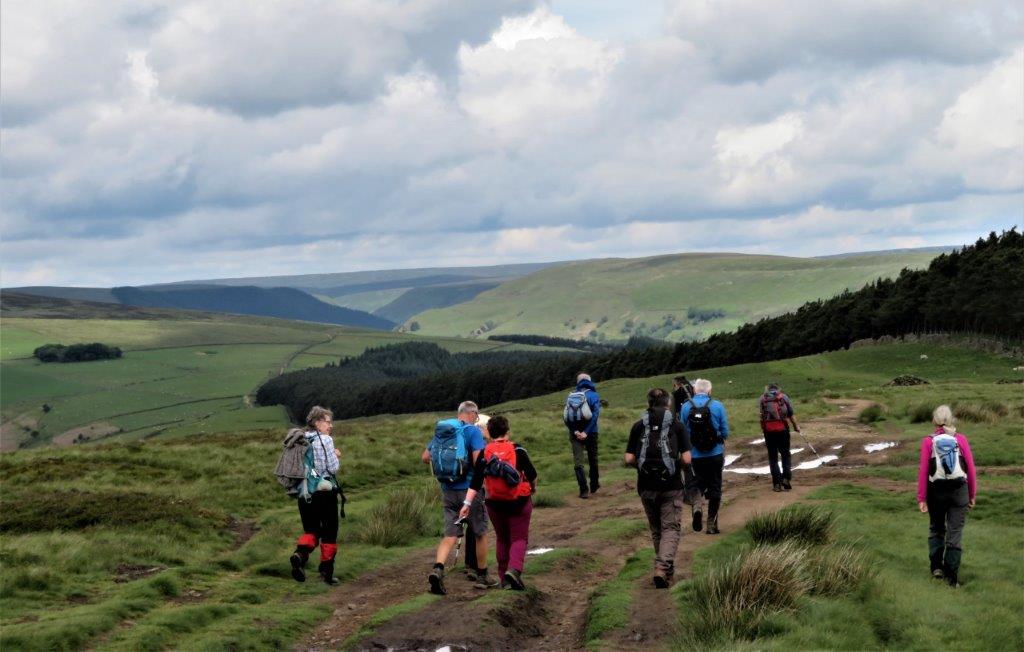 heading down toward Hope Cross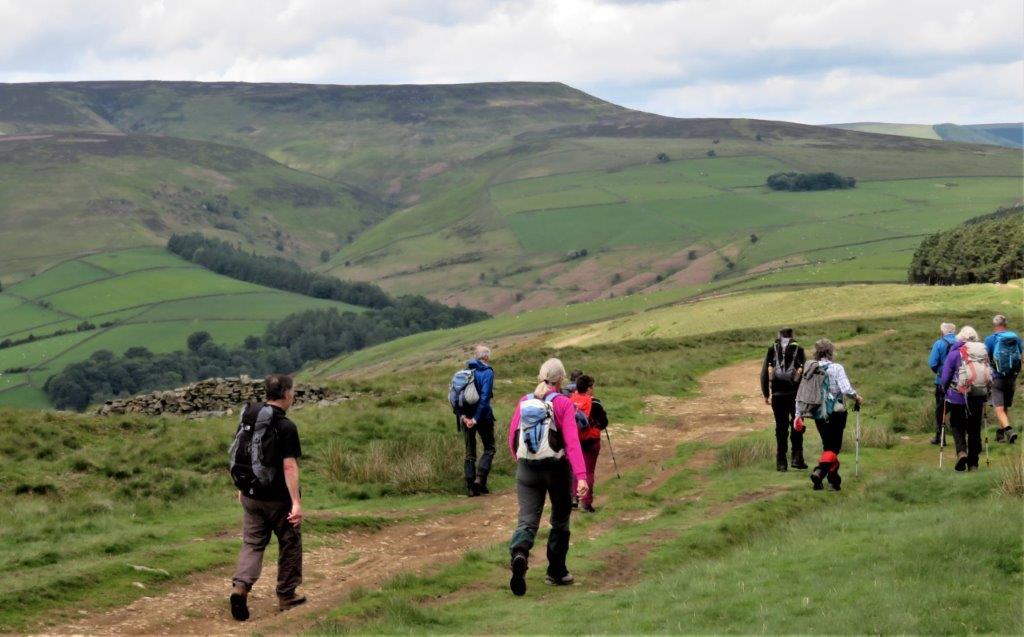 on left Jaggers Clough winding down from Kinder past Backside Wood - its stream flows into the River Noe near Upper Fulwood Farm?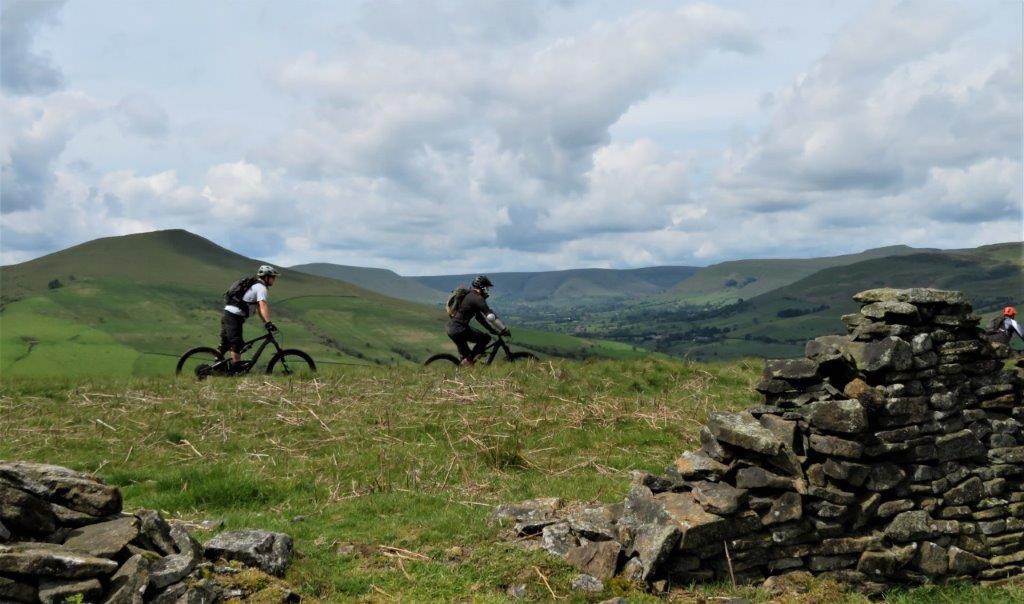 cyclists on Roman Road with Lose Hill behind to left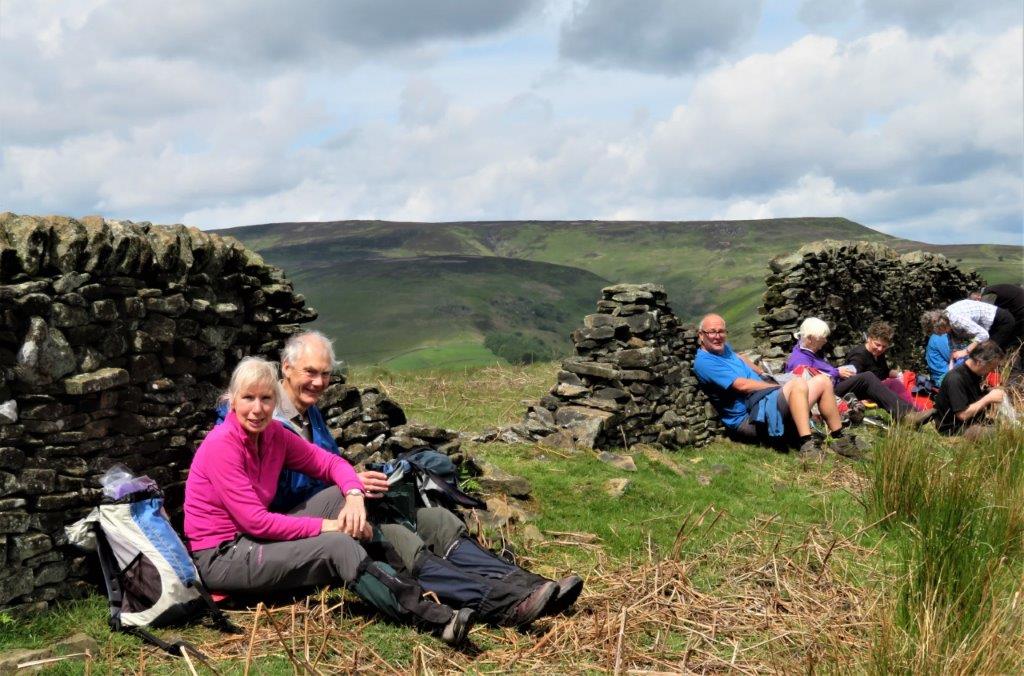 sheltering for a tea break behind dry stone wall along top of Woodland Valley 'woods'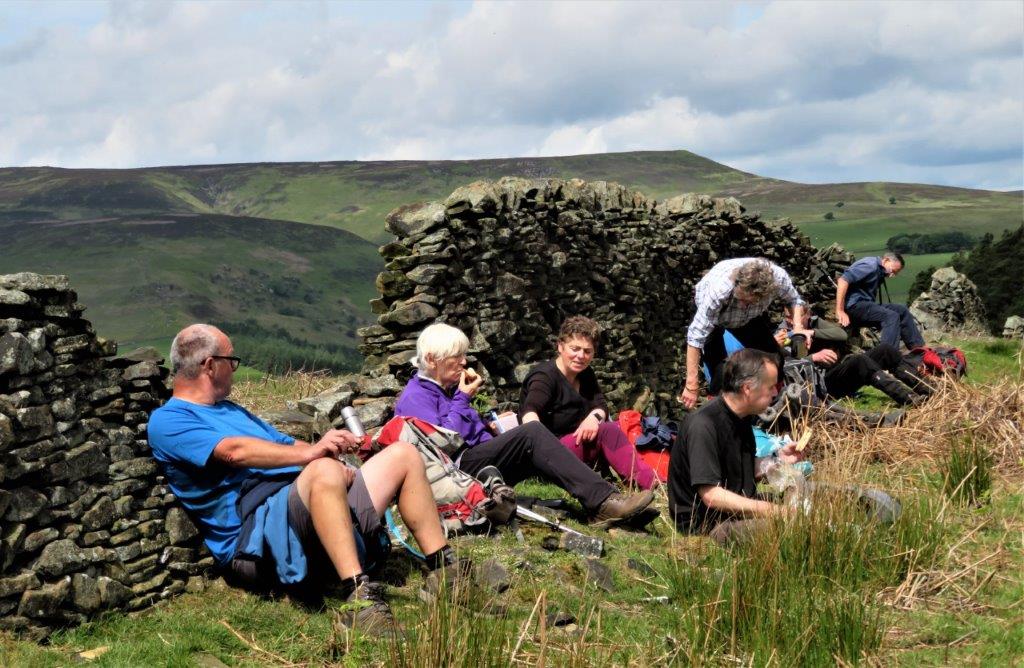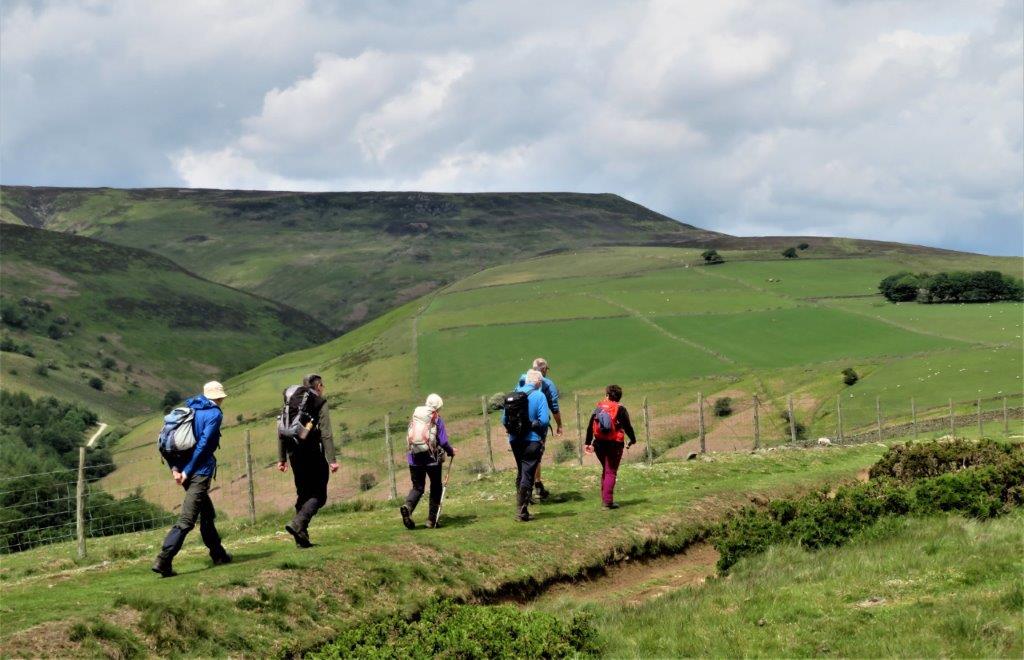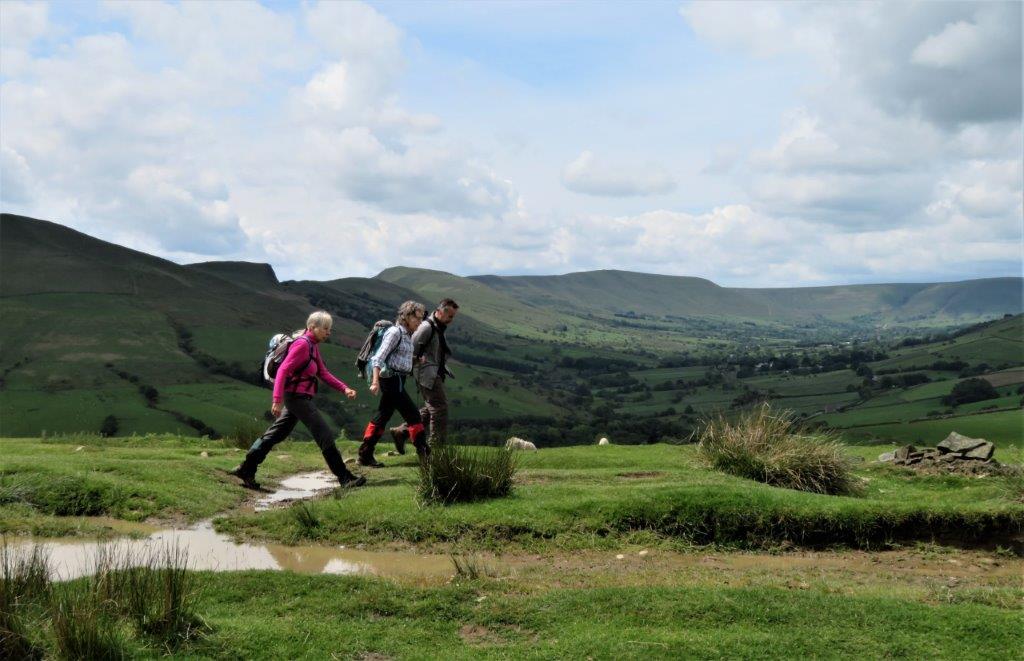 ridge running from Lose Hill (left) to Mam Tor and Rushup Edge etc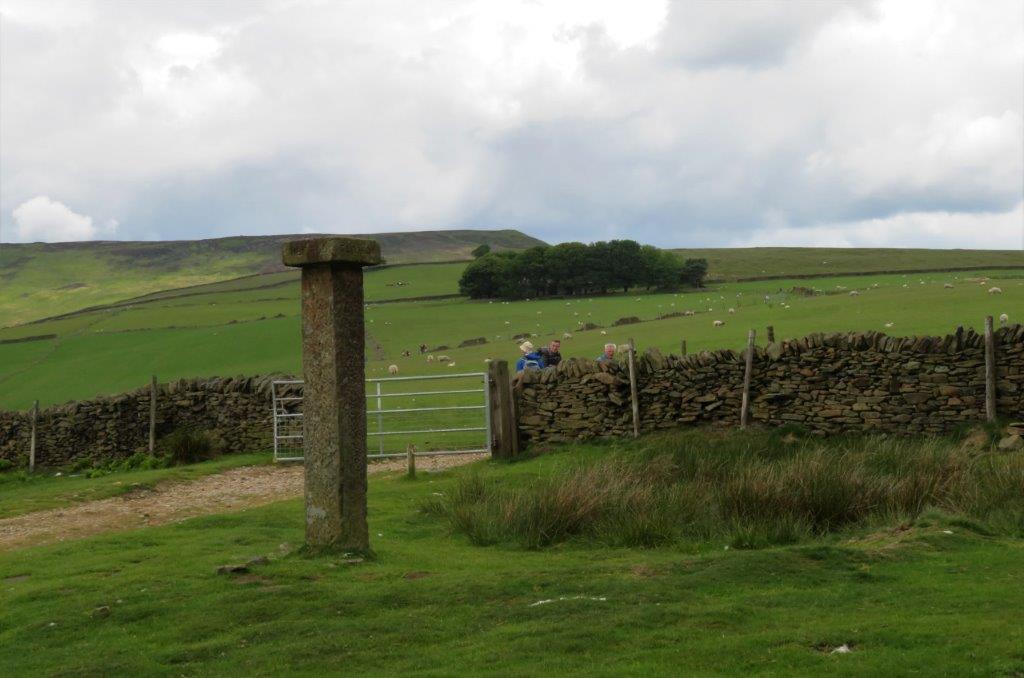 Hope Cross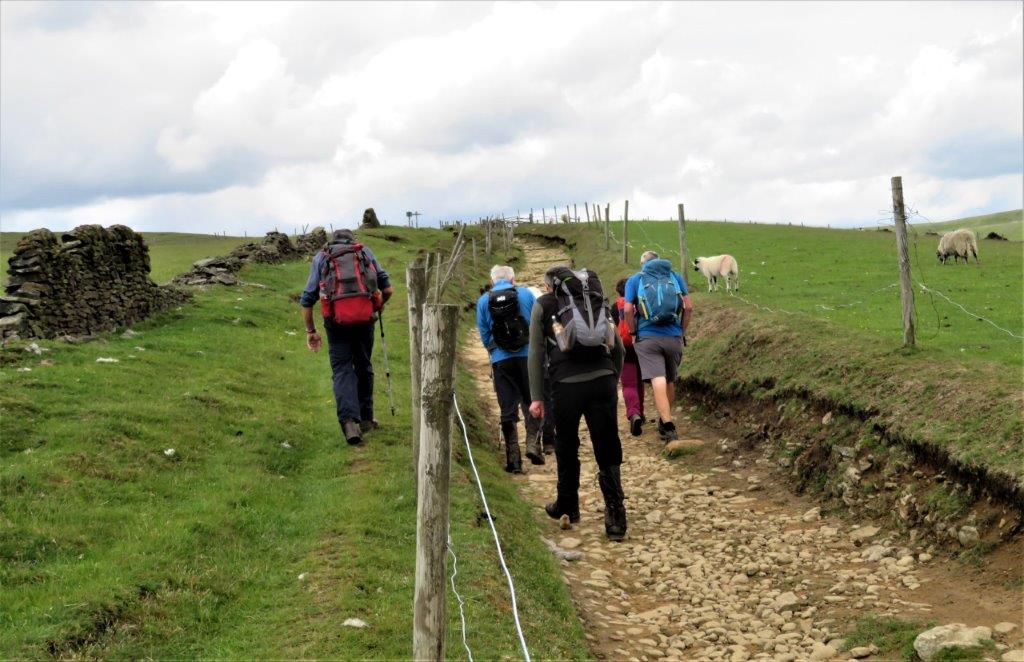 along Roman Road - eroded with 2000 years of use - or in more recent years by motorised vehicles, walkers and cyclists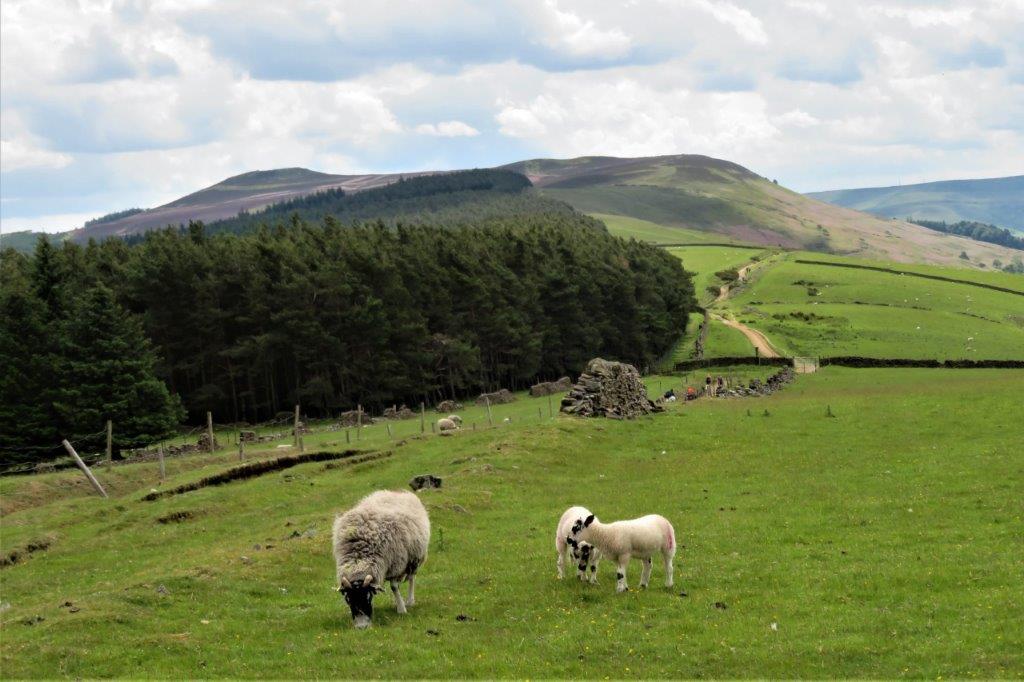 Win Hill Pike top left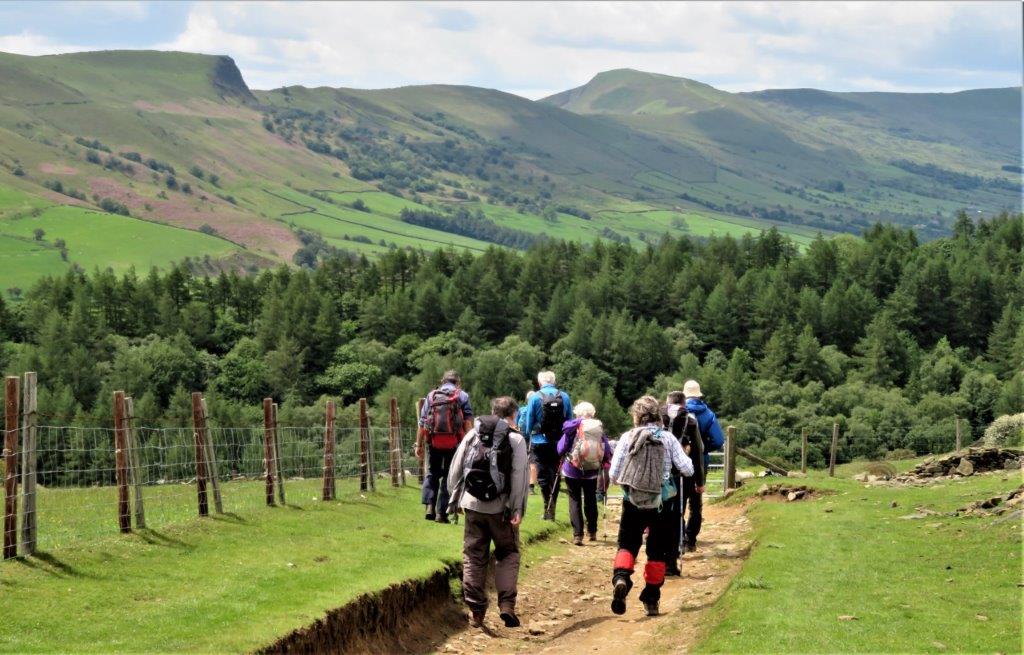 descending ~WSW to Jaggers Clough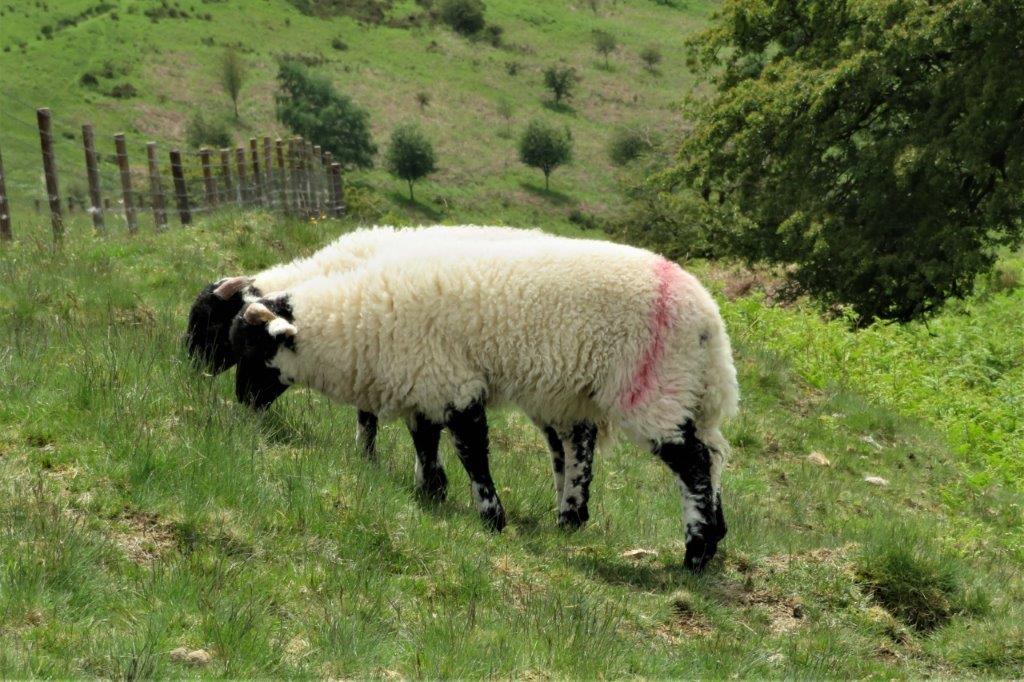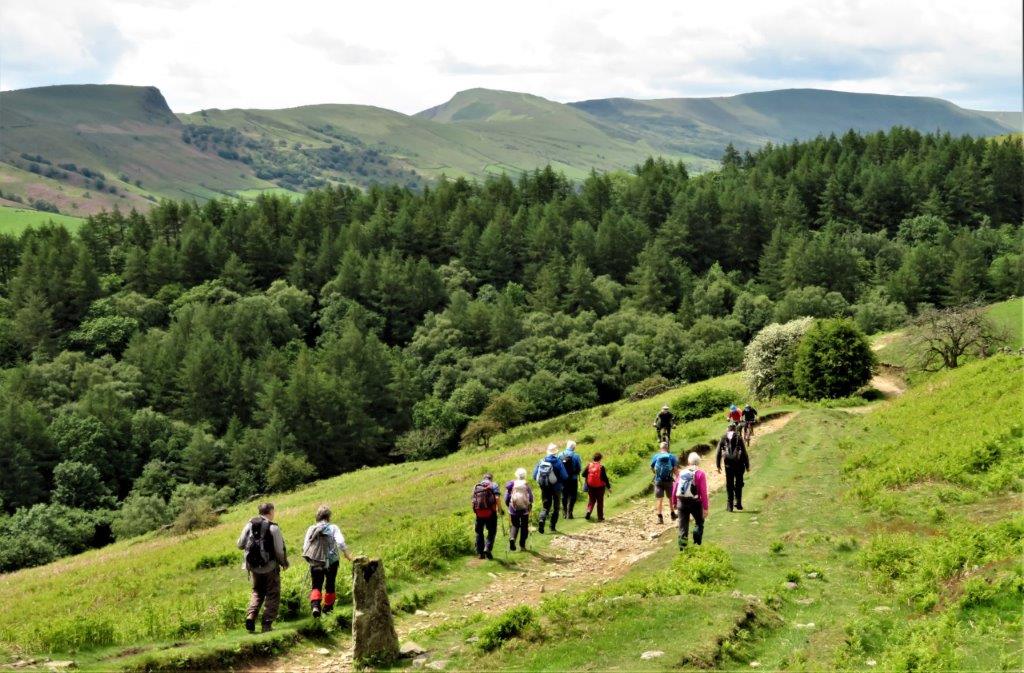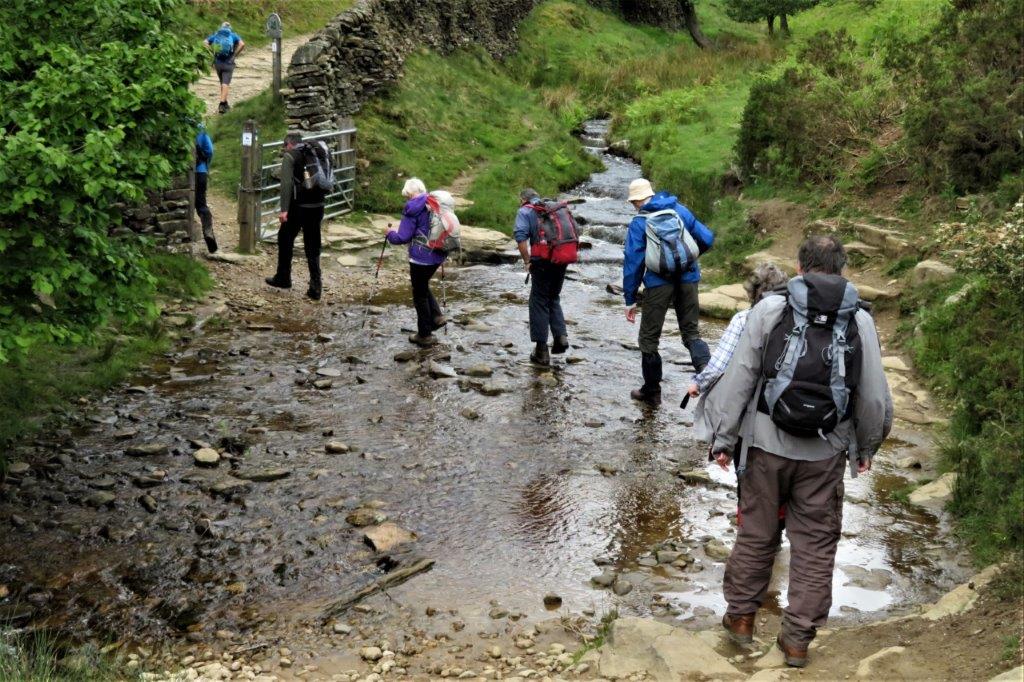 stream in Jaggers Clough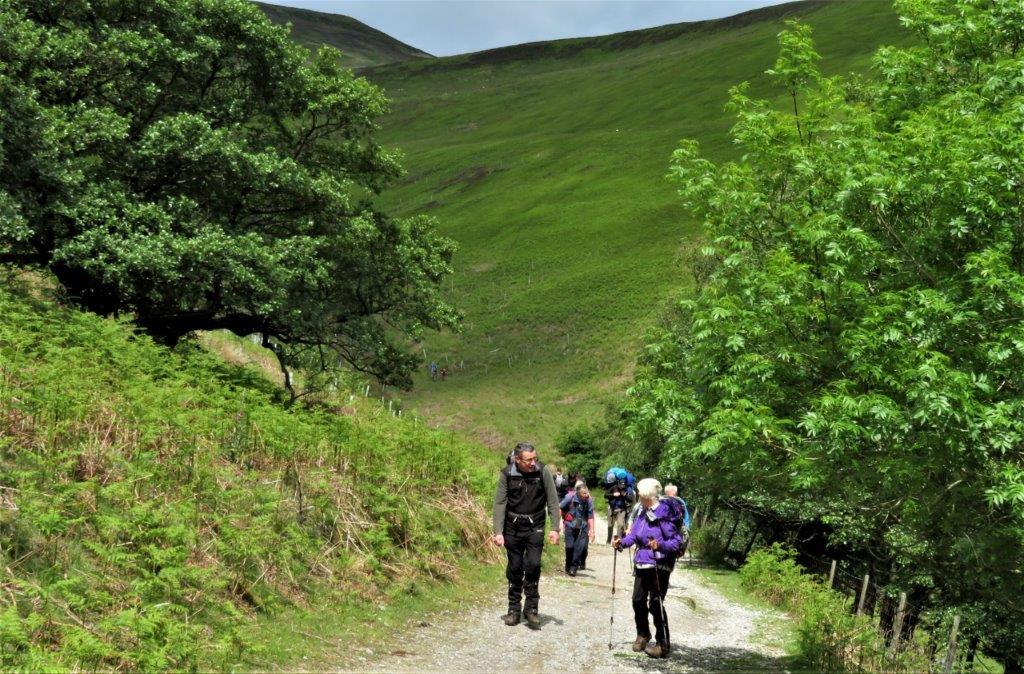 heading up from Jaggers Clough before turning towards Edale Youth Hostel. In middle of picture 3 of party just visible leaving us & climbing up Jaggers Clough to Kinder.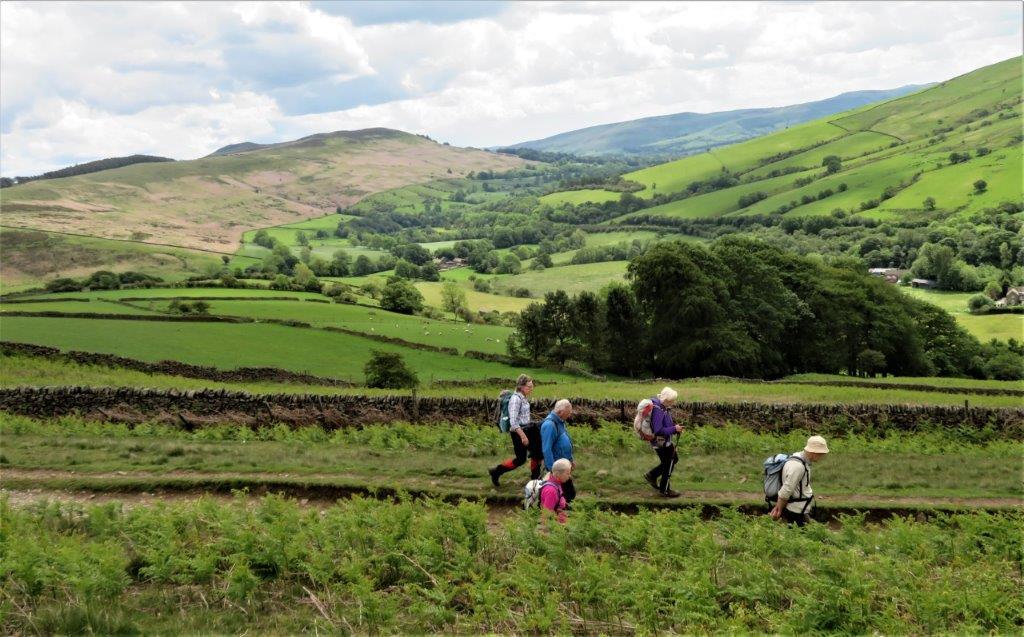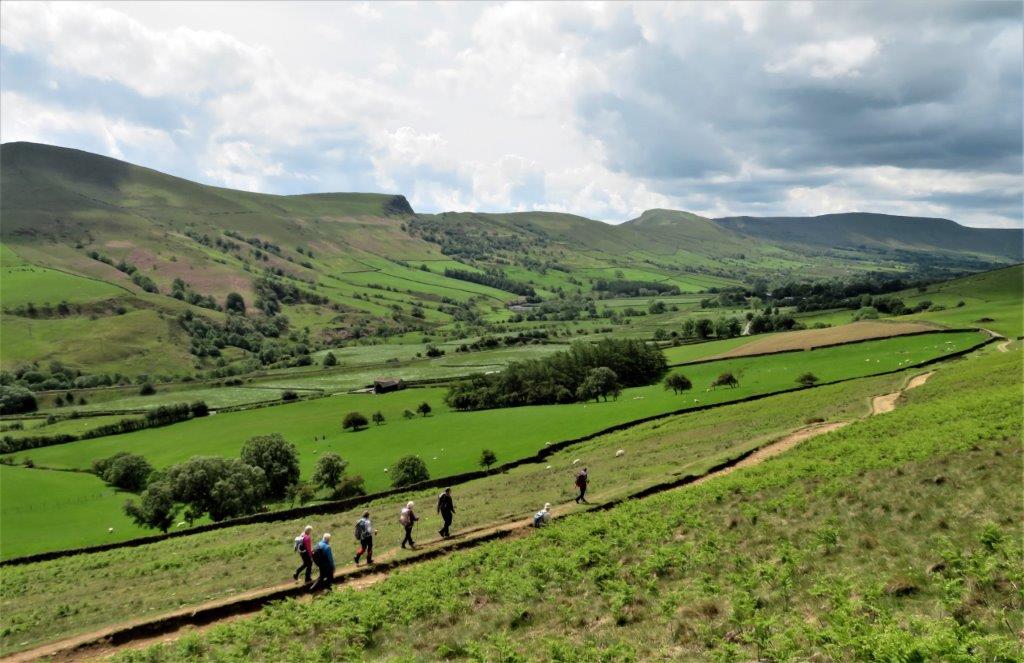 Vale of Edale to our left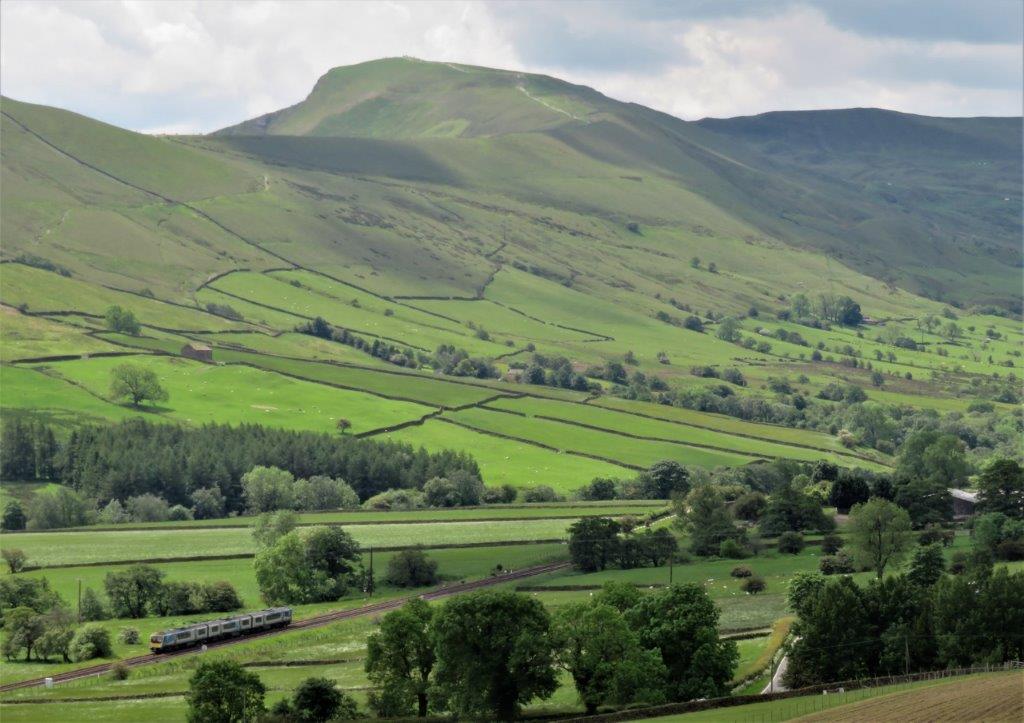 path up Mam Tor from ridge just visible. Train below in Edale Valley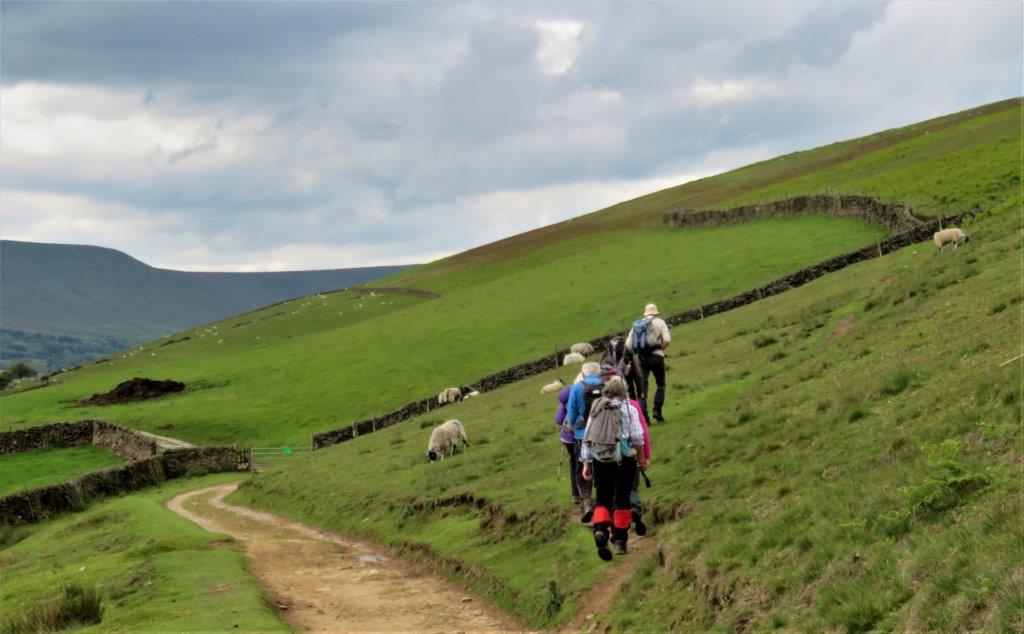 turning off Bridleway through Open Access Land to follow informal path behind dry stone wall to north side of Clough Farm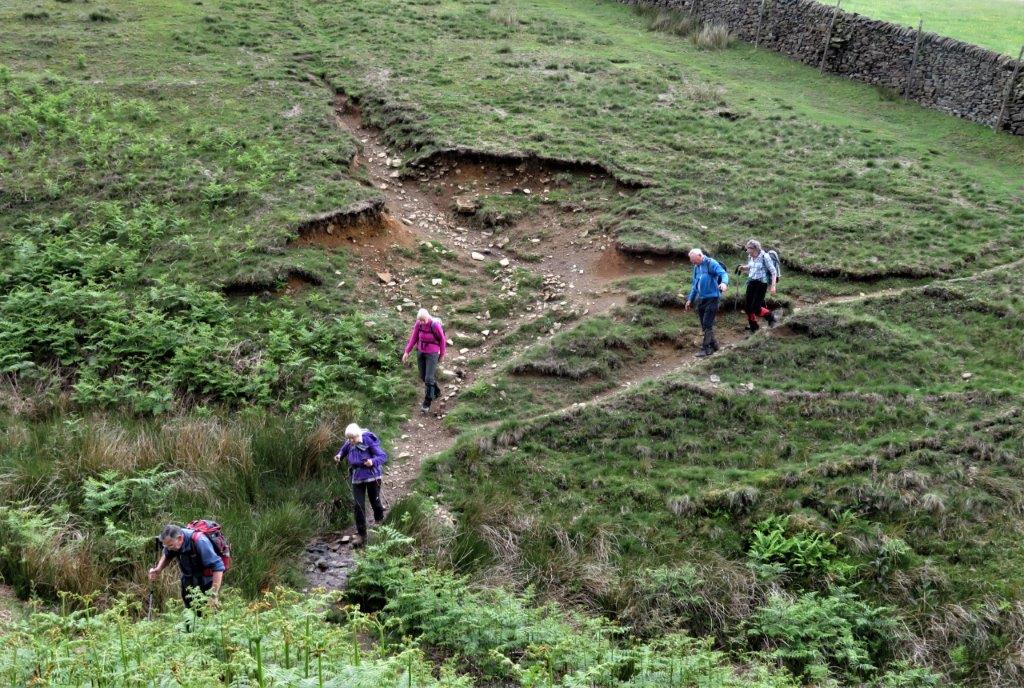 descending to cross small stream near Clough Farm.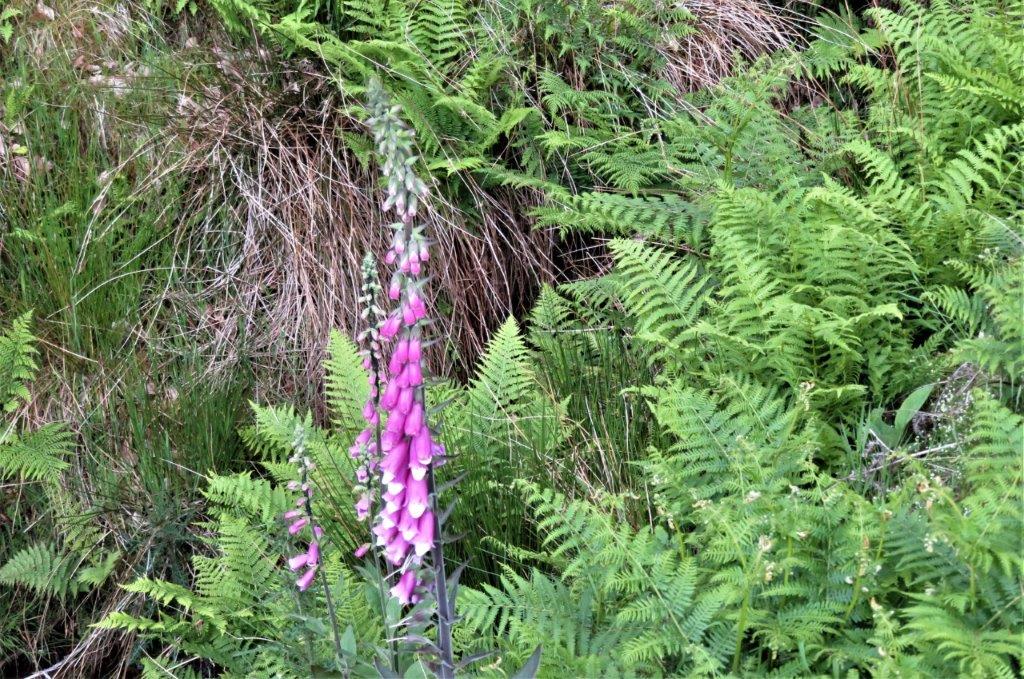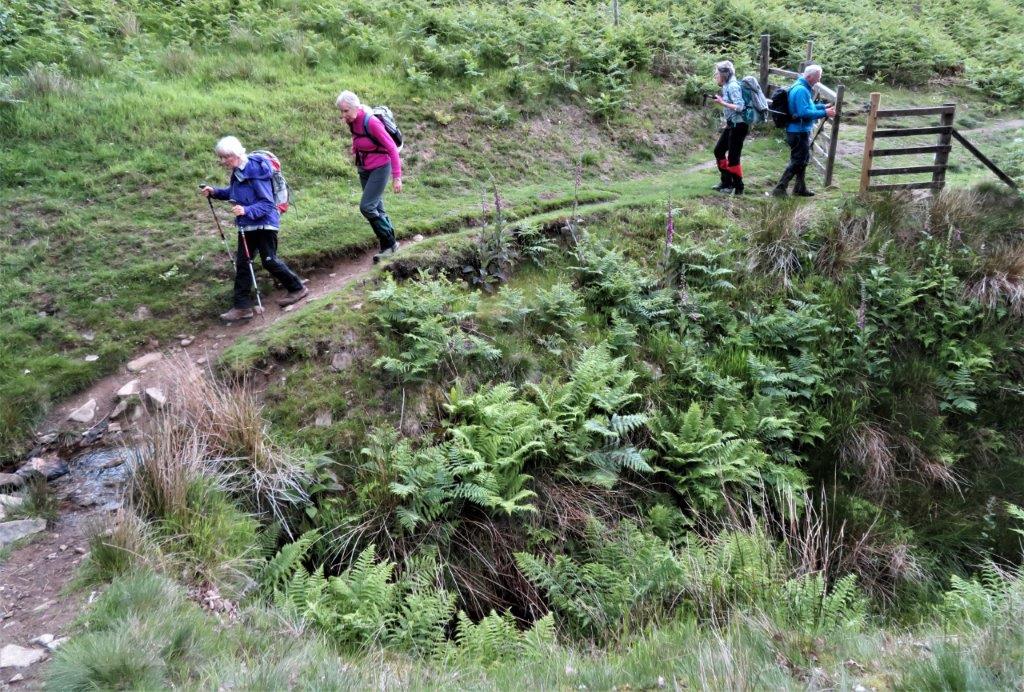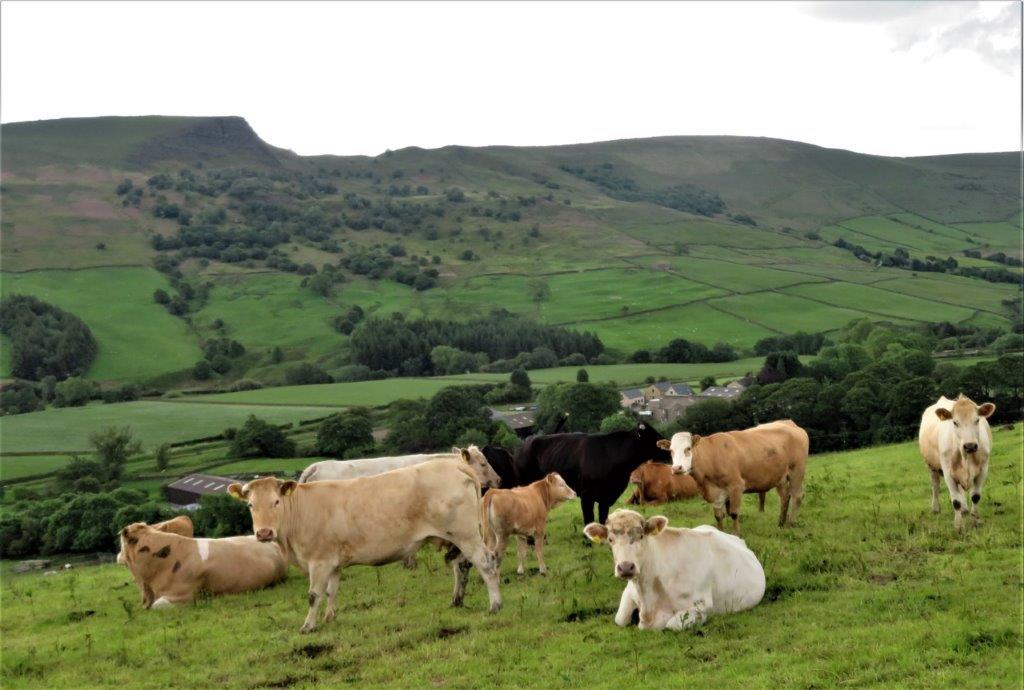 Back Tor - 'step' to left top seen across valley. Nether Booth seen to right below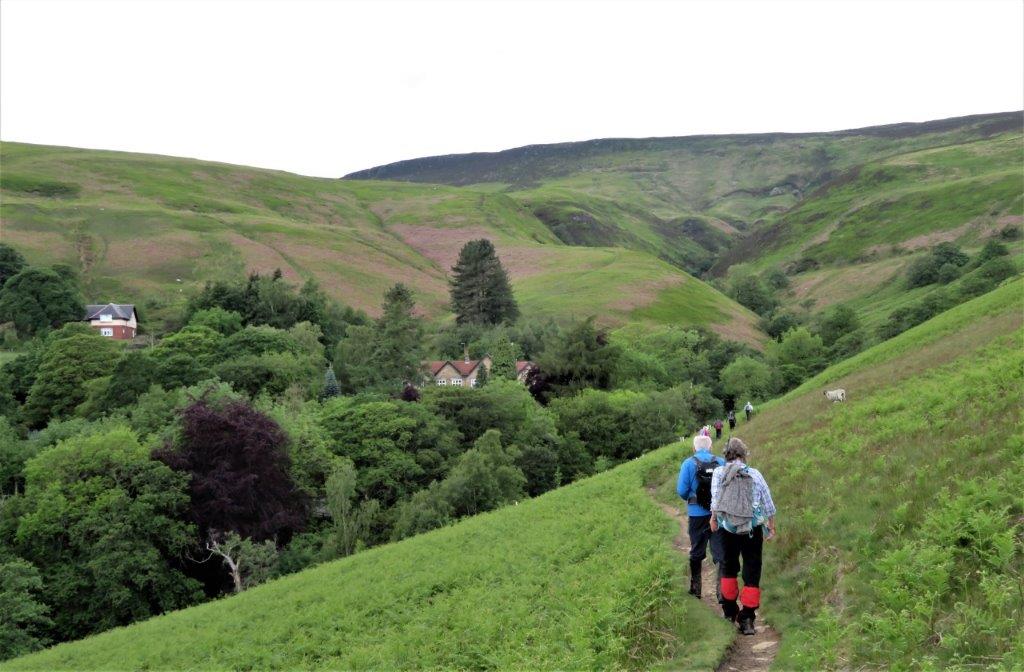 heading toward Lady Booth Brook - Edale Youth Hostel visible across brook in centre of picture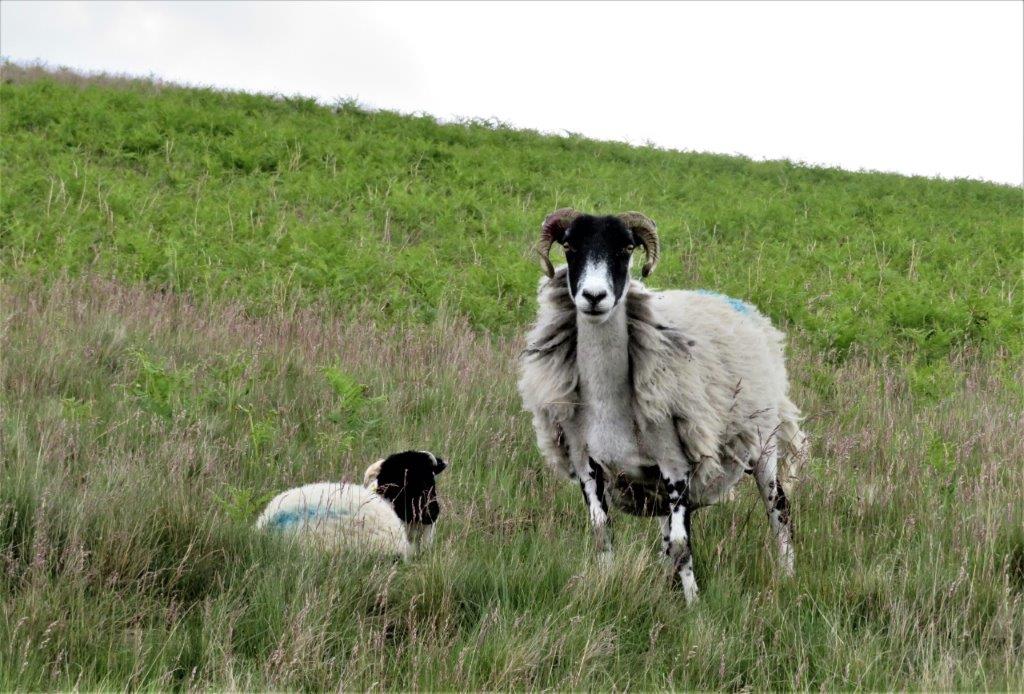 sheep apparently moulting after missing possible annual shearing?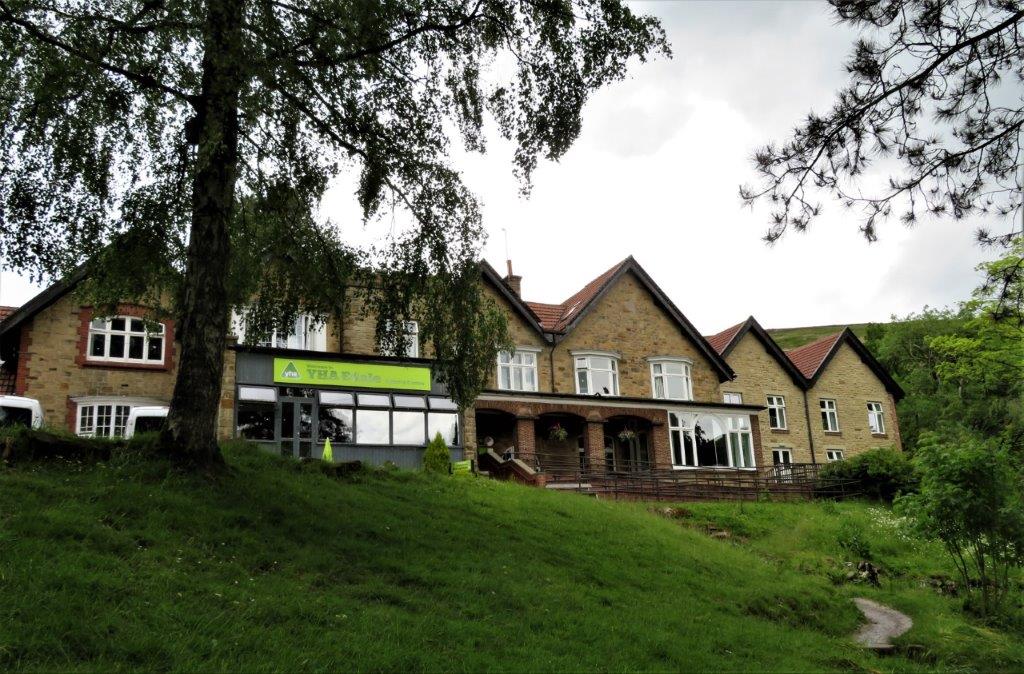 Edale Youth Hostel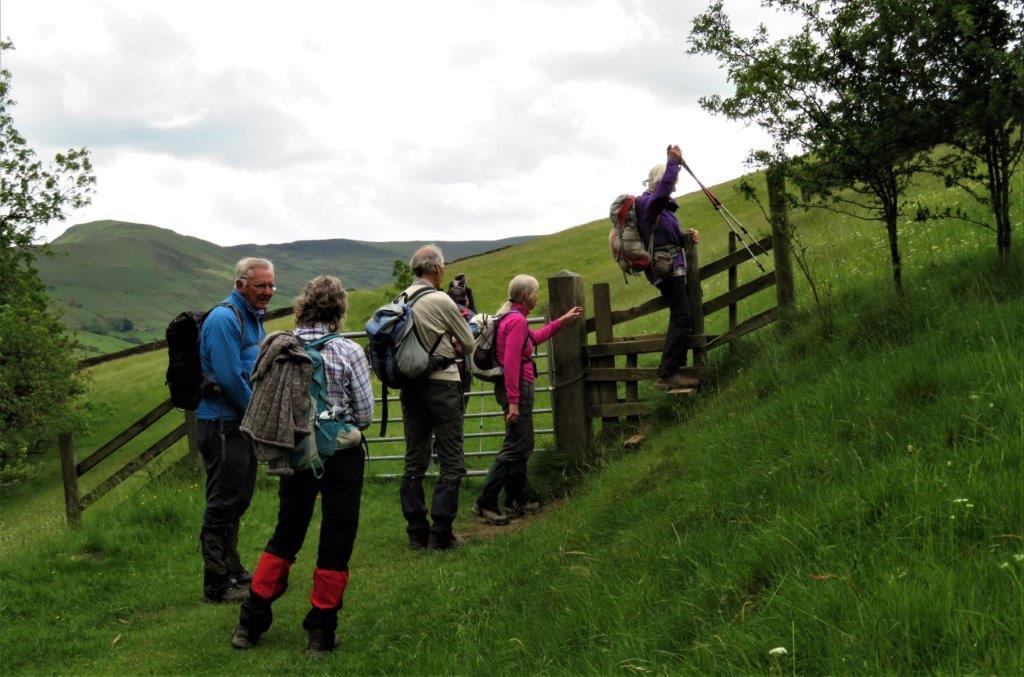 leaving Youth Hostel area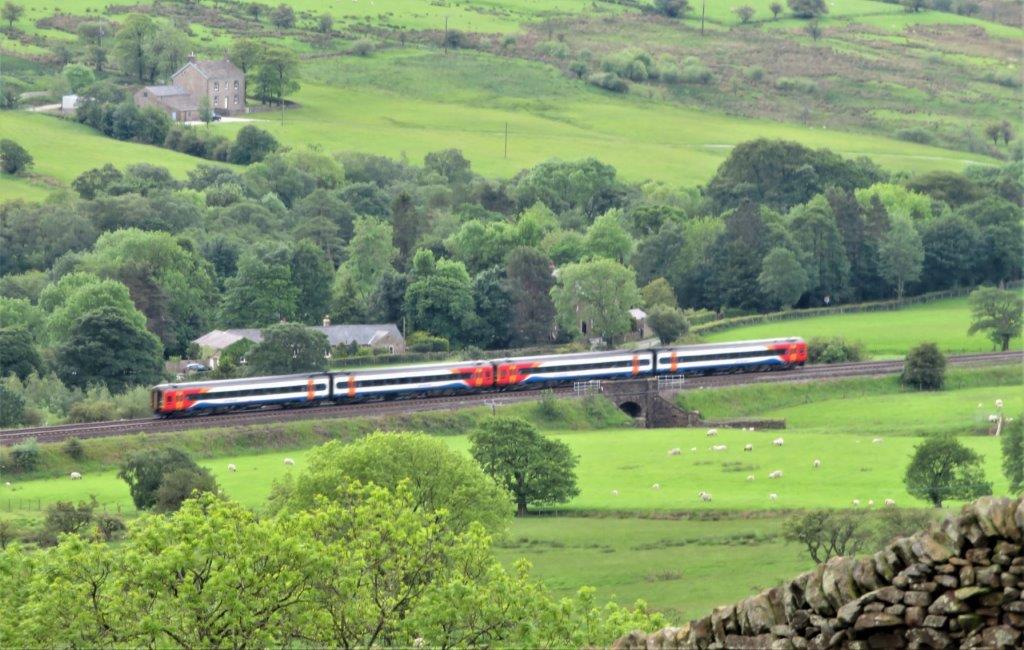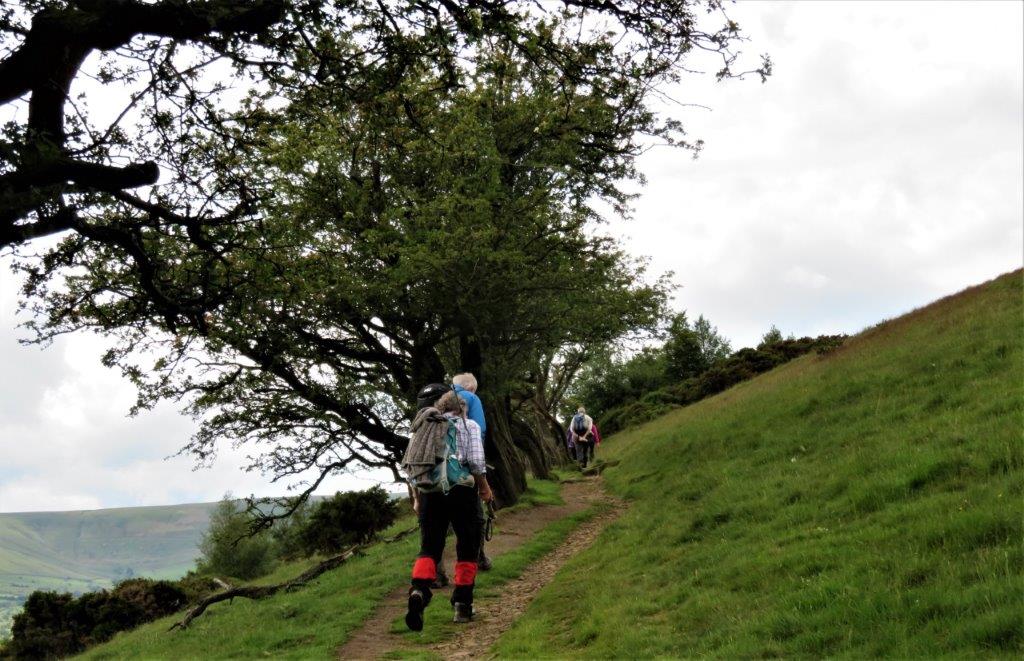 passing a very overgrown one time hedgerow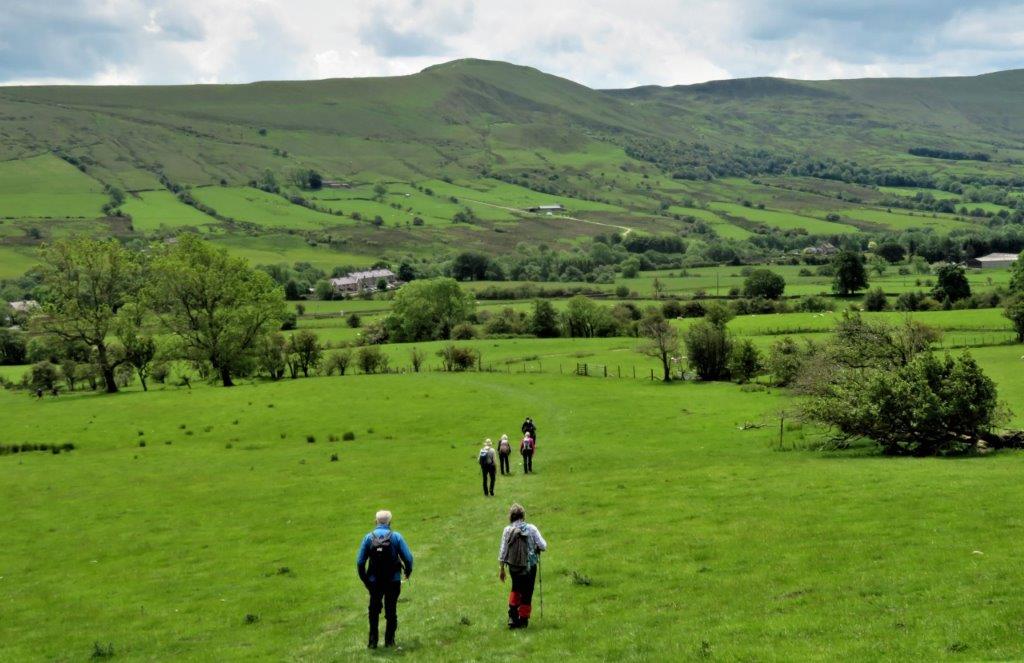 descending towards Nether Ollerbrook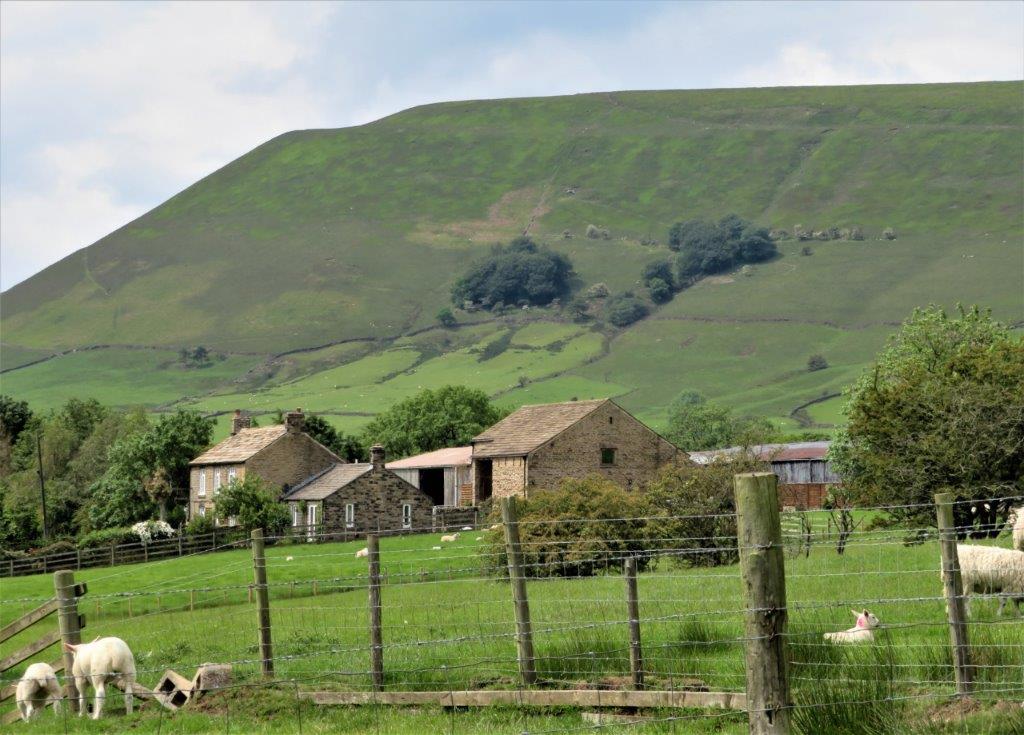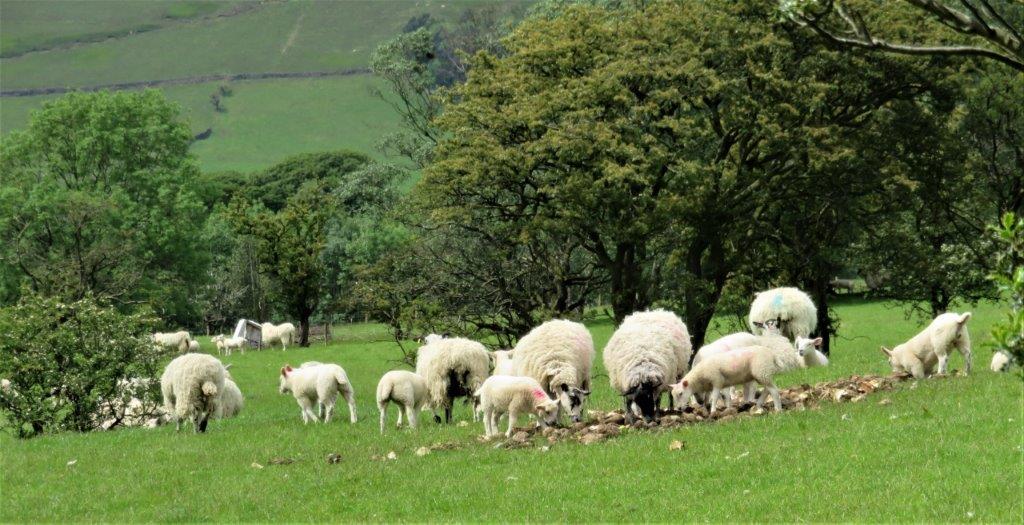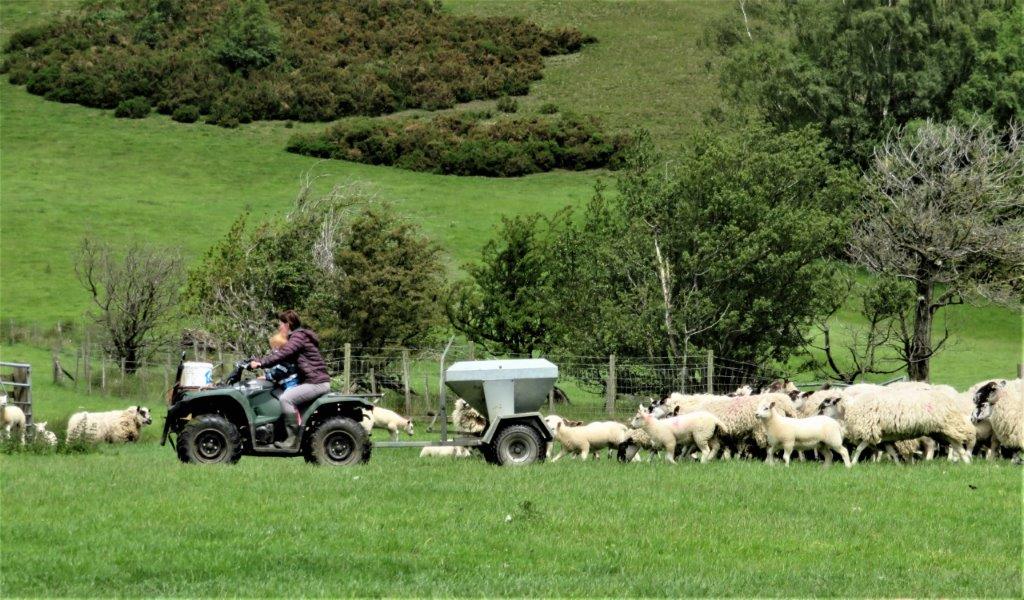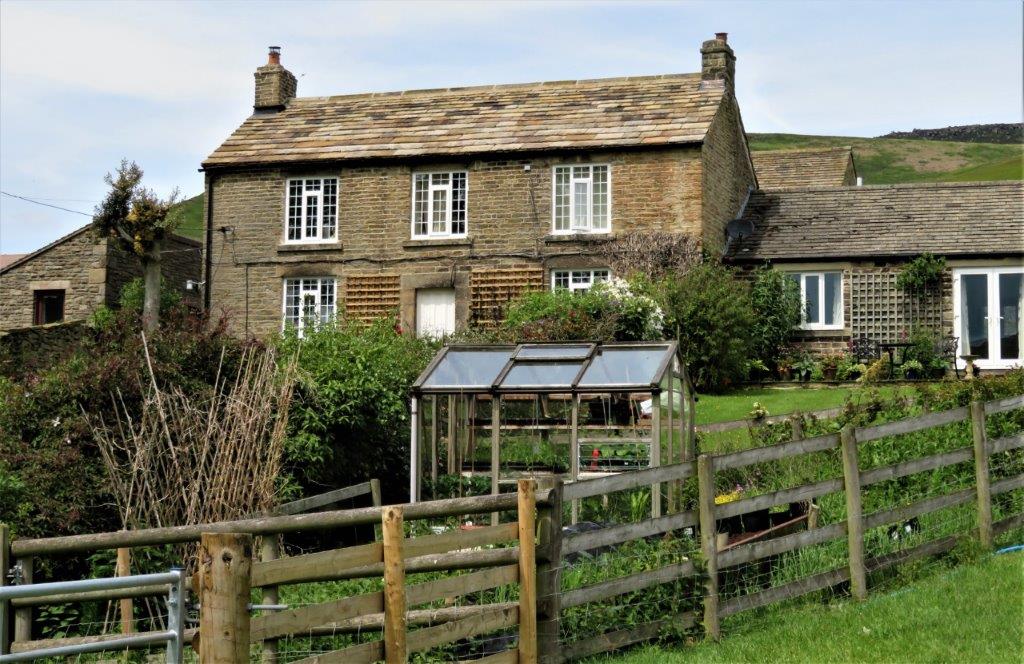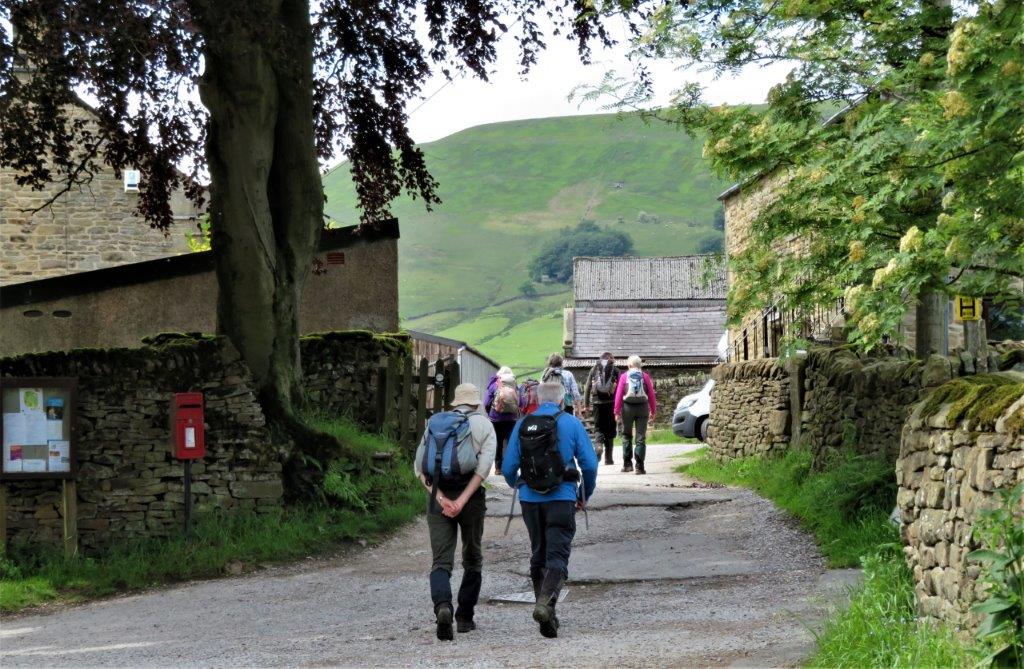 between Ollerbrook Booth and Farm?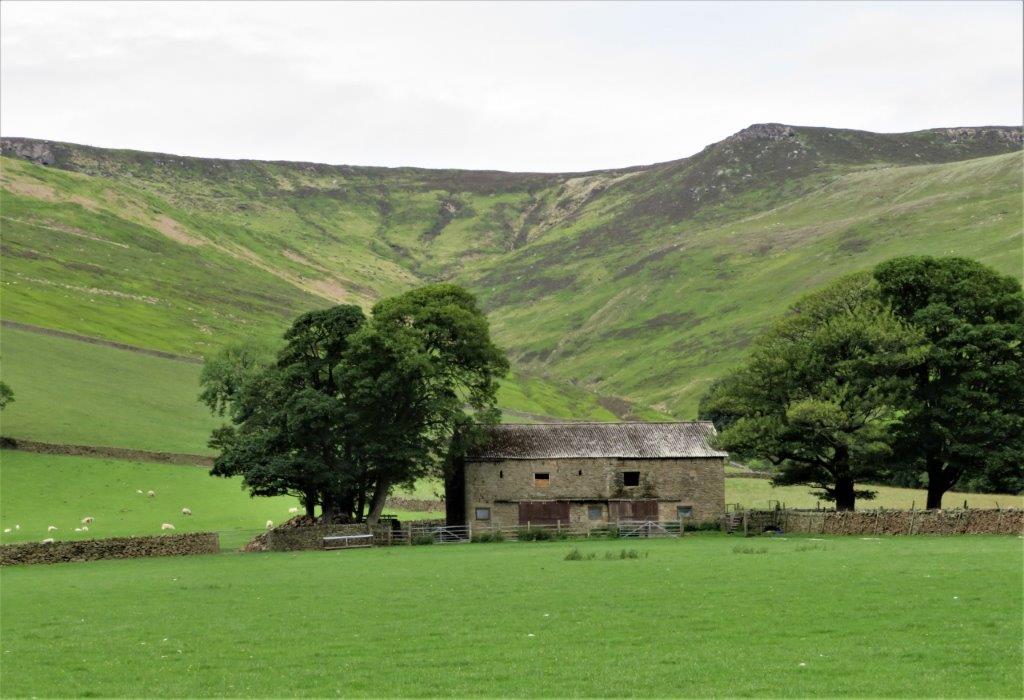 Lands Barn? with Ollerbrook Clough behind?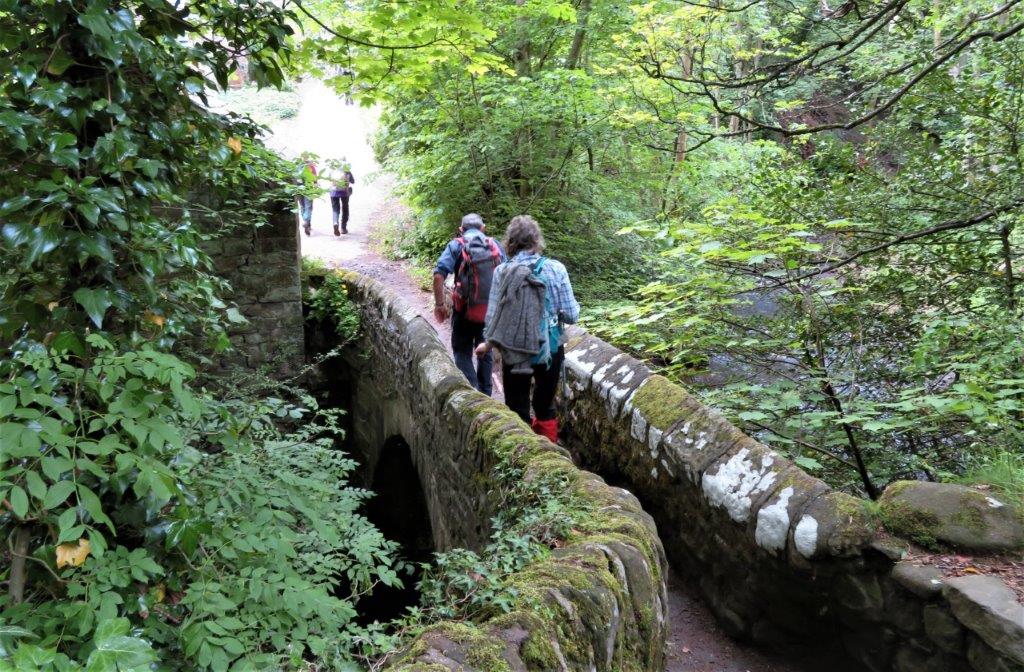 footbridge (once packhorse bridge?) across Grinds Brook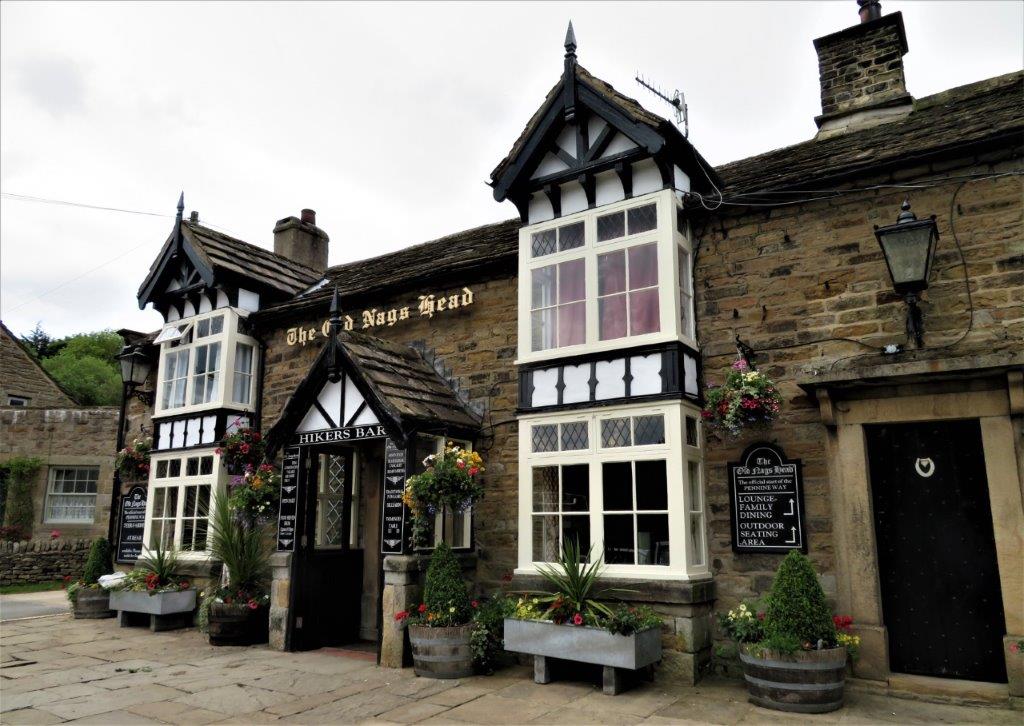 we emerged to right in front of The Old Nags Head - PH on map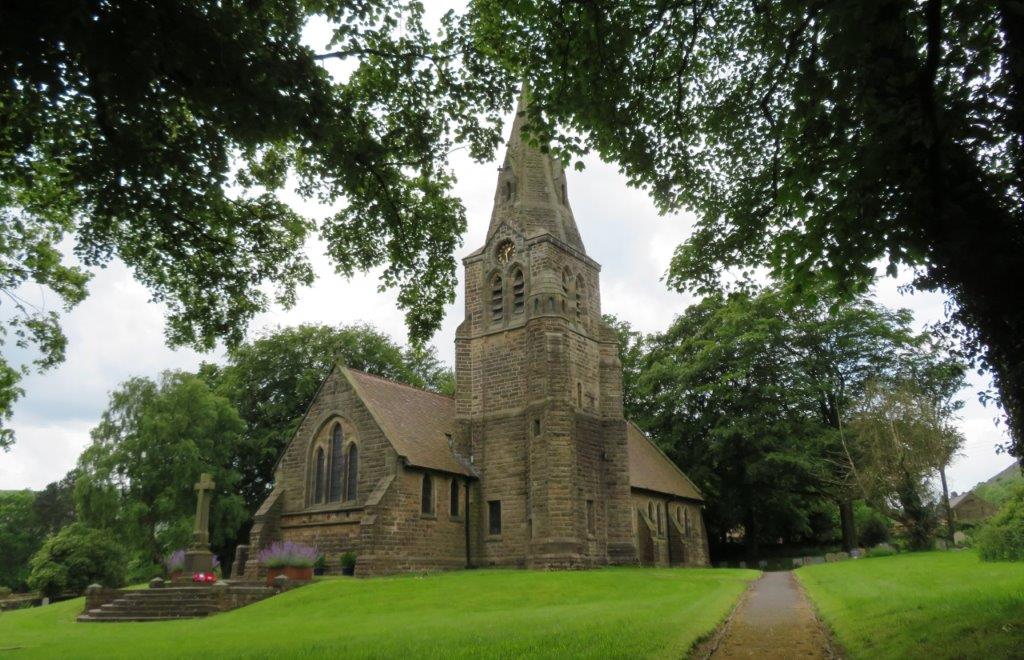 Hopes Church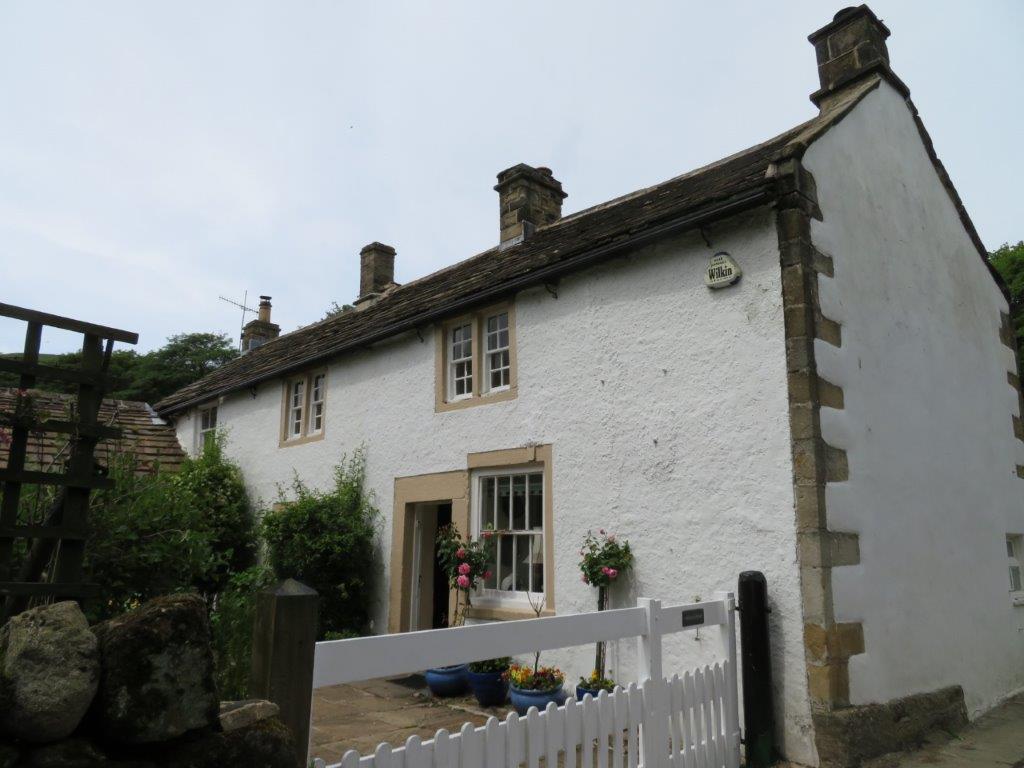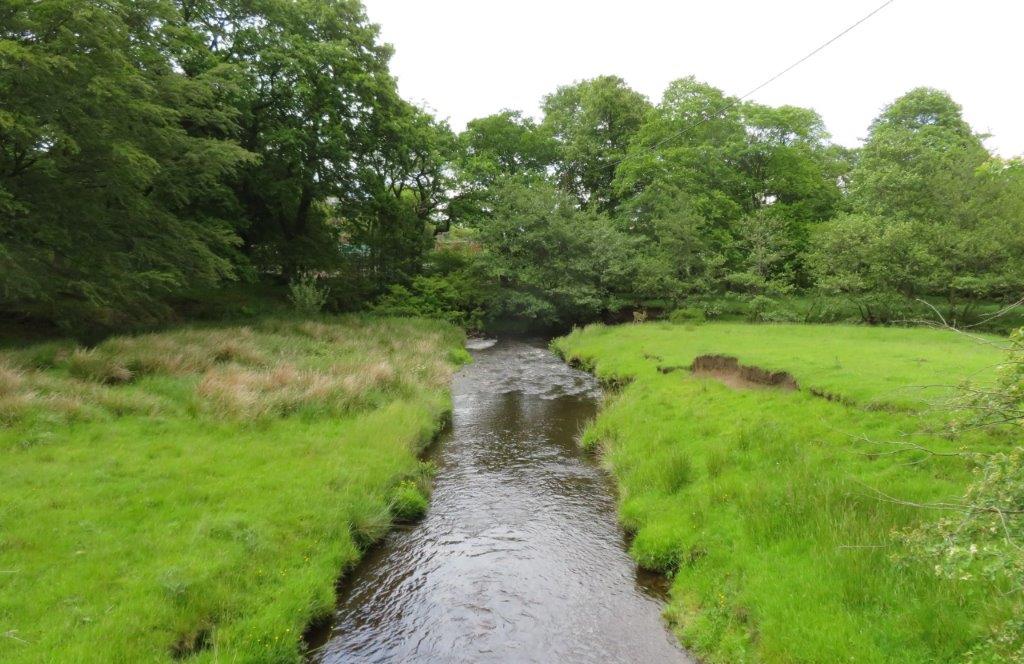 crossing road bridge over River Noe as we head south up to Hardenclough Farm and beyond to greenlands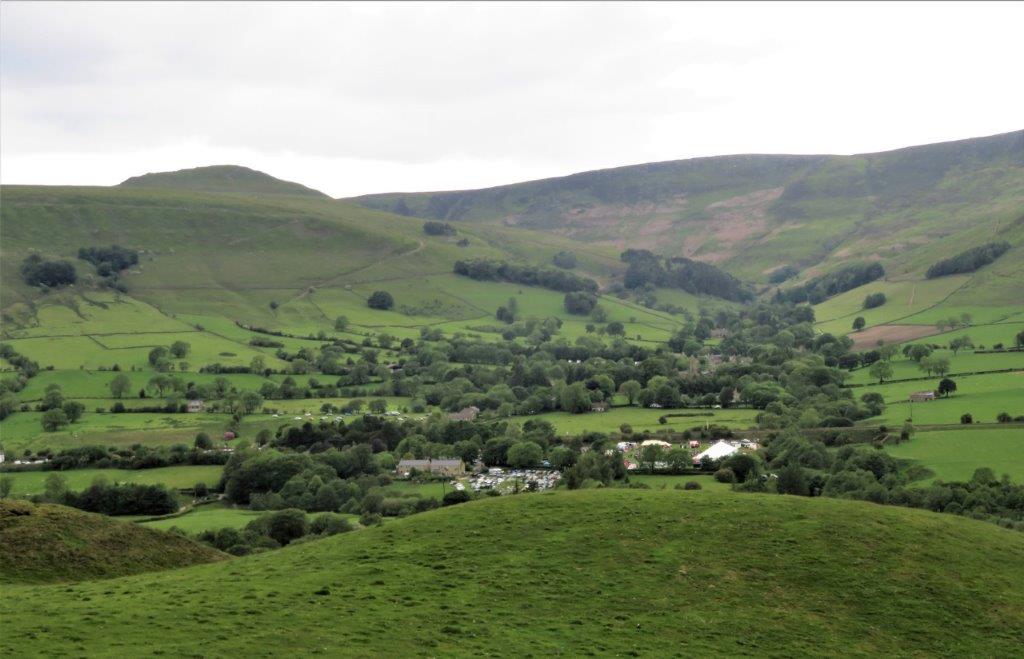 looking back from Greenlands to Edale - Edale Country Day Festival is in progress as well as Fell Running. Gridsbrook Clough behind turning to left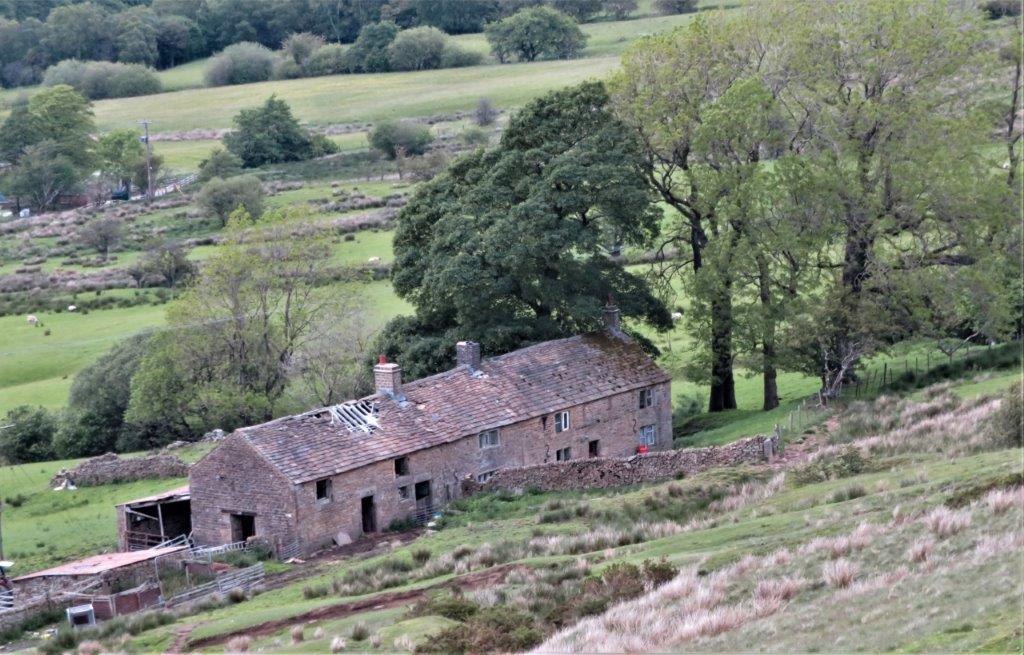 house and barn well below Hollins Cross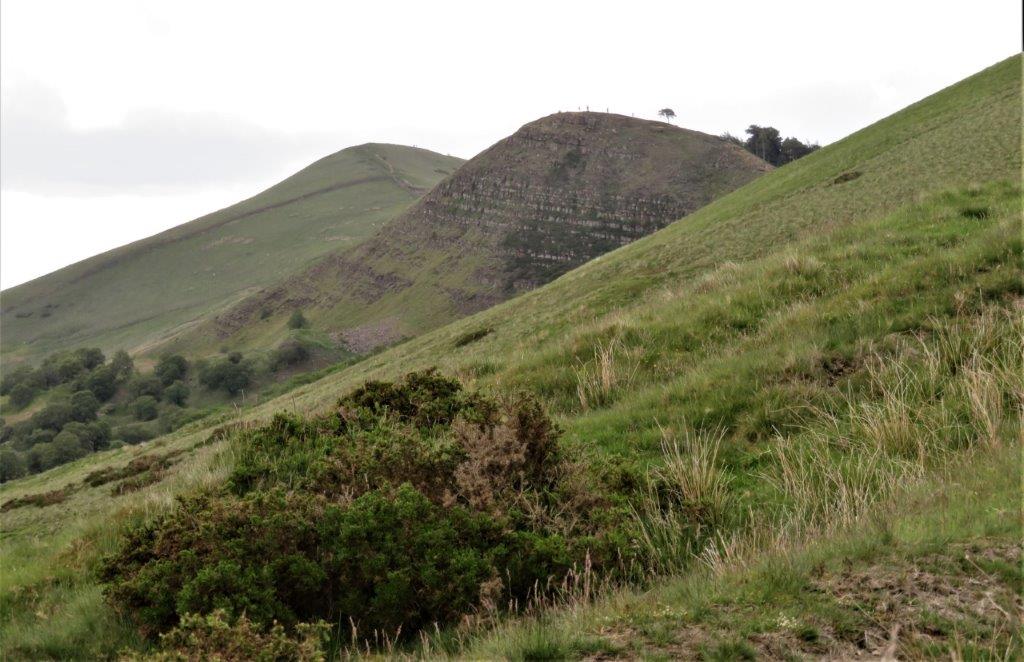 Seen in distance (before reaching Hollins Cross) Lose Hill furthest, with Back Tor - with single Tree in front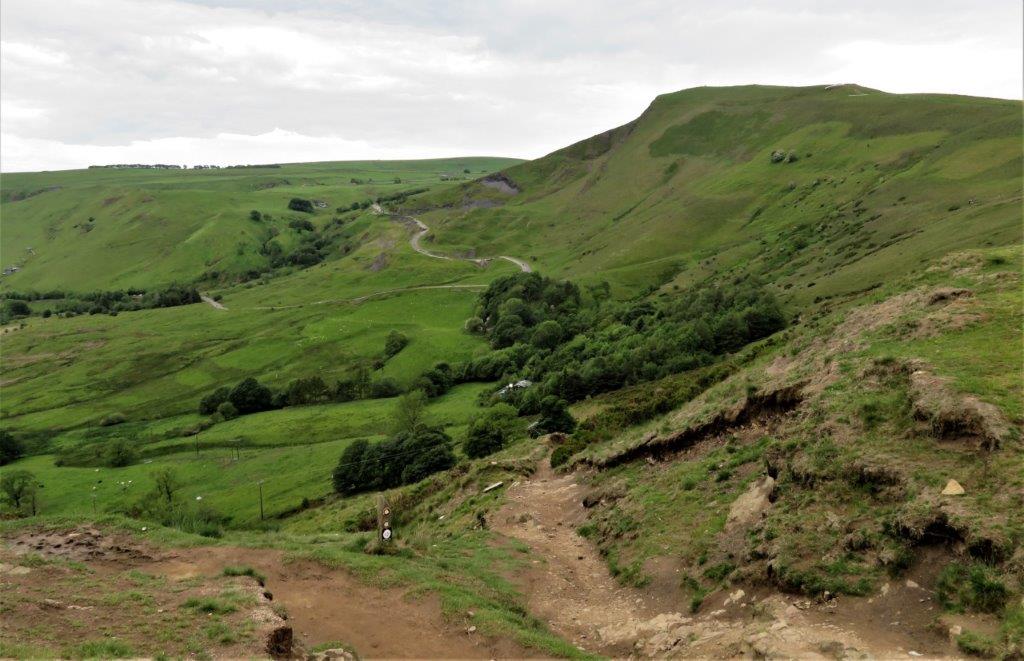 looking down from Hollins Cross at land-slipped road below Mam Tor on right.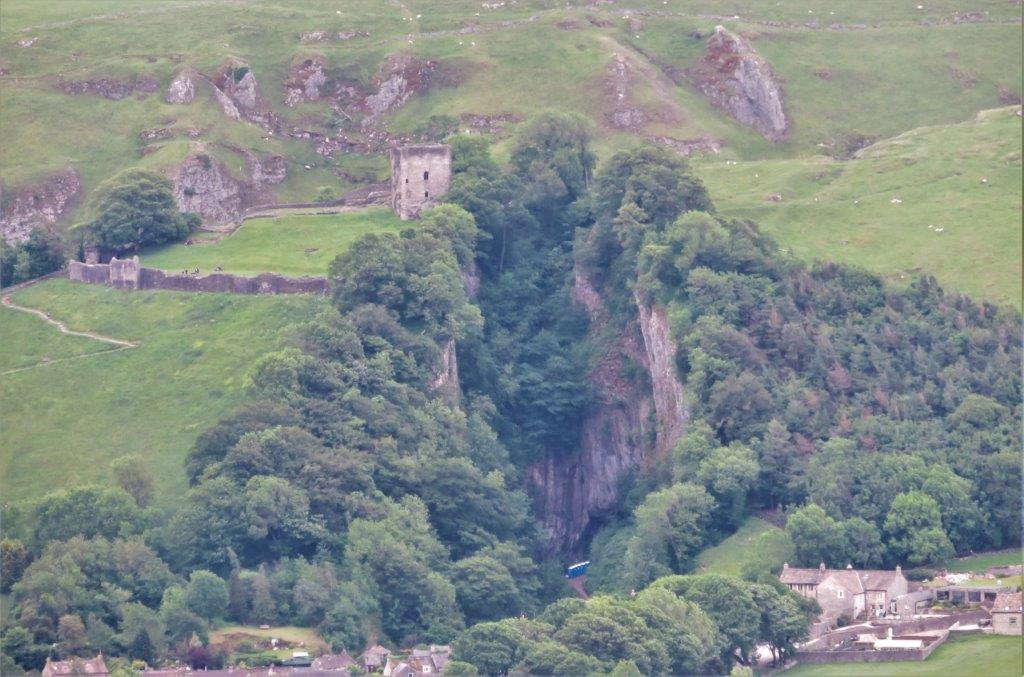 Zoomed in from Hollins Cross across Castleton's valley is as a view of Peveril Castle with caves below. Cave Dale route of the Limestone Way is (unseen) in the bottom of valley behind the Tower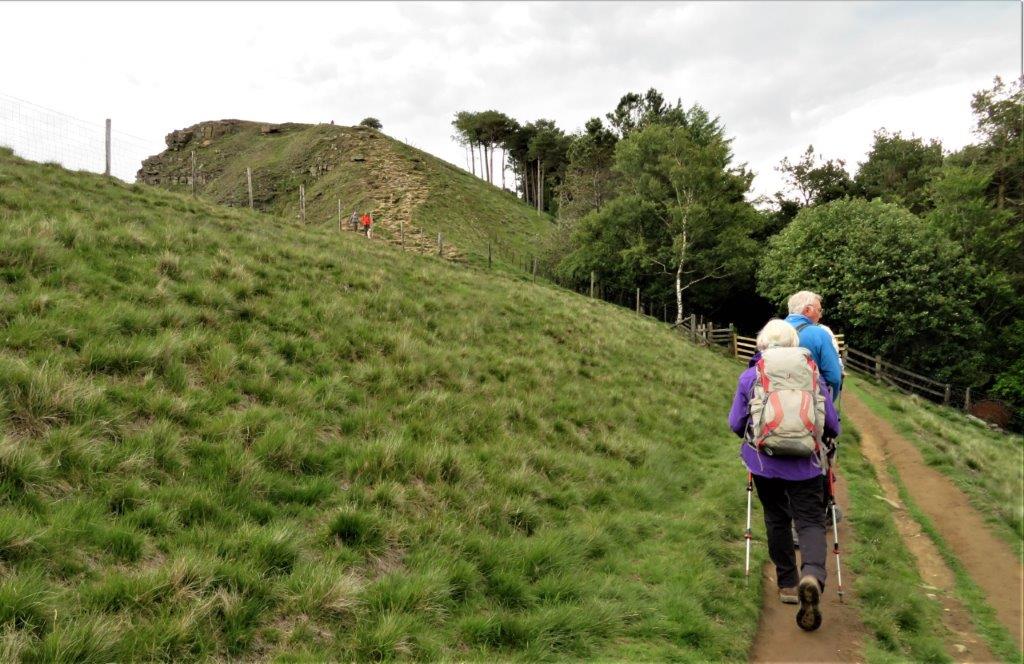 Back Tor with single tree to left. We took the easier flatter route straight on through Brochett Booth Plantation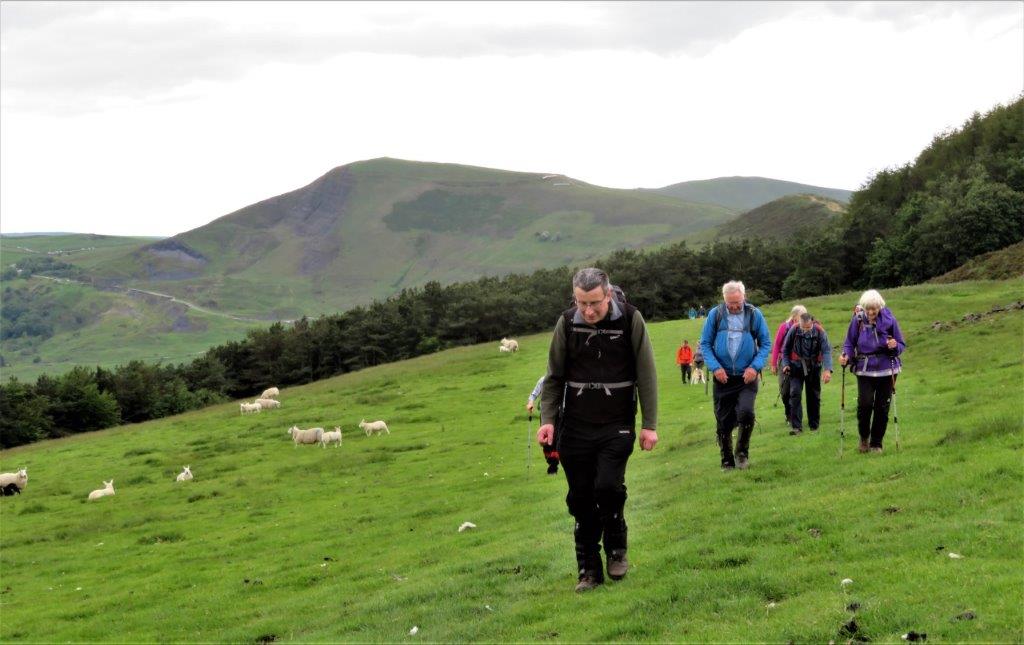 Mam Tor behind to left with land-slipped road below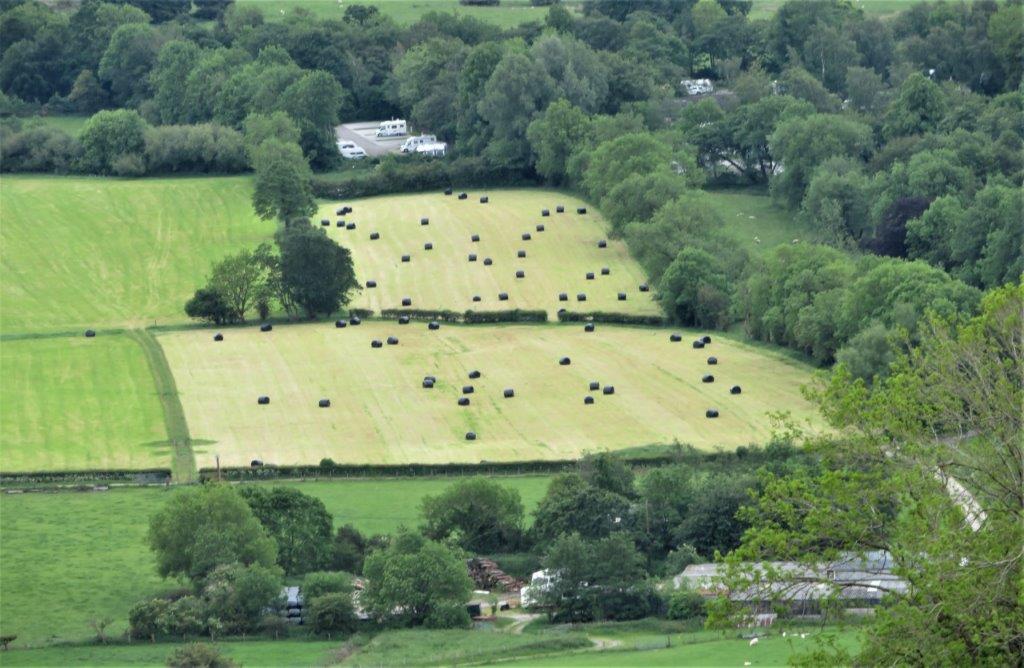 harvested 'crop' possibly 'grass' bailed in black plastic?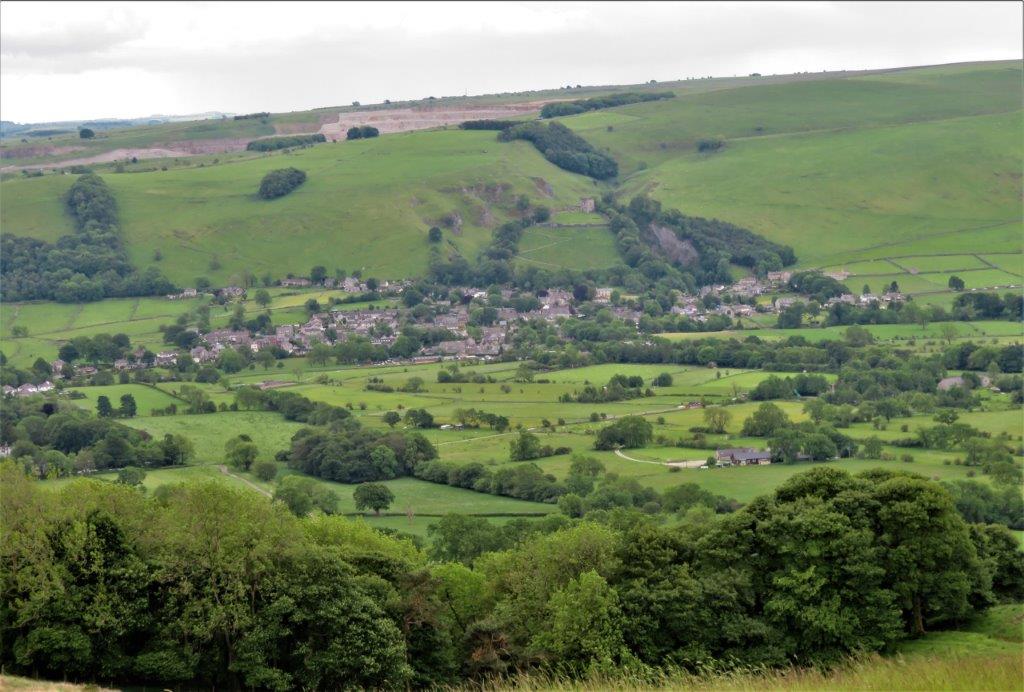 long distance view of Castleton - tower at Peveril Castle (zoomed into earlier) also seen here to right above village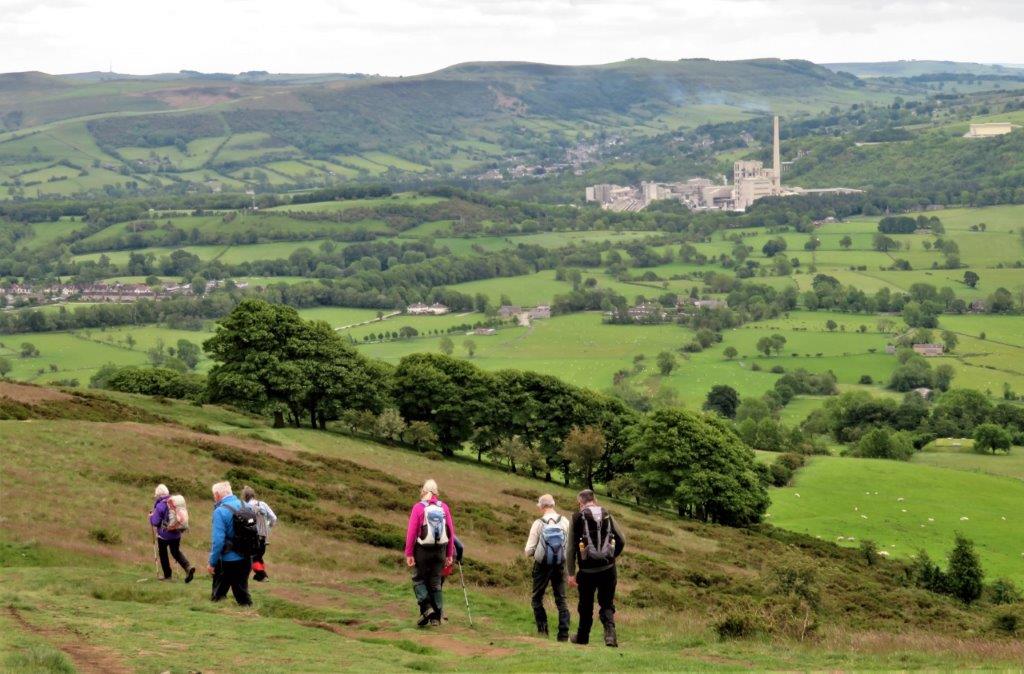 descending (past Losehill Farm) towards Hope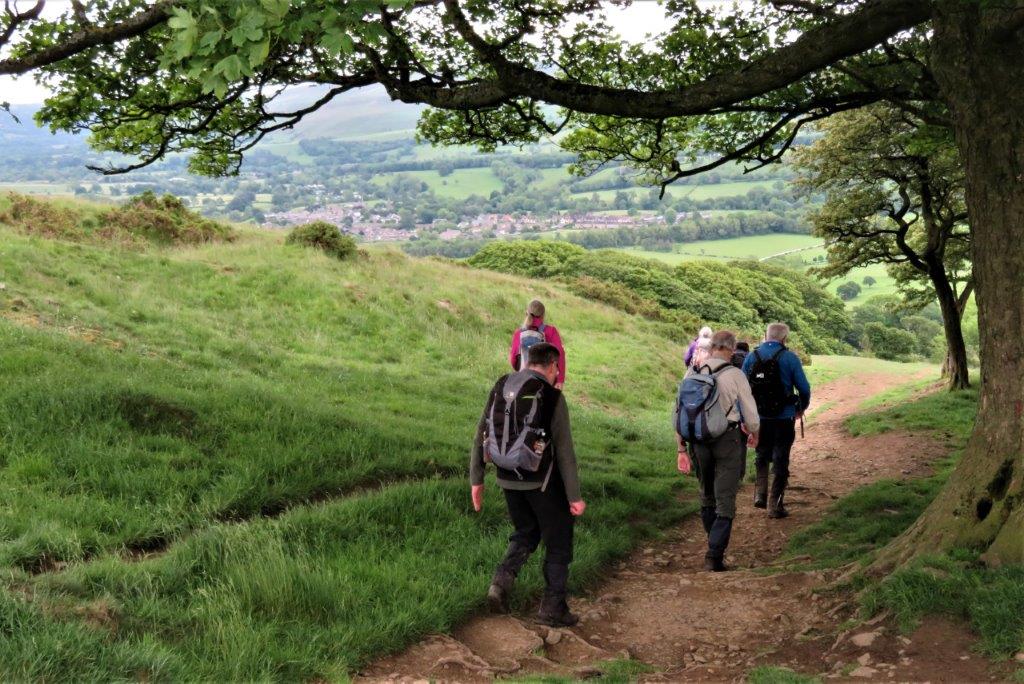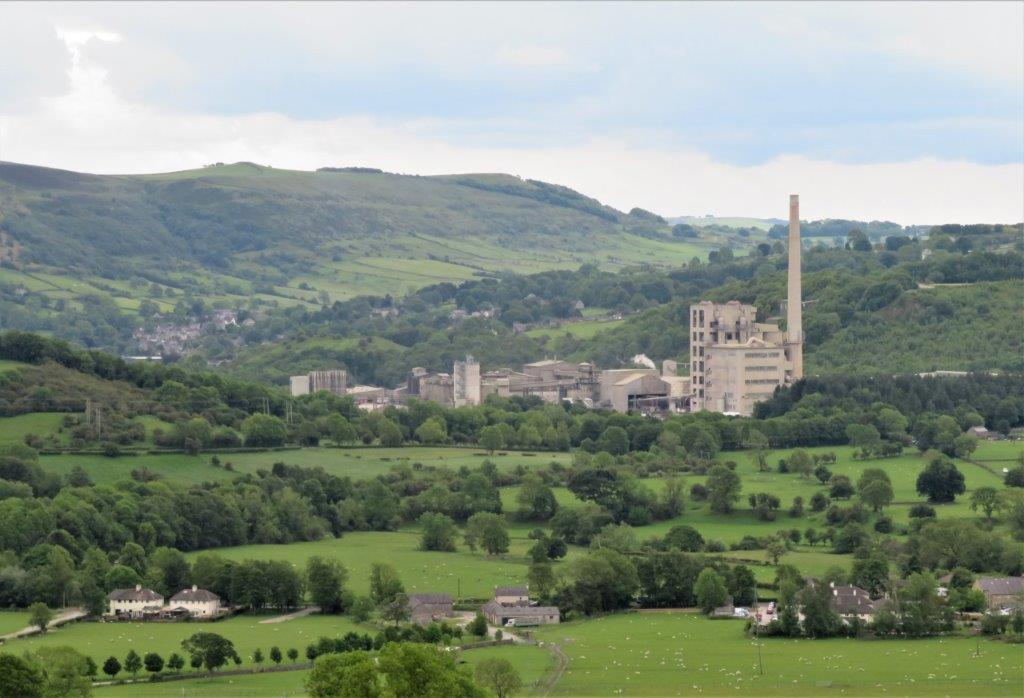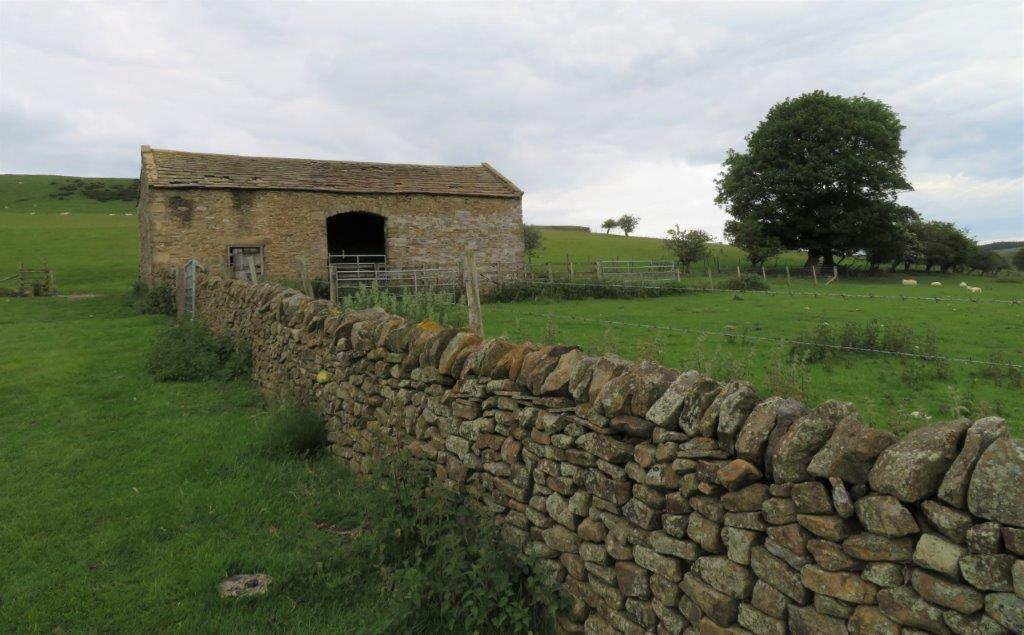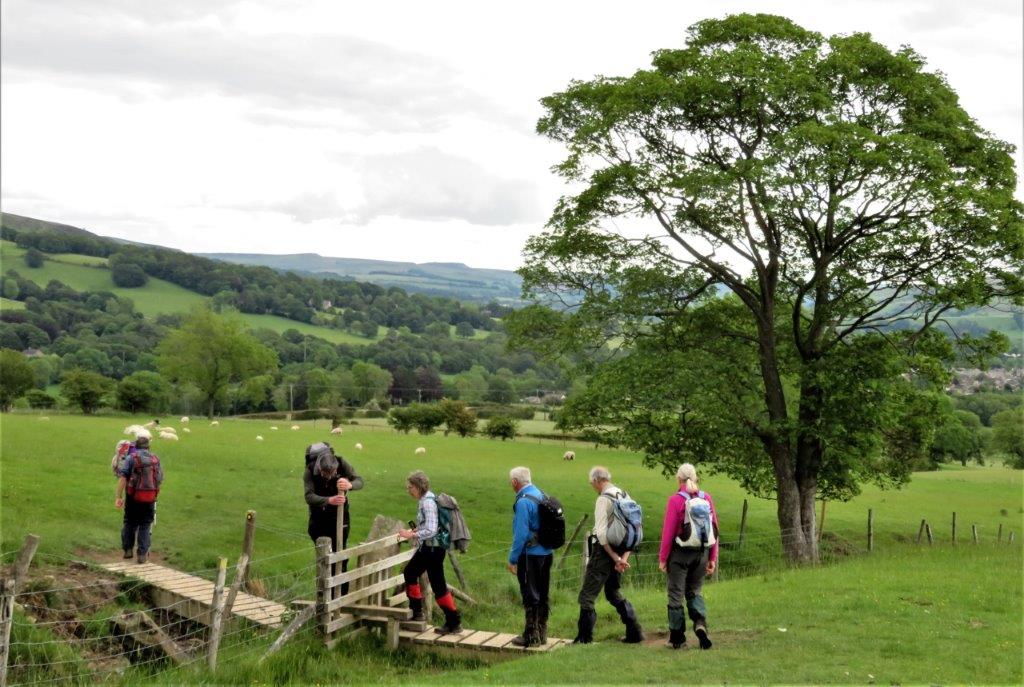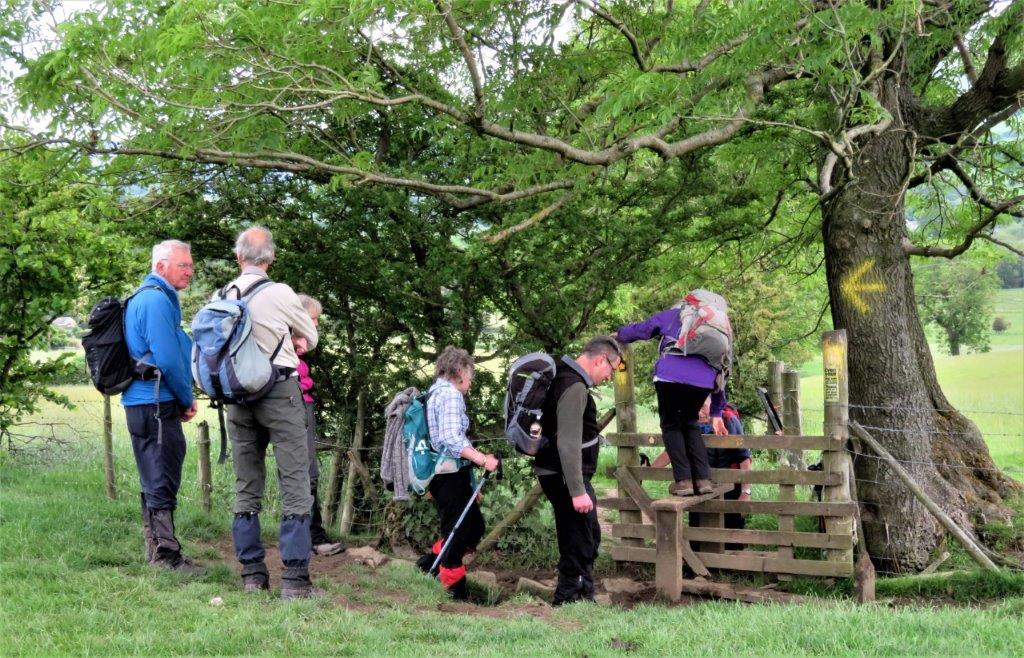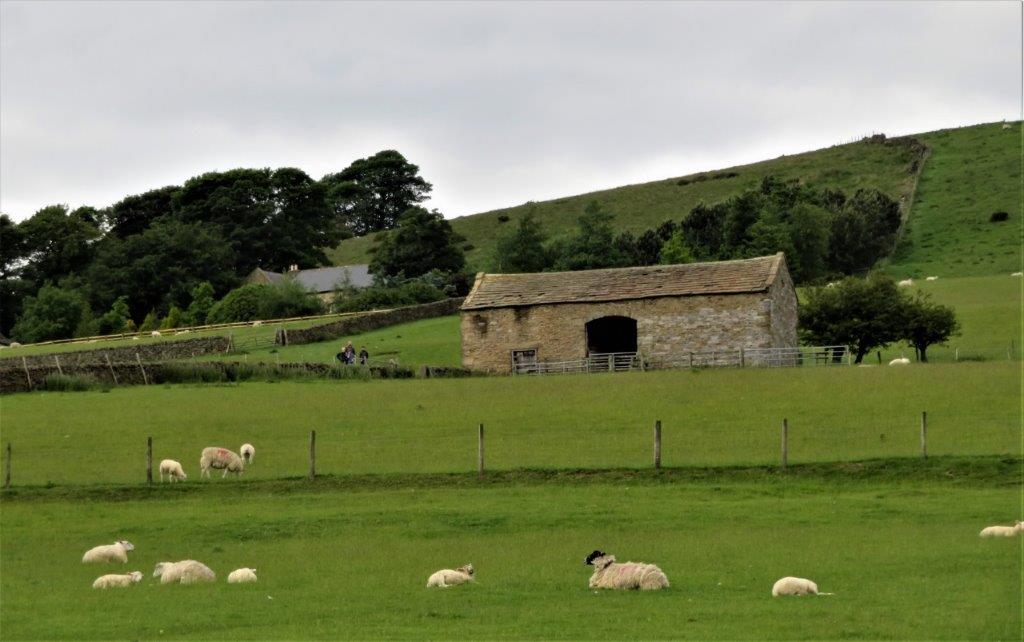 looking back at barn and Lose Hill Farm to left?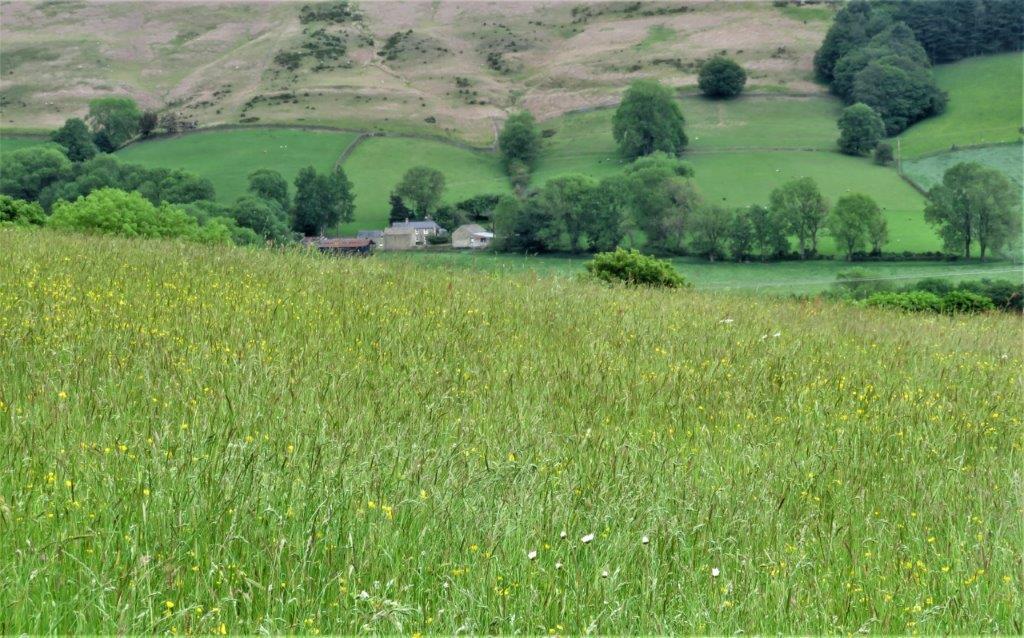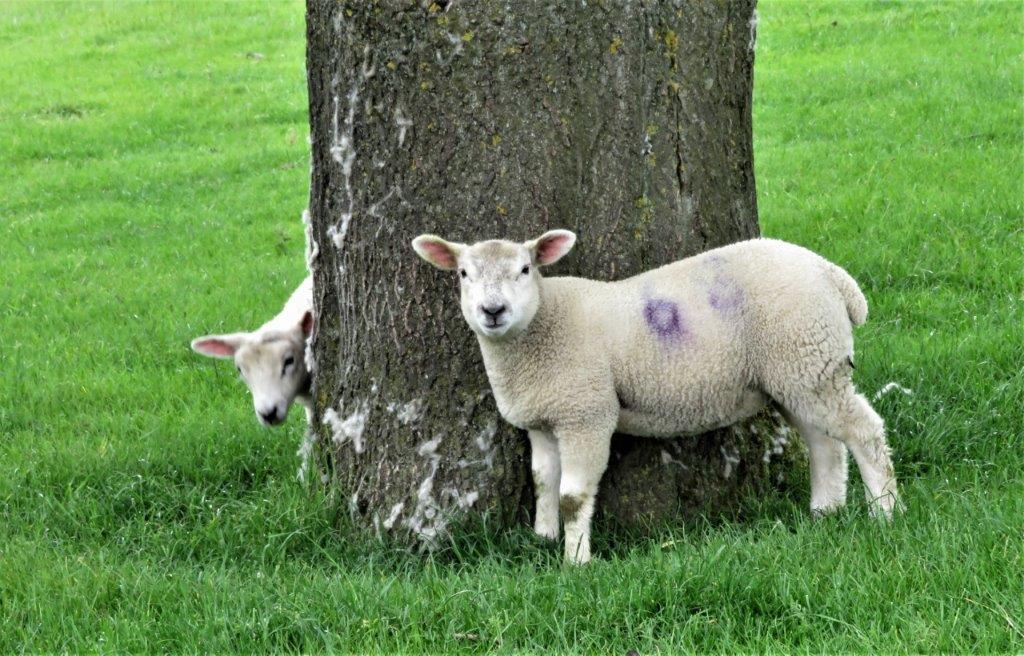 homepage - Daywalks Index 2019 - contact me at