homepage - Daywalks Index 2019 - contact me at

2019.05.01 Bakewell (junct A6 & B5055Rds SK218685), ~100m ~SW on B5055Rd, then ~S on 2ndry Rds past Cemetery, FP ~SSW to Rd Jct (SK217668) nr Noton Barn Farm , ~W on Rd to stile & FP to PH in Over Haddon, ~W thru village to Parking / PC, zig zag ~S down Rd to Lathkill Dale (SK204662), ~W on Permissive FP on North side of River, cross Foot Bridge (SK175655) into Cales Dale for ~300m ~SW, turn ~ESE up and along Limestone Way past Calling Low, across Back Lane to Parking Area, continue zig zagging on L.Way down to Bradfield Dale (SK200637), follow river ~NW then ~E below Youlgreave to SK213640, ~NE for ~150m past houses to FP ~NE (high above river below) to Alport, follow River Lathkill ~WNW then ~NW to Raper Lodge, ~NE across River, zig zag up bank and continue to restricted byway, ~N along Byway & Rd past Noton Barn Farm, ~NE down Intake Lane to Haddon Rd (A6), ~NNW parallel to Rd into Bakewell - leader Simon Gray - Wednesday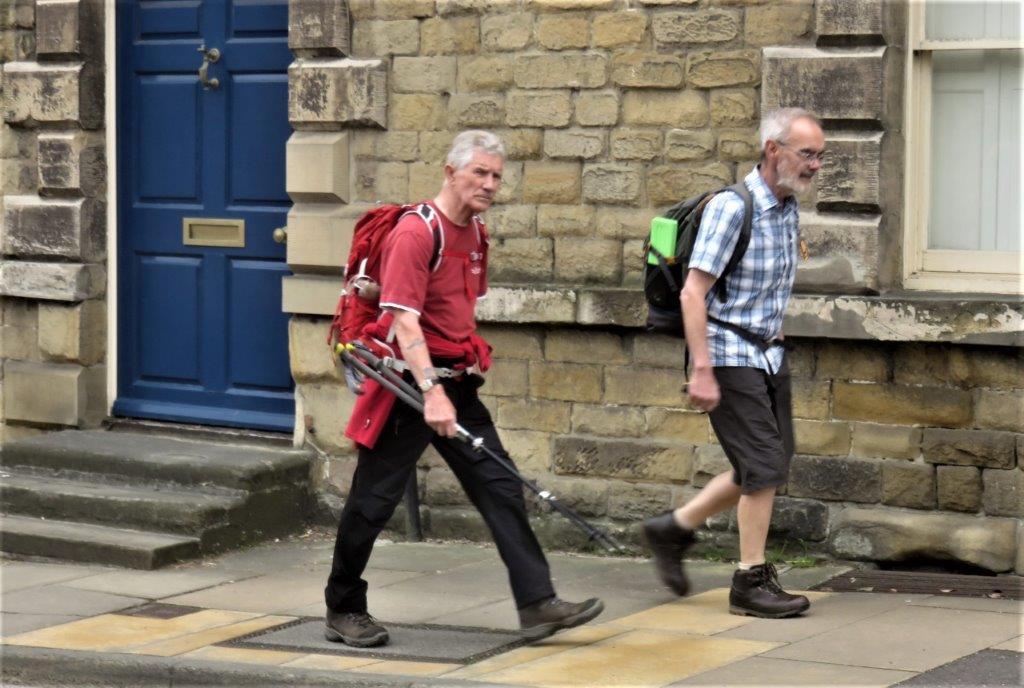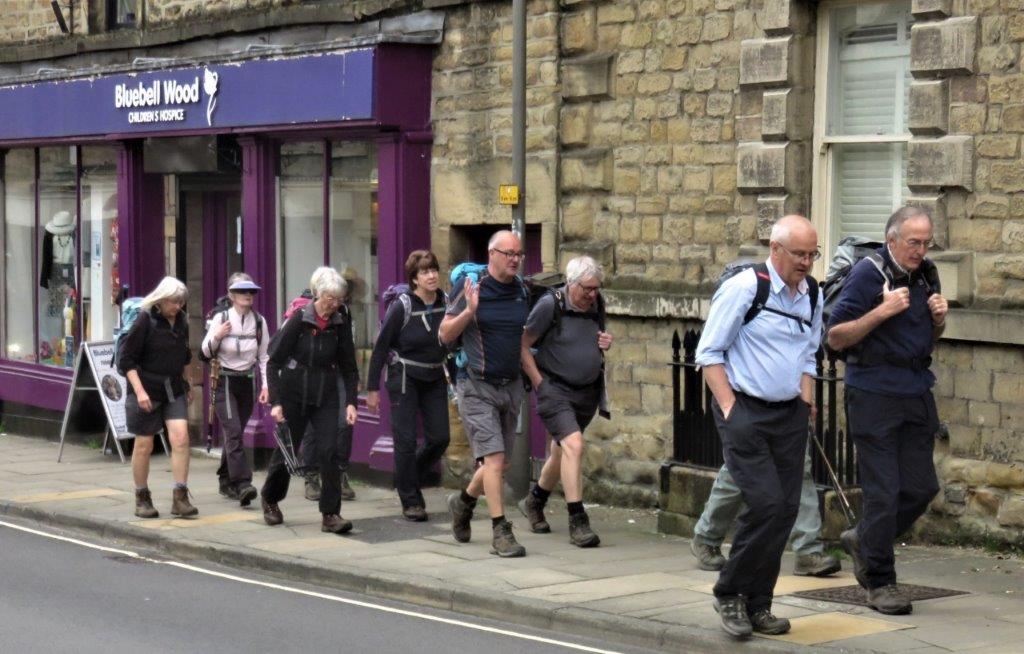 on the B5055 road (which we soon turned off from) up towards the Cemeteries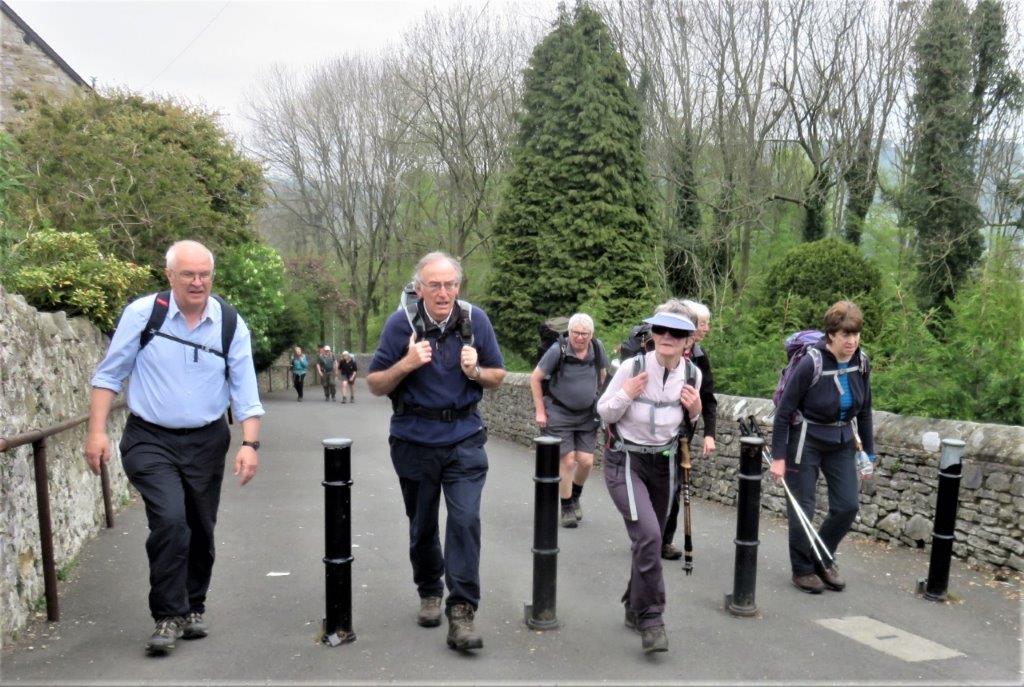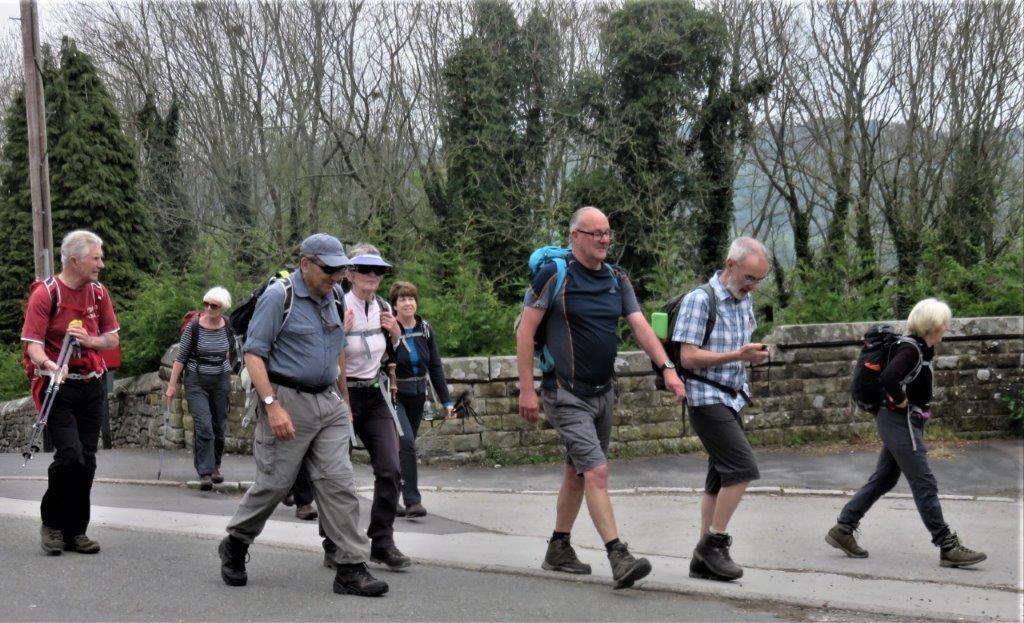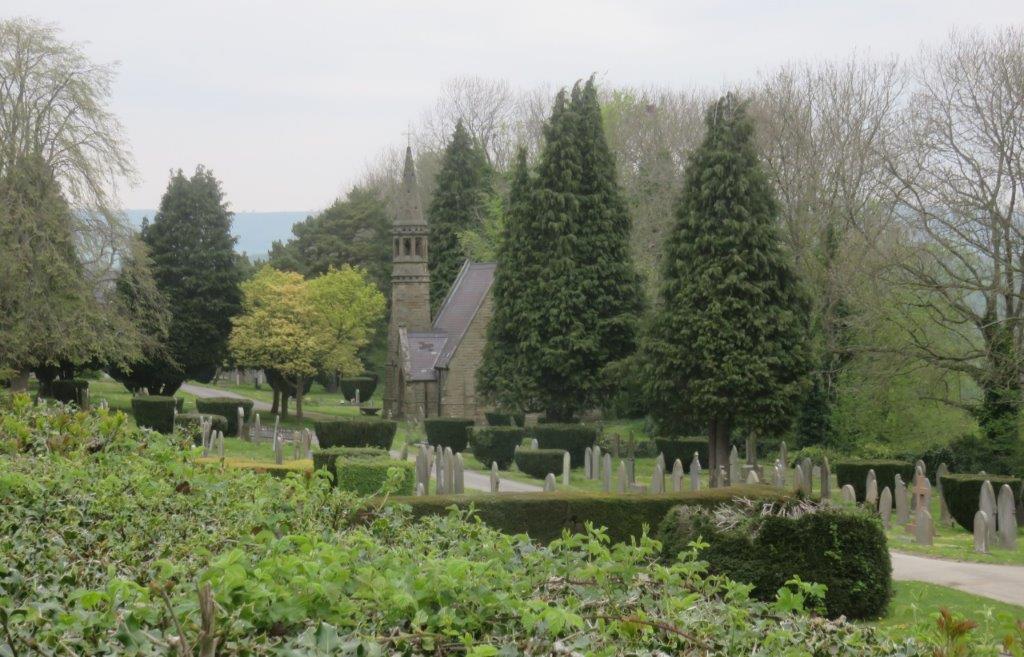 looking back towards the cemeteries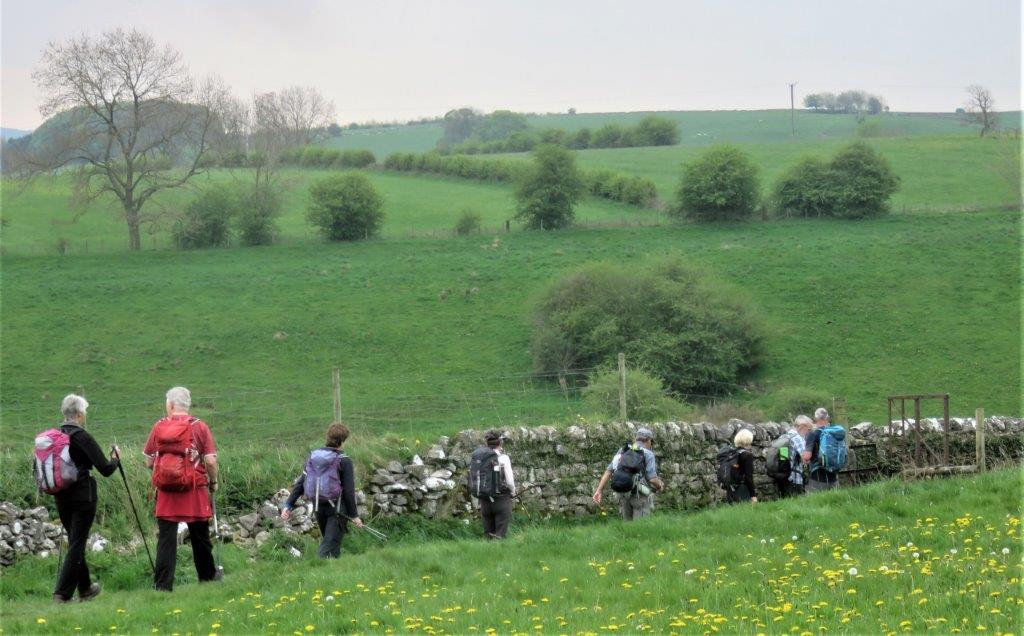 heading toward Noton Barn Farm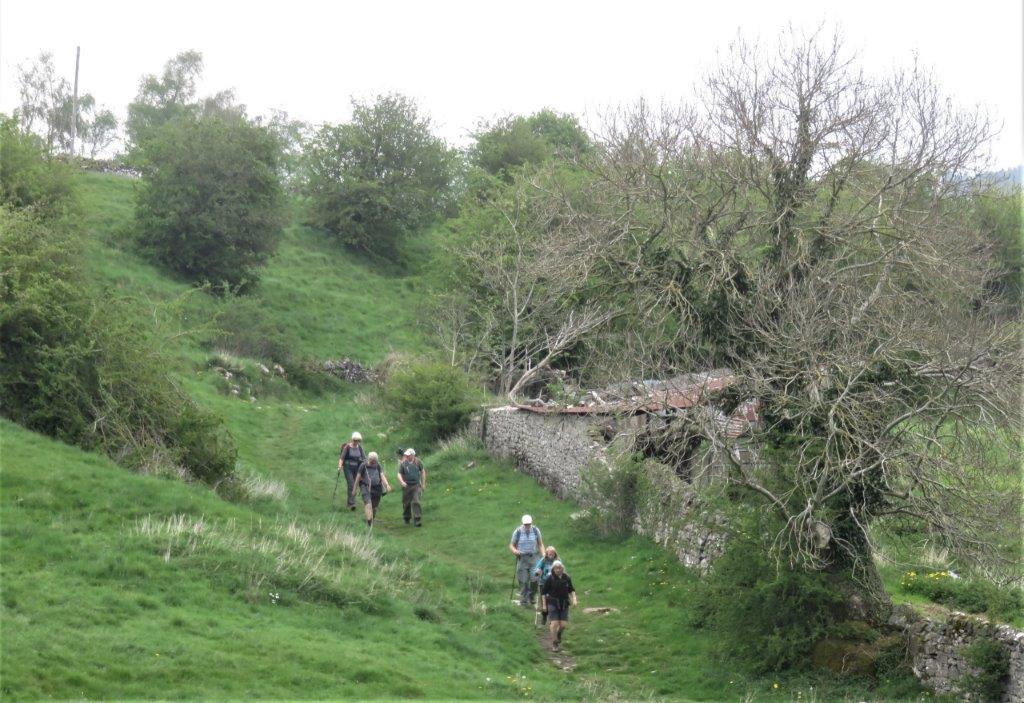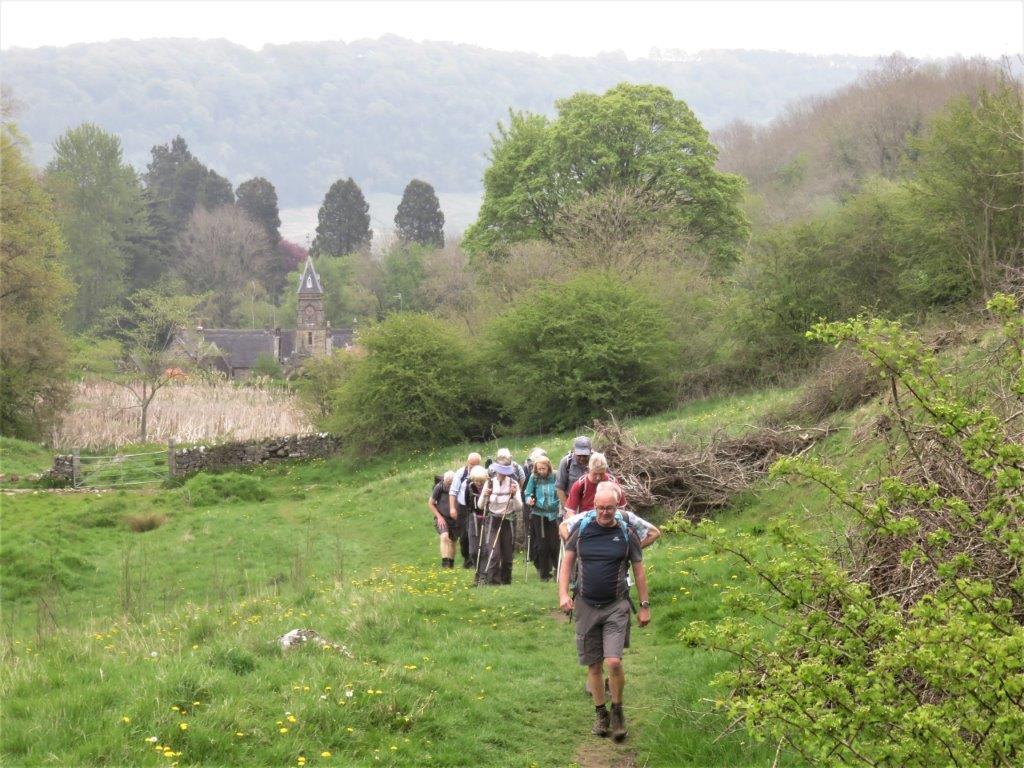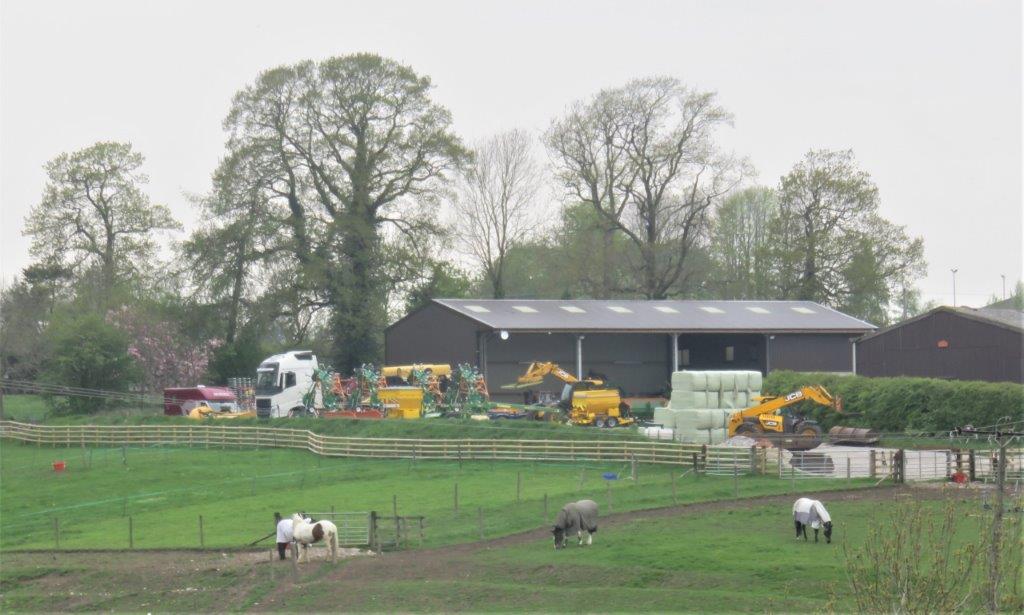 zoomed into farm somewhere behind us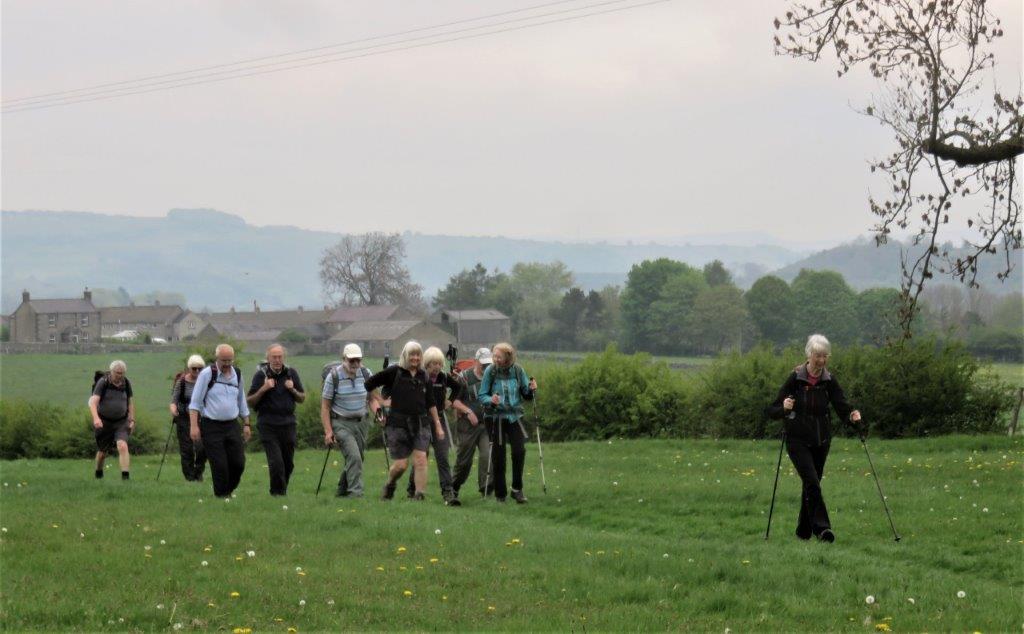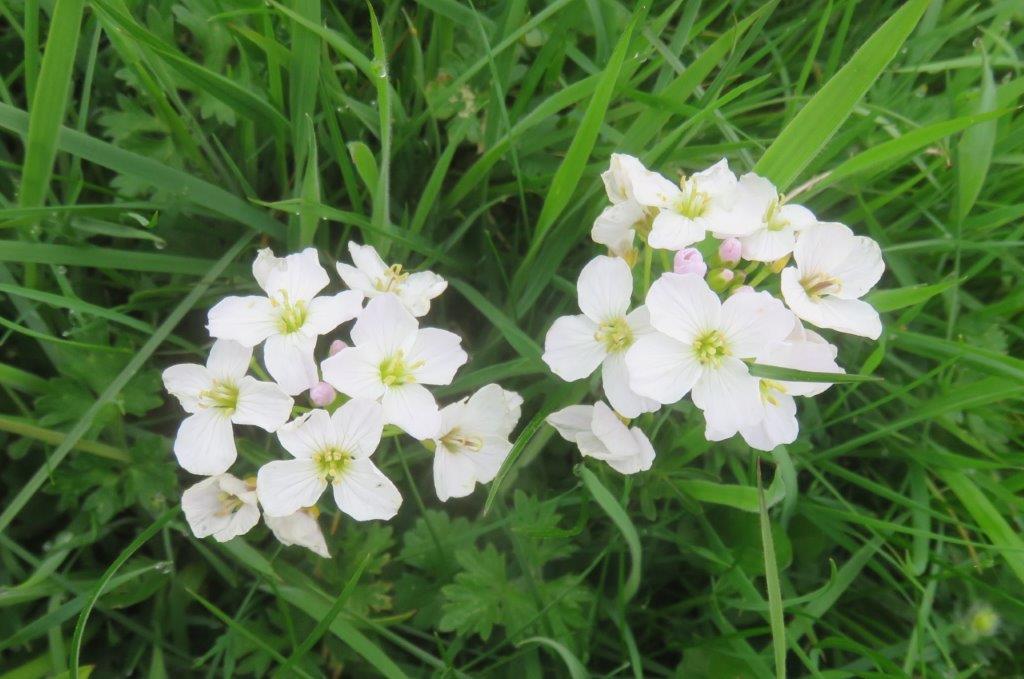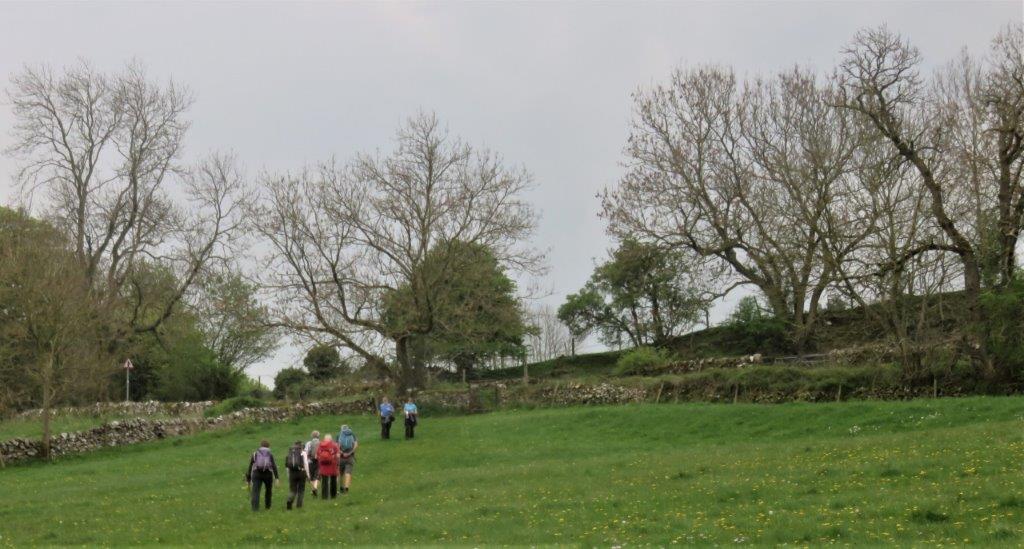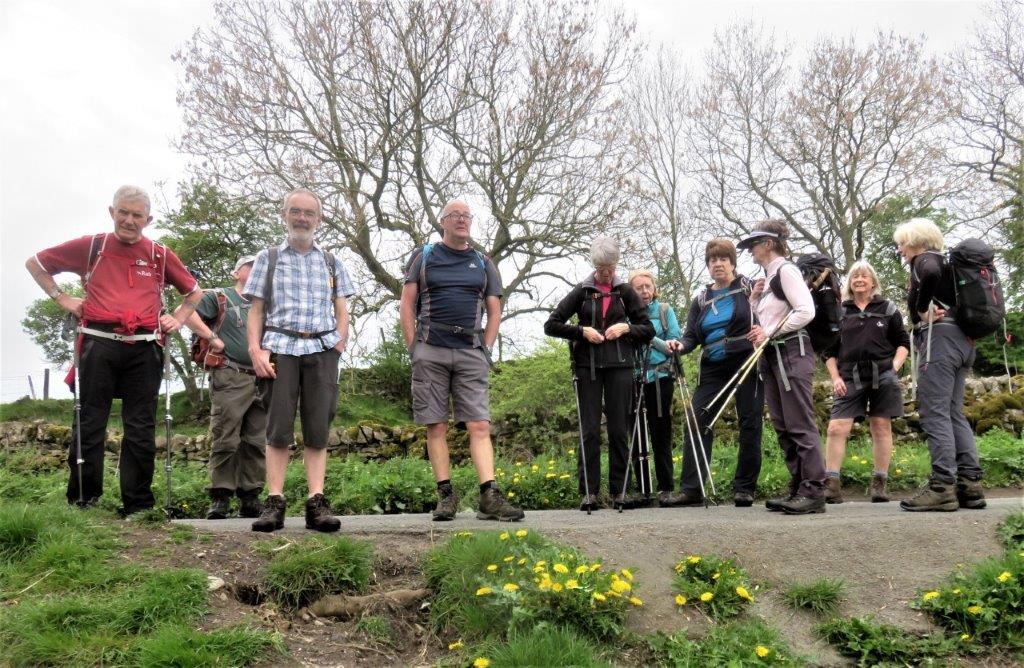 road just before Noton Barn Farm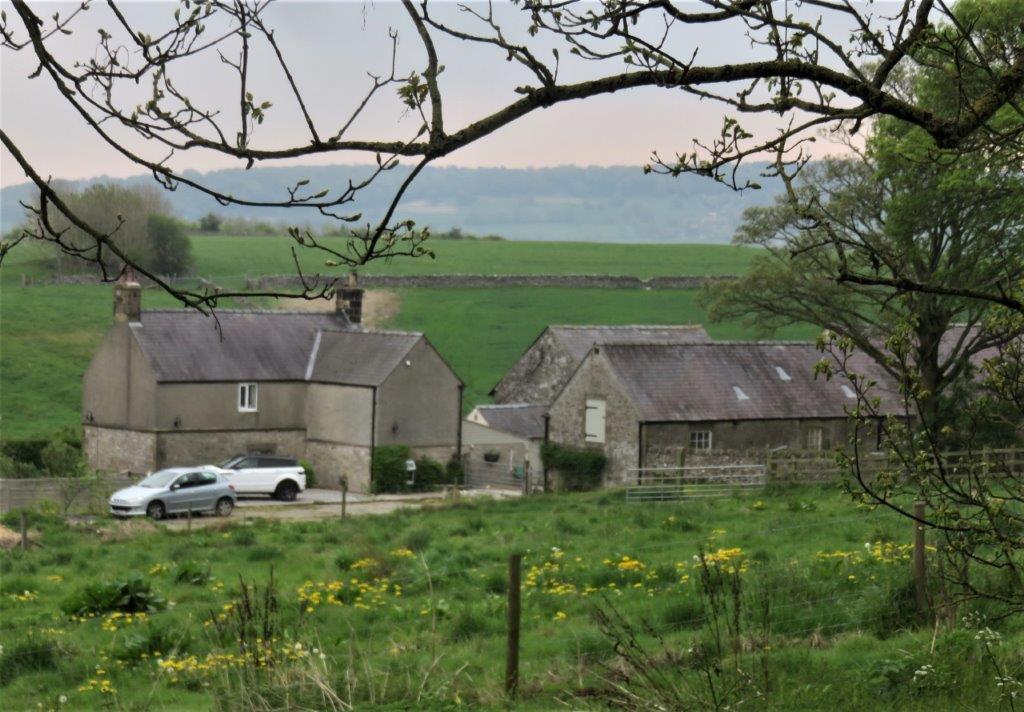 Noton Barn Farm (we turned west toward Over Haddon just before reaching the farm)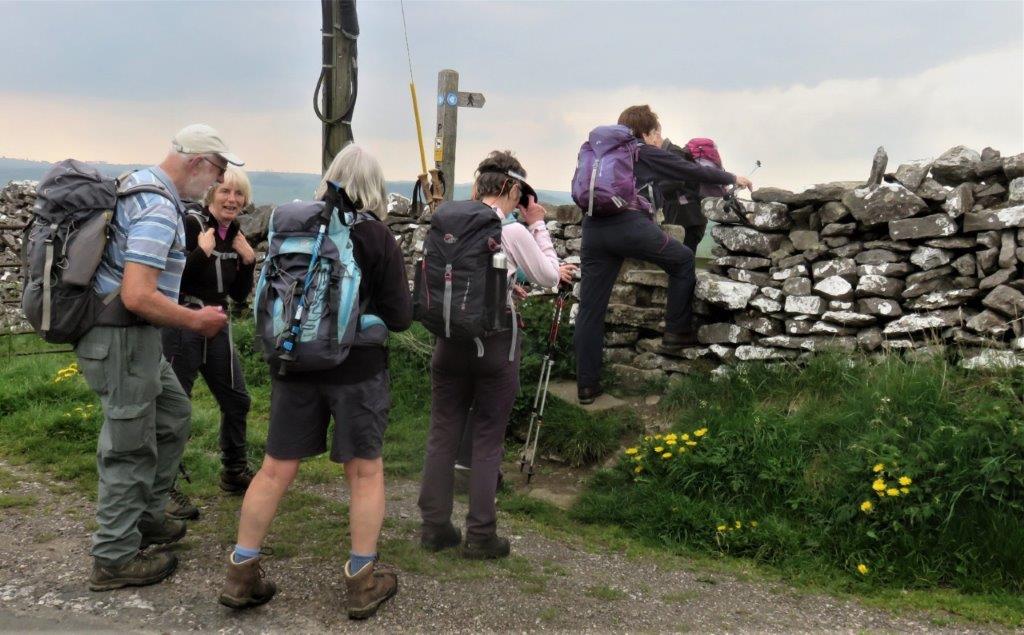 off road, over stile, onto footpath leading to Over Haddon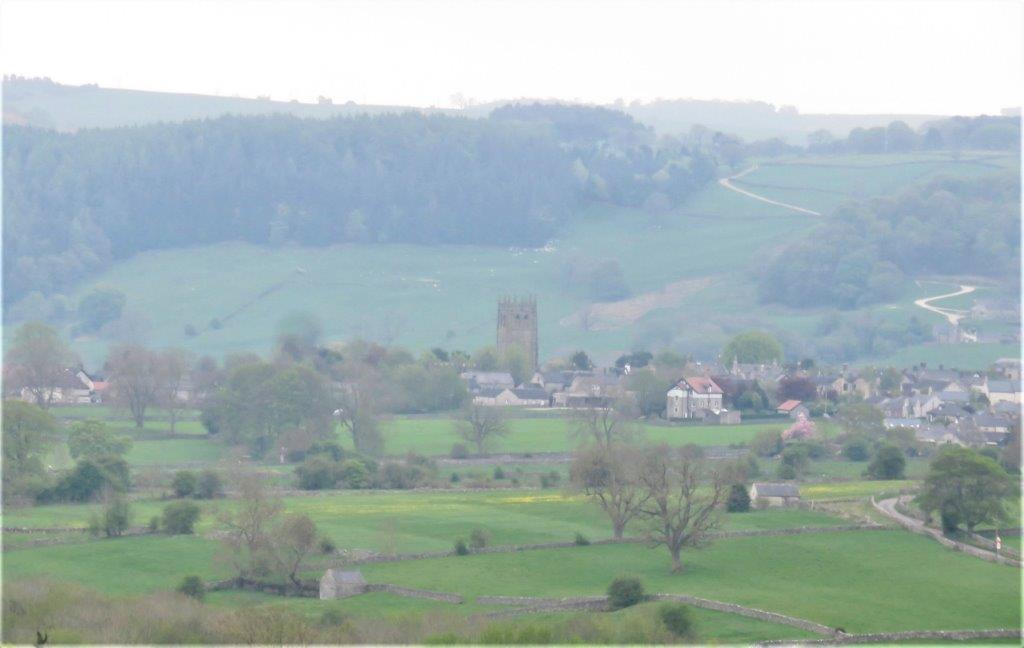 Youlgreave and it's church visible through the mist below us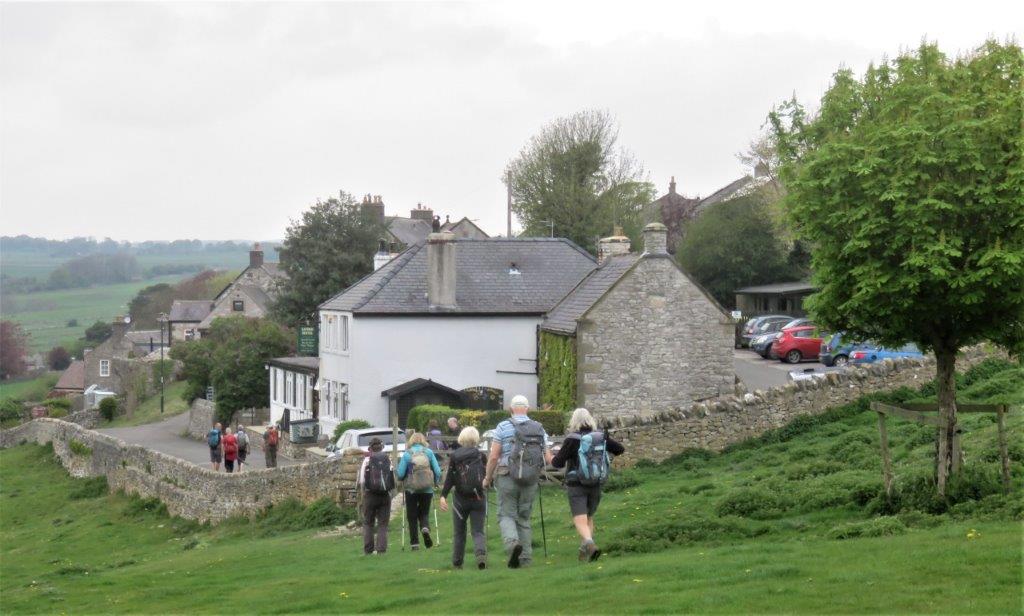 Over Haddon - the 'PH' sign 'Lathkil Hotel' visible on building in front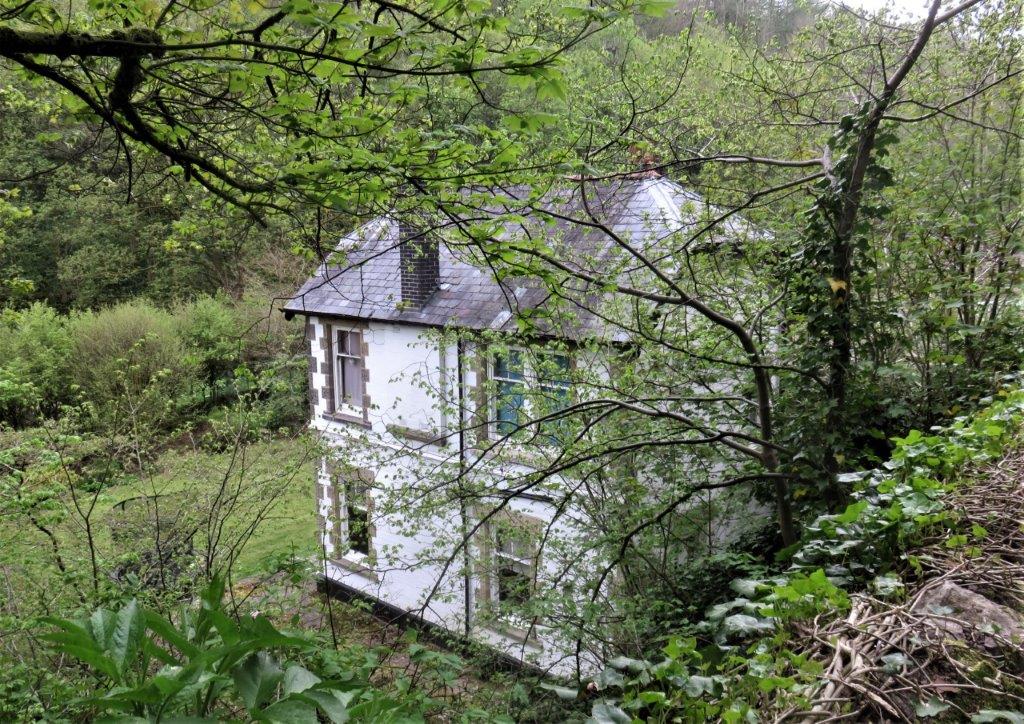 house near River Lathkil east of the Foot Bridge crossing it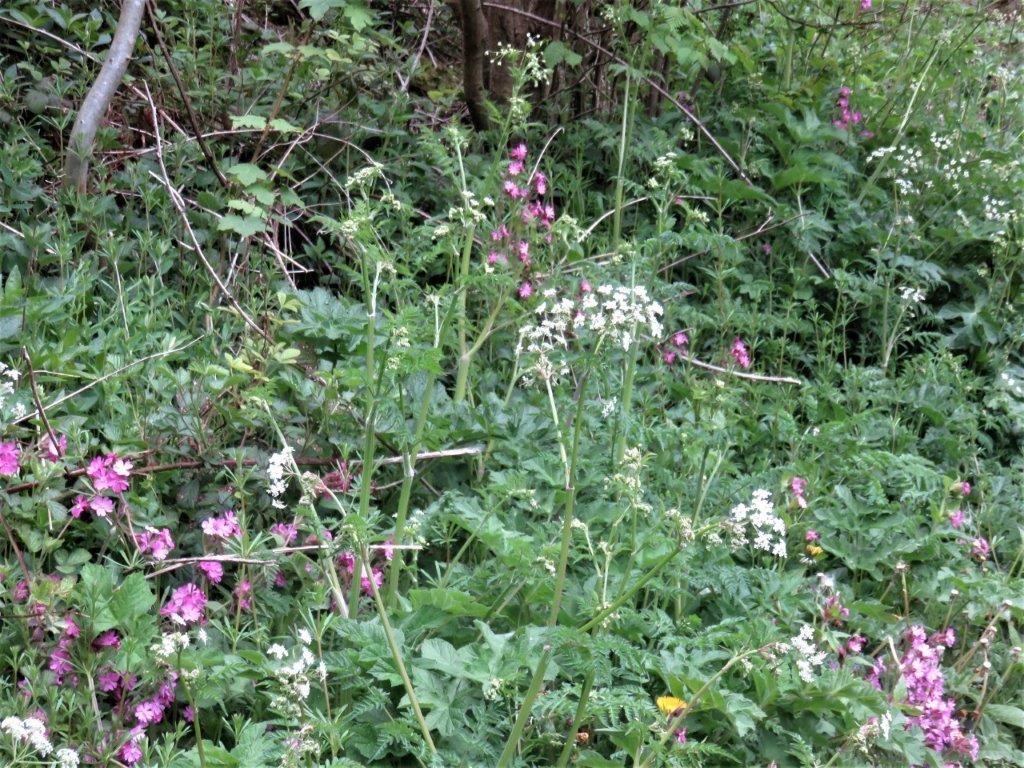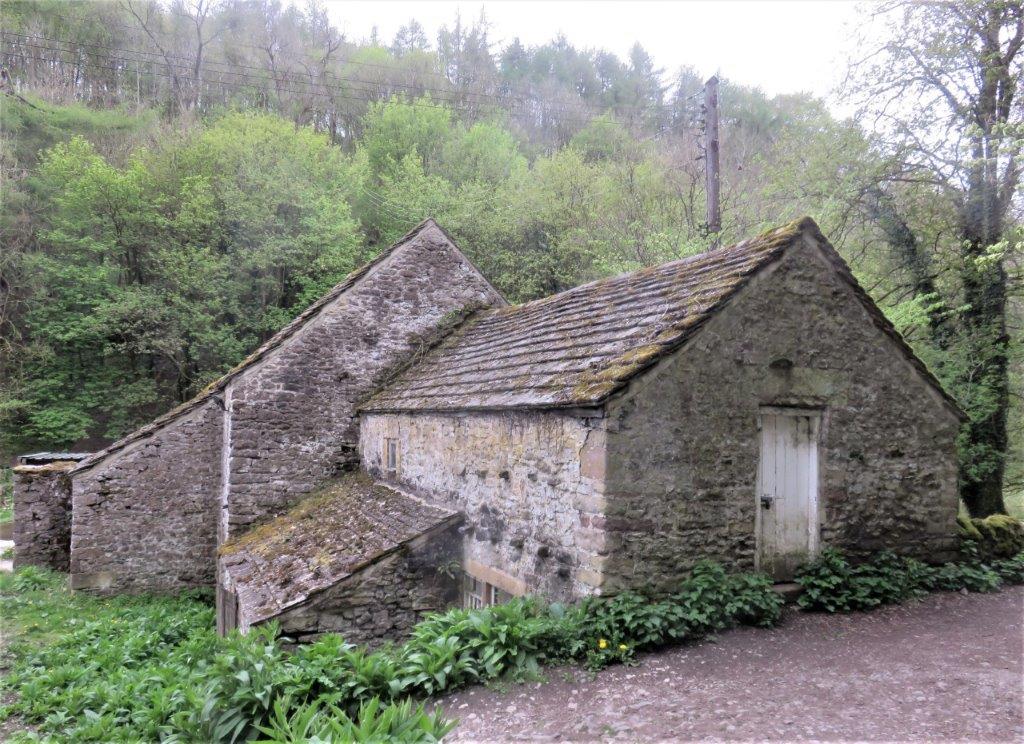 old farm building? to west of river crossing point (not taken on this walk)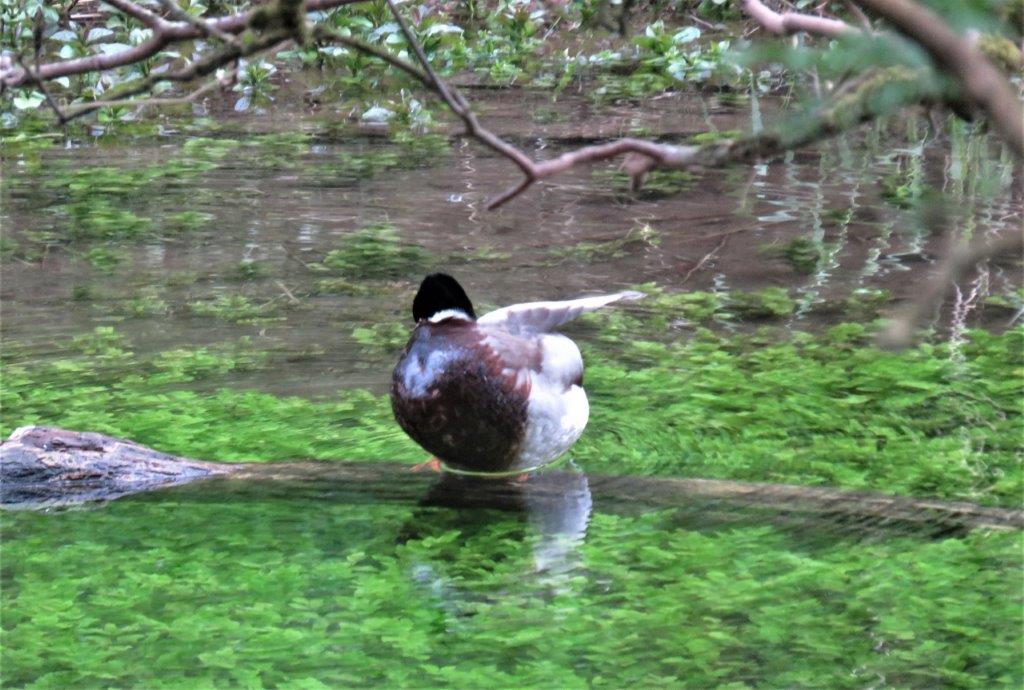 preening Mallard Duck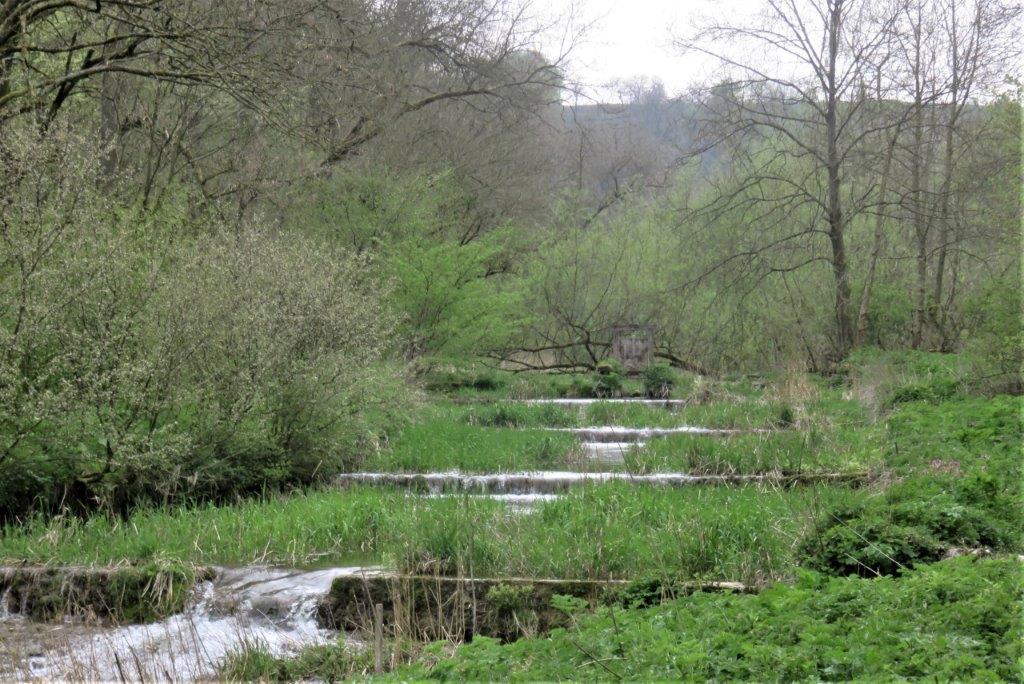 series of weirs seen from the 'permissive footpath' on the north side of the River Lathkil (in Lathkil Dale) as we headed westward and upstream toward Cales Dale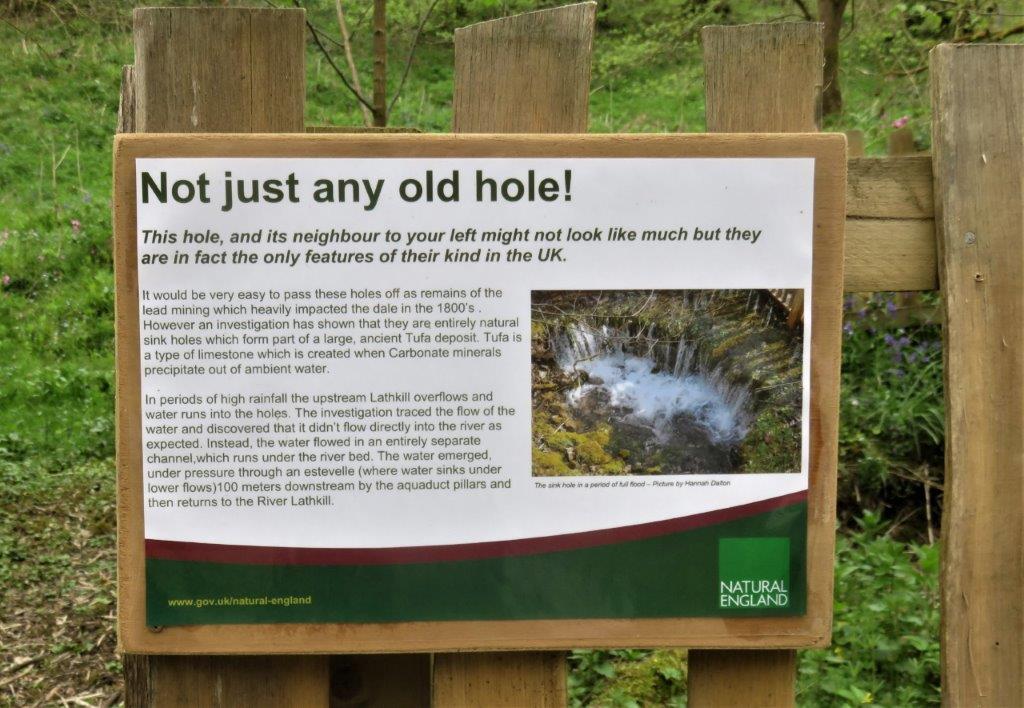 Natural sink holes in Tufa limestone deposits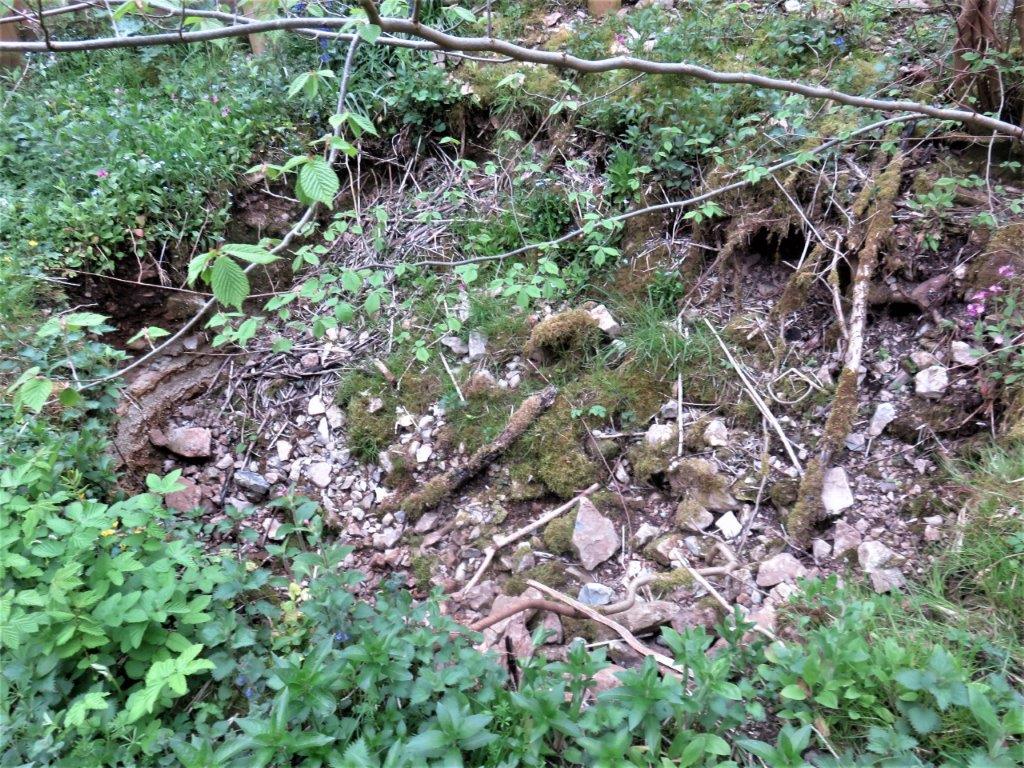 sink hole - as illustrated above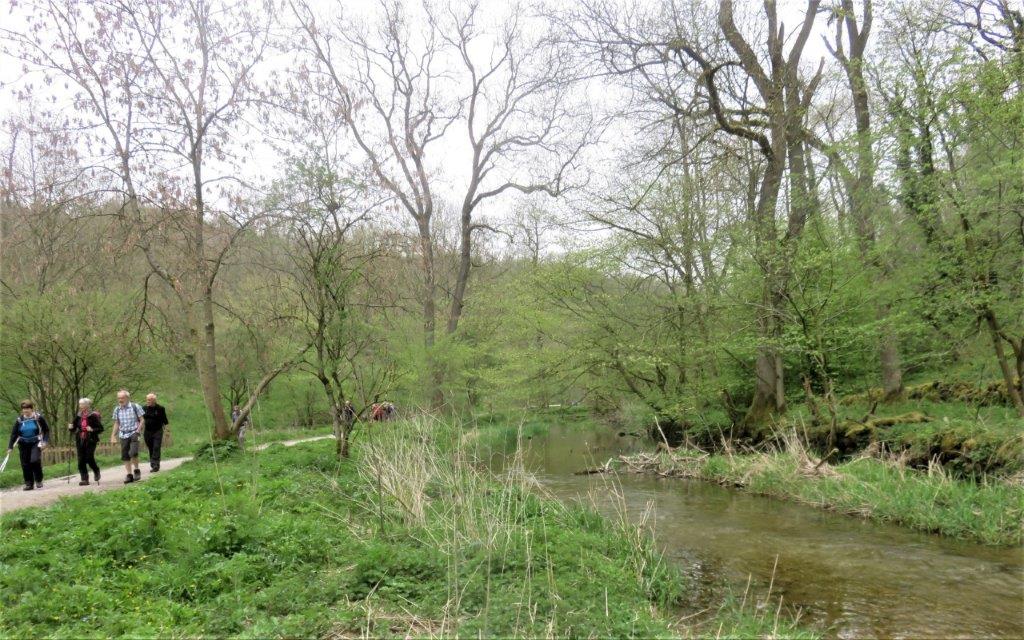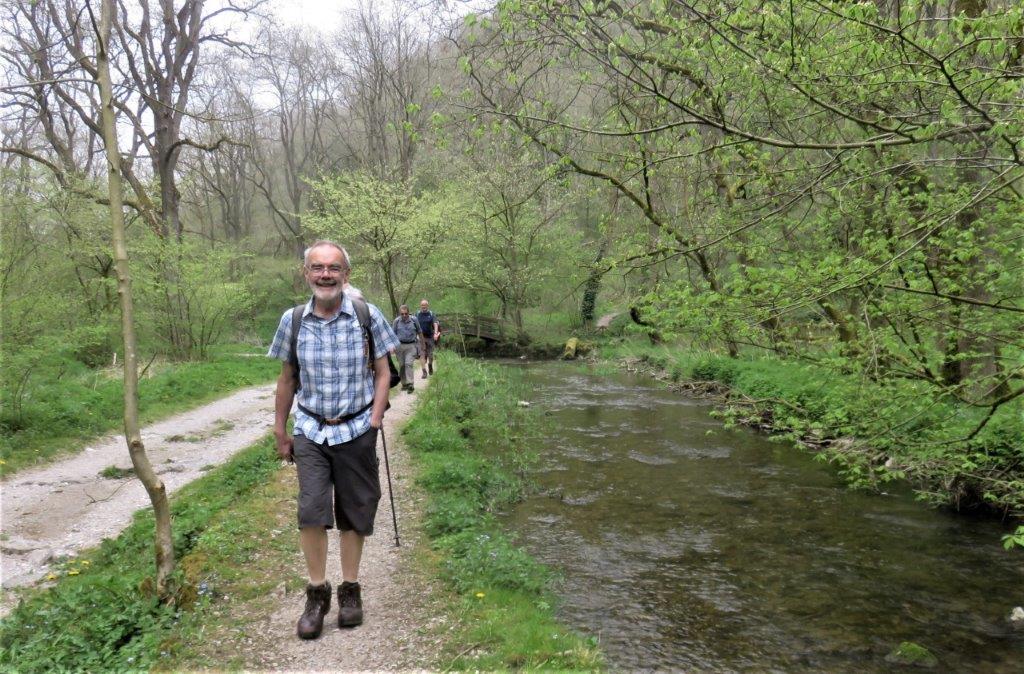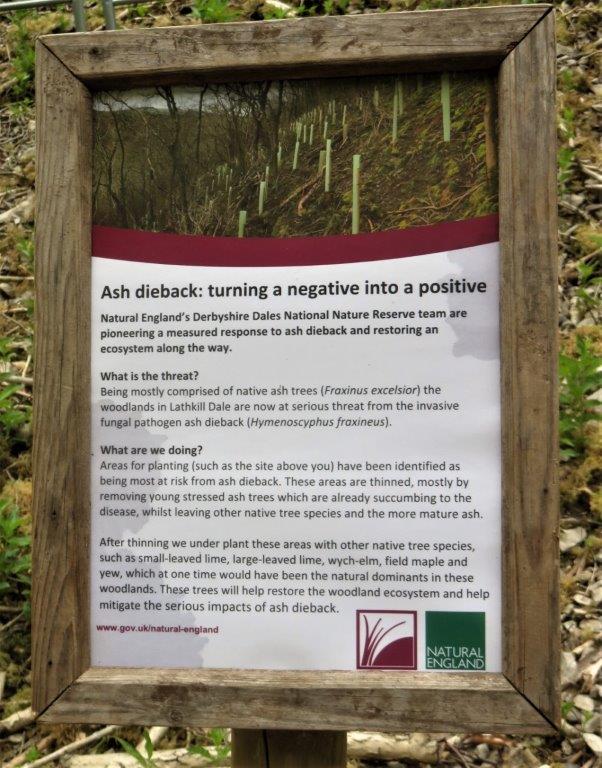 Ash dieback and measures being taken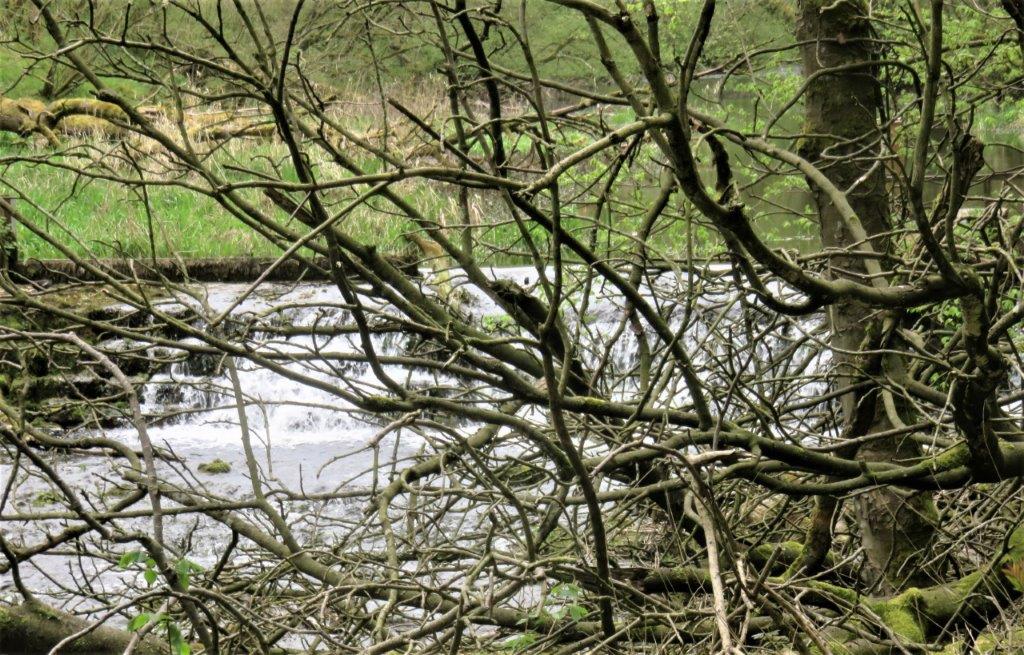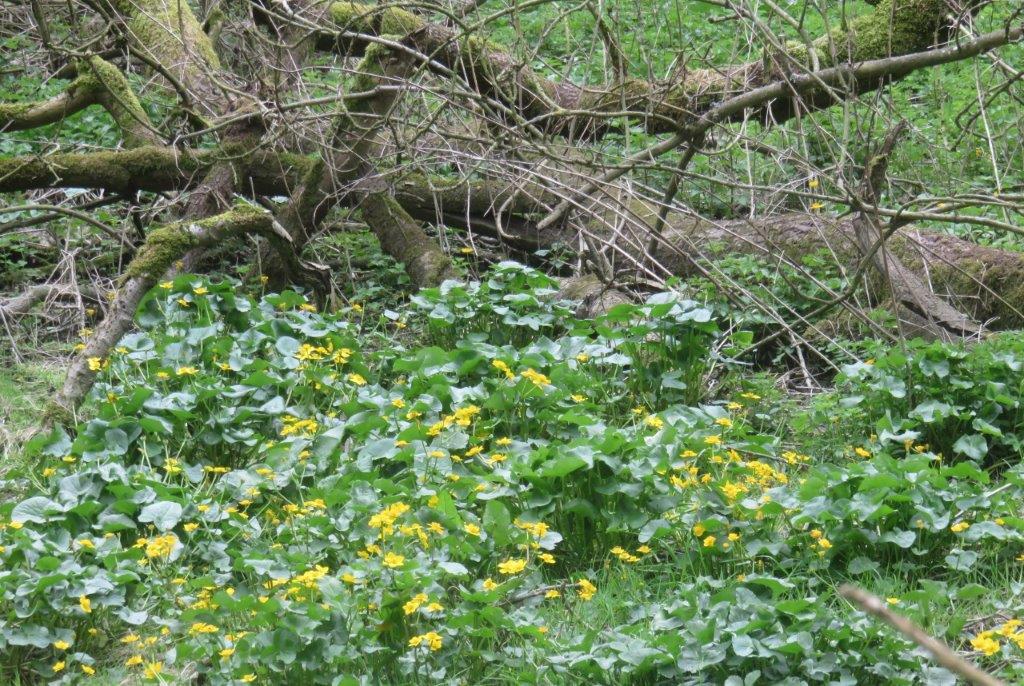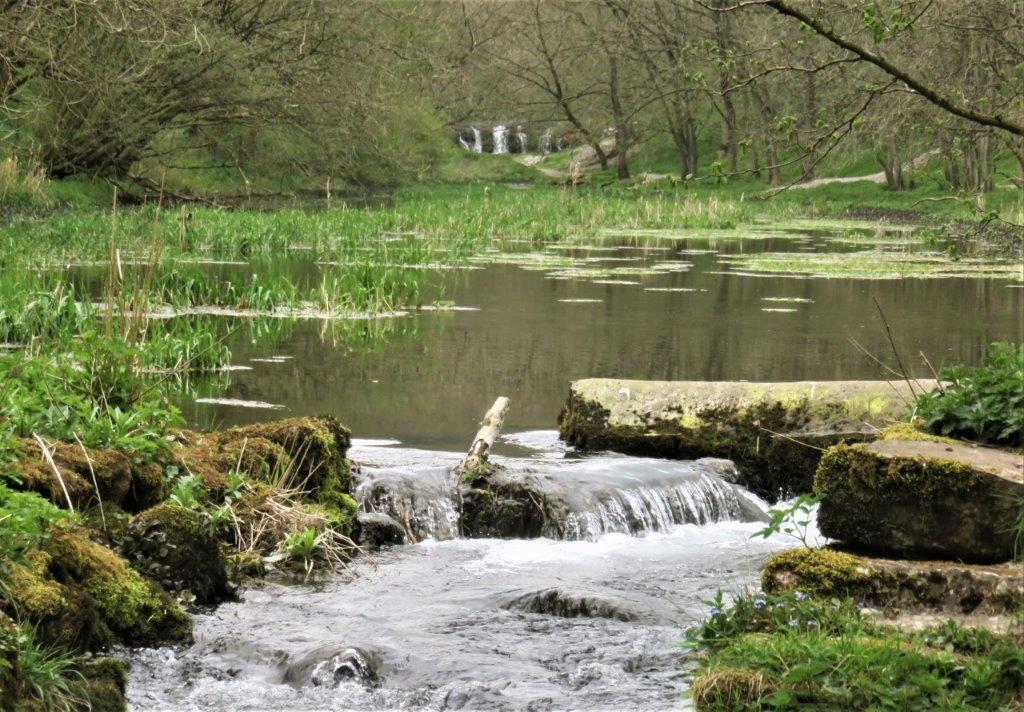 possibly a pond for a now disappeared watermill? some millstones seen along river.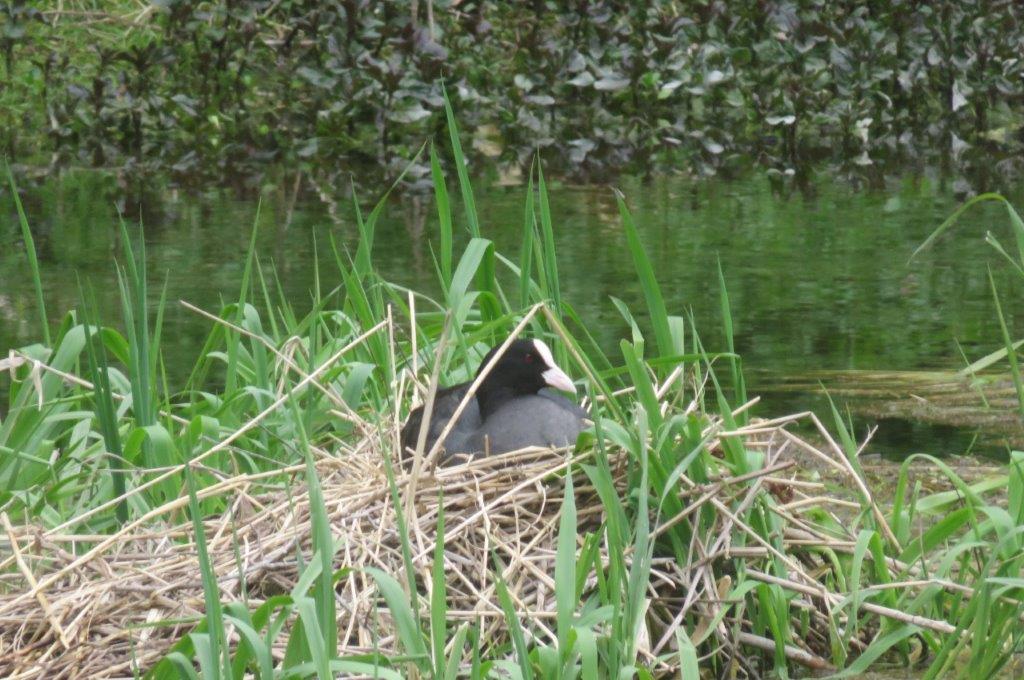 Coot on nest built in the middle of the river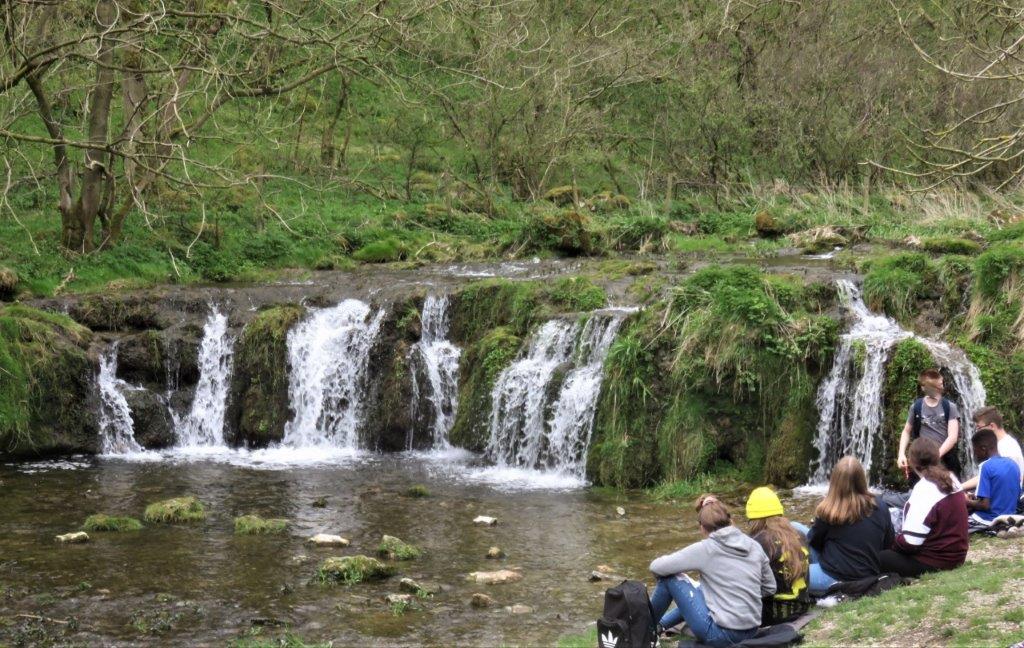 school group on visit to Lathkil Dale?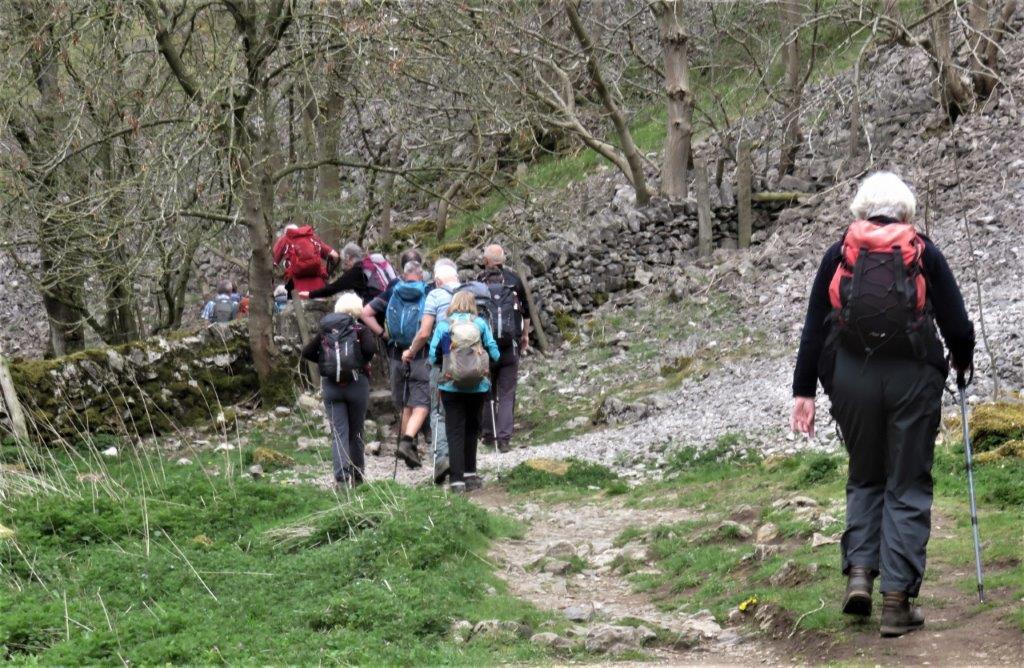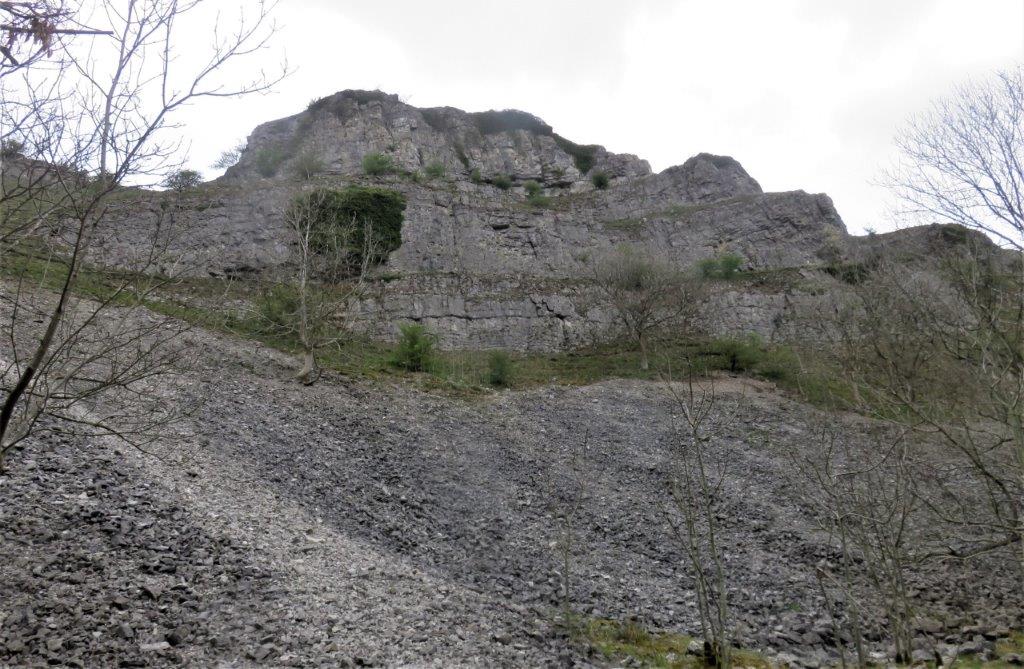 impressive scree below limestone cliff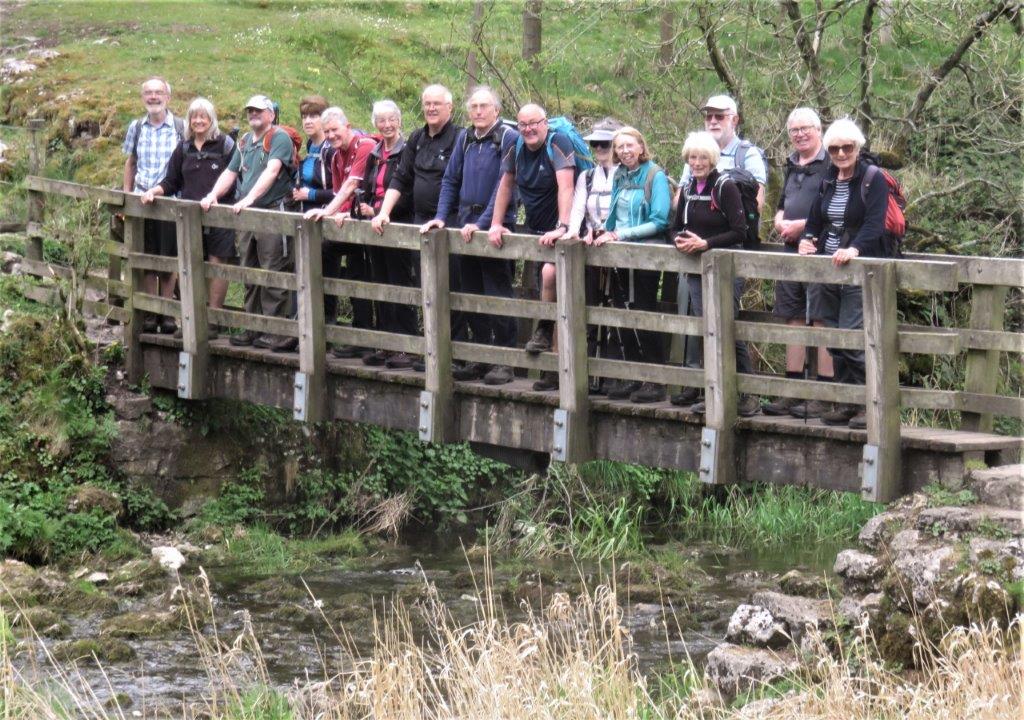 footbridge over River Lathkil crossing into Cales Dale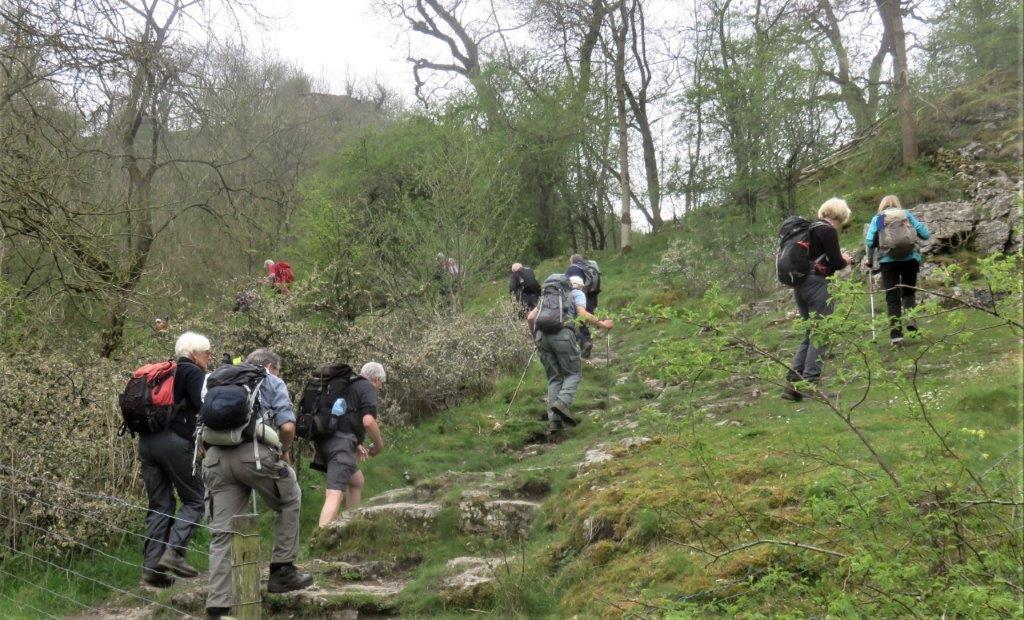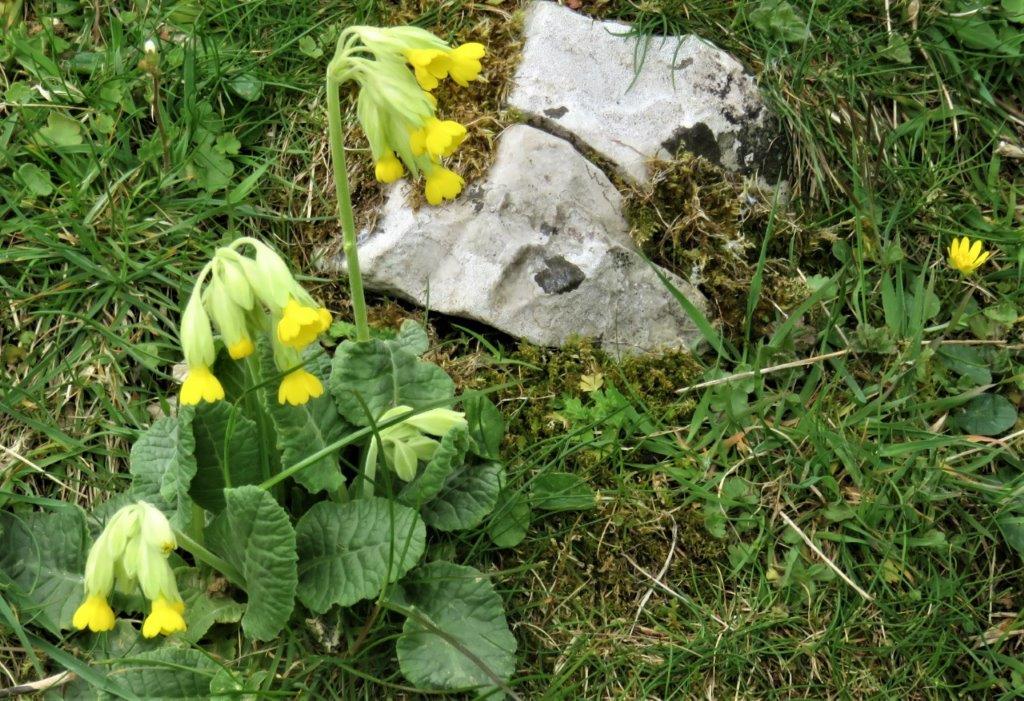 wild Cowslips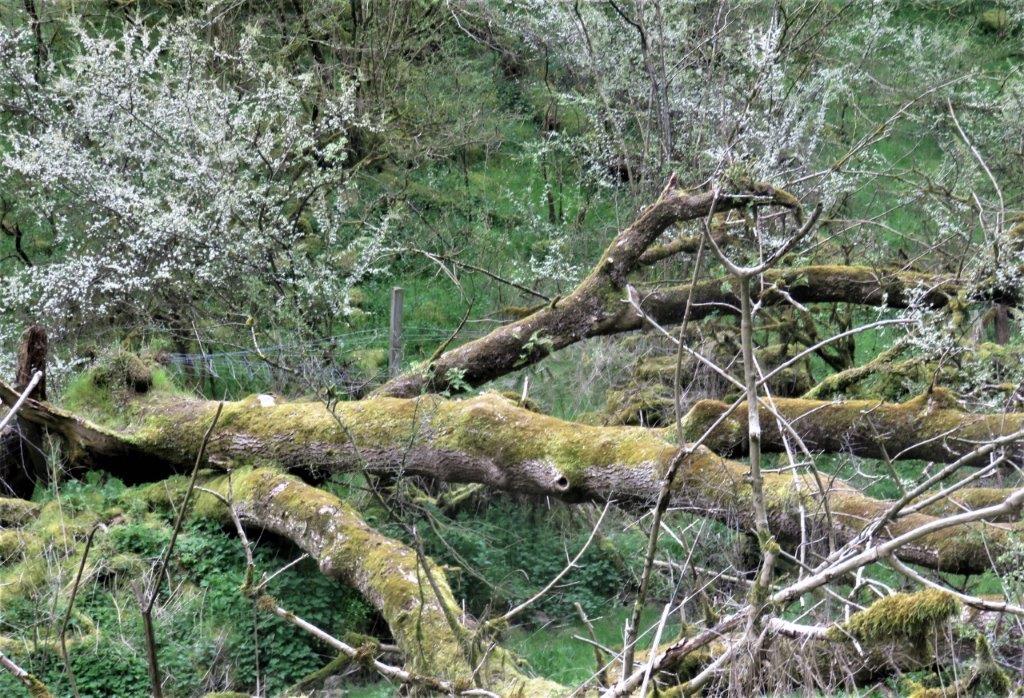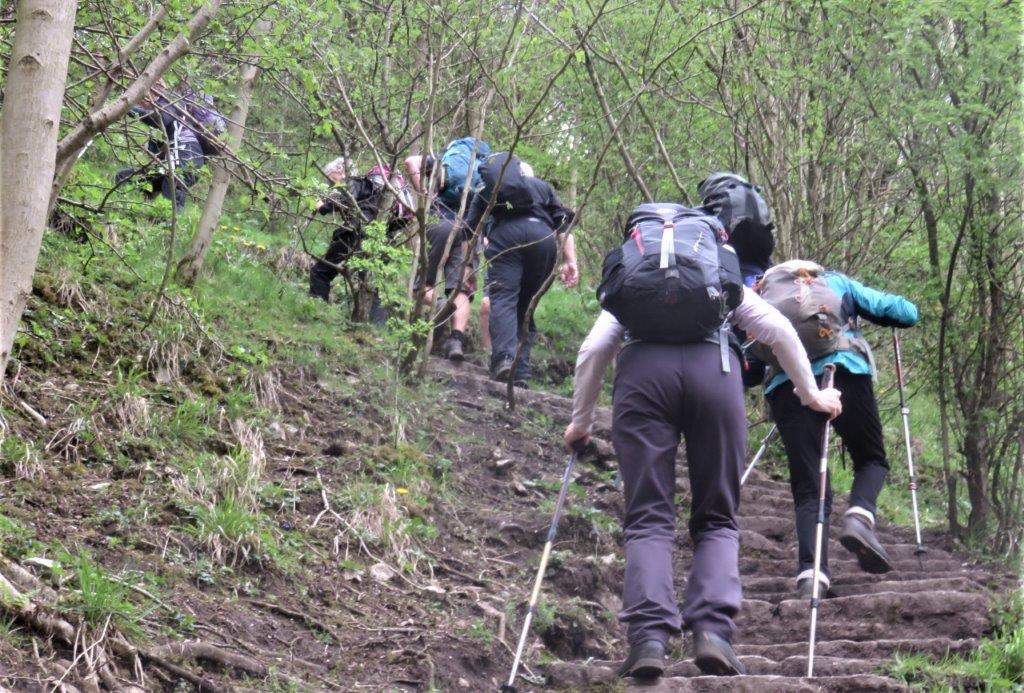 up the steep east bank of Cales Dale - part of the Limestone Way. One Ash Bank Farm is on the west bank but only seen when much higher up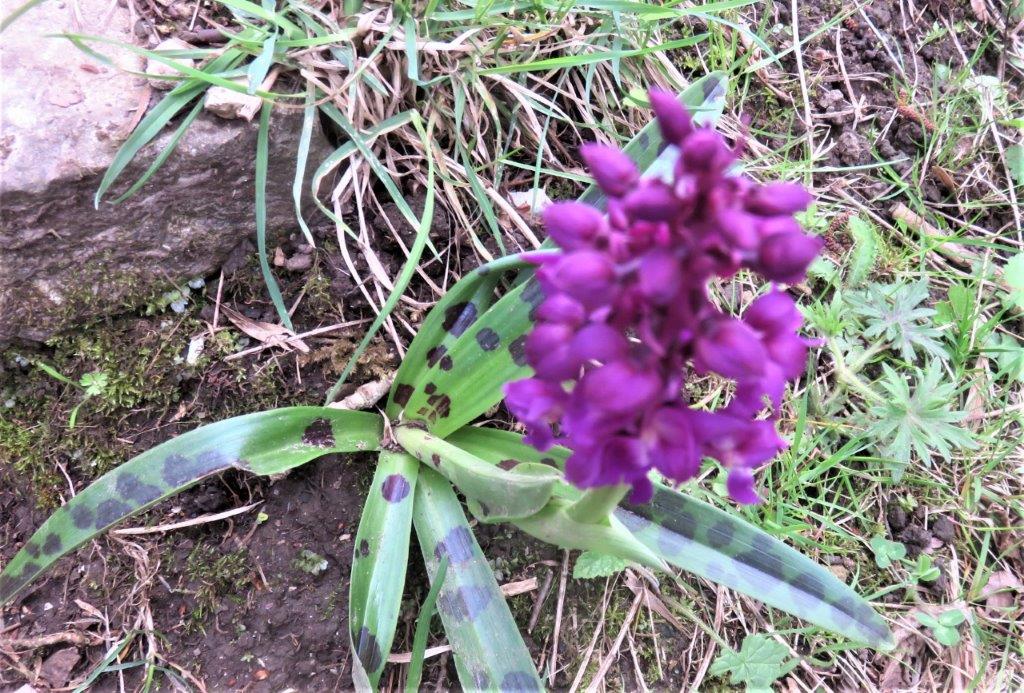 spotted leaf wild orchid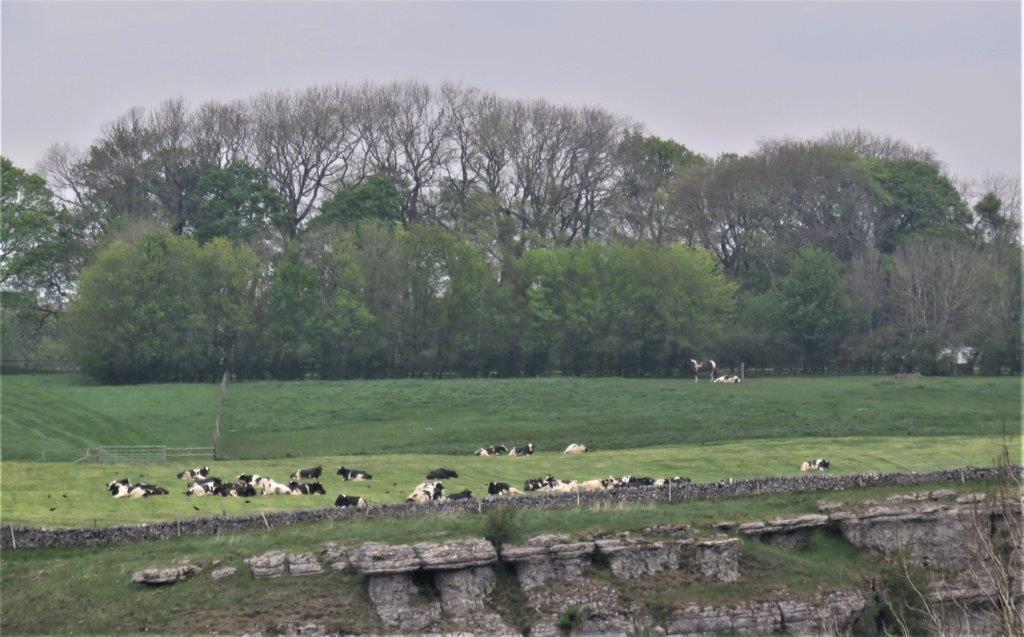 cattle in field with top of Lathkil Dale cliffs in front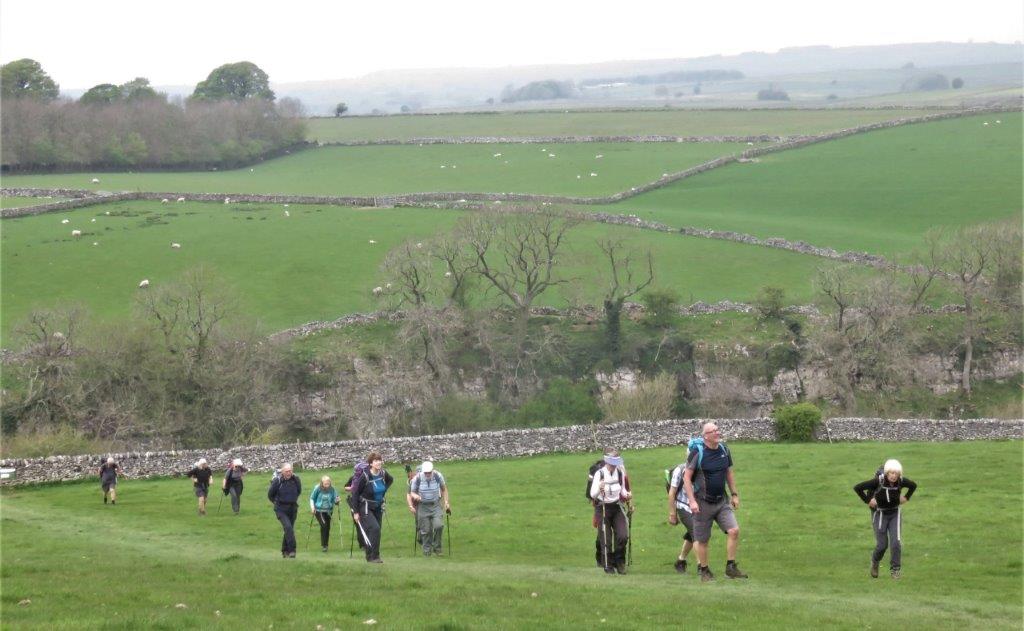 up towards Calling Low farm buildings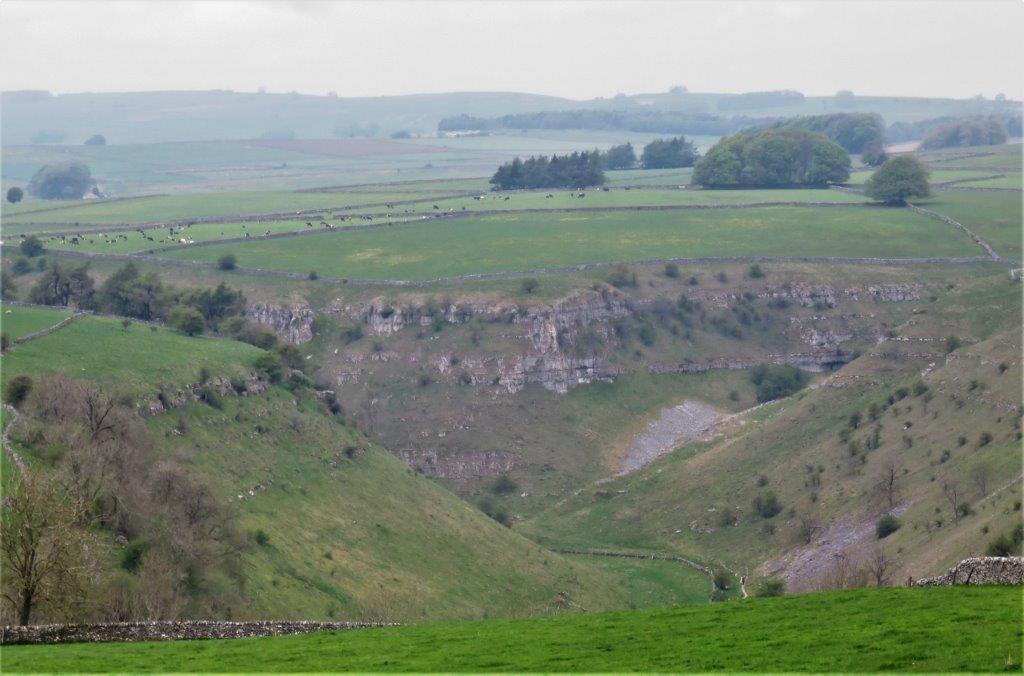 Cales Dale running into Lathkil Dale (as seen from above)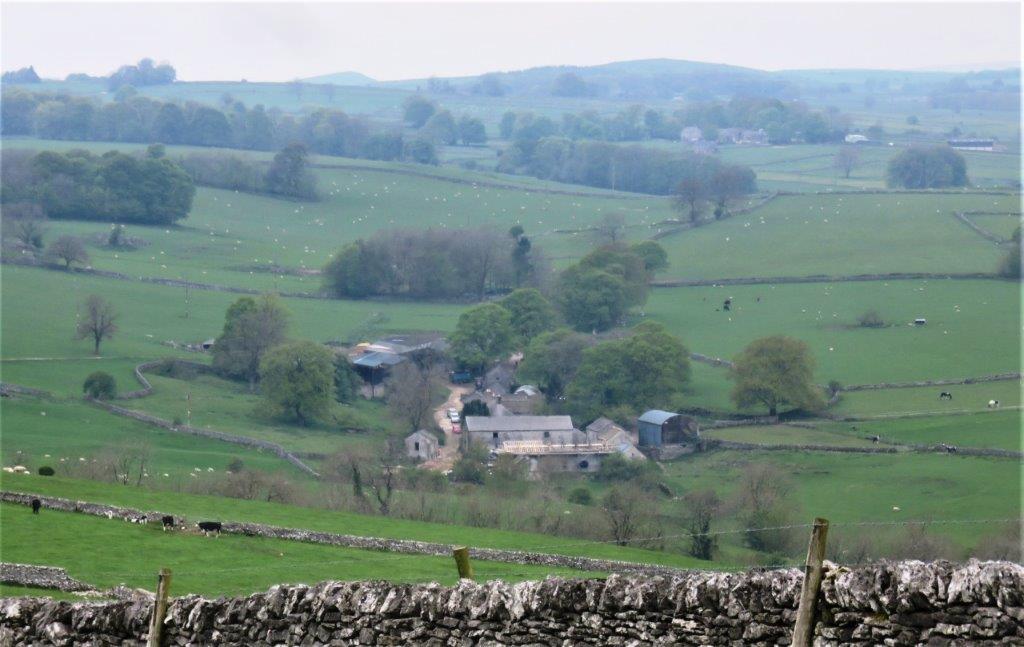 One Ash Grange Farm only seen when higher up. The Limestone Way also runs through it. See web - settled by Cistercian Monks in 1147 and Quaker meetings held here in 1700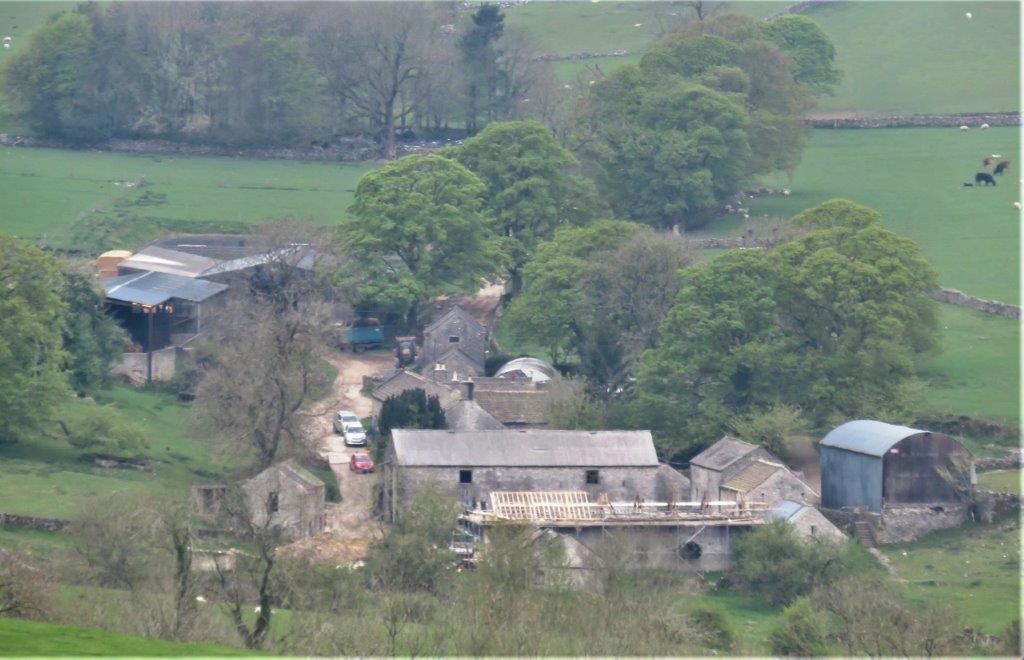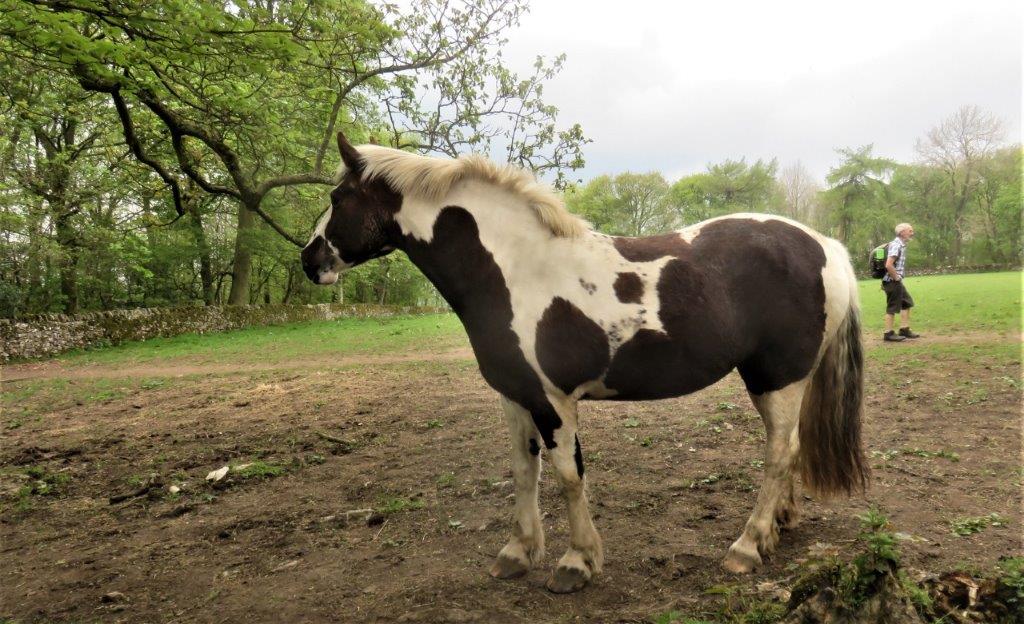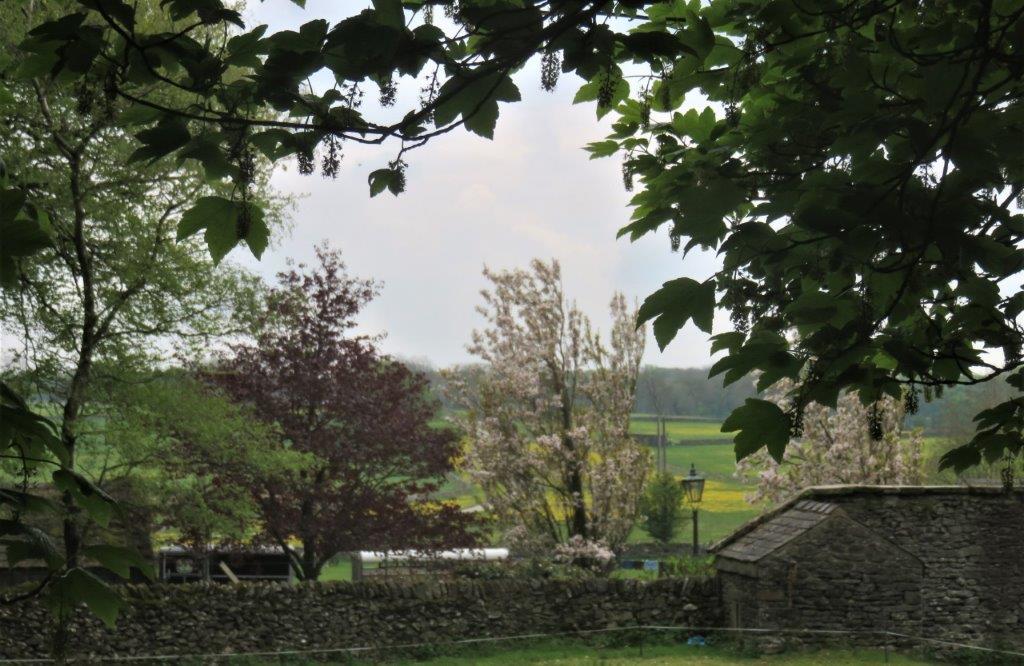 view near Calling Low (farm)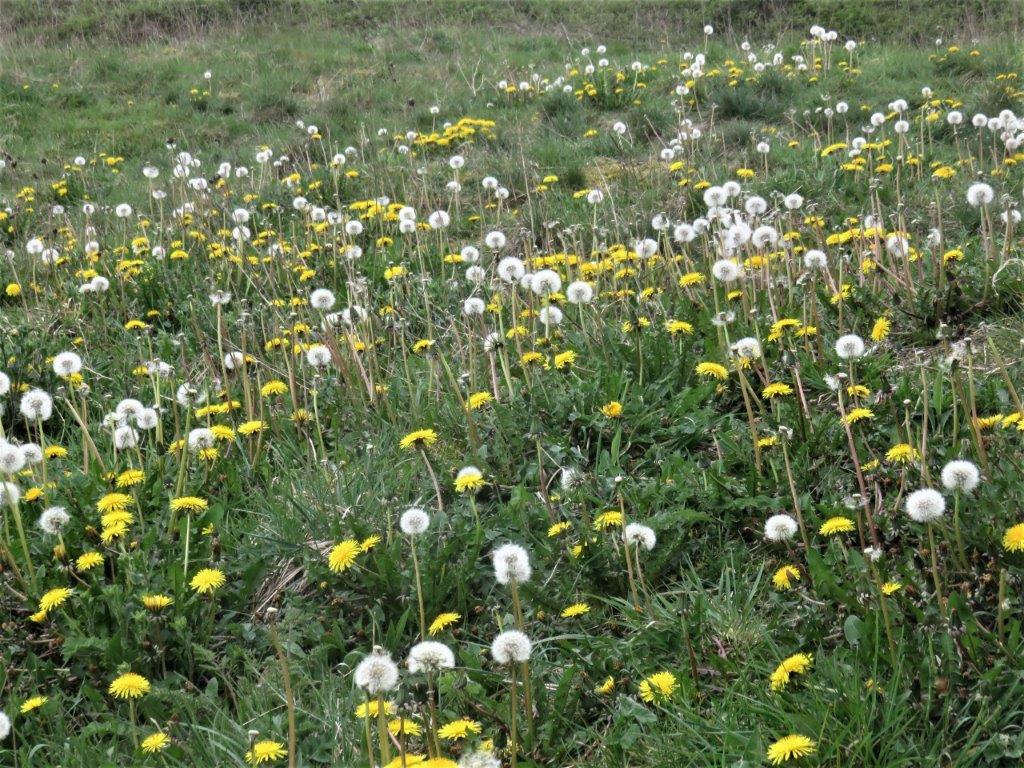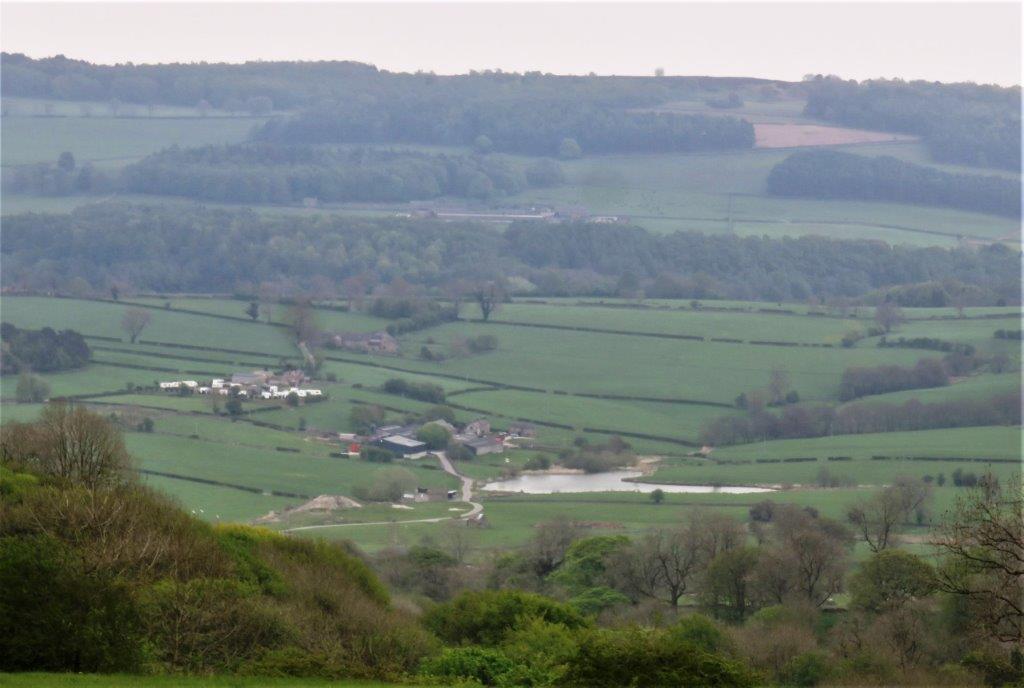 long distant view of pond near Hollow Farm - southeast of Youlgreave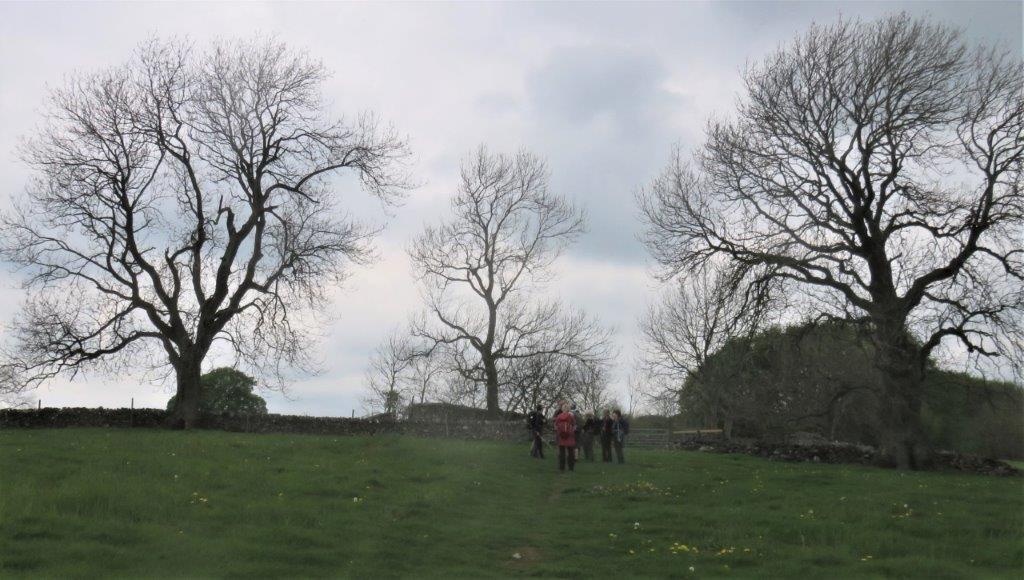 on Limestone Way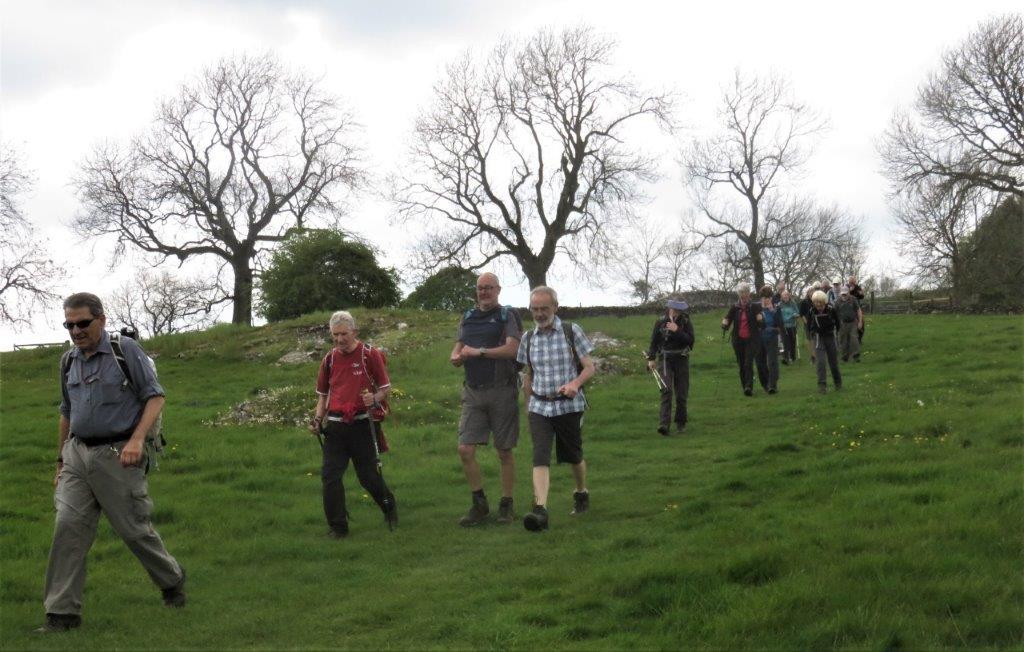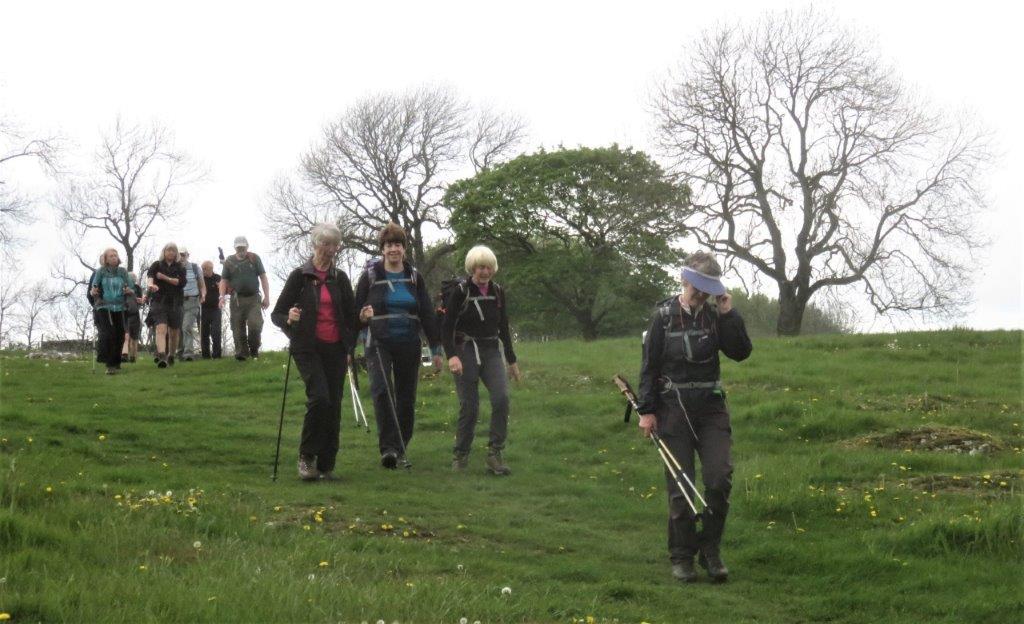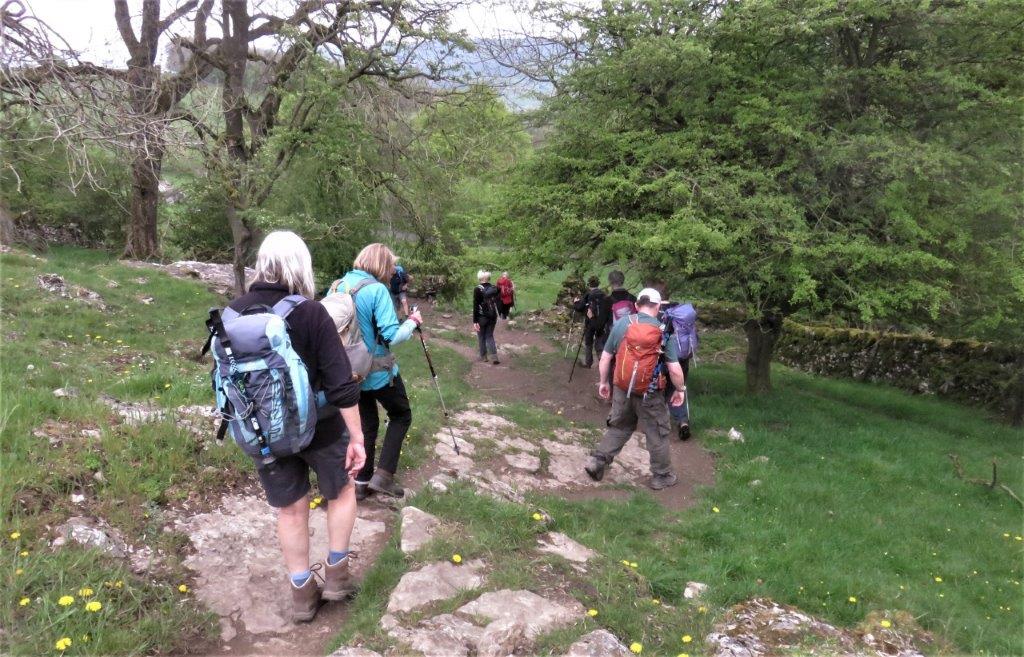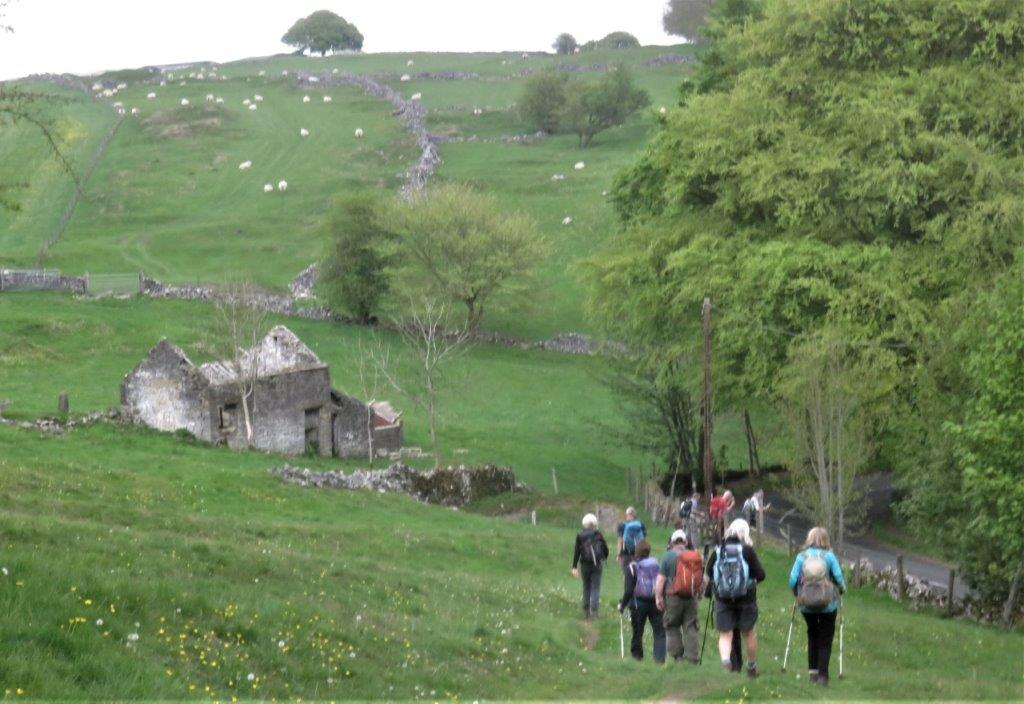 on Limestone Way - soon to descend past Lomberdale Hall to Bradfield Dale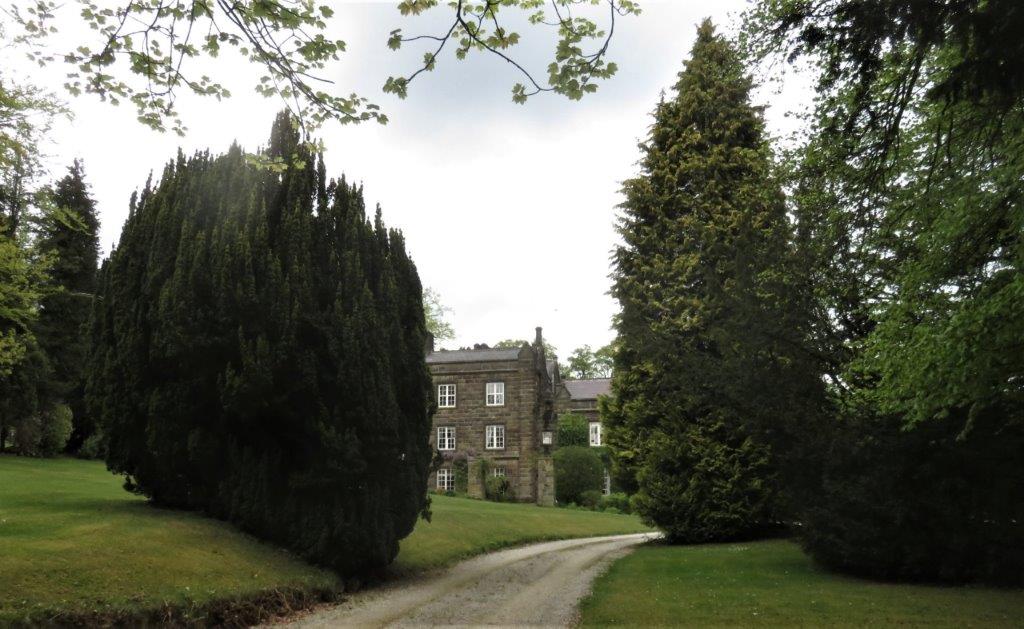 Lomberdale Hall (not easily seen from the road)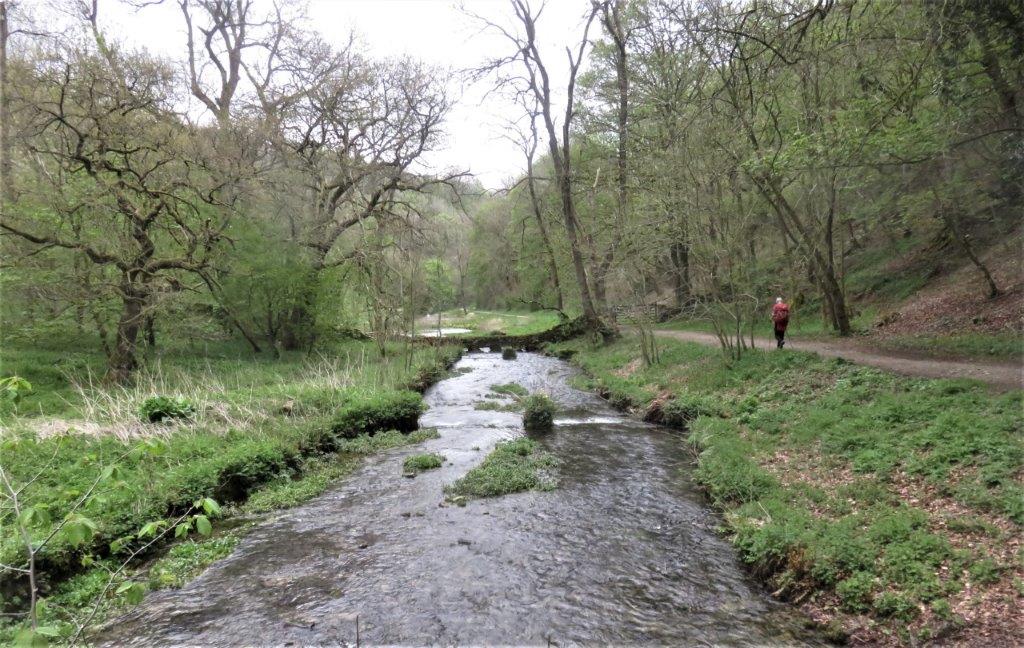 Bradfield Dale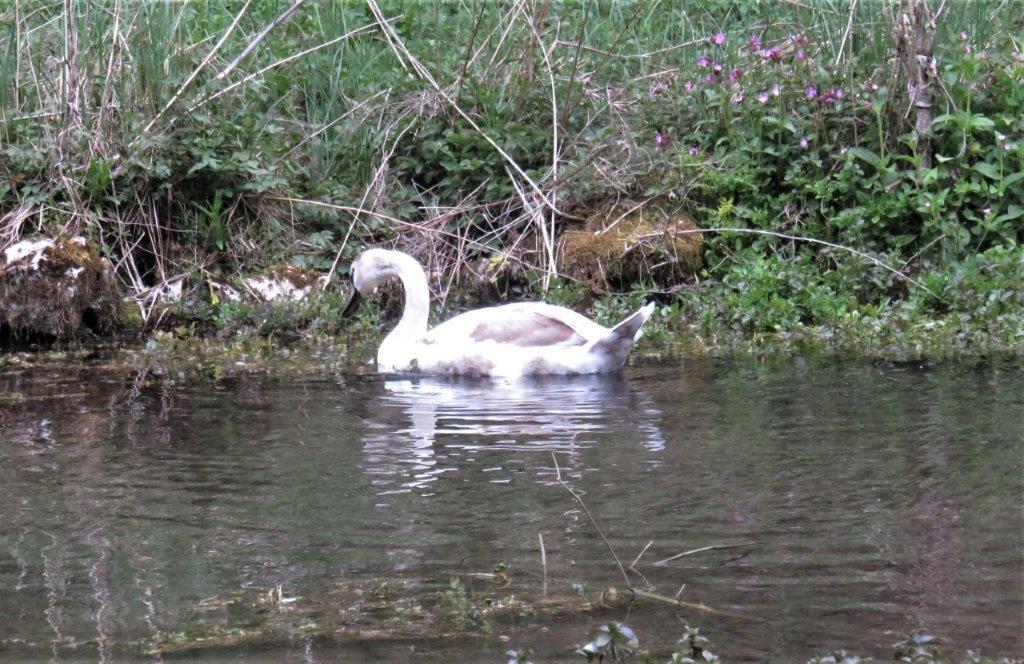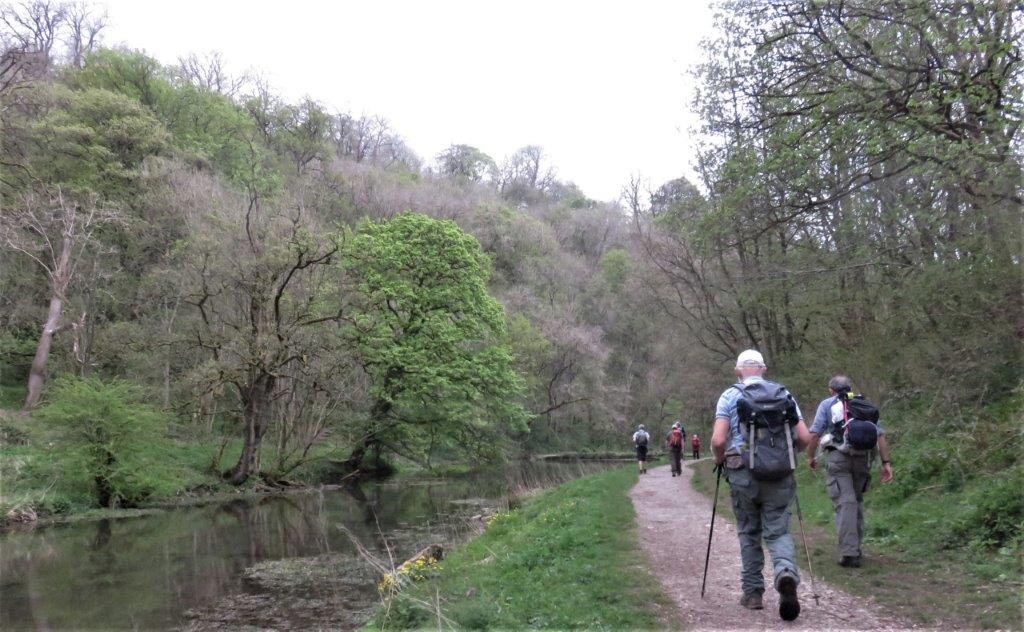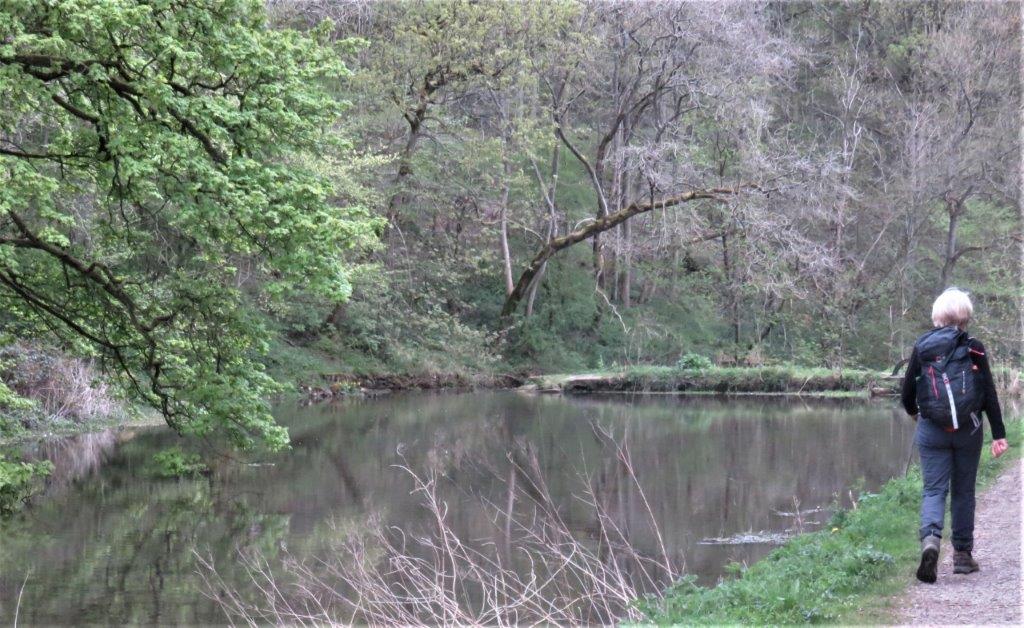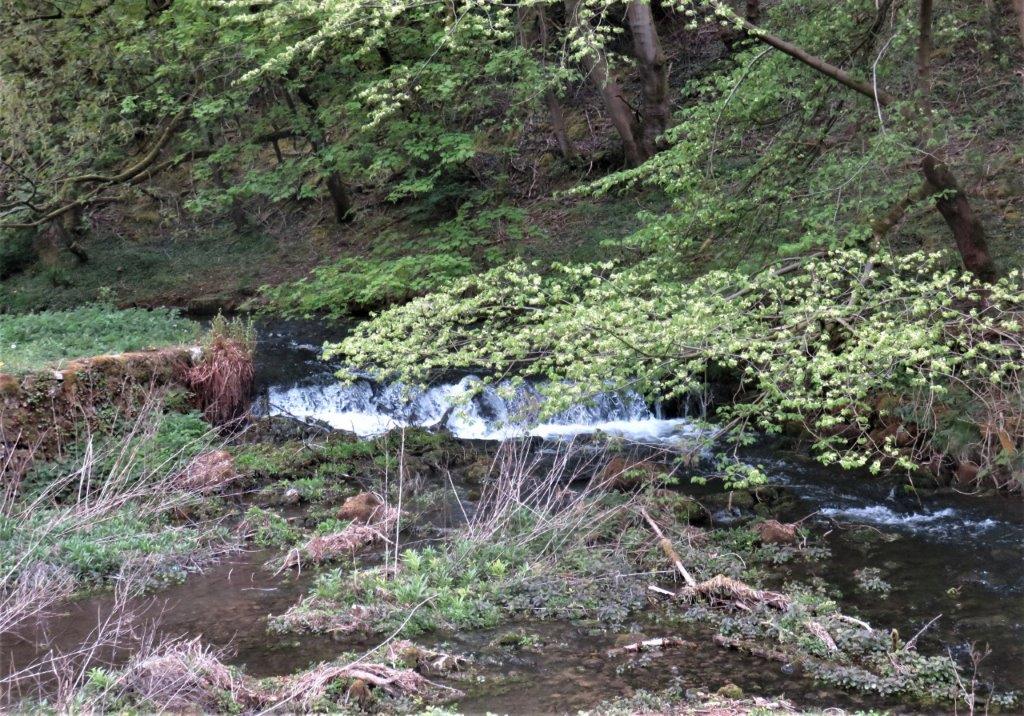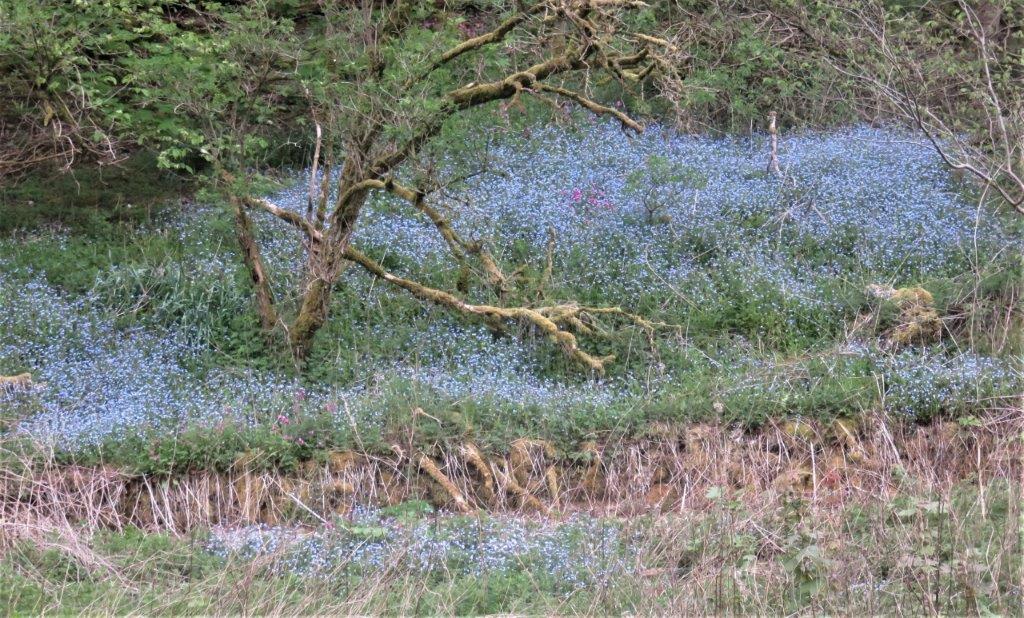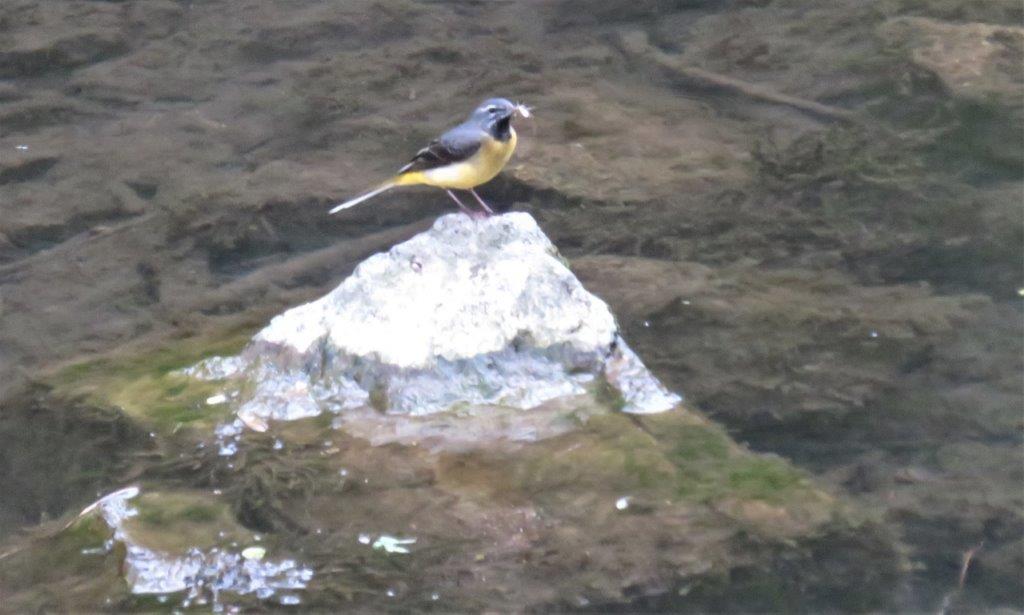 Grey Wagtail?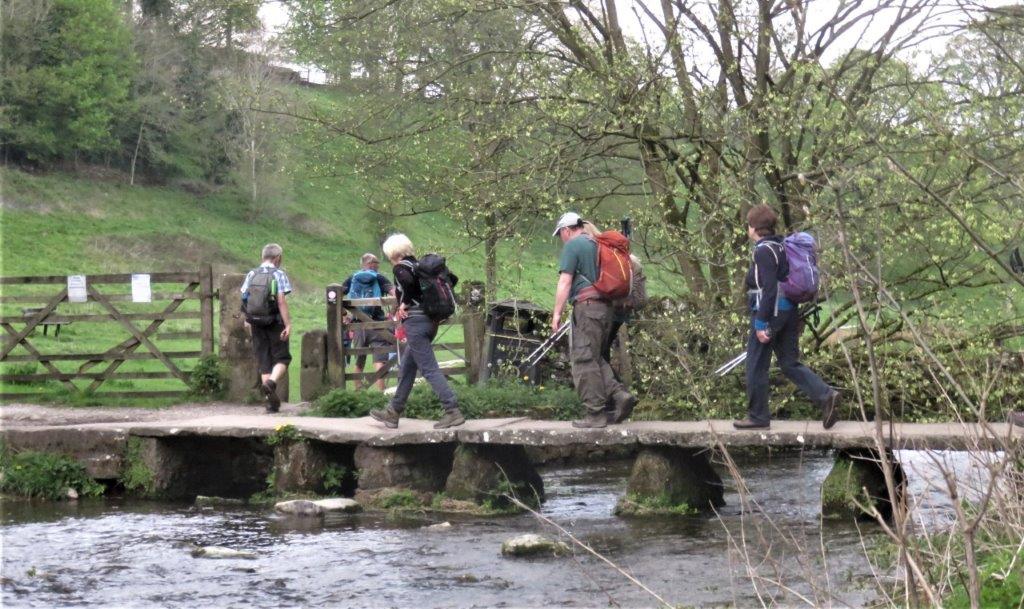 crossing River Bradfield from south to north bank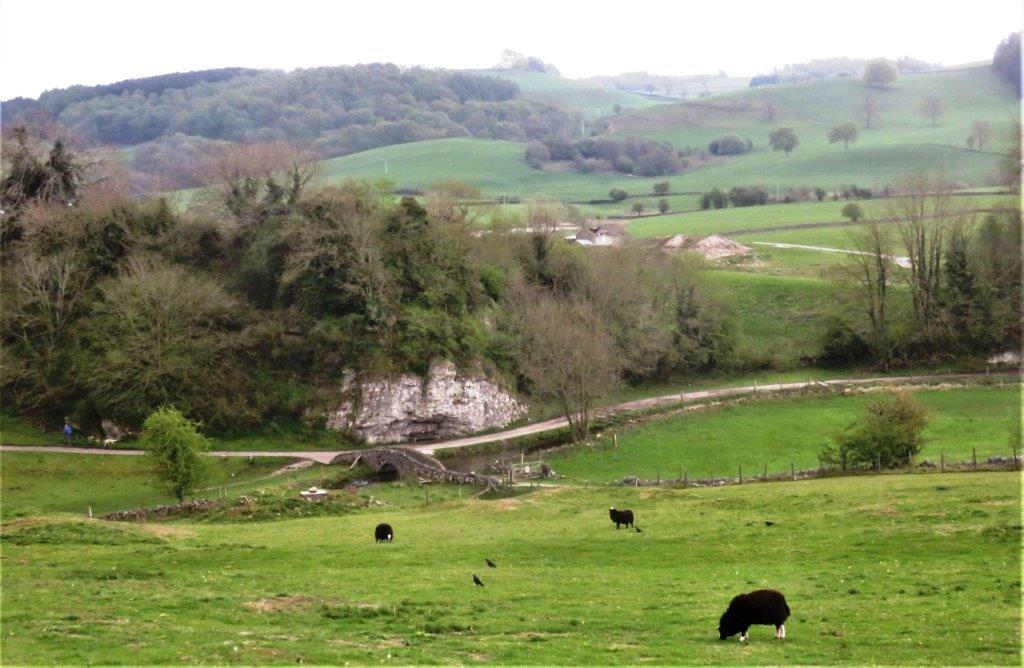 view down to River Bradfield flowing northeast (left in picture) to Alport. (The low level path can also be taken to Alport)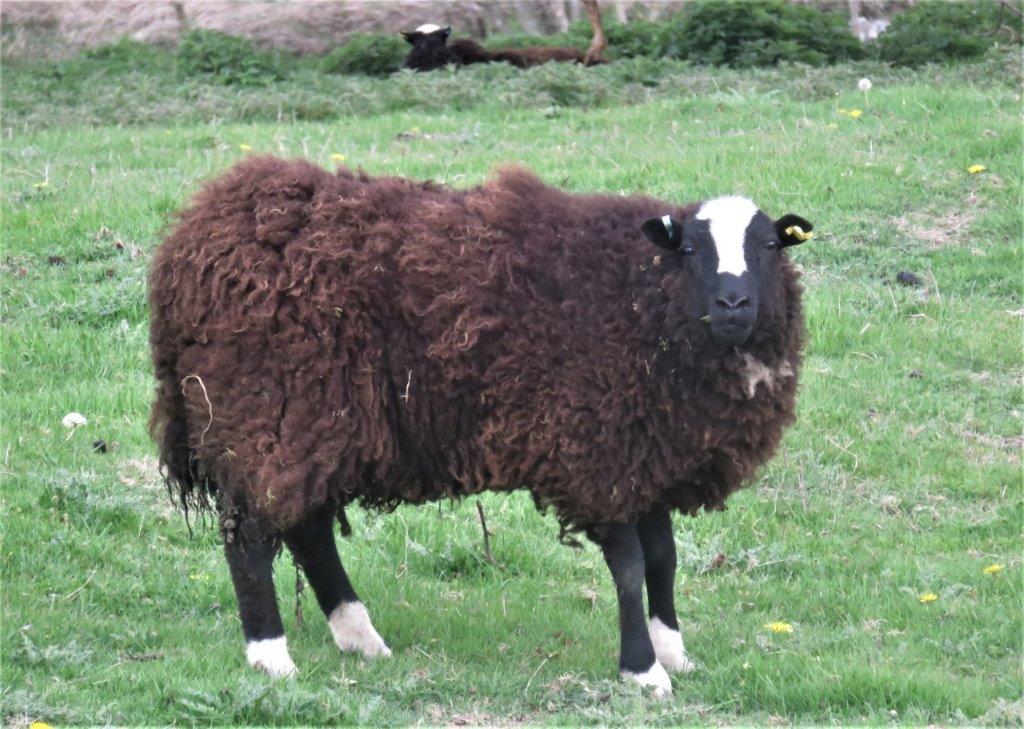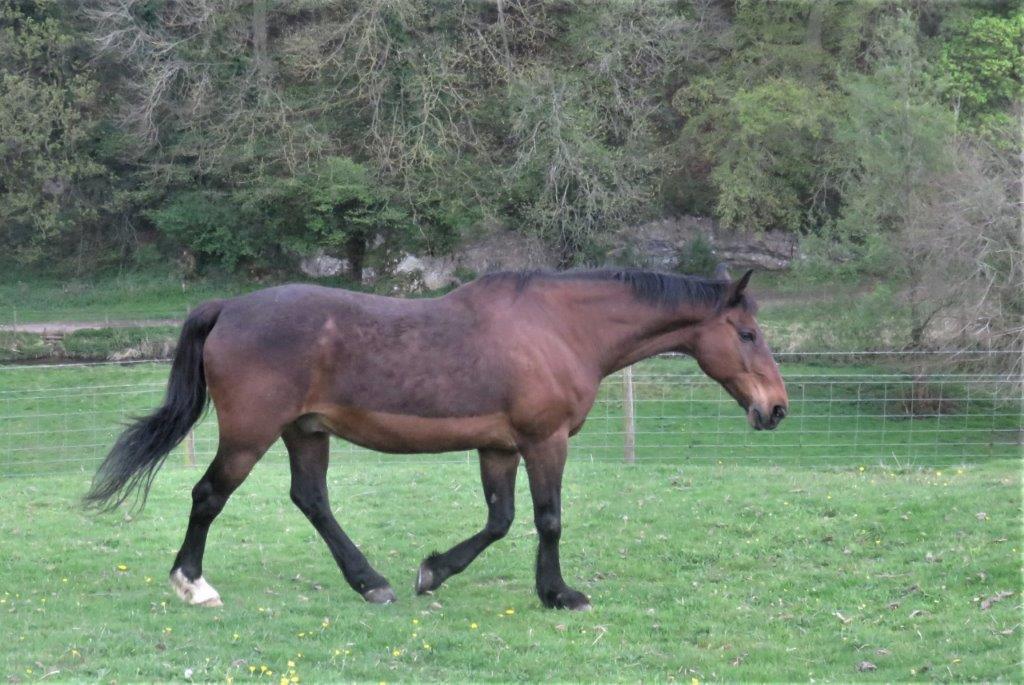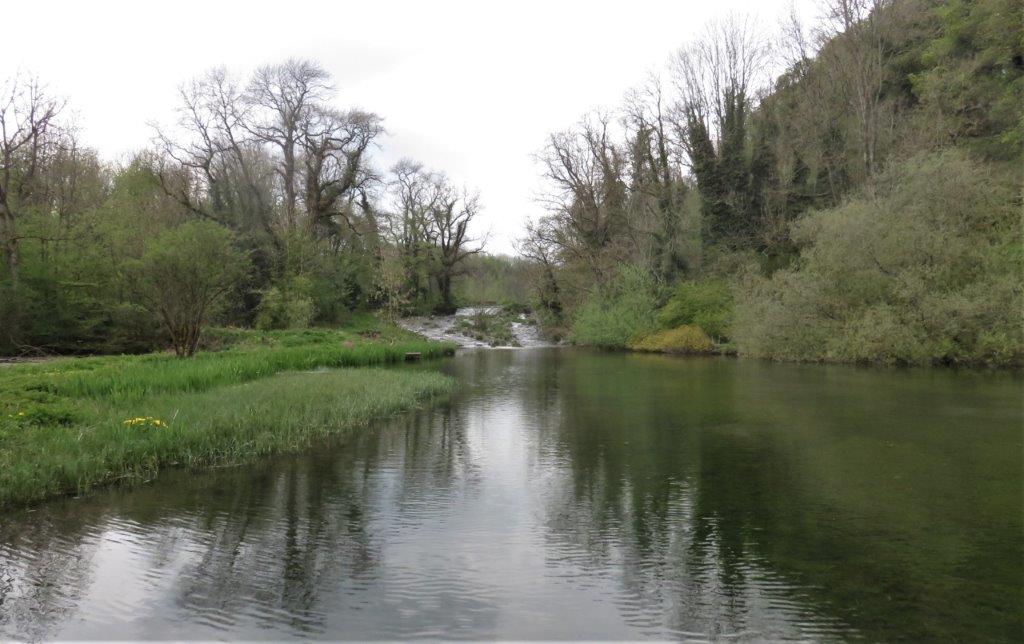 view upstream from path crossing The River Lathkil near Raper Lodge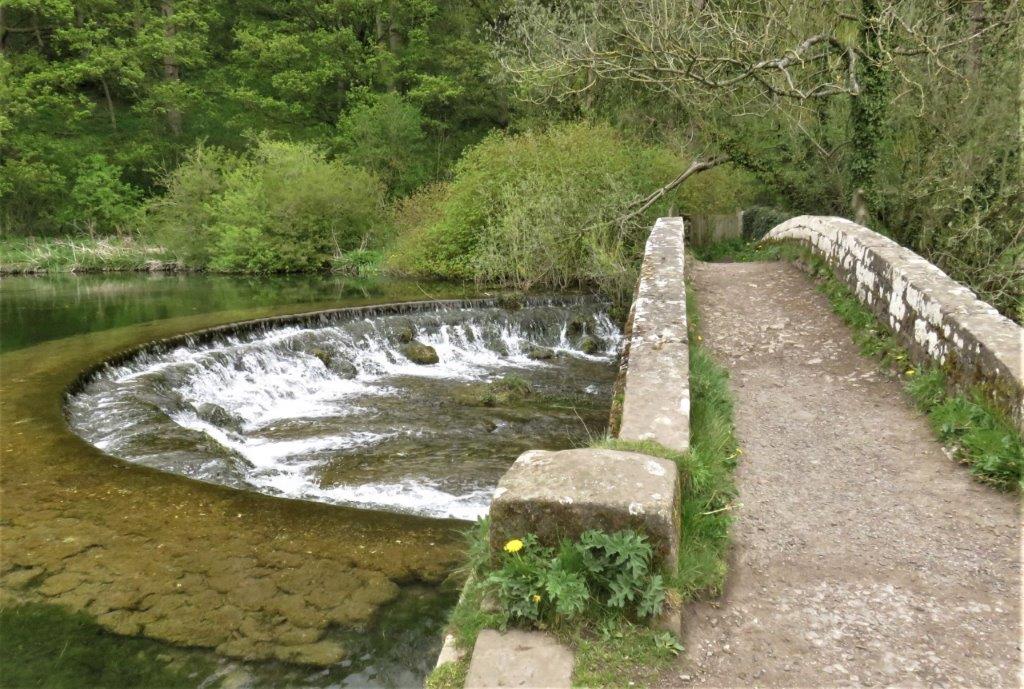 weir next to path - which zig zags up to 'restricted byway' in Haddon Fields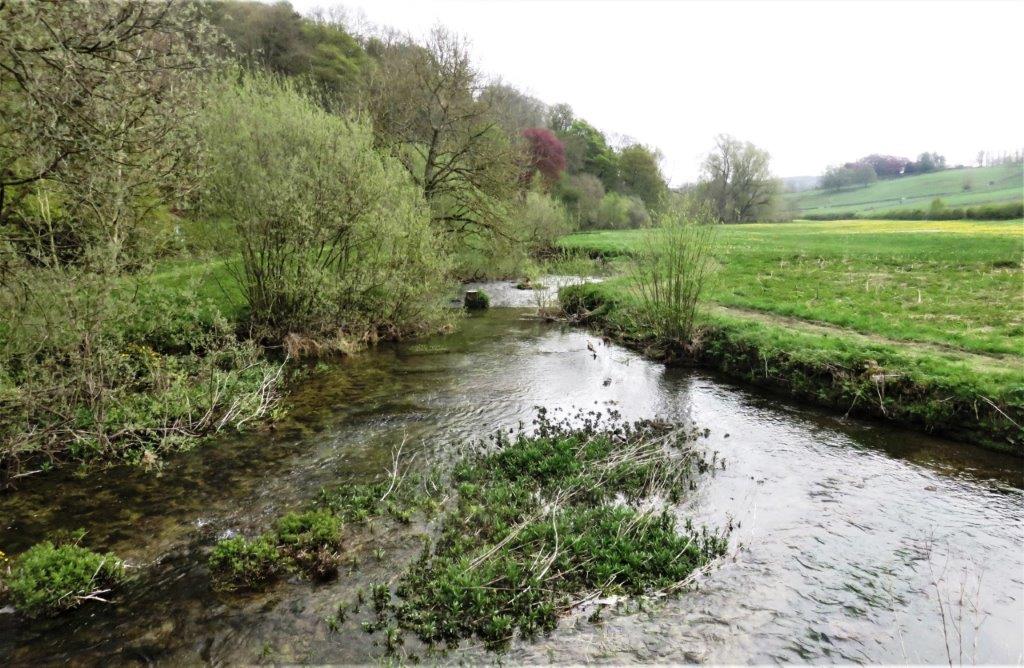 view downstream from the path crossing The River Lathkill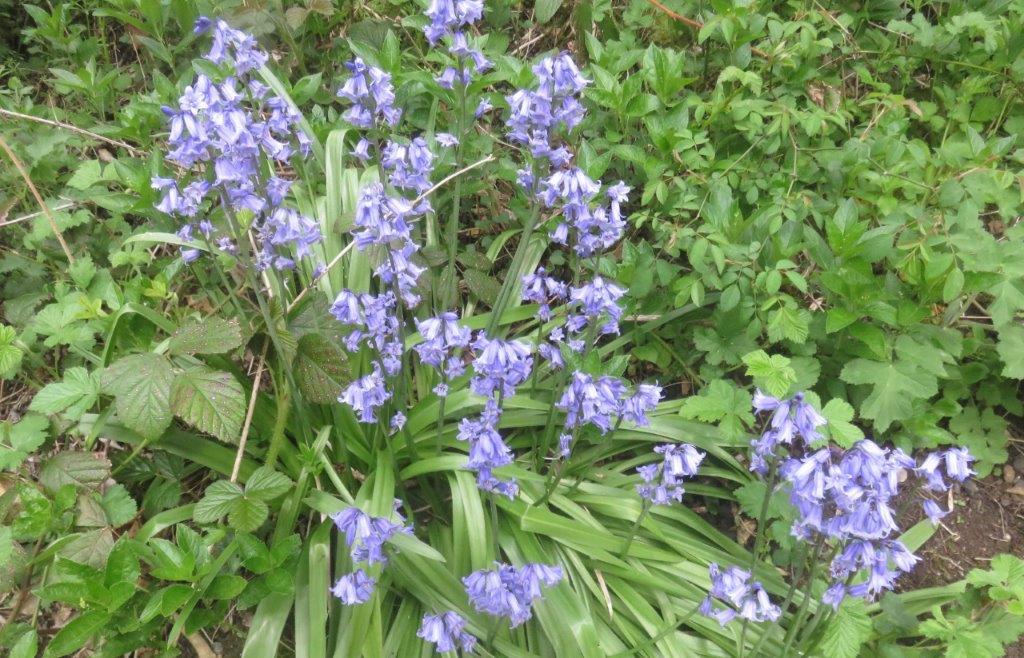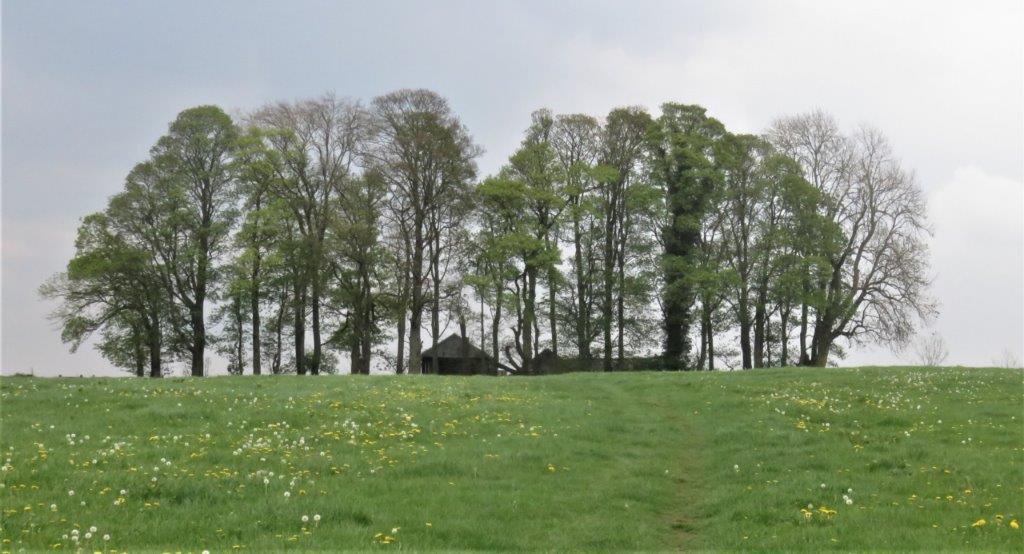 we headed toward the buildings near the south end of the 'restricted byway'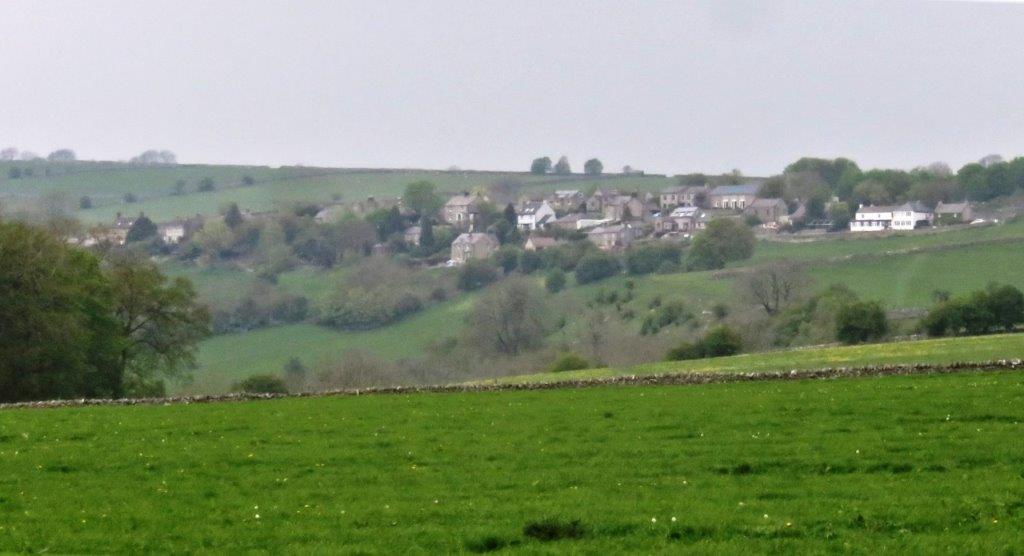 a view of Over Haddon which we passed through earlier on the walk.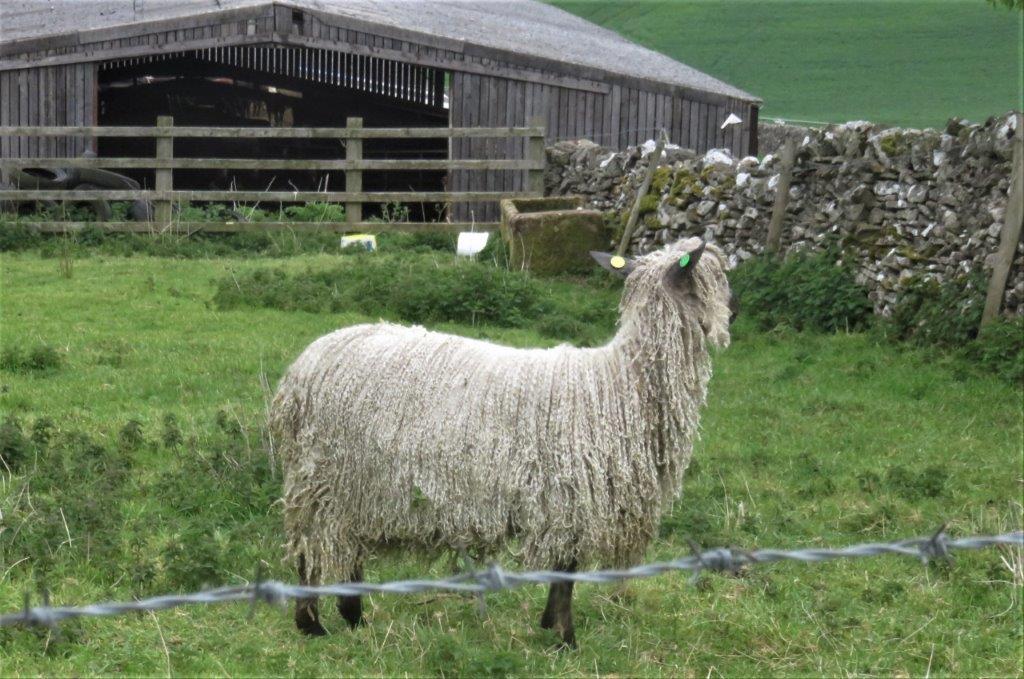 Norton Barn Farm - sheep with ringlets - which breed?
homepage - Daywalks Index 2019 - contact me at