homepage - Daywalks Index 2019 - contact me at

2019.02.13 (~3km E of Buxton) on A6 Road at ~SK093725, ~E up track then over rail track, ~SSW thru & beyond Sterndale on rd, at SK092715 turn off ~SSE to join & follow Priest's Way thru Horseshoe Dale to A5270 Rd, follow rd & FP to 'Sewage Works?', ~ E on Lanes / paths to ~SK113700 in Chelmorton, ~NE up to Church & PH, ~ENE on FP passing on south side of Fiveways Farm to Taddington, cross A6 Road at SK145714, ~NE to / down / across Highdale, up track to join and follow track NNW for ~200m to SK152724, ~NE down to Monsal Trail, ~50m E on Trail then down and across FB over River Wye into Litton Mill, follow R. Wye to west on rd, but turn off ~N up Tideswell Dale to Pk & PC, continue on path but cross B6049 Rd near Sewage Works, follow path (parallel to but above the B6049 Rd) into Tideswell - leader John Taylor - Wednesday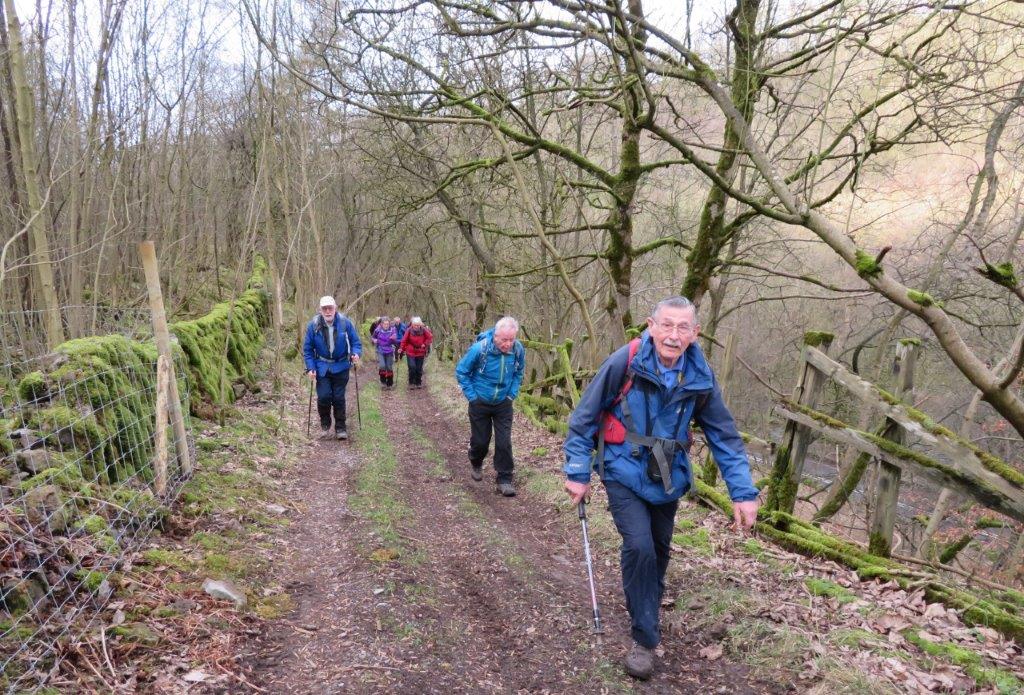 Coming up from a bus stop on the A6 Road (which is just visible below to the right)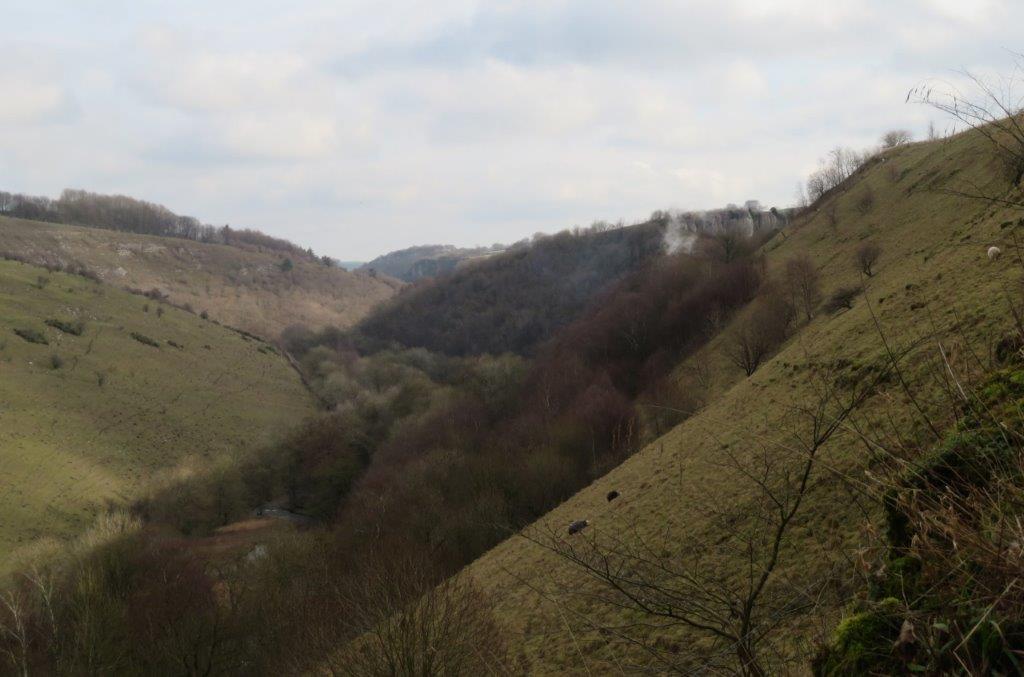 p
a view looking down the valley in which the River Wye and the A6 road runs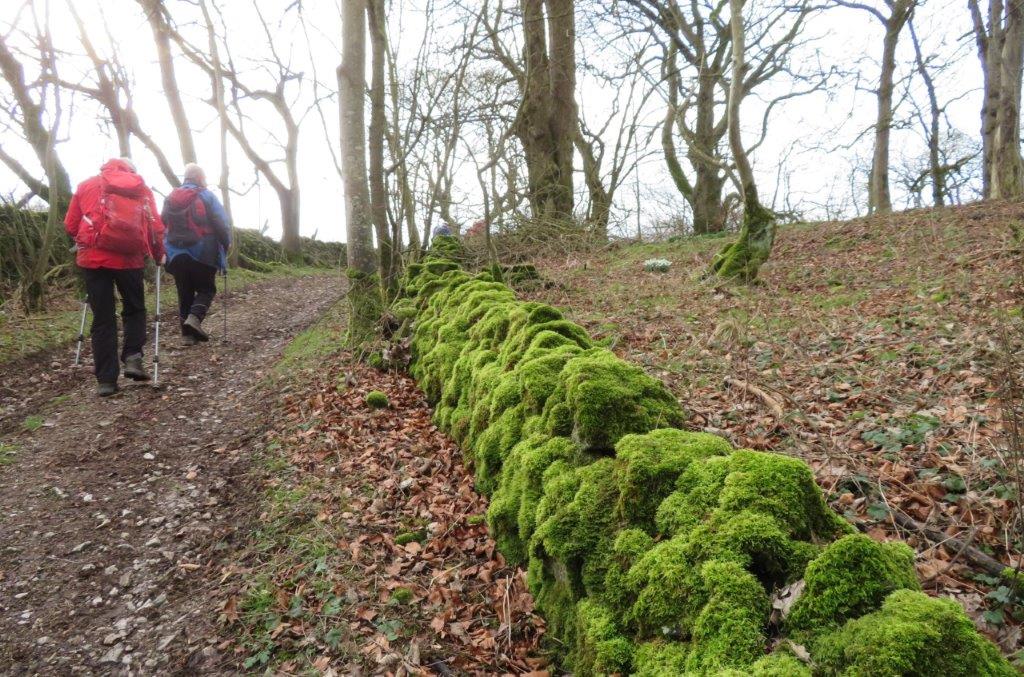 toward King Sterndale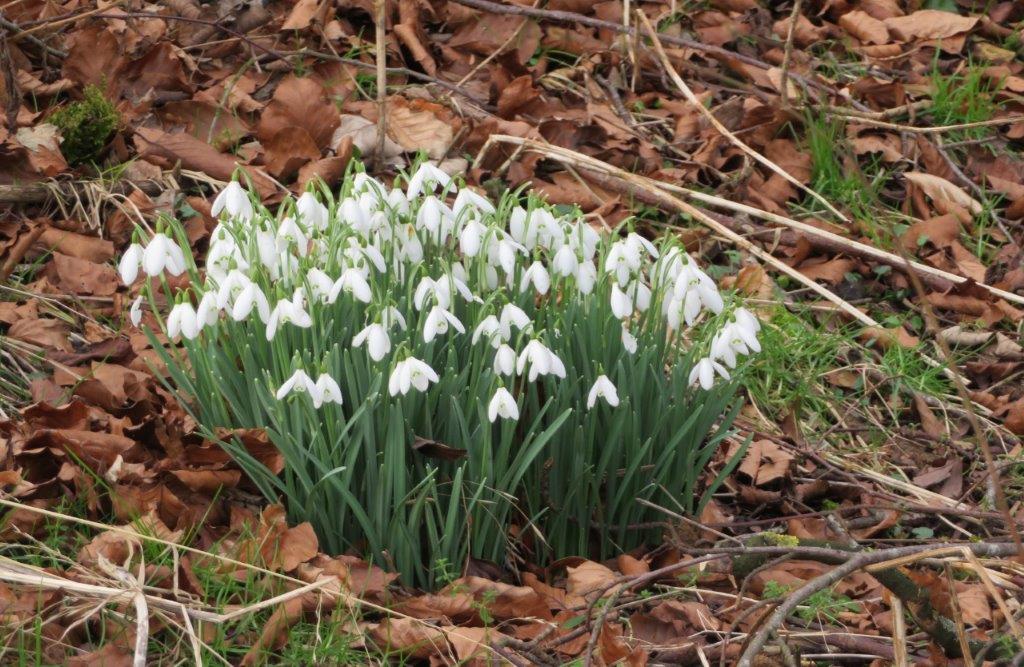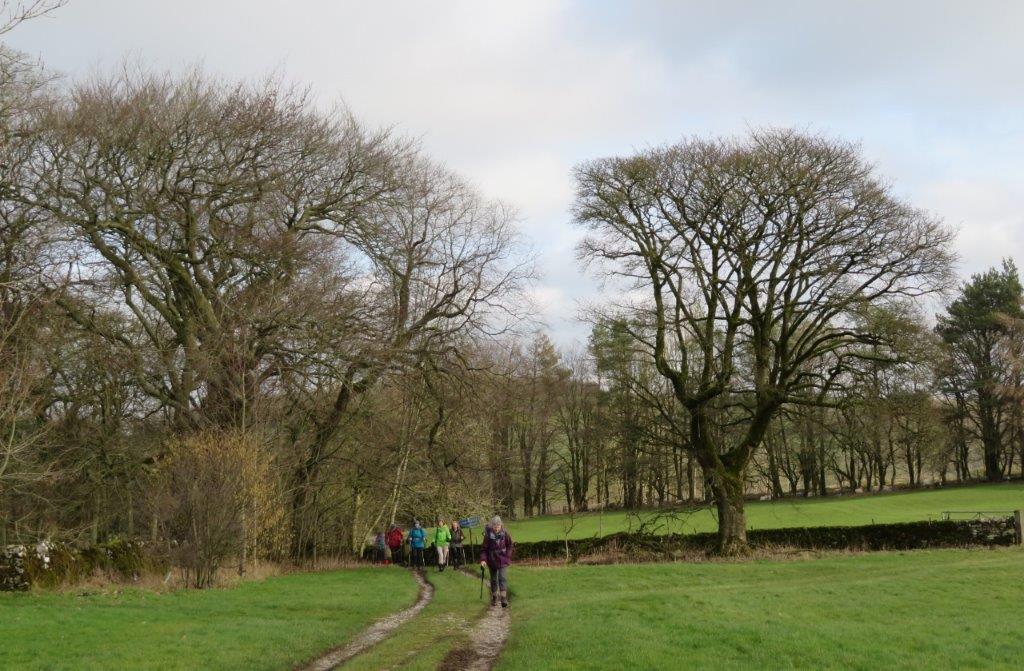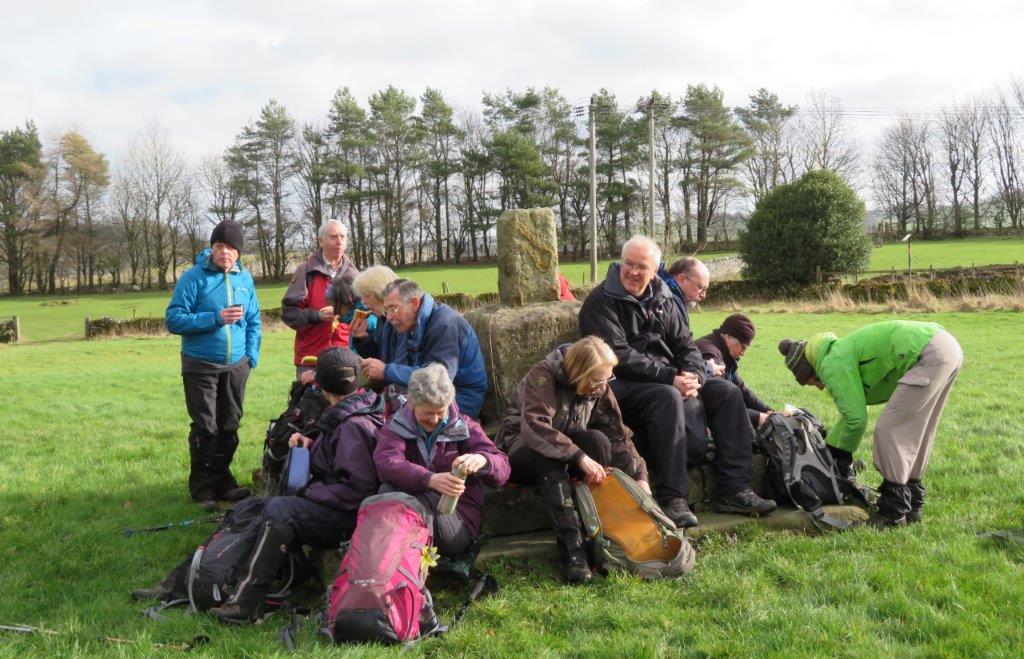 A cross, apparently moved from elsewhere, and re-erected in King Sterndale.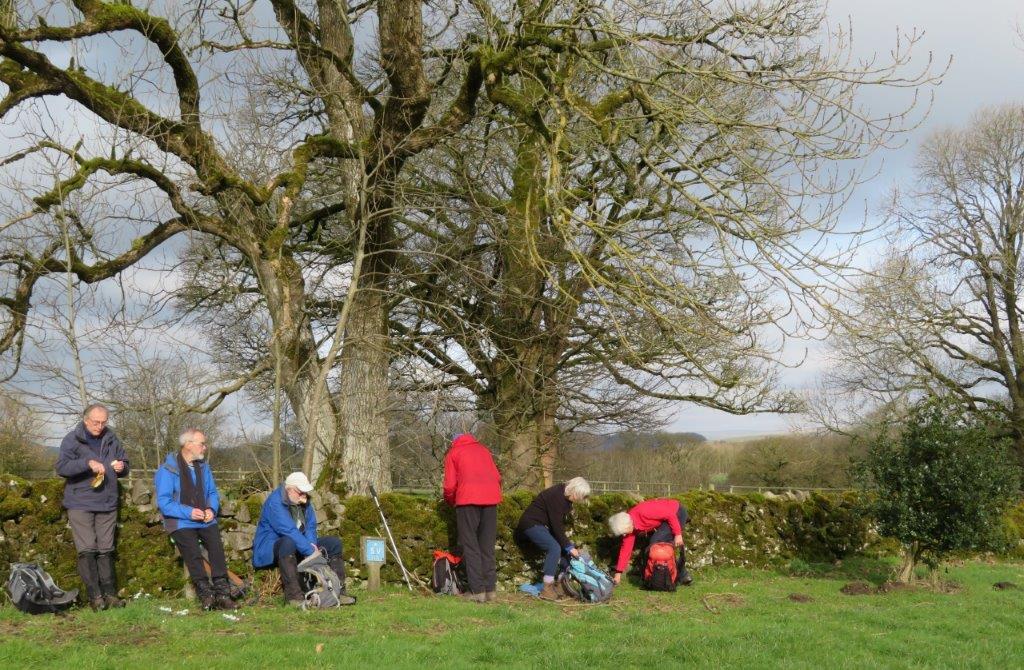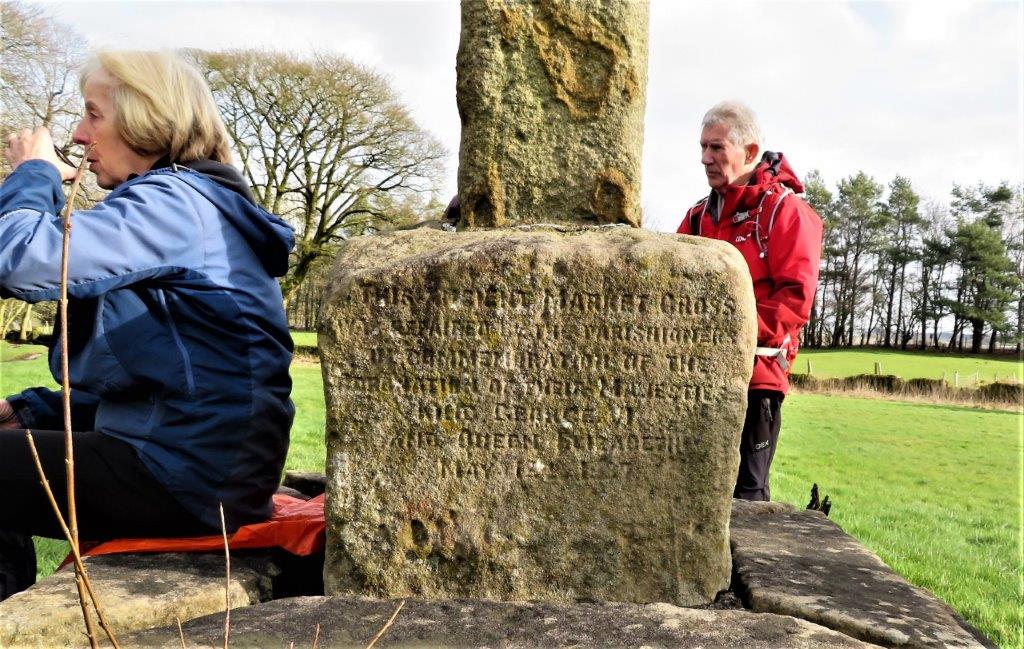 The inscription is not clearly legible and I have found no transcription 'on line' - although one possibly exists. My reading is as follows:

This ancient Market Cross was repaired by parishioners in commemoration of the coronation of their majesties King George VI and Queen Elizabeth

May 12 1937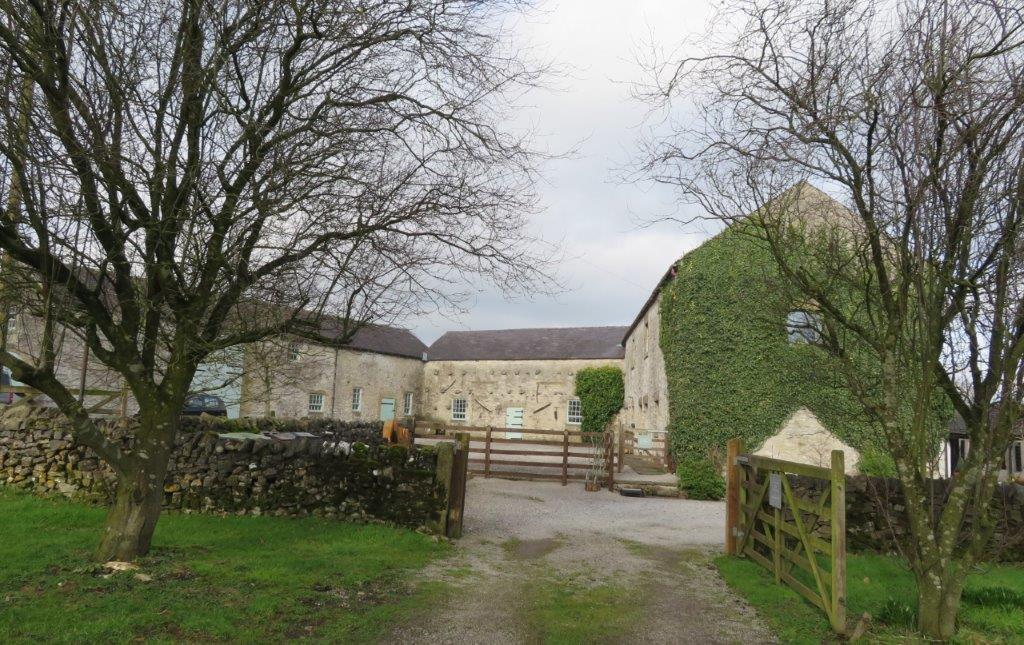 The Old Barn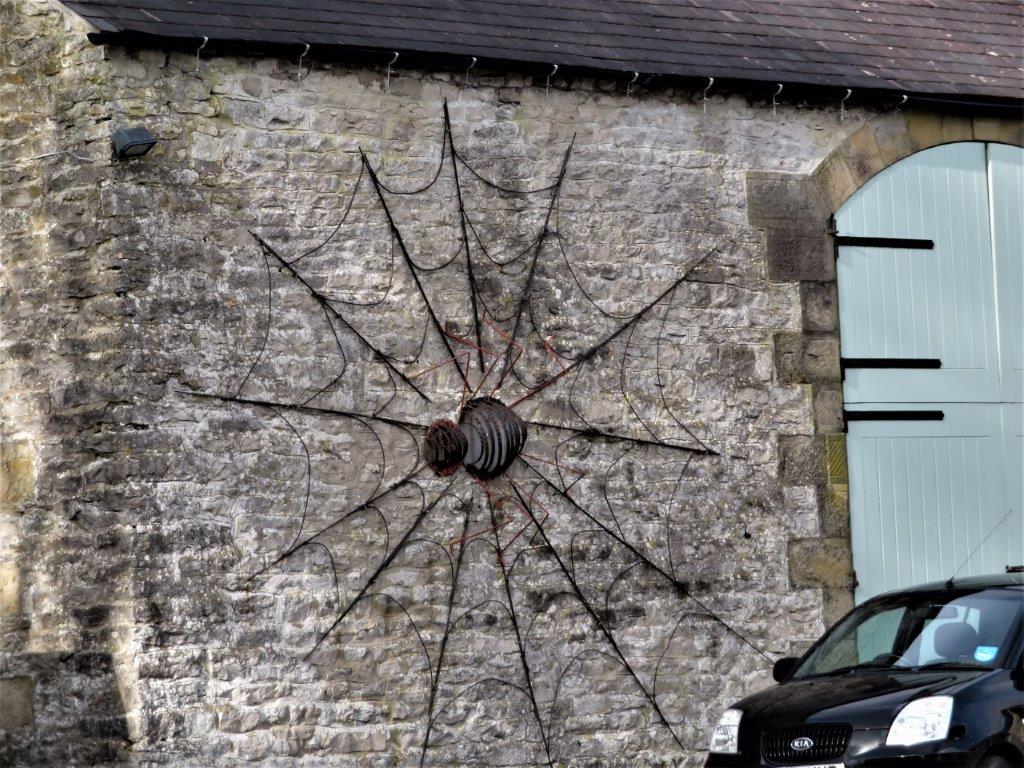 'spider web' (next to door) hidden by the tree in above picture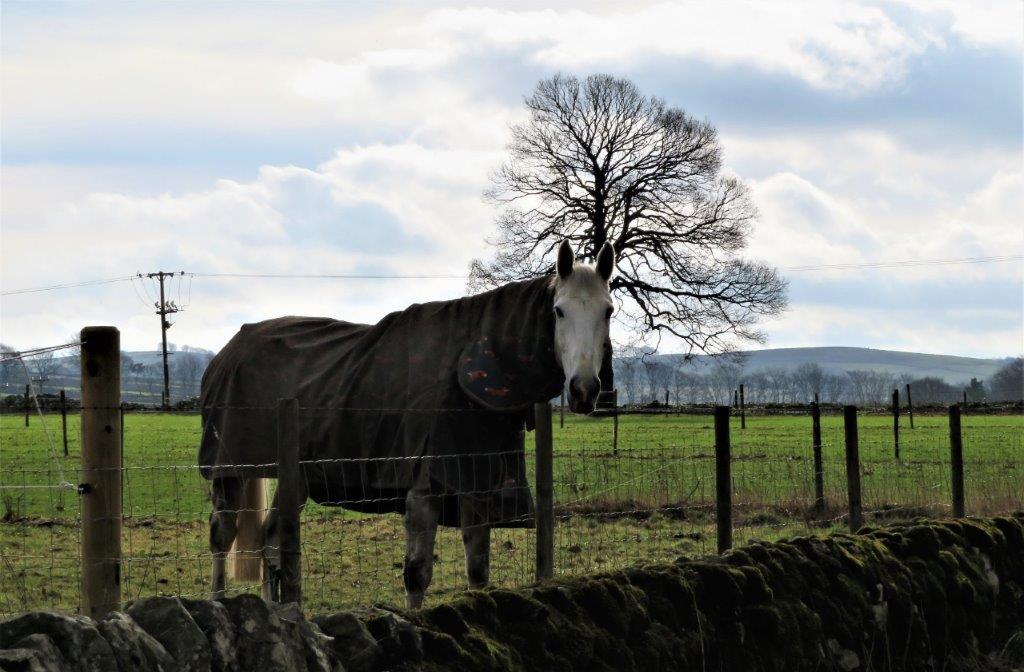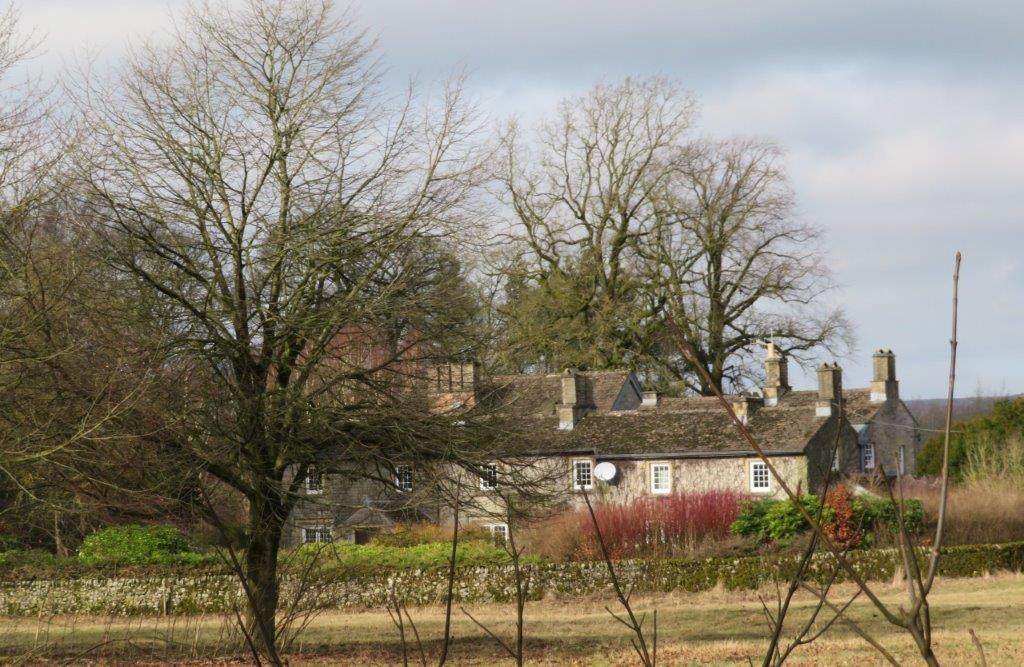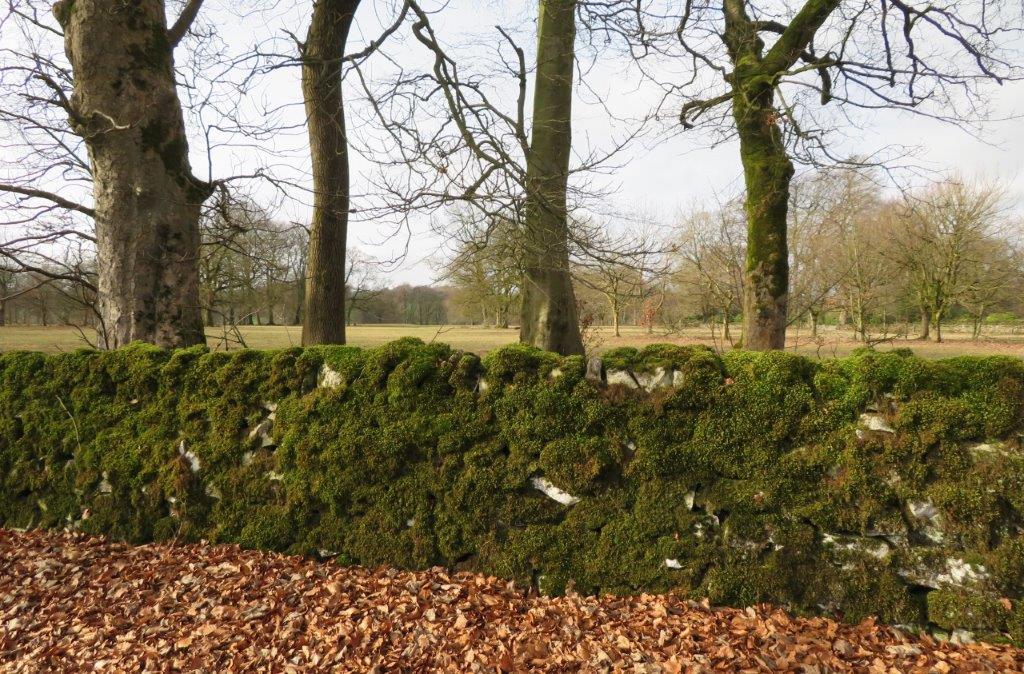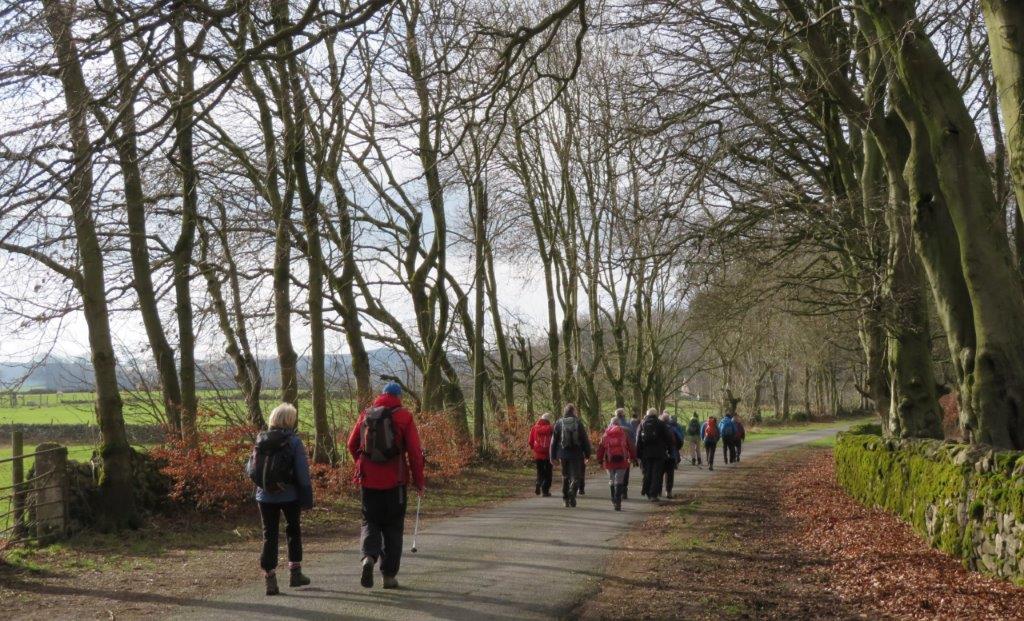 on the road out of King Sterndale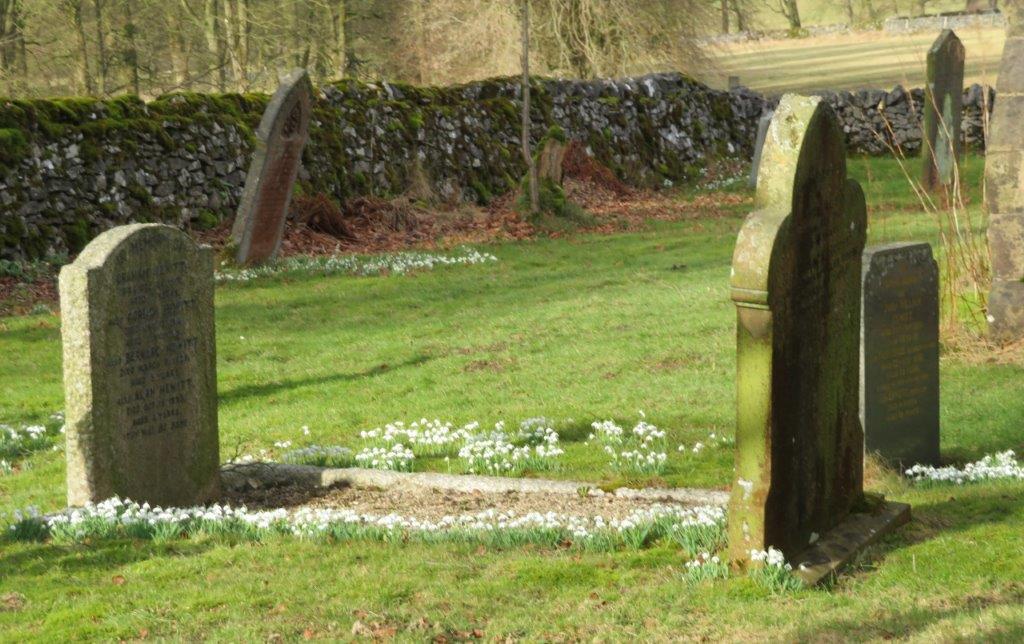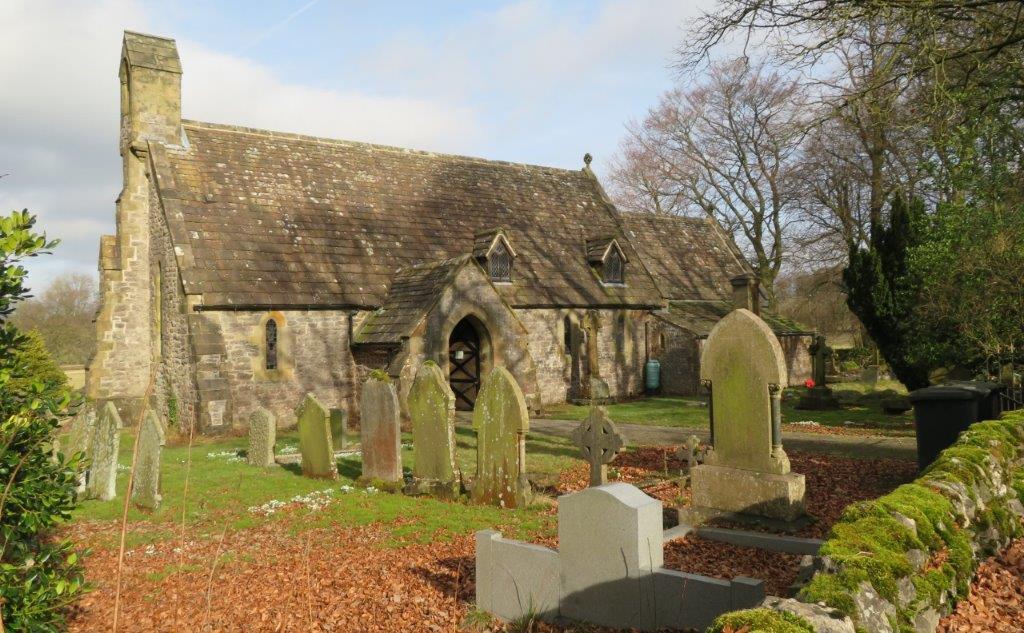 The Church in King Sterndale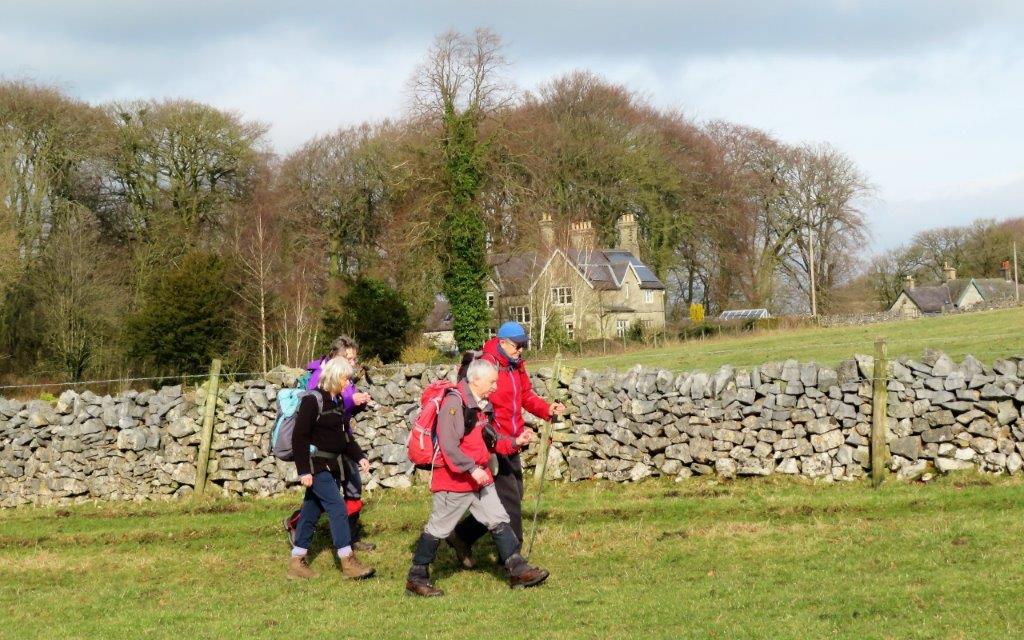 The rectory in view behind walkers?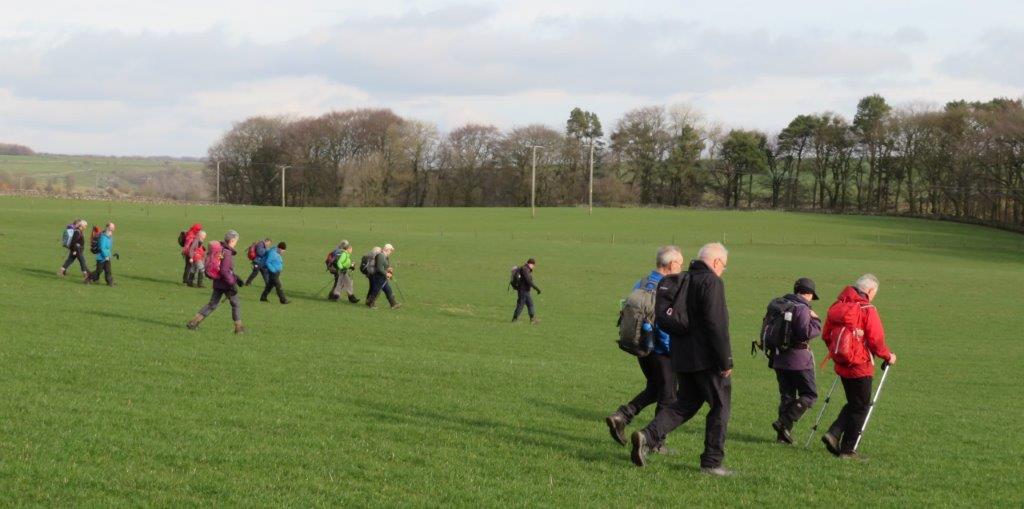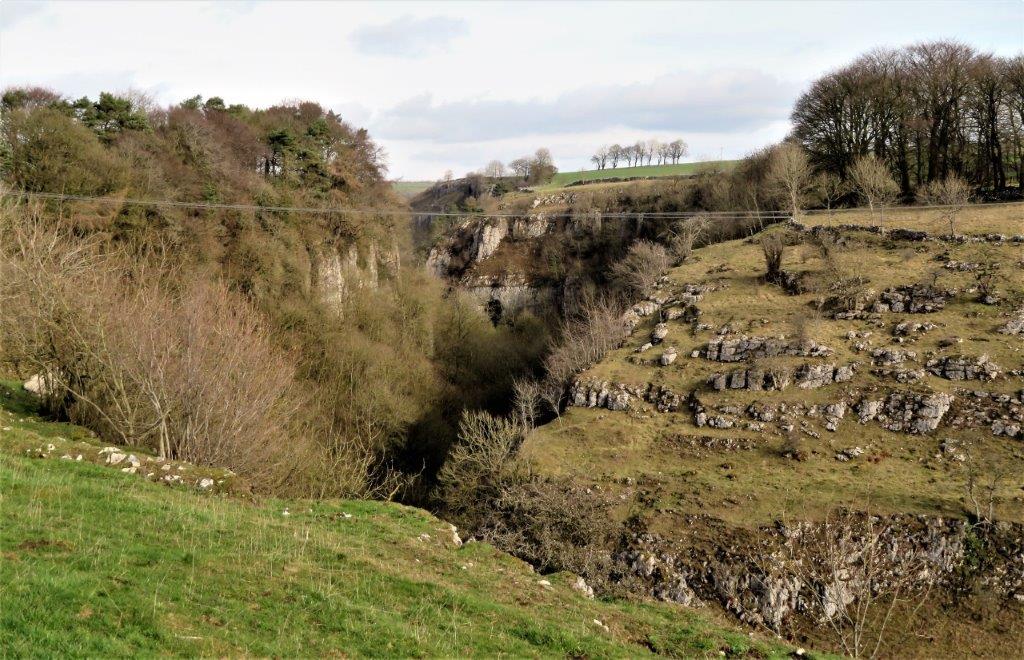 part of Deep Dale through which we did not pass.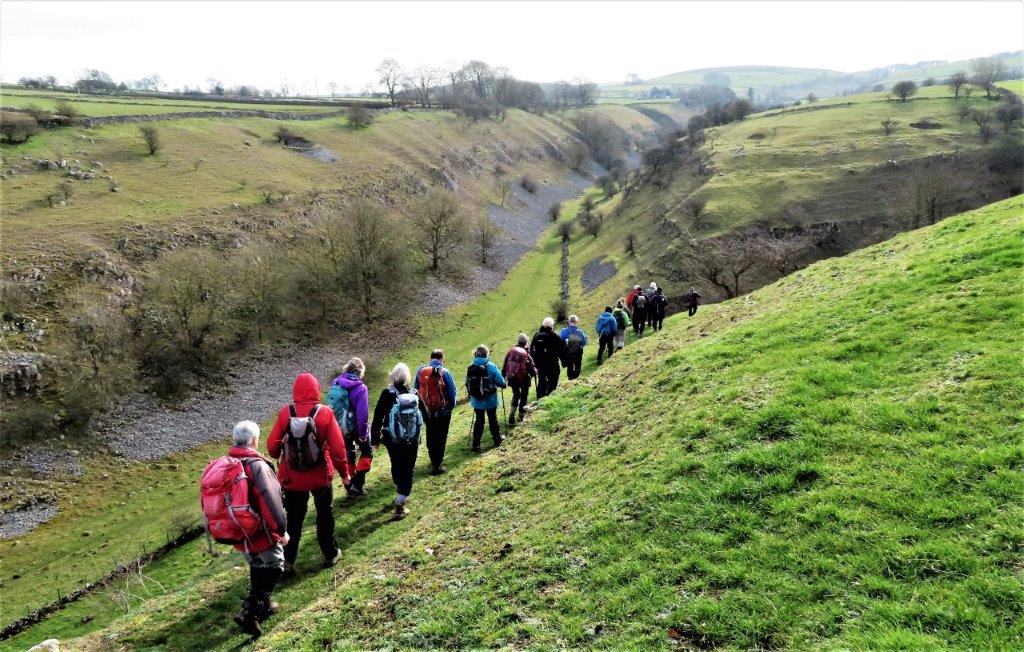 descending into Horseshoe Dale through which part of the Priest Way (Path) runs. The dale visible to the right is Back Dale.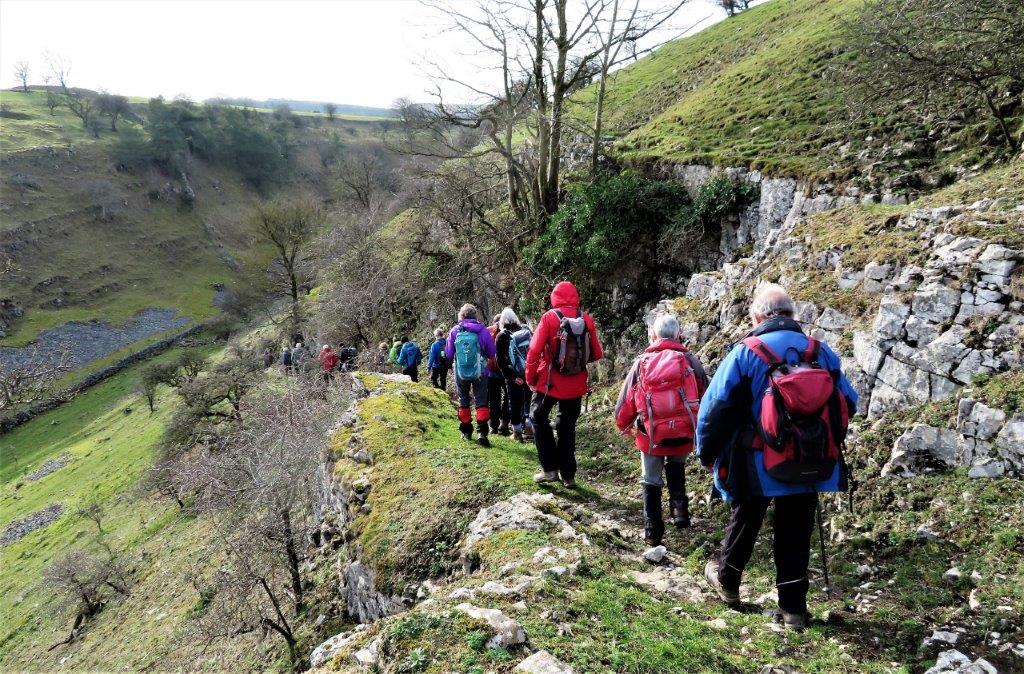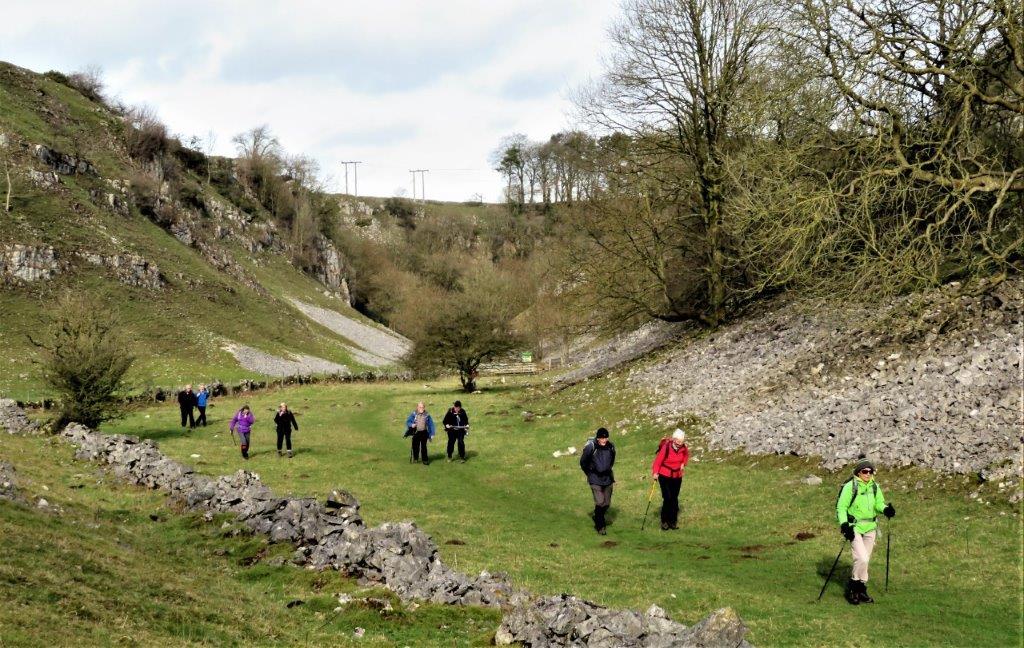 at the bottom of Horseshoe Dale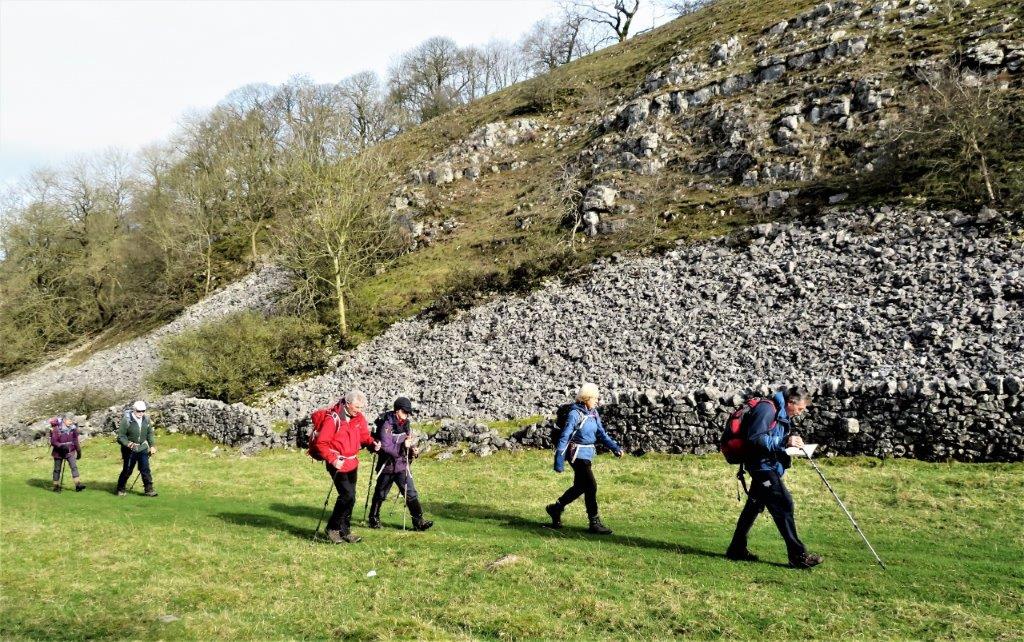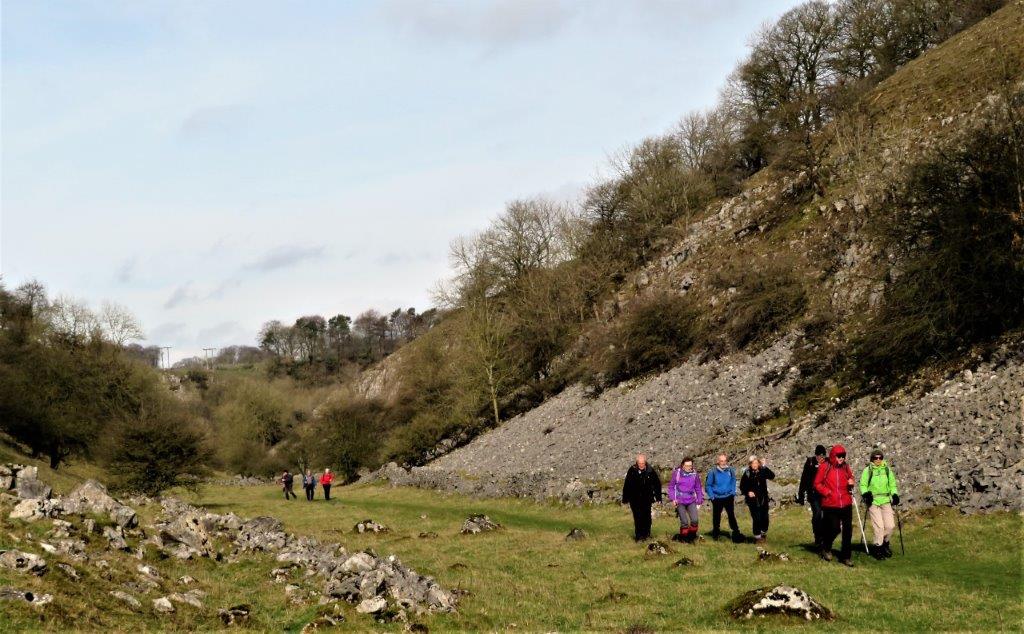 Bullhay Dale passed to our left?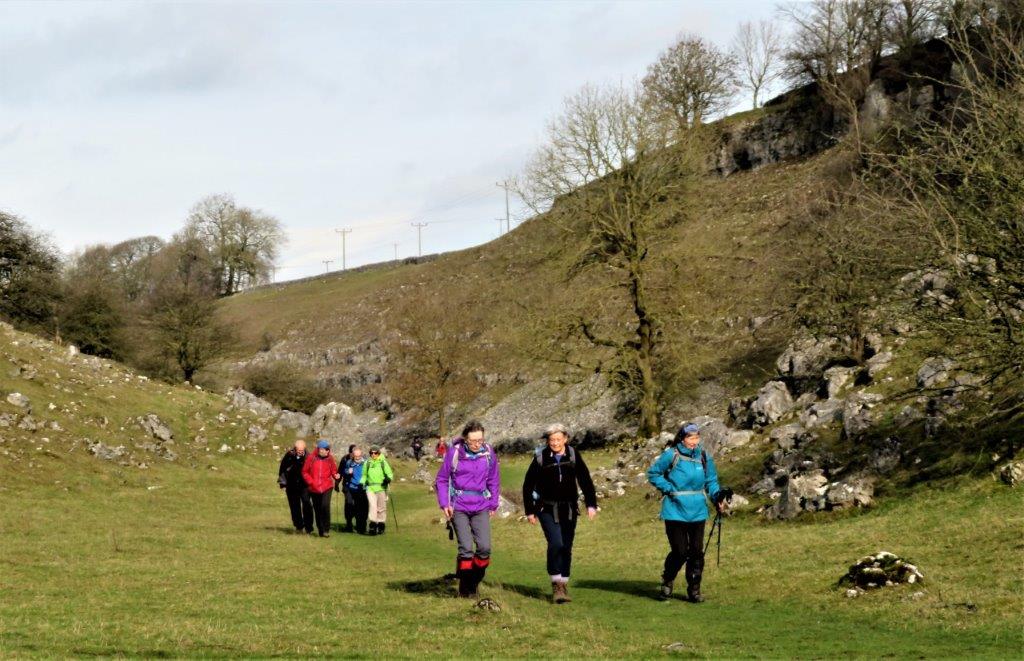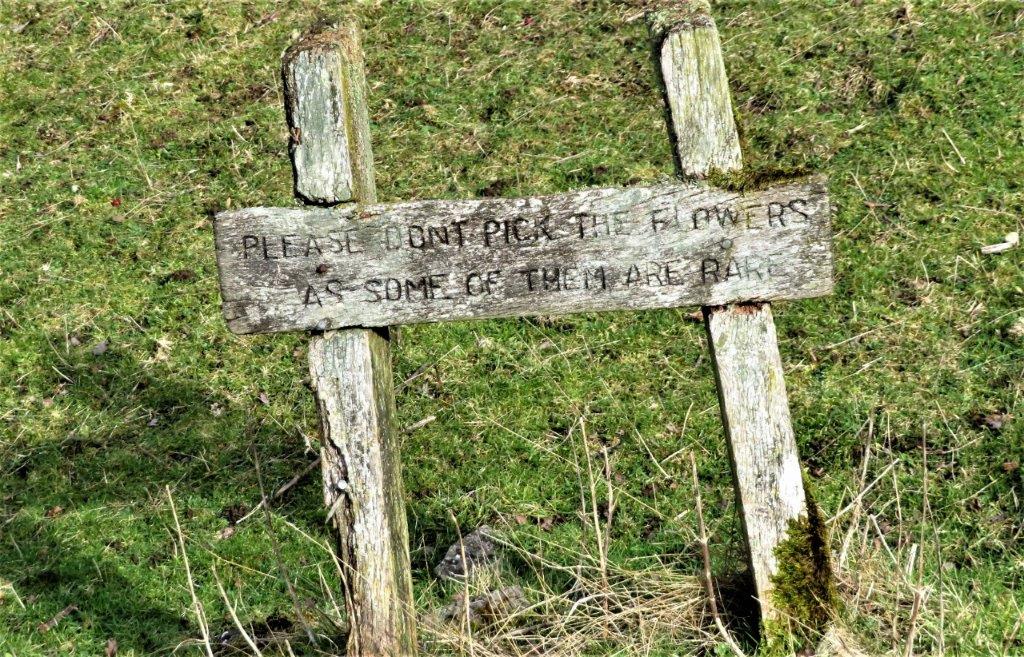 note rare flowers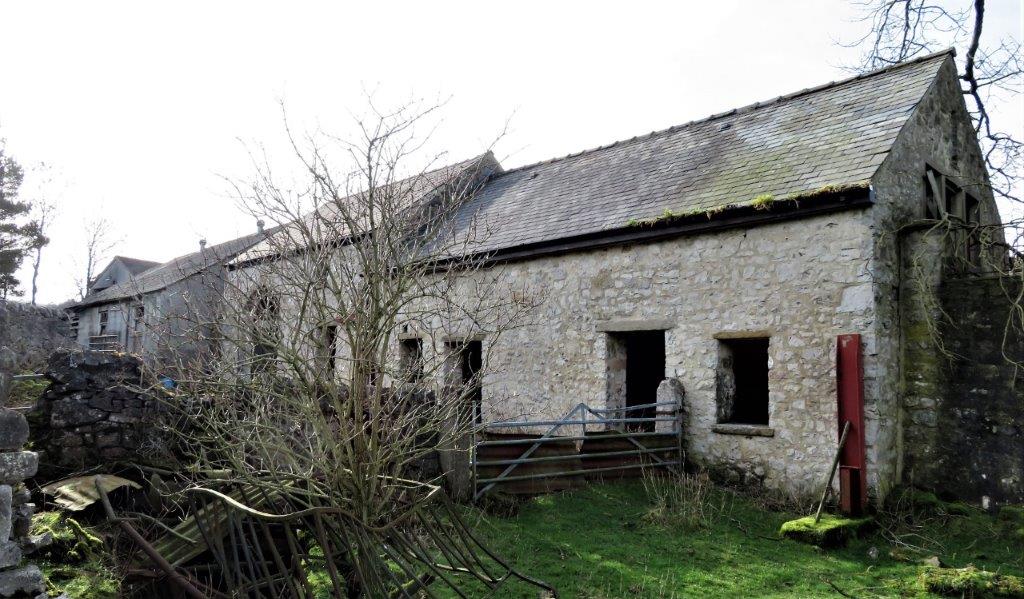 derelict farm buildings at south end of Horseshoe Dale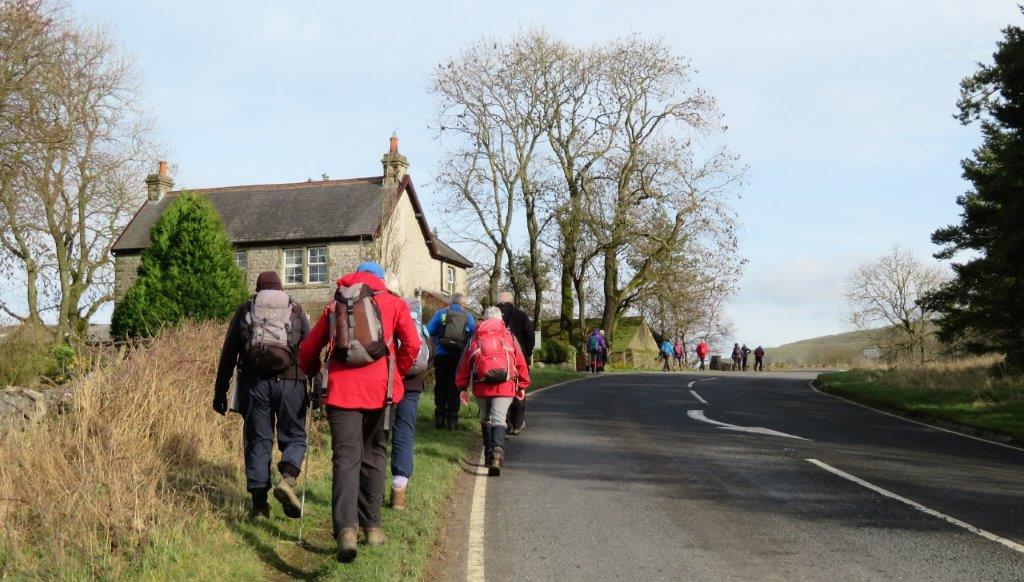 along the A5270 road (then through fields) to the 'Sewage Works' where we joined a path leading eastward toward Chelmorton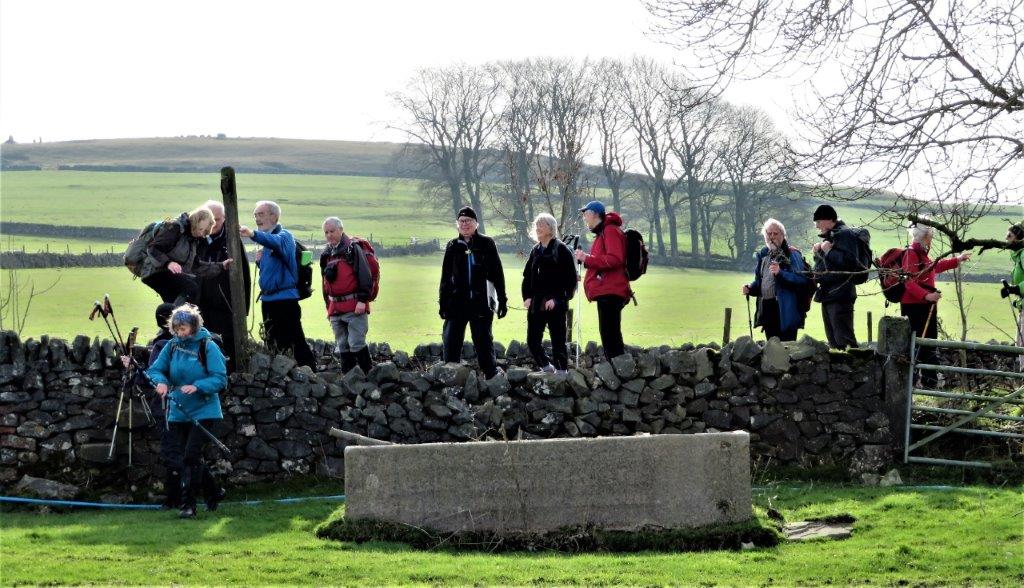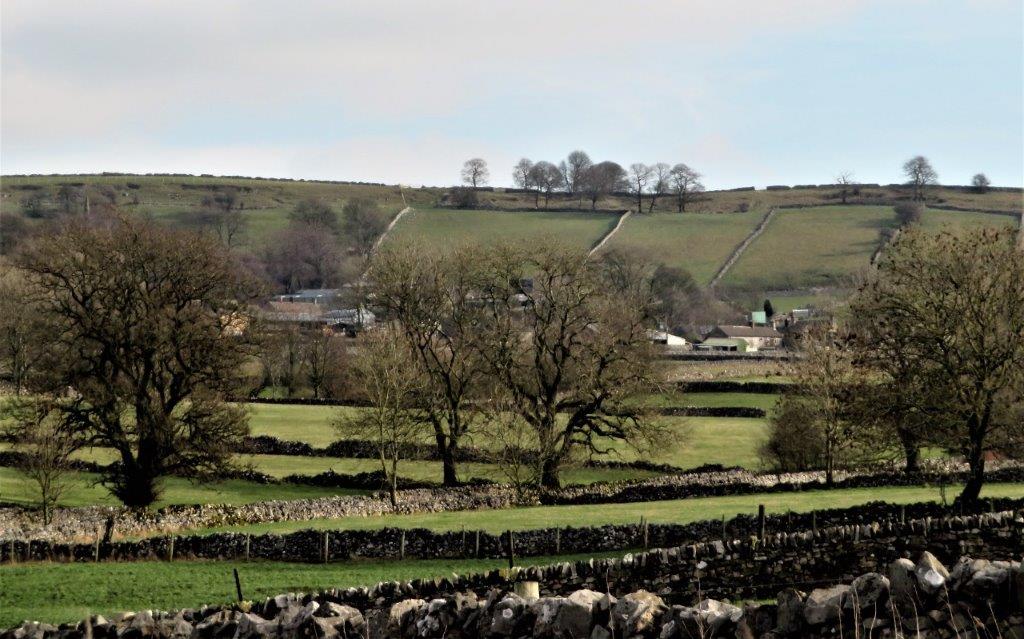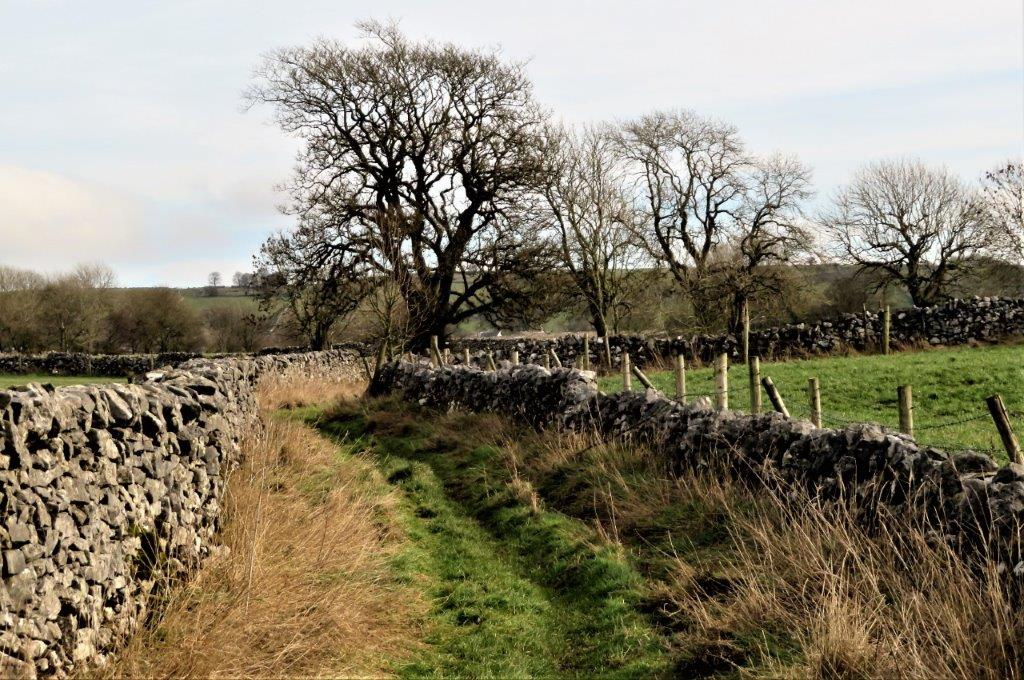 the lane near the 'Sewage Works' starting our route to Chelmorton.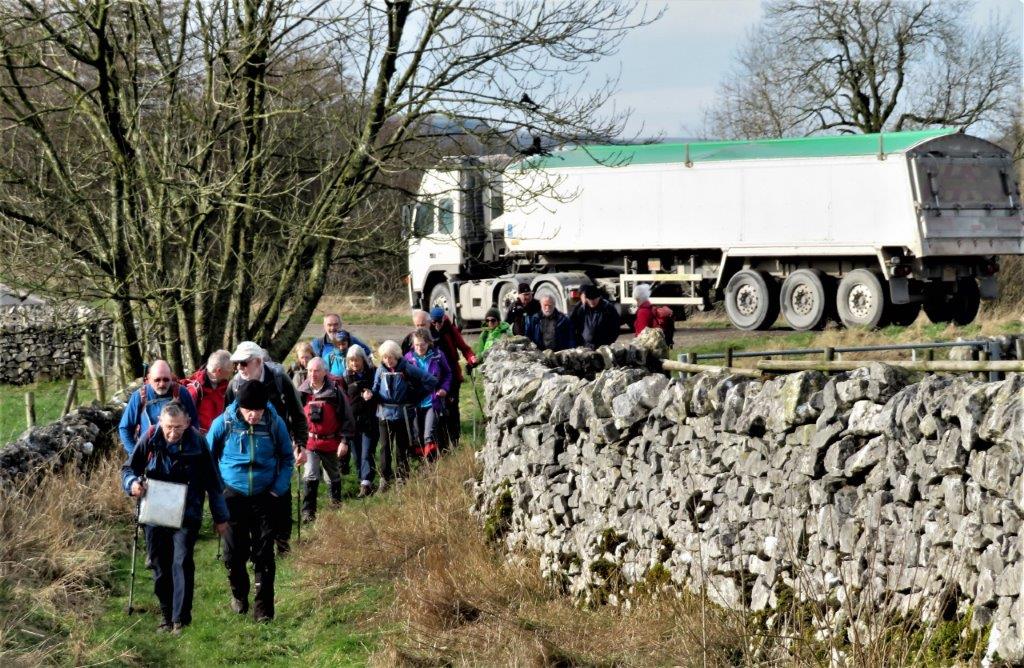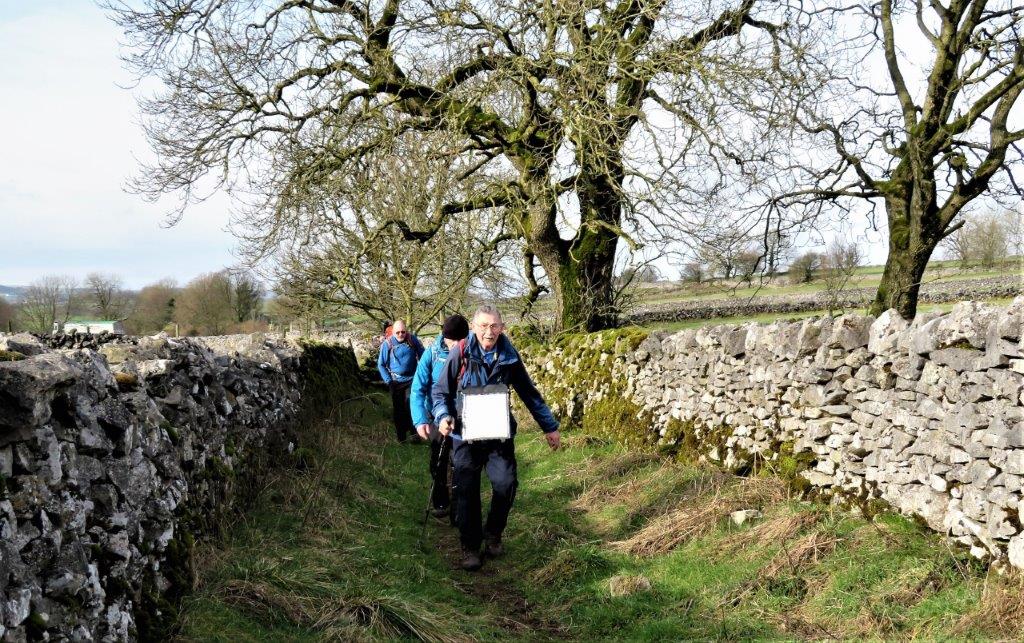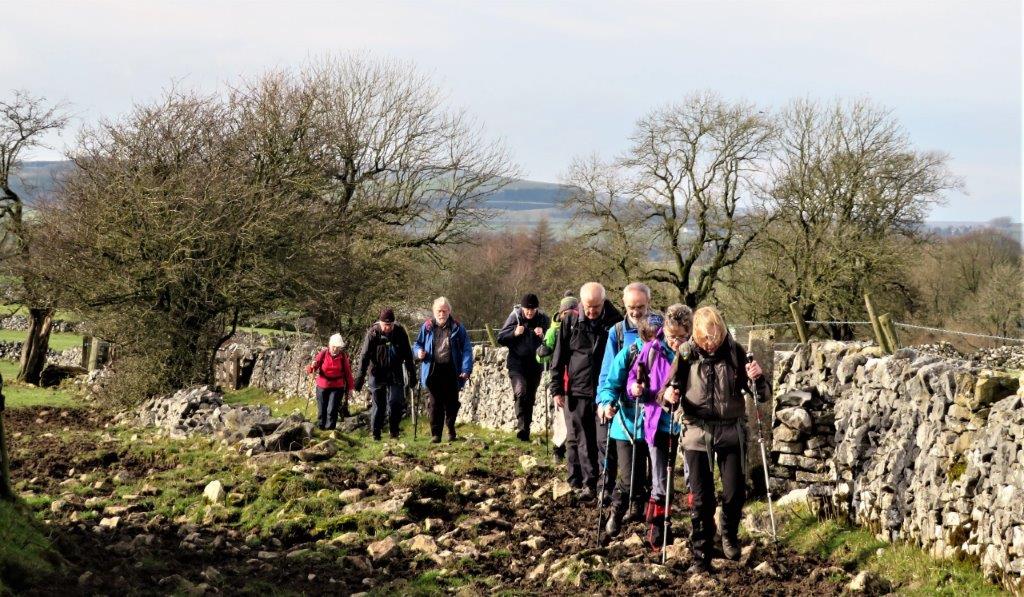 on a lane well churned by cows - fortunately not too muddy.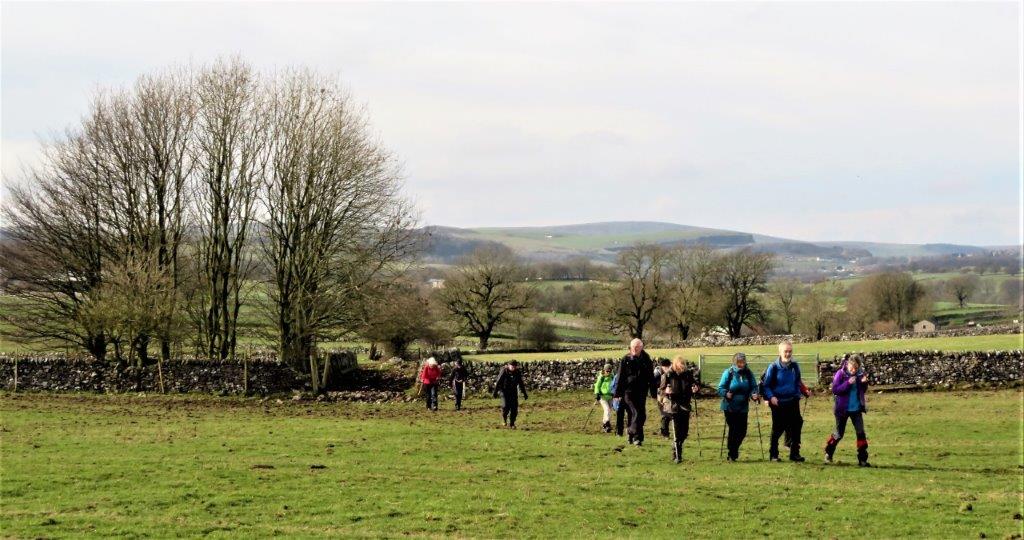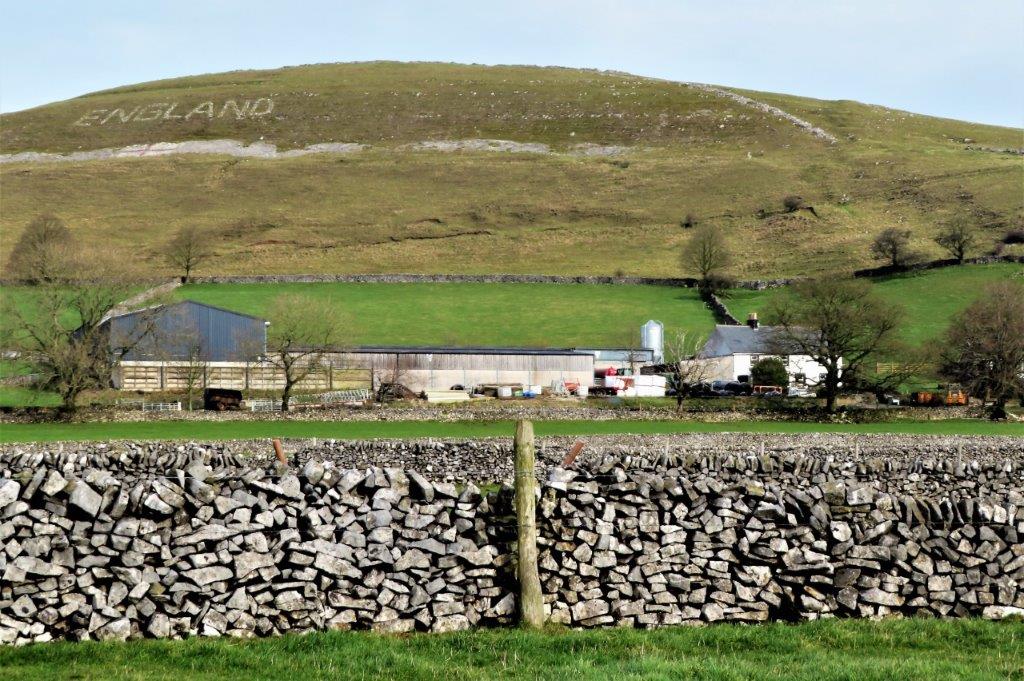 Shepley Farm below Chelmorton Low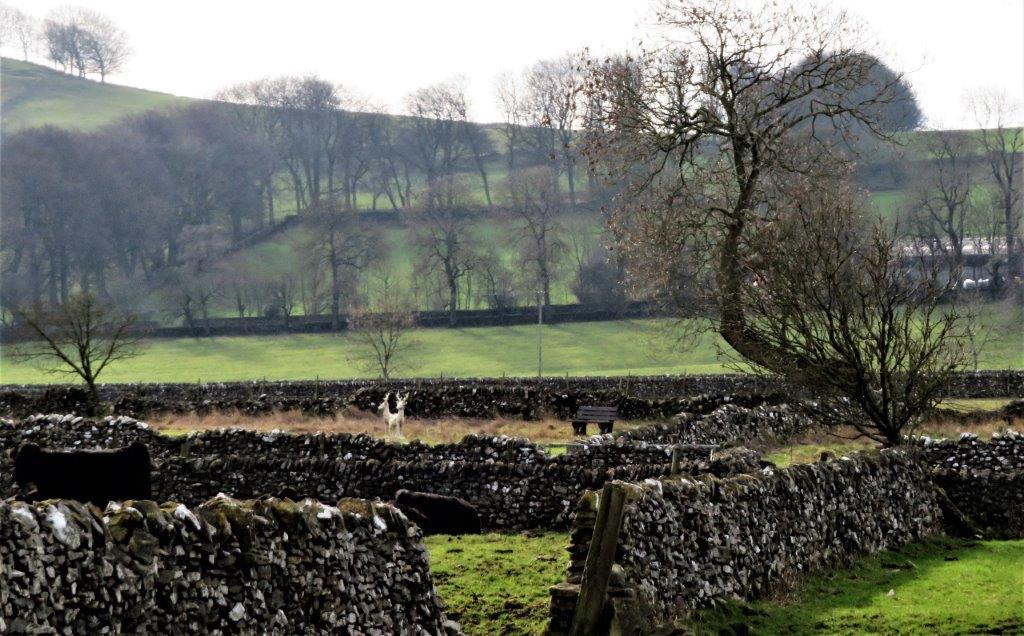 as there really deer in the field?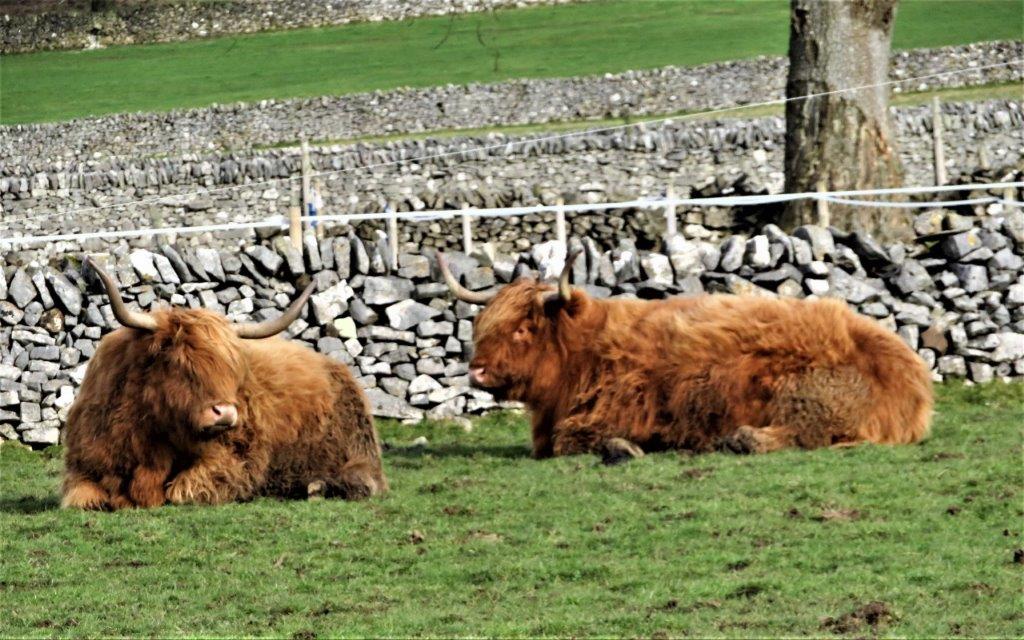 Highland Cattle - probably bulls?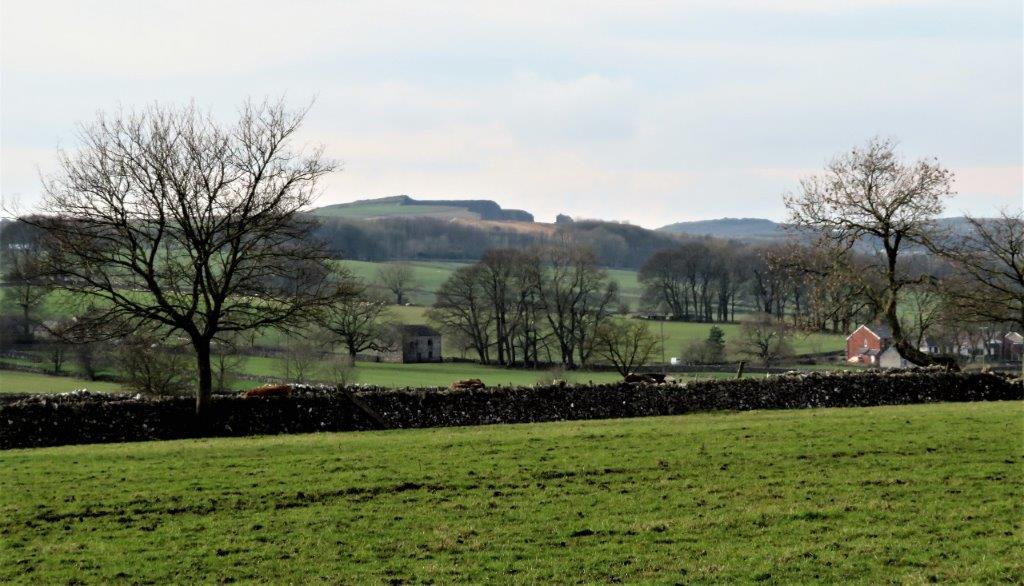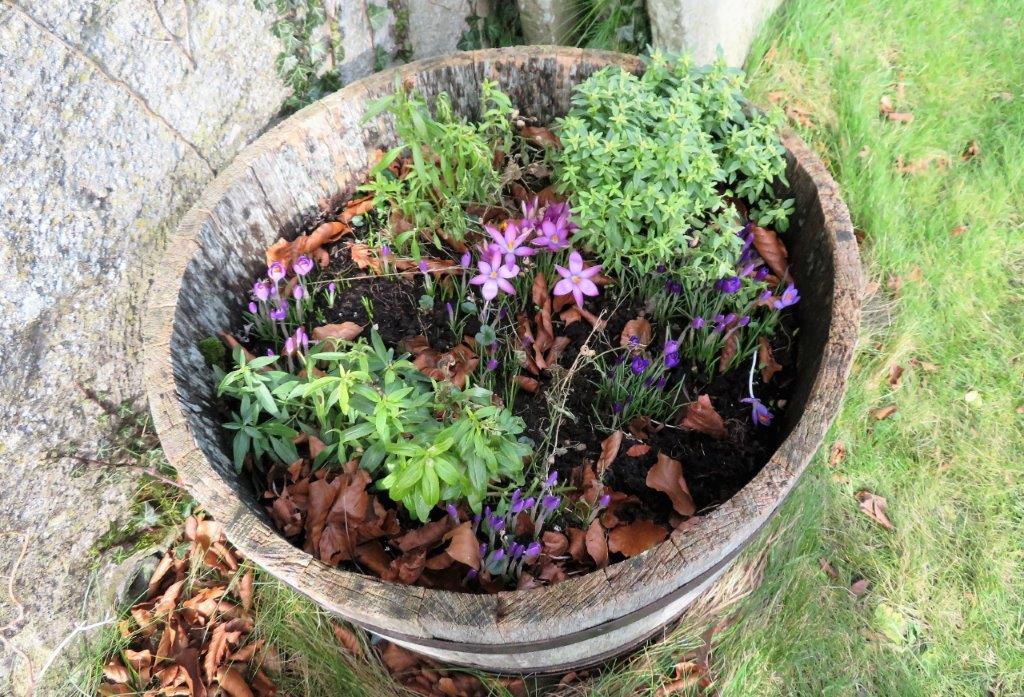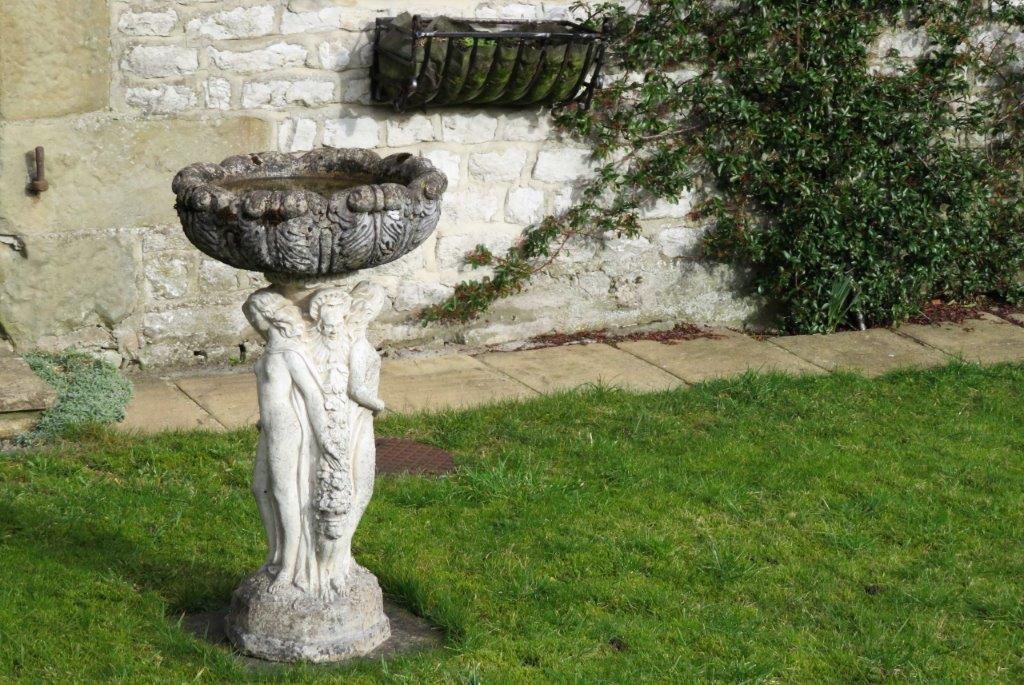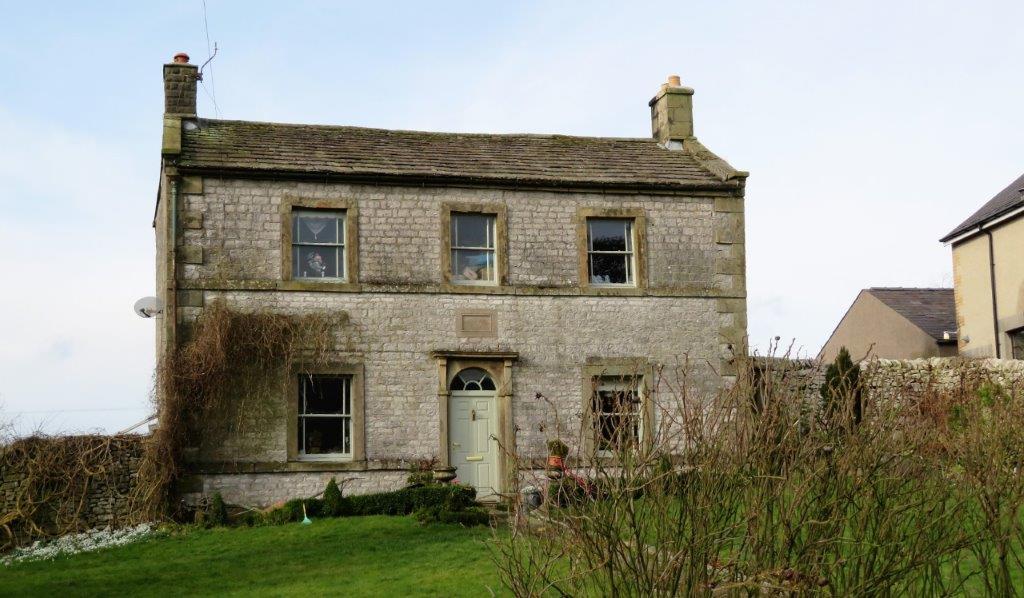 a house in Chelmorton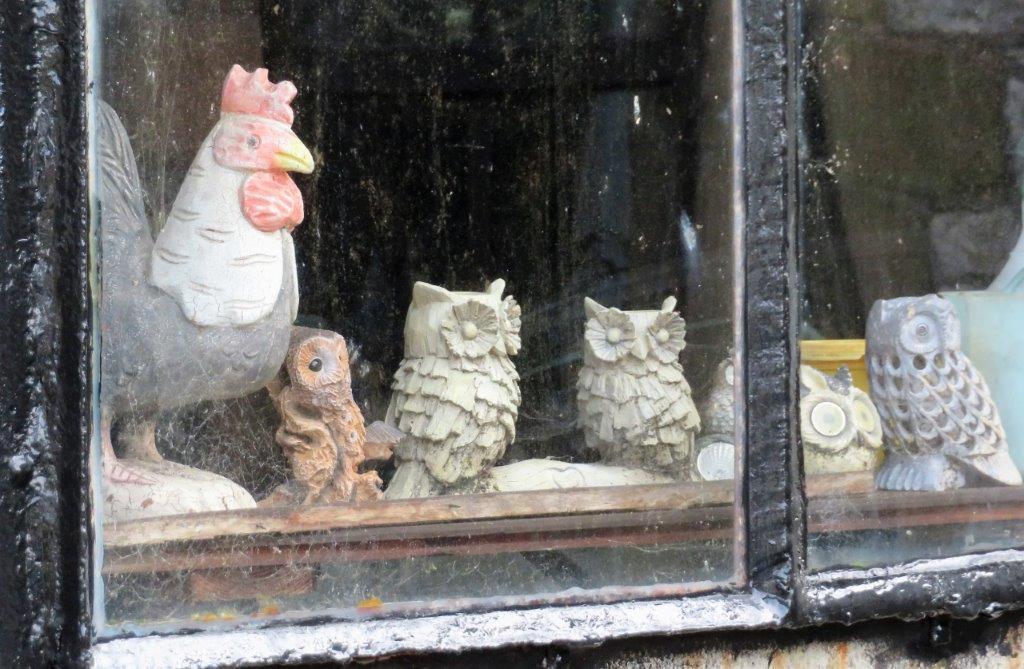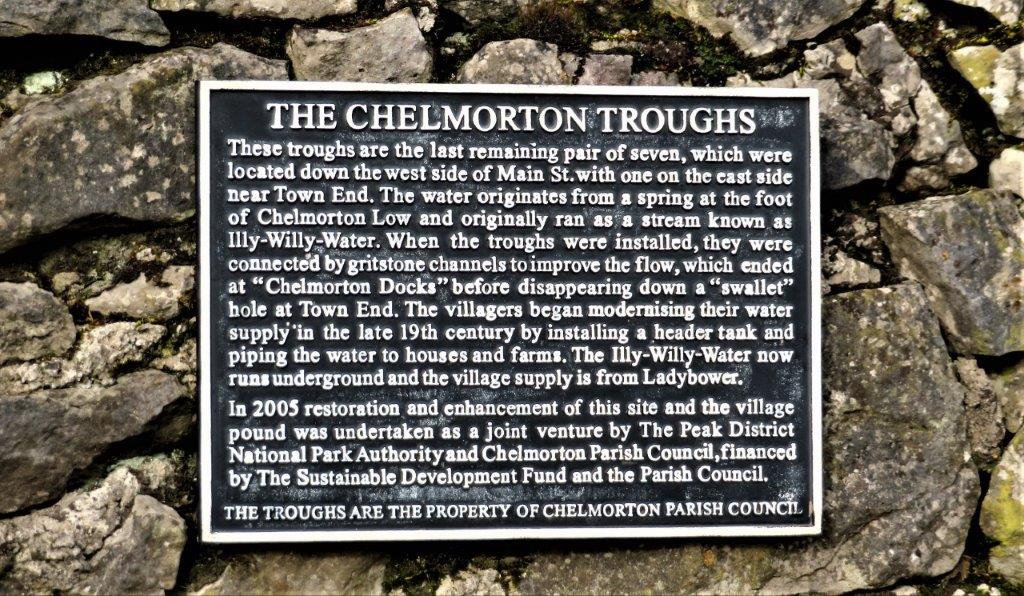 The Chelmorton Troughs - last pair of seven.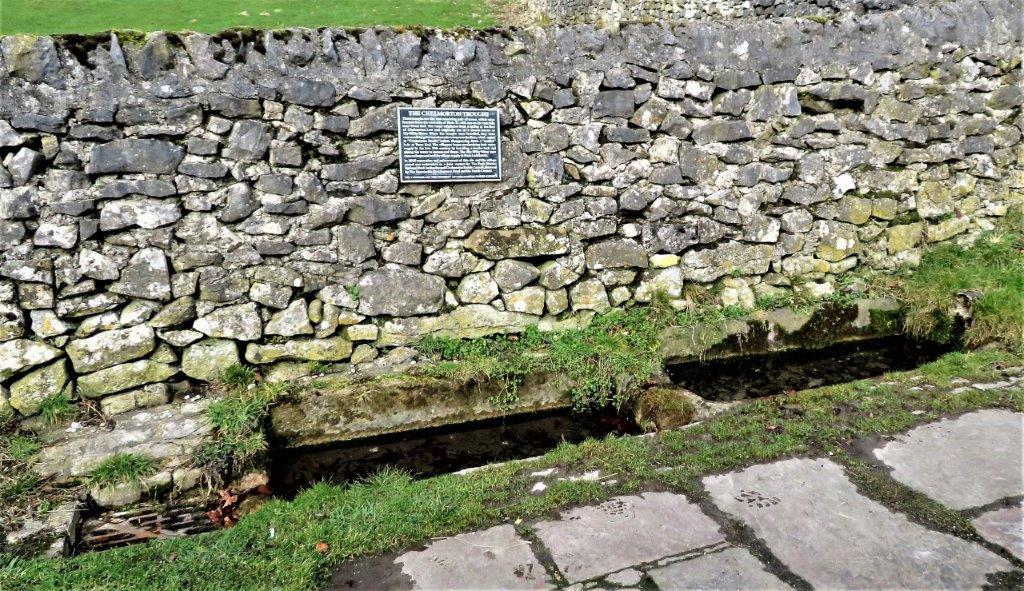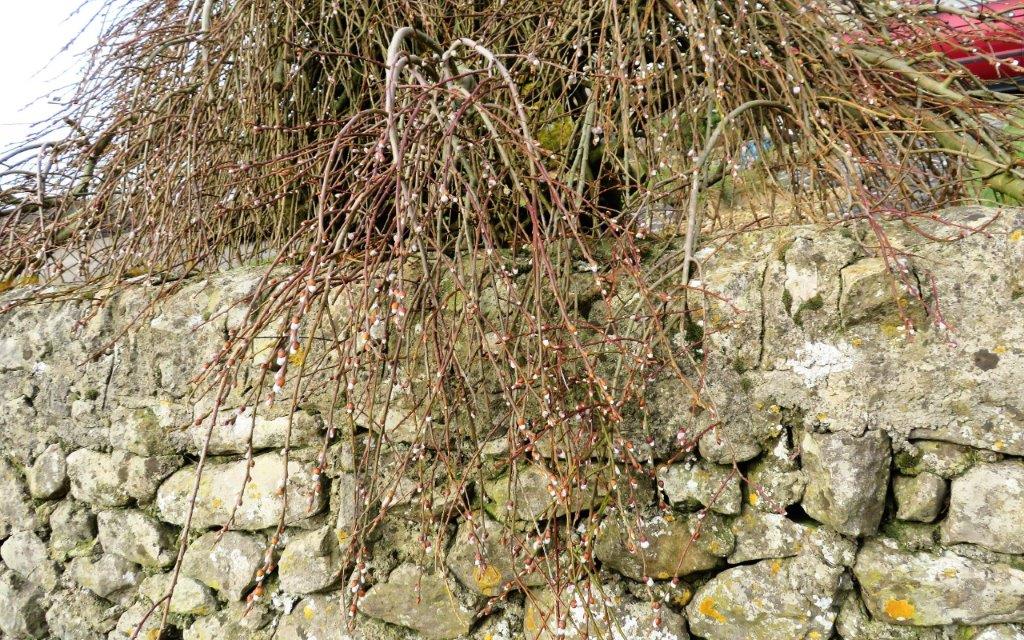 Willow Tree Cakins?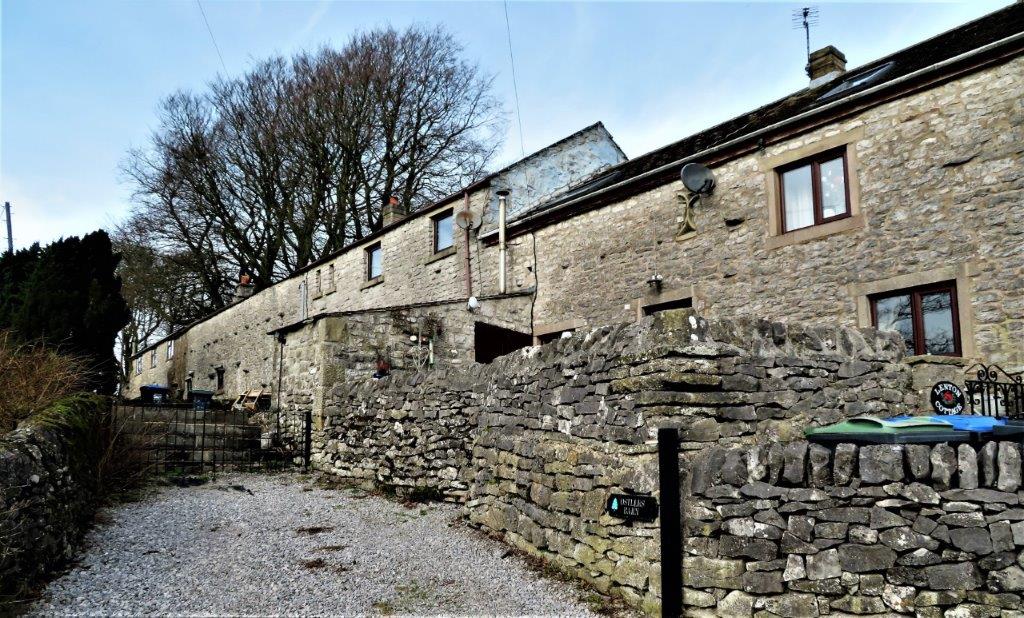 Ostlers Barn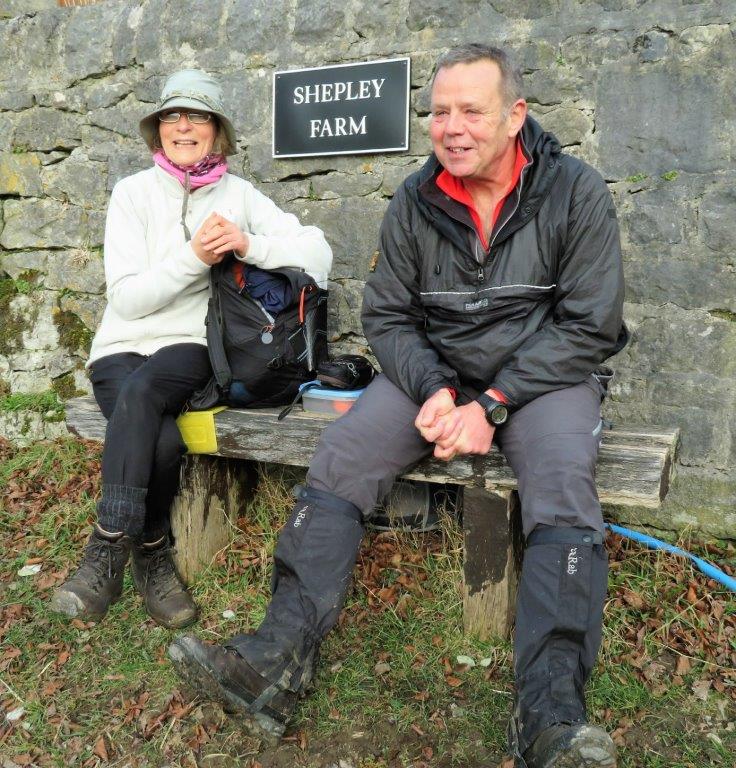 good friends - met on walk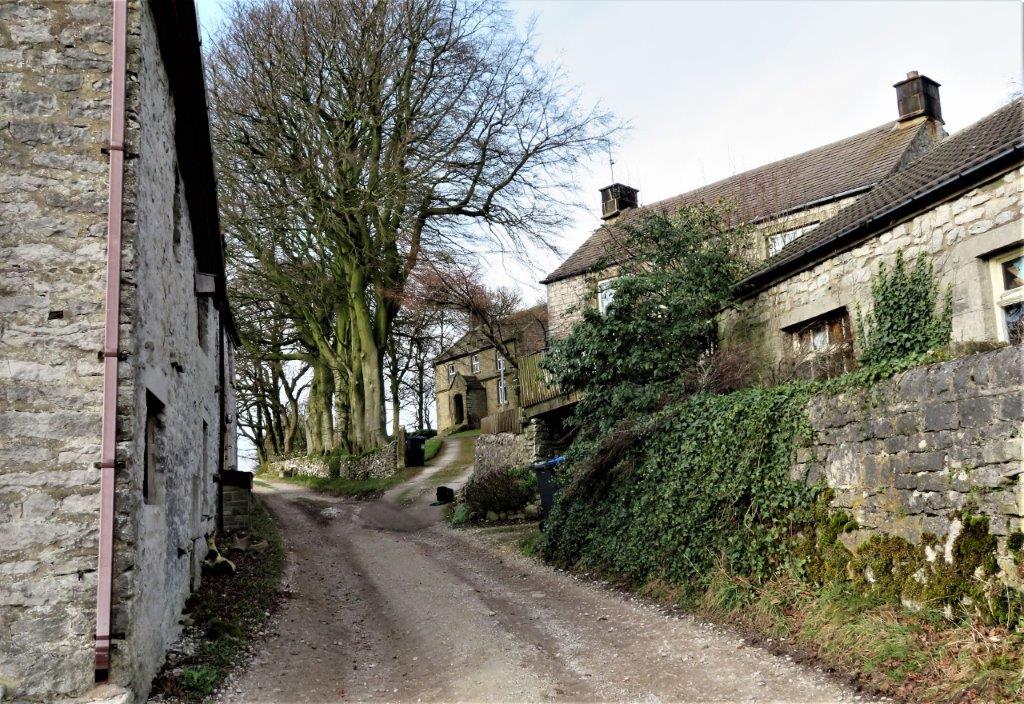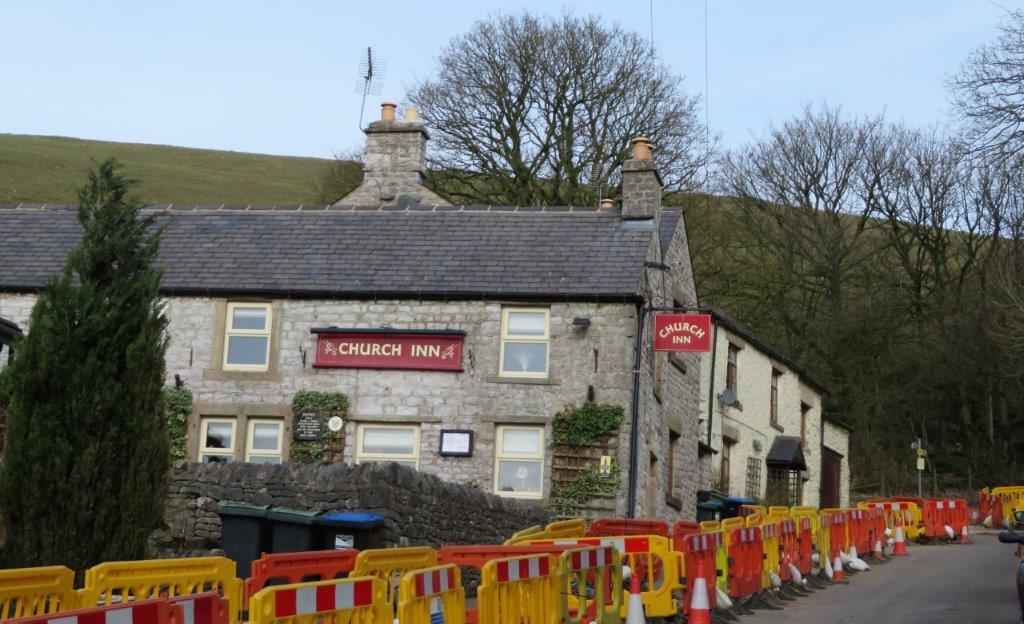 Church Inn - barriers probably for new water reticulation system?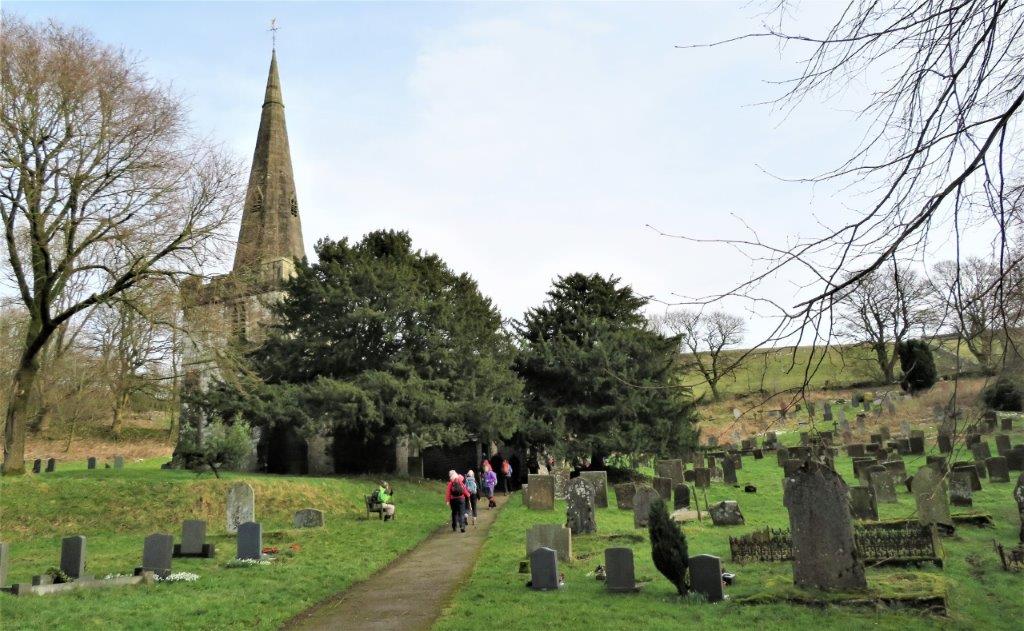 Chelmorton's Church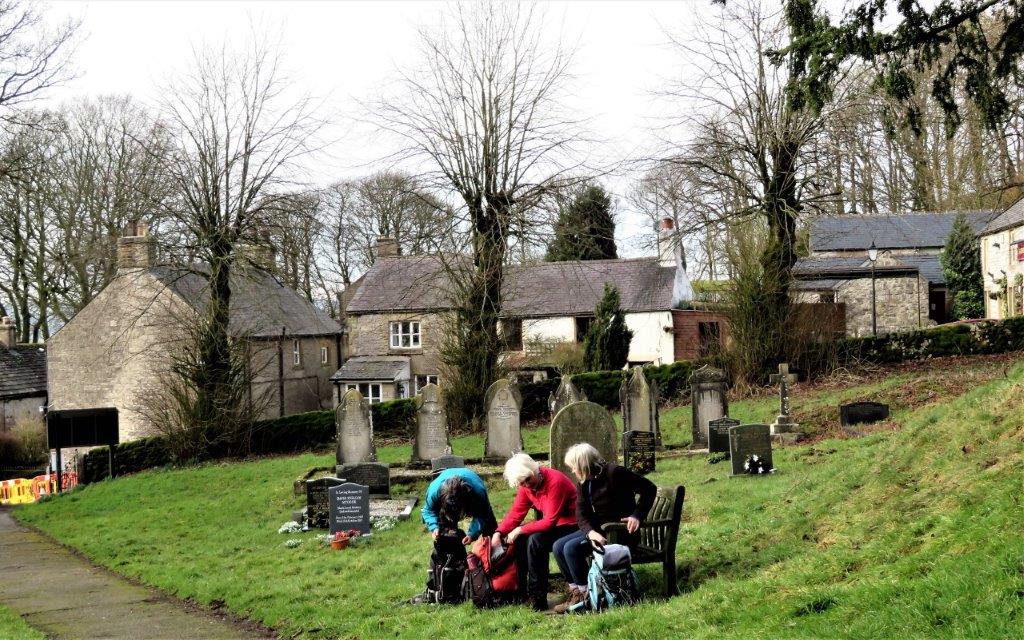 lunch in the churchyard - line of 6 gravestone behind bench are those of one family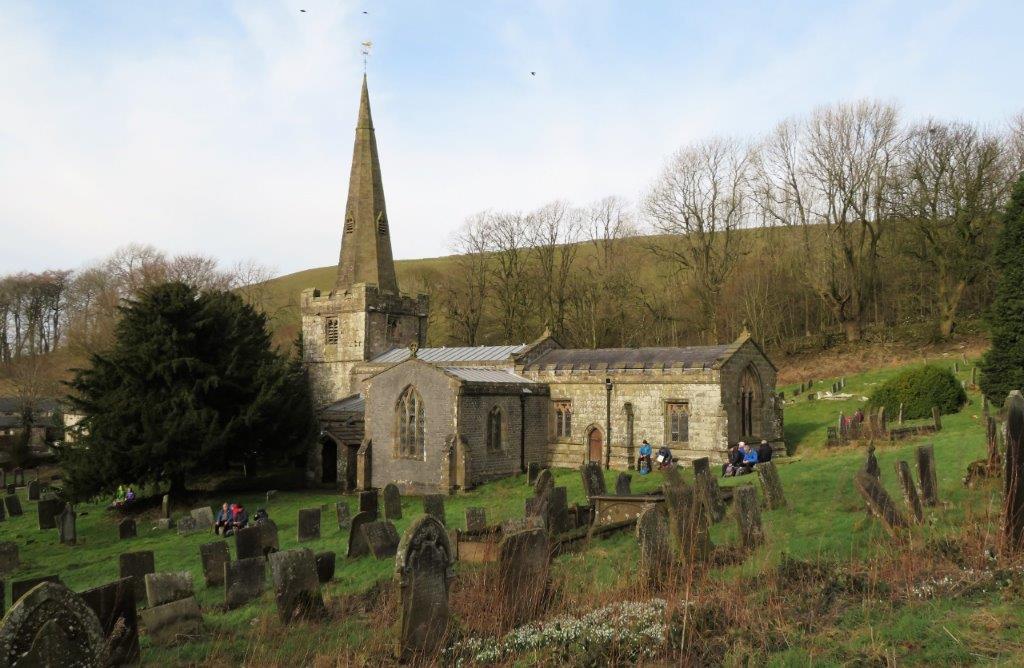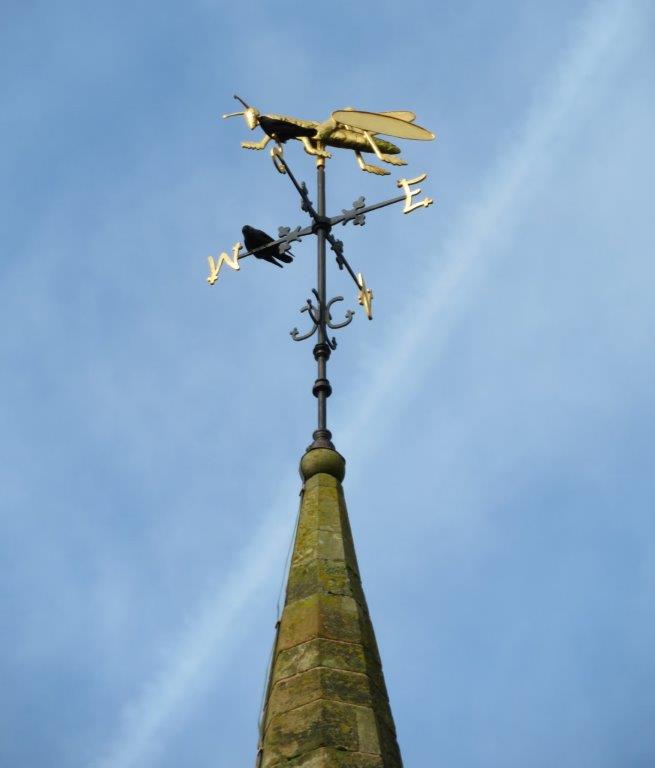 grasshopper on top of weather vane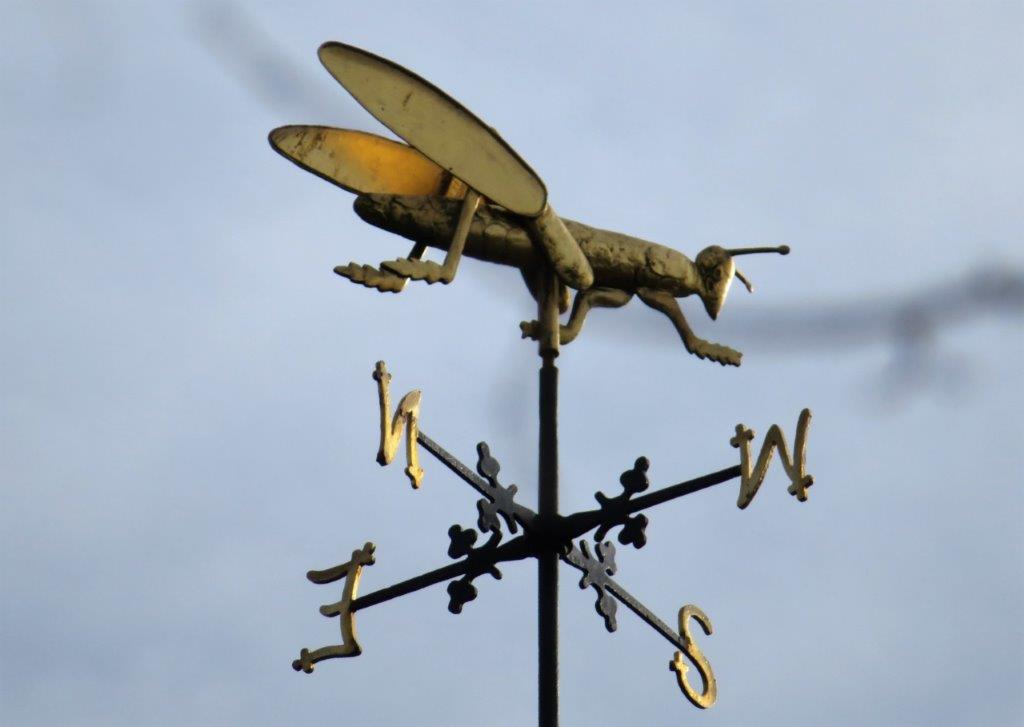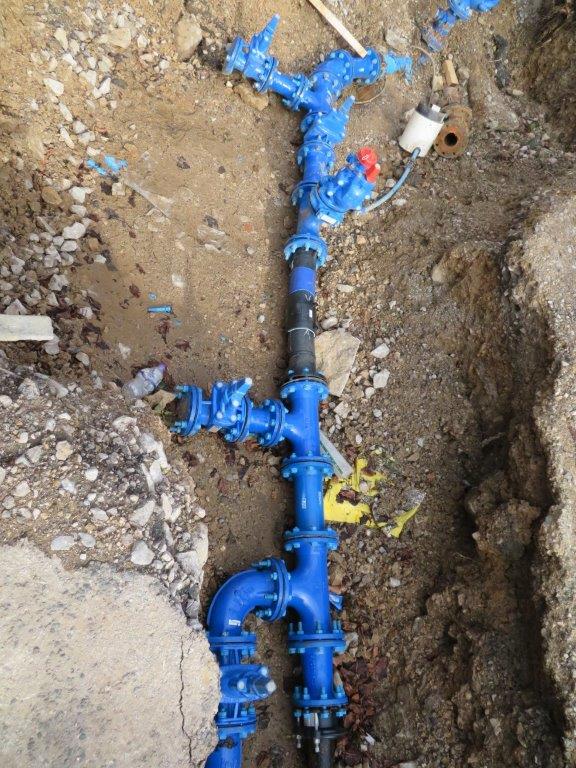 new water reticulation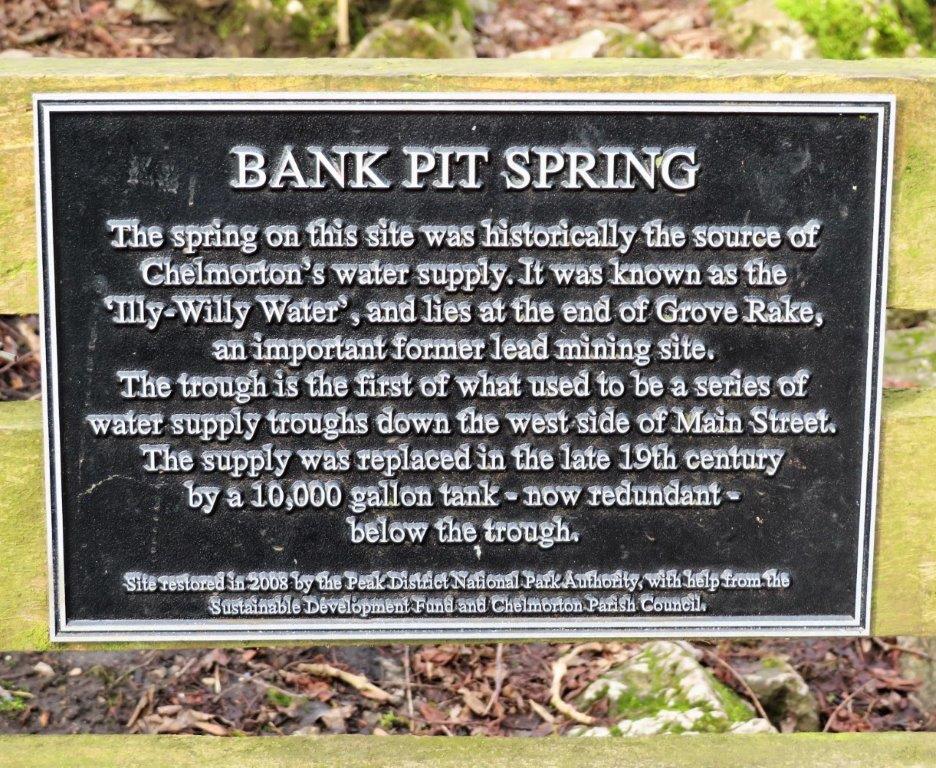 original Chelmorton water supply - 'Illy-Willy Water'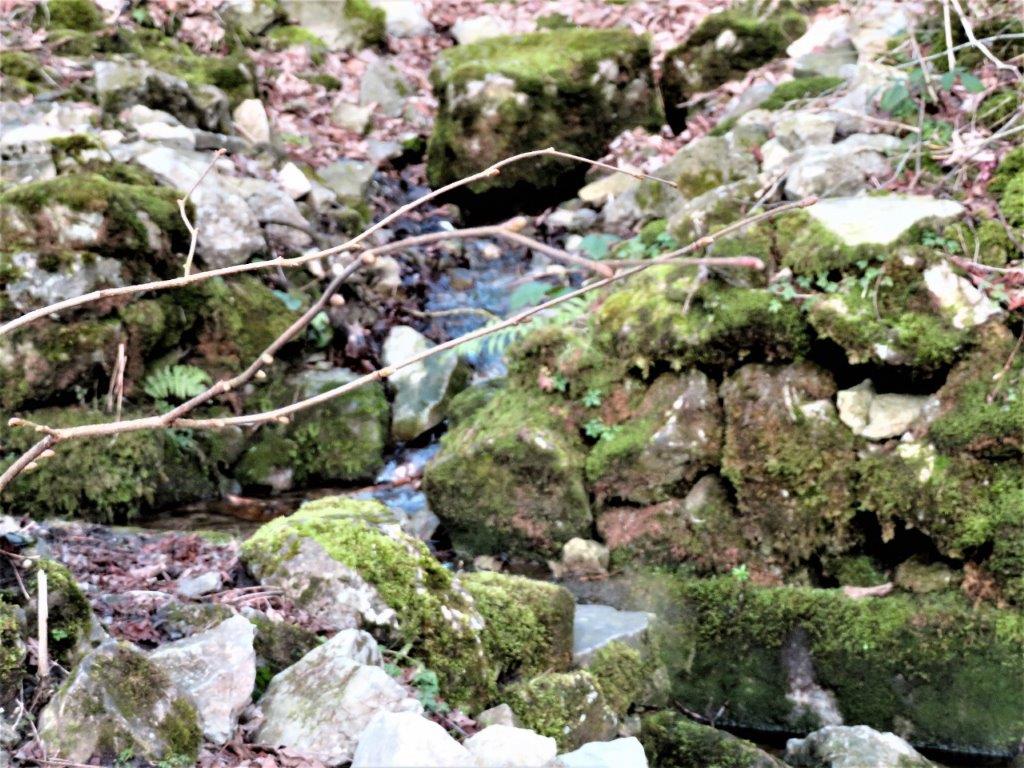 The 'Illy-Willy Water' Spring - the original water source for Chelmorton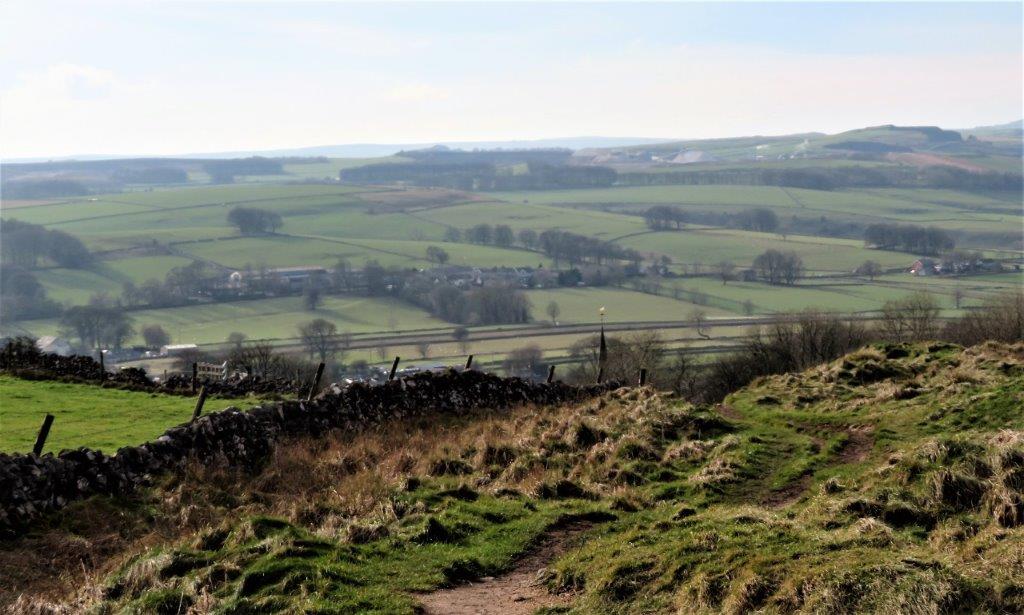 disturbed ground in front remnant of mining?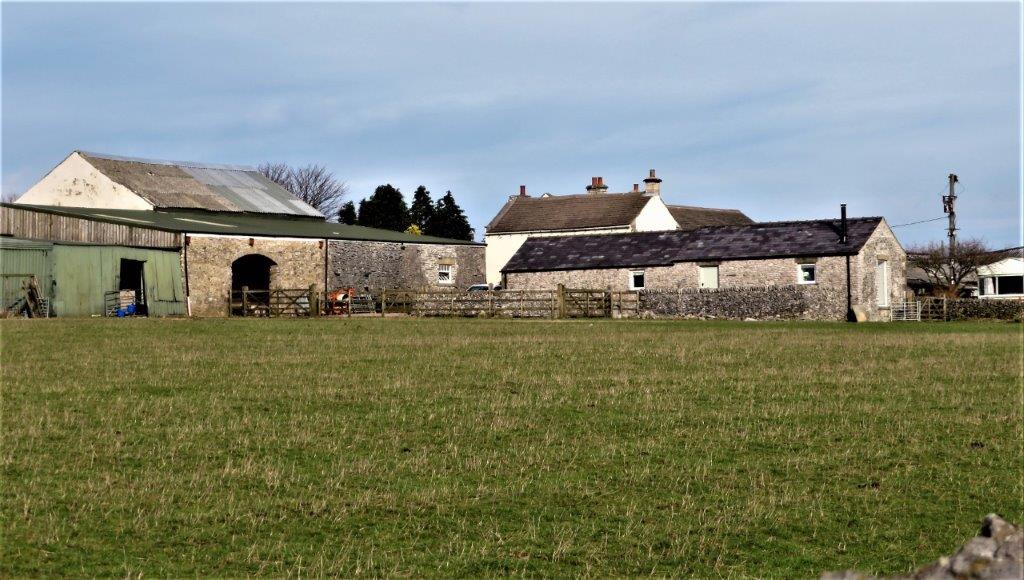 Five Wells Farm seen to the north of our route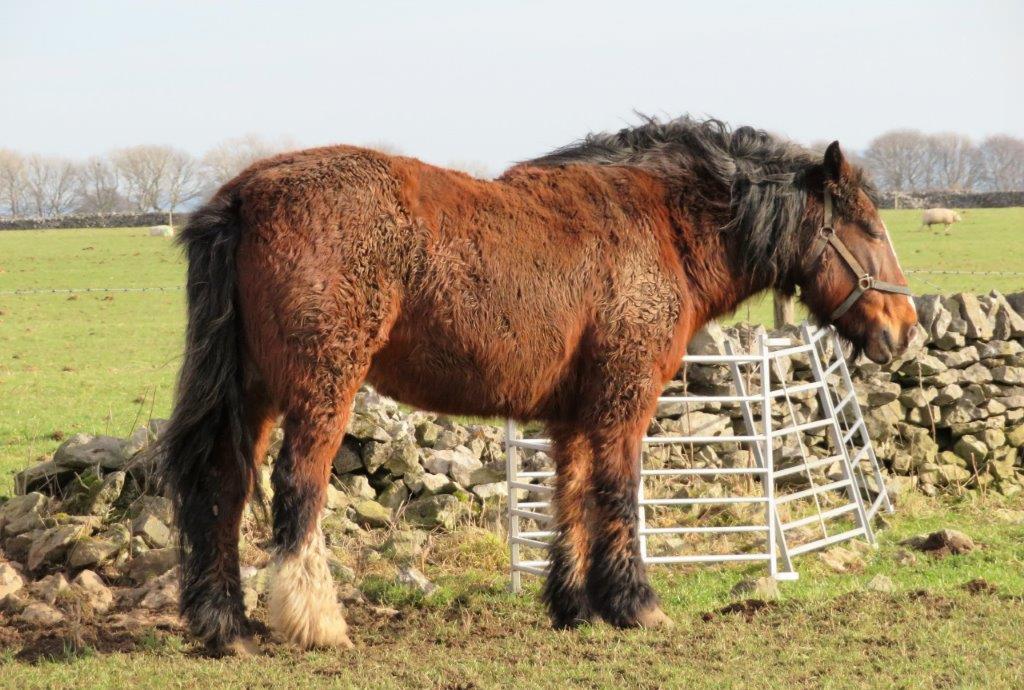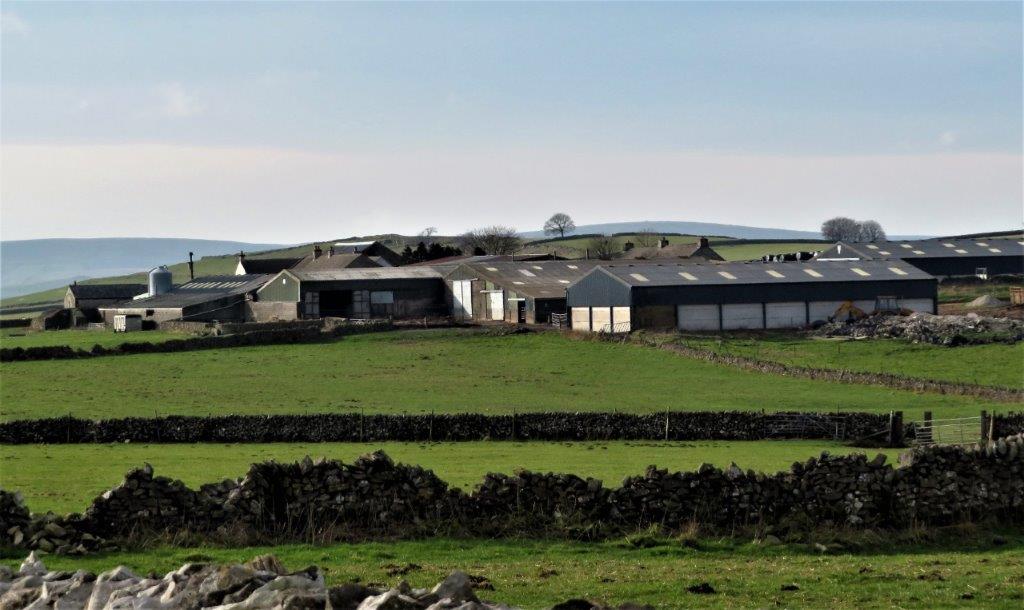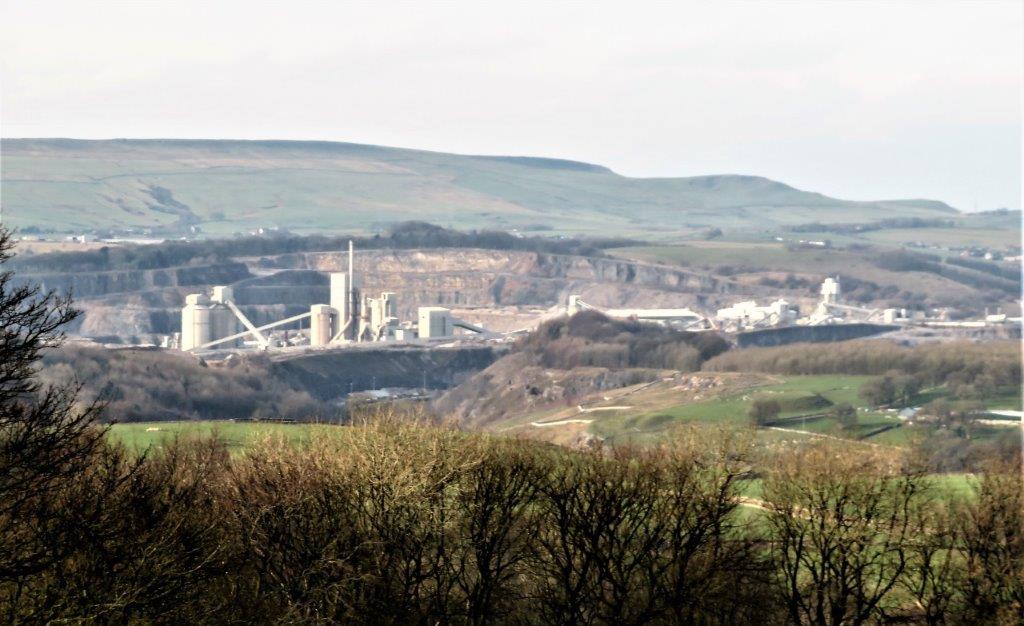 working limestone quarry and works zoomed into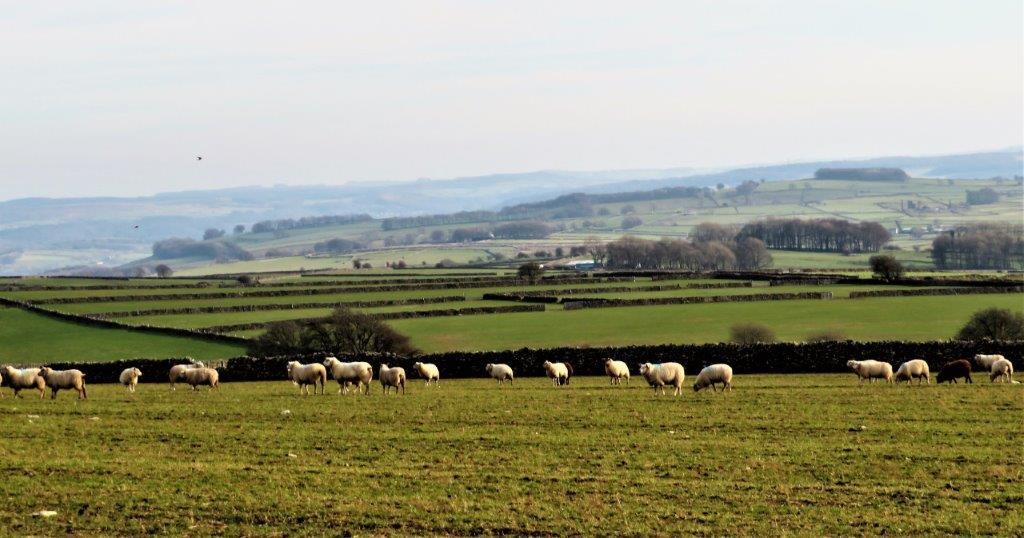 a stampede of sheep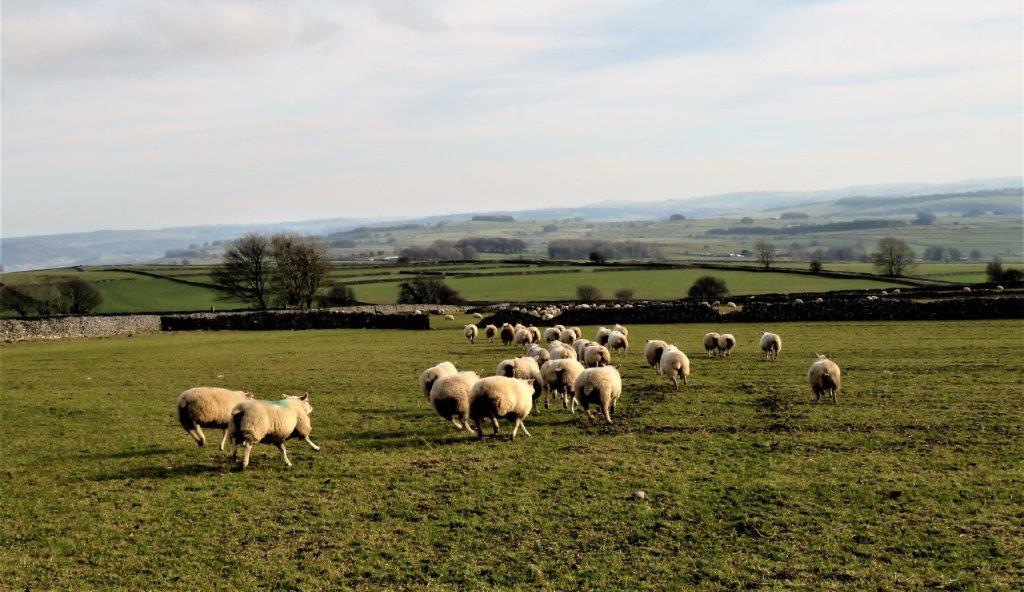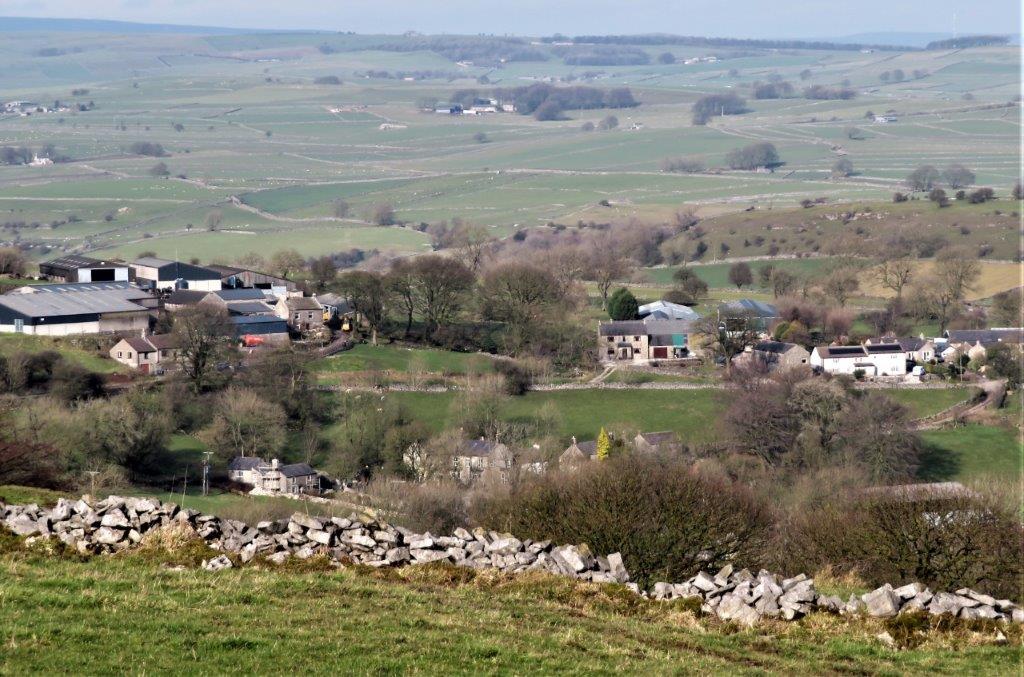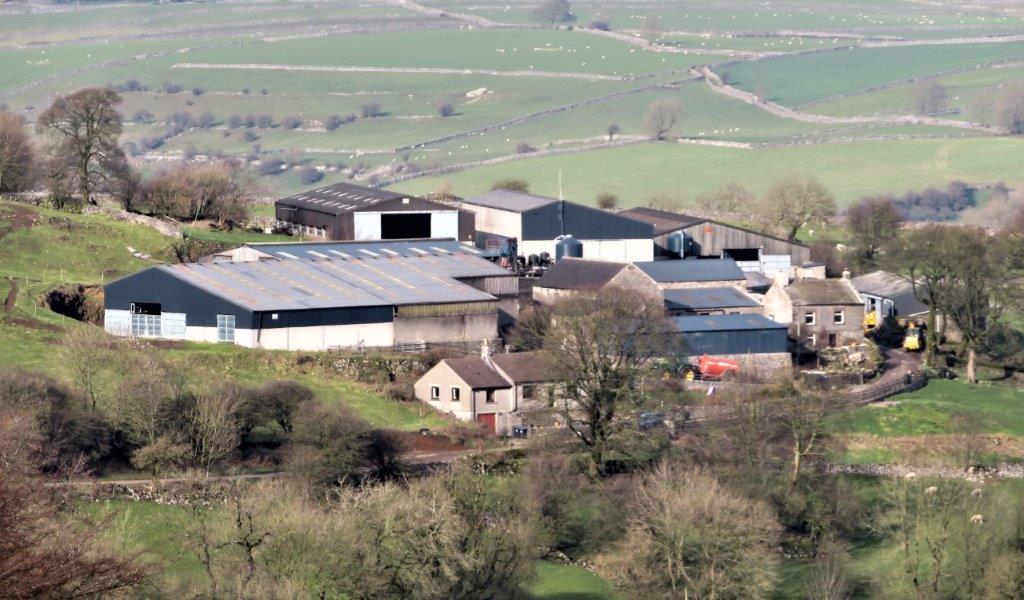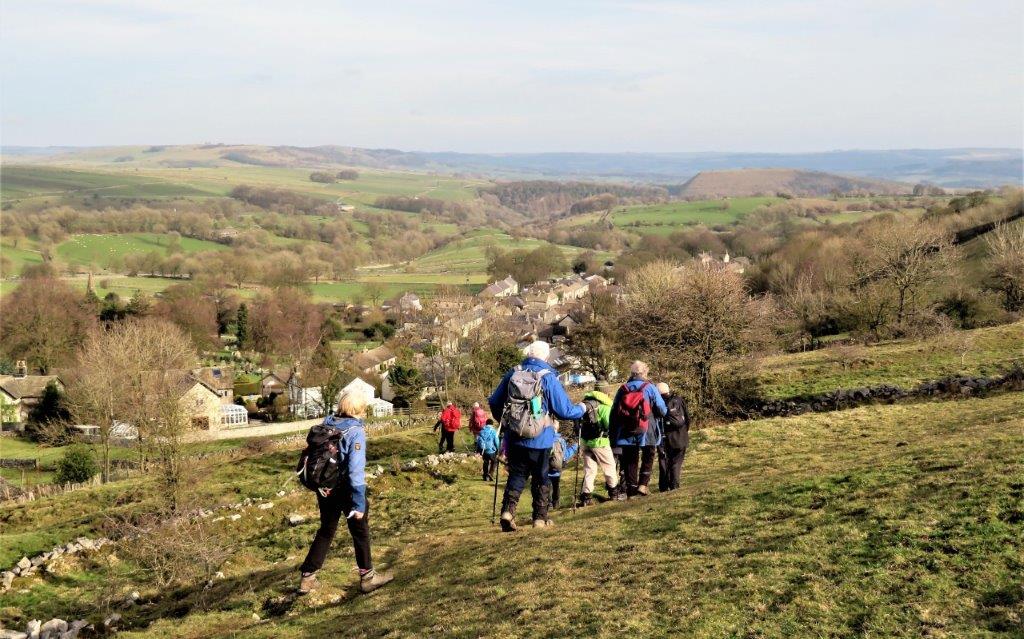 heading down to Taddington beneath us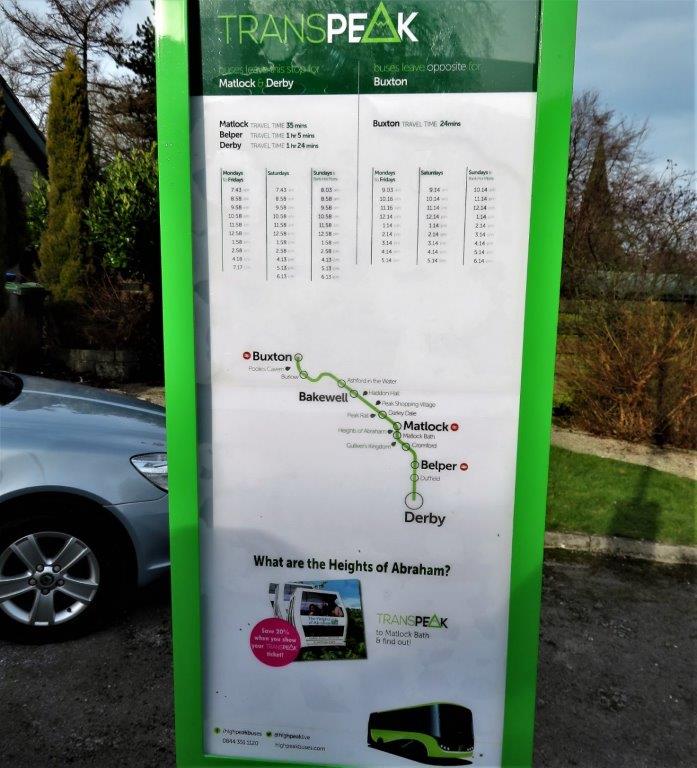 a useful bus link to Taddington
Taddington''s Church

Old milestone - London 157miles / Bakewell 5.5miles / Buxton 6miles

looking back at Taddington
heading toward High Dale
descending to the bottom of High Dale
climbing out of High Dale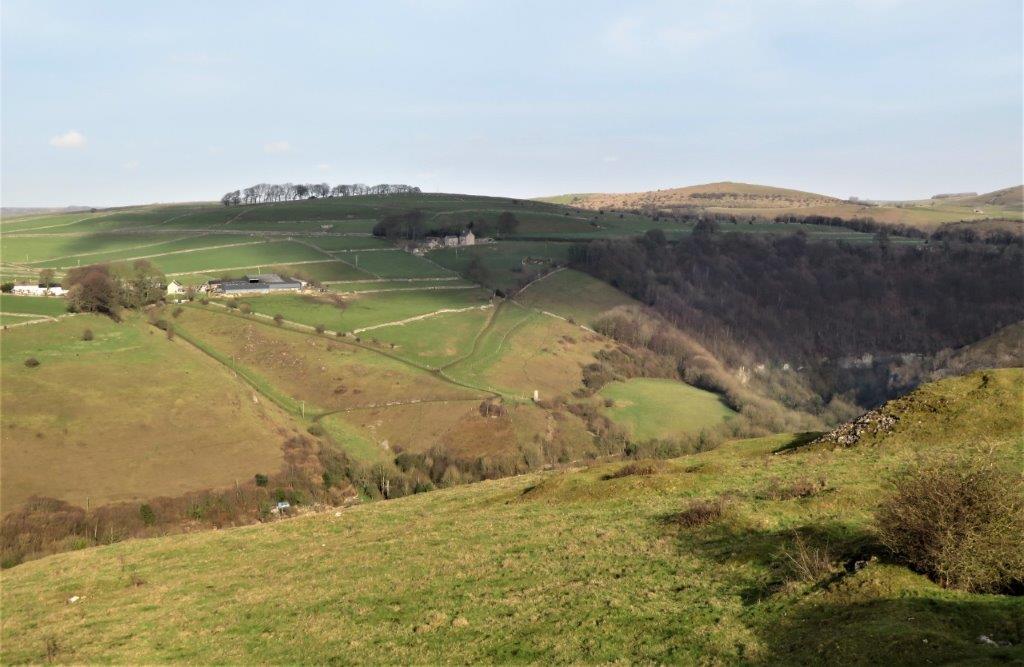 looking down to Miller's Dale (a long dale) to the Cressbrook end on right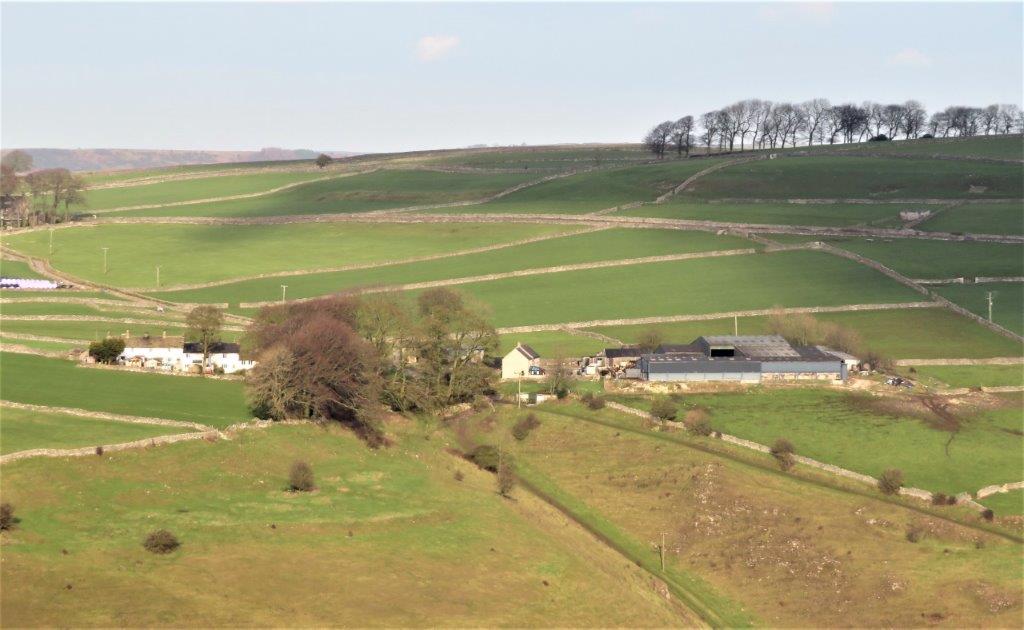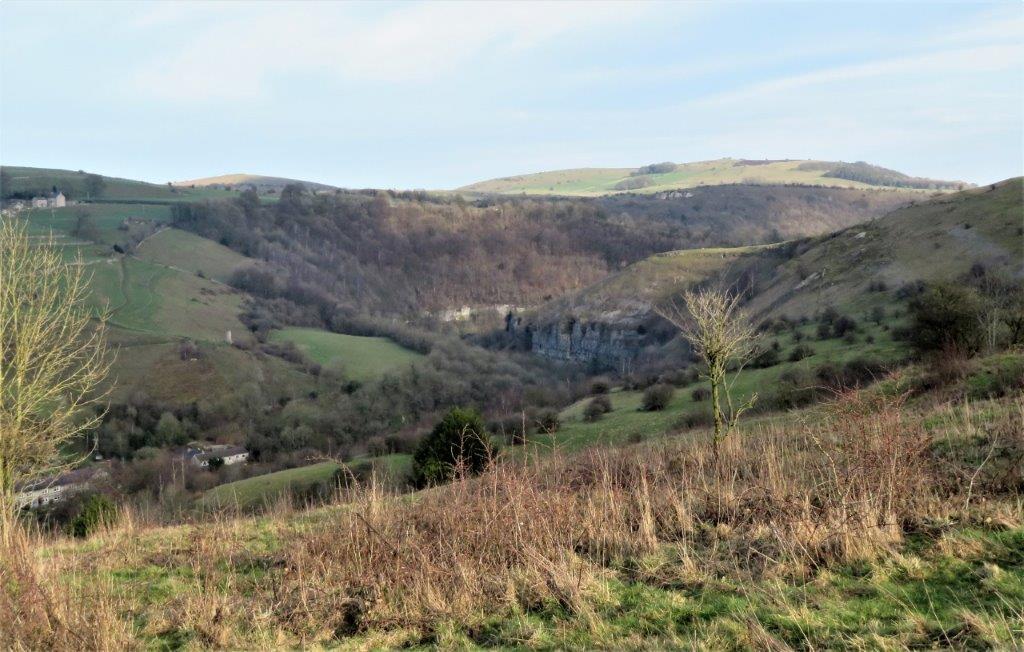 Miller's Dale again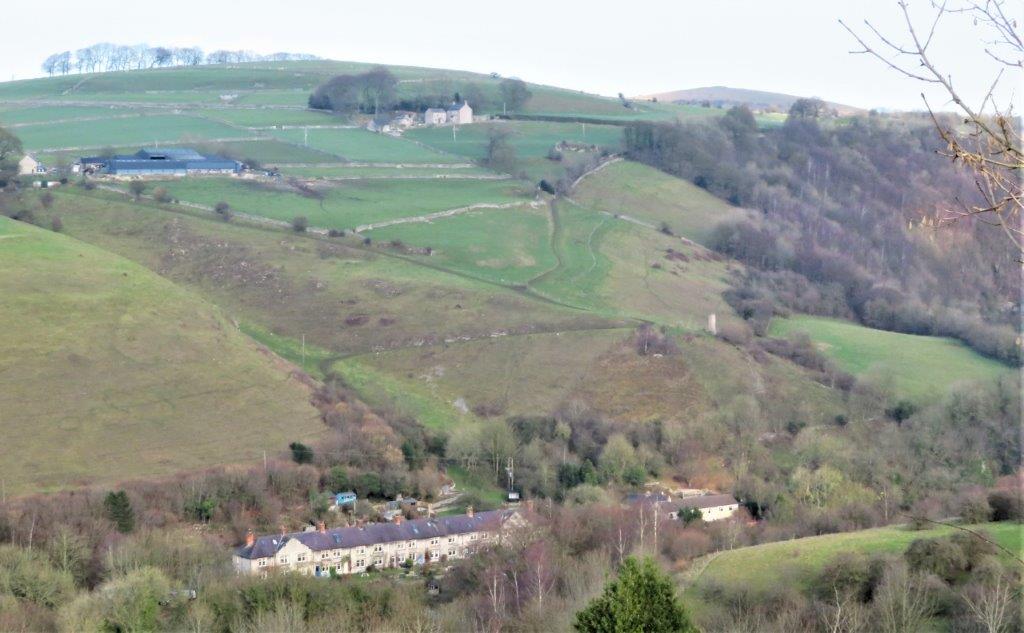 houses below near Litton Mill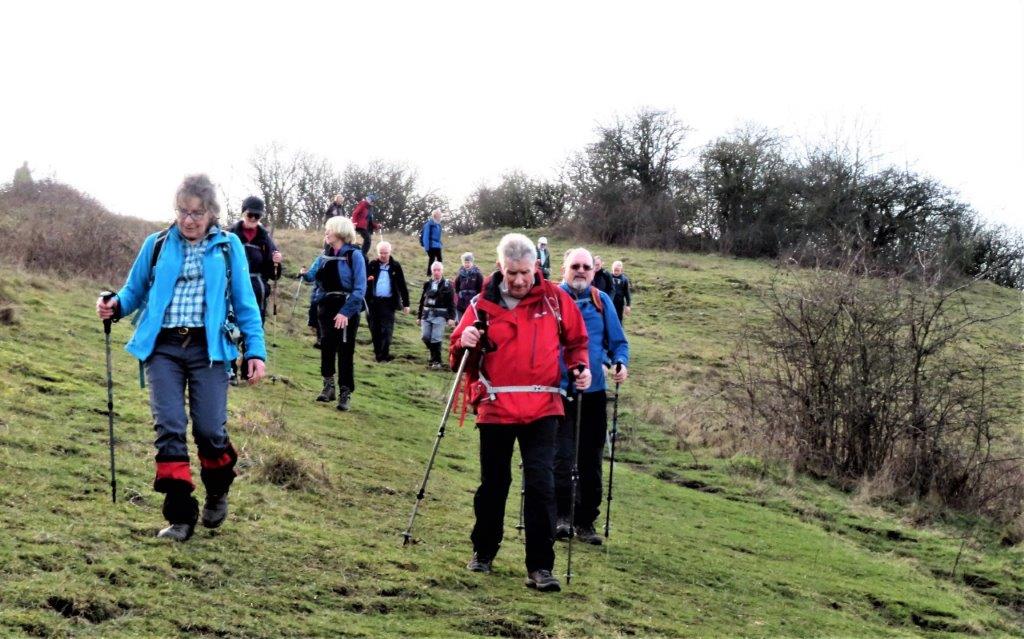 down towards The Monsal Trail and Litton Mill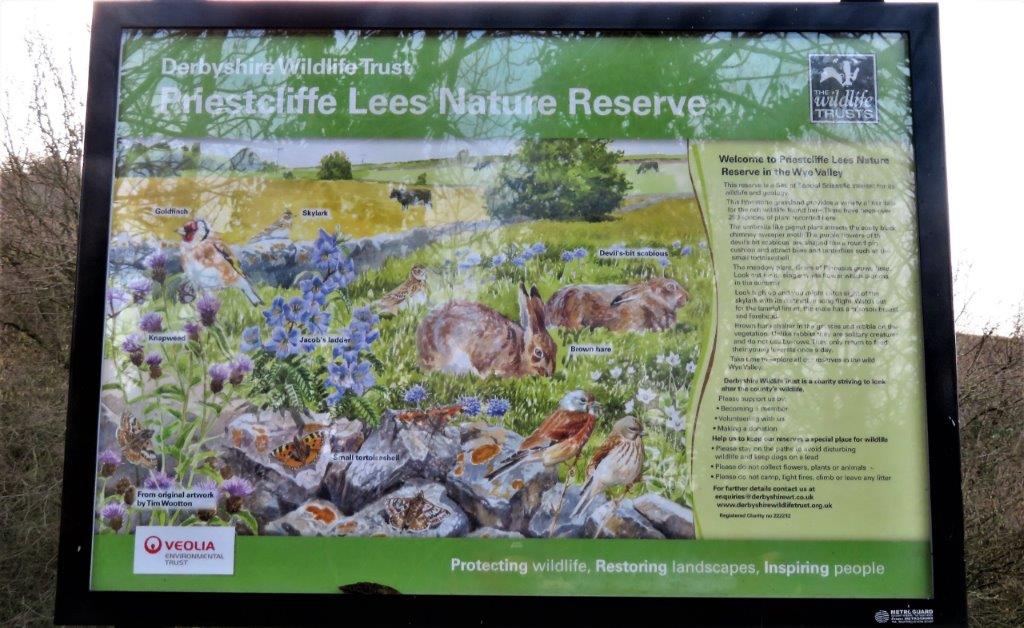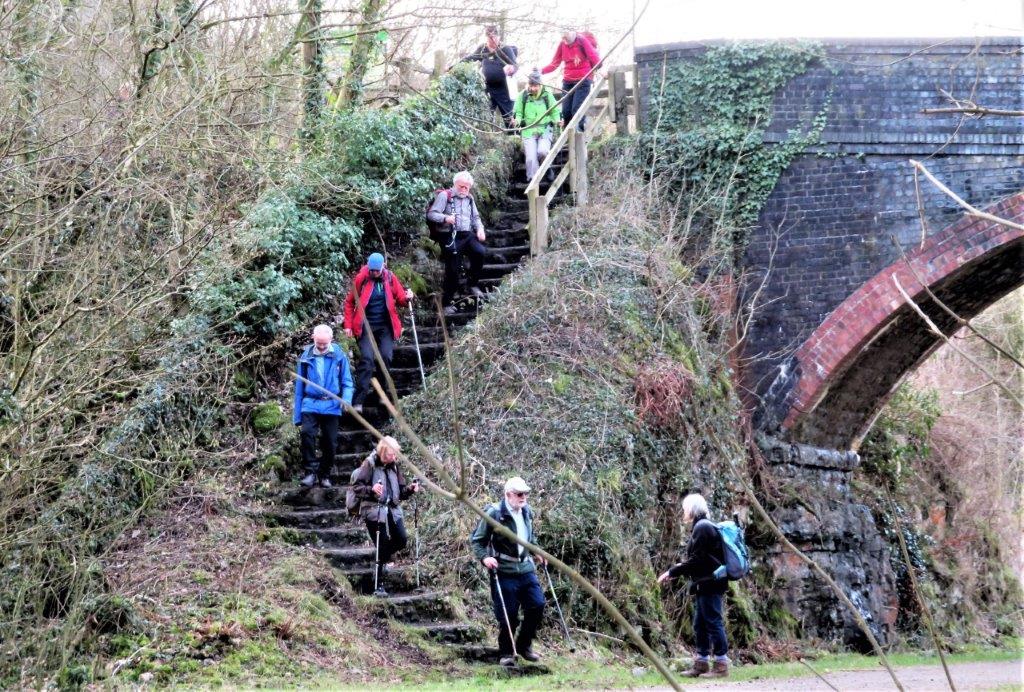 down at The Monsal Trail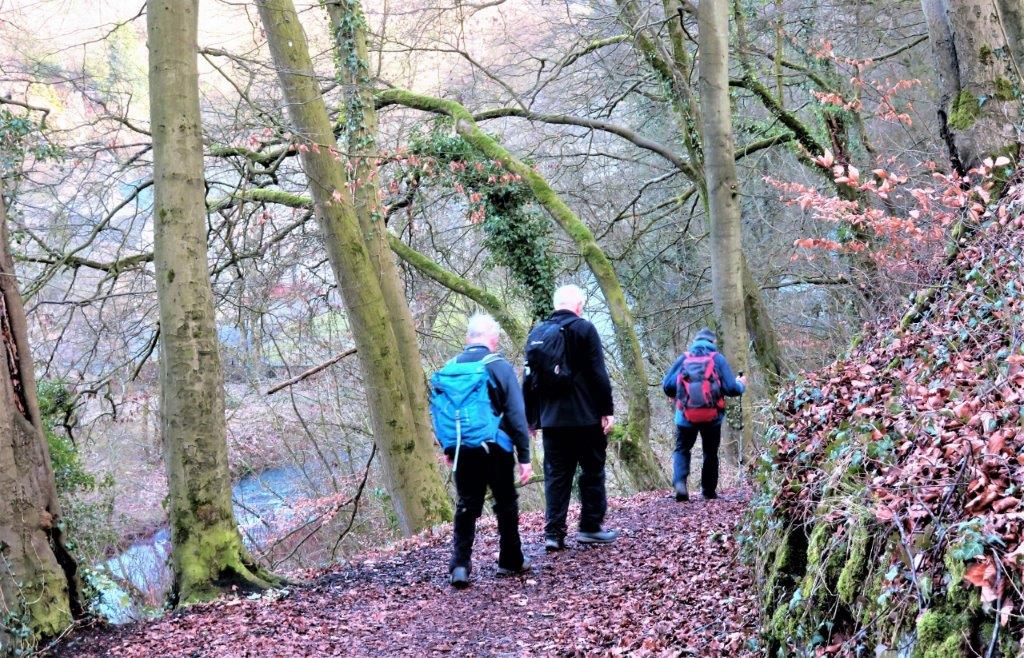 down from the Monsal Trail to cross the River Wye (and reach Litton Mill)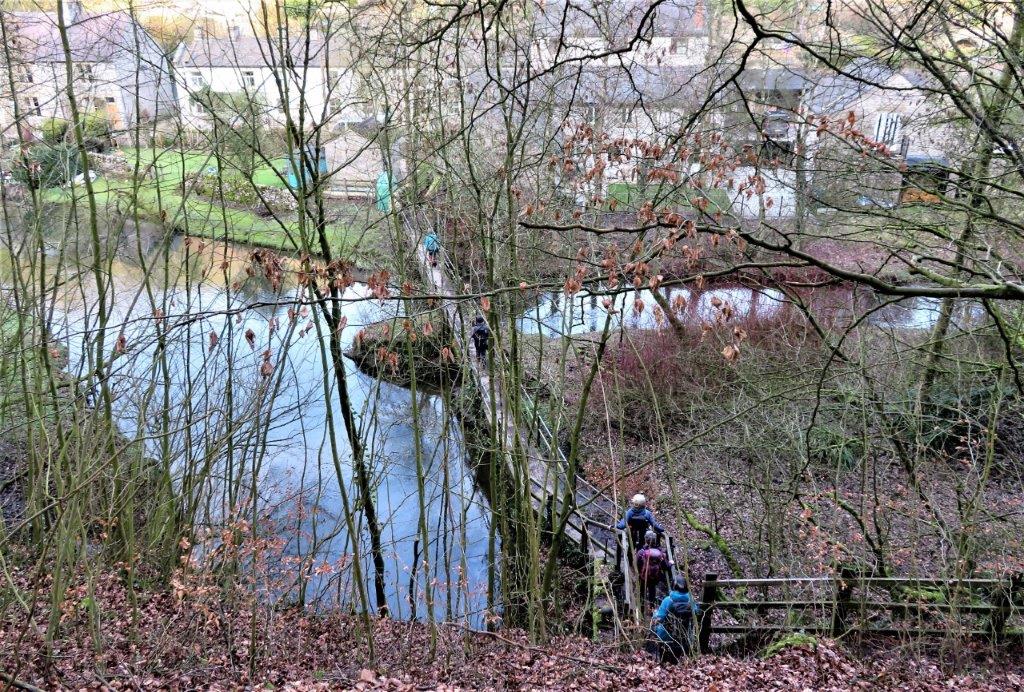 footbridge over the River Wye (its discharge largely unseen close to the near bank), and the old headrace to the Litton Mill in the middle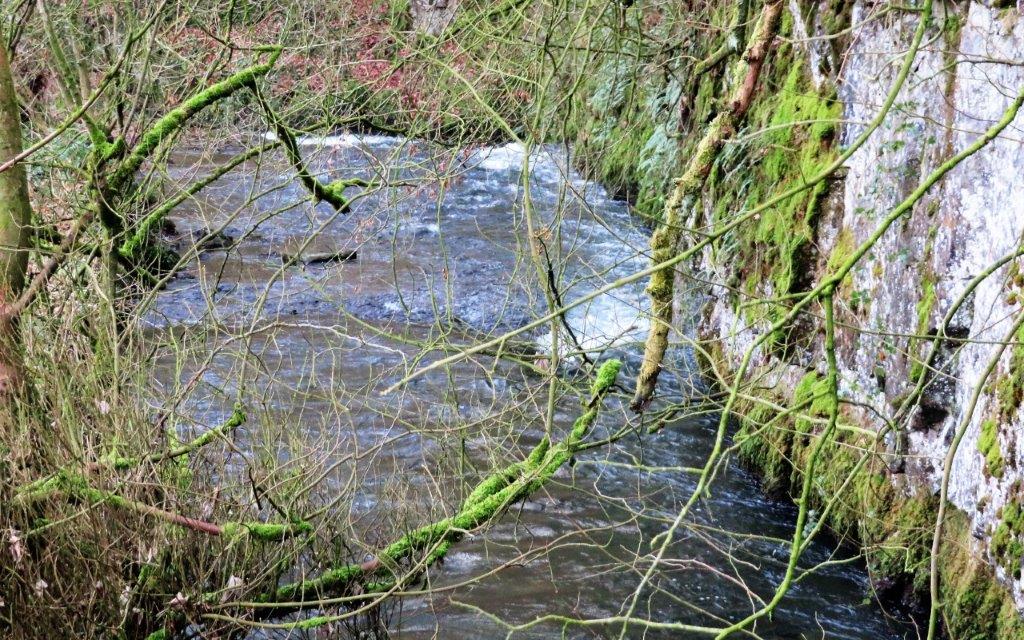 the River Wye flowing over a weir near the south bank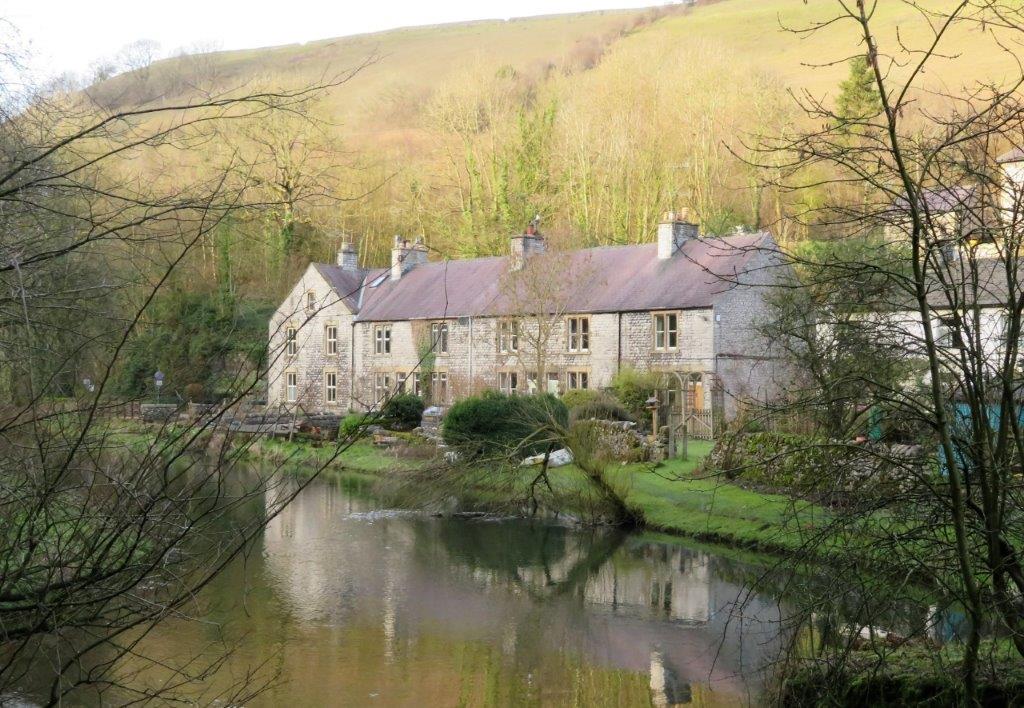 River Wye upstream of the headrace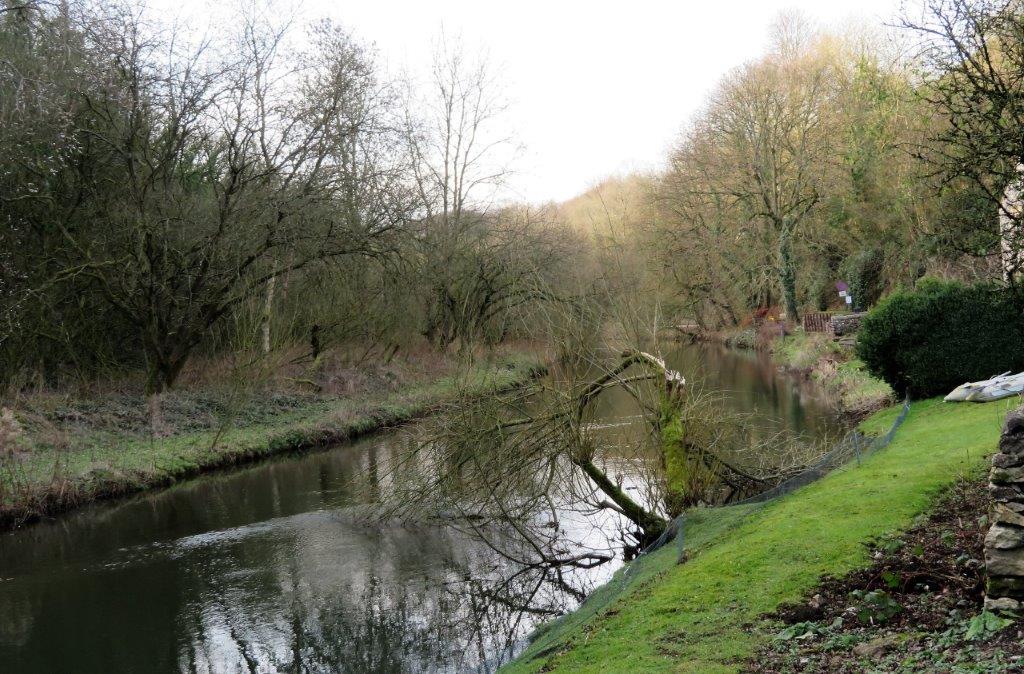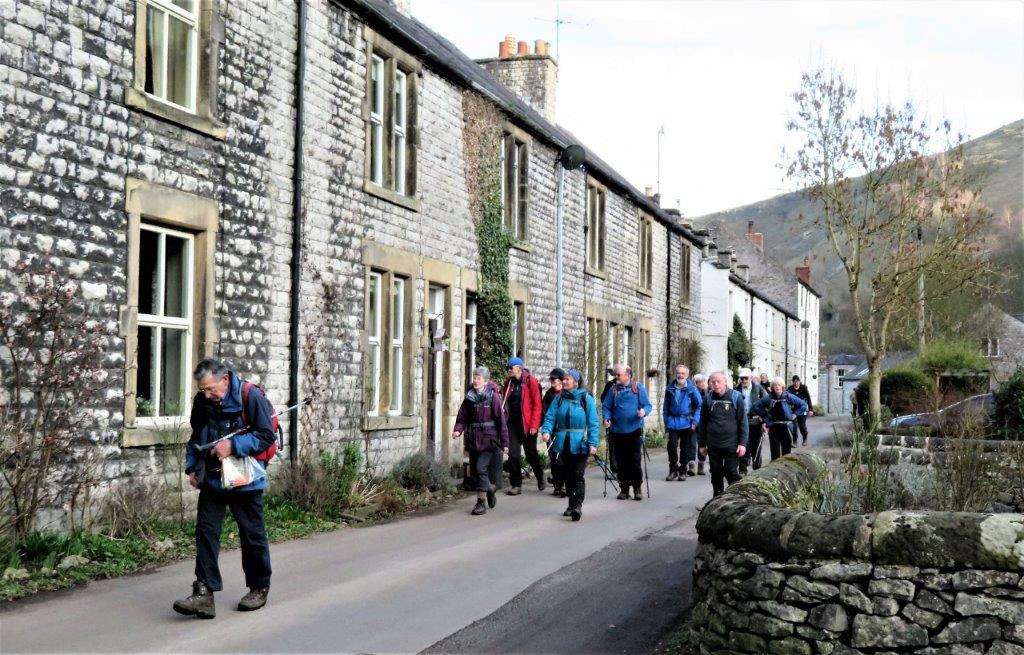 houses west of Litton Mill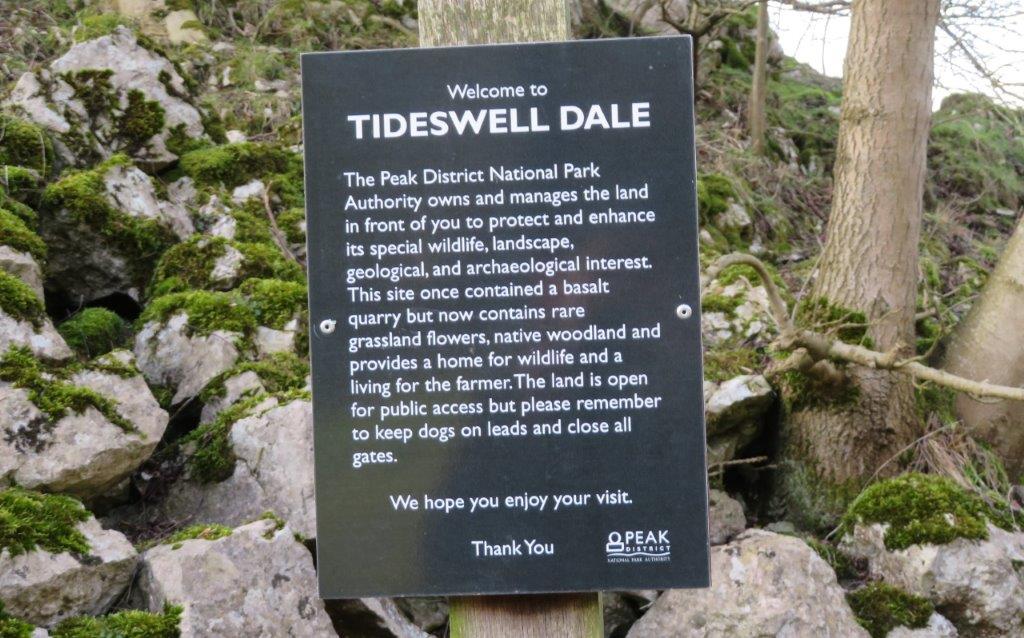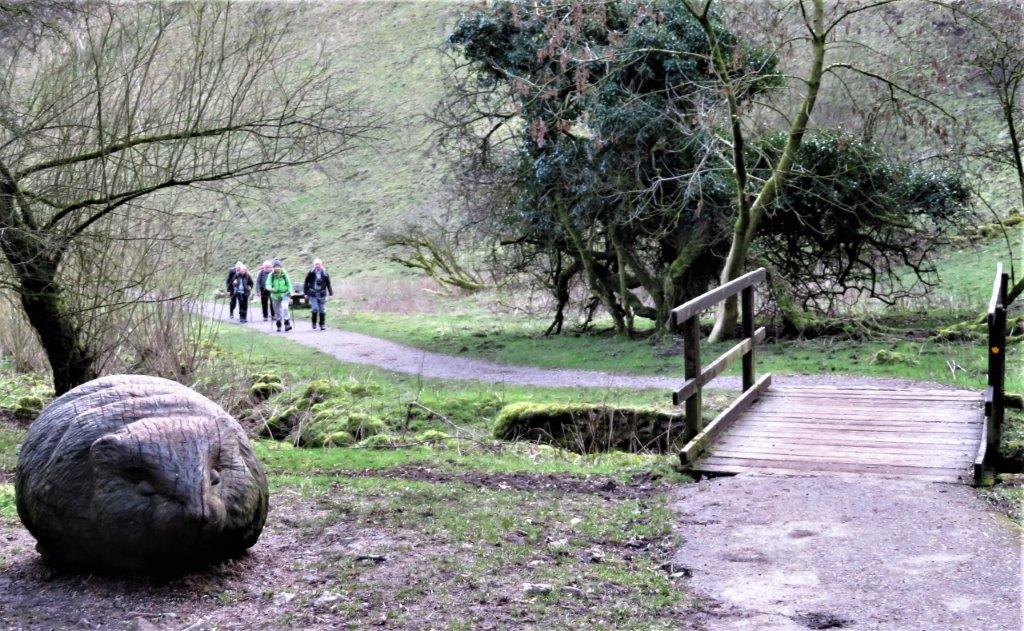 in Tideswell Dale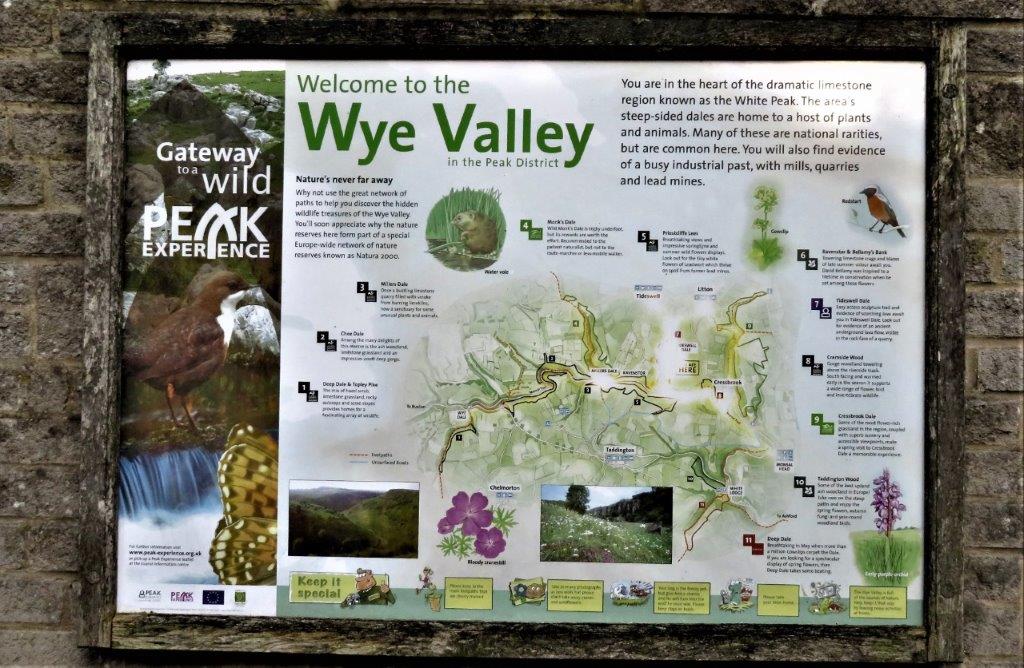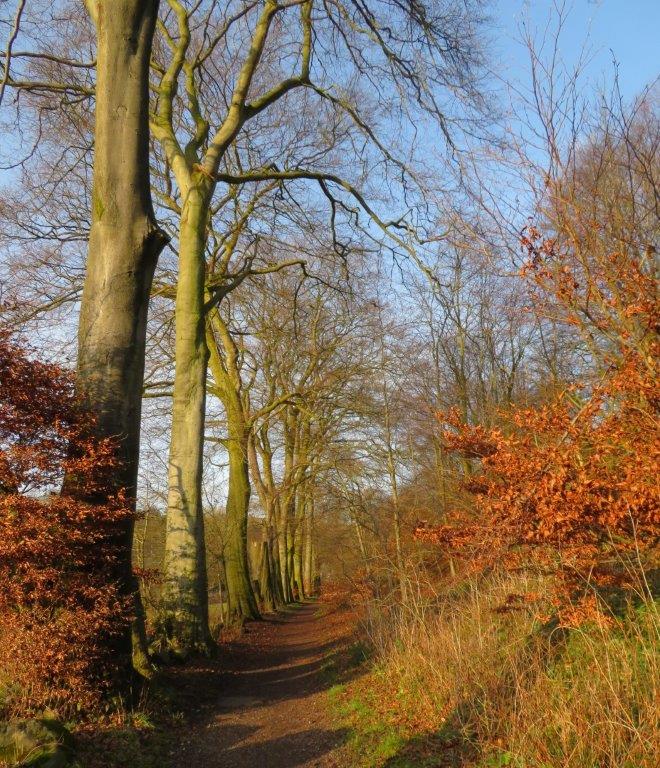 Line of tree leading leading away from the parking area. We turned beyond them to cross the road near the sewage plant and to continue on a path to Tideswell
homepage - Daywalks Index 2019 - contact me at