homepage - Daywalks Index 2019 - contact me at

2019.01.02 Totley Brook bus terminus (SK307806), ~S to cross Oldhay Brook, ~W / NW to re-cross & follow Brook ~WNW into Blacka Plantation to SK291808, cross Stepping Stones continuing ~SSW then WSW to Totley Tunnel (unseen on ground) at SK280796, ~N then ~WNW to cross A625 Rd, ~SW then ~NW to A6187 Rd, SW along rd to Fox House, ~SW to Lodge then NW thru woods below A6187 Rd, cross rd & ~NE on FP above disused quarry, continue to Houndkirk Rd and follow ~NE along edge of Lady Cannings Plantation & on to PH, ~200m ~Eon Ringinglow Rd, ~N to Old May House, N / NE / NW to and past Fullwood Hall, ~N on rd then ~E on Moorside into Fullwood - leader Judy Gathercole - Wednesday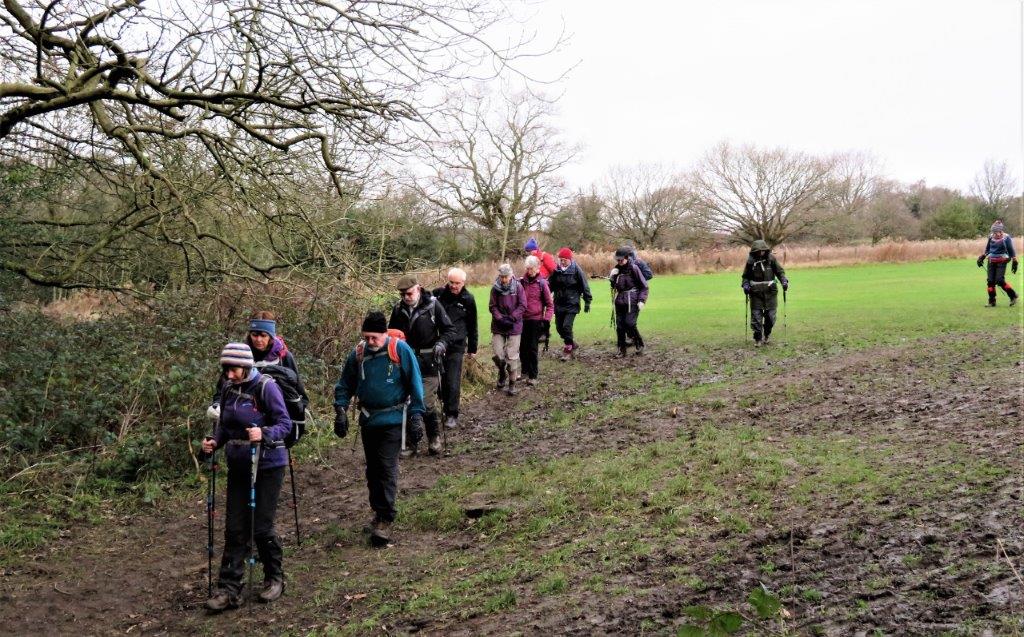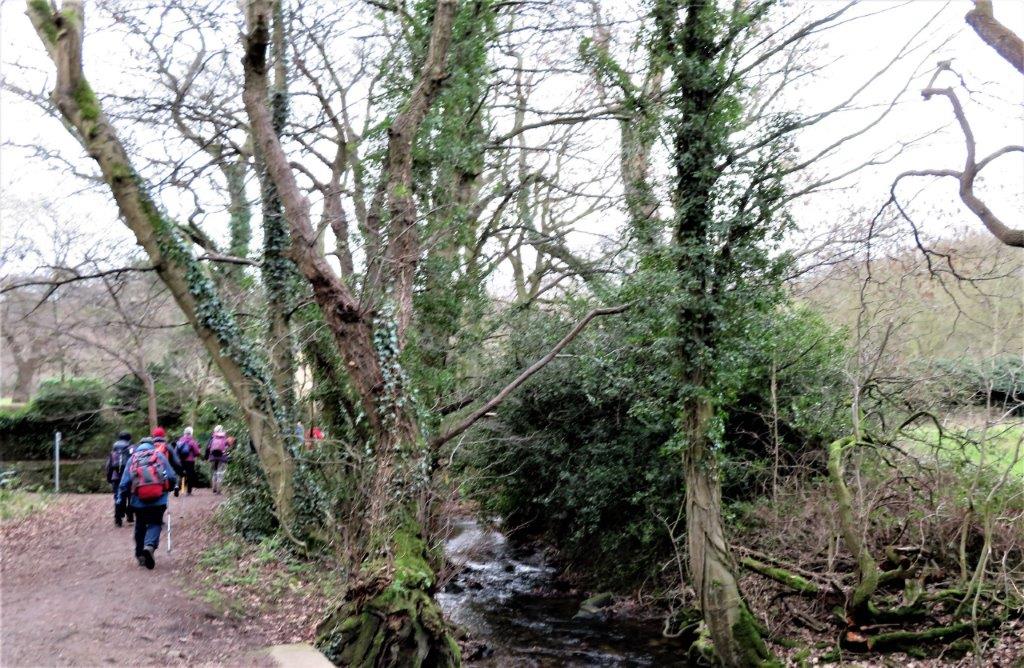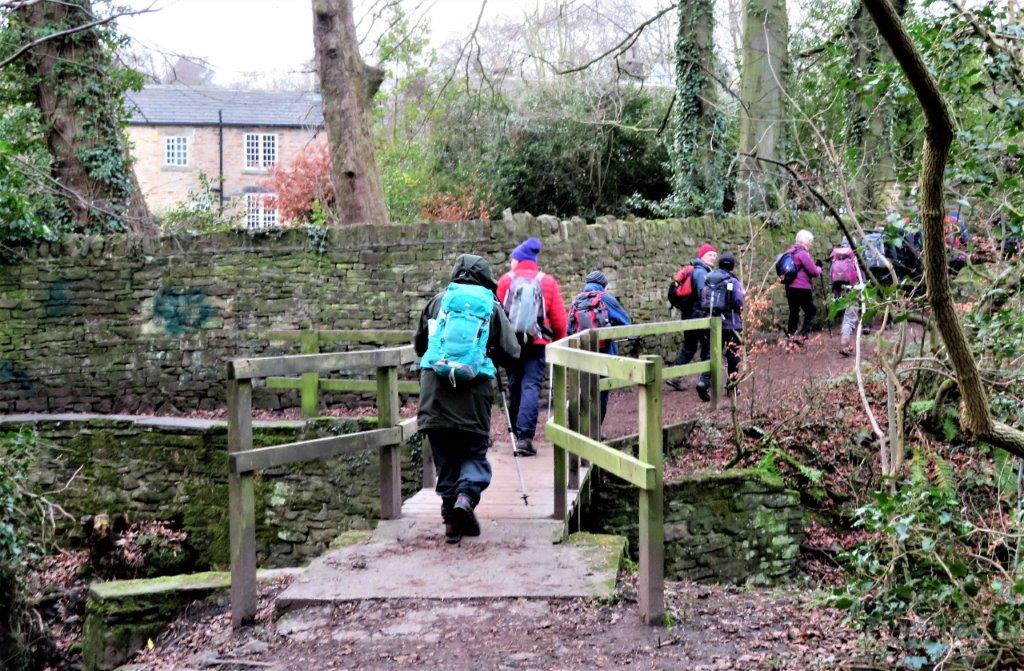 crossing our 'first' bridge over Oldhay Brook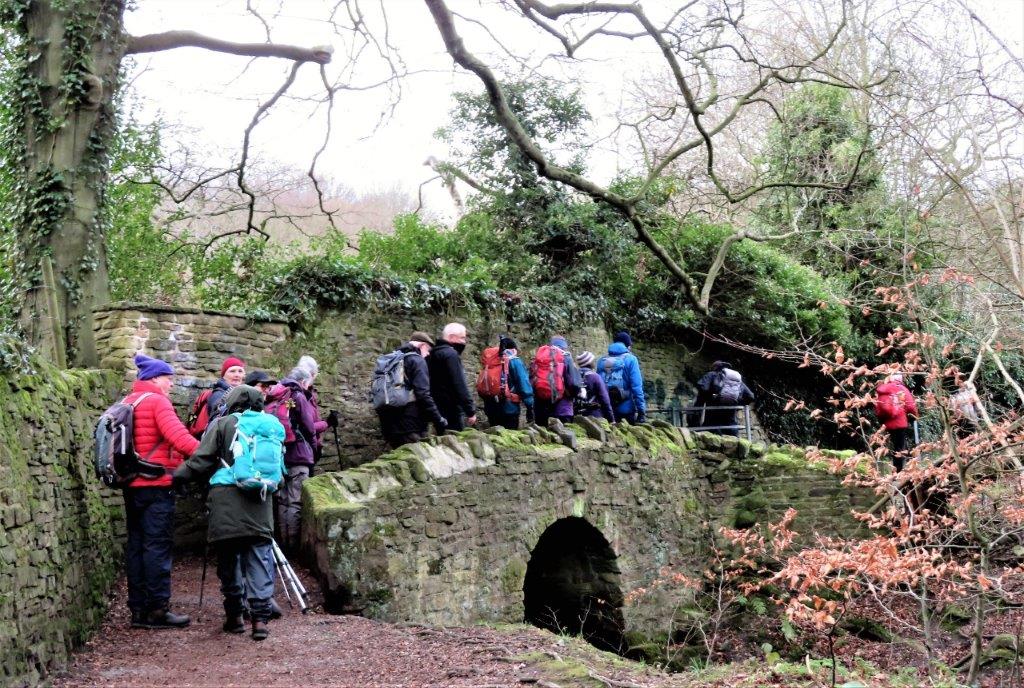 crossing our 'second' bridge over Oldhay Brook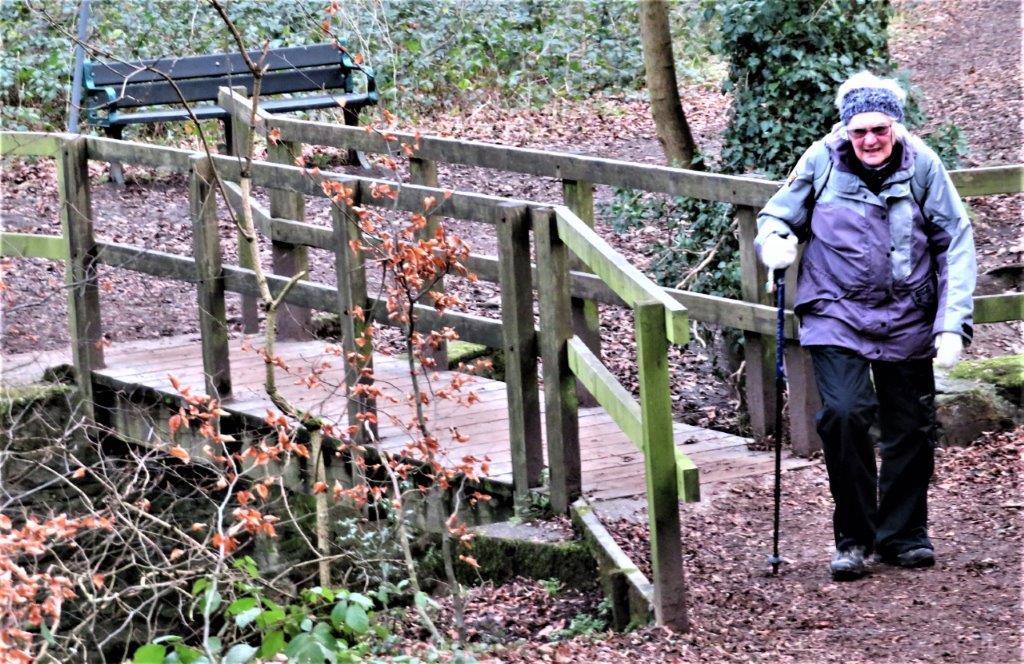 looking back at 'first' bridge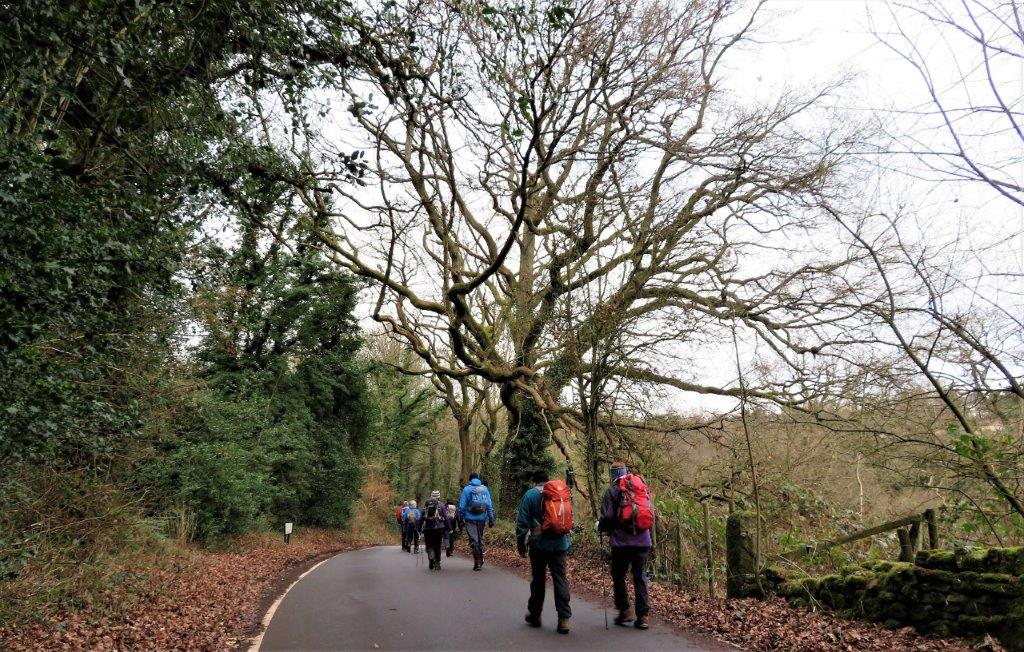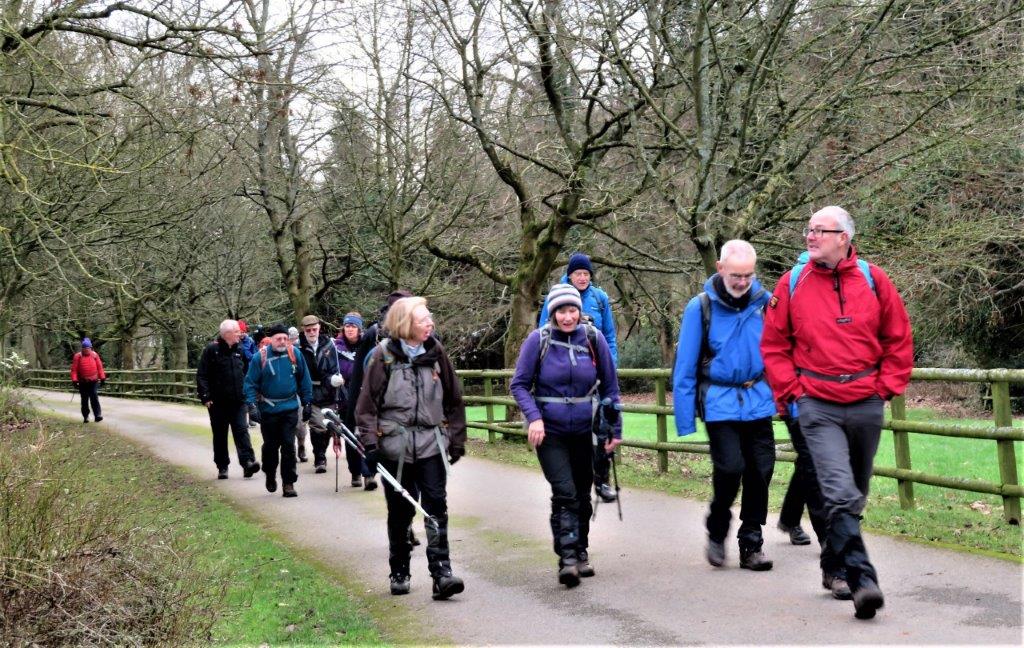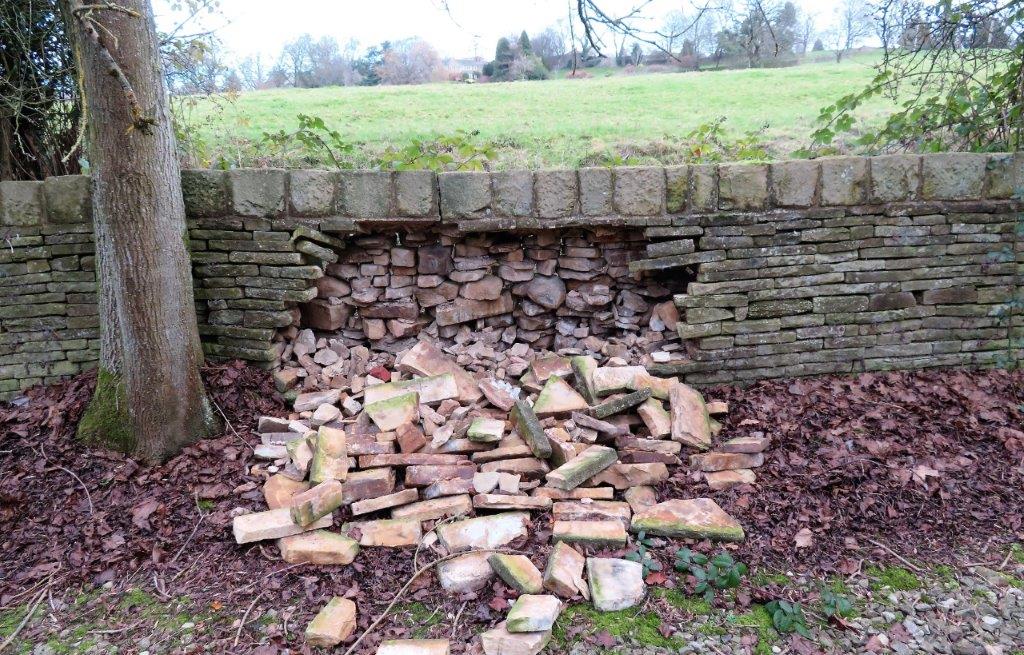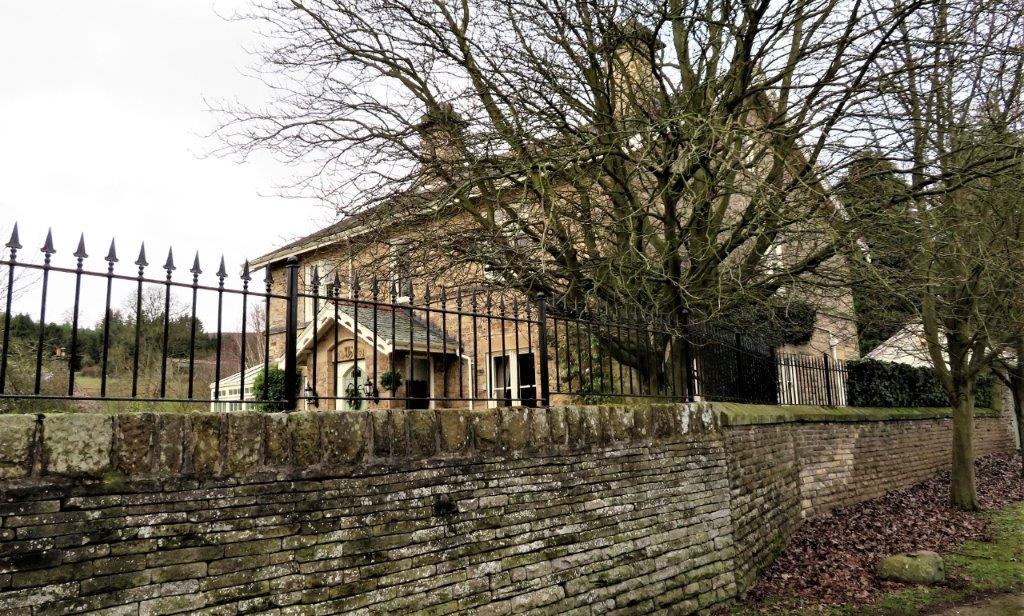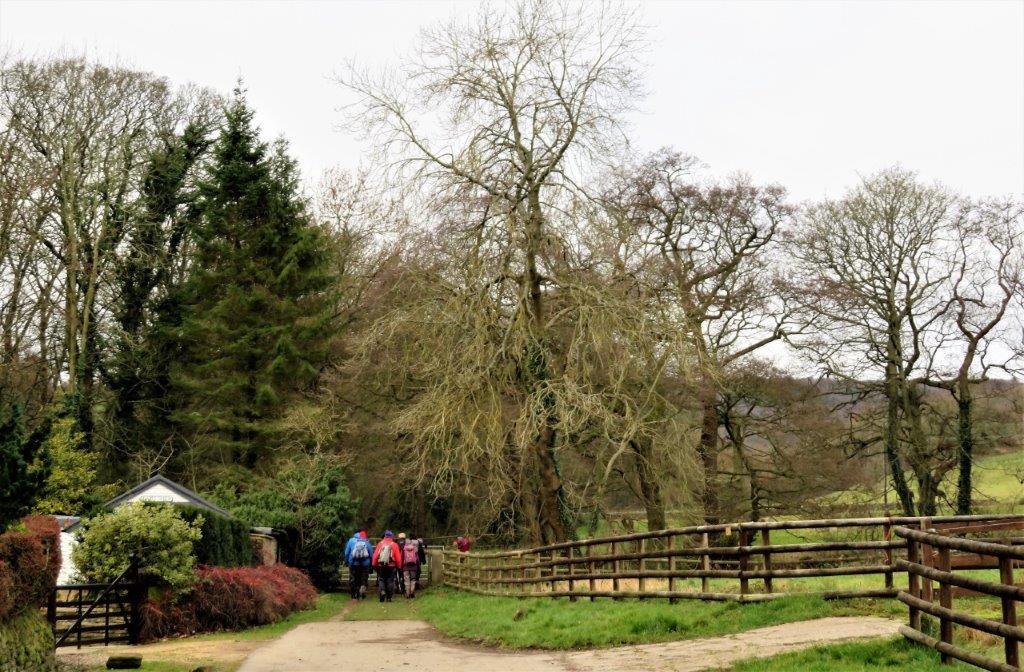 Avenue Farm?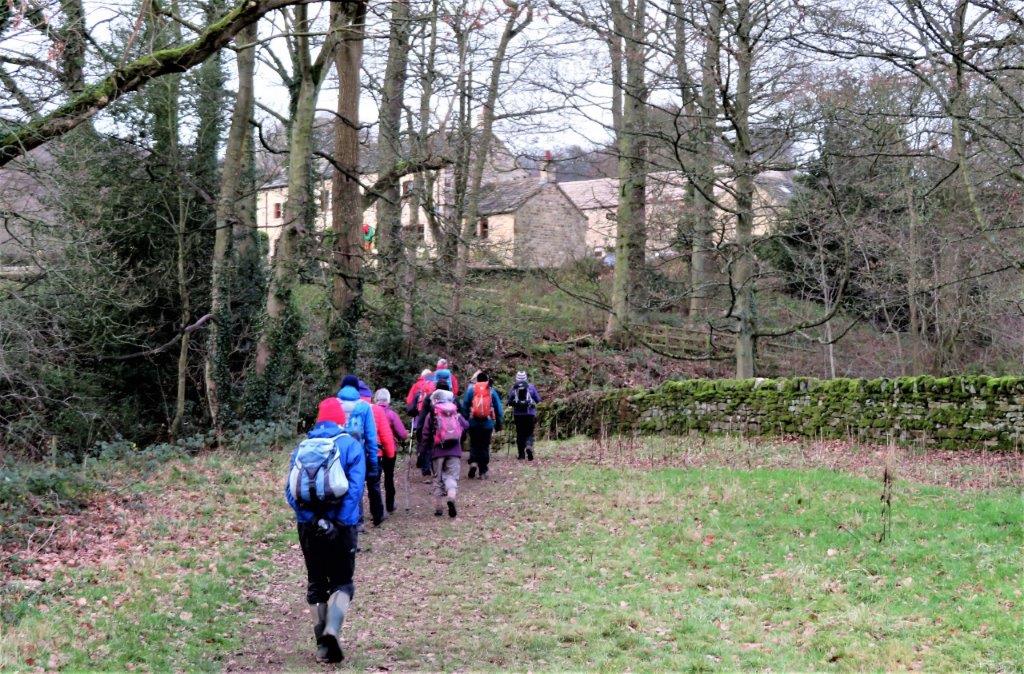 Hallfield Farm?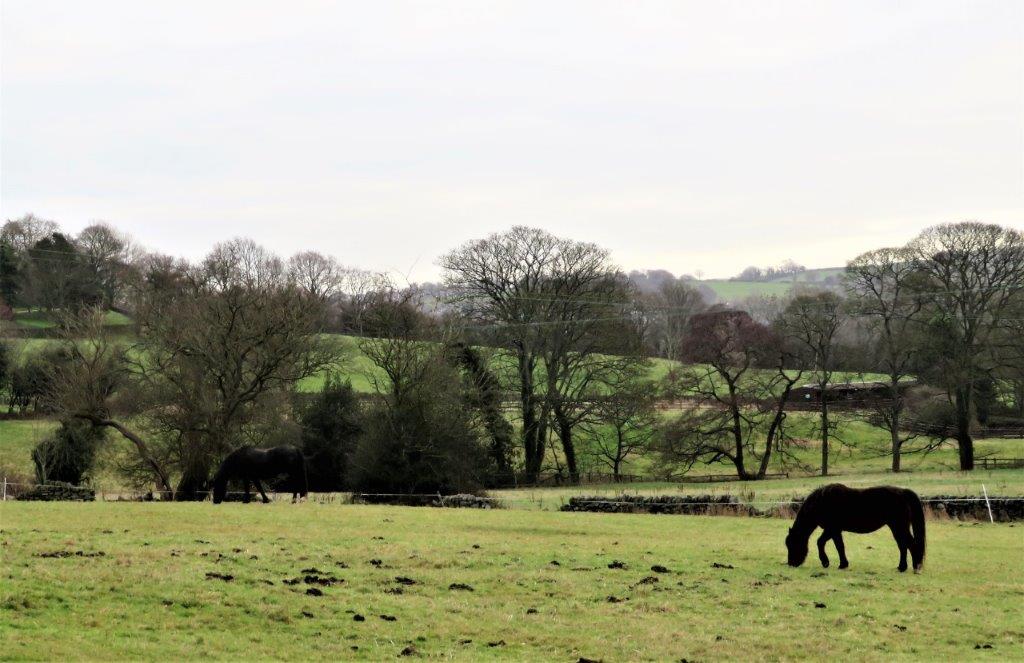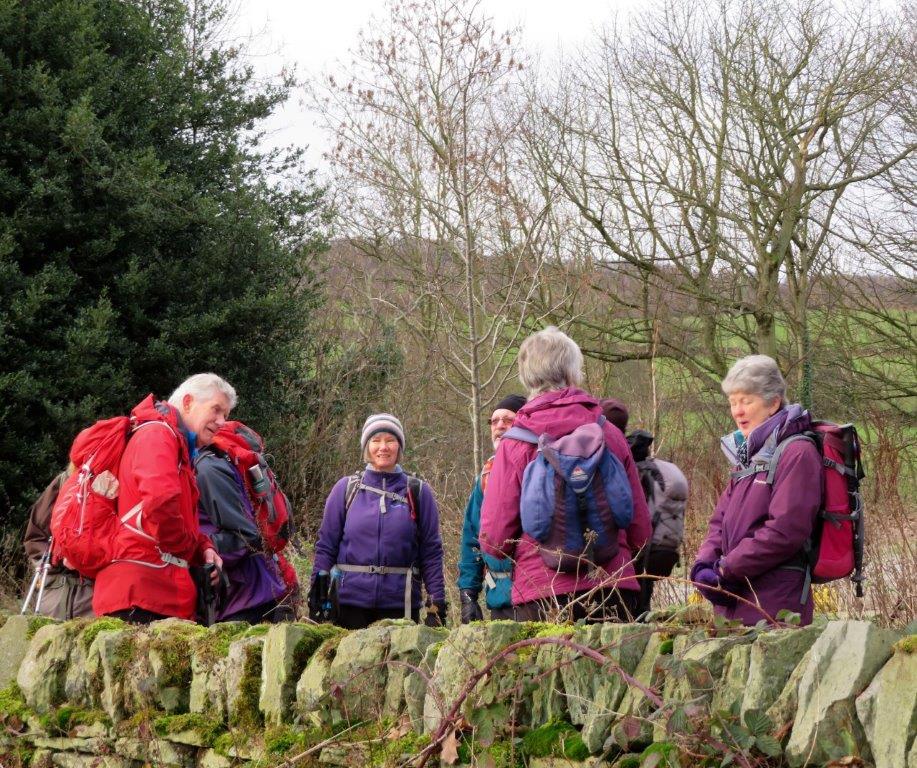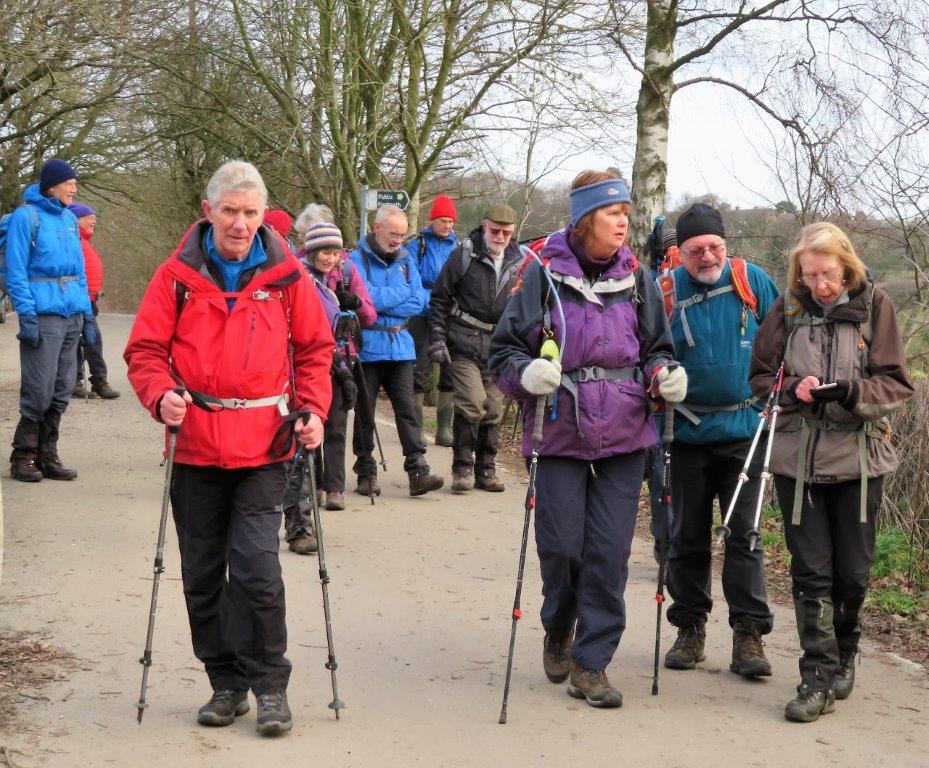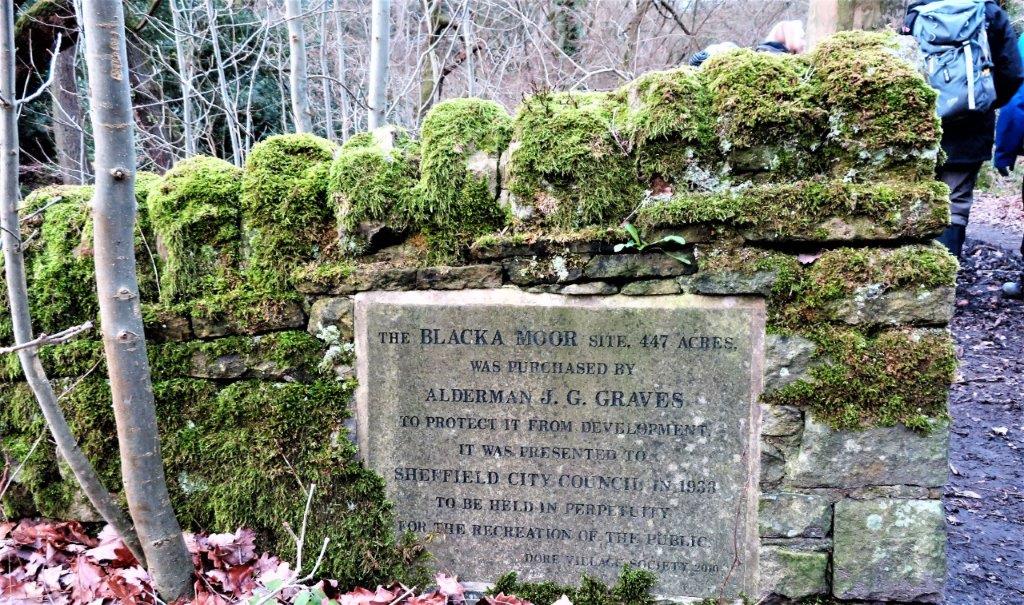 Blacka Moor site to be held in perpetuity for the use of the public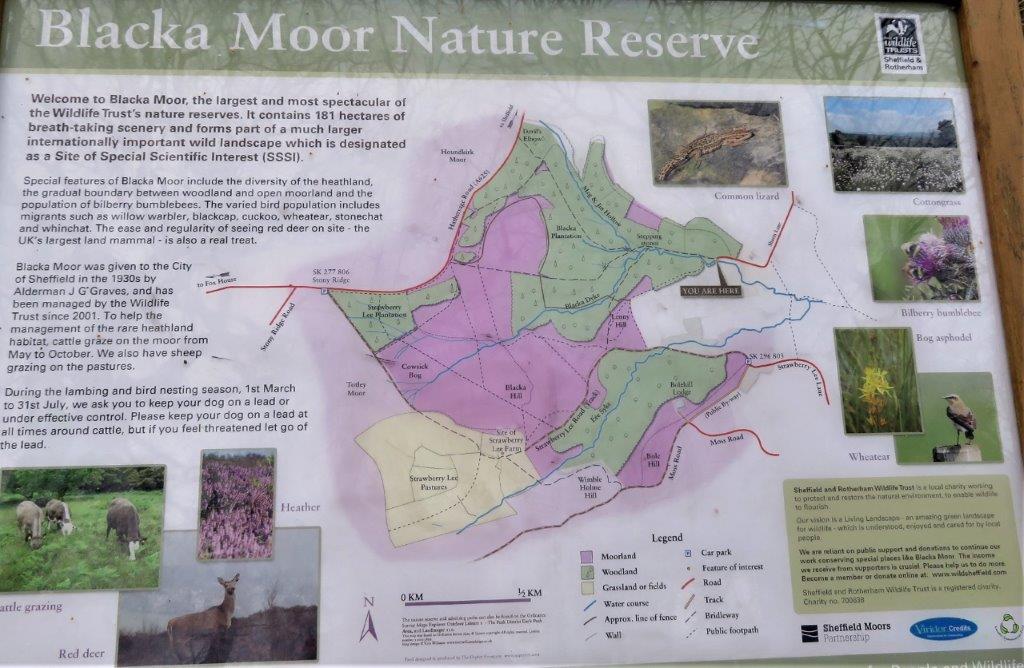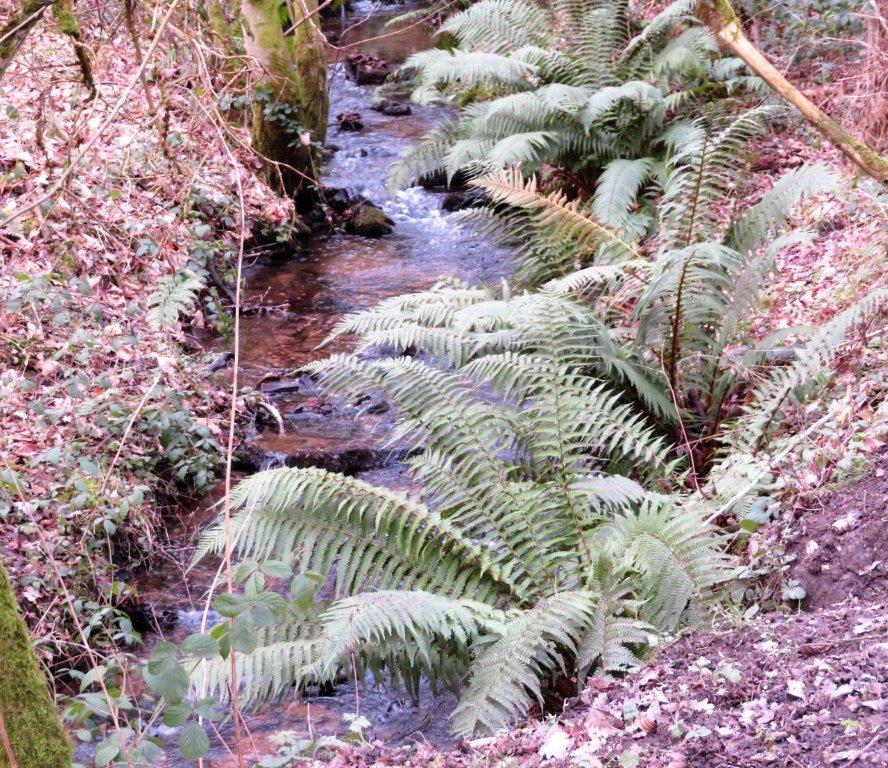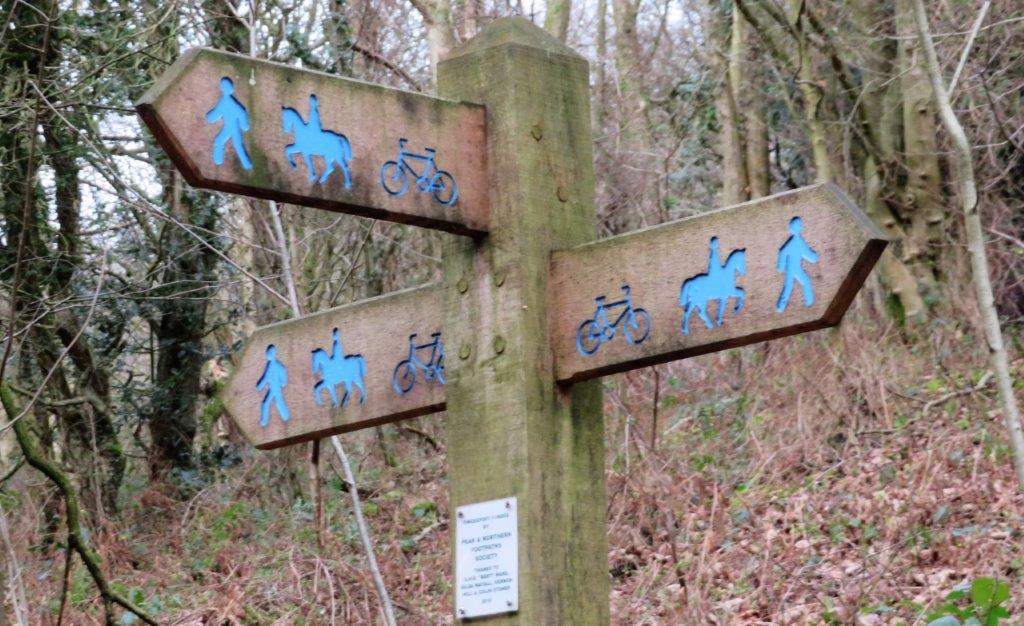 Photographer is not sure if a co-ordinate position is marked on this direction post (and should be marked?). Such posts assume that walkers (and other users) new to an area at least carry a map and compass (and possibly a GPS? or similar) and keep track of where they are - which sometimes is not the case! If there is a know destination for a 'pointer' should it be given??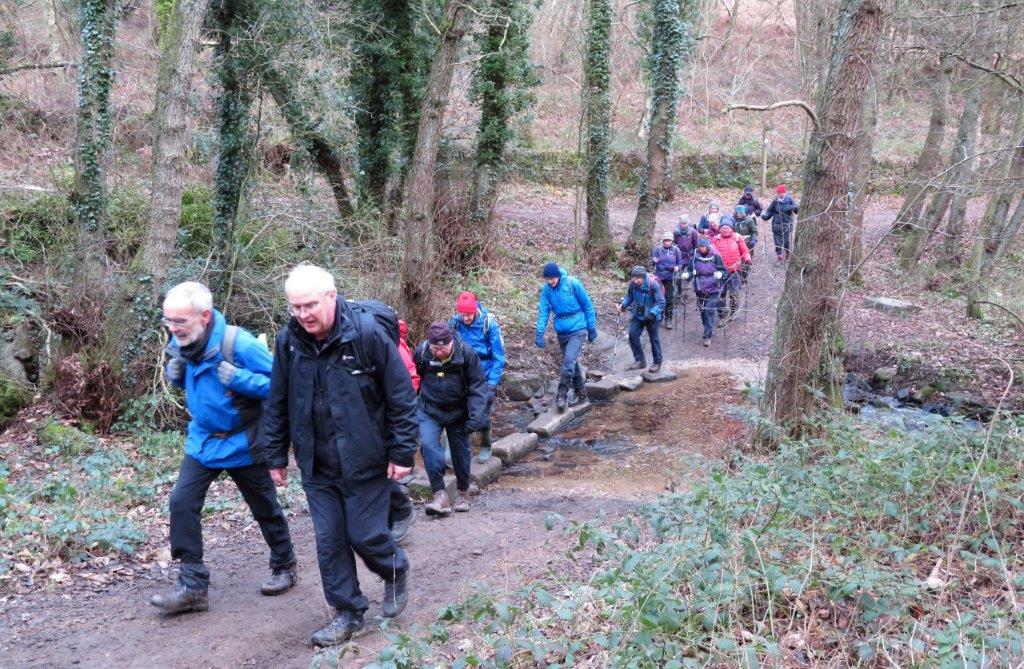 Stepping Stones - marked on map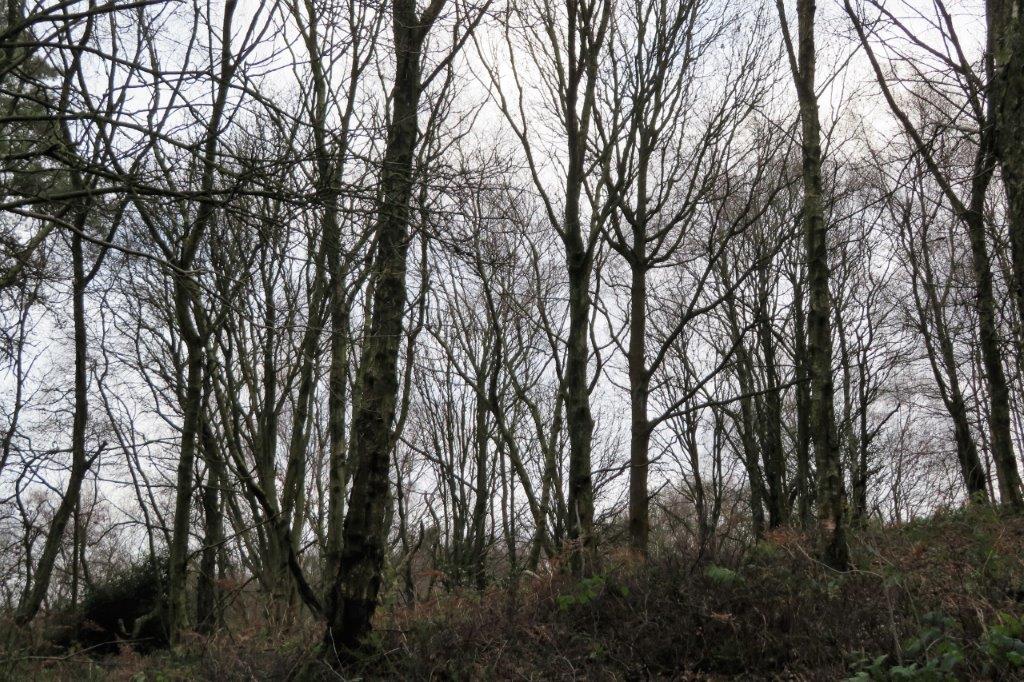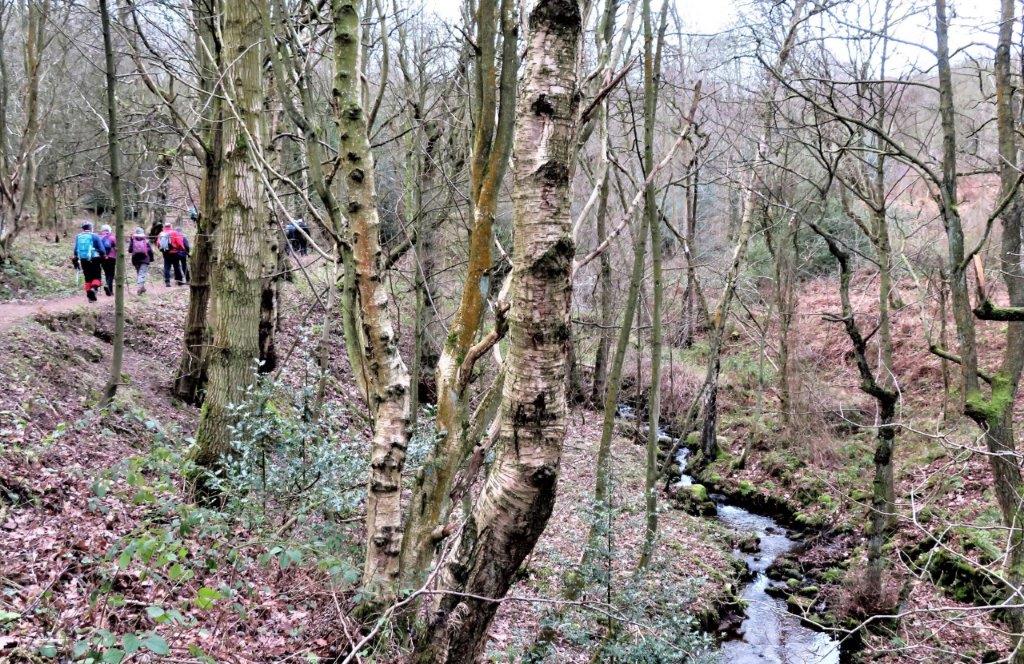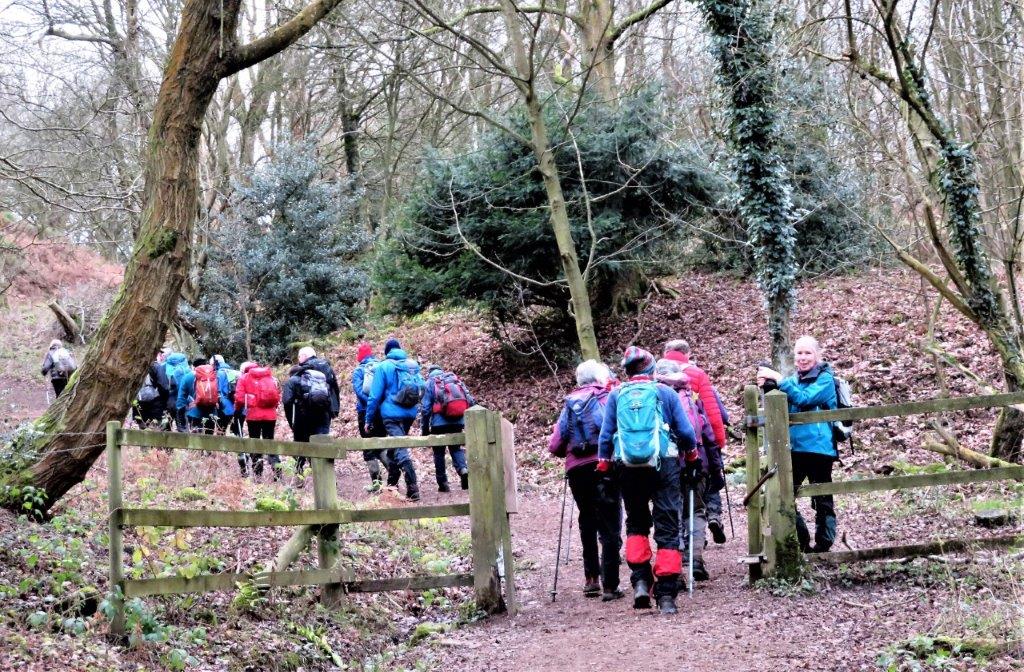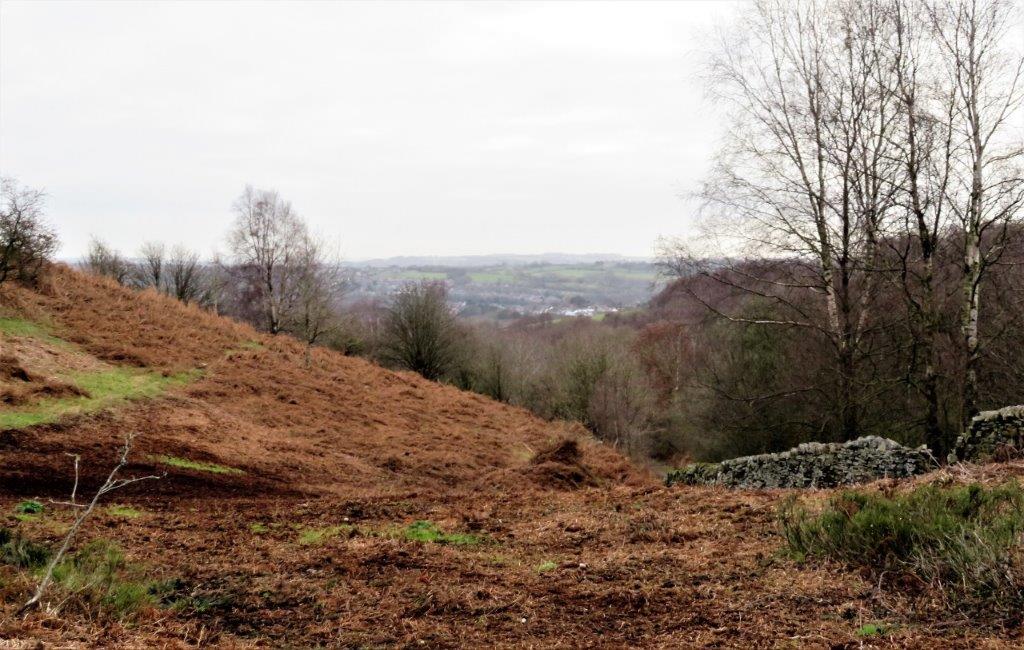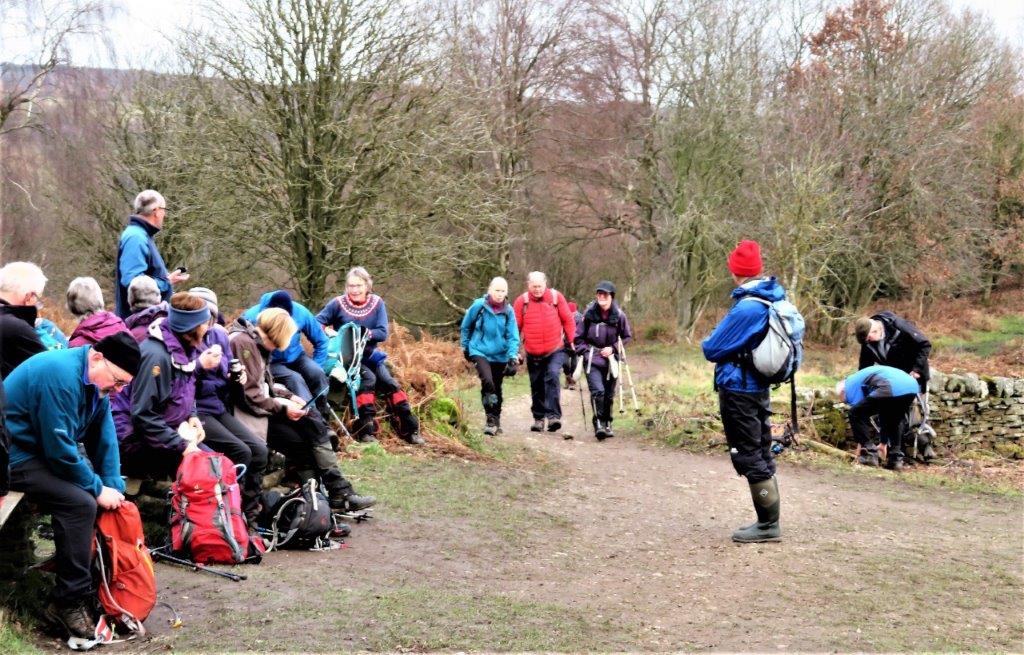 tea break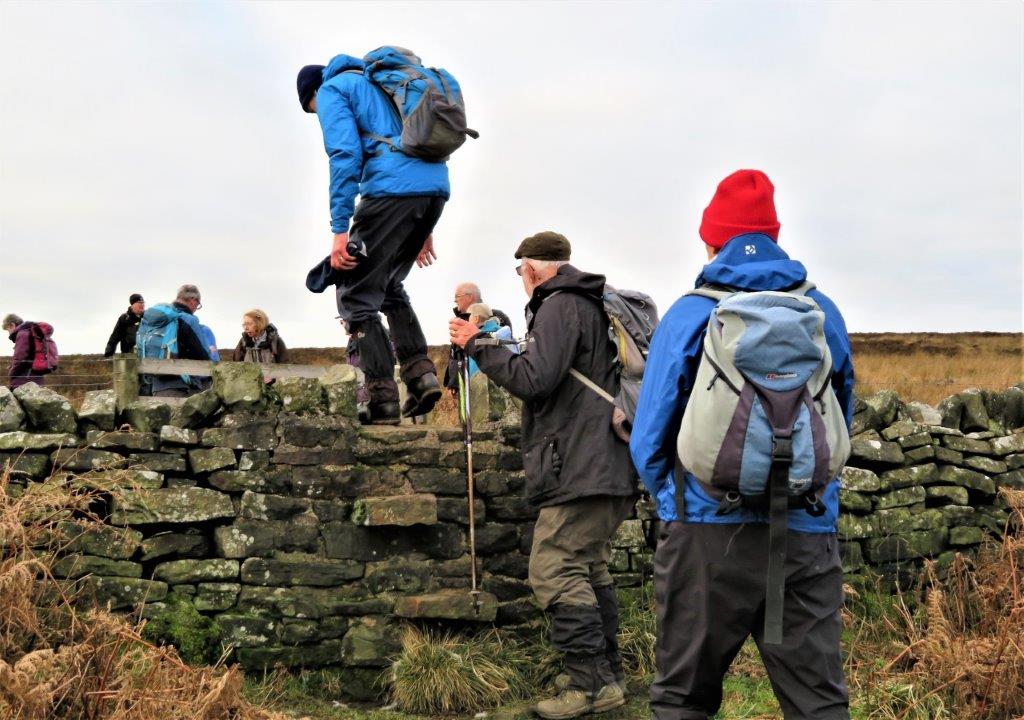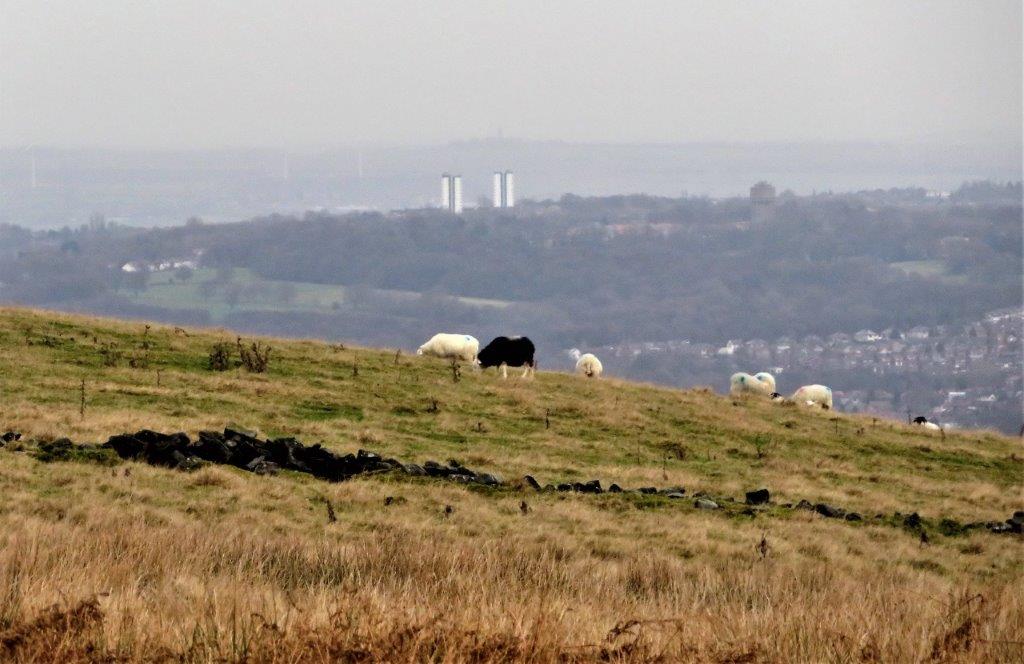 what are these white towers?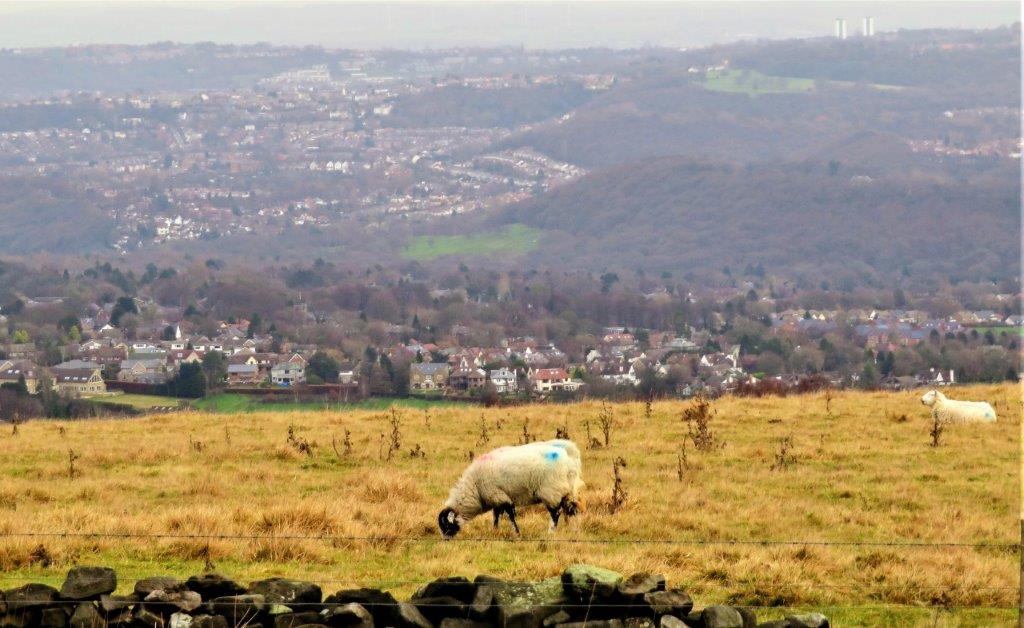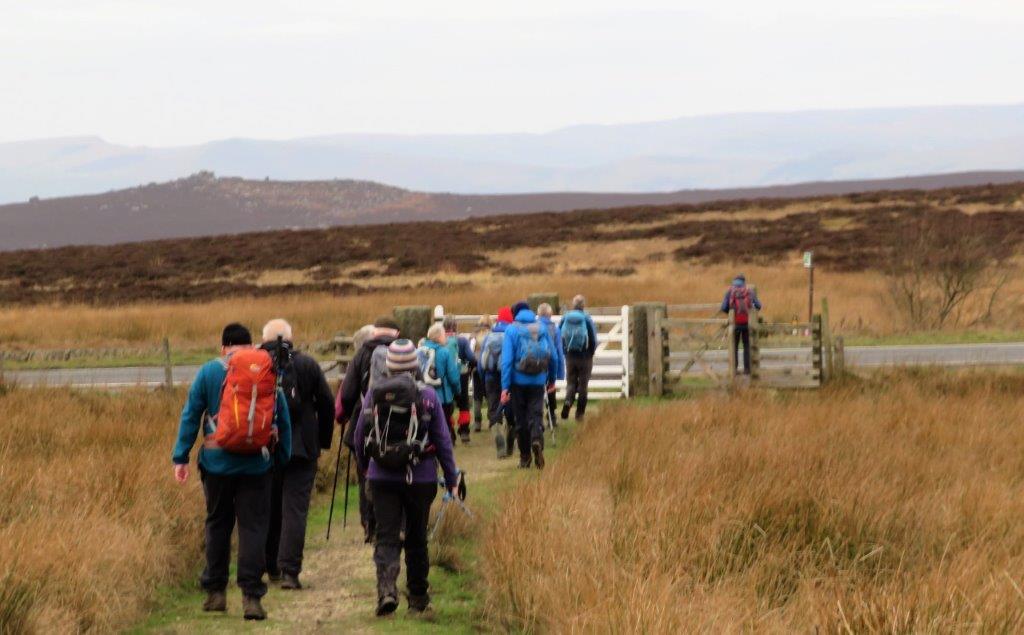 coming to the A625 road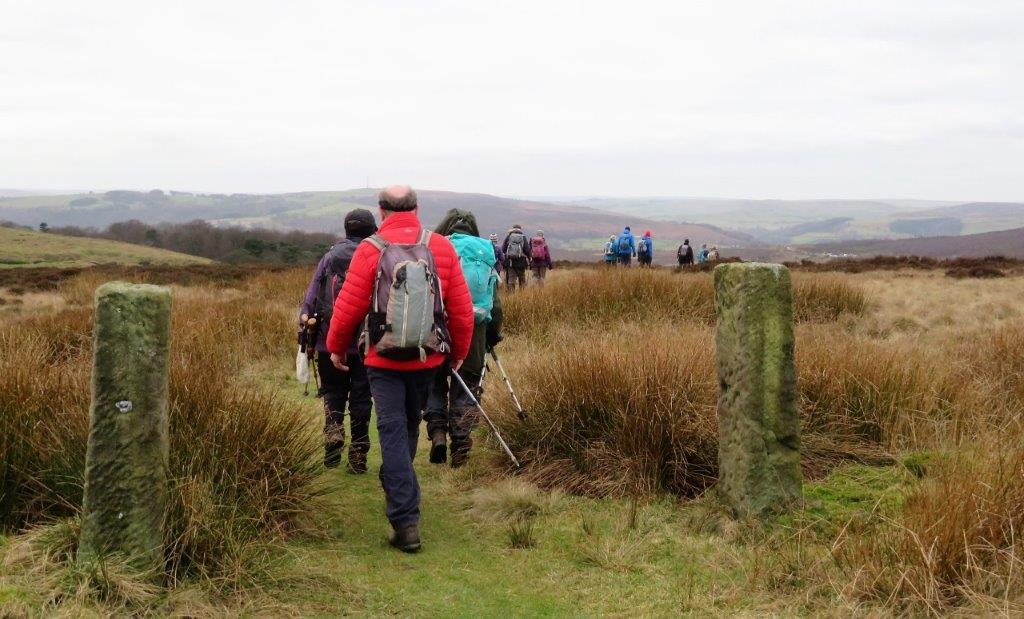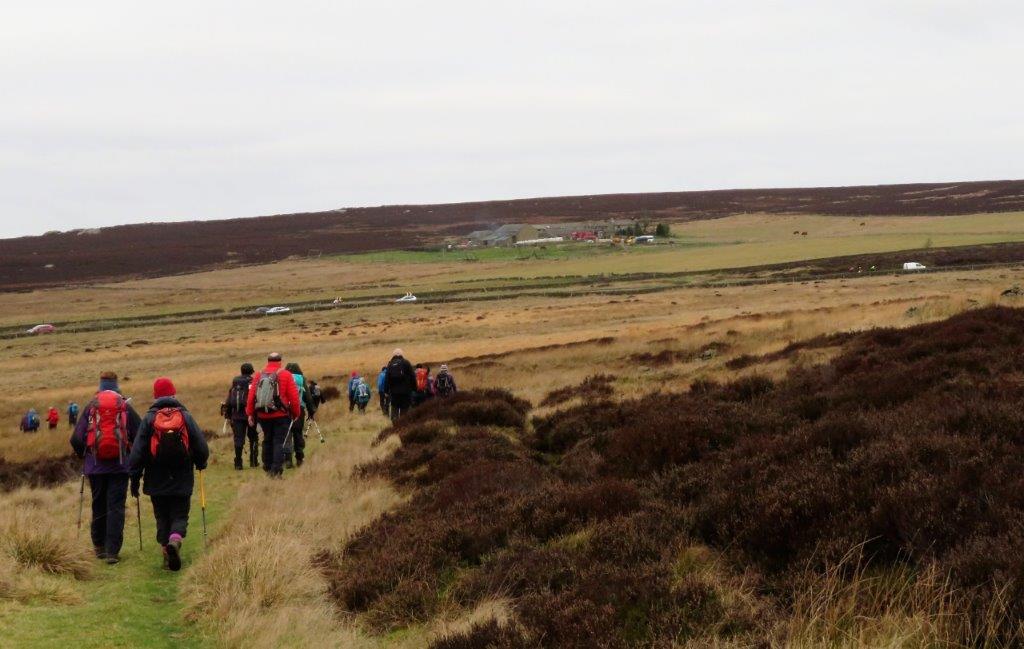 the A6187 road ahead - Parsons House (Outdoor Pursuit Centre) is at top of picture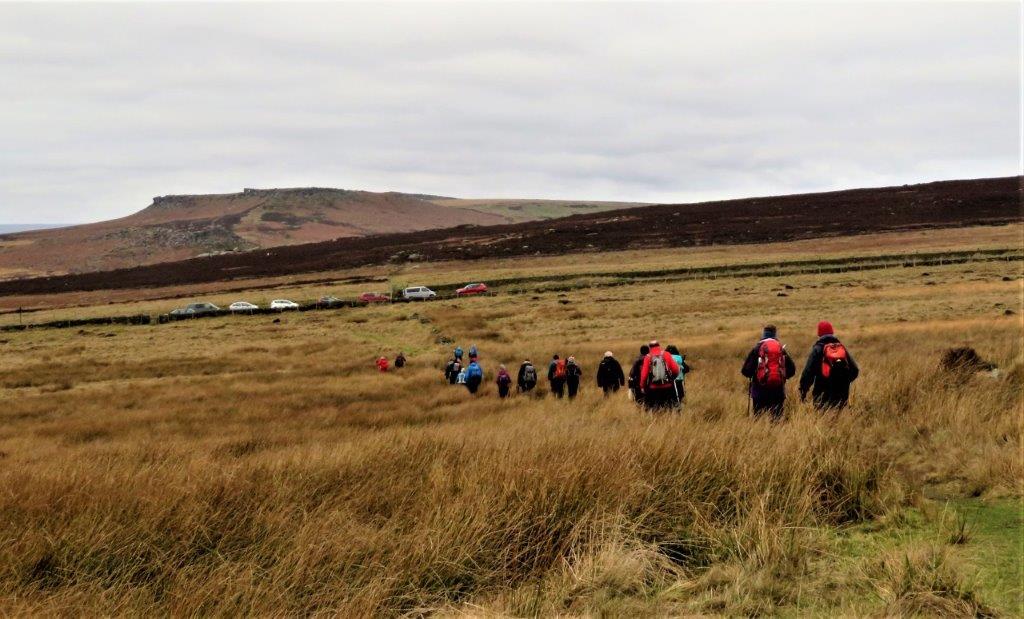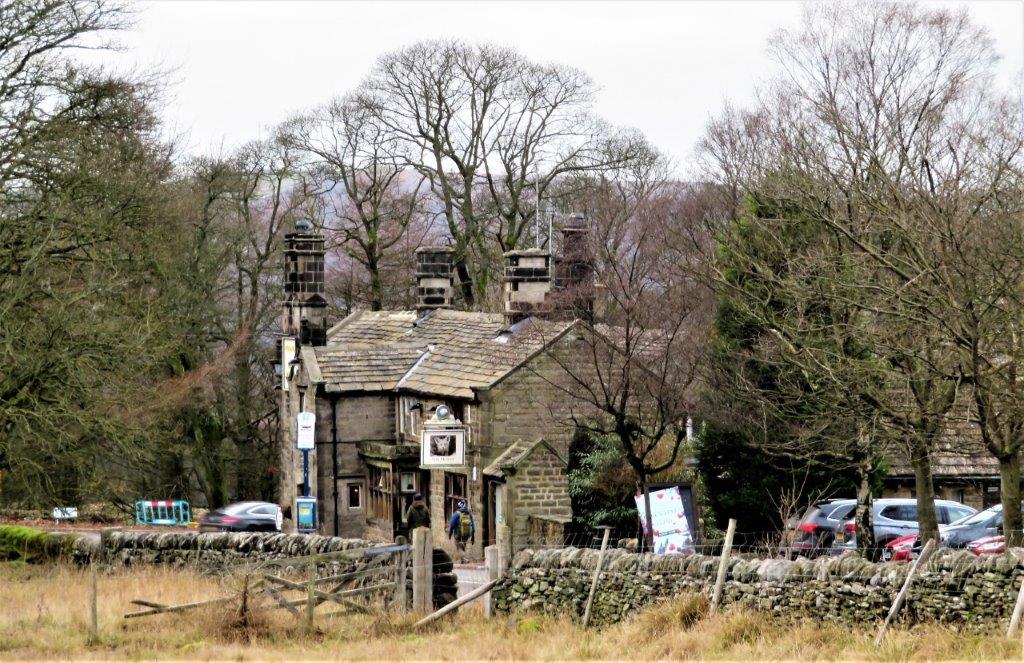 Fox House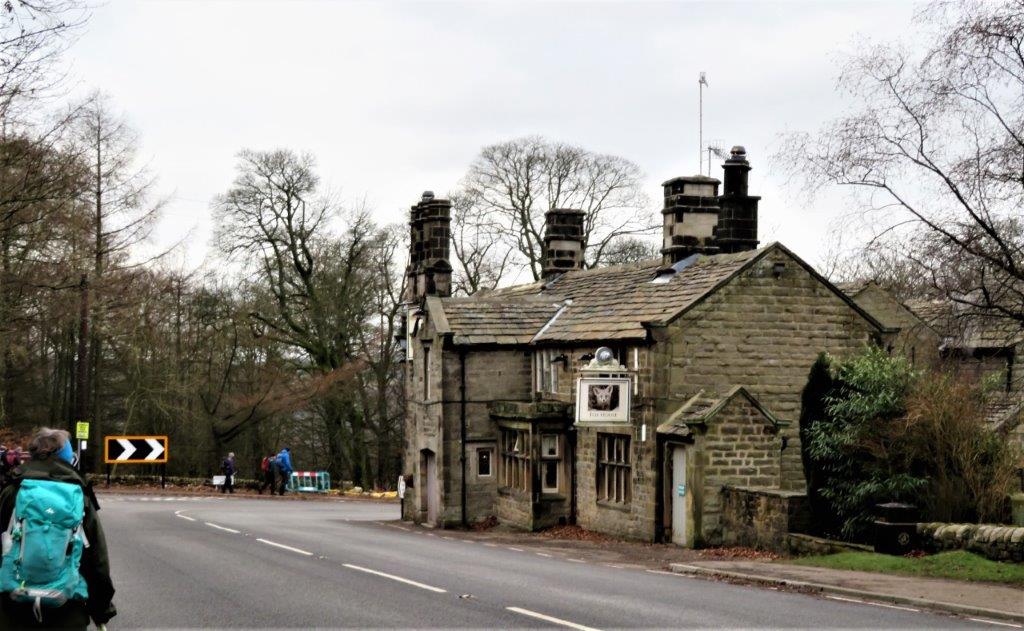 passing Fox House and then following FP to Lodge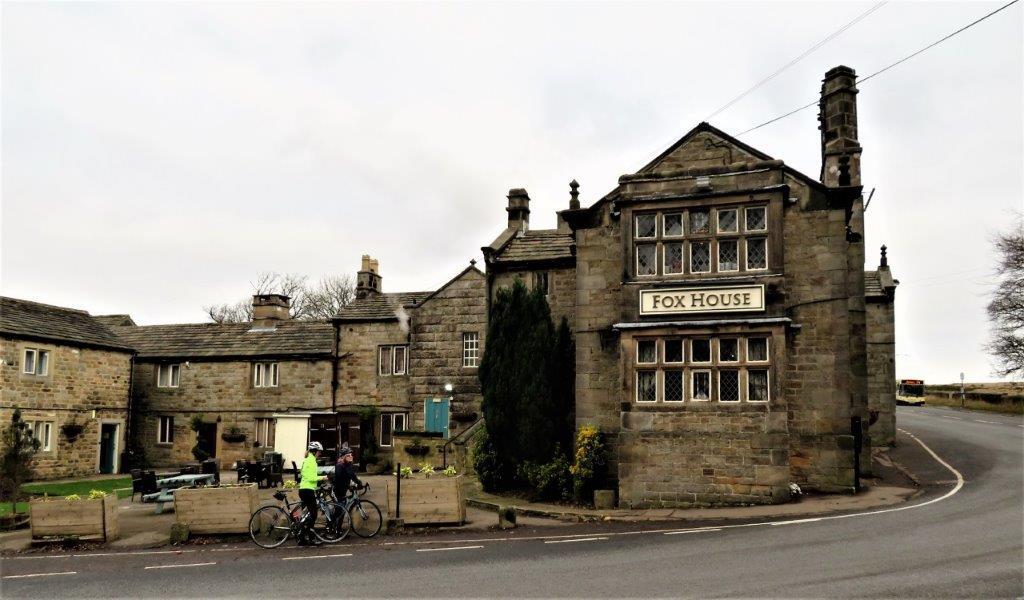 The A6187 road turns around Fox House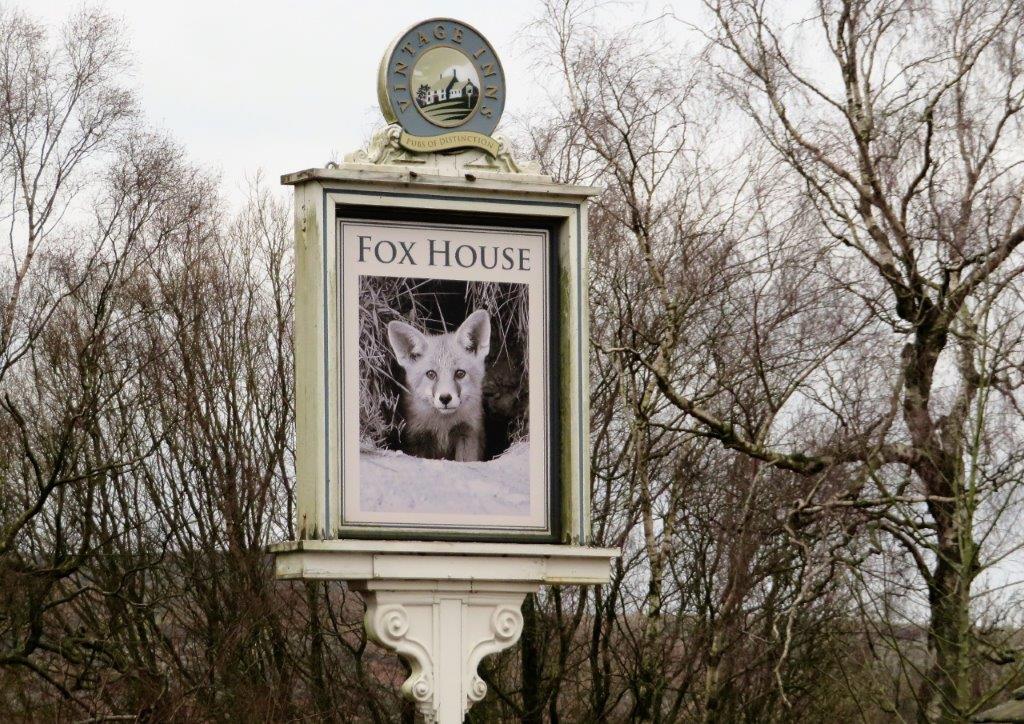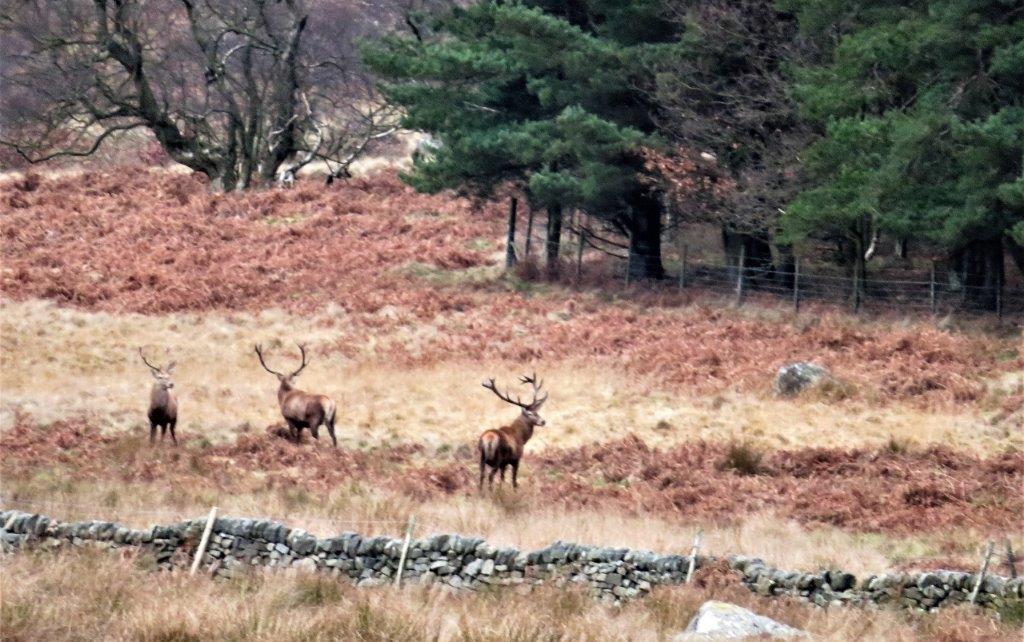 on path from Lodge running NW (parallel to A6187 road) through wood (in National Trust Longshaw Estate). Stags all seen from this path but roam around a bigger area.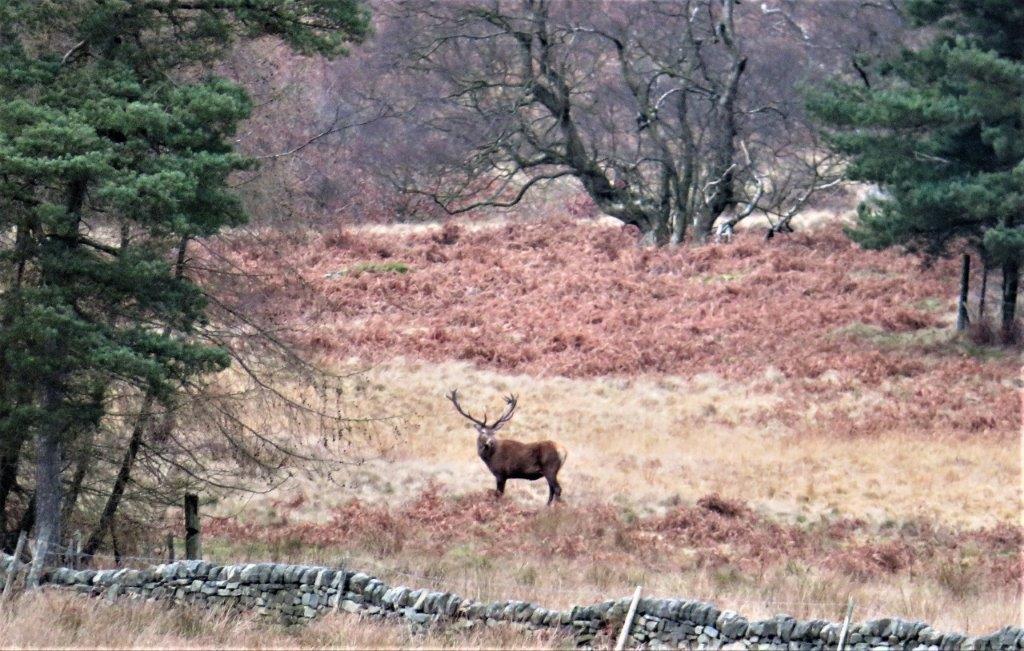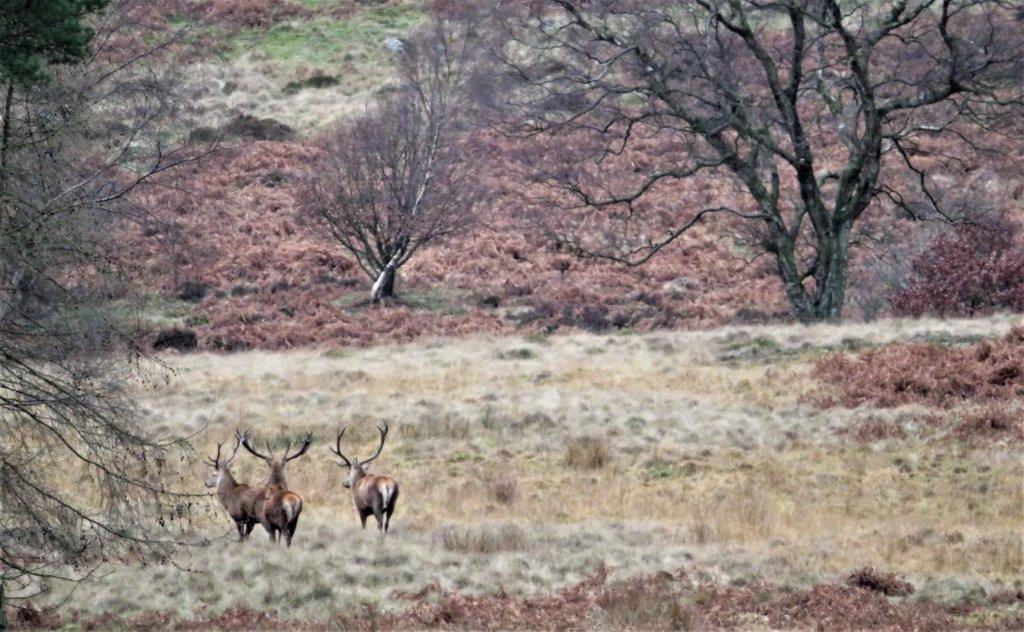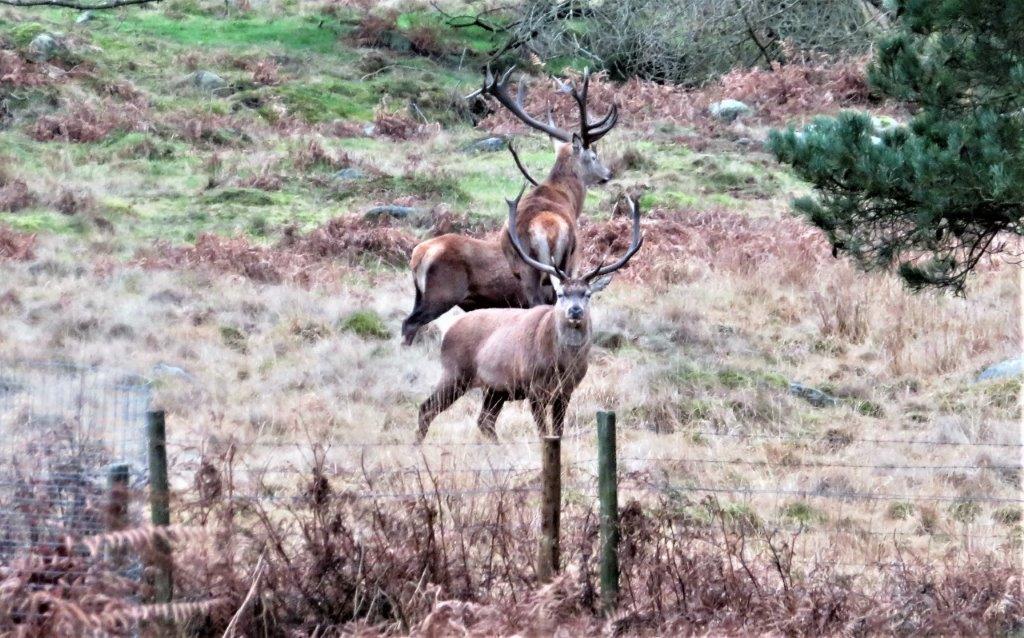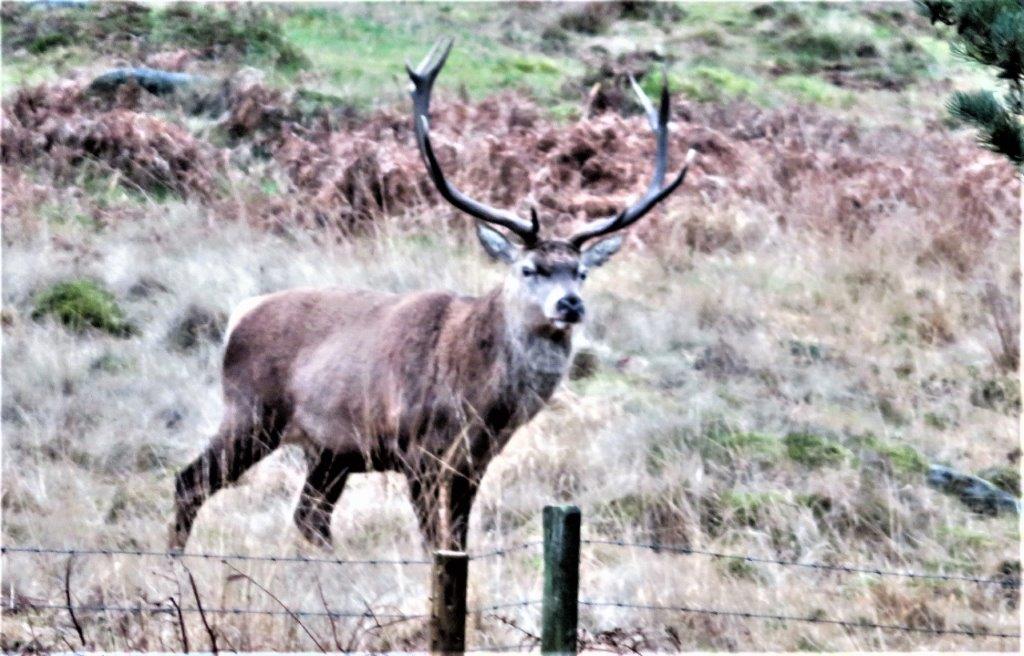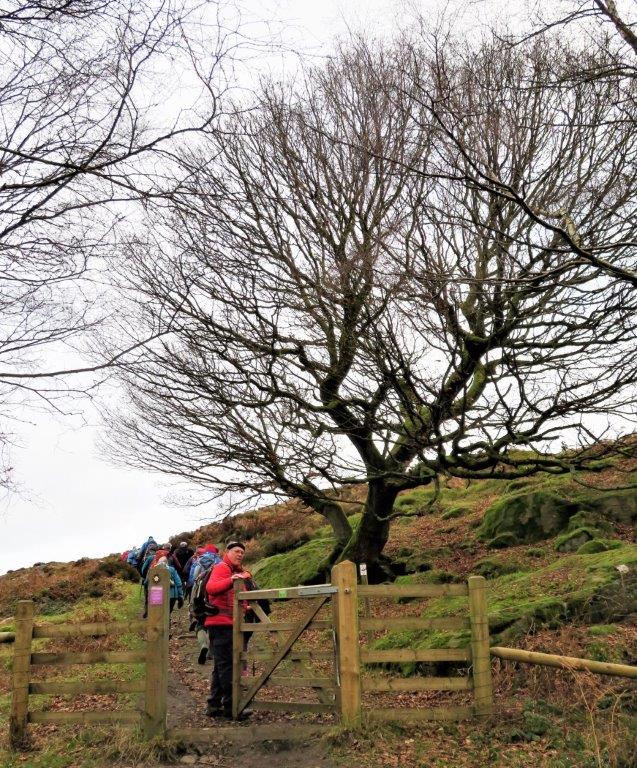 after crossing road turning up to the top edge of the disused quarry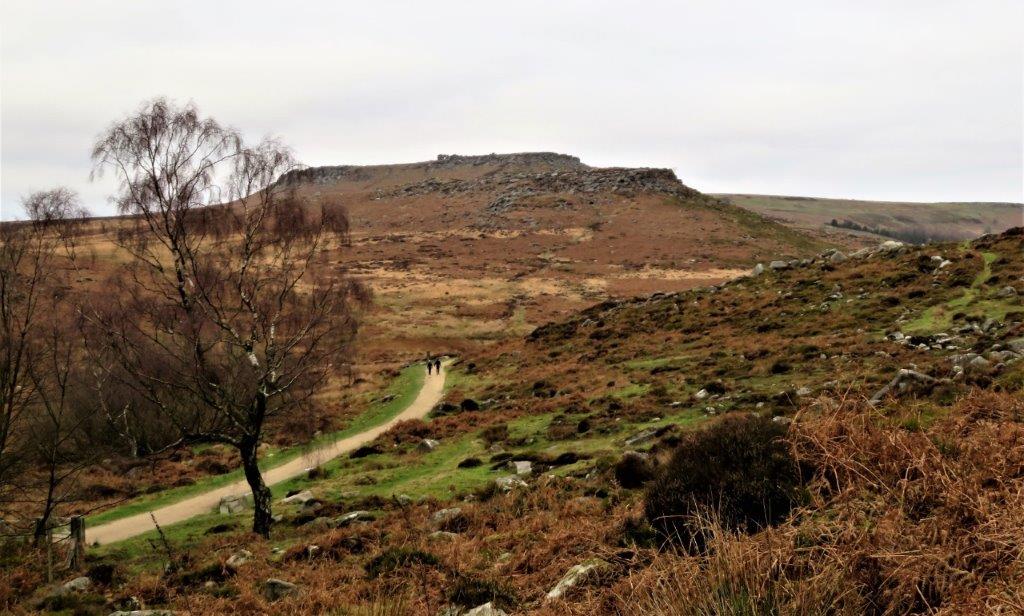 Higger Tor at Top with Carl Wark Fort below it. Track is part of Sheffield Country Walk and further on runs below Burbage Rocks.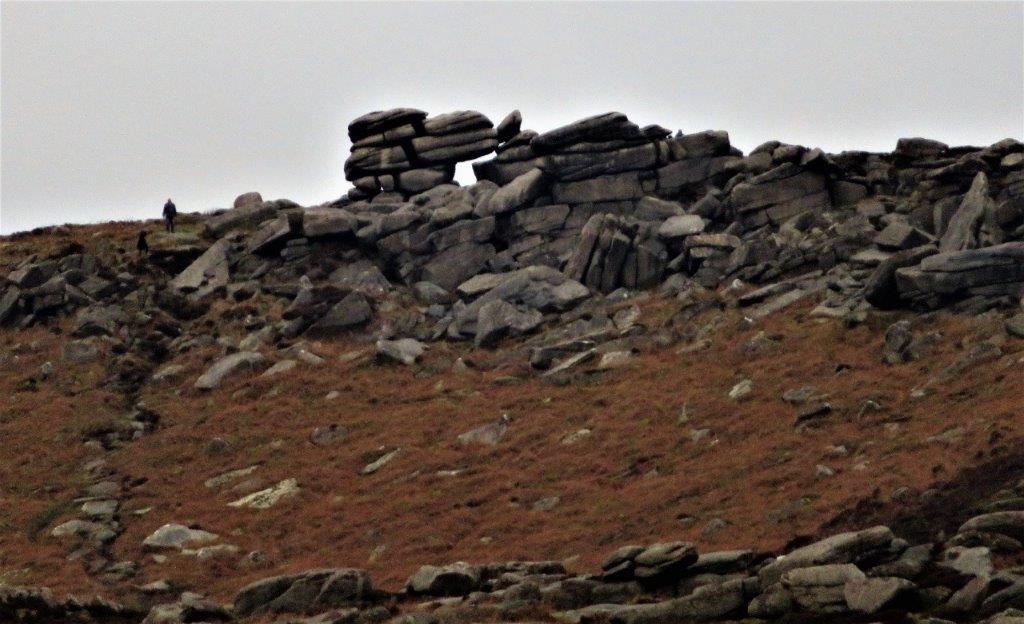 zoomed into window through rocks on Higger Tor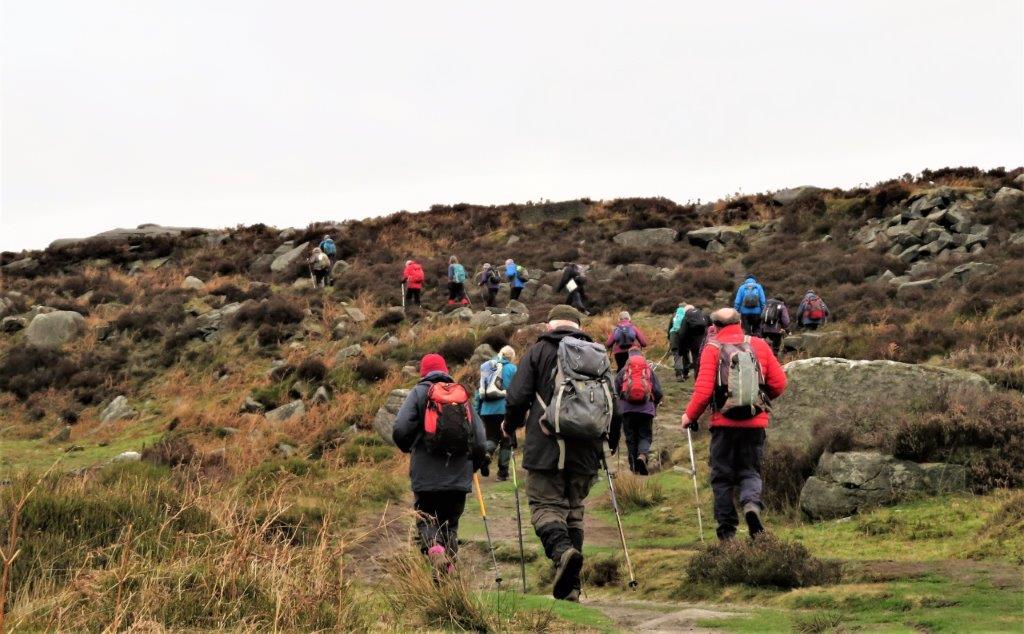 climbing up to the disused quarry edge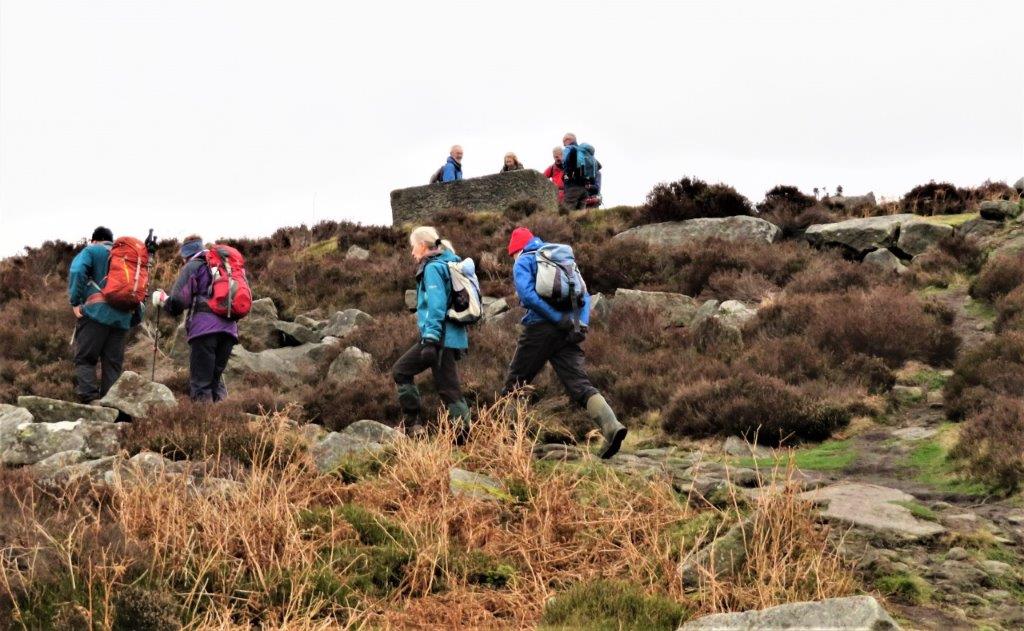 abandoned water trough which split (for unknown reasons), before cutting out the middle was completed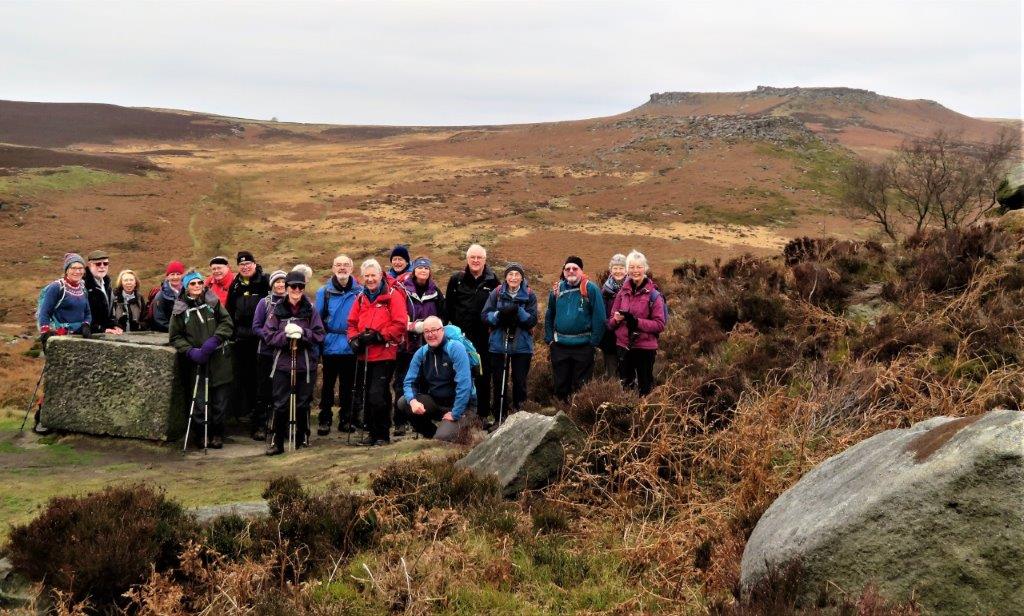 group picture alongside trough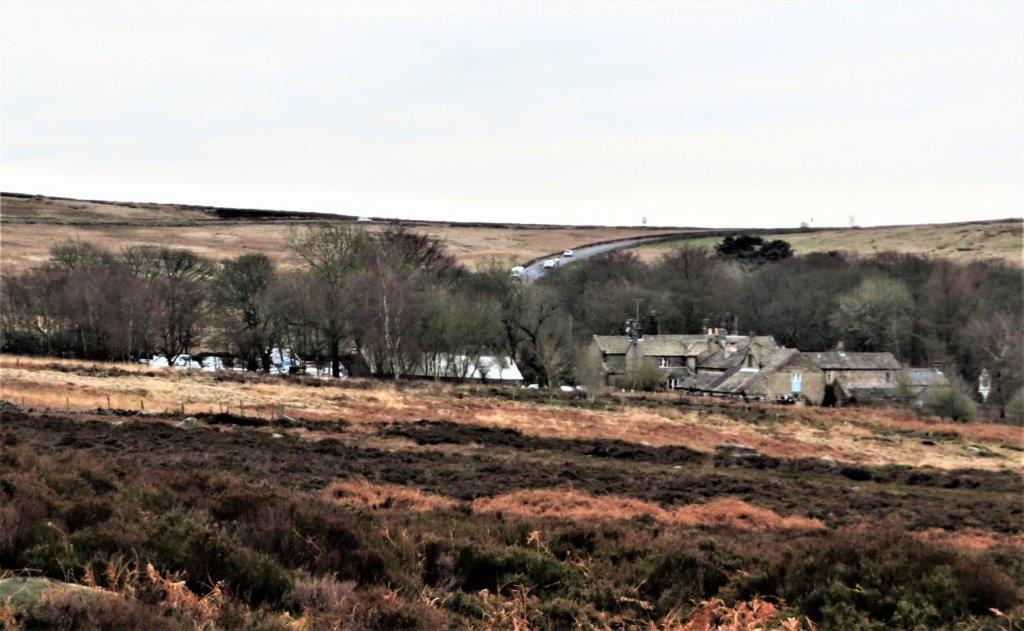 looking back at the roofs of Fox House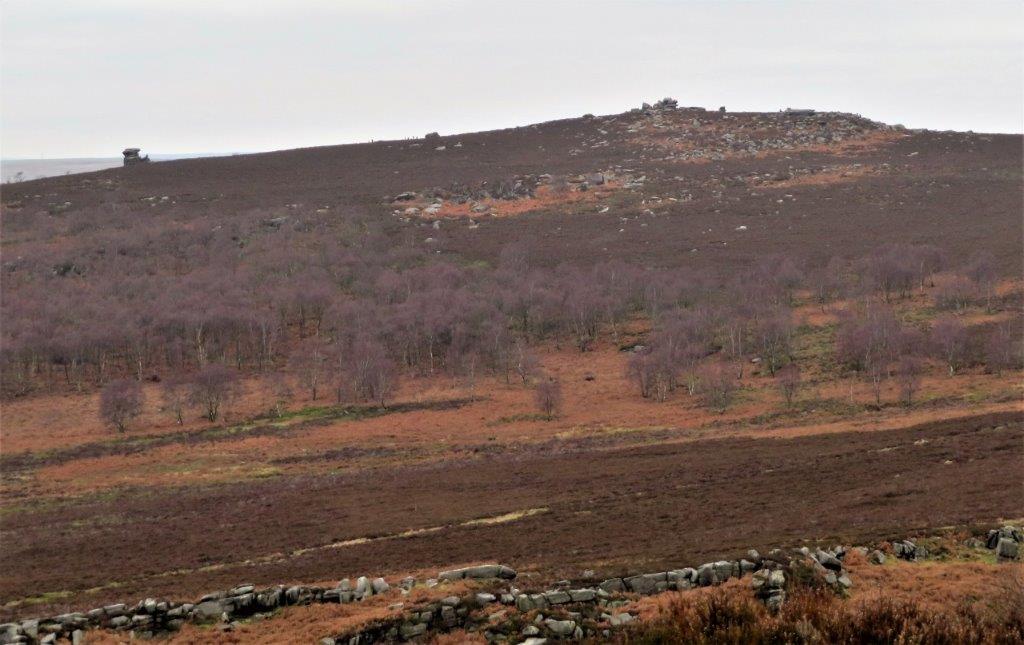 Mother Cop is seen to left. Over Owler Tor higher up to right.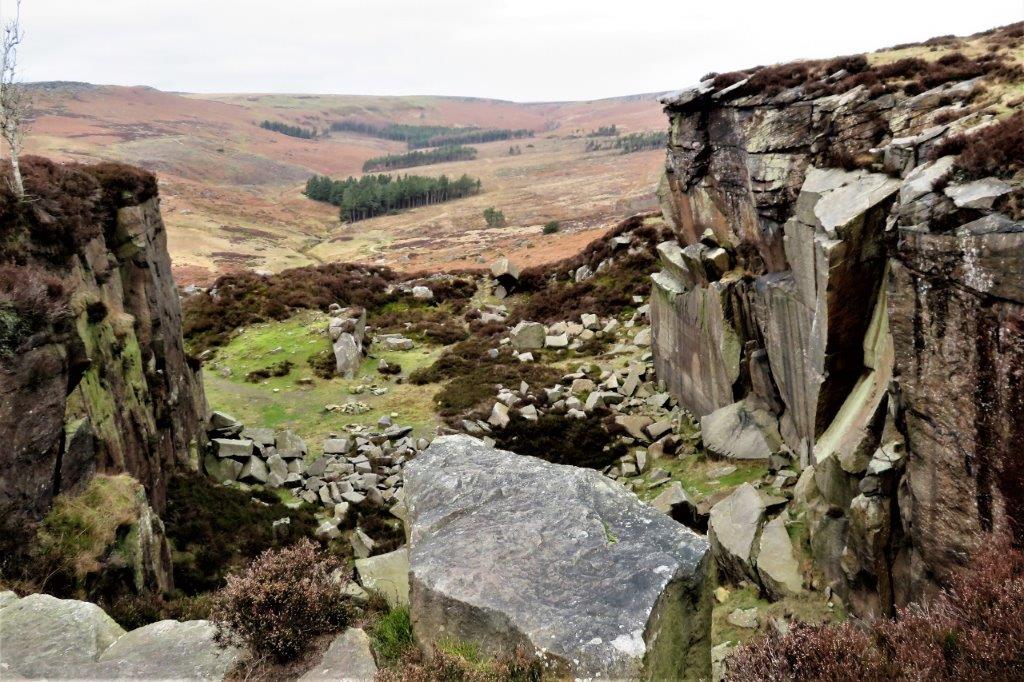 looking from the disused quarry North down the Burbage Brook / Valley
grooves on rock probably used with feather wedges to split it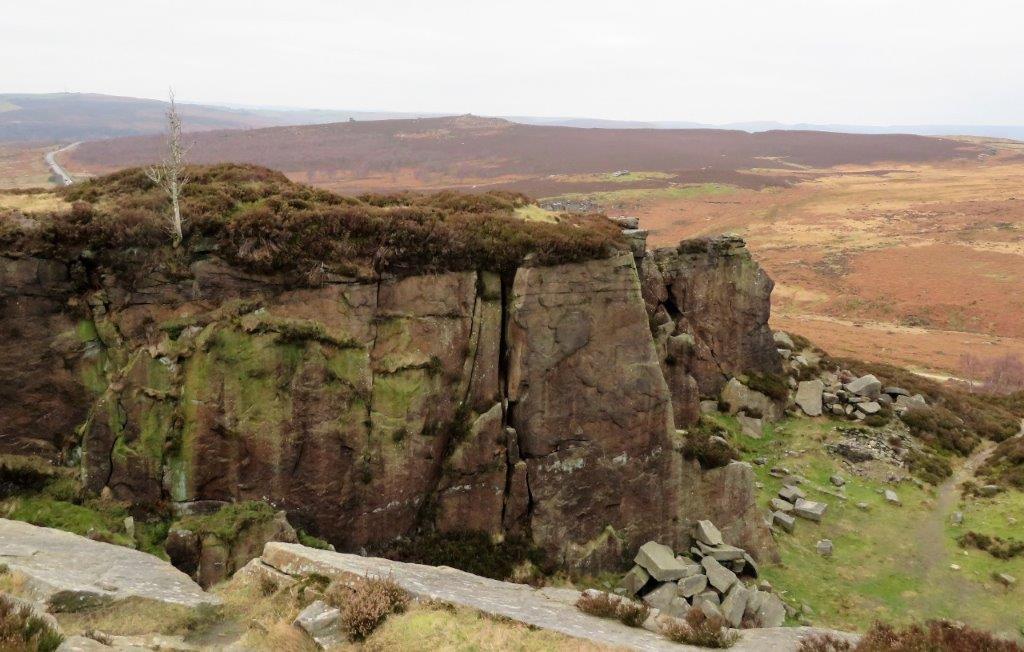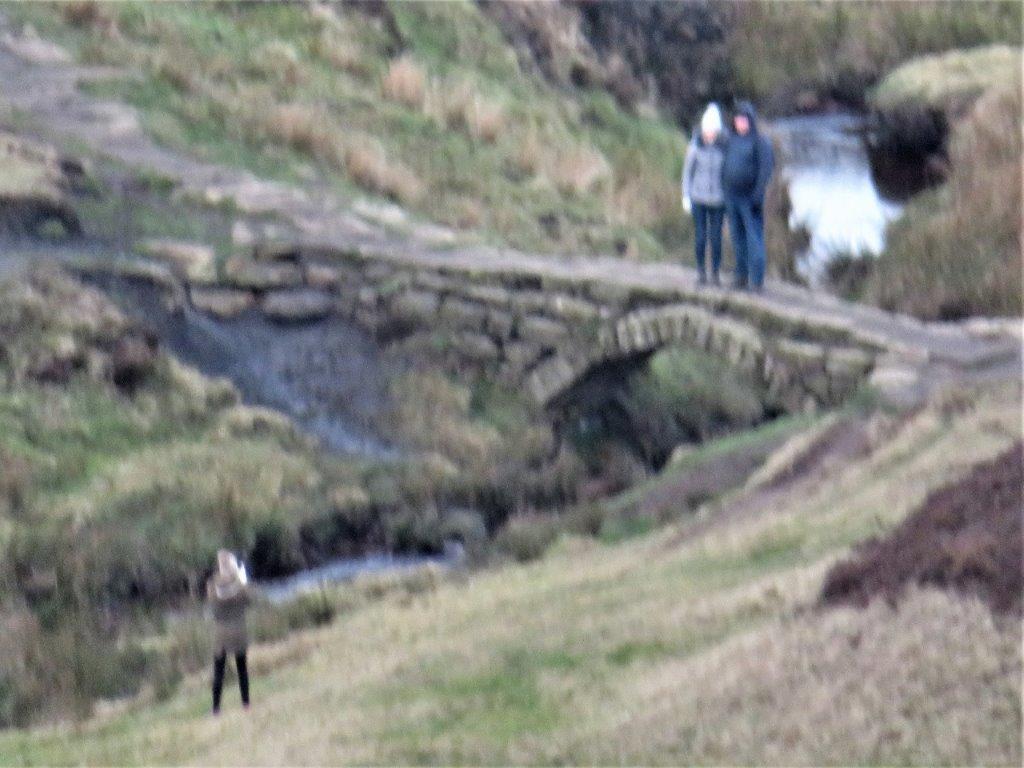 zoomed into packhorse bridge over Burbage Brook below Carl Wark Fort (apologies for blur - will carry a tripod next time?)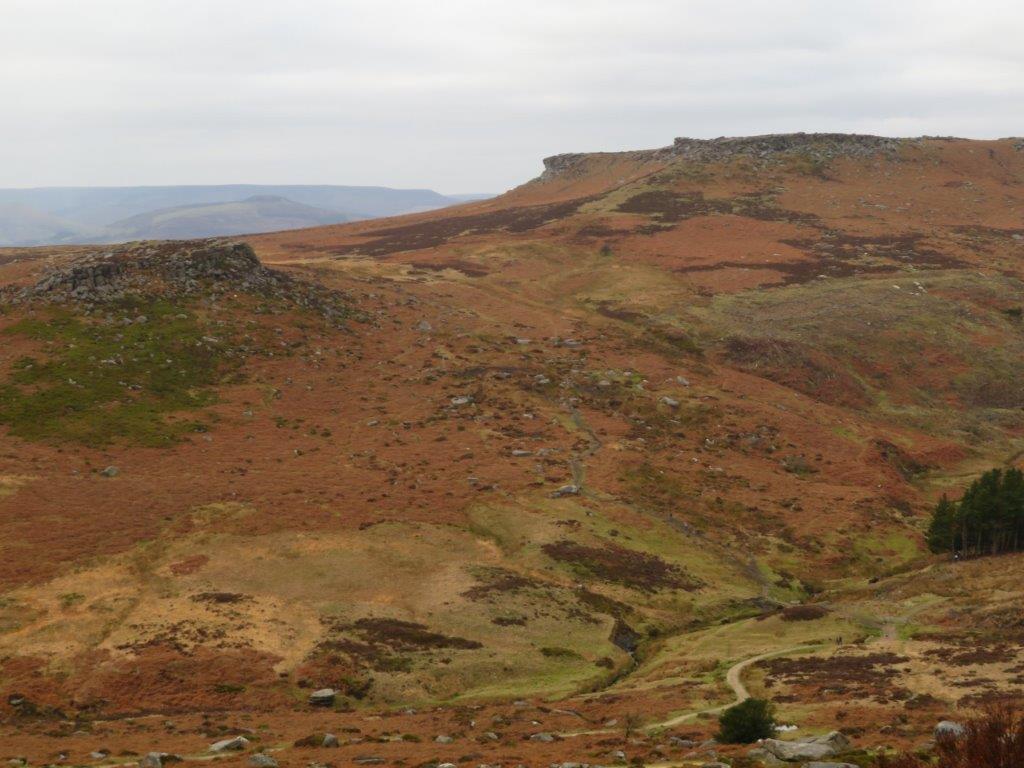 site of Packhorse bridge about a quarter of the picture width from the right over the brook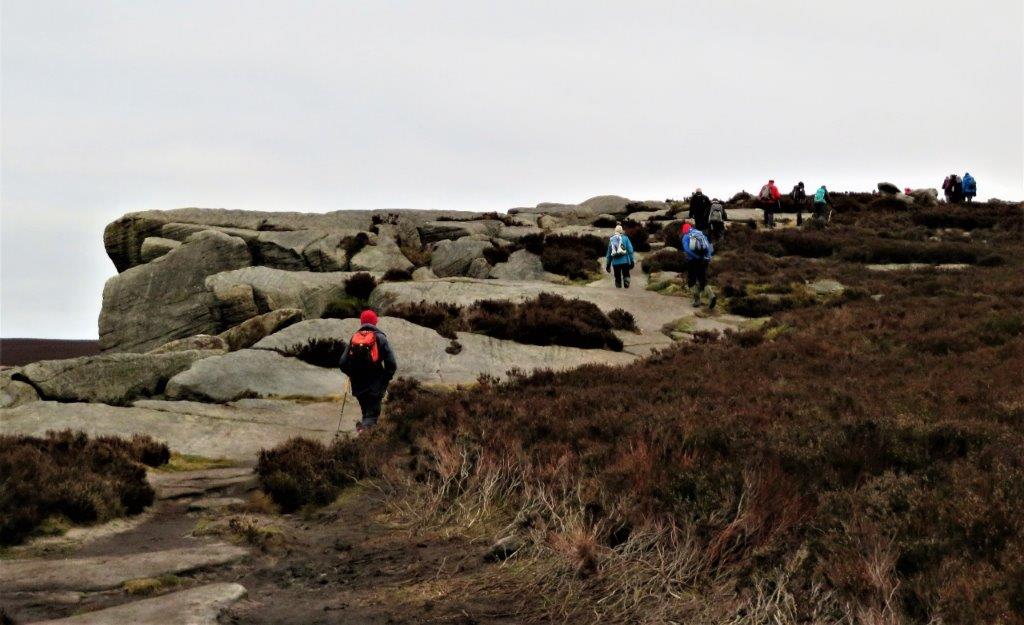 on top of the disused quarry edge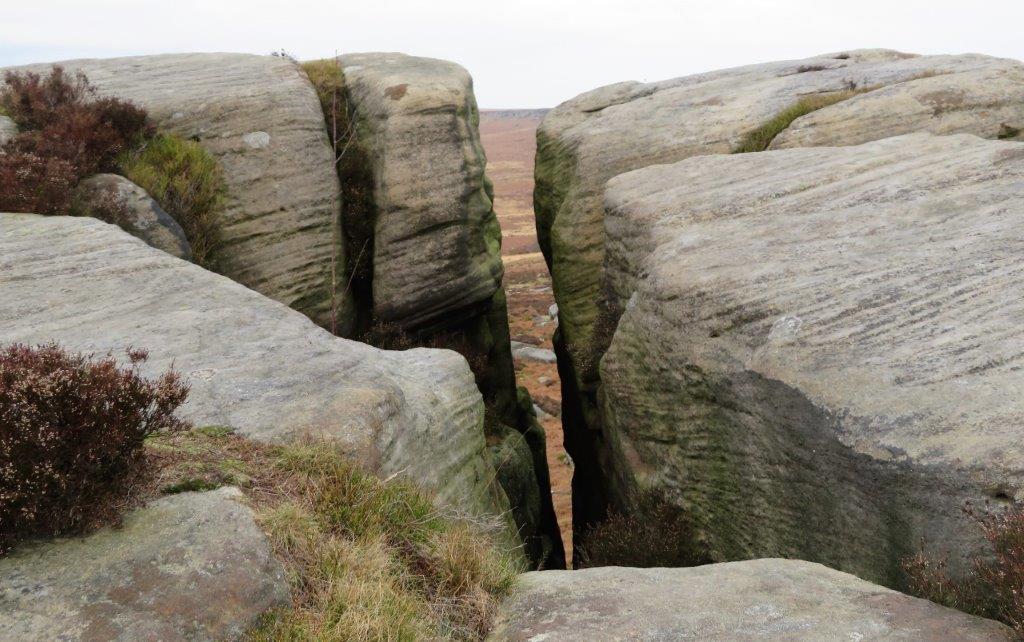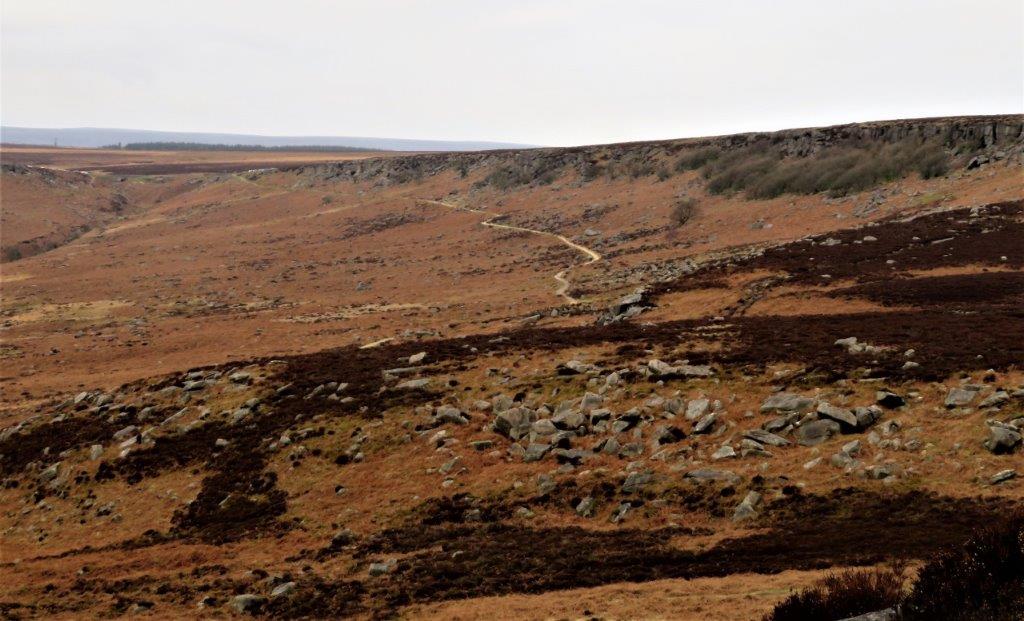 Burbage Rocks to right on the Skyline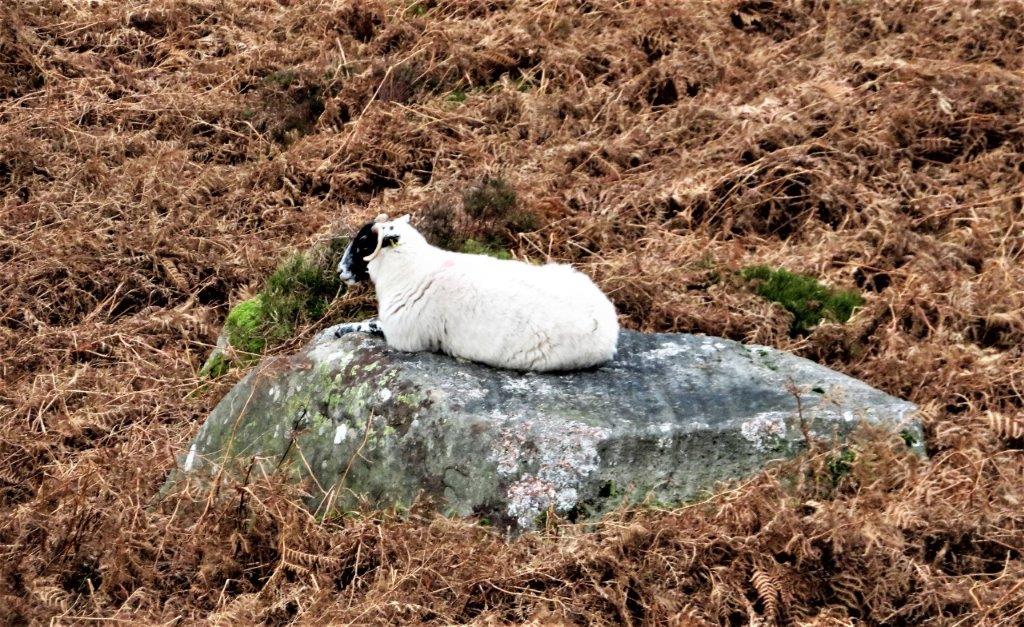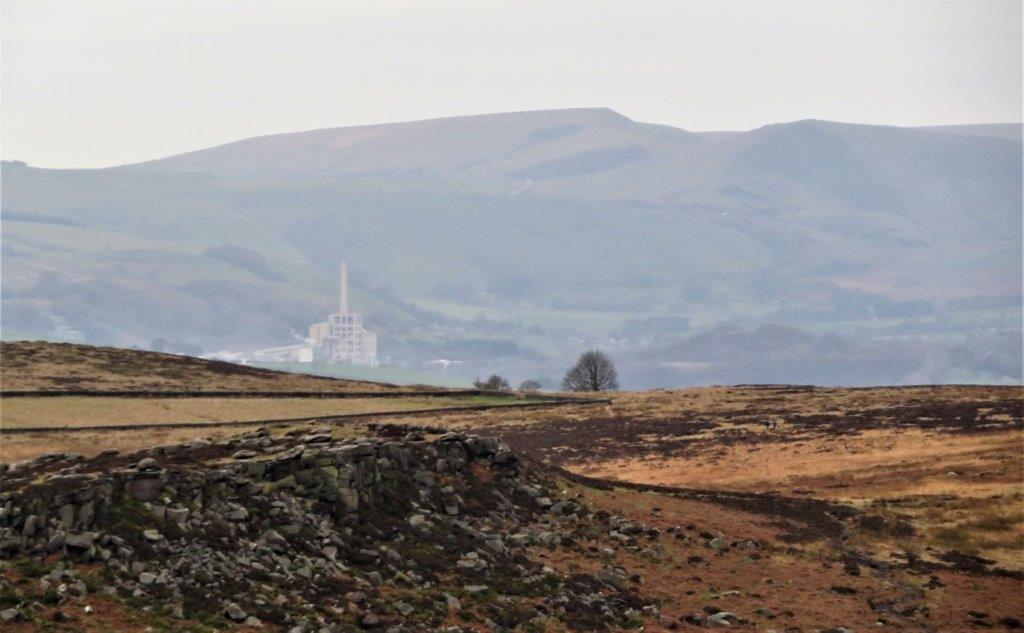 zoomed into Hope Cement Plant with Rushup Edge in centre and Mam Tor poorly visible to its right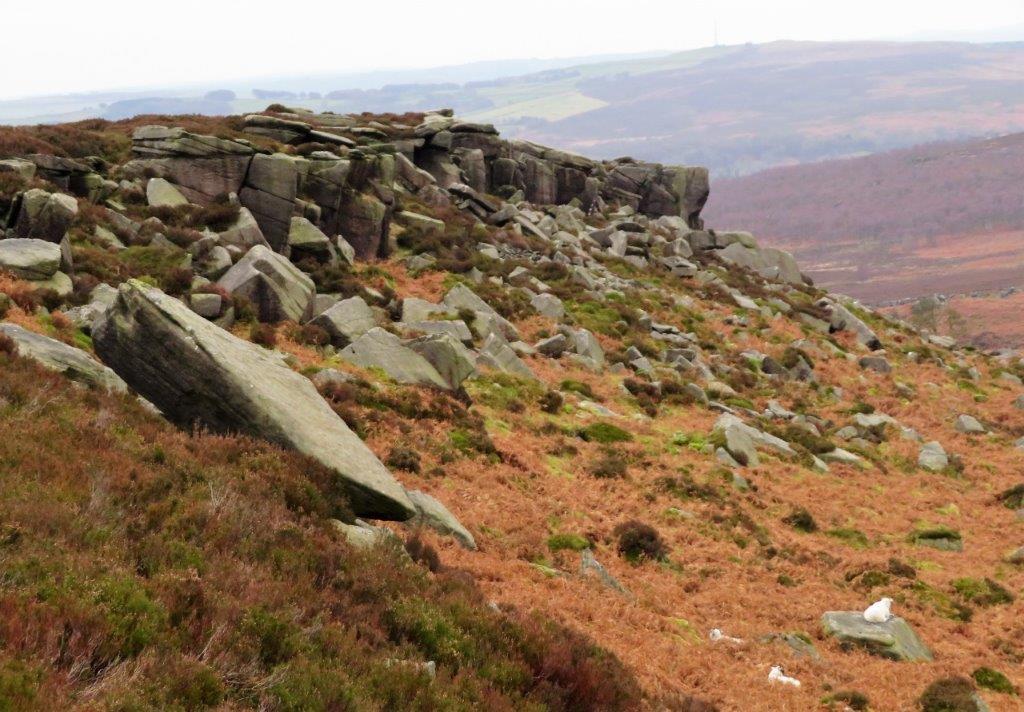 looking back along the disused quarry edge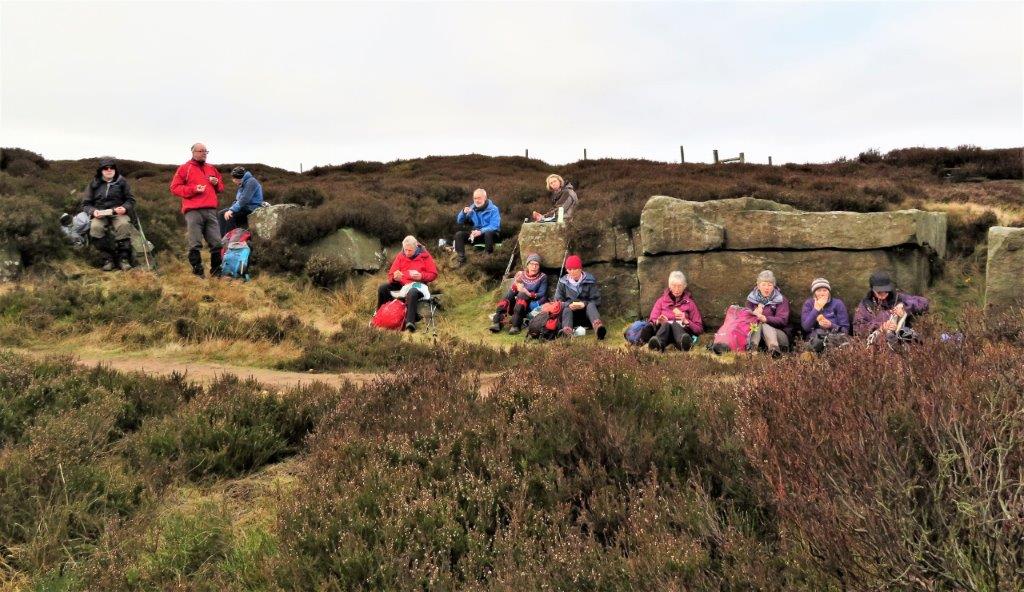 lunch on the side of Houndkirk Road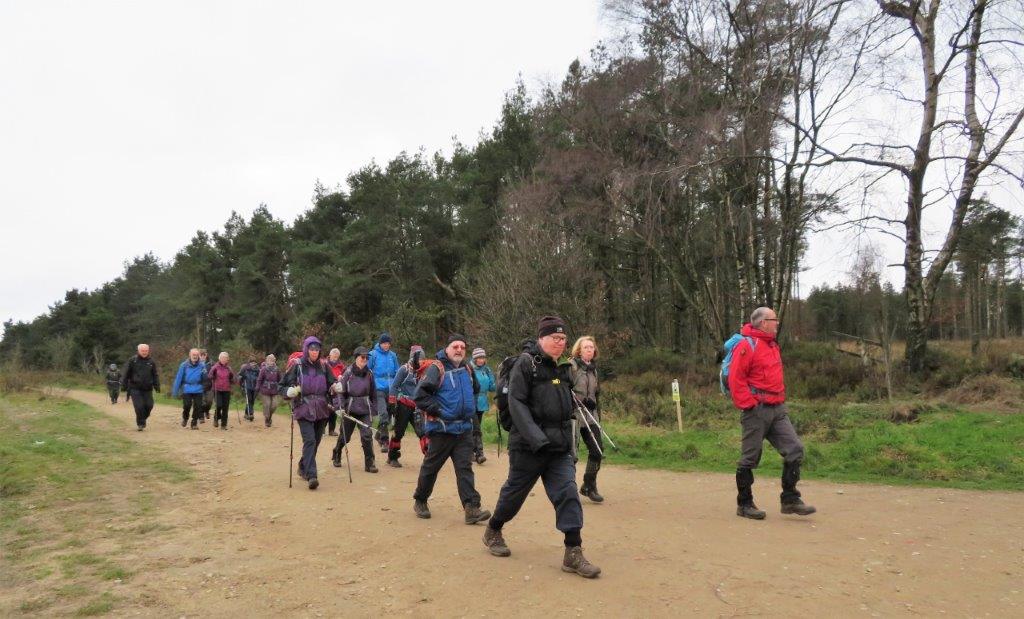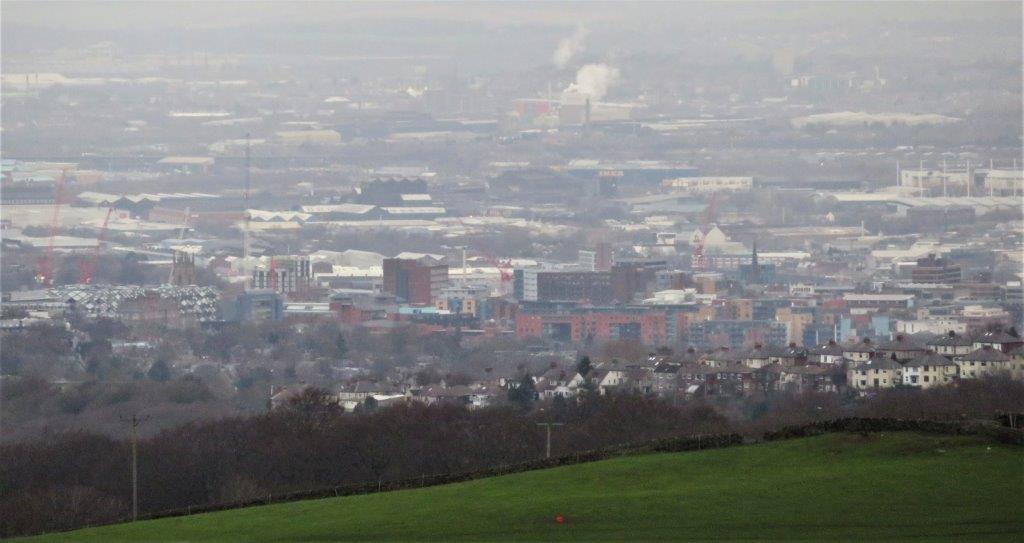 a view towards Sheffield - note the red skeletons of steelwork for buildings being erected? and the many tower cranes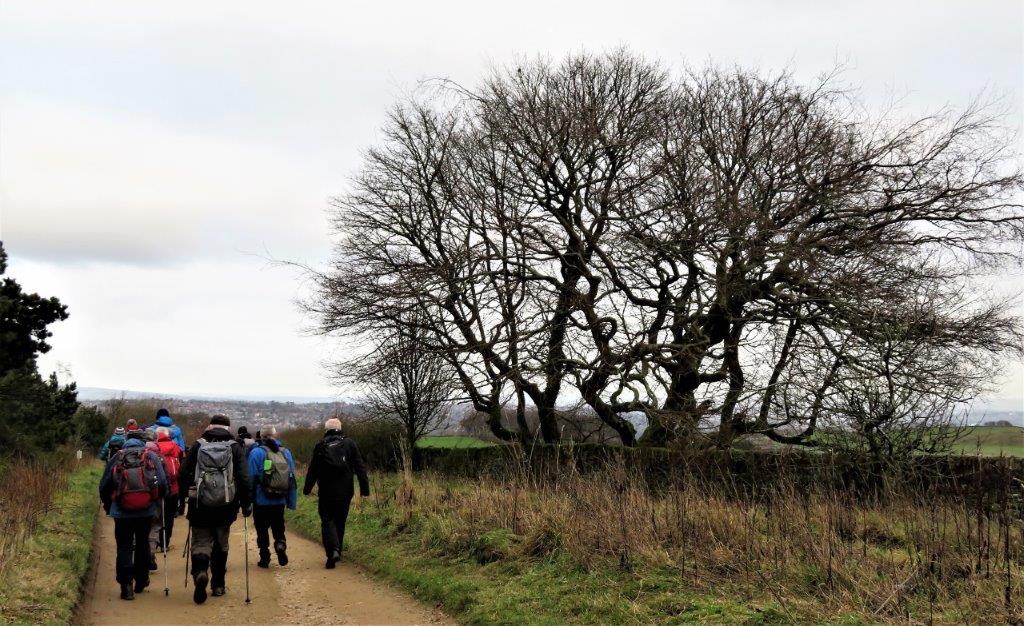 Lady Canning's Plantation to our left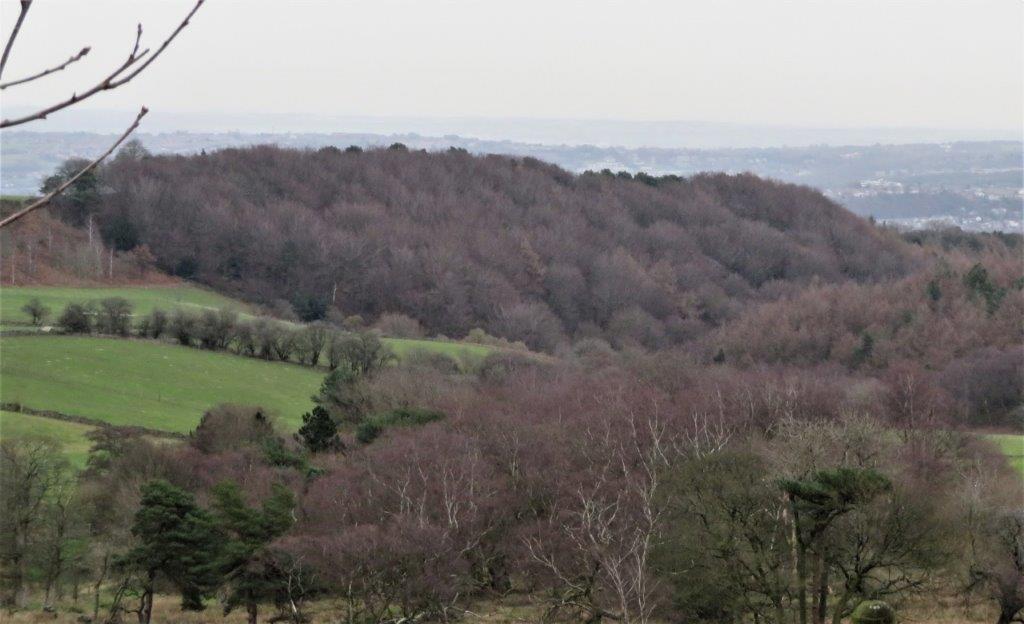 trees above Limb Valley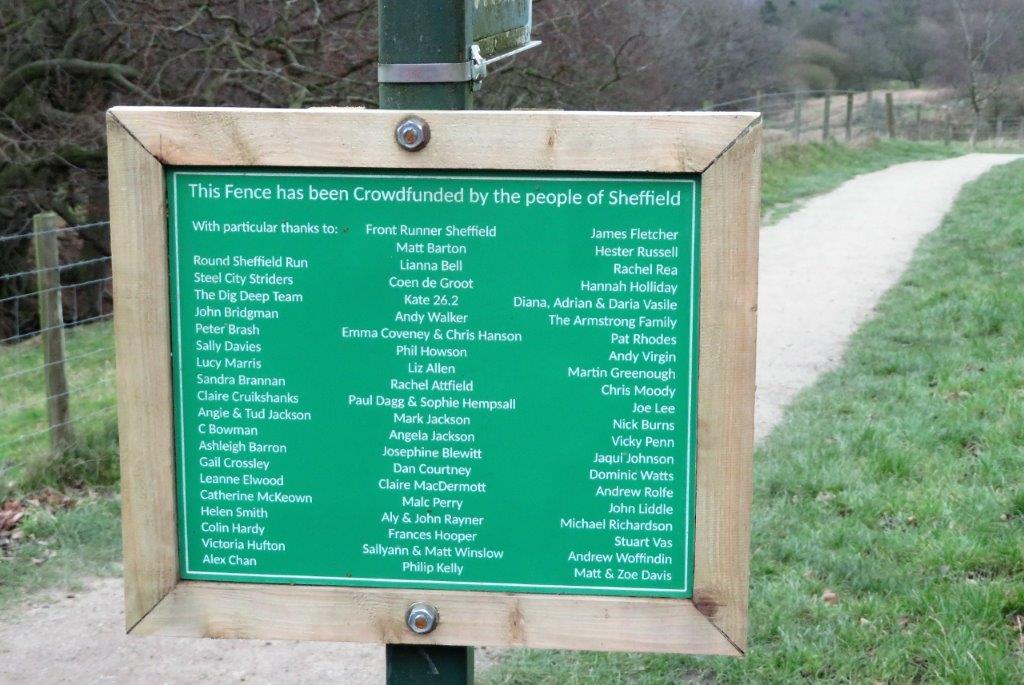 Do not know the reason for, or the history of this fairly recent 'crowd funded' project? Possibly the removal of the derelict buildings in the Upper Loxley Valley could also be 'crowd funded' - rather the construction of housing (in a floodplain) being a precondition? for removal? That area could then remain for recreational use?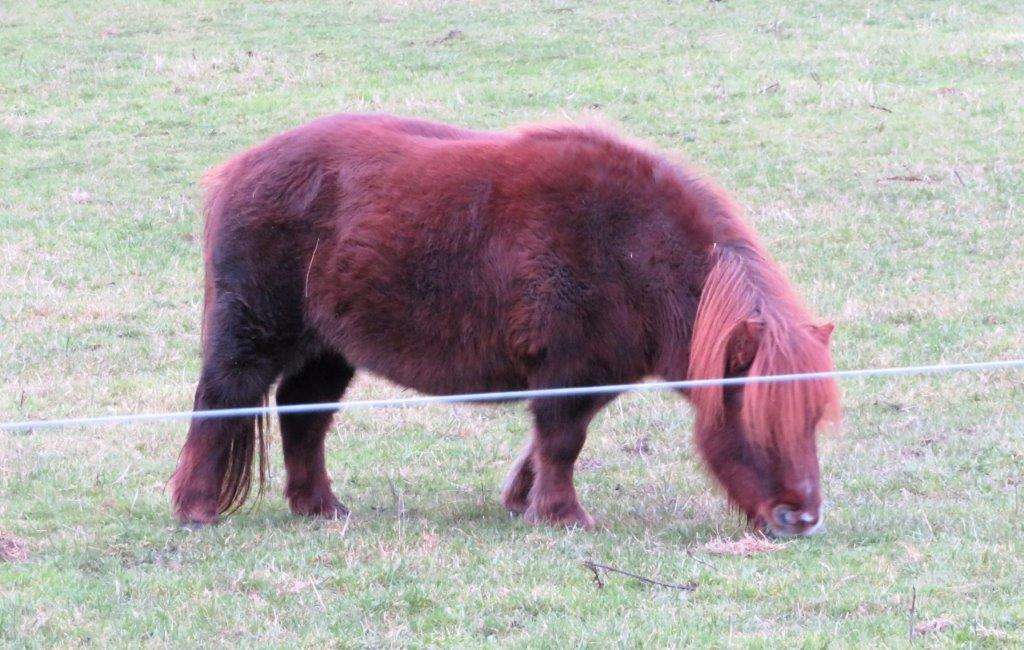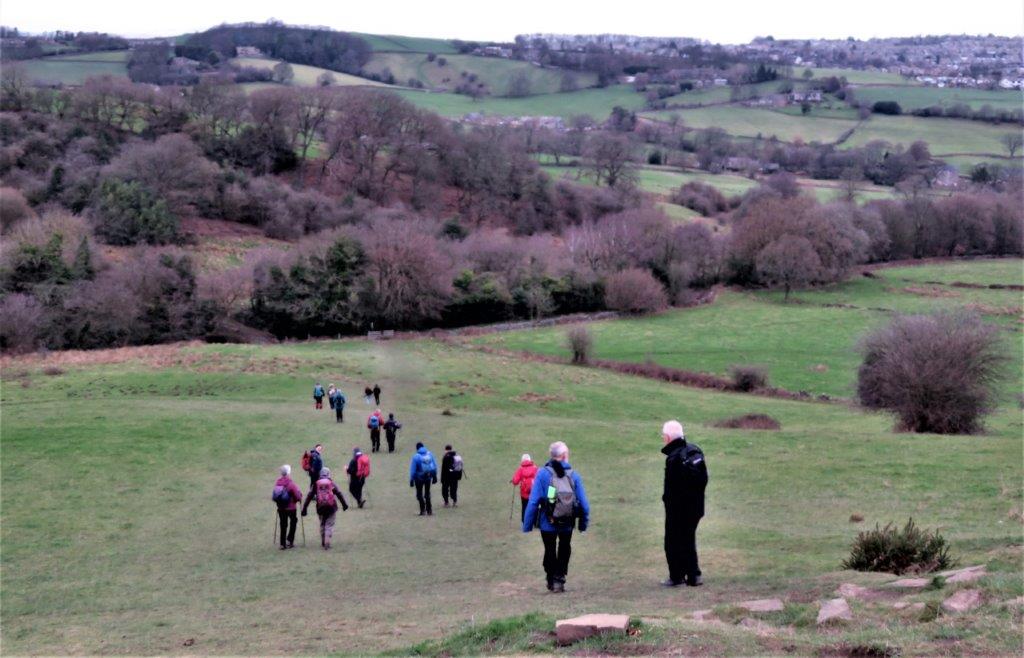 down to (and then across) Porter Brook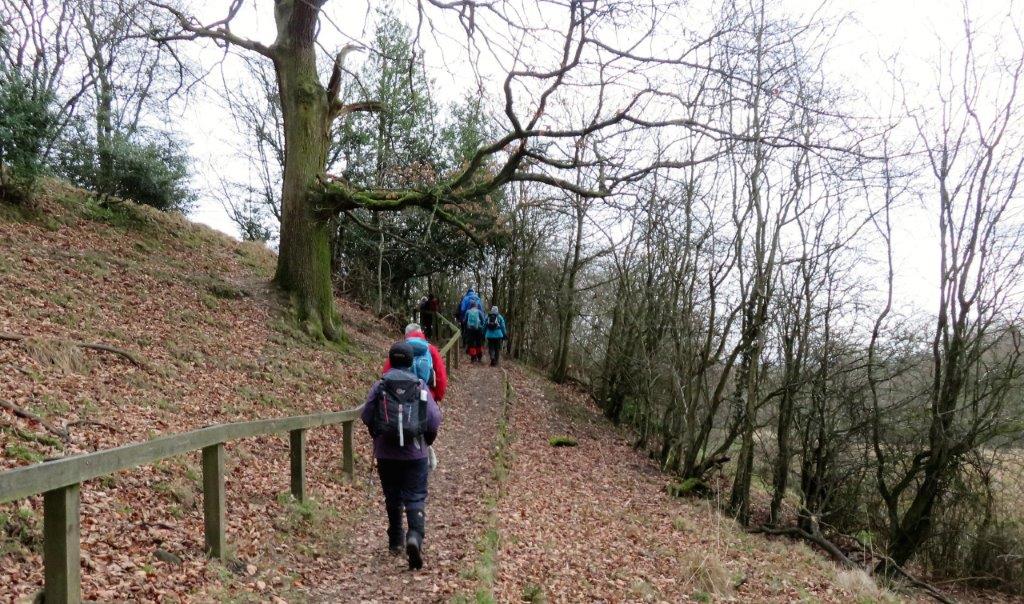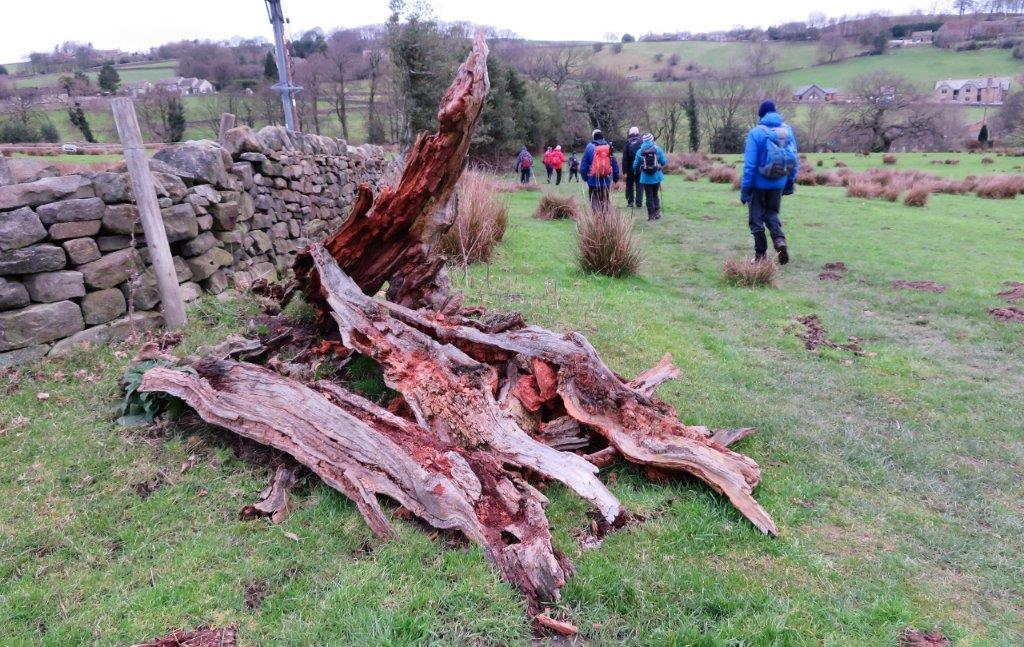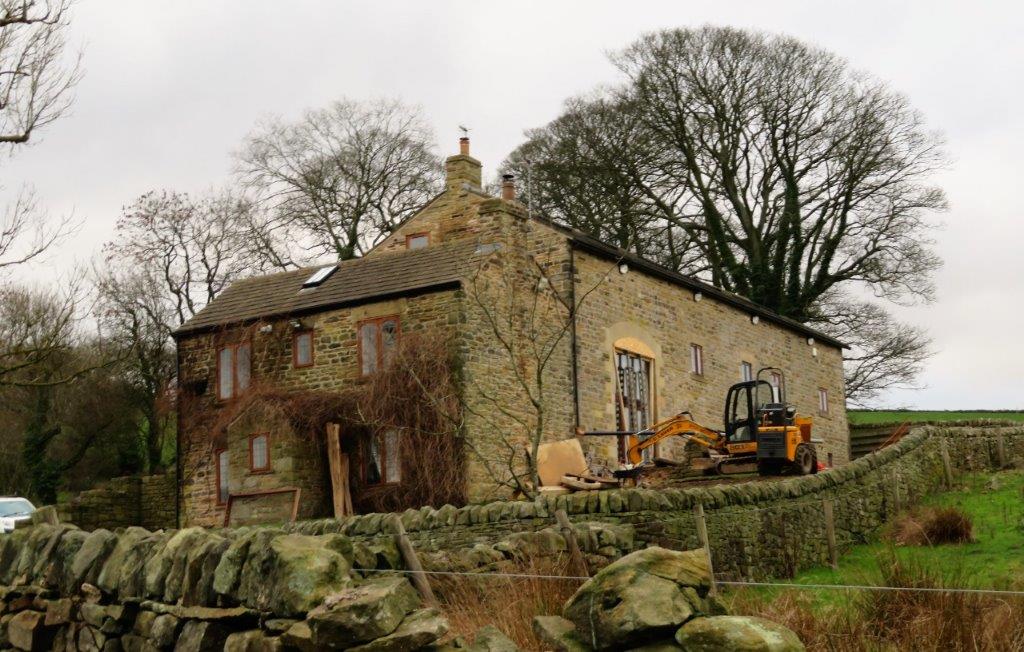 a Barn Conversion almost completed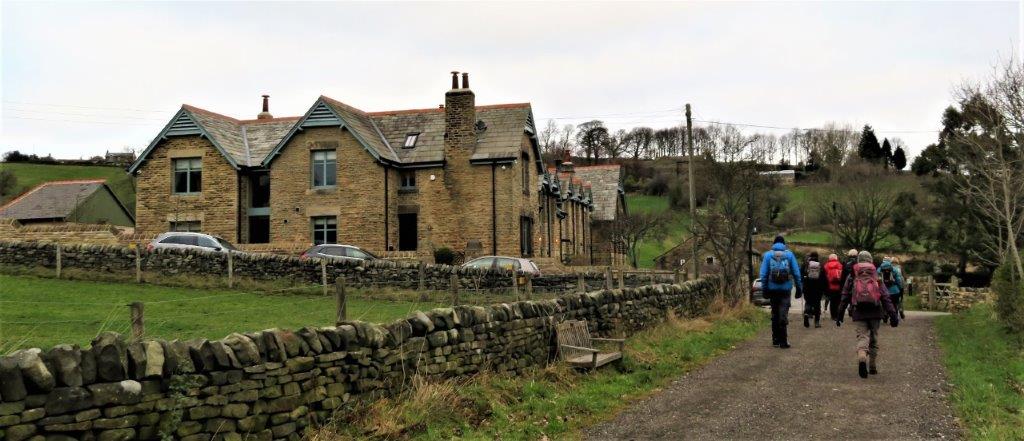 Some Sheffield educational buildings to left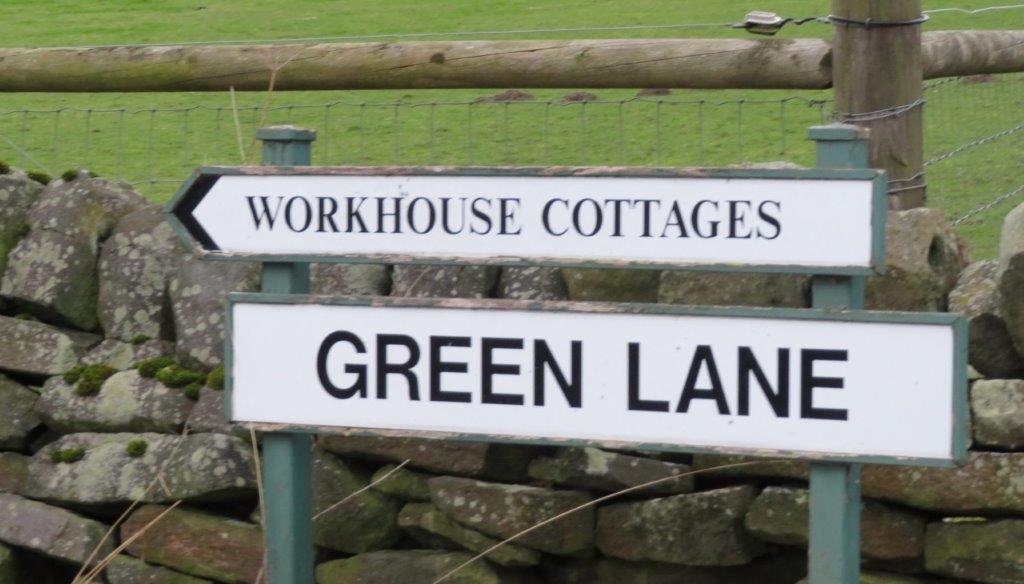 Sign to earlier 'workhouse cottages' (no longer used for this purpose).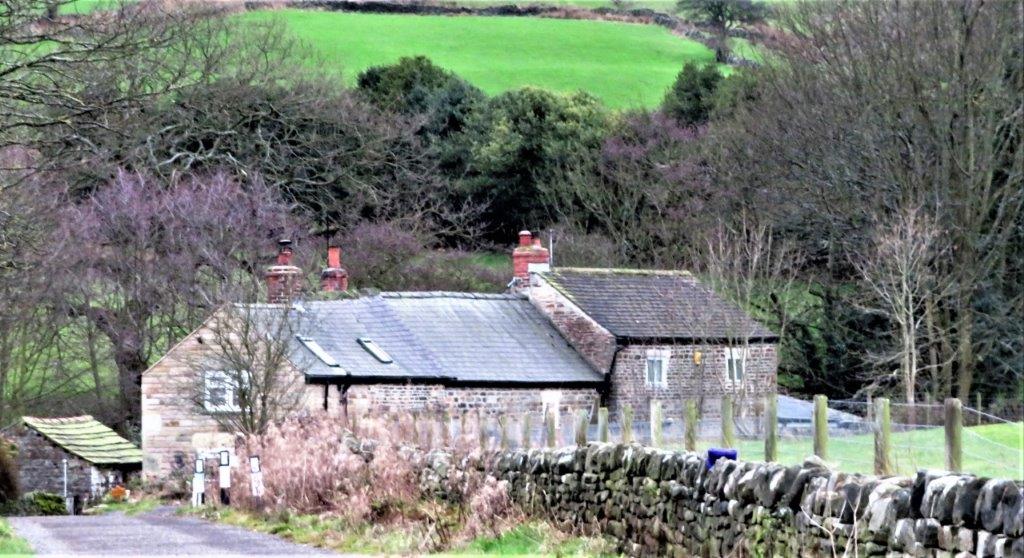 looking back at the 'workhouse cottages'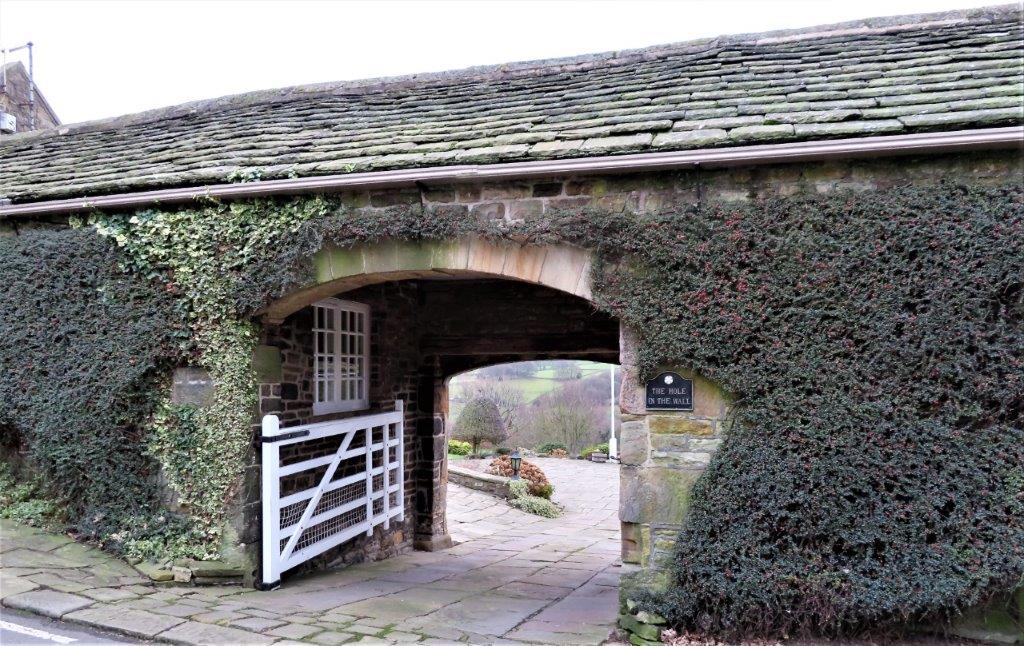 The Hole in the Wall (Farmhouse and adjoining buildings and stables) - apparently Grade 2 listed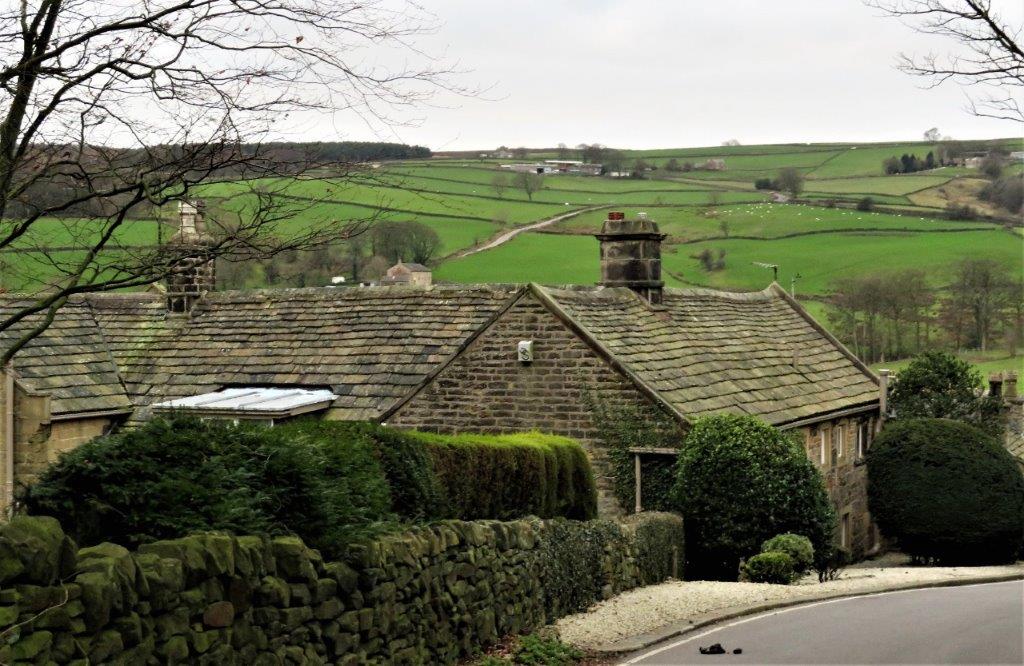 Buildings attached to The Hole in the Wall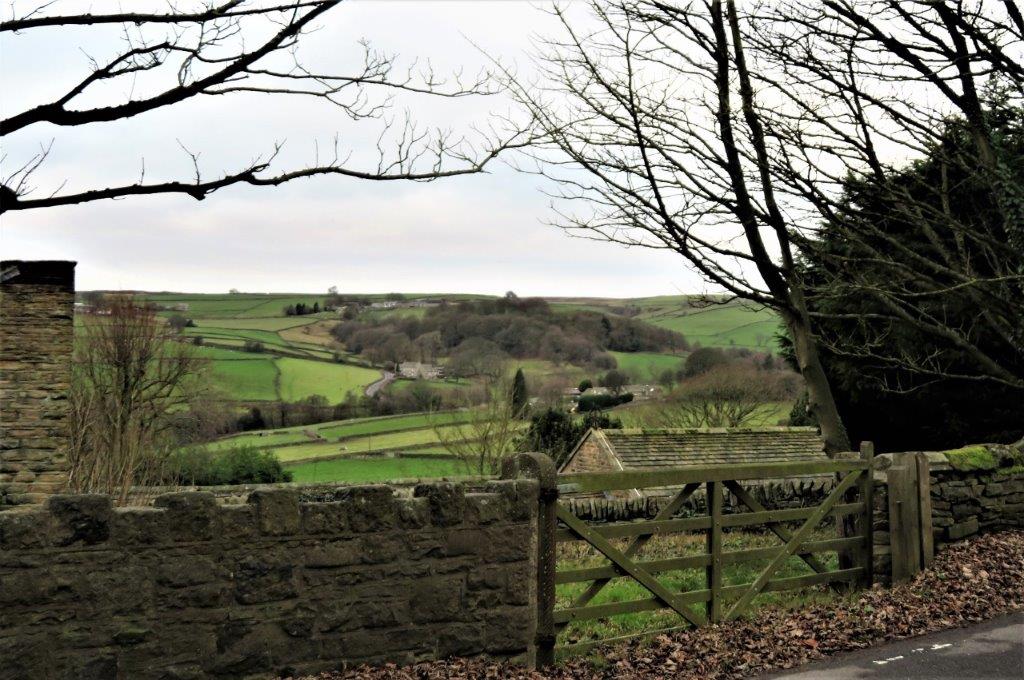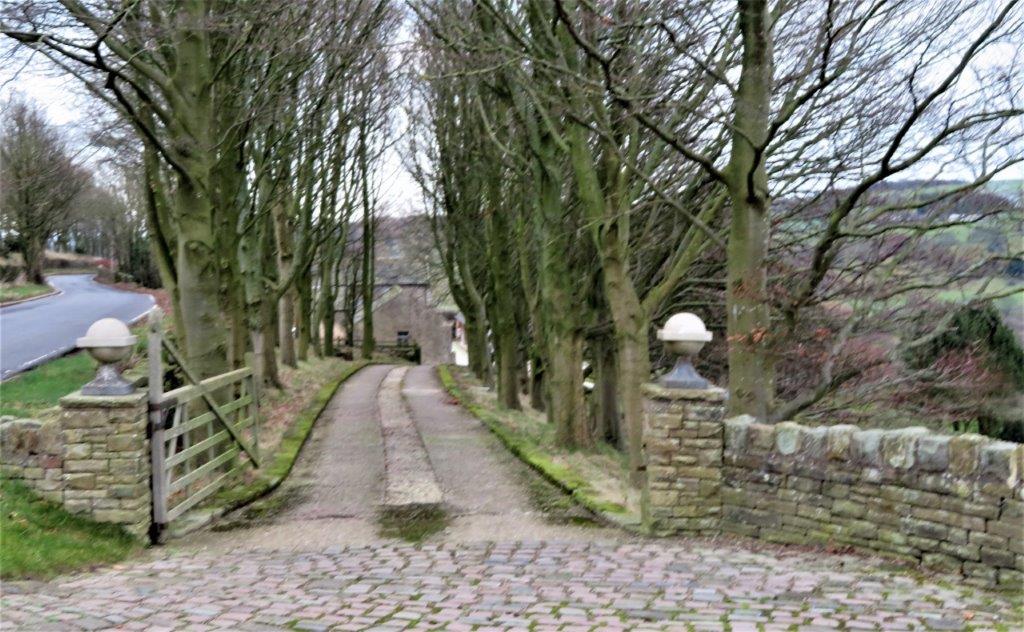 avenue toward Fullwood Hall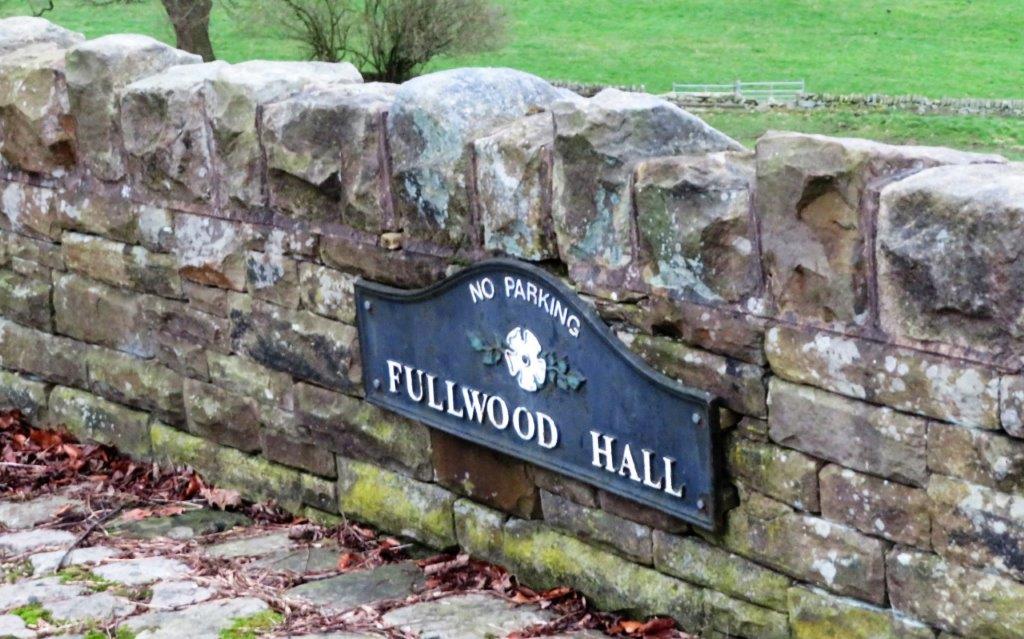 Happy New Year for 2019 to all walkers and viewers of this page
homepage - Daywalks Index 2019 - contact me at