homepage - Day Walks Index 2018 - contact me at

2018.12.30 ** Hathersage (SK230815), ~SSW under Railway Viaduct, ~SE on FP to cross Leadmill Bridge, continue on B6001 Rd past PH (The Plough) & Fish Ponds, turn off SW on Rd up to Hazelford Hall, FP ~S up to rejoin Rd passing Leam, turn off rd at SK231793 onto FP S / SSW / SW thru Eyam Moor to Sir William Hill Rd & cross ~S down Edge Rd past Mompession Well, leave Rd on FP down ~SSE / SSW thru (Hollow Brook) woods down to Eyam, ~W on Rd past Church and on to Eyam Hall, FP ~W to Foolow passing PH to duck pond, ~N / NW on/up Bradshaw Lane, Bretton Mount, PH (The Barrel) at Bretton, Lane ~NNE (on West side PH), turn off Lane & continue NNE on FP down to Bretton Clough then Stoke Ford, ~E above Highlow Brook (on South side) to & across brook on F.Bridge, ~NNW up to & past Highlow Hall to (Abney) Road, but turn NE initially and follow down to B6001 Rd, follow B6001 Rd ~N (under Rail Track) into Hathersage - leader Andrew Irwin - Sunday (two friends from the South of England accompanied group)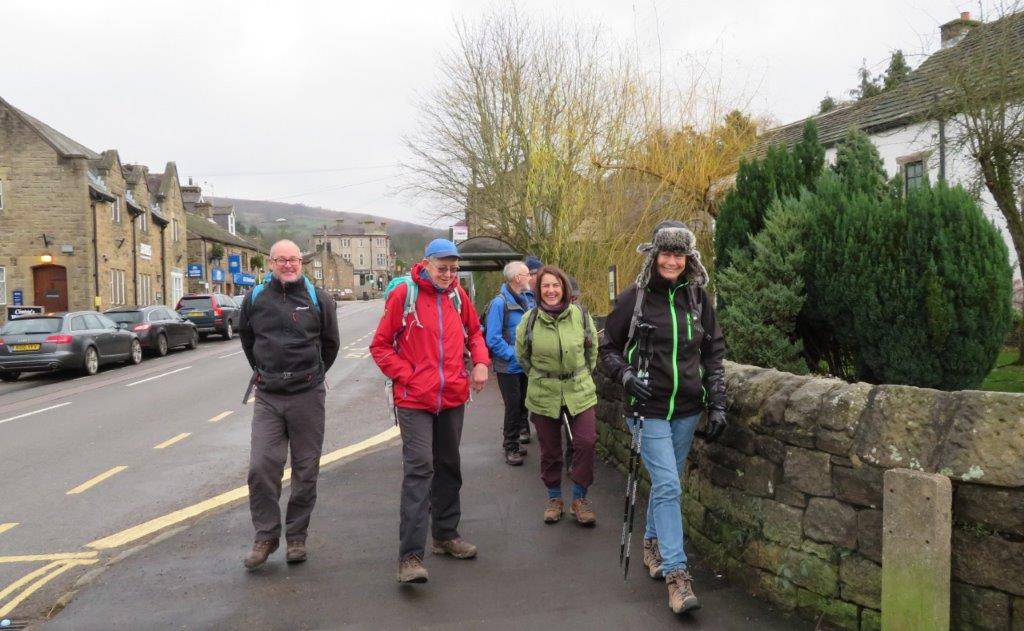 leaving the bus stop (the start of the walk) on the A6187 the main road through Hathersage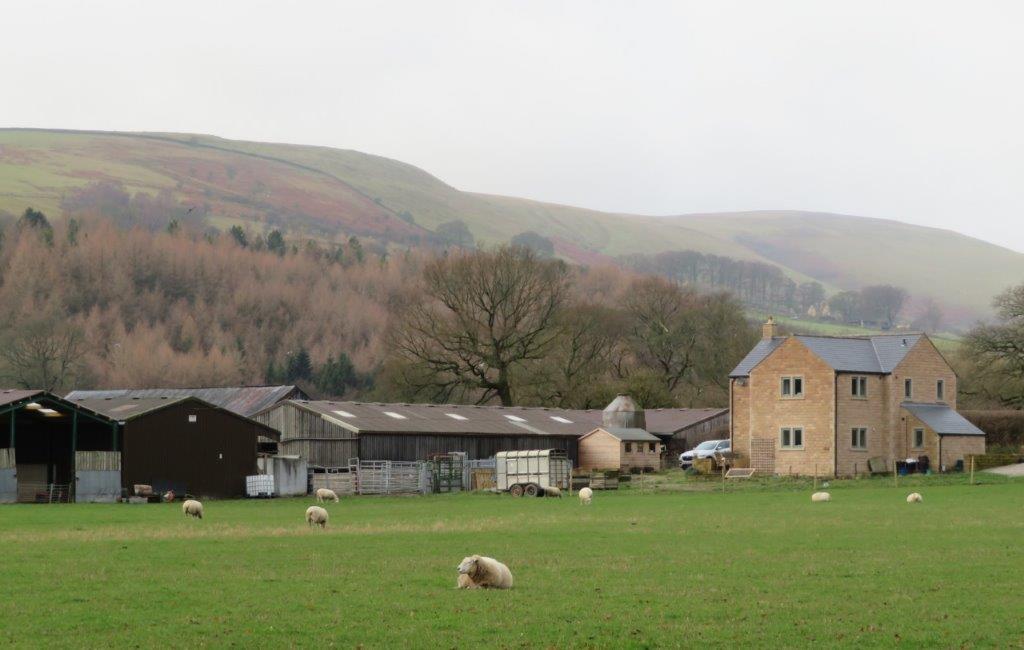 Offerton & Shatton Moors seen to the West as we head towards Leadmill Bridge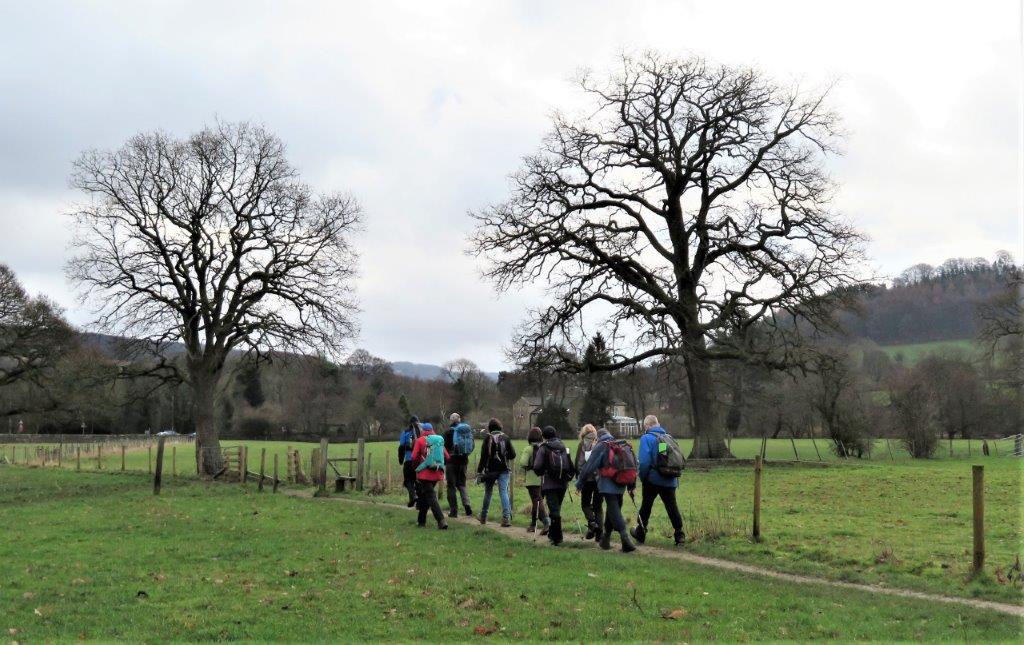 heading toward Leadmill Bridge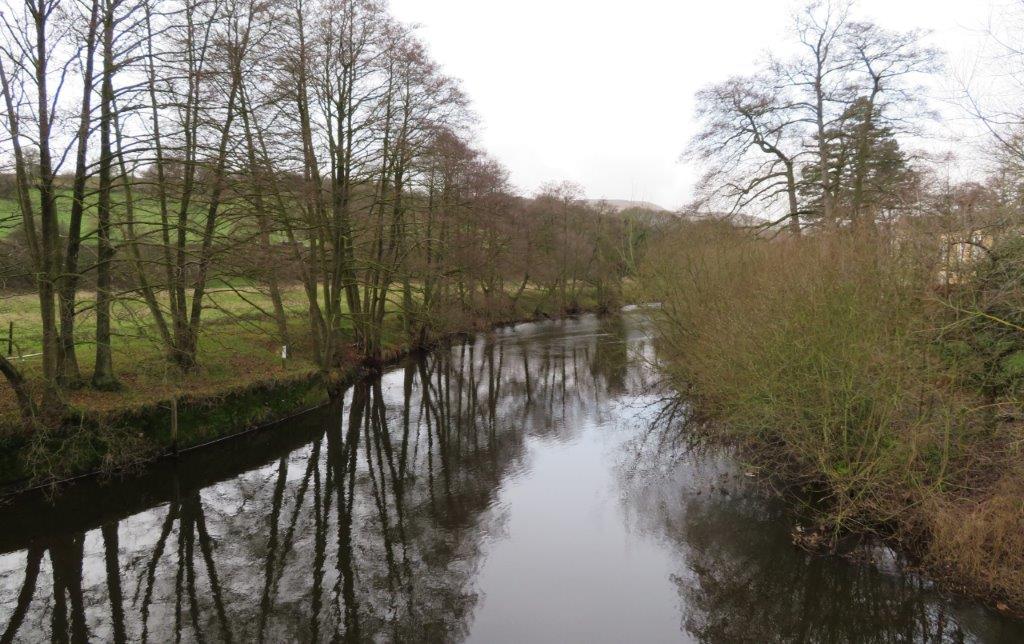 The River Derwent seen upstream of Leadmill Bridge as we cross it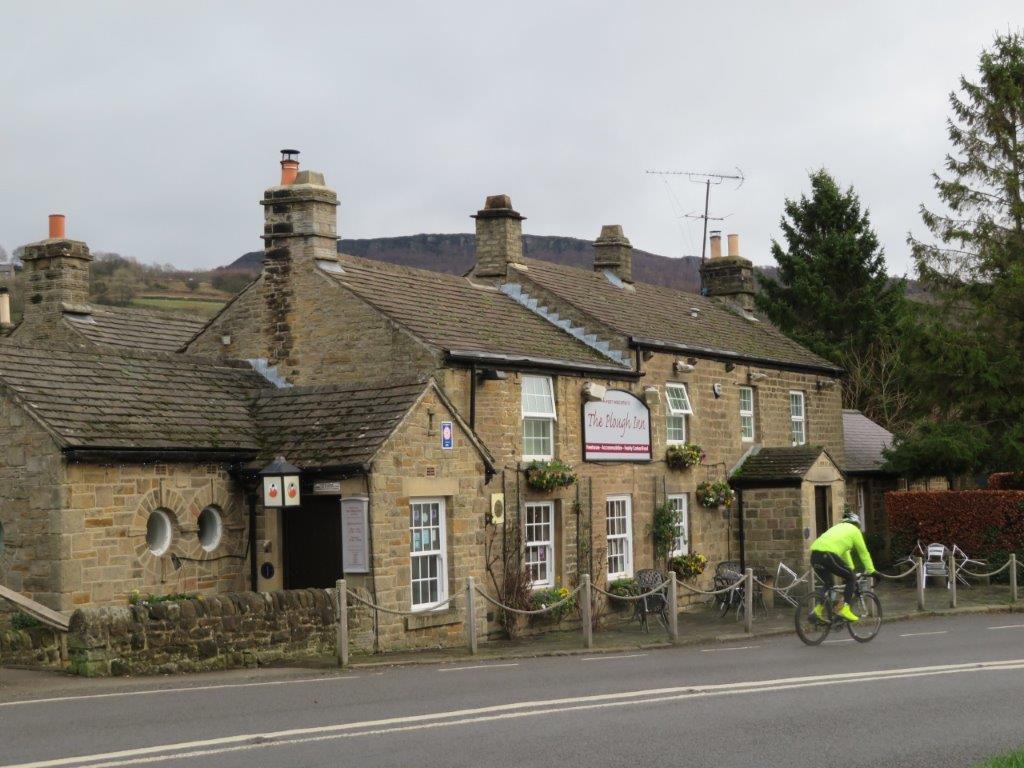 The Public House, The Plough Inn seen & passed on the B6001 Road as we head toward the turnoff road up to Hazelford Hall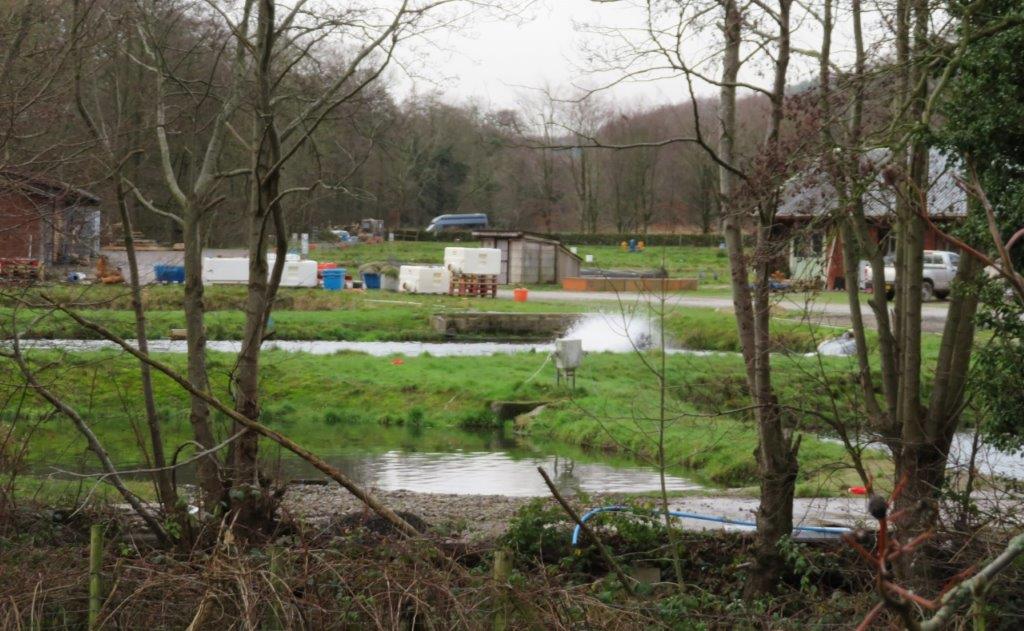 The fish farm ponds also before the turnoff up to Hazelford Hall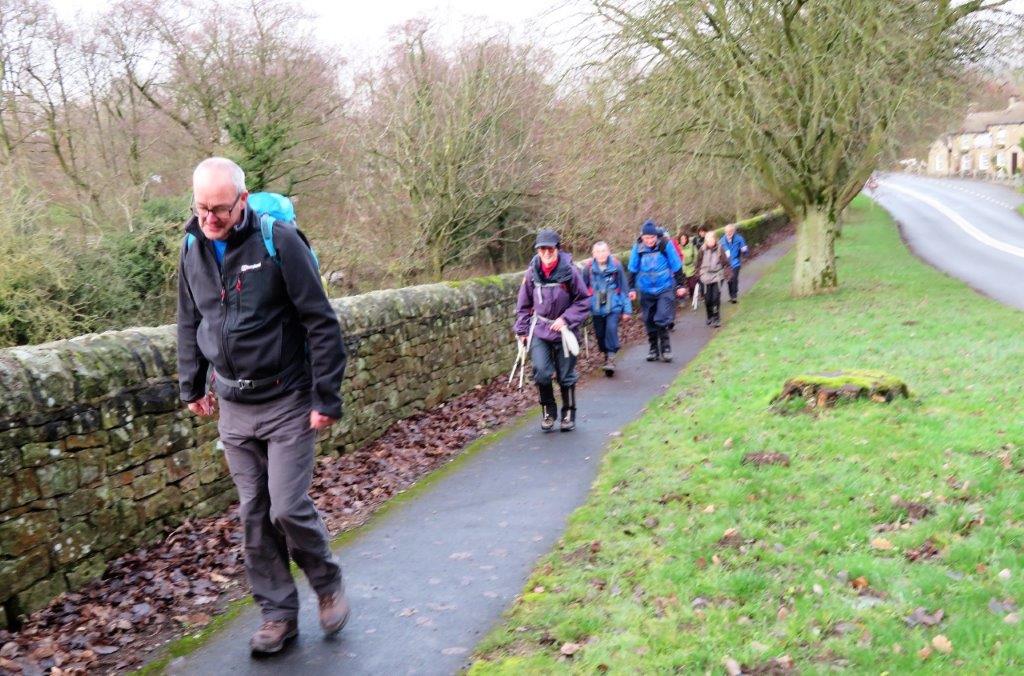 still along the B6001 Road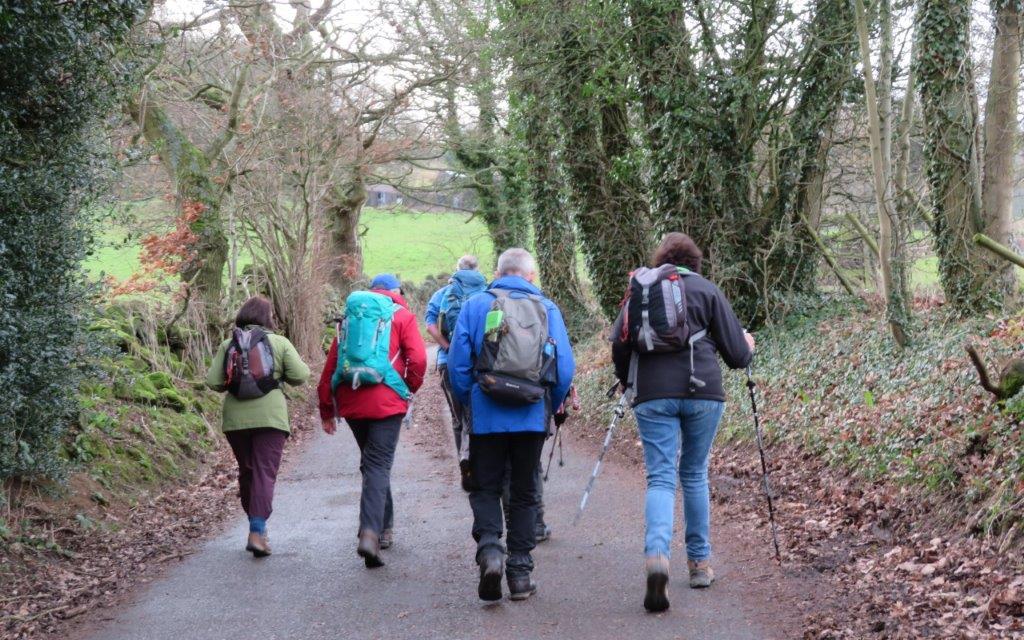 now on road up towards Hazelford Hall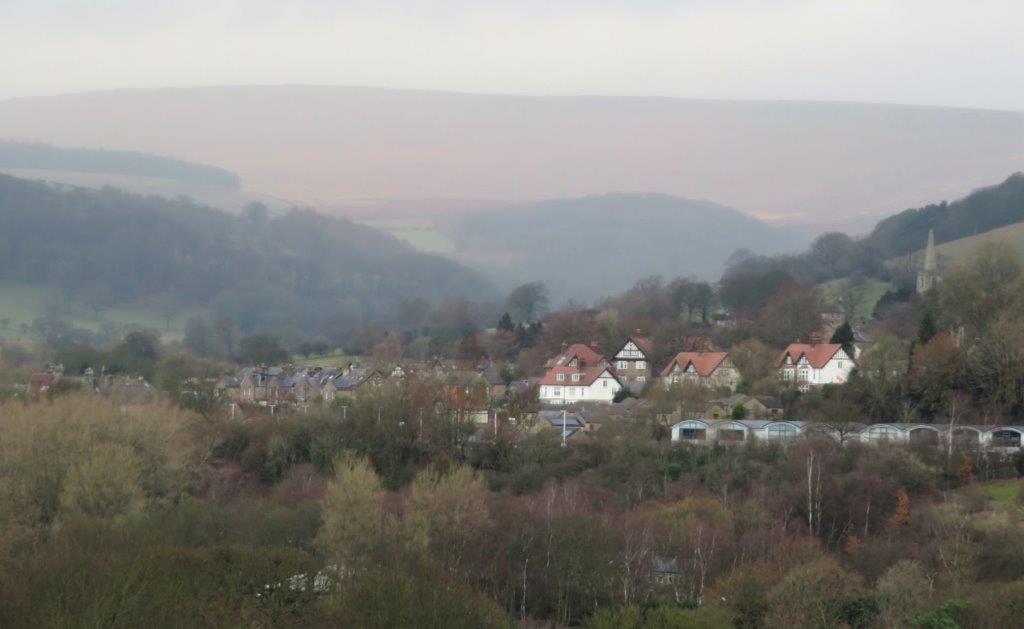 looking back toward Hathersage - Church above the town to the right. New Modern Buildings to the right near railway station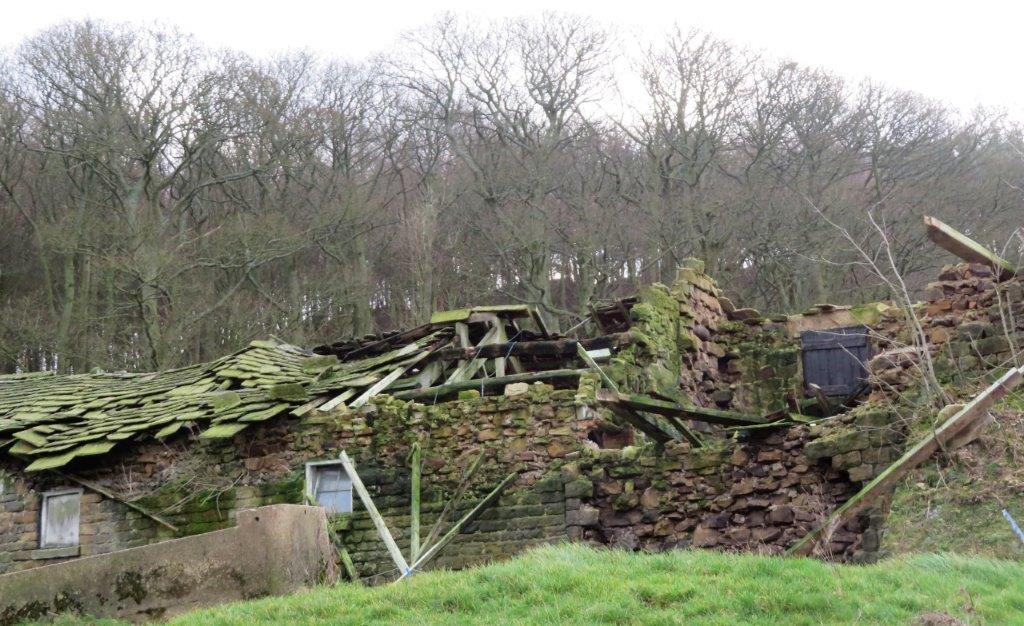 crumbling buildings before Hazelford Hall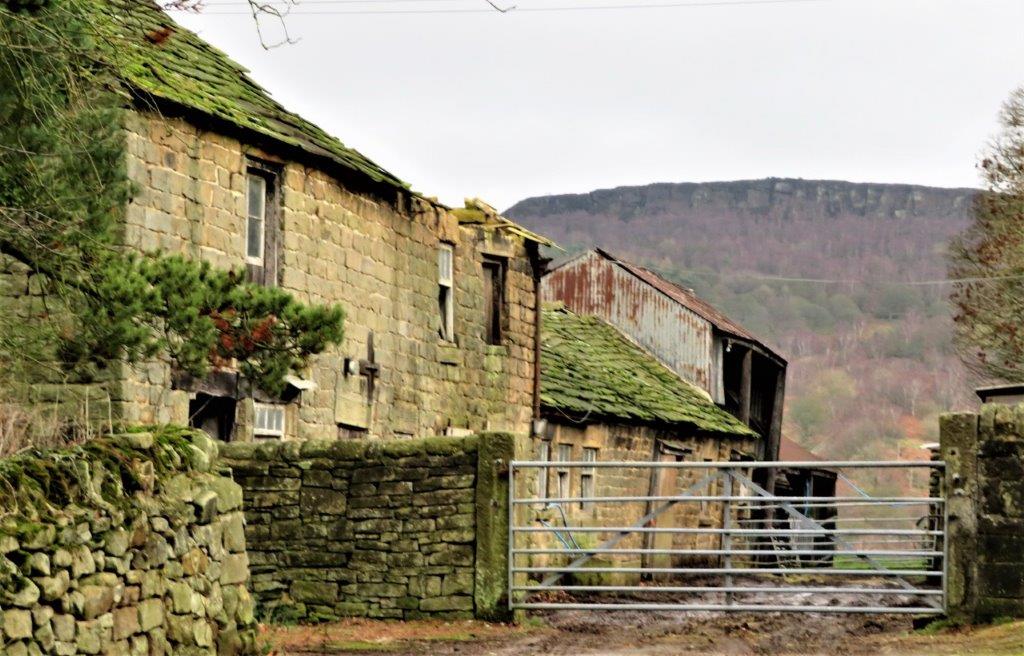 as picture similar to above, but with Millstone Edge seen behind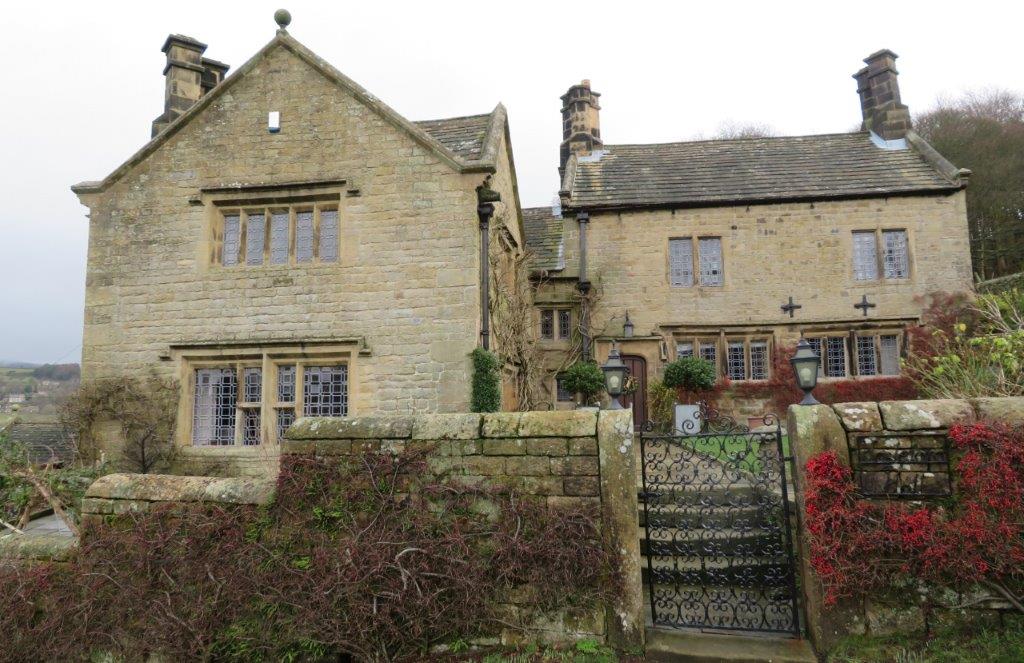 Hazelford Hall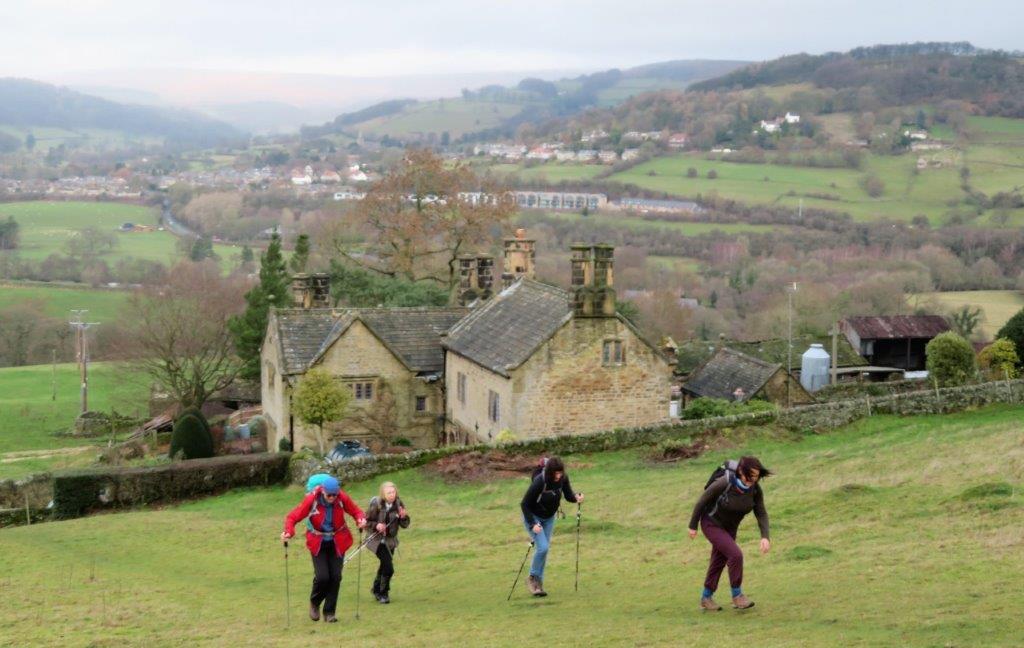 climbing up from Hazelford Hall with Hathersage behind in the distance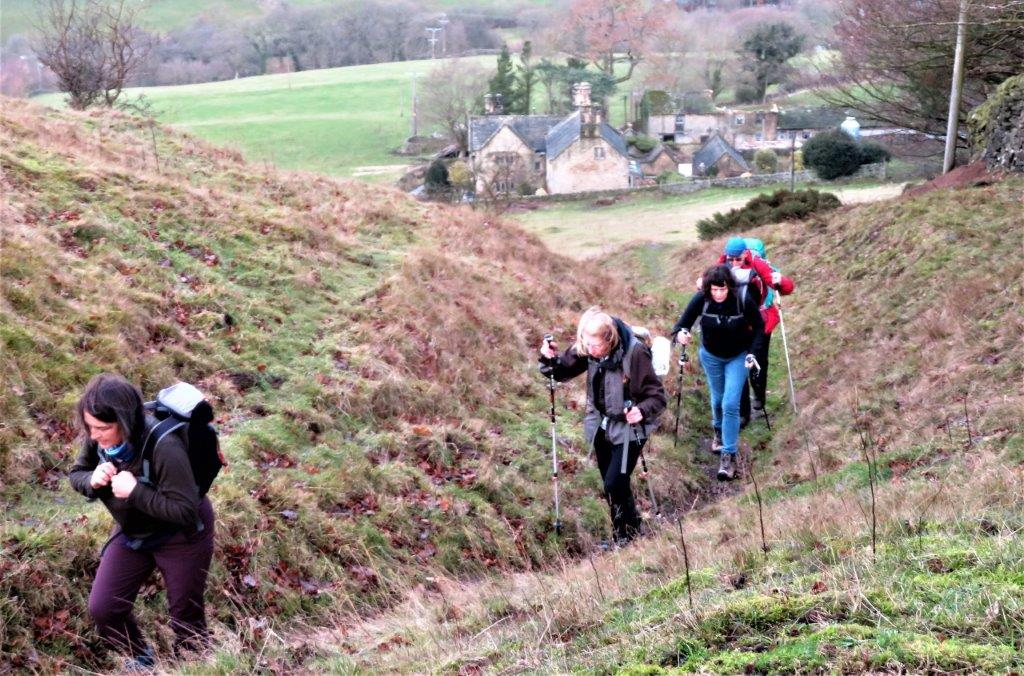 about to rejoin the road which passes Leam Farm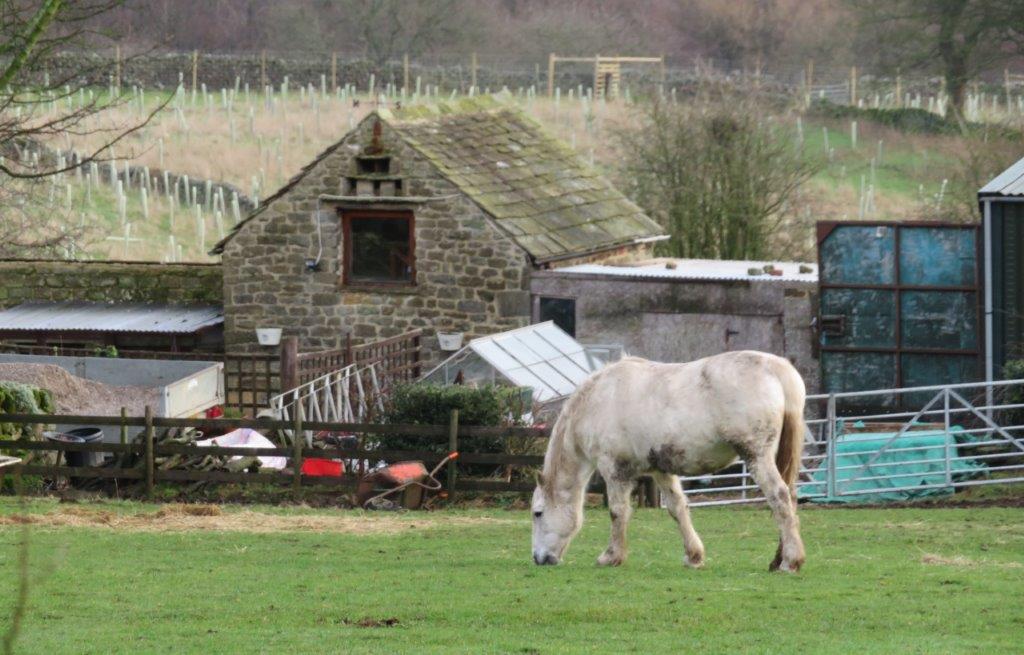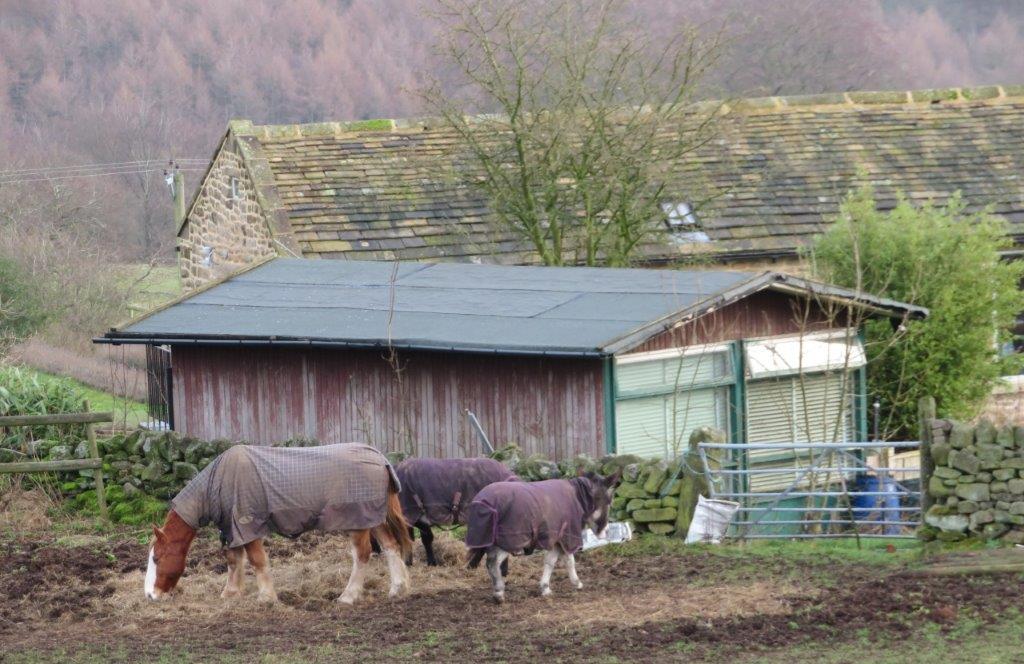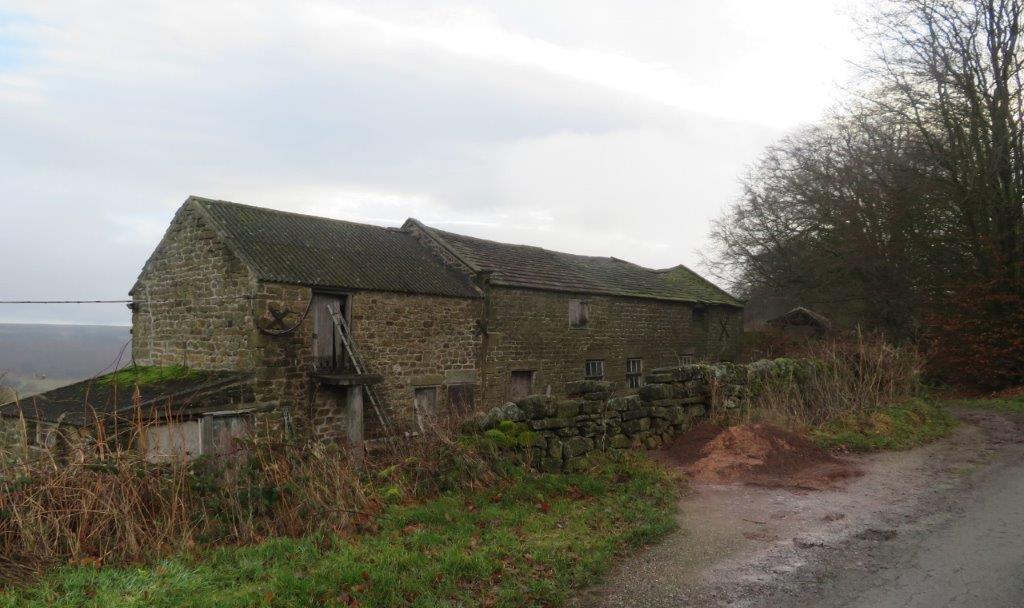 barn and other building roughly at turn off onto Footpath through Eyam Moor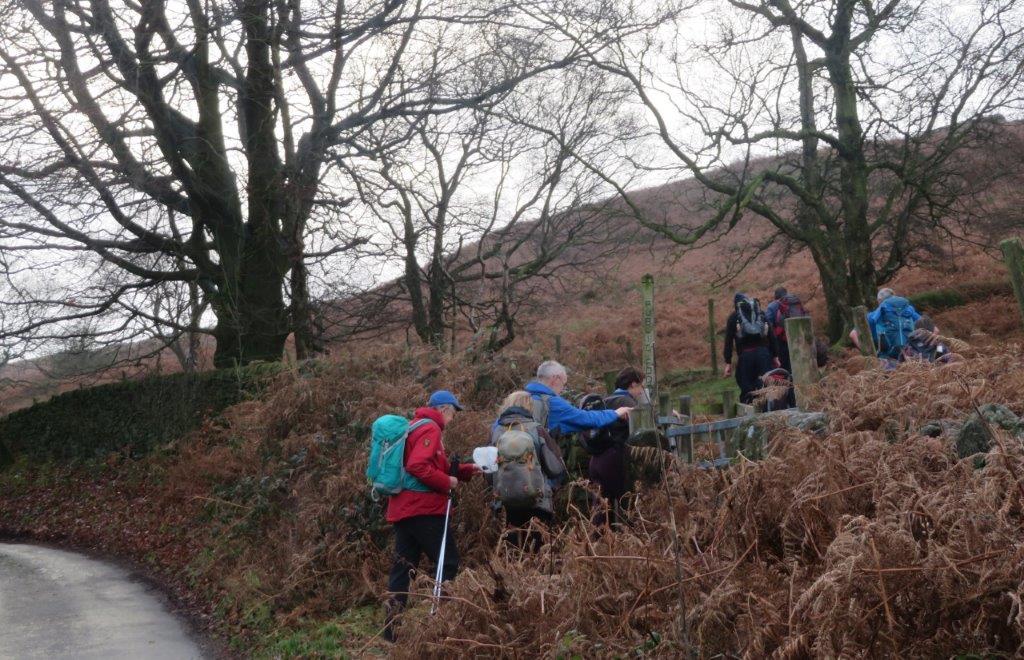 turning off onto footpath through Eyam Moor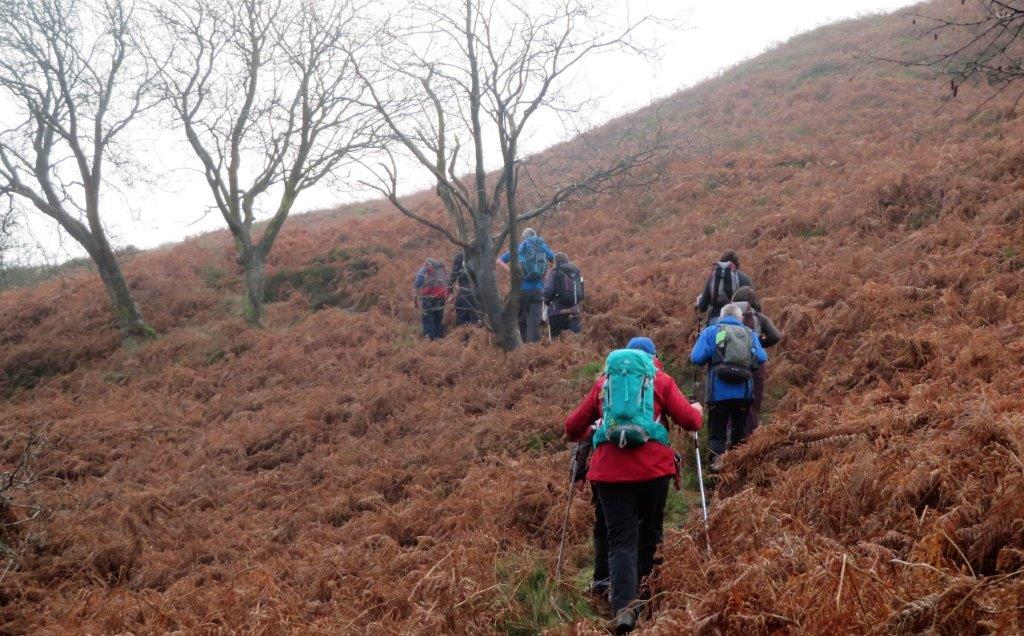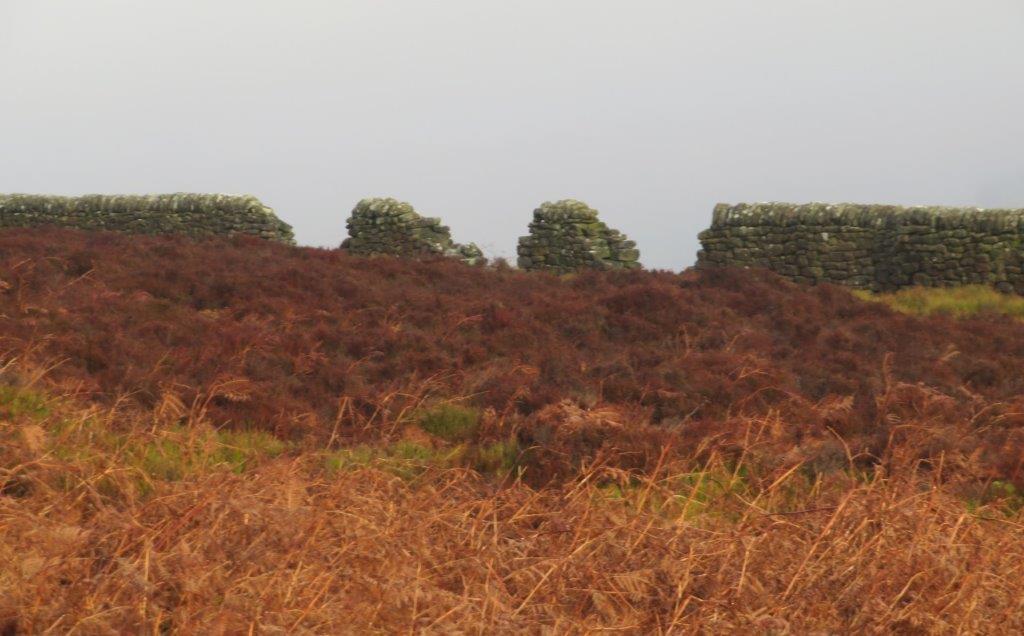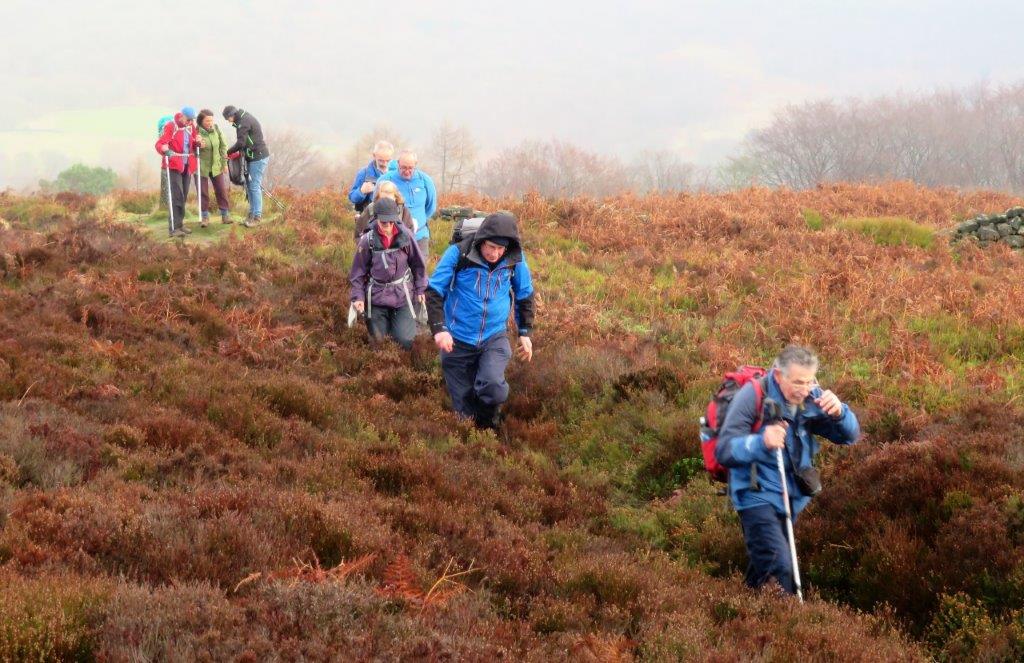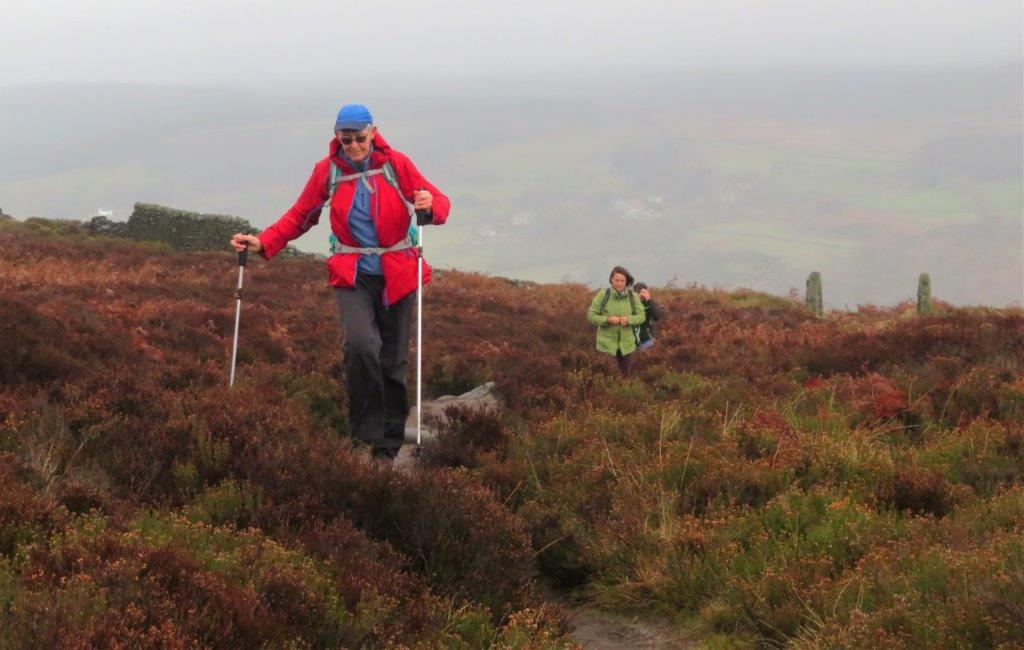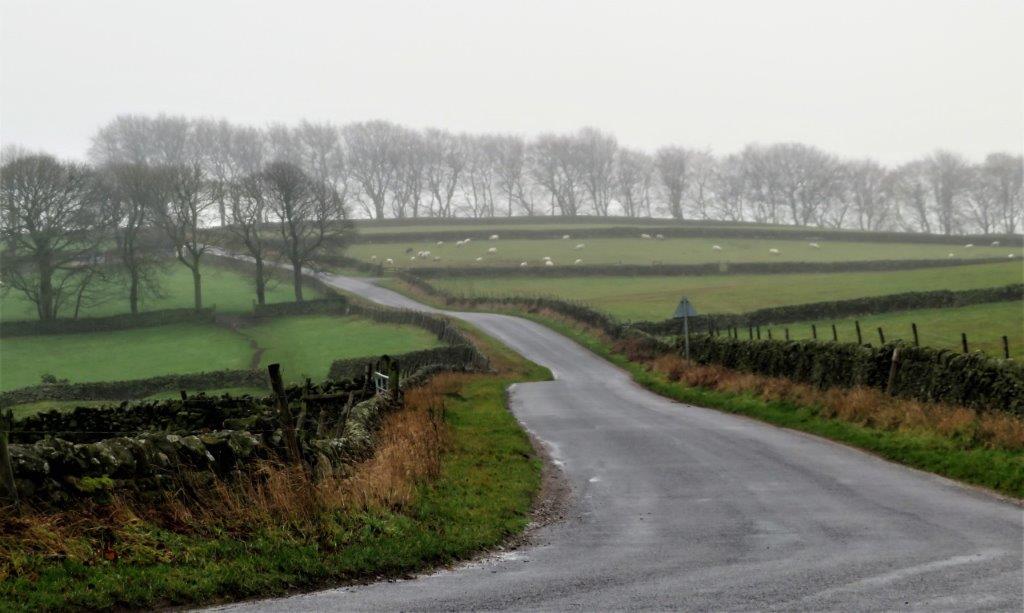 Footpath ended roughly at the intersection of Sir William Hill road (nearest to picture bottom) and Edge Road (passing sheep) which we followed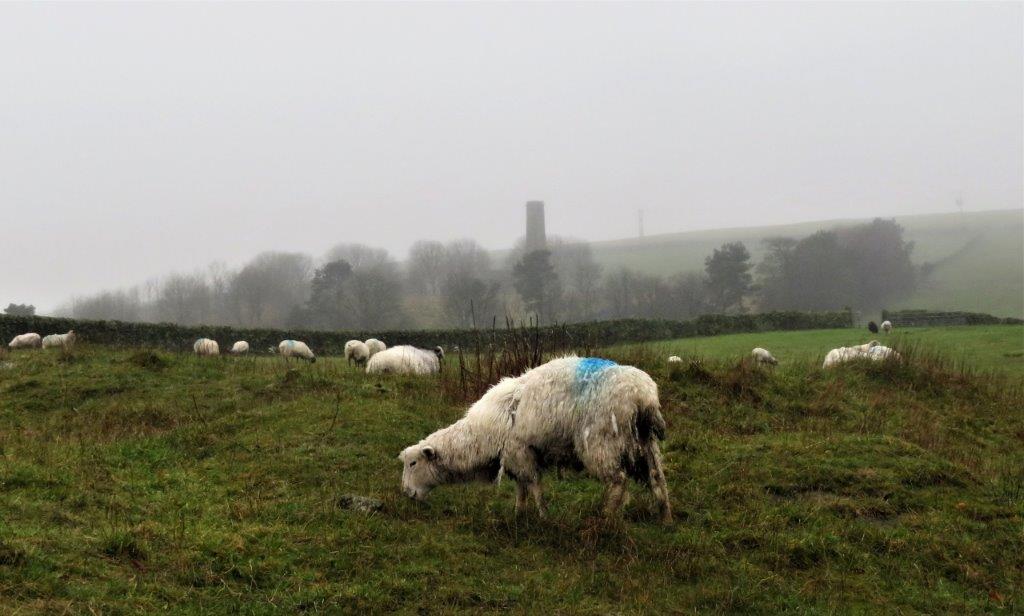 the chimney a remnant of a lead / other ore smelting plan?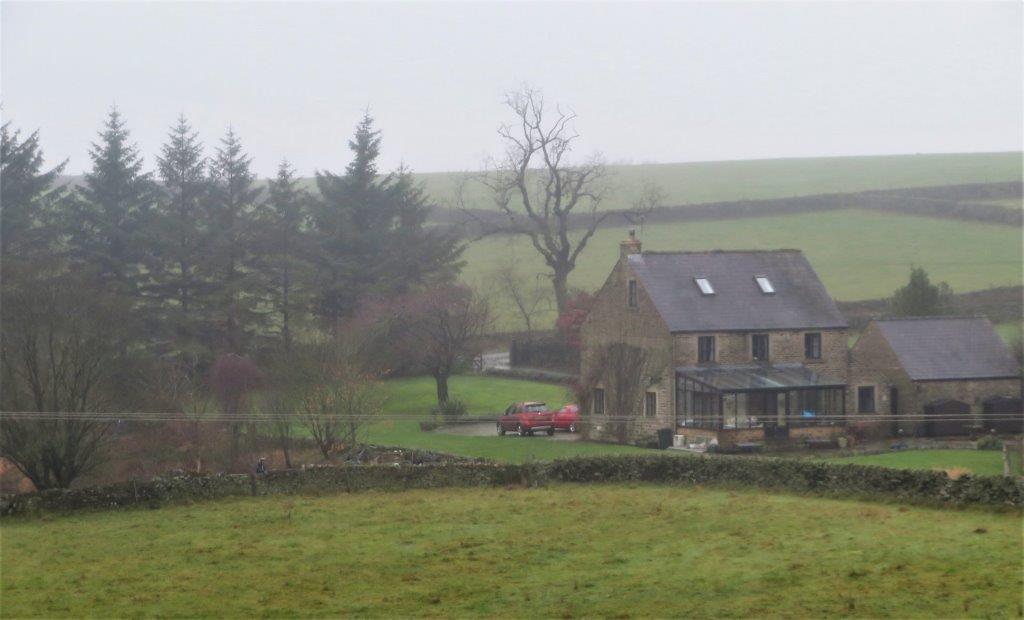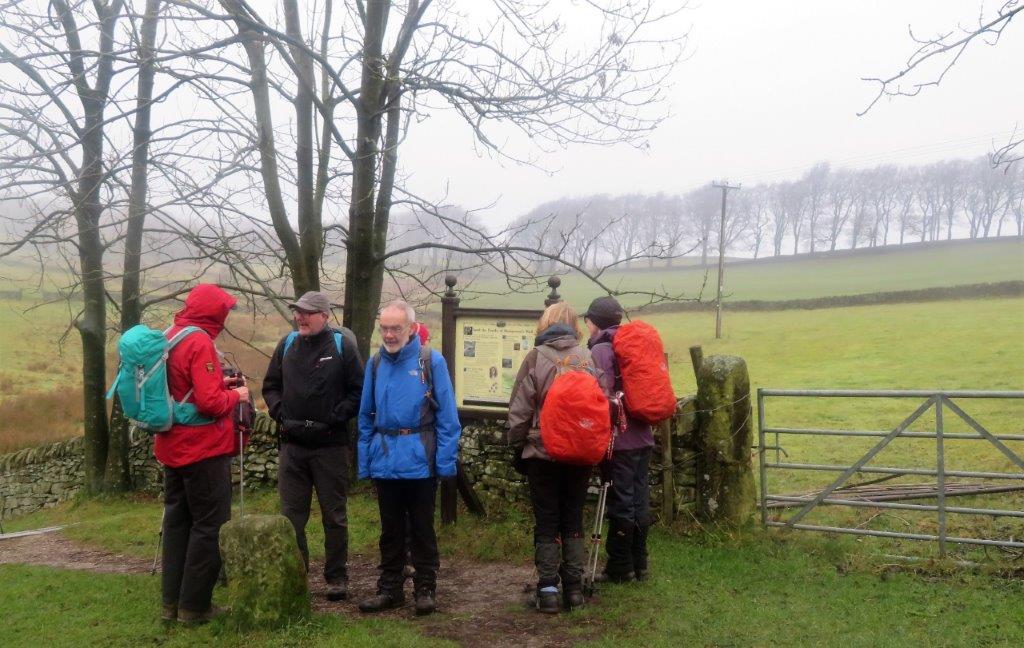 Mompesson's Well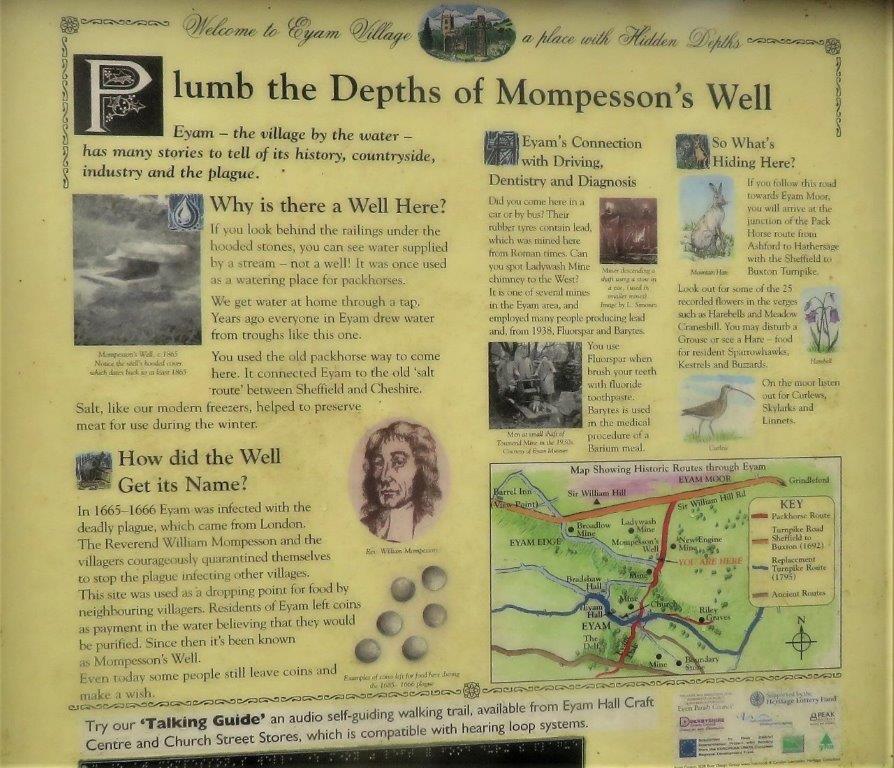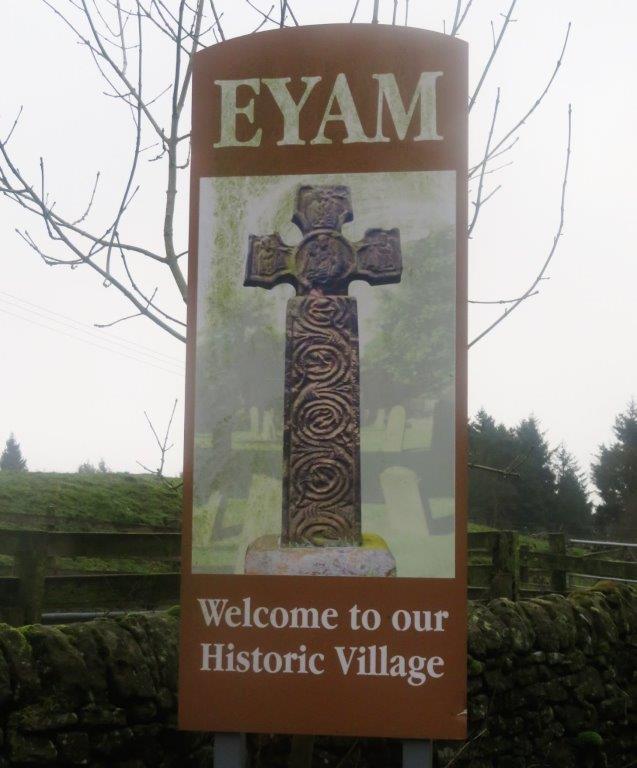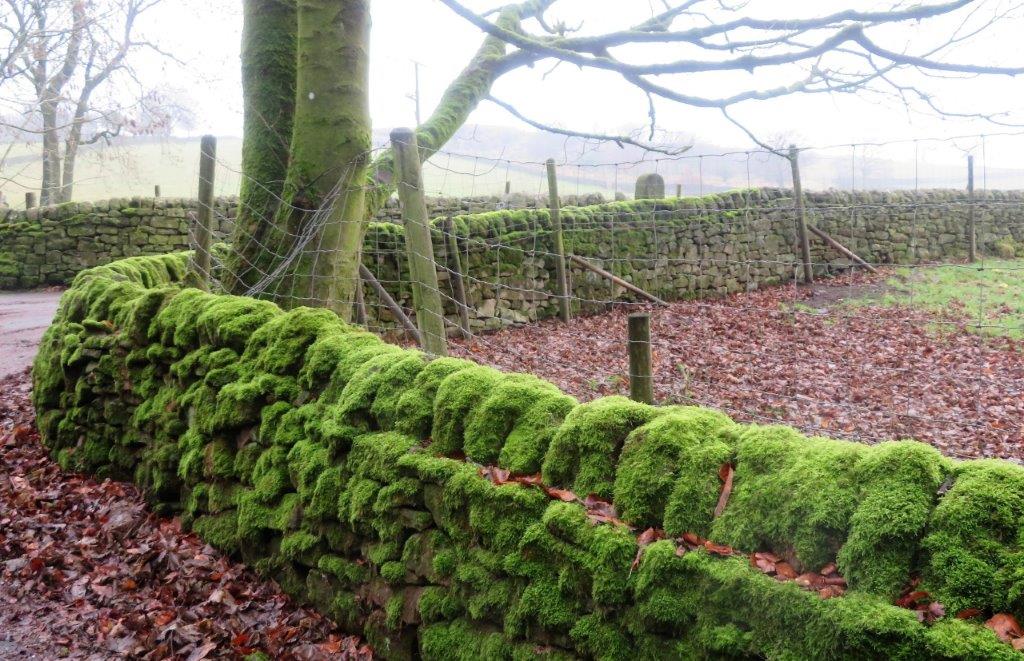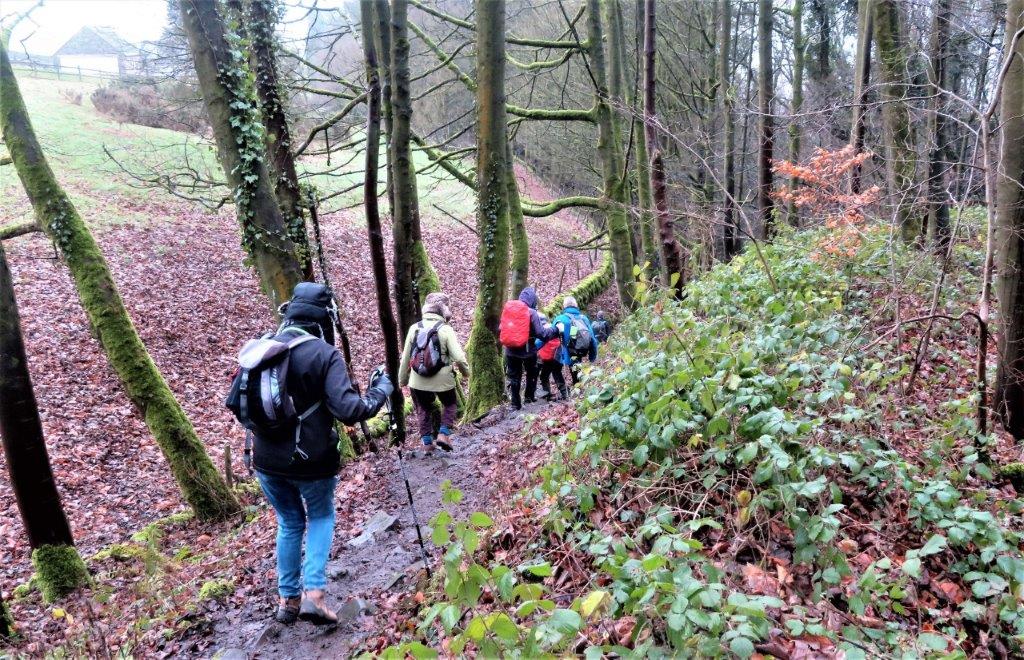 turned off road into wood through which Hollow Brook runs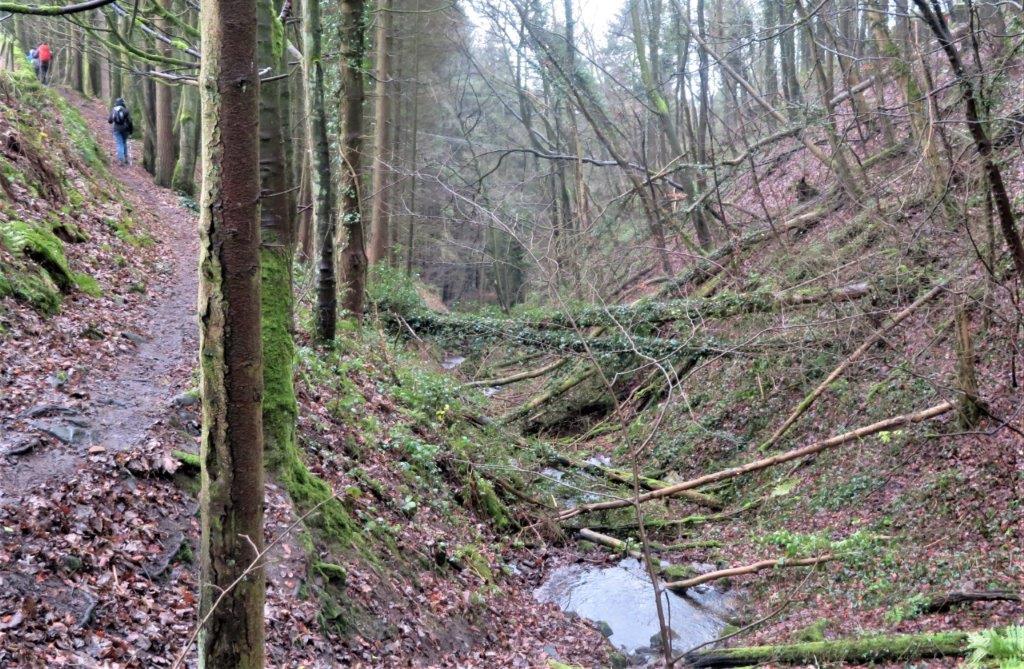 Hollow Brook to right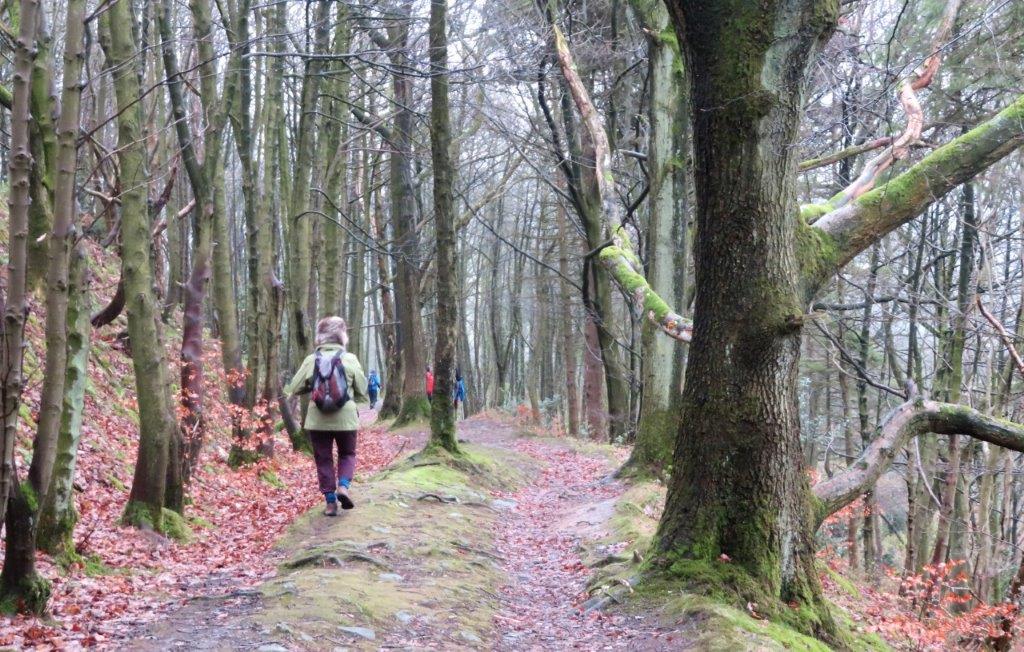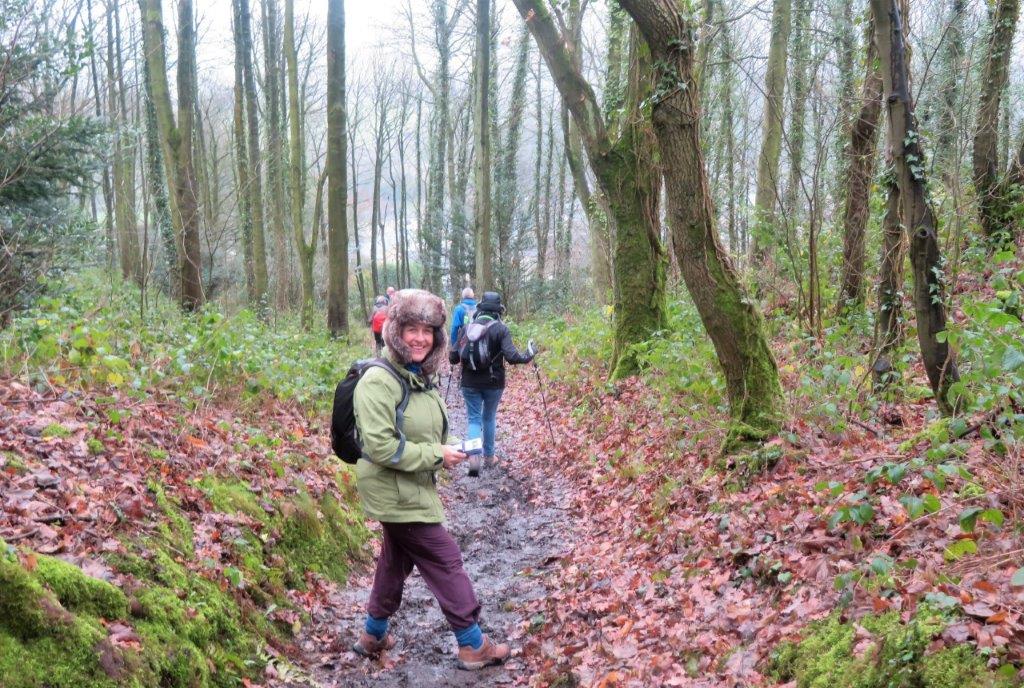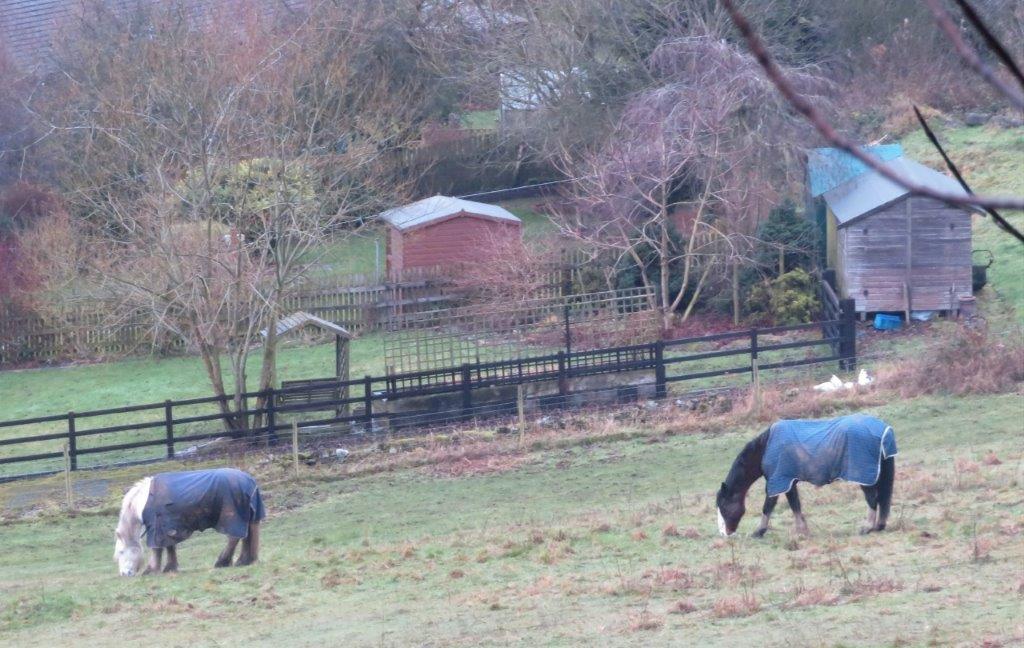 about to enter Eyam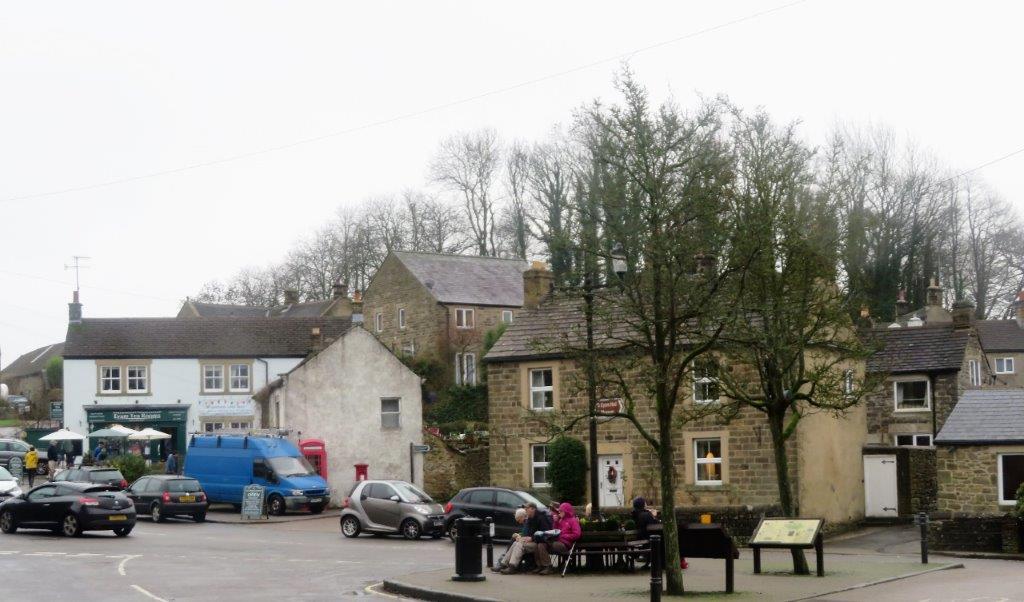 Main 'square' in Eyam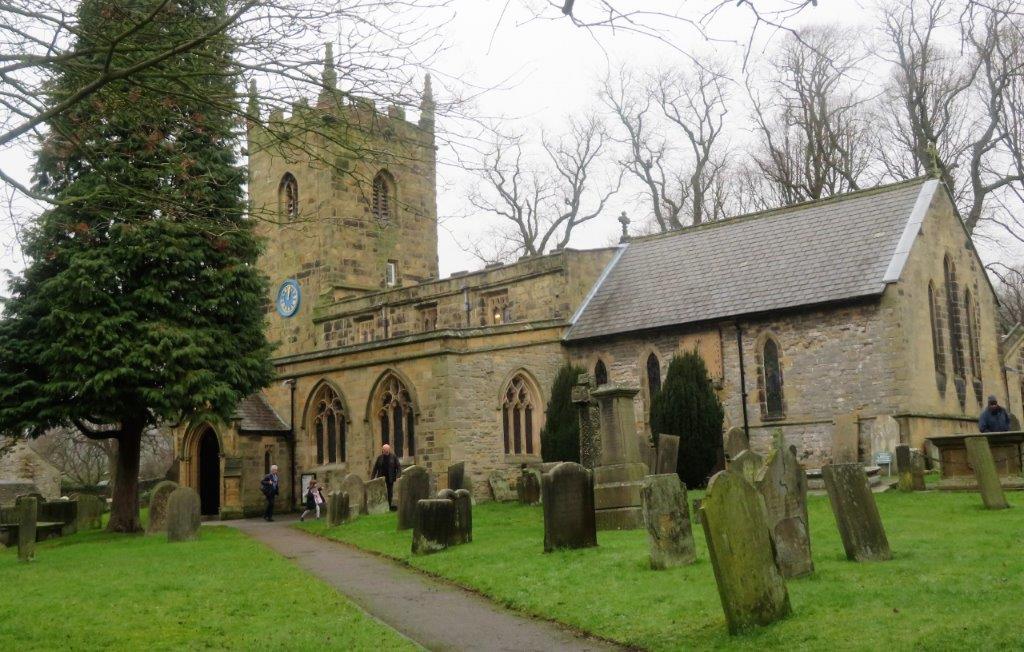 Eyam's Parish Church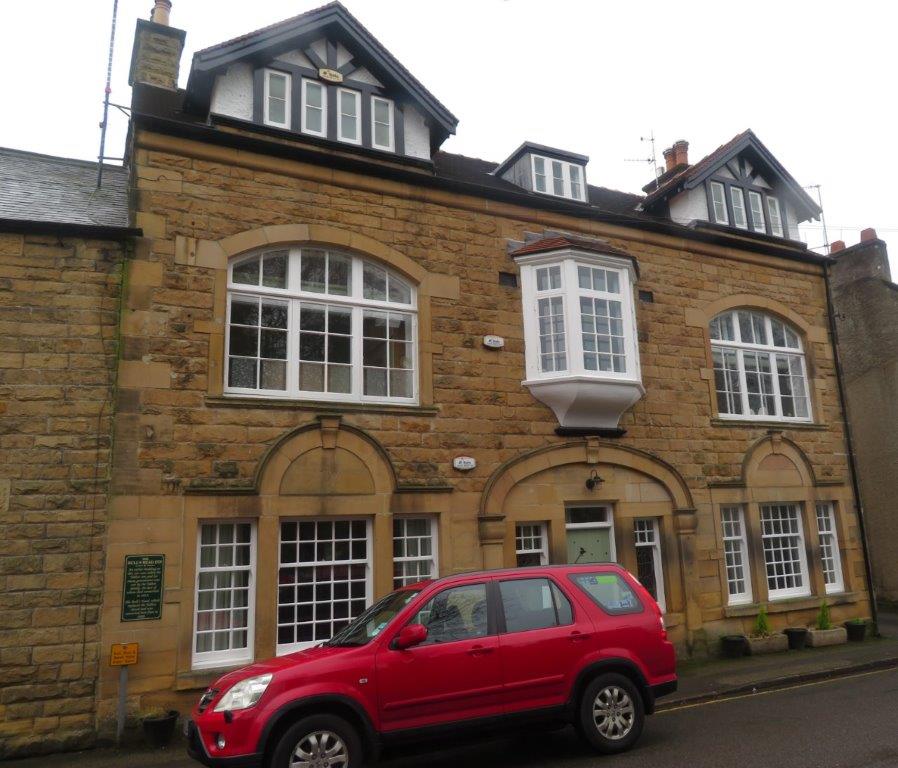 The Bull's Head Inn - but no longer a Public House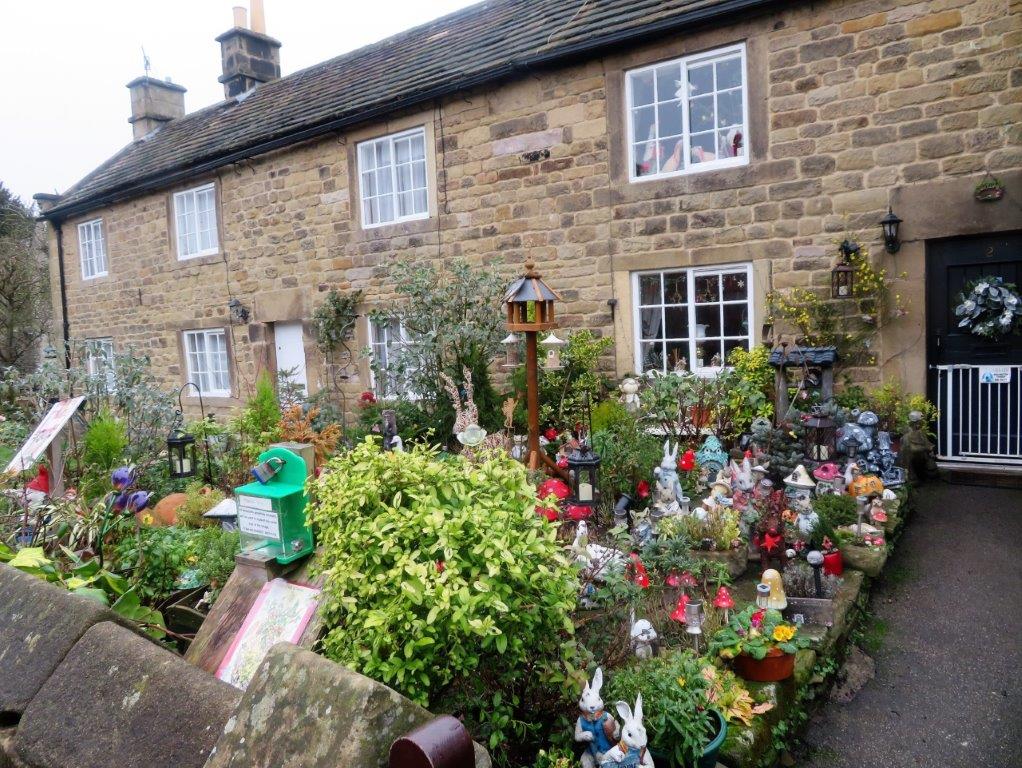 possibly one of the plague cottages but now put to other use?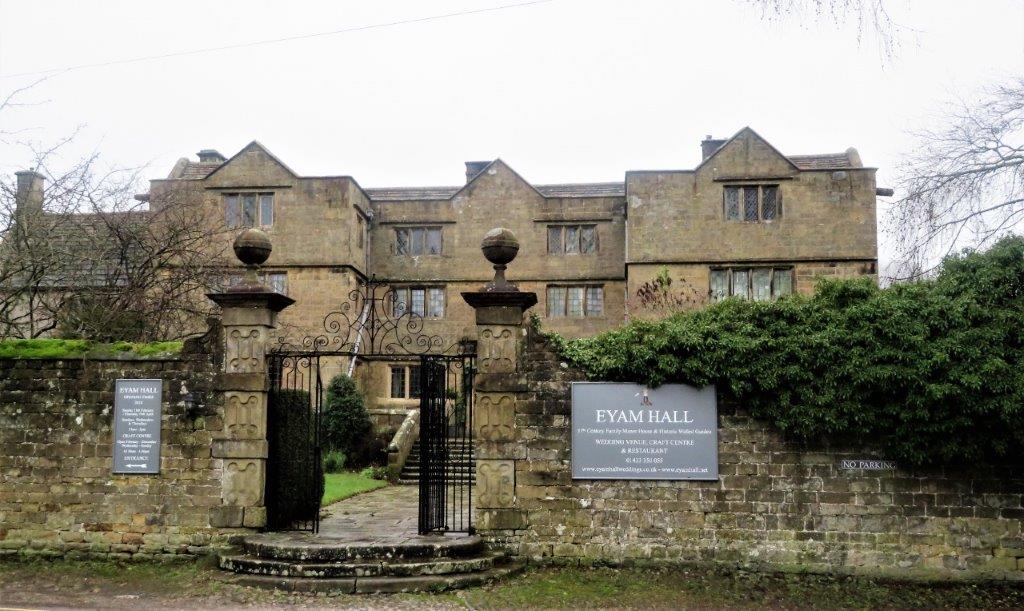 Eyam Hall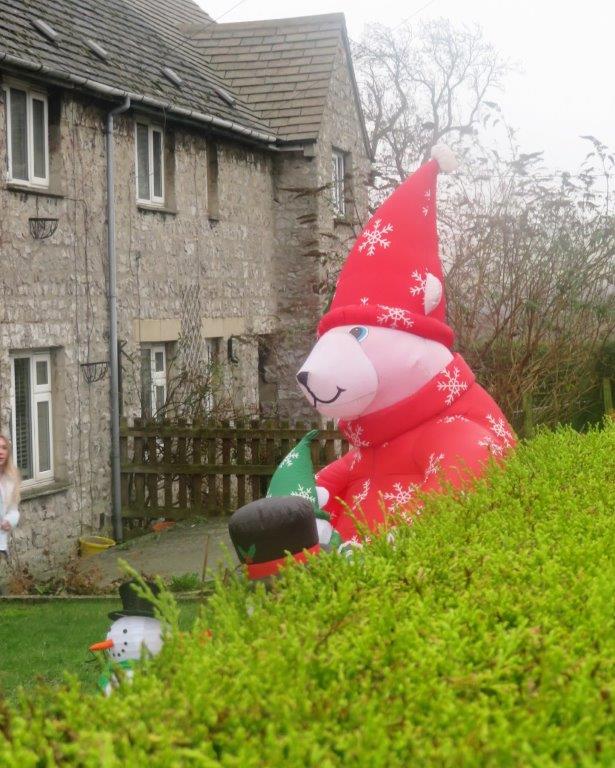 West from Eyam Hall through small more modern township housing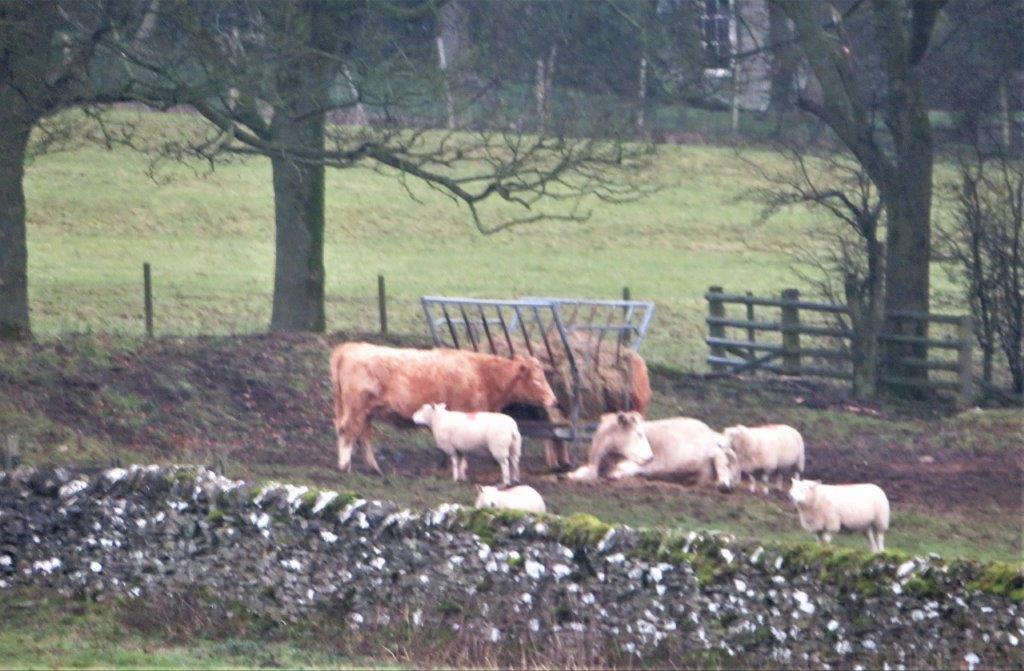 zoomed into animal group while on footpath heading toward Foolow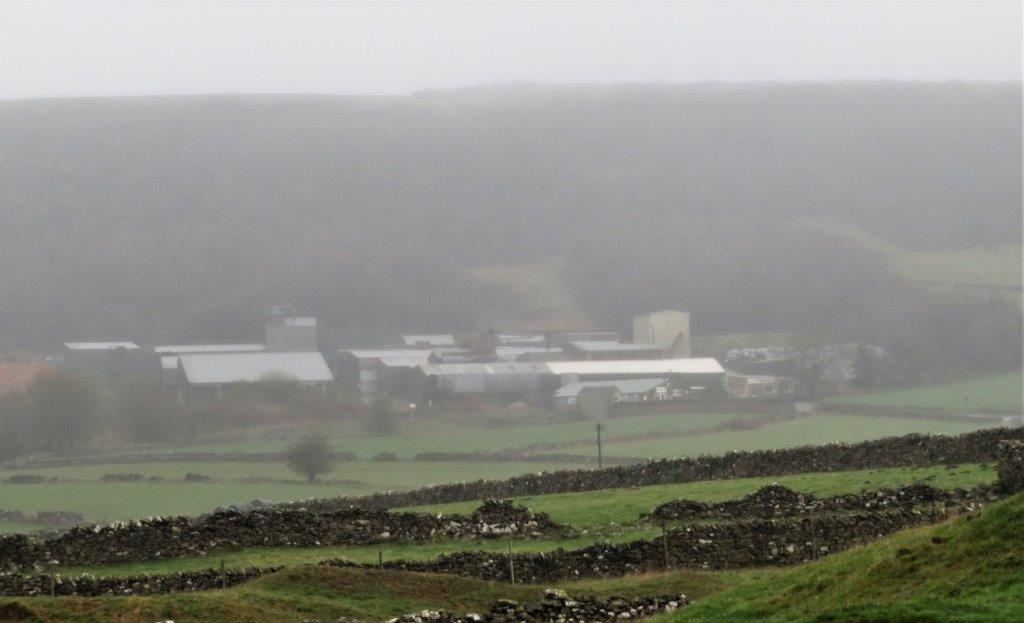 Black Hole Mine below Eyam Edge - not clear what is mined & recovered here?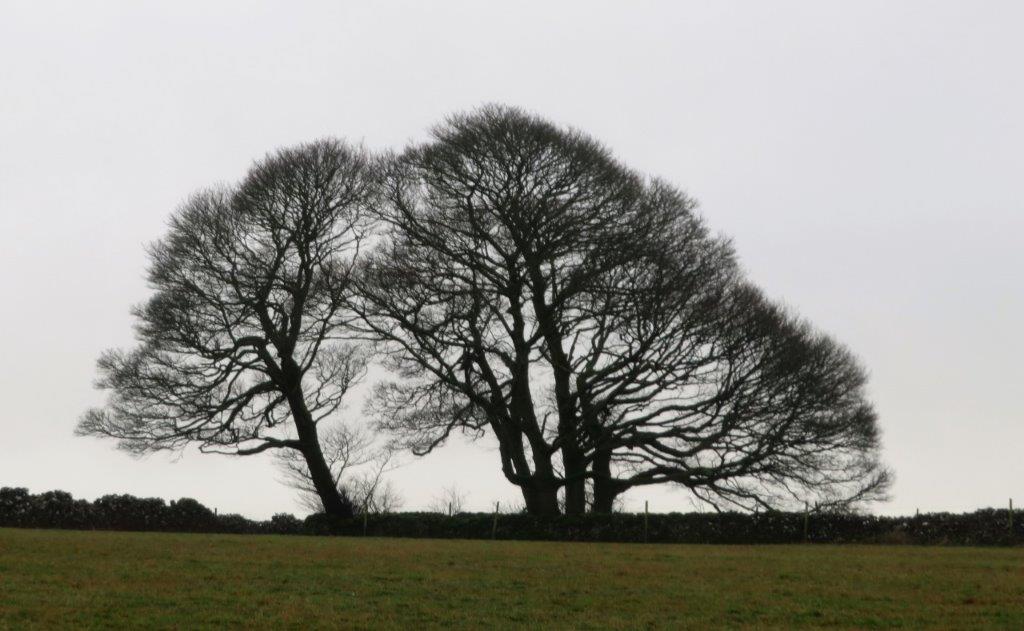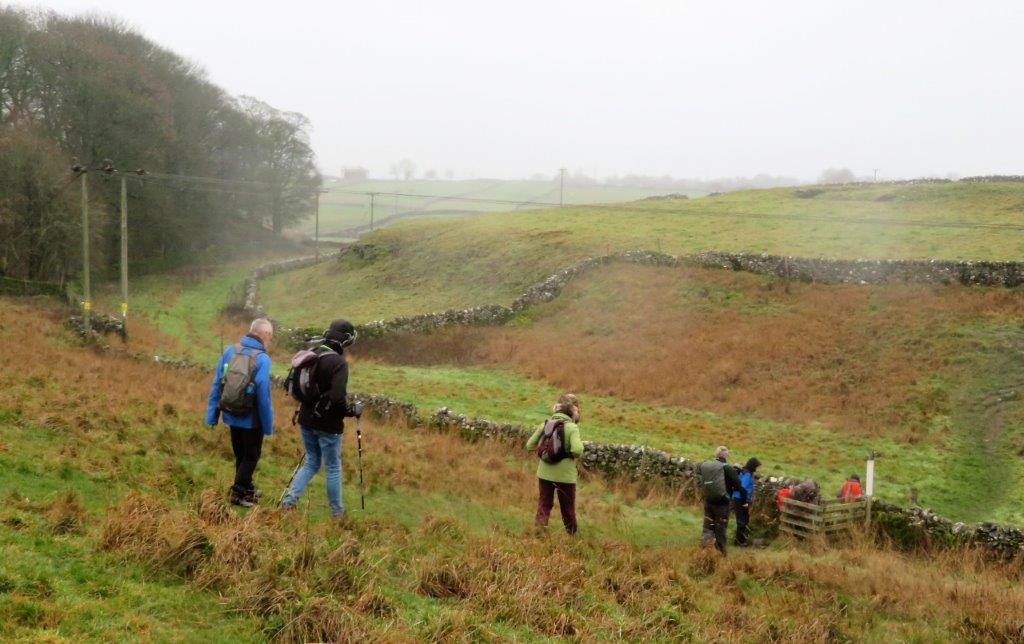 crossing Linen Dale on the way to Foolow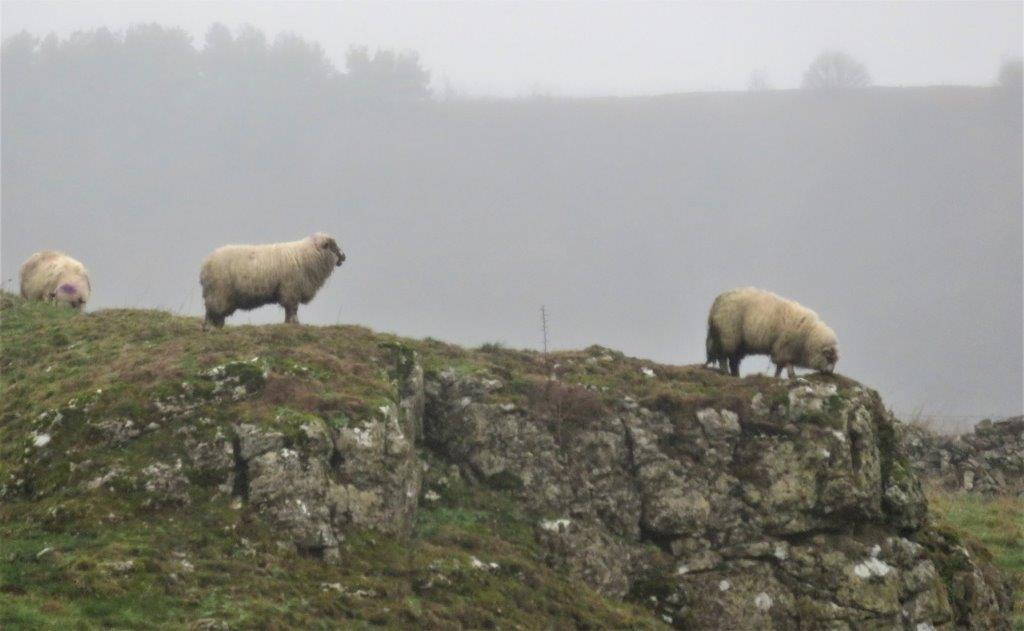 sheep zoomed into on rock outcrop in Linen Dale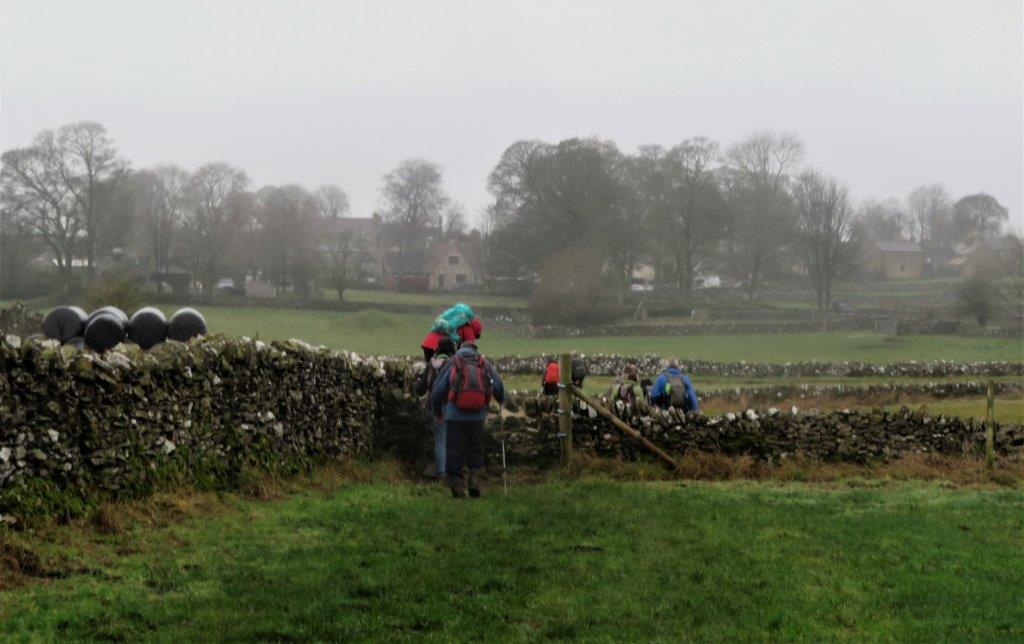 Foolow ahead - footpath splits giving two entry options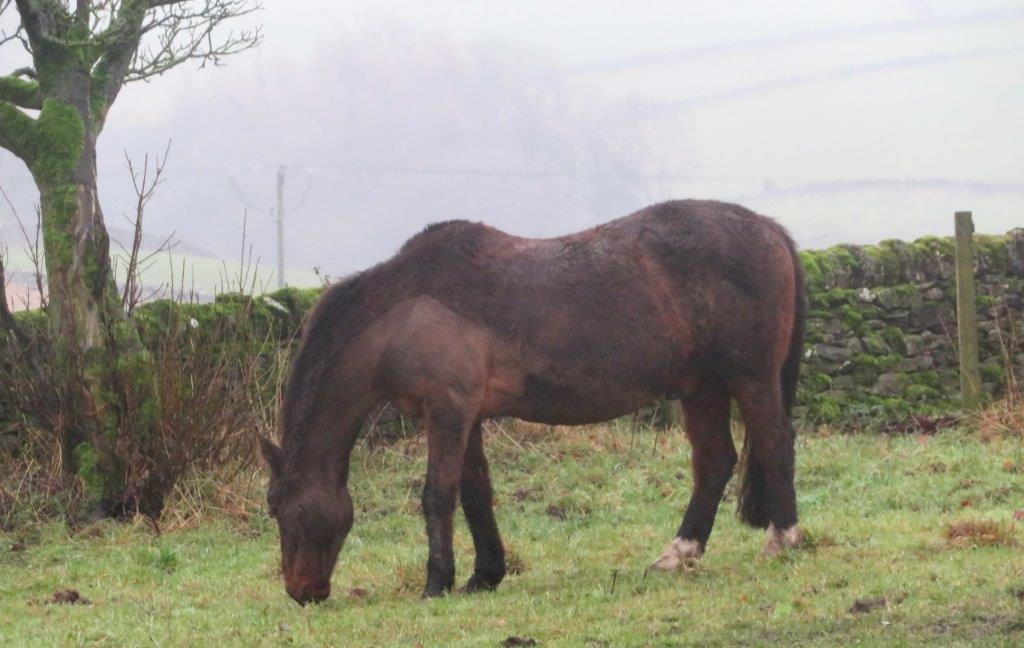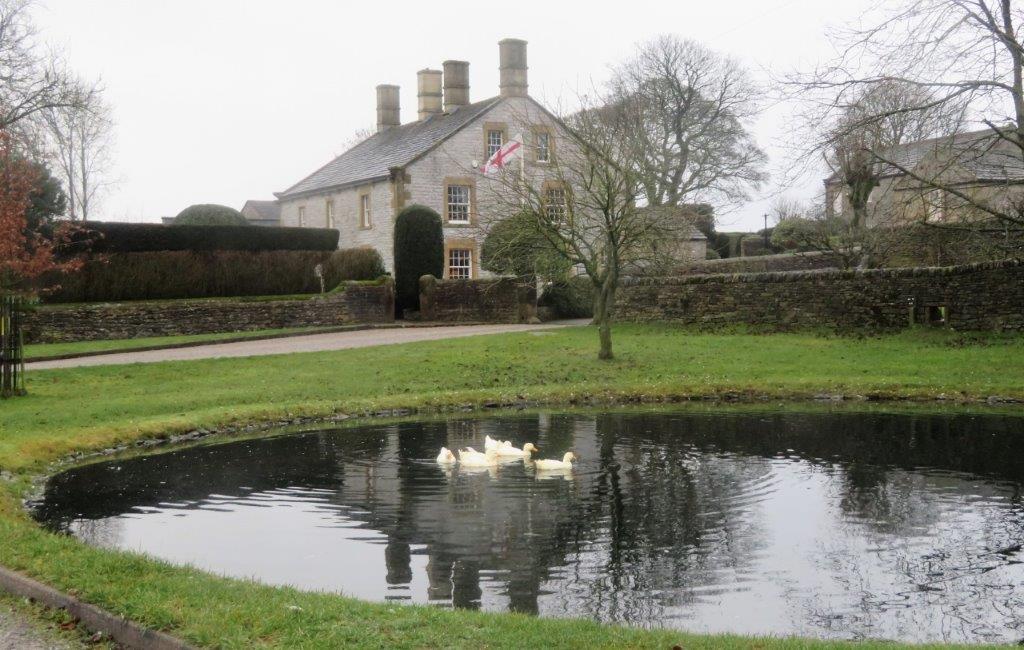 Foolow Duck Pond - earlier colourful Mallard Ducks now supplanted by white domestic ducks.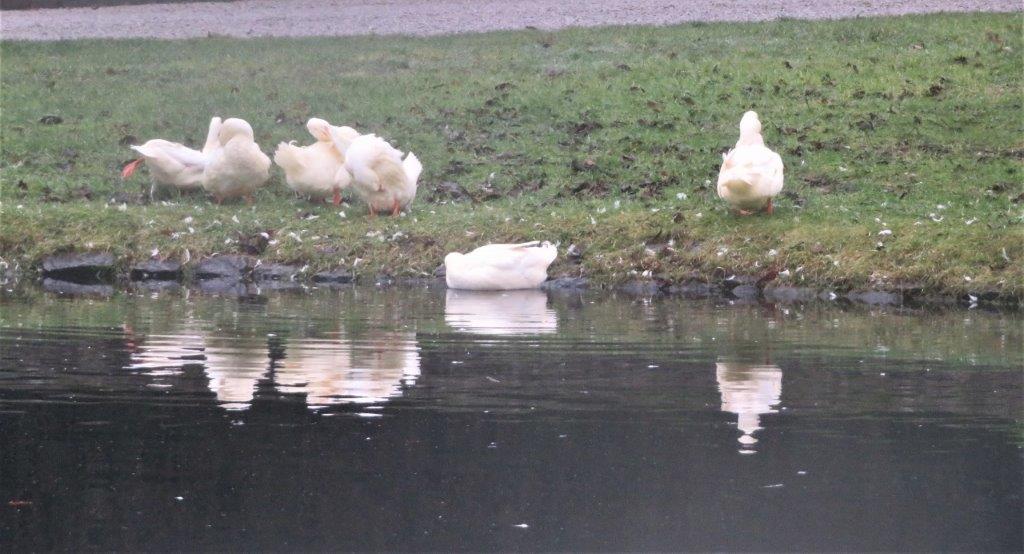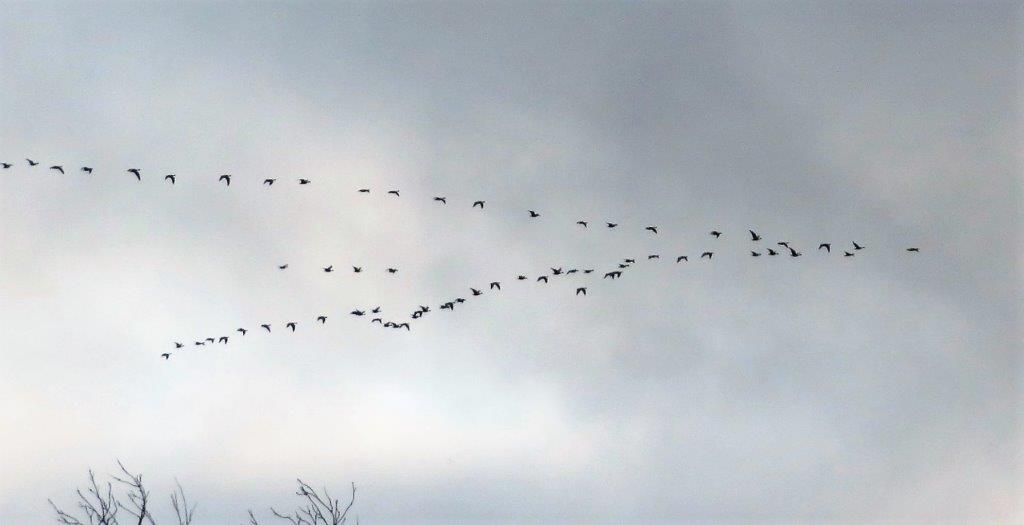 migratory Geese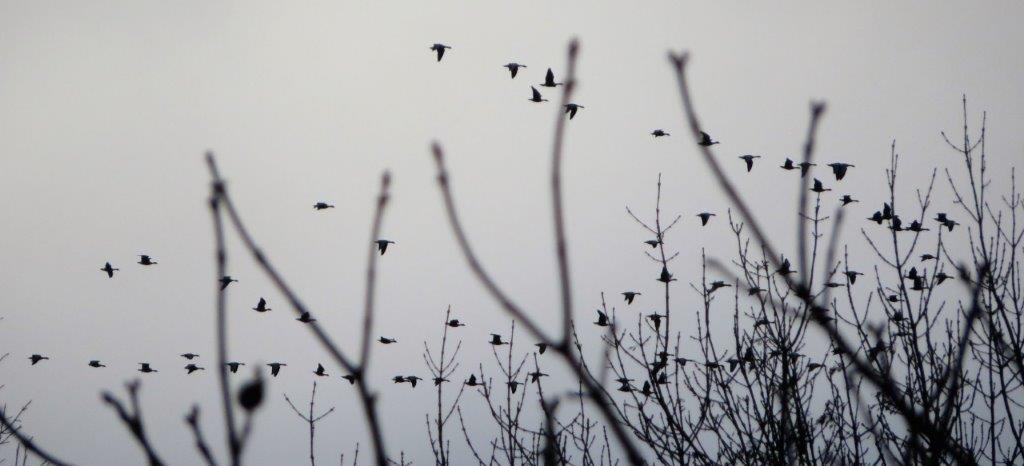 as above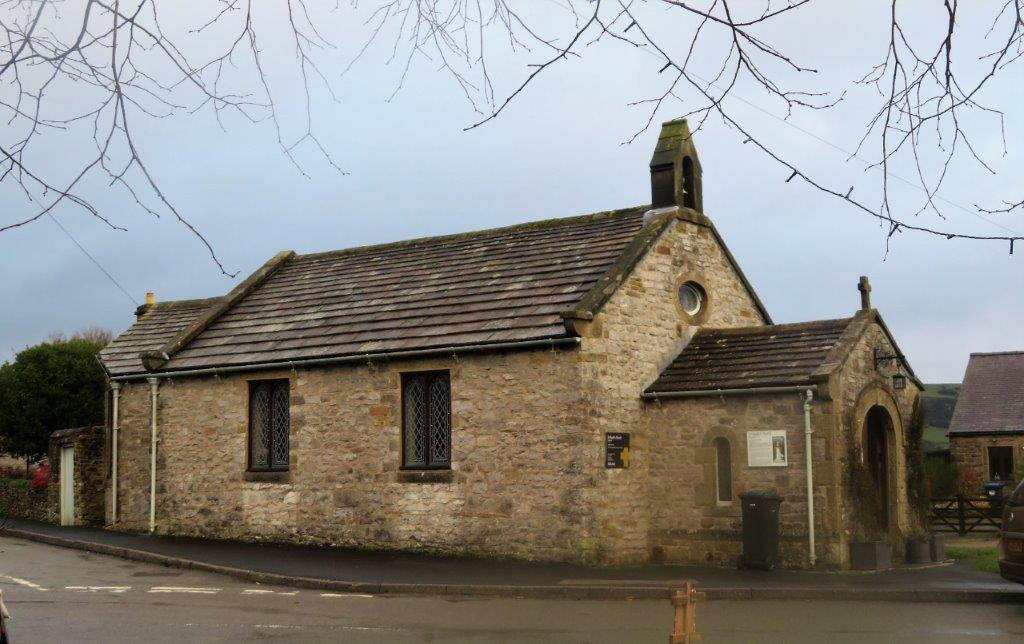 St Hughs Church - purchased and altered for less than £150 in 1888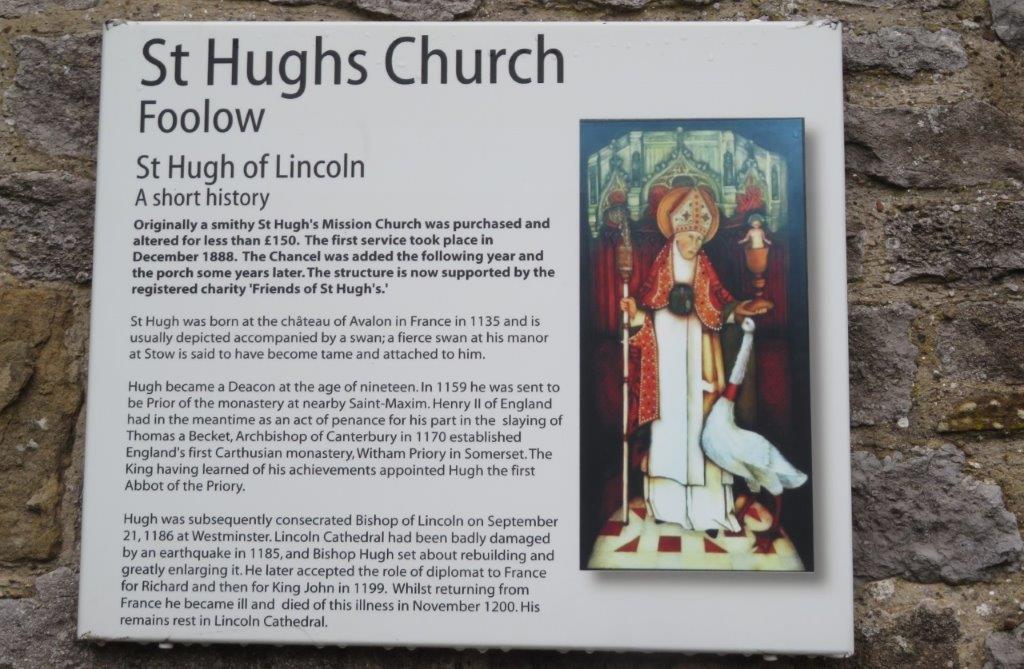 Hugh an earlier successful immigrant from the continent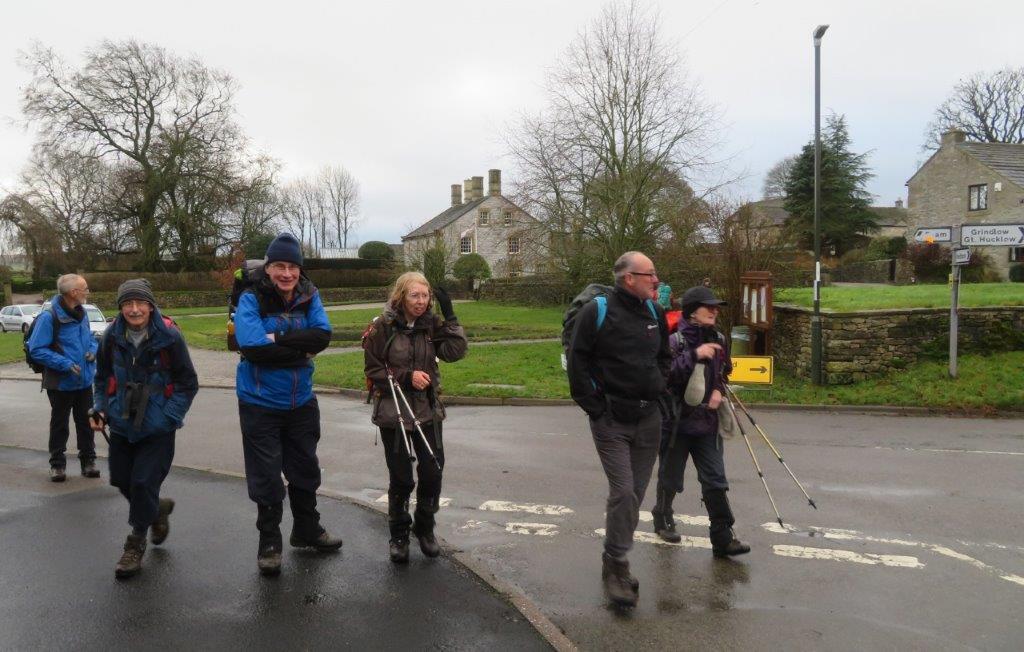 starting up Bradshaw Lane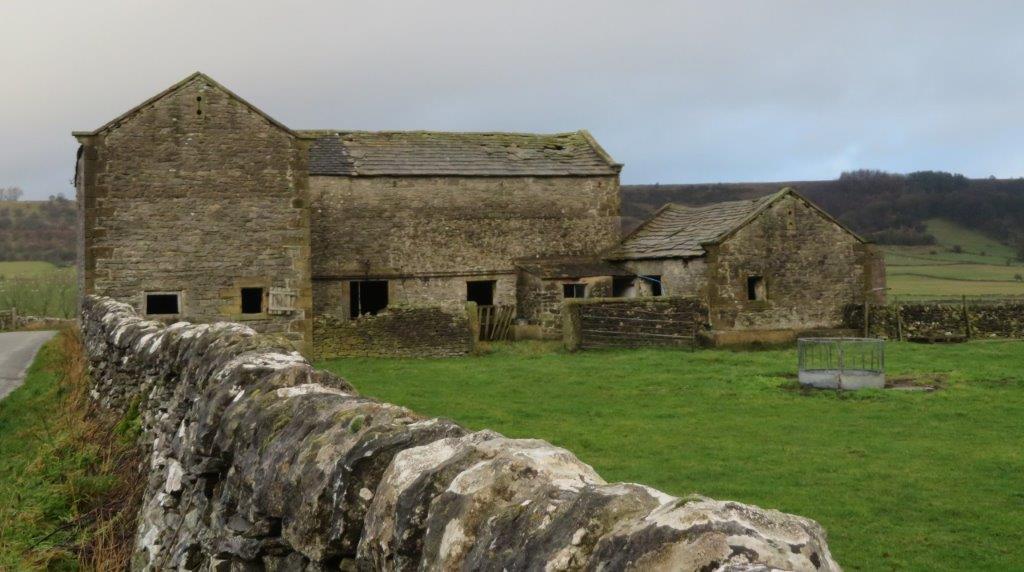 roofs of imposing solid barns show signs of decay - will they be repaired?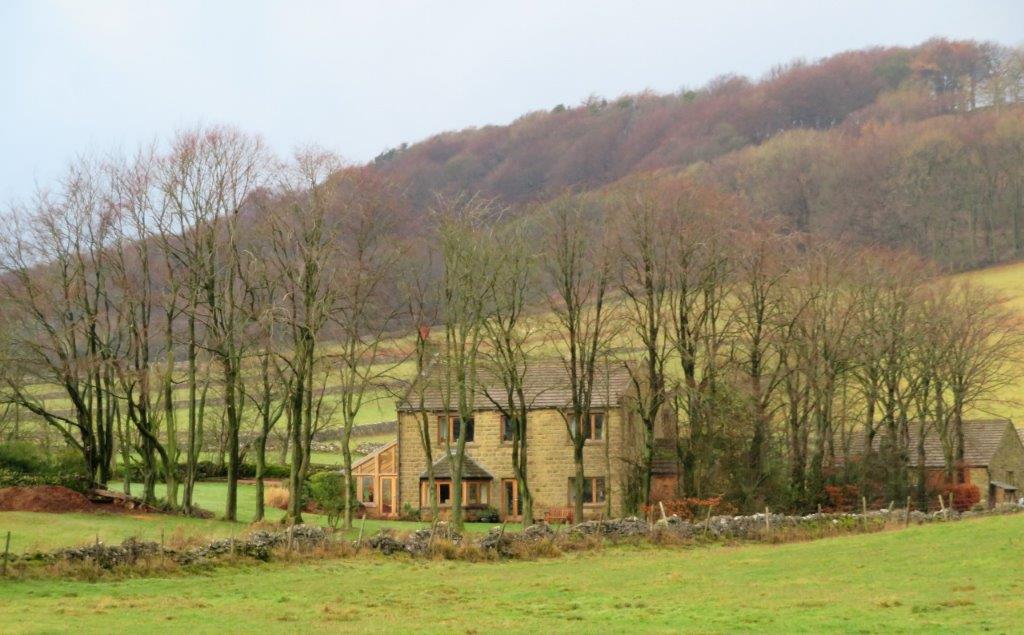 The Swevic?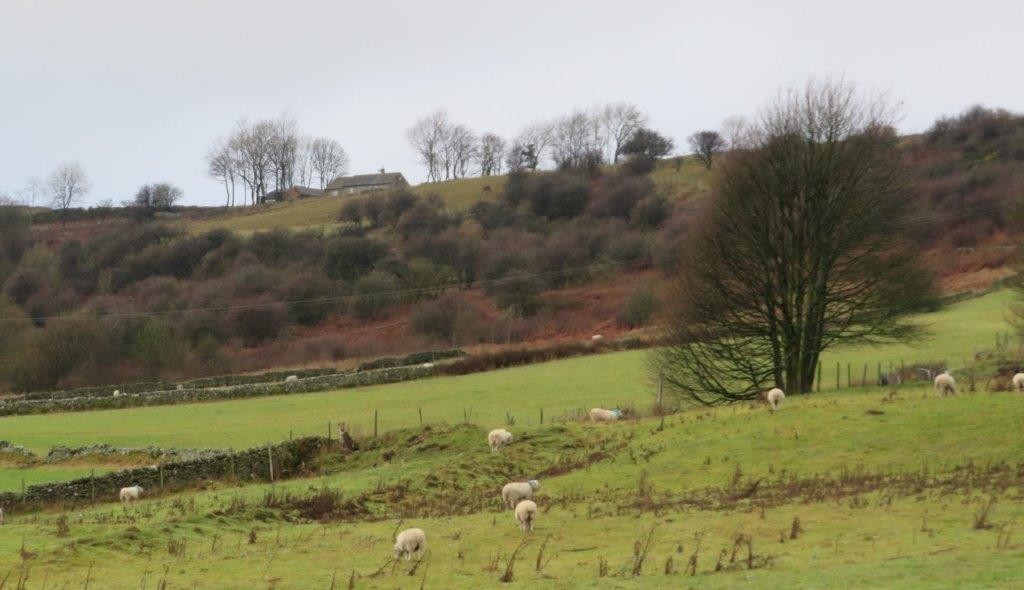 House on Hucklow Edge?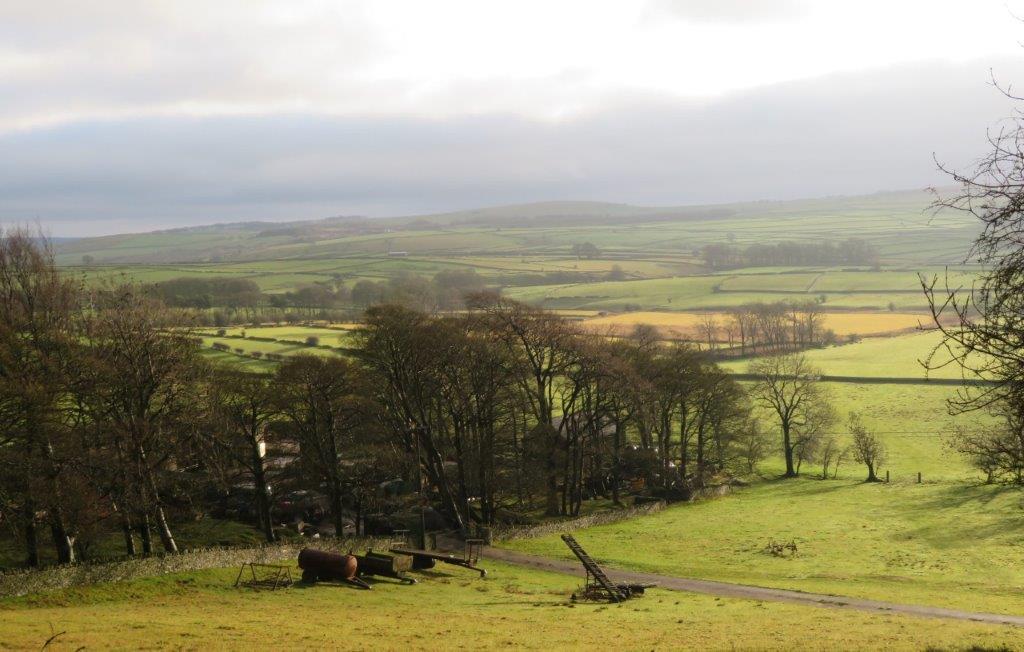 looking Southward from Bradshaw Lane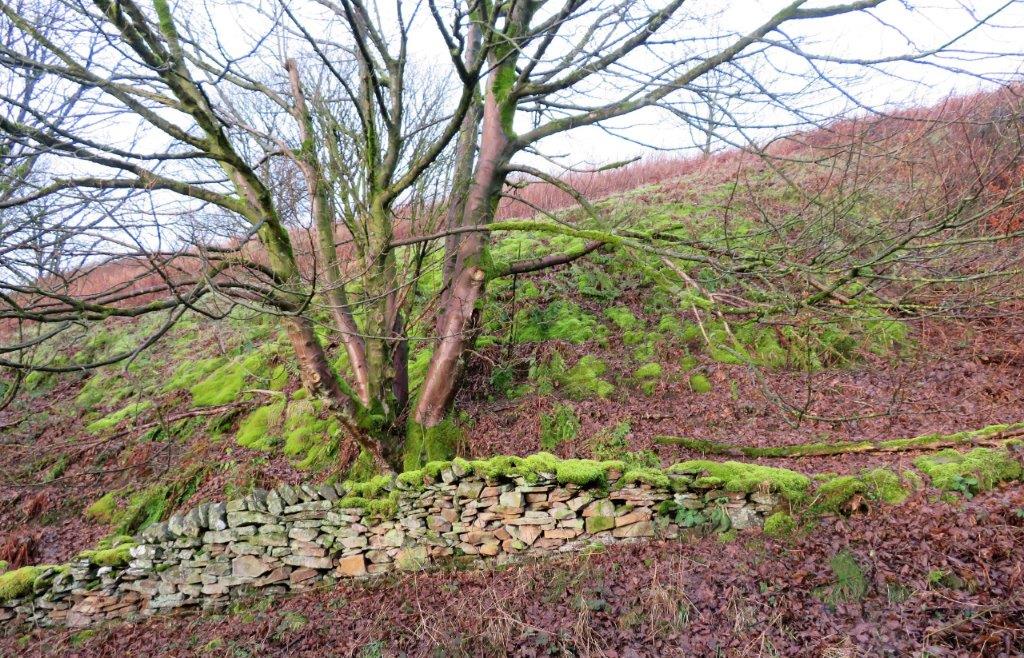 on edge of Bradshaw Lane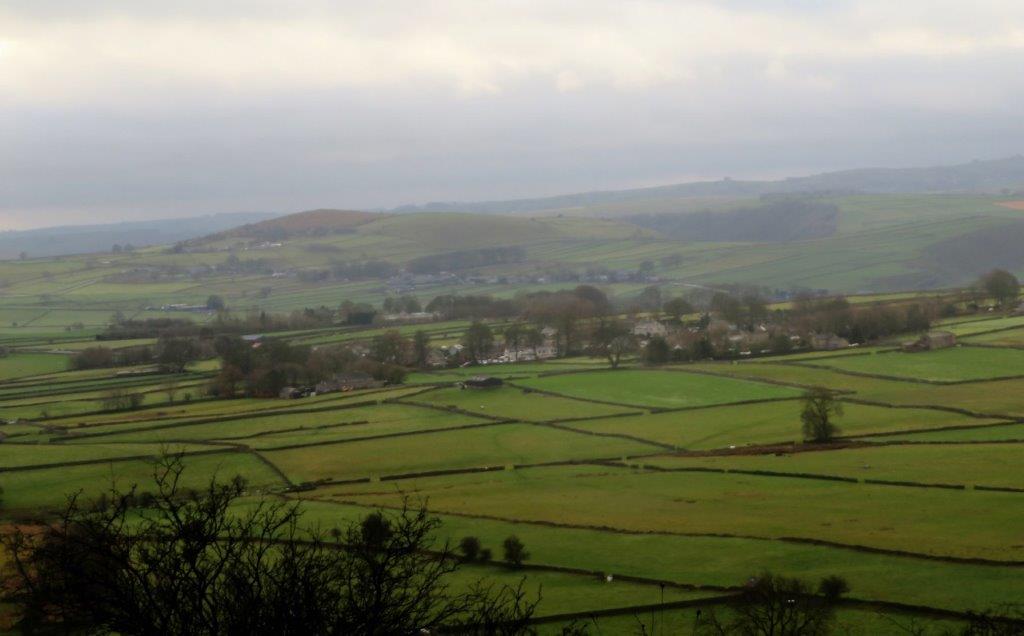 Foolow seen from Bradshaw Lane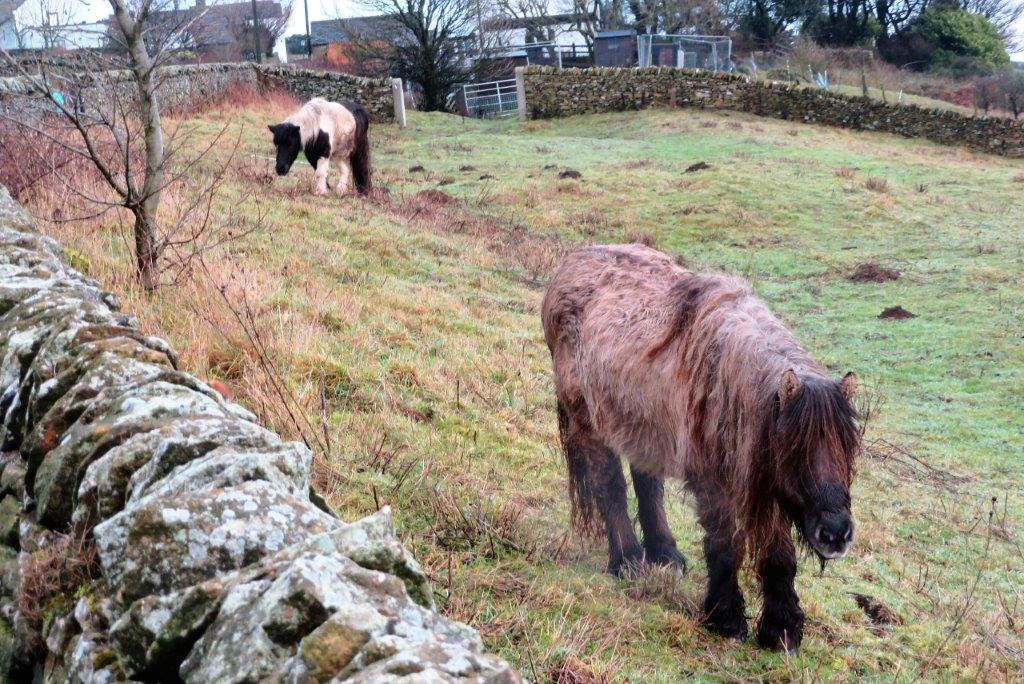 along Bretton Mount?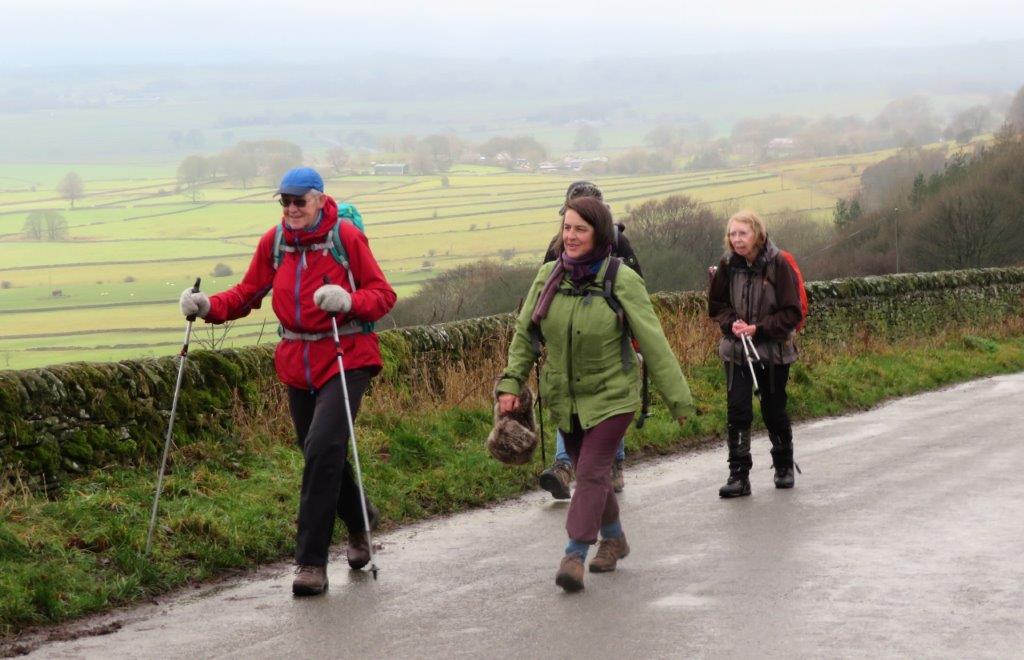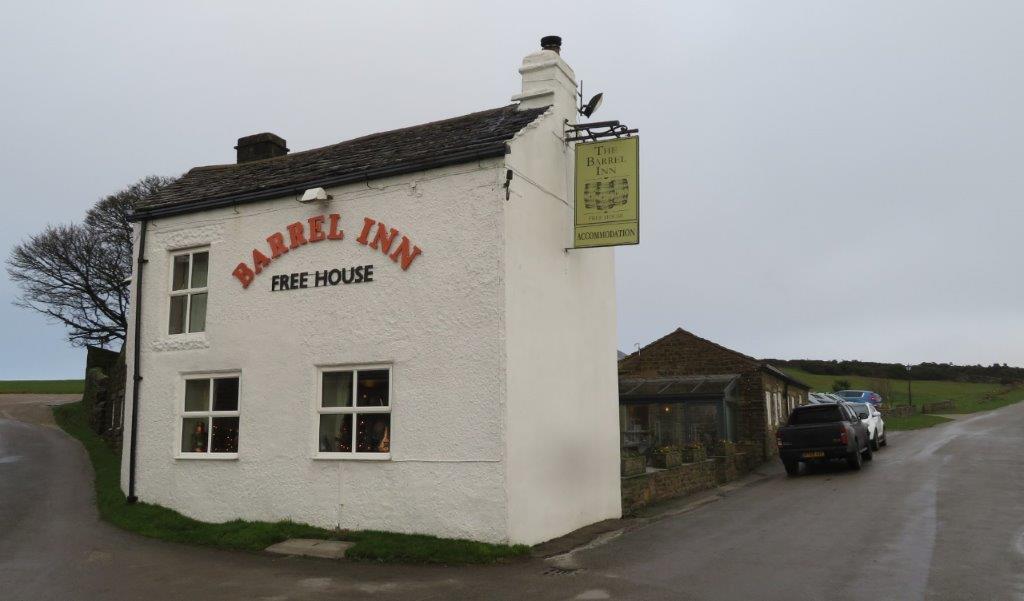 The Barrel Inn - seen end on - the main part is hidden behind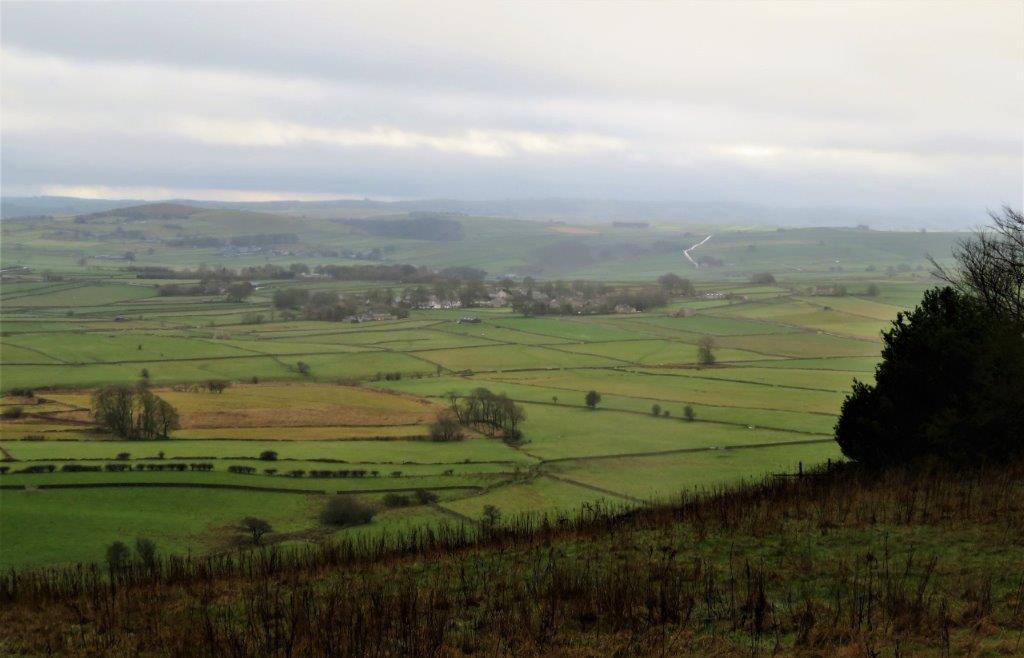 view from The Barrel Inn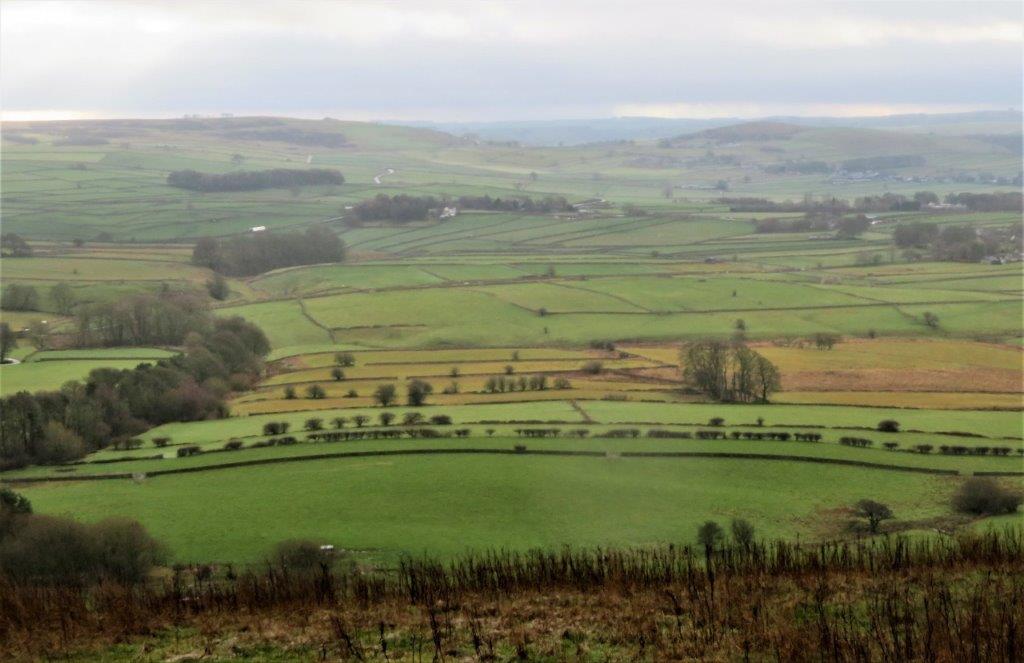 as above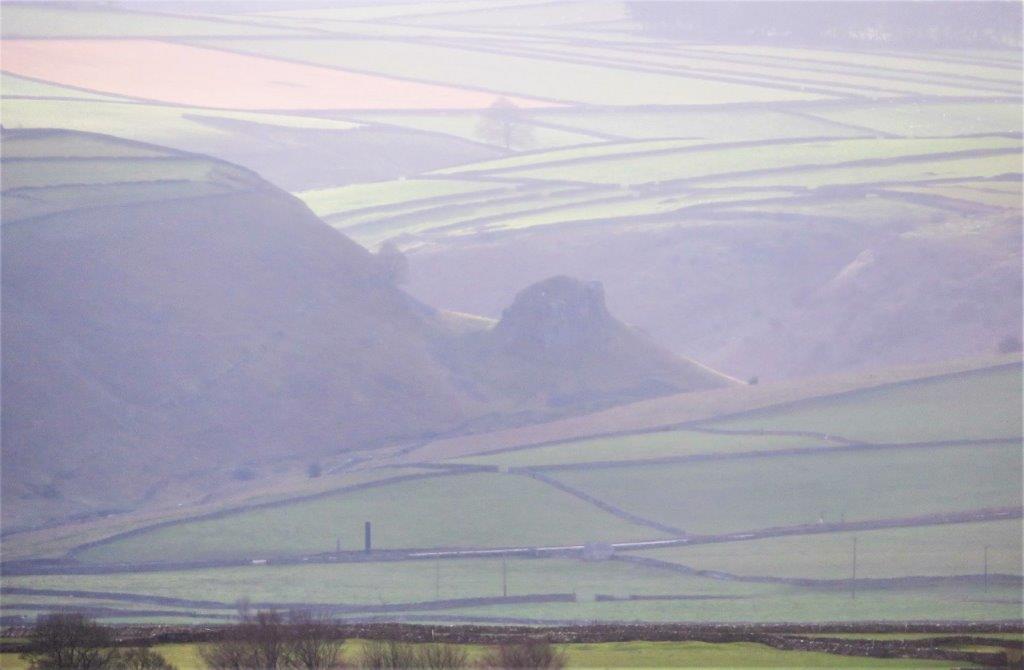 zoomed into Peter's Stone in Cressbrook Dale. Peter's Stone was (presumably before renaming) the last Gibbet / Gallows in the County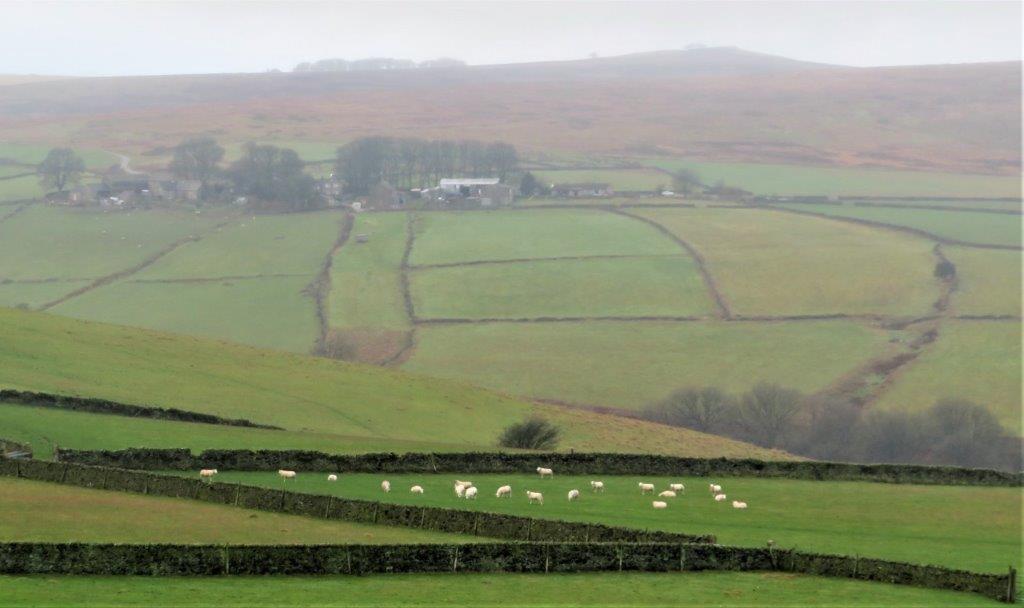 view across Bretton Brook towards Abney Farm / Grange?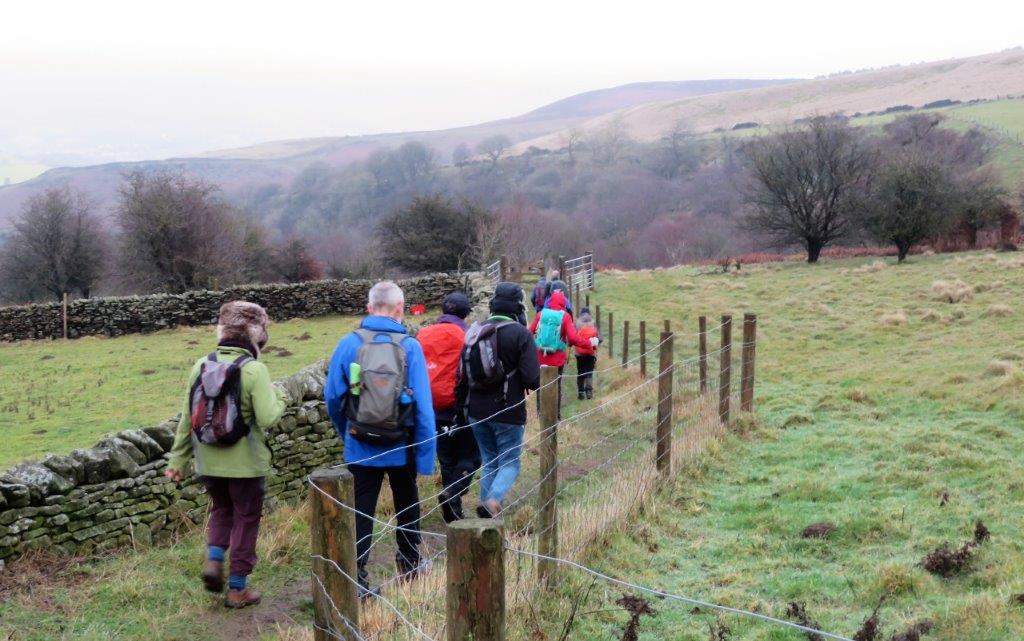 towards Bretton Clough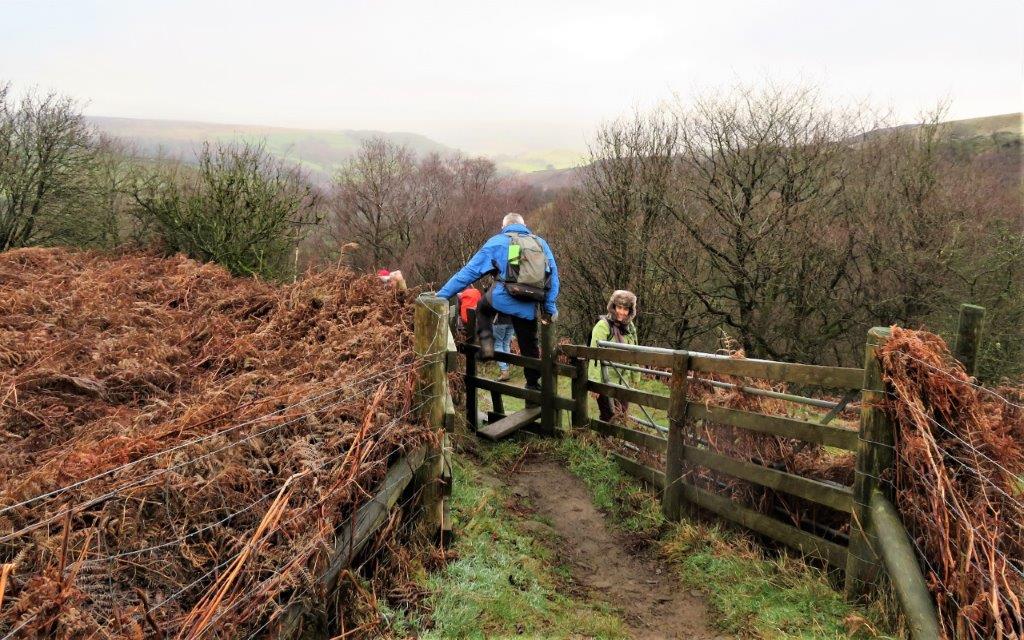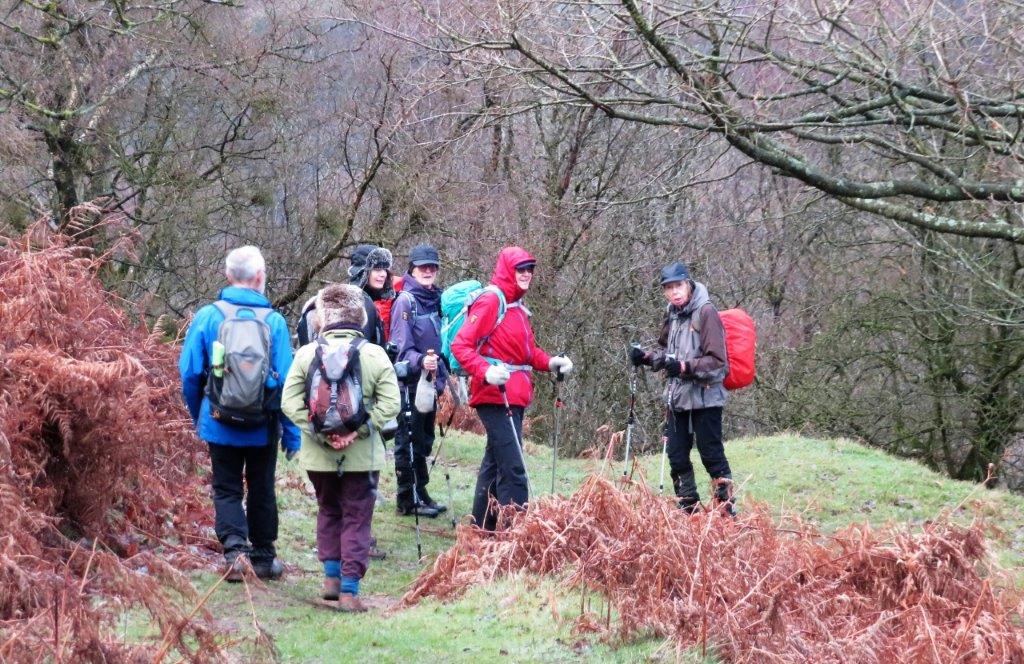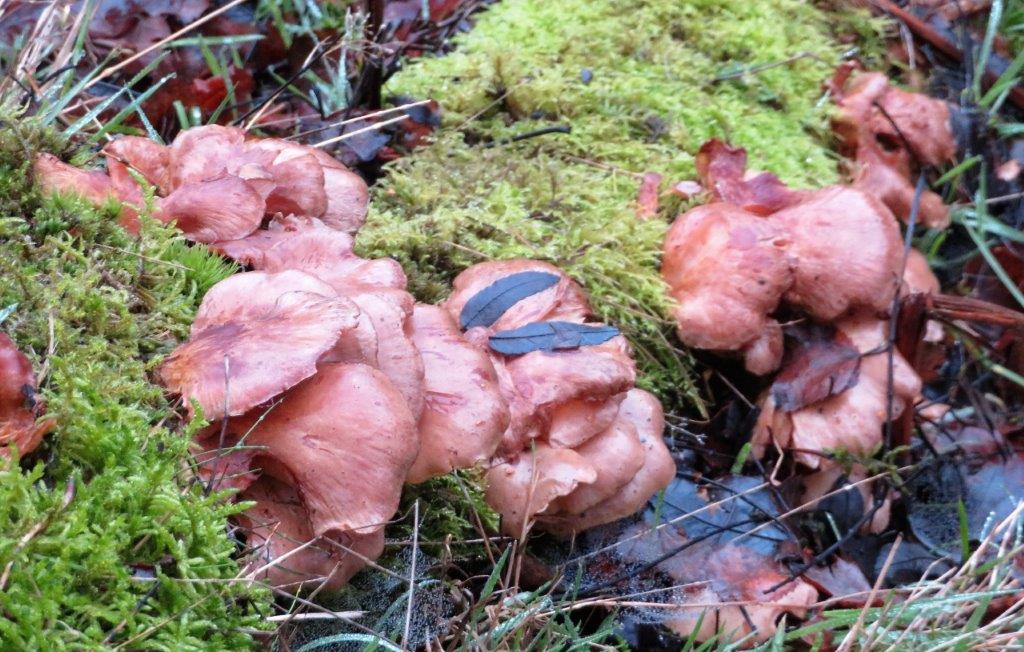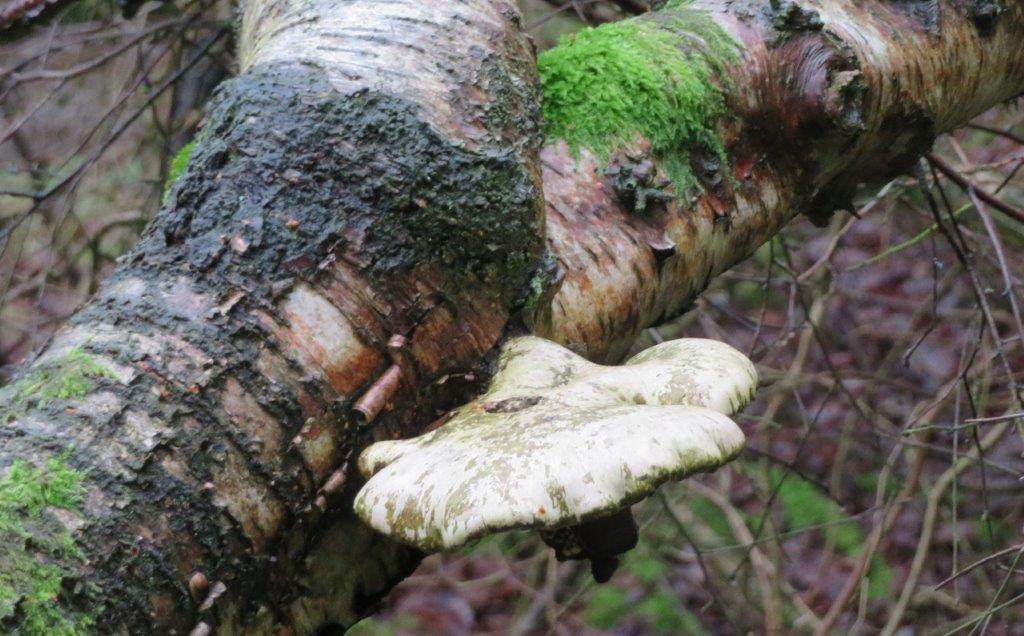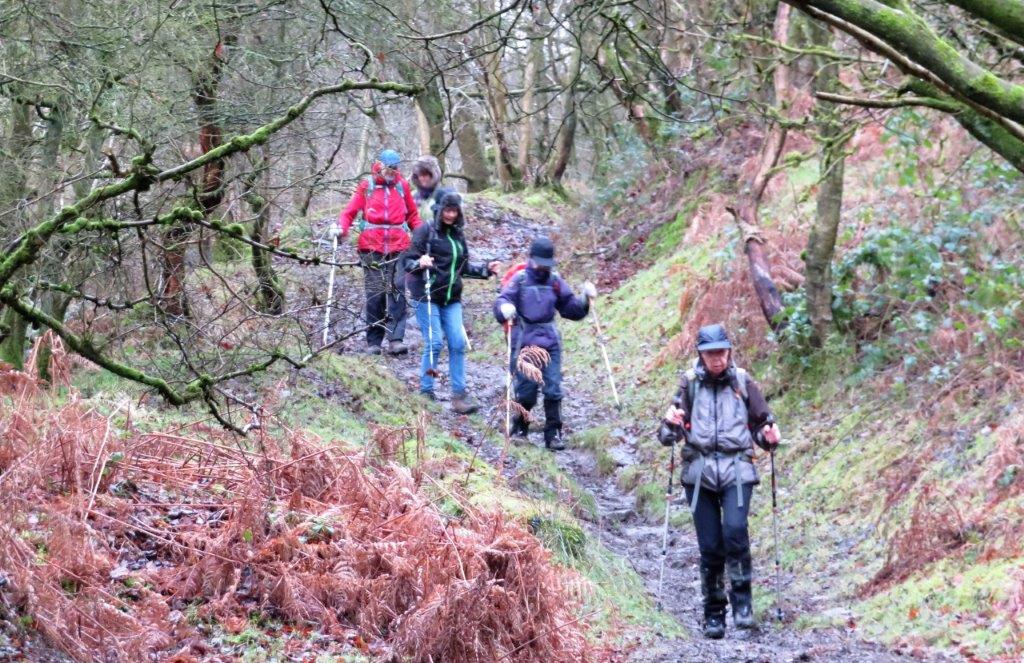 descending to Bretton Clough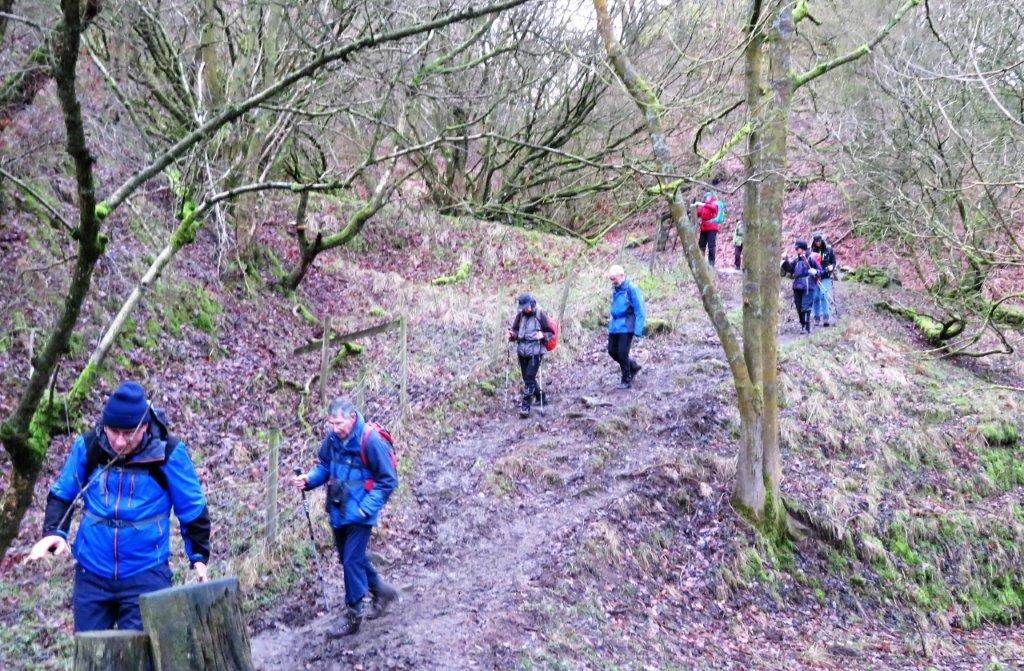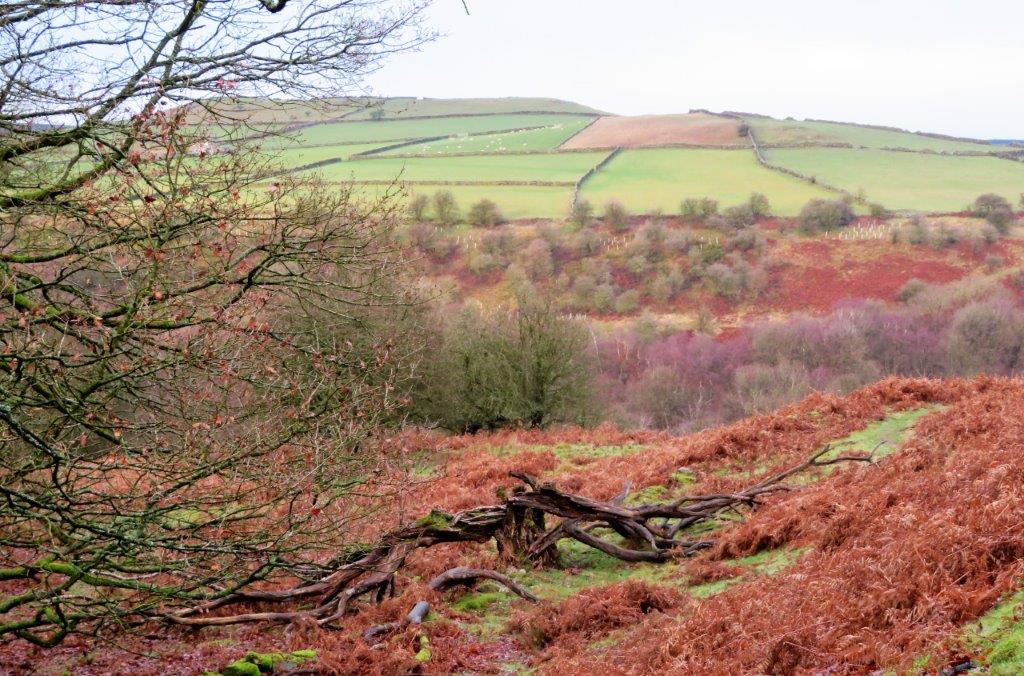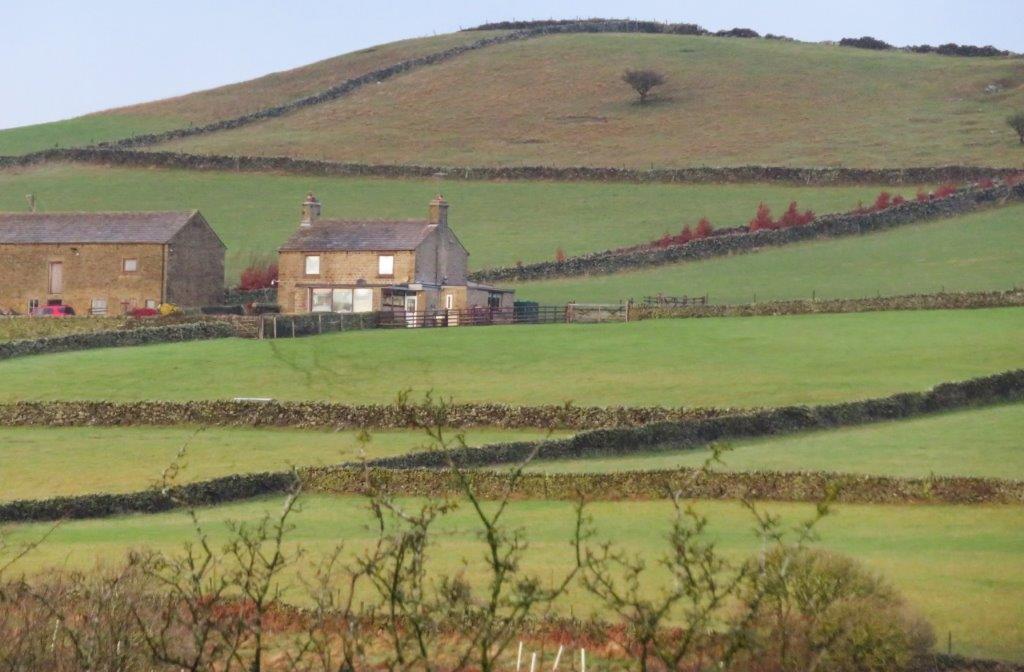 Abney Low the 'hill' - not sure of buildings names?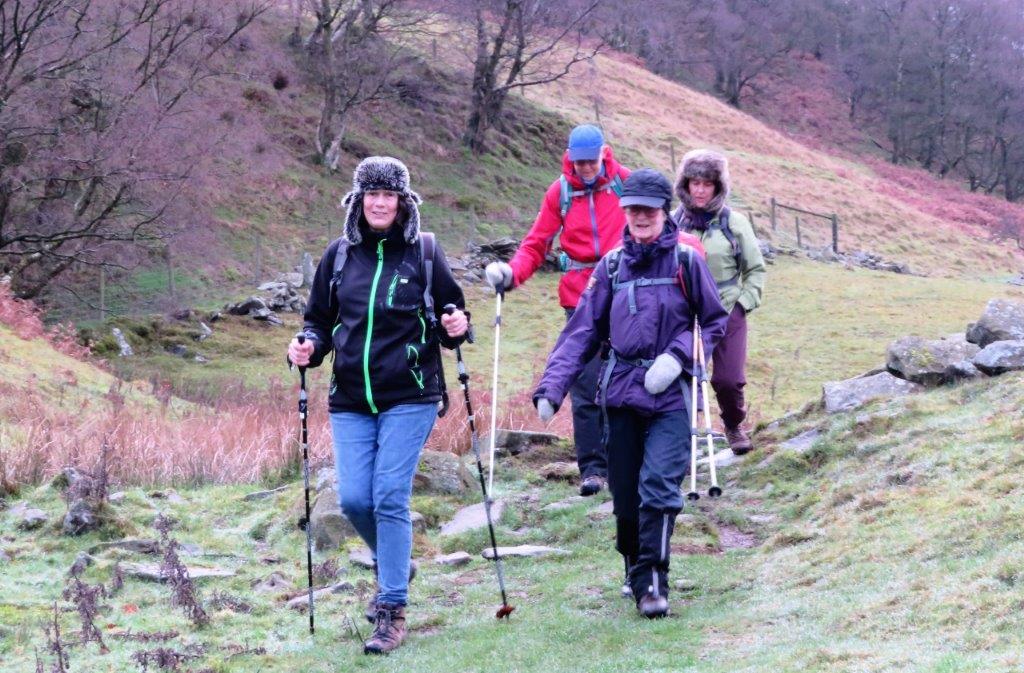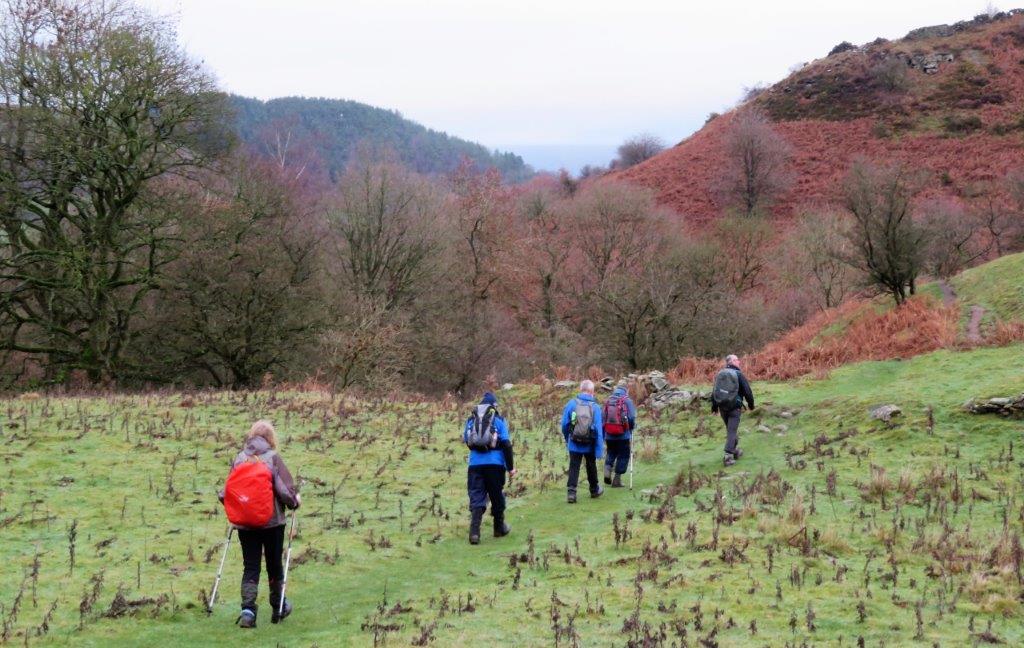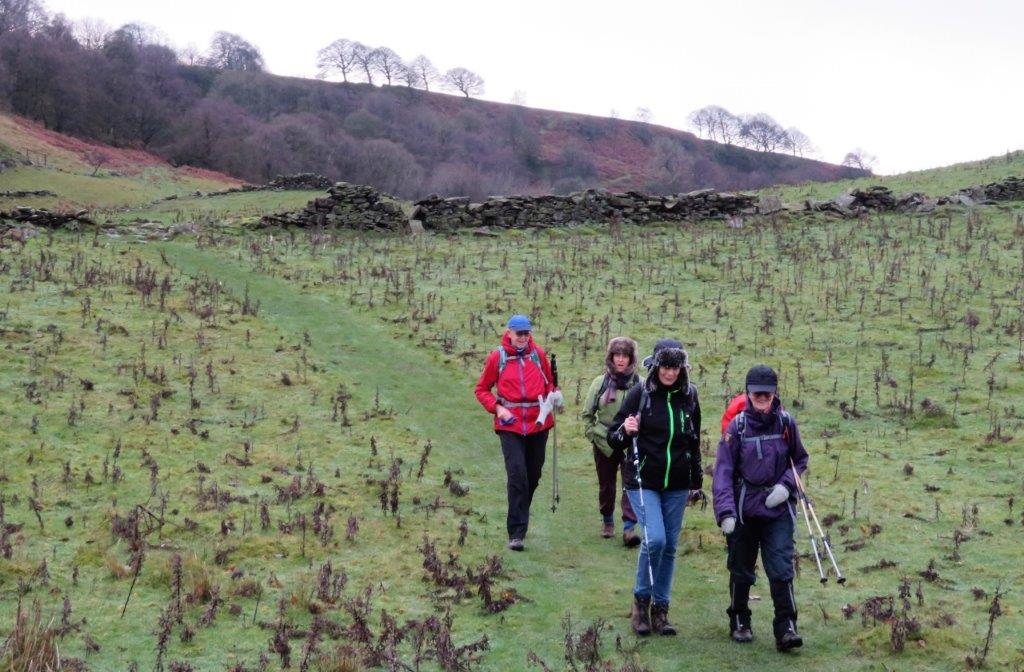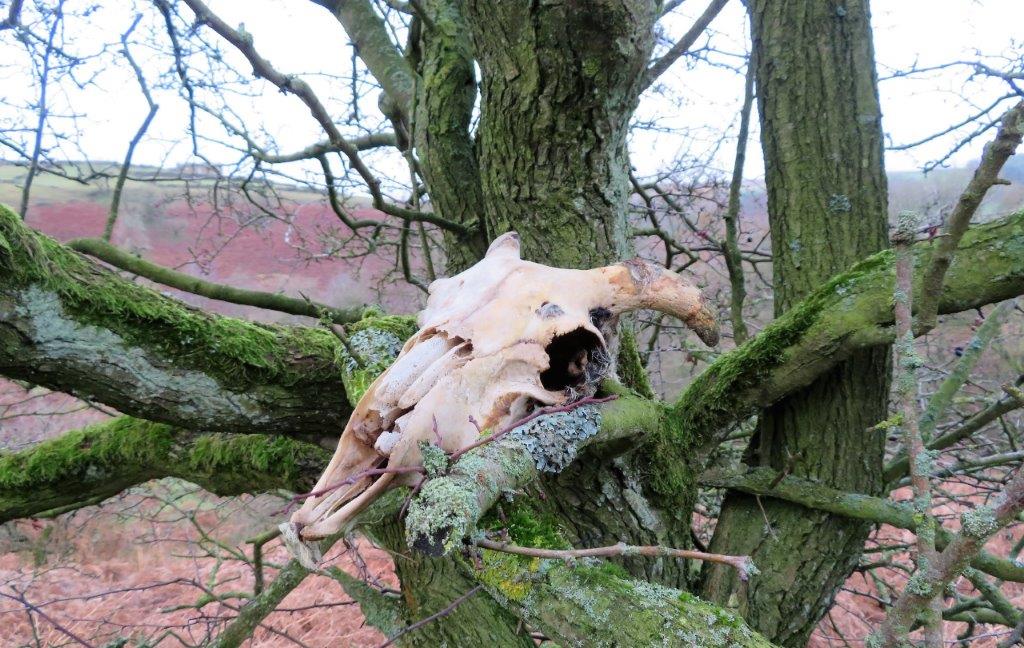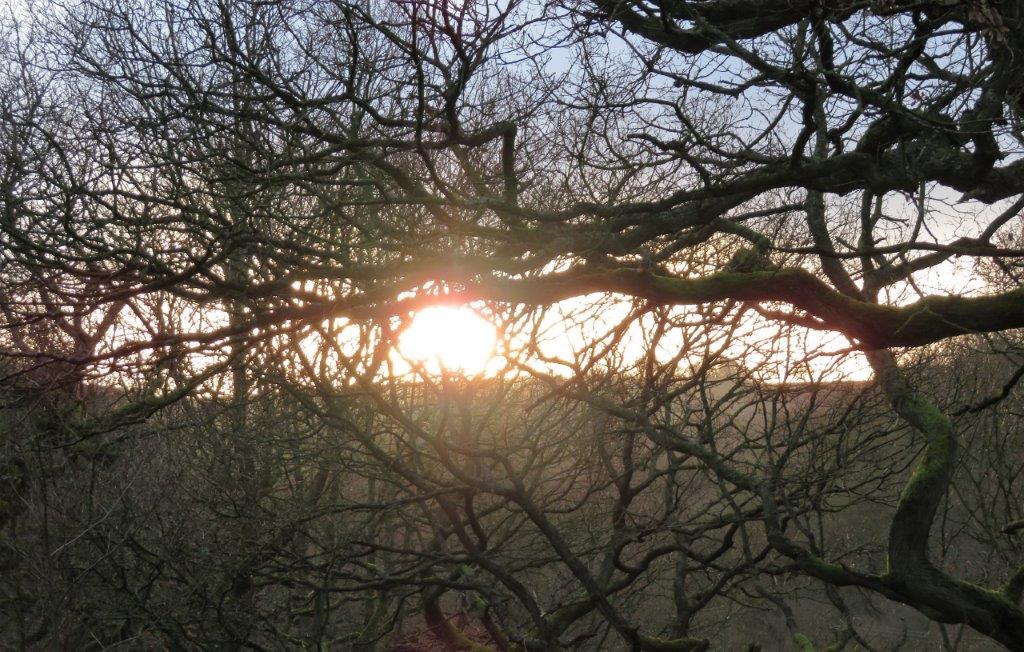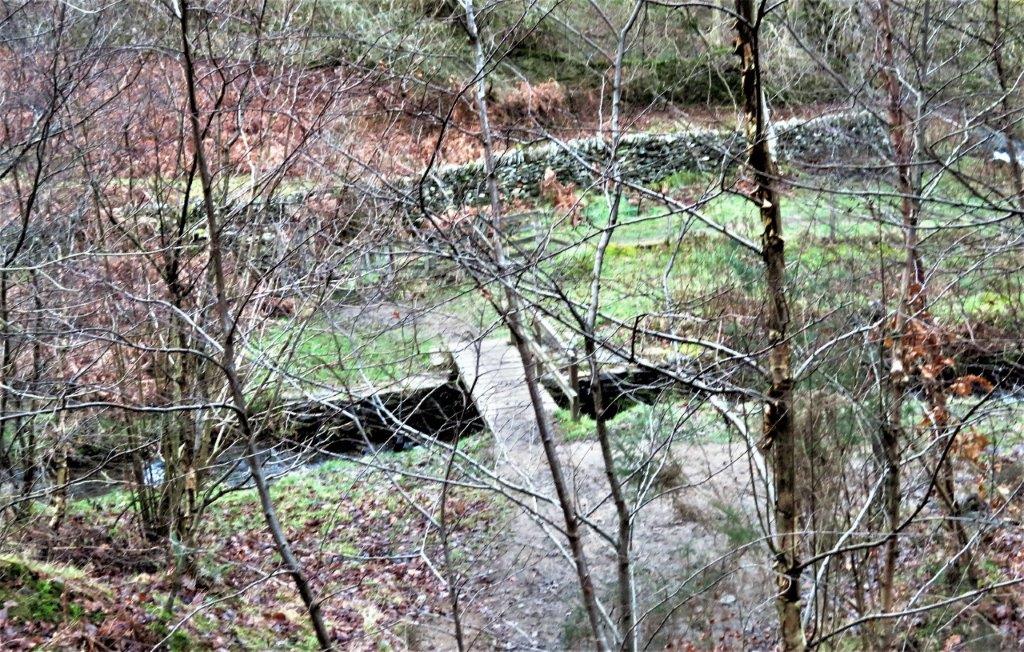 Stoke Ford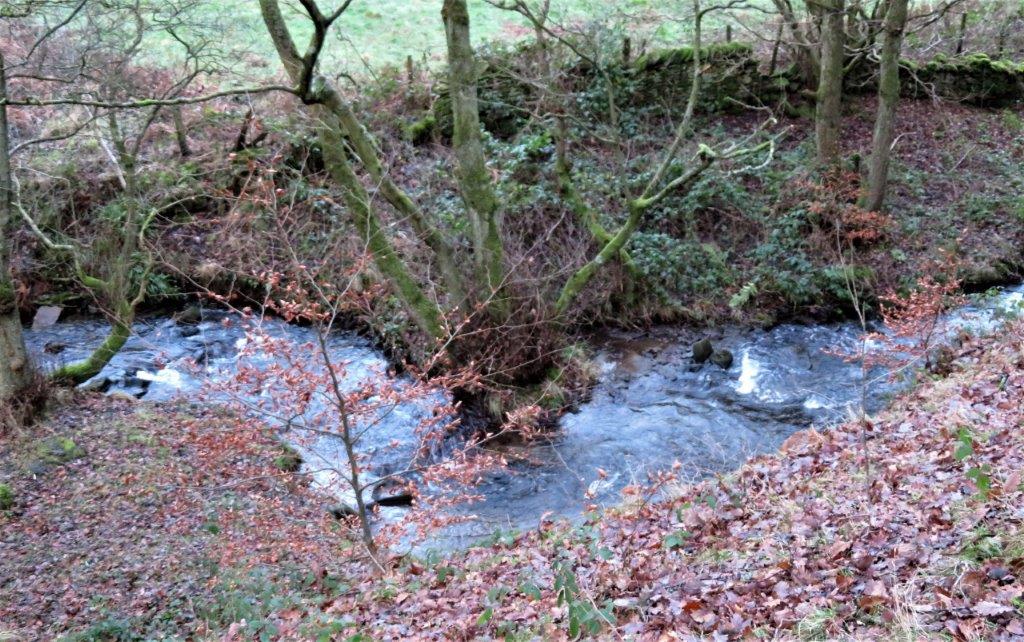 Highlow Brook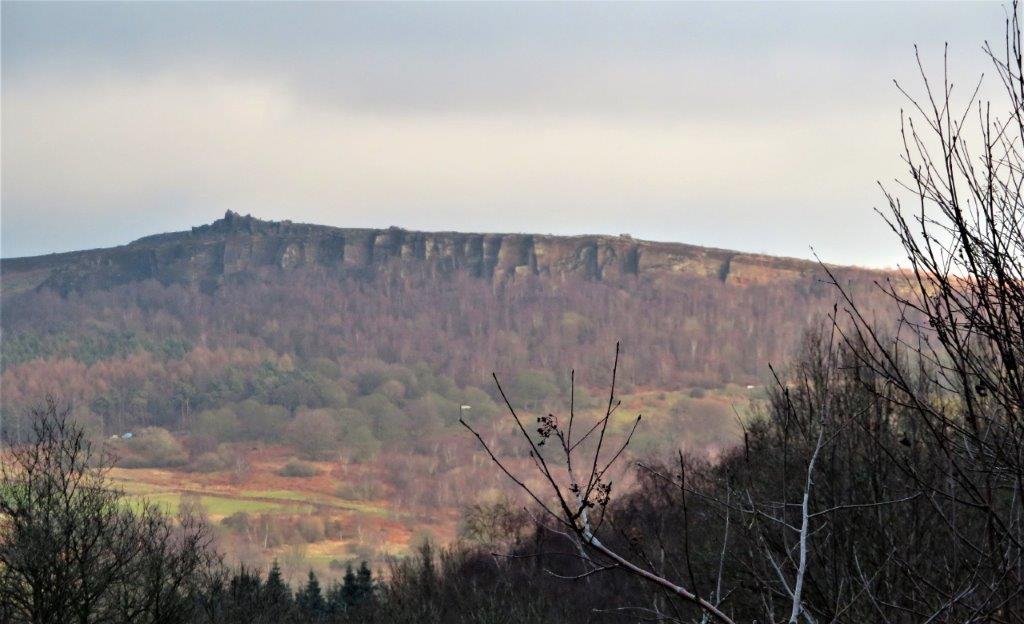 Millstone Edge - with Over Owler Tor behind at top?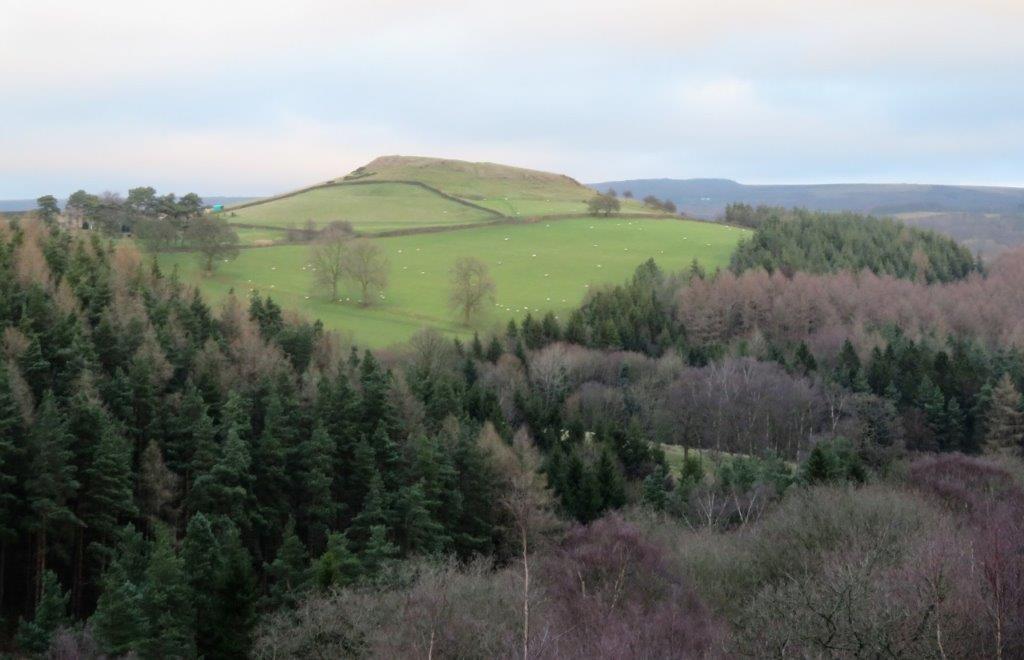 High Low (a hill)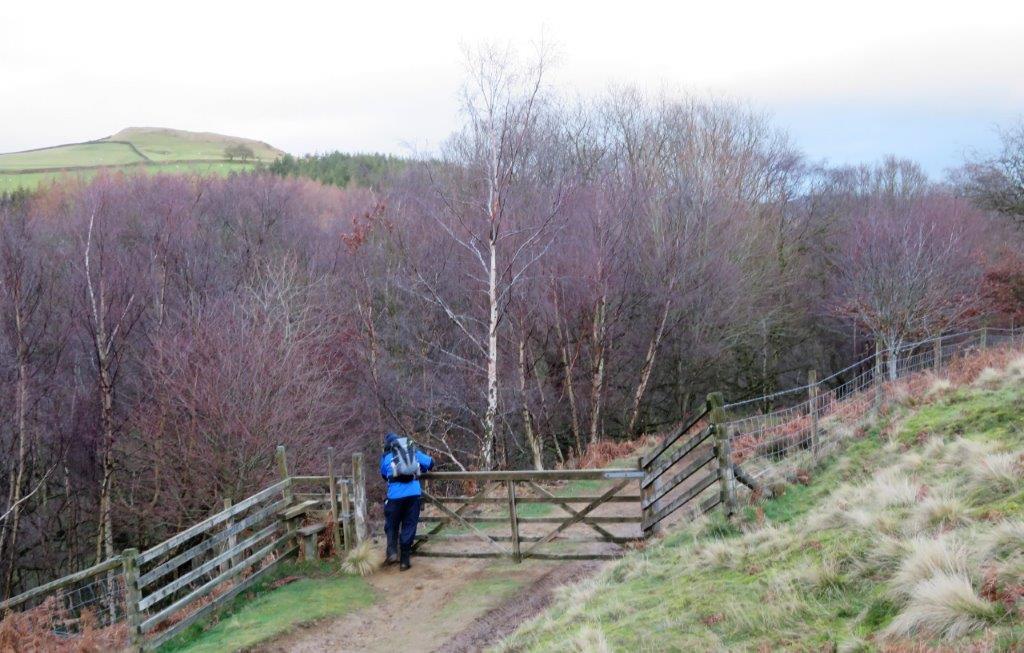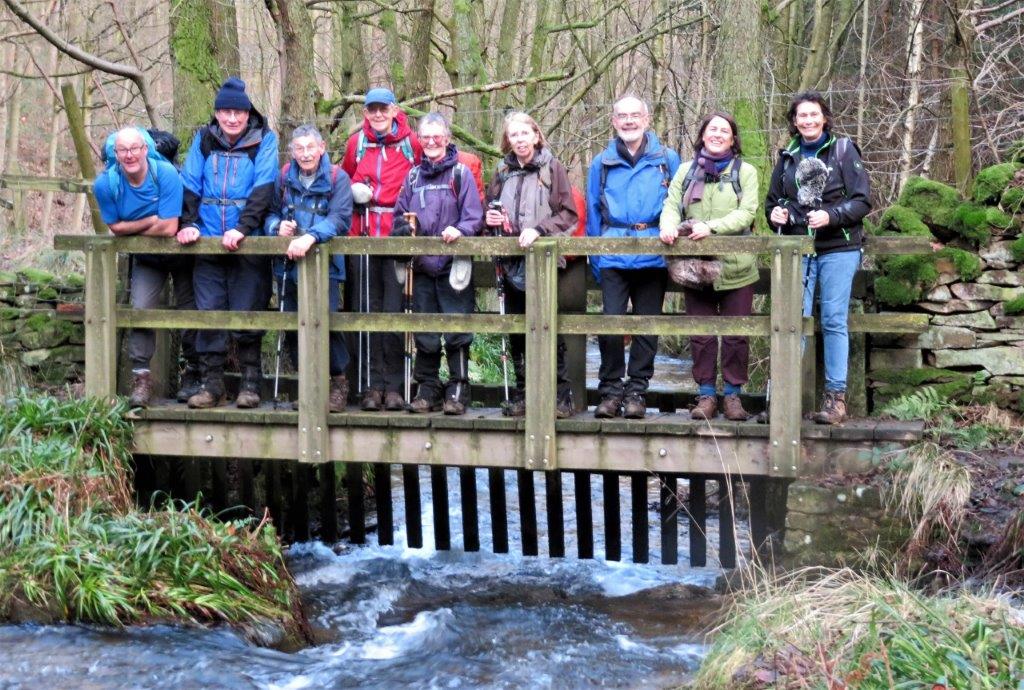 Group picture on bridge across Highlow Brook - path heads up to Highlow Hall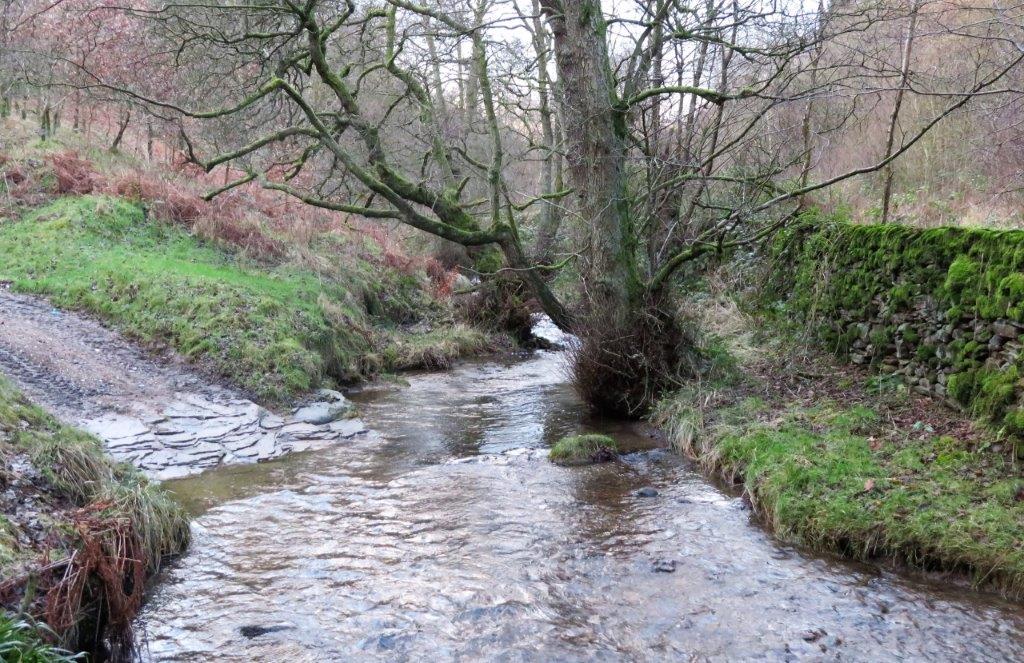 ford near bridge for vehicles / animals crossing Highlow Brook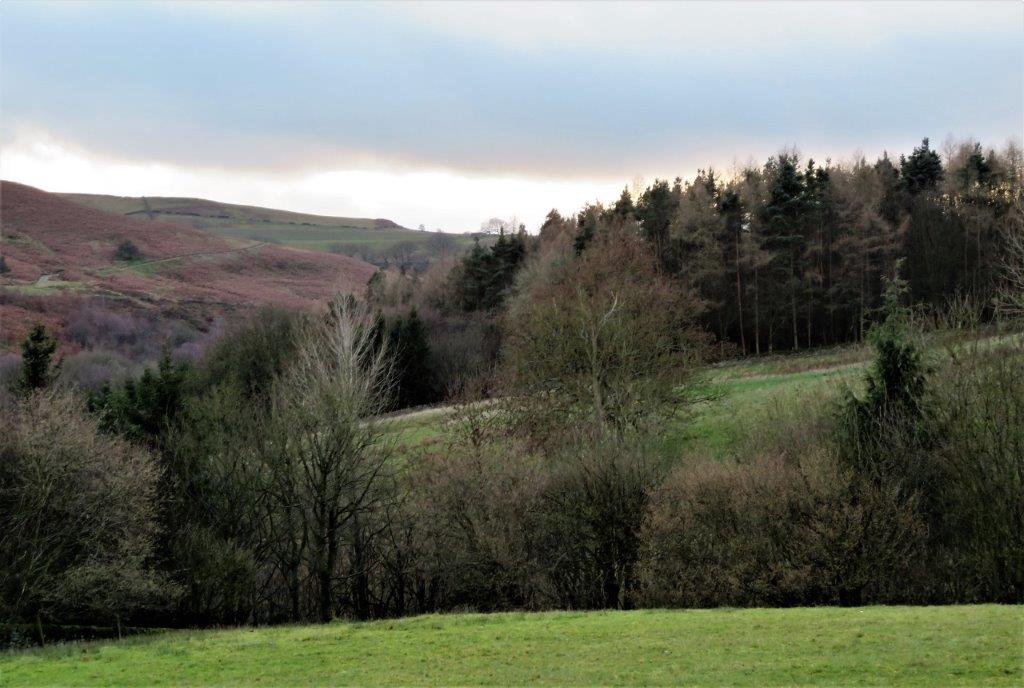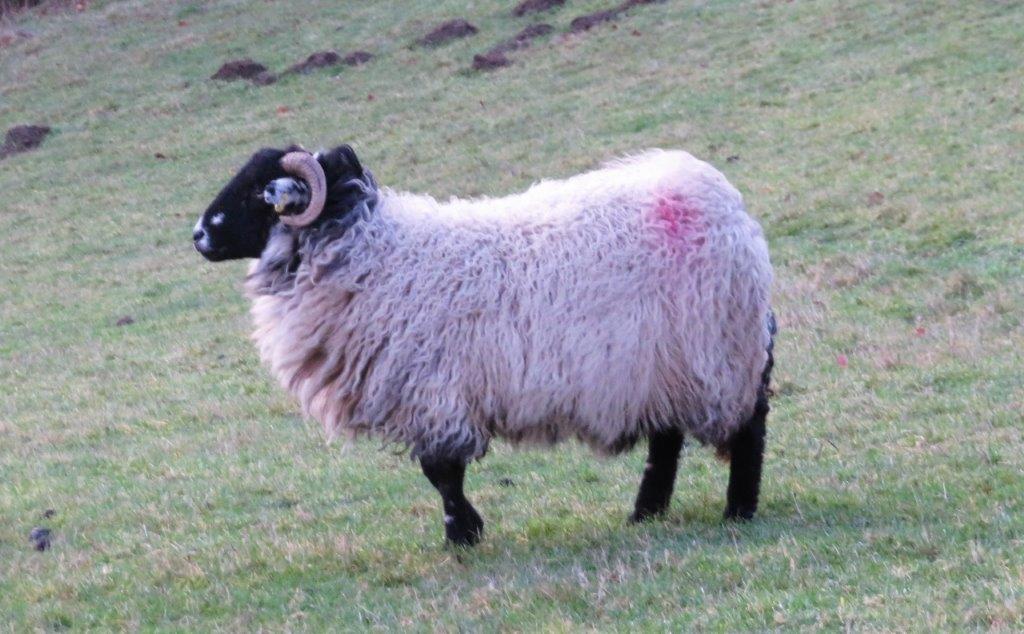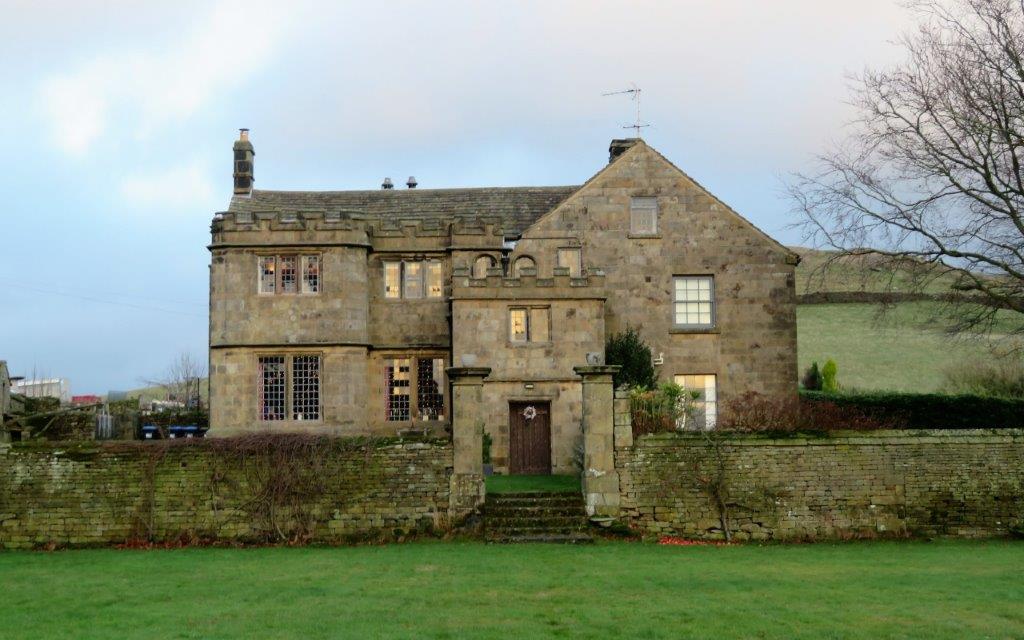 Highlow Hall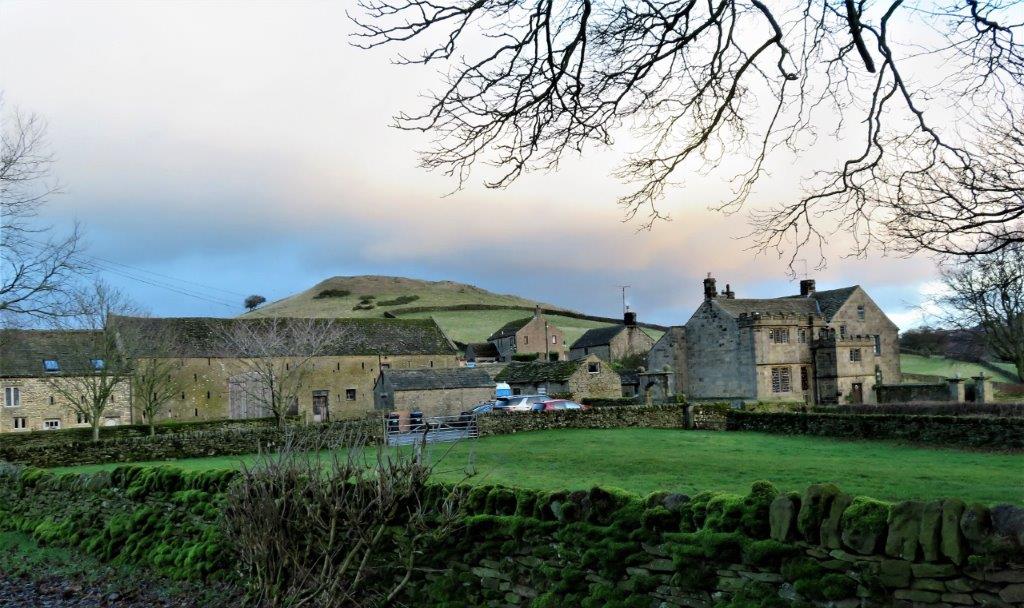 Highlow Hall with adjacent buildings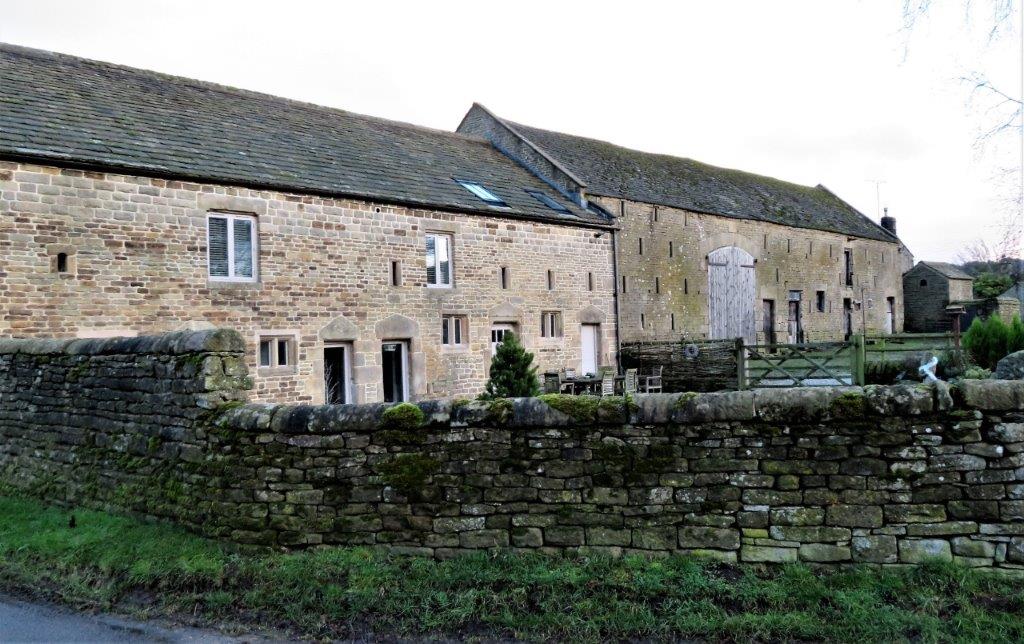 close up of other buildings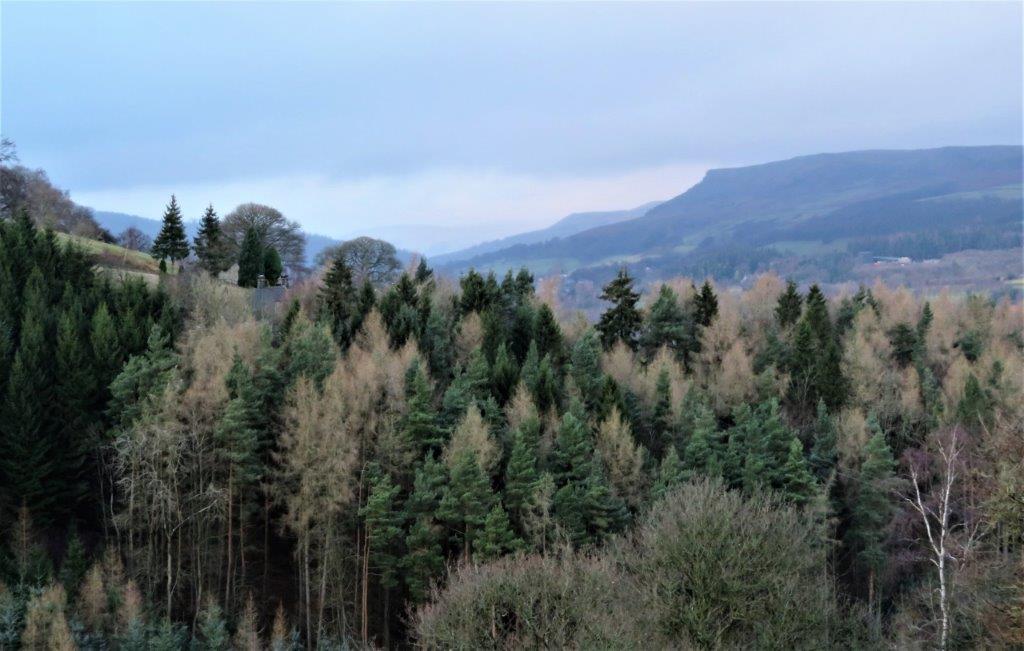 at top High Neb on West side of Stanage Edge?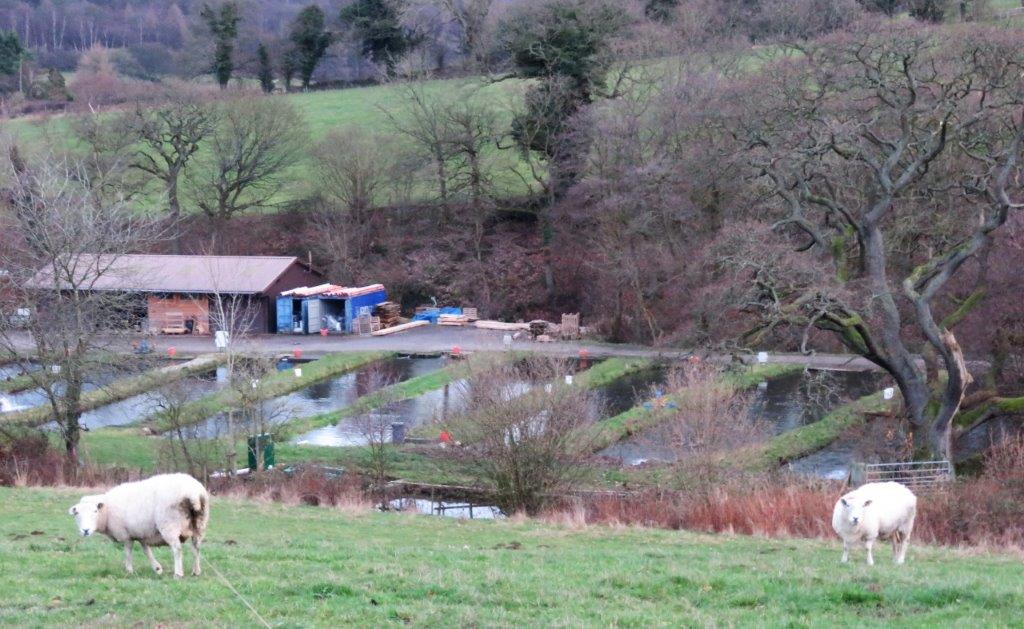 Fish Ponds (passed earlier in walk) now seen from above on the Abney Road as descending towards Leadmill Bridge
homepage - Day Walks Index 2018 - contact me at