homepage - Day Walks Index 2018 - contact me at

2018.08.22 ** Marsden Station, ~W along Huddersfield Narrow Canal to Tunnel End, circle back E then turn up NW past tunnel 'line' to & across A62 Rd, up to derelict buildings at ~SE030117, cross ~WSW over tunnel lines to an 'edge' on West, ~S along 'edge' to top of Pule Hill, ~NE thru moor land & on side of old 'mine' workings then thru farms & roads back to Marsden / canal, follow canal ~ENE thru Slaithwaite & Milnsbridge* to Huddersfield - solo walk about 12miles * on day canal was closed for works beyond SE120158 and made own way back to Huddersfield Station.
General Notes:
a) River Colne and The Huddersfield Narrow Canal run close to one another and the railway tracks
b) Three railway tunnels were built later in stages parallel to the canal tunnel and at the same level - one of these taking two tracks is presently used, but the other two rail tunnels are still maintained for safety and maintenance access.
c) Wikipedia gives an interesting write up and description of all these 'Standedge Tunnels'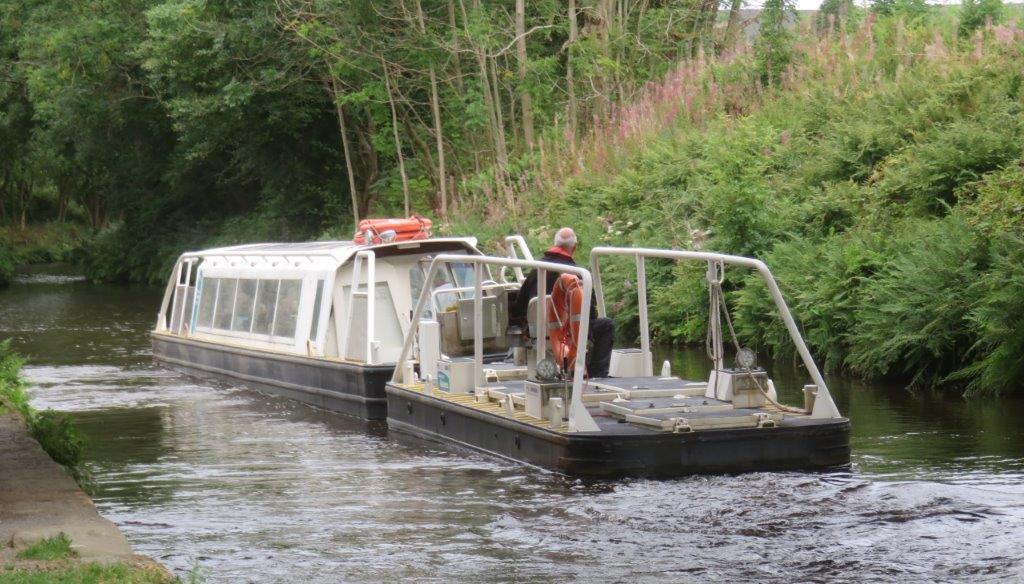 sight-seeing boat with passengers pushed by a 'tug' - seen between Marsden Station heading towards the Standedge tunnel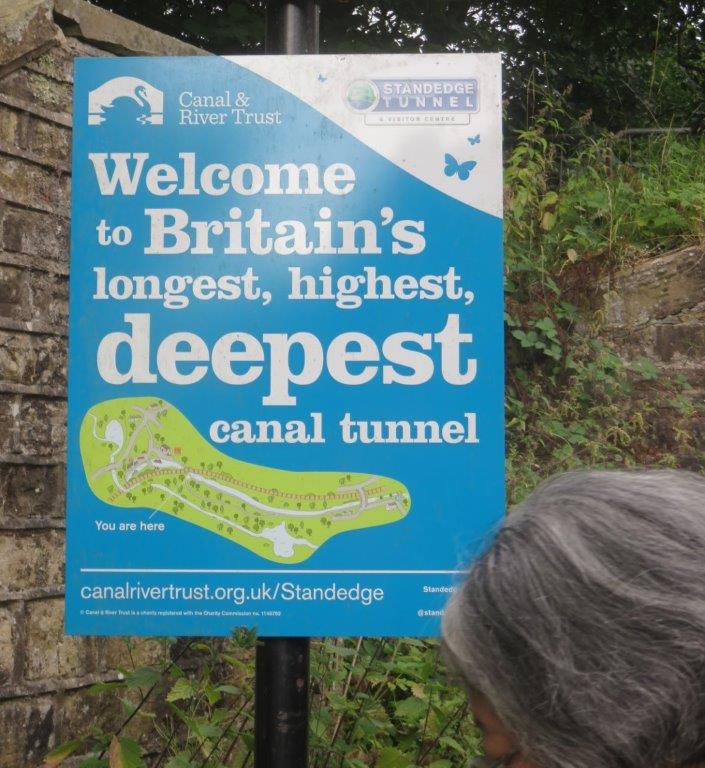 In map above canal shown passing under railway lines before the canal tunnel. River also shown crossing above railway lines before railway tunnel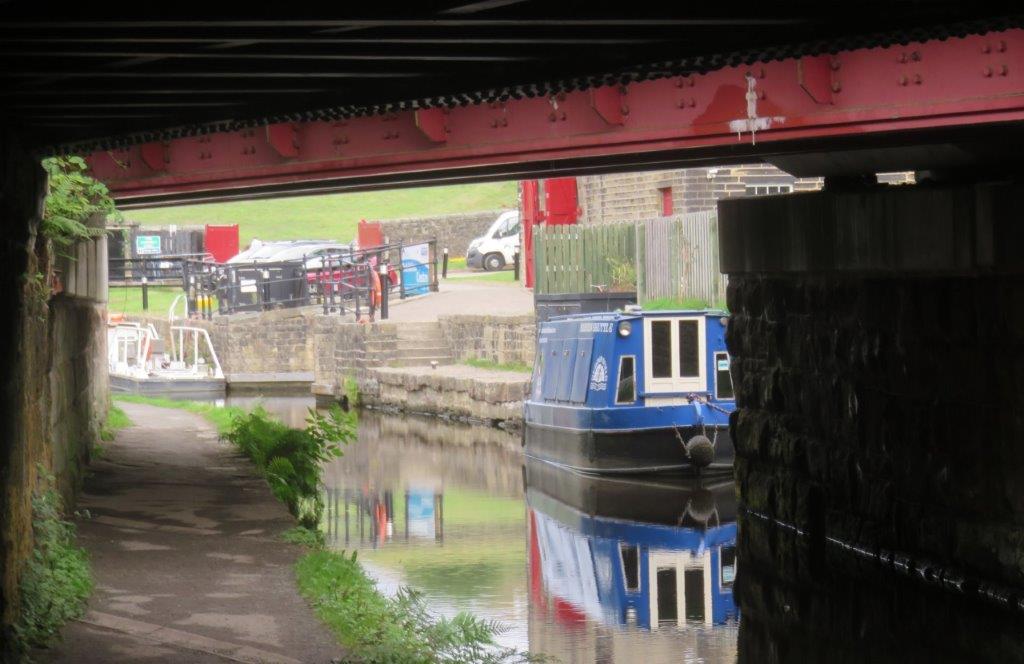 canal passing under railway lines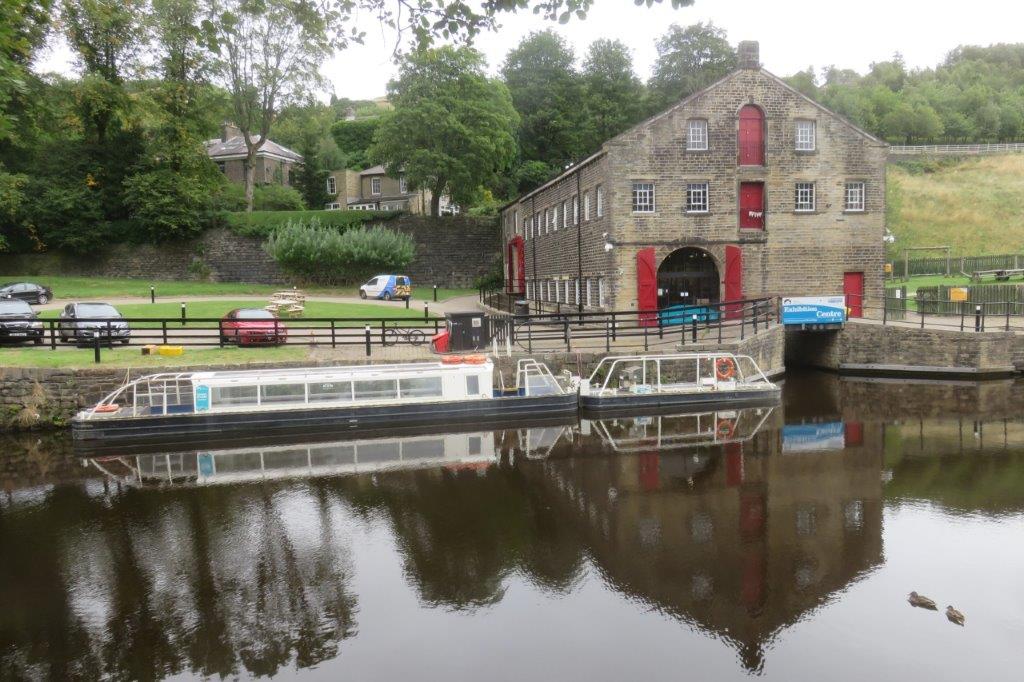 another sight-seeing boat moored at the visitors centre some distance from the canal tunnel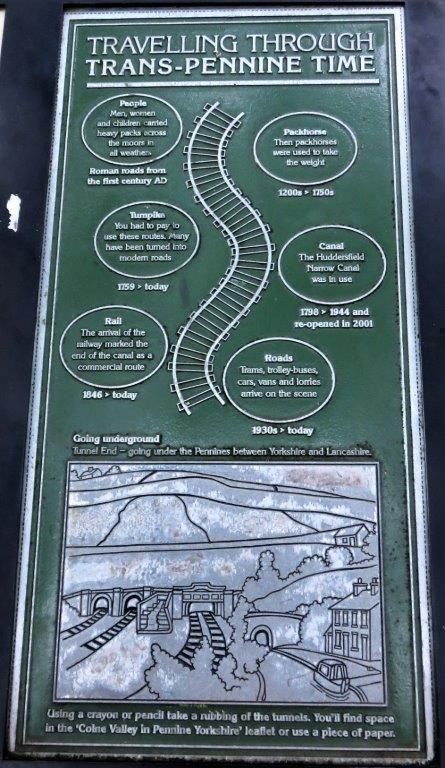 history of transport methods in area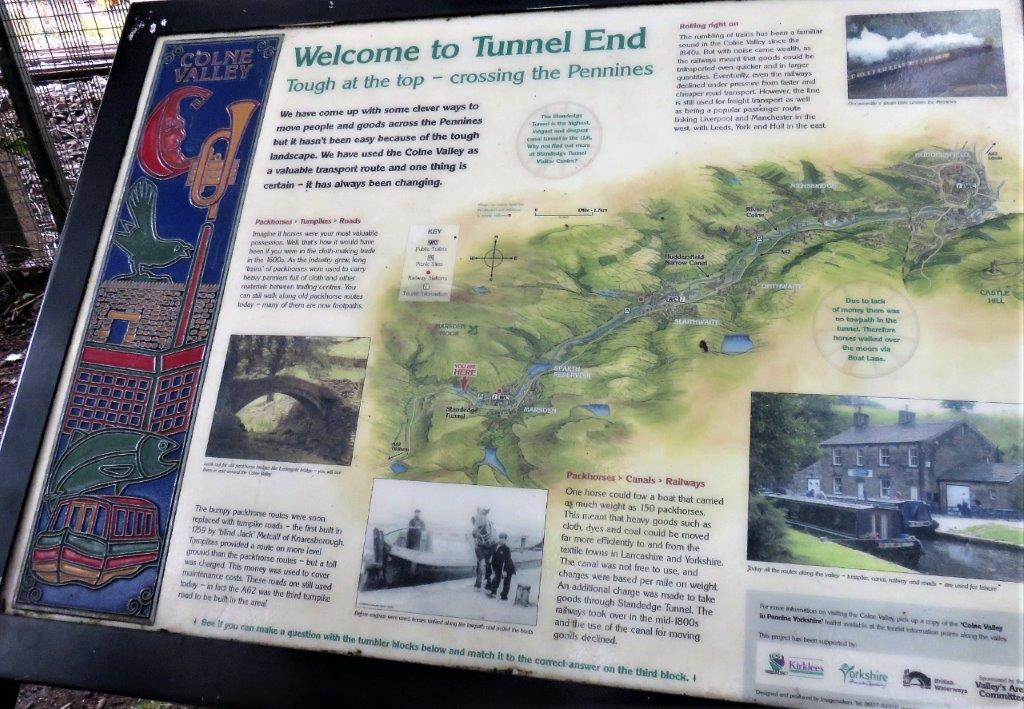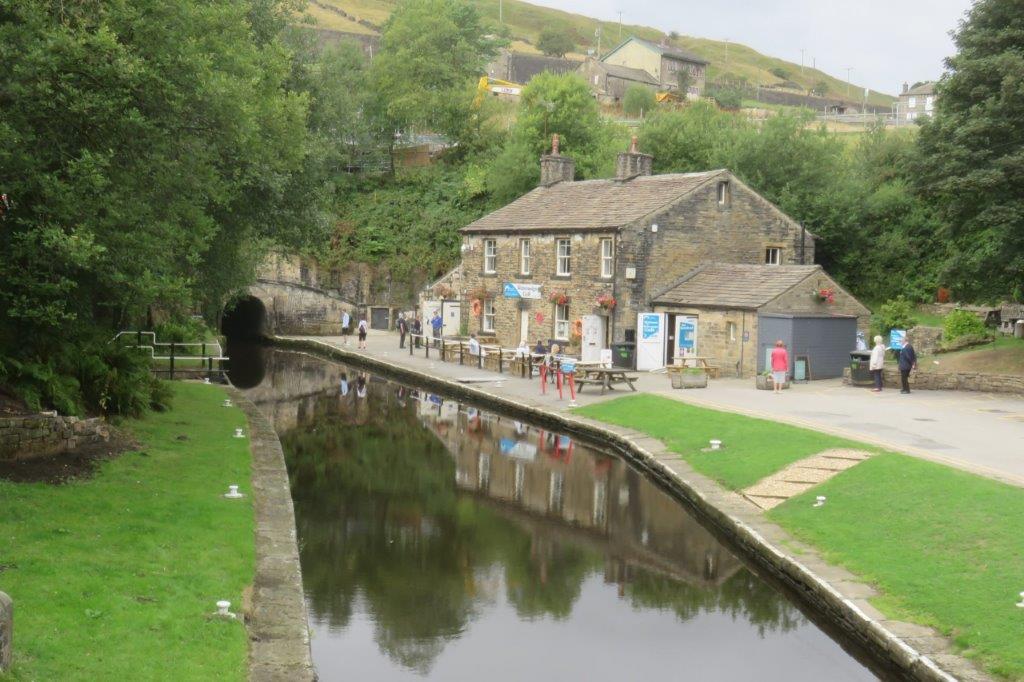 Tunnel End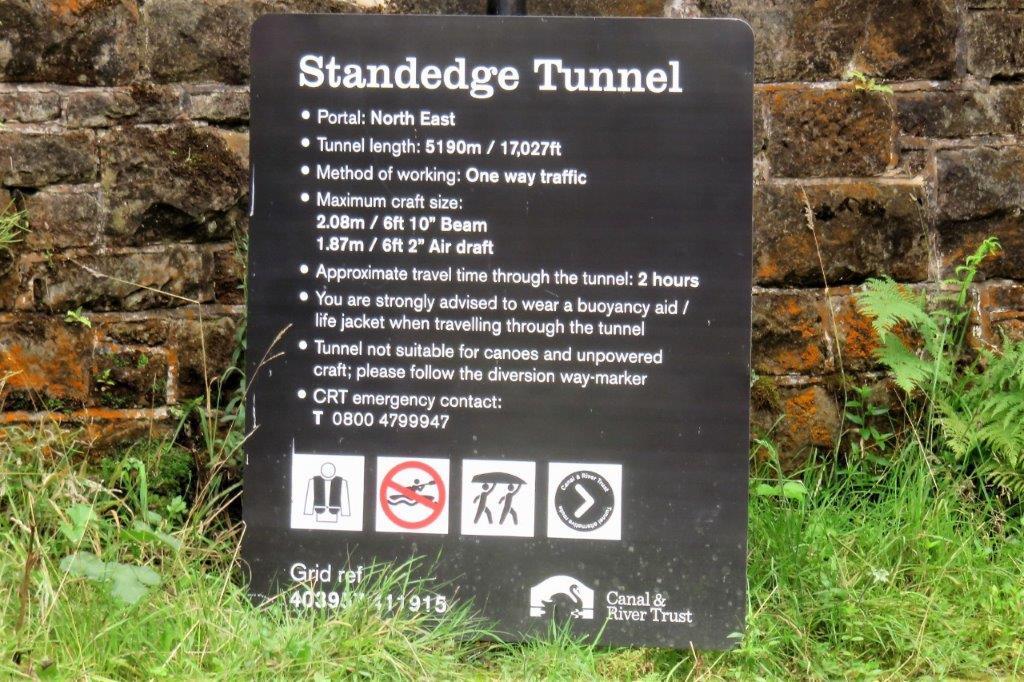 Standedge Tunnel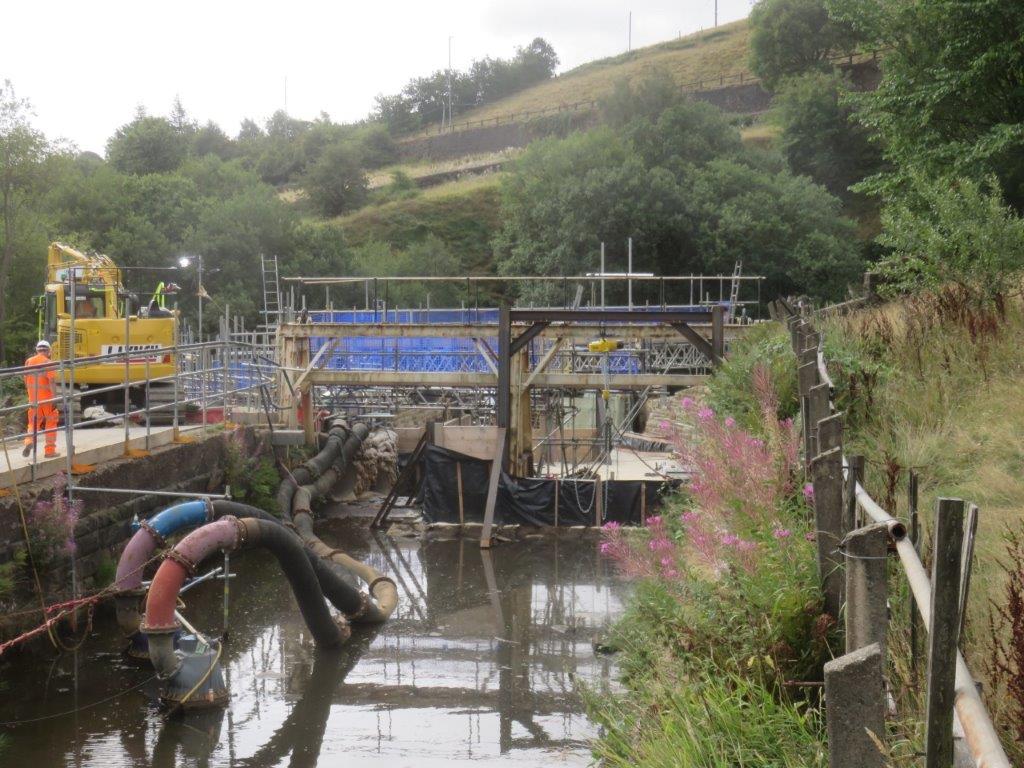 Apparently works being done on bridge/conduit system taking River Colne over railway tracks (before the tracks enter the rail tunnel)?.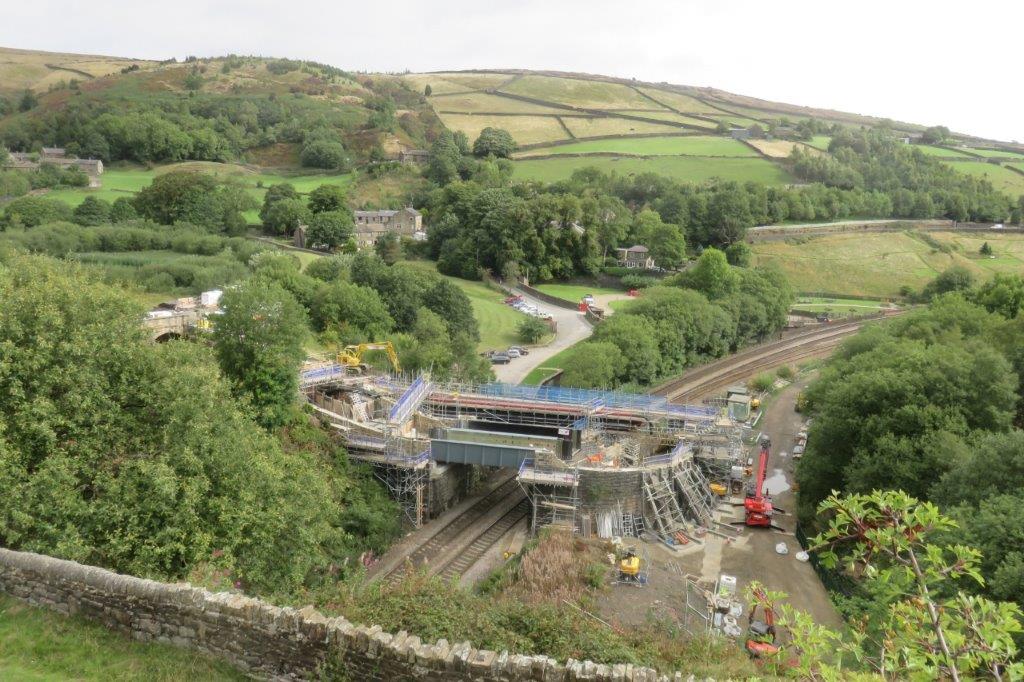 as above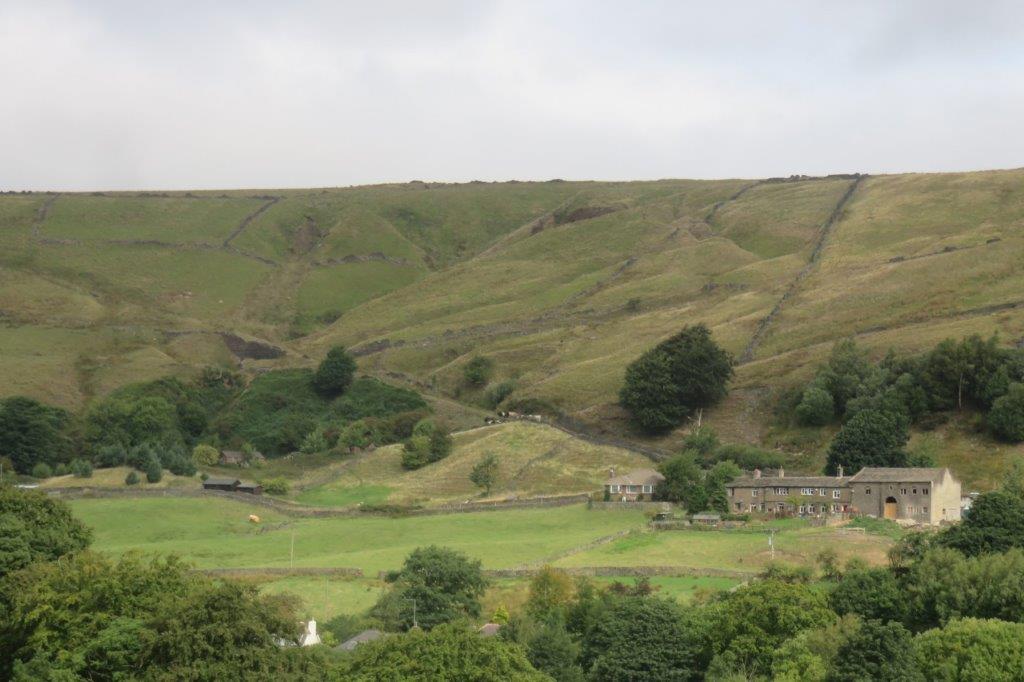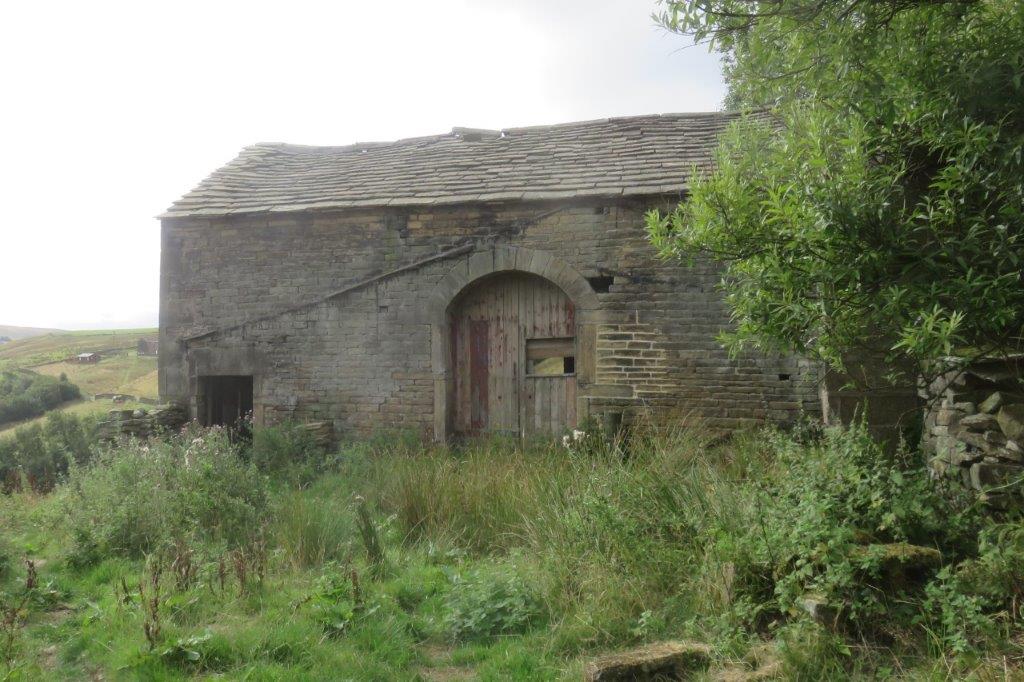 one of the apparently derelict buildings on Marsden Moor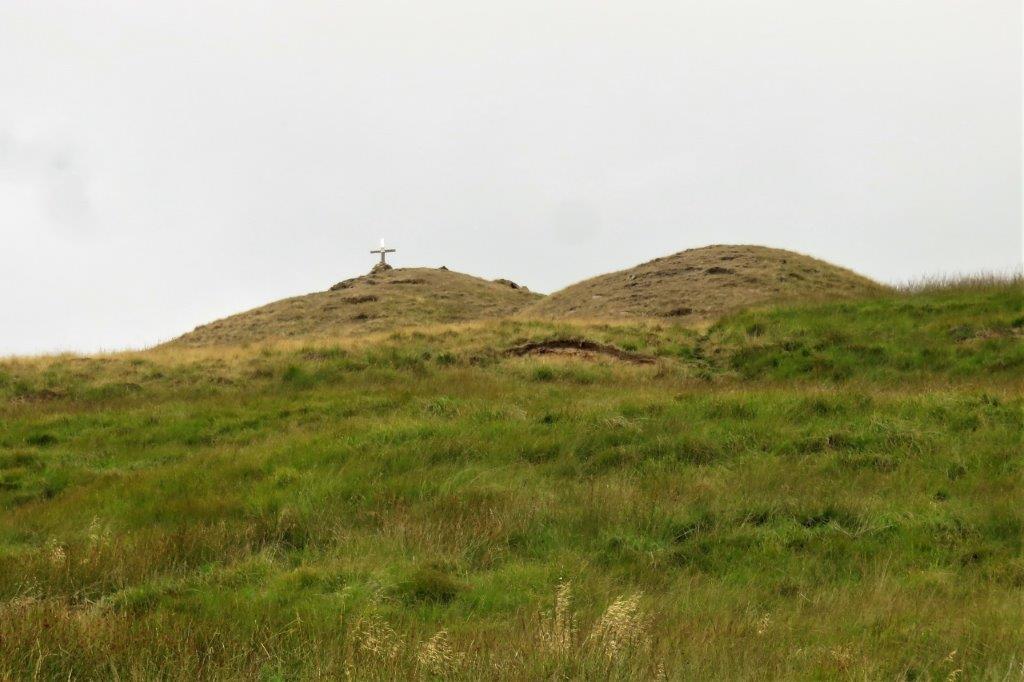 War Memorial cross ahead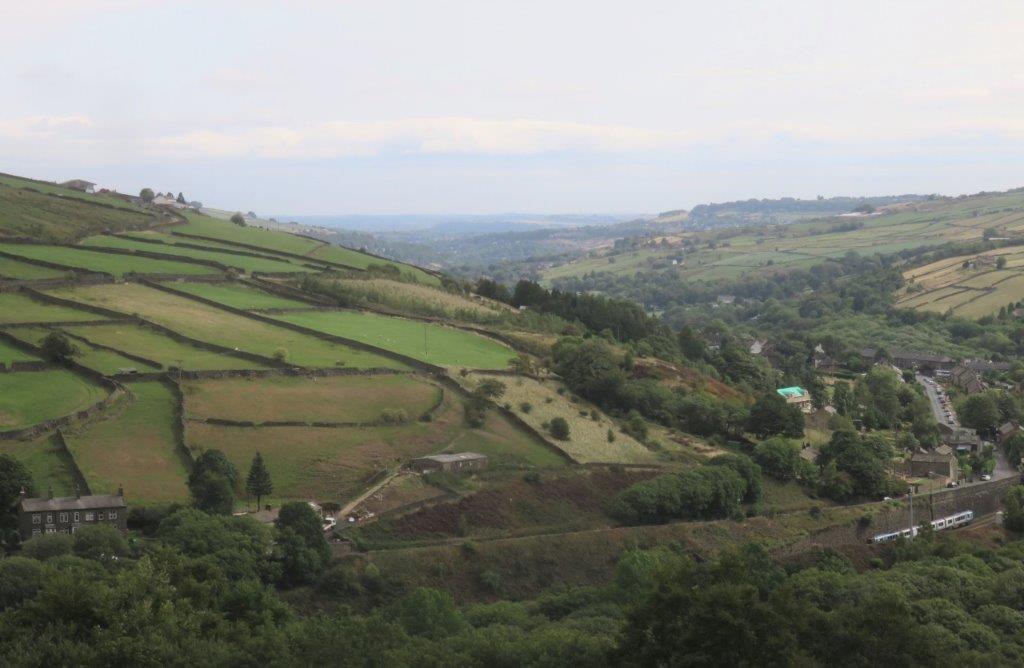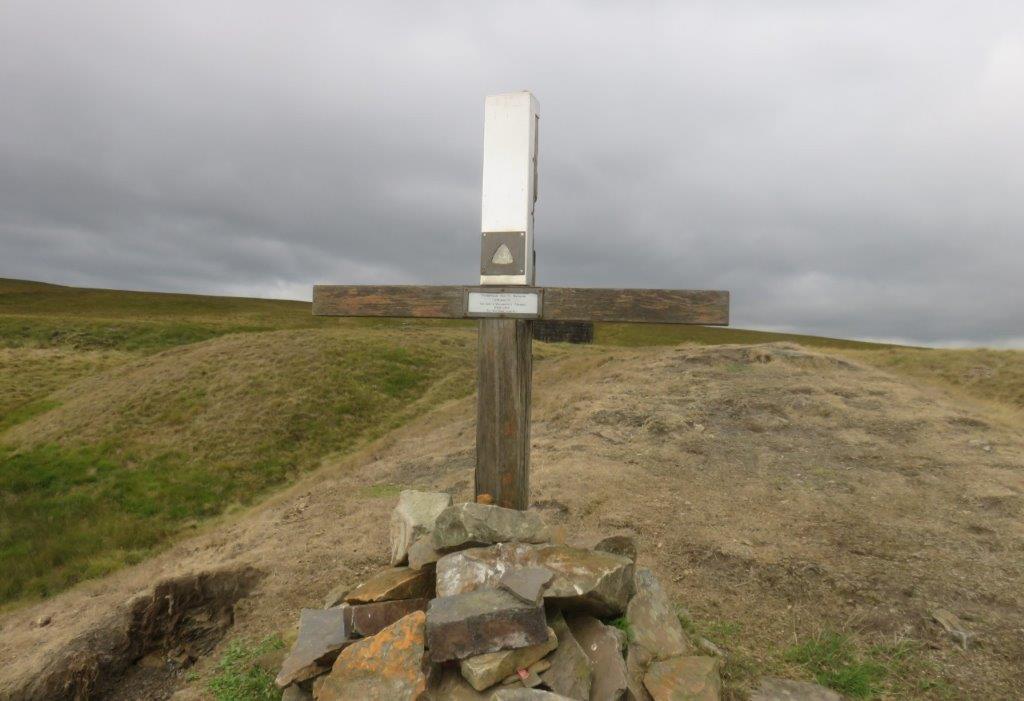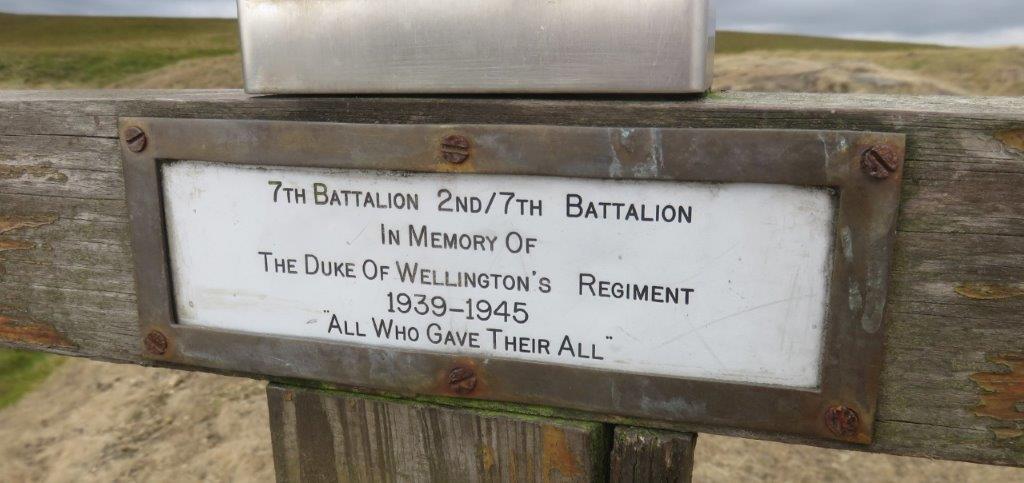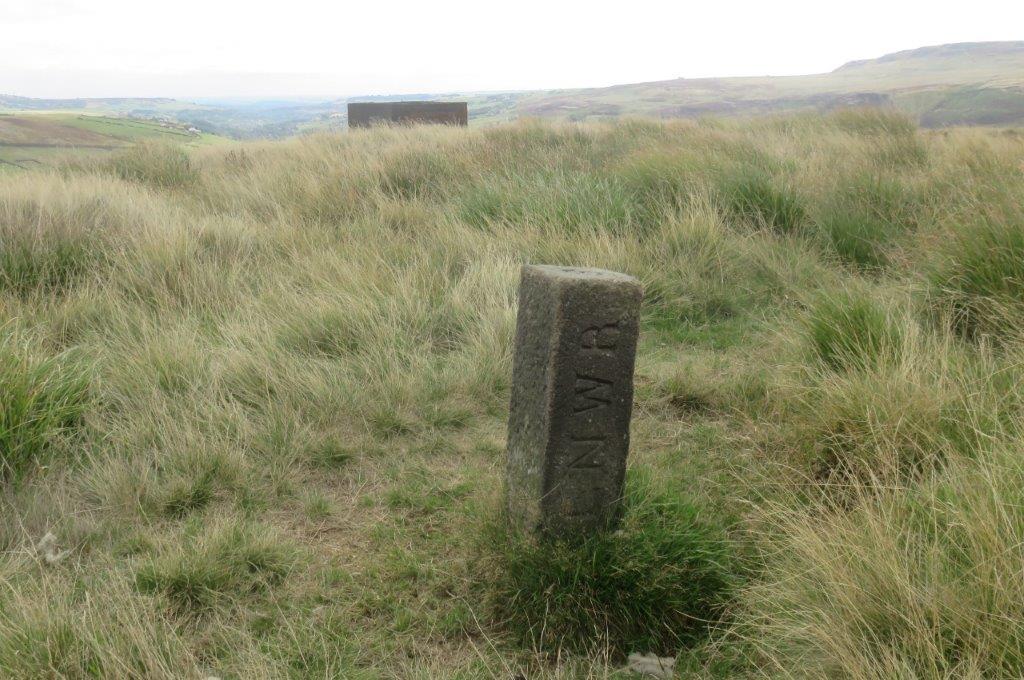 Marking Stone - LNWR (London North Western Railway) One of it's shafts behind? Some shafts apparently used to open more tunnel mining faces and to remove spoil in addition to ventilation.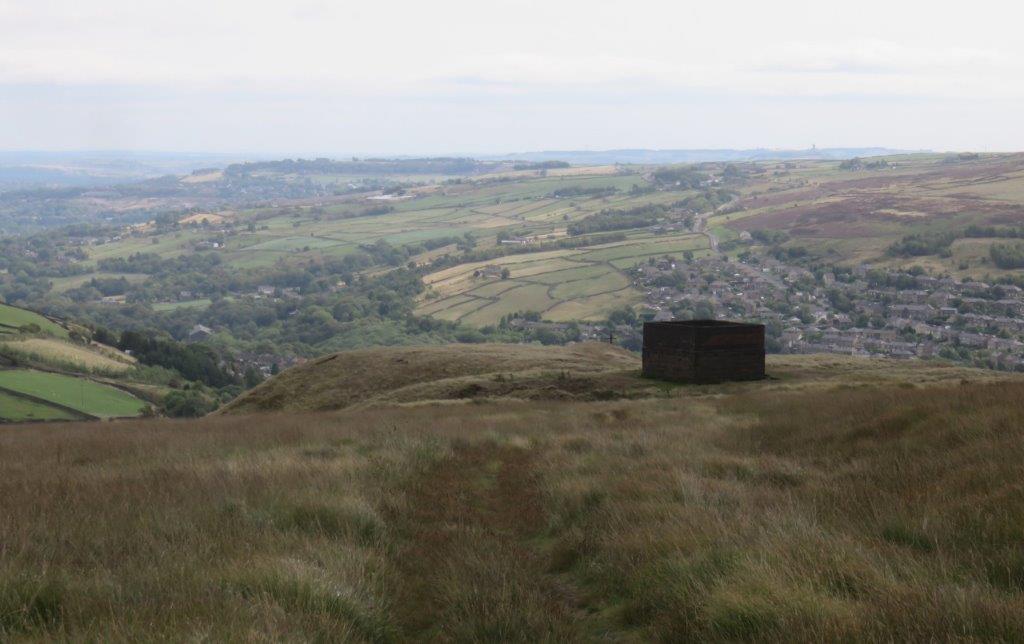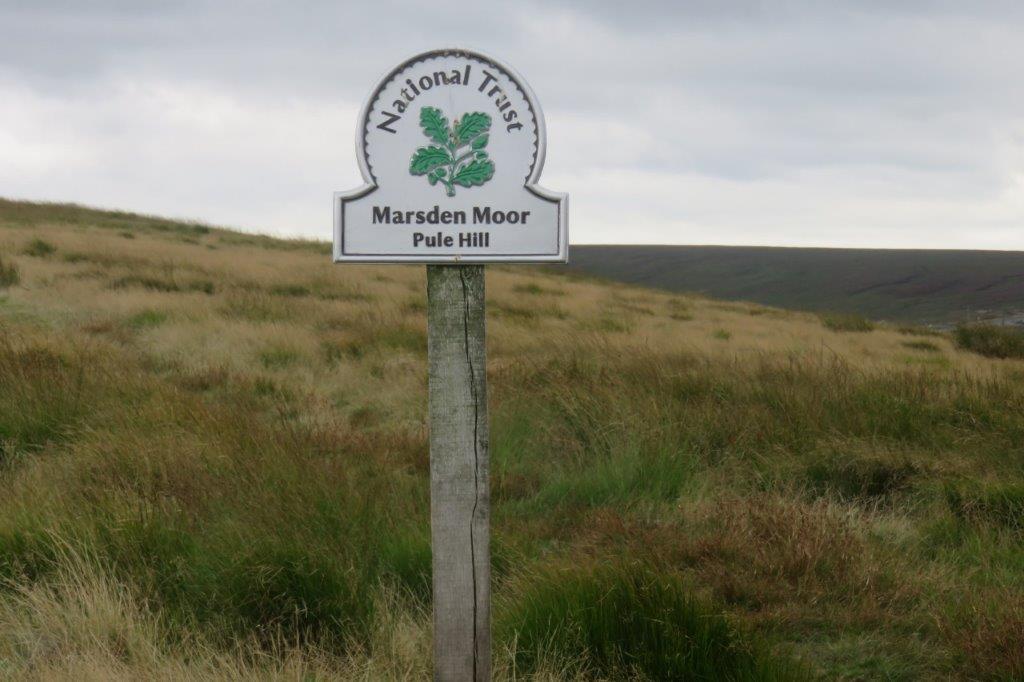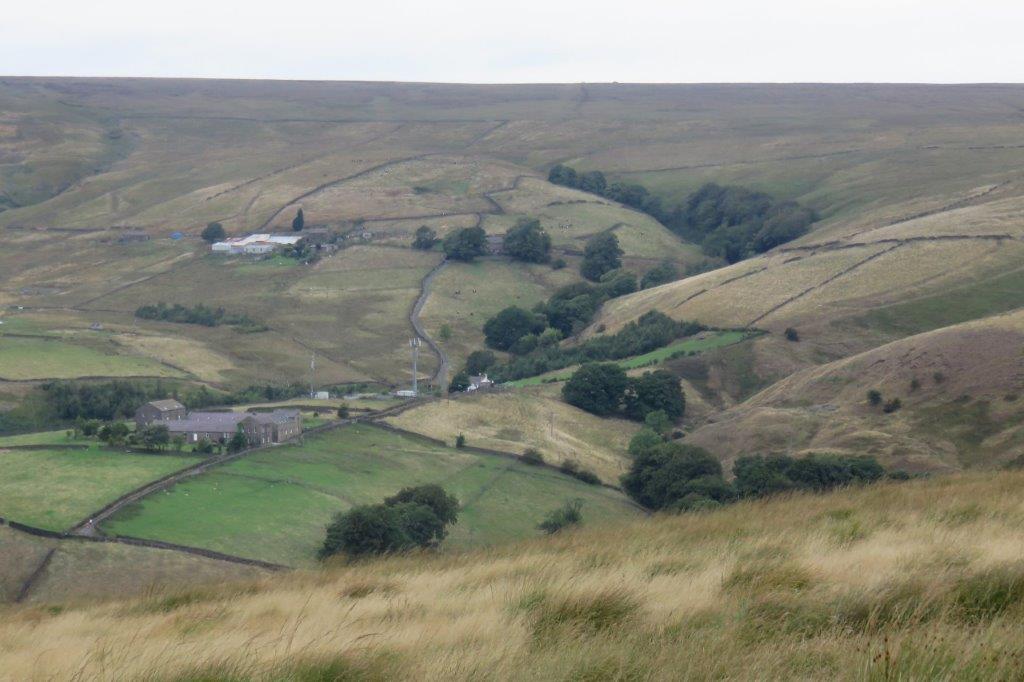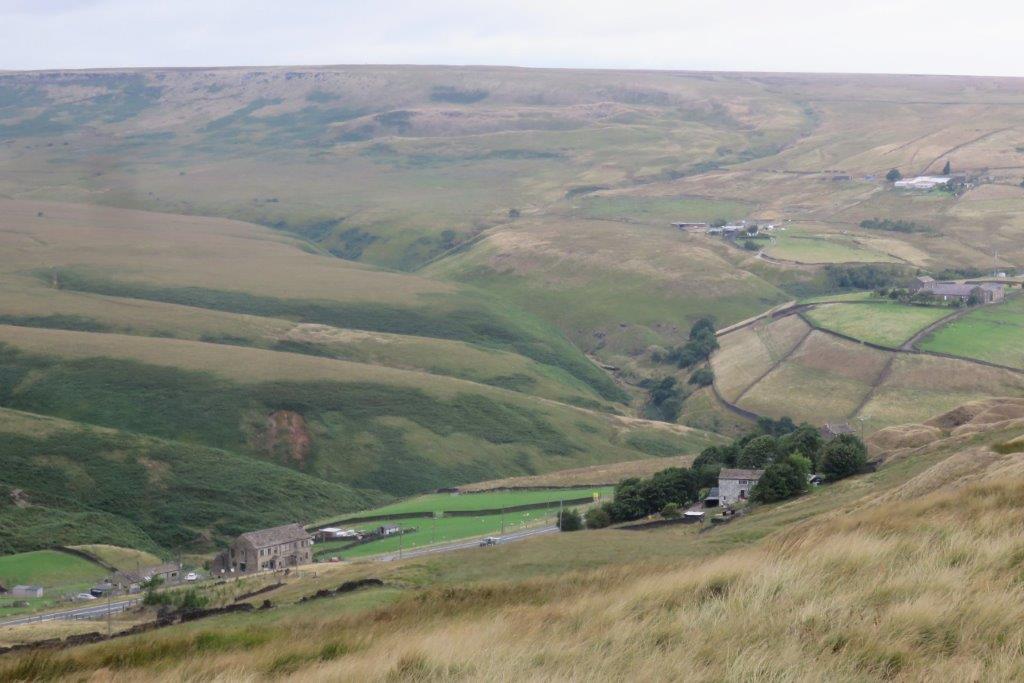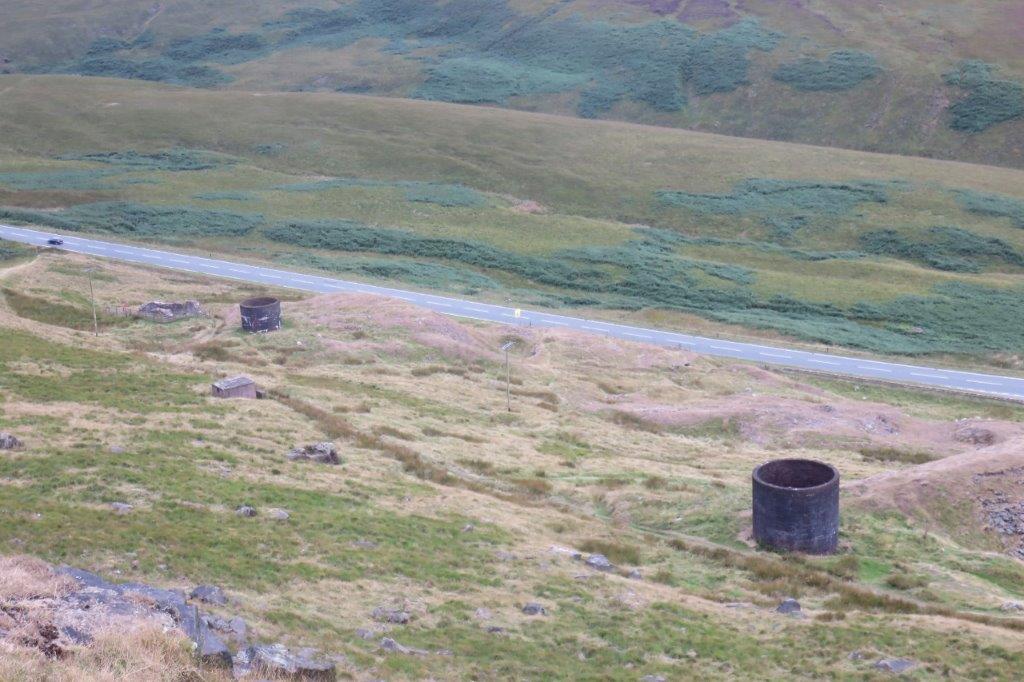 Circular 'ventilation shafts' - the four tunnels (one canal tunnel & three rail tunnels - of which only one two track tunnel presently in use) evidently run parallel and at roughly the same level* fairly close to one another. The main tunnels have some interlinking cross tunnels used during construction - some railway tunnel spoil was later removed by canal boats. Some of these cross tunnels are now apparently used for safety & maintenance purposes. Not too clear how many 'shafts' there are and where located. The canal tunnel with barges pushed by men 'legging it' would not have had noxious exhaust fumes and may not have required vertical shafts for ventilation but possibly only to open additional tunnel 'faces' to speed progress. Steam engine drawn trains would require ventilation shafts.

*apparently level rail tunnels made the scooping up of water within the tunnel possible for replenishing steam supply.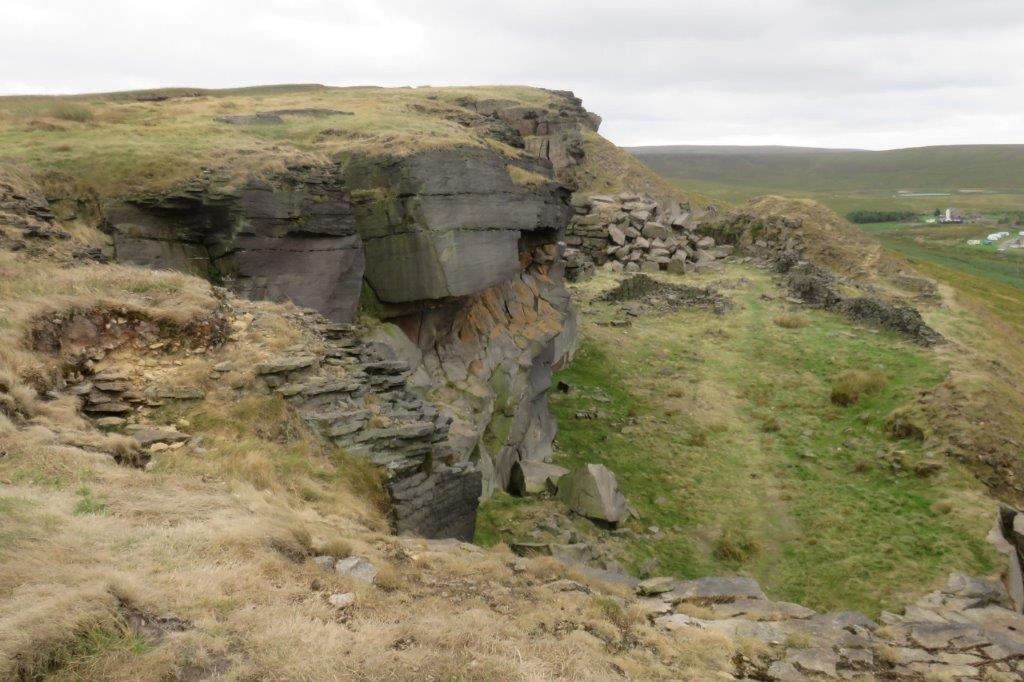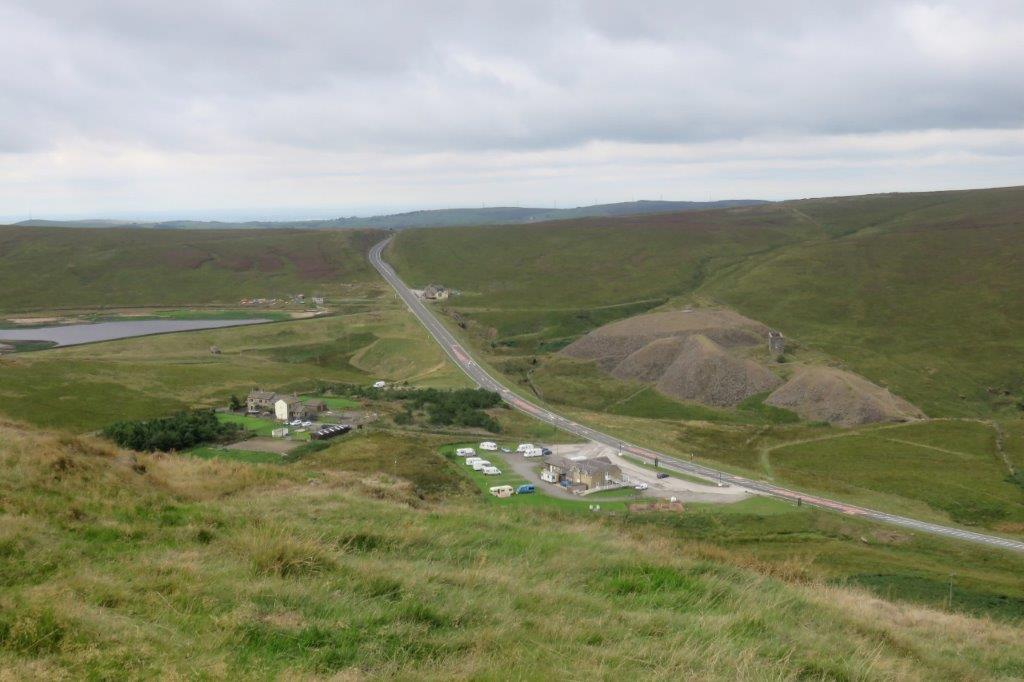 square ventilation / construction access shaft visible in spoil tip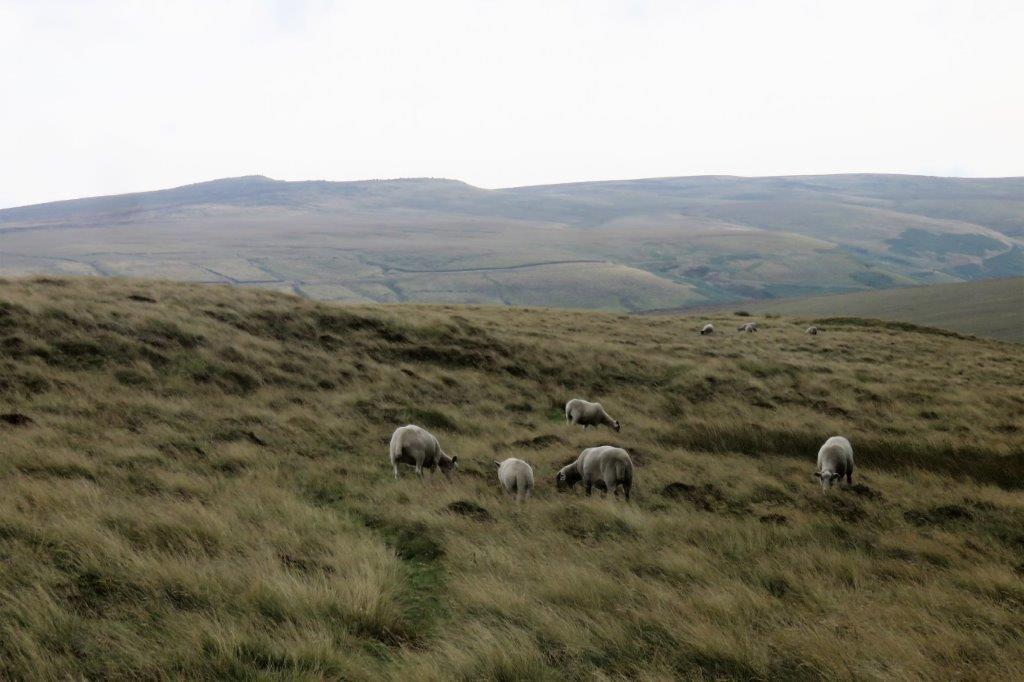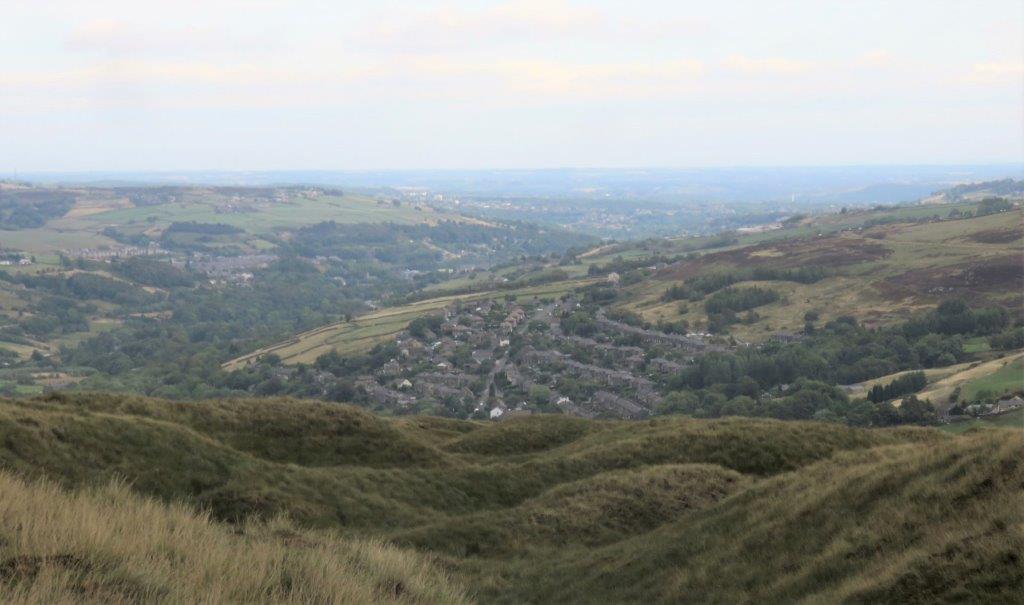 old 'mining' workings in foreground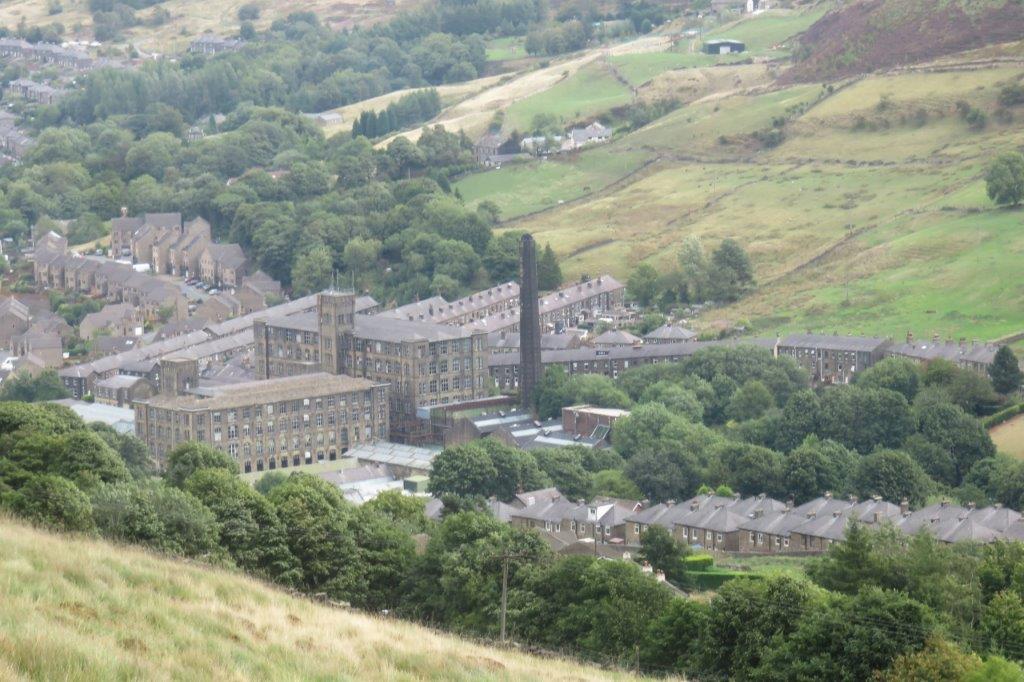 Mill in Marsden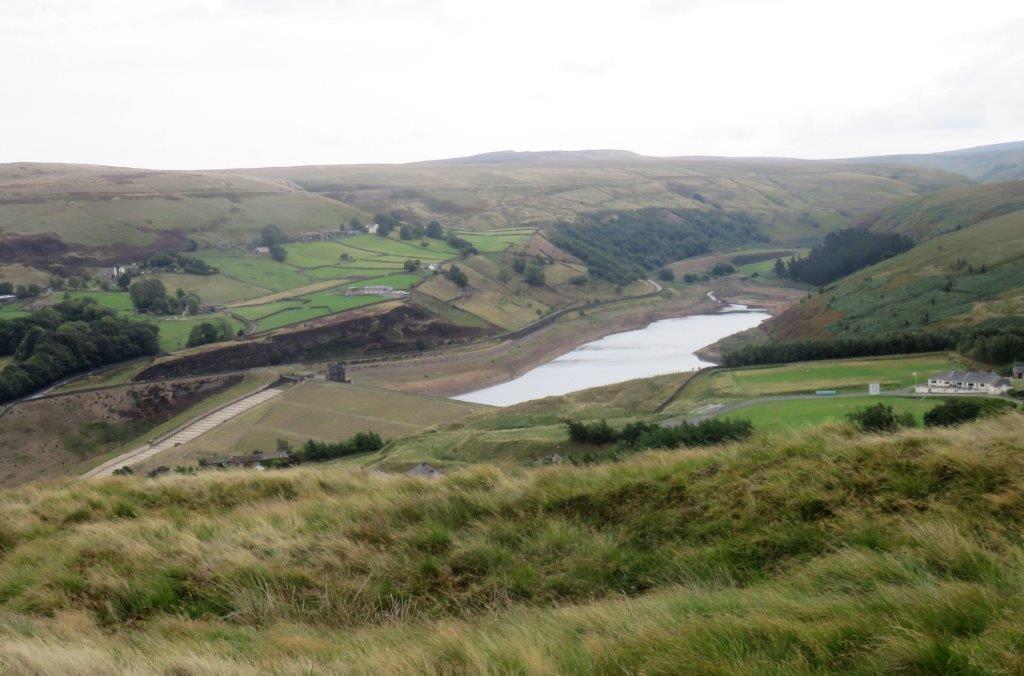 Butterley Reservoir - cricket ground to right?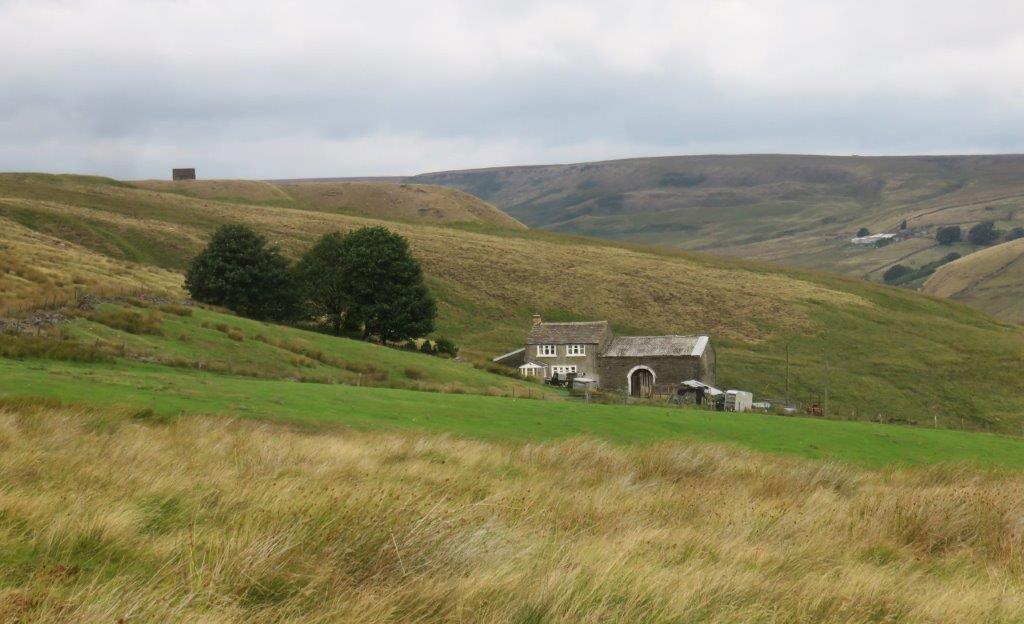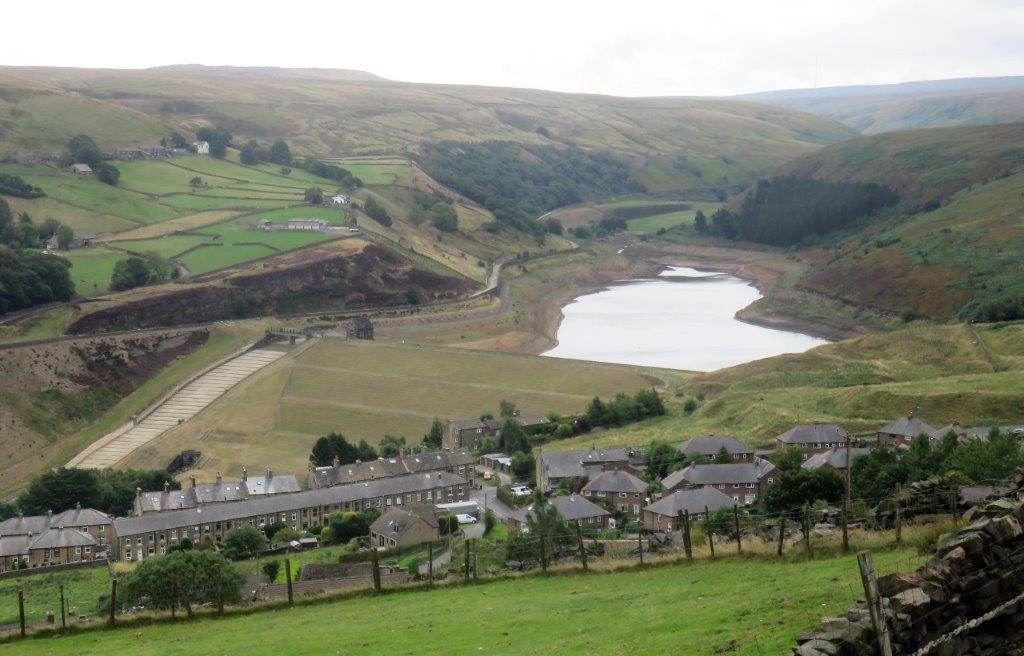 Butterley Reservoir again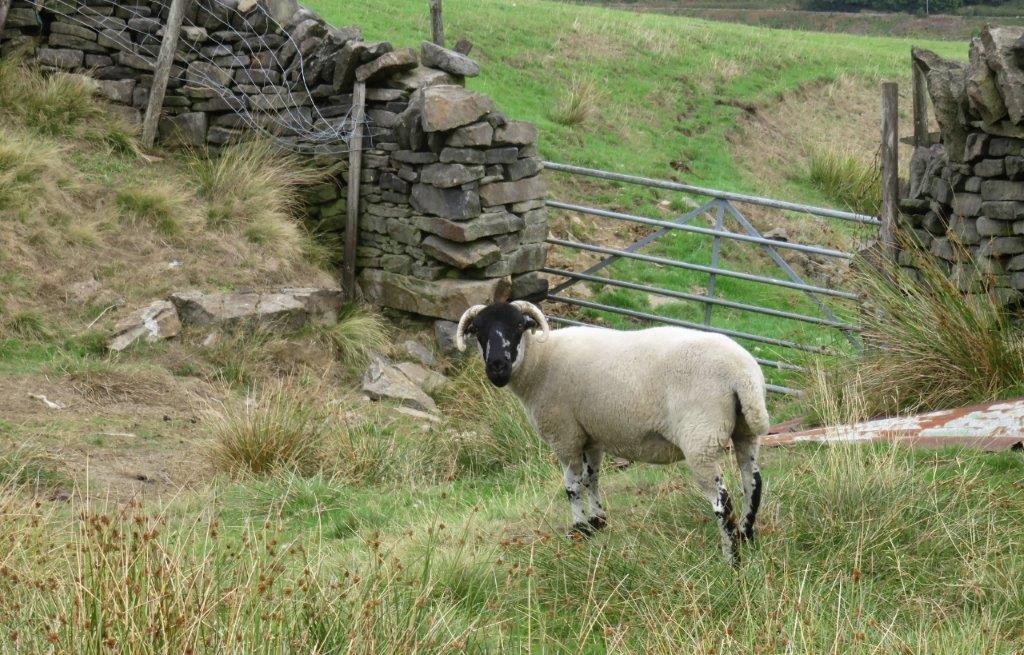 the way taken down (no FP sign here)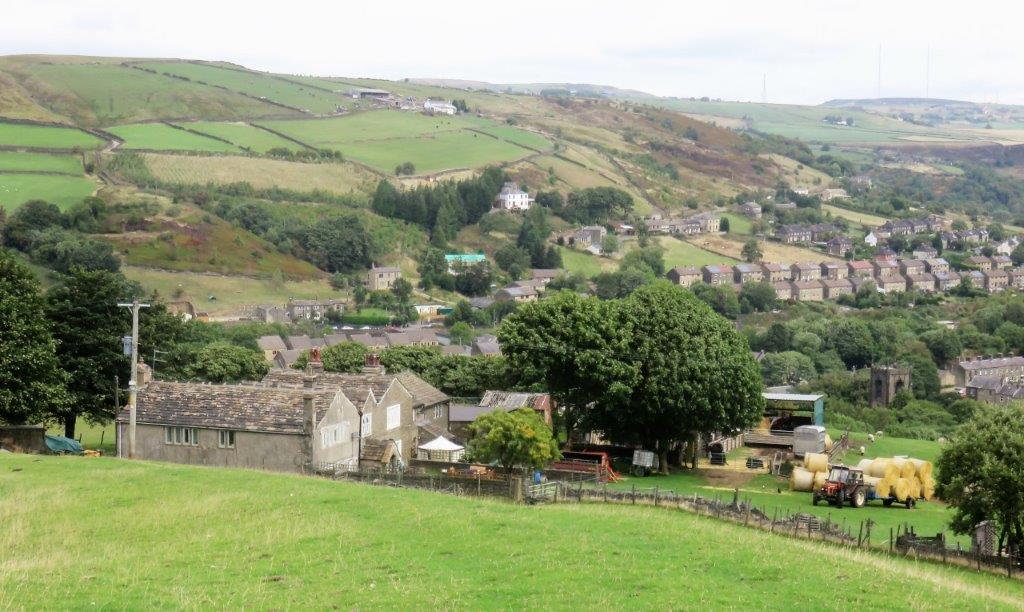 passed behind these buildings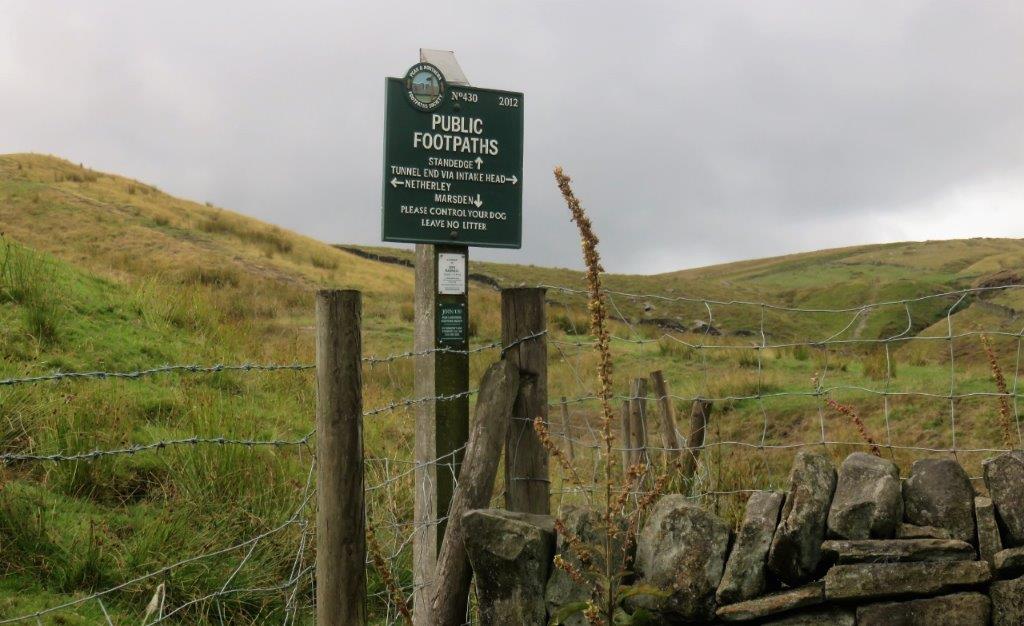 A sign board but no obvious access stile actually at this point? An unmarked gate was fairly close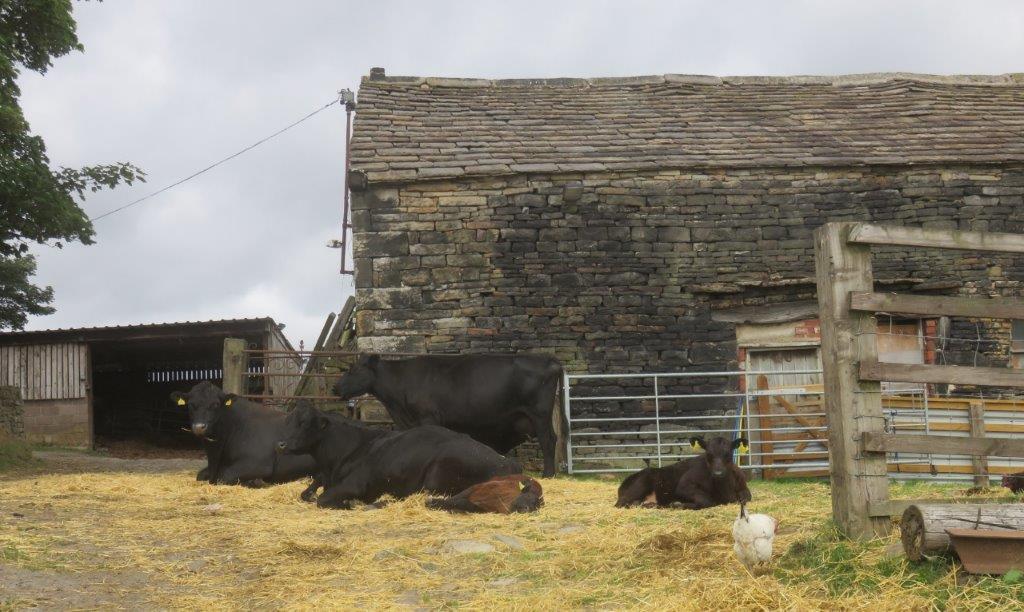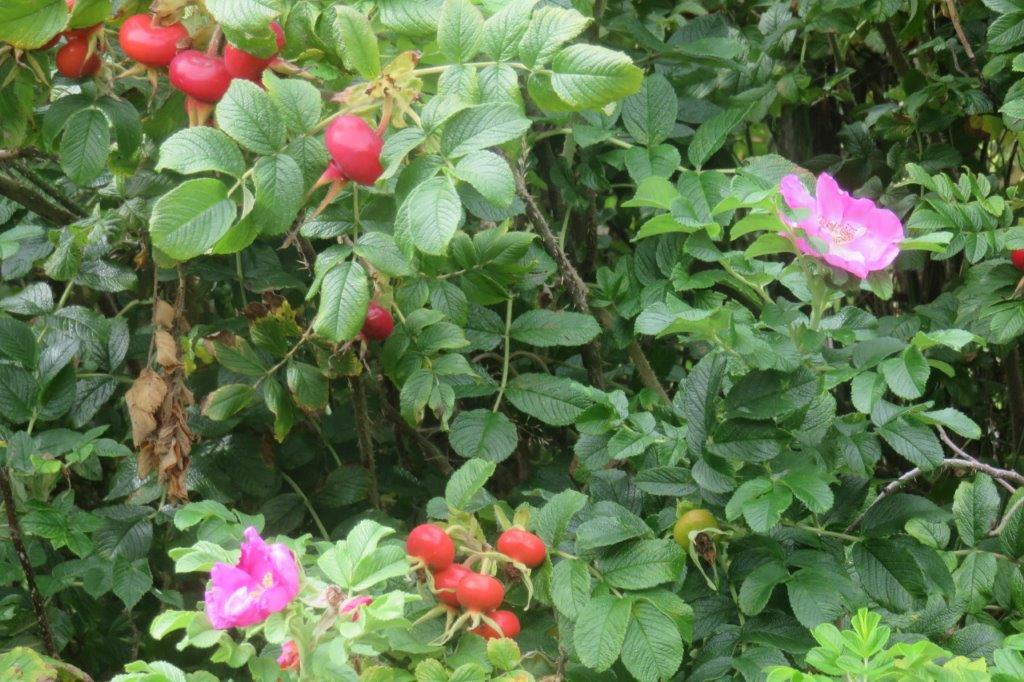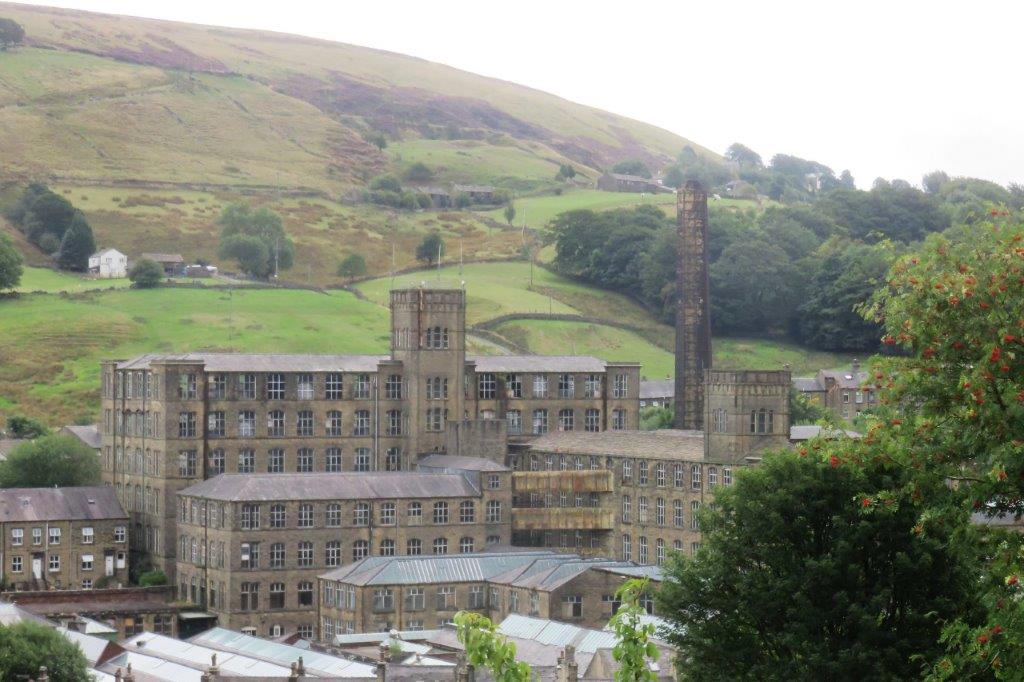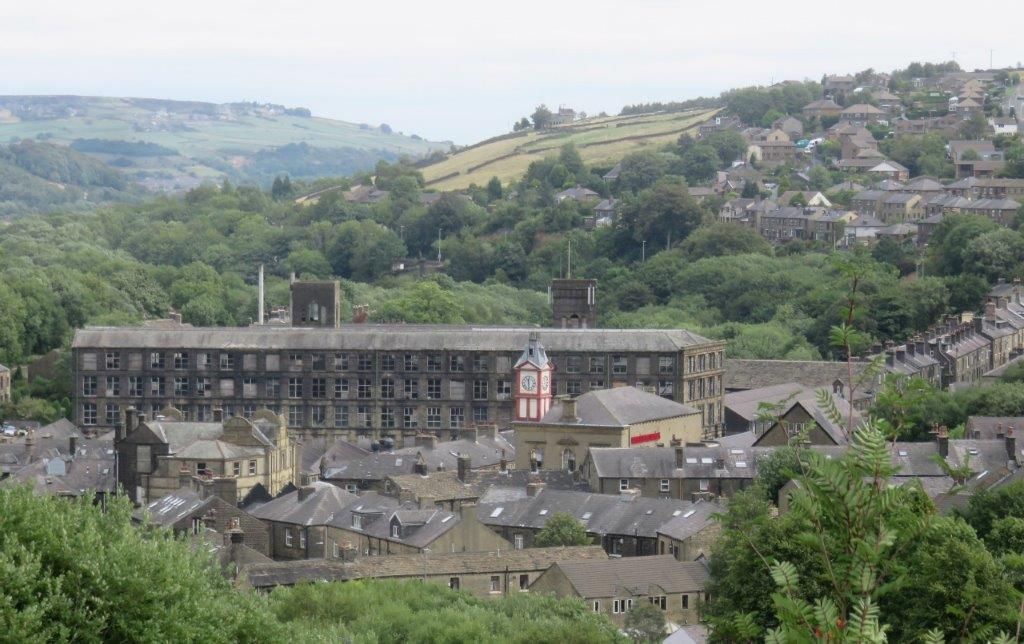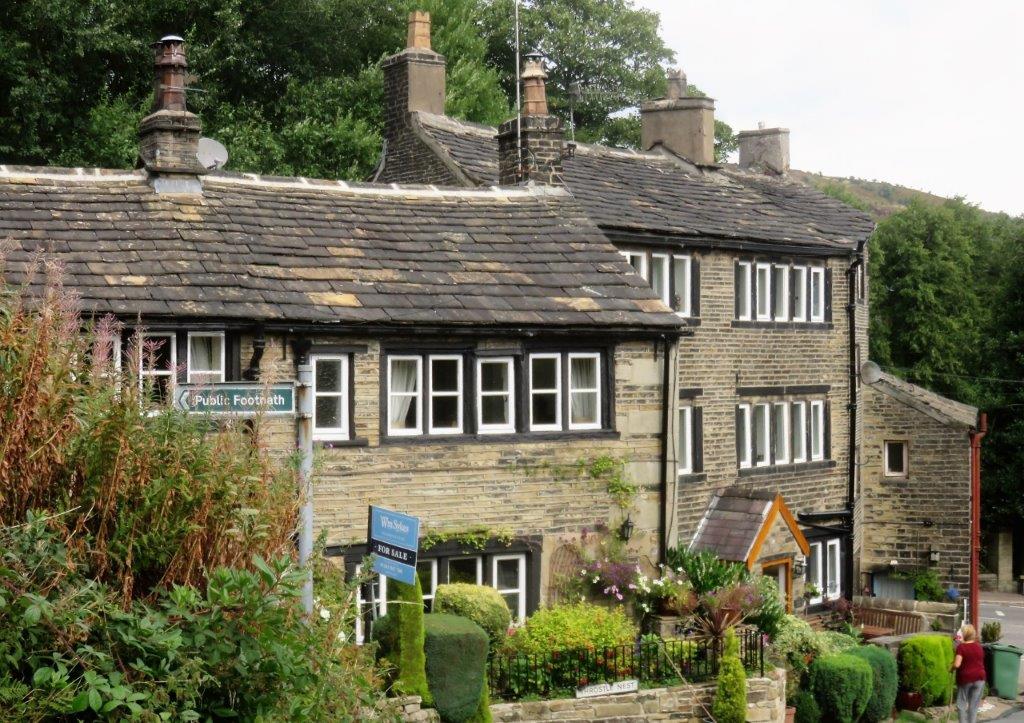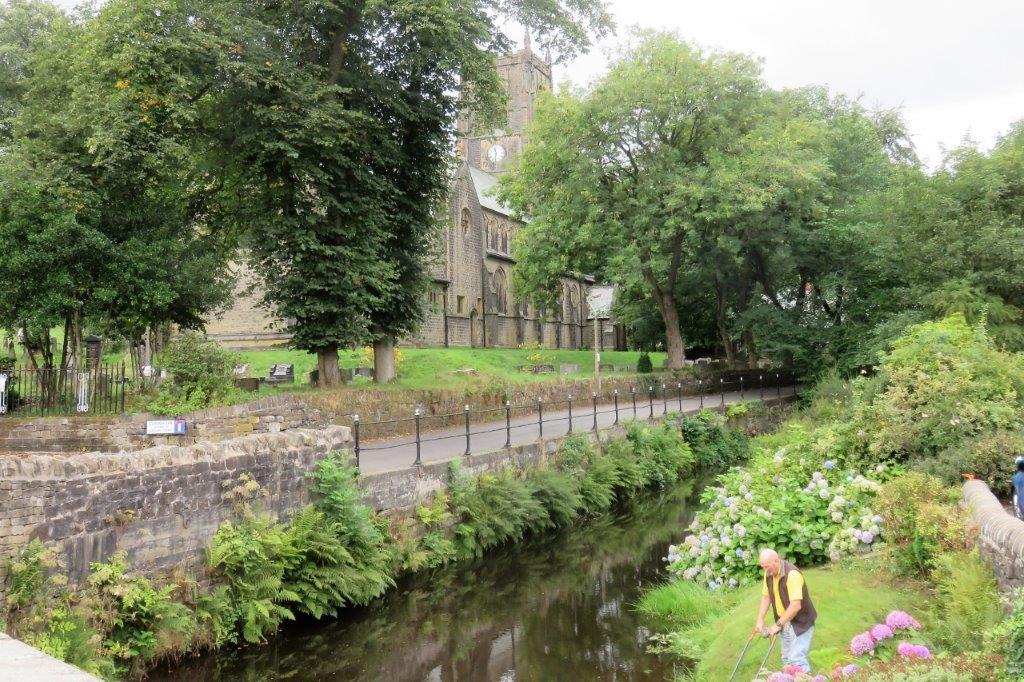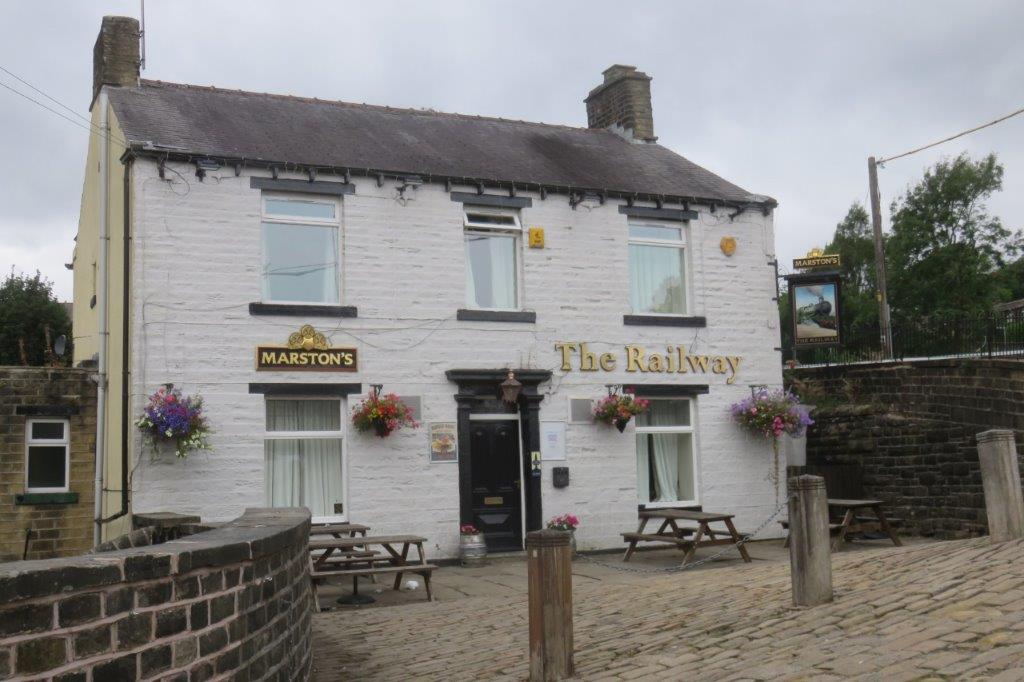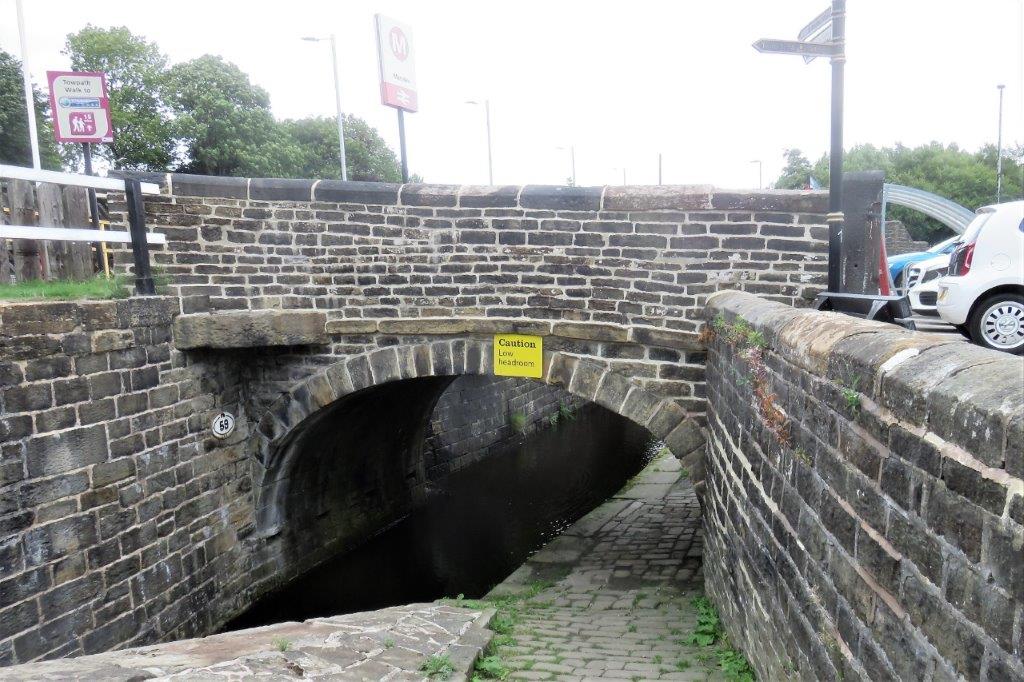 started here back to Huddersfield on the Narrow Canal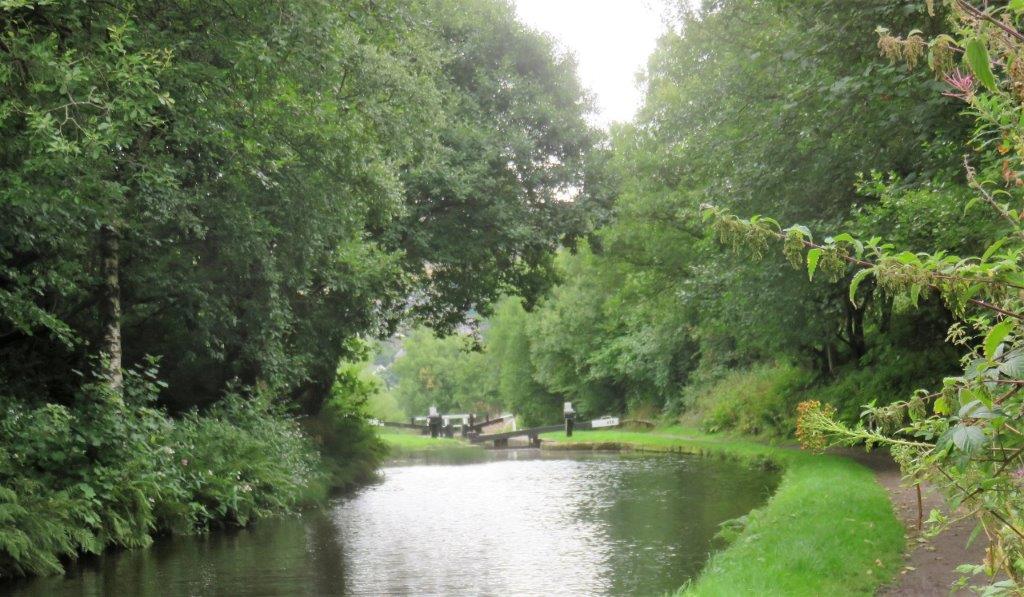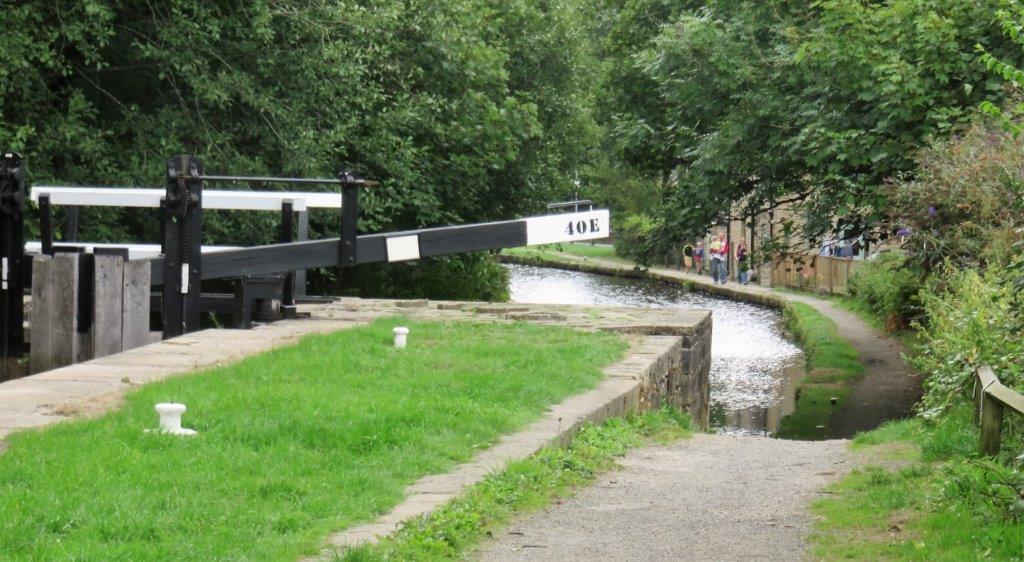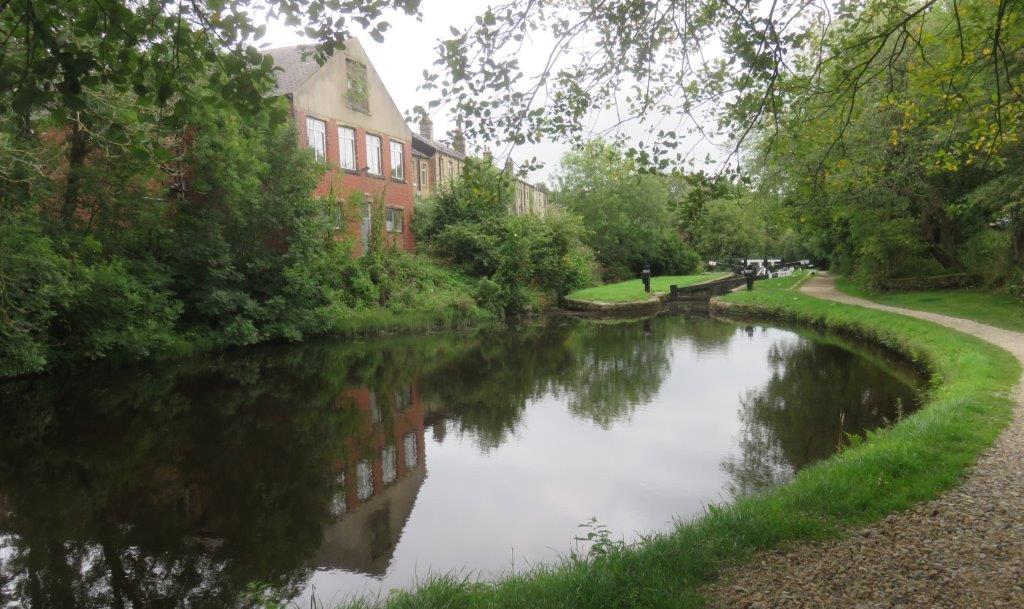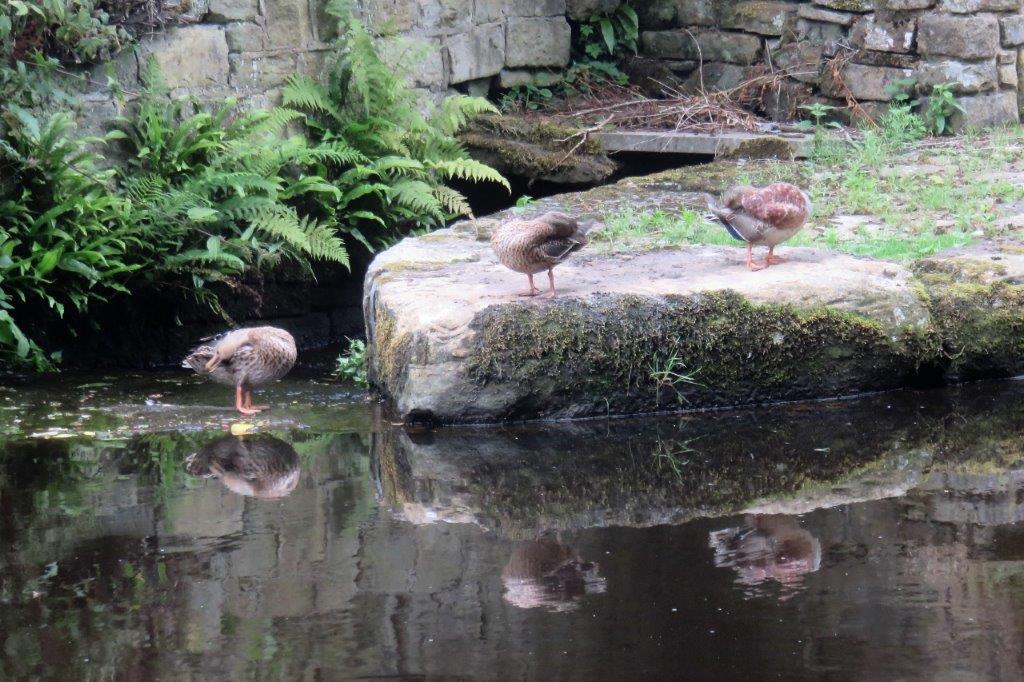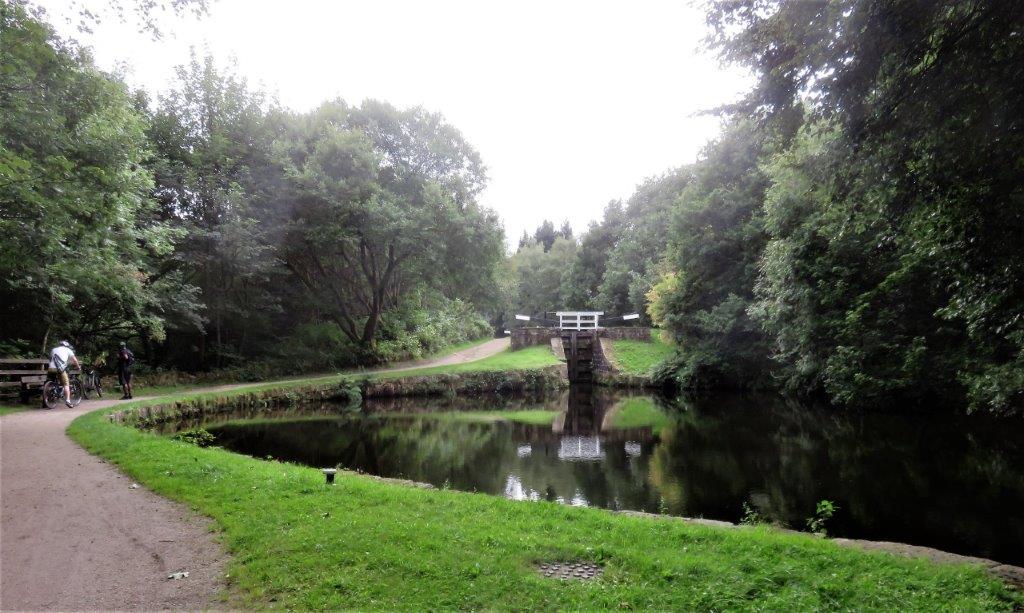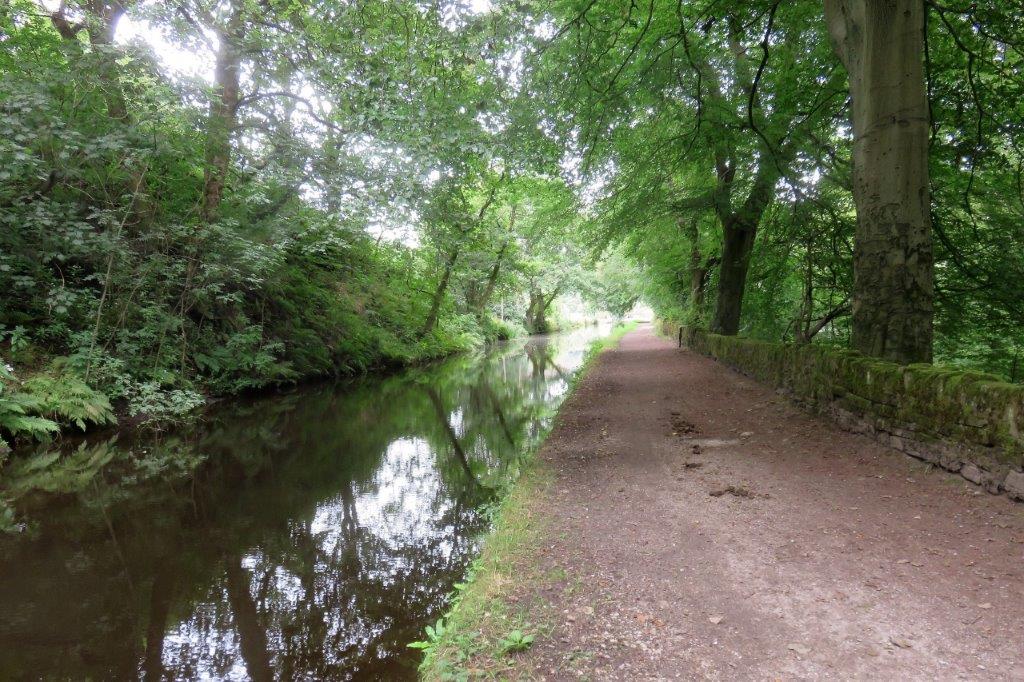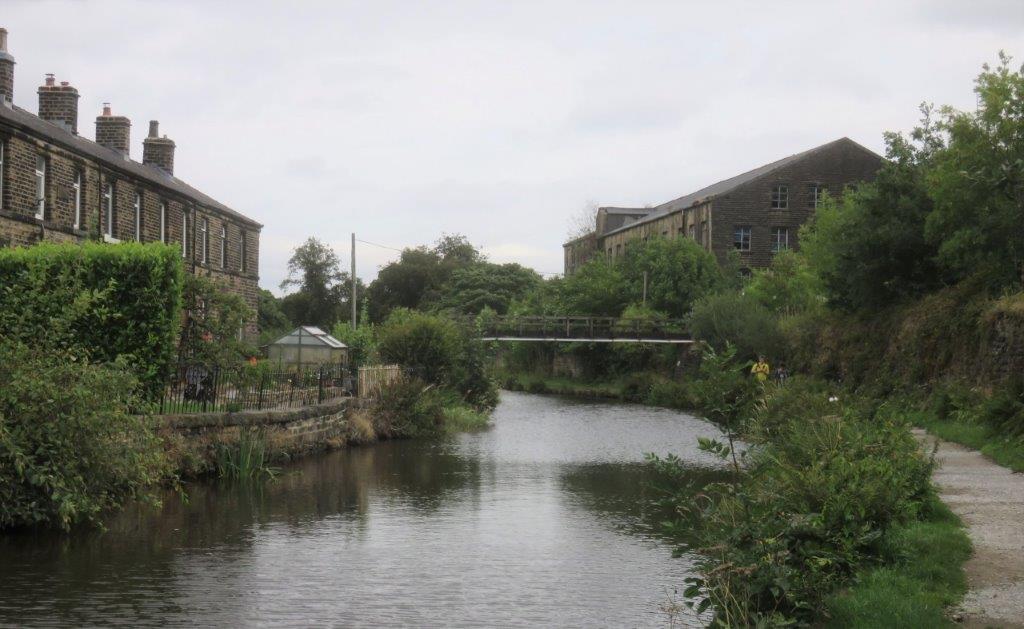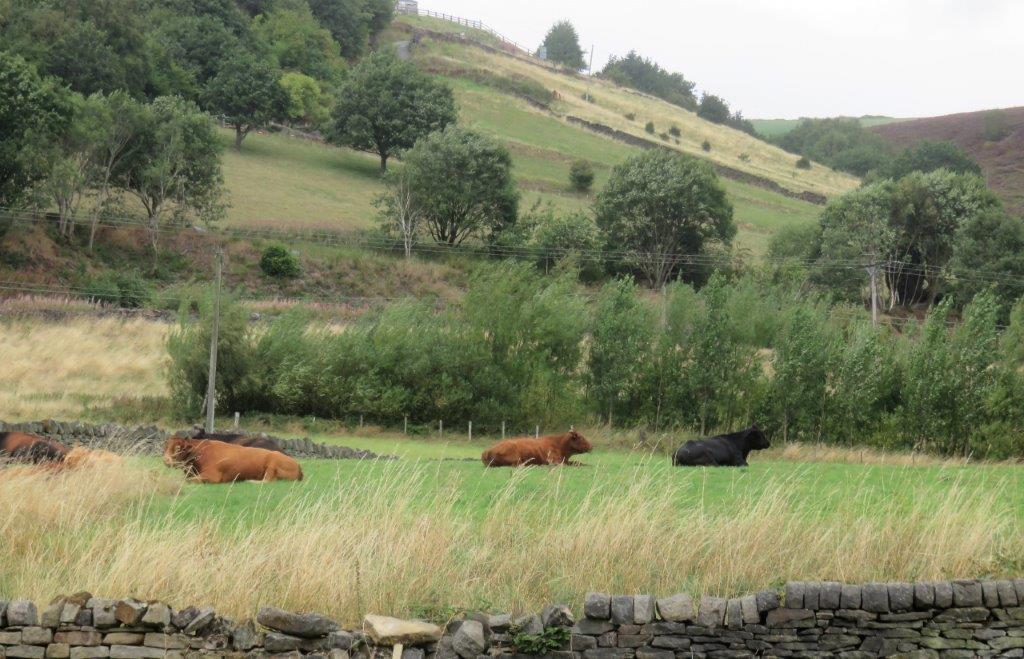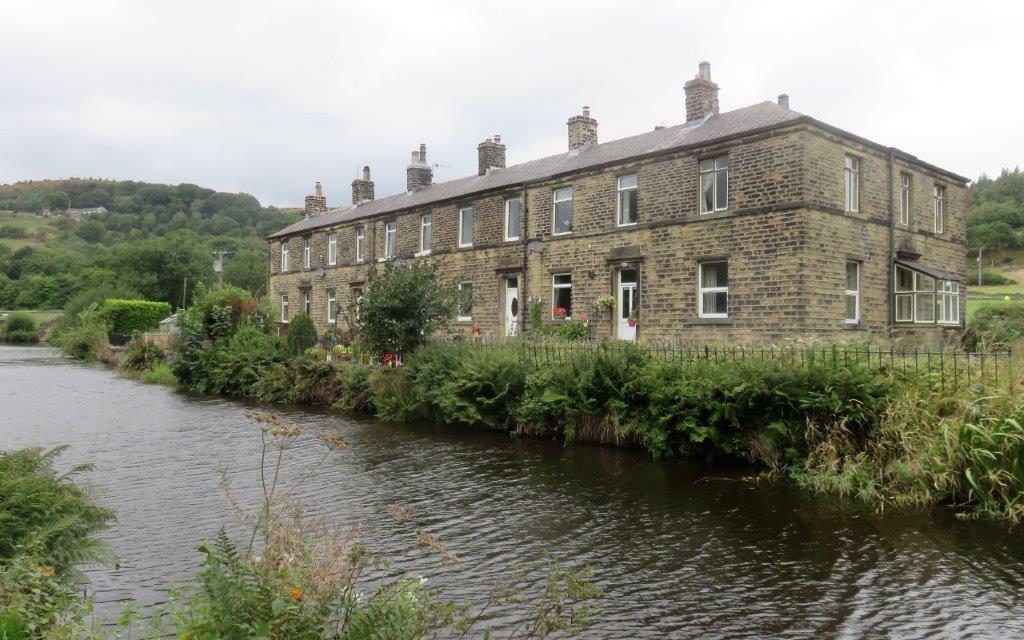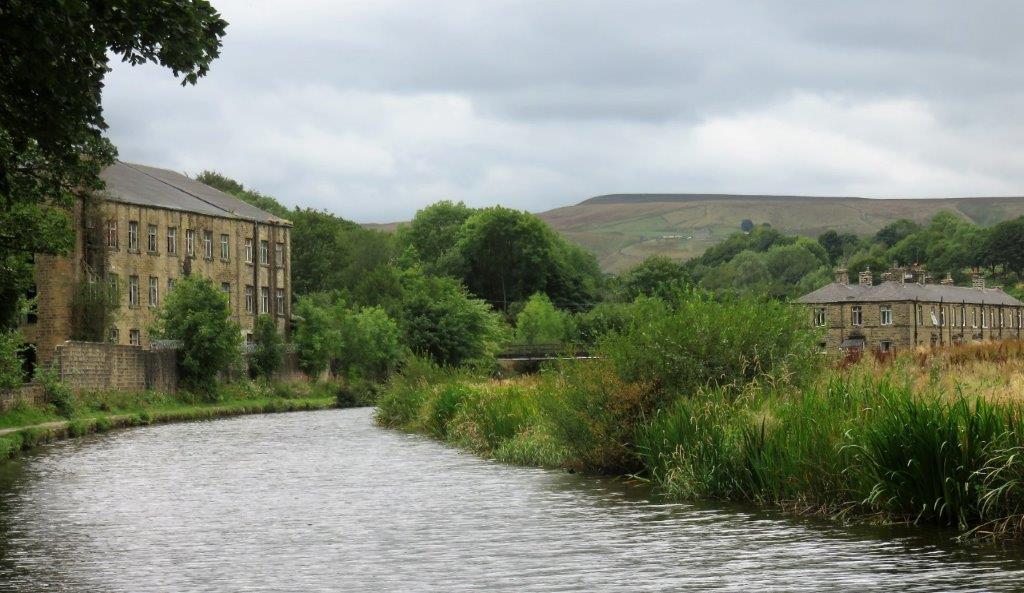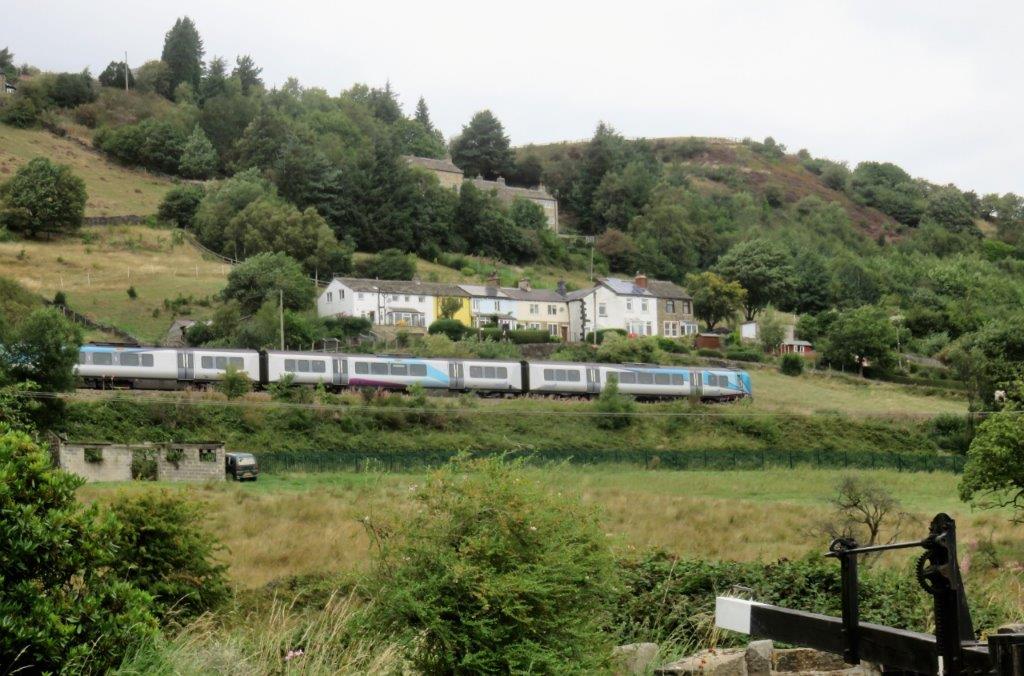 train runs close to both canal and river in Colne Valley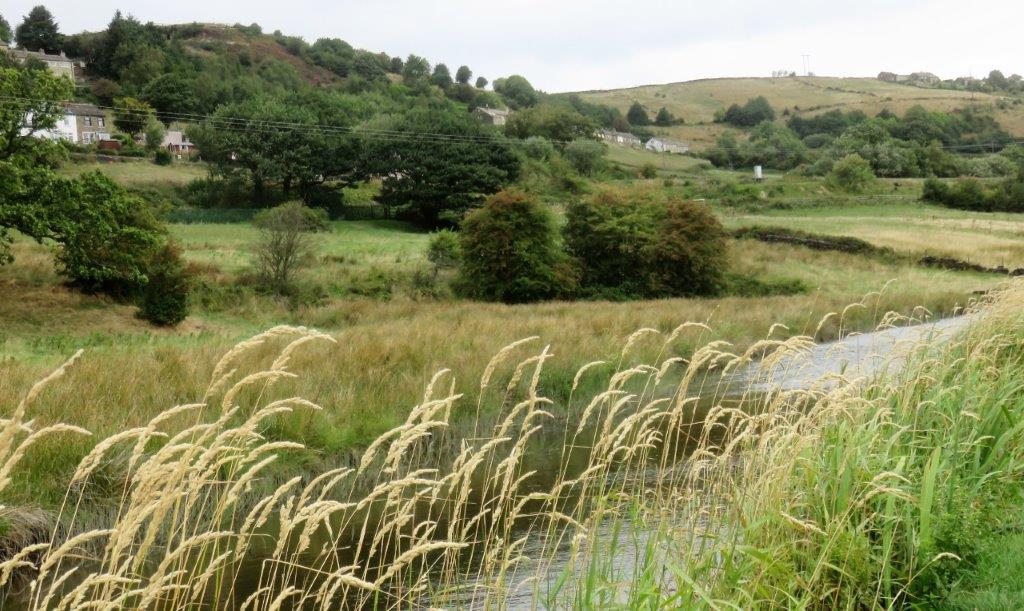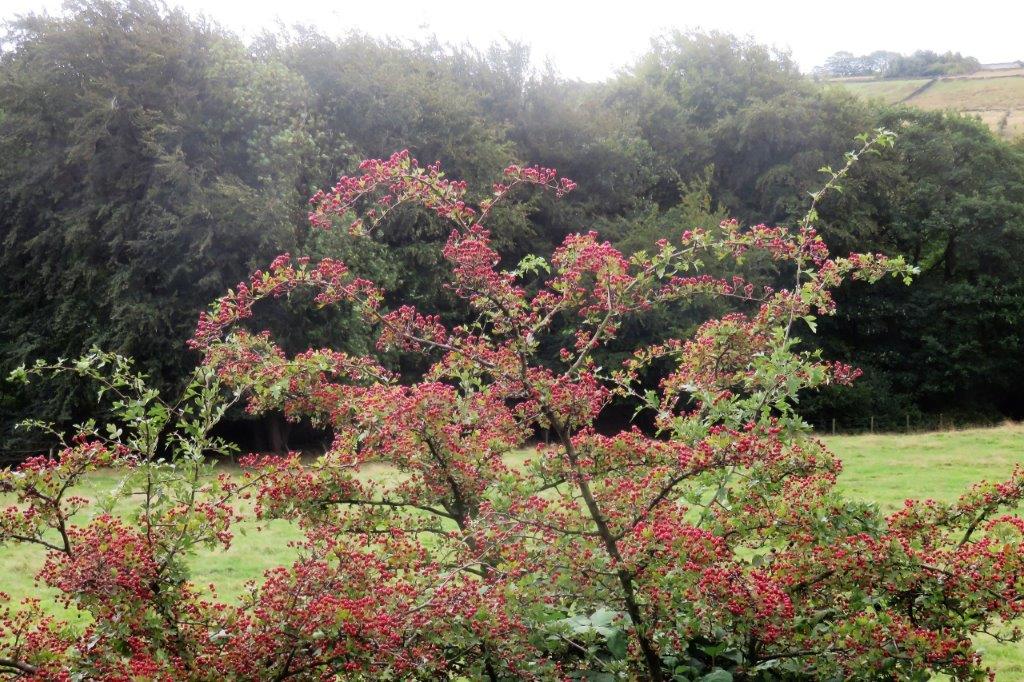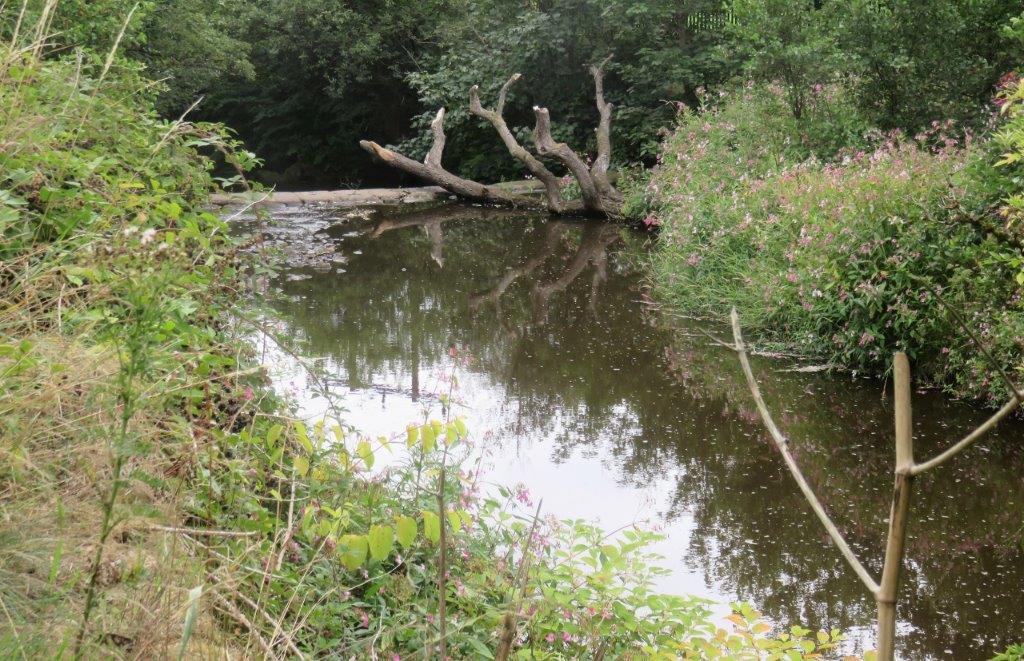 a glimpse of the river just above a weir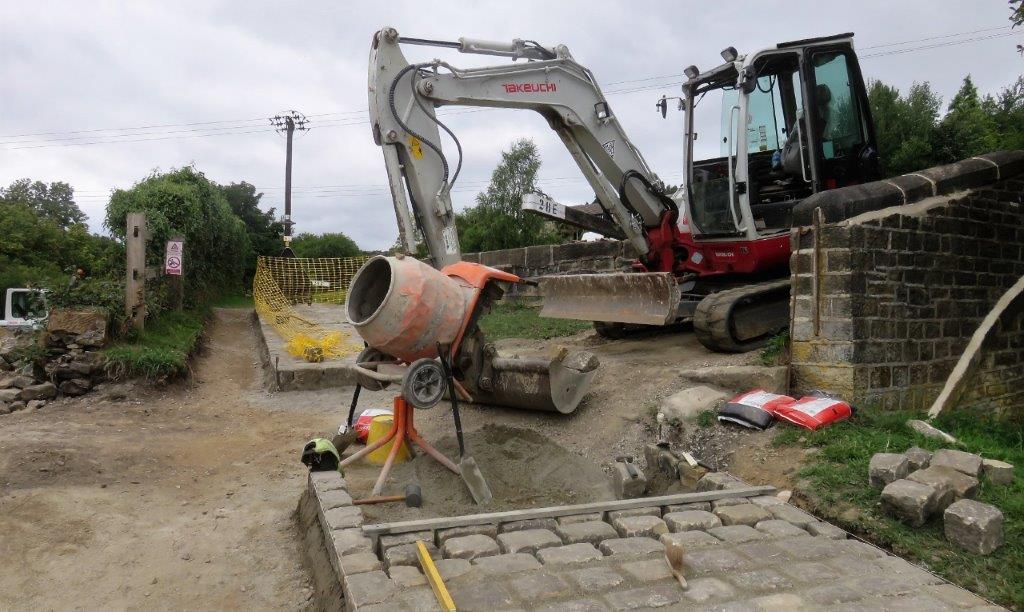 path maintenance works by The Canal and River Trust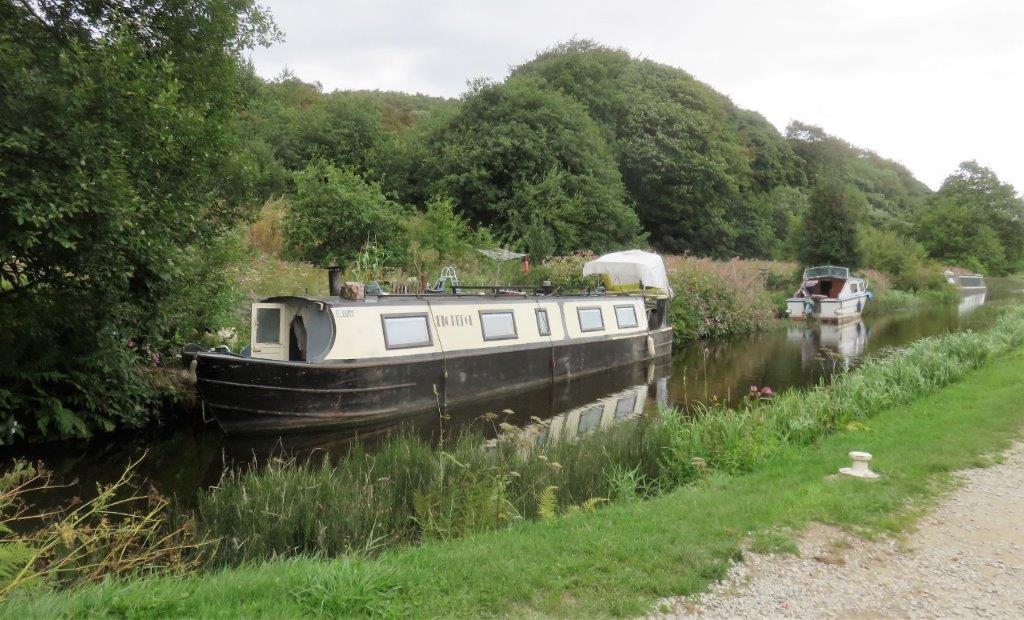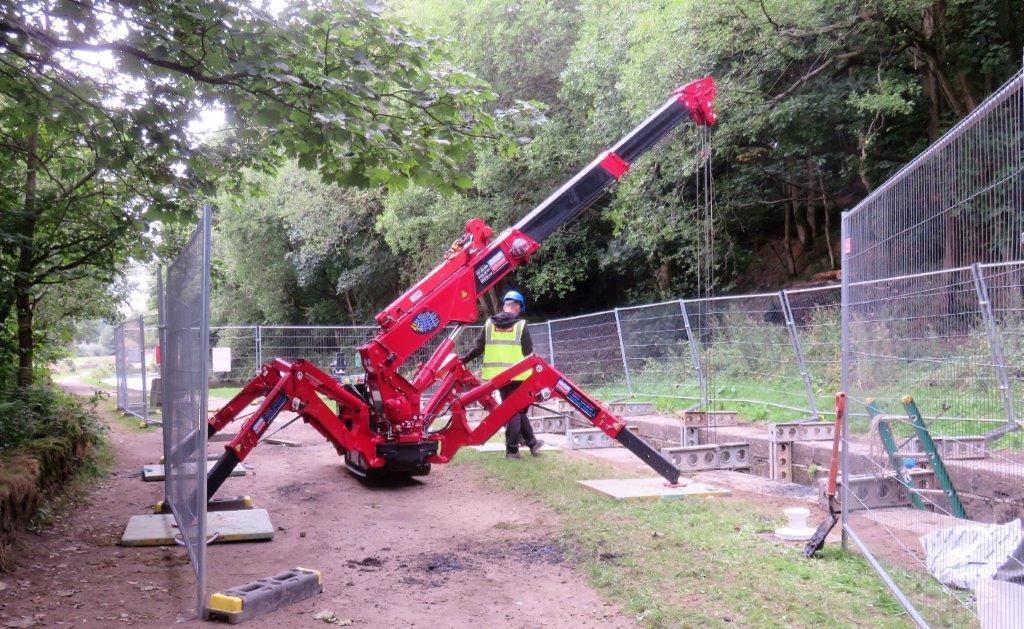 works on a lock removing sediment and checking block stone walls - crane designed with narrow tracks permitting access in confined spaces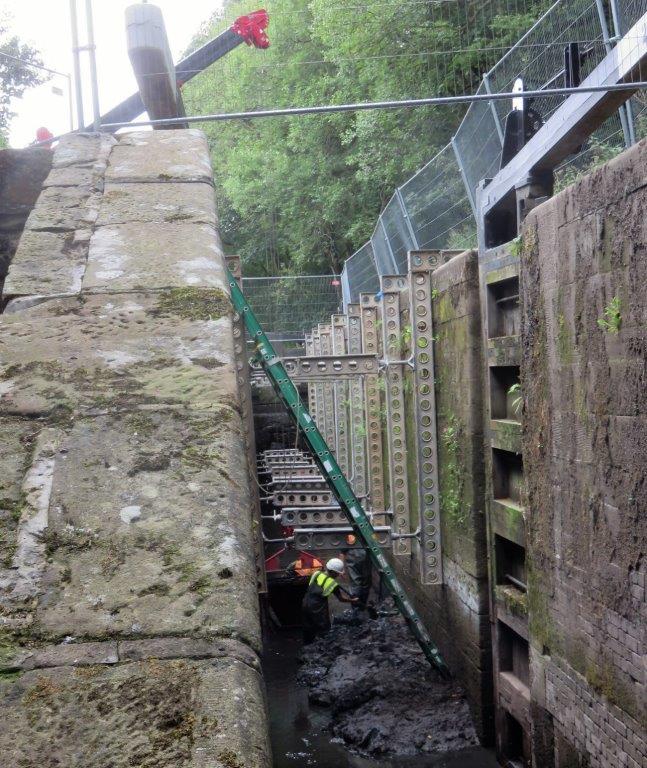 safety strutting during works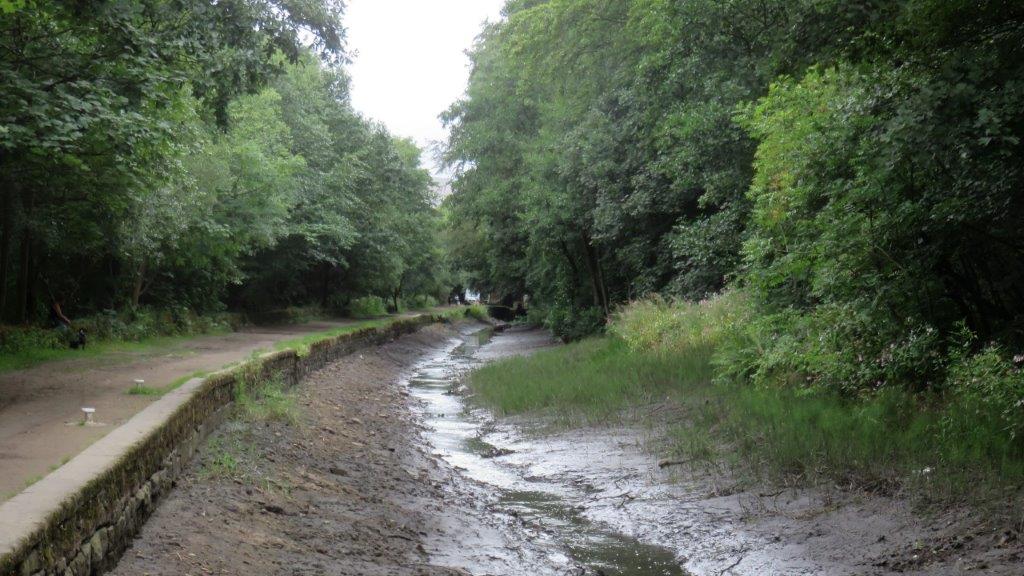 canal section temporarily in dry permitting maintenance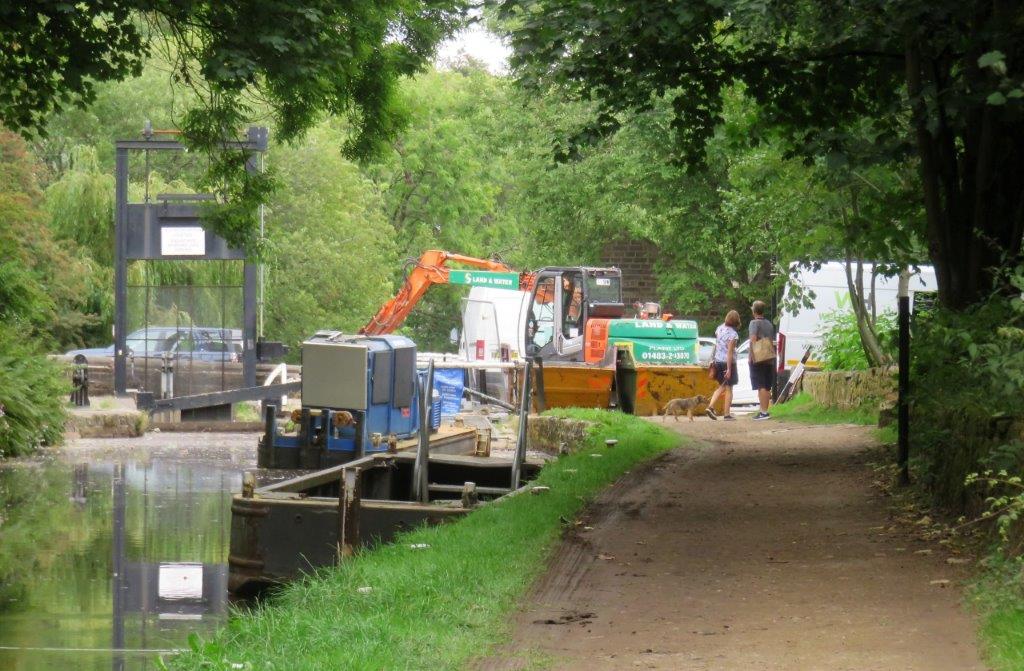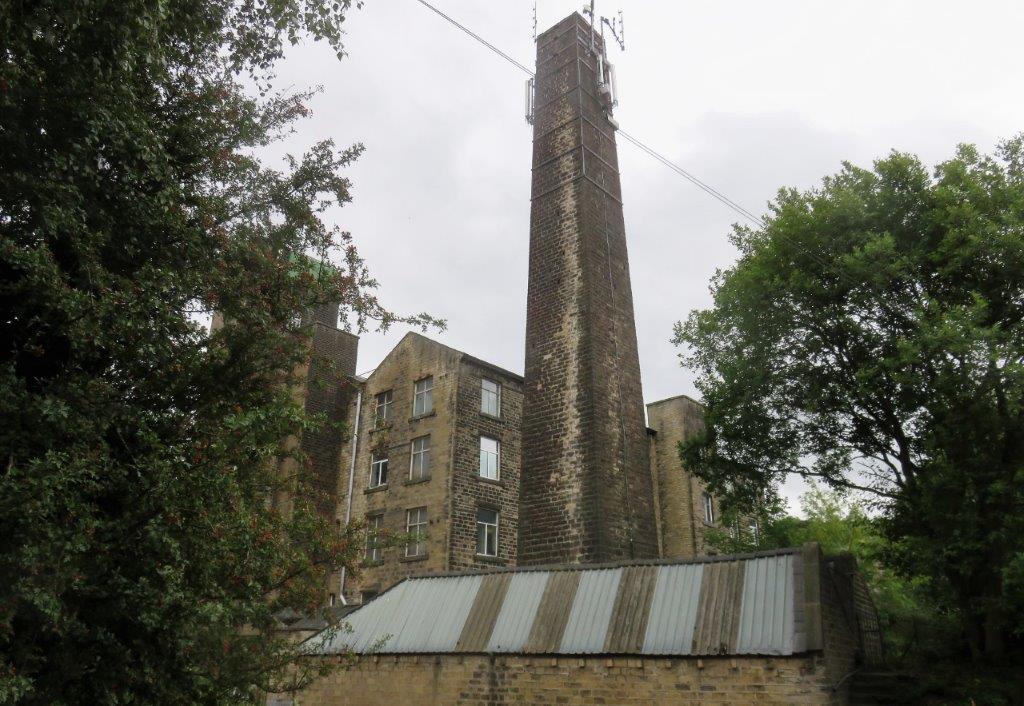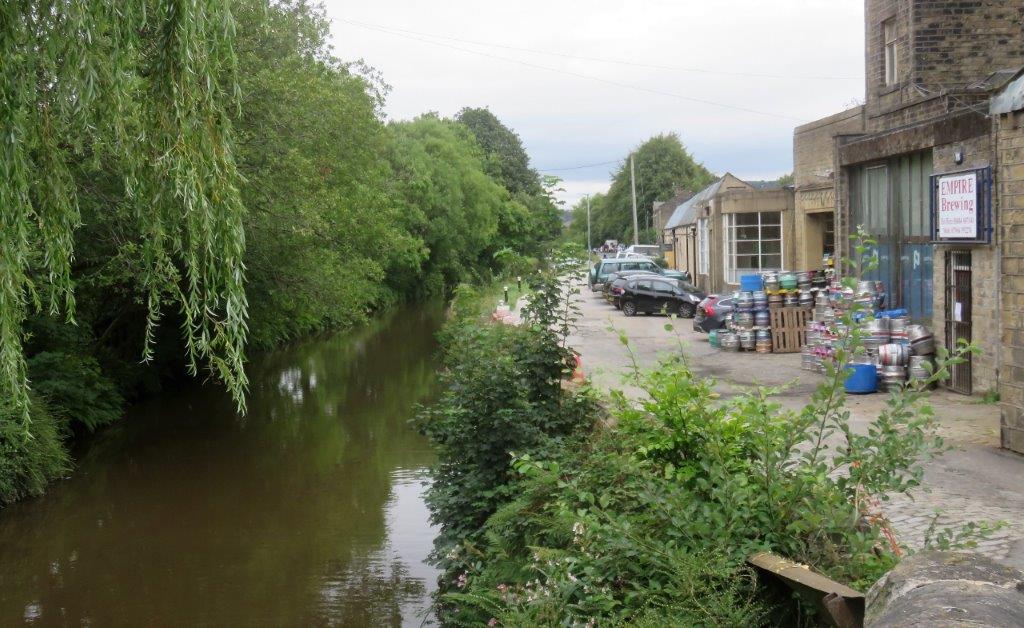 Empire Brewing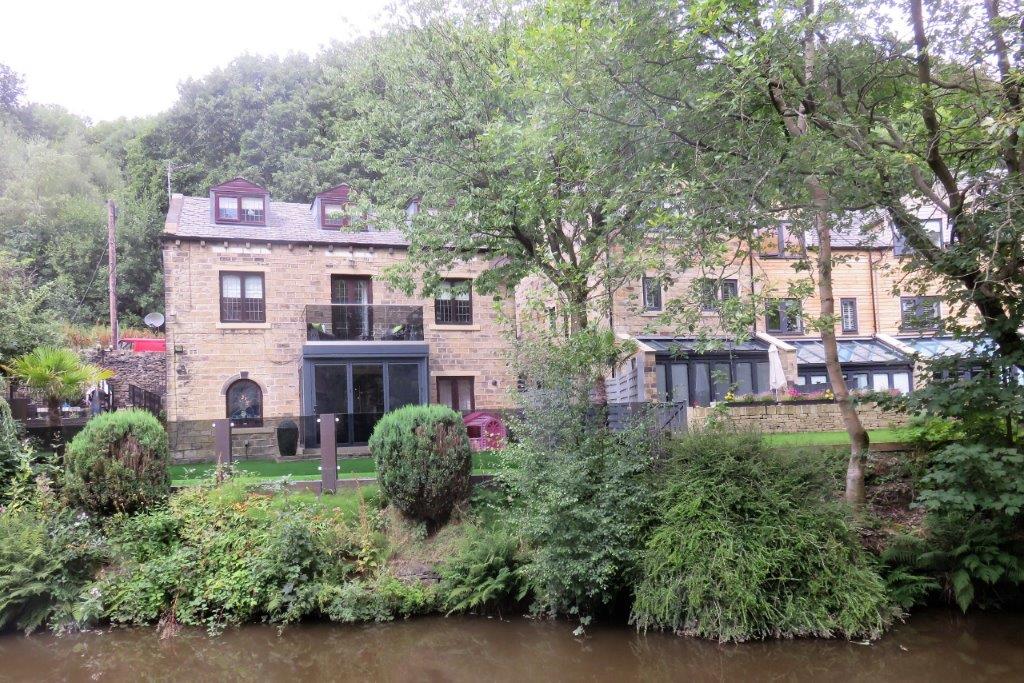 new houses along canal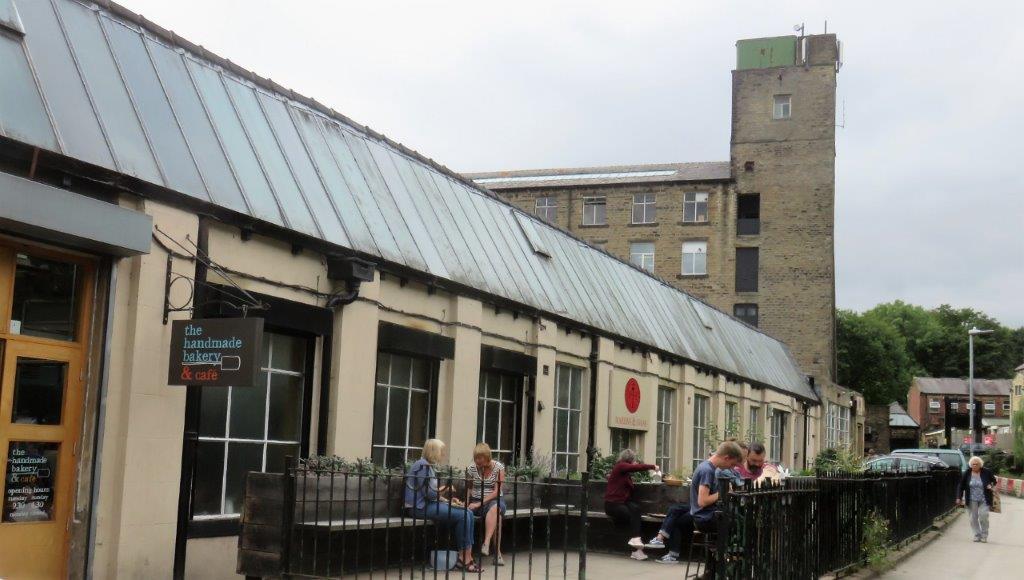 The handmade bakery & cafe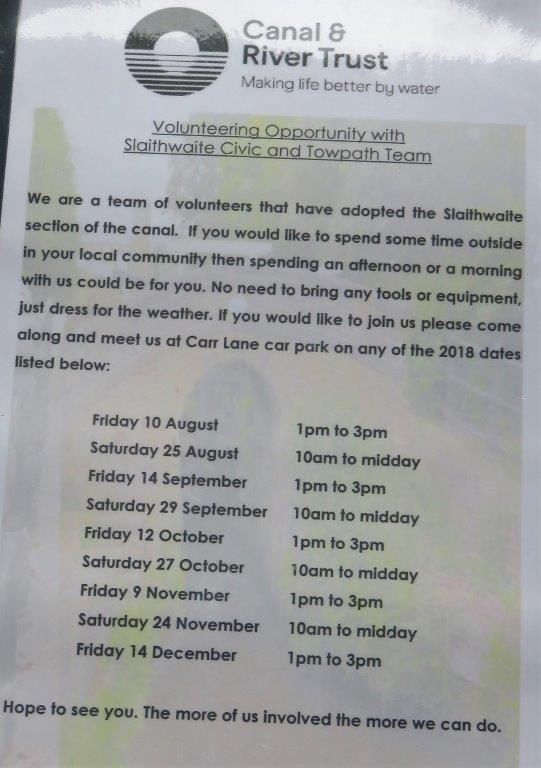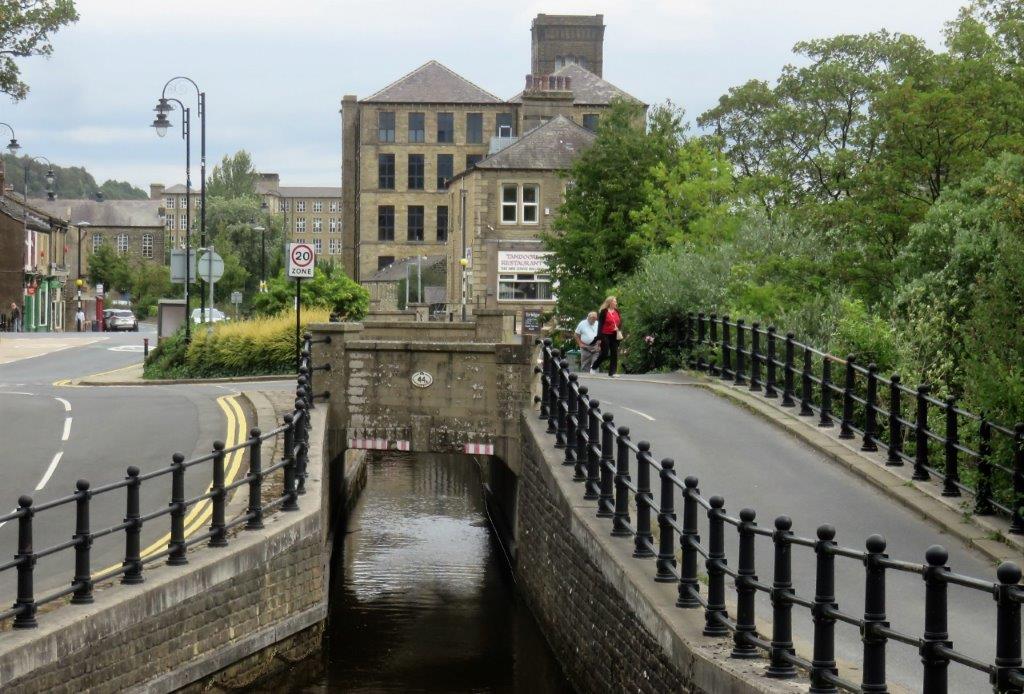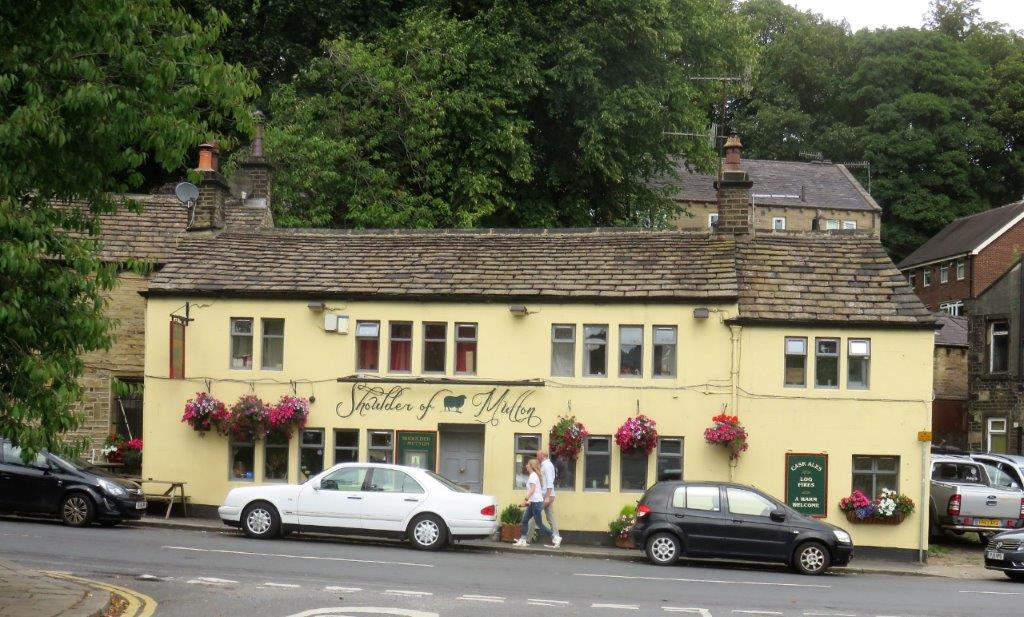 Shoulder of Mutton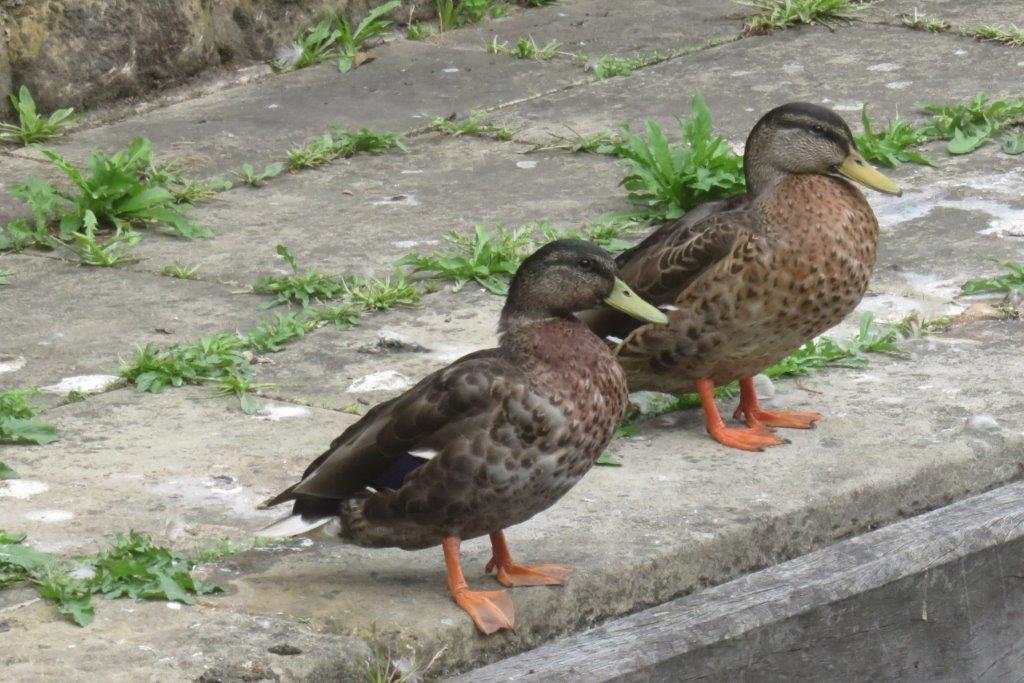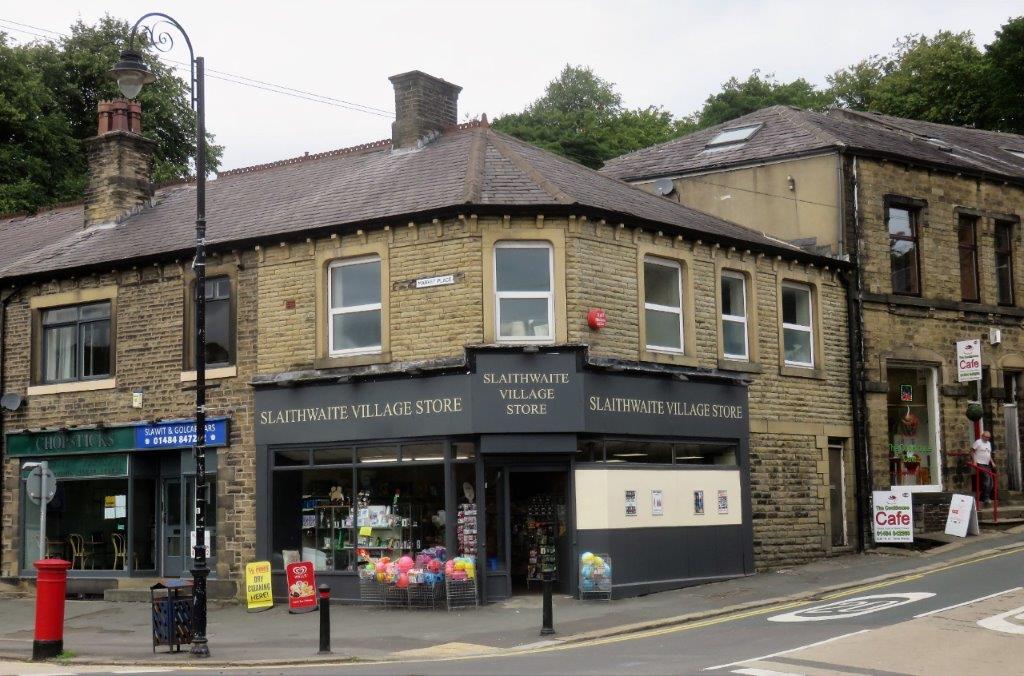 Slaithwaite Village Store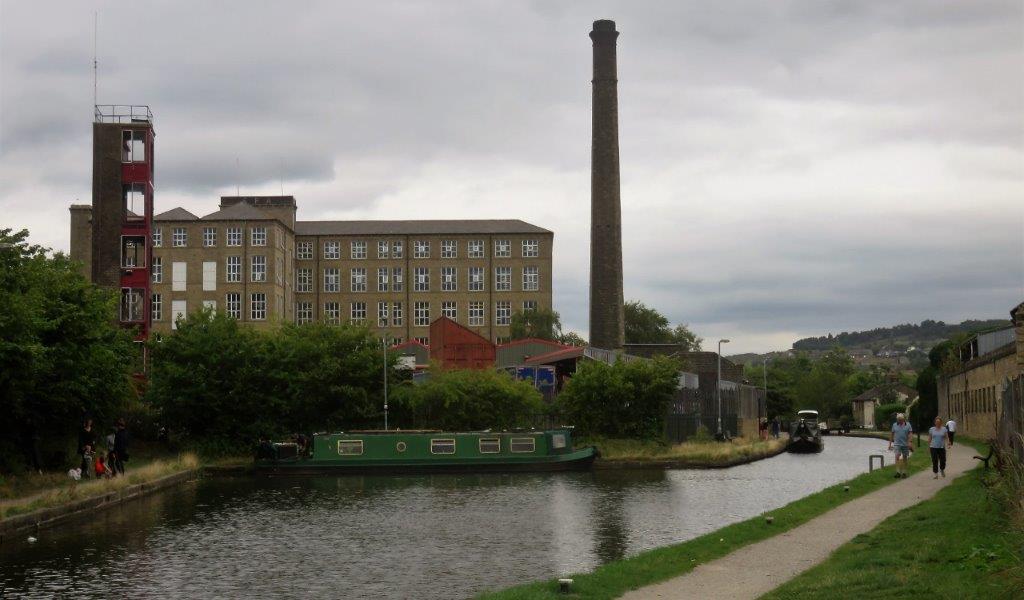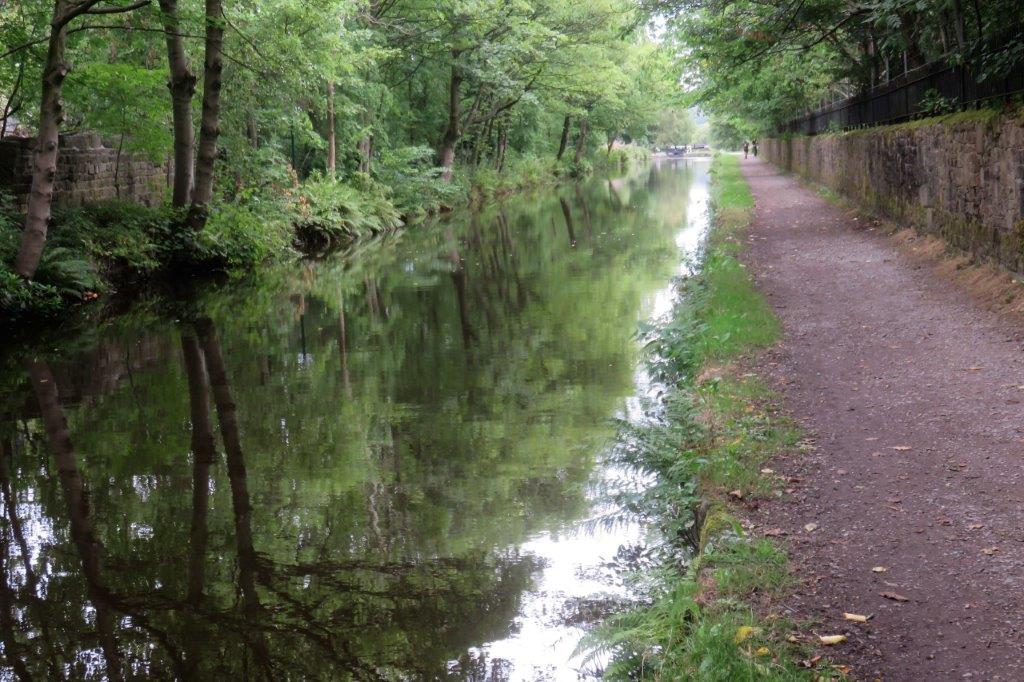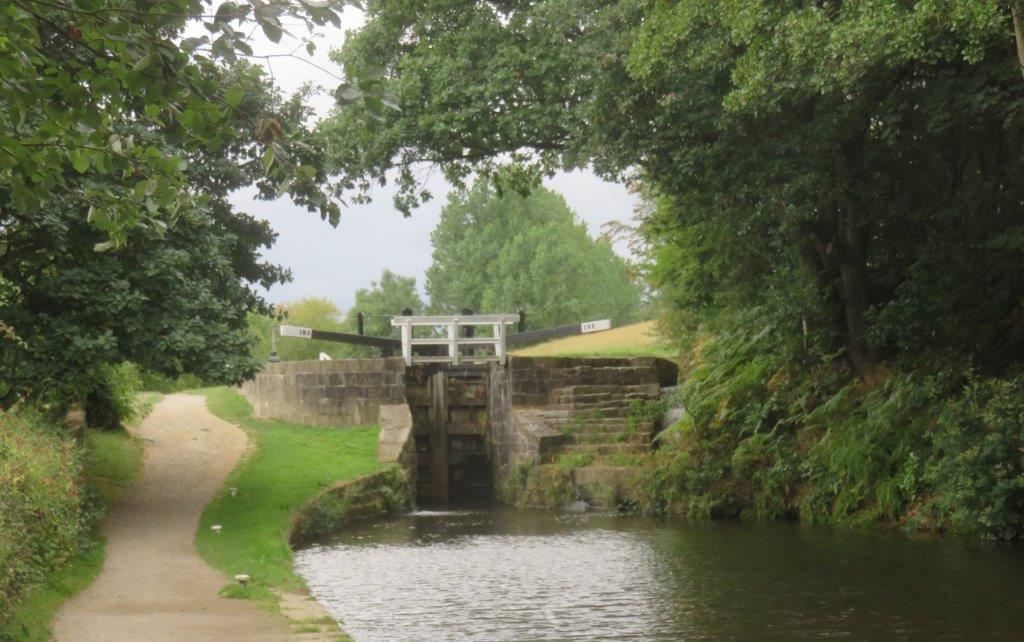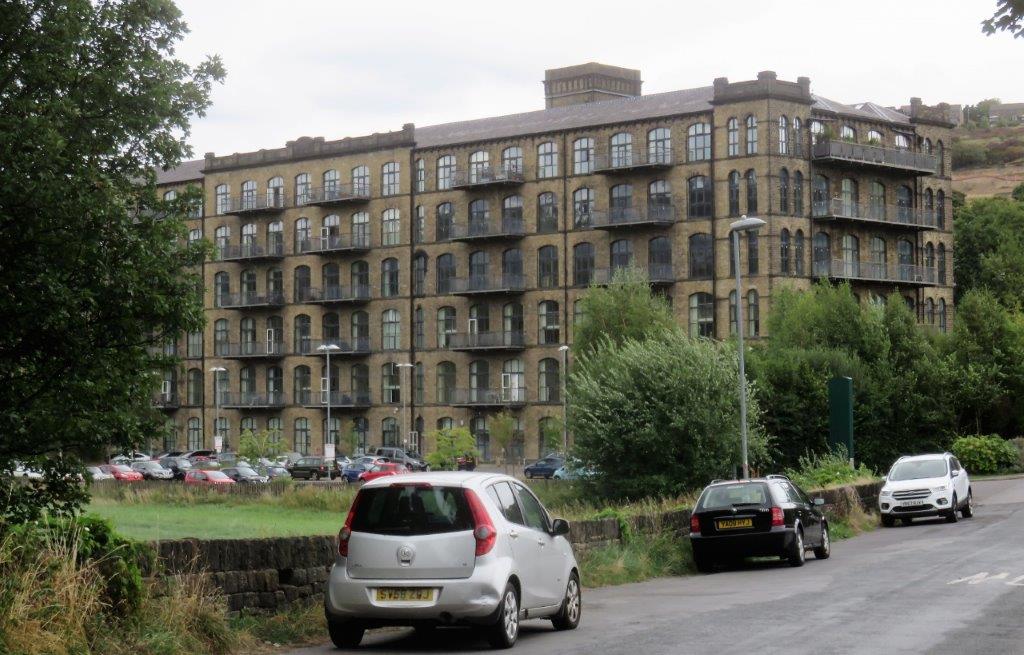 Titanic Mill converted into apartments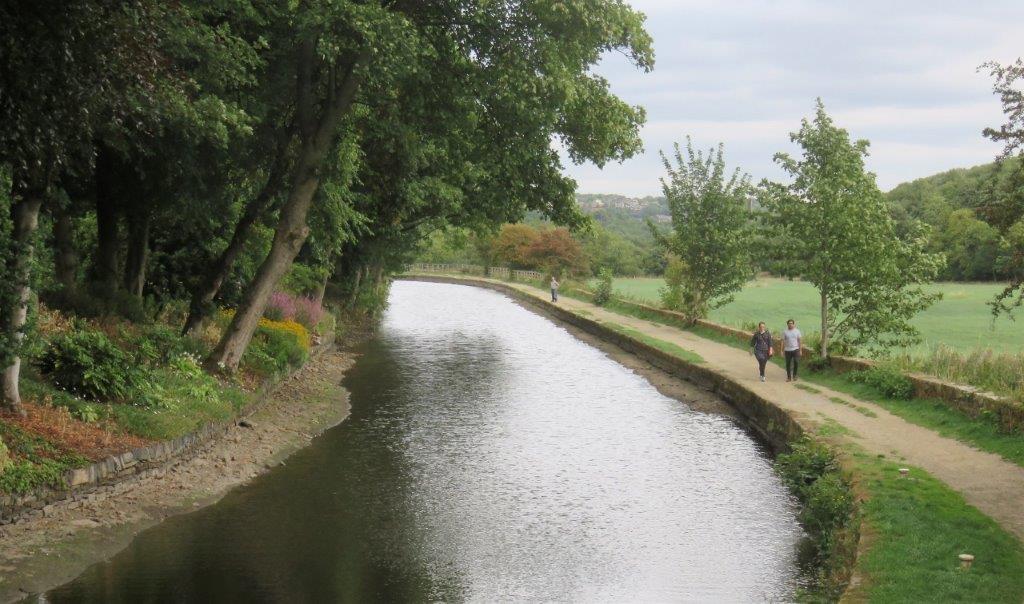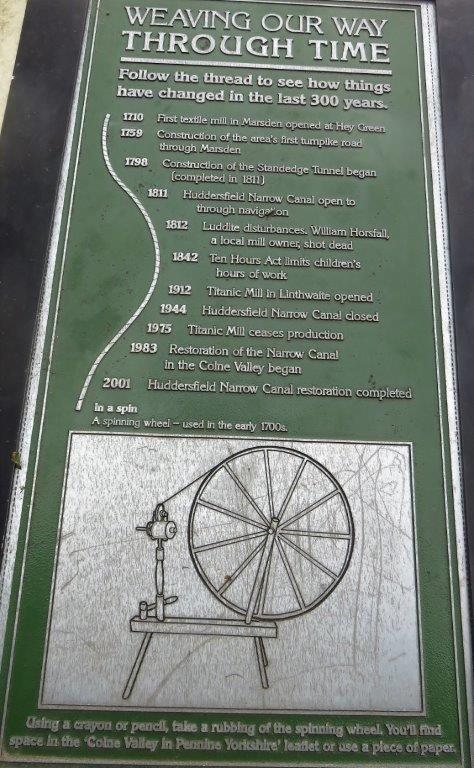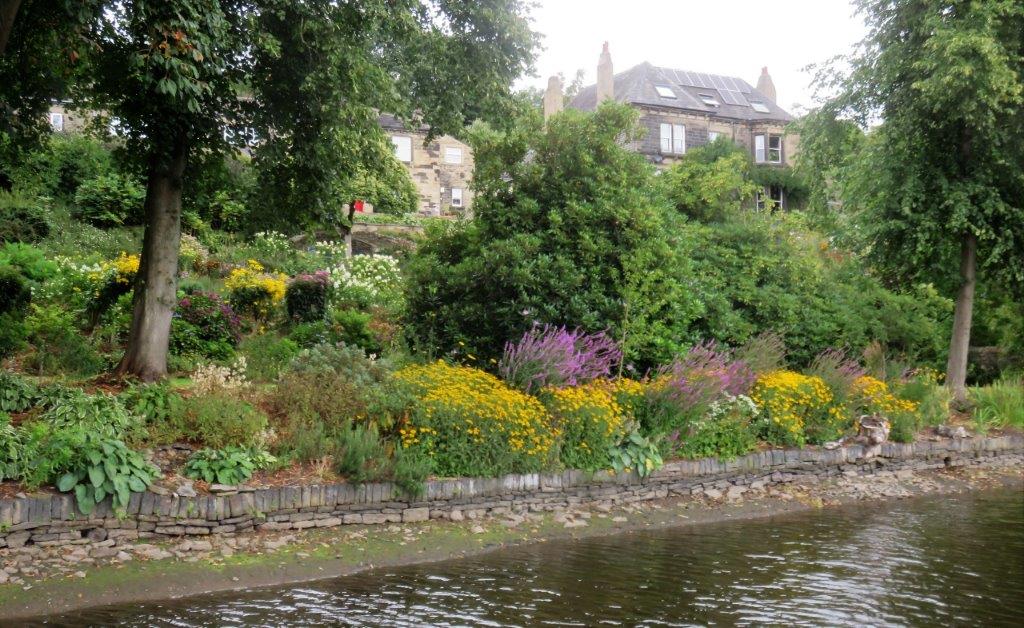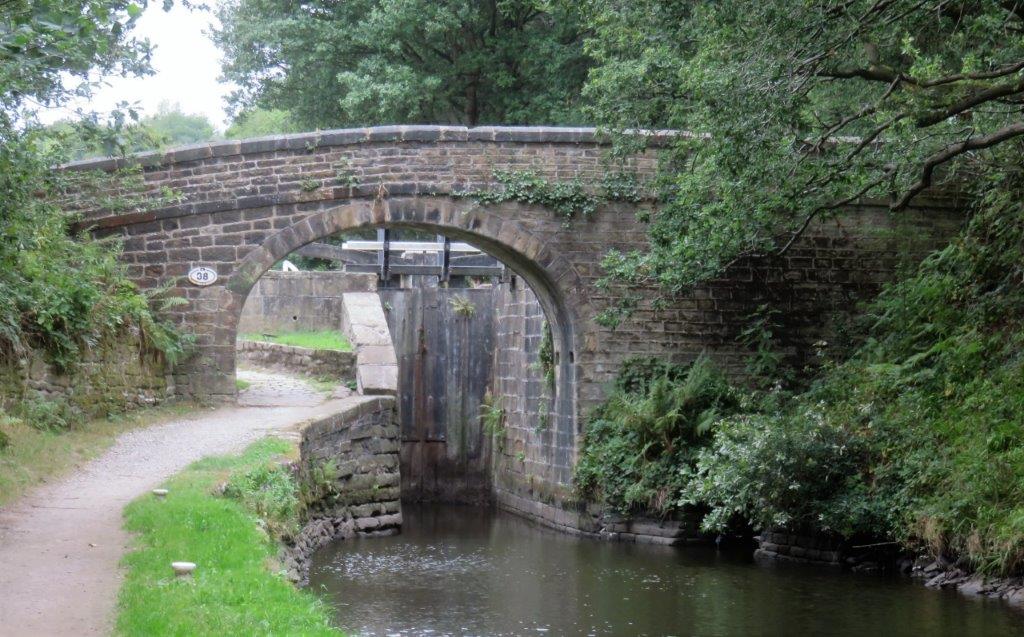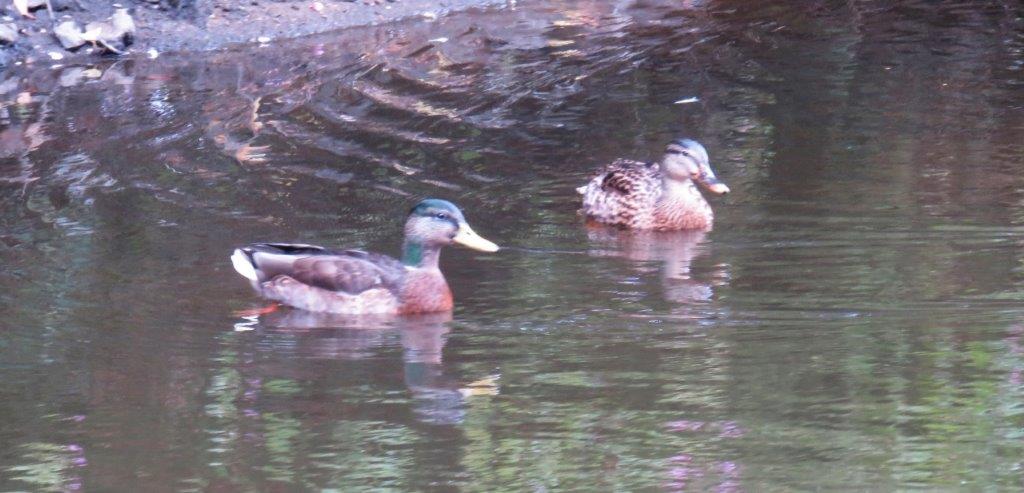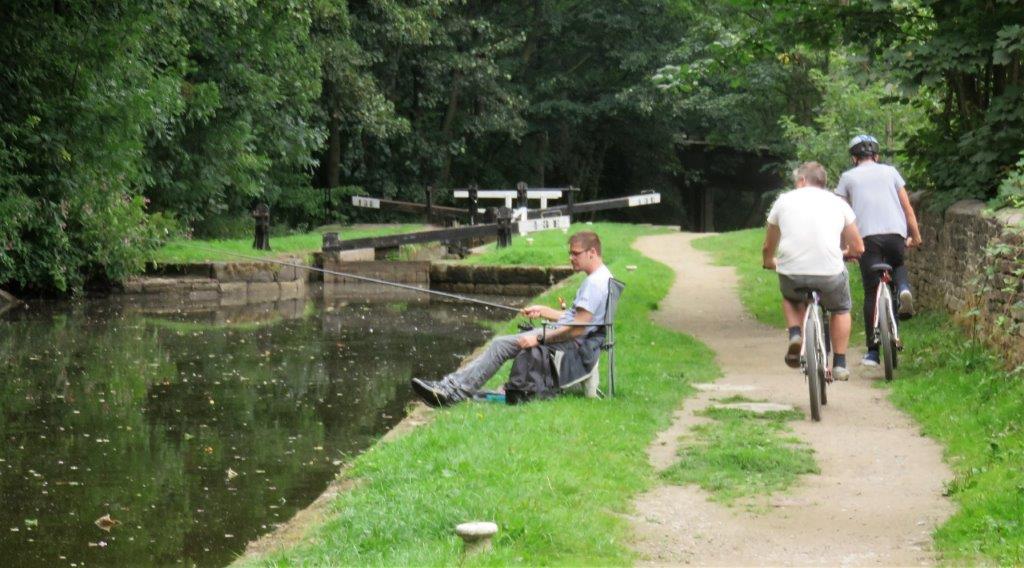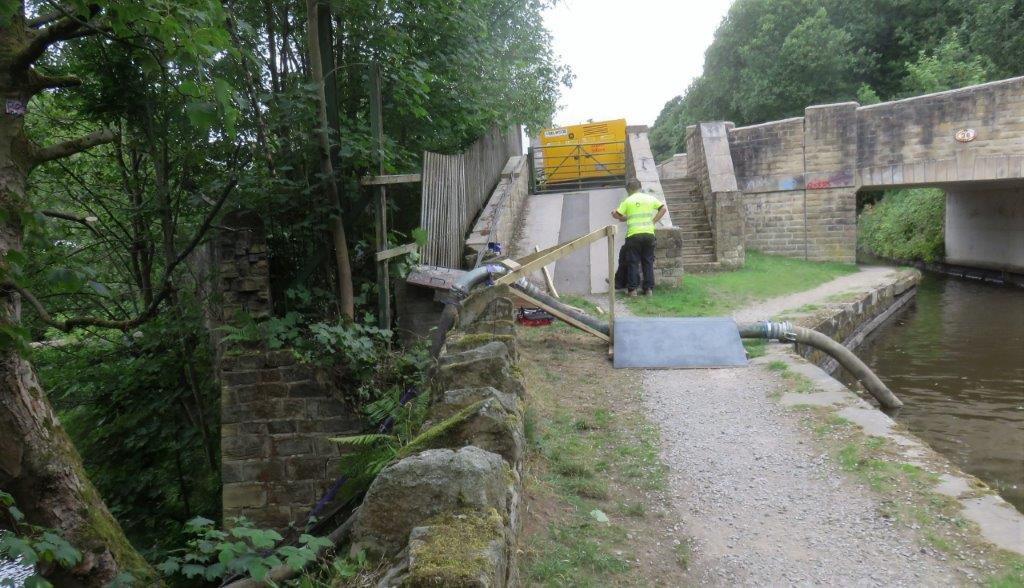 water being pumped from river to fill the adjacent canal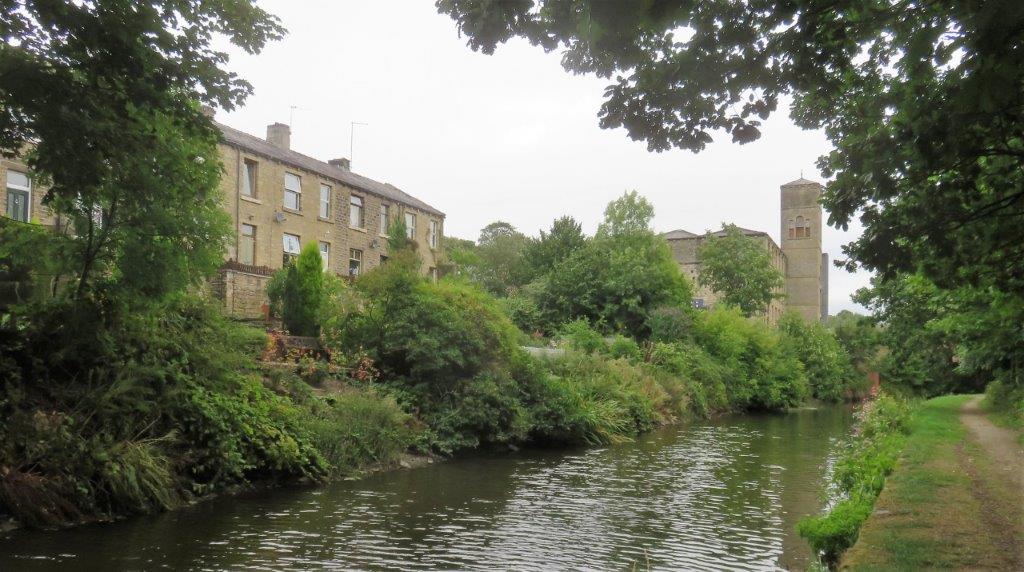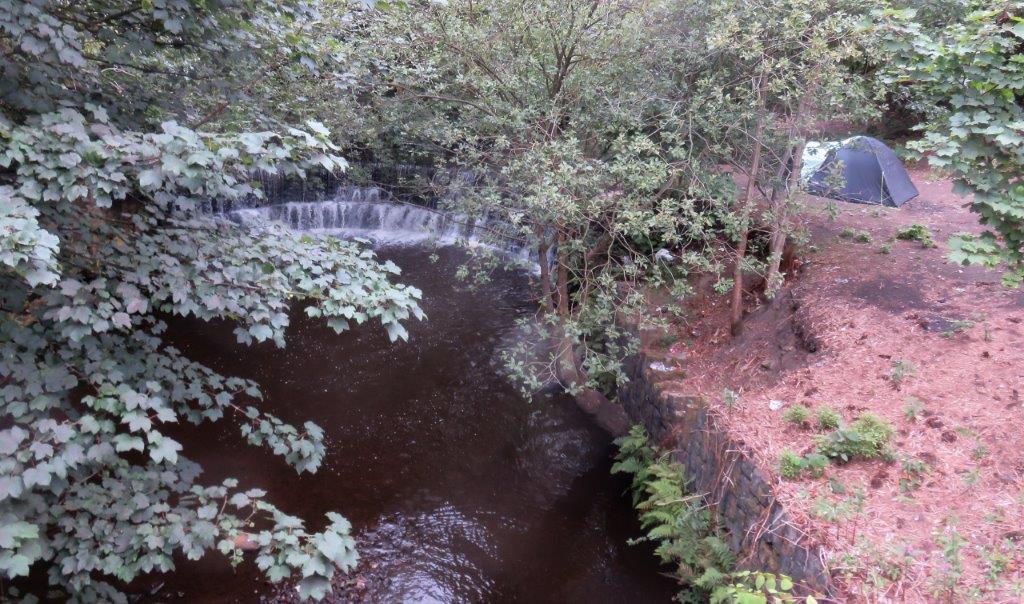 a glimpse of the river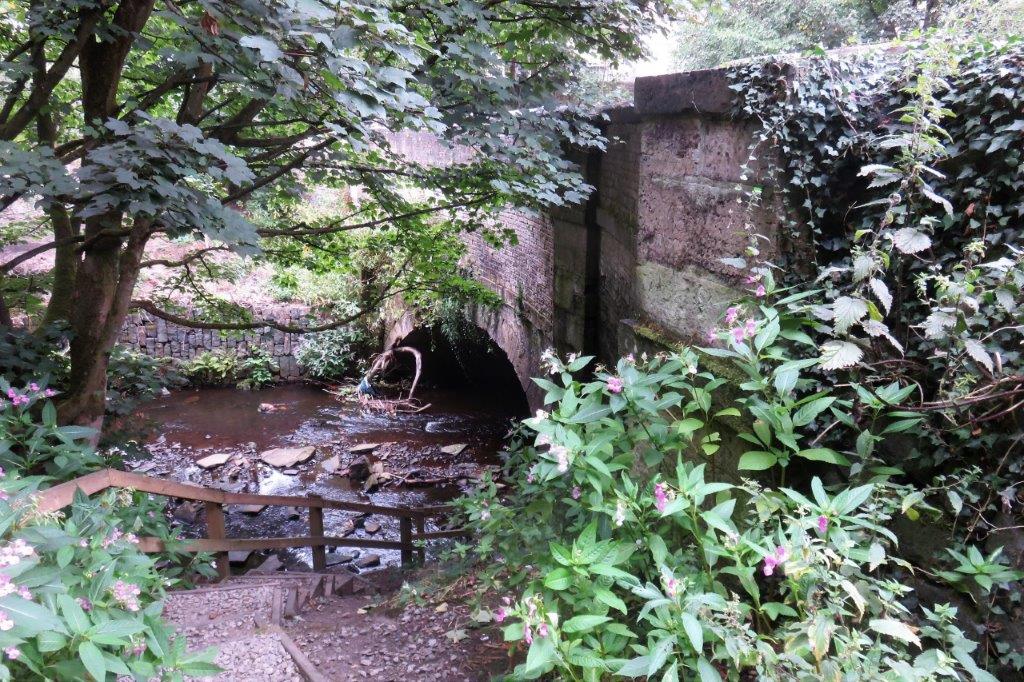 river passes under the canal at this point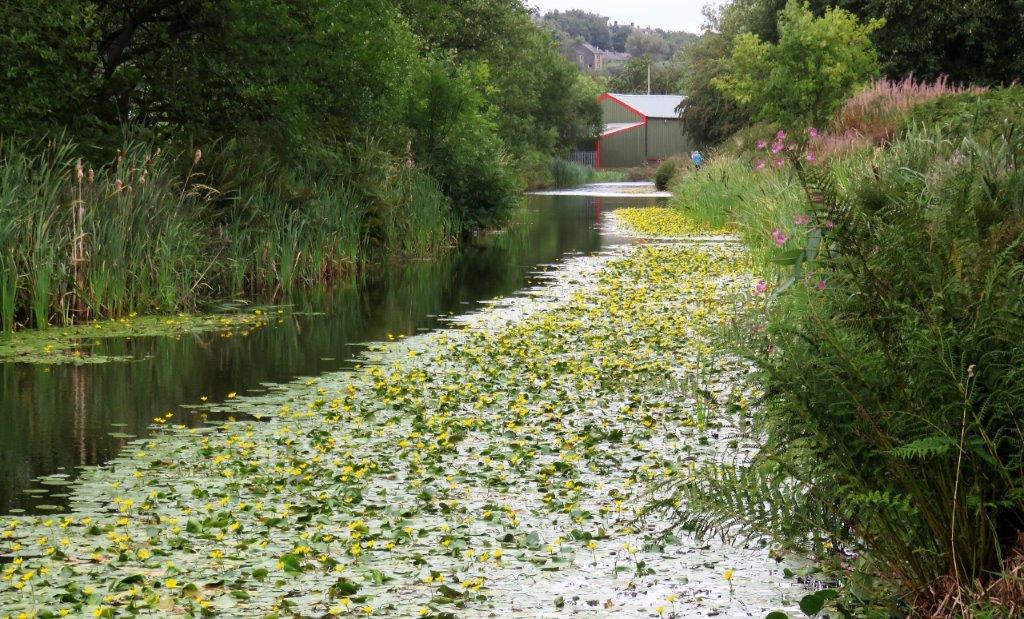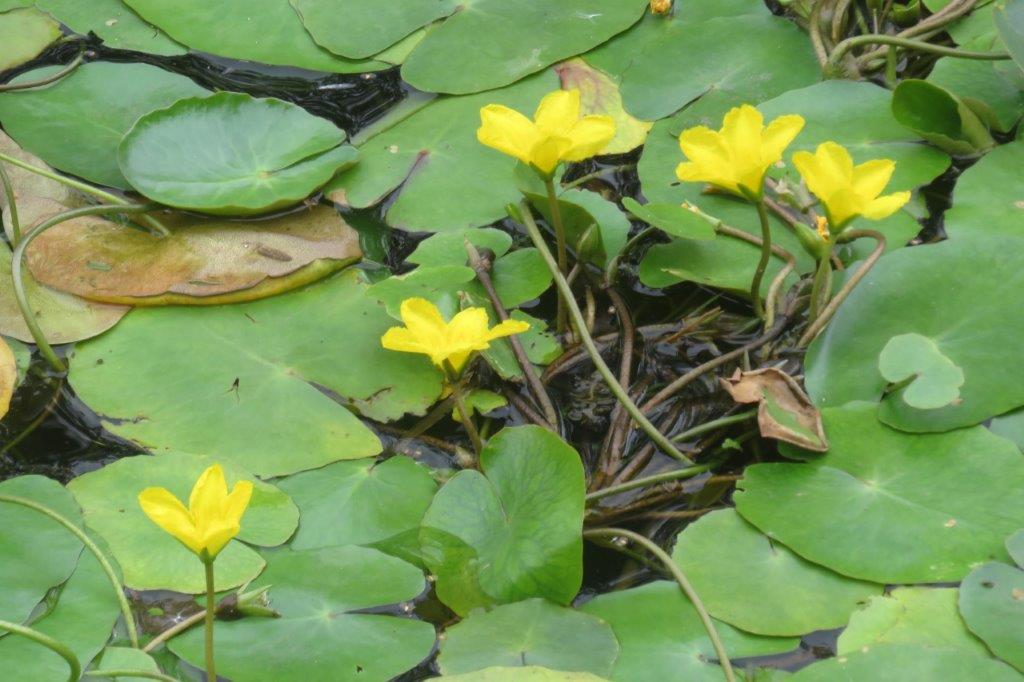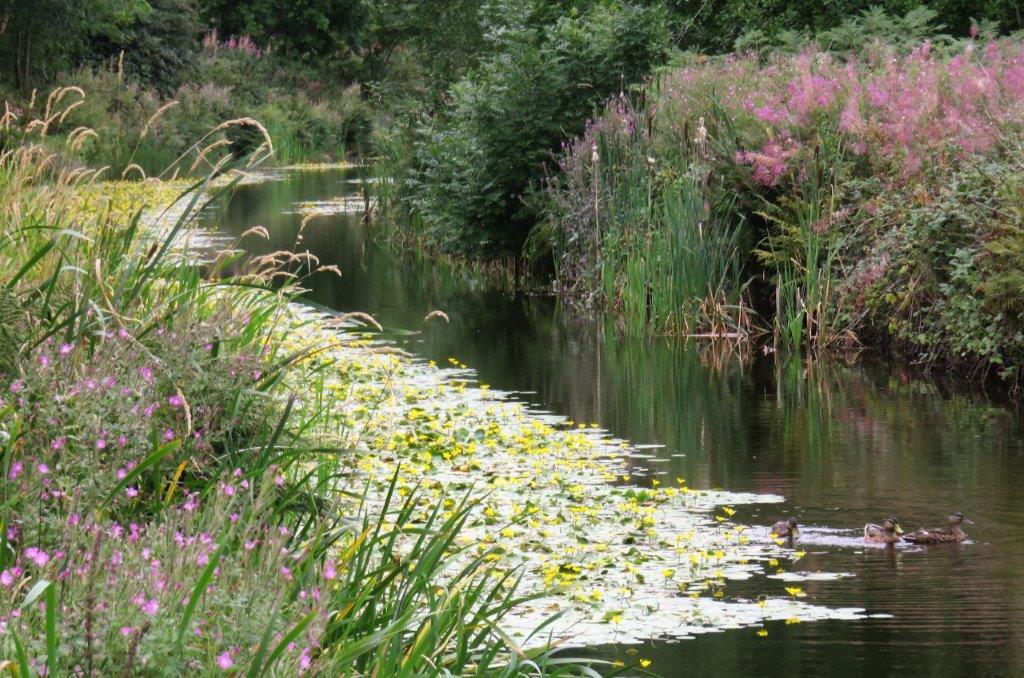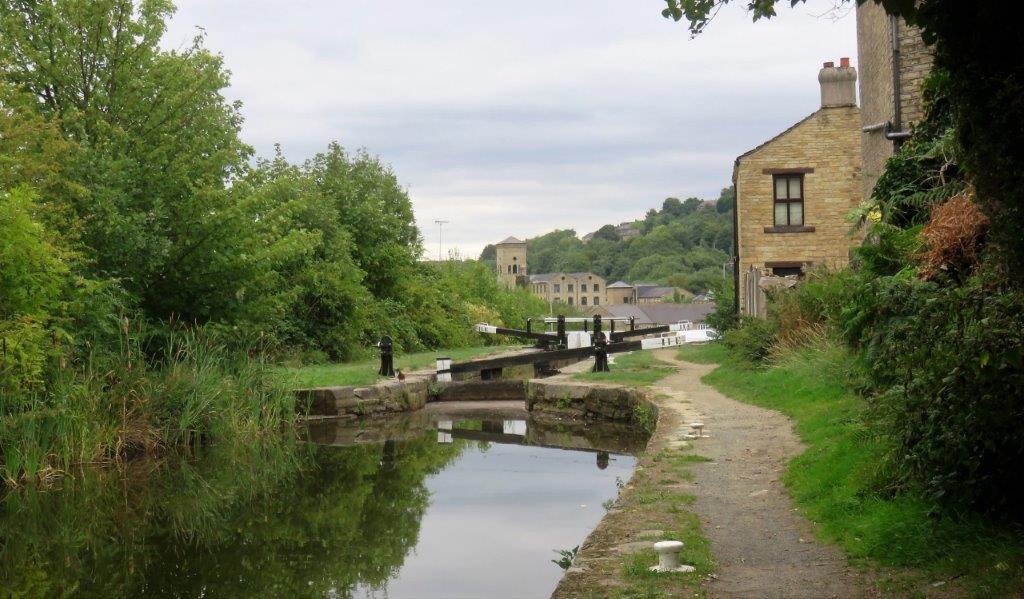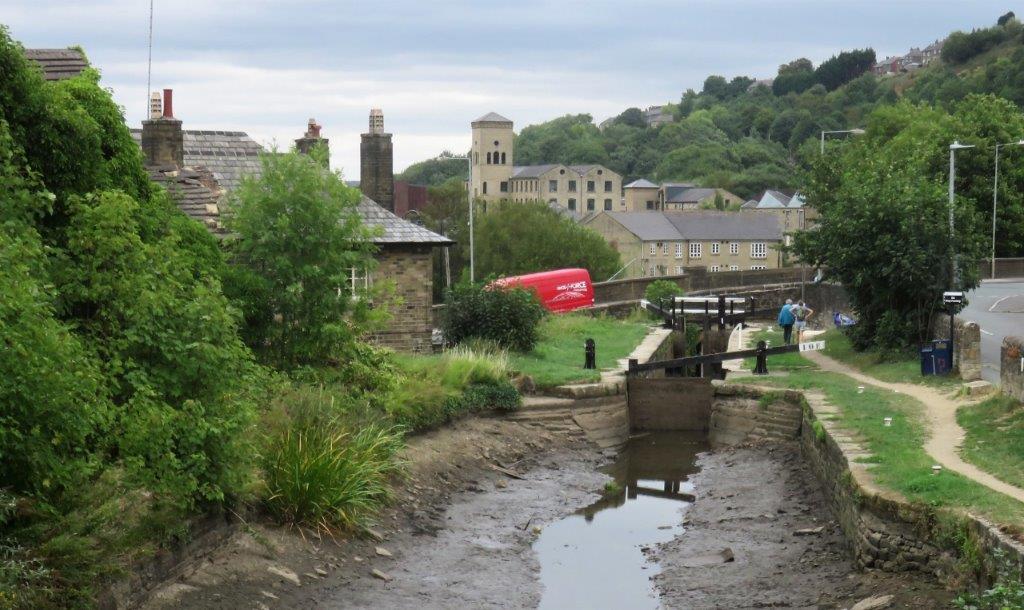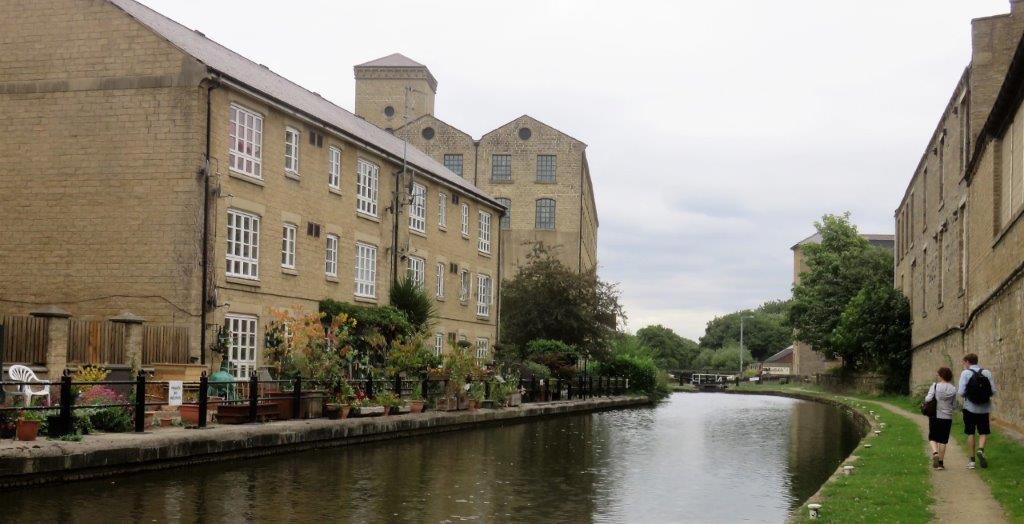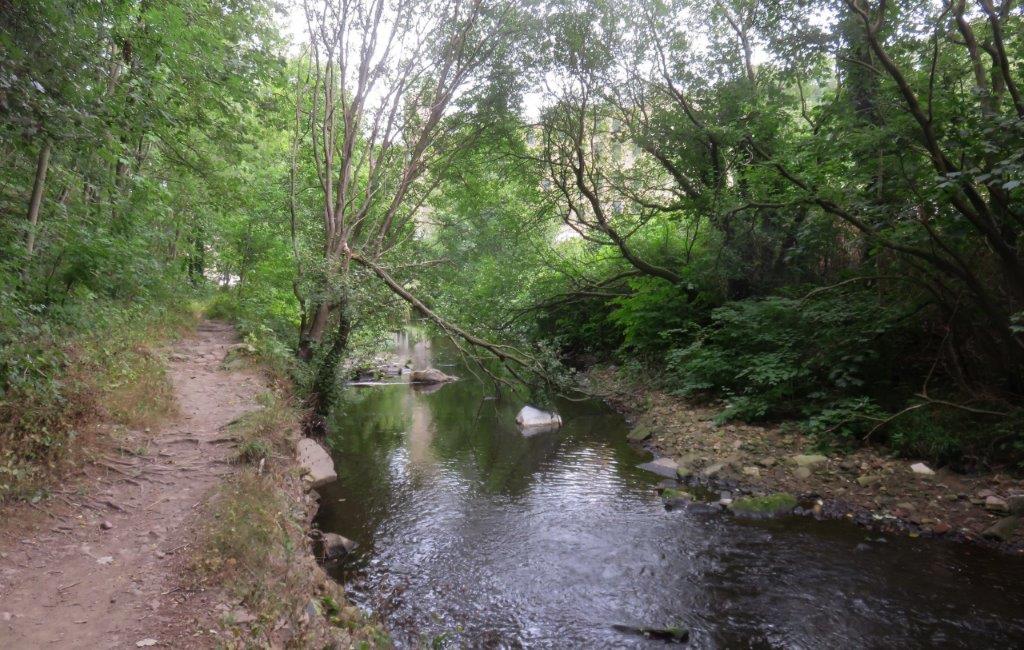 a short stretch of a river path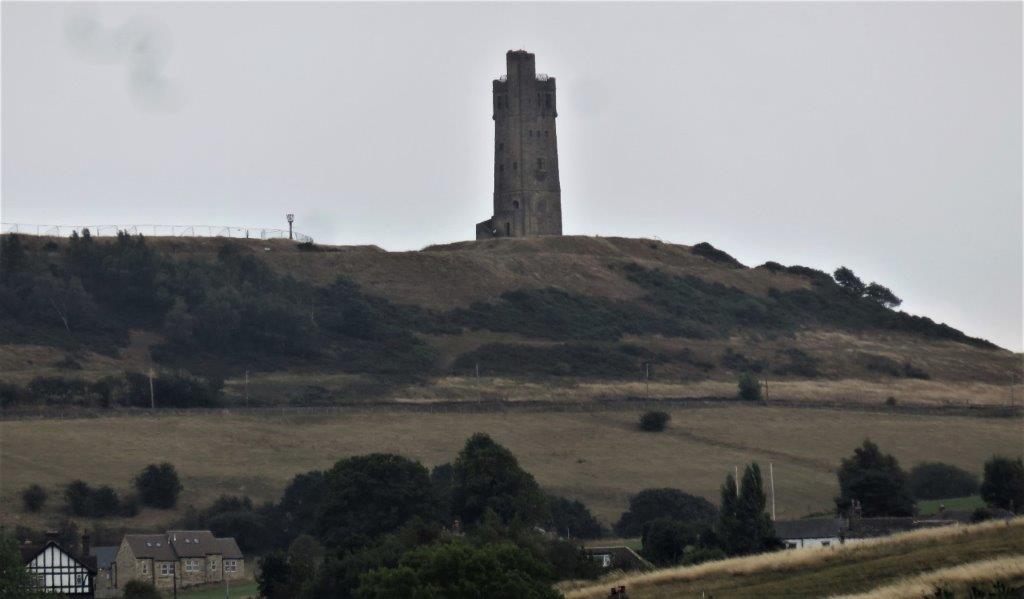 zoomed into Castle Hill and Victoria Tower.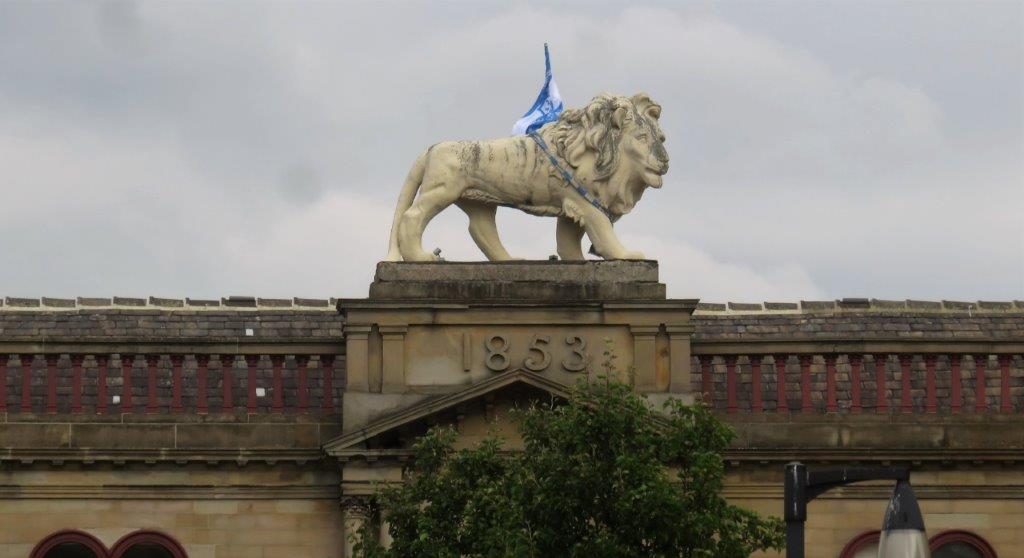 who placed flag and how?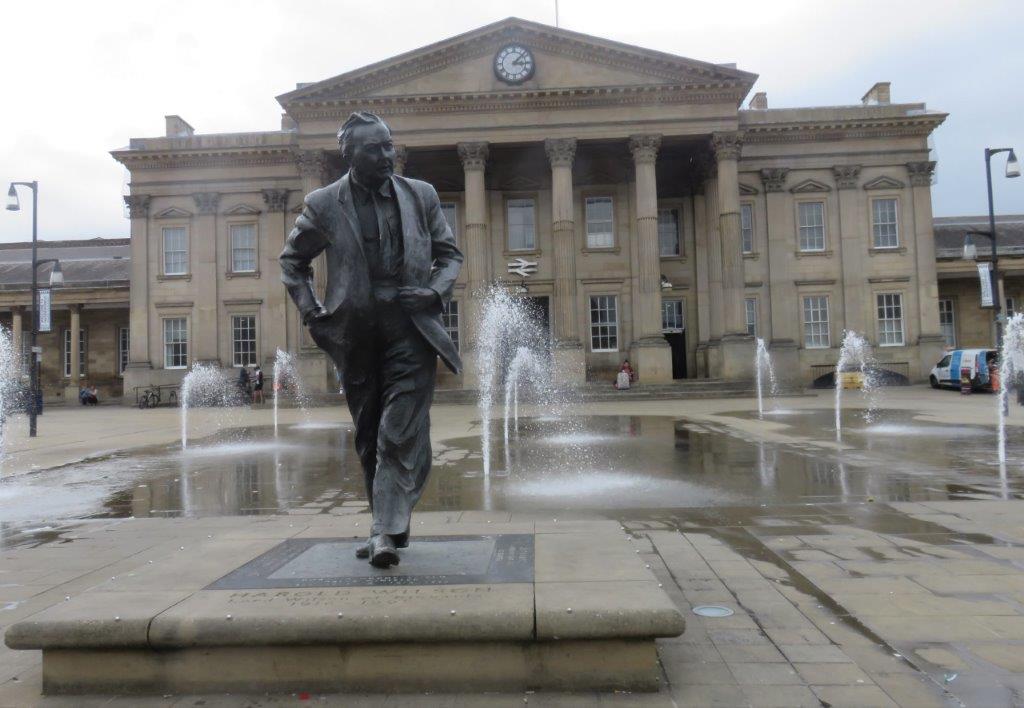 Prime Minister Harold Wilson Statue in front of Huddersfield Station
homepage - Day Walks Index 2018 - contact me at