homepage - Day Walks Index 2018 - contact me at

2018.07.11 - CAR RAMBLE - Wetton Car Park (~SK109551), tour thru village NE / NNW / SW, ~WSW to Thors Cave*1 ~SK100549?, zig zag down to & cross FB at SK098551 over River Manifold, follow Manifold Way ~SE along River Manifold then ~SW along River Hamps, leave M.Way ~S through Old Soles Wood then Soles Hollow, at ~SK102527 ~E up Mere Hill & down to road ~WNW into Throwley Hall (Farm & remains of Old Hall), ~SSE / ESE to Rushley, Footpath ~SE to Footbridge at ~SK128510 across River Manifold, ~E through Ilam Park then road to OAL below Bunster Hill, ~N up to Ilam Tops*2, ~W then ~SW then WNW to Ilam Moor Lane & ~350m NNW along it, ~E past Beechenhill (farm) and just past Castern Hall, ~N to ~SK120535, NW / N to cross Larkstone Lane & N into Wetton - leader Liz Savage - Wednesday - (*1 not marked on Ordnance Survey 1 in 25000map) (*2 - route to West of Bunster Hill but photographer & another went over Hill for panoramic views)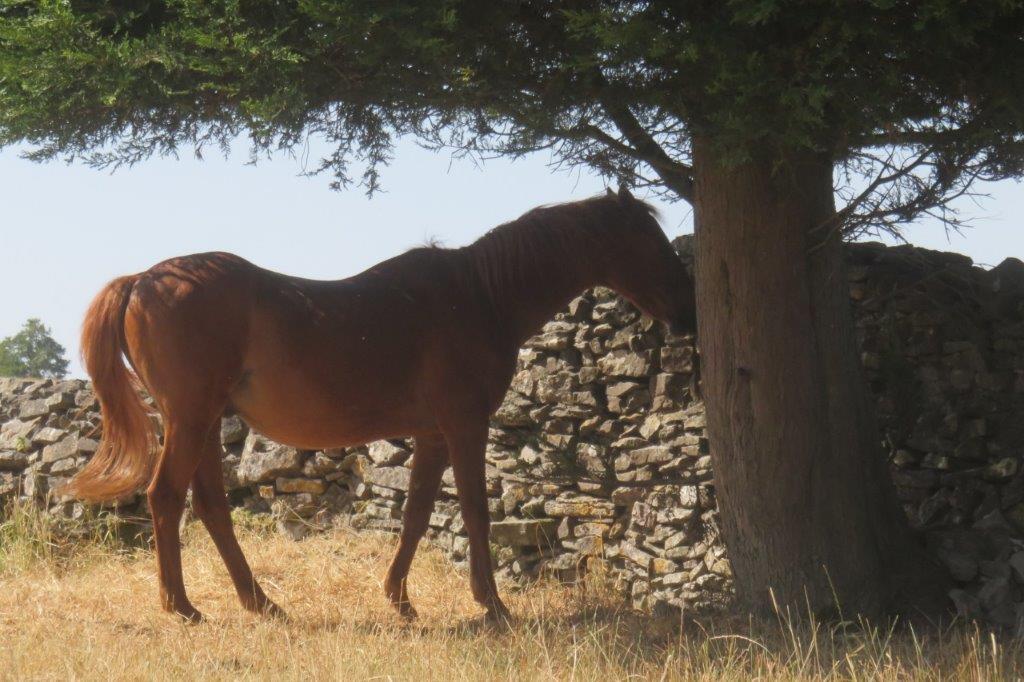 horse in Wetton near car park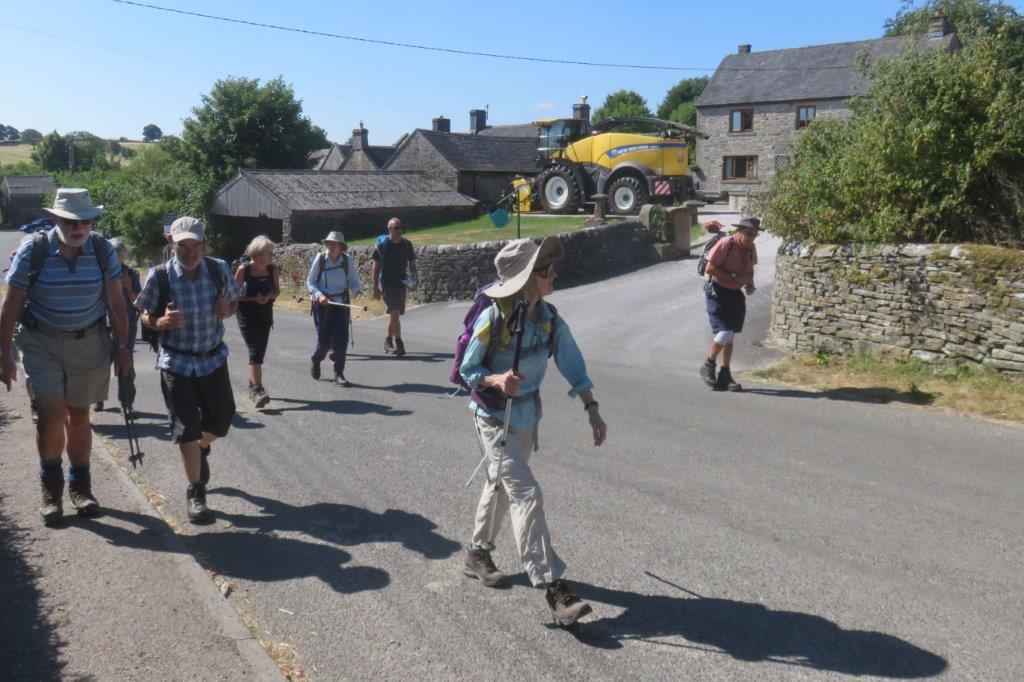 tour through Wetton village to get to route to Thors Cave (shown only on Ord. Survey 1in 50.000 map)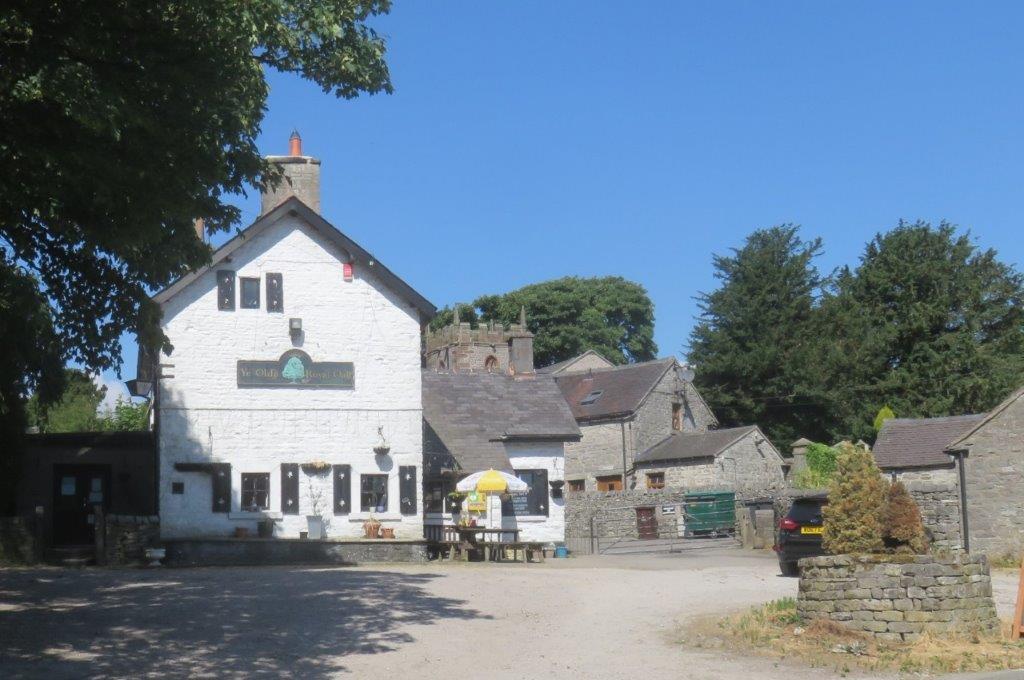 local PH & Church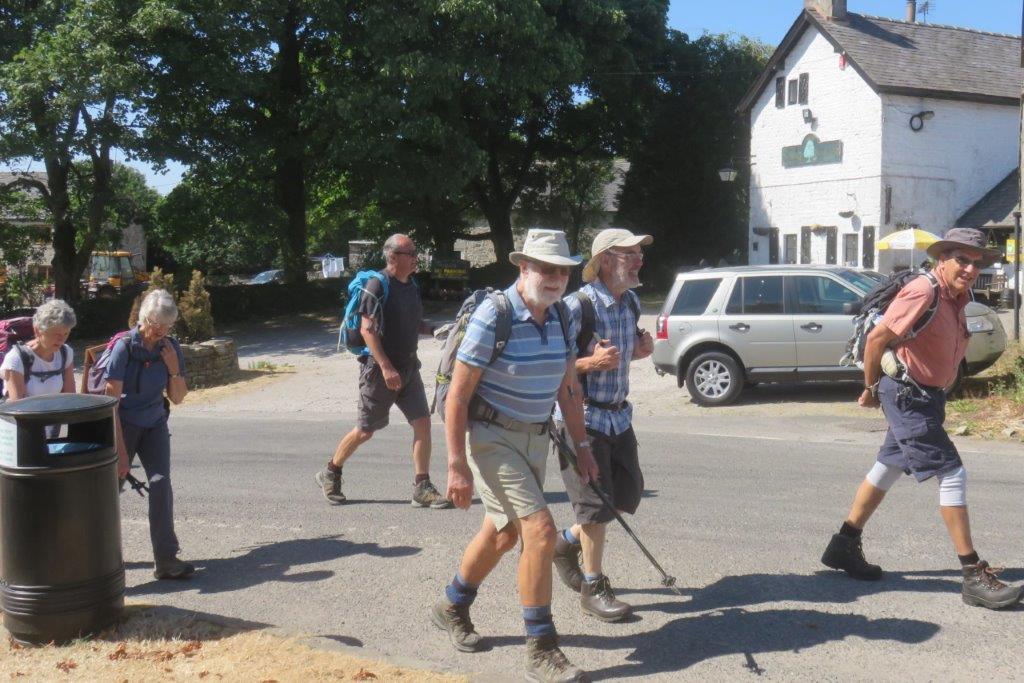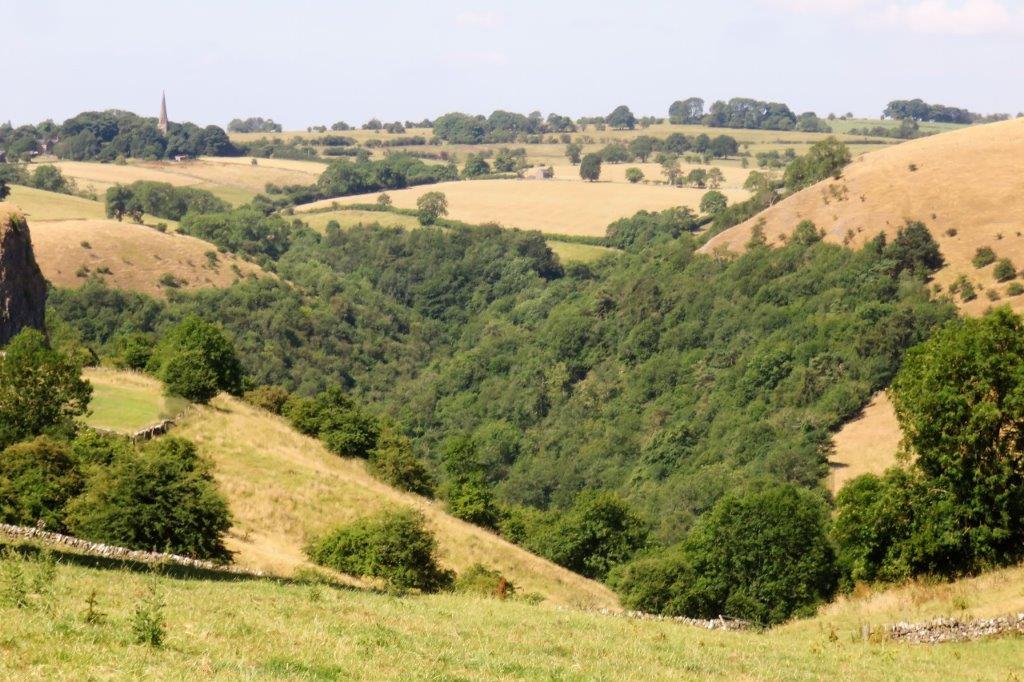 church spire - probably at Grindon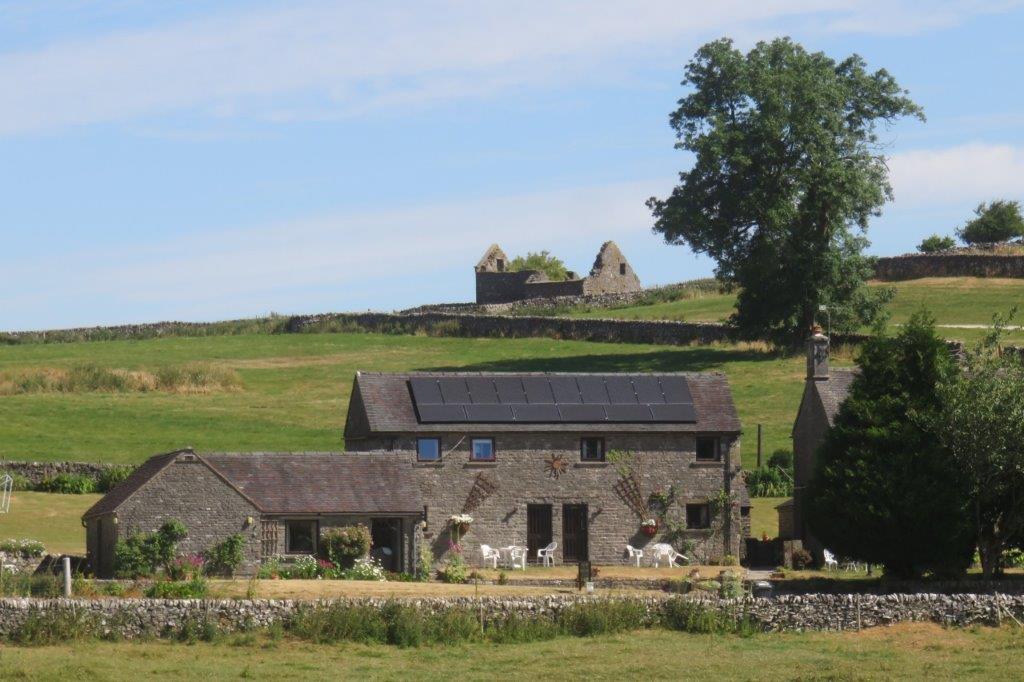 looking back towards Wetton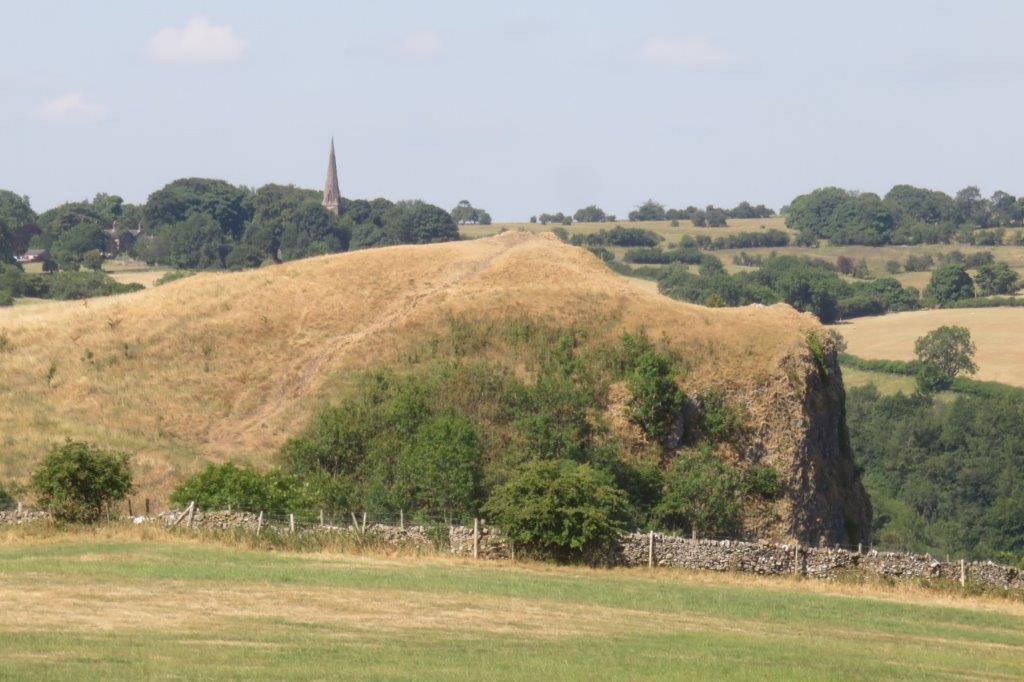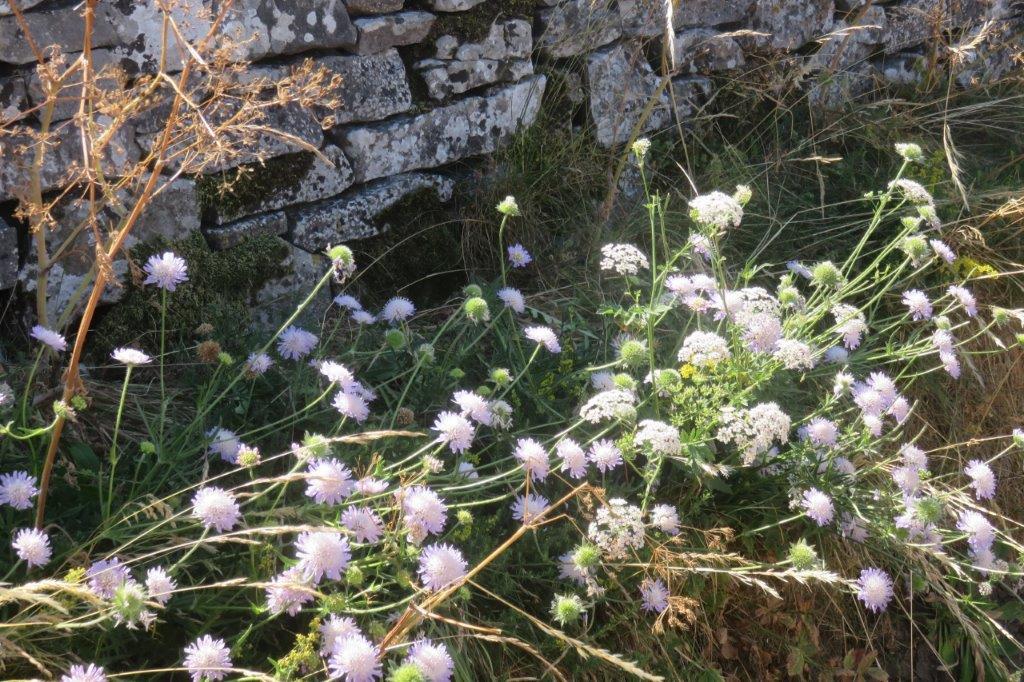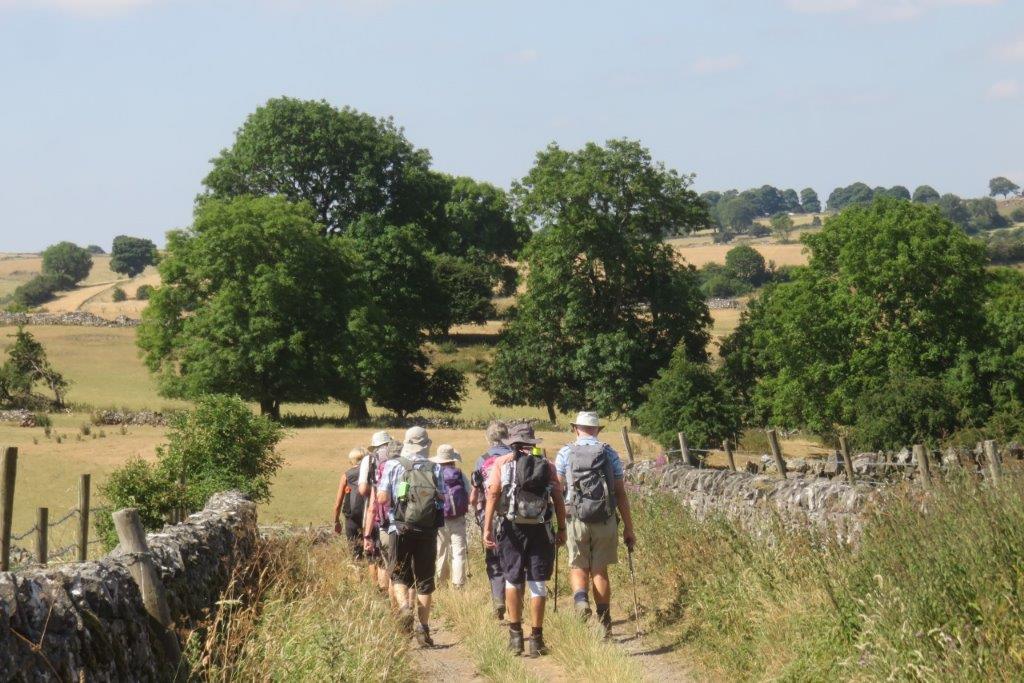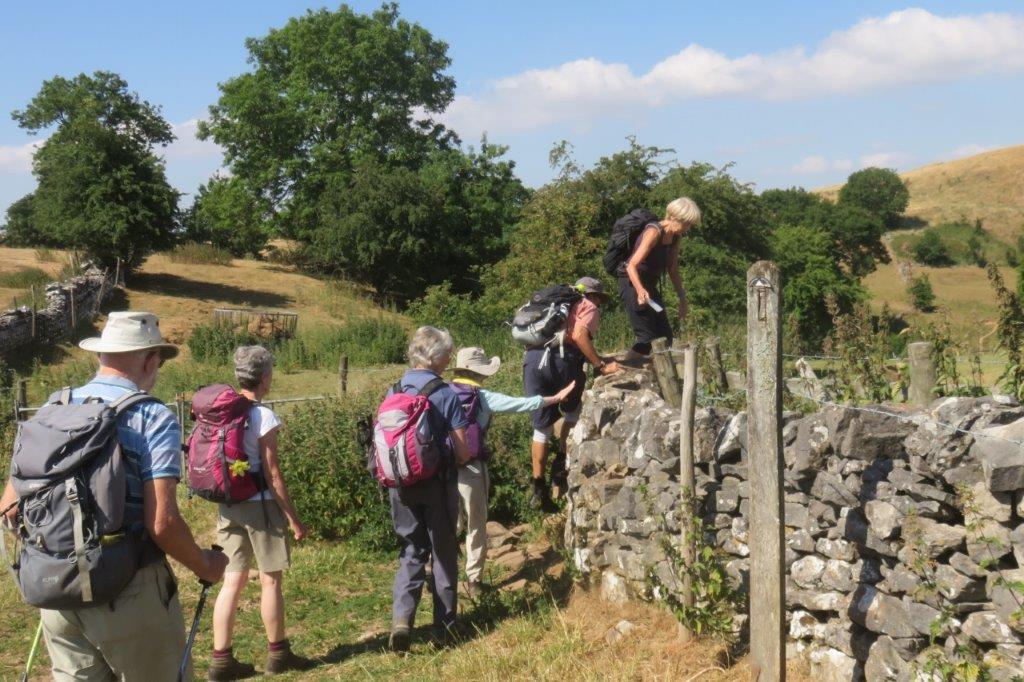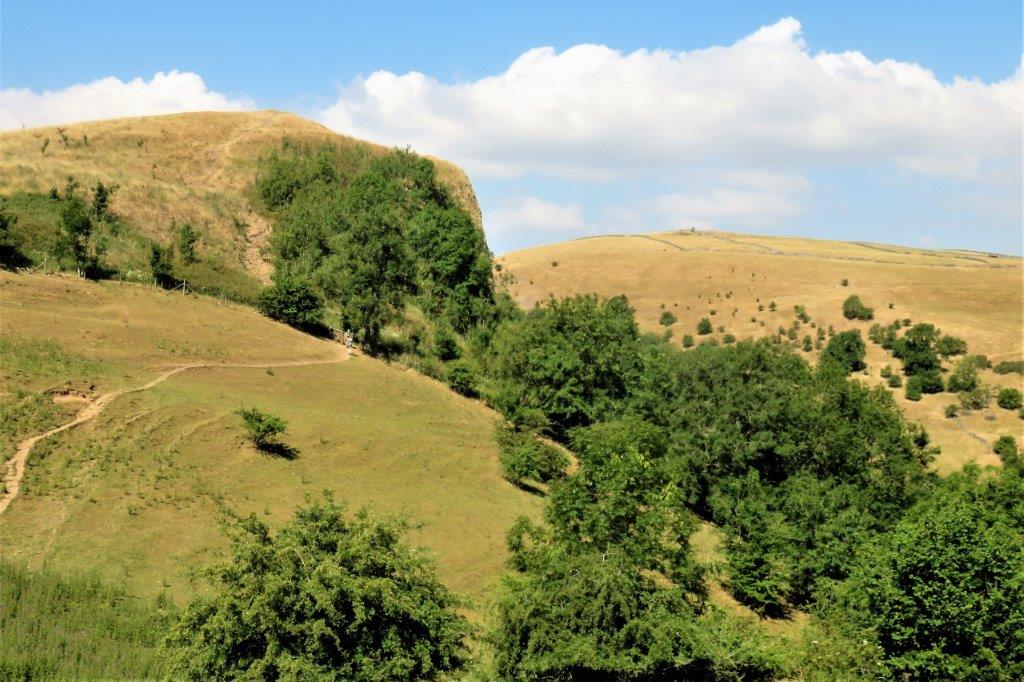 path towards Thors Cave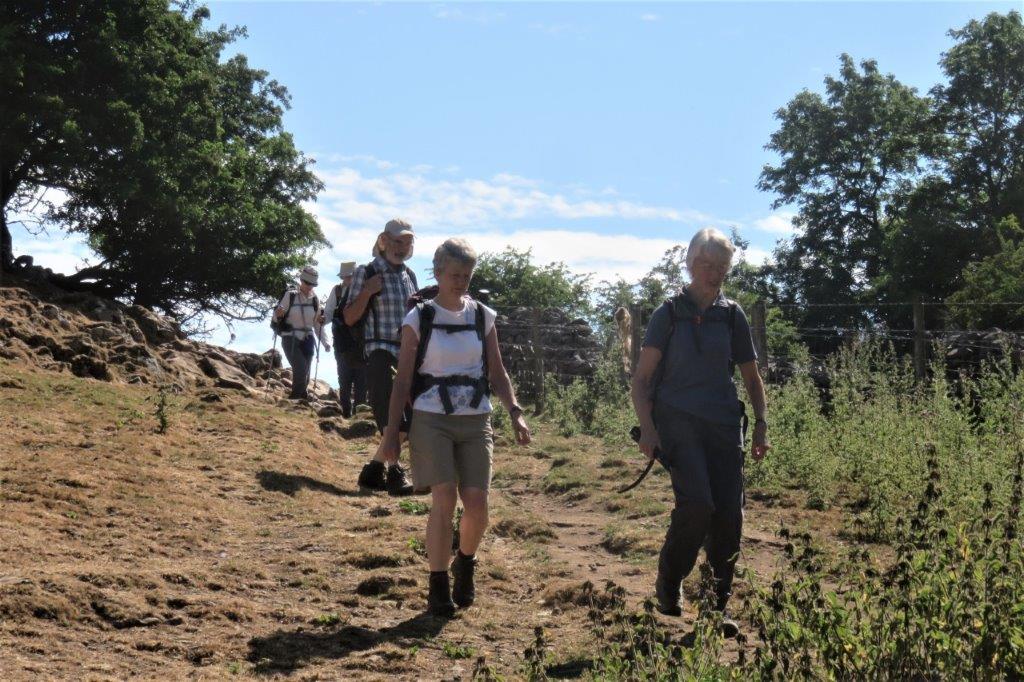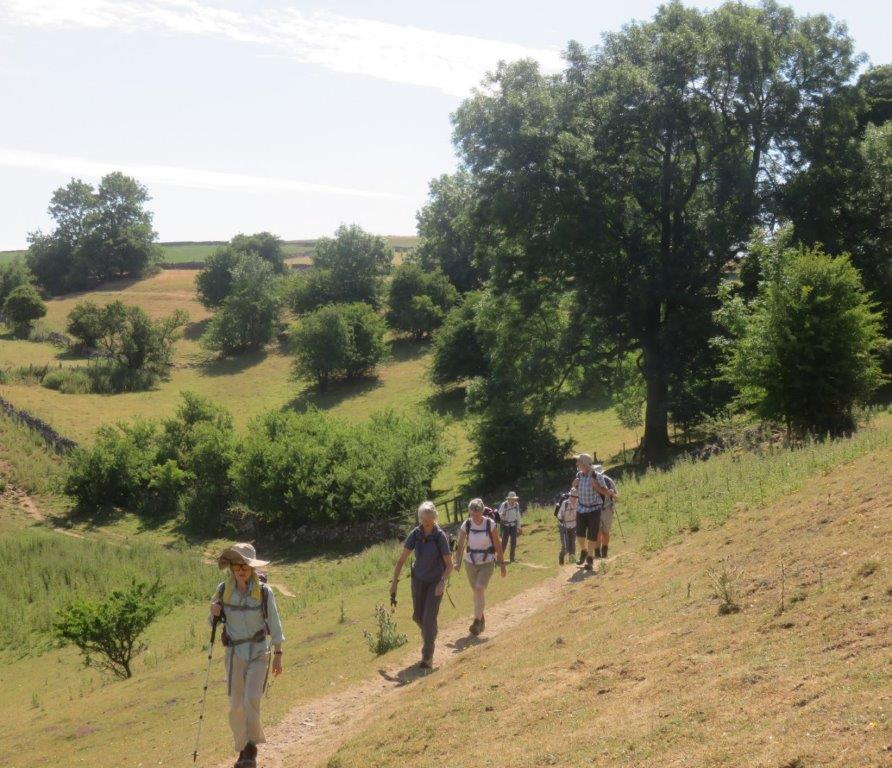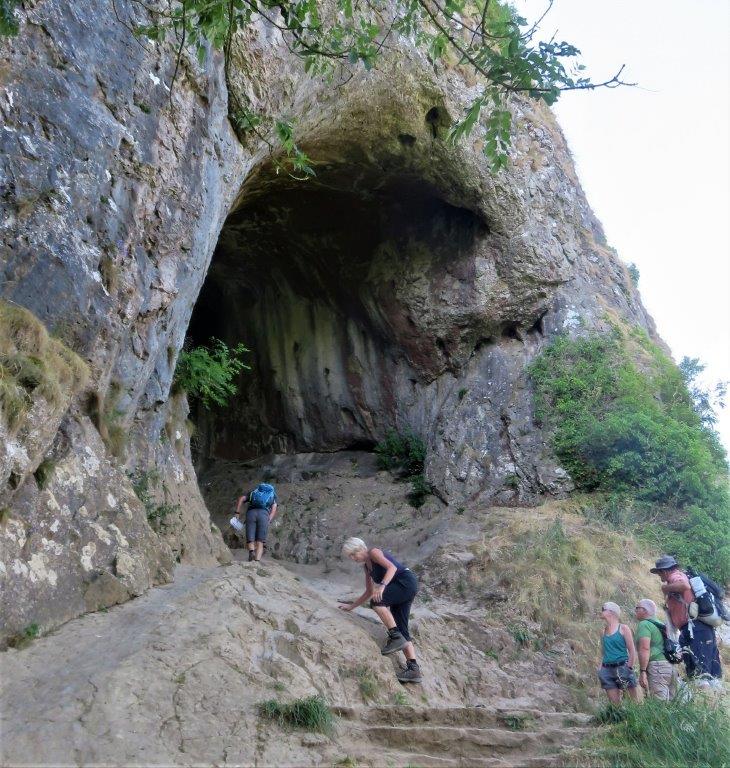 Thors Cave - polished limestone (slippery especially in wet but dry on this day) - only the brave or foolhardy enter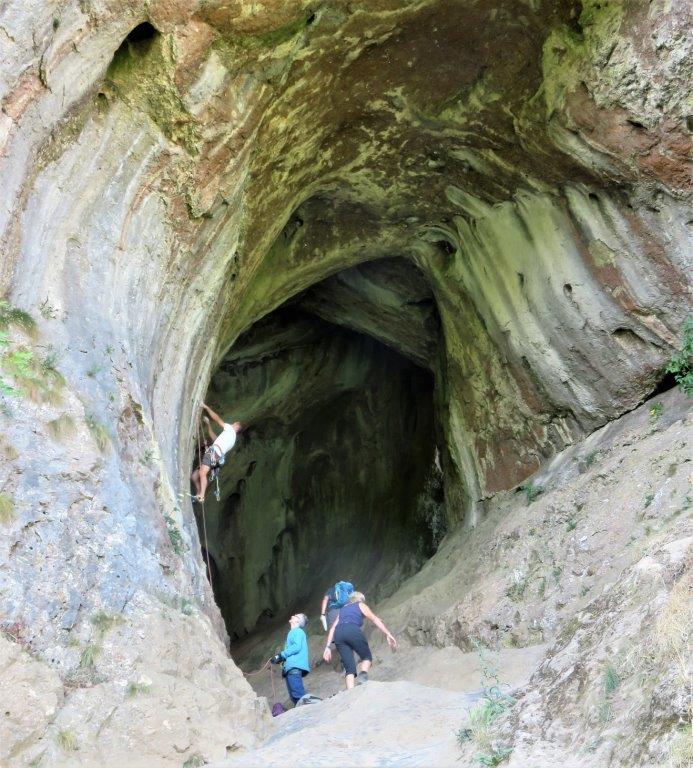 rock climbing within the cave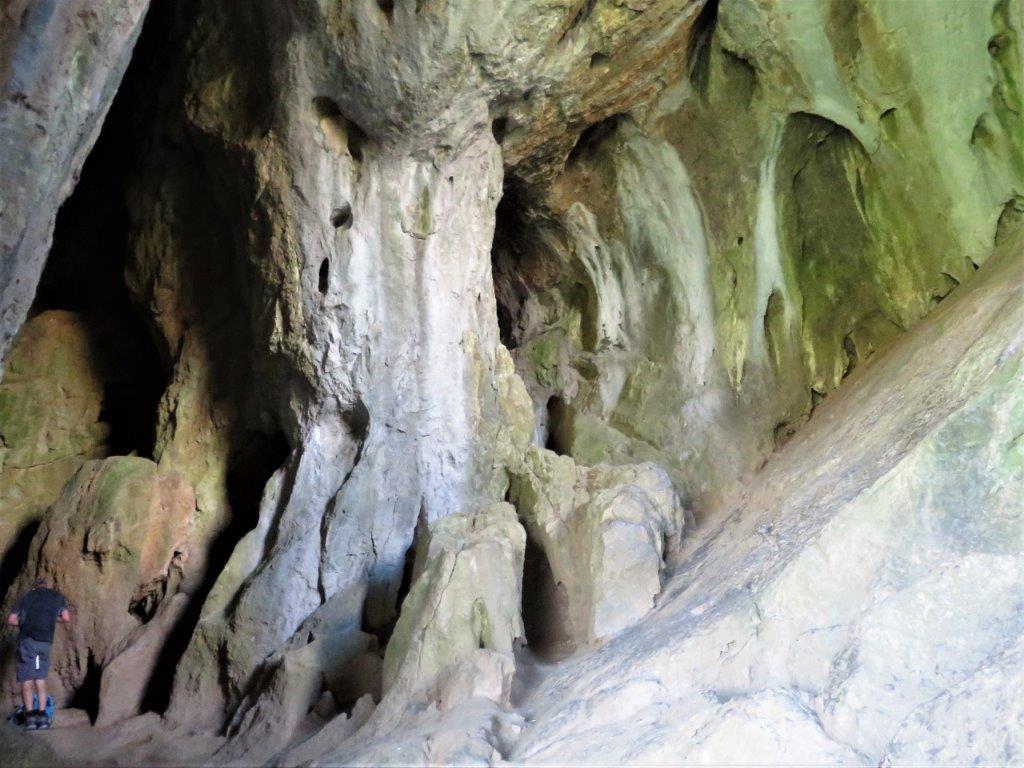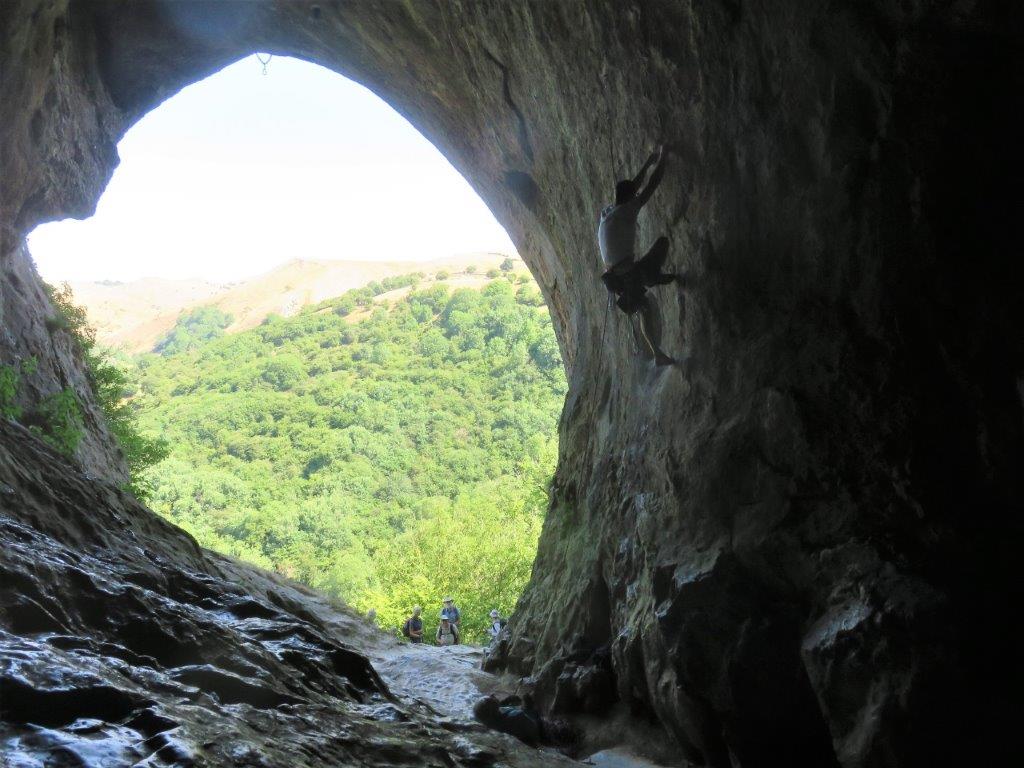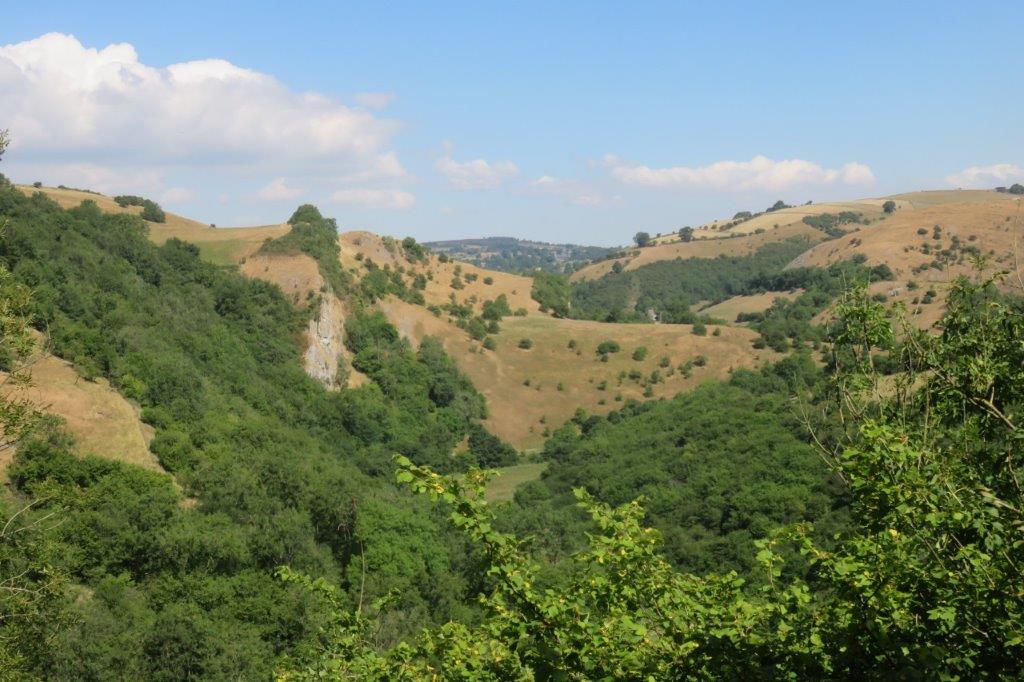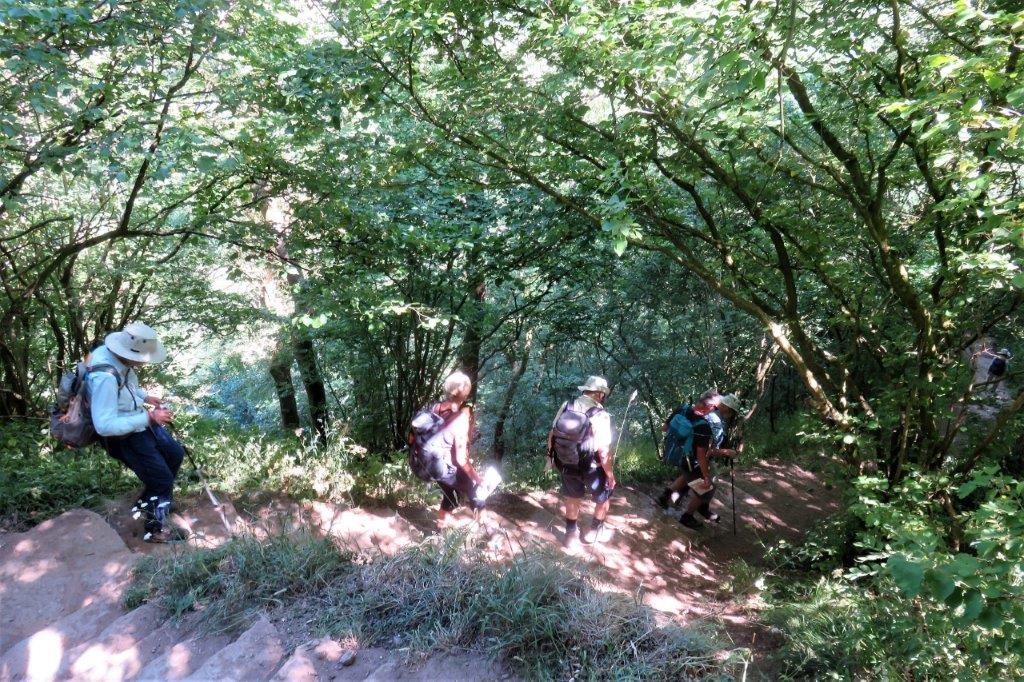 down to the Manifold River & Way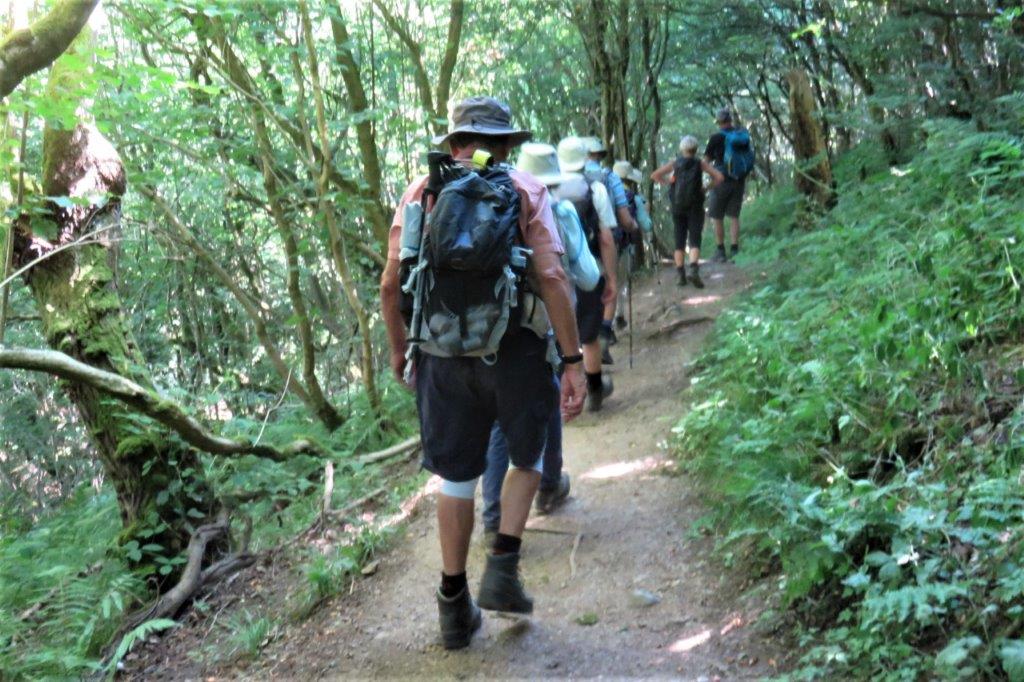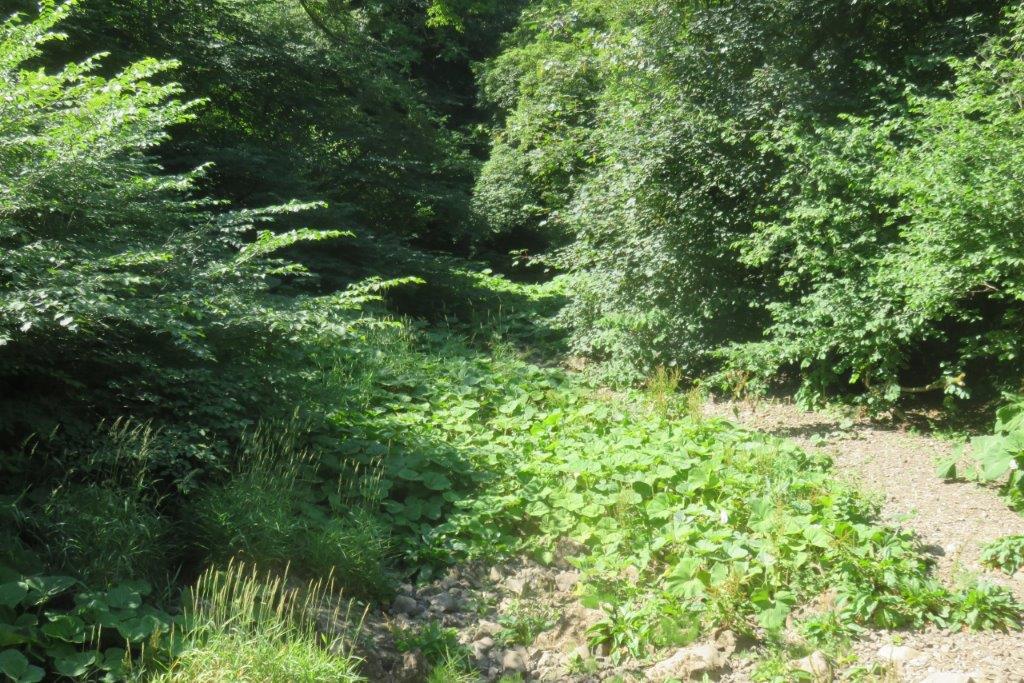 dried out River Manifold bed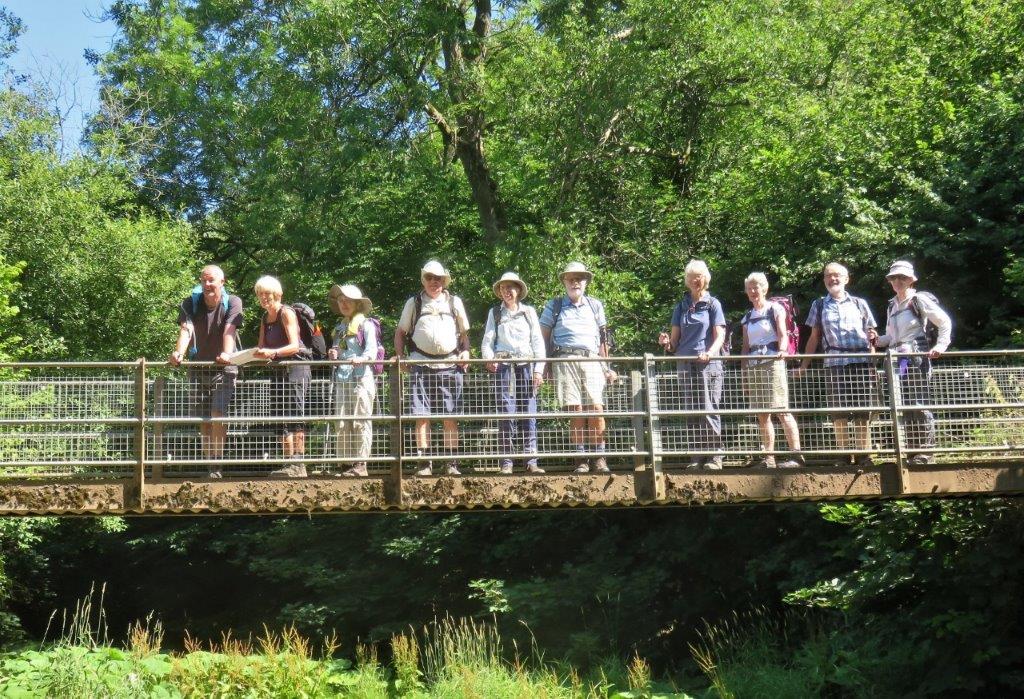 a bridge shot - (two not in picture)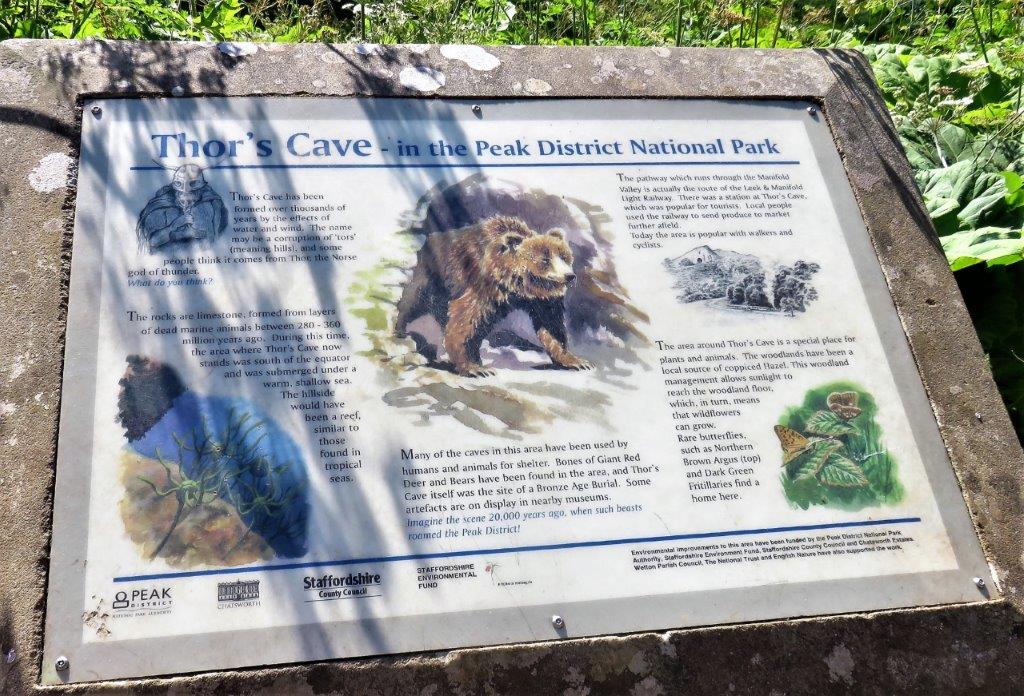 notice about Thors Cave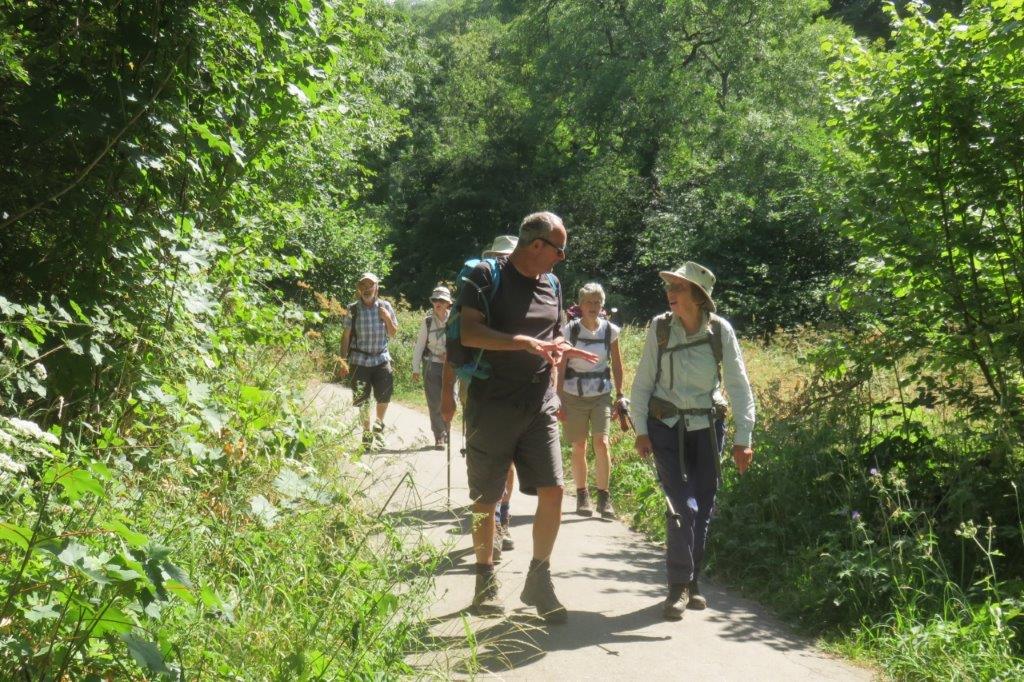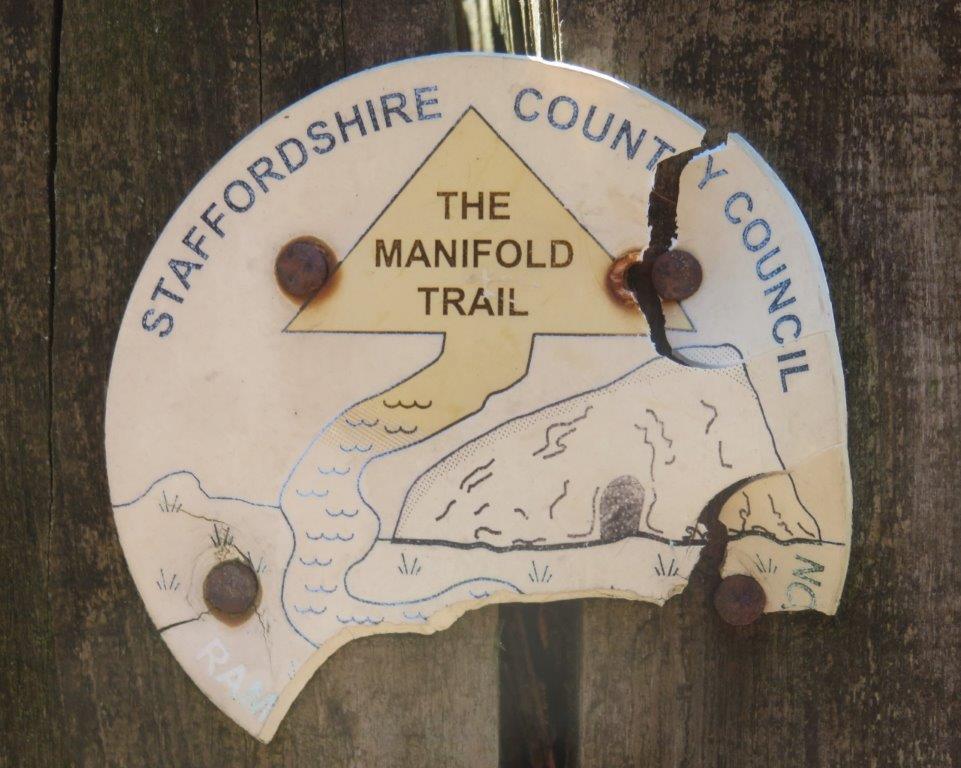 on the Manifold Trail - short distance only to our tea break near Beeston Tor Caves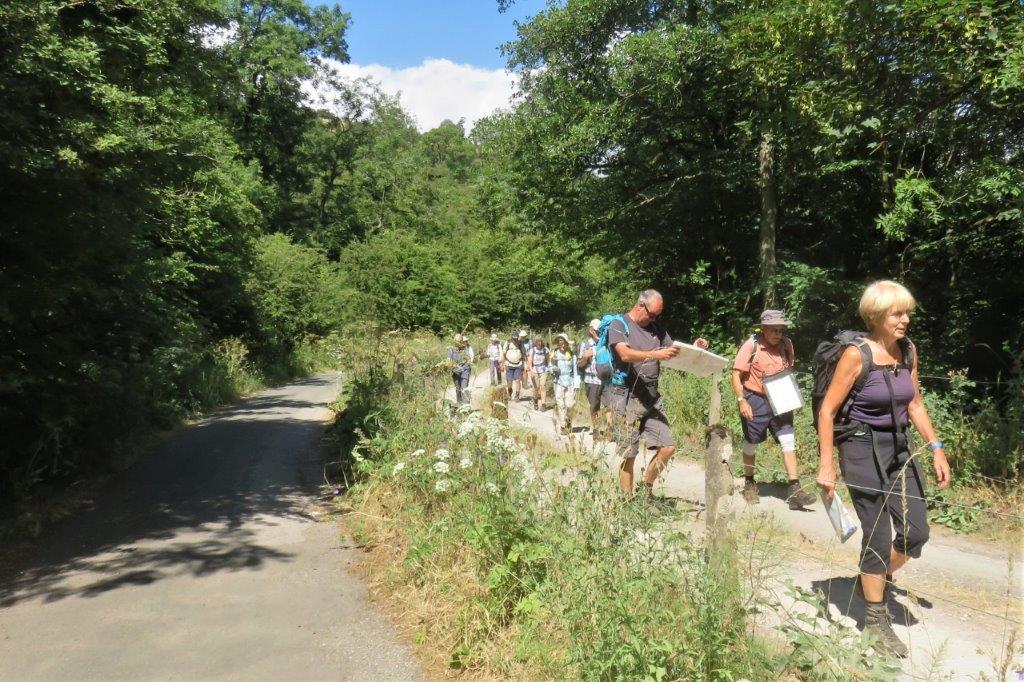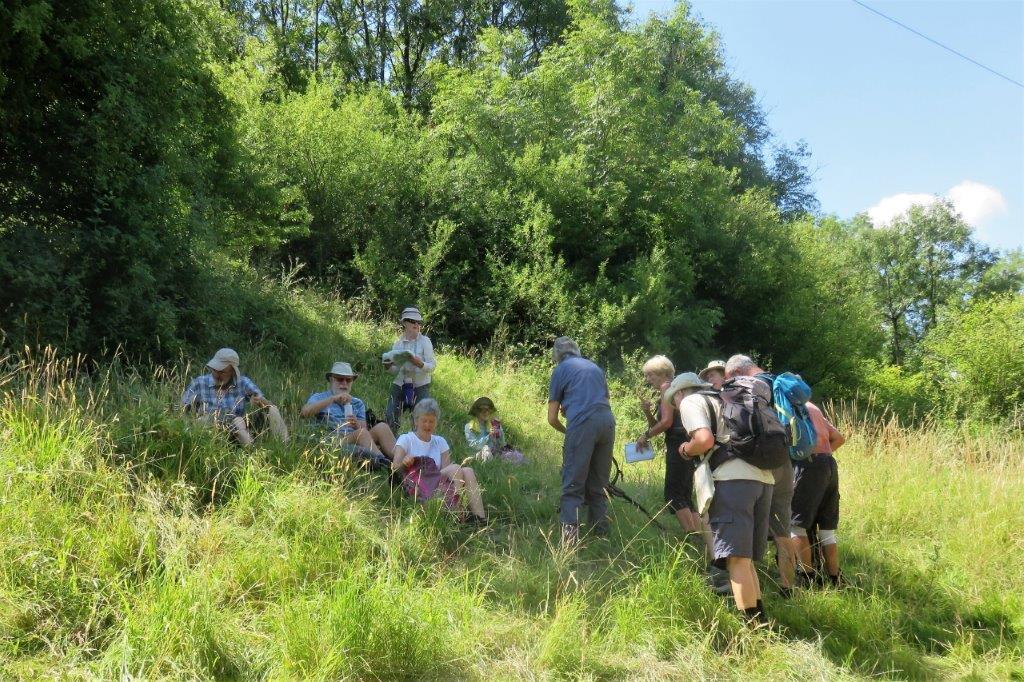 morning tea break under Beeston Tor Caves (about 200m beyond our turn off point following the River Hamps - we returned to it)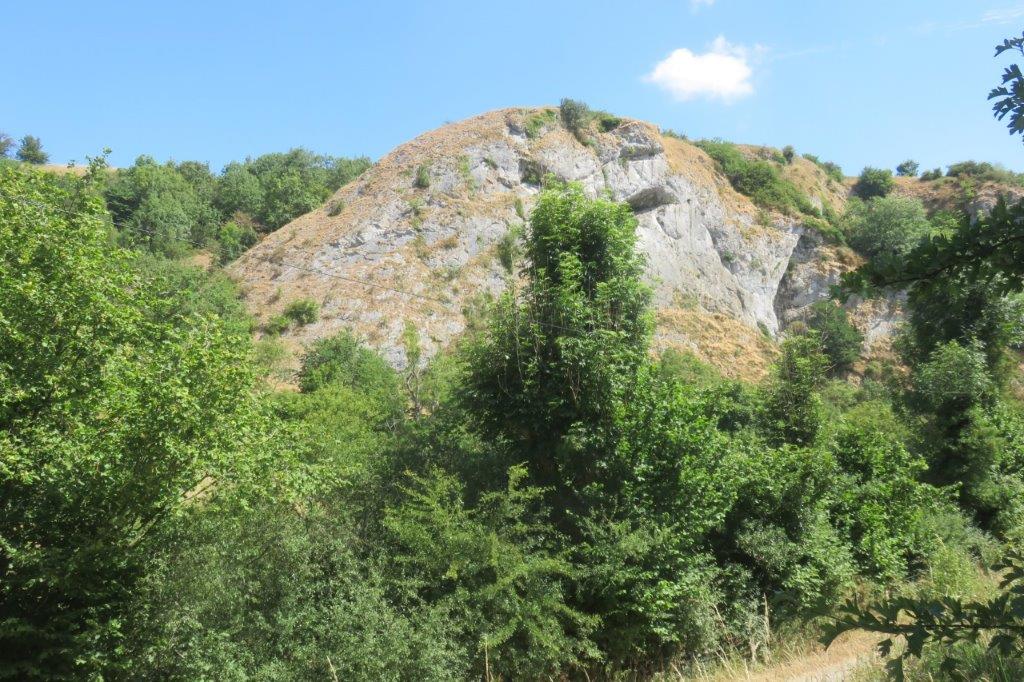 Beeston Tor Caves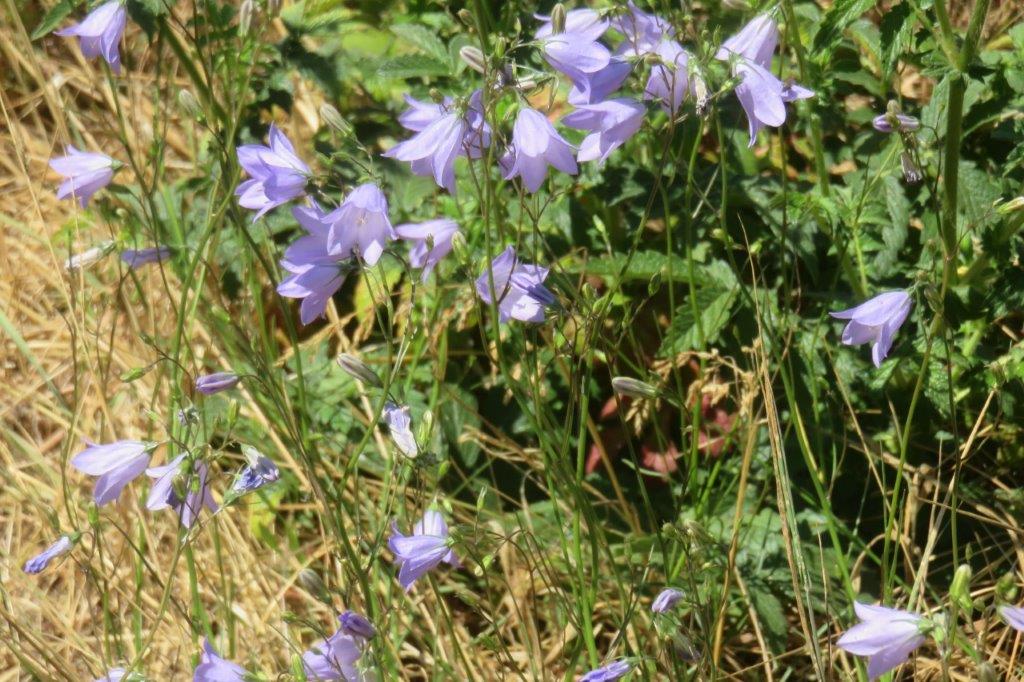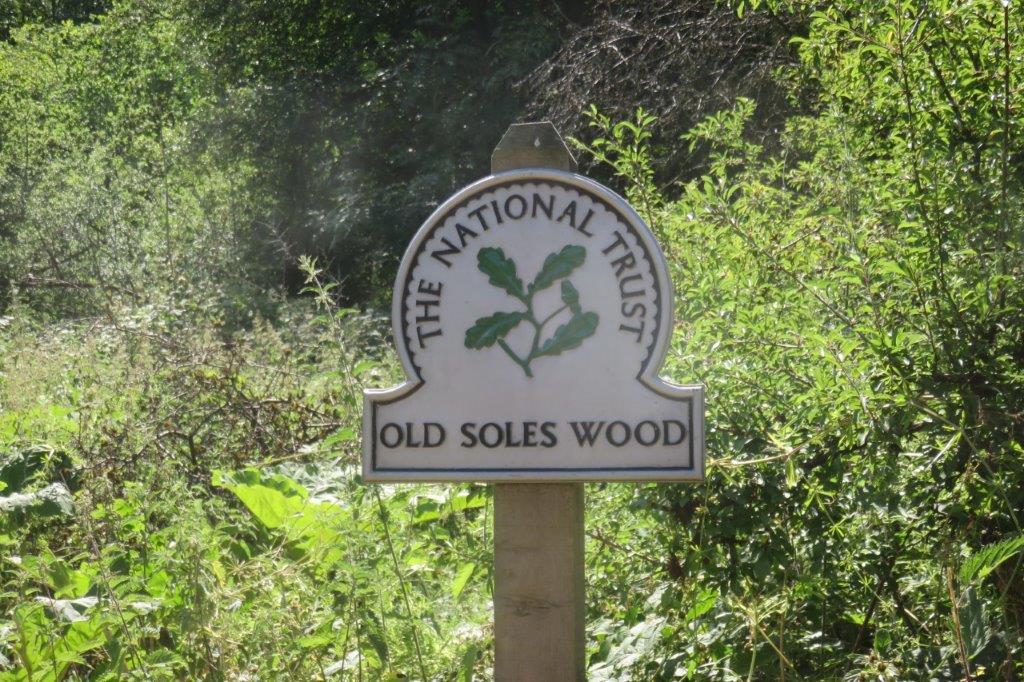 we passed through Old Soles Wood (Soles Coppice? - in valley below Old Park Hill)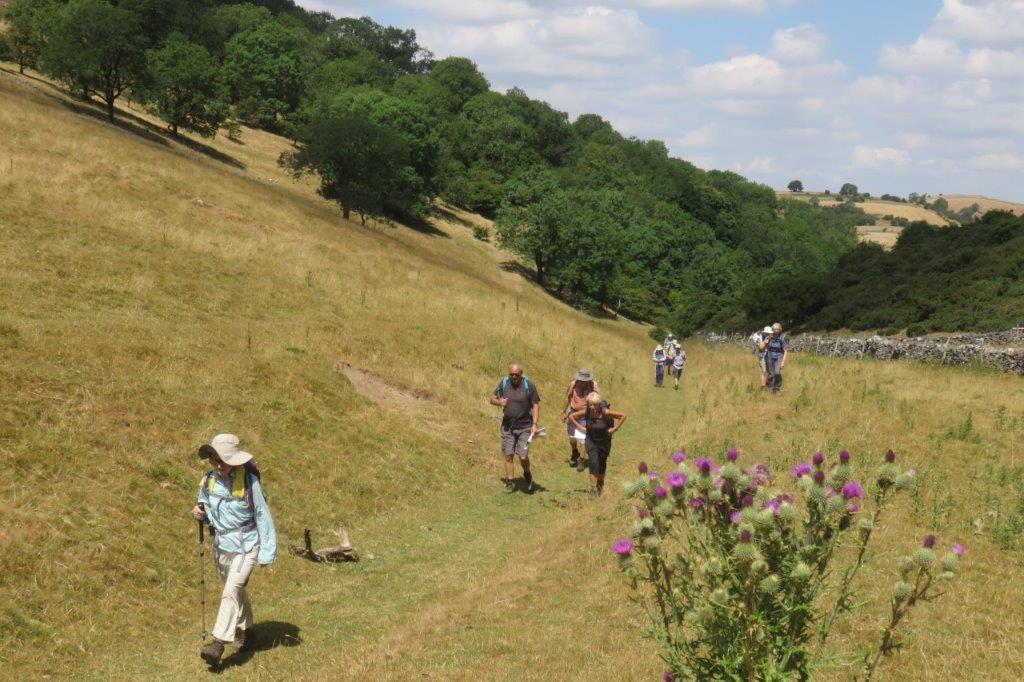 Soles Hollow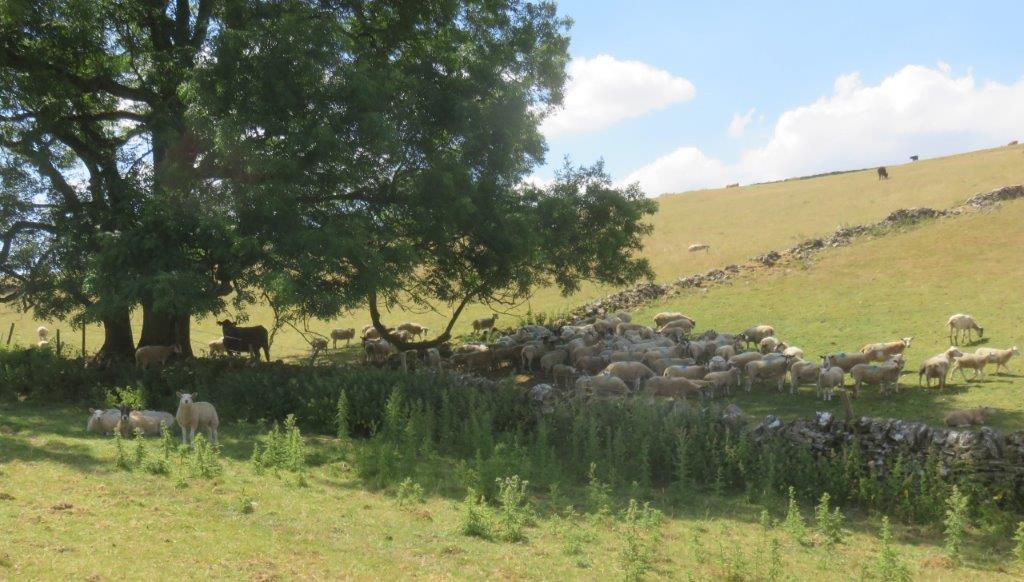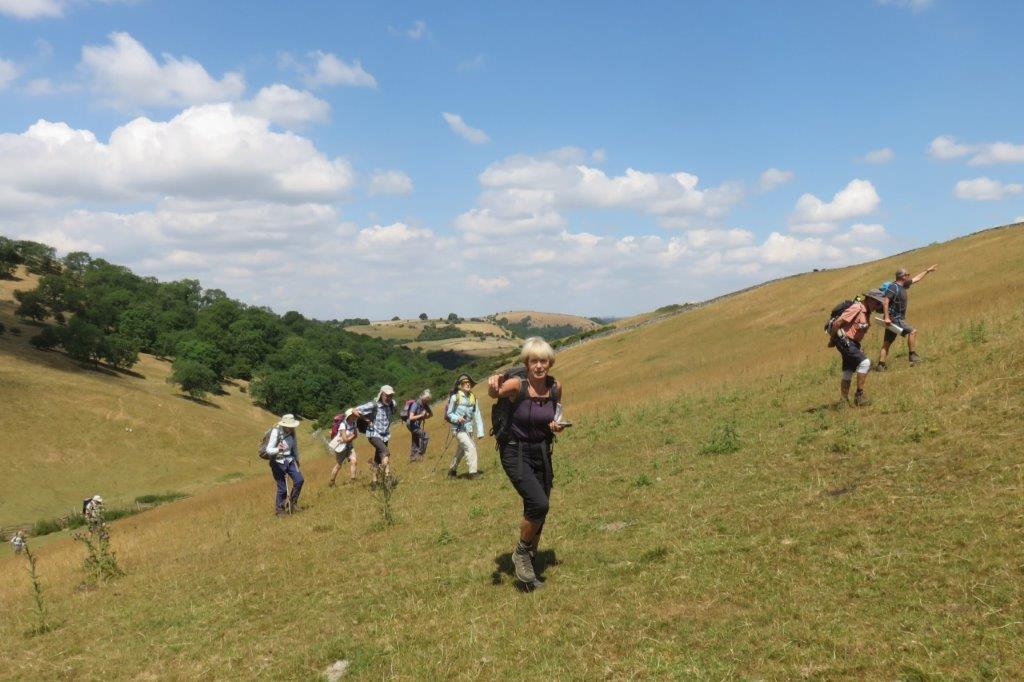 upward to Meres Hill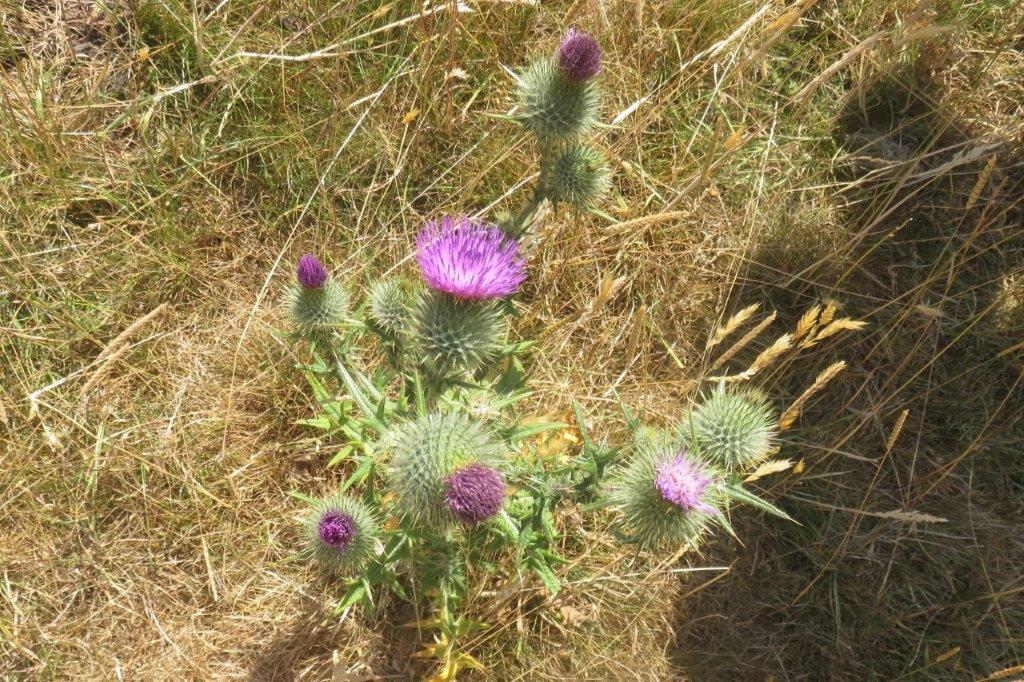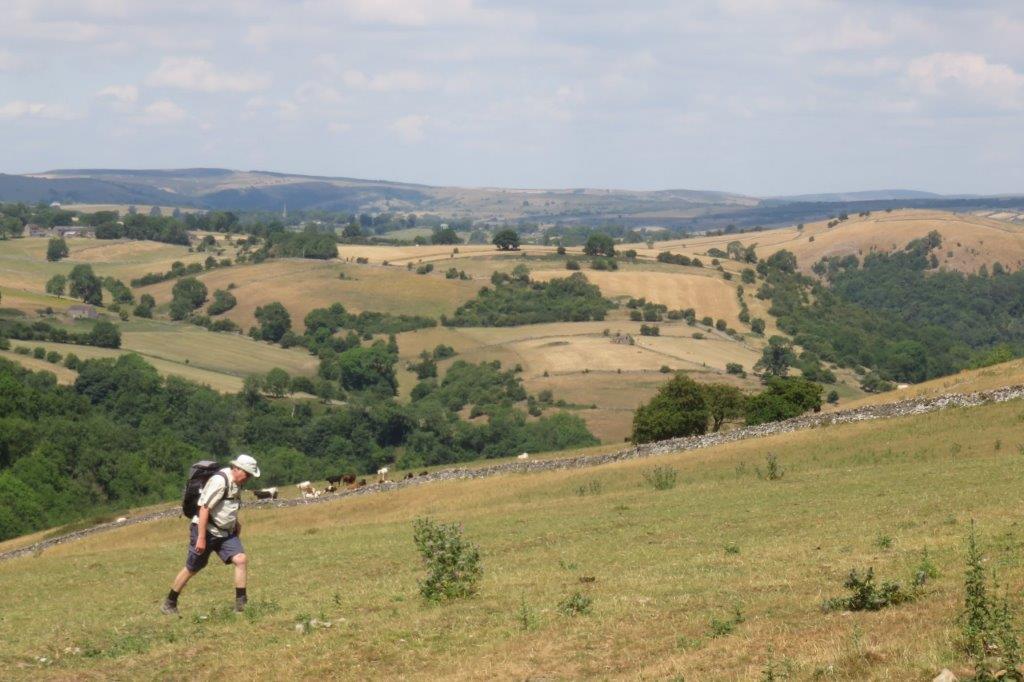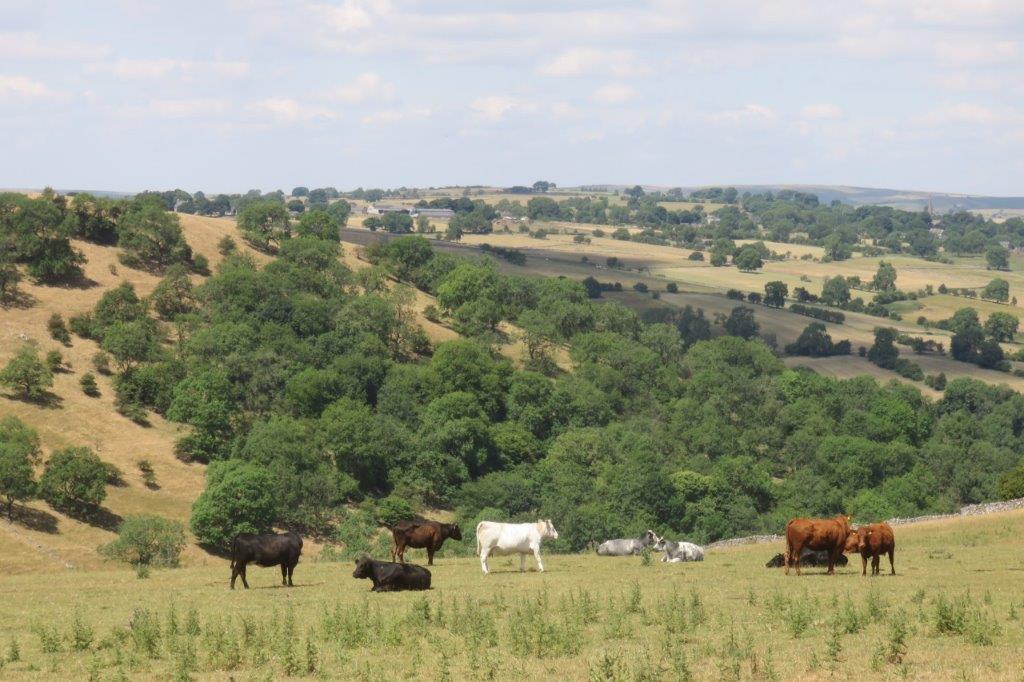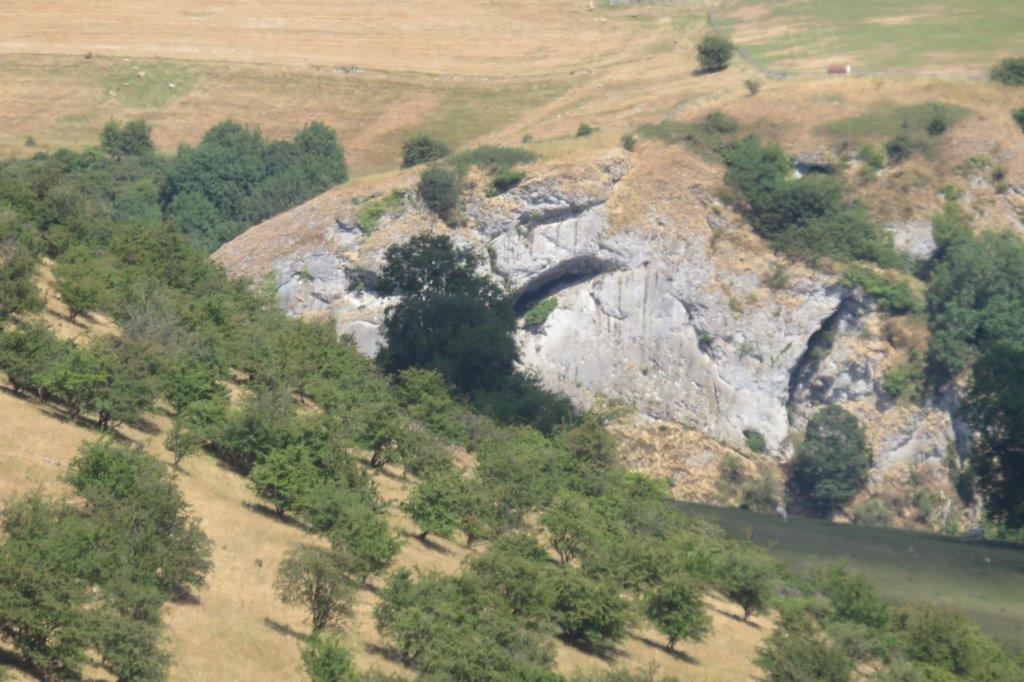 a perchance view of Beeston Tor Caves - our tea break stop is below it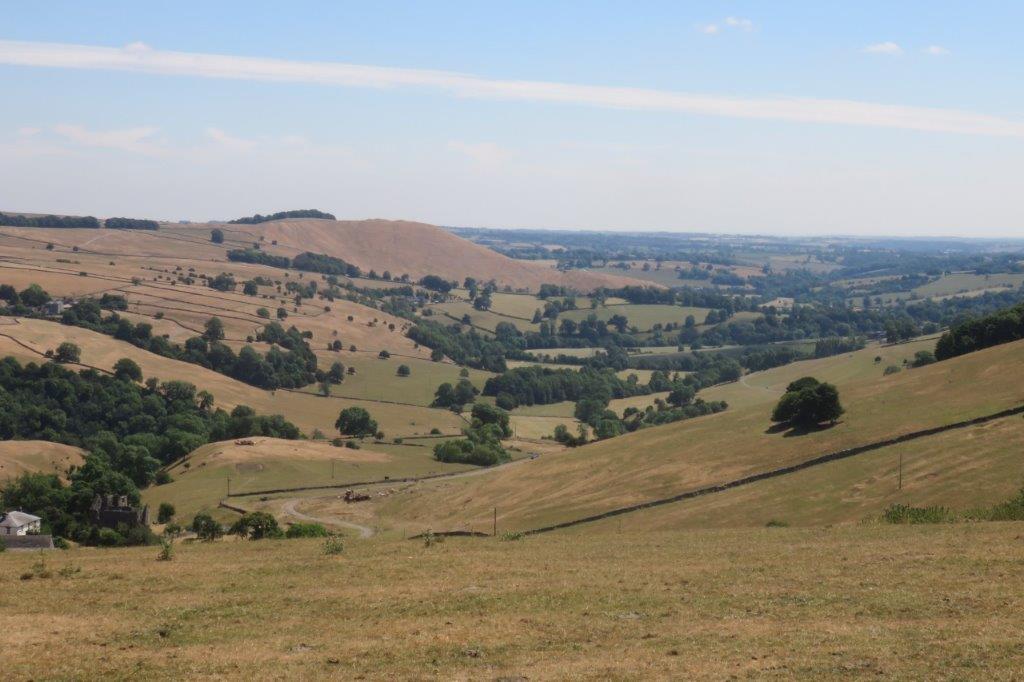 at bottom left Throwley Hall Farm and the ruins of Throwley Old Hall are just visible.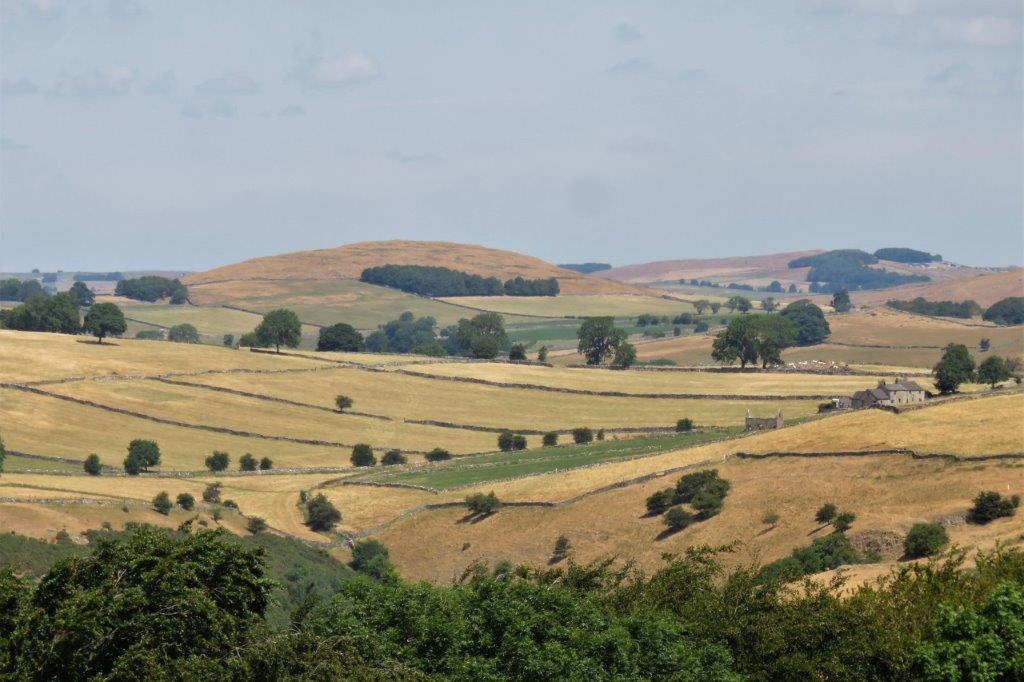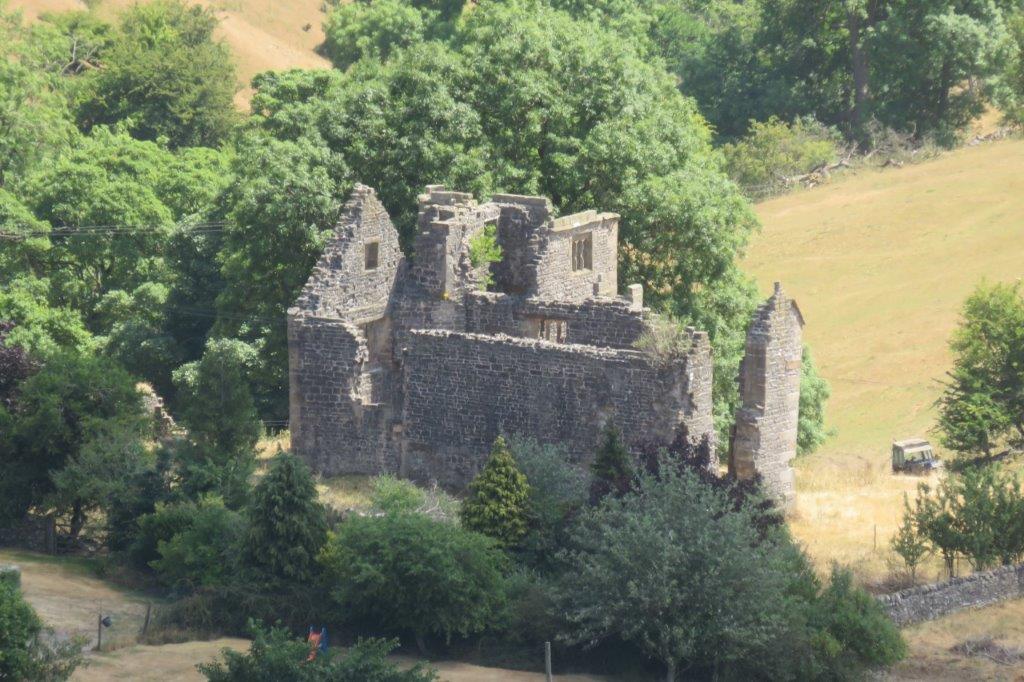 zoomed in closer to Throwley Old Hall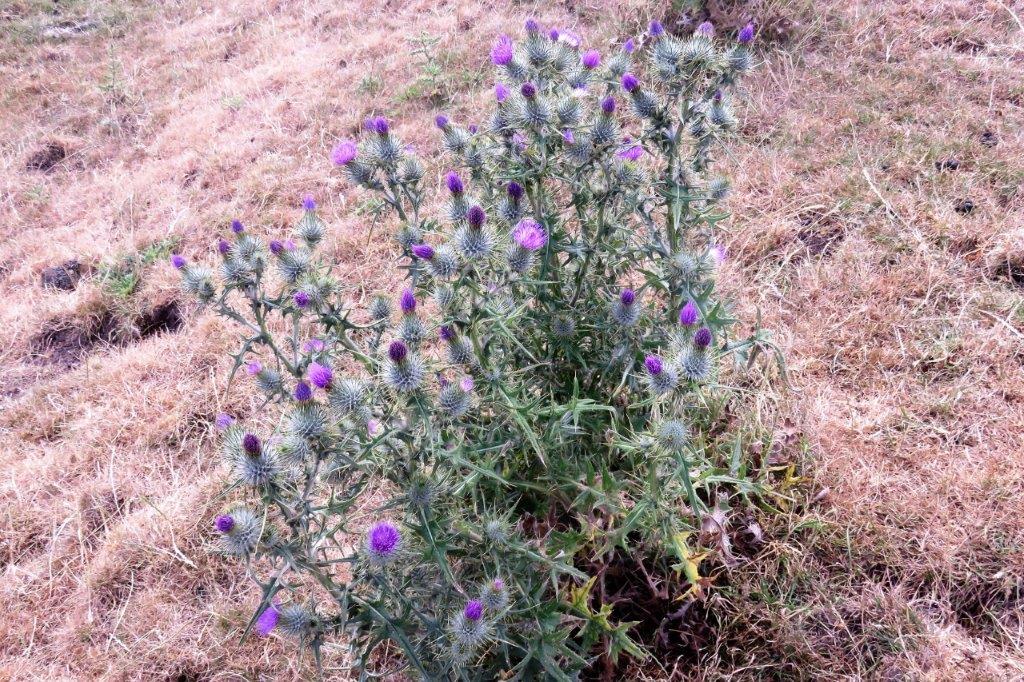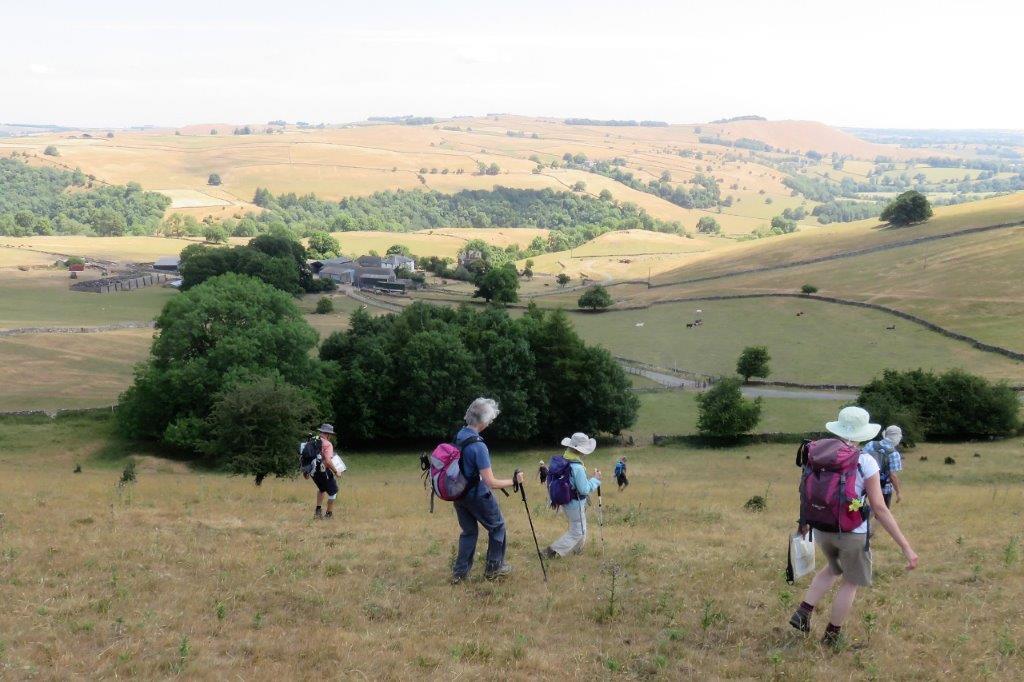 down to road leading to Throwley Hall Farm - seen middle left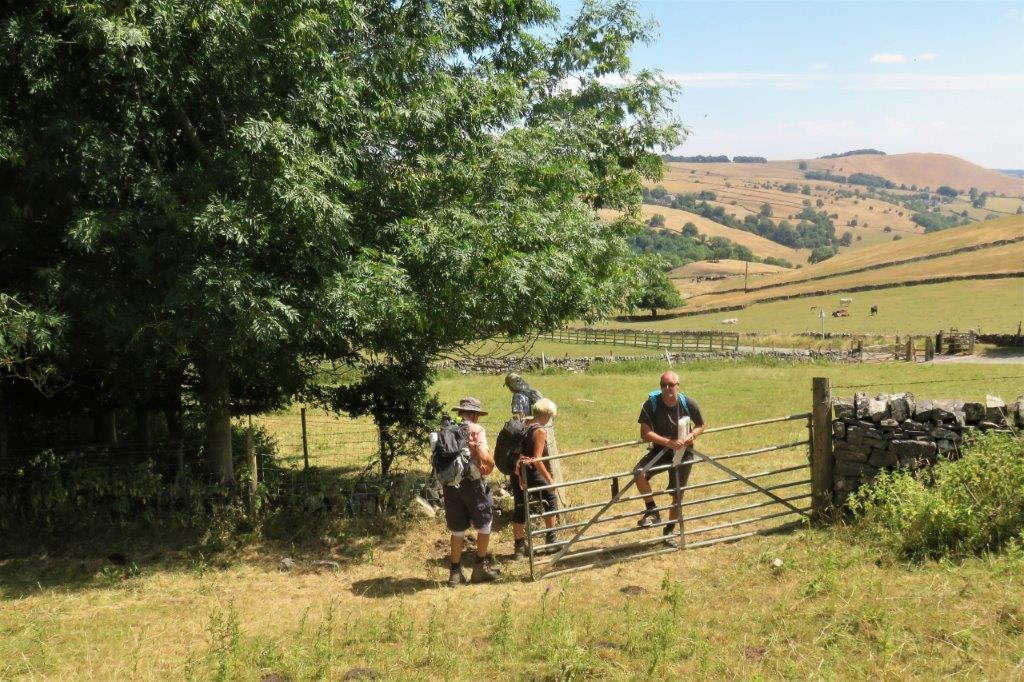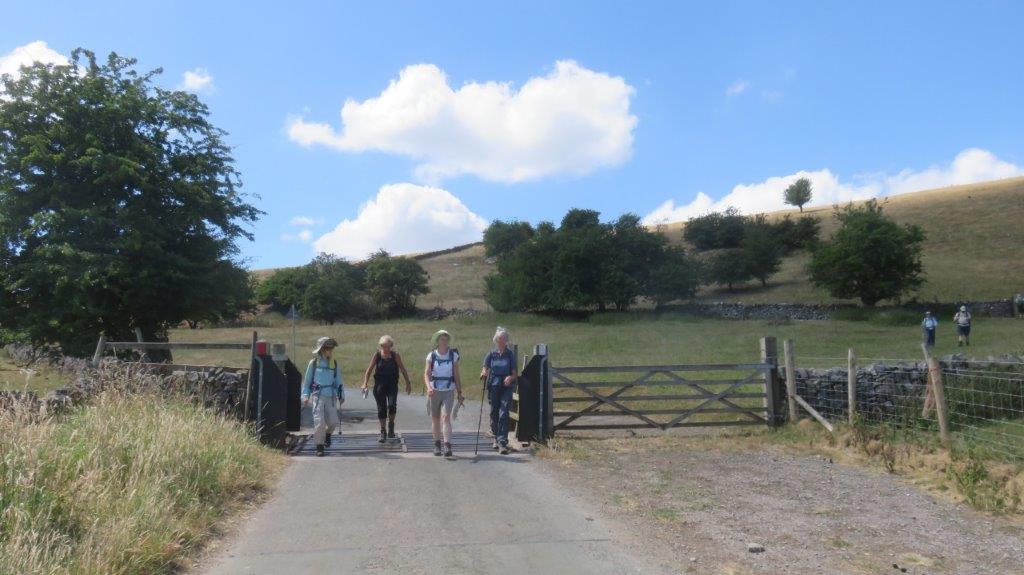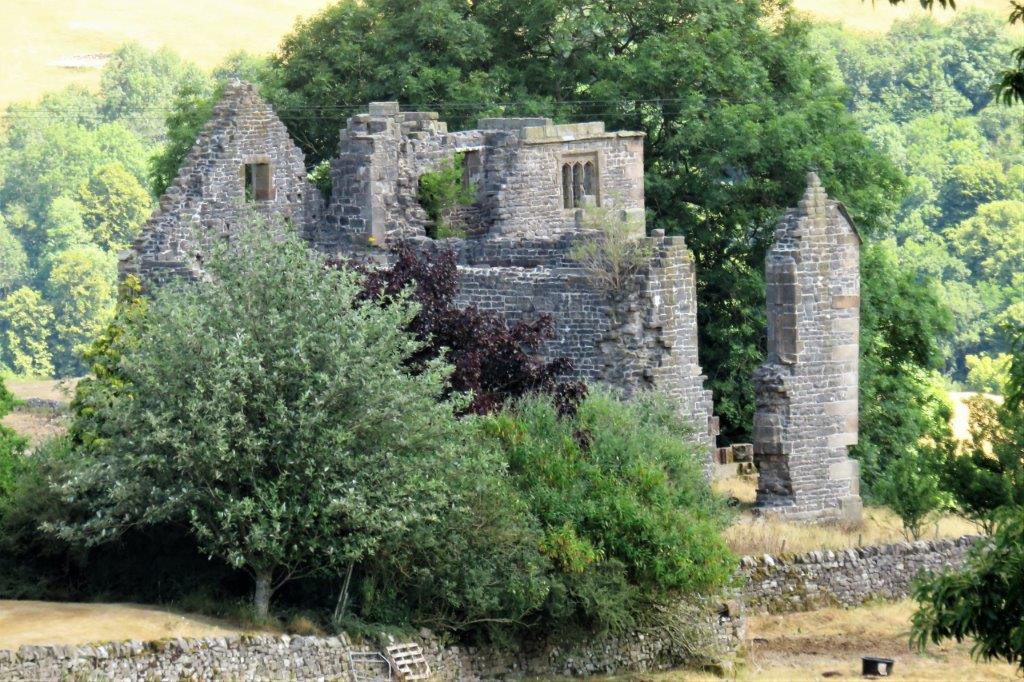 still yet closer to the ruins of Throwley Old Hall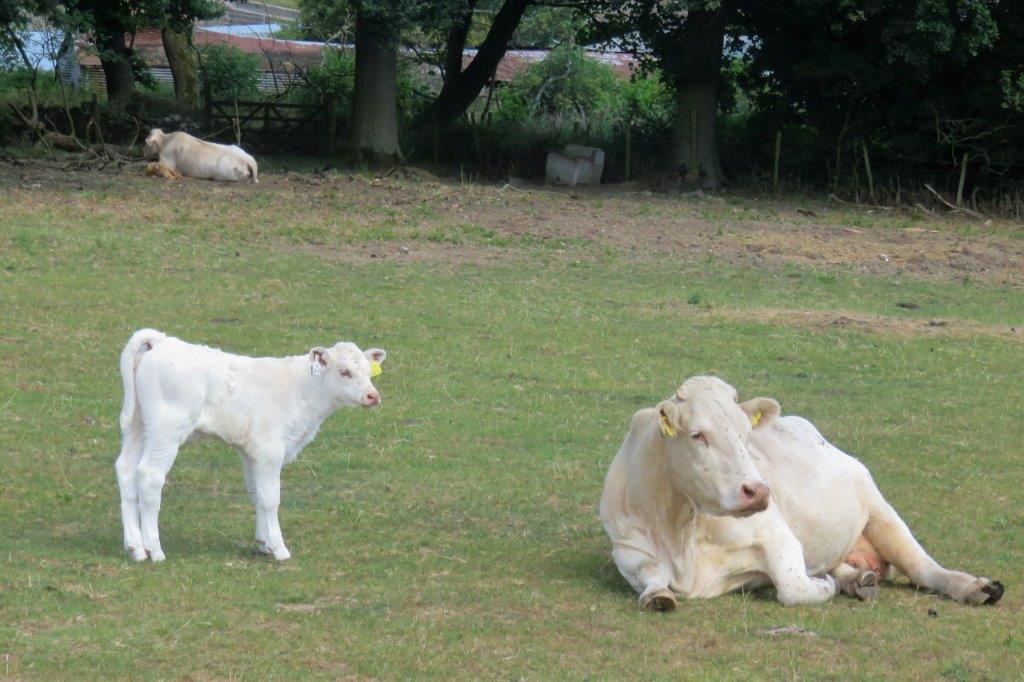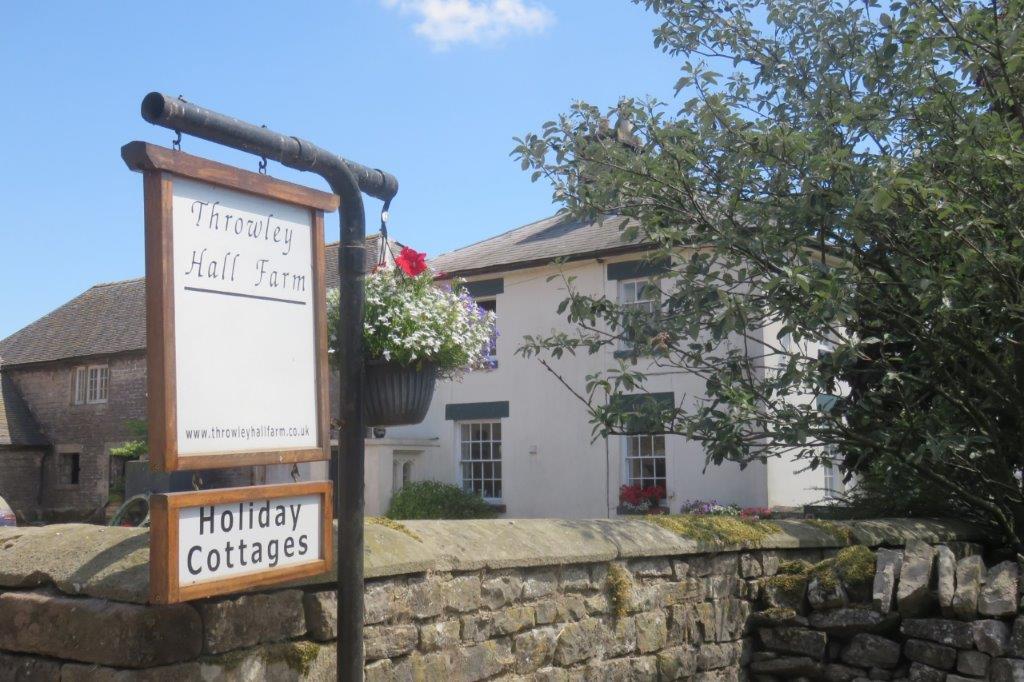 Throwley Hall Farm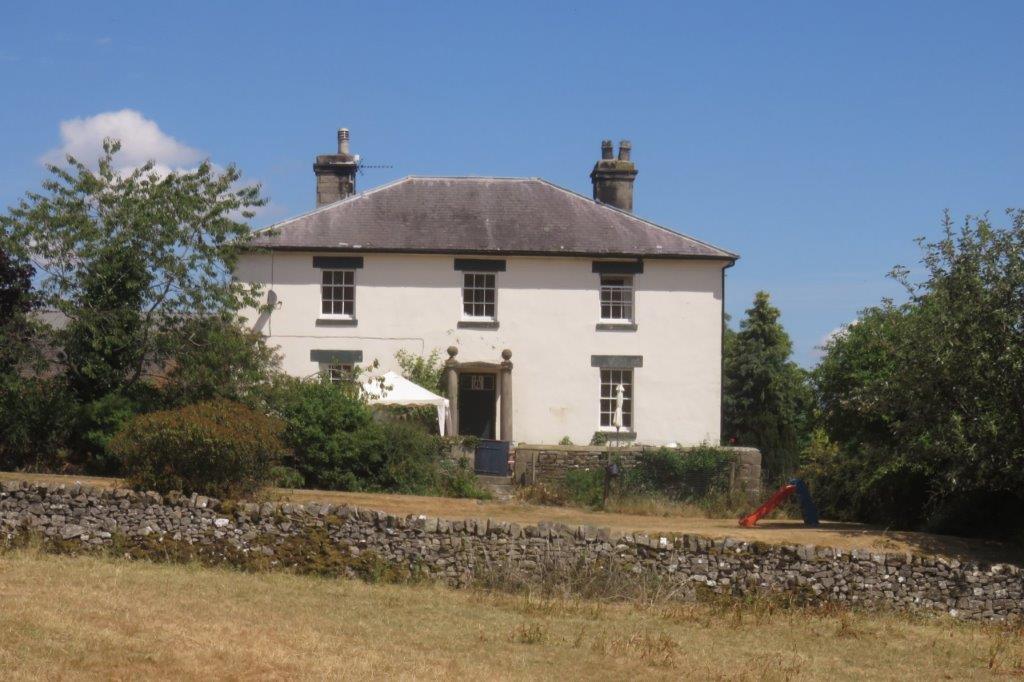 Throwley Hall Farm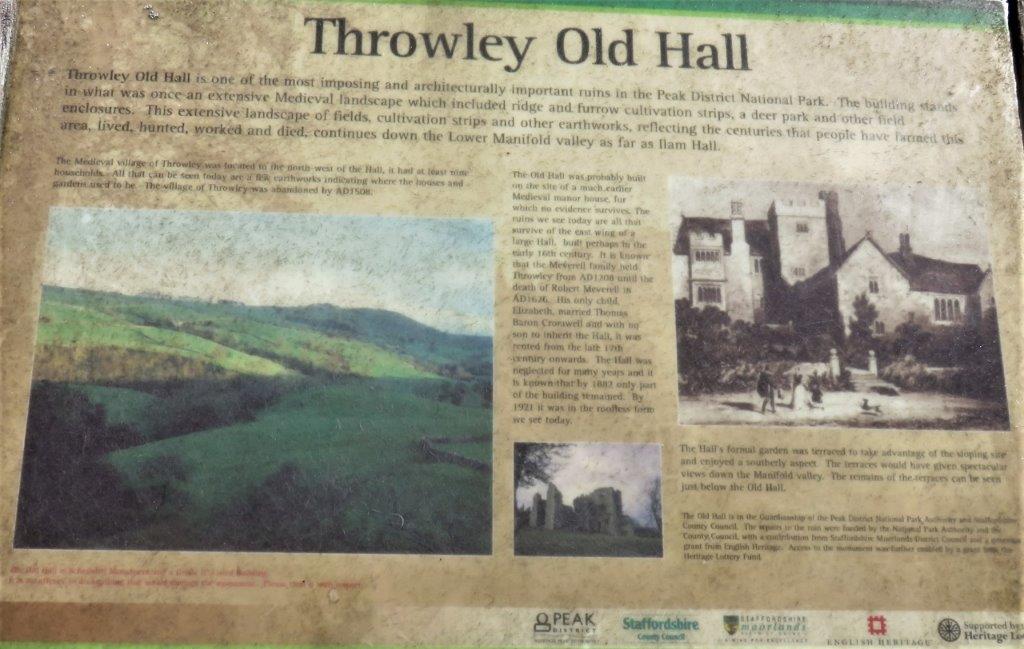 Notice about Throwley Old Hall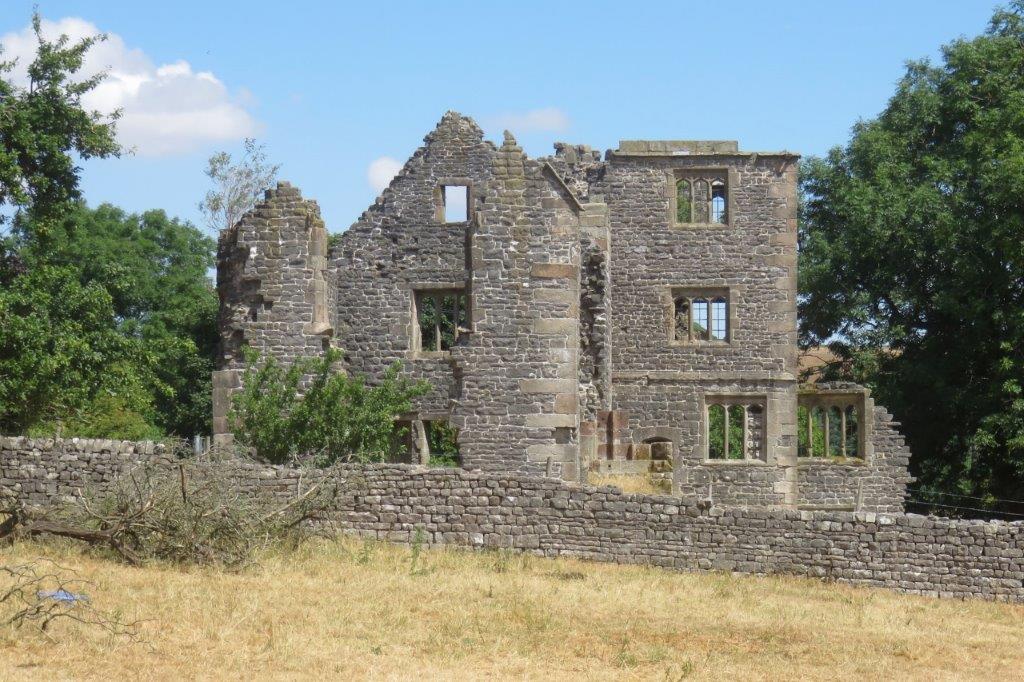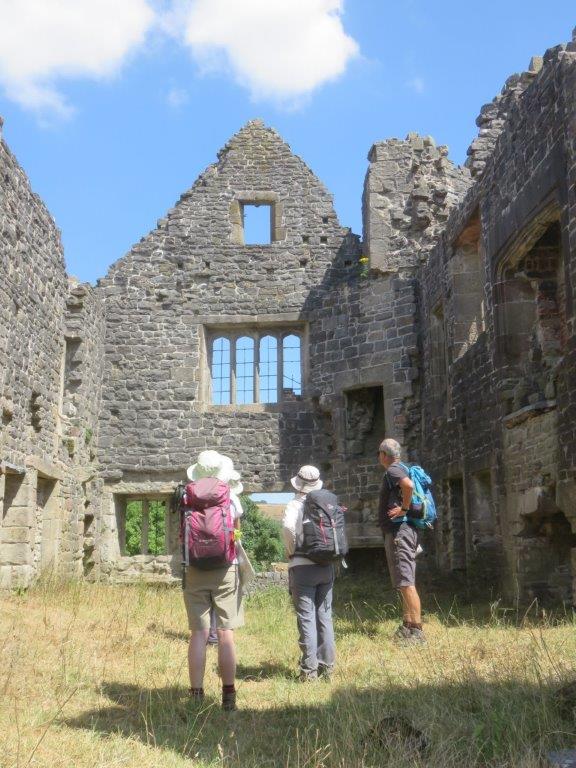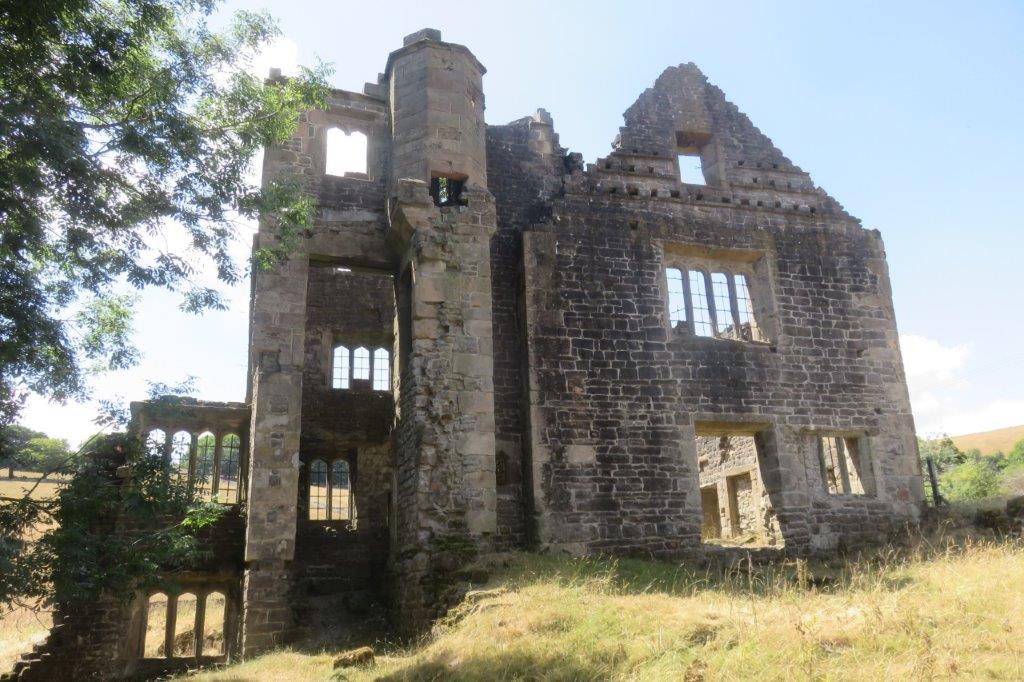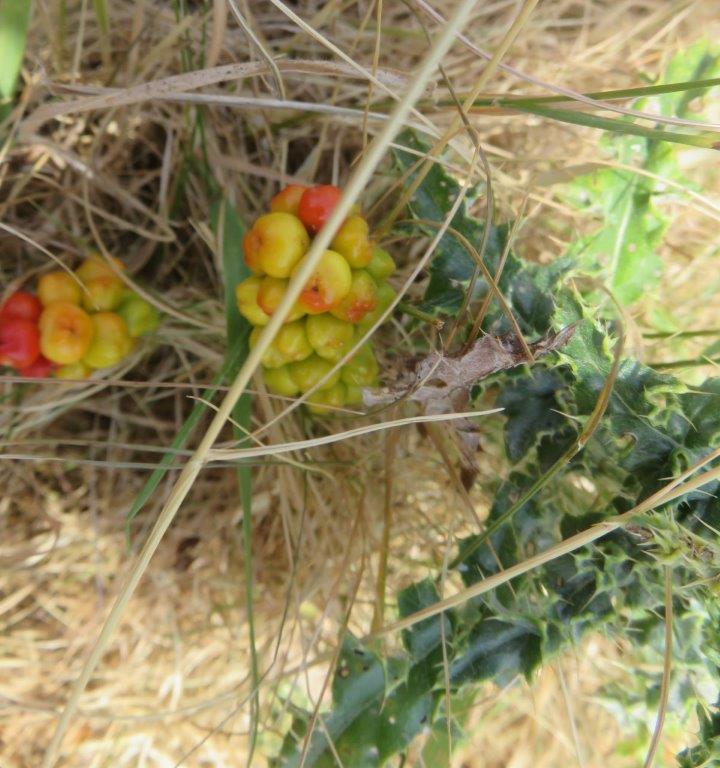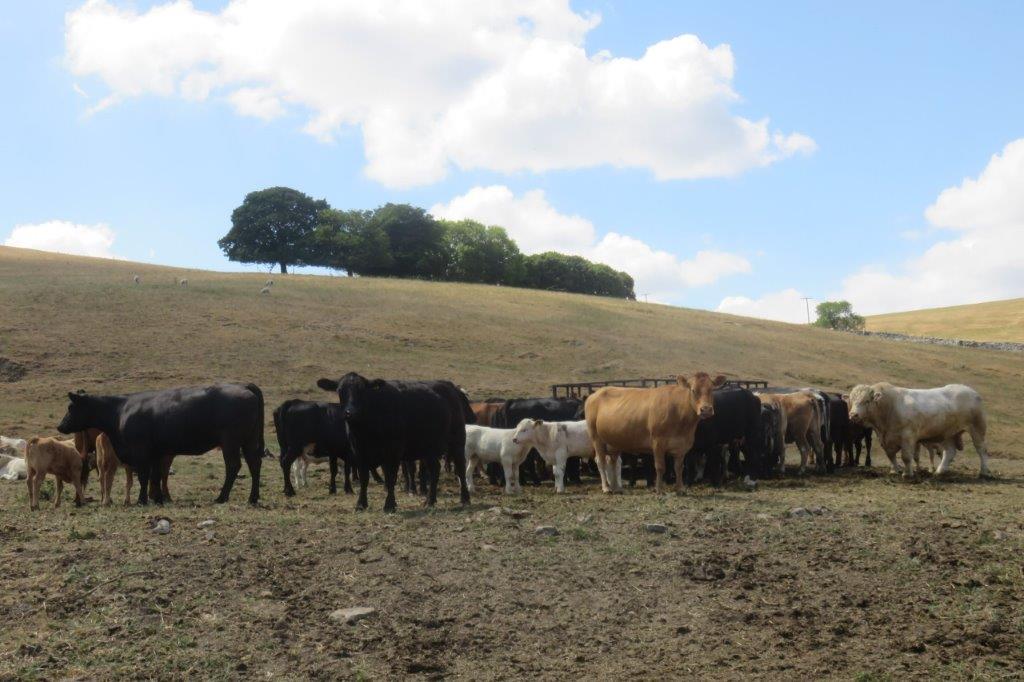 note the bull to the right of the herd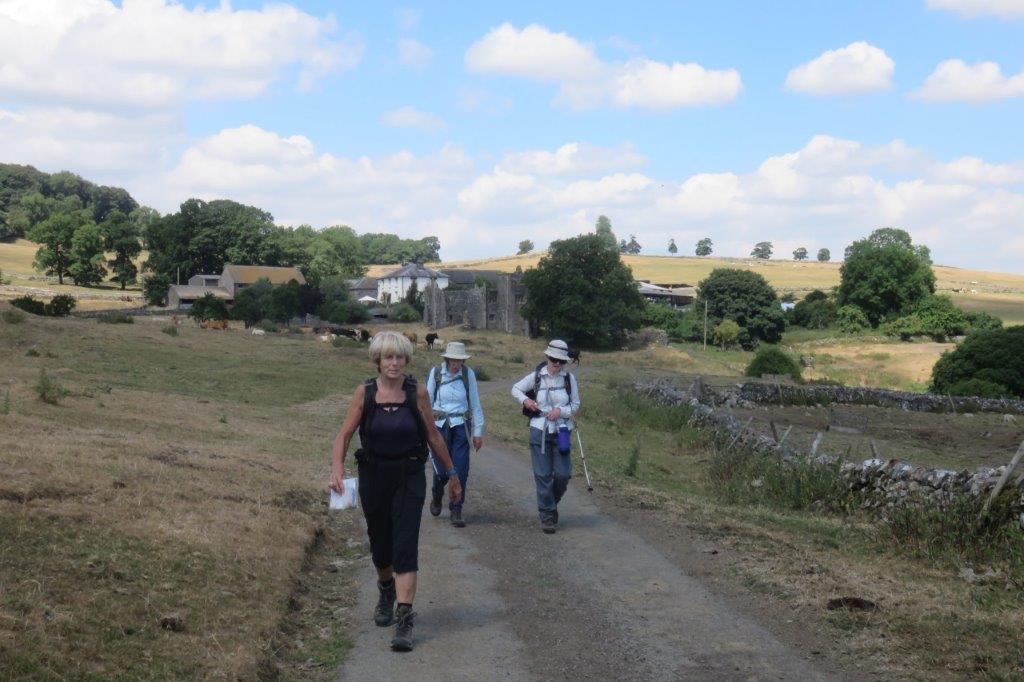 leaving Throwley Hall Farm & Old Hall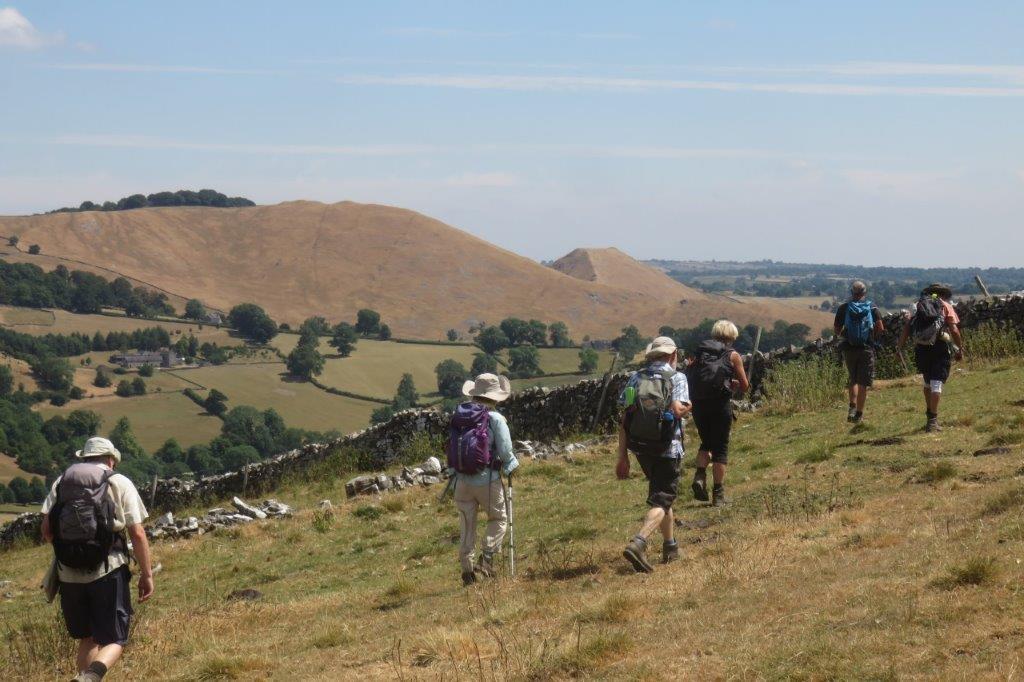 Bunster Hill to left - Thorpe cloud right of centre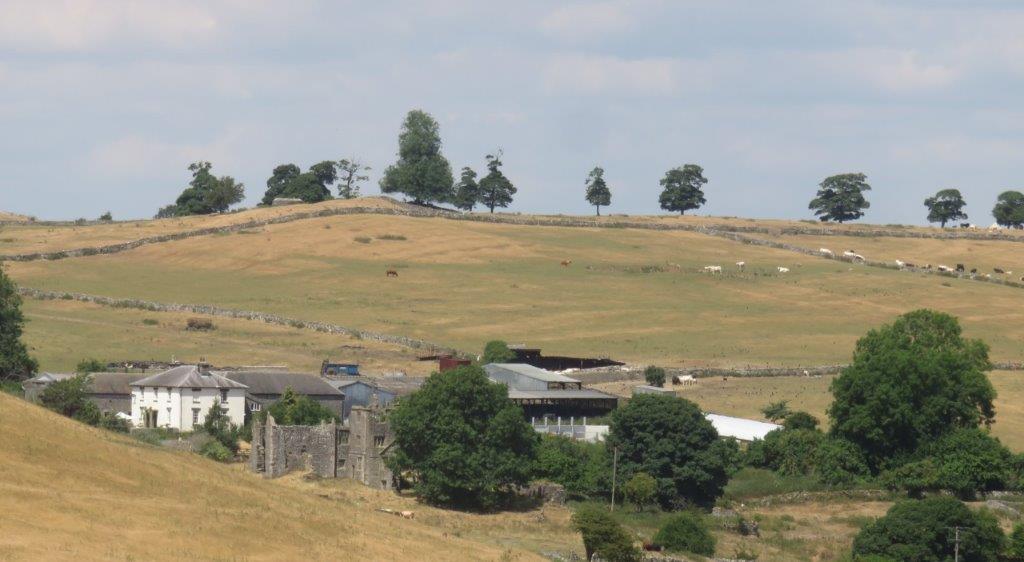 zoomed back to Throwley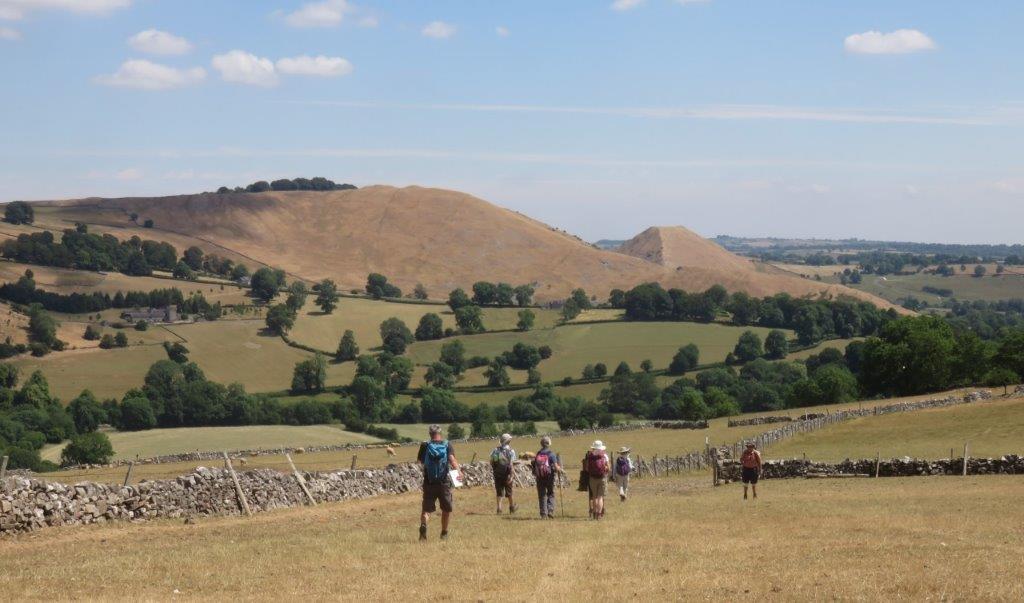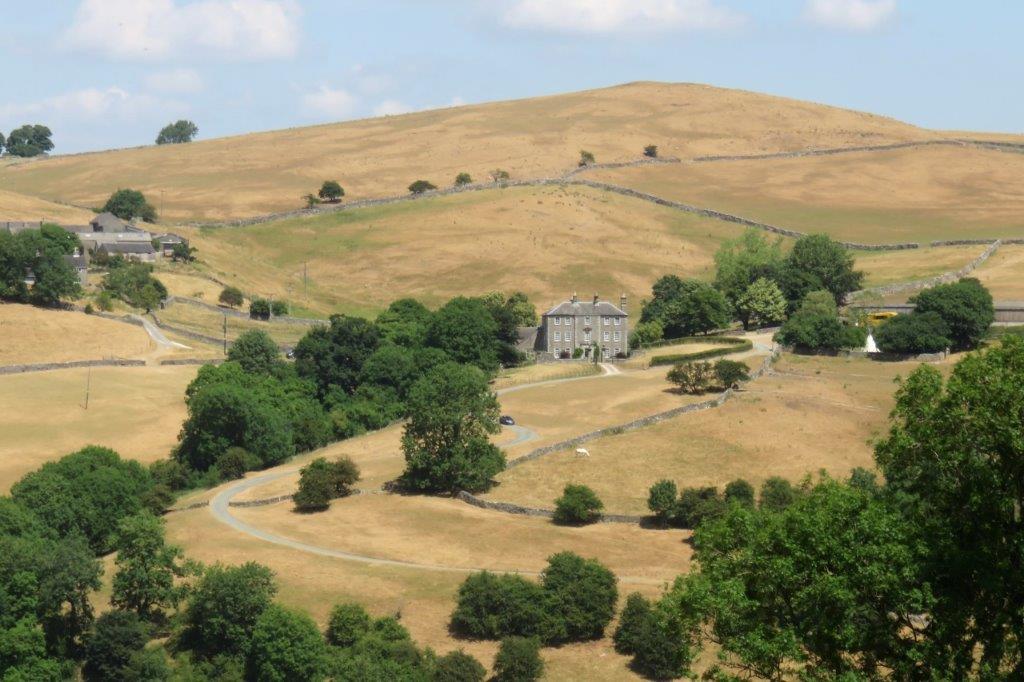 Castern Hall seen across River Manifold valley. We passed this Hall later on our return to Wetton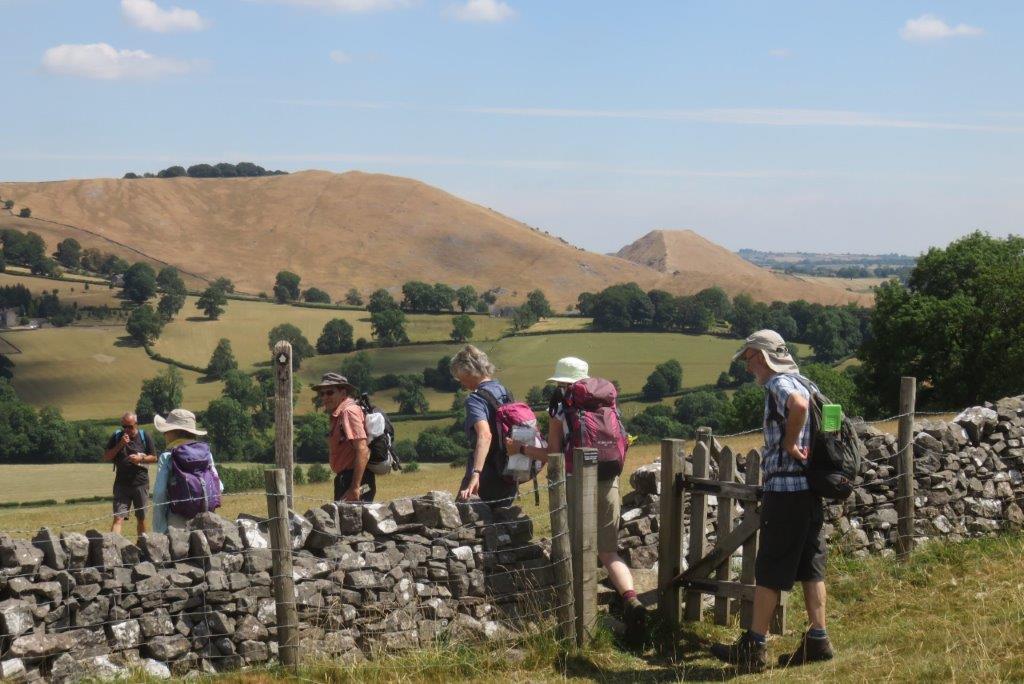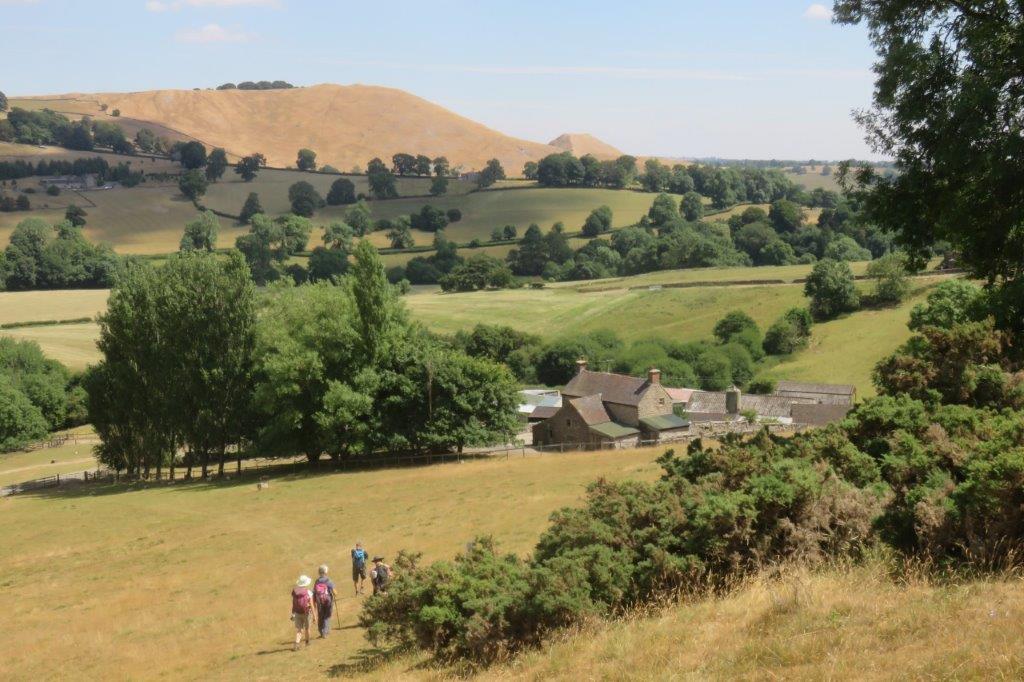 down to Rushley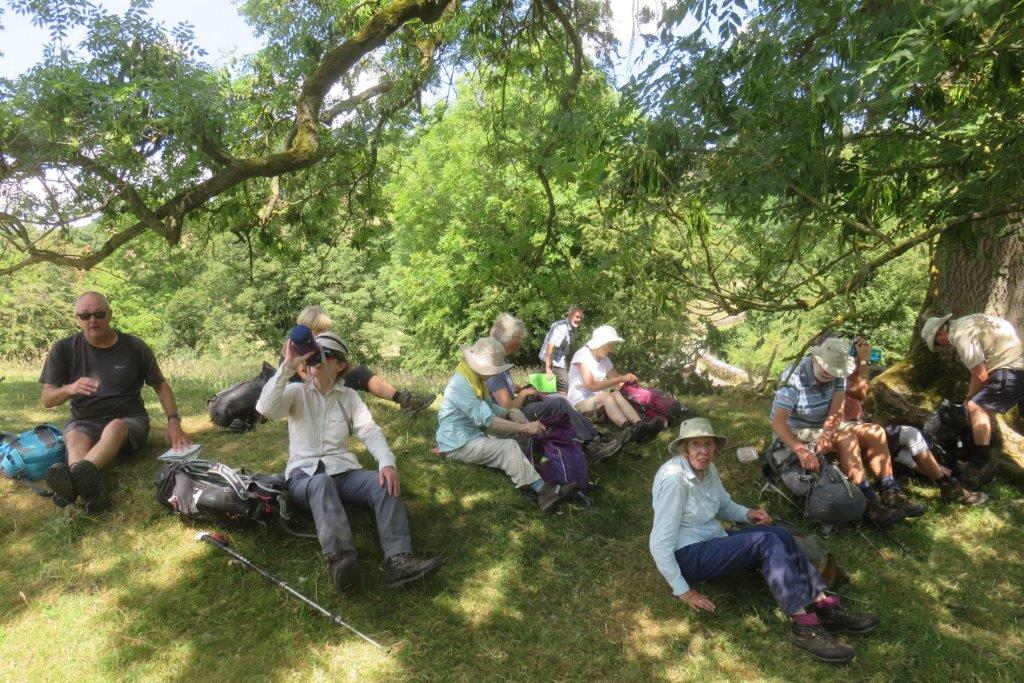 lunch near Rushley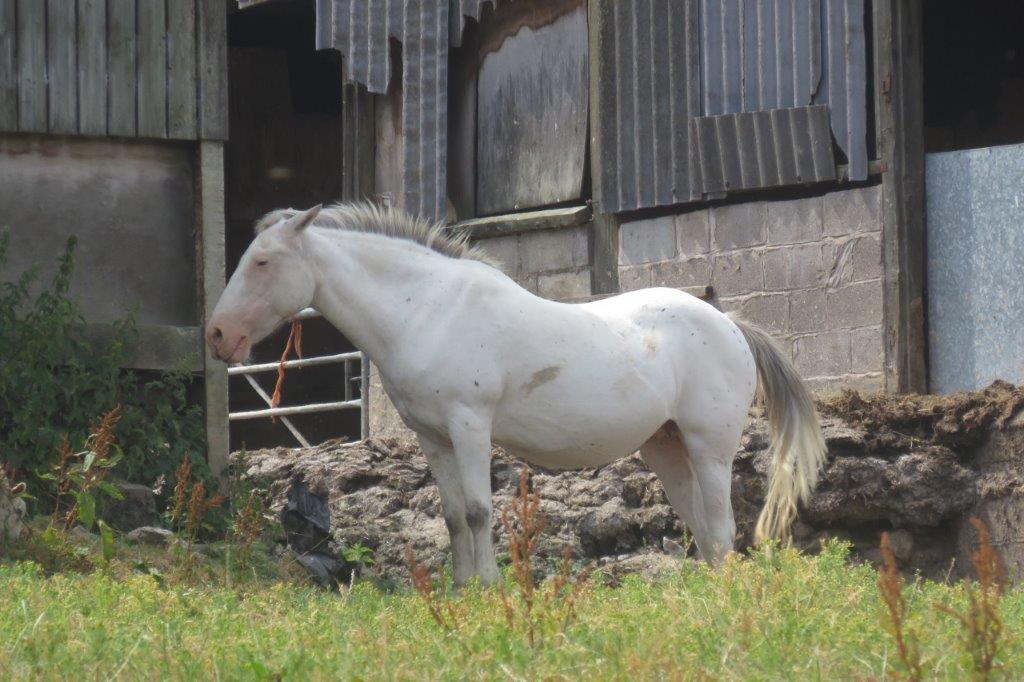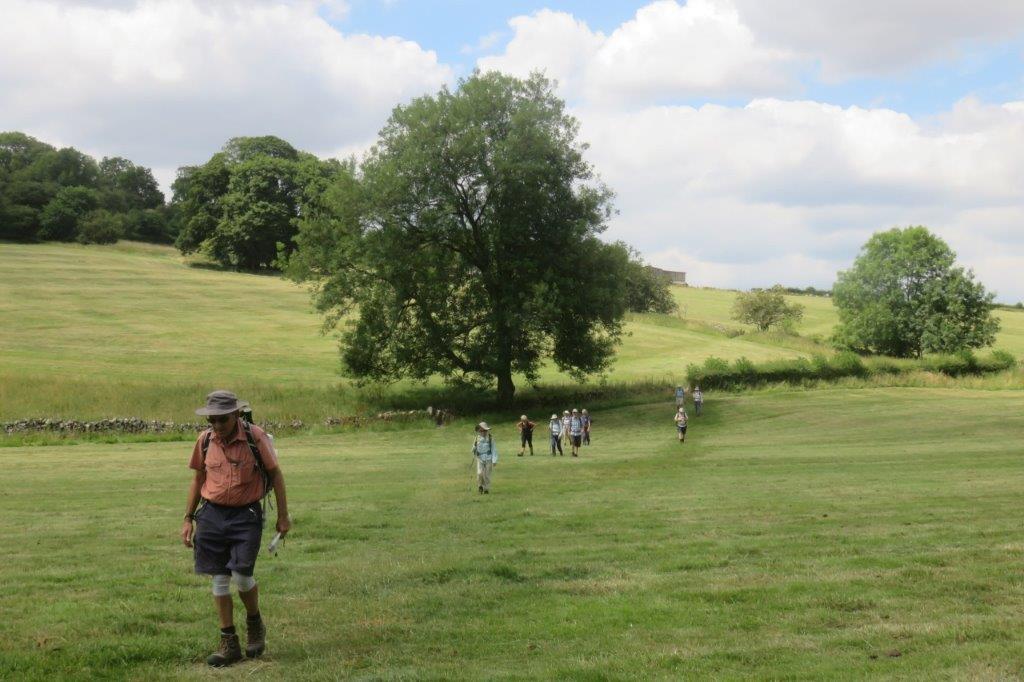 towards footbridge into Ilam Park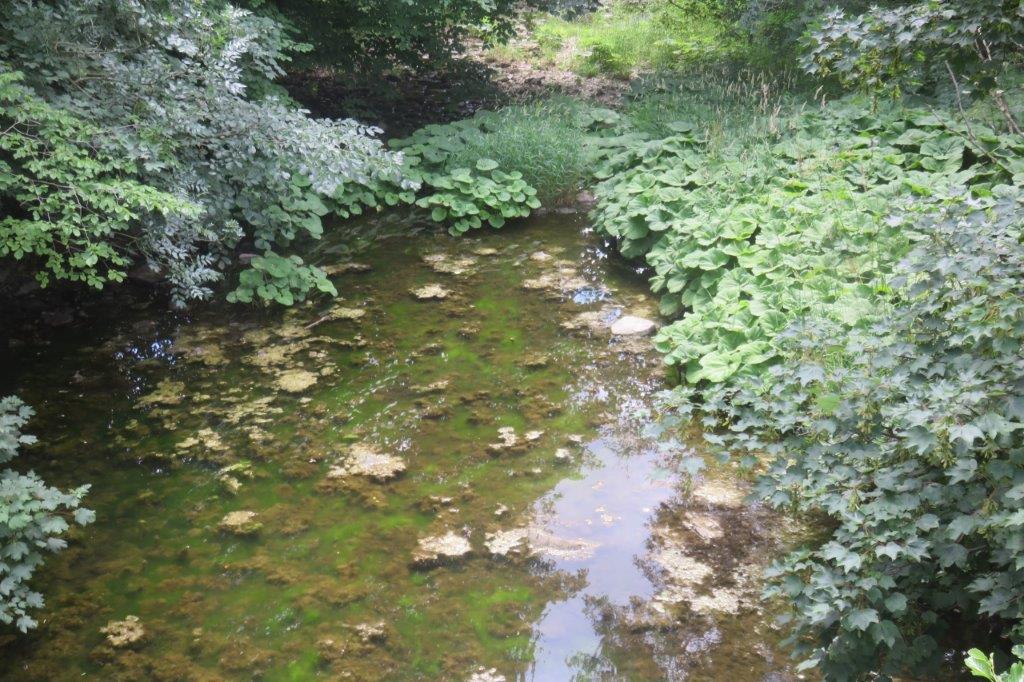 water in River Manifold near footbridge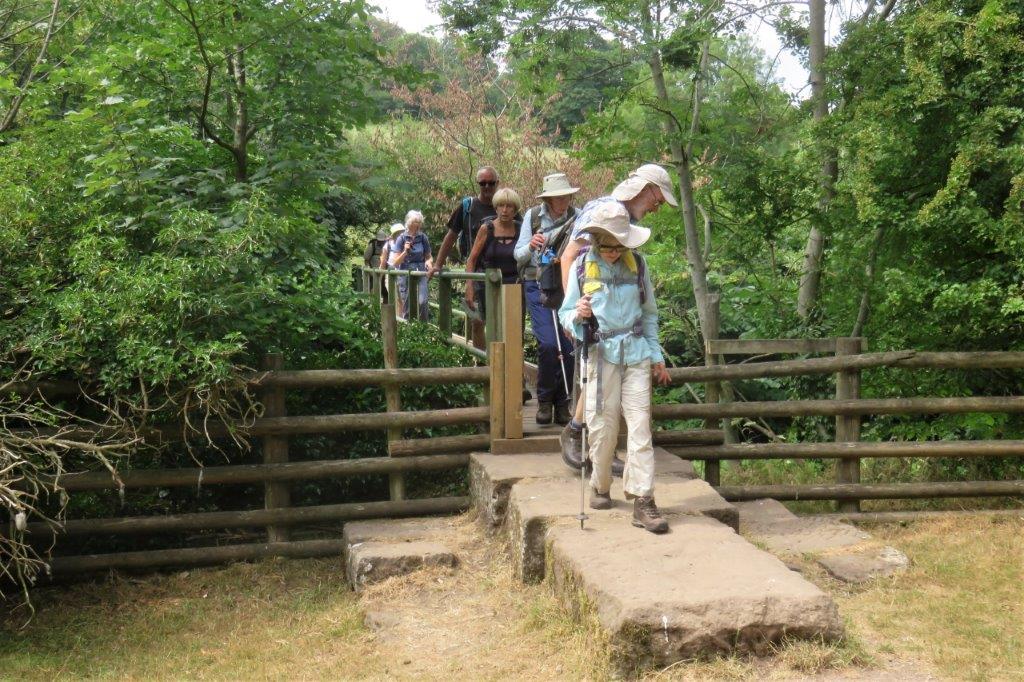 footbridge into Ilam Park over River Manifold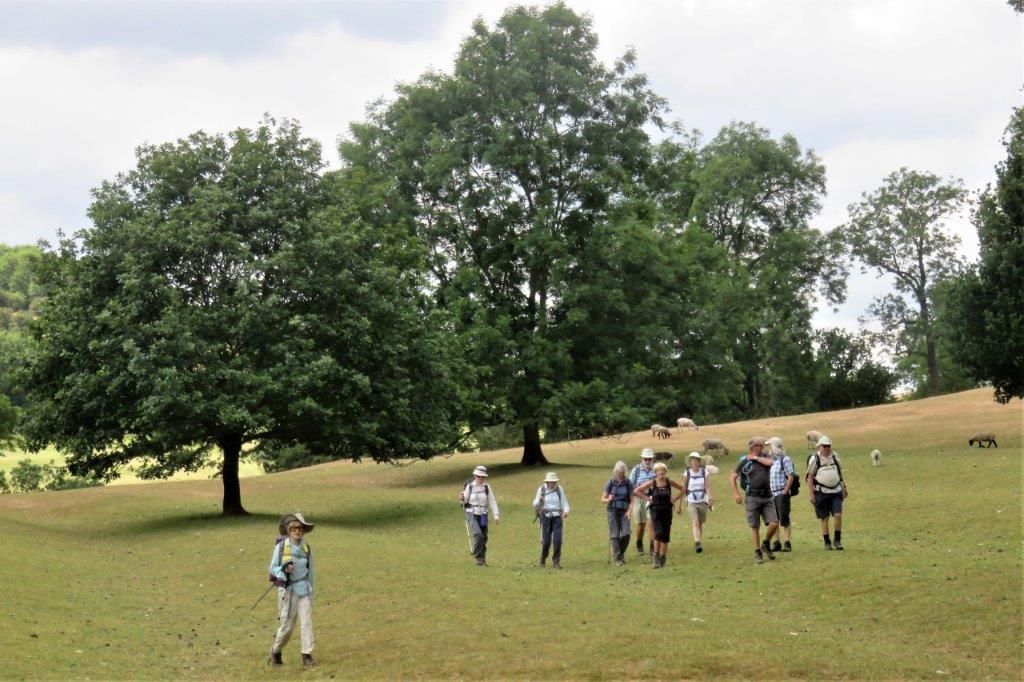 across Ilam Park (no time available to see Ilam Hall)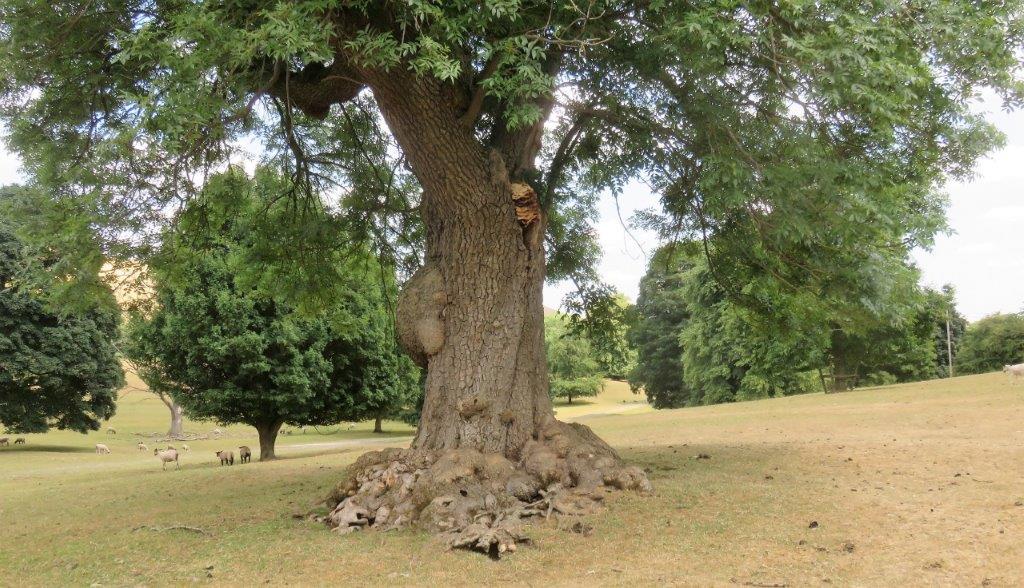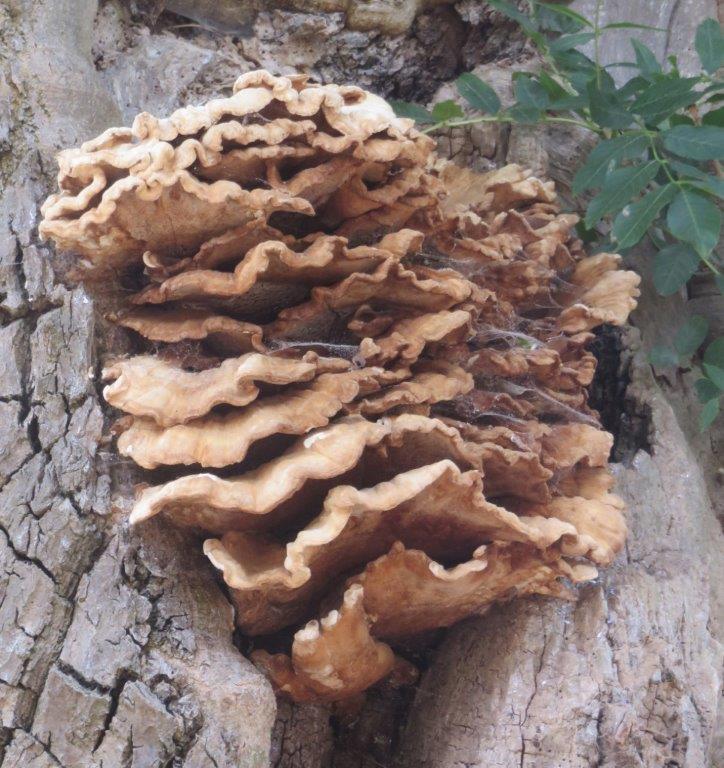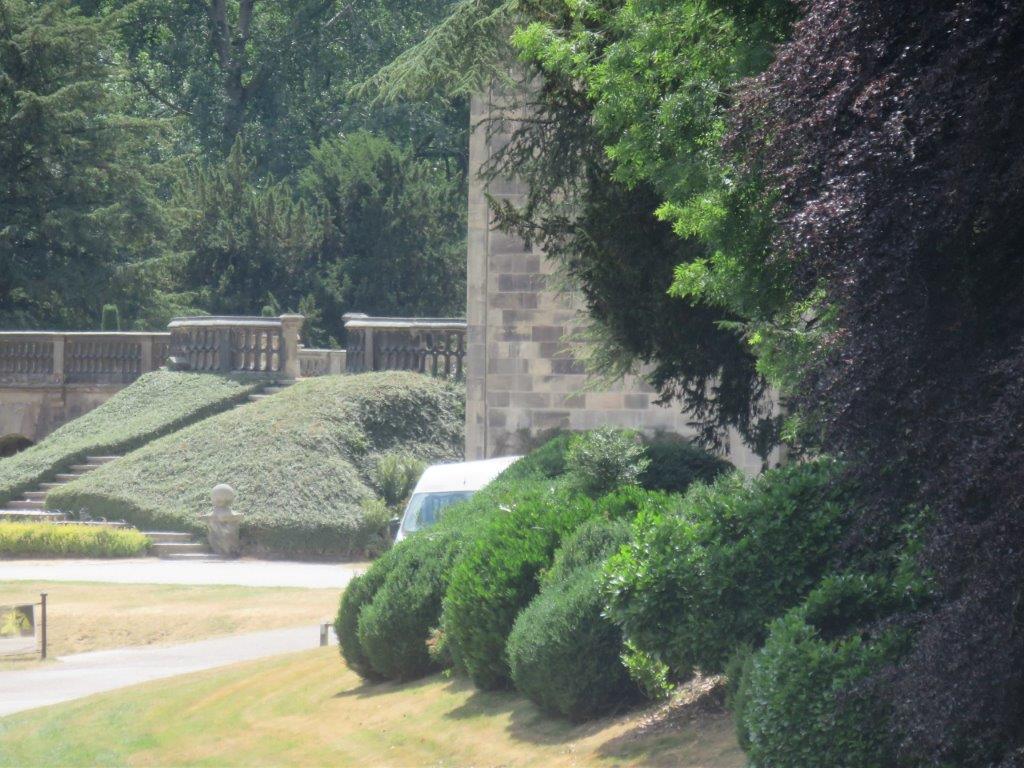 a sparse glimpse of terrace at Ilam Hall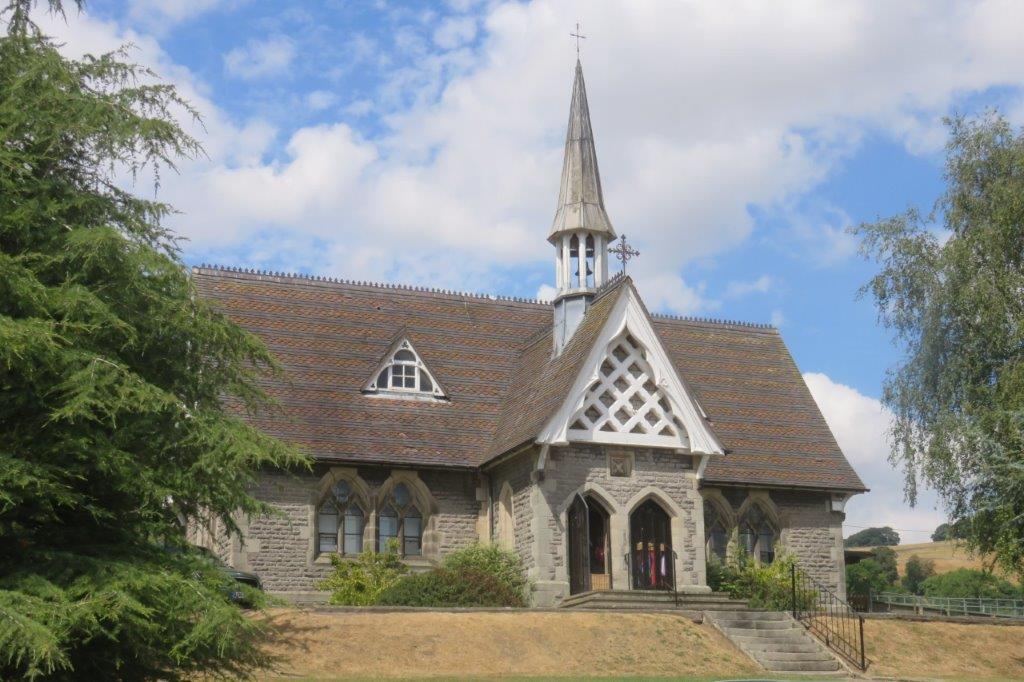 Ilam school - built in Swiss style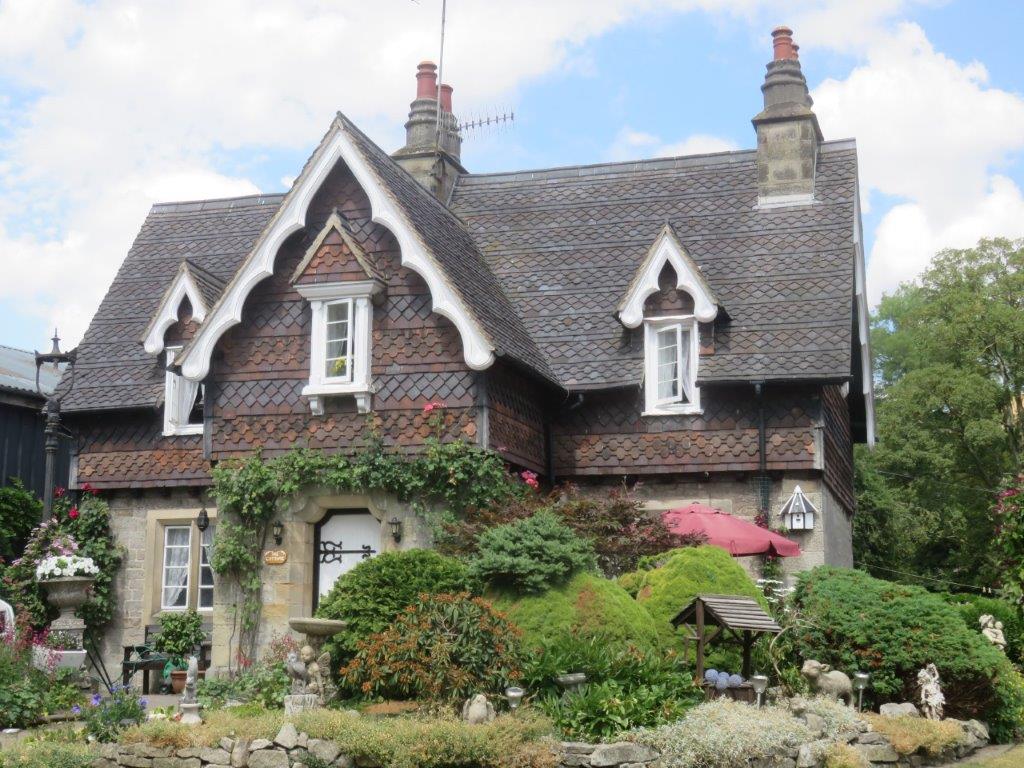 houses built in Swiss style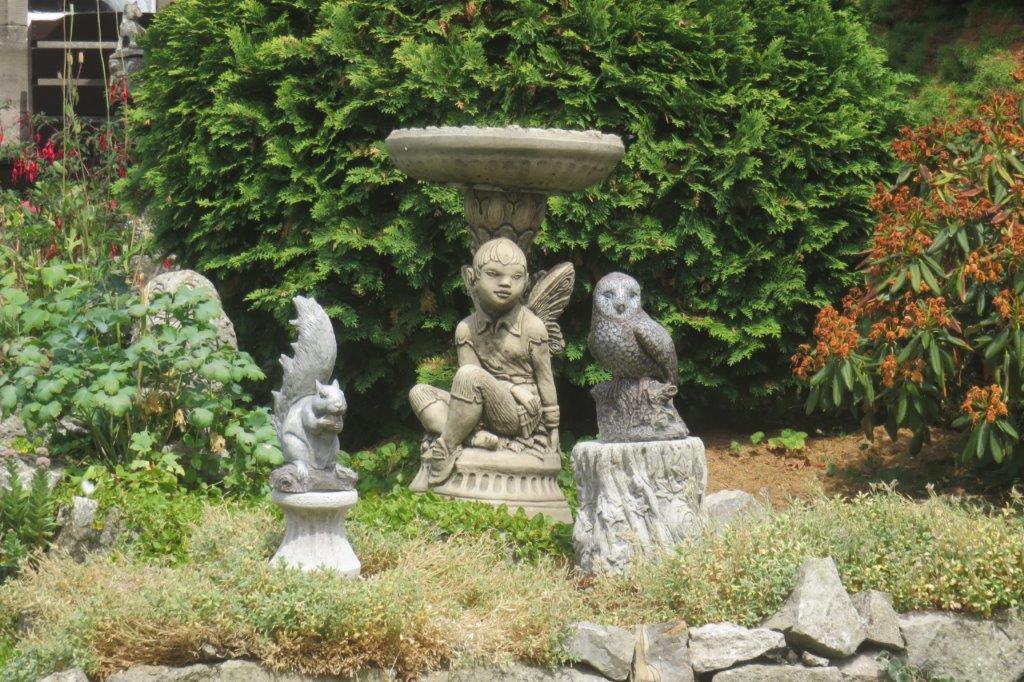 garden gnomes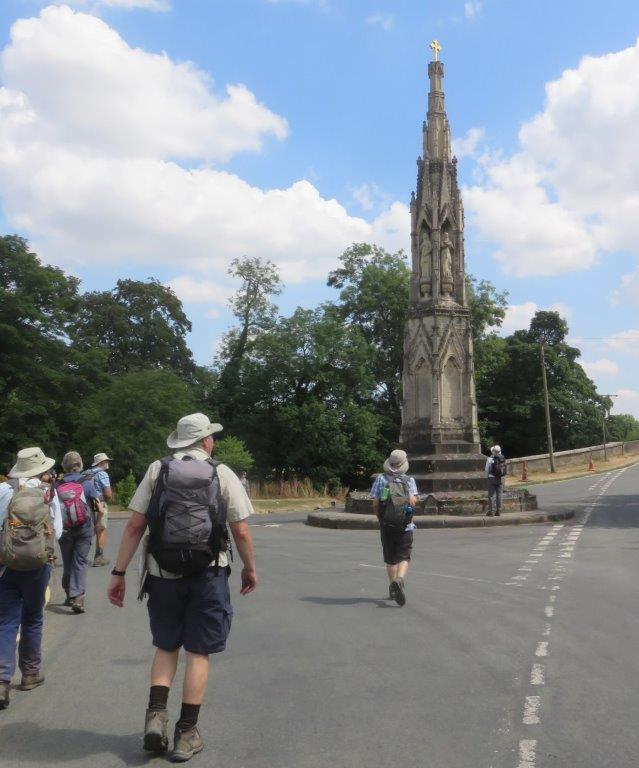 monument - one panel engraved - other panels empty awaiting auspicious events?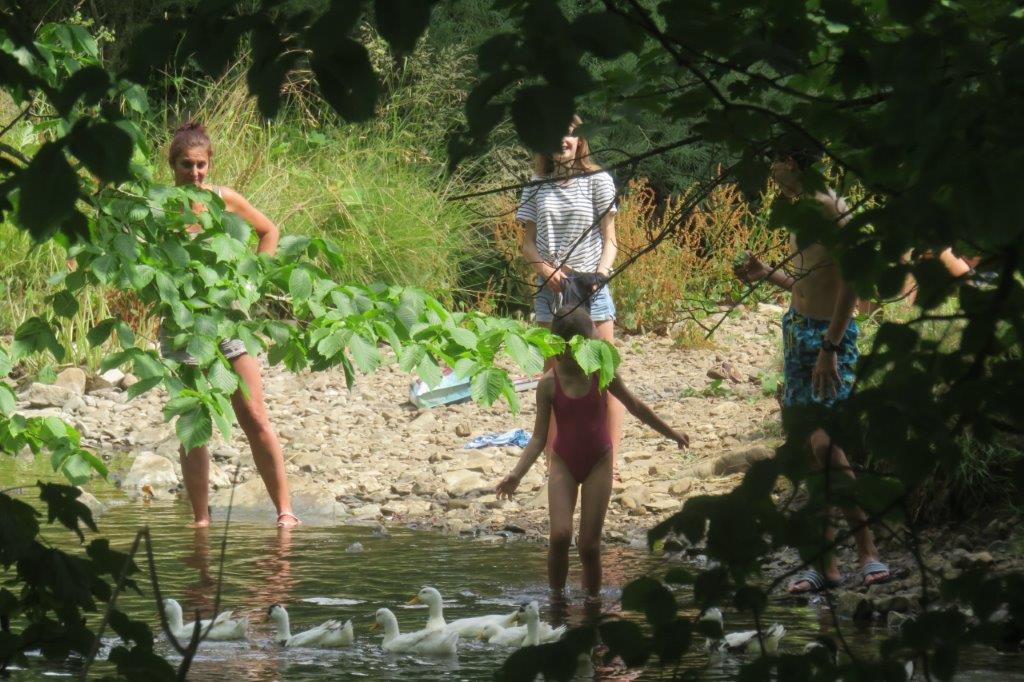 frolicking in The River Manifold in very warm weather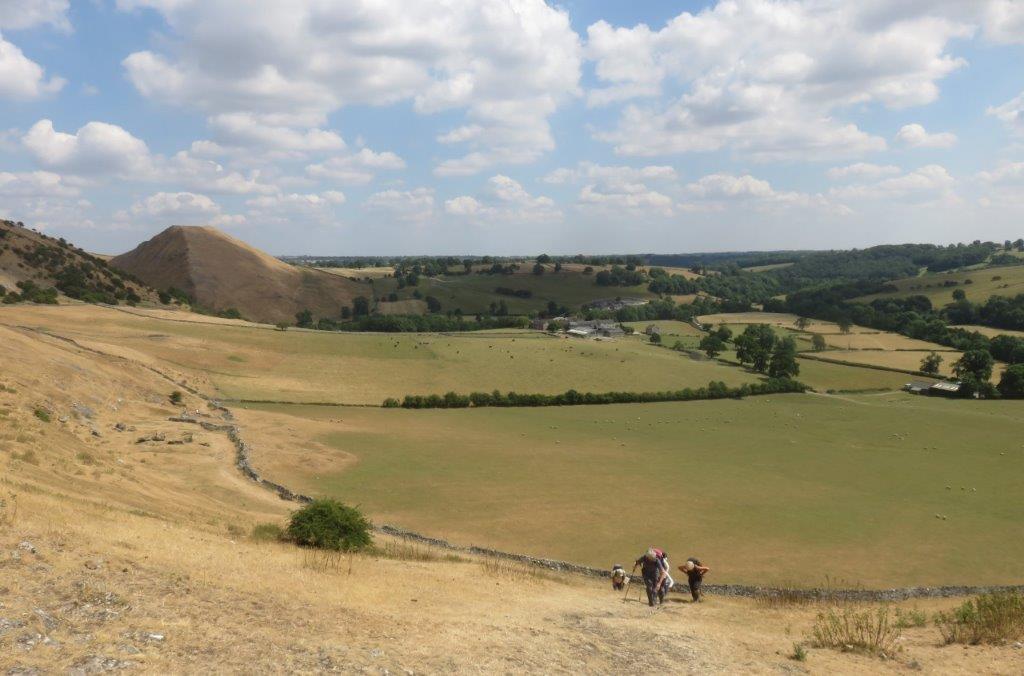 in Open Access Land heading towards Ilam Tops / Farm - two went via top of Bunster Hill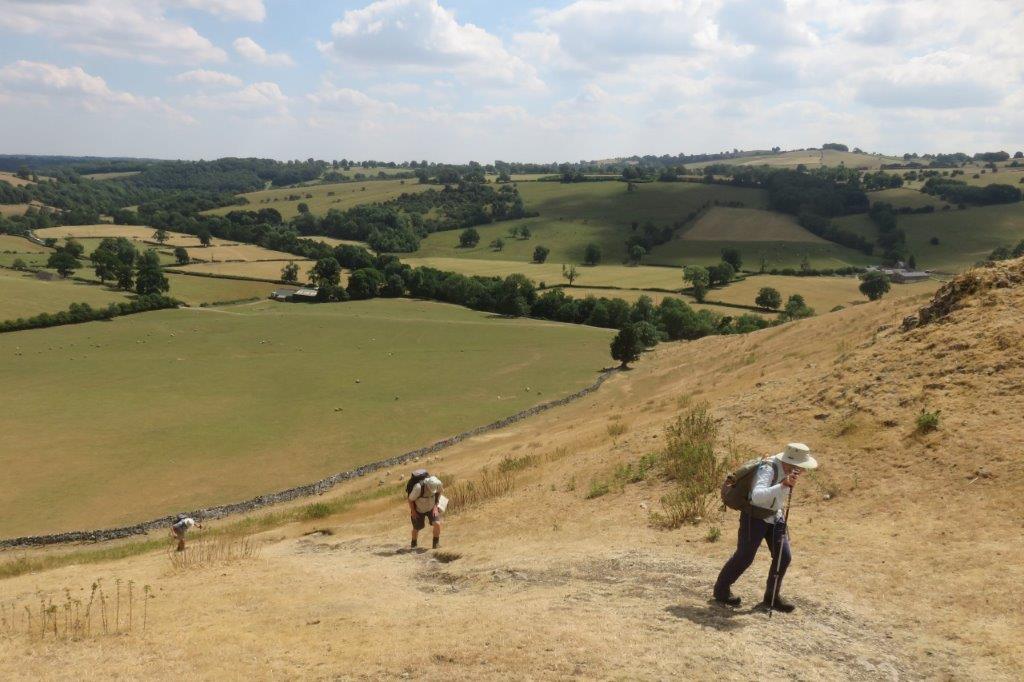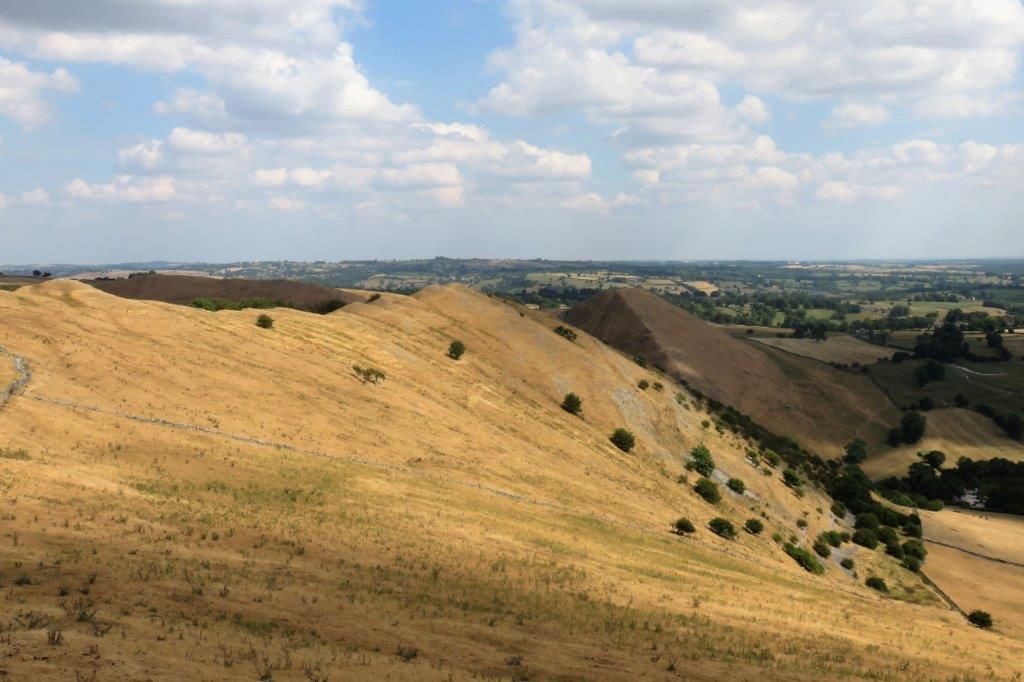 Bunster Hill with Thorpe Cloud behind across Dove Dale (unseen below it)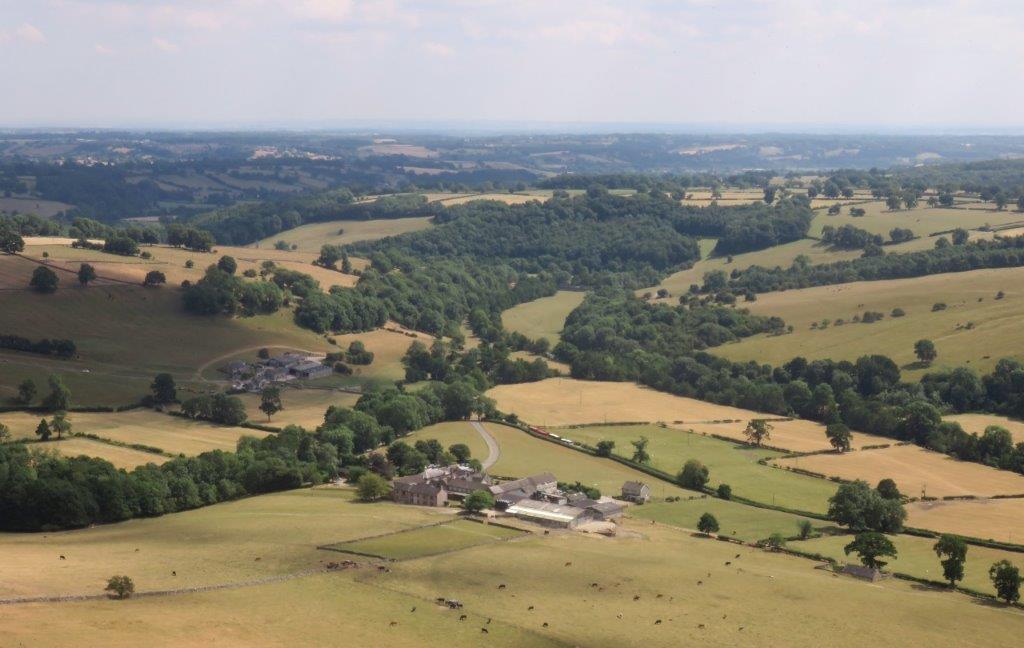 Isaac Walton Hotel at bottom of picture - tree lined River Dove to the left (view from top of Bunster Hill)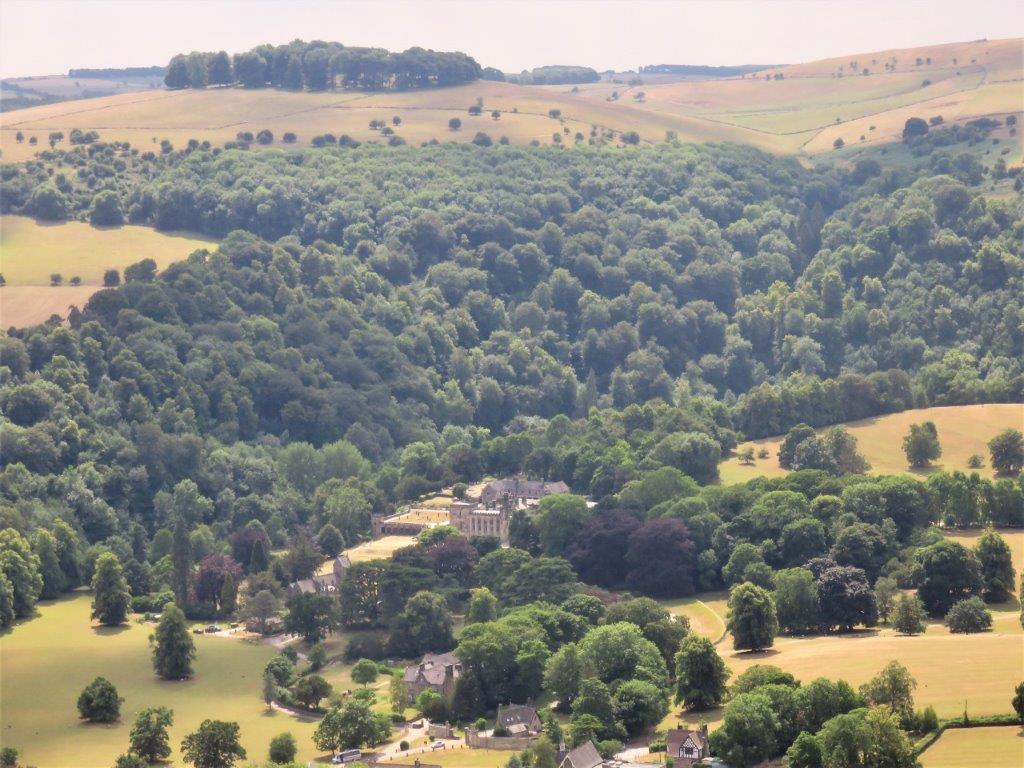 a view of Ilam Hall seen from the top of Bunster Hill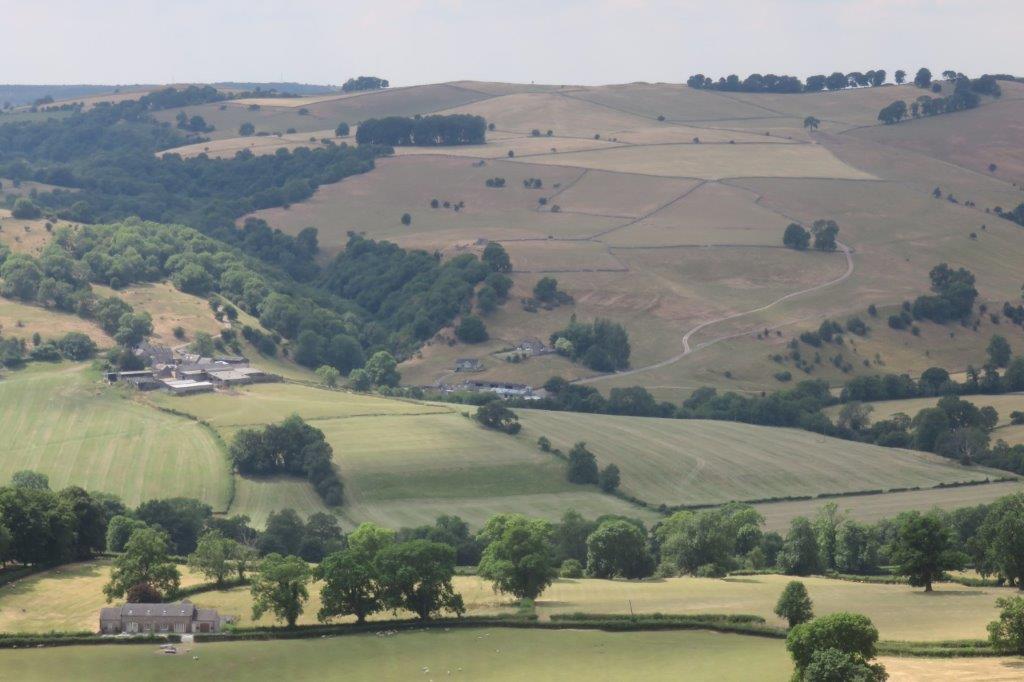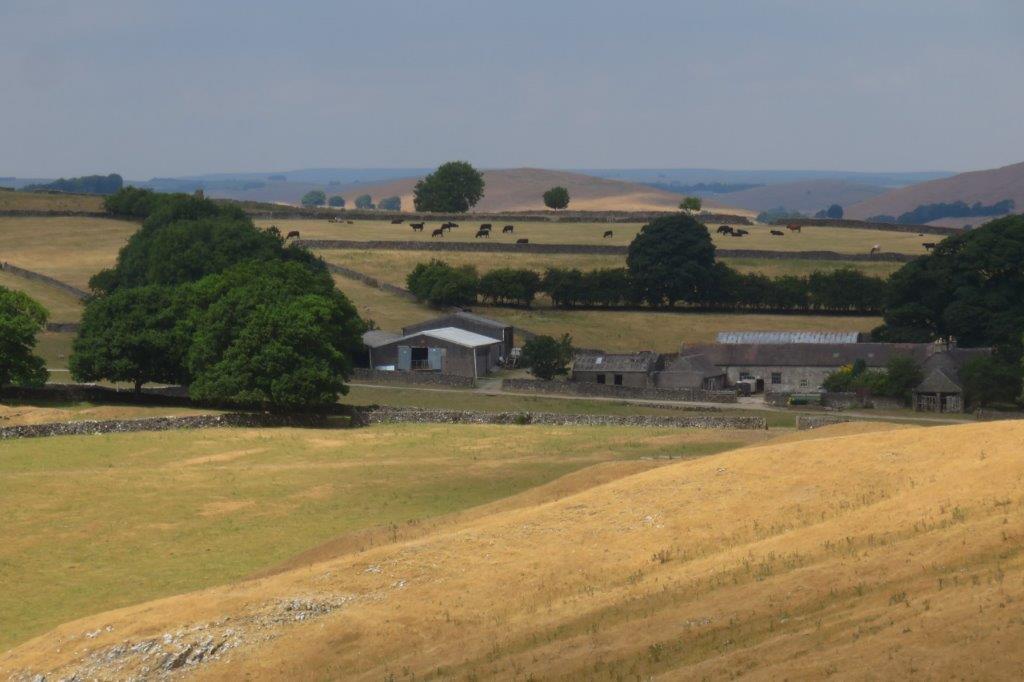 Ilamtops Farm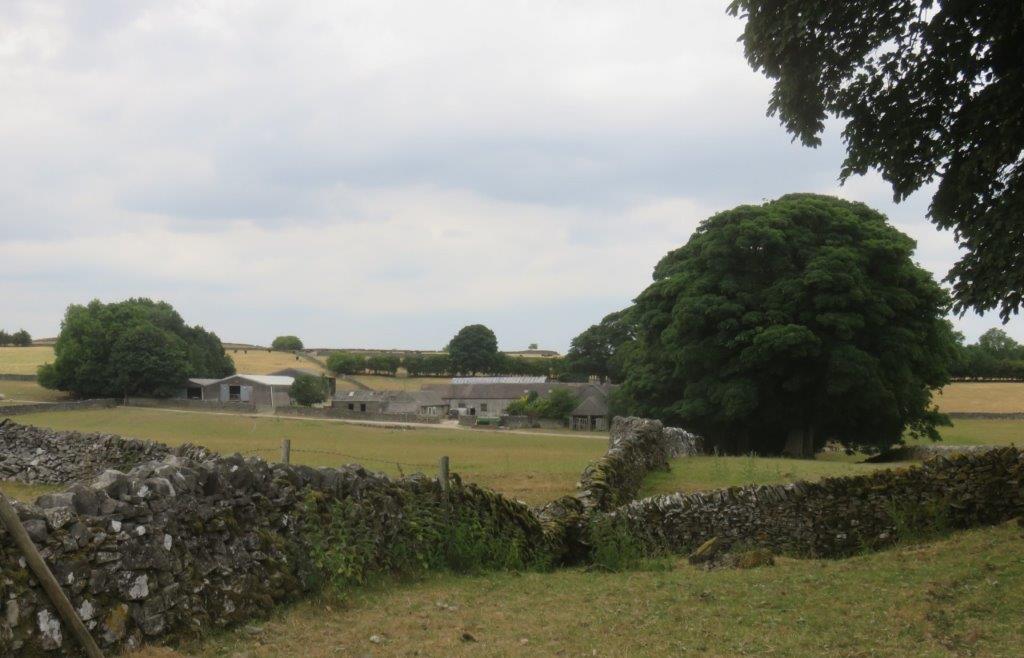 as above - avenue of trees to it's right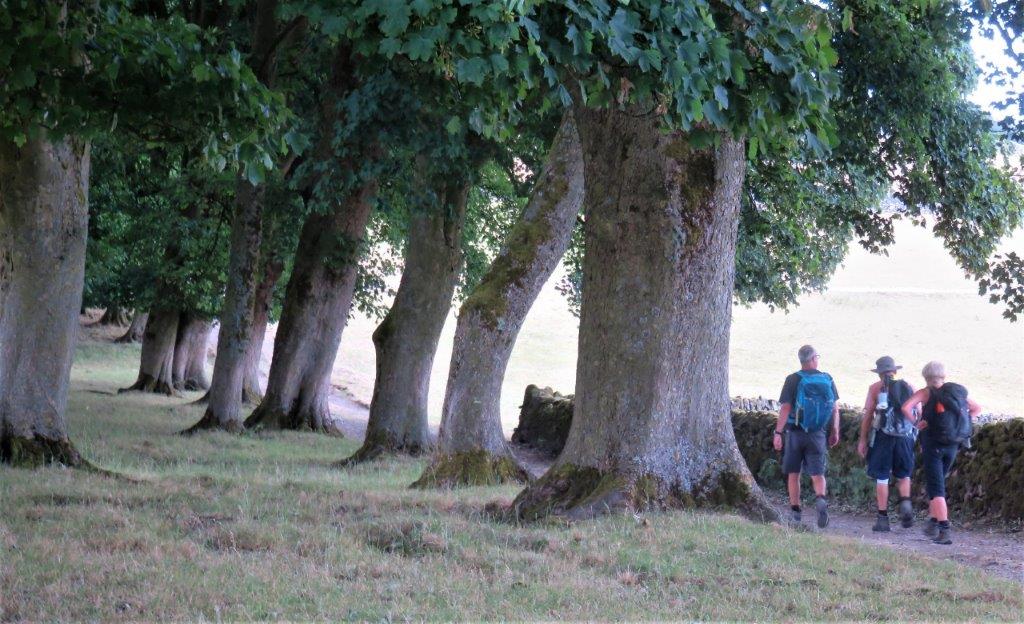 walking to one side of the avenue of trees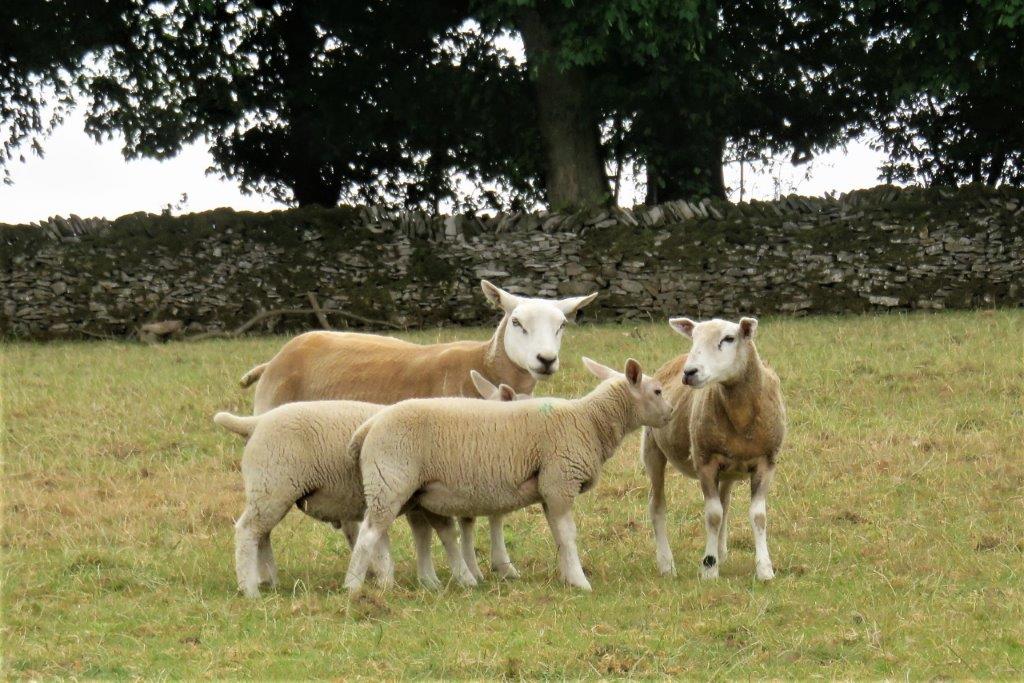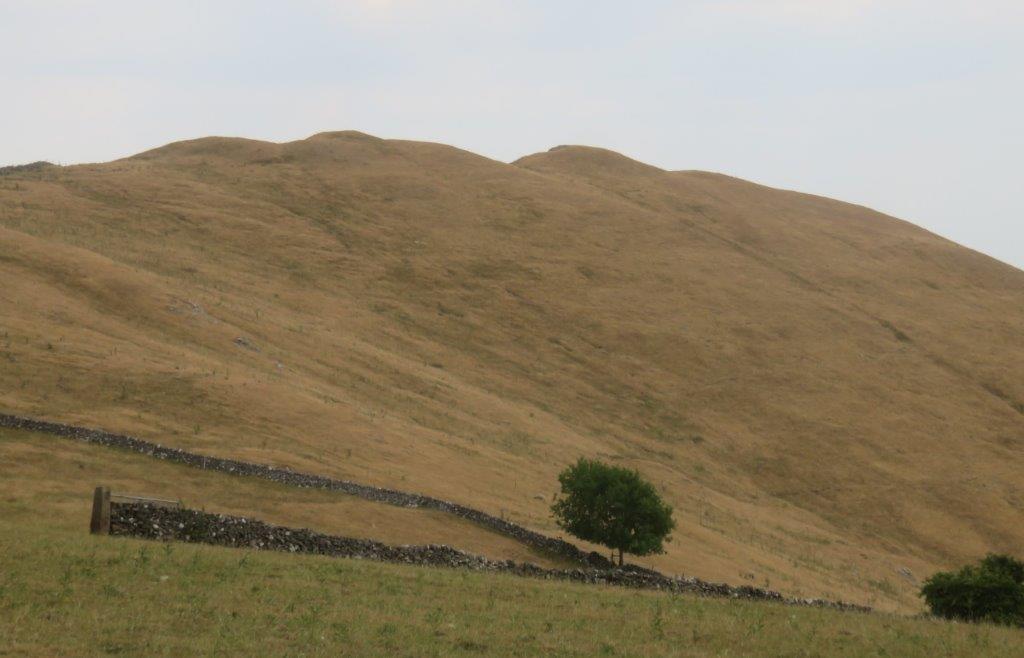 a backward glance at Bunster Hill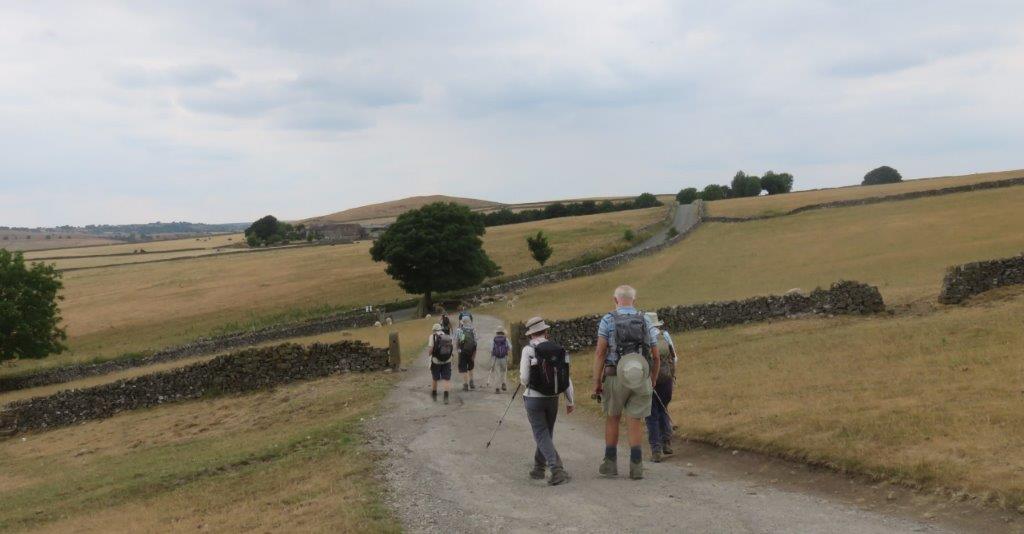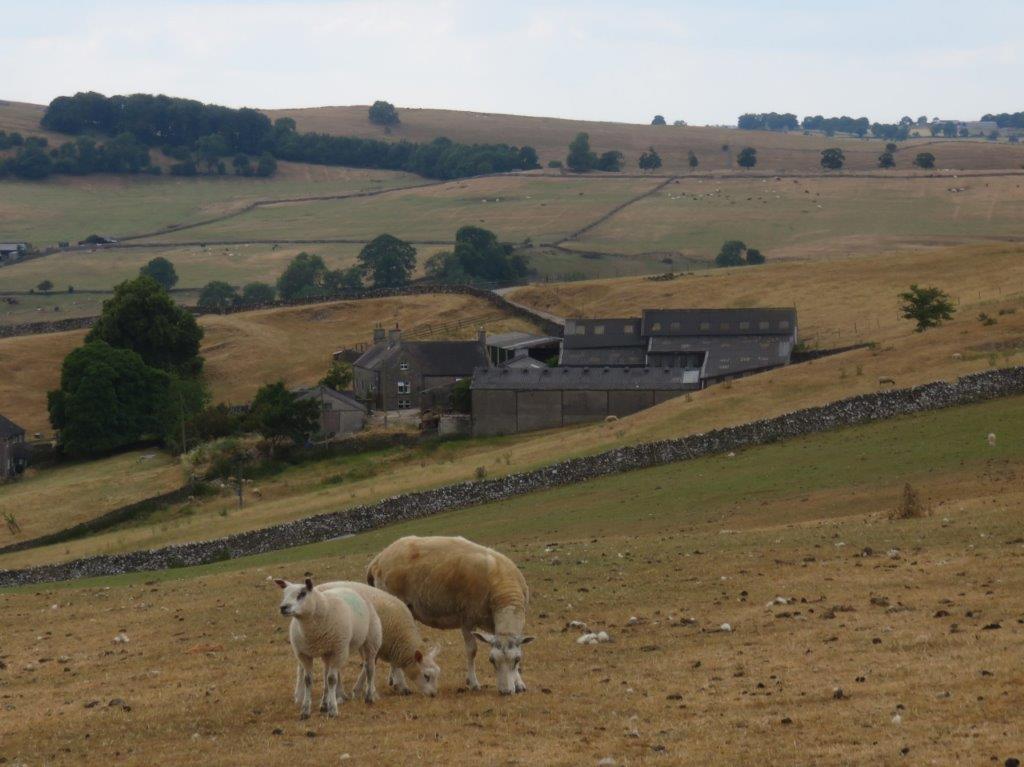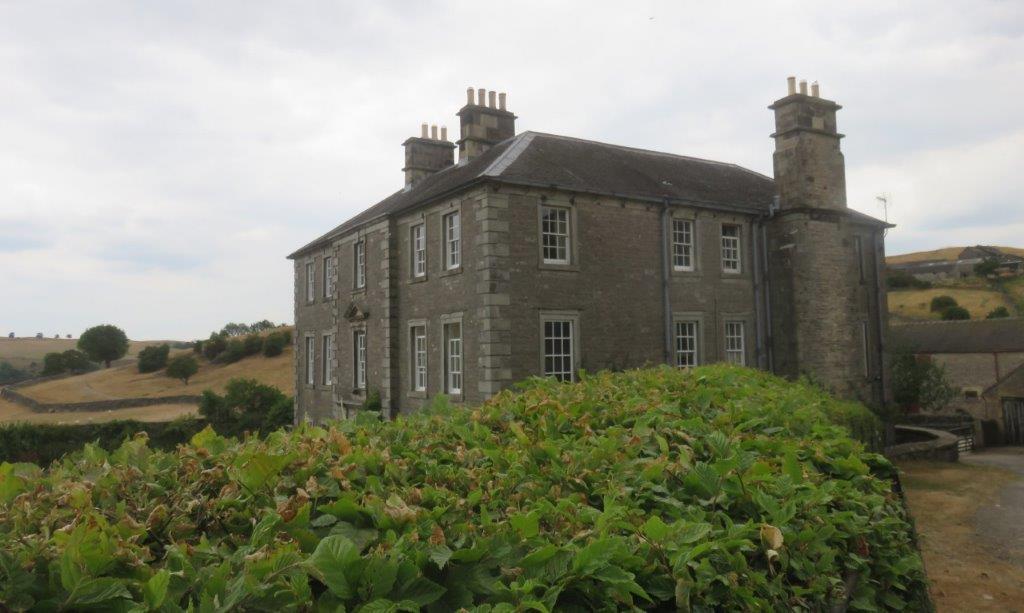 Castern Hall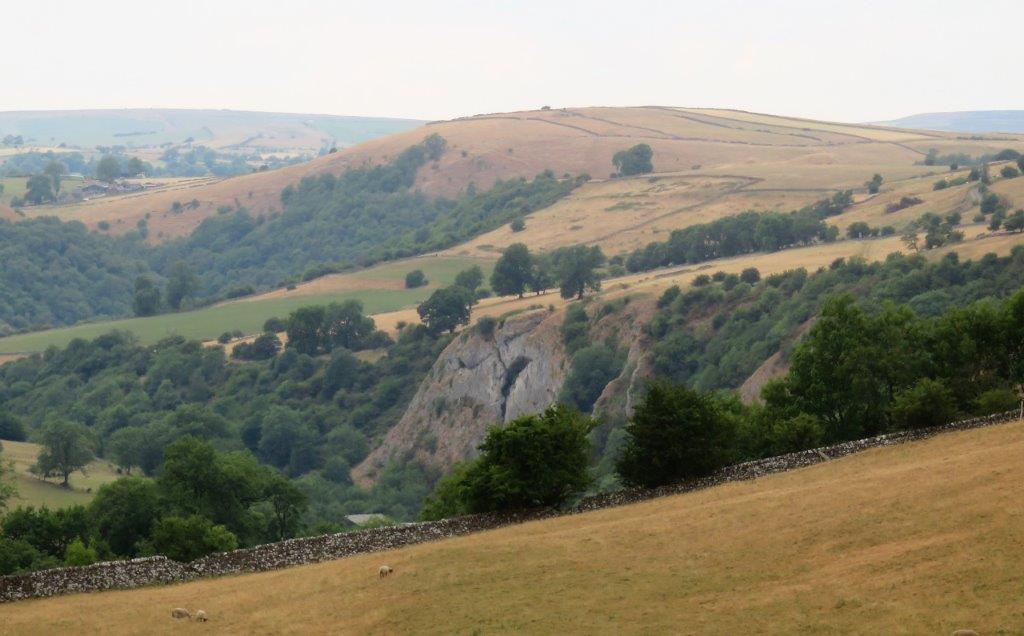 Beeston Tor Caves - seen yet again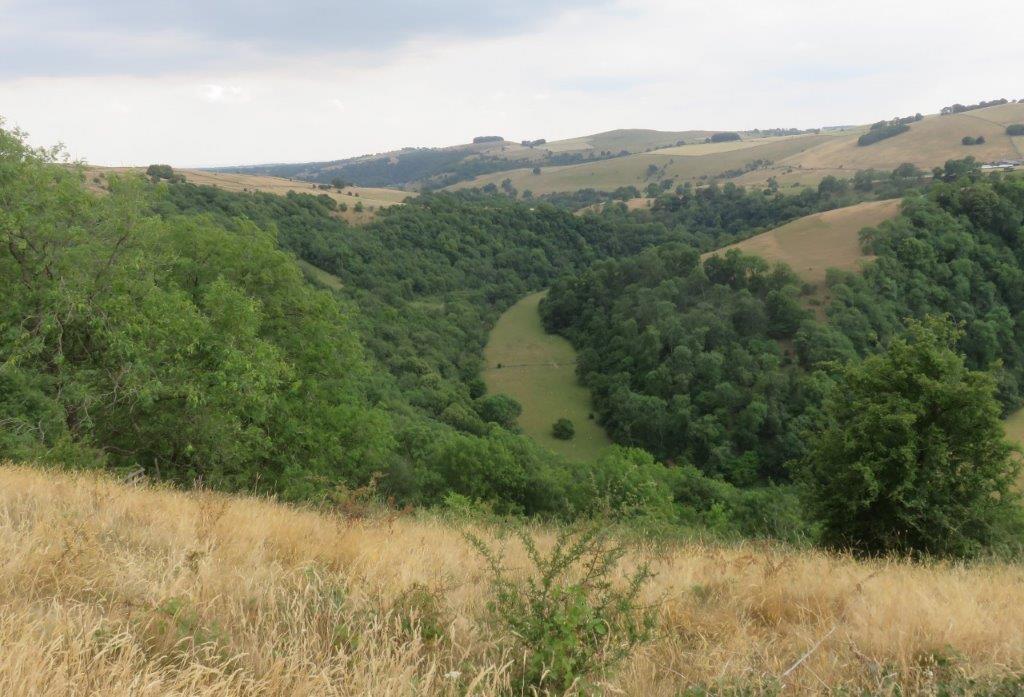 a view to The River Manifold valley?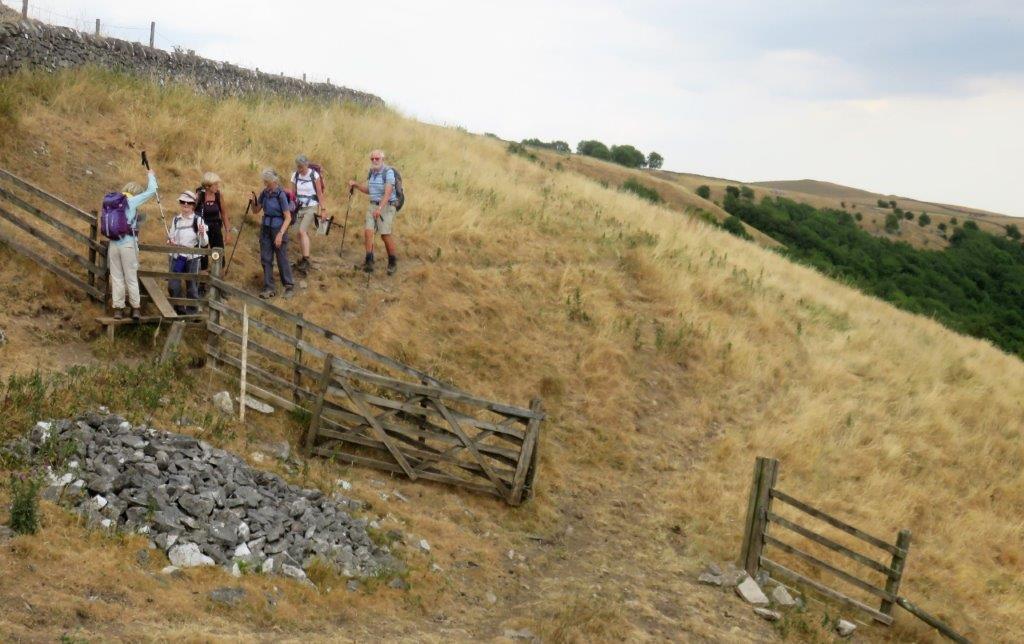 practise crossing stiles while gate open below - or taking a breather?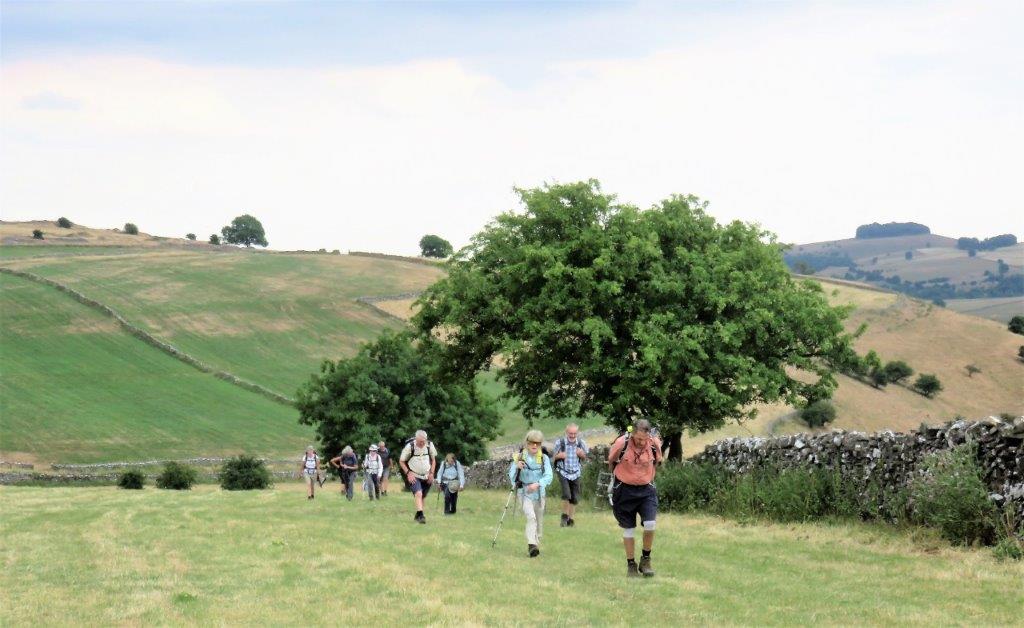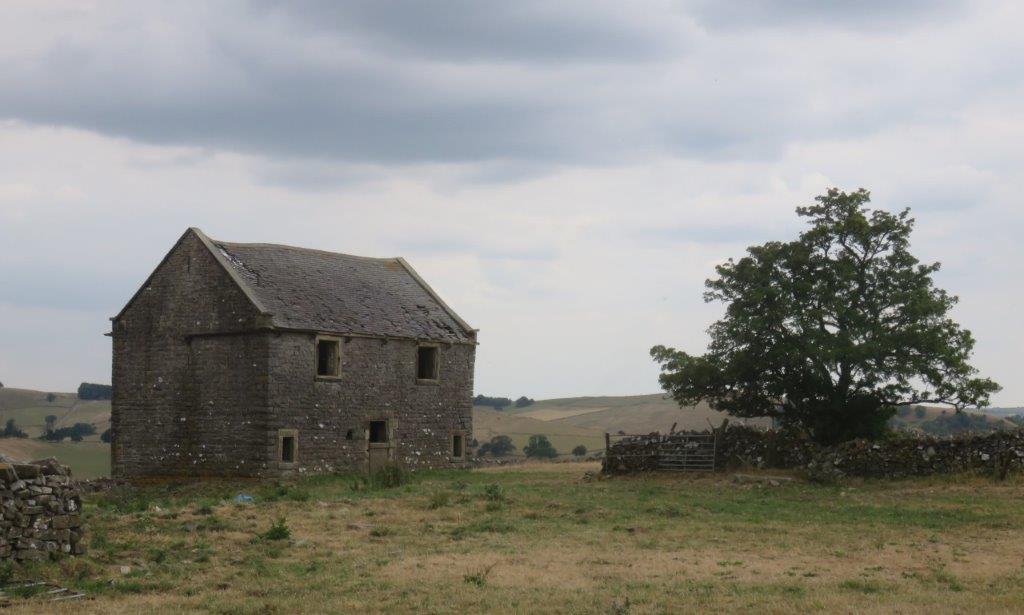 crumbling house ruin awaits restoration in a rising property market?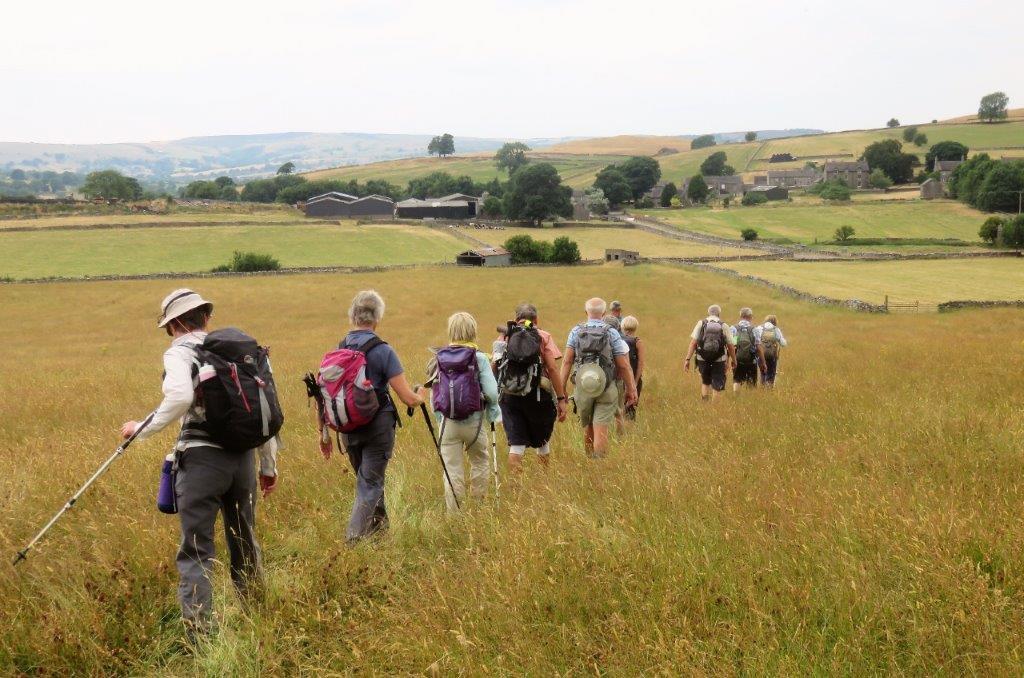 Wetton ahead of us - drinks eagerly awaited by thirsty ramblers at the PH which unfortunately was closed!
homepage - Day Walks Index 2018 - contact me at