homepage - Day Walks Index 2018 - contact me at

2018.03.21 - Fox House or Longshaw Lodge, ~NW thr woods below A6187 Rd, ~NE above Quarry (dis), ~NNW top of Burbage Rocks, cross rd & Upper B Bridge then ~W to / up to Stanage Edge, along Edge*1, down Long Causeway (Byway) to top of Dennis Knoll, ~300m E on Rd, FP ~S Green's House then Bronte Cottage, ~S towards Hathersage*2, at ~SK232825 branch ~SSE towards Church, before Church ~E to Toothill Farm, FP / Rd / FP to FB / Mitchell Field, ~E thru M Field / across Rd & up then ~SSW to / along top of Millstone Edge, ~ESE to Rd & ~100m along it, ~E to FB across Burbage Brook, Pond, Longshaw Lodge / Fox House - leaders Margaret Brown & Anne Vickers - Wednesday
*1 - Intention to turn down from Edge to PC on road (above North Lees) was stopped by slippery snow / ice on path and party thus continued on to the byway to Dennis Knoll,
*2 Main group continued / rejoined originally planned walk (shown above) - some did shorter walk to Hathersage em-bussing there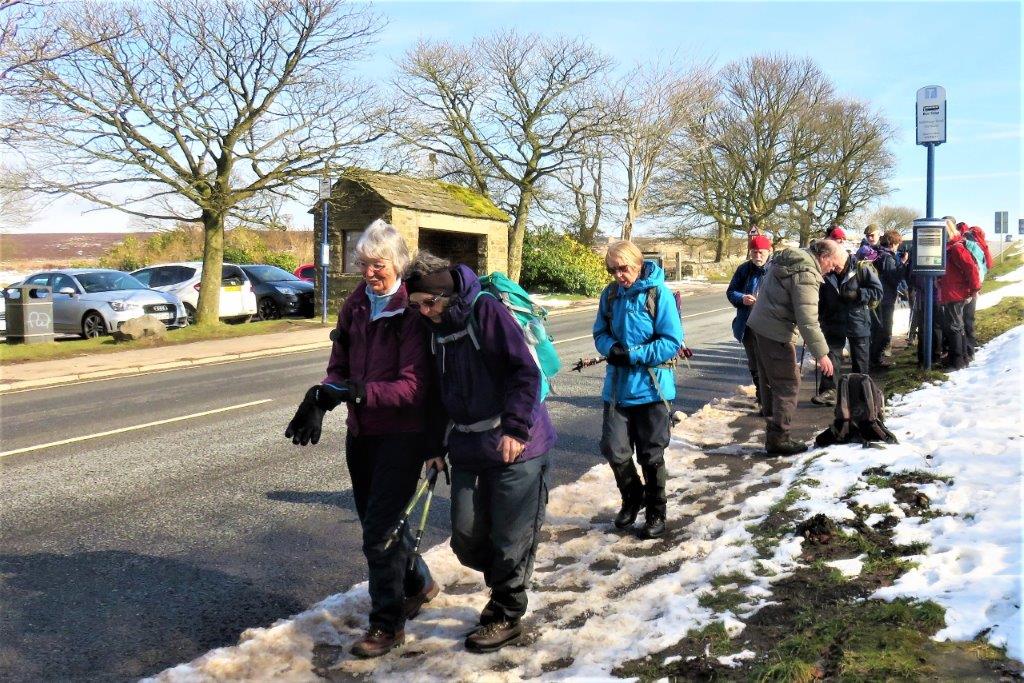 leaving Fox House bus stop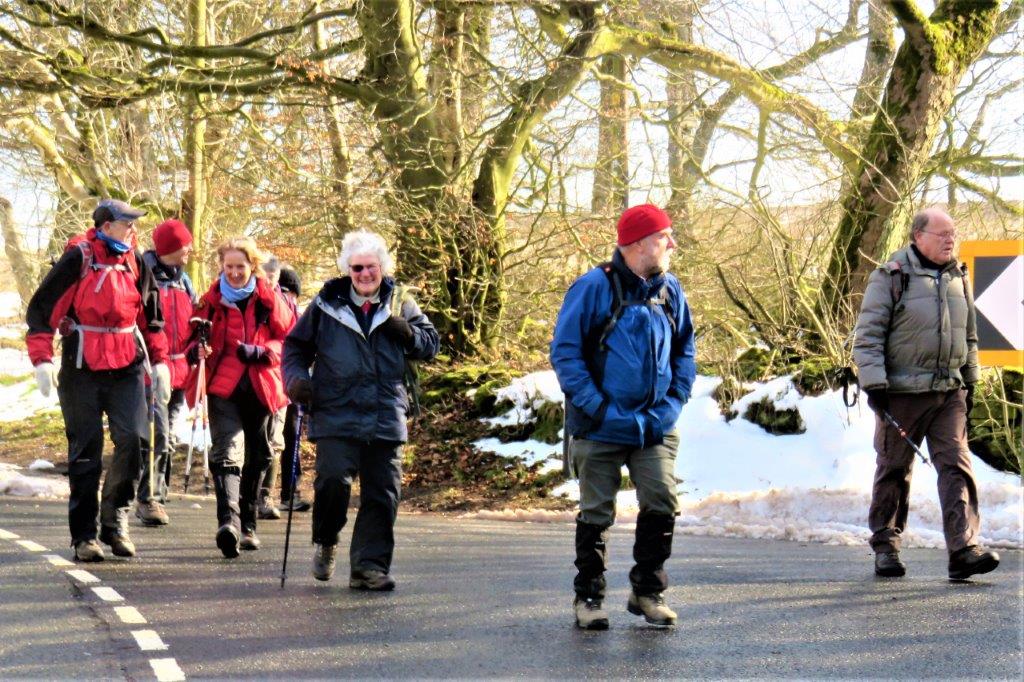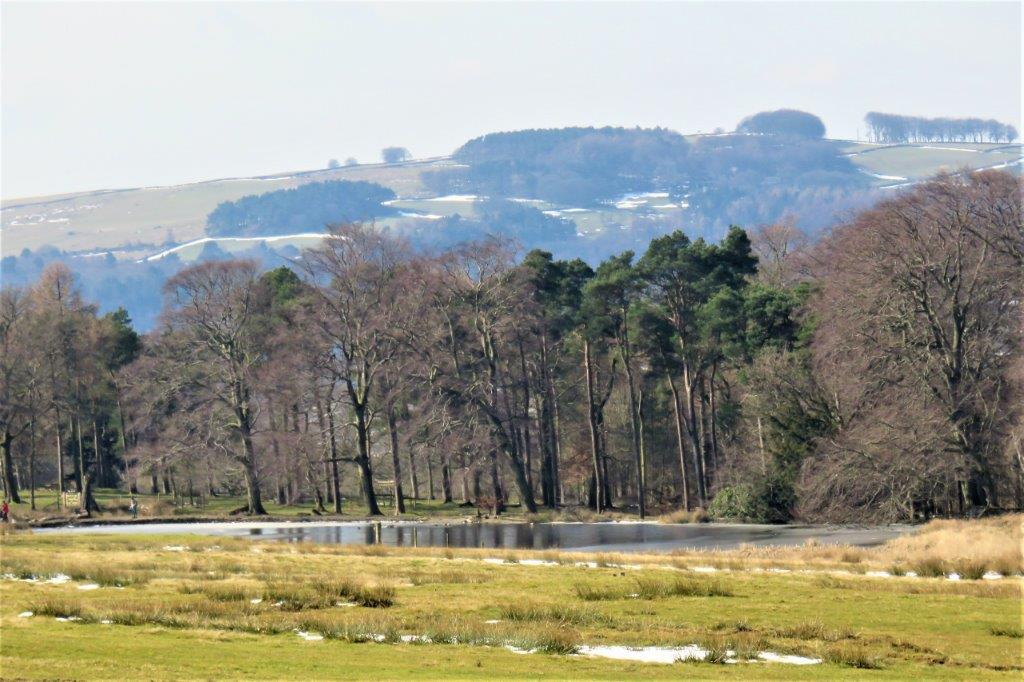 zoomed into pond on Longshaw Estate - we passed it near the end of the walk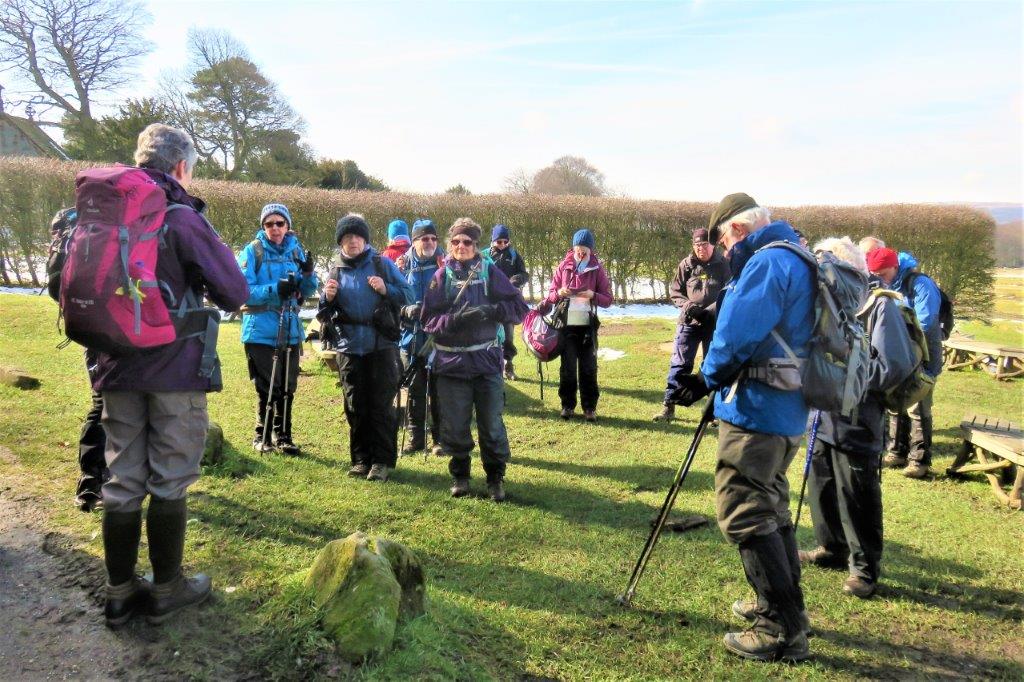 leaders briefing outside the cafe on NT Longshaw Estate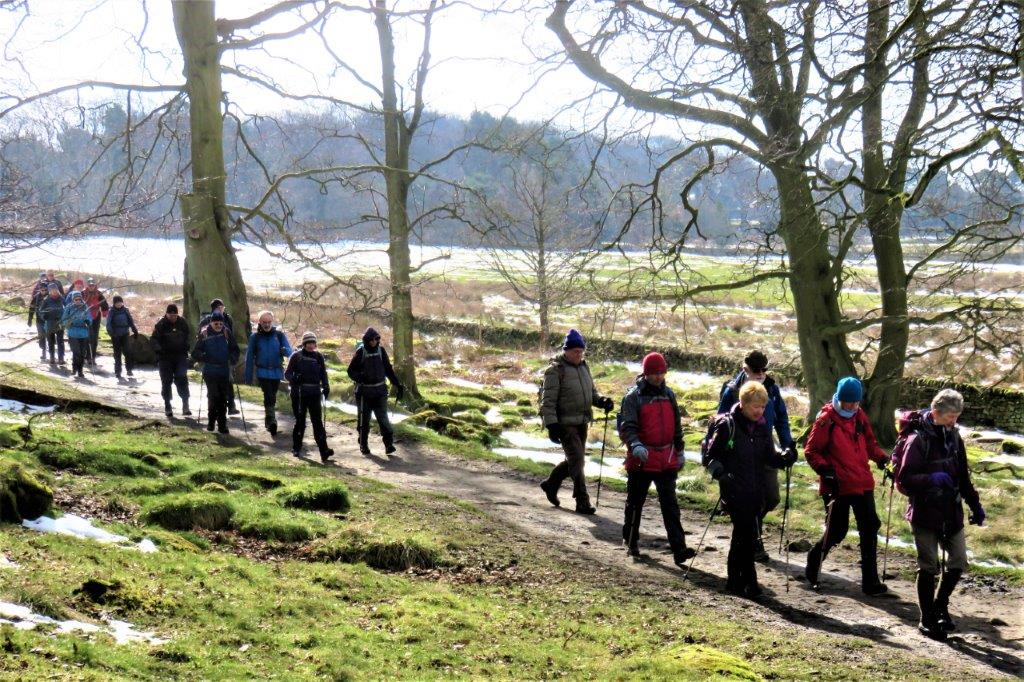 on path below the A6187 road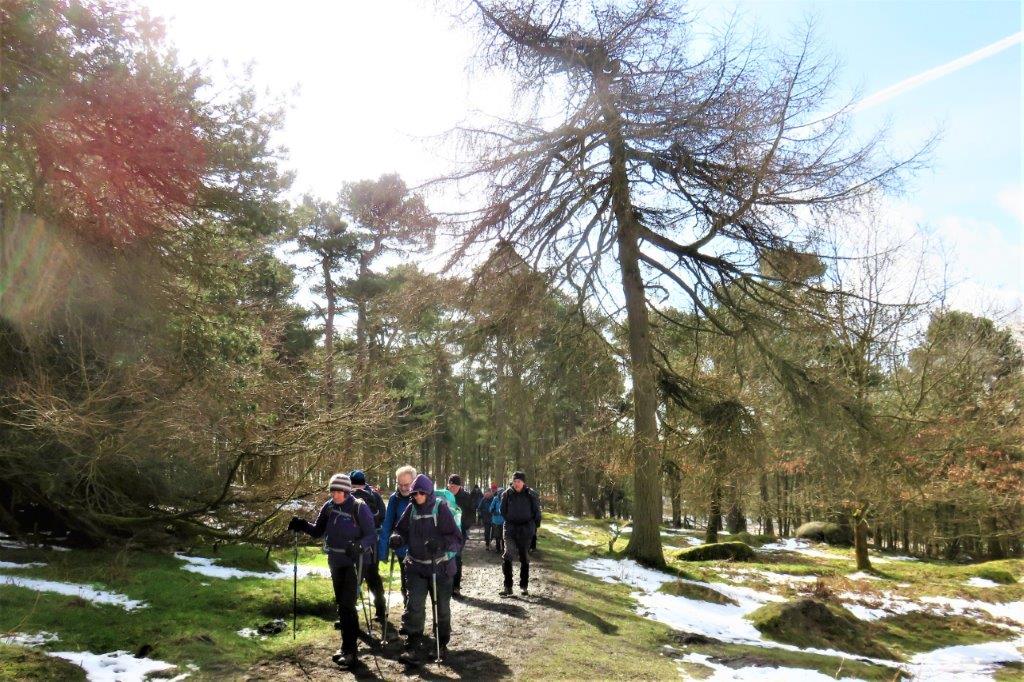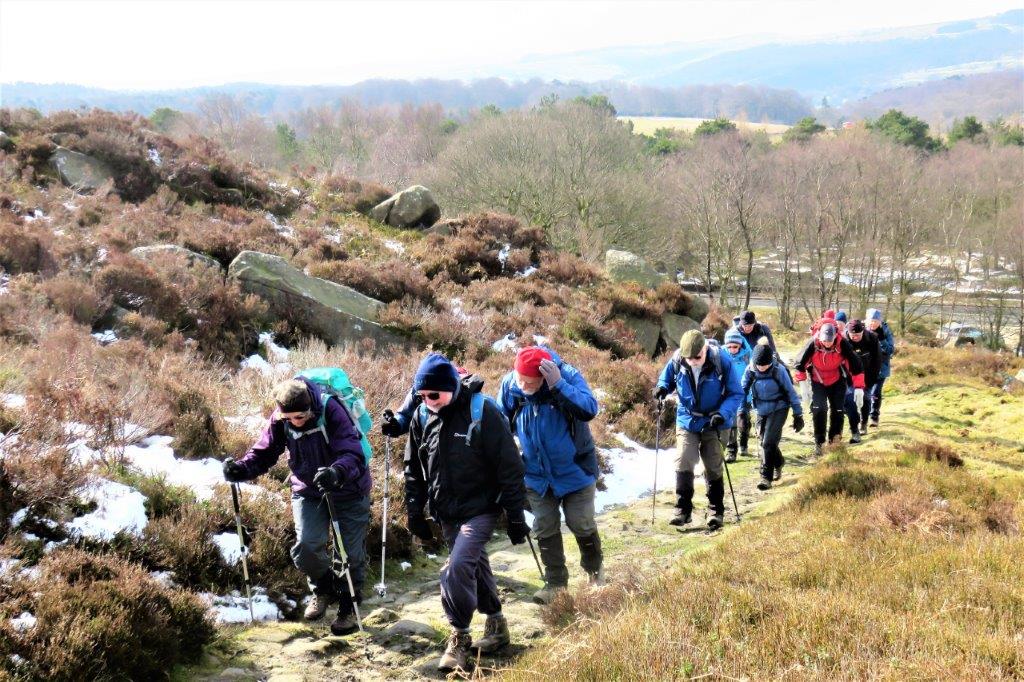 heading up to the edge of the disused quarry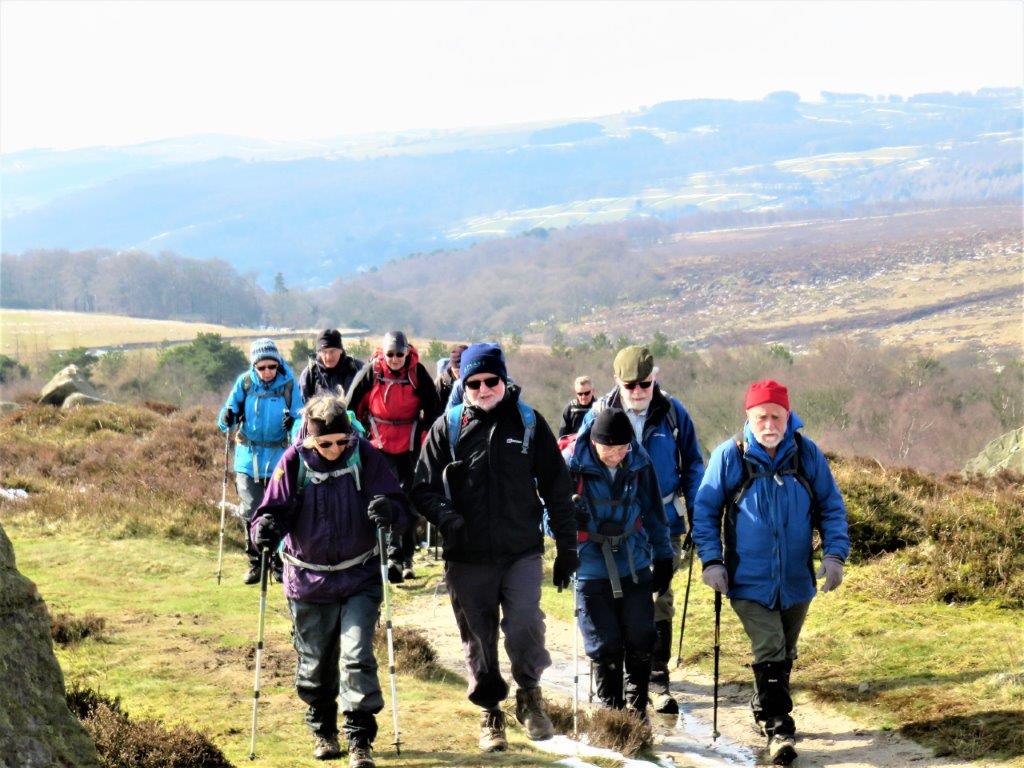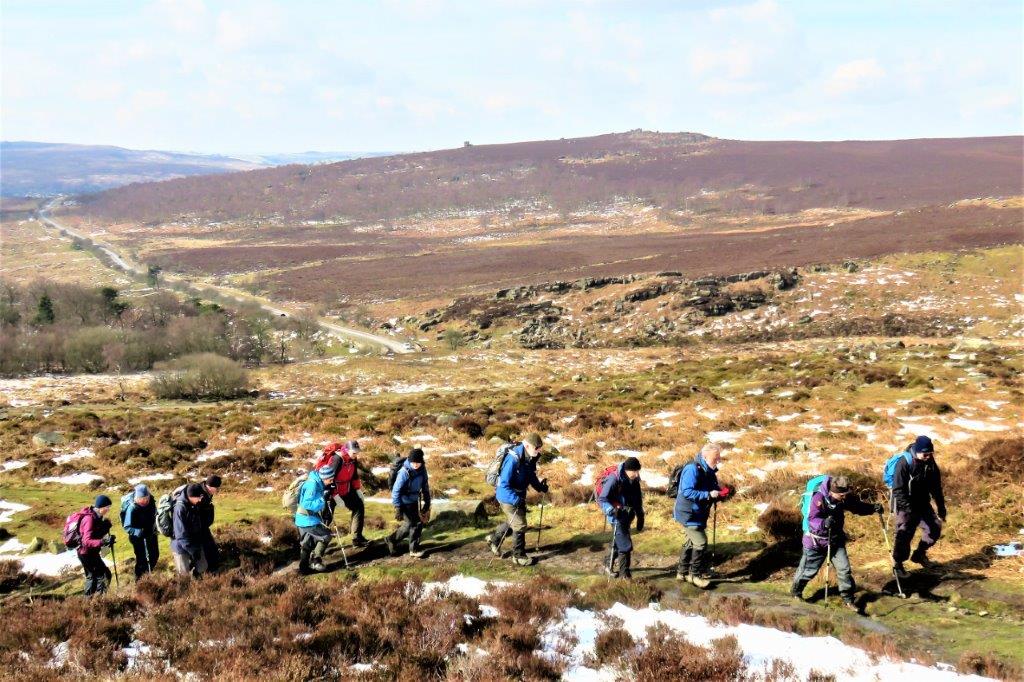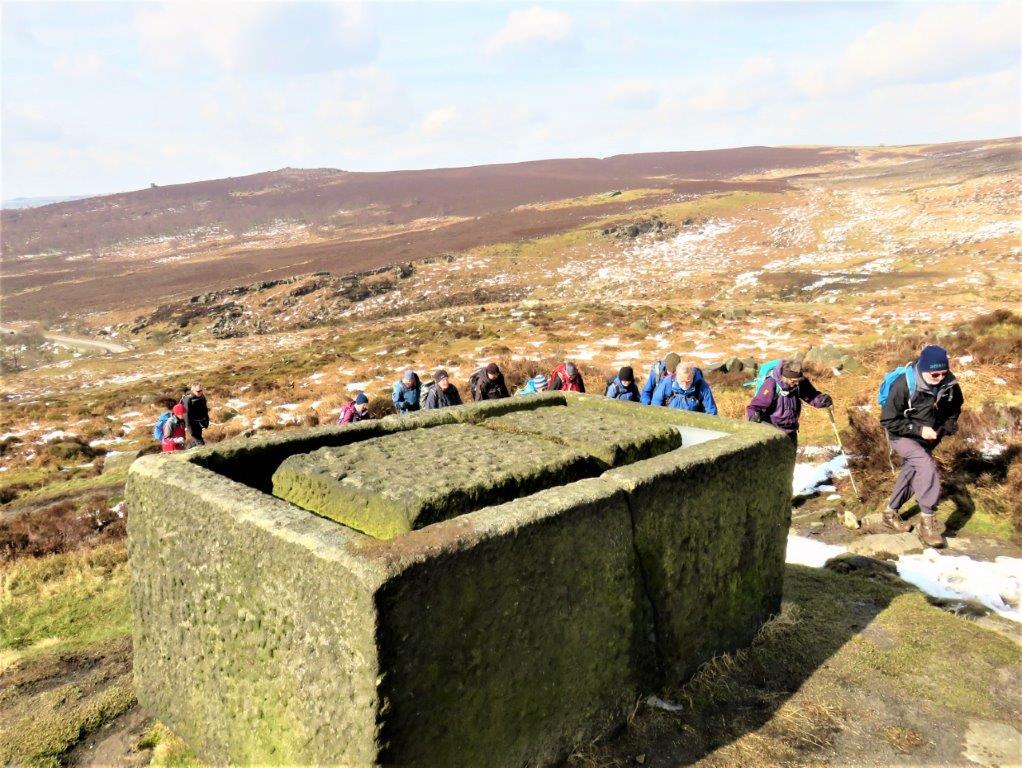 a water trough apparently cracked during manufacture and never completed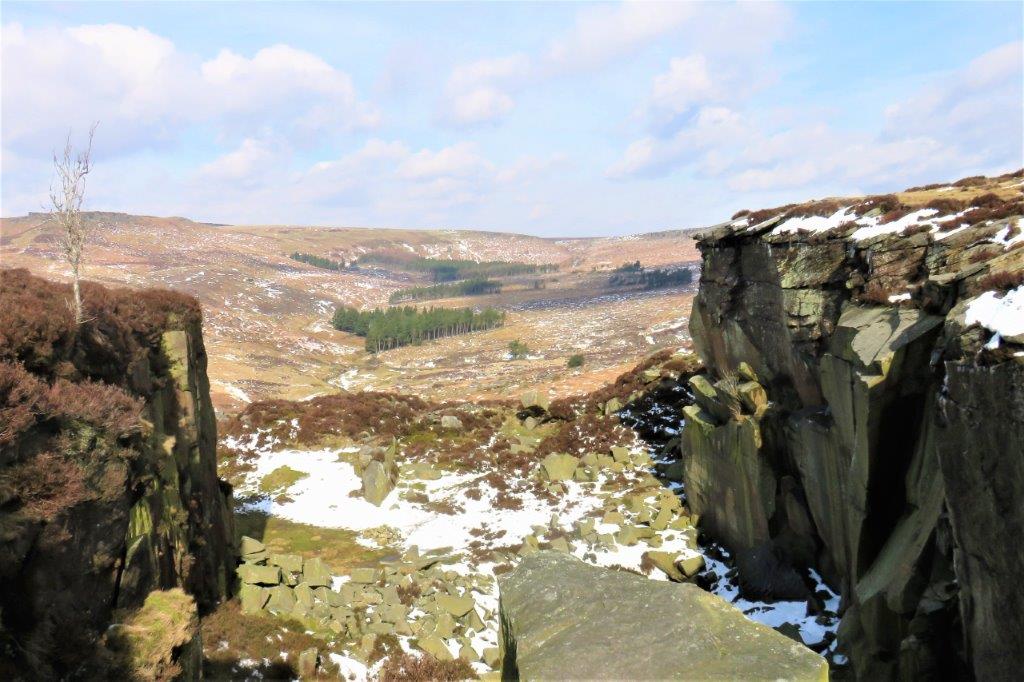 looking through a gap in the quarry face into the valley through which Burbage Brook runs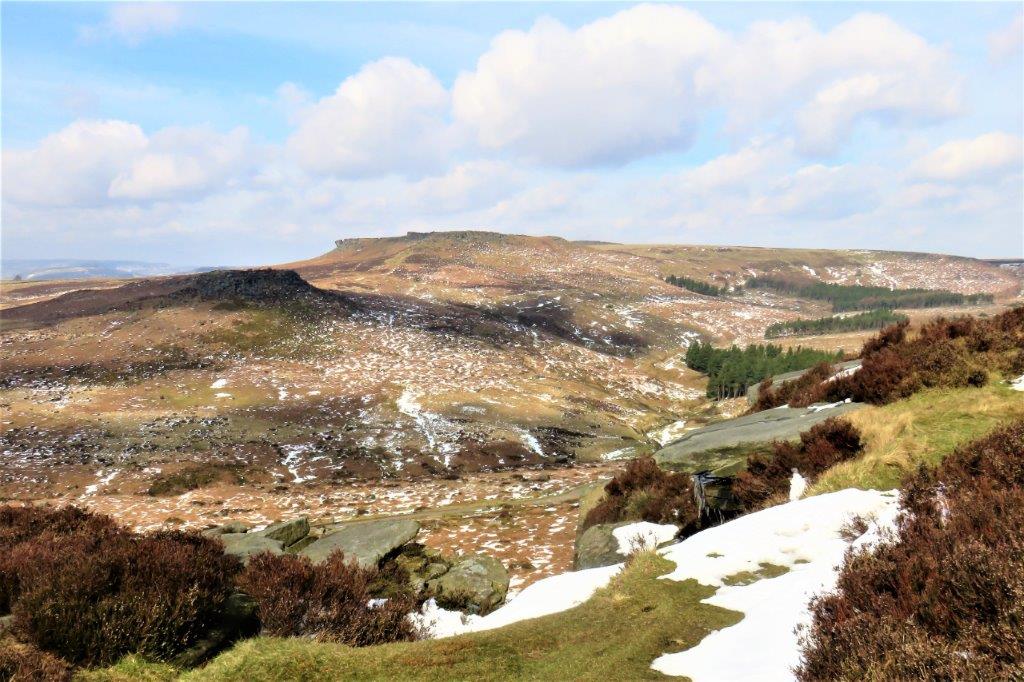 Cadl Wark Fort - middle left. Higger Tor at top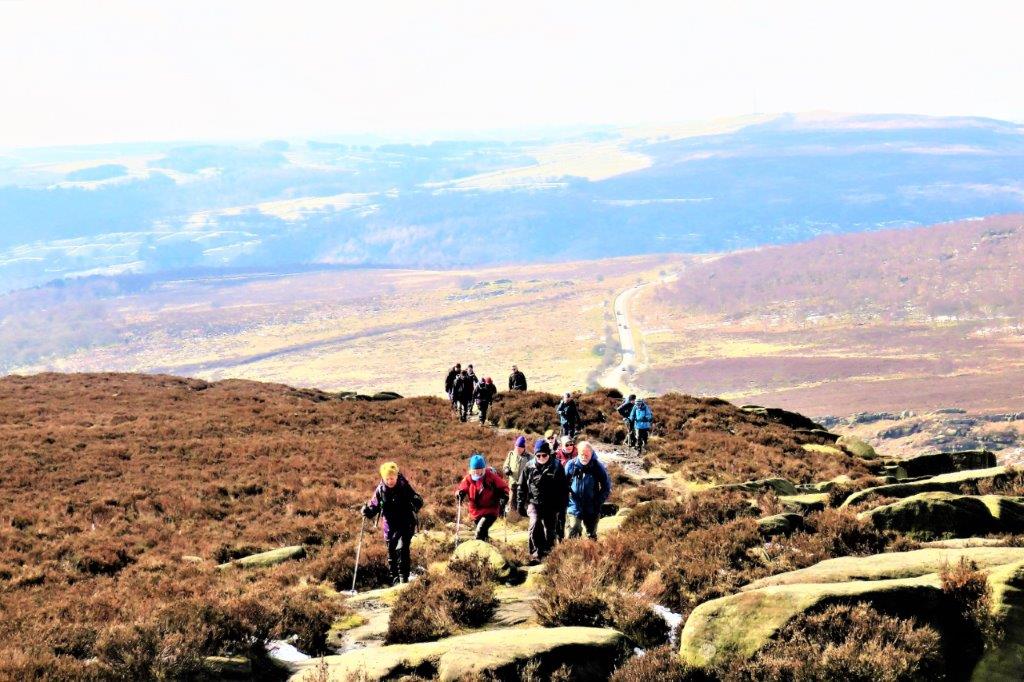 still behind the disused quarry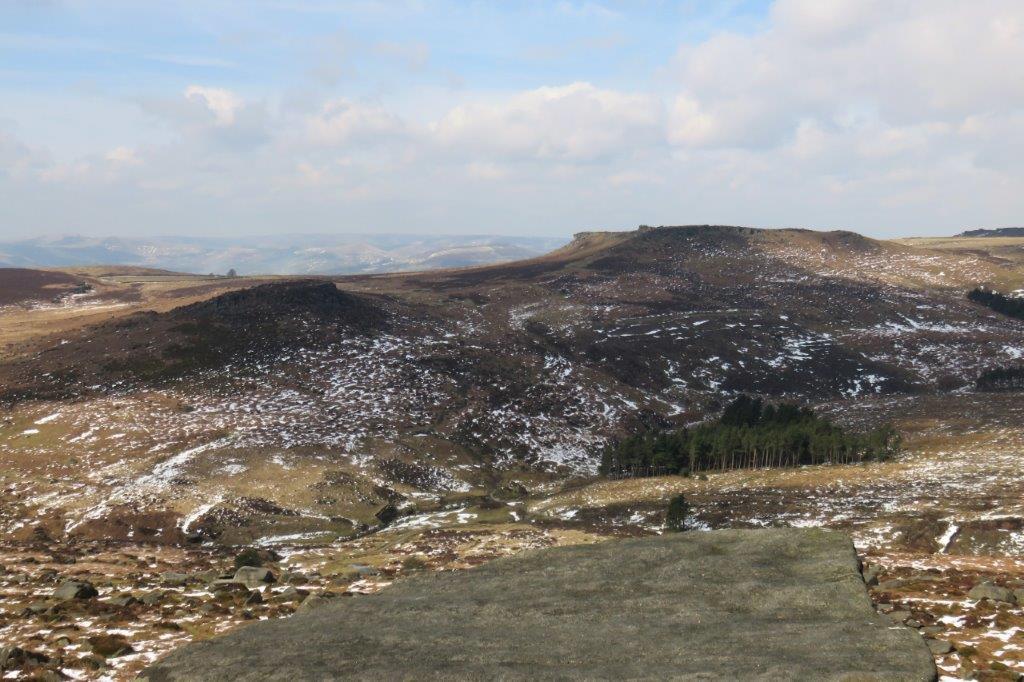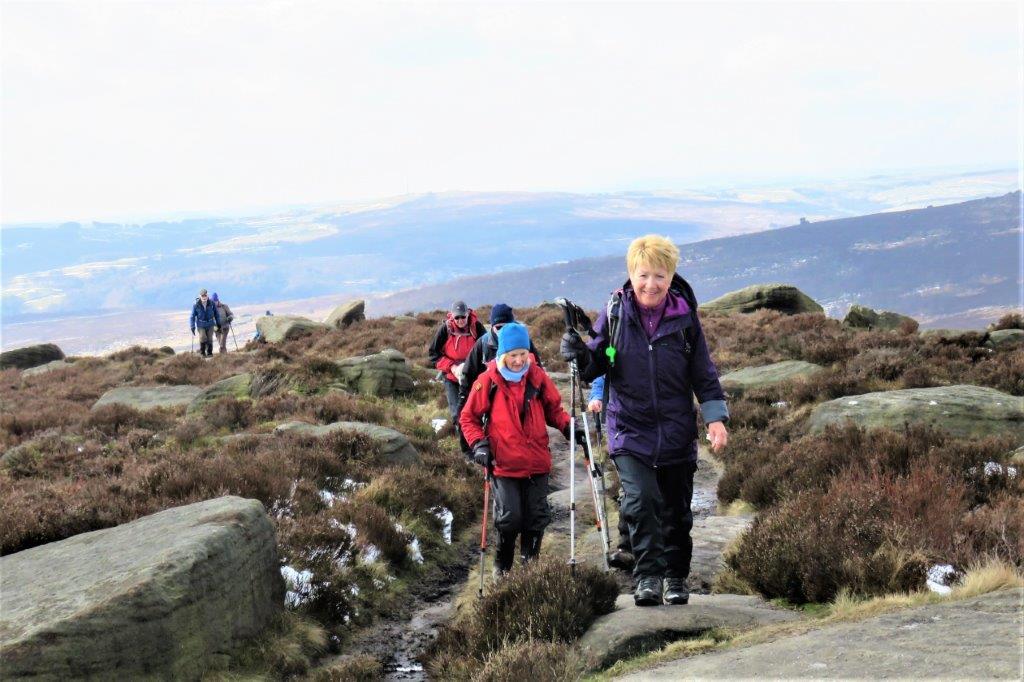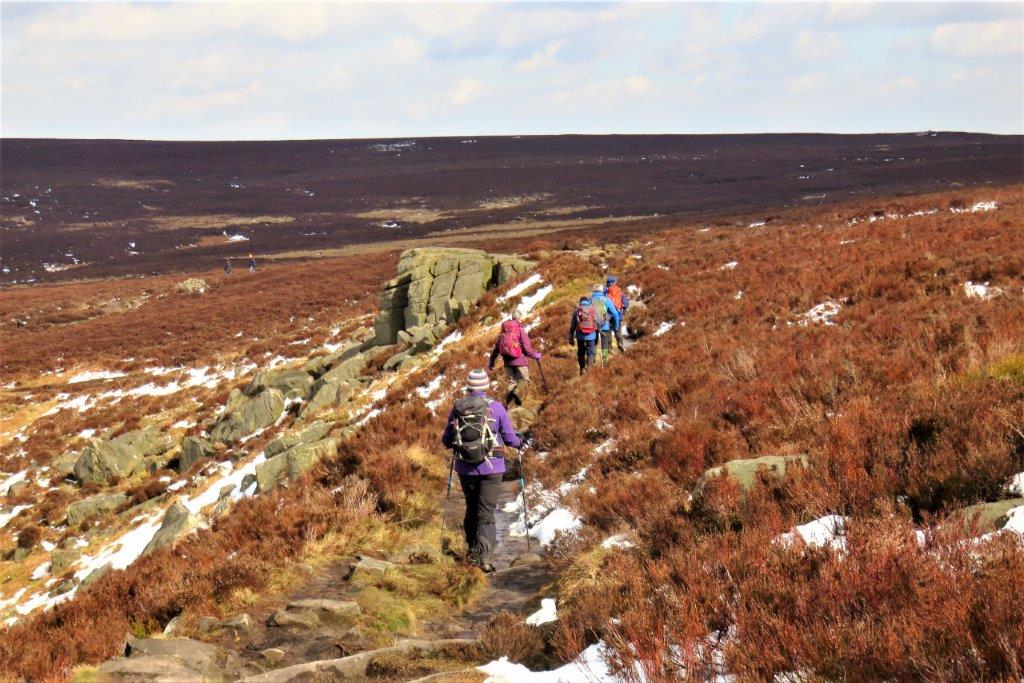 the front of the party heading to Burbage Edge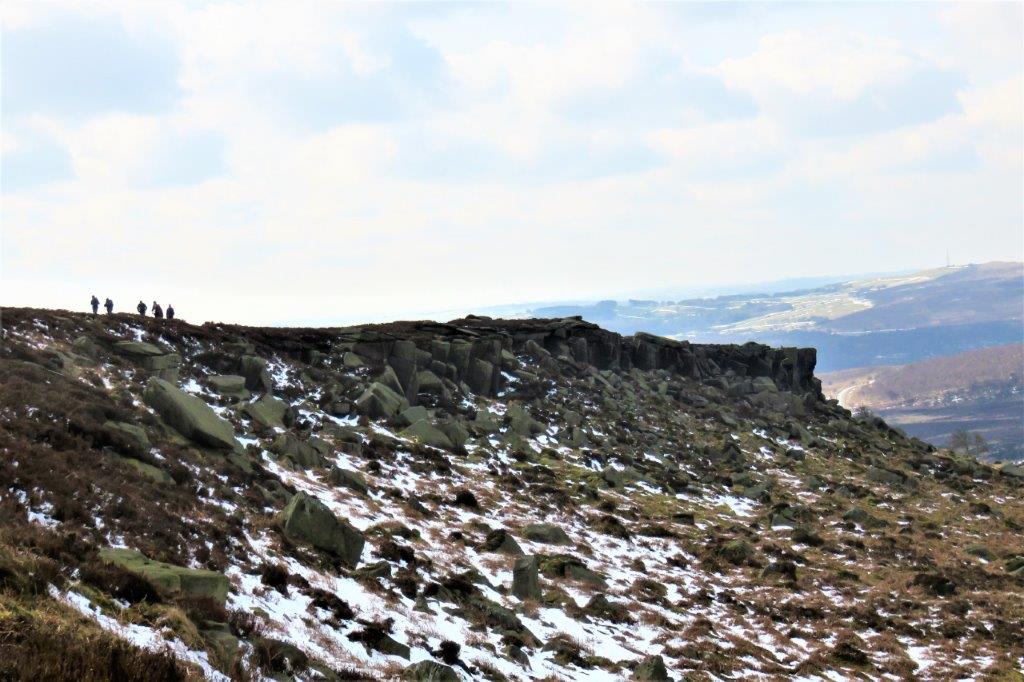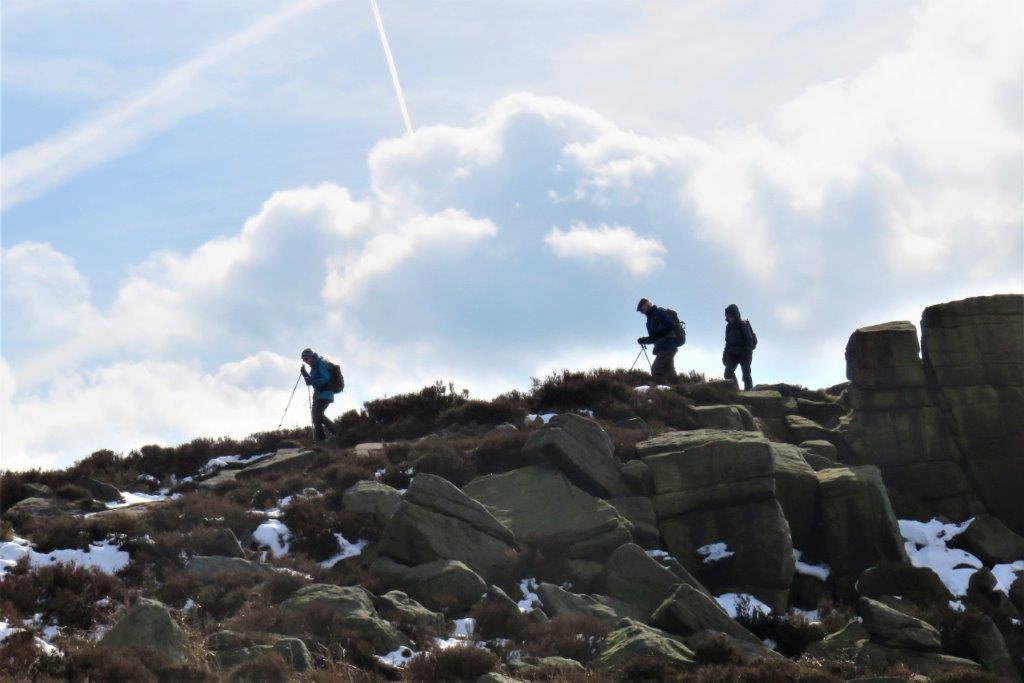 the groups tail leaving the quarry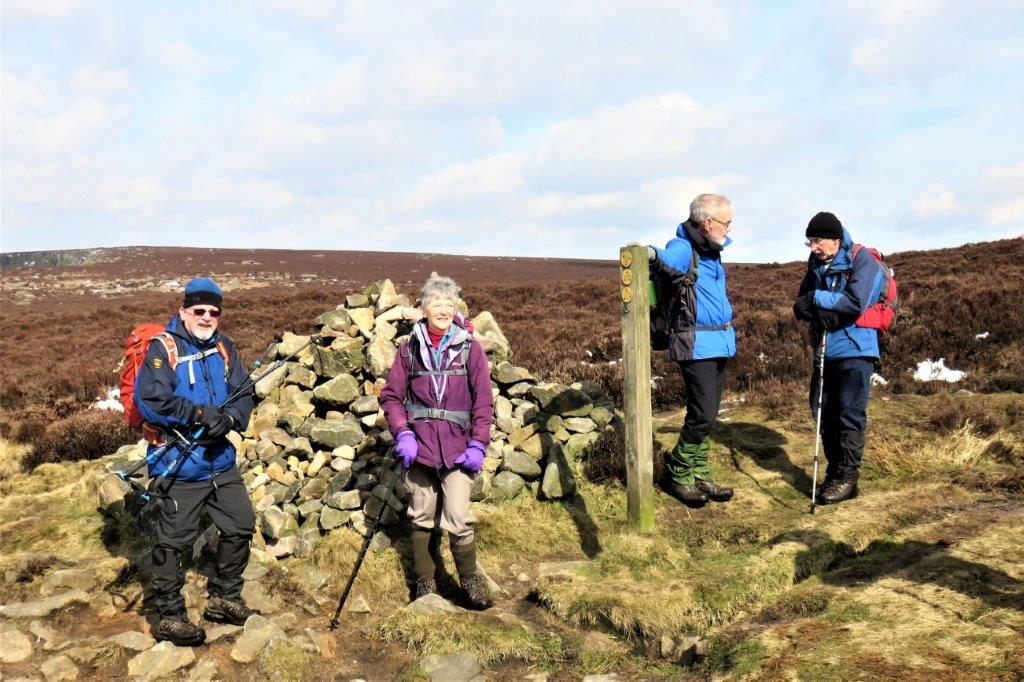 waiting for the group's tail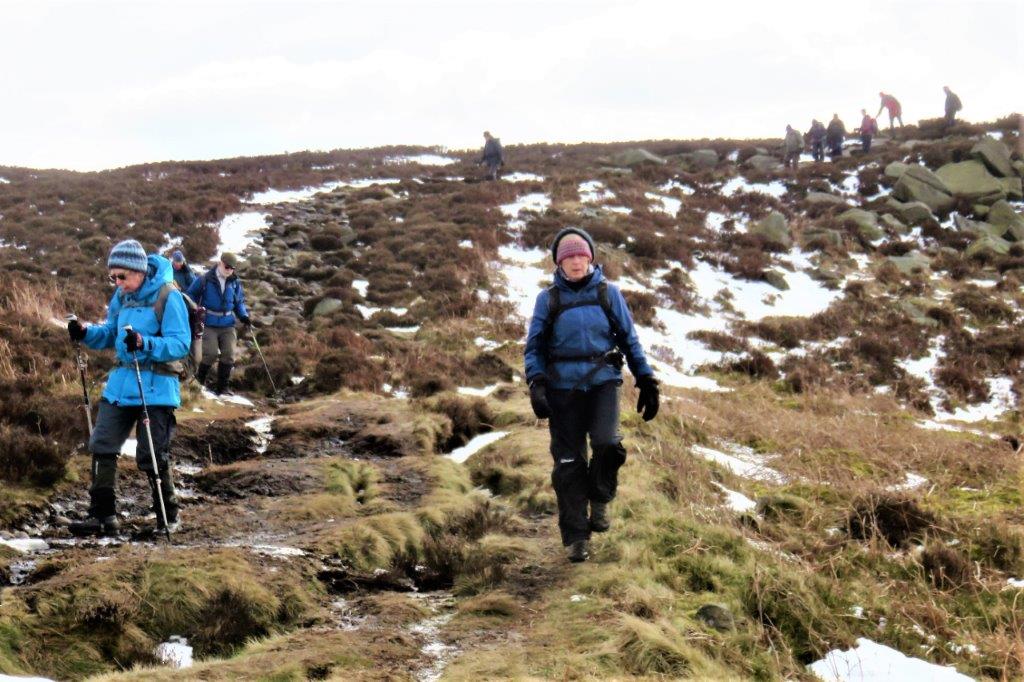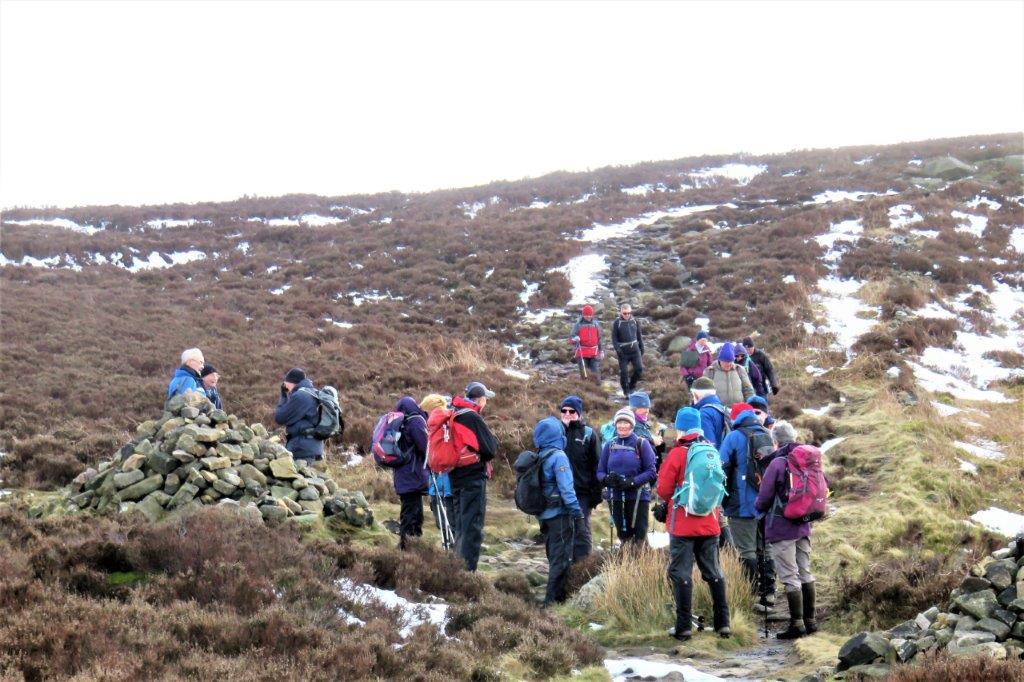 reassembling before setting out on Burbage Edge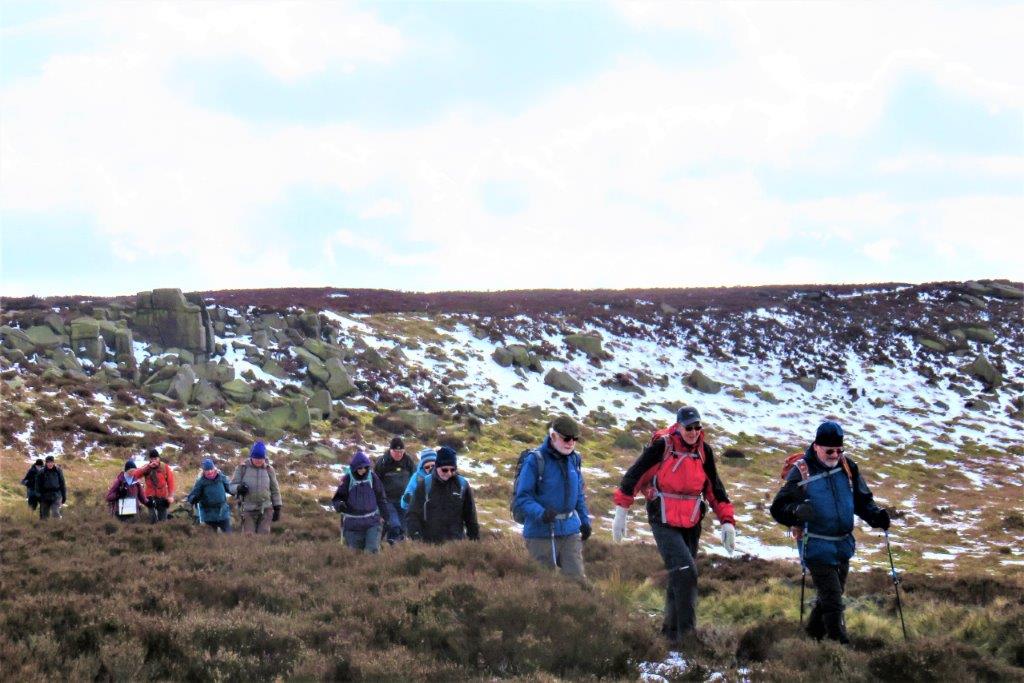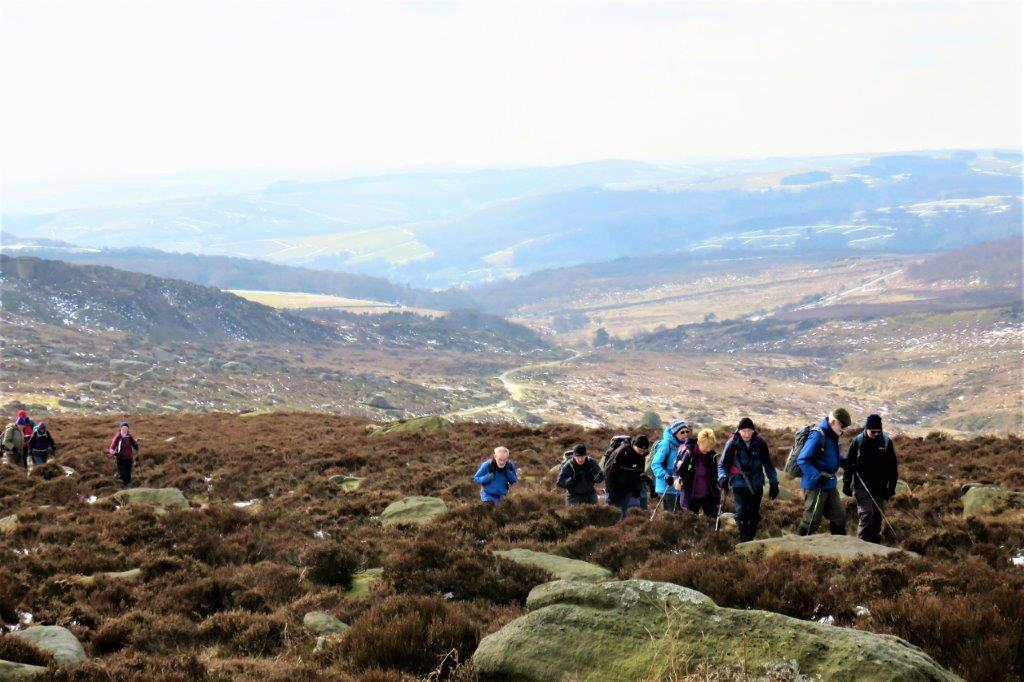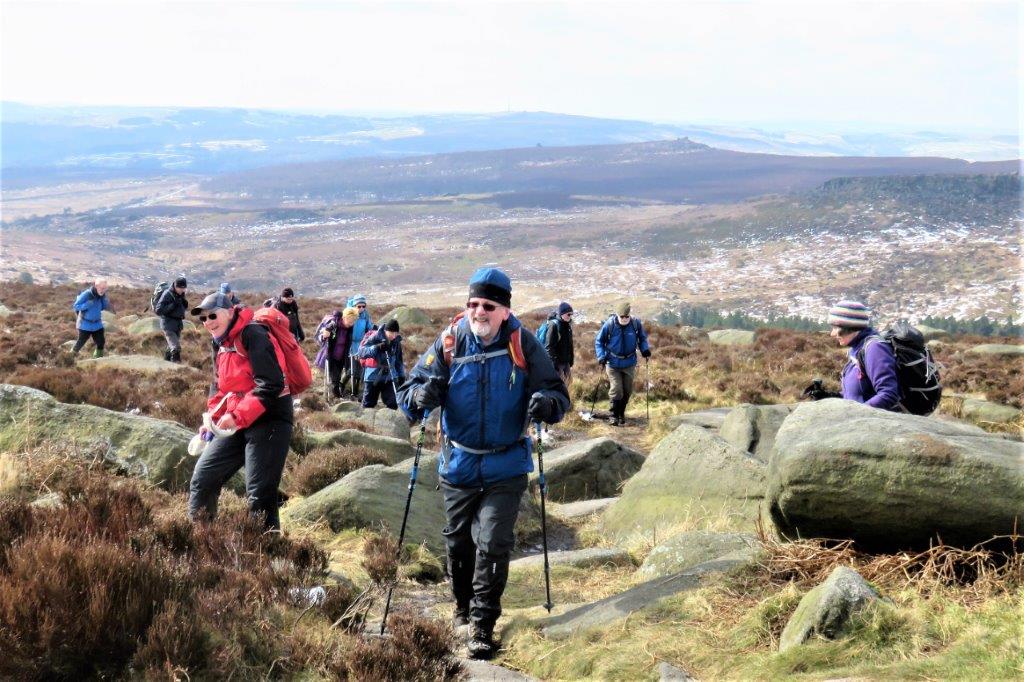 looking for shelter from the cold wind to have a tea break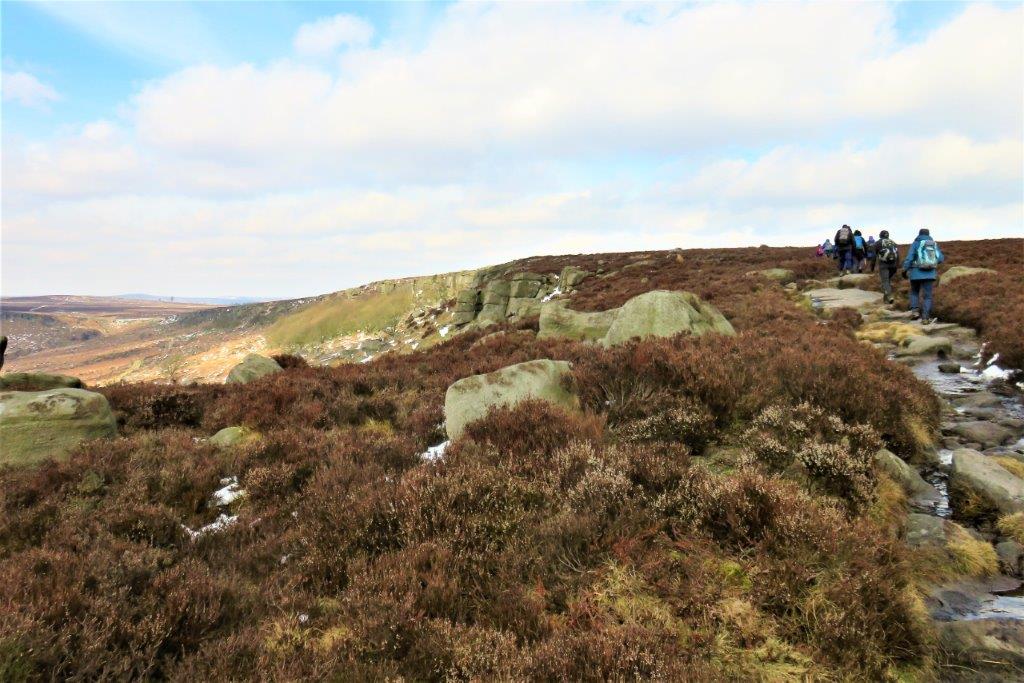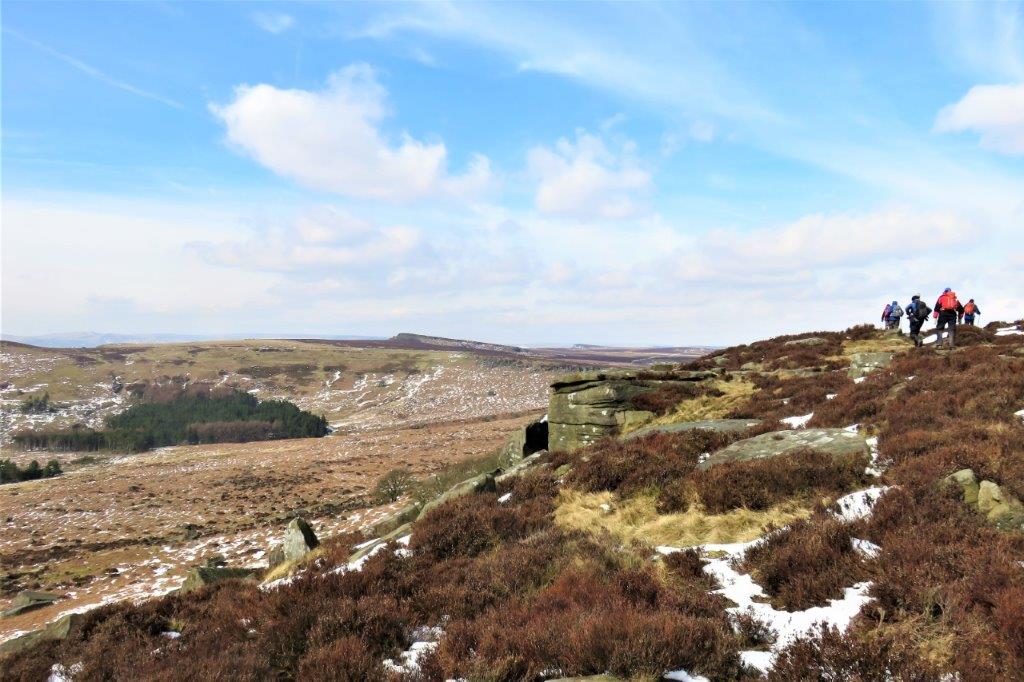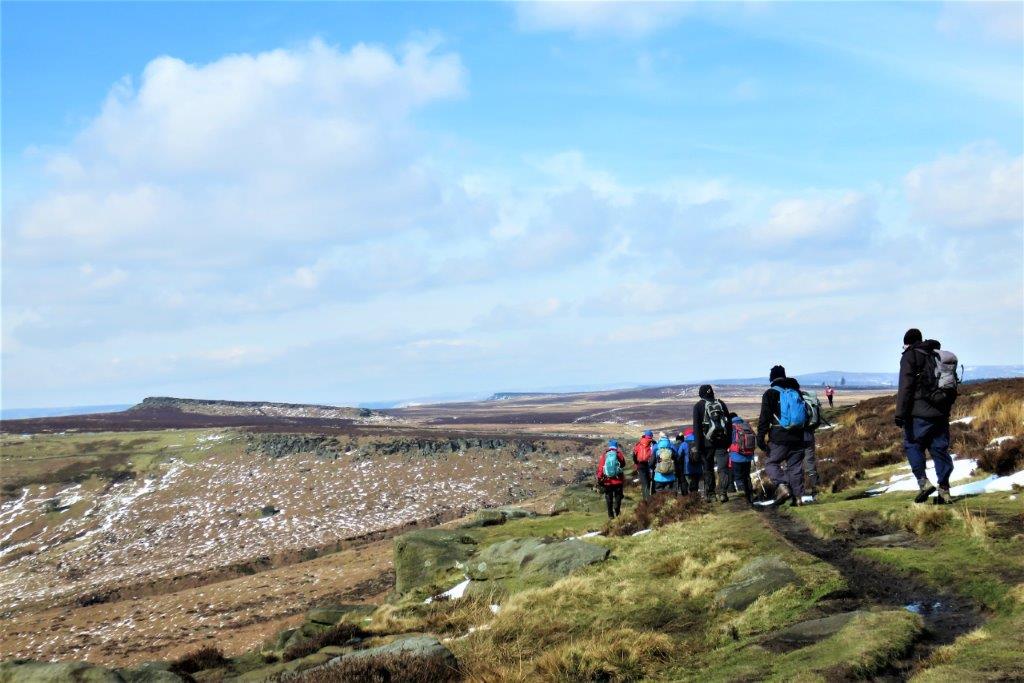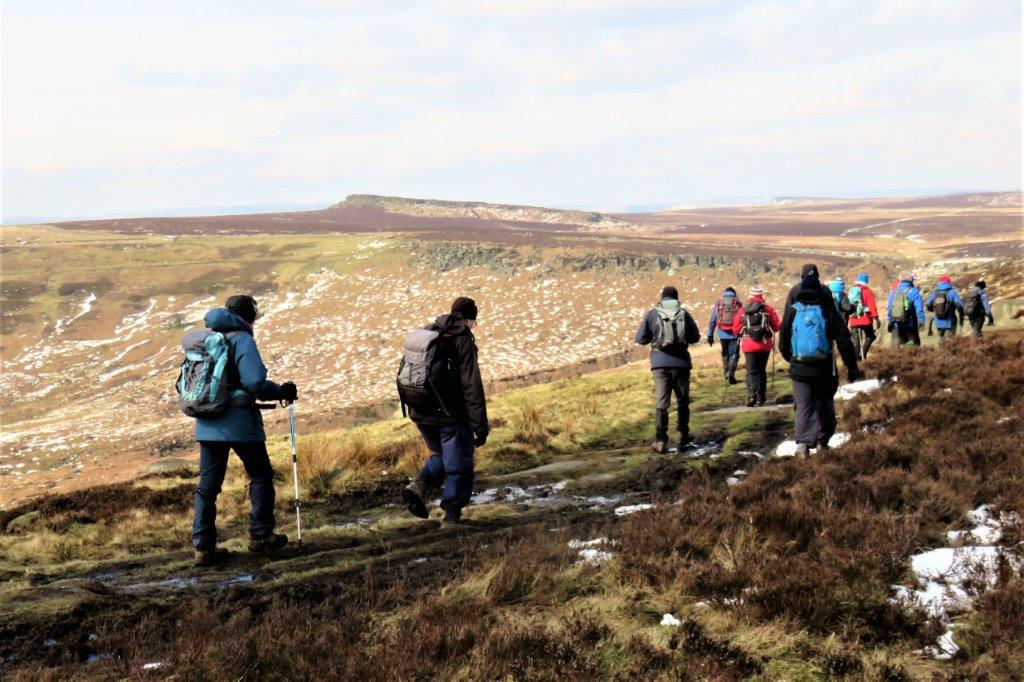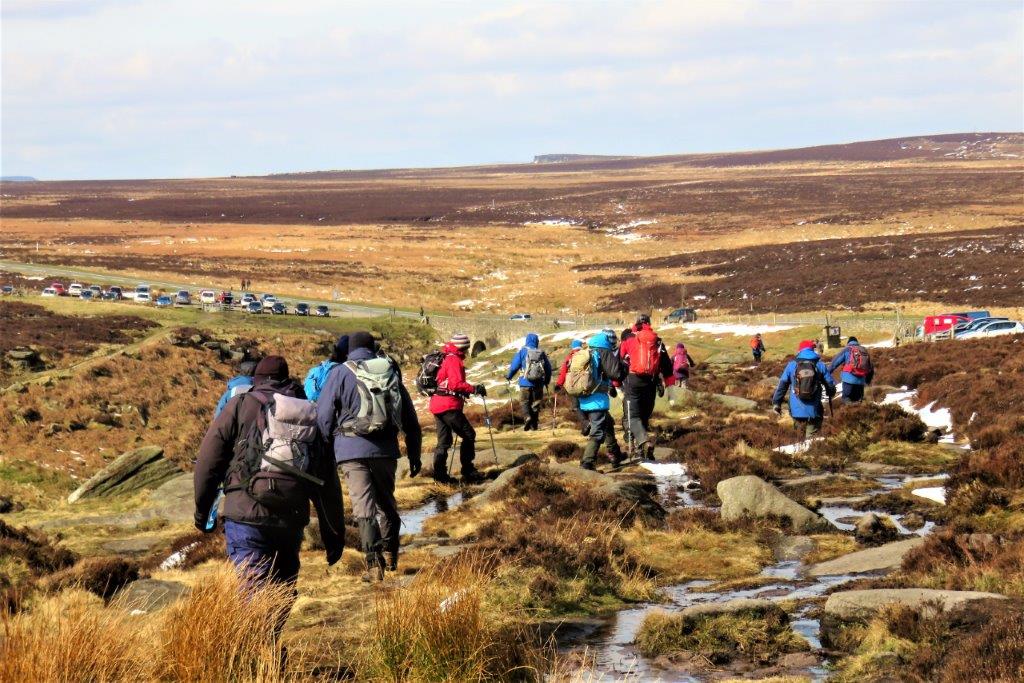 approaching Upper Burbage Bridge (arch just visible)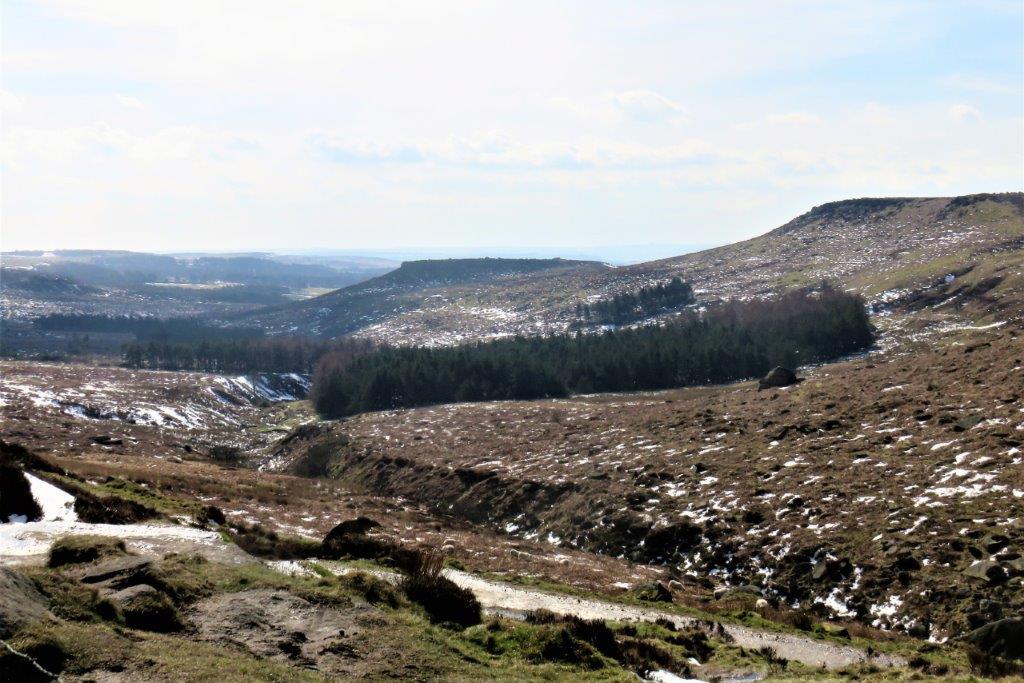 looking down the course of Burbage Brook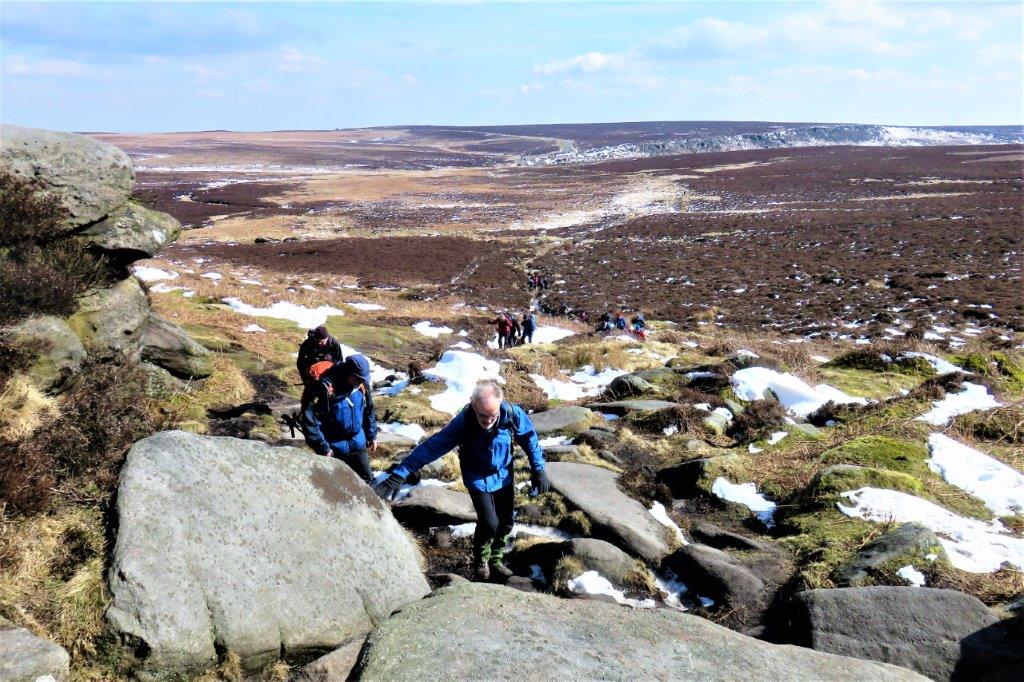 climbing up to Stanage Edge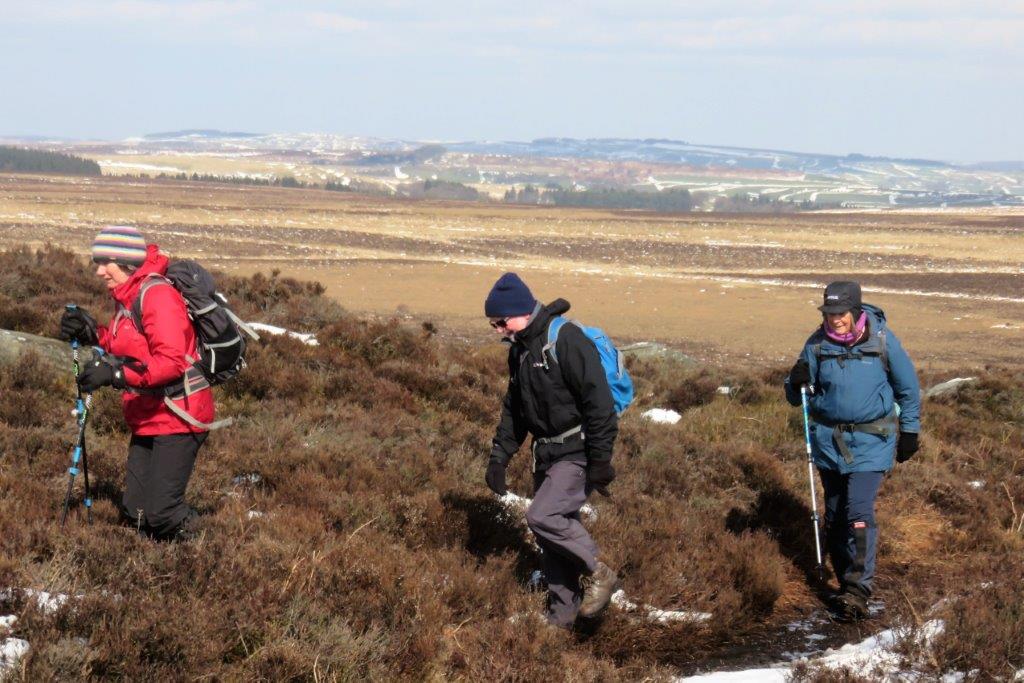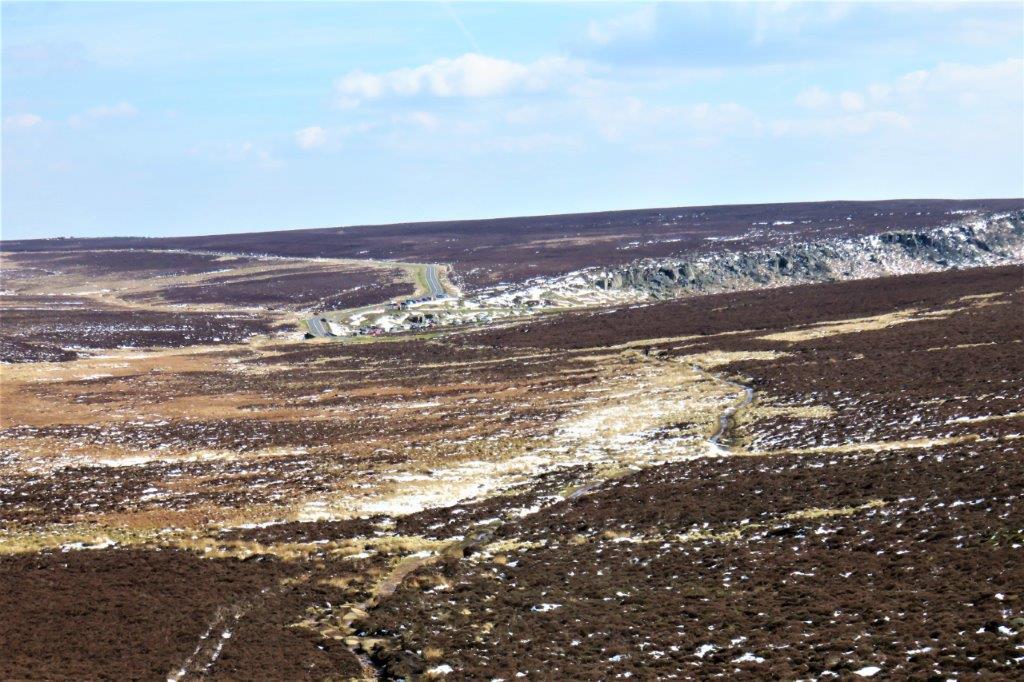 looking back toward Upper Burbage Bridge in mid left of picture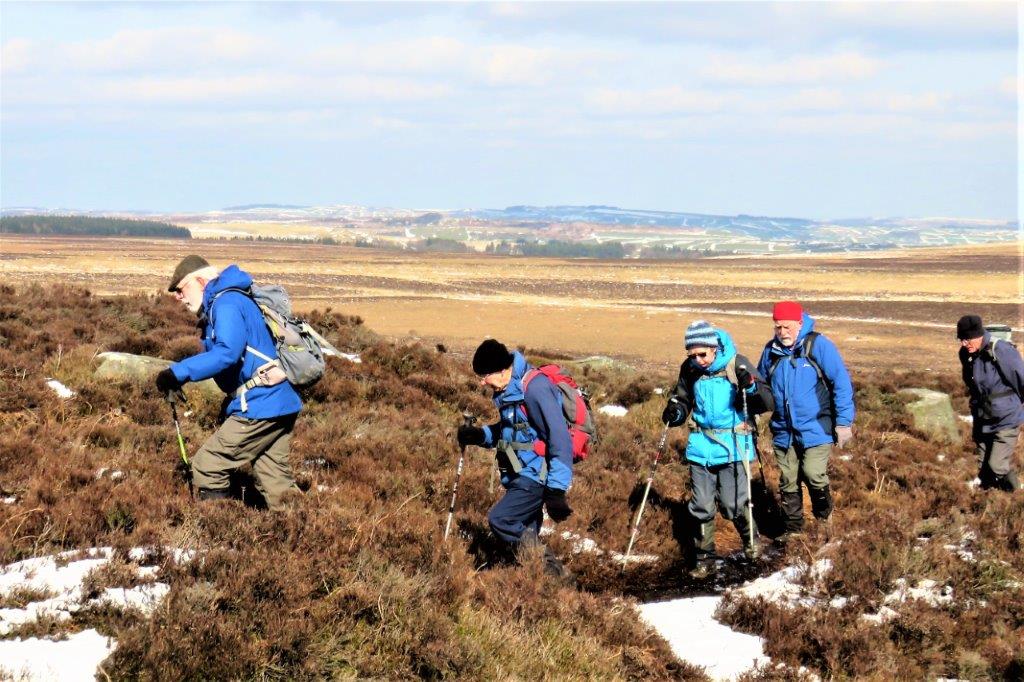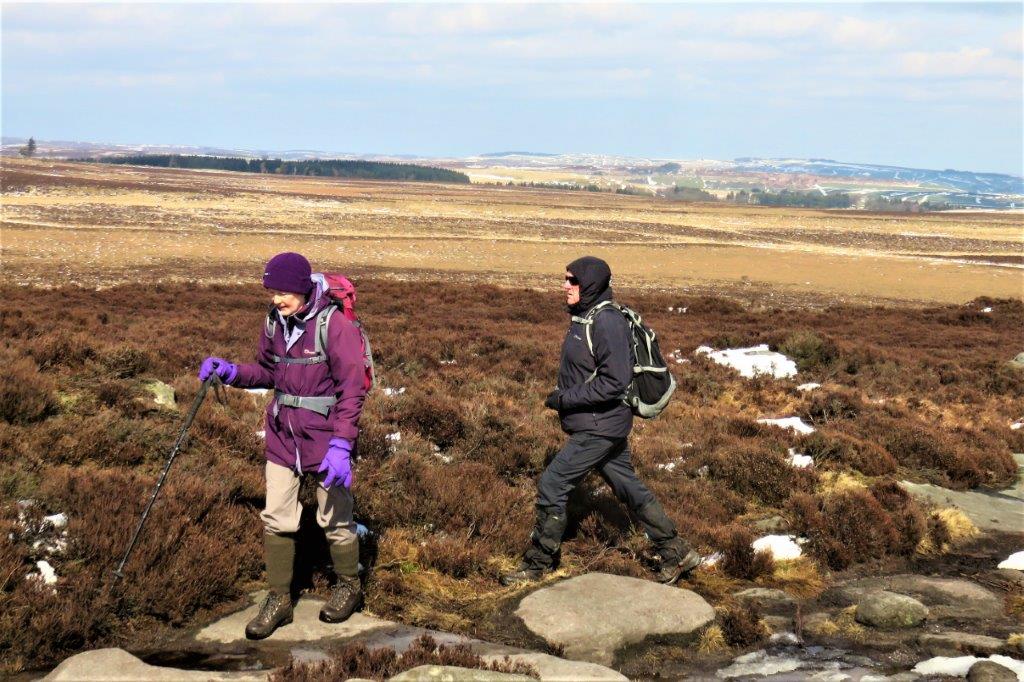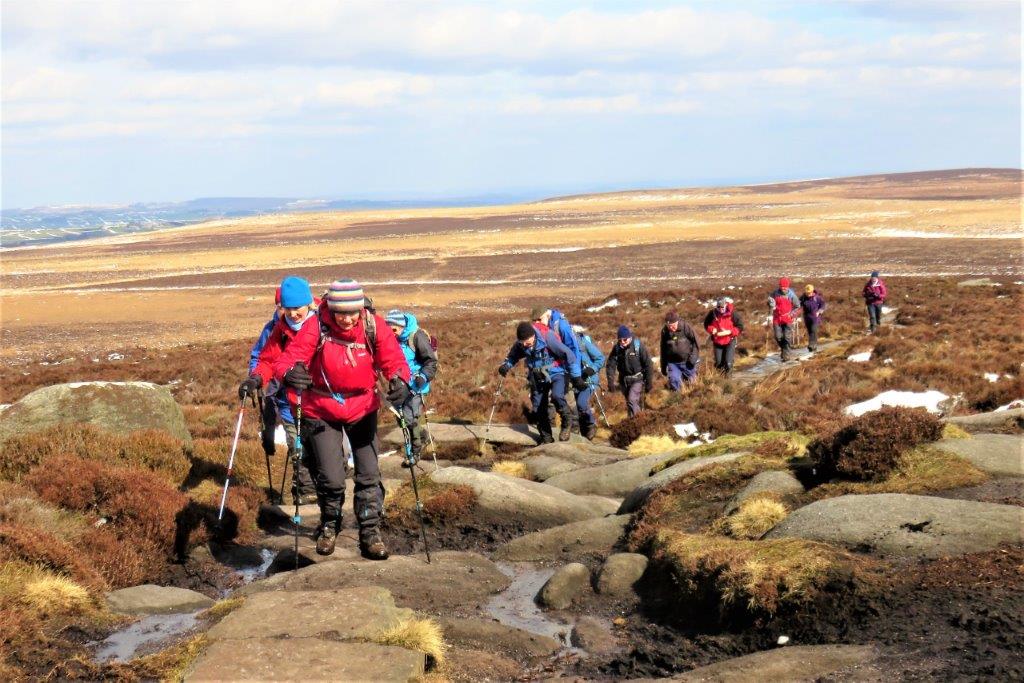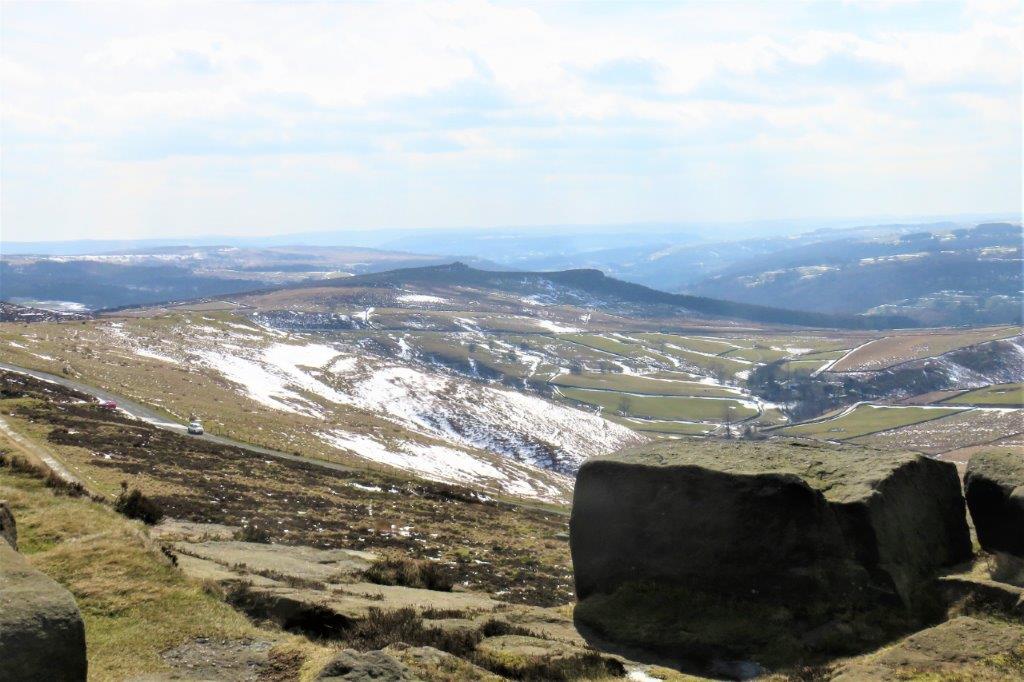 looking down toward Mitchell Field?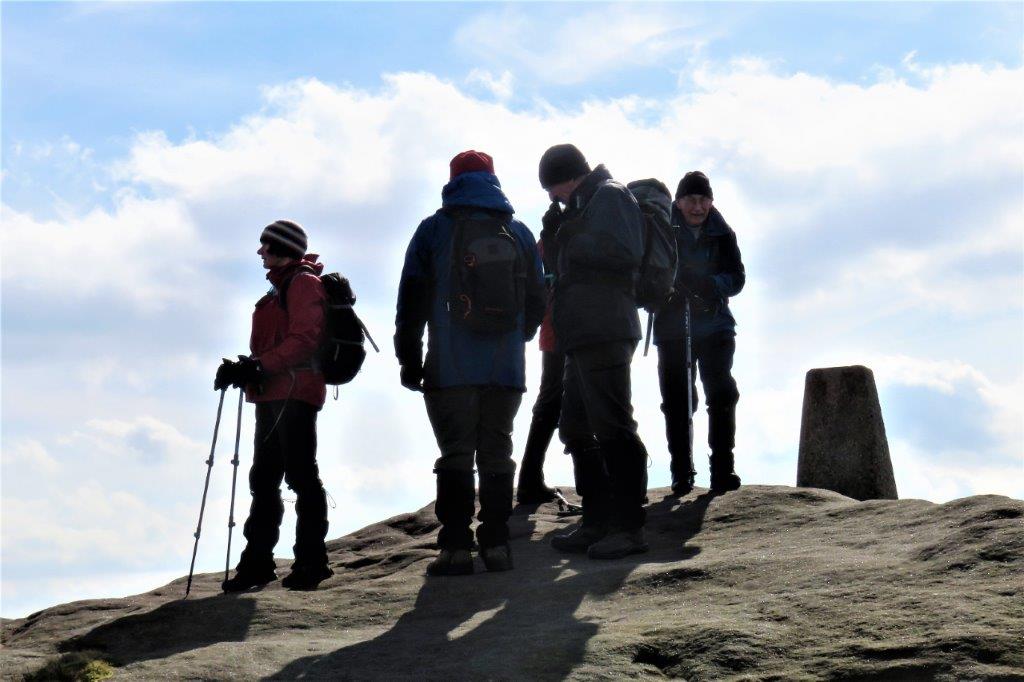 Survey Beacon on Stanage Edge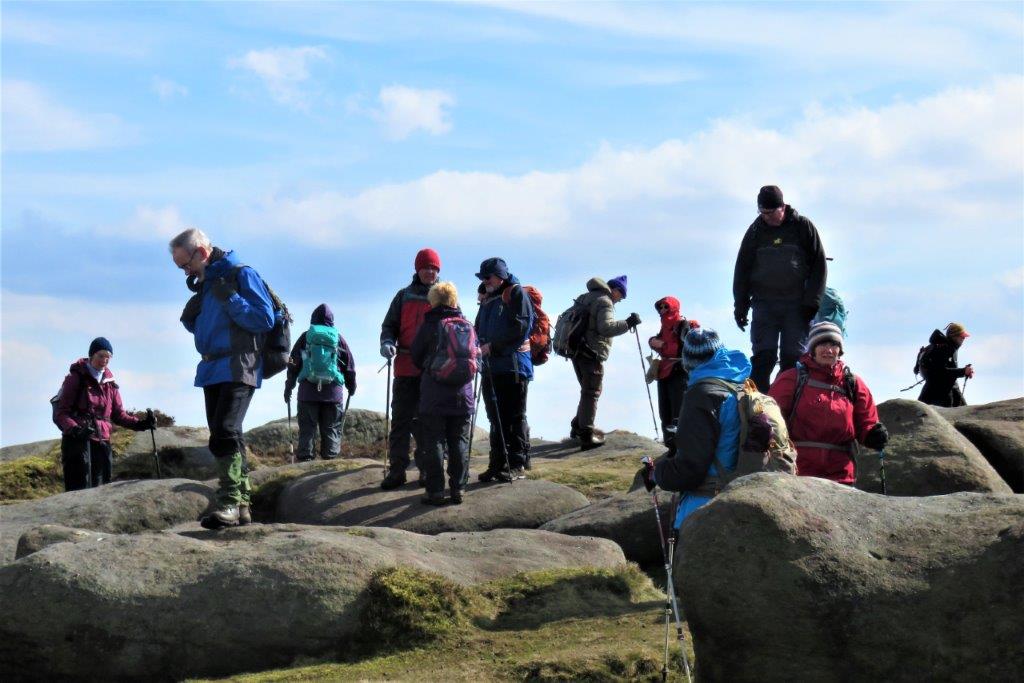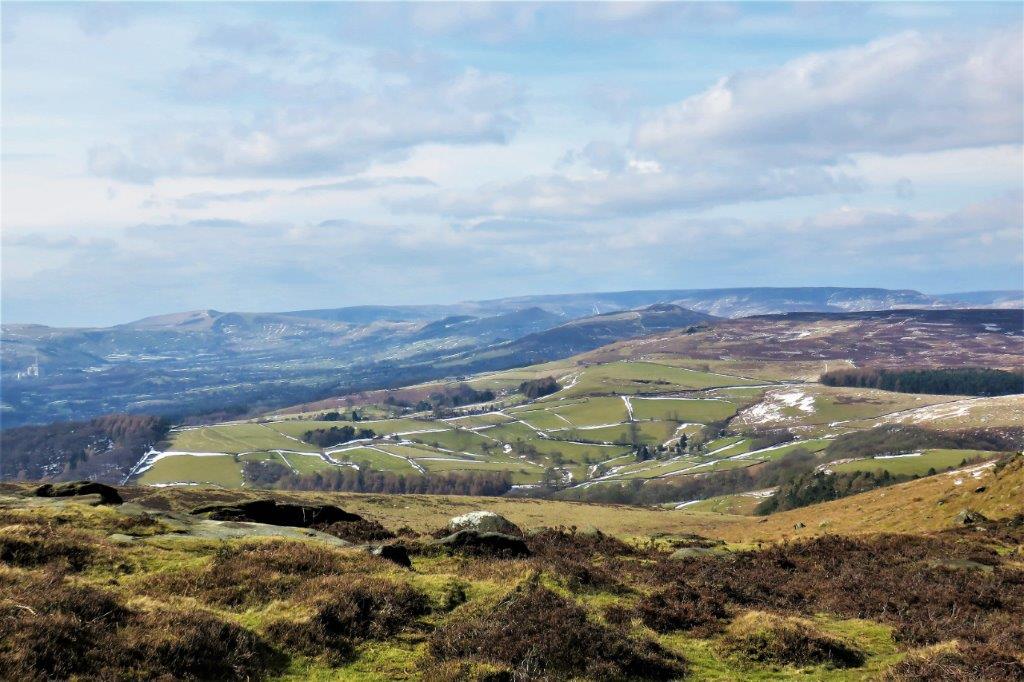 Hope Cement Plant mid left. Rushup Edge. Mam Tor. Lose Hill. Win Hill, Bamford Edge. Kinder Plateaux behind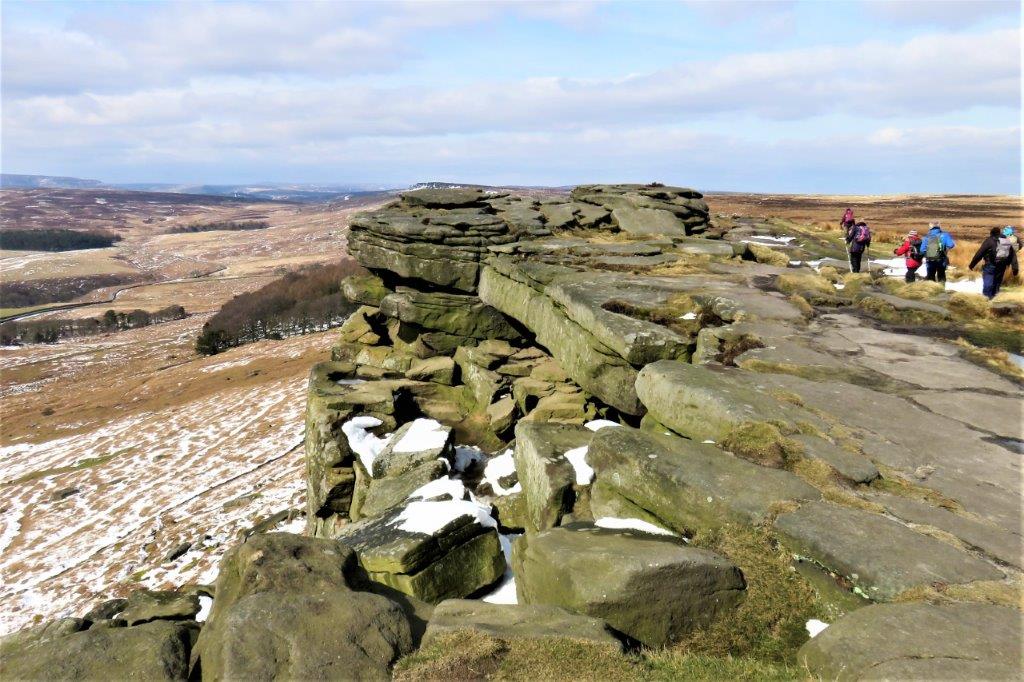 Robin Hood's Cave just below this part of Stanage Edge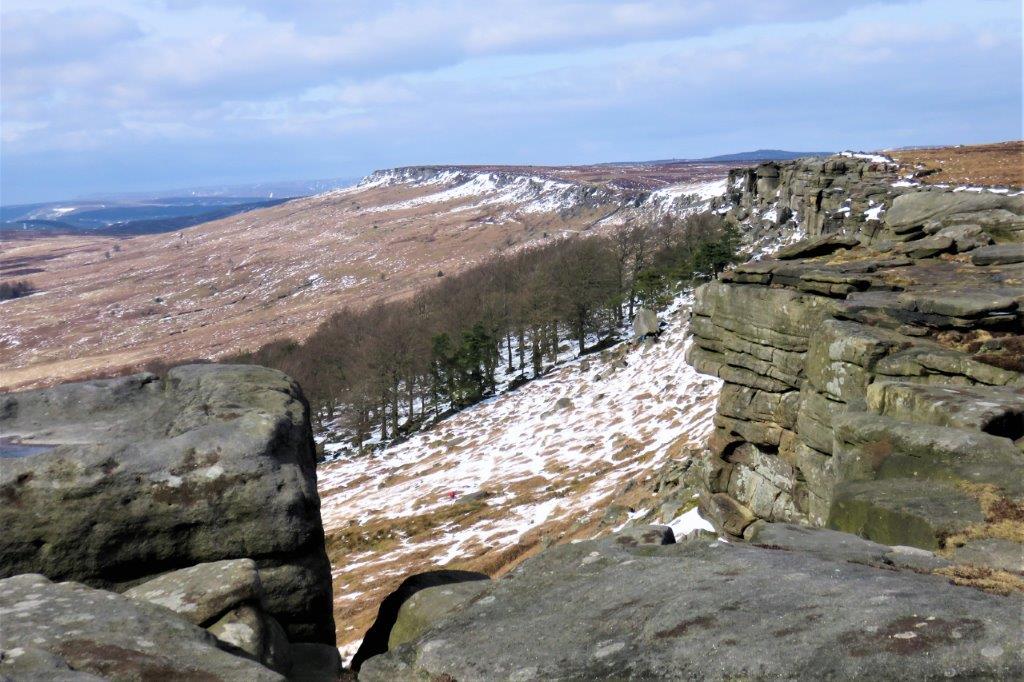 Stanage Plantation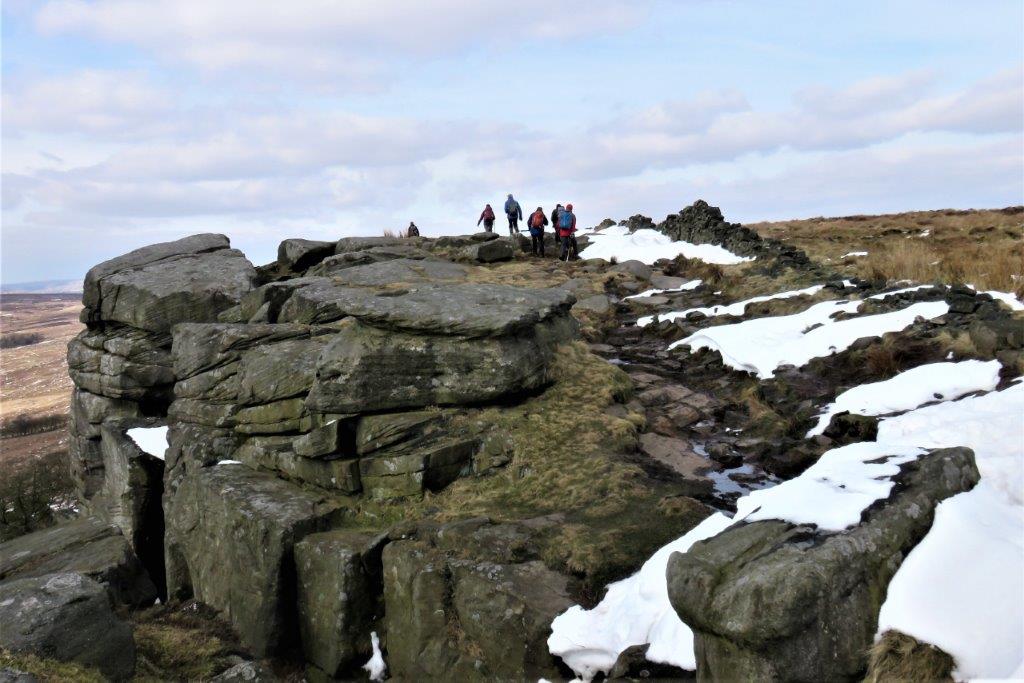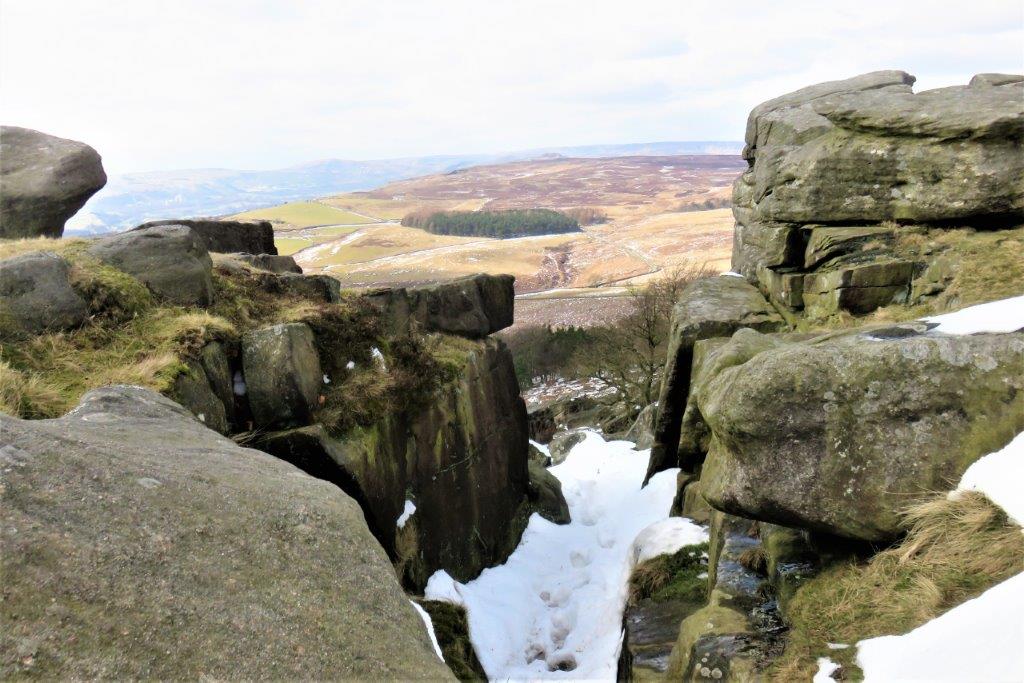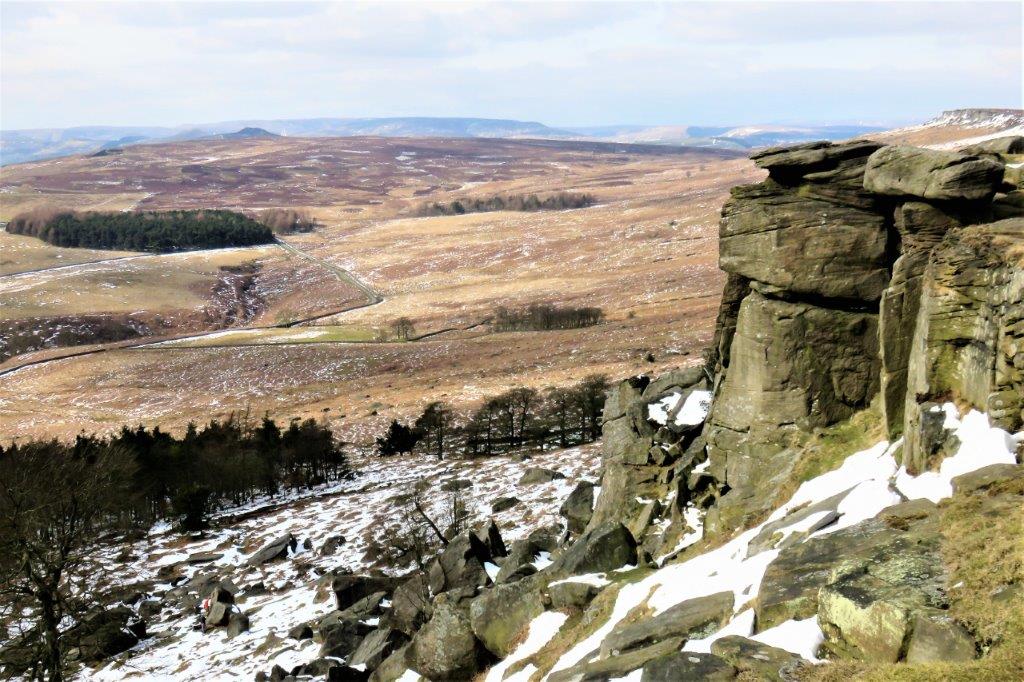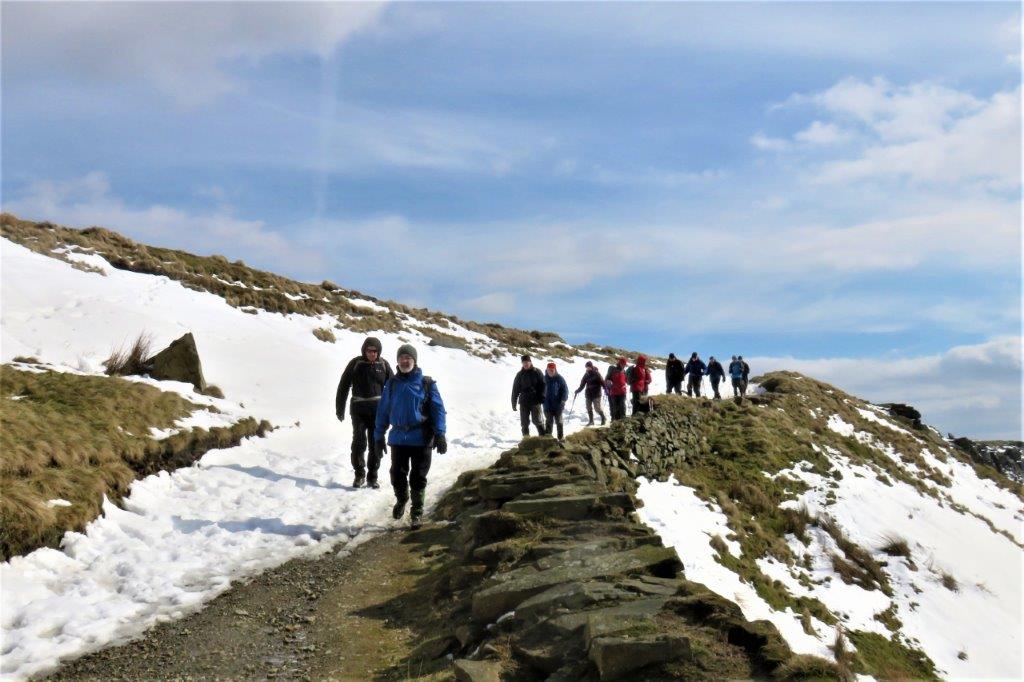 descending Long Causeway (a Byway) towards Dennis Knoll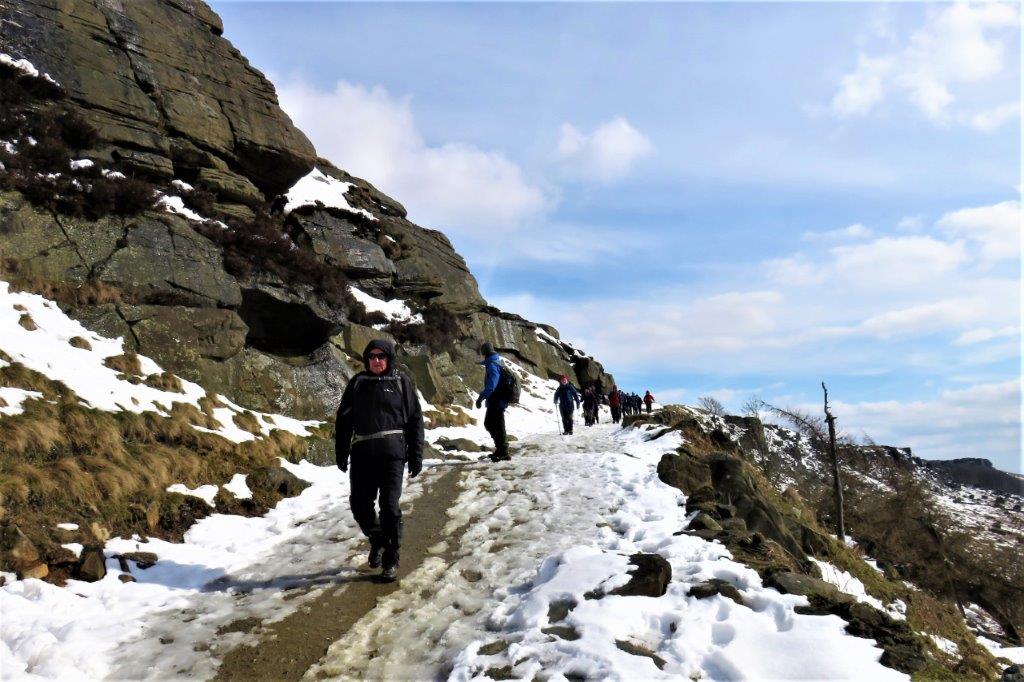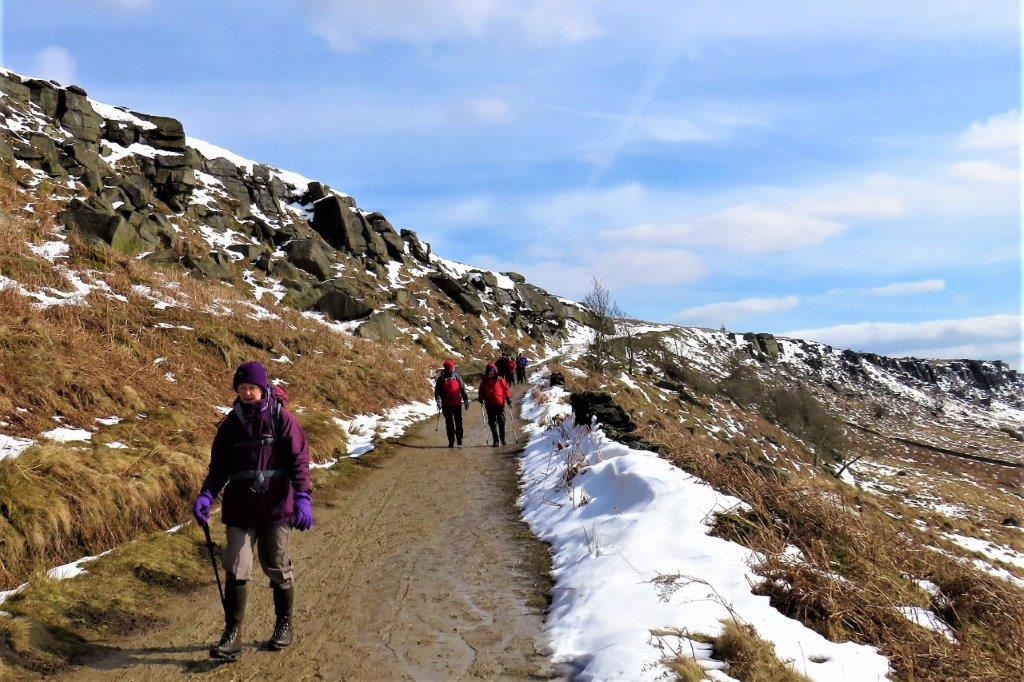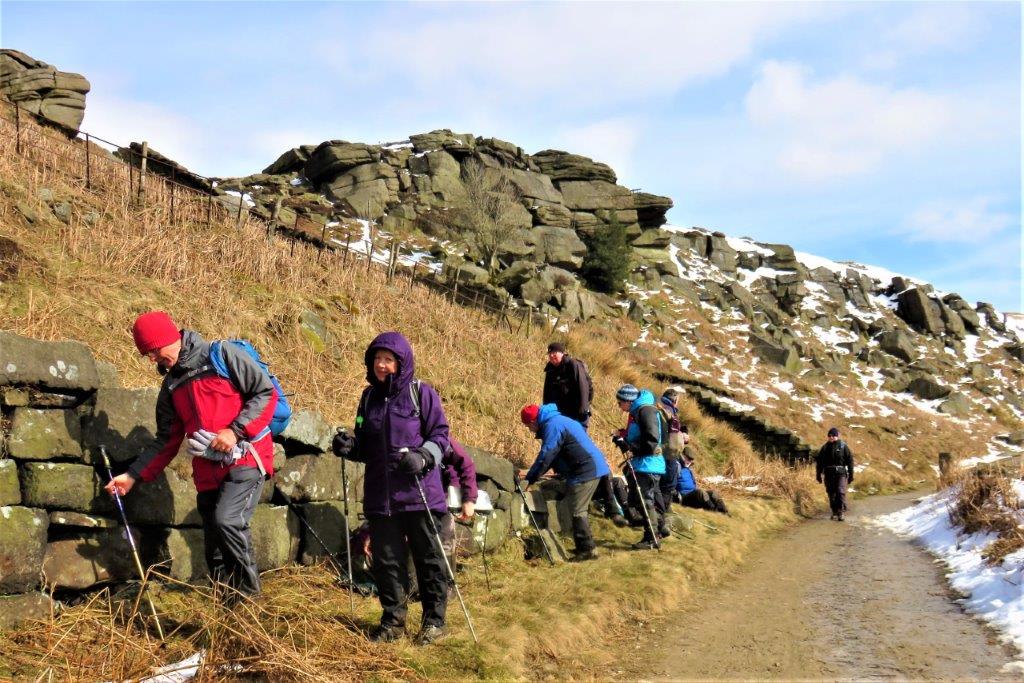 stopping for lunch break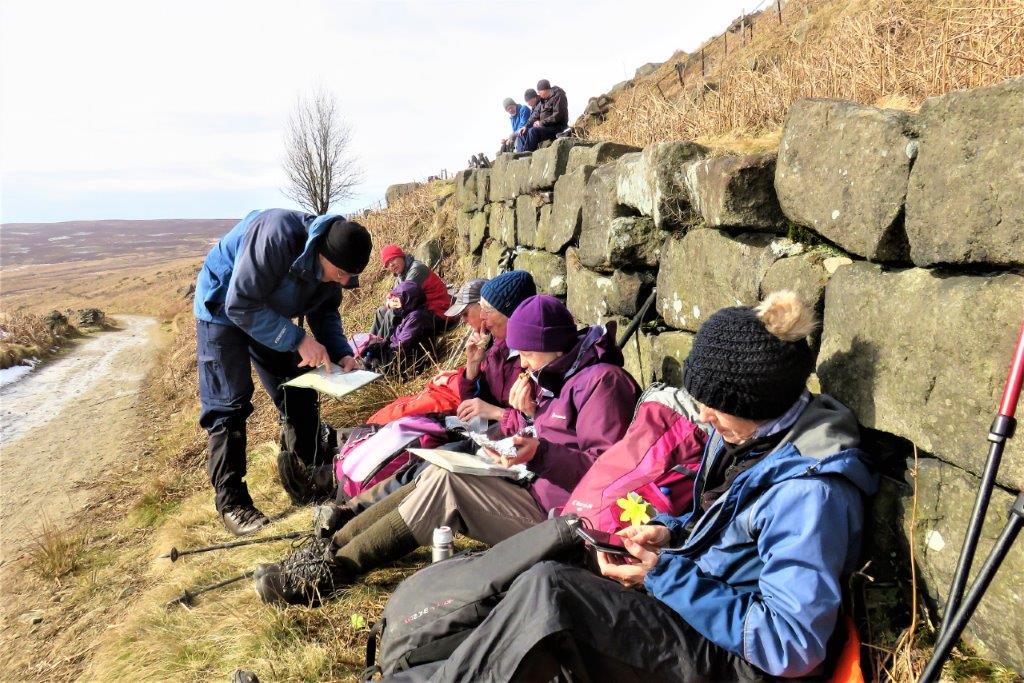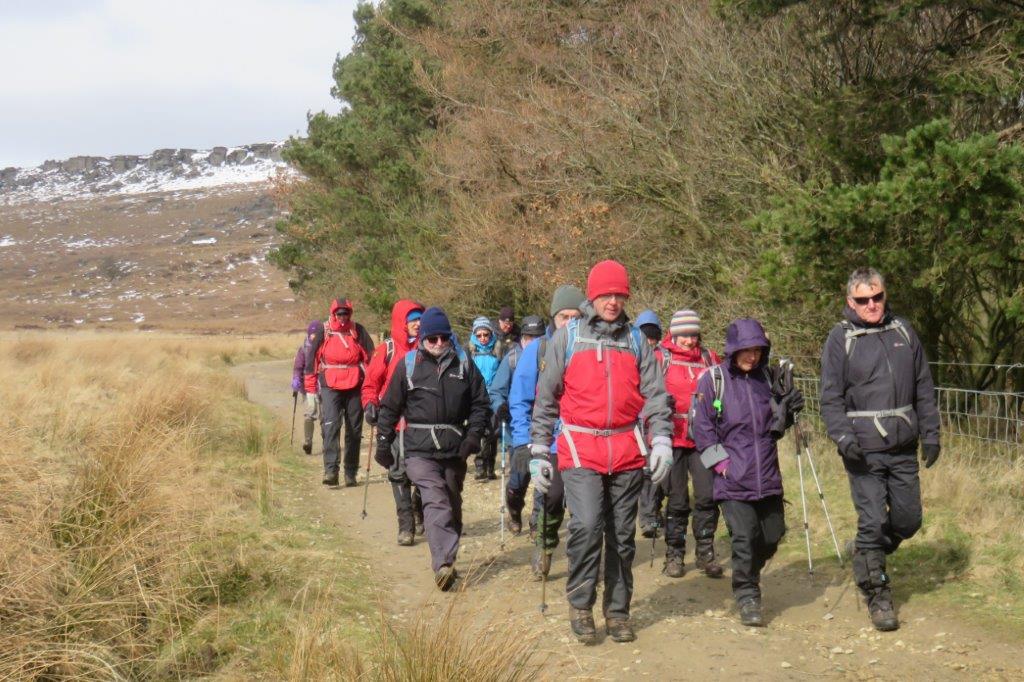 approaching Dennis Knoll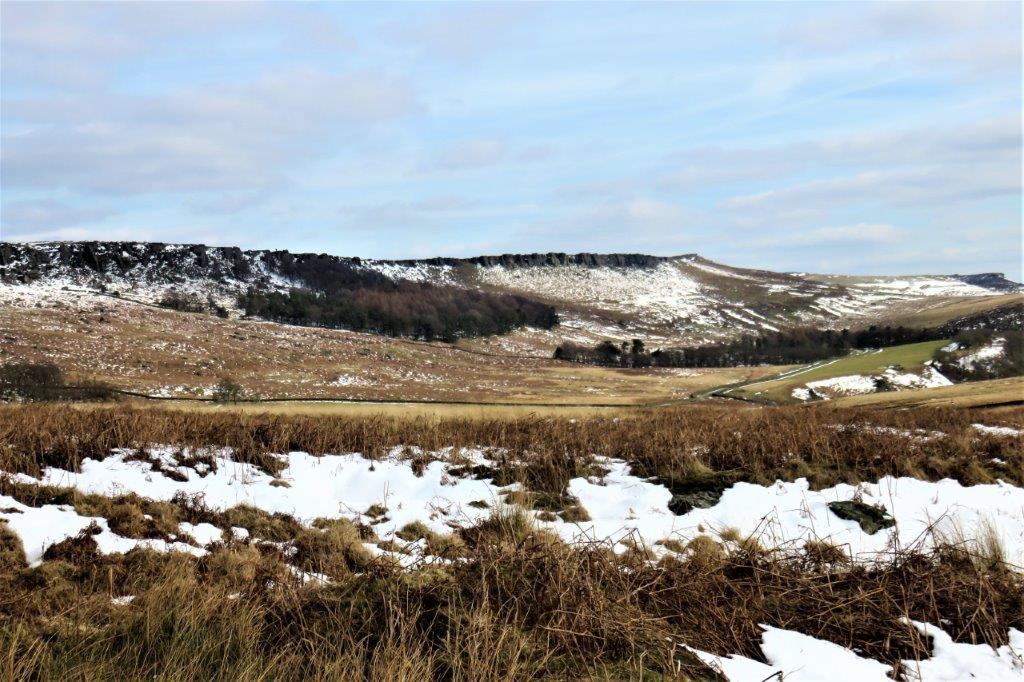 looking across at Stanage Edge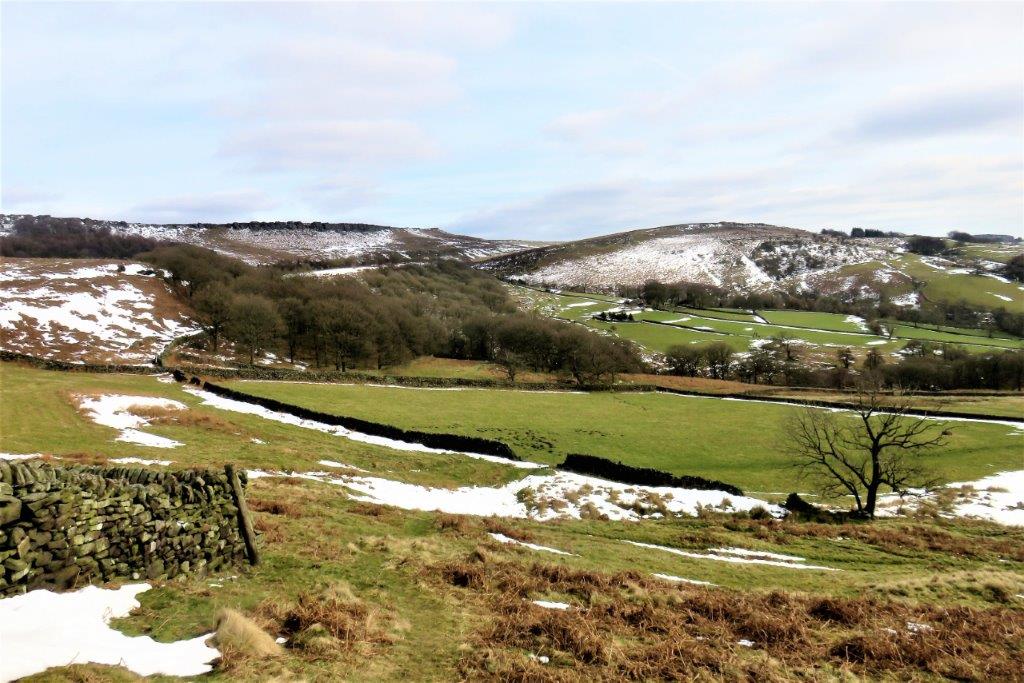 mound to right - Carhead Rocks?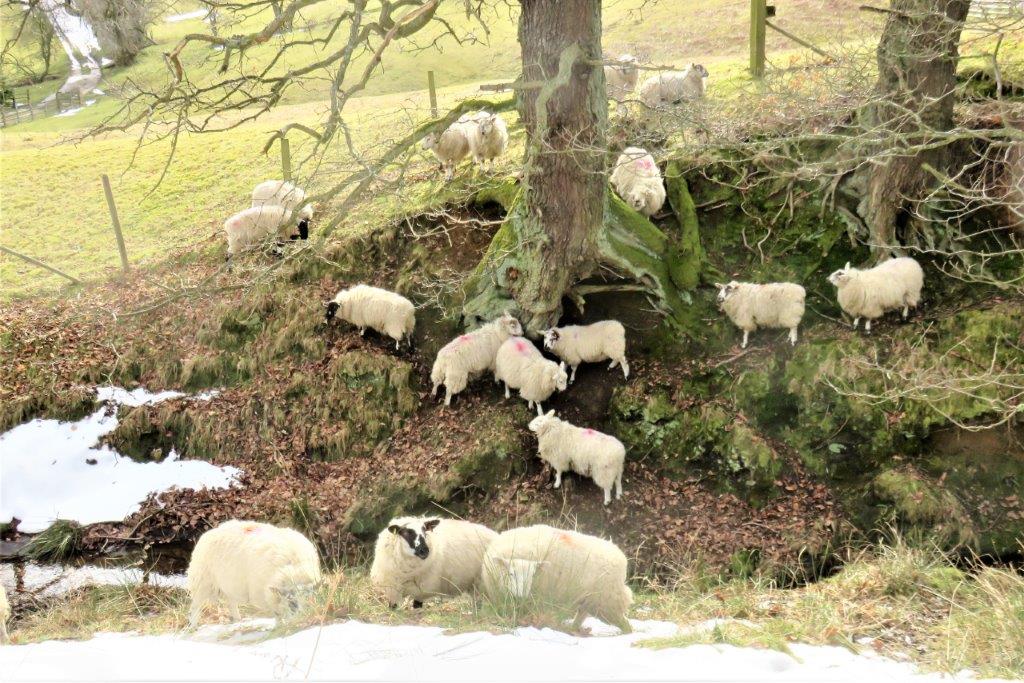 sheep seen just before reaching Green's House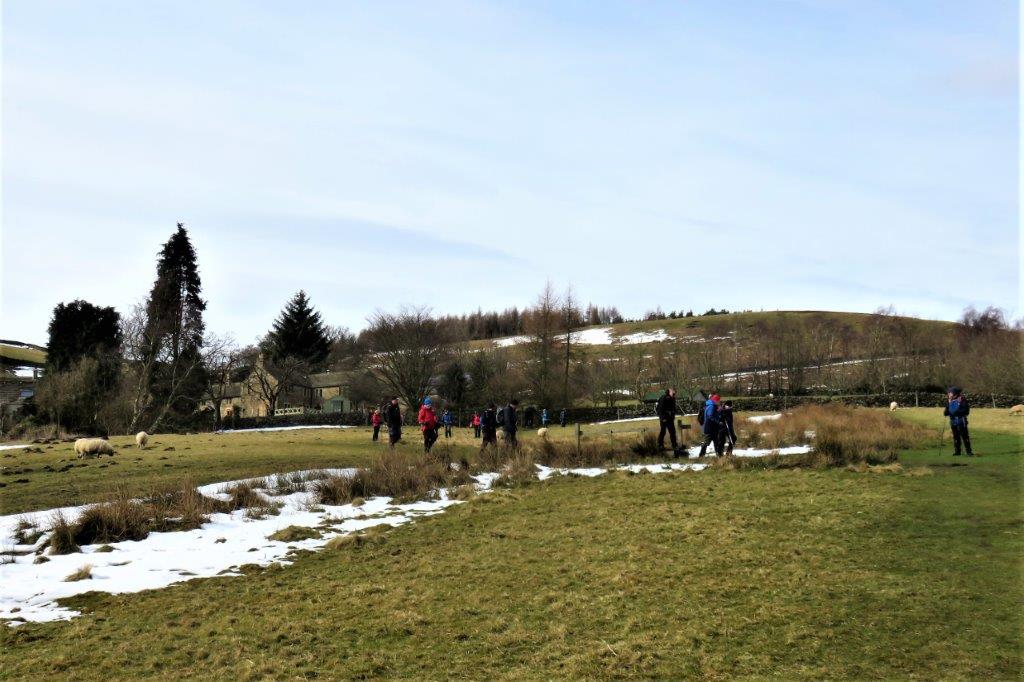 leaving Green's House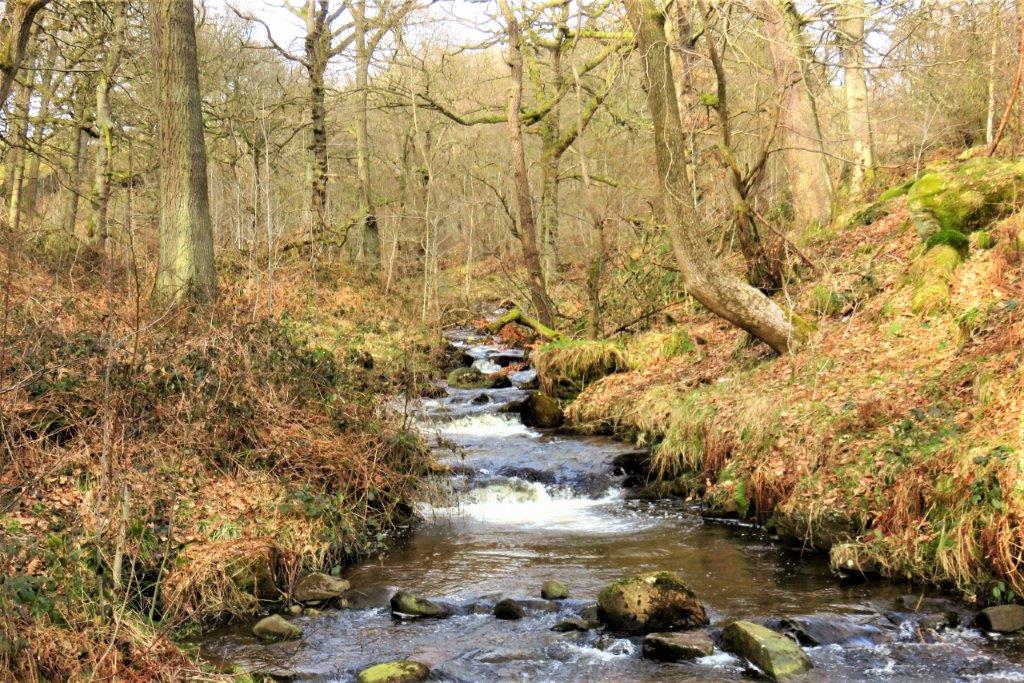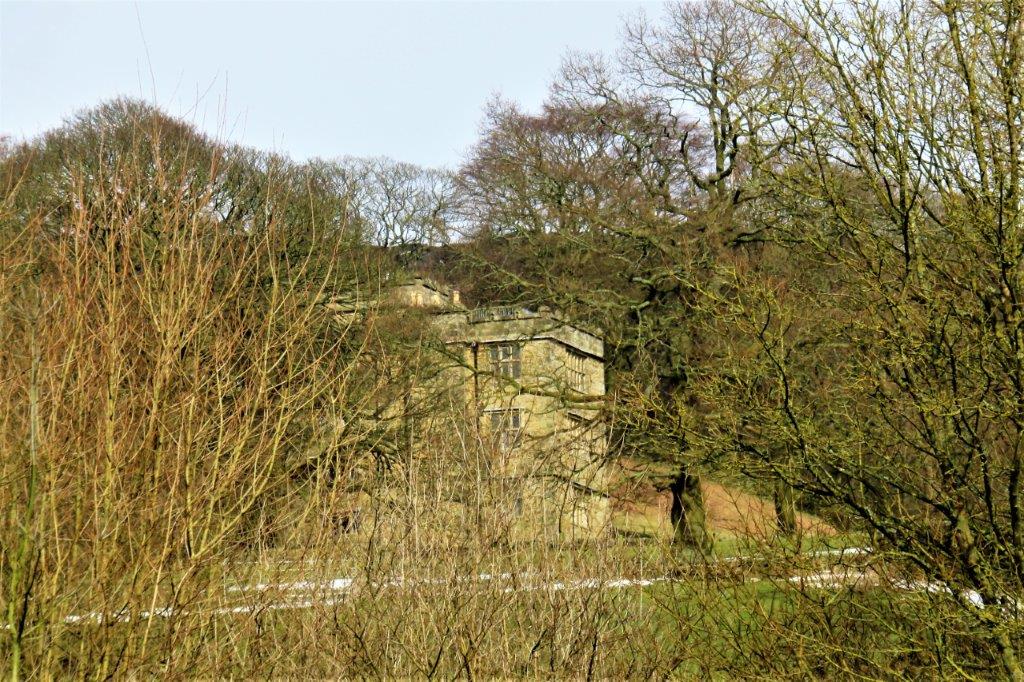 North Lees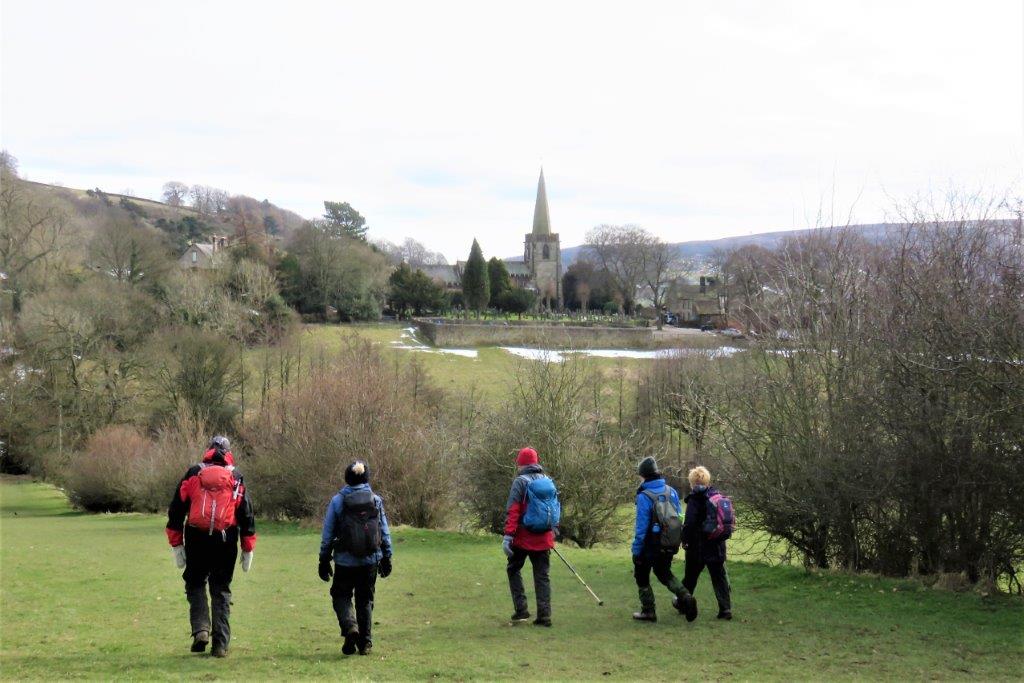 Hathersage Parish Church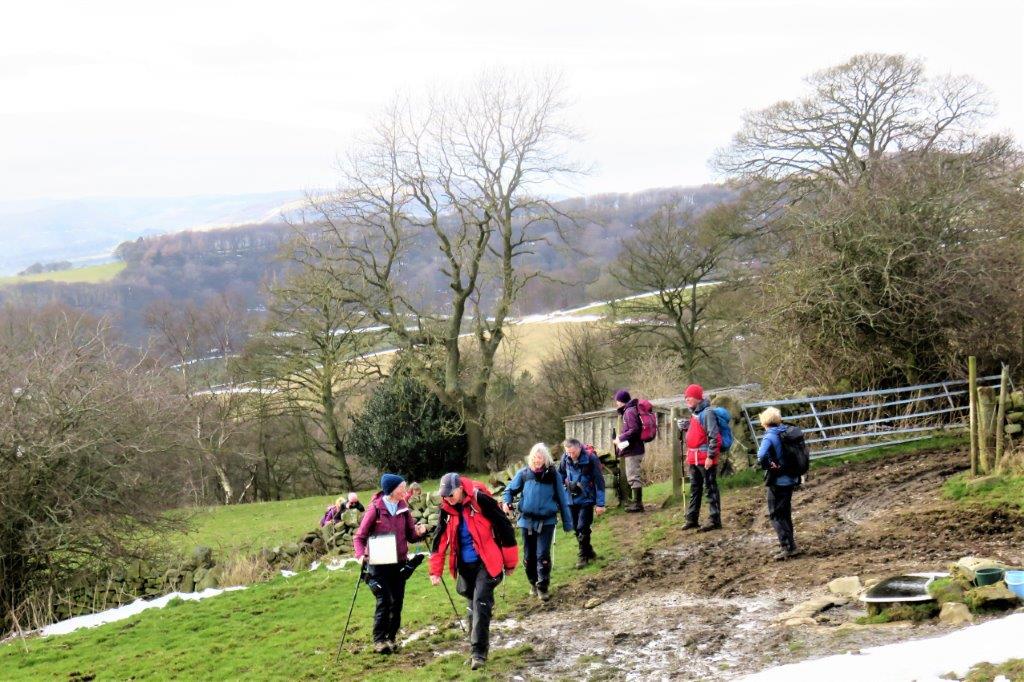 near Toothill Farm house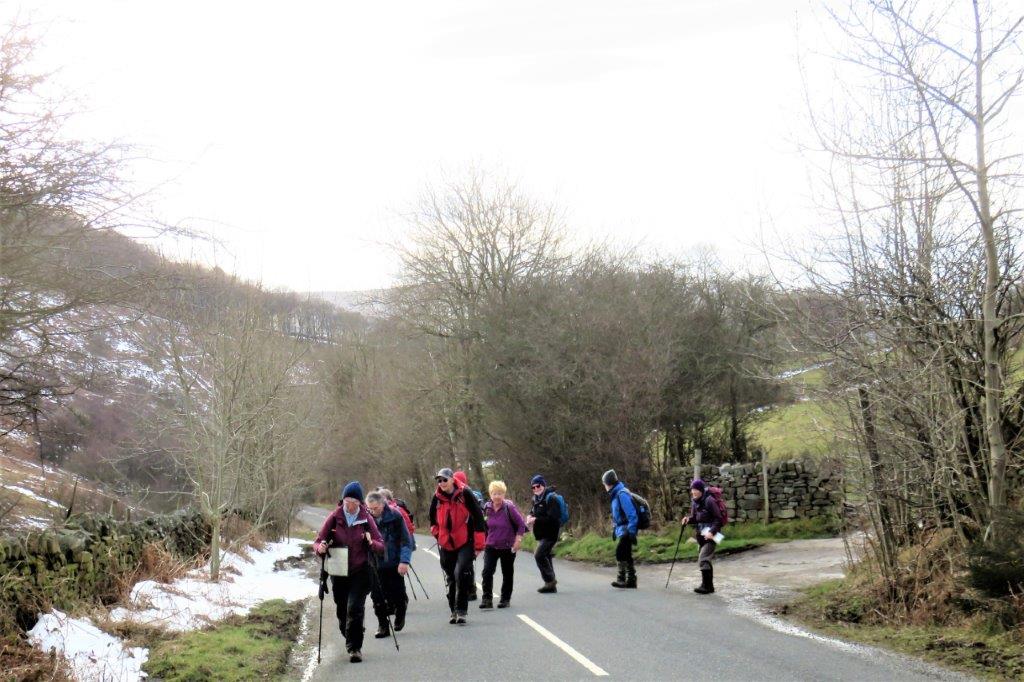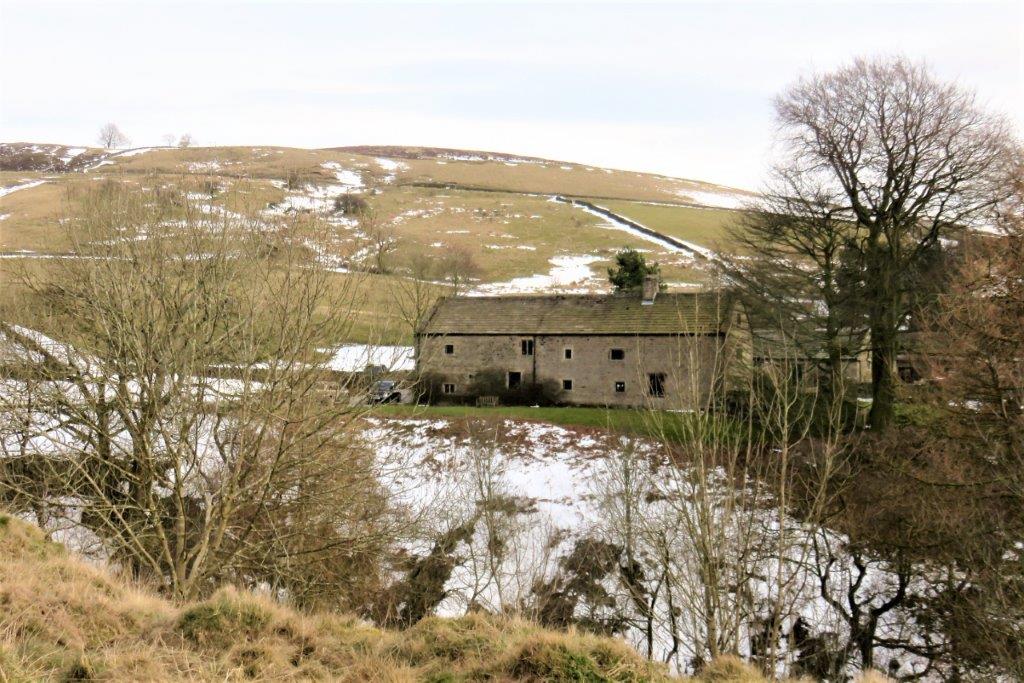 building on edge of Mitchell Field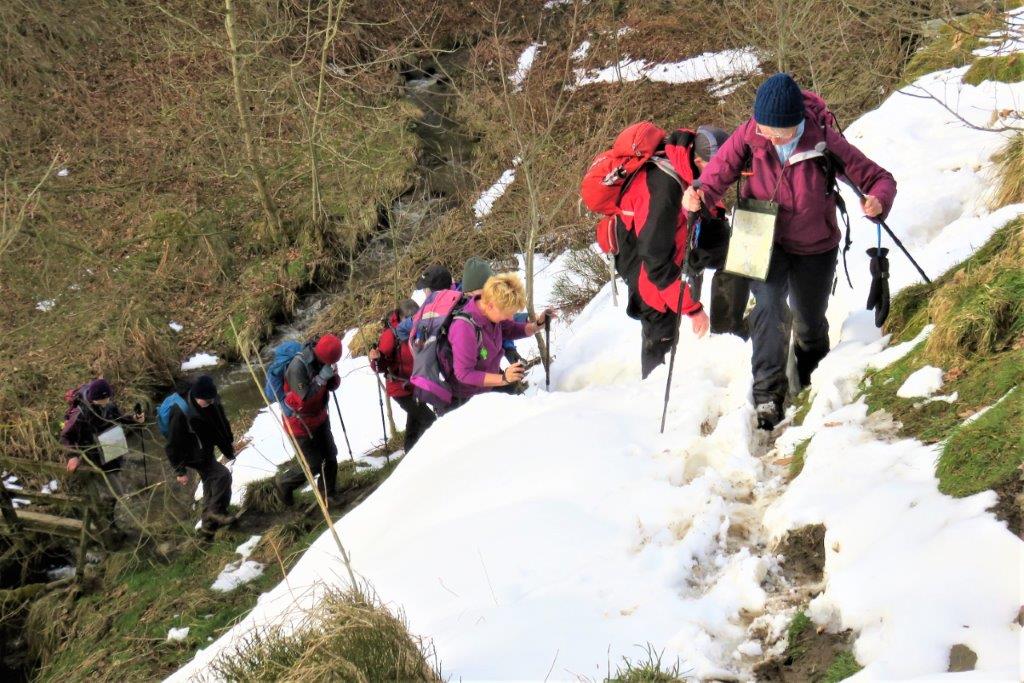 footbridge just visible bottom left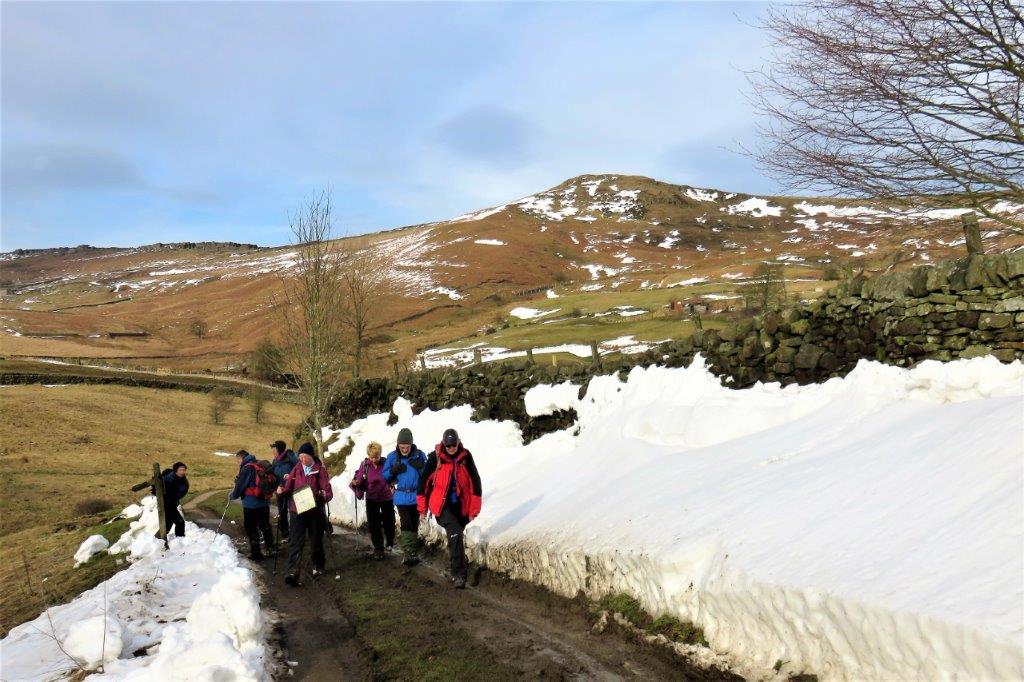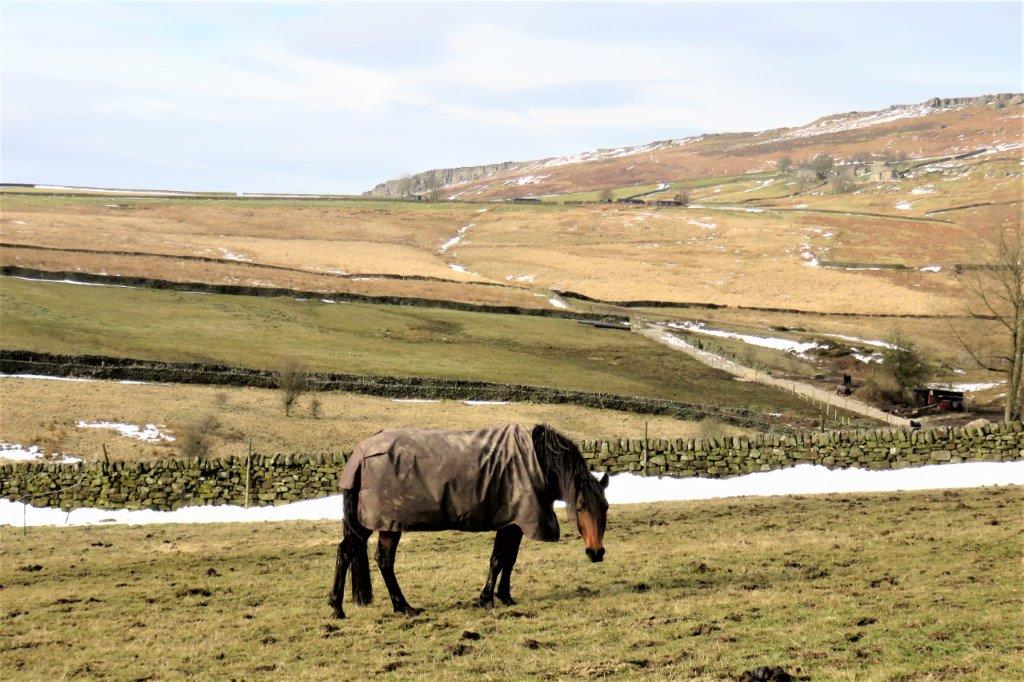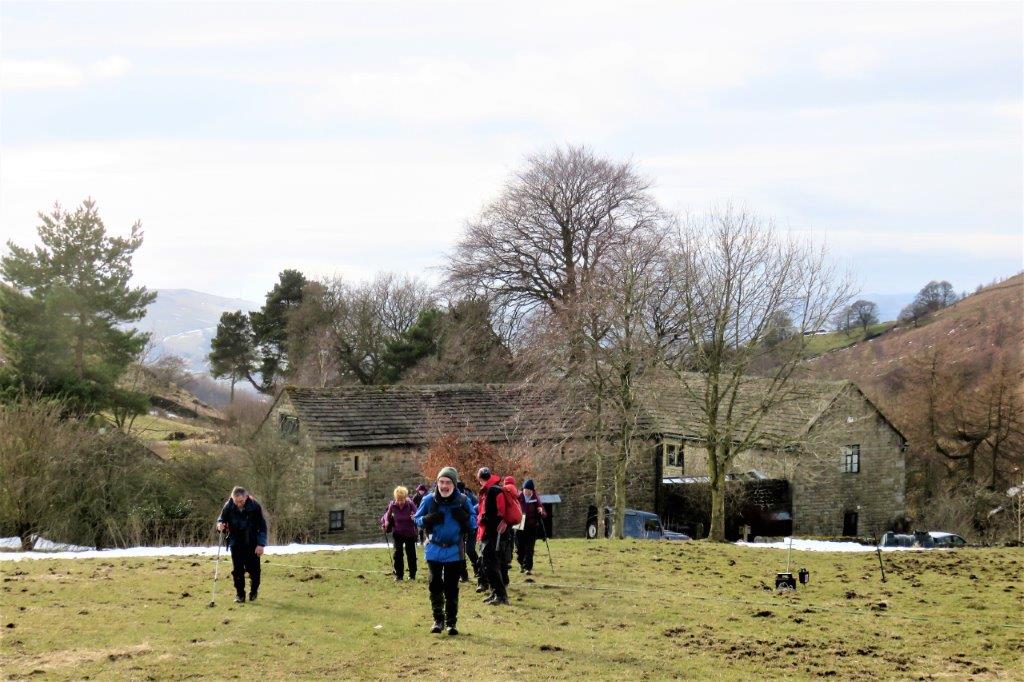 starting across Mitchell Field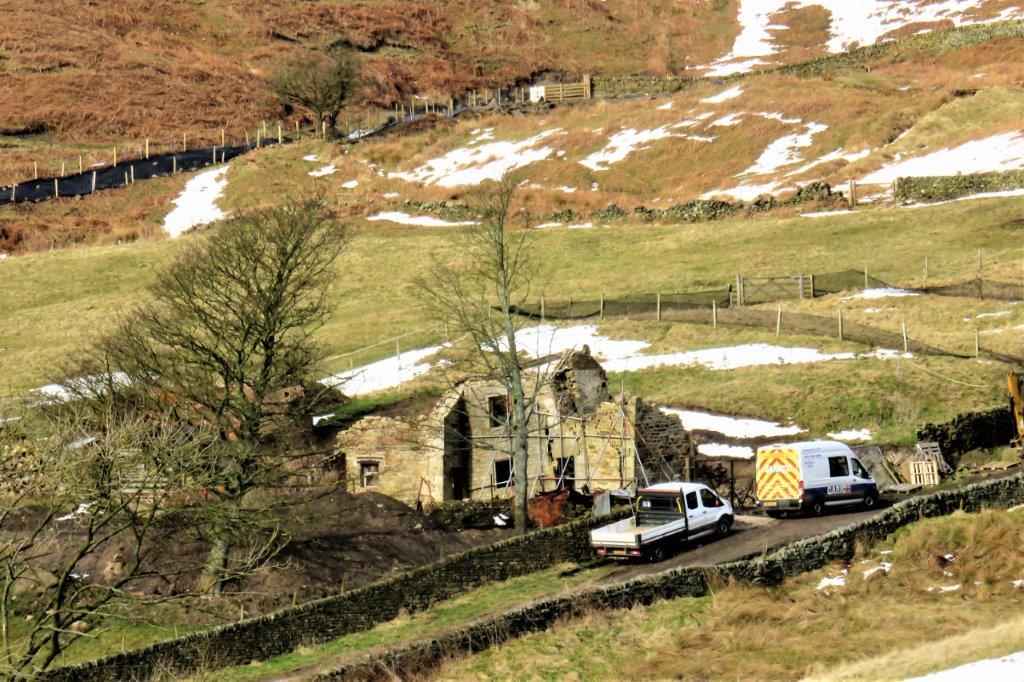 Callow ruins?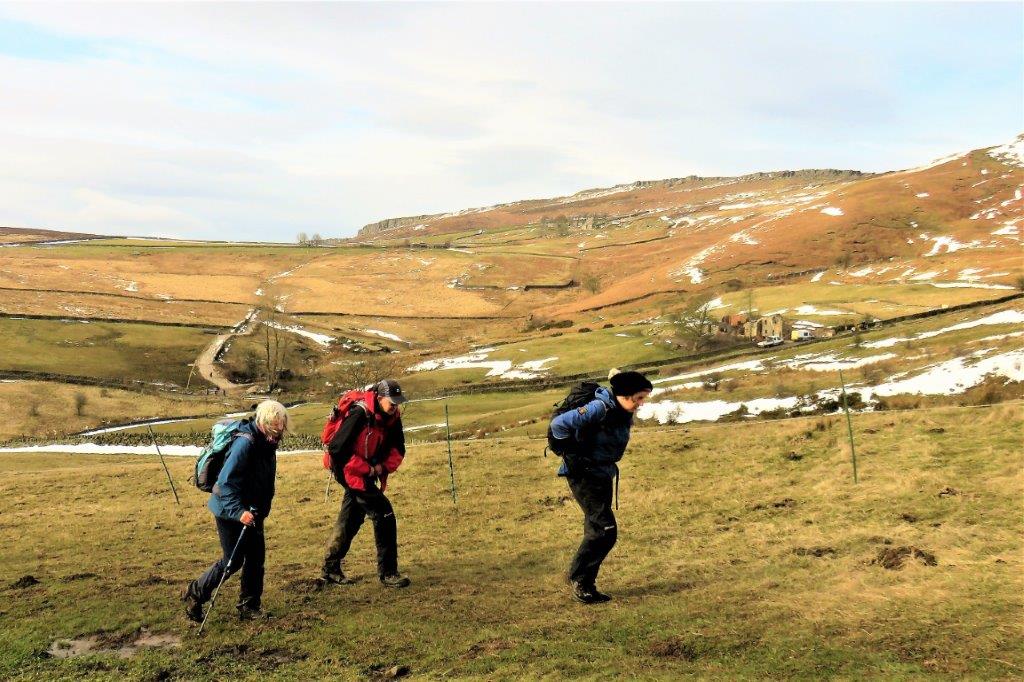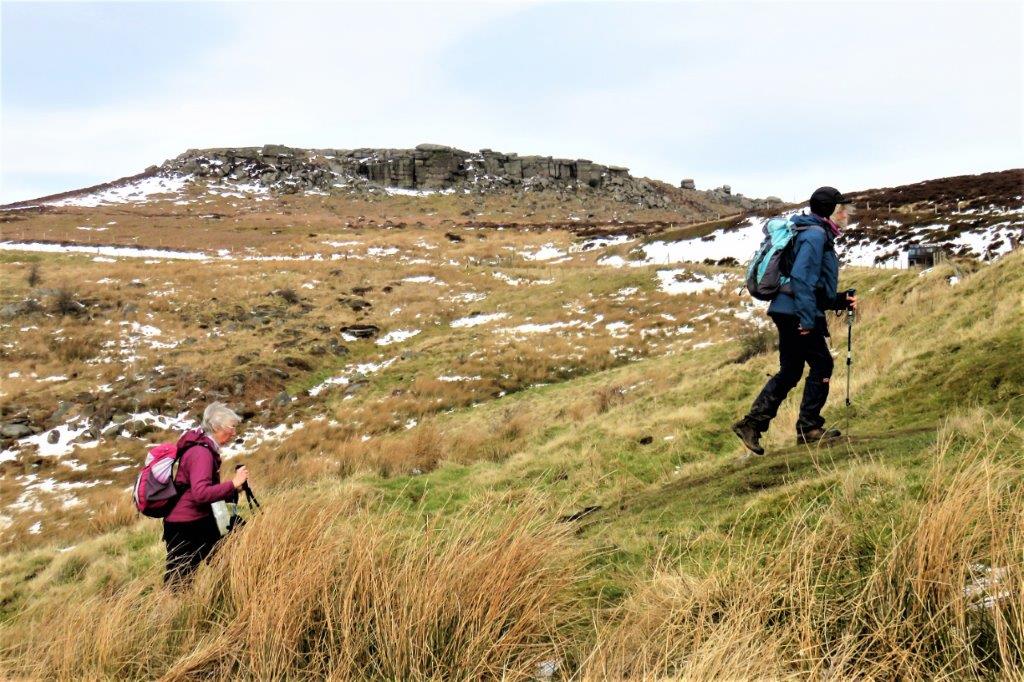 Higger Tor at top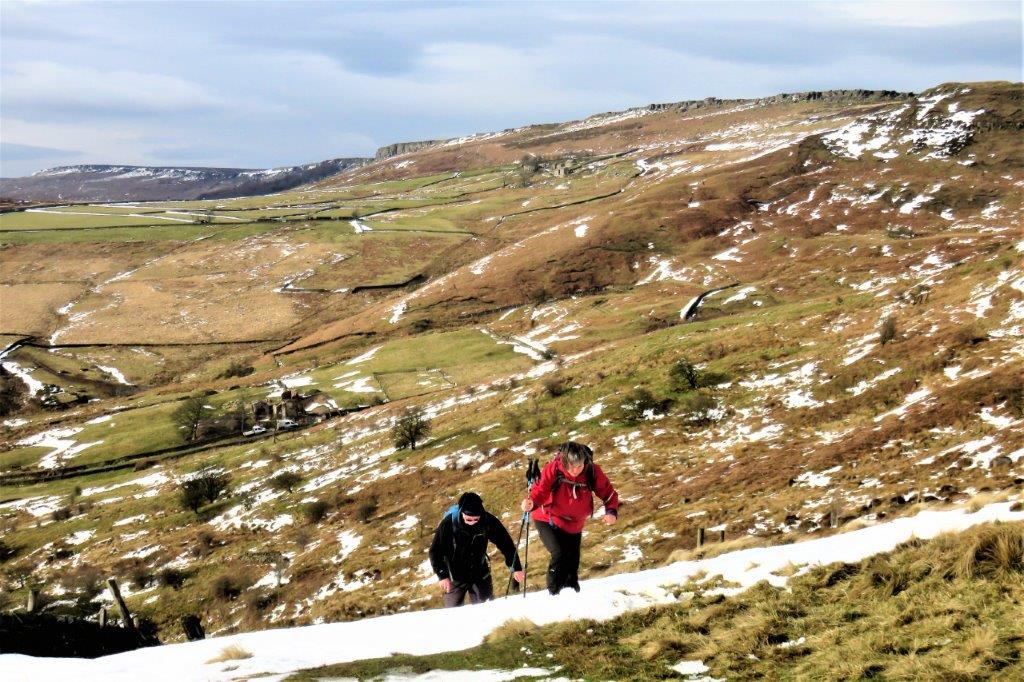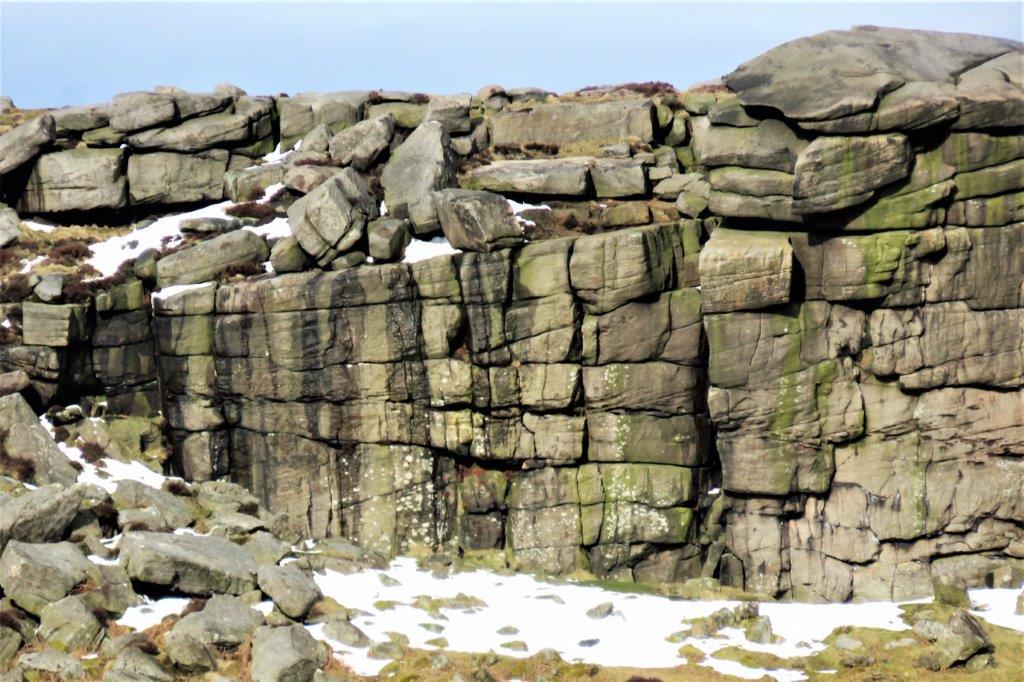 Higger Tor zoomed into here and next picture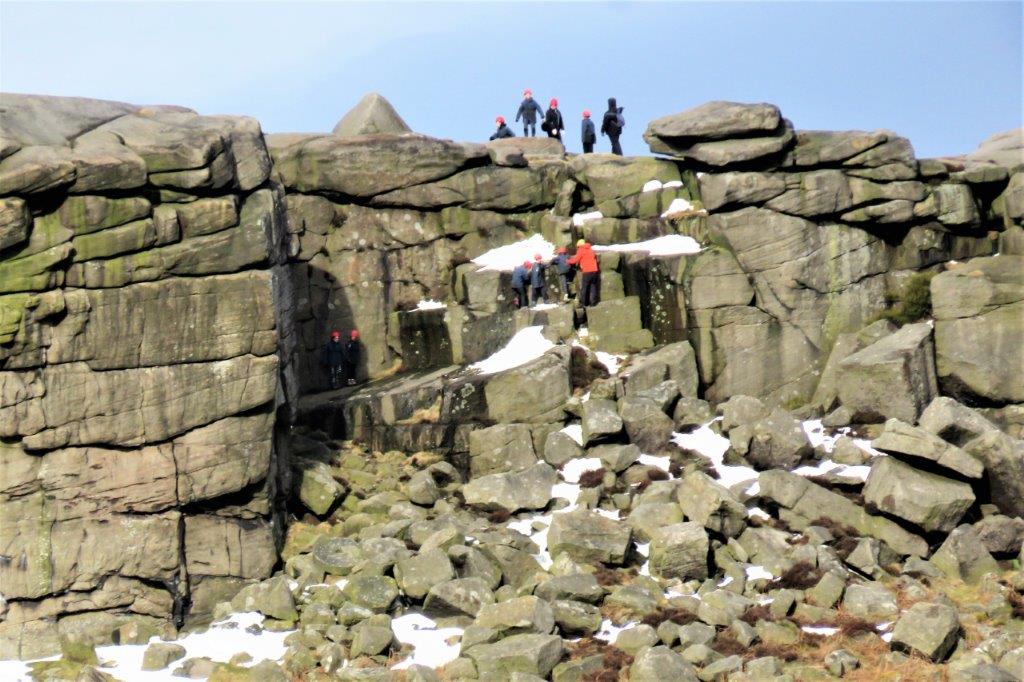 youth group supervised scrambling up Higger Tot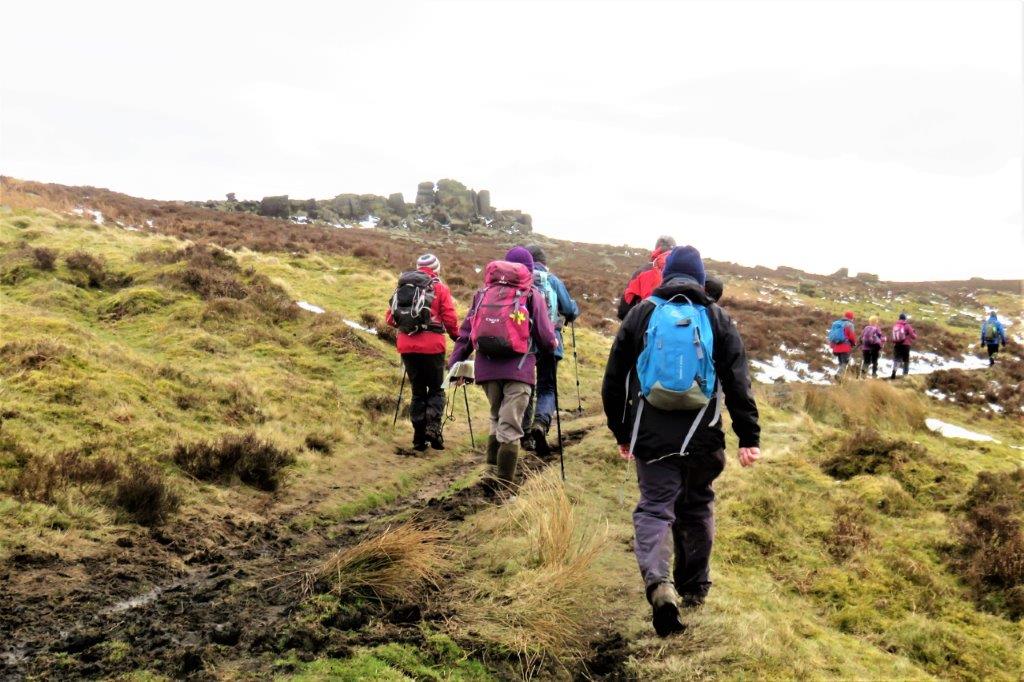 passing below Over Owler Tor on way to edge of Millstone Edge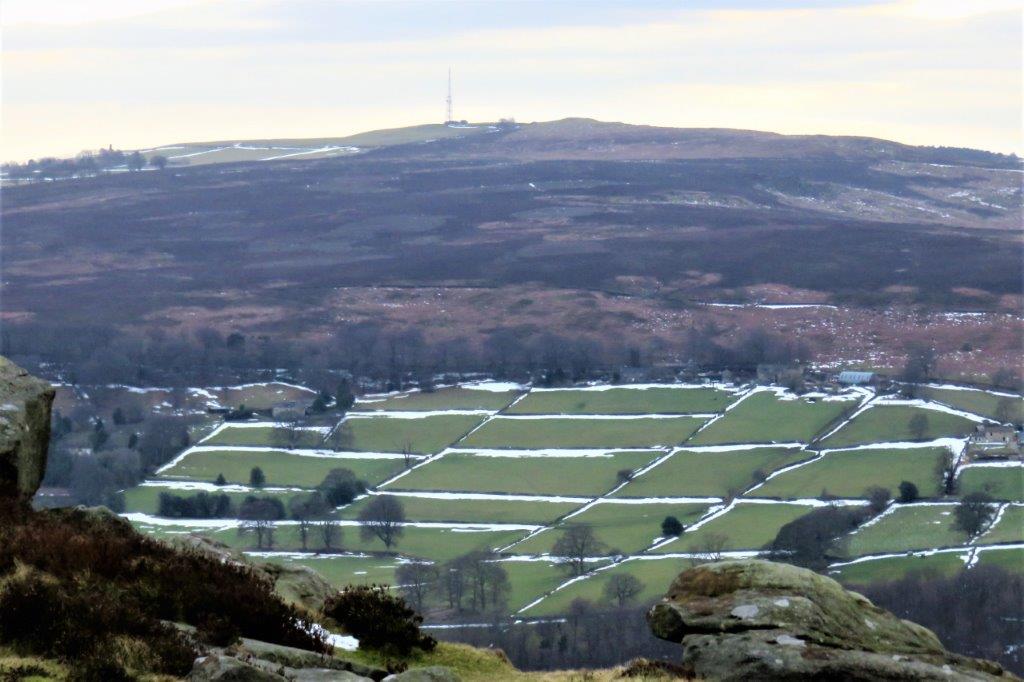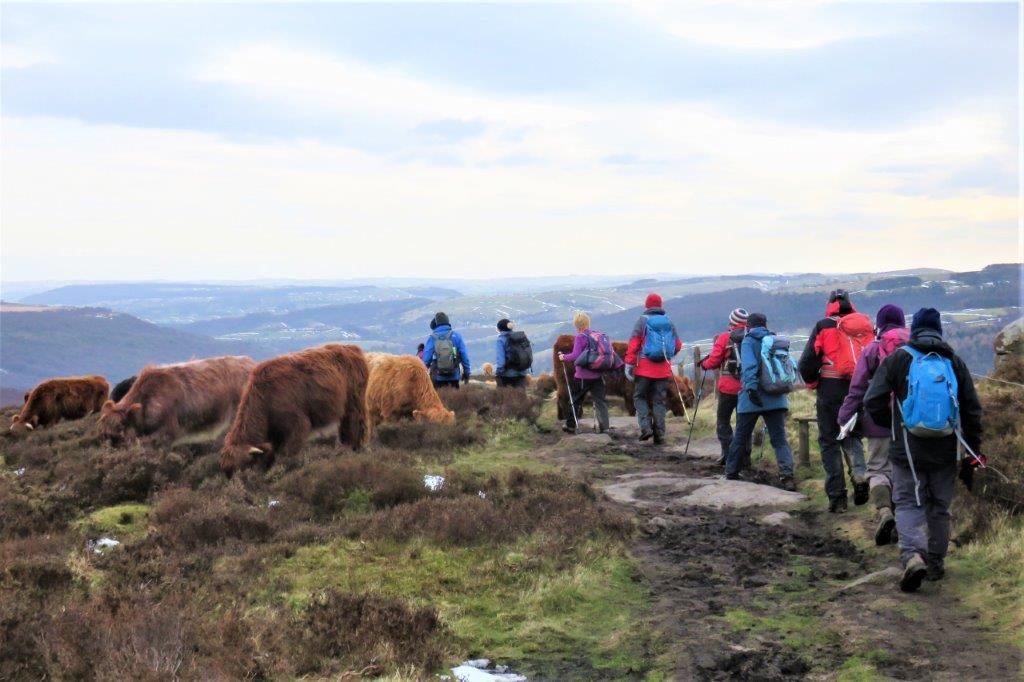 unthreatening Highland cattle disinterested in walkers passing nearby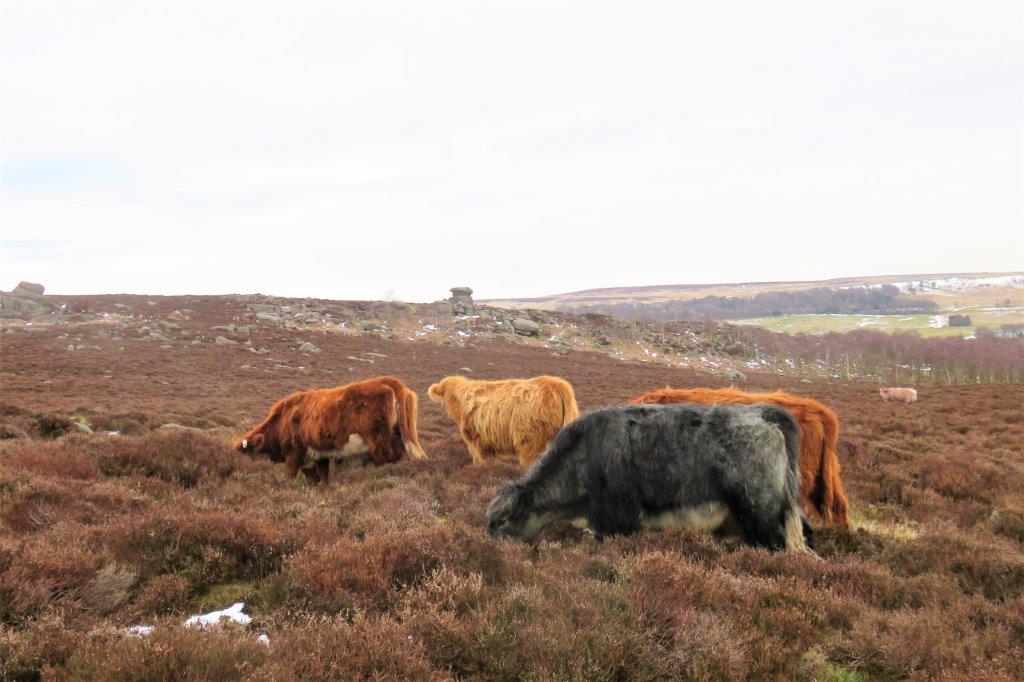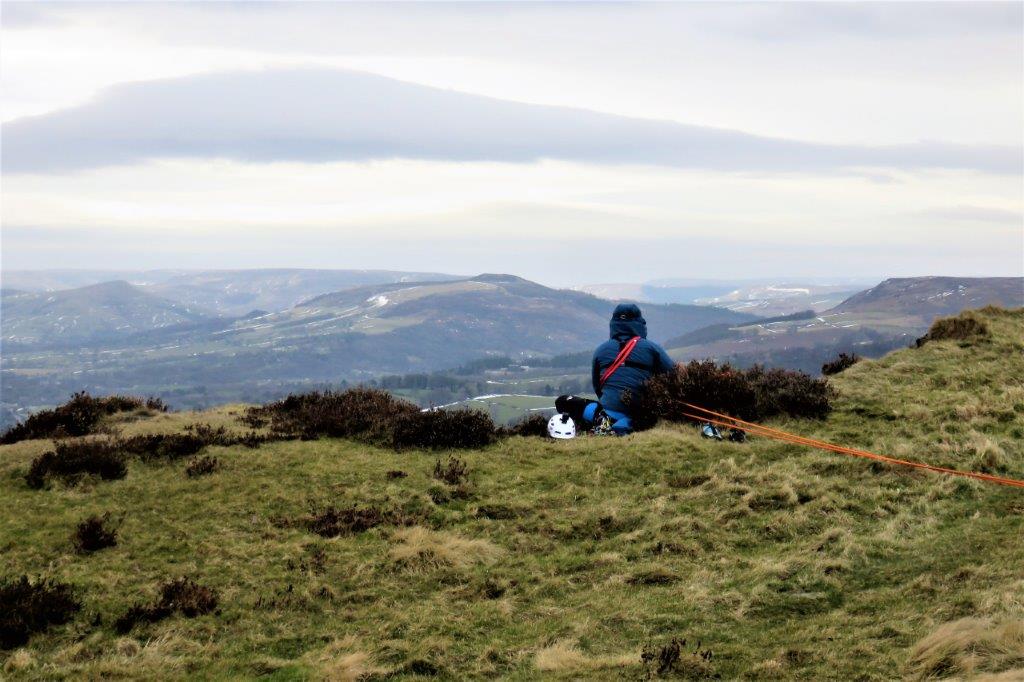 top belay for rock climber unseen on Millstone Edge below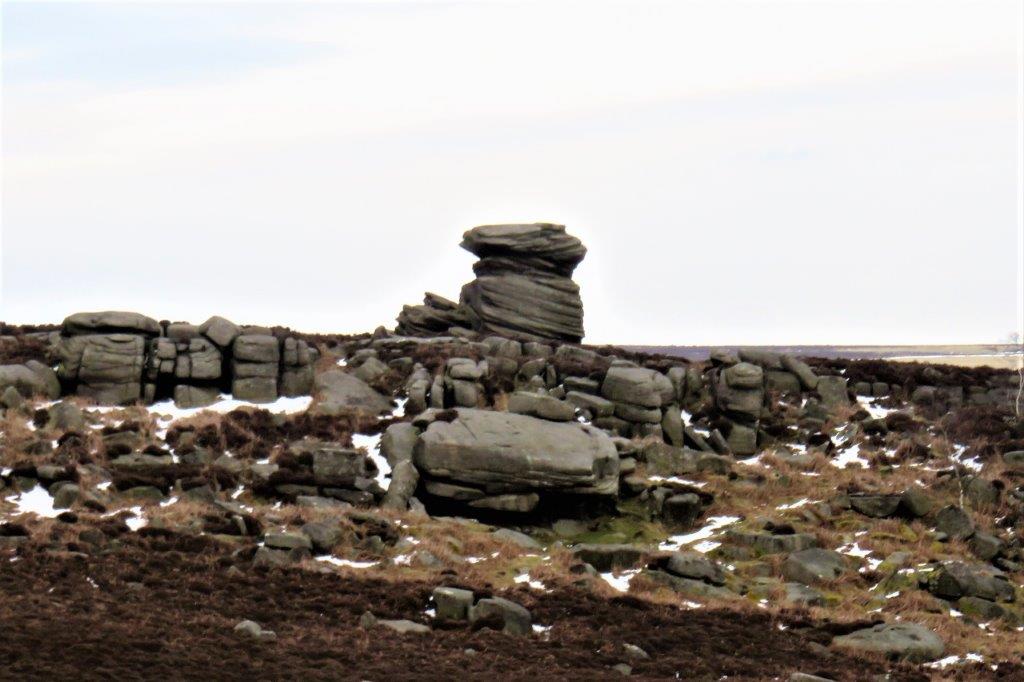 Mother Cap?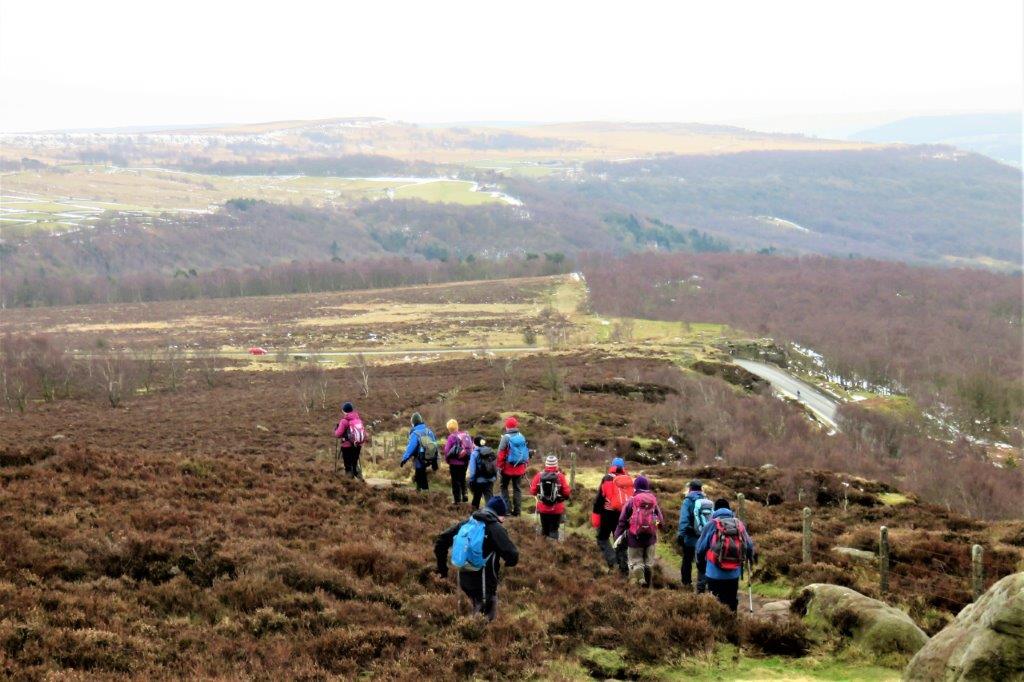 down from Millstone Edge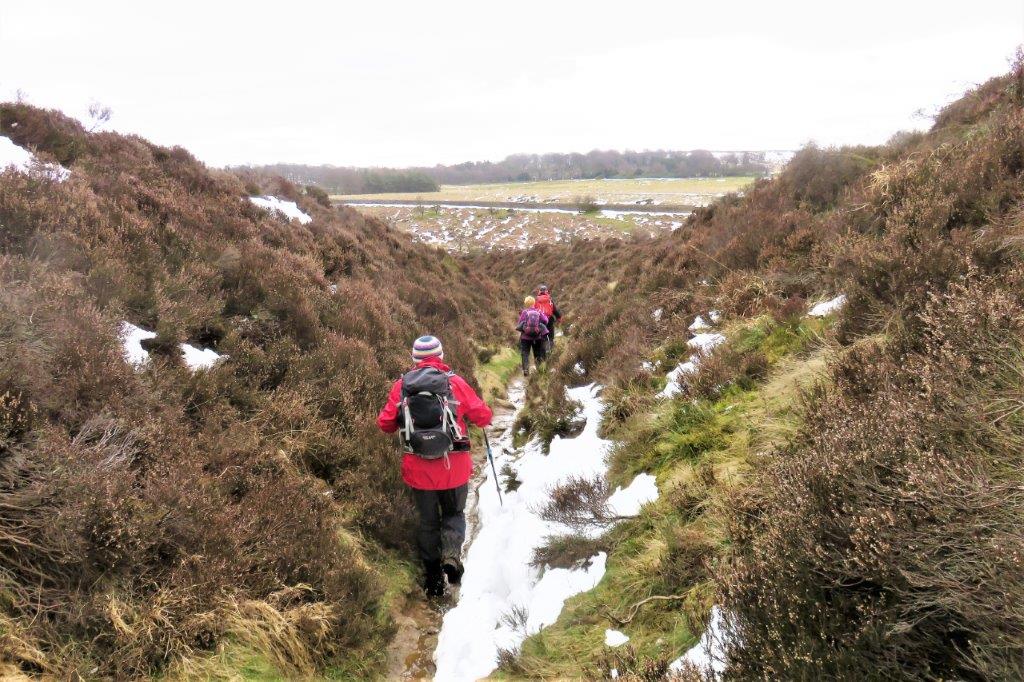 gully from road heading to a footbridge over Burbage Brook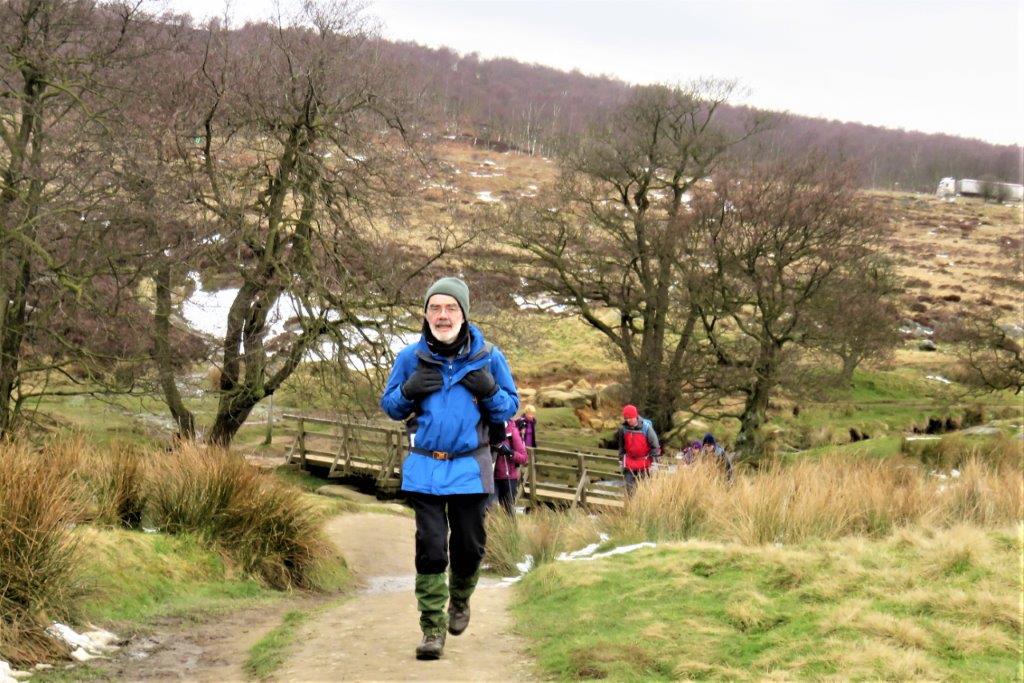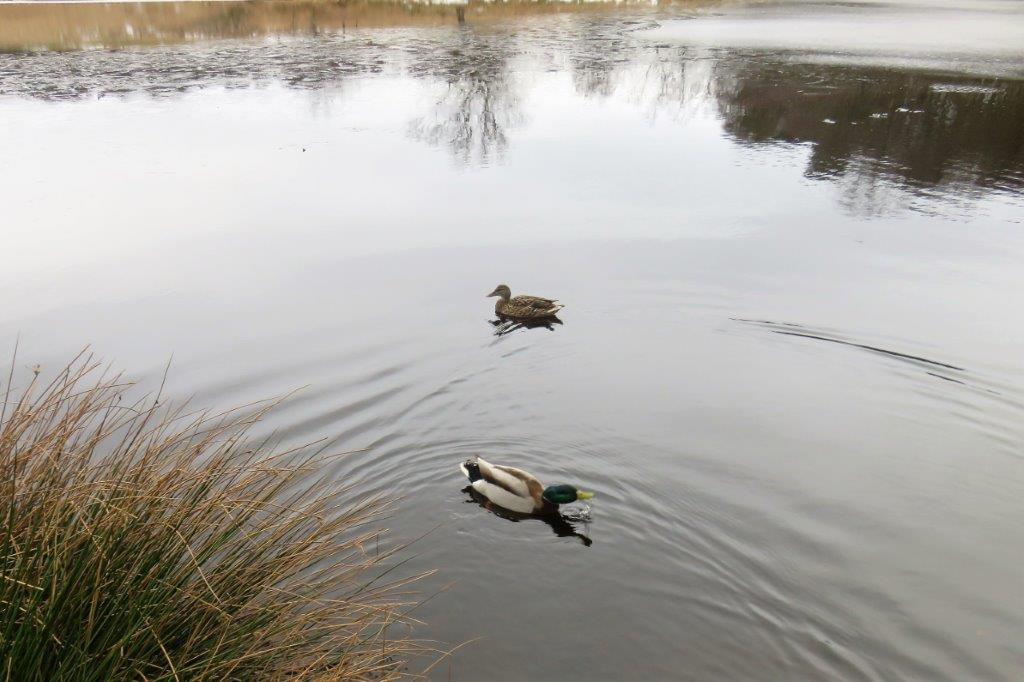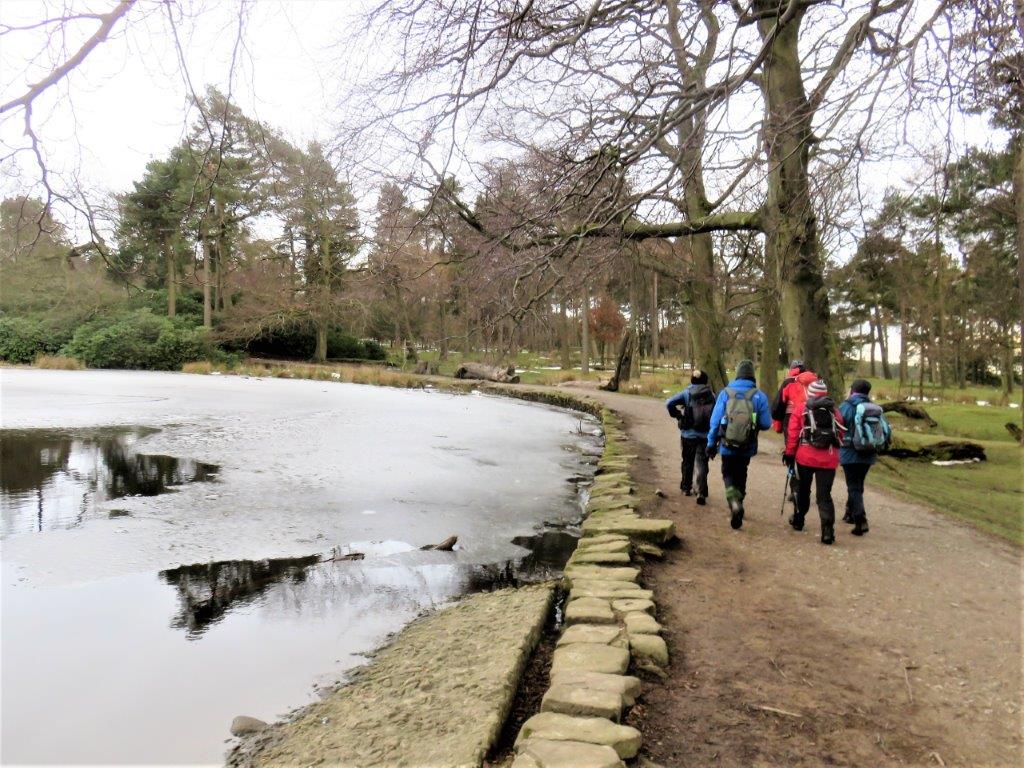 passing the pond on the way back towards Longshaw Lodge
homepage - Day Walks Index 2018 - contact me at