homepage - Day Walks Index 2018 - contact me at

2018.01.31 - Hope, FP ~N (just W of Edale Rd), Foot bridge over rail spur, ~100m beyond FP ~NE to Edale Rd, ~300m ~N on Edale Rd, lane to Oaker Farm then FP to Fiddle Clough, under rail track / cross Edale Rd / cross River Noe (Bagshaw Bridge), Upper Fulwood Farm (N.T.), ~N up to Hope Cross, Roman Rd ~NNW (cross Blackley Clough) then ~NW, V turn at junction SK147890*1, ~200m after J turn ~ E then ESE on permissive FP along canal, pass Haggwater Bridge, track ~ S then SE along Ladybower Reser, at SK169890 turn off ~SE then ~SW & circle round Wooler Knoll to ~SK172861, ~S on FPs / lanes to Fulwood Stile Farm and beyond under rail track, onto Edale Rd into Hope - leader Judy Gathercole - Wednesday - about 10 miles (*1 direction only towards Rowlee Farm).
(Note an alternative walk route is to continue at *1 to Rowlee Farm, on to Hagg Farm, down to / cross Haggwater Bridge and continue walk up to Wooler Knoll etc)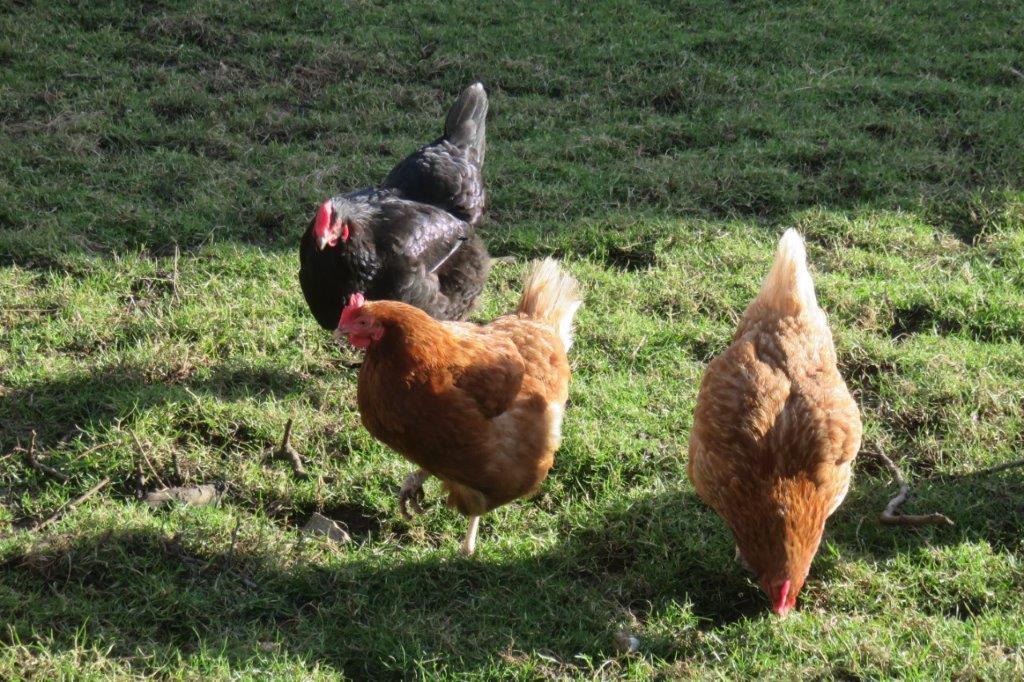 Hope's free range chicken 'farm'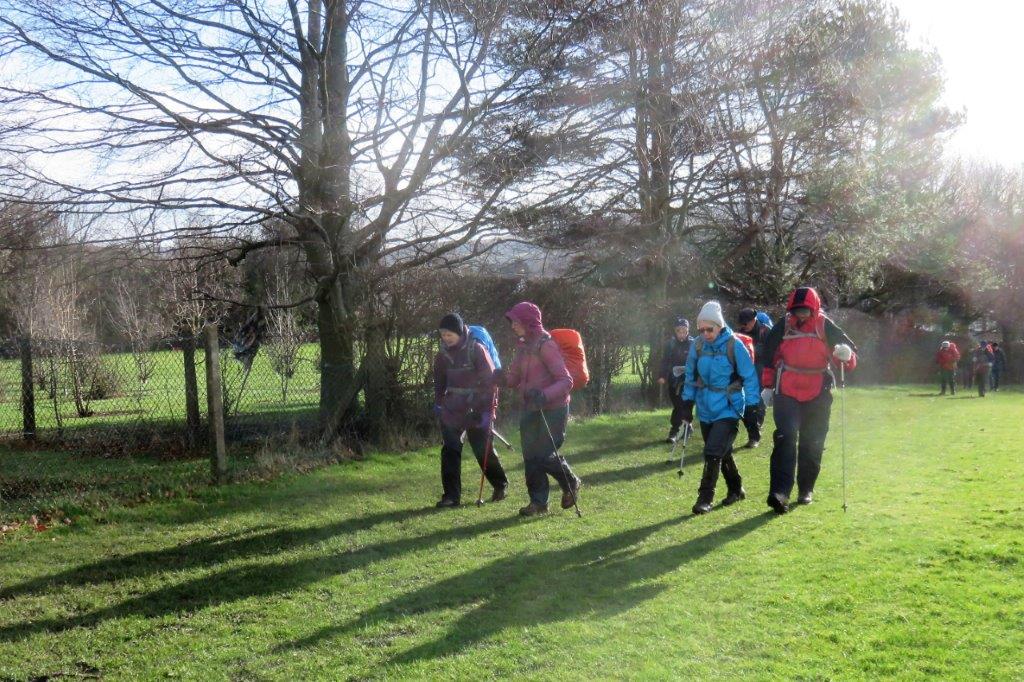 still long shadows at 11am in morning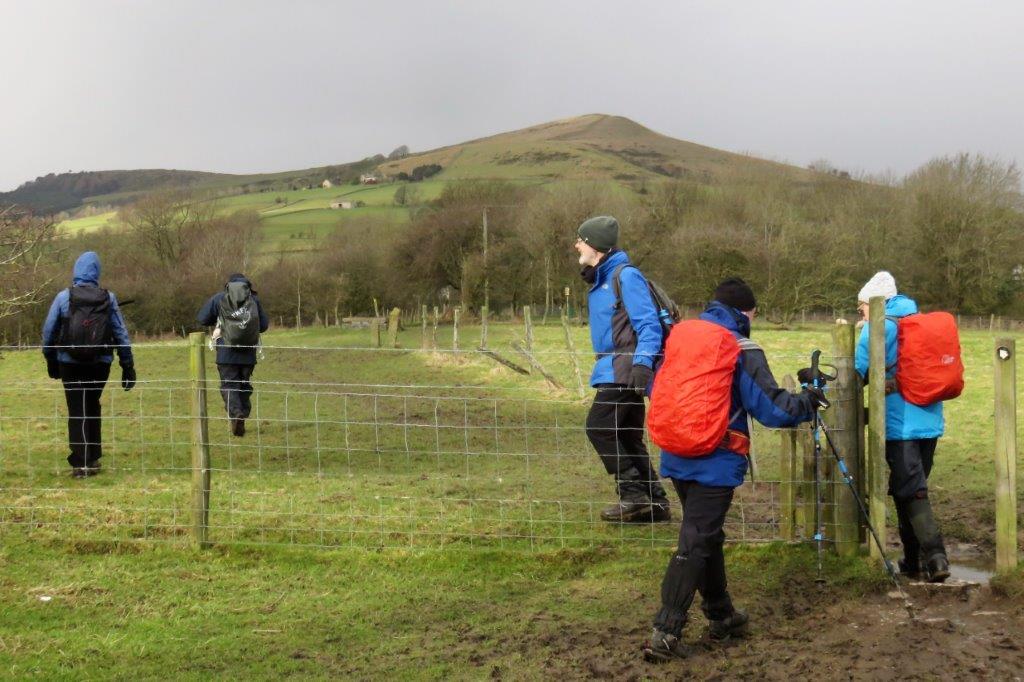 Lose Hill - uncovered by snow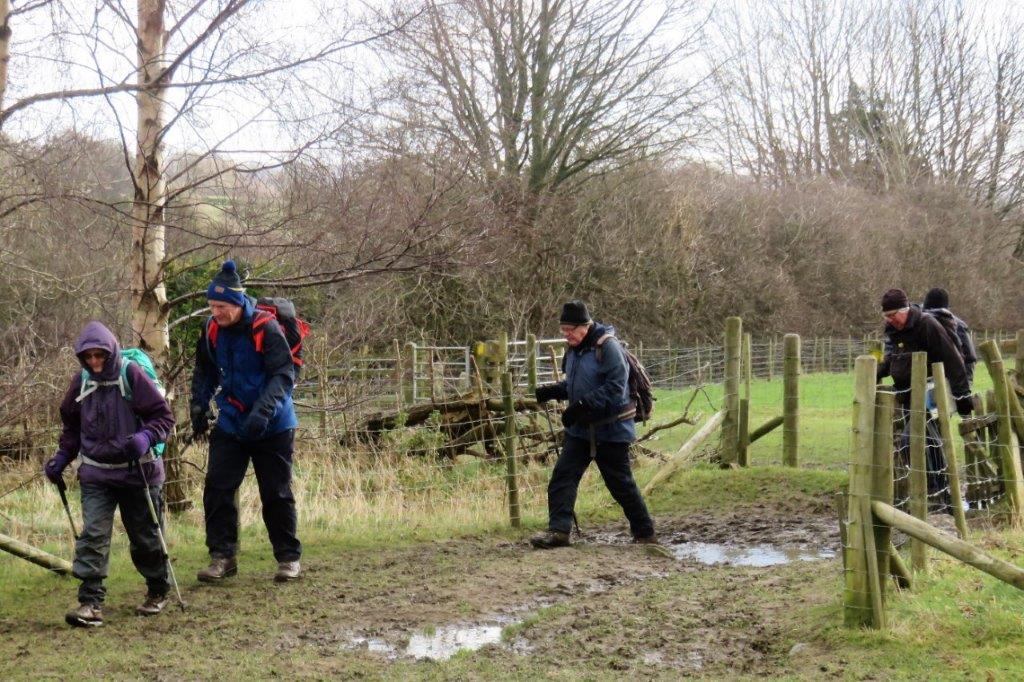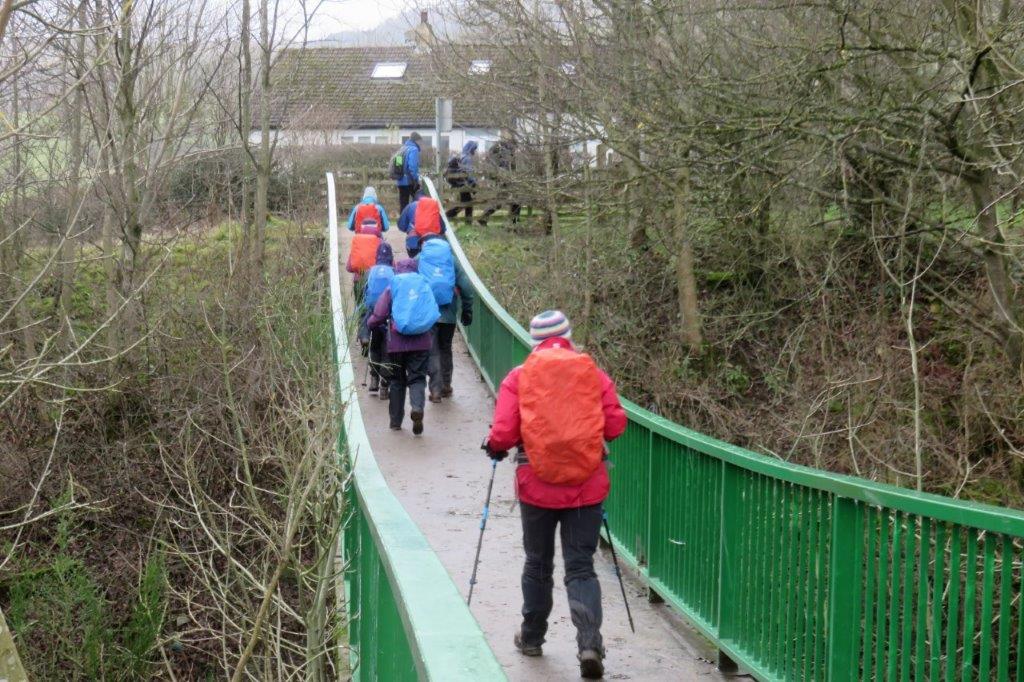 footbridge over railway spur to Cement Plant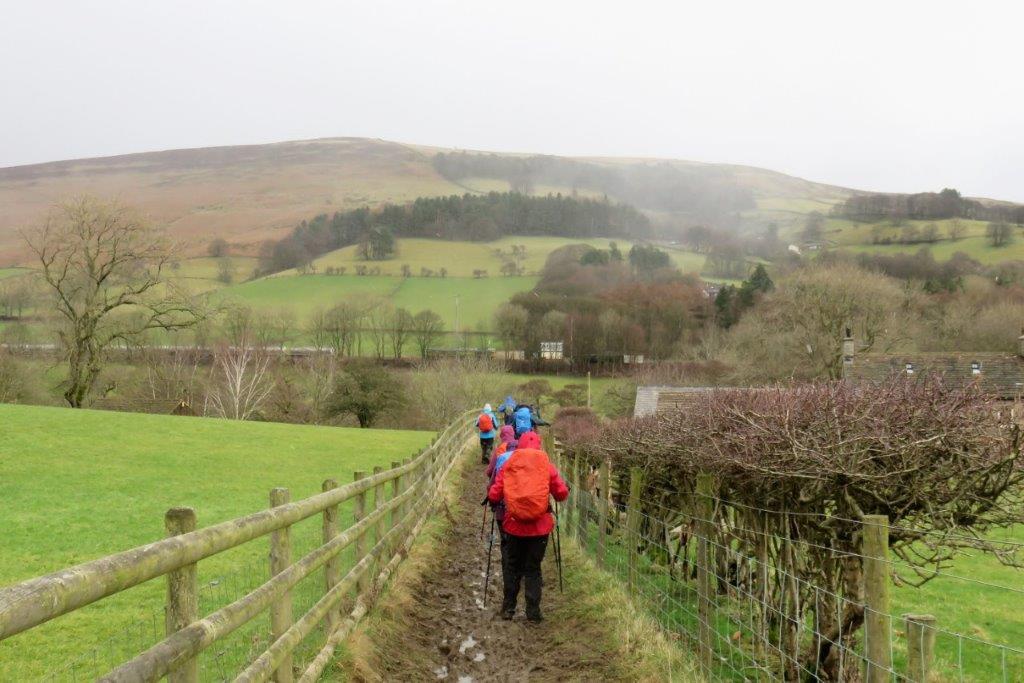 turned down a very mucky path to Edale Road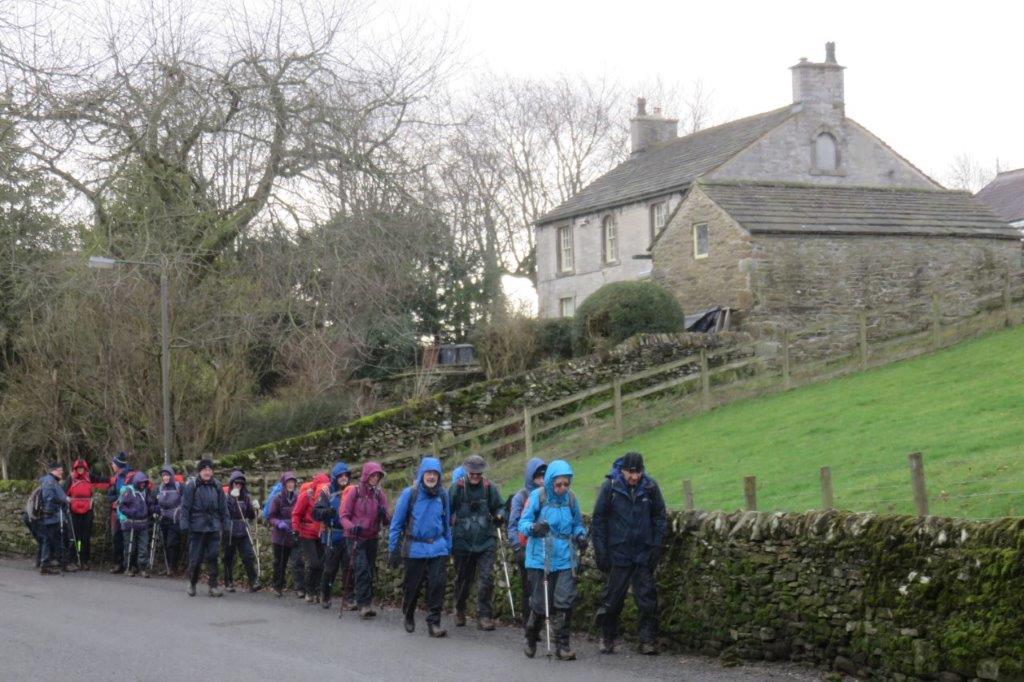 about 300m on Edale Road before joining lane to Oaker Farm and beyond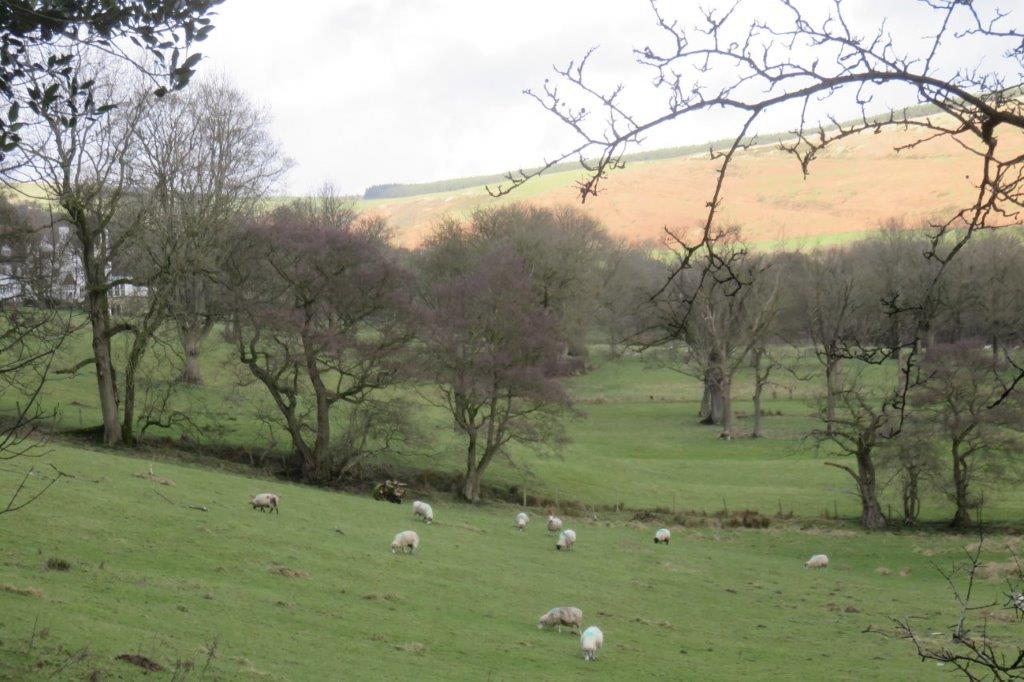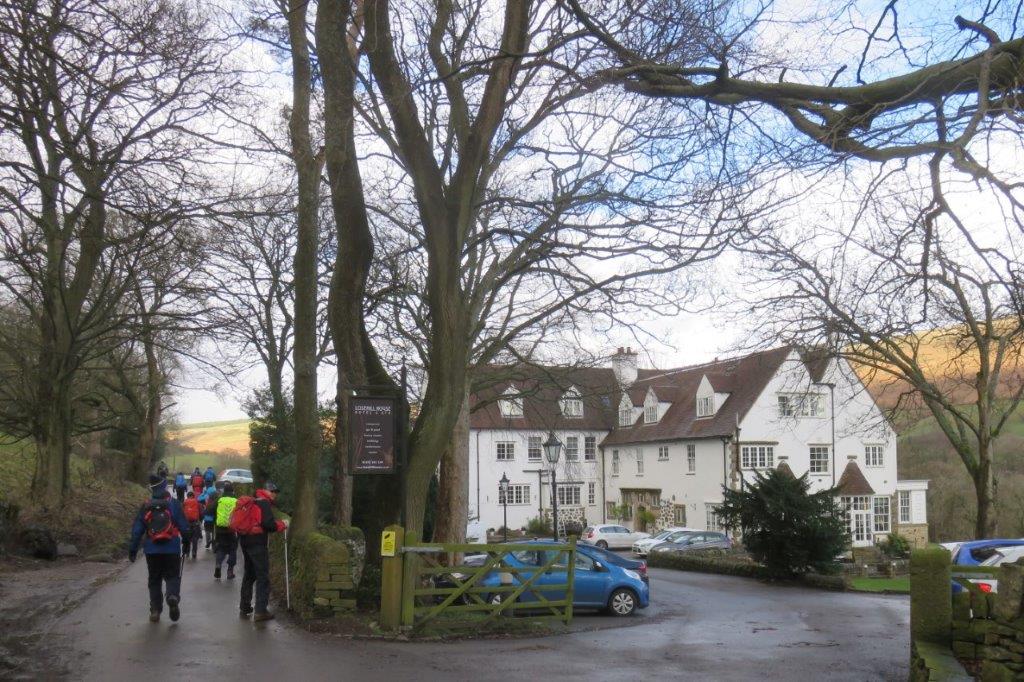 Losehill House Hotel and Spa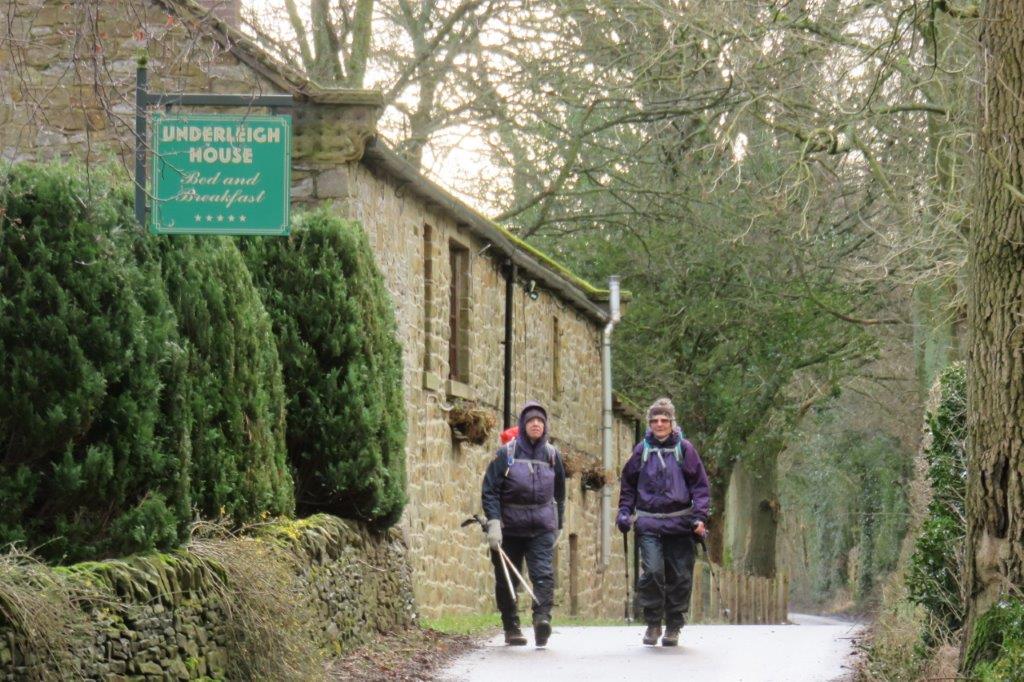 Underleigh House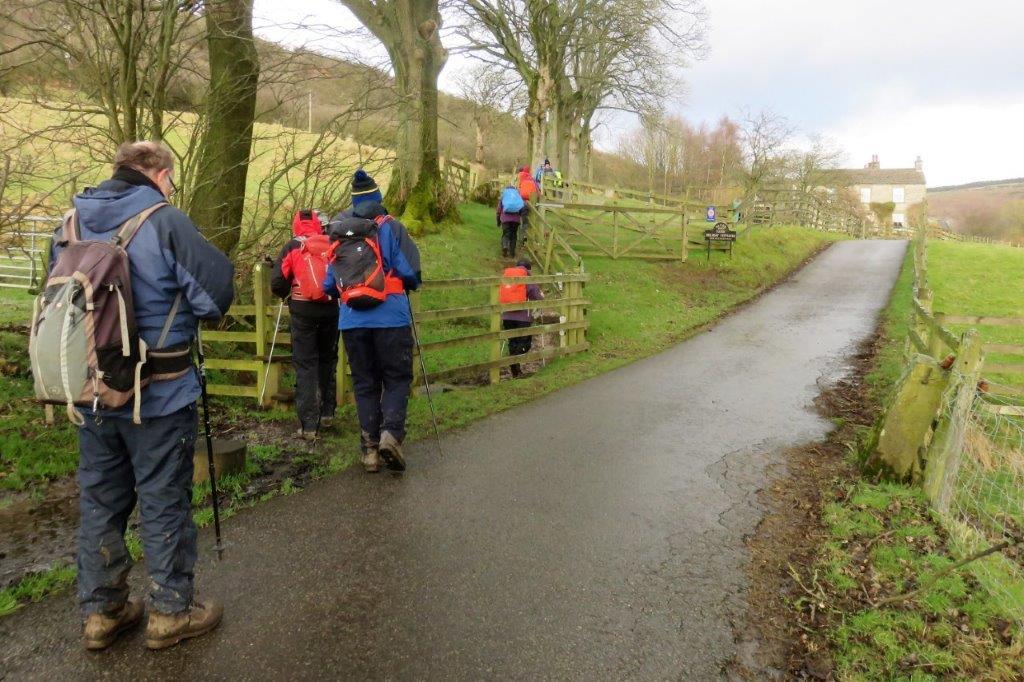 Oaker Farm holiday cottages to right of Footpath turning off lane.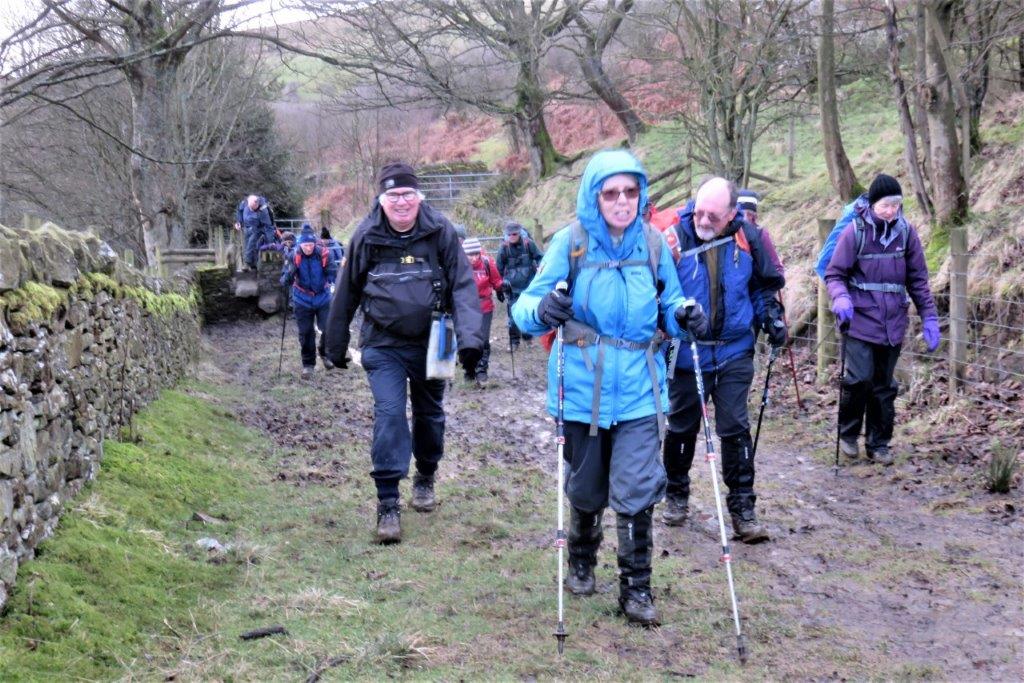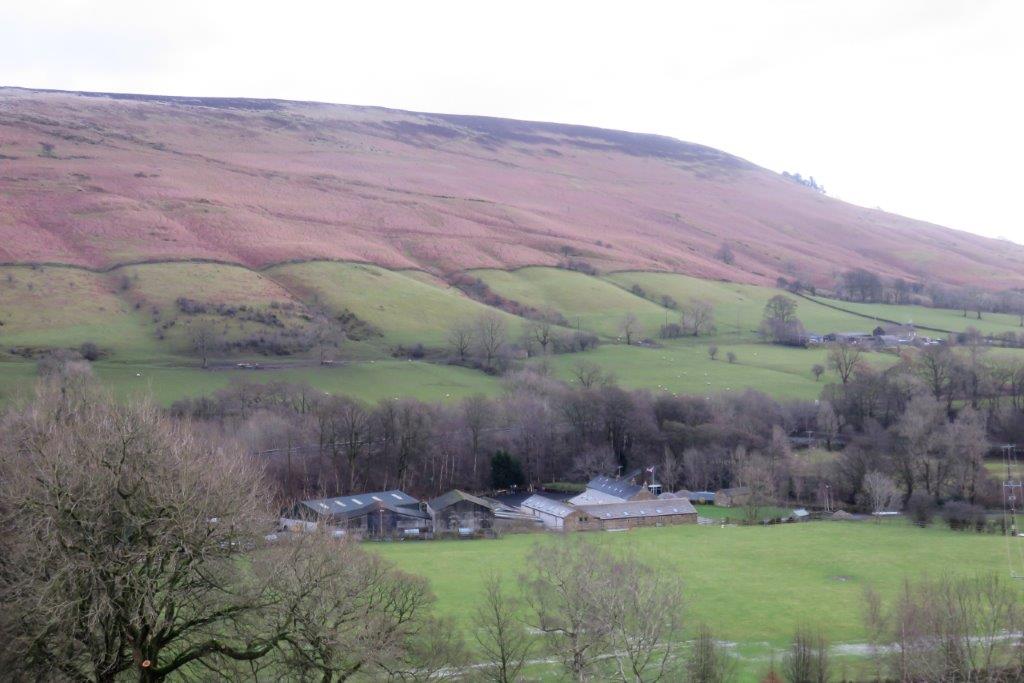 Normans Farm?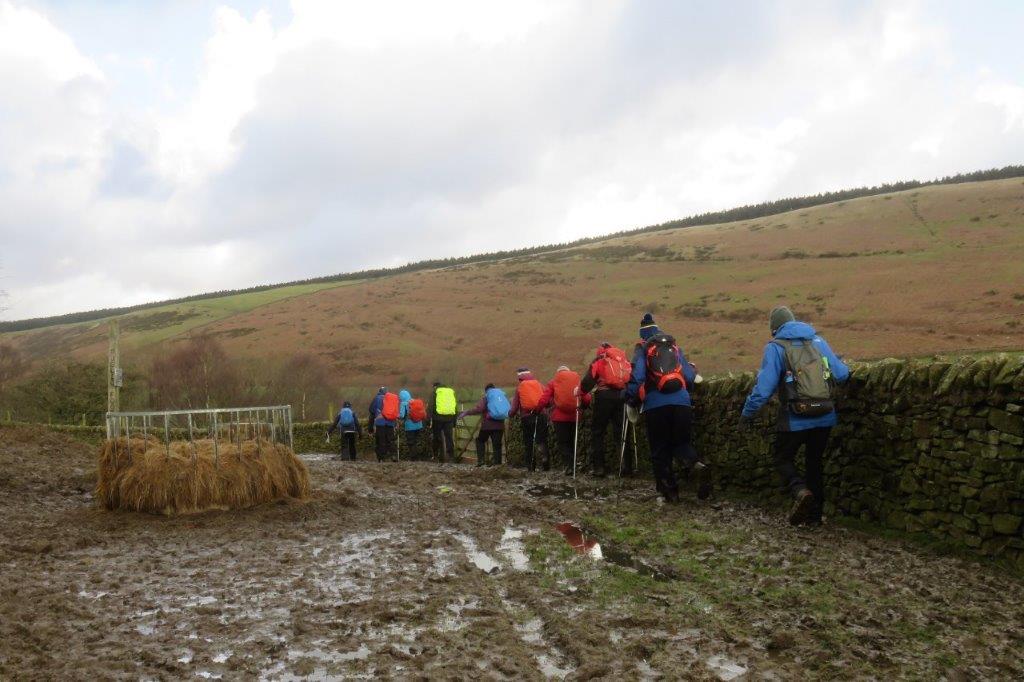 drystone wall useful handrail in slippery muddy conditions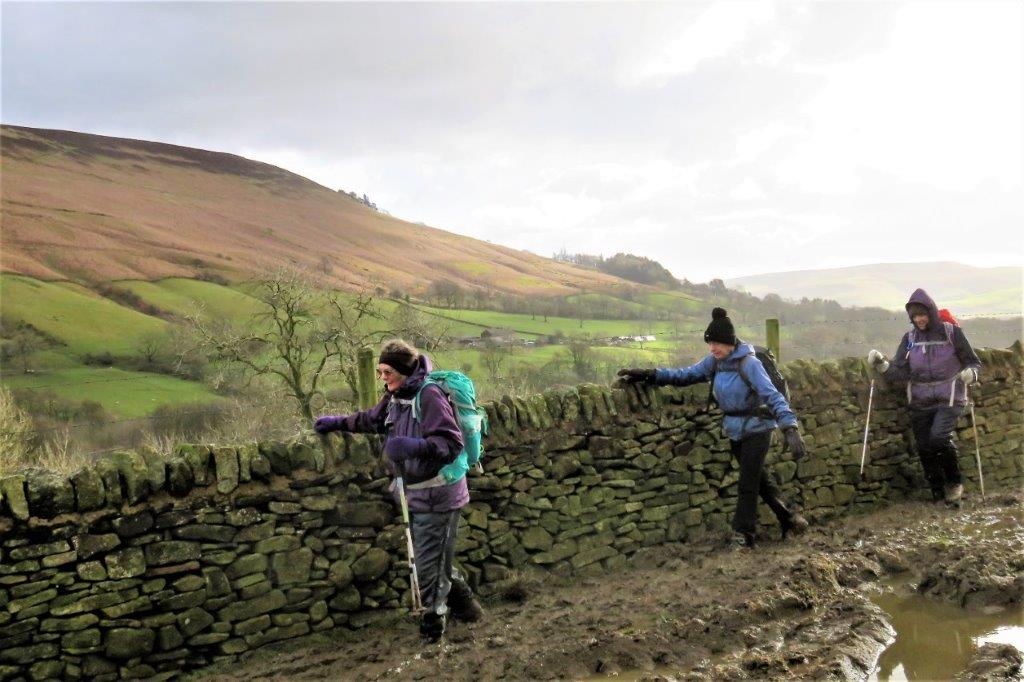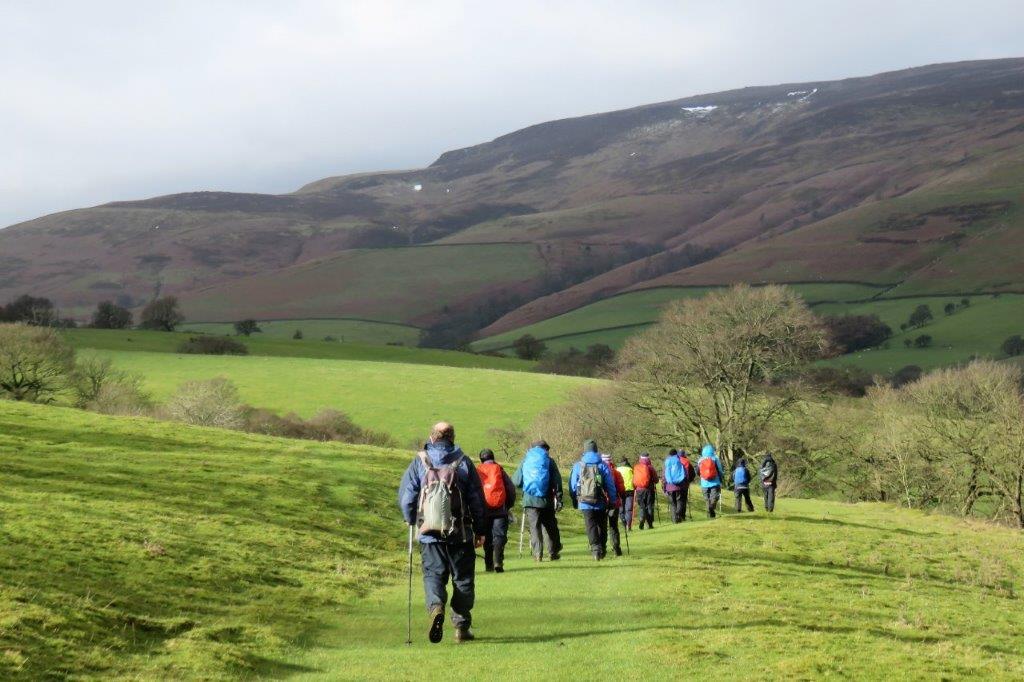 down toward Fiddle Clough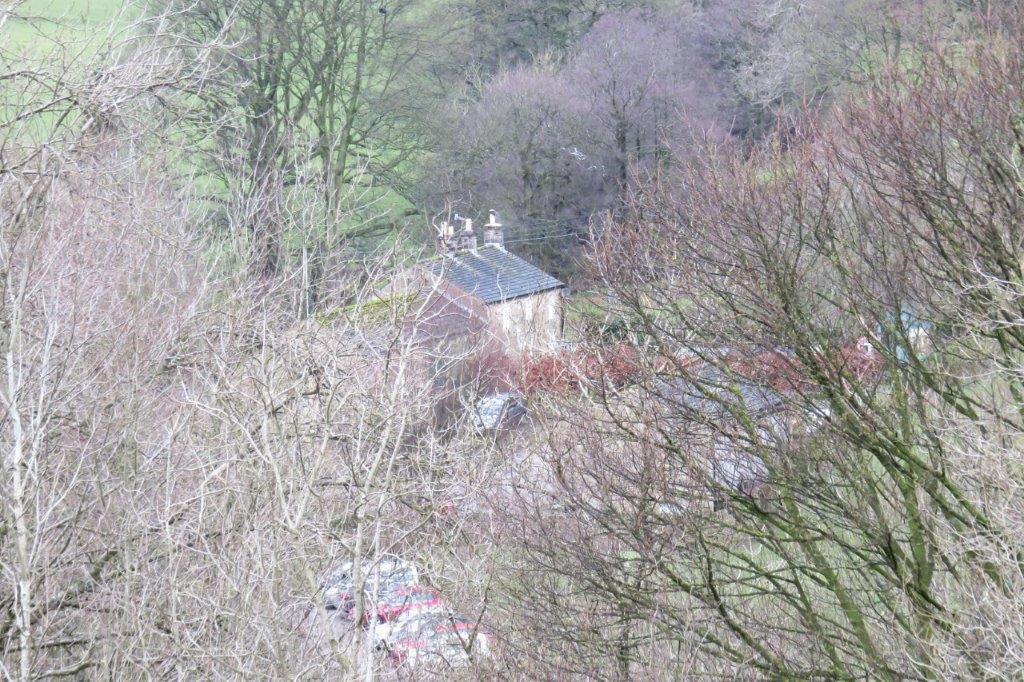 zoomed in to Upper Fulwood Farm some distance ahead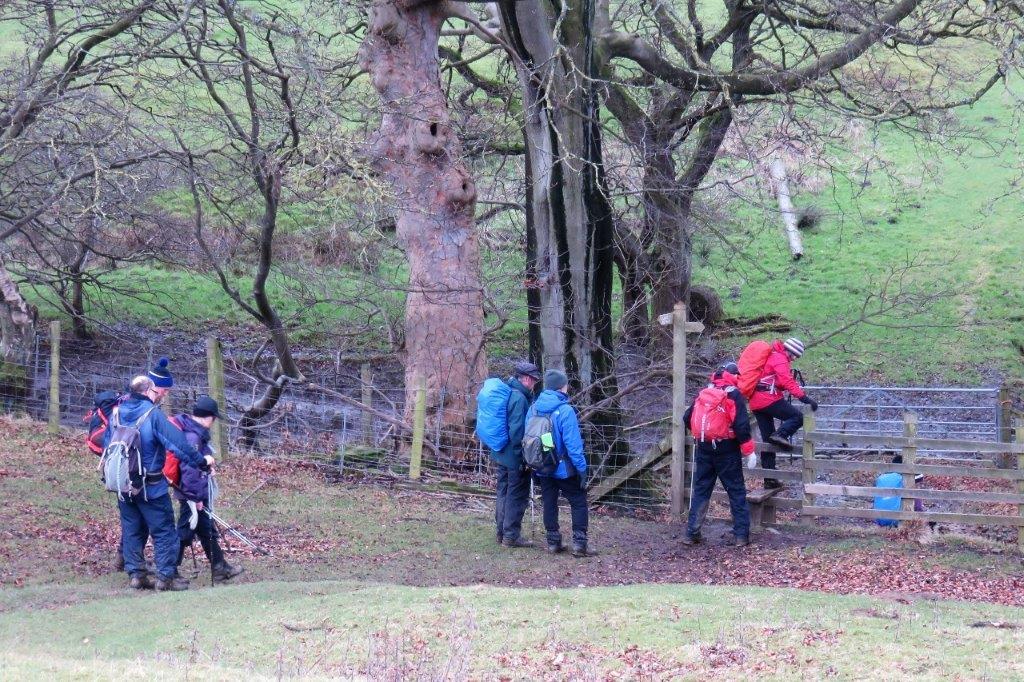 into Fiddle Clough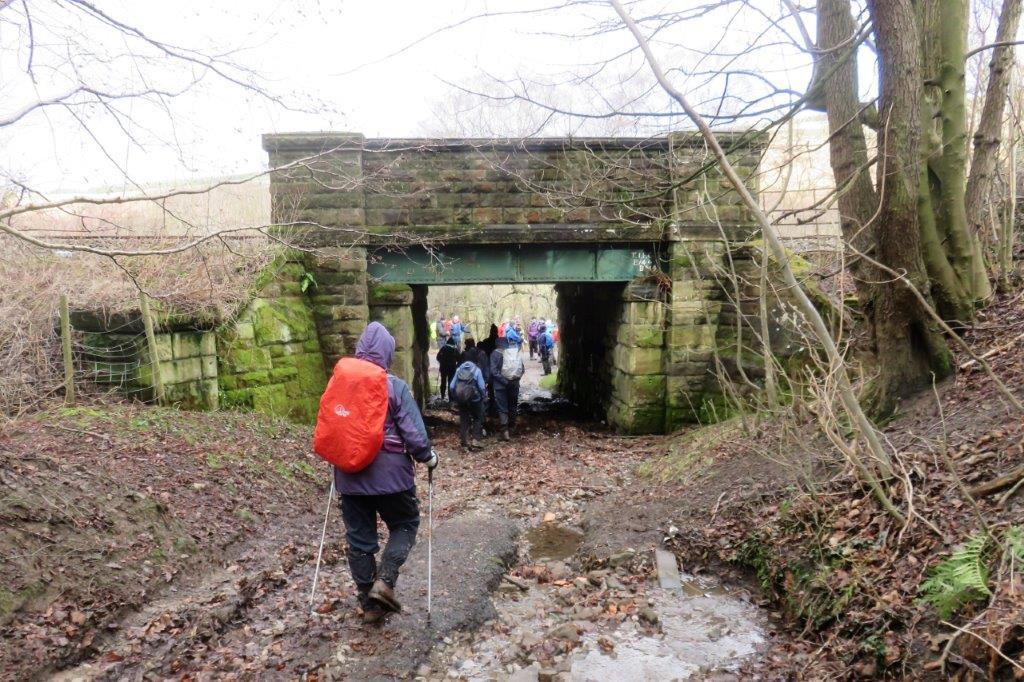 tunnel under Hope Valley railway track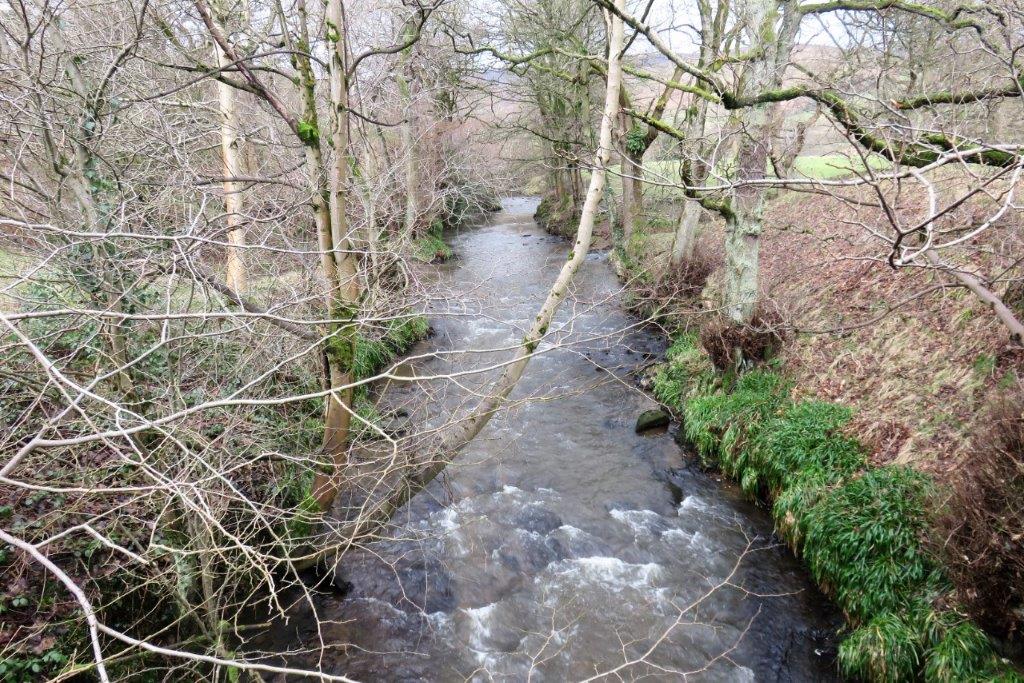 view upstream of River Noe seen from Bagshaw Bridge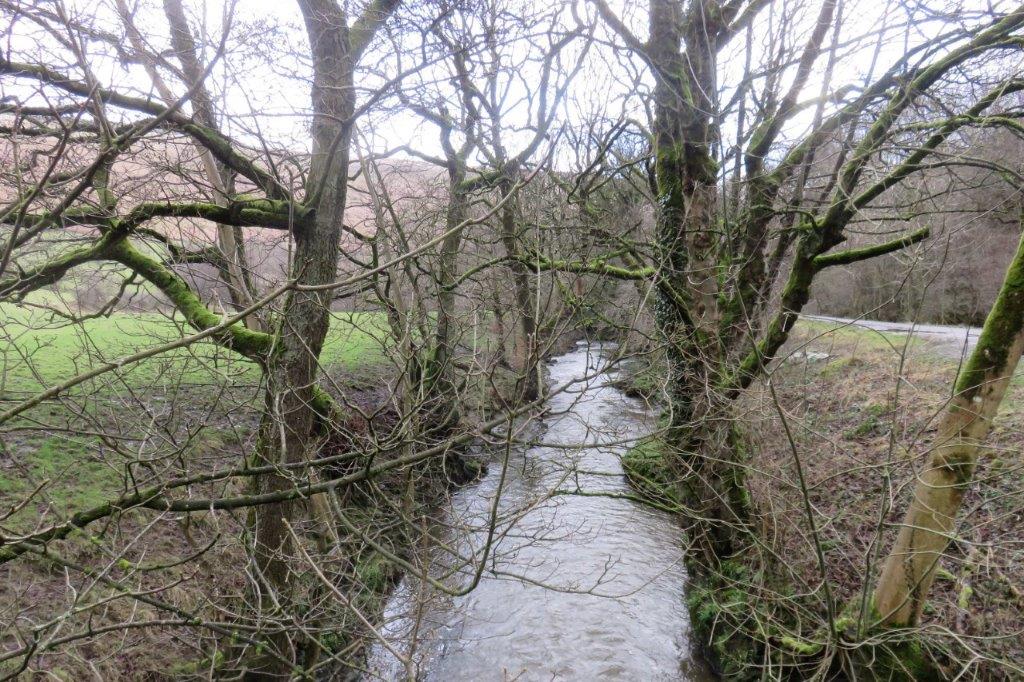 ditto - view downstream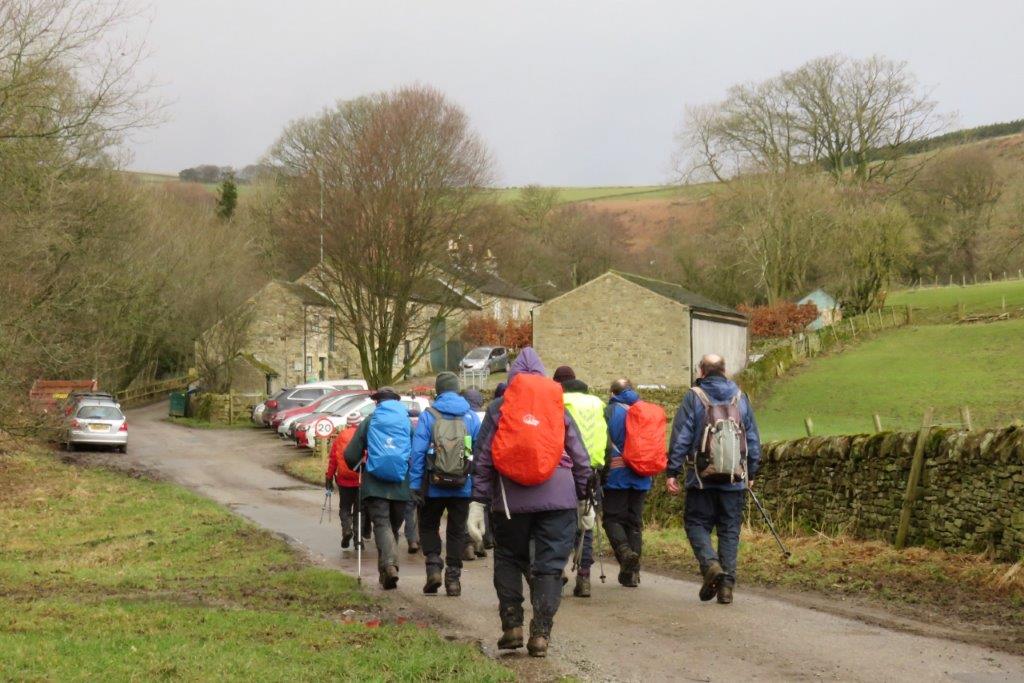 Upper Fulwood Farm - National Trust Area Office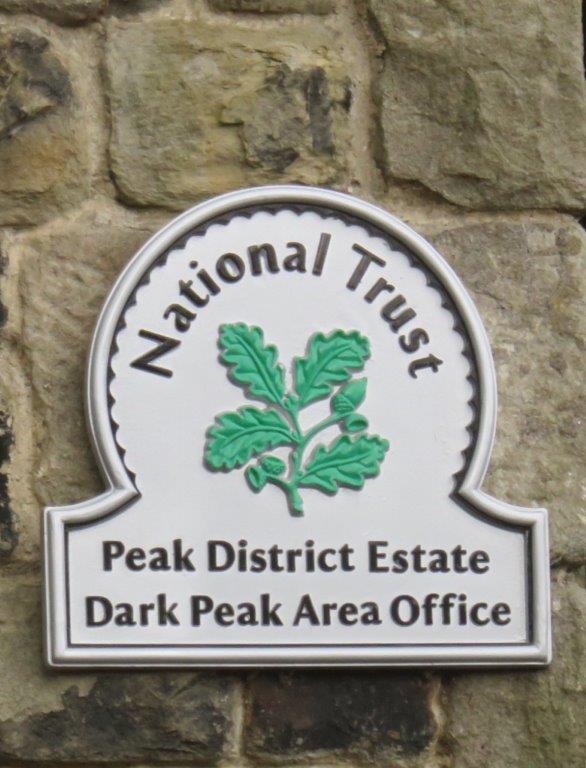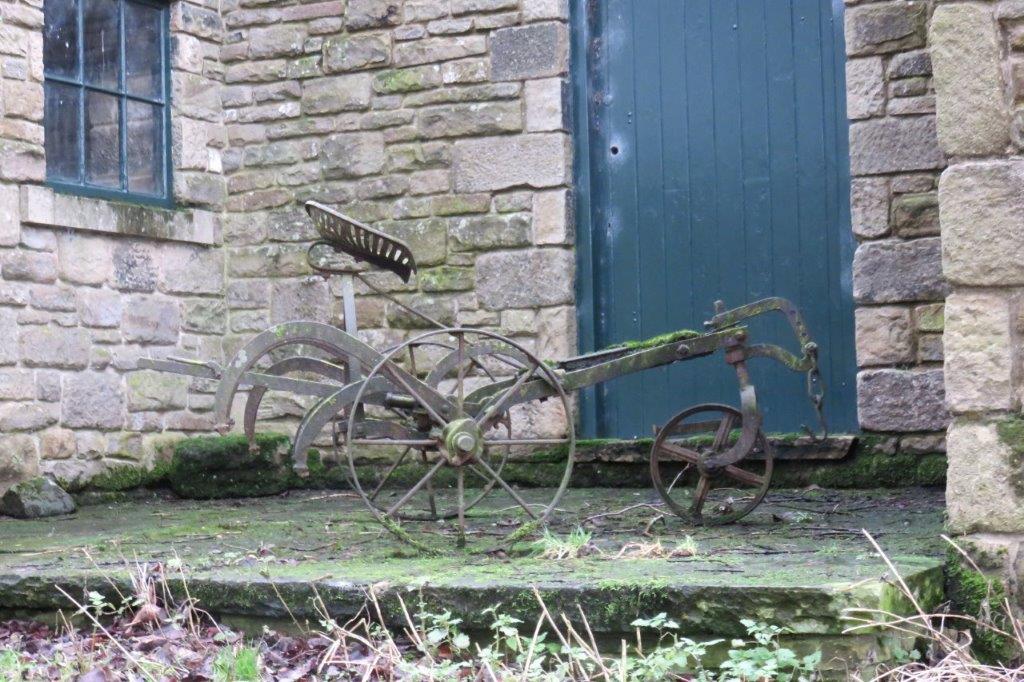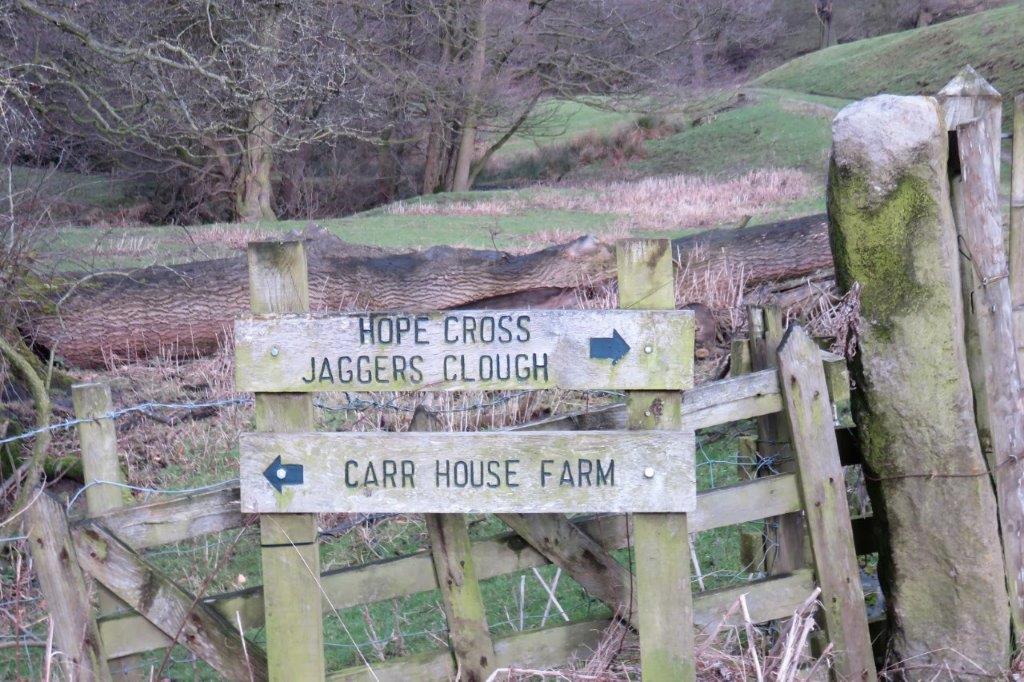 we followed footpath(s) up to Hope Cross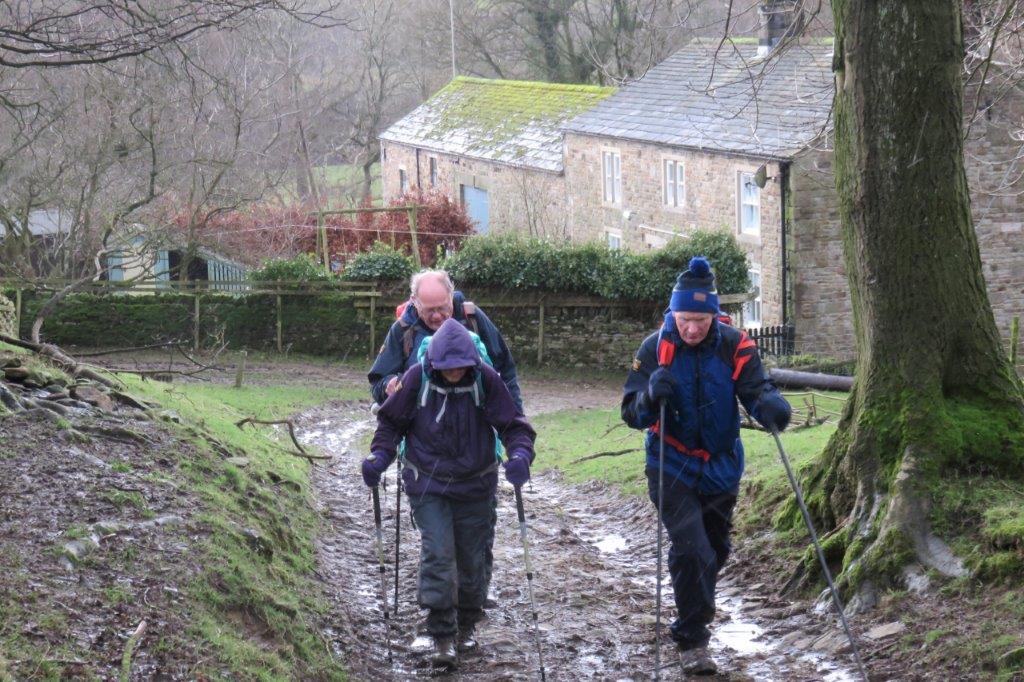 Upper Fulwood Farm behind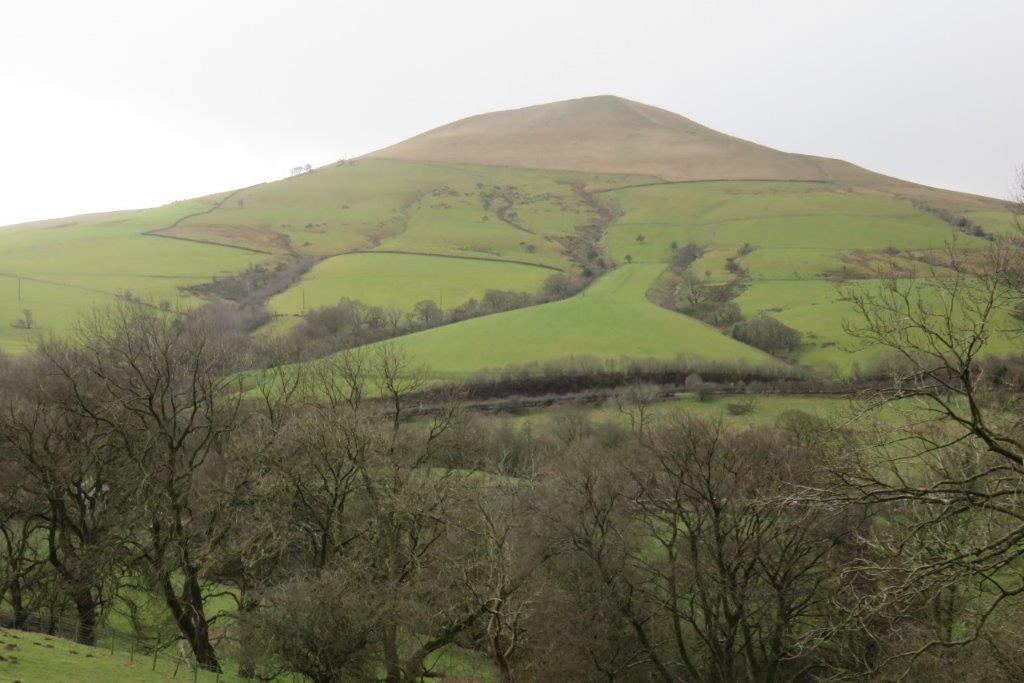 no snow on Lose Hill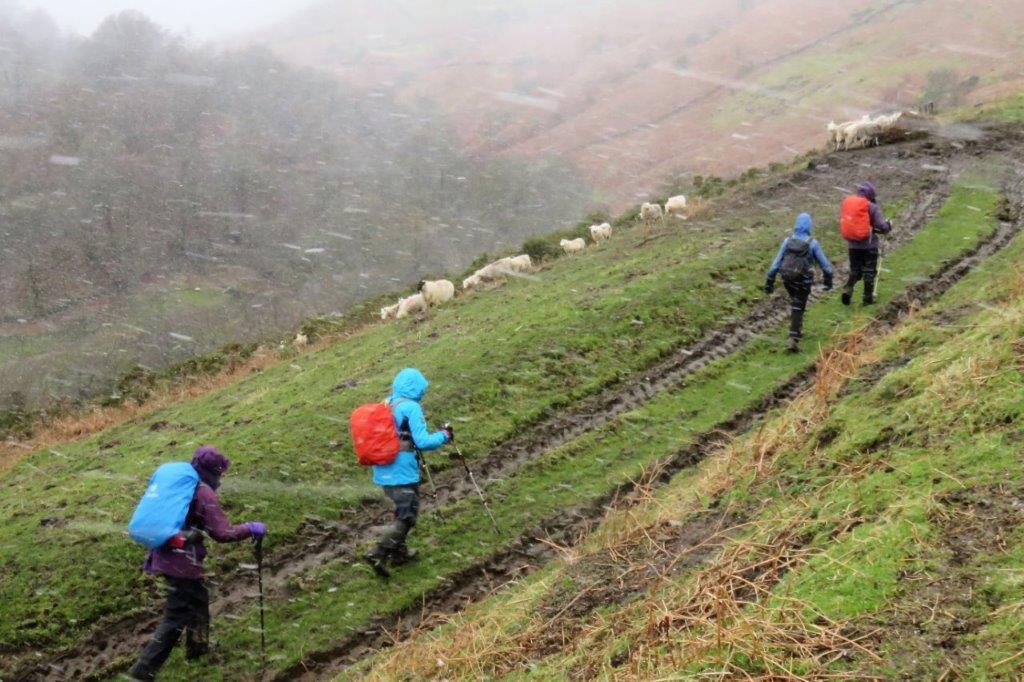 snow / hail flurries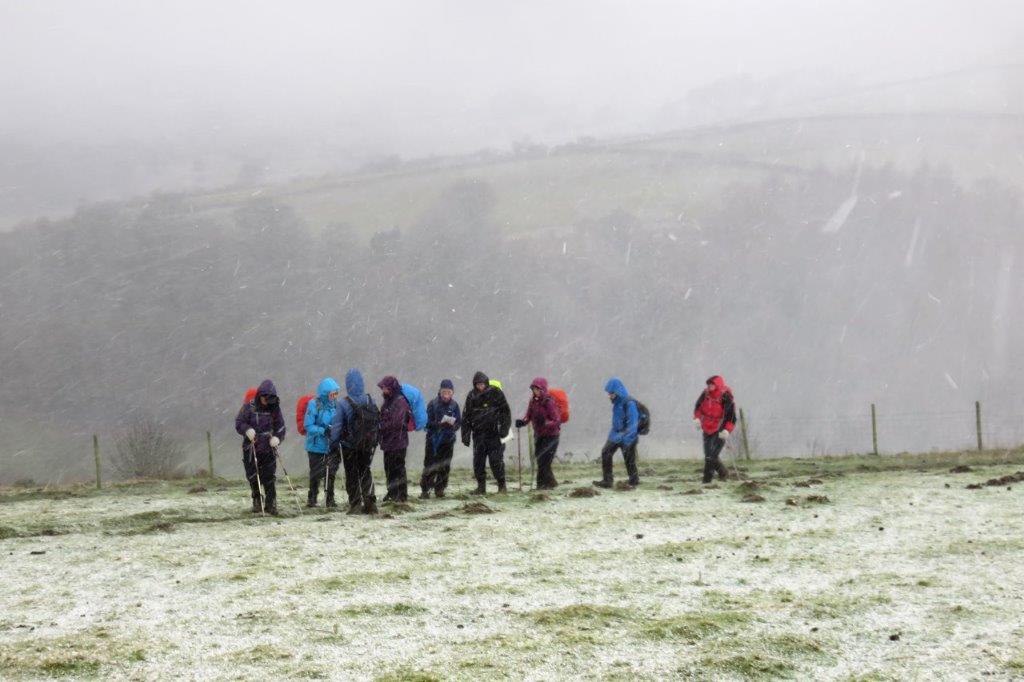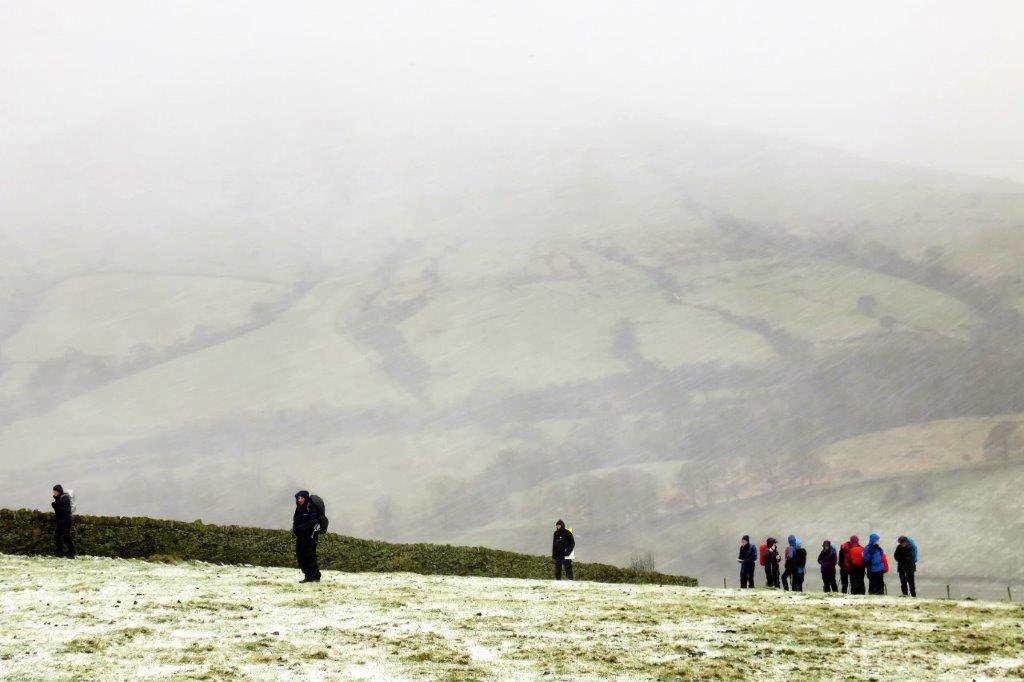 a rapid thin cover of snow appeared on Lose Hill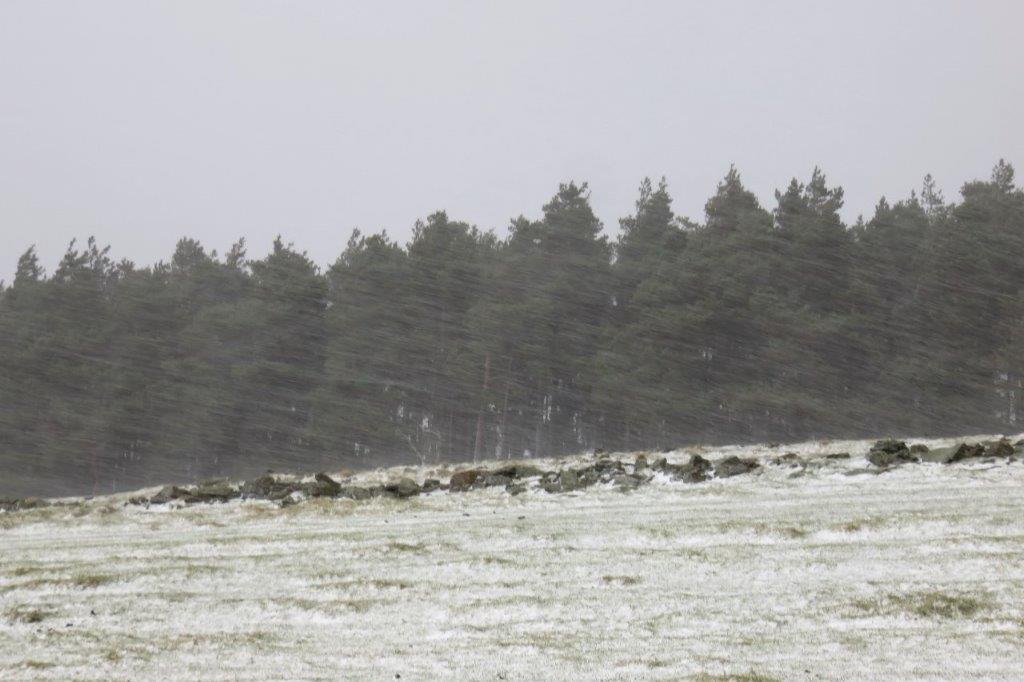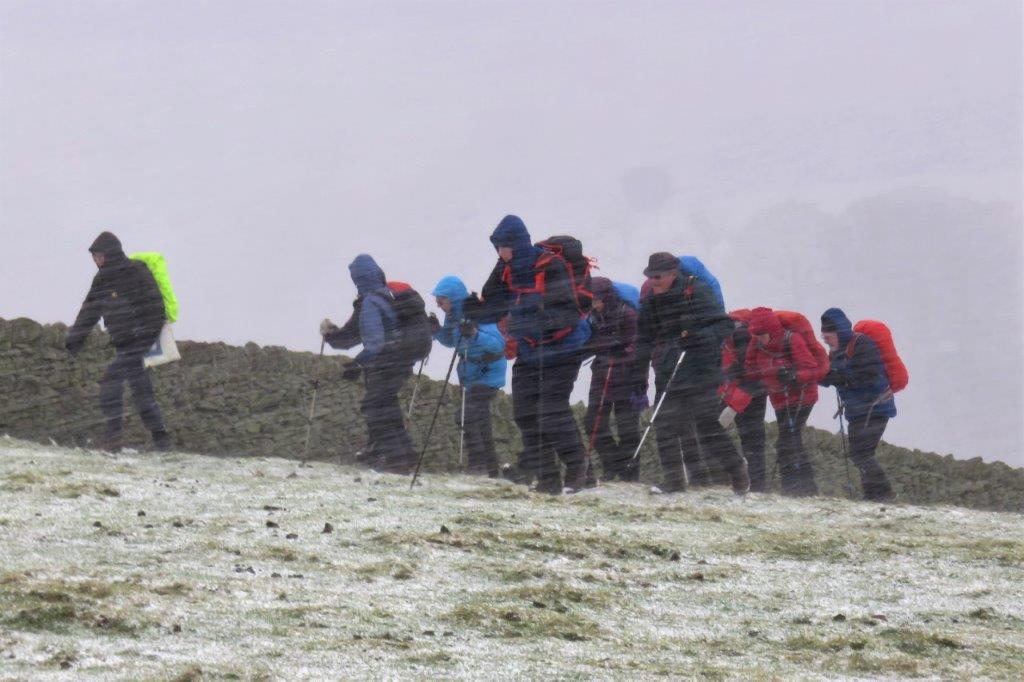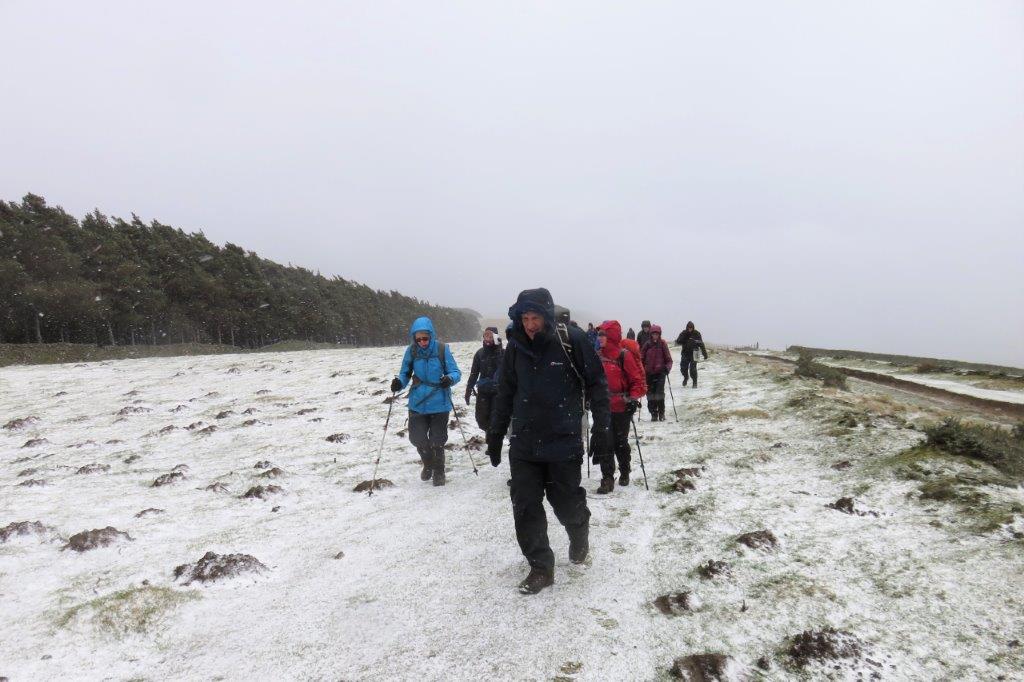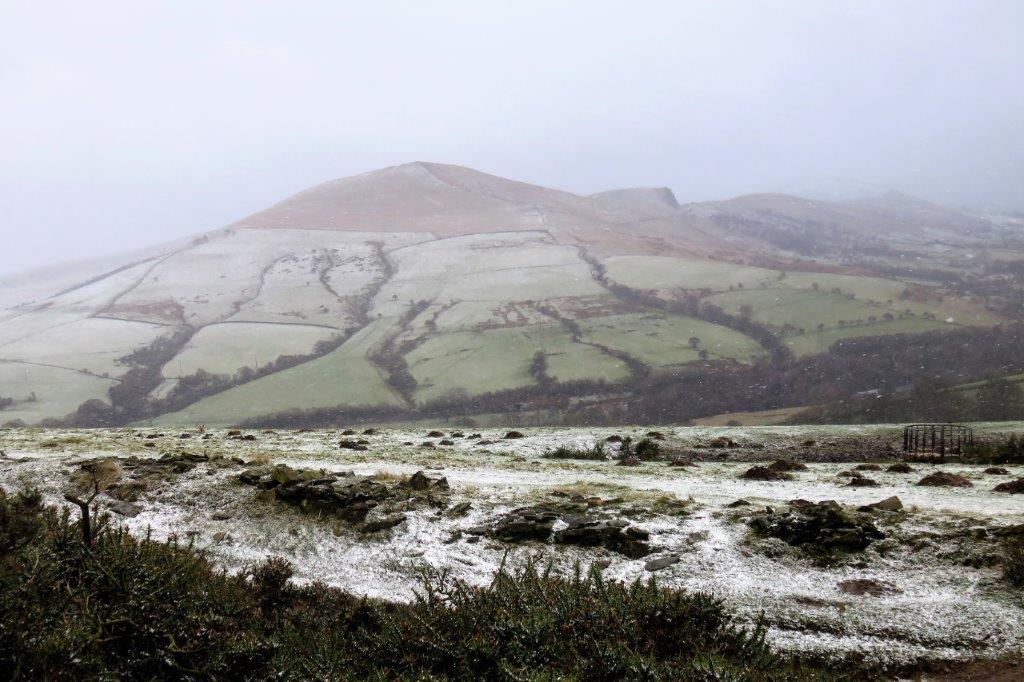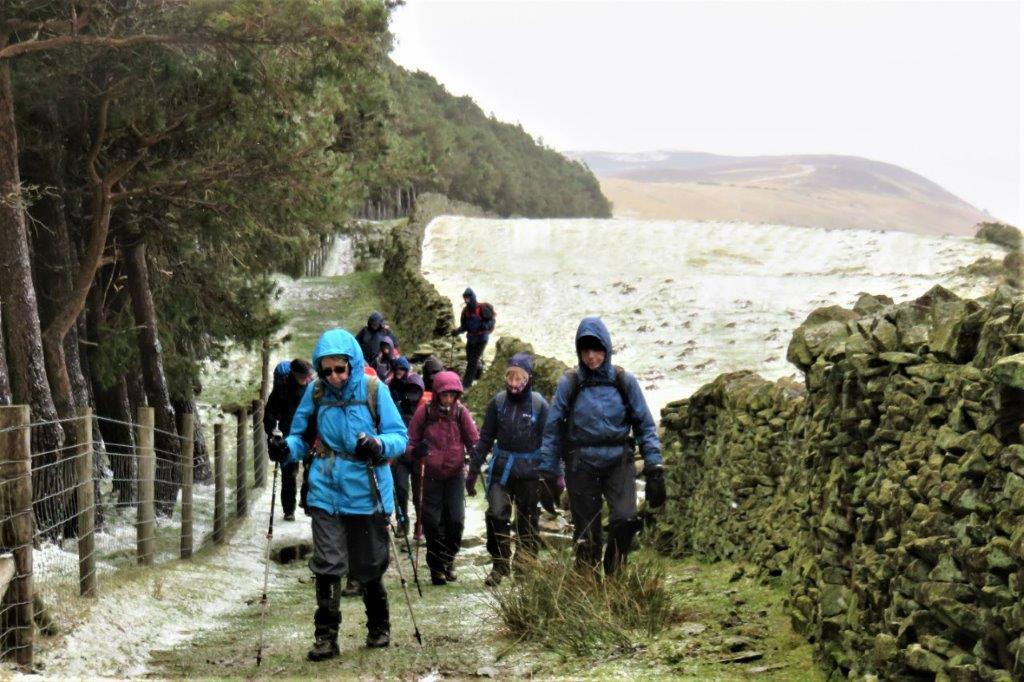 some shelter behind a dry stone wall running near pine plantations at top of Woodland Valley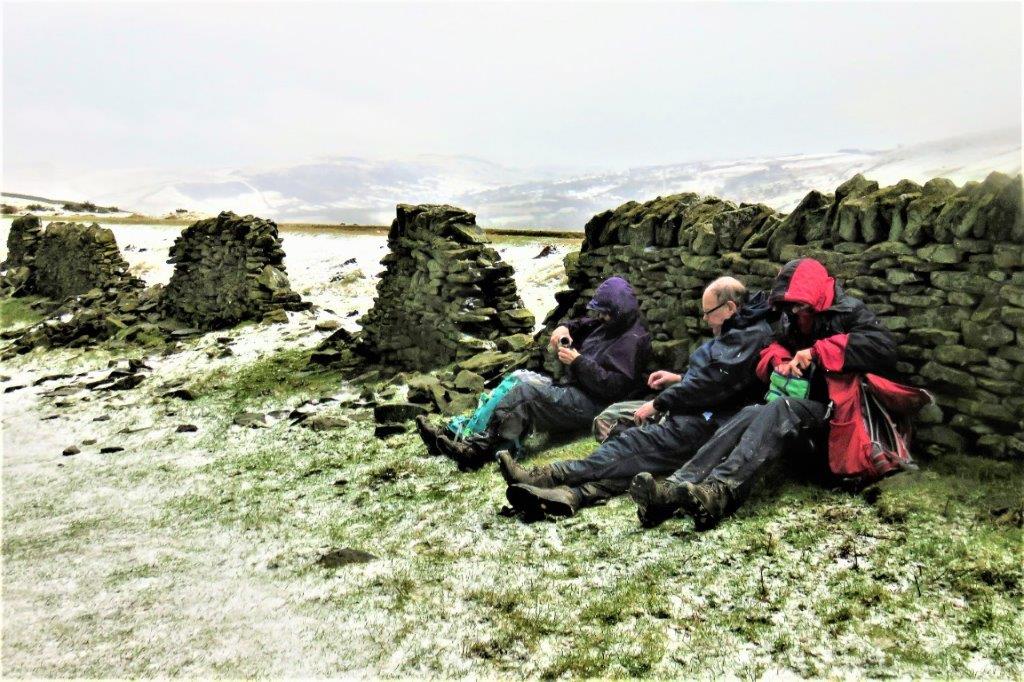 time for lunch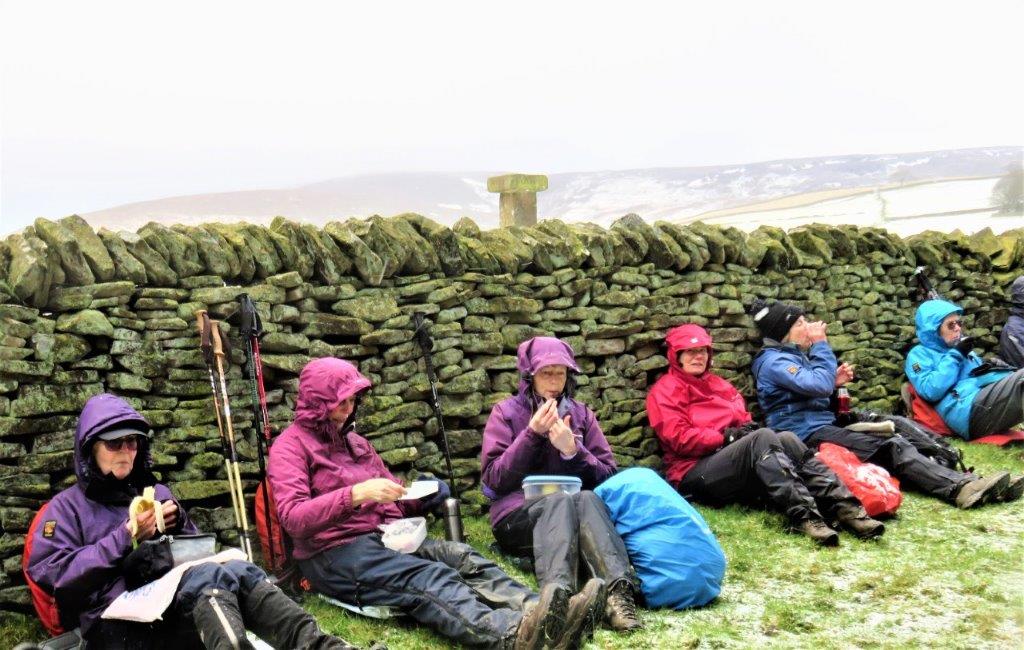 Hope Cross at top behind wall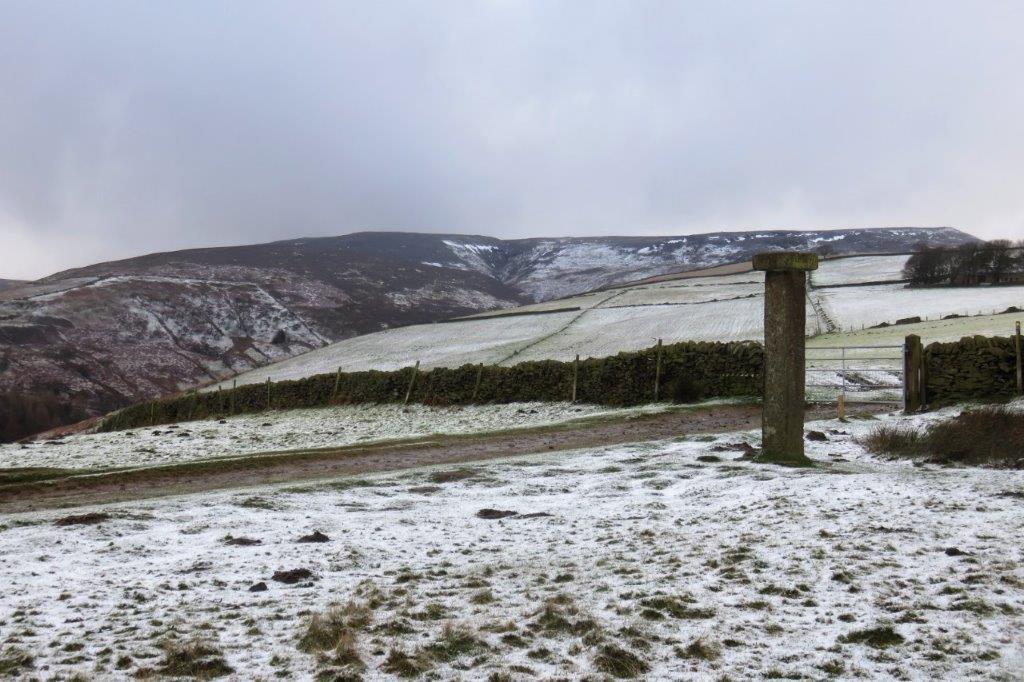 Jaggers Clough at back of picture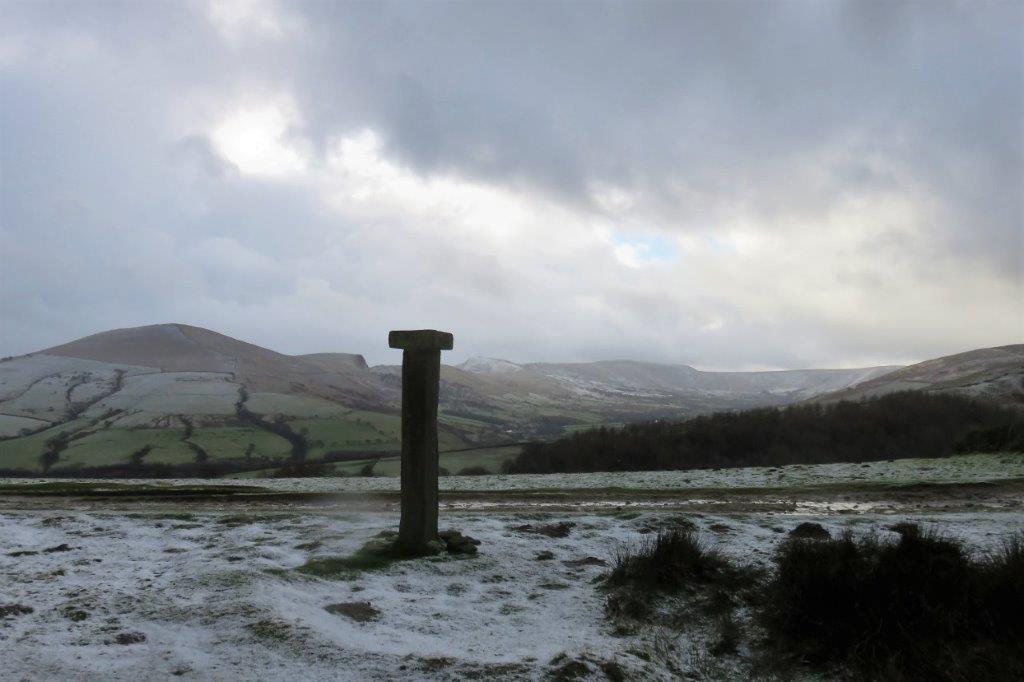 Lose Hill, Back Tor, Barker Bank, Hollins Cross, Mam Tor and Rushup Edge seen above Vale of Edale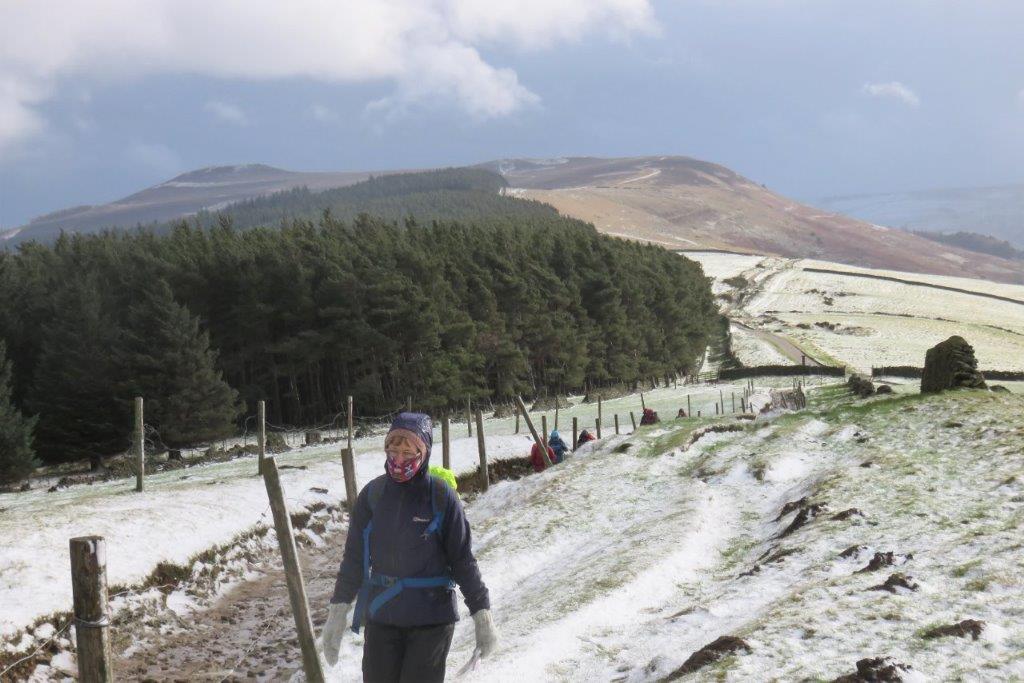 Roman Road (now a Bridle Way) - worn stony surface below general ground level - bumpy for walkers and mountain bicyclists - needs Romans to repave.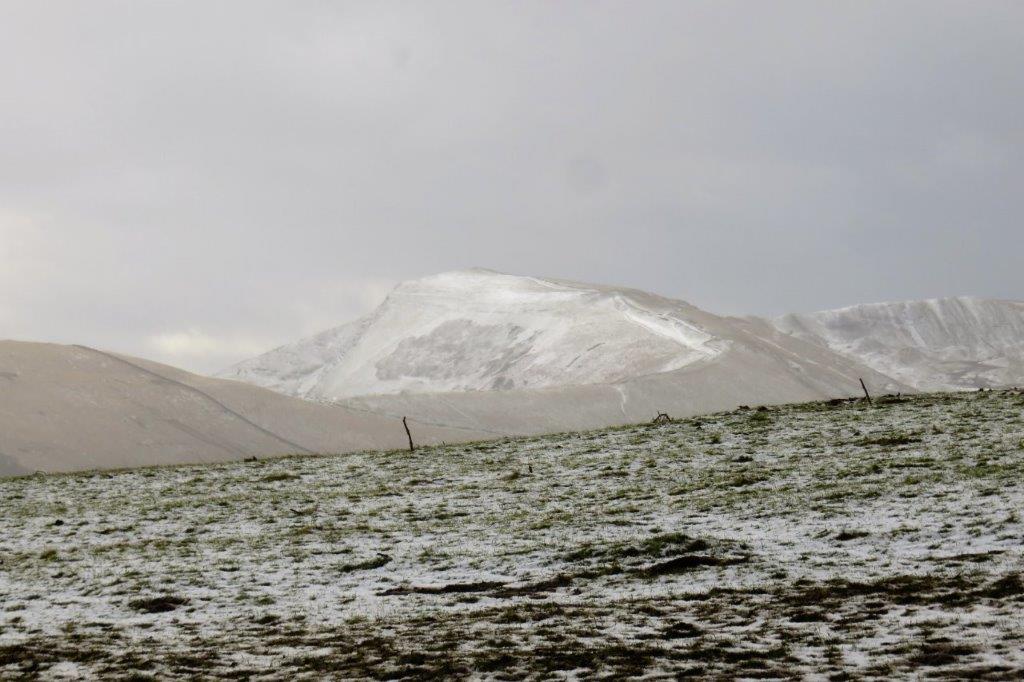 zoom shot - low area with path downwards near Hollins Cross?, Mam Tor well covered by snow, Rushup Edge to right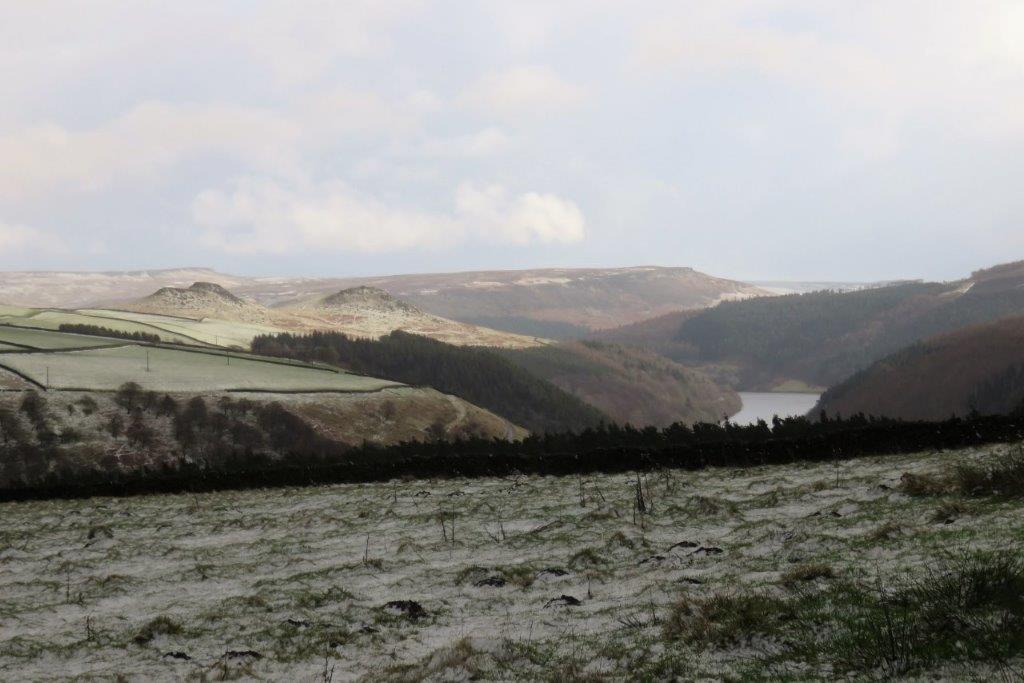 two hills behind Crookhill Farm (farm on other side) - one hill to left is un-named, one to right is Crook Hill. West arm of Ladybower Reservoir seen below.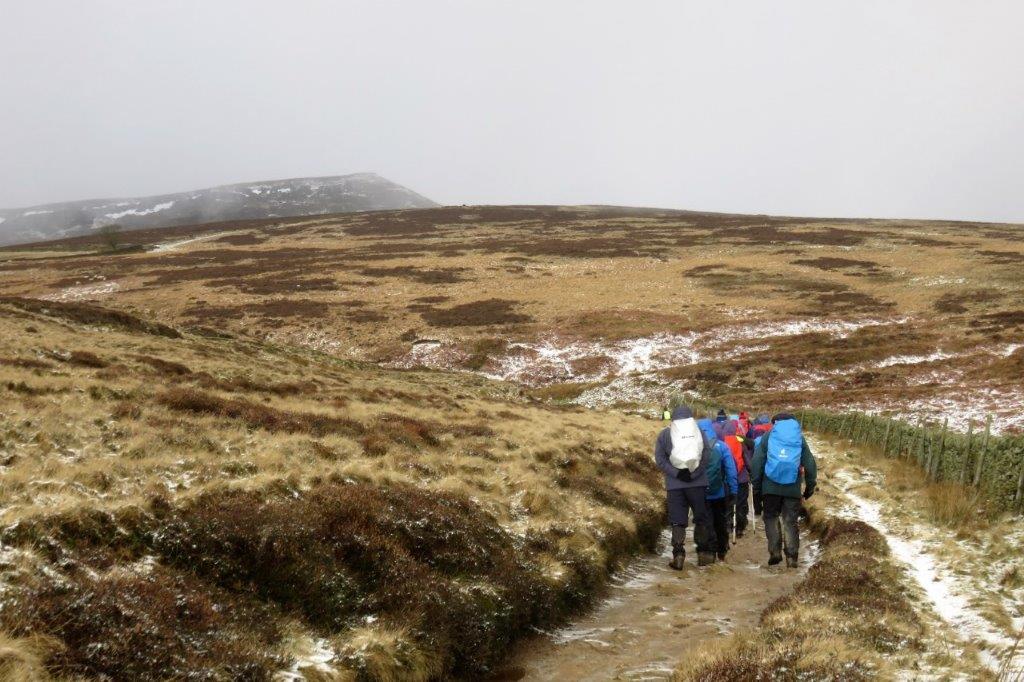 on Roman Road approaching Blackley Clough which is crossed by Roman Road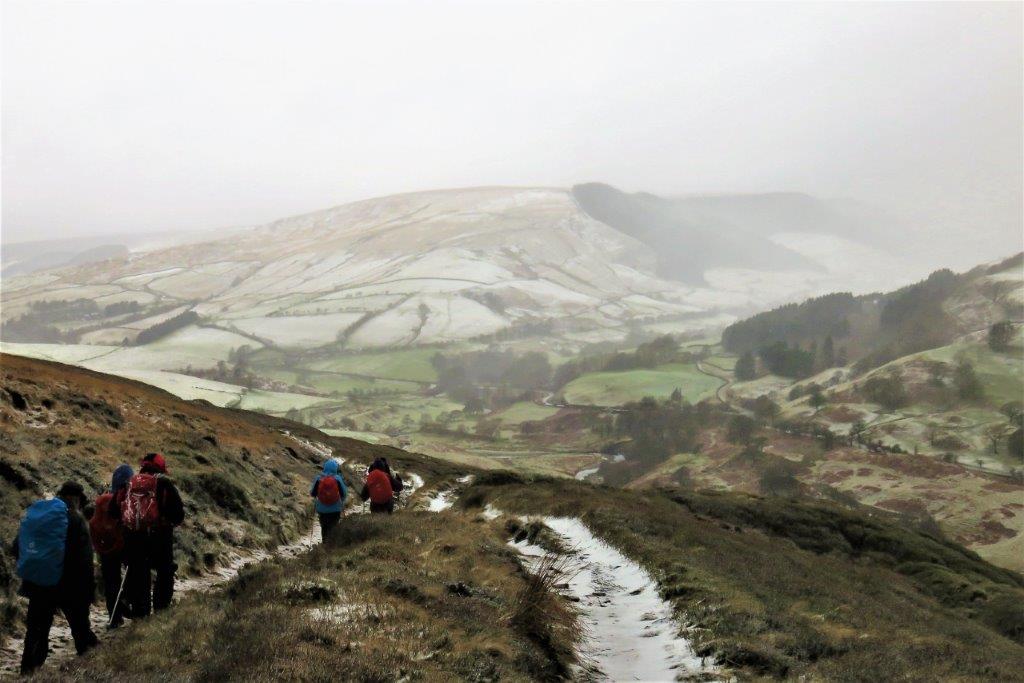 Alport Valley with River Alport at bottom to top right of picture. The River Alport runs into the River Ashop fairly close by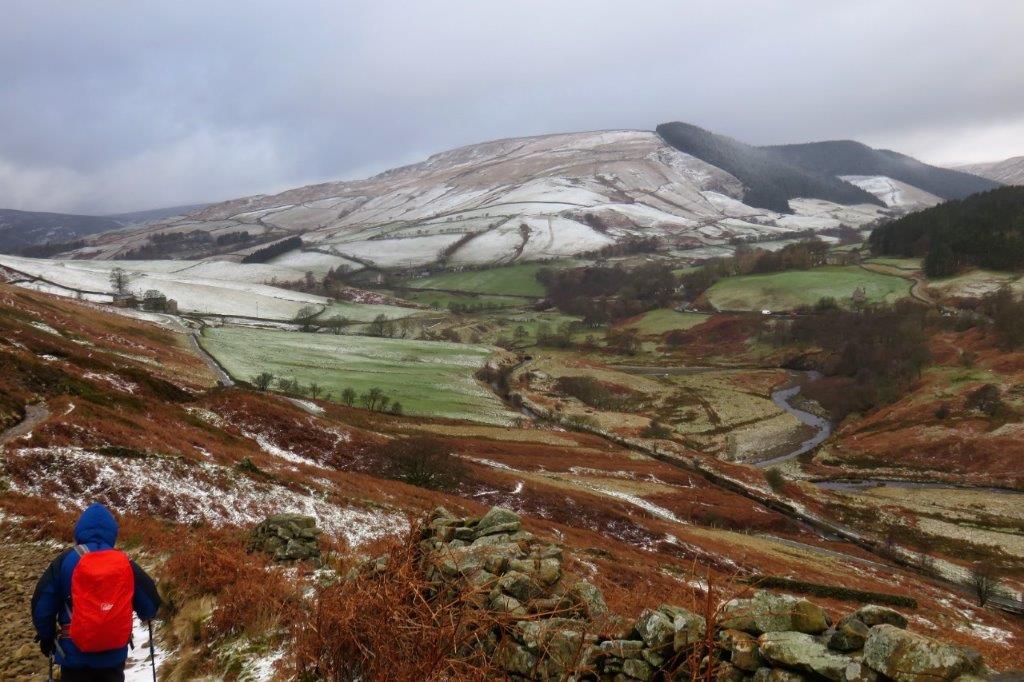 A57 (Snake Road) - Manchester / Sheffield twisting below. Road roughly follows River Ashop which flows into west arm of Ladybower Reservoir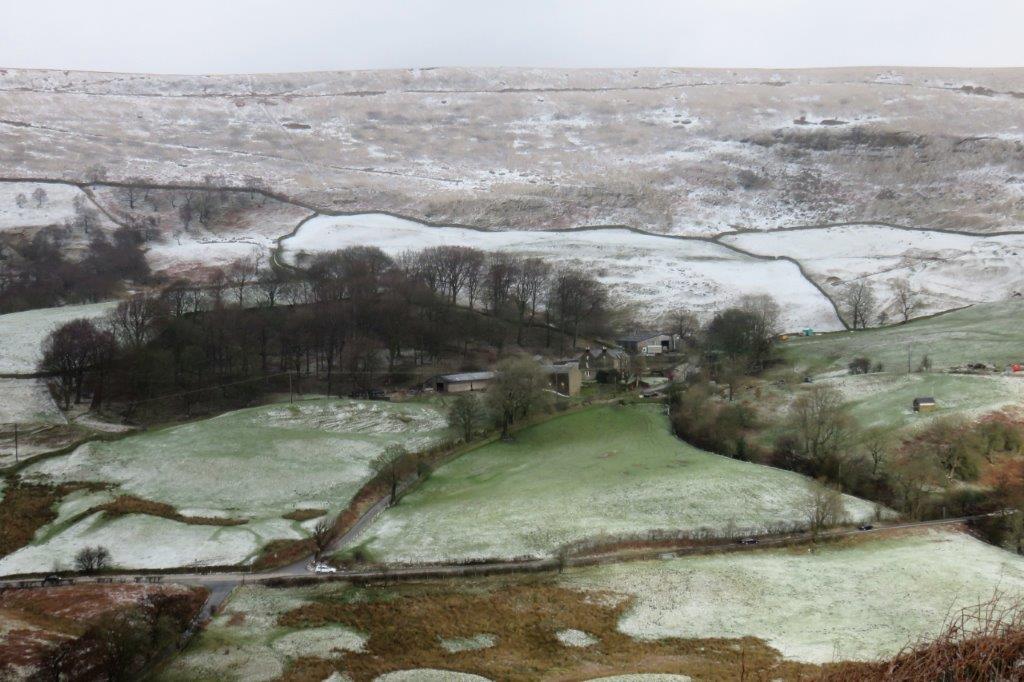 Rowlee Farm on north side of A57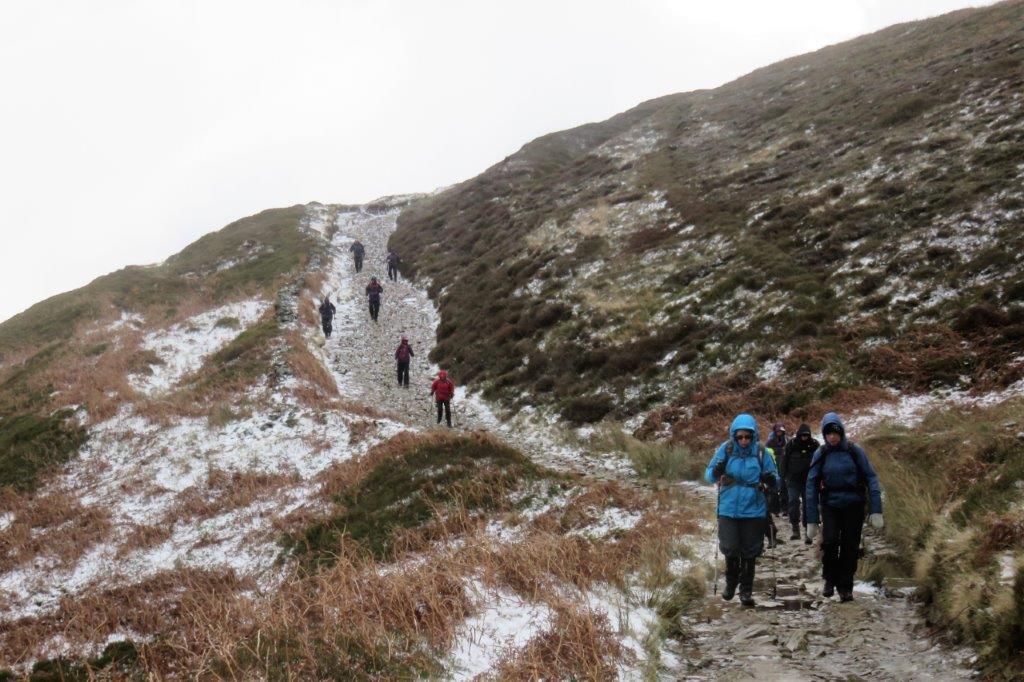 down the Roman Road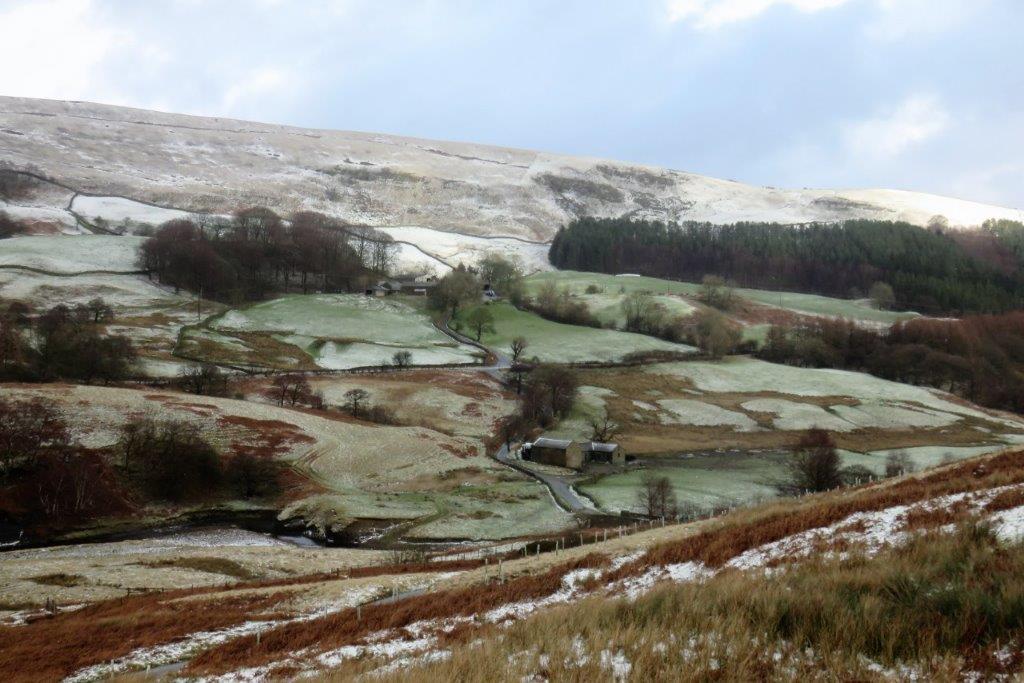 'Low Barn' in centre of picture - road to Rowlee Farm passes barn and crosses A57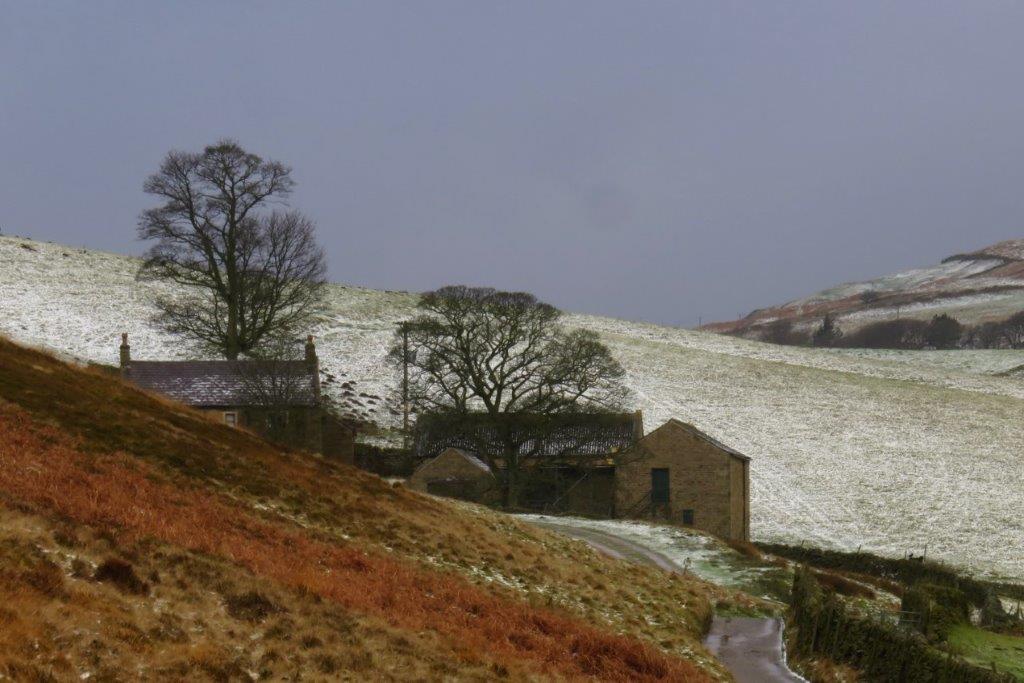 zoomed in to Upper Ashop (a farm further ahead on Roman Road). We 'V' turned some distance before it.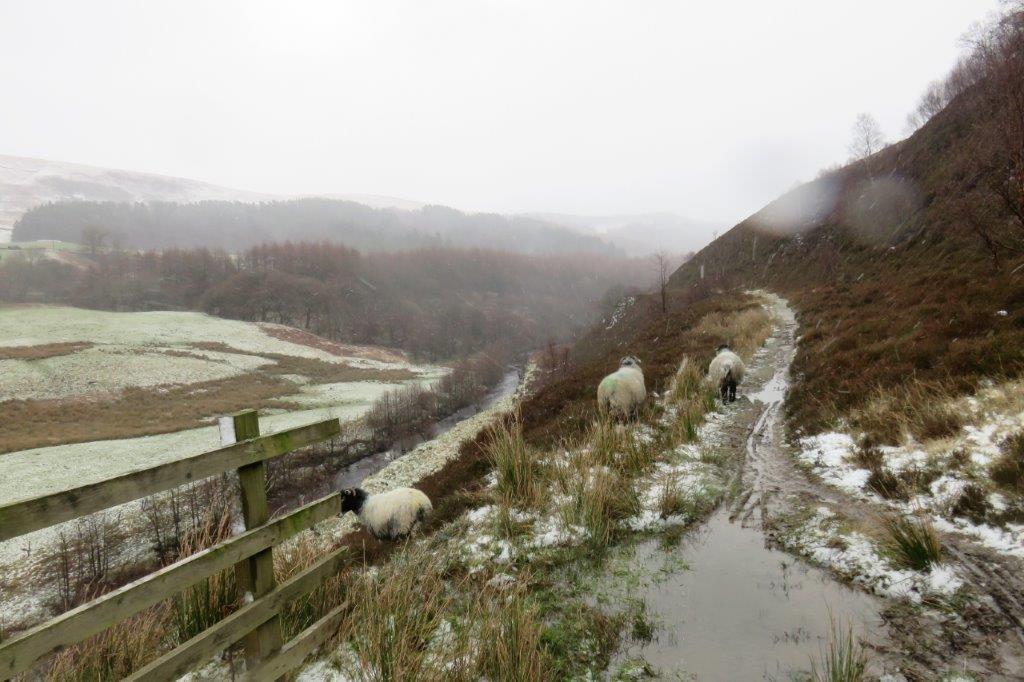 Permissive Footpath following canal (which is only seen intermittently as parts are covered). Well below the path the River Ashop can be seen in the valley.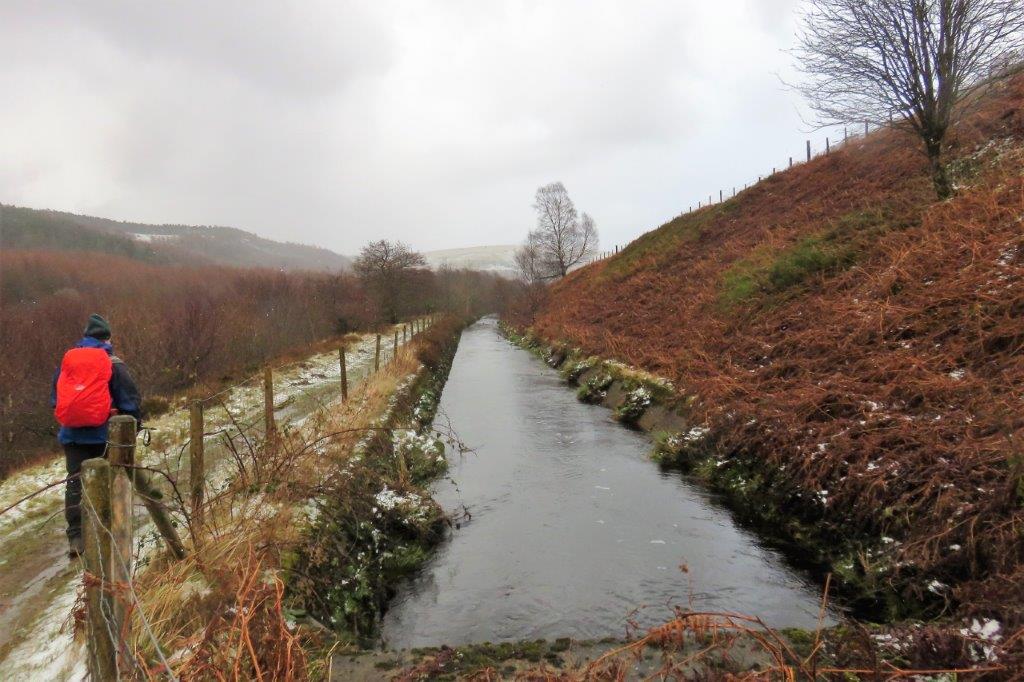 The canal starts at headworks on the River Ashop and flows into the Derwent Reservoir (topping up some of the water flowing into it). Crossing the A57 valley (river & road) would need a conduit and some tunnels? This canal system may have been constructed before Ladybower Reservoir to supplement Derwent Reservoir supplies?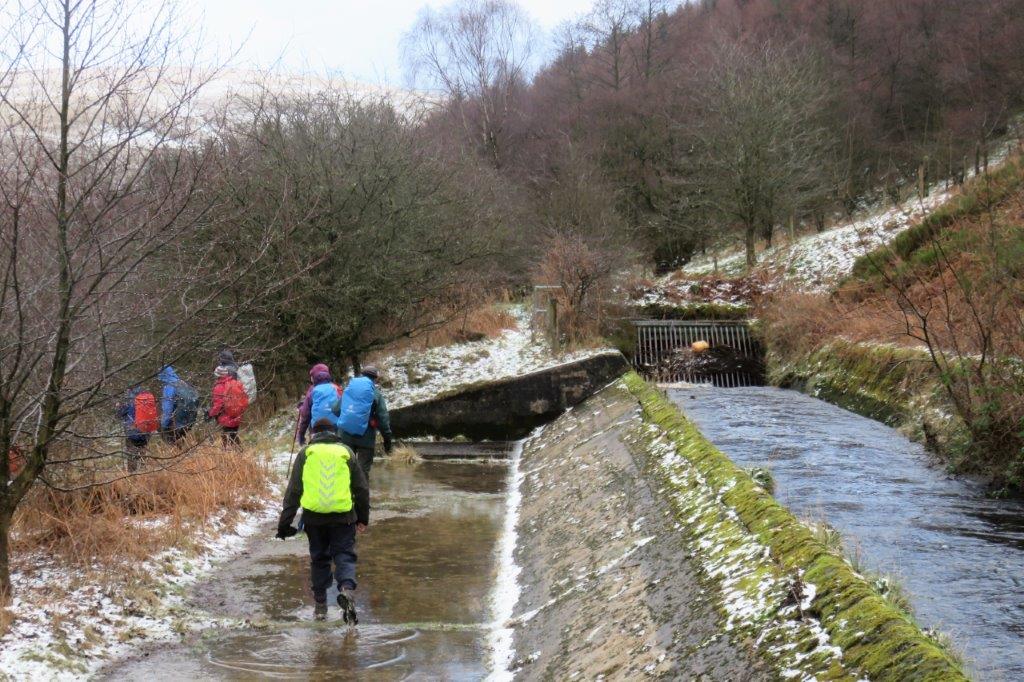 the open canal system (with a spillway here) seemingly 'disappears' before it re-emerges in a canal flowing into the Derwent Reservoir (see notes to picture above)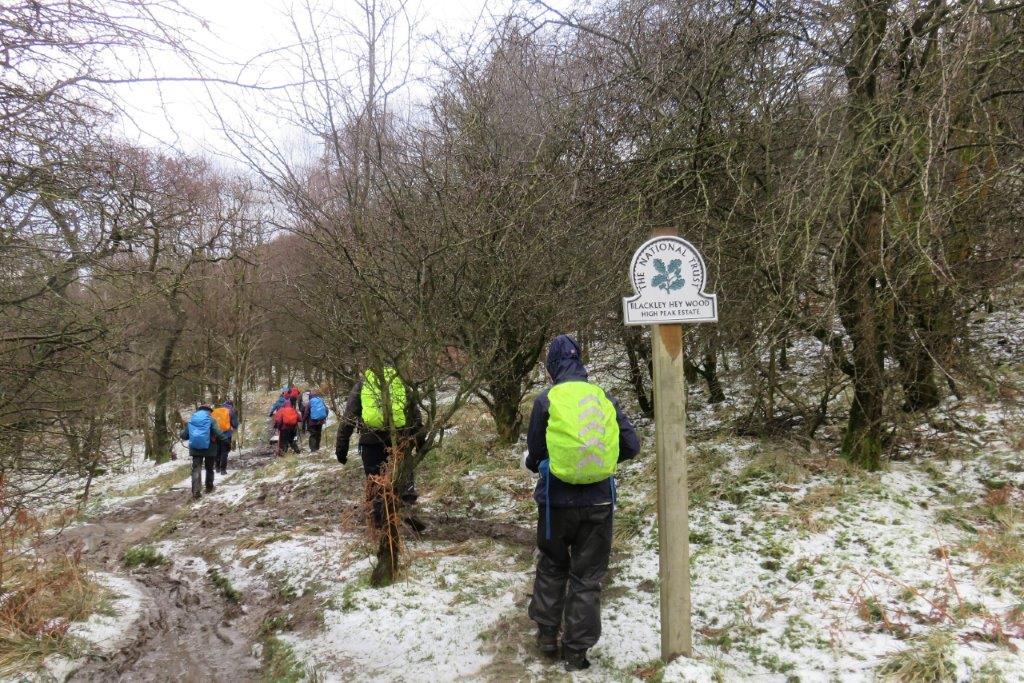 Blakely Hey Wood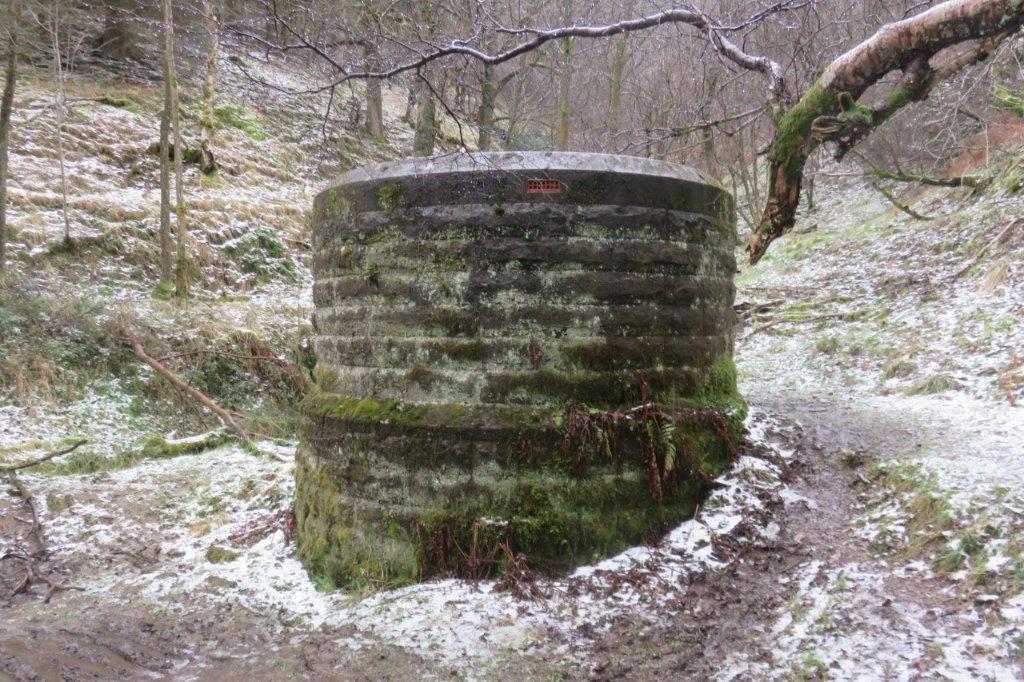 an access or ventilation tower probably connected to water conduit works to Derwent Reservoir?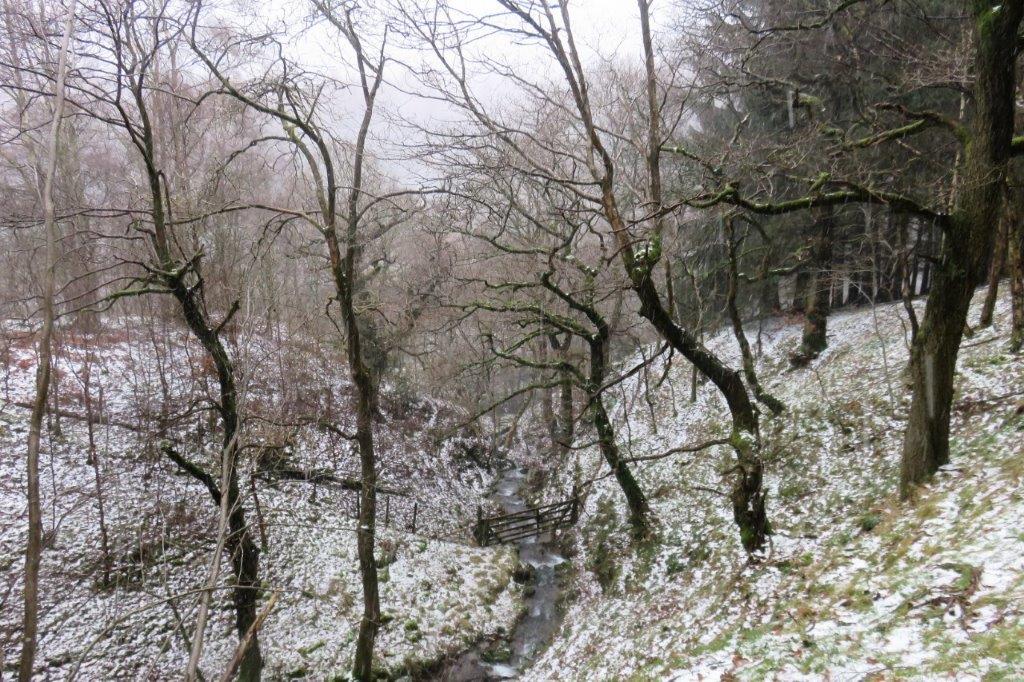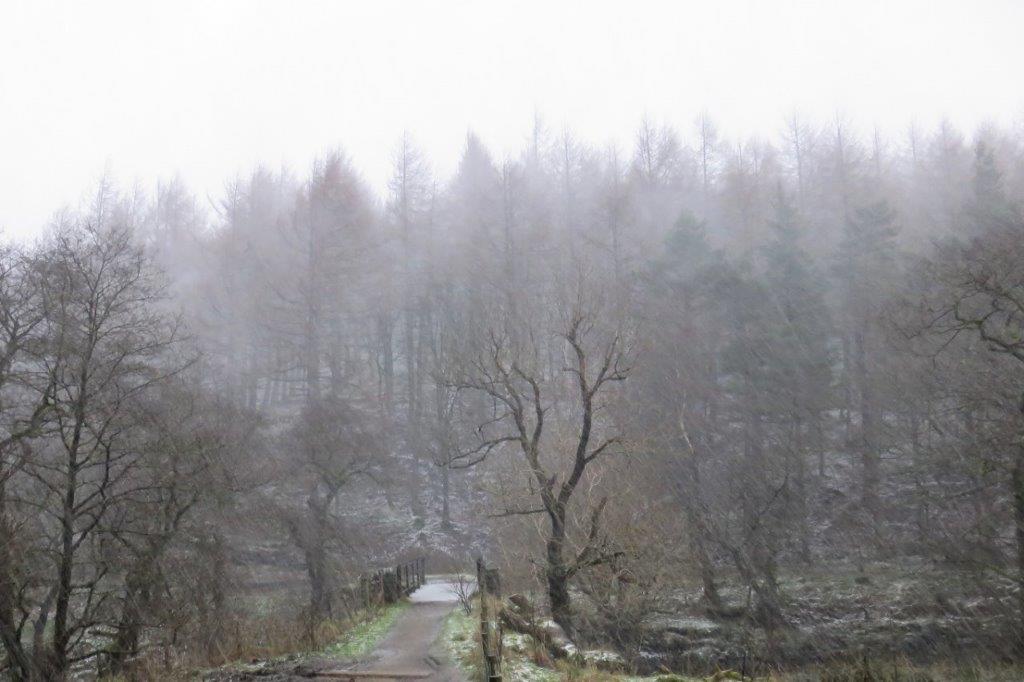 We passed by Haggwater Bridge (a possible crossing if an alternate route through Rowlee / Hagg Farms is followed)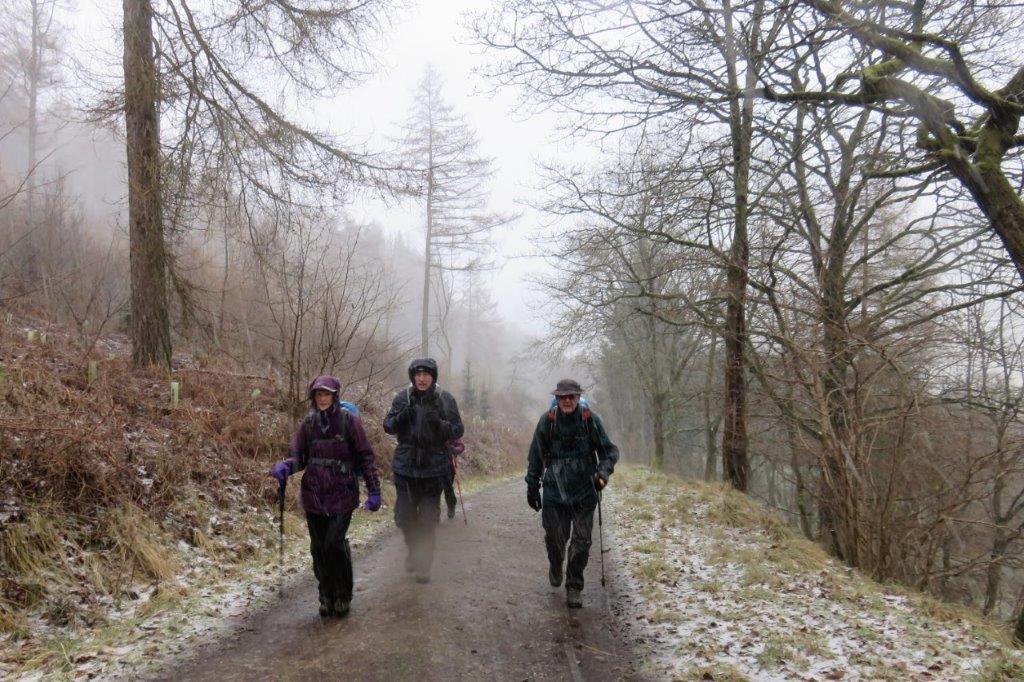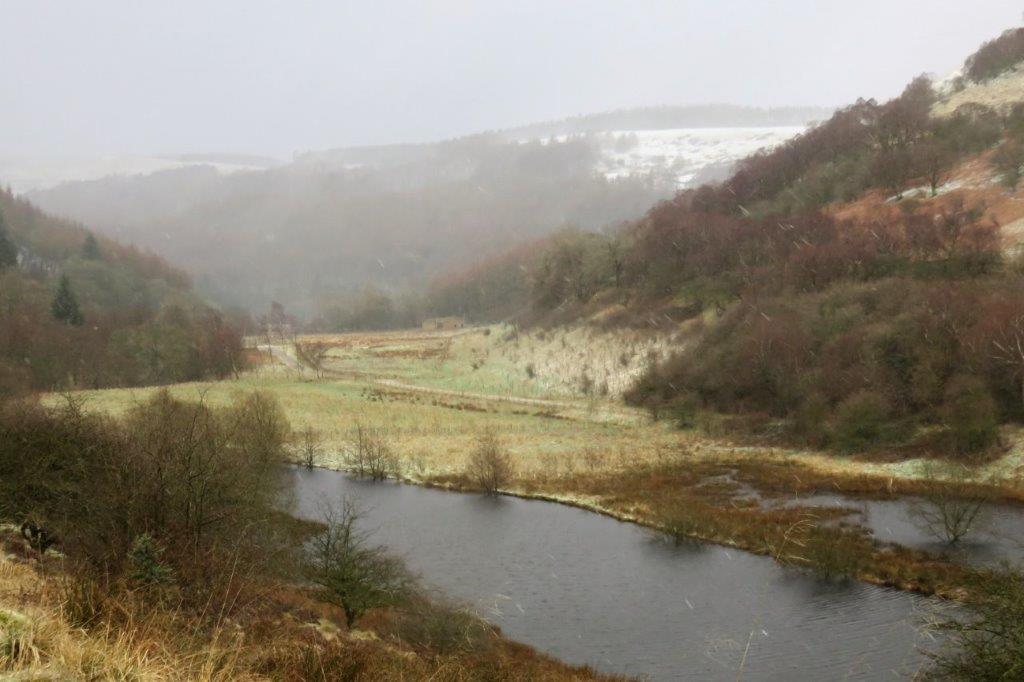 looking down at part of Ladybower Reservoir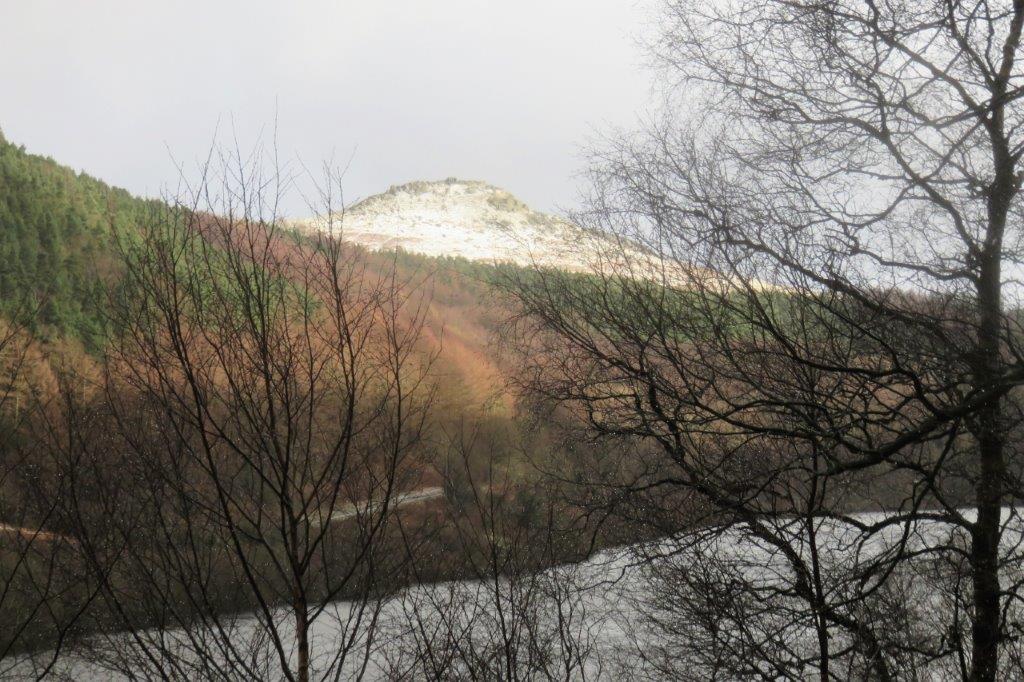 Crooke Hill, A57 road, and Ladybower Reservoir seen here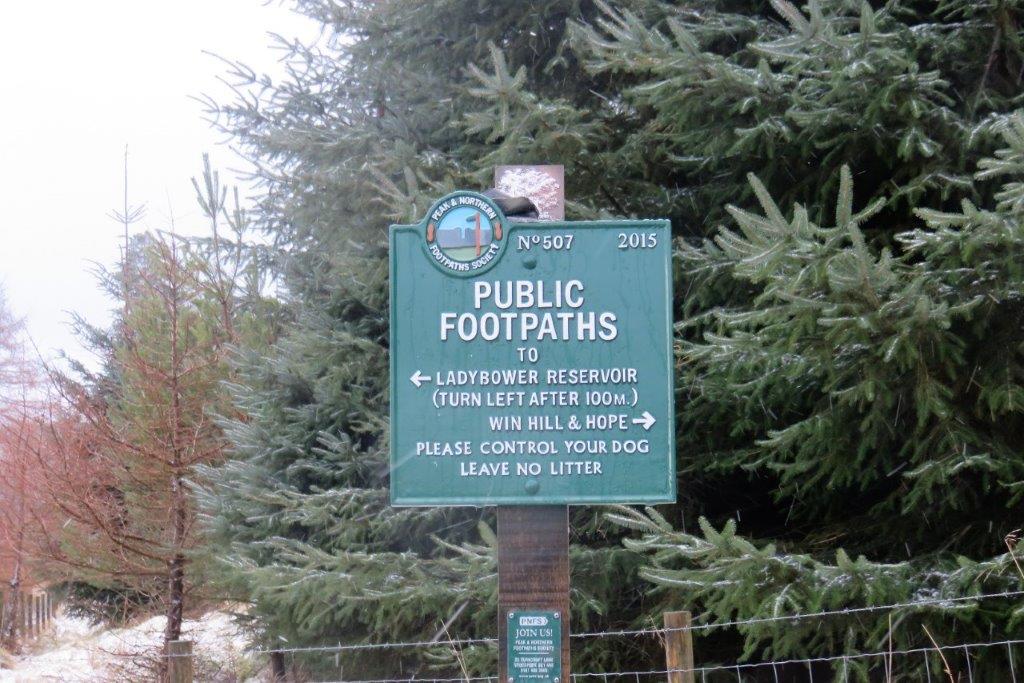 the probable point we turned up to Wooler Knoll (it would be useful if co-ordinate positions were displayed at such points, as is sometimes done in the Lake District)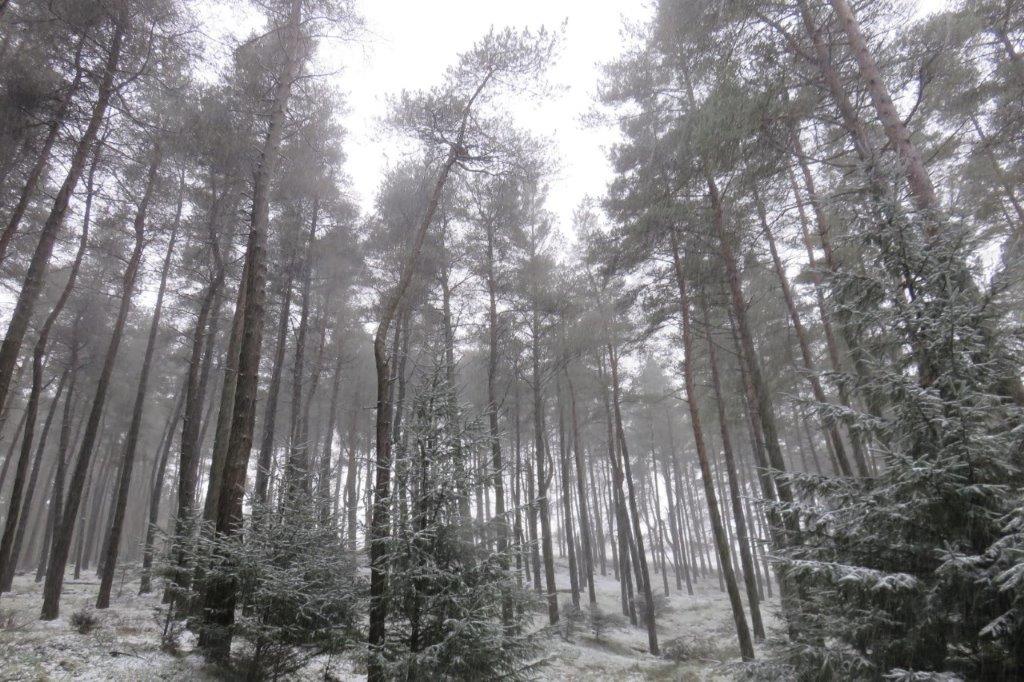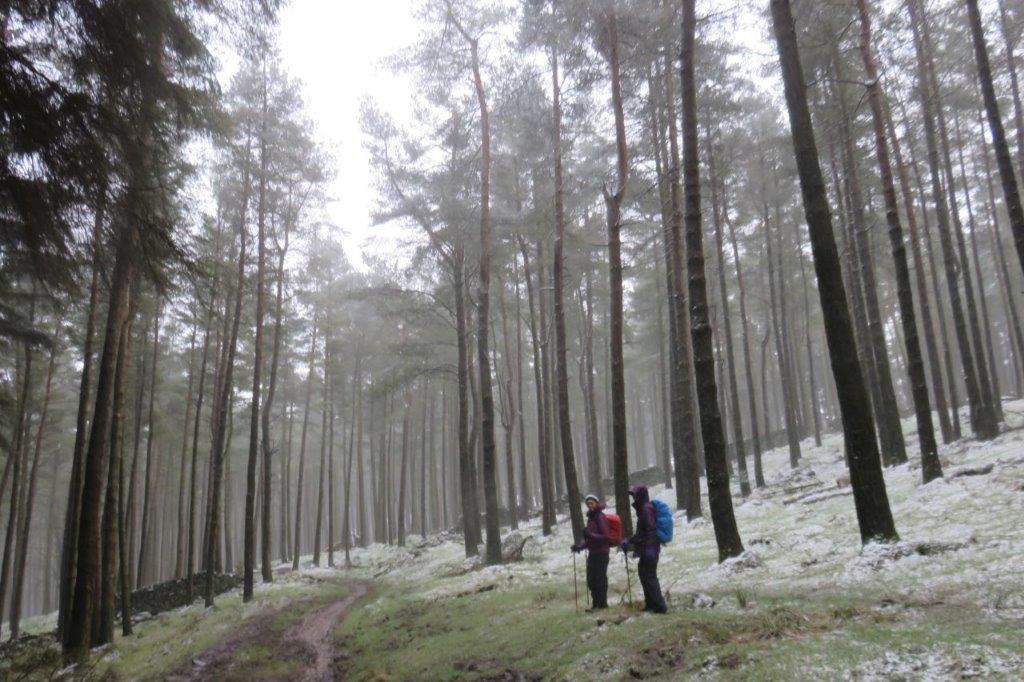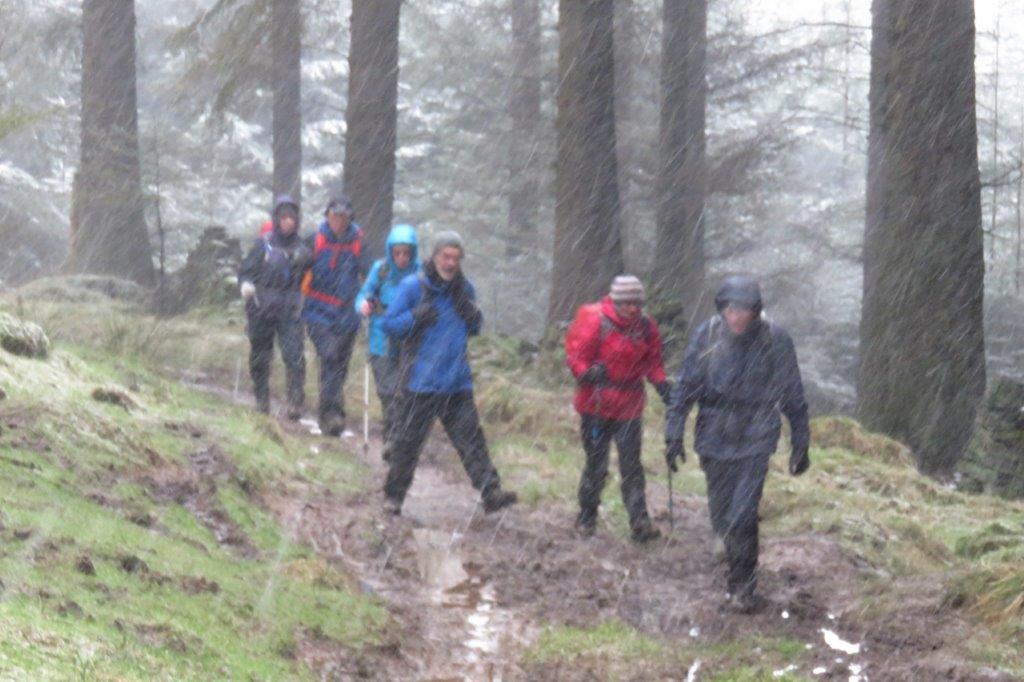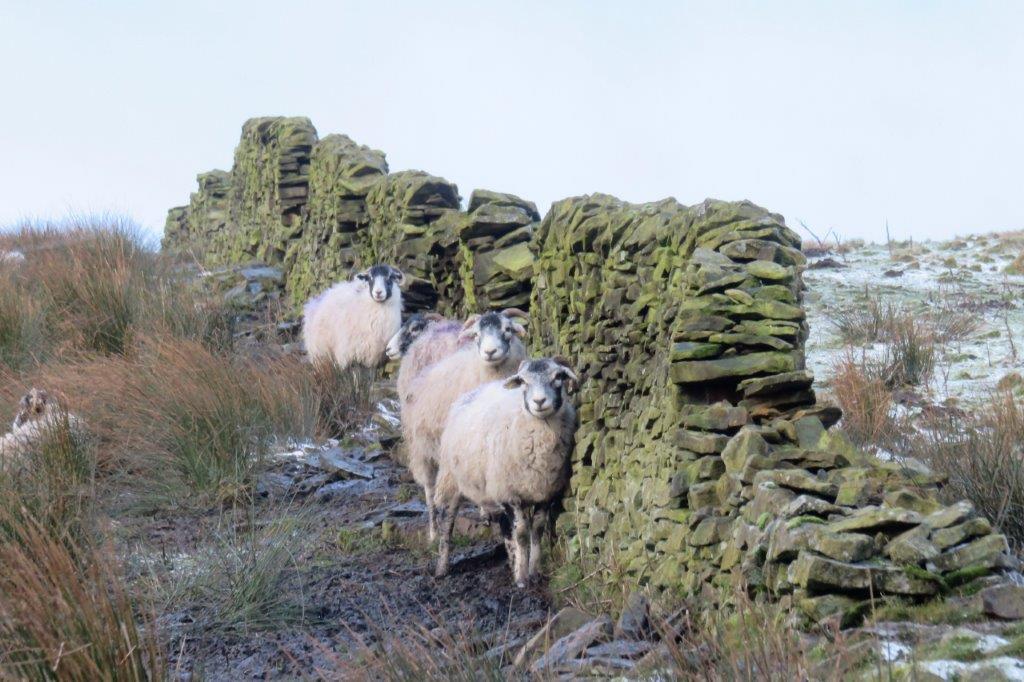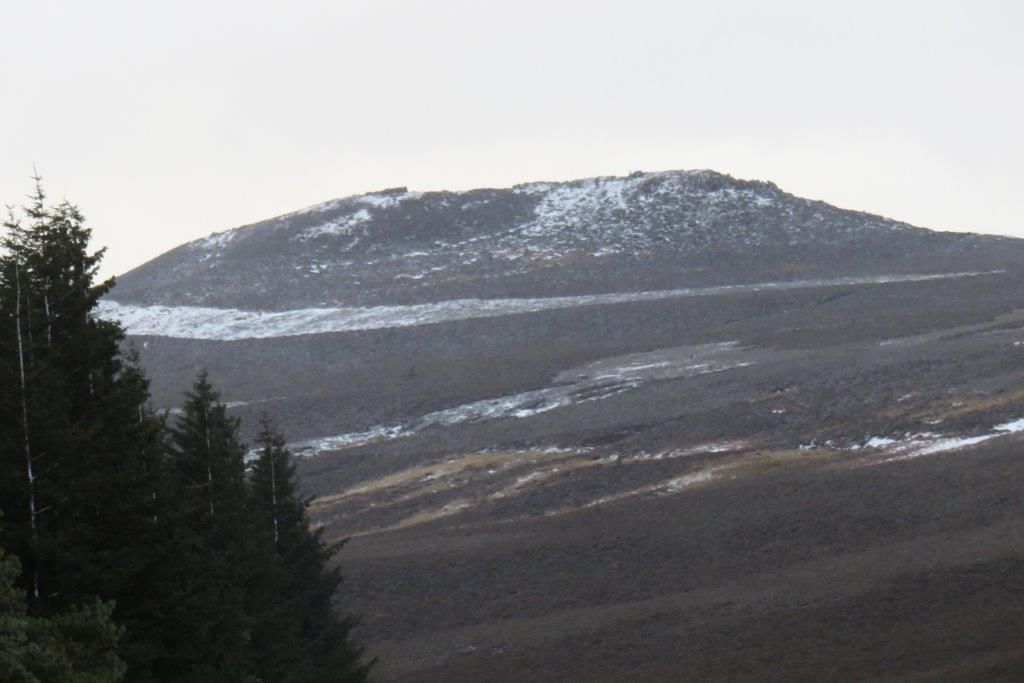 a glance across to Win Hill - survey beacon just visible at top right?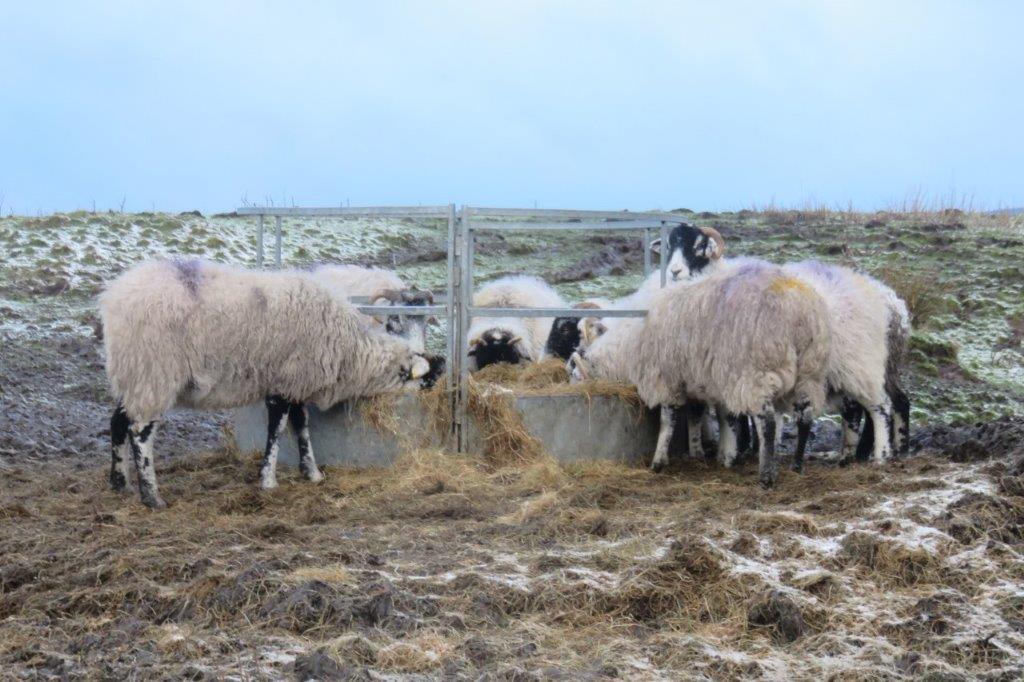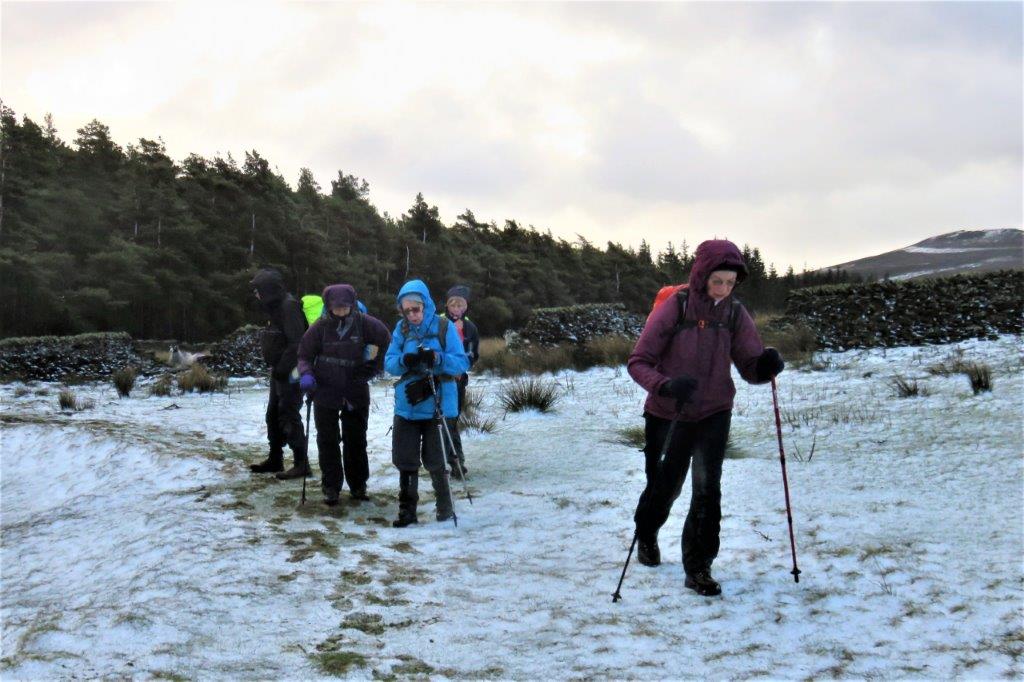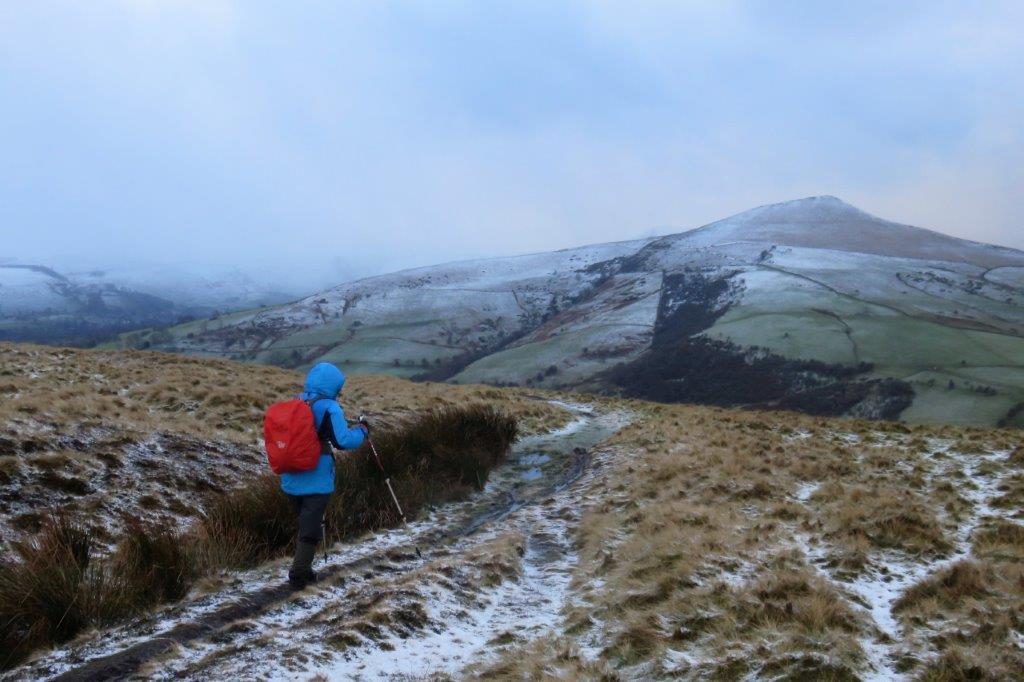 starting down to Fulwood Stile Farm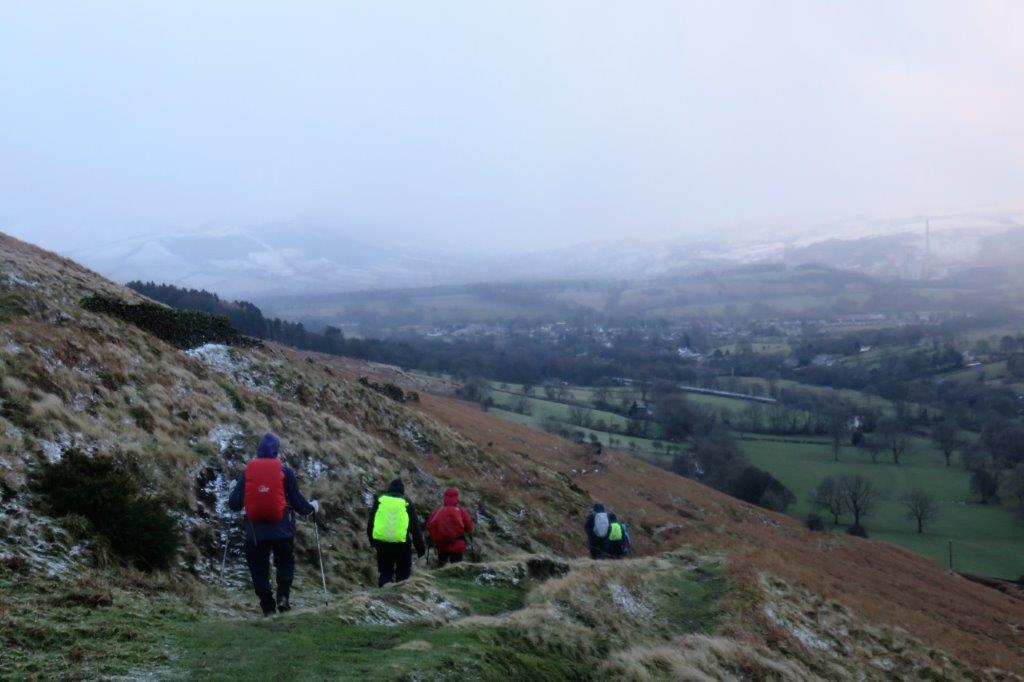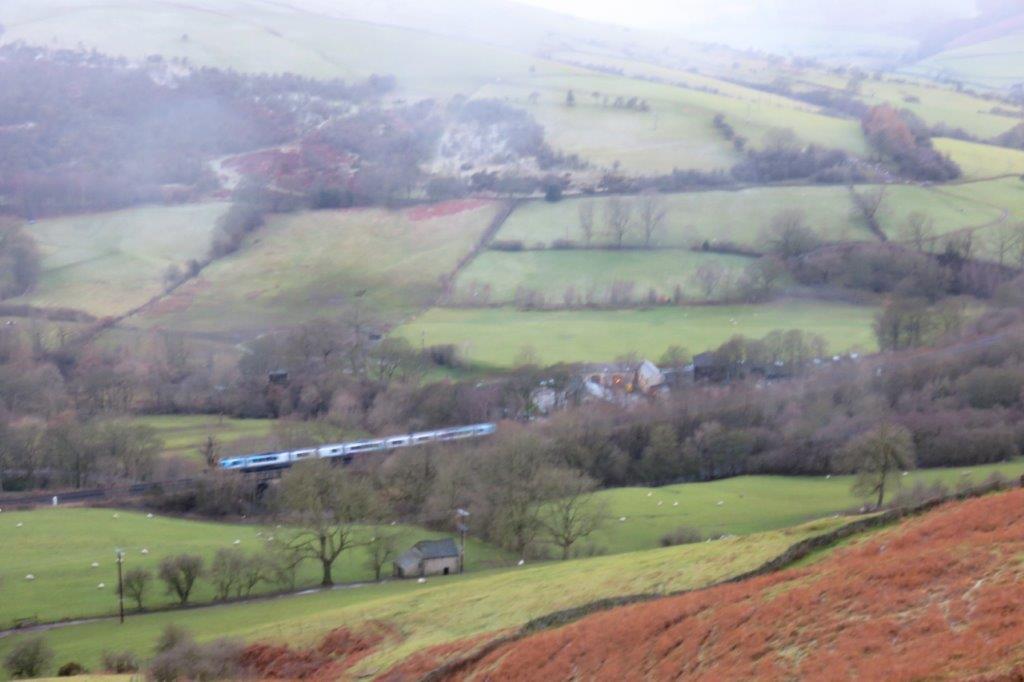 train on Hope Valley Line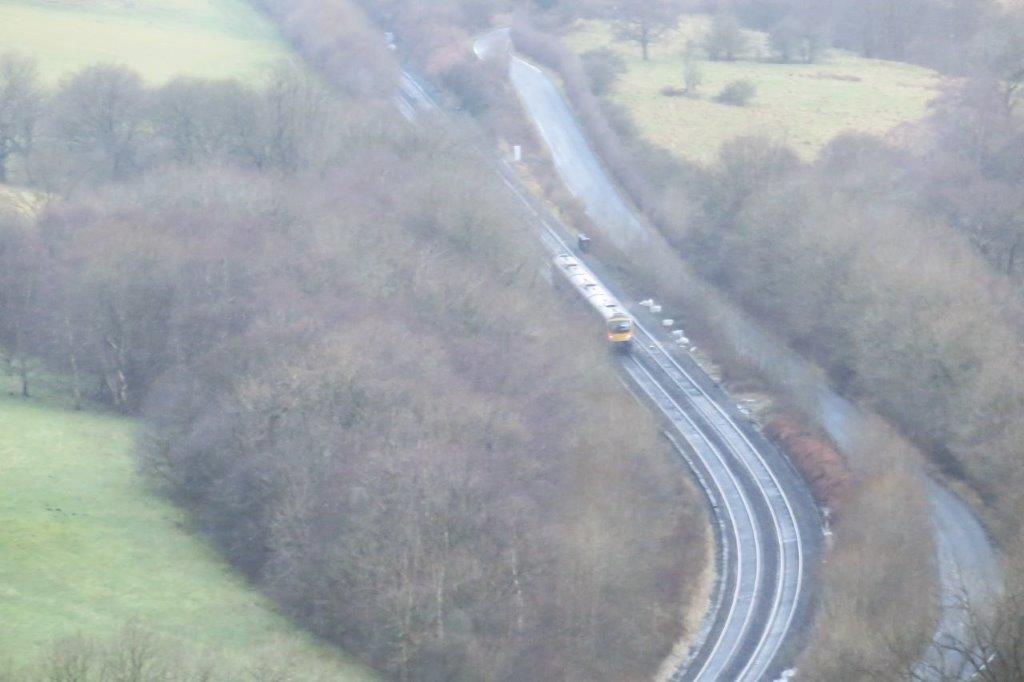 Edale Road largely follows train tracks to Edale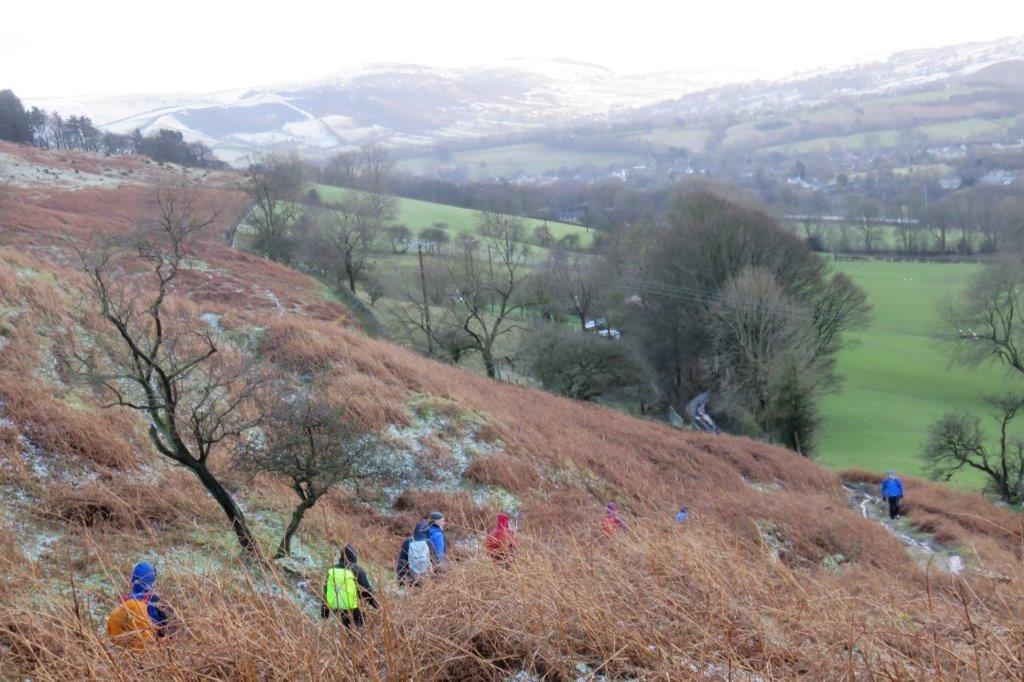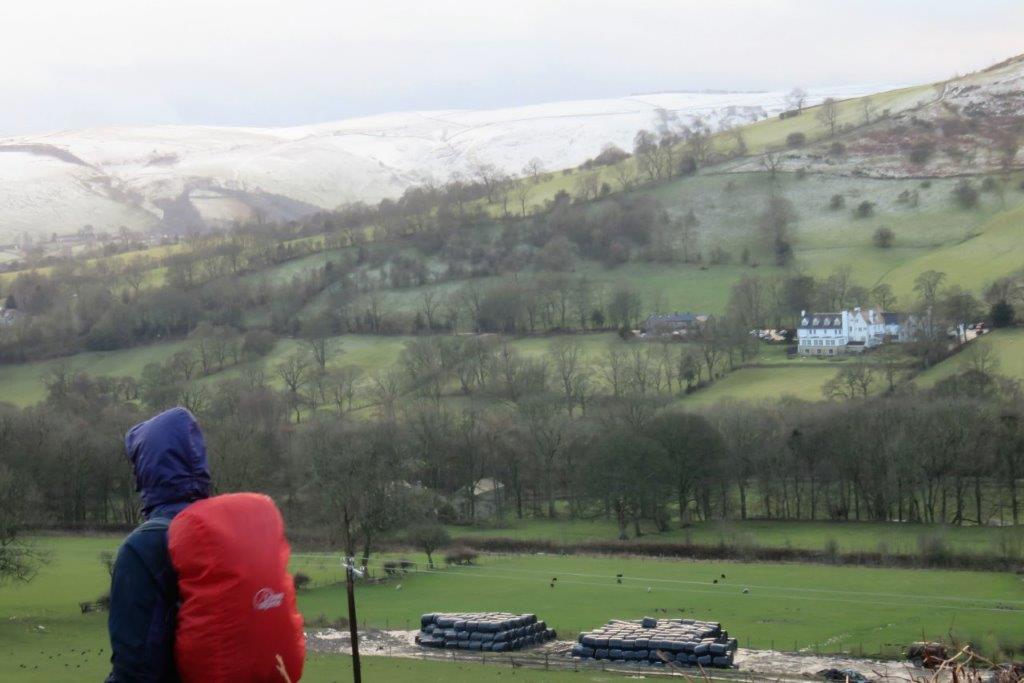 Losehill House Hotel and Spa - which we passed earlier - seen again across valley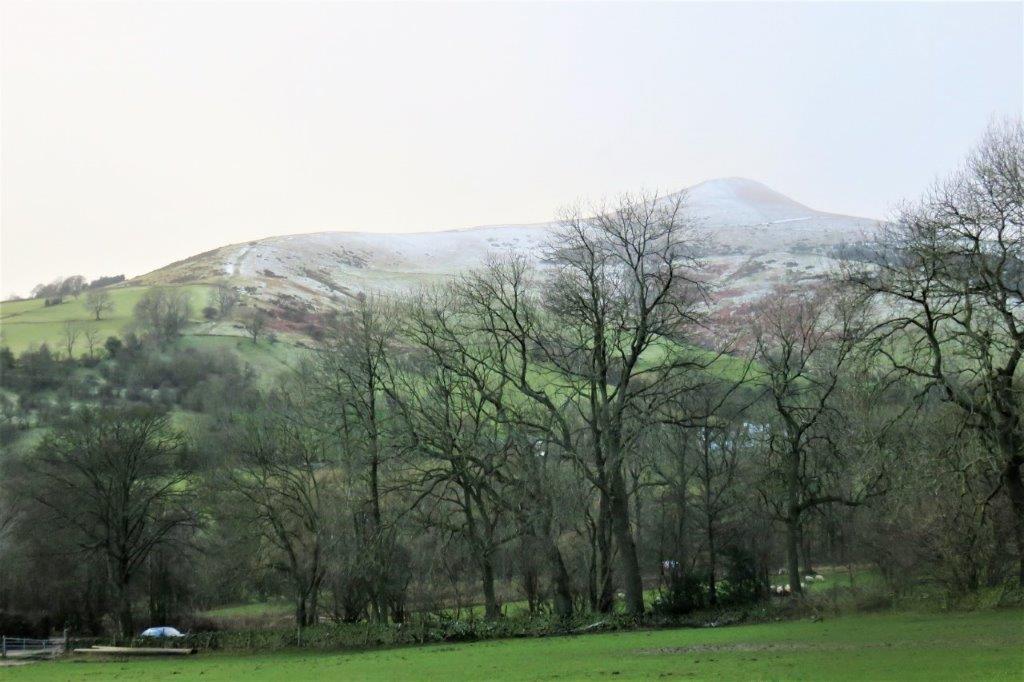 Lose Hill again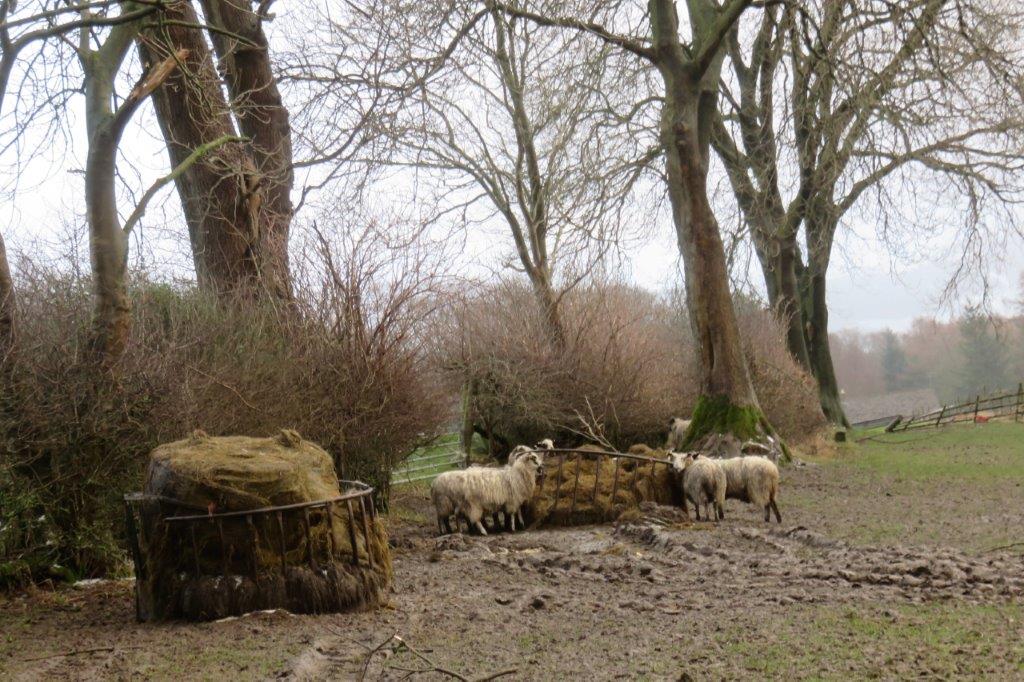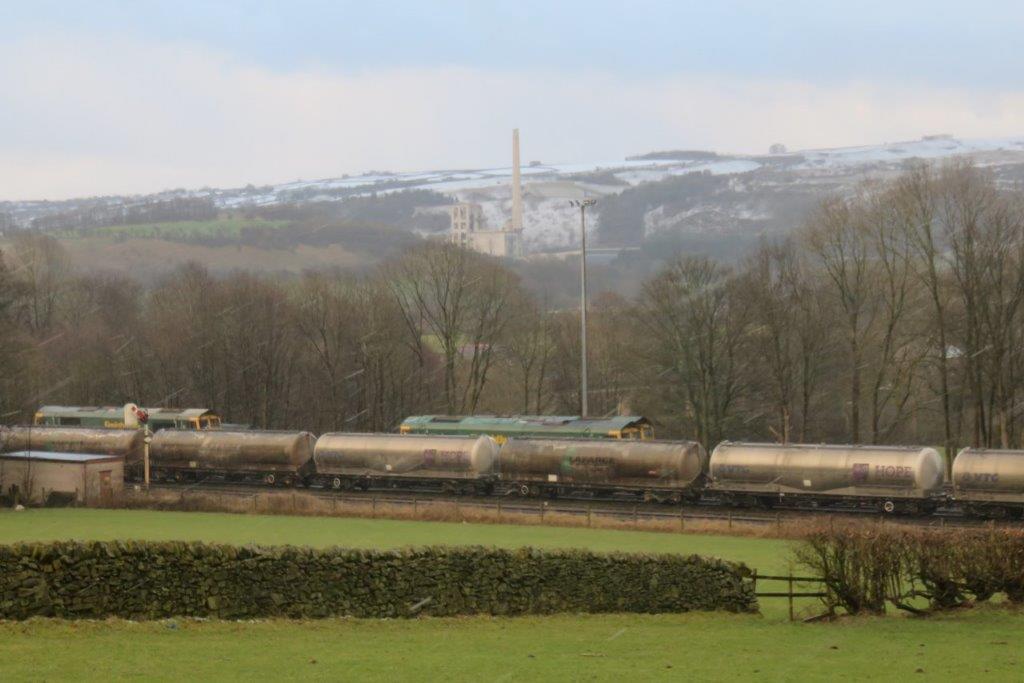 Hope Cement works seen in distance across rail track for tankers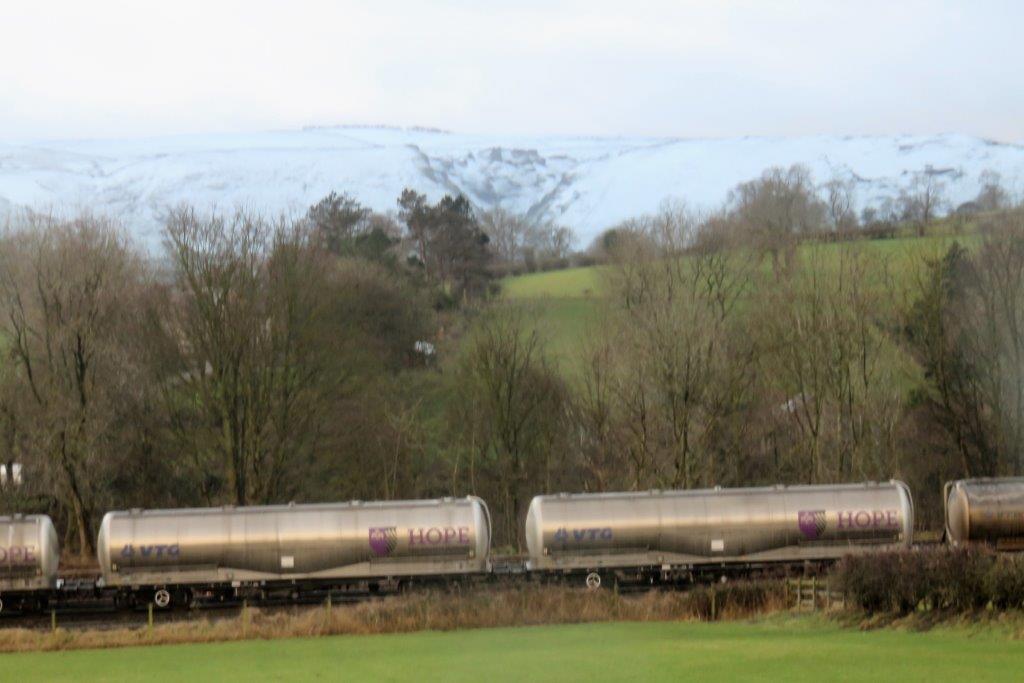 Winnats Pass beyond Castleton was also seen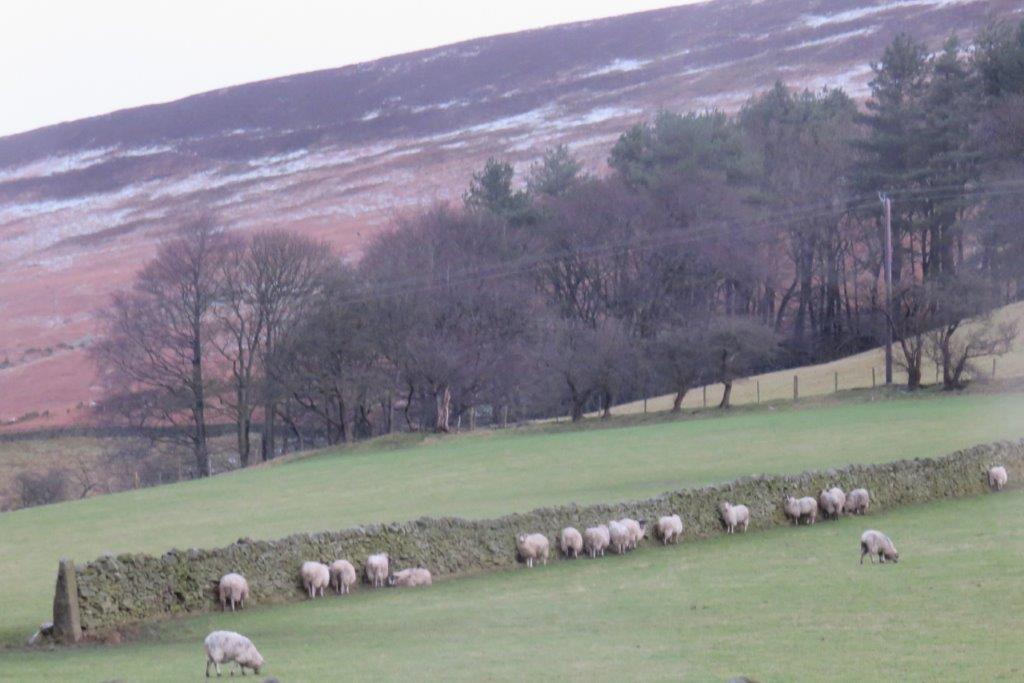 sheep sheltering from stormy blasts behind a drystone wall
homepage - Day Walks Index 2018 - contact me at