homepage - Day Walks Index 2016 - contact me at

2016.10.23 Fairholmes, up through Hagg Woods, down to E of Hagg Farm, cross A57 Rd, follow canal, to & behind Upper Ashop (farm) to Blackden River / Clough then up to Kinder, 10min Edale Moor crossing to Kinder S Edge, Grindslow Knoll, Grindsbrook Booth, Edale, Mam Nik, Rowter Farm & FP to E, down W of Peak Cavern, Castleton - leader Andrew Irwin - Sunday Note - part of Blackden Clough with un-bridged stream crossings and exposed and slippery paths require care. It is a 'scramble' in parts.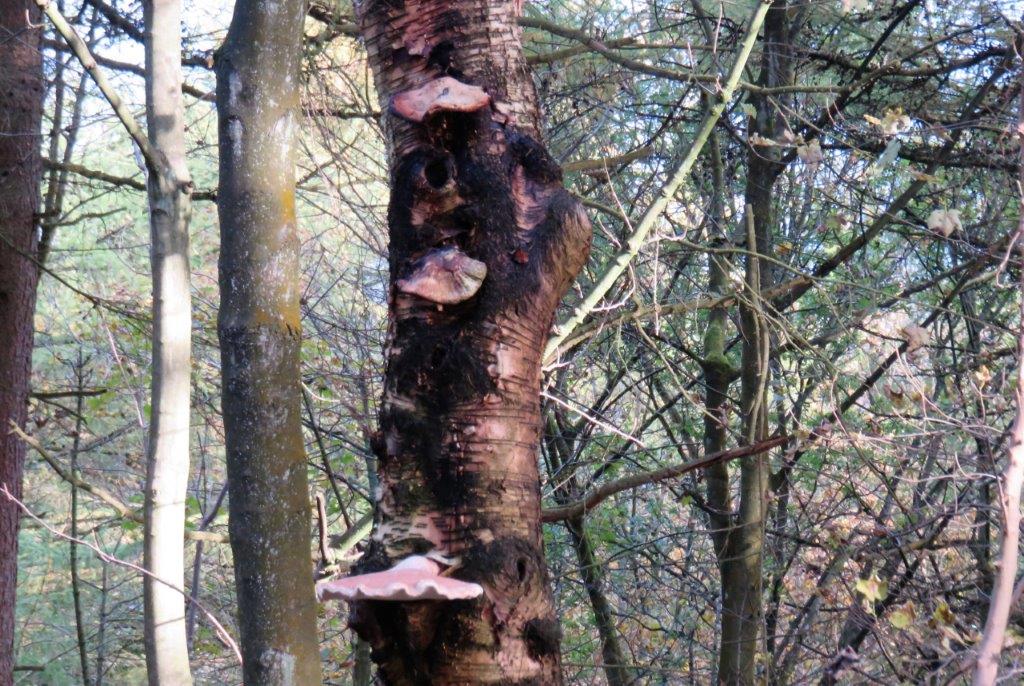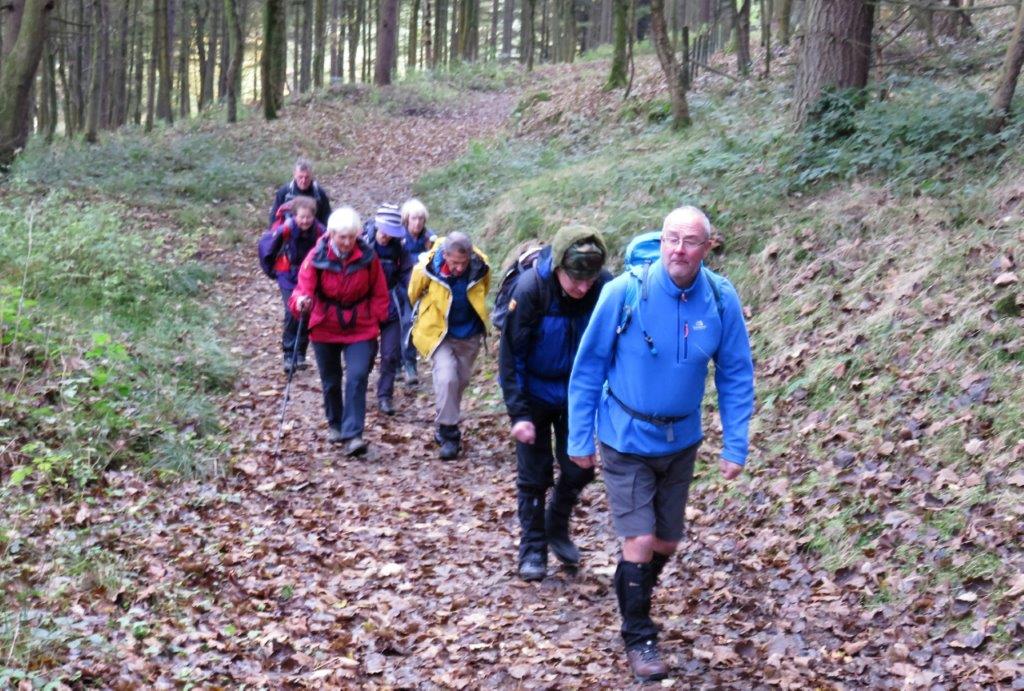 This is apparently a concession path through Hagg Wood - it emerges about 0.5km South of Lockerbrook Farm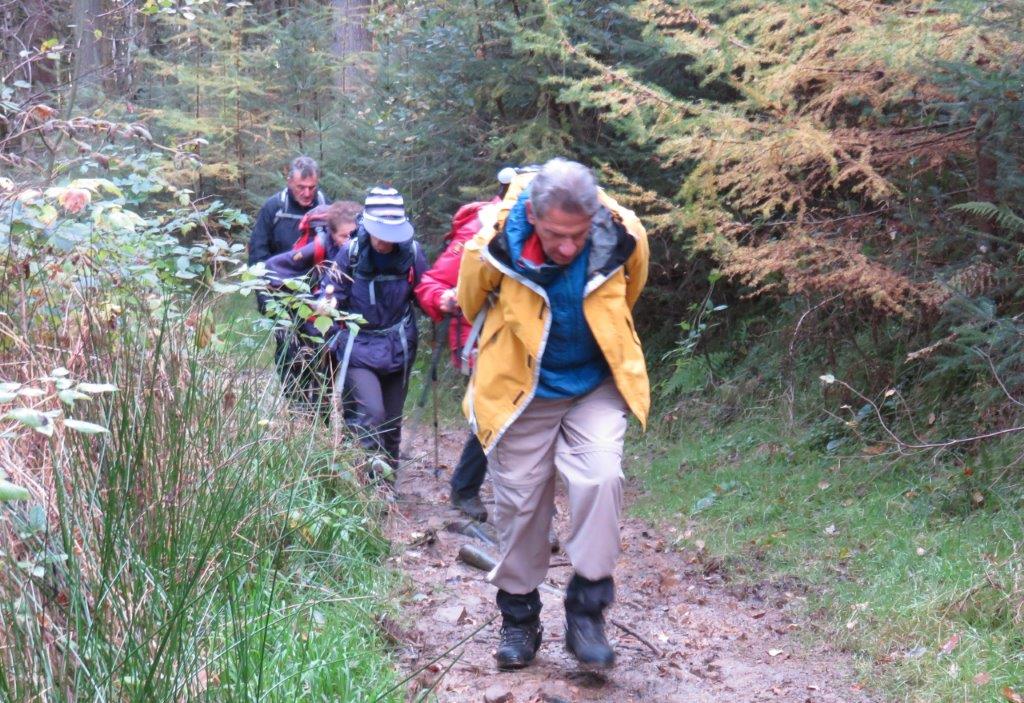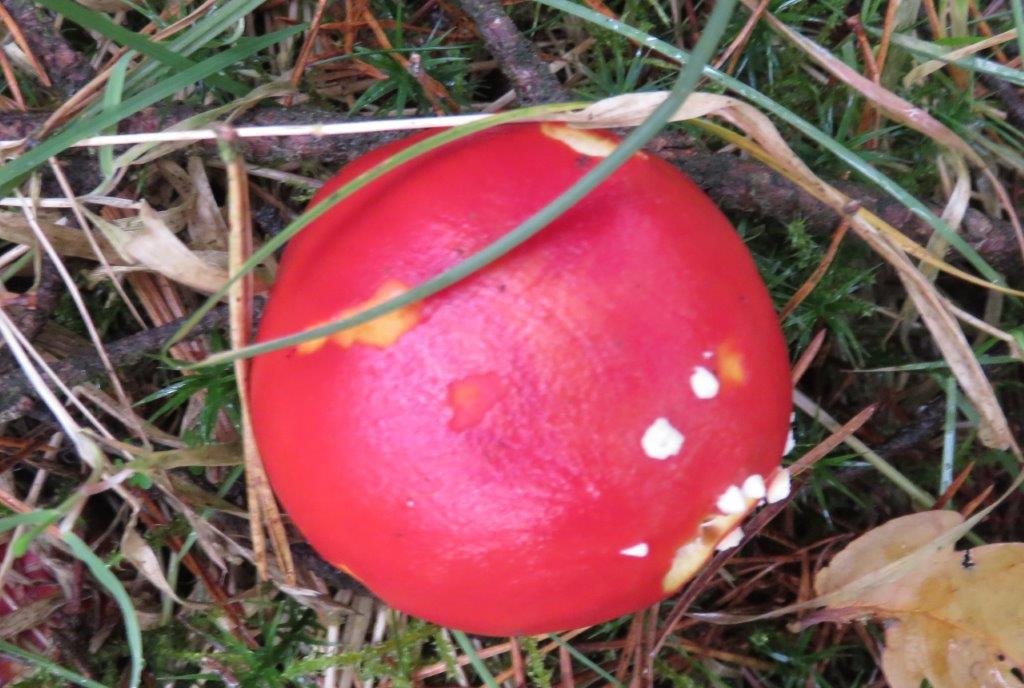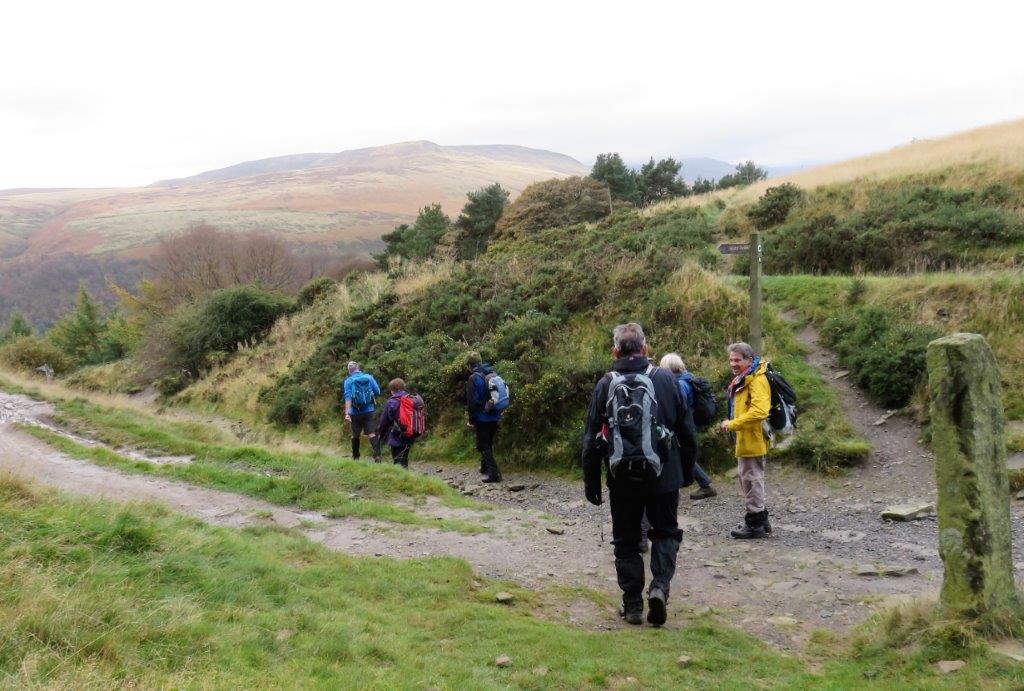 several paths to choose from - there are alternate ways to Upper Ashop (farm) on our route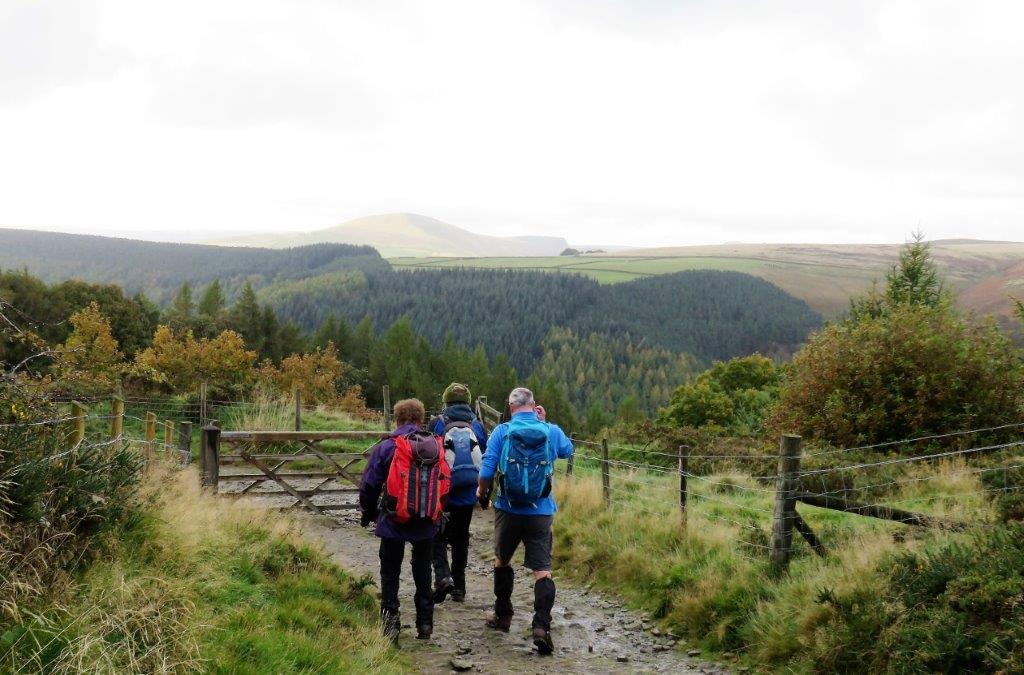 Lose Hill visible on the horizon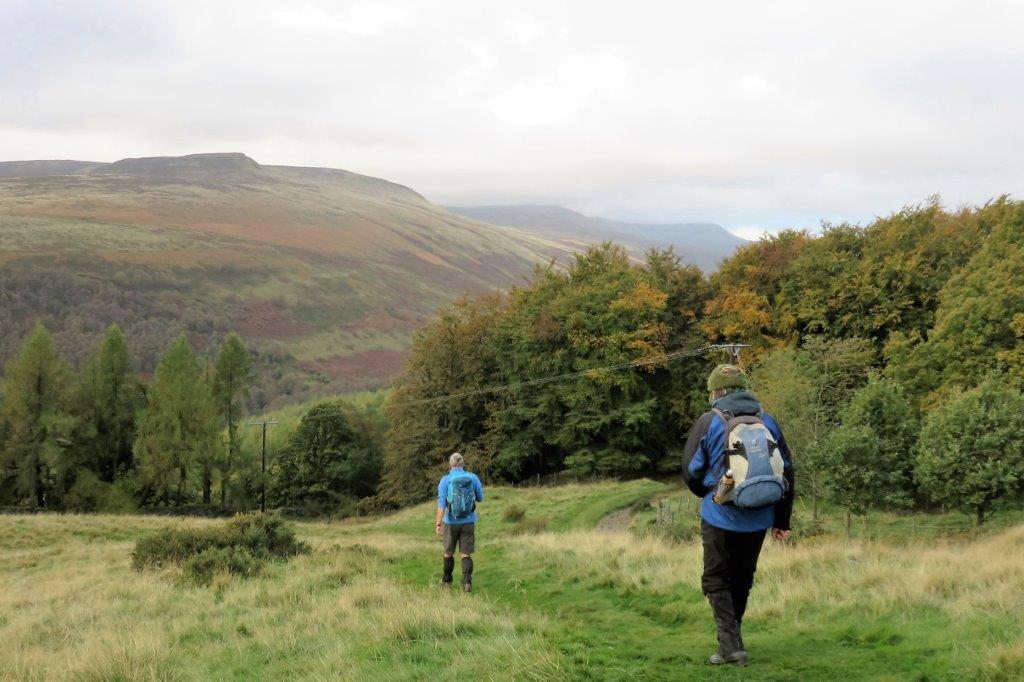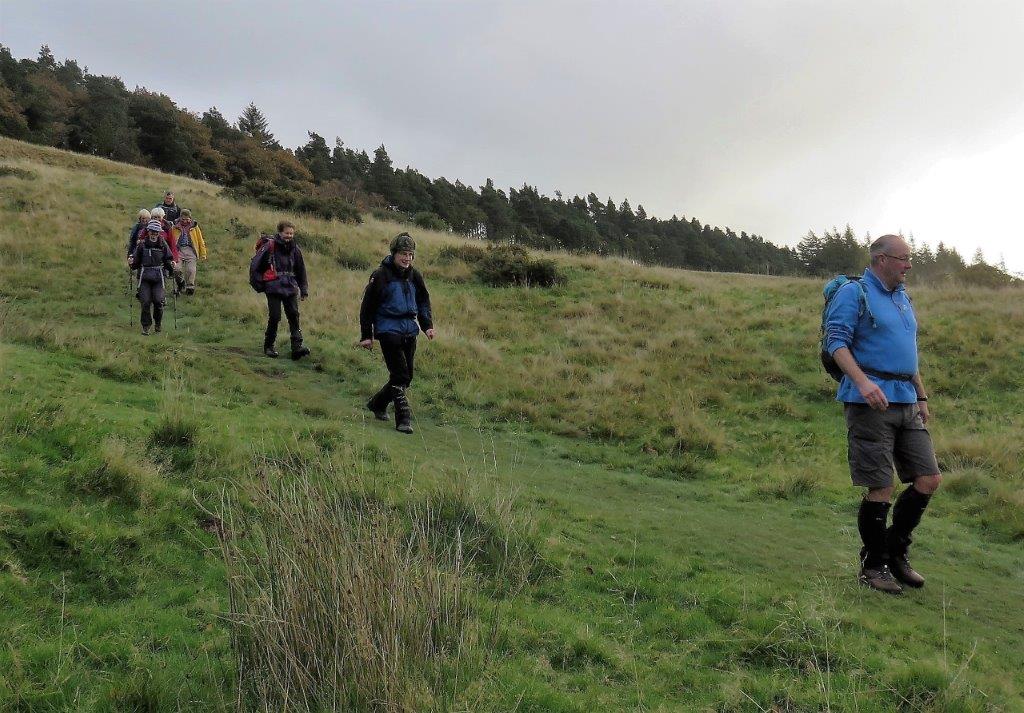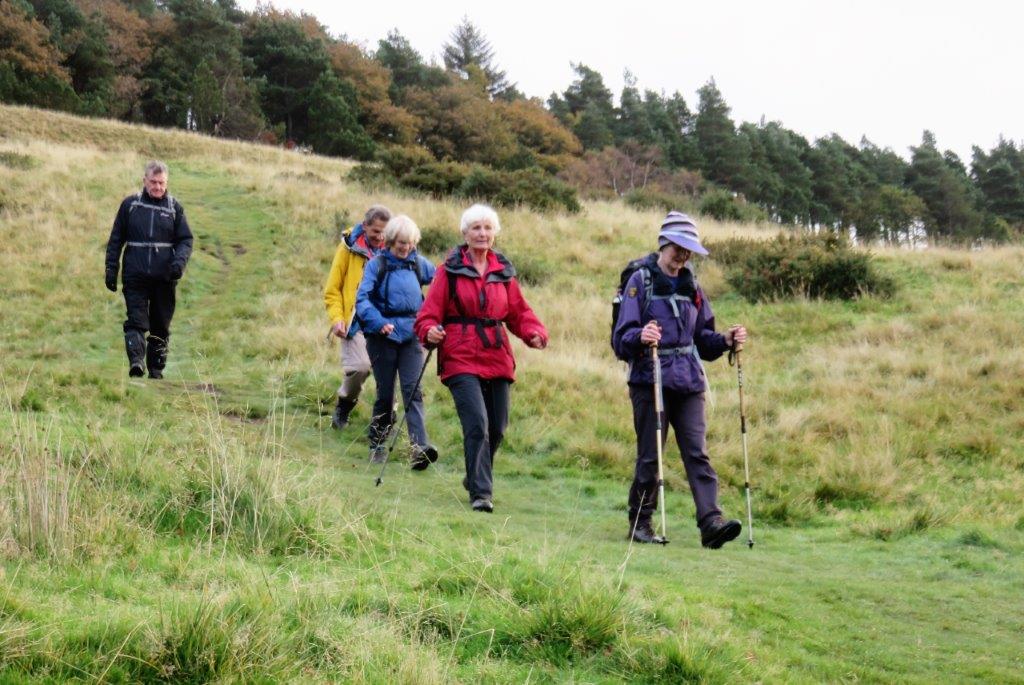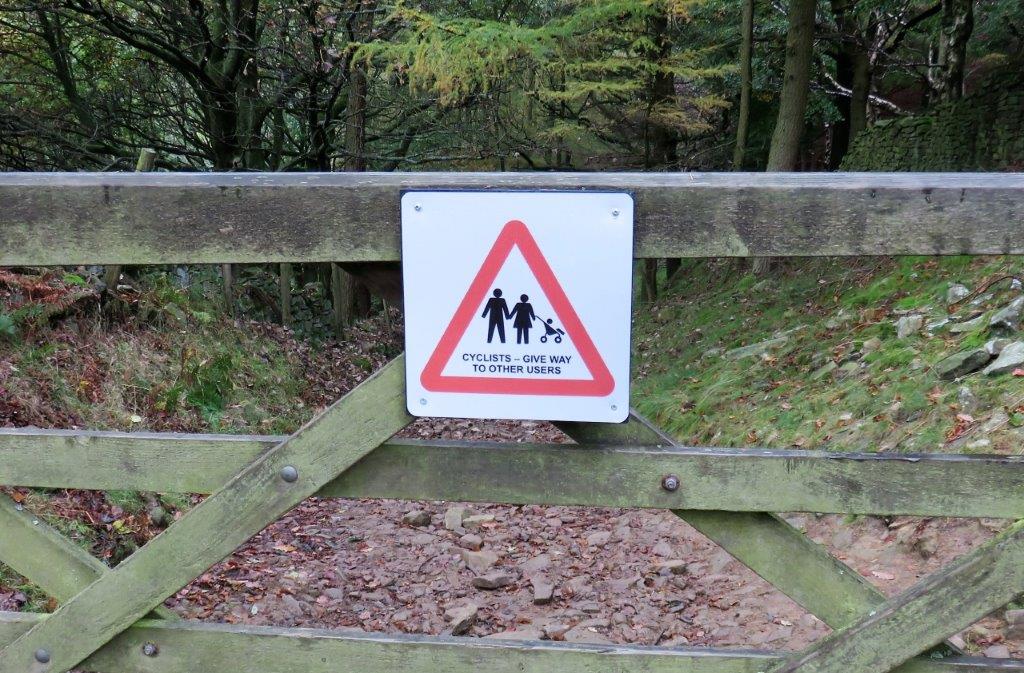 surface does not give mountain bikers a smooth ride - hopefully restricting their speed (and accident rates).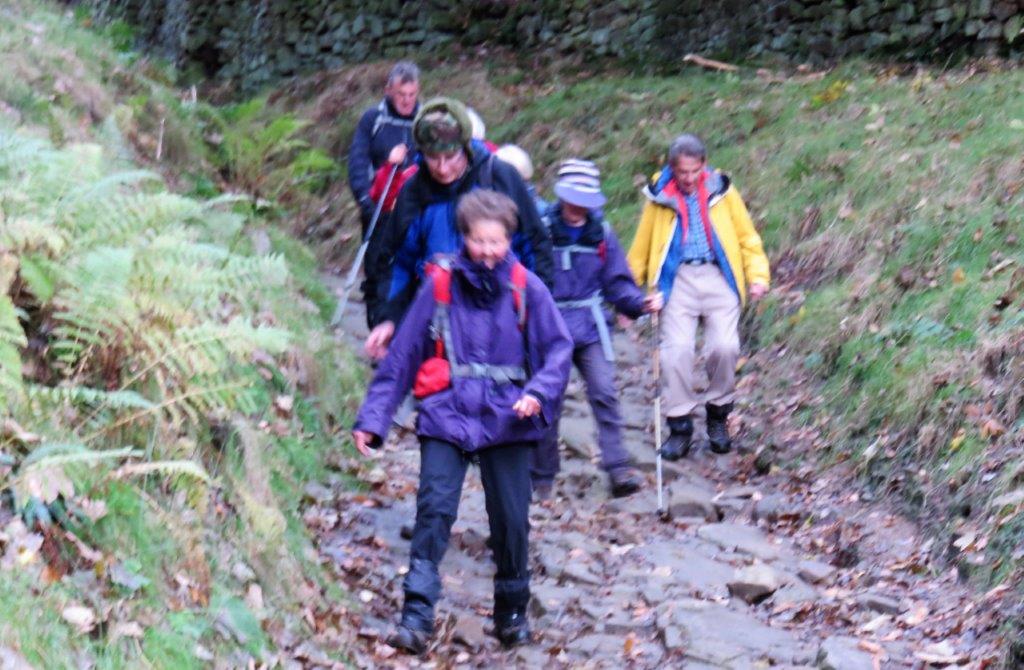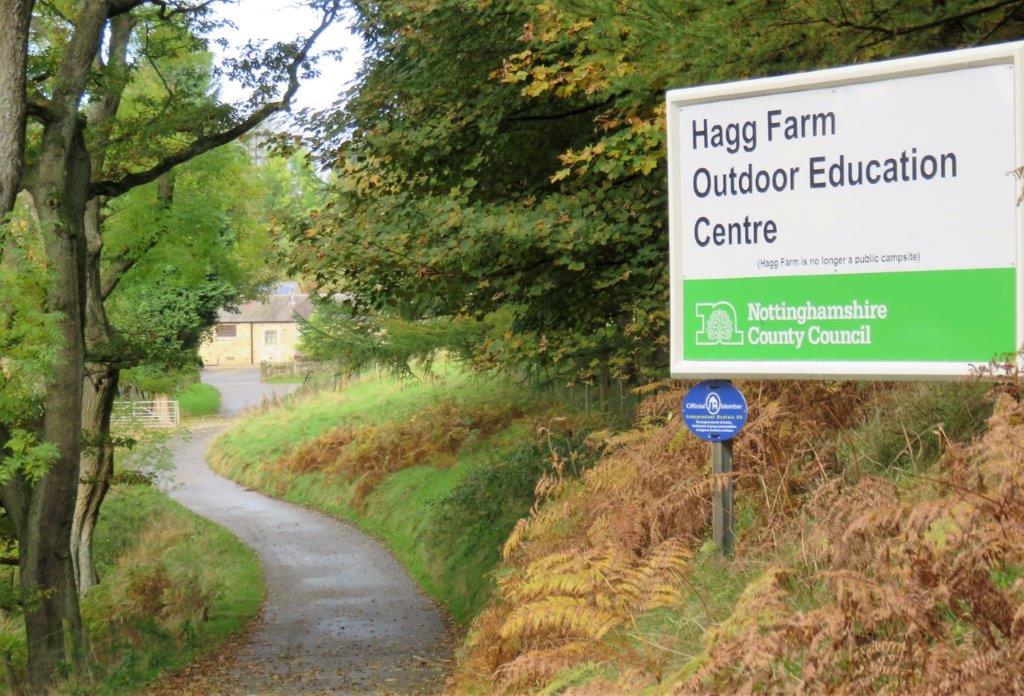 Hagg Farm entrance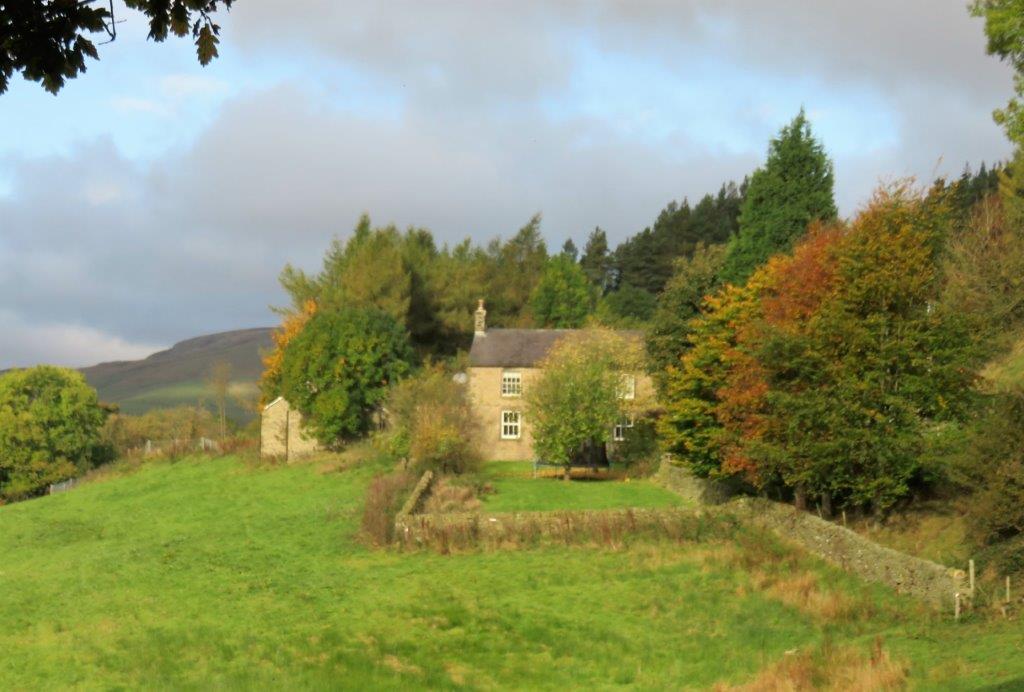 Hagg Farm seen from lower down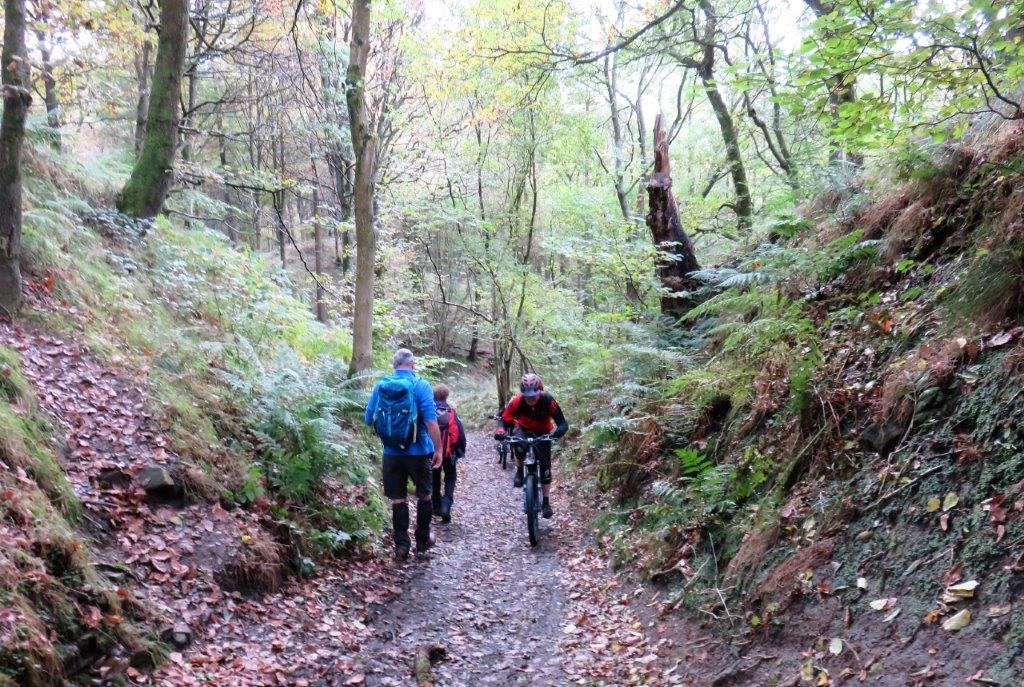 path after crossing A57 Rd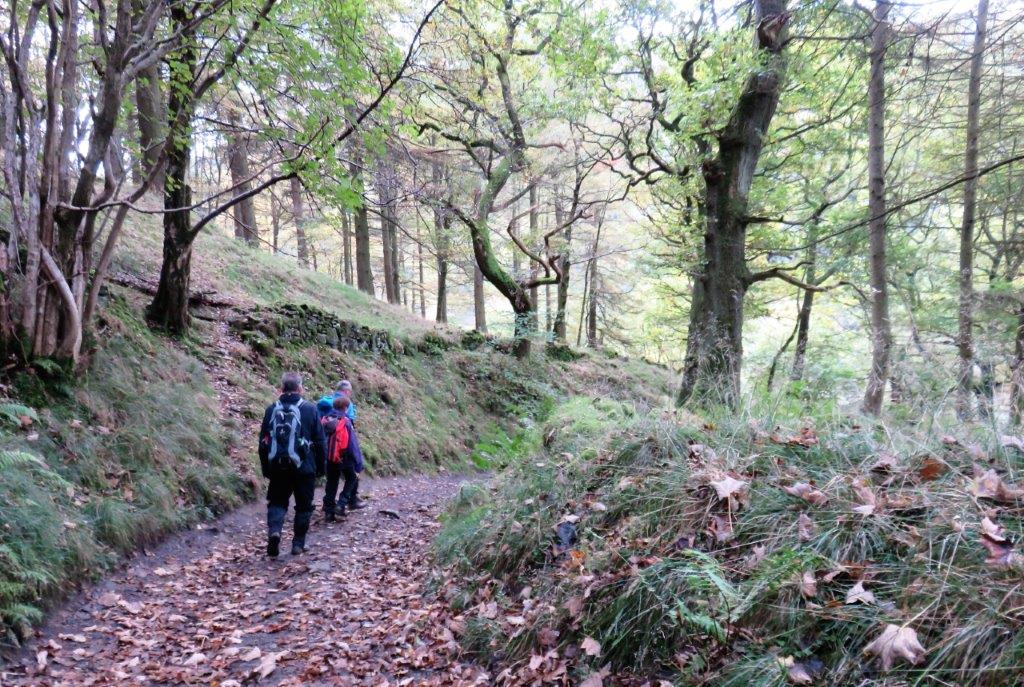 Bridge over River Ashop. This river feeds into the West branch of Ladybower Reservoir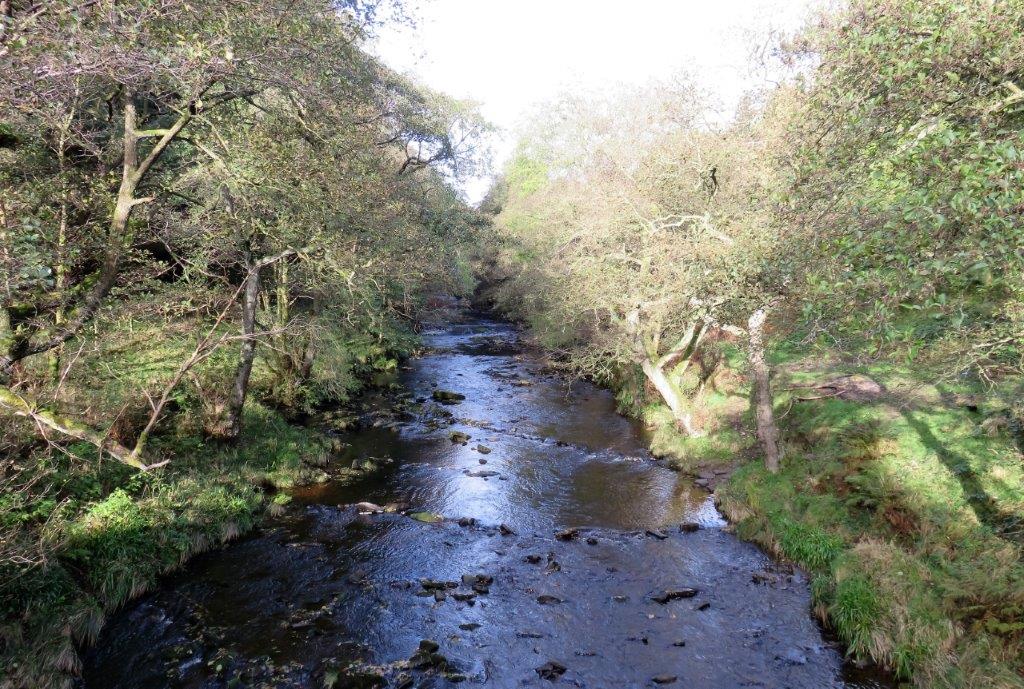 River Ashop upstream of bridge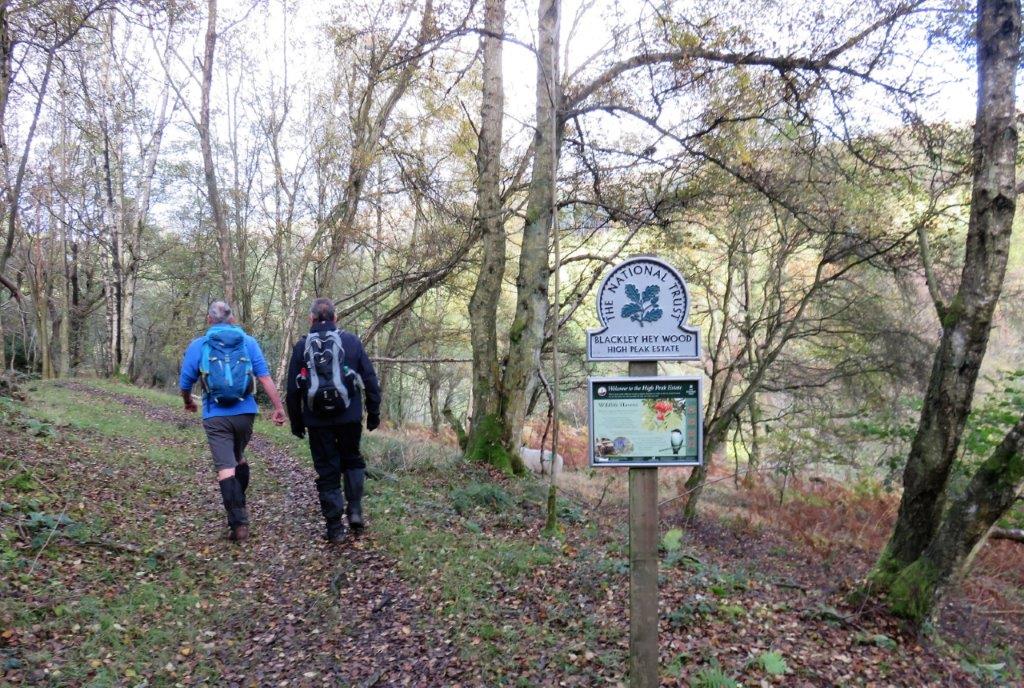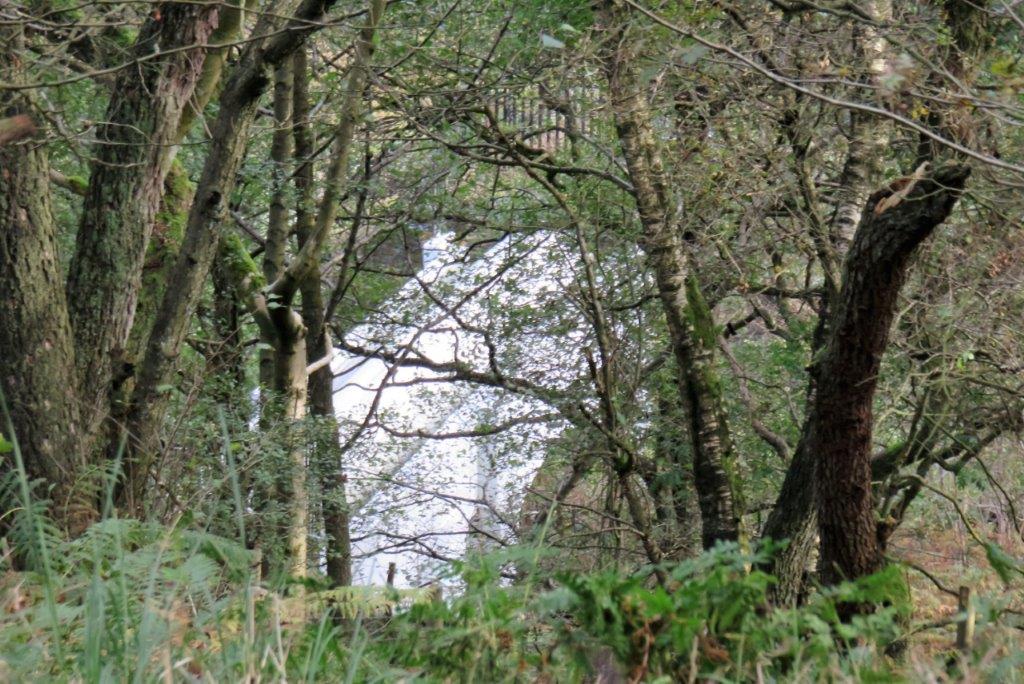 Where is the site of the siphon across the River Ashop for conduit water or is it lower downstream? What is this structure? Water is drawn higher up the River Ashop, from behind a weir, and fed into a conduit (in open & closed parts) / a siphon across the river / then a tunnel / then a conduit to the Derwent Reservoir - see Wikipedia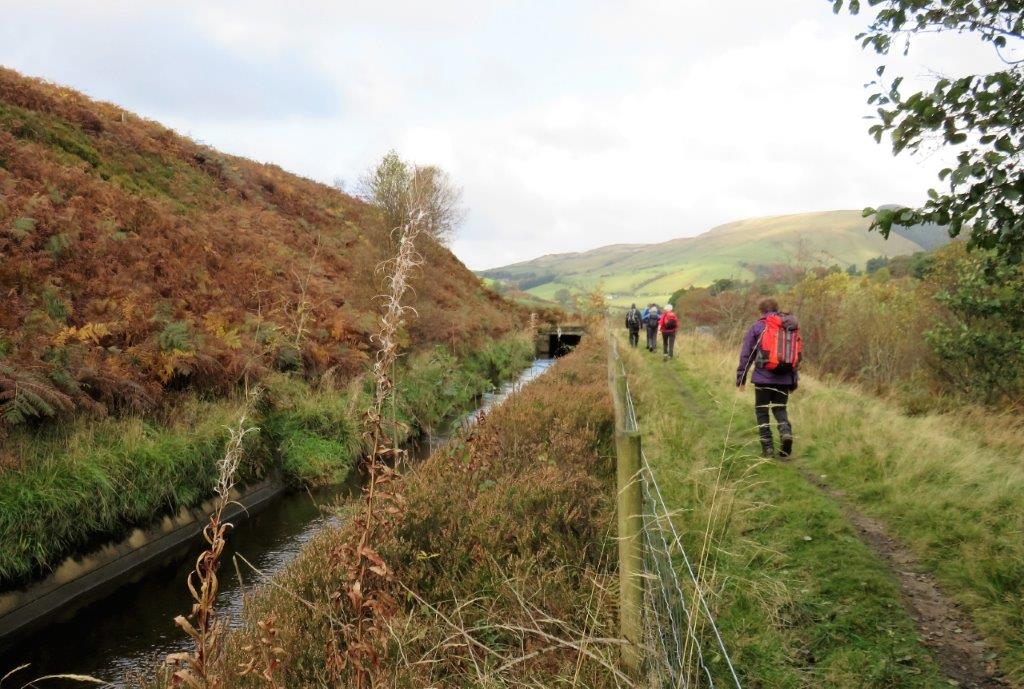 the conduit feeding into Derwent Reservoir is in both open and closed sections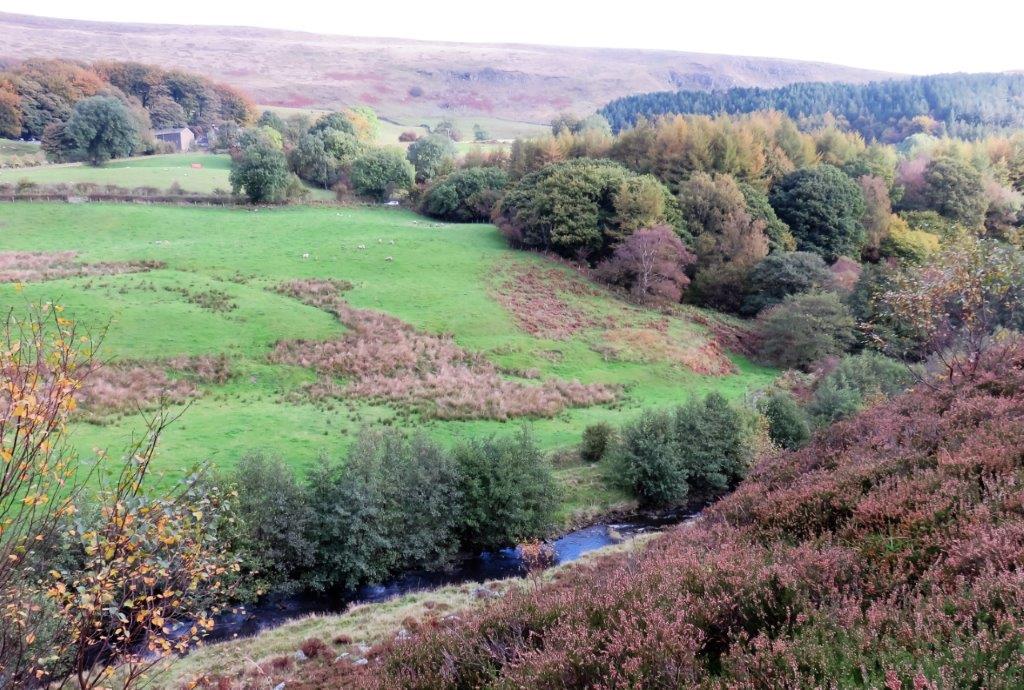 River Ashop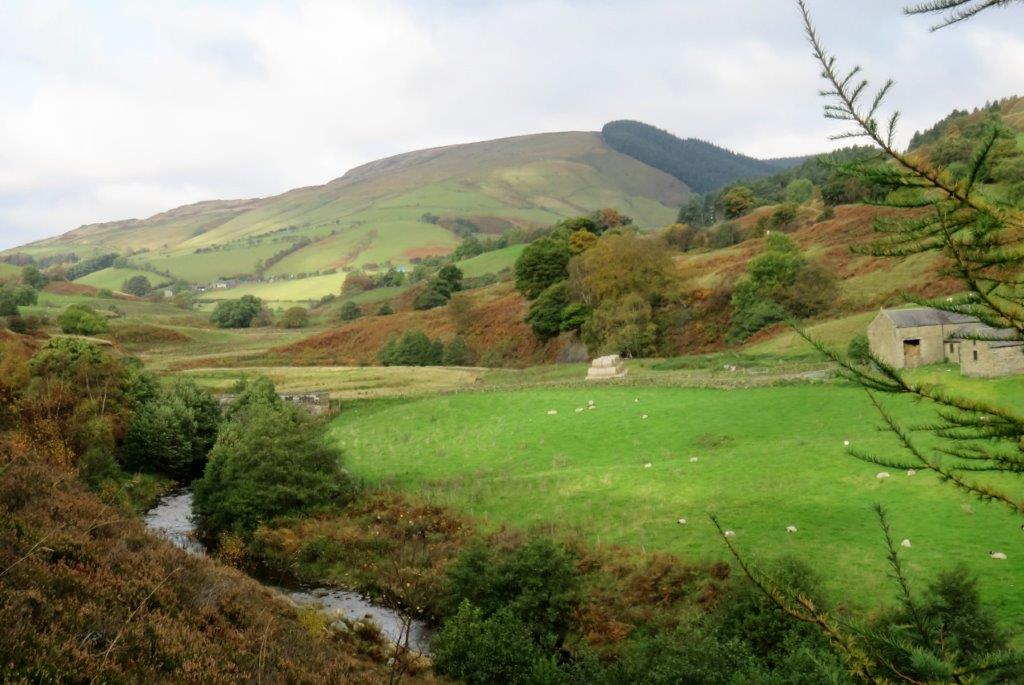 valley from which the River Alport flows is in V to right. The River Alport is a tributary of the River Ashop seen to left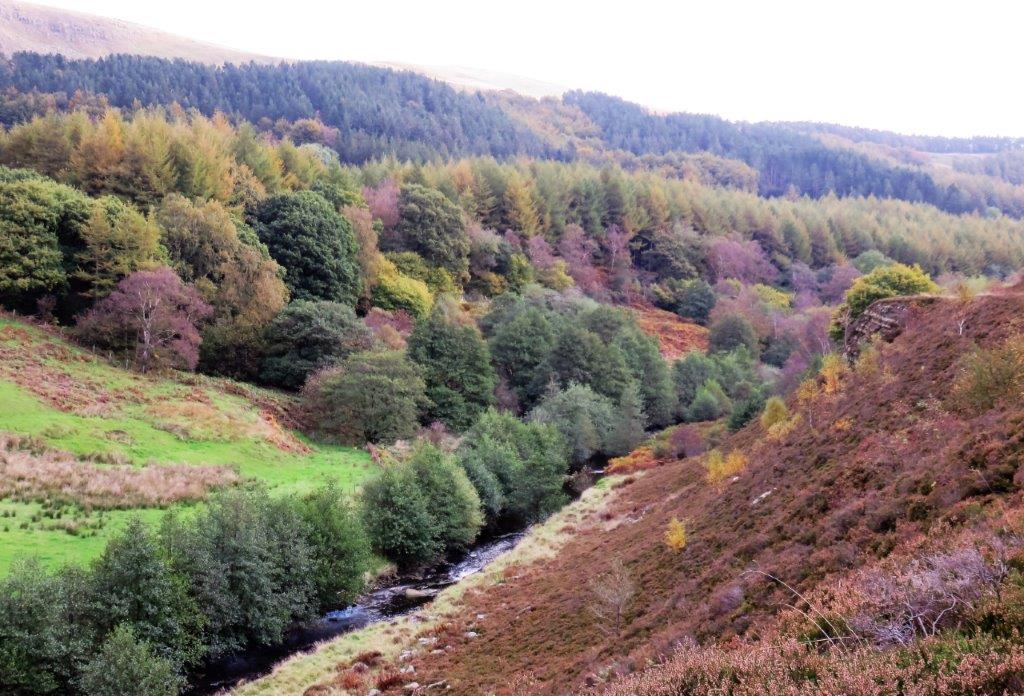 River Ashop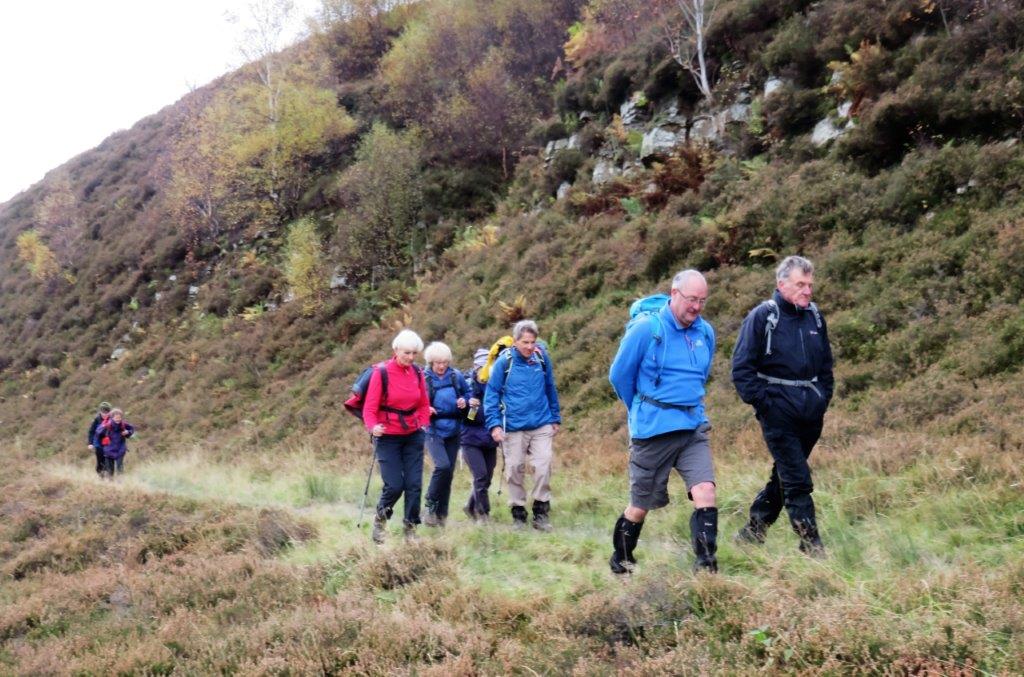 conduit enclosed in this part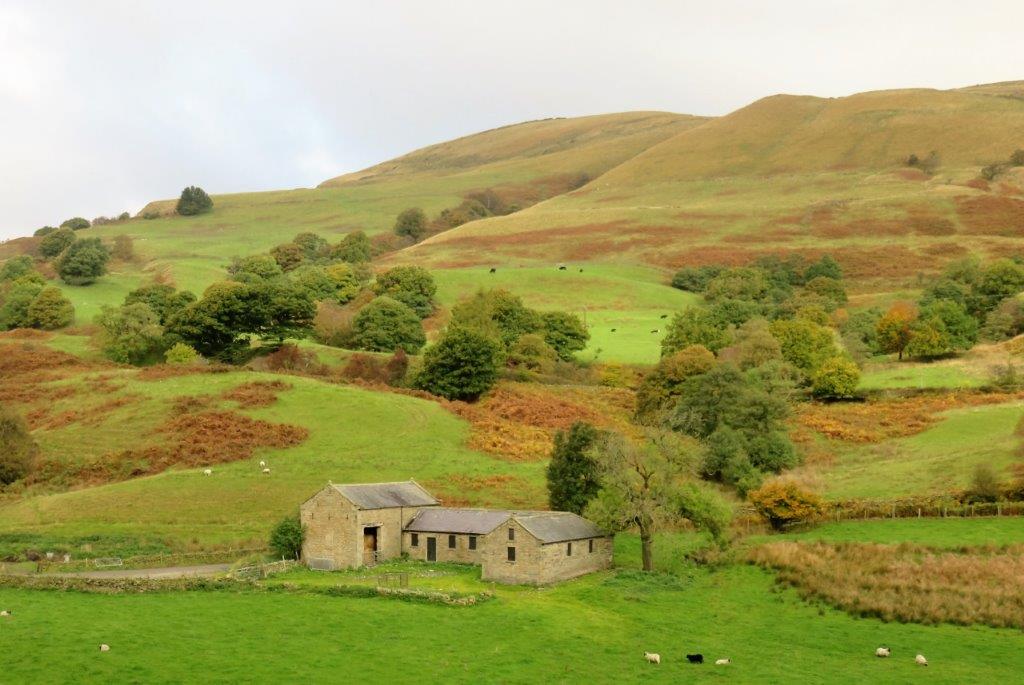 Low Barn between Rowlee Farm & Bridge
Rowlee Farm hidden in Trees at left top back - Rowlee Bridge in centre with Low Barn behind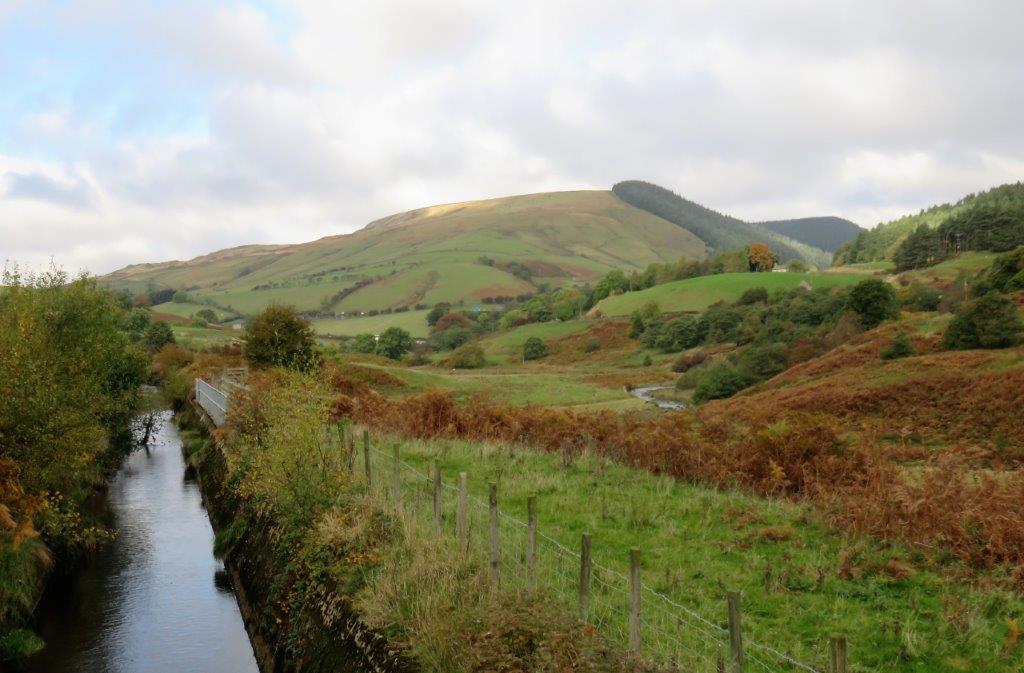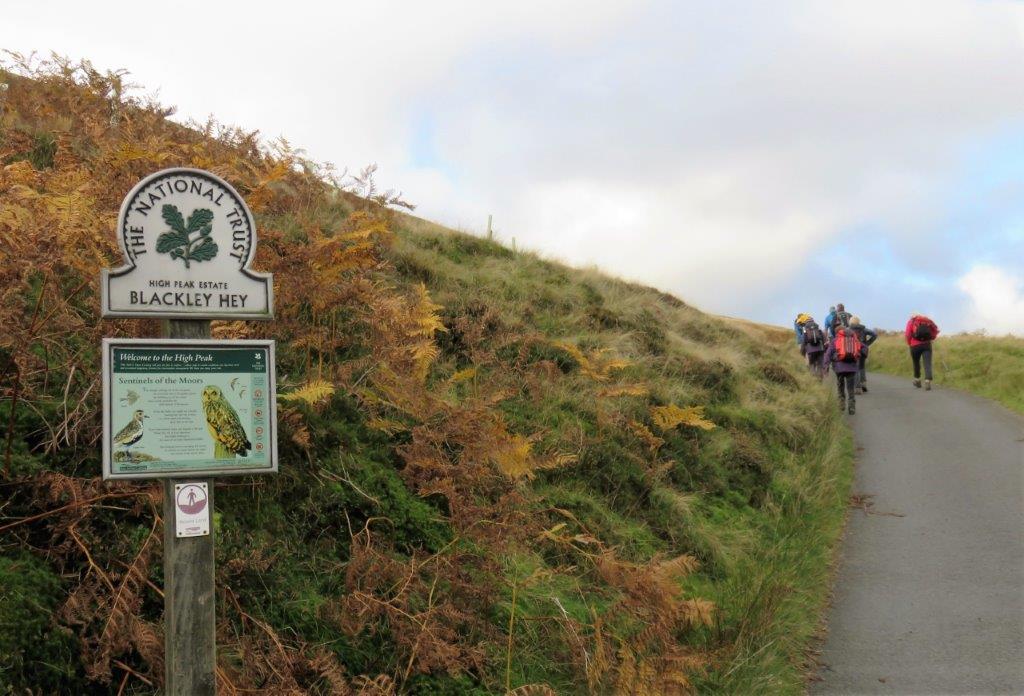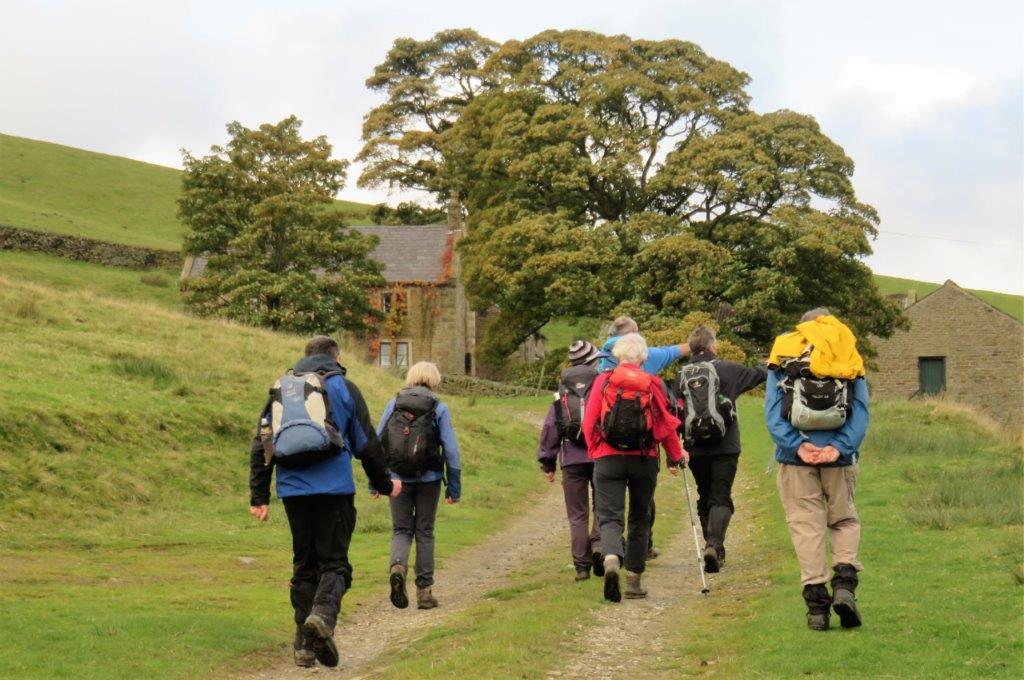 approaching Upper Ashop (farm)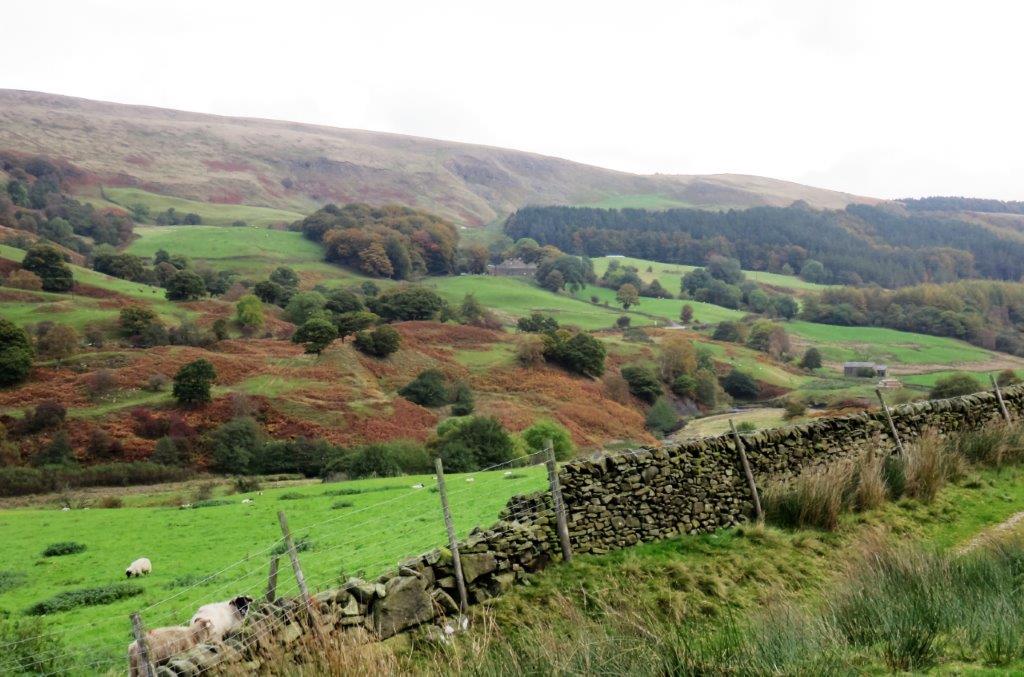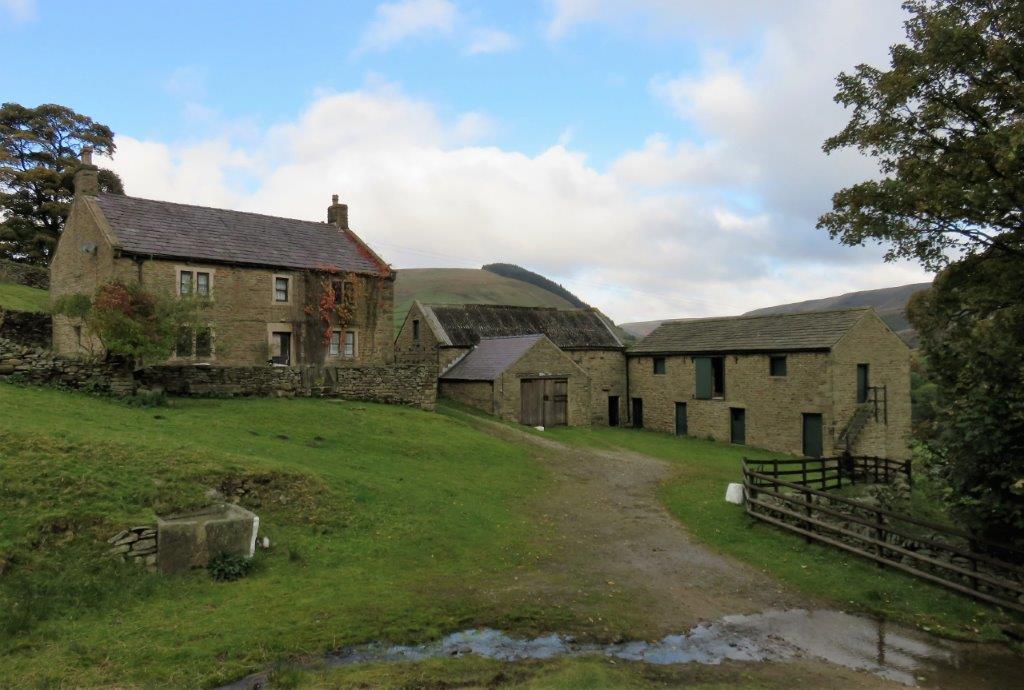 closer to Upper Ashop (farm)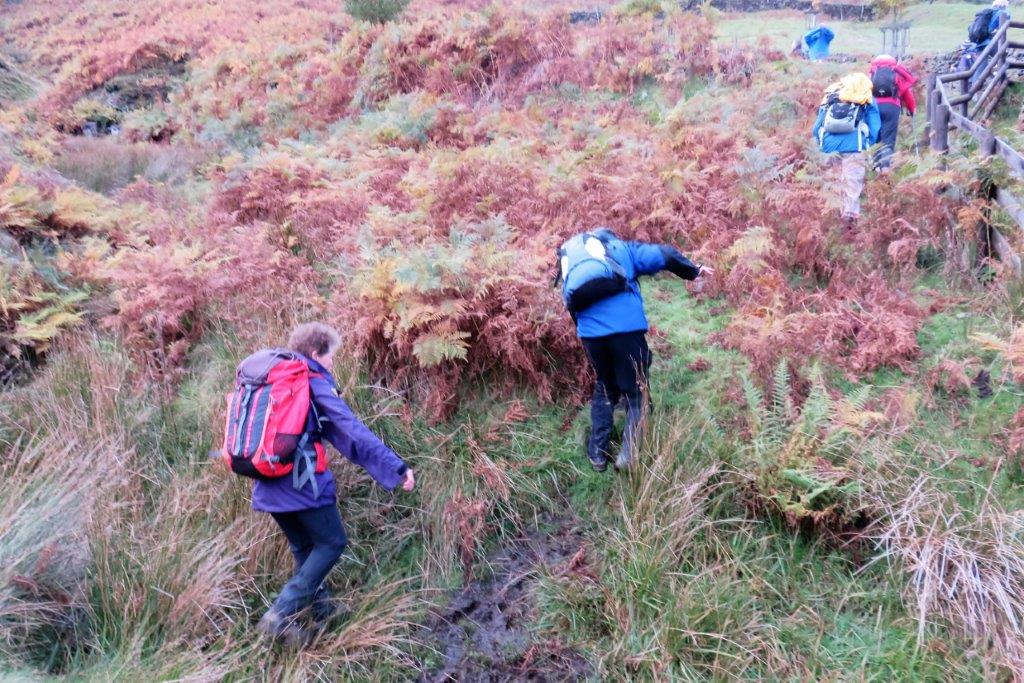 possibly picture should follow after the next one?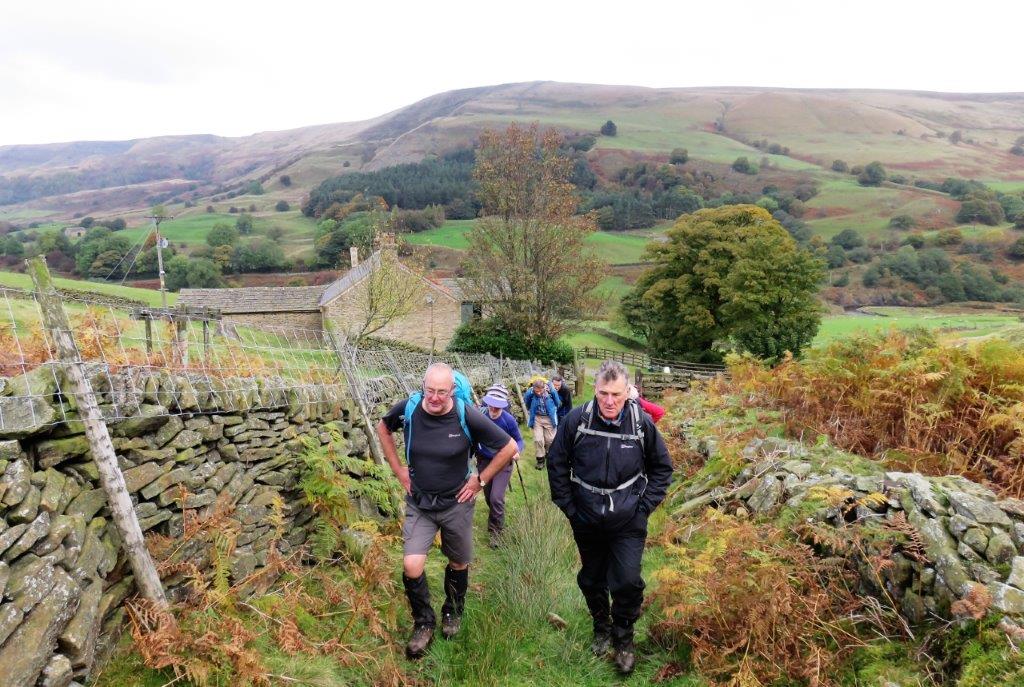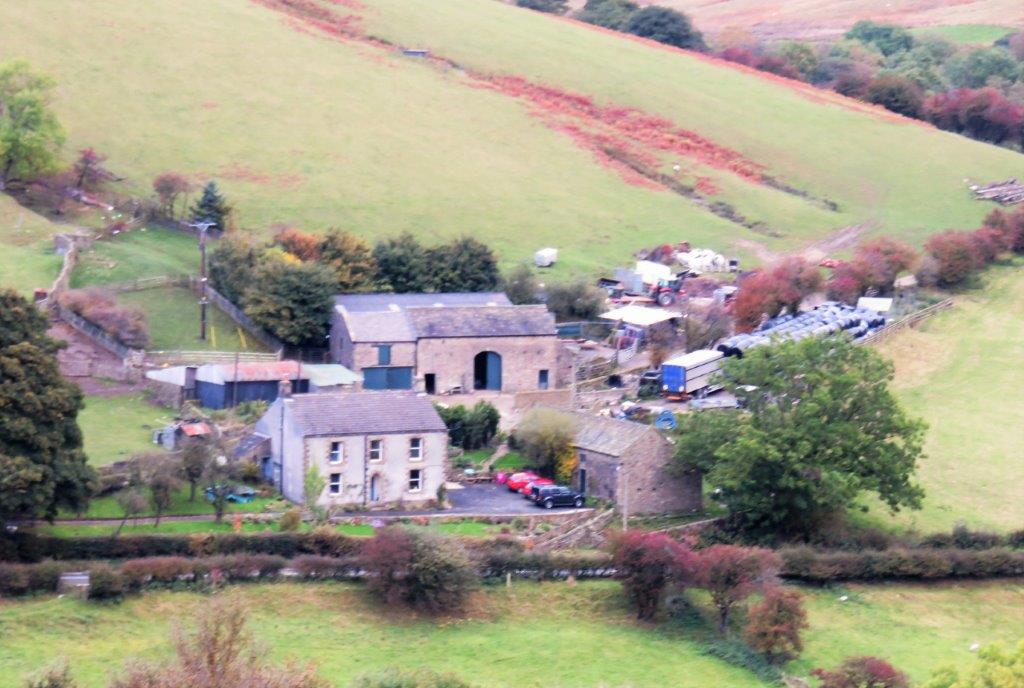 Hayridge Farm near the A57 Road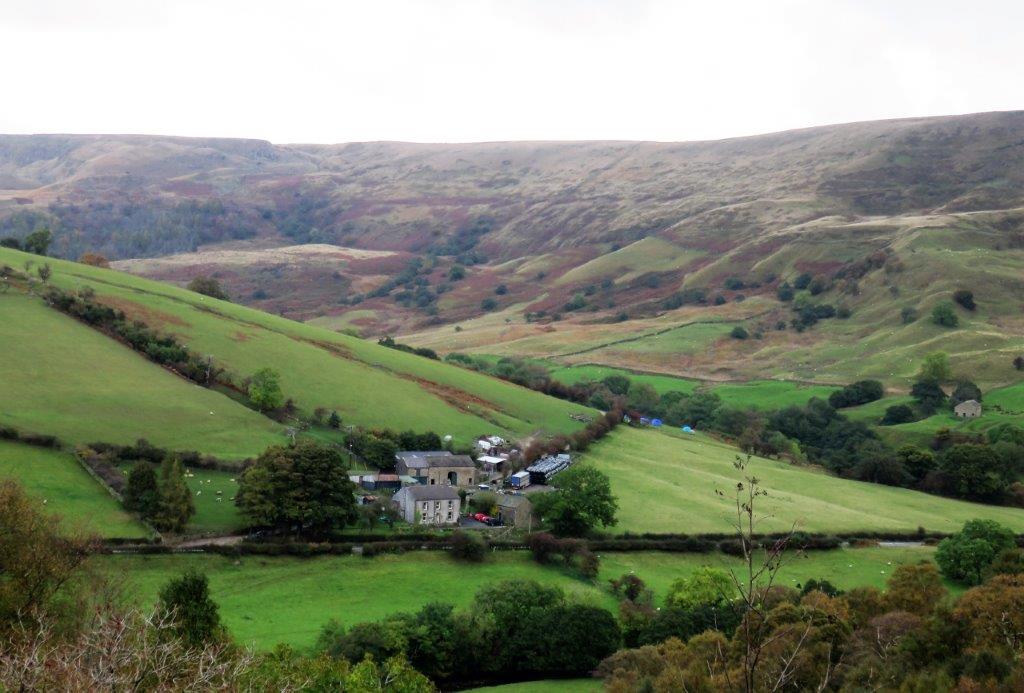 Hayridge Farm from further away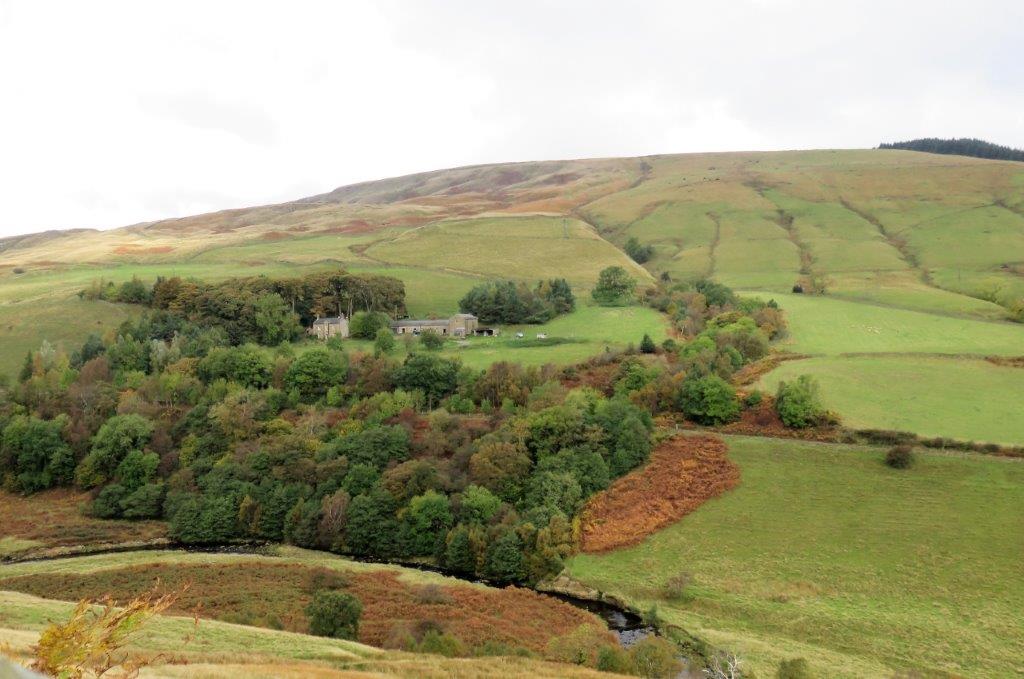 Blackden View Farm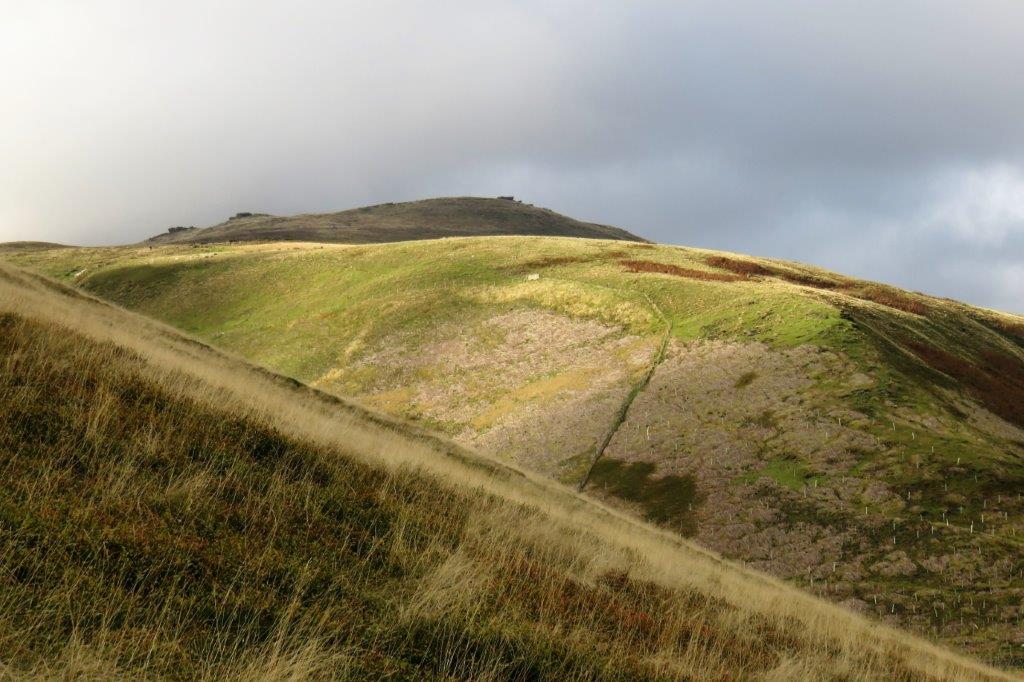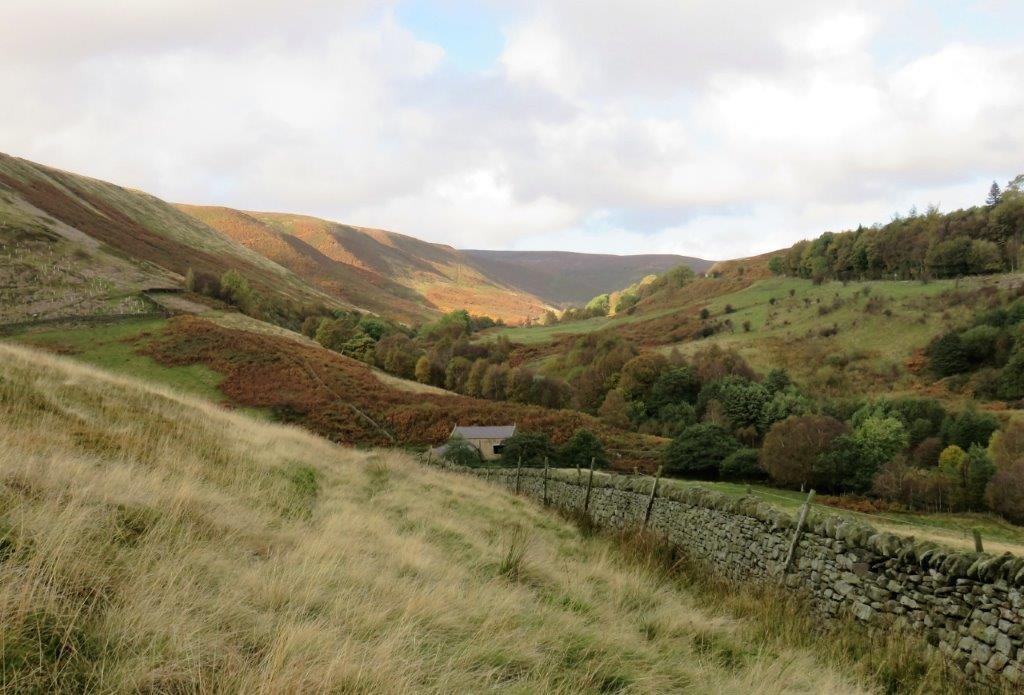 Blackden Barn (the Clough is to the left)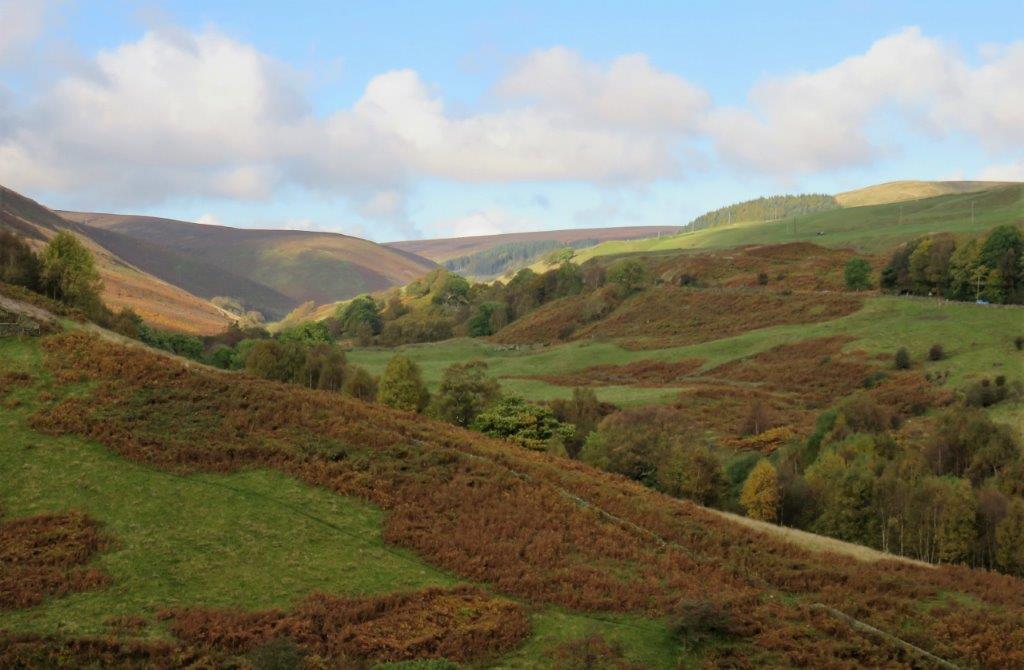 view of Woodlands Valley beyond Blackden Clough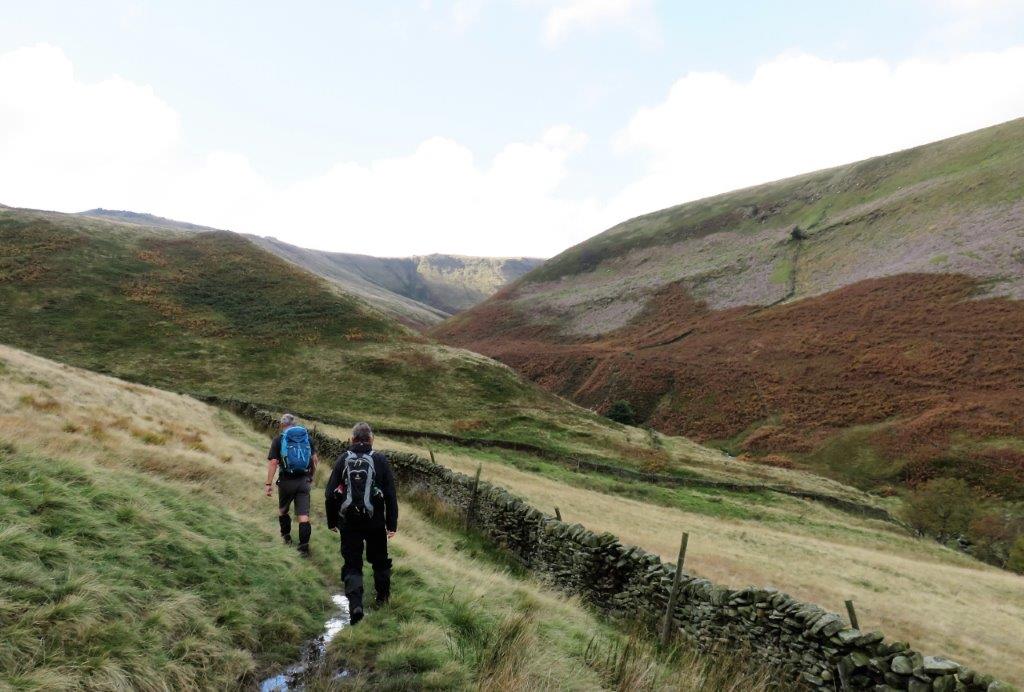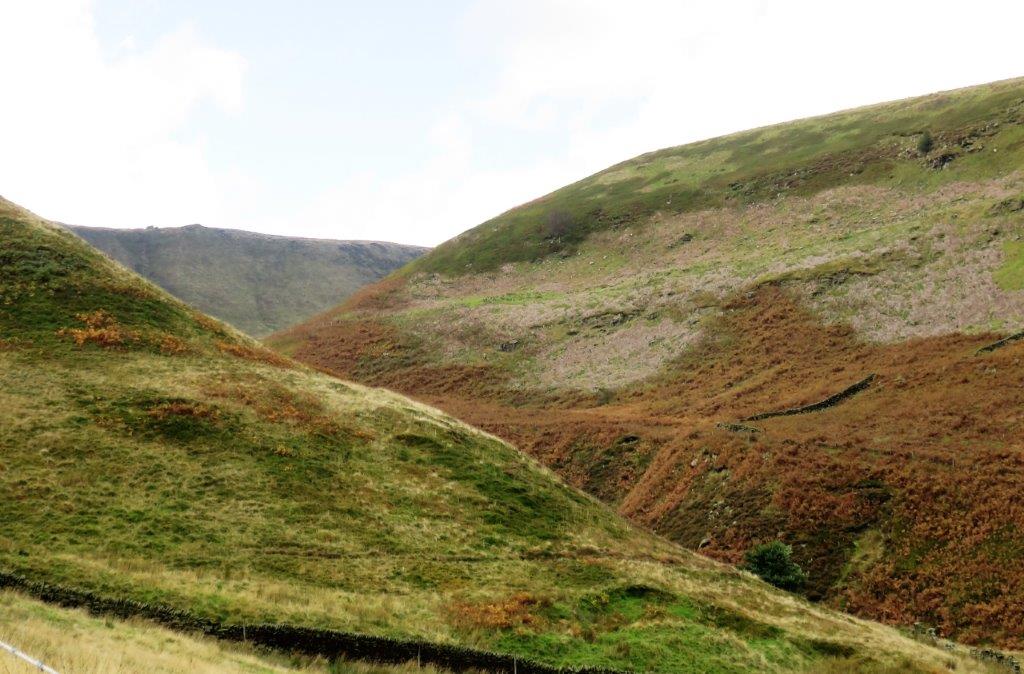 we entered the Clough by the footpath just visible near bottom of picture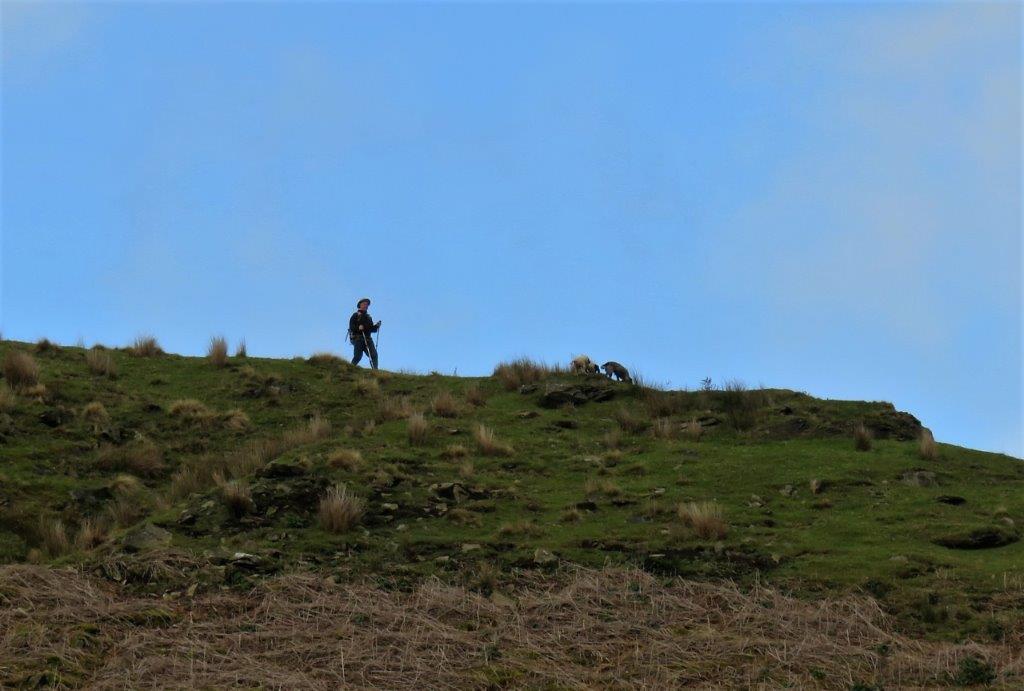 walker or shepherd seen with sheep on top of ridge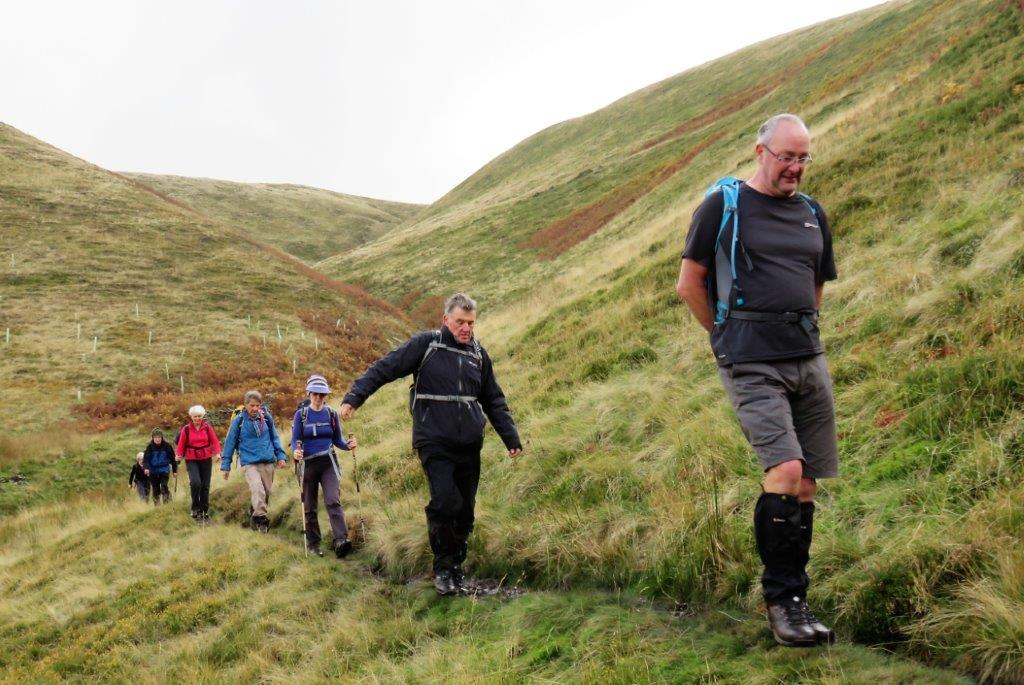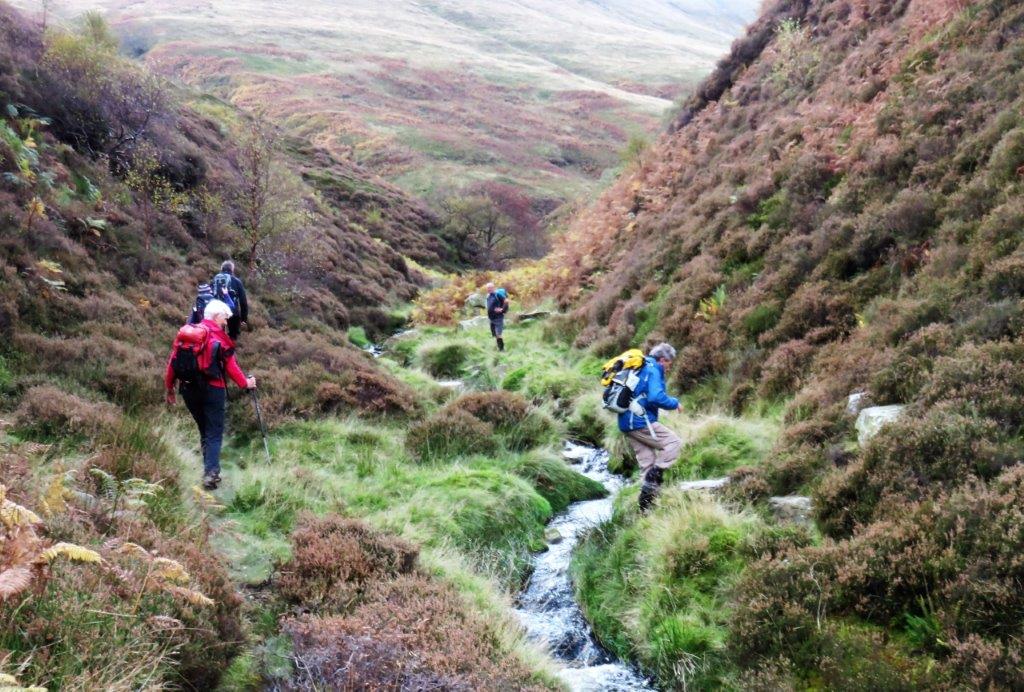 In Blackden Clough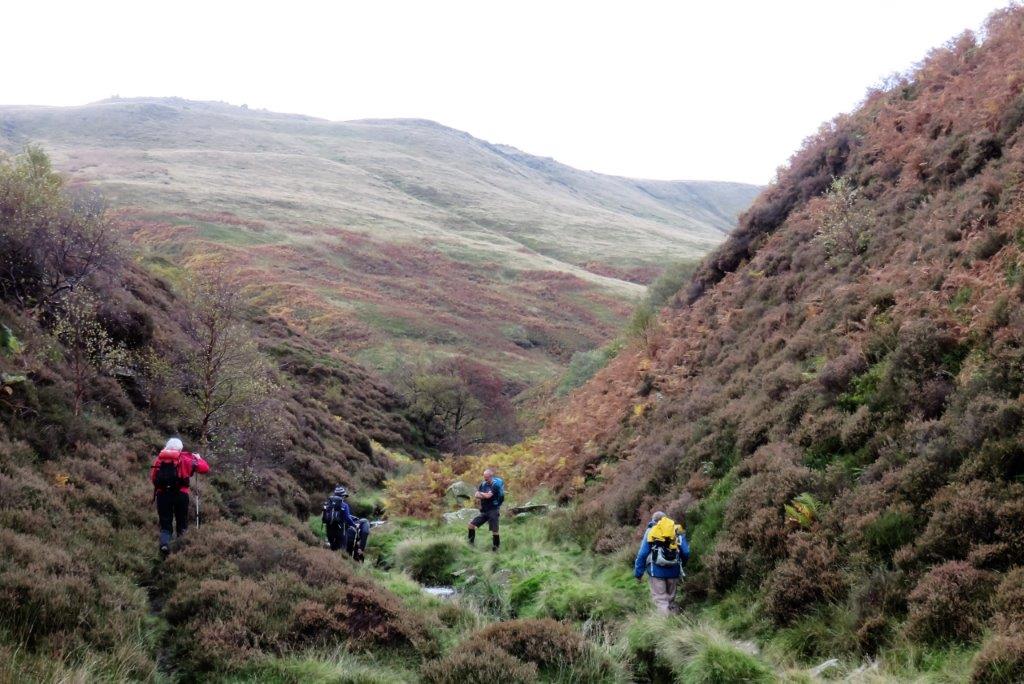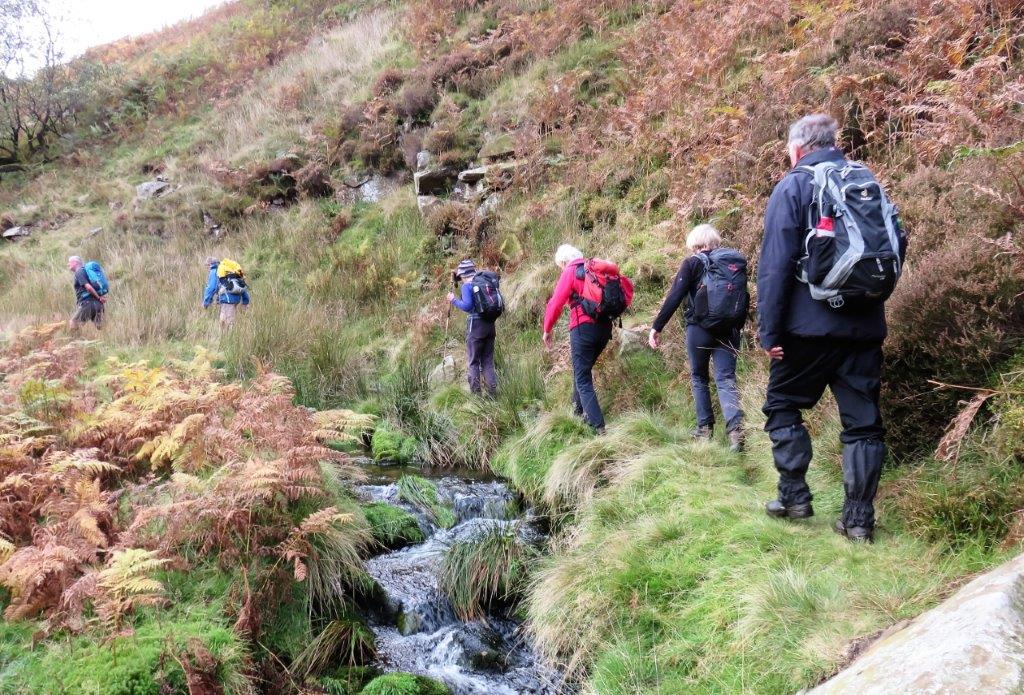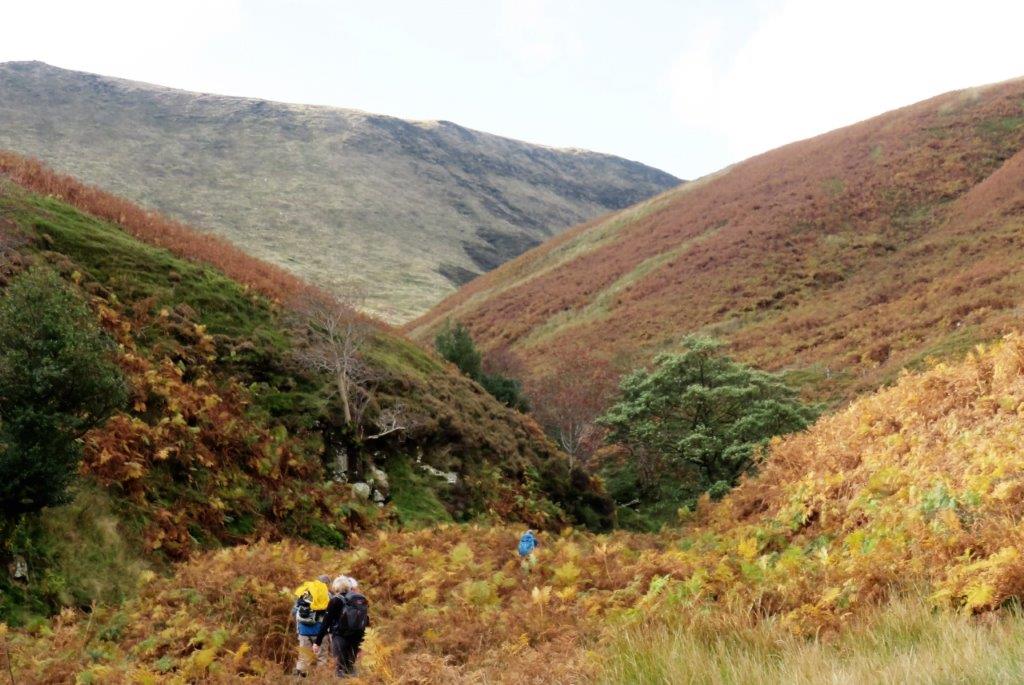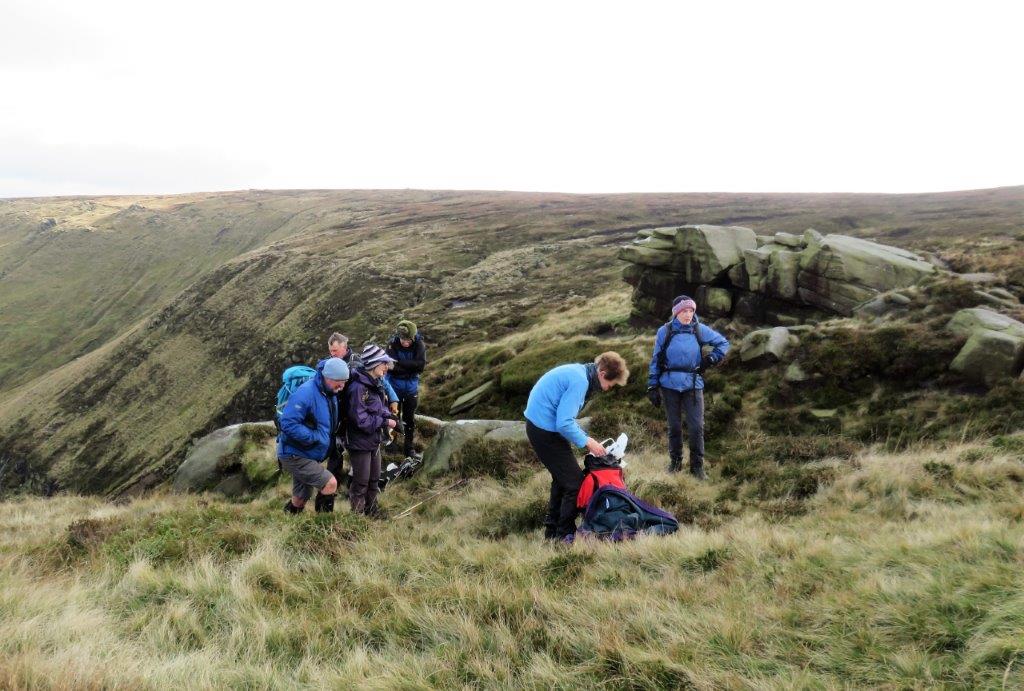 emerging from Blackden Clough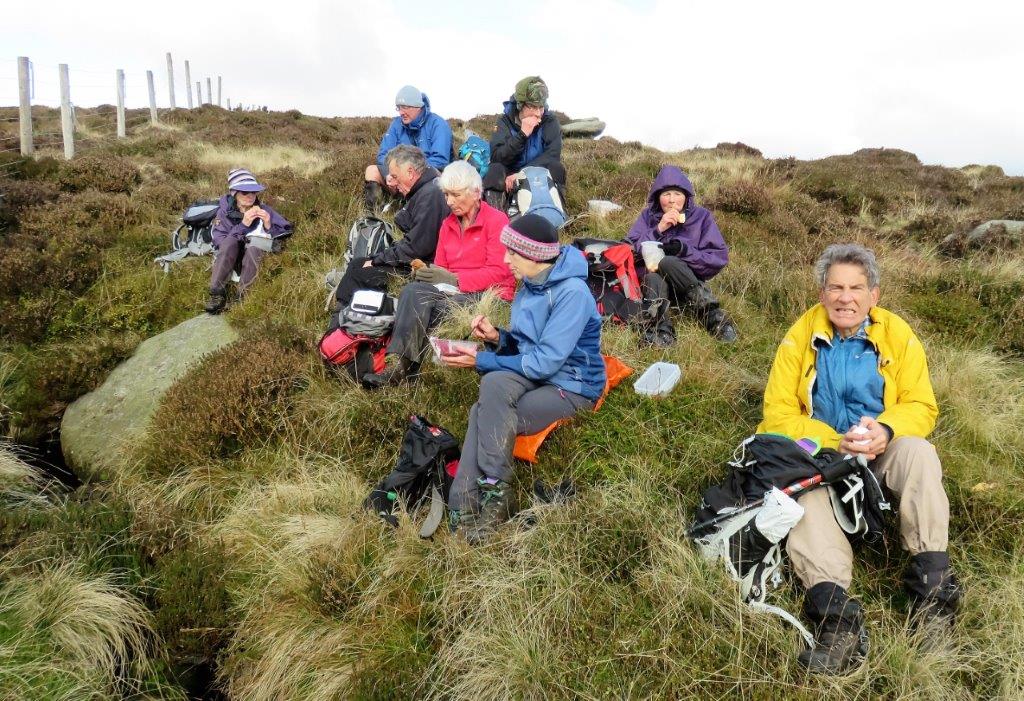 lunch sheltering from a cold wind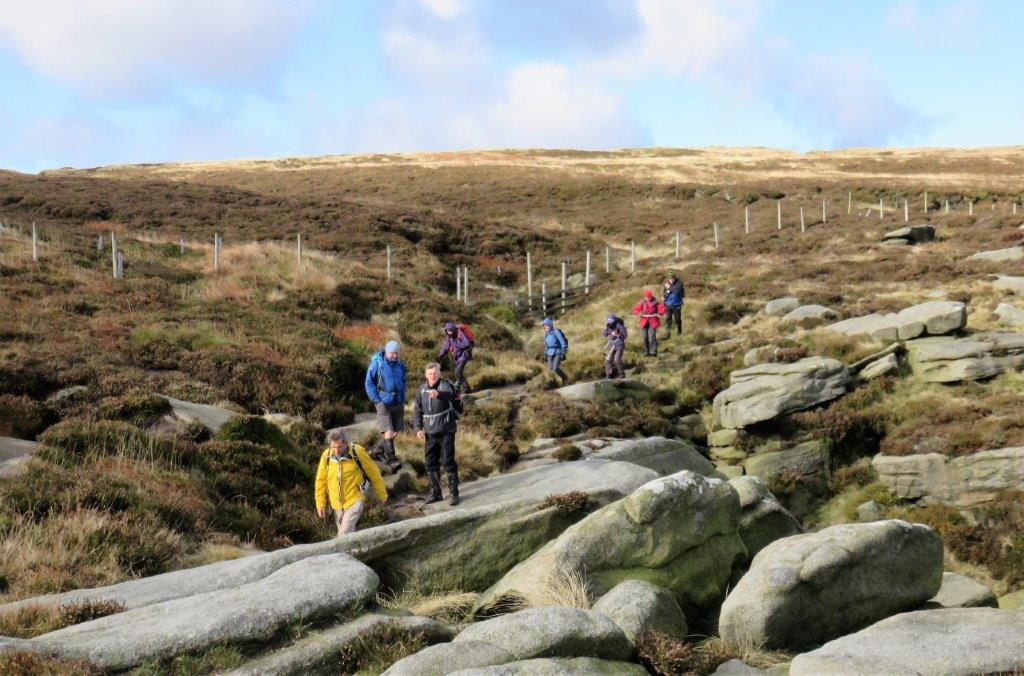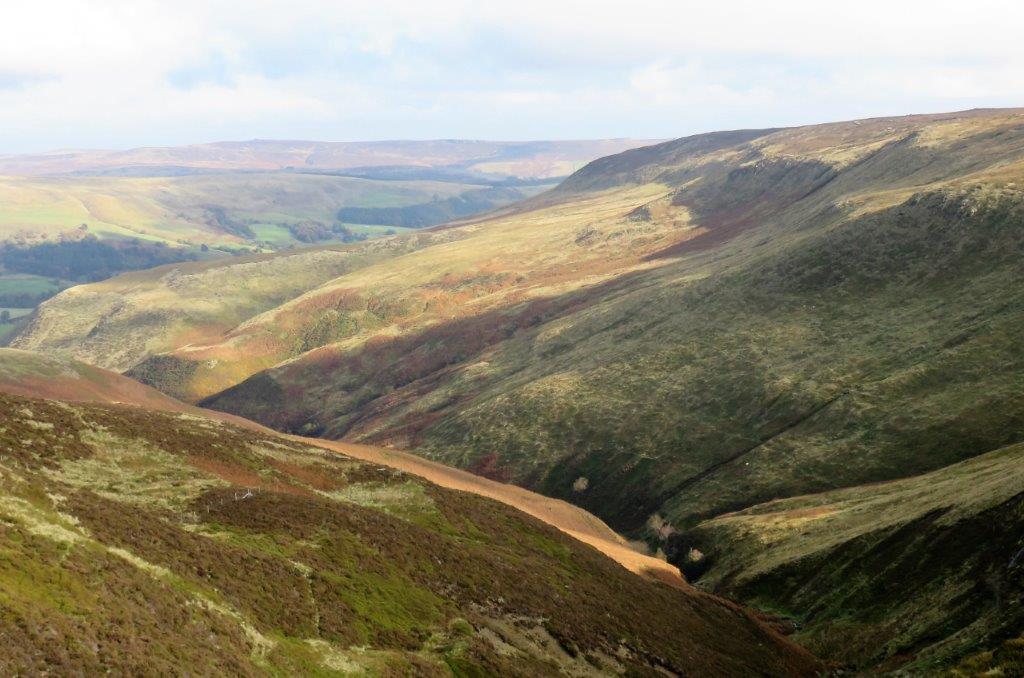 another arm of Blackden Clough seen in passing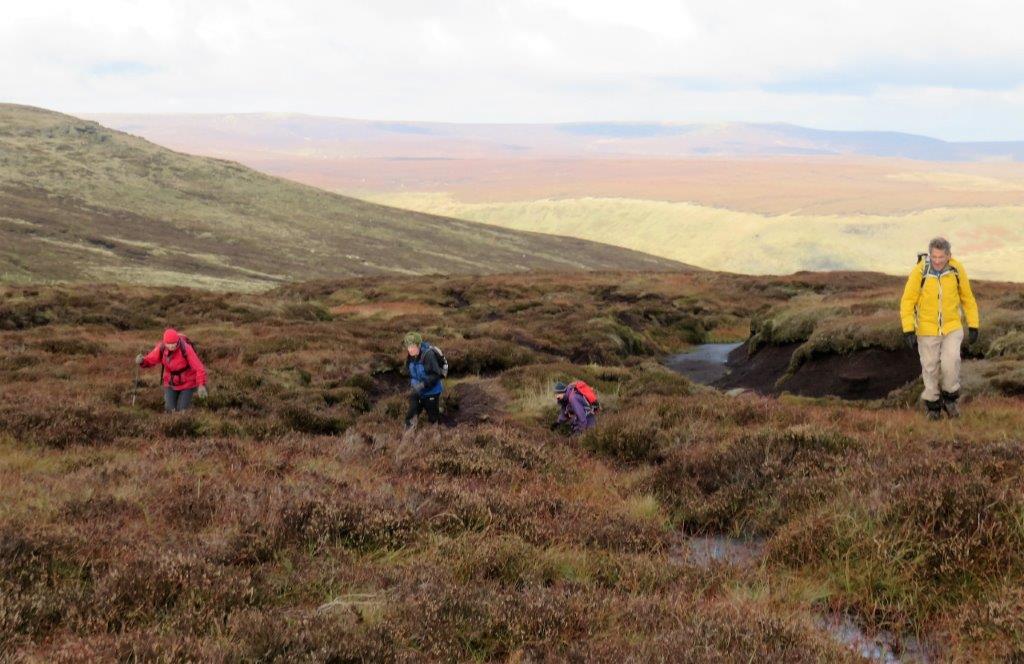 the 'ten minute' crossing over Edale Moor to Kinder south edge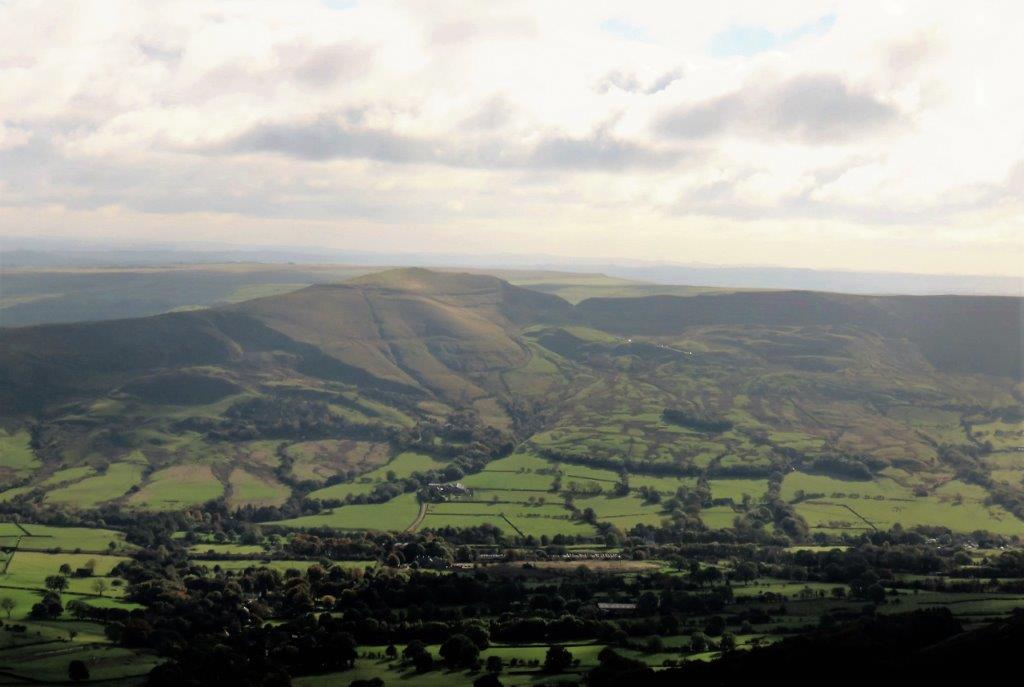 A view across The Vale of Edale of Mam Tor and Mam Nik to right below it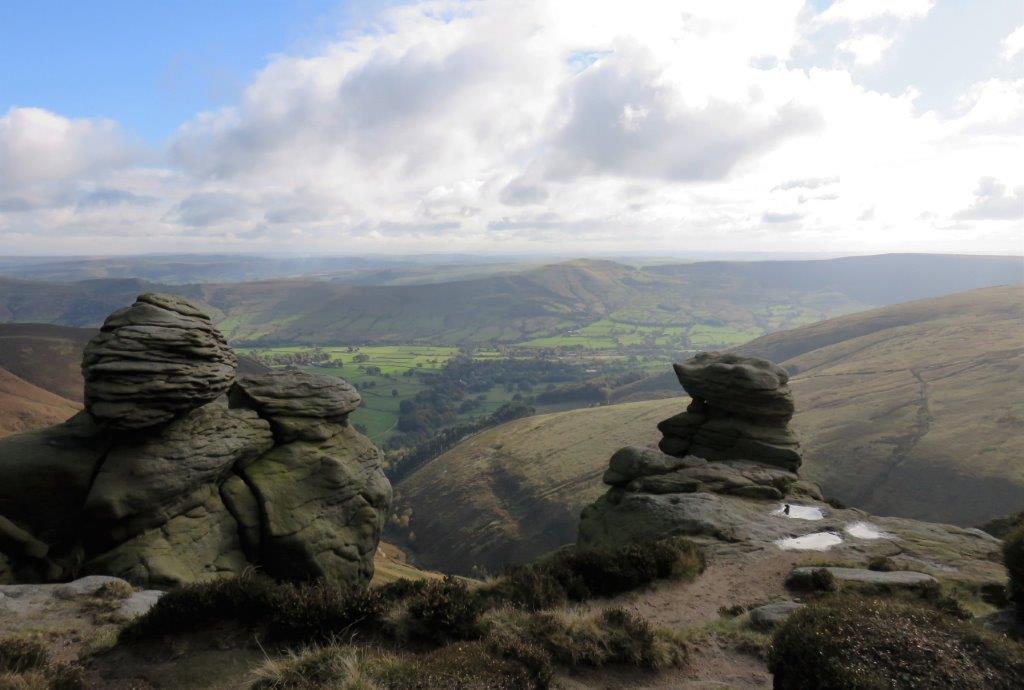 rocks on Kinder edge above Grinds Brook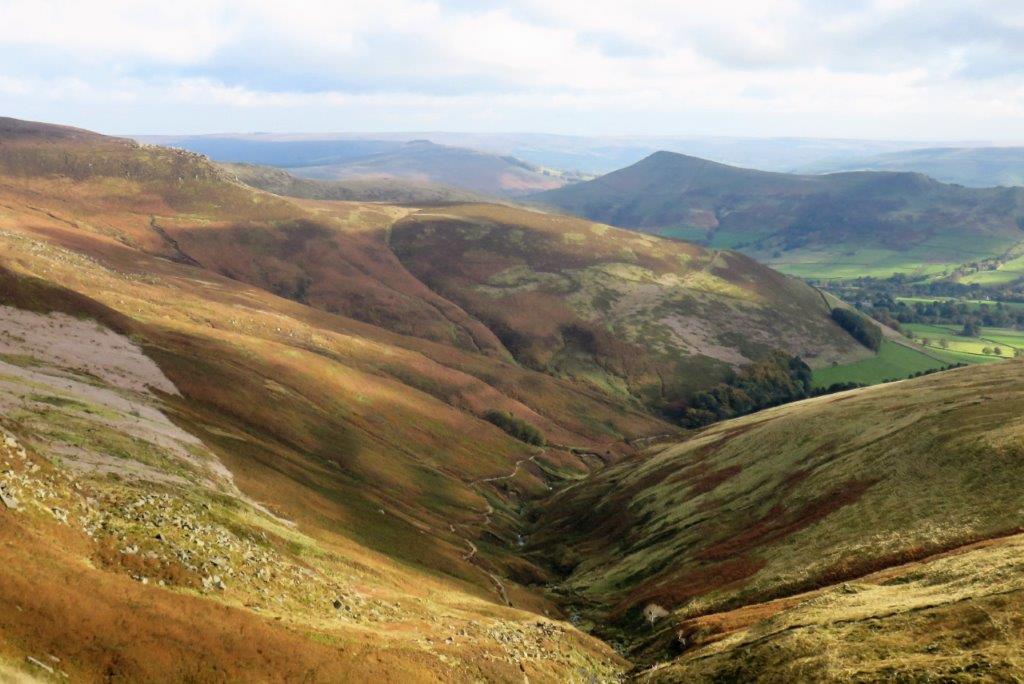 view into grinds Brook - Win Hill and Lose Hill seen behind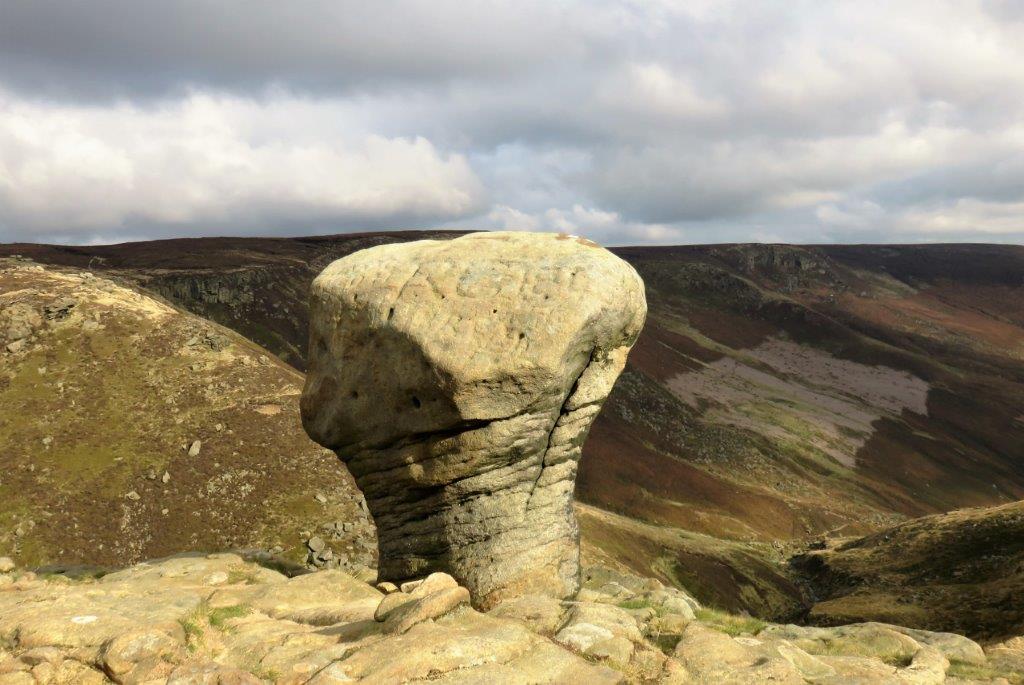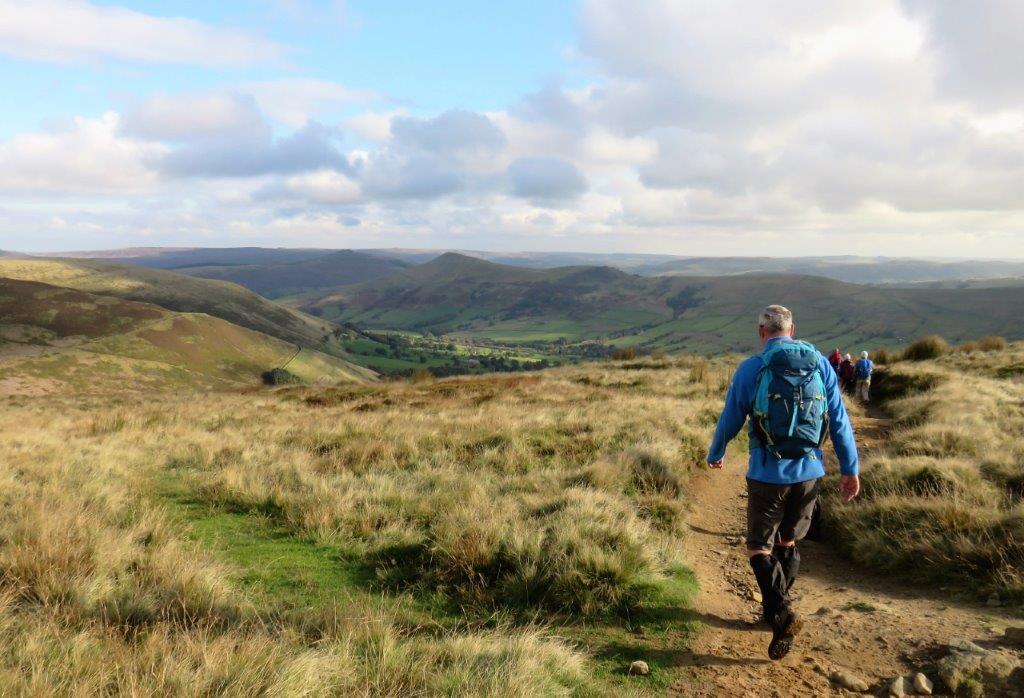 descending from Grindslow Knoll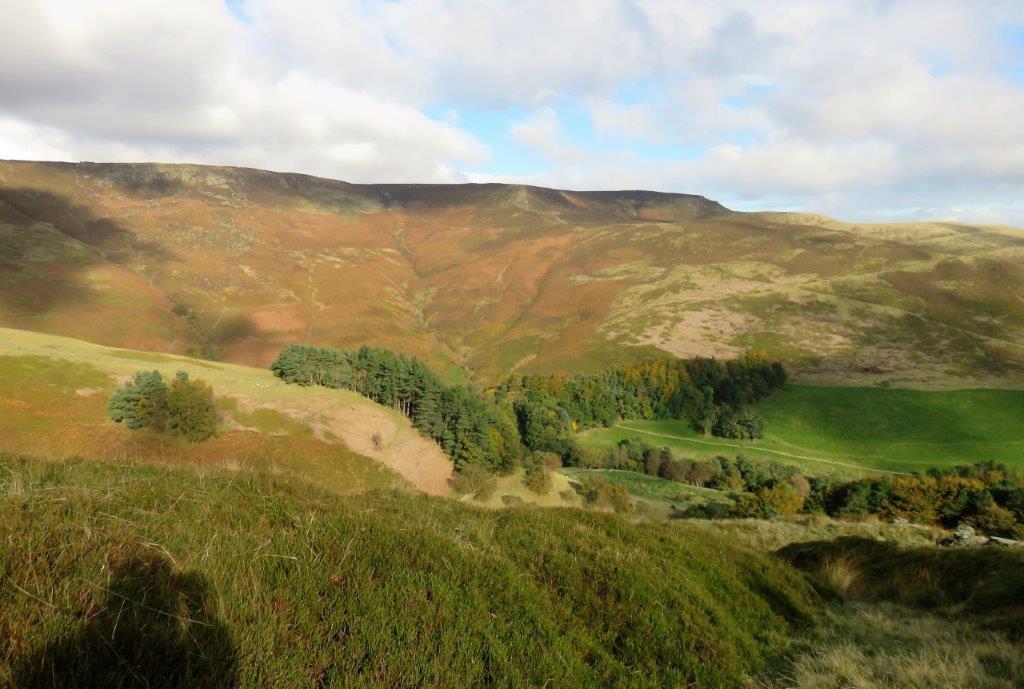 looking back at Kinder edges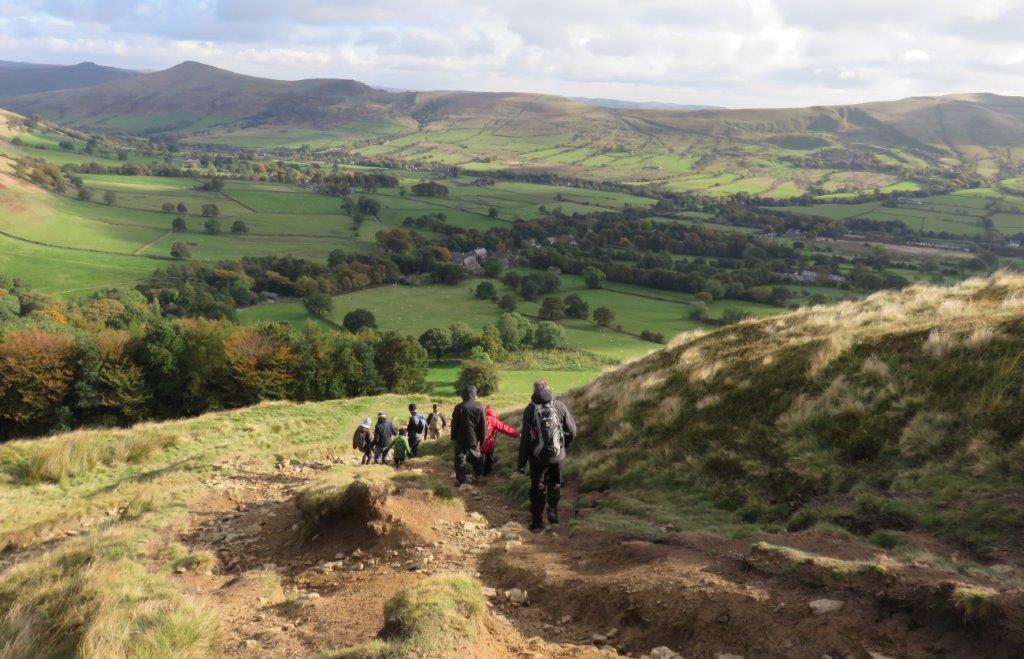 a serious erosion problem needs attention - but whose funds?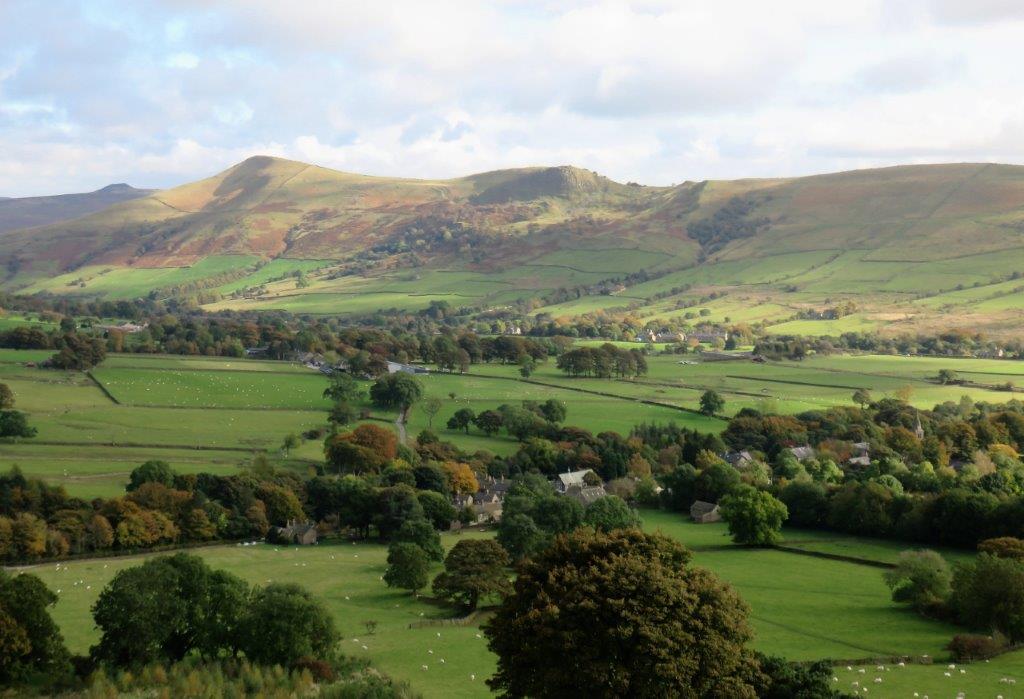 Win Hill at back - Lose Hill and Back Tor in front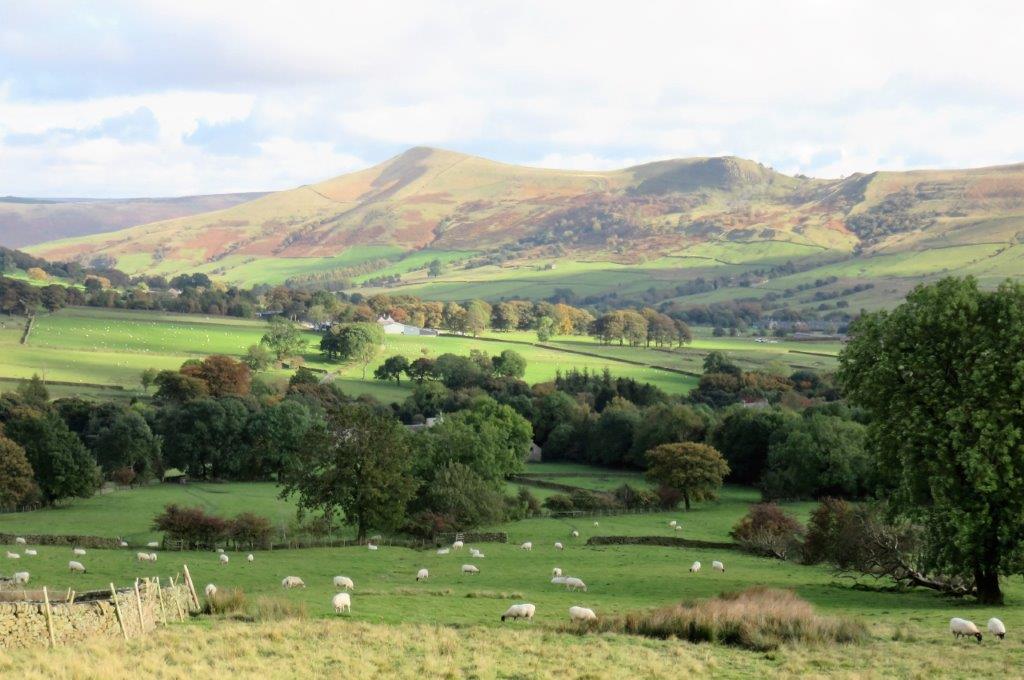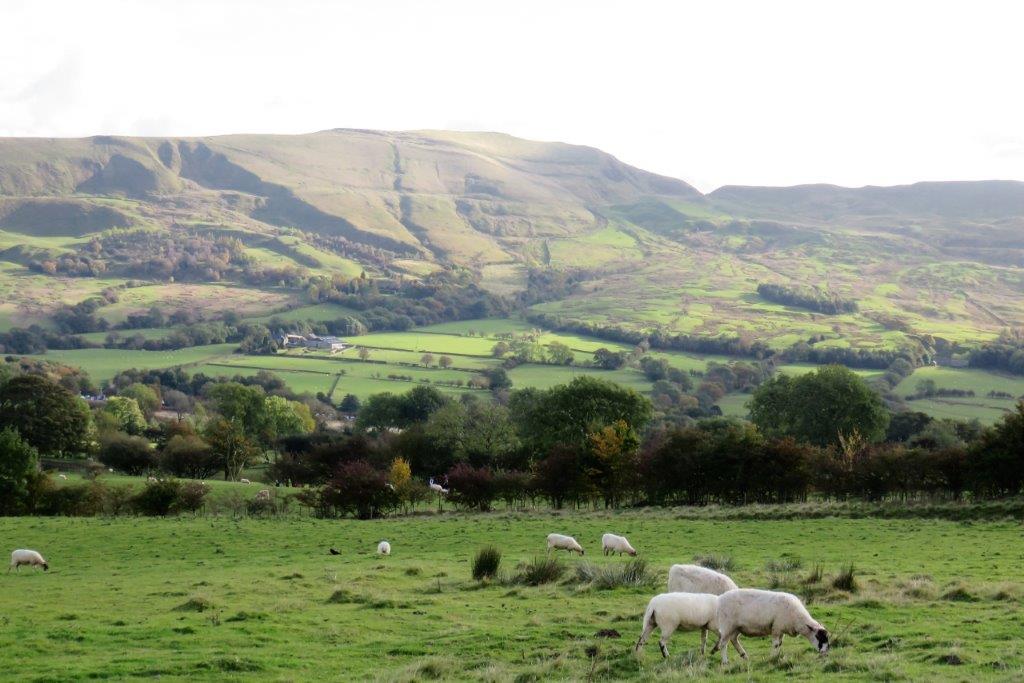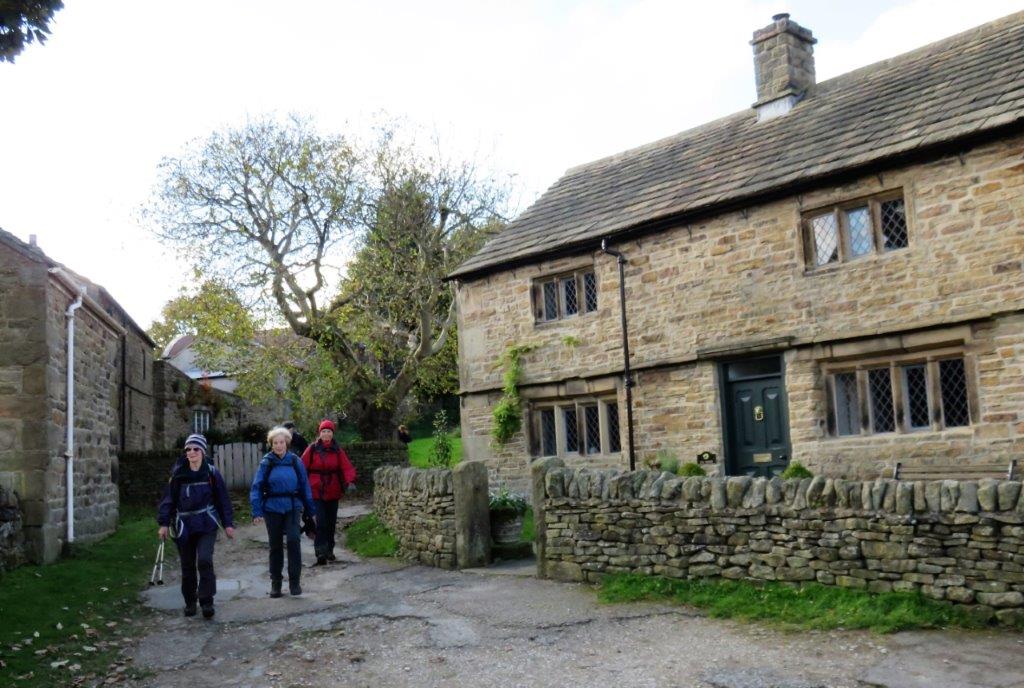 Grindsbrook Booth? (official start of Pennine Way)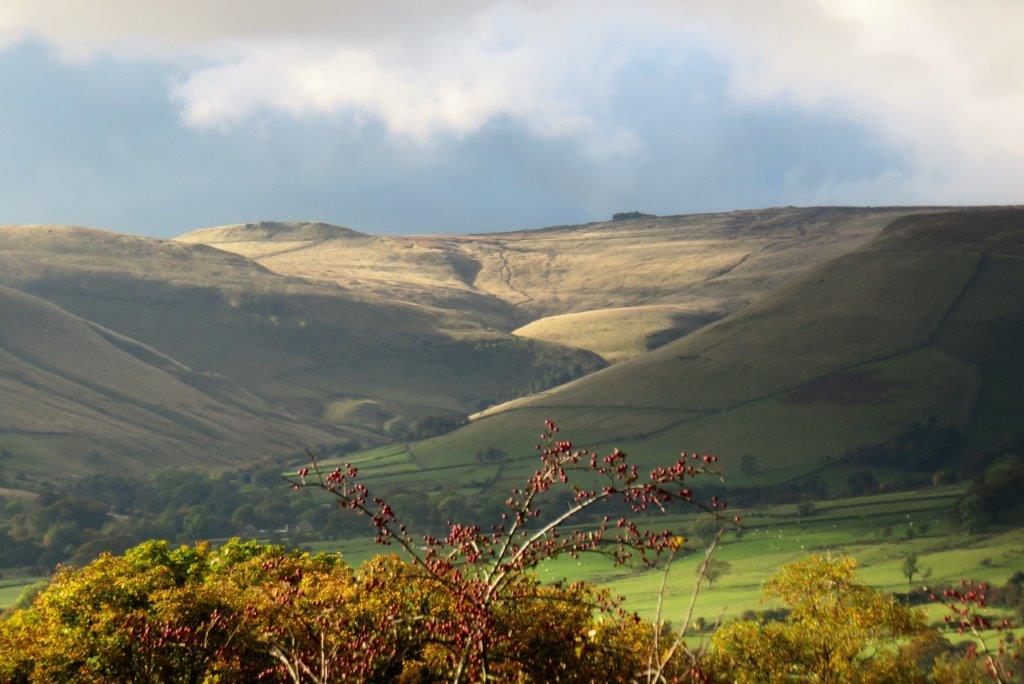 West end of Vale of Edale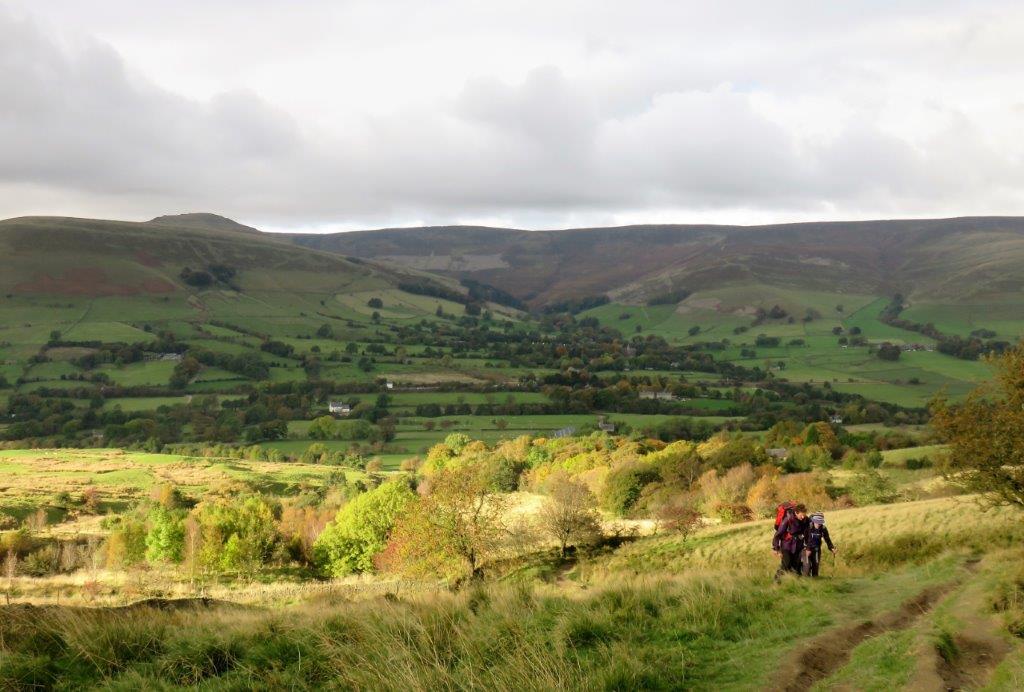 up towards Mam Nik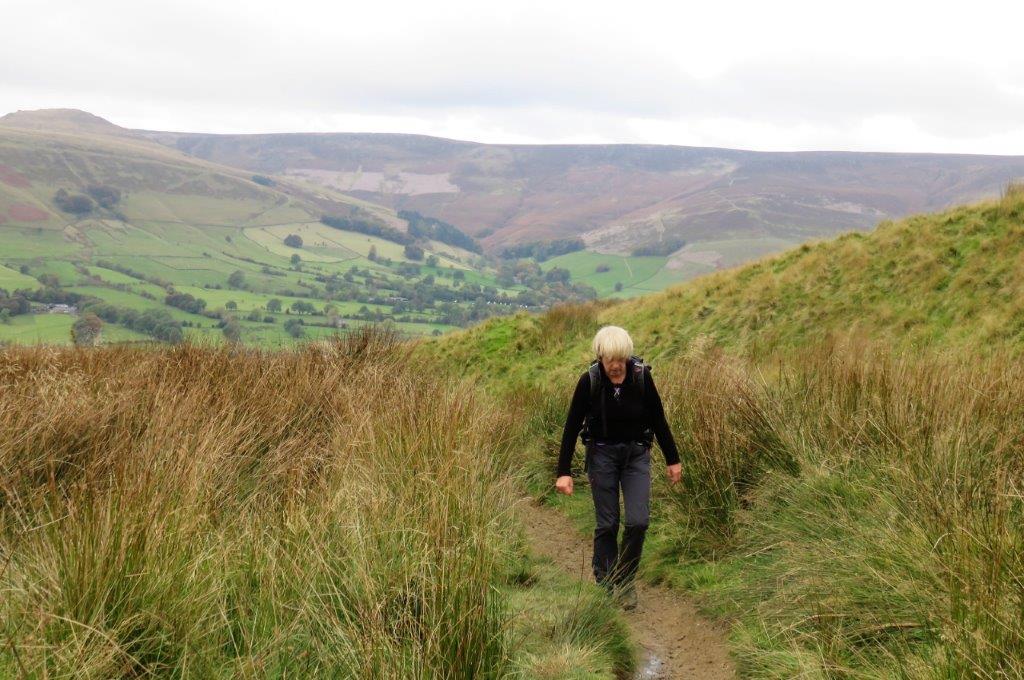 Grindslow Knoll top left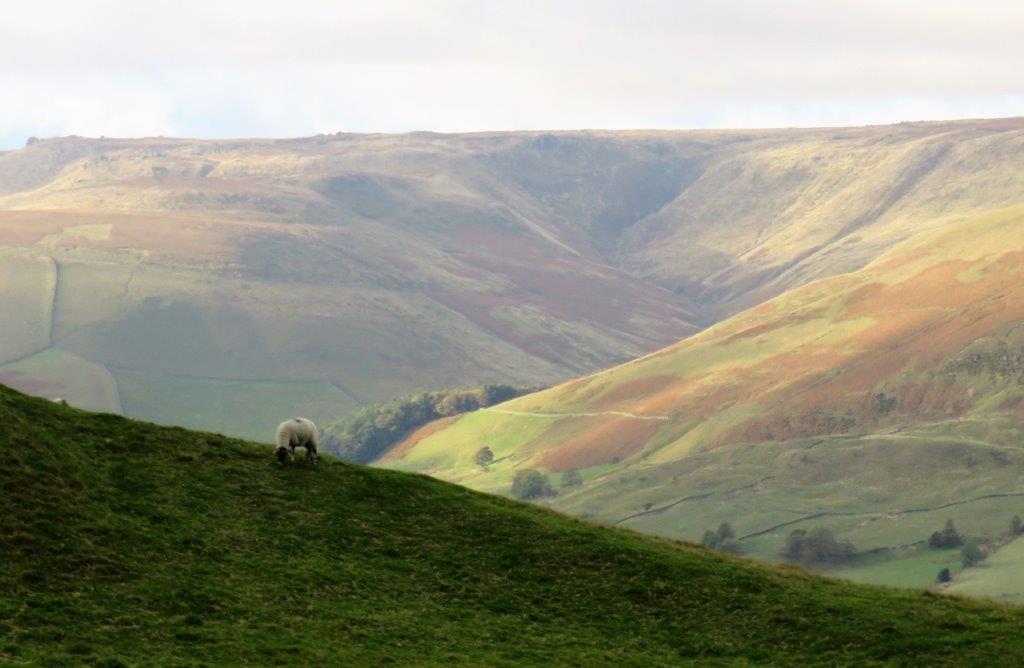 Crowden Clough?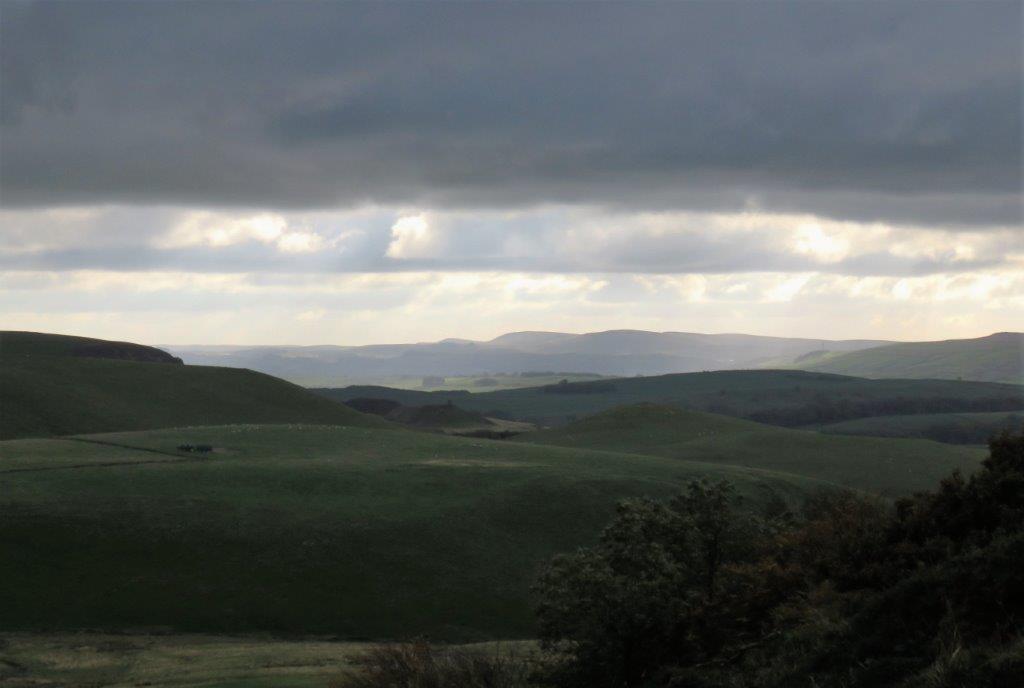 weather out West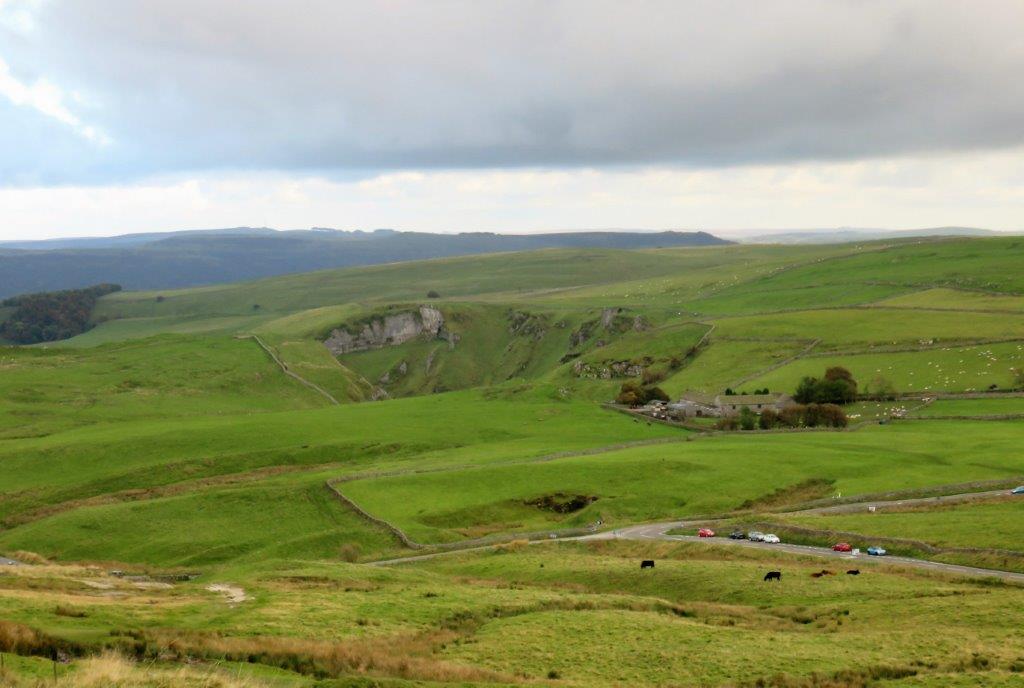 start of Winnats Pass (under rock band) - Winnats Head Farm to right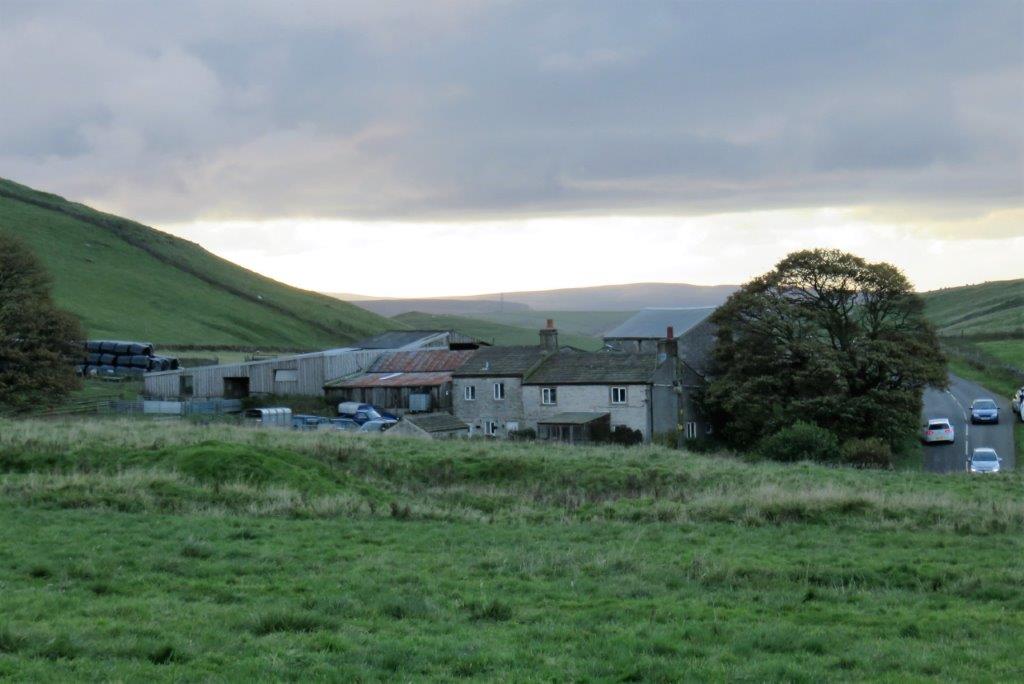 Oxlow House?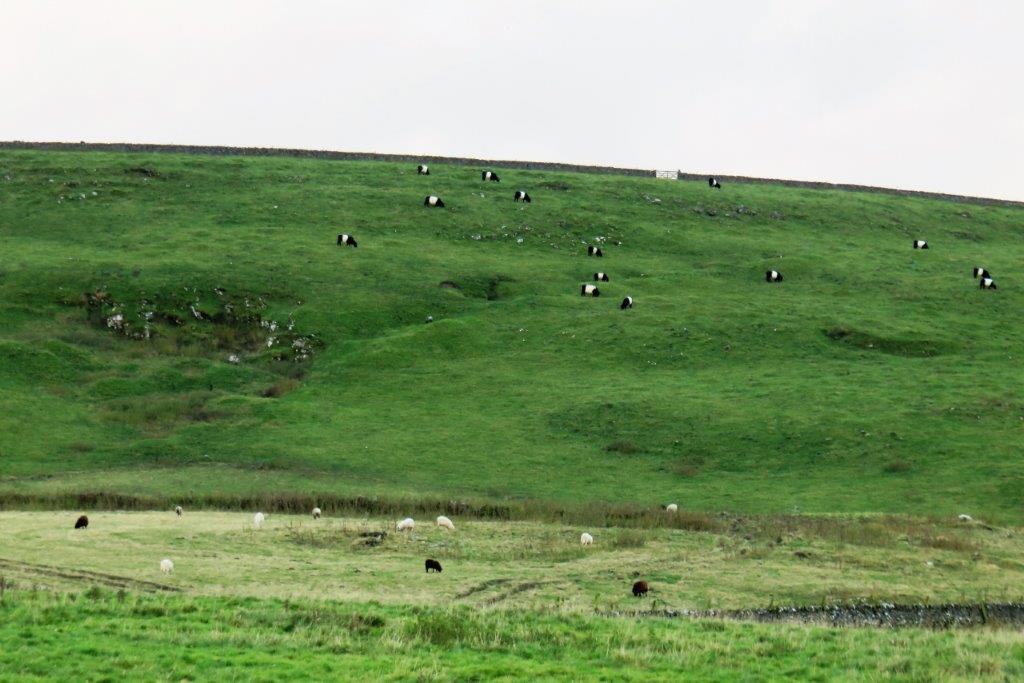 Belted Galloway Cattle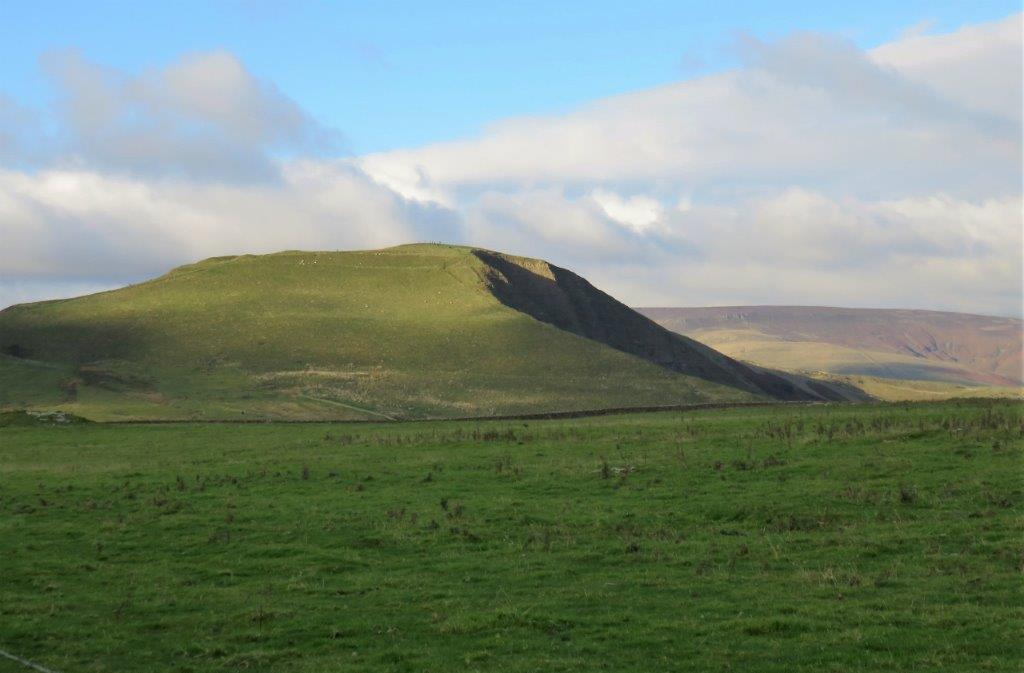 Mam Tor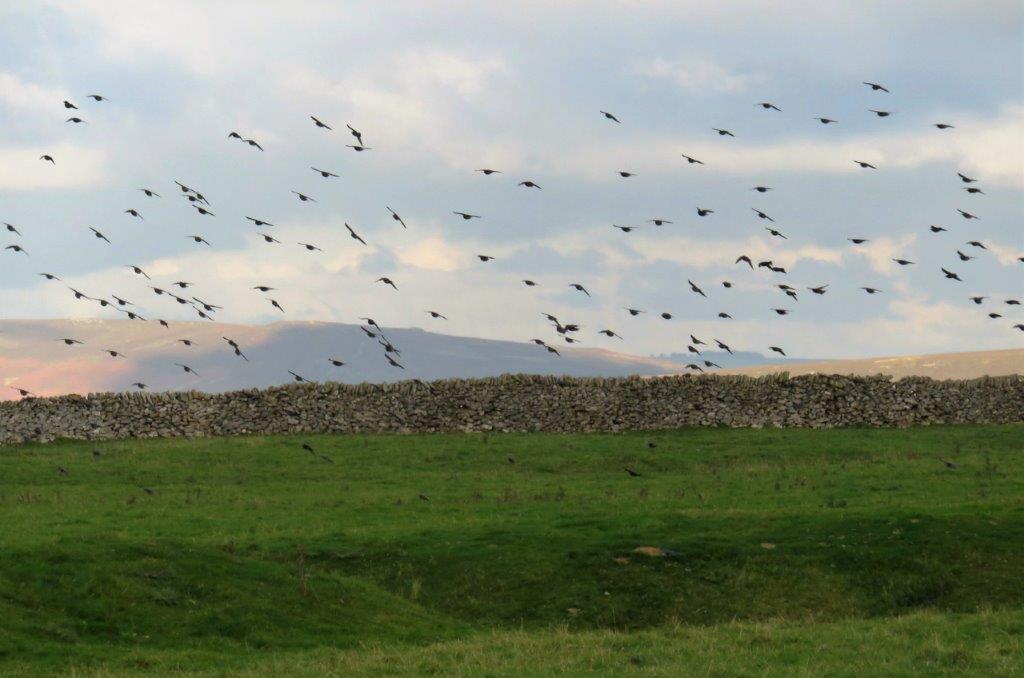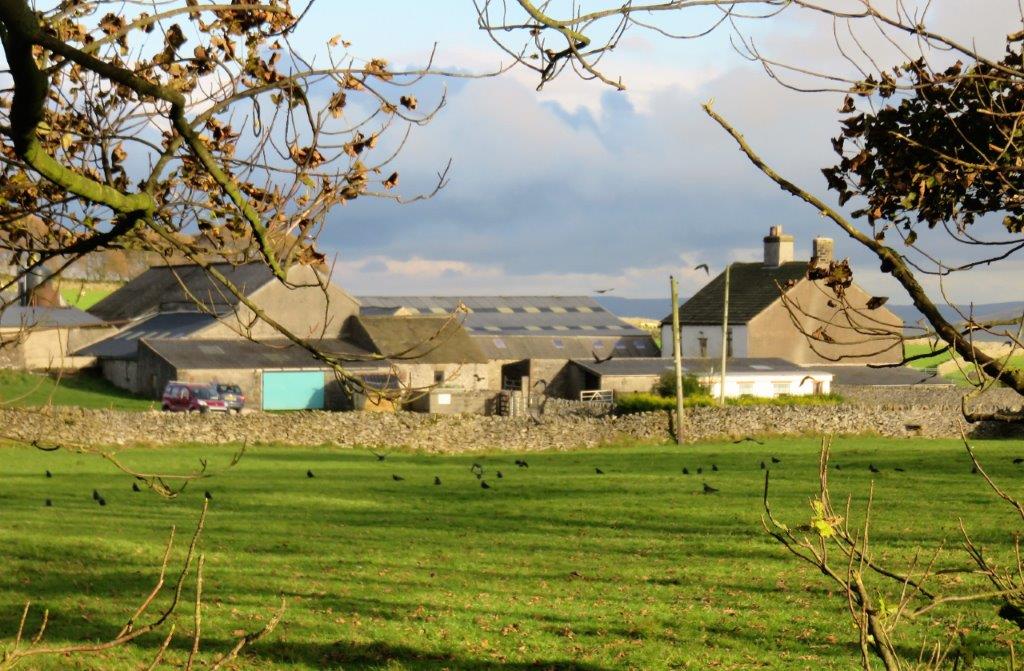 Rowter Farm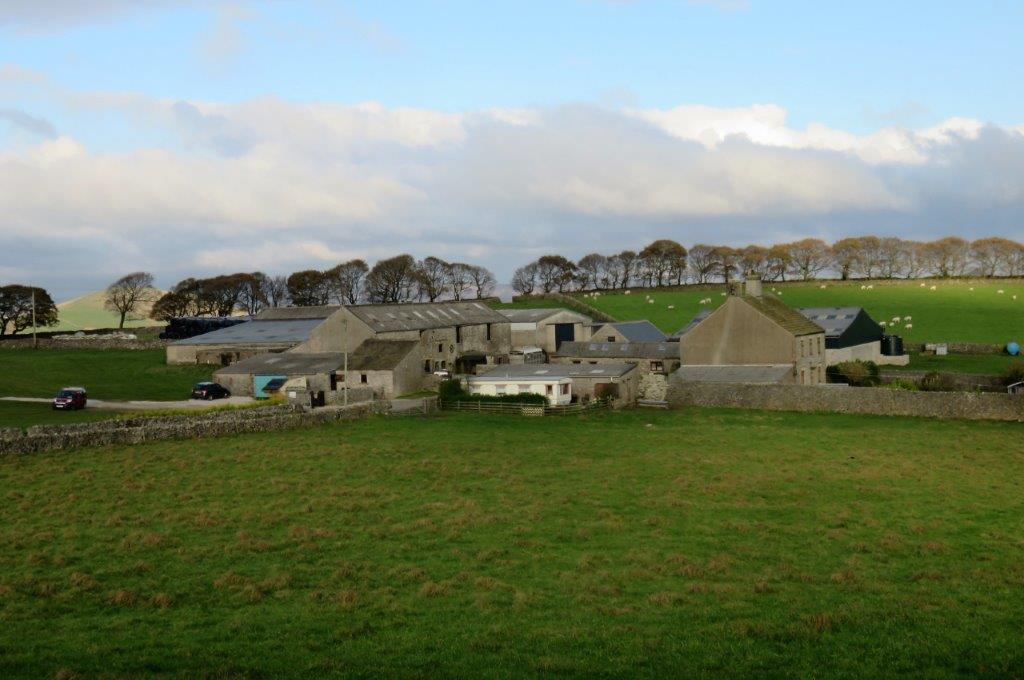 Rowter Farm
Lose Hill at top - Castleton unseen below to right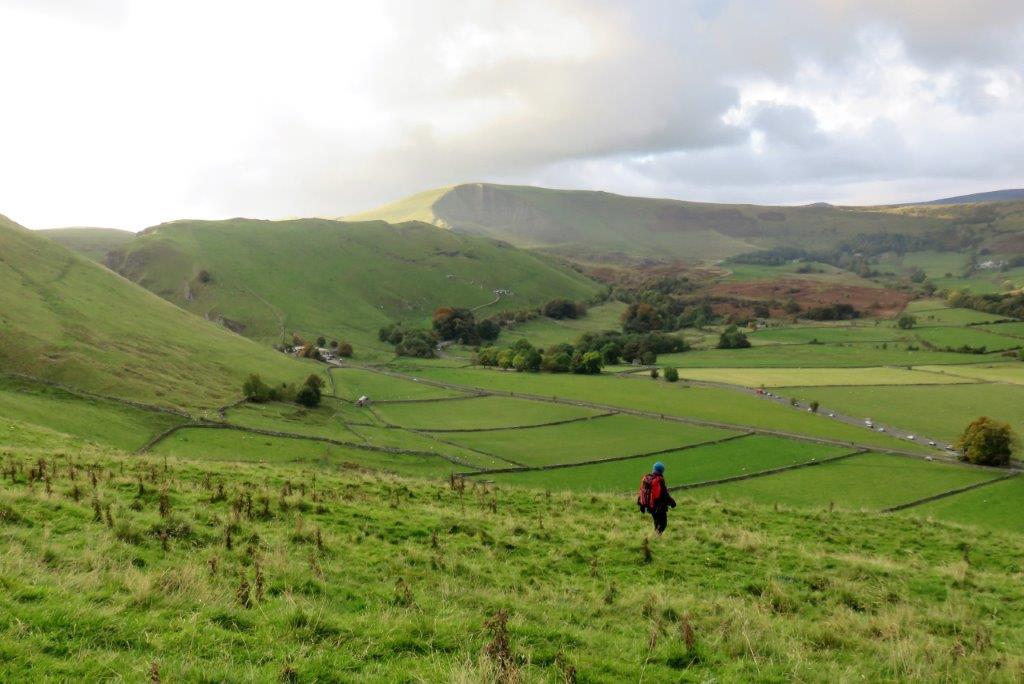 Winnats Pass in cleft to left, Mam Tor in middle with landslipped areas below it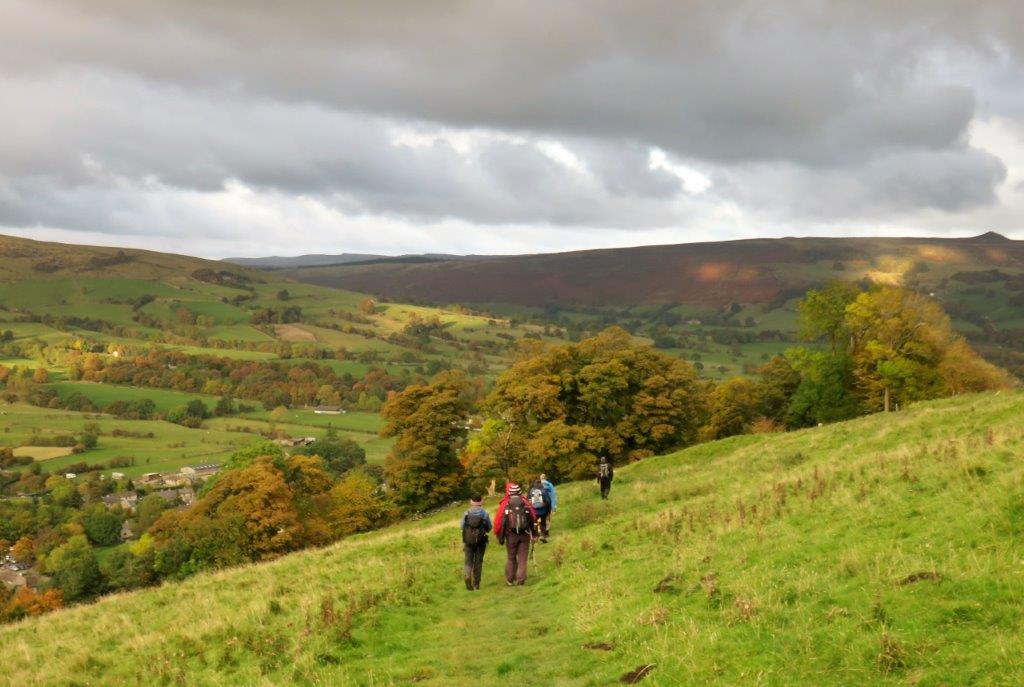 descending to Castleton just to West of Peak Cavern. Win Hill top right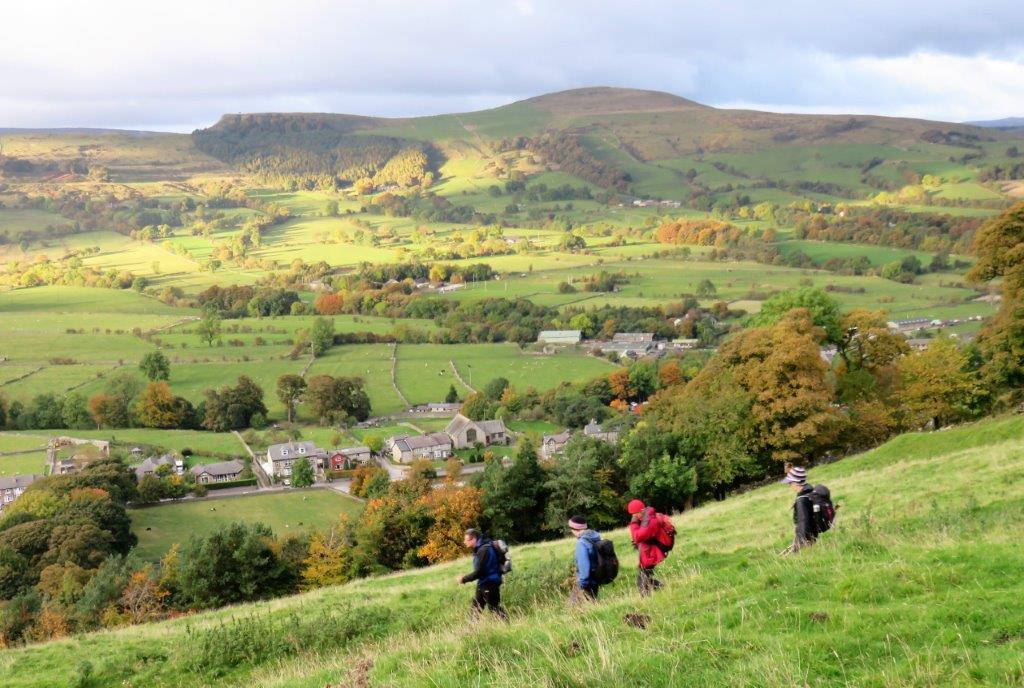 Back Tor and Lose Hill on skyline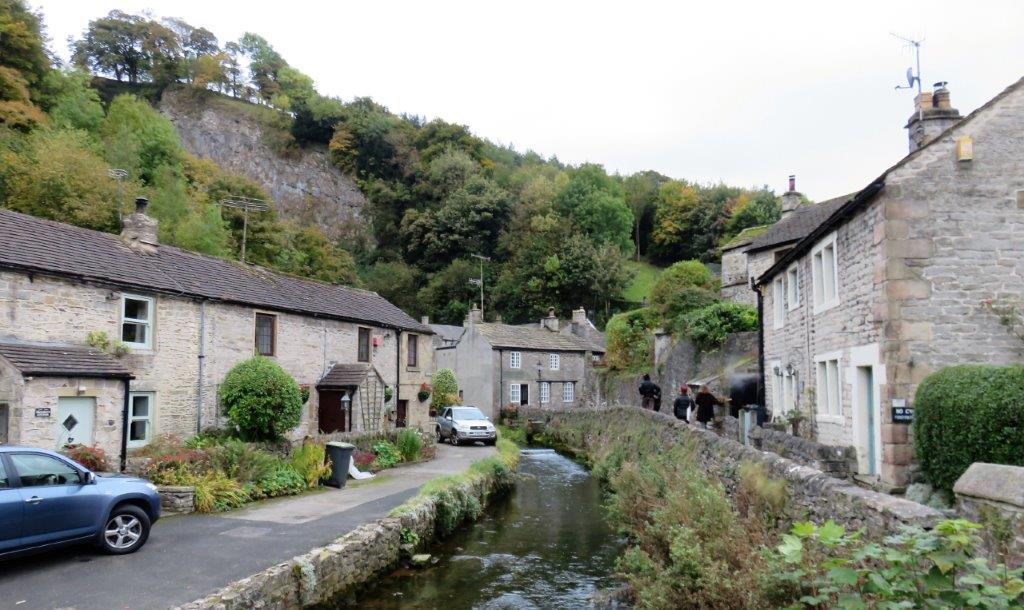 Peak Cavern behind
homepage - Day Walks Index 2016 - contact me at